Visiting Stavanger and wondering how to do a Lysefjord cruise and Pulpit Rock hike in one day? This article is for you!
Most people come to Stavanger for two reasons – to see the famous Lysefjord and to do one of the most iconic hikes of Norway – Preikestolen, or the Pulpit Rock.
When I first started planning our 2-week Norway trip, however, I thought that you need two days in order to do both – the Lysefjord cruise and the Pulpit Rock hike.
Every guidebook, every website seemed to suggest that Lysefjord cruise and Pulpit Rock require two separate trips on two separate days. Luckily, we found a combination tour of the Lysefjord Cruise and Pulpit Rock hike that allowed us to do both in one day.
TIP: If you have no time to read about our experience, you can find more information and book this day trip on Viator or directly with Rodne Fjord Cruise.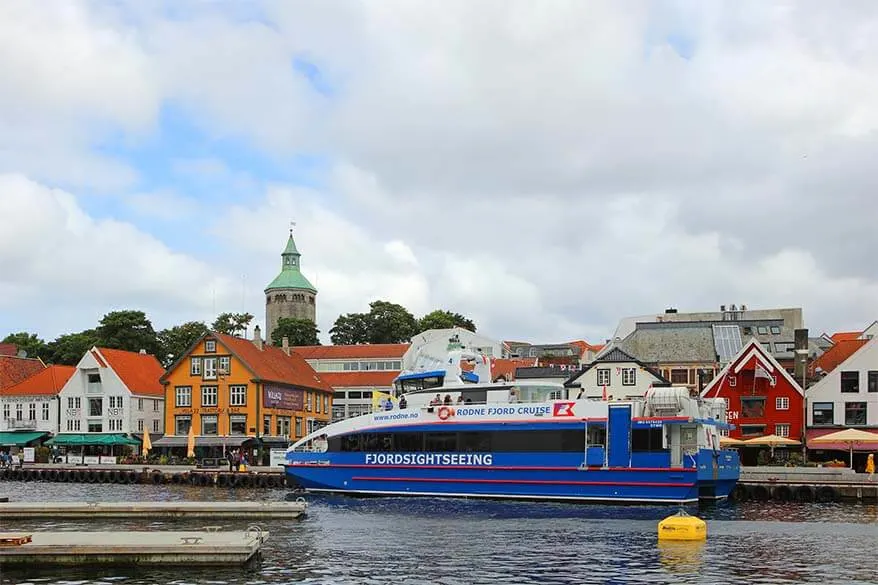 If you have more time in Stavanger, you can, of course, make these two trips separately. However, there is so much more to see and do in this beautiful region.
If you can save some time (and money) by combining these two trips in one day, it leaves you more time to explore the amazing museums in Stavanger (the Norwegian Canning Museum is a must!) or do some more hiking in the area (we highly recommend Florli 4444).
Stavanger is a perfect base for hiking and outdoor enthusiasts, so if you love nature, plan at least 3-4 nights in town. Here you can find some more ideas for the best things to do in Stavanger.
Lysefjord Cruise & Pulpit Rock Hike
Traveling around the Stavanger region might seem a bit overwhelming at first. But you don't have to worry about any practicalities if you book this combination trip (Lysefjord cruise and Pulpit Rock hike), because everything is extremely well organized and explained.
Below you can read about our experience with doing the Lysefjord cruise and Pulpit Rock hike in one day, as a day trip from Stavanger. Find out!

Lysefjord Cruise
At 10 AM we took a boat from Skagenkaien – it's located at the main harbor in Stavanger city center. We spent a bit more than two hours on the water sailing deep into the Lysefjord, passing some beautiful islands and idyllically located colorful houses that are so typical for Norway.
The boat is big and comfortable, it has all the facilities and a beautiful indoor setting area with huge windows on all sides, or you can choose to stand on one of the decks outside.
On the morning we visited, we had the worst weather: it was cold, it was raining, and the wind was literally blowing you off the deck, so it was difficult to stay outside all the time.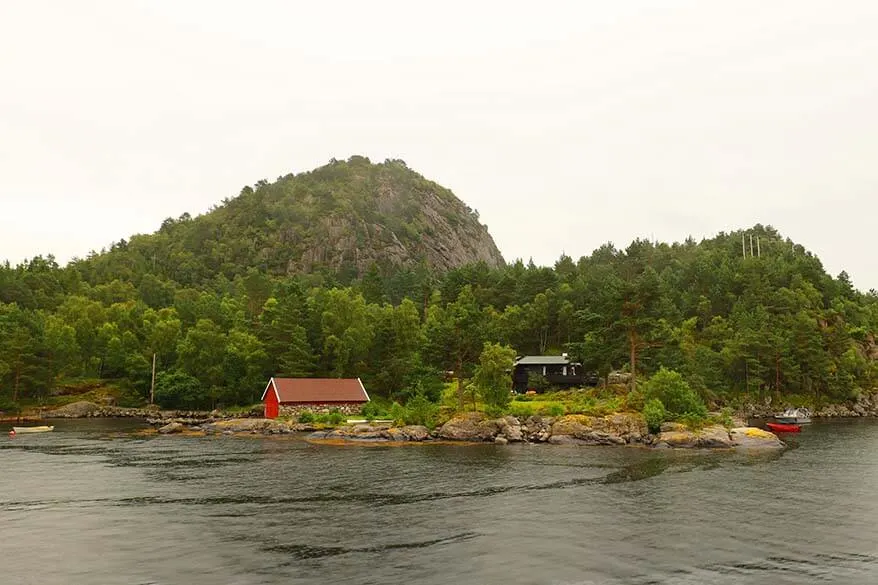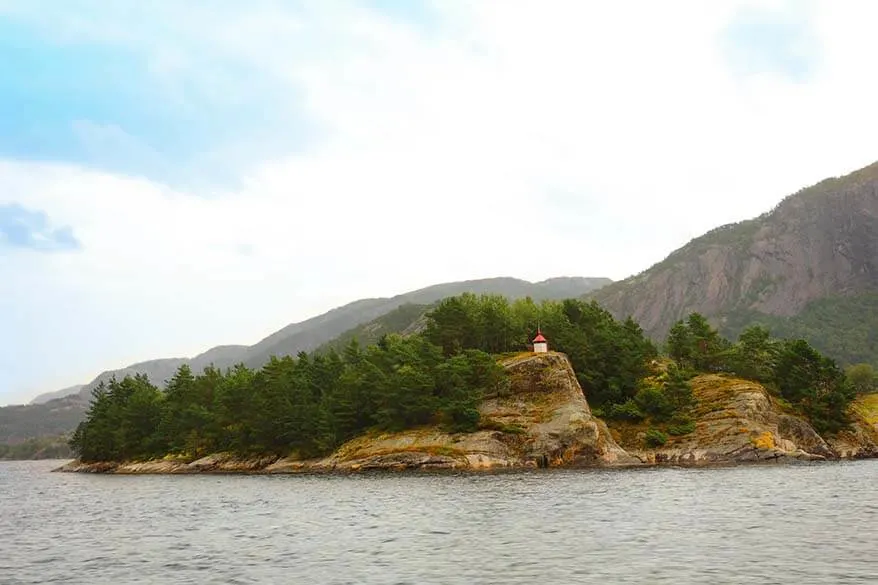 Luckily, the fjord was incredibly beautiful even in the rain. We spent as much time as we could outside. And yes, we needed really warm and waterproof clothing to actually be able to enjoy it.
What makes this Lysefjord cruise trip great is that the boat slows down at the most beautiful places and gives you lots of explanation about everything you see along the way. The commentary is available in several languages.
There were lots of people on board on the day of our visit, but it never felt crowded.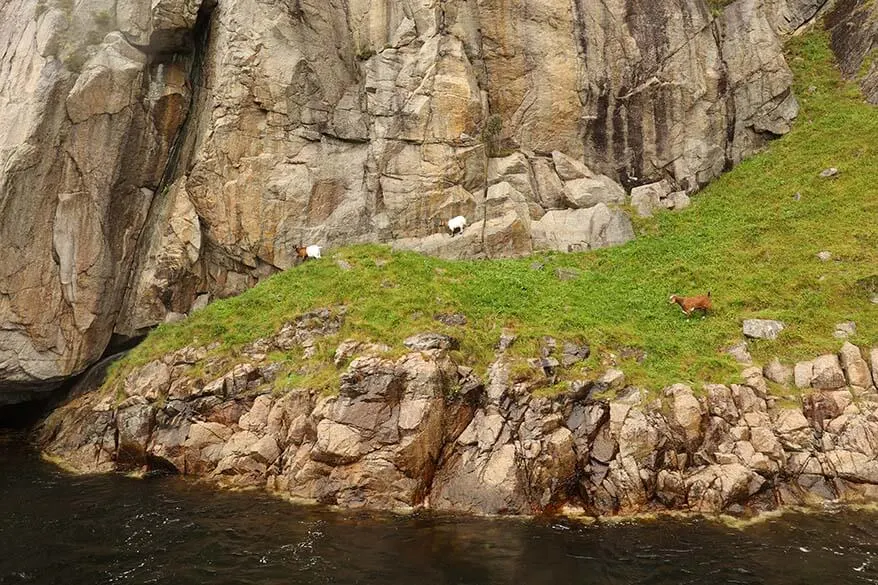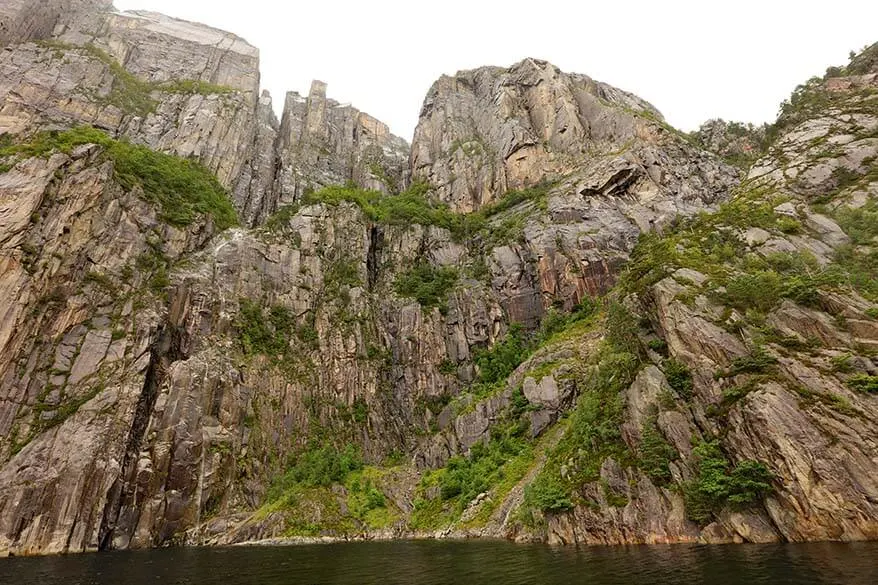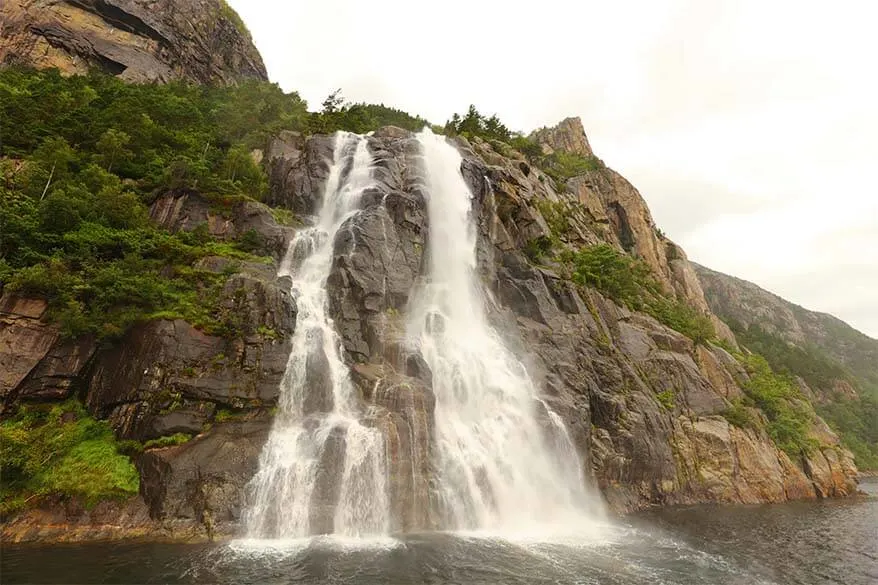 Transfer to the Pulpit Rock Trailhead
After a 2-hr Lysefjord cruise, around noon, our boat made a short stop in the tiny harbor of Oanes to drop off the passengers with the combination ticket for the hike.
Only a handful of people left the boat together with us. There was a bus waiting for us at the harbor, and 20 minutes later we were at the Pulpit Rock trailhead.
Good to know: Please note that at the moment, the boat stops at Forsand and not in Oanes as it did in the past. But the rest is the same – you take the bus from there to the Pulpit Rock trailhead. The company has a bus waiting for you when the boat arrives – it's all very well organized.
As I said, it was raining in the morning, but the weather forecast for Preikestolen showed dry weather in the afternoon. So instead of continuing straight to the Pulpit Rock, we decided to have a relaxing lunch first and wait for the rain to stop. And it did!
There is a lodge with a restaurant at the Pulpit Rock trailhead (Preikestolen Base Camp). You can get a snack or a warm meal here, use a bathroom, refill your water bottles, or just warm up on a rainy day.
Note that food is extremely expensive here. The cheapest meal is a bowl of soup that costs 98 NOK (+- 10 EUR), the main fish- or meat course costs about 280 NOK (+-30 EUR), etc. So you better pack a picnic and some snacks. Actually, these are the standard prices in Norway, except for the cities and bigger places where there is a bit more competition.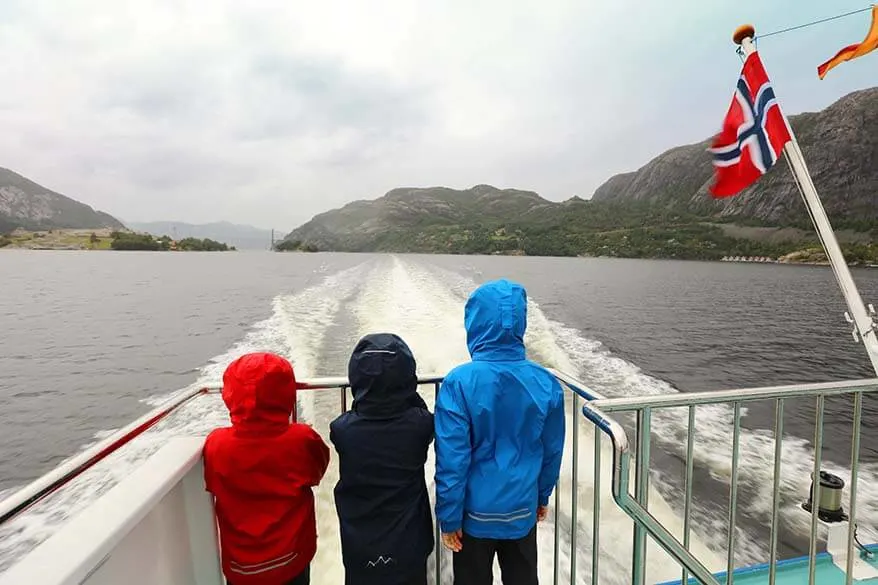 Pulpit Rock Hike
The hike to Pulpit Rock is about 4km and 2 hours each way (so 8km, 3-4 hours in total). Some experienced hikers will say it's an easy hike, but for us regular folks it definitely isn't.
It's a moderate hike with several steep climbs along the way, and you definitely need proper hiking shoes for Preikestolen. In dry weather, you might be ok in sneakers, but when it's wet (and it usually is), you will need sturdy walking shoes with a good grip. The reviews from other travelers show that most people underestimate this hike.
The Pulpit Rock hike is not just about the Preikestolen itself. The scenery along the way is beautiful. And once you get to the top you will be rewarded by the most spectacular view over Lysefjord! We were extremely lucky that it stopped raining and there was no mist, so we could enjoy the view to the fullest.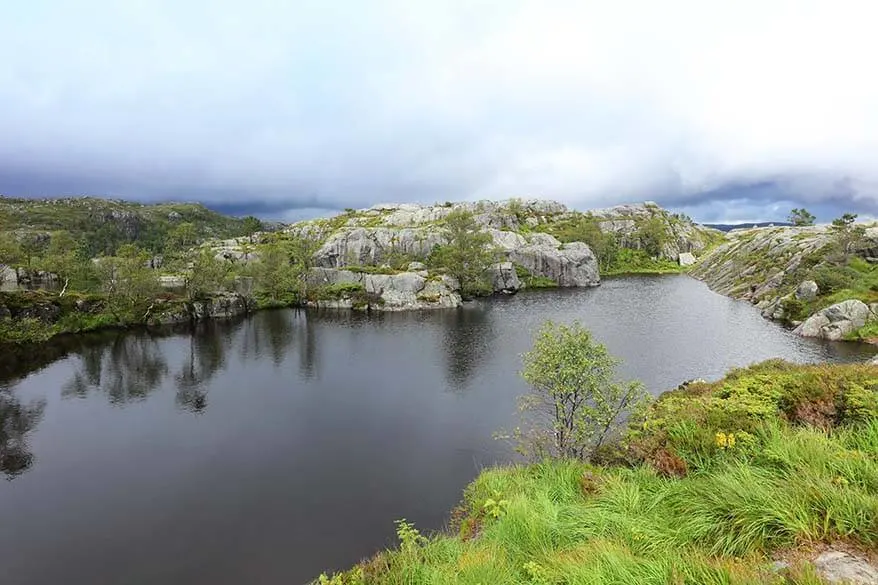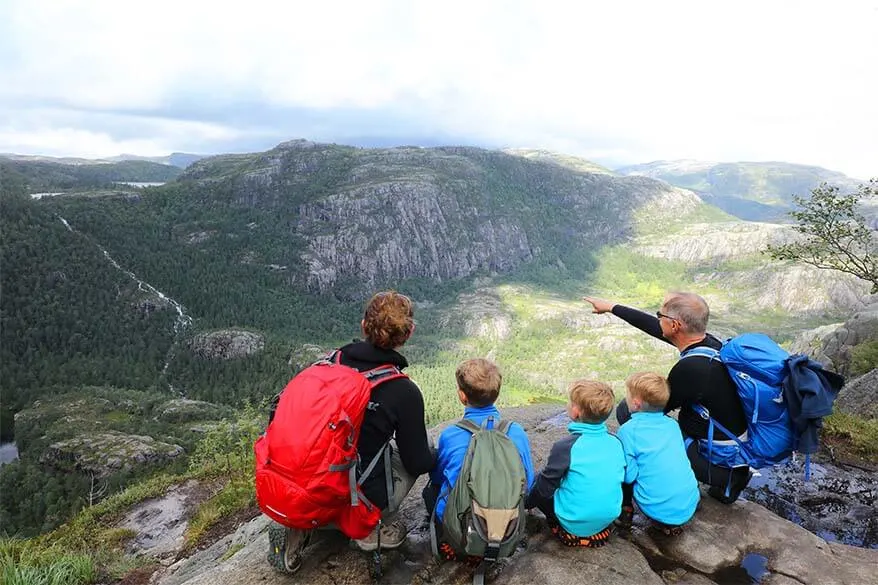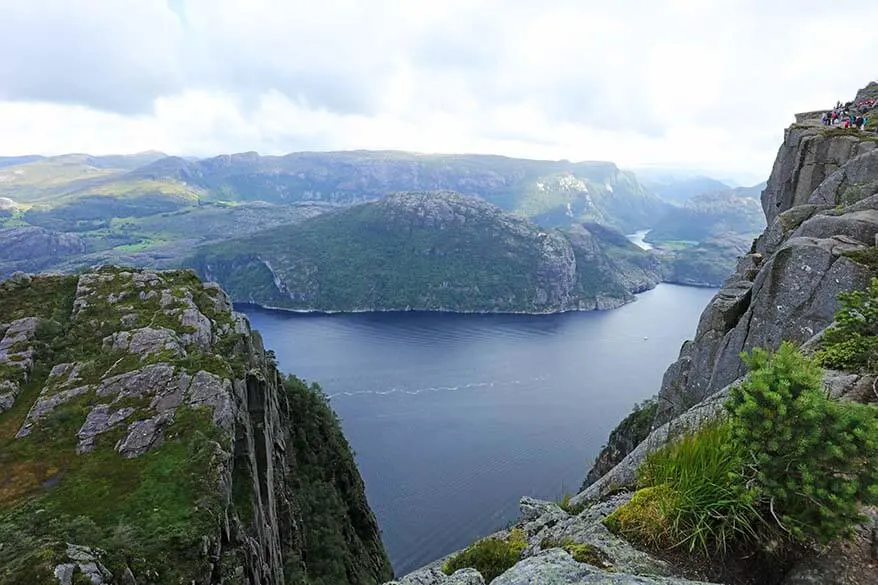 After a bit less than 2 hours we reached the Pulpit Rock. It was just as spectacular as I had imagined!
Also, it was a bit intimidating! The sheer drop of this 604-meter rock is dizzying to say the least. You better don't look straight down when you stand on the edge. And please don't do any stupid things and stay safe!
The hike back down took us about 1h30.
You can find more detailed information about this hike in our guide via the link below.
LEARN MORE: Pulpit Rock Hike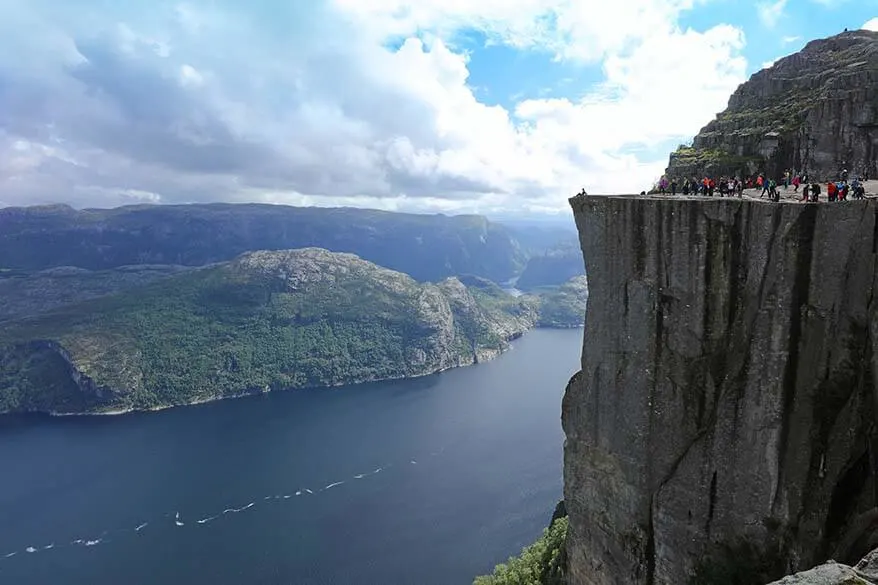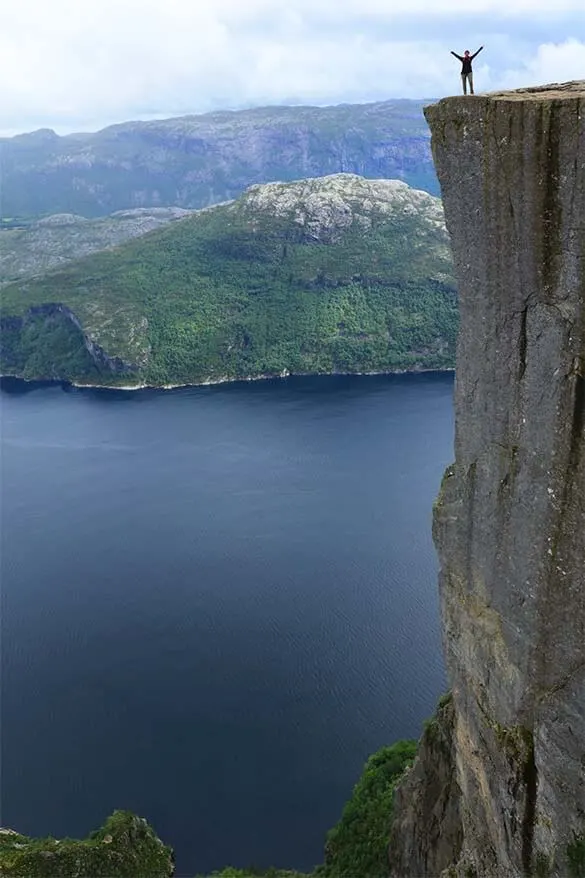 Bus from Pulpit Rock to Stavanger
When we visited, the trip back to Stavanger involved a bus followed by a ferry. However, after the opening of the new sub-sea tunnel, the trip back to Stavanger can now be done with a direct bus.
When we traveled, the ticket price for the bus was included in the Rodne Pulpit Rock cruise & hike combination ticket. From what I see, it's the case now as well.
The bus picks you up after the hike, at around 6 PM, and you're back in Stavanger at around 7 PM. That's at least an hour faster than the bus + ferry combo in the past.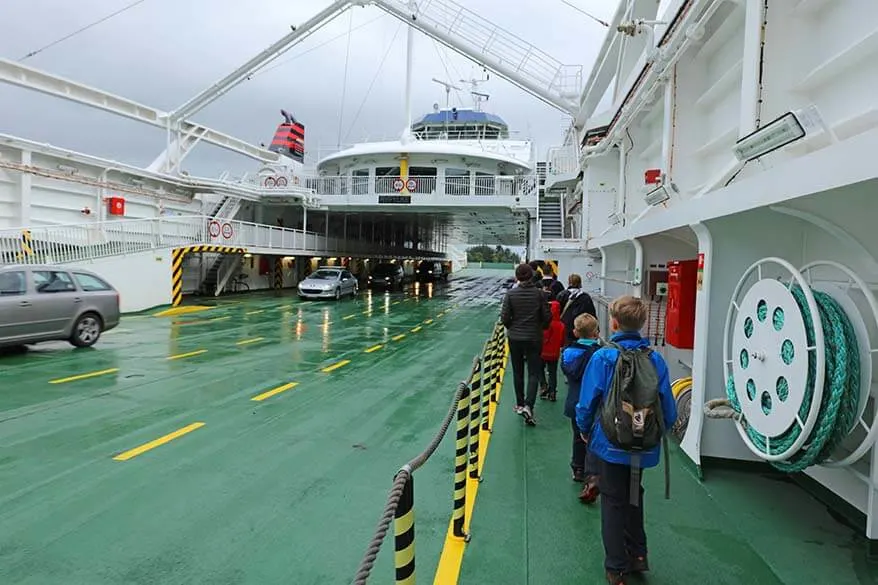 Practical Information for Lysefjord Cruise and Pulpit Rock Hike
There are daily departures with Rodne boats from Stavanger, from May till September, at 10 AM. In July and August, they sometimes offer additional trips as well.
Plan the whole day for the Lysefjord cruise and the Preikestolen hike. In summer (May – September), you'll leave Stavanger at around 10 AM and be back at around 7 PM. In winter, you should do the hike with a guide!
Lysefjord cruise can be done by anyone, but the Pulpit Rock hike requires good physical condition. That being said, our kids of 6-8 years old could easily do the hike.
Dress in layers and carry a rain jacket. Wear good hiking shoes. Pack a picnic and carry plenty of drinking water. You can refill your bottles at Preikestolen Base Camp.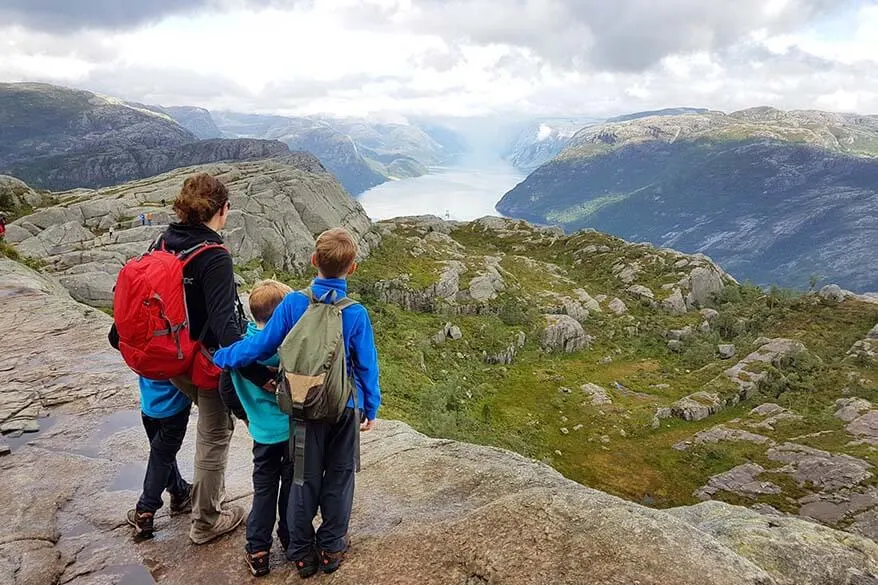 More tips for your trip to Stavanger:
If you found this post helpful, don't forget to bookmark it and share it with your friends. Are you on Pinterest? Pin this image!