Are you planning to visit the Brussels Christmas market in 2023 (winter 2023-2024) and wondering what to expect, what to do, or where exactly to go? Or maybe you are researching the best Christmas Markets in Belgium or in Europe and wondering if the Brussels Christmas market is worth it? Read on!
This insider's guide should give you a good idea of what to expect when visiting Winter Wonders – Brussels Christmas market this winter season. You can also find lots of practical information and pictures that will give you an even better idea of what the Brussels Christmas market is like.
Good to know: We live in Belgium and have lived in Brussels for many years. So we know the city quite well and we also visit Brussels Christmas Market pretty much every winter. So all the tips in this article/ review are based on our personal experience and are meant to help you make the most of your visit to the Brussels Christmas market. Find out!
Top Experiences & Tours in Brussels: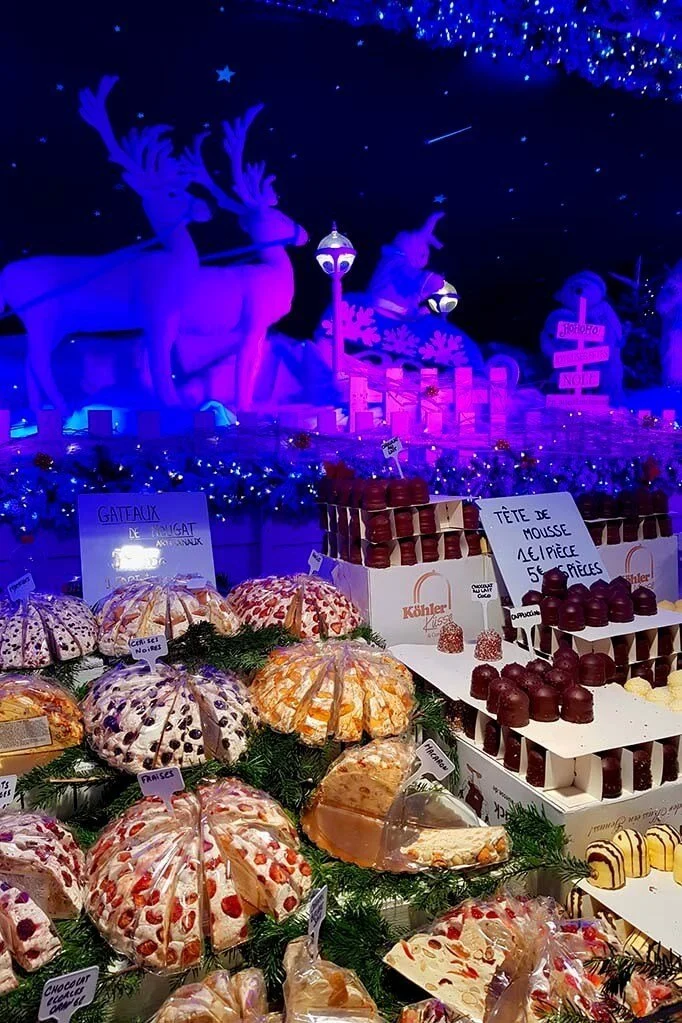 First, you'll find some practical information for your visit to the Brussels X-mas market.
I also created a map indicating our favorite walking route and the best areas of the market. Because I know how confusing it is to arrive in an unknown city and try to figure out where exactly to go in order to visit a Christmas market that is not indicated on any map…
Further below, you can find more information and suggestions for what to see and do at the Brussels Christmas market.
And finally, at the bottom of the article, you can find some useful tips for your visit. Take a look!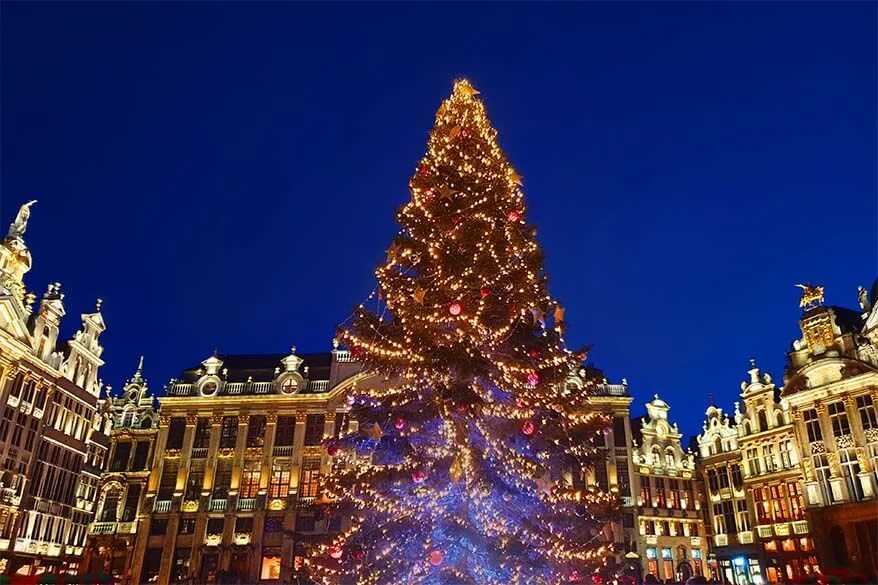 When is Brussels Christmas Market Open?
Brussels Christmas market is open daily from noon to 10 PM, starting on the last Friday of November and until the first Sunday of January. On December 24 and 31, it closes at 6 PM.
Winter 2023-2024: This winter, the Brussels Christmas Market is open from 24 November 2023 until 31 December 2023. This year, the market ends on New Year's Eve because it falls on a Sunday. However, festive decorations with music & light show on the main square and the ice skating rink remain open until January 7, 2024.
If you have done some research, you probably already know that most Christmas Markets in Western Europe close just before Christmas. It's not the case in Belgium where all the major Christmas markets stay open through the entire holiday period.
So if you are looking to visit a Christmas market during the Christmas – New Year period, Belgium in general, and Brussels, in particular, is a great choice.
TIP: If you are visiting Belgium right after New Year when Brussels Christmas Market is already closed, you'll be glad to know that Antwerp Christmas Market and Bruges Christmas Market remain open during the first week of January.
READ ALSO: Best Things to Do in Brussels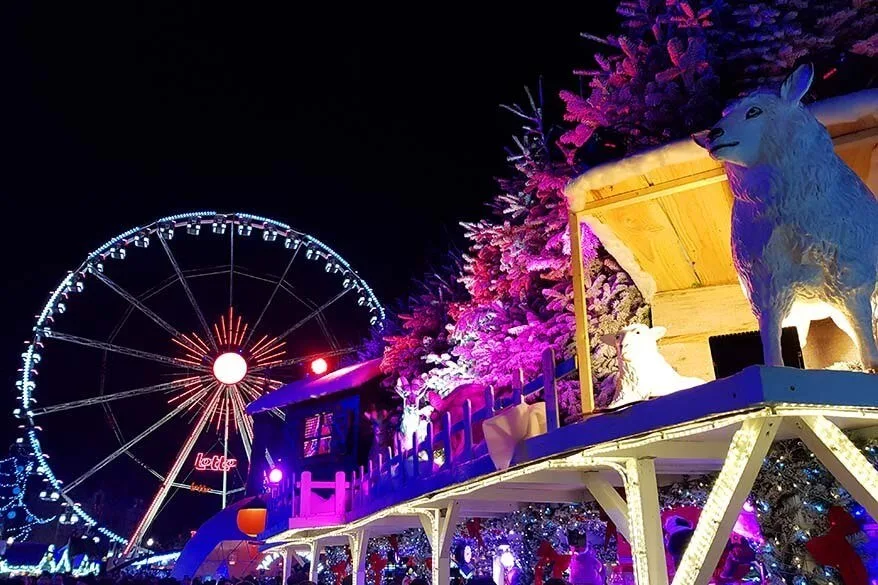 Where Does Brussels Christmas Market Take Place?
Traditionally, the Brussels Christmas market is set in the area between the Grand-Place, Rue de la Bourse, Place Sainte-Catherine, and Marché aux Poissons – Vismet.
Recently, it has been expanded into surrounding streets crisscrossing a very big area in the center of Brussels. The ice skating rink can be found at Place De Brouckère. A part of Boulevard Anspach also has numerous market stalls, just as the area around the Tour Noire, and Place de la Monnaie.
We visit the Brussels Christmas market almost every year and I can't remember that it would have been this big ever before. The whole town center felt like one huge celebration. Even the smallest streets are nicely lit, there are beautiful Christmas lights and decorations everywhere, and it really adds up to the great festive atmosphere.
Further below, you can find a map indicating all the main locations of the Brussels Christmas market and our suggested walking route. Read on!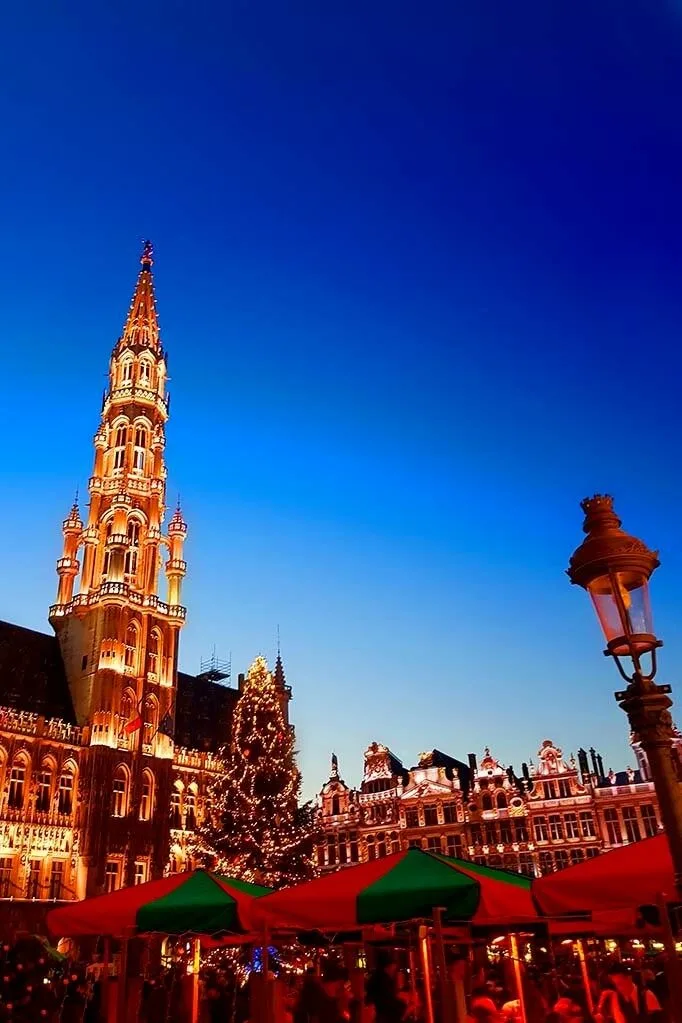 Brussels Christmas Market Map & Suggested Walking Route
In order to make it easier for you to plan your visit, I created a map indicating the main areas where the Christmas market is located in Brussels and the walking route that we took.
I made this walking route as a circular walk, starting and ending at the Grand Place – the main town square of Brussels. This route covers all the highlights of the Christmas Market and passes some beautiful places like the Royal Gallery of Saint Hubert and Galerie du Roi. These stunning galleries aren't part of the Christmas market but are definitely not to be missed when visiting Brussels. They are also beautifully decorated for the holiday season every winter.
You don't have to follow the exact same route as I indicated, but it's probably the most logical way to visit the entire Christmas market in Brussels. If you get confused, just follow the crowds and you can't really go wrong. Every main area of the Christmas Market also has signs pointing to all the other places.
How to use this map: Use your computer mouse (or fingers) to zoom in or out. Click on the icons to get more information about each place. Click the arrow on the top left corner for the index. Click the star next to the map's title to add it to your Google Maps account. To view the saved map on your smartphone or PC, open Google Maps, click the menu and go to 'Your Places'/'Maps'. If you want to print the map or see it in a bigger window, click on 'View larger map' in the top right corner.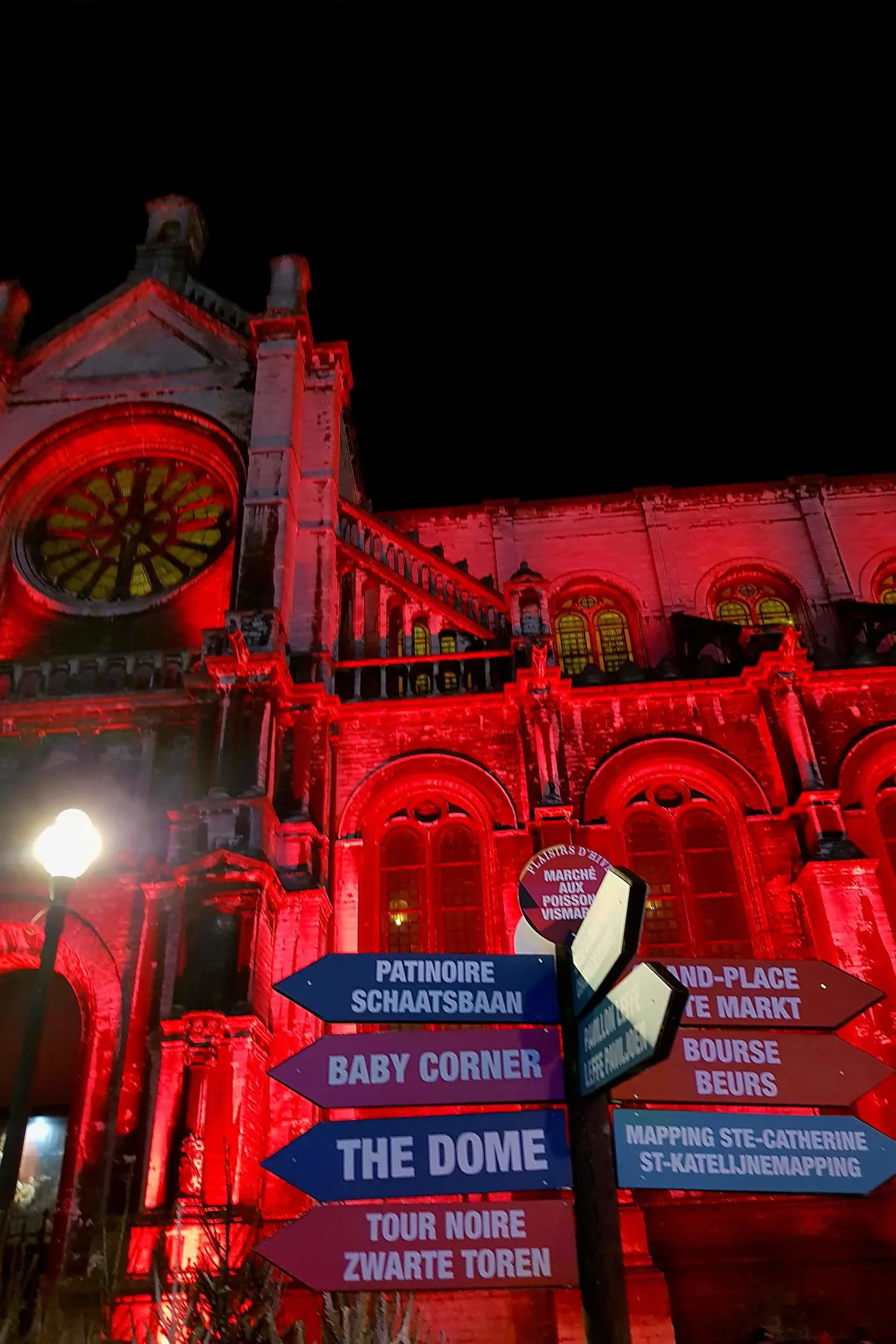 Music and Light Show at the Grand Place in Brussels
You can visit many Christmas markets in Europe, but nowhere you will find the same magical feeling that you get when you see the Sound & Light show at the Grand Place in Brussels. It will take your breath away!
The Grand Place (or Grote Markt) is the central square of Brussels and a UNESCO World Heritage Site. It is one of the most beautiful town squares in the world and it's stunning no matter when you visit. This is also where the Brussels Flower Carpet takes place in summer.
Grand Place is one of the top places to see in Brussels and is worth a visit at any time of the year! But seeing the incredible holiday music and light show here is so magical that it's worth a trip to Brussels in winter in itself. No matter how many times I have seen it, it always gives me goosebumps.
The 360° Sound and Light Show is an unmissable part of the Brussels Winter Season. The show is different every year and it never gets boring. It's my absolute favorite thing to do in Brussels in winter and the main reason why we visit Brussels Christmas Market again and again.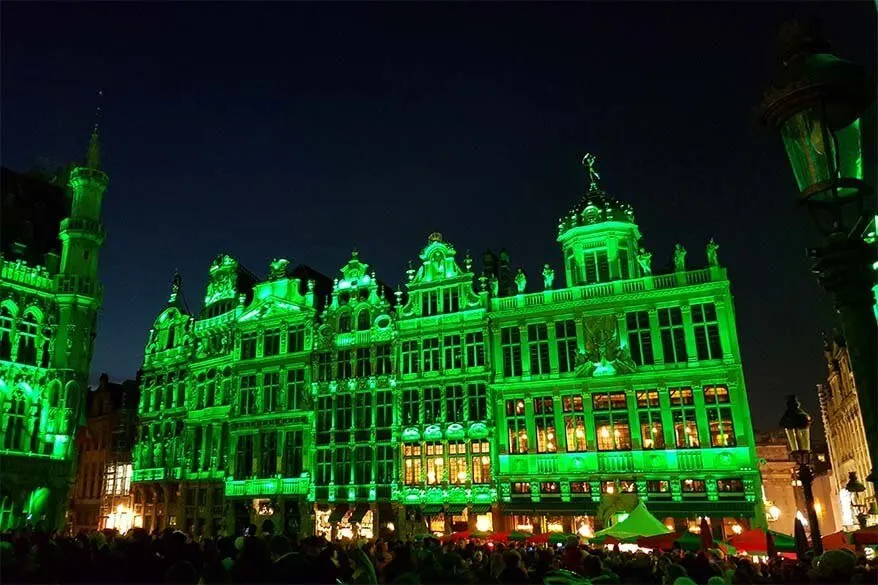 Practical information: The music and light show runs daily during the entire duration of the Brussels Winter Wonders period, except on December 24 and 31. The first show usually starts at 5 PM and runs on the hour every hour from Sunday to Thursday and every half an hour on Friday and Saturday. The last show is usually at 10 PM.
It's free of charge and you can watch it as many times as you want. We usually start and end our Brussels Christmas market visit here.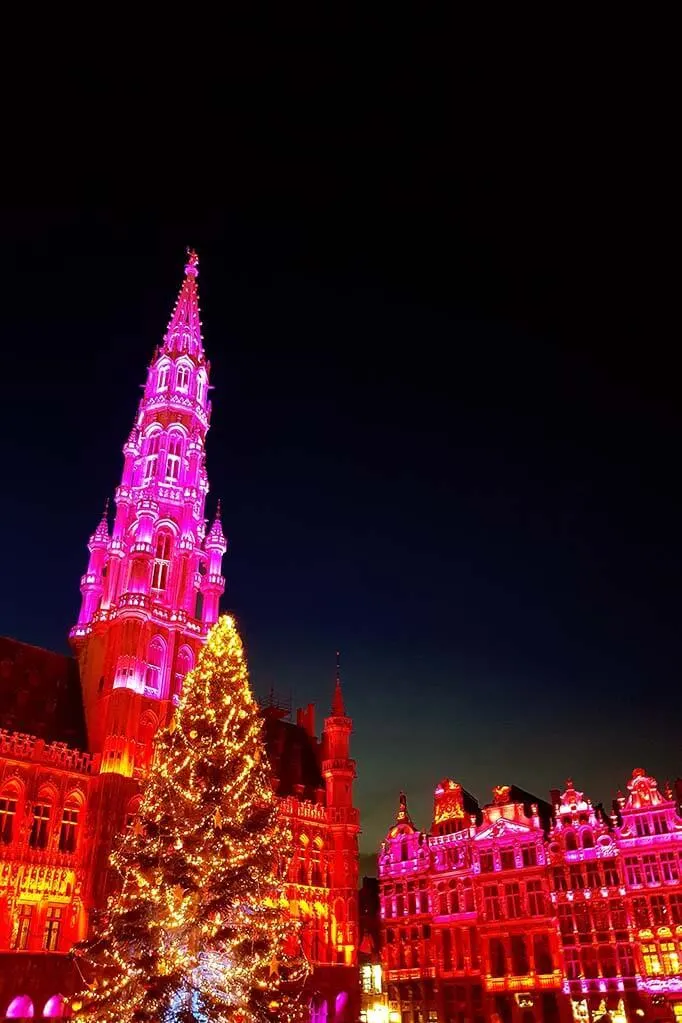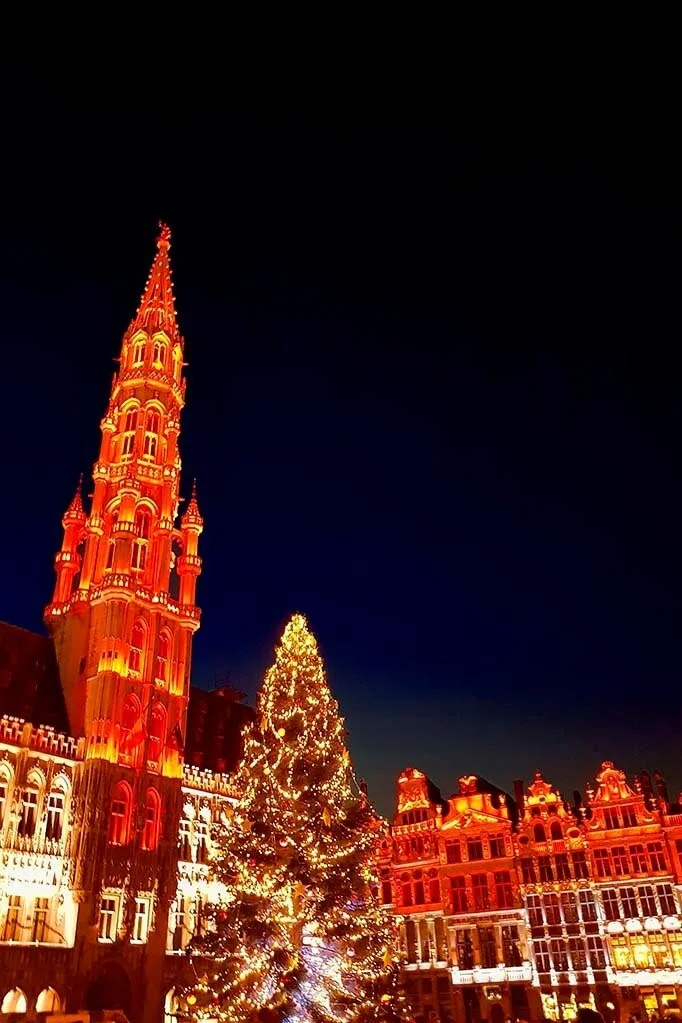 Grand Place Christmas Tree & Nativity Scene
Apart from the amazing music and light show, Grand Place is also a place where you'll find the Brussels Christmas Tree, as well as a big Nativity Scene.
I have to say that the Brussels Christmas Tree is a bit a hit or a miss, depending on the year. It's huge and decorated, of course, but they don't really give as much attention to it as some other places, where the Christmas Tree is the main attraction of the city during the holiday season. It's not the case in Brussels, or anywhere in Belgium for that matter.
Having said that, the Grand Place square is stunning as it is and the Christmas Tree is just one of the many reasons to visit.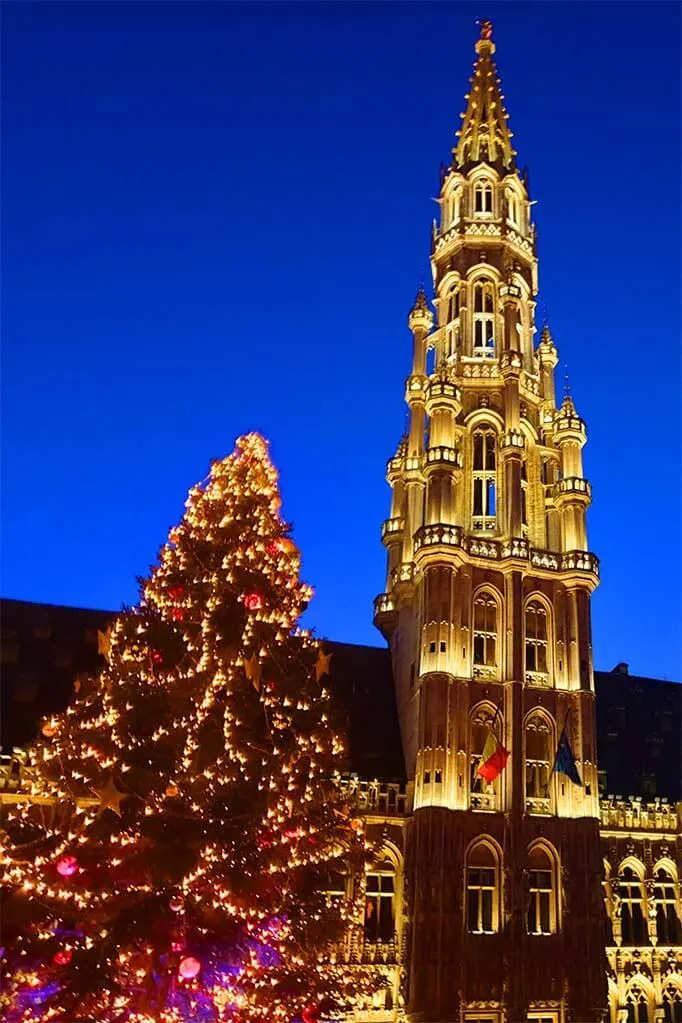 The Nativity scene on the Grand Place in Brussels is also quite impressive.
Usually, they have sheep and donkeys in there, but I didn't see any this year. Either it was too early or maybe they have decided not to use real animals for this anymore – not sure.
Anyway, the Nativity scene is an unmissable part of Brussels' winter season. The wooden stall is so big that you can't really miss it.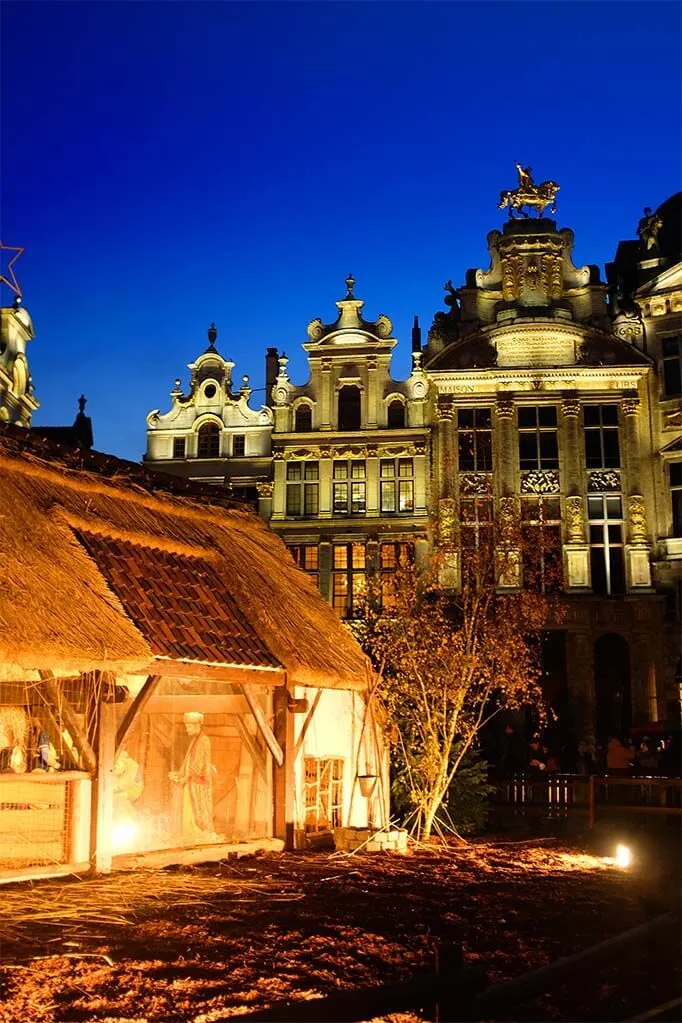 Brussels Christmas Market – What to Expect
Many people wonder what Brussels Christmas Market is like. Well, it's big and it's busy, but it's also very Christmassy and fun.
Brussels Christmas market is probably the biggest and the busiest in Belgium. In fact, it's so busy that I really advise NOT to visit on a weekend unless you absolutely have no choice. Just like most locals who work and go to school during the week, we always end up going there on a Friday or Saturday evening and the crowds are just unbelievable…
In addition to the countless market stalls selling everything from woolen socks and home decorations to all kinds of food and drinks, the Brussels Christmas market has so much more going on.
There is also a big Ferris wheel, an ice skating rink, merry-go-round carousels, and lots and lots of other attractions. It sometimes feels a bit more like a big multi-cultural country fair than a traditional Christmas Market.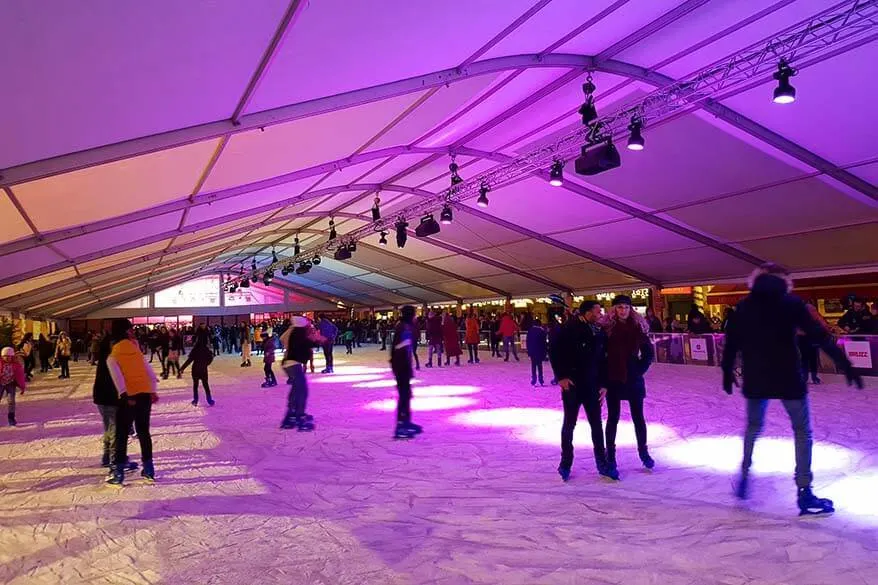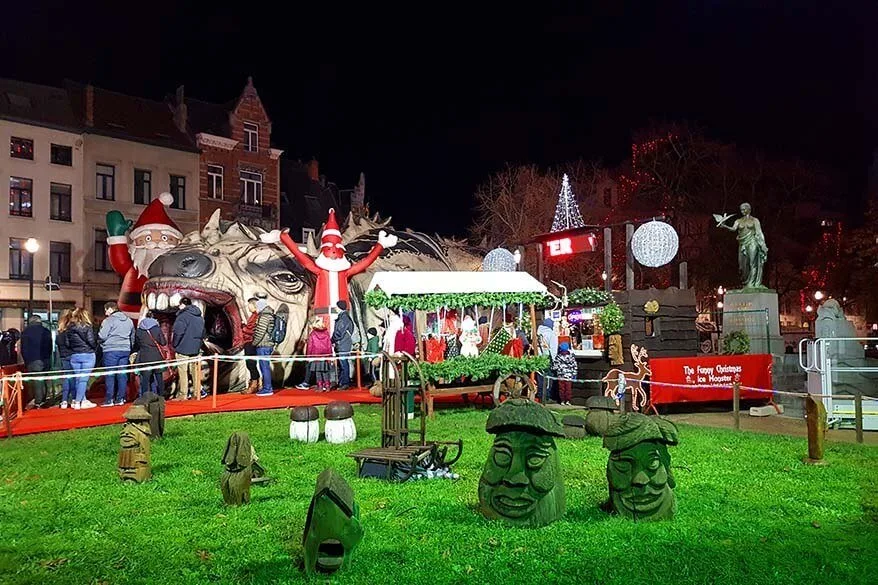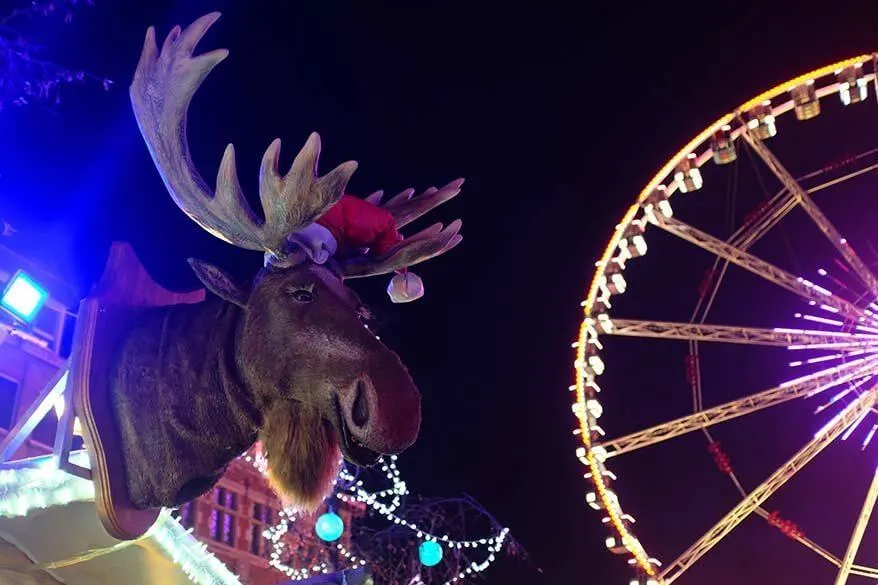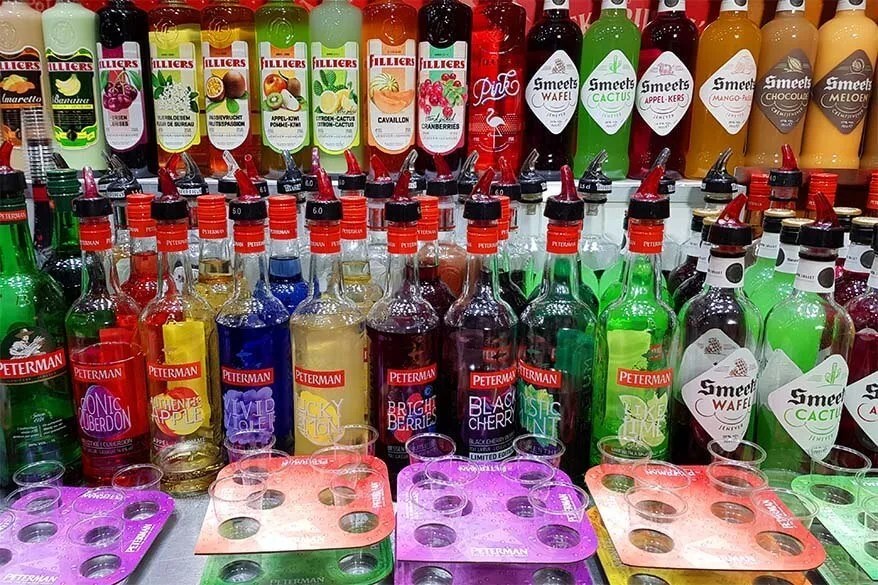 In addition to the light and music show at the Grand Place, there are light projections on the front facade of the Saint Catherine Church and also on the Casino on Boulevard Anspach.
There are shows continuously throughout the evening, so you can't really miss it. If you're too late for one, just get some warm drink and wait for the next one.
On the weekends, there are also concerts, parades, and other events. Too many to mention everything here. If you're interested, you can find more information about all the events and their locations here.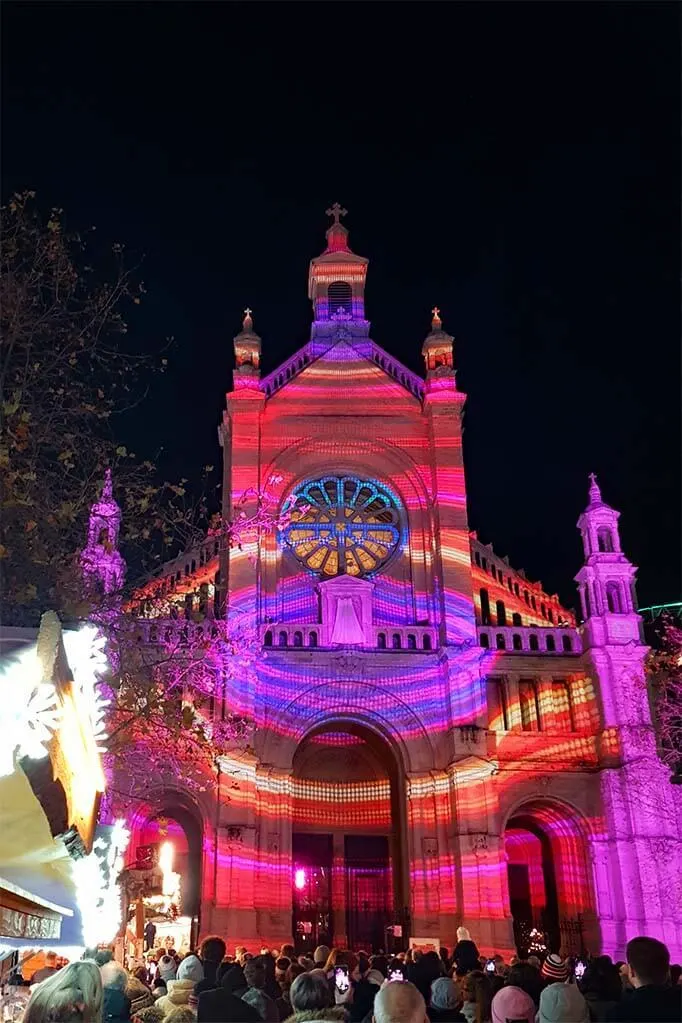 Is Brussels Christmas Market Worth It?
With hundreds of market stalls spread all around the city center, Brussels X-mas Market is not for those looking for a small-town Christmas feel. That being said, I find that the Brussels Christmas market provides an amazing backdrop and the Christmas feeling is something you have to create yourself…
Get a glass of mulled wine (Glühwein), taste some warm Belgian waffles, take a ride on the Ferris wheel, or go ice skating… Before you know it, you'll be in the Christmas spirit and having a great time despite the crowds.
If you are looking for a really nice European Christmas market that has it all, then you'll definitely enjoy visiting Brussels in winter. There is so much going on, so much to see, do, experience, and taste… Brussels Christmas market truly has something for everyone.
That being said, we have some tips for you on how to make the most of your visit. Take a look further below!
TIP: In addition to the market area, the whole city center is nicely decorated for the holidays as well. Shops, restaurants, and streets – Christmas lights and decorations are all around you. If you have a couple of hours to spare, you may want to do some shopping at the Rue Neuve (Nieuwstraat). It's the main shopping street in Brussels, where locals come to do their Christmas shopping.
READ ALSO: Manneken-Pis: How a Peeing Boy Became the Symbol of Brussels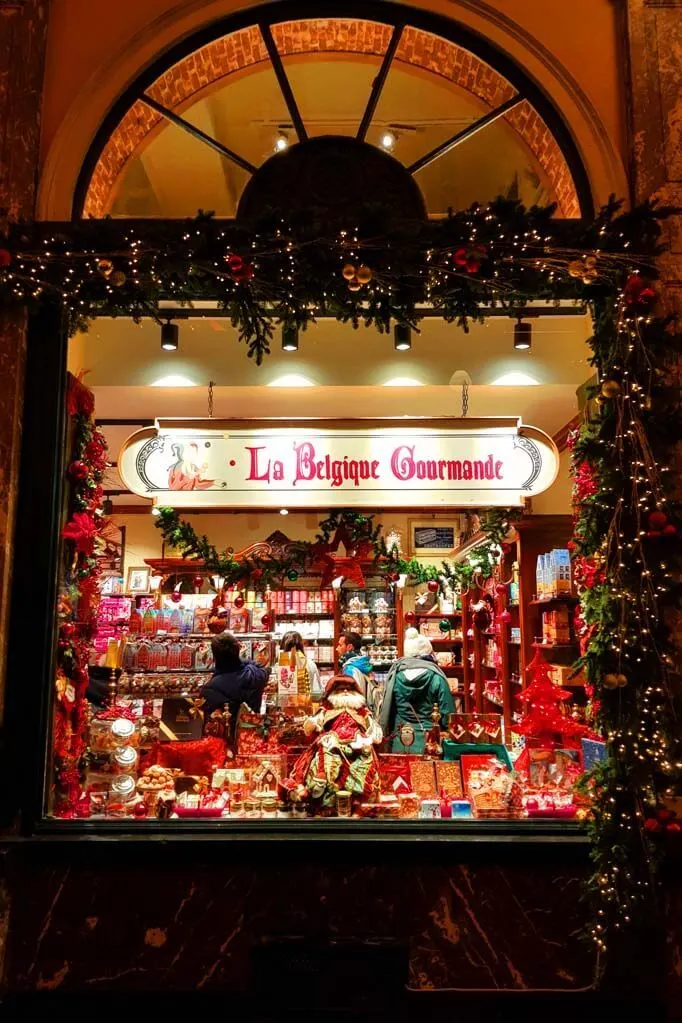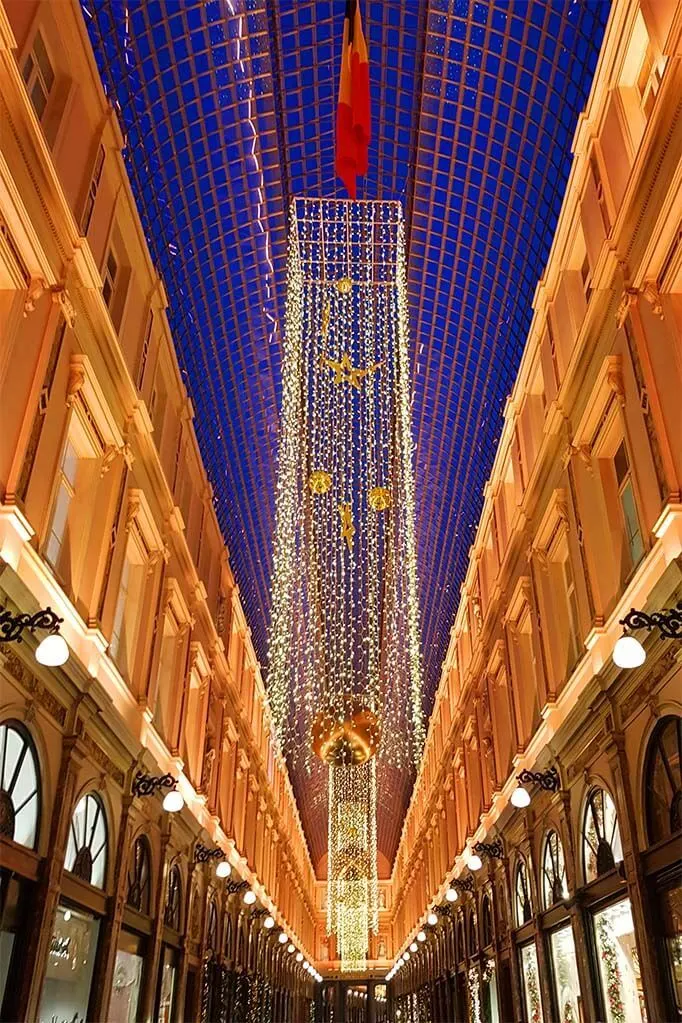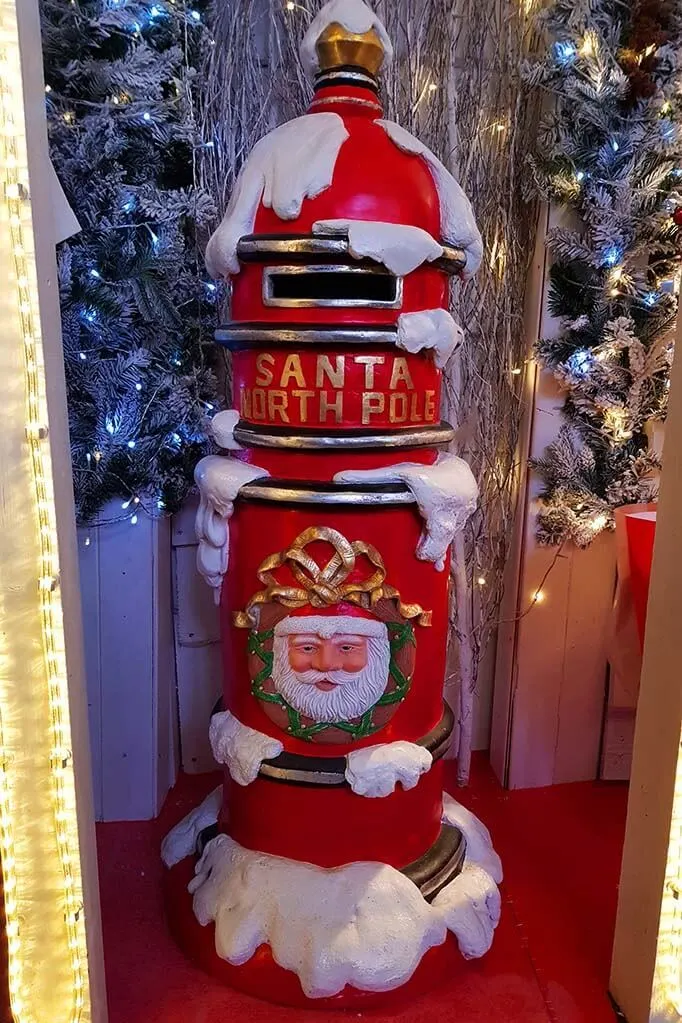 Is Brussels Christmas Market Expensive?
I find this question very difficult because what's expensive for one person, is completely acceptable to the other. Let's just say that the prices at the Brussels Christmas market are comparable to those in France and Germany.
Expect to pay 4-5 EUR for a waffle, 4-5 EUR for Belgian fries, 2-4 EUR for a bottle of water, soda, a cup of tea or coffee, 2-5 EUR for a shot of jenever or a glass of mulled wine.
Most attractions and activities like ice skating or a ride on the Ferris wheel cost around 8-10 EUR for adults and 5-8 EUR for kids.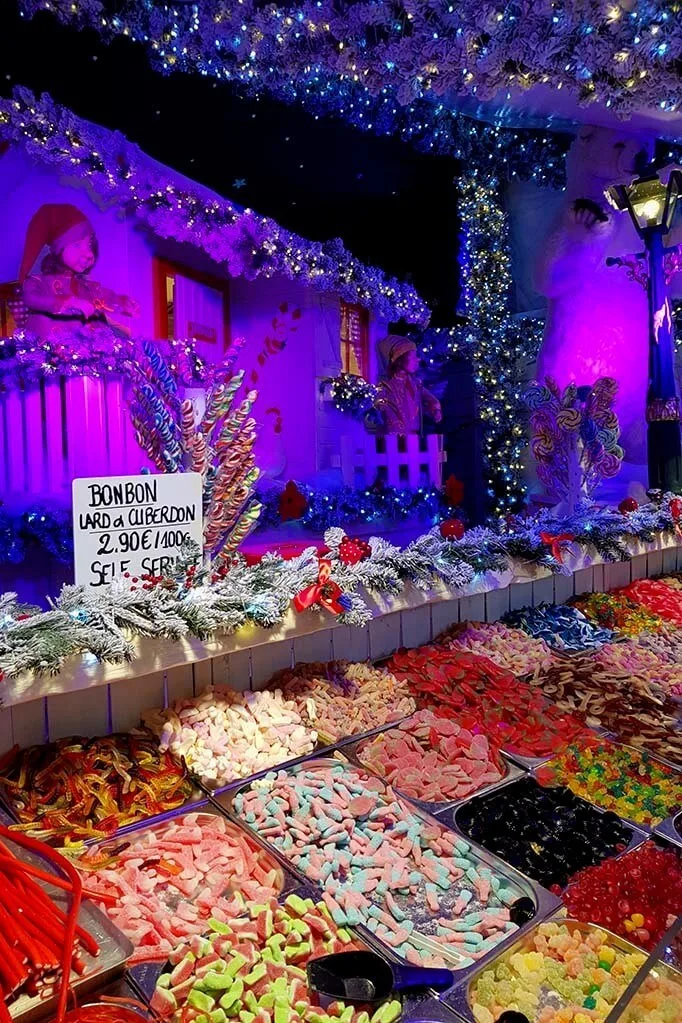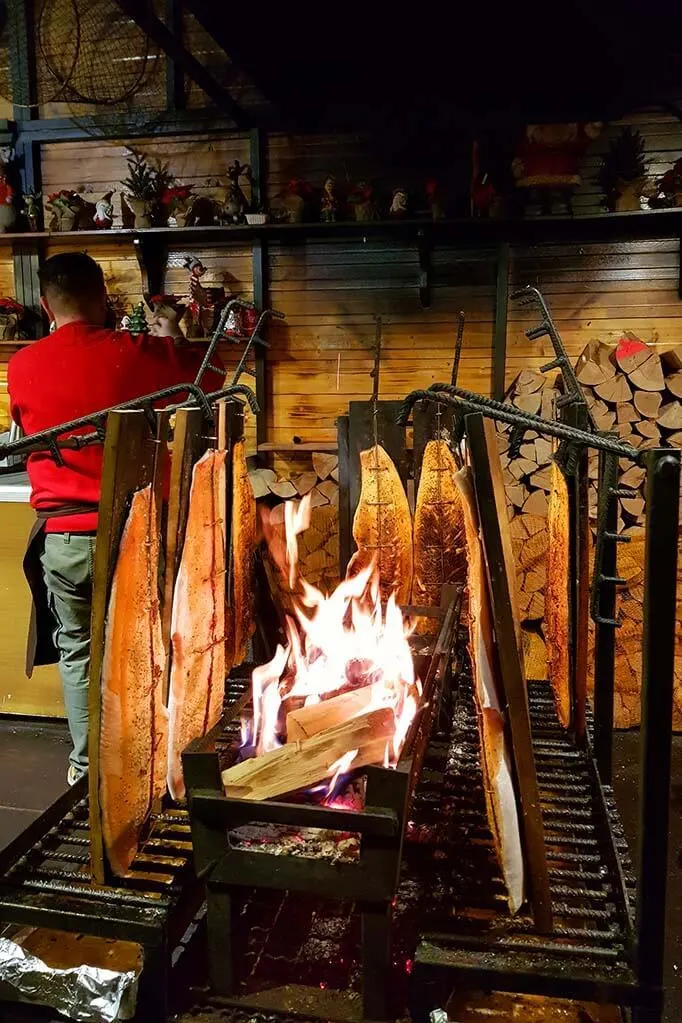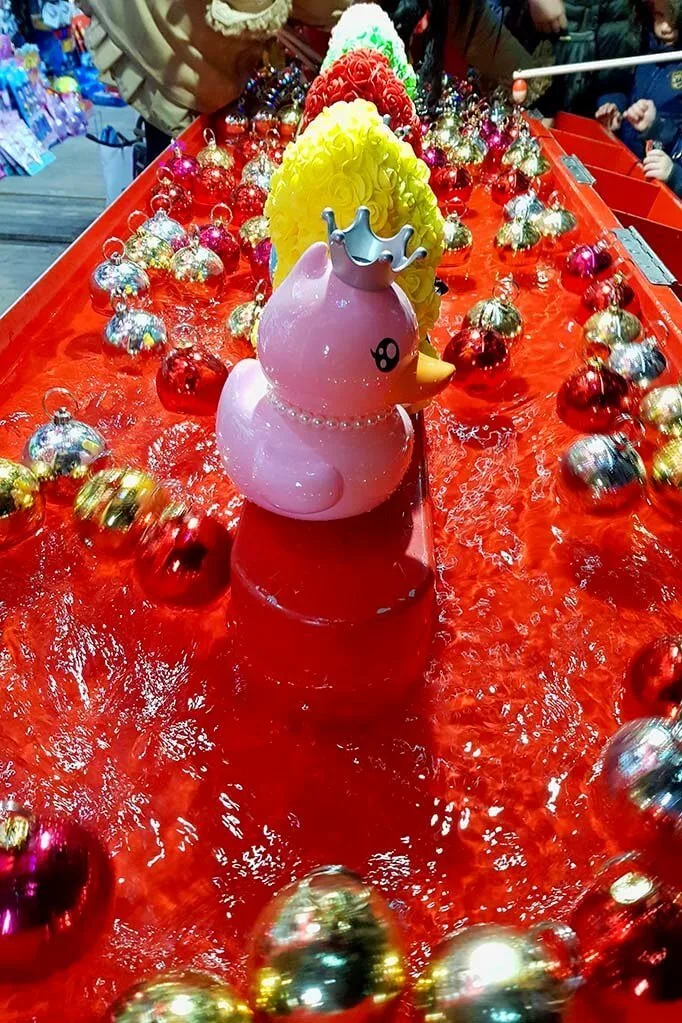 Tips for Visiting Brussels Christmas Market
If you can, try to avoid weekends because Brussels Christmas market can get really packed.
Try to do some research in advance (e.g. by reading this article :)) so that you have an idea of what there is to see and do and where exactly to go.
Bring cash (we use Euro here in Belgium). While some stands take cards, it's still more an exception than the rule. You will need cash for drinks, snacks, food, and most purchases.
Use public transport if you are not staying in the city center. Traffic in Brussels is really bad and parking isn't easy either. It's best to come by train – Brussels Central Station is just a few minutes walk from the Grand Place.
If you are coming by car (not a good idea, but we sometimes do it too and always regret it), make sure to research the addresses of the parking garages in advance (see map). Be prepared for the fact that most parking garages might be full so you'll have to wait and be very patient. Did I mention that the train is so much easier?!
Dress warm and wear comfortable shoes because you'll be walking a lot.
If you are visiting with a baby, you may want to carry them in a baby carrier. For toddlers – you'll probably need a stroller (+ a warm blanket), but it's really not simple to navigate the crowds. So be prepared for that.
For older kids – I recommend that they wear something colorful and bright so that you can easily spot them if they get separated from you for a second. It helps if you are easily visible too. If you have a white, a pink, or a yellow jacket, now it's time to wear it. Hold on to your kids at all times because it's so easy to get lost in the crowd.
Don't bring dogs to a Christmas market – it's really much too busy for that. Every year, I see people carrying their dogs in their arms, to prevent that they would get trapped. Also, dogs get really anxious with so many people around them.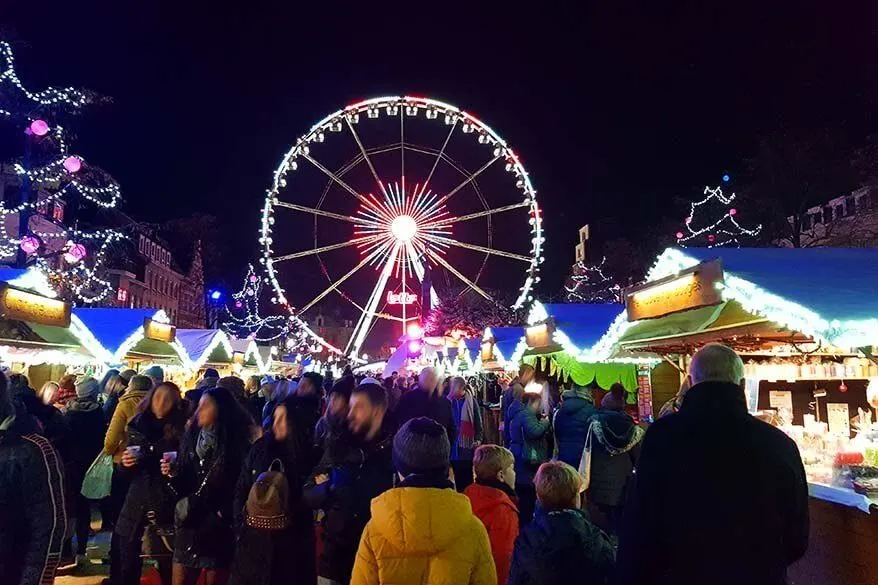 Where to Stay for Visiting Brussels Christmas Market
If you are looking for hotels near Brussels Christmas market, I recommend staying in the city center as close to the Central Station as possible.
Every time we visit Brussels, we see so many tourists dragging their suitcases on the cobbled pavements trying to find their way in the narrow busy streets. Add the crowds of a Christmas market to it and you really don't want to walk far with your luggage…
Staying close to Central Station is ideal because it's so easy to walk to Grand Place and to the Christmas market. Furthermore, it's a perfect location if you want to visit other Christmas markets in Belgium. Antwerp, Leuven, Ghent, Brugge, Mechelen, Liege, and Hasselt are all very easy to reach from Brussels by train.
Below are some of the best-rated Brussels hotels that are easy to reach from the Central train station and are within walking distance of all the Christmas market attractions:
READ ALSO: Where to Stay in Brussels (best neighborhoods and hotels for all budgets) & Most Popular Brussels Hotels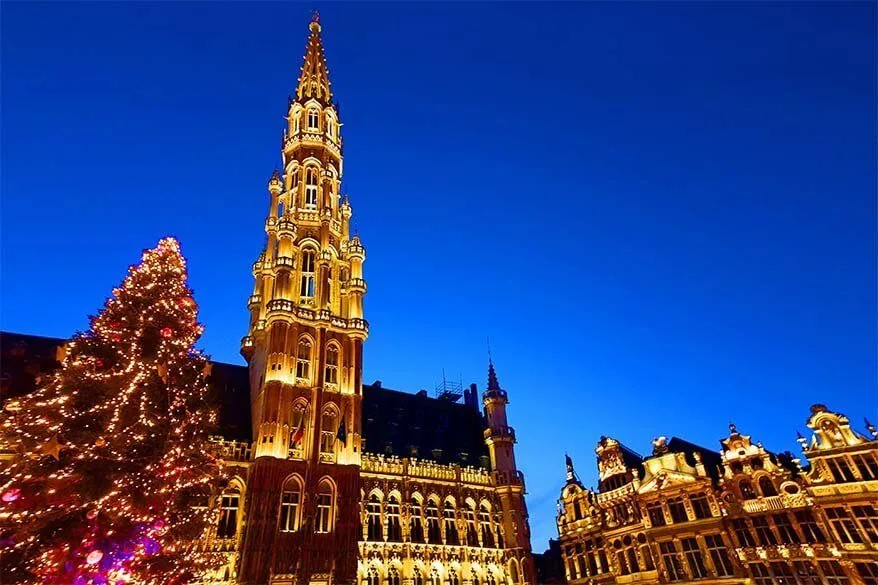 FAQ
Here are some questions people ask about the Brussels Christmas Market:
Does Brussels have a Christmas Market every year?
Yes, Brussels has an annual Christmas Market. It's open daily from noon to 10 PM, starting on the last Friday of November and until the first Sunday of January. On December 24 and 31, it closes at 6 PM.
Is Brussels good for Christmas?
Yes, Brussels is one of the best Western European cities to visit at Christmas. While in many countries, Christmas markets close just before Christmas Eve, the Brussels Christmas Market remains open throughout the entire holiday season and is also open on Christmas day. In addition, there are many museums and other nice places that you can visit in Brussels and there are plenty of opportunities to do Christmas shopping.
How do you get to Brussels Christmas Market?
Brussels Christmas Market is spread out in the city center. You can easily get there on foot from Brussels Central Station, which is less than 5 minutes walk from the Grand Place where the main Christmas tree of Brussels can be found.
Does it snow in Belgium at Christmas?
While there is always a small chance for a white Christmas in Belgium, it hardly ever snows at Christmas. So you shouldn't count on it. If you are looking for snow at Christmas in Belgium, your best bet is to visit the Ardennes, aka 'Belgian hills', in January or February.
How cold is Brussels in winter?
Average winter temperatures in Brussels are between 1 and 7° C (34-45°F). It can freeze once in a while, but really cold weather with temperatures under -5°C (23°F) is very exceptional.
READ ALSO: What It's Like to Visit Belgium in Winter
More tips for your trip to Belgium:
READ ALSO: Best Lesser-Known Christmas Markets in Europe
If you found this post helpful, don't forget to bookmark it and share it with your friends. Are you on Pinterest? Pin this image!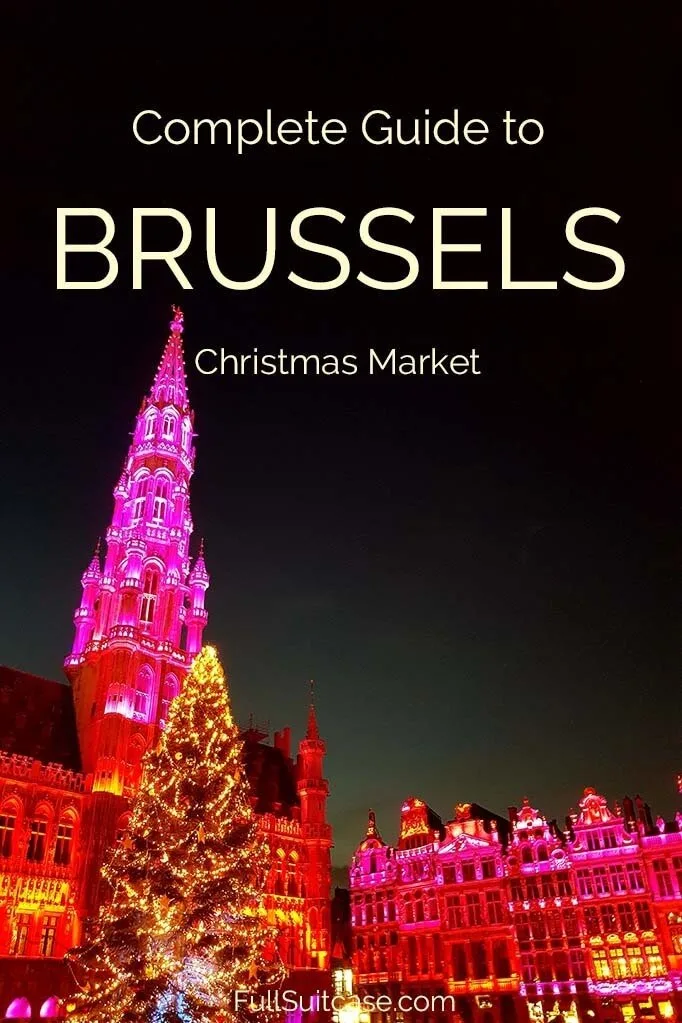 More travel inspiration – the Netherlands:
AMSTERDAM:
More of the NETHERLANDS: