Bastogne in Belgium is world-known for its WWII history. The two main landmarks that you have to see here are the Bastogne War Museum and the adjacent Mardasson Memorial.
We live in Belgium and I have to admit that it took us years to visit the Bastogne War Museum and the iconic Mardasson Memorial. Thousands of people come here from the United States and many other countries every year.
And now that we finally got to Bastogne, I understand why. The significance of this place to the outcome of the Second World War is not to be underestimated. It's also one of the most important WWII sites in Belgium.
In this article, you can find more information and get a better idea of what to expect when visiting the Bastogne War Museum and Mardasson Memorial. This should help you decide whether it's worth a trip and also give you some practical tips for your visit. Find out!
READ ALSO: Best Things to Do in Bastogne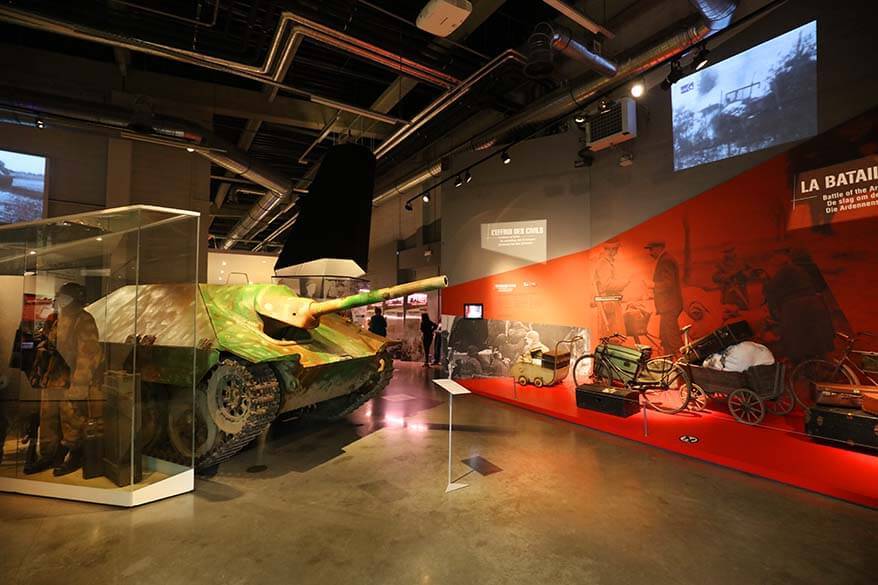 Significance of Bastogne in WWII
The little town of Bastogne in the Belgian Ardennes became world-known after the Battle of the Bulge (often also referred to as the Battle of Bastogne or the Battle of the Ardennes) in the Second World War.
Strategically located on the crossroads of the seven main roads at the border of Belgium, Luxembourg, and Germany, this area had easy access to roads in the otherwise very densely wooded area. Gaining control of Bastogne was of the utmost importance to the German army that tried to reach the harbor of Antwerp. Germans also wanted to split the lines of the Allied forces and negotiate peace.
The Siege of Bastogne took place around Christmas in December 1944 and lasted about a week. It was a long battle and in the end, American forces were able to stop Germans and inflict some serious losses to the Germans. This was Hitler's last major offensive in WWII and a turning point in the war. Just a few months later, on 8 May 1945, Germany surrendered ending the deadliest war in human history.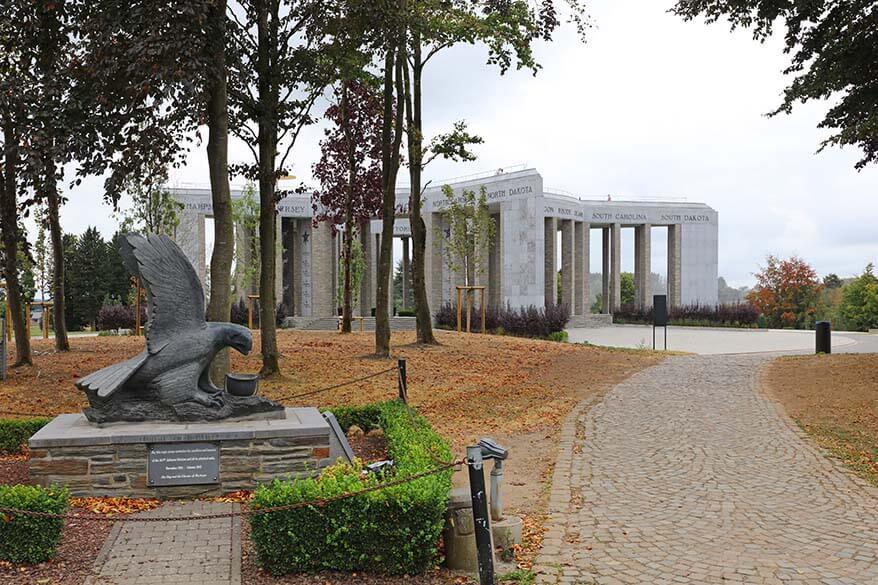 Nuts !
Interesting fact: When you visit Bastogne, you'll see the word 'Nuts !' in various places and on some local products.
During the Bastogne Siege, Germans offered Americans to surrender. To which, a senior U.S. Army officer Anthony McAuliffe uttered 'Nuts!' in response.
Just a few days later, the U.S. Army under the leadership of General George Patton, broke the siege of Bastogne. Later, 'Nuts' McAuliffe became a general too.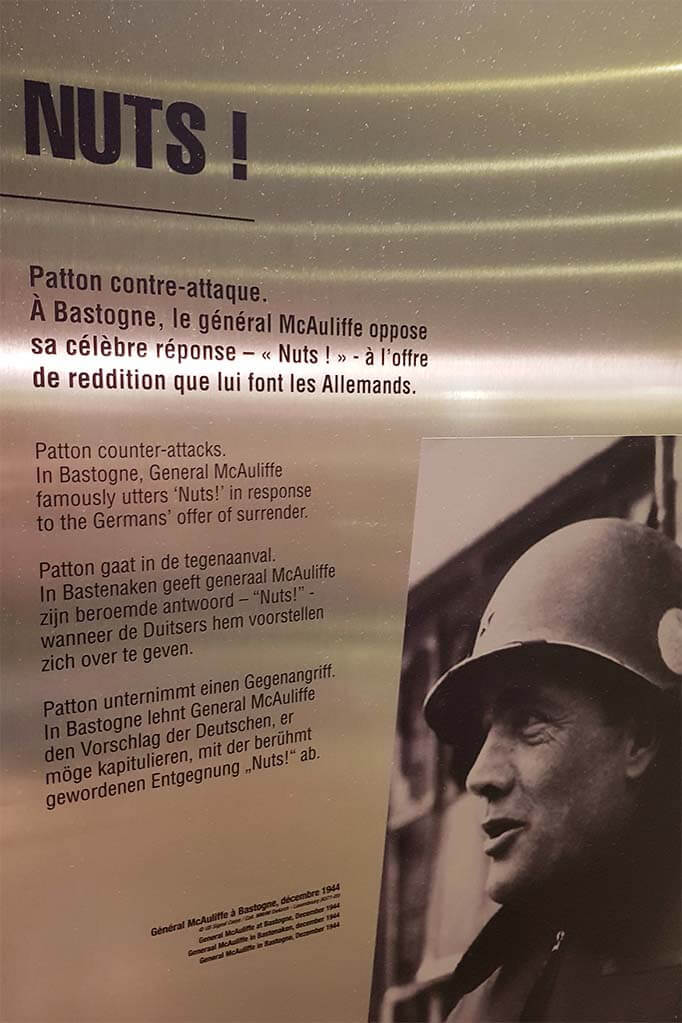 Bastogne War Museum
Bastogne War Museum commemorates the Second World War and the Battle of the Bulge. It offers an immersive experience combining audio guides, movies with 3D stage settings, and the 'standard' museum exhibits that include many WWII artifacts, such as tanks and other vehicles, soldiers' clothing, and lots of other items from the war.
Just as the nearby Mardasson Memorial (more info below), the museum is built in a five-pointed American star.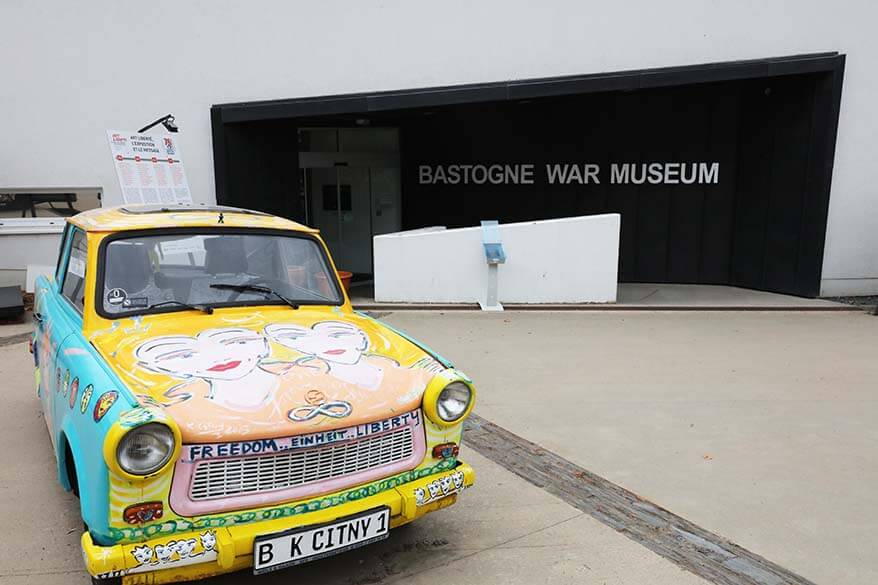 What to expect
As you start your visit, you receive an audio guide (available in French, Dutch, German, and English) and are introduced to four different characters who survived the Battle of Bastogne.
The voices of a German officer, a local boy, a school teacher who worked for the resistance, and an American soldier guide you through the museum. They share their experiences and tell you about the war from their own perspective. After a while, you get to know those characters really well and it makes the war story so much more personal.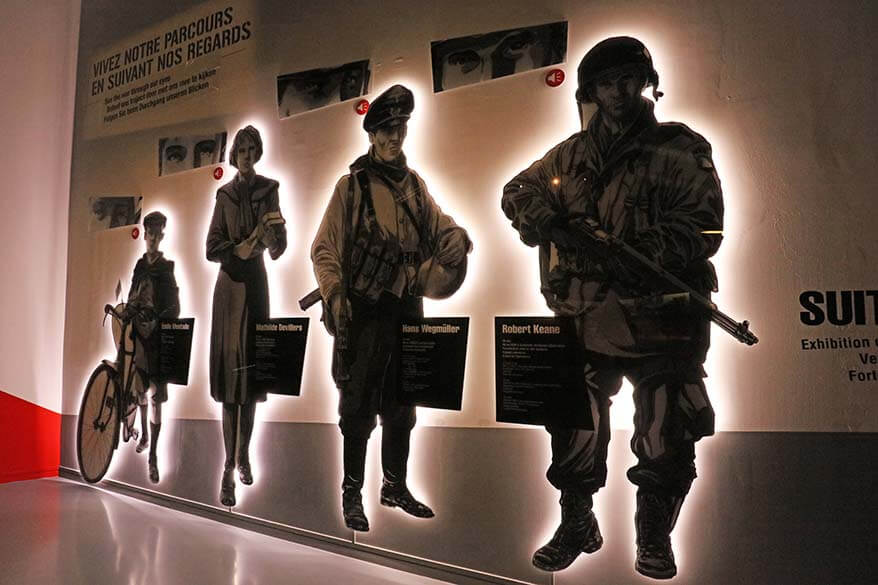 To us, the best part of the Bastogne War Museum were the three movies in a unique setting. The first film introduces you to WWII in general. The second stage takes you to a forest near Bastogne and the battle in the cold winter of 1944. The third stage is set in a local café and its cellar where local people were hiding during the Siege of Bastogne…
It's really well done, touching, and also very personal. These experiences give you a much better understanding of the war and its impact on so many people and their families.
I won't tell you much more, as it's something you really have to experience for yourself. I'll just say that I was not really impressed and quite skeptical about the museum at first, but my opinion changed as we explored further.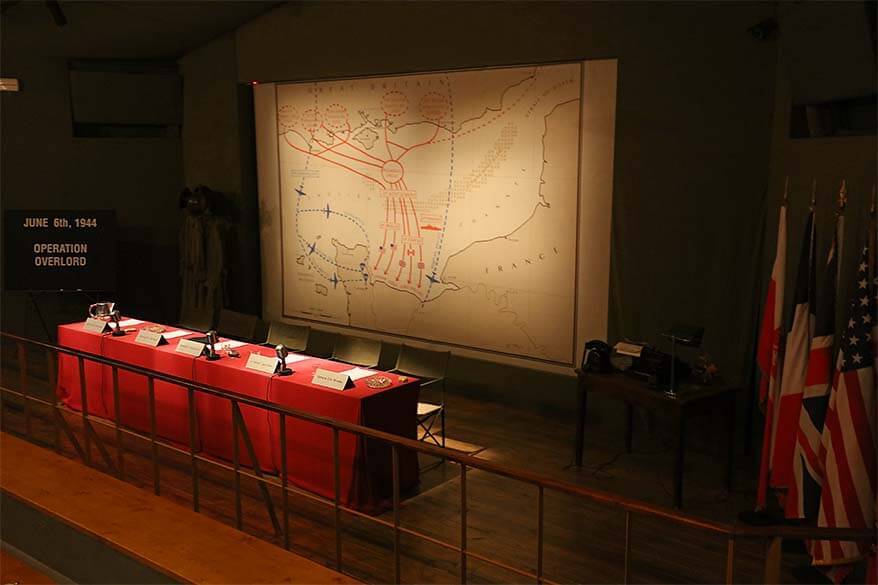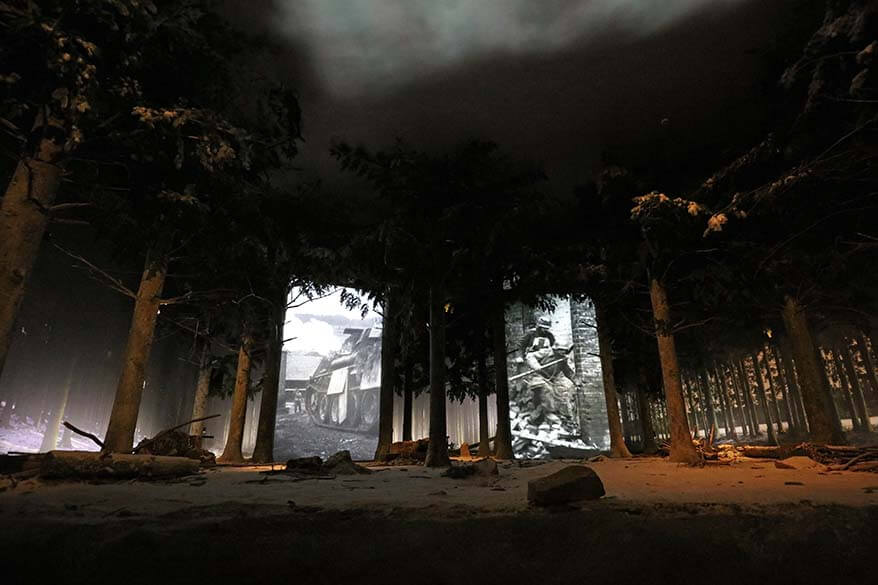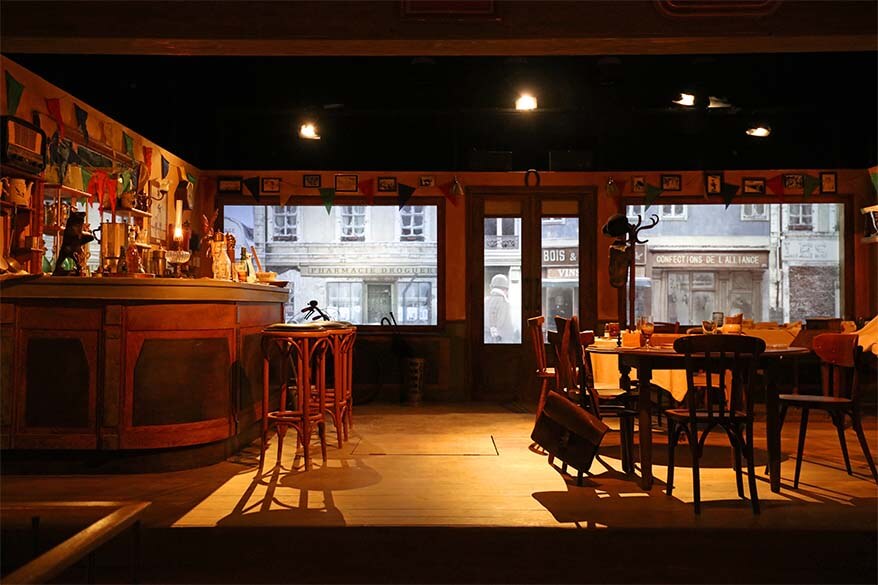 Is it worth it?
I had big expectations from this museum and was somewhat disappointed at first. But in the end, I had to admit that the Bastogne War Museum is absolutely worth a trip.
A visit here takes you back in time to the dark days of the Second World War. It allows you to experience the war in a unique and very personal way, gives food for thought, and leaves a lasting impression.
Just as with a good movie or a good book, you'll find yourself thinking back of the things you learned and experienced at the Bastogne War Museum. To me, that's the best indication that the place is truly worth visiting.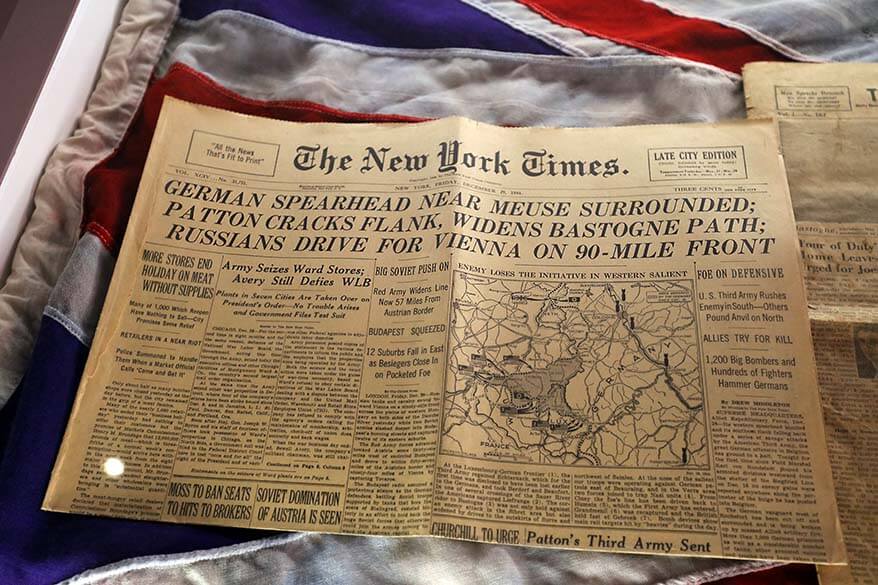 Practical Information
Opening times. Bastogne War Museum is open daily from 15 March to 15 November. In the low season, it's closed on Mondays. The museum is closed completely after the Christmas holiday in January and usually reopens at around the third week of February. More up-to-date information on their website.
Tickets. When we visited, a regular ticket was 16 EUR. There are discounts for kids, students, seniors, etc. and also family tickets. You can find up-to-date rates and reserve your tickets on the website of the museum. Make sure to consult the website before your visit to check if an advance reservation is necessary.
Tours. You can also visit the Bastogne War Musem with a tour from Brussels. More information in the 'getting there' section below.
How much time you need. Count 1.5-2 hours for a visit to the museum. Add half an hour for the Mardasson Memorial (more info below).
Facilities. There are a gift shop, a café, and also bathroom facilities at the Bastogne War Museum. At the museum, there is a big car parking area (free of charge) with special places dedicated to buses or camper vans.
Accessibility. Bastogne War Museum is accessible by a wheelchair or with a stroller. There are also several parking spaces reserved for people with limited mobility.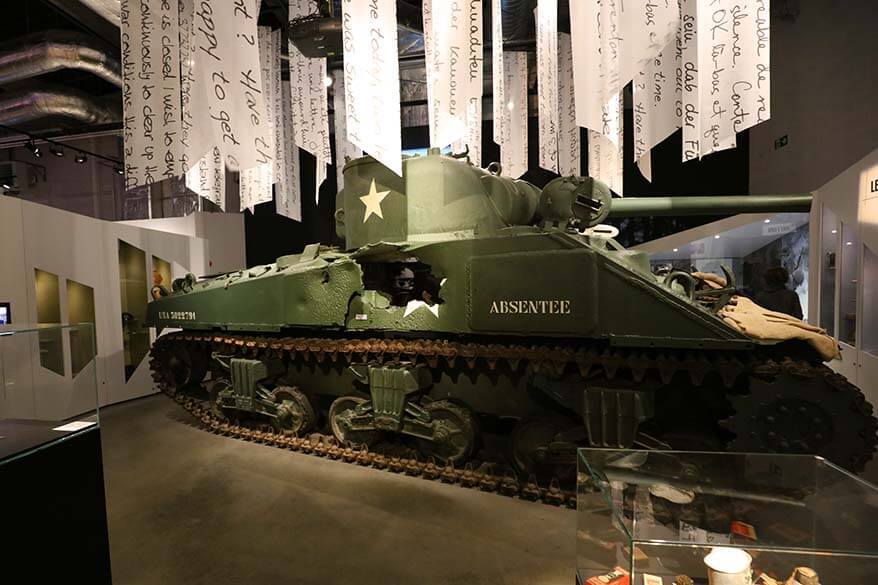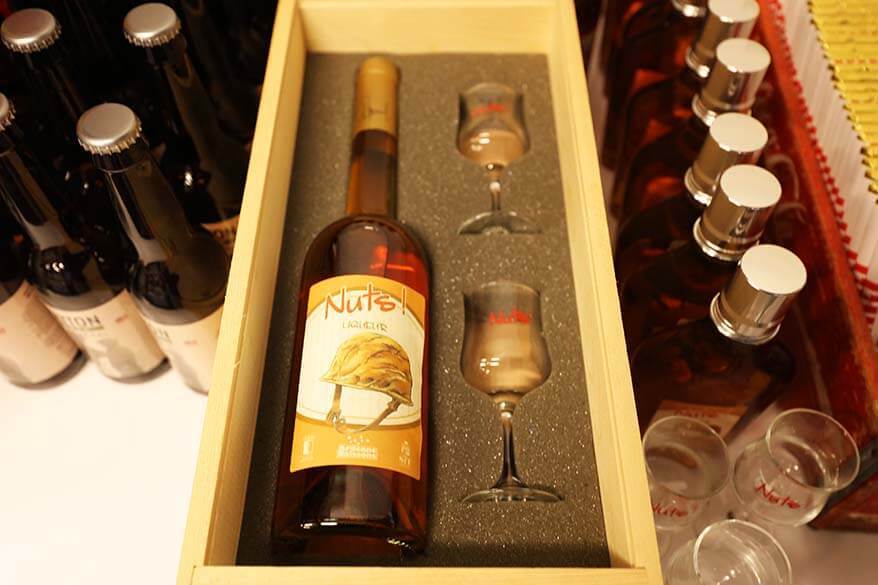 Mardasson Memorial
At the Bastogne War Museum, you'll find another significant landmark and WWII monument – Mardasson Memorial. It's located right next to the museum so you don't need to make any special arrangements to visit.
What to expect
This impressive star-shaped monument was built immediately after the 2nd World War and dedicated in 1950. It's a symbol of the friendship between the Belgian people and the United States and an honorary tribute to the memory of American soldiers who were wounded or killed in the Battle of the Bulge.
Mardasson Memorial is huge so take your time to explore it. We thought that it had names of the fallen soldiers as the Menin Gate Memorial in Ypres. However, there are no names of the almost 77.000 soldiers who died here. Instead, you find inscriptions of all the States of the USA. And on the inner side of the walls, you can read the story of the battle.
You can also take the stairs to the top of the monument. From there you have a good view of the surrounding areas where WWII battles were fought. You can't really appreciate the star shape of the monument from the ground or from its roof, however. For that, you'd need a drone or simply take a look at the postcards and books that are sold at the gift shop of the museum.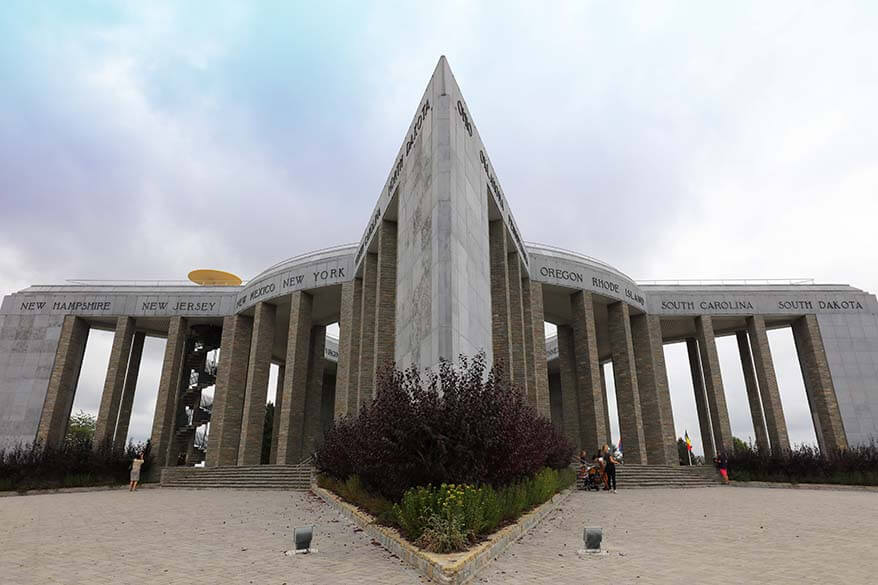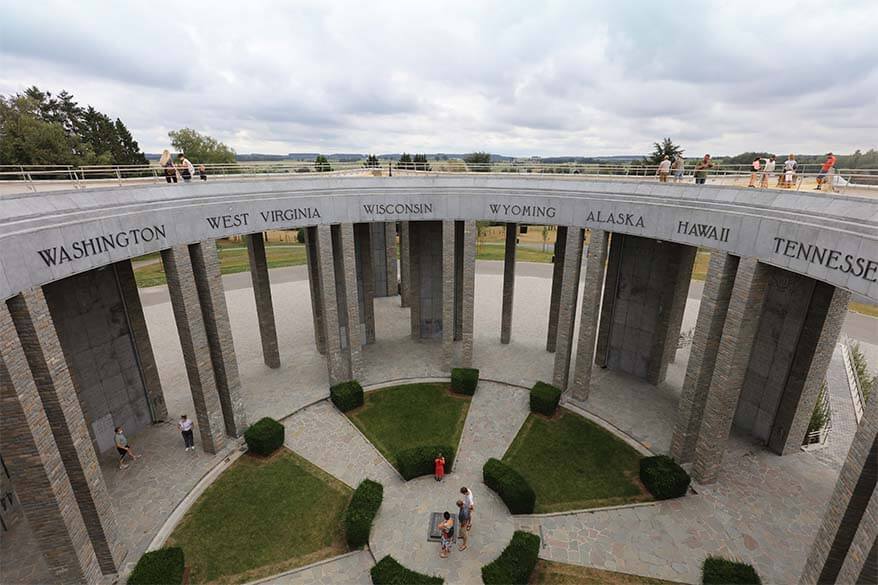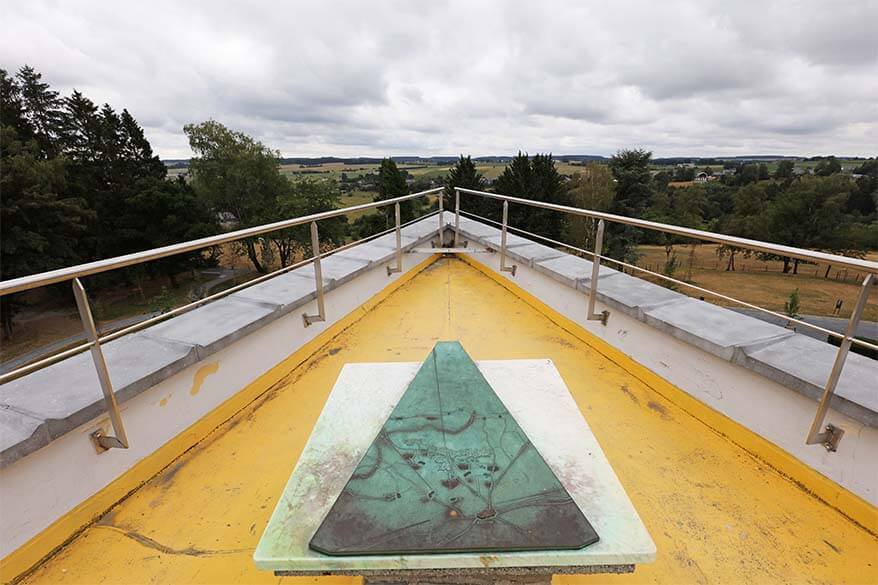 On the west side of the monument, there is an underground crypt with three altars. Each altar represents different religions of the soldiers -Catholic, Protestant, and Jewish. They are carved under the ground and decorated with impressive mosaics by French artist Fernand Léger.
The crypt is lit by natural light via a very unique glass ceiling. It's well worth a few minutes of your time to visit here.
At the back left side of the monument, there is also a viewpoint in the direction of former battlefields. Nowadays, you'll just see nice scenery and some cows quietly grazing nearby. The view is better from the top of the monument, but if you are not able to do the stairs, this is a good alternative.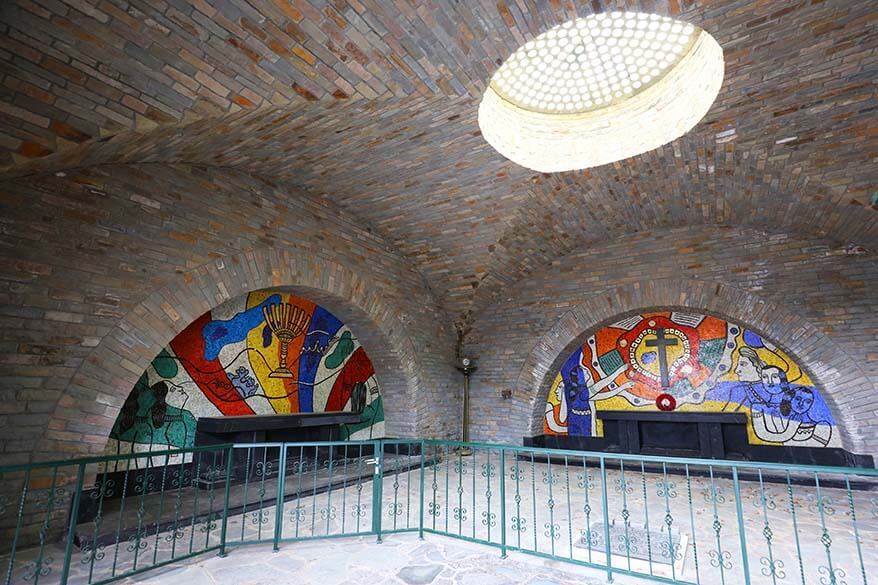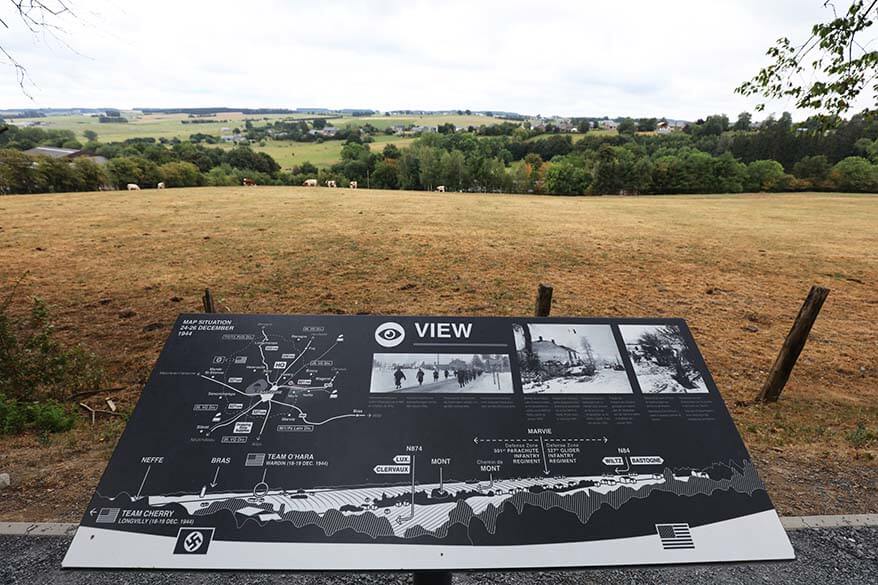 Is it worth it?
Yes, Mardasson Memorial is worth a visit. It's an impressive structure at a very significant place. However, it's best combined with a visit to the Bastogne War Museum and potentially also a visit to Bastogne town and/or some of its other landmarks.
Practical Information
Opening times. Mardasson Memorial is an outdoor attraction and so it's always open. There are no tickets needed and you can visit it free of charge. I think that they close the crypt (and possibly the stairs) when the museum is closed. The staircase to the top of the monument can also get closed in case of bad weather.
How much time you need. Count 20-30 minutes for a visit to Mardasson Memorial, go to the top of it, and to visit the crypt. If you read the inscriptions with the entire story of the battle, it will take a bit longer. However, you can also find the text online or on the informational panel on your way to the underground crypt.
Accessibility. You can see the memorial and walk/ride the flat paths around it, but the top of it is only accessible via the staircase. The underground crypt can also only be reached via the stairs, but you can see it from the top as well.
Facilities. There are facilities at the museum – see above.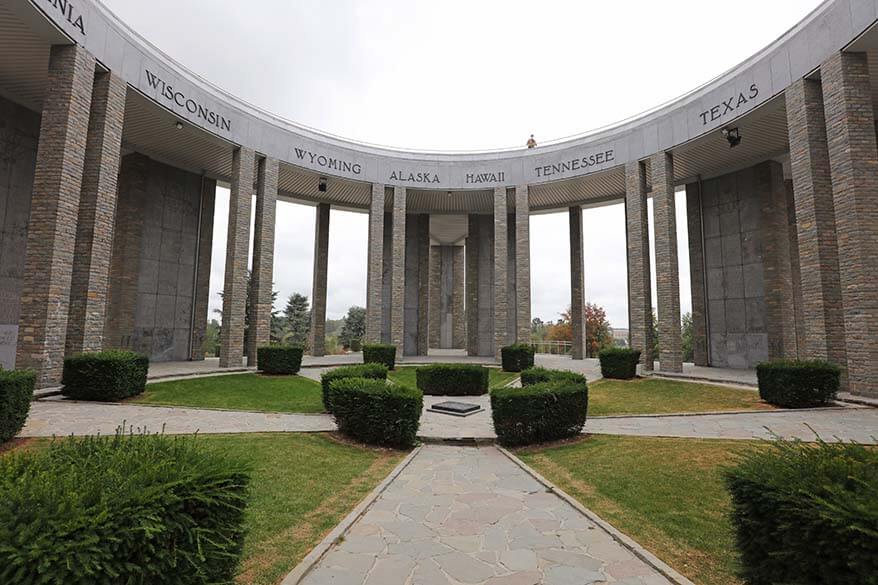 Getting There
Bastogne War Museum is located 2 km outside of Bastogne town center. There is no public transportation available. The best way to visit the Bastogne War Museum and the Mardasson Memorial is by car or with a tour.
By car
Bastogne is located 150km (1h45 – 2hrs drive) from Brussels or 75km (1hr drive) from Luxembourg city.
While you don't need a car to visit the main towns in Belgium, you should consider hiring a car for visiting the war sites such as Bastogne, Waterloo, or the WWI battlefields near Ypres. Alternatively, if you don't feel like driving, you can take an organized tour. More info below.
TIP: If you are visiting Bastogne by car and have some time to spare, you can easily combine a visit here with other places in the Belgian Ardennes (La Roche, Durbuy, Dinant, etc.). In that case, stay in Bastogne for a night. Otherwise, you can also continue to Luxembourg and spend a night or two in Luxembourg city before heading back to Belgium.
READ ALSO: Best Day Trips from Luxembourg
With a tour
If you don't want to rent a car and drive on the busy Belgian roads, you can easily visit Bastogne with a tour from Brussels. The most popular organized tour is the Remembrance Tour: The Battle of the Bulge from Brussels. You can book this tour via Viator or via GetYourGuide (our preferred platform).
There are also private tours available. However, they are quite pricey. It might be worth it if you are traveling with a bigger family or friends, but otherwise, just take a group tour.
By public transport
It is possible to get to Bastogne by bus from Liege (and Liege can be reached from Brussels or any other bigger town in Belgium by train). However, this will require some preparation and a trip from Brussels to Bastogne by train and bus will take you at least 3.5 hours one way (vs. 1h45 – 2hrs by car).
Furthermore, if you want to get to the Bastogne War Museum, you'll need to either walk or take a taxi from town.
So public transportation is really not an option if you are planning a day trip to Bastogne!
War Cemeteries near Bastogne
Because I was looking for this information and you might be too, I wanted to share this with you. There are no American WW2 cemeteries near Bastogne. The only war cemetery in Bastogne is the German Military Cemetery Recogne. It can be found in Foy, about 6km north of Bastogne town (see map).
If you have a car and want to visit an American war cemetery, try the Ardennes American Cemetery and Memorial south of Liege (see map). It's about 80km/ 1hr drive from Bastogne. Alternatively, a bit further away, but probably worth it more, is the Henri-Chapelle American Cemetery and Memorial in Plombières, east of Liege (see map). It's about 100 km (1h20) drive from Bastogne.
The good news is that this is not that much of a detour if you are driving to Bastogne from Brussels (or back). So if you want to visit an American war cemetery in combination with a visit to Bastogne, it is possible.
READ ALSO: Ypres & WWI Battlefields in Belgium
More travel tips for Belgium:
If you found this post useful, don't forget to bookmark it and share it with your friends. Are you on Pinterest? Pin this image!