Thinking of visiting Belgium in winter, but not sure what to expect? This guide should give you a better idea of what it's really like to visit Belgium in December, January, or February. Find out!
Good to know: We live in Belgium, and so this guide is not based on one single experience of someone who visited the country once. In this article, you can find information on how it's usually like in Belgium during the winter months and find insider tips to make the most of your visit.
In this article, you can read about the Belgian winter weather and what to pack. We also share some of the best places to visit and things to do in Belgium in winter. You can also find some info about the best annual winter events and celebrations that are well worth considering in Belgium during the winter months. Find out!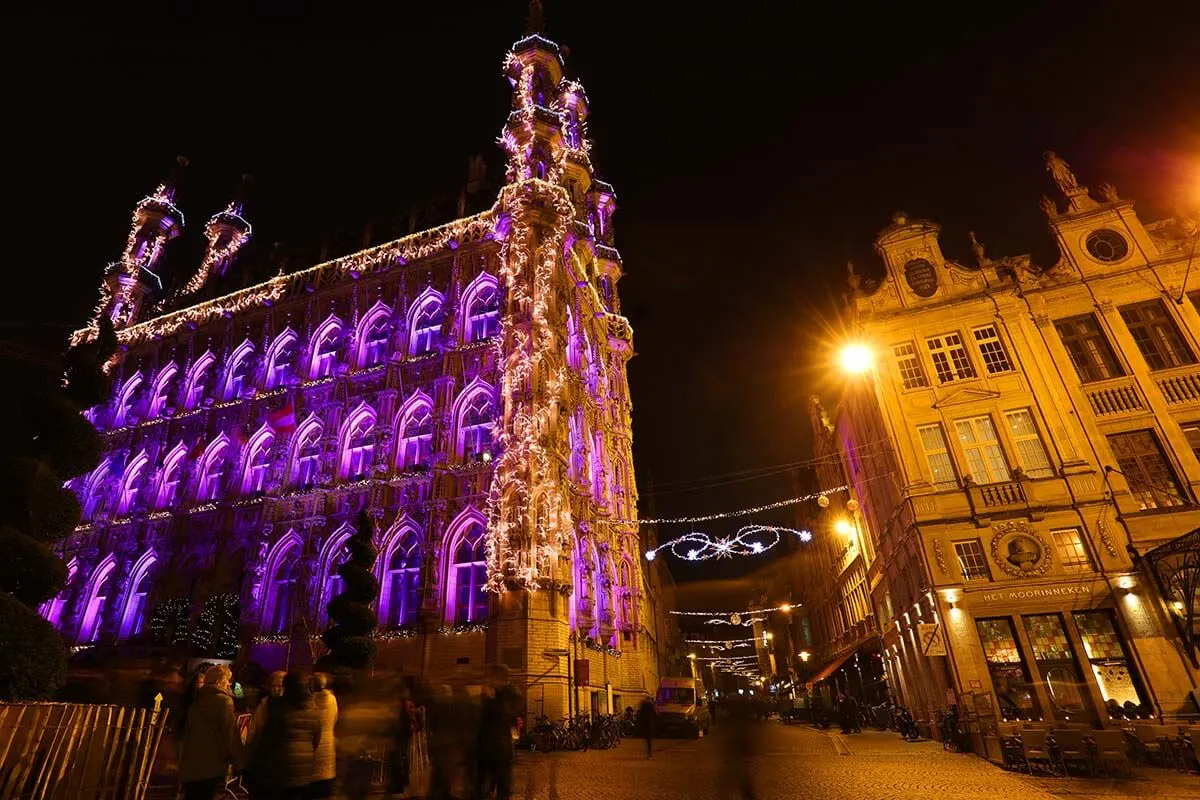 Winter weather in Belgium
Belgian climate is quite mild. We sometimes joke that there's just one season here the whole year (autumn), but that's of course, not exactly true. One thing you can be sure of – it's impossible to predict Belgian weather long in advance, and winter weather one year can be totally different from the other.
And so you never know what kind of weather you'll get in Belgium until you can see the actual weather forecast a week or two before your trip.
The average winter temperatures in Belgium are around 1 to 7°C (34-44° F). You can expect rain for about half of your stay if visiting Belgium between the end of November and February. It can rain every day, but you may also get lucky and it will be dry during your entire stay…
These average numbers are actually quite an accurate summary of how our Belgian winters usually look like – mild and wet.
However… You can also get much colder weather, or much warmer. See below.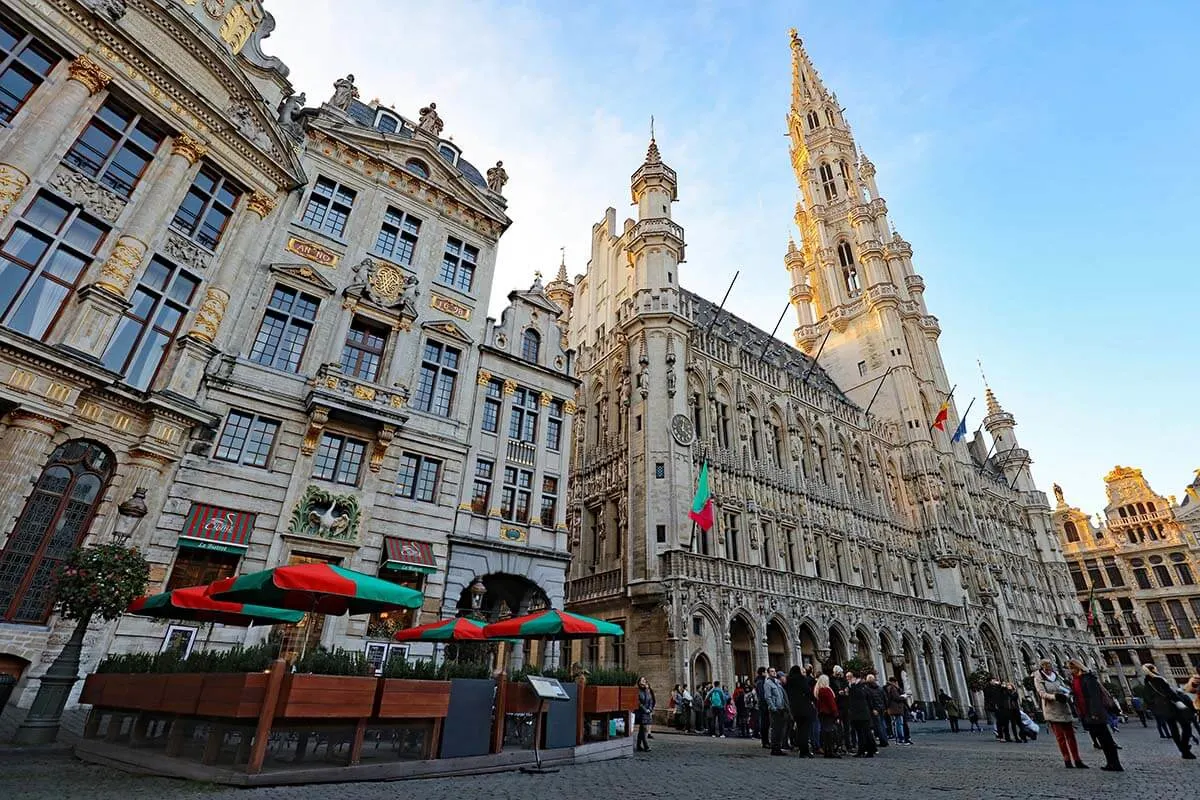 How cold does it get in Belgium in winter?
While Belgian winter temperatures are usually just above freezing point, it's not uncommon to have the temperatures drop to around -5°C (23°F), especially in January or at the beginning of February. But it hardly ever gets much colder than that.
On very rare occasions we experience a few days of 'cold wave' in Belgium. And it does happen that the temperatures drop under -10°C (14°F), or even -20°C (-4°F). Luckily, this only happens once in five years and usually doesn't last longer than a few days.
And, as already said, you might get lucky and it will be much warmer than expected. It's not abnormal to have temperatures of over 10°C (50°F) in Belgium in December. Just recently, we had a few days of a 'heat wave' around New Year, with temperatures of 15°C (59°F), and also in February, with temperatures of 19°C (66°F) and sunny t-shirt weather. But this remains exceptional.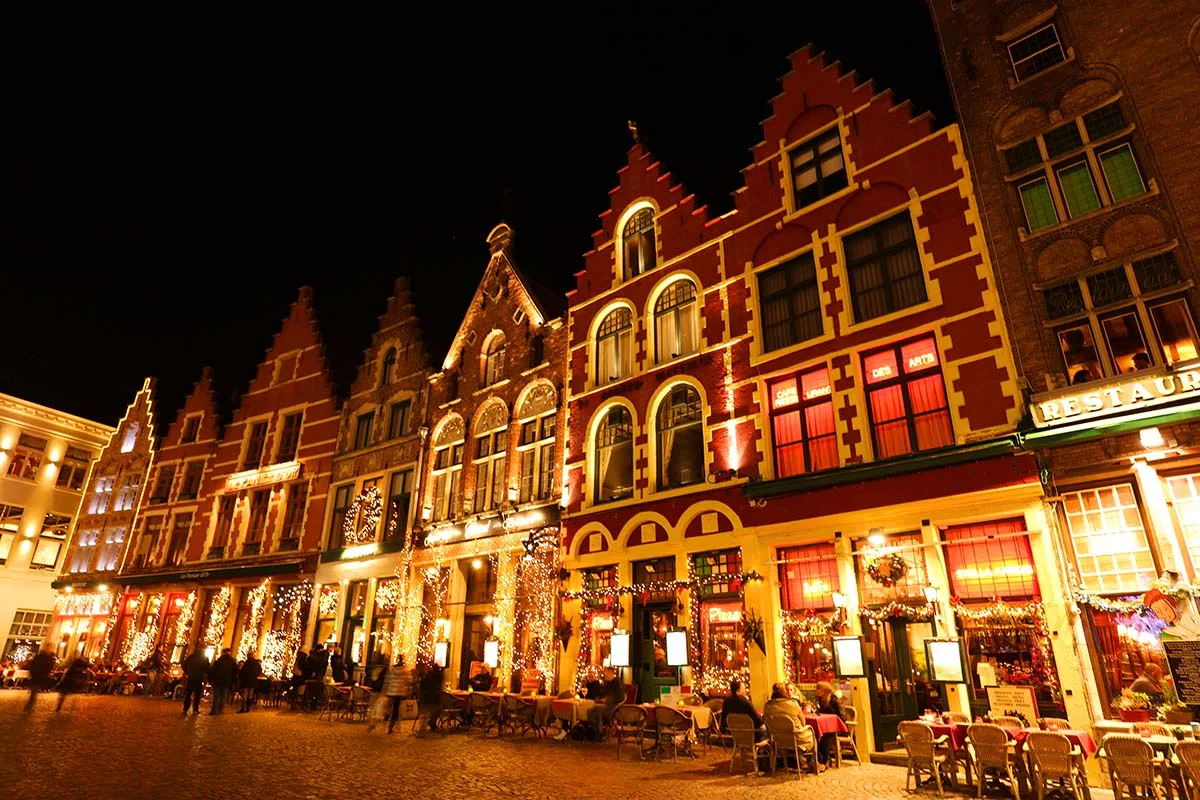 Does it snow in Belgium?
Once in a while, it snows in Belgium, but – in most parts of the country – the snow is usually gone a few hours later. It can happen that there is some snow laying on the ground in the main Belgian cities, but it's quite rare.
Usually, we only get snow for a few days every winter, but it's impossible to predict when. It can be in December or January – February, but it also happens at the end of March when nobody expects it anymore…
It's different in the Ardennes, which are Belgian 'mountains'. There, the snow can stay on the ground for a few days or even weeks. There are even a few ski slopes in the Ardennes. If all goes well, the ski slopes are able to open for a few weeks every winter, but you can never know when and you cannot count on that. And if they do in fact open, then the whole country decides to go skiing and sledding, blocking all the highways in the area…
Good to know: If there's a snowstorm in the forecast, avoid driving at all costs! Most Belgians aren't used to driving on the snow and most cars aren't equipped with winter tires either. On those rare occasions when we get a few inches of snow in a short time, the whole country gets paralyzed, traffic is a mess, and some highways might even close for hours. Luckily, this is something we usually only experience once or twice every winter.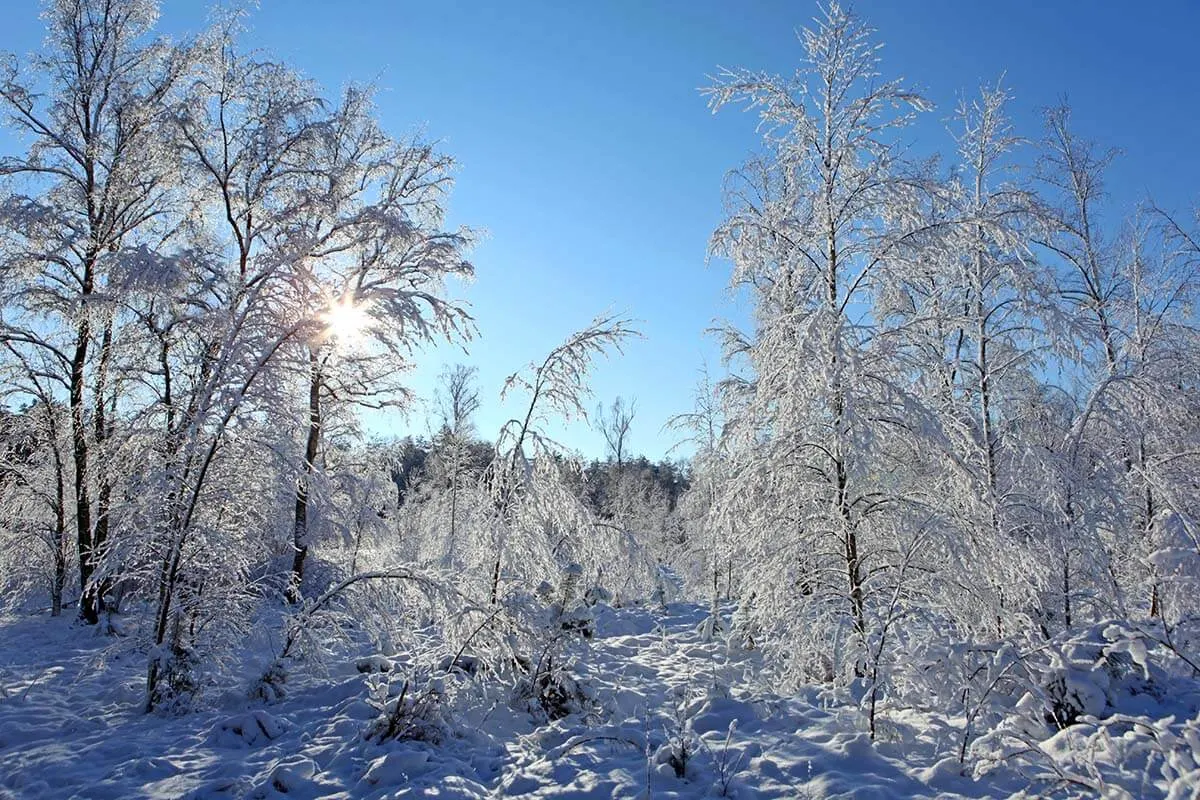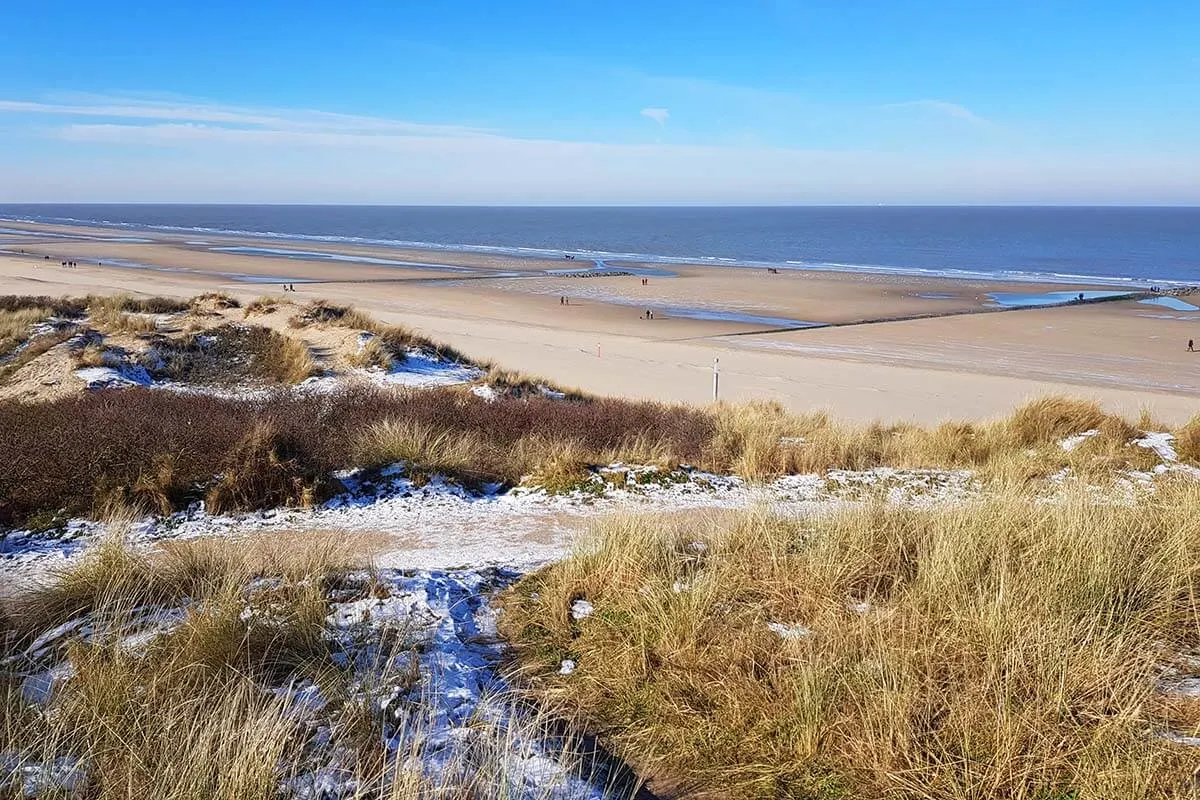 What to wear & what to pack when visiting Belgium in winter
You don't normally need very warm winter clothing in Belgium (well, not if you compare with packing for Norway in winter, or for Iceland…).
Most Belgians just wear jeans, sneakers or somewhat warmer shoes, a sweater, and a warm jacket in the winter months. It's always a good idea to pack a shawl and gloves, and an umbrella. A warm hat can be nice to have too – often, the wind and the humidity make it feel colder than it actually is.
Once again – it's best to check the weather forecast a few days before your trip so that you can pack accordingly. Needless to say, you'll need somewhat different clothes and shoes if it's 10°C (50°F), or -5°C (23°F)…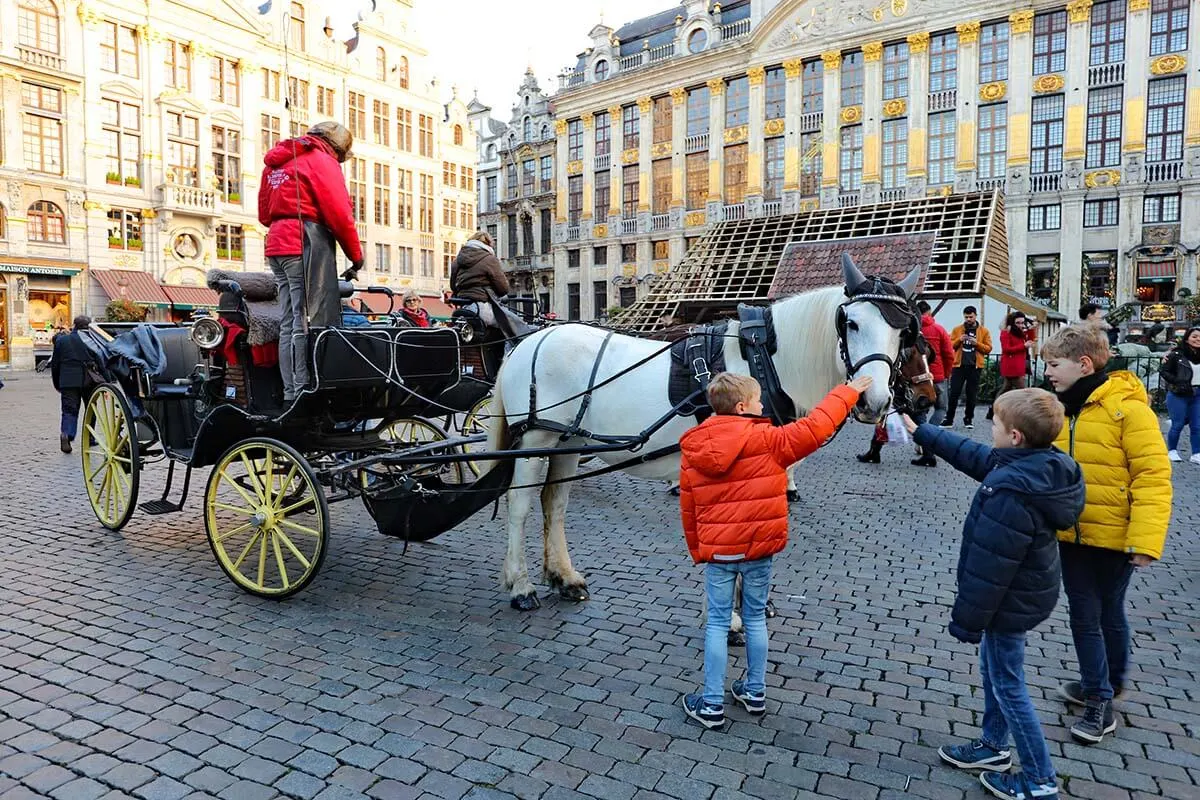 Daylight
You may also be wondering how much daylight there's in Belgium in winter. Well, it's actually not too bad, definitely compared to the Nordic countries…
During the darkest time of the year – in December – you can expect to have about 8 hours of daylight in Belgium. It usually gets light around 8.30 AM and doesn't get dark until around 5 PM.
If you visit Belgium in January, you'll have about 9 hours of daylight, and in February – over 10 hours already.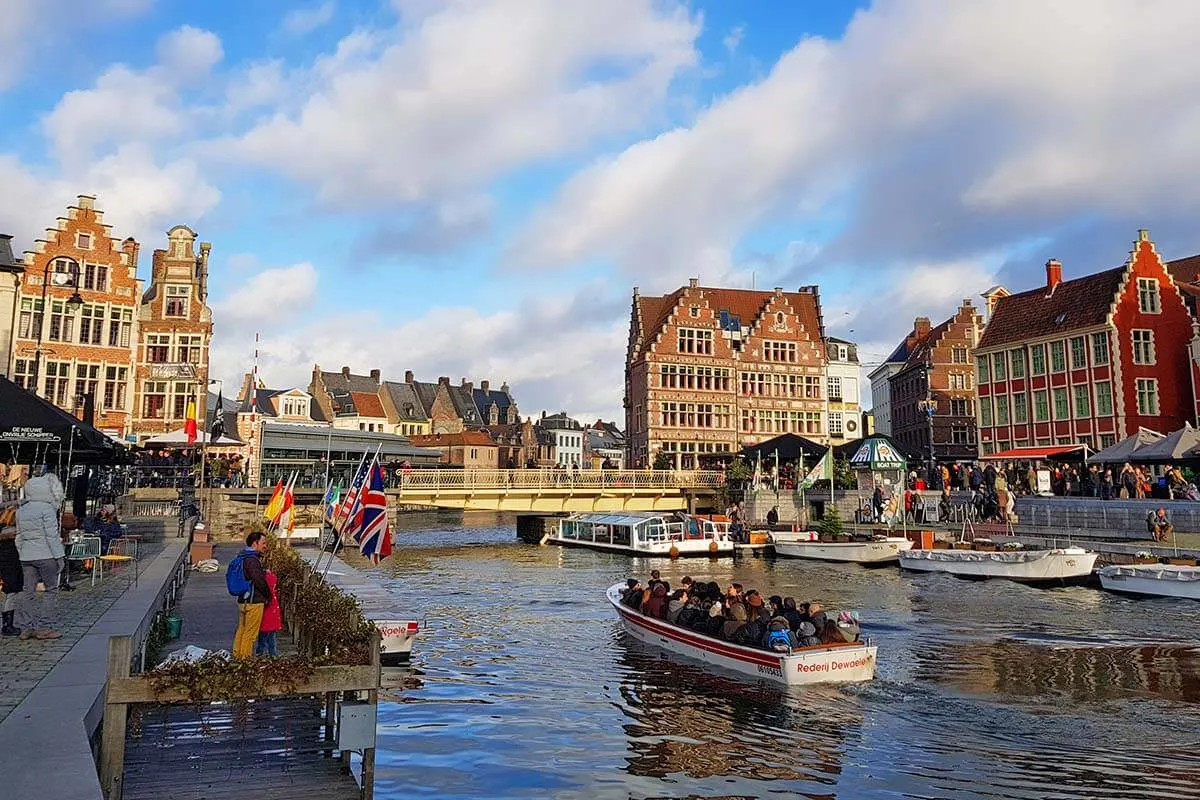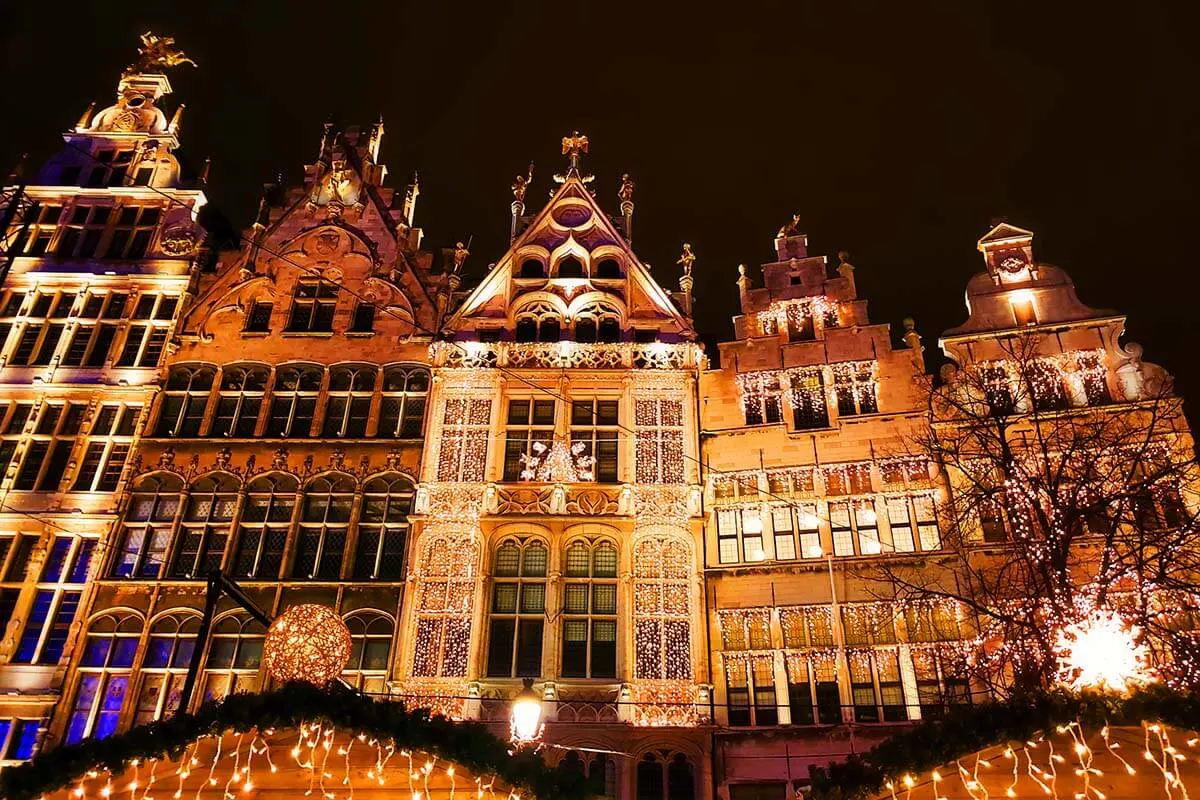 Winter events & celebrations
Winter is as good a time to visit Belgium as any since most sights and attractions are actually cities and towns. So while it's colder and wetter than in the summer, you can still see and do a lot in Belgium in the winter months.
And – there are usually quite a lot of events during the winter months. Winter is one of the best seasons for various concerts, theatre performances, and art exhibitions. In addition, Belgium also hosts lots of seasonal events.
Here's a short overview of some of the bigger winter events and celebrations in Belgium:
Christmas markets
When: From late November to early January.
Belgium hosts lots of nice Christmas markets. The best Belgian Christmas markets are those in the big cities, such as Brussels Christmas market, Antwerp Christmas market, or Bruges Christmas market, but there are so many more. Lots of smaller towns all over Belgium host Christmas markets as well.
The nice thing about visiting Belgium in the holiday season is that some of the biggest Xmas markets start at the end of November and remain open until the beginning of January. So while most other European Christmas markets close just before Christmas Eve, the ones in Belgium remain open during the entire holiday season.
Christmas markets are usually free to visit. Activities like ice skating and similar aren't free, of course.
READ ALSO: Best Christmas Markets in Belgium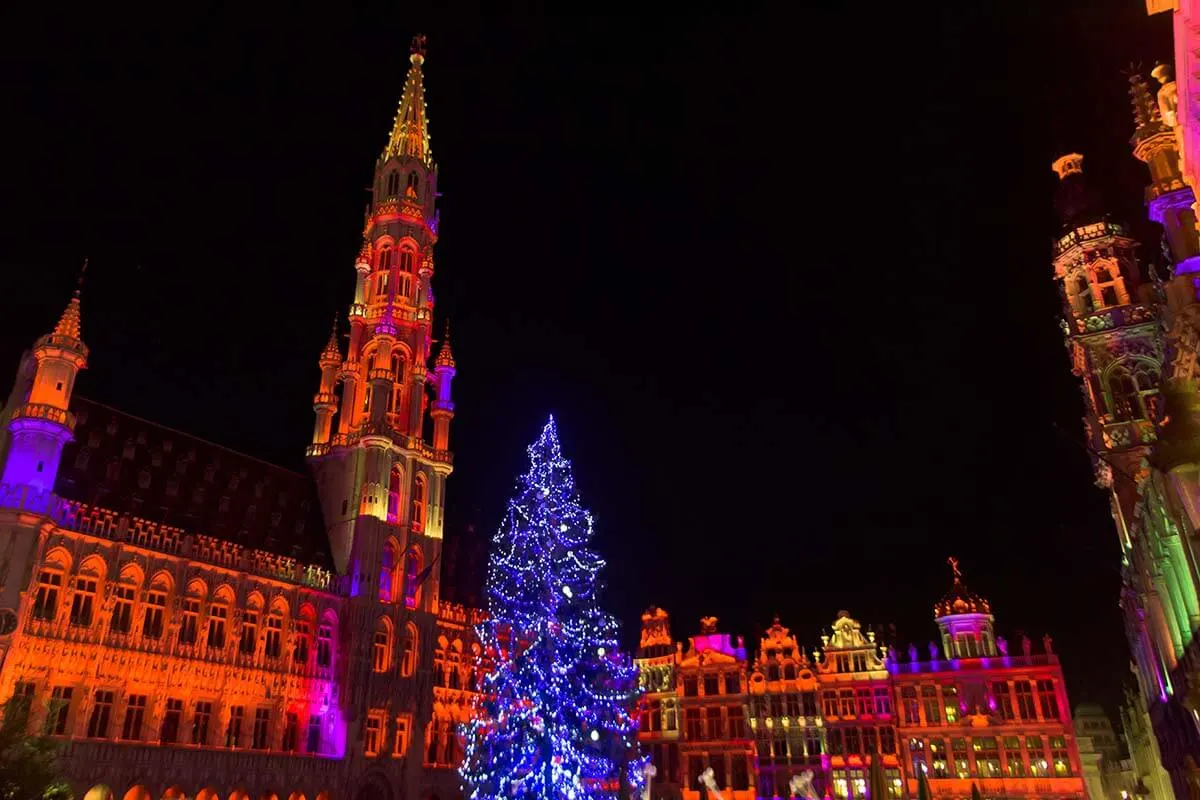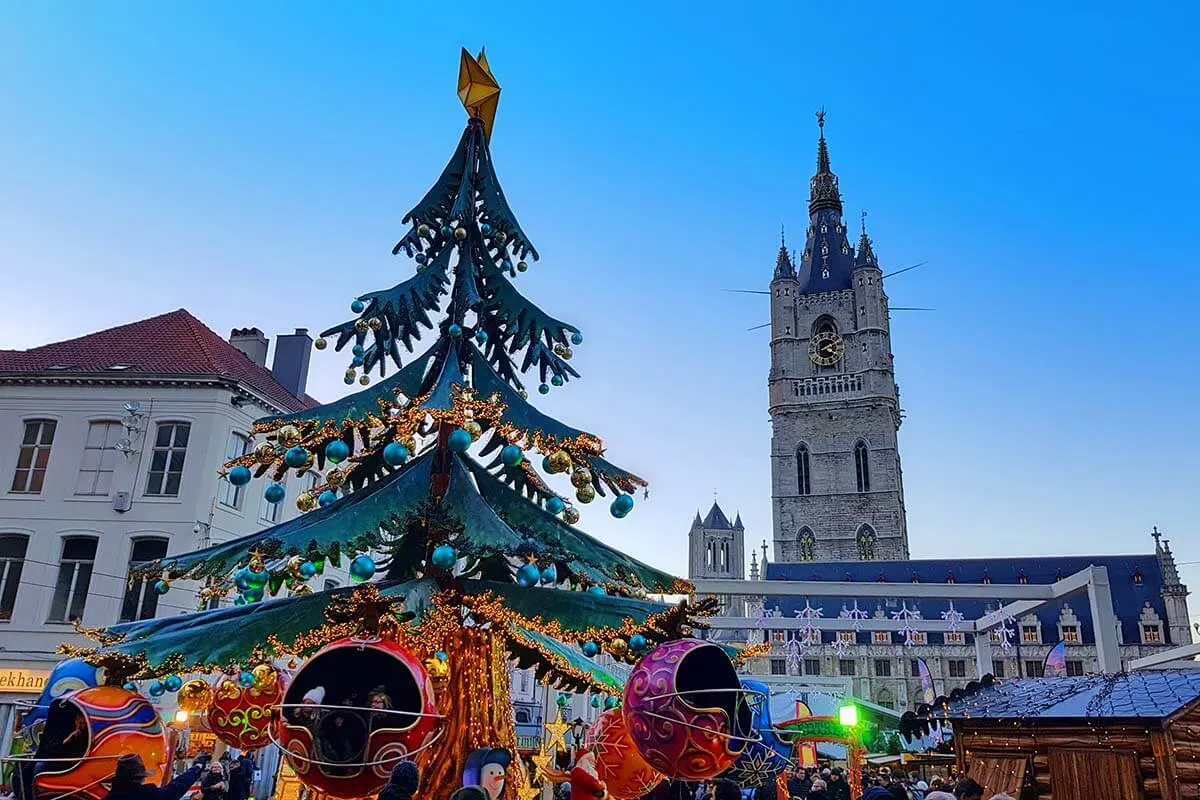 Ice skating & winter bars
When: From late November to early January.
Almost every town and commune in Belgium hosts all kinds of winter events during the holiday season. You'll find Christmas lighting, ice skating rinks, and pop-up winter bars in town centers all over the country.
So if you want to avoid the busy Christmas markets in the bigger cities, you can soak up some winter atmosphere in lots of smaller towns as well.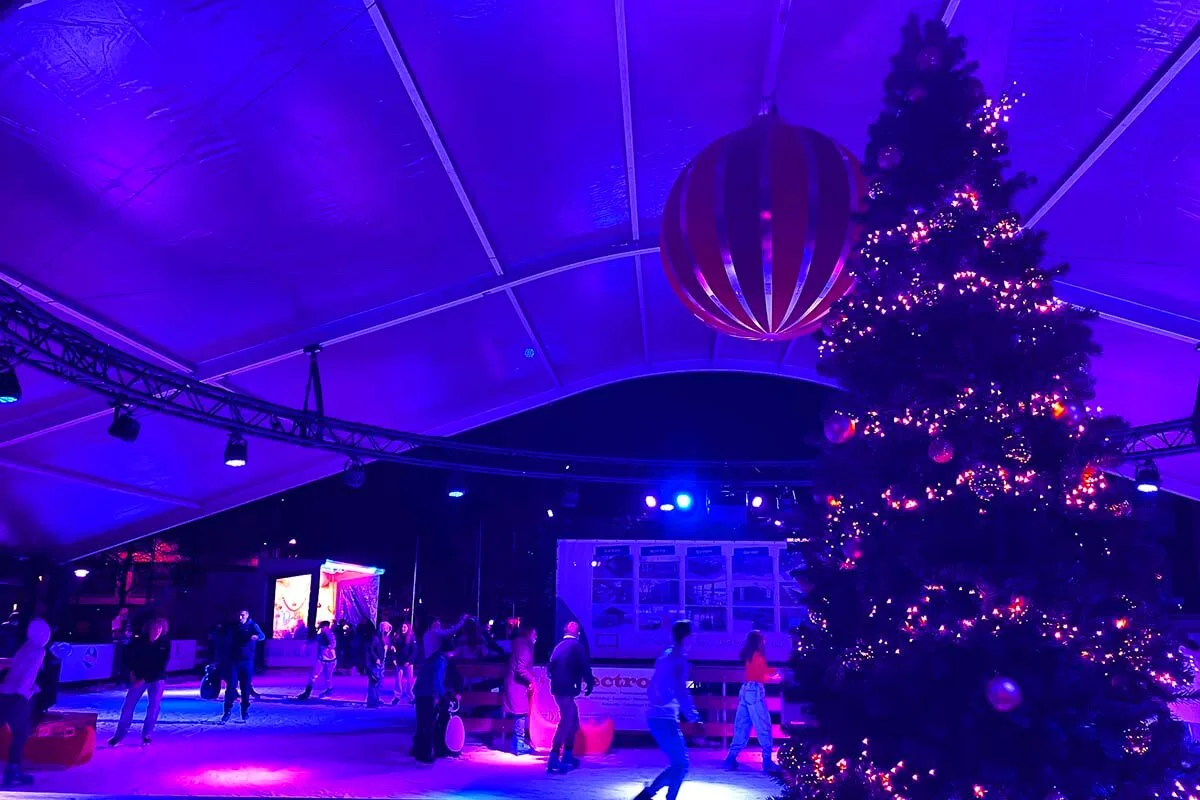 Antwerp ZOO winter light festival
When: From the end of November/ early December to mid-January.
This has become a new yearly winter tradition – a light festival at the historic Antwerp Zoo. The first editions were called 'China Light', and the most recent one – 'Alice in Wonderland'. The idea behind them is the same, just the decorations change every year. The zoo features all kinds of colorful decorations that are beautifully lit every evening.
This is something really nice to do in Belgium in winter with kids, but also adults will be impressed.
This is not a free event, but ticket prices are usually very reasonable. It's always best to reserve your tickets via the Antwerp Zoo website at least a week or two in advance, especially if you are visiting Belgium during the Christmas school break.
Good to know: Recently, the winter light festival has also been expanded to another animal park, Planckendael. This edition was called 'Dinolights' and – if it's as successful as the one in Antwerp, we can expect that it will become an annual tradition as well.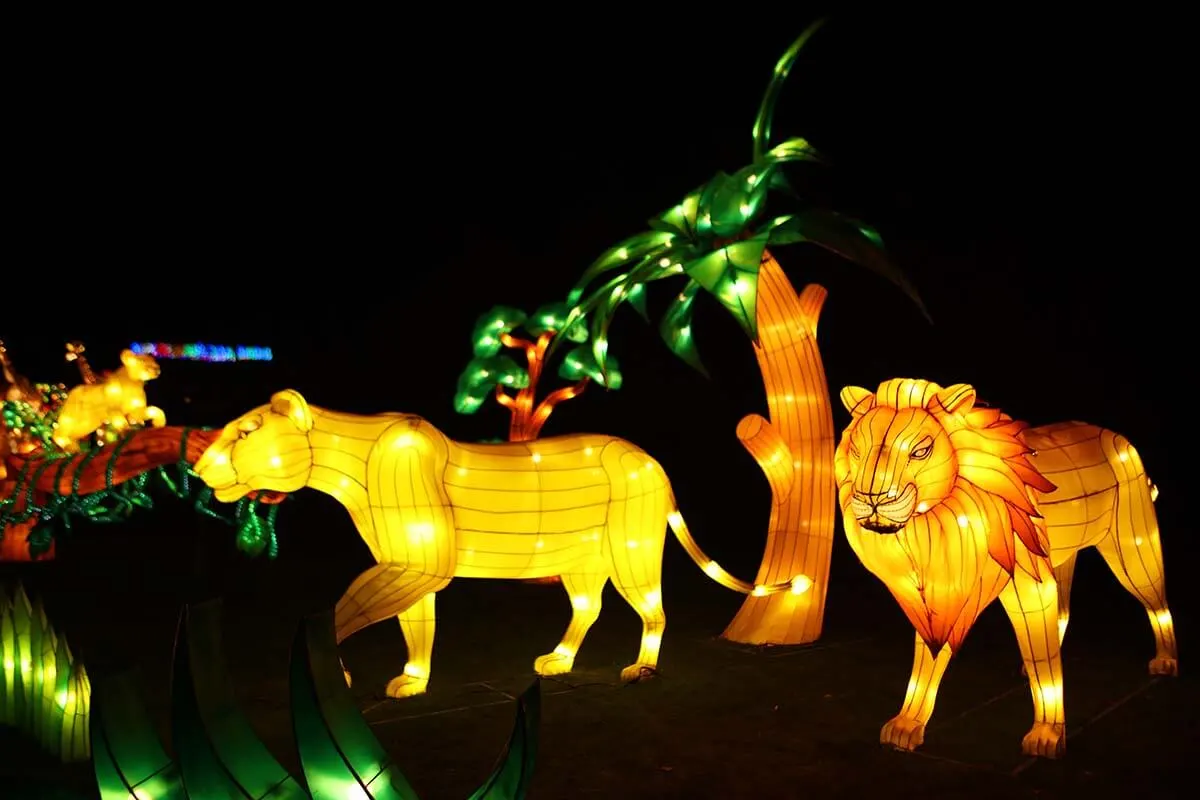 Light Festival Ghent
When: Normally, the festival takes place on the last weekend in January/ beginning of February, every three years. The most recent editions date from 2015, 2018, and 2021, so the next edition should take place in 2024.
This has become one of the biggest winter celebrations in Belgium, attracting hundreds of thousands of people in just one long weekend. The whole city of Ghent looks like a town from a fairytale, with stunning light creations all around.
This is a free event and no reservations are needed. For the best experience, however, you should stay at a hotel in the city center so that you can enjoy the festival without having to worry about getting there. The traffic usually gets so bad that the police have to close all the roads to Ghent towards the evening.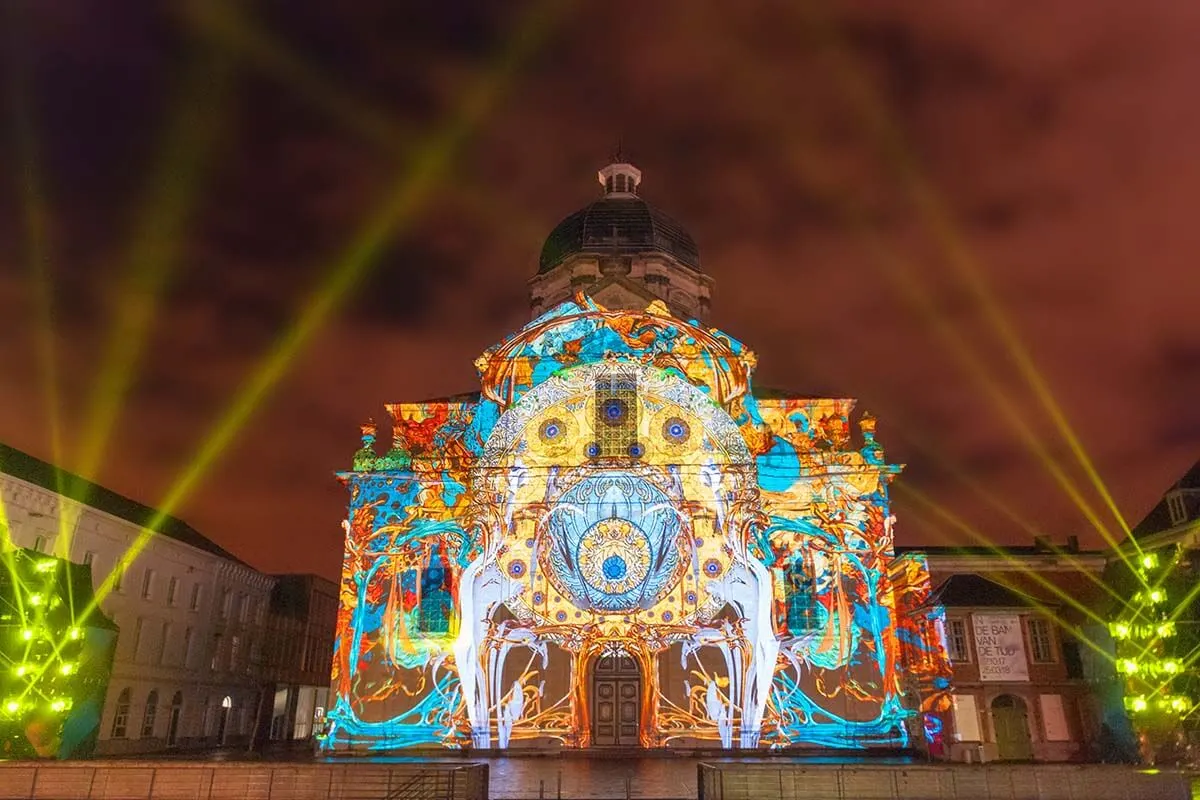 More light festivals all over Belgium
In addition to the biggest light festivals mentioned above, there are lots of smaller light shows taking place all over the country. Most of these take place in December – the beginning of January, but you'd have to check the specific dates for this year to be sure.
Here are some more light festivals in Belgium:
Bright Brussels at the EU neighborhood in Brussels.
Winter Glow Bruges. In the city center of Bruges, during the same period as Bruges Christmas market.
Lanterna Magica – in Terhulpen Castle, not far from Brussels.
Light Art in Knokke, at the coast.
De Grote Schijn in Rivierenhof Park in Antwerp.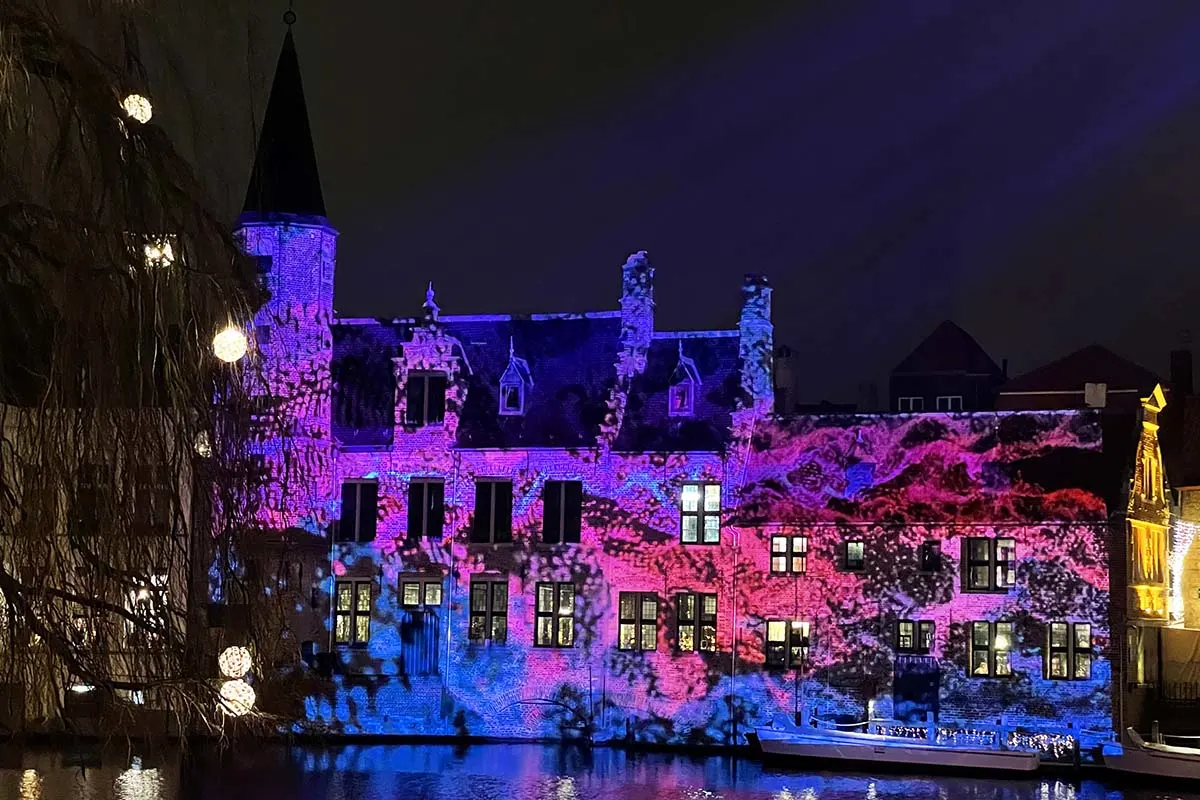 Sinterklaas
When: From mid-November to December 6.
Sinterklaas is a Belgian alternative to Santa Claus. It's celebrated on December 6, St. Nicholas' Day, and Belgian kids wait for him weeks in advance already.
If you are visiting Belgium at the end of November, it's likely that you'll run into Sinterklaas here or there. He's usually present at the bigger shopping malls, where kids can tell him how well-behaved they've been and share their gift wishlist.
Some towns host Sinterklaas parades at the end of November – the beginning of December. But the biggest Sinterklaas event takes place on a Saturday in mid-November in Antwerp. That's when Sinterklaas arrives in Belgium from Spain by boat. It's a big event that gets a live broadcast on national TV as well.
LEARN MORE: Sinterklaas Celebration in Belgium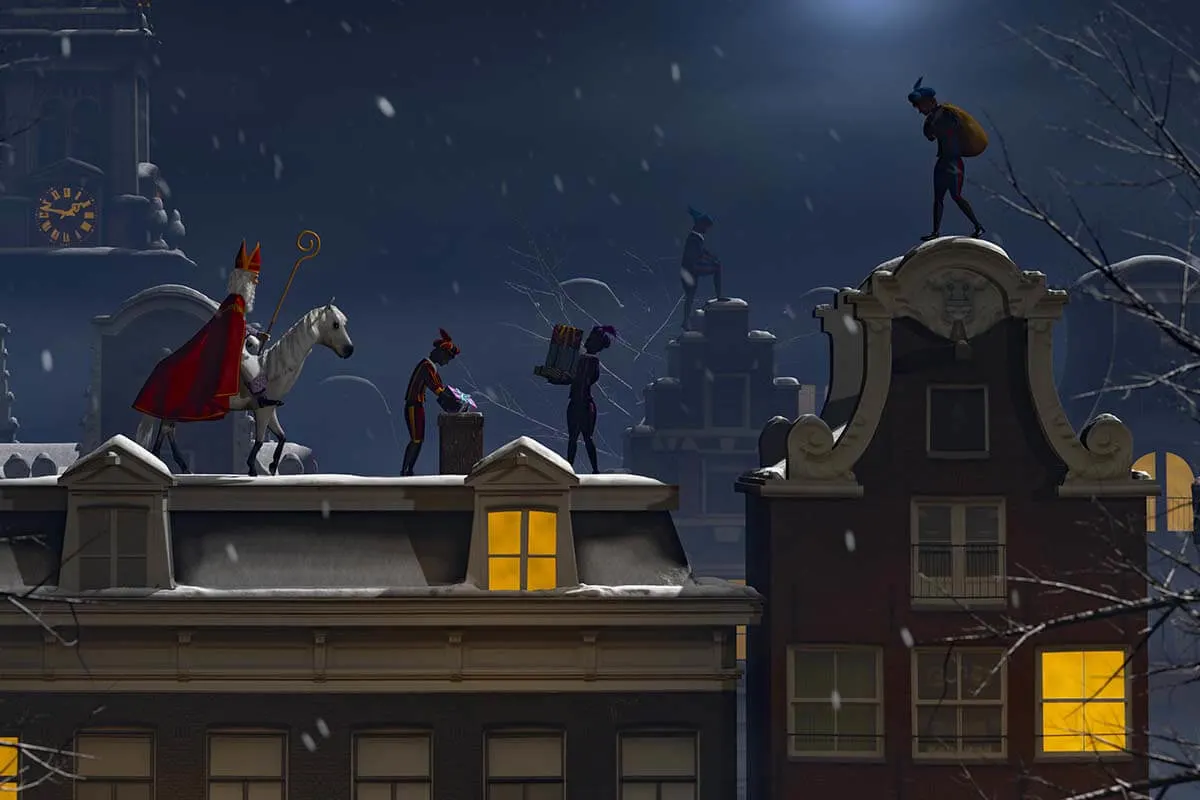 New Year's fireworks
Some of the biggest cities in Belgium host traditional New Years' fireworks at midnight on December 31.
The most impressive New Year firework displays are those in Brussels (usually close to Atomium), in Antwerp (by the river in the city center), and also in Ghent city center.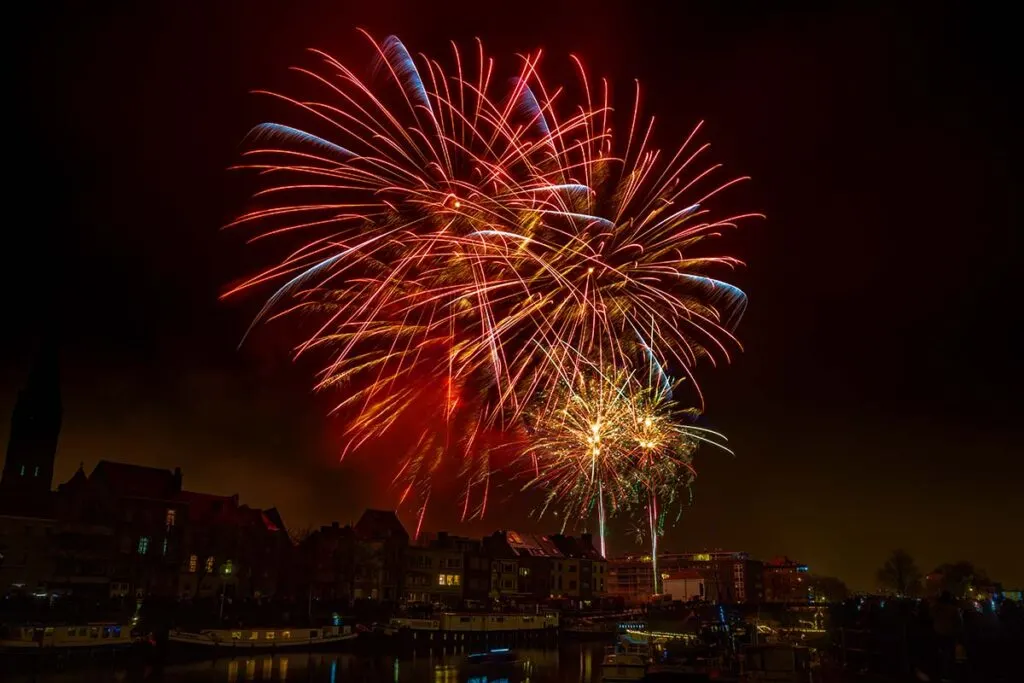 Carnival
Belgium is a country of festivals and celebrations, and the carnival is no exception, of course. The biggest carnivals take place on Sunday, Monday, and Tuesday before Ash Wednesday.
One of the biggest carnival celebrations in Belgium takes place in the city of Aalst. The origins of the Aalst Carnival date back to the Middle Ages and it's considered a cultural heritage.
Until recently, Aalst Carnival was classified as UNESCO Masterpiece of the Oral and Intangible Heritage of Humanity, but it's lost this status due to some controversial parodies. Indeed, the carnival is known to mock everything and everyone.
Another famous Belgian carnival is the Carnival of Binche. And there are quite a few others, more local.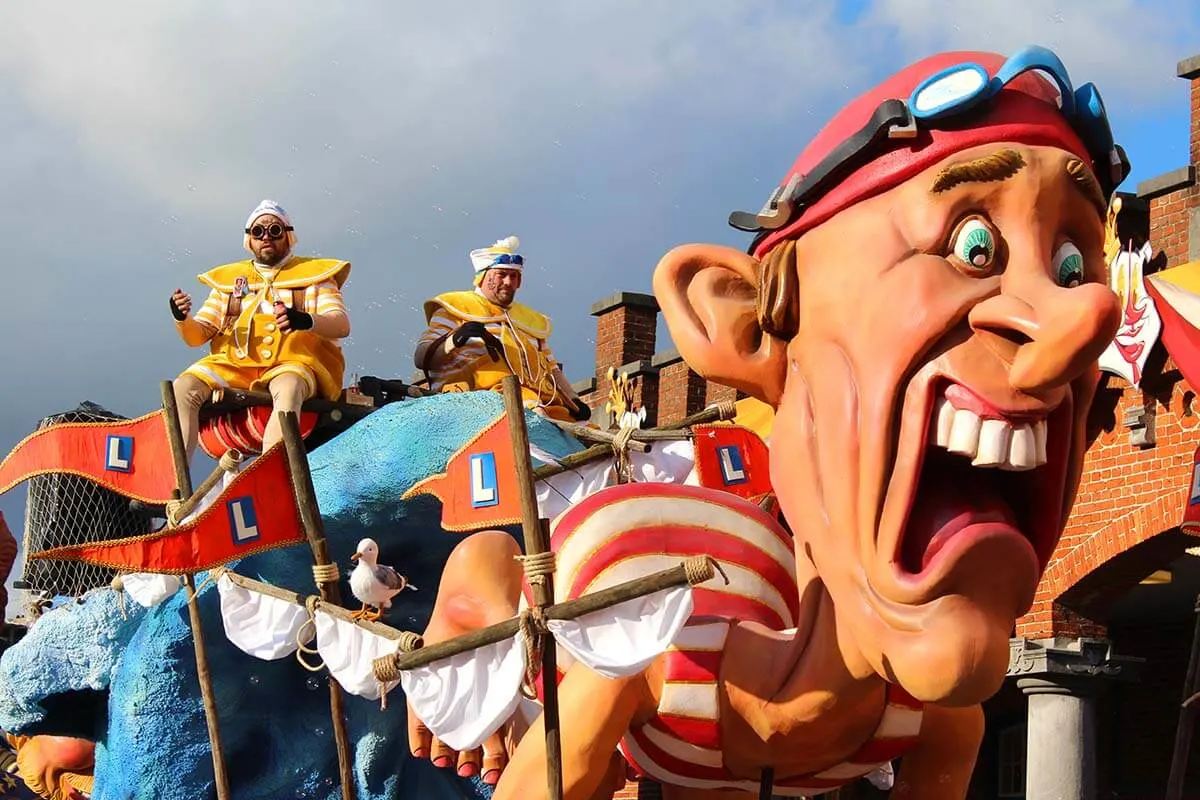 Best places to visit in Belgium in winter
As already said, most of the main landmarks and places to see in Belgium are attractions in the Belgian cities. So you can see and do a lot, no matter what time of the year you visit.
On the other hand, if it's not pouring cats and dogs, you can go pretty much anywhere. We once visited the WWI sites and the famous Flanders Fields near Ypres on a cold day at the end of December, and it was a perfectly enjoyable visit.
Here are some recommendations of the most popular places to visit in Belgium for tourists:
READ ALSO: How to spend 3-4 days in Belgium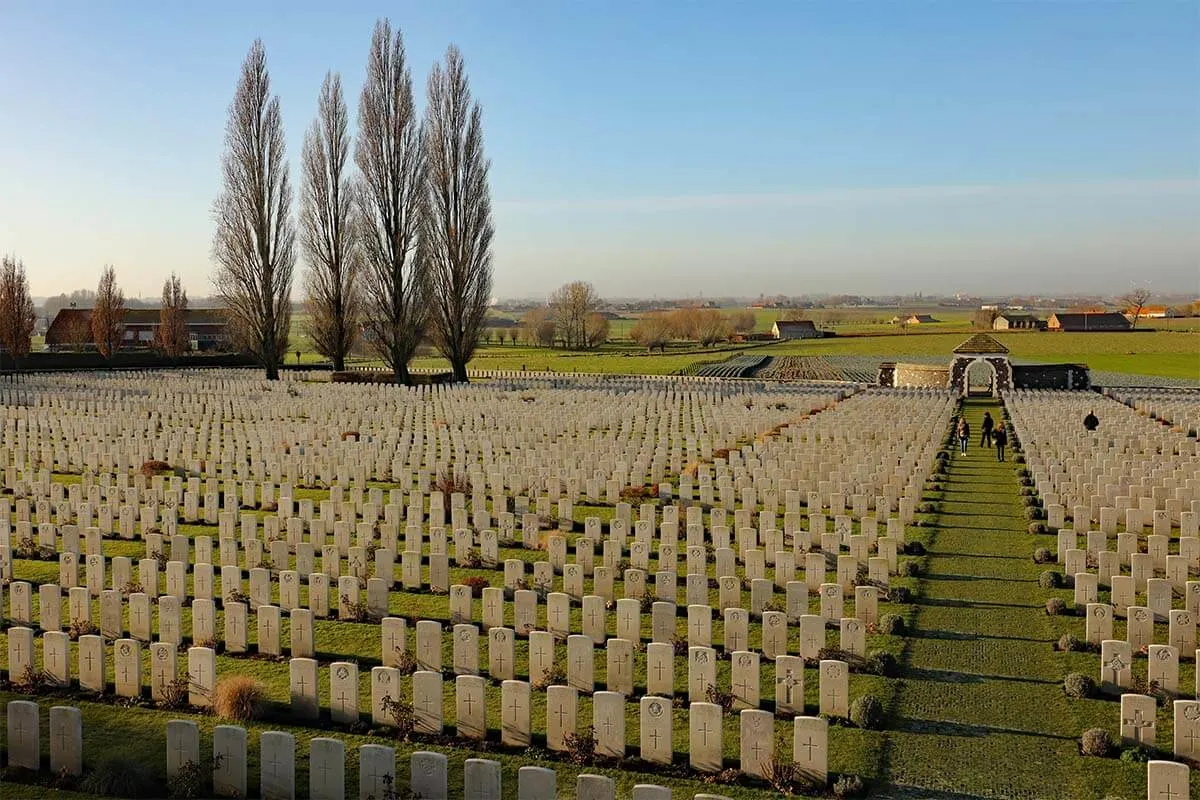 What to do in Belgium in winter
Here are some recommendations for nice things to do in Belgium in the dark cold winter months:
Visit a Christmas market.
Go ice skating.
Visit a light show.
Go shopping and dining in Antwerp, Brussels, Ghent, or Bruges. Also smaller towns like Leuven or Mechelen are really nice during the holiday season.
Visit a nice museum (see here for some inspiration for museums in Brussels).
Go to a concert or see a theater performance.
Take a romantic horse-drawn carriage ride in Bruges or Brussels.
Join a local food tour or workshop. There are many options, the most popular are the following: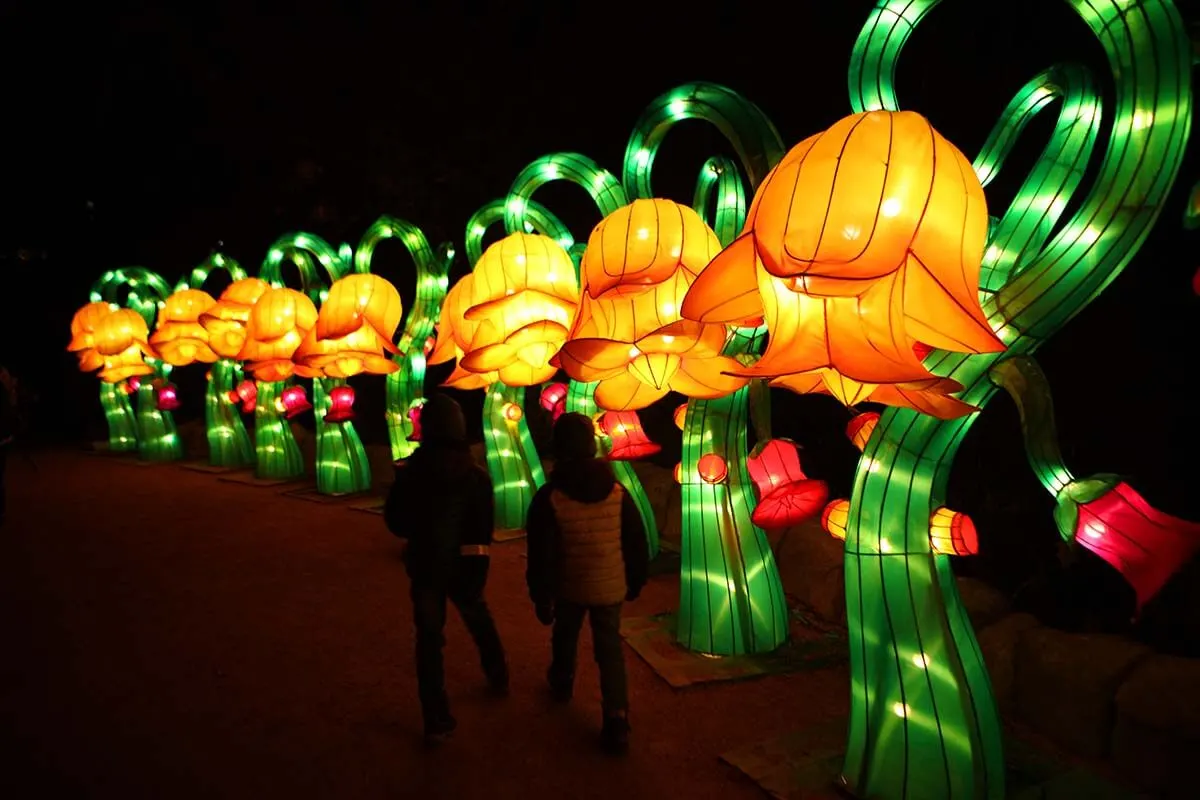 So, this is our guide to traveling in Belgium in the winter months.
I hope that this gives you a better idea of what to expect and inspires you to brave the chance of some rain and come and visit!
For some more winter travel inspiration, check our selection of some of the nicest lesser-known Christmas markets in Europe.
YOU MAY ALSO LIKE: Fun Facts About Belgium
If you found this post helpful, don't forget to bookmark it and share it with your friends. Are you on Pinterest? Pin this image!