Visiting the Netherlands in spring and wondering where to see the most beautiful flower gardens and tulip fields near Amsterdam? What is the best season? How to get there? And what are the best ways to explore the flower fields on your own or with a tour?
In this article, you can find all the information about visiting the best place to see tulips in the Netherlands: Lisse tulip fields and the nearby Keukenhof Gardens. Find out!
Lisse tulip fields and the Keukenhof Gardens near Amsterdam attract more than a million visitors every spring. And since the tulip bloom season is very short, it can get overwhelmingly busy.
So if you want to see the best tulip fields in the Netherlands, it pays off to do some research so that you know when to visit, where exactly to go, or which tickets or tours to prebook.
In this guide, you'll find all the information about visiting Keukenhof Gardens and Lisse tulip fields in the Netherlands. Where to go, how to get there, and all the best ways to explore the colorful tulip fields near Keukenhof. Plus, what to expect when visiting Keukenhof Park itself.
We also include our handpicked selection of the best tours of the tulip fields (guided as well as self-guided options).
We live nearby and visit Dutch tulip fields every spring. So we hope that our experience-based tips will help you make the most out of your trip to Amsterdam in spring. Find out!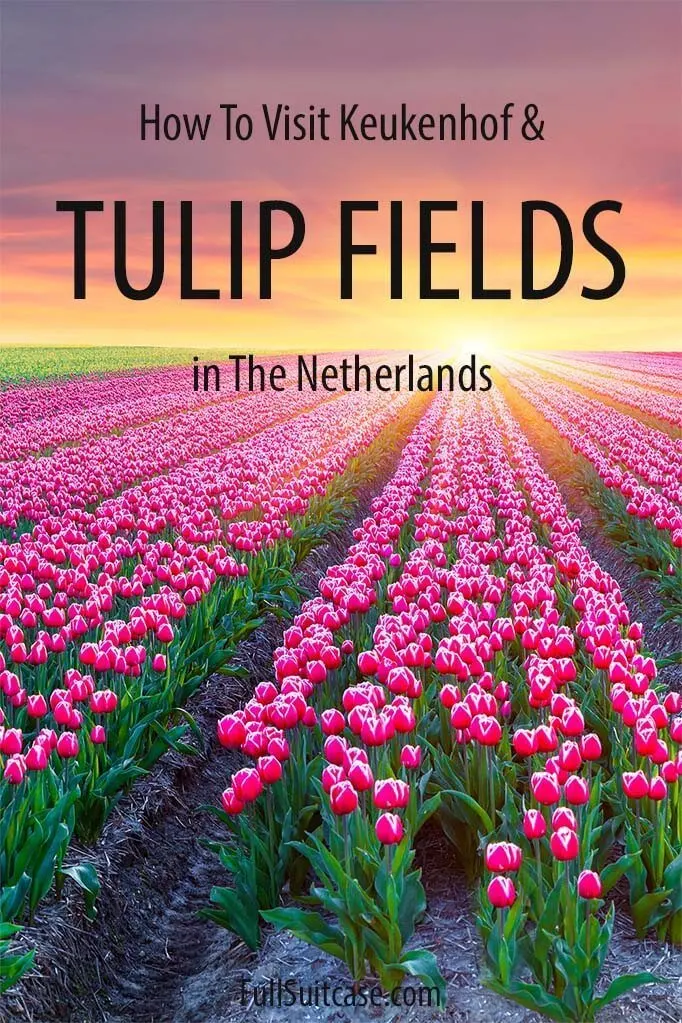 When is Tulip Season in The Netherlands?
Before we continue with all the practicalities, there is one thing that you should know:
The tulip season in the Netherlands usually lasts from late March to mid-May.
You wouldn't be surprised how many times I had people ask me where they can visit the tulip fields near Amsterdam in December or in July… But no, that is really not possible. If you want to see the tulip fields in full bloom, you will have to visit the Netherlands in the early spring!
Of course, you can find tulips for sale in the shops and at the markets in other seasons as well, but those flowers are grown inside greenhouses.
Good to know: How nice the tulip fields look when you visit, will really depend on the weather we get that spring. In general, mid to late April is the very best time to see all the flowers in full bloom and visit the flower fields in the Netherlands.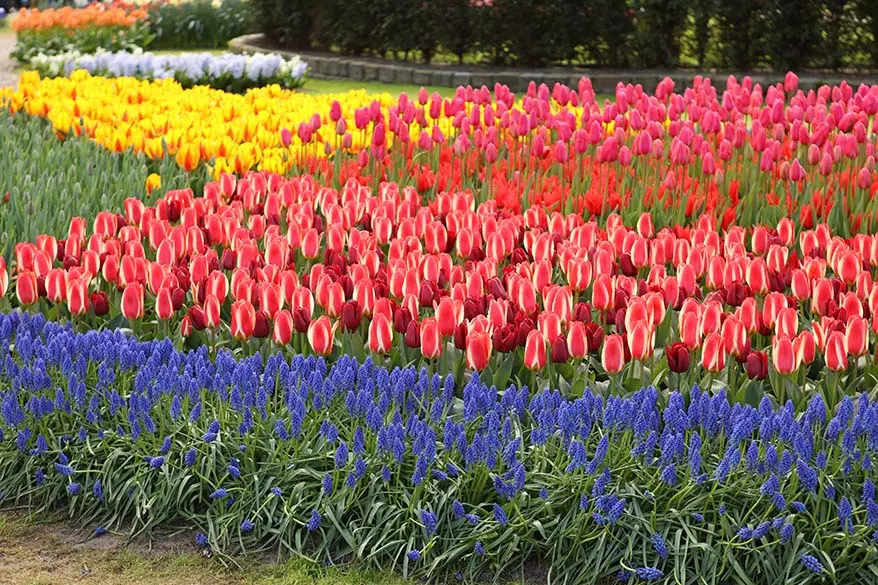 Where to find the best tulip fields near Amsterdam
The Netherlands is world-famous for tulips and many people visit Holland in spring in order to see the endless colorful bulb fields. One of the best places to see tulip fields in the Netherlands is the area around Lisse, 40 km southwest of Amsterdam.
Of course, this is not the only place in the Netherlands where you can see tulips. But this is where 99% of tourists go.
There are several reasons for this. First, Lisse is close to Amsterdam and there are transport connections (bus shuttles and tours). Second, one of the best-known flower gardens in the world – Keukenhof, aka the Gardens of Europe – is also located in the same area. And finally, this area has lots of amazing tulip fields that you can easily explore on your own.
That being said, you shouldn't just walk anywhere you like and you should most definitely not trespass on private property! This is also the reason why you should visit the tulip fields near Lisse – this area expects tourists and so there is a whole infrastructure that enables you to get the best experience without disturbing local farmers.
Further below, you'll find all the information about where exactly to go. Read on!
Good to know: The next tulip season is from March 21 until May 12, 2024. This is when Keukenhof Gardens are open and when all the tulip fields tours run. The park itself is open daily from 8 am to 7.30 pm. They now work with timed-entry slots and you really have to book your tickets in advance! If you also need a transfer from the city, opt for this bus + park ticket combo. Further below, you can find all the information about the best tours to explore the tulip fields in Lisse.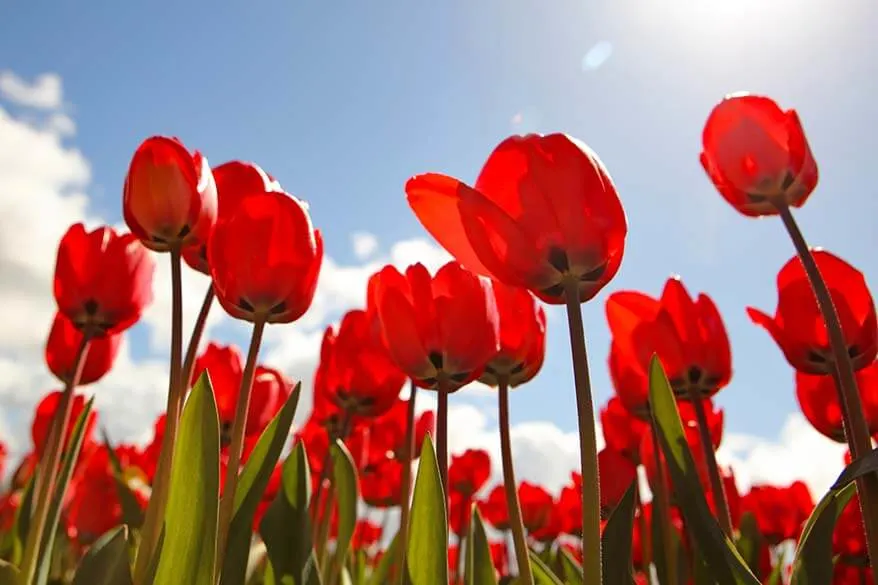 How to Get to Keukenhof & Lisse Tulip Fields?
You can either drive to Keukenhof by car or make use of one of the many shuttles or tours. There are plenty of options available from Amsterdam, from the airport, and from the other towns – they make it really easy for tourists to get there.
TIP: If you don't have a car and prefer to explore the park on your own, the best way to get to Lisse is by taking this bus transfer from Amsterdam. It includes roundtrip transportation and fast-track admission to the park. You can also upgrade your ticket to include a canal cruise.
Alternatively, you can book a guided tour to visit Keukenhof and the flower fields. You can choose from half-day tours, day tours, private transfers, etc. Most trips are available from Amsterdam, but you can find a tour from The Hague as well.
There are also some nice combi- tickets and tours if you want to see several of the most beautiful places near Amsterdam, in combination with Keukenhof. Here are a few of the best options: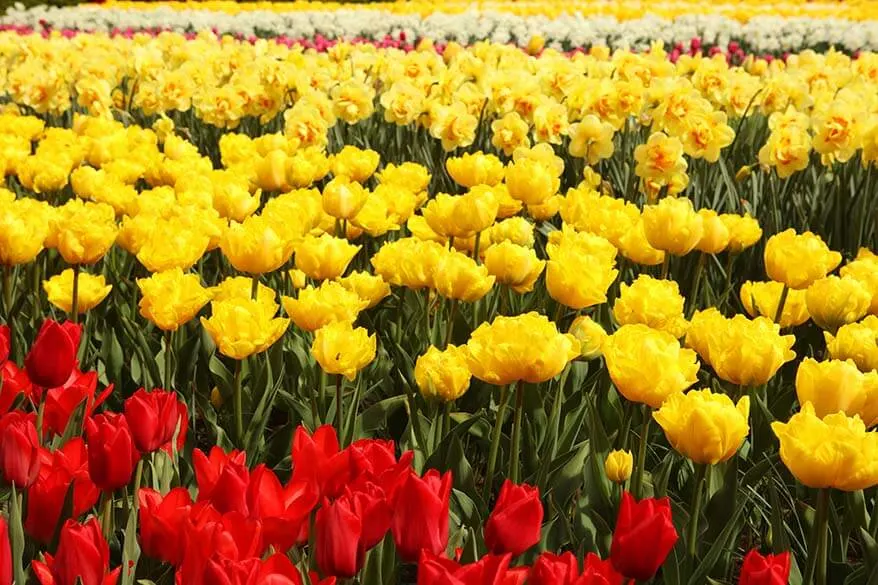 Lisse Tulip Fields
Lisse tulip fields are the best place to see tulips near Amsterdam. The most popular place to visit is Keukenhof Garden, but the entire Lisse – Noordwijkerhout area is covered by colorful flower fields.
Good to know: If you are only interested in seeing the tulip fields, you don't necessarily have to go to Keukenhof Gardens. On the other hand, the gardens are really worth a visit too. So if you have time, try to do both.
Further below, you can find information about visiting Keukenhof, but first – the best options to explore the best tulip fields in the Netherlands.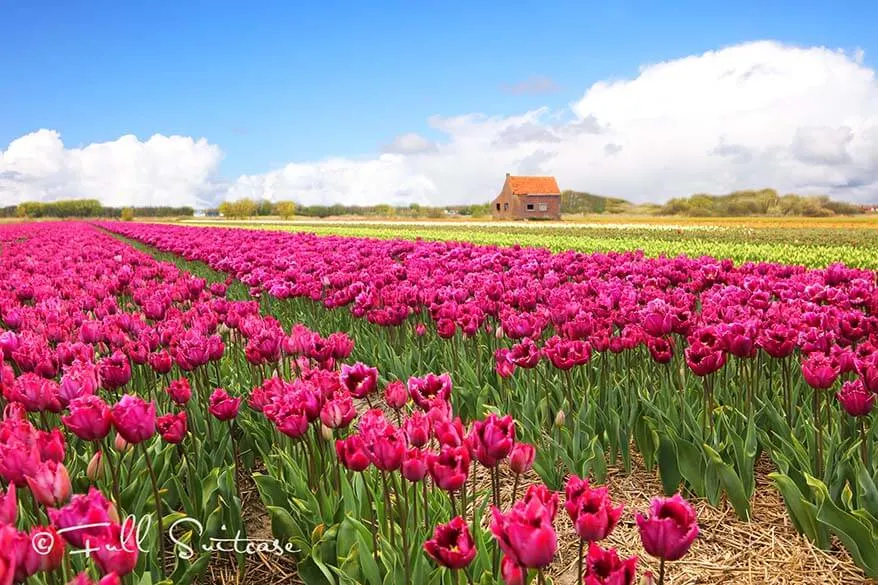 Best Ways to Explore the Tulip Fields Near Amsterdam
Whether you are driving to Keukenhof or taking a transfer, there are many nice ways to explore the tulip fields in the area. Also, you can expect to see all kinds of different flower fields, not just tulips. There are hyacinth fields and daffodil fields in this area too.
Here are all the best options how to visit the flower fields:
Drive Around & See Flower Fields from the Car
If you are driving to Keukenhof, you can easily explore the tulips fields in Lisse by car. In that case, make sure to stay off the major roads because otherwise, you won't see much. Depending on the weather in the spring and the time of your visit, you can see daffodil- and hyacinth fields as well. Daffodils bloom early, then hyacinths, and then finally the tulips. If you are lucky with the timing, you can see all of them at the same time.
However, expect it to be very busy around the tulip fields in the Lisse area. Please also note that some roads are really narrow and can get quite crowded with cars, buses, and bikes… And it's not always possible to drive or park just anywhere you'd like.
Plus, in recent years, most farmers around Keukenhof have closed any access to their tulip fields. This is because tourists step on the flowers ruining their chances to produce good-quality bulbs.
So while you will be able to see beautiful flower fields in Lisse simply by driving around, please remember that they are private property and you are not supposed to walk around on these fields. That's why we also recommend visiting tulip farms which are specially made for tourists – see below.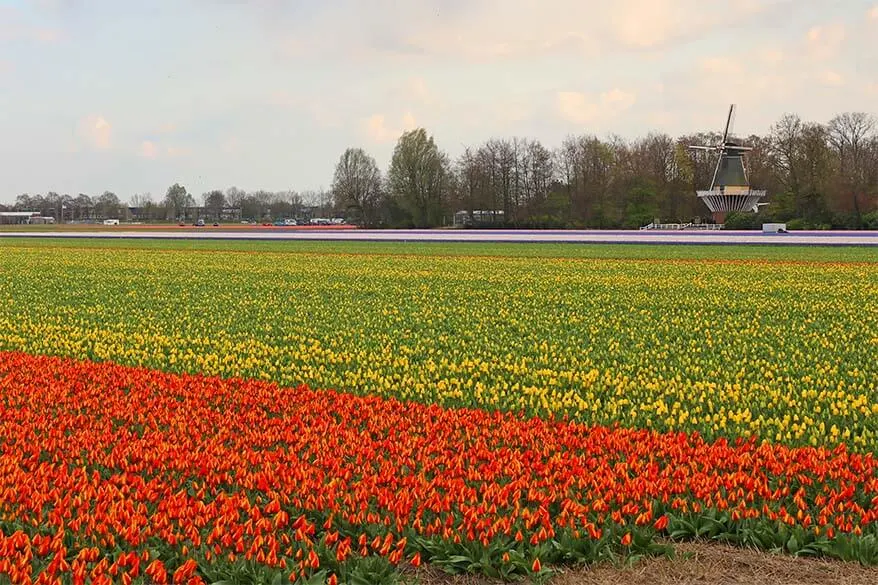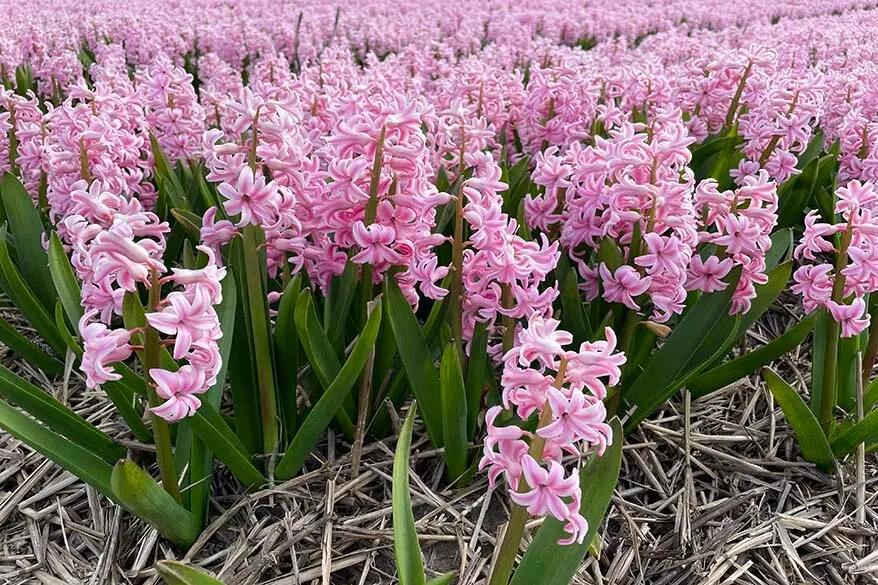 Tulip Farms
With a car (or by bike or taxi), you can simply visit the big commercial tulip fields like Tulip Experience Amsterdam or The Tulip Barn. They are both located just a few minutes drive from Keukenhof Gardens, and – simply just by driving to them – you will see many flower fields in the area.
Visiting these flower farms is by far the best way to take pictures of yourself with the most beautiful tulip fields. These experiences have been made especially in order to give tourists the chance to walk around tulip fields and give them plenty of opportunities to take as many pictures as they like, without bothering local farmers or damaging tulips which are grown for bulb production.
Both experiences are similar and both are located near Keukenhof. There is a small entrance fee (you can reserve a ticket in advance), but you can walk on the tulip fields and take as many pictures as you like without having to worry about disturbing private property. They both have all kinds of 'props' for your photos, such as traditional Dutch clogs, and many others.
Good to know: At Tulip Experience Amsterdam, they also have a small 'museum' where you can learn a bit about the history of tulips, how they came to the Netherlands, and how they are grown today. They also have a café and a souvenir shop.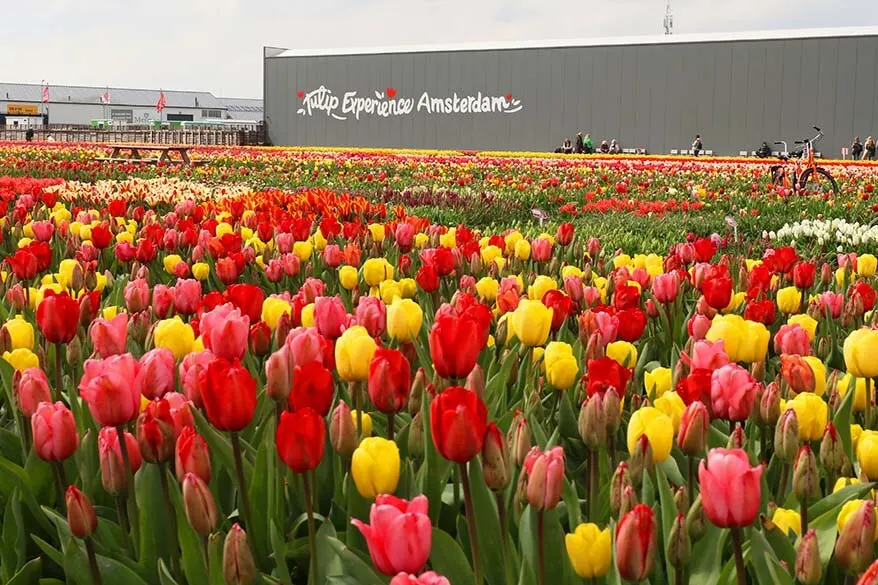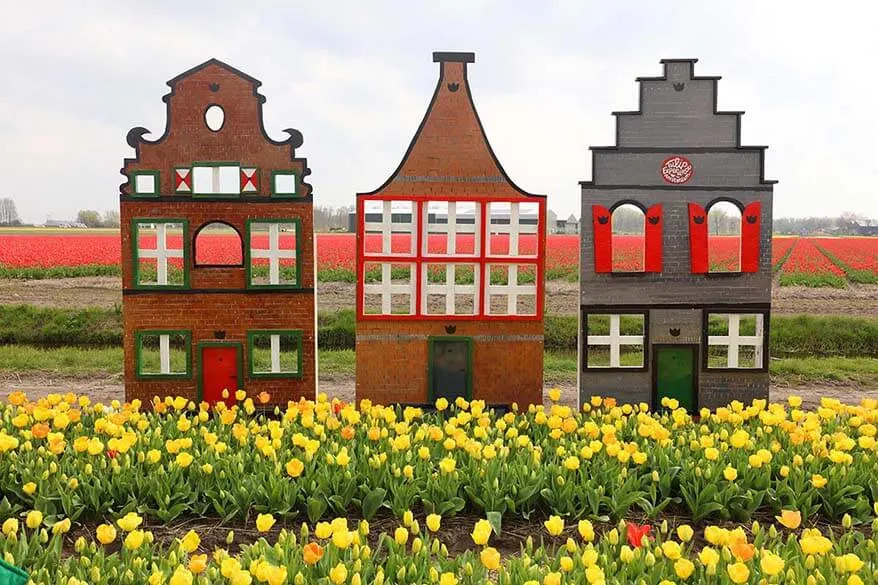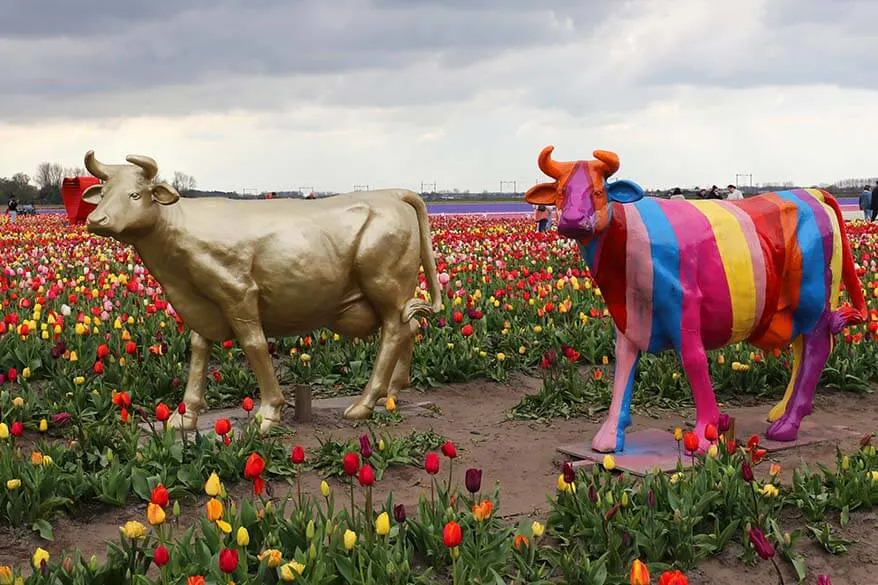 Self-Drive Tulip Fields Tour
If you want to drive through the most beautiful flower fields in Lisse without having to worry about where to go, consider this Tulip & Flower Fields GPS Audio Tour. This is a really nice way to explore the tulip fields near Keukenhof on your own.
This self-drive option is perfect for those who are short on time and want to see the nicest areas but have no idea where to start. You use a tiny 2-persons car which is perfect for driving around the tulip fields. Plus, you get GPS navigation with an audio guide in English, Dutch, and German, with all ins & outs about the flower bulb region and cool tulip facts.
They have prepared a few routes that take about 2 hours to complete. They are made in such a way that you avoid all the busy areas visited by tour buses, and at the same time bring you to the nicest tulip fields in the Netherlands, through the Keukenhof forest, and to a local flower bulb nursery.
The tour is designed to give you plenty of opportunities to stop at the nicest places, including a stop at a small family-owned traditional tulip bulb farm. Because the car is so small, it's easy to navigate on the narrow roads and park it next to the road when you want to stop and see and photograph the flowers from close by.
We recently did this tour and had so much fun! Also, one thing that you can't see in the pictures, is the incredible smell of the flowers, especially hyacinths. Driving around in this little car, you not only see the flower fields but truly experience the area.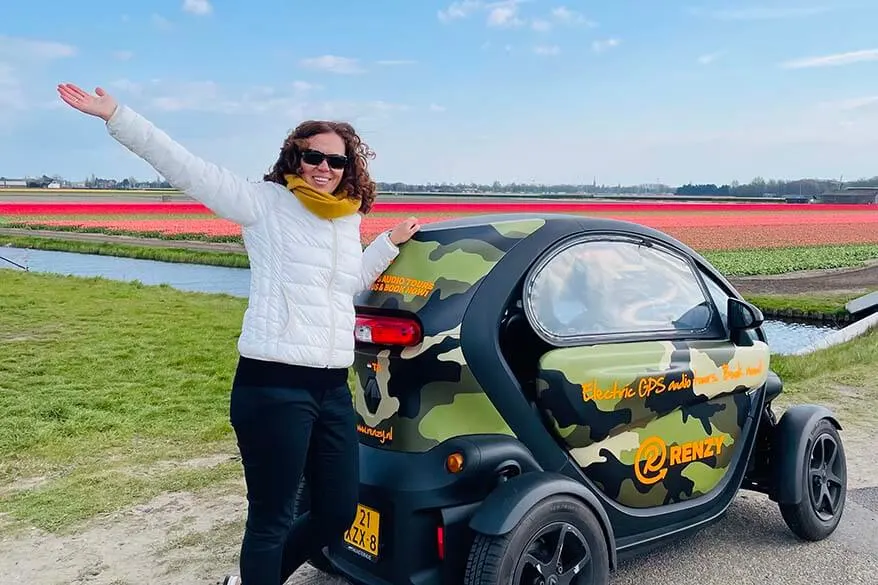 Practical information:
You need to be at least 21 years old and have a valid driver's license, with at least 3 years of driving experience.
Make sure to book your tour in advance (they sell out really fast).
One car is suitable for 2 people (2 adults or 1 adult and 1 child). However, the passenger sitting behind the driver has somewhat limited space, so it's not ideal for very tall people. In that case, you may enjoy it more if you rent separate cars, one per person.
You can pick up your car at the Renzy office, 15 minutes walking distance from the main entrance to Keukenhof Park. You can see the map here, but the actual walk will be much shorter than indicated on the map because you can walk straight through the car parking areas.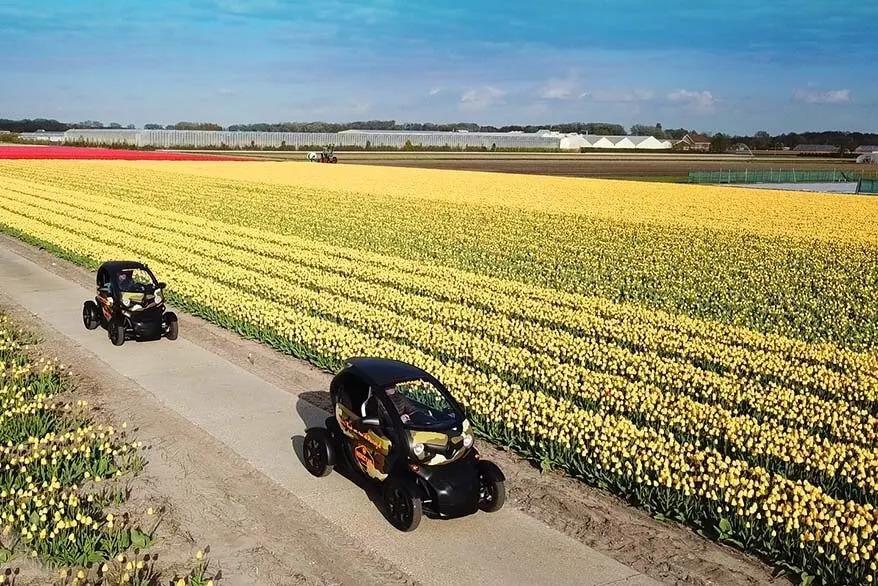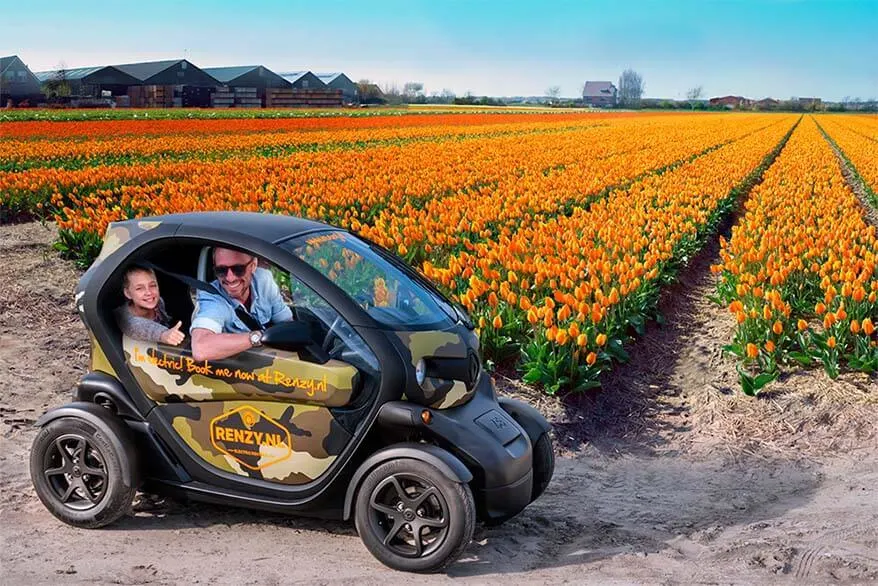 Bike Tours
Another great way way to see the flower fields around Lisse is by bike. You can either bring a bike yourself, rent one at the main entrance of Keukenhof, or join a bike tour.
TIP: This highly-rated bike tour is one of the best options if you want to see the tulip fields. You don't have to do any research or plant anything. Just show up, bring your camera, and enjoy the guided tour through some of the nicest flower fields in the Netherlands.
This tour takes about 2 hours and they have several departure times each day during the tulip season. Also here, you really should book in advance since the group size is limited and these tours book up fast.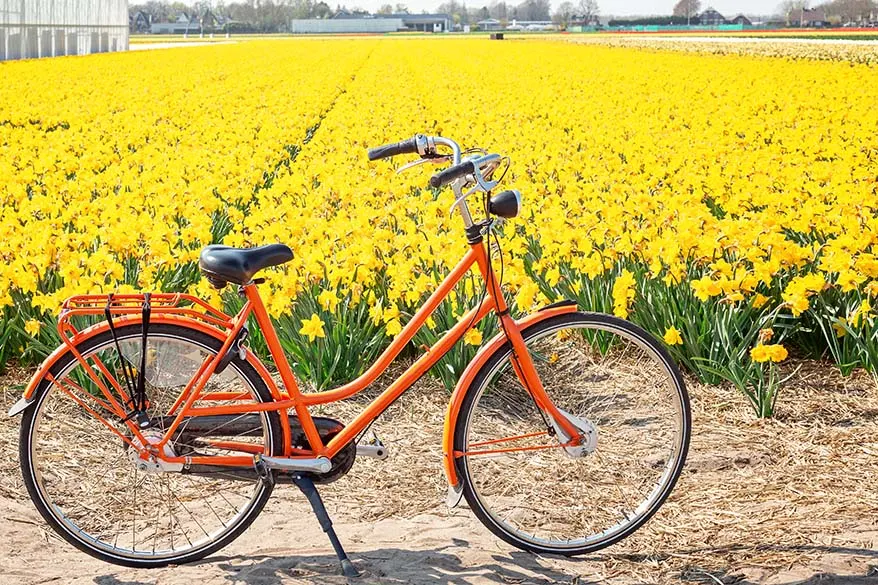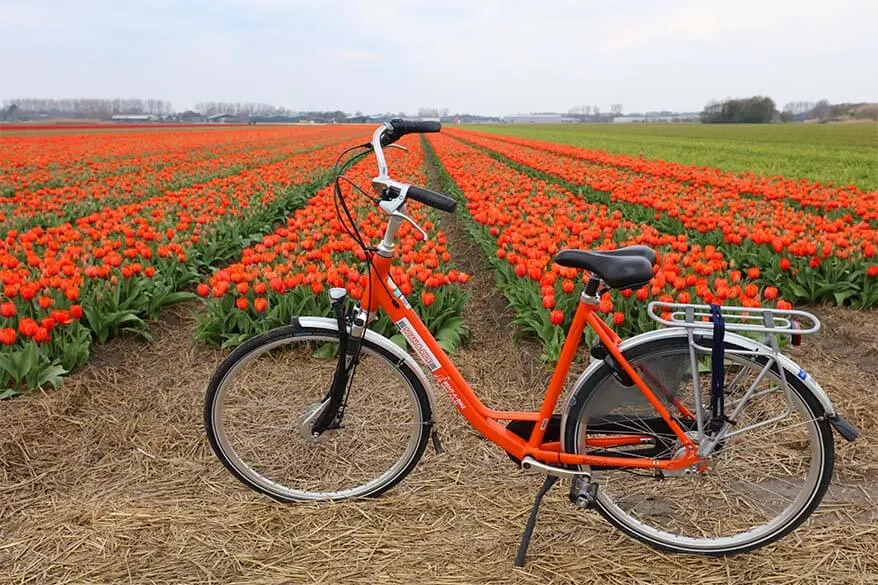 Helicopter Flight Over Dutch Tulip Fields
If you are looking for a special treat and a unique way to see the nicest flower fields near Amsterdam, check out this amazing helicopter flight over the tulip fields.
Good to know: The flights depart from the Keukenhof area and take 10-15 minutes depending on the option booked. The way it works at the moment, you have to reserve a specific date, and only get all the detailed departure information about a week before your trip. This has to do with the legal regulations in the Netherlands meaning that the municipality decides where exactly they are allowed to fly on which day.
Anyway, normally, this gives you enough time to make any practical arrangements and to plan your day. For example, we were given a time slot a bit after noon, so we visited Keukenhof Gardens first thing in the morning, then did the helicopter tour, and then drove to Amsterdam Tulip Experience passing many nice tulip fields on the way, as an added bonus.
All the practicalities aside, this is a great tour and such a terrific way to see the flower fields around Lisse, Noordwijk, and Hillegom from above. We recently did this helicopter tour and it was great. In addition to seeing the flower fields, we also flew over the sea and the coastline nearby – a wonderful experience.
Good to know: If you are interested in doing a helicopter tour, don't wait to book because it only runs for very few days every spring, and usually sells out at least a few weeks before the start of the tulip season. You can check availability and book this helicopter tour here.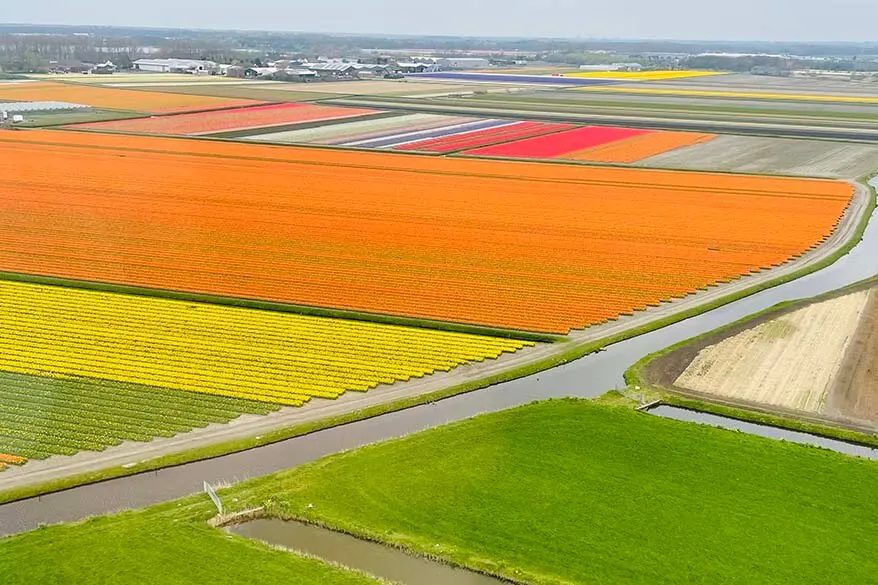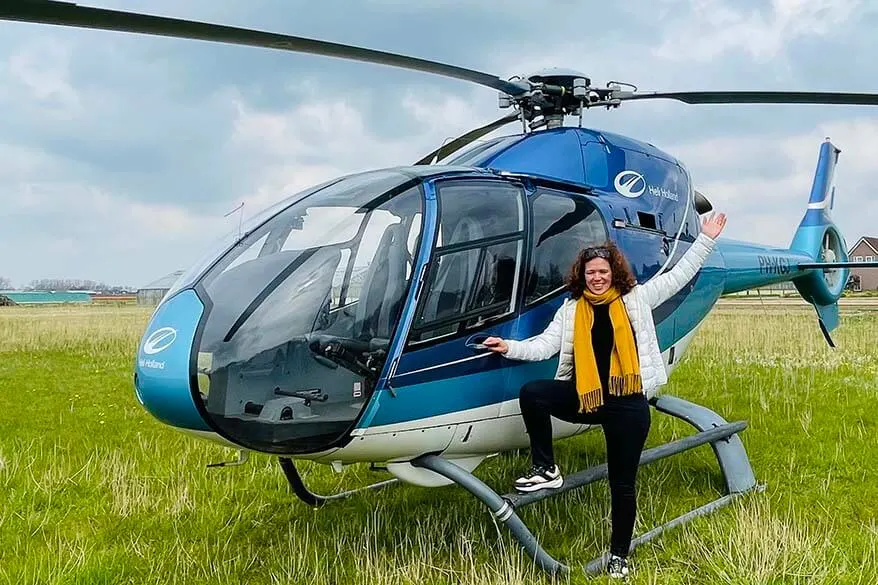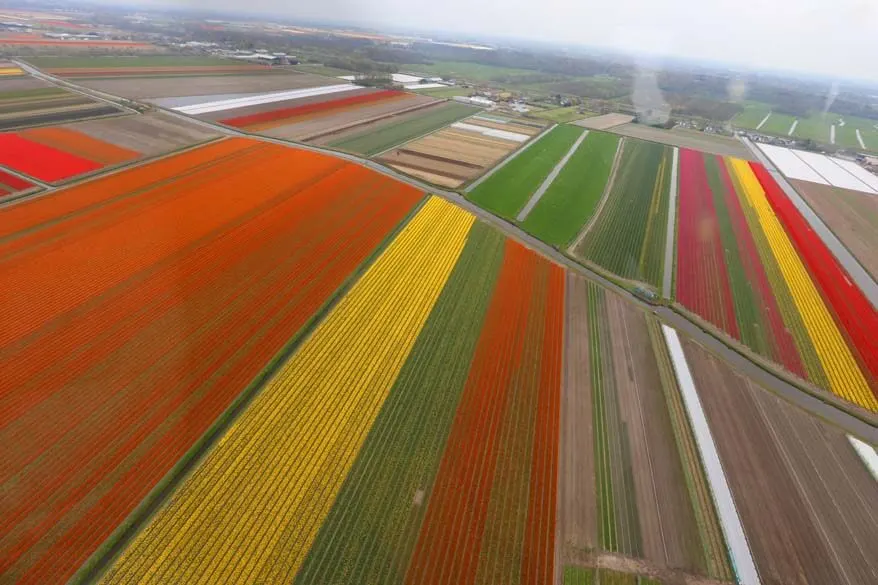 Windmills Boat Trip
If you are looking for a more relaxed way to explore the area around Keukenhof, you may want to check out this windmills boat trip. It takes you for a scenic ride on the canals around Lisse.
Quite frankly, I'm not sure how many tulip fields you will see from this boat. It will likely depend on the exact dates when you visit and which flowers are in full bloom next to this particular canal. This is more of a tour to see the Dutch countryside, windmills, etc. with the possibility of seeing flower fields as an added bonus. It's a nice experience if you have a few extra hours in the area.
Good to know: The canal cruise takes 1.5 hours. The boats depart about 2 km from Keukenhof Garden. If you don't have a car and don't want to look for a taxi, it's best to opt for this all-in tour. It includes all the transfers from Amsterdam, the windmills cruise, a local transfer between the boat and Keukenhof, and also Keukenhof Garden entry tickets.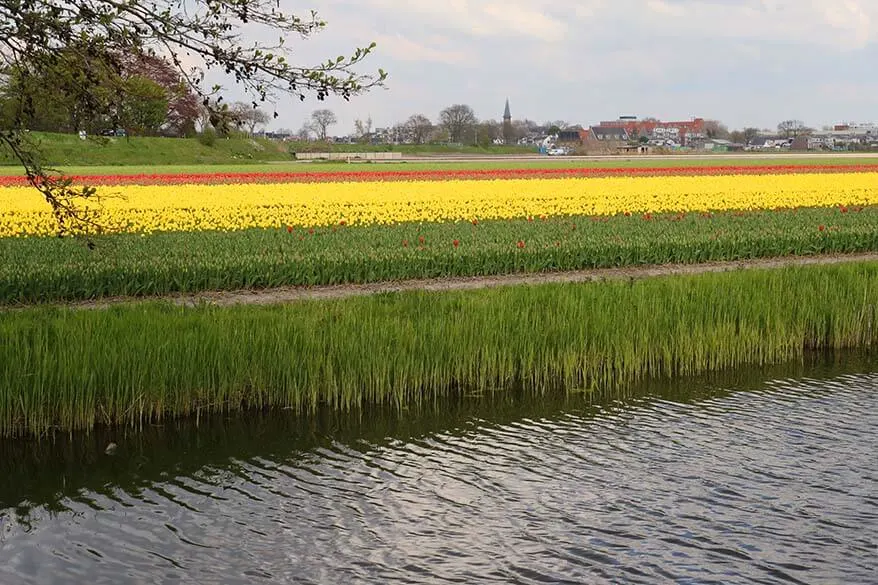 Ok, now that we covered all the best ways to see the tulip fields in Lisse, let's take a look at what to expect when visiting Keukenhof Gardens.
What is Keukenhof and what can you expect to see?
Keukenhof is a truly beautiful flower garden (32 hectares – 79 acres) with more than 7 million bulbs in bloom every spring.
Keukenhof is one of the largest flower gardens in the world with more than 800 different varieties of tulips and many other types of flowers blooming in the park every spring. Even the biggest skeptics will be impressed!
That being said, there are some things you should know before your visit to Keukenhof Gardens. Read on!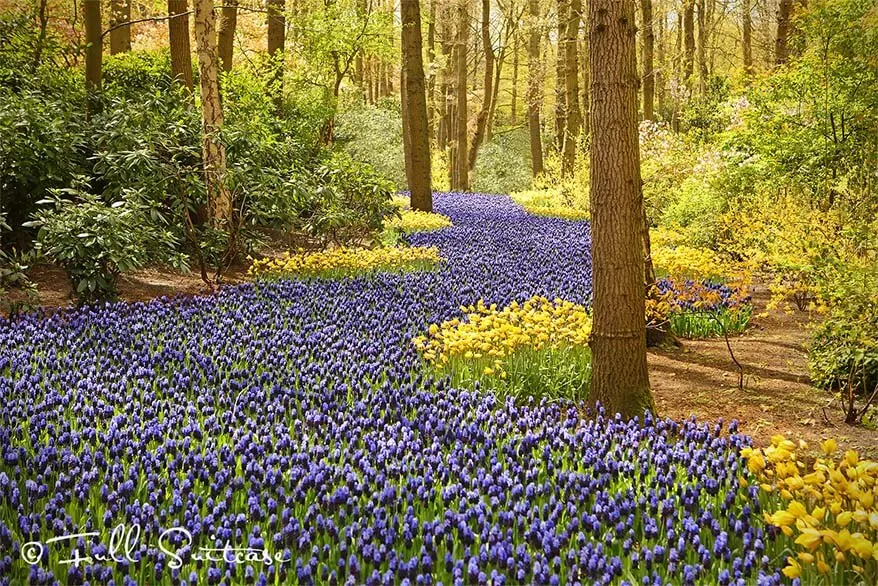 When is the best time to visit Keukenhof Gardens?
Keukenhof is only open in spring, from end-March to mid-May. It's open daily, but – if possible – DO NOT VISIT KEUKENHOF ON THE WEEKENDS OR PUBLIC HOLIDAYS!
There are always plenty of flowers blooming in the park, but the very best period to visit Keukenhof Gardens is – generally – during the second half of April.
The best time to visit Keukenhof park is early in the morning on a weekday. If you want to have some pictures of the park without any people in them, make sure you arrive in Keukenhof at 8 AM and work fast. The areas around the pond and the windmill are the most beautiful, so pick one and head there first.
The last two weeks of April is also the best period to see tulip fields in the Netherlands as the flowers are usually cut off by mid-May. It might be a bit different every year as so much depends on the weather. Nevertheless, the gardens always have a lot to offer, so if Keukenhof is open, it's always worth a trip.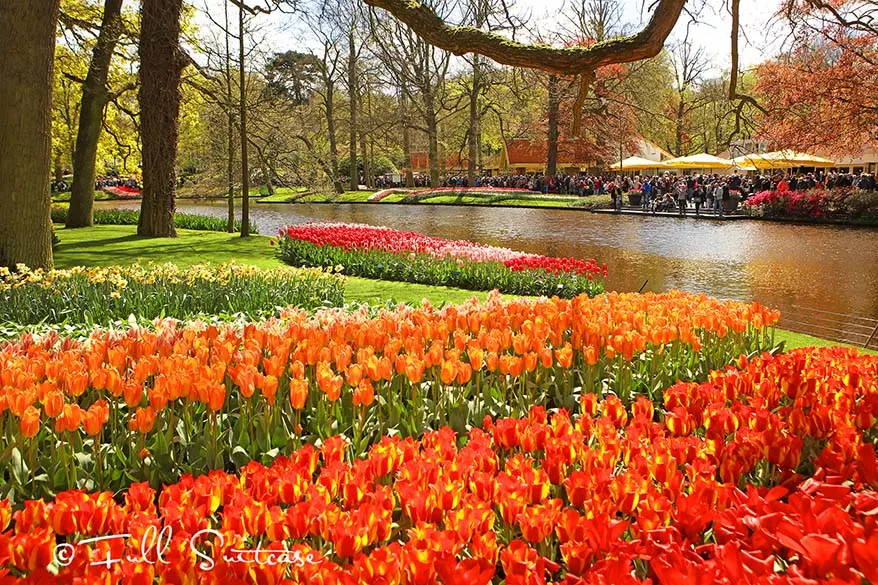 We have been to Keukenhof several times over the years. Usually, we go on weekdays, but once we went there on a Saturday. We expected it to be busy, but what we experienced was indescribable!
We knew we made a big mistake the moment we left the highway. We were stuck in traffic some 3-4 km from the park with tens of tour buses from Germany, France, Belgium, and the UK completely blocking the road. The last kilometers took us more than half an hour and we ended up parking at alternative parking on the other side of the park in order to avoid the busy parking at the main entrance.
We arrived just before 10 AM and the park was already packed with people. It got even worse after noon and you could walk over people's heads. There was not a single path in the whole park where you didn't have to wait and queue… The restaurants were crowded and if you wanted to use the bathroom, you had to plan it well in advance.
So whatever you do, avoid visiting Keukenhof on the weekends at all costs. It's really no fun. You won't see the 'big picture' of the park and it's a pity because it's really beautiful.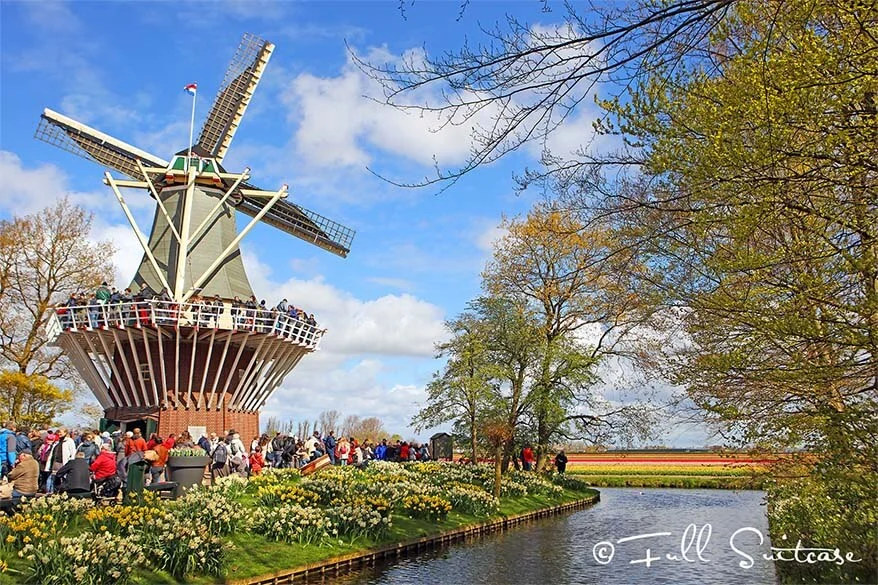 What can you do in Keukenhof?
Keukenhof is a park, but it has a lot of rules and regulations. Basically, you can walk around, look at the flowers and take pictures. You are not allowed to walk on the grass, although we didn't know this and it looks like the other half a million visitors were not aware of the rule either.
You cannot bring a bike or a kick scooter into the park and you can only picnic at one designated area, close to the windmill.
There is a treasure hunt for the children, a petting farm, a maze, and a playground. There are various exhibitions and flower-arranging demonstrations in the five pavilions of the park as well.
One of the main attractions of the park is the traditional Dutch windmill overlooking the tulip fields from where you can also take a boat trip through the beautiful flower bulb landscape.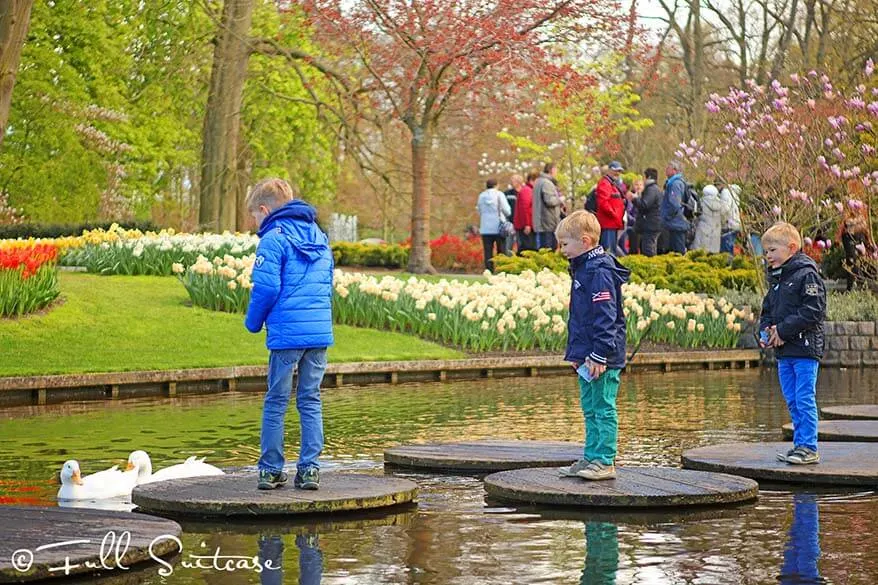 Keukenhof Gardens are very tourist-oriented and you will find all kinds of typical Dutch 'details' in the park – like the traditional wooden clogs or this cow with Dutch cheese.
BUT – you will not be able to see and do much in the park if you are visiting on a busy day. The queues at the windmill are immense, and so are the queues at the ticket office selling tickets for the boat trips.
Luckily, we had bought the tickets for the park online and so at least we didn't have to queue at the entrance. All the five pavilions with flower exhibitions were so crowded with people that you could hardly see any flowers at all…
Dogs are allowed in the park, but you better leave your dog at home. We saw quite some people carrying their dogs in their arms. I assume they were worried that the dogs would get trampled by the crowd.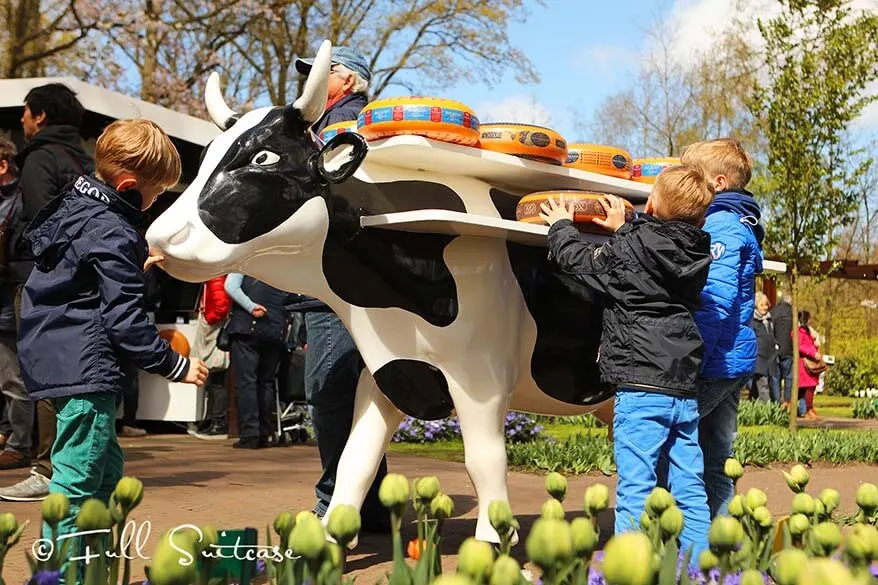 How much does it cost to visit Keukenhof in 2024?
The tickets to the park are +-19 EUR for adults and 9 EUR for children. Kids 3 and younger are free.
Parking costs 6 EUR and the park guidebook – 5 EUR. A map is free.
Organized tours from Amsterdam including a transfer and an entrance ticket start at around 40 EUR/pp.
Renting a bike to explore the flower fields costs 10-15 EUR.
A guided bike tour costs around 45-50 EUR.
A boat trip (that starts inside Keukenhof) is not included in your park ticket and costs an additional 10 EUR.
Food is really expensive in the park, just as in most theme parks and similar. TIP: Bring a picnic – it will save you lots of time, but also money.
Good to know: Nowadays, Keukenhof works with timed-entry tickets. They are available several months in advance and you really should book them asap.
LEARN MORE: Tips & Tricks for Visiting Keukenhof Gardens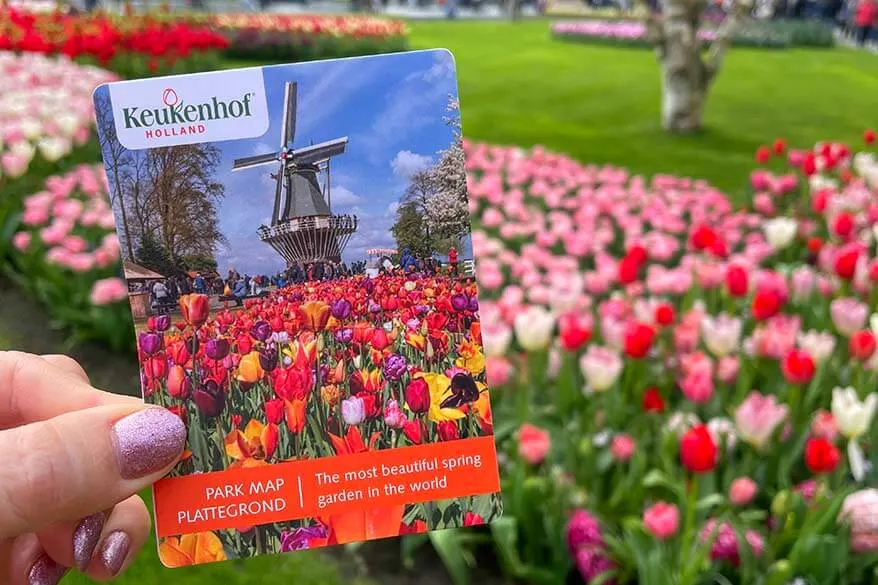 Where to Stay Near the Tulip Fields?
First, you really don't have to stay close to the tulip fields in order to visit them. Most people just stay in Amsterdam and visit Keukenhof/ Lisse for a day.
If you want to spend more time in the area, you can stay in Lisse or the nearby towns. Keep in mind that accommodation options nearby are very limited and usually fully booked during the peak tulip season (so book asap!).
Here are a few nice hotels close to the tulip fields:
TIP: If there is no availability here anymore, check out the hotels at the nearby seaside resort Noordwijk (about 15 minutes drive from Keukenhof Park). We recently stayed at Alexander Hotel in Noordwijk. The nice thing about staying here is that you can also see yet a different facet of the Netherlands – the seaside. Plus, since April is usually still a lower season, it's usually not as busy yet and it's easier to find a nice place to stay than in Lisse.
Keep in mind that on April 27, the Netherlands celebrates King's Day and there are school holidays during this period too. Plus, May 1 is Labor Day and a public holiday in the neighboring countries. So if you are visiting the Dutch flower fields at the end of April – beginning of May, you really should book your accommodations well in advance.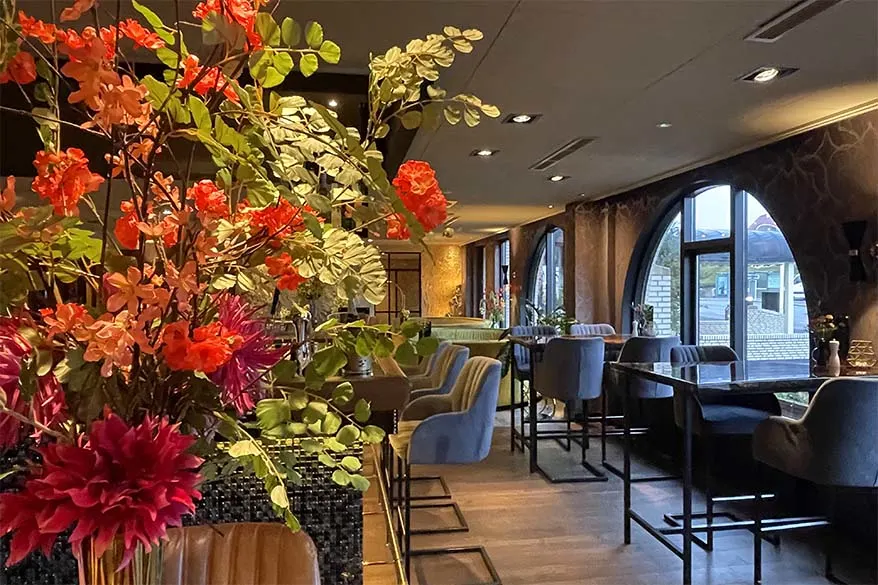 Are Keukenhof Gardens worth it?
Keukenhof is a stunning flower park that anyone will enjoy, so yes, it's absolutely worth it. However, as you can imagine, it's also a very touristy place. Because the season to see the flowers is really short, no matter when you visit, it will be busy.
There are lots of tour groups and day tourists on a stopover in Amsterdam. Some people are even carrying their suitcases with them… I still don't understand why they do it as there are lockers available at the park, but I wouldn't be surprised that even the lockers get full on busy days…
So, are Keukenhof Gardens for you?
If you like flowers and beautiful gardens and don't mind the crowds, then yes, Keukenhof is certainly worth a visit.
If you like flowers, but cannot stand the crowds, then you might want to visit Keukenhof very early in the morning or skip it altogether and just focus on exploring the beautiful Lisse tulip fields nearby.
TIP: You can find some more inspiration for the nicest places to see in the countryside near Amsterdam in our guide via the link below.
READ ALSO: Dutch Countryside: Top Places Near Amsterdam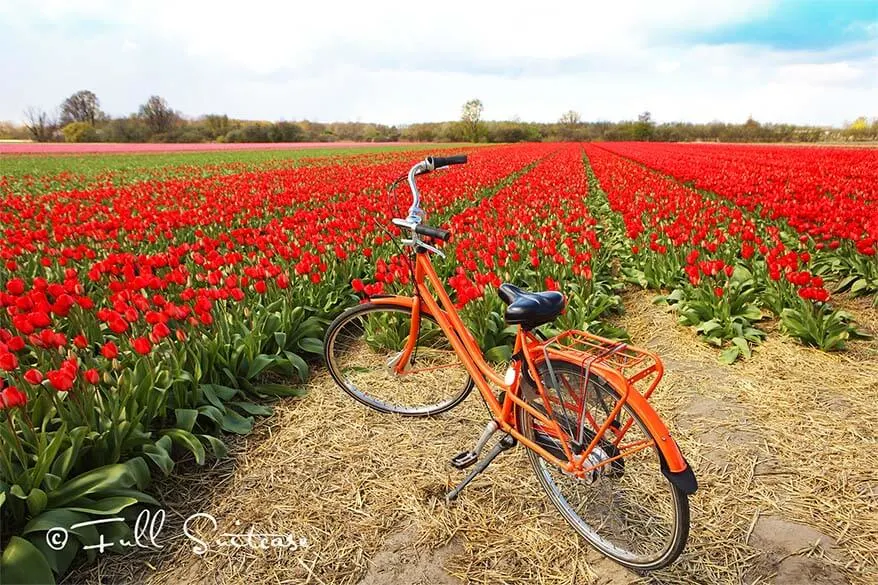 Visiting Keukenhof & Lisse tulip fields – conclusion
Keukenhof is well worth seeing, just know that it will be busy. Go early in the morning on a weekday and you will love it!
Would I travel from the other side of the world to see Keukenhof Gardens and the tulip fields in the Netherlands? I don't think I would come to the Netherlands just for the flowers, but we live nearby and have seen them so many times, so you may feel totally different about it! Plus, if you are planning a trip to Amsterdam anyway, spring is a beautiful time to visit.
TIP: Don't visit just Keukenhof Gardens! Make a whole day trip of it and make sure to also explore the tulip fields nearby. Rent a bike, join a bike tour, stop at a tulip farm for some fun pictures, or do a self-drive trip with an electric car. The walking distances are really too big to explore the area on foot. Not to mention that it's really handy to have a suggested route that you can follow.
I made a short video from one of our visits to Keukenhof and Lisse tulip fields nearby. Take a look!
More tips for visiting the Netherlands:
Amsterdam:
Itineraries:
More of the Netherlands:
TIP: If you have more time in the Netherlands, consider a day trip to the windmills of Kinderdijk and visit the Alkmaar cheese market. Without a car, Zaanse Schanse windmills are much easier to get to from Amsterdam than Kinderdijk.
If you found this post useful, don't forget to bookmark it and share it with your friends. Are you on Pinterest? Pin these images!