Planning to visit Zermatt in Switzerland and wondering what are the best things to do in Zermatt? In this guide, we share all the top sights, most beautiful views, best hikes, and amazing experiences in Zermatt that are worth your time the most. Plus, you'll find our experience-based tips and suggestions for each place and activity, and a map to help you orient. Take a look!
The picturesque mountain resort of Zermatt is probably best known as home to the Matterhorn, one of the most photographed mountains in Switzerland. So every visitor coming to Zermatt hopes to see picture-perfect views of the Matterhorn.
However, there is SO MUCH MORE to see and do in Zermatt than just snapping a picture of the Matterhorn!
I hope that this guide will inspire you to spend more time in Zermatt and explore its beautiful surroundings deeper. Find out!
TIP: While many people only visit Zermatt for a day (just as they do with Mt Titlis, Jungfraujoch, Top of Europe, Mt Pilatus, and many other popular places in the Swiss Alps), one day is really just enough to scratch the surface of what Zermatt has to offer. So if you can, plan a bit more time (at least 2-3 days) and experience the best of Zermatt with our suggestions below.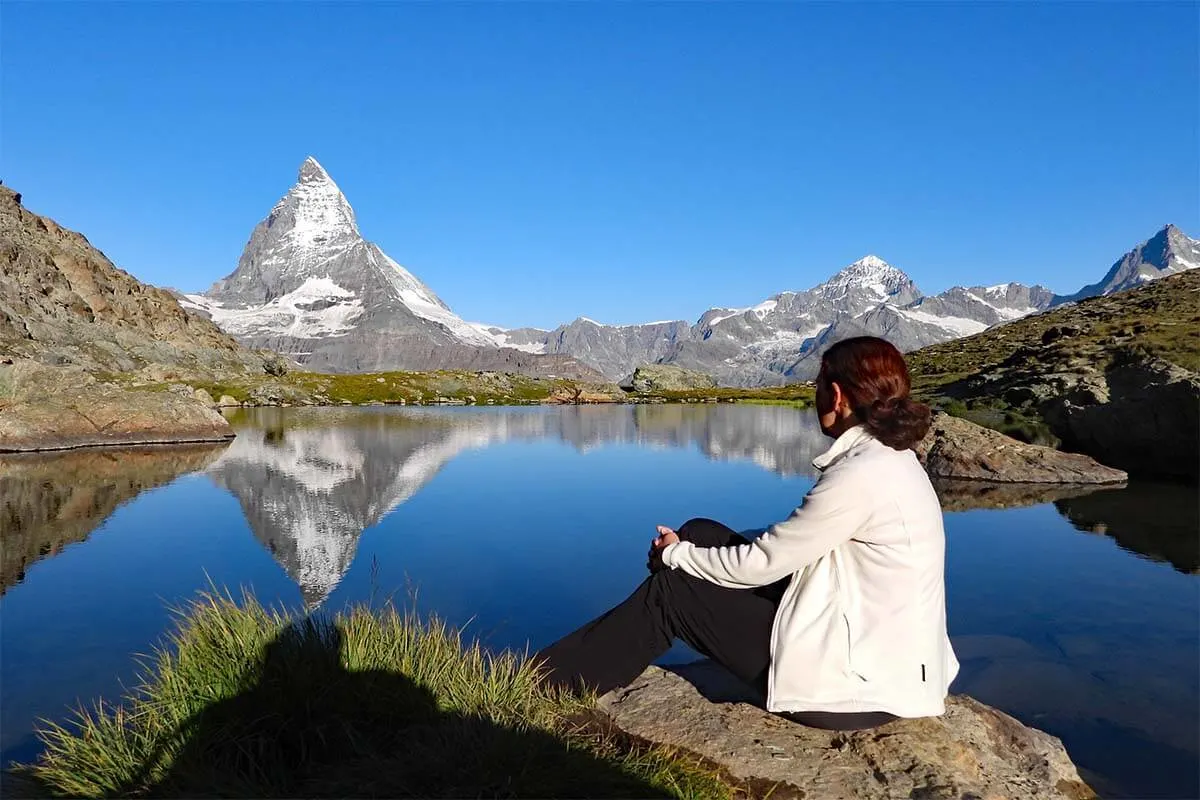 How to use this guide: We start this list with the most popular 'must-see' Zermatt attractions first. However, we also sort the activities per area. This way, you can easily plan which places to visit together, depending on how much time you have in Zermatt.
The top 10-12 are the VERY BEST things to do in Zermatt; places and activities that are worth your time the most if you are visiting Zermatt for the first time. So if you have 1 or 2 days in Zermatt, concentrate on these places first. If you are really short on time, try to at least see the places that we marked as 'MUST DO'.
The rest of the list is well worth doing if you have more time in Zermatt. You'll need 3-5 days if you want to cover everything mentioned here and do some hiking in Zermatt.
BEST OF ZERMATT – TOP TIPS:
* MUST DO: Matterhorn Glacier Paradise, Gornergrat, Zermatt town.
* BEST HIKES: Matterhorn Glacier Trail, Gornergrat – Riffelsee – Riffelberg, and 5 Lakes Hike.
* FUN TO DO: Gorner Gorge, suspension bridges, mountain carts, skiing.
* MUST TRY: Swiss cheese fondue and/or raclette.
* WHERE TO STAY: €€€ Backstage Boutique SPA Hotel, €€ Hotel Butterfly, € Hotel Bahnhof.
* TICKETS: Matterhorn Glacier Paradise (1 day), Gornergrat Railway (1 day), or Peak Pass (for longer stays). If you have at least two days in Zermatt, it's best to visit one area per day – that way, you can make the most of your ticket for each area.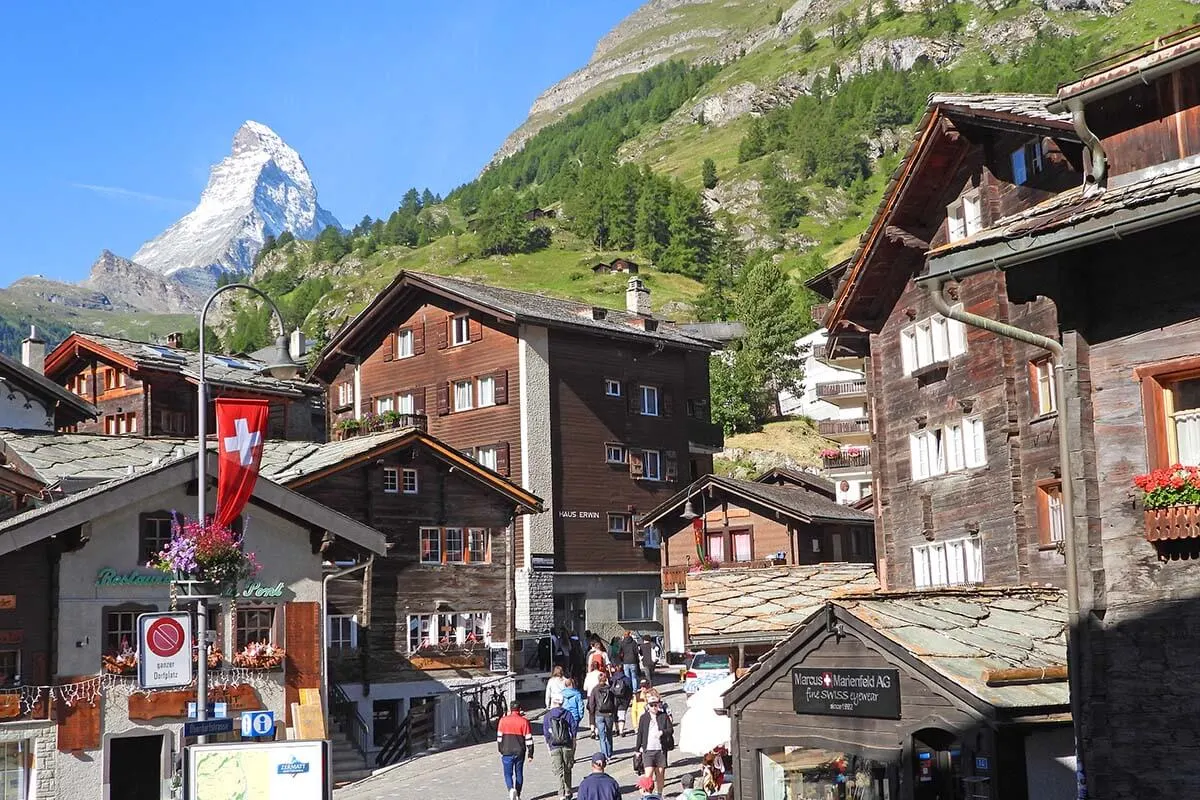 To help you plan your visit, we also include a map indicating all the places mentioned in this article. That way, you get a better idea of how to best plan your time in Zermatt.
As you can see on the map, many places are located close to each other or along the same railway/gondola track. So you can easily combine several places/ activities together, depending on how much time you have.
A lot will also depend on the season when you visit Zermatt. While some of the main sights can be visited the whole year round, some others are only accessible in summer, June to September. We indicated this information for each of the sights and activities.
Here is the map of the best things to do in Zermatt. The numbers on the map correspond with the numbers on our list below, where you can also find more details about each place and activity. Read on!
These are the best things to do in Zermatt:
1. Matterhorn Glacier Paradise
MUST DO. Accessible all year.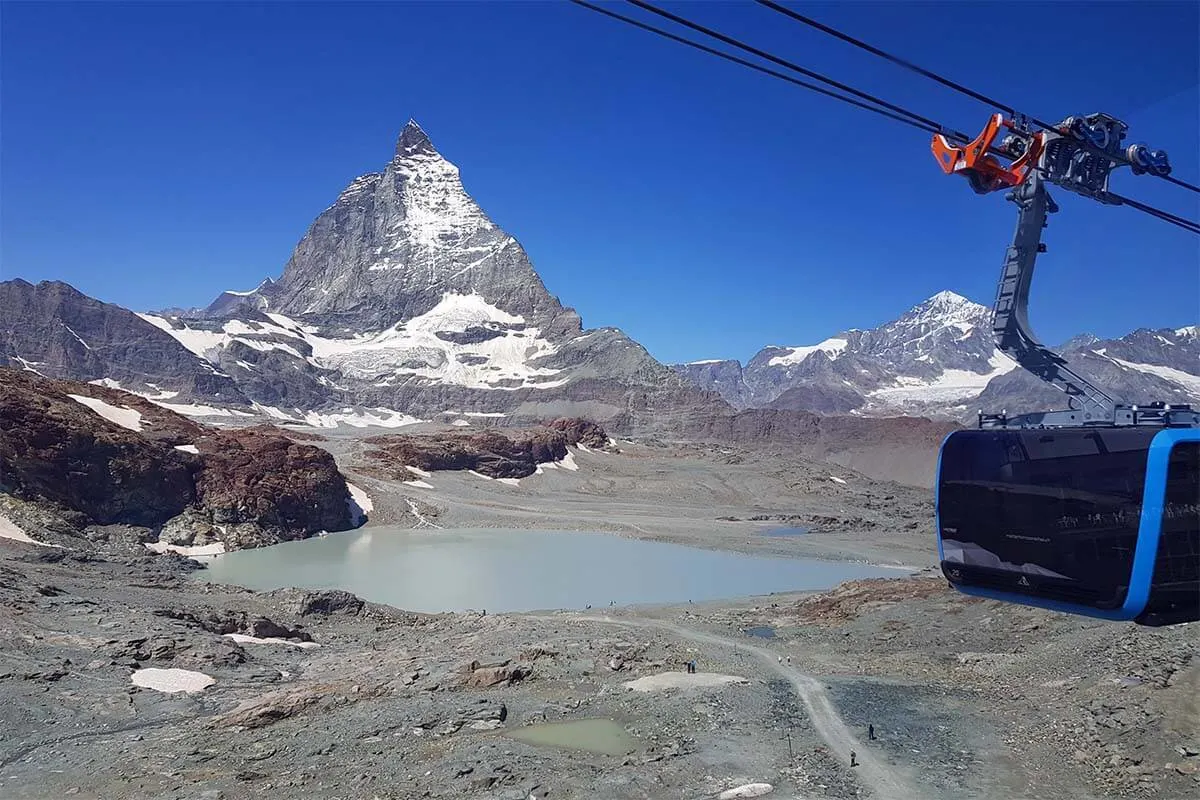 Matterhorn Glacier Paradise set at the top of Klein Matterhorn peak, is one of the must-see areas that you absolutely shouldn't miss in Zermatt, no matter in which season you visit.
At 3,883 m (12,739 ft) above sea level, this is the highest viewing platform in the Alps, with a 360° panorama of some of the highest mountains in Europe. From the top, you can see 14 Alpine glaciers and 38 mountain peaks higher than 4,000 m (13,123 ft), including Matterhorn just nearby, but also Mont Blanc in the distance.
But the unique glacial experience starts even before you reach the peak of Klein Matterhorn, when you go up to the top by cable car between Trockener Steg and Matterhorn Glacier Paradise. The ride takes you right above a glacier and the views are incredible!
But if you are looking for something even more special, be sure to upgrade your ticket so that you can experience the Crystal Ride. You can then take one of the extra-luxurious cabins, with thousands of Swarovski crystals, super comfy seats, and – the main feature – glass floors that give you fantastic views of the glaciers right under your feet.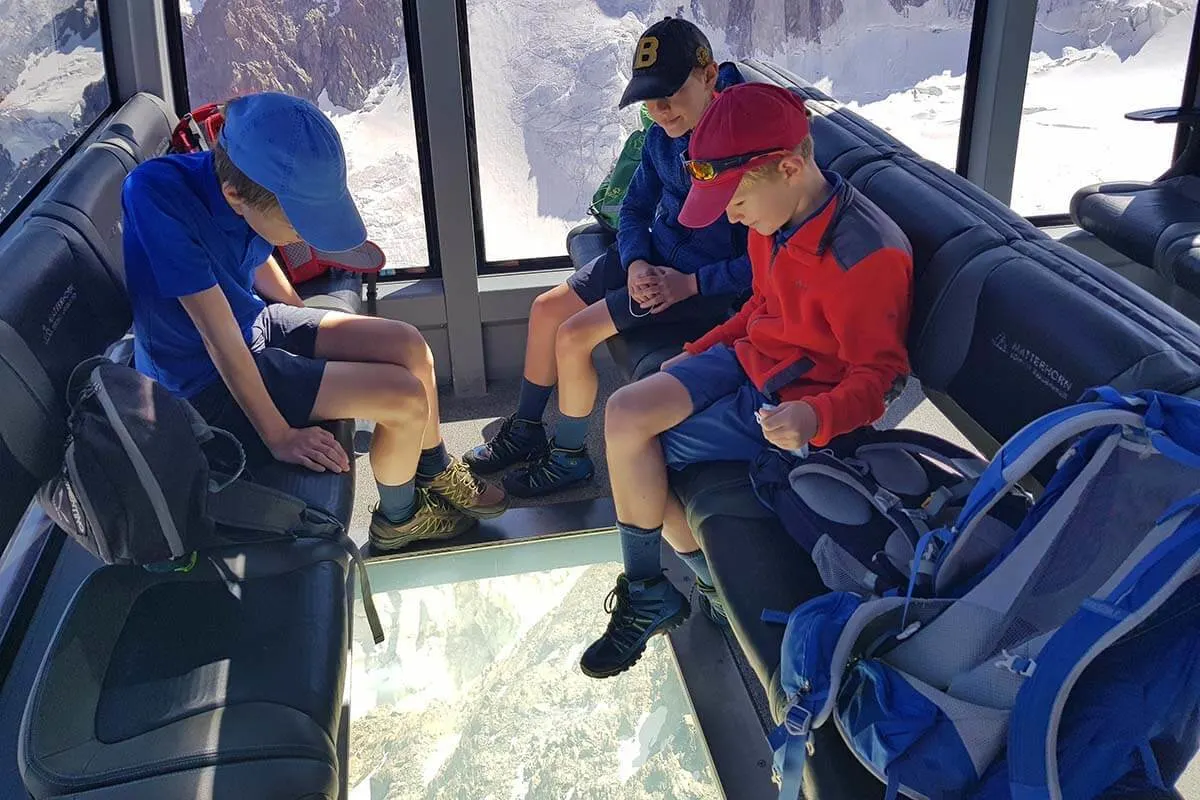 In addition to the sweeping panoramas, there's even more to experience at Klein Matterhorn. One of the highlights is the incredible Glacier Palace.
Carved deep under the glacier in the eternal ice, this is a real fairy-tale-like ice palace with several ice tunnels and the most beautiful ice sculptures you can imagine. In addition, you can walk through a glacier crevasse and try out an ice slide. This is one of the most unique things to do in Zermatt, it's fun for any age, and you can visit the ice palace the whole year round.
In addition, you can go skiing and snow-tubing at Matterhorn Glacier Paradise the whole year round. There's also a restaurant and a souvenir shop here, as well as a cinema lounge where you can watch various short films about the area.
Good to know: Except for the viewing platform and skiing/ snow tubing, all the other experiences are indoors. So even if the weather isn't great, you'll find plenty to do at Matterhorn Glacier Paradise. Furthermore, all the experiences are included in your ticket. For summer skiing, you'll need a ski pass.
LEARN MORE: Matterhorn Glacier Paradise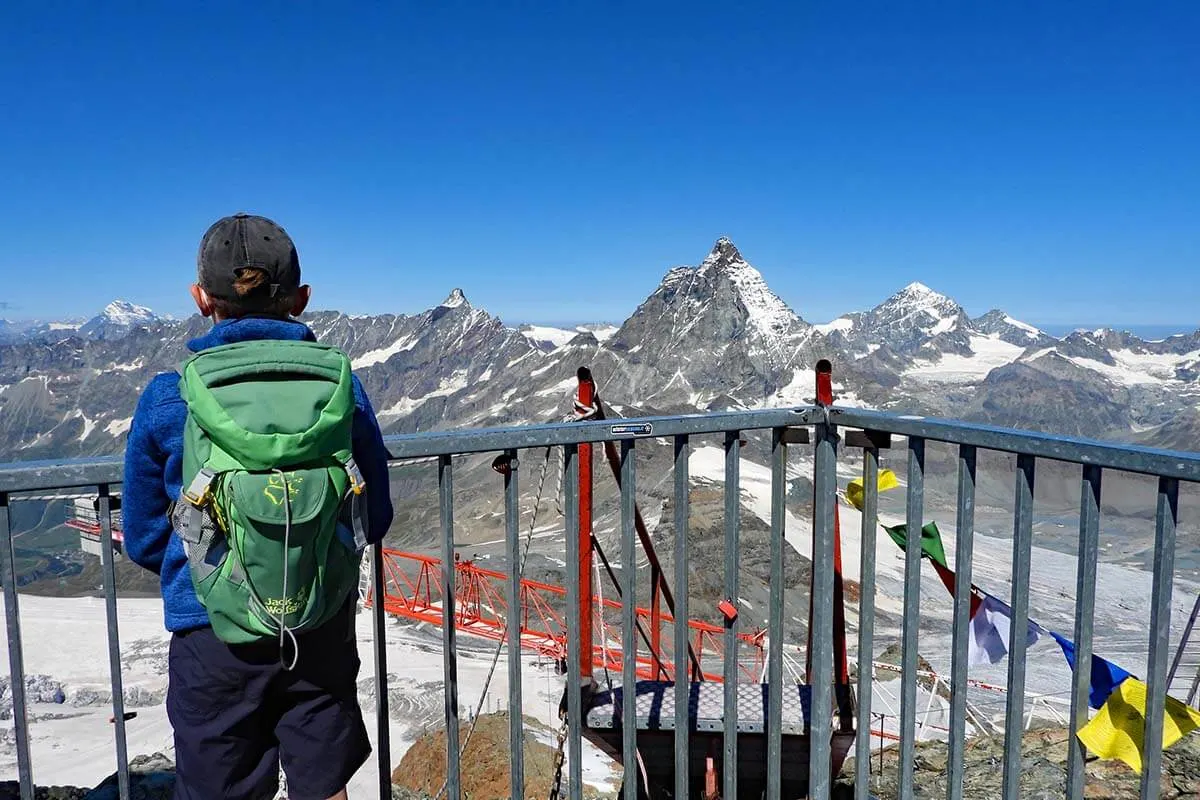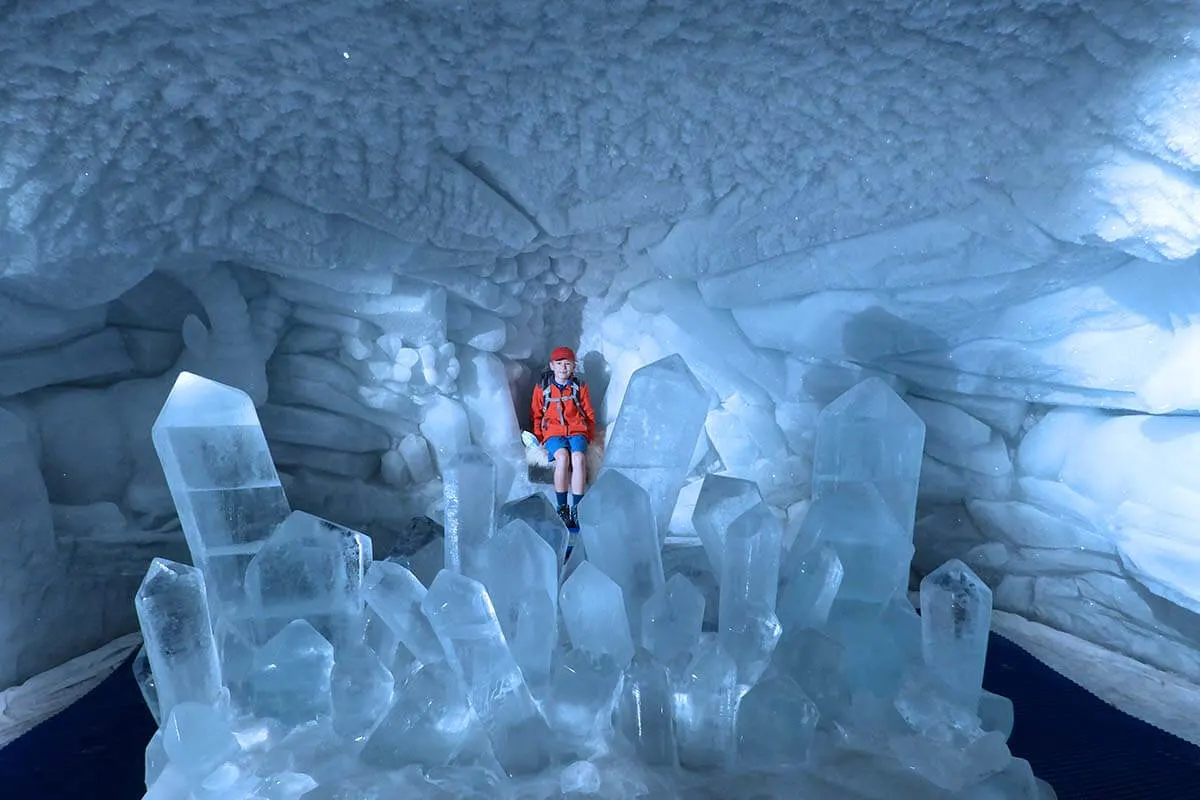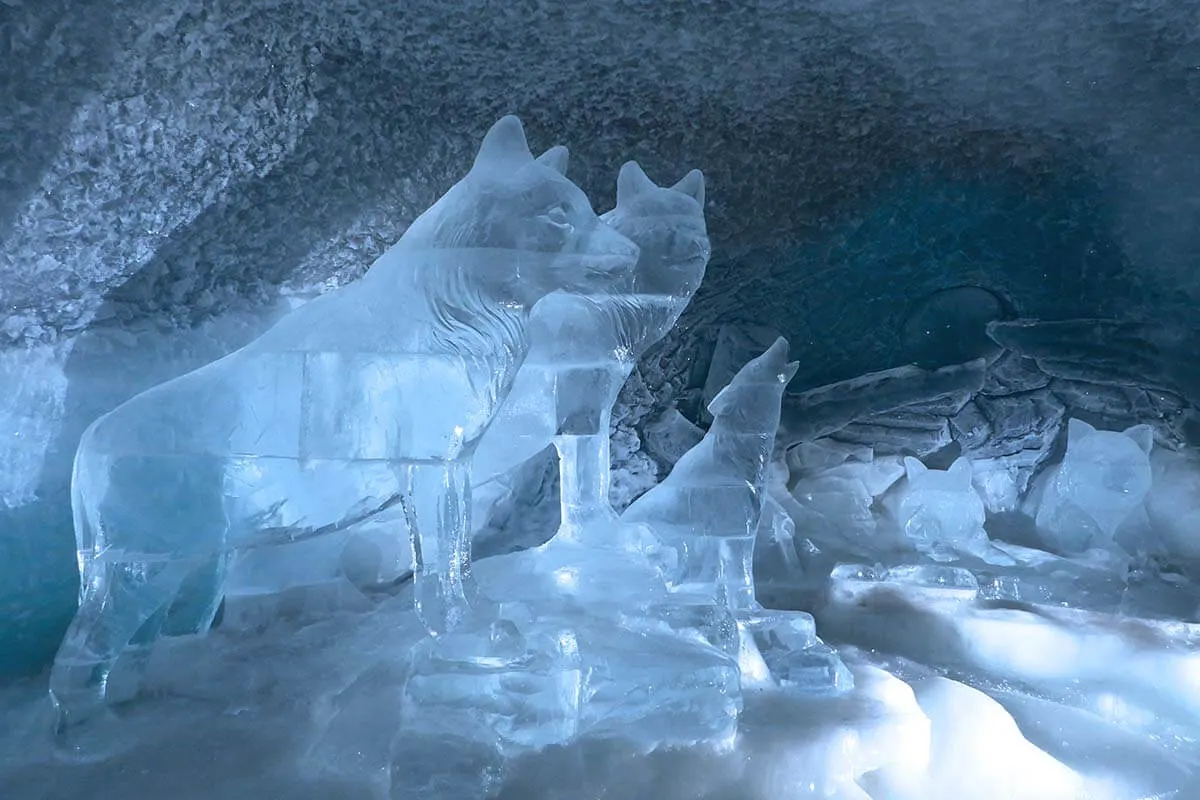 2. Matterhorn Glacier Trail
ONE OF THE BEST HIKES. Summer only. Medium hike. 6.6 km. 2-2.5 hours.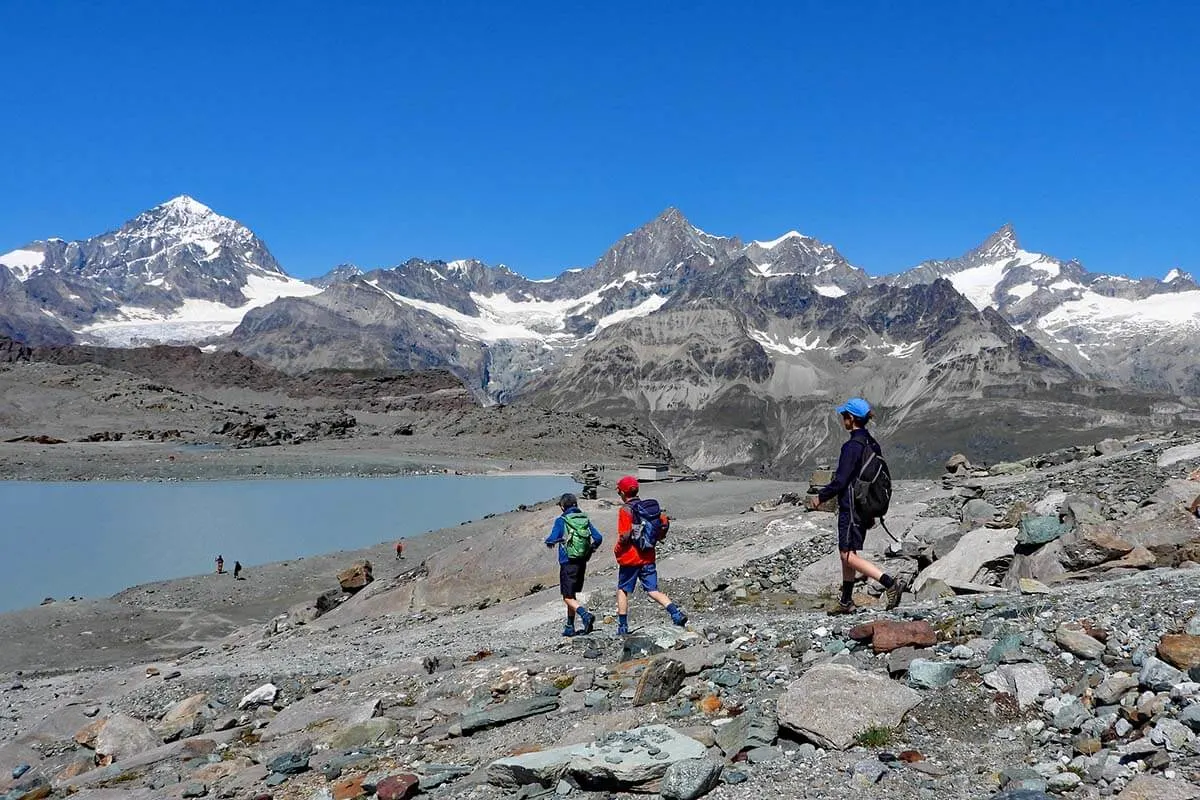 There are countless hiking trails in Zermatt, and it's really difficult to choose which one is worth your time the most, especially if you only have a few days here. One of the most special hikes with the most unique scenery is probably Matterhorn Glacier Trail. If you are looking to do just one longer and a bit more challenging hike in Zermatt, make it this one.
Matterhorn Glacier Trail (also indicated as hike nr. 26 on local hiking maps) starts at Trockener Steg, goes via Hirli, and ends at Schwarzsee. Trockener Steg is a gondola station just under Matterhorn Glacier Paradise, and Schwarzsee is one station lower, so you will be hiking downhill most of the time. However, there was also some uphill climbing and the last descent to Schwarzsee is really steep. So while it's rated as a medium hike, it's definitely not a walk in the park.
Since the hike starts at 2,939 m (9,642 ft) altitude, there is no vegetation for the majority of this hike. The scenery is quite barren and you are basically walking on the terrain that used to be a glacier. You can still see the glacier and the meltwater running from it, and it's a really impressive sight (and sound). But what makes this hike truly special is the unique landscape of colorful rock and scree sculpted by the retreating glacier and the proximity to the Matterhorn. This trail takes you pretty much as close to the Matterhorn as you can get without actually climbing it.
The hike is 6.6 km (4.1 mi) and takes 2-2.5 hours without making too many photo stops. You are walking on very rocky terrain, with some steep sections, so good hiking shoes are absolutely essential. Hiking poles are recommended for some parts as well.
TIP: You don't have to do the entire hike to enjoy some of the best views. You can just do the first part of the trail starting at Trockener Steg. From the gondola station, walk down to the lake and potentially also around the lake and close to the glacier, and then walk back the same way you came. This part of the hike is quite easy, but good hiking shoes are still recommended.
LEARN MORE: Matterhorn Glacier Trail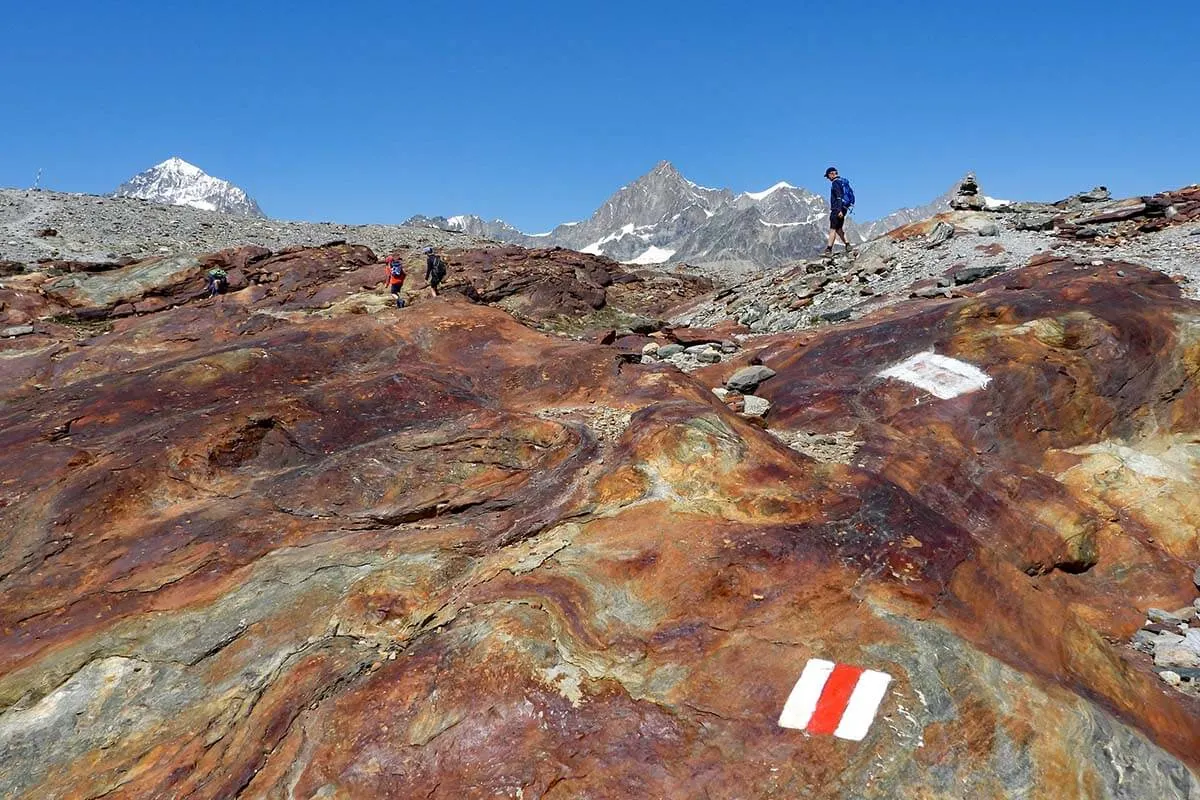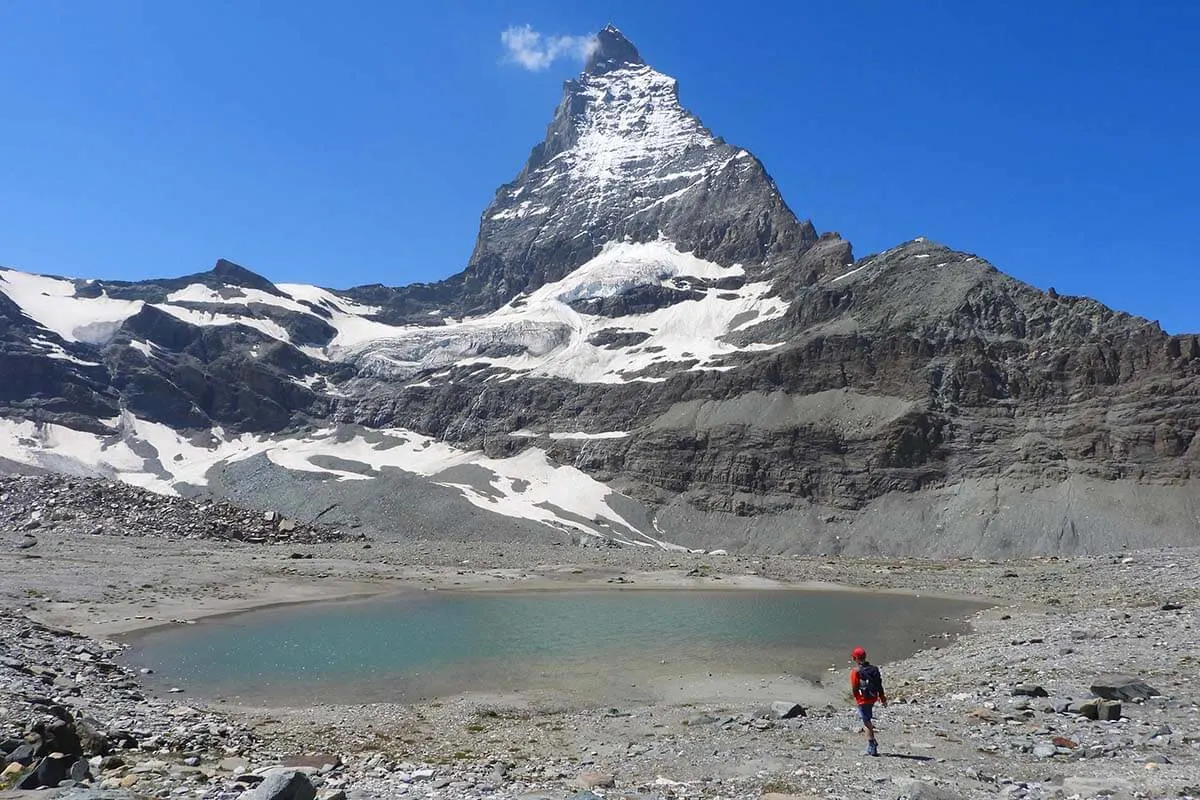 3. Schwarzsee & Zermatt Sign
NICE TO SEE. Accessible all year. Swimming, of course, in summer only.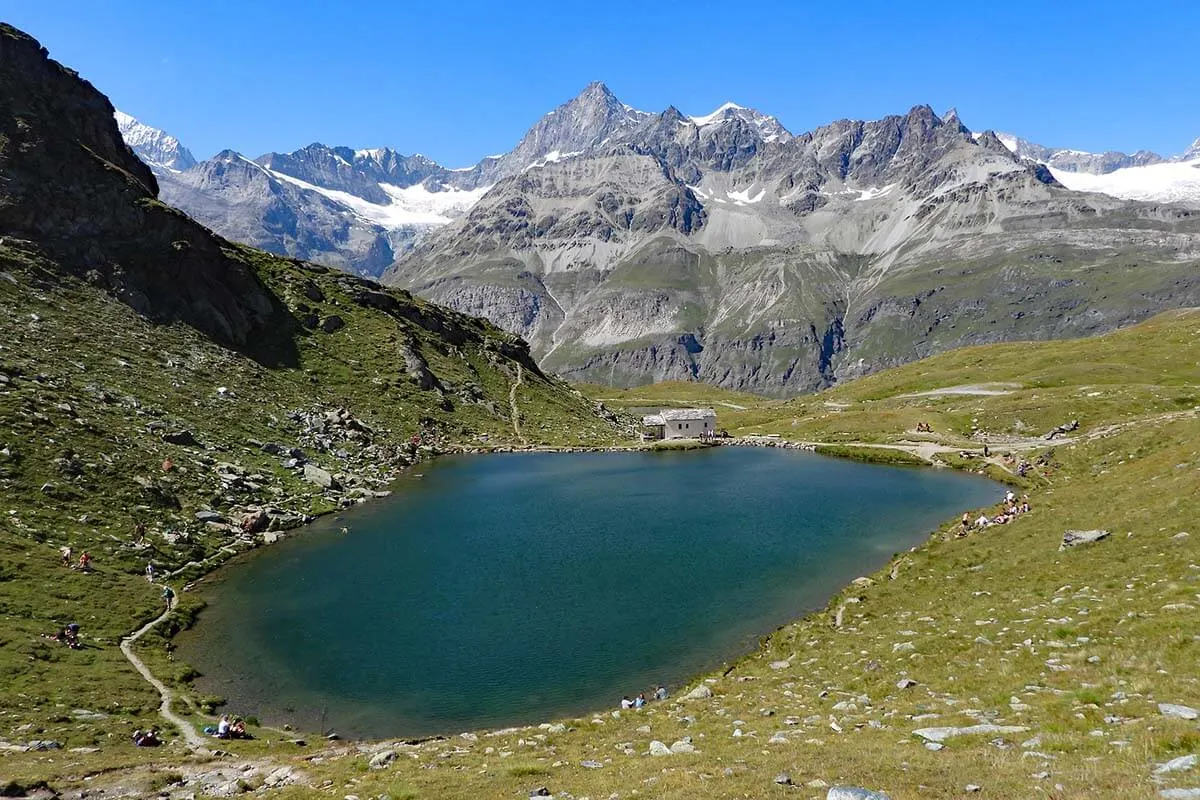 If you are looking for some nice and easily accessible places in the mountains around Zermatt, be sure to stop at Schwarzsee on your way to/from Matterhorn Glacier Paradise. This is one of the cable car stations that you pass anyway, and since it's included in your ticket and doesn't take much time, it's well worth a quick visit.
Schwarzsee (black lake) is a small mountain lake that is very popular in summer. At the shore of the lake, you'll also see a small chapel 'Maria zum Schnee' (Our Lady of the Snows), where Matterhorn climbers come to pray/thank God before/after their ascent. On the 5th of August every year, there's a celebration of the patron of the chapel with several morning masses and even a choir.
The water of this glacial lake is very cold, but we saw many people swimming at Schwarzsee on a sunny summer day. Families come here for a day, with blankets, towels, and a picnic, day-trippers visiting Matterhorn Glacier Paradise stop here for some pictures or a quick lunch at the nearby restaurant, and many hiking trails pass here as well. The earlier mentioned Matterhorn Glacier Trail ends at Schwarzsee and the trail to the Hörnlihut starts here.
In other words – no matter how much time you have in Zermatt and whether you are hiking or just passing by gondola, this area is well worth including in your itinerary.
At Schwarzsee, just before you reach the lake, you can find a big ZERMATT sign. It's a good place to take some nice souvenir pictures with the sign and Matterhorn in the background.
Also here, you can take advantage of a photo point and get some free pictures of your entire family (photo points are equipped with a camera that can take (free) pictures of your entire group. You can scan your ticket, take as many pictures as you want, and then download them on this website using the same ticket number).
Good to know: Also here, the best time for pictures is in the morning. In the afternoon, the sun is on the same side as the Matterhorn, and the light is really not ideal for photography. But, of course, you can't be everywhere early in the morning either, so just see what fits your planning best.
We came here after visiting Matterhorn Glacier Paradise and hiking the Matterhorn Glacier Trail, so it was late afternoon. Not ideal for pictures, but perfect for a cold swim at the lake…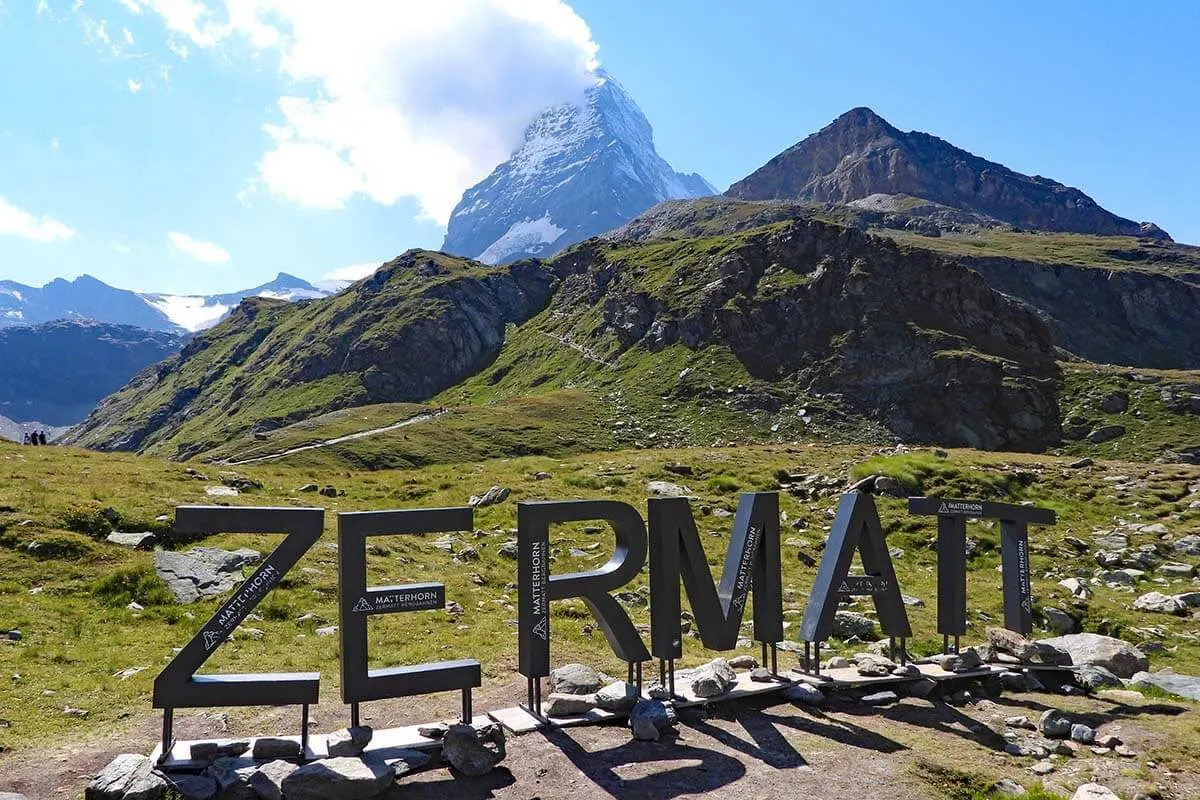 4. Gornergrat
MUST DO. Accessible all year.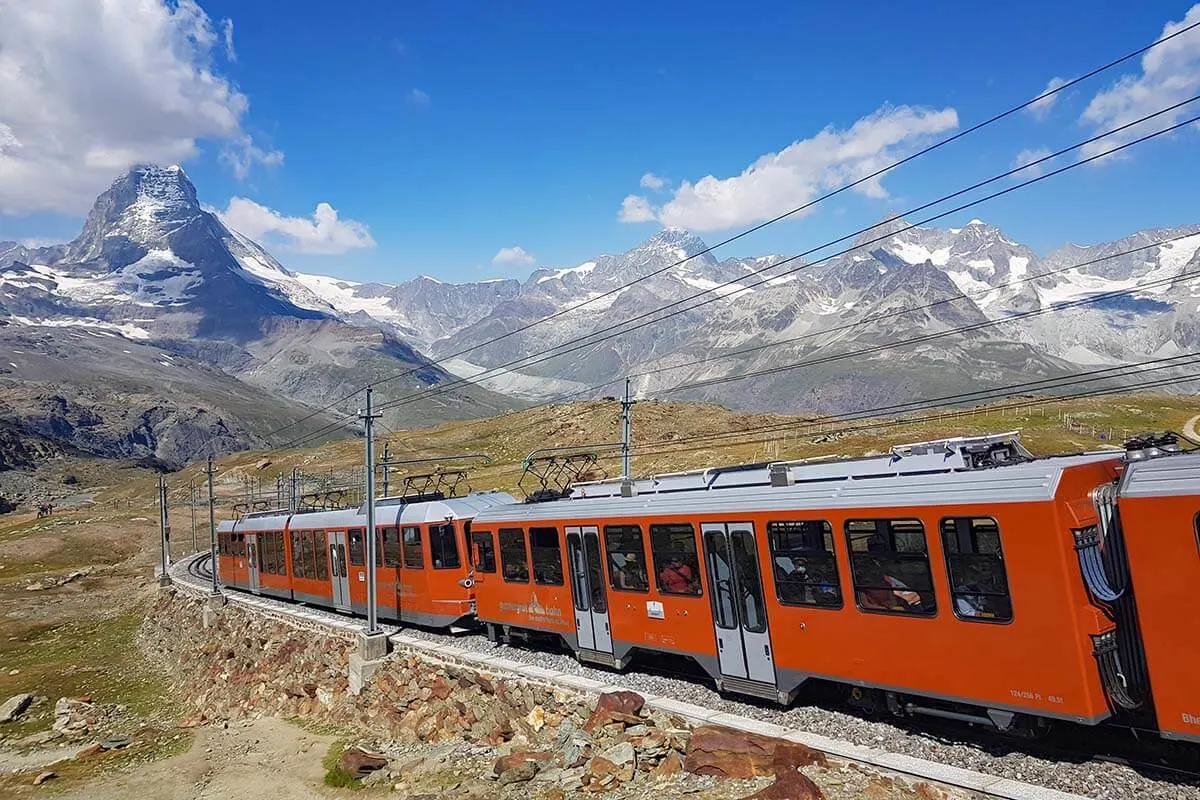 Gornergrat is another must-see in Zermatt that every visitor should visit at least once! It's a mountain ridge at 3,089 m (10,132 ft), with stunning views of the Gorner Glacier, Matterhorn, and countless other mountain peaks. Just as Matterhorn Glacier Paradise, Gornergrat is accessible in any season.
Probably even better known than the peak itself is the famous Gornergrat Railway (Gornergrat Bahn), the highest open-air funicular railway in Europe. Gornergrat Railway with Matterhorn in the background is the most recognizable image of Zermatt that you'll see in all travel guides and brochures.
The ride on this train is an experience in itself. With an elevation difference of 1,469 meters, you pass so many different landscapes in just half an hour. We also saw cows, sheep, and even marmots right from the train.
Good to know: The views along the entire ride are incredibly beautiful, but if you can, try to get a seat on the right side of the train (going up), or left (going down). That way, you see Matterhorn almost during the entire ride. And – if you want to take pictures – be sure that you choose a seat with windows that can be opened.
Tickets: If you are just visiting Gornergrat and all of the attractions along the railway, you can get a ticket here. It's valid an entire day and you can hop on and hop off the train as much as you like, so make good use of it! Here you can get the so-called Peak Pass that includes all rides in Zermatt. It's very expensive if you just get it for a day or two, but if you stay in Zermatt longer, then it's quite good value for Swiss standards.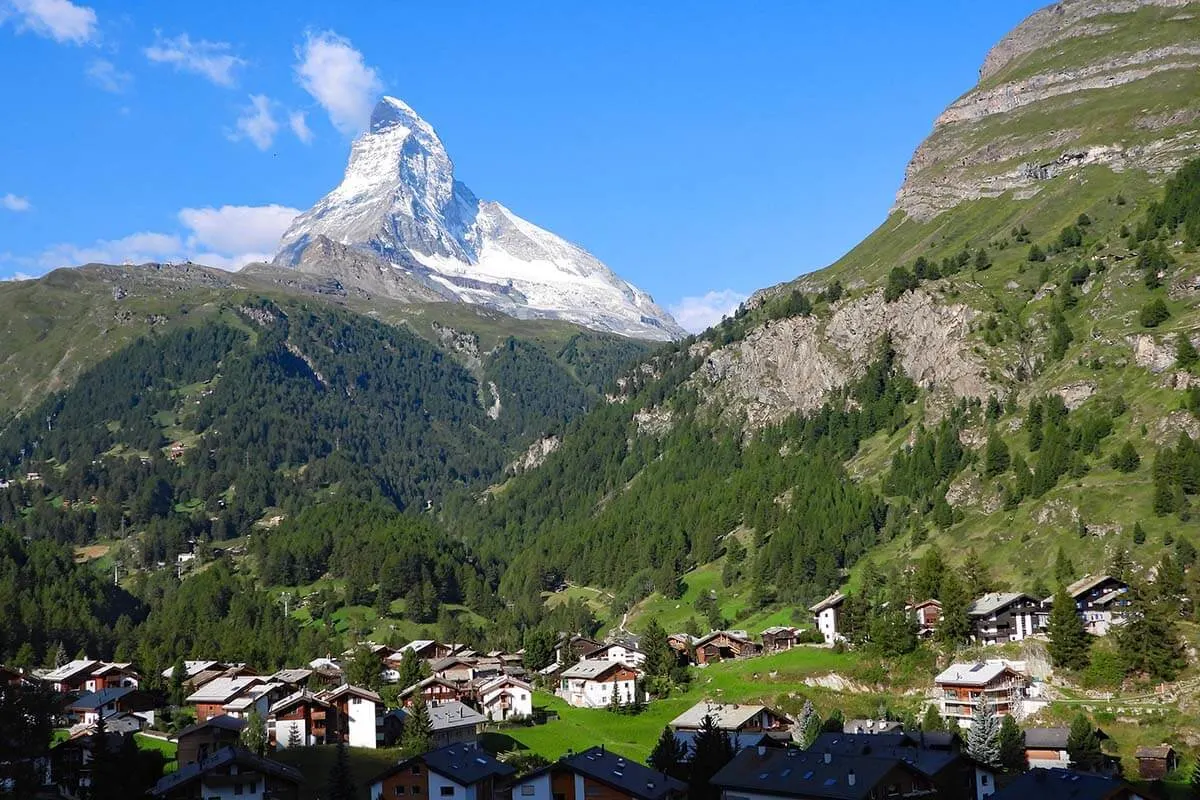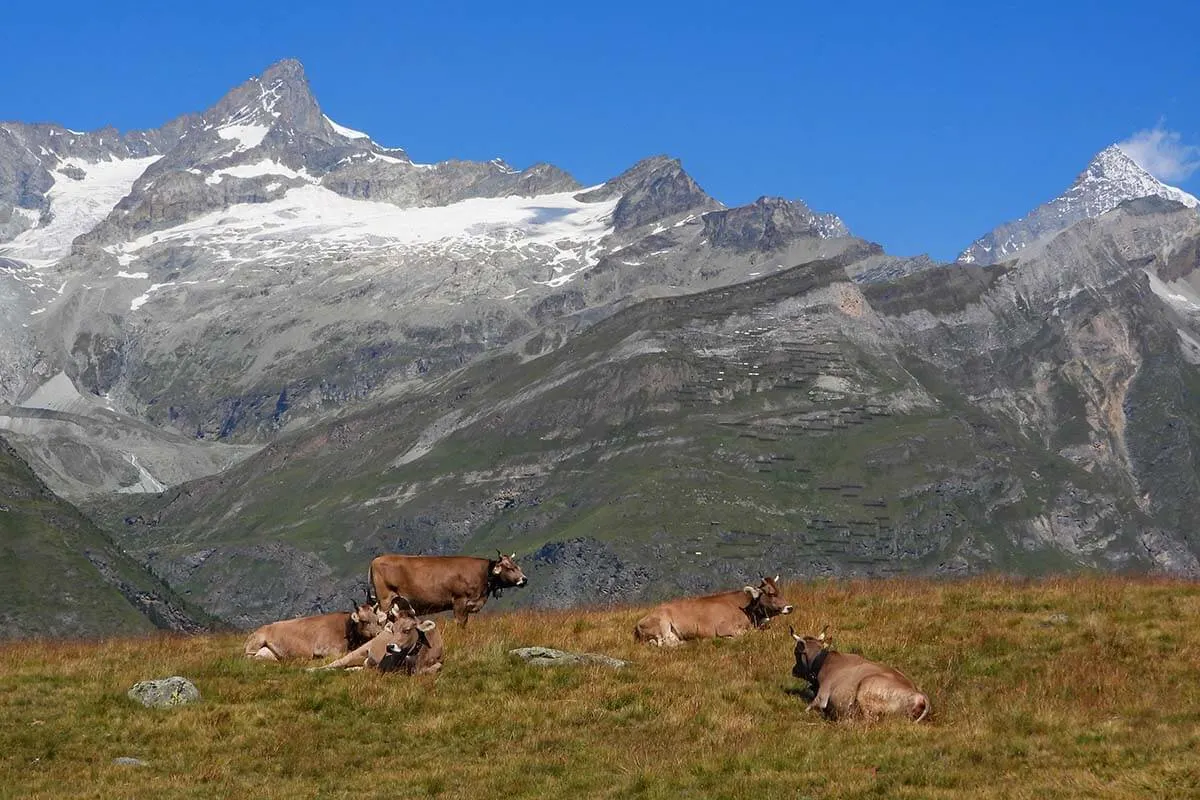 Once at the top, you can enjoy the incredible views from several viewing platforms. One of the best views over the glacier is right at the train station itself, so you don't even have to walk far.
Talking about walking, be sure to take the 360° loop on Gornegrat – it's a short walk of just 0.5km (0.3 mi) that takes 15-20 minutes. On a clear day, the views are absolutely phenomenal, and seeing a huge glacier from the top is already a really unique experience!
Another nice thing to do at Gornergrat is Zoom the Matterhorn experience. One of the musts here is the virtual reality 'flight' over the most amazing mountain landscapes around Zermatt.
TIP: This is another one of the places in Zermatt where you'll find a photo point (explained earlier)
LEARN MORE: What to See & Do at Gornergrat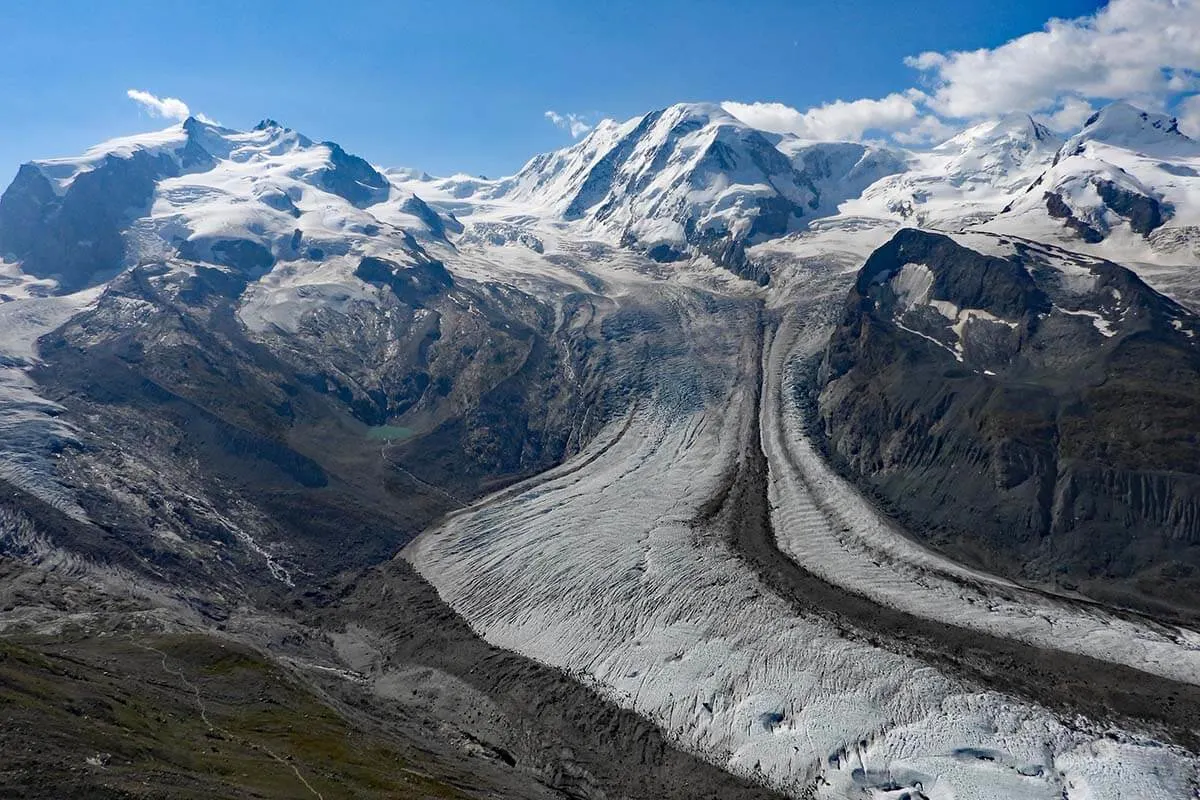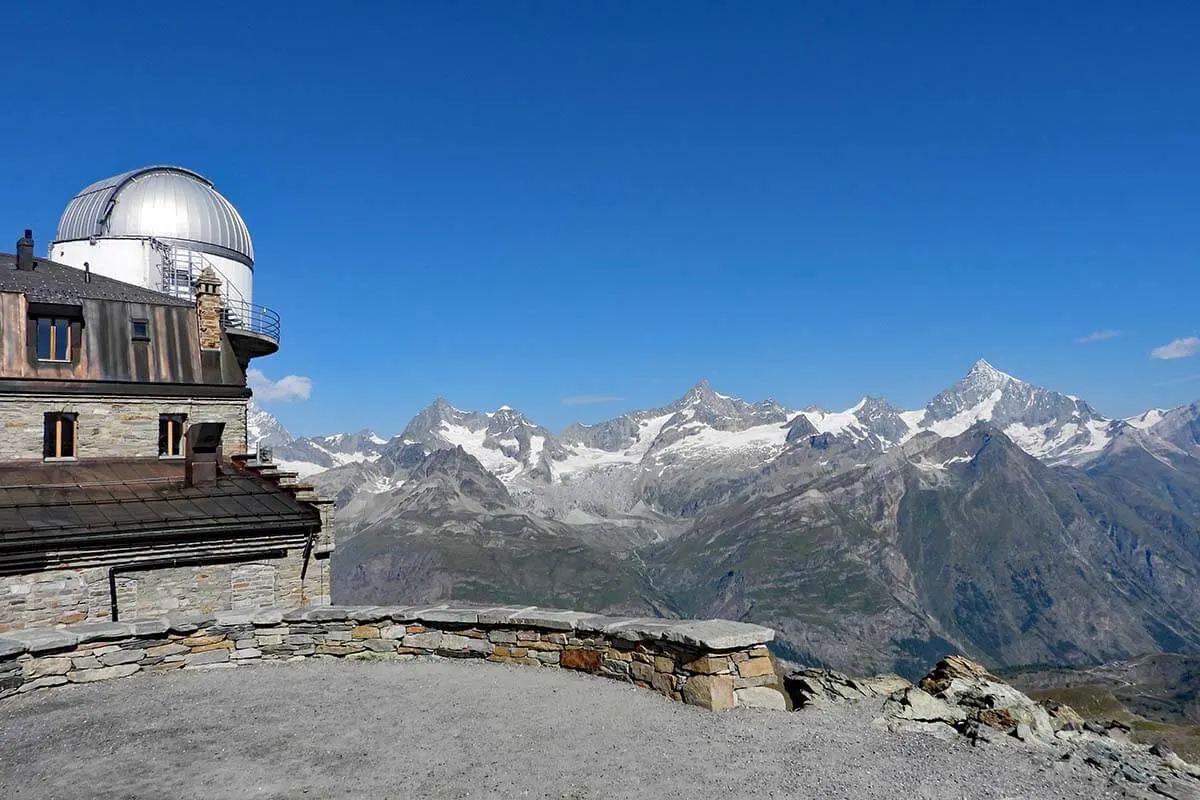 5. Hike from Gornergrat to Riffelsee
ONE OF THE BEST SHORT HIKES. Summer only. Easy. 2 km. 40 minutes.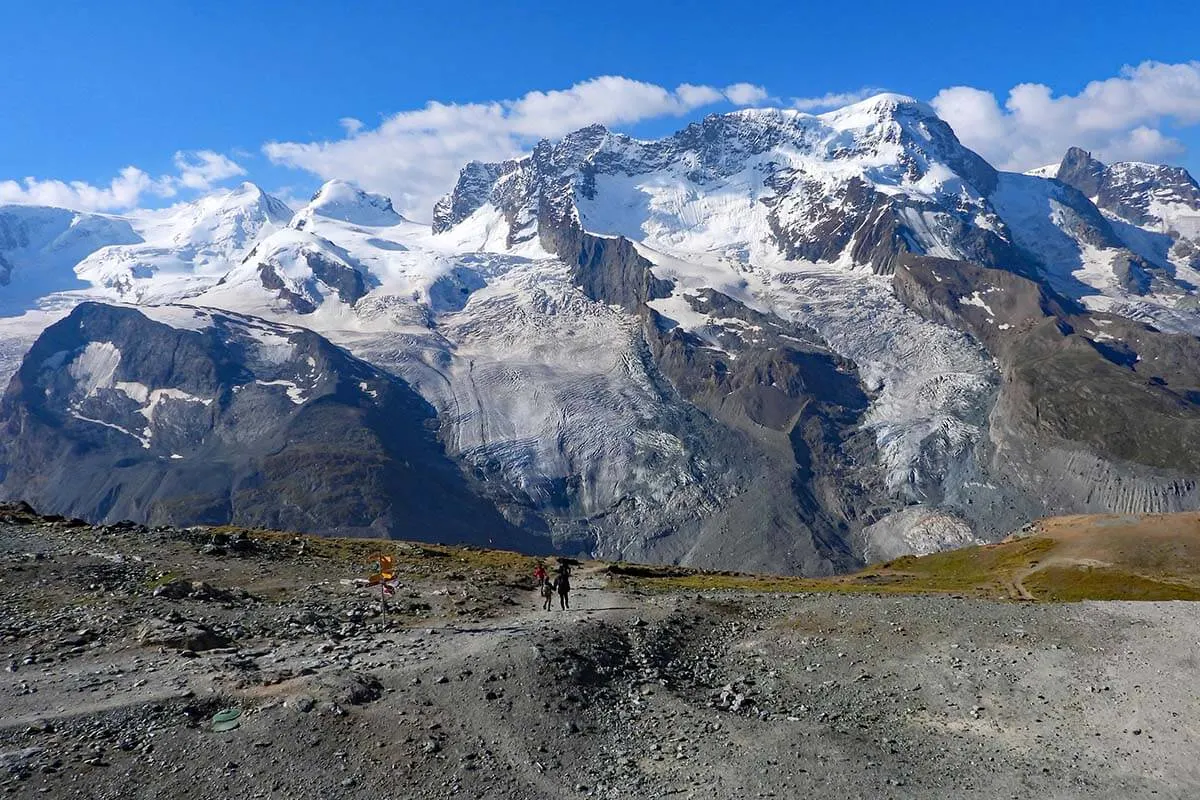 Gornergratt – Riffelsee – Roteboden hike is one of the most beautiful short hikes in Zermatt. Starting at the top railway station at Gornergrat, you then continue down to the next stop along the Gornergrat Railway – Rotenboden. The tiny mountain lake Riffelsee is just next to Rotenboden.
The hike from Gornergrat to Riffelsee is also called 'Aussichtsweg' and indicated as hike nr. 15. It's a relatively easy downhill hike that takes about 40 minutes, depending on where exactly and how fast you walk.
There are several trails you can take in order to get from Gornergrat to Riffelsee, but the views seemed to be best on the left side of the railway (when walking downwards). In the beginning, you have amazing scenery of the glacier to your left, and you also see Matterhorn and other snowcapped mountain peaks right in front of you during the entire hike.
Good to know: The trail here is quite rocky and there are also some stairs involved, so it's best to wear good hiking shoes. Many day tourists do this hike as well, but since many of them wear sneakers or other not-so-suitable footwear, we saw quite some people really struggling along the way.
This also means that the trail gets quite busy as you're constantly running into people who walk really slow. So if you are reading this – please, wear good hiking shoes if planning to do any hiking in Zermatt! Even 'easy' hikes are only easy if you have the right shoes.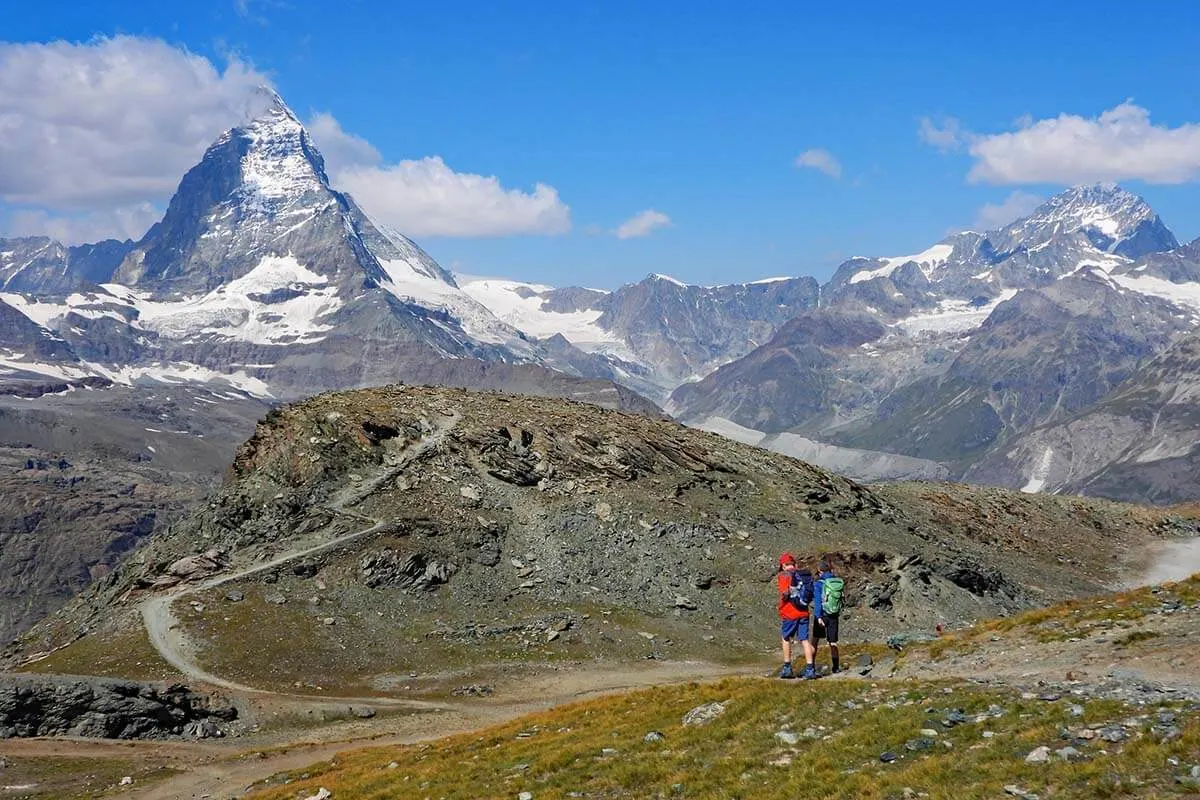 TIP: If you want to take some nice pictures of the Gornergrat Railway with the Matterhorn in the background, the area between Gornergrat and Rotenboden is the place to be. The best angles can be found about 3/4 through the hike, about 10 minutes before you reach Rotenboden station.
Keep an eye on the train schedule so that you can take a picture with the passing train. On the other hand, with trains going in both directions at 20-minute intervals during the busiest hours of the day, you won't have to wait long anyway.
I think that the view of the railway and the Matterhorn is somewhat better from the right side of the railway track (when walking down), but other views seemed to be better on the left side, so that's the one we chose for our hike. Also from here, I could get some nice pictures of the train and the Matterhorn – see below. Maybe not as perfect as in the travel brochures, but good enough as a souvenir. But if you have some extra time, you may want to try both sides of the railway and find your own perfect angle.
LEARN MORE: Gornergrat Hike to Riffelsee & Rotenboden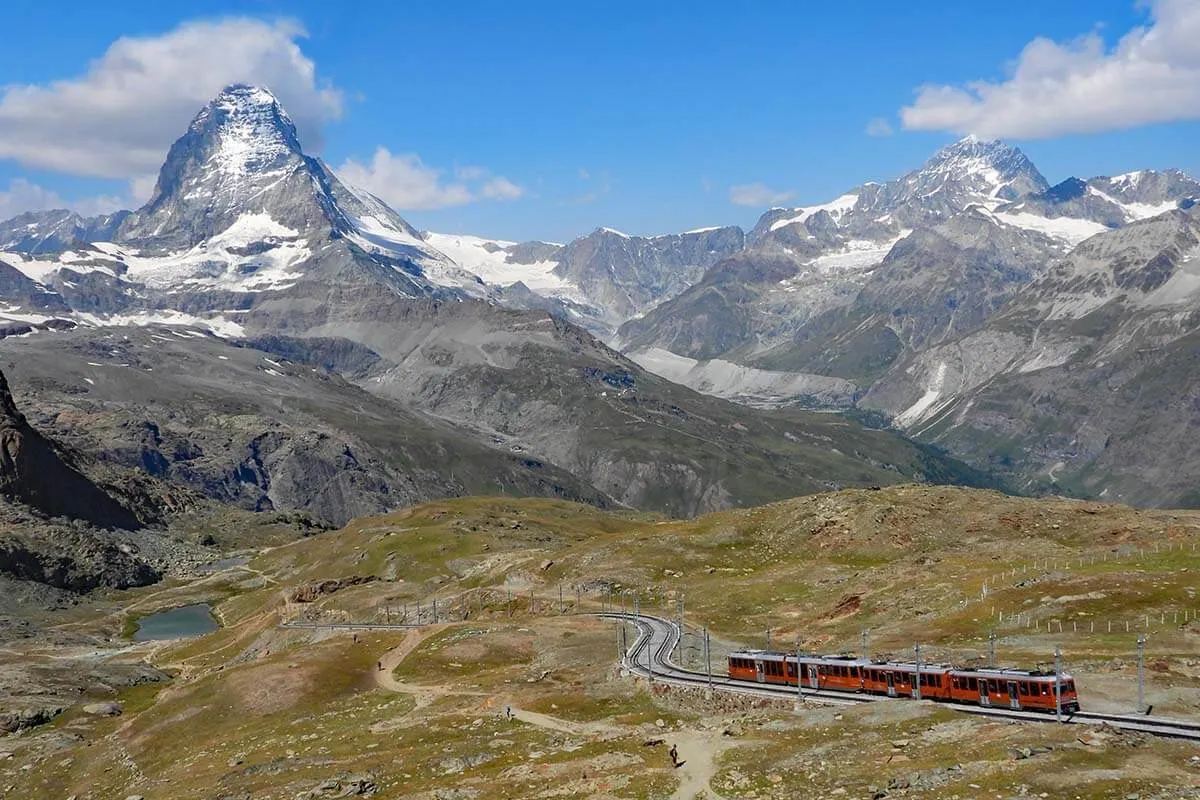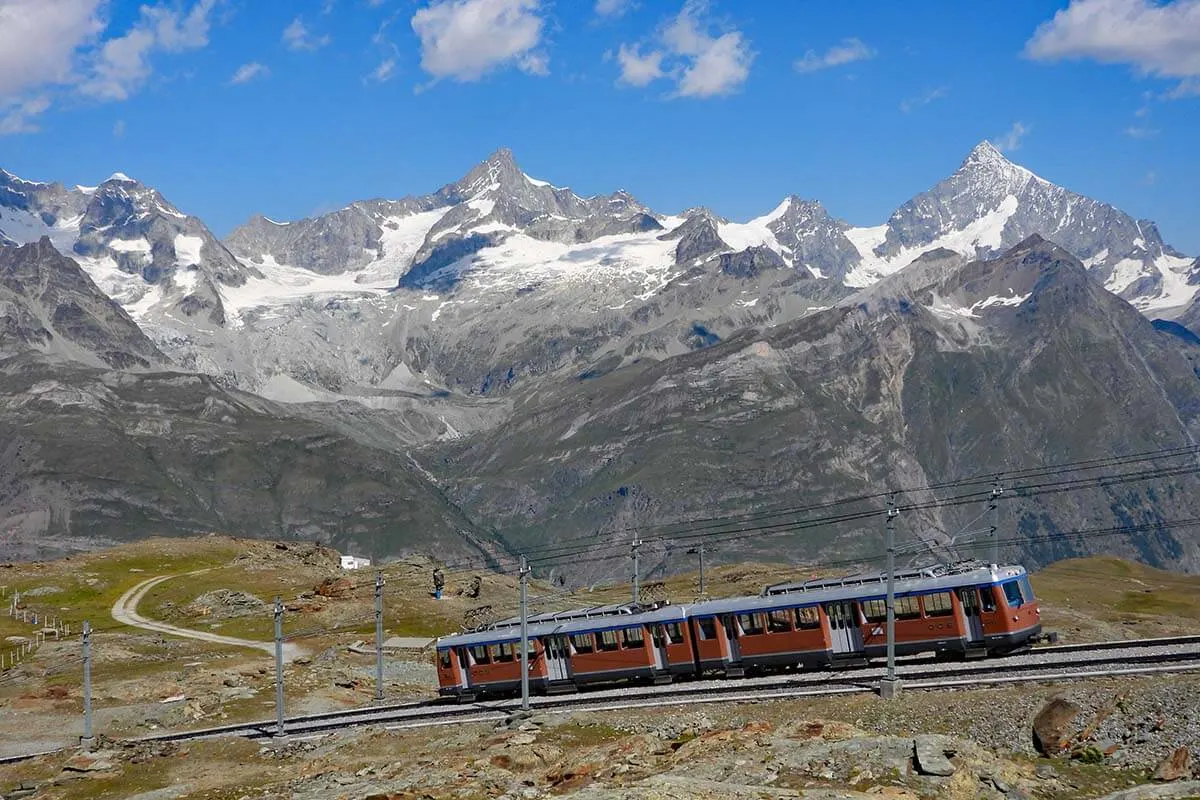 6. Riffelsee
MUST DO. Summer only.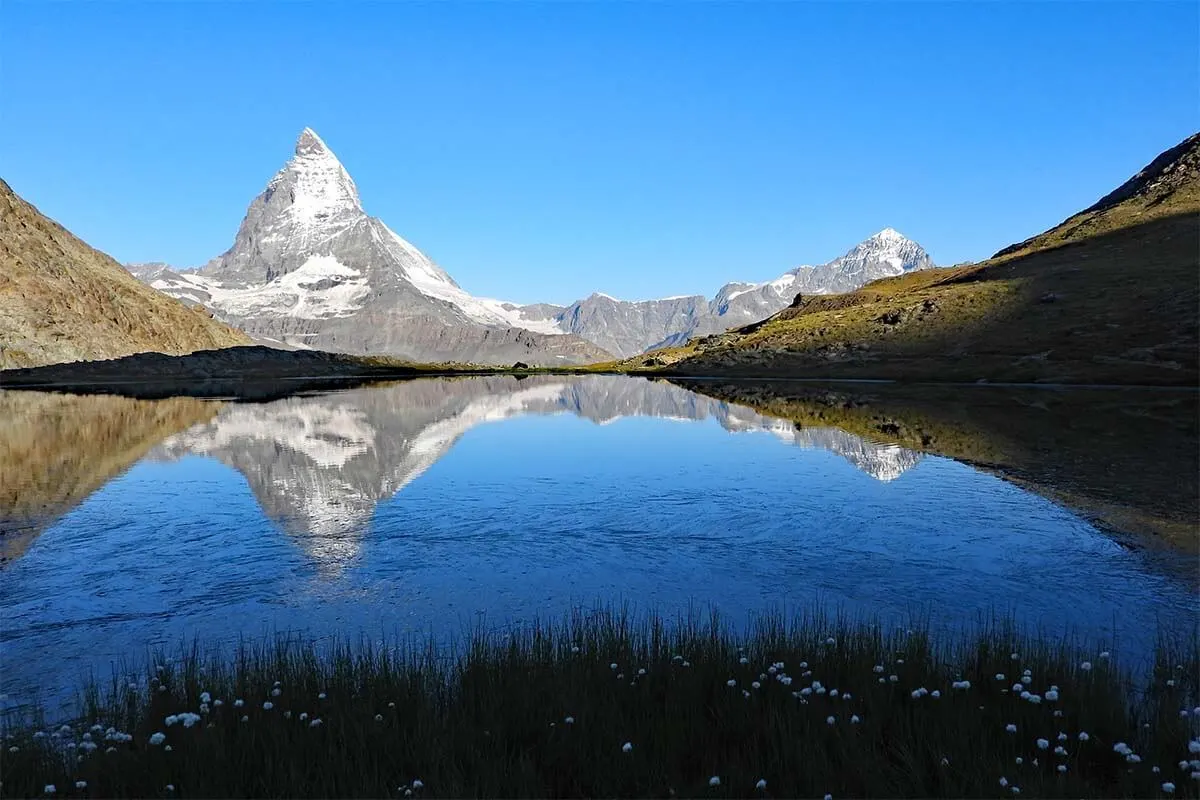 If you are looking for picture-perfect views of the Matterhorn, be sure to visit the mountain lake Riffelsee. When there is no wind, you can see wonderful reflections of Matterhorn in the calm waters of this tiny lake. Together with the Gornergrat Railway, this is one of the most photographed places in Zermatt.
The easiest way to get to Riffelsee is by taking a short walk from the Rotenboden train station. You cannot see the lake from the train, but it's located just 5 minutes walk from here, and the trail is easy and goes a bit downhill. Rotenboden is the second-last stop of Gornergrat Railway, just before you get to Gornergrat.
Good to know: The best time to see the reflections at Riffelsee is early morning. I took the first train from Zermatt to Gornergrat at 7 AM and was at the lake by 7.30 AM and it was perfect. There were hardly any people around and the water of the lake was very calm. A few days later, we were here at around 8.30 AM and the reflections were just as nice, except that the peak of Matterhorn was hiding behind the clouds that day. On yet another occasion, we visited Riffelsee at around noon. Not only it was really busy, but there were no reflections at all.
TIP: Check the schedule for Gornergrat Railway in advance and if you can, take one of the first trains up. Get off the train at Rotenboden, before going to Gornergrat. If you visit Gornergrat first, you'll likely be too late for the reflections at the lake.
LEARN MORE: Riffelsee: Complete Guide & Tips for Your Visit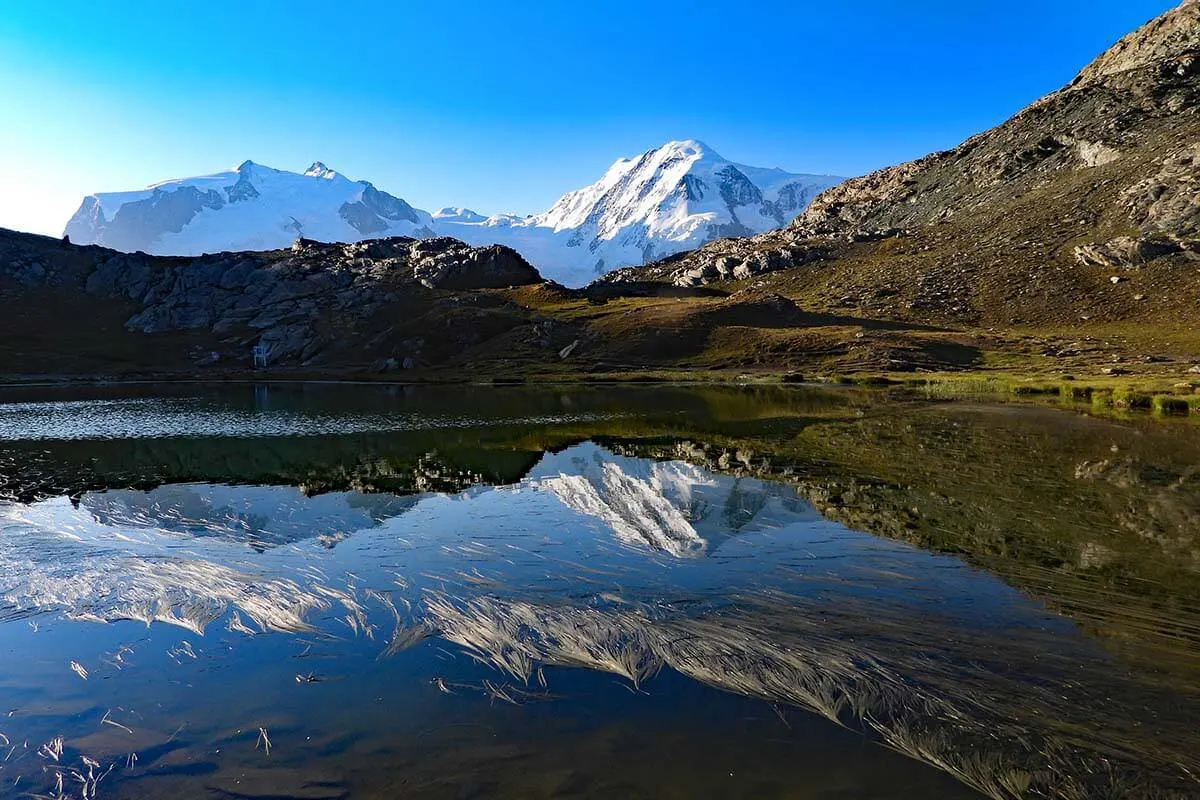 7. Hike from Riffelsee to Riffelberg
ONE OF THE BEST SHORT EASY HIKES. Summer only. Easy hike. 3 km. 45-60 minutes.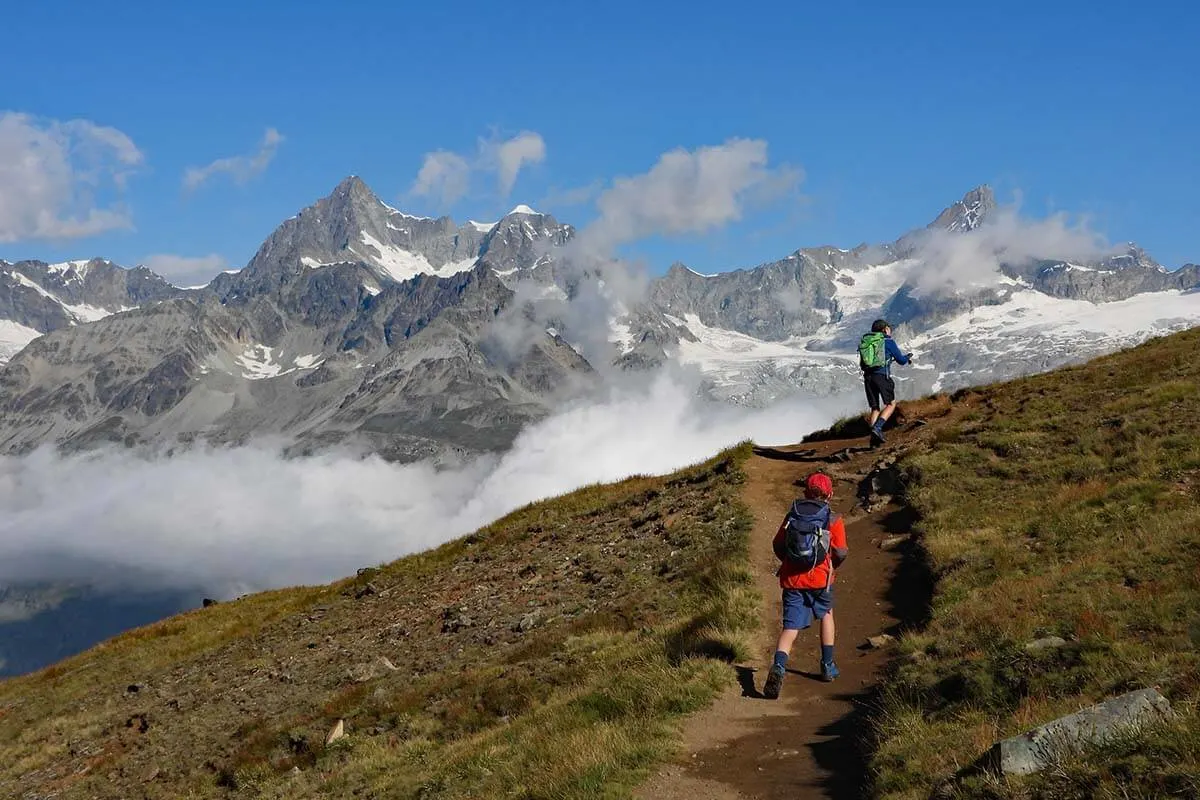 Rotenboden – Riffelsee – Riffelberg trail is another easy hike in the Gornergrat area. Just as the upper section of the hike mentioned above, it also offers the most spectacular scenery and great views of the Matterhorn. But because of the lower elevation, you have more vegetation here. So the lower you walk, the greener it gets.
Hike nr. 21 starts at Rotenboden train station, or – if you are hiking from Gorngergrat, just continue past Riffelsee. It ends at Riffelberg, where you can hop on the train to Zermatt or take a gondola to Furi. It's an easy hike that takes about 45-60 minutes, but you'll likely spend more time because it's so scenic that you'll want to take pictures all the time.
In addition to Riffelsee, you'll pass another small lake that also has some stunning reflections of the Matterhorn. The rest of the scenery depends a bit on which trail you choose. If you walk more to the right, you'll be closer to the railway (but not close enough for nice train pictures), and if you walk more to the left, you'll pass a small chapel close to the Riffelberg train station. I did this hike twice and found that going a bit more to the left offered better views.
TIP: When hiking here, keep an eye out for the blacknose sheep and also for marmots. You can find more information about spotting sheep and wildlife at the end of the article.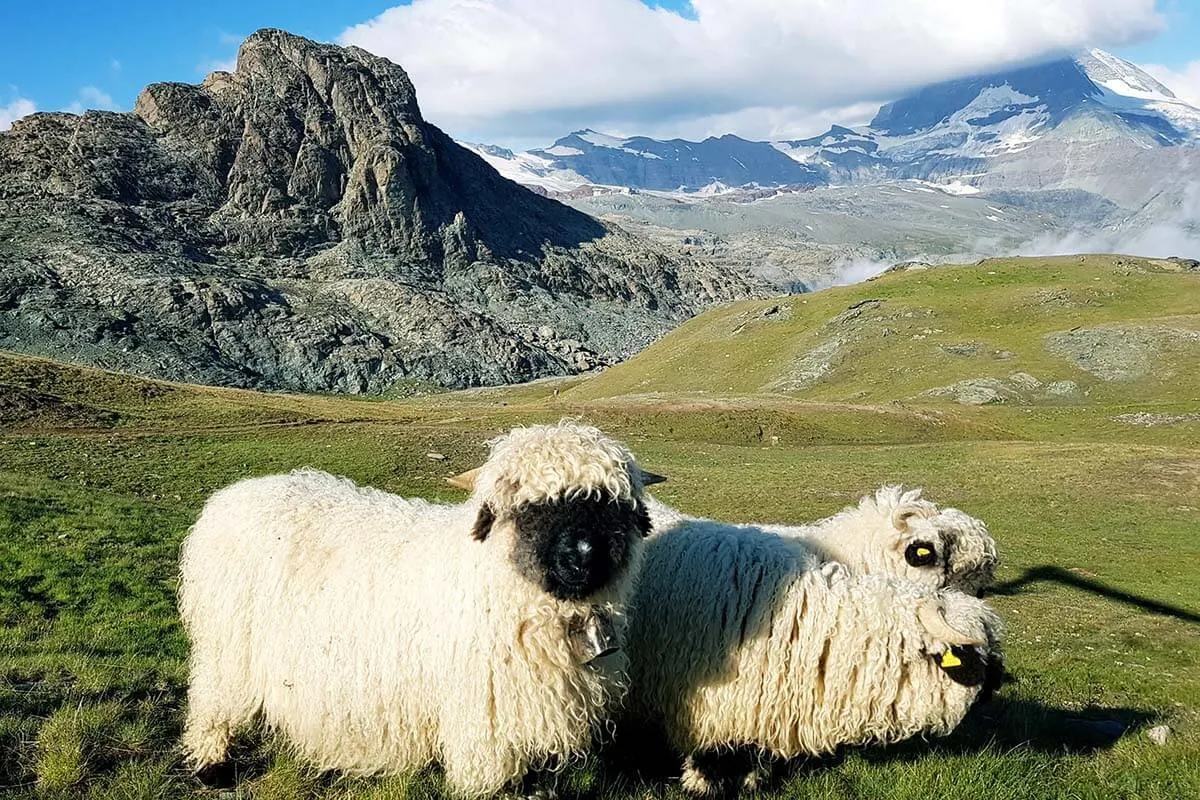 If you are looking for another nice angle for a picture of the Gorngergrat railway and the Matterhorn, but with green foreground, then you are on the wrong side of the railway track here. For that, you would have to walk on the right side of the railway (facing downhill), between Rotenboden and Riffelberg. Hiking on that side, however, you'd miss the two lakes with Matterhorn reflections.
Good to know: The Riffelsee to Riffelberg hike is much easier than the part between Gornergrat and Riffelsee. It's not as steep and you are also walking on soft mud paths and not on rocks/ stones. But also here, good hiking shoes are recommended because it can be slippery when wet.
Also, if you have about 2 hours, you can easily combine these two hikes together, so hike all the way from Gornergrat to Riffelberg via Riffelsee. As already mentioned, the two sections are quite different in terms of scenery and they are both really worth your time.
LEARN MORE: Riffelsee Lake Trail to Riffelberg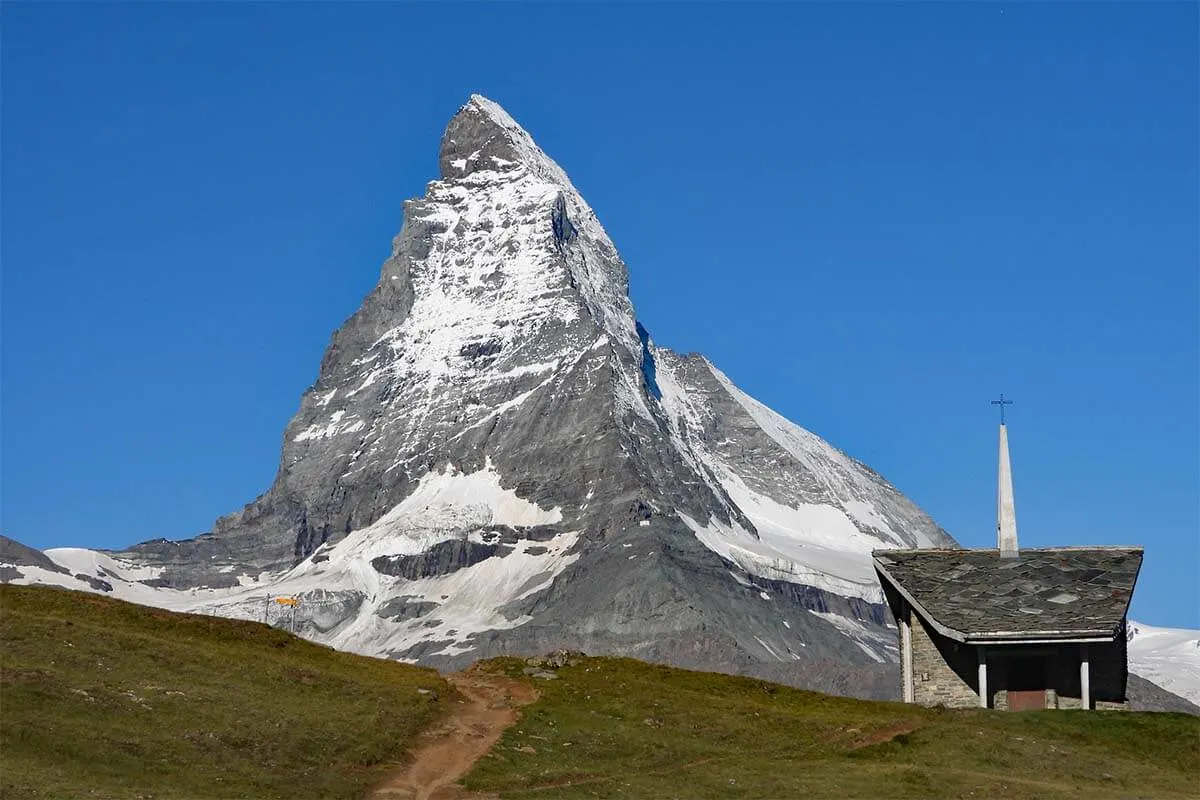 8. Zermatt Town Center
MUST DO. Accessible the whole year.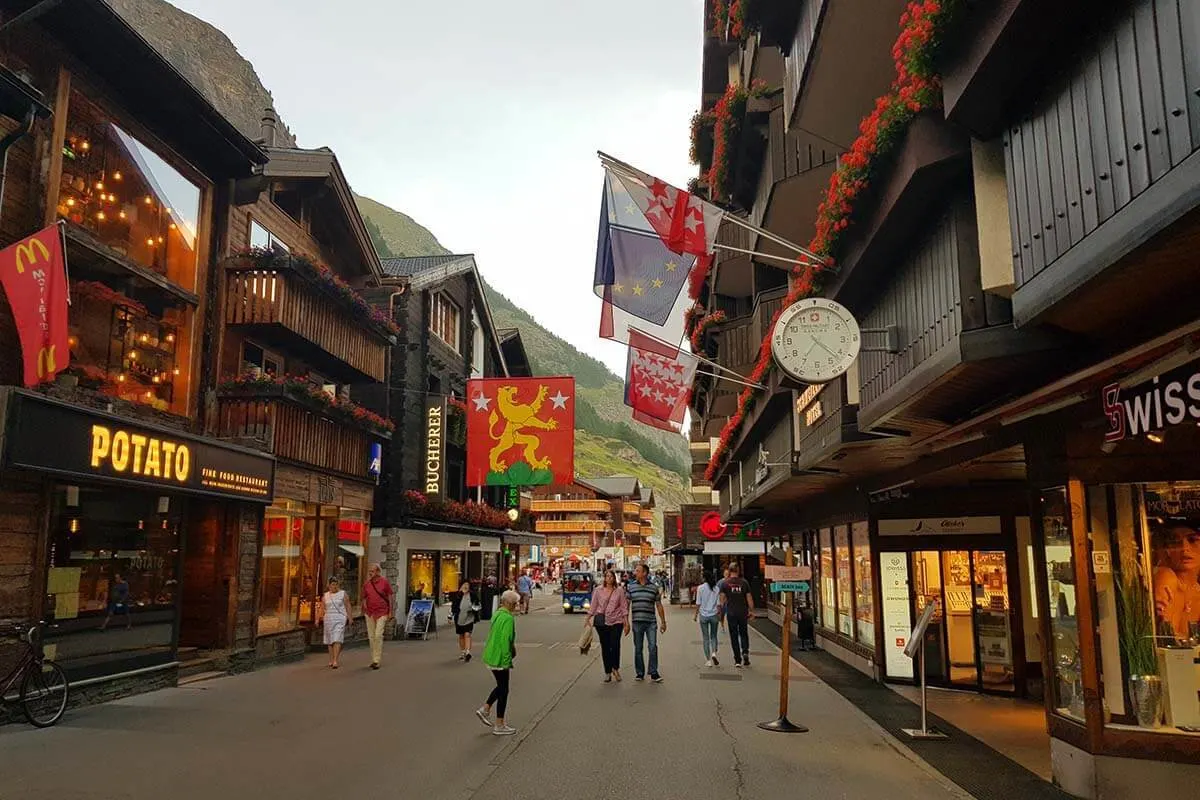 It comes without saying that no visit to Zermatt would be complete without spending some time in the town itself. So even if you are only visiting Zermatt for a day and want to see Gornergrat and Matterhorn Glacier Paradise, be sure to also plan some time for the town as well.
The main area that you really cannot miss is the central street – Bahnhofstrasse (Station Street) – that stretches from Zermatt Railway Station to the Parish church of St Mauritius on the main town square of Zermatt. Along this street, you'll find all the best shops, a big variety of restaurants, and also some of the best hotels in town.
One of the best things to do in Zermatt is shopping and dining. From souvenir shops, Swiss chocolate stores, outdoor gear, to the most expensive Swiss watches – you'll find it all in Zermatt.
The same with the restaurants – from McDonald's to the most luxurious dining establishments – there's no shortage of nice places to eat in Zermatt. We recommend choosing restaurants serving traditional Swiss dishes. After all, trying local food is a big part of any travel experience.
In addition, there are other nice things to do and places to see in Zermatt town, some of which also don't require much time and can be easily done even if you are very short on time. More about them further below – see sections about Matterhorn Museum, Hinterdorf, and Mountaineer's Cemetery.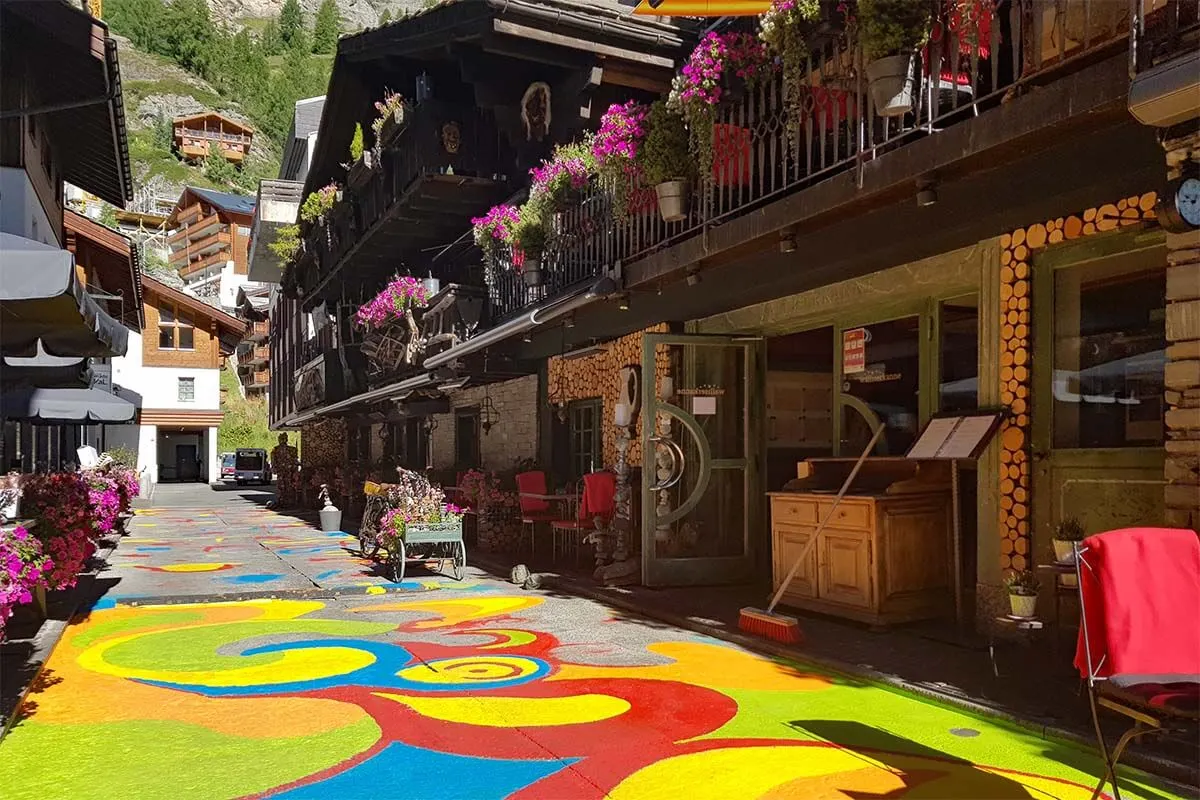 9. Matterhorn Museum – Zermatlantis
WELL WORTH IT. Accessible all year and is also a perfect place to visit in Zermatt when it rains. See here for more info, prices, and opening hours.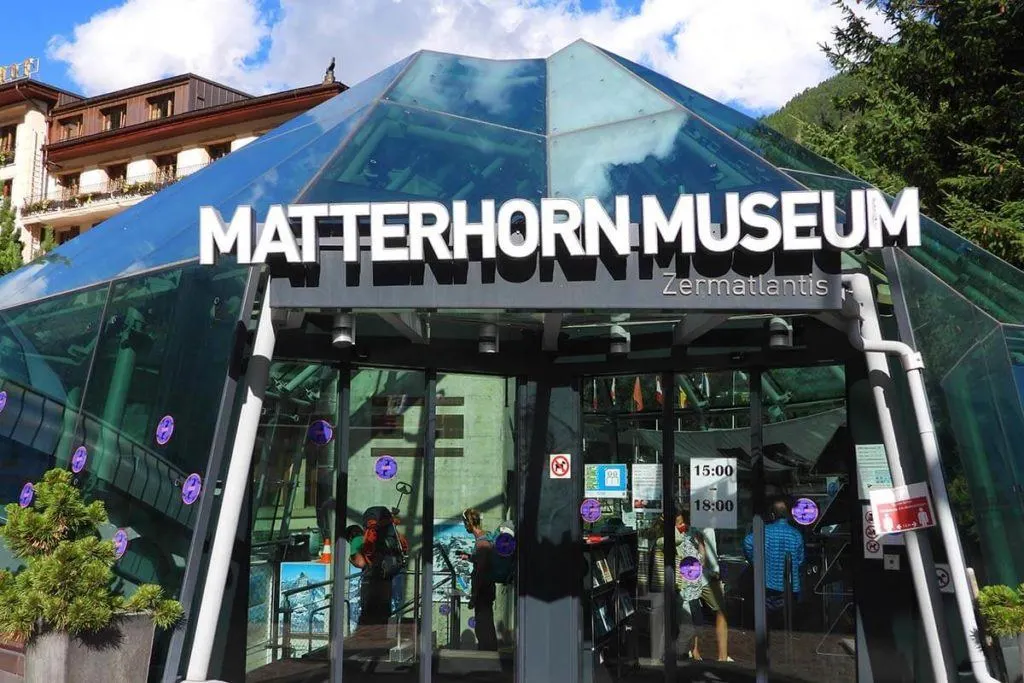 Matterhorn Museum is one of the highlights that really deserve a place at the top of any list of the best things to do in Zermatt. It might not look very intriguing from the outside, but it's a real gem, and well worth your time, even if you are only visiting Zermatt for a day.
When you enter the modern glass dome of the museum, you realize that there's a whole other world beneath your feet. The actual museum is located underground, beneath the main town square of Zermatt, thus the name – Zermatlantis. It's so much more special and much more interesting than it looks at first sight. Once you descend down the stairs, you are instantly taken to another world, back in time to the 19th century Zermatt.
A visit here is a unique opportunity to get to know more of the fascinating history of Zermatt and understand how a poor farming village grew into the world-class resort that it is today. The museum is presented as a village, with original old houses and historic artifacts that take you back in time and let you experience what life was like in this area around 1850.
You'll also learn about the first successful ascent of the Matterhorn in 1865 and see the original torn rope from that expedition, which unfortunately didn't end well. However, the tragedy put Zermatt in the headlines worldwide, so contributing to tourism development in the area. Interactive displays in the museum also show different climbing routes to the top of the Matterhorn and provide information about the mountaineers who conquered the famous mountain peak.
This is just a small introduction giving you an idea of what you can expect at the Matterhorn Museum. There's more to it and I'll let you discover the rest for yourselves. We visited this museum without knowing what to expect, but we found it so interesting that I wouldn't hesitate to recommend it to anyone. Our kids found it fascinating as well and they weren't bored for a second. In fact, we had to tell them it was time to leave… So if you have (at least) half an hour to spare in Zermatt, don't miss it!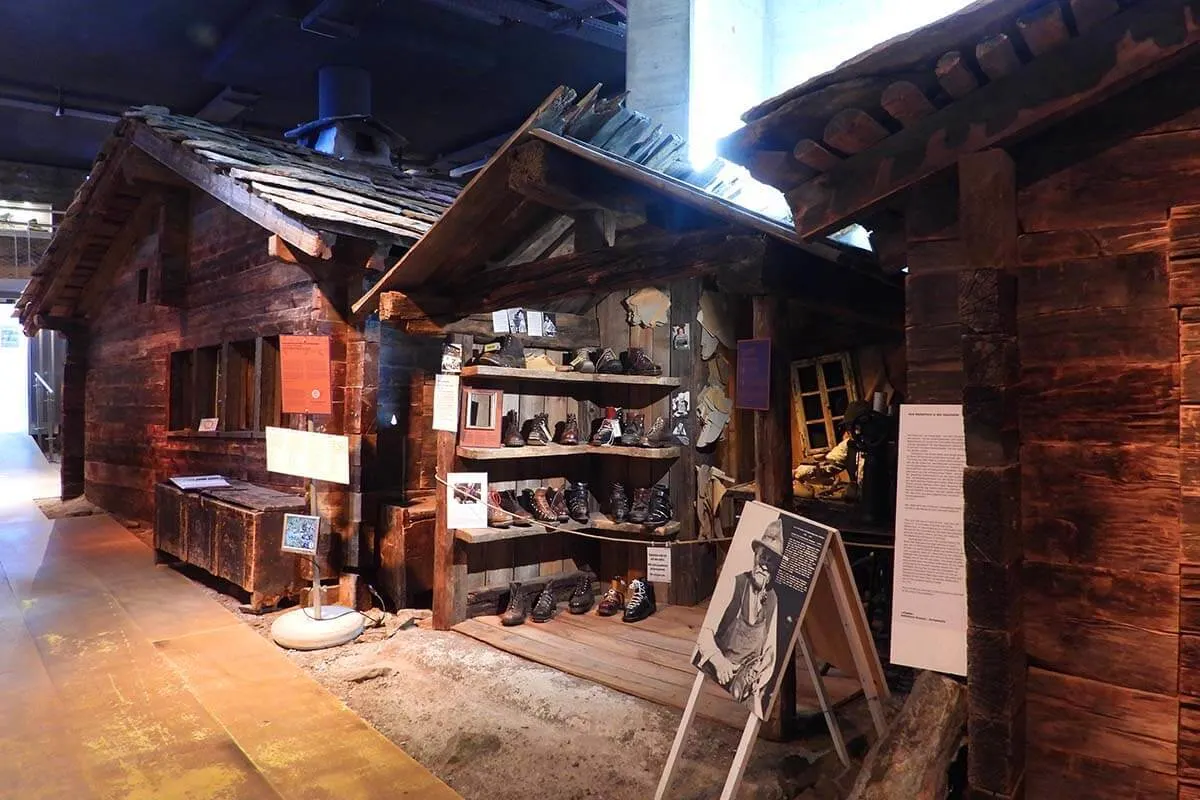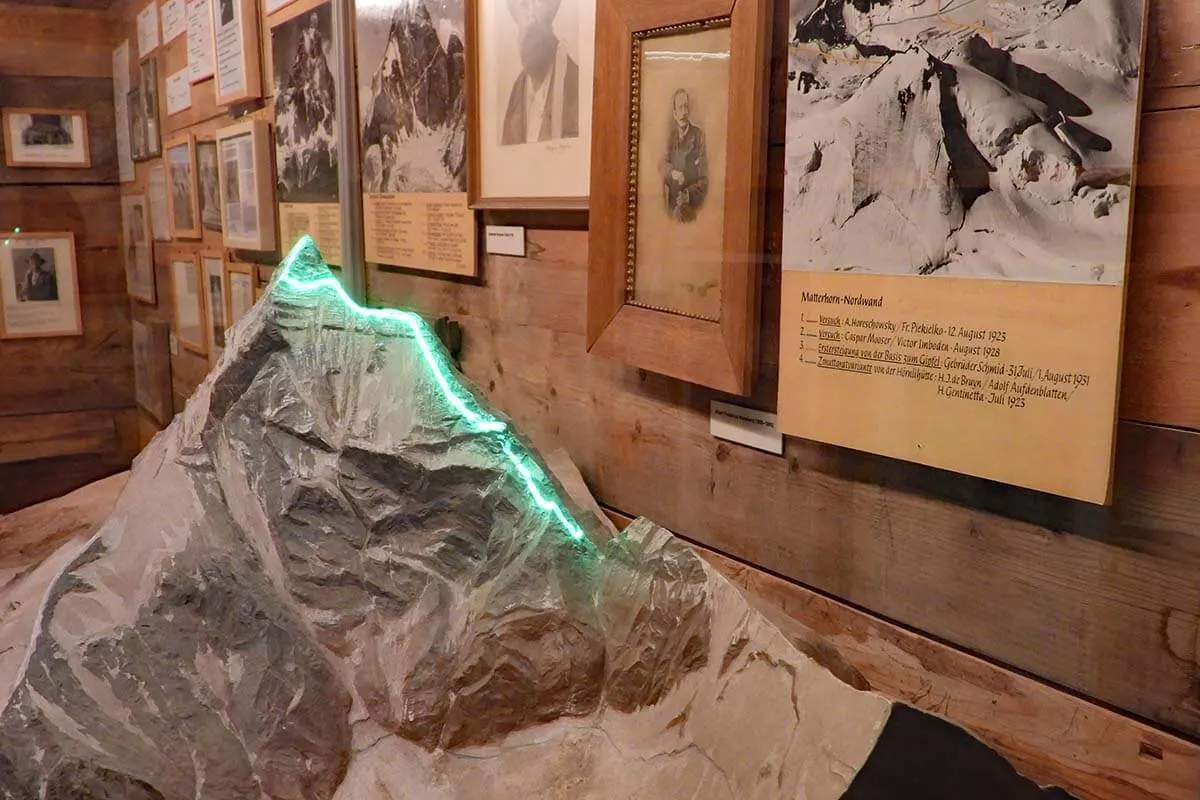 10. Mountaineer's Cemetery
INTERESTING TO SEE. All year.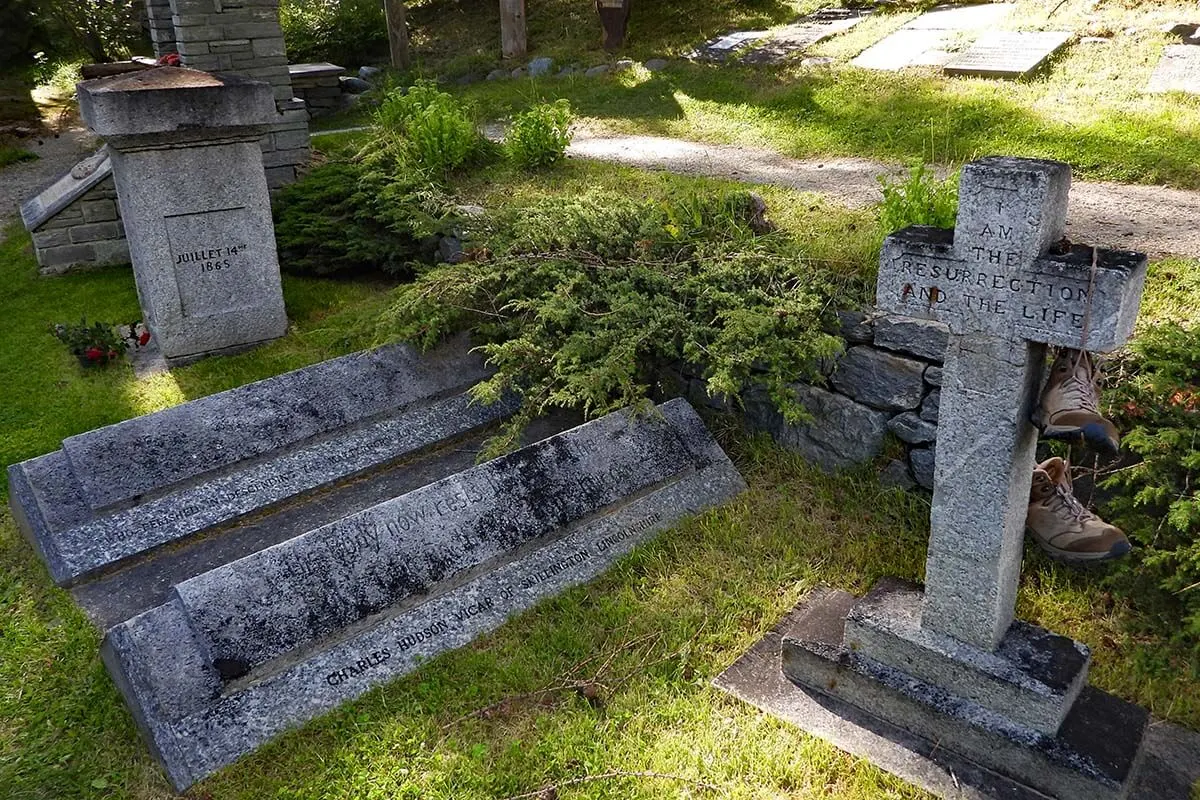 Located just behind the Parish church of St Mauritius, Mountaineer's Cemetery is another really interesting place to see in Zermatt town itself. Also the church is worth a quick peek inside, but it's not a must.
Mountaineer's Cemetery is the final resting place of many climbers who have lost their lives when climbing the highest mountain peaks around Zermatt: Matterhorn, Täschhorn, Weisshorn, Monte Rosa, and several others. Most graves here date from the late 19th – early 20th centuries. In addition, you'll also find a Grave of the Unknown Climber – for all those people whose bodies were never found or whose names are unknown.
There's just one exception at this cemetery – a grave of two locals – Peter and Peter Taugwalder (father and son) – who didn't die on the mountain. They were the mountain guides of Edward Whymper, the first person to climb the Matterhorn in July 1865, and the only three of the party of seven who survived it.
TIP: While not an absolute must-see in Zermatt, the cemetery is really interesting to see. Ideally, you first visit the Matterhorn Museum that's located just nearby, learn more about the earliest mountaineers, and then check out the cemetery afterwards. But even if you don't have the time to visit the museum and only come to see the cemetery, it's still worth it.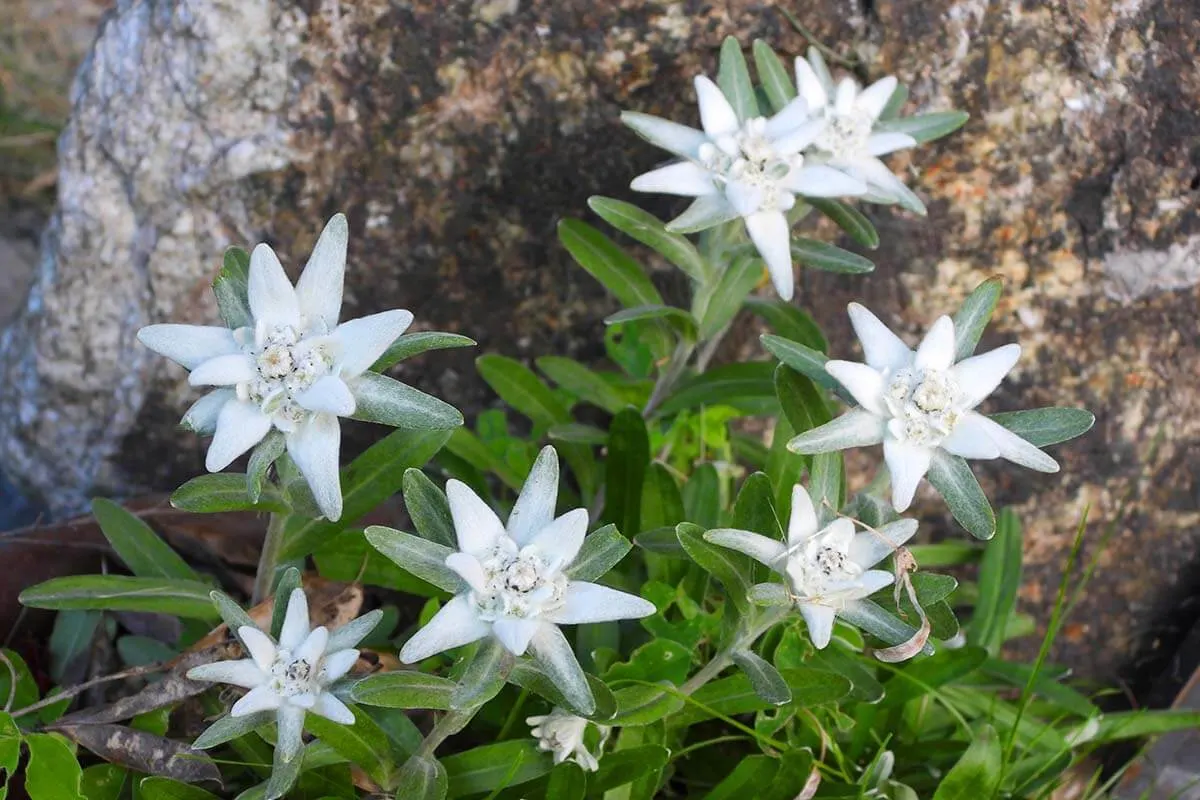 11. Hinterdorfstrasse – Old Village
MUST DO. Accessible all year.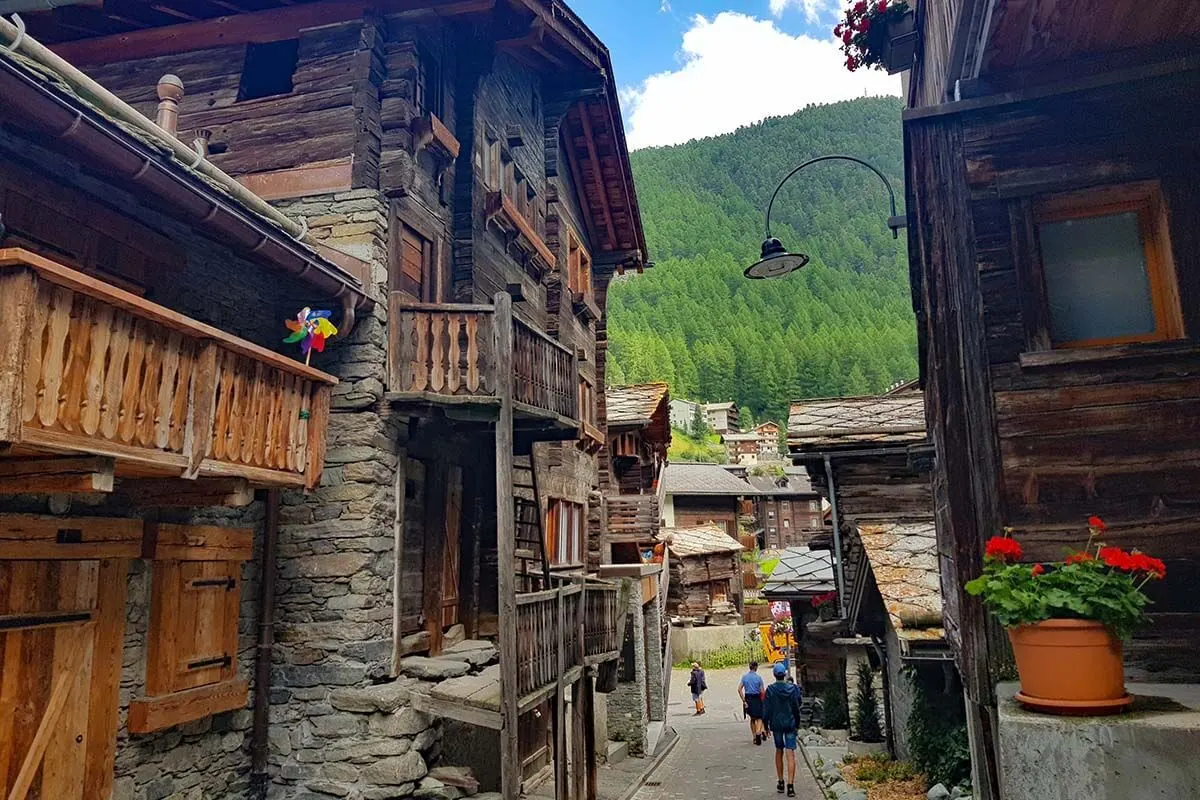 Zermatt is a modern world-class mountain resort with the most luxurious hotels and designer stores, but part of its charm is that it has also preserved its traditional-style buildings, typical to the upper Valais region in Switzerland. What makes these houses unique is that they were built on flat stone slabs balanced on wooden stilts. The house itself doesn't touch the ground, which keeps mice and marmots out.
Zermatt is very proud of its Old Village, and when you know what real estate costs at this location, you realize that some things are just much more important than money. So no trip to Zermatt would be complete without seeing at least a few of these traditional wooden houses. While there are quite a few of these buildings all over town, one of the best places to see a lot of them in one spot is the old part of town known as the 'Hinterdorf' (rear village).
Look for Hinterdorfstrasse on the map – it's really in the heart of the city, at the back of one of the most luxurious hotels in town, Mont Cervin Palace. But because this part of town is just a bit off the main street, it's usually still very quiet, which just adds to its charm. A visit to the picturesque Old Village of Zermatt is like a trip back in time, totally different than the busy shopping street nearby.
This area is really a must-see among the best places to visit in Zermatt. It's right in the city center, can be visited day and night in any season, and you only need a few minutes, so don't miss it.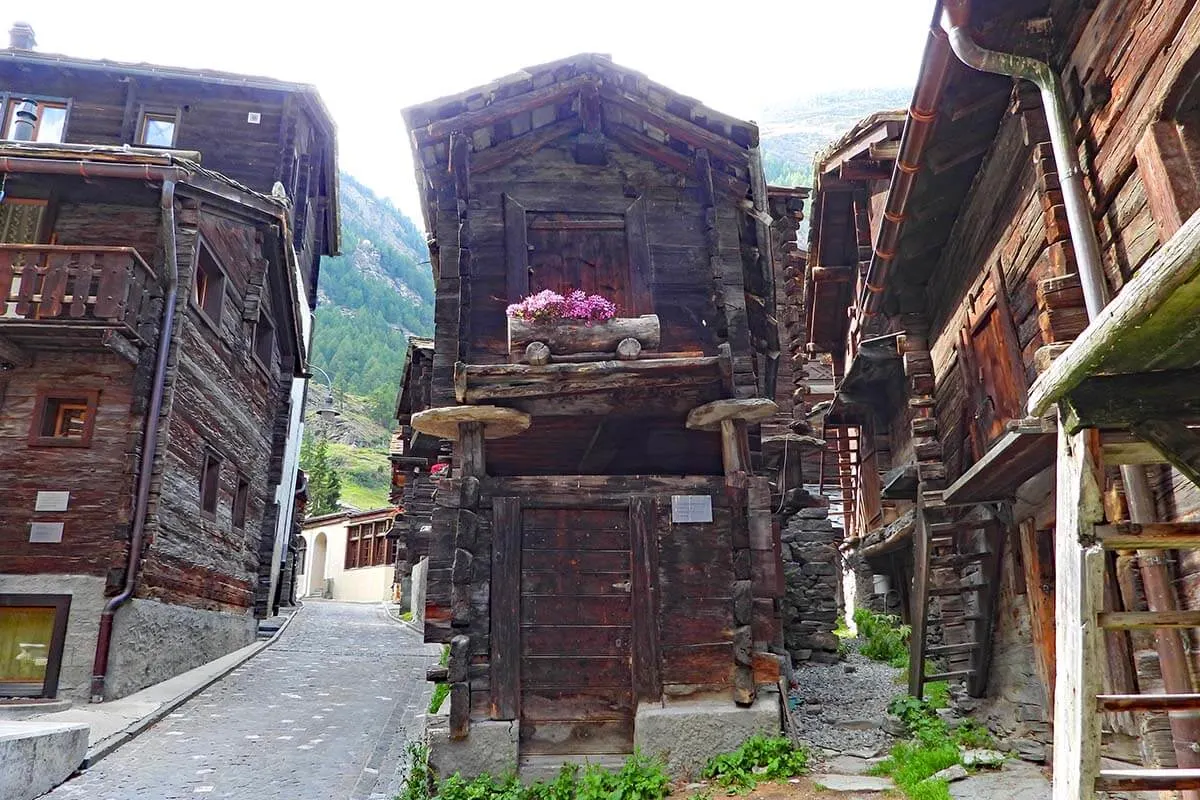 12. Gorner Gorge
NICE TO SEE. Accessible from the end of May to mid-October. Easy.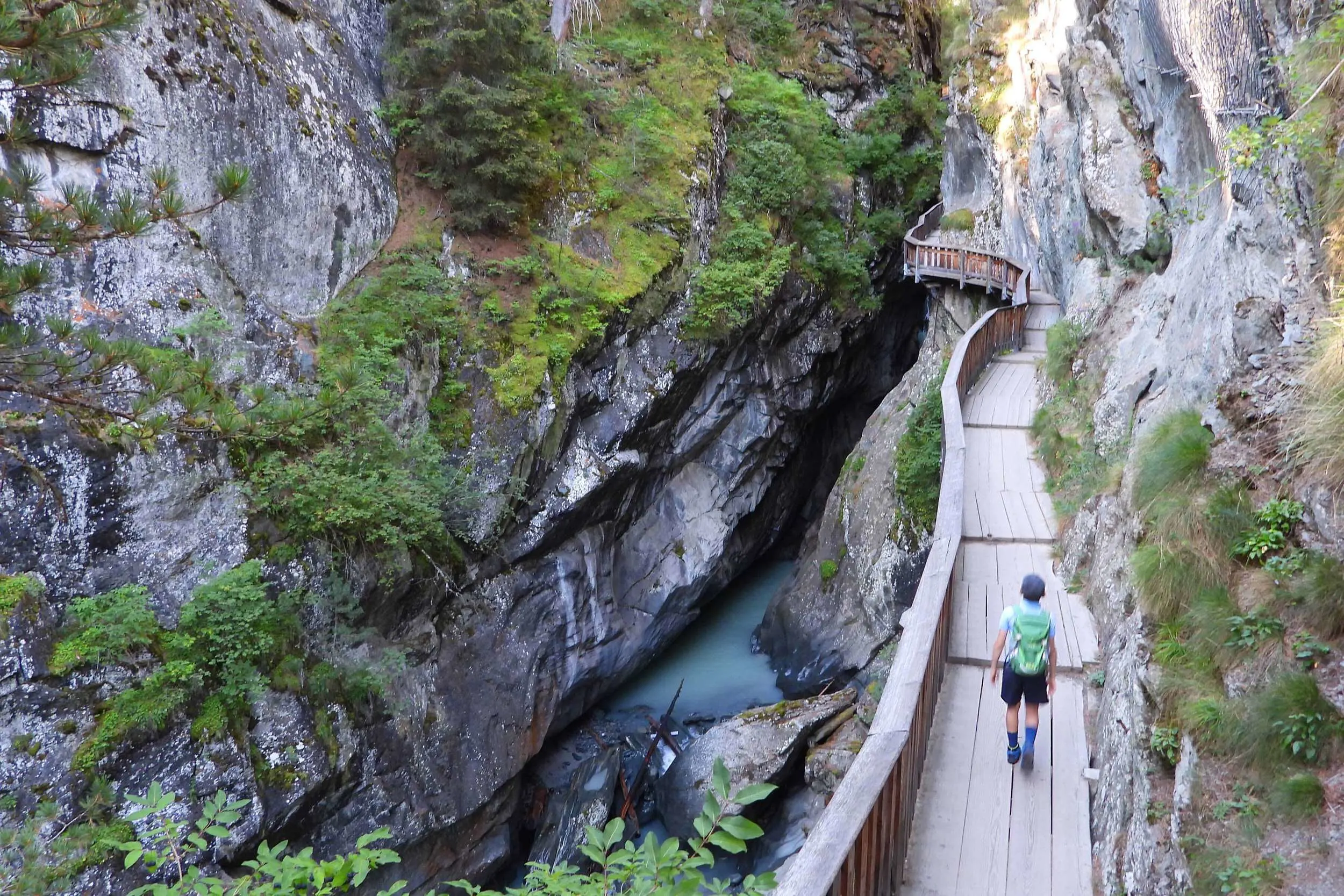 If you are looking for a wider variety of scenery and somewhat different places to see in Zermatt, then we highly recommend visiting the Gorner Gorge (Gornerschlucht). Via a series of wooden walkways and staircases, you get easy access to some stunning rock formations, colorful pools, and various waterfalls.
The tumbling waters of the Gornervispa have carved this gorge over millions of years and it's a really impressive sight. If you have a fear of heights, you might get a bit anxious at some places, but the walkways are really well secured and are also suitable for children. However, keep in mind that there are lots of stairs to negotiate.
Located about 20 minutes from the town center (30 minutes from the station), Gorner Gorge is quite easy to reach on foot. Although the walk goes uphill, it's short and doable for most people. Once you reach the gorge, count about 20 minutes to walk from one side to the other.
You can either walk back the same way you came or continue on one of the hiking paths. We walked through the Gorner Gorge from down up, then hiked to the suspension bridge near Furi, and took a very different route back down to Zermatt.
Good to know: The gorge can be visited with the whole family and it's also quite affordable by Swiss standards. The entrance price was 5 CHF for adults and half the price for kids between 6 and 16 when we visited. Younger kids are free of charge. See here for the up-to-date practical info and opening times.
TIP: Bring cash – they don't take credit cards. Also, visit early in the morning when it's not too busy yet and the light is better for photography. If you are in Zermatt in October, try to visit the gorge in the afternoon, between 3-4 pm. The sunlight falls inside the gorge at a unique angle, giving the water a bright turquoise color. However, we found that it was colorful enough and very impressive on a summer morning as well.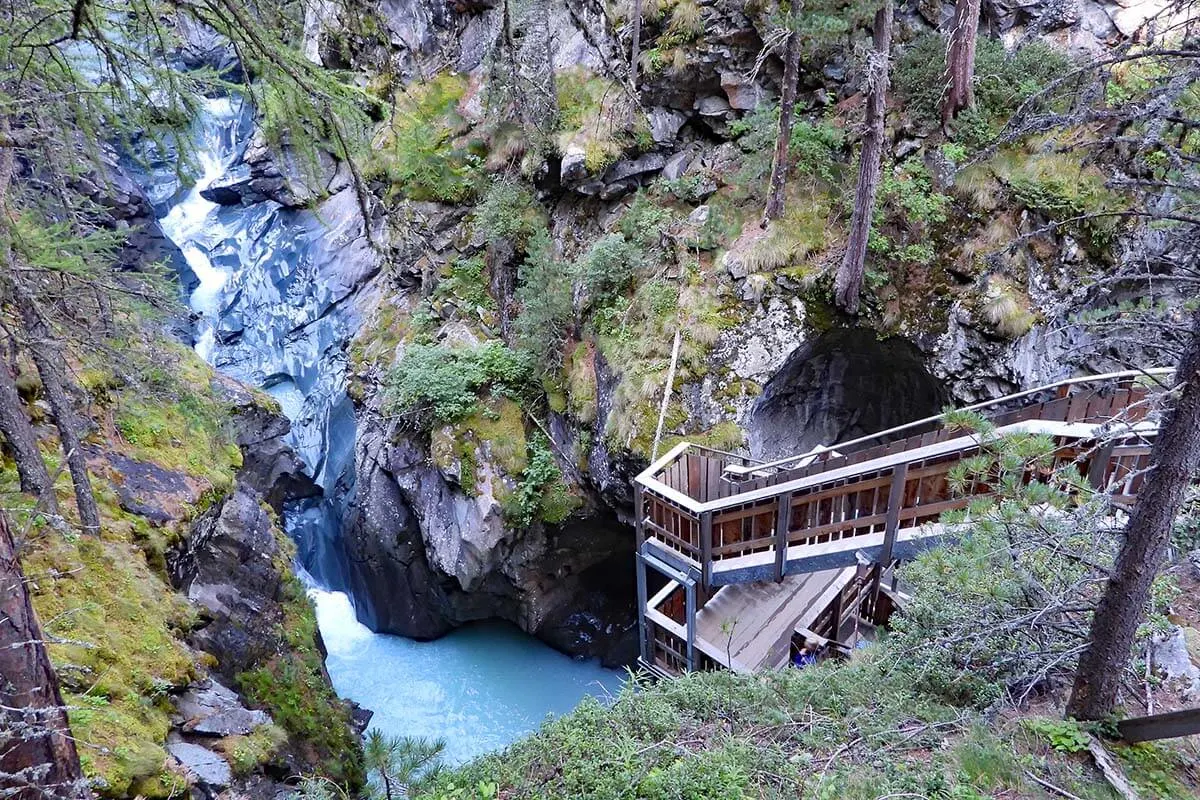 13. Furi: Suspension Bridge & Glacier Garden
NICE TO SEE. Summer only. Easy hike. 2.9 km. 1 hour.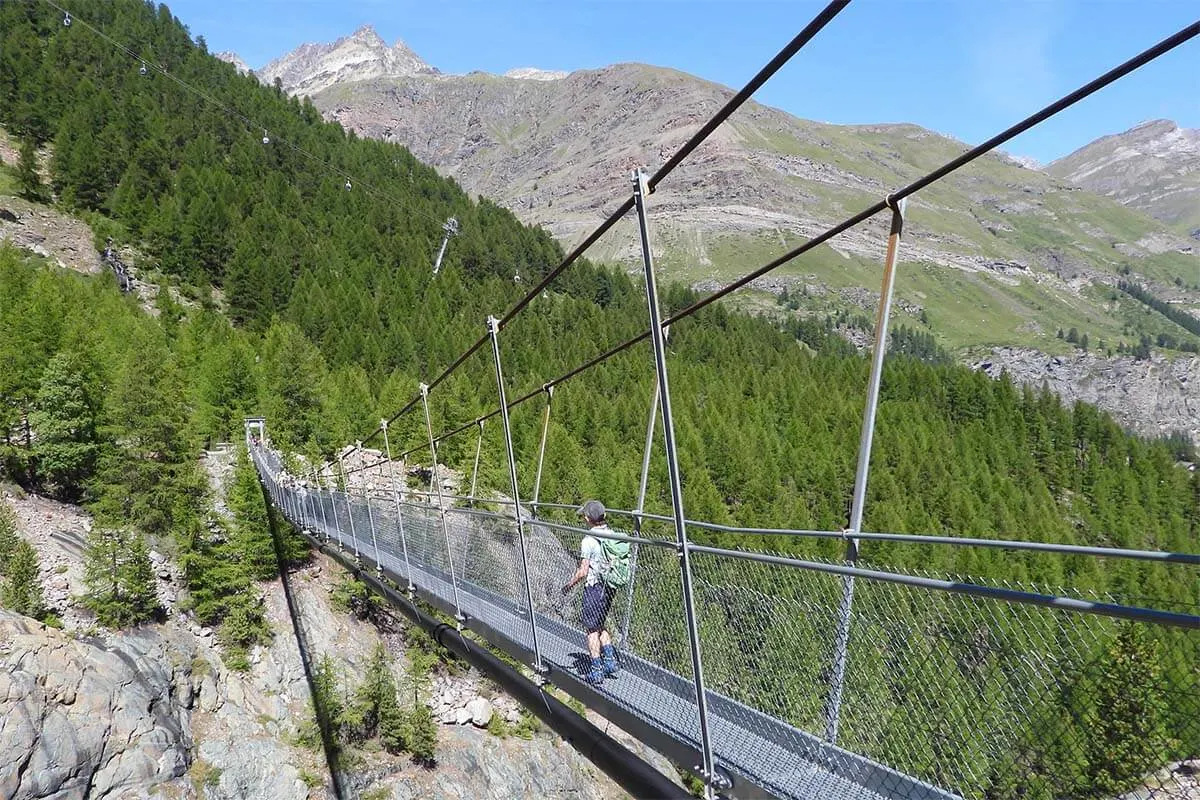 If you have seen all the musts of Zermatt and are looking for more nice things to do, you may want to consider exploring the area around the Furi cable car station. We walked to Furi after visiting the Gorner Gorge nearby, or you can simply get here by cable car.
Furi can also be easily visited in combination with either Matterhorn Glacier Paradise or Gornergrat. You can get here from both areas, and you only need about an hour to see the best places at Furi, so it can be a nice addition to your day if you still have some energy left after visiting some of the 'musts' in Zermatt.
There are many hiking trails at Furi, but the most popular and probably worth your time the most is the short circular hike nr. 17a to a suspension bridge near Furi. This hike also passes Dossen glacier garden, which is also quite interesting to see.
The Furi suspension bridge doesn't really have an official name and is simply indicated as 'Hängebrücke' on the hiking signs in the area. It's not to be confused with a much longer and more famous Charles Kuonen Suspension Bridge near Zermatt (more info about it further below).
Furi suspension bridge is 100 meters (328 ft) long and spans over the Gorner Gorge (Gornerschlucht). The views are quite nice and the hike is easy and short, so it's something nice to do if you have some extra time. The hike is also suitable for families with children from about 4-5 years. If hiking with kids, don't miss the picnic area with a playground on the other side of the bridge.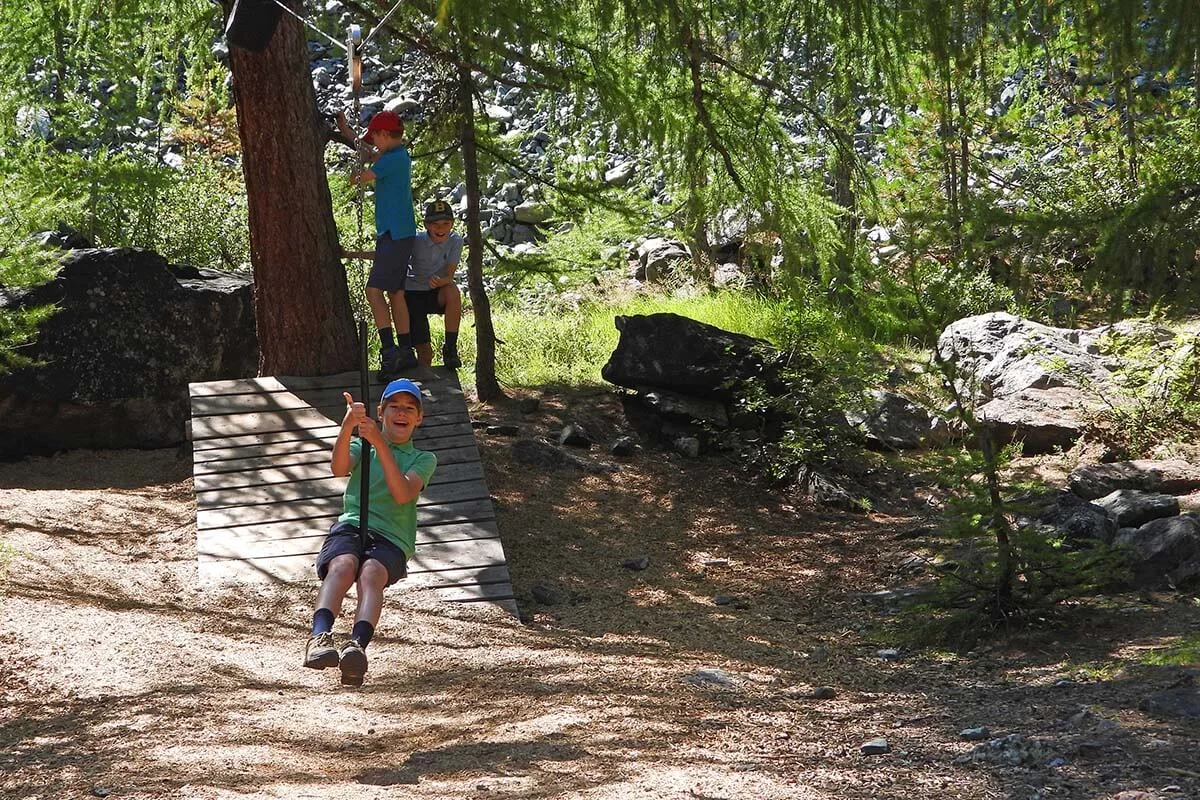 After you cross the bridge and past the playground, you'll soon see signs for a short detour to the Glacier Garden ('Gletchergarten').
It's just a 5 minutes walk from the suspension bridge to the Glacier Garden, but once there, you could easily spend half an hour or even more. Or you can see some of the highlights in a few minutes – it's really up to you and depends on how fascinated you are about geology.
There are lots of informational panels at the Glacier Garden, so you can get a better understanding of what makes the area special and how it was formed. But even if you don't read any info, it's quite fascinating to see glacial potholes. All in all, we found that it was definitely worth a short detour.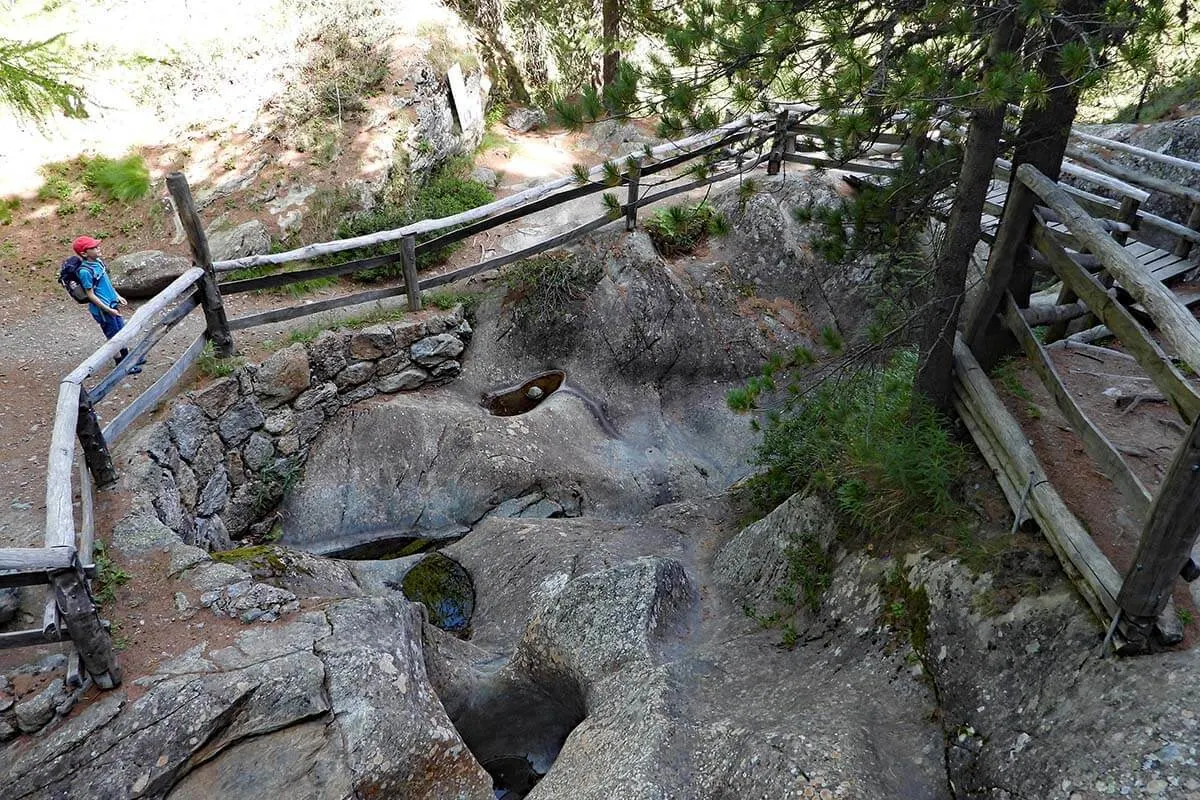 14. Zmutt
NICE TO SEE. Accessible all year. Easy – medium hike, depending on which trail you take.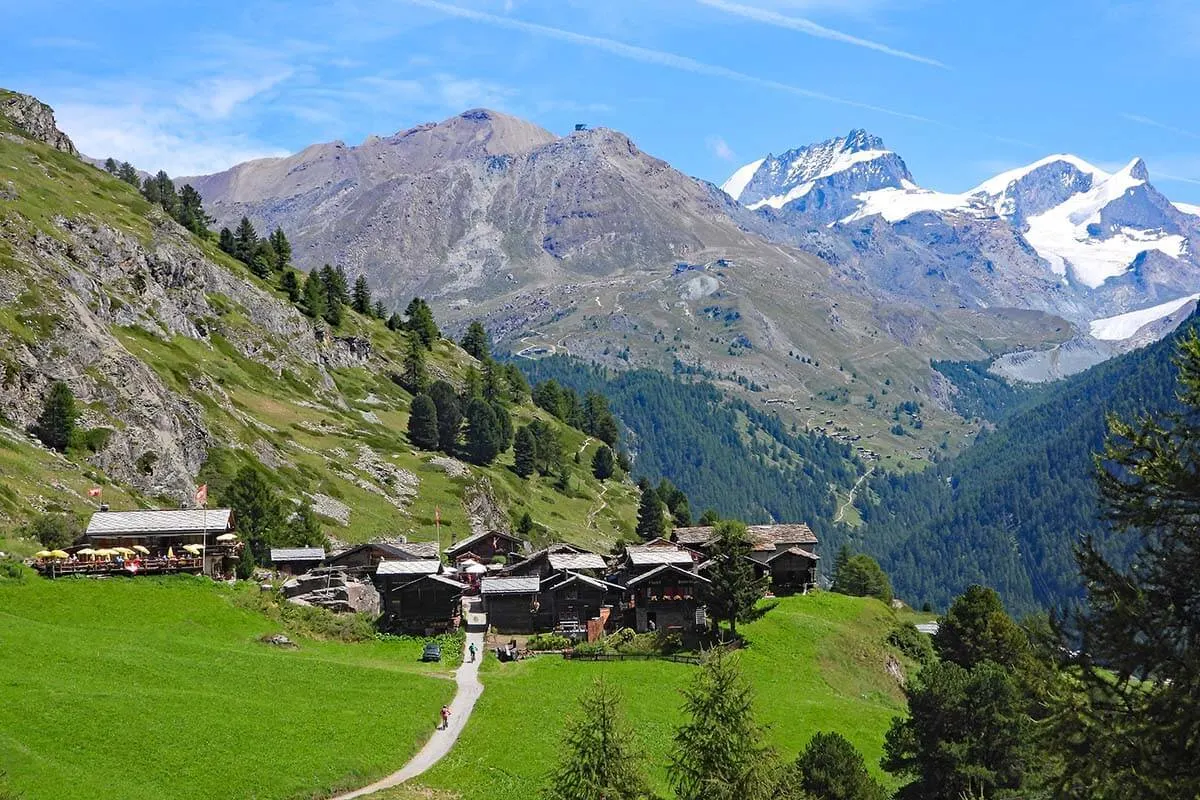 Zmutt (also known as the Hamlet of Zmutt) is a small village in the mountains above Zermatt. It's a very old village with traditional dark wooden houses and history that goes over 500 years back in time.
Surrounded by mountains, Zmutt is very picturesque. This tiny village has a chapel and about 20 houses, most of which have been built hundreds of years ago. There are also a few more recent buildings, some of which now serve as restaurants.
Because it's so picturesque and is just a short hike from Zermatt, Zmutt is a popular destination for all types of hikers. And since there are several restaurants in the village, it's a great place to go to for lunch or to stop for drinks or desserts in the afternoon.
Good to know: You can reach Zmutt on foot from Zermatt village or from Furi cable car station. It's located at an altitude of 1,936 meters (6,351 ft), so a hike from Furi (1,867 m (6,125 ft)) is relatively easy, with little difference in elevation. Also, for the biggest part, the trail between Furi and Zmutt follows a wide gravel road that's also used by (local) cars.
If you hike to Zmutt from Zermatt, it's uphill, with about 330 meters elevation gain. The shortest route will probably take you about 1-1.5 hours. But there are so many hiking trails and different ways to get to Zmutt from either Furi or from Zermatt that you can make it as easy or as difficult as you want.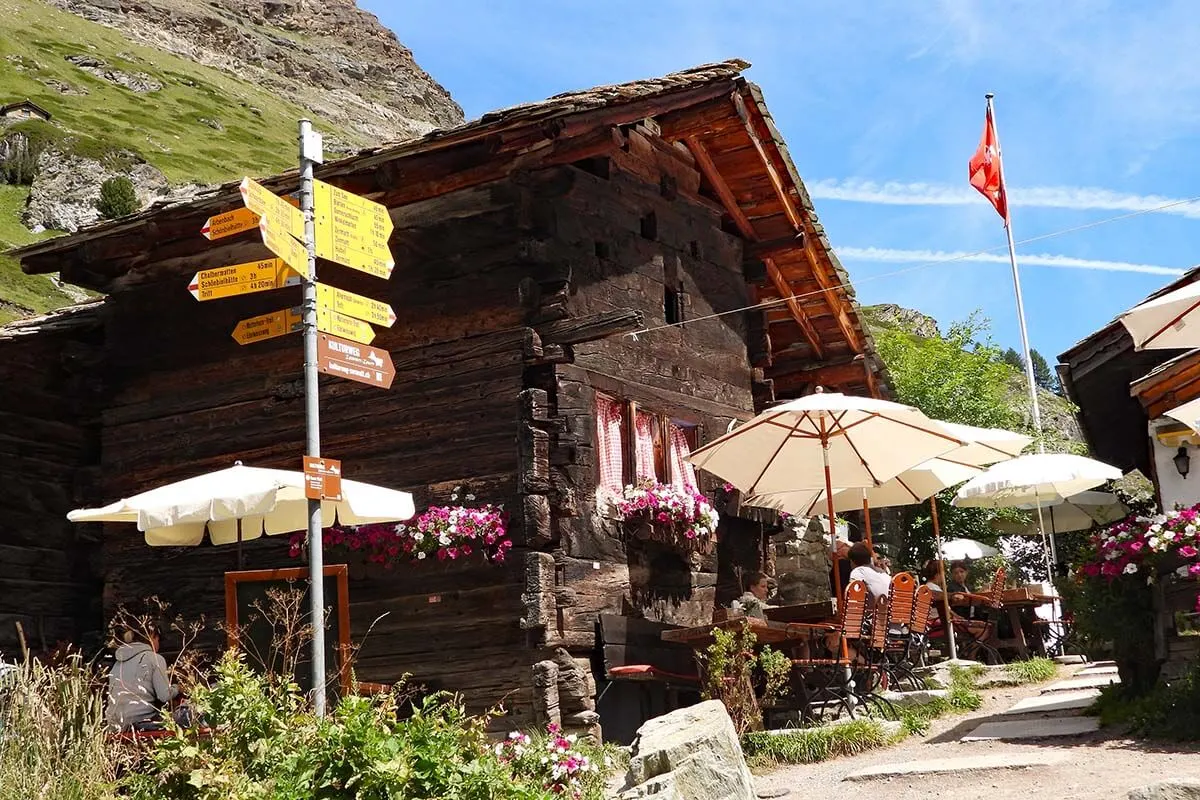 15. Rothorn
NICE TO SEE. Accessible all year.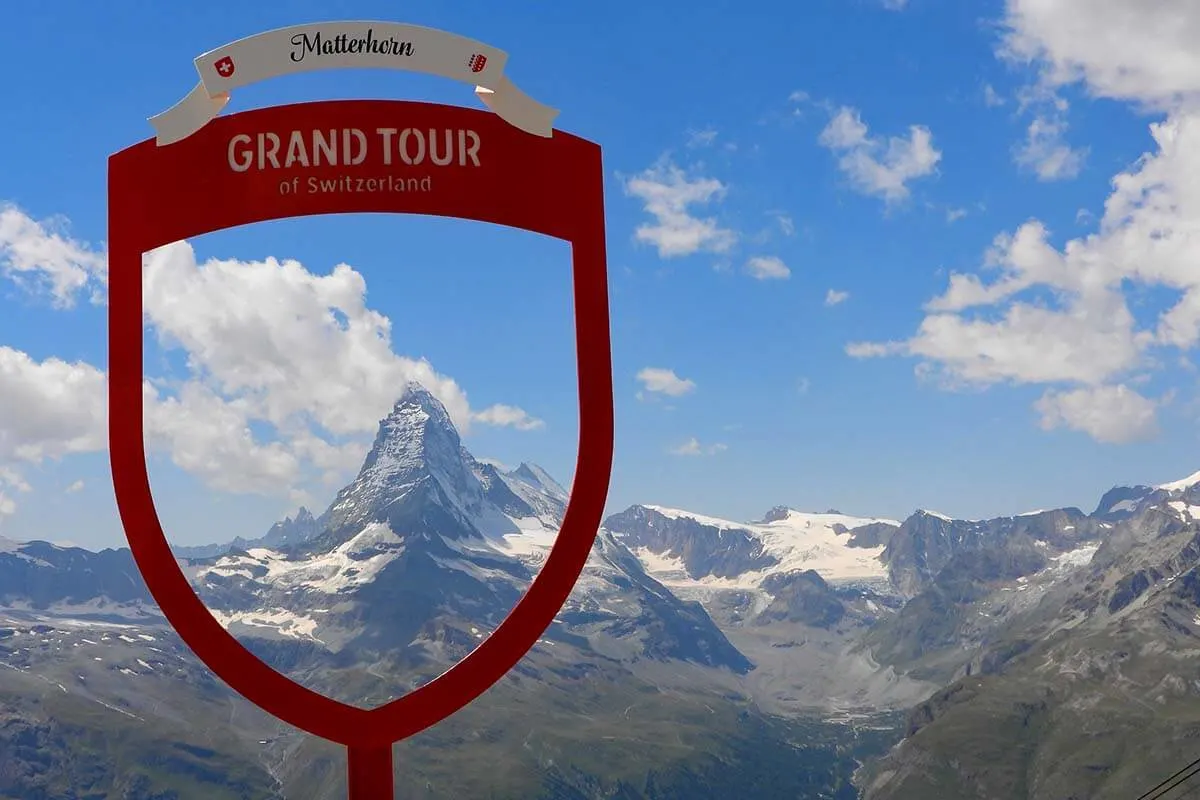 Together with Gornergrat and Matterhorn Glacier Paradise, Rothorn is one of the 3 highest peaks that you can easily reach in Zermatt. It's accessible via a funicular + a series of cable cars at the Sunnega – Rothorn area.
At 3,103 meters (10,180 ft) above sea level, Rothorn is actually higher than Gornergrat and prides itself as the place with the best views of the Matterhorn. There's a restaurant here and you can also take a short walk and check out the so-called Peak Collection. It's a sort of an outdoor gallery with sculptures highlighting different mountain peaks in the Zermatt area, with information about each mountain, the first climb to its peak, and a stone that actually comes from that mountain peak.
However, with so many great places to see and things to do in Zermatt, competition is fierce and so if you have to be selective about which places to visit, Rothorn is definitely not a must. It seems that most tourists never get to this area, and it's mostly visited by those who spend a longer vacation in Zermatt. So it's not as well known and not nearly as busy as the other mountain peaks mentioned earlier.
On the other hand, the Rothorn peak itself is just one of the places to see in the Sunnega – Rothorn area. And so if you visit here in combination with the above-mentioned 5 Lakes hike or other activities (see below), then it's definitely worth an extra 30-60 minutes of your time.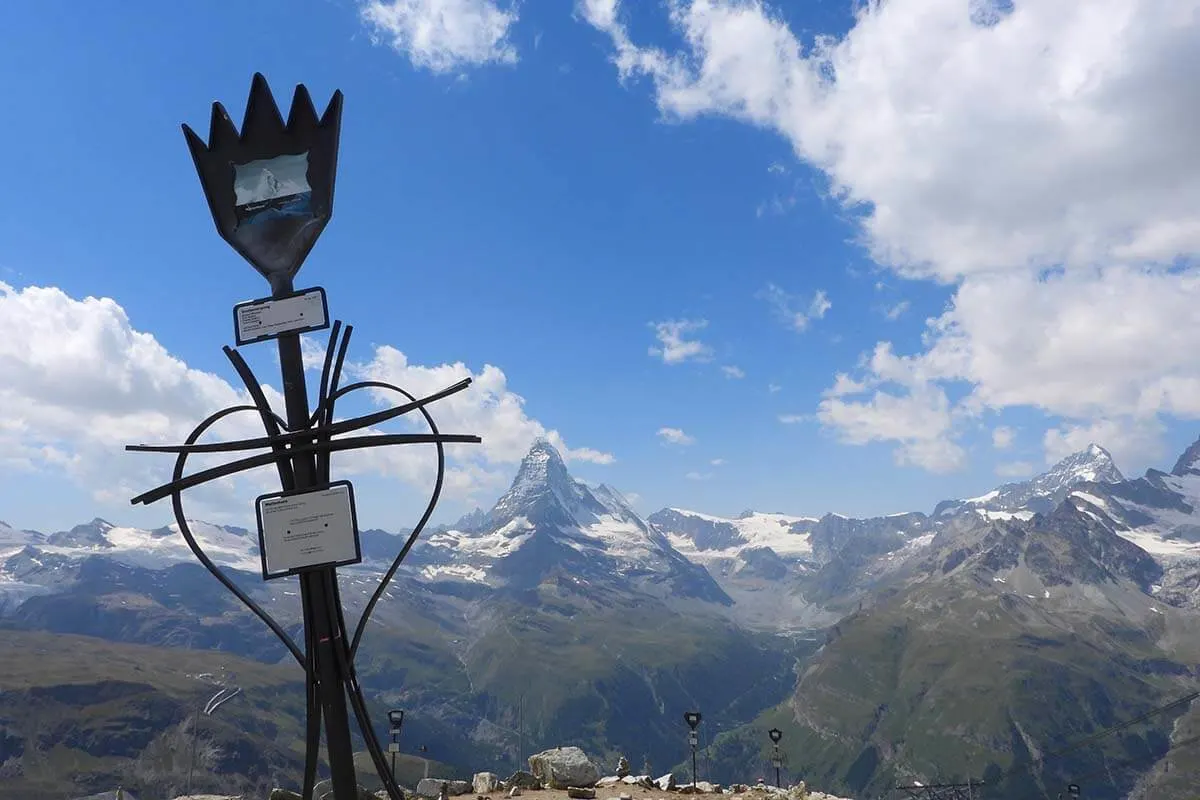 16. 5 Lakes Hike
ONE OF THE BEST LONGER HIKES. Summer only. Medium hike. 10 km. 2.5-3 hours.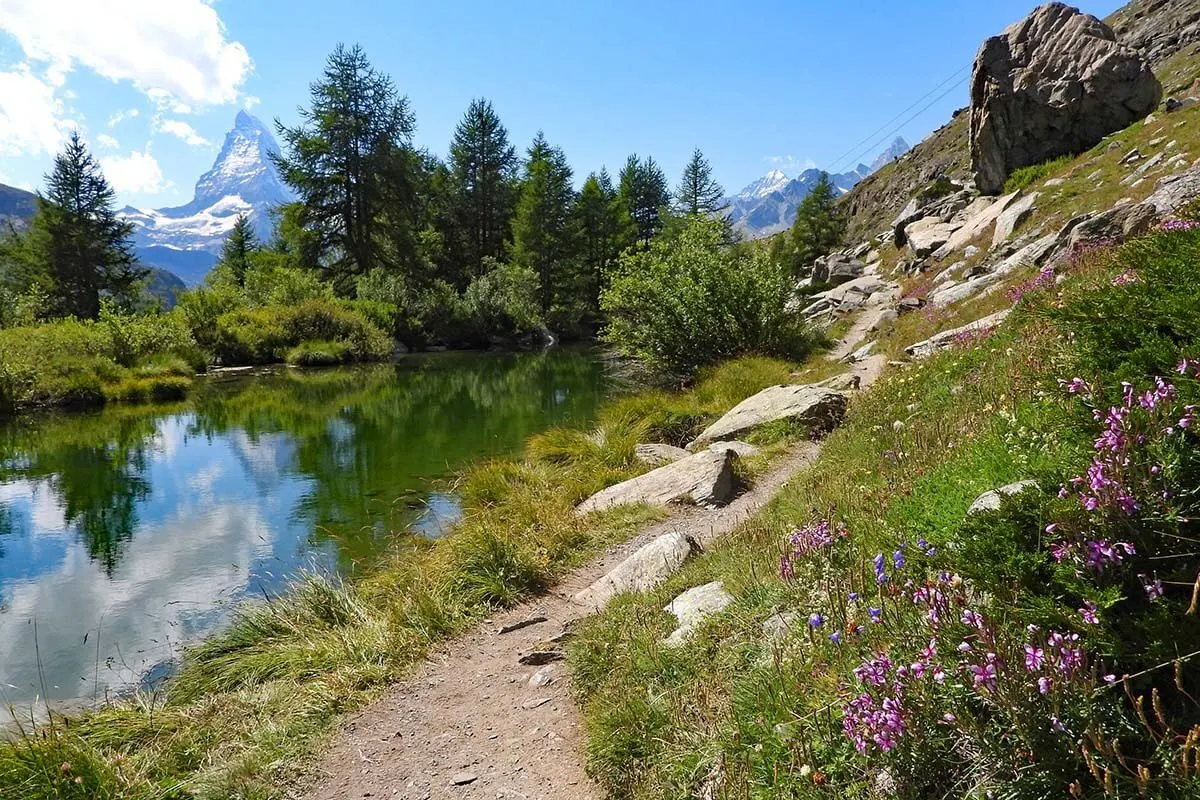 The 5 Lakes hike is often mentioned as one of the best hikes in Zermatt. And indeed, if you are looking for a beautiful hike with some of the best mountain views and a nice variation in Alpine scenery, this is an excellent option.
This trail is called '5-Seenweg' (also indicated as hike nr. 11) and you can find it in the Sunnega – Rothorn area. It starts at Blauherd cable car station and ends at Leisee, just next to Sunnegga mountain station. The total hiking distance is about 10 km (6.2 mi) and it takes at least 2.5-3 hours of pure hiking time, if you follow the entire trail as indicated. There are also some shortcuts and turn-offs along the way, so you could make this hike somewhat shorter if you prefer.
Just as the name reveals, you can see five different mountain lakes along this trail. Some of them can be great for seeing beautiful reflections of the Matterhorn (for that, go early in the morning), others have distinctive colors and are really picturesque as well. And there are also two lakes – Grünsee and Leisee – where you can go swimming.
In addition, you pass a mountain hut where you can stop for lunch, for a drink, or some ice cream. The hike ends at Leisee lake which has a nice kids' play area.
TIP: If you are planning to do the 5 Lakes hike, we recommend starting early in the morning and planning a big part of the day for it. Going in the morning, you can also see nice reflections on the lakes. Also, pack a picnic lunch and your swimming gear and go for a swim at Grünsee. You could also make a short detour to Fluhalp at the beginning of the hike. We made the mistake of coming here in the afternoon and it just felt too rushed to enjoy it to the fullest.
Good to know: While this is a family-friendly hike, don't underestimate it and foresee enough time if you are hiking with children. I wouldn't recommend the entire hike for families with kids younger than 6-7, but if you follow the main gravel road rather than the Alpine track and take a few shortcuts along the way, you could do it with younger kids as well.
LEARN MORE: 5 Lakes Hike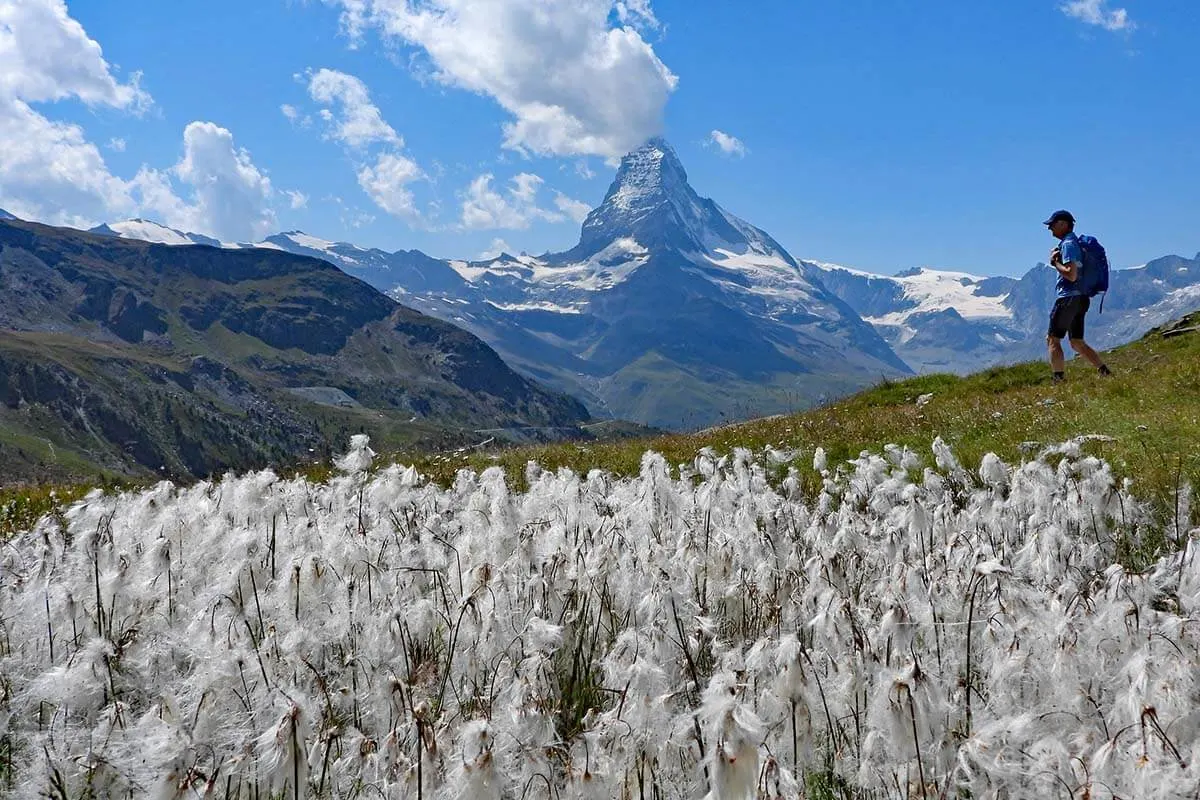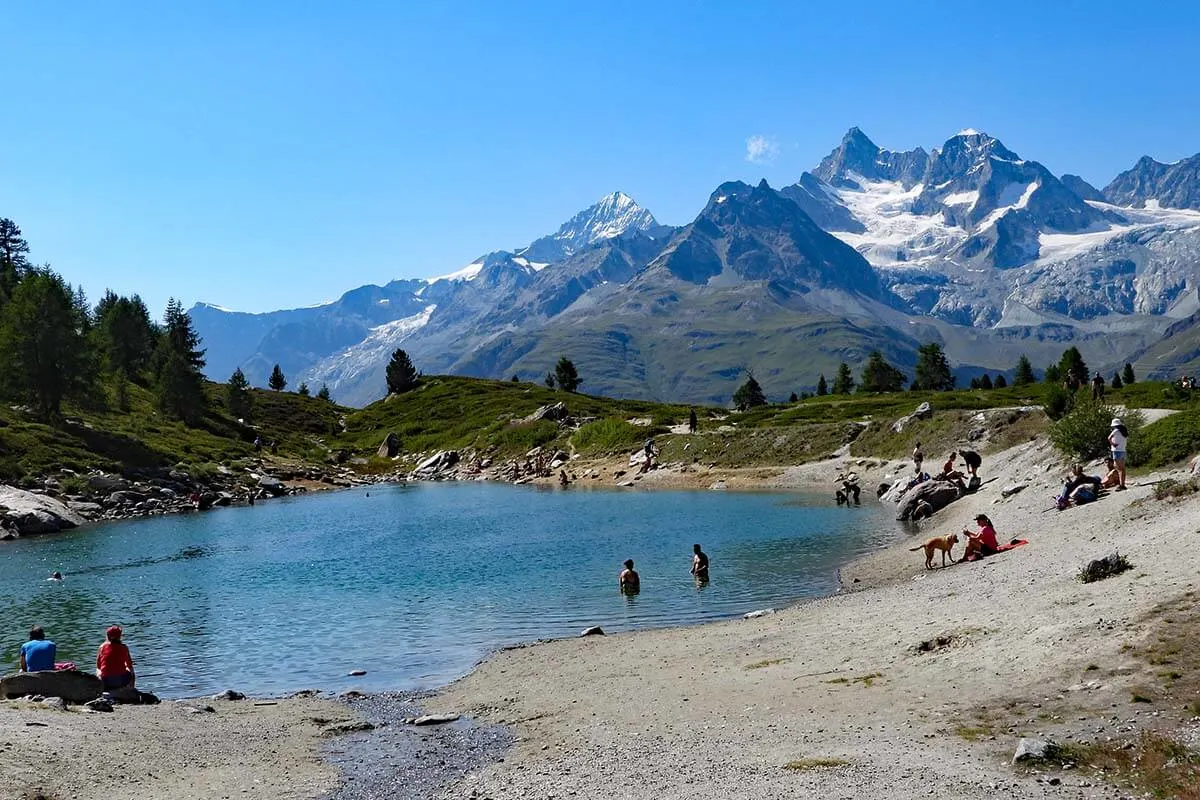 17. Fun Outdoor Activities at Sunnegga – Rothorn
NICE TO DO. Summer only.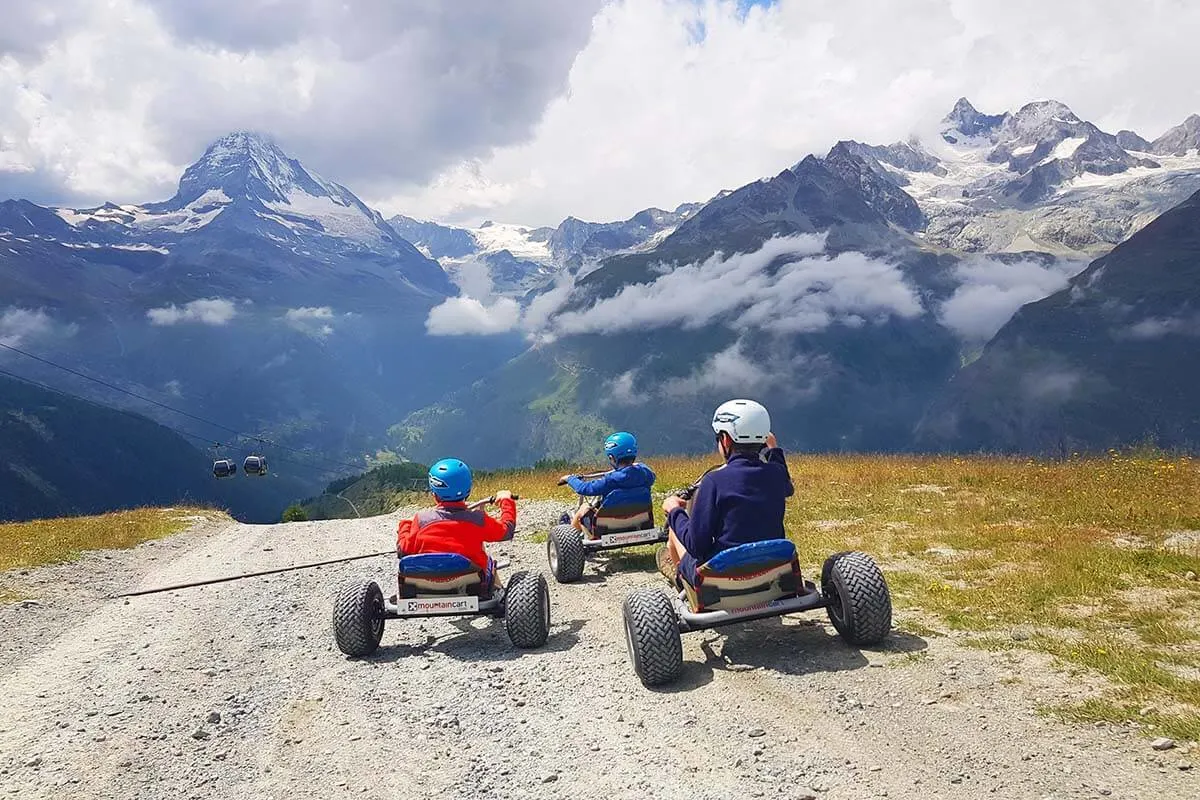 The area around Sunnegga is probably the best place for outdoor activities in Zermatt.
One of the most fun things to do here is taking mountain carts from Blauherd to Sunnegga. It's something that you can do with kids from the age of 9 and it's so much fun for young and old!
This was the first time we ever tried mountain carts and we were a bit worried about doing this with kids. But our 10-12-year-olds managed it just fine and we all absolutely loved it! In fact, we found that one ride wasn't enough – we were down the mountain before we knew it. The trail is just 1.6 km (1 mi) and takes less than 10 minutes.
Another fun activity at Sunnegga is taking kickbikes for a downhill ride from Sunnegga all the way to Zermatt town. This activity is also family-friendly and possible with children from 9 years, but it's much more physically demanding and the ride is also much longer (7.2 km (4.5 mi)) and takes about 45-60 minutes.
Our kids weren't sure about it, so we decided to wait until they are a bit older. But if you are visiting Zermatt with teenagers or just a group of adults, and are looking for something fun to do, you may want to give this a try!
Good to know: You can get the tickets for these activities at the cable car station where they start, so there's no need to book anything in advance. Helmets are provided. For mountain carts – if you have a backpack that you can't take with you, they can send it down to Sunnegga by cable car and you pick it up when you return your mountain cart.
TIP: If you are looking for more fun outdoor activities in Zermatt, you may also want to check out Forest Fun Park – an adventure park with various climbing routes for kids and adults. It's located close to town, on the way to Gorner Gorge.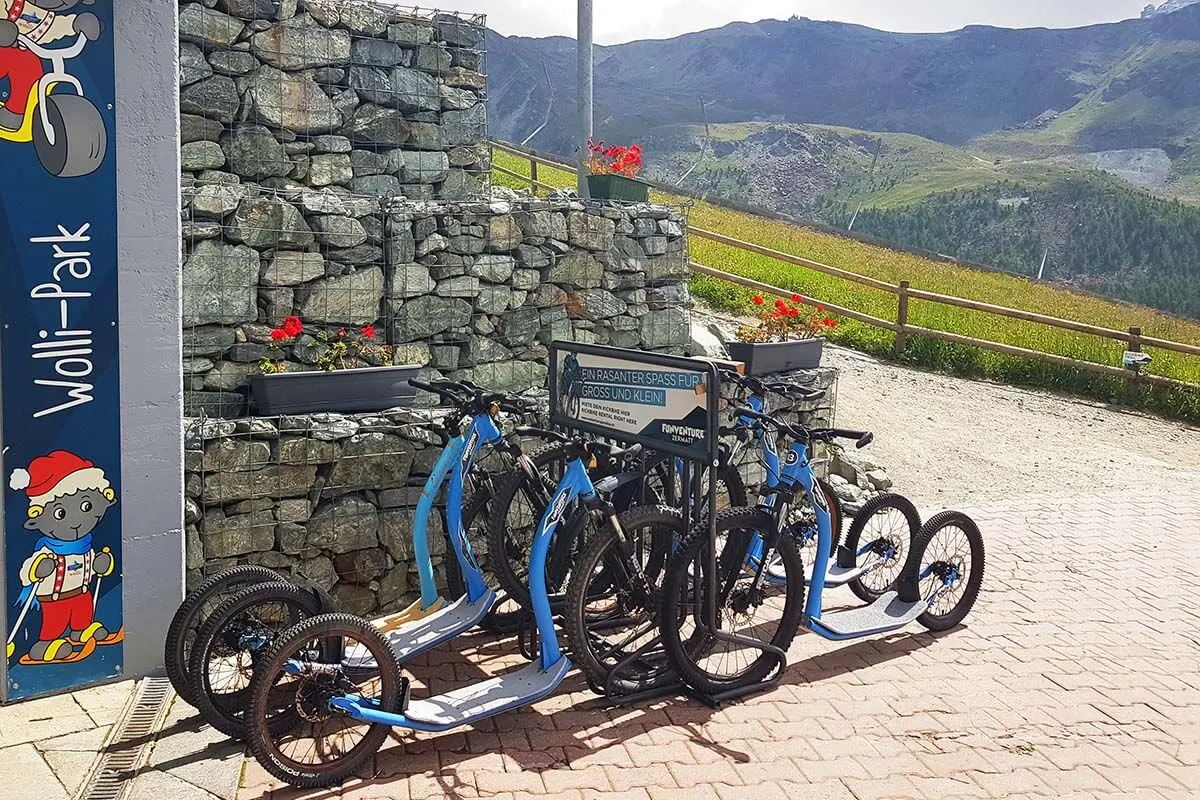 18. Leisee – Zermatt's Beach
NICE TO DO. Summer only. In winter, it's a nice family-friendly ski area with Wolli's park for beginners.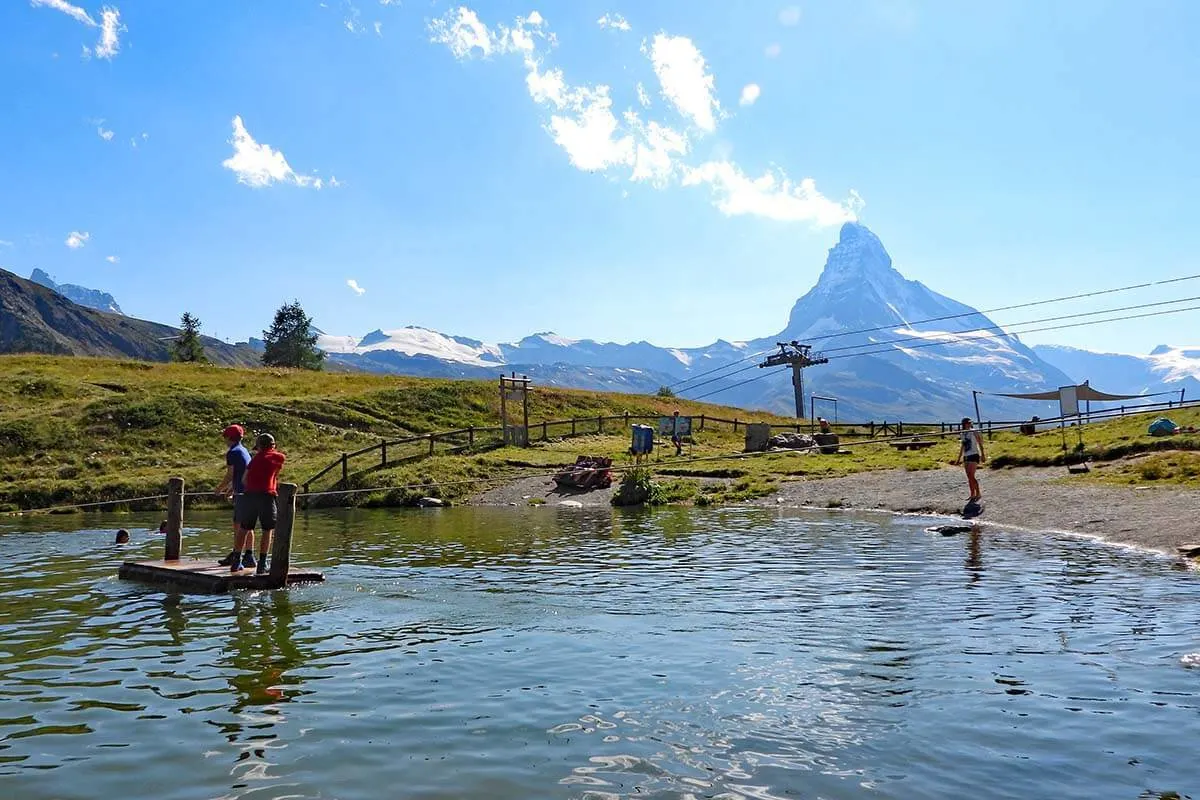 Another nice place to visit in Zermatt is Leisee. It's a small lake located just near the Sunnegga mountain station (at 2,288 m (7,506 ft)) that you can reach by funicular from Zermatt.
The literal translation of Sunnegga means 'sunny corner' and Leisee is also known as Zermatt's beach.
This is one of the most popular areas in Zermatt for families with children and one of the best places to go swimming in Zermatt. Leisee is not deep and therefore not as cold as other swimming lakes in Zermatt, such as Schwarzsee or Grünsee.
By the lake, you'll find a nice playground for kids (part of it is a water playground, so prepare for your kids to get wet!). There's also a play raft at the lake, bbq areas, and picnic spots. And – of course – stunning mountain views with the Matterhorn in the distance.
All of this makes Leissee a perfect place to spend a warm summer day in Zermatt.
Good to know: If you do the earlier mentioned 5 Lakes Hike, you will end it at Leisee. It's a nice place to relax or even go for a swim after the hike.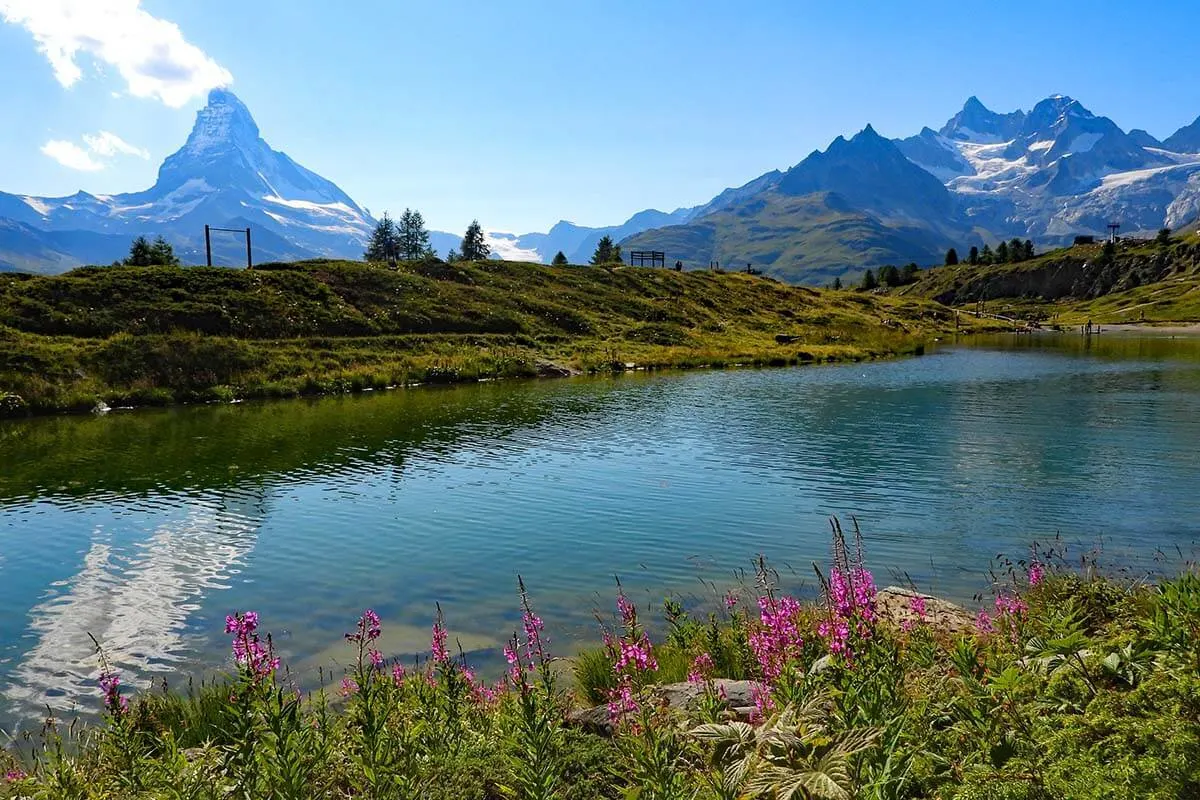 19. Charles Kuonen Suspension Bridge
NICE TO DO. Summer only. Medium difficulty hike. 7.5-8.5 km. 3-4 hours.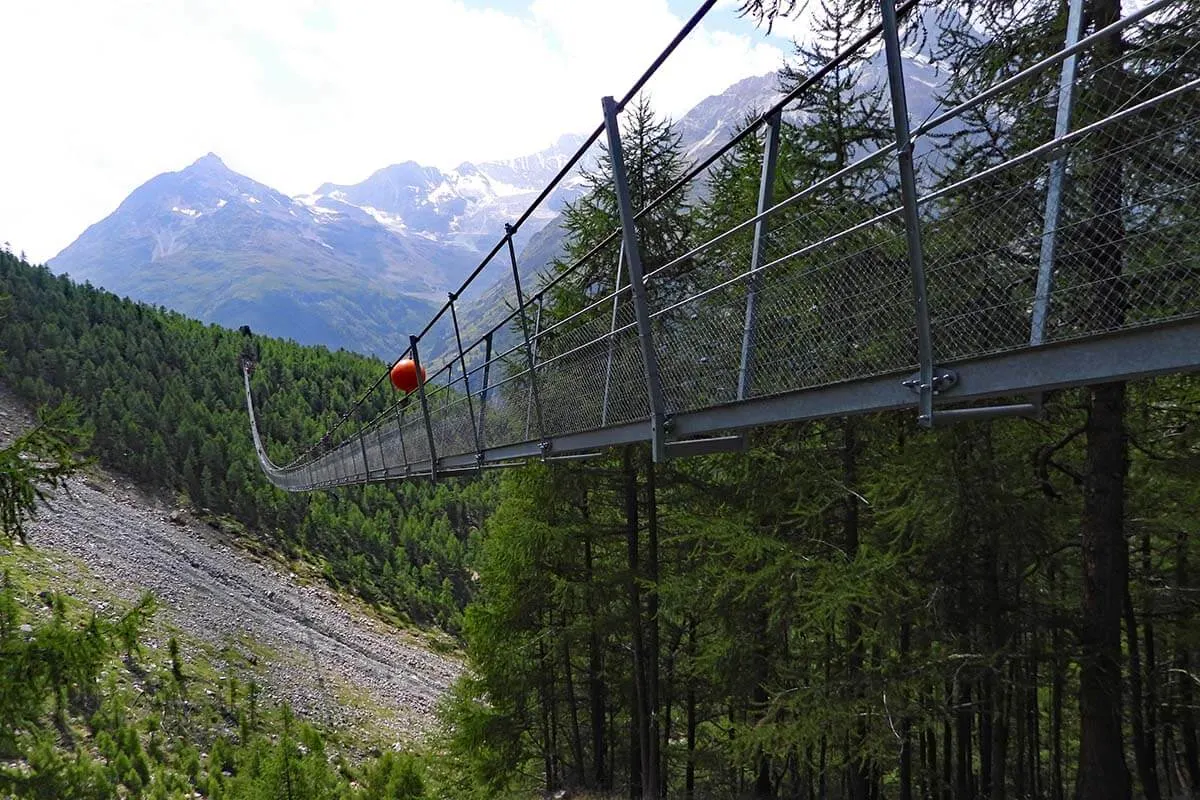 No list of Zermatt's attractions would be complete without mentioning Charles Kuonen Suspension Bridge, also known as Randa Suspension Bridge or Europabrücke.
Spanning 494 meters (0.3 miles) over the valley, Charles Kuonen Suspension Bridge is the longest pedestrian suspension bridge in the Alps and one of the longest in the world. It takes about 10 minutes just to cross this bridge in one direction, and you should definitely not be afraid of heights.
To get to the bridge, you'll have to take a loop hike from Randa (hike nr. 69). This is the only place on this list that is located outside of the main Zermatt area and where you can also visit by car, without having to pay for train tickets or cable cars. You can get to Randa by train from Zermatt, but you can also visit here on your way to/from Zermatt.
The bridge is really impressive and if you haven't seen many suspension bridges before, it will definitely be one of the highlights of your trip to Zermatt. However, the uphill hike to get to the bridge and a steep descent on the way back is long and really tiring. And because you are hiking through a forest almost the entire time, the views are rather limited.
After you cross the bridge, you can continue further to the Europa hut, or go down to Randa, where you started. If you take a detour to Europa hut, you'll need about 4 hours for this hike, otherwise, count about 3 hours.
Good to know: Randa Suspension Bridge hike involves a steep ascent and descent of 988 m (3,241 ft). You'll need good hiking shoes and hiking poles are advisable, especially on your way down. Pack plenty of water. Also, do this hike anti-clockwise – that way you are mostly hiking in the shadow on your way up, which makes the steep climb somewhat more bearable.
TIP: Even if you are not hiking to the bridge, Randa village itself is well worth a quick visit. It's really picturesque, especially the old part around the church and in the direction of where the hike to the bridge starts.
LEARN MORE: Charles Kuonen Suspension Bridge Hike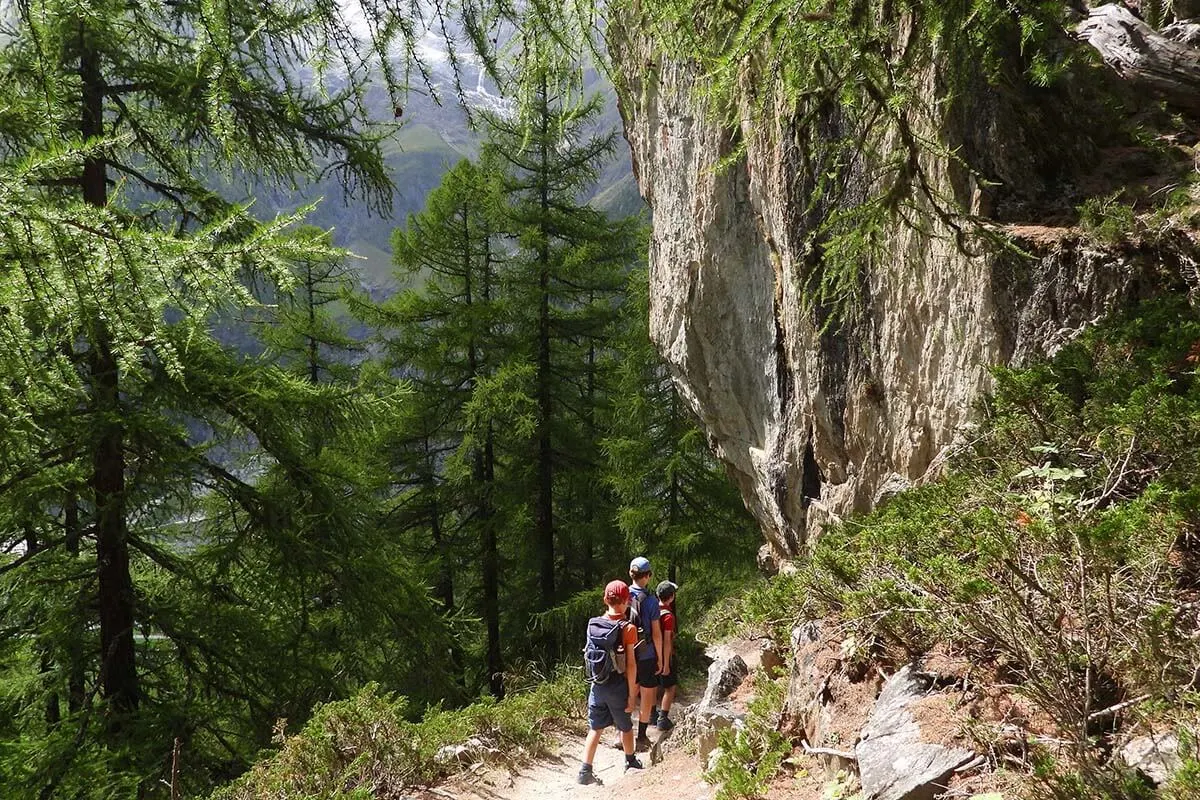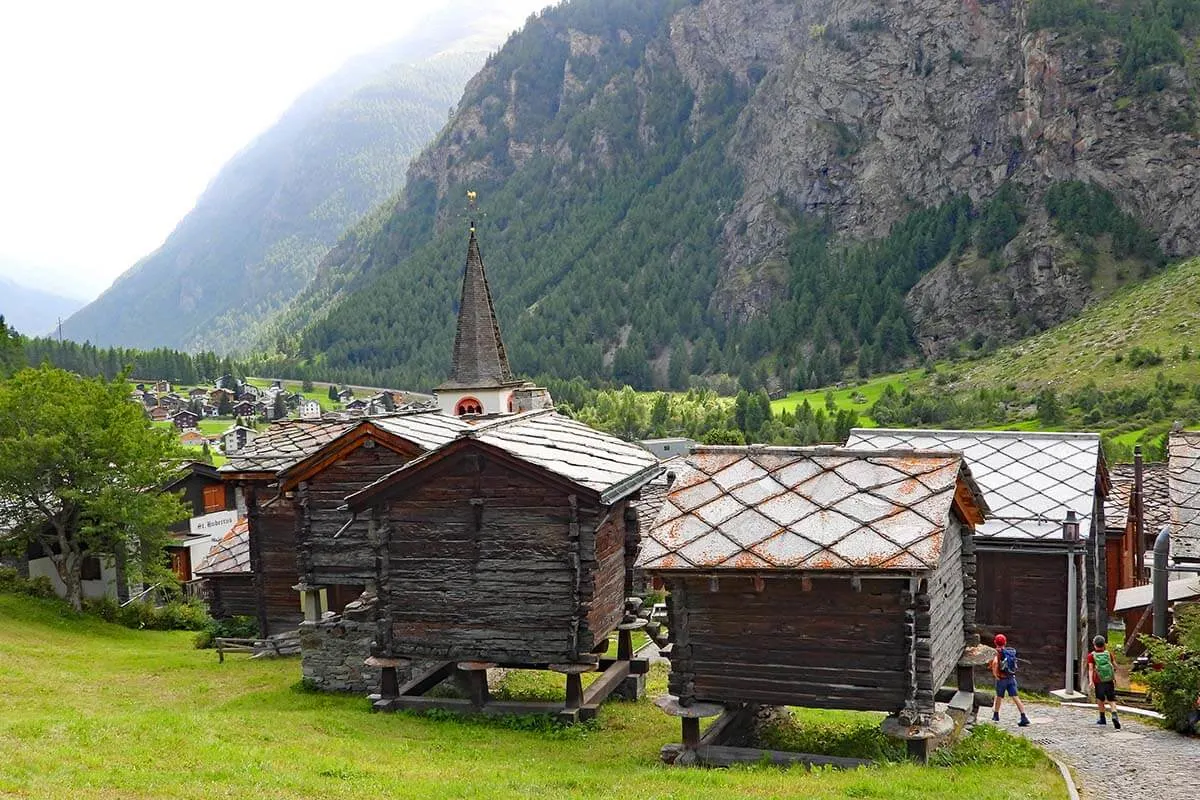 20. Skiing
NICE TO DO. Possible all year, but best in winter, of course.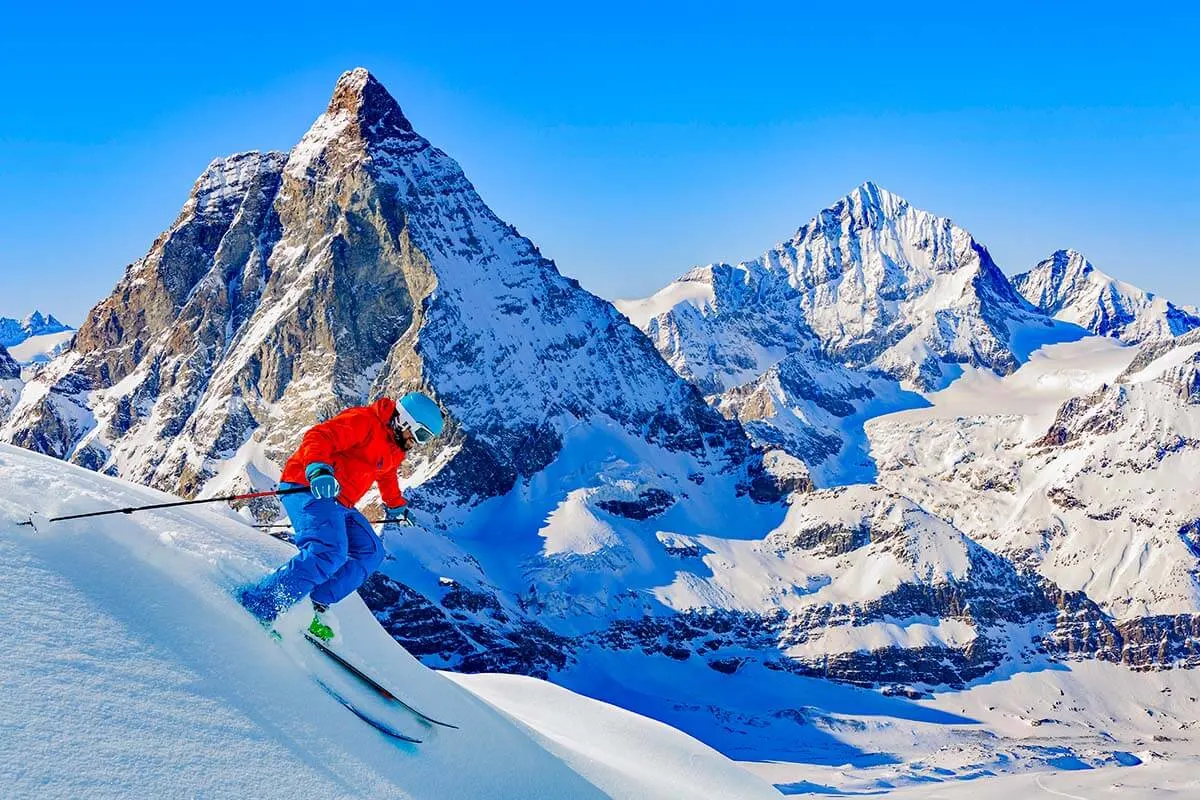 While there's a lot more to see and do in Zermatt, before we get to the other attractions, we should really mention skiing. One of the best ski resorts in the world, Zermatt is a real paradise for skiers. But what makes it even more special is that you can ski in Zermatt the whole year round.
The main ski season in Zermatt lasts from the beginning of December through the end of April. In addition to 360km of pistes (combined with the Breuil-Cervinia region in Italy), you can also enjoy 70km of winter hiking trails, 15km of cross-country ski trails (in Täch-Randa), snowshoeing, sledding, and winter toboggan. If you are visiting Zermatt in winter, you should really plan to spend a few days here and hit the slopes!
But also if you are traveling to Zermatt in summer, you can go skiing on a glacier at Matterhorn Glacier Paradise. It's a much smaller area, and can't be compared to skiing in winter when you have a huge choice of pistes all over the area. But as far as skiing itself is concerned, it's just as good, and lots of professional skiers and snowboarders come to train here in summer. Also, the views up there are phenomenal.
I've never tried summer skiing myself, but it's always a fun sight to see people in their ski clothes and heavy shoes walking through the village on a sunny summer morning…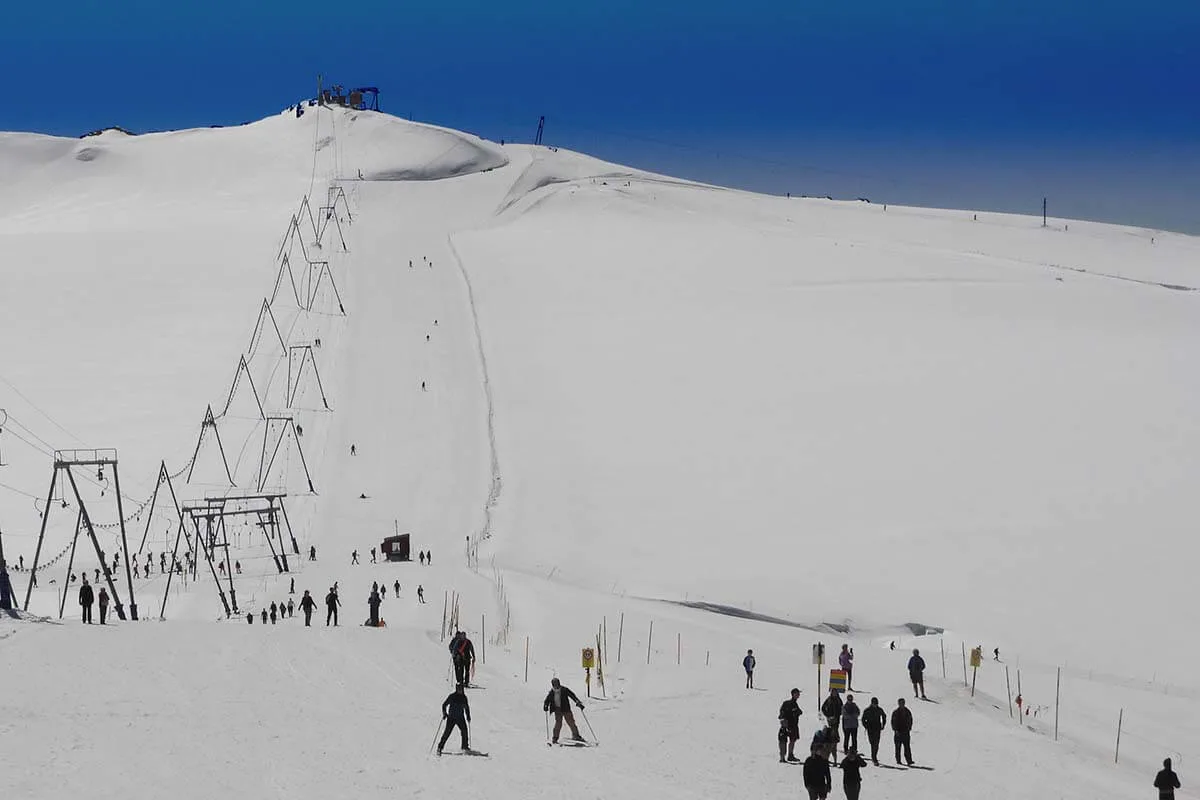 21. Meet the Sheep & Marmots
NICE TO DO. Summer only.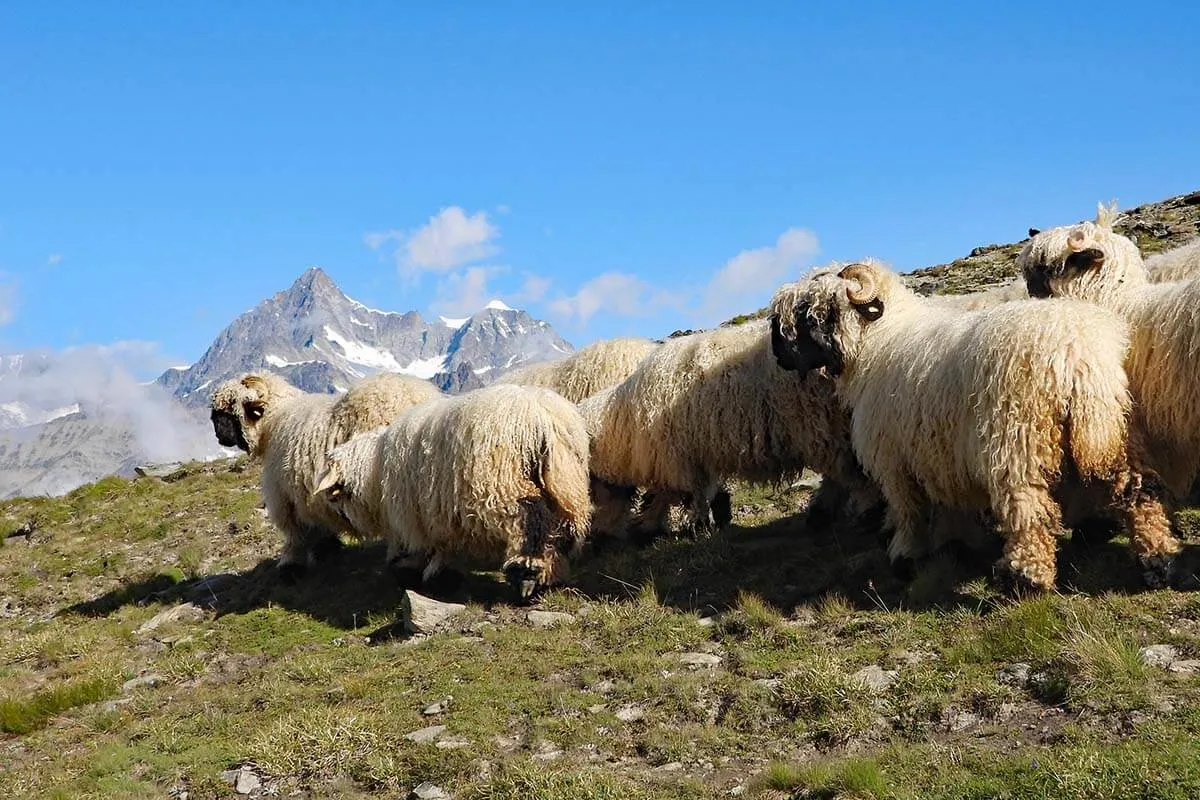 In addition – or in combination – with so many other great activities in Zermatt, it's always fun to try and see some animals in the mountains. You're likely to see some Swiss cows with their giant bells without much effort – next to the railway or when hiking around Zermatt. But if you want to see the famous Valais Blacknose sheep or marmots, you'll highly increase your chances if you actually make an effort to look for them.
If you want to try and see marmots, be sure to start your day early and be quiet when you hike. Some of the best places to see marmots are around the hiking areas of Riffelsee – Riffelberg, Zmutt – Zermatt, and other places at lower altitudes. If you take one of the earliest trains to Gornergrat, you're also likely to see marmots right from the train.
However, it's really difficult to get close to the marmots – they disappear under the ground as soon as they hear you approach. So you'll need a very good telelens and lots of luck if you want to take some nice close-up pictures of them.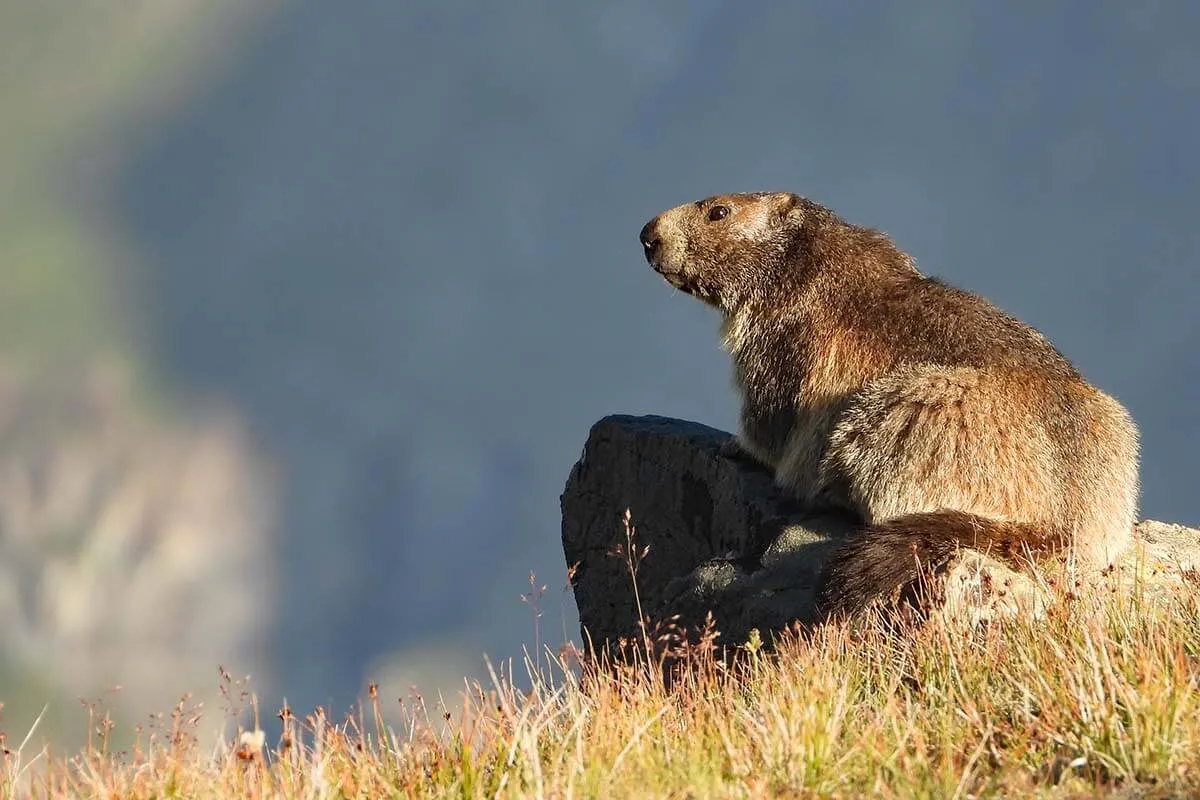 If you want to see the cute blacknose sheep of Zermatt (a special breed originating from the Valais region), head to the Gornergrat area and use this website to track them. Some sheep have a GPS tracker on them, so you can see where they are hanging out. However, the tracker only updates a few times a day, so you still have to be lucky to find them. And, of course, you can just get lucky and run into them without any advance planning. Or you can also go with a guide (more info here).
Where the sheep are will also depend on the month when you visit. When it's really warm in the summer, they're likely to be higher (closer to Gornergrat – Riffelsee). Whereas in late summer – early fall, when it's cooler, they'll likely be at lower elevations – closer to Riffelberg.
If you are visiting Zermatt with kids, looking for animals is one of the must-dos. Our boys got us out of bed early in the morning to go looking for marmots… And indeed, it was worth it! Our kids were also fascinated by the fact that you can use the GPS-tracking system to find sheep… How cool is that!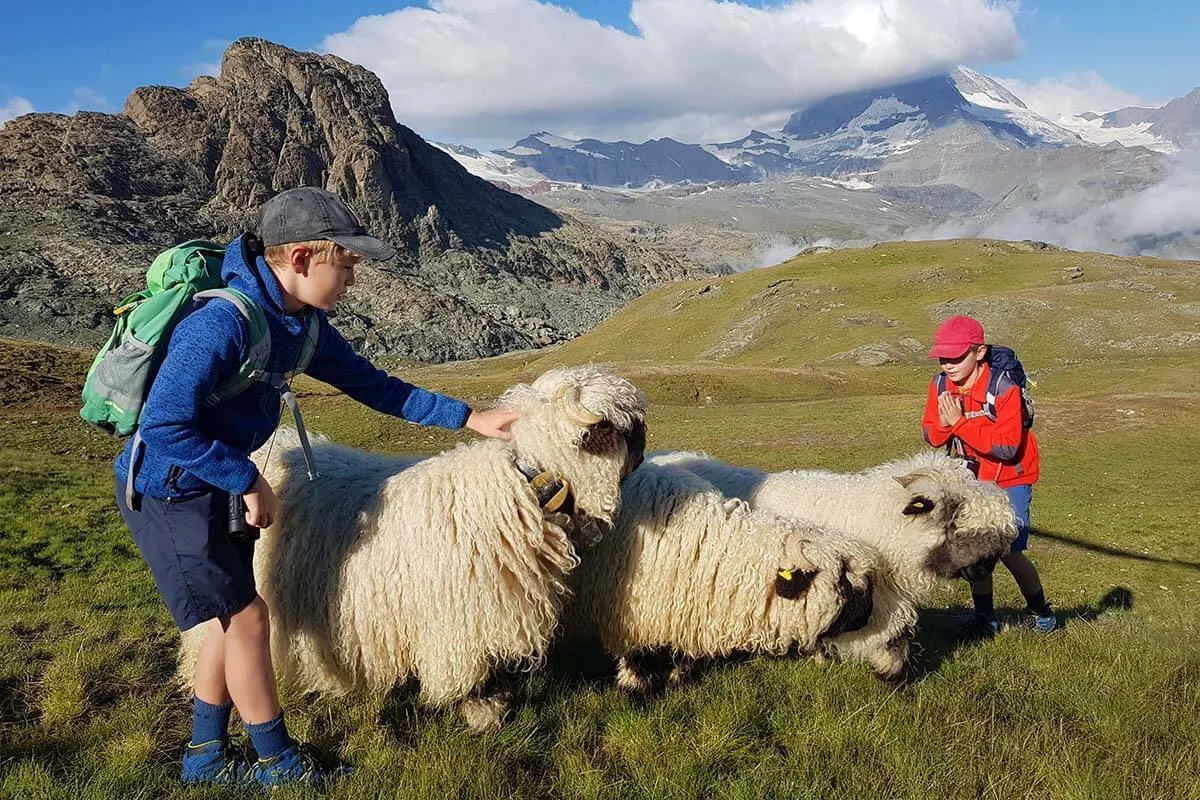 Searching for marmots and sheep in Zermatt were some of the best vacation memories for our children. And that's the reason why we end this list of the best things to do in Zermatt with this suggestion.
Traveling is not only about the most impressive landmarks or unique activities! Sometimes, the most simple things like cuddling sheep, having a picnic with an amazing view, or tasting a delicious local dish, make for the best long-lasting memories. Little things like that make a vacation so much more special than just ticking the boxes and chasing the best photo locations…
I hope that this list of some of the best things to do in and around Zermatt will inspire you to spend more time in the area and explore it deeper. There is so much more to this beautiful town and its stunning surroundings than most tourists see!
Have a great trip!
P.S. If you are doing your research for what to see in Zermatt and find it all a bit overwhelming, feel free to ask any questions by leaving a reply below.
TIP: If you are visiting Zermatt for just a day and want to see all the 'musts', take a look at our suggested itinerary for one day in Zermatt. It shows you how to visit all the top places in the most efficient way. If you are visiting in the summer and have at least 2-3 days in Zermatt, we highly recommend that you do some hiking in the area. See our guide to the best hikes in Zermatt for more information.
READ ALSO: Swiss Travel Pass: What's Included & Is It Worth It
If you found this post useful, don't forget to bookmark it and share it with your friends. Are you on Pinterest? Pin these images!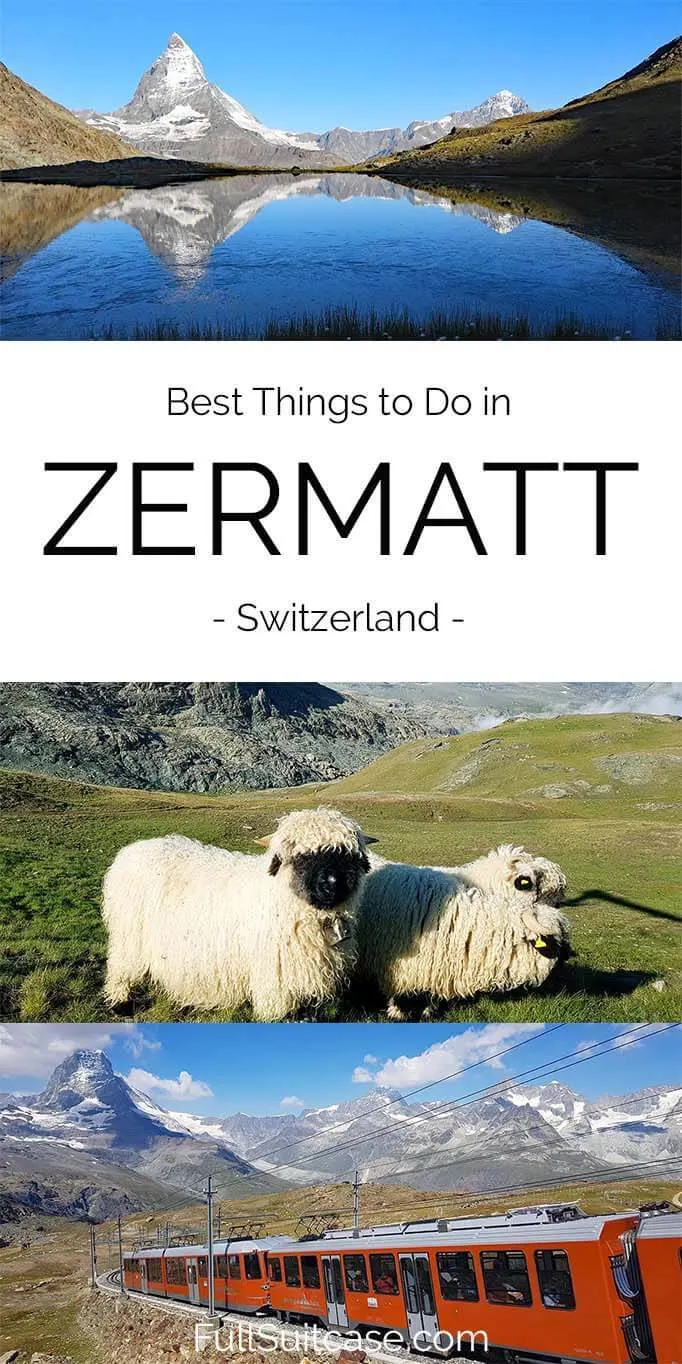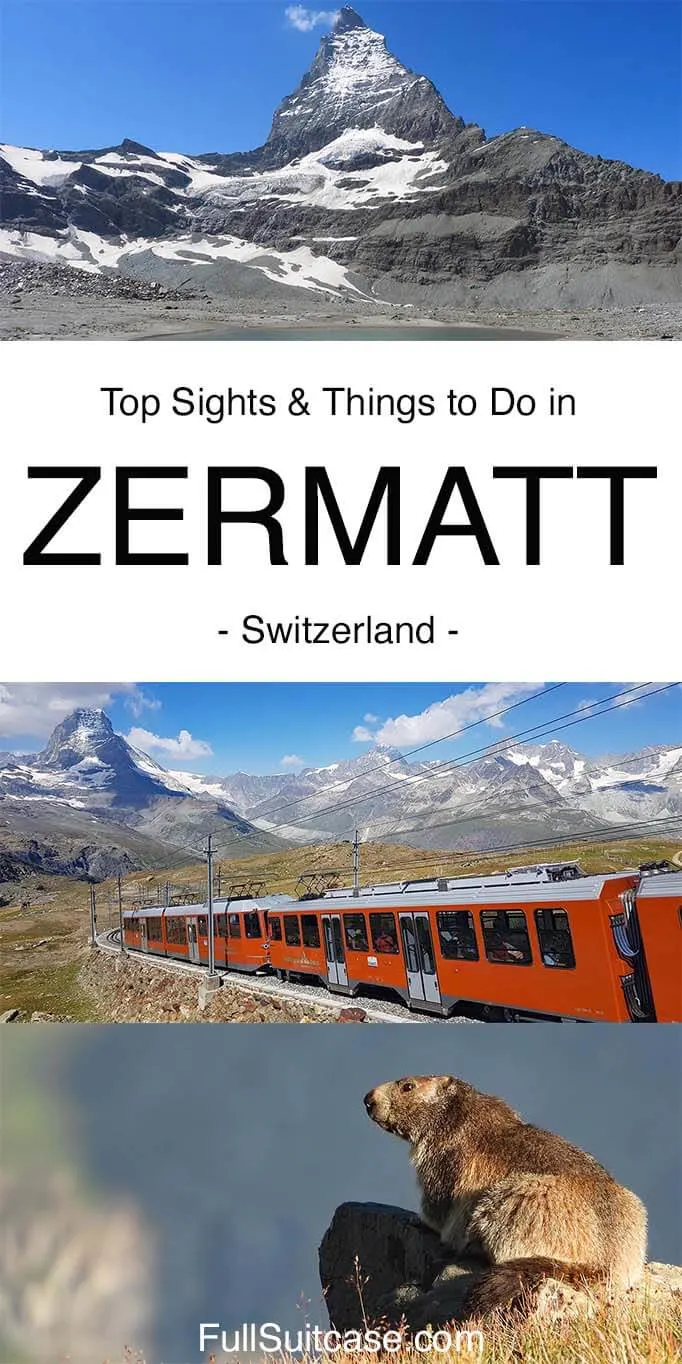 Some of our favorite places in Switzerland:
Some of our favorite hikes in Switzerland: