Visiting Lucerne in Switzerland, and wondering what to see and do in Lucerne? In this article, we share the VERY BEST places to see and things to do in Lucerne. You'll learn about the main sights and attractions in the city itself, plus the most popular excursions to Mt Pilatus and Mt Rigi that are also considered as not-to-miss experiences in Lucerne.
Nestled on the shore of Lake Lucerne and among the beautiful snow-capped mountains, Lucerne (Luzern) is one of the most beautiful cities in Switzerland. It's also one of the most popular places to visit for international tourists traveling to Switzerland.
The reasons why are easy to see. Compact and easy to explore, it is steeped in history, its ancient architecture lovingly preserved. Like a scene from a fairytale, the city is both beautiful and romantic, with a range of experiences and attractions for the entire family to enjoy.
In this guide, we've put together a list of the top sights and things to see and do in this friendly and welcoming city. We also include some tips and a map that will help you make the most of your visit.
Top Experiences & Tours in Lucerne:
Top Hotels in Lucerne: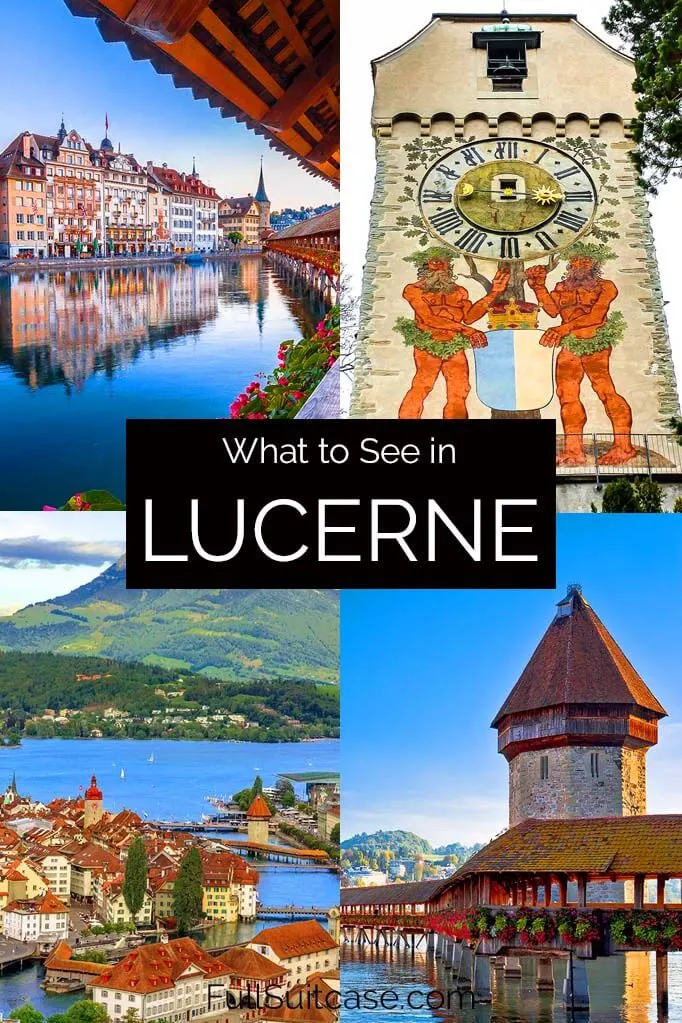 TIP: If you are visiting Lucerne for just the first time, opt for a city walking tour with a local guide. It's a great way to get acquainted with the city, covers all the musts, and you can combine with e.g. Mt Pilatus excursion or Swiss Trasport Museum (more info about all these below). Another nice option for the first visit is this city walking tour that also includes a boat ride on Lake Lucerne.
If you have a few days in the area, be sure to read our guide to the best day trips & excursions near Lucerne.
Without further ado, here are the very best things to do in Lucerne, starting with the main sights and attractions in the city itself:
1. Chapel Bridge & Water Tower
Chapel Bridge (Kapellbrücke) is one of the most iconic landmarks of Lucerne. This covered wooden footbridge is the best-known and most photographed sight in Lucerne, featured in all brochures and travel guides. A walk over the famous Chapel Bridge is a must-do in Lucerne!
Built in the early part of the 14th century, Chapel Bridge is the oldest surviving truss bridge in the world. It runs diagonally across the River Reuss and links the Old Town of Lucerne with the right bank.
The bridge is really picturesque, but it is also historically interesting, with triangular 17th-century paintings in the ceiling pediments. These portray scenes from Lucerne's history and images of its patron saints. There were once many more paintings than you can see now, but these were sadly destroyed by a fire in 1993. This fire also devastated much of the bridge itself. Subsequent renovations have restored the bridge to its former glory, although you can still see some fire damage on the paintings.
Next to the bridge stands the 34 m high Water Tower (Wasserturm ) which was built in the 13th century as part of Lucerne's defenses. Older than the bridge by about 30 years, it has never actually contained any water and is named for its location instead. During its history, it has been used as a treasury, an archive, and a prison. Today, it houses the Lucerne Artillery Association on the middle floor and a souvenir shop on the ground floor.
Good to know: No matter what time of year you visit Lucerne, you can get some great photos here! The bridge is festooned with flowers in the summer and covered with a dusting of snow in the winter. There is no fee to walk over the bridge and it's always open.
TIP: If you are staying in town, come here at sunrise or sunset for magical views with (at least in the morning) no crowds! And lookout for the Alpine Swifts that roost under the rooftop of the Wasserturm – their return from their African winter home marks the beginning of spring for locals.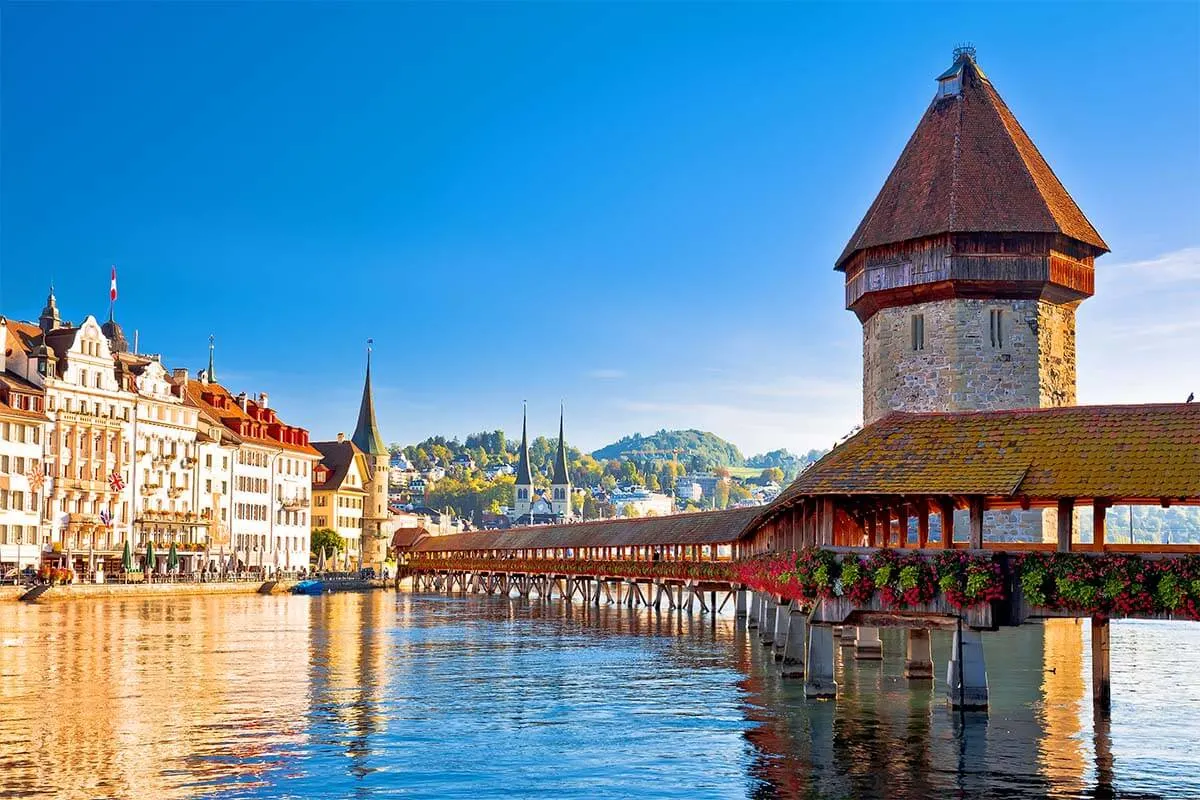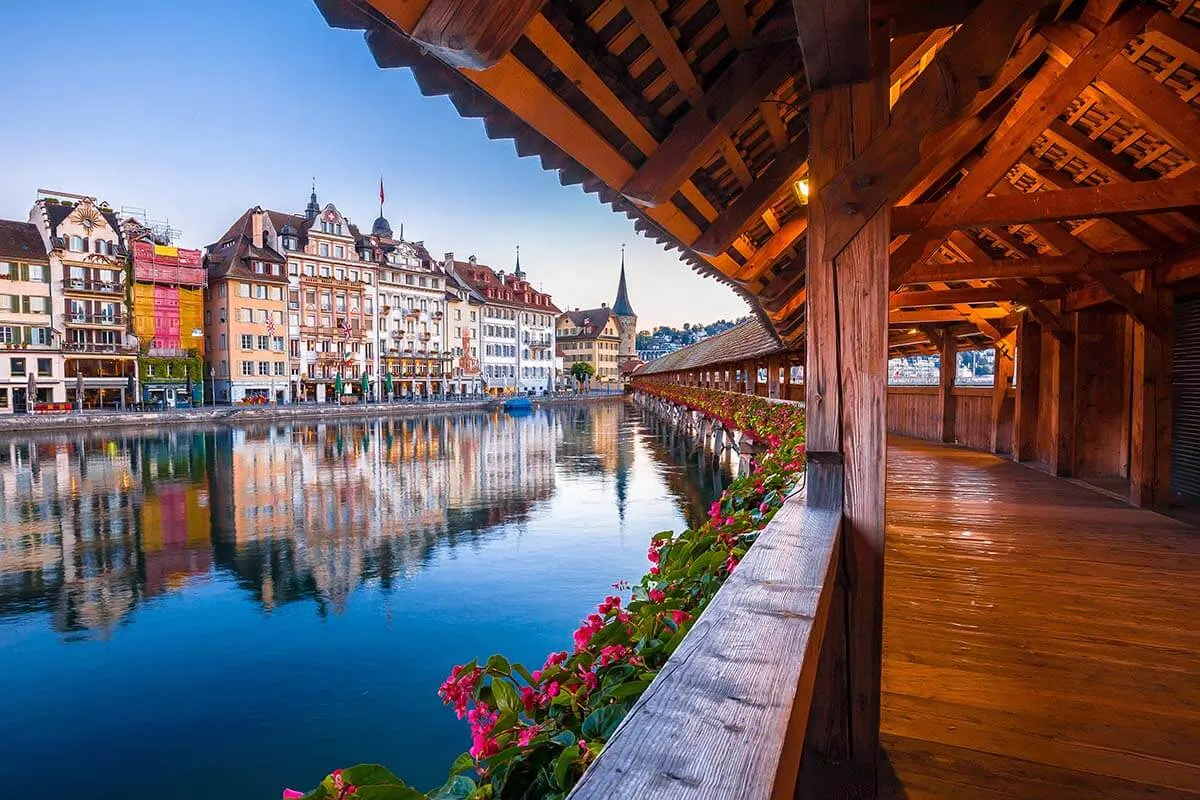 2. Old Town
Lucerne's picturesque Old Town on the right bank of the Reuss River is just stunning. Visiting it truly feels like taking a step back in time, with its historic architecture beautifully preserved. The good thing is that the historic old town is quite compact and the area is totally pedestrianized, so it is easy to explore on foot.
You'll find plenty of opportunities for memorable photos, from narrow cobblestoned streets and ancient bridges to medieval squares with fountains. The tall, timber-framed buildings are brightly painted in rainbow colors and look really picturesque.
Many of the buildings' facades are richly decorated with figures of court jesters, knights, milkmaids, and more. Some of the very best are to be found at Hirschenplatz, Kramgasse, Sternenplatz, and Metzgerrainle.
Head to the Kornmarkt to see the Altes Rathaus (Old Town Hall). This impressive stone structure was built from 1602 to 1606 in the Italian Renaissance style but features a very Swiss-looking hipped roof. Its ground floor was once a trading hall but is now used for concerts and exhibitions.
Adjacent to it is a 14th-century clock tower with a pointed maroon roof that dominates the skyline throughout the Old Town.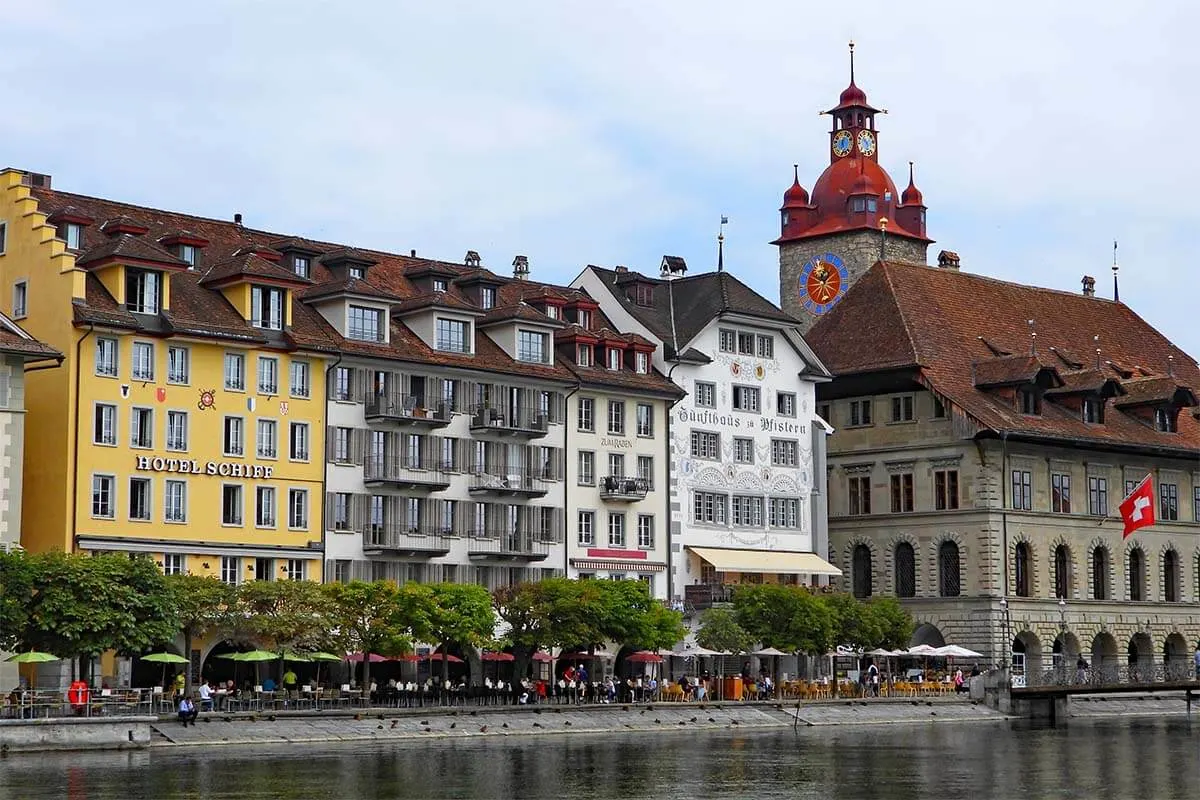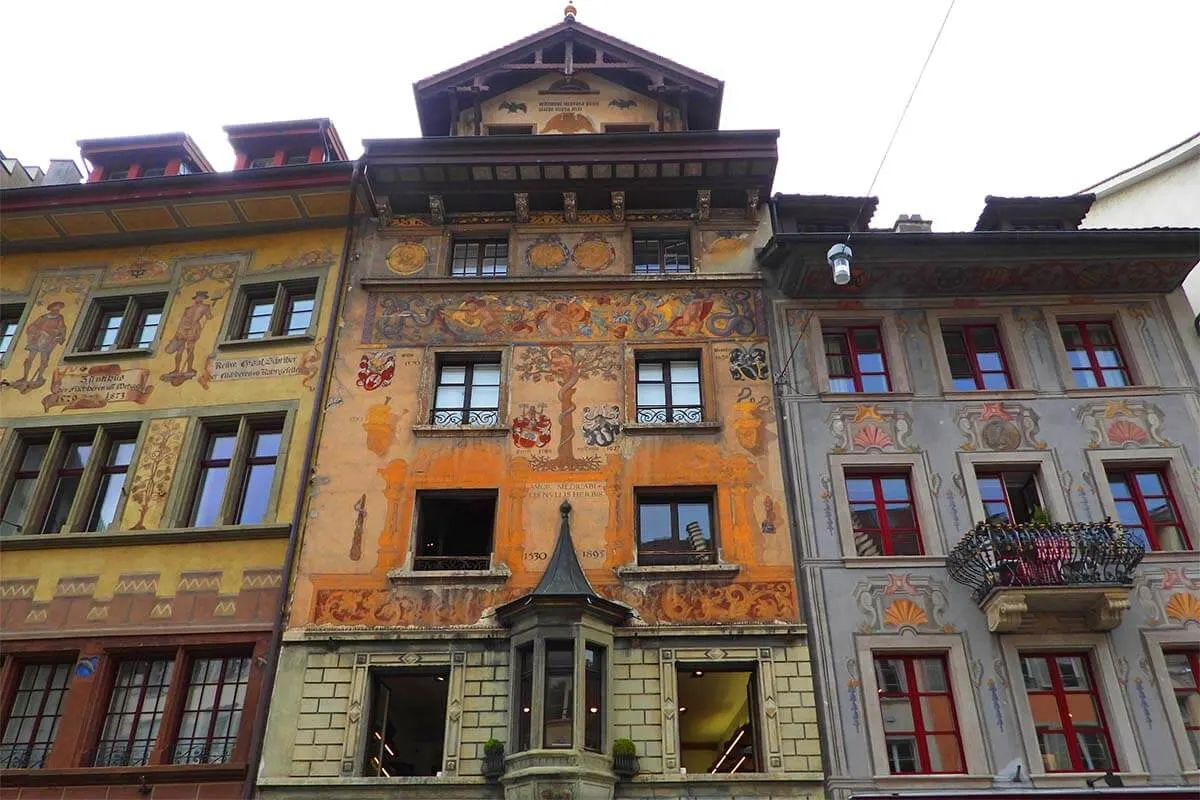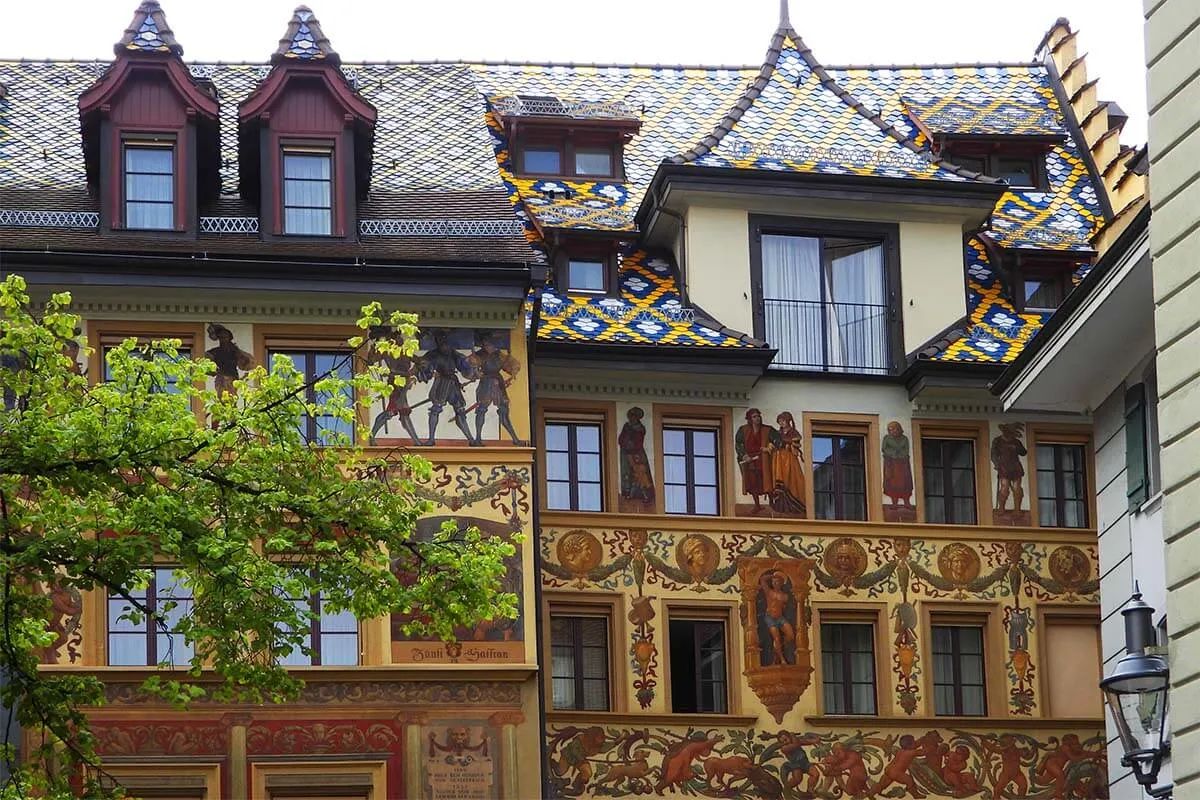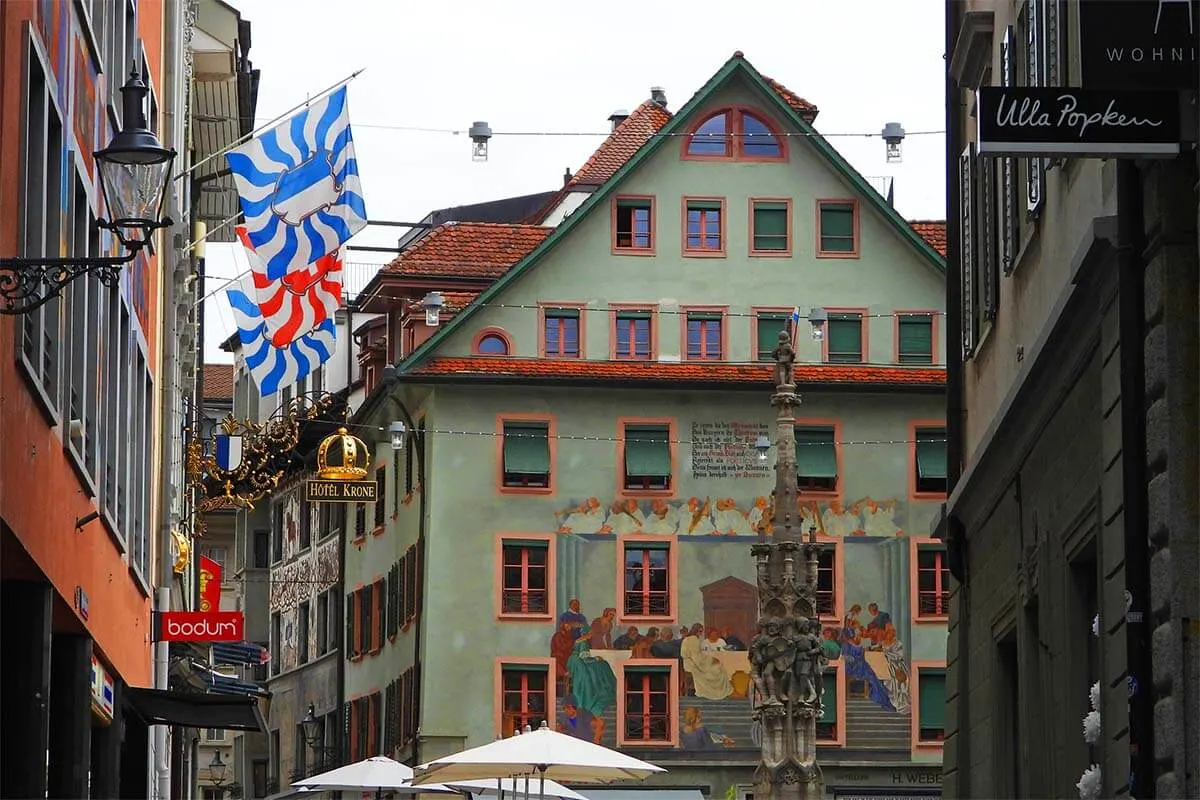 Don't miss Weinmarkt square, just to the west of the Kornmarkt. Walled by medieval guildhalls, this beautiful town square was the town's fish market until the middle of the 16th century. It features a Gothic central fountain that many visitors agree is the prettiest in Lucerne!
In the Kapellplatz you will find Lucerne's oldest church, St. Peter's chapel. It was built in 1178 but was restored to its current form in the 1700s.
Good to know: The old town is also a great spot for shopping and taking home some authentic Swiss souvenirs, including chocolates, army knives, and watches. You'll find many international chains here, too, such as Fossil, H&M, Guess, etc., plus some of Lucerne's best restaurants and cafes.
TIP: Head to the Rathausquai (Town Hall Square) any Tuesday and Saturday between 6 am and 1 pm to visit the bustling fruit and vegetable market. The stalls are set up in the arcades along the river and the lively atmosphere – not to mention the great views of Chapel Bridge – make it well worth a visit.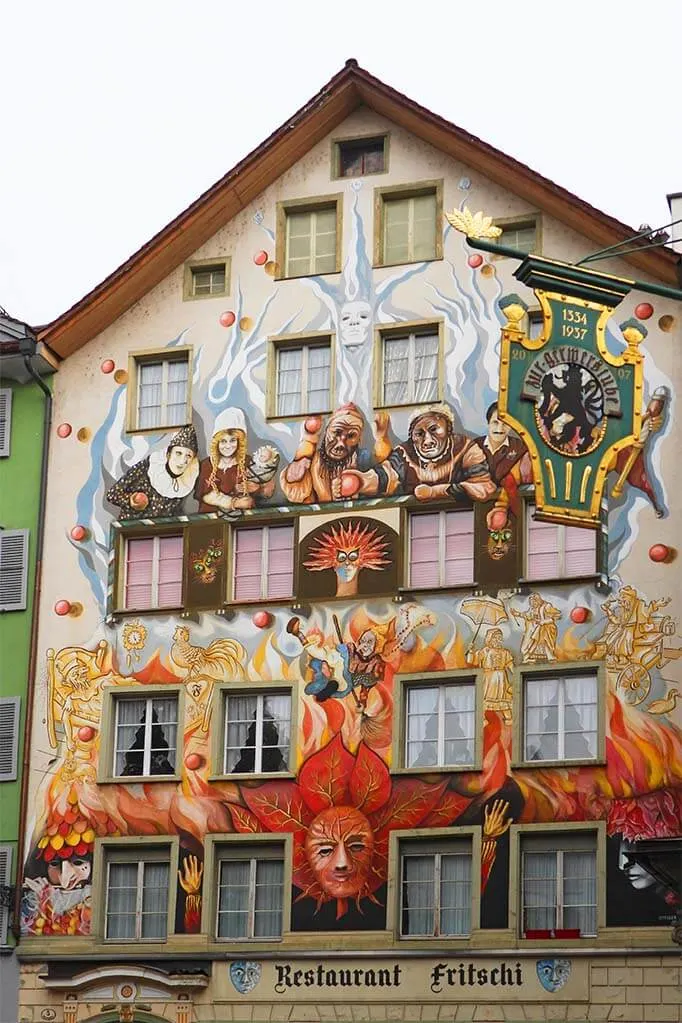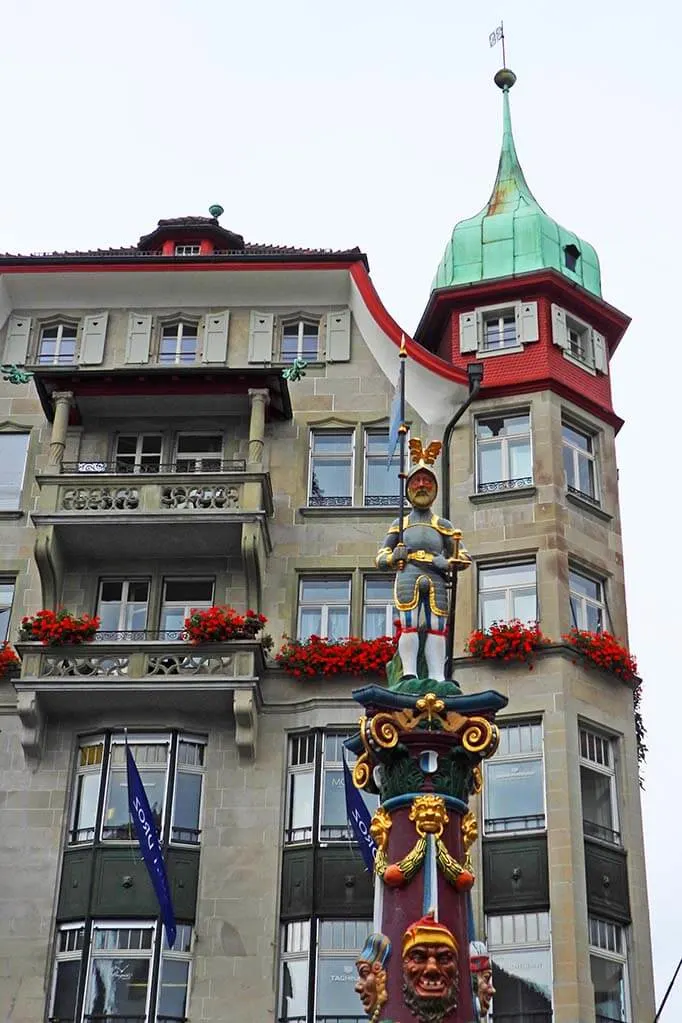 3. Boat ride on Lake Lucerne
Let's leave the highlights of the city for a bit because truly, one of the best things to do in Lucerne is actually escaping the hustle of the old town and taking a boat ride on the famous Lake Lucerne. It's especially nice to do in the summer but is possible in any season.
There are several different options when it comes to boat trips on Lake Lucerne. A lot will depend on how much time you have. But since the shortest boat rides only require an hour or two of your time, it's really something not to be missed when visiting Lucerne.
Good to know: Boat trips start in the heart of the city center, just near Lucerne Railway Station (and a 5-minute walk from the Chapel Bridge). There are several options throughout the year, but – of course – many more in the summer than in the winter.
Here are some of the best boat tours from Lucerne:
And – if you have more time – you can just get a day ticket at the boat terminal and explore the lake with one of the many boats that stop at different villages along the shores of Lake Lucerne. You can also just stay on the boat and get back to the city without getting off. It all depends on the time you have and the places you want to see.
Good to know: If you have the Swiss Travel Pass, regular cruises on Lake Lucerne are included free of charge.
LEARN MORE: Swiss Travel Pass: What's Included & Is it Worth It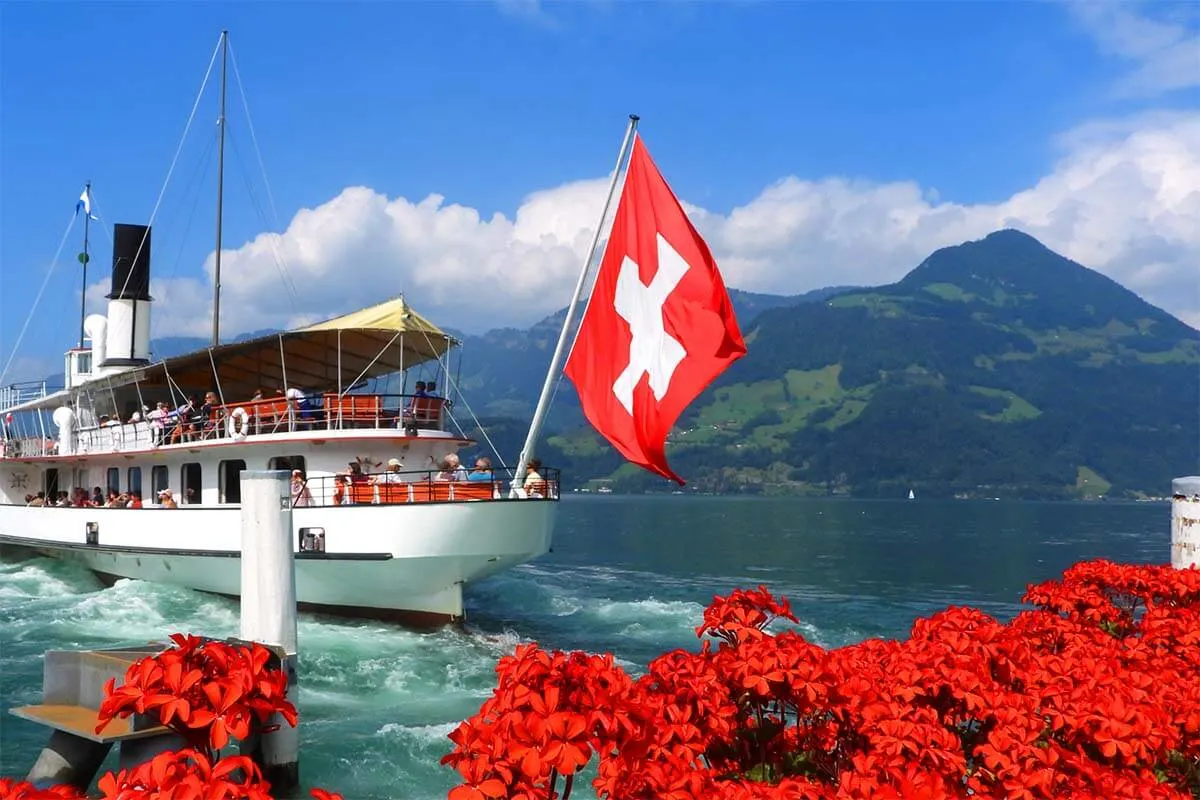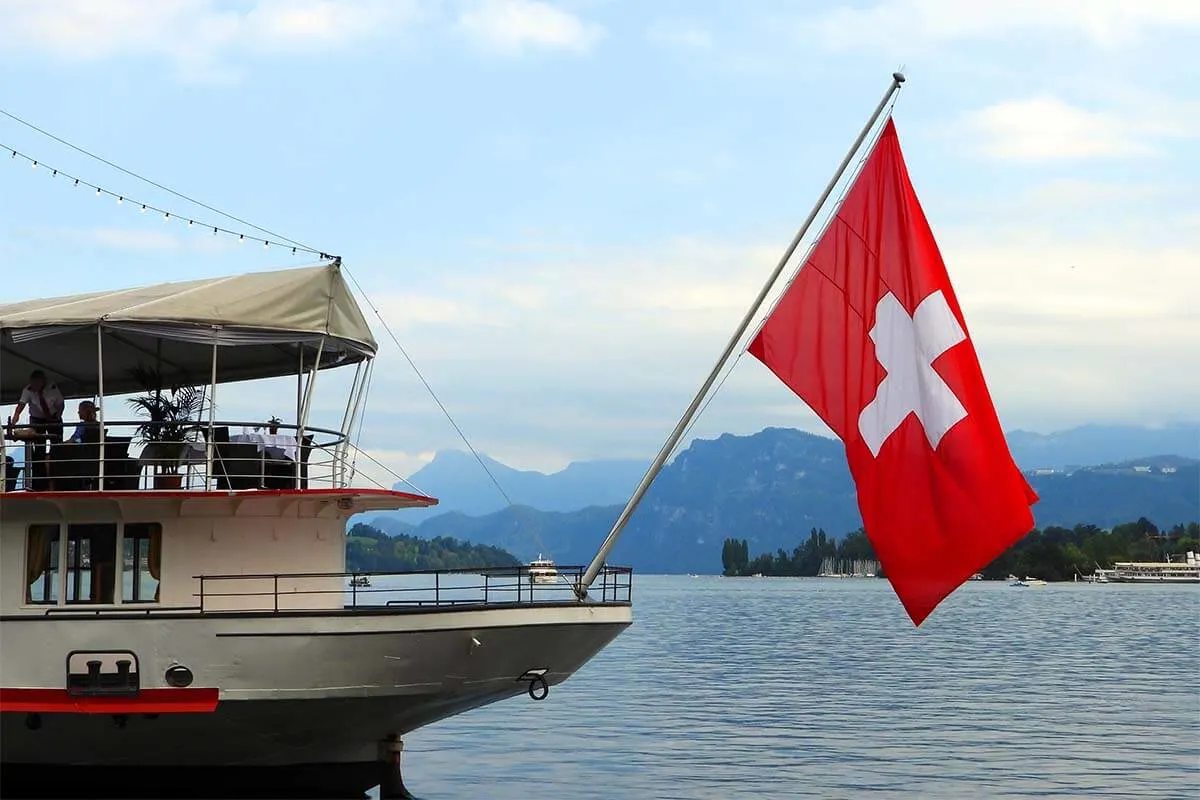 Good to know: In summer, you can also rent pedal boats and explore Lucerne from the water. You won't be able to go that far, but it can be something nice to do if you have half an hour to spare.
We saw one rental place close to Seebrücke bridge, and also one on the waterfront promenade.
I indicated the locations on our map of Lucerne attractions further below.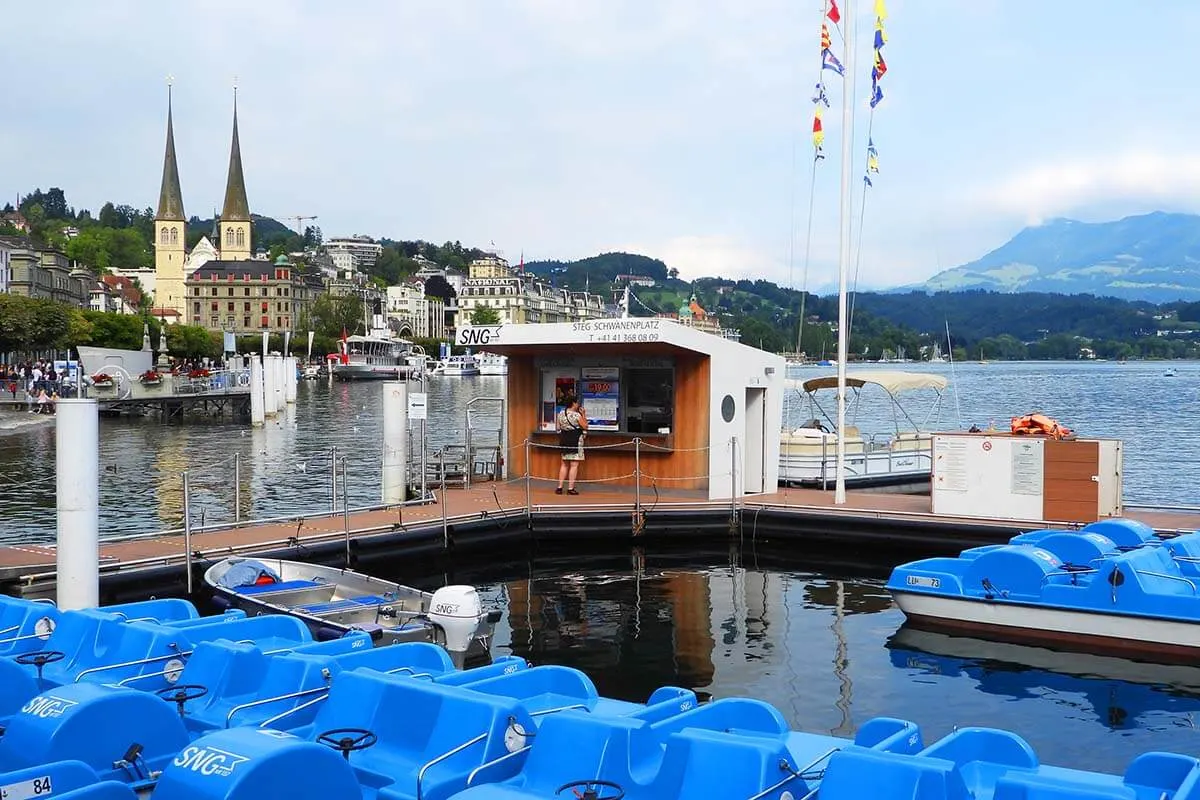 4. Spreuer Bridge
Back to the main sights in Lucerne city again. Spreuer Bridge (Spreuerbrücke) may not be quite as well known as Chapel Bridge, but it's also well worth a visit! Located just a short distance away, this is the spot where Lucerne's flour mills were once allowed to dump their waste. This gave rise to the bridge's name, which came from the word 'sprue' (meaning chaff).
Like Chapel Bridge, Spreuer Bridge is also covered and constructed from timber.
Built in 1406, it, too, contains artwork, but quite different from that found on Chapel Bridge. Instead, on the triangular panels under the rafters are 45 rather macabre paintings of the Totentanz (Dance of Death). The largest example of a Totentanz cycle believed to exist, the works were painted by Swiss master Kaspar Meglinger and his students from 1616 to 1637.
TIP: If you are a little disappointed that Chapel Bridge is a modern reconstruction of the original, you will appreciate the more historic construction of Spreuer Bridge. Either way, you really have to see both of these bridges when visiting Lucerne!
Good to know: Just as most sights in Lucerne's old town, Spreuer Bridge is free to see and is always open.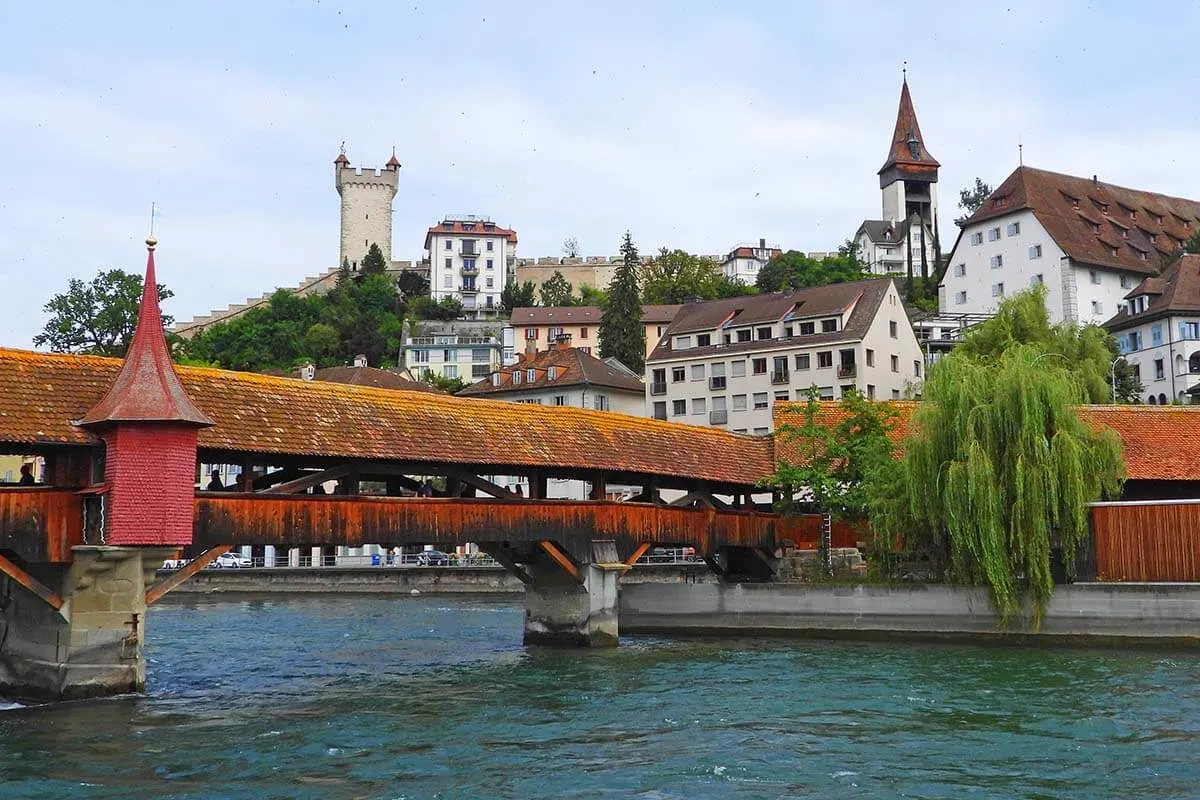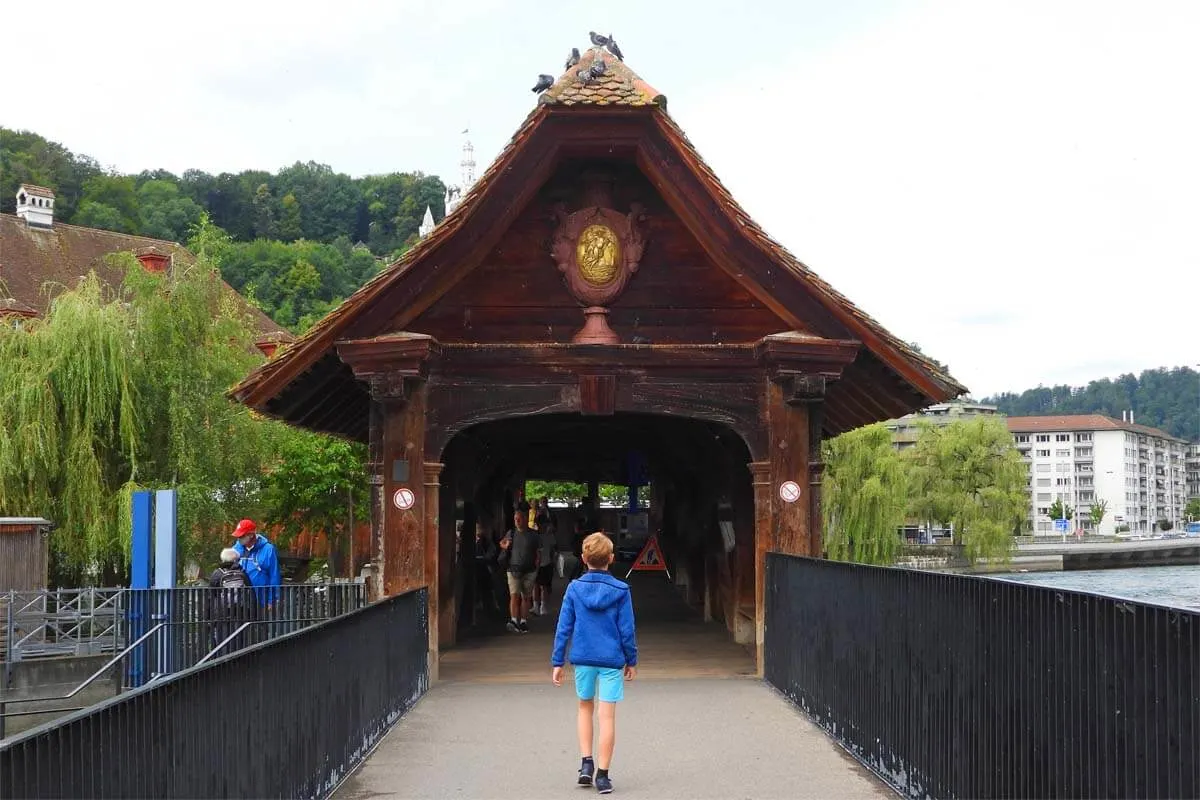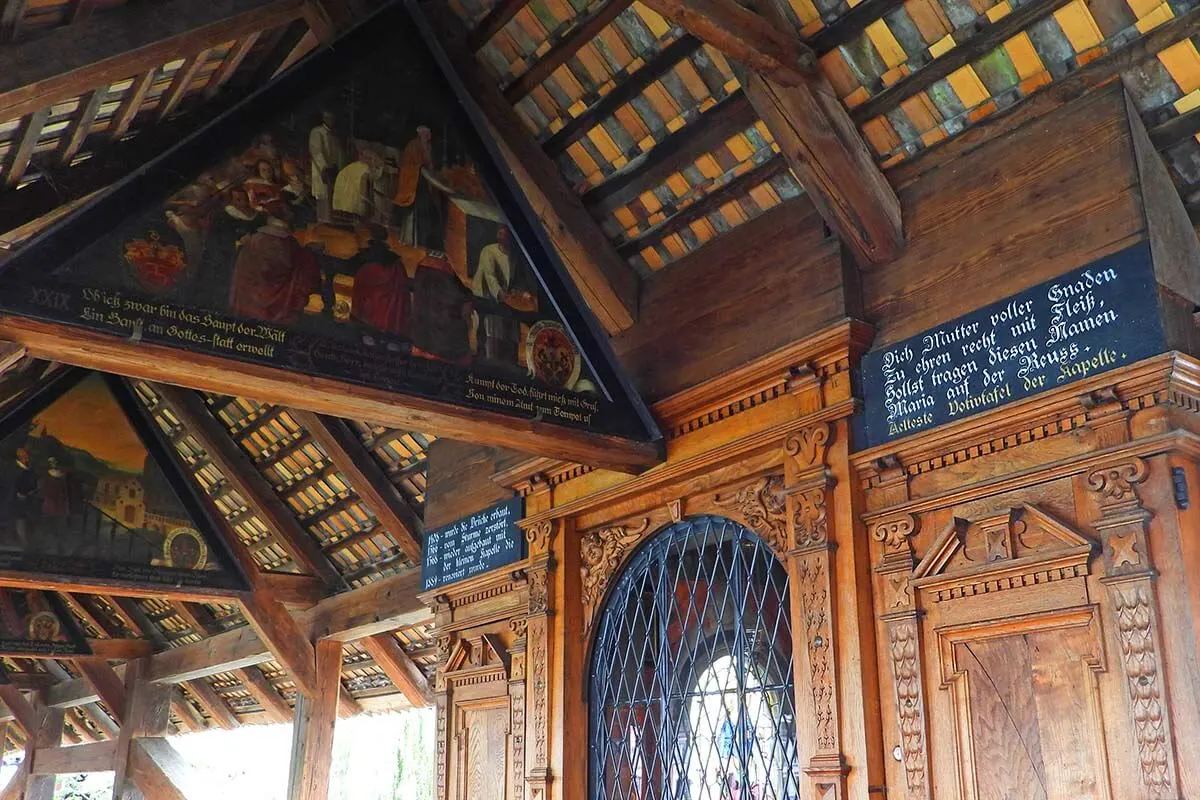 5. Musegg Wall & Towers
Lucerne's Musegg Wall and its nine towers (aka Lucerne Ramparts Walk) is another really nice thing to do in Lucerne. Located just a little bit off the way from the main sights in the old town (but only 3-5 minutes walk from the above-mentioned Spreur Bridge), it feels like somewhat of a hidden gem. Only the most popular tower is busier; the rest is usually rather quiet.
Musegg Wall and its towers were originally part of Lucerne's fortifications. It runs along the north of the Old Town and was built between the mid-14th and early 15th centuries.
You can't walk all along its length, but the section dating back to 1386 is virtually intact. In summer, you can even climb 4 of the 9 towers: the Schirmer Tower (Schirmerturm), the Zyt Tower (Zytturm), the Wacht Tower (Wachtturm), and the Männli Tower (Männliturm).
The panoramic views from the towers all are splendid, but many tourists don't get to all the towers and just visit the Zyt Tower, aka Lucerne Clock Tower. This tower is among the most famous landmarks in Lucerne and it houses the oldest clock in the city. It tolls the hour 1 full minute earlier than any other clock in town! You can see its mechanisms when you are inside, and if you're lucky to be here a minute before the hour, you can hear the bell ring.
Good to know: There is no fee to visit. Wear appropriate footwear if you plan to walk on the walks and climb the towers. Some steps are quite steep. Also, the towers are only open in the summer season, but you can always just walk over and see what is accessible. It's worth seeing the walls and the exterior of the Zyt tower either way.
You can do the walk on the Musegg Wall in either direction. We started at Nölliturm, by the river, and walked towards the Zyt clock tower. That way, you visit the most impressive tower at the end, but you do have some uphill walking to do at first. You can also easily do it the other way around – it really doesn't matter that much. Part of the walk is on the walls between the towers, and part – on the road following the wall.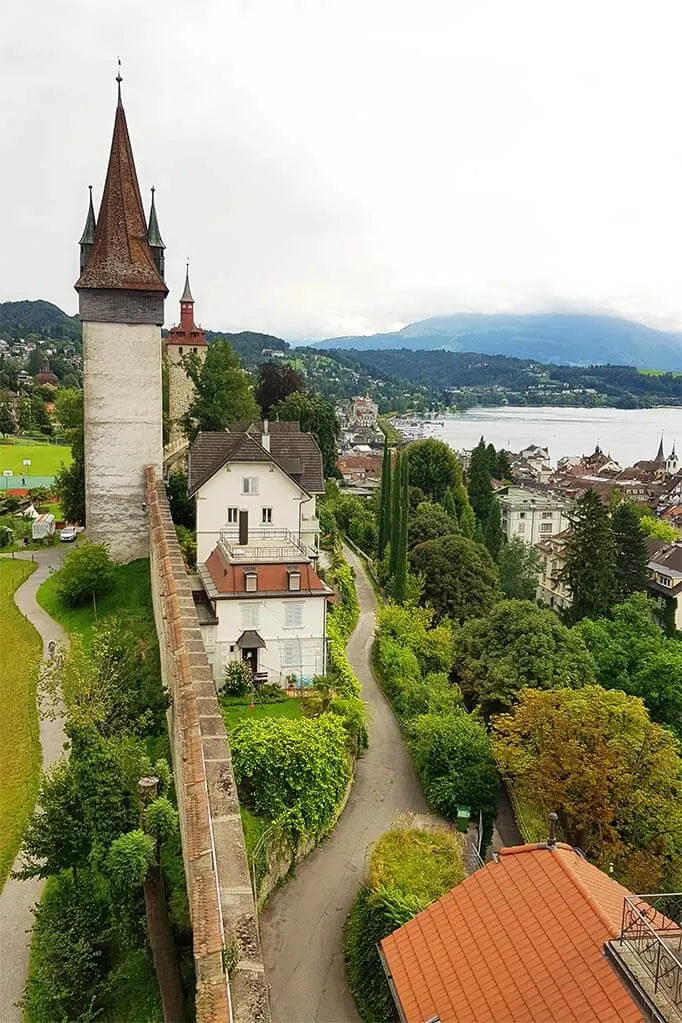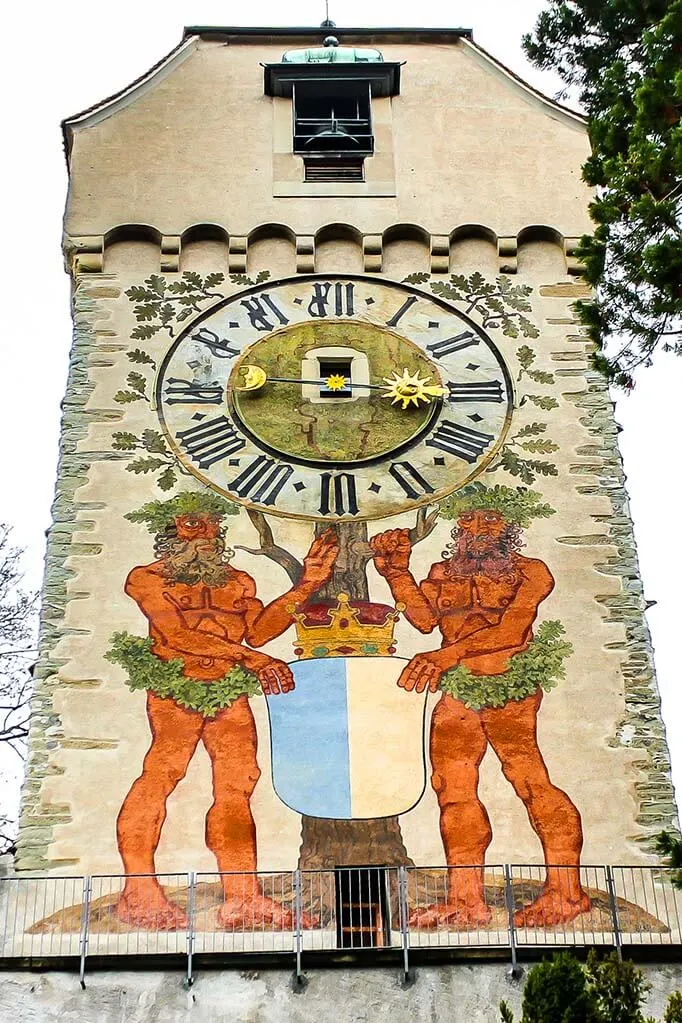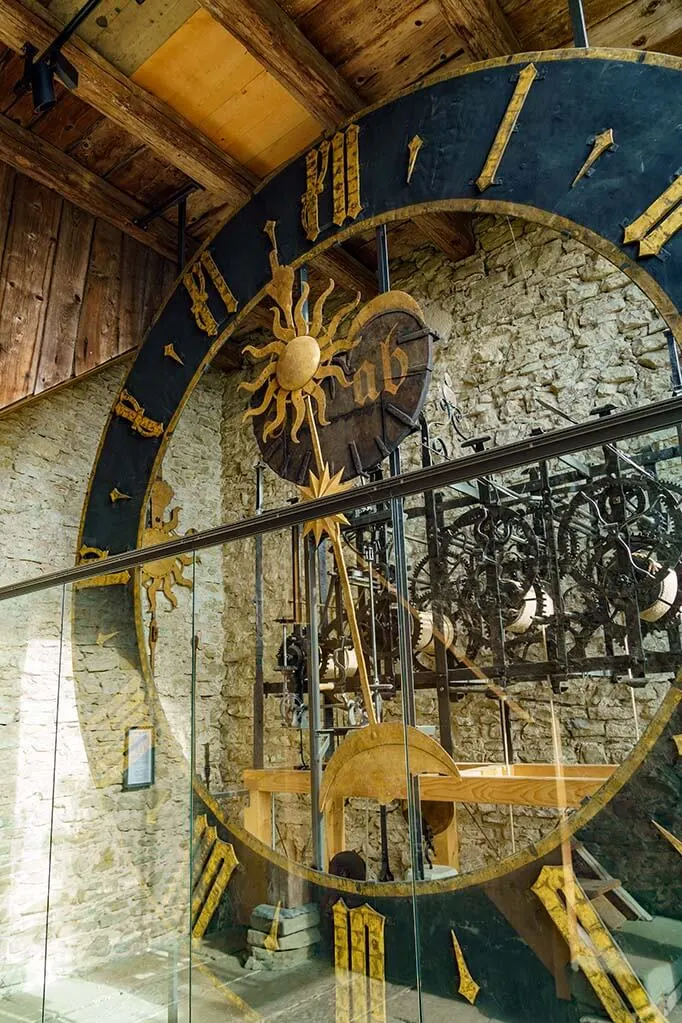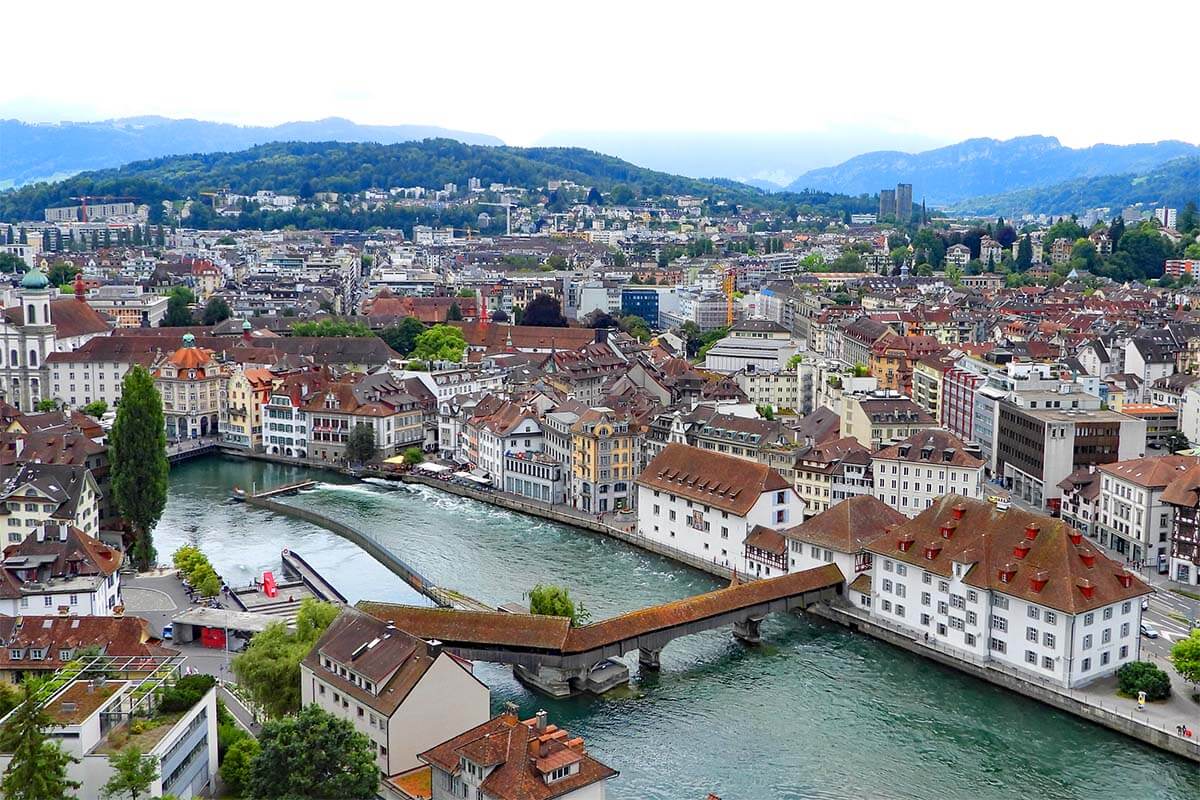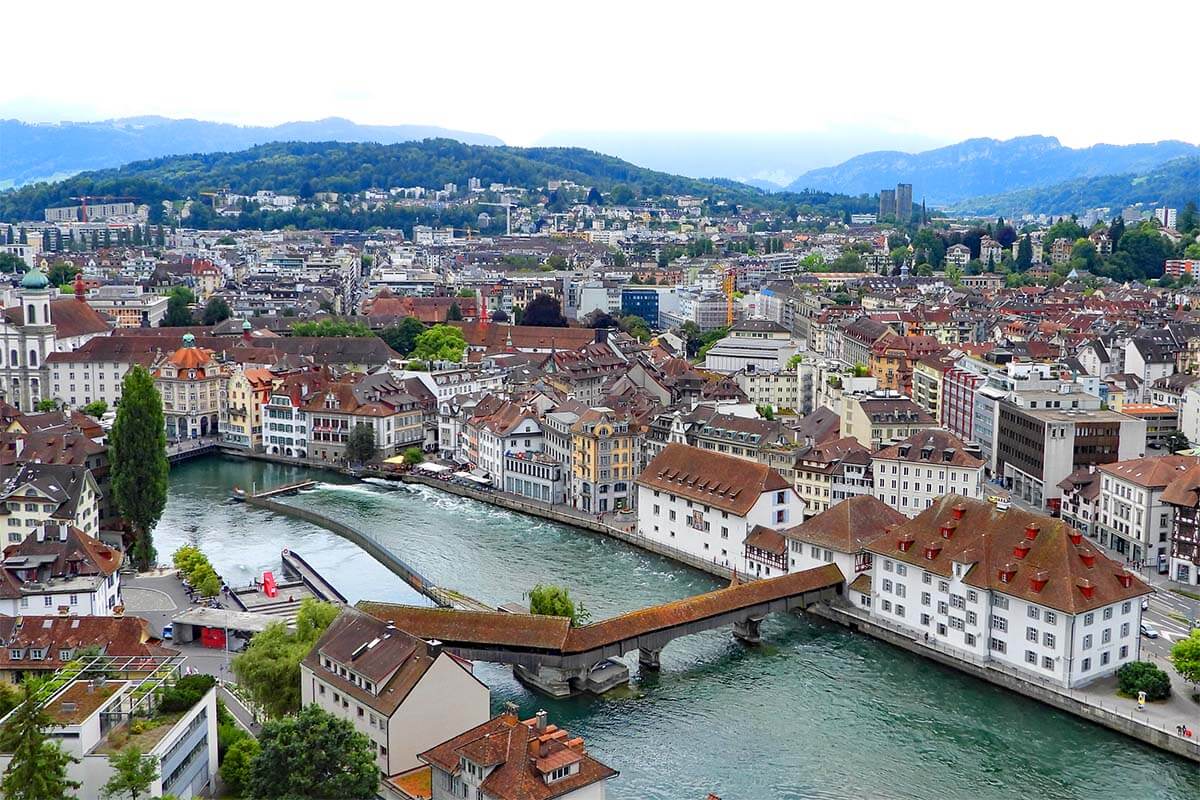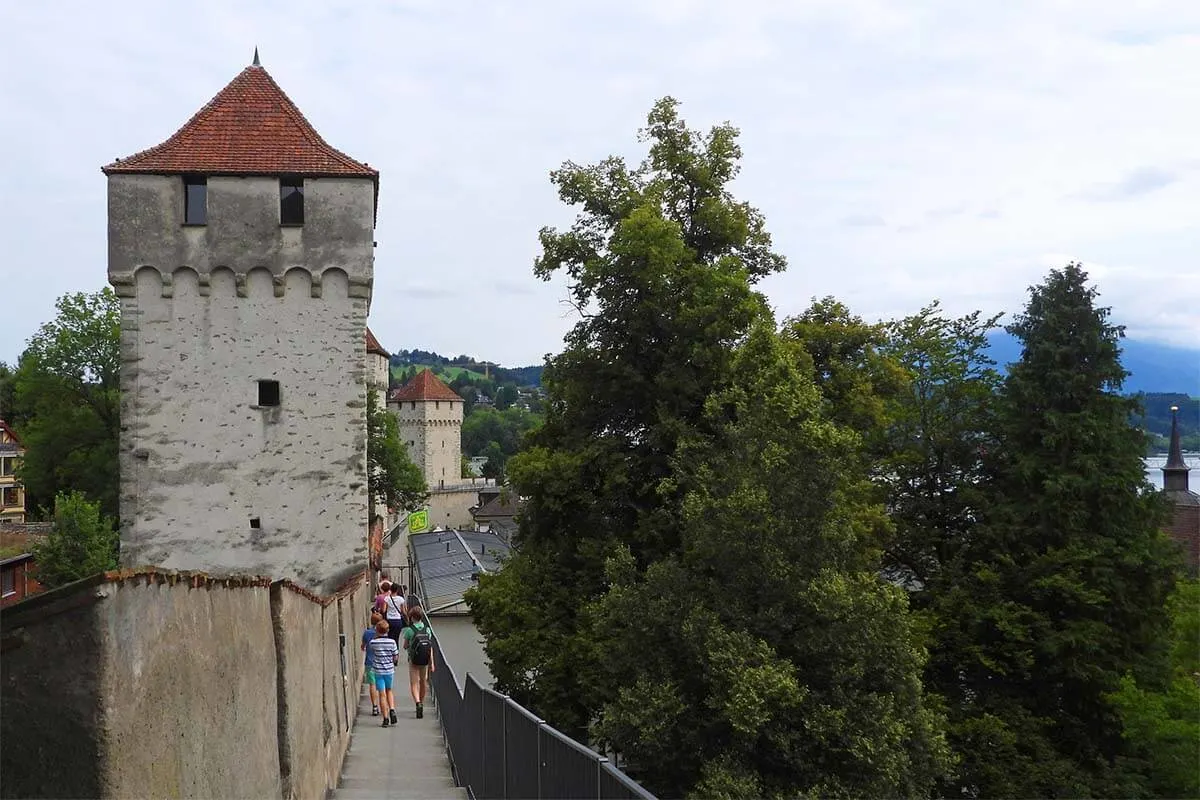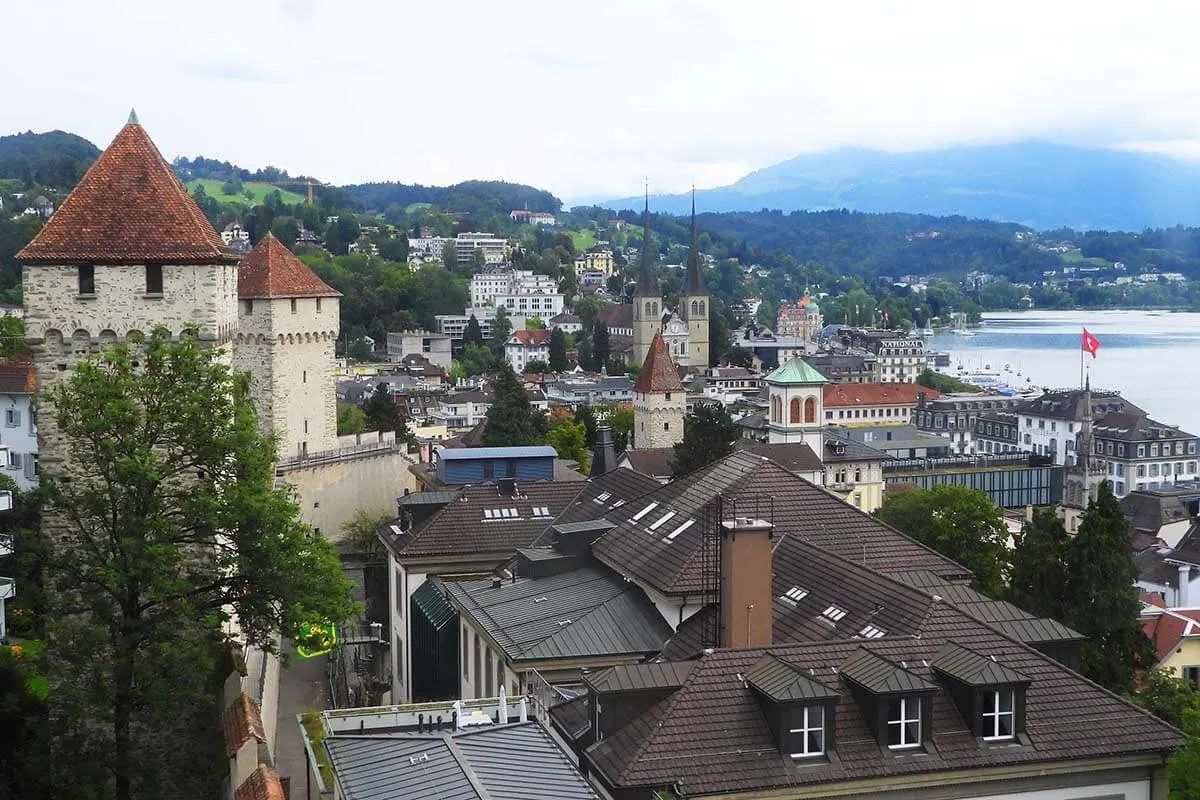 6. Lion Monument
One of Lucerne's most iconic sights, the monument of a dying lion (Löwendenkmal) is located in a green and idyllic spot just to the north of Löwenplatz. It's just a 10-15 minutes walk from the old town and Chapel Bridge.
Designed by the Danish sculptor Bertel Thorvaldsen, the Lion Monument was carved into the face of a sandstone quarry in 1820. Its purpose was to commemorate the death of Swiss troops that perished whilst protecting King Louis XVI at the Tuileries Palace during the French Revolution.
The carving is huge and very symbolic. You can see an intact shield featuring the Swiss coat of arms behind the lion, who is resting on a broken shield bearing the fleur-de-lis of the French royal family. It is a very poignant sight and was described by Mark Twain as the saddest and most moving piece of rock in the world.
Good to know: This is a lovely and serene spot to sit for a while, with a tranquil pond immediately in front of the massive sculpture and gardens nearby. This is one of Lucerne's free attractions and you can visit at any time.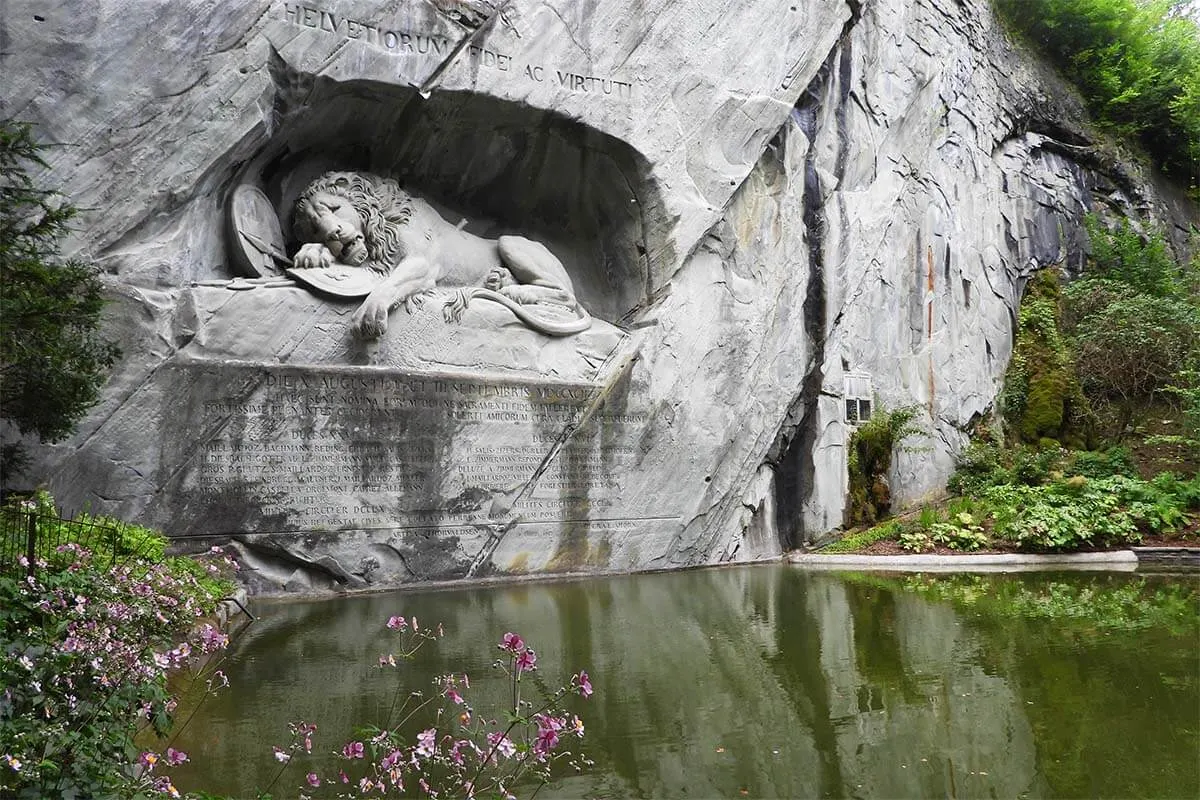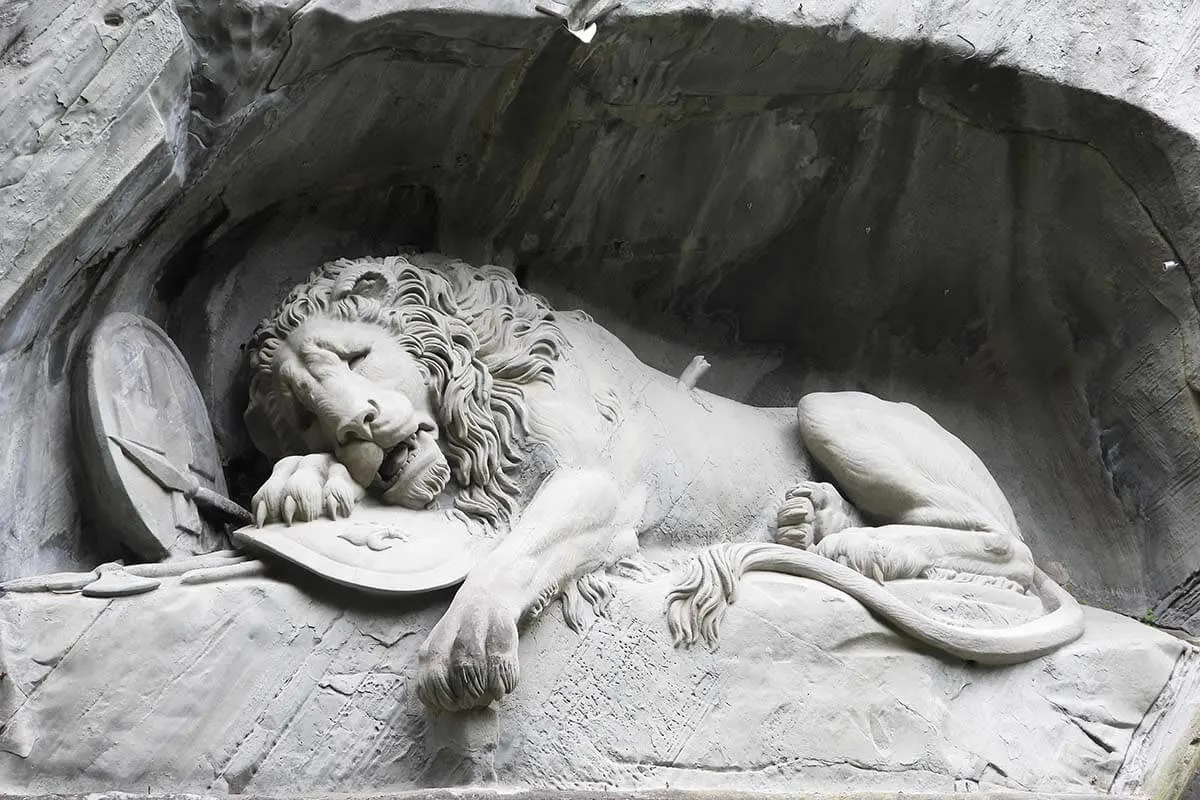 7. Glacier Garden of Lucerne
Located right next to the Lion Monument, Glacier Garden of Lucerne (Gletschergarten Luzernstunning) is a natural relic of the Ice Age that was discovered in 1872.
Originally formed by retreating glaciers 20,000 years ago, it features potholes created by glacial waterfalls. You can also see the fossils of palm fronds and shellfish dating back 20 million years. This is when the area was the shore of a subtropical sea. The experience is enhanced by some very sophisticated animation projected onto the rocky structures.
A series of interactive exhibits help you get a better understanding of the area's ancient geology. There is a working model showing glacial movement and how it affected the landscape and explanations of how climate change is impacting our world. You can also see an early climber's hut, plus an observation tower that gives you some excellent views across Lucerne to Mount Pilatus.
The on-site museum is housed inside the former home of the Amrein family who founded the Glacier Garden. It is fascinating, containing an 18th-century relief model of Switzerland, historic rooms, and rock specimens.
The museum also features an 'Alhambra mirror maze' which contains 90 mirrors. It was originally created for the 1896 Swiss National Exhibition in Geneva, then transferred to Lucerne in 1899. Great fun for young and old!
Good to know: Glacier Garden of Lucerne is open daily, from 10 AM to 5-6 PM, depending on the season. For practical info, check their website.
TIP: Entry is included in the Lucerne Museum Pass and is free with the Swiss Travel Pass.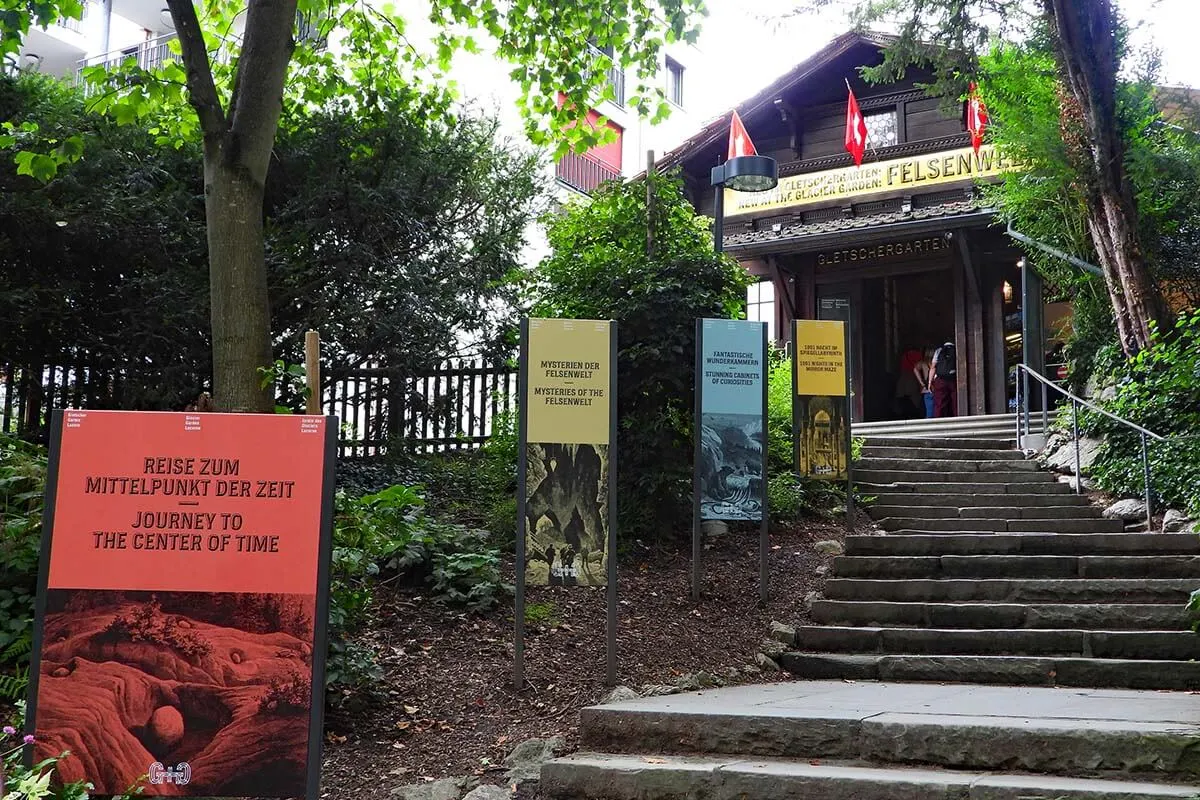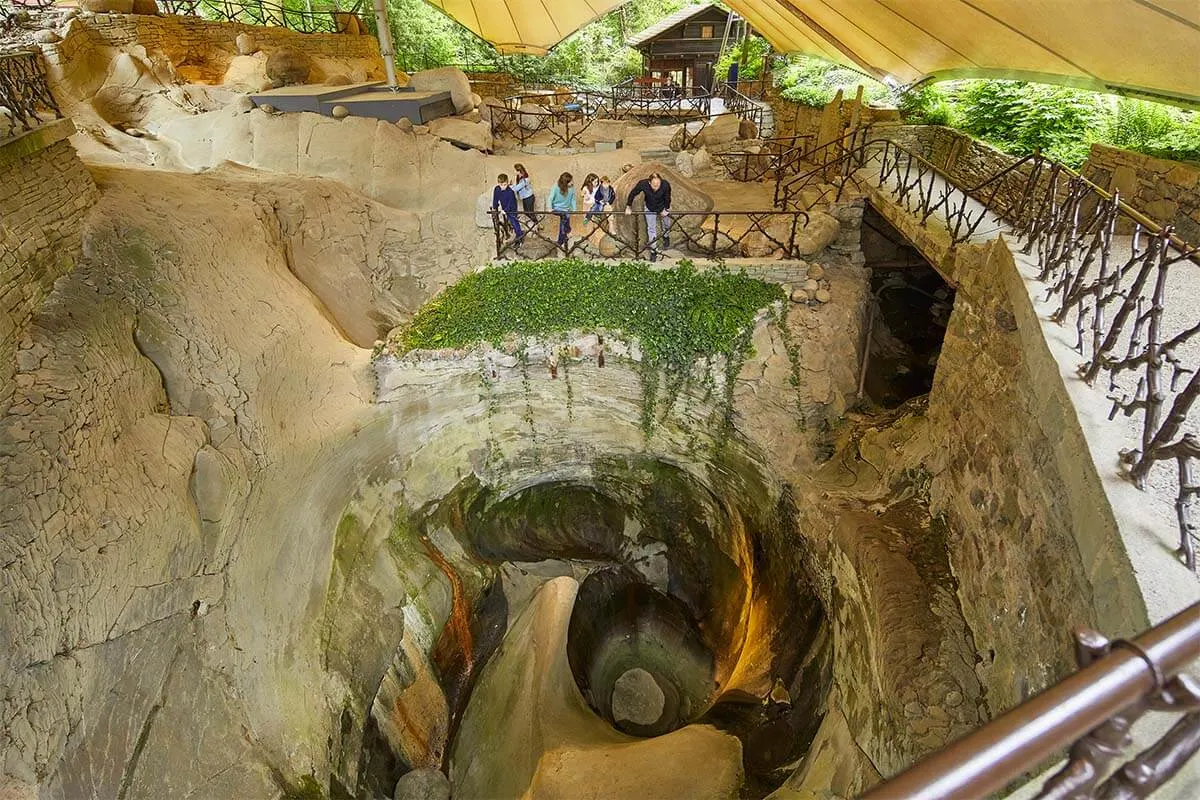 8. Jesuit Church
In 1573 the city of Lucerne invited the Jesuits to construct a college, the aim being to reduce Protestant influence at the time. The Jesuit Church (Jesuitenkirche) – designed by Austrian and Italian architects and located on the southern bank of the Reuss – was consecrated in 1677.
It was the first large Swiss church north of the Alps to be built in the Baroque style. Additions and alterations were made over subsequent years, with the completion of the onion-domed towers taking place in 1893.
You might feel a little underwhelmed when you see the Jesuit Church from the outside as it is relatively plain. But the inside is a different story, with ornate stuccowork in the side chapels, white marble, and a stunning painted ceiling. So be sure to take a look inside – it's well worth a few minutes of your time!
TIP: Check their website before you go as you may be able to coincide your visit with one of the church's popular organ recitals.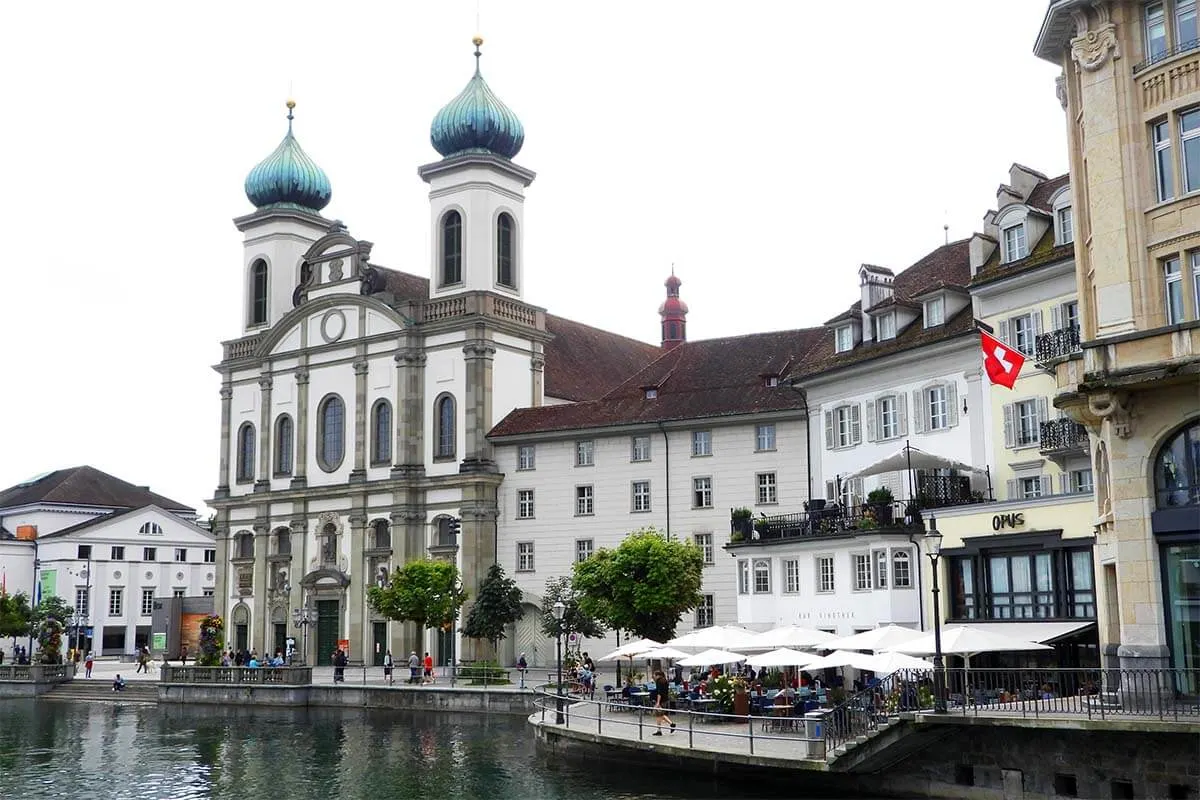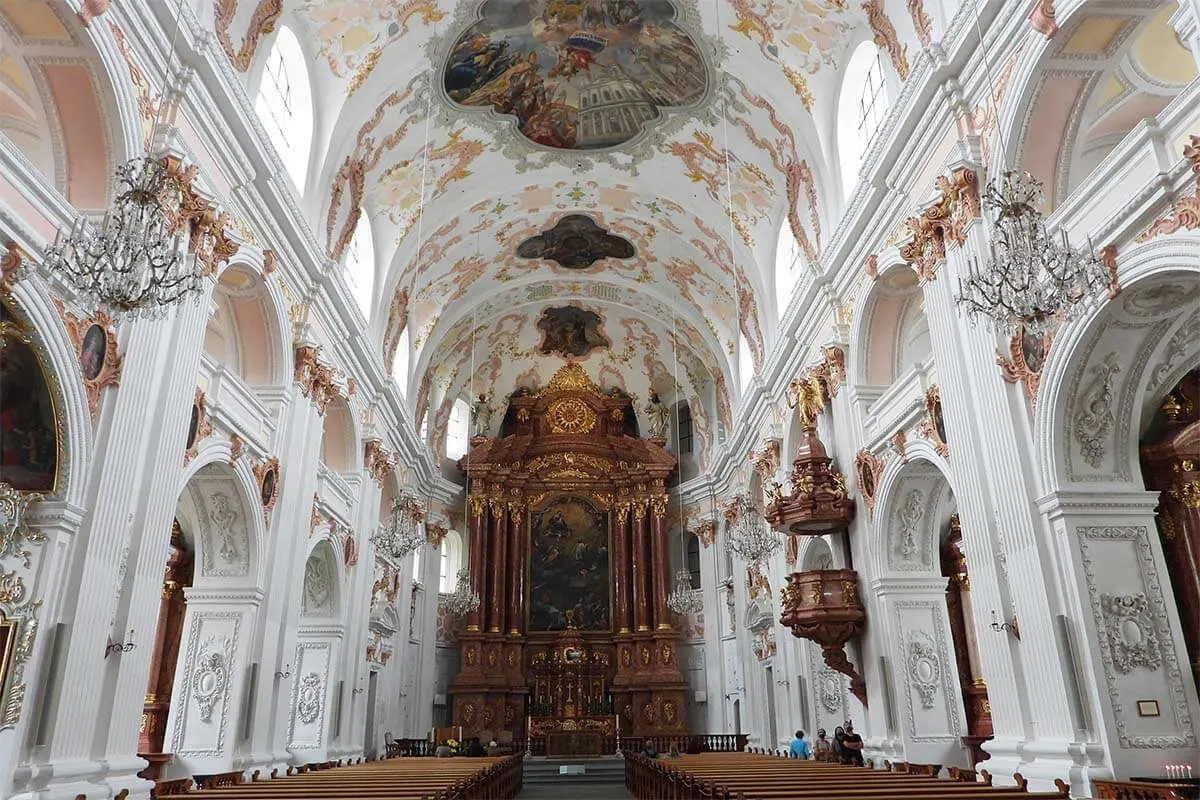 9. Franziskanerplatz & Franciscan Church
Franziskanerplatz is a beautiful town square on the left bank of the Reuss in the heart of Lucerne. For some reason, it's often overlooked by many guides to the best places to see in Lucerne. But it's absolutely worth a visit! This picturesque town square is home to some really nice and colorful traditional buildings.
Franciscan Church (Katholische Franziskanerkirche), located here, is also more than worth a quick visit. It's just as interesting as the other two churches included in this guide.
The church was built in the 13th century as part of the Franciscan Monastery and looks quite simple from the outside. But the Gothic interior is really impressive – with one of the most beautiful pulpits in Switzerland, an impressive altar, and an angel-ceiling on one of the side altars.
Good to know: Lucerne Christmas market takes place on Franziskanerplatz. It's usually open during the first three weeks of December.
TIP: When exploring the left bank of the Reuss river, take a few minutes to walk around the area a bit more. You can see some impressive architecture here, including some Renaissance palazzos, nice little town squares, and lots of colorful historic buildings.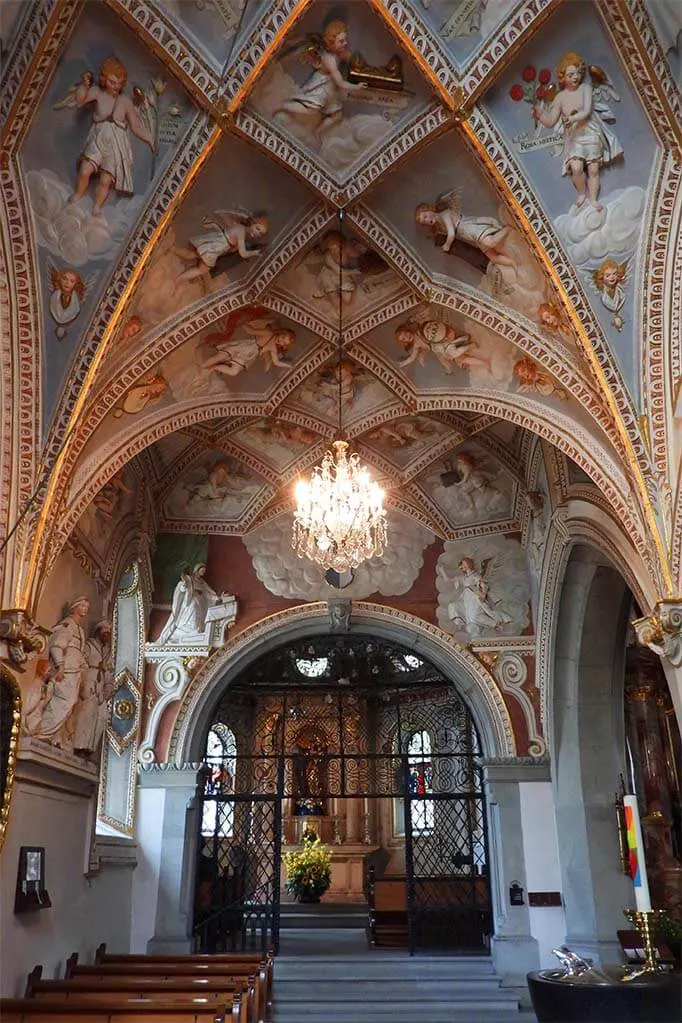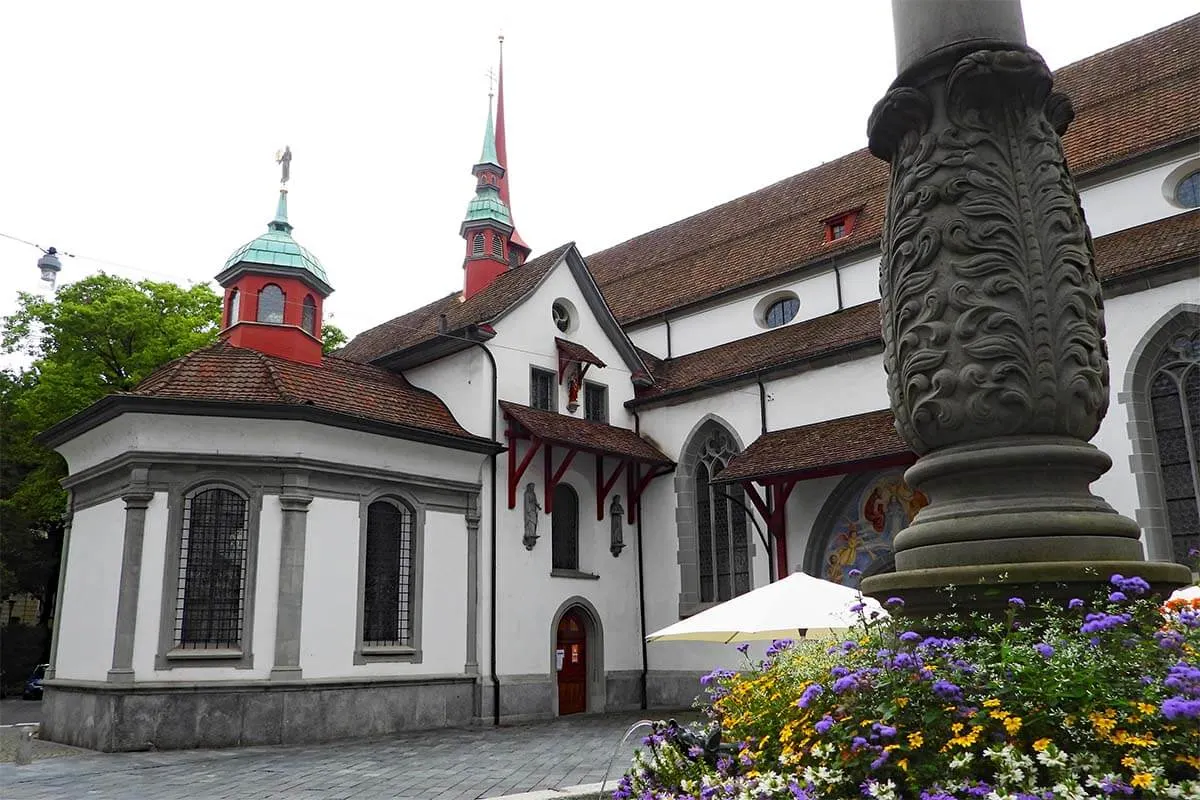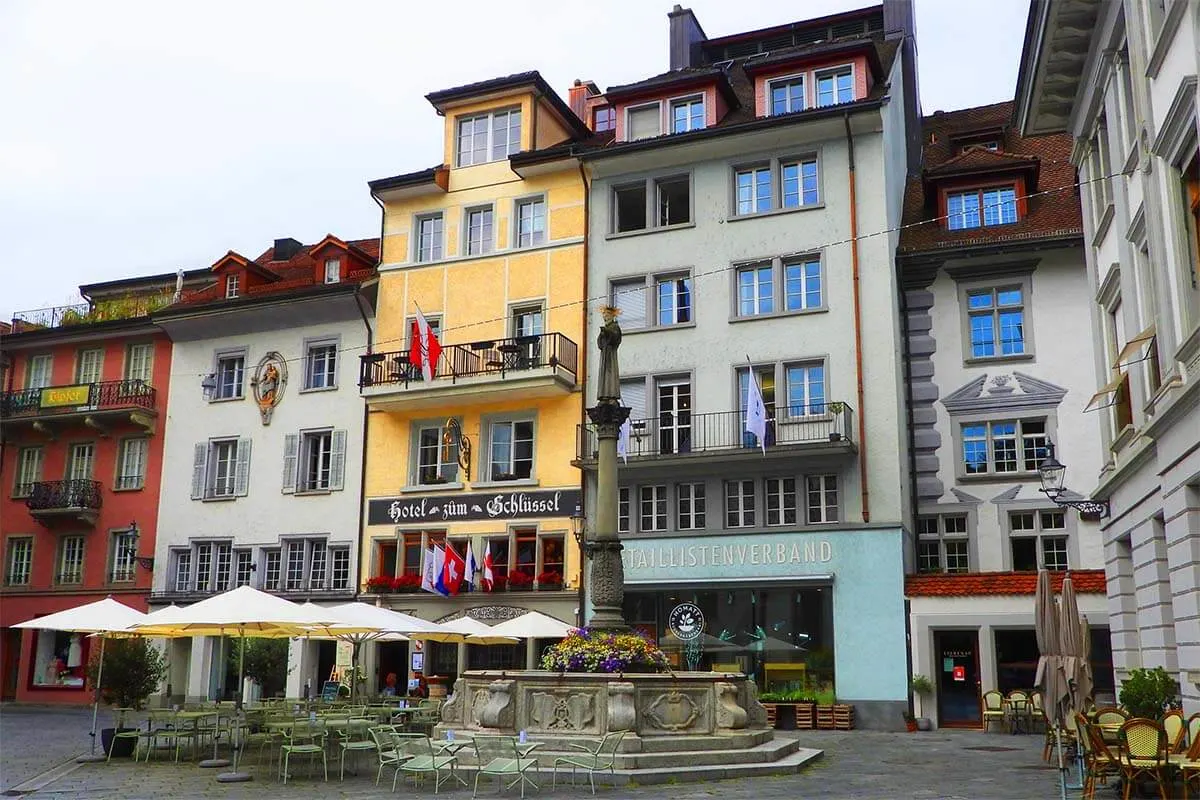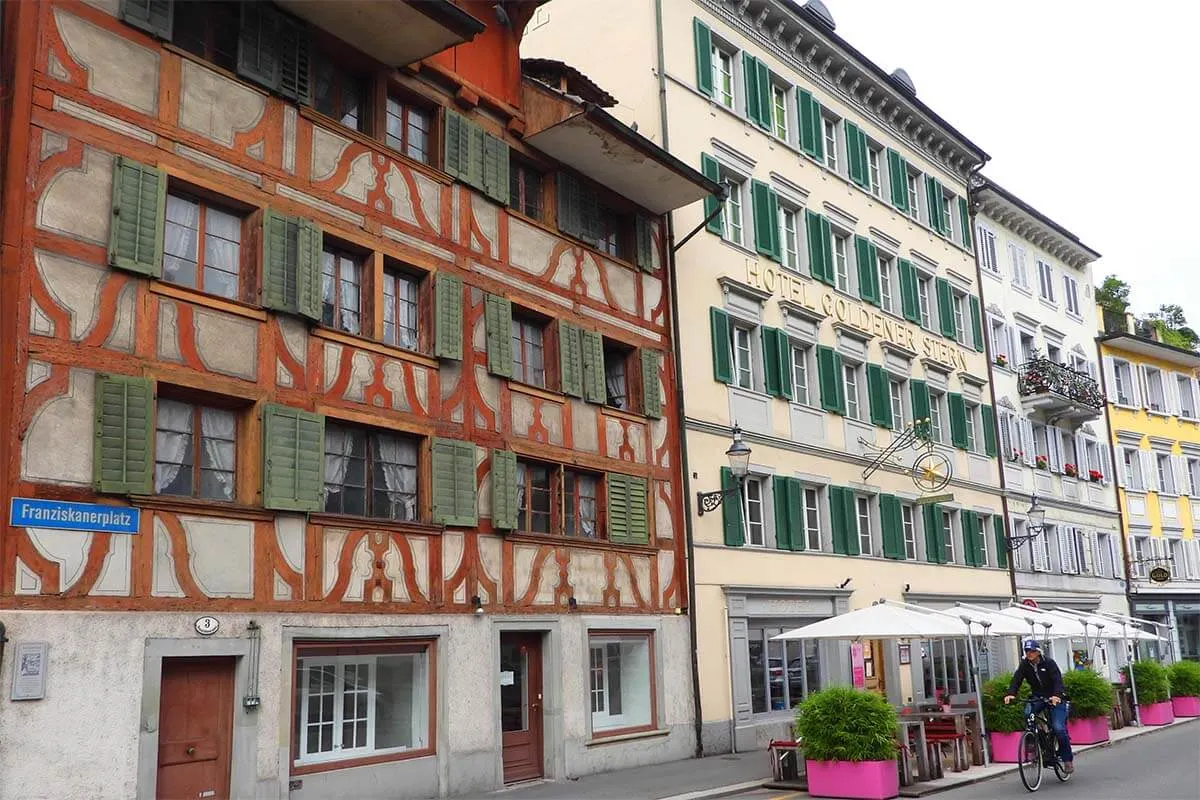 10. Church of St. Leodegar
More impressive is the exterior of the Church of St. Leodegar (Hofkirche St. Leodegar), sometimes referred to as the Cathedral of Lucerne.
The iconic twin steeples of the Hofkirche are located where the eighth-century Benedictine monastery of St. Leodegar once stood. The monastery was followed by a Roman-style basilica, which burnt down in the 17th century during the Thirty Years' War. Lucerne then built its new church, preserving the towers of the building before it. It is now seen as Switzerland's most important Renaissance church.
There are many interesting features to look out for here.
A Late Gothic sculpture portraying the Agony in the Garden is on the north tower. All around the church are arcades where prominent members of old Lucerne families were laid to rest. The adjacent graveyard is also worth a visit.
Inside the church, you can see elaborately carved pulpit and choir stalls dating back to 1639. There is also a polychrome Maria-End-Altar on the north side of the nave which was originally made in the 1500s and rescued from the fire. This shows the Apostles supporting the ailing Virgin Mary. You can also see a high altar made of black marble, which dates back to the time of the restoration in the 17th century.
Good to know: Hofkirche is located on the top of a hill that overlooks Lucerne's historic Old Town. There are also some other really impressive traditional buildings in the area around the church.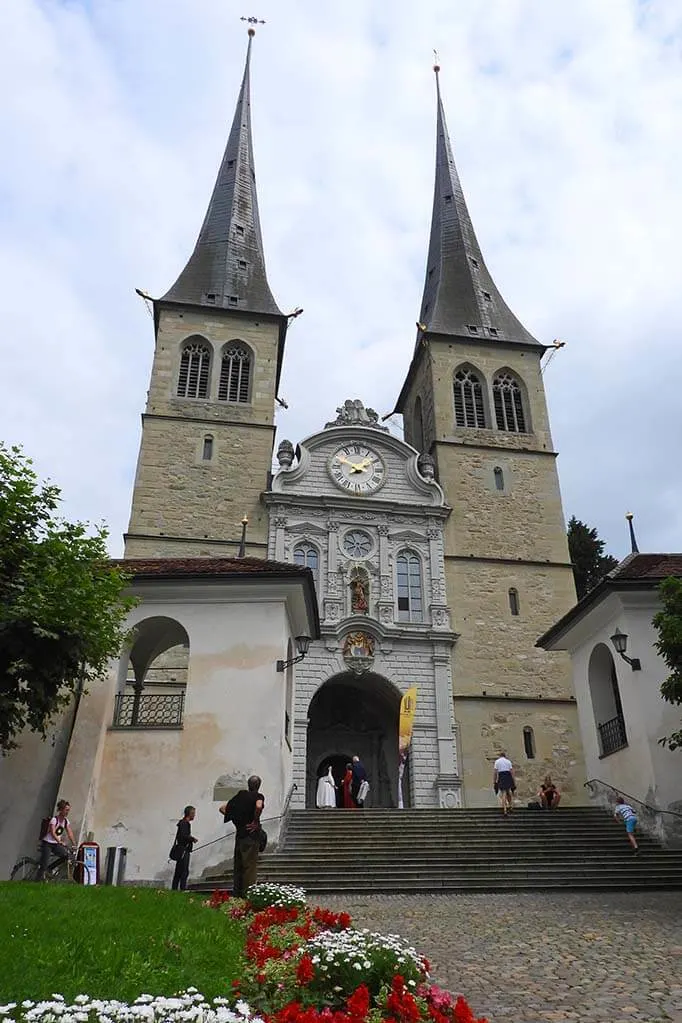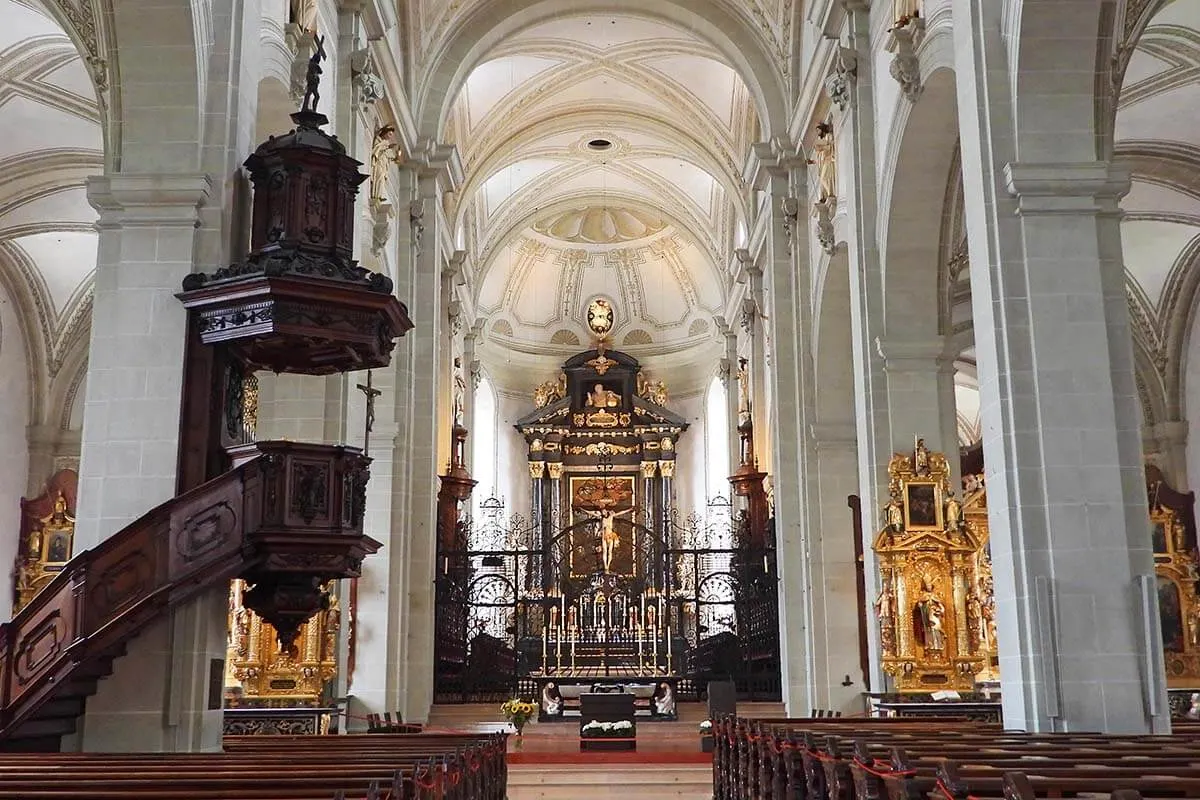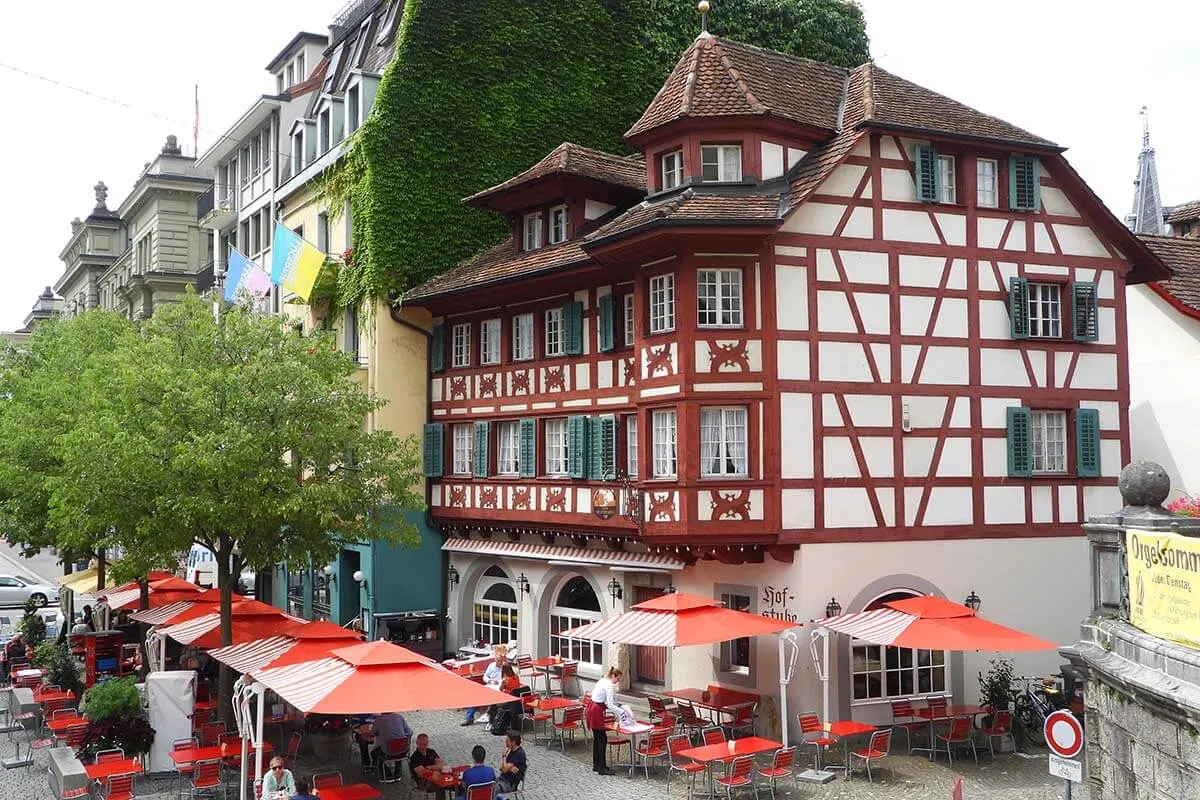 11. Swiss Museum of Transport
The Swiss Museum of Transport (Verkehrshaus der Schweiz) could just as well be listed at the very top of this list of things to do in Lucerne. It's that good! The only reason we didn't list it at the top is because it's located a bit outside of the city center, requires at least a few hours of your time, and is, therefore, a place that many tourists don't get to.
But if you do have a couple of hours to spare, then a visit here is absolutely worth it. It's a definite must if you are visiting Lucerne with kids! Our boys kept on talking about it months after we visited, and are already saying that we should make an excursion to the museum next time we go skiing in Engelberg (close to Lucerne). Yes, they're even willing to give up a day of skiing for it!
Made up of a mixture of exhibition halls and outdoor displays, this fascinating museum is a great place to visit in Lucerne in any season and in any weather. The best part is that everything is interactive and you won't get bored for a second. Also, once inside, all the experiences are included in your ticket.
It's a fun place to learn about the development of all different forms of transport over the years, from aircraft and rockets to ships and cars. There are both models and real examples, including Switzerland's very first diesel locomotive and 30 different aircraft. Nice to see is also an auto-theater, where cars from throughout the years are stacked six-high on shelves. Here, you can also do a car crash test.
Our kids especially loved the flight simulators, where you can pilot an airplane or a helicopter.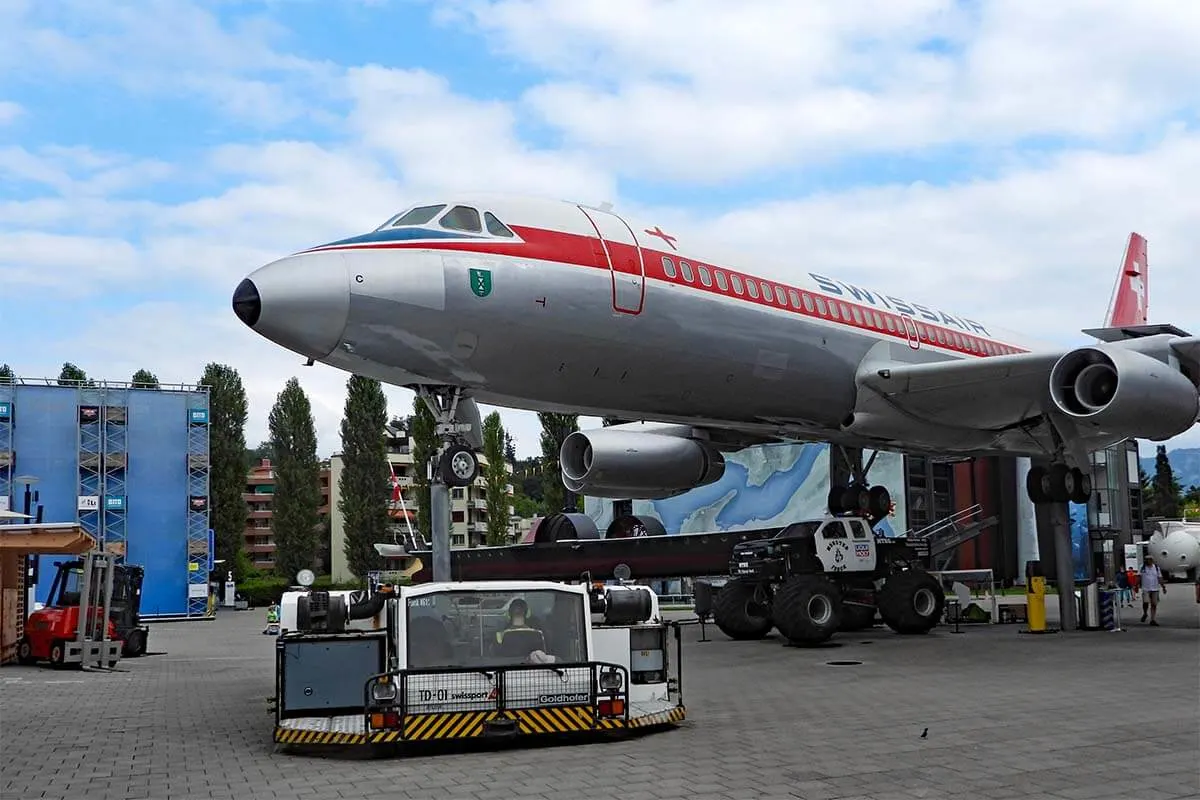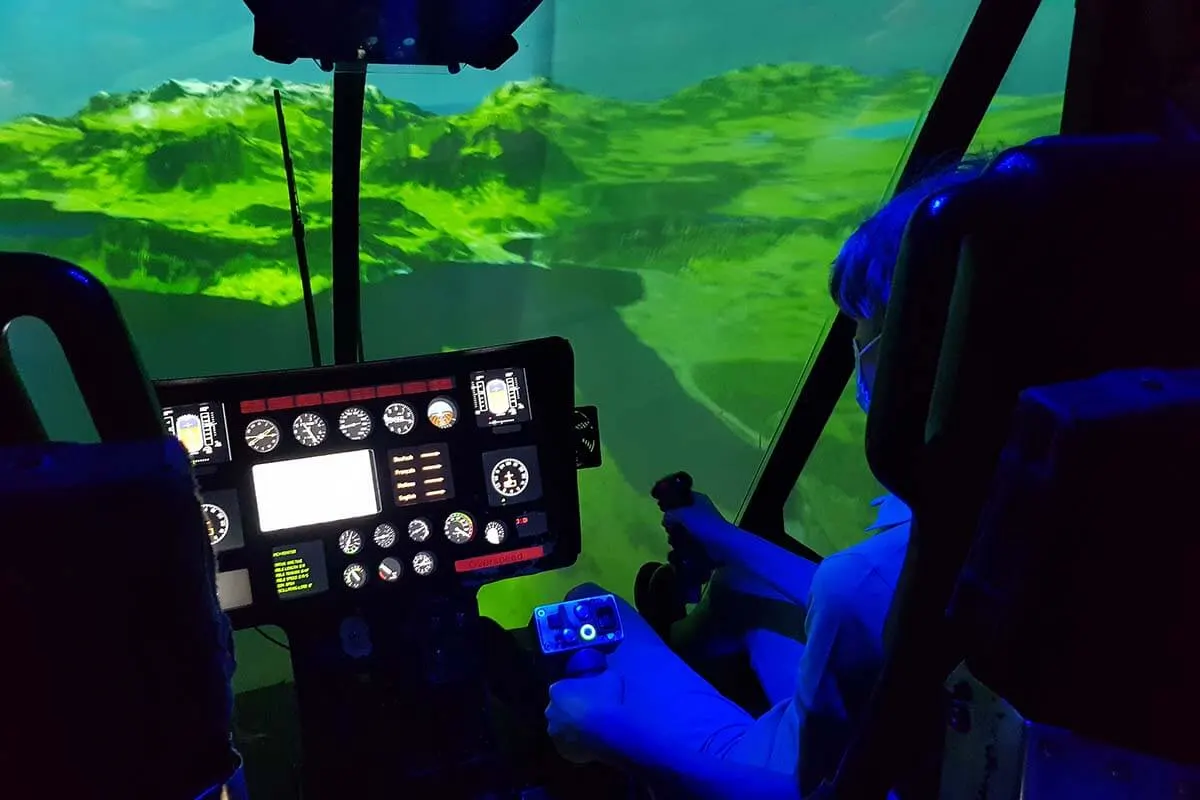 In addition to the Transport Museum, there are several other attractions at the same location. You can visit a newly updated 150-projector Planetarium that offers shows every day, plus a 3D film theater showing documentaries on Switzerland's largest screen. Meanwhile, you can learn all about state-of-the-art trends in communication at Media World, with exhibits featuring virtual reality and more.
And if those activities weren't enough, how about a chance to learn about how Swiss chocolate is made? The 'Swiss Chocolate Adventure' does just that via a multimedia journey – and you get to taste some, too! You could easily spend an entire day here and still not see it all!
Good to know: The museum is open daily and you can get the tickets that also include Media World. If you have a Swiss Travel Pass you will receive 50% off the cost of entry to the museum. If you have an entire day, opt for the day-pass instead. It includes admission to the museum, Swiss Chocolate Adventure experience (can also be done separately), Media World, Filmtheatre, and Planetarium.
TIP: To really appreciate everything this museum and the other attractions at the same site have to offer, try to set aside a whole day for your visit. This is the most popular museum in Switzerland, and with good reason. As a minimum, count 2-3 hours just for the Swiss Museum of Transport itself.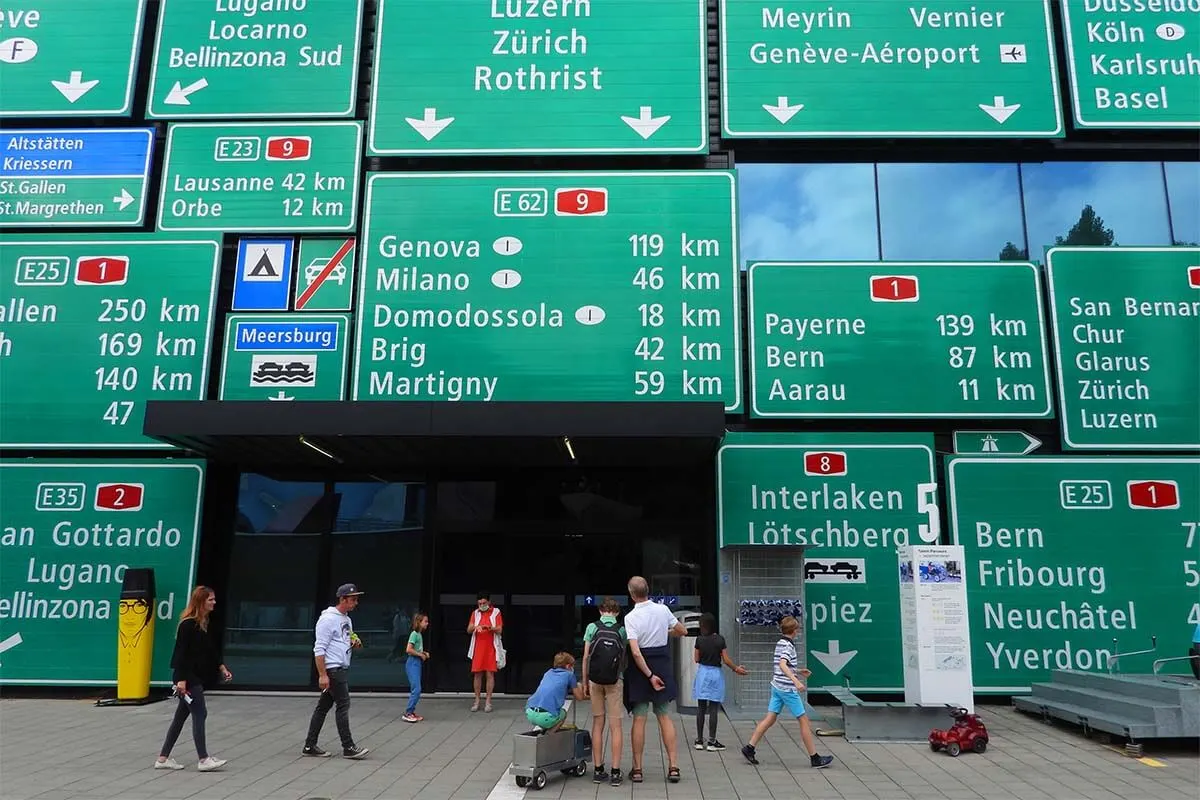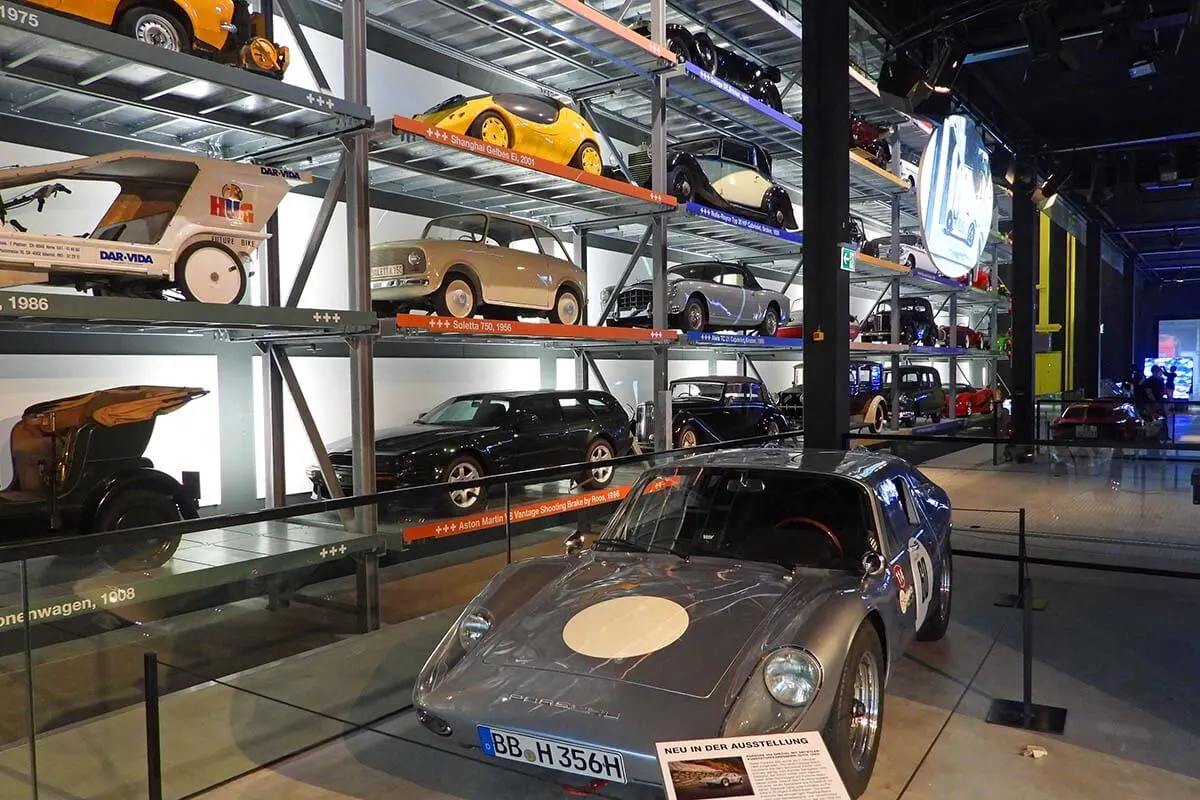 12. Lakeside Promenade
Another really nice thing to do in Lucerne is to walk along its lakeside promenade. If you cross the Seebrücke bridge at the railway station and turn right, you can walk along the waterfront for several miles.
The first part of the waterfront promenade, in the city center, has many grand buildings, most dating from the end of the 19th – the beginning of the 20th century. You'll see Grand Hotel National Luzern, Grand Casino Luzern, Mandarin Oriental Palace (former Hotel Palace Luzern, which is currently undergoing renovation), and many others.
The first part of this pedestrian promenade is lined with trees, and it has the feel of a nice cozy park. There are places to play petanque, boat rentals, cafes, playgrounds, etc. Even if you don't walk much further than this, it's nice to come here, if just to escape the crowds and the summer heat. In the summer, you can also go for a swim at Seebad Luzern.
If you do take the time to walk further, you'll pass some luxury homes that likely cost multiple millions (if they ever come on the market). Continuing even further along the lake, you'll reach the Swiss Museum of Transport and Lido Lucerne – Lucerne's Beach.
Good to know: If you decide to walk from the city center to the Swiss Museum of Transport, count 30-40 minutes, likely a bit more if you want to have a relaxing walk and not rush. It's a really nice walk, and you can also take a boat to come back (or vice versa).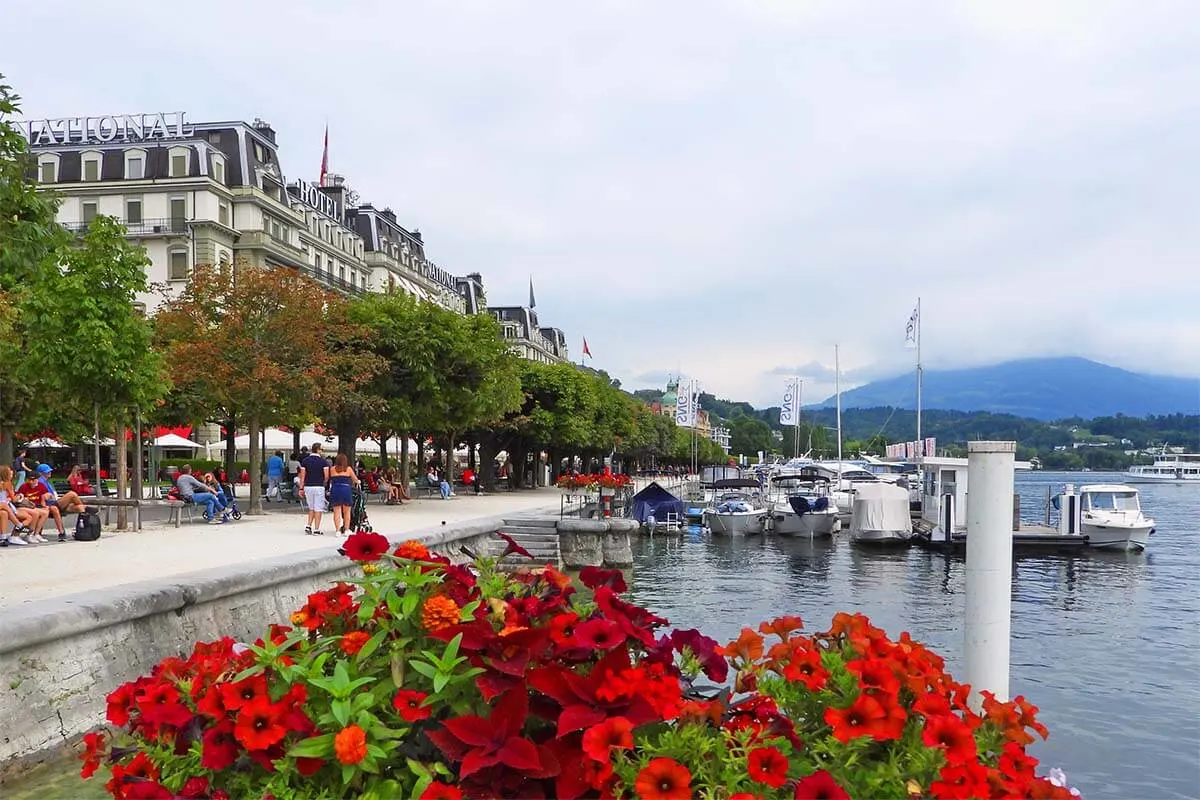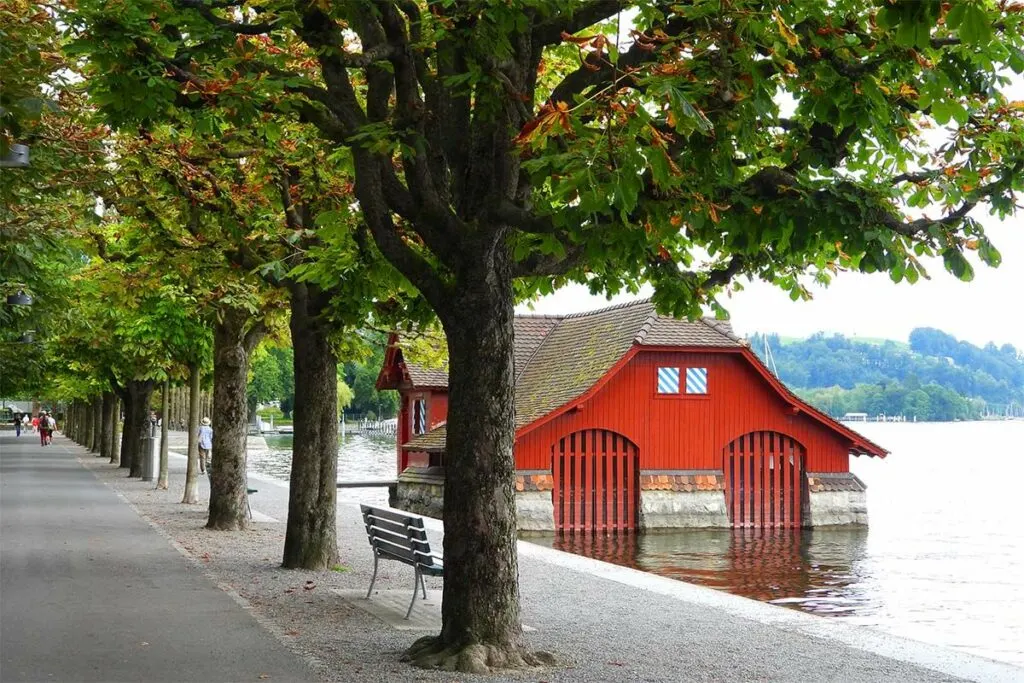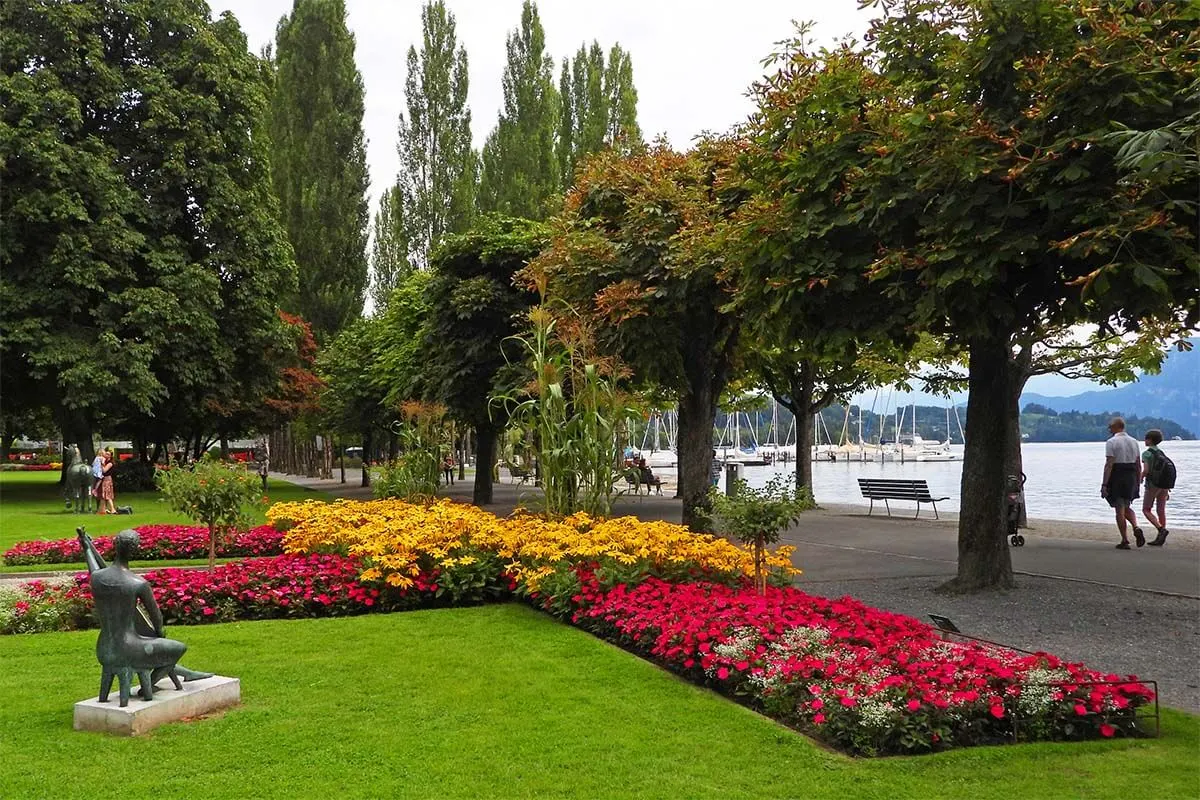 13. Mt Pilatus
Some people would say that Mt Pilatus (Pilatus Kulm) is one of the main attractions of Lucerne, and should be at the top of any list of places to see in the city. Indeed, it's well worth a visit, but more as a day trip from Lucerne. That's why we didn't list it at the top.
Even though it's located just nearby, Mt Pilatus is not a place you just hop over to. You really need to count at least 4-5 hours for a visit here. If you can, plan a separate day for it, in addition to the city itself. But yes, if you only have 1 day in Lucerne, you can see the main sights of Lucerne city and visit Mt. Pilatus on the same day.
From the top of Pilatus Kulm, you have stunning views of the city, Lucerne Lake, and the surrounding mountains.
In addition, if you do the famous Mt Pilatus Golden Round Trip, you get to ride on a scenic gondola, enjoy amazing views from an aerial cable car, take a journey on the world's steepest cogwheel railway, and enjoy the views from the scenic boat ride on the lake.
It's a nice way to see some very diverse scenery in just a few hours and also to experience so many different modes of transport (always a big part of any Swiss mountain experience).
Good to know: Mt Pilatus can be visited the whole year, but the best season is between mid-May and mid-October. That's when the boats and the cogwheel trains operate, and you can also do some hiking at the top.
Getting there: The most popular way to visit Pilatus is either by booking the golden trip or the silver trip. In addition, there are also organized tours if you prefer to go with a local guide. You can find more info about all the options in our detailed guide via the link below.
LEARN MORE: How to Visit Mt Pilatus from Lucerne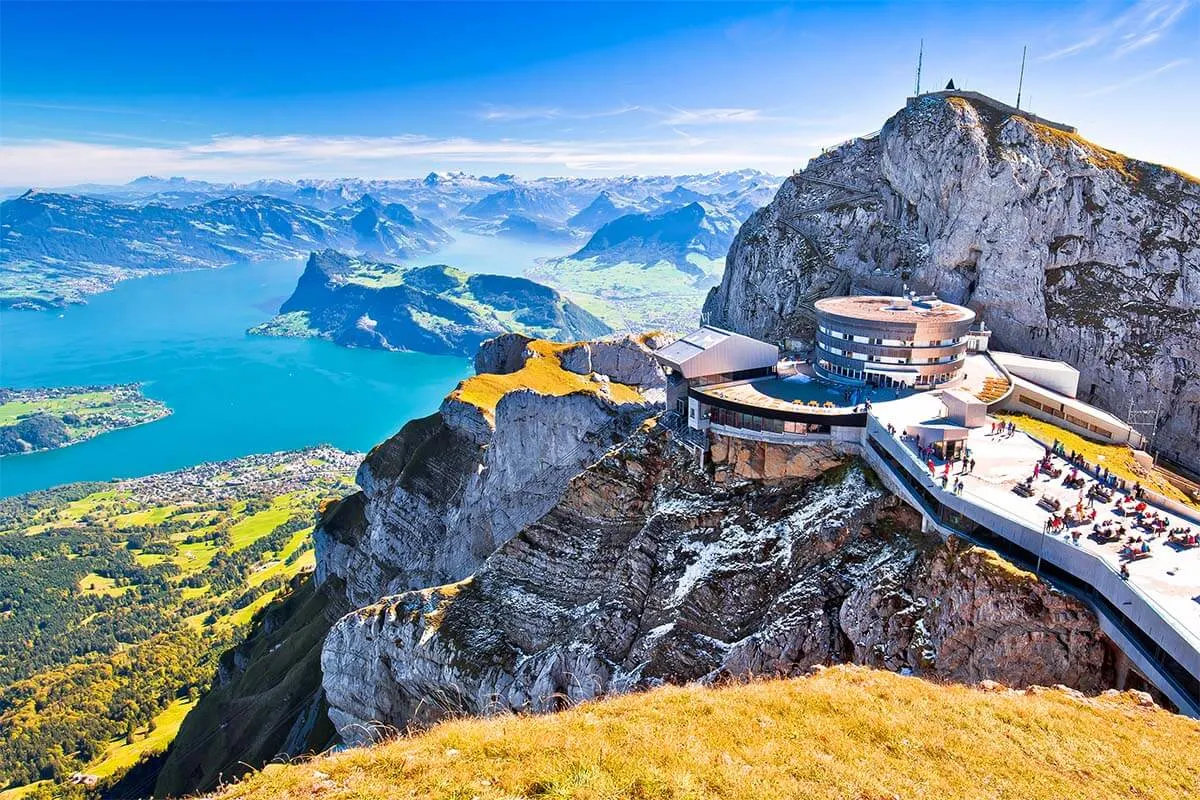 14. Mt Rigi
Just as Mt Pilatus, Mt Rigi (Rigi Kulm), aka the Queen of the Mountains, is worth a day trip in itself. It's another popular mountain destination near Lucerne, just on the other side of the lake than Mt Pilatus. So the views from here are somewhat different.
Whether it's worth doing both, that's another question. A lot depends on how much time you have in Lucerne, and which other places you visit nearby.
Anyway, a day trip to Mount Rigi is another typical Swiss mountain experience – with a variety of transport options including the historic Vitznau – Rigi railway, nice views, and lots of fun outdoor activities. It's also a year-round destination and it has more to offer in winter than Mt Pilatus.
Good to know: You need at least 5-6 hours for an excursion to Mt Rigi from Lucerne. However, the train schedule is more flexible than transport options on Mt Pilatus, with trains running in the evening too, so it can be somewhat easier to visit here, depending on when you arrive in Lucerne and how much time you have.
Getting there: One of the most popular options is the Classic Round Trip. It includes two scenic boat rides, a ride on a rack railway, and a cable car. With less time, skip the boat and just visit Mt Rigi with this ticket that includes all the transport on the mountain, but not the tickets to/from Lucerne.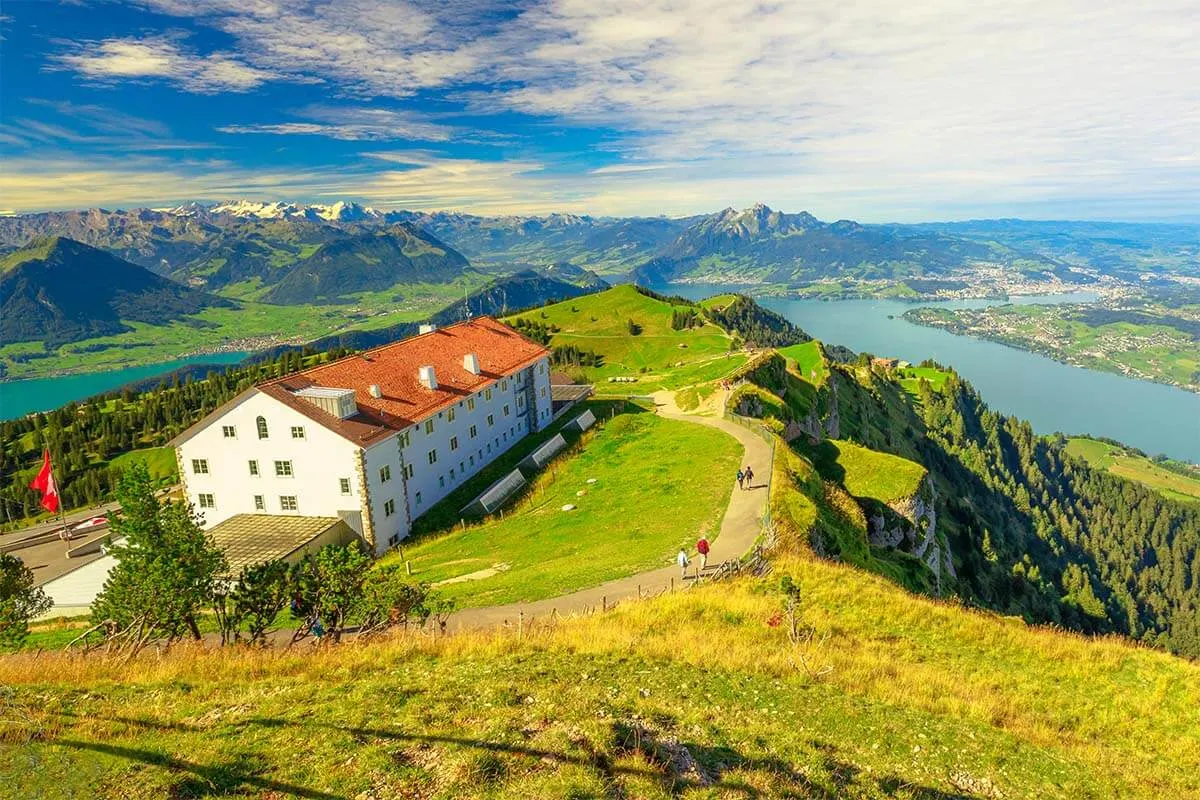 Now that we listed all the main places to see in Lucerne, I want to mention a couple of more things to do for those who have more time in the city itself.
Two of these attractions are museums, and so it can be something nice to do in Lucerne when it rains, or when it's really cold in the winter. Take a look!
15. Bourbaki Panorama
The Bourbaki Panorama is another interesting place to visit in Lucerne. It's a very unusual museum that contains one huge panoramic painting stretching inside the circular building.
In addition, there are also some temporary expositions, but the main feature is, of course, this circular painting by Swiss painter Edouard Castres.
The painting is truly gigantic – 10 on 112 m (33 on 367 ft). It depicts the internment of tens of thousands of French soldiers who fled to Switzerland at the end of the Franco-Prussian War in 1870–1871. In the 19th century, Switzerland already became known as a neutral country, staying out of military conflicts, but helping those in need.
TIP: Be sure to ask for an iPad guide (included in the ticket price) so that you get a narrative explaining what you see.
Good to know: The museum is open daily, except on some public holidays. Opening hours vary per season. For more information, check their website.
16. Rosengart Collection
Located in the former National Bank building on Pilatustrasse, Rosengart Collection (Sammlung Rosengart) is the private collection of the Lucerne art dealer Angela Rosengart. It has only been open to the public since 2002 and mainly features post-Impressionist art. There are 300 pieces on display at any time, including works by Monet, Cézanne, Kandinsky, Léger, Chagall, and Matisse.
More prominently, there are 125 paintings and drawings by Paul Klee. These are displayed in the basement of the three-story building and arranged to highlight his evolving style. Across the entire ground floor, you will find a collection of Picasso's paintings from 1938 up to 1969, plus some of his early drawings.
Along with her father, Angela Rosengart was personally acquainted with these artists and you can see paintings of her amongst Picasso's displayed works.
More than just an art display, this museum strives to help you get to know the artists a little better. There are around 200 photographs of Picasso, some of them featuring him at work. There are also lots of different guided tours available, aimed at adults, children, or families. During these tours, you discover more about the pieces on display and the lives of the artists who created them.
TIP: Don't miss the video – shown in the conference room on the top floor of the museum. It gives you the background to this collection and how it was gifted to the city.
Good to know: The museum is open daily, except on some public holidays, with opening hours varying depending on the season. For more information, see their website.
17. Funicular Gütsch & Views from Hotel Château Gütsch
If you have some extra time and are looking for something less touristy to do in Lucerne, take Funicular Gütsch to the top of the mountain west of Lucerne city center. Here, you'll find a historic 19th-century Hotel Château Gütsch and stunning views of the city.
The views from here are stunning, with Lucerne city beneath and Mt Rigi in front of you! There's also a forest with walking trails.
TIP: The hotel has a nice restaurant/ cafe with an outdoor terrace, and non-guests can also have a drink or lunch here.
And, of course, if you are looking for a nice place to stay in Lucerne, Château Gütsch is a nice choice. It's quite conveniently located for sightseeing in Lucerne, and – if you are traveling by car, you'll be glad to know that it has private parking.
Good to know: The funicular runs daily from very early in the morning until about an hour past midnight. The ride takes 1.5 minutes and costs just a few CHF.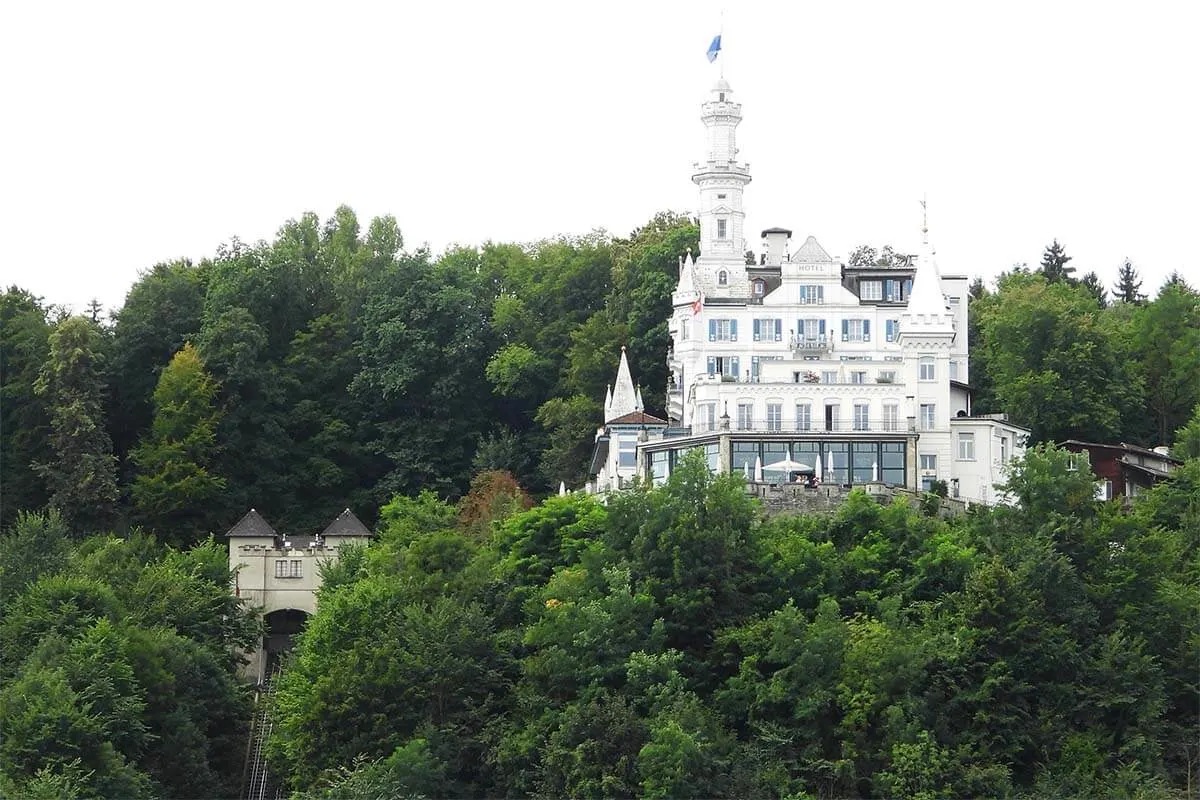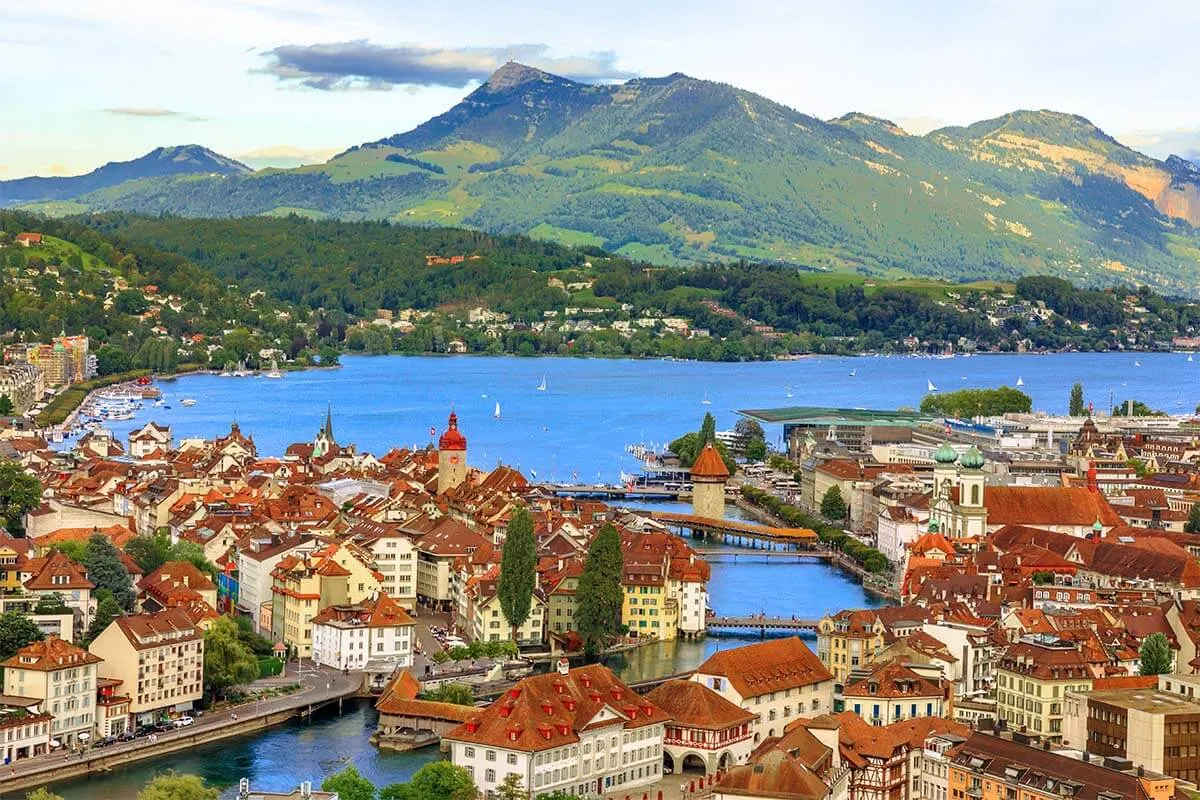 Map of Lucerne Attractions
Lucerne city is quite compact and most of the main sights are located really close to each other. Only the Swiss Museum of Transport is somewhat further away but can be reached by public transport or even on foot via the Lakeside Promenade.
Mt Pilatus and Mt Rigi are a bit outside of the city.
We indicated all the best places to see in Lucerne on the map below. This will give you a better idea of where everything is and will help you plan your sightseeing.
How to use this map: Use your computer mouse (or fingers) to zoom in or out. Click on the icons to get more information about each place. Click the arrow on the top left corner for the index. Click the star next to the map's title to add it to your Google Maps account. To view the saved map on your smartphone or PC, open Google Maps, click the menu and go to 'Your Places'/'Maps'. If you want to print the map or see it in a bigger window, click on 'View larger map' in the top right corner.
Where to stay for sightseeing in Lucerne
If you are traveling by train, stay in the city center of Lucerne, close to the railway station. There are lots of nice hotels within a short walking distance. Here are some of the best options for all budgets:
If you are visiting Lucerne by car, take a look at the above-mentioned Hotel Château Gütsch; it has private parking (fees apply, but much cheaper than in the city center). Most hotels in the city center don't have on-site parking, but you can use one of the public parking garages nearby.
Of course, you can also just stay outside the city and just drive to Lucerne when you want to explore the attractions in town. This is what we did on one of the recent trips when we stayed in the area for about a week. We opted for Seeblick Höhenhotel in Emmetten, about half an hour drive from Lucerne city center.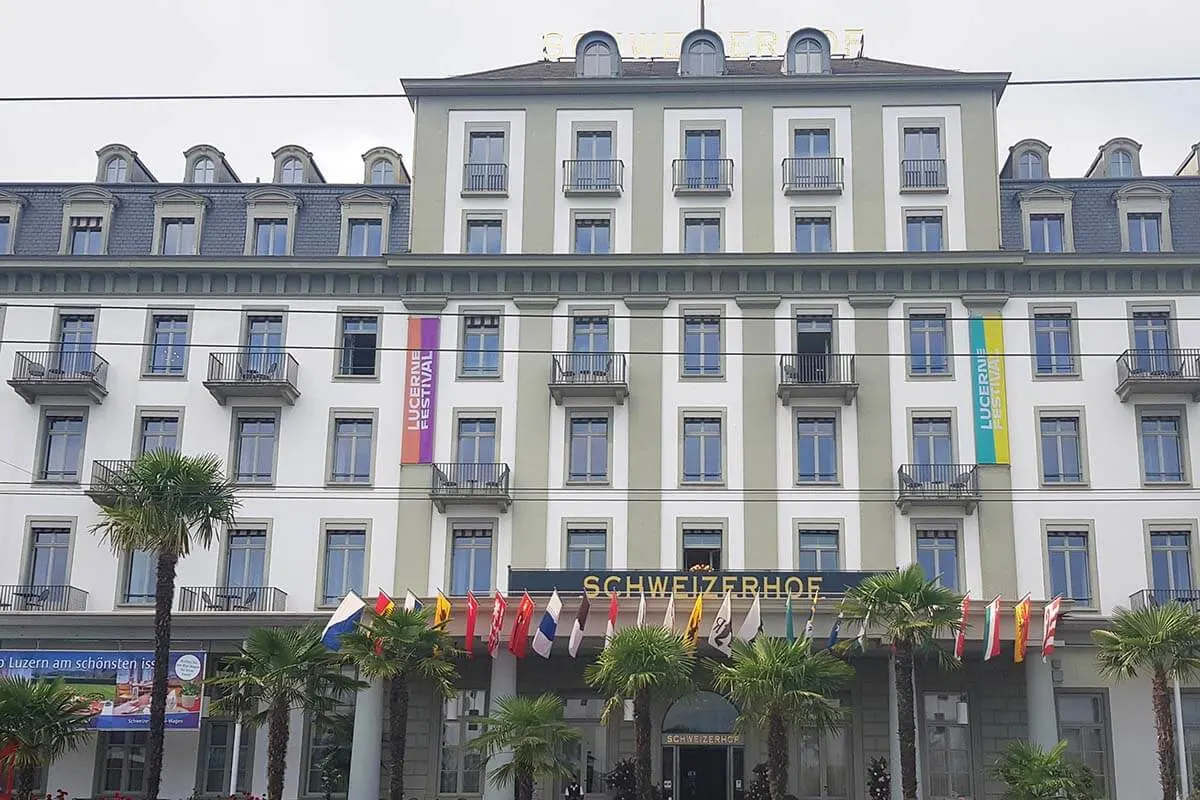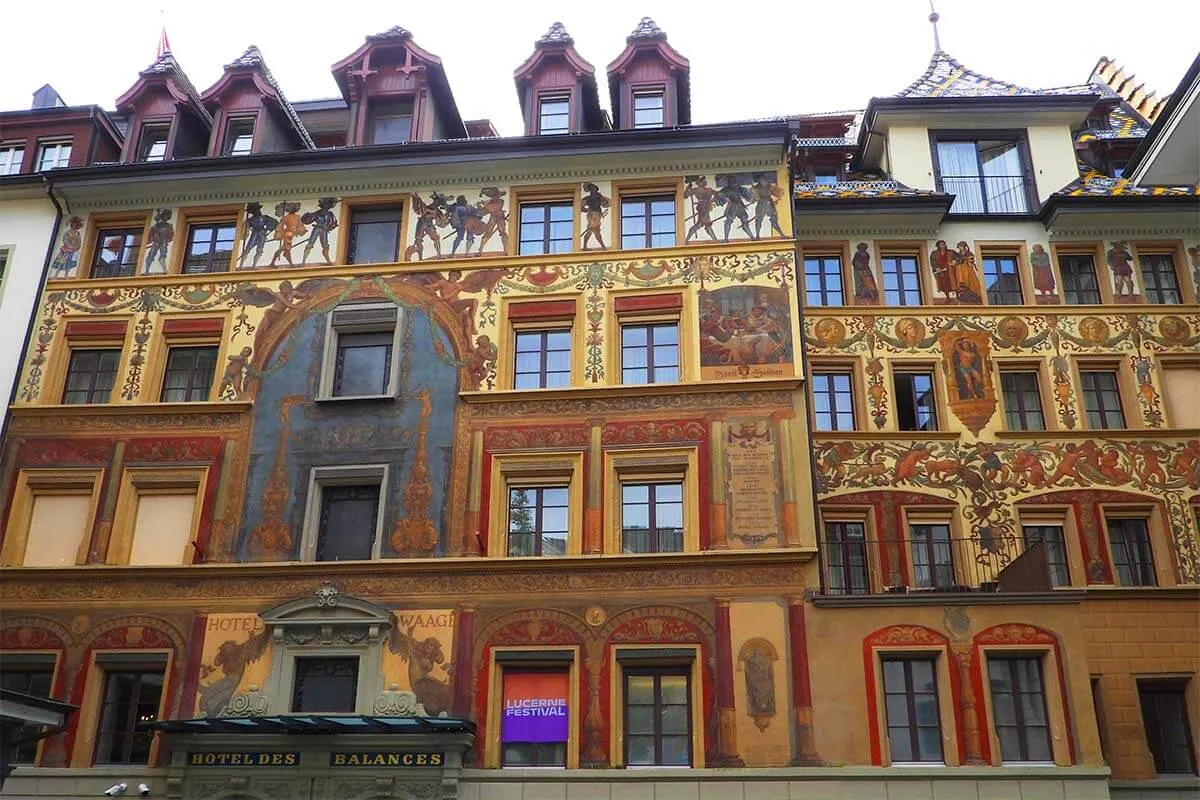 So, this is our guide to the best places to see and things to do in Lucerne, Switzerland. I do hope that you have enjoyed this guide and that it will help you plan an enjoyable and memorable stay.
TIP: In addition to Mt Pilatus and Mt Rigi, there are so many other amazing places to visit around Lucerne. Take a look at our best suggestions via the link below.
READ ALSO: Best Day Trips from Lucerne
If you found this post useful, don't forget to bookmark it and share it with your friends. Are you on Pinterest? Pin these images!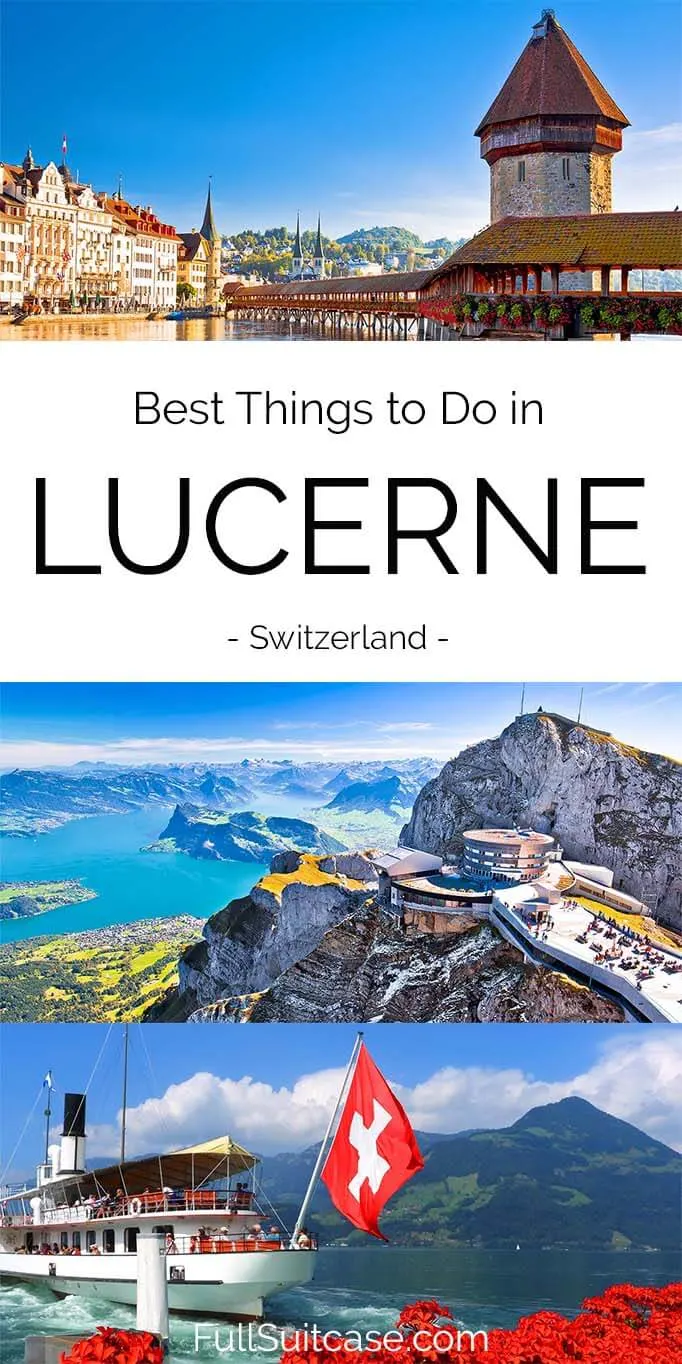 More travel inspiration – some of our favorite places in Switzerland: