Mount Pilatus Golden Round Trip is the most popular excursion from Lucerne in Switzerland. And rightly so – it's such a great way to experience the stunning Alpine scenery by boat, cogwheel train, on foot, and via a series of cable cars.
But what to expect and what to know before you book your tickets and how to best plan your Mt Pilatus day trip so that you can make the most of your time and enjoy the best that this Golden Tour has to offer?
In this guide, we share our experience, common mistakes, and useful tips to help you plan your Mt Pilatus Golden Round trip from Lucerne. Find out!
Good to know: Lucerne Golden Round Trip is the most complete and the most scenic option for those planning a day trip to Mt Pilatus, but it's not the only way to visit Mount Pilatus. If you are interested to learn more about all the other options, please see our guide to the best ways to visit Mt Pilatus from Lucerne.
Below, you can find all the details, info, and map for the Mt Pilatus Golden Round Trip – take a look!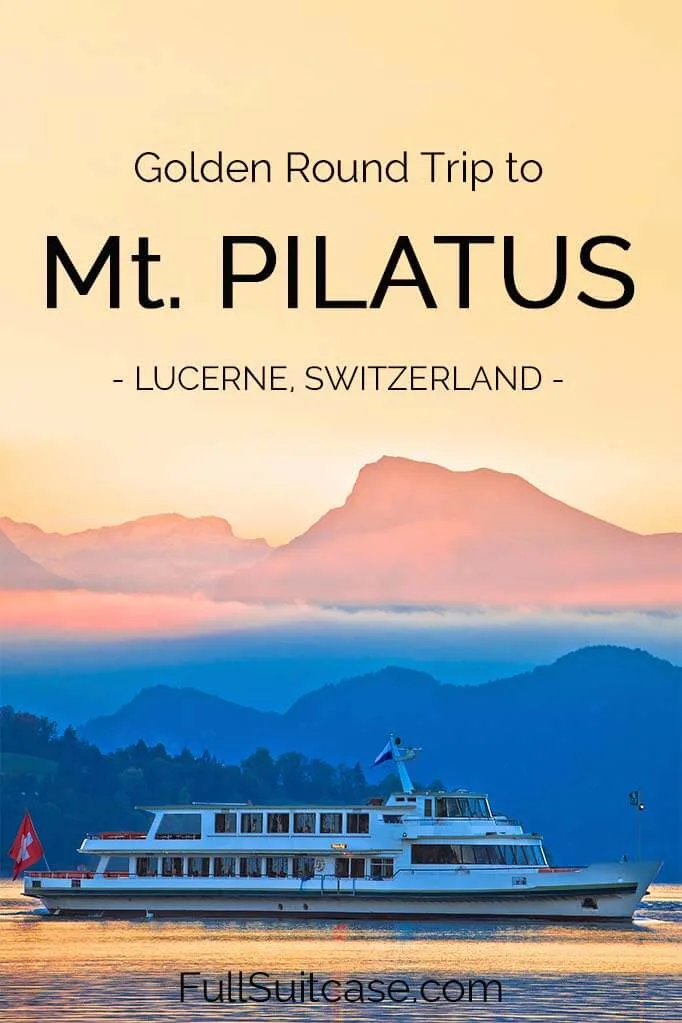 MT PILATUS GOLDEN ROUND TRIP – OVERVIEW:
Practical Info & Map of Pilatus Golden Round Trip
Mt Pilatus Golden Round Trip is a 'loop' excursion to Mt Pilatus from Lucerne using a series of different means of transport: a bus, a gondola, an aerial cable car, a cogwheel train, and a scenic boat.
Below, you can see the map that will give you a good overview of this trip. You can do it in any direction, but there are important things to consider when deciding which way to do it – more about it further below.
Here is some important information for the Golden Round Trip:
SEASON: Golden Round Trip can usually be done from around mid-May to mid-October. You can still visit Mt Pilatus outside of the summer season, but for the entire Golden Round Trip, you need all the transport to run and the boat and the cogwheel train aren't available in winter. This year, the cogwheel train will run from June 5 until 19 November 2023. The boat that you need for this trip is scheduled to run from June 5 until October 23, 2023.
DURATION: Golden Round Trip takes at least 4 hours. However, if you want to take it easier, explore the best viewpoints or have lunch at a restaurant at the top of Mt Pilatus, do some hiking, or try one of the fun activities at Fräkmüntegg, you'll need more time. We recommend planning at least 5-6 hours for this excursion.
TICKETS: You can easily do the Golden Round Trip from Lucerne on your own. It's best to get this combi ticket that includes all the instructions and all the transport options. Booking it all separately is not only more expensive, but it will also add unnecessary stress and hassle. This ticket allows you to do the trip in any direction. If you have the Swiss Travel Pass, you get a big discount on your tickets; in that case, it's best to get them at the valley stations or some other sales points in Lucerne.
TOURS: If you rather go with a local guide, you can do the Golden Trip with this popular and highly-rated tour from Lucerne. It's just a bit more expensive than the self-guided ticket, but you have an experienced guide. Going with a tour is a bit less flexible than going on your own, of course, but you'll make the best use of your time and be sure not to miss any connections. There's also a private tour from Lucerne (about 3x the price, though). And, if you are coming from Zurich, the best way to visit is with this tour.
Good to know: While you can only do the Mt Pilatus Golden Rund Trip in the summer season as indicated above, you can visit Mt Pilatus the whole year by taking a gondola from Kriens. There are typically a few weeks per year when the gondola closes for maintenance, usually at the end of October – the beginning of November. During that time, you can visit Mt Pilatus by taking the cogwheel train from Alpnachstad.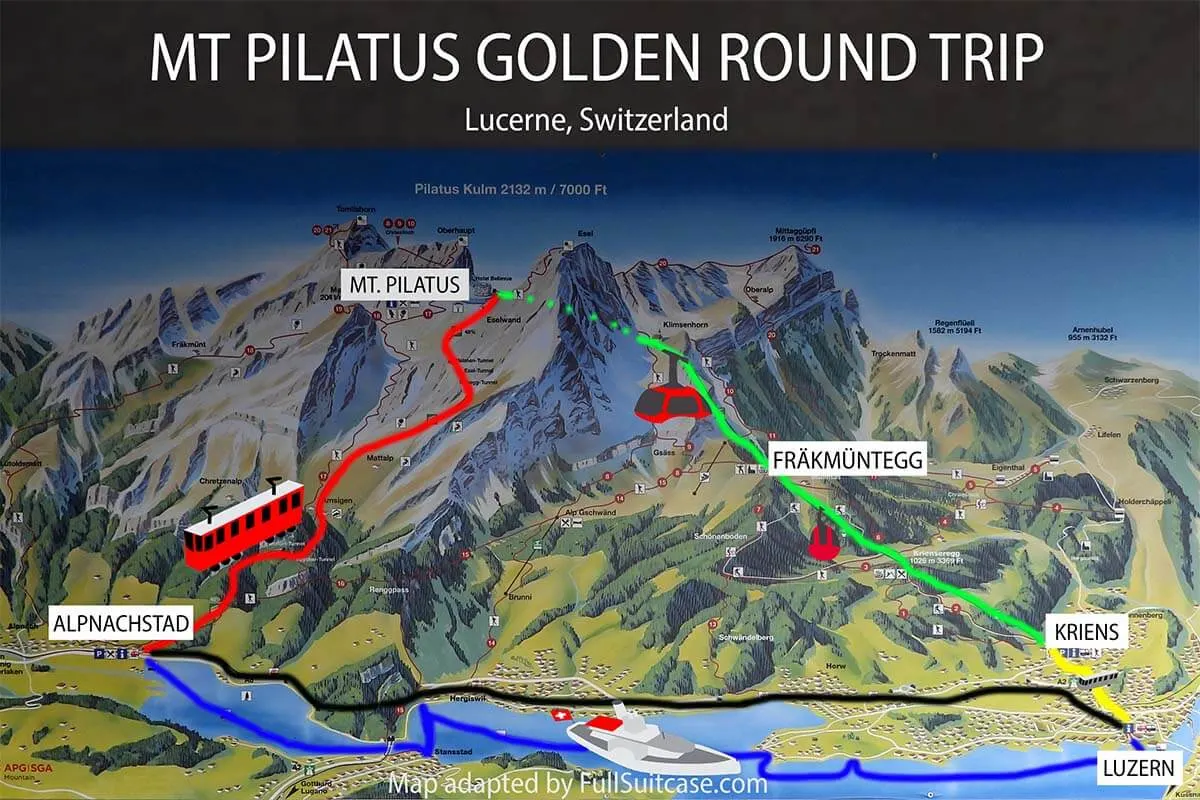 Here's what you see on the map above:
YELLOW – bus between Lucerne and Kriens.
GREEN – cable car (gondola + Dragon Ride) between Kriens and Mt Pilatus.
RED – cogwheel train between Mt Pilatus and Alpnachstad.
BLUE – boat trip between Alpnachstad and Lucerne.
The black line shows the regular train between Alpnachstad and Lucerne. It's not part of the Golden Trip since you are taking a scenic boat ride instead. If you prefer to take the train, opt for a Silver Trip ticket (all the rest stays the same).
Below, you can find more info for each leg of the journey.
Pilatus Golden Round Trip: Transport & What to Expect
As you can see, doing the Golden Round Trip from Lucerne to Mt Pilatus and back involves quite a few different transportation options.
We start with the bus from Lucerne and end with a boat ride back to the city, but you can also do this trip in the other direction. Further below, you can read more about the best direction and why we recommend doing it that way.
Here is an overview – and pictures – of all the transport you have to take as part of the Pilatus Golden Round Trip from Lucerne, so that you have a better idea of what to expect:
BUS from Lucerne to Kriens
The first leg of your Golden Round Trip journey is a bus ride from Lucerne to Kriens.
From Lucerne city center, take RBus nr. 1 to Kriens. It's a (trolley) bus in the direction of Obernau Dorf, and you have to get off at "Kriens, Zentrum Pilatus" bus stop.
There are buses every few minutes, so you don't have to plan much in advance. The bus ride between Lucerne Railway Station and Kriens takes less than 15 minutes.
In Kriens, you'll have to walk to the cable car valley station. It's a short walk of 5-10 minutes and there are plenty of signs pointing to where you have to walk.
GONDOLA from Kriens to Fräkmüntegg
The cable car ride from Kriens to Mt Pilatus is split in two.
The first part is a 4-person gondola ride from Kriens to Fräkmüntegg that takes about 18-20 minutes. The views are really nice and you can see the city and the lake in the distance.
Since you have to disembark in Fräkmüntegg anyway, you can explore this area a bit more before going up to the top of Mt Pilatus. There's a rope park here, a zip-line glider, a mountain toboggan, and more fun activities that could easily take half a day (you can find an overview of all activities here). However, you won't have time for all of that if you are doing the Golden day trip. If you are short on time, you could try the Dragon Glider or the Toboggan.
We did the toboggan run and it was really nice, but you need at least 30-45 minutes extra time to your itinerary if you plan on doing it. The ride itself isn't long, but it's a bit of a walk from the cable car station.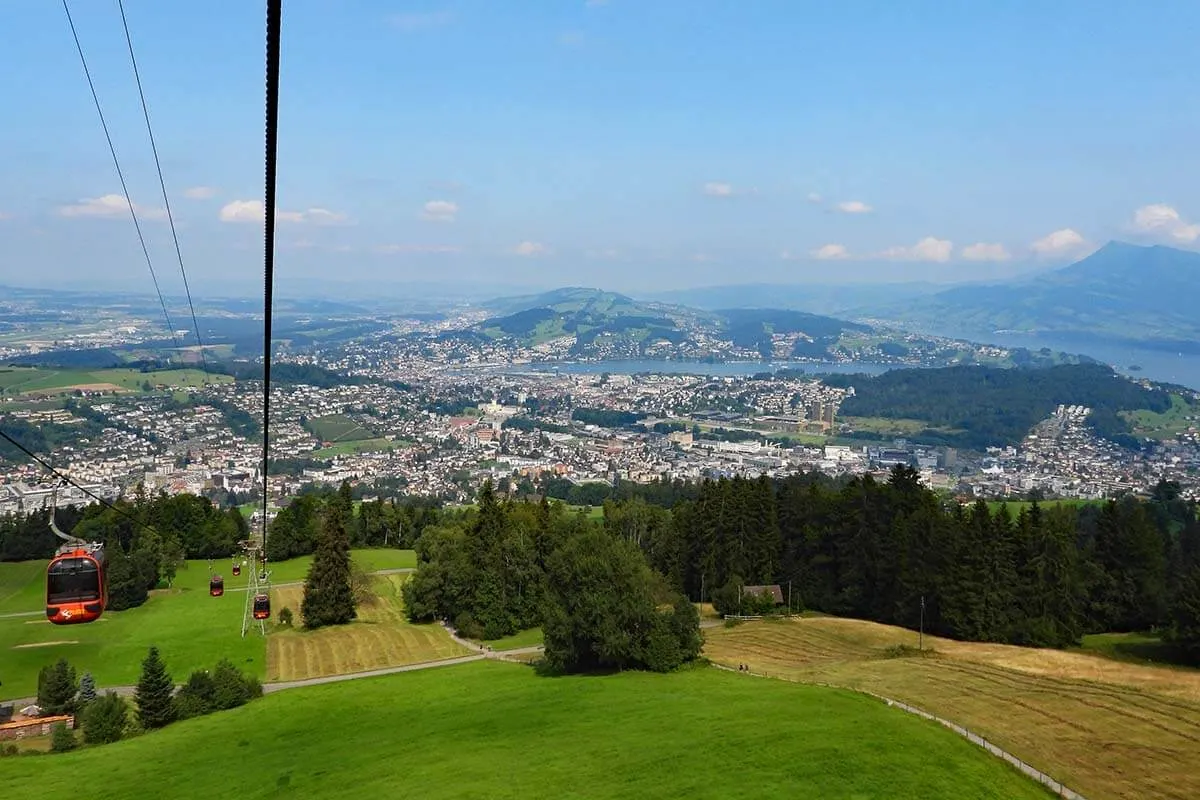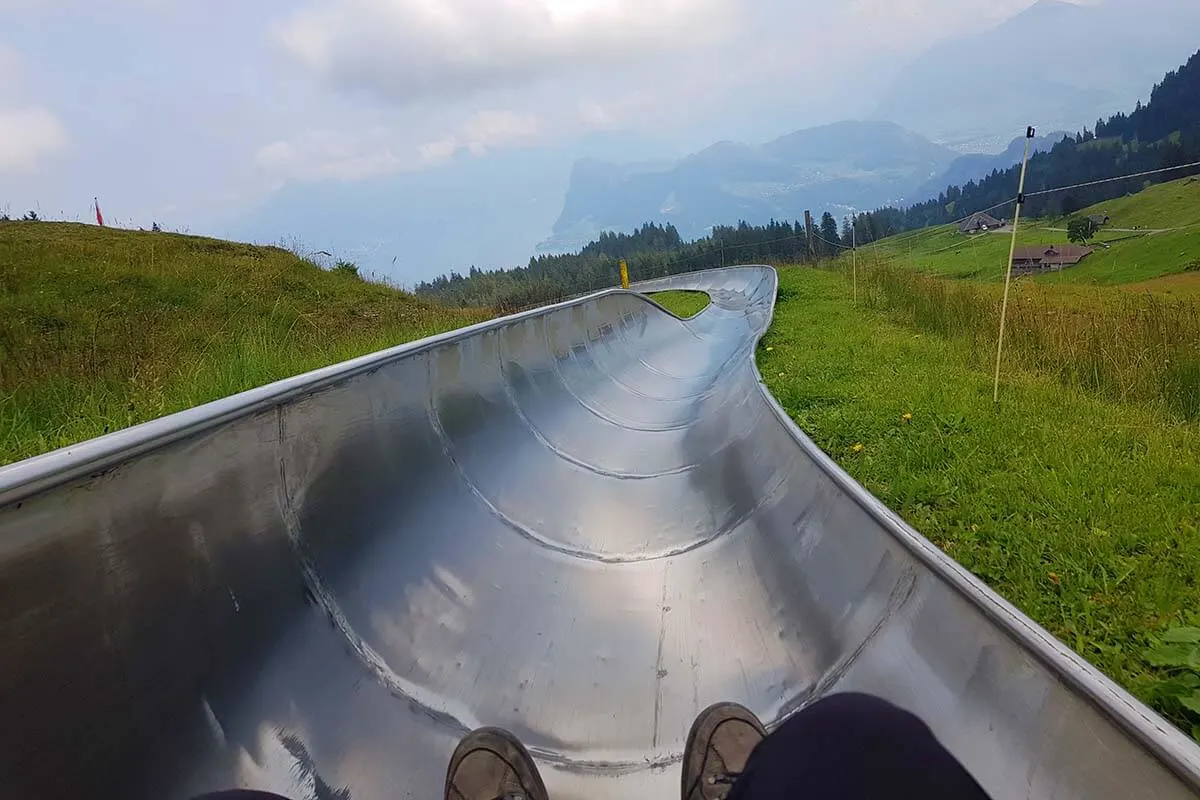 DRAGON RIDE to Mt Pilatus from Fräkmüntegg
Next, is the so-called Dragon Ride – an aerial cable car from Fräkmüntegg to Pilatus Kulm.
It's a big gondola that takes lots of passengers at once, and the ride takes 3.5 minutes.
If there are no clouds, it's a very scenic ride, so try to stand close to the windows. The best views are, of course, in the direction of Lucerne and the lake (the left side or the back of the gondola when going up, or the right side or the front of the gondola when going down).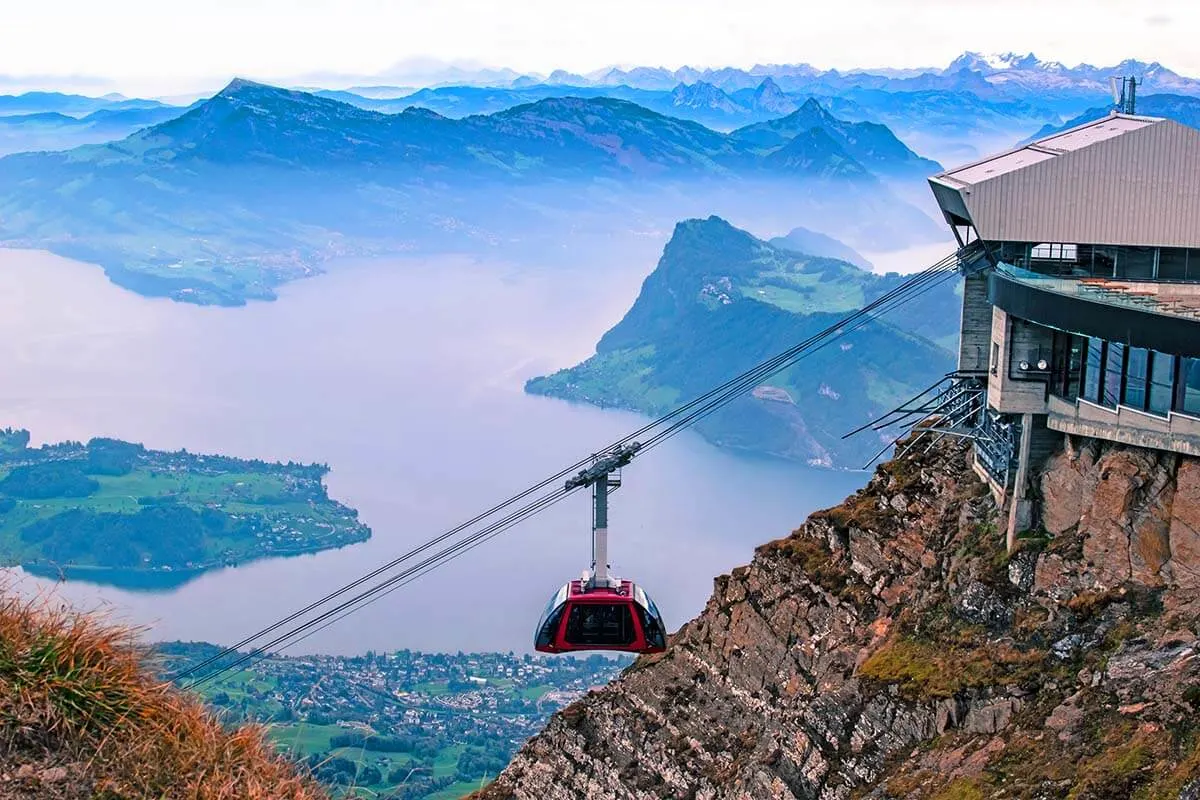 PILATUS KULM
Pilatus Kulm is the name of the Mt Pilatus peak destination. Here, you'll find a hotel with a restaurant, several viewpoints, and some hiking trails.
Time permitting, try to at least visit the main viewpoints: Oberhaupt and Esel. The family-friendly Dragon Trail is also nice to do.
You can also take a 40-min hike on the Flower Trail to Tomlishorn. On a clear day, the views are amazing. It's not a difficult hike, but be sure to stay on the path and hold on to your kids! This is also one of the best places to see wild ibex.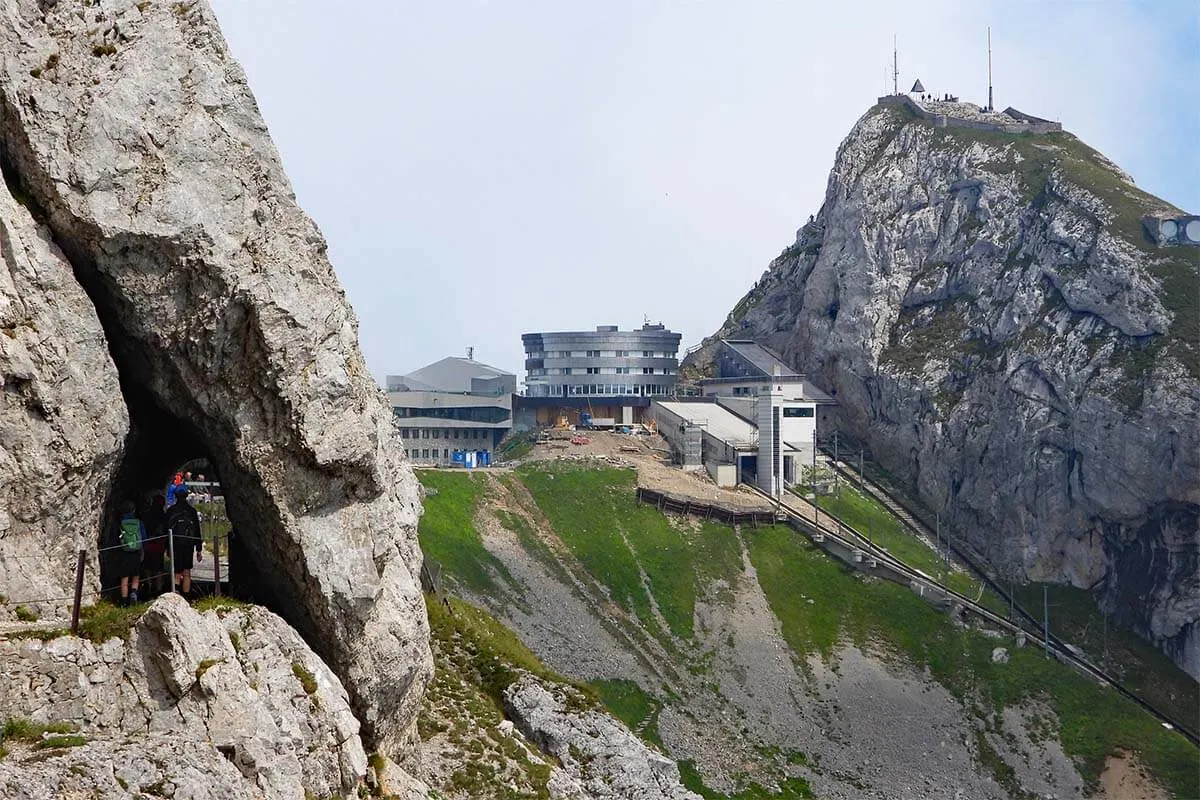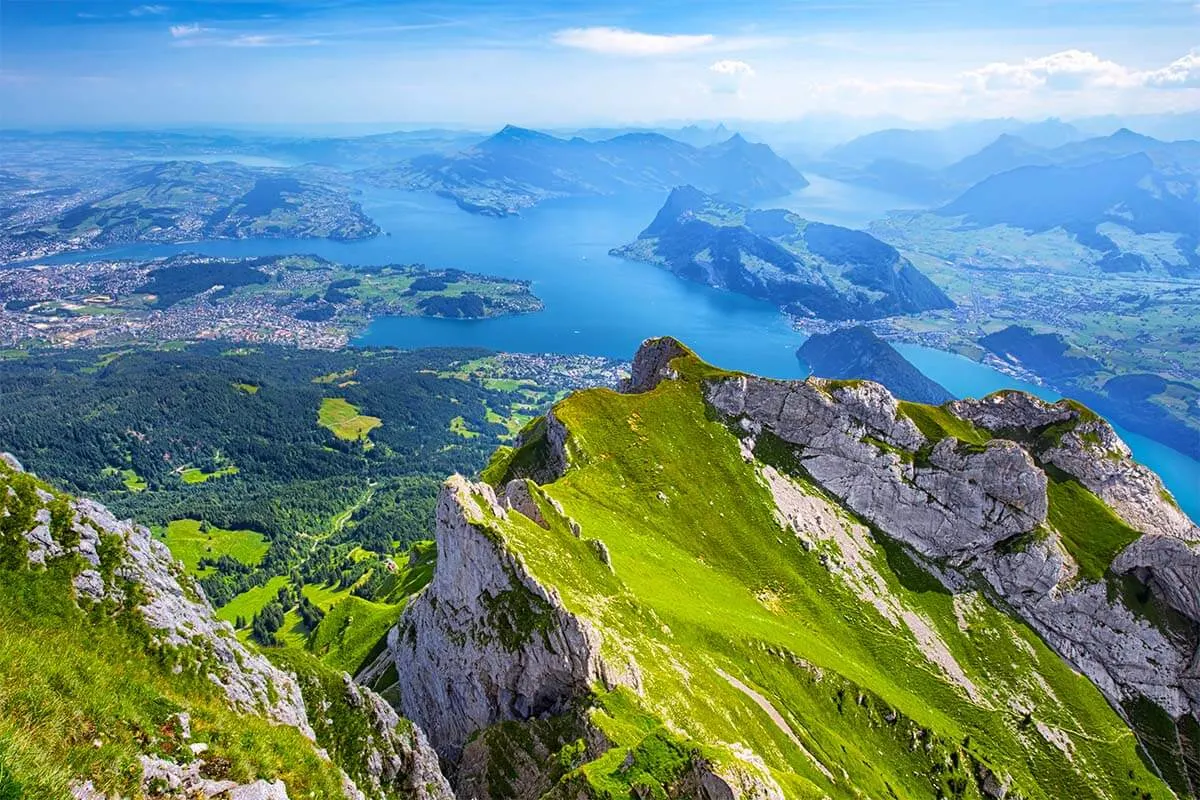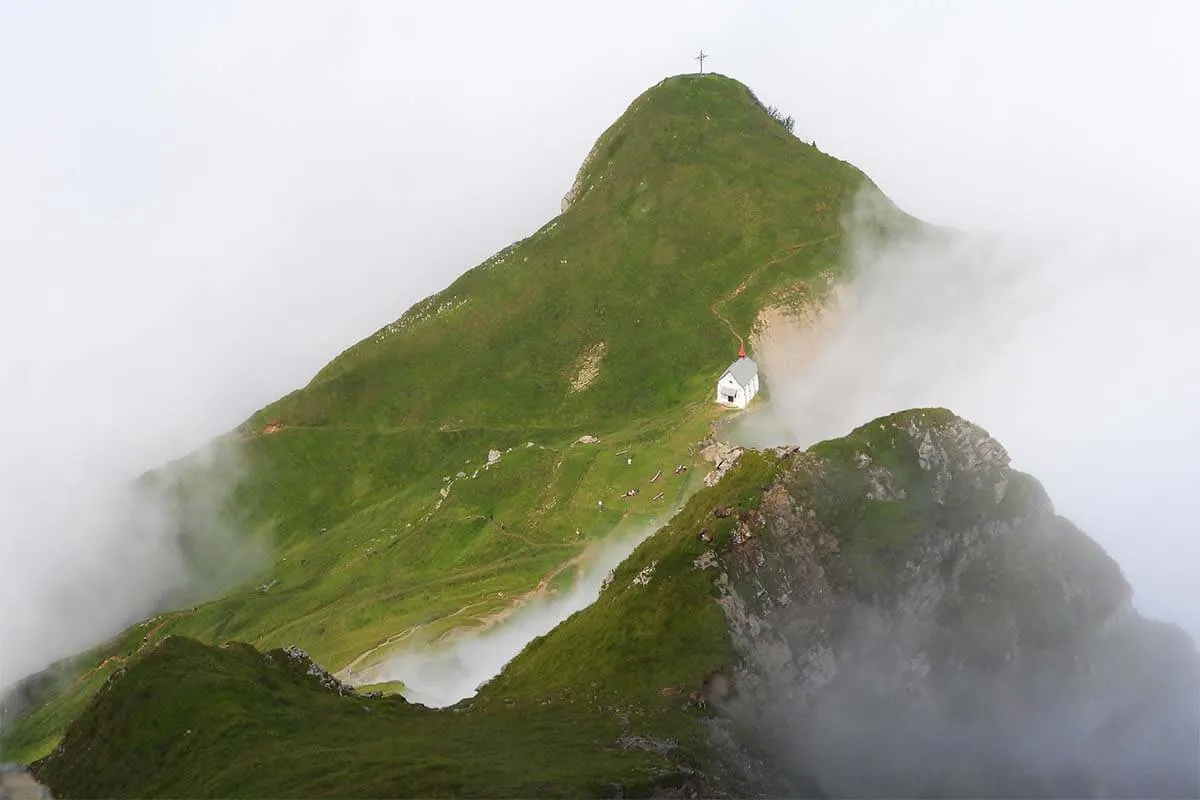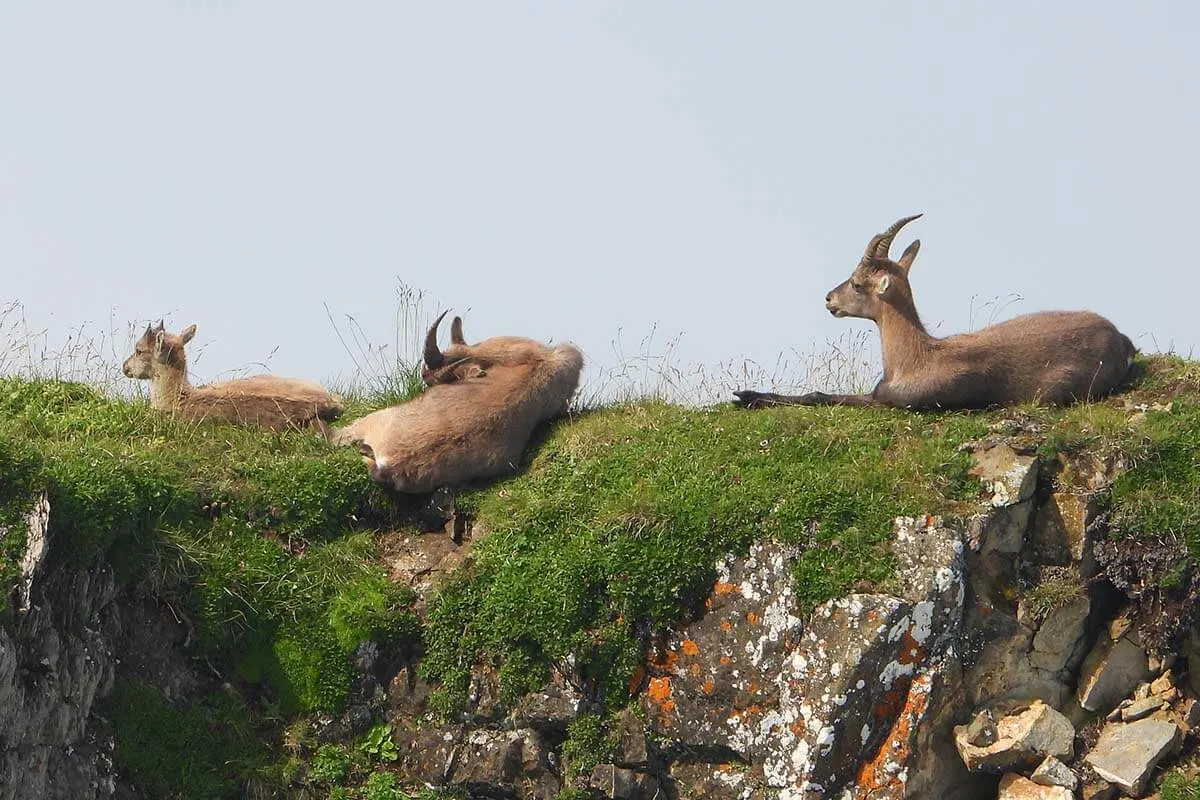 COGWHEEL TRAIN from Pilatus to Alpnachstad
After you have explored Mt Pilatus and are ready for the journey back, take a train to Alpnachstad. The ride down takes 40 minutes.
Mt Pilatus railway is the steepest cogwheel train in the world (48%) and a ride on this train is an experience in itself!
Important! Be sure to keep an eye on the train and boat schedule, to be sure that you have enough time to get down by train and don't miss the last boat!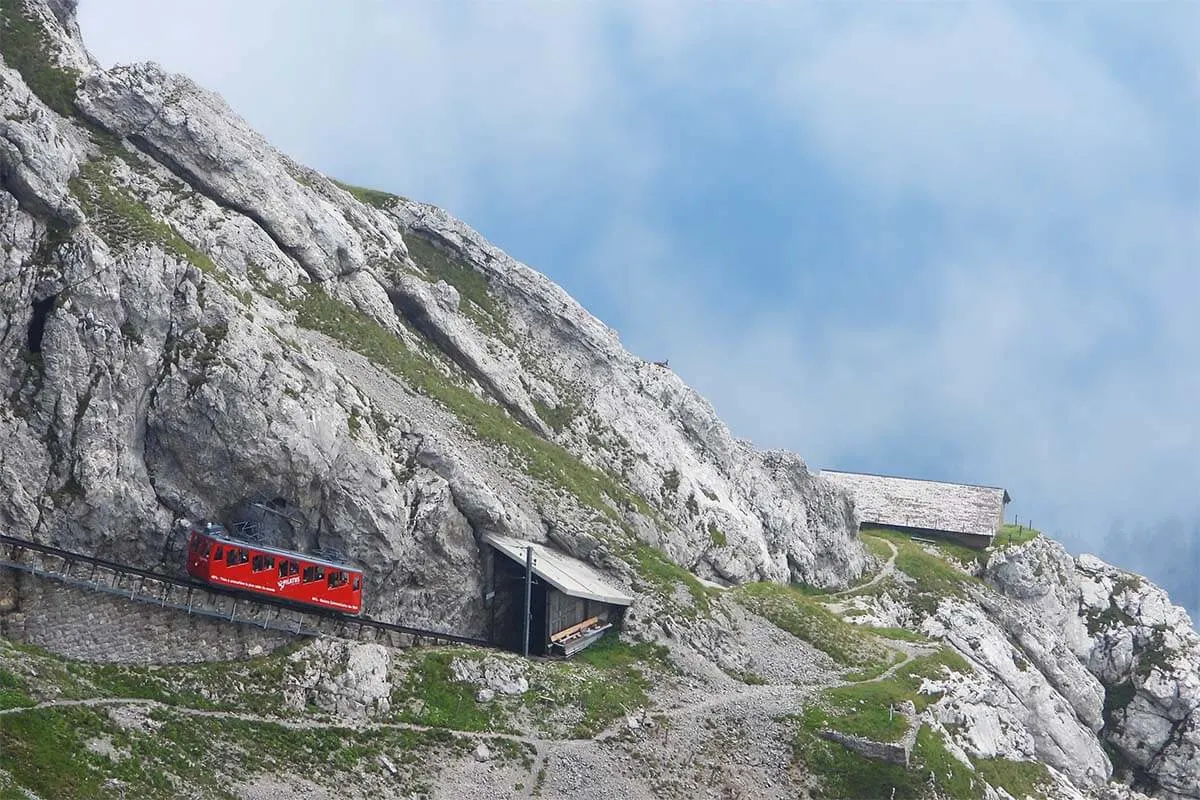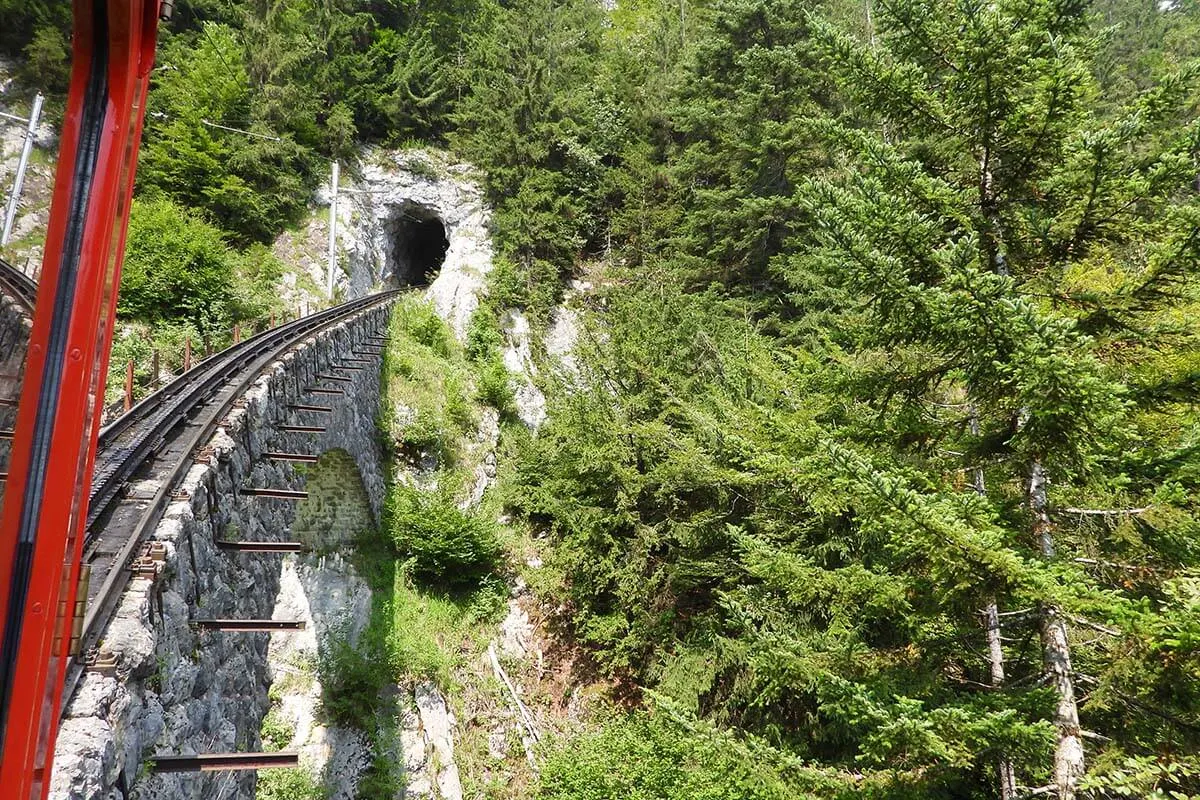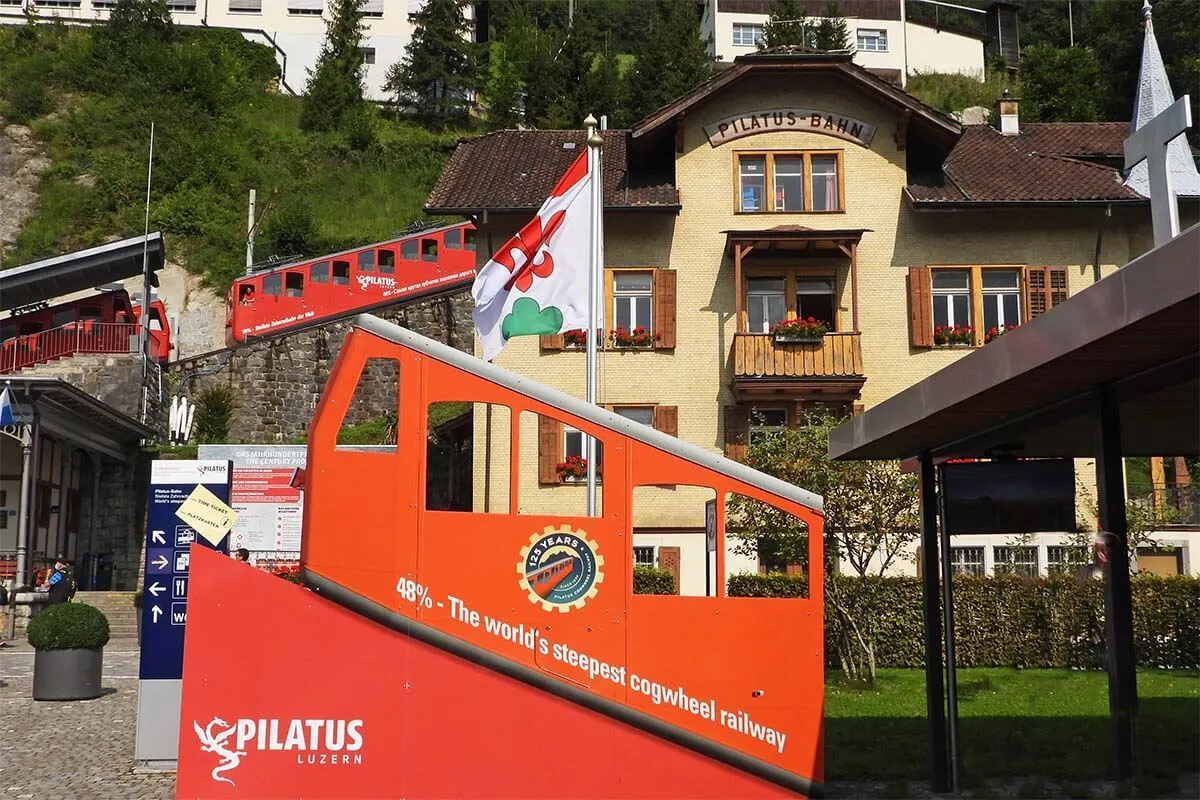 BOAT from Alpnachstad to Lucerne
The final 'leg' of the Golden Round Trip journey is the boat ride from Alpnachstad to Lucerne.
Depending on which boat you take (where it stops along the way), the boat ride to Lucerne takes between 1 hour and 1 hour 20 minutes. It's a scenic ride and you can also get some drinks or food on board. A ride on the boat is a great way to end your Mt Pilatus sightseeing trip.
Good to know: If you want to, you can upgrade your tickets to the 1st class, and sit on the upper deck. You can just do this on the boat itself, so no need to decide in advance. The main advantage is that it's usually much quieter on top and they also serve drinks at the table. So it's a bit more luxurious. But as far as the views go, it doesn't matter that much whether you sit on the lower or on the upper deck. We found the upgrade more than worth it.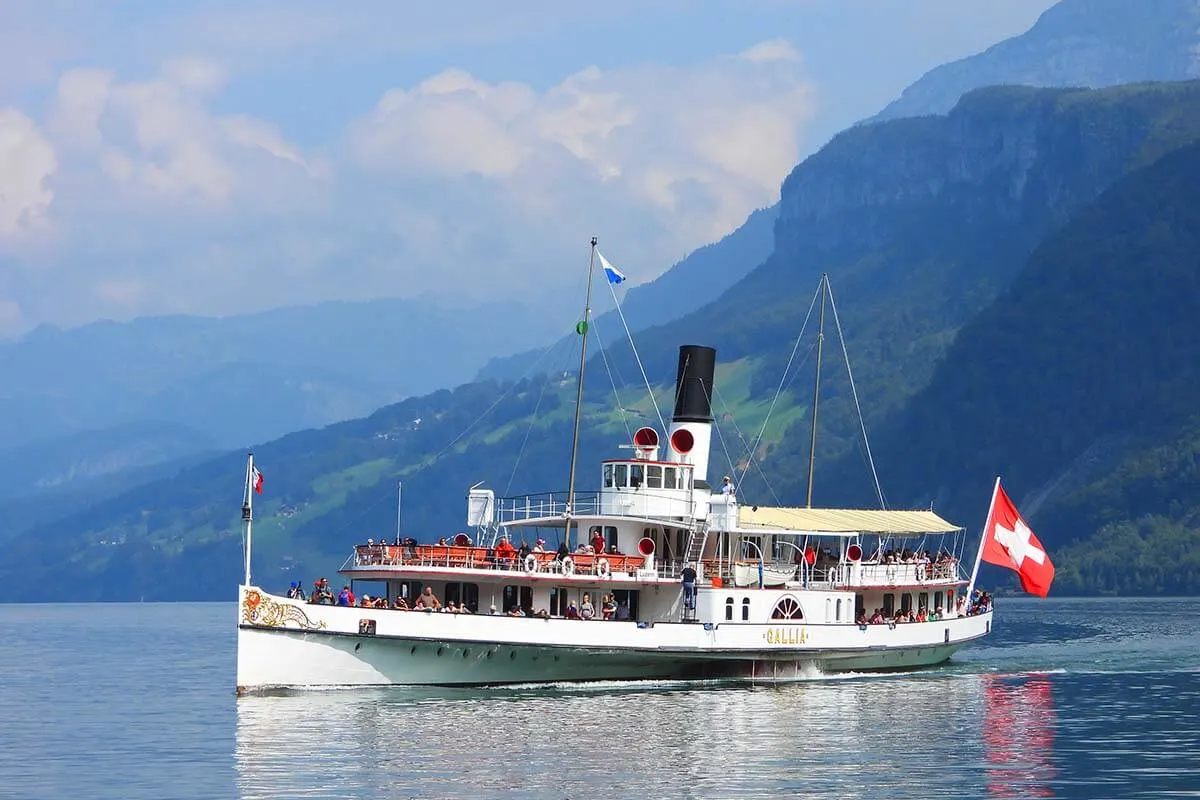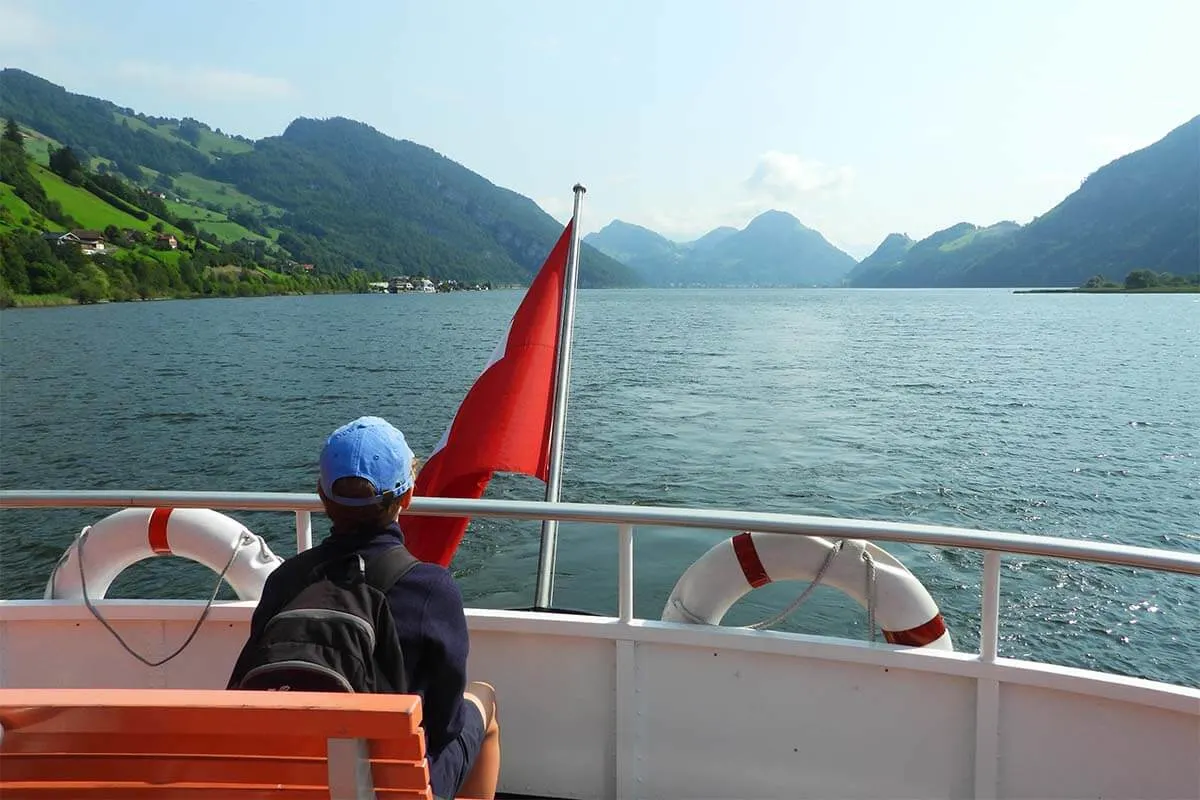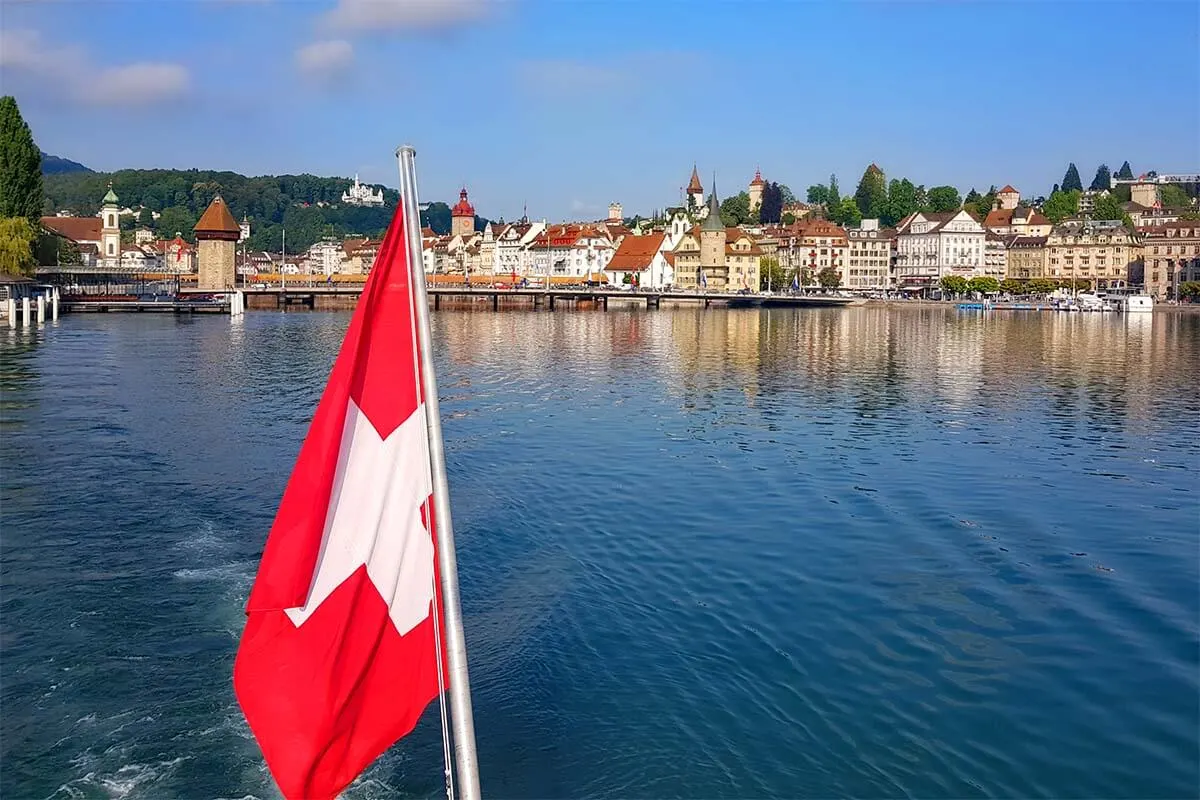 Best Direction for the Golden Round Trip & Our Experience
As you can see on the map above, the Golden Round Trip is a circular trip that starts and ends in Lucerne. It's possible to do it in either direction and the views are equally nice, no matter which way you go.
However, you have to keep an eye on the schedule of the boat, the cogwheel train, and the gondolas, to be sure that you can do the entire trip and get back to Lucerne in time and without having to rush.
Our experience: We have read so many reviews online trying to decide which way to go and opted to do the Golden round trip clockwise, so starting with the boat from Lucerne to Alpnachstad first.
We took the earliest boat in the morning (9.38 AM). However, by the time we reached Alpnachstad, it was so busy at the cogwheel train that we had to wait for the next one. We finally reached Pilatus Kulm past noon. It was ok timing-wise, but it felt like we spent half a day just to get there and just had to start sightseeing. It was also really busy at the top, the restaurants and the viewing platforms were crowded as well.
The reason why we opted to go this way was because we read that many people missed the last boat to Lucerne if they did the trip the other way around. We also thought that this would give us more time to enjoy the activities at Fräkmüntegg (adventure park, summer toboggan) – this was indeed correct. But we did this trip with kids, so it was important for us. But not many day tourists seem to be even interested in these activities…
However, having done the Golden trip this way, I would definitely opt to do it in the other direction next time. Here's why.
Our recommendation: Do the Lucerne Golden Round Trip anti-clockwise! So start with a bus ride to Kriens, followed by a gondola ride/ aerial cableway to Mt Pilatus.
If you start early in the morning (in summer, cable cars start running at 8.30 AM), it will be quiet everywhere you go. Even if you start at 9 AM or a bit later, you'll still be at the top of Pilatus long before the biggest crowds start to arrive.
This will not only let you make the most of your time at the top, but it will also ensure that you have a more relaxing day afterwards. When you are ready to go down, take a cogwheel train from Pilatus to Alpnachstad and then a boat from there to the city.
It's also nice to be able to end your excursion with a scenic boat ride on Lake Lucerne. You can relax and rest while enjoying the views from the boat, and you'll still be fit enough to explore the city afterwards if you choose to.
Below, you can see our recommended Mt Pilatus day trip itinerary.
Important: Get a ticket that includes all the transportation (these tickets are typically bookable in the season when the trips actually run, so may not be available if you are too early). Also, keep an eye on the boat schedule to be sure you don't miss the last boat from Alpnachstad to Lucerne. In high season, there are usually boats every 1.5 hours. At the moment of writing, there is a boat at 1.47 PM, 3.10 PM, and at 4.30 PM.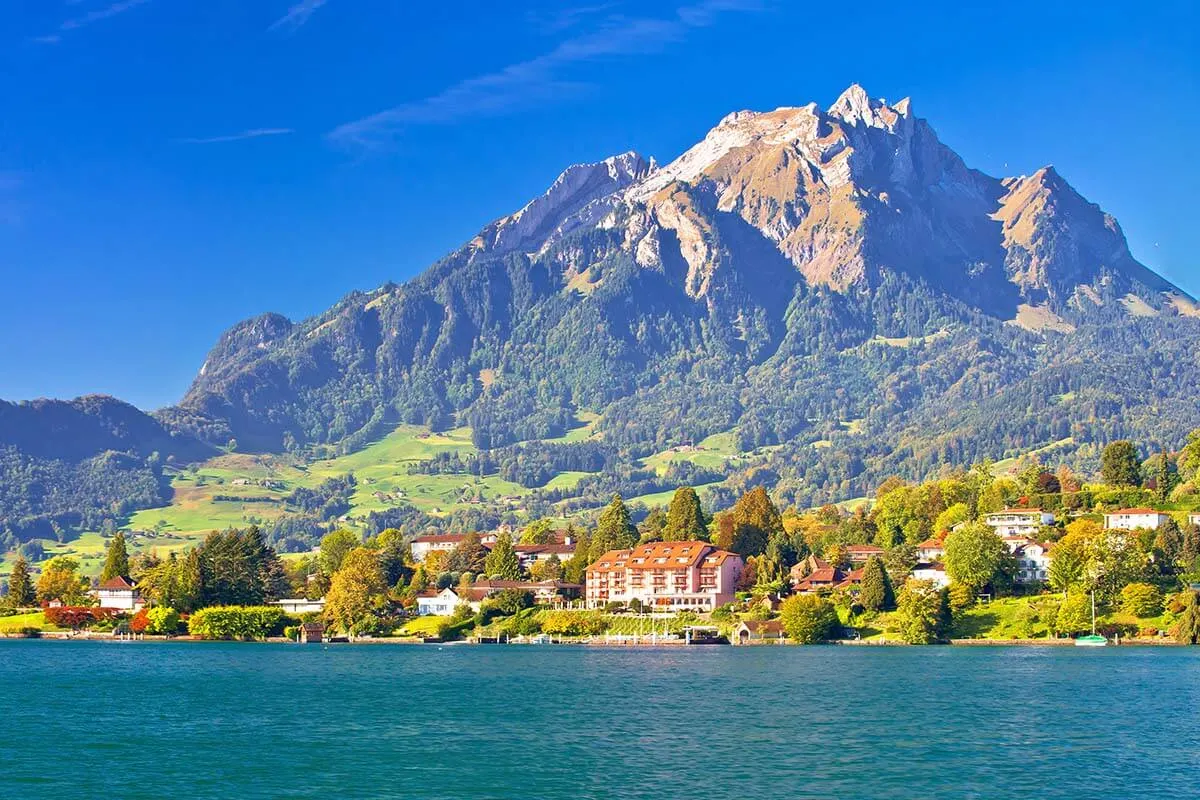 Mt Pilatus Day Trip from Lucerne – Golden Round Trip Itinerary
Below, you can see an overview of what your day trip could look like. Please note that the hours are based on the current departure times, so be sure to check the official website for the up-to-date timetable. You'll also be able to find the schedule in the travel brochures that you can pick up when you get your tickets.
Mt Pilatus Golden Round Trip Itinerary:
Get your tickets in advance (sometimes only bookable in season). This ticket is also your bus ticket and a voucher for the actual scannable tickets for the gondola, train, and boat, that you'll pick up on the spot.
8.15 AM Take an RBus #1 from Lucerne Railway Station in the direction of Obernau Dorf. Disembark in Kriens – Pilatus Zentrum bus stop. The bus ride takes about 12-15 minutes.
8.30 AM Walk from the bus stop to the Mt Pilatus gondola station. The walk takes 5-10 minutes and there are signs indicating where to go.
9.00 AM Pick up your tickets at the valley ticket desk and take a gondola to Fräkmüntegg.
9.30 AM Take the Dragon Ride (an aerial cableway) to Pilatus Kulm.
9.35 – 11.20 AM Explore the viewing platforms at Mt Pilatus, take a hike to Tomlishorn, or have brunch/lunch at the restaurant.
11.39 AM Take a cogwheel railway to Alpnachstad. The ride on the train takes 40 minutes. The boat to Lucerne stops just across the street from the train station (less than 5 minutes walk), and the schedules are aligned so that the boat leaves 10 minutes after the train arrives.
12.22 PM Take a scenic boat ride from Alpnachstad to Lucerne.
1.28 PM Arrive in Lucerne. This leaves you plenty of time to explore the city in the afternoon. If you start later and/or take the next boat at 1.08 PM, you'll be back in Lucerne a bit before 2 PM. In the peak season, there is also a boat at 1.40 PM, arriving in Lucerne a bit past 3 PM.
!!! This is just an example of how to plan your time if you do the Golden Round Trip from Lucerne. Make sure to double-check the train/boat schedule on the day itself. You can easily adjust the trip and the timing depending on your interests and the gondola/train/boat schedule. Kriens gondola starts running at 8.30 AM in the summer season.
If you have more time, you could also first stop at Fräkmüntegg before going to the top of Mt Pilatus. There are some nice activities here – mountain toboggan is really fun!
You could also do some more hiking. There's plenty of choice, but most trails here are quite steep and require at least 2-3 hours. You can also spend more time hiking at the top of Pilatus itself. There are some relatively easy trails with great views. Or simply start your day a bit later (but keep in mind that it will be much busier later in the day).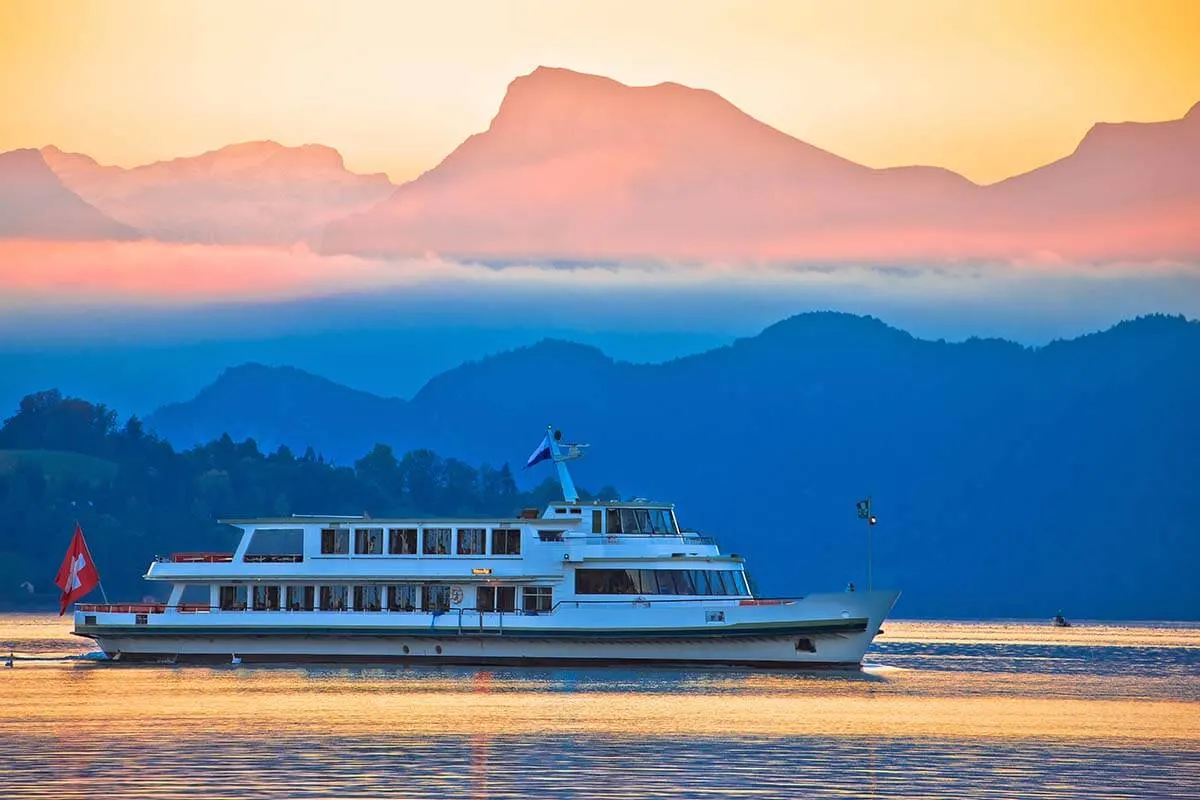 Mt Pilatus Golden Round Trip by Car
If you are driving to Mt Pilatus by car, you can easily do the Golden Pilatus trip as well. After all, it's a loop, so you can always come back to the place where you left your car. (Just to be clear – you cannot drive up the mountain itself, but there are plenty of car parks where you can leave your car for visiting Mt Pilatus).
Parking. You could leave your car in Lucerne, in Kriens, or in Alpnachstad. Parking in Kriens or in Alpnachstad is much cheaper than in Lucerne city center (+-5 CHF per day vs. 25-30 CHF), so these are the two best options.
However, because of the cable car, train, and boat schedule, I highly recommend that you leave your car in Kriens, from where you can take a cable car to Mt Pilatus. You then take a train down to Alpnachstad and a boat from the to Lucerne.
Afterwards, you can easily spend some time in Lucerne and then take a bus to Kriens at any time it suits you. Buses run continuously, also in the evenings, so you won't have to rush.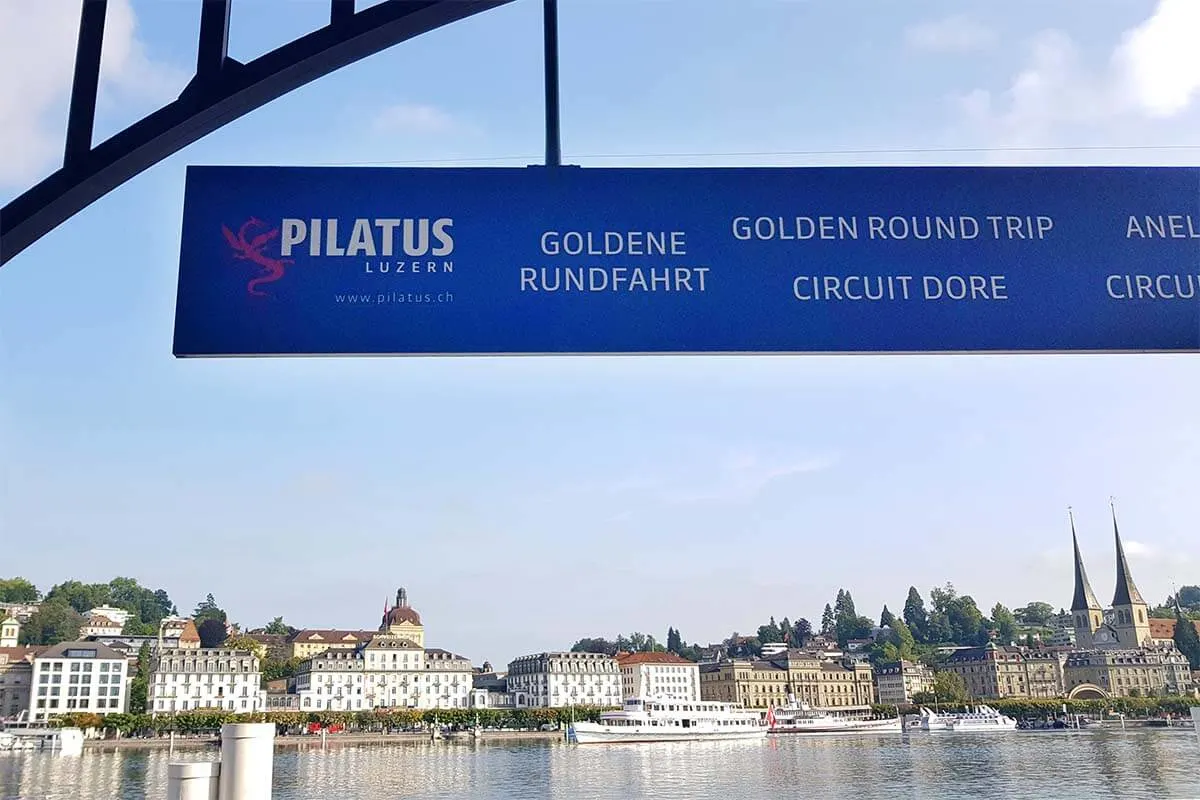 So, this is our guide to visiting Mt Pilatus with the most popular excursion – the Golden Round Trip from Lucerne. I hope that it gives you a better idea of how it works and helps you plan a more relaxed and memorable day.
TIP: If you have some extra time in Lucerne, you may also want to visit Mt Titlis nearby. With over 3,020 meters (10,000 ft), Mt Titlis offers a very different experience than Mt Pilatus 2,132 m (7,000 ft).
Titlis is one of the highest easily accessible mountain peaks in central Switzerland, it's open year-round, and it's very close to Lucerne as well. Check it out!
LEARN MORE: How to Visit Mt Titlis, Switzerland
Travel guides for the Lucerne area:
Some of our favorite places in Switzerland:
If you found this post useful, don't forget to bookmark it and share it with your friends. Are you on Pinterest? Pin these images!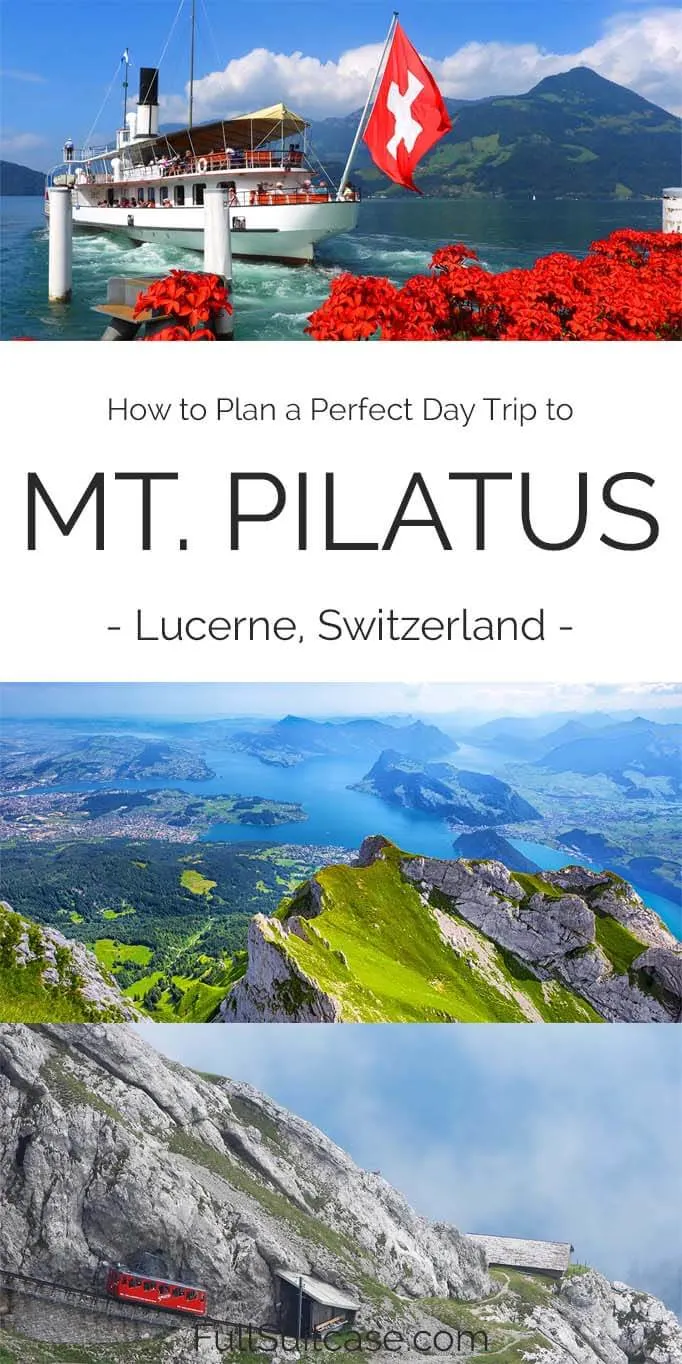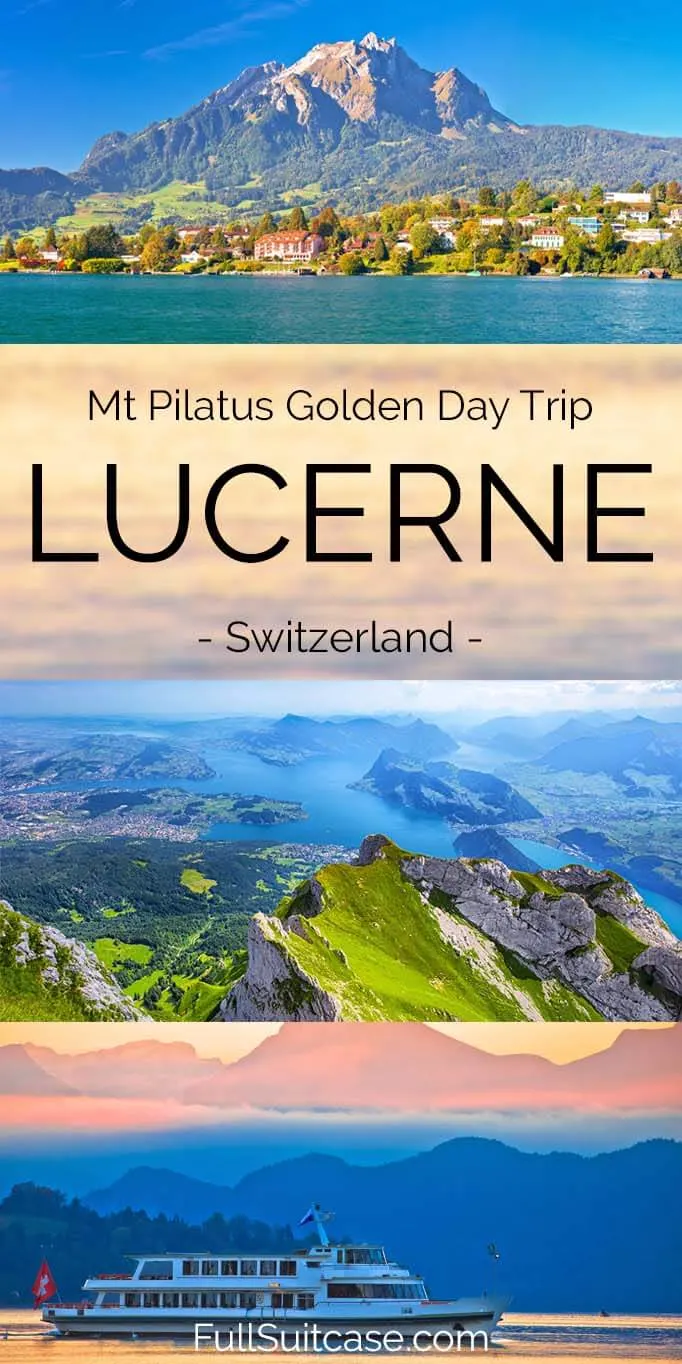 Some of our favorite hikes in Switzerland: