Located in the charming town of Lagos on Portugal's Algarve coast, Ponta da Piedade is renowned for its dramatic limestone cliffs and hidden caves. The coastal scenery here is among the most impressive in Europe and there is no better way to experience the beauty of this area than seeing it from the water.
In our previous guide, you can find all the information for visiting Ponta da Piedade. In this article, we share our experience-based tips and info for exploring Ponta da Piedade by kayak.
What to expect when kayaking at Ponta da Piedade? Which Lagos kayak tours are best? Where do they start and what's the difference between the ones that start at Lagos Marina vs the ones that start at the Fort or at Dona Ana Beach? Are kayak tours suitable for everyone and is it a good idea to go with kids?
We also include all kinds of useful information such as the best time to go, what to bring with you (and what to leave behind), etc. Find out!
TIP: If you stumbled upon this article while simply looking for the best Ponta da Piedade kayak tour, we personally opted for this highly-rated tour and I can highly recommend it. It starts at Lagos Marina which has several advantages (more info further below).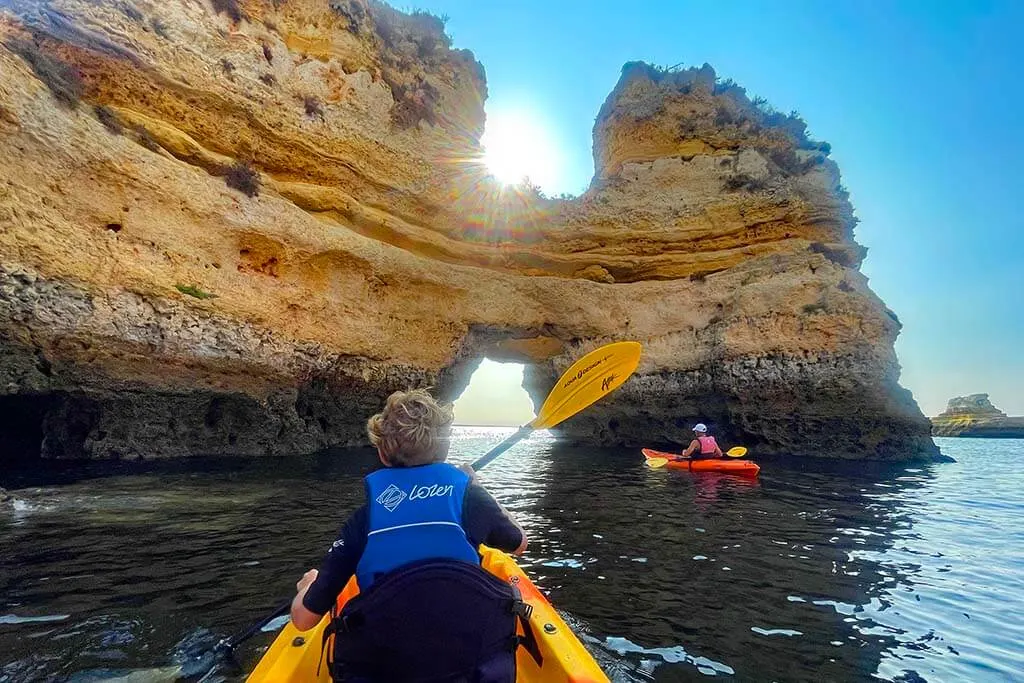 What to Expect
The scenery around Ponta da Piedade is breathtaking. While the majority of first-time Algarve visitors head to the famous Benagil Cave, we personally find that the sea caves of Ponta da Piedade are even more impressive. Also because there are so many of them concentrated in a rather small area.
Kayaking at Ponta da Piedade allows you to get really close to the towering cliffs, glide under several natural arches, and enter various sea caves. There is a lot to see – from some of the most beautiful beaches to all kinds of fascinating rock formations and remarkable caves and grottoes of various sizes.
You'll be kayaking close to the coast, under natural arches, and inside spectacular sea caves. The waters here are crystal clear and often, you can also see fish below you. There are also lots of birds nesting in this area.
Interesting to know: Ponta da Piedade itself means the Point of Mercy or the Point of Piety and the guides will tell you more stories behind this area. Locals also have all kinds of interesting names for the natural features and grottoes, which makes exploring the area with a guide even more fun.
You'll visit sea caves that are named like different rooms inside a house: Cozinha (Kitchen), Sala (Living Room), Garagem (Garage), or Corredor (Hallway). You can also glide through a 'Chimney', enter a huge cave named Cathedral, see a Skull, a Camel, and even the Titanic, etc.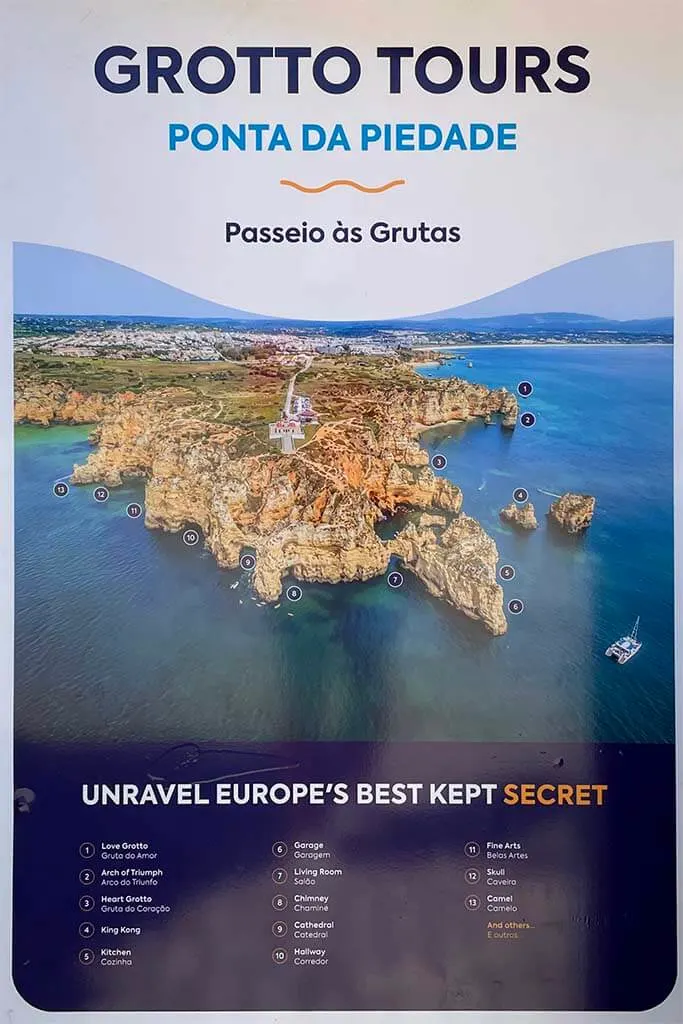 Ponta da Piedade Kayak Tours
There are several tour operators in Lagos that offer guided kayaking tours to Ponta da Piedade. See here for the complete selection of the best tours.
There is not that much difference between these tours in terms of what you see or how much it costs.
The places they visit are generally the same and depend on the tides and sea conditions. In general, visiting Ponta da Piedade by kayak, you are less affected by tides than visiting by boat. So if the sea is calm, you should be able to enter most of the nicest caves and grottoes anyway.
Also the prices of kayak tours in Lagos are pretty much the same. However, if you book online, sometimes you get a small discount if you choose a less popular starting time, or you find that one company charges a bit less for (older) kids, etc.
There is just one main difference between the kayak tours from Lagos to Ponta da Piedade and that is the starting location and the boats they use – see below.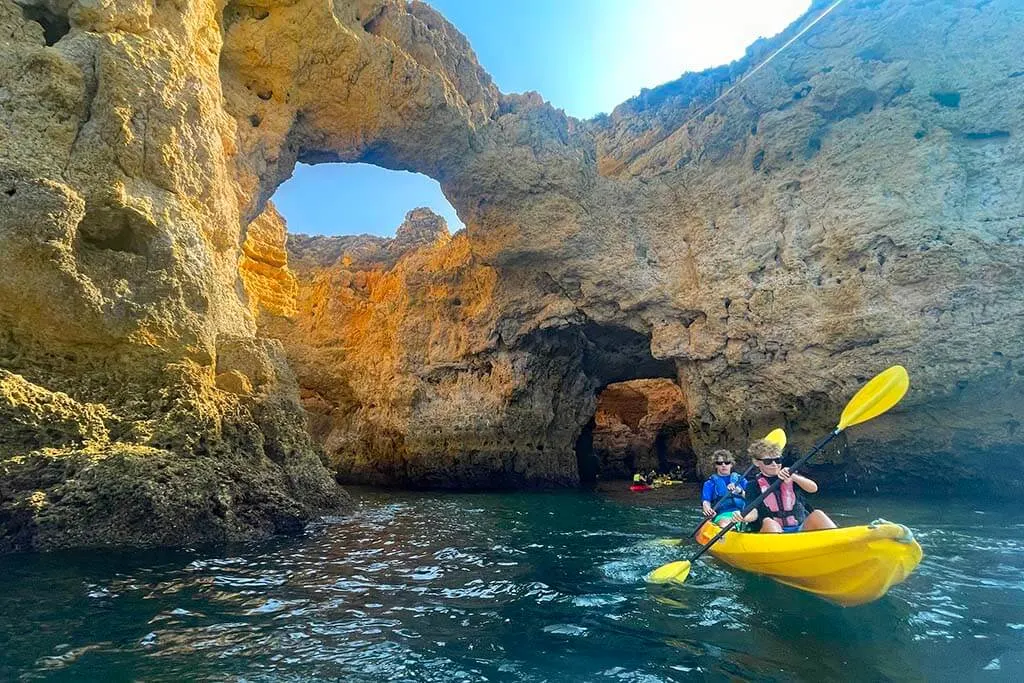 Why You Should Book in Advance
We highly recommend booking your Ponta da Piedade kayak tour online in advance. There are several reasons for this.
First, many Ponta da Piedade kayak tours are often fully booked at least a few days in advance. This is especially the case in the high season but is not limited to summer months (also because there are fewer tours scheduled in the lower season).
Second, by booking upfront, you can choose the tour at the best time of the day or one that best suits your travel plans and itinerary. You can just arrive at the harbor 10-15 minutes before the scheduled time and be sure to have a spot.
And finally, you can read customer reviews, compare prices, and use your credit card to prepay for the tour without having to worry that they'll tell you 'cash only' which still happens a lot in Algarve…
Without advance reservation, you risk not being able to find a kayak tour on the day of your visit at all. In the best case, you'll have to wait several hours or they'll offer you to join a boat tour instead (but also there, you may not have much choice).
And now let's take a look at the different starting points of kayak tours and why it's important to choose wisely!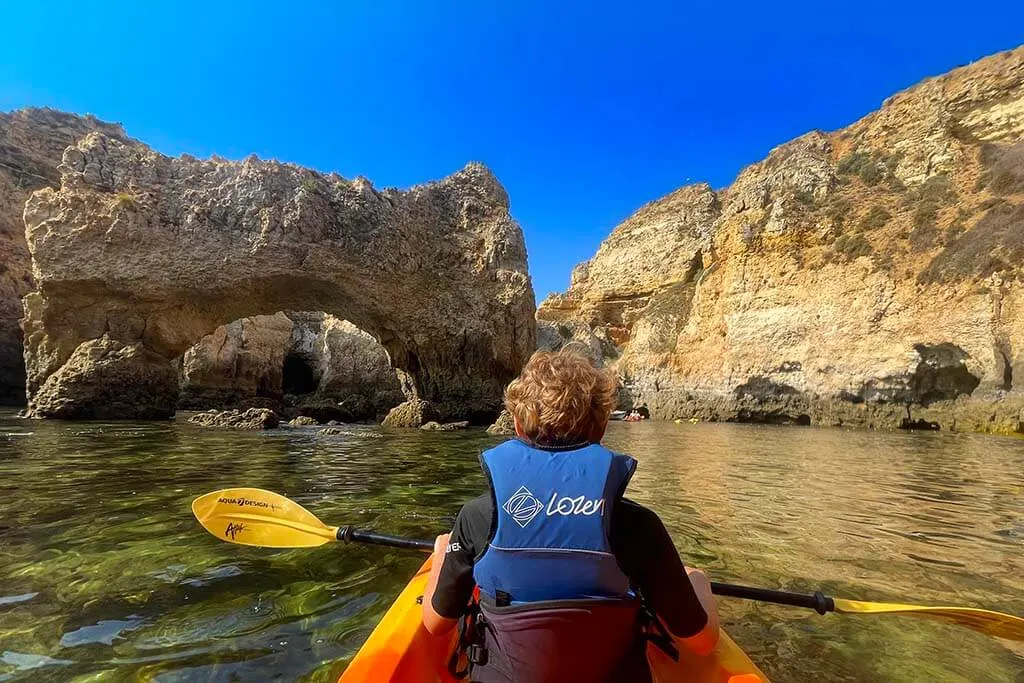 Kayak Tours from Lagos Marina
The majority of Ponta da Piedade kayak tours start at Lagos Marina. There are several companies running kayak tours from Lagos Marina – see all the tours here.
Good to know: All the kayak tours that start at Lagos Marina use bigger boats to transport people and kayaks to/from Ponta da Piedade. So you cover big distances in a boat and only kayak where the scenery is most impressive. This makes it really relaxing and doable for most people including families with younger kids.
Also, once you reach the launching point, you board the kayak right on the boat and they push it into the water. The same when you come back – the kayaks are pulled inside the boat and you can safely disembark without even getting your feet wet.
Furthermore, this boat remains with you during the entire tour. So you can leave your belongings on board. Plus, if for whatever reason you don't want to kayak anymore, you can easily return back to the boat.
There is one more advantage of booking a kayak tour starting from Lagos Marina. It's located right near the railway station and there are also several big parking areas just nearby. So if you are staying outside of the city, it's much easier to do a tour from here.
Also if you are staying in one of the popular hotels in the old town, Lagos Marina is just a short walk away. For example, Lagos Avenida Hotel and Hotel Marina Rio are both less than 5 minutes walk from here.
Ponta Piedade kayak tours from Lagos Marina take about 2 hours and include some time for a swim. Most boats even have a small slide which could be fun for kids. However, keep in mind that the water here is often very cold, even in the summer. Swimming at Ponta da Piedade is incomparably colder than at the nearby beaches which are shallower and also more protected from the ocean.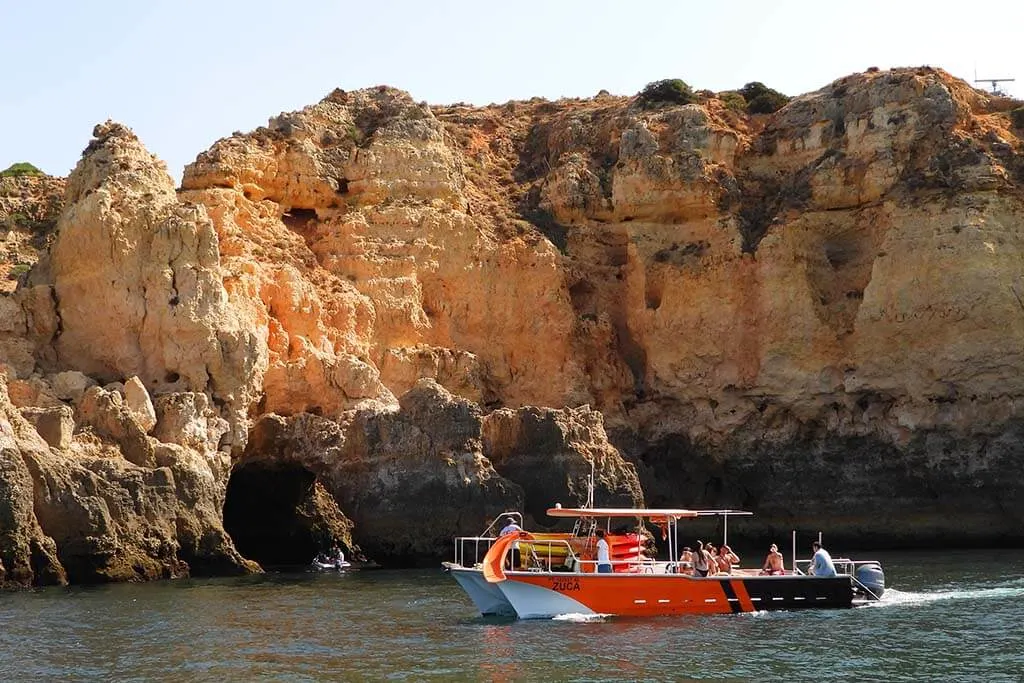 Our experience: We opted for this highly-rated kayak tour and it was one of the best experiences in the Algarve ever. On another occasion, we also did a small-boat tour to Ponta da Piedade with the same company and it was excellent as well.
I have to add that the main reason why we chose this particular tour over the others at Lagos Marina was the starting time that suited us better. I really don't think there is much difference between them and customer reviews are great no matter which tour you book.
There is one thing that we really enjoyed is that the kayaks this company used had special back support. This was the first time that we had this in the Algarve and it made kayaking so more comfortable. I am not sure if other companies have this or if the one we used always provides this.
If you would like to compare several kayak tours from Lagos Marina, this is the most popular tour. It has slightly cheaper prices for kids and also has multiple departure times during the day, but many of them were sold out when we booked.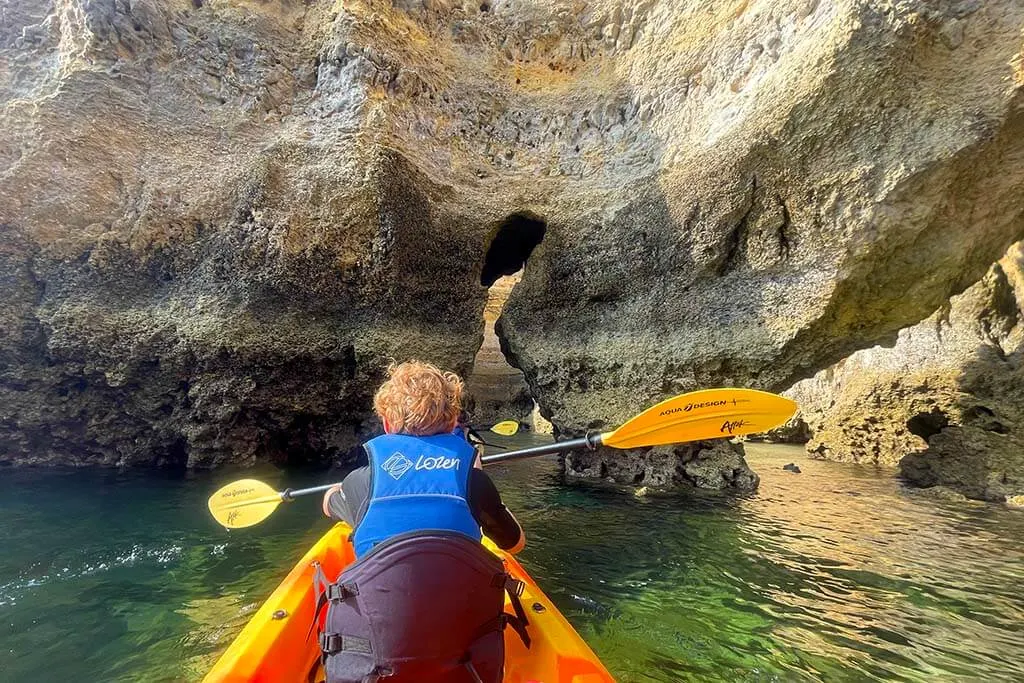 Kayak Tours from Lagos Fortress
Lagos Fortress is located closer to Ponta da Piedade than Lagos Marina. There are several kayak tour companies here, more precisely at Praia da Batata, which is a small beach just south of the Fort.
There are two companies offering guided kayak tours to Ponta da Piedade from Batata Beach: see option 1 and option 2.
All the tours that depart from here simply use kayaks for the entire excursion. So you'll have to paddle all the way to Ponta da Piedade and back. It's quite a long distance before you even get there, so it's a bit more tiring compared to the tours that start from the Marina. That is also the reason why these tours take a bit longer (usually about 2.5 hours).
However, if you actually like kayaking, you may prefer this option. Furthermore, the scenery on the way to Ponta da Piedade is amazing as well. You'll pass closer to the coast and get a better look at some of the most beautiful beaches in Lagos – Praia dos Estudantes with its Roman Bridge, Praia Dona Ana, and Praia do Camilo.
Plus, on the way back, they usually offer to tow kayaks by motorboat (and from what we saw, most people gladly use this option).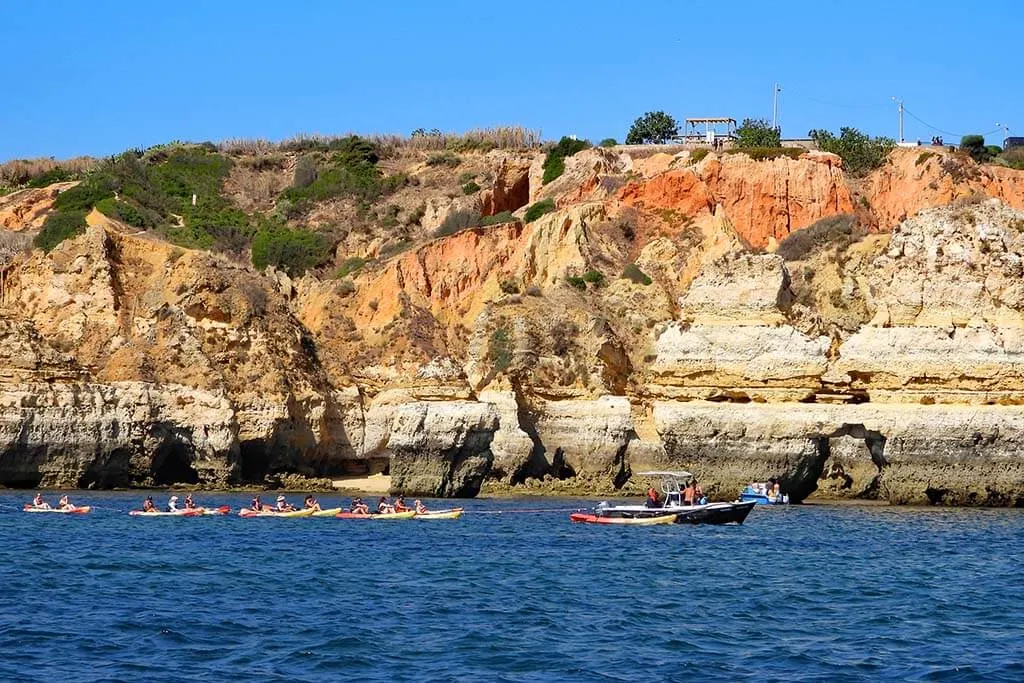 SUP Tours from Praia Dona Ana
There is one more fun option for exploring Ponta da Piedade – by Stand-Up Paddleboard (SUP) from Praia Dona Ana.
Dona Ana Beach is located much closer to Ponta da Piedade, so this is doable. However, when there are too many boats and kayaks in the area, SUP becomes much more difficult. Therefore, SUP tours start very early in the morning (usually at 6.30 am) and aim to end by the time the first kayak or boat tours even arrive here.
SUP tours take about 2.5 hours and are also a bit more expensive than kayak tours. You can find more information and check the availability here.
Keep in mind that if you choose to go paddleboarding at Ponta da Piedade, you'll need to make your way to Praia Dona Ana Beach, which is located a bit outside of Lagos town. There is also a nice hotel just nearby – Carvi Beach Hotel. It could be a good choice if you are looking for a place to stay in Lagos, especially if planning on taking such an early morning tour like paddleboarding.
Even if you are not interested in paddleboarding, it's worth coming here – the scenery at Praia Dona Ana is stunning. The nearby Camilo Beach is even more spectacular, so be sure to visit there as well.
READ ALSO: Most Beautiful Beaches in Algarve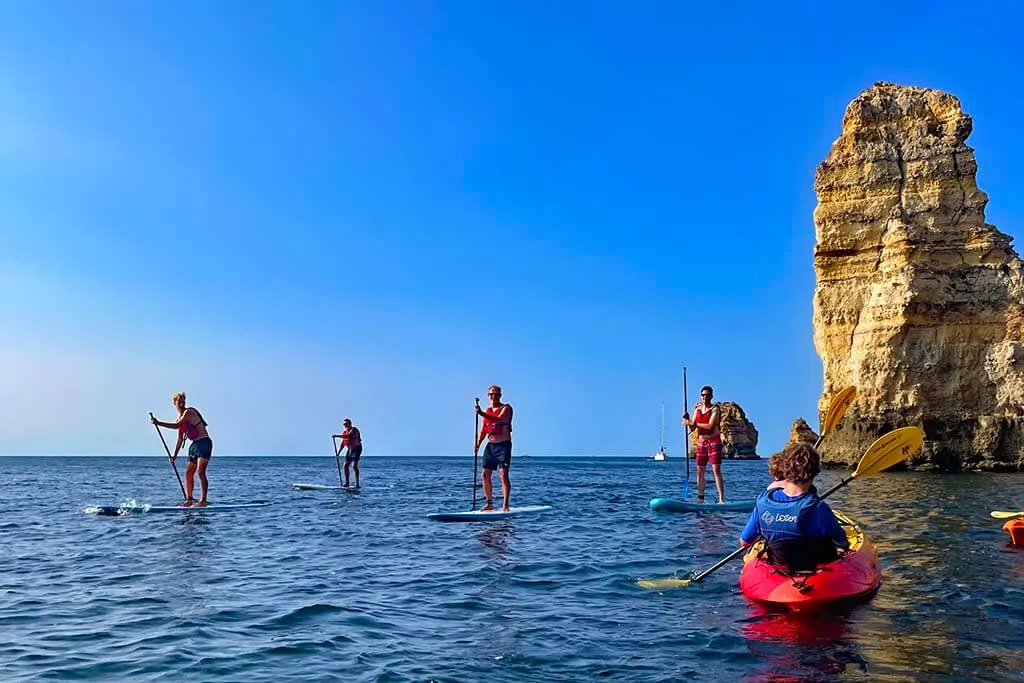 Best Time to Kayak at Ponta da Piedade
The best time to go kayaking at Ponta da Piedade is in the morning. We recommend booking for the earliest available tour. There are several reasons for this.
First, the ocean is normally much calmer in the morning, which makes it easier to enter the sea caves.
Second, there are fewer boats at Ponta da Piedade in the morning, so you don't have to wait to enter the smaller caves. By 10-10.30 am, it usually gets quite busy, and an hour later, it's a beehive. Also, keep in mind that boats create more waves which can make it more challenging to kayak, especially if you are not used to it.
Furthermore, the light for photos is better in the morning. And finally, some tour operators offer a small discount on early morning departures.
Alternatively, if you can't go in the morning, book a late afternoon tour. In that case, I'd go as late as possible as there will be fewer boats. The busiest times are between 10 am and 2 pm.
Good to know: Many kayak tours in Lagos usually only run in the high season (+- April to October), but weather permitting, it's possible to kayak at Ponta da Piedade the whole year round. Many boat tours run year-round as well.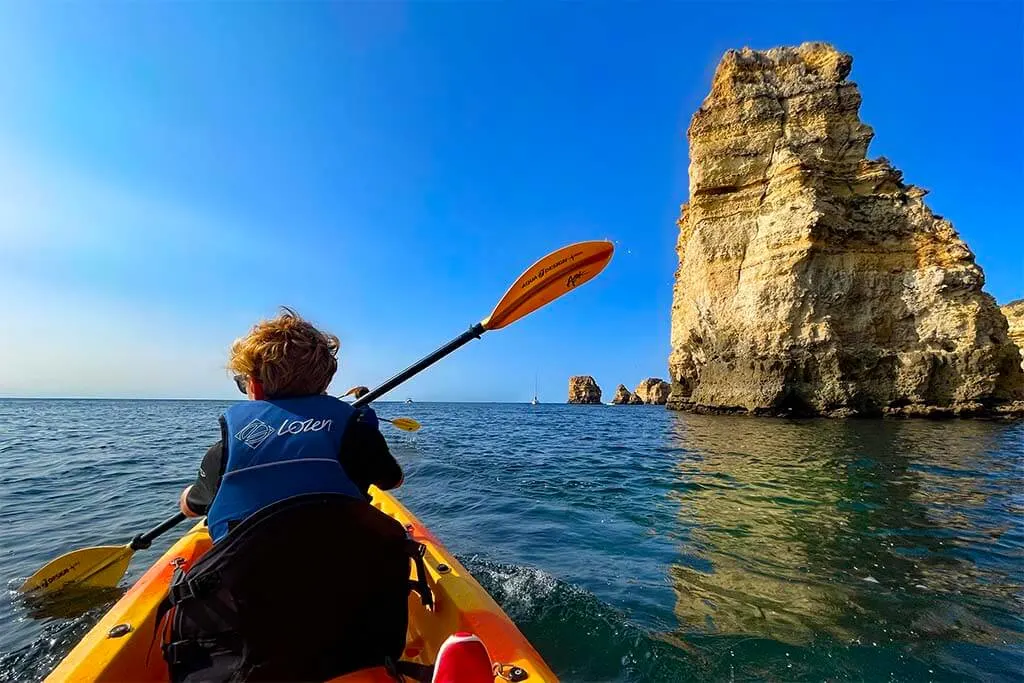 Can everyone go on a kayak tour to Ponta da Piedade?
While it helps if you have kayaked before, you do not need any previous experience if you go on a guided kayak tour in Lagos. The guides will explain to you what to do and they also always stay with you in case you need some guidance.
In principle, everyone in good physical condition can go kayaking. It's not recommended to go kayaking if you are pregnant, have back problems, or have mobility impairments. Also, there are some age and weight-related restrictions (and they may differ per company).
For example, some kayak tours will not allow kids under 7, others – under 5, yet others under 3, etc. So be sure to double-check this if you are thinking of kayaking with young kids.
Depending on the kayaks used, there might be weight restrictions as well. If you weigh over 100-110 kg (220-240 pounds), it's best to contact them directly and ask if it's a good idea. Some tour operators provide this info on the booking page, but it's not always the case. And you don't want to be flipping around all the time – it's really cold in the water and getting back on the kayak is not easy…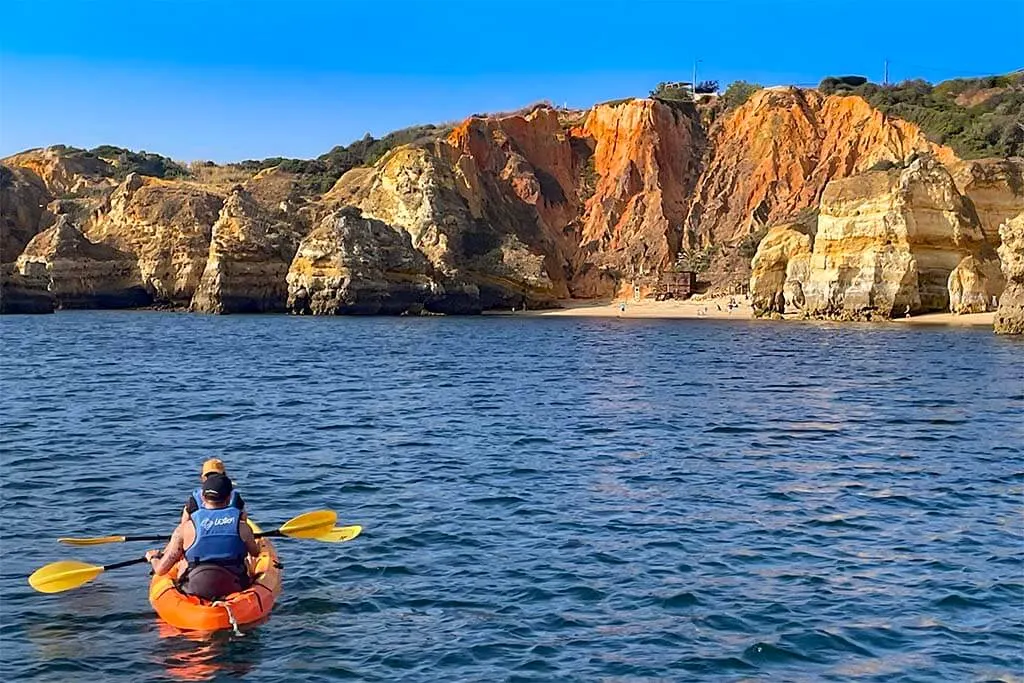 Kayaking in Lagos with Kids
As already mentioned above, most kayak tours are suitable for families, but many companies also have age restrictions for their tours. So if you are planning on kayaking with young kids, be sure to double-check if they'll be allowed.
Also, if you go kayaking with children, you'll normally need one adult in a kayak per child.
It gets really interesting if you are a family with 3 or more children. Most kayaks are doubles, but there is usually also a tiny extra seat in the middle that is only suitable for smaller kids. So if (one of) your kids are not too big, it's possible to go with 3 in a kayak as well.
Our experience: We are a family with three kids, but luckily, they are already big enough to kayak on their own. If we go kayaking with the whole family, our oldest usually gets a single kayak, while me and my husband both take one of the younger kids with us.
Recently (in Lagos, actually), I went kayaking with the kids alone, so it was 1 adult and 3 kids. I shared a kayak with one of the younger kids and the other two went on their own (they were 12 and 14 at that time). The guides asked if they have kayaked before and it wasn't a problem. The kids managed just fine (apart from the usual sibling rivalry ;)).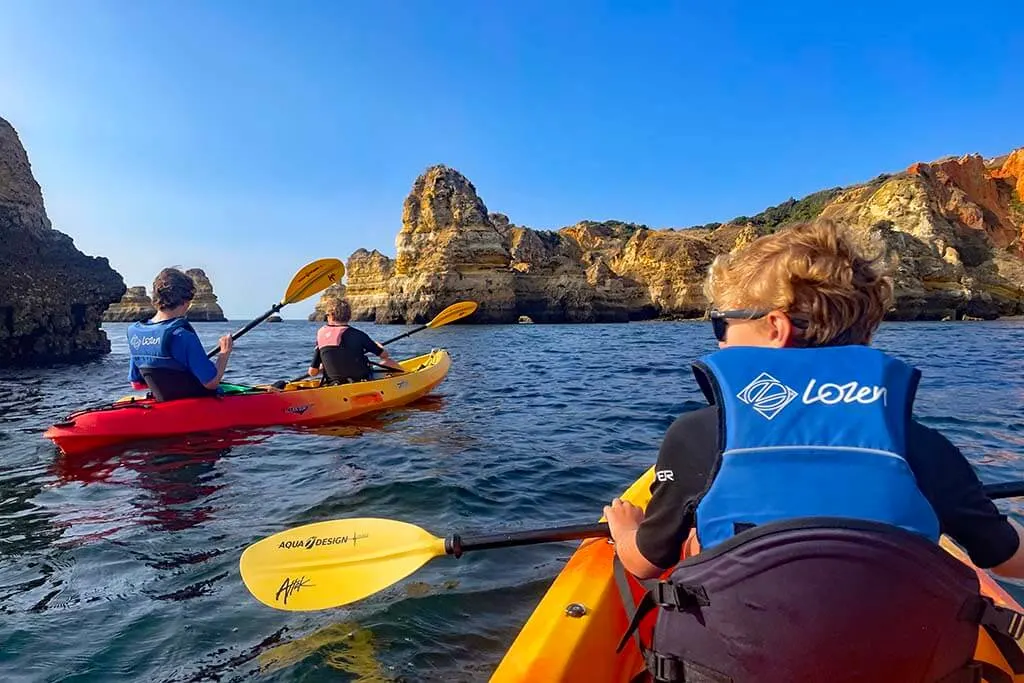 What to Wear & What to Pack for Kayaking
It's best to wear swimwear and comfortable clothing such as shorts and T-shirts for kayaking. Bring a small travel towel as well. Depending on the weather, you may want to also pack a sweater or a windbreaker (definitely if kayaking in the colder season).
We always wear swim shorts and UV T-shirts when kayaking in Algarve in the summer. That way, it doesn't matter if you get wet and it's also easy to jump in for a quick swim after the tour.
You may want to wear a sun hat and sunglasses too, just be aware that they may get lost if not fixed well.
It's also very important to use sunscreen before you go kayaking as you'll be on the water for a long time (and the Algarve sun is harsh).
We also highly recommend wearing water shoes as it's the only footwear that you can keep on in a kayak. Alternatively, you'll have to leave your shoes on the bigger boat or at the kayak launch point (depending on the tour that you choose).
TIP: Bring a waterproof bag or a small backpack for your camera, towel, etc. You can safely leave the bag on the boat while you are kayaking (or at the office of your tour company if starting directly by kayak closer to Ponta da Piedade).
PRO TIP: If you want to take some pictures when kayaking, bring a waterproof pouch for your smartphone. A GoPro camera is also ok, but only if it's fixed to your arms or head. Keep in mind that anything you take on a kayak will get wet with salty seawater. And if by any chance your kayak turns upside down, you risk losing everything that is not fixed to your body.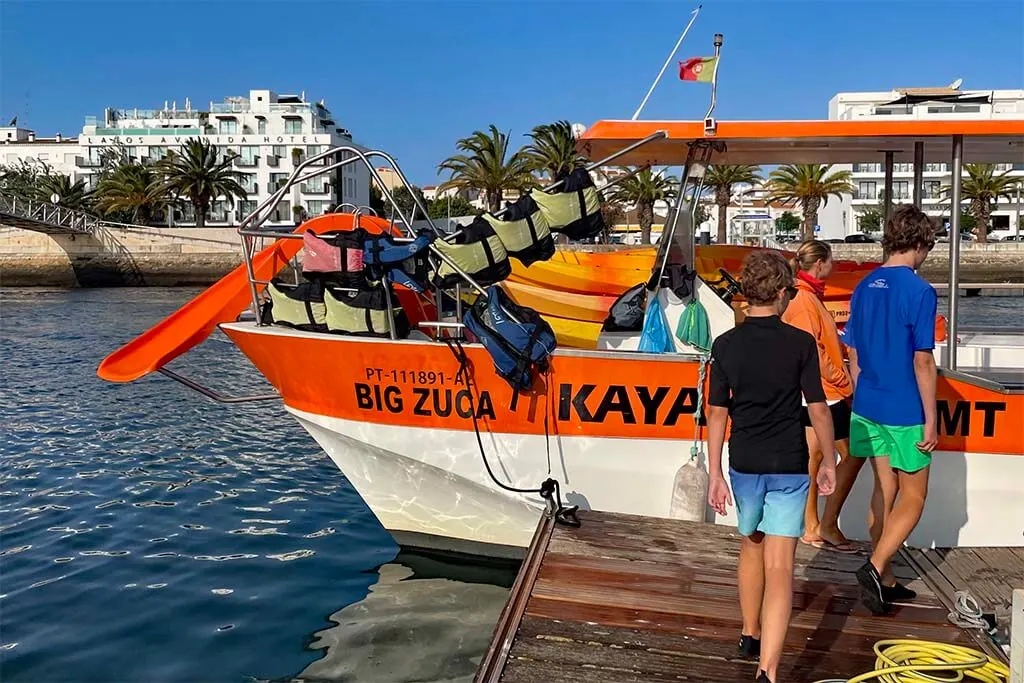 So, this is our guide to kayaking at Ponta da Piedade in Lagos. I hope that it gives you a better idea of what to expect and helps you plan a fun and memorable experience.
If you like kayaking and want to explore more of the stunning coastline of the region this way, take a look at our guide to the best places to go kayaking in Algarve. Ponta da Piedade is, in our opinion, the most impressive location, but there are a few other locations that are also spectacular.
TIP: It would be unthinkable to go kayaking at Ponta da Piedade and not explore the town of Lagos. Via the link below, you can find our suggestions for what to see and do in the area – check it out!
LEARN MORE: Best Things to Do in Lagos
More inspiration and tips for your trip to Algarve:
If you found this post helpful, don't forget to bookmark it and share it with your friends. Are you on Pinterest? Pin this image!