Visiting Algarve with kids and wondering what there's to see and do in the region for families with children? We've been to Algarve with our kids countless times, and in this guide, we share our family's favorite spots and activities that will make your vacation so much more special. Find out!
Algarve in southern Portugal is best known for its stunning coastline, picturesque beaches, and warm climate. So it won't come as a surprise that it's a beloved holiday destination for sun-seekers. Indeed, Algarve is a fantastic place to take your kids for a relaxing family vacation.
But there's so much more to see and do than lay at the beach or by the pool all day!
With its diverse range of activities and family-friendly attractions, Algarve offers something for everyone. In this guide, we focus on the VERY BEST things to do in Algarve with kids that our children enjoy the most. Even if you just visit several places or pick a few activities from this list, it will make your trip so much more memorable!
Good to know: This list is meant for tourists visiting Algarve with children and teenagers, so it's focused on the TOP SPOTS and BEST ATTRACTIONS and not super local recommendations such as (indoor) playgrounds or similar.
This guide contains a mix of family-friendly recommendations such as the best waterparks, theme parks, and other fun activities, but also the most scenic places that you should absolutely see in Algarve, with or without kids.
For each place, we also provide some practical information such as for which age the activity is suitable, how much time you need, or other useful things that you may want to know when deciding where to go.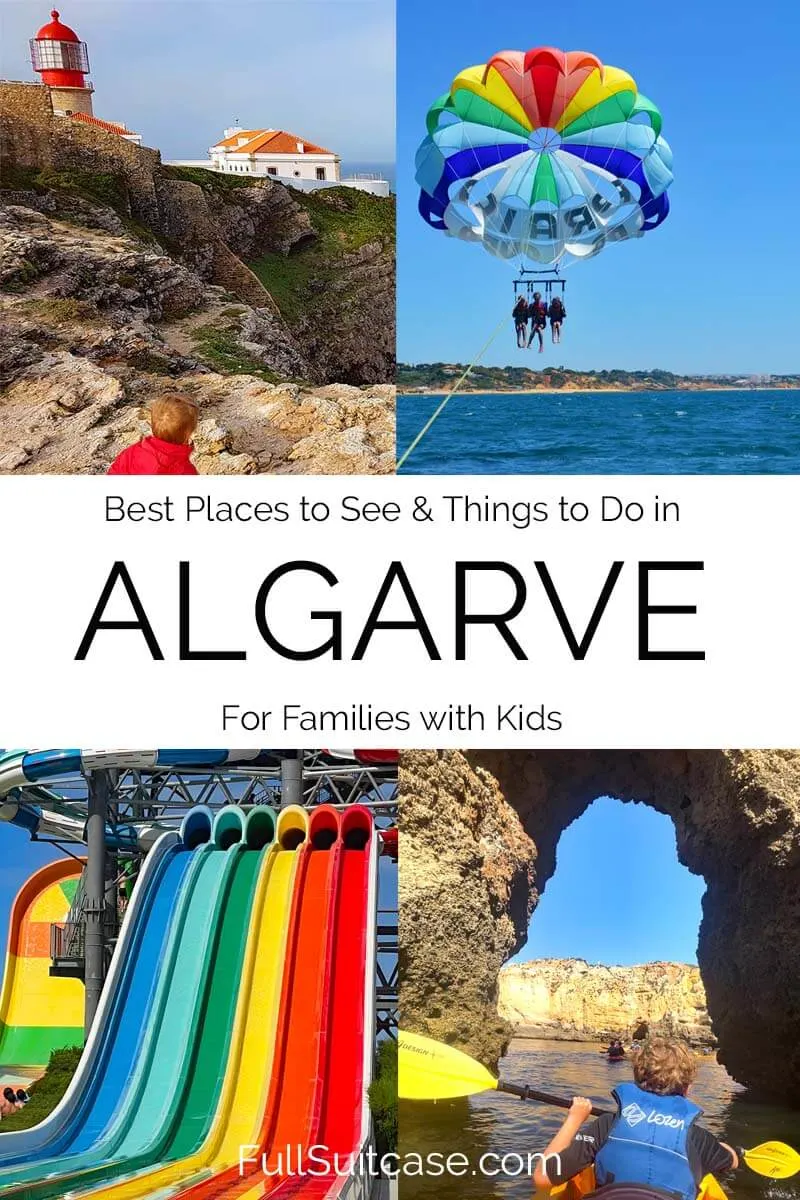 Please note that all the activities in this article are listed in a rather random order. We start with some of the most popular ones, but your family might enjoy the suggestions at the end of this guide even more than the ones at the top.
After all, you can't really compare a visit to a water park to kayaking in the ocean or sightseeing… Also, each family is different, with one or several kids of different ages, each with their own idea of what they like to do, not even to mention factors like the time of the year when you are visiting, your interests, budget, etc.
So I strongly encourage you to check all the recommendations in this article because there's truly something for every family on this list.
PRO TIP: Rent a car if you are planning on doing lots of sightseeing in Algarve. Car rental is usually very affordable and it will make it so much simpler to travel around with your family. We always use the RentalCars website to find the best deals for car rental in Faro airport. Just keep in mind that parking can be limited in the summer, so be sure that your accommodation has parking available.
Alternatively, if you are only thinking of visiting one or two water parks and plan to stay in one place for the rest of your vacation, you can also rely on transfers or use taxis/Uber/Bolt.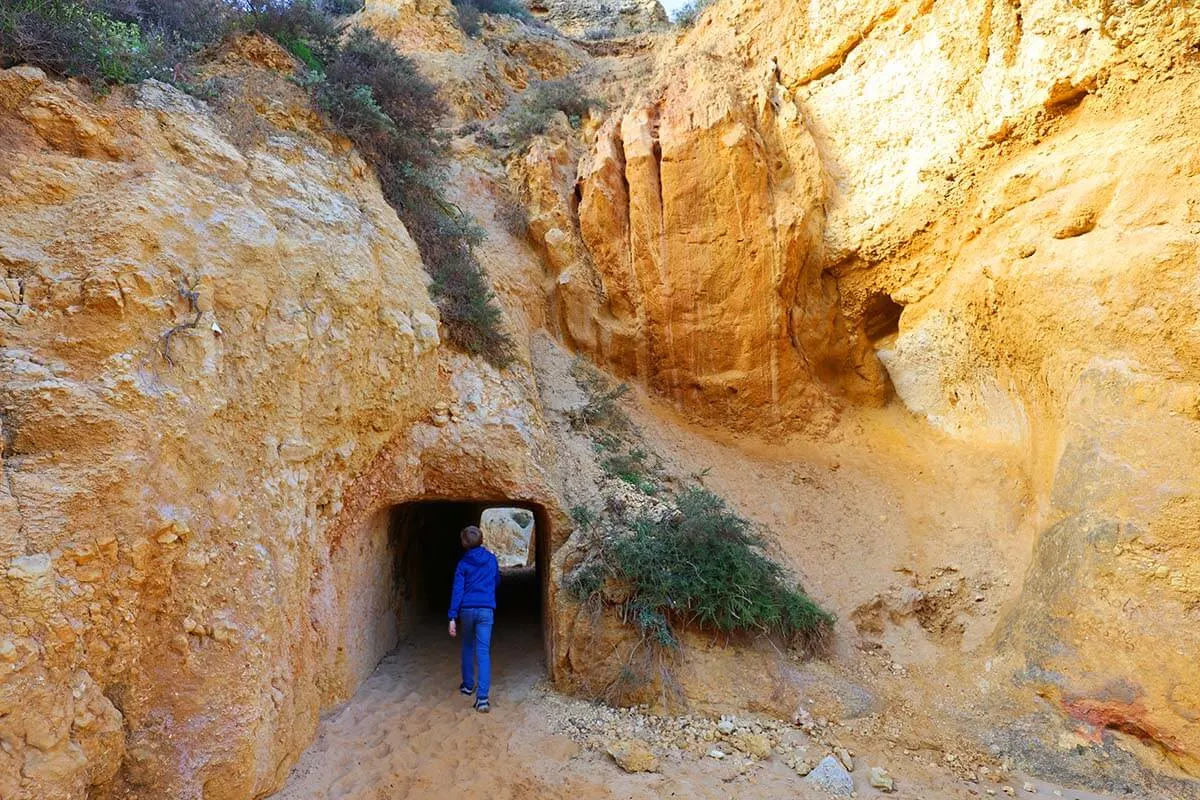 These are some of the VERY BEST things to do in Algarve with kids:
1. Zoomarine
Let's start with the most popular theme park in Algarve – Zoomarine. It's one of the absolute favorite places to visit in Algarve with kids, both with locals as well as tourists.
This is a marine-themed amusement park/water park offering a wide variety of entertainment. They have several really nice shows with dolphins, seals, birds, but also acrobats, etc. There is also an aquarium and butterfly- and bird enclosures. In addition, they have a rather big water park section with several pools and slides, plus all kinds of rides and thrilling attractions. Oh, and if you like Lay Rivers, the one at Zoomarine is by far the nicest one we found in Algarve.
What age is it best suited for? Zoomarine is a true family park, with something for all ages. That being said, many of their dry rides are mostly meant for the younger kids. We visited Zoomarine with three teenagers (went twice, actually), and we all had a really great time.
Season: Zoomarine is open between March and November.
How much time do you need? There is so much to see and do at Zoomarine that you really need an entire day for a visit, and it will be rushed. In the summer season, when the water park section is open, we recommend getting a 2-day ticket, so that you can enjoy everything the park has to offer to the fullest.
Do you need to book? Yes, we highly recommend booking Zoomarine tickets in advance. The prices are usually the same on all websites, but booking online is cheaper than at the entrance and it saves you a lot of time too. TIP: On the Tiqets website you can often find combi deals for Zoomarine together with other popular activities in the Algarve; it can save you a few euros per person (it quickly adds up with a family).
LEARN MORE: Tips for Visiting Zoomarine Algarve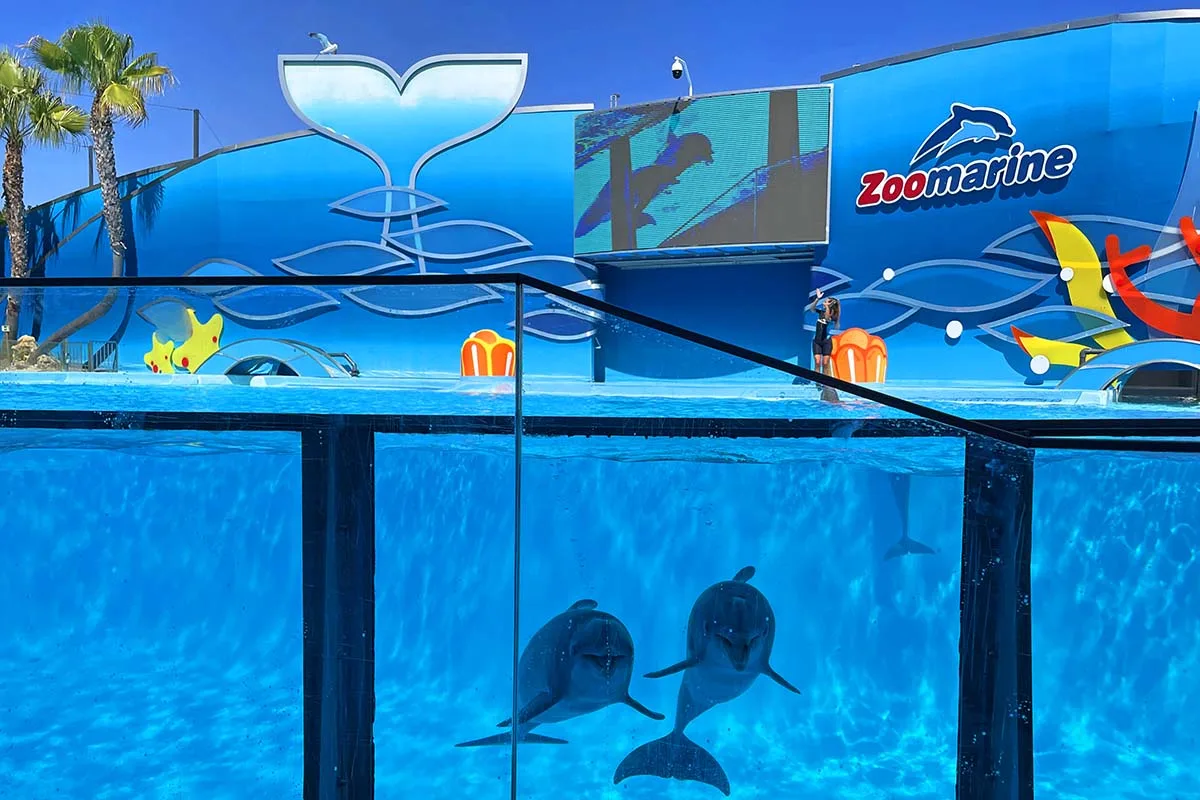 2. Slide & Splash
Slide & Splash is one of the best water parks in Algarve. It's also one of our family's favorites that we love to visit time and again.
Unlike Zoomarine which offers a mix of shows, rides, and water activities, Slide & Splash is purely a water park. It has a big variety of pools, water slides, and kids' pools, but you can also find wilder, adrenaline-rushing water rides that are perfect for teenagers and even adults.
What age is it best suited for? Slide & Splash has slides and rides for all ages, including a play area for the youngest members of the family. Most attractions have a minimum height requirement of 1-1.2 meters, so the park is best enjoyed by kids ages 5-6 and higher. Several attractions have a minimum size of 1.4 meters – those are the most popular among teenagers and young adults.
Season: Slide & Splash is open from early April to early November.
How much time do you need? You can easily spend an entire day at Slide & Splash. TIP: If you enjoy it, you can get a very good value 2nd day ticket before leaving the park. This ticket is typically valid for 10 days after the first visit, so you can come back a few days later.
Do you need to book? We recommend booking in advance since the tickets are about 10% cheaper if booked online.
LEARN MORE: Tips & Tricks for Visiting Slide & Splash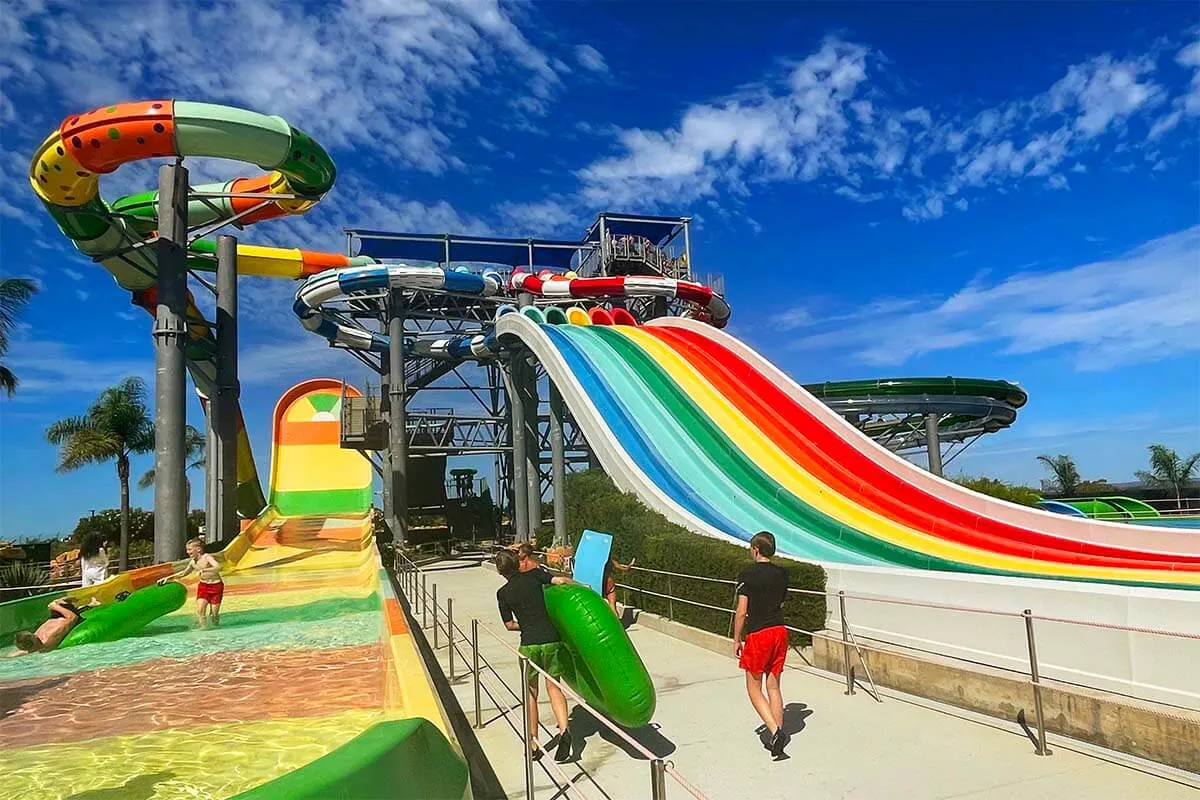 3. Algarve Beaches
Algarve boasts some of the most beautiful beaches in the world. Yet, most visitors vacationing in the Algarve seem to just visit one or two beaches that are closest to their hotel…
So why not make a bit more effort and visit some of the most scenic beaches of Algarve with your kids?!
They can play, build sandcastles, swim, and enjoy the waves pretty much anywhere. In the meantime, you can explore new places and see some of the most breathtaking scenery in Algarve while having a relaxing time with the whole family.
There are countless amazing beaches in Algarve and they are incredibly diverse. You can explore coastal caves and tidal pools with your kids on one beach one day, go for a long sunset walk somewhere else the next day, and enjoy all kinds of water sports and fun activities on yet another beach a day later… Our kids love exploring sea caves and tunnels on the beaches in central and western Algarve.
Even if you do nothing else but visit beaches, you can see a lot more of Algarve than you think. And even if you see just 3-4 different beaches, it will make your family vacation so much more special!
Good to know: No two beaches in Algarve are the same. Some are long and flat and others are tiny and rocky, some others can only be reached via steep stairs… If you are traveling with young kids and/or if your mobility is limited in any way, be sure to check how accessible everything is or what the facilities are like when deciding where to go.
See our guide via the link below for some of the most scenic beaches that we recommend visiting in Algarve.
LEARN MORE: Most Beautiful Beaches in Algarve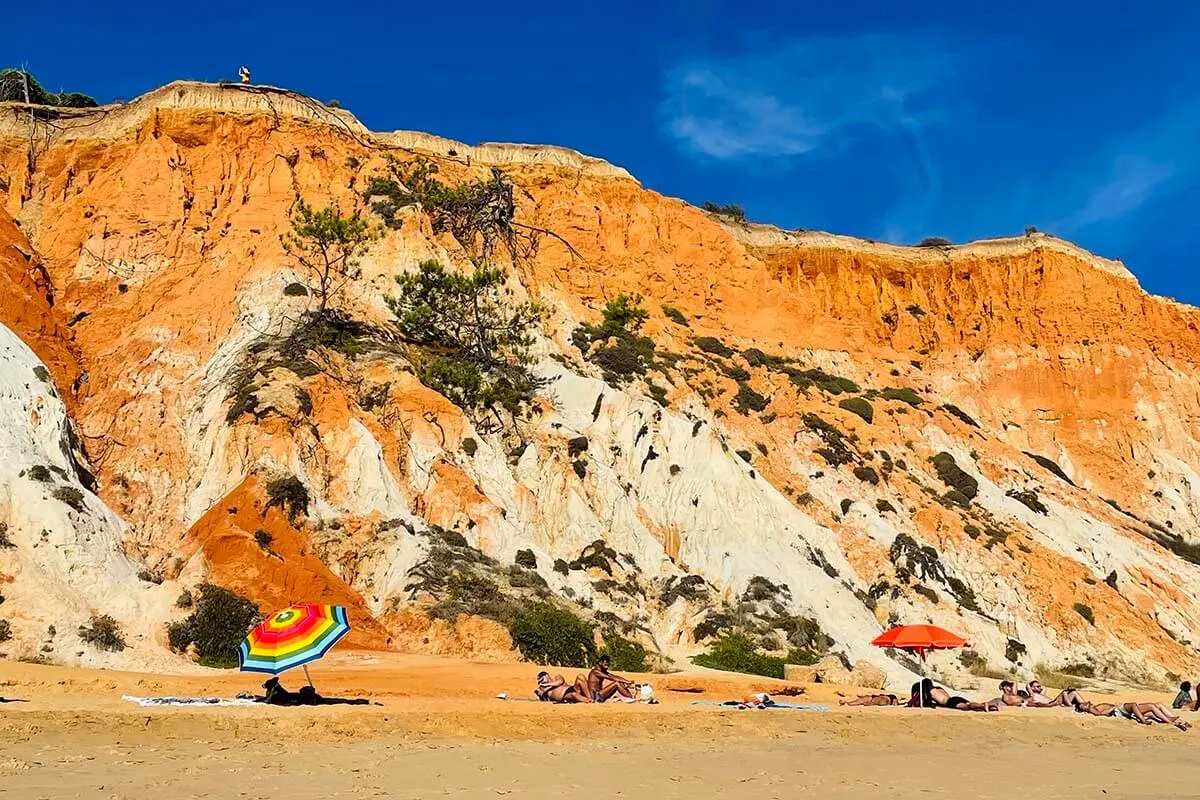 4. Benagil Caves
A boat trip to the sea caves is a must in Algarve. The most popular excursion is that to Benagil Caves, with boat trips departing from all the bigger coastal towns in the area.
The boat ride is a thrilling experience in itself, and the caves are like something out of a storybook. Plus, many tours also do their best to find dolphins, which makes the excursion even more special and interesting for kids too.
What age is it best suited for? There are lots of tours that visit the caves, using various types of boats, so age restrictions might depend on the boat chosen. Some tours even allow infants, so you can always find a boat excursion that is suitable for your family.
Our boys always prefer speedboat tours. Even if they don't care much about the scenery, they absolutely love the thrill of a boat ride itself.
Season: Weather-permitting, boat tours in Algarve run the whole year round. Needless to say, the ocean is much calmer and you have better chances of entering the sea caves in the summer season, but it's something that can change from one day to another at any time of the year.
How much time do you need? Depending on where you depart from, you'll need anywhere from 1 to 5 hours for an excursion to Benagil Caves. Most tours from Portimao or Albufeira take about 2 hours.
Do you need to book? Benagil Cave tours are very popular and often sell out. If you want to be able to choose the boat and a specific departure time, it's always best to book in advance. Booking online, you can also easily compare different tours and prices and read detailed descriptions and customer reviews so that you know what exactly to expect.
TIP: Be sure to compare the prices of several tours before you book. While adult tickets are usually about the same price, there can be big differences in what they charge for kids of various ages. With three young kids, we could often save 30-60 euros for the same tour just by comparing different options. Once they reach the age of 12, it gets more difficult since most companies charge the same for teenagers as for adults.
READ ALSO: How to Visit Benagil Caves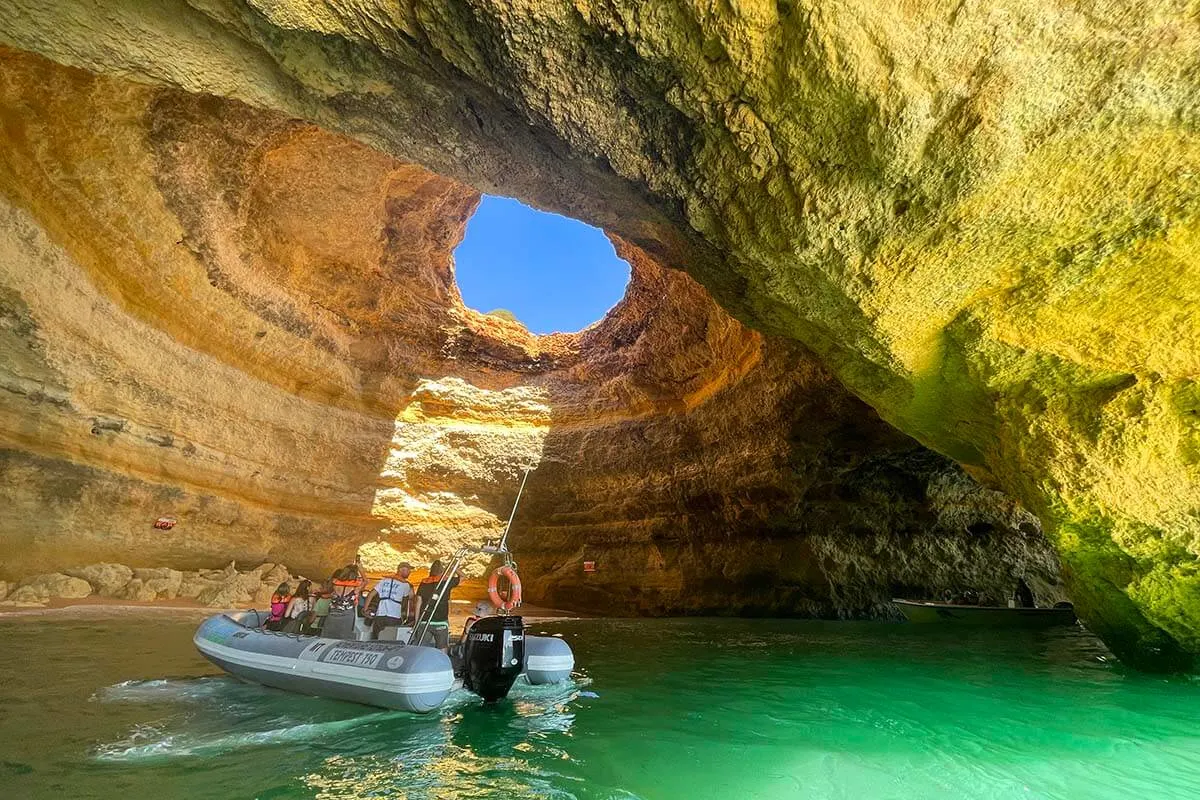 5. Sand City
Sand City is an open-air sand sculpture park located in Lagoa, Algarve. It advertises itself as the biggest sand sculpture park in the world. I'm not sure if that's true, but I can tell you that it's absolutely worth visiting.
Quite frankly, we didn't expect much when we drove here, but it surprised us in a very positive way. The whole family enjoyed the visit, including the teens who weren't really excited about going here in the first place.
The park is quite big – spanning over 5 hectares – and features about 120 sand sculptures created by artists from all over the world. The park's layout is done geographically, taking you on a journey through different continents and countries. But what makes it really fun for the whole family is the wide variety of topics. From renowned landmarks and famous people to some of the most popular cartoon characters or animals – there are sand sculptures in all forms, shapes, and sizes.
What age is it best suited for? Sand City is a fun attraction for the whole family. I expected that it would be best suited for families with younger children or adults alone, but our teenagers had such a great time here that I wouldn't hesitate to recommend it to everyone.
Season: Sand City is typically open from mid-April to mid-November.
How much time do you need? Count about 1-2 hours for a visit here. TIP: Arrive about an hour before sunset. That way, you can see the sculptures in daylight as well as nicely lit in the dark. Plus, it's much more pleasant to explore when it's not as hot (there's hardly any shade here).
Do you need to book? While you can book in advance, we found that the prices – for families – were better at the entrance. This is because they have all kinds of discounts and family tickets that are not always available online.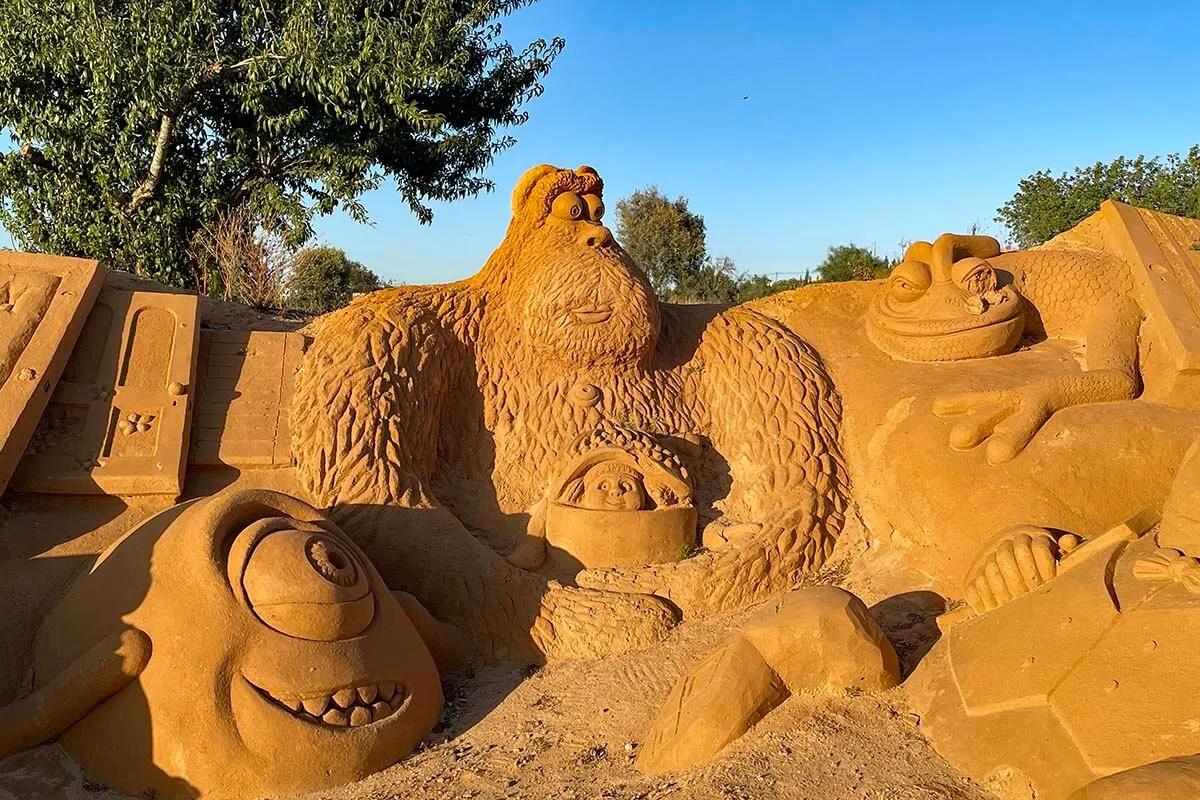 6. Aquashow
Aquashow is yet another great place to visit in Algarve with kids. It's a very nice water park, bigger than Slide & Splash, and it has even more 'wilder' rides. The reason why we placed Slide & Splash higher in this article is that it's a bit cheaper and not as busy as Aquashow. Plus, it's open in the shoulder season. But otherwise, Aquashow is a great choice too!
Aquashow offers a wide variety of attractions, dry rides, water slides, and several pools including a big wave pool. There is also a lazy river, a big jacuzzi, and a large kids' splash pool for the little ones. There are also several low-key shows featuring birds of prey, parrots, and reptiles.
Good to know: What makes Aquashow unique in Algarve is that it has an indoor and an outdoor water park. They can't be compared in any way, but if you are looking for a water park to visit in the Algarve in the winter, Aquashow Indoor is the only option.
What age is it best suited for? Aquashow has lots of rides and attractions for all ages, so you can visit here with kids of any age. But – of all water parks in Algarve – this one is by far best suited for families with teenagers or for young adults looking for more thrilling slides and experiences.
Season: The outdoor water park is open between May and September. The indoor park is open the whole year.
How much time do you need? You need a whole day for the outdoor park. The indoor section has different ticket options (all quite expensive), for 2 or 3 hours, and if you exceed your time, additional fees are really high. Let's just say, it's not the most relaxing experience…
Do you need to book? We recommend booking tickets for the outdoor park in advance since they are cheaper online. If you decide to visit the indoor park, I would just get the tickets on the spot.
READ ALSO: Best Water Parks in Algarve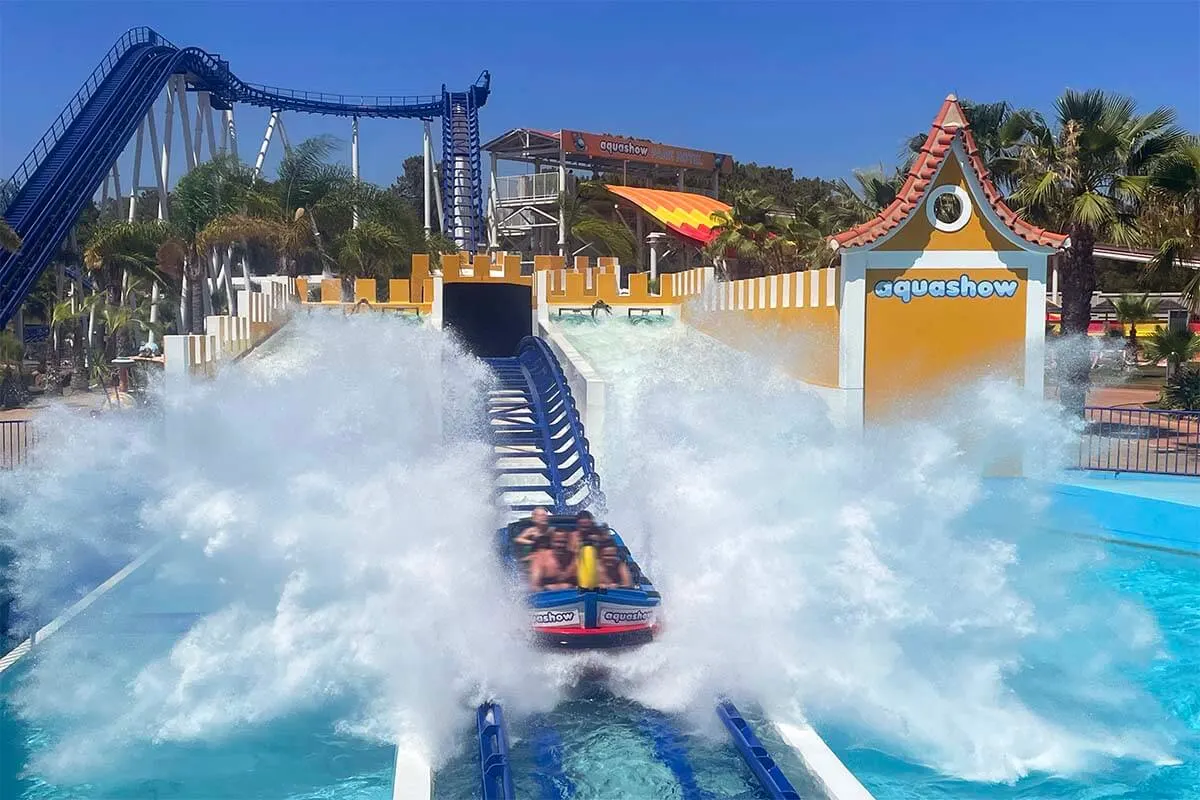 7. Kayaking
If you ask me for my personal favorite activity in Algarve with kids, kayaking would be pretty much at the very top of that list. Our kids love it too, maybe not as much as water parks… but it's a totally different experience.
Anyway, if you are looking for something fun to do with the whole family in Algarve, I highly recommend considering a kayak tour. It's a perfect combination of sightseeing, adventure, and physical activity, but most importantly, kayaking is really fun and a great way to bond and spend quality time with your family.
What age is it best suited for? Depending on the company, kayaking tours in Algarve usually allow kids from about 4-6 years. Some tours don't mention age restrictions, but I wouldn't do it with an infant or a toddler that can't sit still for a second…
Season: Weather and sea conditions permitting, you can go kayaking in Algarve the whole year round. That being said, we personally prefer the warmest months (between April and November). But it really depends on the weather, the area where you go kayaking, and your kids, of course.
How much time do you need? Most kayak tours in Algarve take about 2 hours.
Do you need to book? Yes, it's best to book a kayak tour in advance. That way, you can check all the practicalities and can be sure that you can do the tour of your choice at the most suitable time.
TIP: We did several kayak tours in Algarve with kids. Our favorites were this tour from Lagos and this one from Albufeira.
READ ALSO: Best Places for Kayaking in Algarve & Kayaking at Ponta da Piedade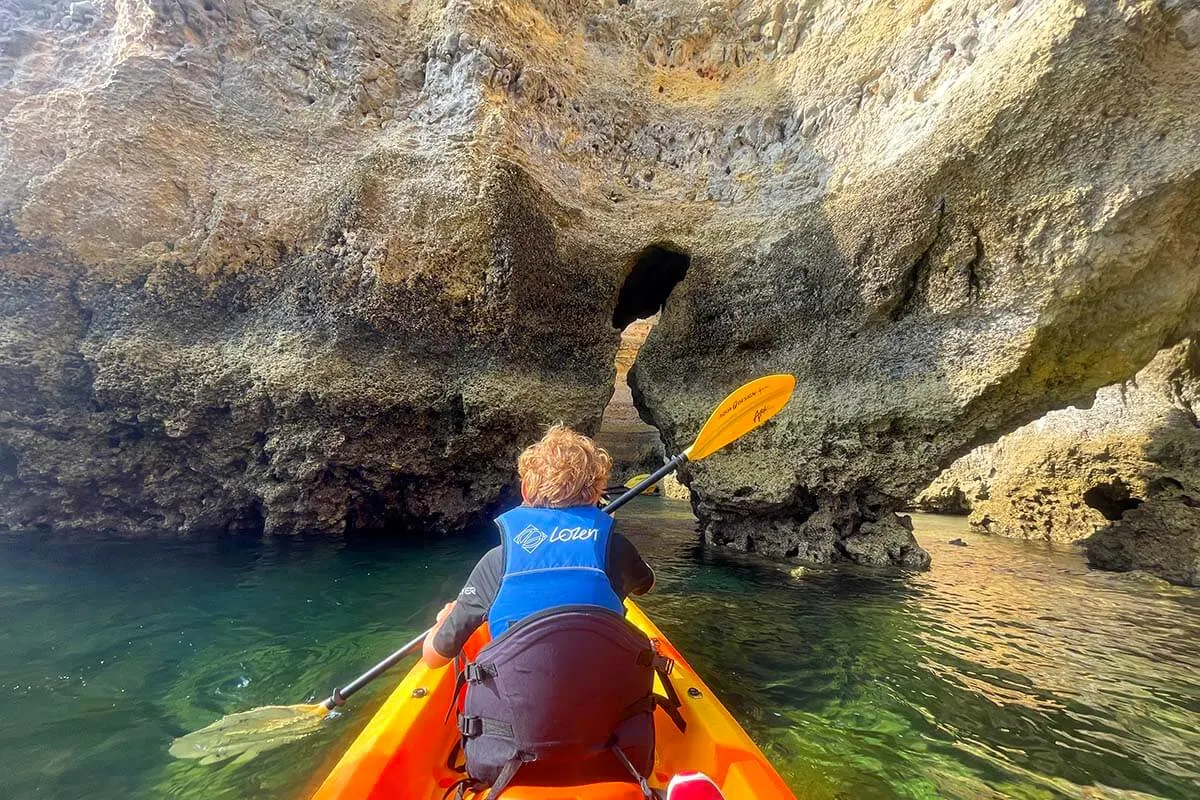 8. Sagres
If you want to do some sightseeing in Algarve with kids, I highly recommend the area around Sagres. It's home to Cape St. Vincent, the southwesternmost point of the European mainland, but has a lot more to offer than that!
You can see two lighthouses, walk on the defensive walls of a centuries-old fort (there are cannons too), and explore a big globe showing the world as it was known in the 15th century, before the Age of Discoveries.
There are also several stunning beaches in this area, many of them known for the perfect waves for surfing. Our kids could sit watching surfers and kitesurfers here for hours… If you are experienced surfers yourselves, you could try braving the waves here too (but it's not the best area to learn – for that, see our recommendations further below).
But it's mostly worth coming here for the scenery, which is very different from the other areas in Algarve. The west Atlantic coast has steep rugged cliffs and a unique feel, not comparable to the most popular beaches between Albufeira and Lagos.
What age is it best suited for? You can visit Sagres with kids of all ages, but there are a few things to know. Most places are not accessible for strollers, so if you are visiting with a baby, you may want to bring a baby carrier. And if you are traveling with young kids, make sure to hold on to them at all times since there are many steep cliffs in this area.
Season: You can visit Sagres in any season, but it's very quiet in the winter.
How much time do you need? Depending on where you are coming from, I would plan at least half a day for Sagres. But if you want to take it easy and explore the area deeper, you can easily fill an entire day here as well.
LEARN MORE: Best Things to Do in Sagres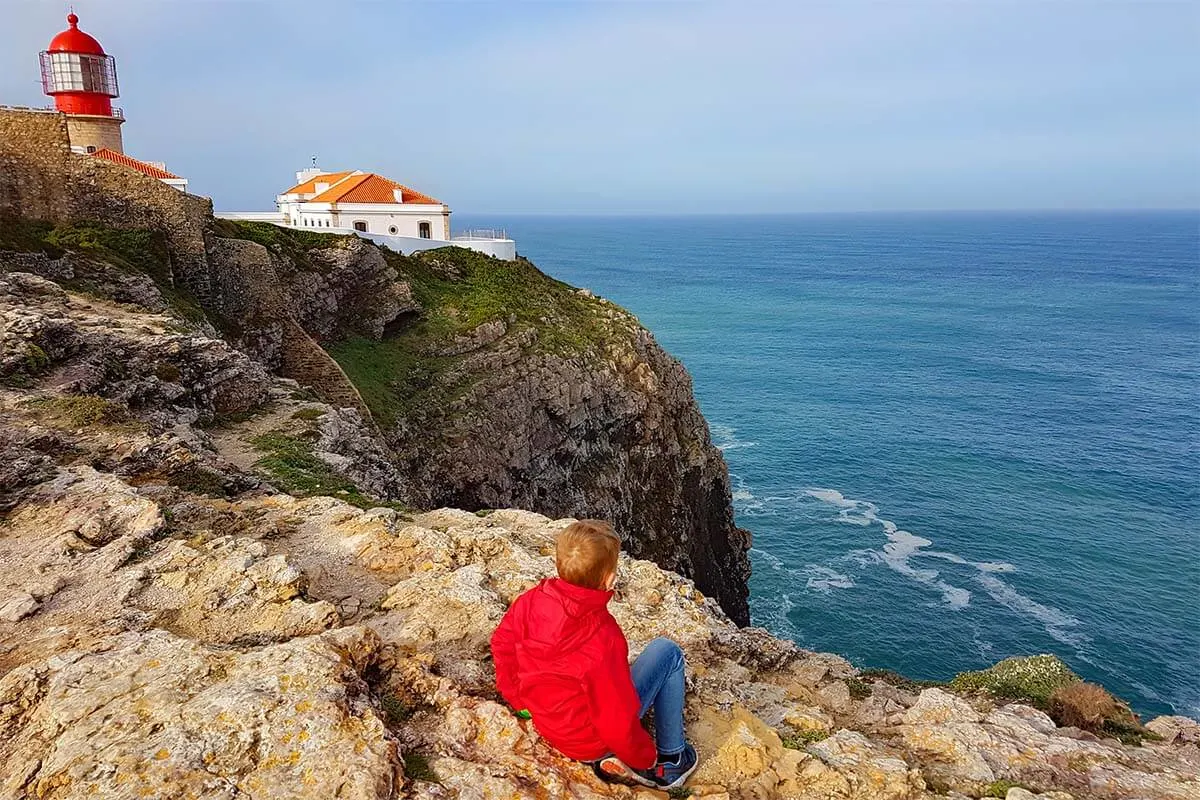 9. Lagos Zoo
Lagos Zoo is the best animal park in the region and a nice place to visit in Algarve with younger kids.
The zoo features a variety of animals from all over the world (around 150 animal species). From exotic birds to lemurs and reptiles, your children will be captivated by the diverse range of wildlife. Don't miss the penguin beach and the bat enclosure!
They also have animal feedings, so be sure to check the schedule when you arrive. There is also a petting zoo and a playground. Overall, a visit here is both educational and entertaining.
Plus, in the summer season (April to September), you can also enjoy a beach/pool area. The zoo itself also has lots of shaded areas, so it's enjoyable in the summer too. All in all, the zoo is a nice option for families looking for a nice day out in the western Algarve.
What age is it best suited for? Lagos Zoo will best appeal to families with younger children, say 12 years and younger.
Season: Lagos Zoo is open year-round.
How much time do you need? You can see everything in about 2-3 hours. With younger kids and in the summer, you could probably fill a few extra hours. Go swimming, check out animal feedings, etc.
Tickets: You can get tickets online or at the entrance. They are usually 2 euros cheaper on their website, but the booking process through the official site is unnecessarily cumbersome. We usually just use GetYourGuide for all tickets.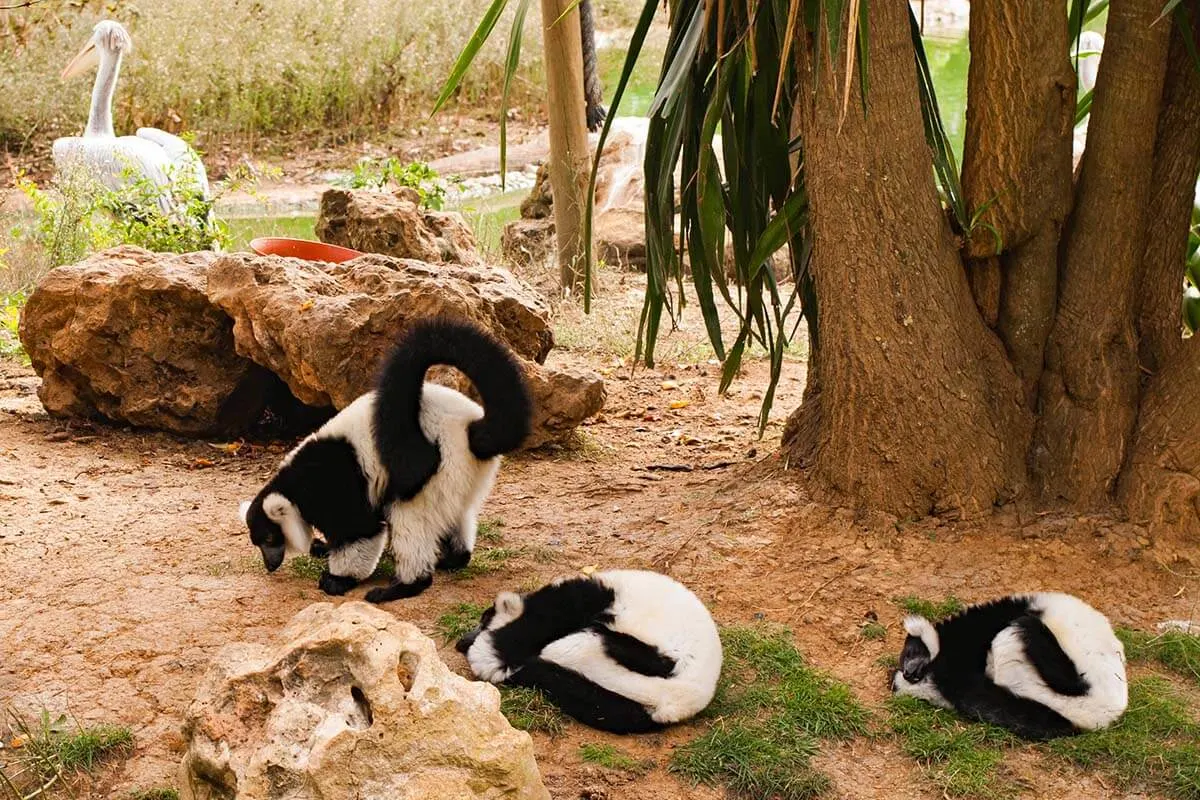 10. Parasailing
There are so many water-related activities in Algarve that I don't even know the names of all of them. Banana boats, Crazy UFO rides, Twister, Jet Ski, Wakeboarding, SUP, pedal boats,… you can find all of these and more all over Algarve…
But if there's one activity that our kids could do again and again, it's parasailing. They absolutely love it!
What age is it best suited for? This highly depends on the company. I saw this tour in Albufeira that allows parasailing for kids from 6 years old; but then there is also this one that allows bookings from 2 years old…
Season: Weather-permitting, parasailing is available almost all year. Some companies don't run tours in winter, but this has more to do with the lack of tourists (and staff), so it really depends on the area.
How much time do you need? Parasailing itself usually takes just 10 minutes, but you'll likely need at least half an hour for the whole experience.
TIP: You can find companies offering parasailing on some beaches in Algarve, and there are also boat tours running from marinas (e.g. here are several tours that run from Albufeira Marina). From what we saw, the prices are pretty much the same everywhere. Kids under 12 usually get a small discount.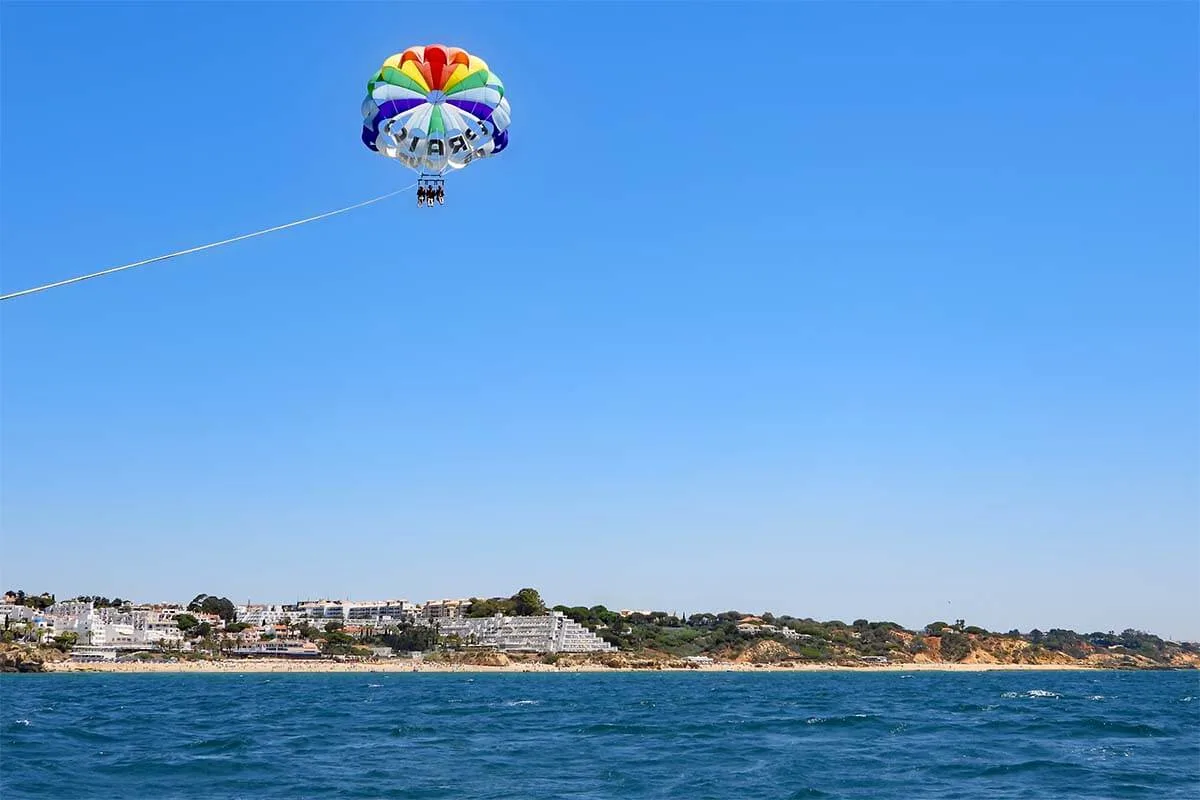 11. Fonte Grande de Alte
Alte is a small village in the Algarve interior, about half an hour drive from Albufeira. It has a very charming and picturesque old town, but its main attraction is Fonte Grande de Alte, a sort of 'swimming pool' that is fed by a natural spring in the area.
In addition, there is also a waterfall – Queda do Vigário – where you can go for a swim (usually only after rainfall, so not in the summer). While the waterfall isn't very reliable, the Fonte Grande de Alte swimming area usually has plenty of water.
And who could resist a plunge in the cold waters on a warm day… The water is also just (adult) knee-deep, so it's really family-friendly.
It's a very unique place that I can highly recommend to anyone looking to get a bit off the beaten path and experience a more authentic side of Algarve. However, it's only quiet in the low season. In the summer and on warm weekends, the place can get really busy.
What age is it best suited for? Fonte Grande de Alte is a place that the whole family will enjoy.
Season: You can visit here in any season, but if you want to go swimming, I'd say that the months between April and November are best. The water is quite cold, so it may not be as enjoyable in the winter months.
How much time do you need? Plan about 30 minutes for a visit here, not including the driving time or a visit to the village. Of course, it really depends on you and your overall plans; you can just go for a swim and leave in 10 minutes, or you can spend half a day here.
Good to know: There are bathroom facilities and a small cafe on site. There is no entrance fee.
LEARN MORE: Best Things to Do in Alte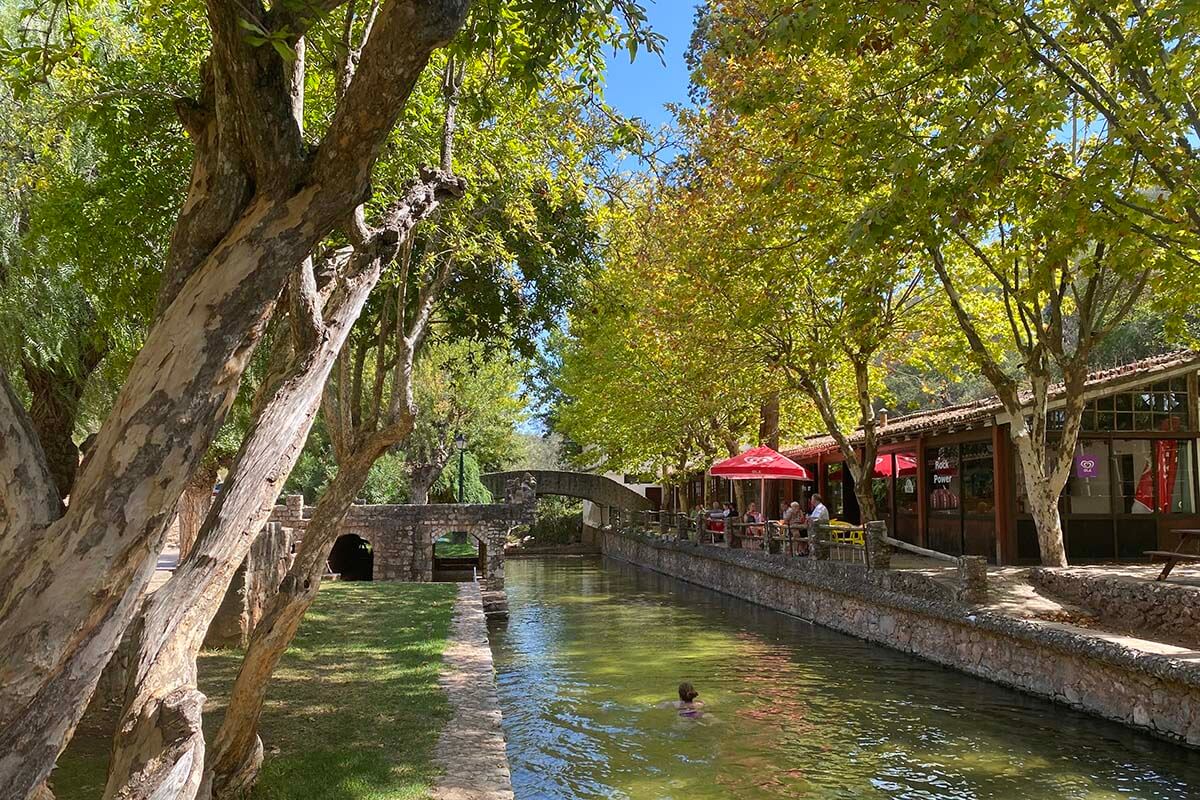 12. Adventure Parks
If you are looking for something a bit more active to do in Algarve with kids, consider visiting an adventure park.
Most adventure parks in Algarve have high ropes courses that are suitable for all ages and difficulty levels. Some places also offer paintball.
As far as I know, there are three adventure parks in Algarve: in Albufeira, in Lagos, and in Vila Real de Santo António (in the east, at the Spanish border). You can find more information about each of them on this website.
We only visited the one in Albufeira, and it was quite good and definitely challenging enough even for adults. In fact, our kids found some of the courses quite a lot more exciting than they first thought.
What age is it best suited for? Adventure Parks in Algarve have various high ropes courses, starting with the simple ones that are suitable for kids from about 1 meter in height (about 4 years old). The most challenging courses are usually suitable for children from 1.4 meters (about 10 years old).
Season: Adventure parks are typically open the whole year round. While it might be a bit too warm to enjoy a high ropes course on the warmest summer days, this is a great activity if you are visiting Algarve in the shoulder season or during the winter holidays.
How much time do you need? Most places charge you a one-time fee, so once you are inside, you can stay as long as you want. That being said, we typically spend about 2-3 hours.
Do you need to book? Unless you are visiting with a bigger group, normally, you don't have to book. But if you are short on time and want to be sure that you can start at a specific time, it might be wise to reserve in advance.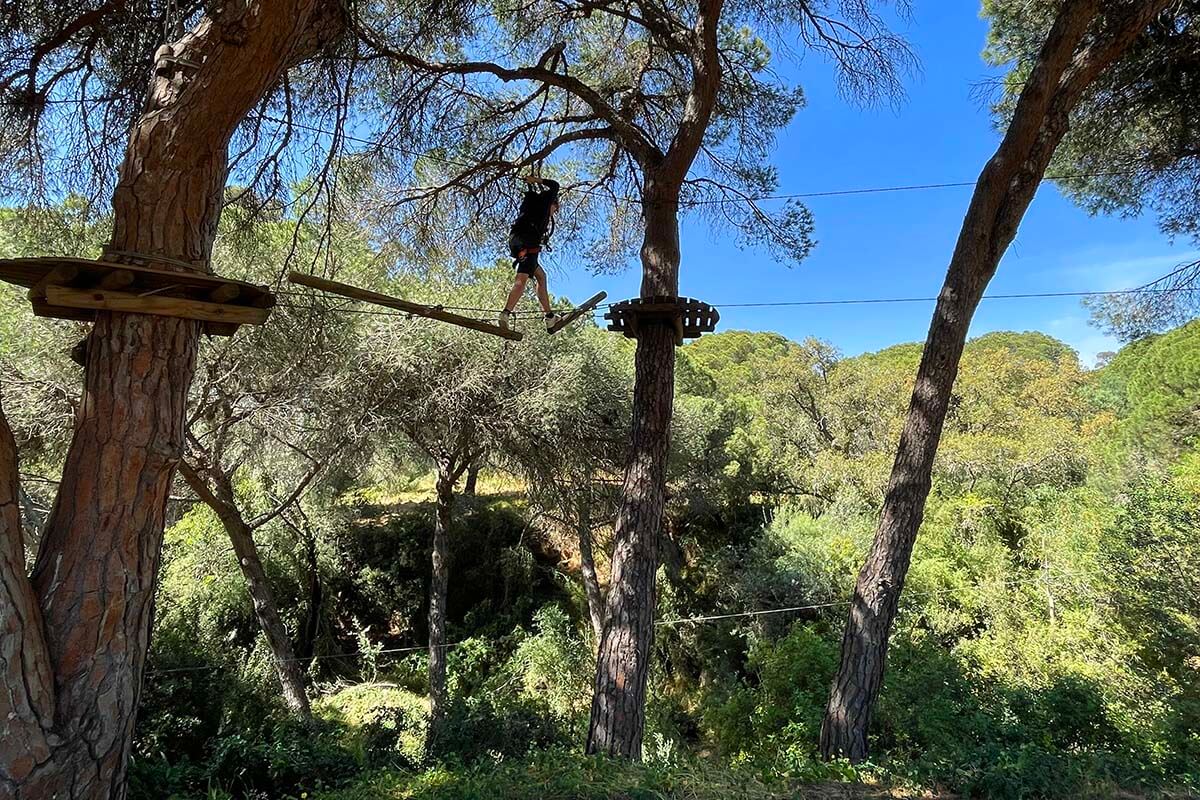 13. Seven Hanging Valleys Trail
Seven Hanging Valleys Trail is the most beautiful coastal hike in Algarve. The good thing is that it's not a very long or difficult hike so it can also be done with children.
The scenery along this path is spectacular, taking you to places like Marinha Beach, Benagil Cave, Benagil Beach, Carvalho Beach, Alfazina Lighthouse, and Vale de Centeanes Beach.
As you can see, you'll be passing quite a few beaches along this trail, so there are plenty of opportunities to stop for a swim and rest along the way.
What age is it best suited for? If your kids are used to hiking and it's not too warm, I think you could attempt this hike with children from about 4-5 years old. If your kids never hiked before or if it's very warm, you should still be able to do it, just plan to make more stops at the beaches and cafes along the way.
Season: Weather permitting, you can do this hike at any time of the year. However, if you want to do this hike in the summer, start early, bring plenty of water, and take your time to relax and swim at the beaches along the way.
How much time do you need? You'll need at least 2.5-3 hours for this hike. You can find more information and tips for this hike via the link below.
LEARN MORE: Seven Hanging Valleys Trail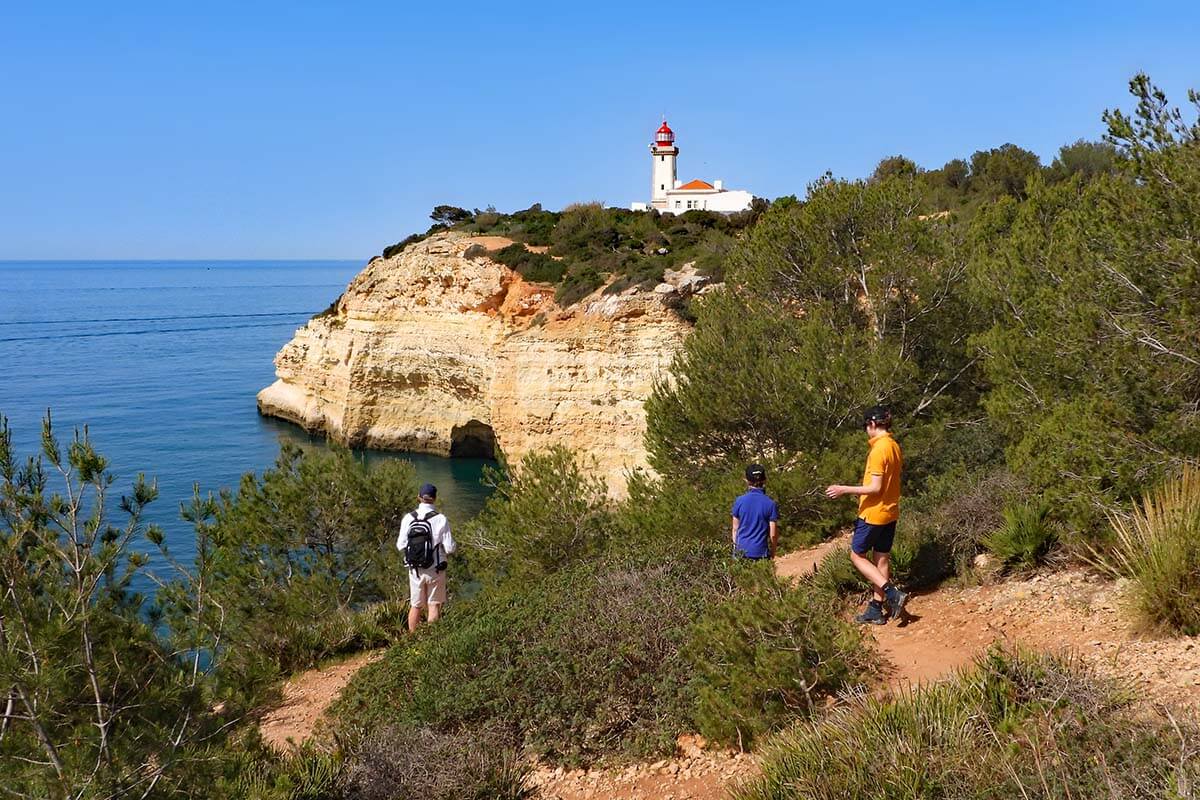 14. Surfing
If your kids (or you) would like to learn surfing, you'll be glad to know that there are quite some places in the Algarve where you can take surf lessons.
As already mentioned, Sagres and the beaches on the west coast have the best waves and attract surfers from all over the world. However, the waves there are often much too challenging for complete beginners, and certainly younger kids.
But there are a few other beaches in central and western Algarve where you can find places that offer surf lessons. The waves here can be quite good for beginners, but in the summer, the ocean can just as well be completely flat… You just never know. Still, it can be just enough to learn some basics.
I know of a few beaches that have surf 'schools': one of them is Falésia Beach between Vilamoura and Albufeira (you can find more info and book surf lessons here), and also Galé Beach, to the west of Albufeira (you can book surf lessons here). There are also surf schools in Lagos (see here).
I'm sure there are many others too, so if you are interested, do some research online or ask about it at your hotel. Our kids took surfing lessons on Falésia Beach. We went at least 5-6 times and they all loved it, despite the fact that the waves were really tiny in July…
What age is it best suited for? Most surf schools take kids from 6-8 years old.
Season: Most surf schools in Algarve are open between April and November.
How much time do you need? Surf lessons typically take about 2 hours.
Do you need to book? You should always book surfing in advance. If you are staying next to a beach where they do surf lessons, you can just go talk to them and find a suitable time. Otherwise, simply book online – that way, you can choose the date and time that suits you in advance (it's also easier since you can pay by card, whereas on the beach, they usually only take cash). The price of surf lessons normally includes wetsuits and boards as well.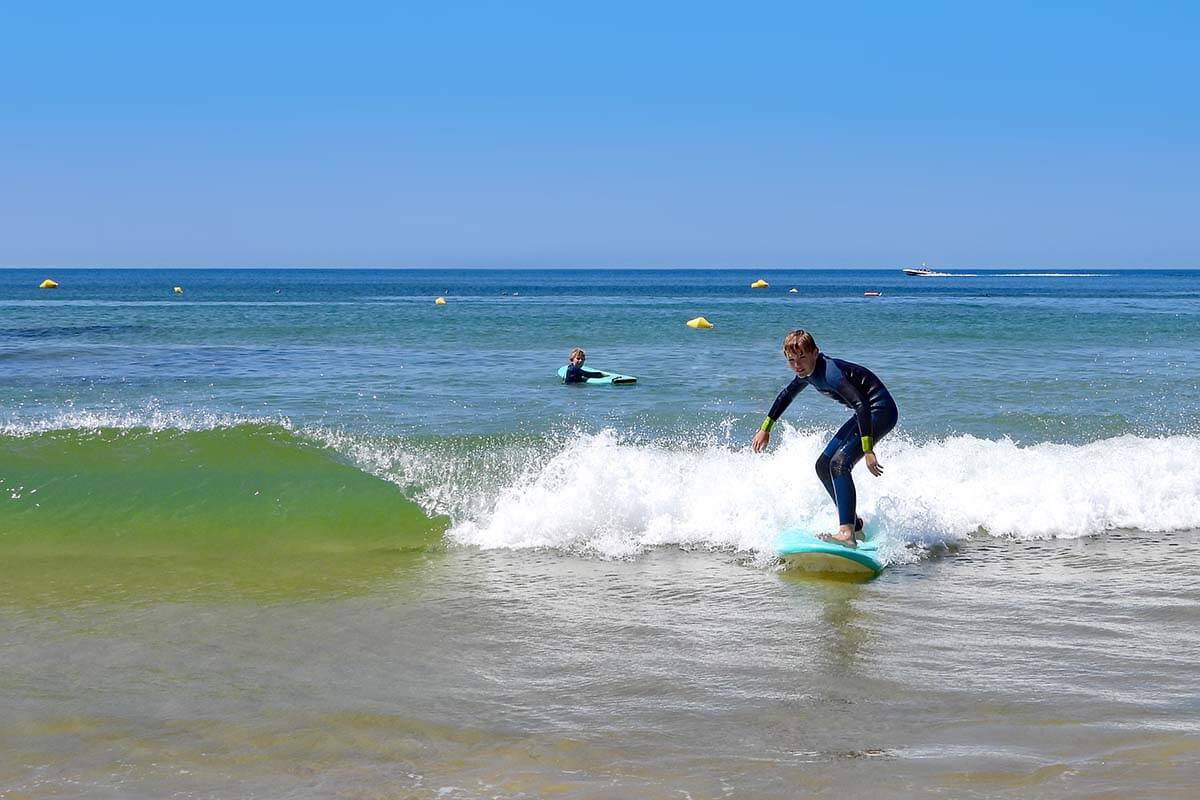 15+. More things to do in Algarve with kids
There are many more things to do in Algarve with kids than we could ever list here. So much depends on your interests as well. Here are some additional recommendations:
Sightseeing. Visit one of the many little towns or beaches in Algarve. You can find plenty of inspiration in these articles:
Krazy World. This is a small interactive zoo/playground that could be nice to do with little kids. They have a petting zoo, a mini-golf, a swimming pool, and many other activities to entertain the youngest members of your family. More info.
Aqualand. If you are looking for a quieter water park to visit with your family, you may like this one. It's only open in the summer season and most slides and attractions are geared toward younger kids. More info.
Mini-golf. There are quite a few places where you can play mini-golf in Algarve. There is a nice mini-golf course in the center of Albufeira and also a Family Golf Park in Vilamoura. More info.
Karting. If you are looking for more adrenaline-rushing activities for teenagers and adults, you may want to try karting. In addition, there are family-friendly tracks and karting experiences for kids from 3 years old. More info. In Albufeira Marina, there is an indoor karting too.
Bowling. Algarve has quite a few places where you can go bowling with your kids. It's also a great activity for a (very rare) rainy day.
Cinema is another great rainy day activity (or a place to hide from the summer heat). There are quite a few cinemas in Algarve and most of them play movies in original language with Portuguese subtitles. It's not always the case with children's movies though, so be sure to double-check.
Play arcades, carnival games, pool tables, etc. You will find these in many popular tourist resorts all over Algarve.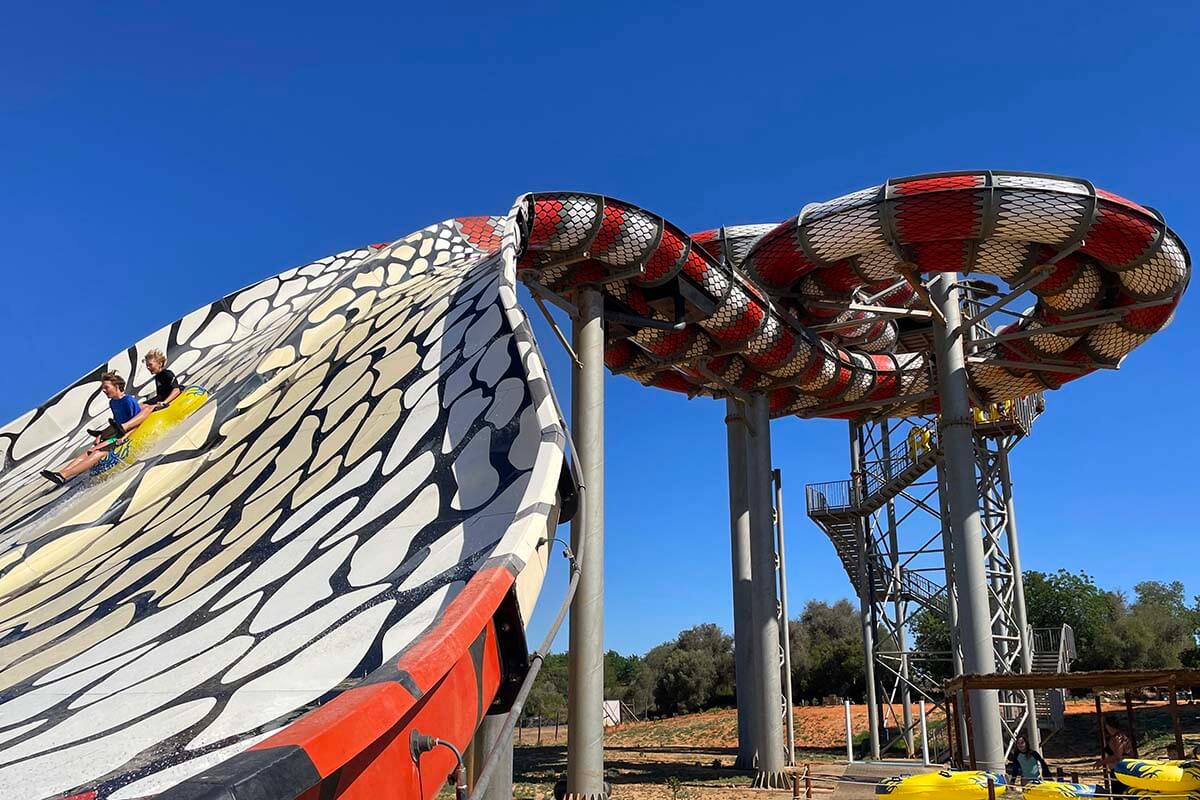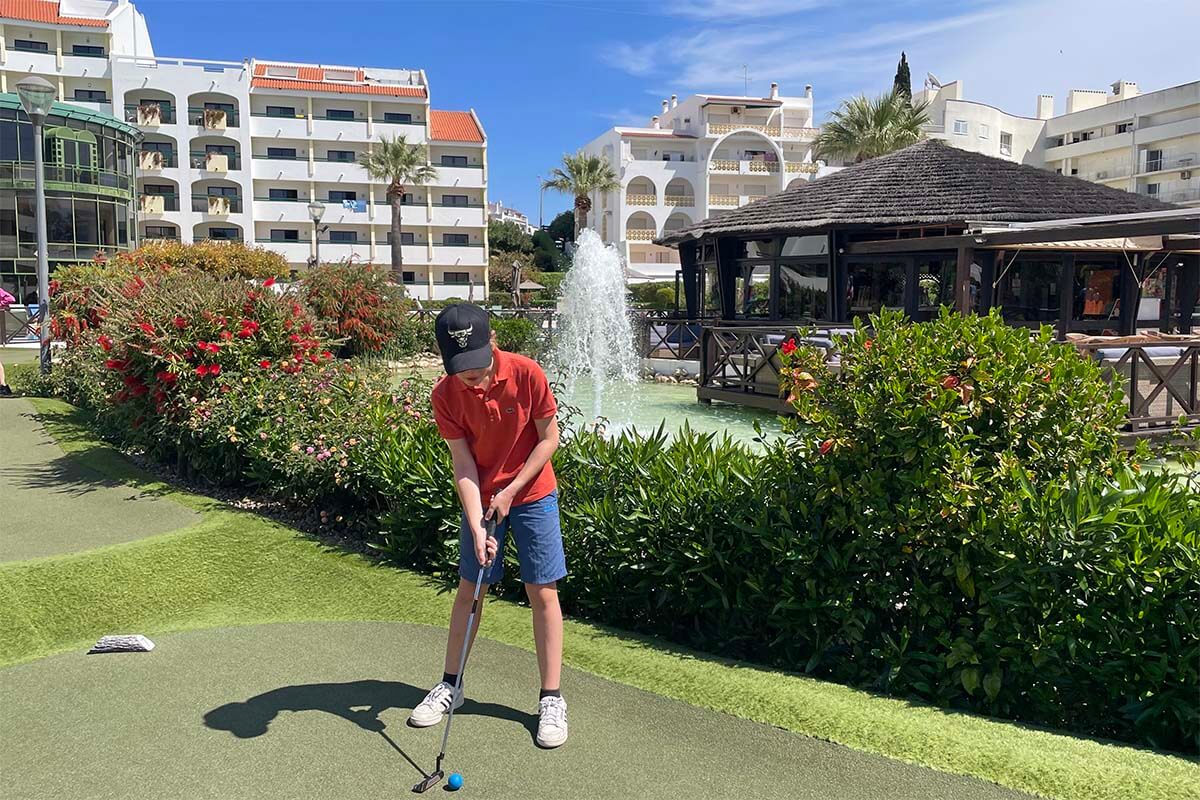 This sums up our guide to some of the best places and family attractions in Algarve.
I hope that this gives you a better idea of what Algarve has to offer, inspires you to explore the area a bit more, and helps you plan a fun and memorable vacation for the whole family.
Have a great time in Algarve!
READ ALSO: Where to Stay in Algarve: Best Towns & Hotels
TIP: If Algarve is just a part of a longer trip in Portugal, you may want to read our guide to visiting Portugal with kids. It contains some of our favorite places and family-friendly activities all over the country. Check it out!
If you found this post helpful, don't forget to bookmark it and share it with your friends. Are you on Pinterest? Pin this image!