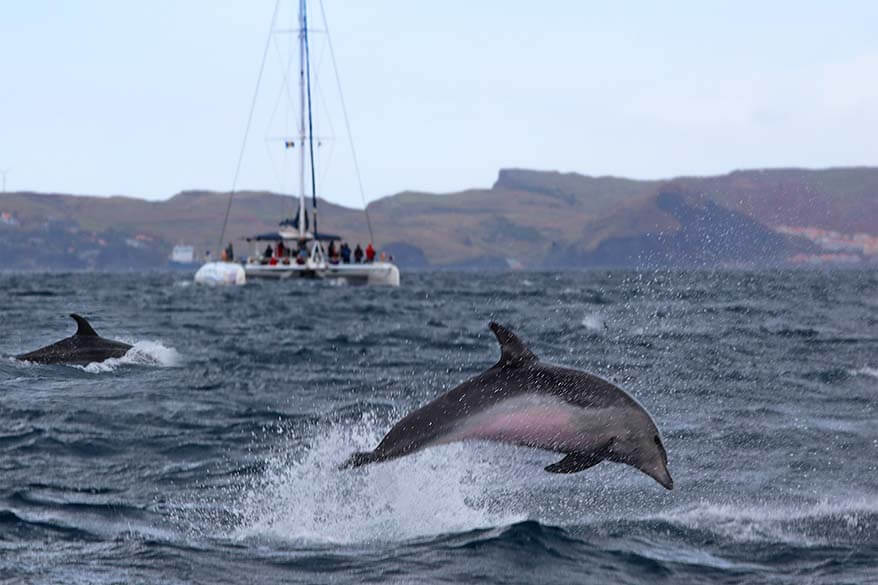 Madeira is a great place to see whales and dolphins. It's one of the best places to see whales in southern Europe. So doing a dolphin and whale watching cruise was high on our list when we visited Madeira with kids.
Before booking a whale watching tour, we did some research as to when is the best time to see whales and dolphins in Madeira, which tour company to book with, and what type of boat to take. We read numerous reviews and ended up booking this dolphin and whale watching speedboat tour.
In this post, I am sharing practical information about dolphin and whale watching in Madeira. You can read about our experience and a review of our dolphin and whale speedboat tour. You can also find some useful tips and a map to help you plan your trip. Find out!
READ ALSO: Best things to do in Funchal
Best time to see whales and dolphins in Madeira
There are several types of whales that can be seen in Madeira throughout the year. So depending on the season, there are always at least 2-3 species of whales around. Over 20 different kinds of dolphins can be seen in Madeira depending on the season. So there's an even bigger chance to see dolphins than whales.
Our research showed that the best time to see whales in Madeira is from April till October. This is the time when most species are in the area. Local guides told us that the very best months to see whales in Madeira are May – June and September – November.
The guides confirmed that dolphins are always around. They also said that Fin and Sei whales are often seen in winter too.
So I'd say that no matter when you visit Madeira, it's always worth taking a whale watching tour.
What types of whales and dolphins can you expect to see in Madeira
Pilot Whale and Sperm Whale can be seen throughout the entire year. Other species of whales you can expect to see in Madeira (depending on the season) include Sei Whale, Humpback Whale, Fin Whale, Bryde's Whale, Minke Whale, and even Orcas.
Bottlenose dolphins are the most common species and can be seen in the waters near Madeira the whole year. The other species you might see (depending on the season) include Common Dolphin, Striped Dolphin, Pantropical Dolphin, Atlantic Spotted Dolphin, Rough-toothed Dolphin, Risso's Dolphin, etc.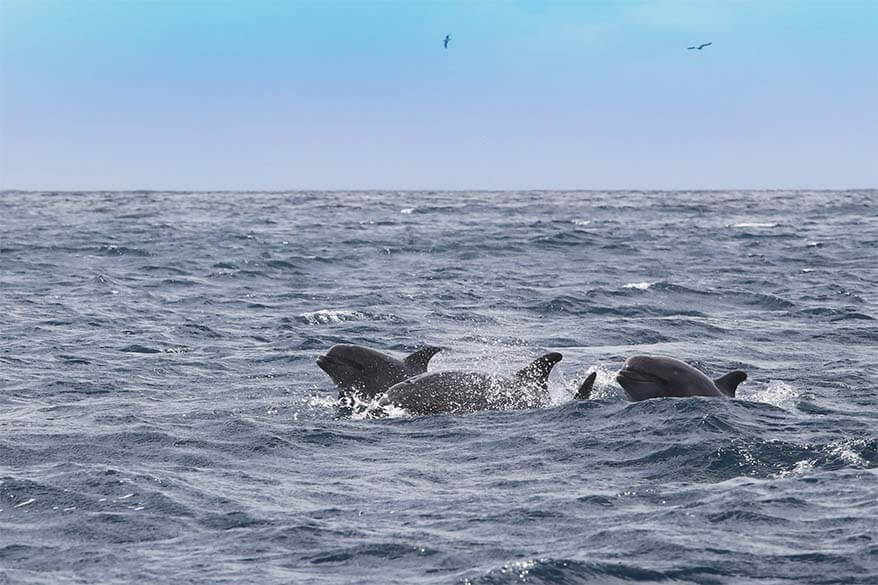 Best whale watching boat tours in Madeira
Whale watching excursions are extremely popular in Madeira. There are many companies offering whale and dolphin watching trips from Funchal.
I don't think that one company is necessarily better than another in terms of whether you get to see wildlife or not. They all communicate with each other and share information when they find cetaceans. The same strict rules for not disturbing sea life apply to all tour companies, so there isn't much difference either. And like with all wildlife watching, it's always a matter of luck too.
Despite this, there are significant other differences between whale watching tour companies, and mainly in price and service. We did our research and booked a whale watching trip with Magic Dolphin. They have excellent reviews on TripAdvisor, GetYourGuide, and other platforms and they offer the best price-quality whale watching tours in Madeira.
For example, their Catamaran Trip costs 10 EUR per person less and Speedboat Trip costs about 5 EUR per person less than the exact same whale watching trips offered by other companies. Furthermore, they take fewer passengers on their catamarans than their competitors, therefore giving you a more intimate experience.
TIP: Book your Madeira whale-watching tour online via the GetYourGuide website. They offer the most competitive prices and the best cancelation policy on the market. Furthermore, their customer service is second to none.
Catamaran vs. speedboat whale watching trip
Once we chose what we thought was the best price/quality whale watching tour company in Madeira, the next choice was between the catamaran whale watching tour or a tour on a speedboat.
The duration of the two tours is about the same (2-3hrs). But the price difference is quite big, so it might be a serious consideration when traveling with a family. However, there were several factors to consider and we ended up booking a speedboat tour for our family. There were two main reasons for this – see my comparison below.
Here are the main advantages of catamaran whale watching trip:
more luxurious
indoor as well as outdoor seating including luxury sunbeams and seat pads, as well as trampoline nets at the front of the boat
bathrooms onboard
bar with snacks and drinks
summer trips include a stop for swimming with snorkels and googles provided for free (don't forget your swimsuit and a towel)
catamaran is also much cheaper
Here are the main advantages of a speedboat whale watching trip:
no motion sickness (this was very important to us)
we also found the speedboat safer with kids as everyone remains seated during the trip, whereas on a catamaran we would have had to constantly keep an eye on them making sure they wouldn't do anything dangerous (this was our deciding factor to go for a speedboat trip rather than catamaran for a whale watching trip with kids)
powerful engines ensure that you can cover large distances quickly, therefore giving you more chances to see multiple groups of whales, dolphins, and turtles during the trip
lots of fun and adrenaline (our kids loved how the boat was 'flying' over the waves!)
less people than on catamaran trips (max. 18)
you can observe sea life from really close distances (several dolphins were within hands reach for us)
the speedboat tour that we did offers you a FREE second trip if you don't see any sea life the first time
Dolphin and whale watching trip in Madeira – our experience
We were in Madeira for 9 days, yet to avoid disappointment and hassle we booked our whale watching trip in advance. If you travel in high season, booking in advance is a must, especially if you aren't very flexible in terms of timing.
On the morning of our trip, we woke up to find that there was lots of wind and big waves in the ocean. So we were a bit worried about how our whale watching trip would go. And we sure were glad that we booked a speed boat and not a catamaran!
Upon arrival in Funchal, we found that it was nice and sunny there (it was always sunny in Funchal during our 9 days in Madeira, even if it was raining or cloudy somewhere else). And the ocean looked much less threatening than it looked from our window in the morning. So we left Funchal full of hope that it wouldn't be for nothing.
The ride on the speed boat was very smooth, taking into account that the ocean was really rough. The guides told us that the ride back would be quite a bit bumpier. Then it started to rain and we were advised to put on a rain poncho (provided by the crew). The weather didn't look good…
And then all of a sudden we saw dolphins and, before we knew it, we were completely surrounded by them. Not one or two, but tens, maybe even hundreds of dolphins were following our boat, jumping in the air, and putting up a real show for us. We didn't know where to look first, let alone take pictures, as these creatures are quite unpredictable. Our kids were super enthusiastic! They were constantly pointing the dolphins to each other and to us 'look here', 'oh, look at that group', 'watch this one jump – wow!'…
We had seen whales and dolphins on several occasions during our previous travels. But this is the closest we had ever been to wild dolphins. And so many of them…. Sitting in the speed boat we could almost touch the dolphins as some of them came really close. It was a truly unforgettable experience!
After about 10 minutes we had to leave the group (it's one of the strict regulations in Madeira in order to not disturb the wildlife too much), but we were followed by some dolphins. And then there was another group waiting for us a bit further, and another one… Or maybe they were the same dolphins just following us – no idea…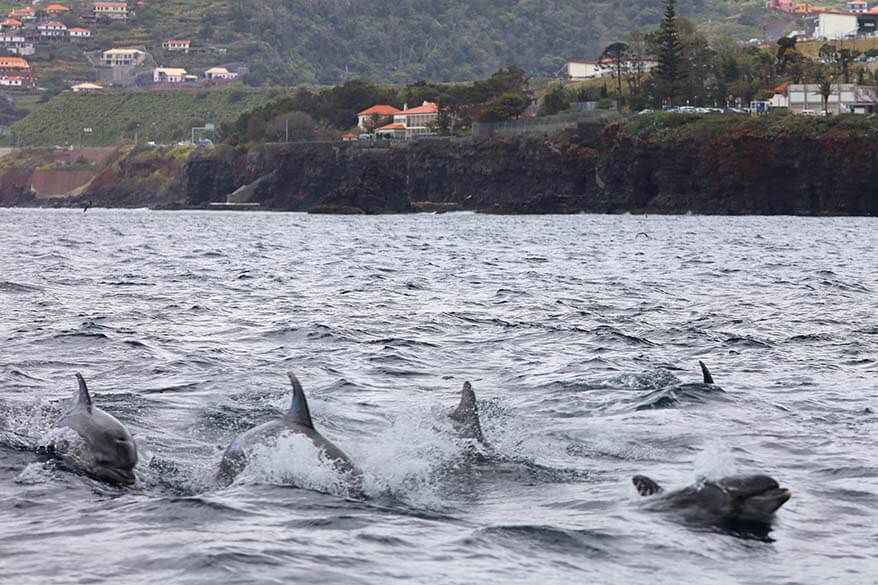 As we already exceeded the set time for the tour, we had to get back to Funchal. It was a bumpy ride and we found it strange how the boat kept going further from the coast instead of heading back to town. After a few minutes, we asked the guides what was going on as we kept going further into the ocean. That's when they told us that someone had signaled a whale in this area and that they were trying to trace it. They asked the group if we wouldn't mind coming back to Funchal a bit later and of course, nobody did.
We then saw the 'footprints' of a whale – a flat water surface among the big waves, so we knew the whale was really close by. And then we saw a little fountain – yes, there was definitely a whale here. But he was playing hide and seek with us. At one moment we could see his tail a bit and then he dove deep in the ocean again… We circled around the area a bit more, but since we were already late to get back to town, we had to leave.
The ride back was quite rough but really fun. So much adrenaline – a bit like a fun rollercoaster ride. Our kids were over the moon – not only did we see so many dolphins, caught a glimpse of a whale, but also had a really fun time on this super-fast boat.
In the end, we were all glad that we went on this boat tour despite the wind and the rain and big waves. So definitely give it a try when you are in Madeira as the chances of seeing sea life are really big here.
Some practical tips
Book your whale watching tour in advance. There are so many boat trip possibilities in Funchal that the choice can get overwhelming. It's so much easier to compare prices, read reviews, and find the best whale watching trip for you on the internet than it is at the harbor.
There are several companies that provide dolphin and whale watching tours from Funchal, and most of them offer several tours a day. Prices vary from around 25 to 50 EUR per person depending on the boat. Kids get a discount (which also depends on the boat).
If you want to also swim with dolphins, take a look at this tour. Just note that it departs from Quinta do Lorde Marina in Caniçal and not from Funchal. TIP: at this same location, you can also do a snorkeling tour.
If you want to swim in the ocean in summer, choose a catamaran whale watching trip instead of a speedboat trip. It's best to wear your swimsuit in advance. Also, take a towel with you.
In the colder season, carry a sweater and a rain jacket with you. Rain ponchos were provided on our speed boat trip, but I am not sure if it's the case on other trips. Sunscreen lotion and a sun hat is a must in any season.
If you easily suffer from seasickness, I advise booking a speedboat trip. I get seasick on the boat quite easily but never experienced any issues on a speedboat.
There is no age limit for children on a catamaran. For a speedboat tour, the kids have to be at least 6 years old. I think it has to do with the ability to be able to quietly sit on a separate seat for a few hours. We found the speed boat safer with our super active boys and were a bit concerned about taking them on a catamaran. I think we would have spent more time watching the kids than dolphins.
It doesn't really matter which trip you book – morning or afternoon. The chances to see whales and dolphins are just as high.
If you are not staying in the Funchal city center and arrive by car, you can best park your car at the CR7 museum parking lot. It costs +- 1,20 EUR/hr and is conveniently located just a few minutes walking distance from the Funchal Harbor.
If you are fascinated by whales and want to learn more about them, consider visiting Canical Whale Museum as well.
Map
Below, you can see the map indicating the main locations from where whale watching tours in Madeira start: Funhcal Harbor and also the Canical Harbor for the 'swimming with the dolphins' tour mentioned above and the Whale Museum in Canical. I also indicated the parking garage that we used close to Funchal Harbor.
How to Use This Map: Use your computer mouse (or fingers) to zoom in or out. Click on the icons to get more information about each place. Click the arrow on the left top corner for the index. Click the star next to the title of the map to add this map to your Google Maps account. To view the saved map on your smartphone or PC, open Google Maps, click the menu button, and go to 'Your Places'/'Maps'.
More tips for your visit to Madeira:
If you found this post useful, don't forget to bookmark it and share it with your friends. Are you on Pinterest? Pin this image!