Are you visiting Portugal and have just one day in Lisbon and are wondering how to see the very best that the city has to offer? This article should give you some great ideas for some of the best things to do in Lisbon in one day.
We cover some of the main Lisbon attractions that you can see in just a day. In addition, you can read about a great activity that you shouldn't miss when in Lisbon. Find out!
We visited Lisbon with kids, but this itinerary isn't family-specific. It covers most of the must-see places in Lisbon that every first-time visitor should see. At the same time, the fact that we did this with children, shows that this itinerary should be doable for everyone.
We don't often visit big cities when we travel with kids. Our recent 10-day trip to Portugal was different, however. We wanted to see the highlights of the country, the best towns in Portugal, and so there was no way we would skip Lisbon. But we also knew in advance that we would only want to spend one day in Lisbon with kids. But how to see the best of such a big and interesting city in just one day and with three young kids in tow?
In this post, I am sharing our one day Lisbon itinerary. Despite the fact that we were traveling with three young children and only had one day in Lisbon, we wanted to get the most out of our short stay in the city and see some of the main highlights of Lisbon.
We managed to see a lot of the main tourist sights of Lisbon in a day, but we also took the time to discover more local areas, find some hidden gems, and taste some delicious local food. We ended our day in Lisbon in style by taking a sailing cruise on the Tagus River. Undoubtedly the highlight of Lisbon for the children, and a great relaxing way to end the perfect day in Lisbon for the whole family.
Below, you can find a detailed description of what to do in Lisbon in a day and a map following our itinerary. At the bottom of this article, you can also find suggestions for what to do if you have a day or two extra in Lisbon. Read on!
TIP: If you find planning a day in Lisbon overwhelming, take a look at this highly-rated day tour that covers the main highlights in just half a day. Alternatively, this private tour shows you the very best of Lisbon in one full day. Or read on for a do-it-yourself Lisbon day tour with our top tips!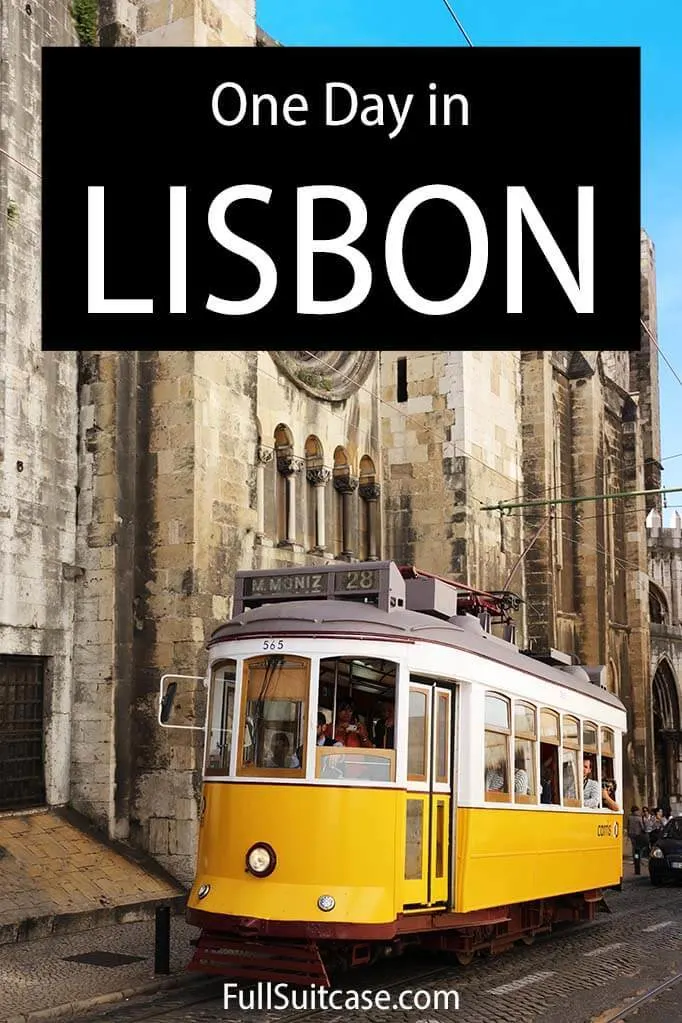 Suggested Itinerary for One Day in Lisbon – OVERVIEW
Lisbon in 1 day – Our Itinerary and Walking Map
To make the process of planning your day in Lisbon easier, I created this Lisbon walking map that illustrates the walk described in this post.
My phone shows that we walked a total of 10km in Lisbon. This includes a 2km walk from the sailing boat to the Time Out Market, which wasn't such a good idea after all. If I were to do it again, I would definitely take a taxi here as well.
Here's what to see and do in Lisbon in one day :
1. Admire the Best Viewpoints of Lisbon – Miradouro da Senhora do Monte and Miradouro da Graça
We started our day in Lisbon with a taxi drive to one of the most beautiful viewpoints in the city – Miraduro do Senhora do Monte.
It was the highest point of our Lisbon day itinerary and we were very glad we chose to go there by taxi rather than walking. It saved us a lot of climbing and ensured that the kids weren't exhausted in the morning already.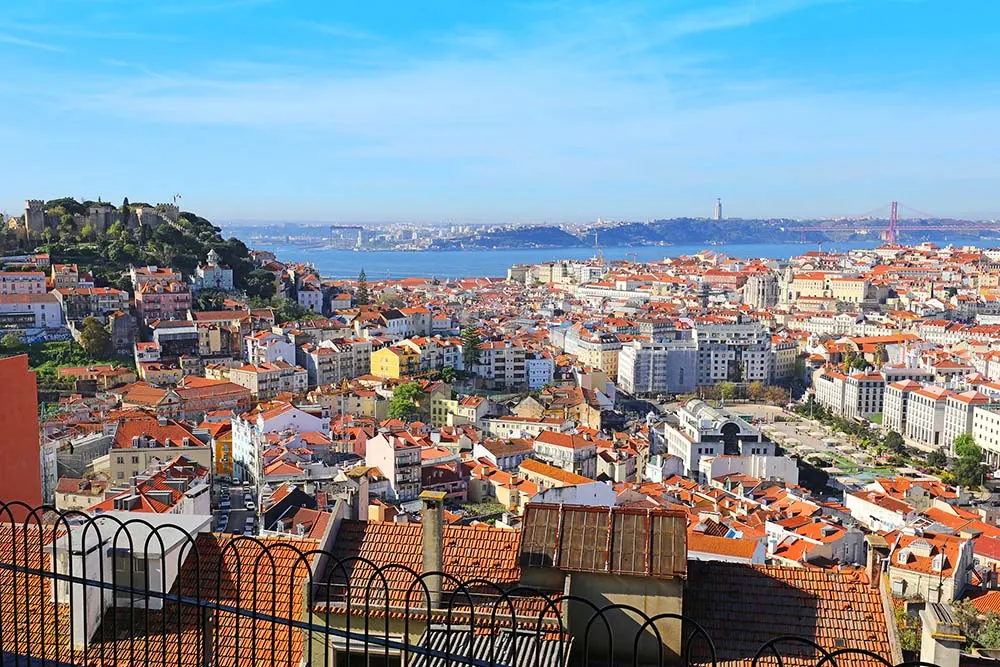 After admiring the view over the city, we walked towards the nearby St. George Castle. On the way there we passed the Graça church and monastery where we stopped at another viewpoint – Miradouro da Graça. This walk was also our first introduction to Portuguese azulejos – traditional tiles that are an essential part of Portuguese architecture.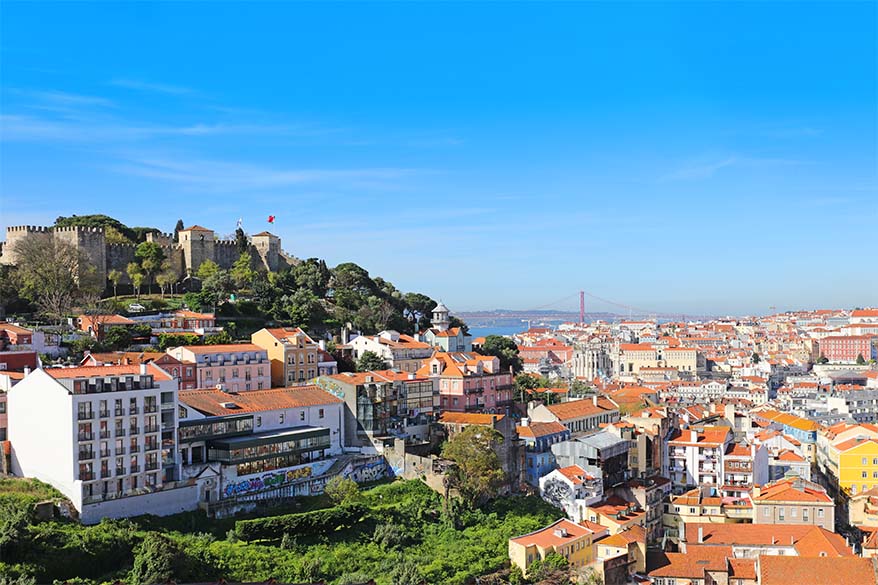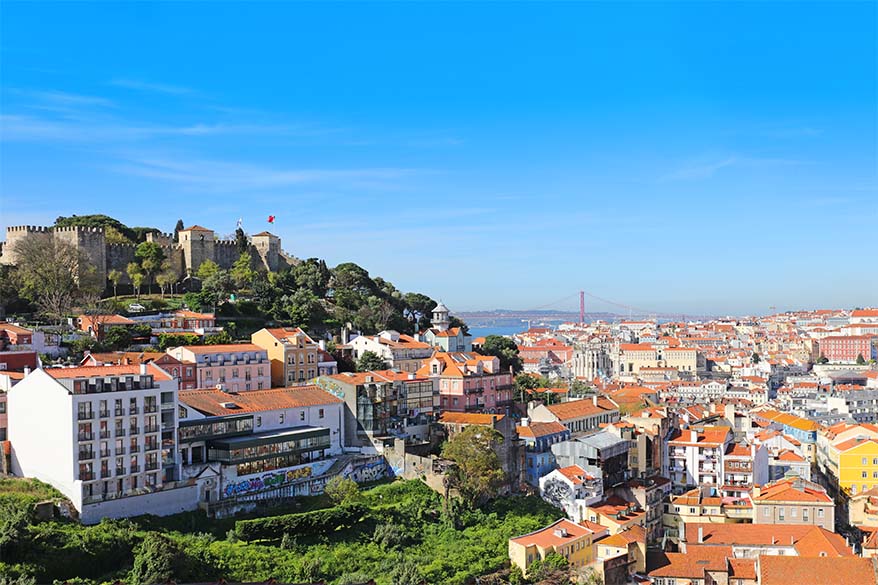 2. Visit the Castle of Saint George – Castelo de São Jorge
Our first stop at Alfama was the Castle of Saint George. We had read that the castle itself is not very interesting, but the views over the city are beautiful. The queue at the castle was huge, however.
Since we already visited two viewpoints (with more on the itinerary later on), we decided to skip it and spend more time wandering the narrow streets of Alfama. Read on…
TIP: If you want to see the Sao Jorge Castle, it's best to get skip-the-line tickets in advance. If we had known that it was so busy there, we would have definitely done this. The views from the castle look really nice, so if you can squeeze it into your Lisbon 1-day itinerary, I think it's worth it.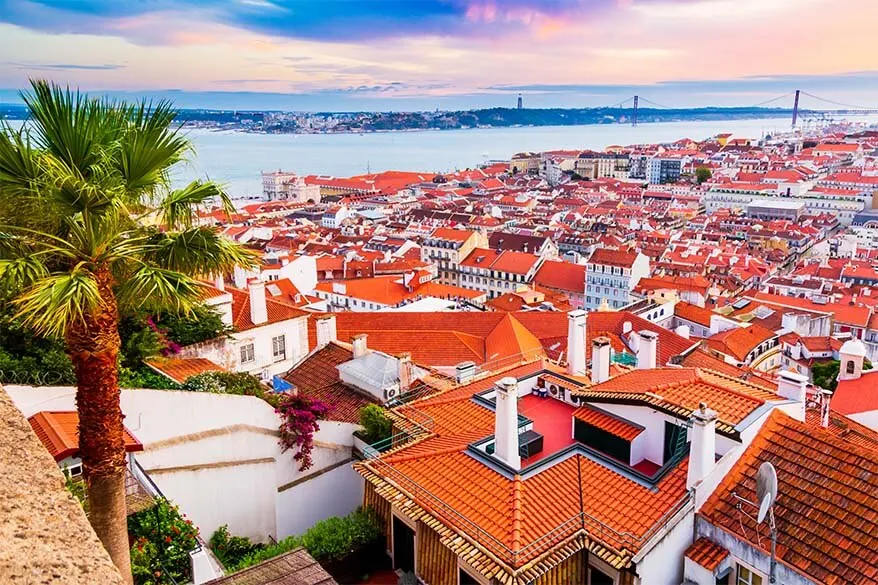 3. Explore Historic Alfama District
The old historic district of Alfama is such a beautiful area to wander around. It's probably the most authentic district in Lisbon, and one you should take the time to explore more.
You can either do it on your own, join a walking tour of Alfama (and other parts of the city), or even consider this highly-rated segway tour that allows you to see the very best of this interesting area in a short time.
From the castle, we headed to Miradouro de Santa Luzia – another incredible viewpoint over the rooftops of Lisbon. Adjacent to it is Largo das Portas do Sol – a small charming town square with another great viewpoint.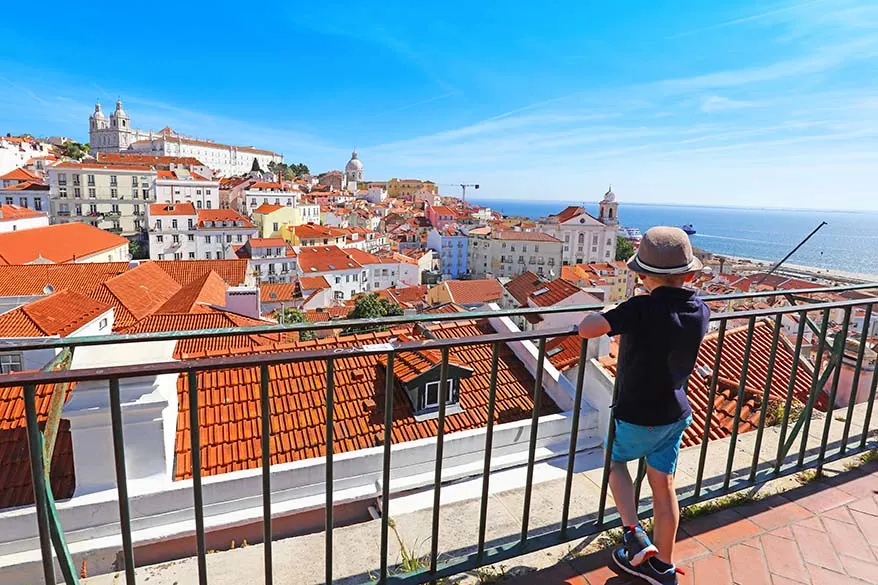 Despite the fact that we had a guidebook with an Alfama walking itinerary and map, we quickly got lost in the maze of little streets and narrow passageways.
We didn't mind! We stopped looking at the map and just wandered around the streets that lead to some amazing discoveries: several incredible viewpoints over the rooftops of the old Lisbon, interesting street art, local restaurants, cafés, little shops…
TIP: If there is one area in Lisbon where a tour would have been useful, it's probably here in Alfama. It's so easy to get lost and lose track of what you wanted to see…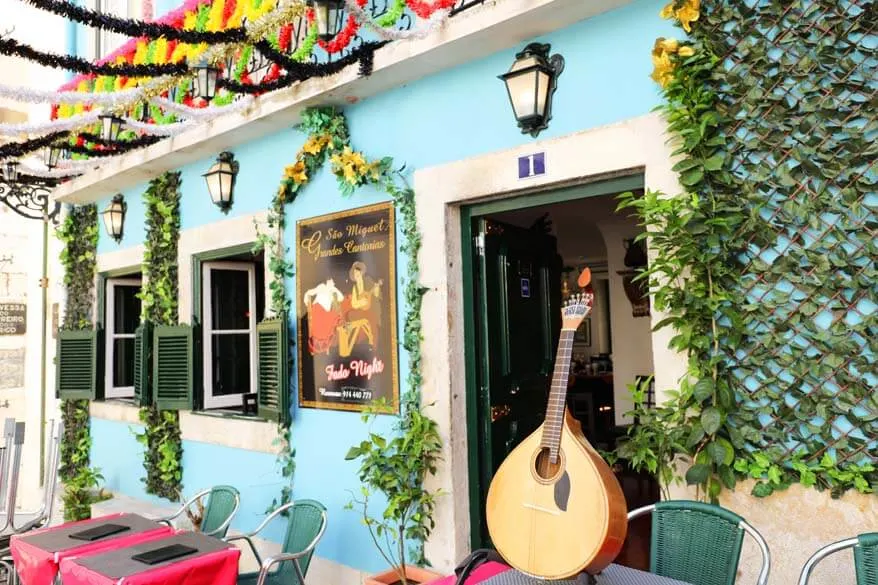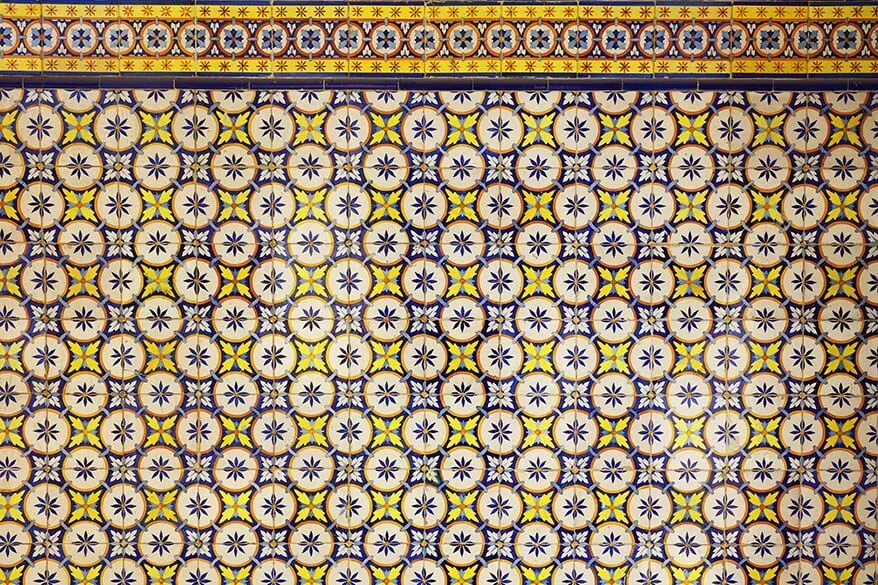 We passed several churches and old buildings with uncountable different patterns of Portuguese azulejos…
Local women were hanging laundry to dry while men were sitting on a bench in front of their houses watching an occasional tourist with just as much interest as we were watching them…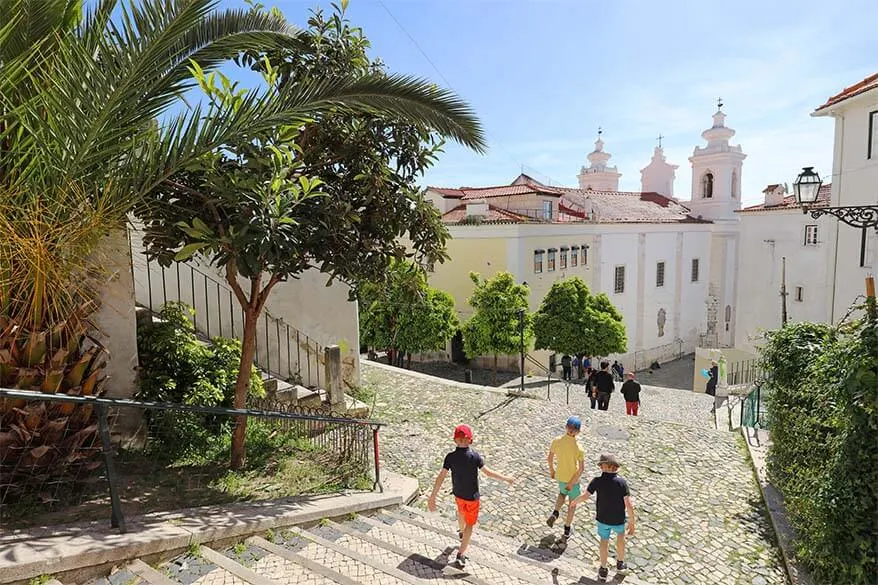 We walked towards the Cathedral of Lisbon (Sé de Lisboa) and watched the famous Lisbon tram 28 make its way through the steep narrow streets and the busy traffic…
As we sat at a local cafe enjoying ice cream and some drinks, we were talking about how Lisbon had such a great atmosphere and how we would love to return for a longer stay in the future.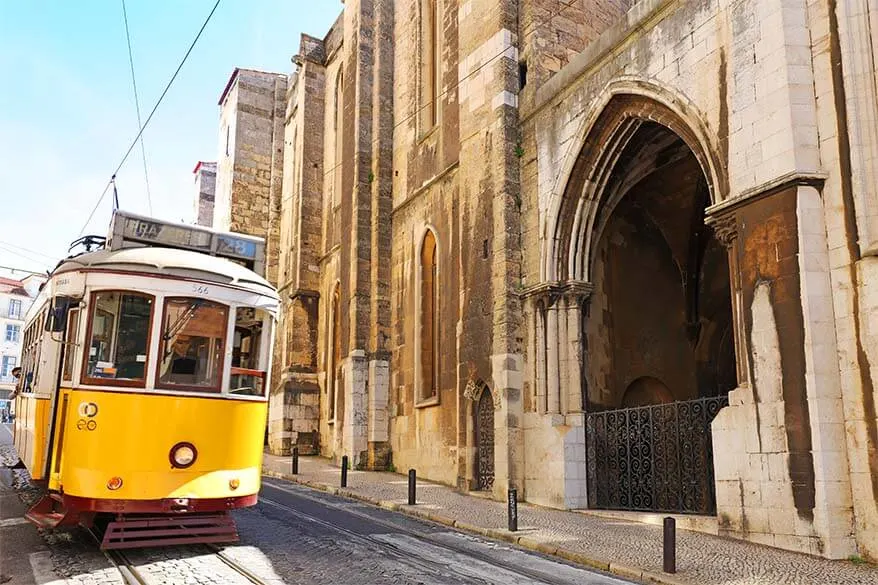 It was in these little streets of Alfama that I fell in love with Lisbon. I wished we had more time to explore the city! Unfortunately, we only had one day in Lisbon and so in the afternoon we left Alfama and headed to the busy city center, also known as Baixa (the low part).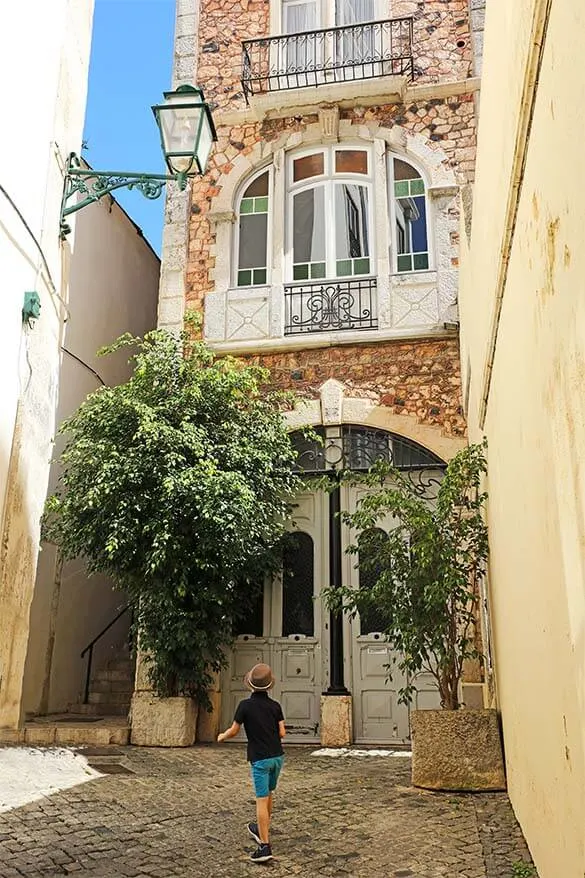 4. Visit Baixa and the Must-sees of Lisbon
Commerce Square – Praça do Comércio
We left the narrow streets of Alfama and headed to Commerce Square (Praça do Comércio).
Commerce Square is a huge town square, once home to a royal palace that was destroyed during the earthquake of 1755. Now it's home to several government buildings and the statue of King José I right in the middle of it.
The Commerce Square with big open spaces lined with classical buildings with yellow facades and galleries with arcades could not be more different from the old district of Alfama. While life seems to have stood still in Alfama, the city center was bustling with life.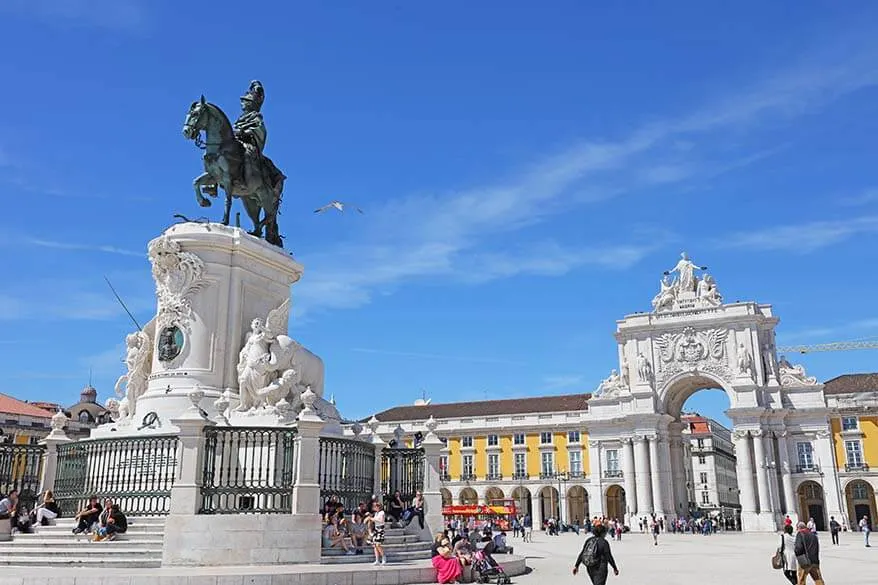 Cais das Colunas
The Commerce Square meets the Tagus river at Cais das Colunas – a marble flight of steps that is flanked by two impressive columns.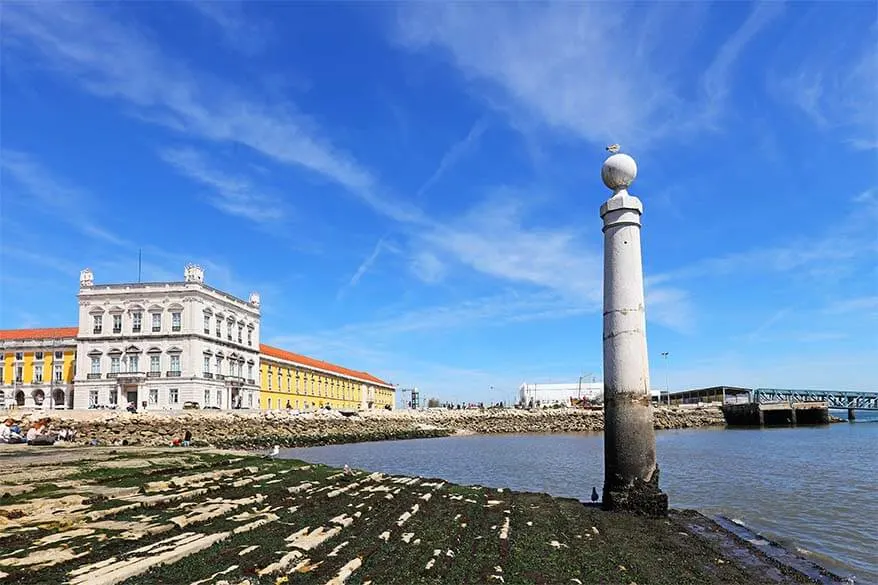 Arco Triunfal da Rua Augusta
We spent some time by the Tagus river and then headed Northwards towards the Rua Augusta Arch (Arco Triunfal da Rua Augusta). The impressive arch was built to commemorate the reconstruction of Lisbon after the big earthquake. You can visit the viewing platform at the top for a small fee.
Rua Augusta itself is a pedestrian street with a variety of shops and restaurants. There are street artists and performers and many vendors selling all kinds of souvenirs and memorabilia. This is probably the most touristy and the busiest area of Lisbon.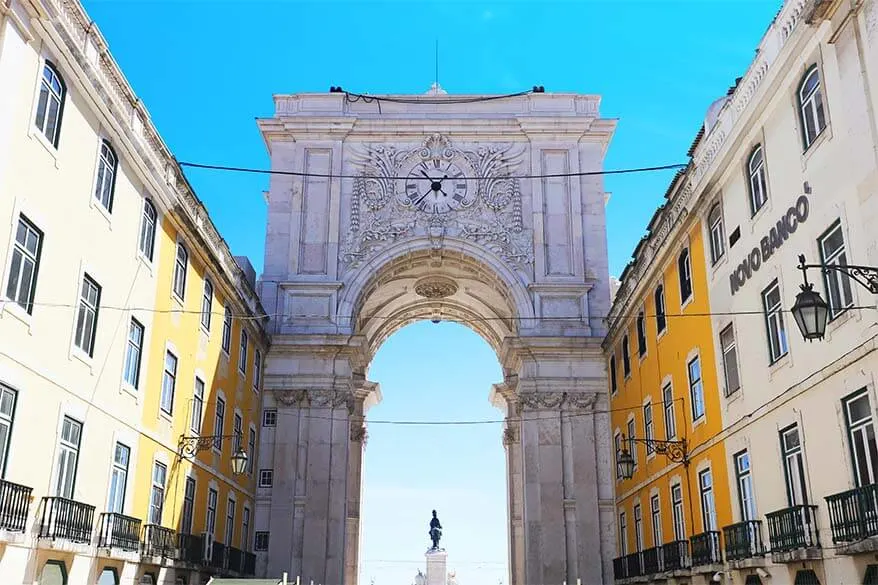 5. Ride the Historic Santa Justa Lift
Our next stop was Elevador de Santa Justa. Santa Justa Lift is a 1901 industrial-age masterpiece that brings you from the Baixa district all the way up Carmo Hill in the Chiado district. Even if you have just one day in Lisbon Santa Justa lift is not to be missed!
There was a long queue at the elevator when we visited. However, since Elevador de Santa Justa is one of Lisbon's must-see tourist attractions, we decided to wait.
After a while, we soon understood why it was taking so long – the old elevator is incredibly slow. On top of that, everyone has to buy a ticket inside the elevator itself, which seems to take forever. We couldn't understand why they don't just open a separate ticket desk; the whole experience would be so much more relaxing for everyone involved.
Anyway, a long wait and an expensive short ride to the top turned out to be well worth the wait. Once on top, you can climb to the viewing platform for the best 360° views over Lisbon.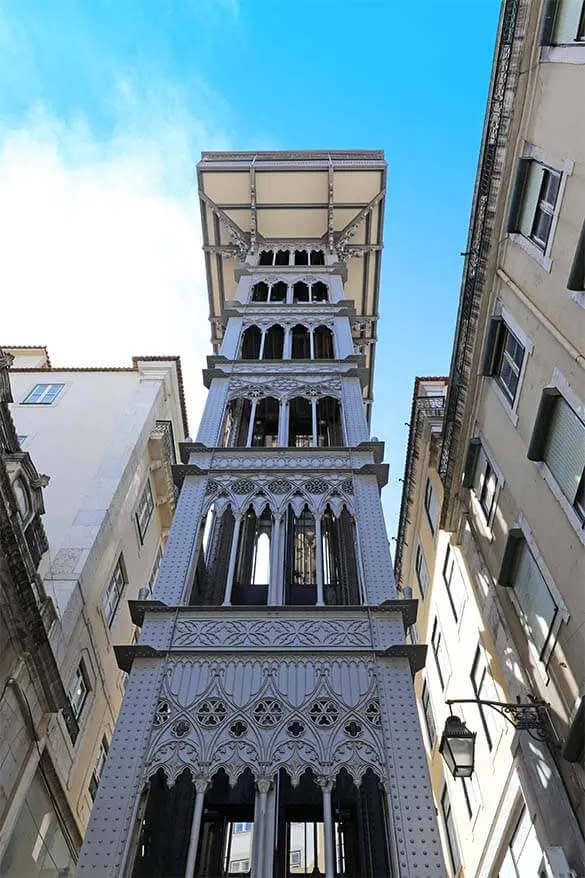 Santa Justa Lift Practical Information:
The lift is open daily from 7 am till 11 pm.
The Santa Justa Lift ticket price is 5,50 EUR. This includes a trip up, the viewing platform, and the trip back down. Kids travel free.
Good to know: The lift is part of the public transport network in Lisbon so you can travel free with a 24hrs public transport ticket (cost 6 EUR). In this case, you'll probably have to pay separately to access the viewing platform (1.5-2 EUR if I remember well). It's also included with the Lisbon Card. It might be worth exploring some of these options, as a single ride is really priced for tourists unaware of alternatives.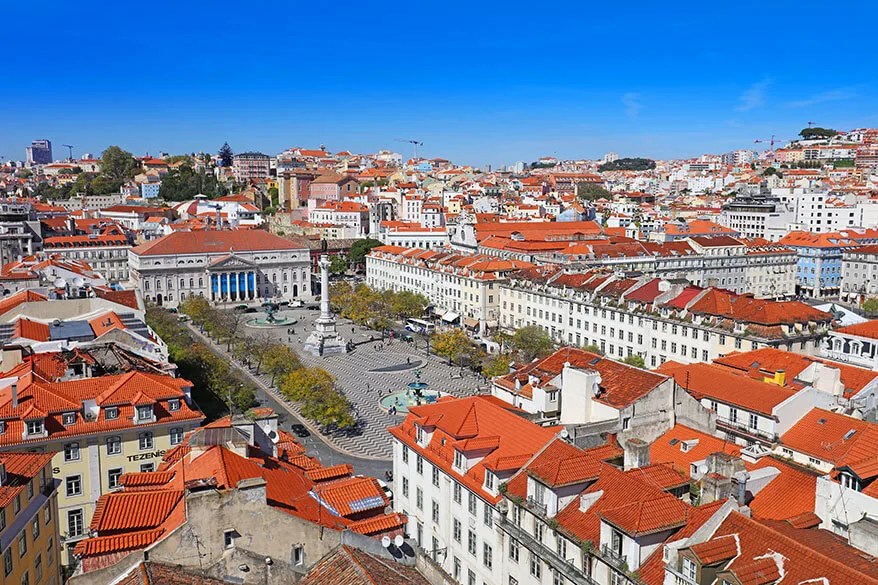 6. Praça Dom Pedro IV – Rossio Square
Rossio Square (Praça Dom Pedro IV) is one of the most popular Lisbon town squares, among the locals and tourists alike. Rossio Square dates from the 18th century; there is even a cafe – Café Nicola – that dates from that period.
There are also several other traditional shops here, where you can buy and/or taste typical Portuguese food or drinks.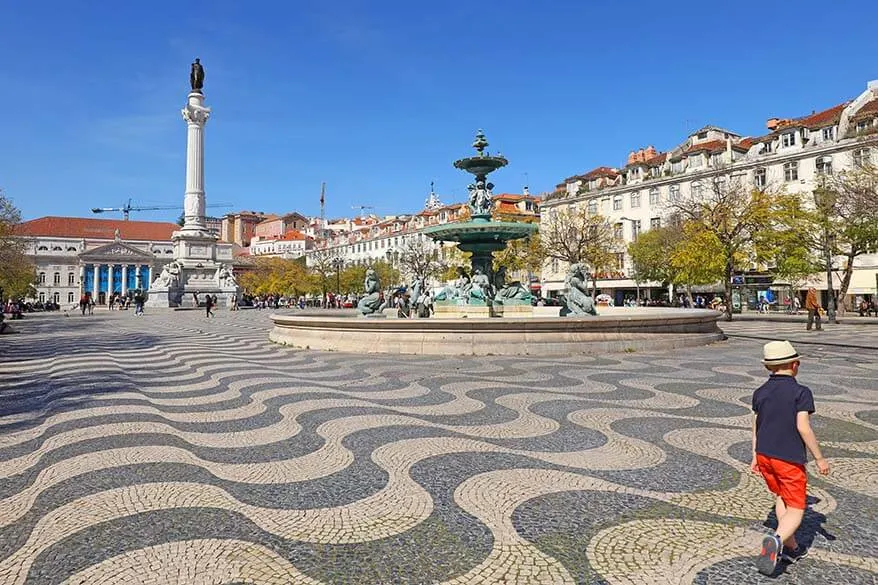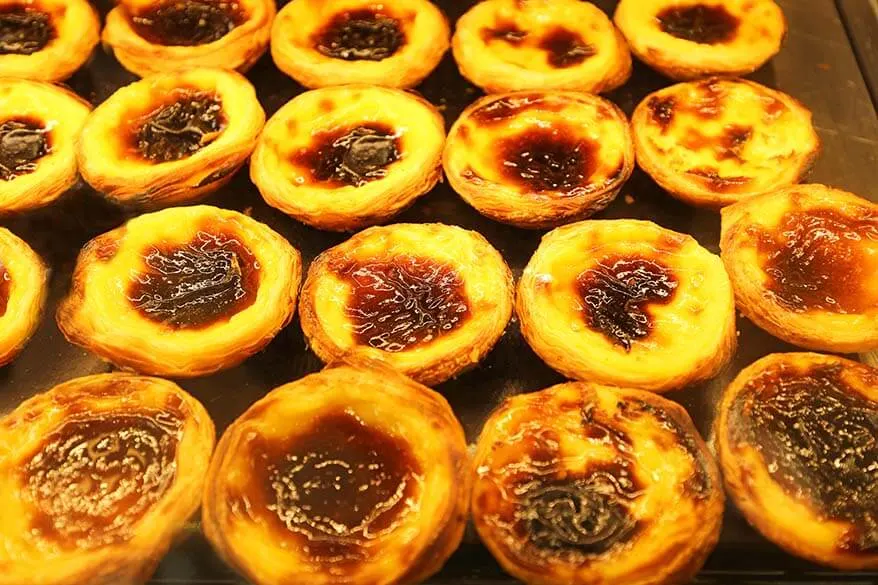 I couldn't get enough of the beautiful patterns on the pavements!
The kids loved a small shop that is specialized in sardines. Here, you can buy a tin of sardines with your birth year on it. Each tin contained a historic fact from that year. I assume the sardines themselves are more recent… 🙂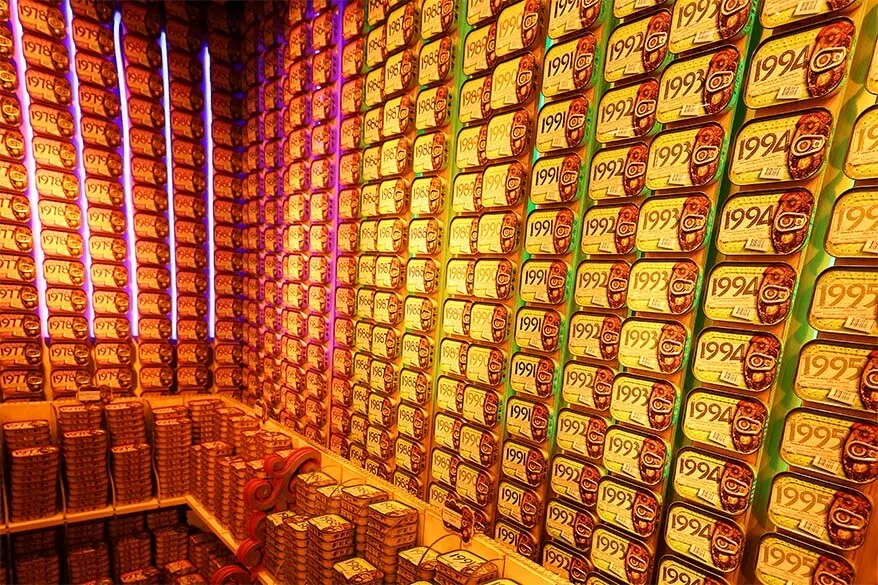 Don't miss the incredibly beautiful Rossio railway station as well! The building exterior is worthy of a castle!
We ended our 1 day Lisbon city walk at Restauradores Square at the southeast end of Avenida da Liberdade. From here we took a taxi to the river where we boarded a sailing boat for a different view on Lisbon.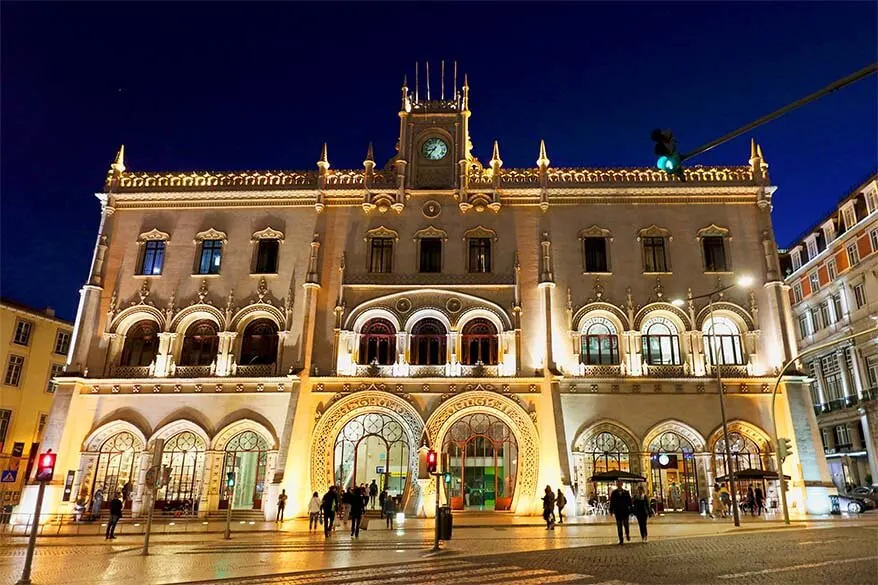 7. Take Your Family on a Sailing Cruise in Lisbon
We only spent one day in Lisbon, but even then we were not sure how much the kids could handle as there is so much walking involved in visiting a city. Usually, they are exhausted after a whole day of sightseeing.
So in anticipation that this would happen, we booked a private sailing cruise on the Tagus River. It would allow us to see more of Lisbon without having to walk, and it would be a fun experience for the whole family!
We really wanted to do a sunset sailing tour, but the sunset was quite late, so, with the kids, we opted for a late afternoon boat tour.
There are so many different options for boat tours on the Tagus river, so you can always find an experience that best fits your wishes and Lisbon trip itinerary. With prices starting around 30-40 EUR per person, this is a very affordable luxury and an experience I highly recommend. In my opinion, a sunset sailing tour is an absolute must when in Lisbon!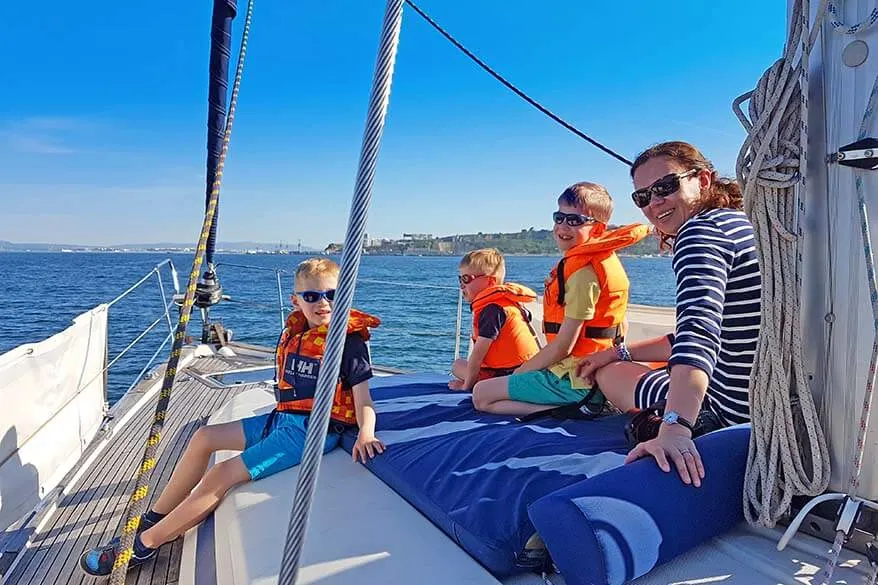 This sailing tour was amazing and the whole family loved it! It was also great to relax and explore more of Lisbon at the same time.
Not only did we have the whole boat to ourselves, but we could also choose which part of Lisbon we would sail by. Since we already visited the city center during the day, we chose to see Belém district from the waterside. It was a great choice!
We passed the harbor and Cristo Rei Statue overlooking the city. Under the 25 de Abril Bridge and on to Belém where we could admire some beautiful architecture of old and modern museums standing side by side by the river. We also passed the Monument to the Discoveries, saw Jeronimos Monastery in the distance, and sailed all the way to the Tower of Belem.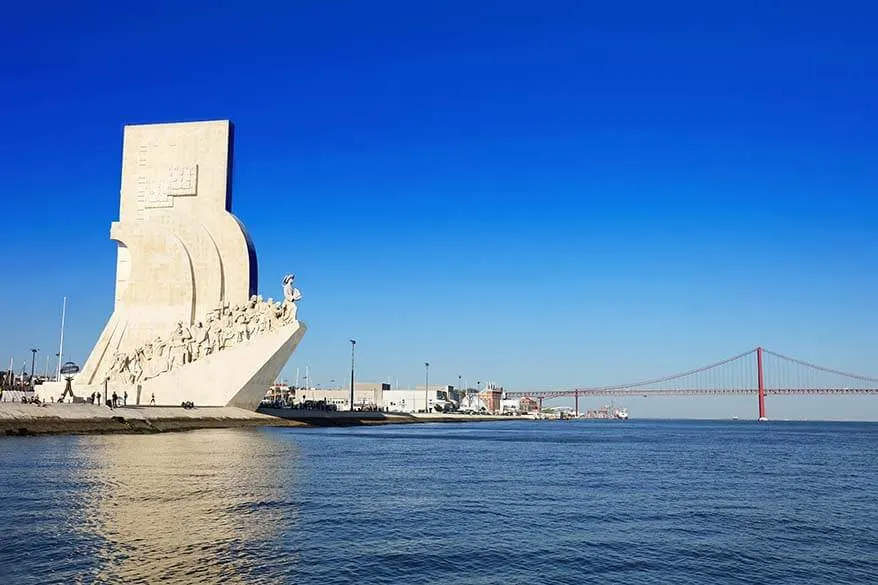 If you have two days in Lisbon, I suggest you visit the Tower of Belém and the Jeronimos Monastery on the second day. But if you only have one day in Lisbon, as we did, seeing Belém from a boat is a great alternative. I would still love to see the inside of the monastery, but that's for the next time.
We loved the sailing cruise as it was such a great and relaxing way to see more of Lisbon without having to walk even more. Our kids give the sailing tour thumbs up as well. Not only were they happy to rest their legs after a long day of exploring Lisbon, but they could also actually pilot the boat and help with the sails.
The sailing tour became an absolute highlight of Lisbon for kids! And us? We got the best views, time to relax, and a glass of wine. What more could one wish for?!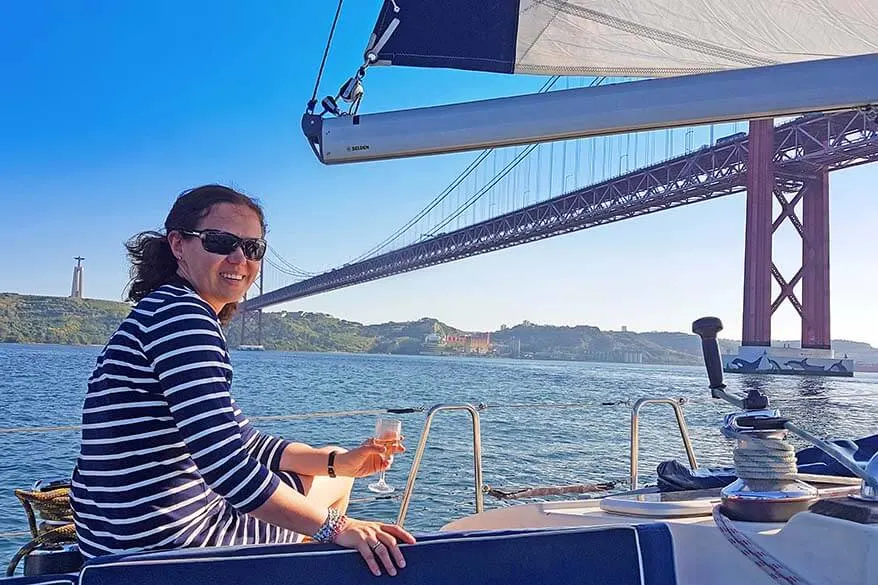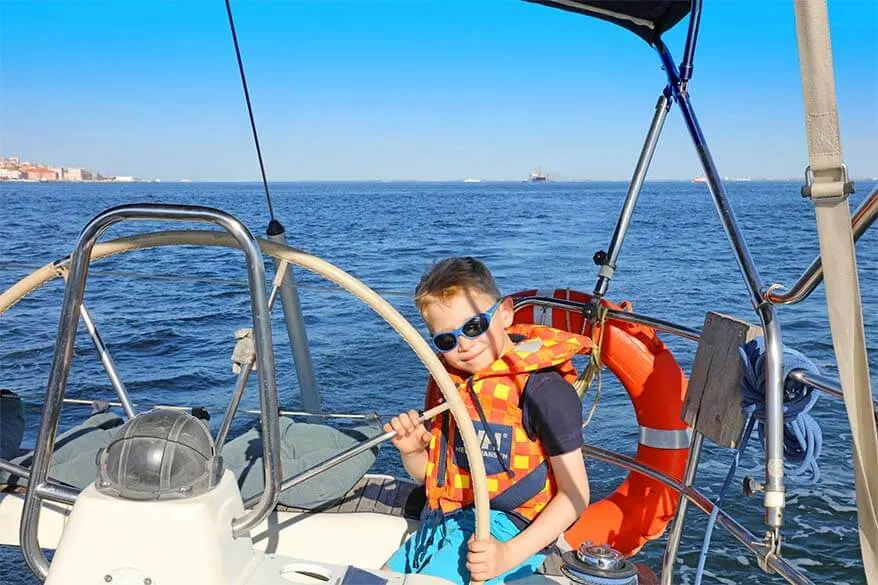 8. Have Dinner at the Time Out Market
We ended our day in Lisbon with a late dinner at the Time Out market.
It's a bustling place with tens of different food courts serving a huge variety of local and international dishes and drinks. Highly recommended!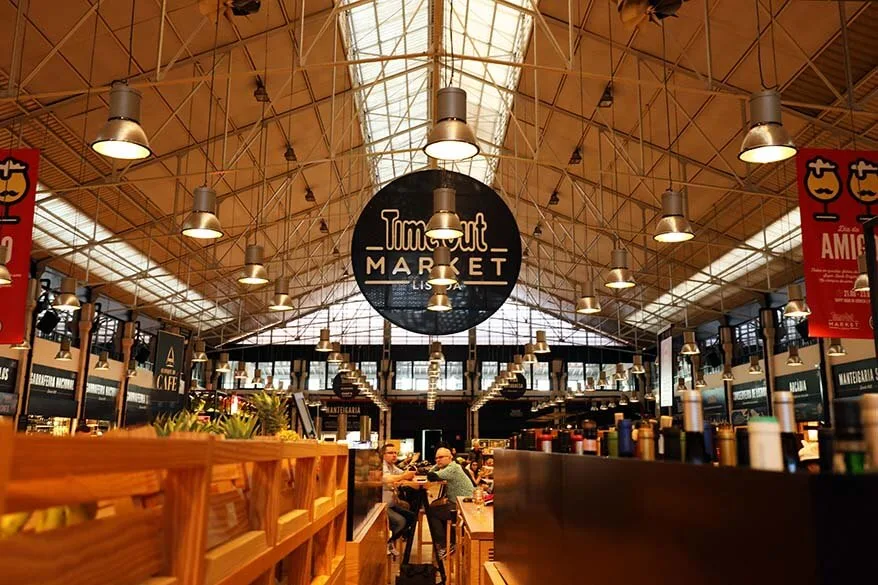 Suggestions for 2 to 3 Days in Lisbon
If you have two days in Lisbon, make sure to visit the Belem district as well! Jerónimos Monastery and the Tower of Belem are not to be missed. Make sure to buy skip-the-line tickets for Jeronimos Monastery and/or the tickets for Belem Tower in advance! The queues are really long here.
If you have one more day in Lisbon, be sure to also visit Sintra, just outside of the city. It's the best day trip you can make from Lisbon and an absolute must in Portugal! Here you can read our suggestions for planning your Sintra day trip from Lisbon.
TIP: After this first short visit to Lisbon, we have been back to the city and explored a bit more. Here you can find our complete guide to the best places to see and things to do in Lisbon. Take a look for additional suggestions!
READ ALSO: Best Day Trips from Lisbon
Practical Information for Visiting Lisbon
Airport transfers. Taxi is a good way to get to the city from the airport, but we found that our taxi driver seriously overcharged us, compared to what we paid for the other taxi rides in town afterwards. If you want to be sure that you are not paying too much, you can book a highly-rated and very affordable airport transfer in advance. These private airport transfers are much cheaper than what we paid for a taxi…
Getting around. We found that taking a taxi is the best way to get around Lisbon for a family. Taxis are cheap, fast, and easy. With the five of us, it was probably one of the cheapest options as well.
Alternatively, you can opt for the Lisbon city card or a city public transport pass. Taking a hop-on hop-off bus and/or tram is also a very good way to see Lisbon in a short time because the city center is big and there is a lot of walking and climbing involved.
Make sure that you wear comfortable shoes because you'll be walking a lot! If visiting between April and October, make sure that you also have sun protection and a sunhat. It can get really warm in the city!
The best time to visit Lisbon is in the spring or in the fall, when the weather is mild and it's not too busy. Read also our guide to Portugal in April.
For Lisbon accommodation, I suggest staying in the city center, within a walking distance from Baixa and Alfama. We stayed on Av. de Liberdade, close to Rossio square, and the location was perfect for sightseeing, dining, and shopping. On top of that, it's easily accessible by public transport and is really one of the best locations to stay in Lisbon. Here are some of the best hotels in this area:.
So, this is what our day in Lisbon with kids looked like. Planning to visit Lisbon in 1 day and have a question? Feel free to leave a comment below!
Planning to visit more places in Portugal? Make sure to check our other guides as well – see below!
More tips for your trip to Portugal:
Algarve:
Madeira and the Azores:
If you found this post helpful, don't forget to bookmark it and share it with your friends. Are you on Pinterest? Pin this image!