Lagos is one of the coziest and most charming towns in the Algarve, Portugal. Whenever you ask locals where to go for sightseeing in the region, you'll hear Lagos recommended time and again.
But what to expect and what is there to see and do in Lagos?
In this guide, we cover all the best things to do in Lagos for first-time visitors. Please note that this article is primarily focused on the sights and activities in the town of Lagos and its immediate vicinity.
Of course, there is much more to see and do near Lagos and the stunning coast of the Algarve than we cover here. But that would require a few additional articles and that's not the focus of this article. That being said, we include a short overview and a few recommendations for some of the very best things to do nearby at the end of this guide.
Good to know: Lagos is a small town and you can just walk through and see everything in a few hours. If you want to visit all the best places in Lagos mentioned on this list and spend some time at the beach, take a boat tour, or go kayaking, you can easily spend an entire day here.
To help you plan your visit and get a better idea of where everything is located, we also created a map of the best places to see in Lagos. You can find this map at the end of this post, together with some practical information on where to stay.
But first – top sights and best things to do in Lagos. Find out!
Top Experiences in Lagos: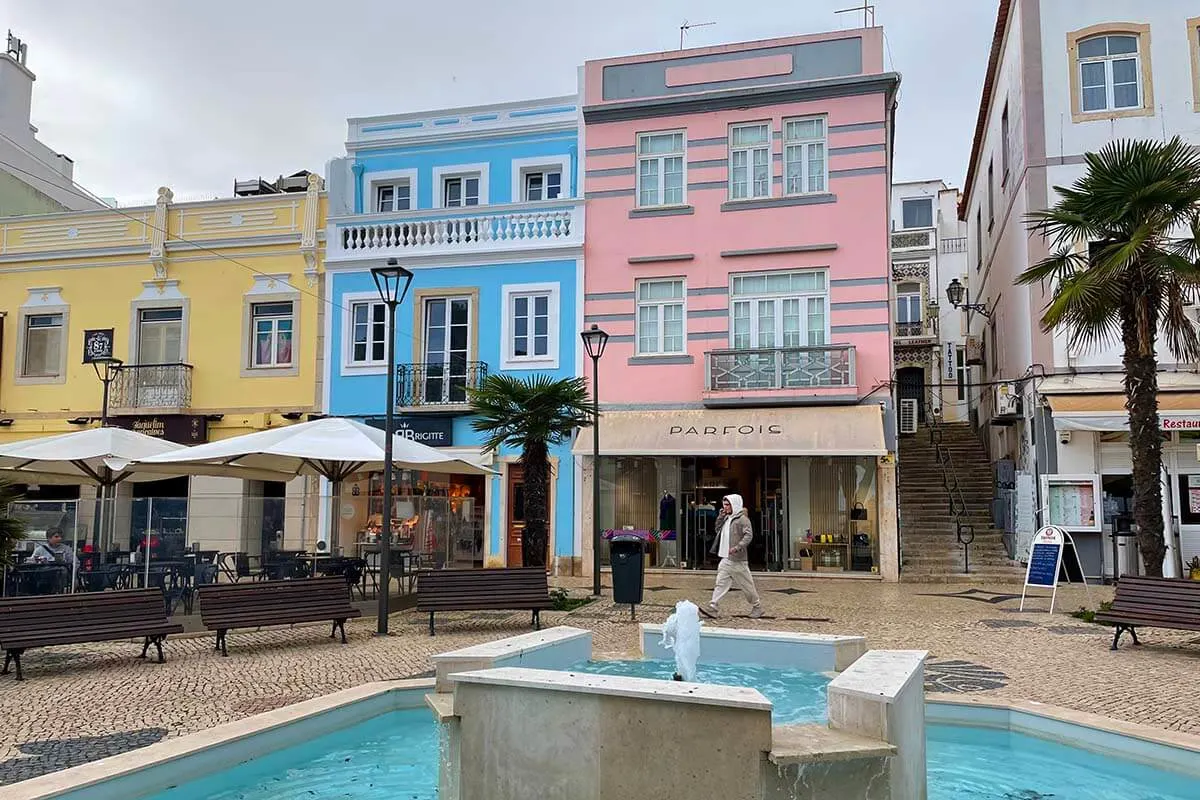 Here are the best things to do in Lagos:
1. Old Town
Without a doubt, the best thing to do in Lagos is simply to explore the old town. With cozy squares and a labyrinth of narrow streets, Lagos has a nice mix of very touristy and more local areas.
Just like in pretty much any of Portugal's best cities, the old town of Lagos has typical Portuguese pavements with a variety of different patterns. You'll also find traditional buildings, most of them white or with colored windows and doors, but I also spotted a few houses with traditional azulejo-tile facades.
Most streets in the heart of Lagos old town are lined with shops, cafes, and restaurants. But there are also some residential areas, with laundry hanging through the windows, and locals chatting on the streets.
There are a couple of nice town squares that you shouldn't miss: Plaza Infante Dom Henrique with the Church of Santa Maria de Lagos, Praça Gil Eanes and adjacent Rua da Porta de Portugal with colorful houses, and the cozy Praça Luís de Camões. I indicated all these places on our map further below, but Lagos old town is quite small, so you can't really miss them.
Good to know: The main touristy part of Lagos' old town is rather flat. But if you turn away just a block or two to explore deeper, you'll encounter more hilly areas. In any case, comfortable footwear is recommended for sightseeing in Lagos!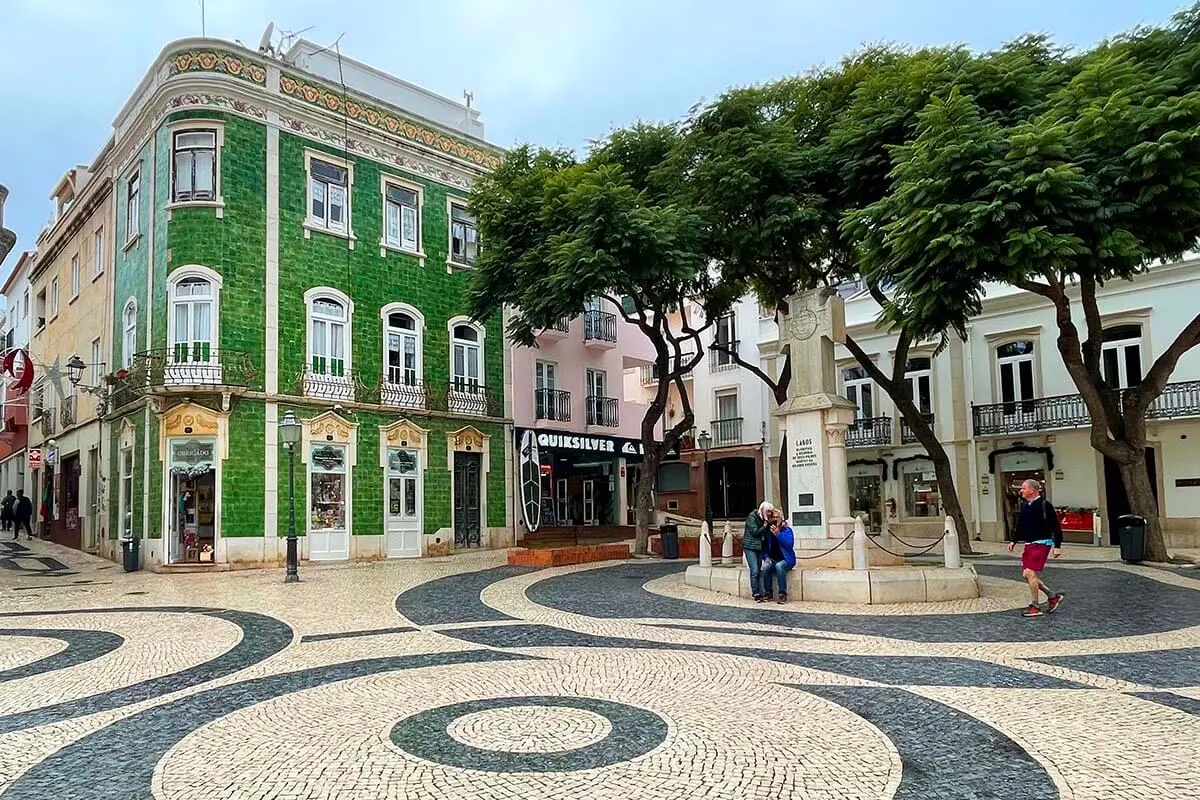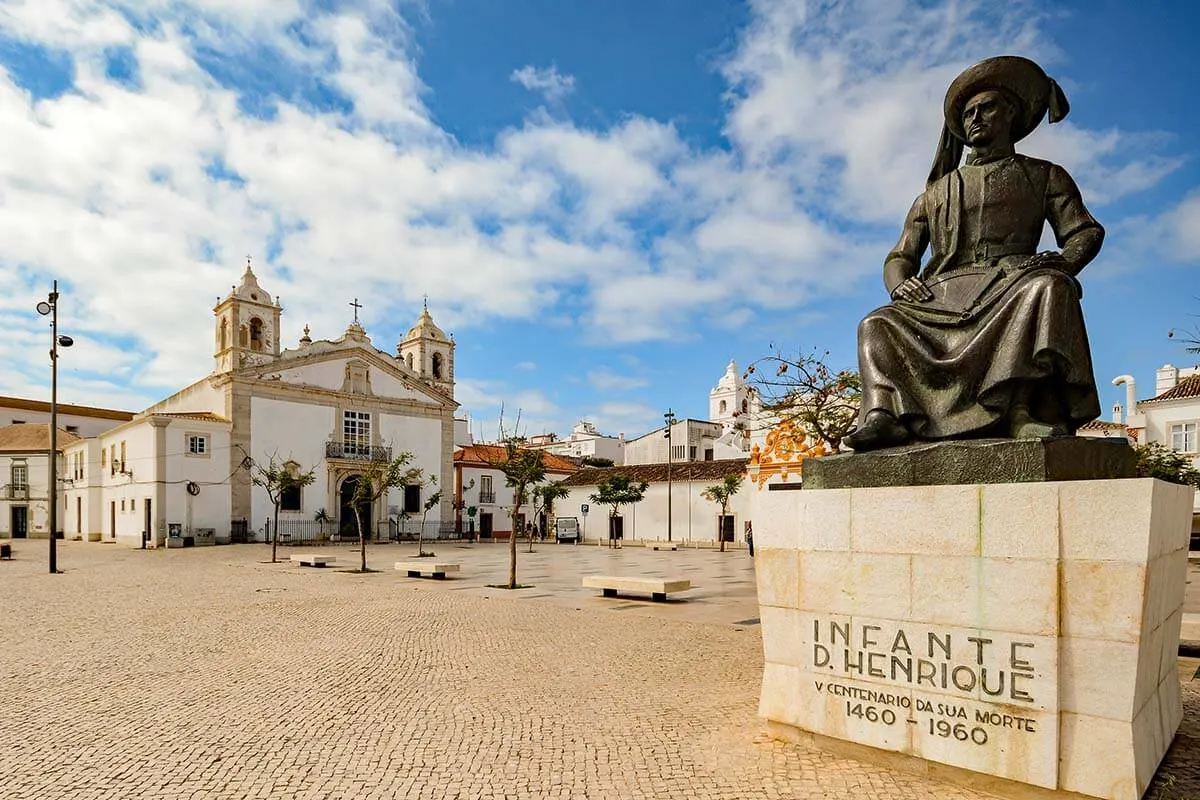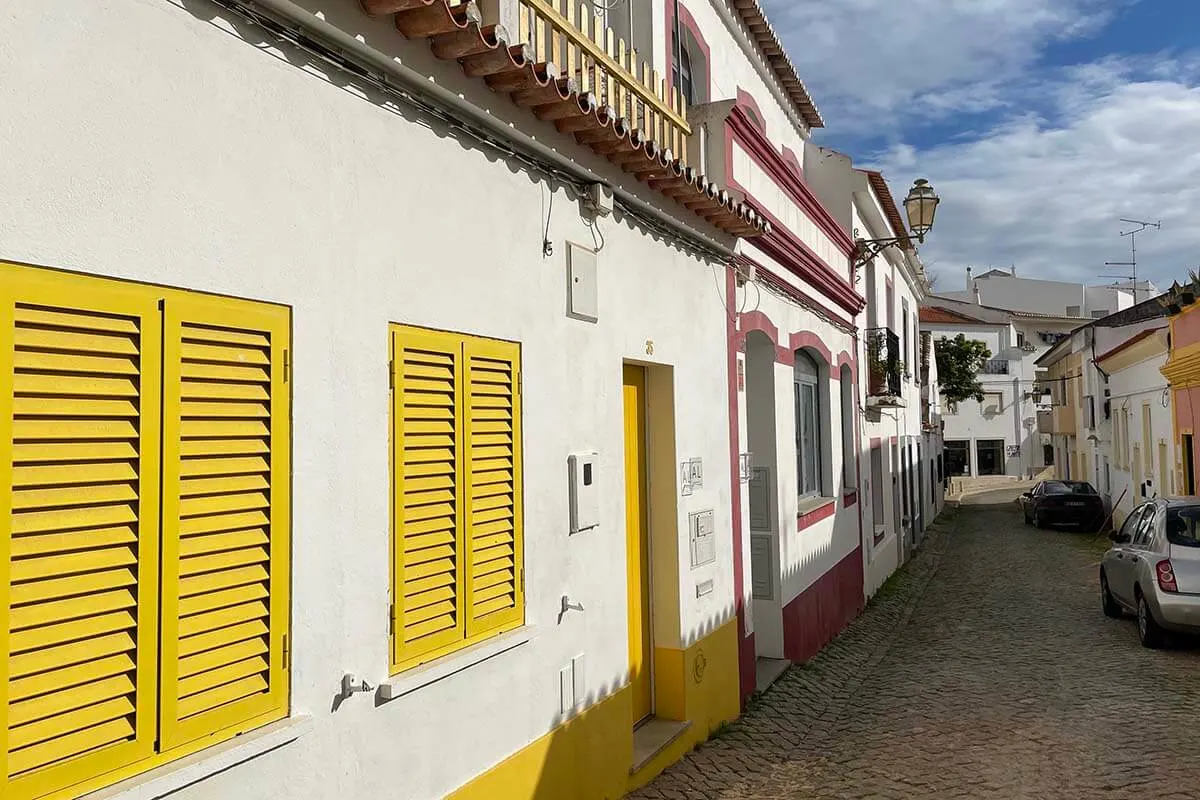 2. Lagos Museums
There are a few small museums in Lagos. Depending on your interests and how much time you have, visit one or all of them. Here's a brief overview:
Museu de Lagos
Probably the most interesting to see is the town museum, which is called Museu de Lagos (or Museu de Lagos Dr. José Formosinho). It's located adjacent to the Church of Santo Antonio, and this stunning church can only be visited with a museum ticket.
This lavishly decorated chapel of Igreja de Santo António is awe-inspiring and is probably one of the most noteworthy landmarks of Lagos. It's actually the main highlight of this museum and the main reason to visit.
In addition, Lagos museum has a mix of exhibitions related to the town's history, but also regional artifacts, religious art, etc.
Good to know: You only need 15-20 minutes here, the entrance costs just a few euros, and it's absolutely worth it! The museum is open every day except Mondays. For more practical information for your visit, please check the official site of the museum.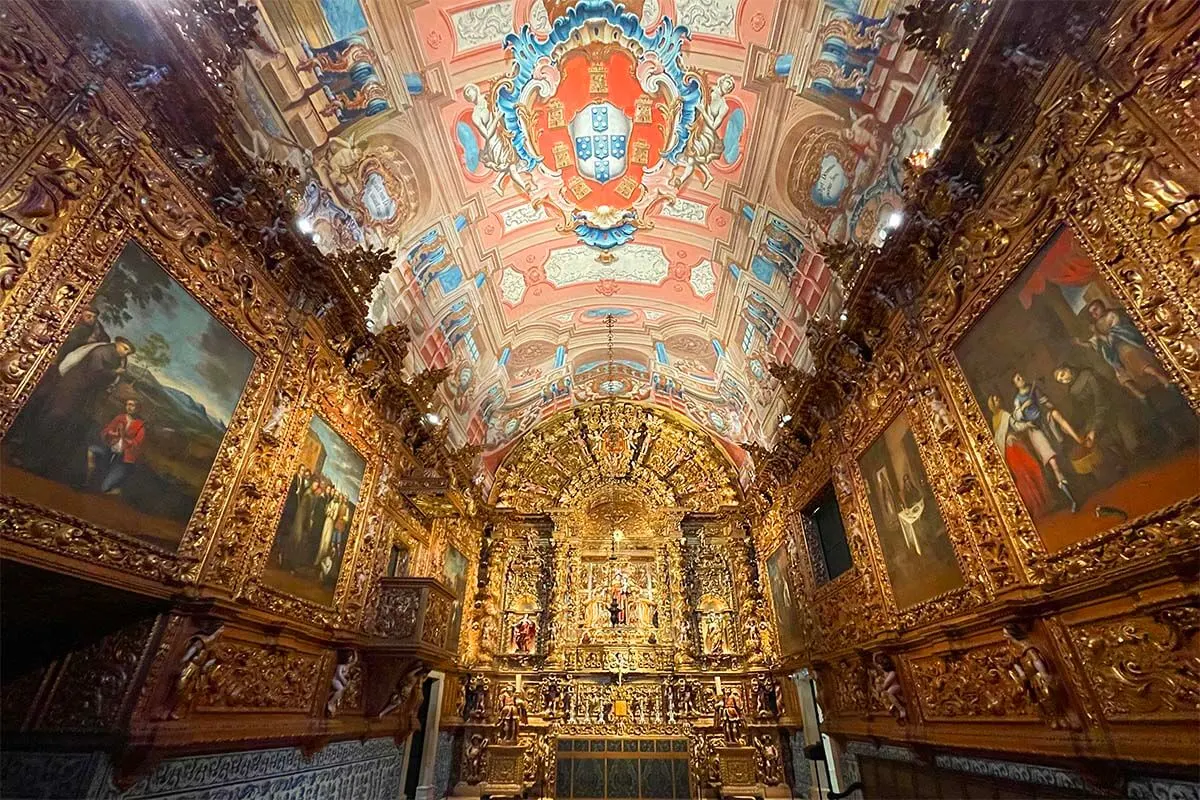 Slavery Route Museum – Slave Market
Just around the corner from Lagos Museum, on the Infante Dom Henrique square, you'll find the Slavery Route Museum – Slave Market (Mercado de Escravos).
This museum is located in one of the oldest buildings in Lagos, where around the 15th century, African slaves were brought by boats to Europe and sold. A visit here gives you a view into this sad chapter in Portuguese history. However, the museum is really tiny and – in my opinion- not as interesting as the Lagos Museum. But if you want to see everything that Lagos has to offer, check it out.
Good to know: The museum is open daily except on Mondays. See the official website for up-to-date information and opening hours, or just check it out when passing by and visit if it's open. Also here, 15-20 minutes should be sufficient for a visit.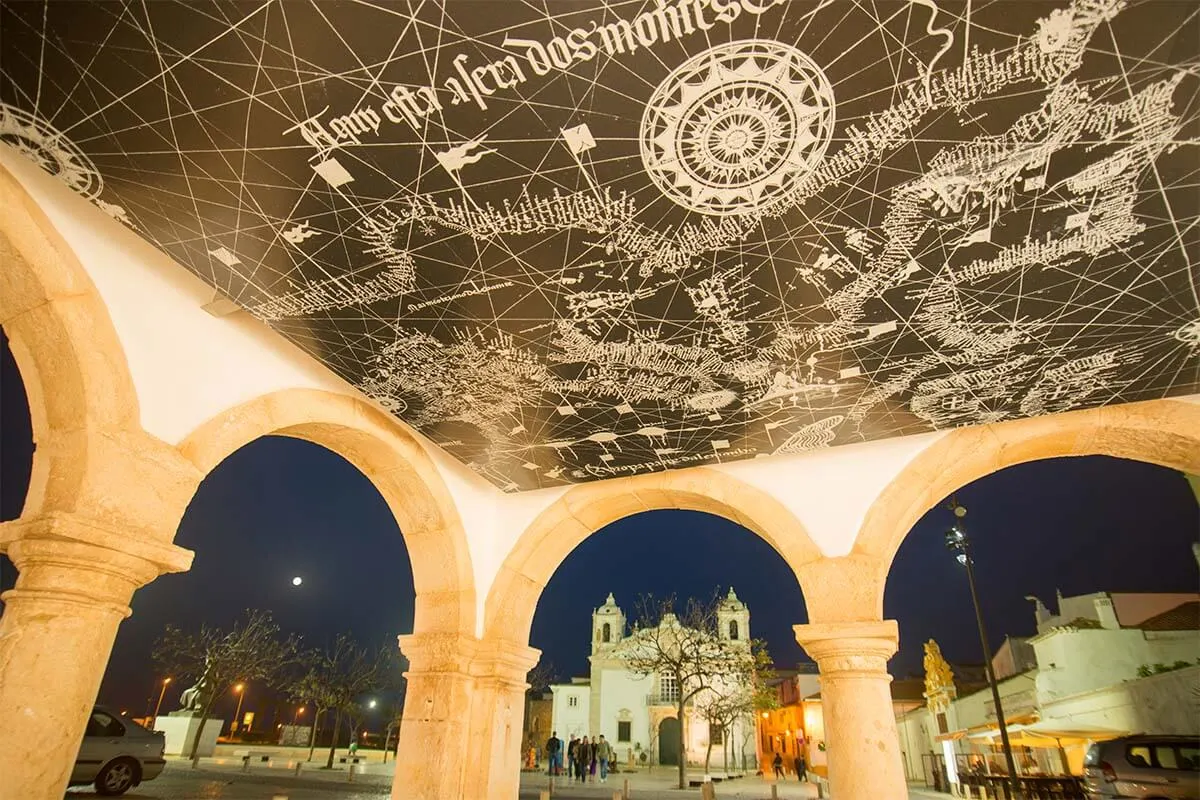 Centro Ciência Viva de Lagos – Science Center
If you are looking for something fun to do in Lagos with kids, then definitely check out the Science Center. This is a colorful hands-on museum that's fun for the whole family.
The Lagos Science Center is also rather small, but it contains an indoor and an outdoor section and can keep your kids busy for a while. It has all kinds of scientific exhibits presented in a kid-friendly way. You can learn some basic laws of physics, but also different kinds of sailing knots, see old navigational instruments, maps, etc.
Good to know: Lagos Science Center is normally open daily except on Mondays and some public holidays. See their website for more information.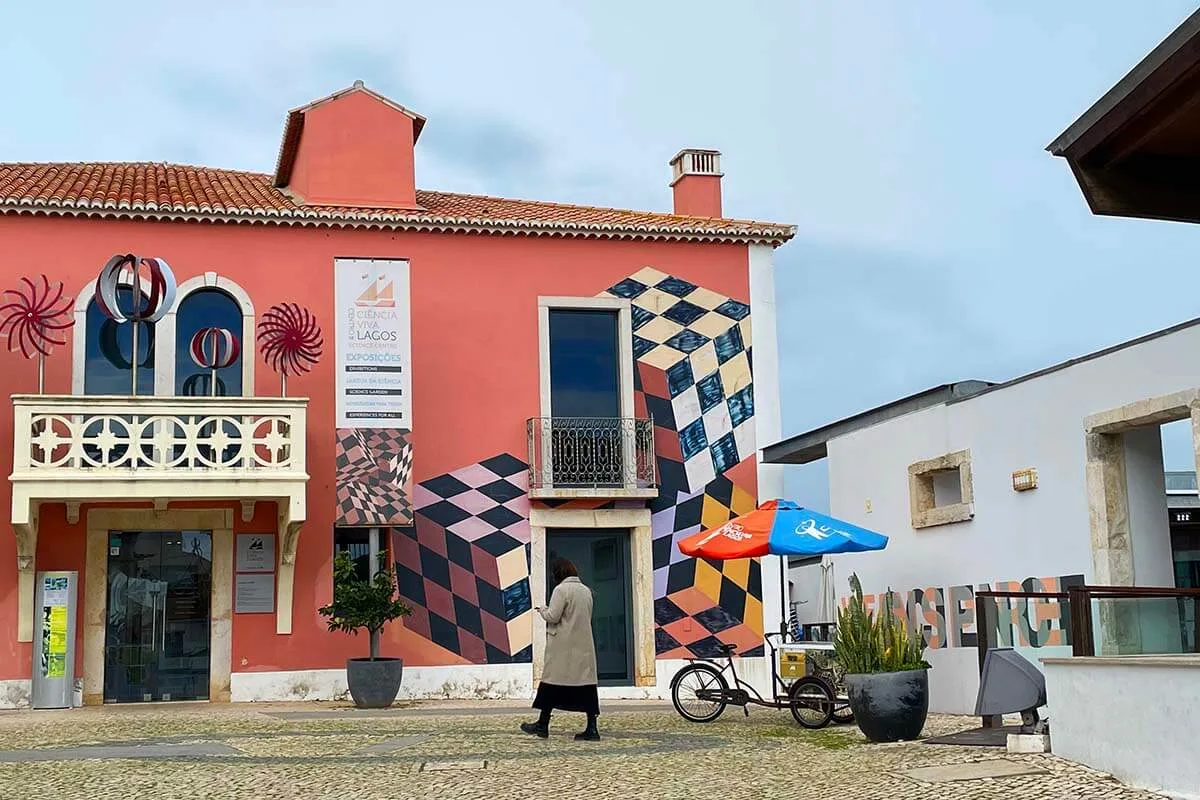 3. Lagos Fortress
One of the best-preserved fortresses in the Algarve, Forte da Ponta da Bandeira is another nice place to see in Lagos. This 17th-century fort was built to protect the region from pirates and now serves as a museum. One of the highlights is a small chapel lined with traditional Portuguese tiles.
Normally, you can visit the fort and also climb its roof for a nice view. However, when we were there, the museum was closed due to staff shortages, so you could only see it from the outside.
Good to know: Check the official website for up-to-date information if the fort is open. Either way, it's worth coming here, even if only to see the fort from the outside.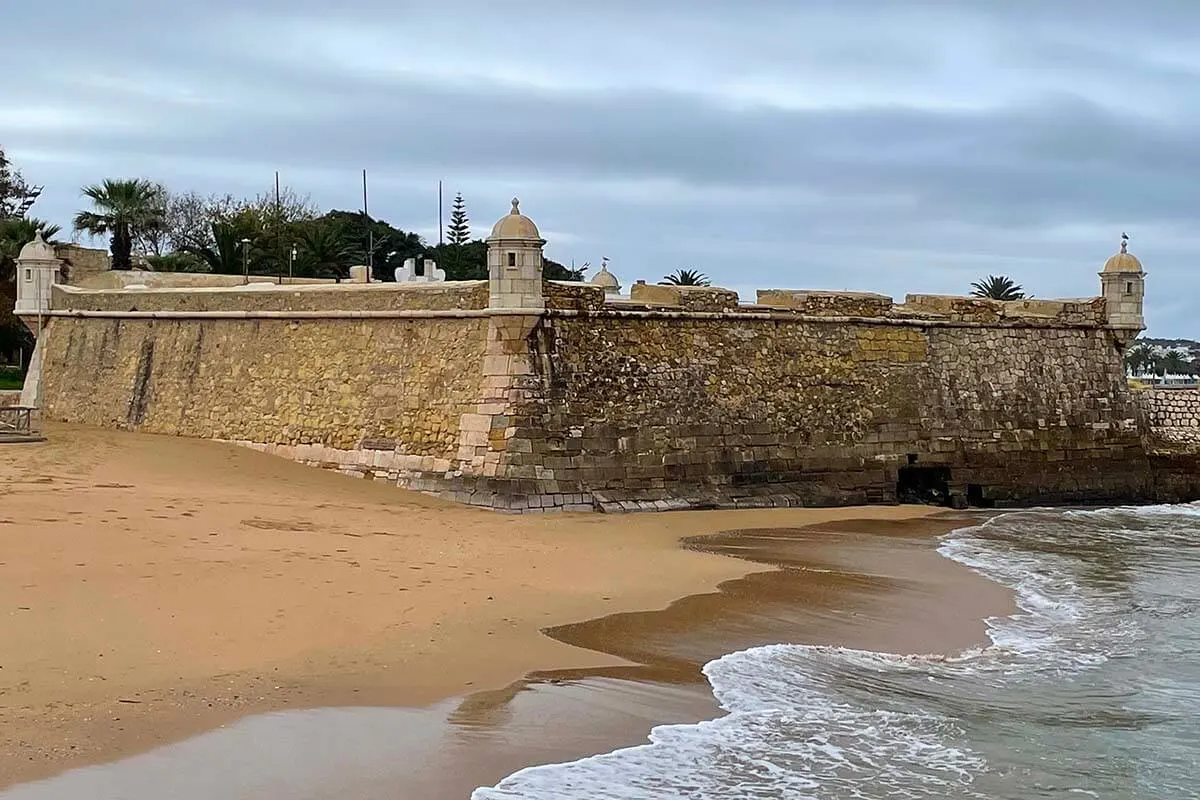 4. City Walls & Lagos Castle
When researching what to see in Lagos, I stumbled upon Lagos Castle on the map. In reality, it's just city walls, which can only be seen from the outside.
The nicest and best-restored part of the city walls can be found on the waterside, opposite the Fortress, at Porta de São Gonçalo. So if you come to see the fortress, you can't really miss the city walls. It's just a quick photo stop.
You'll also find the remains of the city walls encircling the old towns in the other locations. It's nice to see if you stumble upon it, but not something to go out of your way for.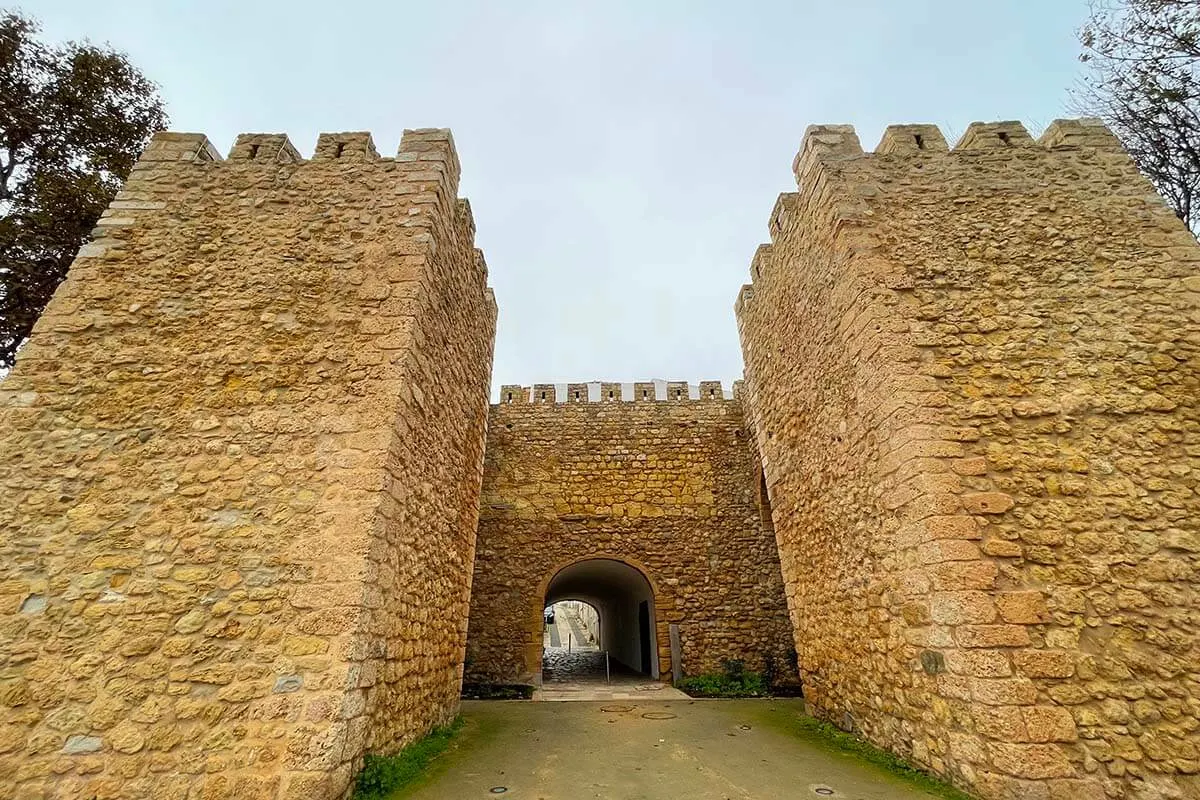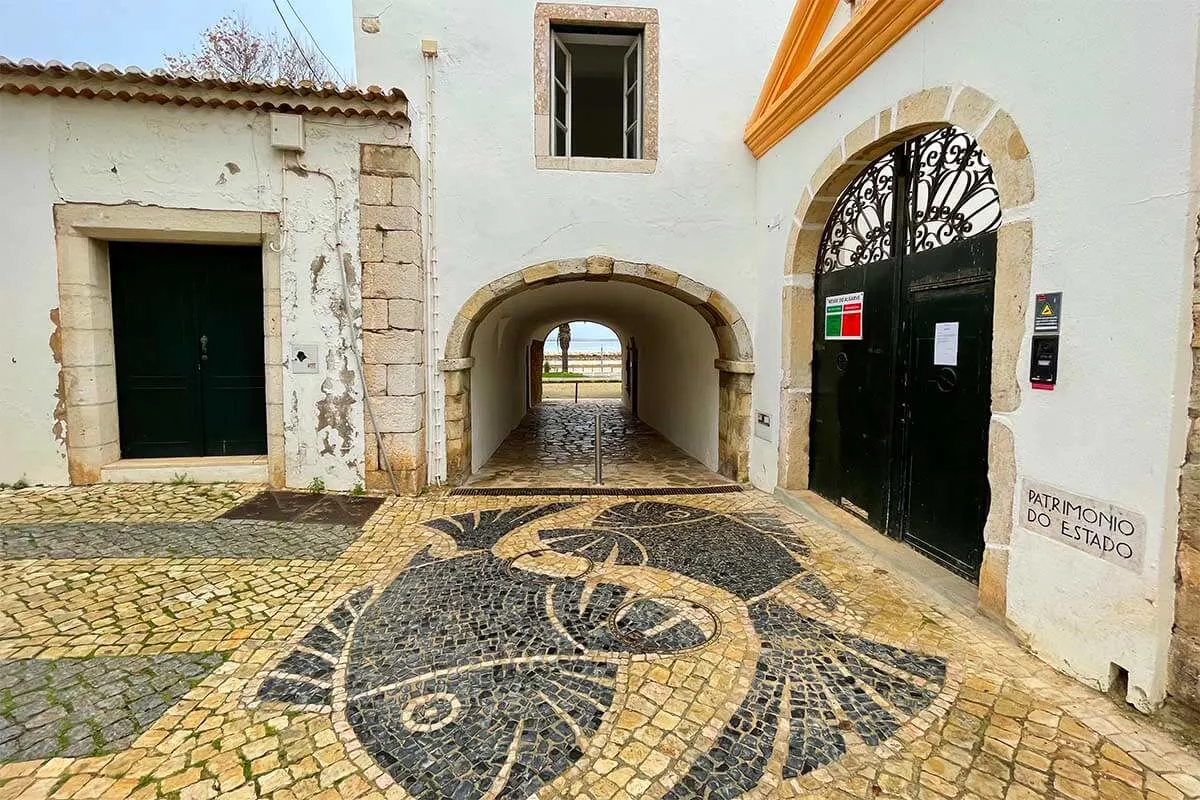 5. Lagos Market
Mercado Municipal de Lagos is a bustling food market and is a really nice place to visit in Lagos town center. Inside, you'll find colorful fruit and vegetable stands, and lots of fresh fish and seafood straight from the sea.
The ground floor is mostly dedicated to seafood, whereas the first floor is where you'll find vegetables, fruit, olive oil, and all kinds of local produce. There is also a nice rooftop restaurant here that serves traditional food.
Even if you're not planning on buying anything, it's well worth paying a visit to this local market, even if only to soak up the atmosphere.
Good to know: The market is normally open in the mornings, from 8 am to 2 pm, daily except Sundays. You can find public bathrooms here too.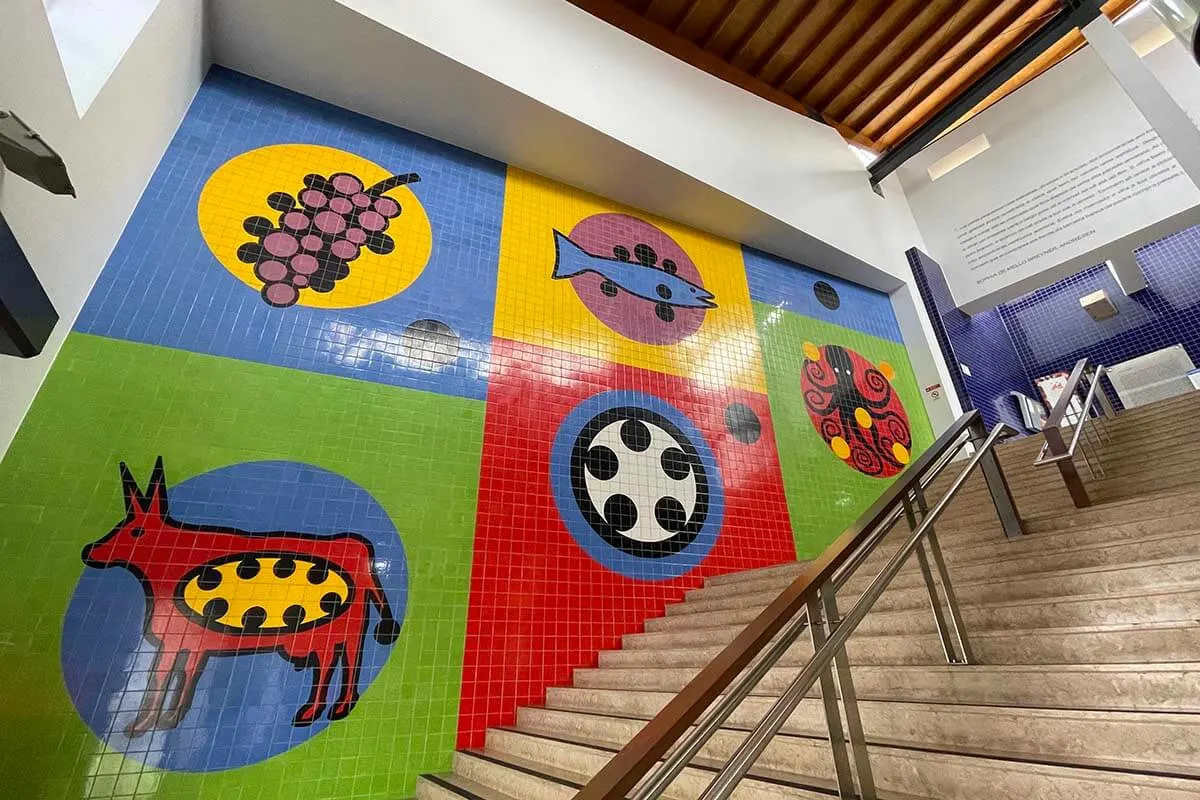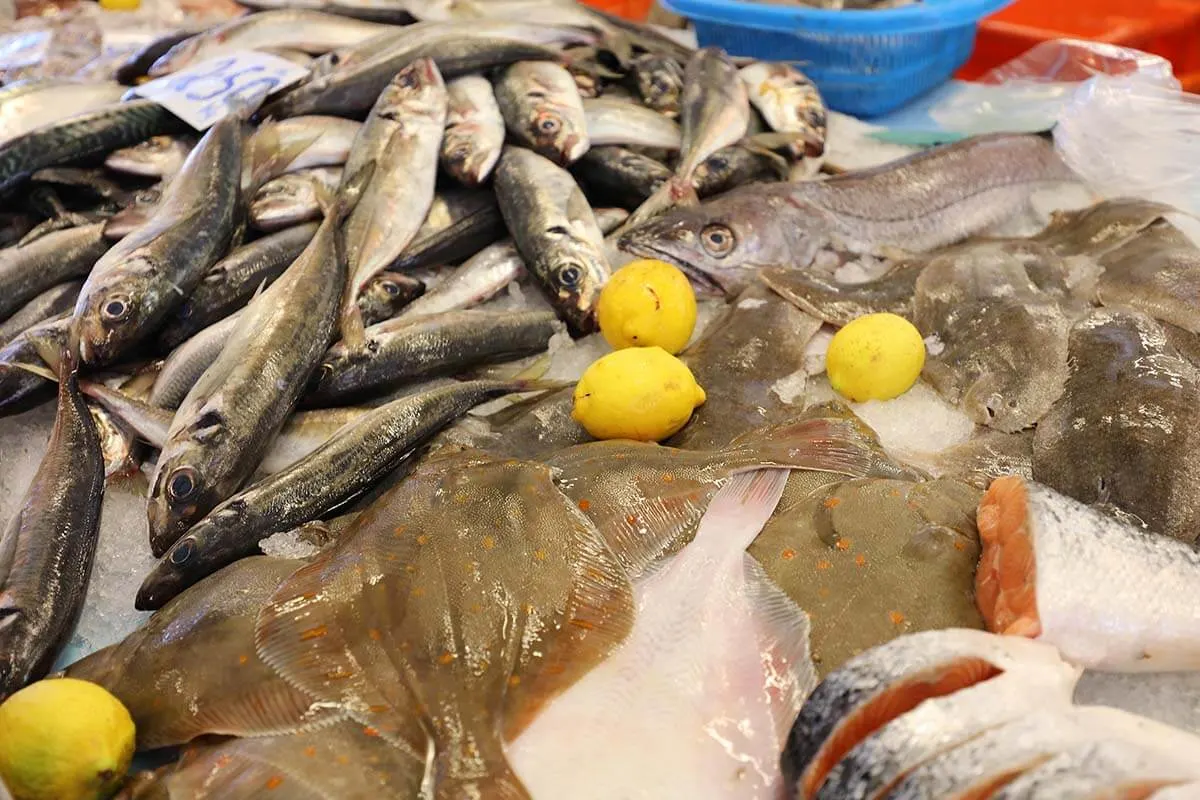 6. Waterfront & Lagos Marina
The waterfront area and Lagos Marina also deserve a mention among the best things to do in Lagos.
The wide pedestrian waterfront promenade lined with palm trees offers a nice escape from the hustle and the bustle of the old town. In high season, you'll find some places selling ice cream, drinks, etc. Closer to the market, you'll also find some places selling clothing and souvenirs.
A pedestrian bridge connects Lagos town center to Lagos Marina. This is where most boat tours depart, and you'll also find several restaurants, cafes, and pubs. It's a great place to sit down for a relaxing drink and do some people-watching.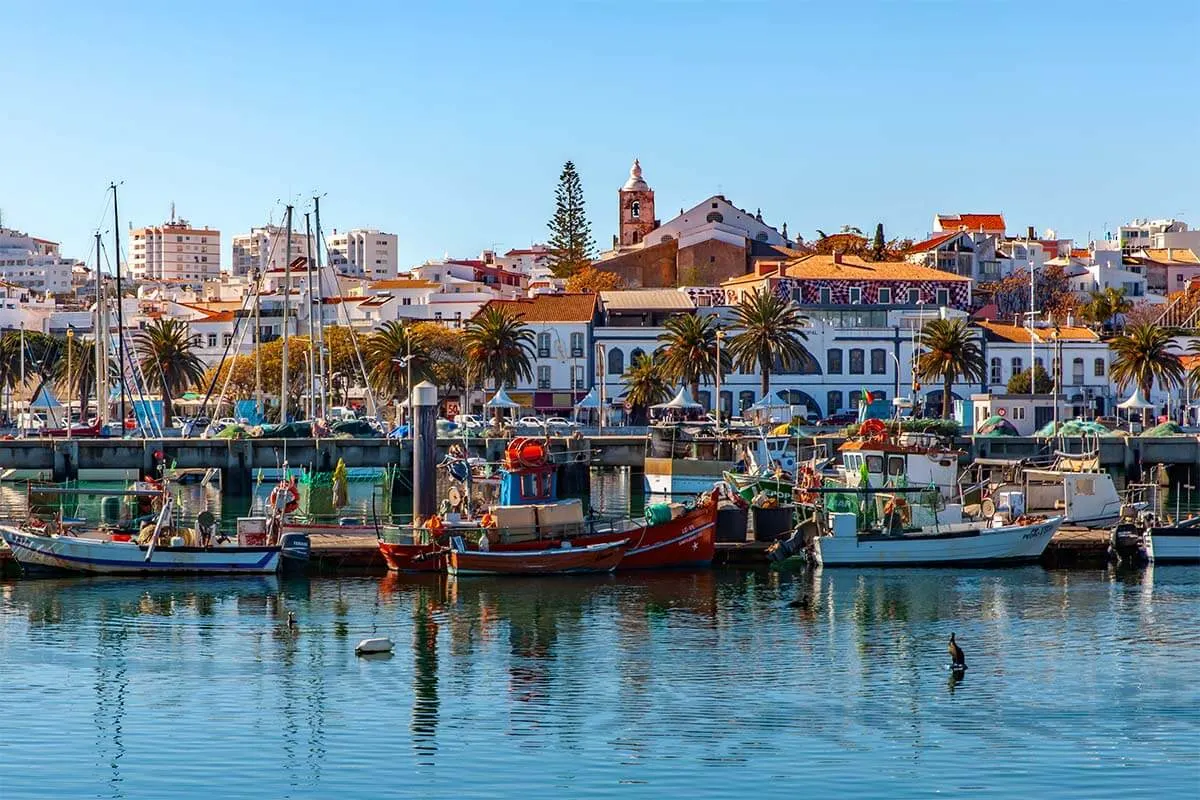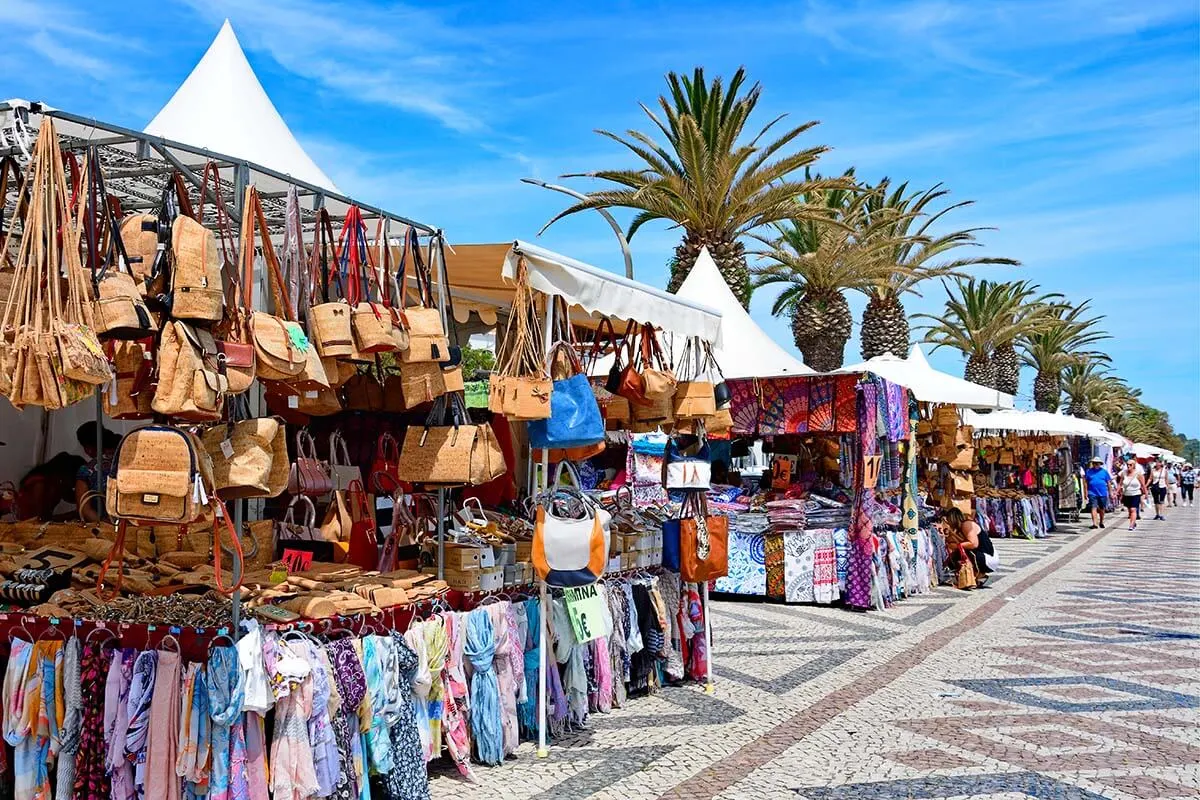 7. Ponta da Piedade
No trip to Lagos would be complete without exploring some of the beautiful coastlines just outside the city center. An absolute must-see is Ponta da Piedade, a stunning coastal area with caves & grottos.
There's a historic lighthouse here, but it can't be visited. However, you are free to explore the stunning surroundings around it. The cliffs are unbelievably picturesque and the scenery is breathtaking! Just be careful where you walk as the area isn't fenced and the drops are steep!
You can also take a steep staircase down to the sea grottos. It's nice to see, but not an absolute must if the stairs look intimidating to you. The best views are definitely from the top of the cliffs or from a boat. And yes, a boat tour around Ponta da Piedade is really a must in Lagos. You can find more info about boat tours further below.
Good to know: The entire area around Ponta Piedade is crisscrossed by walking paths and boardwalks. You could spend hours walking around here and exploring some of the nicest beaches nearby too. And talking about beaches, there are a few you shouldn't miss – see below!
Practical information: There's a big parking area at the lighthouse of Ponta da Piedade. In the low season, you can just drive up here and park without any issues. However, in the summer, it can be very busy. If you have time and don't mind some exercise, you could also walk to Ponta da Piedade from Lagos town center in about 30-45 minutes. Lagos tourist train also makes a stop here.
LEARN MORE: Best Ways to Visit Ponta da Piedade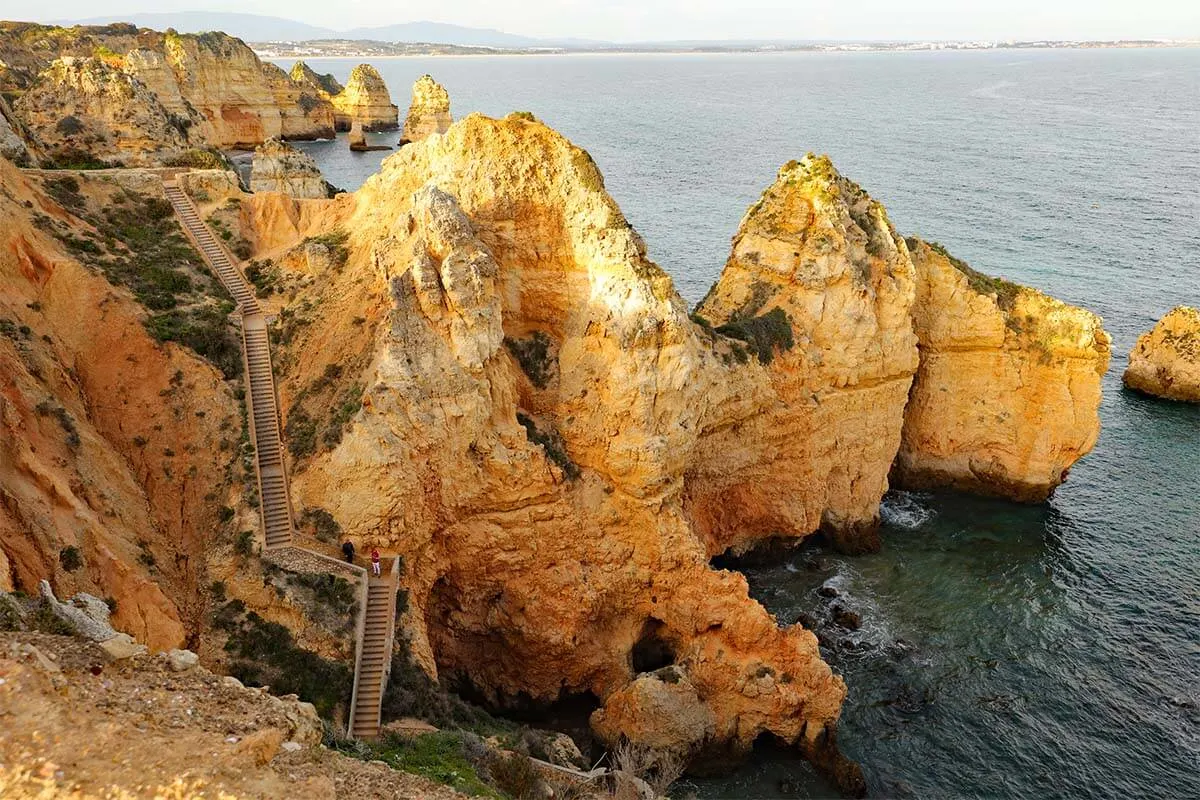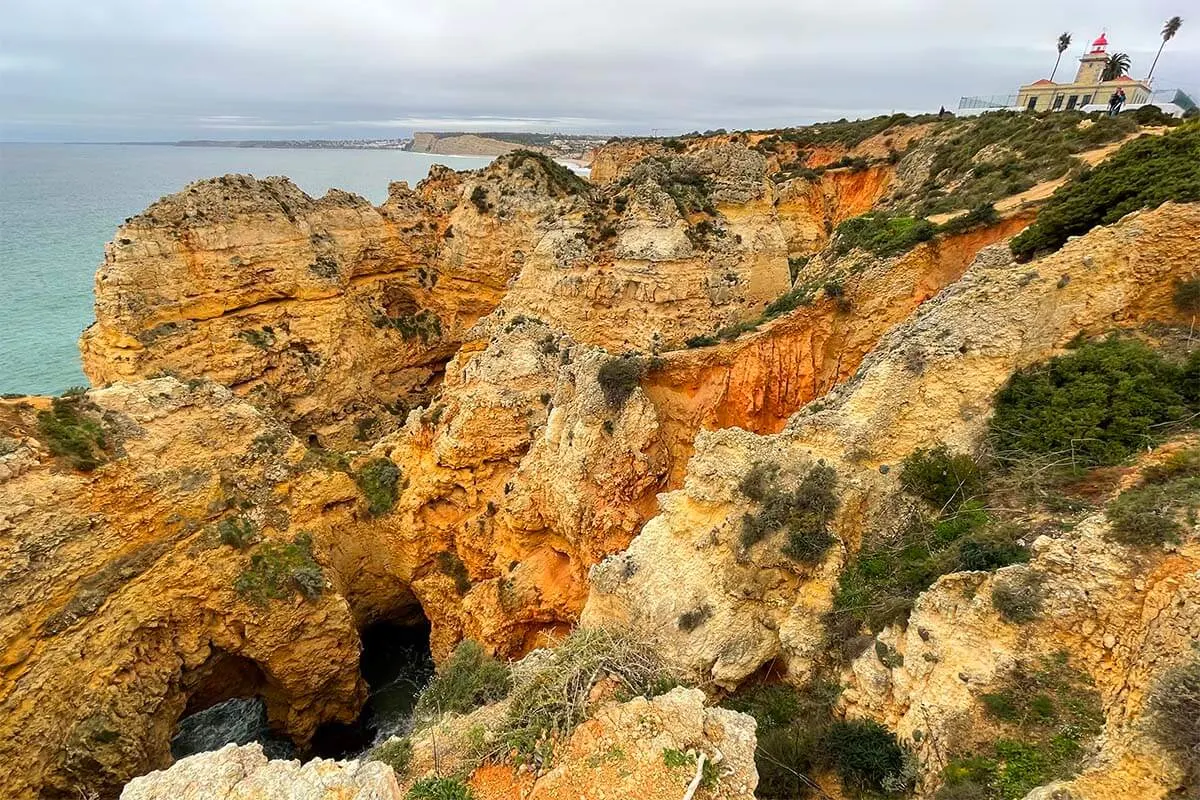 8. Lagos Beaches
The area around Lagos has lots of beaches. You could easily spend a week or two sunbathing and swimming on a different beach each day. But also if you're mainly interested in sightseeing, you'll be glad to know that several of the most beautiful beaches of Algarve are located here.
Best beaches close to the town center
The easiest beaches to visit in Lagos are Praia do Cais da Solária and adjacent Praia da Batata right next to the city walls and the fortress. There is a seasonal cafe here and in season you can take sailing lessons or also kayak tours to Ponta da Piedade. For example, this kayak tour starts right next to the fortress.
Just nearby, there is another nice beach Praia dos Estudantes, famous for the Roman bridge higher above that has become an Instagrammers' favorite. This beach is accessible from the top of the hill, close to Mar restaurant a bit further south of the town center. The bridge itself can't be accessed, but the view from the bottom is really nice.
A bit further, there is another nice beach, Praia do Pinhão. You can also explore some sea caves and rocks on foot here, especially when the tide is low.
In the other direction, close to Lagos Marina, you'll find the biggest and the flattest beach in Lagos – Praia de São Roque. This beach stretches for several kilometers and different parts of it have different names. You won't find sea cliffs here and so this beach is not as scenic as the others. But if you are looking for a nice stretch of sand for long walks, jogging, or sunbathing without it being too crowded, this is by far the best option.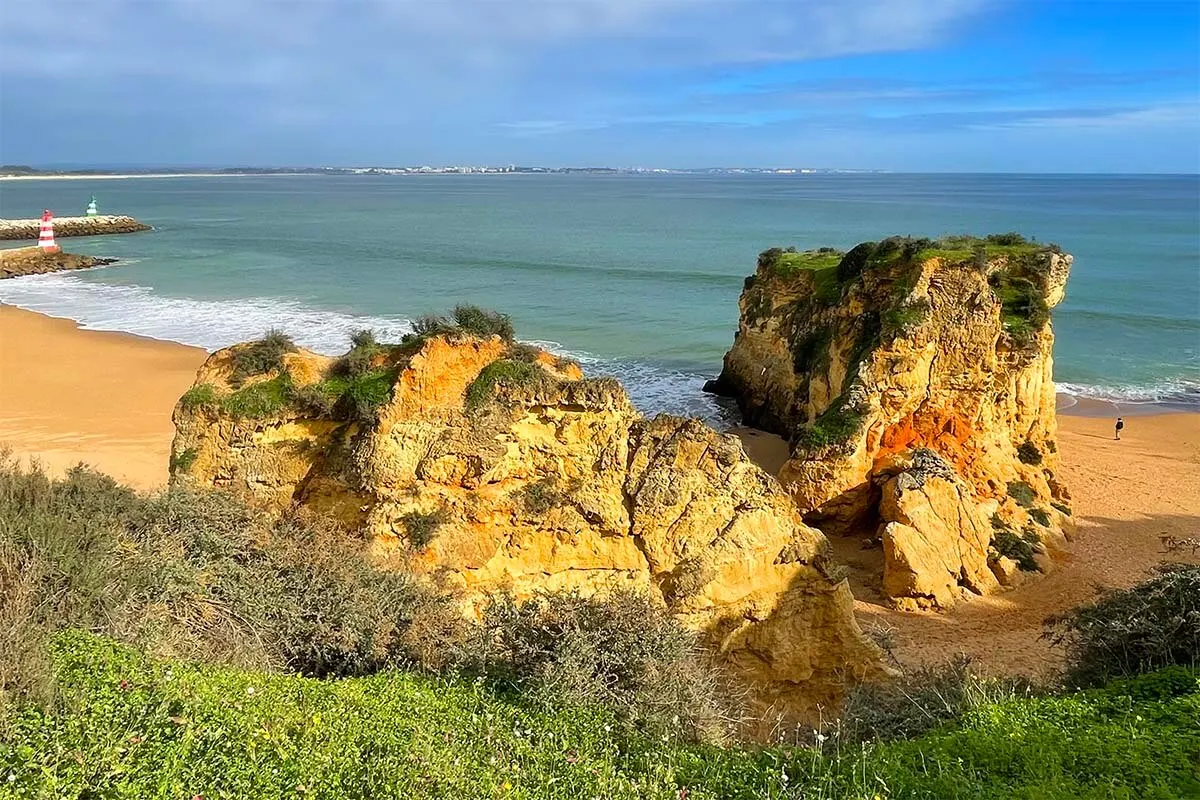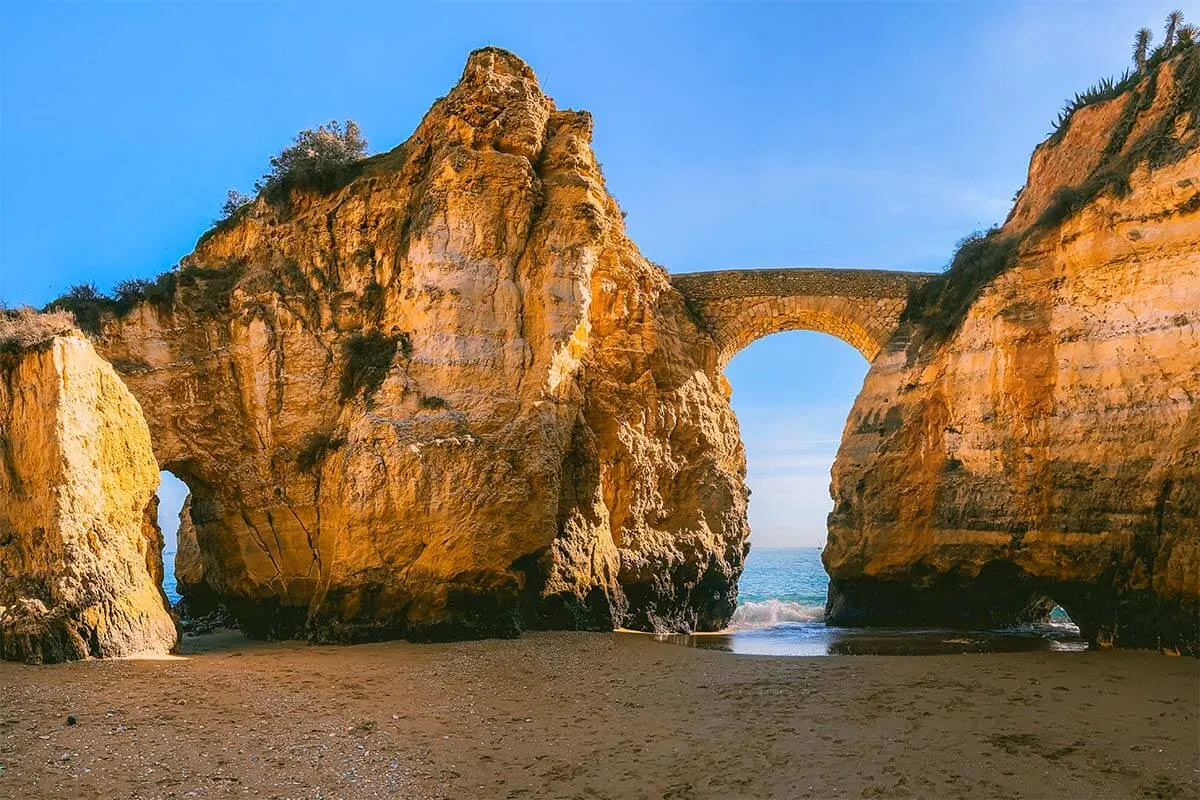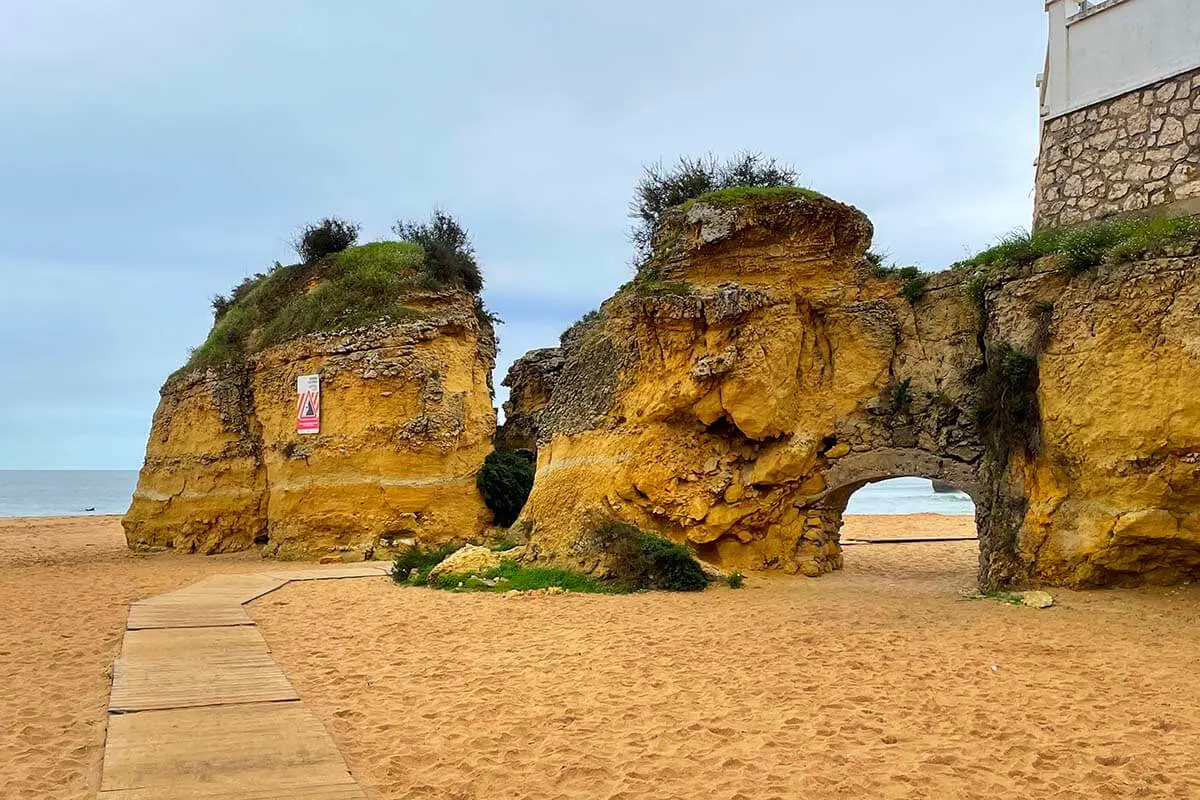 Most scenic beaches
The most beautiful beaches that you really shouldn't miss in Lagos are Praia Dona Ana and Praia do Camilo. They are located next to each other, just a short walk or drive from the town center in the direction of Ponta da Piedade.
It's here that you will find the picture-perfect Algarve beaches with the most impressive sea cliffs all around you. Just beware that reaching these beaches involves quite a lot of stairs, especially at Camilo Beach.
Good to know: Parking is limited and it can get very busy here in the summer. You could walk to these beaches from the old town in about 15-20 minutes. It's also easy to combine a visit here with that of Ponta de Piedade.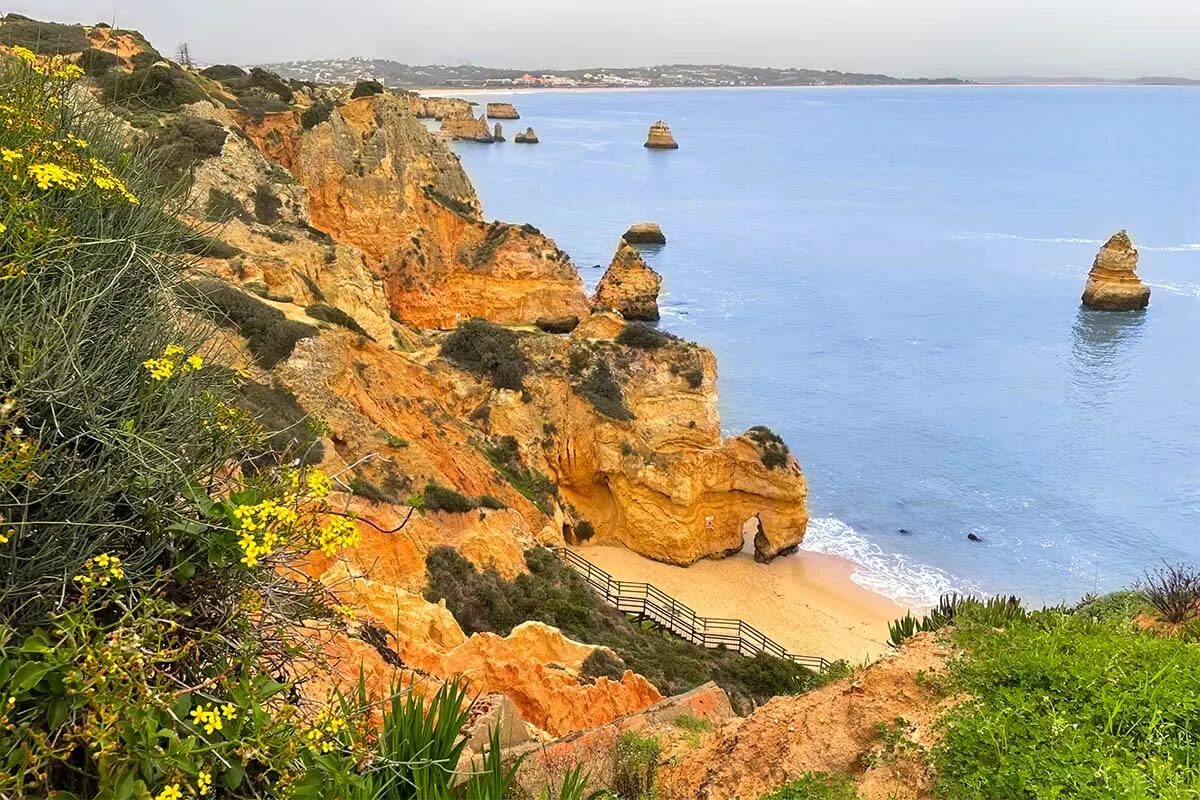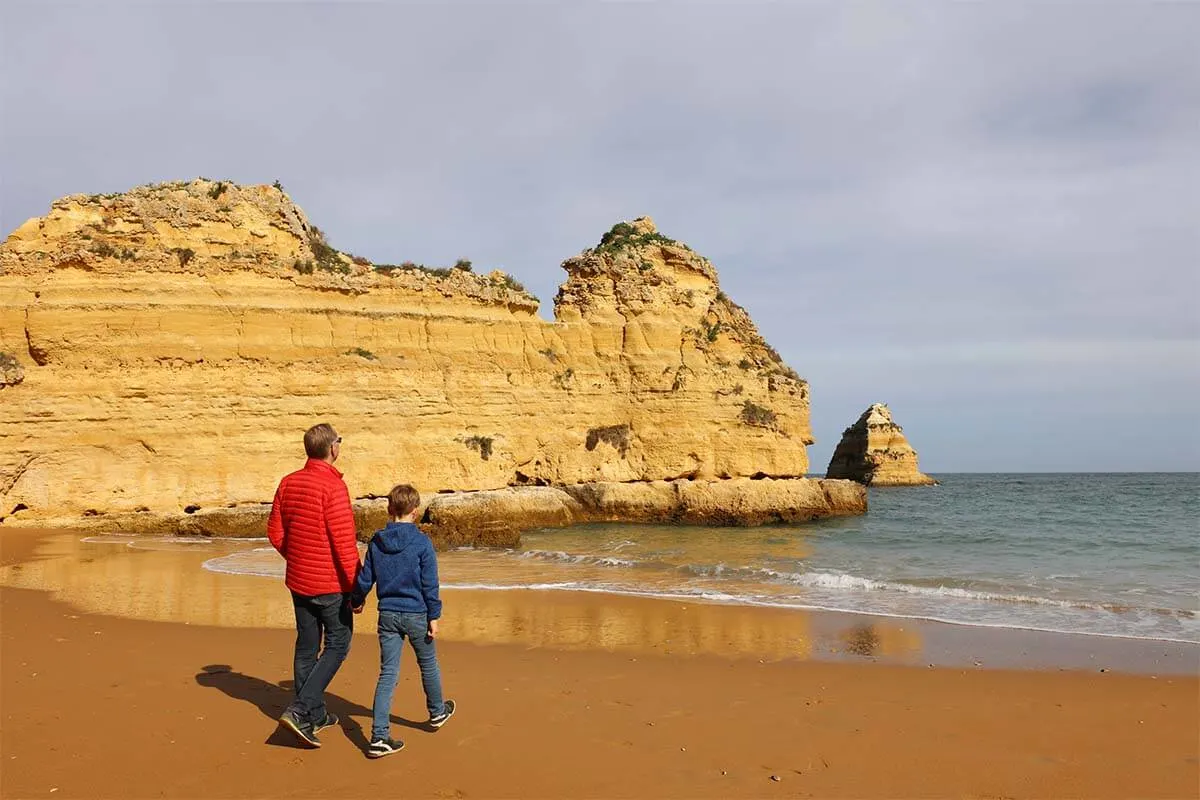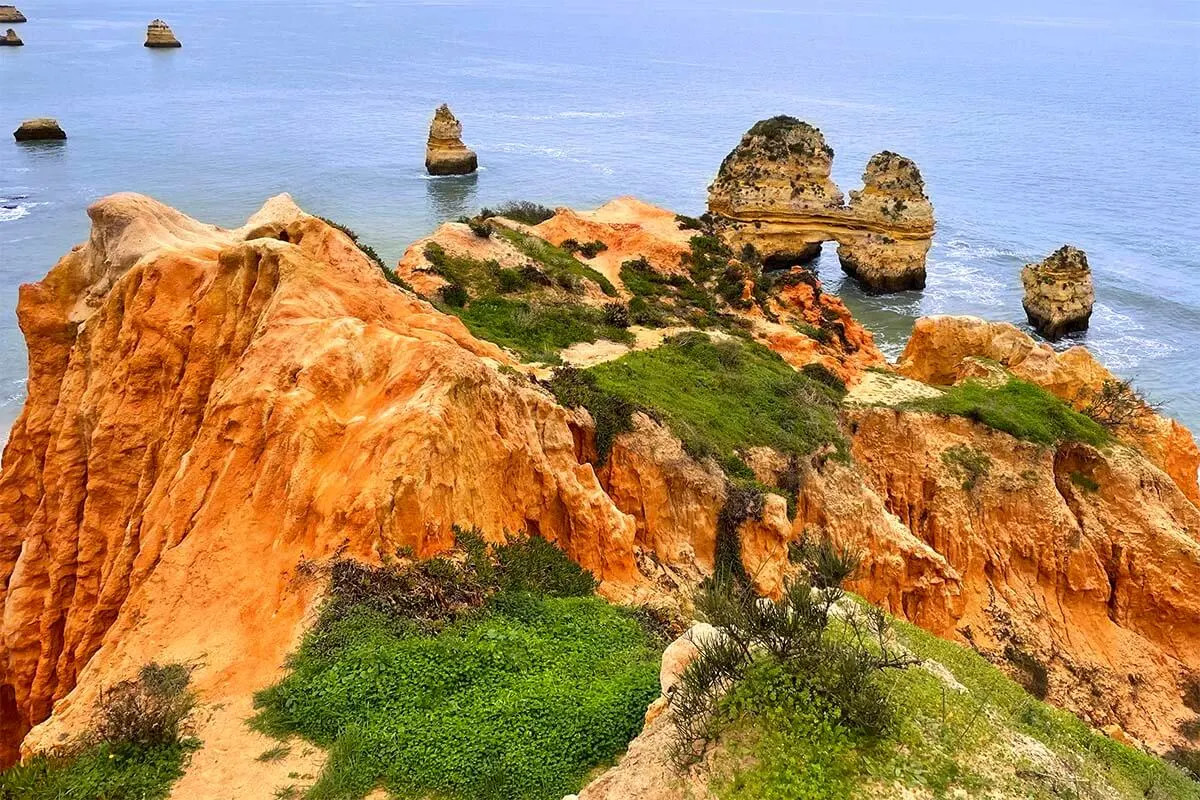 9. Kayak Tours & Boat Trips
If you are traveling to Lagos in the summer season, definitely consider booking a boat or a kayak tour to explore the beautiful coastline around Ponta da Piedade, one of the best places to kayak in Algarve.
Kayaking here allows you to get really close to the remarkable rock formations, pass under natural arches, and enter various sea caves. We did this kayak tour and I can highly recommend it, especially if you are visiting Lagos in the warm season.
Alternatively, there are also amazing small-boat tours that also bring you inside the grottos and sea caves at Ponta da Piedade. You get to see the same scenery as from a kayak but in a more relaxed way. Boat tours take just about 1 hour and don't require any special clothing or gear, so it's really easy to plan it in any sightseeing itinerary. We recently did this grottos tour and it was great.
Exploring Ponta da Piedade from the water is one of the best things to do in Lagos that's worth a trip here in its own right!
In addition, there are also boat tours that take you further along the beautiful Algarve coast in the direction of the famous Benagil Cave. While it's easier to visit Benagil Cave with a boat tour from Portimao or from Albufeira, you can also find plenty of boat cruises from Lagos.
Here you can find an overview of tours departing from Lagos. And here is our hand-picked selection of some of the best boat tours from Lagos:
READ ALSO: Complete Guide to Kayaking at Ponta da Piedade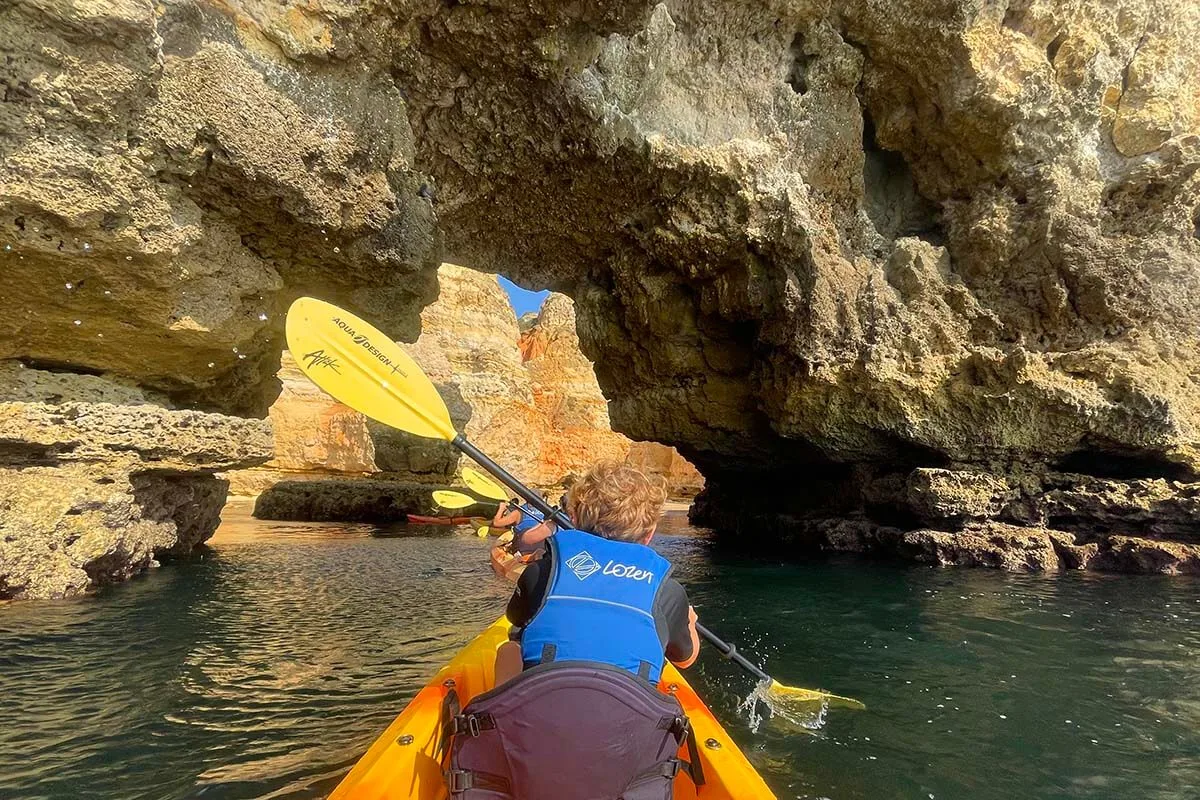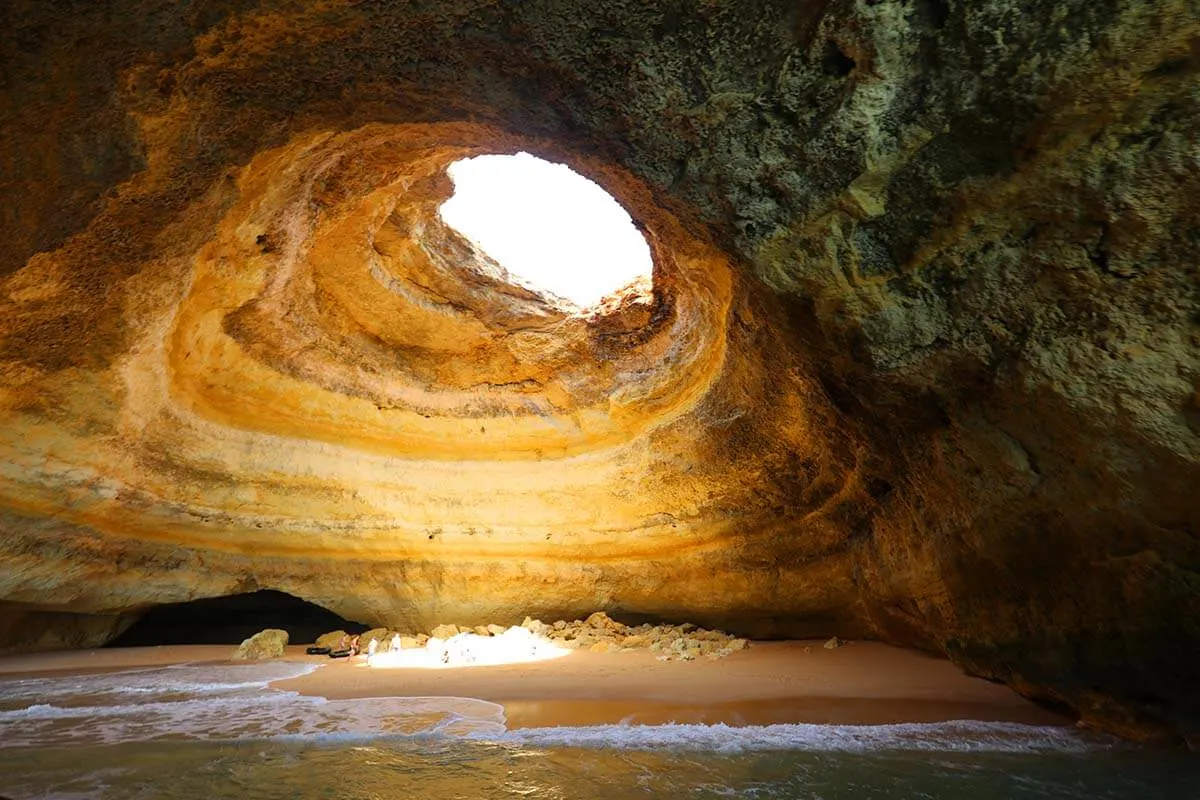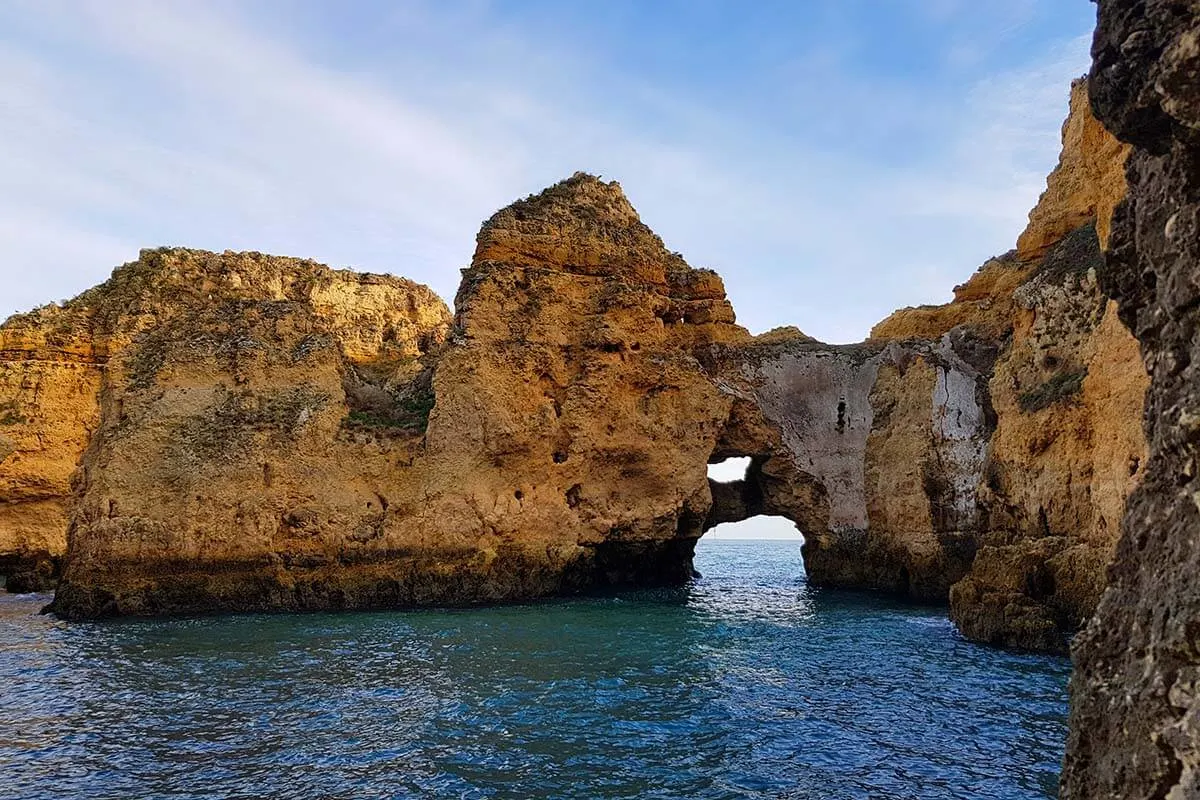 10. Shopping & Dining
And finally, no visit to Lagos would be complete without spending some time exploring its many souvenir stores, doing some shopping, or sitting down for a nice meal at a local restaurant.
The best place for shopping and dining is, of course, the old town. But also the waterfront area and the beaches offer some very nice options, albeit mostly in the high season.
TIP: If you are looking for something nice and more authentic to do in Lagos, consider joining a food tour. It's not just a great way to get acquainted with traditional cuisine, or discover some local restaurants away from the main tourist routes, but it's also a fun way to get to know the place deeper, learn more about its history, local anecdotes, etc. This is one of the best-rated food tours in Lagos.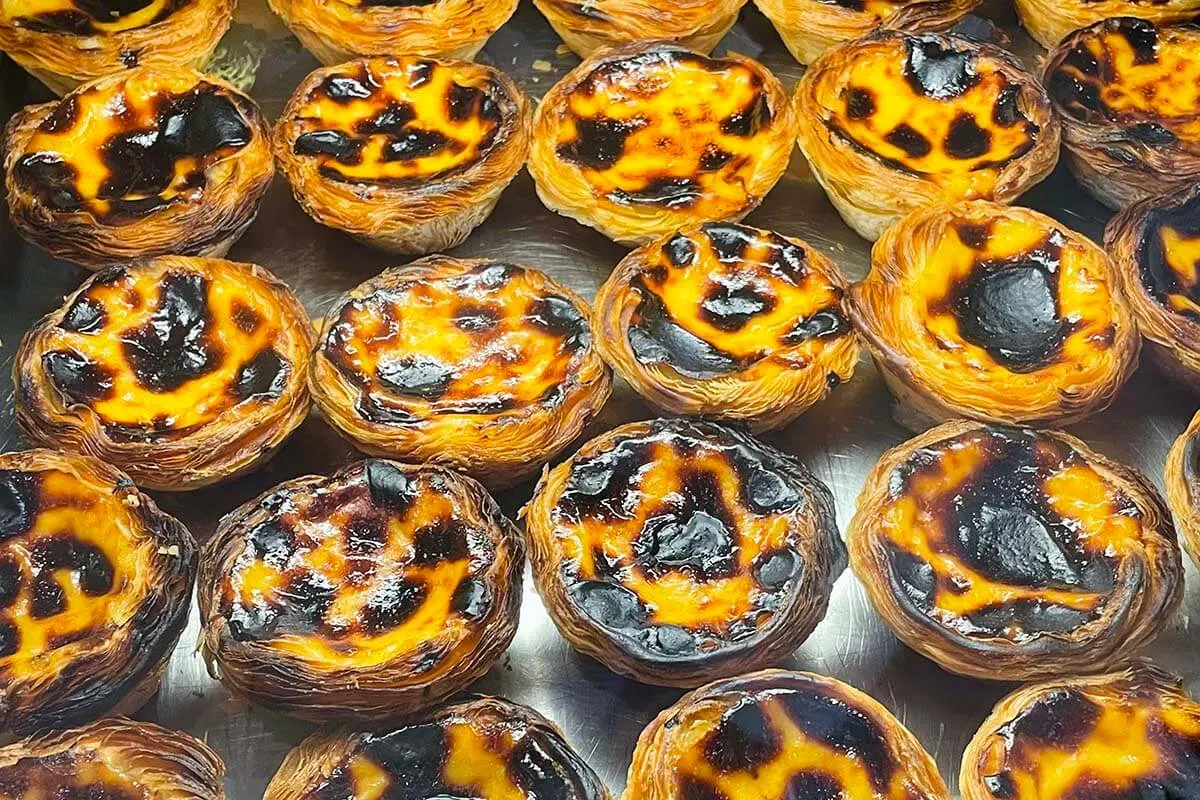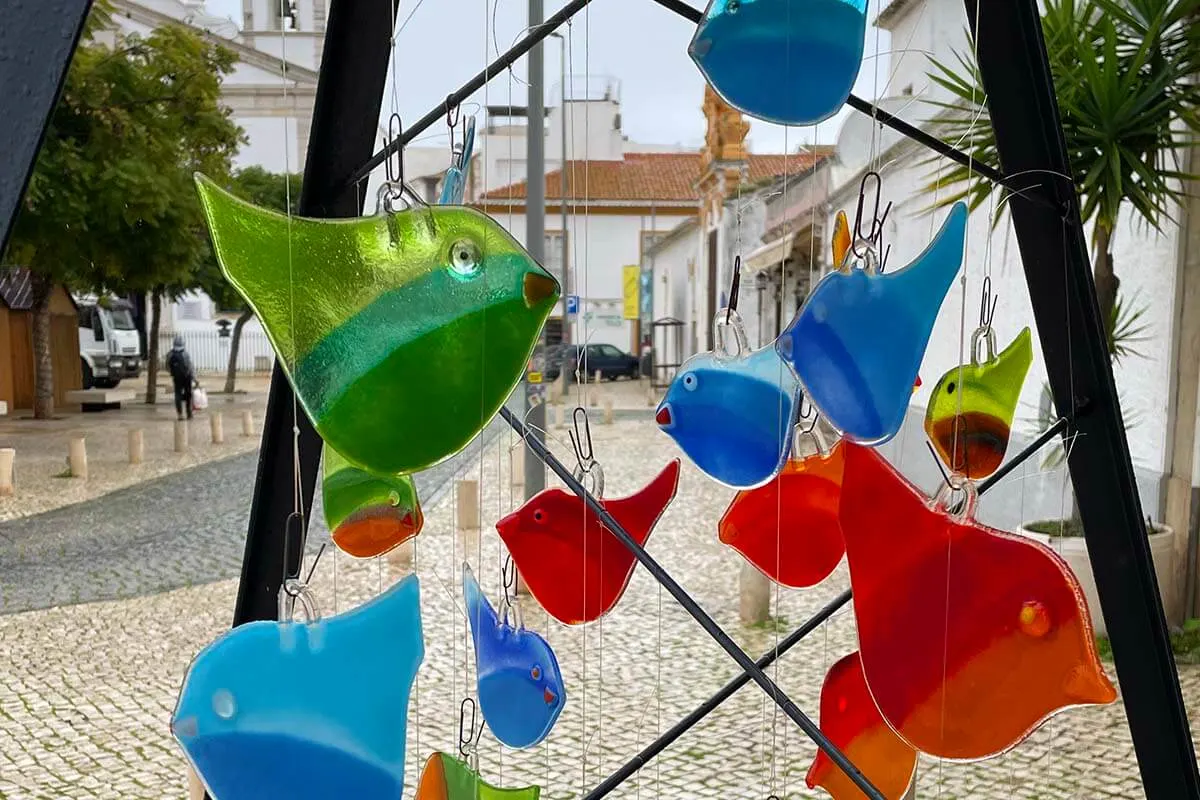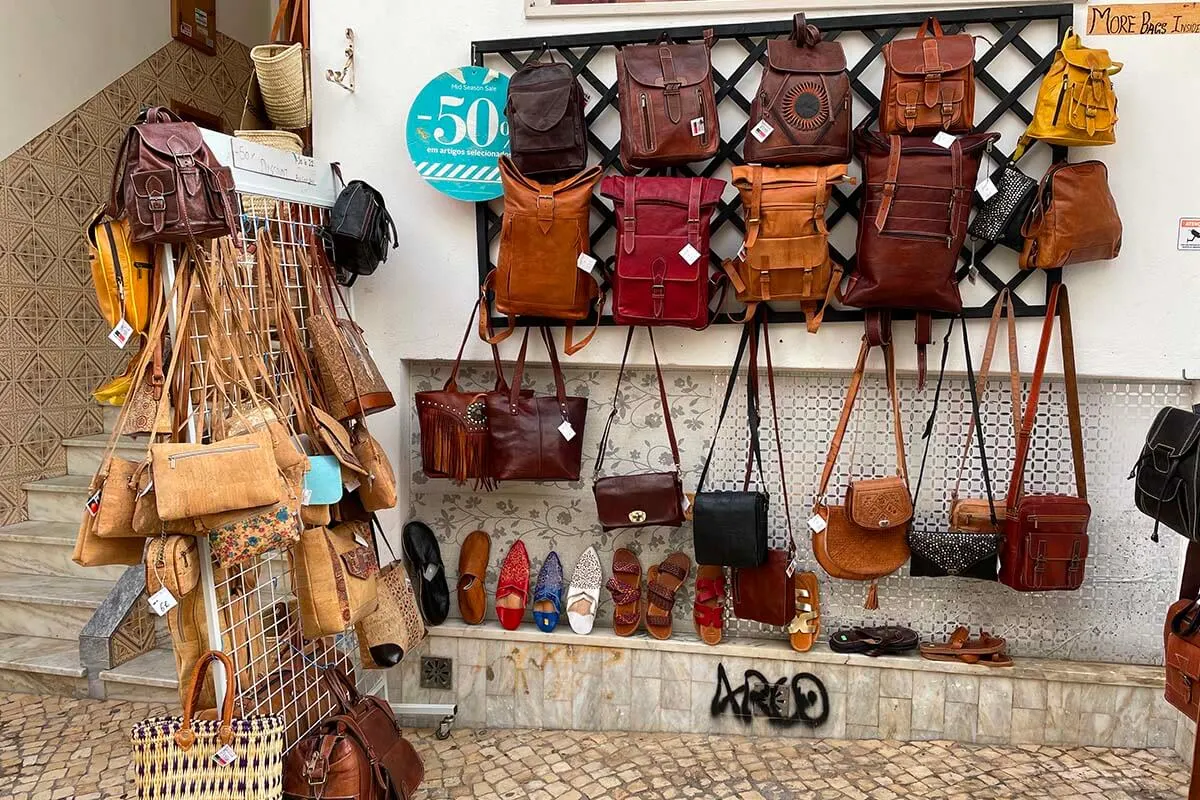 11. Excursions & Day Trips from Lagos
In addition to all the nice things to do in Lagos, there is so much more to see and experience in the Algarve region. If you have a car, you can spend weeks exploring the region and still not see it all.
Some of the nicest places to visit near Lagos include Sagres and Cabo de São Vicente, the most southwestern point of Portugal's mainland, Monchique mountain, the stunning coast around Carvoeiro (don't miss the Seven Hanging Valleys Trail), and the wild beaches on the Atlantic coast, such as Praia da Bordeira.
With kids (and if traveling in high season), you may want to plan some time at the best water parks in Algarve. The best option near Lagos is Slide & Splash water park about half an hour's drive from the city. Lagos Zoo is also a nice place to visit, especially if visiting Lagos with younger children.
Another great option for families is the Zoomarine amusement park, about 40 minutes drive from Lagos (this one is a bit more convenient if you would be staying in Albufeira).
But also without a car, you have many options for sightseeing trips. There is a railway station in Lagos, which gives you access to quite a few nice places in the Algarve. You can even take a train to Faro, Olhão, or Tavira, which are all among the most interesting places to see in the region.
And of course, there are also quite a few organized tours available. Here are some of the most popular (half) day tours and excursions from Lagos:
READ ALSO: Best Places to See & Things to Do in Algarve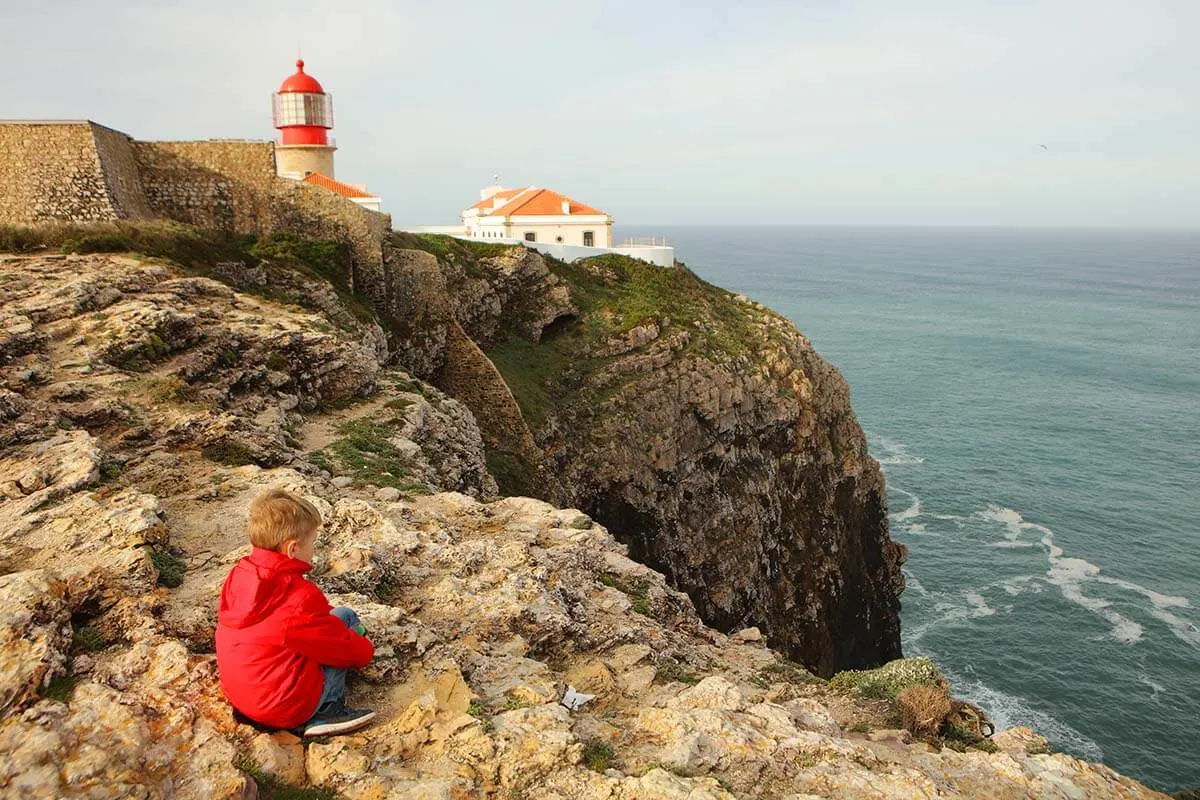 Map of the Best Places to See in Lagos
To give you a better idea of where everything is located and to make it easier to plan your time, I created this map indicating all the main sights, landmarks, and attractions in Lagos.
As you can see, Lagos is a rather small town and everything is within walking distance. Just keep in mind that there are some hilly areas so a seemingly short walk can be a bit more demanding, especially if you are visiting in the summer and it's very warm.
Good to know: In the high season, there's also a little tourist train in Lagos. It can be a good way to see more of the area without having to walk far.
How to use this map: Use your computer mouse (or fingers) to zoom in or out. Click on the icons to get more information about each place. Click the arrow on the top left corner for the index. Click the star next to the map's title to add it to your Google Maps account. To view the saved map on your smartphone or PC, open Google Maps, click the menu and go to 'Your Places'/'Maps'. If you want to print the map or see it in a bigger window, click on 'View larger map' in the top right corner.
Where to Stay in Lagos
With the stunning coastal scenery, so much to see and do, and a rather central location along the Algarve Coast, Lagos is a good base location to stay for exploring Algarve.
If you decide to base yourself in Lagos, you'll be glad to know that there are plenty of accommodation options in town and in the surrounding area. You can choose between some really nice beach resorts, but also city hotels with or without pools, smaller guesthouses, privately-rented apartments and villas, etc.
If you have a car, be sure that your accommodation provides easy parking. If traveling by public transport or if you want to be very close to shops and restaurants, stay in the town center, close to the Marina (this is also where the train station is).
Here are just a few of the best-rated hotels in Lagos for different budgets:
These are just a few examples and the price ratings are based on standard room prices in the shoulder season. Keep in mind also that prices can differ a lot depending on the season when you travel, room types, etc. Also, some hotels and accommodations have a minimum number of nights requirement, which might also differ depending on the season.
TIP: Using the map below, you can also search for the best deals for accommodations in and near Lagos. Simply insert your travel dates and group size and you can see what's available. Check it out!
So, this is our guide to some of the best places to see and things to do in Lagos.
I hope that this gives you a better idea of what to expect and make the most of your visit to this beautiful part of the Algarve. Have a great trip!
READ ALSO: Most Beautiful Beaches in Algarve
More inspiration and tips for your trip to Algarve:
More travel inspiration all over Portugal:
If you found this post helpful, don't forget to bookmark it and share it with your friends. Are you on Pinterest? Pin this image!