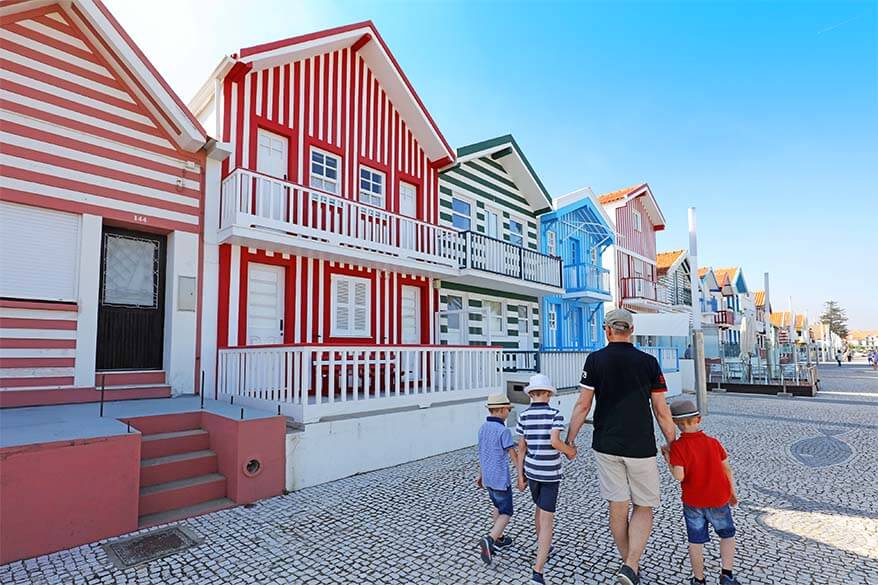 Most people here in Europe associate Portugal with beaches, nice weather, and good food. But if you have been following our blog for a while, you probably know that we are not that much into sun-tanning on the beach… In fact, our favorite travel destinations for families usually involve nature and sightseeing.
So when I think about our recent trip to Portugal with kids, I have some very different family-friendly experiences in mind that I want to share with you.
This is a selection of all kinds of fun things to do in Portugal with kids that don't involve swimming, playing on the beach, visiting zoos, aquariums, or other traditional family activities. Find out!
See also: Our 10-day Portugal trip itinerary
In no particular order, below is a list of some of the best things to do in Portugal with kids. This selection is based on our experiences that the kids enjoyed the most. You know, the kind that they keep on talking about long after the trip…
Best experiences to have in Portugal with kids:
1. Ride a tuk-tuk
If you ask our kids what they liked the most in Portugal, they will unanimously vote for the tuk-tuk ride. It was the very first time they ever rode a tuk-tuk, and I don't think I've ever seen all three of them so excited! Ever.
So if you are traveling to Portugal with kids, make sure you take them for a tuk-tuk ride. You will find them in Lisbon, Porto, and Sintra.
TIP: negotiate your trip and the rate in advance.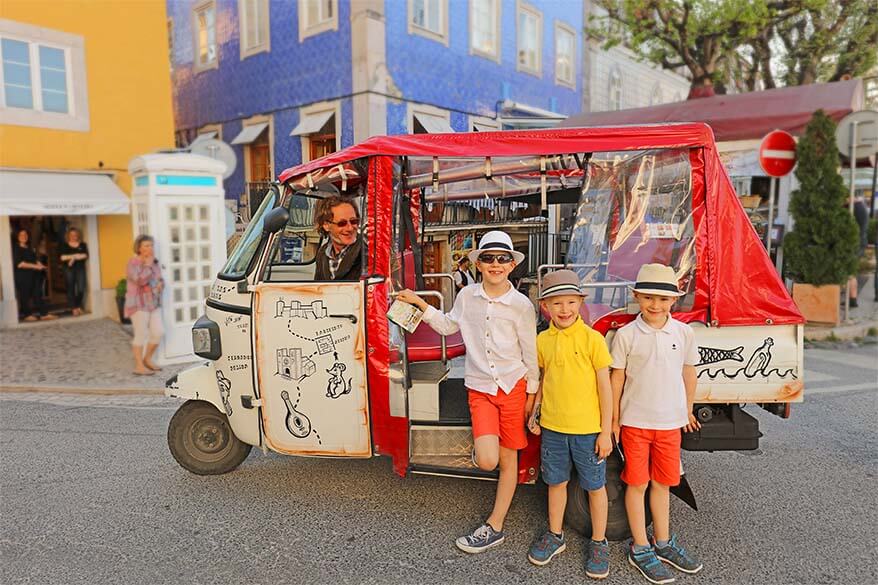 2. Walk the city walls of Obidos
Obidos is a small medieval town just an hour north of Lisbon. It's also one of the best towns to visit in Portugal, so definitely worth a visit!
Walking the old city walls in Obidos was one of the most unforgettable experiences in Portugal for kids. Just be careful, especially with kids, as the walls have no rails on one side.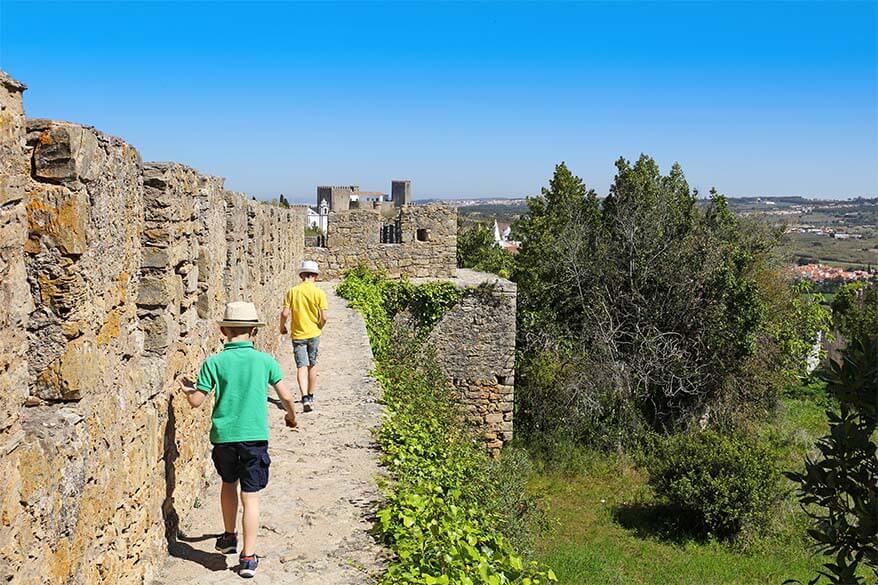 3. Explore the gardens of Quinta da Regaleira in Sintra
Sintra has so many castles and palaces that it might be difficult to choose which ones to visit. There is one castle, however, that you really shouldn't miss if visiting Sintra with kids, and that is Quinta da Regaleira.
Actually, it's not that much the castle that kids will love the most. The garden of Quinta da Regaleira is a real paradise for little explorers!
Your kids will love walking in dark secret tunnels, exploring hidden passageways, jumping over stones over water at a hidden waterfall, or climbing the spiral staircase of a 27m deep well…
LEARN MORE: What to see and do in Sintra in one to three days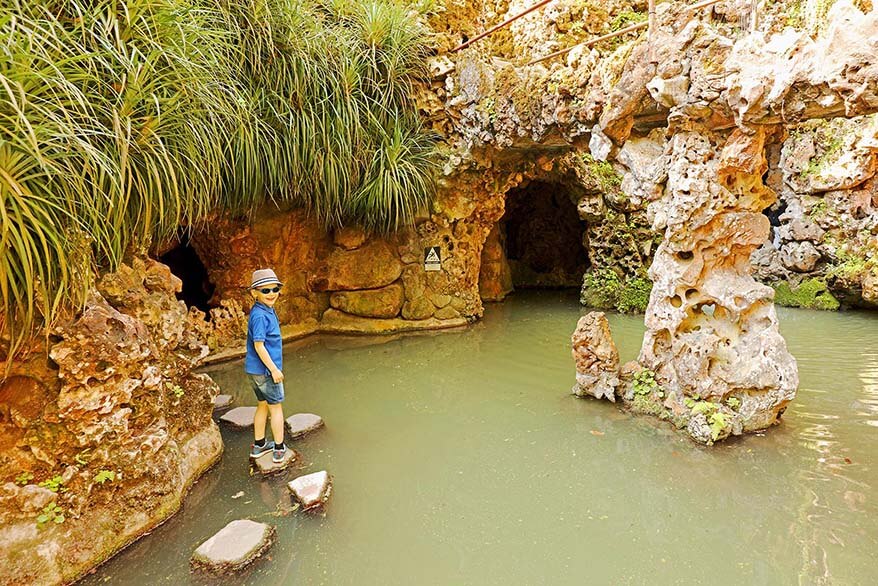 4. Ride Lisbon tram nr. 28, Nazaré funicular, Porto gondola, and take the kids for a boat ride
If there is one thing we learned from our trips with kids, is that children love all kinds of transportation. The more varied the better. I already mentioned the tuk-tuk rides. But there are many more fun experiences involving different means of transport that you shouldn't miss if traveling in Portugal with kids.
Here are some of our family's favorite transport-related activities in Portugal: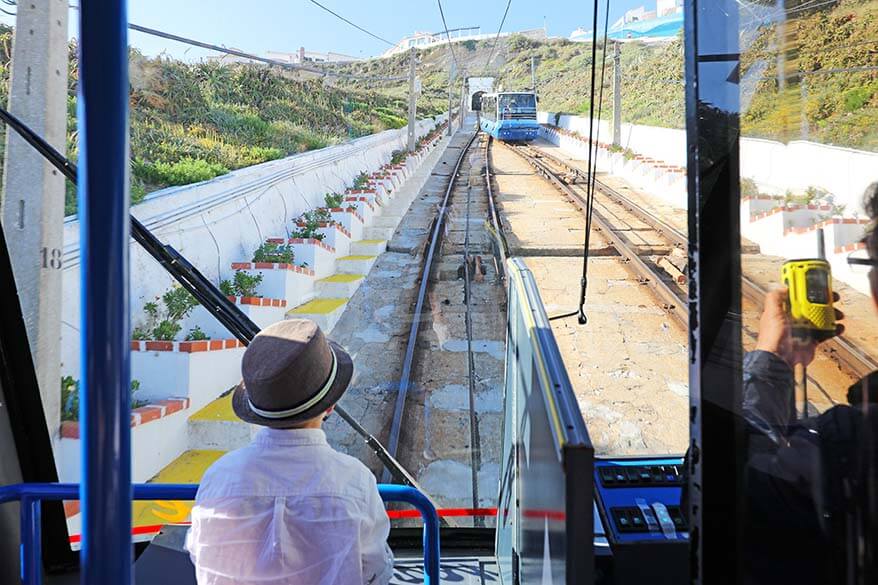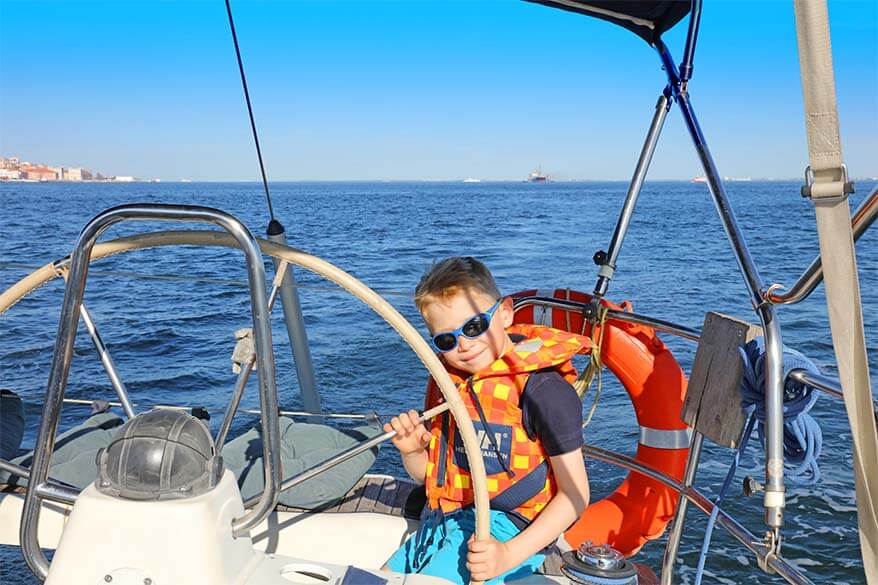 5. Visit the caves Grutas de Mira de Aire
Grutas de Mira de Aire is a must place to visit if traveling in Central Portugal with kids. Descend 110m below the ground and explore more than 600m of incredible underground chambers. This is something the whole family will love for sure!
Oh, and don't worry about having to climb back up – there is an elevator to take you back to the surface.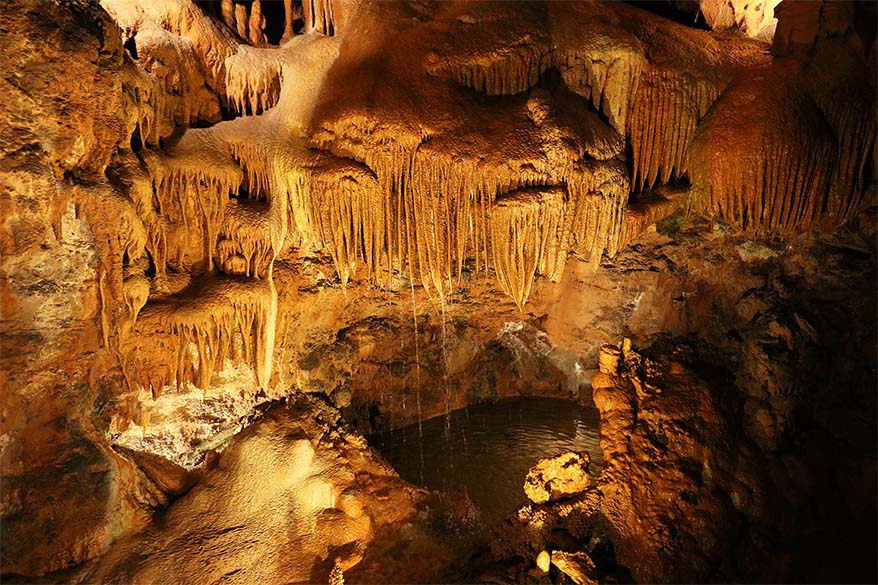 6. Taste traditional Portuguese custard cakes Pasteis de Nata
Traveling is also about getting to know the local food. Our kids are becoming more and more difficult when it comes to new culinary experiences, but they all really enjoyed the Portuguese custard cakes, pasteis de nata.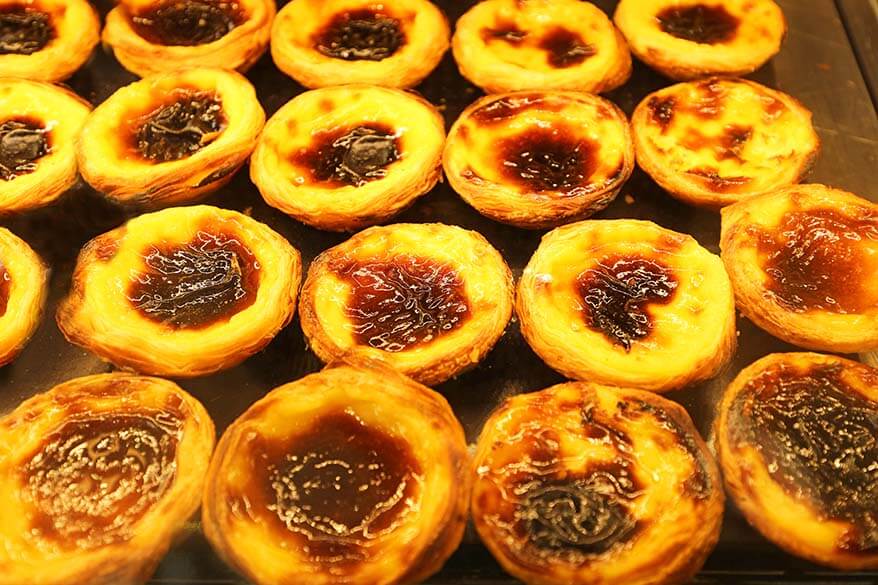 7. Discover some of the most amazing viewpoints of Portugal
This will probably come as no surprise: our kids love climbing staircases and visiting old towers. The higher, the better.
Here are some of our favourite towers to climb and viewpoints not to miss in Portugal with kids:
Elevador de Santa Justa in Lisbon
O Sitio district in Nazaré
Dom Luís I Bridge in Porto (the bridge has two levels, the views from the top are priceless)
The Cathedral tower of Evora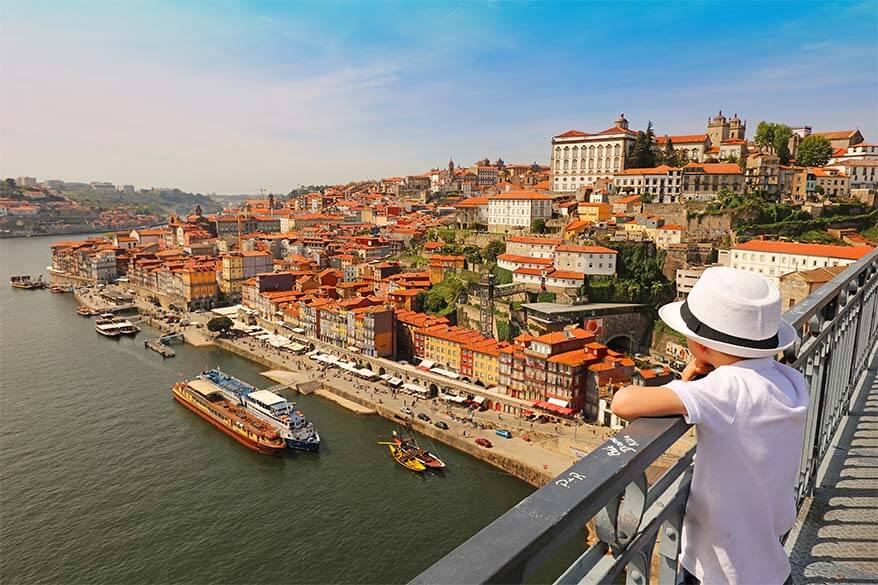 8. Explore an old convent
Museums, churches, and other kinds of religious buildings are not always a big success when traveling with kids. However, Portugal has some amazing places, especially the monasteries, that any kid will love to explore.
Our favorites were the monasteries of Alcobaça and Batalha. Not a chance your kids will get bored here!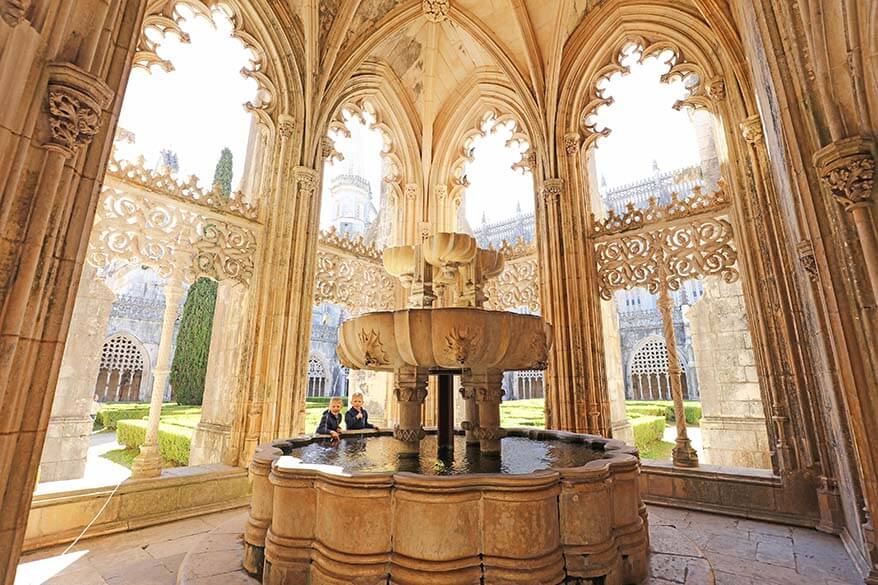 9. Get lost in the most beautiful forest of Portugal – Mata Nacional do Buçaco
If you like off the beaten path destinations, nature, and history, make sure you take the kids to the Bussaco forest in Luso, Central Portugal. They'll love this ancient forest with something different and exciting to explore behind every corner.
Take a picnic and make this one of the most memorable family day trips in Portugal!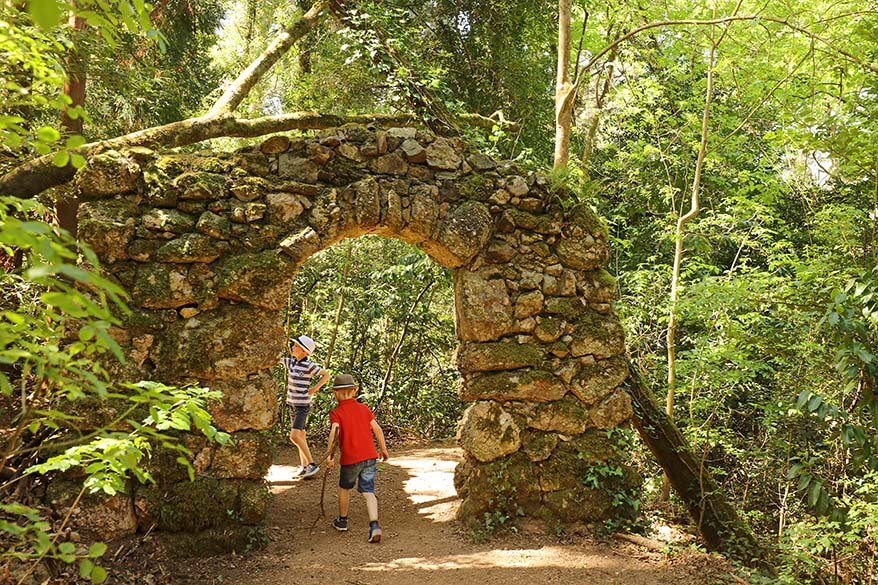 10. Admire Portuguese azulejos
It would be unthinkable to visit Portugal without falling in love with the traditional Portuguese tiles – azulejos.
Children will love looking for new patterns or discovering some ancient stories on the walls of residential buildings, churches, train stations, and old castles…
Take the time to really explore this unique kind of art with your kids.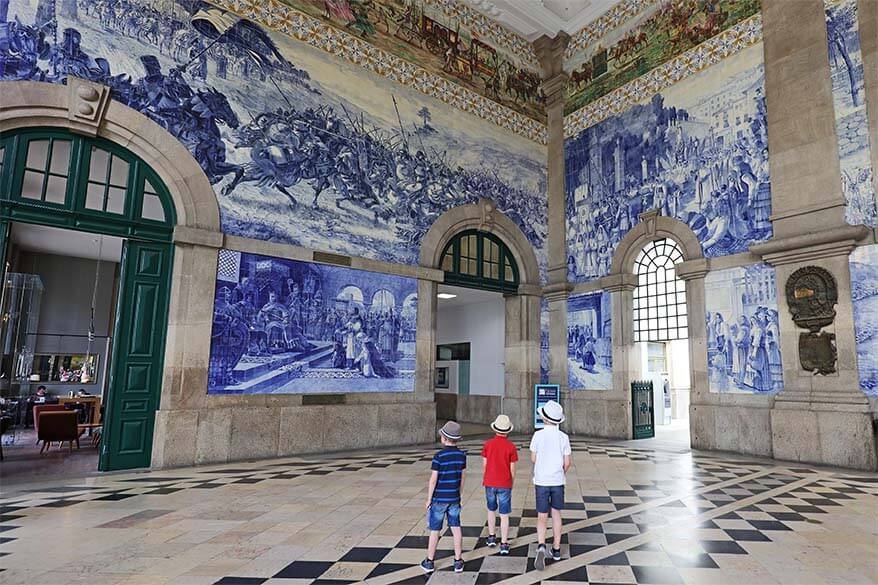 11. Visit Costa Nova – the most colorful town of Portugal
Take your kids to Praia da Costa Nova. This little coastal town with colorful striped houses was a favorite with our boys.
Walking between these striped houses is like walking inside a fairytale book. It's like no other place in Portugal (or anywhere else for that matter).
In summer, this is a popular seaside resort with a nice beach that families will love. Don't miss this little picturesque town!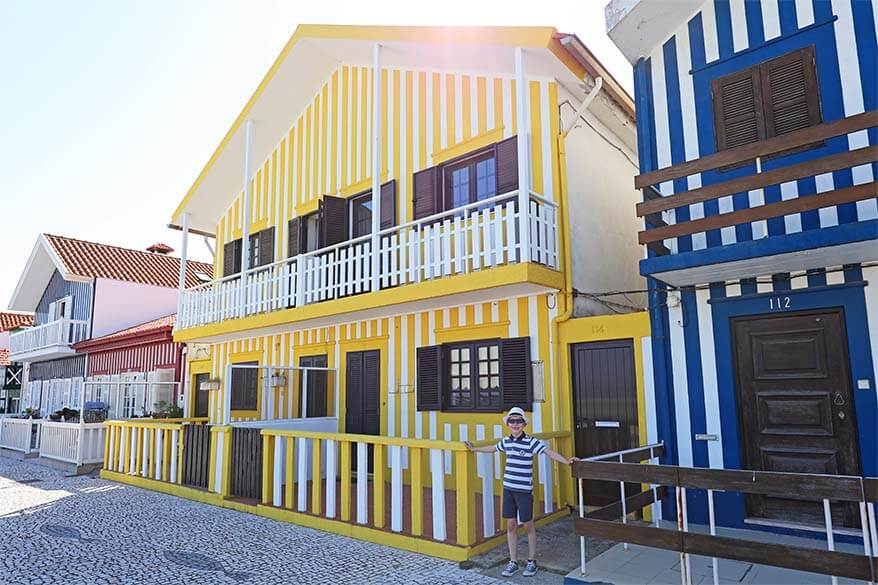 12. Visit a local market
Our kids love visiting markets. There is so much to see, to touch, to taste…
We visited a couple of markets in Portugal with kids and all of them were great. But there was one that left them speechless – a local seafood market in Costa Nova.
The kids didn't know where to look first – there was a huge variety of fish, but also octopus, shrimp, crab… And then there were eels, hundreds of eels, alive and crawling, waiting for a buyer to take them home for dinner. The kids couldn't believe their eyes!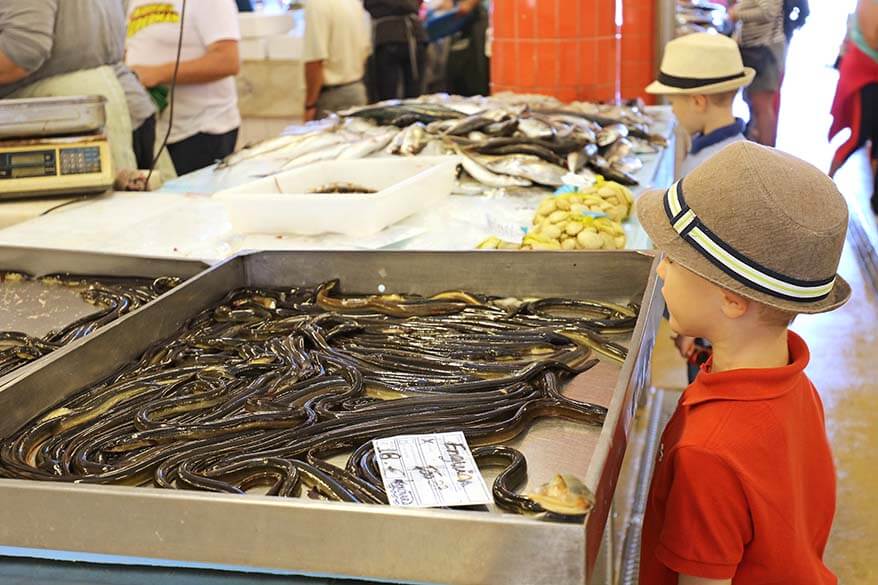 13. Explore Porto by night
One of the best parts of any vacation for our kids is being able to stay up late. They love exploring new places at night!
Our favorite place to explore late in the evening in Portugal was the Cais da Ribeira waterfront area in Porto. Not only does it have some incredible views, but you will also find a really great atmosphere here. There are nice and family-friendly restaurants and lots of street performers. The whole family loved it!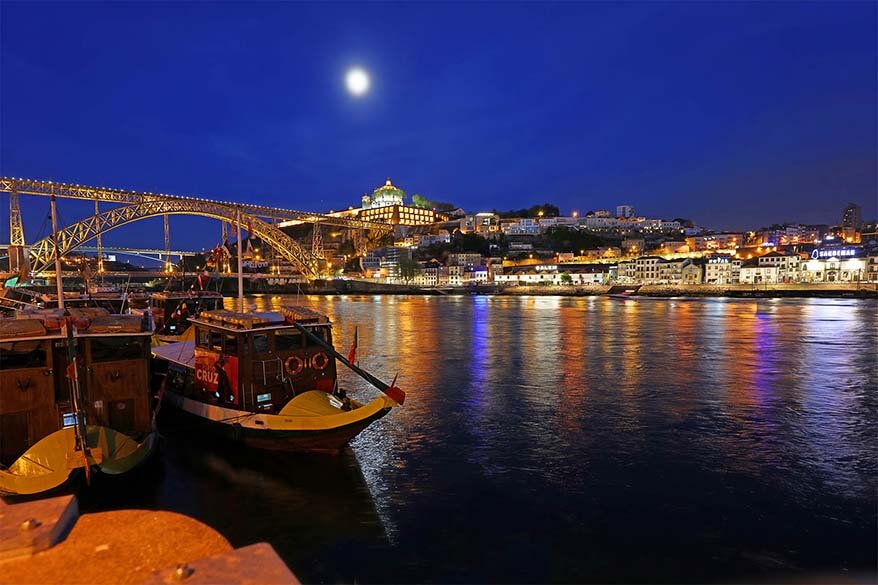 14. Buy a Portuguese hat
We try not to buy many souvenirs when we travel, but it's something our kids look forward to on every trip. I guess all kids do…
If you buy one souvenir in Portugal for your kids, make it a hat. It's the best 5 Euros you can spend! Not only will it protect them from the harsh sun, it will make all the vacation pictures so much more stylish. 😉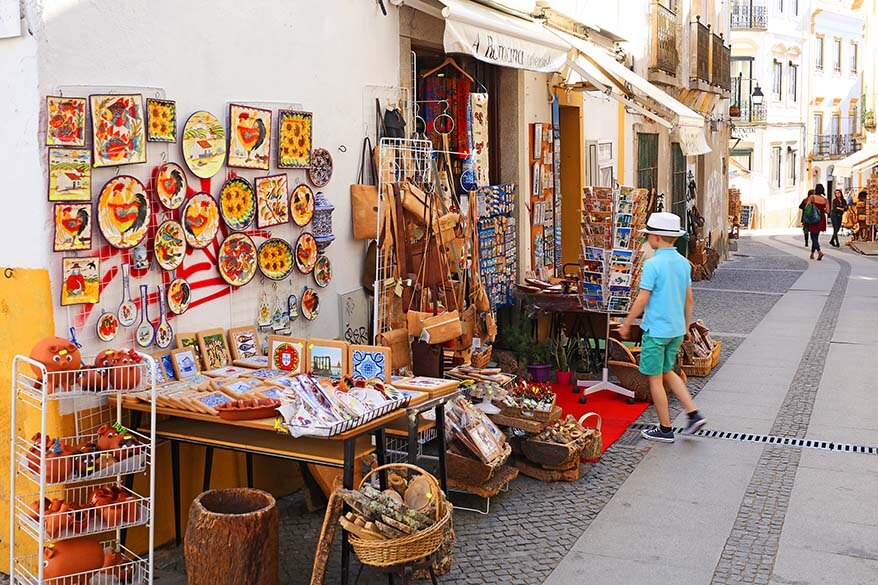 15. Visit a real-life Disney castle – Pena Palace
Portugal is home to many castles, but there is one that kids will definitely remember long after the trip. The Palace of Pena in Sintra is probably the most colorful castle in the world. It's like walking into a real-life Disney castle!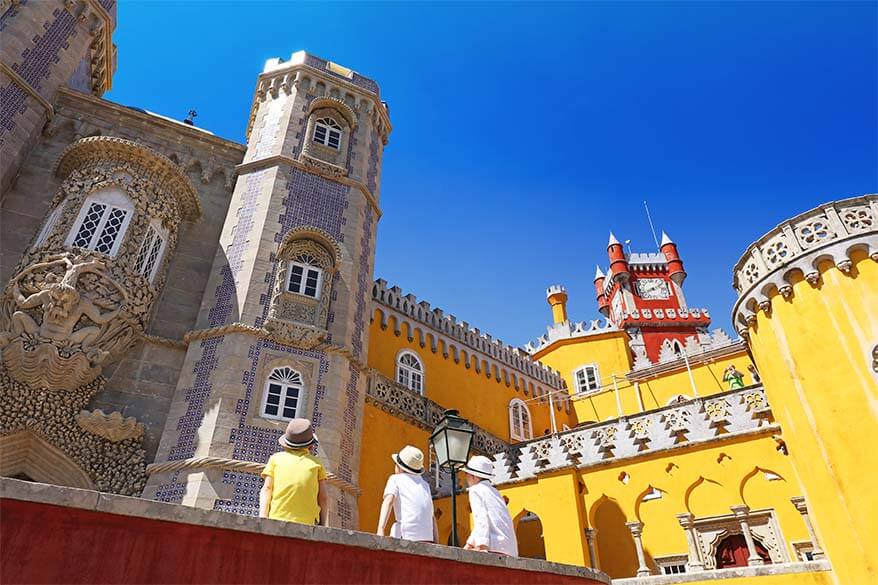 16. Look for street art
City trips can be tiring for children. Looking for street art is a great way to keep the kids busy and involved when exploring Lisbon or Porto. You will be amazed at how much street art there is, and the kids are really good in finding it!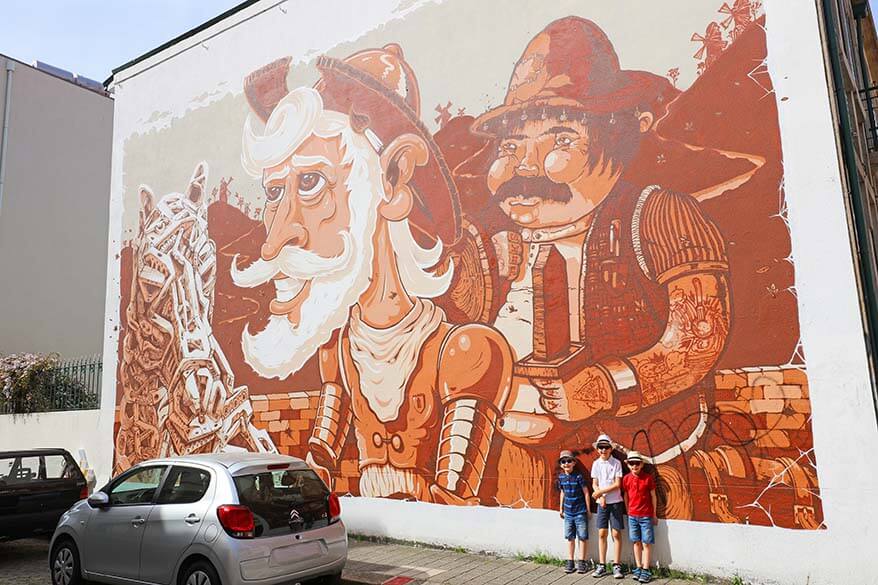 So, this is our selection of somewhat unusual things to do in Portugal with kids.
Of course, you can spend a day at the beach with your family (check the best beaches in Algarve!), take the plunge in the pool, visit an aquarium or a zoo… Portugal has many family-friendly activities.
I just wanted to show you that traveling with kids doesn't always have to be about beaches and theme parks. Not even if visiting such a typical European beach vacation destination as Portugal.
More tips for your trip to Portugal:
READ ALSO: Best European Destinations for Spring Break
If you found this post useful, don't forget to bookmark it and share it with your friends. Are you on Pinterest? Pin this image!