Thinking of visiting Sintra, Portugal, and wondering what there is to see and do in Sintra and which places are worth your time the most? In this guide, you can find an overview of all the top sights in and near Sintra, coupled with practical tips and useful information for your visit. Take a look!
The magical town of Sintra is one of the wonders of Europe. Its location is stunning, nestled in the pine-covered hills of the Serra de Sintra and with sweeping beach and ocean views. Indeed, it was once described by Hans Christian Anderson as the 'most beautiful place in Portugal'.
Steeped in history and rich in culture, Sintra has been awarded UNESCO World Heritage status. There are many impressive buildings to admire here, with incredible palaces and castles built in a range of architectural styles.
If you are visiting Sintra for the first time you may be a little overwhelmed by just how many historic sites there are to see. Indeed, it's difficult to comprehend that such a small area can have such a big number of castles, palaces, and gardens – each more beautiful than the other…
And when you see the pictures of the colorful Pena Palace or the mysterious gardens of Quinta de Regaleira, you might be wondering if places like that are even real?! 😱 Spoiler alert – yes, they are!
So to help you orient and choose where to go, we've put together this guide to the very best places to visit in and near Sintra. It includes all those attractions you really must see, along with those that are worth visiting if you have the time. You'll also find a MAP indicating all the main landmarks and useful tips for each site.
TIP: Depending on how much time you have, focus on the top of this list and work your way down. And if you are not sure how to fit it all in and how to plan your time, be sure to also take a look at our itinerary suggestions for visiting Sintra.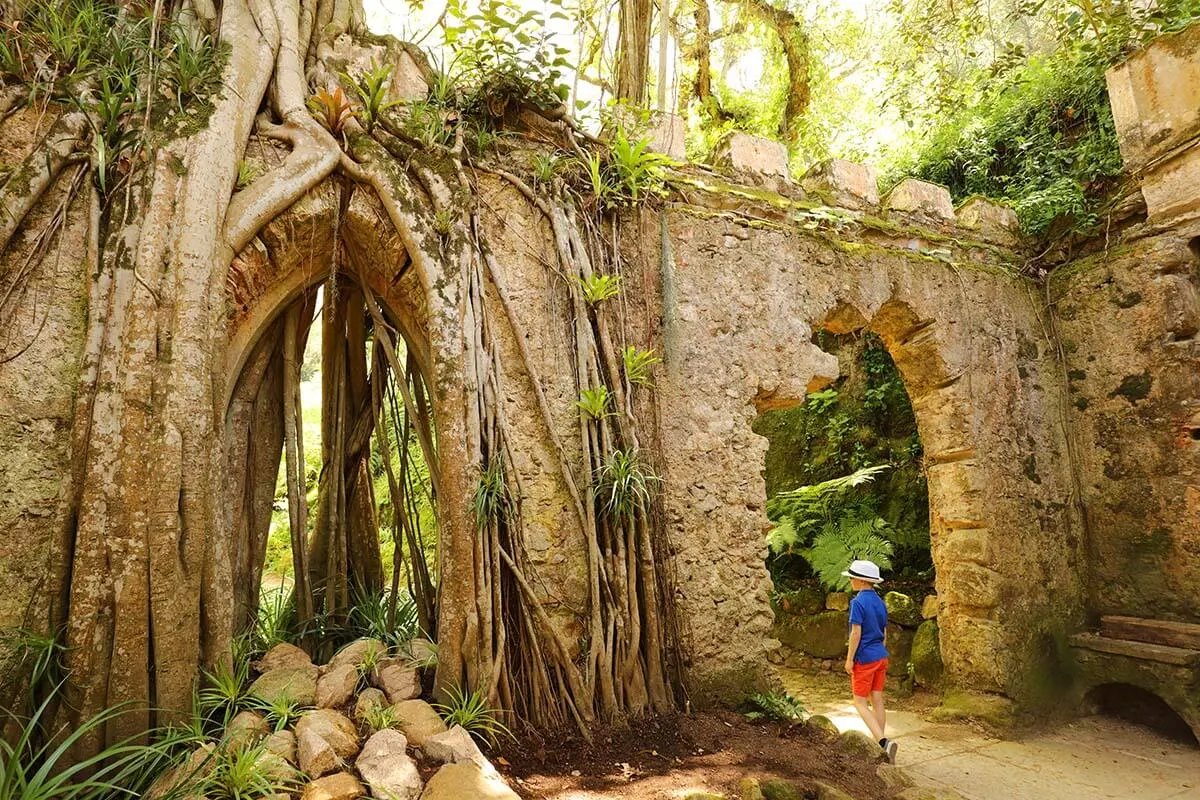 Good to know: Sintra has so much to offer and it's located so close to Lisbon, that it will come as no surprise that it's the most popular destination for day trips and tours from Lisbon. And while you can easily come here by train, a guided tour with transport and guides will usually allow you to make much more of your visit.
There are hundreds of tours to choose from and it can be really overwhelming. Here is our hand-picked selection of 3 of the best Sintra day tours from Lisbon:
Most complete tour. This small-group tour is the best option for those who want to see the best of Sintra in a day. It focuses purely on Sintra and includes a visit to Pena Palace and Park, Quinta de Regaleira, and Montserrate Palace. Plus, you get some free time in town and pass a few other interesting places.
Most popular tour. This is an amazing tour that visits Sintra and beyond. However, keep in mind that of all the best things to do in Sintra, this tour only includes a visit to Pena Palace and Gardens plus the Cabo da Roca coastline which is located nearby.
Private tour. This is a great option if you want to choose yourself which of the nicest castles and palaces to visit in Sintra and do it at your own pace, but with the advantage of having a private guide/driver.
Below, you can find a list of the best things to do in Sintra with photos, information on what to expect, and useful tips for your visit. Here is a map of the main landmarks and sights in Sintra – that way, you have a better idea of where everything is located (keep in mind that the area is very hilly).
How to use this map: Use your computer mouse (or fingers) to zoom in or out. Click on the icons to get more information about each place. Click the arrow on the top left corner for the index. Click the star next to the map's title to add it to your Google Maps account. To view the saved map on your smartphone or PC, open Google Maps, click the menu and go to 'Your Places'/'Maps'. If you want to print the map or see it in a bigger window, click on 'View larger map' in the top right corner.
These are the best places to see and things to do in Sintra:
1. Pena Palace
If you only have the time to visit one place in Sintra, make it the National Palace of Pena (Palácio Nacional da Pena)! With its majestic mountaintop location and incredible Romanticist architecture, this is one of Sintra's most impressive castles (see also the featured image at the top).
Pena Palace is extravagant and eye-catching, with vividly colored terraces, decorative battlements, domed towers, and an elaborate gateway guarded by a fearsome gargoyle. It looks like a place that could only exist in fairytale books!
Some sections of the palace date back to the 12th century and were parts of a monastery, home to 18 monks from the Order of Saint Jerome. The site survived many natural disasters including lightning strikes and earthquakes. Yet it continued to function as a monastery until 1834 when religious orders in Portugal were abolished.
The monastery was acquired by the German prince Ferdinand – the King consort of Portugal – a few years later. At this time Romanticism was popular throughout Europe and the young prince decided to create a spectacular royal residence with a fairytale design.
Although its style is somewhat mixed – with many Islamic and Indo-Gothic influences – the overall result is nothing short of spectacular.
The main attraction of the Palace is undoubtedly the Queen's Terrace. Here you can enjoy breathtaking views across Sintra and see a sundial cannon that once fired every day at noon. The interior is fascinating, too, and you can visit the richly decorated staterooms in which the royal family would once spend their summer months.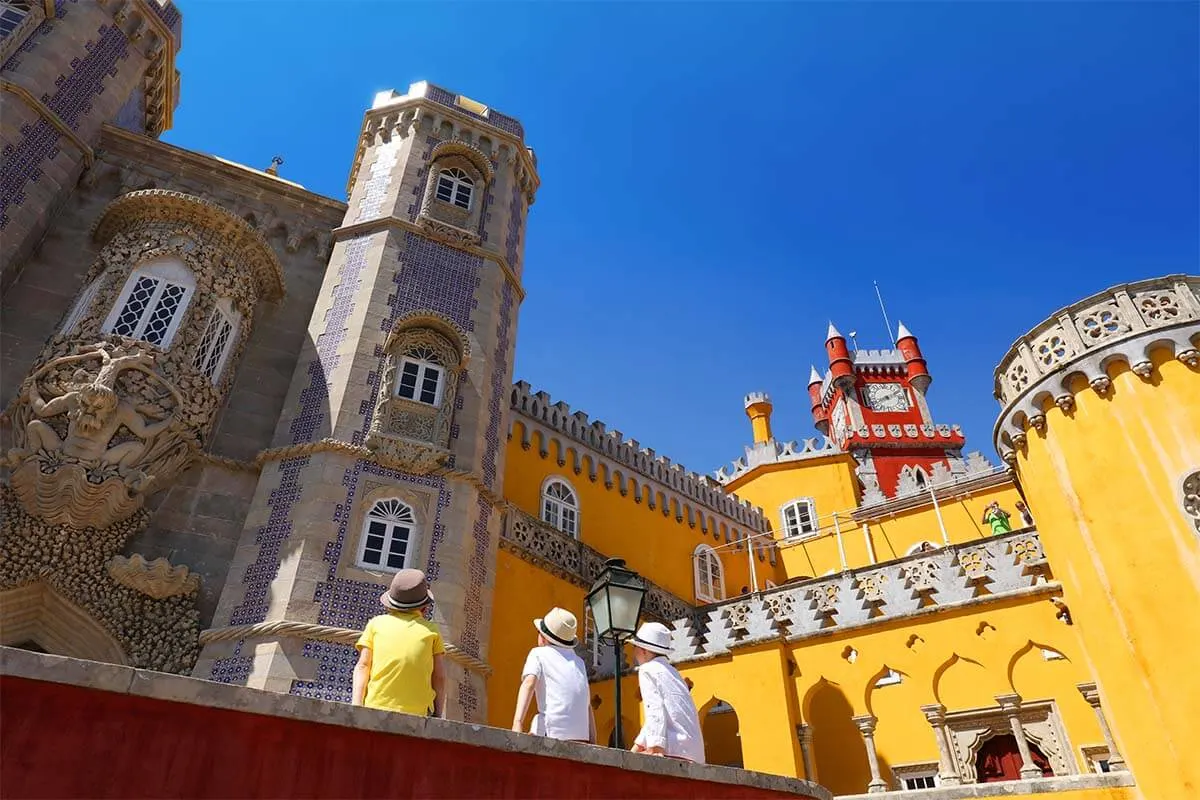 Good to know: Pena Palace is an incredibly busy attraction, to the extent that you often have to queue outside the Palace, then again once you're inside. To avoid the crowds as much as possible, try to visit on a weekday and come as early or late in the day as you can. The hours between 10.30 am and 3 pm are particularly busy, as this is when most organized tours and day-trippers visit.
I'd also recommend bringing your own drinks and snacks as the queues for refreshments are equally as long.
You can buy tickets to visit both the Palace and the surrounding Park (more info below), or just for the Park. The Park ticket is obviously cheaper and gives you access to the grounds and terraces (with the exception of the Queen's Terrace), although you'll miss out on seeing the staterooms. If you already make it all the way here, be sure to get a full ticket and see everything.
Practical info: Tickets for Pena Palace and its Gardens must be booked in advance for a scheduled time. The Palace is open daily from 9.30 am to 6.30 pm.
TIP: The palace is located high on a hill and traffic and parking in Sintra is a nightmare. In fact, it's now forbidden for tourists to drive up to Pena Palace. So unless you come here with an organized (private) tour, it's best to take a taxi, a tuk-tuk, or a bus (no. 434) to get to Pena Palace from the town center. If you decide to take a bus, it's worth buying a 24-hr ticket. You can use it on other local buses too, to get to other main attractions in Sintra.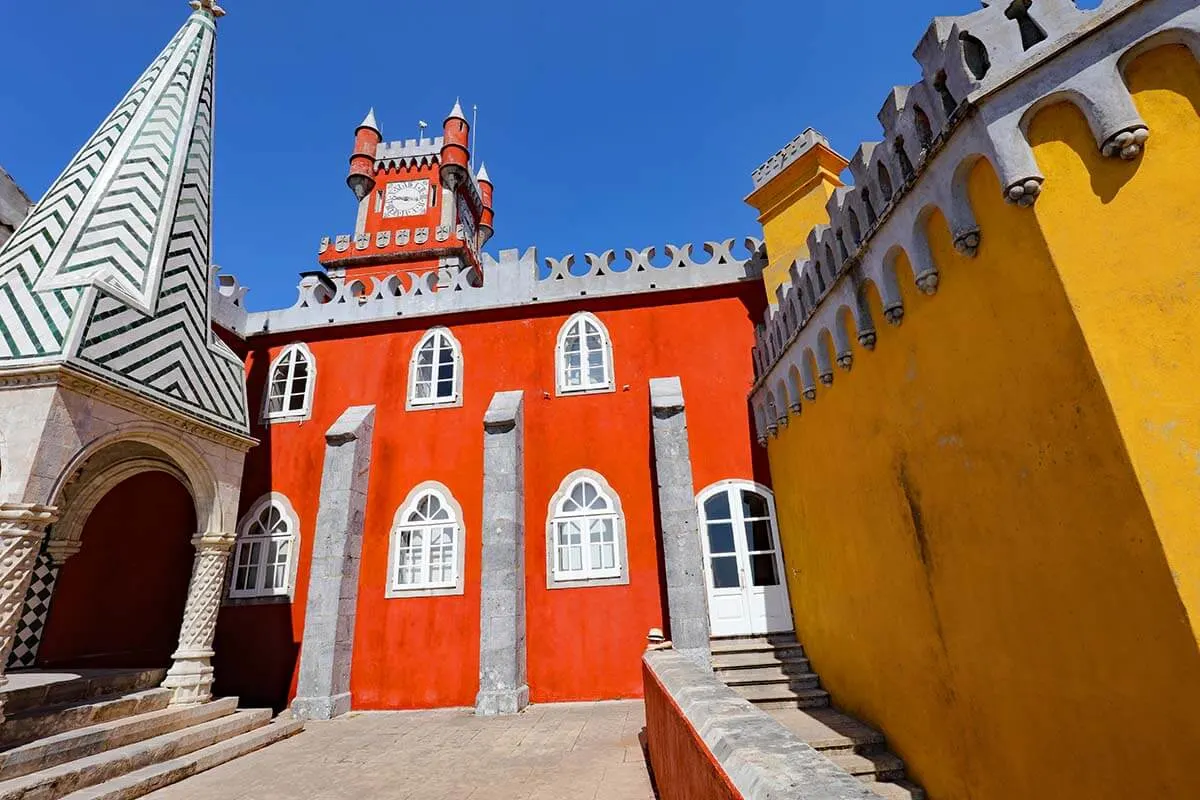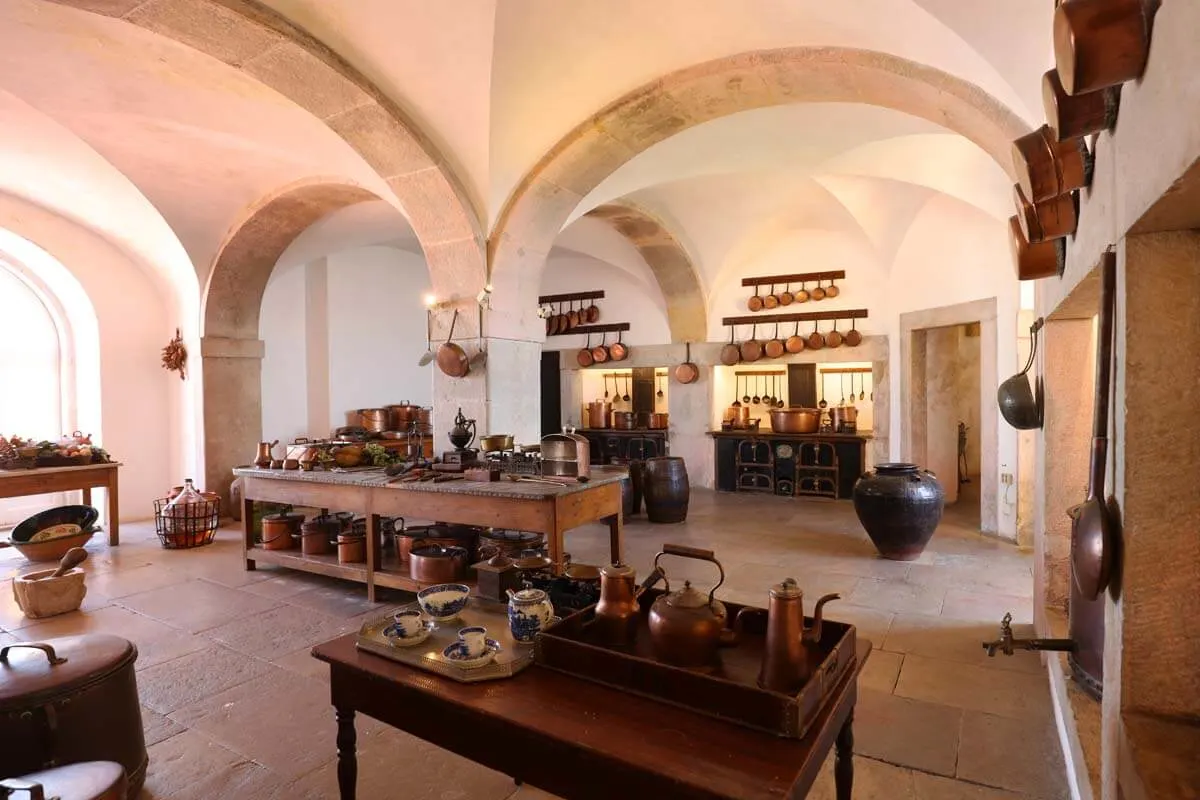 2. Pena Palace Gardens
The stunning Pena Palace Gardens (aka Park of Pena), are well worth visiting in their own right and the Romanticism of the Palace's design can be seen throughout the grounds.
Extending over more than 200 hectares, they are dotted with mystical statues and feature secret pathways and hidden tunnels.
There are plant species from all over the world and stunning mature trees that form a beautiful natural landscape. On a sunny day, there is nothing nicer than to sit beside one of the many waterfalls, fountains, or lakes and soak up the tranquility.
Highlights to look out for include the hexagonal Fountain of the small birds and the beautiful Chalet of the Countess of Edla. This alpine-inspired cottage was built for King Ferdinand II and his second wife Elise Hensler. It recently reopened to the public following the renovation after a fire and is really interesting to see.
If you have some extra time, walk to The Cruz Alta (high cross). Sitting at 529 meters above sea level and located right at the center of the grounds, it is the highest point of the Sintra Mountain range. The panoramic scenery from this viewpoint is too beautiful to put into words, although the view of the palace itself (in a distance) is partially obstructed by trees.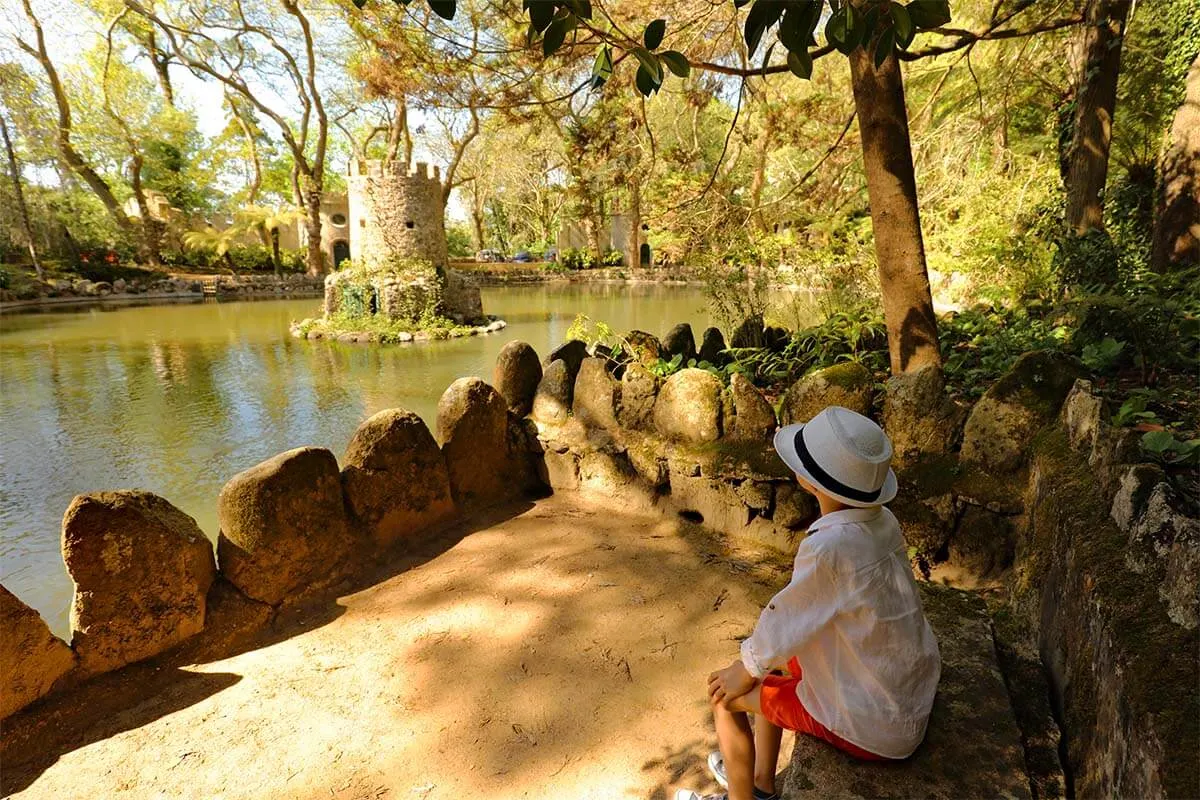 Practical info: The Pena Palace Gardens are open from 9 am to 7 pm. As already mentioned, it's best to get a ticket that includes both – Pena Palace and its gardens.
Good to know: Be prepared to do quite some uphill/downhill walking when visiting Pena Park. In general, sensible shoes are highly recommended when visiting Sintra.
TIP: Foresee at least an hour to quickly walk through the gardens of Pena Park. If you want to explore deeper, you can easily spend 2-3 hours here, not counting a visit to the Palace itself.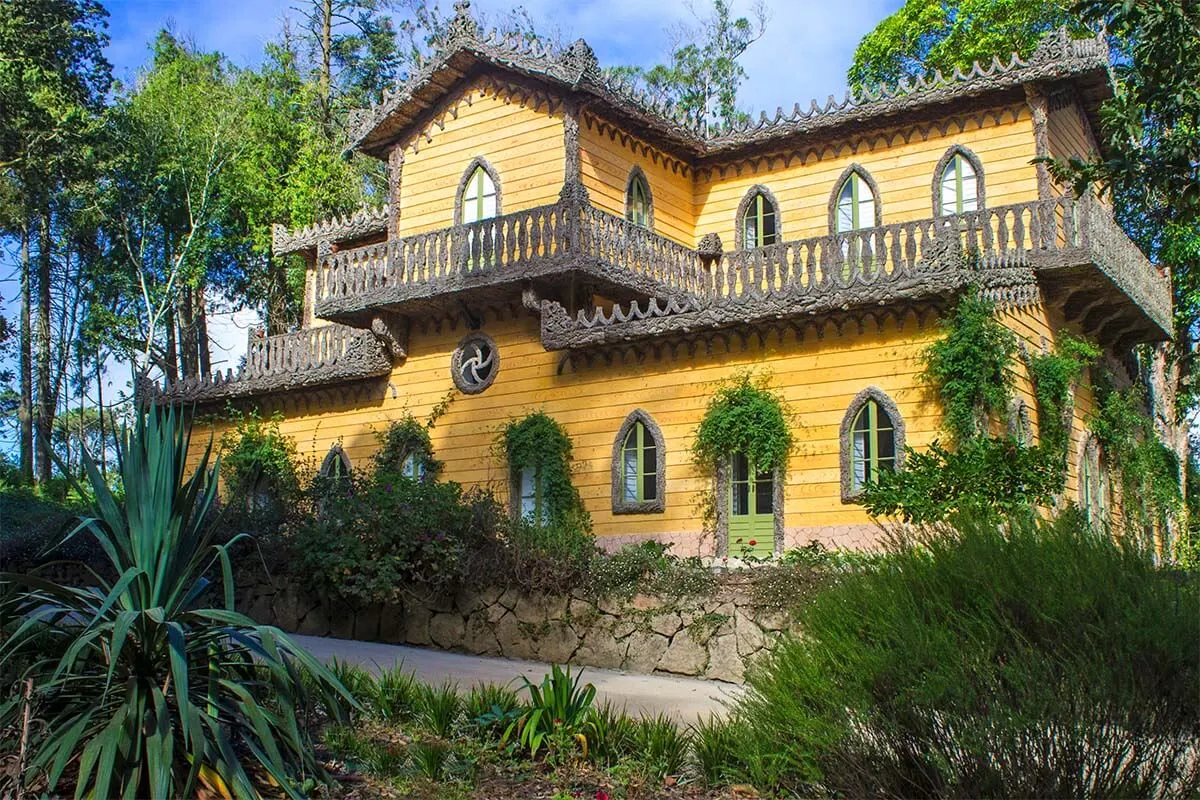 3. Quinta de Regaleira
Quinta de Regaleira is one of the most mysterious and charming places to visit in Sintra. In fact, it's so special that some people say it's worth a visit more than Pena Palace. In my view, you really can't compare the two and they are both absolutely worth seeing. So if you have time for just two palaces in Sintra, these are the ones that are worth visiting the most.
Brimming with mystic symbolism, Quinta de Regaleira was designed by the Italian architect Luigi Manini and built late in the 19th century by the millionaire António Augusto Carvalho Monteiro. He was believed to be a Free Mason and had a fascination with Hermeticism, a belief system that combines philosophy with ancient Egyptian religion, magic, and science.
You can see evidence of his mystical beliefs everywhere in his eerie, fairy-tale castle! Covering five floors, the building is decorated with strange symbols and images, although only the first floor is open to visitors. You can also see stunning inlaid mosaic floors, elegant carved wooden ceilings, and grand fireplaces.
The exterior is fascinating too, blending Moorish, Renaissance, and Gothic architectural styles, with lots of turrets and eye-catching gargoyles! The highlight of any visit to Quinta de Regaleira is the splendid gardens.
You almost feel as if you are in another world when you stroll among the miniature lakes and hidden grottoes or visit the fascinating Initiation Well. This is said to have been used in mystical ceremonies. You can walk all the way to the secret tunnel at its base, 9 floors underground!
Other highlights include the Terrace of the Celestial Worlds, close to the Lake of the Waterfall, and the Promenade of the Gods – a walkway lined with statues of Greeks gods and goddesses.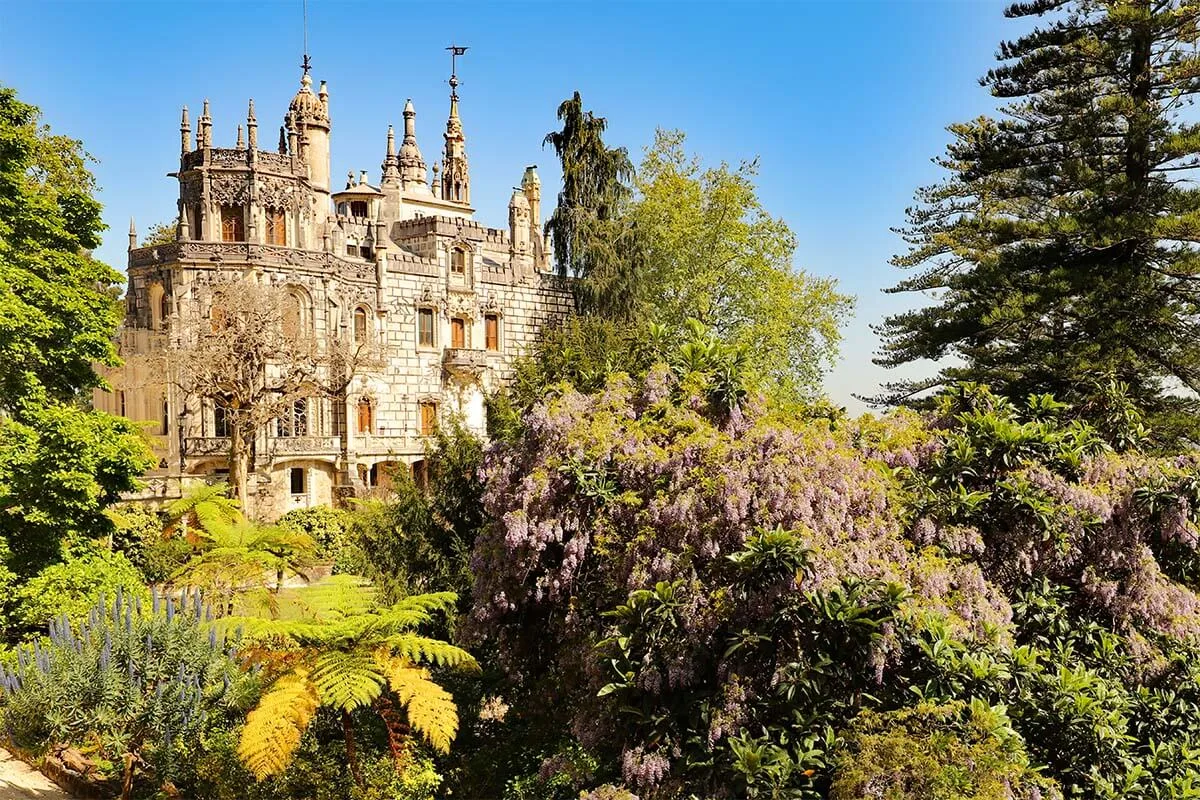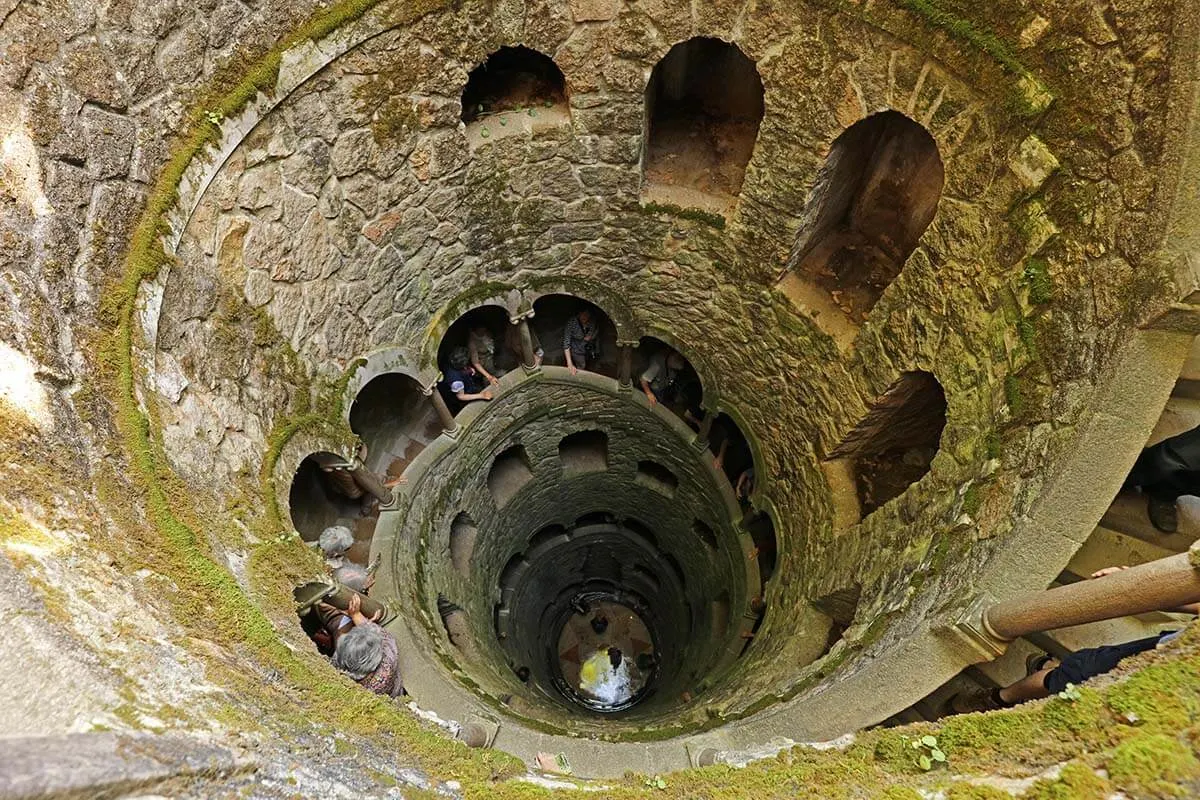 Good to know: Quinta de Regaleira is located in Sintra town center (and not on the hill as Pena Palace or Moorish Castle), and is therefore much easier to get to. So if you are really short on time and can only visit one place in Sintra, visiting here will require less time and effort than getting to Pena Palace. But you really should count at least 2 hours for a visit here.
While it's also very popular, Quinta de Regaleira is not visited by all Sintra tours, so it's somewhat quieter than Pena Palace. Still, it's very busy here too, especially in the morning and early afternoon.
Quinta de Regaleira is also an excellent place to visit with kids, as there is lots of space to run around (this is the case for most other gardens in Sintra too). But here, you also have that magical, fairy-tale feel that will really fire the kids' imaginations.
TIP: In the high season (+-April to October), there are concerts at Quinta de Regaleira on Sundays and some public holidays. While in general, we advise avoiding weekends, it's something to consider if you would indeed come here on a Sunday. These concerts are normally included with a regular ticket.
Practical info: Quinta de Regaleira is open daily from 10 am to 6.30 pm. For more information and online tickets, see their website. If you would rather book a guided tour here (it can be worth it as there is so much symbolism and things that you may completely miss otherwise), see here for some of the best options.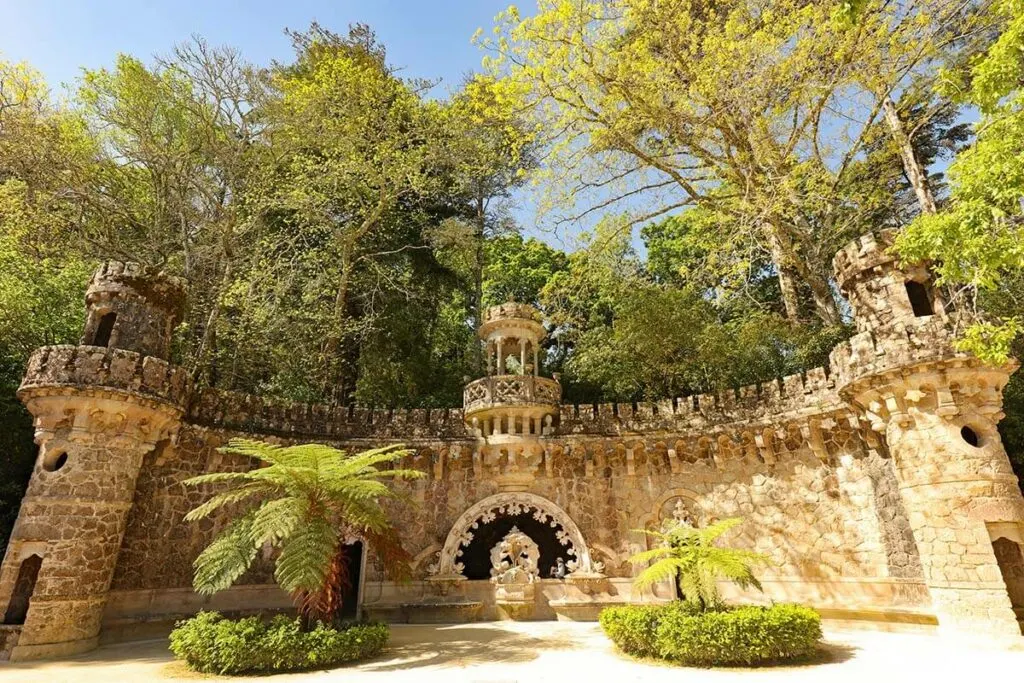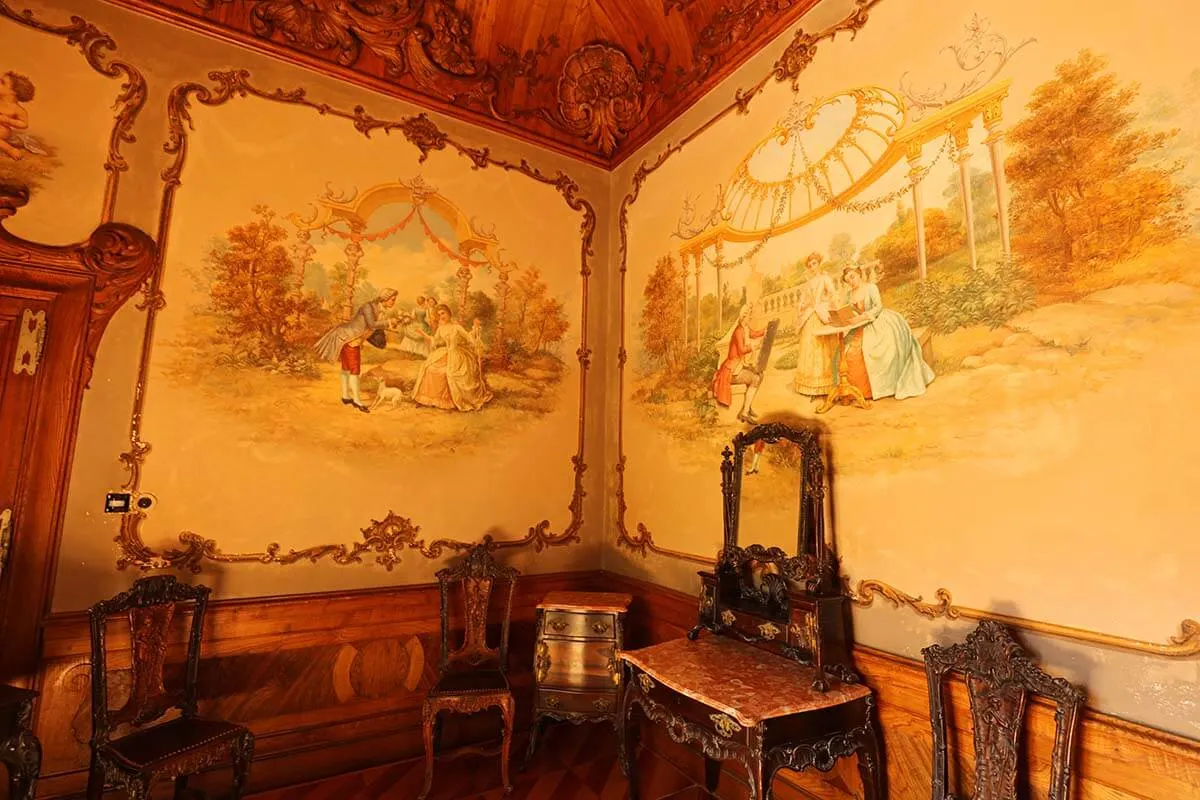 4. Moorish Castle
The Castle of the Moors (Castelo dos Mouros) is another place that should be very high on your 'things to do in Sintra' list. However (or luckily) it's not frequented by big tour groups, and so many people miss it. But if you are exploring Sintra on your own and have an hour to spare, definitely check it out. It will also be a welcome respite from the crowds at the most popular landmarks in Sintra.
The Moorish Castle is located just a bit downhill from Pena Palace, but the two places could not be more different. While Pena Palace looks like something from a Cinderella story, the Moorish Castle would be a better fit for a medieval knight movie…
Visiting Moorish Castle is also a totally different experience than Pena Palace. For one thing, it is the only one of Sintra's castles to lie in ruins. But it is also extremely quiet in comparison.
The castle was built in the 10th century as a fortification by the Muslim Moors. You can easily see why – its position atop one of the region's highest hills would have made it easy to spot approaching armies! It is this location that makes the castle ruins so good to visit. The views from its crumbling walls are spellbinding and uninterrupted.
Somewhat resembling the Great Wall of China, the spectacular ruins wind their way over the hills. You can walk along them and climb their ancient towers, explore their battlements, or visit the 'Second Ring of Walls'. This additional fortification was constructed to protect those who lived and worked in the area surrounding the castle. Here you can still see some of the silos they once used to store vegetables and cereal.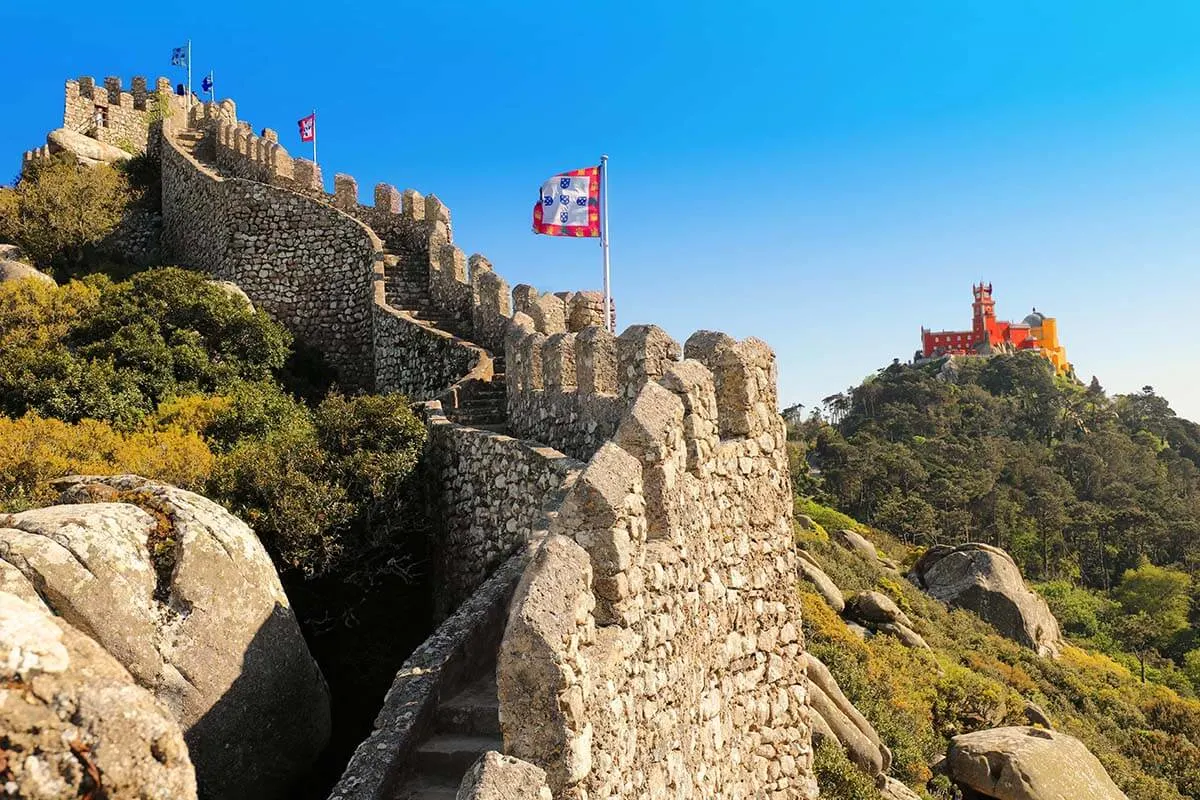 Good to know: Walking around the ruins can be physically demanding and some areas are very steep. Make sure you have appropriate footwear and plenty of water, especially in the summer months. Safety features are minimal, so this is not an ideal attraction if you have very young children. On the other hand, our boys absolutely loved it here and we couldn't keep up with them on those stairs…
TIP: Since the Moorish Castle is just a short walk from Pena Palace, you can visit these two places together. If you start in Pena, walk through the gardens to the lower exit, and from here, it's just a very short downhill walk to the Moorish Castle. If you start at the Moorish Castle, you'll be walking uphill. But – depending on the time of the day when you visit – it might make sense to do it this way in order to avoid the biggest crowds at Pena Palace.
Practical info: The castle is open daily from 9 am to 6.30 pm. You can get a ticket that includes an audio guide online, or get a ticket at the entrance (there might be a queue though).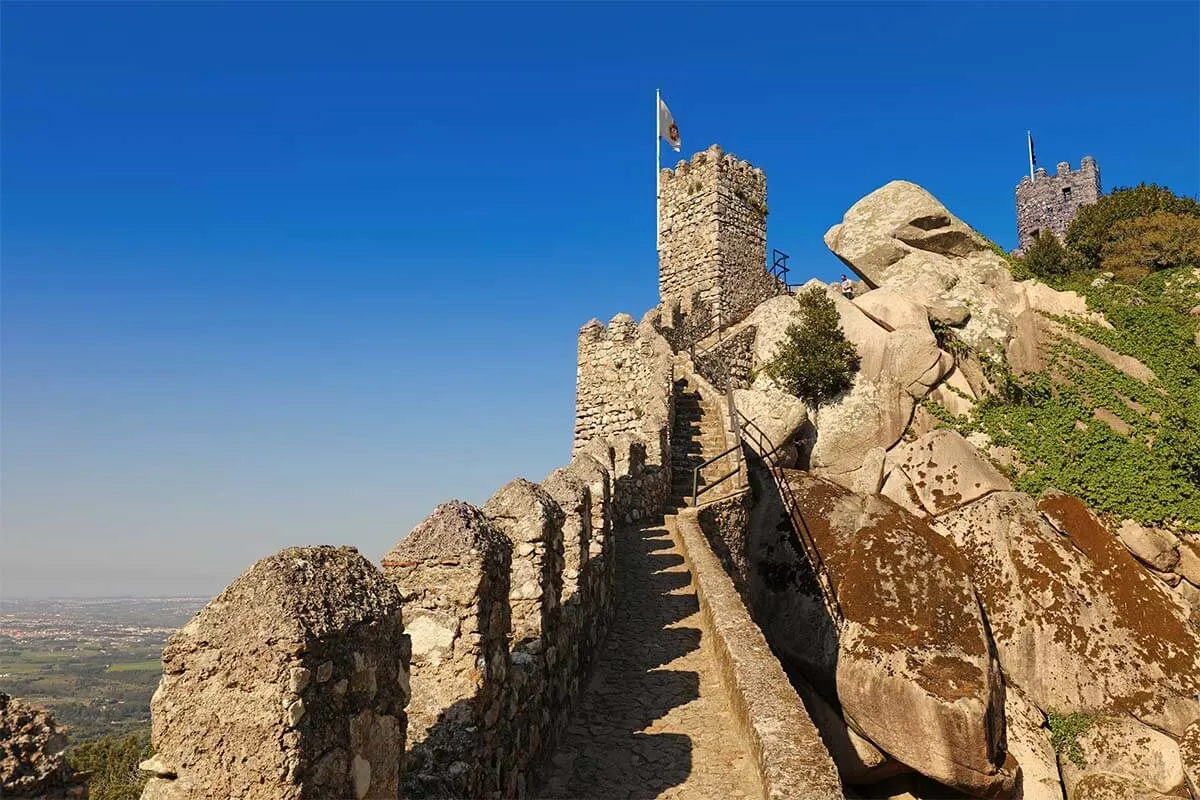 5. Monserrate Palace & Park
When it comes to the very best things to do in Sintra, visiting the Park and Palace of Monserrate is definitely one of them. But the competition with the above-mentioned places is fierce and so most visitors never get here. It has mainly to do with the fact that Monserrate Palace is located away from the town center and has nothing to do with how 'worthy' it is. A visit here is absolutely worth the extra effort, if you can find the time!
The Palace has a strong English influence, originally built by the English merchant Sir Francis Cook in 1860 and later owned by another Englishman who commissioned much of the present architecture. This is reflected in the layout of the immaculately manicured gardens. Yet in contrast to the site's Gothic stone arches, it has a distinctly Moroccan look, with many Arabian and Indian touches.
The interior is simply beautiful, dominated by a gallery that runs the entire length of the palace. Here you can see rose marble columns supporting geometric latticework and a gorgeous domed atrium. There are also stunning stone carvings in the main hallway and several of the rooms, plus an elegant reading room featuring portraits of Sir Francis Cook and his wife.
Outside the building is Portugal's first-ever lawn, over which you cross to access the botanical gardens. These are older than the house and filled with an enormous variety of plant species. It's easy to while away an hour or two here, strolling along the peaceful walkways and admiring the ornamental lakes, waterfall, and fern valley.
This was one of our personal favorites of all the places we visited in Sintra! I guess the lack of the crowds definitely had something to do with it. It's just so much easier to appreciate how special a place is when you don't have to share it with hundreds of others…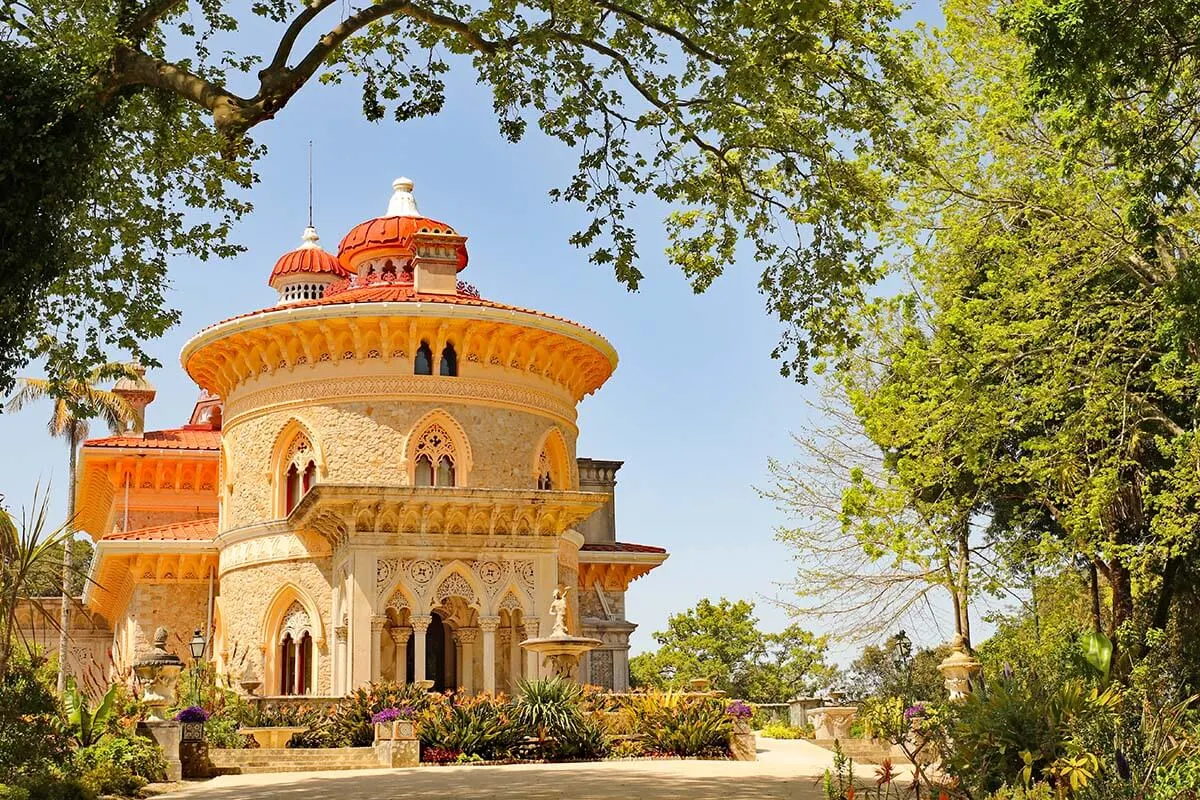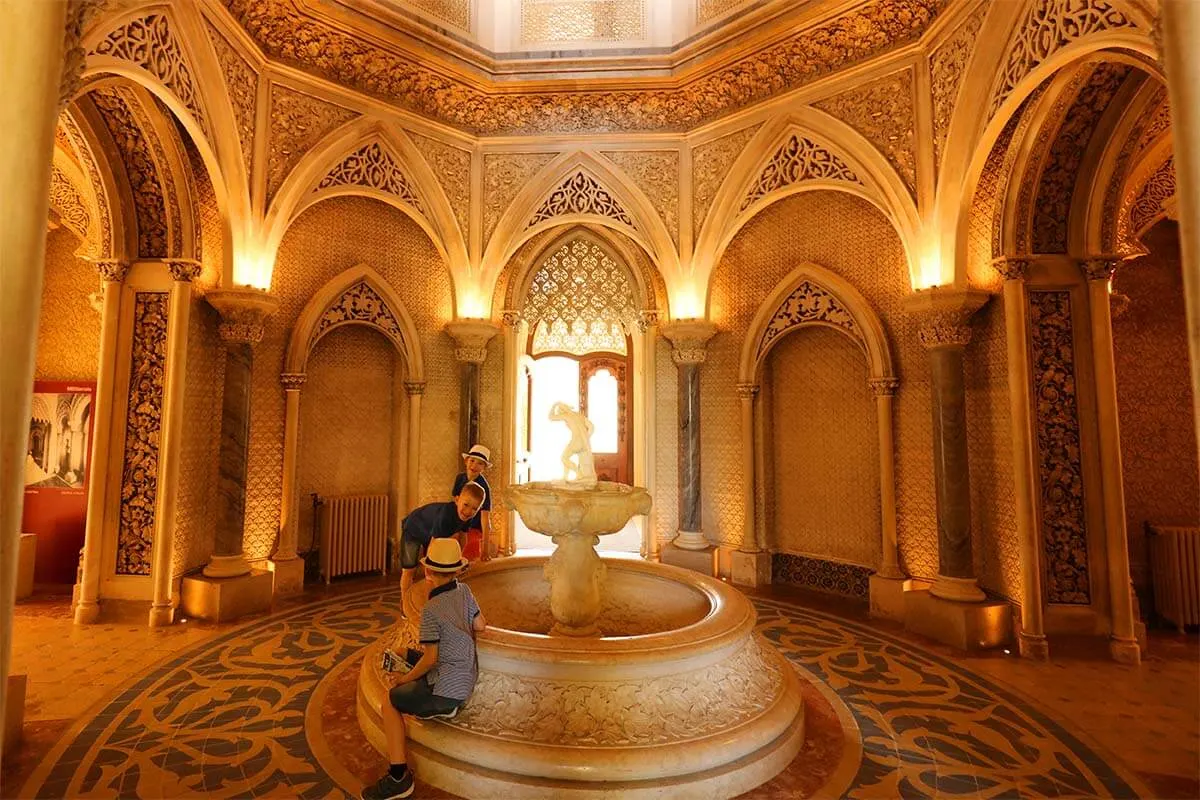 Getting there: Monserrate Palace is located about 3 km (10 min drive) from Quinta de Regaleira. You can get here by car, by bus (#435), or by taxi. We also saw some people walk next to the road, but I wouldn't recommend this. It's a busy road and not really suitable for pedestrians.
Good to know: Not many tours include Montserrate Palace in their itinerary, so if you are visiting Sintra with a guided tour, pay attention to the itinerary so that you know exactly which castles/palaces they visit. The most complete Sintra tour that I highlighted above (see here once more), comes to Montserrate Palace, and also private tours can include it in the itinerary if you ask.
TIP: Because Monserrate Palace sees way fewer tourists than other historic places in Sintra mentioned above, it could be a good place to visit during peak hours when most other attractions are busy.
Practical info: Monserrate Palace is open daily from 9.30 am to 6.30 pm. You can find more info on their website. For this palace, you can just get the tickets at the entrance.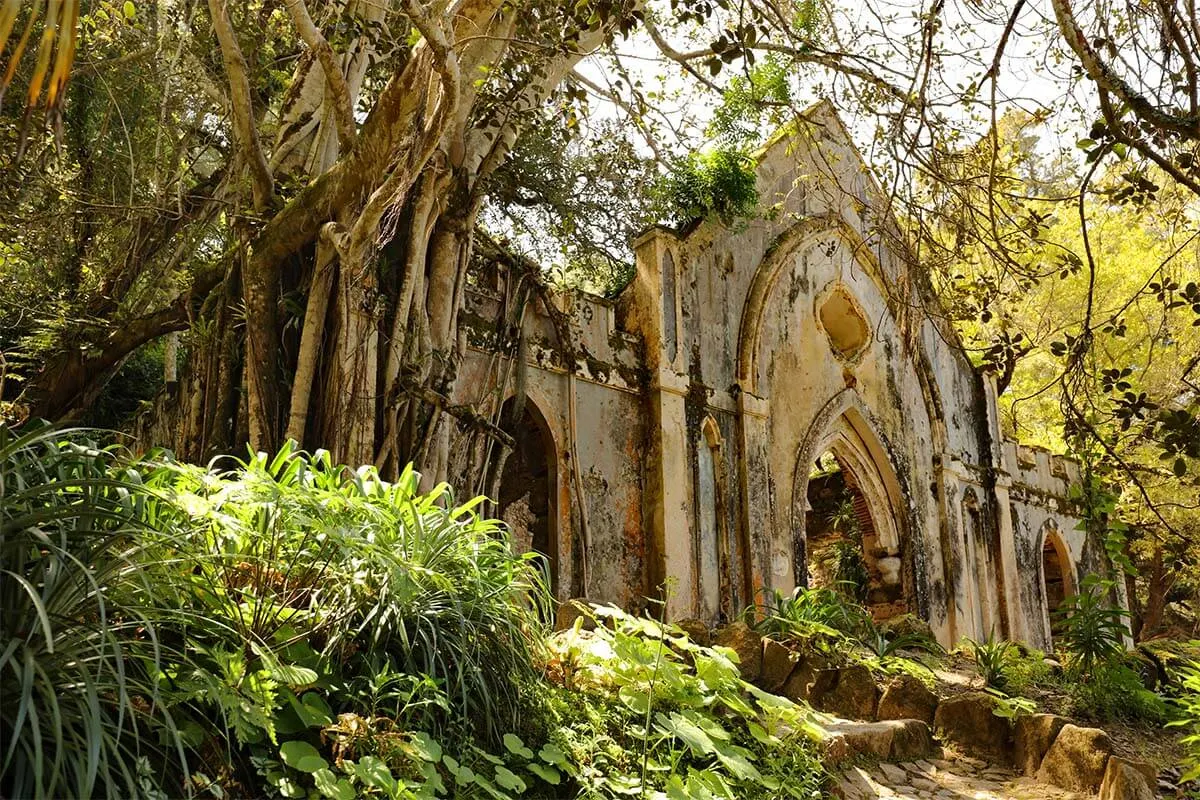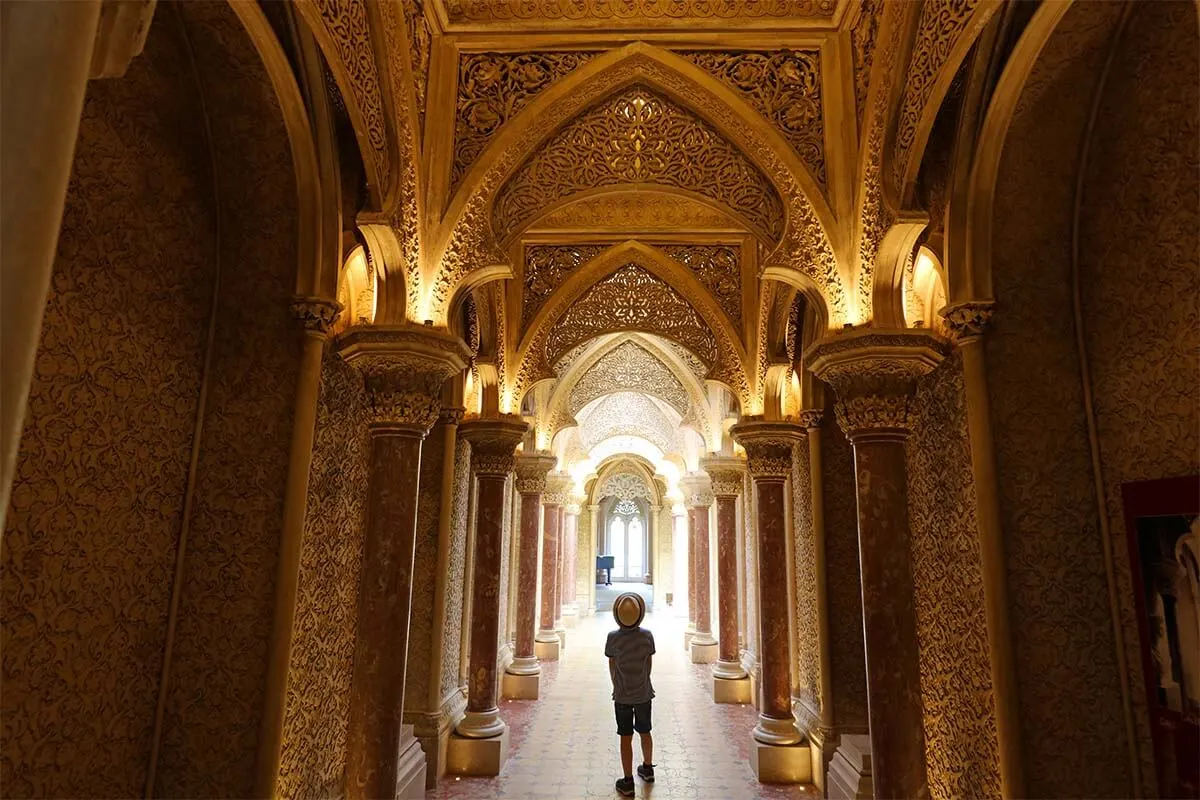 6. Sintra National Palace
Not to be confused with Pena National Palace on the hill, Sintra National Palace (Palácio Nacional da Sintra) is located right in the heart of Sintra's old town. It is easy to access and is one of the most popular attractions in the region.
Originally constructed in the 15th century, it was home to the Portuguese Royal Family right up to the 19th century. As Portugal's best-preserved medieval royal residence, it now enjoys UNESCO World Heritage status. This is the best place to visit in Sintra for those who are interested in learning more about the (royal) history of Portugal.
The palace's most prominent features are its two huge, white conical chimneys that have become emblems of the region. These were originally constructed to direct the heat from the ovens in the kitchen away from the main palace chambers.
The rooms themselves are uniquely decorated, with names reflecting elements of their design. The Swan Room, for example, has an octagonal paneled ceiling decorated with swans, whilst the ceiling of the Magpie room is painted with 136 magpies, each holding a rose.
You can take a walk through the vast kitchen to see where cooks would have prepared meals for up to 1000 guests, and visit the striking Coats of Arms Room. The walls here are breathtaking, covered by 16th-century Azulejos – beautiful tin-glazed ceramic tilework.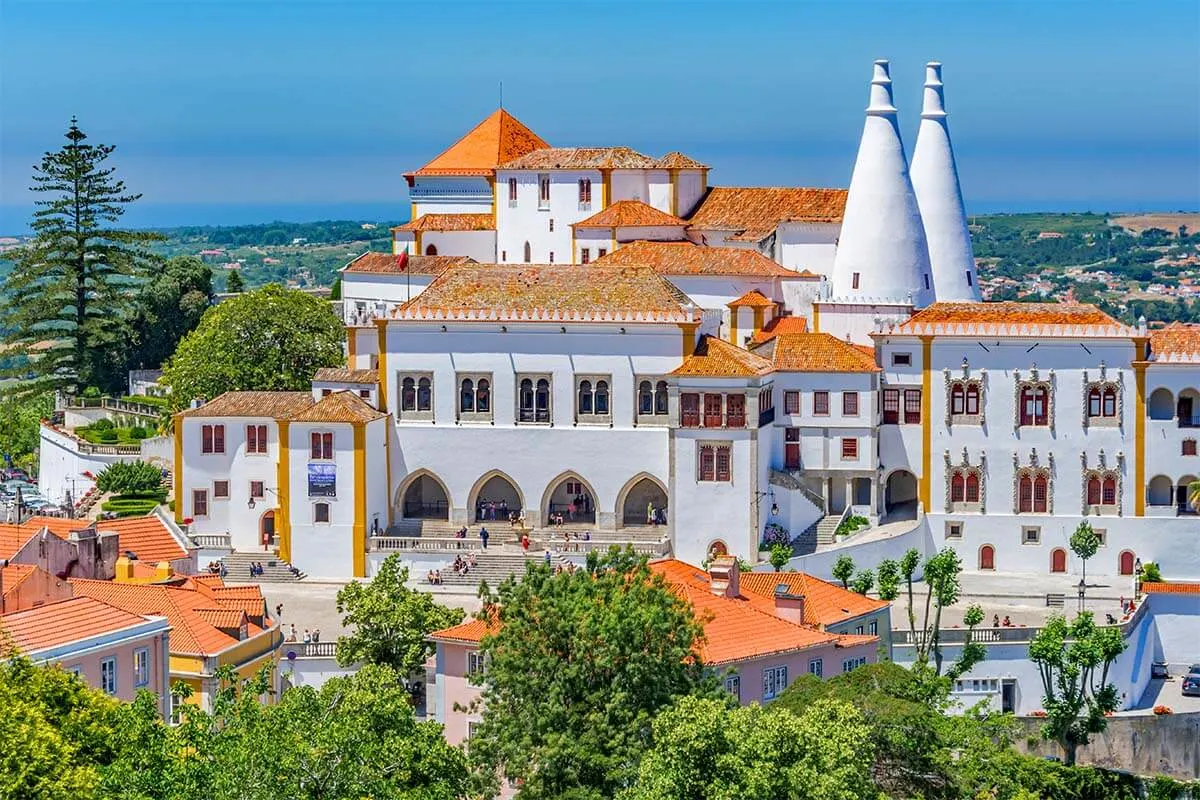 Good to know: Because of the beautiful gardens and parks, most of Sintra's historic buildings are best enjoyed on sunny days. Although Sintra National Palace has pretty gardens too, it is primarily an indoor attraction and the perfect place to visit if you are looking for things to do in Sintra when it rains.
Practical info: Sintra National Palace is open daily from 9.30 am to 6.30 pm. For more information, see their website. If you come here an hour before the closing time, it's usually not too busy.
TIP: Just steps away from the Palace is Casa Piriquita, Sintra's best-known bakery. It was founded in 1862 and is famous for its Travesseiros – puff pastry parcels filled with eggs and almond cream. Be sure to stop by and try one after your visit!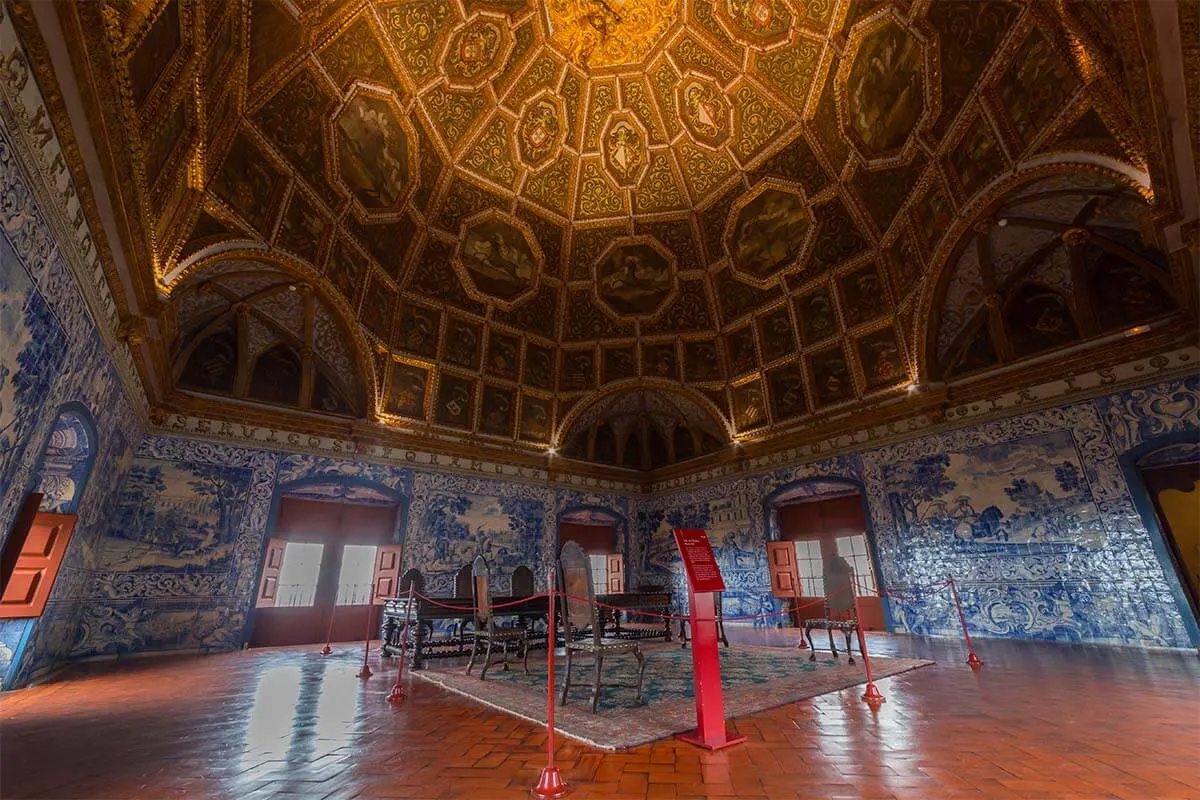 7. Sintra Old Town
No visit to Sintra would be complete without taking some time to walk around the old town center. While most visitors come here for the famous palaces and their gardens, the town itself is quite charming too.
Granted, during the day it's so busy that it's often difficult to appreciate how nice Sintra really is. The old town area around Sintra National Palace is filled with souvenir shops, cafes, and restaurants, and buzzing with tuk-tuks, taxis, etc. But if you stay in the area for a few days and visit the Sintra town center in the evening, it's a totally different place.
TIP: During the day, you can avoid the crowds by taking a walk outside the main shopping streets. For example, the walk between the Moorish Castle and the village is really nice – just be sure you start on the hill and walk back to town and not the other way around!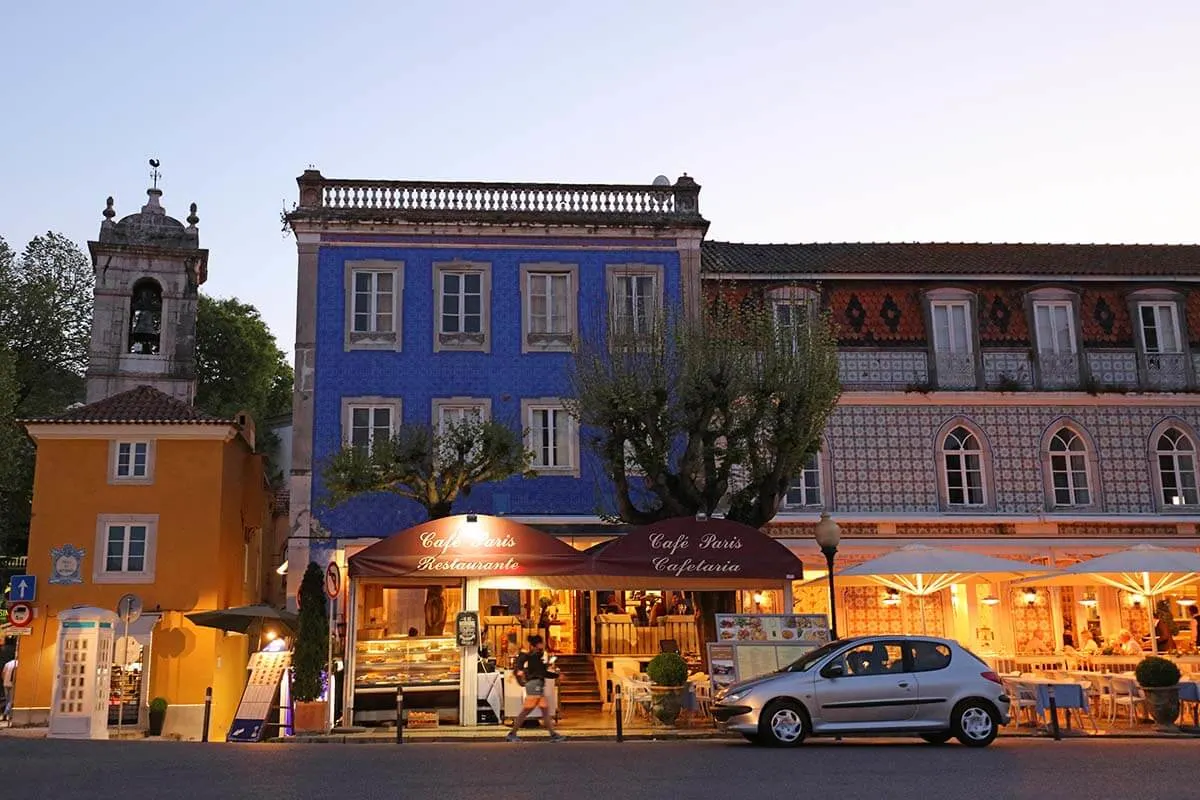 Now that we covered the best things to do in Sintra, here are some additional suggestions for some of the most beautiful places to visit in and near Sintra.
Most of these get just a fraction of tourists and some others – hardly any at all. So if you want to explore Sintra (and its beautiful surroundings) deeper, be sure to visit at least a few of these sights:
8. Cabo da Roca
Cabo da Roca is the most westerly point of Portugal's mainland and one of the most popular places to see near Sintra.
In fact, the coastline here is so scenic that most of the day tours visiting Sintra include a stop here as well (which means that it can get busy here, especially during the day and on the weekends).
This rugged headland with an old lighthouse offers amazing views of the coastline. It's a great place to enjoy views of the sun setting over the Atlantic Ocean. As you stand here looking out across the ocean, it is easy to see why people used to believe that this spot was the edge of the world!
Good to know: There are several difficult but rewarding hiking trails nearby that lead to remote and scenic coves, or you can just take an easy short walk to the main viewpoint. Most people just stop here for a photo and for that, you don't need more than half an hour.
There is a restaurant, a gift shop, and bathroom facilities here.
Getting here: You will need a car to visit Cabo da Roca. As already mentioned, many organized tours that visit Sintra include a stop here as well.
9. Convent of the Capuchos
The Convent of the Capuchos (Convento dos Capuchos) is a unique rural attraction that lies in direct contrast to the magnificent buildings you see elsewhere in Sintra. This is one of the best places to visit near Sintra if you want to avoid big crowds.
Dating back to the middle of the 15th century, the Convent was home to Franciscan friars who had taken vows of extreme poverty. The stark austerity of this isolated monastery clearly reflects this. In fact, it is quite sobering to see it after all the opulence of Sintra's castles and palaces.
Amidst the labyrinth of the convent's caverns, you can see the cramped cells in which the monks slept. Each of these has meter-high doors, designed to force the monks to genuflect as they entered. It is interesting to see the cork lining the cell walls, which was used to insulate them against cold and humidity. There are many other rooms to visit, including the kitchen, infirmary, refectory, library, and outer cloister.
Particularly poignant is the Senhor dos Pasos chapel, which contains the remains of the blue tiles that depicted the Passion of Christ.
The most striking thing about the convent is the way in which it blends seamlessly into its natural surroundings, giving it a somewhat enchanting, storybook appearance. The overall atmosphere is tranquil and a little magical – definitely one of the most unique spots you will visit in Sintra.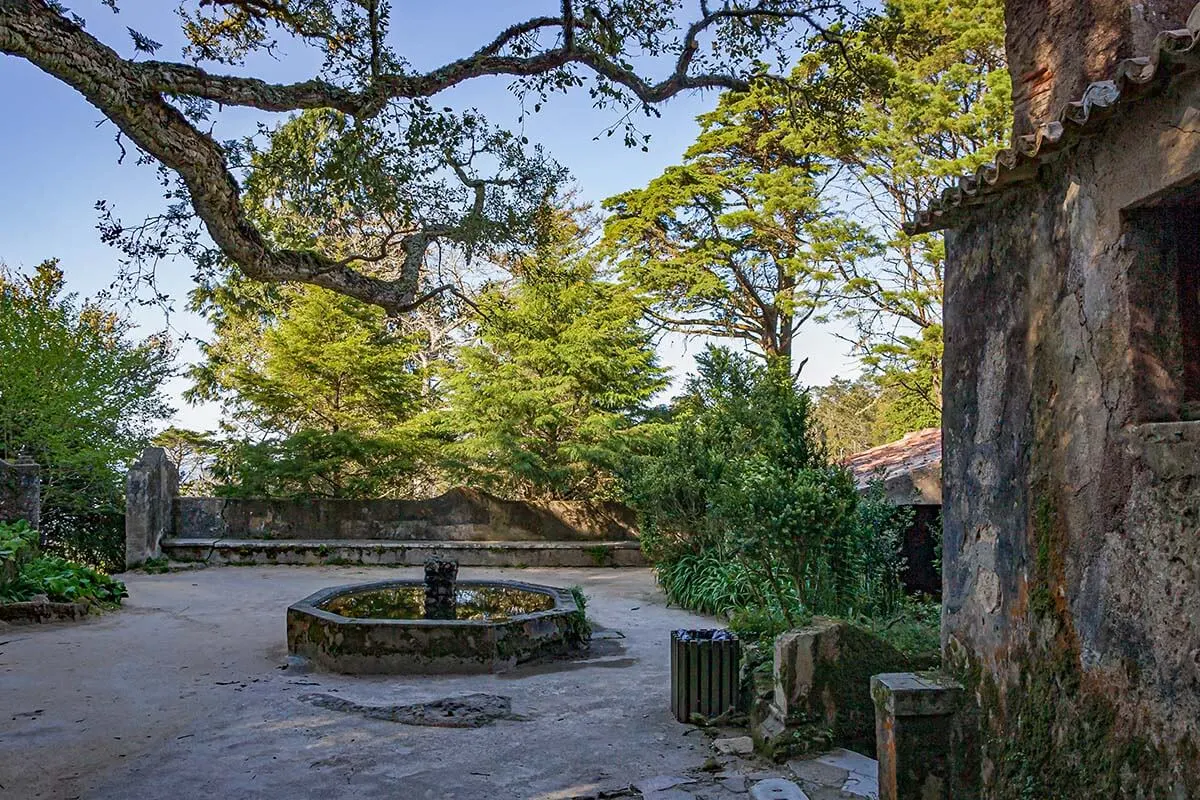 TIP: It is worth paying extra for the audio tour as there is very little signage in the convent to explain what you are seeing.
Getting there: The Convent of the Capuchos is located outside of Sintra town. While it's not far as the crow flies, you have to drive around the hills, so it will likely take about half an hour to get there. If you don't have a car, you can get here by taxi or by bus. Taxi/ Uber is really quite affordable in Portugal, so it's probably the most convenient and quickest way to visit this and other places near Sintra.
Practical info: Convento dos Capuchos is open daily from 9.30 am to 6.30 pm. For more info, see their website.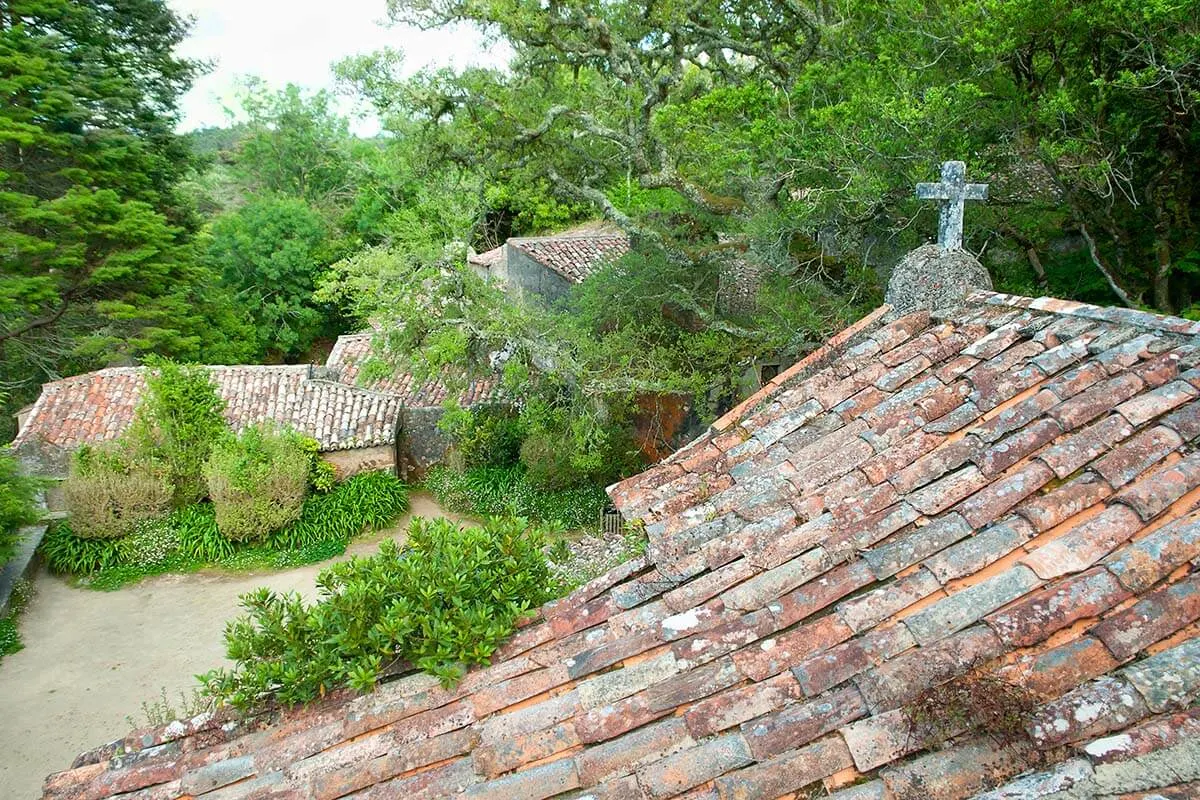 10. Villa Sassetti
Villa Sassetti (aka Sassetti Village) is one of Sintra's hidden gems and is rarely mentioned in the visitor guides. Admittedly you can't view the building's interior, but there are some lovely architectural features to admire on its facade, not least the two panels of Portuguese tiles and the circular tower that gives the building a Mediterranean appearance.
Construction of this villa began back in 1885 when the owner – Victor Carlos Sassetti – set about creating a summer residence inspired by the castles of Lombardy.
These days the property is owned by Parques de Sintra and has been restored extensively. Surrounded by lavish gardens, it's located on a pathway that connects Sintra's Historical Center with the Moorish Castle and the Park of Pena. So if you are walking from the Moorish Castle down to town, check it out!
Good to know: The gardens are open daily from 10 am to 6 pm and you can visit the gardens for free. More info here.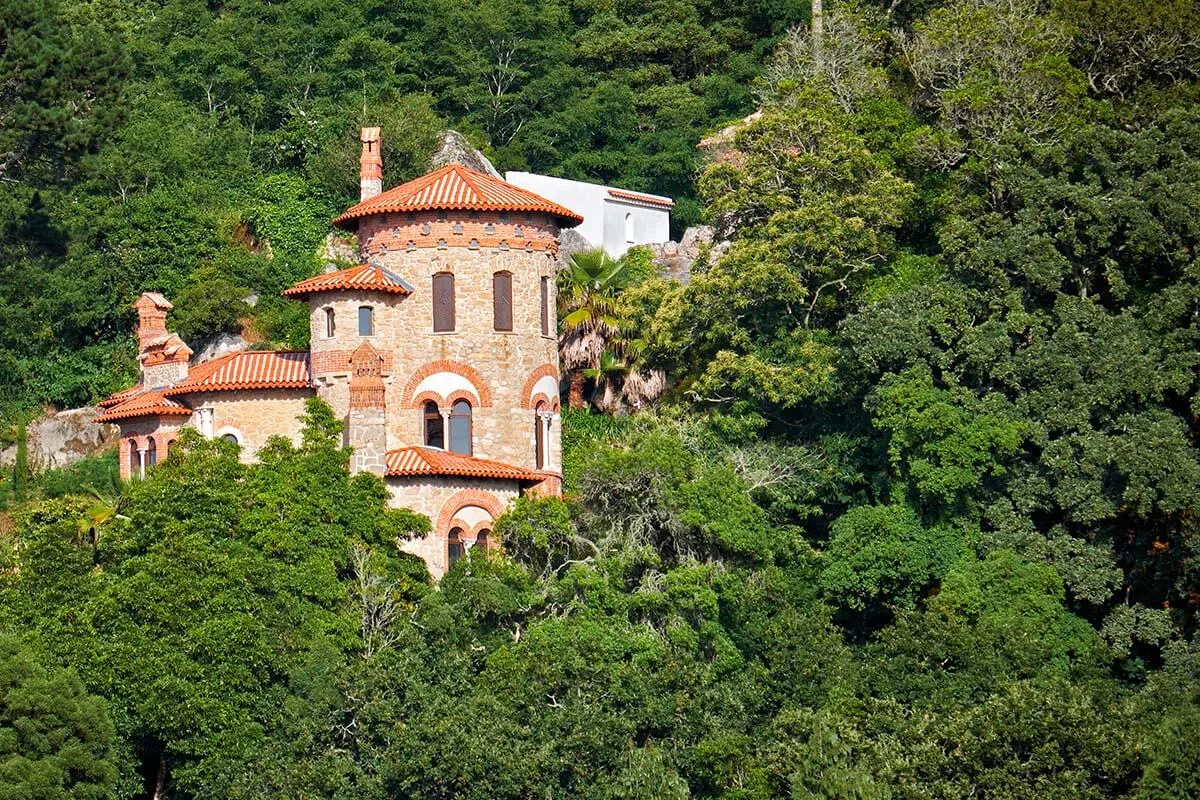 11. Sanctuary of Peninha
The Chapel of Our Lady of Penha (Peninha) (Santuario da Peninha) was established after a shepherd claimed to have sighted her apparition there. Located 488 meters above sea level, the complex also contains a small palace built by António Augusto Carvalho Monteiro (the owner of Quinta da Regaleira) in 1918.
This enchanting sacred site of worship exudes a mysterious atmosphere and there are many legendary tales associated with it that have been passed down by pilgrims for generations.
Aside from its historical interest, the main reason to come here are the amazing views towards Sintra's coastline. It could also be a nice place to visit around sunset.
Good to know: The Sanctuary of Peninha is located about half an hour's drive from Sintra's old town. It's really off the beaten path and not many visitors come here. There is parking from where you have to take a steep (short) path to the summit, so walking shoes are recommended. There are no facilities here.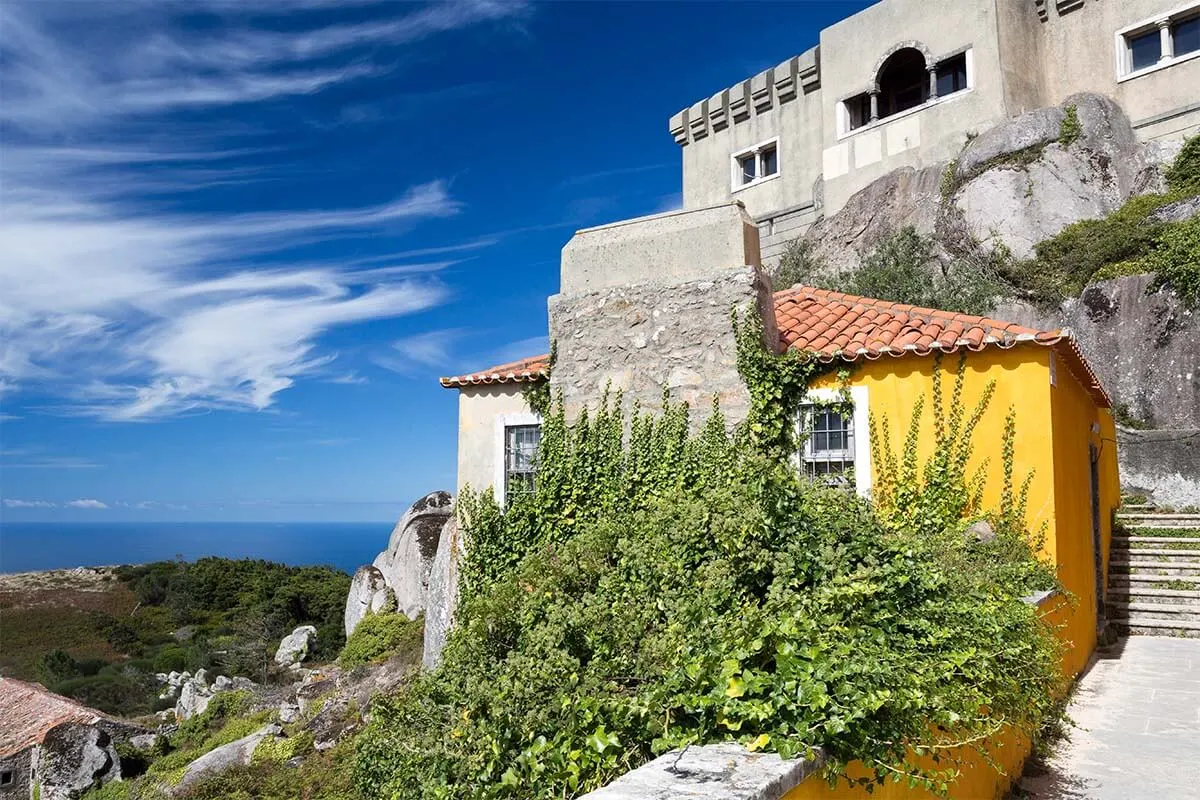 12. Seteais Palace
Located on the edge of the Serra de Sintra, the neoclassical Seteais Palace (Tivoli Palácio de Seteais) overlooks the town and the beautiful countryside surrounding it.
It was built during the 18th century for the Dutch Consul at that time then later extended by the 5th Marquis of Marialva. In 1946 the Portuguese government acquired the property and opened it as a hotel. Hotel Tivoli Palácio de Seteais is now one of the most luxurious hotels in the region and has hosted some very illustrious guests, including the writer Agatha Christie and U.S. President Richard Nixon.
While you can't see the interior of this palace unless you are a guest in the hotel, you are still free to explore the extensive gardens. Filled with fruit trees and elegant features inspired by the Romanticist movement, they are quite charming and worth visiting if you have some extra time in Sintra. You also have a nice view of Pena Palace from here.
Good to know: Access to the gardens of Seteais Palace is in principle free of charge and open to the public. But they don't make publicity about this and don't encourage visits… But since the Palacio de Seteais is very close to Quinta da Regaleira, you could just walk over there and see if you can visit the gardens.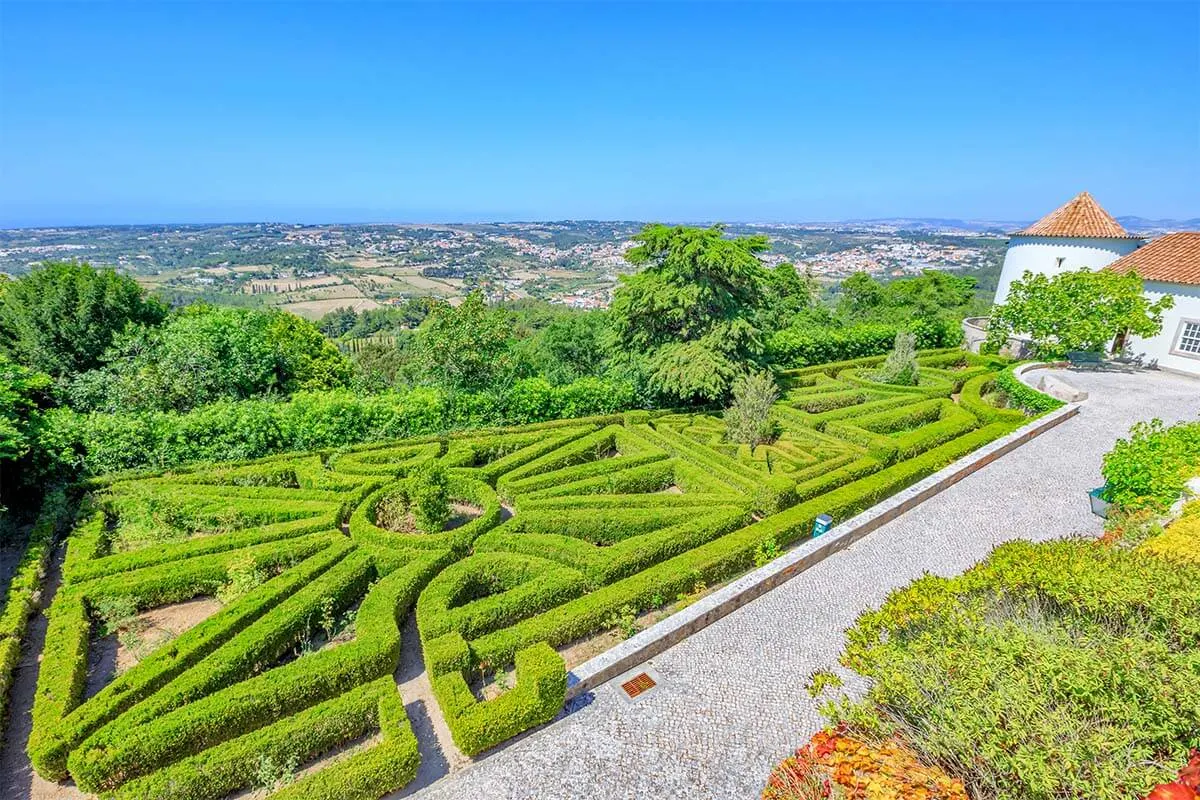 13. Sintra Beaches
While Sintra town itself is located inland, the Sintra-Cascais Natural Park is also known for its stunning beaches.
Some of the nicest beaches near Sintra are Praia da Adraga, Praia do Cavalo, Praia da Ursa, and Praia Grande. The sands are golden and the rock formations are quite spectacular.
Some of these beaches are very easy to visit, some others require a bit of a walk, and Praia do Cavalo even a climb. Depending on the time of the year, the weather, and your interests, you may want to visit one or a few of them.
Good to know: You'll need a car to visit the beaches. Some of them have lots of amenities, including restaurants, showers, toilets, and a lifeguard in the peak season. While others are remote and isolated.
Something to note is that most beaches here are better for sunbathing and long walks rather than swimming. The waves can be enormous and ocean currents can sweep you off your feet.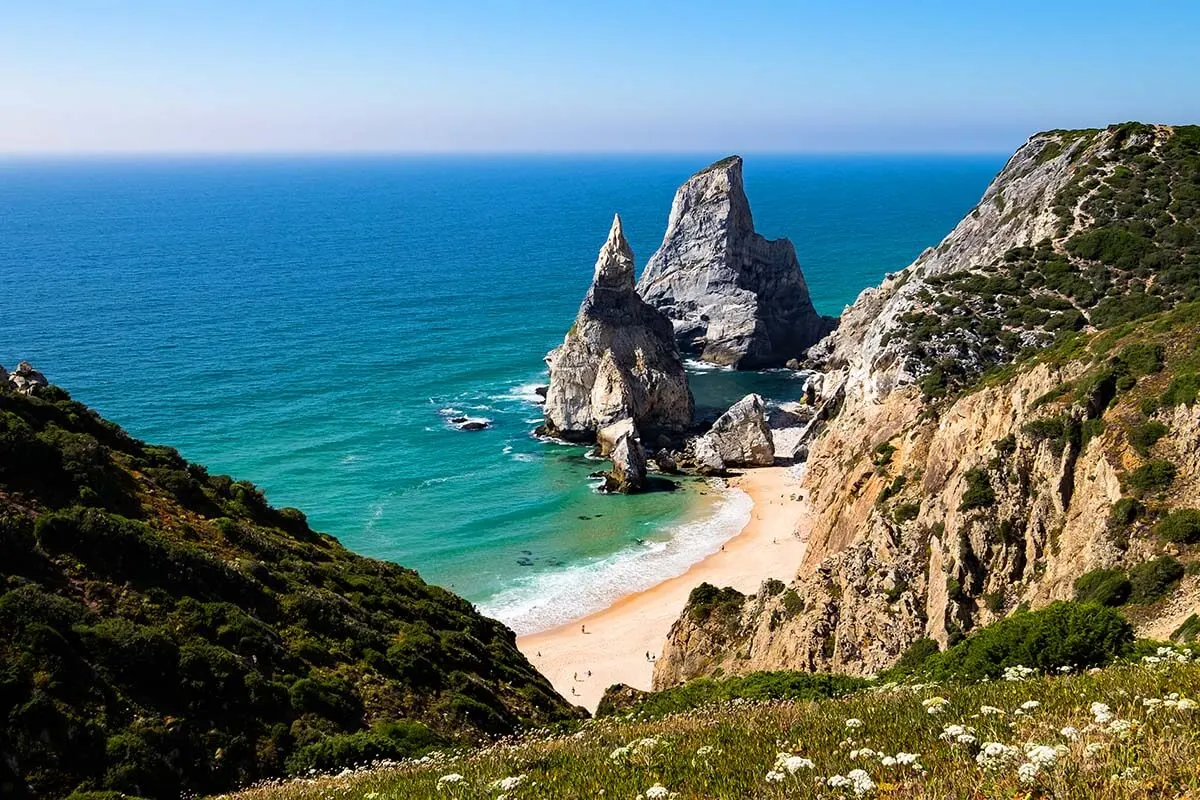 14. Azenhas do Mar (viewpoint)
Azenhas do Mar is a picture-perfect village of white houses built on a steep cliff facing the ocean. It has its own little beach and a natural oceanic pool. Its name means 'Watermills of the Sea' in reference to the powerful stream that used to move the watermills on its way to the ocean.
Originally a fishing village, Azenhas do Mar is somewhat less authentic these days and many of its houses are the summer residences of wealthy families from Lisbon. Nevertheless, the maze of streets perched on the cliffside – often featured on Portuguese postcards – is stunning to see in person!
TIP: If you don't have the time to visit the village, just stop for a photo at the Azenhas do Mar viewpoint. It's one of the nicest places near Sintra and worth a detour if you have a car.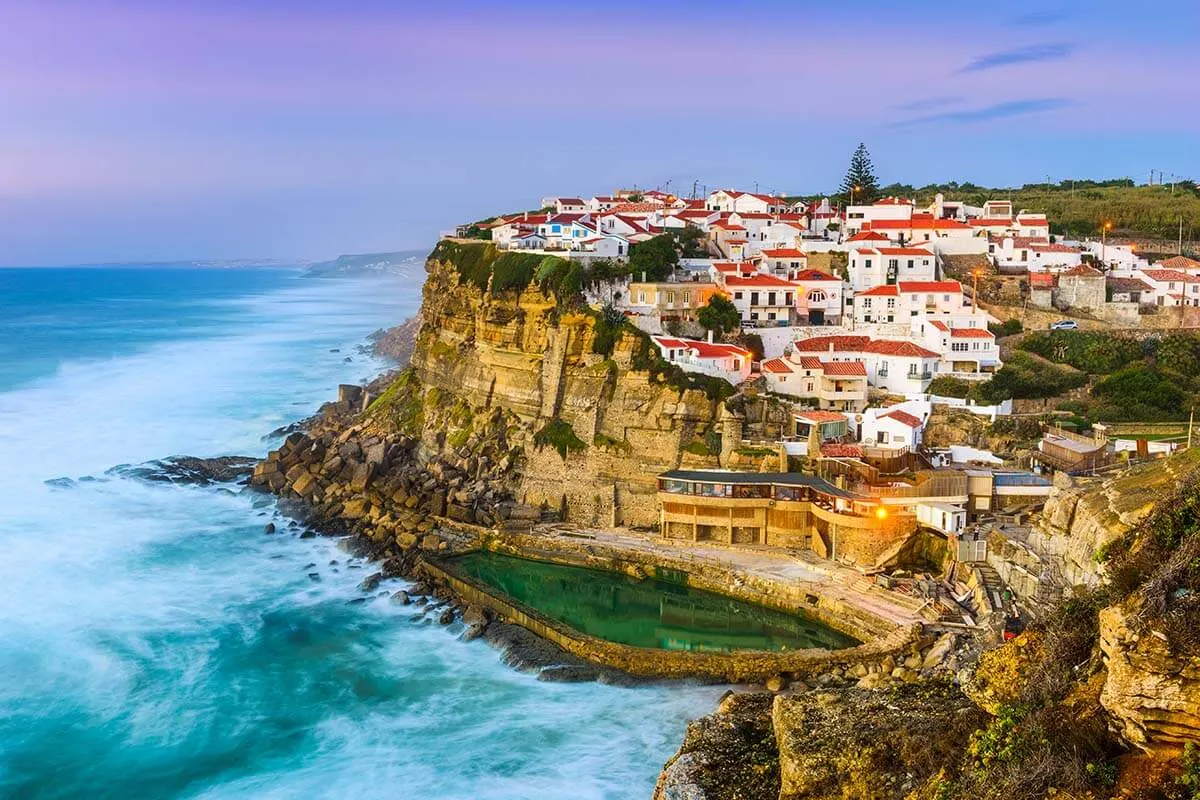 Where to Stay
Most people visit Sintra for just a day from Lisbon, so you don't absolutely have to stay here if you want to see just the main castles.
However, if you do have more time, we highly recommend spending at least a night or two in Sintra.
Here are a couple of the best-rated hotels in Sintra for all budgets:
€€€€+ Arribas Sintra Hotel (seaside resort further from the center – you'll need a car)
€€€€ Sintra Boutique Hotel (the best choice in the center of Sintra)
€€€ Sintra Bliss Hotel (a very nice hotel close to the railway station)
€€ Flor&Fidalgo Guest House (excellent lower-budget accommodation near the station)€
So, this is our guide to the best things to do in Sintra and nearby. As you can see, this stunning area has a lot more to offer than it looks at first sight. Mystical and beautiful, this is easily one of the most photogenic and memorable places you will ever visit.
If you have a car, stay in the area for a few days so that you can explore all these beautiful places. 2-3 days should be enough for the main sights in Sintra described in this guide, depending on how much time you spend at each place.
TIP: Take a look at our Sintra itinerary for some ideas on how to plan your time and more practical information for your visit. Just remember that you won't be able to do much with a car in Sintra town itself, and be sure that your accommodation has car parking.
But also if you don't have a car and are just visiting for a day, you can still see a lot- either by booking a tour or taking a train to Sintra + a bus/taxi to get around the area. As already said before, there are lots of tours with a big variety of itineraries, so pick one that looks the most interesting to you or opt for a private tour and customize it to your liking.
Have a fabulous time in Sintra!
READ ALSO: Best Day Trips from Lisbon
More travel inspiration for your trip to Portugal:
If you found this post useful, don't forget to bookmark it and share it with your friends. Are you on Pinterest? Pin these images!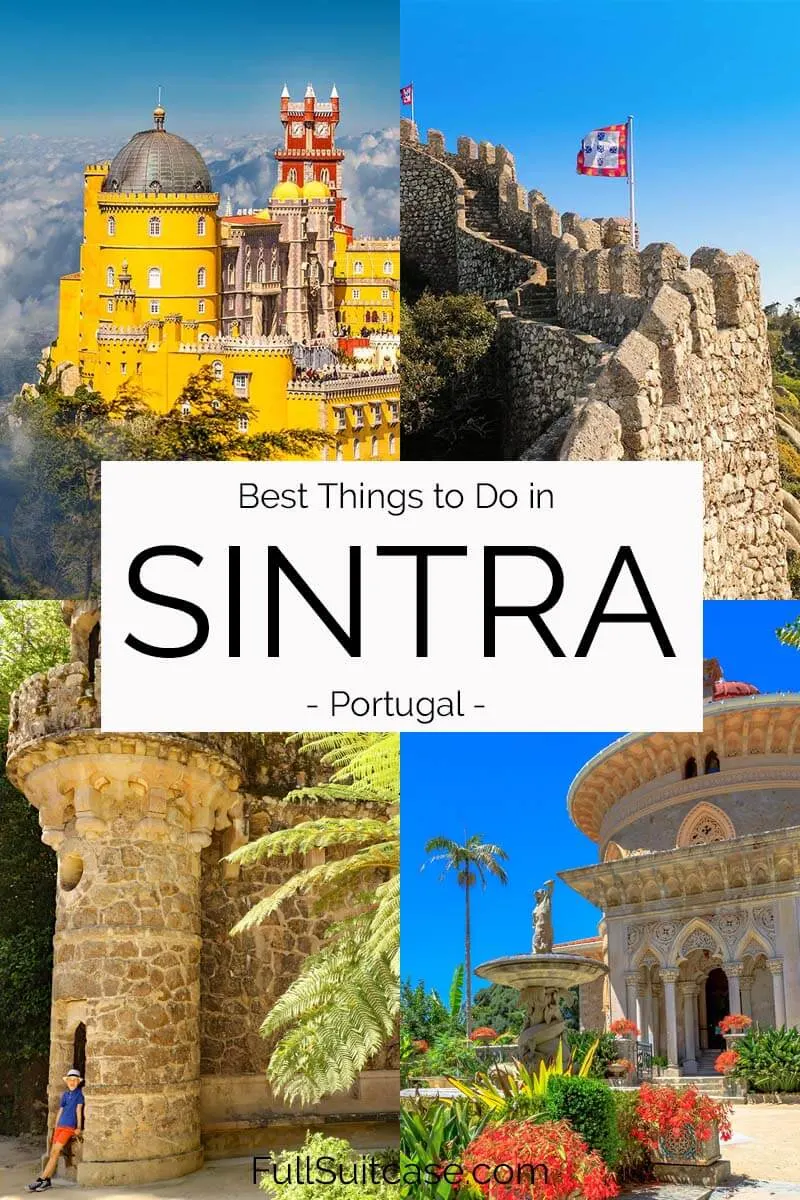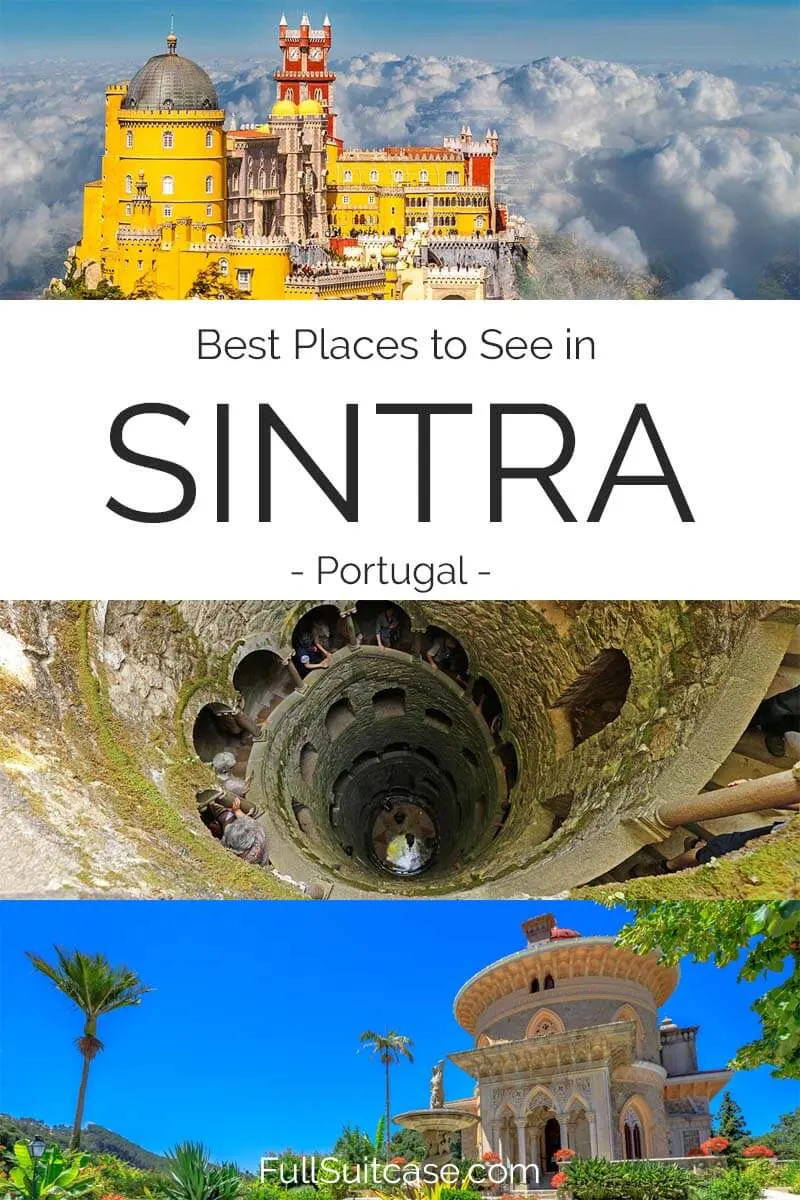 Images: Personal collection and Depositphotos.com