Whether you are visiting the Portuguese island Madeira for a day or for a few weeks, Funchal is one place you definitely have to see. But what are the best things to do in Funchal?
Funchal is Madeira's biggest town and despite its small size and just over 100,000 inhabitants, it has a lot to offer to any kind of visitor. From historic sites, museums, and botanical gardens to a big variety of activities – you'll find plenty of inspiration for things to see and do in Funchal.
In this article, I am sharing some of the very best places to see and things to do in Funchal. My selection starts with the most popular places that are must see in Funchal. So if you're on a short visit, start with the top of the list. I listed the attractions in the most logical order as you'd visit them starting in Funchal Old Town. Further down below you will also find some fun activities and lesser known things do in Funchal that are nice to see if you have more time.
Please note that this is not a guide for the whole Madeira island. It's also not a guide for day trips from Funchal or the beautiful areas to see close to Funchal. This is a city guide focused on the main points of interest in Funchal. Before you go on a day trip outside the city, you really should first see at least some of the main Funchal attractions. No visit to Madeira would be complete without exploring Funchal.
We spent 9 days on Madeira island and visited Funchal several times. So this article is mostly based on our own personal experience and includes some experience-based tips. However, in order to give you the most complete guide to Funchal, I also included several places that are nice to see, but for which we personally had no time.
We were in Madeira with kids and spent more time outside the city, hiking and exploring. If interested, on our blog you can find more inspiration and tips for your trip to Madeira – take a look!
Without further ado, here is the list of best things to do in Funchal. Read on!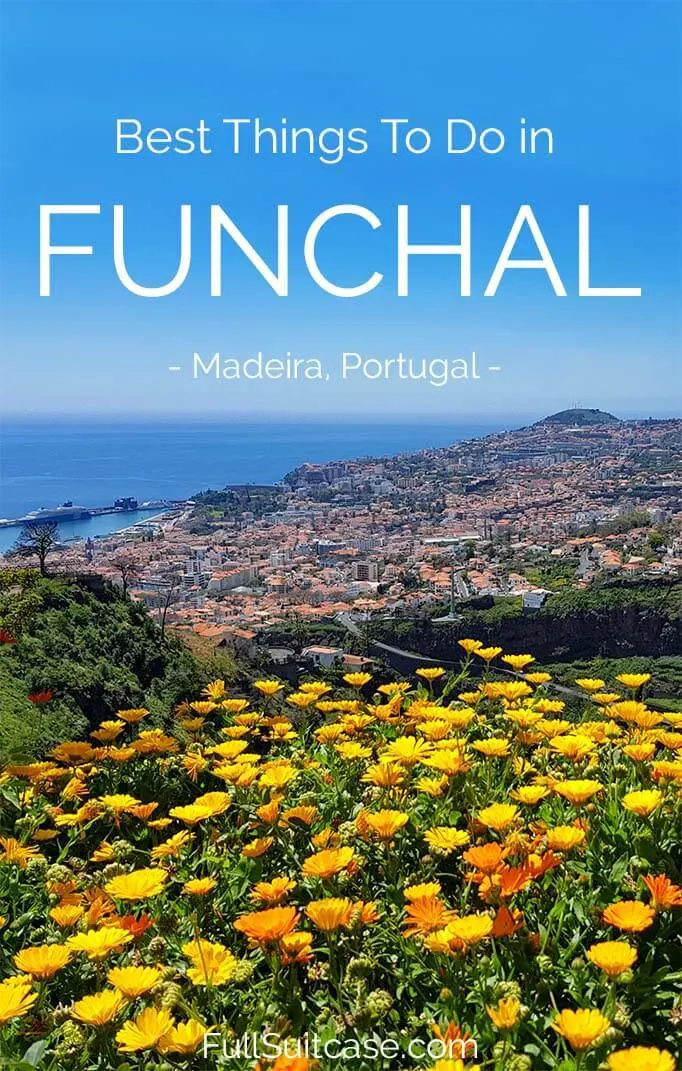 These are the best things to do in Funchal, Madeira:
1. Visit Funchal Cathedral – Sé
Located in the city center, The Cathedral of Funchal (Sé) is one of the main historic landmarks of Funchal. Built in the beginning of the 16th century, at the peak of the Portuguese explorers' era, Funchal Cathedral is a symbol of power and prosperity.
Not to be missed is the Gothic altarpiece, composed of gilt woodwork, oil paintings on wood, and small sculptures. The wooden cedar ceiling with ivory elements is considered one of the most beautiful ceilings in the whole of Portugal.
Practical information: Visit is free. The church is normally open every day from early morning until 6.30-7 pm. On weekends, it's closed for a few hours in the afternoon.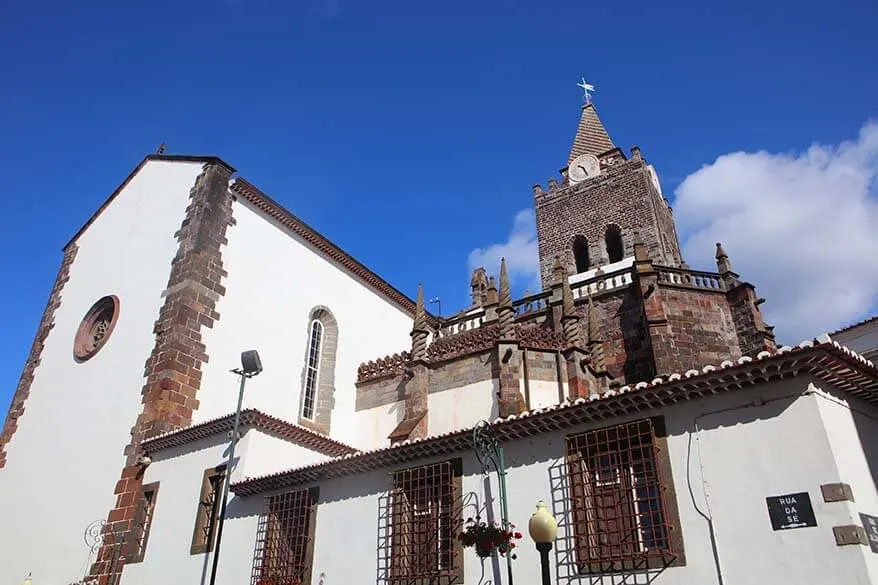 2. Explore the Old Town of Funchal
Funchal Old Town (Zona Velha) is a nice lively place. Most of the city's shops and restaurants are located in this area. It might get a bit busy when there are cruise ships in town, but it still has a great local feel.
The main shopping streets are Rua do Aljube, Rua da Carreira, and Rua Dr. Fernao Ornelas.
If you are looking for a place for lunch, don't settle for tourist restaurants with pictures on the menu. There are quite some really nice local restaurants that serve great fresh food. We had lunch at Restaurante Armazém do Sal which is supposedly very expensive, but during the day they had a lunch menu with delicious dishes for 10-15 EUR. The place was packed with locals, but we were the only tourists there.
TIP: If you want to explore the Old Town of Funchal with a local guide and learn more about the city, consider joining this highly-rated Old Funchal walking tour.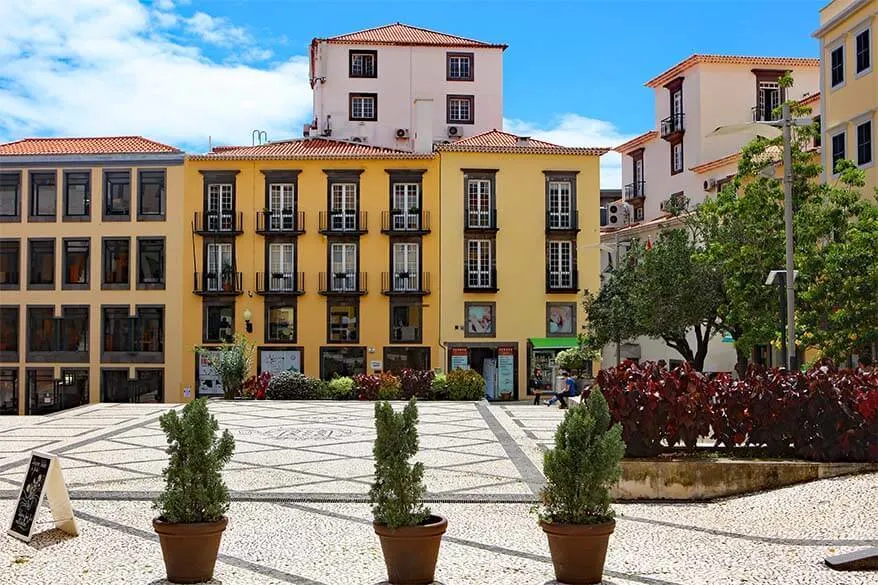 3. Admire the Street Art of Rua da Santa Maria
Rua da Santa Maria was one of our favorite places in Funchal. It's a perfect example of how a bit of imagination can bring the city to life. This area that has suffered from the flooding is now completely reborn.
A public art program called 'Arte de Portas Abertas' (the art of the open doors) has managed to transform an old shabby area of Funchal's Old Town into a colorful outdoor art gallery. It now displays over 200 works of art, most painted on the doors of the houses of Rua de Santa Maria.
This area was really quiet when we visited Funchal in April and so I consider it one of the hidden gems of Madeira. However, it definitely has the potential of becoming one of the most popular places to visit in Funchal. Don't miss it!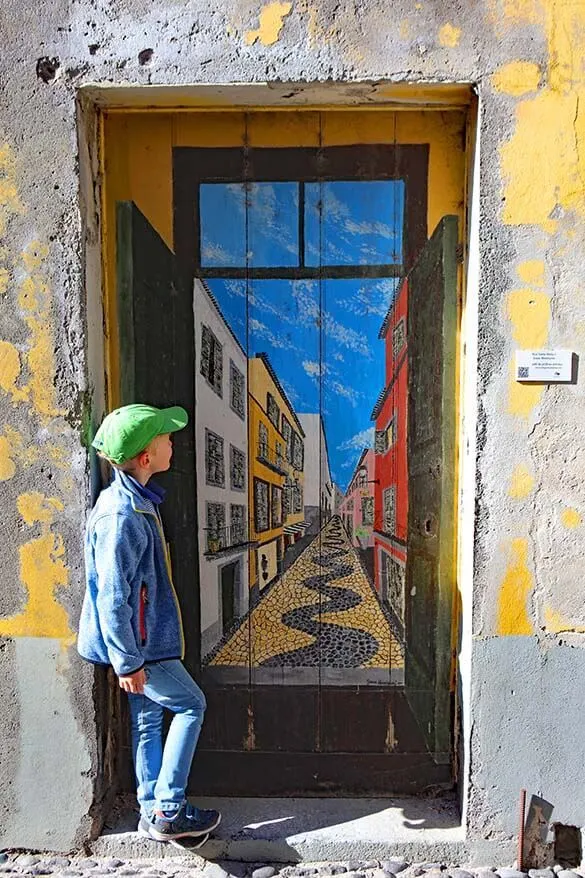 4. Visit Mercado dos Lavradores – Farmer's Market
The Mercado dos Lavradores is a flower, fruit, vegetable, and fish market in Funchal. A short visit to this colorful bustling market is a must-do in Funchal!
The impressive building dates from 1940 and the inside space is organized in several different areas ('Plazas'), connected by passages and staircases.
The market is open daily (except Sundays and Public Holidays), but is busiest on Fridays when you'll likely see traditionally dressed 'flower ladies' selling the most beautiful exotic flowers.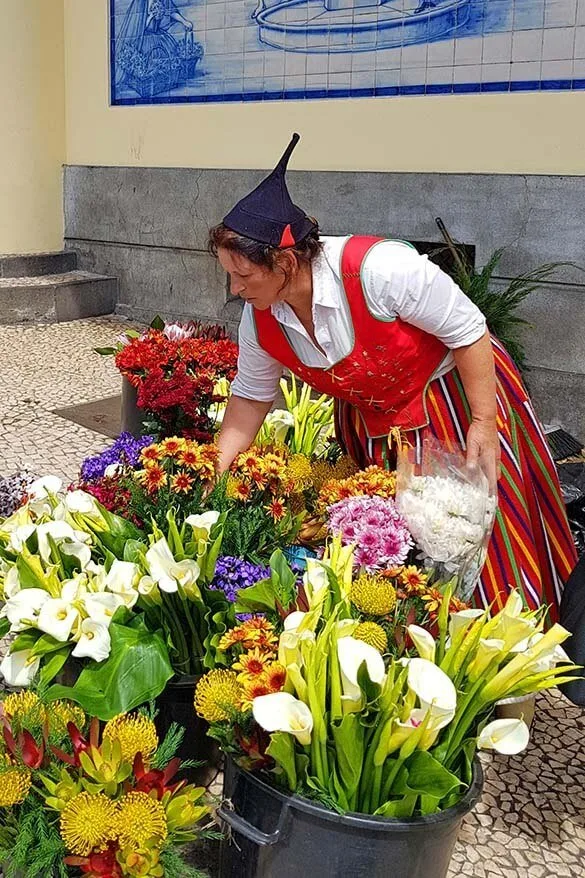 Beware that the prices at the market are quite high, especially for fruit. On the other hand, you can try fruit you've probably never seen before.
We tried several kinds of passion fruit (banana passion fruit was our favorite), a fruit called 'nespra', and several others I don't remember the name of.
We loved this explosion of smells, tastes, and colors and strongly recommend you visit this farmer's market when in Funchal. Cover your nose and take a peek at the fish market section as well!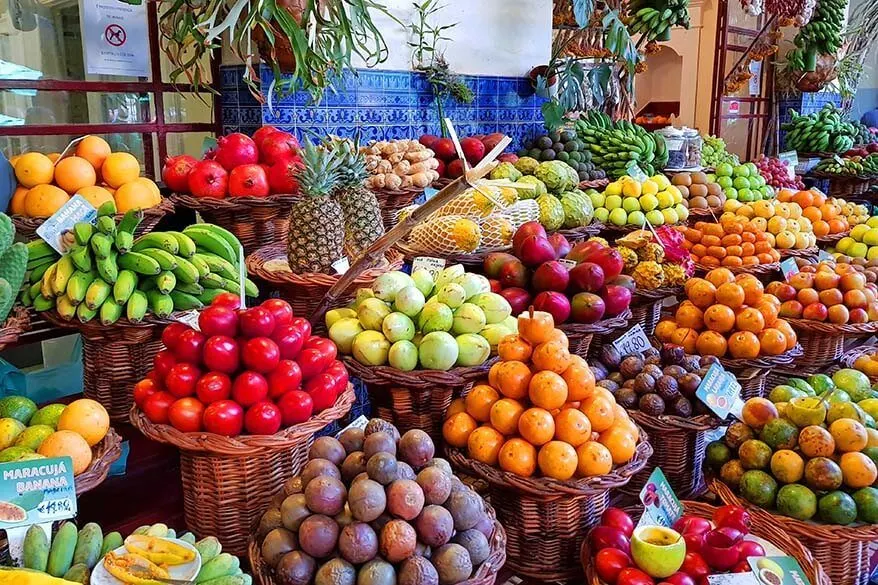 5. Enjoy the Views from Monte Cable Car
Visiting Monte has been probably the most popular Funchal attraction for many decades. At the beginning of the 20th century, tourists could reach the mountain by steam train. Nowadays, you can make the same journey and enjoy the scenery from Monte Cable Car (Teleférico do Funchal).
The ride from Funchal old town to Monte takes 15-20 minutes one way, giving you plenty of time to enjoy beautiful views of the city and its surroundings. It covers a long distance (over 3,2km (2 miles)) and makes an impressive ascent of 580 m (1,902 ft).
Once in Monte, you have several options. If you have at least half a day, you can visit all of the places mentioned here, otherwise, you'll have to choose. A popular option is to take the second cable car and visit the Botanical Gardens of Madeira. Alternatively, just next to the cable car station, you can visit the Monte Palace Tropical Garden.
A bit further down the road, you'll find the church of Our Lady of Monte. From there you can take a wicker toboggan sled down the mountain. You can read about all these points of interest below.
Even if you don't visit any of the gardens, Monte cable car is a must-do in Funchal – the views are spectacular!
Practical information: Cable car operates daily from 9 AM to 5.45 PM (hours might differ in high season). You can get tickets for a one-way ride only and also combination tickets with a cable car to Madeira Botanical Garden. For up-to-date practical information, please consult the official website. Normally, you can just get the tickets on the spot as well.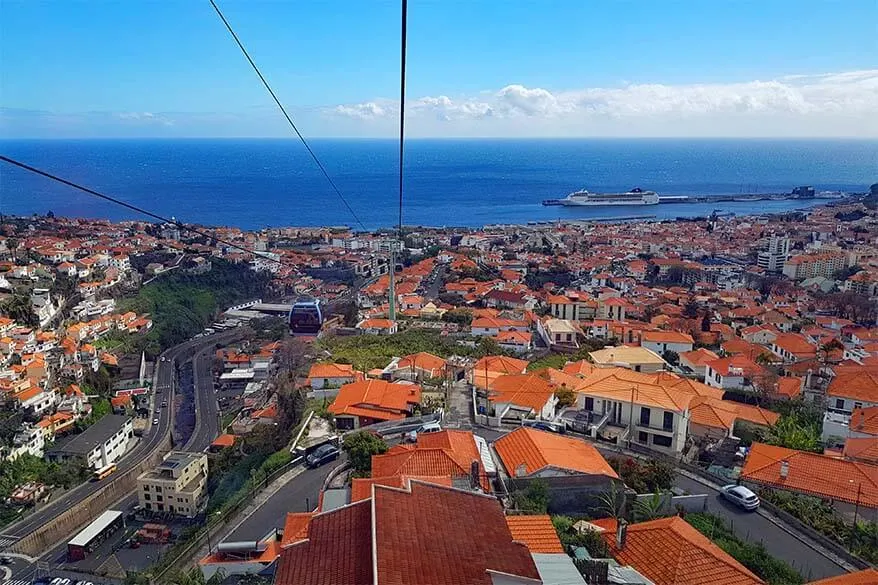 6. Visit Monte Palace Tropical Garden
Monte Palace Tropical Garden is another amazing garden you can visit in Funchal. Since it's located just next to the upper station of Monte cable car, it's probably the most visited garden in Funchal.
Featuring over 100,000 plant species with a separate section devoted solely to Madeira's flora, it's a garden that is well worth a few hours of your time. If you visit just one garden in Funchal, make it the Monte Palace Tropical Garden.
The Monte Palace Tropical Garden is located at the Quinta Monte Palace – a beautiful mansion that in combination with a pond, a little waterfall, and various little structures makes it look like the gardens of some fairytale castle.
Practical information: The Monte Palace Tropical Garden is open daily from 9.30 AM to 6 PM.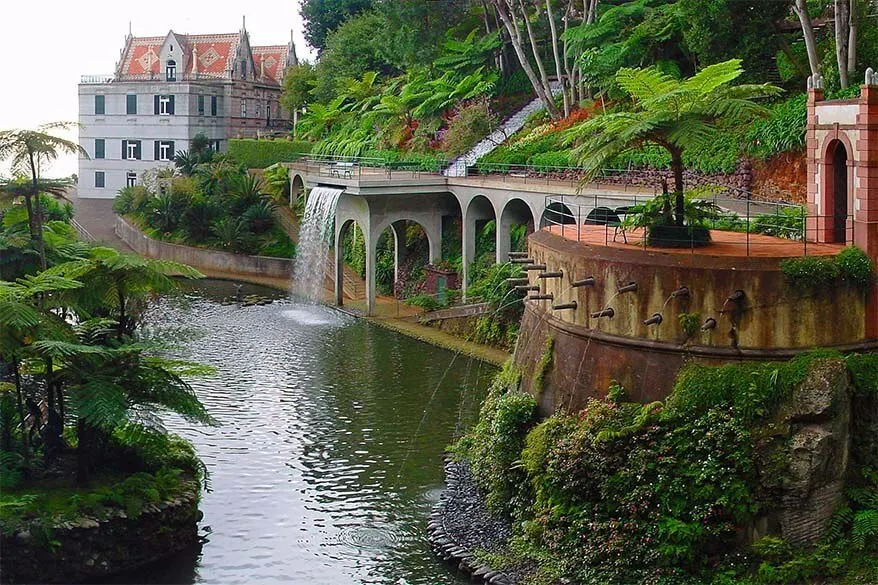 7. Visit Madeira Botanical Garden
Madeira is an island of flowers and Funchal is the city of gardens. Madeira Botanical Garden (Jardim Botânico). This is the biggest garden with the most varied collection of plants from all over the world.
The estate where the Botanical Garden is located dates from 1880 and used to be privately owned. What a garden for one family!
The Botanical Gardens are located high on the hill above Funchal with amazing views as an added bonus. Inside, you will find a big variety of different style gardens, including French and Japanese gardens. Kids loved the cute little Madeira houses and also a small natural history museum.
Practical information: Botanical Garden is open daily from 9 AM to 6 PM and can easily be reached by cable car from Monte (so after you take the above-mentioned Monte cable car to get to the top of the mountain). If you have a car, you can also drive up there, but it's quite tricky to get to and the parking area isn't very big.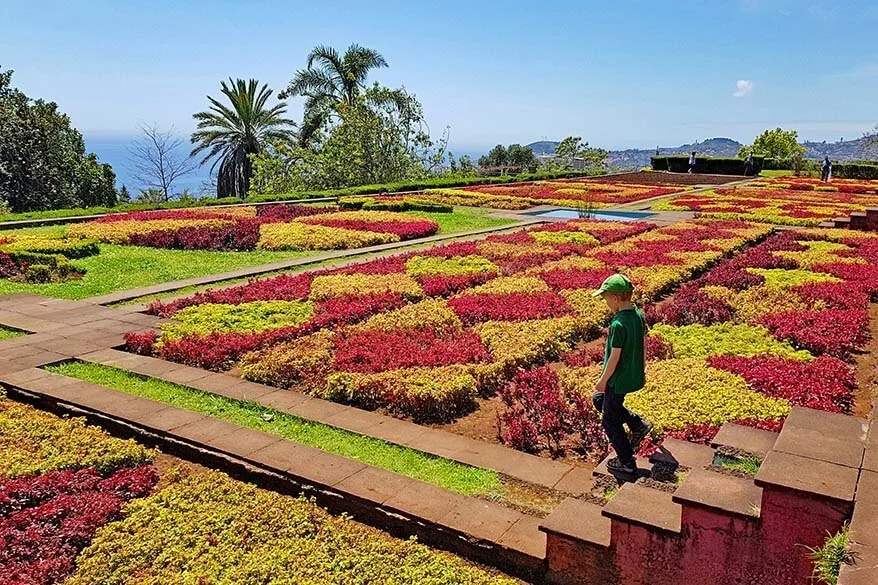 8. See the Church of Our Lady of Monte
The Church of Our Lady of Monte (Igreja do Monte) is a little 18th-century church just a few steps away from Monte cable car top station and the Monte Palace Tropical Garden. You'll have to negotiate some very steep stairs, but it's well worth it. On a clear day, you can see the town of Funchal, the beautiful coastline, and the mountains.
The exterior of the church doesn't look very special, but the interior is very well decorated with beautiful paintings and statues. Worth visiting is the tomb of Charles I. He was the last emperor of Austria (and of the Habsburg dynasty) and spent the last years of his life in exile in Madeira.
I read somewhere that you can climb the steps to the roof of the church for beautiful views of Funchal, but the church was just closing when we visited, so I cannot confirm if that's the case.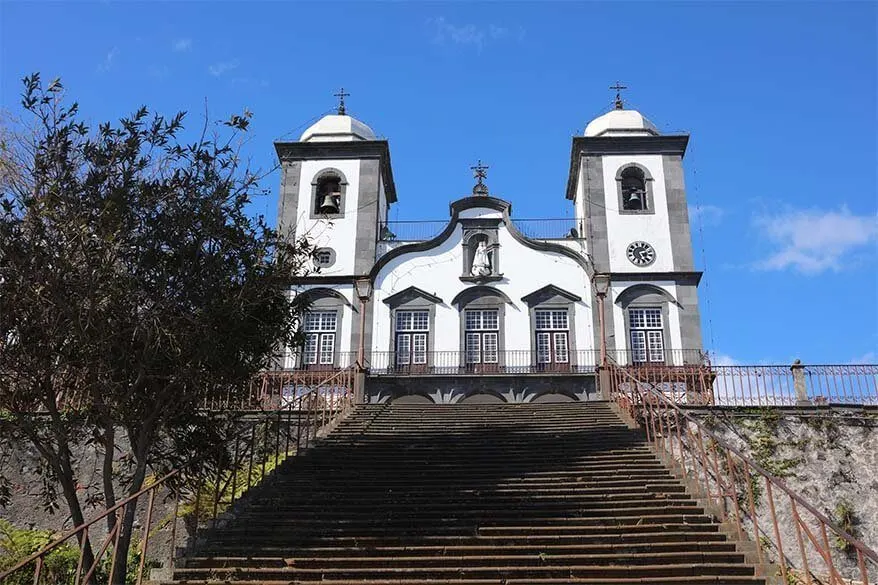 9. Take a Wicker Toboggan Sled Ride
Dating from the end of the 19th century, wickerwork is a very important industry in Madeira. Wicker is used for all kinds of objects like breadbaskets or chairs, but also for the world-famous Madeira wicker baskets.
Wicker basket sled ride down the steep streets of Monte is probably the most unique tourist attraction in Funchal. Toboggans are pushed and steered by two runners wearing traditional white costumes and straw hats and can seat two people (three if one of them is a child). If you are brave enough to try it, you're in for a dare-devilish ride and an experience of a lifetime.
Toboggan ride in the traditional wicker basket is an old Madeira tradition. In the past local residents used it as a means of transport to quickly get from the village of Monte high on the mountain to the town of Funchal, by the sea. Don't ask me how they got their sleds back up to the village in those days; nowadays they load the sleds on a small truck that brings them (and the drivers) back to Monte.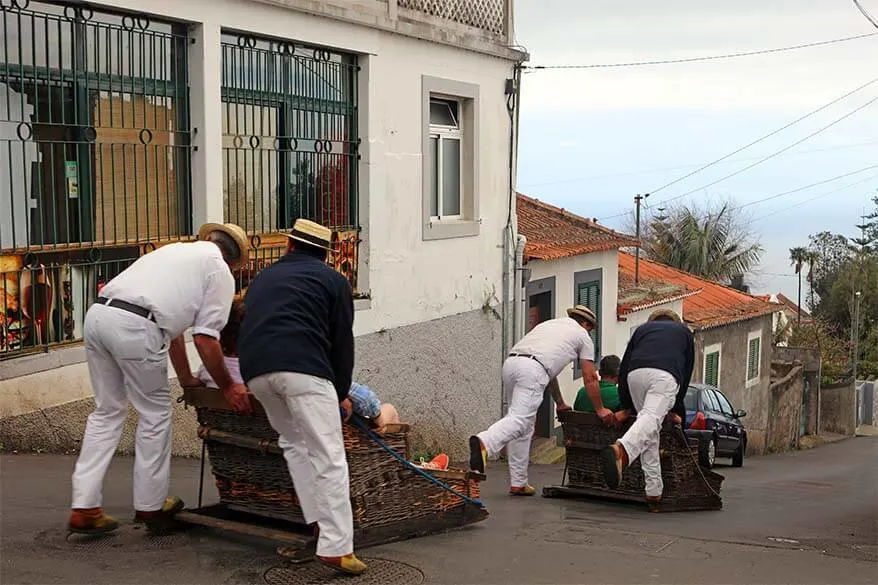 Wicker toboggan sled ride in Funchal is an extremely popular and a really touristy attraction. Reviews from tourists are from 'boring' and 'not worth the money' to 'the most thrilling ride' and 'experience of a lifetime'… So it's really up to you to decide if you want to give it a try. One thing is for sure – it's something truly unique that you won't find anywhere else in the world.
Practical information: Toboggan ride starts by The Church of our Lady of Monte (Igreja do Monte). You'll need to take a cable car to Monte first. The 2km long descent takes about 10 minutes and brings you to Livramento, so not all the way back to Funchal.
You'll either have to take a taxi (25 EUR and more to get back to town), a bus, or walk back to the cable car (uphill) or down to the city, which is a really long walk. If I remember well, the ride costs 30EUR for a sled with 2 people (25 EUR if you go alone), and you can also get a picture taken for 10 EUR. You can get the tickets there, so no need to book in advance.
TIP: If you decide to take this sled ride, make sure you first visit all the points of interest in Monte, so that you don't have to walk back up the hill afterwards.
Some organized excursions of Madeira island also come to Monte and offer the wicker toboggan experience as part of the tour. This is one of the best options – a 4-hour tour that visits the Nuns Valley, Monte, and includes a sleigh ride.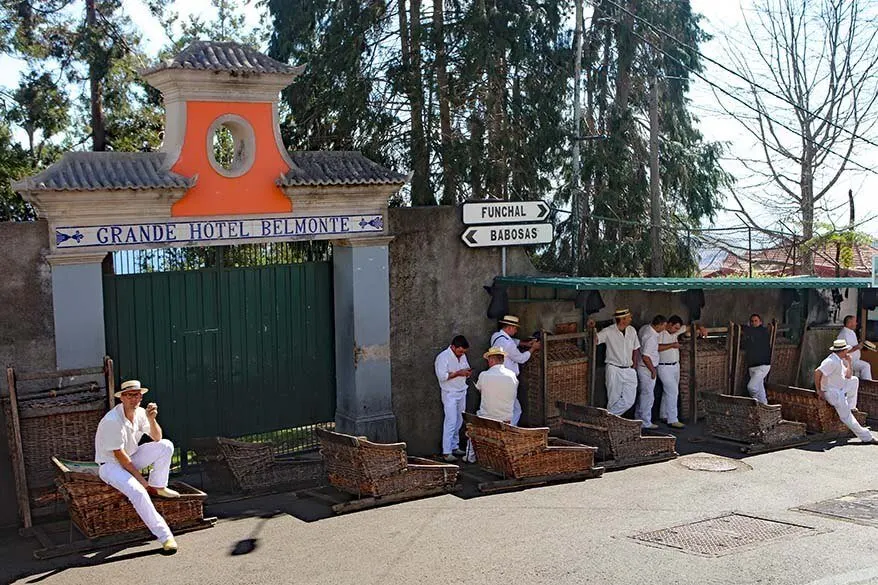 10. Taste Madeira Wine
No trip to Madeira would be complete without tasting some of Madeira's famous sweet wine. There are several wine museums and cellars in Funchal, but the one that is most worth a visit is The Old Blandy Wine Lodge.
Located in the oldest area of Funchal, Blandy's Wine Lodge is a place where you can not only learn about the making of the Madeira wine but also taste the various styles of Vinho Madeira. They have been making Madeira wine for over 200 years, so even if you have no interest in the wine itself, this place is well worth a visit.
TIP: Join the food and wine walking tour of Funchal. It's a great way to explore the city and get to taste some traditional local food and drinks of Madeira.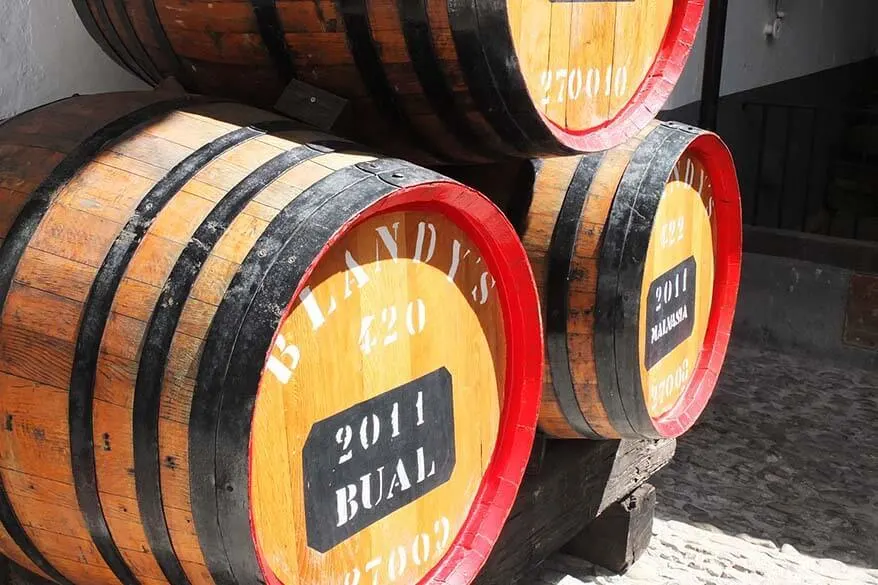 11. Relax at Funchal Waterfront
Funchal has a beautiful waterfront area. It's the place where cruise ships dock, boat trips depart, and it was also our first introduction to the city as we parked the car at the big parking garage nearby.
The waterfront area has been recently redone and features a new leisure area called Praca do Povo. It's a wonderful place to stroll around, watch the boats, and just relax after a busy day of sightseeing. There is a small park and even a bathing area, right in the heart of Funchal.
We loved just hanging around here. It's a big wide promenade with lots of space for kids to run and nice areas for the adults to relax. There are several places where you can get a cup of coffee or lunch and it's literally just a few minutes walk to Funchal Old Town.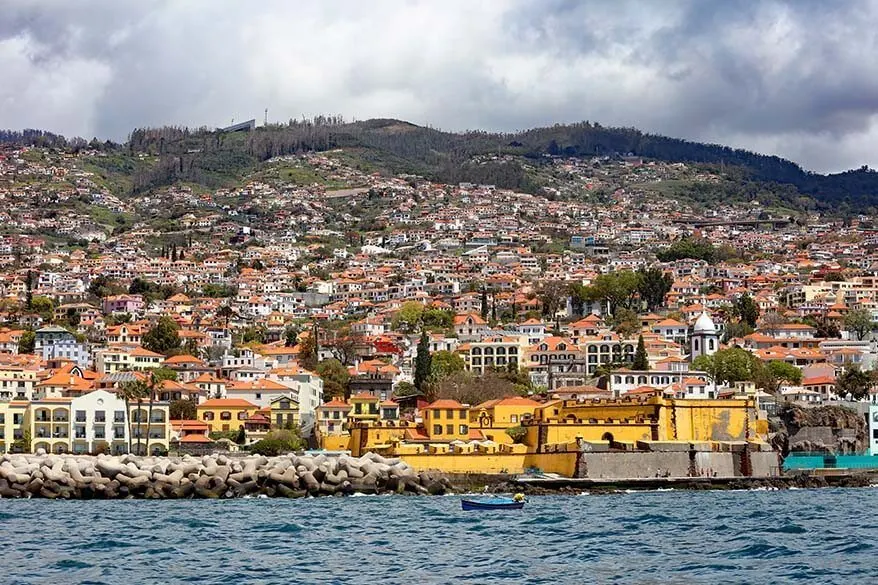 ***All the places mentioned above are the ones that are most worth a visit in Funchal. Below you can find a small selection of other things to do in Funchal if you have more time.
12. Take Hop-on Hop-off Bus
Funchal Hop-on Hop-off bus is a great way to see the main attractions just outside Funchal city center.
You can book a 48-hr ticket, but if you have more time in Funchal, consider a 5-day option which costs just a tiny bit more and makes it possible to easily visit the picturesque village of Câmara de Lobos and the cliffs of Cabo Girão.
Here you can find more information and book your tickets for the hop-on-hop-off bus.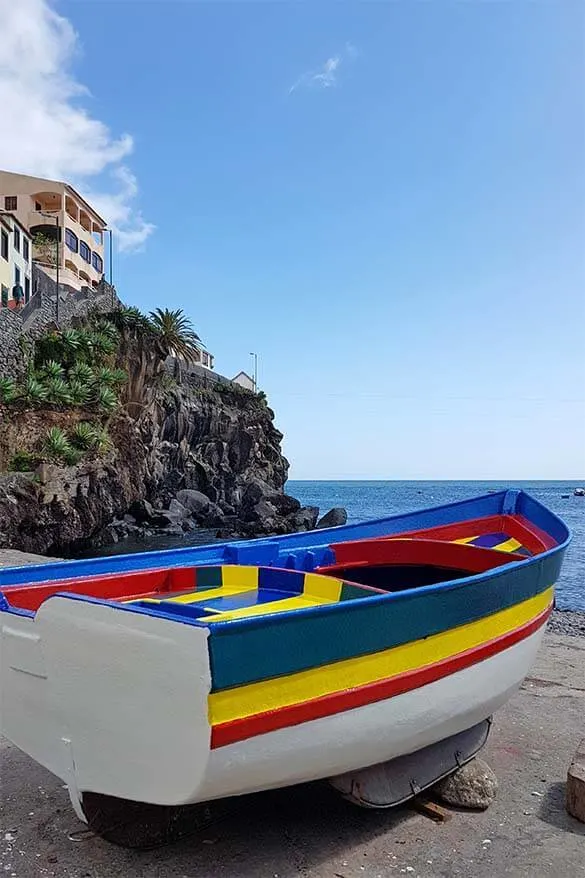 13. Afternoon Tea at The Reid's
Dating from 1890, Belmond Reid's Palace is one of the most famous hotels in the world with past guests like Sisi (Austrian Empress), Winston Churchill, and Roger Moore to name just a few.
Even if you are not staying at the hotel, you can go there for afternoon tea and enjoy the gorgeous panoramic views and superb service of a bygone era. It's something special to do in Funchal and an affordable-luxury experience, but you better book it in advance.
TIP: If you are looking for a really nice hotel to stay in Madeira, Belmond Reid's Palace is one of the top luxury resorts with fantastic guest reviews. You can check the prices/availability for this hotel here.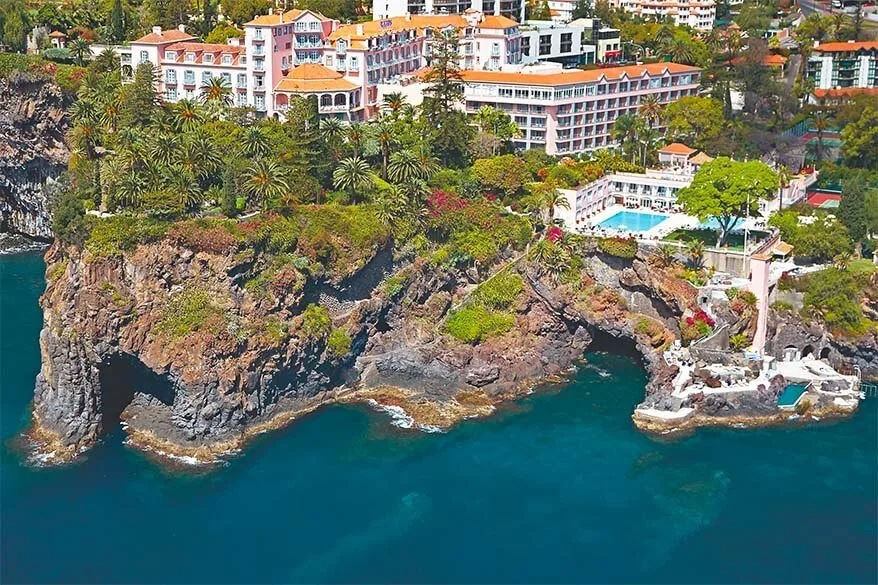 14. Madeira Story Centre
Madeira Story Centre is a modern museum showing the complete history of Madeira. From its volcanic origins to the history of Portuguese explorers and pirates, to the development of tourism and the most recent history of the island.
Practical information: This museum is located just next to the bottom station of the Monte cable car. Open daily from 10 AM to 7 PM. See their website for more info.
15. Jesuits' College of Funchal
Considered one of the most remarkable buildings of Madeira, the 16th-century Jesuit College of Funchal is also worth a short visit. Part of the buildings now house the University of Funchal.
The college has a wonderful interior with amazing sculptures and paintings and can be visited from Monday to Saturday. For just 1 EUR you can climb the tower and enjoy the views of Funchal.
Rumour has it that the student café has good coffee with delicious custard cakes (pastel de nata) at very low prices.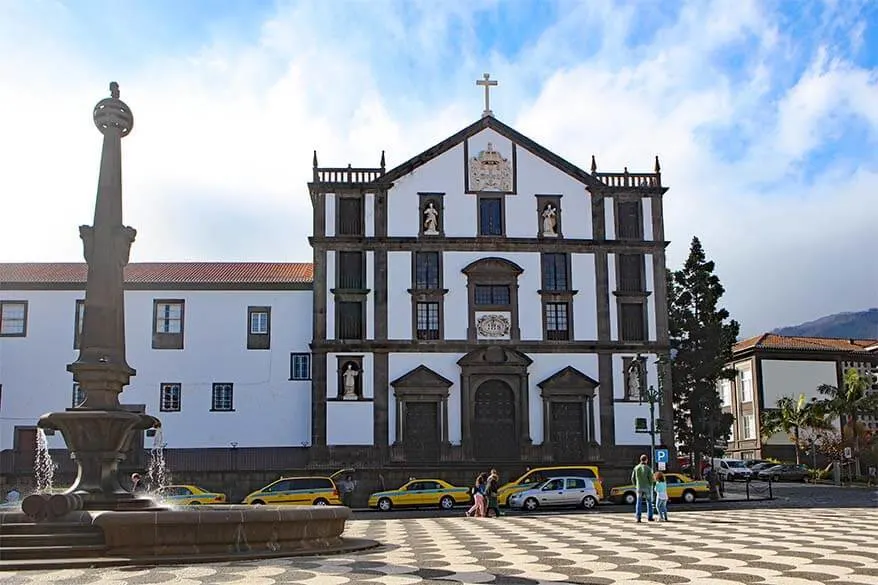 16. Madeira Film Experience
Madeira Film Experience is exactly what the name suggests. It's a film that covers the 600 years of the history and culture of the island.
Practical information: The film takes just 30 minutes and is available in several languages. More information on their website.
17. Visit CR7 Museum
CR7 is a museum dedicated to Madeira's most famous football player – Cristiano Ronaldo. He's a living legend here and even Madeira's airport has recently been named after him.
I wouldn't say that this museum is a must-see in Funchal, but if you are a huge fan and have half an hour to spare, you may want to take a look inside. The museum is not so much about Ronaldo as a person, but rather focused on his achievements. It's full of memorabilia, trophies, medals & life-size statues of Madeira's all-time best football player.
If you just want to take a picture with the statue of your hero, you can do that outside as well – no need to go inside the museum just for that.
Practical information: CR7 museum is located at the waterfront. Open Monday to Saturday from 10 AM to 6 PM.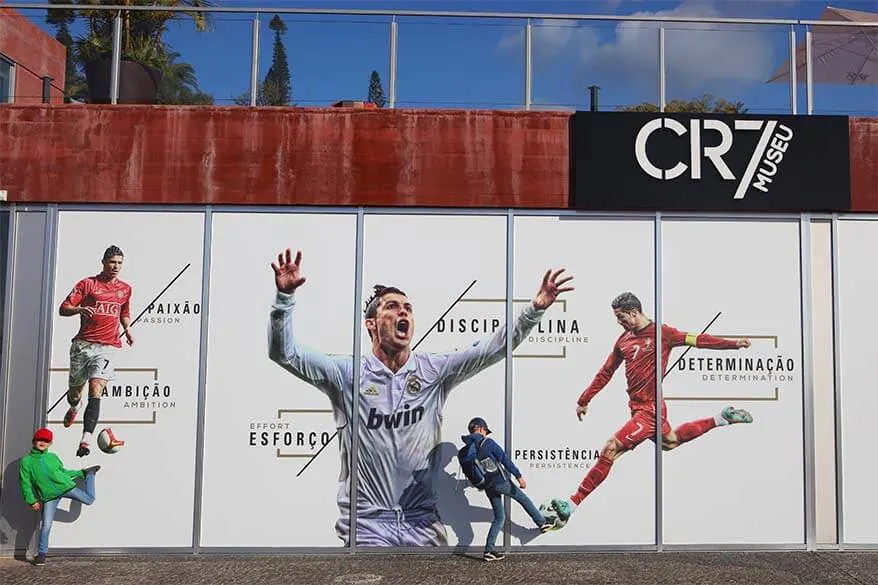 18. Santa Clara Monastery
Convento de Santa Clara is a 15th-century working monastery just a bit up a steep hill from the center of Funchal.
The convent is open just a few hours a day (10-12, and not on Sundays). For just 2 EUR you get a guided tour by one of the nuns. We didn't get here on time, but the reviews online are really positive. People say it's a true hidden gem of Funchal, well worth a visit.
19. Quinta das Cruzes
Museu Quinta das Cruzes, as well as the gardens, are nice to see if you are looking for more nice things to do in Funchal. The house has a collection of 17-18th century furniture and household items giving you a good idea of how wealthy people lived in Madeira several hundred years ago.
The adjacent gardens can be visited free of charge. They have a strange archeological collection of old gravestones, crosses, gargoyles and other finds coming from old churches and palaces from all over Madeira.
20. Palheiro Gardens
Quinta do Palheiro Ferreiro is an English-style park a bit outside the city. Featuring over 3,000 plant species and traversed by avenues planted with camellias and exotic trees, it's a wonderful garden to visit in Funchal.
These gardens are quite hard to get to without a car and would probably take you at least half a day to visit. So it's not something I recommend if you have limited time. However, if you are in Madeira for a week or two, you should certainly consider going here.
Practical information: Open daily from 9 AM to 5.30 PM.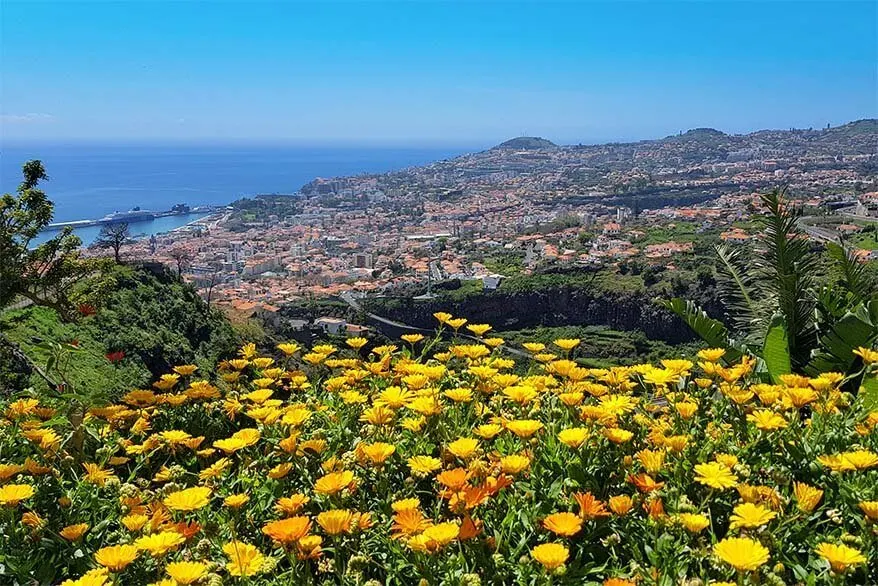 21. Venture Outside the City
In addition to Funchal attractions, I really recommend that you also visit the earlier-mentioned fishermen's village of Câmara de Lobos and the cliffs of Cabo Girão. Both these places are very close to the city (see the hop-on-hop-off bus section above) and are really simple to visit.
If you have a few hours to spare in Funchal, I can also recommend a whale-watching trip – Madeira is a great place to see whales and dolphins.
LEARN MORE: Whale Watching in Madeira
TIP: If you don't have a car in Madeira, I also suggest these two highly-rated and very popular organized day trips from Funchal: Best of the West of Madeira island and Madeira East Island Tour. These tours are an excellent introduction to Madeira for first-time visitors.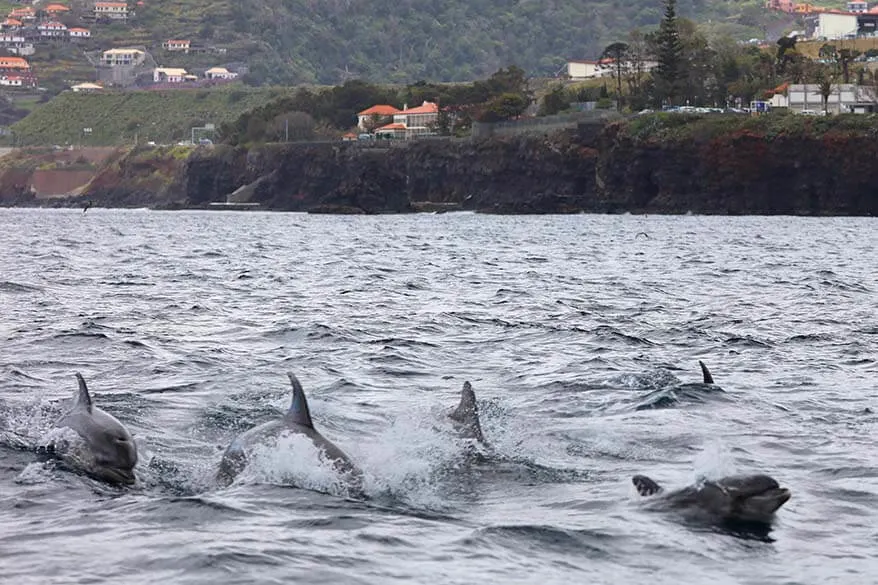 So, this is our selection of the best things to do in Funchal. There are, of course, many other places of interest that are worth a visit in the city.
However, remember that Madeira is much more than Funchal! So what you choose to see and do in Funchal, will highly depend on how much time you have on the island.
If you are looking for more ideas on what to see and do in Madeira, make sure to check our guides to the best hikes of Madeira and the hidden gems of Madeira.
READ ALSO: Best Places to See & Things to Do in Madeira
Where to Stay in Funchal
There are lots of nice hotels in and around Funchal. Depending on what kind of holiday you're looking for, you can choose from amazing seaside resorts to more simple hotels in the town center.
Here are some of the best-rated resorts in Funchal for all budgets:
Using the map below, you can also compare hotels, B&Bs, and short-term rental accommodations in and near Funchal. Simply insert your travel dates and group size, and you'll see what's available for your stay. Check it out!
If Madeira is part of a bigger trip to Portugal, you may want to check out our guides and itineraries for a big variety of other destinations in the country. You can find a complete selection of articles in our Portugal Travel Guide.
More tips for your trip to Portugal:
Travel inspiration for the Azores:
If you found this post helpful, don't forget to bookmark it and share it with your friends. Are you on Pinterest? Pin this image!