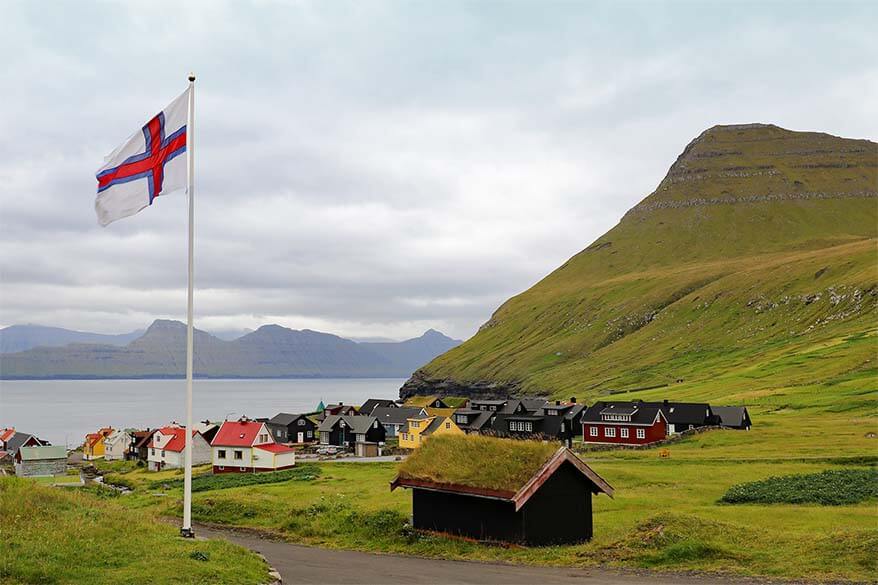 Planning your first trip to the Faroe Islands can be overwhelming. What kind of weather can you expect in the Faroe Islands? What are the best things to see and the best places to stay? How to get to the Faroe Islands and how to get around? How expensive is food on the Faroe Islands?…
We had so many questions before visiting the Faroe Islands, but never found all the answers in one place. Yet, Faroe Islands is not a typical travel destination where you can just show up and hope to make the best of it. So it's really important to do some research so that you know what to expect. And – I can't stress this enough – you really have to book your accommodations well in advance!
Based on our personal experience I created this practical guide to the Faroe Islands that should answer all your questions. Find out!
P.S. If you don't find an answer to your question in this post, feel free to post a reply below and I'll try to help.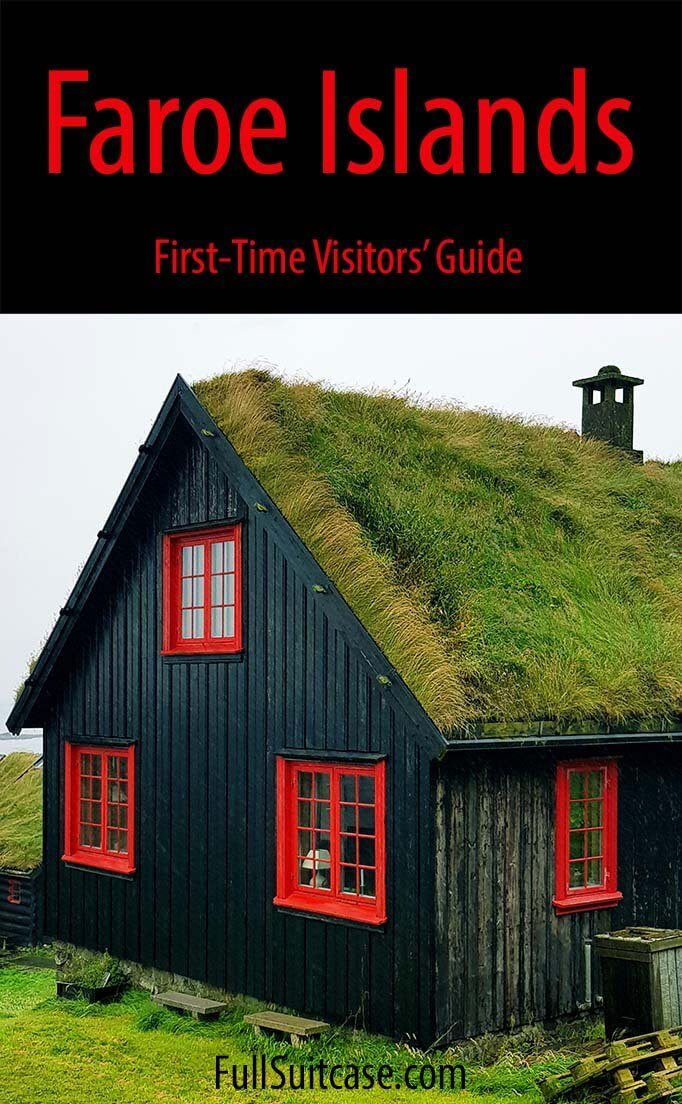 Where are the Faroe Islands
Faroe Islands is an archipelago of 18 islands, located in the Atlantic Ocean. If you look at the map, you'll see that The Faroe are pretty much in the middle between Scotland, Norway, and Iceland.
How to get to the Faroe Islands
Faroe islands are closer than you think. The easiest way to get to the Faroe Islands is by plane. There are daily direct flights to Copenhagen in Denmark (2hrs), but also short flights from Edinburgh (UK), Bergen (Norway), and Reykjavik (Iceland).
If you prefer the excitement of seeing land for the first time after days spent at sea, you can opt to arrive in the style of the greatest discoverers. In that case, you can opt to go to the Faroe Islands by boat. Smyril Line ferry travels between Denmark and Iceland with a short stop in the Faroe Islands.
This passenger and car ferry looks like an attractive slow travel option and a great way to get to The Faroe, especially because you can bring your own car. However, consider the time that it takes and the costs associated with it (driving to Denmark, hotel accommodations, tickets for the ferry for you and your car, cabins to sleep in, food onboard). Also, there is always a possibility of getting seriously seasick on this multi-day journey…
We did the math and found that it made no financial sense whatsoever for our family of 5 to take this boat to the Faroe Islands. Not to mention the fact that it would add several days to the journey.
TIP: If you decide to arrive in the Faroe Islands by boat, make sure to book it in advance!
Do I need a visa/passport for the Faroe Islands?
Faroe Islands are not part of the Schengen zone, so visitors from some countries might require a valid visa. I had a slight panic attack when, on the way to the airport, I checked a website of a Dutch travel agency that said that we Europeans also need a passport when traveling to the Faroe Islands. Our passports were safely left at home and we only had our Belgian ID cards with us…
After more research on more reputable websites, I found that citizens from most EU countries don't need a passport in the Faroe Islands – ID card is sufficient (information is correct at the time of writing – 2018). The funny thing is that nobody ever checked even our ID cards. So all that stress was for nothing and reminded me that, sadly, not everything you read on the Internet is true.
You can find more information in regards to the required documents on the Visit Faroe website. Alternatively, check with the local Danish embassy in your country. Just remember, Faroe Islands are not part of the EU and have different visa requirements than Denmark.
Book your Faroe Islands accommodation before you book anything else
My quick search for available accommodations on the Faroe Islands was very eye-opening. With just a handful of hotels, a few B&B's, and several private rentals, Faroe Islands had a grand total of 74 properties for us to choose from. Then I filtered my search for accommodations for 5 people and had just 13 properties left. 13!!!
When I finally filled in our travel dates and got a warning that 98% of all accommodations for August were fully booked… What was left was a tent in the camping and a house on Sandur island that we weren't even planning to visit…
At this point, I realized that planning a summer trip to the Faroe Islands four months in advance is clearly much too late. Yet, we were determined to go…
What followed was the craziest trip planning method I have ever used. I searched Booking.com for every available accommodation for every single night during the entire month of August. We even searched for Airbnb's even though we never use them, but that didn't help much… I then put it all in a spreadsheet and made a 10-day Faroe Islands itinerary based on available accommodations.
Only after I booked the hotels and made sure we had a roof above our head for every single night, I finally booked the flights and reserved a rental car.
TIP: Check for availability of accommodations before you book your trip to the Faroe Islands, especially if you are planning to visit in July or August.
If you are still not convinced, here is a story for you. We met two young people in our hotel in Torshavn who just arrived in the Faroe islands without booking anything upfront. They quickly found out that there was nothing available on any island, for days in a row. They were going to every hotel in town begging for a place to stay, I really wonder if they found anything in the end…
Our hosts at another accommodation said that in July and August they get almost daily calls from people looking for last-minute places to stay, while everything is usually fully booked months in advance… So don't be that person and book in advance.
Best places to stay on the Faroe Islands
One of the best places to stay on the Faroe Islands is the capital, Torshavn. The reason is quite simple – most hotels and accommodations are located in Torshavn.
Also, pretty much any place that can be reached by car is less than 1,5hrs drive from Torshavn. Therefore it's definitely feasible to just base yourself in the city and take day trips. I think that Torshavn is a good place to stay if you only have a few days on the Faroe Islands and want to have complete flexibility.
However, we found that staying in Torshavn is not ideal for seeing all the places that we wanted to see. So we opted for a self-drive trip and rented accommodations at several different locations. The main reason is that driving up and down will often mean that you spend 2-4hrs in the car each day, passing many of the same places every time.
In addition, with just 100km/day mileage limit on your rental car, it's inevitable that you'll exceed this limit big way if you opt to drive up and down to Torshavn each day.
Also, we noticed that accommodation gets cheaper the further you go from Torshavn, and so does the food at the restaurants. Just, once again, there isn't that much available outside the city…
TIP: If you want to see the best of the Faroe Islands, I recommend to make a road trip. Book several accommodations on different islands, and not base yourself in Torshavn the whole time.
Here are some of the best places to stay for a self-drive road trip on the Faroe Islands:
LEARN MORE: Best Hotels in the Faroe Islands (complete guide!)
TIP: Using the map below, you can compare hotels and short-term rental accommodations in Torshavn. You can also zoom out and see availability in other places. Simply insert your travel dates and group size, and you'll see the best deals for your stay. Check it out!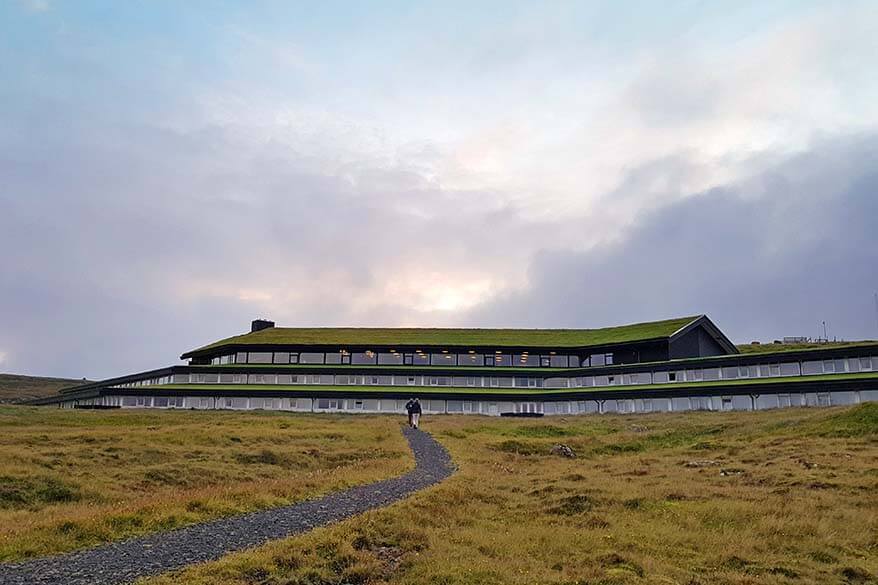 How long should you stay in the Faroe Islands
I think that you really need at least 4-5 days to see some of the main highlights of the Faroe Islands.
Ideally, you stay at least a week. This will give you the time to see all the best places, do some hiking, and maybe do a tour or two (boat trips, hiking, and horse riding are the most popular options).
Here you can find our Faroe Islands itinerary suggestions for any trip from 3 to 9 days.
How to get around on the Faroe Islands
Despite the fact that Faroe Islands consist of 18 different islands, you can easily see a lot in the Faroe Islands by car. Most bigger islands are connected by bridges or tunnels, and there are also (car) ferry connections to the other islands.
Car ferries in the Faroe cannot be booked in advance. You just arrive at the harbour and get your ticket on board. Also, you only have to pay for your trip once, the ticket always includes the return journey. Mykines ferry is for passengers only. It's also the only ferry on the islands that requires advance reservations.
The Faroe Islands also have a good bus network, so it's possible to travel between the islands without the car. However, many highlights are not located near big towns, so you'd probably not be able to see everything that you want.
It's also possible to travel between the islands by helicopter. See more information below.
Here you can find all the practical information as well as ferry and bus timetables for the Faroe Islands.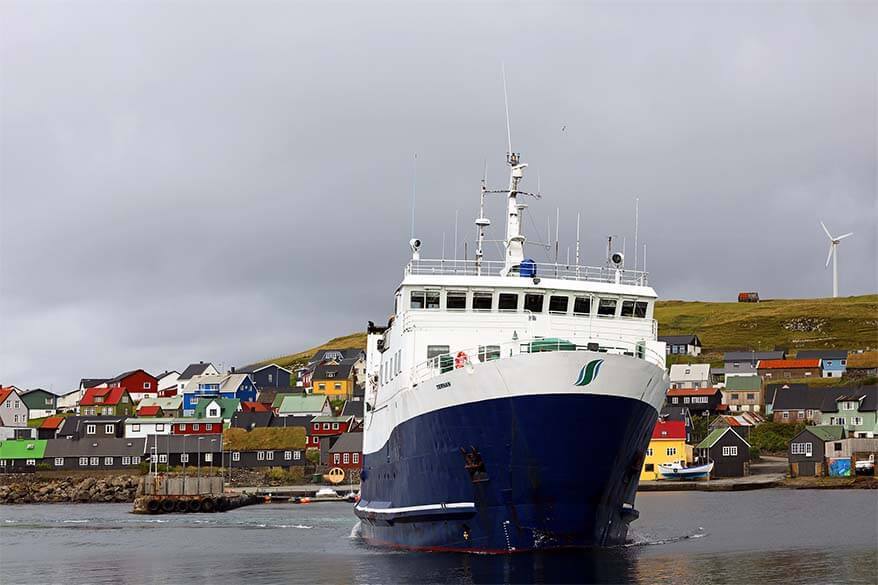 Faroe islands helicopter
Helicopter is a popular means of transport between the Faroe Islands. Traveling by helicopter is surprisingly cheap as its subsidized by the government. The cheapest helicopter ride fares start just at 85DKK (12EUR)/adult.
However, to prevent tourists from taking too much advantage of this, helicopter rides can only be booked in one direction (no return) for the same day. So if you are considering taking a helicopter to get to one or the other island, keep in mind that you'll either have to come back by boat, or stay on the island for a few days. Helicopters don't run daily.
The most popular and easiest to do for tourists is helicopter to Mykines island. It arrives in Mykines in the morning, allowing you to take a boat back in the evening. However, there are just 12 seats on the helicopter and since recently you can only book the tickets one week in advance. If you do want to book this ride in summer, you'll probably have to try around midnight of the day when the bookings open.
Note that even if you secure a place on the helicopter, it's very likely that the boat to come back will be fully booked for that day. So you'd almost have to book the boat tickets first and then hope you can get the helicopter.
Just to complicate things a bit more, helicopter departs from Vagar airport. Whereas the boat comes back to Sørvágur harbor, 2km away. So you'd have to figure out where to leave your car and how to get back to it in the evening.
As you can see, trying to get a helicopter to Mykines requires quite some advance planning and lots of flexibility on your side. At the same time, keep in mind, that the boats often get cancelled due to stormy weather. And you don't want to get stuck on Mykines without having arranged accommodation or food in advance. So, as much as it sounded appealing at first, we just decided to take a boat both ways.
If you really want to travel by helicopter in the Faroe Islands, consider flying to some other islands that are not as popular with tourists. All the other helicopter routes allow booking a month in advance. For example, you could take a ferry to Suduroy island, spend a night there, and then take a helicopter to get back to Torshavn the next day.
Here you can find all the timetables and booking information for the Faroe Islands helicopter.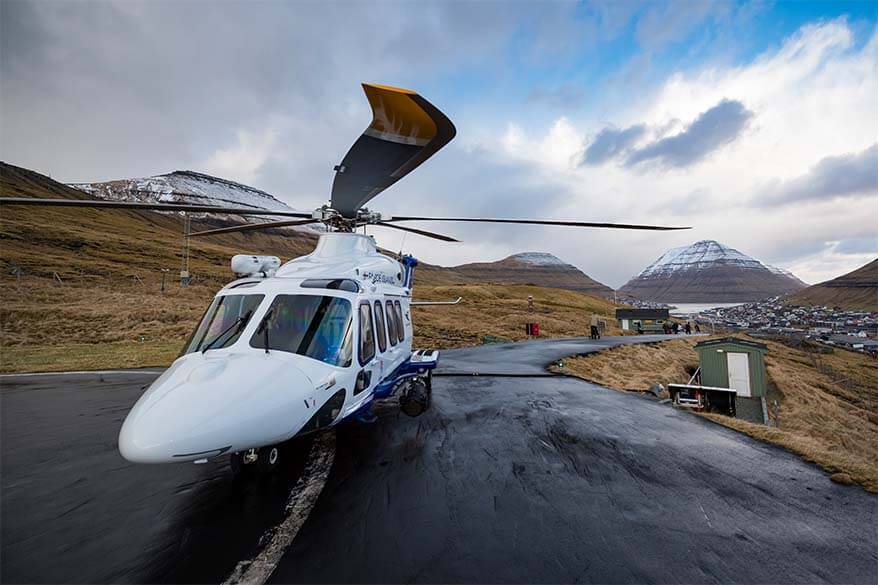 Renting a car on the Faroe islands
If you want to explore the Faroe islands at your own pace, a self-drive trip by rental car is the best way to do it. You don't need any special car or 4WD in the Faroe Islands (not in summer, anyway). Actually, small cars have advantages as the roads are narrow and some ferries quite small. Since we visited the Faroe Islands with three kids, we rented the biggest 2WD we could find.
There aren't that many car rental companies available on the Faroe Islands, but we discovered that prices differ a lot. Here you can find a big selection of car rental options in the Faroe Islands.
I also recommend checking RentalCars.com, our favorite website for car hire anywhere in the world. When we traveled, they had an option to rent a car with a big brand that wasn't featured in the previously mentioned list. It was 30-60% cheaper than any other company offering the exact same car at that moment. This saved us more than 600EUR.
Also, I kept looking at car rental prices as we got closer to our trip departure date and prices skyrocketed. So book your rental car as soon as you have your flight tickets!
One thing to keep in mind is that for some strange reason most car rental companies in the Faroe Islands seem to have a maximum mileage per day. It's usually set at 100km/day and they charge extra fees for any additional kilometers. We rented a car for 10 days and drove 1,004km. We exceeded our mileage limit by just 4km(!) and yes, they charged us extra for that.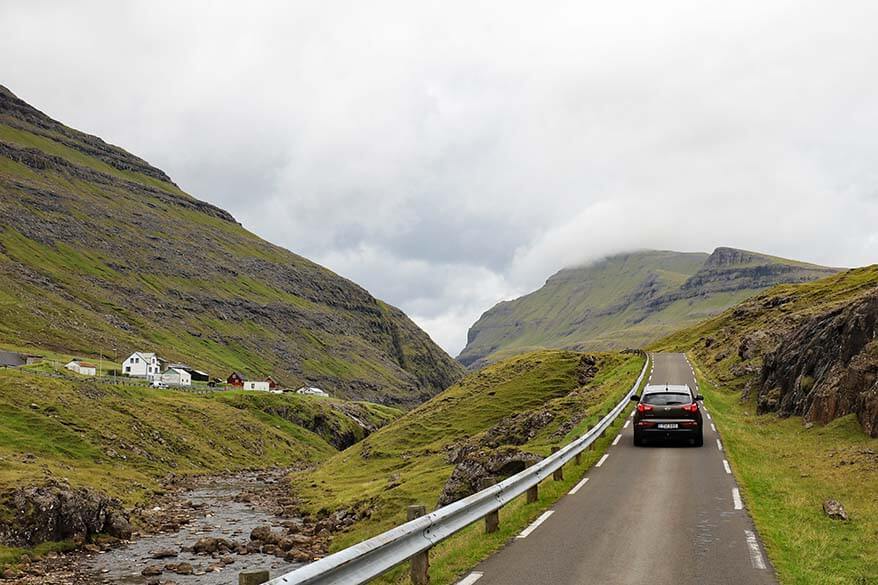 Driving in the Faroe Islands
Faroe Islands have right-hand traffic (same as in the US and most of Europe, except the UK).
Driving on the Faroe Islands is not that difficult and the main roads are generally good. Most bigger roads are wide enough for two cars. However, there are quite a few roads and also dark narrow tunnels that are just wide enough for one car. In those cases, you are expected to pull over to the side that has wider places foreseen especially for this; it's really self-explanatory actually.
The biggest danger on the roads in the Faroe Islands are probably the sheep. There are many of them and they cross unexpectedly, so I recommend to always slow down if you see any animals next to the road.
Traffic is somewhat busier around Torshavn and other bigger towns but is pretty quiet on the rest of the islands. We haven't experienced any traffic jams and didn't see any accidents.
Parking is usually free, but in Torshavn center, there is a time limit of how long you are allowed to stay. Every rental car is equipped with a small clock that you have to adjust to indicate your arrival time.
You should always have your lights on when driving in the Faroe Islands.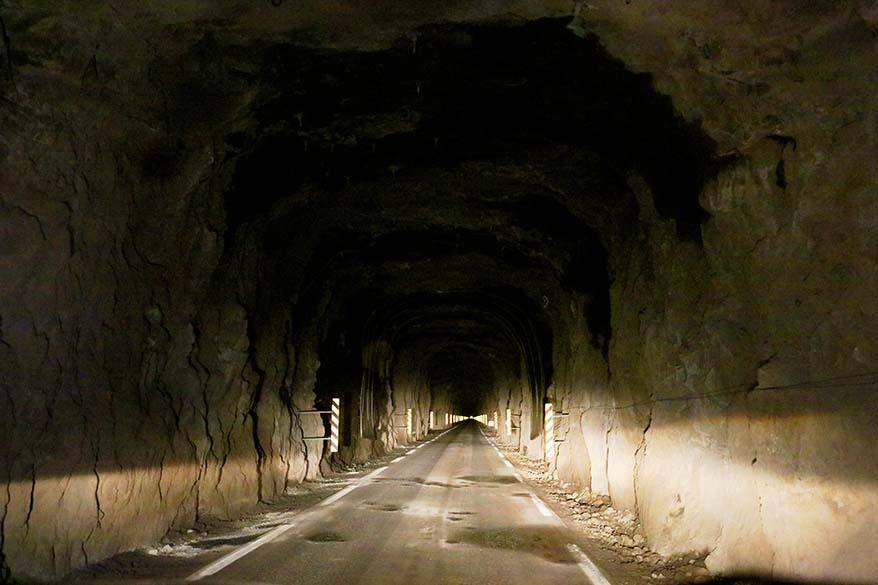 Toll roads on the Faroe Islands
There are several sub-sea toll tunnels on the Faroe Islands that cost 100 DKK (14EUR) for a return trip. You'll have to pay when driving from Vágar through Vágatunnilin, and driving from Klaksvík through Norðoyatunnilin.
Also the newly opened Eysturoy Tunnel is a toll tunnel. It saves you such a long drive that the toll can be worth it.
In principle, the toll has to be paid at the nearest petrol station 'Magn' or 'Effo'. However, most rental cars are equipped with a special transmitter, and this fee will be charged by your car rental company directly from your credit card. Just to be safe, best ask about this when you pick-up the car, so that you don't end up paying twice.
Buttercup routes of the Faroe Islands
Faroe Islands have several particularly scenic routes, called 'Buttercup routes'. They are indicated by a small green sign with a yellow flower on it. Faroe Islands tourist maps have all these routes indicated in green, so you really can't miss them.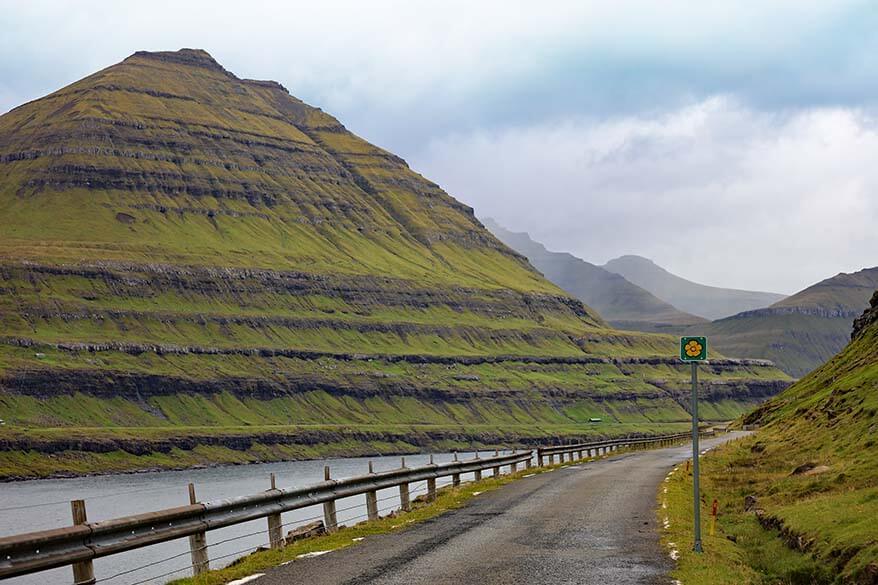 When is the best time to visit the Faroe Islands?
Arguably, every season has its charms, but most people visit the Faroe Islands between May and September. June, July, and August are the most popular months. The weather is at its best and it's also the season when you can expect to see puffins.
If you visit the Faroe Islands outside the summer season, you'll have the main landmarks all to yourself. Just keep in mind that facilities outside big towns are really minimal even in summer, so don't expect much if you are traveling off-season.
Faroe Islands can be magical in winter as well, especially if it's cold and dry. However, it can also be very wet. The good thing is that the temperatures remain quite mild. Average temperatures in the Faroe Islands in December, January, and February are between 2 and 6 °C (35 – 43°F).
READ ALSO: Best Time to Visit Europe
What kind of weather can I expect in the Faroe Islands?
Faroe Islands have a relatively mild climate. It hardly ever gets really very cold, but it's not warm either. In winter you'll have temperatures around 2-6°C (36-43F) and in summer 6-12°C (43-54 F). The biggest difference is the rain – there are twice as many rainy days in December or January as in June. Summer might have the best weather for visiting the Faroe Islands, but keep in mind that a 'heat wave' with temperatures over 20°C (68F) is an extremely rare occurrence.
The weather here in the middle of the Atlantic Ocean can be really harsh, but it also changes frequently. It's not unusual to have rain in one place, mist just a bit down the road, and sunshine another mile further.
We visited the Faroe Islands in August and had maximum temperatures of 12°C (54F) every single day. We experienced all kinds of Faroe weather with everything from blue skies and sunshine, to mist and the most miserable rain I've seen in my life, and everything in between…
Mostly we would get all kinds of weather in one day. Just a few days were completely dry and at times even sunny. And one day it was raining pretty much non-stop from early morning till late in the afternoon. Unfortunately, that was the day when we visited Mykines – a place where yo can hardly hide anywhere. We got soaking wet and freezing cold in no time. Rain pants would have been really handy here!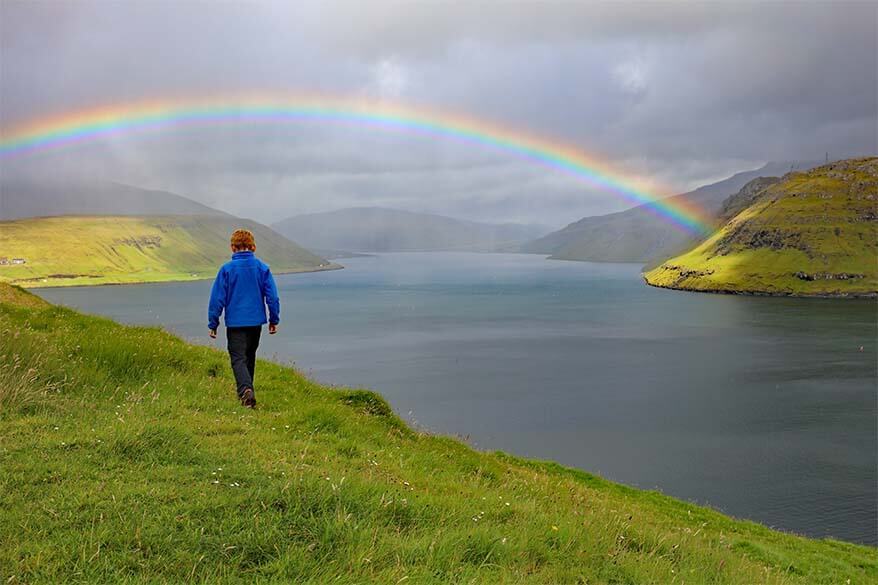 What to wear when visiting the Faroe Islands?
What to wear and what to pack on the Faroe Islands will depend a bit on the season when you travel. In general, you always need good sturdy waterproof footwear (if you plan to do any hiking, hiking boots are a must!). A waterproof jacket is a must in any season and waterproof pants are really nice to have too. Rain ponchos and umbrellas are pretty much useless due to high winds.
Even in summer, you should pack a warm hat, shawl/buff, and gloves. Make sure you have several layers of clothing as the weather changes all the time. We had days where we started out with 4 layers (t-shirt, two sweaters, and a rain jacket), and then went to 1, and back to 4 again.
Most tourists we met at the hotels wore jeans and casual sweaters, but remember that jeans are really the worst type of clothing to wear if it rains. We wore our hiking pants pretty much the entire vacation. They are light and dry quickly. Yet, we really regretted we didn't take rain pants. When it rains, it pours down, and you get soaking wet in a matter of minutes.
I don't think your packing list will differ much from summer to winter, just in winter, you'll need a warmer jacket, warmer socks, and more layers (ideally wool). Thermal merino wool underwear is a must for destinations like the Faroe Islands (I wore mine in August).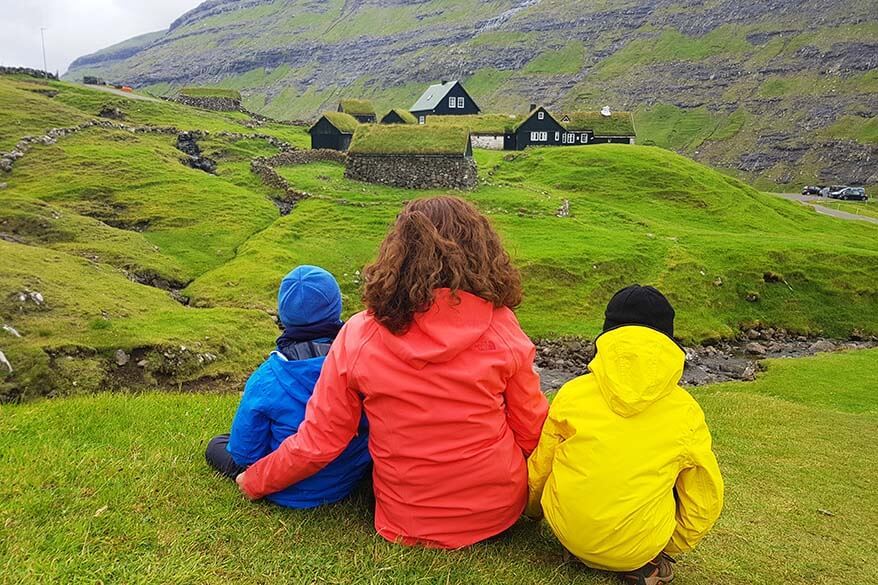 What are the best places to see on the Faroe Islands
The best places to see on the Faroe Islands include Tinganes in Torshavn, Kirkjubøur, Saksun and Tjornuvik villages, Gjogv, Kallur Lighthouse on Kalsoy island, Múlafossur waterfall near Gasadalur, the famous view from Trælanípa hike, bird cliffs of Vestmanna or Hestur, and of course Mykines island.
There are obviously many more stunning locations that are well worth a visit, but – in my opinion – the ones listed above are really not to be missed on any visit to the Faroe Islands.
TIP: If you don't know where to start and don't want to worry about roads, ferry schedules, or travel planning, consider booking organized day tours. There are also multi-day packages that bring you to the best places of the Faroe Islands on organized day trips from Torshavn. So you stay in the same hotel every day and have a local guide pick you up for the day. The most popular options is this 6-day guided tour package – it covers all the musts!
Faroe Islands travel guide is nice to have if you have more time to explore the islands or if you want to learn more about the places that you are visiting.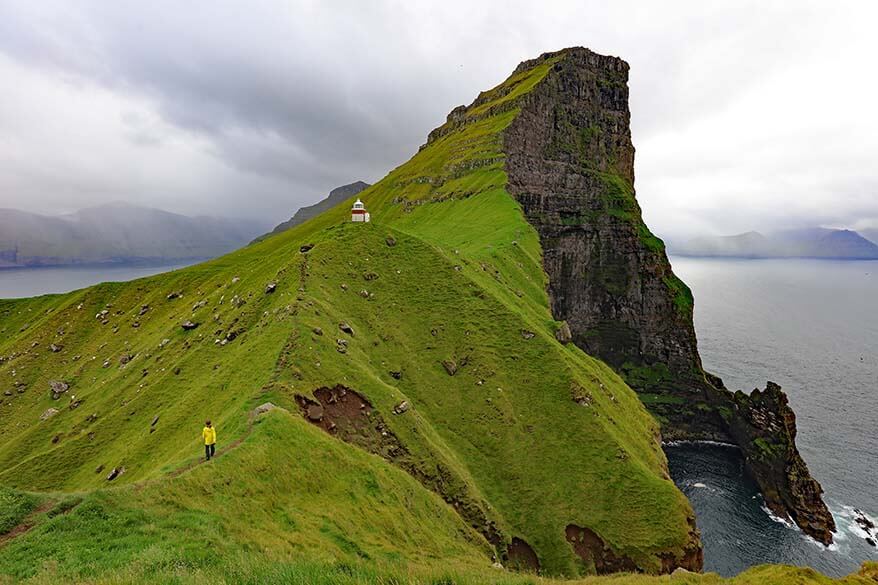 What are the most beautiful hikes of the Faroe Islands
The Faroe Islands have a lot of hiking possibilities. But not all hikes are worth your time equally.
In my opinion, the best hikes of the Faroe Islands are: Villingardalsfjall and Enniberg (Viðoy island), Kallur lighthouse (Kalsoy island), Trælanípa – Bøsdalafossur (Vagar island), Mykinesholmur (Mykines island), Saksun – út á Lónna (Streymoy island).
LEARN MORE: Hiking in the Faroe Islands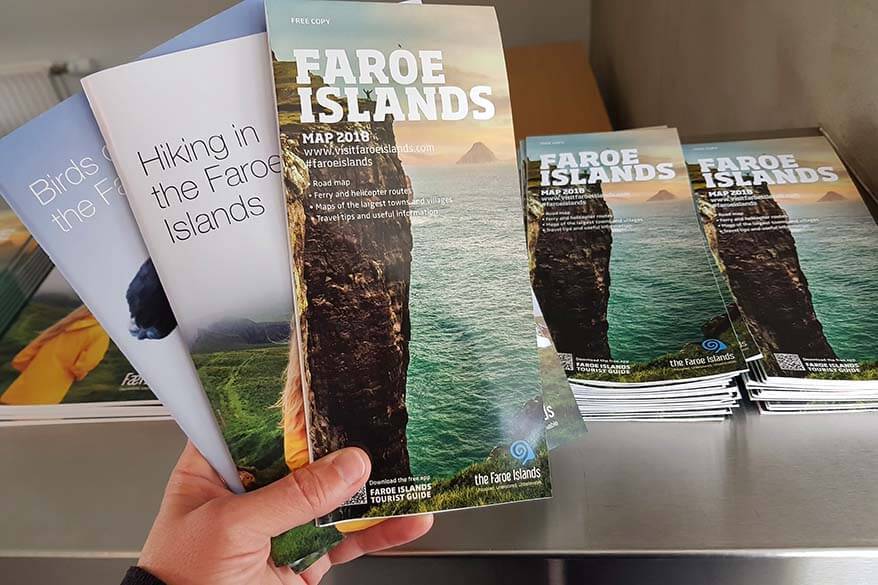 What kind of money do they use on the Faroe Islands and do you need cash?
Faroe Islands use the Danish krona (DKK). You can get some cash from an ATM at the airport or in bigger towns. We found that you don't really need cash when traveling in the Faroe Islands – pretty much everything can be paid by credit card.
We took some cash because one of the accommodations required cash payment, but that was the only time we used it.
How expensive are the Faroe Islands
Despite its remote location, Faroe Islands are more affordable than I thought. I expected Faroe Islands to be as expensive as Iceland, but was pleasantly surprised that it wasn't the case.
Just like anywhere else in the world, there are big differences in what food costs at an upscale restaurant in the capital city or a pizzeria in a small town.
After the initial shock of seeing 50-70EUR dishes at some fancy restaurants in Torshavn downtown, somehow we managed to find affordable meals for our family during the whole 10-night stay on the Faroe Islands.
We had a 50 EUR/adult dinner buffet at our hotel in Torshavn, while the evening before we spent just 48 EUR for 5 meals. We paid 12 EUR fish&chips/person in Klaksvik, and a total of 60 EUR for pizza and drinks for the whole family at the best pizza place on the Faroe Islands – Joe Pizza in Hvalvik.
Smidjan restaurant on Vagar island (not far from the airport) also has simple food at normal prices. Kids menu costs just around 8 EUR, fish & chips – 12 EUR, the most expensive big pizza – 20EUR.
Fuel is much cheaper on the Faroe Islands than in Western Europe. When we visited, gasoline cost around 9,5DKK/liter (1,3 EUR). Diesel was even a bit cheaper.
Hotel prices in the Faroe Islands are somewhat in line with those in other Scandinavian countries. We paid as much as 310 EUR/ night for a family room including breakfast in Torshavn and as little as 110 EUR/ night for a 3-bedroom house on Suduroy island. Most other accommodations cost us around 200 EUR/night. Note that we traveled with 5 people: 2 adults and 3 kids.
Car rental is quite expensive on the Faroe Islands, but not more than in Iceland or Norway (it's also much more affordable if booked in advance). We rented a big SUV for 10 days and paid around 830 EUR, which is about the same we paid in Norway for a somewhat smaller car. Check here for the best car rental prices.
Ferries and public transport are subsidized and therefore not expensive at all. Just to give you an idea, Mykines ferry was the most expensive route we took without a car, it cost 120 DKK (16 EUR)/adult return. Return fare on a ferry to Suduroy island was 225 DKK (30 EUR) for a car and a driver. A 7-day unlimited ferry&bus pass costs 700 DKK (95 EUR).
Buses within Torshavn are free of charge.
Guided tours in the Faroe Islands aren't cheap, however, they usually include everything and allow you to see a lot in a short time. Here you can find the biggest selection of guided day trips and tours in the Faroe Islands.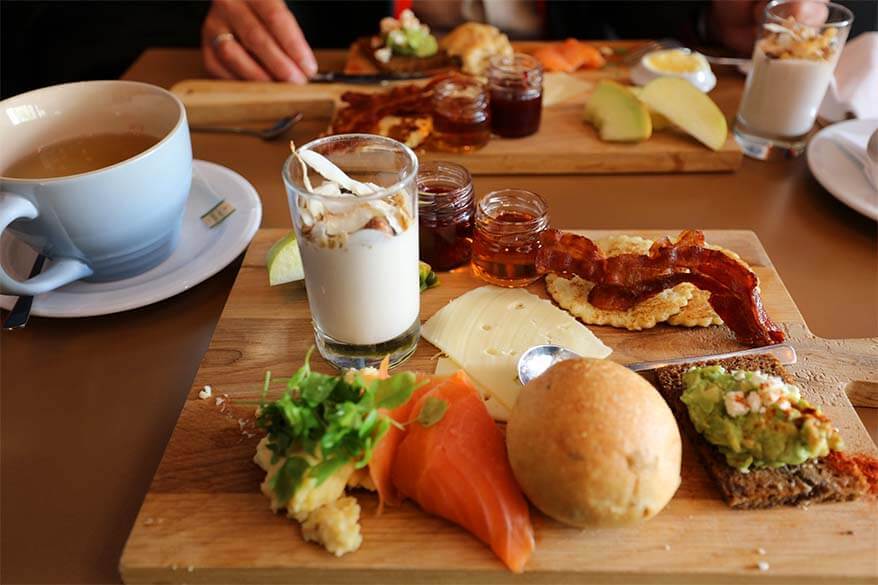 Is it easy to find where to eat on the Faroe Islands?
All bigger towns on the Faroe Islands have restaurants and supermarkets. For example, in Torshavn, you'll find a big shopping center and all types of restaurants: everything from Burger King, upscale restaurants, and everything in between. But it's not the case outside Torshavn.
Most restaurants in smaller towns are only open in the evenings. There are also many small villages that have no restaurants or even cafés at all.
If you get the Faroe Islands tourist map at the airport, you'll see that it shows all the facilities, including restaurants and petrol stations. But even then, it's possible that some restaurants in remote villages are only open in high season, or just on certain days…
To be on the safe side, we always recommend packing a picnic for lunch. It gives you complete flexibility and is truly the best way to not have to worry about finding food along the way.
Where can I buy alcohol on the Faroe Islands?
Just as Iceland, the Faroe Islands have quite strict rules when it comes to buying alcohol. You won't find alcoholic drinks over 2.8% vol at the supermarkets. All stronger alcoholic beverages are only sold by Rúsdrekkasøla Landsins, who have six shops on the islands.
You can get alcohol at the restaurants, but if you want to buy some, the easiest place to do so is the Duty-Free shop at the airport.
Do they speak English in the Faroe Islands?
Official language on the Faroe Islands is Faroese, but everyone we met on the Faroe spoke perfect English. So you should have no problem communicating with most locals.
Do EU roaming regulations count on the Faroe Islands?
EU roaming regulations do not count on the Faroe Islands (not for us coming from Belgium, in any case). Which means that you'll either have to get a local SIM card or pay roaming fees when using your mobile phone connection in the Faroe Islands.
The good news is that pretty much all accommodations and a few other places like some restaurants and even ferries offer free wi-fi.
Is it safe to travel to the Faroe Islands?
Yes, it's absolutely safe to travel in the Faroe Islands. In fact, I think the Faroe has the lowest crime rate of any place we've ever visited. Probably the biggest danger in the Faroe Islands is going too close to the edge of the cliffs or driving in the mist.
Where can I see puffins in the Faroe Islands?
Before we talk about the best places to see puffins on the Faroe Islands, you should know that you can only see them in summer. Best time to see puffins on the Faroe Islands is from May till late August; if you're lucky, they might be around from mid-April till mid-September.
Mykines island is without any doubt the best place to see puffins from close by on the Faroe Islands. Vestmanna or RIB62 boat tours go to bird cliffs and you'll see a lot of puffins as well, however, from a much bigger distance.
There are also big puffin colonies on many other locations all over the Faroe Islands, but the chances to see them from close by are minimal. We spotted puffins in Gjogv, but they were really far.
Here you can book a guided tour to Mykines island with a local.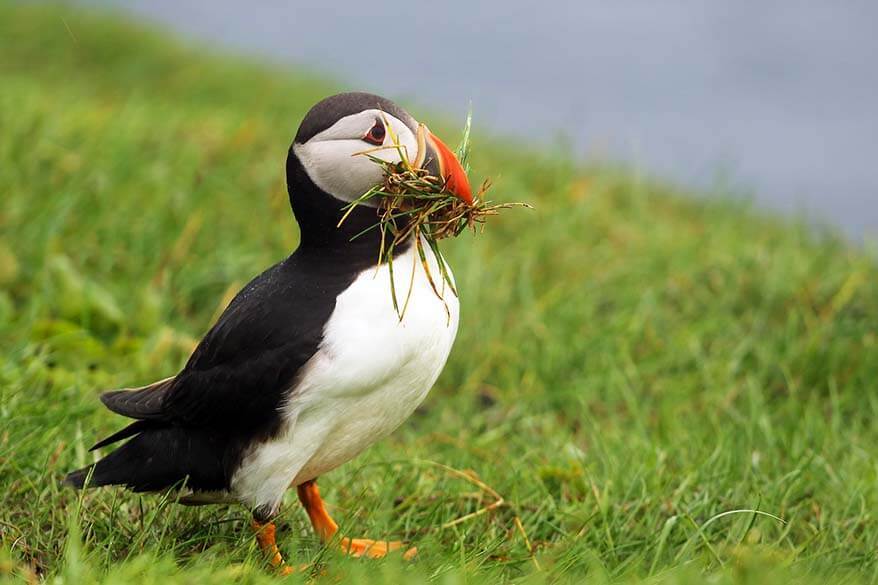 What kind of lenses to pack for photography on the Faroe Islands?
I used two lenses during our Faroe Islands trip: 70-200mm telephoto lens for puffins and a wide-angle 16-35mm lens for landscapes and all the rest. You really need a wide-angle lens for the Faroe Islands!
READ ALSO: Travel Photography Tips
What kind of electrical plugs do they use on the Faroe Islands?
Faroe Islands use European electricity plugs ( 220-230 volts AC (50 Hz)). If you are coming from outside continental Europe, you'll need to use European adapter plugs.
Whaling on the Faroe Islands
Unfortunately, Faroe Islands is one of the few places in the world that still allow whaling. If you travel in the Faroe Islands towards the end of the summer, the chances are high that you'll be an involuntary witness of whale slaughter.
I don't want to go into a discussion about whaling, the reasons behind it, and the century-old whaling traditions in the Faroe Islands. I just want to tell you this – if you don't want to see it, do yourself a favor and don't stop next to the bay where there are lots of cars parked by the road.
We saw boats in the water and all those smiling families with kids walking along the road to the bay and thought it was some kind of a local market or celebration. By the time we realized what was happening and why the sea was bright red, it was too late… We found ourselves standing on the beach surrounded by tens of dead pilot whales… So next time we saw hundreds of cars parked by the road and tens of boats in the water, we quickly drove away…
It was a heart-breaking sight for us and I hope and strongly believe that increasing tourism and awareness will make an end to this centuries-old whaling tradition in the Faroe Islands. But in the meantime, as hard as it is to understand, try to remember that you're just a guest here.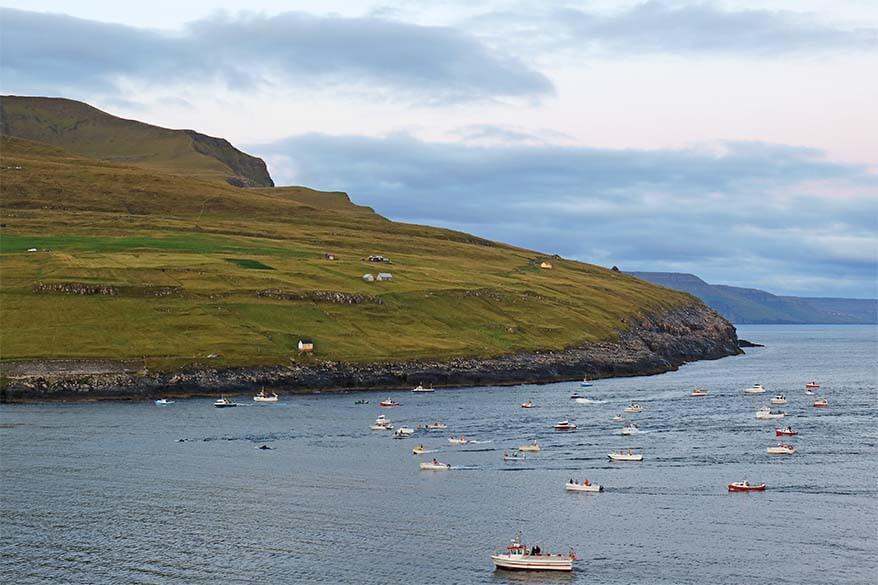 So, these are my tips and practical information for your visit to the Faroe Islands. Want to add anything or ask a question? You can do so by leaving a reply below.
If interested, you can also join our Facebook group for Scandinavia travel and ask your questions/ share experiences there.
Summary of the most popular FAQs
What is the best time to visit the Faroe Islands?
While every season has its charms, the best time to visit the Faroe Islands is between May and September. June, July, and August are the most popular months with the best weather.
When can you see puffins in the Faroe Islands?
While you can expect to see puffins in the Faroe Islands between mid-April to September, the best time to see puffins is between May and mid-August.
Can you visit Faroe Islands in winter?
Yes, you can visit the Faroe Islands at any time of the year. However, some places on the more remote islands might not be easily accessible in the low season, and tourist facilities outside Torshavn are limited in winter.
Are Faroe Islands expensive?
Faroe Islands is not a cheap destination, but it's cheaper than e.g. Iceland. With good planning and smart budgeting, you can make your trip quite affordable. For example, accommodation and restaurants outside of Torshavn are much cheaper than in the city and public transport is very cheap too.
Do they speak English in the Faroe Islands?
Faroese is the official language on the Faroe Islands, but everyone we met in the Faroe Islands spoke perfect English.
Can you visit Faroe Islands by car?
Yes, you can easily visit the most popular places in the Faroe Islands by car. The main islands are connected with bridges and undersea tunnels and there are also car ferries to the other islands. Some islands like Mykines cannot be visited by car, but you can get there by boat or by helicopter.
Can you take your own car to the Faroe Islands?
Depending on where you are coming from, you can visit the Faroe Islands in your own car. There are car ferries between the Faroe Islands and Iceland and also between the Faroe Islands and Denmark.
Are the Faroe Islands safe?
Yes, the Faroe Islands is a very safe travel destination, probably one of the safest places in the world. The biggest danger is running into some sheep on the road.
More tips for visiting the Faroe Islands:
READ ALSO our suggestions for Faroe Islands itinerary
If you found this post useful, don't forget to bookmark it and share it with your friends. Are you on Pinterest? Pin this image!