The Faroe Islands is a place of rugged landscapes, harsh weather, and unspoiled natural beauty. Europe's best-kept secret, little known and unexplored, waiting to be discovered by those who know how to appreciate it.
We learned that the literal translation of the Faroe Islands actually means the Sheep Islands. This alone was enough to convince us to visit these remote islands with countless shades of green, millions of birds, and indeed, more sheep than people….
Do you also want to visit the Faroe Islands, but are not sure where to start? In this post, I'm sharing our complete Faroe Islands self-drive itinerary for 9 days. It covers all the most beautiful places that you shouldn't miss in the Faroe Islands, as well as some less-visited locations and incredible hidden gems.
In addition, I'm also sharing best Faroe Island itinerary suggestions for 3, 4, 5, 6 , or 7 days. You can find those at the bottom of the article.
If you love outdoors, adventure, and quiet places where time seems to have stood still, then you probably know how increasingly difficult and challenging it is to still find a travel destination that ticks all these boxes. Faroe Islands is such a place, and it's closer and easier to visit than I always thought it was.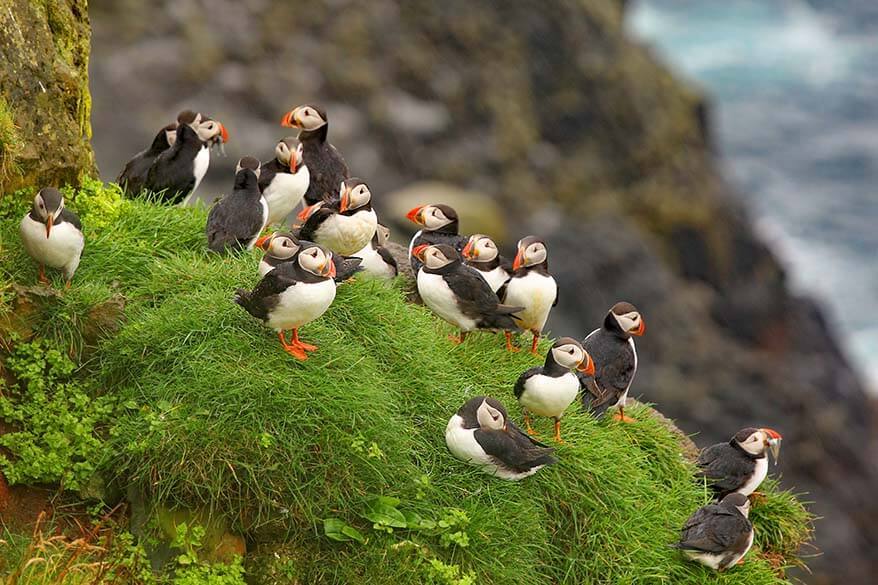 How much time do you need for the Faroe Islands?
While you can see the main highlights of the Faroe Islands in 4-7 days, staying a few days longer makes for a more relaxing trip and gives you an opportunity to visit remote islands and also do some hiking. As a minimum, I suggest you spend 4-5 full days in the Faroe Islands.
Many people travel to the Faroe Islands for just a few days, but we wanted to explore the main islands to the fullest, and so we spent 9 full days in the Faroe Islands 11 including travel days.
TIP: If you are visiting the Faroe Islands for the first time and are not sure where to start, you can also opt for organized tour packages. They include daily tours to the best places in the Faroe Islands and you can just stay in Torshavn during the whole trip.
The most popular option is this 6-day tour package that covers all the main highlights of the Faroe Islands. All you have to do is book your Torshavn accommodation, book a tour package, and they'll pick you up for a different tour every morning.
Another great option is this new all-in 8-day package that, in addition to all tours, also includes Torshavn accommodation, airport transfers, and more.
How to use this Faroe Islands itinerary
You can use our Faroe Islands travel itinerary for inspiration and make sure to also check our suggestions for any trip. But keep in mind that you'll have to make your own trip itinerary as a lot depends on available accommodations and also on the ferry timetables.
To help you plan your trip, we included a handy MAP for searching all available hotels and Airbnbs for your travel dates. You can find it at the bottom of this article.
For more practical information, please check our first-timer's guide to visiting the Faroe Islands.
I also created a map indicating all the places mentioned in this post. It should help you get a better idea of where everything is and plan your own Faroe Islands travel itinerary. See below.
How to Use This Map: Use your computer mouse (or fingers) to zoom in or out. Click on the icons to get more information about each place. Click the arrow on the left top corner for the index. Click the star next to the title of the map to add this map to your Google Maps account. To view the saved map on your smartphone or PC, open Google Maps, click the menu button, and go to 'Your Places'/'Maps'.
TIP: Faroe Islands are a paradise for hikers and some of the most beautiful places can only be reached on foot, so pack your hiking gear and explore. Here you can read more about 5 spectacular hikes that you shouldn't miss in the Faroe Islands.
If you click on the hike icons indicated in the map above, you'll see a number by each hike. Those numbers correspond to the numbering used in the 'Hiking in the Faroe Islands' brochure issued by Visit Faroe Islands. You'll be able to find this hiking brochure at all tourism information points and some hotels on the Faroe Islands.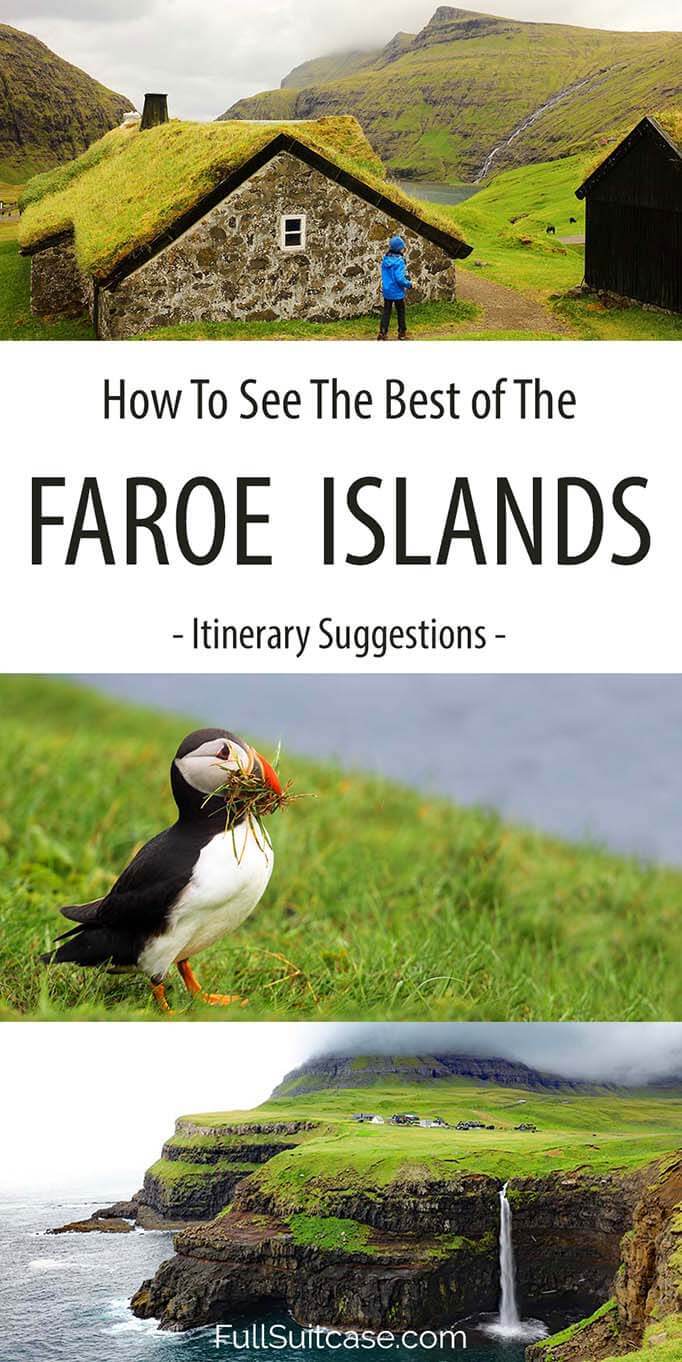 Day 1: Streymoy Island: Saksun, Tjornuvik, Vestmanna
Streymoy island is the largest of the 18 Faroe Islands, home to the capital city of Torshavn and to almost half the population of the Faroe Islands. But don't worry, even here it's quite easy to escape the people and get a good feel of what the Faroe Islands are all about.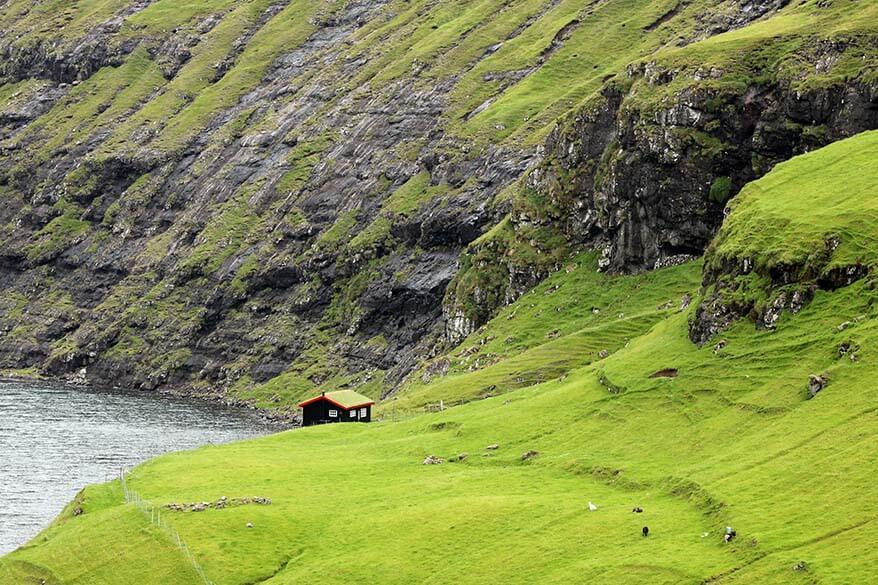 Oyggjarvegur Scenic Road
The scenic road Oyggjarvegur, over the mountains above Torshavn, is a road you must drive at least once. Green mountains, spectacular vistas, fjord valleys under your feet, countless waterfalls… The scenery here is truly beautiful and you can call yourself lucky if you can experience it without mist.
It's very likely that you'll run into some sheep, but also wild geese. Faroese geese are extraordinary birds – they live here the whole year round and are extremely well adapted to the harsh environment.
We saw so many geese that, at first, we thought they belonged to someone. But no, these birds are wild and roam freely all over the islands. Since they have no natural predators, they aren't very shy, so you are bound to run into some geese during your trip.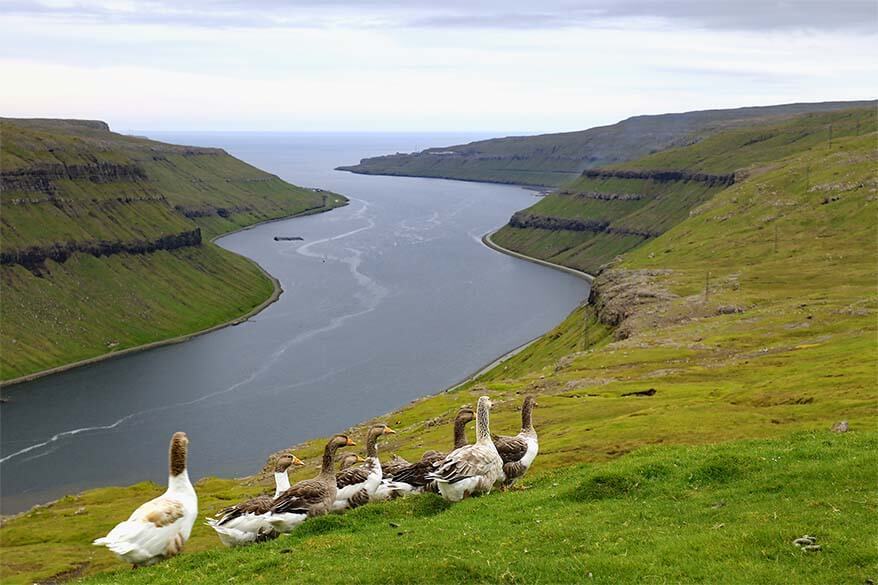 Saksun
The tiny village Saksun is considered one of the nicest places in the Faroe Islands, and a must in any Faroe Islands itinerary. Saksun is situated at the end of the valley overlooking a magnificent bay that is surrounded by steep mountains. It looks like a natural shelter from the ocean, yet the wind is very strong here and it's the coldest place we have been to in the Faroe Islands. Even in summer, don't forget your gloves and a hat!
Saksun is best known for its while little church overlooking the bay and picture-perfect turf houses of a 200-year old farm Duvugardar, which is now a museum. It's such a peaceful sleepy little village and the time seems to have stood still here.
TIP: If you want to have this place all to yourselves, best come here first thing in the morning or in the late afternoon. The museum opens around 2PM and that is also the time when the tour buses arrive.
One of the popular hikes of the Faroe Islands, Saksun – Tjornuvik hike starts by the waterfall just behind the turf houses. However, it's a long hike that involves a serious climb and will take at least 2-3 hours one way, so if you are planning to do it, start early and count the whole day for just this area.
Alternatively, make a shorter walk along the Western side of the river (you can read all about this hike in our Faroe hiking guide – hike no. 5) and drive to Tjornuvik by car.
Practical information: Saksun has some minimal facilities – a bathroom, a cafe that is open for a few hours in the afternoon, and a kiosk selling some small snacks (it's located at the first parking area, not by the church where all the tourists come – go figure).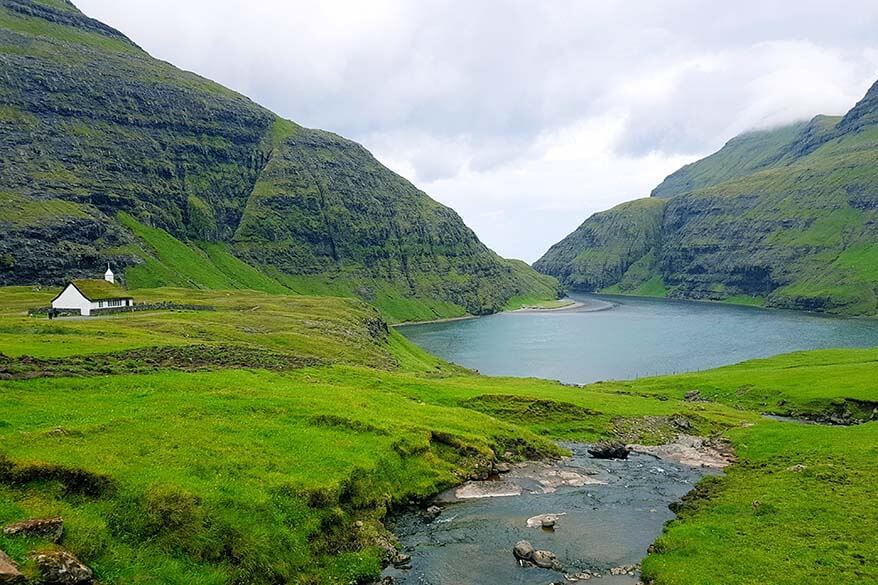 Fossa Waterfall
On the way to Tjornuvik, just before Haldarsvik, you will pass the highest waterfall of the Faroe Islands, Fossa. The 140m waterfall tumbles down over two levels and looks very impressive in the pictures.
However, in reality, it's so close to the road that you can't truly appreciate its beauty unless you own a drone. Anyway, it's just a short stop that doesn't require any effort, so don't miss it.
The waterfall is even more impressive if you come here when it rains. Actually, it's amazing to see how much and how quickly the waterfalls change when it starts to rain in the Faroe Islands.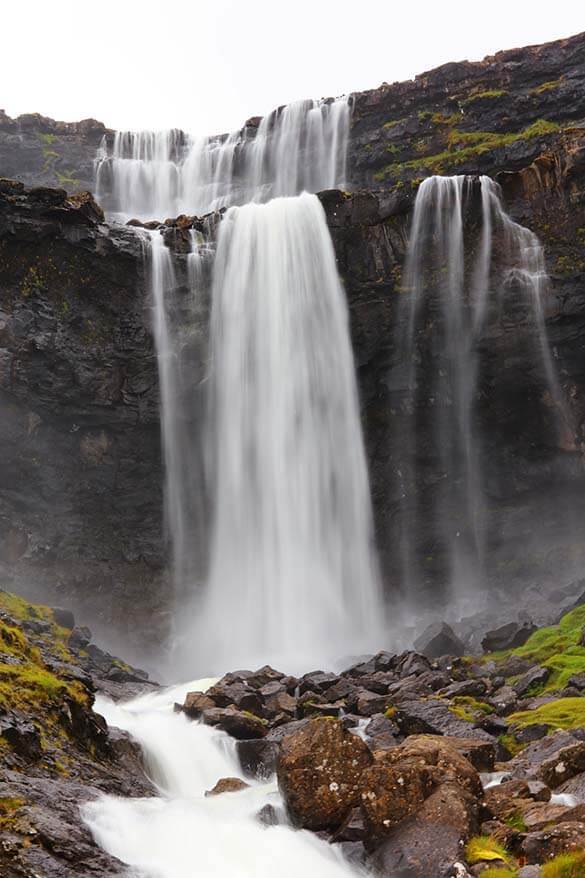 Tjørnuvík
The road to Tjornuvik is extremely narrow, but it's really scenic, so you don't want to drive fast here anyway. The moment you turn the corner, the picturesque little village appears in front of you – it's a sight to behold! There are many places in the Faroe Islands where you feel like you've reached the end of the world, Tjornuvik is one of them.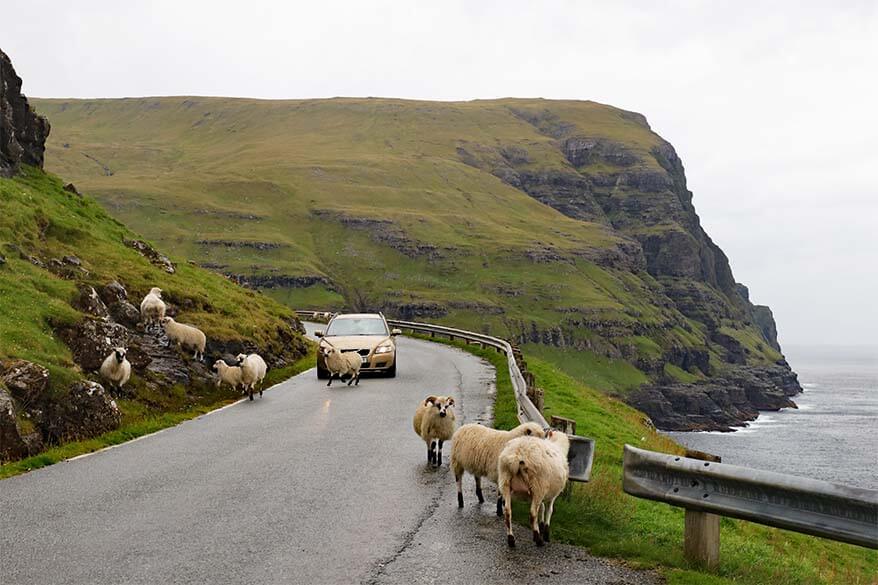 Tjornuvik is a somewhat bigger village than Saksun, and we were glad to see that there were more locals here than tourists (according to Wikipedia, there were 64 people living here 15 years ago, no idea how many people live there today).
The village has a beautiful beach that is supposedly a paradise for surfers. We didn't see any surfers here but loved the peaceful beach overlooking two beautiful rocks along the coast of the nearby Eysturoy island.
The rocks are known as Risin and Kellingin, a giant and a witch. According to a local legend, they tried to drag the Faroe Islands to their home in Iceland, but the job appeared more demanding than they anticipated. While these night creatures were working hard, the sun came up and turned them to stone.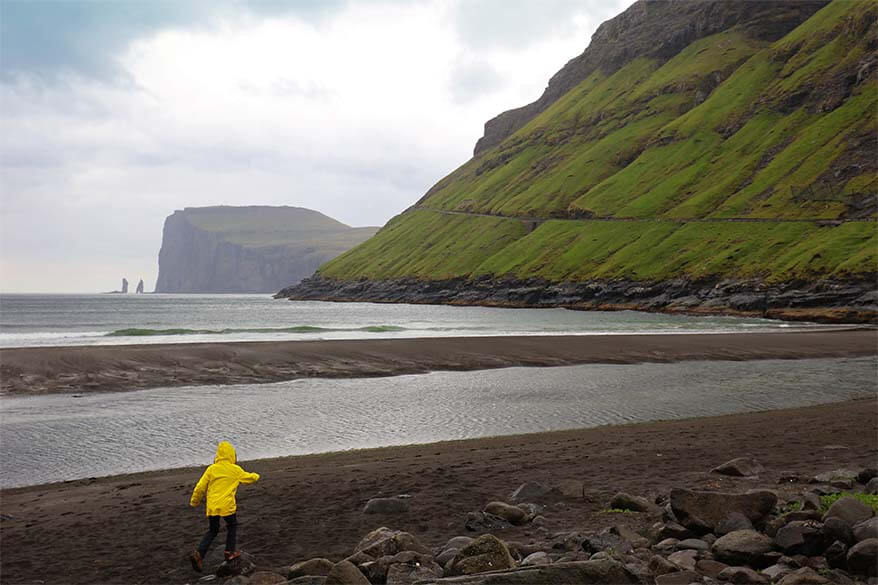 Practical information: Tjornuvik village itself is quaint and picturesque, but there is no tourist infrastructure here at all. The only restaurant in town has been permanently closed a week before our visit. Looking for a place to hide from the rain, we followed a sign for coffee and waffles and ended up in front of yet another closed door. The neighbors told us that the owner's granddaughter was getting married that day.
The reason I mention this is so that you know what to expect when traveling around in the Faroe Islands. Adjust your expectations, travel well prepared, and you'll have a wonderful time.
But if you forget to pack a picnic thinking that you'll find something in these quaint little villages, keep in mind that the nearest cafe might be an hour's drive away.
Vestmanna Bird Cliffs
Vestmanna bird cliffs is the most popular day trip on the Faroe Islands and takes you to the steep rocky coastline where thousands of birds nest in season. If the sea is calm, this is a great tour, and a possibility to see puffins.
Vestmanna boat trip only runs in high season, April to September, and usually just 2 or 3 times a day. In summer months, the boats are usually full, but even in the shoulder season, this is one of the most popular excursions that quickly sells out. So if you want to see the bird cliffs of Vestmanna, you have to book in advance.
TIP: You can also visit Vestmanna bird cliffs, in combination with Viking settlements, as a day trip from Torshavn.
For the rest, there isn't that much to do in Vestmanna, unless visit the Saga Museum, buy some souvenirs at the visitors center, or meet some of the cutest sheep of the Faroes…
Accommodation: Stay in Torshavn for the first 4 nights of this itinerary. We stayed at Hotel Føroyar – it's one of the best hotels on the Faroe Islands at the moment. Here you can find our complete guide to the Faroe Islands hotels.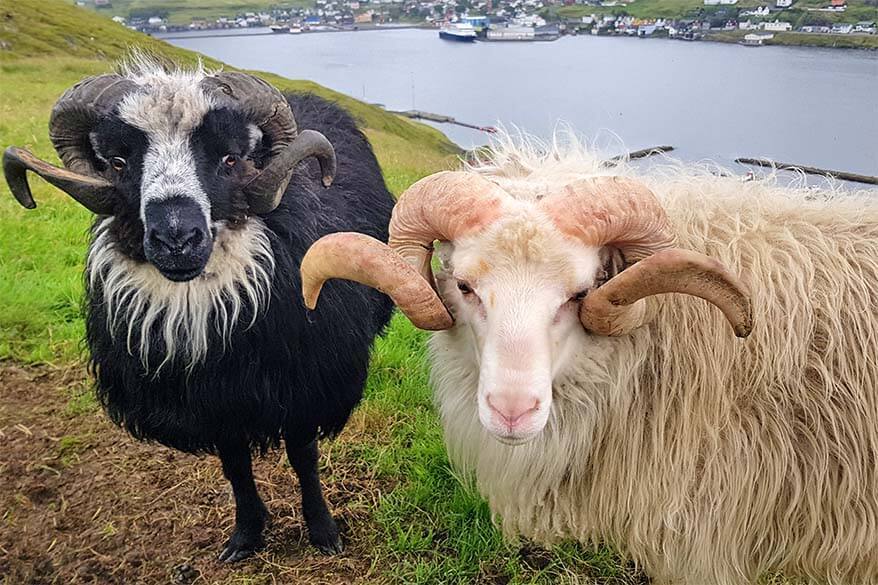 Day 2: Streymoy Island: RIB62 Tour to Hestur Island, Kirkjubøur, Torshavn
Our second day on the Faroe islands was the proof that you shouldn't let the weather influence your travel plans. It was pouring the whole morning and we were reluctant to even leave our hotel.
While it kept raining pretty much the whole time in Torshavn, the weather was very different in other places. One moment we were driving in complete mist, and then just a mile further down the road we would find open blue skies and sunshine…
We've been to many places where the weather is known to be unpredictable, but we have never experienced such instant fluctuations as in the Faroe Islands.
Before the trip, I often asked myself what to do in the Faroe Islands when it rains. My best advice to you is to pack a good rain jacket and just do what you have planned. Alternatively, just drive till you find better weather; it can be surprisingly close by. Or visit the city – you'll have it all to yourself.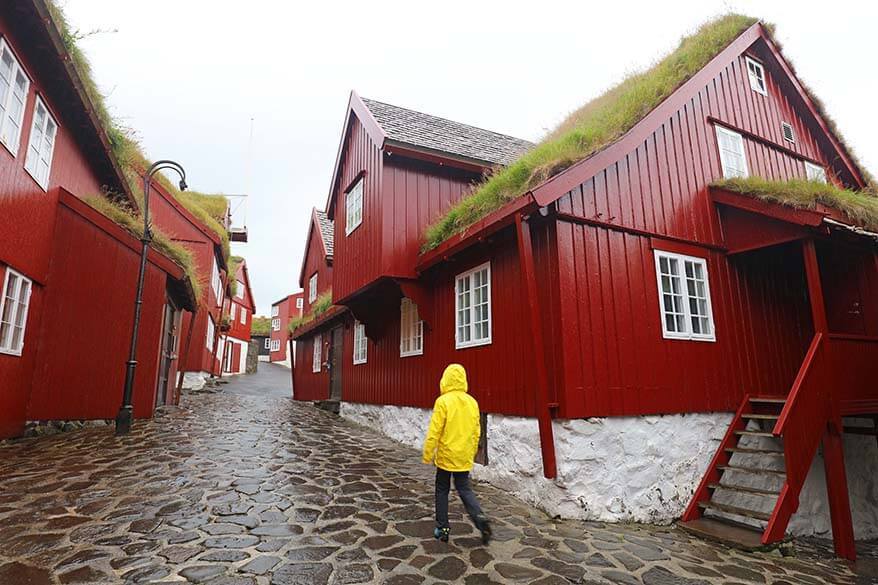 RIB62 Tour to Hestur Island
One of the absolute highlights of our time in the Faroe Islands was a RIB62 speedboat tour to see the bird cliffs of Hestur island. I can't compare Vestmanna boat trip to RIB62 speedboat tour, because we only did one, but at least at first view, the two tours seem to be quite similar in terms of what you get to see (even though the location is different).
There are several reasons why we chose the RIB62 tour. First, our kids love speedboat tours and none of us ever got seasick on them (as opposed to bigger boats). Second, a speedboat is small and can access areas inaccessible to bigger boats. And third, we just prefer the less touristy options and more off the beaten path alternatives that are just as good or maybe even better than the most popular options chosen by big groups.
The tour lasts just 1,5 hours, so don't miss it, even if you don't have that much time in the Faroes. It's a unique opportunity to visit the spectacular cliffs along Hestur coastline, see puffins (in season), and admire some of the most unique landscapes you'll ever see.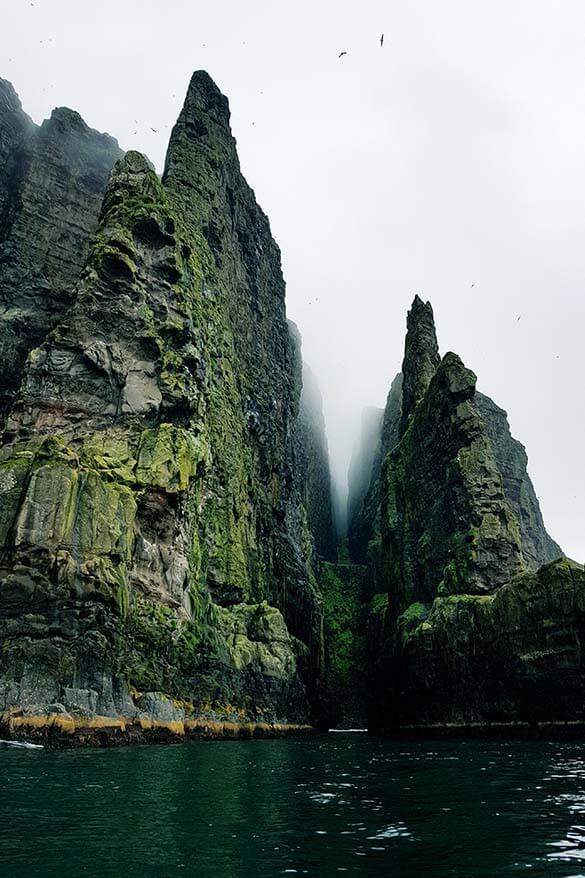 Kirkjubøur
Kirkjubøur, just a short drive or a 2-hr hike from Torshavn, is one of the oldest settlements of the Faroe Islands, dating from the Middle Ages. Kirkjubøur was the bishop's residence for centuries and you can still see the ruins of the old cathedral, Muren, that was one of the finest churches of the Nordic countries back in the 14th-15th centuries.
What still stands is St Olav's Church, built in 1111 and the King's farmhouse (the oldest inhabited house in Europe); both can be visited. The church is actually still in use and has services on the first Sunday of the month.
Apart from admiring picturesque Faroes turf houses, you can also make a short walk along the coastline. Even in the rain, it's a every enjoyable short visit.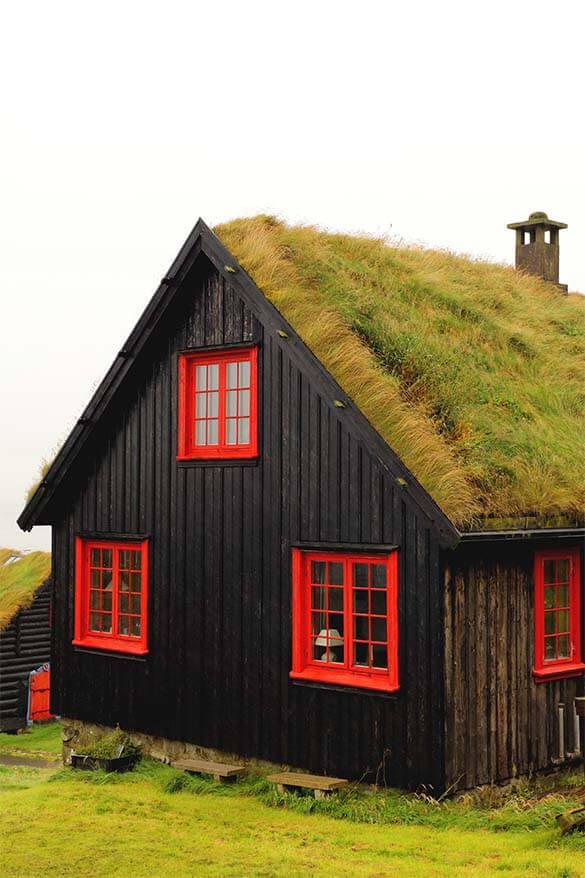 Tórshavn
End your day in Torshavn, the capital city of the Faroe Islands. Not to be missed the oldest part of town called Reyn with narrow passages and a few turf houses. Don't expect much of it though – it's really just a few houses. The main landmark of Torshavn is the historic Tinganes area – one of the world's oldest courts dating from the 9th century.
Torshavn city center is rather small and compact, so you don't need a lot of time to see it all. Other places of interest include Skansin area by the harbor and the Torshavn Cathedral. It might not look like much from the outside, but you really have to see its wooden interior!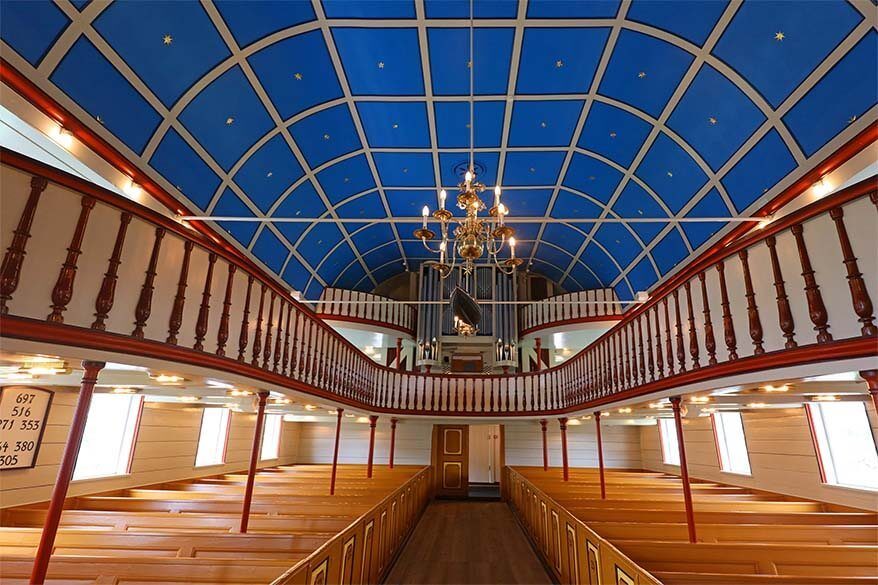 One of the liveliest locations in town is the little Vagsbotnur harbor with quaint colorful buildings and several cafes, pubs, and restaurants. This is probably the best place in the whole of the Faroe Islands for food, drinks, and a lively atmosphere. A great way to end your day.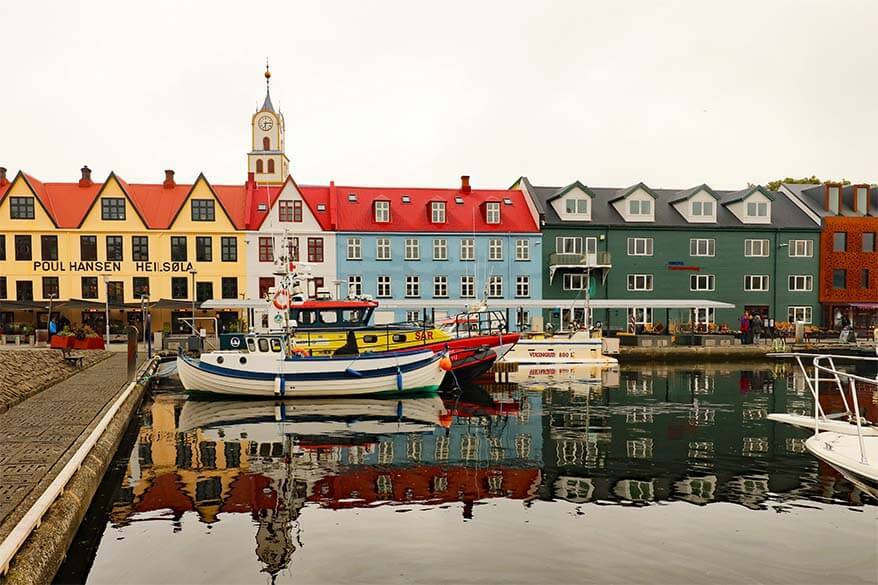 Day 3: Nolsoy Island
Nolsoy island, just off the coast from Streymoy island, can be reached by ferry from Torshavn. The ferry ride takes just 20 minutes, but ferries run just a few times a day, so keep that in mind when planning your itinerary.
The island has just one tiny village, so you don't need a car to visit Nolsoy. Leave the car at the hotel, or, if it's too far to walk to the ferry, at the free car parking lot behind the ferry and bus terminals. The other car parking areas near the harbor have strict time limits, which you'll probably not be able to adhere to when visiting Nolsoy.
If the weather is extraordinarily beautiful, you can hike all the way to Nolsoy lighthouse. It's a 5-6 hour walk (13-14 km total), so keep the ferry schedule in mind if you decide to go all the way to the end. Alternatively, do just the first part of the hike – the climb is steep, but the views are really nice.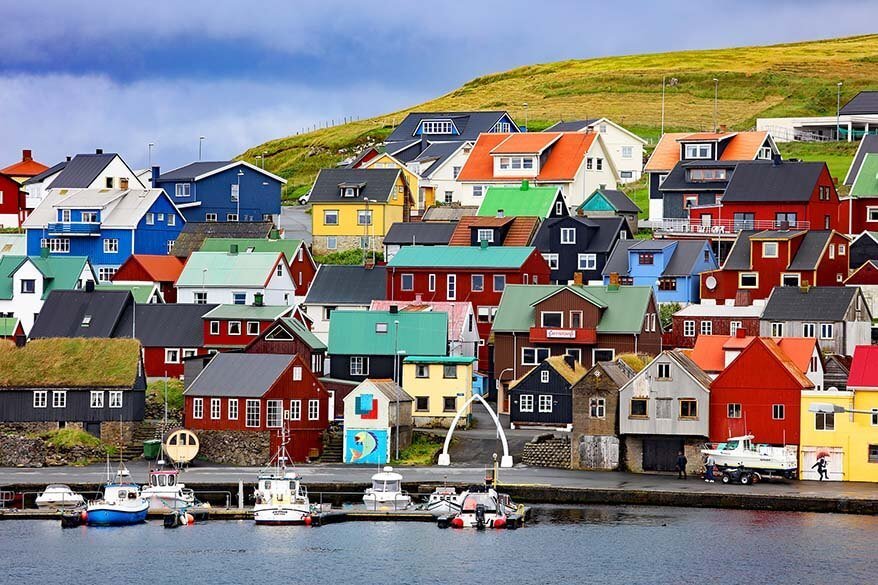 Nolsoy village itself is really picturesque, but apart from a short stroll between the colorful houses, there is not that much to do here for day visitors.
There is a tiny visitor center on the Nolsoy island. They can arrange a guided tour of the village, or some coffee and waffles. For guided tours, it's best to call them in advance.
TIP: If you take an early ferry back to Torshavn, you could opt to do a horse riding tour close to town. You have to book it in advance, as people in the Faroe Islands don't seem to like last-minute bookings, even if the tours aren't full.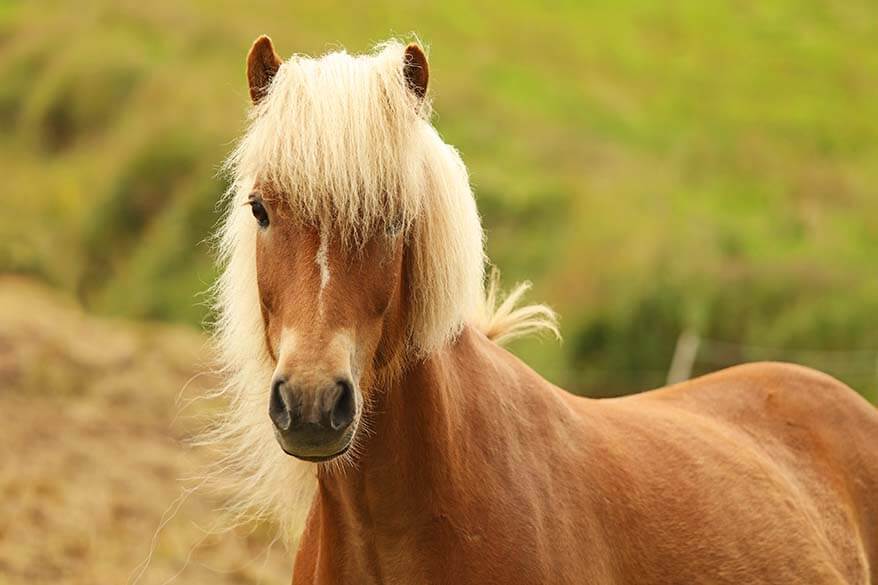 Day 4: Viðoy and Borðoy Islands
Time to explore the Northern islands of the Faroes! The furthest island that you can easily reach by car is Vidoy, about 1,5hrs drive from Torshavn. You could do it as a day trip, but I recommend to stay in Klaksvik for one night and visit Kalsoy island on the next day as well.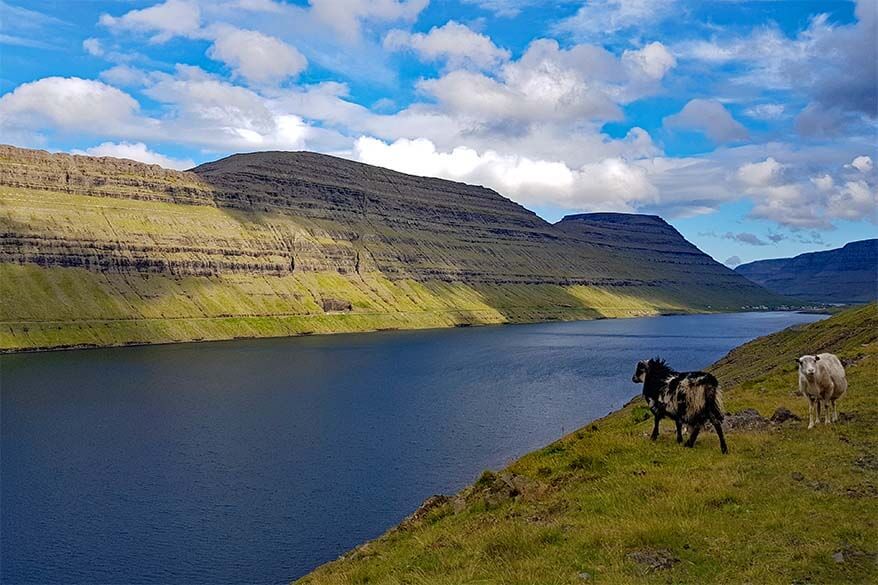 Viðoy Island – Villingardalsfjall/ Enniberg Hike
Villingardalsfjall hike on Viðoy island is probably the most spectacular hike of the Faroe Islands. From the trail you have phenomenal views over all the Northern islands such as Fugloy, Svinoy, Bordoy, Kunoy, and Kalsoy. Not to be missed!
Practical information: This hike will take you good part of the day (more information in our Faroe hiking guide – hike no.1), so make sure to pack a picnic.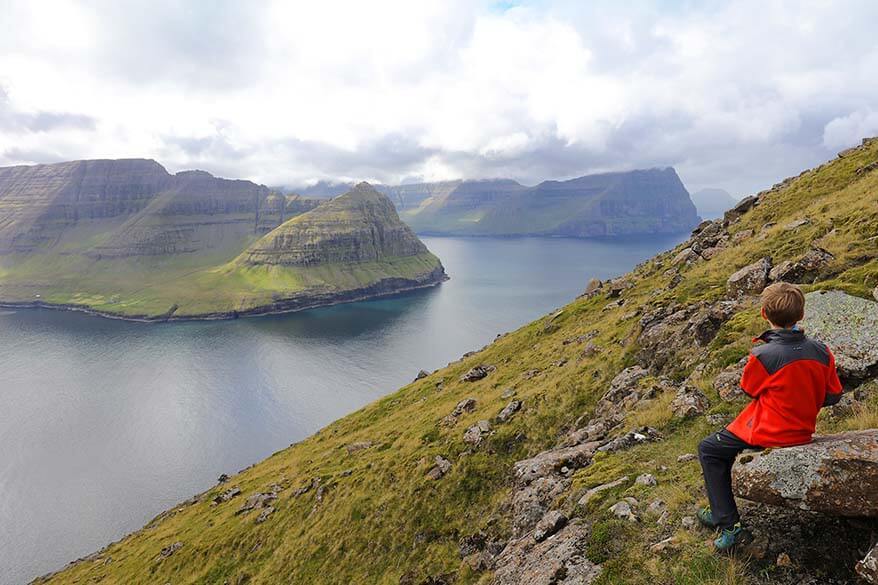 Borðoy Island – Muli and Klaksvik
There is just one road going through Bordoy island and if you drive all the way to the end of it, you reach a tiny village called Muli. The road is really scenic, so it's a nice little detour.
Muli village itself is not more than a few houses dating from the early 19th century. The sign at the village says that it has been abandoned in 1992, so I guess the people that we met there were using them as vacation houses.
You can make a few very short walks here. One of them leads to the gorge, the other one to a sheepfold along the coast, where you have a nice view over the coastline.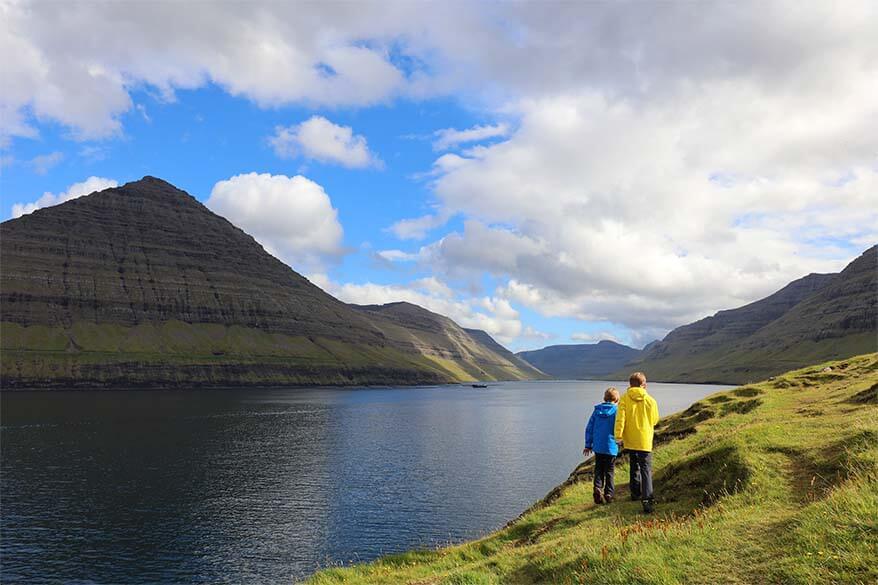 Klaksvik, the fishing capital of the Faroes, is the biggest town of the Northern islands. In addition to its famous brewery, it also has all the facilities that you may need, including shops, restaurants, and also a few accommodations. It's the best place to stay for exploring the Northern Islands.
Accommodation: Stay in Klaksvik for 1 night. Accommodation here is very limited. We stayed at Eysturland Lodge.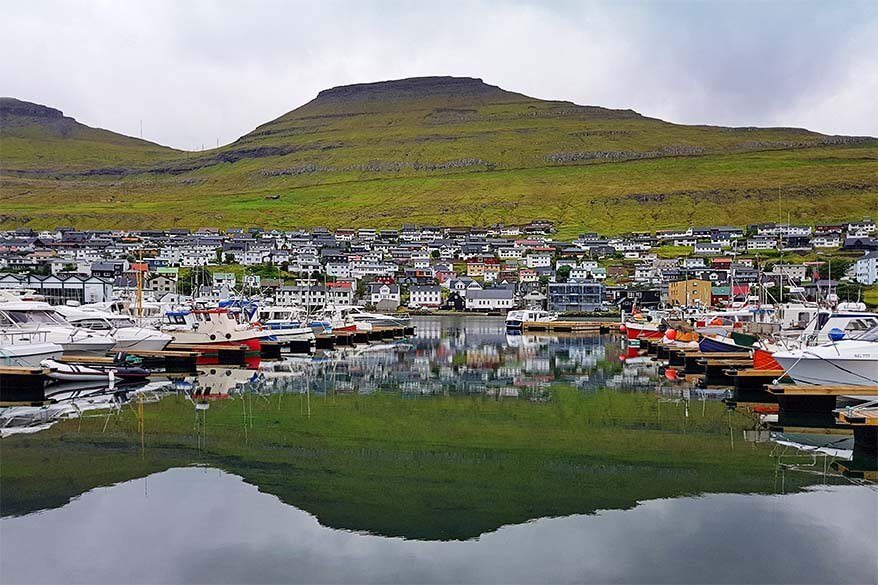 Day 5: Kalsoy Island
Kalsoy island is not connected to the other islands and the best way to get there is by taking a car ferry from Klaksvik. Keep in mind that the ferry is tiny (it can squeeze 17 small cars at best). Furthermore, it only runs a few times a day (see the schedule here).
In high season you really have to arrive at least an hour in advance (that's why it's best to stay in Klaksvik and not drive from Torshavn).
We arrived about 50 minutes in advance and were the 16th car in the queue and so you can imagine our relief when we could board. The next ferry was 6 hours later…
Kallur Lighthouse
The main reason to come to Kalsoy island is the spectacular scenery on the island's most northerly point, Kallurin.
It requires some hiking to get to Kallur lighthouse, but apart from the fact that it's muddy and slippery, it's not a very demanding hike (more info in our best hikes of the Faroe guide – hike no.2 ). The views here are rewarding and well worth all the effort that it takes to get here.
Good to know: There will soon be a fee (probably around 300 DKK) that you'll have to pay in order to hike here. More and more landowners in the Faroe Islands are now charging tourists for hiking through their land.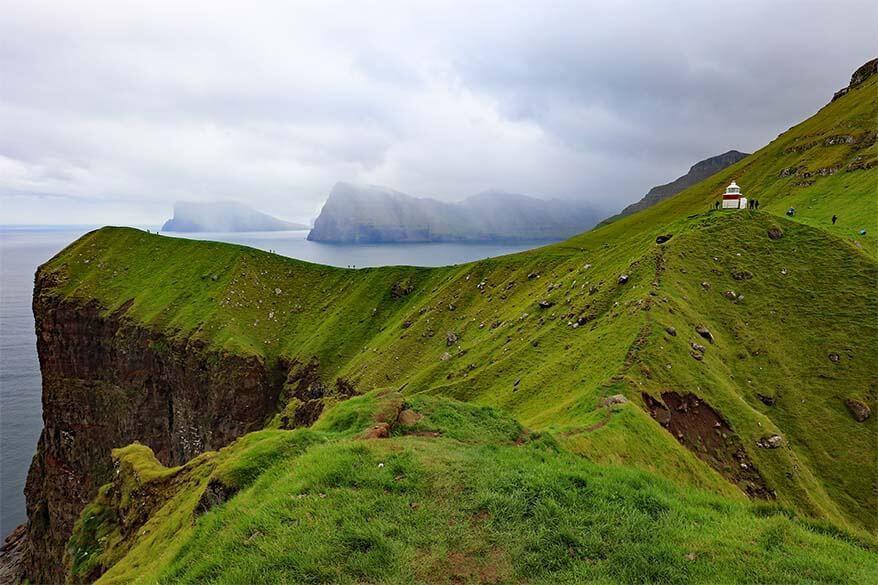 Mikladalur – Kópakonan
One more highlight you shouldn't miss on Kalsoy island is the statue of a Seal Woman (Kópakonan) in Mikladalur village. The coastline here is stunning too.
My advice is not to linger on the island longer than necessary and get back to the harbor well in time for the ferry. It was so busy on the day we visited that despite arriving more than an hour before the ferry, we ended up waiting for the next one. Hours wasted sitting in the car… Luckily, we had some snacks and our e-readers.
TIP: Probably a better way to visit Kalsoy would be to leave your car in Klaksvik, take a ferry as a foot passenger, and then a small local bus that seems to follow the schedule of the boat. From what I understand, this bus drives all the way to Trollanes where the hike to Kallur lighthouse starts. I'm not sure what happens if there are no places on this minivan, and I don't know if it makes any other stops, like Mikladalur. But it's definitely worth inquiring about this option at the visitor's center.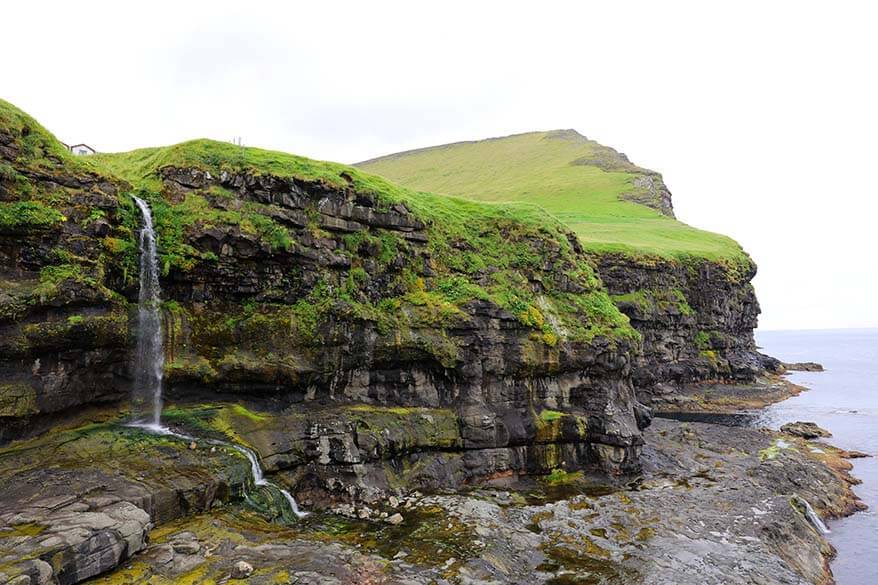 Depending on how much time you have on this day, you might be able to drive some of the scenic roads described in the itinerary on the next day. We spent so much time waiting for the ferry that we ran out of time and therefore drove straight to our accommodation in Gjogv.
Accommodation: You could either stay in Klaksvik one more night or drive to your next destination. We stayed in Gjaargardur Guesthouse in Gjogv – one of my favorite accommodations of this trip.
Day 6: Eysturoy Island: Gjogv, Slættaratindur, Oyndarfjørður, Elduvik
Gjogv is one of the places you shouldn't miss in the Faroe Islands. It's such a quaint little village in a beautiful setting.
There are hiking trails available here. As a minimum take a very short walk to and a bit around the gorge, it's such wonderful scenery. In season, you'll see puffins here, but they are usually quite far away.
TIP: If you're in Gjogv around lunchtime, try some pancakes at the Gjaargaardur Guesthouse.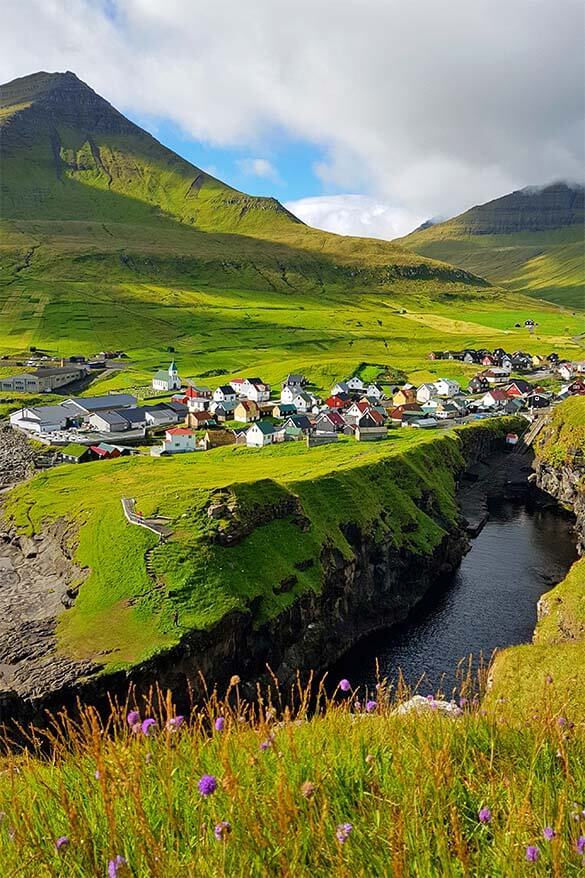 If you drive to Eiði from Gjogv, you'll pass some of the highest roads of the Faroes. No wonder that this area is often covered in clouds, and it was also the case when we visited. If the weather is nice, you can hike to the top of Slættaratindur, the highest mountain of the Faroe Islands.
Eiði village itself isn't really that interesting from a tourist point of view. We thought we might be able to see the beautiful rock formations Risin and Kellingin that are just off the coast near Eidi, but you can't really get close to them or even see them from the village. They are best visible from Tjornuvik on Streymoy island.
The nicest places of Eysturoy island, we found, are the roads leading to Gjogv, Elduvik, and Oyndarfjordur, so I suggest you drive them all. These scenic drives are not about the destination, rather about the roads themselves. One exception – Elduvik village is actually quite scenic and worth a short visit.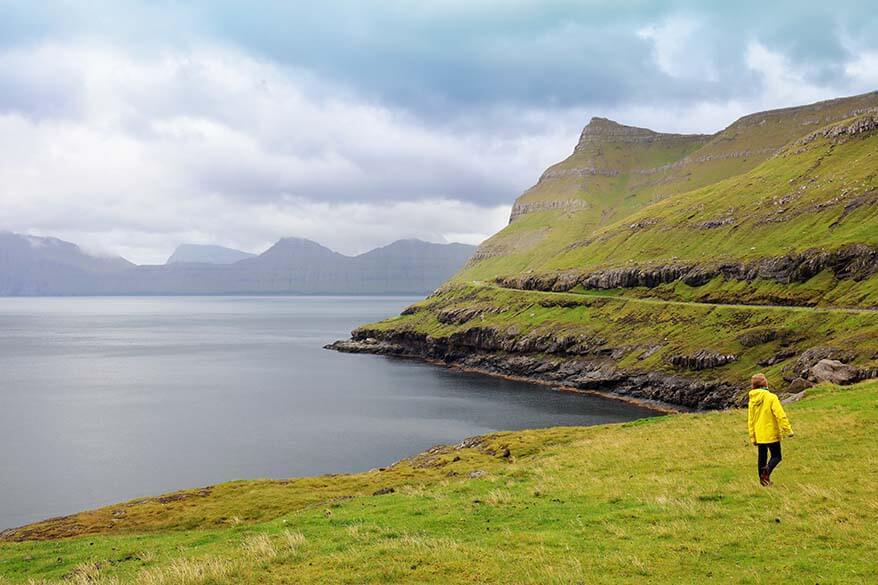 In the afternoon we drove back to Torshavn where we took a ferry to Suduroy island (see the schedule here). It's a big car ferry and we were told that it's never full. But just in case… we arrived well in advance, parked the car in line at the ferry terminal, and went for a short walk in the city.
Accommodation: We stayed 2 nights in House in Hvalba on Suduroy island. I see that this accommodation is not available at the moment and other options are extremely limited. So you'd have to see if there's anything available on the private rental market if you plan to visit this island…
Day 7: Suðuroy Island
One of the best things to do on Suduroy island is Hvannhagi hike near Tvøroyri. It's a rather long hike, but one that gives you a true feeling of remoteness. The landscape around Hvannhagi is so special!
Don't miss Akraberg Lighthouse, the southernmost point of the Faroe Islands. Just be careful here – the whole area is surrounded by steep cliffs with a sheer drop to the ocean deep below.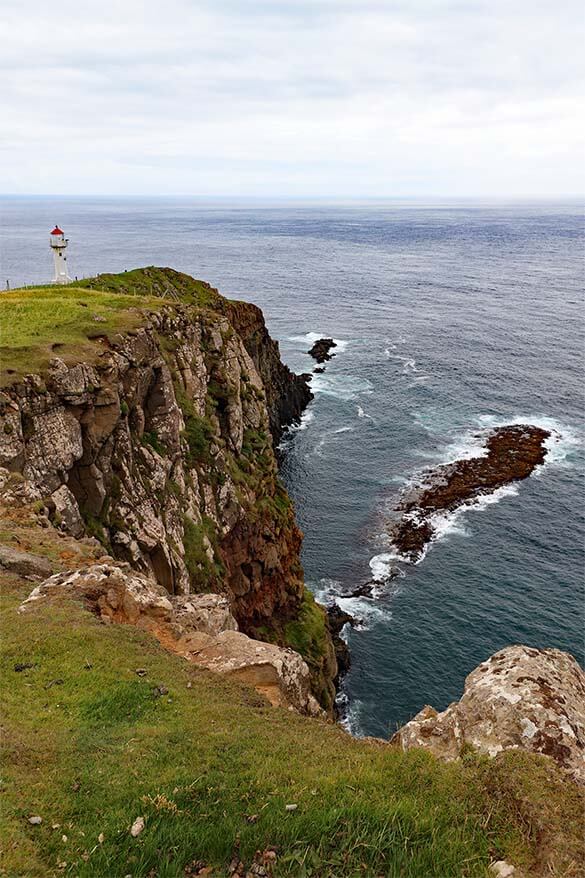 The area around Hvalba and also Sandvik is also really nice to see.
One of the hidden gems of the Faroe Islands can be found near Sandvík. It's a tiny nameless wooden bridge over a nameless gorge with incredible views. It's not easy to find, but if you do – it's definitely worth it!
Drive the bumpy road Heiðavegur in Sandvik all the way to the end. There is a fence on this road, but the locals told us that it's ok to drive through it (don't forget to close it, otherwise the sheep might run away). At the very end of the road you can leave the car and climb the hill following white poles with a rope, then turn right where the poles end. Continue towards the ocean for 10-15min and you'll find the little bridge.
TIP: The western coastline near Sandvik is the best place to be at sunset. Follow the Heiðavegur road as described above, but instead of driving all the way to the end, stop where the road is closest to the ocean. From there you can walk just a few steps for the most amazing views.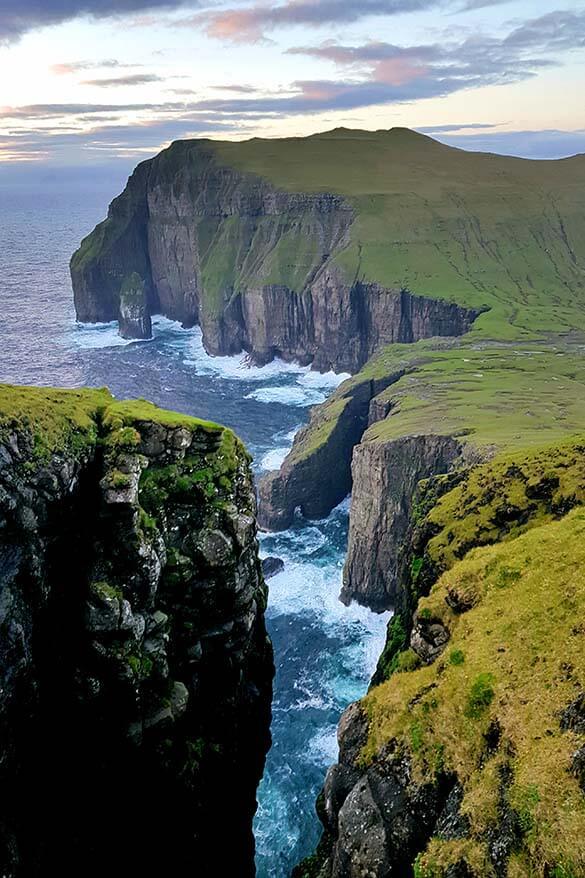 Alternative suggestion: Visit Sandvik and this beautiful sunset spot the evening when you arrive in Suduroy (day 6 of this itinerary). Stay just one night on Suduroy and head back to Torshavn in the evening. Don't forget to check the ferry timetable. This will give you more time to explore Vagar island the next day.
Day 8: Vagar Island: Trælanípa Hike, Gasadalur, Mulafossur, Trøllkonufingur, The Nix
In the morning we took a ferry back to Torshavn and drove straight to Vagar island. We left this island for the very end of our trip, because it's close to the airport. Also, there is a toll for driving the tunnel between Vagar and Streymoy, so it's best not to drive through it too many times if not necessary.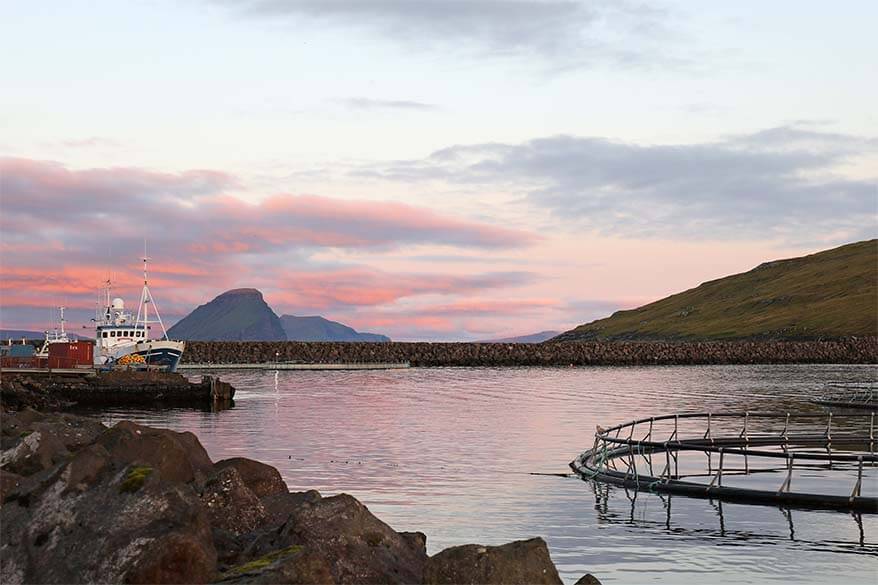 Trælanípa Hike
The hike from Miðvágur to Bøsdalafossur waterfall and Trælanípa mountain is one of the most beautiful and by far the most popular hike in the Faroe Islands. You can read all about it in our Faroe hiking guide, hike no.3.
TIP: It's best to come here late in the afternoon if you can – the light for photography is best at sunset and there will be fewer people.
Good to know: There is now a 200 DKK hiking fee that you have to pay (cash) in order to access this area.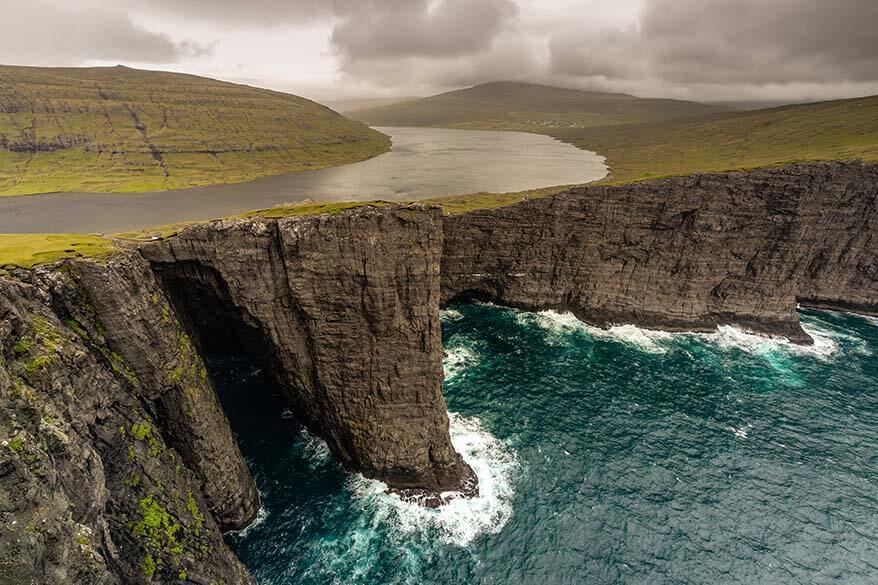 Trøllkonufingur
Trøllkonufingur – the Troll woman's finger – is a big rock along the coast of Vagar island near Sandavágur. There is a sign to a viewpoint, so you can't really miss it. It's also well visible from the road at the trailhead of Trælanípa hike.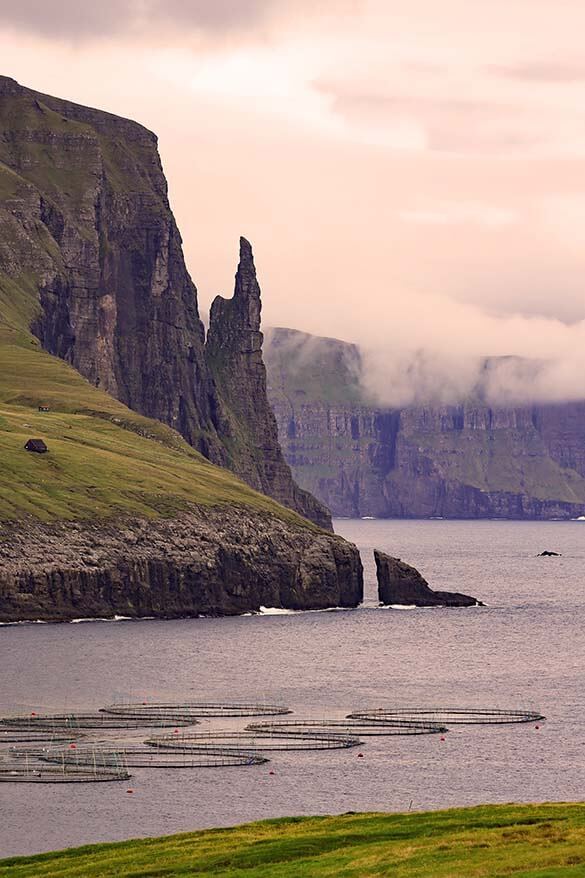 Gásadalur and Múlafossur
Gasadalur is a tiny village, just like many others on the Faroe Islands, stuck between the mountains on one side and steep cliffs and the ocean on the other. In the past you could only get there by boat, on foot, or by helicopter; now there is a tunnel connecting Gasadalur to the rest of Vagar island.
The main reason to visit is to see the beautiful waterfall Mulafossur, probably the most photographed waterfall of the Faroe Islands. Don't miss it – the coastline here will take your breath away!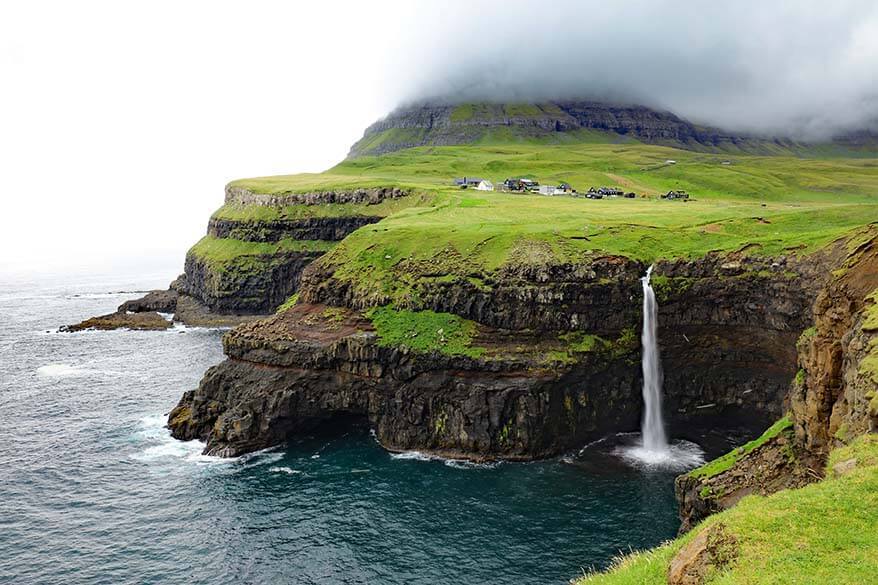 The Nix in Sørvágsvatn or Leitisvatn
On the way to the airport, you'll notice an interesting piece of art – a horse in the middle of the lake Sørvágsvatn/ Leitisvatn. It's called Nix and is a mythical water creature that wants to lure people into its underwater world.
There are several stories and legends surrounding Nix (you can read more here). In any case, the statue is just next to the main road and worth a short stop.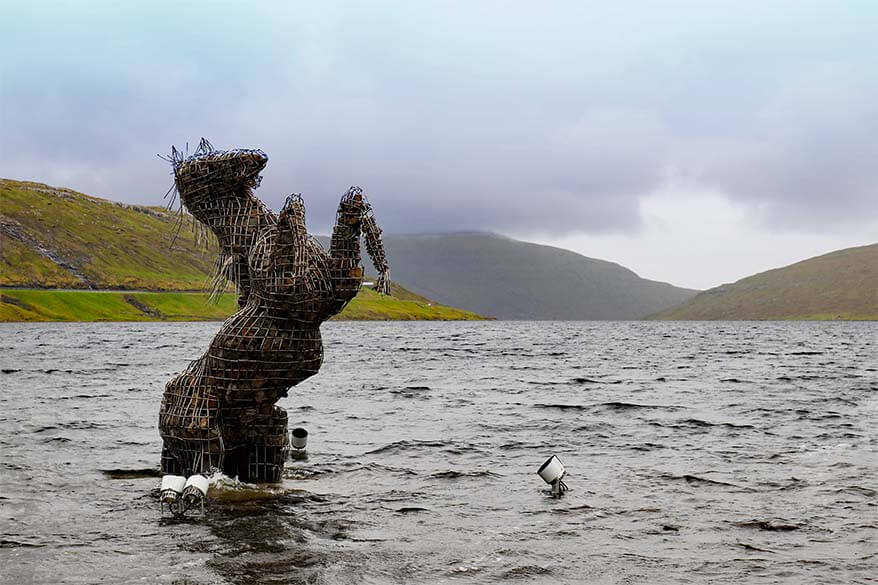 Accommodation: We stayed on Vagar island for the last two nights. It's close to the airport and also the best location for a day trip to Mykines. There is just one hotel on this island, next to the airport, but we preferred to stay in a big house called Jatnahusid – perfect for a family stay on the Faroe Islands.
Day 9: Mykines Island
We left the very best for last. Mykines island is one of the most beautiful places of the Faroe Islands and it really should be included in any Faroe Islands itinerary.
We had really bad luck with the weather and visited Mykines in the pouring rain. Nevertheless, it's one of the most unique and beautiful places I have ever been to. I can't even imagine how it would look like on a sunny day with blue skies… I'd go all the way back to the Faroe Islands just to explore Mykines in good weather.
As if green hills, charming turf houses, and spectacular scenery are not enough, there is one more reason to visit Mykines island. Puffins. Mykines is home to thousands and thousands of puffins that come to nest on the island every summer. It must be the best place to see puffins in the world!
One of the nicest things to do is hike Mykinesholmur all the way to Mykines lighthouse. This hike brings you past the puffin colony and has incredible views all the way. Unfortunately, a big part of the hike was closed when we visited (due to the weather and dangerous conditions), but even then it was worth it.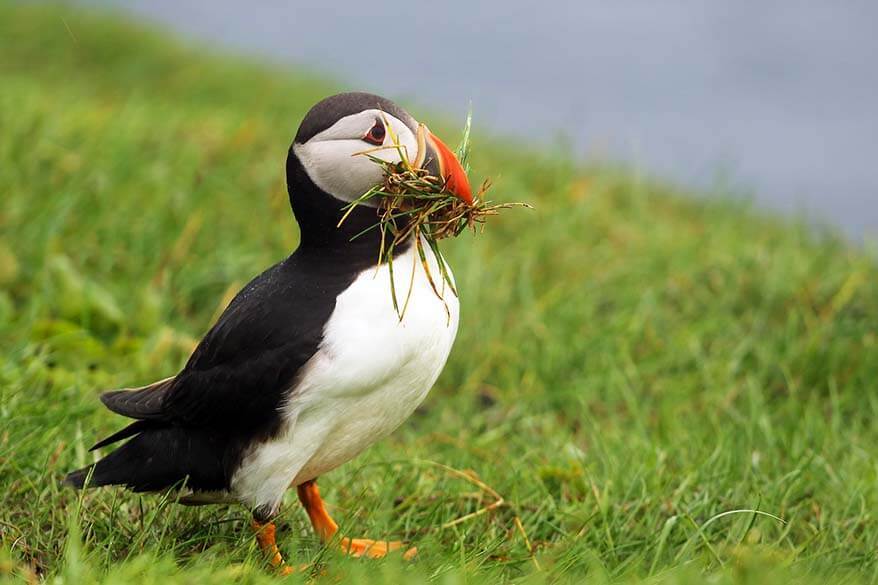 Keep in mind that Mykines is an extremely popular place to visit in the Faroe Islands, and Mykines ferry is also the only one you can (and have to) book in advance.
TIP: The easiest way to get to Mykines is by booking this Mykines tour. It includes the ferry ticket, hiking fee, a local guide, and a packed lunch. Note that this tour starts from Sørvágur harbor. If you rather have transportation from Torshavn as well, you should book this day trip to Mykines.
There aren't many accommodations on the island, but it is possible to stay there if you really want to. In that case, inquire at Visit Faroe Islands for more information.
Most people come to Mykines for the day. The ferry schedule is such that it gives you about 5 hours on the island, which is enough if the weather is nice and much too long if it rains.
TIP: You can find more practical information for your visit to Mykines in our Faroe hiking guide – hike no.4.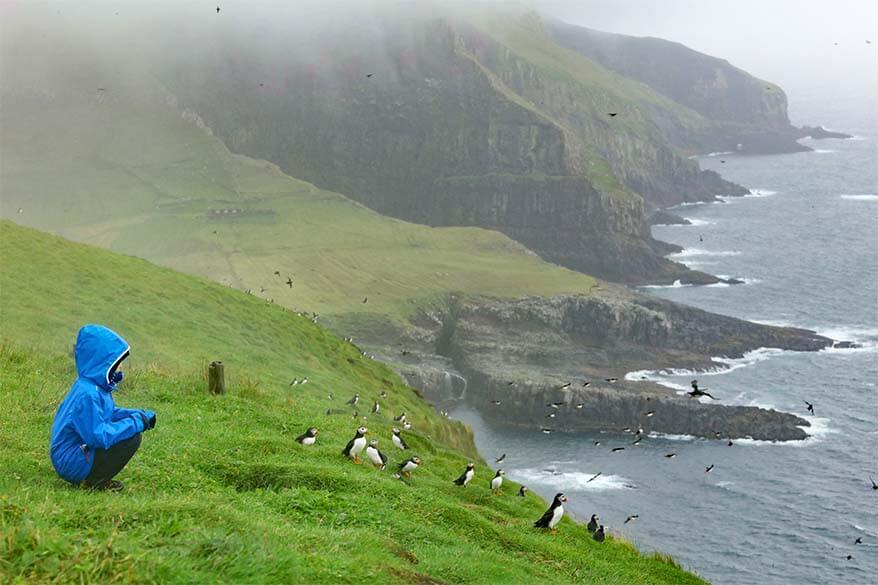 Faroe Islands Itinerary Suggestions
Below you can find some suggested Faroe Islands itineraries for shorter trips, from 3 days up toa week. Read on!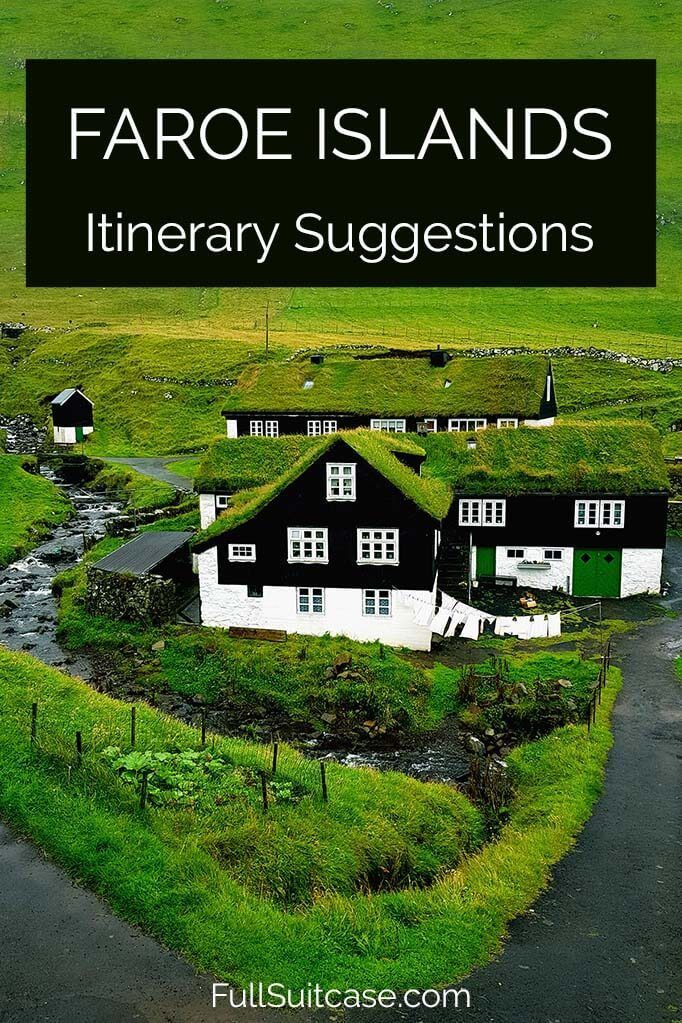 3 Days in the Faroe Islands
Day 1: Torshavn, Kirkjubour, Saksun, and Tjornuvik.
Day 2: Boat tour to Vestmanna or Hestur island and Trælanípa hike on Vagar island OR Kalsoy island and Gjogv.
Day 3: Mykines island. Visit Mulafossur waterfall in the evening.
4 Days in the Faroe Islands
Day 1: Torshavn, Kirkjubour, Saksun and Tjornuvik.
Day 2: Kalsoy island and Gjogv.
Day 3: Boat tour to Vestmanna or Hestur island and Trælanípa hike on Vagar island.
Day 4: Mykines island. Visit Mulafossur waterfall in the evening.
TIP: If you have 4 full days in the Faroe Islands and don't want to worry about planning the best itinerary, driving, or ferry schedules, consider a 4-day Faroe tours package. All you have to do is book a hotel in Torshavn and the local guides will pick you up every morning and drop you off back at your hotel every evening. It's the most relaxing way to see the best of the Faroe Islands for those who rather take it easy and let someone else do the planning.
Faroe Islands 5 Days Itinerary
Day 1: Torshavn, Kirkjubour, Saksun and Tjornuvik.
Day 2: Northern islands. Villingardalsfjall hike on Vidoy. Klaksvik.
Day 3: Kalsoy island and scenic roads on Eysturoy island.
Day 4: Gjogv, boat tour to Vestmanna or Hestur island and Trælanípa hike on Vagar island.
Day 5: Mykines island. Visit Mulafossur waterfall in the evening.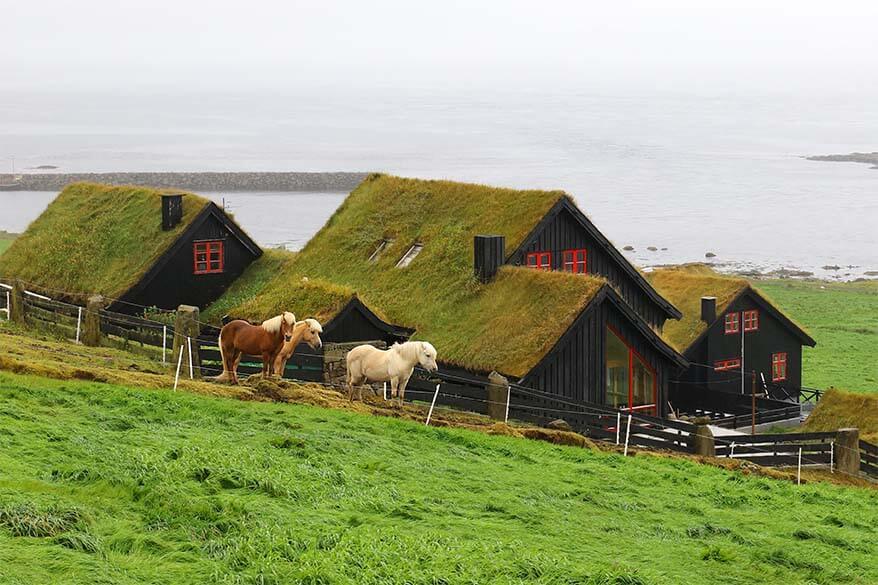 6 Days in the Faroe Islands
Day 1: Torshavn, Kirkjubour, Saksun, and Tjornuvik.
Day 2: Nolsoy island. Maybe horse riding in Torshavn.
Day 3: Northern islands. Villingardalsfjall hike on Vidoy. Klaksvik.
Day 4: Kalsoy island and scenic roads on Eysturoy island.
Day 5: Gjogv, boat tour to Vestmanna or Hestur island and Trælanípa hike on Vagar island.
Day 6: Mykines island. Visit Mulafossur waterfall in the evening.
TIP: If you have at least 6 days in the Faroe Islands and don't want to worry about planning the best itinerary for your trip, consider this 6 days small group Faroe Islands tour package. Just as with the 4-day tour mentioned above, they pick you up from your hotel in Torshavn every day and take you to a different part of the Faroe Islands each day. It's a great way to see the best of the Faroe Islands without planning or worries.
One Week in the Faroe Islands
Day 1: Torshavn, Kirkjubour, Saksun and Tjornuvik.
Day 2: Nolsoy island. Maybe horse riding in Torshavn.
Day 3: Day trip to one of the other islands, e.g. Suduroy if ferry schedule allows it.
Day 4: Northern islands. Villingardalsfjall hike on Vidoy. Klaksvik.
Day 5: Kalsoy island and scenic roads on Eysturoy island.
Day 6: Gjogv, boat tour to Vestmanna or Hestur island and Trælanípa hike on Vagar island.
Day 7: Mykines island. Visit Mulafossur waterfall in the evening.
Compare Hotels & Short-Term Rentals in the Faroe Islands
Using the map below, you can compare hotels and short-term rental accommodations in the Faroe Islands. You can zoom in and out for various islands. Simply insert your travel dates and group size, and you'll see the best deals for your stay. Check it out!
So, this is our Faroe Islands itinerary and suggestions for a shorter vacation. I realize that planning a self-drive trip to the Faroe Islands can look really overwhelming at first, so if you have any questions, please also check our practical guide to the Faroe Islands.
If you still don't find an answer, don't hesitate to leave a reply below and I'll try to help.
READ ALSO: Faroe Islands Hotels & Tips for Where to Stay
If you found this post useful, don't forget to bookmark it and share it with your friends. Are you on Pinterest? Pin this image!