Looking for information on the Northern Lights in Tromso, Norway? This article should answer all your questions and – hopefully – help you see auroras in Tromso.
Tromsø's unique location over 300 km North of the Arctic Circle in Norway and its stable mild weather make it one of the best places to see the Northern Lights in the world.
Many people I met in Tromsø told me that seeing the Northern Lights was the ultimate dream and the main reason to visit Northern Norway in winter. But what to expect and what to know before you go aurora hunting in Tromsø? Find out!
Before we continue with the Northern Lights, I just want to say that there are so many more reasons to visit Tromsø in winter. Seeing auroras is a wonderful experience, but the Tromsø region has a lot more to offer. You can read all about it in our previous post – best things to do in Tromso in winter.
And now back to chasing the Northern Lights in Tromsø…
TIP: If you stumbled upon this guide looking for the best Northern Lights tours in Tromso, this is the best small-group tour that I recommend the most. If you are mainly interested in photography, then check out this big-bus tour with professional photographers.
You can also read about our personal experience with Tromso Northern Lights tours further below, where we also compare big bus aurora tours vs. small group tours. Read on!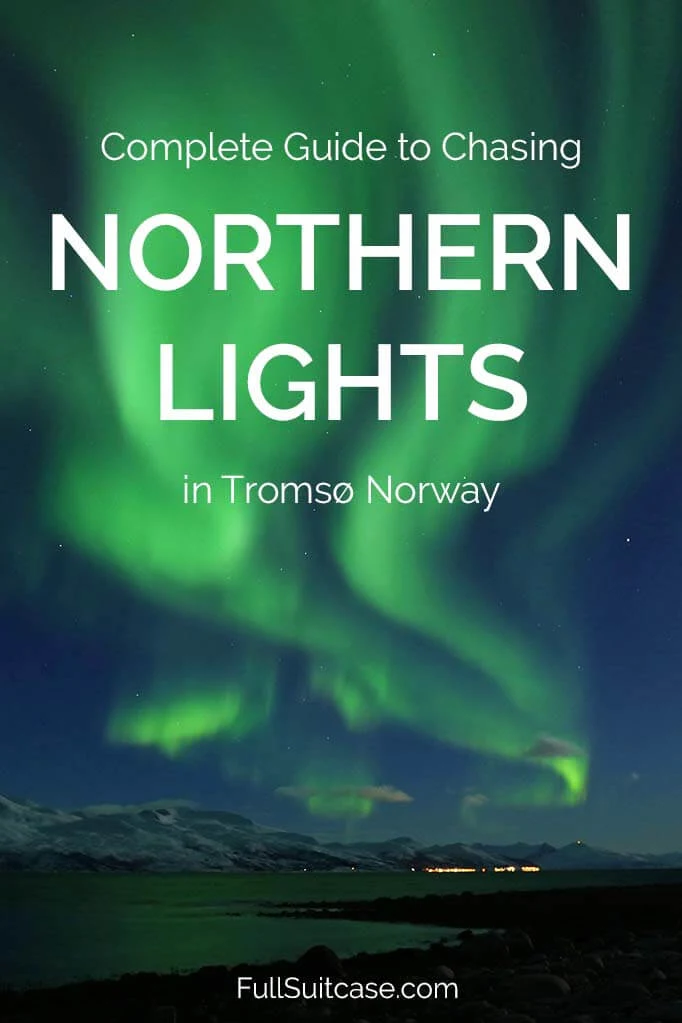 When is the best time of the year to see the Northern Lights in Tromso?
Generally speaking, the best time to see the Northern Lights in Tromso is from mid-September to April.
You may get lucky and see auroras even at the very end of August or mid-April. But if you want to increase your chances, it's probably best to come between October and March.
Northern Lights tours in Tromsø are bookable from the 15th of September until the 15th of April. So it's a good indication that the chances are probably still quite high as early as mid-September and as late as mid-April (see below for more information).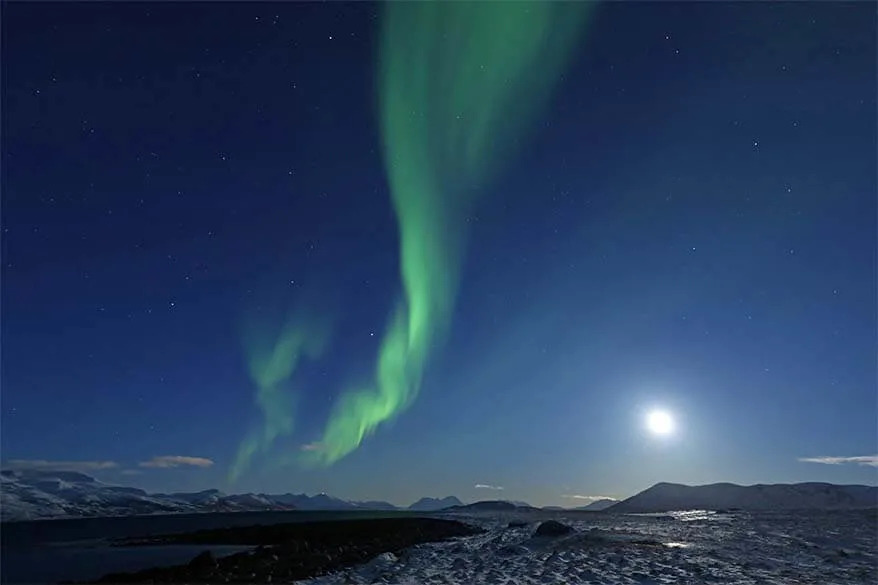 What is the best spot to see Northern Lights in Tromsø (and can you see auroras in town)?
The best way to see the Northern Lights is to go to a place where there is no light pollution. So ideally you travel far outside the city. That being said, sometimes auroras are really strong and it is possible to see the Northern Lights in town as well.
If you are in Tromso on a cloudless evening, one of the best places to go aurora hunting is up the mountain which can be reached by Fjellheisen cable car. If you are lucky, it will be an amazing spectacle as the views from there are simply stunning.
What time of the day can you see the Northern Lights?
Our Northern Light tour guides told us that usually, the best chances of seeing auroras near Tromso are late in the evening towards midnight.
But you never know – sometimes you can see them as early as 6 PM or as late as 6 AM, or they can be dancing the whole night too. So as long as it's dark, keep looking.
How big are the chances to see the Northern Lights in Tromsø?
As I already said, Tromso is one of the best places to see Northern Lights in the world. You need dark skies without (too many) clouds in order to see the auroras. So if it's really cloudy and snowing, it might be difficult.
On the other hand, Tromso has relatively stable weather. So if you are in the area for at least 3-4 days in winter, you should be able to catch the auroras at least once.
Our Northern Lights tour guides said that there are very few nights when they don't get to see at least some auroras. However, you won't easily see them in town, so you need to go looking for them. And if you don't know where to start, it might be wiser to join a guided tour (see further below).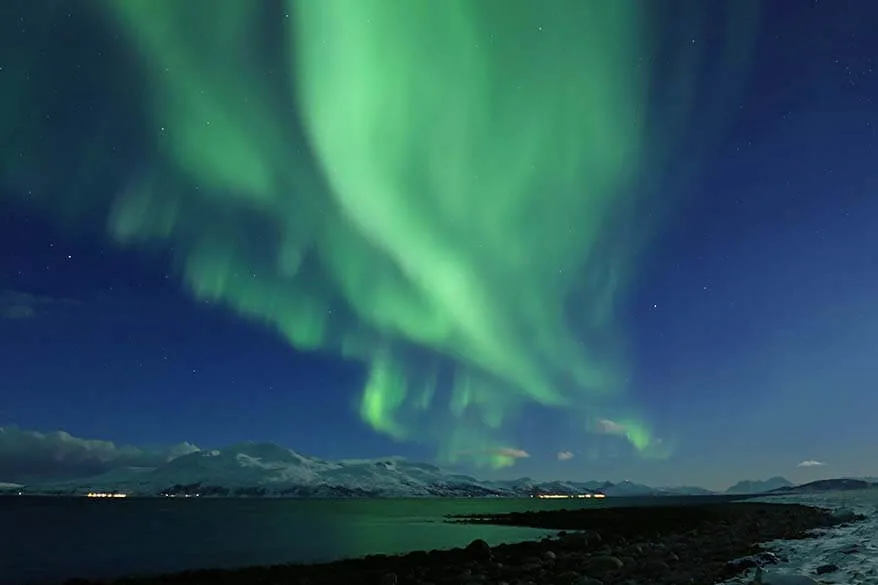 Where can I find the aurora forecast for Tromsø?
There are several websites where you can check the aurora forecast for Tromso (like this one by the Arctic University of Norway). But our local guides said that they aren't that trustworthy and certainly not if you check more than a few hours in advance.
Local guides said that they see auroras in Tromso practically every cloudless night in winter.
So it's more a matter of looking for a place with no light pollution and no clouds rather than following an aurora forecast.
What to wear when chasing the Northern Lights?
What to wear when hunting for the Northern Lights will depend a bit on how you are planning to do it. Small group tours provide thermal suits, whereas if you go on a big bus tour on your own, you'll have to do with your own clothing (for more explanation, please also see the comparison between the tours below). In any case, you have to dress really warm.
Here you can find our complete Norway winter packing list, it has a specific section on the clothing for watching auroras.
You can also download your copy of the Norway winter packing list by filling in the form below.
Can I see the Northern Lights without a tour?
Yes, of course, you can see the Northern Lights in Tromso without taking an organized tour. If you have a car, make sure to check the weather forecast (local cloud radar would be the most useful to keep an eye on) and look for a nice dark place outside of town.
You can also drive to several places on the same night. But if there are no clouds and you found a nice open spot with good visibility in all directions, you can just as well stay there and wait. If the aurora is visible that night, you will see it.
It might be a bit tricky to find the best spots and optimal conditions if you don't know the area very well, but it's definitely something you can also do on your own.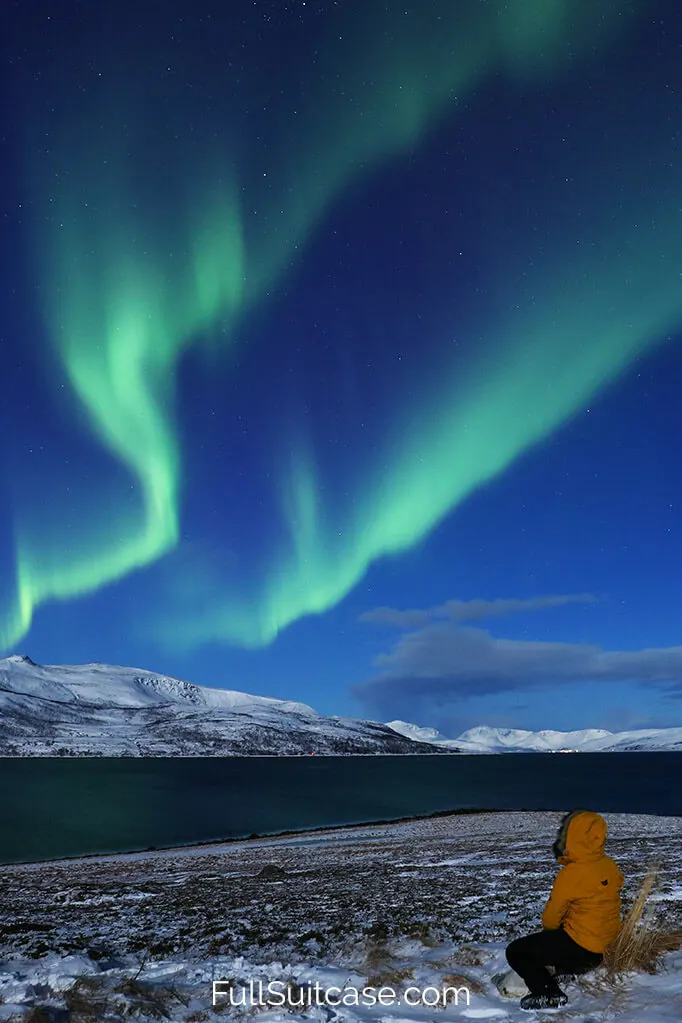 What are the best Northern Light tours in Tromso?
There are over 40 (!) different Northern Lights tours in Tromsø, so it might be difficult to decide which tour to choose. Before my trip, I was convinced that small group tours are better as they are more flexible, but my experience shows that it doesn't really matter. Further below, you can find more information on big-group tours vs. small-group tours. But first – my personal experience.
I joined two different aurora tours on two connective nights in Tromsø. The first night I went on a small group tour with a minibus (8 people). It was a very cloudy night and the chances of seeing auroras were very slim. There was just one area where the weather radar showed fewer clouds and so every single tour company in town drove to that same area that night.
In the end, the clouds parted a little bit and we got to see a rather weak aurora. It didn't really matter which tour company you went with – everyone was at the same place and everybody got to see pretty much the same.
The second night the skies were clear and so the chances of seeing the auroras were much bigger. That night I was traveling on a big group Northern Lights bus tour (there were two buses actually). They brought us to a beautiful remote beach that was so big that people just scattered in all directions and nobody disturbed anyone. I saw several small group tours on the same beach that night as well.
We were lucky to see the most amazing aurora display that lasted for several hours. Once again – it didn't really matter which tour you were on.
Contrary to what I expected, I preferred this big bus Northern Lights tour. It was extremely well organized and had everything I needed. It provides comfortable transportation to the place where the chances to see auroras were best for that night.
There are guides to answer all your questions and people to hang around and chat with if you feel like it. At the same time, you are free to do your own thing and have the freedom to go where you want, take pictures, and never have the pressure to join the group when you don't feel like it.
But if you are less interested in photography and more in the experience, then a small group tour is definitely more special. In that case, I recommend this highly rated aurora tour (the BEST Tromso Northern Lights small-group tour). After all, there are few experiences that can compare to roasting marshmallows and chatting by the bonfire with the Northern Lights dancing above you…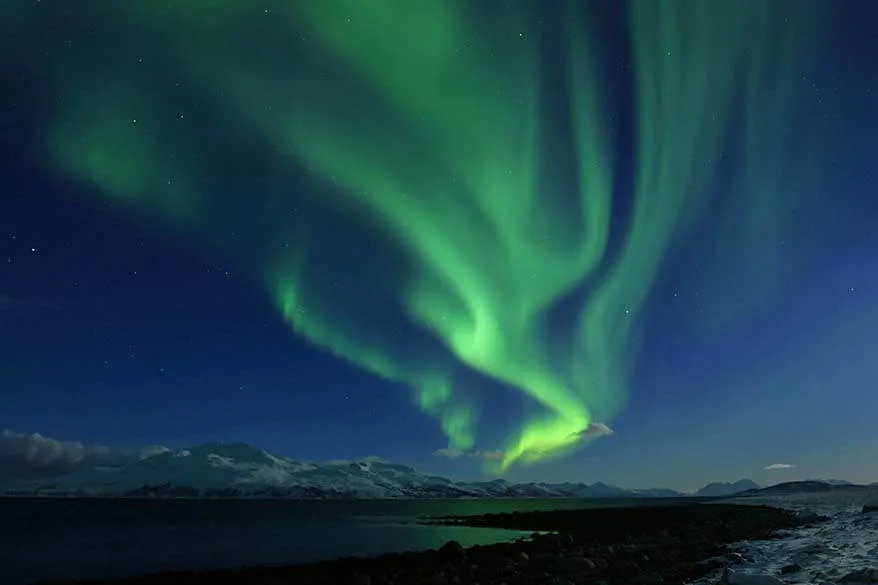 Northern Lights tours comparison – small group vs. big bus
As I said, your chances of seeing the Northern Lights in Tromsø are pretty much the same, no matter which tour you choose. That doesn't mean that small-group and big bus tours are identical. Not at all!
Below you can find my observations as to the main differences between the small group and big bus Northern Light tours in Tromsø.
What to expect on a SMALL GROUP Northern Lights tours in Tromsø
Thermal suit is included.
They put up a bonfire and serve a warm meal (soup, some local specialty, or sausages that you can bake – depends on the tour). They also offer some warm drinks and some cookies. Our tour guide had a bag of marshmallows we could roast by the fire. Sitting by the bonfire in winter is a nice experience and something extra to keep yourself busy while waiting for the Northern Lights.
Small group tours usually also have tripods available and the tour guide will help you with the camera settings to help you get a good picture of the Northern Lights. Most guides also take pictures with their own camera. The pictures are offered to you for free after the tour.
In general, small group tours last a bit longer (7-8 hrs), they drop you off at your hotel after the tour.
If the weather is really bad and the chances of seeing the auroras are very slim, they usually contact you in order to reschedule the tour.
Small group tours are of course more expensive than the big bus tours, but you also get more for your money. The price differences are quite big between the tours, so keep this in mind. This highly-rated small group aurora tour offers the best price/ quality ratio at the moment.
TIP: Be sure to book your Northern Light tour in advance. When I was in Tromsø in the first week of March, all the small group tours were fully booked for the nights when the weather was good (also because they rescheduled people from the previous nights and those who booked in advance, of course, got priority). If the tours above are fully booked, check for more tours here.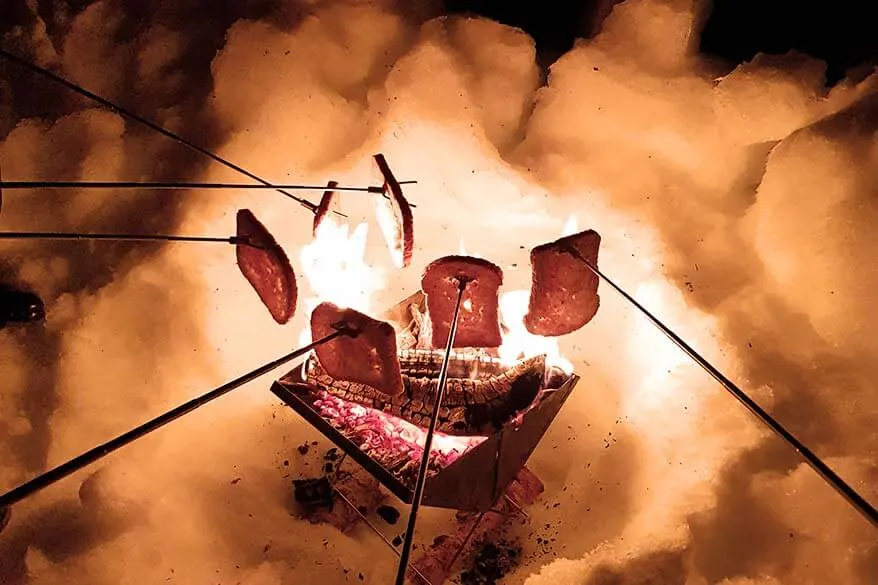 What to expect on the Northern Lights BUS TOURS in Tromsø
Big bus Northern Lights tours are extremely well organized. Bus tours have a somewhat stricter schedule, so they are less flexible in terms of staying longer. On the other hand, it might be an advantage as well – they will not go back to town earlier just because one or two people decide that they had enough.
They have dedicated guides who don't drive and therefore have the time to tell you more about the Northern Lights and answer any questions you may have.
The guides are usually also experienced photographers who help everybody with the settings of their cameras, answer questions, etc. They also have their cameras available to take pictures of you. One big difference is that you don't get these pictures for free. After the tour, you receive a link to their website where you can view and purchase the images if you want to. It's not cheap, but it's not something that is obligatory either. However, if you want a really nice souvenir from a memorable night, the guides will make sure to get a really nice picture for you. I found that they try really hard and all the pictures I saw after the bus tour were of excellent quality (see mine below).
Big group tours don't offer thermal suits. However, they always keep the bus warm and people who want to can just stay on the bus and only come outside when there is something to see. I spent hours outside and it wasn't that cold at all. You just need to be dressed right for the cold. Check our winter packing list for Norway.
They also offer all kinds of warm drinks and cookies on the bus, so you can always warm up with a cup of hot chocolate or tea.
The main big advantage of the big bus tour is that they have toilets on the bus, which may be very useful for a 5-7hr tour, especially if traveling with children.
From what I understood, big bus tours don't offer free cancellation in case the weather isn't great. They still go and do their best to see the auroras. If you don't see the Northern Lights the first night, usually you can book a tour for the next night at half the price.
TIP: Here you can book the big bus aurora photography tour that I did (and highly recommend for photographers). It's also somewhat cheaper than most other Tromso aurora tours.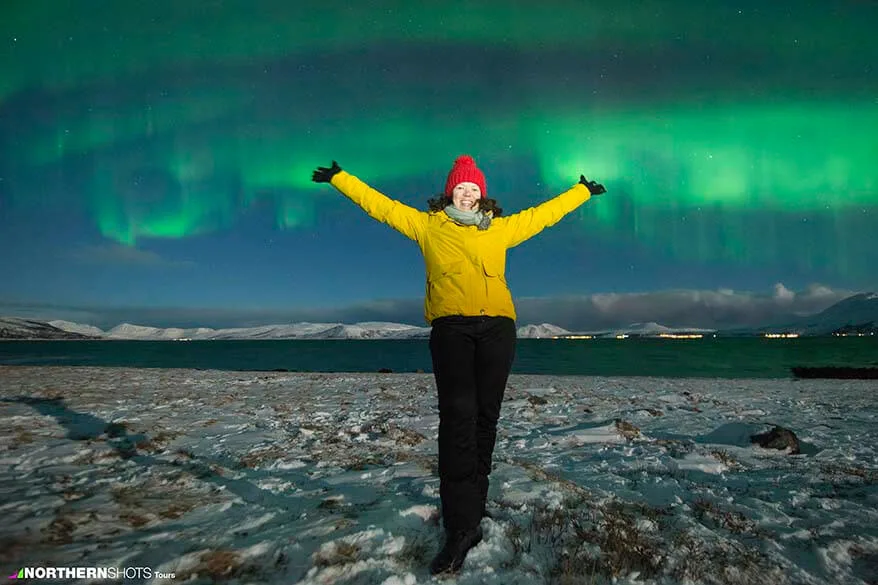 Northern Lights tours in combination with other activities
Since the days are short in the Arctic in winter, many companies offer a wide range of activities that can be done in the evening.
You can choose to go dog sledding, reindeer sledding, and many other tours at night. If you are lucky, you will also get to see the Northern Lights during one of these tours.
However, in these cases, you are not flexible in terms of location. It can be an amazing experience, but it is not really comparable to booking a dedicated aurora tour where they drive to places where the chances of seeing the auroras are highest for that specific night.
I went on a reindeer sledding tour near Tromso one night. We didn't get to see the auroras that night, but it was still a really nice experience. I imagine that it would have been extraordinary if auroras were visible too.
Try to see it that way – if there are no auroras, at least you get to do something else for your money. And our guide said that they get to see auroras on average 3 out of 4 nights.
READ ALSO: Best Tours in Tromso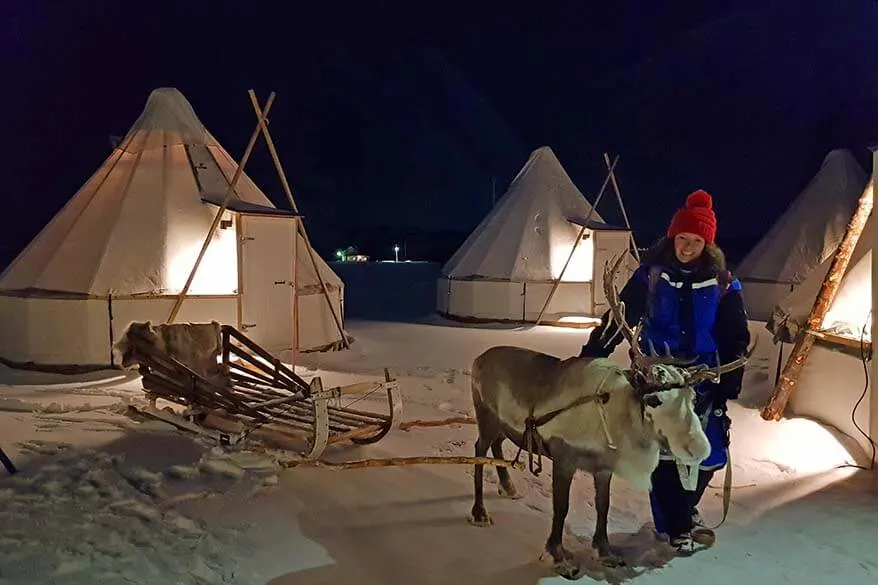 So, this is my experience when searching for the Northern Lights in Tromso. As always, feel free to leave a comment below if you have a question that I forgot to cover in this post.
TIP: If you are interested in the aurora photography, don't miss our beginners' guide to Northern Lights photography.
More tips for your winter trip to Tromso:
If you found this post helpful, don't forget to bookmark it and share it with your friends. Are you on Pinterest? Pin this image!