Planning a trip to Iceland in winter and wondering where to go and what's the best way to plan your Iceland winter itinerary? This article features the best one week Iceland trip itinerary for winter months. Find out!
On our first trip to Iceland in June, we have been caught up in a terrible winter storm with icy roads and road closures in the Northern part of Iceland. So when planning a winter trip to Iceland, I figured that doing the entire Ring Road and visiting the Eastern and Northern parts of Iceland in winter is probably not the best idea. So I decided to look for a winter trip itinerary focusing on the South Coast of Iceland, and it turns out that, indeed, this is the best area that you can visit in the winter.
Below is our Iceland winter trip itinerary with suggestions of what you can see and do on a road trip in Iceland in winter months, from about October to March – April. We made this exact trip in November.
This 7- day Iceland winter itinerary brings you to all the main landmarks along Iceland's South Coast. It takes into account short daylight hours in Iceland in winter and leaves you sufficient time for sightseeing, some winter activities, and even some hiking. Find out!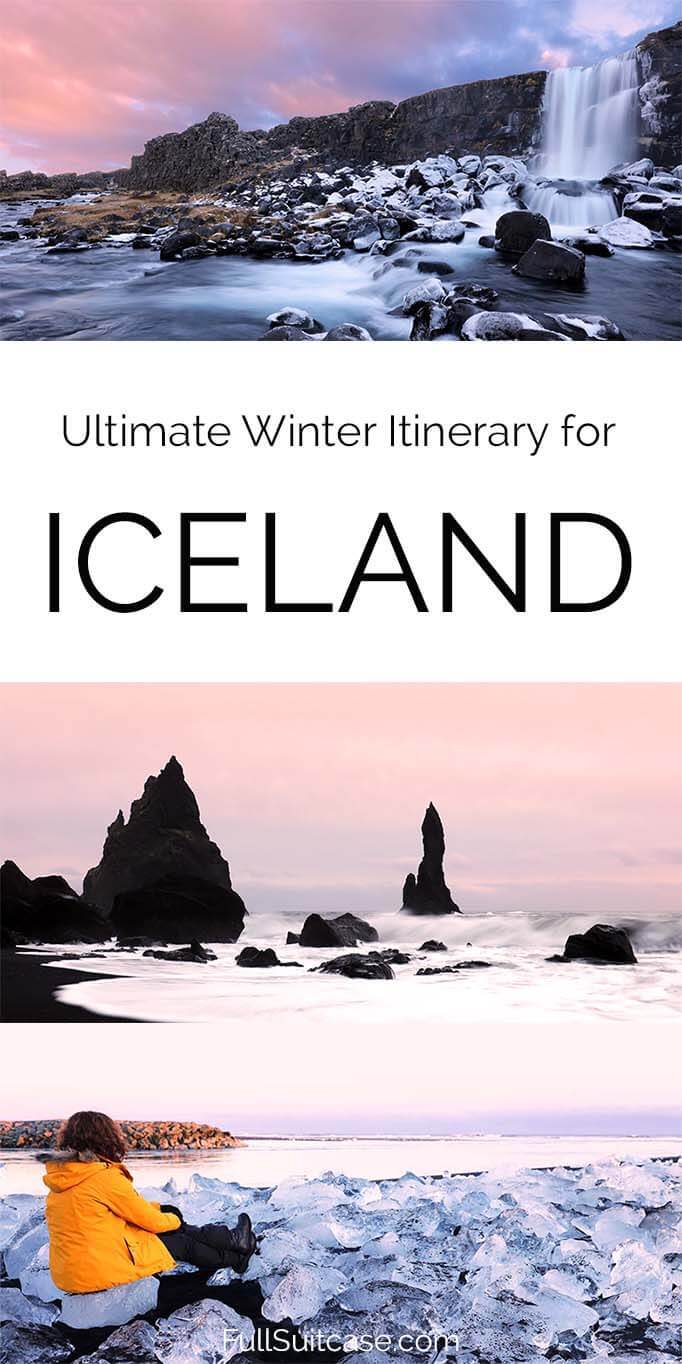 7 – day Iceland winter trip itinerary and map
Just one note before I start with our Iceland winter trip itinerary. The days are short in Iceland in winter, so you cannot do as much sightseeing as in summer. You really have to keep this in mind when creating your perfect Iceland self-drive itinerary during winter!
We visited Iceland in mid-November and we always started our day at 8.30 AM, before sunrise. By the time we were back at our hotel (at the latest at 5 PM), it was already dark. It was light from approximately 9 AM till 4 PM in November in Southern Iceland. The days are even shorter in December-January, so keep this in mind when planning your winter trip to Iceland.
READ ALSO: Iceland in Winter: Useful Info & Travel Tips
You will need to rent a car for this trip! You can find some of the best deals for car rental here.
Important! If you do not have winter driving experience, do yourself a favor and join a tour instead of driving. Here you can find more information about driving in Iceland in winter. Here you can find a great 3-day winter tour of South Iceland that covers all the 'must-see' places from our winter itinerary.
In addition, you can stay in Reykjavik on the first and the last days of your trip and visit the main Reykjavik attractions including the geothermal baths of the Blue Lagoon and/or Sky Lagoon. That way you visit most places from this itinerary without having to drive.
TIP: If you absolutely want to do the entire Ring Road of Iceland in winter, do yourself a favor and go with an organized tour and a local guide. The roads in the north of Iceland are even more challenging than in the south! Here you can find some 6-day trips like this one that could help you visit most of the best places without driving.
And if you are planning to drive – read on for the best self-drive Iceland winter road trip itinerary!
Best self-drive Iceland winter itinerary:
DAY 1 – Arrival in Reykjavik Keflavik Airport and Drive to Hveragerdi
As our flight arrived in the afternoon, we drove straight to our hotel in Hveragerdi. Hveragerdi is a small town that is better situated for Iceland winter trip than Reykjavik as it will save you quite some unnecessary driving in the dark. Furthermore, it has a great geothermal swimming pool. This is an ideal way to spend your first evening in Iceland!
If your flight arrives early and you have more time to spare, you could opt to spend several hours at the famous geothermal pool Blue Lagoon (it's located close to the airport). However, the Hveragerdi pool is a much cheaper and less touristy option.
There are several restaurants in this little town and I recommend eating out as there is more choice and the prices are lower than at the hotels.
Note that we didn't stay in Reykjavik at the beginning of the trip and drove straight to Hveragerdi where we would stay for 2 nights. Hveragerdi is well located for a visit to the Golden Circle and it saves quite some driving time for the rest of your journey further down the South Coast of Iceland.
We stayed at Hotel Eldhestar for 2 nights. It was pretty basic, but we were only there to sleep, so it was ok. You can find more Hveragerdi accommodation options here.
The real reason I traveled to Iceland in winter was my long-time dream to see Northern Lights. So on the first night already we went 'hunting' for auroras. They were very vague and better visible in the pictures than in reality, but it was just the first night, so it gave us hope.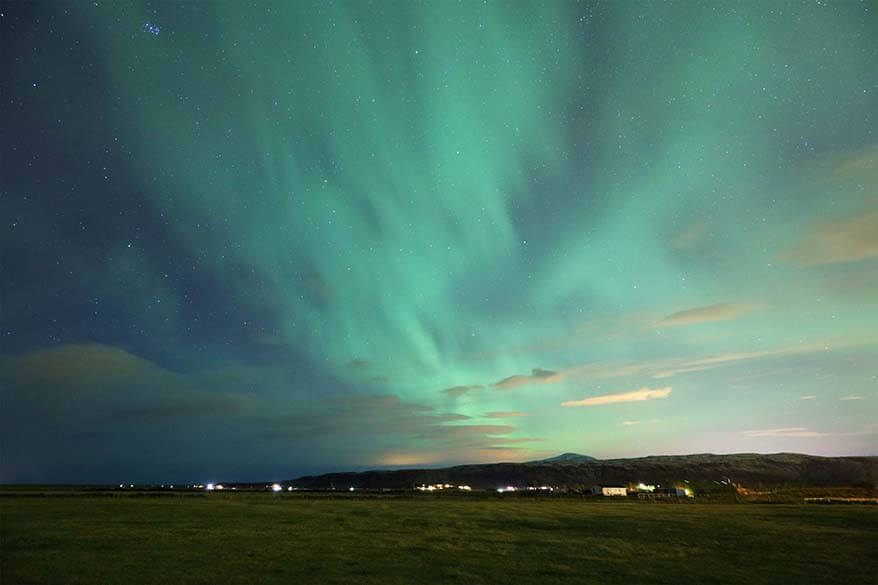 DAY 2 – Golden Circle: Thingvellir NP – Geysir area – Gullfoss Waterfall
Iceland's must-do day trip is the visit to the famous Golden Circle. It's possible to do it as a day trip from Reykjavik as well.
We started our day at Thingvellir National Park. It was just magical in a soft morning light of a never-ending sunrise…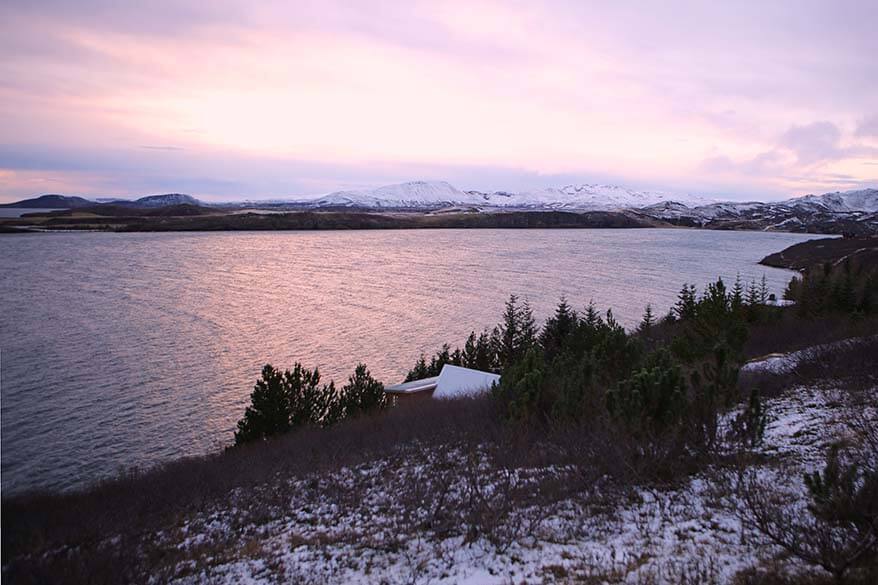 We then continued to the Geysir area where we also had lunch. Strokkur Geyser is the main attraction here. It erupts every 5-7 minutes, so you can watch it in action several times.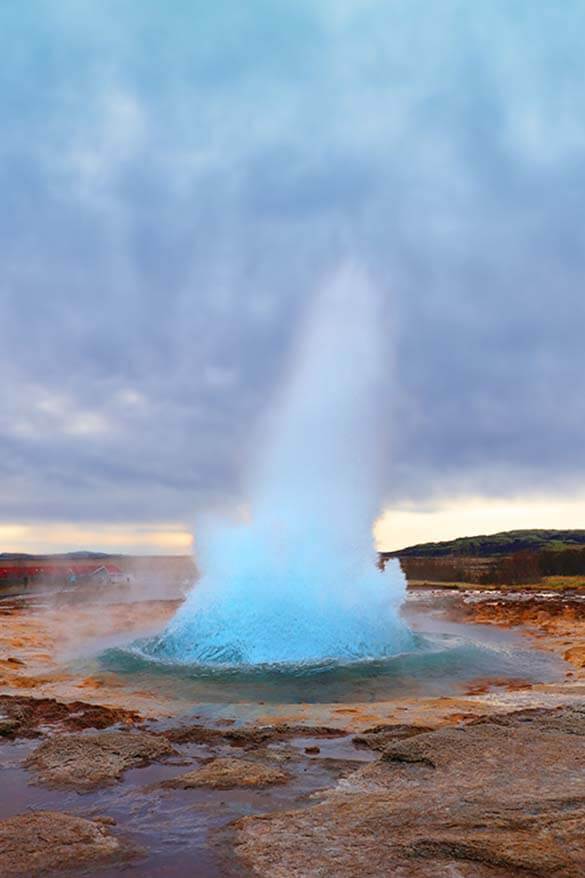 In the afternoon we visited one of Iceland's most beautiful waterfalls, the Golden waterfall – Gullfoss.
TIP: end your day in one of the nicest geothermal pools of Iceland, Secret Lagoon. It's ideally located on the way from Gullfoss back to your hotel in Hveragerdi. Alternatively, there is also a more expensive option – Laugarvatn Fontana Geothermal Baths, which is also located in this area.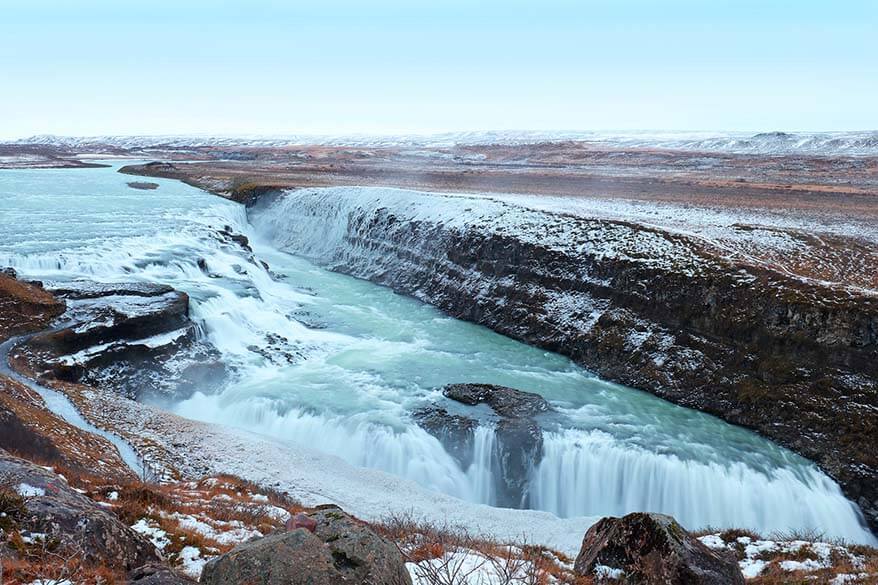 DAY 3 – Skogafoss Waterfall – Glacier Hiking – Reynisfjara (Vik)
Our first stop on day 3 of our Iceland winter trip was at another iconic landmark of Iceland – the Skogafoss waterfall.
If it's not too cold or slippery on the stairs, I encourage you to make an effort and go all the way to the top of the waterfall. The views are well worth the steep climb!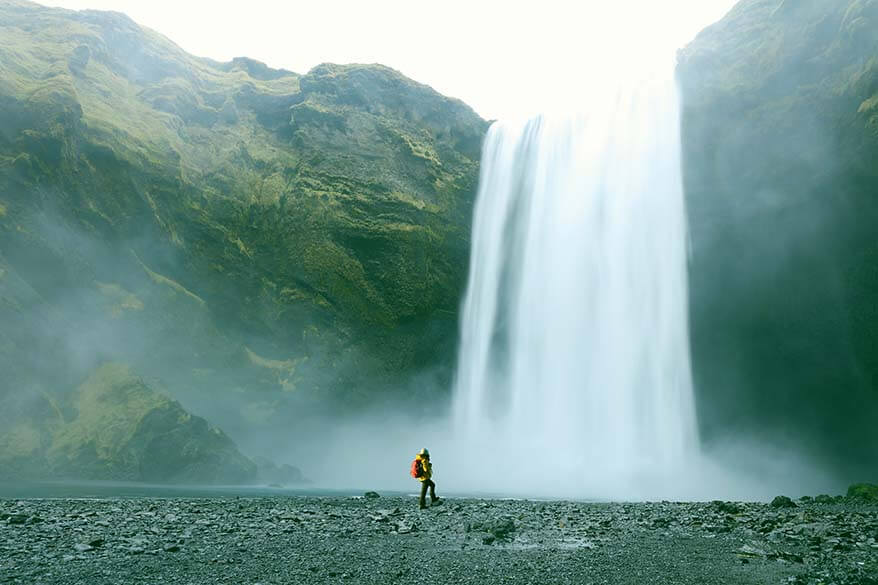 We had a quick lunch on the way and continued to Solheimajokull glacier for a guided glacier hike.
TIP: book your glacier hike in advance – this will help you plan your time better and you will be certain you can do this activity. Otherwise, it might be difficult to even know where to look.
Vatnajökull Glacier Blue Ice Cave Tour is another good option for those who want to visit an ice cave. It starts from Jokulsarlon glacier lagoon and can best be done on day 4 of this itinerary.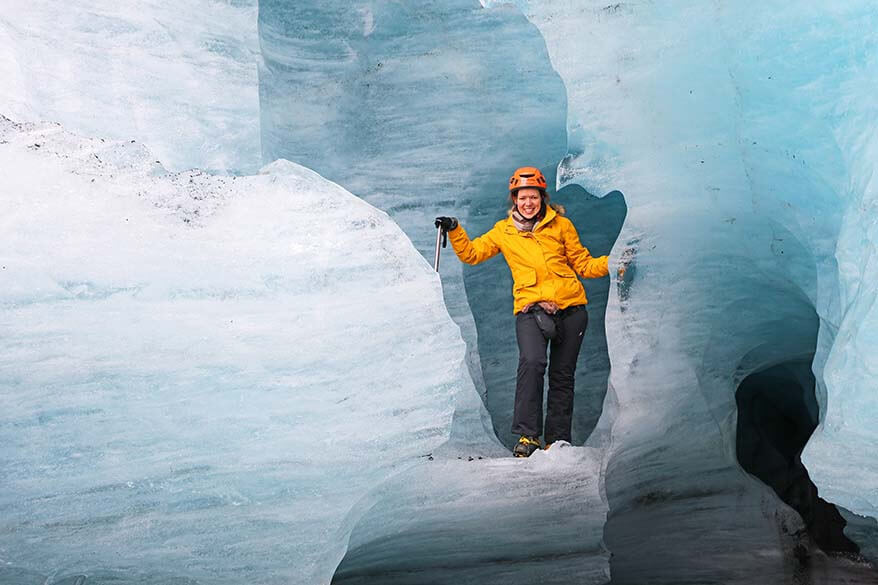 If glacier hiking or ice caving is not your thing, you can visit Skogar museum. It is divided into three parts: folk museum, turf houses, and transport museum. The turf houses are well worth seeing.
In summer you could easily do both – glacier hiking and Skogar museum, but in winter your sightseeing time in Iceland is limited and you have to choose and plan well.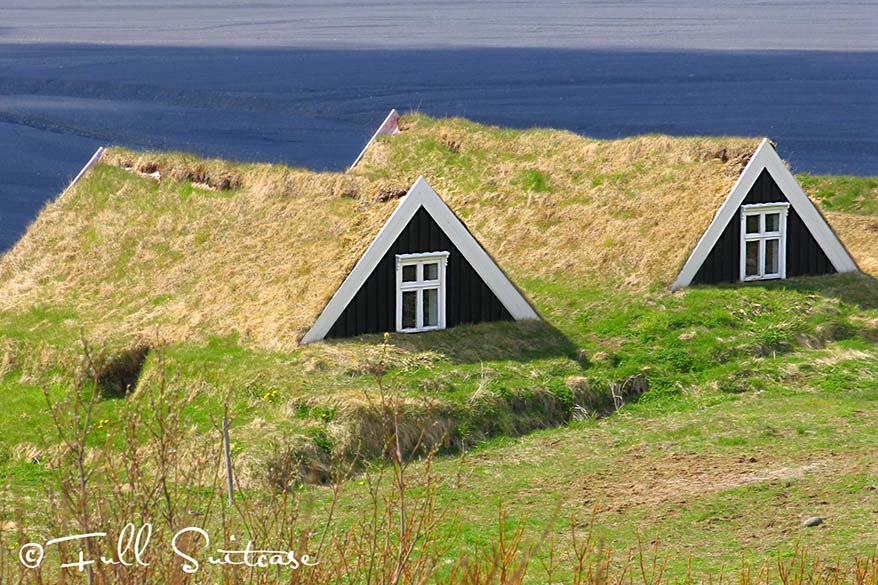 After the glacier walk, we drove to the beautiful black sand beach at Reynisfjara (near Vik). This beach is famous for its basalt columns and attracts lots of people.
This is really one of the must-sees in Iceland and the beach is beautiful and worth a visit in any season and in any weather.
Good to know: The waves here are very sneaky, often flooding the entire beach unexpectedly. It often happens that people are swept off their feet and there have been quite a few serious accidents too. So never walk close to the water here and never turn your back to the sea.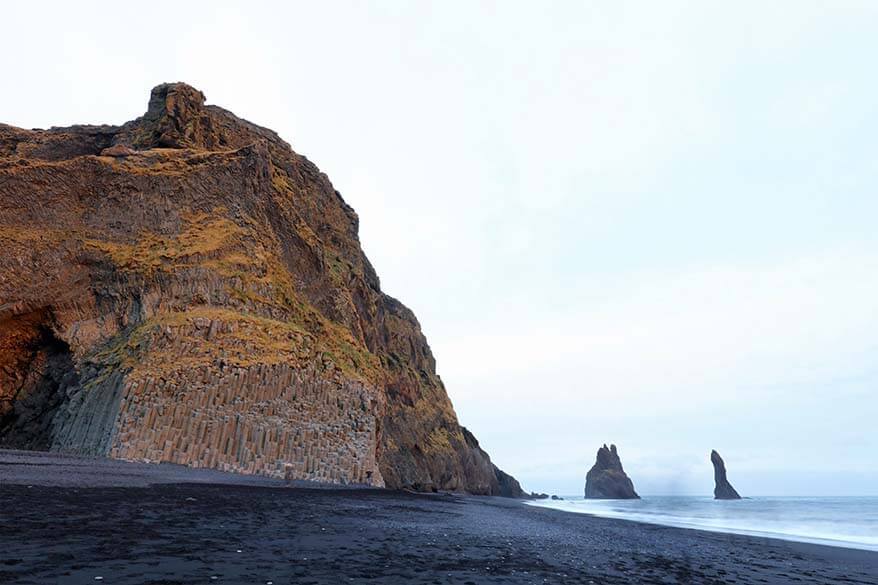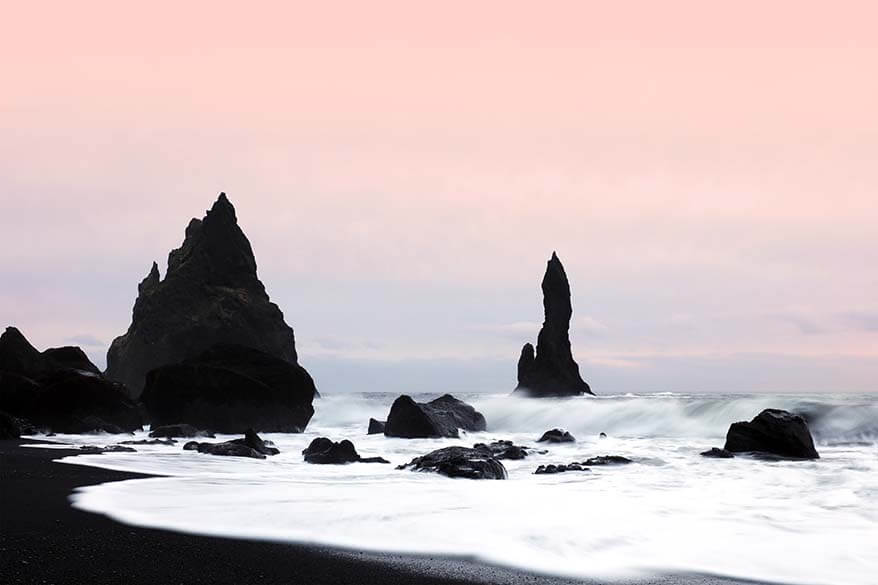 It was so beautiful on the beach that we stayed until the dark. Sunsets are truly out of this world in Iceland in winter!
TIP: There is a new attraction in Vik – Icelandic Lava Show. It's indoors, is open late every day, and it would be a very nice addition to this winter itinerary. If you want to see and feel the heat of real lava, don't miss this unique opportunity. Book your tickets in advance!
We recommend staying in the Kirkjubaejarklaustur area. On this trip, we stayed at Hotel Laki. Some other recommendations based on our other trips in the area include Glacier View Guesthouse in Hrífunes or Magma Hotel in Kirkjubaejarklaustur.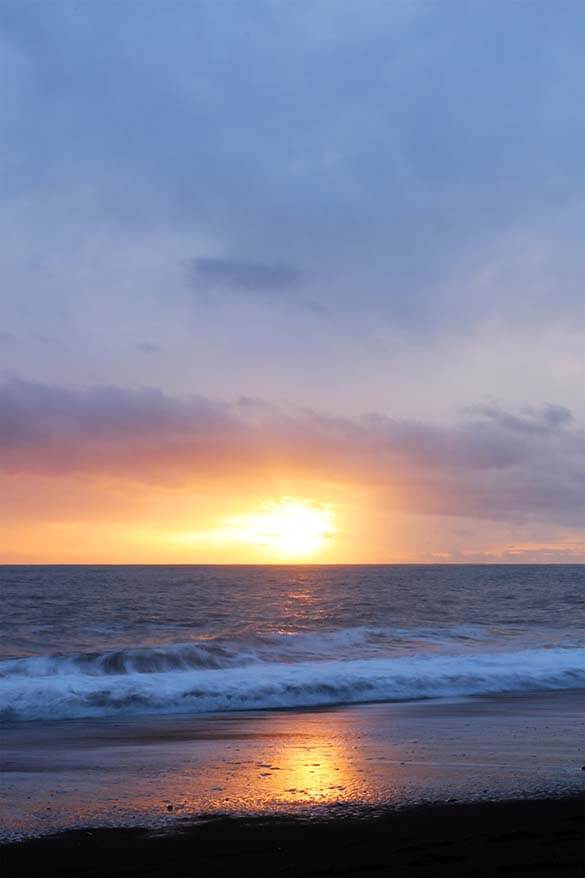 DAY 4 – Vatnajokull Glacier – Jokulsarlon Glacier Lagoon – Diamond Beach
On the fourth day of this winter trip, we continued all the way up to the famous Jokulsarlon Glacier Lagoon. Our first stop was at Svinafellsjokull where we made a short walk to one of the many tongues of Vatnajokull glacier.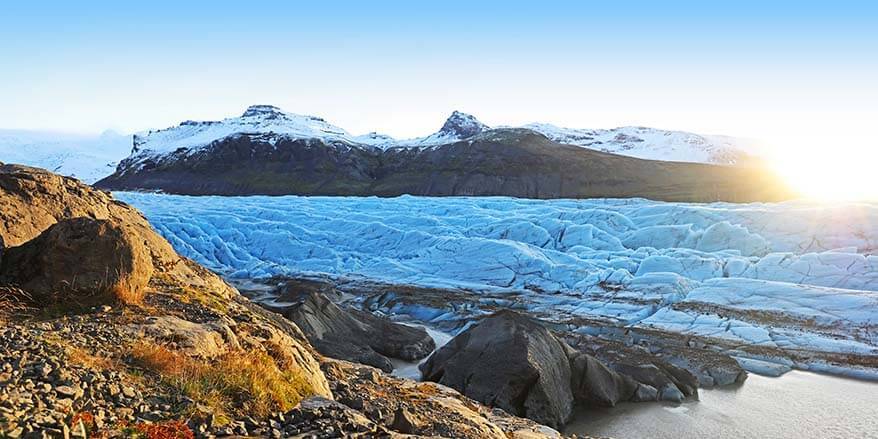 In the early afternoon, we reached Jokulsarlon glacier lagoon. If there is one place you don't want to miss in Iceland, it's Jokulsarlon! We were extremely lucky with the weather and the glacial lake was simply spectacular.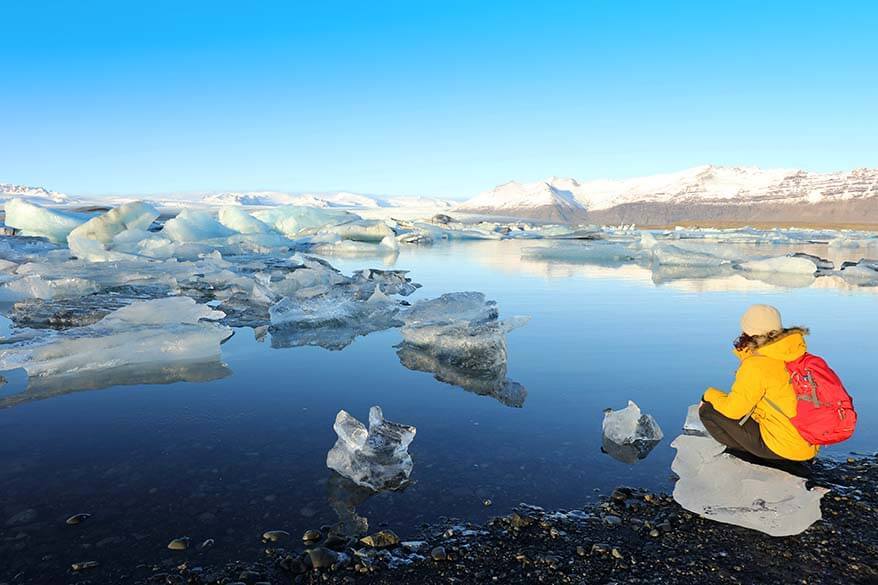 TIP: Don't miss Diamond Beach just across the road from Jokulsarlon, and certainly when visiting Iceland in winter. Cold temperatures and the wind turn this coastline into an amazing winter wonderland.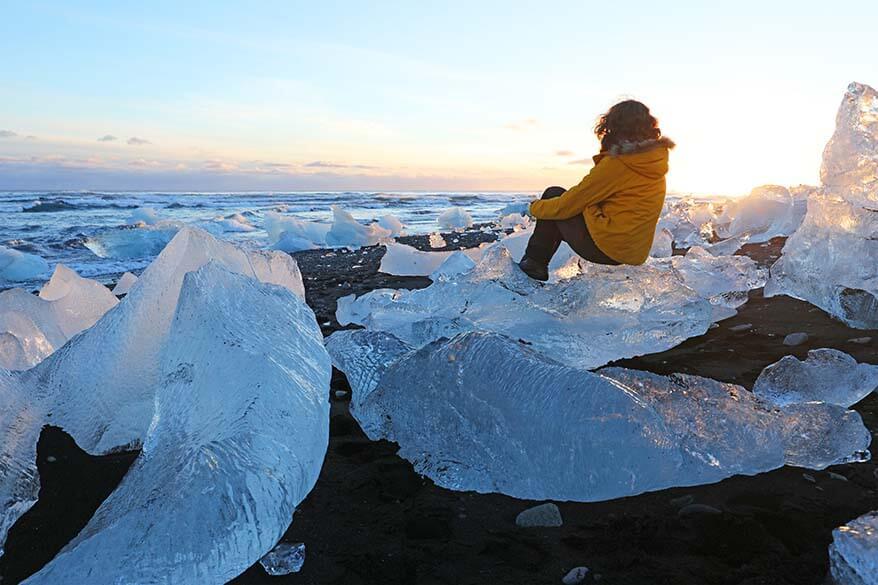 We stayed on Diamond Beach till sunset and seeing all those icebergs lit up with the setting sun was an unforgettable experience. I found Jokulsarlon Diamond Beach more impressive in winter than the famous Jokulsarlon glacier lagoon itself.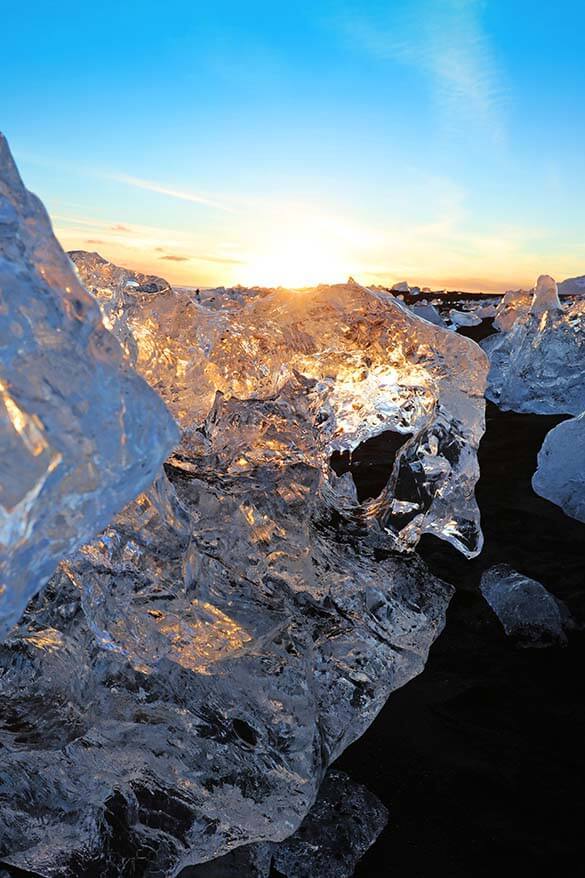 Our hotel for the night was Hotel Smyrlabjorg. If I were to go now, I would recommend staying at the newer Fosshotel Glacier Lagoon – it's the nicest hotel in the area! Alternatively, you can find more information about Jokulsarlon accommodation here.
The amazing Northern Lights display we witnessed that night exceeded all our expectations. But so did all the rest! I loved Iceland in winter and would have loved it just as much even if we hadn't seen any auroras.
READ ALSO: All You Need to Know for Seeing the Northern Lights in Iceland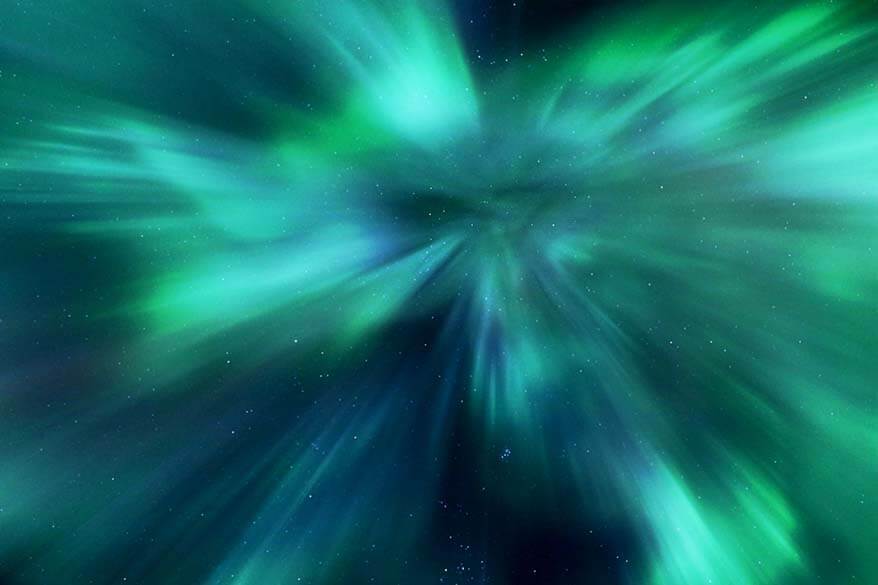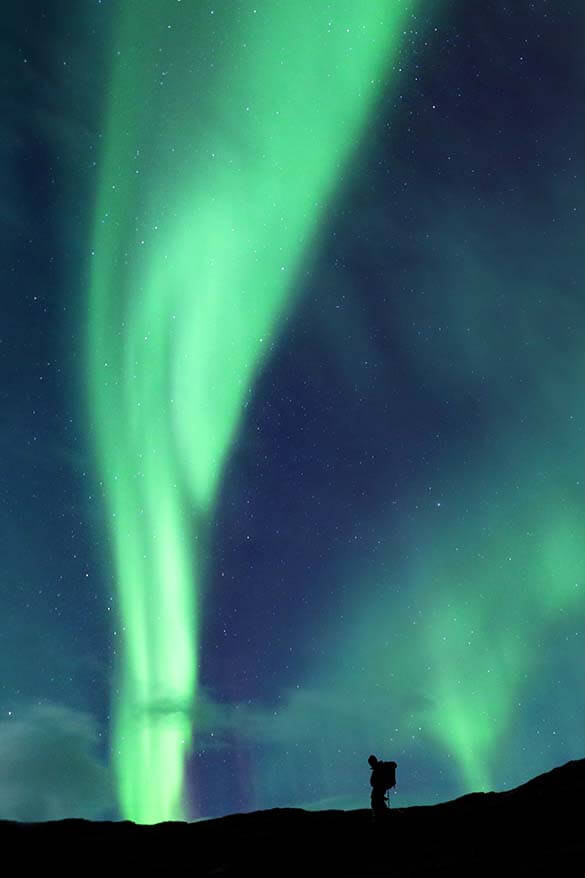 DAY 5 – Jokulsarlon – Fjallsarlon – Skaftafell
We started our day early and made a quick stop at Jokulsarlon glacial lagoon at sunrise. We then continued to the nearby Fjallsarlon glacier lagoon. It's smaller and (much) less visited than Jokulsarlon, but it's not to be missed!
TIP: If you travel here before mid-November, you can do boat tours between the icebergs. Unfortunately, boats don't run in the winter months (some stop in September, others in October, and some run till mid-November).
TIP: If you are doing this trip later in the winter (February – April), you could easily add Stokksnes to this itinerary. It's located a bit further east of Jokulsarlon Glacier Lagoon, and you could drive there first thing in the morning on day 5 or in the afternoon on day 4 of this itinerary.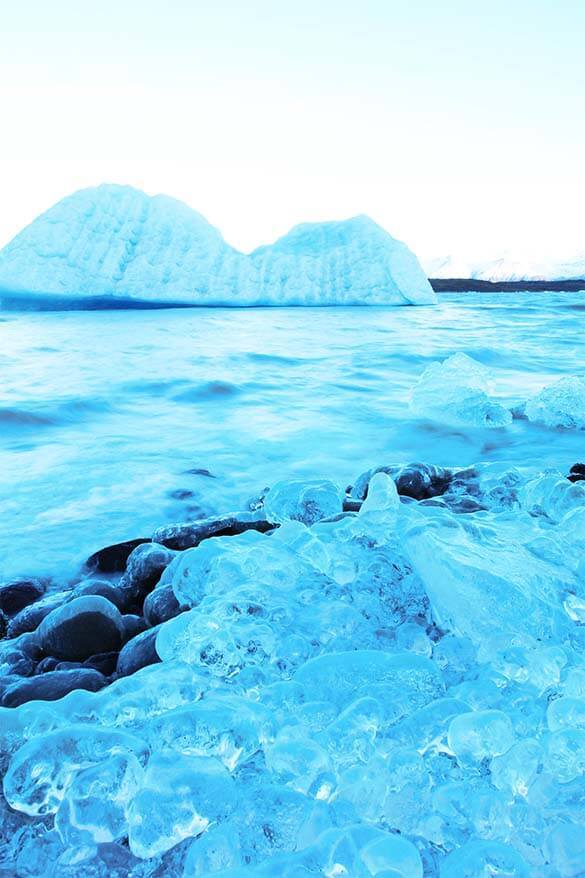 We then continued to Skaftafell, now part of Vatnajökull National Park. Summer or winter, you should not skip Skaftafell. It's a beautiful area with lots of hiking trails.
During this Iceland winter trip, we hiked to the famous Svartifoss waterfall and continued on the Sjónarnípa trail. The views were simply amazing!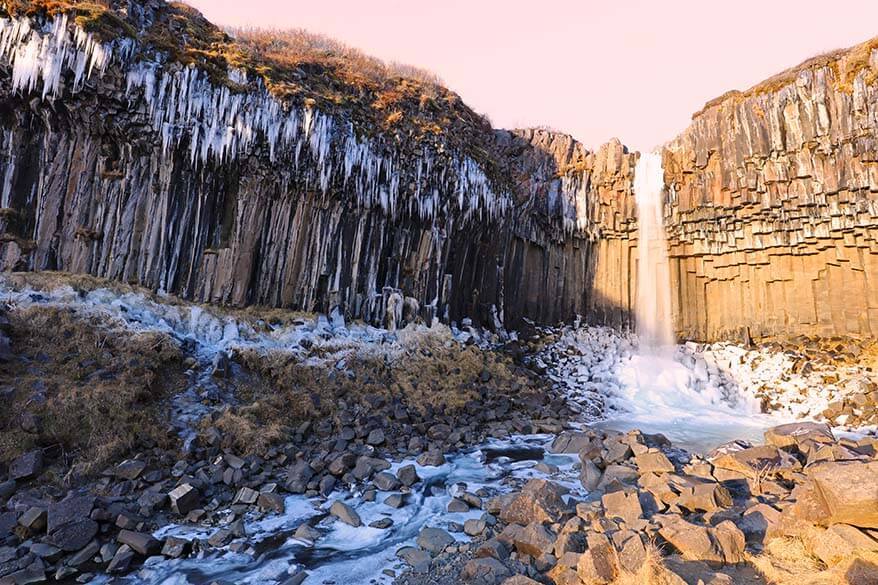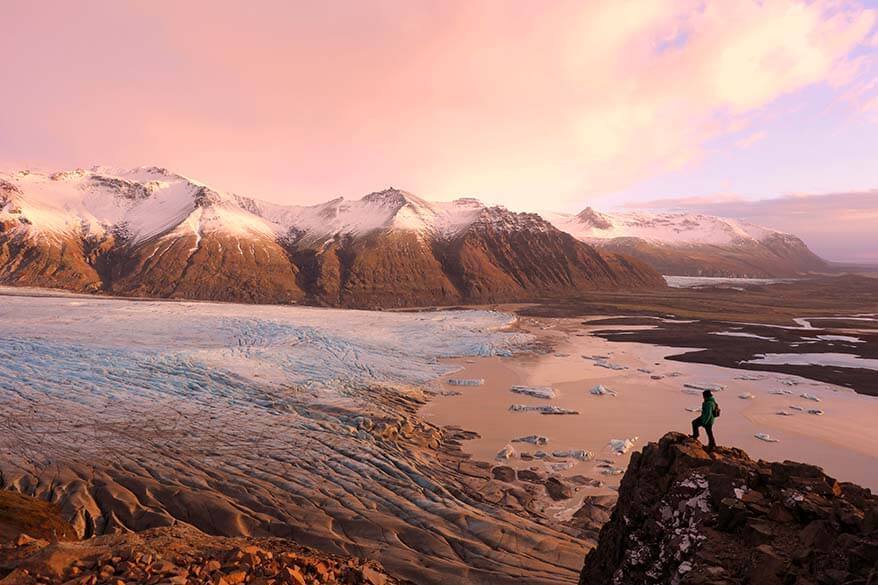 During our previous trip, years ago in summer, we did the Svartifoss – Sjónarsker – Sel walk and the walk to the glacier Skaftafellsjökull.
There are many hiking trails in Skaftafell National Park and quite some of them can be accessible in winter. But it's best that you inform about current conditions at the visitor center before starting any walk.
Alternatively, make an ice cave tour at Skaftafell. These tours run from October to March – mid April and are one of the best things you can do in Iceland in winter!
We stayed in the Kirkjubaejarklauster area, in the same hotel as on DAY 3 of this itinerary.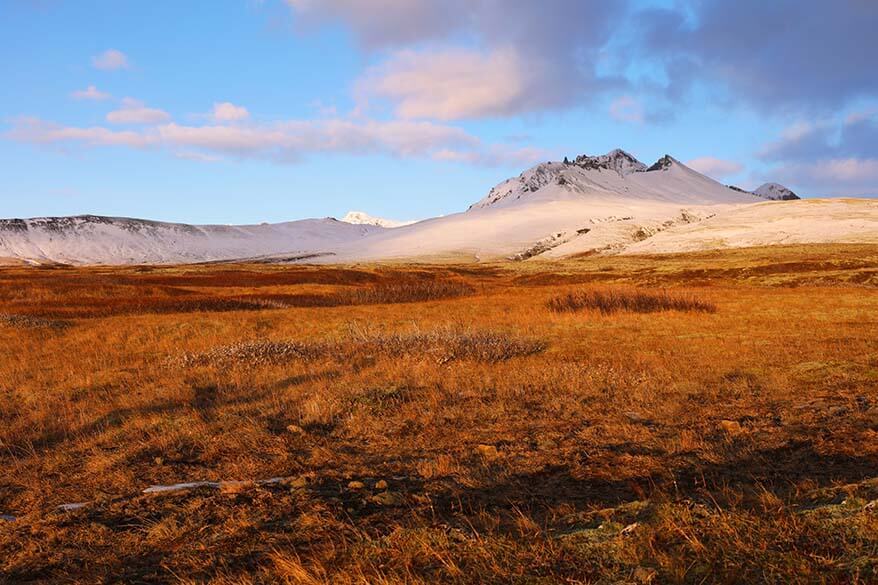 DAY 6 – Fjardrargljufur Canyon – Eldhraun Lava Field – Seljalandsfoss Waterfall
We started our day at another iconic landmark of Iceland – Fjardrargljufur Canyon. It was so cold that I can't even try to explain it in words, but we still made a short walk at this majestic canyon.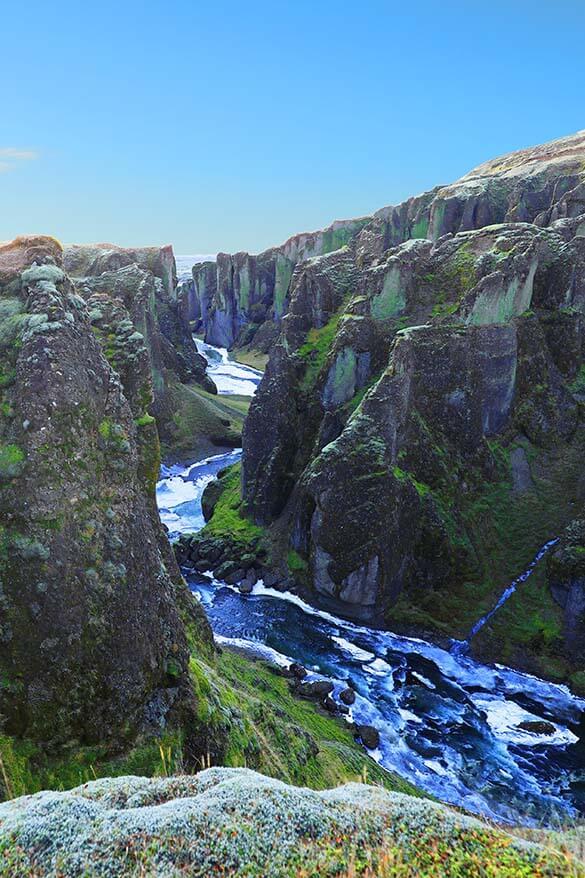 Afterwards, we drove through Iceland's largest lava field – Eldhraun – and made a short stop to admire this surreal landscape.
Eldgjárhraun, to the east of Mýrdalssandur, is one of the largest lava flows that ever occurred, during a massive volcano eruption in 974. The dimensions of this lava field are immense – some 700 km2. For comparison, the total area of Singapore is 648 km2.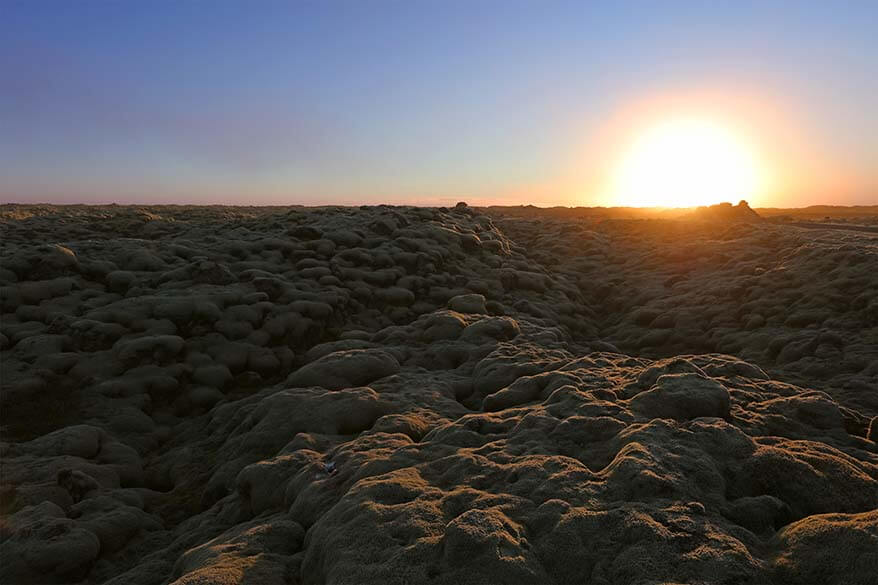 Continuing our journey back in the direction of Reykjavik we visited Dyrhólaeyjarviti lighthouse and made a coastal walk from there to Kirkjufjara beach below.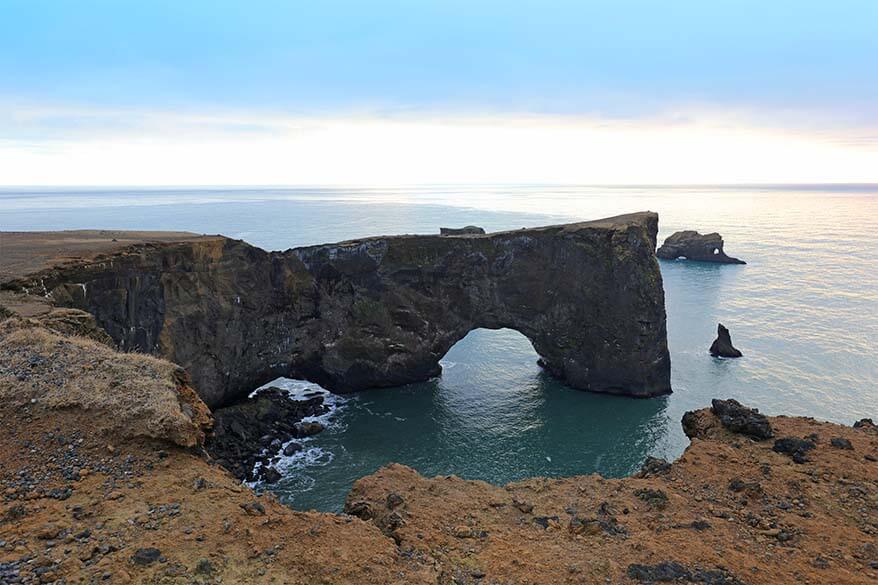 The last stop today was another famous waterfall – Seljalandsfoss. It had been freezing cold over the last few days and the area close to the waterfall was completely frozen. We could hardly walk or even stand here. This is the reason you should pack ice cleats when visiting Iceland in winter!
Needless to say, the path behind the waterfall was closed, but it was still unbelievably impressive. Maybe even more so because it was frozen in winter.
We ended our day and our Iceland winter trip in Reykjavik.
We stayed at the Fosshotel Reykjavik for 2 nights. Here you can find our complete guide to the best places to stay in Reykjavik.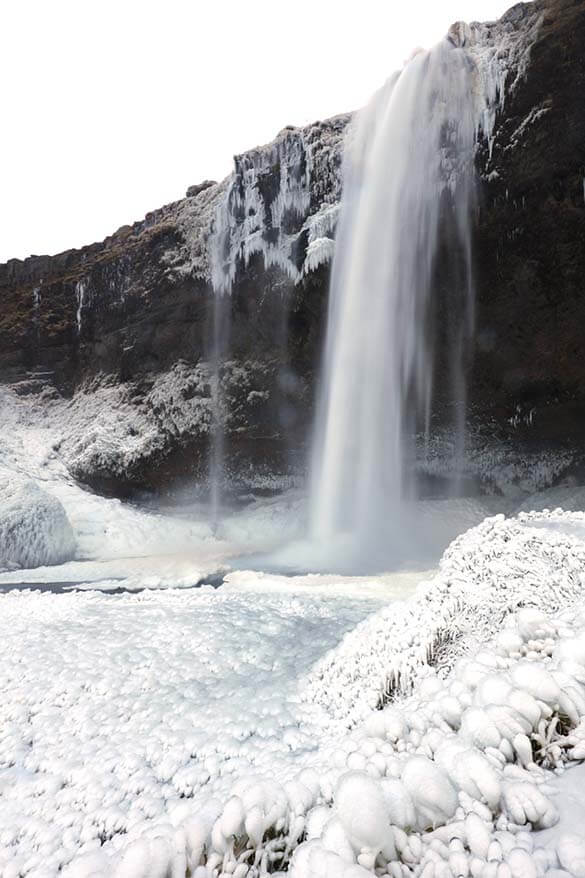 DAY 7 – Reykjavik + Blue Lagoon or Sky Lagoon
Now I'm not going to make myself popular with Icelanders I suppose, but in my honest opinion, one day is enough for Reykjavik, especially if you have limited time in Iceland. So on this winter trip, we didn't spend too much time in the city. Here you can read my observations if Reykjavik is worth visiting.
Update: As I'm updating this post after several more recent trips to Iceland, I have to admit that Reykjavik has changed a lot. There is so much more to see and do in the city than before (check out Perlan or the Whales of Iceland exhibition!). Still, if you are short on time, half-day to one day is sufficient for Reykjavik because the real beauty of Iceland is in its natural wonders.
One thing you really shouldn't miss in Reykjavik is the Hallgrimskirkja. The view from the church tower is really worth it, but also the church itself is really special, so definitely worth seeing.
TIP: Take a look at our Reykjavik 1-day itinerary for suggestions on what to see and how to plan your time in the city.
LEARN MORE: Best Things to Do in Reykjavik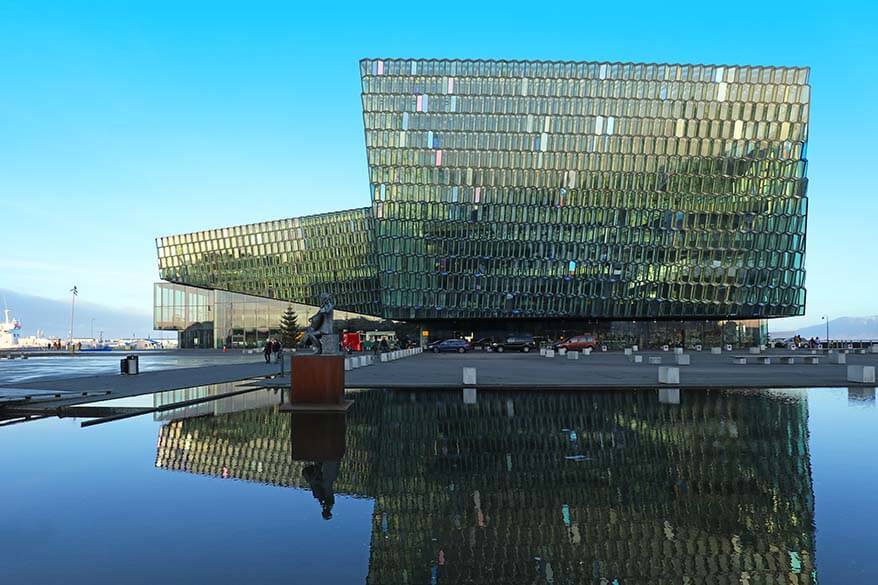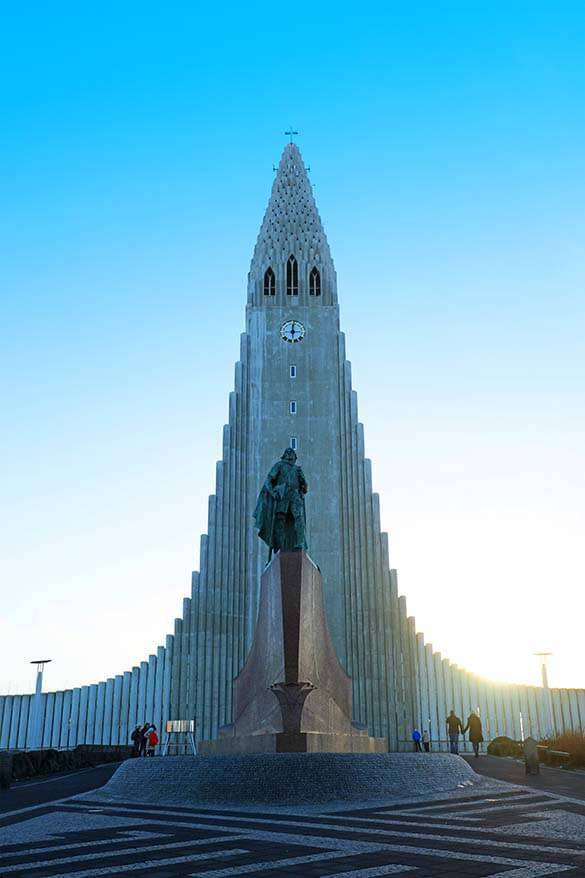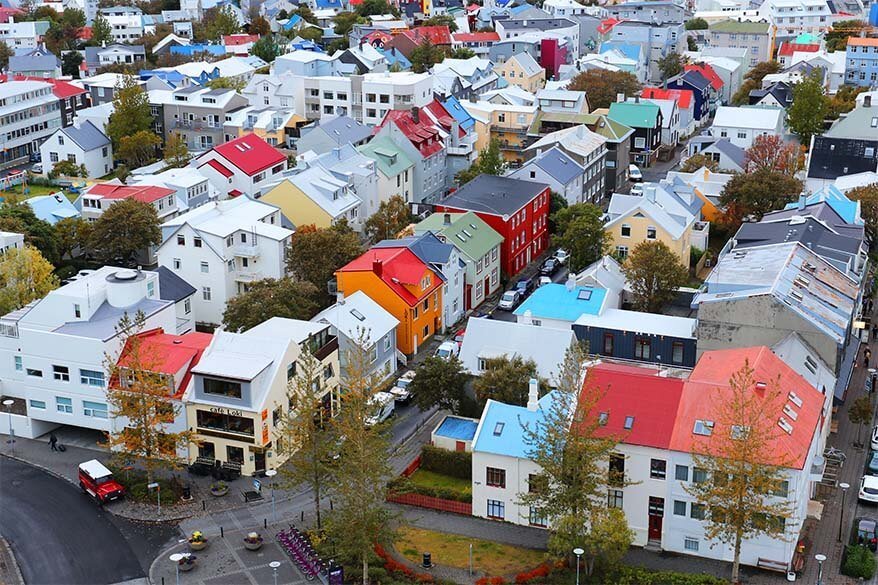 During this winter trip in Iceland, I found that a couple of hours were sufficient to see Reykjavik. I chose to visit the geothermal pool of Blue Lagoon in the afternoon.
Blue Lagoon is extremely popular and touristy, but it's kind of a must in Iceland so I decided to check it out. After all, there is no better way to end your Icelandic winter trip than sipping a drink while sitting in a hot thermal pool with a mud mask on your face. And before you ask, no, I don't have a picture of myself with a mud mask…
TIP: If you go to the Blue Lagoon, you'll have to book your tickets in advance. Here you can book bus transfers to get there from Reykjavik.
Another really nice pool is the recently opened Sky Lagoon. It's much closer to the city than any others and the views are amazing! Many of our readers say that they much prefer the Sky Lagoon experience over the Blue Lagoon.
TIP: Also for the Sky Lagoon, it's best to reserve your tickets in advance. You can also opt for a ticket that includes a transfer from the city.
Alternatively, go swimming in one of the local swimming pools in Reykjavik, at a fraction of the cost, and just as fun.
Blue Lagoon has become so busy and quite expensive in recent years. If you are looking for quieter alternatives, you can also visit Secret Lagoon or Laugarvatn Fontana. Both can be visited by car from Reykjavik or you can join tours that go there.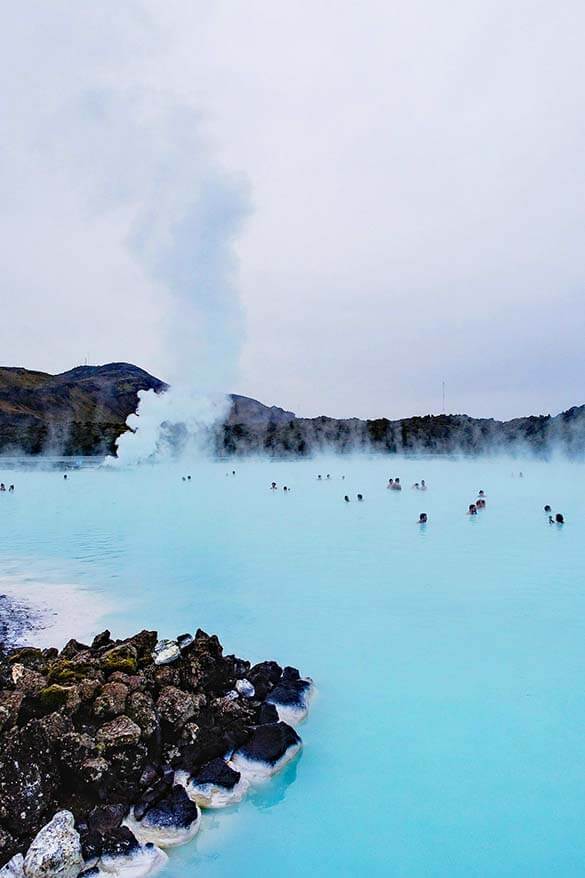 So this is our Iceland winter trip itinerary for one week in a nutshell. It brings you to the nicest places on the South Coast of Iceland while leaving plenty of time to explore and even do some winter hiking on the way. You could probably squeeze the same Iceland winter road trip itinerary in 4 or 5 days as well, but then you'd have less time left for hiking and sightseeing…
When the days are longer, you can visit pretty much all the same places in 4 days. For more information, please check our very detailed itinerary for the best of Iceland in 4 days.
If you decide to visit Iceland in the warmer months instead, check out this 7 days Iceland itinerary. It covers all the places mentioned in this article and so much more. Because the days are endless in summer and the roads are good, you can indeed see a lot more in the same amount of time. We also have a suggested self-drive Iceland Ring Road itinerary, but we really only recommend doing in summer – early fall.
If you are interested to get a pdf copy of this winter trip itinerary, complete with daily maps and more details, you can download it by filling in the form below. Keep reading for more tips for your Iceland winter trip!
Organized Tours – Iceland Winter Trip Alternative
If you are not keen on driving in Iceland in winter, consider one of the organized small group multi-day tours, such as this highly-rated South Coast & Blue Ice Cave 2-day tour.
It's often easier and cheaper to book a multi-day tour in Iceland than do it on your own, especially if you are traveling alone or as a couple and are not used to driving in extreme winter conditions. Furthermore, organized tours often have winter excursions like glacier hiking or ice cave already included in the price.
TIP: If you are visiting Iceland for just a few days, you can base yourself in Reykjavik and book some day trips and excursions from there. Driving up and down to all these places from Reykjavik on your own is not something I would advise in winter. Here you can find our hand-picked selection of the best winter day trips and short tours from Reykjavik.
Good to know: We recommend booking all your tours via a reputable company like GetYourGuide. Their customer service is second to none and they have the most flexible 24hr free cancelation policy. After seeing how some local providers in Iceland refused to reimburse people for canceled tours during the recent crisis, while GetYourGuide reimbursed everyone even within 24 hours, I'm more convinced than ever before that booking tours directly with small providers isn't ideal.
Update: I received many questions from readers in regards to Iceland itinerary suggestions for shorter or longer trips. Here you can find suggested Iceland itineraries for any trip between 1 day and 2 weeks. Check it out!
Some Practical Tips for Your Iceland Winter Trip
Below are some tips for your winter trip to Iceland:
✓ Planning to rent a car and do a self-drive trip in Iceland following this itinerary? Normally, you don't need a 4WD for this trip, but I would advise not to rent the smallest car either. And the price difference with 4WD isn't that big, so if you are in doubt just go for the latter, especially if driving in Iceland in winter. You can find some of the best deals for Iceland car rental here. No matter where and what car you hire, make sure that you take full insurance. It's a must in Iceland in any season, but even more so in winter.
✓ Traveling to Iceland in winter? Don't forget good travel insurance for yourself as well!
✓ Wondering what to pack for your Iceland winter trip? Below are some of my hand-picked essentials for Iceland. Here you can find the complete Iceland packing list for winter.
✓ Don't forget a travel adapter! Iceland uses European plugs.
✓ Looking for the best accommodation deals in Iceland? Check this guide for the best places to stay in Iceland and also this guide for the best places to stay in Reykjavik.
READ ALSO: Iceland Winter Travel Tips
I hope that you found this Iceland winter itinerary useful. Because of the unpredictable weather and chances for road closures, the South Coast of Iceland is one of the best regions to visit in Iceland in winter.
I hope that this article and our tips help you plan an unforgettable winter trip to Iceland! Make sure to also read our other articles that contain many more tips and practical information for your trip. Take a look below!
More tips for your winter trip to Iceland:
If you found this post helpful, don't forget to bookmark it and share it with your friends. Are you on Pinterest? Pin this image!