Are you looking for information about visiting the Westman Islands in Iceland? Looking for practical tips for visiting Vestmannaeyjar? Or maybe you are wondering if it's worth visiting Heimaey Island and what there is to see and do on Heimaey? This article should answer all your questions (and help with all the confusing names) – take a look!
Westman Islands – Introduction
Westman Islands (Vestmannaeyjar in Icelandic, not to be confused with Vestmanna in the Faroe Islands) is an archipelago of 15 islands and some rock stacks off the South Coast of Iceland. These islands were formed some 11,000 years ago. Except one – Surtsey Island raised from the sea less than 60 years ago, in 1963!
It's said that the crew of a passing ship saw smoke and thought another ship was on fire. When they came closer, they saw a new island rising from the ocean… Can you imagine?! This new island was named after Surtr, a fire giant from Norse mythology.
The eruption continued for 3,5 years and the new island measured over 500 m (1,640 ft) in length and 45m (147 ft) in height. It has since suffered from wind and erosion and has become smaller. Scientists estimate that by 2100 the island will submerge below sea level.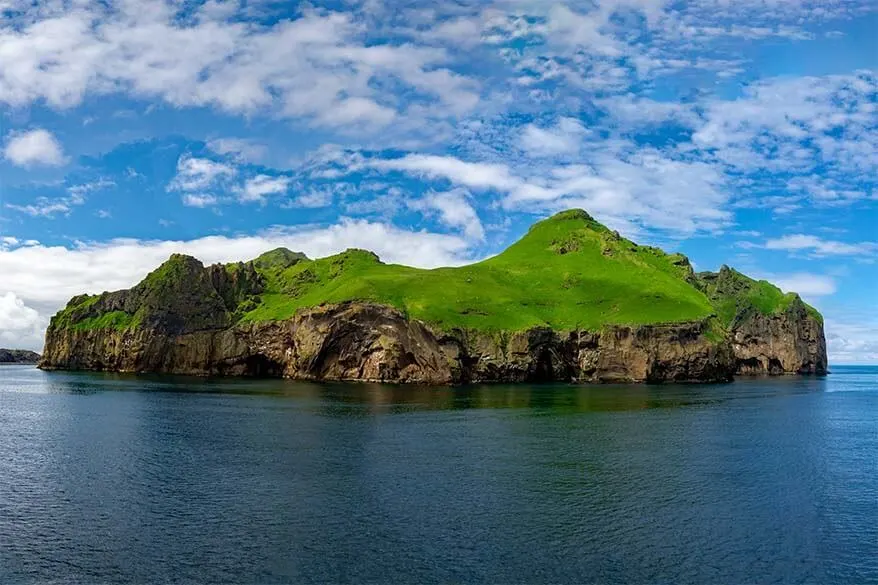 Heimaey Island (literal translation means Home Island) is the biggest and the only inhabited of the Westman Islands. The other bigger islands worth mentioning are Bjarnarey, Álsey, Suðurey, and Elliðaey. There seem to be some hunting cabins on some of these islands, but in principle, nobody lives there year-round.
So when people talk about visiting the Westman Islands in Iceland, they usually mean visiting Heimaey Island.
Therefore, in this article, we focus on what there is to see and do on Heimaey Island. You can read about what makes this island so special and find out about all the best things to do on Heimaey.
Finally, at the bottom of this article, you can find practical tips on how to get to the Westman Islands, how much time you need, and our suggested one-day Westman Islands itinerary. Read on!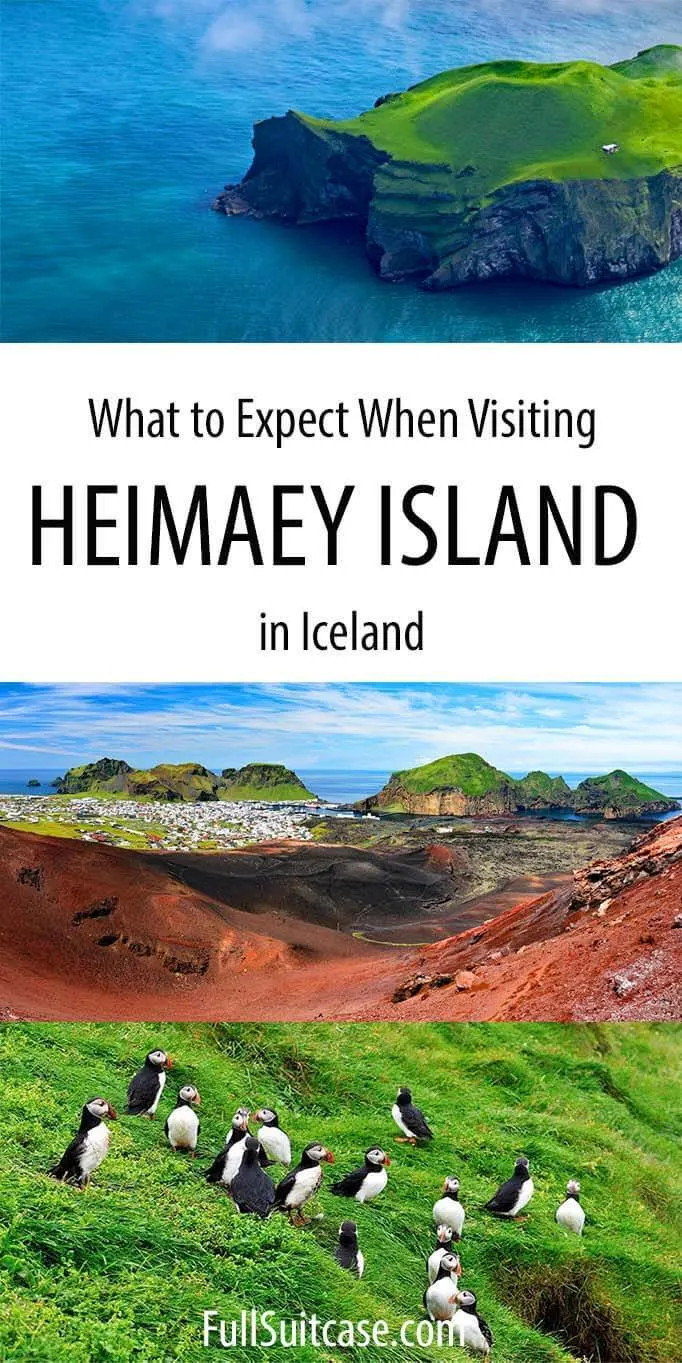 Heimaey Island
Heimaey Island is not just the largest and most populated island of the Westman Islands, it's the biggest island off the Icelandic coastline. It's also one of the most beautiful. The scenery of Heimaey is truly breathtaking, from its volcanic landscape and moss-covered cliffs to its quaint houses and brightly colored roofs.
Located in the Westman Islands archipelago, Heimaey is home to a single town Vestmannaeyjabær and over four thousand inhabitants. In addition, millions of puffins visit the islands every summer, plus millions of other birds who migrate there to feed and breed.
Despite being just a few kilometers from the mainland, Heimaey island feels like a whole other world. With the sweeping picture-perfect views and the feeling of remoteness, this is a place where life seems to have stood still. However, with a range of activities available, including swimming, golfing, sailing, horseback riding, bird-watching, and whale-watching, there really is something for everyone on the island!
Good to know: Heimaey island isn't that big and everything is within walkable distance from the harbor. So you don't have to bring a car, especially if you are only visiting for one day. On the other hand, some places are a bit far to walk to and some people say they prefer to visit by car… To help you decide, please take a look at the practical information section at the bottom of this article.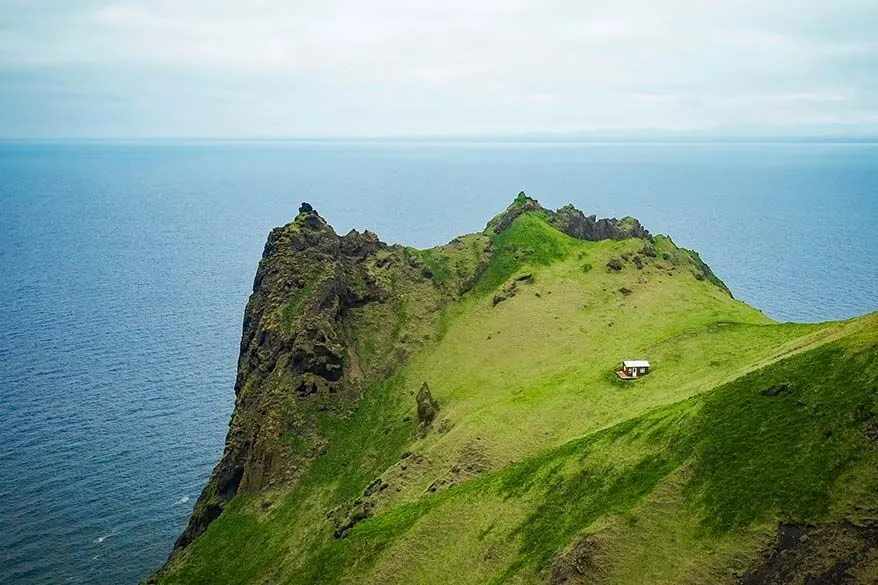 Things to do on Heimaey Island
Below is the list of the best things to do on Heimaey island. We listed the 'must-see' attractions – the highlights of the island you absolutely don't want to miss – first. Those are followed by other things to do in Heimaey, any of which are well worth a visit if you have more time. Find out!
Eldheimar Museum
In January 1973 the Vestmannaeyjabær town on Heimaey Island was devastated by the lava flow from the Eldfell volcano, which erupted after 5,000 years of inactivity. People were evacuated from their homes in the middle of the night and there were fears that the harbor – the island's main income source – would be closed. An ambitious operation by the townspeople to cool the lava flow with seawater saved the day.
The traumatic and heroic events of that historic eruption are remembered at the Eldheimar Museum, which was constructed around a family home excavated from the lava. The literal translation means 'Fiery Museum' and locals often refer to it as the 'Lava Museum' or the 'Volcano Museum'.
Excellent self-guided audio and interactive media tour, along with original footage, brings the eruption story to life. It helps you appreciate just what the Islanders went through. Many people never saw their homes again after evacuating. When the houses were excavated from underneath the lava, they were found just as people left them on the day of the eruption. Frozen in time…
At the museum, you'll also learn about the Surtsey eruption, which formed the world's newest island. The tour is appealing to adults and children alike, so this museum can easily be visited with kids.
Practical information: The Eldheimar Museum is open daily, usually from 9 am to 6 pm, but recently they tend to open later, depending on the season (see their website for the latest updates). Admission is reduced for children and free for those under 10. To get to the museum, follow the red lamp posts uphill along the edge of the lava flow. Plan about 1 hour for the visit.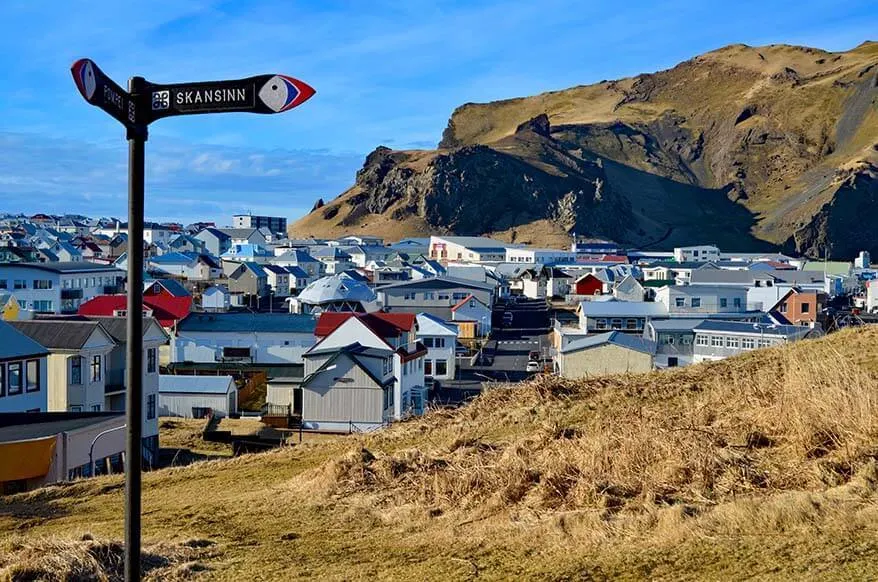 Eldfell Mountain Hike
Mount Eldfell was created during the eruption, and hiking to the top of this 220 meters (720 ft) high volcanic cone is a not-to-be-missed experience in Westman Islands!
You can follow a walking trail from the upper floor of the museum over the eruption edge, although there are other well-trodden trails from various spots, which are easy to find. Along most of the trails, you'll see signs showing where original streets and buildings were situated before being buried by the lava flow.
Please stay on the trails in order to save this mountain from erosion!
The views are stunning from all the way up the volcanic cone, so you don't have to climb all the way to the top if mobility is an issue. But it's worth the extra effort if you can make it – the panoramic view is both awesome and surreal, with the harbor and islands on one side and the lava field on the other. It can feel a little like being on Mars at the top, surrounded by the red hues of the chunks of lava.
A cool thing to do is dig down a little into the earth – you will find that it is still hot. In some places, you can feel the heat just by sitting on the ground!
That being said, it's often very windy at the top, which can be quite scary if you're afraid of heights. Make sure to wear hiking boots or sturdy shoes – it's hard underfoot and there is a lot of loose gravel, which can make the descent quite challenging. Hiking poles might be useful if you have weak knees.
Practical information: The ascent is relatively easy, although somewhat steep and strenuous in places. How long it takes will depend on your ability, but the average time for this hike is somewhere between 20 to 40 minutes one way. You'll most likely need about 1,5 hours for this. Younger kids might struggle with parts of the climb.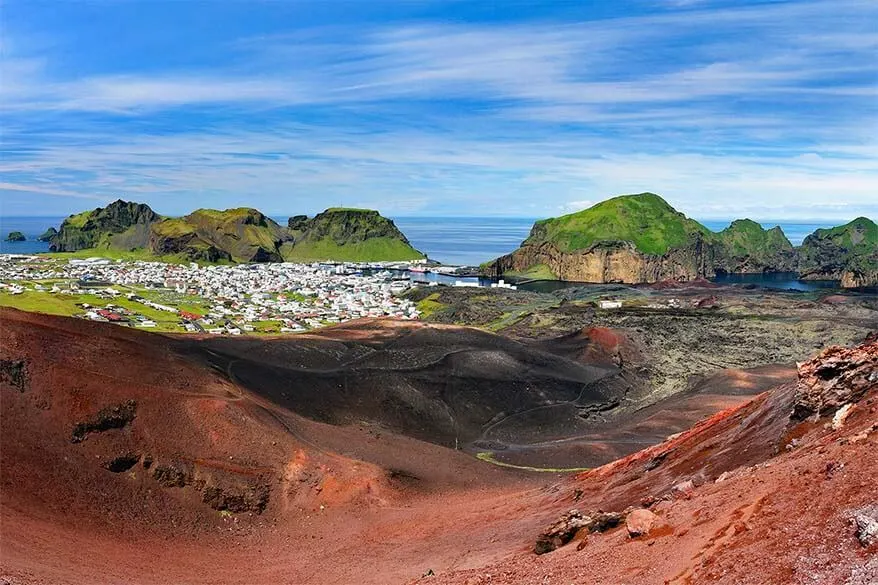 Sea Life Trust Beluga Whale Sanctuary
The former Saeheimar Aquarium is permanently closed and now forms part of the Visitor Centre at the Sea Life Trust Beluga Whale Sanctuary – a stunning natural sea inlet in Klettsvik Bay.
Once home to Keiko (the whale from the movie Free Willy) prior to his release back into the wild, Klettsvik Bay now houses two former captive beluga whales who have recently arrived from China.
The whales – Little Grey and Little White – arrived here just a few years ago. Starting on August 1st and running up to October 30th, you can take a boat trip to visit the bay from Vestmannaeyjar Harbour. This allows you to see the belugas' home from a safe distance.
The trips are around 60 minutes long and run at set times each day. Please check out the official website before your trip for the exact timing and bookings.
The Visitor Centre includes a native species aquarium and the Puffin Rescue Centre, which are well worth a short visit during your day on Heimaey island.
Heimaey Island's puffins can often be seen inland in the summer, when they tend to wander into town after becoming confused by the lights. It's traditional for the Island's children to return the babies (known as pufflings) to the water, but any injured babies or adults are taken to the Rescue Centre to be nursed back to health. You can sometimes get to see them up close in the Visitors' Centre, plus learn all about them and how the Islanders are working to protect them.
Practical information: The Whale Sanctuary and Visitors' Centre is open from the beginning of April to the beginning of October. It's usually open daily from 10 am to 4 pm, except on Sundays, when it's only open in the afternoon. You can choose to buy tickets for the Visitors' Centre only, the Visitors' Centre and Bay Trip, or the Bay Trip only. All the proceeds from admission go towards the Sea Life Trust's charity.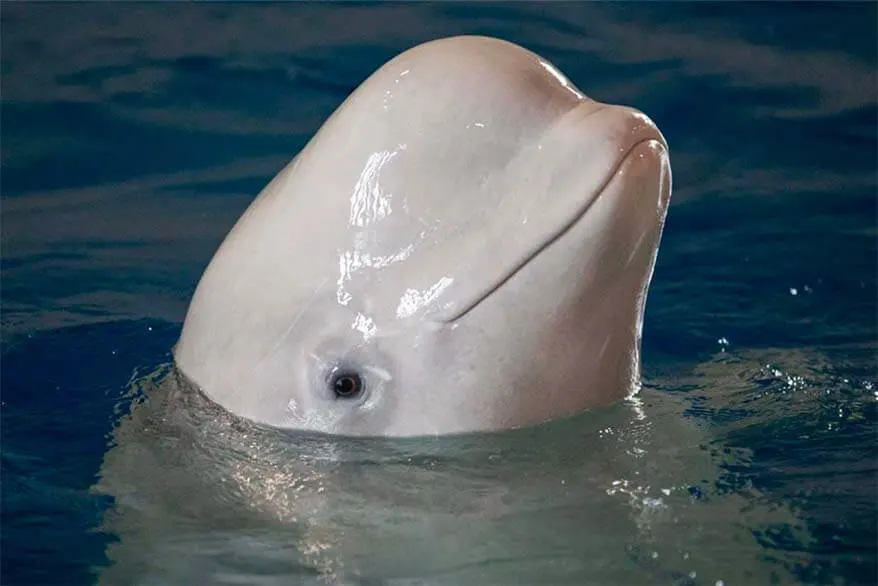 Elephant Rock
One of the most famous rock formations of the Westman Islands is the so-called Elephant Rock (Halldórsskora). This natural rock formation looks like the head of a giant elephant, with its trunk half submerged underwater. The formation is composed of basalt, which gives it the appearance of having wrinkled skin – a unique sight, not to be missed!
Elephant Rock is said to be more impressive at low tide, but no matter when you visit, it's well worth seeing.
Practical information: The 'elephant' can best be seen from the water. You cannot walk to Elephant Rock but can see it in the distance from the Westman Islands Golf Club (which is quite far from the harbor where you arrive). There is an adventurous hiking tour available that takes you to the top of Elephant Rock with use of a climbing harness, etc. But for the less adventurous, a boat tour is by far the best way to see Elephant Rock. More information below…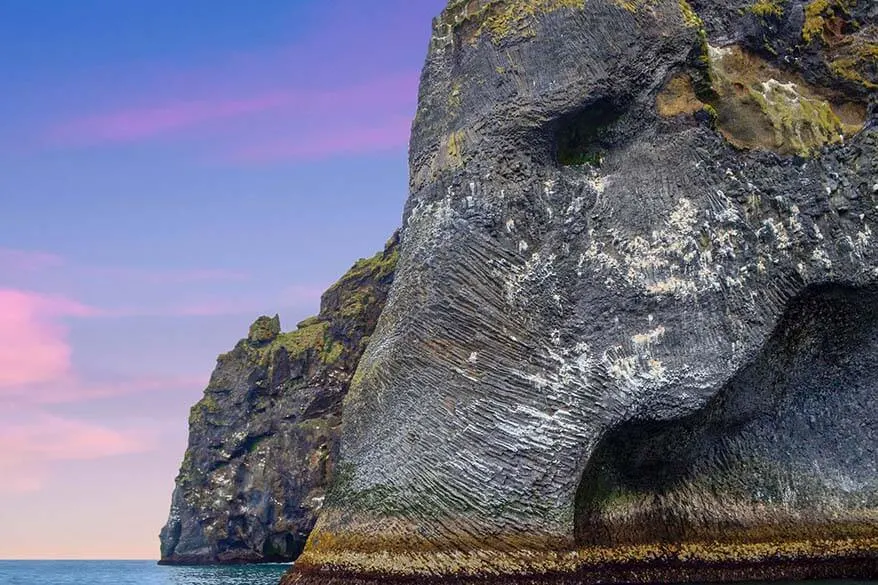 Westman Islands boat tours
Even if you come to Heimaey island by ferry, I highly recommend including a boat tour in your Westman Islands itinerary. It offers you a whole new perspective from which to enjoy the island, sailing into sea caves and past lava formations. In addition, you will see puffin and seabird breeding spots.
Update: I'm not sure if this tour is still running at the moment of the last update. The Heimaey Circle Tour by boat used to be one of the most popular, providing countless photo opportunities and a knowledgeable guide. A unique aspect of the tour is the saxophonist, who plays saxophone for you in the Cliff Cave near the harbor. The acoustics add a wonderful dimension to the music, for an unforgettable experience.
Another really great tour is this RIB boat tour (RIB stands for the rigid inflatable boat). RIB offers 1-hour speedboat tours, which are ideal for a one-day visit to Heimaey. Make sure to book ahead, though- these tours have limited space and sell out fast!
TIP: RIB boat is much faster than a regular boat, allowing you to see more in less time. Another great advantage (and the reason we love speedboat tours) is that you don't get seasick on these boats.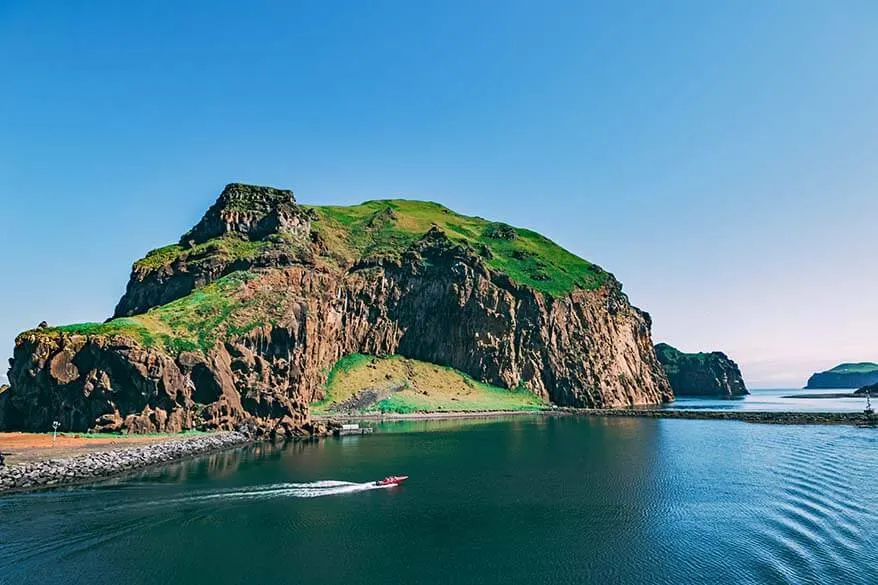 Skansinn and Stafkirkjan
Skansinn is a 15-16th-century fort in the historic area east of the harbor. It was built in order to defend the island from the British, but it was the Algerian pirates that invaded the island in the 17th century. Funnily enough, they landed on the other side of the island and so this fort served no purpose at all.
Some parts of the fort have been rebuilt after the 1973 volcano eruption and you can walk over the lava, where the paths follow the original street grid.
Near the fort, you'll find a Norwegian stave church – Stafkirkjan. It's a present Iceland received from Norway in 2000, to celebrate the 1000th anniversary of Christianity in Iceland.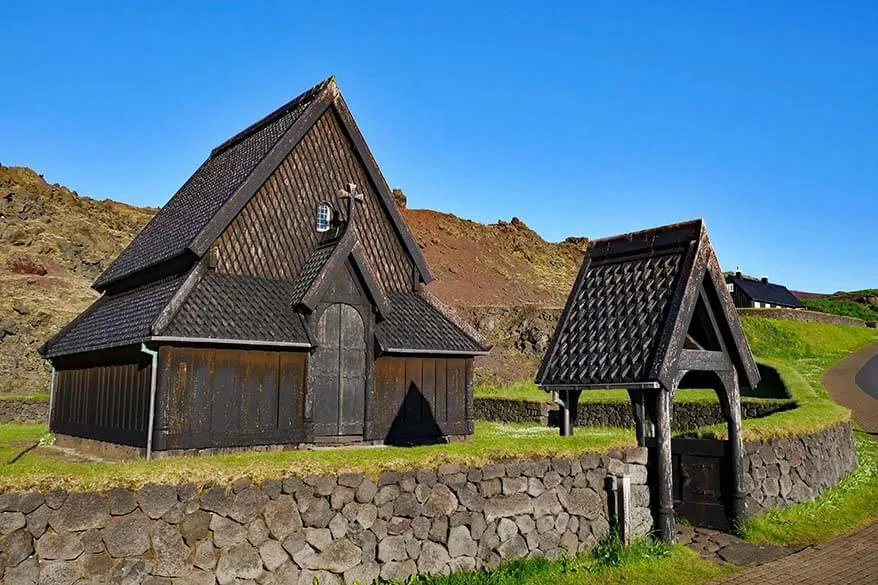 Heimaey Island bus tours
A minibus tour of the island makes a great way to see all the best points of Heimaey Island in just a couple of hours. So if you are short on time, consider booking an island tour like that.
One of the most popular tours for day visitors is the Puffin and Volcano minibus tour. It includes all the main highlights of Heimaey island, a drive in the middle of the Eldfell Volcano, and admission to the Beluga whale and puffin sanctuary.
Practical information: This minibus tour departs within walking distance from the cruise ship port and takes 1,5 to 2 hours. It's a popular excursion when visiting the Westman Islands by cruise ship. You can find more information and book the tour here: Puffin and Volcano minibus tour.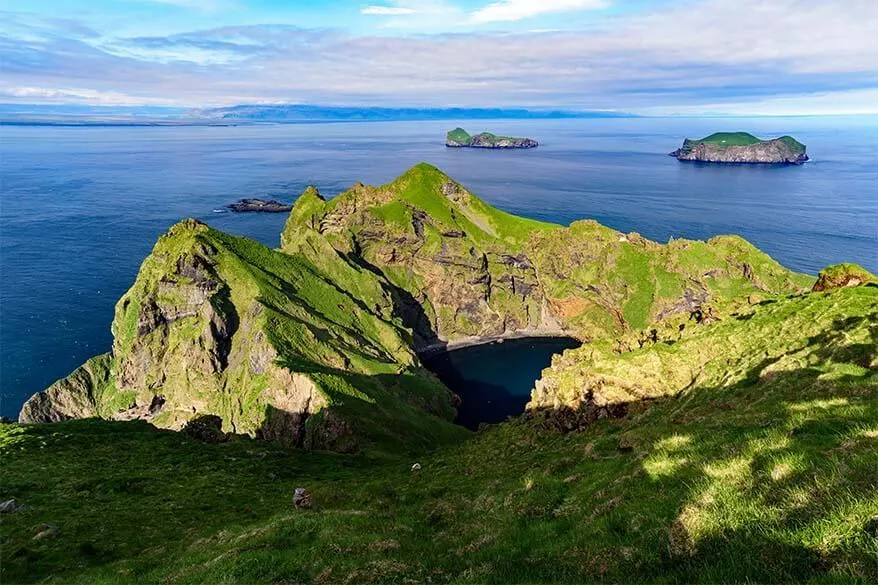 The things mentioned above are the best things to do in Heimaey. However, there is much more to this little island than that. And so if you have some time to spare, here are some more fun things to do and see during your visit to Heimaey.
Stórhöfði & Puffins
Hold on to your hat, because Storhofdi (Great Cape) – located at the southernmost point of Heimaey – is considered to be the windiest place in Europe! It's home to one of Iceland's oldest lighthouses, which has been in operation since 1906. Definitely worth a visit, if you get the chance!
The views from the headland are amazing and it's a wonderful spot to watch the puffins (bring a zoom lens for some truly fabulous shots!).
Good to know: The best time to see puffins in Vestmannaeyjar is between May and August. Sometimes, they arrive a bit earlier and stay a few weeks later too.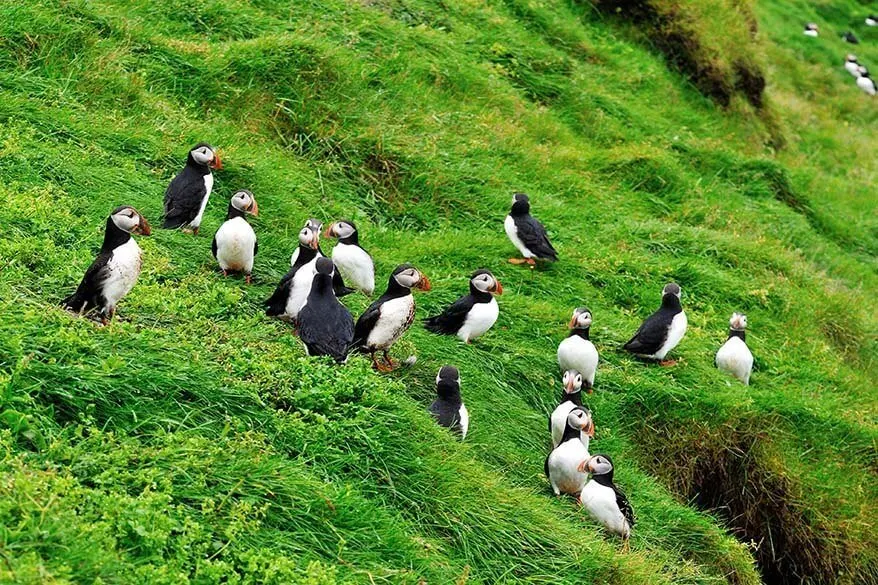 Sagnheimar Folk Museum
Sagnheimar Folk Museum is a relatively new museum that opened in 2011. Curated by local residents, it tells the story of the Westman Islands and its people. Children can have fun dressing up as pirates whilst adults learn more about the island's turbulent history.
Open daily from 10 AM to 5 PM in the summer, and only on Saturday afternoon in the winter, the museum is free for under 18's.
Heimaklettur
Heimaklettur (Home Rock) is a huge rock sitting across from the harbor of Heimaey island. Looking from a distance, it does not look accessible. In fact, it does have a walking track to the top, which includes chains and ladders to help you.
The ascent takes around 45 minutes and the descent takes around half an hour. Not for the faint-hearted (or during poor weather), it's a tricky climb but one that rewards you with awesome 360° views if you can manage it.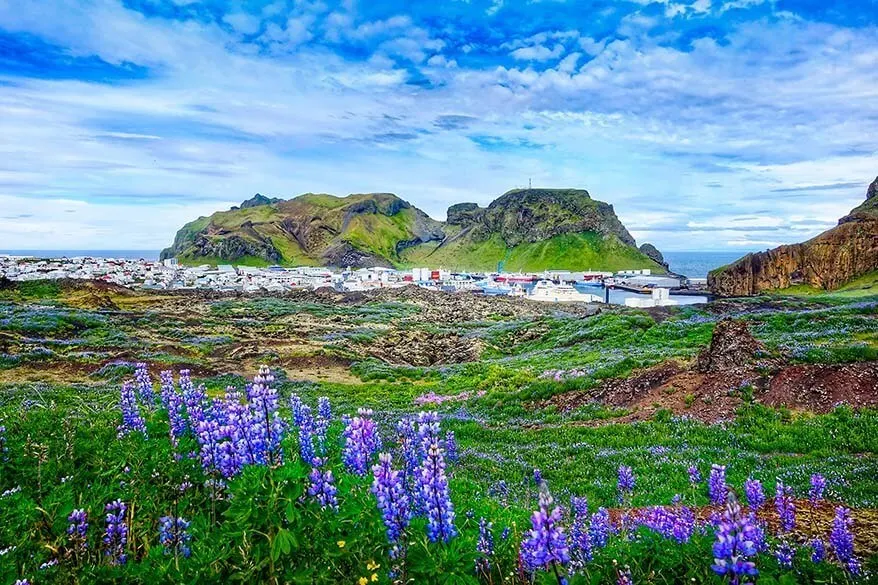 The Brothers Brewery
Open from 2 PM till late at night daily, a visit to the Brothers Brewery is a fab way to end your day on Heimaey Island! Enjoy a tour of the brewery, a lesson on the brewing process and – of course – a session tasting all the wonderful locally brewed beers on offer.
Sprangan
Spranga (or rope swinging) is a local sport of Heimaey, rooted in the tradition of islanders climbing the cliffs and swinging on ropes to fetch the eggs of seabirds. Sprangan is a spranga training ground situated close to the harbor, where visitors can try the sport for themselves.
But be warned – it's a sport that requires considerable skill and can be dangerous if done incorrectly. As a sign at Sprangan points out, you are there at your own risk!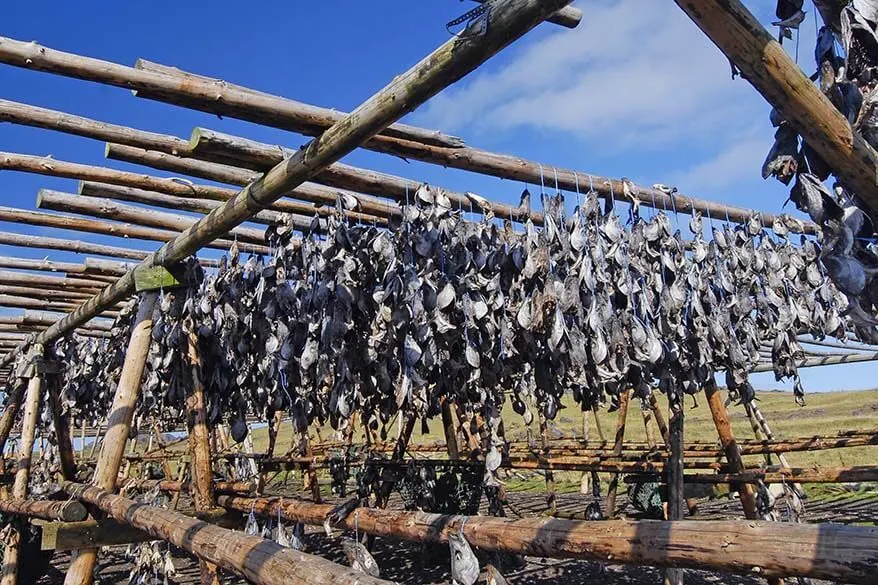 So, this is our guide to the best things to see and do on Heimaey Island in Iceland.
Further below, you can find practical information for visiting the Westman Islands and our suggested one-day Heimaey Island itinerary. Read on!
How to get to Heimaey Island
Vestmannaeyjar ferry
The most popular way to travel to Heimaey is via the ferry Herjólfur, which travels to and from the harbor at Landeyjahöfn (around two hours from ReykjavÌk). You can park your car at the harbor and leave it there for a day (parking is free at the moment of writing).
While it's possible to take your car to the island, it's not absolutely necessary. You can discover the island on foot, rent a bike, or join one of the tours when you get there.On the other hand, if you want to explore the whole island on your own in a short time, having a car will make it easy... If you want to go to the puffins, it's also a bit further from town, so having a car will make things easier. So it's really your call.
There are frequent departures throughout the day but the ferry does get booked up, so it's best to book ahead, especially if you are traveling in high season. Here you can find more details and book the ferry.
You need to be at the harbor 30 minutes before departure and the crossing itself takes 40 minutes. There are indoor and outdoor seating areas, refreshments on board, and a play area for kids.
Good to know: Sometimes, if the weather conditions are really bad, ferries don't run from Landeyjahöfn. Instead, they sail from Þorlákshöfn harbor, which is much closer to Reykjavik, but very far from the Westman Islands. In that case, ferry crossing also takes almost 3 hours one way and I wouldn't recommend doing this if you just have a day. If your trip would get canceled, just have a backup plan instead and spend more time along the South Coast of Iceland.
Visit the Westman Islands by plane
It's also possible to get to the Westman Islands by plane from Reykjavik. The 20 minutes scheduled flight is available all year round. Needless to say, this is a much more expensive option.
Organized Westman Islands day tours
Organized Westman Island day tours are also available. Private tours usually run from Reykjavik and take about 12 hours in total. Cruise port pick-ups are also available. Here is one of the best-priced private tours to Heimaey Island from Reykjavik that I was able to find. These tours aren't cheap if you just go with 2 people, but if you are traveling with a big family or group of friends, then it's a better deal.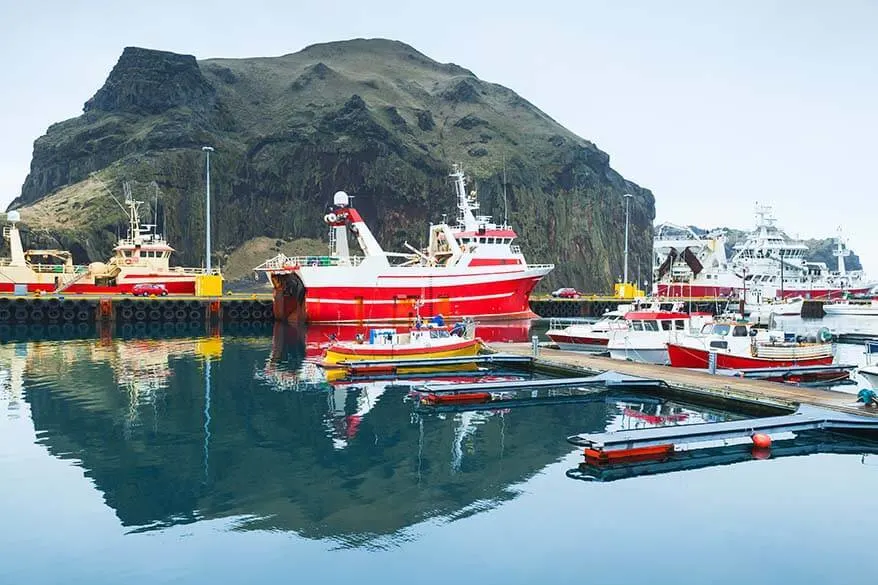 How to see the best of the Westman Islands in 1 day – itinerary
If you are wondering how to best plan your day in the Westman Islands, take a look at our suggested itinerary for visiting Heimaey Island in one day.
First, it's best that you stay at a hotel along the South Coast, not too far from the Herjólfur ferry and the famous Seljalandsfoss waterfall. Here you can find the best deals for accommodations in the area.
Second, make sure that you book the ferry in advance and arrive at least half an hour before departure.
Here is our suggested itinerary for the best of Heimaey Island in one day. Please note that I included the hours for your convenience, but you can easily switch things around, or take a later ferry, etc.
Take the 8:15 AM ferry from Landeyjahöfn to Vestmannaeyjar.
Join the 9:30 AM boat tour around the island. I recommend this RIB boat tour that has several departures during the day and takes just 1 hour. Make sure to book in advance!
Visit Sea Life Trust Beluga Whale Sanctuary.
Visit Eldheimar Museum.
Have lunch. There are several restaurants in town. A local recommended Slippurinn as the very best choice. Alternatively, pack a picnic for lunch and go to a nice restaurant for dinner.
Explore the town and visit Skansinn and Stafkirkjan.
If it's not too windy, climb Eldfell Mountain (count +-1,5 hrs).
Walk to Stórhöfði where you can try to spot puffins (in season).
End your day with a visit to the Brothers Brewery. However, keep in mind that drinking and driving is not done and there's 0 tolerance in Iceland.
Take a 5:00 PM or 7:30 PM ferry back to the mainland. There is a later ferry as well, if you rather stay late and have dinner on the island.
TIP: If you don't have the whole day or don't feel like walking much, consider booking this Puffin and Volcano minibus tour of the island. I would still do the boat trip as well, as it gives you a whole other perspective of the Westman Islands.
FAMILY TIP: There is a nice indoor and outdoor swimming pool in town. It has water slides, hot tubs, and a sauna. It's a great and budget-friendly way to spend a couple of hours on Heimaye island. More info here.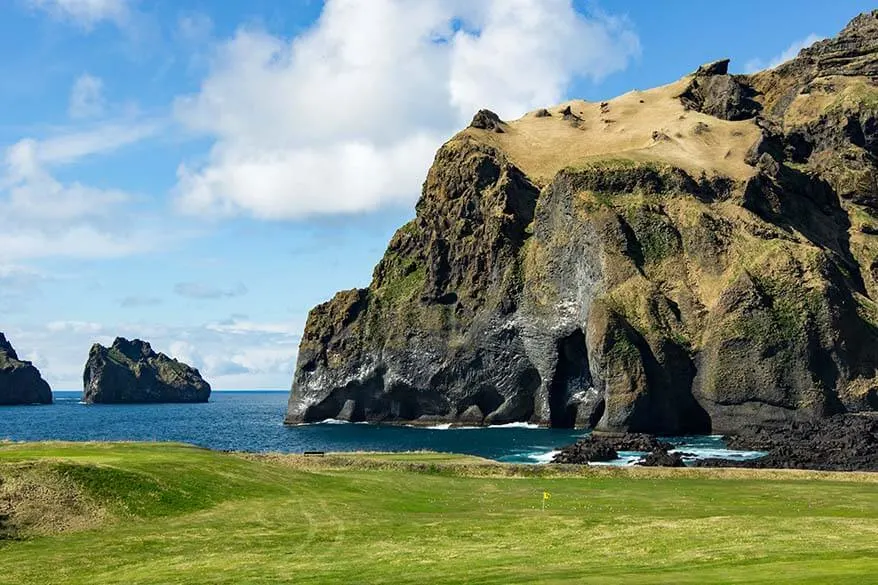 Where to stay in Vestmannaeyjar
If you have a couple of days to spare, I think that staying on Heimaey Island for at least one night is well worth it.
It allows you to explore all the sights, avoid the crowds of daytime tourists, and get to really know this unique place.
Here you can find all the accommodation options in Vestmannaeyjar. The best hotel on the island is the place with the most original name, Hotel Vestmannaeyjar ;).
Extra tips for visiting Heimaey Island
Rent a bike or an electric scooter. Cycling is a great way to get around Heimaey. It allows you to see more of the island's beauty in one day than you would manage by walking alone.
Smoking is not welcomed in bars or restaurants on the island, or in any public places.
Be careful when photographing the abundant wildlife. Most areas do not have guardrails, so stand well back from the edges of cliffs. The safest option is to lie down, which is also less likely to alarm the birds.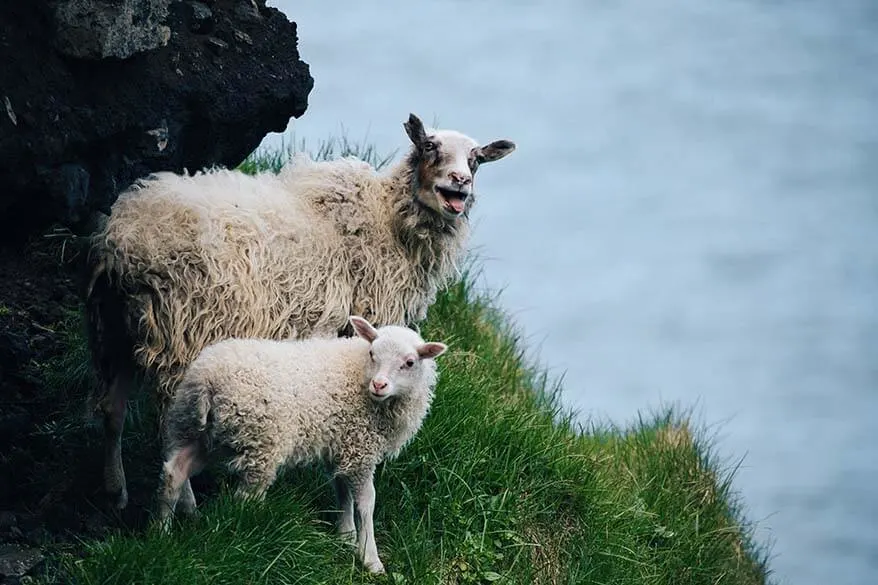 So, this is our guide to the Westman Islands and a suggested itinerary for Heimaye Island.
If you are wondering if Westman Islands are worth a trip, then yes, it's absolutely worth it. Also because it's not too far from the main landmarks of the South Coast and even doable as a day trip from Reykjavik. I think that the Westman Islands day trip makes an excellent addition to Iceland's South Coast itinerary, especially if you are visiting Iceland between May and September.
TIP: If you are looking for more ideas on what to see and do in the area, take a look at our very detailed 7 days Iceland itinerary. It covers all the musts of the South Coast including a day trip to Vestmannaeyjar (Heimaey) and so much more. Check it out!
More itinerary ideas:
More tips for your trip to Iceland:
Some of our favorite lesser-known places in Iceland:
If you found this post helpful, don't forget to bookmark it and share it with your friends. Are you on Pinterest? Pin this image!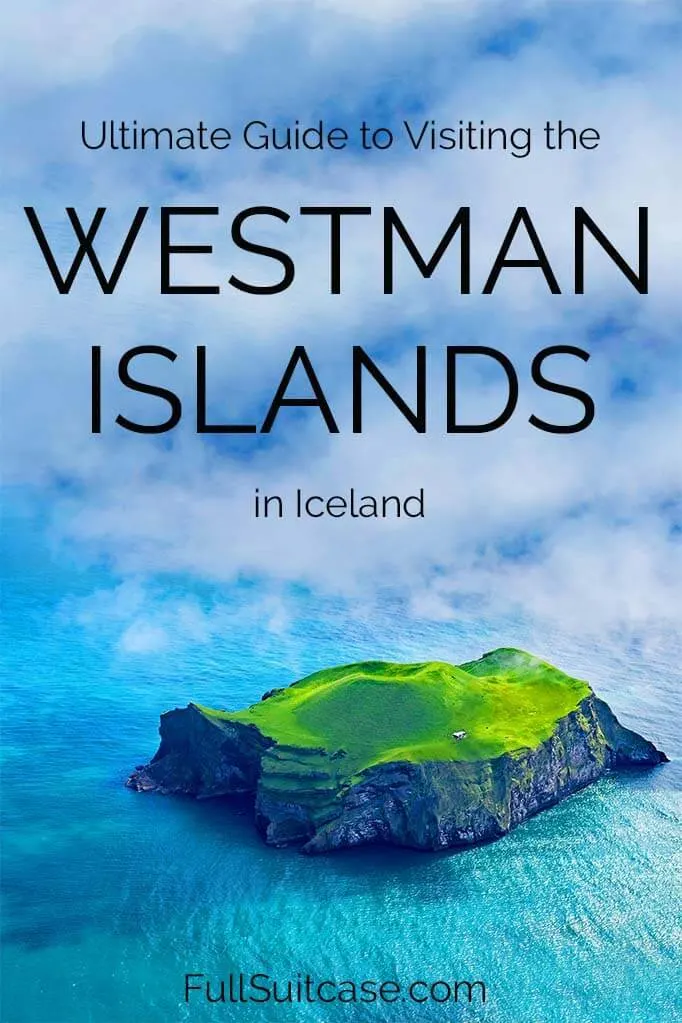 Image Credits: Featured image TRphotos/Shutterstock.com// Heimaey Island- Thomas Males/Shutterstock.com// Blatindur – Samuel V.Rocheleau/Shutterstock.com// Vestmannaeyjabaer – Enken/Shutterstock.com// Mount Eldfell and Cliffs- Tommy Larey/Shutterstock.com// Elephant Rock – JMP_Traveler/Shutterstock.com// Boat tour & Elephant Rock- VicPhotoria/Shutterstock.com// Stafkirkjan – angoraCZech/Shutterstock.com// Puffins – Erik Mandre/Shutterstock.com// Heimaklettur – silky/Shutterstock.com// Fish drying racks – Chris Howey/Shutterstock.com// Harbor – Evannovostro/Shutterstock.com// Sheep – Jiri Stoklaska/Shutterstock.com