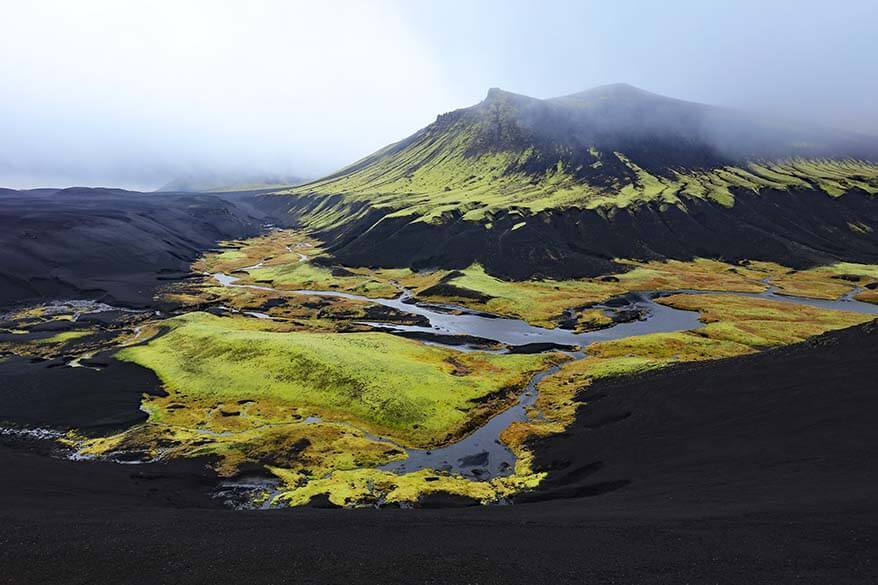 There are not enough words or epithets to describe what traveling in Iceland's highlands is about… All I can say is that if you're looking for a once in a lifetime experience, something so unique and so different from anything you have experienced before, a trip through the highlands of Iceland is as good as it will ever get.
What's the best way to see Icelandic highlands?
There is no better way to see Icelandic highlands than hiring a local private driver with a super jeep. And yes, this comes from someone who puts independent travel above everything else…
So why do I tell you to not even attempt this trip on your own, you may wonder? Long answer short – I would never have been able to see even a fraction of the places we visited if I had travelled on my own.
It's not just about safety, although that is an extremely important factor when considering an Icelandic highlands trip. It's about all those incredible hidden gems of Iceland that I never even knew existed. Places so remote and unknown that they have no names or paths leading to them. Roads where no car has driven in days; trails where no person has hiked in weeks; locations so beautiful that you have to pinch yourself to make sure you're not dreaming… In other words: unique experience and extreme value for money!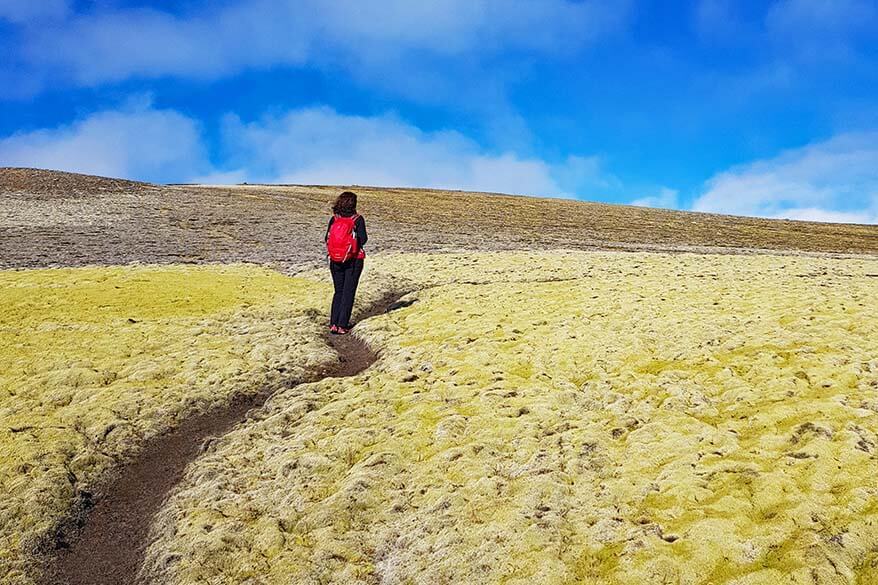 Exploring Icelandic highlands on a private tour with Glacial Experience
I visited Iceland's highlands by invitation of Kjartan from Glacial Experience. This was a sponsored trip with the intention to try their new custom-made Icelandic highlands itinerary, but traveling with Kjartan was like traveling with a friend that I can wholeheartedly recommend to anybody.
Kjartan understood exactly what kind of a trip I like and prepared an amazing 4 day Icelandic highlands itinerary. He did so much research for this highlands tour: consulted his friends, colleagues, studied maps, and even secret local travel books available only to a selected few…
The result was an unforgettable trip, visiting some incredible locations that even most Icelanders never heard about. And of course, we also visited the main highlights of the Icelandic highlands, like Landmannalaugar or Thórsmörk. We also stopped by some really popular places that were on our way… That's the beauty of a private tour – you can always ask your driver to add some unplanned stops.
Exploring Iceland's highlands with a private driver has so many advantages! You don't have to worry about anything at all – everything is taken care of. A suitable car, to start with, but also a perfect trip itinerary and accommodations that are really scarce and make travel planning in the highlands even more tricky.
Also, all the little details like taking care that we have enough food for during the day, having detailed maps and GPS tracking devices to make sure that we don't get lost when hiking, or deflating the tires for the less bumpy driving experience (and inflating them back again)…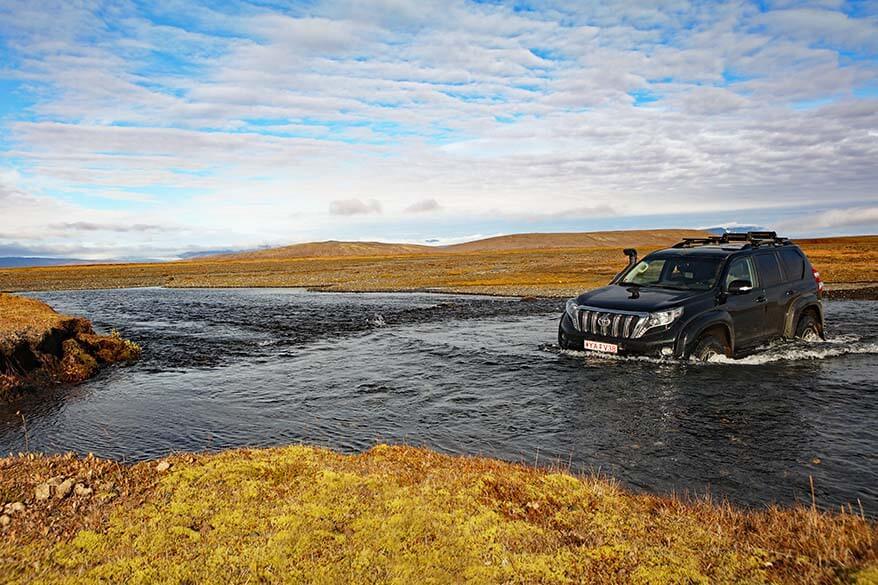 Our 4-day Icelandic Highlands Trip with a Private Driver
Below you can read a very detailed review of our Icelandic highlands tour. At the bottom of the post, you can find some practical tips and recommendations for traveling in Iceland's highlands as well.
Please note that this is a summer trip only; we traveled in the Icelandic highlands in the second week of September.
Day 1: Golden Circle, Hagavatn, Kerlingarfjöll
We left Reykjavik early in the morning and headed for the famous Gullfoss waterfall – one of the three main landmarks along Iceland's most visited area, the Golden Circle. It's at Gullfoss that we would leave the main roads and head into the highlands… However…
The beauty of a private trip with a friendly driver is that you are able to adjust your itinerary as you go. So before we even got to Gullfoss, we stopped at several viewpoints, to pet Icelandic horses, and also visited the popular Tomato Farm and Restaurant Friðheimar.
We could even convince our guide to make a quick photo stop at the Geysir area and watch the Strokkur geyser erupt a few times. Because, well, some places are just too good to drive by, no matter how many times you've seen them before.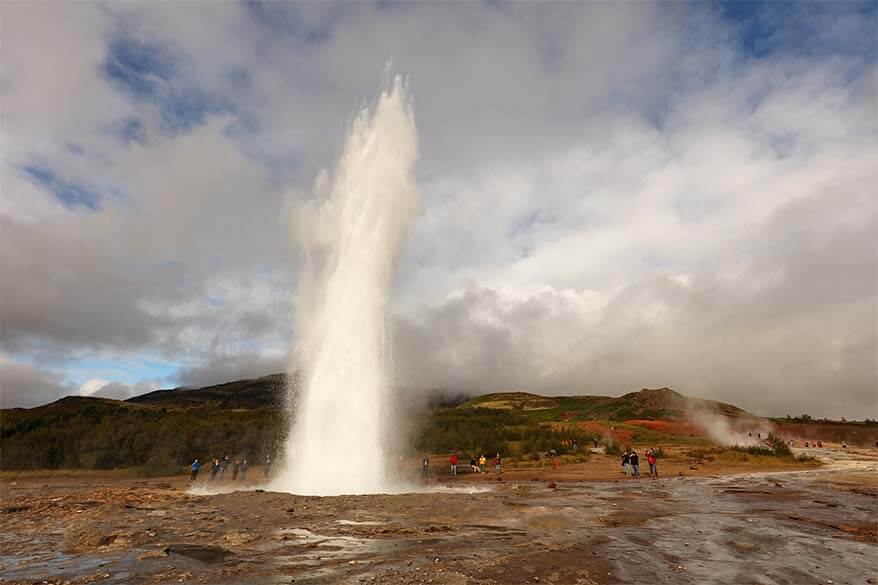 The moment we left the popular Gullfoss waterfall and made a turn on a gravel road to Hagavatn, the scenery changed, the people and the cars disappeared – we knew we were headed off the beaten path.
Hagavatn
After just a short ride on the bumpy roads and crossing our first river of this highlands trip, we reached Hagavatn. It is a glacial lake formed by the melting water of the second largest glacier of Iceland, Langjökull.
The lake and the view on the glacier is really nice to see. But the most impressive highlight here is probably the stunning Nýifoss waterfall that tumbles down in three levels. Very few people come to Hagavatn and it's a place where you experience the raw beauty of Iceland.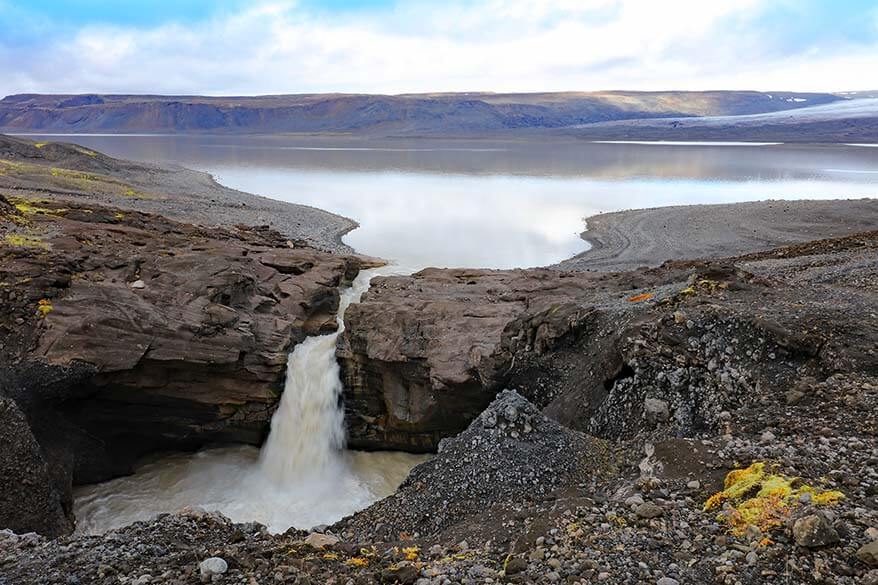 We had picnic lunch with a view on this beautiful waterfall and set for a longer scenic drive to our main destination for today – the geothermal area of Kerlingarfjoll. But not before we made several photo stops. The scenery is just too beautiful to pass by…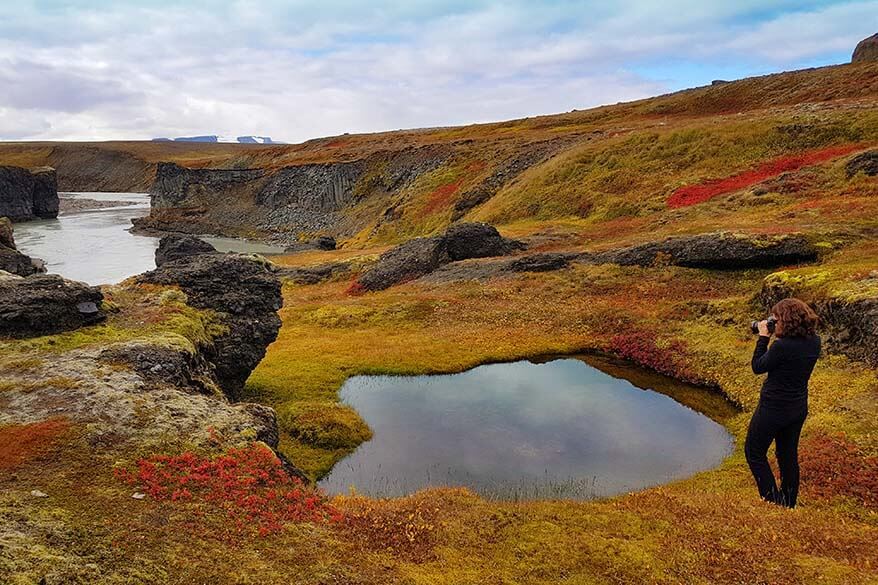 Kerlingarfjöll
Kerlingarfjöll is said to be a natural paradise in the heart of Iceland and it truly is. This geothermal area with snow-capped orange mountains is very different from the surrounding landscapes and is remarkably beautiful.
If you are lucky to visit on a sunny day as we did, the colors are even brighter. But we were told that this place always looks incredible, no matter the weather.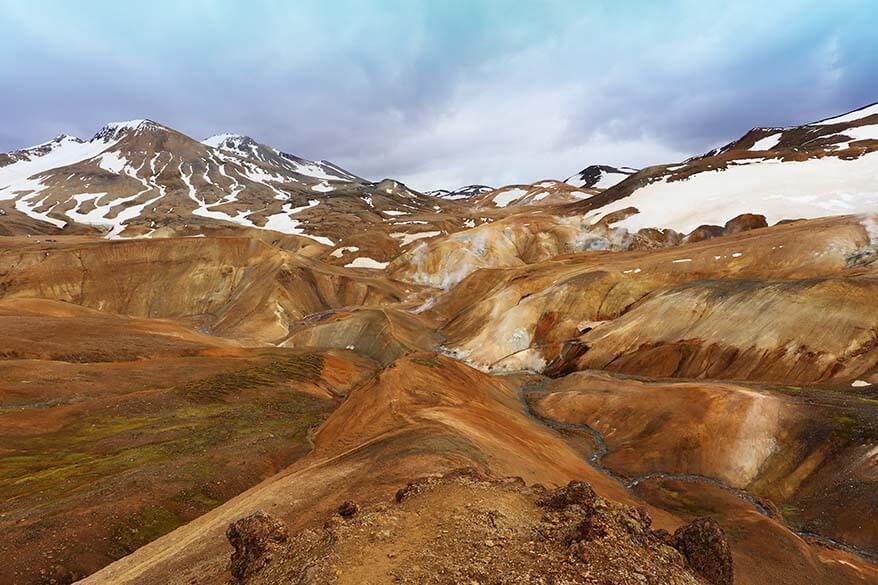 What makes Kerlingarfjöll even more unique is all the geothermal activity that you can witness all around here. Boiling water erupting from the ground, steam coming out of the deep holes in the mountains, and a strong sulfur smell are just a few things you can expect to find here.
Iceland has a few geothermal areas, but Kerlingarfjoll is probably the most spectacular of them all AND there are very few tourists here.
We spent almost two hours in Kerlingarfjoll and made a beautiful hike here. There are several paths to choose from, and it doesn't really seem to matter which way you go – the scenery is simply great. Even if you don't like to hike, you can walk just a few minutes and enjoy this unique landscape just as much.
At the end of the day we felt that we had already seen so much pristine beauty that if we were to go home today, we would already be happy with the trip. It couldn't get any better. Or so we thought…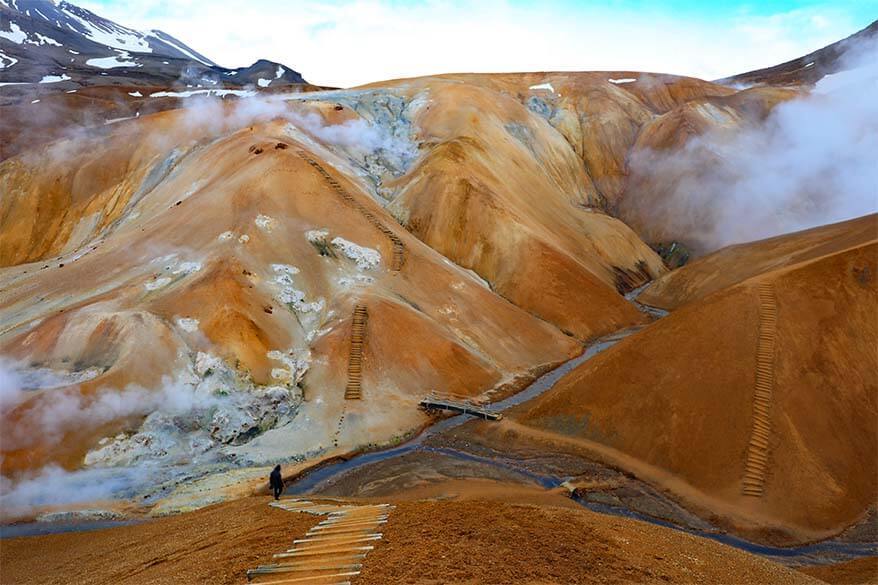 Our accommodation for the night was the newly built guesthouse at Kerlingarfjöll Mountain Resort. The rooms are simple, but have everything you need, and there is also a small restaurant that serves delicious food. Location is stunning and there are many hiking possibilities in this area. Note that we stayed in newly built rooms with private bathrooms, but there are also older accommodation options with shared facilities, and there is a camping area as well. This is the only accommodation option in this area, really in the middle of nowhere.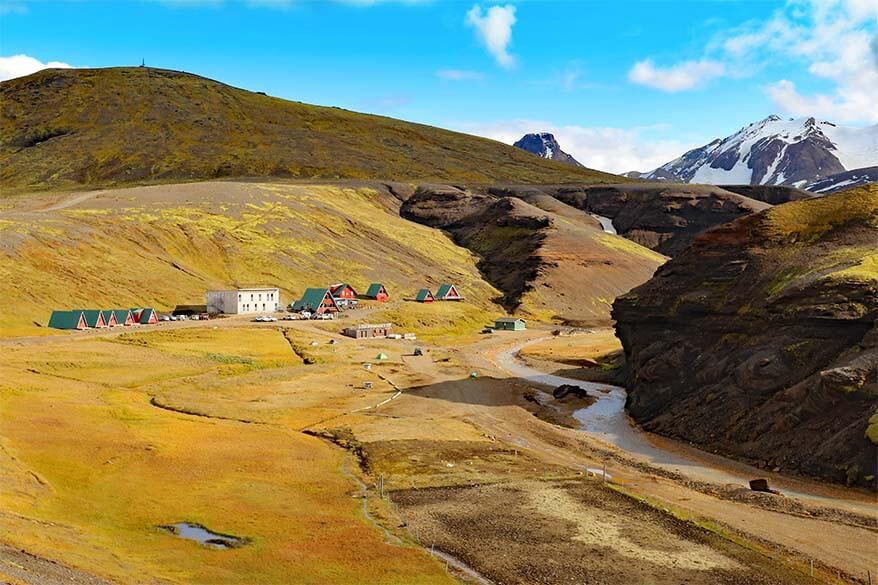 Day 2: The Better Side of Gullfoss Waterfall, Storu – Laxargljufur, Haifoss Waterfall, Northern Lights
Our second day of this Iceland highlands trip started with a long drive through some of the most remote roads I have ever seen (to give you an idea, some roads were not even on the most detailed map of Icelandic highlands).
We would drive 8,5 hours today without meeting a single car or a person along our route. Not many places where you can still find this kind of remoteness and solitude in the world…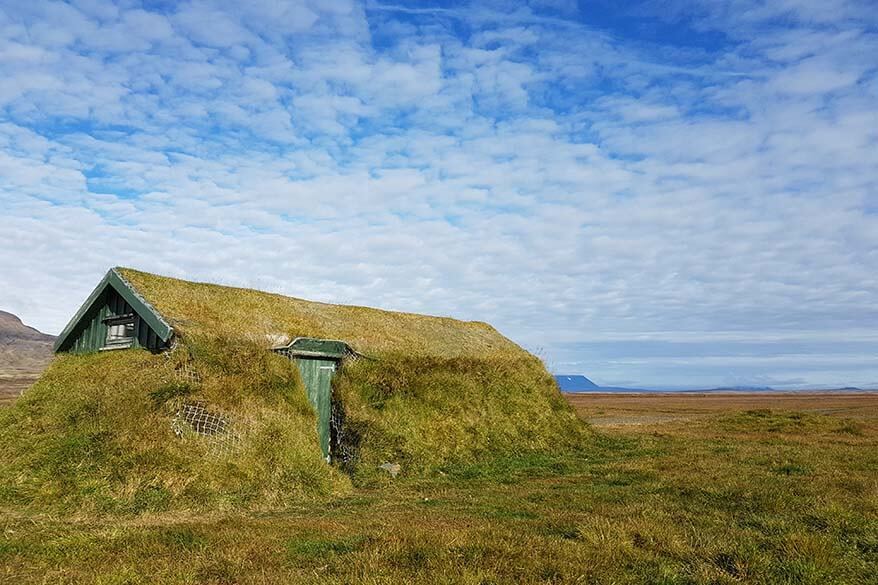 Gullfoss Waterfall – East Bank
After crossing several rivers and countless streams, we got back to pretty much the same place where we started our trip the first day – Gullfoss. Just… this time we were on the other side of this popular waterfall.
There is a world of difference between Gullfoss known and seen by thousands of people every day and this other side of Gullfoss, the East Bank. The better side of Gullfoss, as I call it, is simply incredible! It's only when I saw Gullfoss from here that I could appreciate how majestic this waterfall truly is.
And yes, you guessed it right, we were all alone on this side of Gullfoss, while in the meantime the other side looked like an ant nest. In a way, we did see some people today, but it just reinforced that feeling of remoteness. It made us feel really privileged, almost ashamed to be experiencing all this extraordinary beauty completely on our own, without having to share it with anybody else…
Just a note, it takes about 20 minutes to reach the better side of Gullfoss waterfall from the car parking. The hike is flat and easy.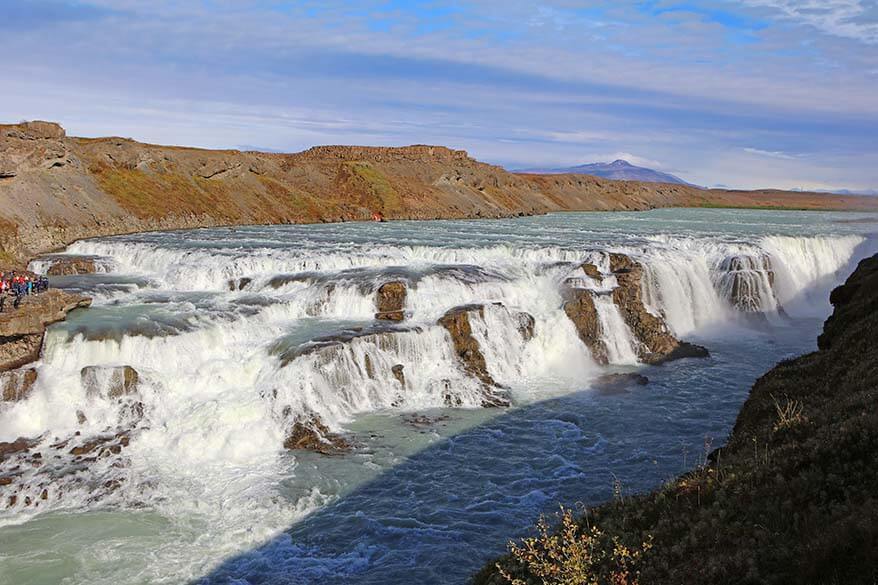 Storu – Laxargljufur Canyon
Our next stop was Laxargljufur, Big Salmon River Canyon. A short walk through lava fields covered in soft moss brings you to what can probably be described as the most beautiful canyon of Iceland.
The famous Fjaðrárgljúfur canyon that many tourists visit along the South Coast is well worth the trip, but I feel that it just can't compare to Laxargljufur. There is just something about Laxargljufur that makes it feel very unique… Not to mention, once again, that we were all alone here and had this spectacular place all to ourselves.
Autumn colors and patches of wild berries made a visit to this hidden gem even more special.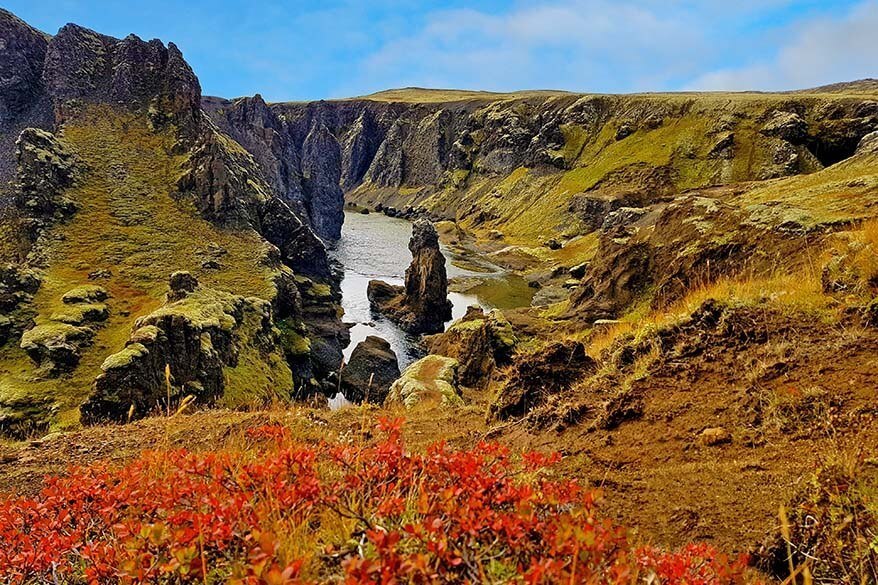 When I told our guide that this must be one of the most special places in Iceland, he just smiled and said 'you ain't seen nothing yet'…
Haifoss Waterfall
After crossing countless more rivers and streams, at around 4.30 PM, we finally saw another car on the road. It's actually funny that our guide Kjartan knew the other driver personally. It just shows what a special society Iceland has: you drive the whole day without meeting anyone and the first person you run into appears to be your relative…
Immediately after that, we started seeing more cars and we knew that we were coming to a more visited part of the highlands. Indeed, Haifoss, the High Waterfall, felt like a really touristy place to us today. Although, busy is a really relative term,- there were just 6 or 7 other cars here…
Haifoss is a spectacular waterfall dropping 128 m into the deep gorge below. The view from the top is truly spectacular. However, don't miss an opportunity to hike down to the bottom of the canyon and see Iceland's second-highest waterfall from below.
Once again, we were completely alone here. While Haifoss is becoming an increasingly popular place to visit in the highlands, it seems that very few people make an effort to explore this beautiful area beyond a quick stop at the viewpoint.
LEARN MORE: Haifoss Waterfall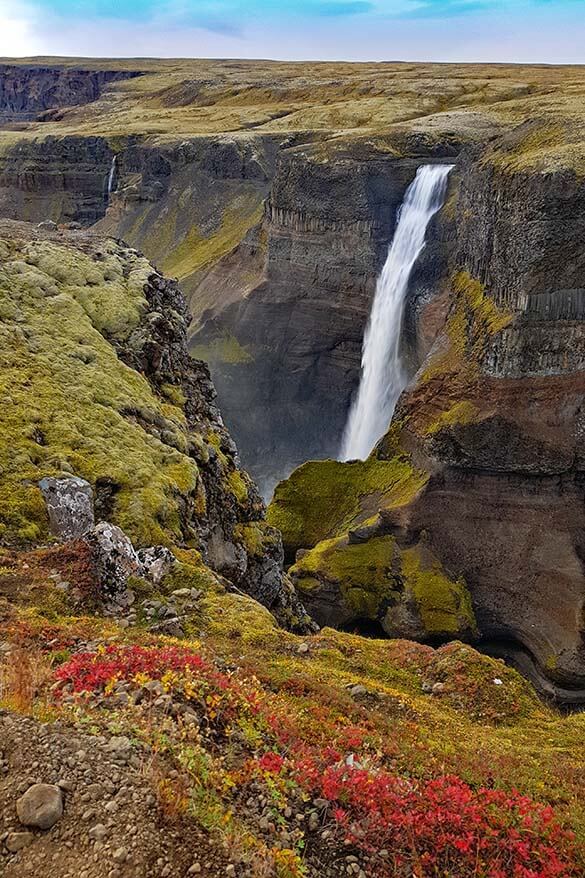 Northern Lights
To be completely fair, you cannot plan for auroras, but if you are traveling from the end of August till mid-April, there is always a chance to see the Northern Lights in Iceland.
The location of our accommodation was far from perfect for taking really nice pictures, but the green lady put up a real show for us that night.
READ ALSO: How to Photograph the Northern Lights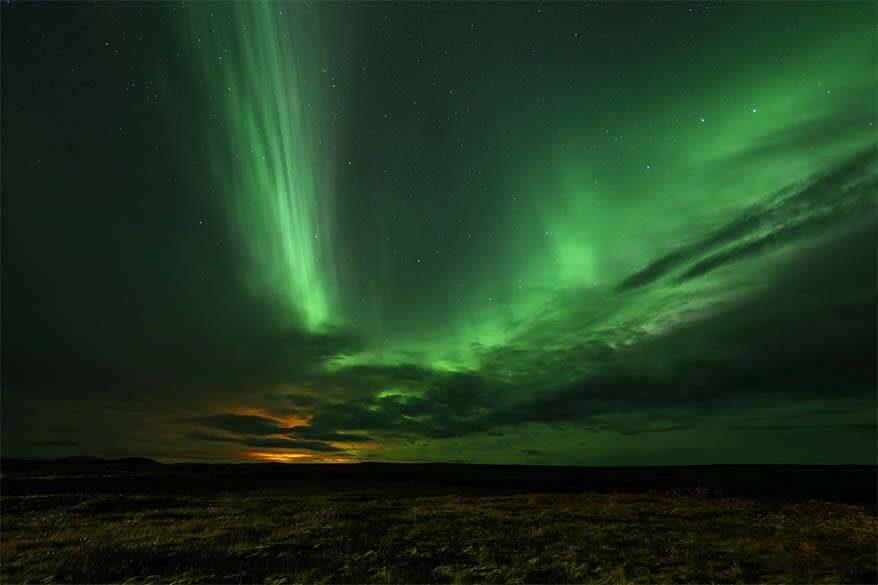 Our accommodation for tonight was The Highland Center Hrauneyjar. It's one of the very few accommodations available in this area and the rooms are really basic. However, it's clean, warm, there is a sauna, and a very good restaurant. They also have a petrol station (just one pump actually), which makes exploring Iceland's highlands just a bit easier.
Day 3: Sigöldugljúfur, Sigoldufoss, Fjallabak, Rauðufossafjöll, Ljottipollur, Landmannalaugar
An early start as Kjartan, our private driver and guide, had a busy program for us for today. The intention of this trip was to research what would be the perfect itinerary covering the best places of Iceland's highlands in just 4 days, so it meant activity-packed days.
Sigöldugljúfur Canyon
Sigöldugljúfur canyon is a remarkable place and very different than any other canyons we saw in Iceland. I lost the count of waterfalls tumbling down into the canyon and just couldn't believe a place like that existed.
The view from the top was spectacular to say the least. The light for photography was really bad due to the strong morning sun, so I find that the pictures I took don't do this place justice. But Sigoldugljufur is such a beautiful hidden gem of Iceland, well worth the bumpy drive.
It's not easy to get to Sigoldugljufur canyon and you do need a 4WD. Also, certain areas are forbidden to traffic, so you better visit with a local. Apparently it's also possible to hike down to the canyon. But I hear that it is a very strenuous hike and not without danger because the canyon functions as a discharge for the nearby power plant. Anyway, no time to linger here for much longer – we had EVEN MORE IMPRESSIVE places on our itinerary for today.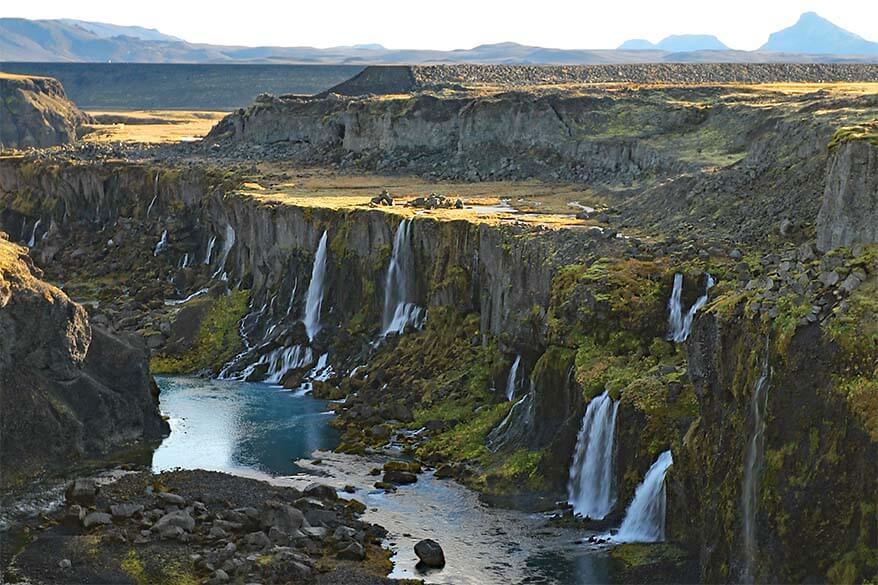 Sigoldufoss
Not far from Sigoldugljufur canyon, along the road F208, we stopped on the bridge from where you can see how the glacial water mingles with the water coming from the nearby power plant. It's a special place where you can see water in two different colors at the same time.
Just past the bridge, there was one more hidden place waiting for us – the beautiful Sigoldufoss waterfall. No matter how many waterfalls you have seen in Iceland, each one of them is different and you just never get enough.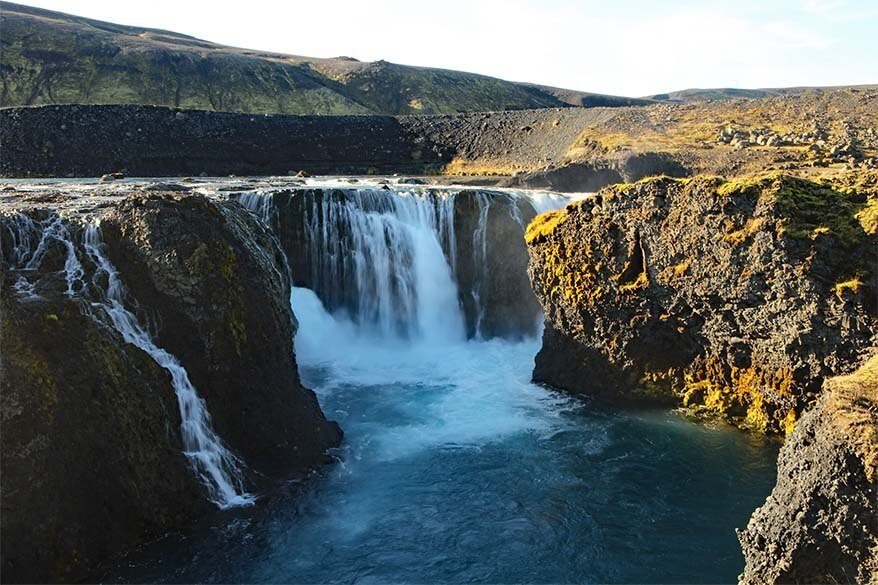 Fjallabak
Instead of taking the shortest route through the highlands, we turned back in order to reach one of the most beautiful roads in Iceland. Our guide was so right – Landmannaleið road through Fjallabak Nature Reserve is really scenic. Lots of photo stops along the way.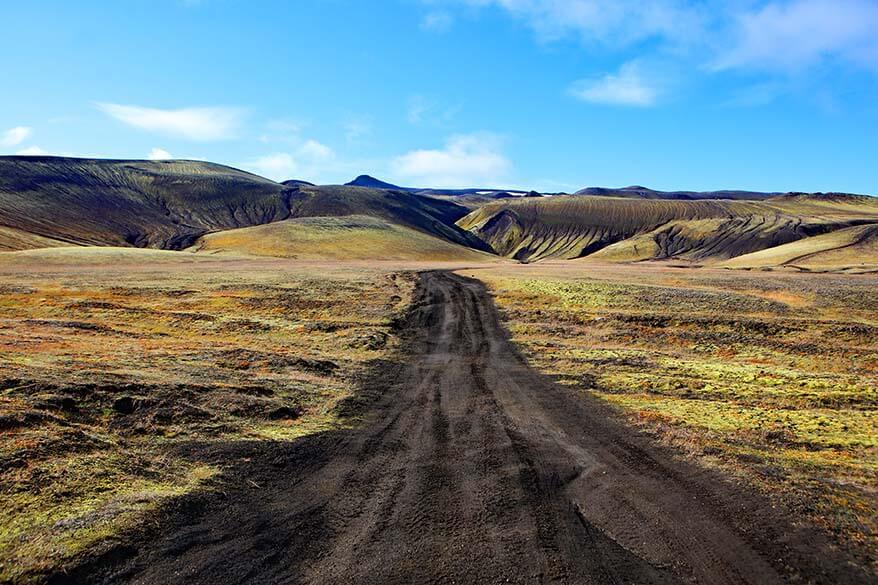 Rauðufossafjöll
Rauðufoss, the Red Waterfall, was our next stop. You may think it's just another waterfall, but it's very different and well worth a short hike. That's if you manage to find the unmarked parking area in the middle of nowhere first.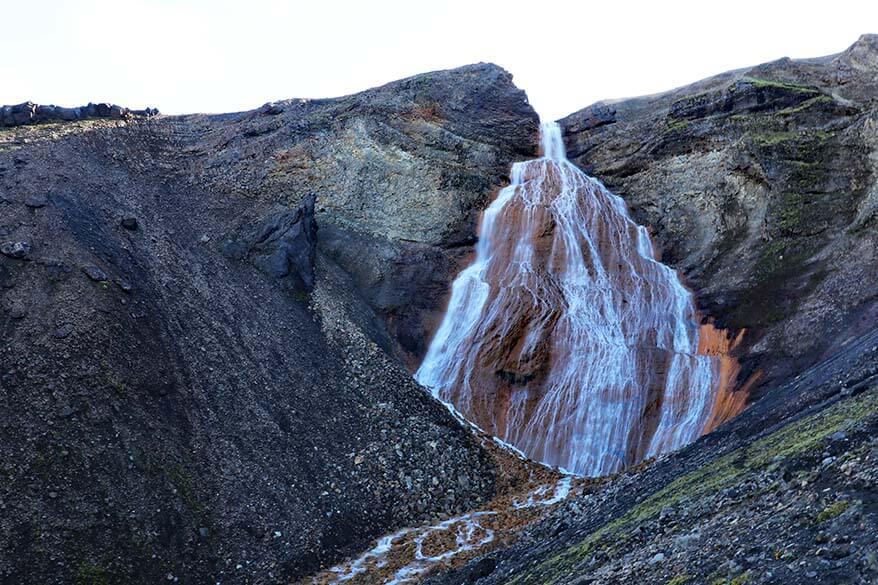 However, the Red Waterfall was not the main reason why we visited this area…
Rauðufossafjöll, Red Falls Mountains, hide one of the most secret places of Icelandic highlands. As you climb the hill and follow a small river Rauðufossakvísl, you enter another world. A place so unique, so remote, so spectacularly beautiful and colorful that no words or pictures can ever do it justice.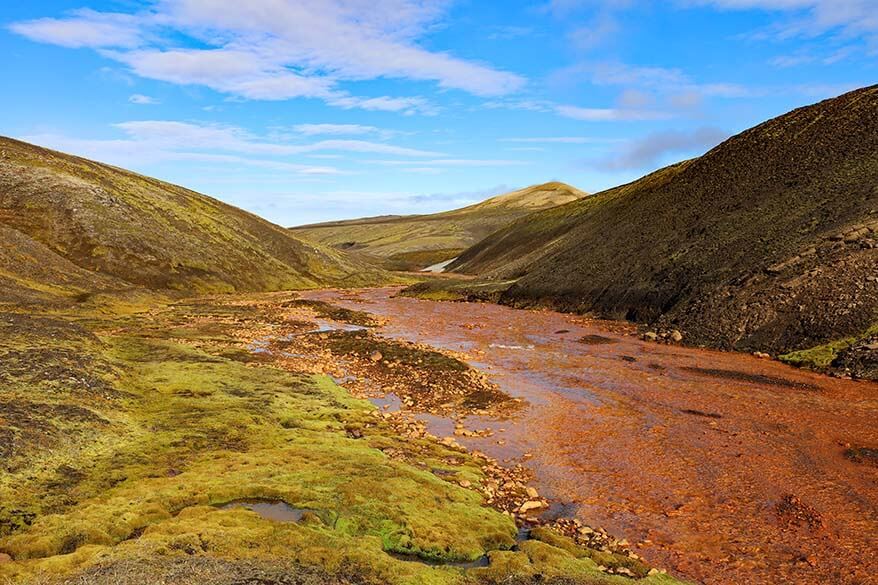 It's a place that only very few people have ever seen. The further you go, the more colorful the scenery gets. Just when you think it cannot get any more beautiful, you are rewarded with an even more spectacular sight – a picturesque little waterfall against the bright red rocks. A perfect place for a picnic we thought, but Kjartan encouraged us to go just a little bit further. Because we ain't seen nothing yet…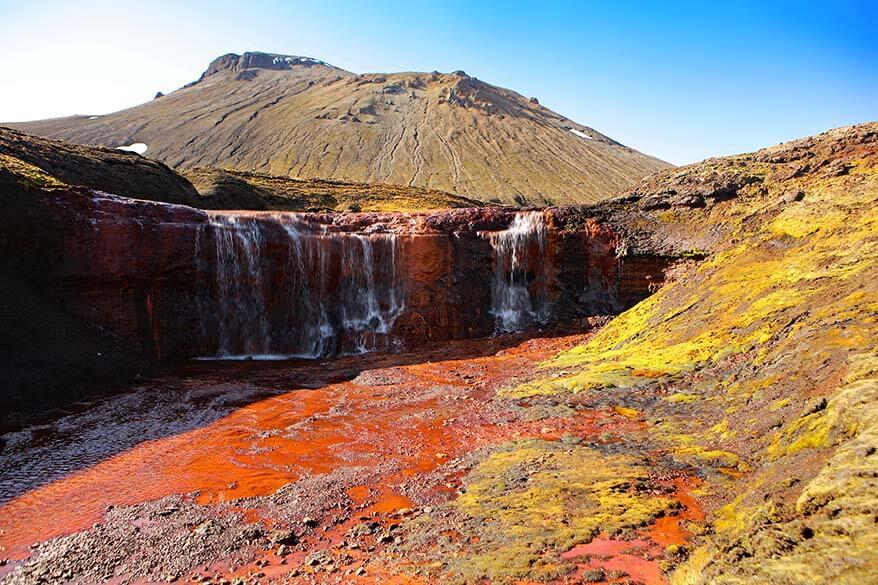 How can there be a place that's even more special, even more unique, even more spectacular than this??? And yet, there is.
Just a few meters further we reached the source of this beautiful waterfall. You'd expect the river to run down from the mountains, but here cold water comes out of the ground. A little colorful pond reminded me of many geothermal springs we had seen in Yellowstone, but it's completely different in the 'wild' nature. I have to agree with Kjartan that this is one of the most unique places in Iceland.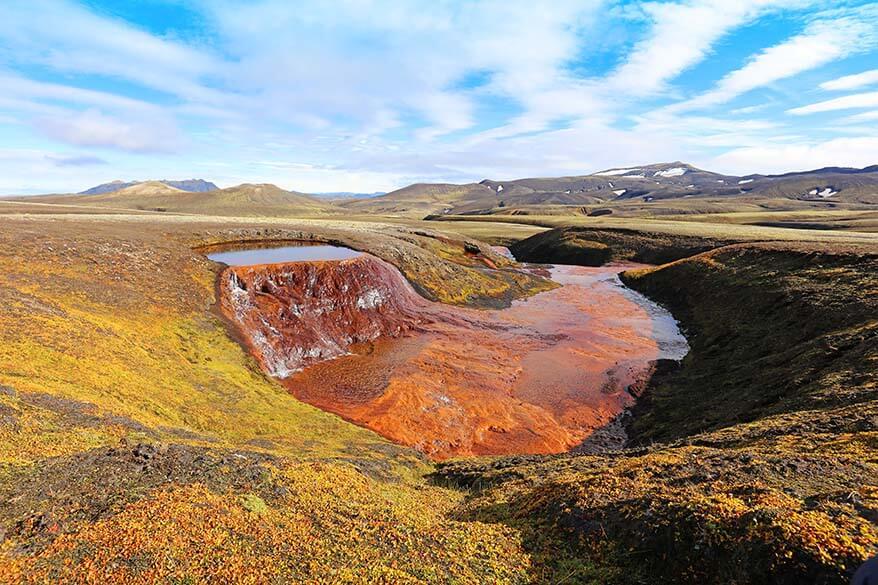 This place is so remote, so hidden, and known to so few that we jokingly named it 'The Mother of All Hidden Gems of Iceland'. It has no name, you will not (yet) find it on any map or travel guide, and I honestly hope that it stays this way.
I feel really privileged to have been here and I think that true nature lovers will appreciate it just as much. However, this place is so distinctive and at the same time so fragile that it should never become a place of mass tourism.
If you want to get here, ask Kjartan from Glacial Experience and he will take you to this unique place. Beware that it's quite a long hike – it took us about 3 hours in total. There are no signs, no indications, and it's not a place you should attempt to visit on your own. I was sure glad Kjartan had a GPS tracking device and knew exactly where we were going and, just as important, how to come back.
We visited on a beautiful sunny day and even then it wasn't easy to orient yourself in this area, I can't even imagine how one would ever find the way here if all of the sudden the mountains were covered in the mist.
Ljótipollur
Ljotipollur, or the Ugly Lake, was our next stop in the highlands, on the way to Landmannalaugar. The road towards the lake is in a really bad condition, but our super jeep handled it just fine.
There is actually nothing ugly about this lake and the view from the top of the hill is quite impressive.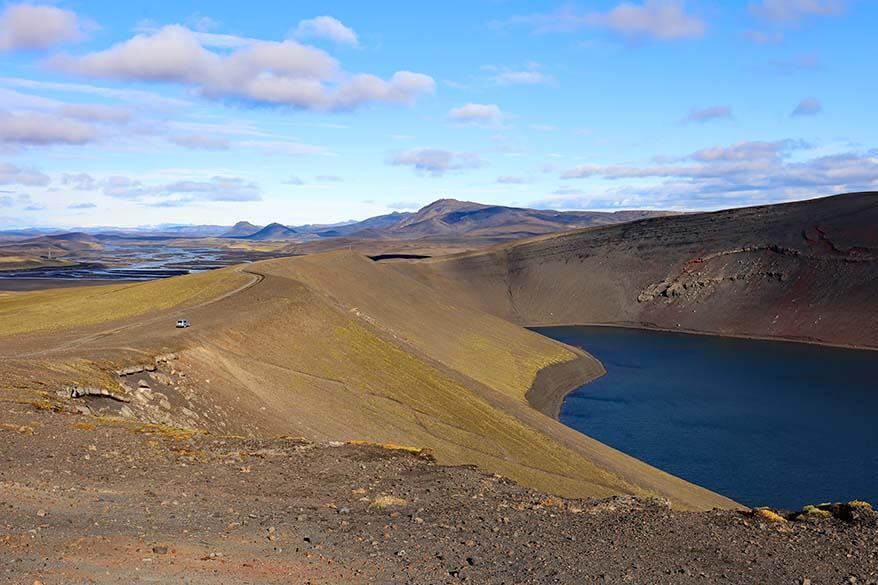 Landmannalaugar
The colorful hills of Landmannalaugar are well known to anyone who has done any research about Icelandic highlands. If people choose to visit just one area in the highlands, it's usually Landmannalaugar.
I'm not sure the exact reason behind it. I guess it's a combination of beautiful landscapes, relatively good accessibility that makes it a feasible day trip from Reykjavik, as well as good facilities including bathrooms and a small coffee shop. It's also by far the busiest place we visited in the highlands.
There are many hiking trails of various duration in Landmannalaugar, so you could easily spend the whole day here if you like. There is also a natural hot tub near the tourist information. We didn't have much time to explore the area, let alone take a bath, but it's a place that looked worthwhile staying longer.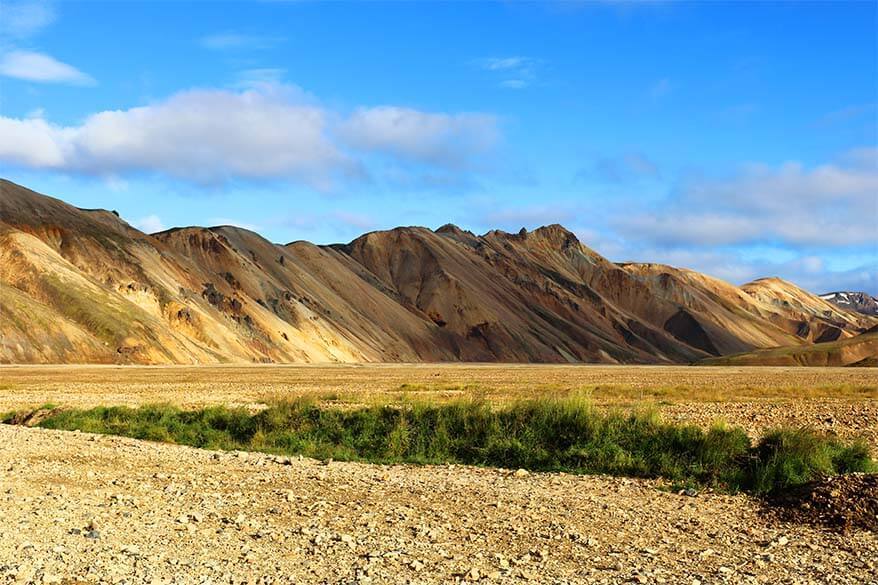 If I were to do the highlands trip again, I'd probably ask Kjartan to get up even earlier in the morning to be able to spend more time in Landmannalaugar. An alternative suggestion would be to skip the Raudufossafjoll area and only plan to visit Landmannalaugar on this day.
Taking into account that the hike in Raudufossafjoll area is quite long and demanding, I guess this is a better option for most travelers. That being said, I wouldn't have wanted to miss Raudufossafjoll; it's one of the most special places I've ever seen. Whereas Landmannalaugar is a place that you can even easily visit with an organized day tour from Reykjavik.
Eldgjá Canyon, Icelandic Sheep, and Beautiful Auroras
Eldgjá Canyon is another beautiful place to visit nearby if your itinerary allows it. We made just a very short stop and headed to our hotel where a warm dinner was waiting for us.
On the way to the hotel, we saw a big herd of sheep. September is the season of Rettir, when Icelandic farmers bring the sheep back from the mountains. It's quite special to see this, so of course, we couldn't just drive by without stopping.
That's another big advantage of traveling in Iceland with a private driver rather than a big group – you can make unexpected stops, just as you would do on a self-drive trip. Except that a self-drive trip in Icelandic highlands is really not for everyone and not for every car…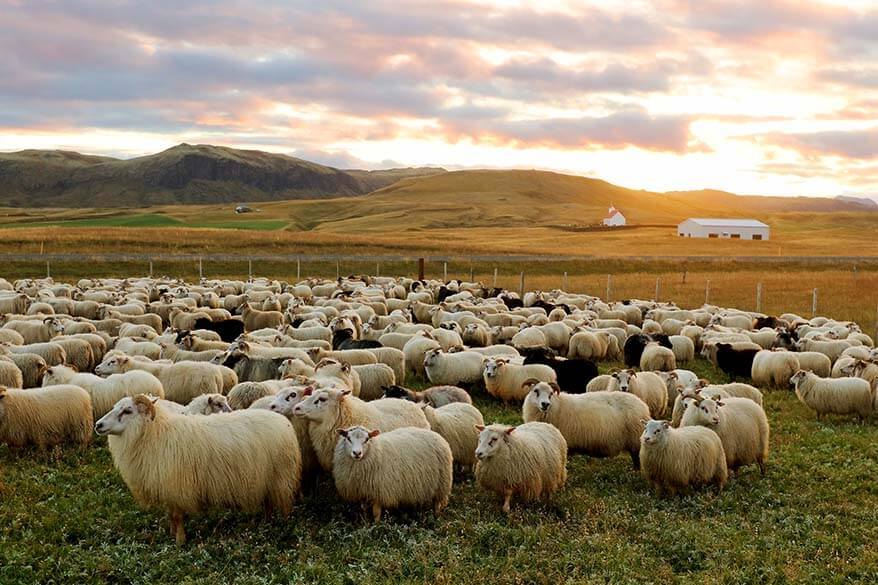 Our accommodation for tonight was the newly built Glacier View Guesthouse along the South Coast of Iceland. It's such a beautiful little hotel, the nicest of the whole trip. They served delicious dinner and on the way back to the room we were surprised to see the Northern Lights again. The forecast was showing clouds and just a vague aurora activity for tonight, yet it was there.
We rushed to the room, dressed warmer, and spent a few hours outside watching auroras. It would come and go, so you did need some patience. When aurora turned stronger we saw many people coming out of their rooms in their pajamas.
The hotel has aurora wake-up service, so if you don't want to stand outside for hours, this might be a good option if aurora stays active long enough for you to get out of bed.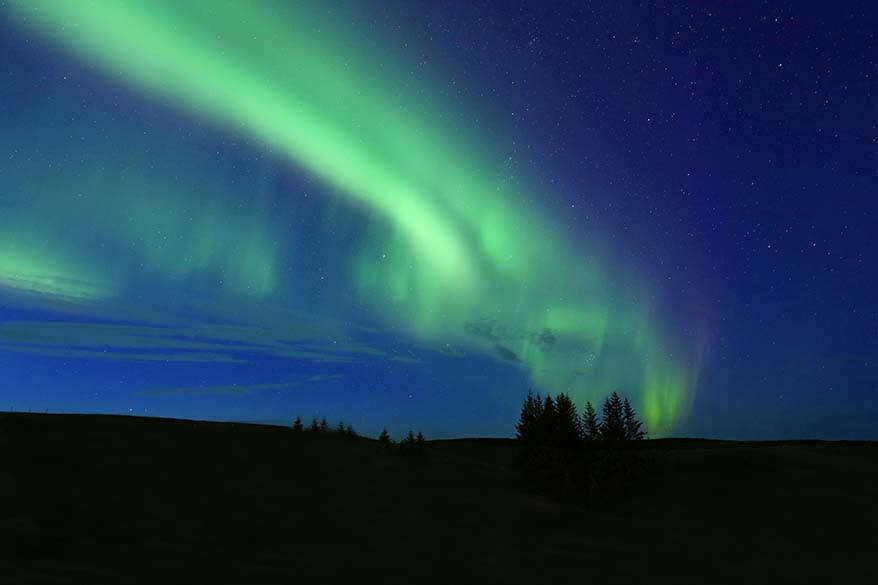 Day 4: Fjallabaksleið syðri, Mælifell, Markafljotsgljufur, Nauthúsagil gorge, Thórsmörk, Gljúfrabúi and Seljalandfsfoss
Fjallabaksleið syðri scenic road
We had such amazing weather the previous days, but our last day in Icelandic highlands was wet and windy. However, this kind of weather somehow fits with the highlands even more. I loved the moody scenery along the scenic Fjallabaksleið syðri road.
We made one photo stop after another – black sand, green mountains, and beautiful waterfalls made for some incredible pictures along the way.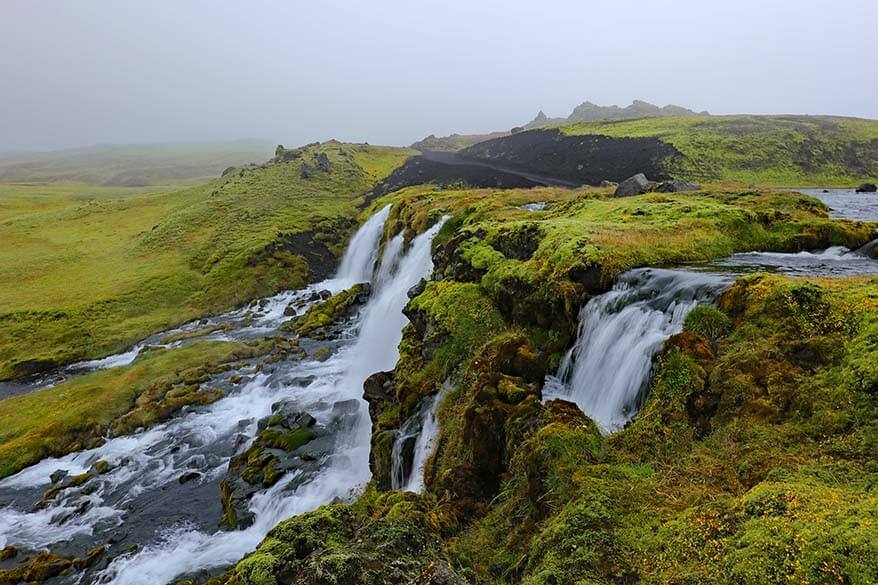 Mælifell mountain and Mælifellssandur
Our plan was to climb Mælifell, one of the most iconic and most photographed mountains in Iceland. However, it was pouring and the wind was pretty hard, so we decided to skip it. Just seeing this lonely green volcano in the middle of a flat black sand area Mælifellssandur was already spectacular enough.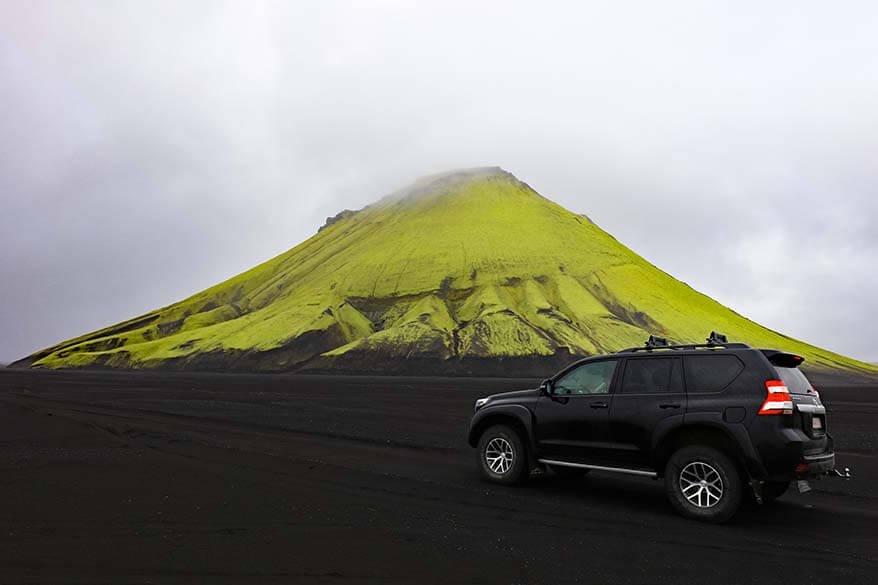 Markafljotsgljufur Canyon
Markafljotsgljufur canyon was our next stop in Fjallabak area. Because you just can't see too many canyons and waterfalls in Iceland, right.
After this short stop, we followed the scenic road F261 in the direction of Ring Road 1. I'm not entirely sure if this was in the planning for this day, but since we saved some time at Maelifell, we managed to convince Kjartan to take us to Thórsmörk instead.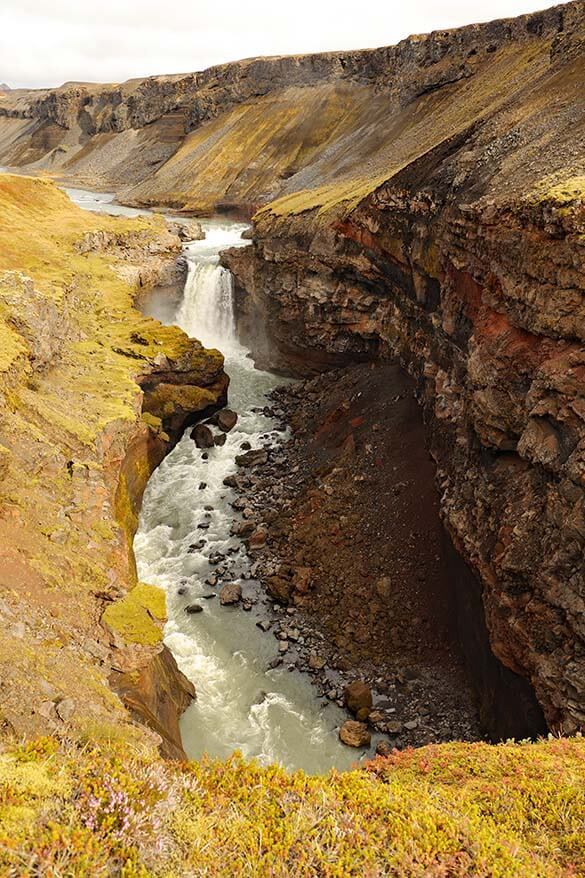 Nauthúsagil Gorge
Just before we reached Thórsmörk, we stopped by Nauthúsagil gorge. Nauthúsagil, The Bull Shed Ravine, may not look really special at first, but a short walk into the gorge brings you to a couple of beautiful waterfalls.
You'll have to negotiate a river, step on stones, and even use a chain to get there, but it's actually easier than it sounds and the waterfall at the end of the gorge is truly magnificent. This is a real hidden gem that is well worth a short 15-minute hike.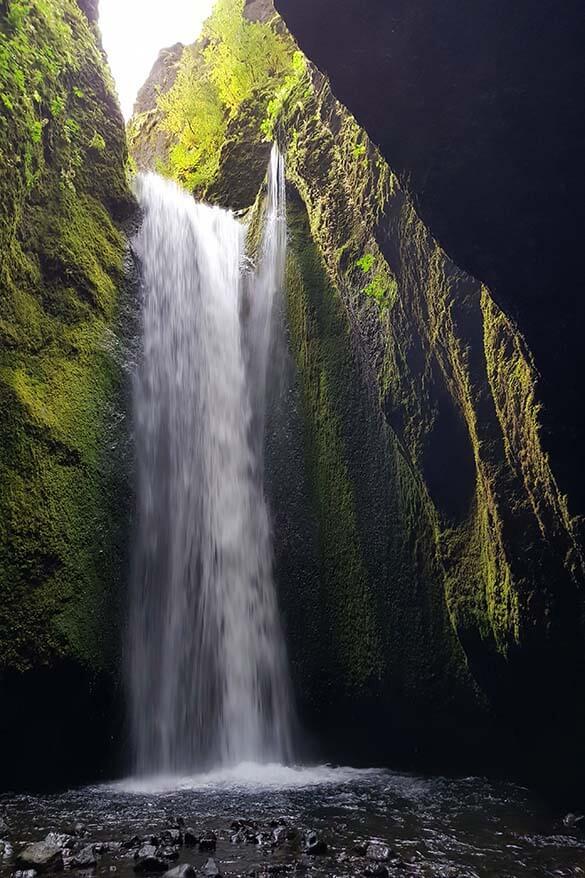 Thorsmörk
Thorsmörk, the Valley of Thor (Norse god Þór), is a lush mountain valley situated between the glaciers Eyjafjallajökull, Mýrdalsjökull, and Tindfjallajökull. It's a very green area with lush vegetation (who said there are no trees in Iceland?!) and a microclimate that usually means that the weather here is better than along the South Coast or in the highlands. And so it was – the rain had stopped when we reached Thorsmork.
You may remember the devastating eruption of Eyjafjallajökull volcano in 2010. Here in Thorsmork, you can still see the consequences of it. At Gígjökull glacier outlet you can see what's left of the glacial lagoon that collapsed after the eruption and flooded the valley. It's difficult to even imagine the devastating power of such a huge quantity of ice and water. Impressive sight.
After crossing several rivers (including the place of a fatal river-crossing accident from a few weeks before – a result of tourist inexperience and really bad luck), we entered the valley of Thórsmörk.
Thorsmork is well known for the Game of Thrones fans, but don't worry if you haven't seen a single episode; that's not what this place is really about. The scenery at Thorsmork is so special and again so different from any other place in Iceland that it will take your breath away.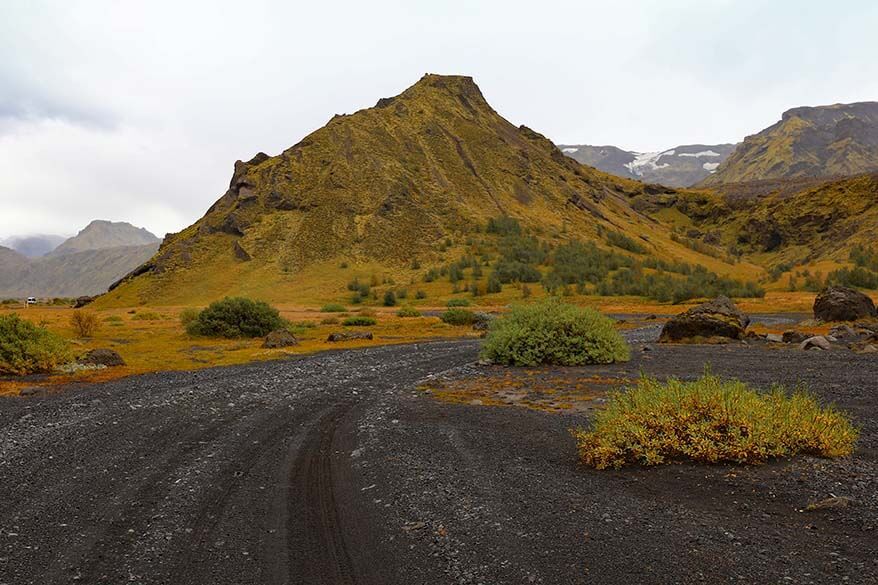 We made a short stop at Stakkholtsgjá, Stakkholts Canyon. You can hike the whole canyon or just a small part of it – the views are amazing.
We then continued all the way towards the end of the valley, to Basar Hut, where we made a short hike to the top of the hill to admire the scenery.
I can imagine that Thórsmörk is beautiful in any season, but autumn colors made it look even more picturesque. Thórsmörk must be the best place to see autumn colors in Iceland!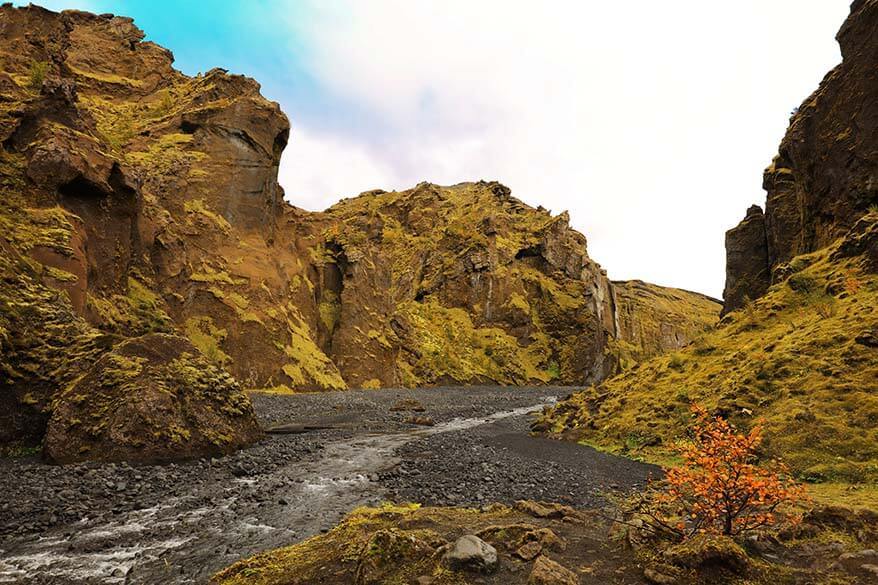 Gljúfrabúi and Seljalandfsfoss
Our last stop of this beautiful Icelandic highlands trip was a very popular place along the South Coast – the famous Seljalandsfoss waterfall.
Once again, it's a place that is too nice to just drive by and despite the fact that we were running really late, Kjartan patiently agreed to make a stop here. It was also a good stop to inflate the tires as we left the highlands and hit the Ring Road in the direction of Reykjavik.
Seljalandfsfoss is one of the highlights along the South Coast of Iceland. What makes it really special is the fact that you can walk behind the waterfall.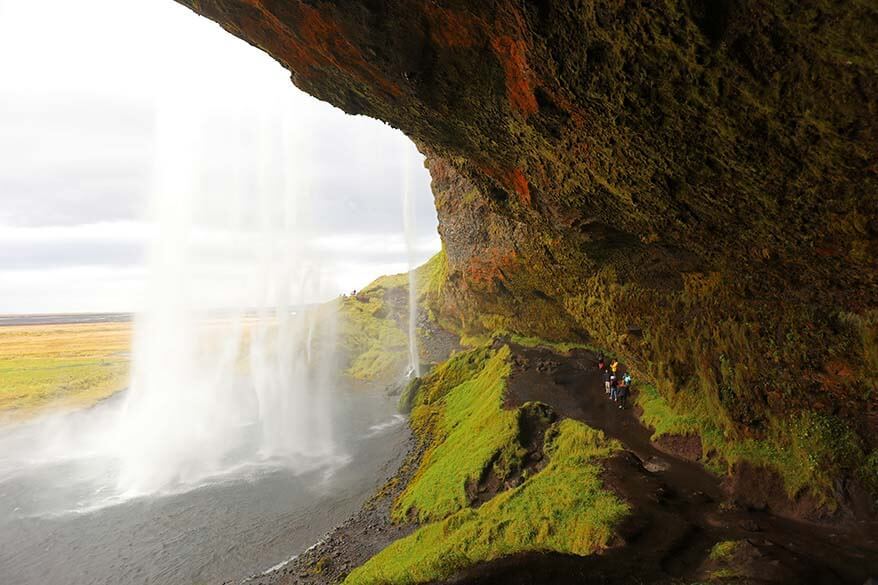 Just a little bit further you will also find the less known Gljúfrabúi waterfall, somewhat hidden in the gorge. This is a nice less known place to visit with fewer crowds – a perfect place for us to end this beautiful trip.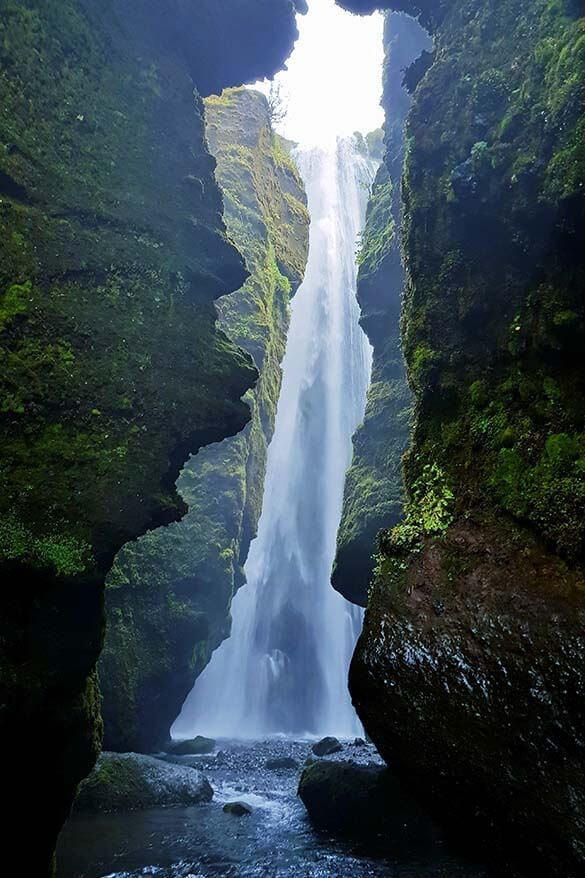 Our accommodation for tonight was the same as the first night, Icelandair Natura Hotel in Reykjavik. Next morning Kjartan was there at 5 AM to bring us to the airport.
A Note on Driving in Icelandic Highlands
If you travel in the highlands of Iceland you'll often see this road sign that is apparently widely misinterpreted by tourists. It means that the road is forbidden to all regular size cars (so also regular-size 4WD cars), and is only accessible to 4X4 super jeeps.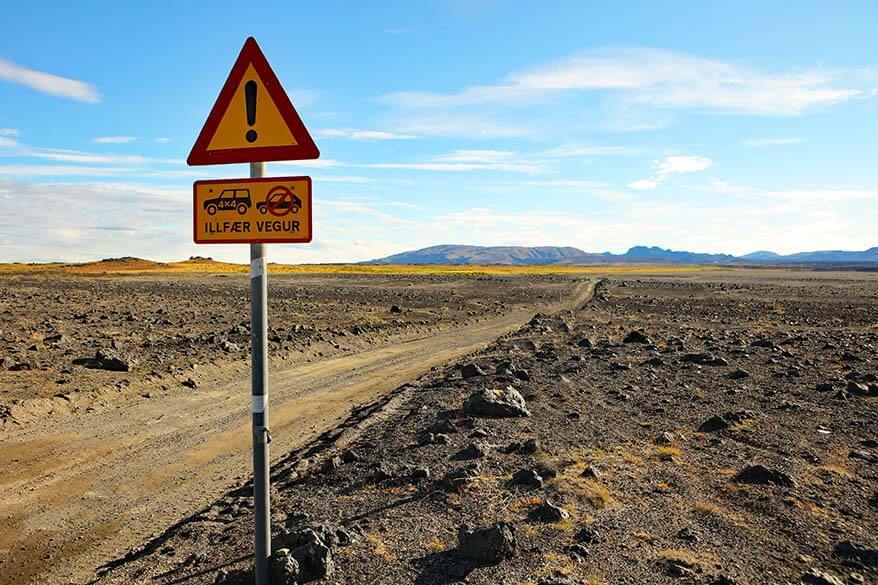 A definition of a super jeep is somewhat flexible, but what it generally means is that you need a 4×4 vehicle with oversized wheels and exhaust systems adapted for driving in the water, in order to drive on these roads in Iceland's highlands.
Even the biggest rented 4WD cars that we saw in the highlands in principle don't meet these criteria. I'm not sure if you can rent a super jeep in Iceland and what it would cost, I also don't know whether insurance covers any damage if you choose to ignore the signs. I think that taking a (private) tour is a much better option, both financially and safety-wise, not to mention that you'd not find many of these secret places in the highlands on your own.
One more thing that is very important when driving on gravel roads in Iceland is deflating the tires for a smoother ride and better grip (and less chance for a flat tire).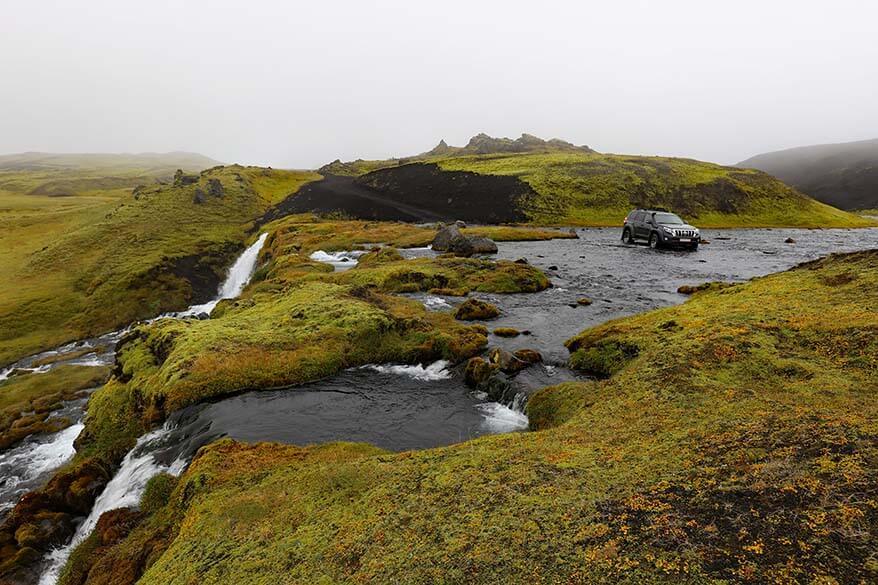 Iceland Highlands Trip with a Private Driver – Final Thoughts and Tips
If you want to explore Iceland's highlands beyond the popular day trips to Landmannalaugar or Thórsmörk, I really recommend considering a private tour like the one we did. Some areas are just too dangerous to drive even in a big 4WD, not to mention the fact that you won't easily find these hidden gems on your own.
Here are just some of the reasons why I recommend private luxury tours with Glacial Experience:
In-depth local knowledge, so you can see the main highlights, but also secret places of Iceland.
Flexibility to create the best itinerary that suits your needs and adjust on the go.
Suitable vehicles for any group size and adapted to your itinerary. Safety is their first priority.
Your trip planned to the finest details and completely arranged for you.
They can organize private trips for any duration, so for example, just 1 or 2 days in the highlands is possible as well.
And finally, there are a few things I want you to take into consideration if you'd like to plan a similar trip in the Icelandic highlands:
Most parts of Icelandic highlands can only be visited in summer (mid June-September).
You have to be fit enough to do at least some hiking (usually not more than 1-2hrs).
Be prepared for the long drives on the bumpy roads.
You should be open-minded enough to stay in less luxurious accommodations (because sometimes there simply isn't much choice in the highlands).
You'll need warm waterproof clothing and good waterproof hiking shoes for this trip; hiking poles can be useful as well. Here you can find more information on what to pack for Iceland in summer.
If you are well prepared and know what to expect, this Iceland highlands private tour with Glacial Experience will be one of the most special, unique trips you can ever take, a trip of a lifetime.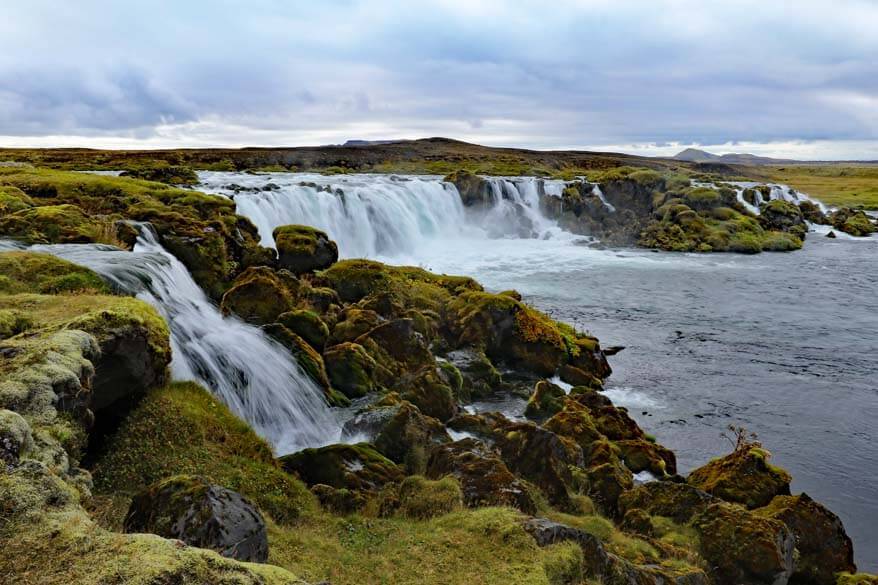 It was a real privilege to work with Kjartan from Glacial Experience to try this tailored Iceland highlands itinerary. I'll never forget these 4 days spent discovering some of the most remote places in the highlands of Iceland.
This is an amazing trip that I wholeheartedly recommend to everyone who loves nature and is looking for that something extra, a truly unique experience in Iceland.
If you are interested in the exact same or similar highlands trip, just mention the Icelandic highlands trip with Jurga from Full Suitcase to Kjartan and he will guide you to all these secret locations in the highlands.
However, you can ask Glacial Experience pretty much anything when it comes to traveling in Iceland and they'll make a private itinerary tailored especially for you. It's also perfectly possible to explore the main landmarks of Iceland on a self-drive trip (easy to do in summer) and book this highlands trip as an addition to your own itinerary. In that case, I would recommend to first see the main landmarks and leave the highlands for the end of the trip. It will be a cherry on the cake.
For more information, please fill in this form on the Glacial Experience website and they'll be in touch to help you plan your perfect Icelandic adventure.
If you have any general questions about traveling in Icelandic highlands, feel free to leave a comment below and I'll do my best to answer.
More tips for your trip to Iceland:
Some of our favorite lesser-known places in Iceland:
If you found this post useful, don't forget to bookmark it and share it with your friends. Are you on Pinterest? Pin this image!