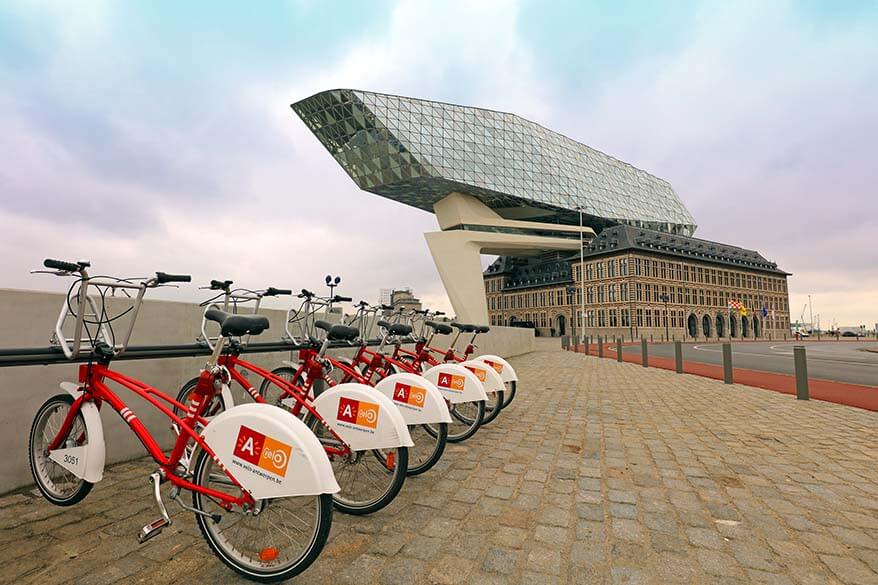 Visiting Antwerp and looking to explore the city a bit more? Get on a bike! The city has so much more to offer than just the main tourist attractions of Antwerp that everyone visits!
We live in the Antwerp area for many years now. But it was not before we set to explore Antwerp by bike that we realised how little of the city we actually know, and how much there is to be discovered off the beaten path in Antwerp!
Mind you, it would have probably never come to my mind to visit Antwerp by bike. But when the Antwerp Tourism board asked me if we would be interested to try out their newly designed (free) easy-going bike route of Antwerp, I immediately said yes.
I was hoping to get to know the city a bit better, maybe find one or two new places, but I never imagined that this route would actually be that good!
We discovered a whole new side of Antwerp that we were vaguely aware of or only knew by name. We saw some amazing historical places, incredible new architecture, beautiful parks, and so much more…
In this article, you can read about our experience. And if it looks like something for you, you can easily rent a bike and explore the same places in Antwerp on your own. See also our practical tips below for more info.
In this post, I am sharing just the main highlights, a small selection of the amazing places that we discovered in Antwerp by bike. I hope this will inspire you to see the less known side of Antwerp for yourself and find many more hidden gems in this incredibly diverse city.
Many of these places are located in the city center and you can also walk there on foot. However, distances are quite big and it's more relaxing to explore some parts of the city by bike. Also, renting a bike or joining a bike tour allows you to see so much more in a shorter time!
You can find all the practical information for the bike route below. But first, here are some of our favorite stops along the easy-going bike route in Antwerp.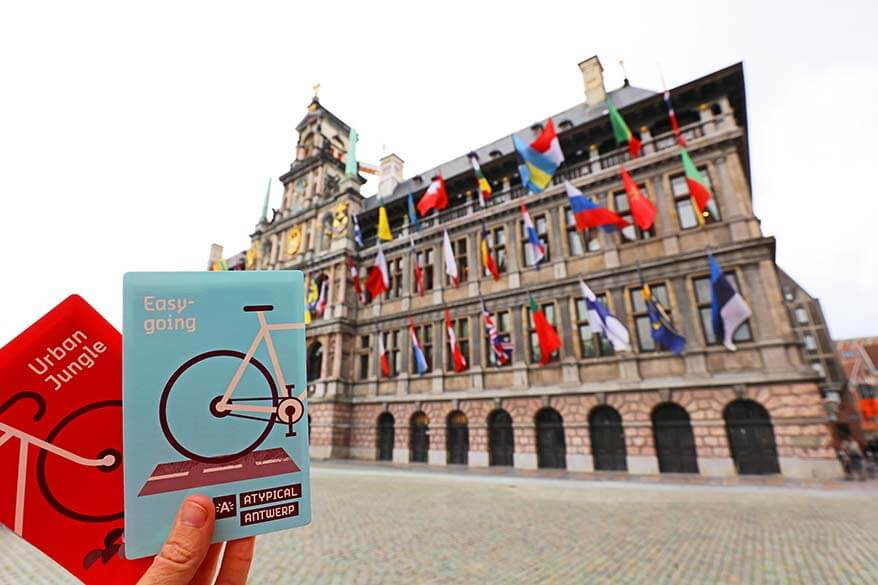 Here are some of the best places to visit in Antwerp by bike:
Port House of Antwerp – Het Havenhuis
The newly restored/ built Port House of Antwerp is an absolute highlight in the city. No matter how many pictures you have seen, it's so much more impressive in reality.
You can only visit the inside of the building with a guided tour that you have to book in advance. But you can appreciate the unusual architecture of the exterior at any time!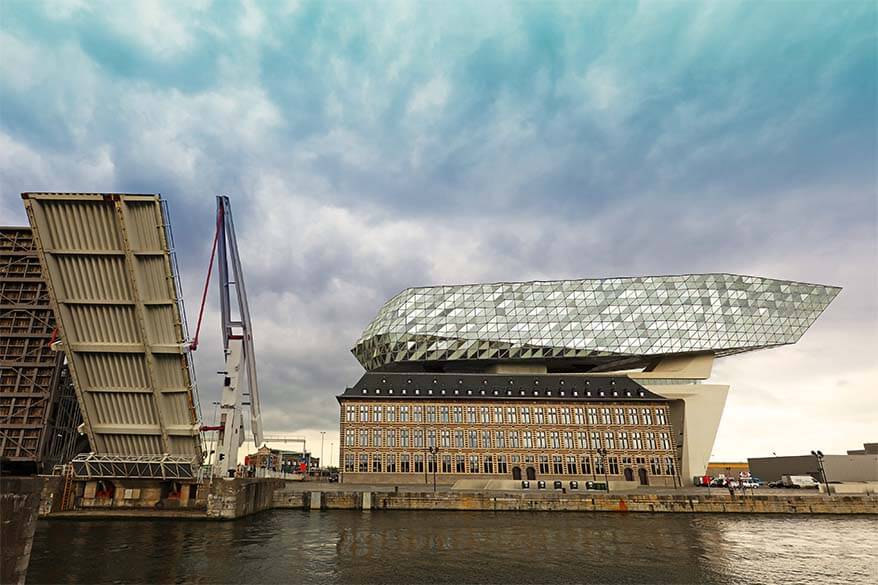 Red Star Line Museum
Red Star Line Museum: a trip back in time with the stories of people who sailed from here to their new life in North America.
This is one of the best museums to visit in Antwerp at the moment. But even if you just pass by bike, it's an interesting building in a quickly growing part of the city.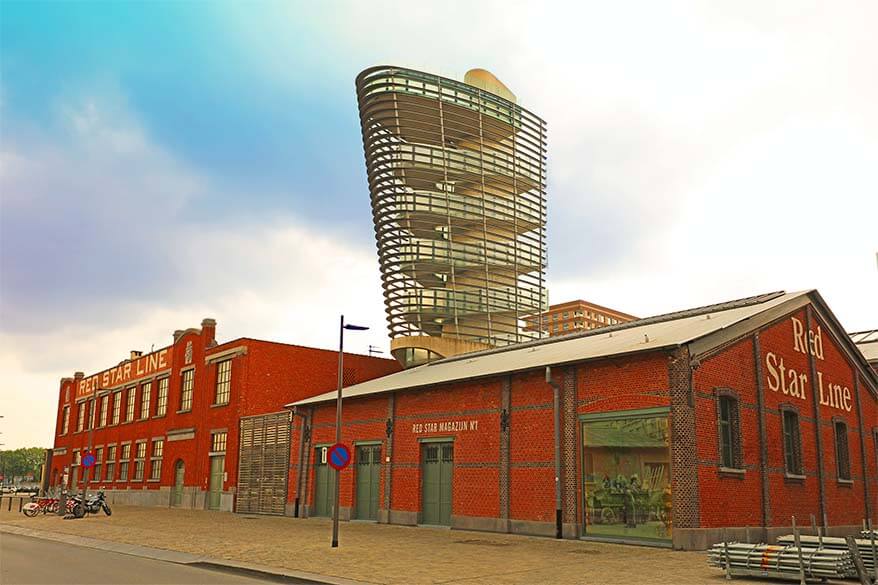 MAS – Museum Aan De Stroom
Even if you're not much into visiting museums, don't miss this one! You will definitely enjoy the view from the roof terrace of MAS. You can access the rooftop by escalator and it's free of charge.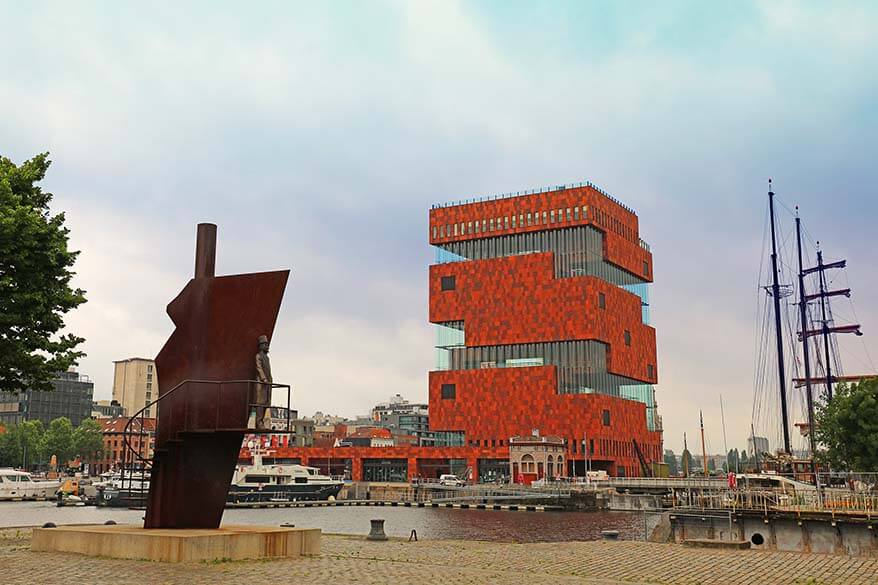 Park Bridge – Parkbrug
Enjoy the architecture of the Park Bridge, a new bike- and pedestrian bridge that takes you from the Eilandje district to Park Spoor Noord.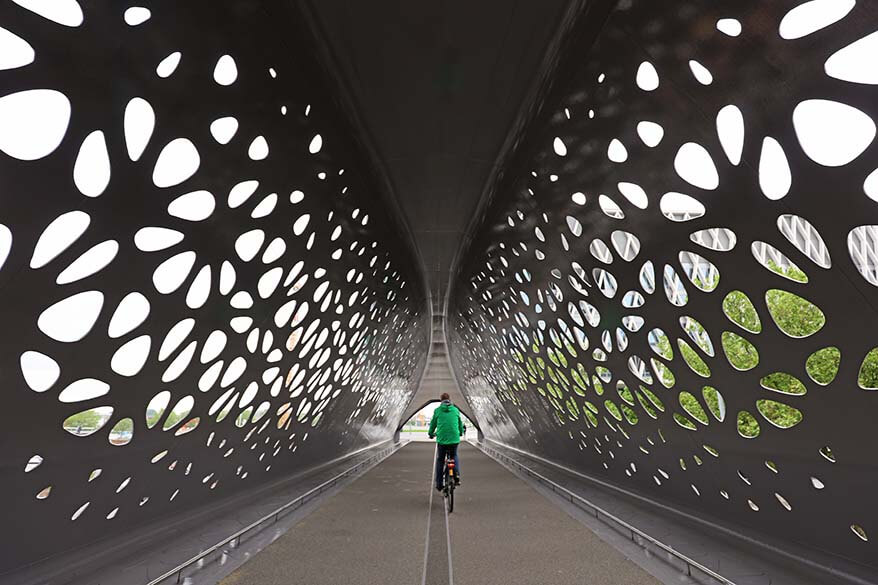 Rivierenhof
Rivierenhof Park is located outside the city center of Antwerp and you will not find many tourists here. But coming by bike, I realized that it is actually much closer than I thought it was, and I couldn't believe we never visited this place before!
Rivierenhof park has it all: a castle, a pond, beautiful gardens, lots of flowers, and plenty of shade for those looking to escape the heat in summer. It's a perfect place for a picnic too!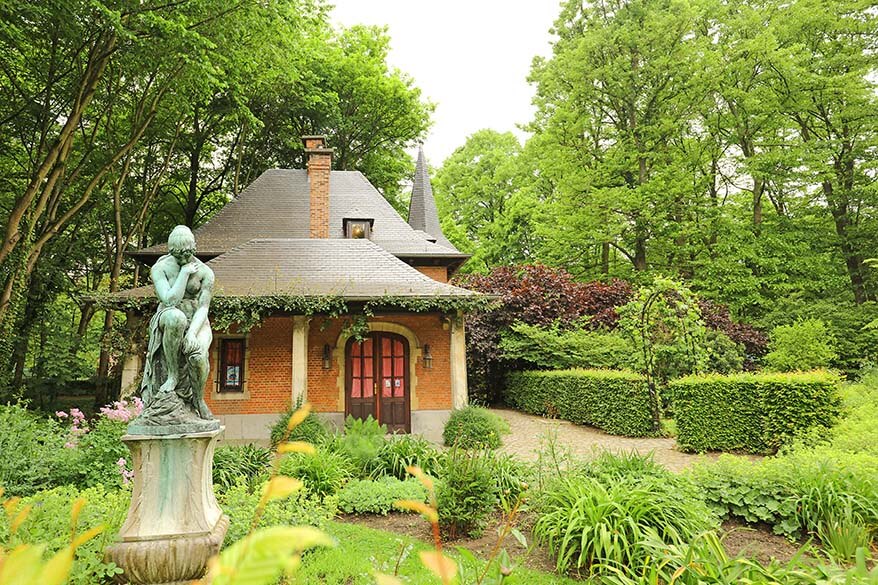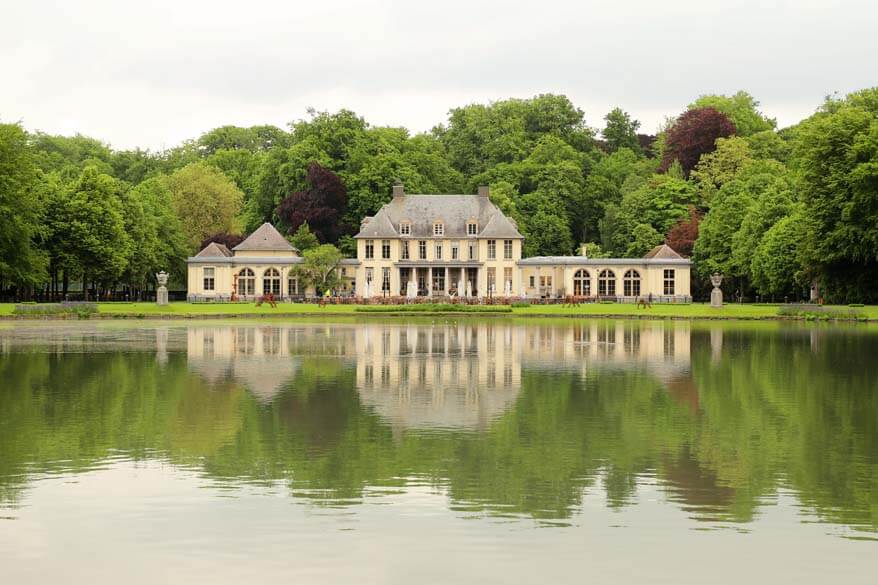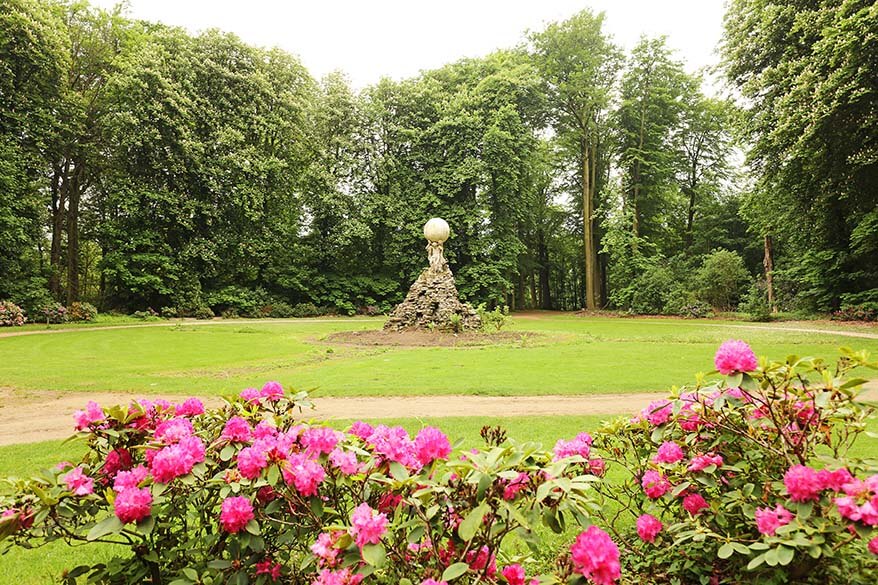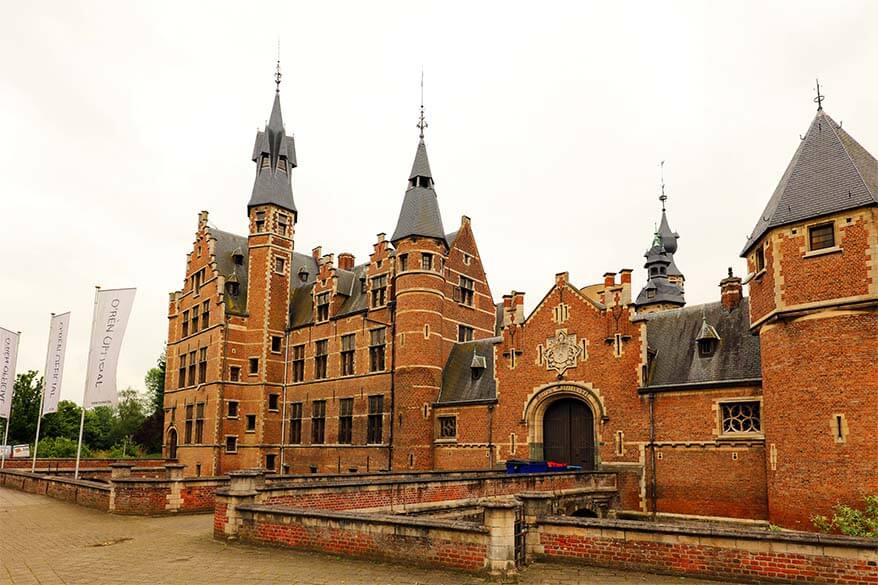 Middelheim Park
Middelheim is another beautiful park you can explore along this route. If you have more time, make sure to check out the Middelheim Open Air Sculpture Museum. If you are biking with kids, look for the animal farm!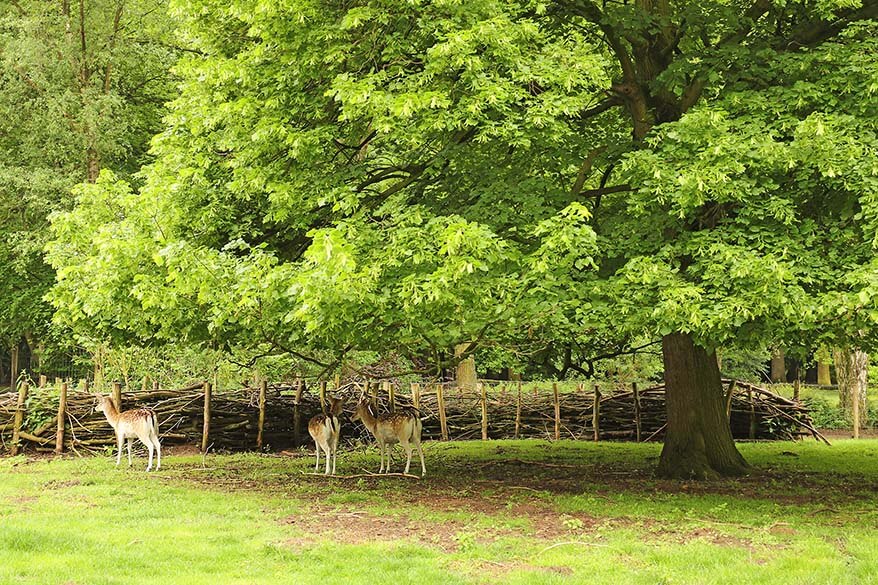 Harmoniepark
The beautiful concert hall of Harmonie that has been abandoned for years will hopefully soon be restored and get its grandeur back.
In the meantime, you can admire some colorful street art on this incredible building. You cannot help but wonder why in the world would a building like this be left vacant for years…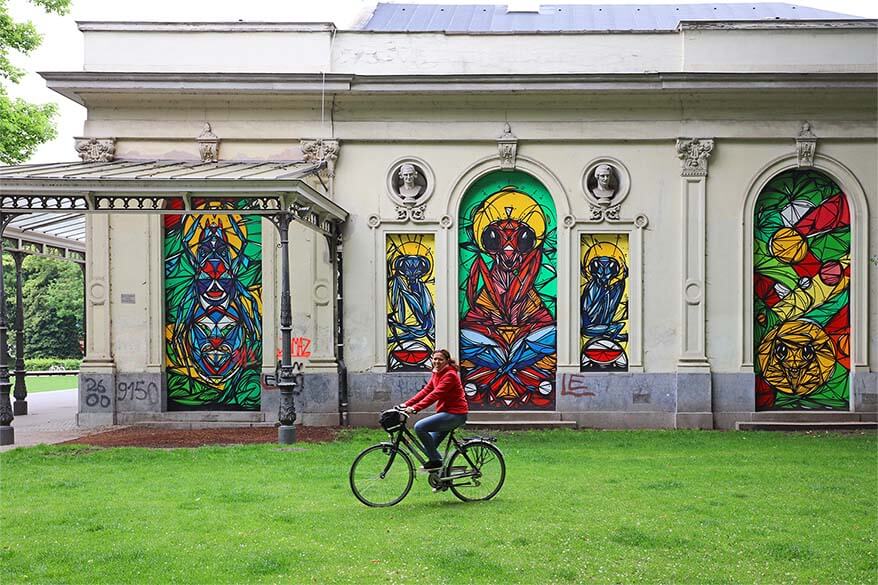 De Koninck City Brewery – Stadsbrouwerij De Koninck
No visit to Antwerp would be complete without tasting the legendary 'Bolleke' beer. If you have an hour to spare, you can join a guided tour of De Koninck City Brewery (and of course taste the beer for yourself at the end).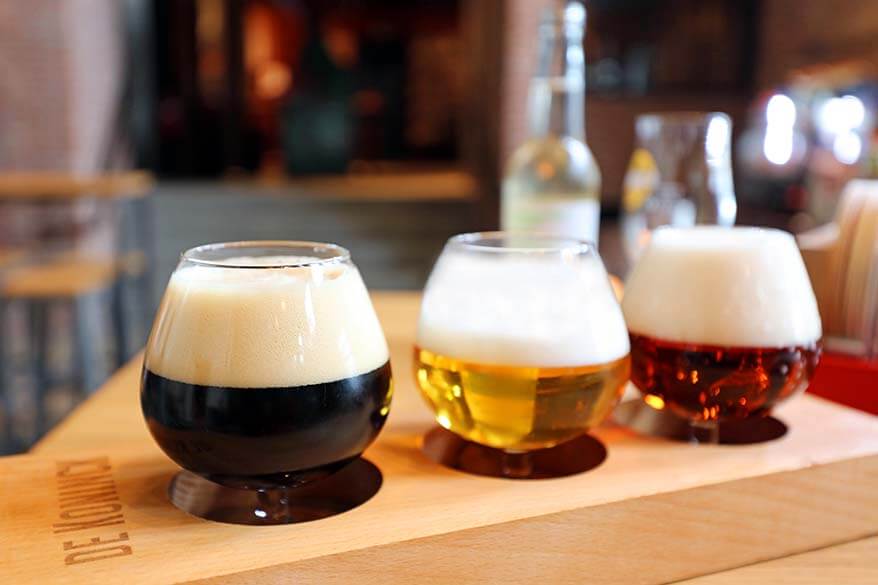 The City Park – Stadspark
The City Park – Stadspark: kids playing and skating, people strolling or sunbathing, a very lively place to take a rest.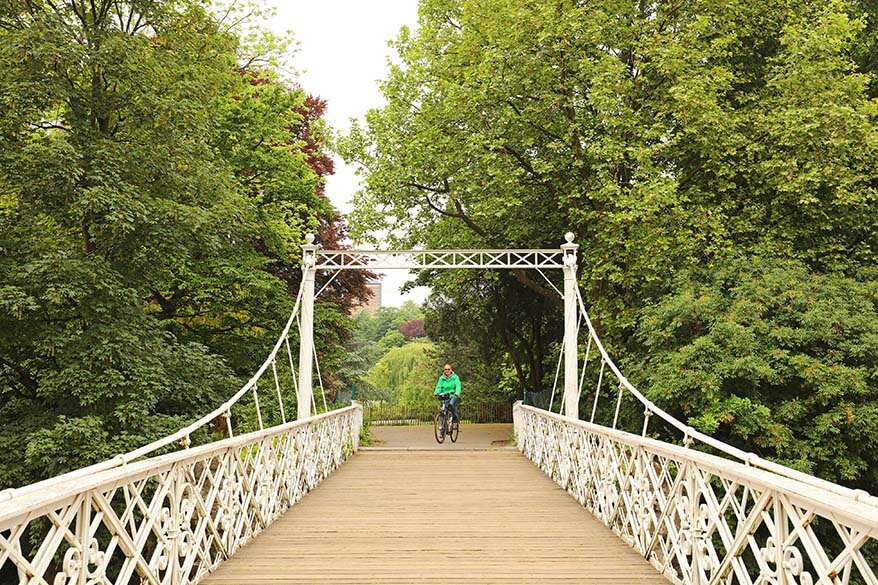 The New Law Courts – Nieuw Justitiepaleis
The New Law Courts of Antwerp is a modern architectural masterpiece by Richard Rogers (also known from Millenium Dome, Centre Pompidou, etc).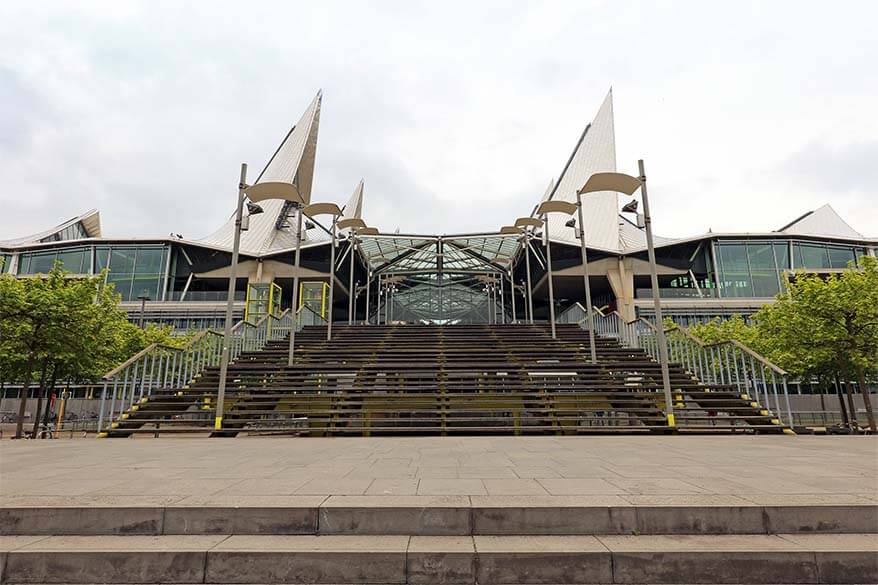 The Port of Antwerp – Antwerpse Haven
The port of Antwerp is a perfect place to discover by bike. Enjoy a bike ride along the Scheldt river quays and the Steen Palace (the oldest building of Antwerp), and watch drawing bridges and locks in action in the harbor.
If you have more time, you can also take a boat trip in the Port of Antwerp. But that usually requires some advance preparation and advance booking.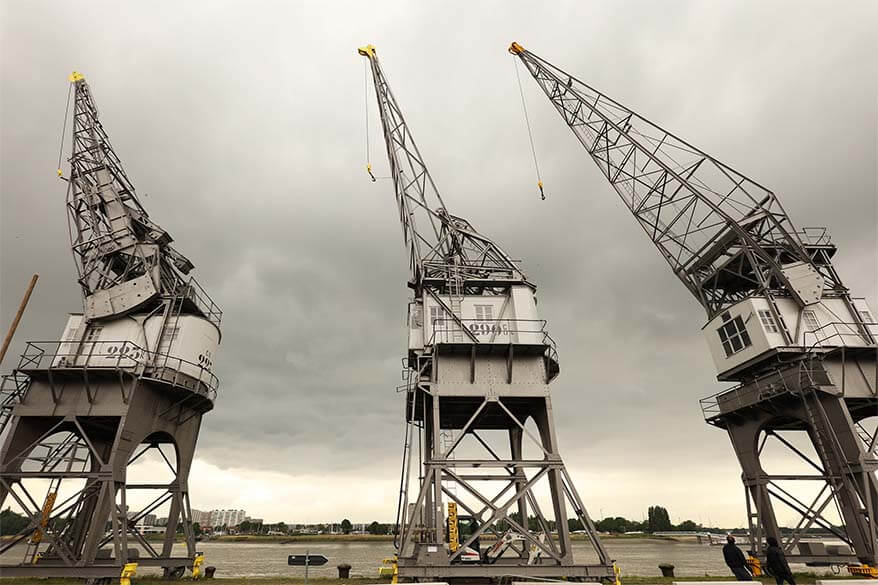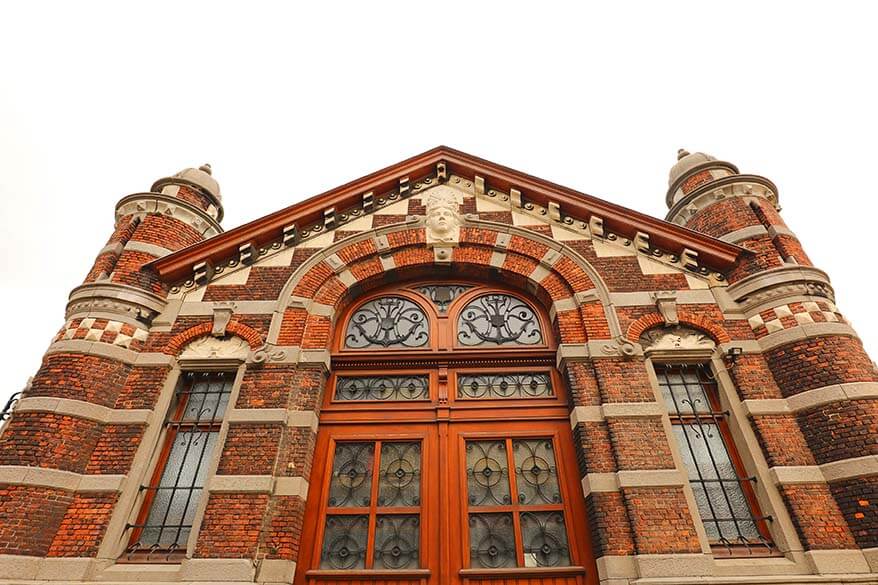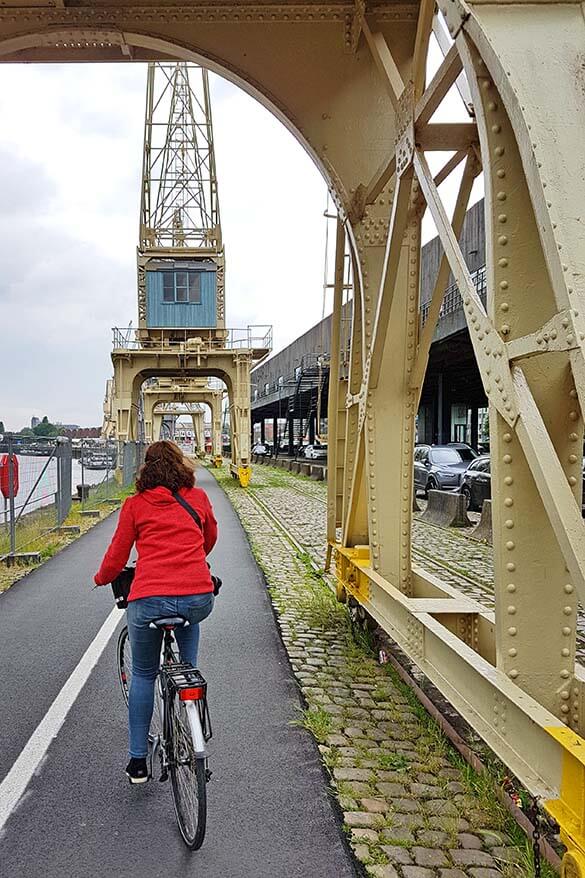 Also the main landmarks of Antwerp can be visited by bike!
In addition to all these places, you will pass the most well-known landmarks of Antwerp along this bike route as well.
Make sure to take a look inside the Central Station; if you have more time you can visit the adjacent Zoo. The Antwerp 'Grote Markt' with the beautiful City Hall and the Cathedral are close to the bike route as well, so you can easily combine the bike tour with a visit to these places.
READ ALSO: Best Things to Do in Antwerp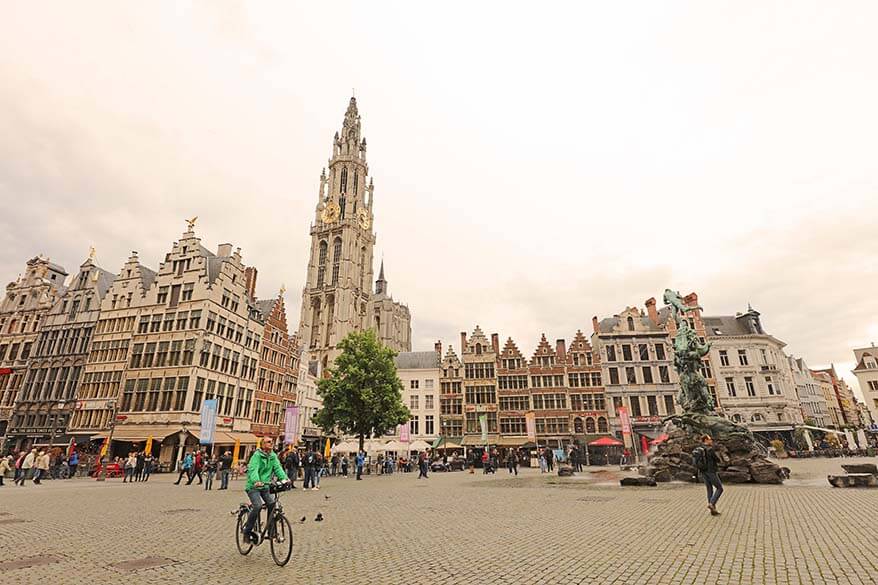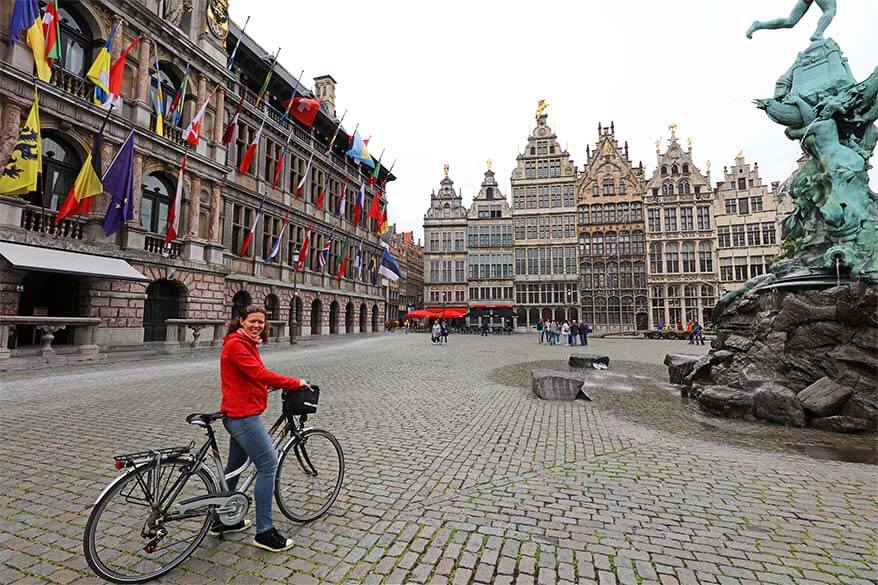 Antwerp by bike – practical information
BIKE. You use city bikes VELO or rent a bike at of the central locations in Antwerp. Of course, you can bring your own bike by car or by train (you have to buy a special ticket though, unless you have a folding bike).
PARKING. If you come by car, there are several free car parks that you can use. We left our car at one of the parkings close to the Port House, next to Het Pomphuis restaurant.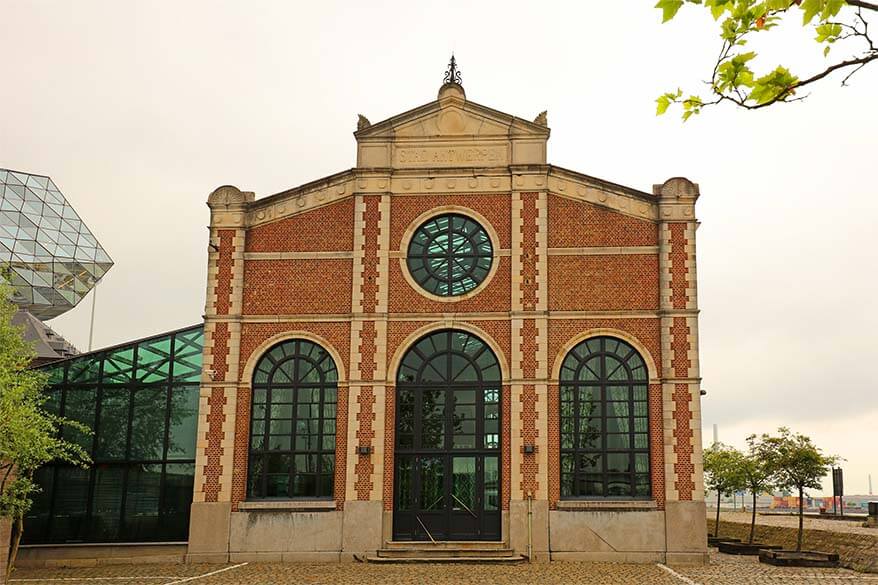 ROUTE MAP. We followed the Easy-going bike route from a free map that we picked up at the tourist information center (you can find Antwerp Tourist Information at the Central Station or on the Grote Markt).
Alternatively, you can download the map on your smartphone. We found following the paper map more relaxing as it uses a very handy system with bike route numbers. So all you need to do is look for the bike route signs along your way and follow the road to the next 'knooppunt' (intersection) number of your route. It's so much easier than I thought and it's more relaxing than having to look for street names, etc.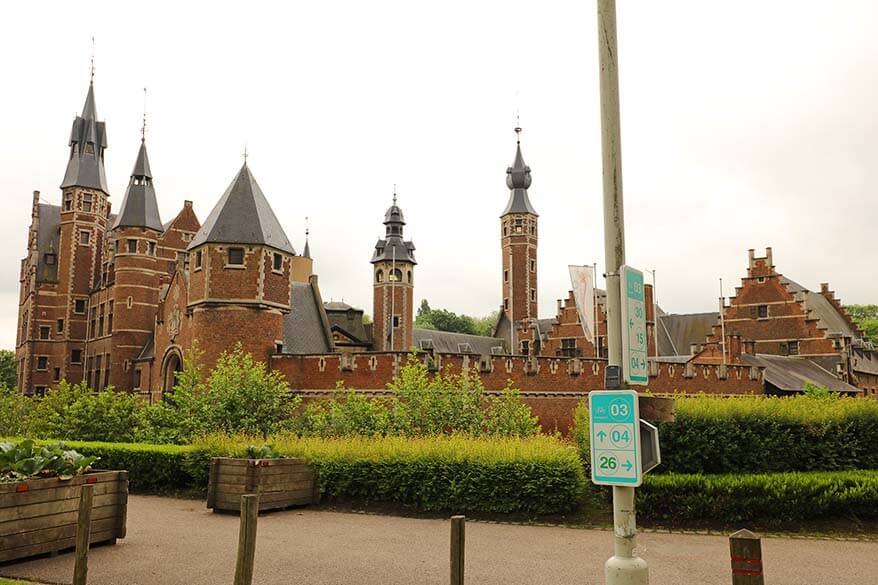 The other side of the Easy-going map has another cycling map called 'Urban Jungle'. If you feel more adventurous and don't mind riding a bike on the busy streets in the centre of Antwerp, then this route might be something for you too.
LENGTH. The Easy-going route is in total over 30km long. It's a very easy, mostly flat ride with separate bike paths for the biggest part of the route (except in the city center). So it's really something anyone with a regular physical condition can do except maybe for young children, due to the total length of the route.
BIKING WITH KIDS. Antwerp is a great city to visit with kids. However, I think this bike route is too long for young children. If you want to explore Antwerp by bike with kids, you could try just a part of this route. I suggest the area around Het Eilandje – The Porthouse, MAS, the Park Bridge. There is a lot to see here. On top of that, there are several restaurants and playgrounds for the kids.
However, the distances are rather big for walking, so biking could be a nice way to discover this part of Antwerp with the family. Another nice place for a bike ride with kids is Rivierenhof Park.
READ ALSO: Best Things to Do in Antwerp with Kids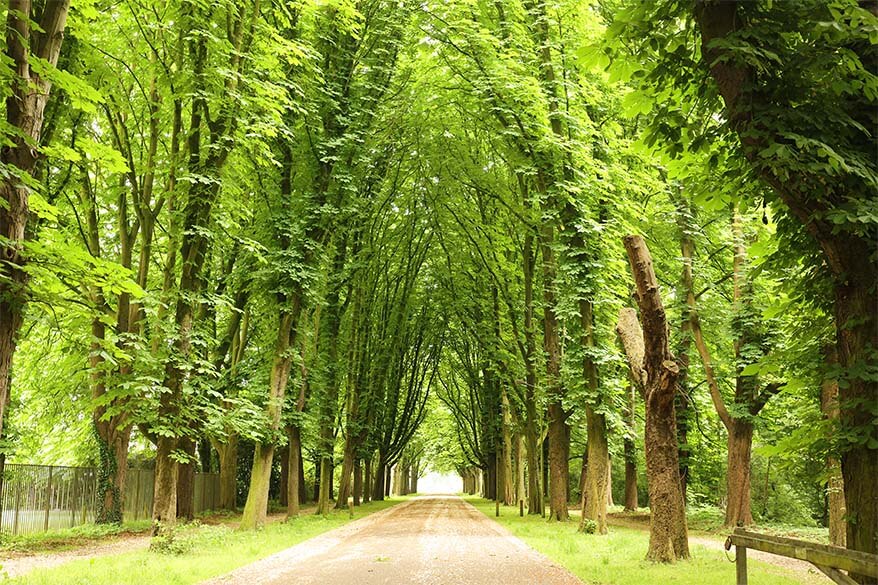 DURATION. We followed the Easy-going route and it took us 5 hours to do the whole loop. But we took it really easy, made many photo stops along the way, visited several parks, stopped for a drink at the Antwerp City Brewery, and had a short lunch.
For example, the route takes you next to Rivierenhof park, but turns away right before you enter. So we left the route and turned into the park to discover more before continuing further. The same at all the other places that interested us.
So use this map as a guideline, but make sure to also stop once in a while and do some more sightseeing as well.
We didn't visit any museums this time, but if you have the whole day, you could easily visit the Red Star Line Museum, Museum of Modern Art (MUHKA), or the MAS. As a minimum, you could go all the way up to the roof of the MAS museum for the beautiful views over the city (free entrance). Just make sure to always lock your bikes, even if you only leave them for a few minutes.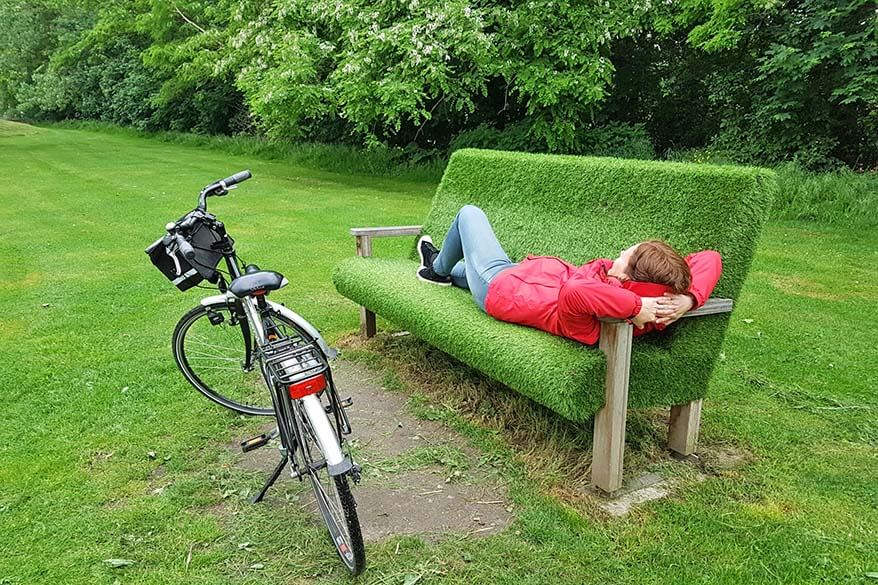 FACILITIES. There are many places where you can stop for a drink or for lunch along this route. Or you can bring a picnic.
ROAD WORKS. There are quite some road works going on in Antwerp at the moment, but we found that they didn't hinder us much on this bike route. They are going to close several big roads in the city center for traffic for a long time soon, but I don't think it would make exploring Antwerp by bike less fun. You might just have to adapt your route a little bit, but it would still be worth it.
Whether you live in (or close to) Antwerp or are only visiting for a few days, I can really recommend exploring Antwerp by bike! The Easy-going route is a great way to see different highlights of Antwerp that you will not find in an average travel guide!
TIP: If you would like to explore Antwerp by bike, but are not keen to deal with the practical side of having to look for a bike and a map, why not join a guided bike tour!
READ ALSO: Interesting & Fun Facts About Belgium
More travel inspiration and destination guides for Belgium:
If you found this post useful, don't forget to bookmark it and share it with your friends. Are you on Pinterest? Pin this image!