Háifoss waterfall is one of Iceland's most beautiful waterfalls. Located in the Þjórsárdalur valley just near the popular Golden Circle, Háifoss is a great destination in itself and a popular detour when driving to one of the most popular places in the Icelandic Highlands, Landmannalaugar.
And even though the beautiful Háifoss waterfall is located just near some of the most popular attractions in Iceland, very few people make an effort to get here. Yet, it's worth it just as much (if not more) than anything you'll see along the Golden Circle… AND you can explore it without the crowds.
In this article, you can find a complete guide to visiting Haifoss: why visit, what to expect, where it is, and how to get there. In addition, you can also read how to hike to Haifoss waterfall. We also included a few suggestions for nice places to visit near Haifoss. Find out!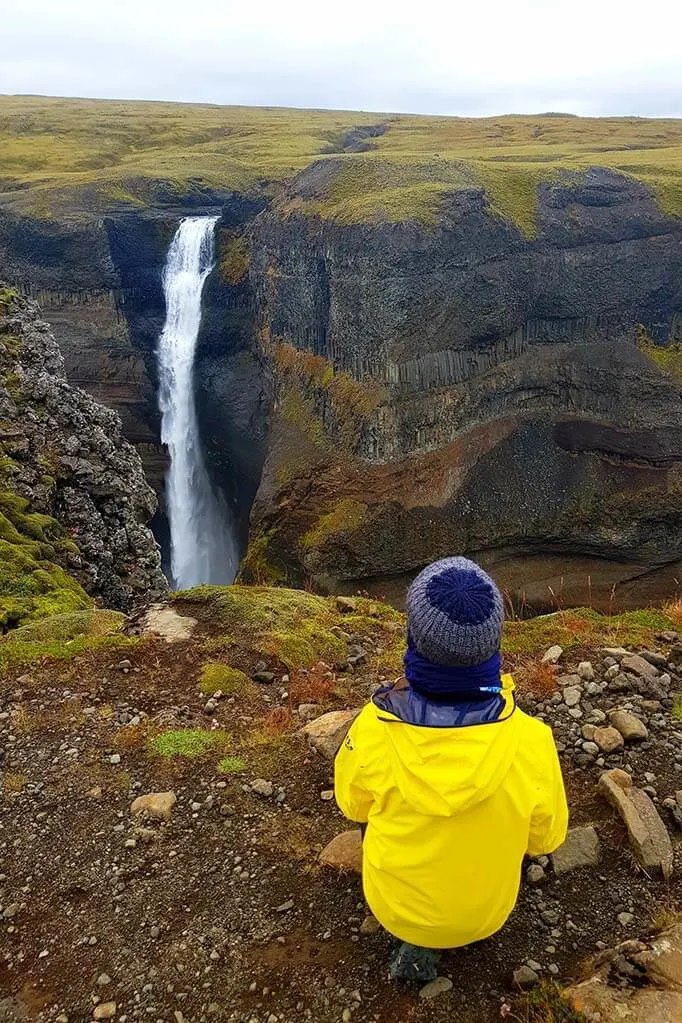 What's So Special about Háifoss Waterfall
Haifoss literally means the 'High Waterfall'. With a 128 meter drop, it's one of the highest waterfalls in Iceland. By the way, most websites say that it's 122 meters tall. However, according to the informational panel by the waterfall itself, Haifoss is actually 128 meters high.
A local told us that it's the 2nd highest waterfall in Iceland. However, some sources say that it's the 3rd or even the 4th. But who cares, right?! One thing I know for sure is that Haifoss is one of the most impressive waterfalls in Iceland and it is well worth visiting.
It's worth noting that there are two waterfalls in this area, just next to each other. The second waterfall is called Granni, which means the 'Neighbor'. Both waterfalls are part of the Fossá River, which is a distributary of the larger Thjorsa River (Þjórsá).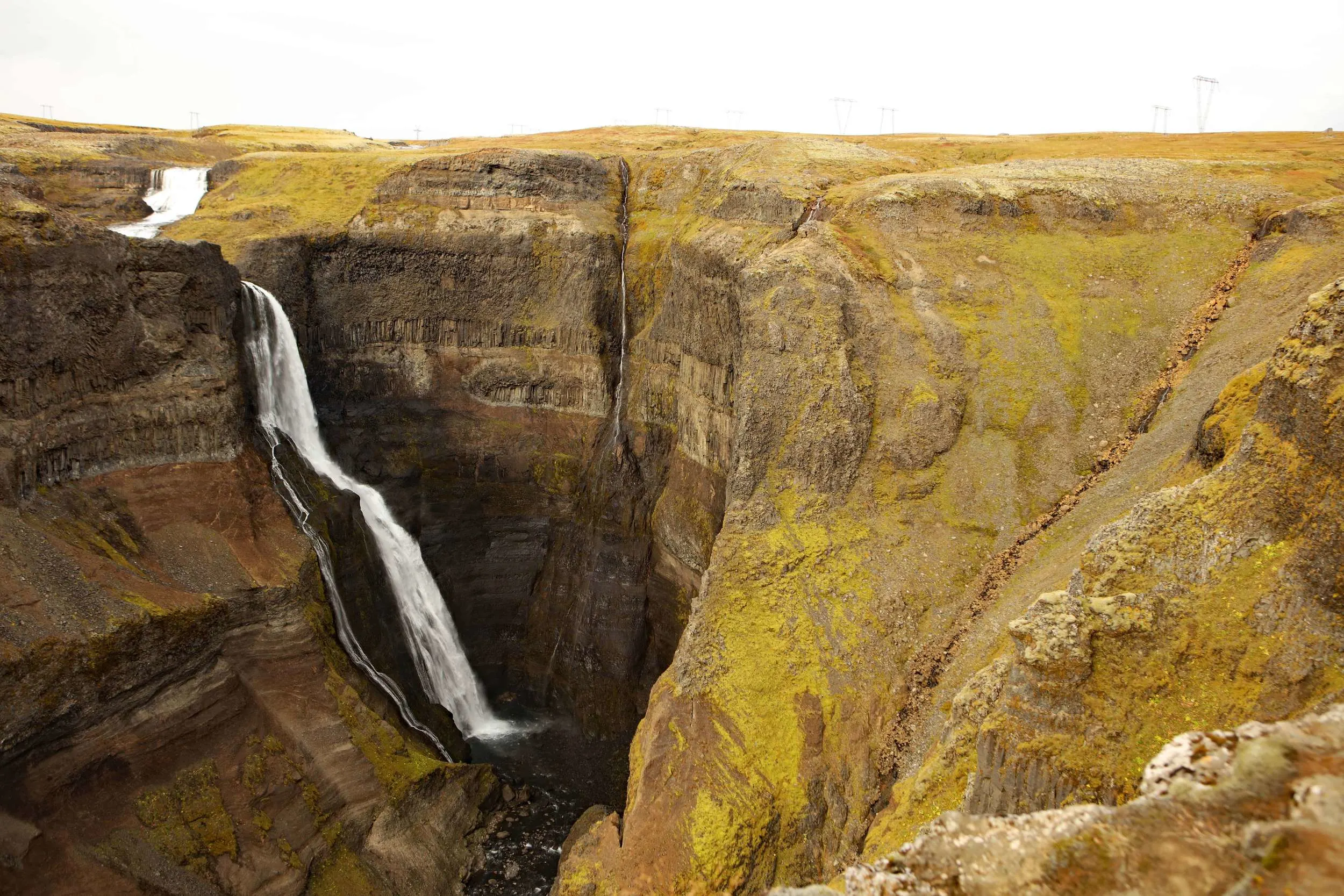 I have been to Haifoss twice and, despite seeing countless other amazing waterfalls in Iceland, this one is probably my favorite. The surroundings here are incredible!
The landscape around Haifoss is rough, the colors are dark, and this place is so overwhelmingly majestic that it takes your breath away. There are several other places in Iceland that have a similar effect on you, but most of them are much deeper in the highlands and are not as easily accessible as Haifoss.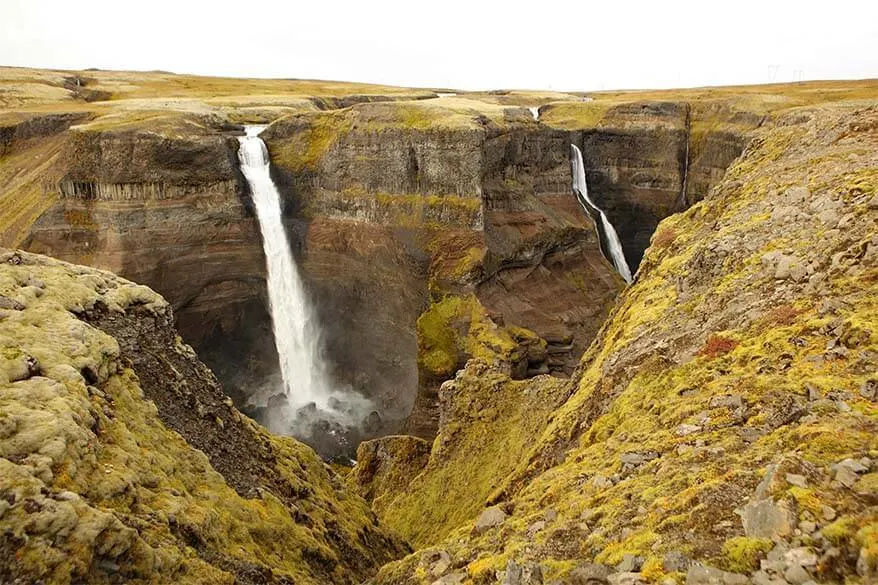 Where Is Haifoss
Haifoss is located in Fossárdalur valley in the South of Iceland. It's about 60km/ 1-hour drive from the Golden Circle.
While the Golden Circle is one of the most visited places in Iceland, the area around Haifoss and other nearby attractions is very little-known. You'll meet very few people here.
The reason why Haifoss is not as popular is that it's located in the highlands, along a gravel road. Here you can see the location of Haifoss on the map.
Further below, you can find detailed information about getting to Haifoss and what car you need. But first, let's take a look at where it is, why you should visit, and what there is to see and do.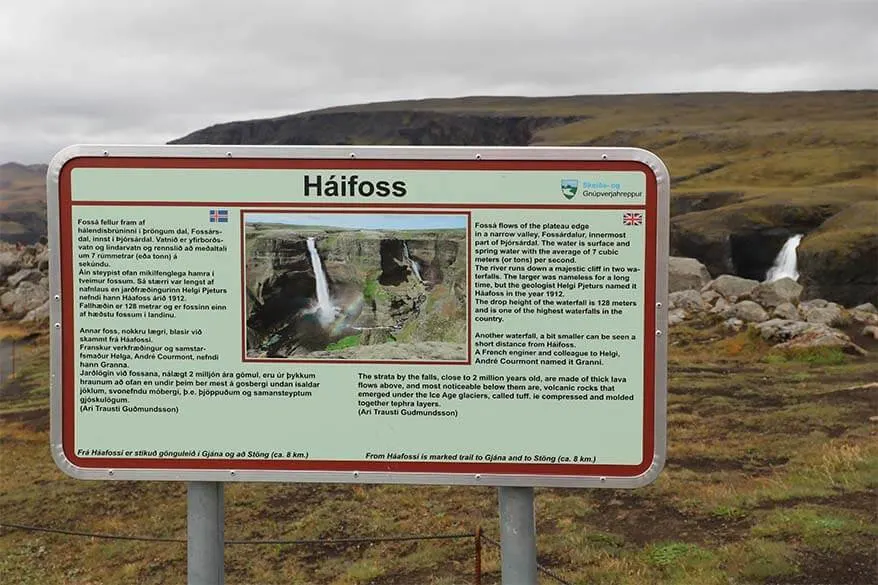 How to Visit Haifoss
Visiting Haifoss waterfall is really easy to do. From the car parking, it's just a very short walk (+-5 min) to the side of the canyon from where you have the best view overlooking the Haifoss and Granni waterfalls. This is a very easy walk on a somewhat uneven surface that everyone in a reasonable physical condition can do.
Just beware that this area is not fenced and so keep a safe distance from cliff sides (especially with kids). Even those with no fear of heights will probably get vertigo just by looking down into the canyon.
The views here are absolutely phenomenal, so make sure you have your camera with you. Once again, don't do any dangerous things for a picture. The best views don't require going too close to the side of the cliff and can be admired from a safe distance.
You can walk along the side of the canyon, take pictures, or – weather permitting – just sit and admire the view. You could even have a picnic here, but it's usually very windy and cold. You can also choose to hike to the bottom of the Haifoss waterfall (more info further below).
It's up to you how much time you choose to spend here. But even if you just come here for a couple of minutes, it will be totally worth it.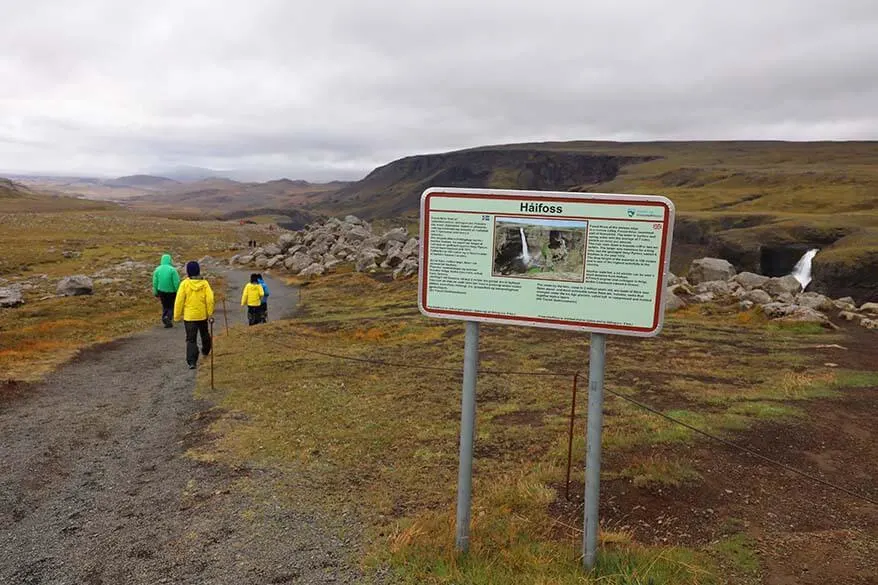 Our experience: When we visited Haifoss last summer, the weather was absolutely dreadful. We experienced strong winds, rain, and freezing temperatures, so we spent just 10-15 minutes at Haifoss.
We were lucky to be there just in time to see the mist clear up and we could see the waterfall and the surroundings in all its glory. As we left, everything was covered in mist again. If this happens when you visit, just wait in the car a bit. The winds here in the highlands are usually so strong that the mist never lasts long.
When we visited Haifoss the first time, in September the previous year, the weather was really nice. At that time, we spent almost 1.5 hrs here and also hiked down into the canyon and to the bottom of both waterfalls.
READ ALSO: Why September is the best month to visit Iceland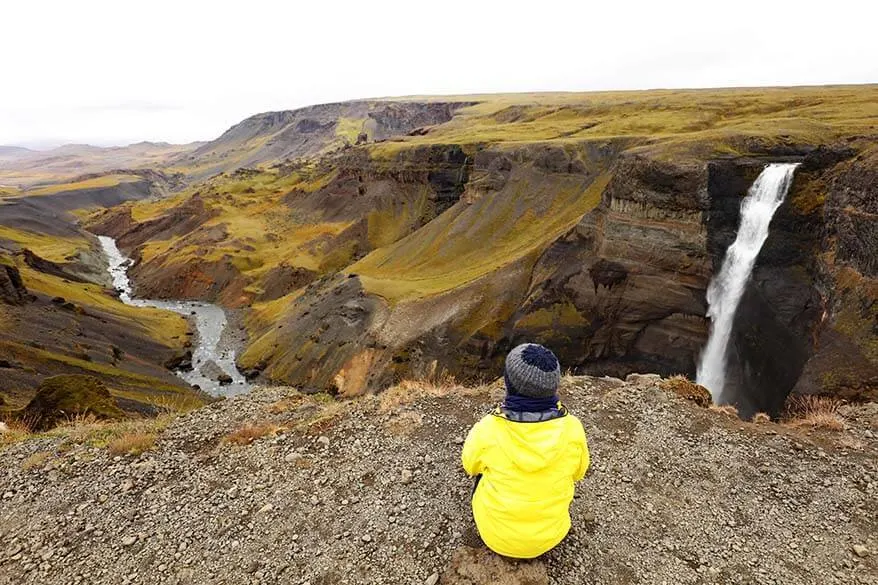 Hiking to Haifoss
As already mentioned, there is no need to hike far in order to see Haifoss. The best views are right next to the car parking.
However, if you have some extra time and like to explore the area deeper, you'll be glad to know that it's possible to hike to the bottom of the Haifoss waterfall.
There are several ways to hike to Haifoss. One route is quite challenging and long, while the other one is quite short and much easier.
Let's start with the easy short hike – from the car parking down to the falls and back. Further below, you can read about the longer, more adventurous hike in this area. Take a look!
Hiking to Haifoss from Haifoss Car Parking
The easiest way to hike to Haifoss is starting at the Haifoss car parking, at the top of the canyon. There is a well-visible hiking path leading in the westerly direction that takes you to the bottom of the waterfall. This hike is just about 4 km, quite easy for the biggest part (and a bit difficult at the end). It will take you about 1-1,5 hours to complete. Or you can also just hike part of it.
The hiking path is not really indicated and I can't remember seeing any signs when we visited. But it's a clearly visible track and you really can't go wrong. When we hiked, we just followed the side of the canyon in the westerly direction. At one point, we had to climb a few stairs over a fence.
As you walk down, the two waterfalls will be on your right-hand side, a bit behind you. At a certain time, the path splits, and you have to take the right turn. It will lead you eastwards and down into the canyon, back to the waterfalls.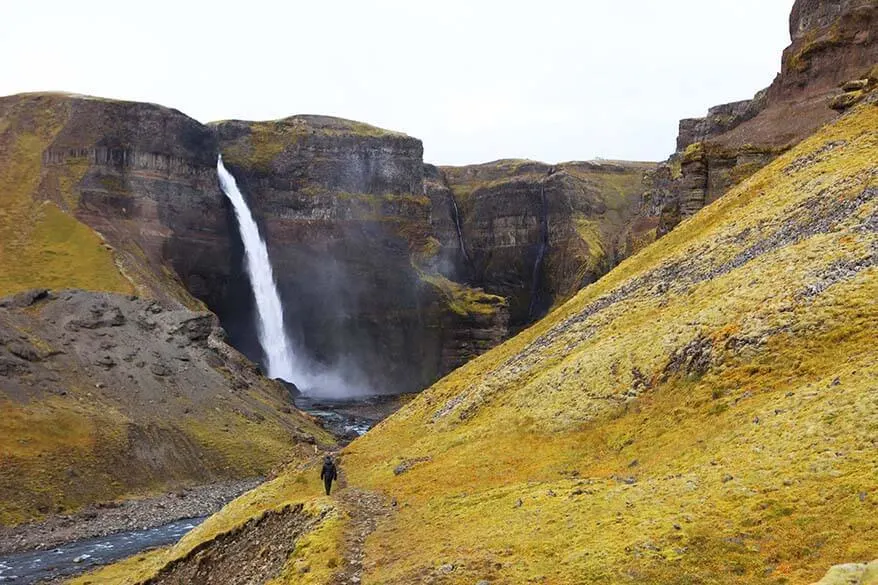 You can walk all the way to the bottom of Haifoss and this stretch of the hike is very nice. In the beginning, it's just a mud track, but it does get rougher as you get closer to the waterfall.
You'll need to scramble some rocks on your path, but nothing really serious. At a certain point, just before you reach the base of the waterfall, the path becomes really narrow and it's hardly visible. See the picture below.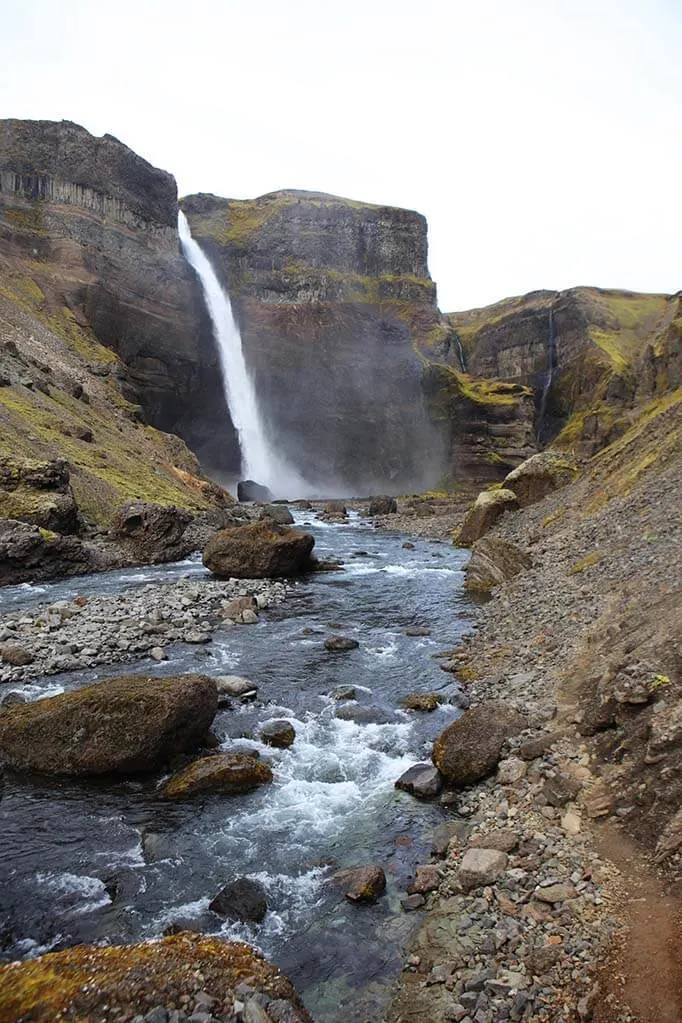 If you don't feel comfortable hiking on this narrow path, you can also decide to stop here. It's not really necessary to go much further and you can see the waterfall quite nicely as it is. However, but if you decide to go all the way to the base of Haifoss, prepare to get wet.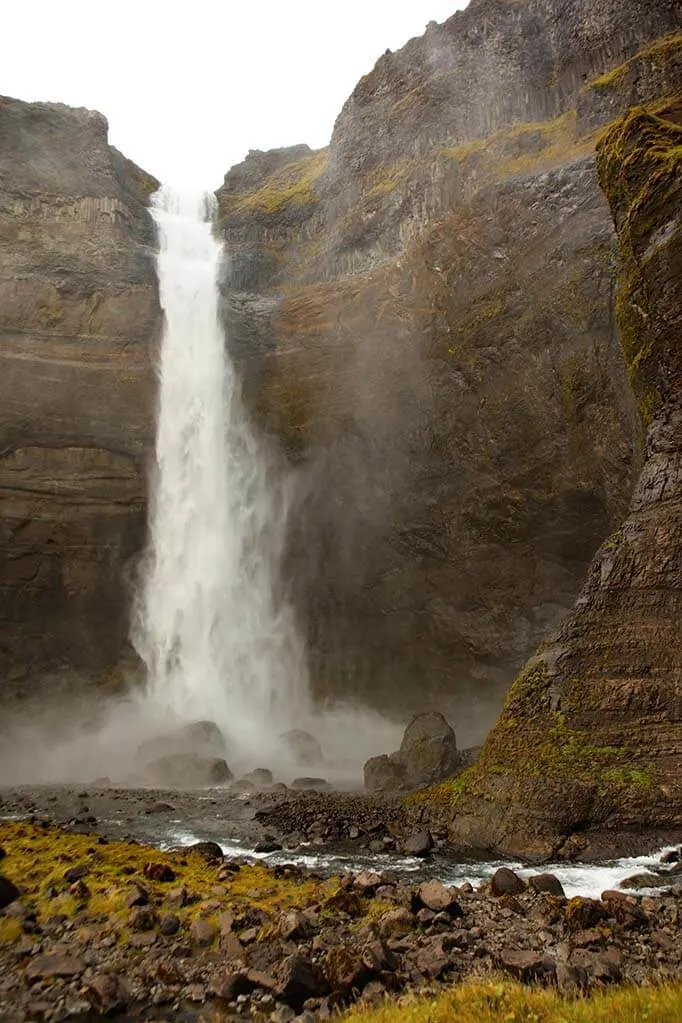 Afterwards, if you decide to hike further to the foot of Granni waterfall, you should know that the path gets really rocky and even more adventurous. Furthermore, you can't really reach the end of the canyon. You can't even get all the way to the falls unless you are prepared to walk in the water.
While it is really nice, you may find that this last part of the hike – to Granni – isn't really worth the trouble. In that case, just hike to Haifoss and back.
Good hiking shoes are necessary here because the path is quite muddy and rocky at places. Furthermore, the descent (and ascent) is a bit steep. Hiking poles would be useful but are not a must.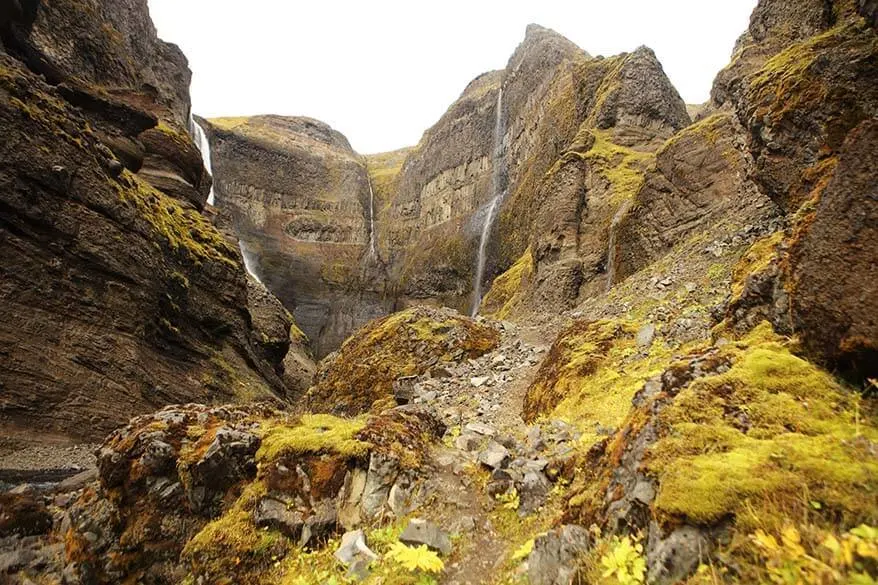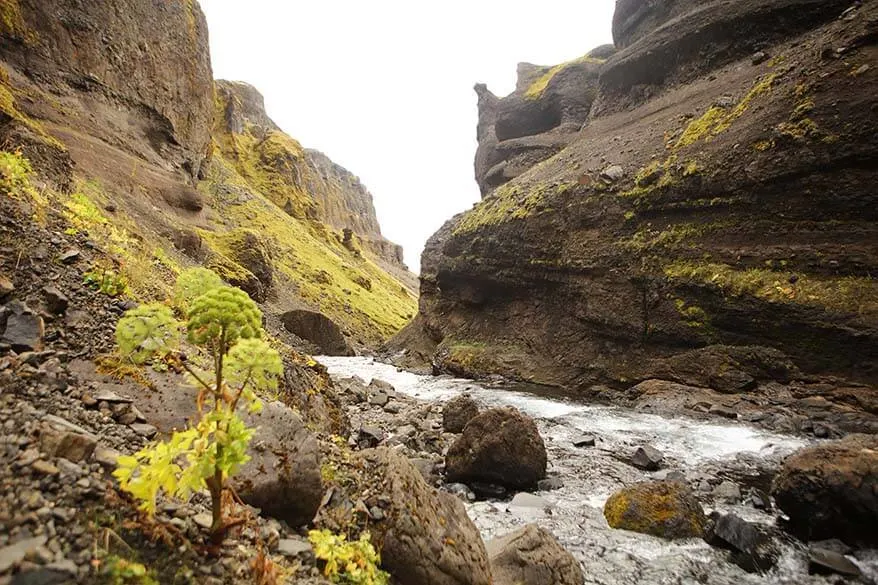 Hiking to Haifoss from Stöng or Gjáin
The difficult and adventurous hike is if you are hiking to Haifoss from Stöng or Gjáin (or the other way around).
I wouldn't recommend this route unless you have the whole day for this area and the weather is exceptionally good. Not only it is hard to get to the starting point of the hike (and you need a 4×4), but it also takes 2,5-3 hours each way. The hike is about 6-8 km long one way, depending on where you start and end.
You can do this hike in either direction – walk from Haifoss to Stöng or Gjáin OR from Stöng to Haifoss. This would be a really nice thing to do if you have someone who can pick you up on the other side after the hike. But otherwise, it's a 14km hike of 5-6 hours and it's really not for everyone.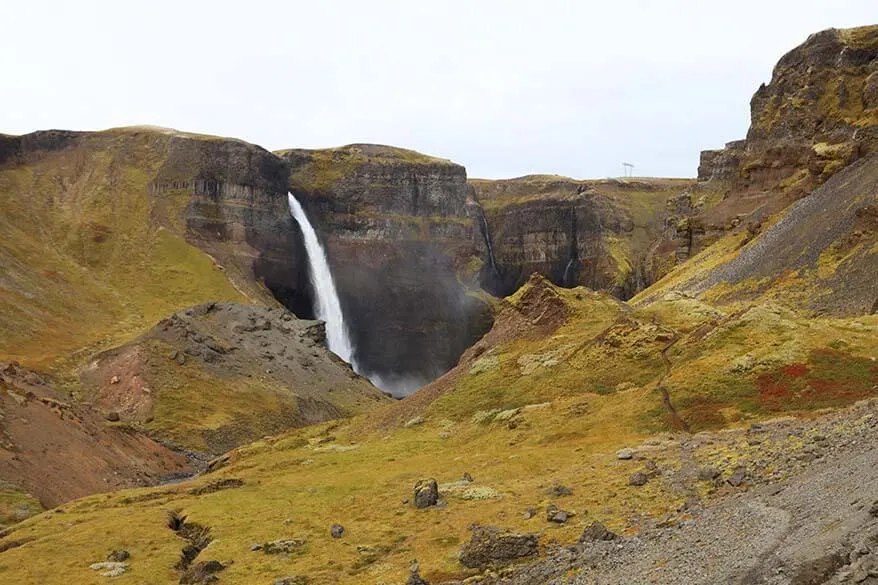 How to Get to Haifoss
The easiest way to get to Haifoss is by taking the tar road #32 (Þjórsárdalsvegur), to the east from the area of Skálholt and Flúðir along the Golden Circle. Drive for 41 km on this road till you reach the gravel road #332.
At the moment, there is no sign to Haifoss from the main road. Instead, you'll see a sign pointing in the direction of Laxargljufur. That's the road you have to take.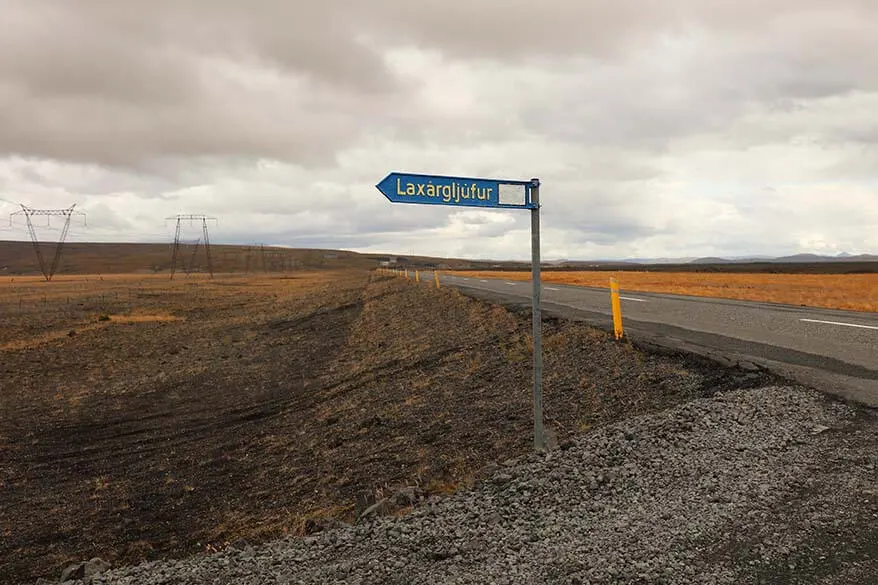 Turn left on this gravel road and continue for a few hundred meters. The road will split again. You'll see signs for Gjain and Stong to your left and also a sign to Haifoss to the right. Turn right.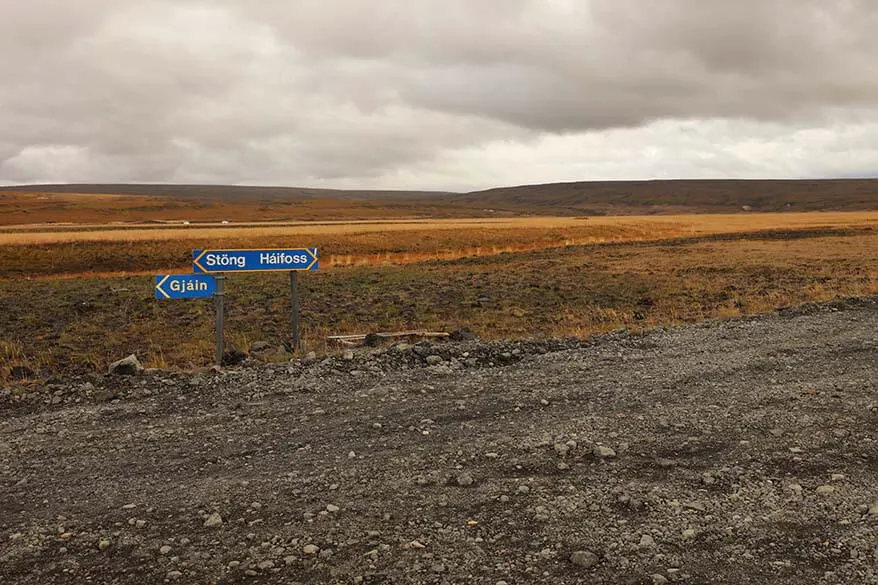 From this point, you have a rather boring drive for about 7km. This is road #332 that will bring you to Haifoss. It's a really dull landscape with nothing to see and you drive along the electricity lines most of the time. Who would expect that such a simple service road would lead to such a beautiful place…
Soon, you'll see a small sign to the Haifoss car parking area. Turn left and you'll see the car parking area a few hundred meters further.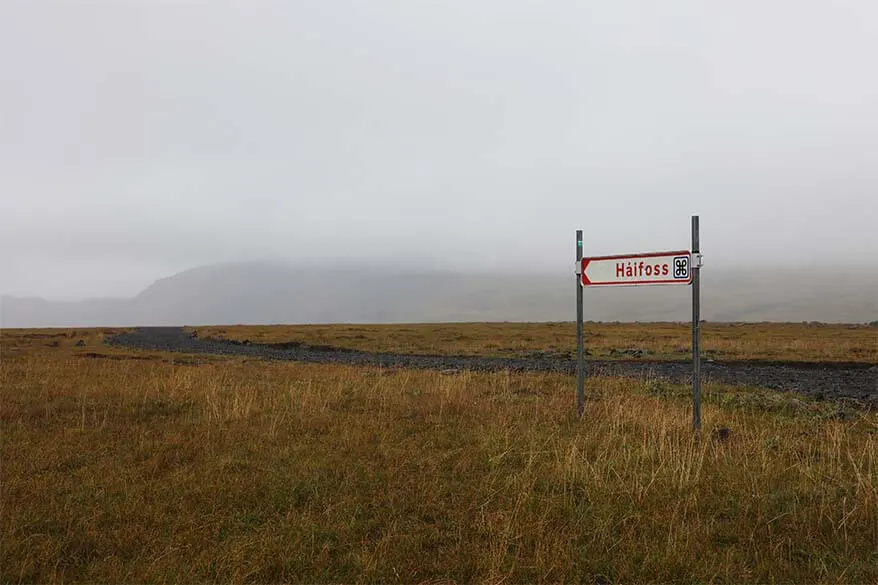 While road #327 to Gjáin is only accessible to big 4×4 vehicles and road #332 further north beyond Haifoss requires river crossings, the road to Haifoss is just a simple gravel road.
When I first visited Haifoss two years ago, the road to Haifoss was really bumpy. However, even then we saw 2wd cars driving there. On our most recent visit to Haifoss, the road was already in a much better condition and very easily accessible.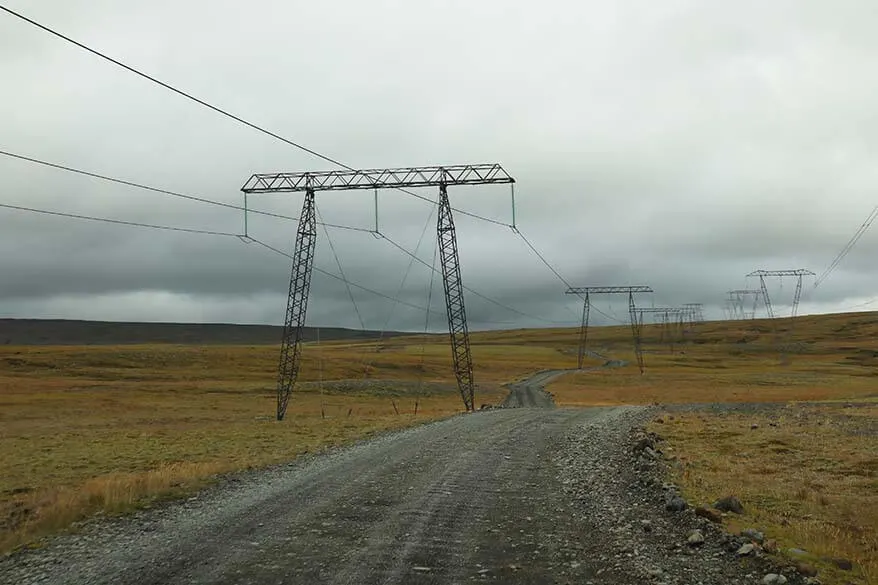 Can You Drive to Haifoss in a Regular Car?
Even though the road is doable in any car, in principle, you need a 4WD in order to drive to Haifoss.
The first time we visited Haifoss with a big 4×4 jeep and the second time – with a big 4WD car. Most other cars we saw in the parking area were also 4WD or small 4X4 vehicles. However, we also saw a few regular cars there and even a tiny 2WD that was driving the road to Haifoss at a snake's pace.
While it is possible to get to Haifoss in a regular car, it's likely that it wouldn't be allowed by your rental car agreement or covered by insurance. So it's up to you to decide whether it's worth taking the risk. Or – better – ask your car rental company when you pick up the car, because – technically – road 332 to Haifoss is not an F-road, so maybe it's not a problem.
In any case, we recommend that you rent a 4WD or a 4×4 vehicle that is allowed to drive on the F-roads if you are planning to visit any places in the highlands of Iceland. The price difference is just not worth the risk. Alternatively, you can opt to visit Haifoss and some other amazing places nearby with a tour – see further below.
TIP: Here you can find some of the best deals for Iceland car rental.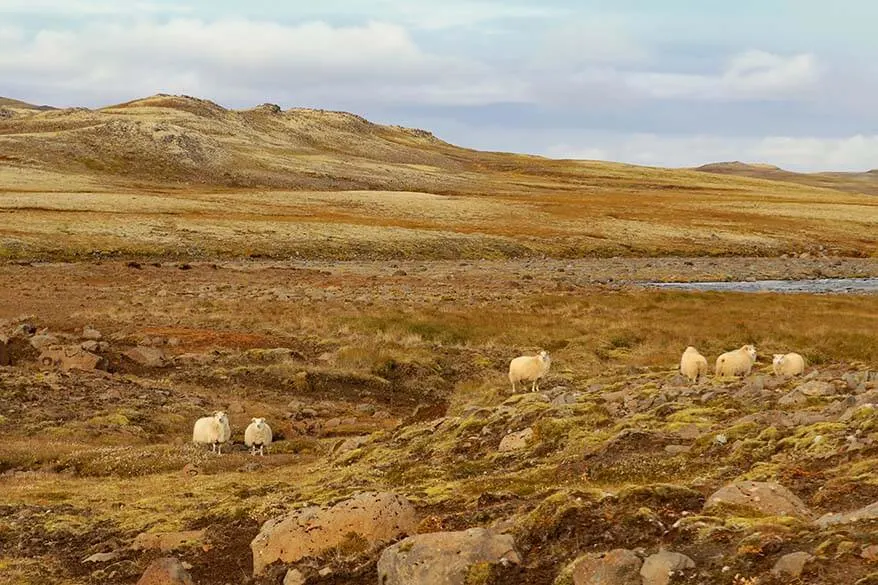 Haifoss Tours
While Haifoss is not very widely-known, there are several organized tours that include Haifoss in their itinerary. Here are the best options:
When to Visit
The best time to visit Haifoss is in summer, from June to September – the beginning of October. However, weather permitting, it can also be accessible in other seasons. Just keep in mind that it's located in the highlands and the road to get to Haifoss is not serviced in winter.
So while a local guide with a super jeep might be able to visit Haifoss in winter, you should definitely not attempt driving here in the snow in a small 4WD.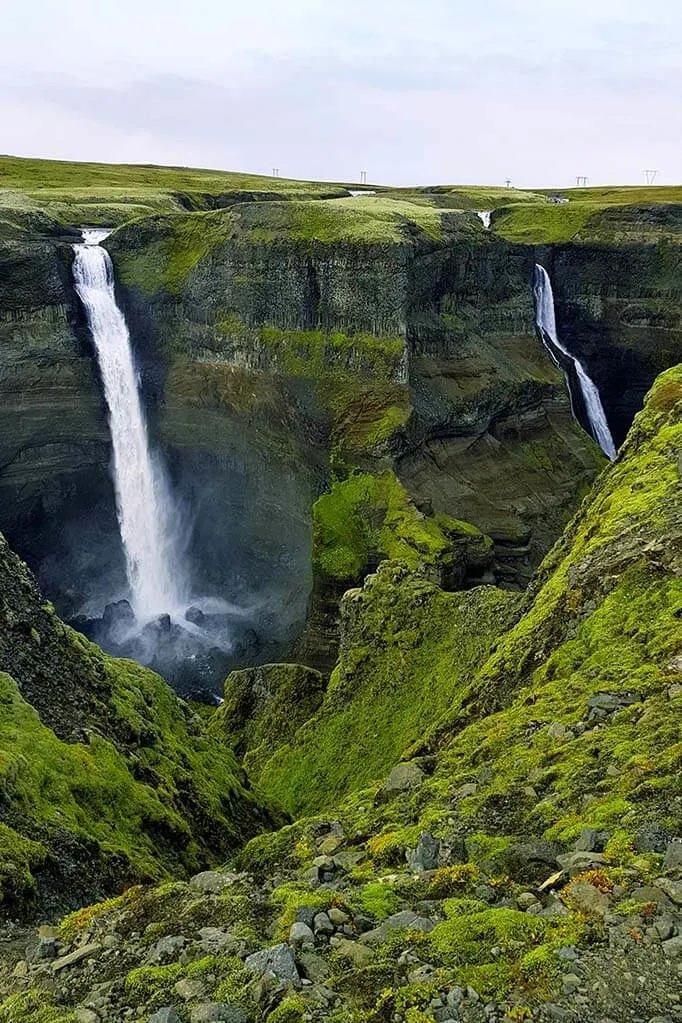 Places to See Nearby
If you are driving all the way to Haifoss, you should try to see a few other really nice places nearby. Here are some of the best options.
Hjálparfoss
Hjálparfoss is a picturesque 'double' waterfall that has been featured in the popular Game of Thrones series. It's located just off the tar road #32 and doesn't require more than 10-15 minutes to visit. It's a quick and easy stop on your way to Haifoss.
Þjóðveldisbærinn Stöng
Þjóðveldisbærinn Stöng is a replica of an old Viking farm that was originally located in Stöng. It's believed that the farm has been destroyed by the volcano Hekla eruption in the year 1104. It's now sort of a little museum and a really nice place to see in this area. It's open daily from 10 AM to 5 PM in summer (June – August). The museum is located a bit off road #32 and is well signposted.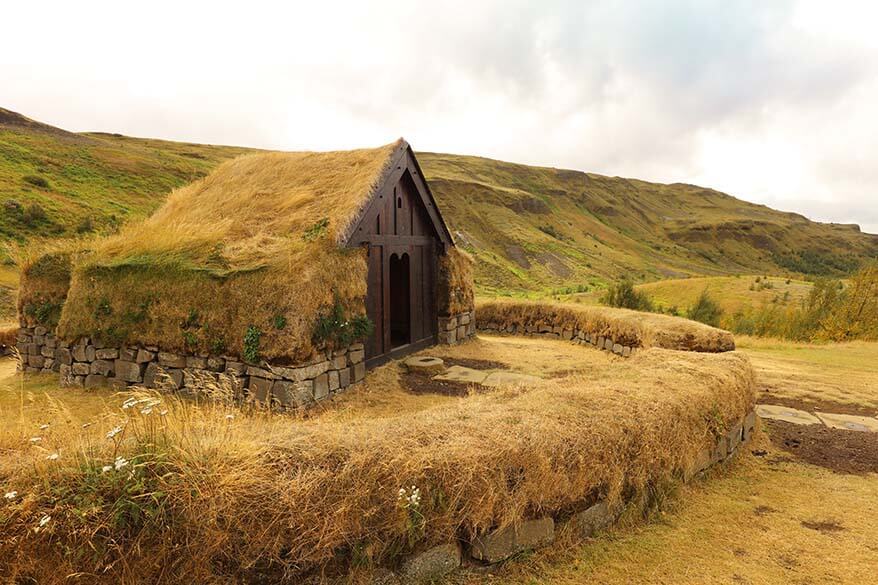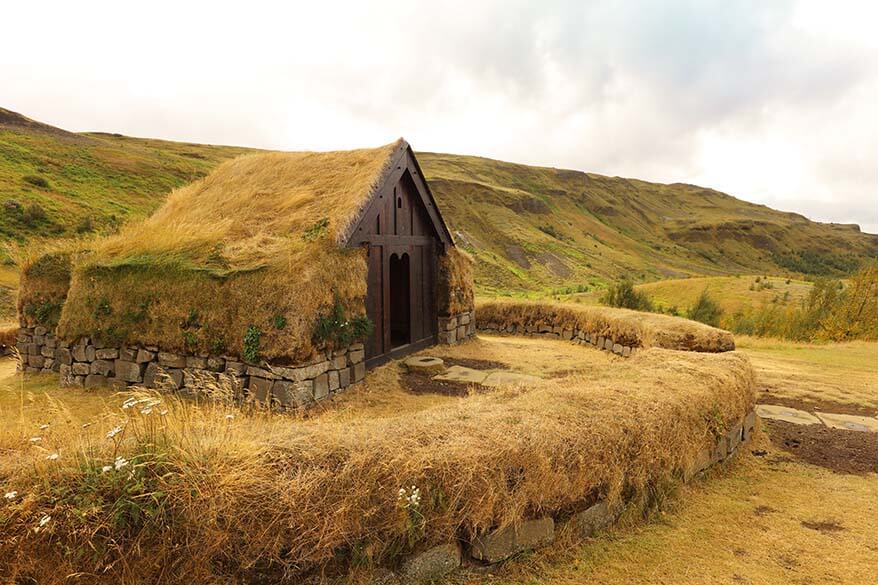 Stöng & Gjáin
While the previous two points of interest can easily be reached by a regular car, the following two places require a 4×4. It's an extremely picturesque area, but not easy to get to. To get here, you'll have to take the very bumpy road #327, which is in really bad shape. You really shouldn't drive here if you don't have the right car.
Stöng is the original location of the farm mentioned above. Here you can see the ruins of the Viking-era longhouse, covered by a huge roof for protection. From this area, you can also hike into the beautiful green Gjáin valley with numerous waterfalls.
Gjáin is a scenic lush valley with several waterfalls and very picturesque scenery. As mentioned above, you can reach one part of the valley from nearby Stöng. You can reach the other side of the valley from the car parking at Gjain.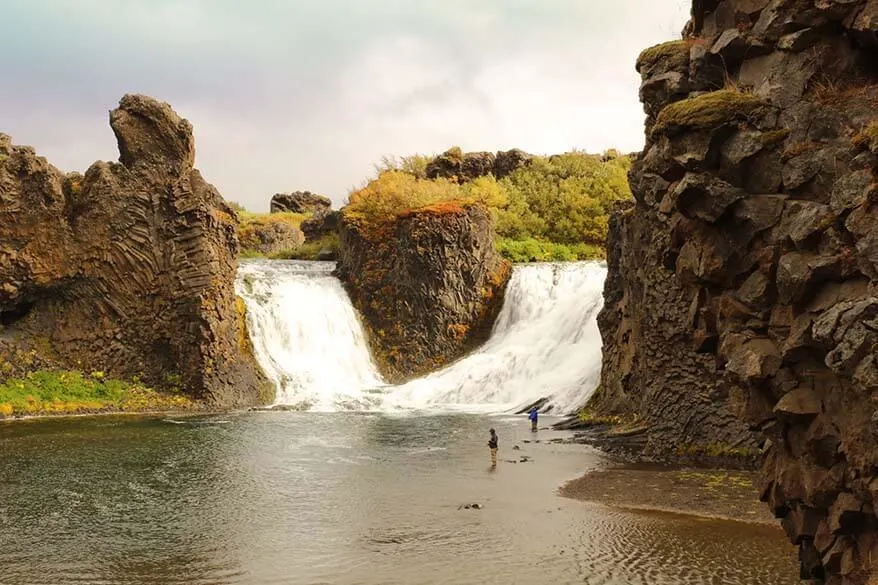 Where to Stay
We visited Haifoss and the surrounding area from our accommodation at the Golden Circle. We stayed at the Blue View Cabins in Reykholt. From there it was about 70 km drive (1h 15) to Haifoss.
There are lots of accommodations in this area, but most are privately-rented self-catering apartments or houses (which are perfect for big families, like ours). If you rather stay at a hotel, take a look at Hotel Gullfoss, Litli Geysir Hotel, or Hotel Geysir. These are by far the best hotels in the area.
TIP: If your accommodation doesn't have a hot tub, you may want to spend a few hours at the nearby Secret Lagoon. It's a great way to end a day of sightseeing!
LEARN MORE: Where to Stay in Iceland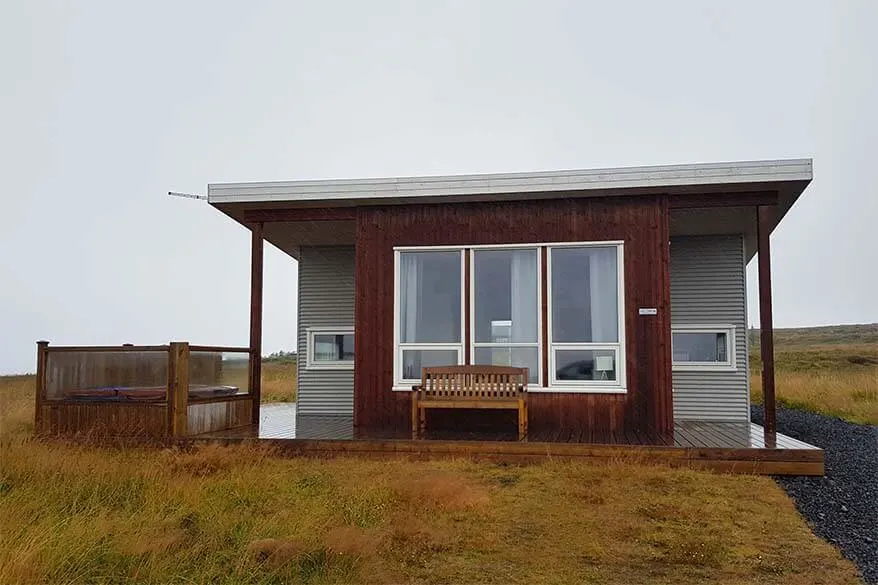 Haifoss FAQ
What is the best way to get to Haifoss Waterfall?
The best way to get to Haifoss is by 4WD car. Take road #32 to the east from the Golden Circle area. After 41 km, turn left on the gravel road #332. In a few hundred meters, at T-junction, turn right and continue for 7 km. You'll see the Haifoss parking area on your left side.
Do you need a 4×4 to visit Haifoss?
While it is advisable to drive to Haifoss in a 4WD or 4×4, it is possible to get here in a regular car. Haifoss waterfall is located about 7 km from the paved road, and the gravel road #332 leading to it is in a relatively good state. Every time we visited, we saw people driving here in all kinds of cars. Just make sure to check if driving this road is covered by your rental car insurance.
How much time do you need to visit Haifoss?
How much time it takes to visit Haifoss depends on where you are coming from, the condition of the road, and what kind of a car you have. To see the waterfall itself, you only need 10-15 minutes. If you are planning to hike to the bottom of the falls, count 1-1,5 hours for a visit, plus driving time.
Is Haifoss worth it?
Haifoss waterfall is nice, but what makes it really special is its surroundings. Furthermore, it's just 1 hour drive from the popular Golden Circle and there are many other nice places nearby that you can visit as well. So if you have a few hours to spare in the area, it's definitely worth a detour.
READ ALSO:
Best Places to Visit in Iceland
Best Things to Do in Reykjavik
So, this is our guide with all the practical information and tips for visiting Haifoss waterfall. I hope that it inspired you to get a bit off the beaten path and visit this lesser-known area of Iceland.
Planning to drive to Haifoss and have any questions? Leave a reply below and we'll try to help!
More tips for your trip to Iceland:
Some of our favorite lesser-known places in Iceland:
If you found this post helpful, don't forget to bookmark it and share it with your friends. Are you on Pinterest? Pin this image!