Are you planning a road trip in Iceland and looking for the best itinerary that covers the entire Ring Road? This guide is for you! This ultimate Iceland Ring Road itinerary brings you to all the must-see places in 10 days. Find out!
There are so many amazing places to see in Iceland and so many different ways to plan your Iceland itinerary! But if you are planning your first trip to Iceland and want to see all the 'musts', there is really no better way to do it than driving the entire Ring Road of Iceland. Iceland's main road #1 (Þjóðvegur 1, aka Route 1) goes all around the island, and driving it is the best way to explore the main landmarks and tourist sights in Iceland.
In this article, we share the best itinerary for the complete Ring Road of Iceland in 10 days. Why 10? Because – in our opinion – this is really the shortest amount of time you need in order to enjoy all the main sights and not just tick the boxes and say that you've done it.
Even with 10 days for the entire Ring Road, your itinerary will be quite packed, but in a nice way, without being too stressful. If you have less time, we recommend this 7-day Iceland itinerary instead.
To help you plan your trip, we also created a map of the complete Ring Road itinerary indicating all the places mentioned in this article. You can see a photo of the map below. At the bottom of this article, you can also find an interactive version of this map that you can save to your phone and use during your trip.
Top experiences not to miss in this itinerary:
Good to know: The Ring Road trip itinerary described below can best be done between May and September – the beginning of October. While – weather permitting – you can drive the Ring Road of Iceland in any season, we don't recommend a self-drive road trip in winter because Icelandic weather is really unpredictable. Driving in Iceland in winter is often not for the faint-hearted.
If you are visiting Iceland between mid-October and mid-April, please take a look at our recommended Iceland winter itinerary. Be sure to also check our winter travel tips for Iceland.
✓ We recommend renting your car via the RentalCars website. Not only can you compare different providers and find the best car hire deals in Iceland, but you also have a much better cancelation policy. Furthermore, you are better protected in case a local company goes bankrupt as recently happened with our favorite car rental company in Iceland. We now use RentalCars for all our car hire, all over the world, and they have refunded all our bookings for the trips we had to cancel.
TIP: Using the detailed Ring Road itinerary, our suggestions, and tips below, you will be easily able to plan your own perfect self-drive road trip in Iceland. However, if you find it overwhelming, you can also book a guided multi-day tour that covers the entire Ring Road.
If you are visiting in winter and/or rather go with an organized tour, this 8-day tour is one of the best options for the entire Ring Road. Plus, you have to add a day in Reykjavik at the beginning and also at the end of the trip, so it's also 10 days in total.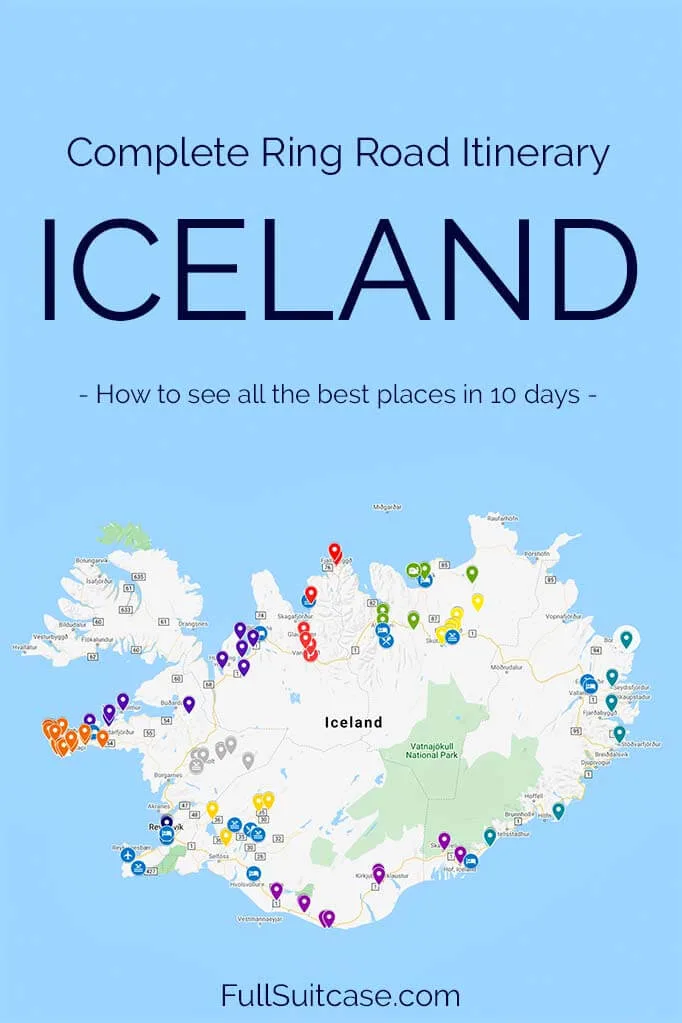 This is our recommended 10-day itinerary for Iceland's Ring Road:
Day 1: Arrival, Blue Lagoon & Reykjavik
Driving distance/ time: 70 km (45 miles), 1 hour.
Upon arrival at Keflavik airport, pick up your rental car. We recommend checking this website for the best car rental deals. You don't need a 4×4 for this Ring Road trip, but a 4WD is always a good idea in Iceland, especially if you are visiting outside of the warmest months between June and August.
Many people like to start their Iceland trip with a soak in the warm geothermal waters of the famous Blue Lagoon. Located just 20 minutes drive from the airport, this is indeed a nice stop, especially if you are coming on a red-eye flight from the U.S. Just be sure to book your (timed) Blue Lagoon tickets in advance or you risk not being able to visit!
Alternative: The recently-opened Sky Lagoon is a very popular alternative to the famous Blue Lagoon (and the majority of our readers who visited both lagoons, prefer Sky by far). It's located closer to Reykjavik center and is easier to visit. Also here, you really have to book tickets in advance.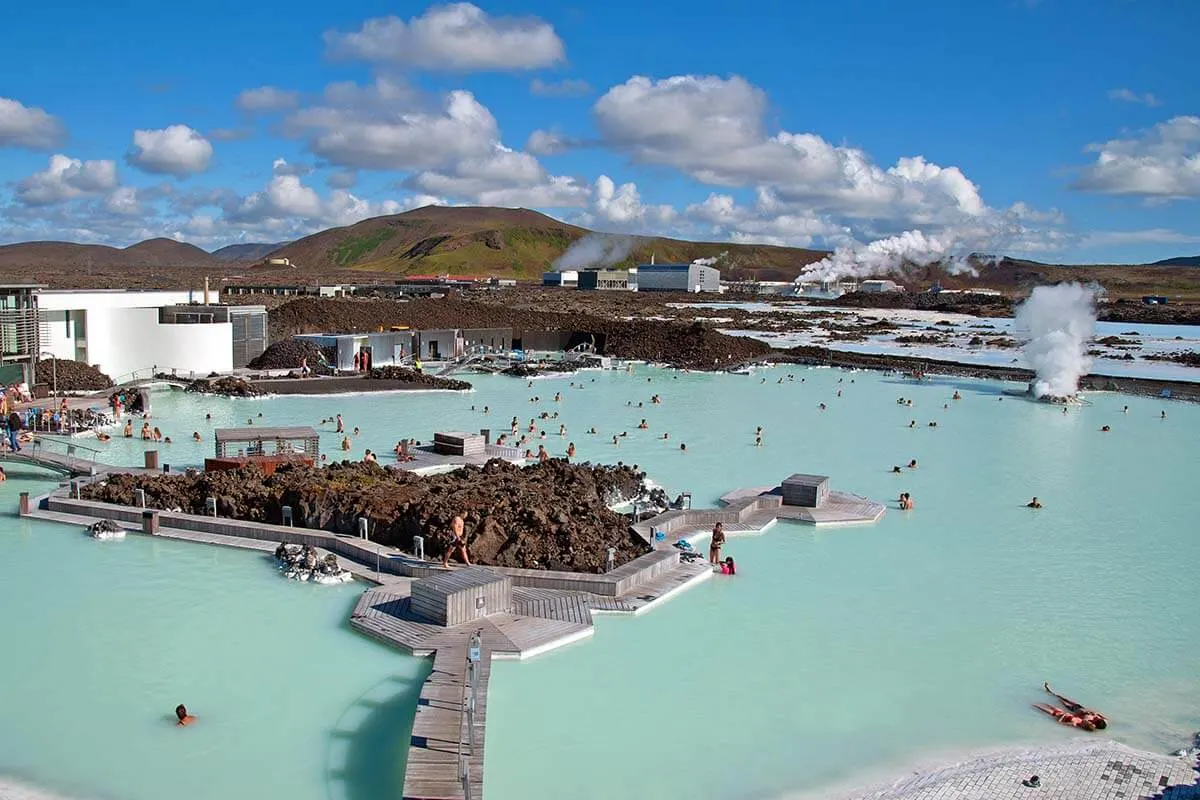 Then head to Reykjavik, about 40 minutes drive from the Blue Lagoon.
The rest of your day will depend a bit on how much time you have. The city center is not big and quite walkable, so you could leave your car in the hotel and go explore some of the highlights of Reykjavik on foot.
TIP: If you are too early and can't check in at your hotel yet, you could first go to Perlan, the Wonders of Iceland. It's one of the best museums in Reykjavik, with a real ice tunnel, a fantastic aurora show, and great views of the city and surroundings. Because this museum is located a bit outside the center, it's easier to go there by car anyway.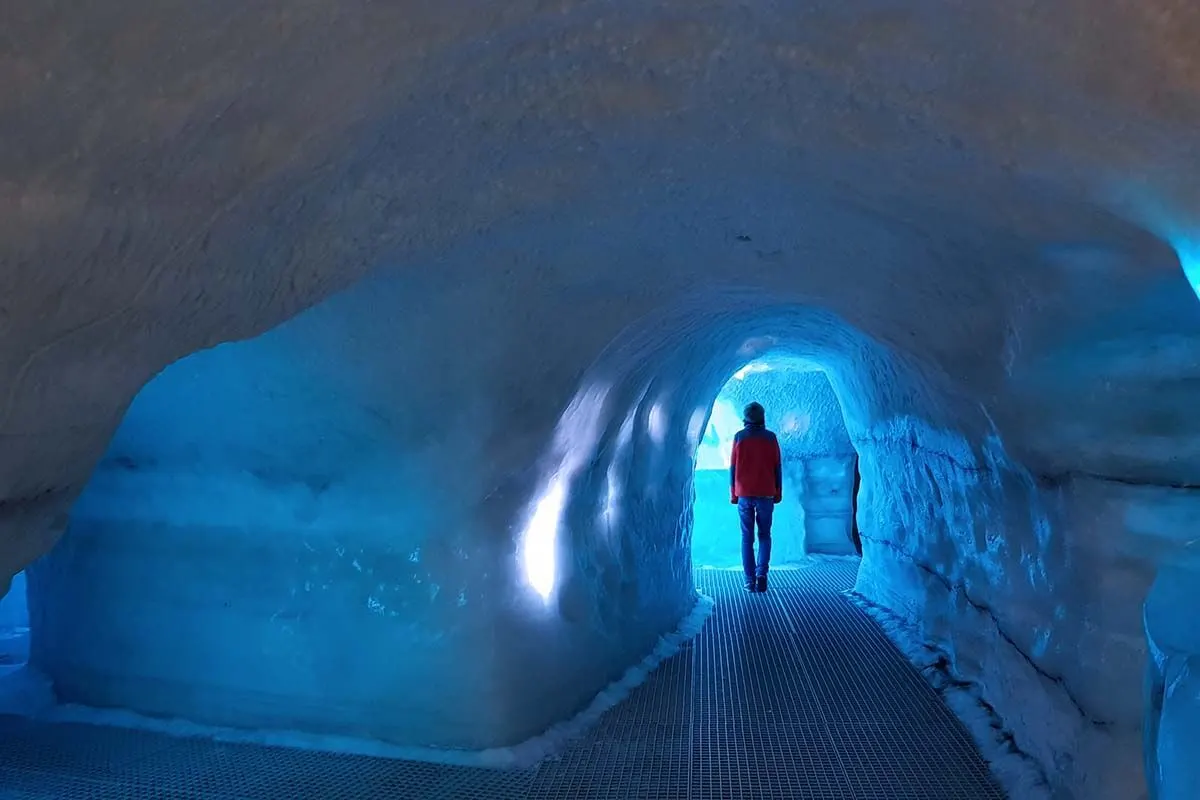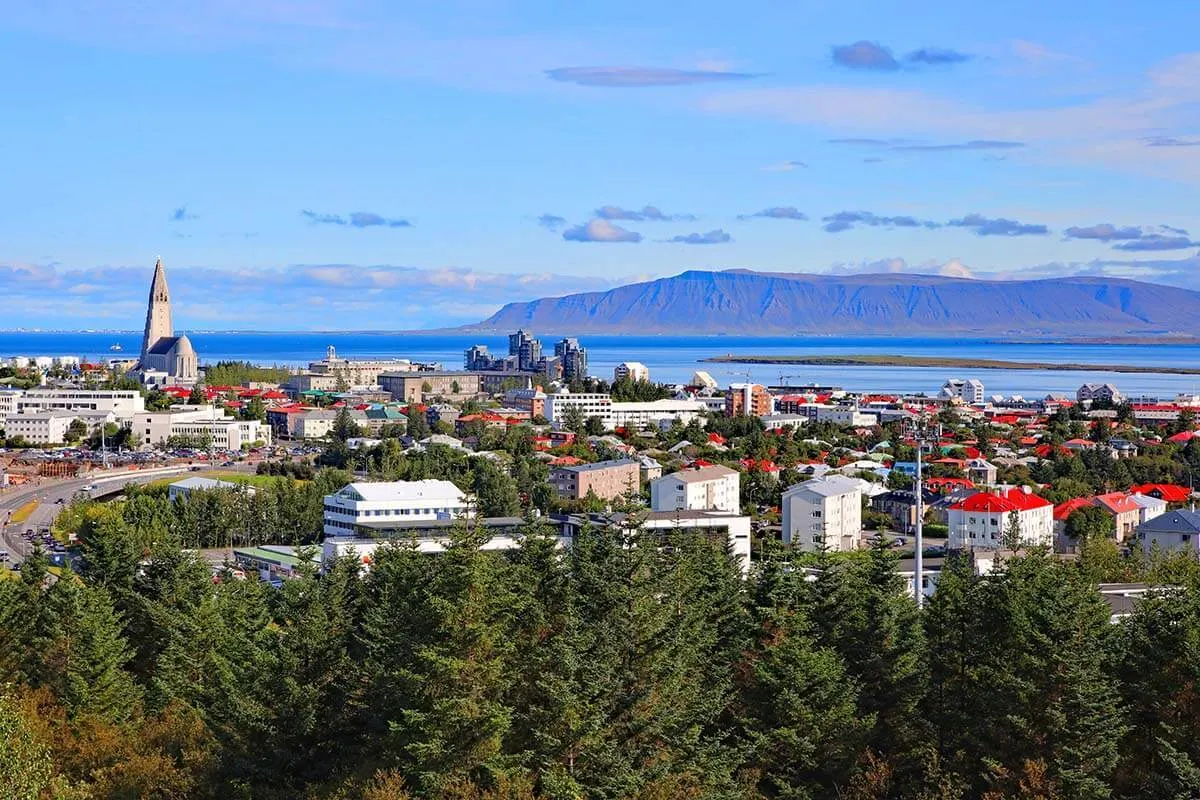 In Reykjavik city center, go for a walk along the waterfront where you'll find the Sun Voyager statue and the impressive Harpa concert hall building. A bit further along the shore, you'll find two other great attractions – Whales of Iceland and FlyOver Iceland. These are both AMAZING attractions that are well worth your time. It's also something nice to do on a rainy day and definitely if traveling with a family.
Then check out the Althingi Parliament House and Tjornin Lake. Walk on the main shopping streets Laugavegur and Skólavörðustígur, and be sure to go up the Hallgrimskirkja church tower for the best views of the city.
You'll also find plenty of cafes, bars, and nice restaurants in Reykjavik's city center. Or you can opt for this popular Icelandic food tour instead – there are various departure times throughout the day and it's a nice way to familiarize yourself with the local dishes at the start of your trip.
Where to stay: There are many nice accommodations and hotels in Reykjavik city center. Since you'll have a car, we recommend Eyja Guldsmeden Hotel as one of the best choices – it has a great location and free parking. Here you can find our complete guide to the best places to stay in Reykjavik.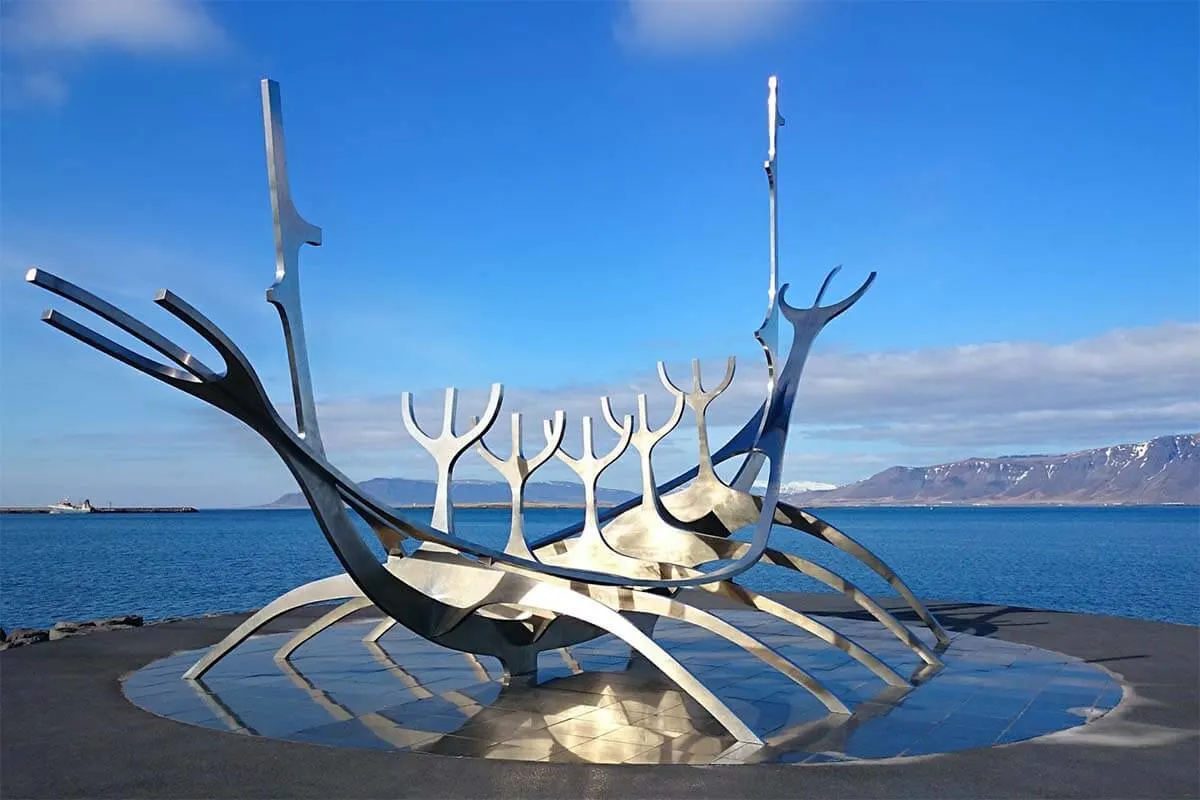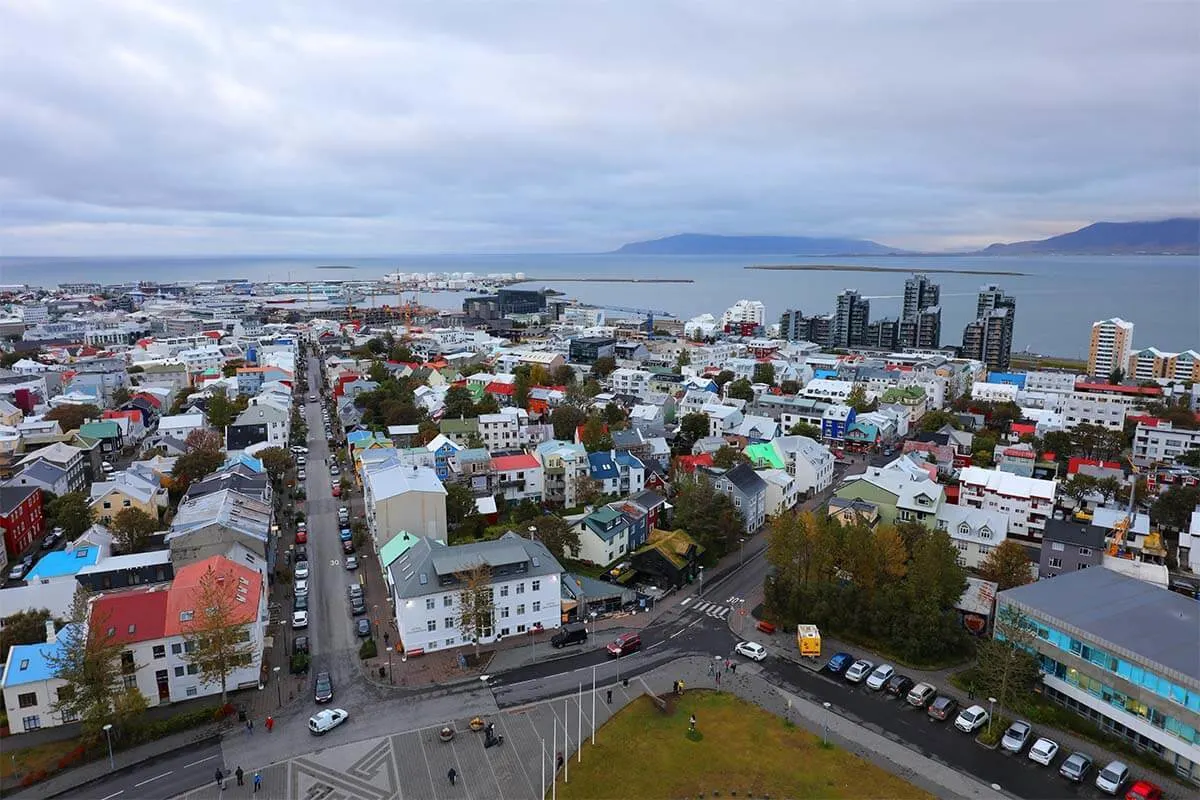 Day 2: Golden Circle
Driving distance/ time: 225 km (140 miles), 3 hours. This is purely driving time, not counting any stops.
Today, you visit one of the most popular areas in Iceland, known as the Golden Circle. There are three main places that you have to see here: Thingvellir National Park, Geysir Geothermal Area, and Gullfoss Waterfall.
Your first stop today is Thingvellir National Park, about 45 minutes drive from Reykjavik. This is where you can see the mid-Atlantic Ridge, where the North American and Eurasian tectonic plates meet. The best views can be found at the visitor center, and you can take a short walk here. Be sure not to miss the Öxarárfoss Waterfall, the Nikulasargja Gorge, and Thingvellir church.
TIP: Lake Thingvallavatn is home to the impressive Silfra Gorge where you can go snorkeling between the two continents. Snorkeling in the crystal-clear glacial waters here is one of the most unique things you can do in Iceland!
If you book the first snorkeling tour available in the morning (usually around 9-10 AM), you'll still have plenty of time left for the other Golden Circle attractions. You can find all the practical information and book the best-rated Silfra snorkeling tours here.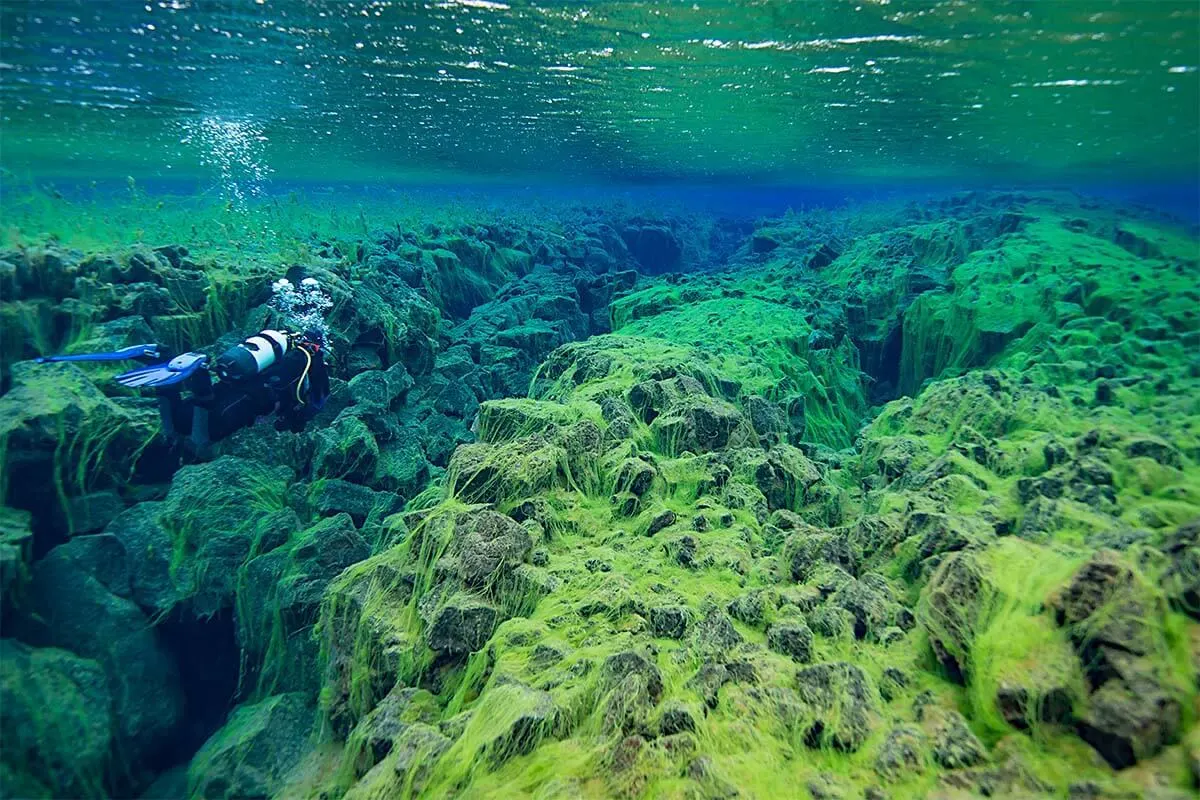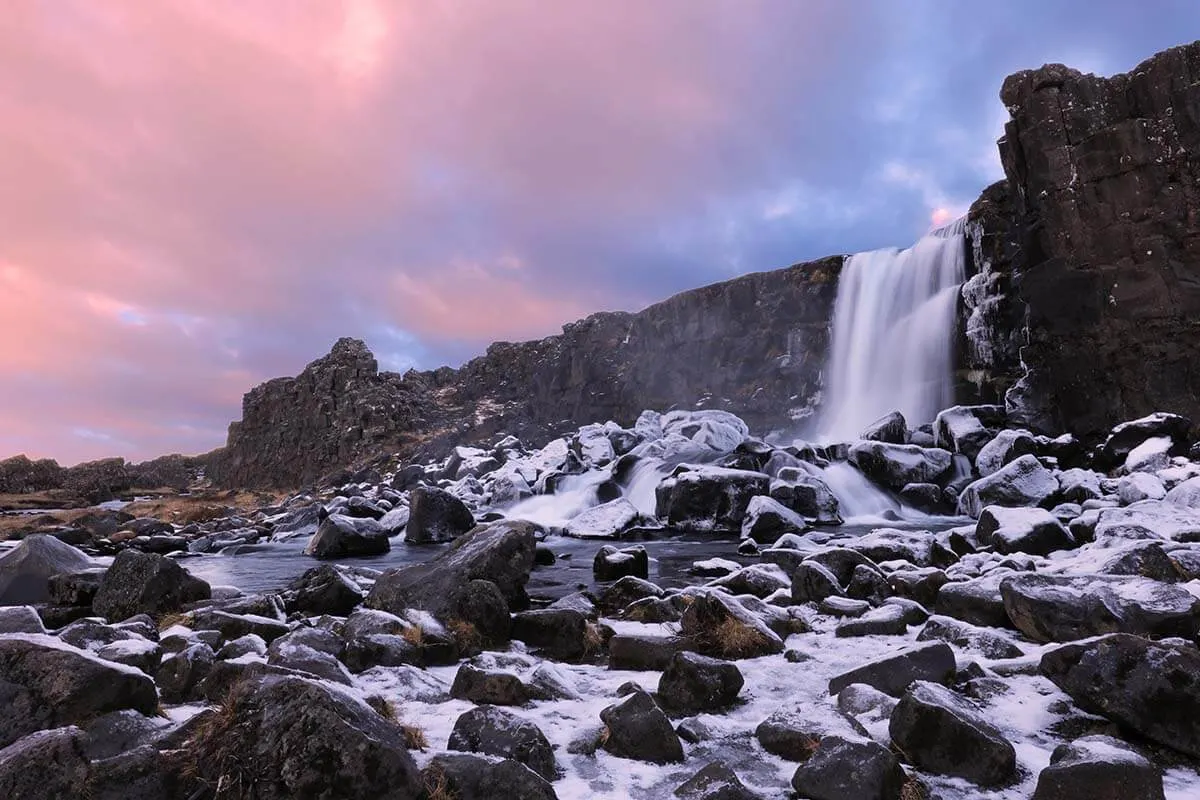 Your next stop is Geysir Geothermal Area, about 50 minutes drive from Thingvellir.
Here, you'll find Geysir, the original geyser that gave name to all the others, but it's been dormant for years. The good news is that the Strokkur geyser just next to it is still very active. It erupts every 5-7 minutes, spouting water up to 30 meters (100 ft) into the air – always an amazing sight!
Don't forget to explore the nearby Geysir Center where you'll find interesting displays about geothermal activity and earthquakes that keep on shaping Iceland. You can even try their earthquake simulator…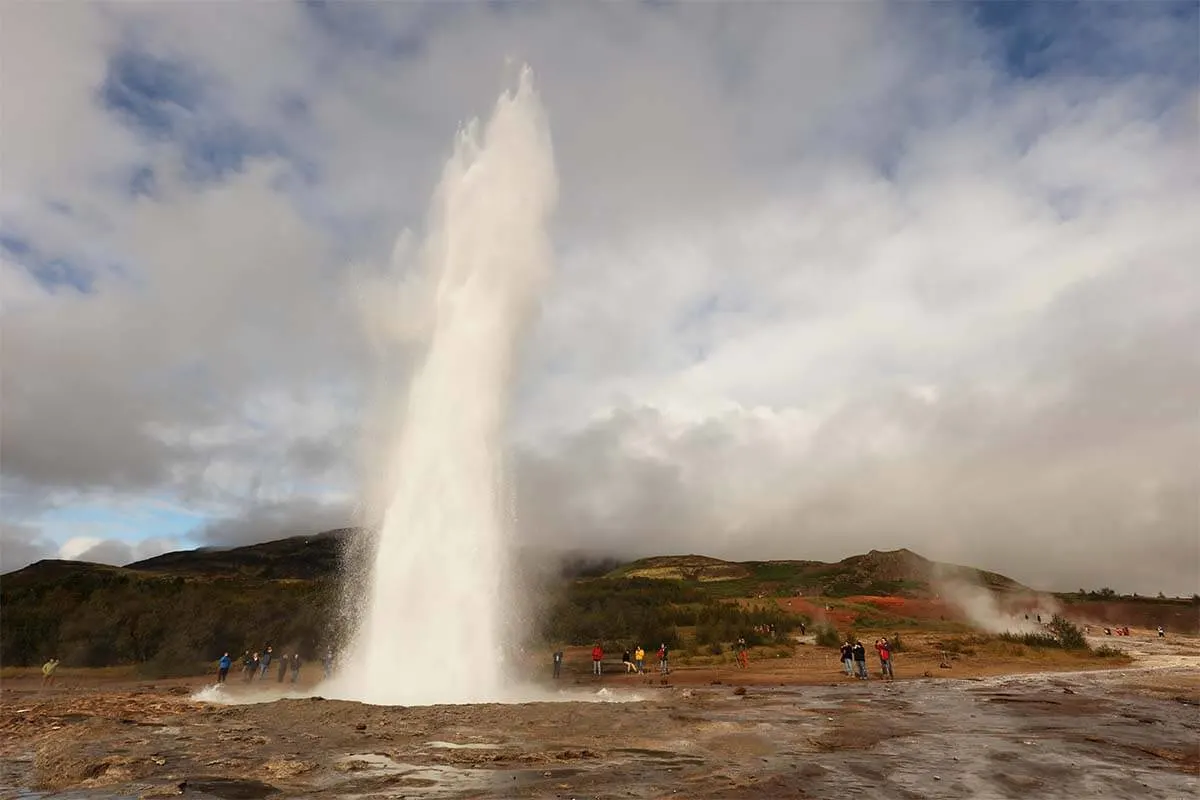 The next must-see place along the Golden Circle is the Golden Waterfall – Gullfoss, about 10 minutes drive from Geysir.
Gullfoss is fed by Iceland's second biggest glacier, Langjökull, and is a very powerful waterfall. It's usually quite windy and cold here, but if the sun is shining, you are likely to see some spectacular rainbows over the falls.
There are several walking paths here allowing you to see the waterfall from various angles. In the summer, you can walk really close to the waterfall – see the picture below.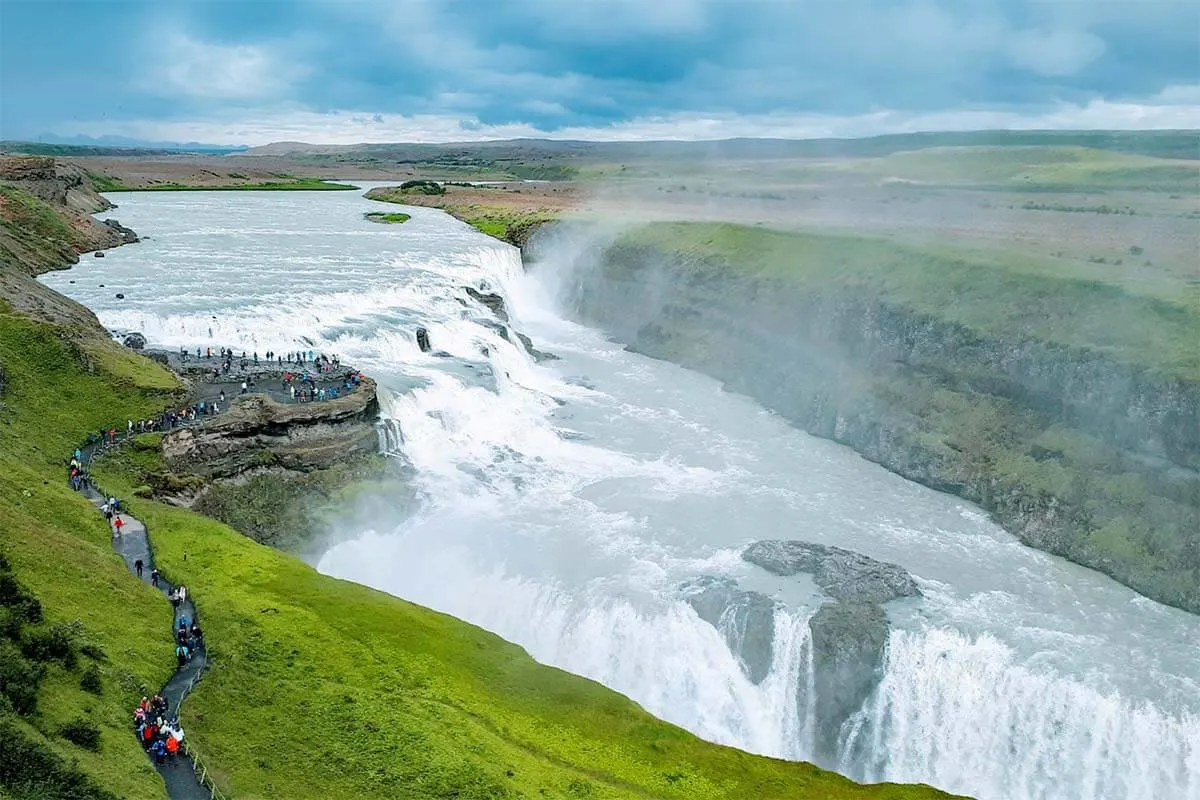 TIP: Langjokull Glacier is a very popular place for snowmobile tours in Iceland (and they are available the whole year). If this is something you are interested in, here you can find more information and book the best glacier snowmobile tour (or this tour that also includes a visit to an ice cave).
Usually, these tours run at around noon, so it's quite easy to fit a tour like this in your itinerary. Just keep in mind that you won't be able to do much afterwards anymore (which may not be a big deal since you cover all the musts before you come here).
If you start your day early and don't do any special tours, you'll likely be done with all the sightseeing at the Golden Circle in the early afternoon. In that case, head to the nearby Fridheimar Tomato Farm and Restaurant for lunch.
This is the most popular restaurant in the area. It's located inside a greenhouse where they also grow tomatoes, and their menu includes all kinds of tomato dishes. Tomato soup is delicious, but we weren't particularly fond of tomato ice cream. In high season, you really should reserve a table here in advance.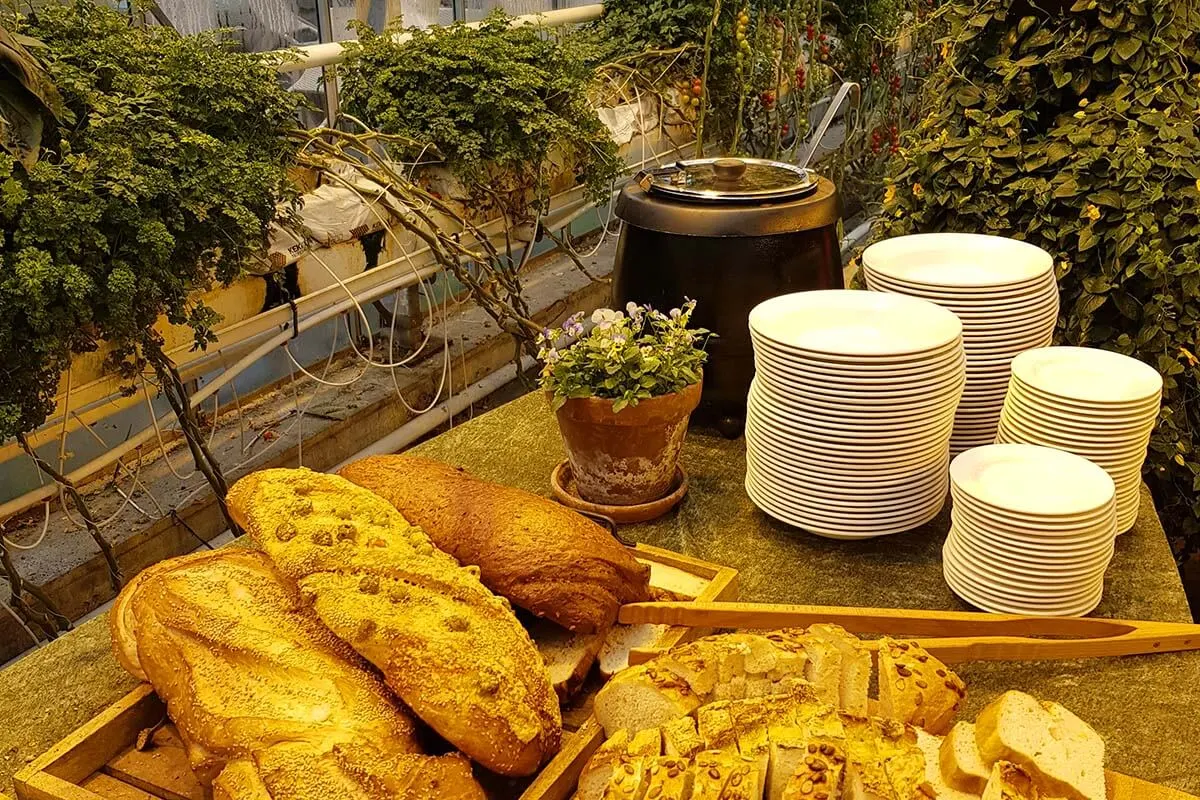 Another nice stop in this area is Kerid Crater, where you can walk around the dormant volcano crater or even take the stairs down to see the bottom of the crater. Count at least half an hour for a visit. This is also one of the few nature destinations in Iceland where there's a small entrance fee.
There are several geothermal pools in this area as well, so if you still have some time and energy, you may want to go for a warm soak there. In that case, we recommend going to Secret Lagoon before you go to Kerid Crater.
Alternatively, head to your accommodation. Depending on where you're staying, you could go for a swim in one of the local pools or relax in a hot tub at your hotel.
Where to stay: Stay in Hella or in Hvolsvöllur – this area fits this itinerary best and there's a nice public pool in Hella. The best luxury hotel in this area is Hotel Ranga. On a mid-range budget, check out Stracta Hotel Hella – both these hotels have hot tubs. Hotel Kanslarinn Hella is a good no-thrills option on a somewhat lower budget. If you are looking for hostel-style accommodation, then Midgard Base Camp is the place to be.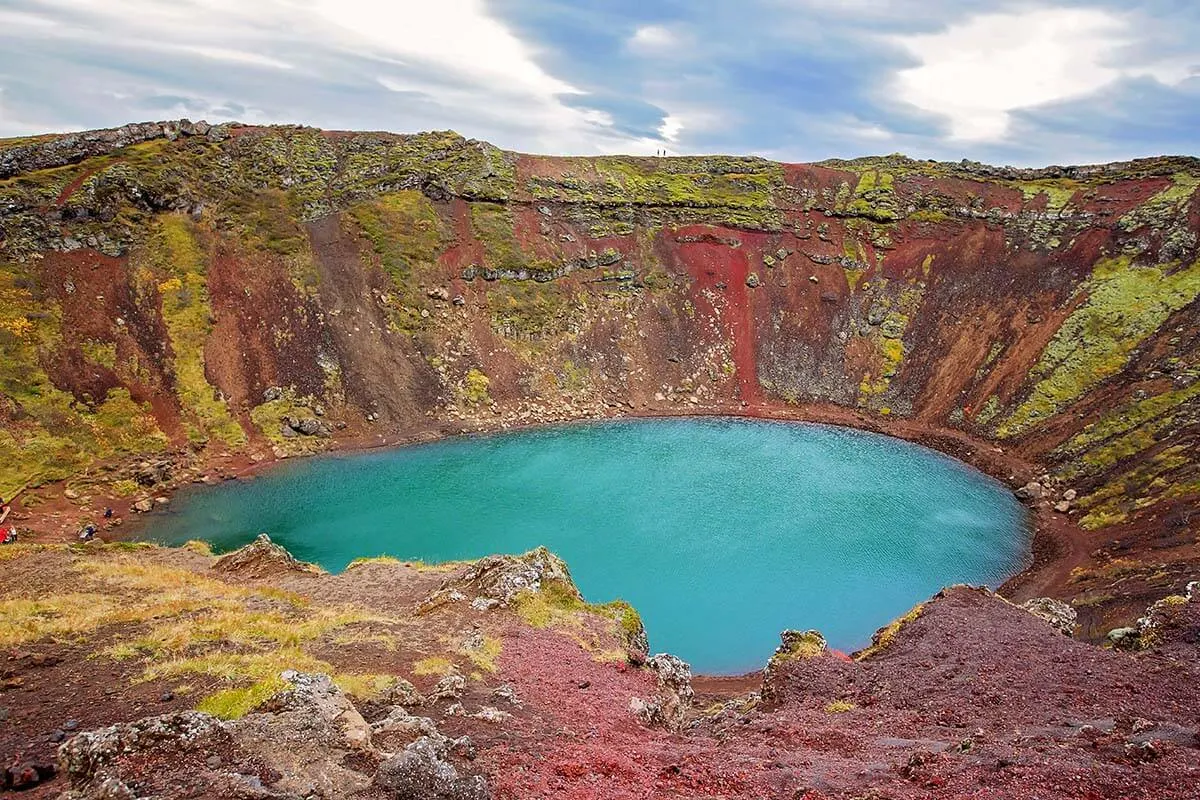 Day 3: South Coast
Driving distance/ time: 290 km (180 miles), 3.5 hours.
Today, you drive Iceland's Ring Road in the easterly direction and visit the beautiful South Coast of Iceland. After the Blue Lagoon and the Golden Circle, this is another one of the most visited places in the country.
There are many great things to do on the South Coast of Iceland, and you could spend several days just exploring this area. However, if you are driving the entire Ring Road in 10 days, you'll have just one day for this area and will have to be more selective.
The main places that you have to see along the South Coast are Seljalandsfoss and Skogafoss waterfalls and the black sand beach in Vik. Another popular stop is Fjaðrárgljúfur Canyon.
TIP: If you want to visit a natural ice cave or go hiking on a glacier in Iceland, the South Coast is the best place for that.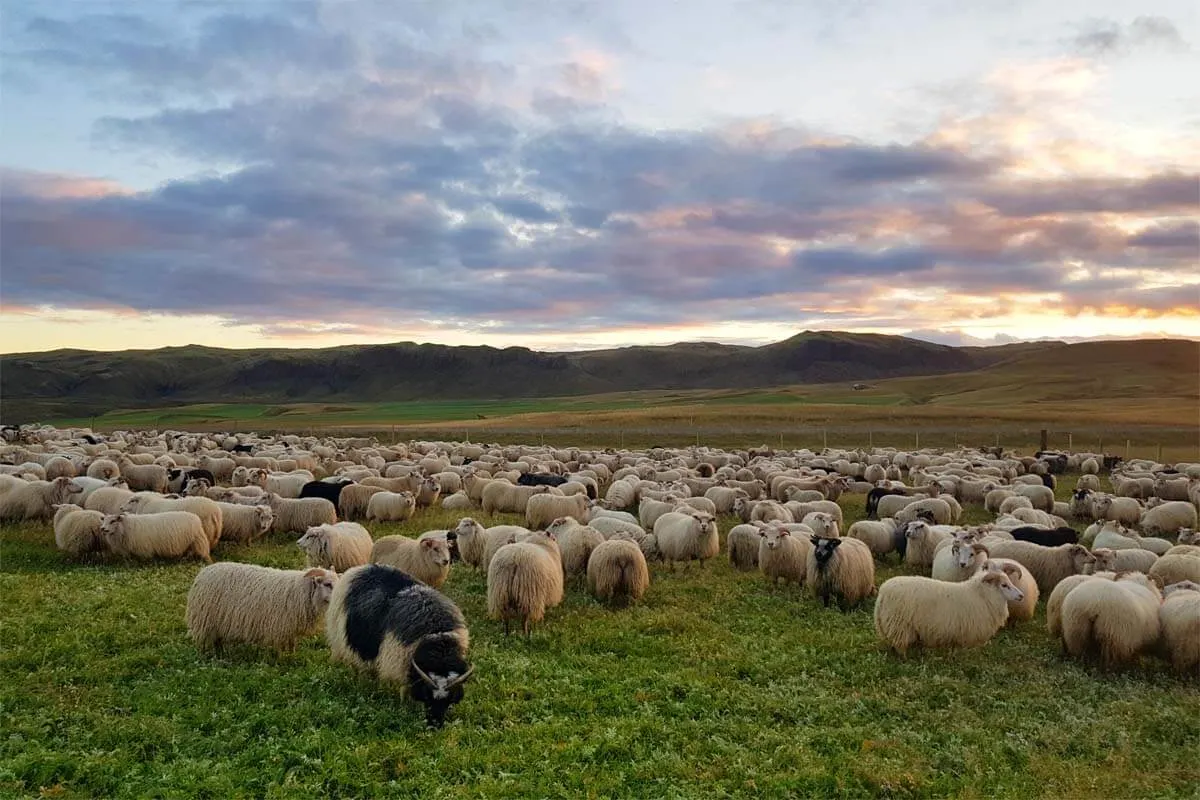 With just one day on the South Coast, we recommend that you do the following.
Start your day early and drive to Seljalandsfoss waterfall (about half an hour drive from Hella). This is one of the most popular waterfalls in Iceland, famous for the fact that you can walk behind it. Prepare to get wet! Just a short walk to the left of the falls, there's another waterfall hidden inside a gorge – Gljúfrabúi waterfall. Be sure to check it out too!
Afterwards, continue further east to Skogafoss, another must-see waterfall along the South Coast. Here, you can take a staircase to the top of the falls, and also visit the nearby Skógar Museum. This is a great place if you want to see some turf houses in Iceland.
Another half an hour's drive further, you'll find the small town of Vik. It's best known for the black sand beach Reynisfjara and it's really a must-see.
Another nice place to check out in Vik is the Dyrhólaey Lighthouse and rock formations. In summer, this might be a good place to see puffins, but not ideal during the day because they are usually 'gone fishing' then. Also, there's a better place for that on the next day of this itinerary – more info further below.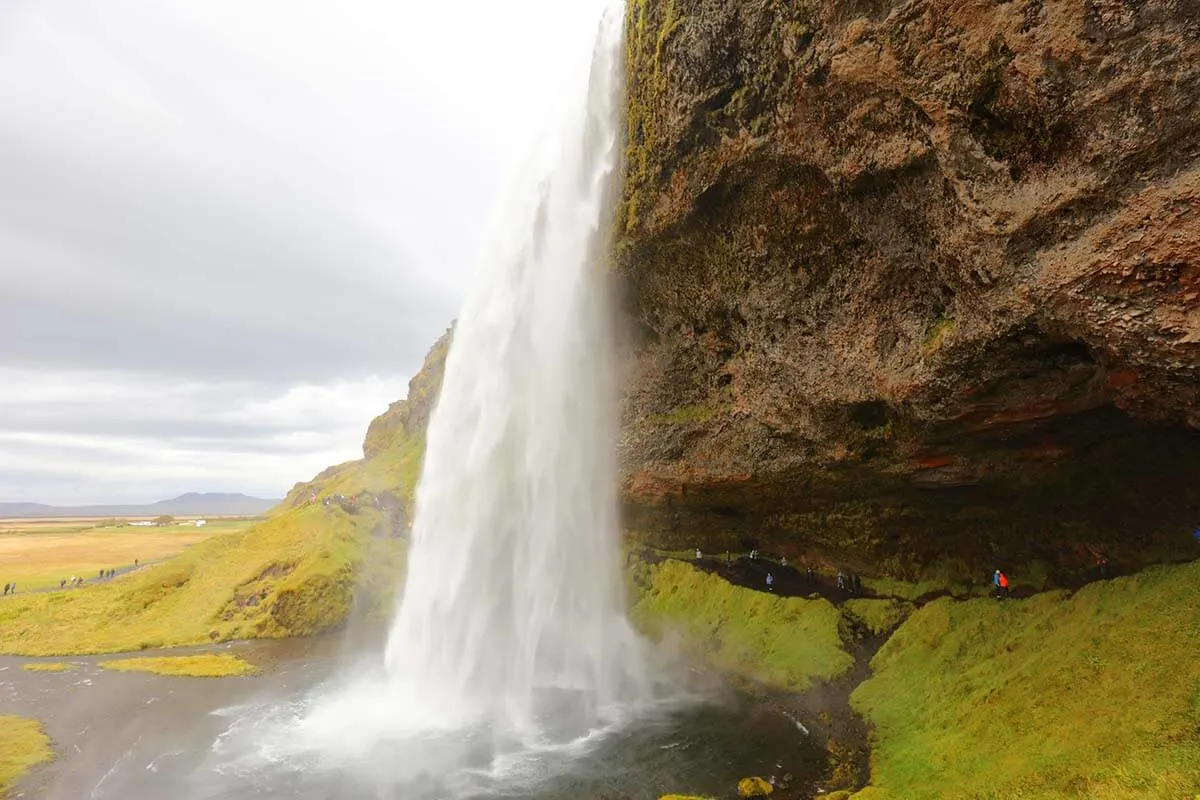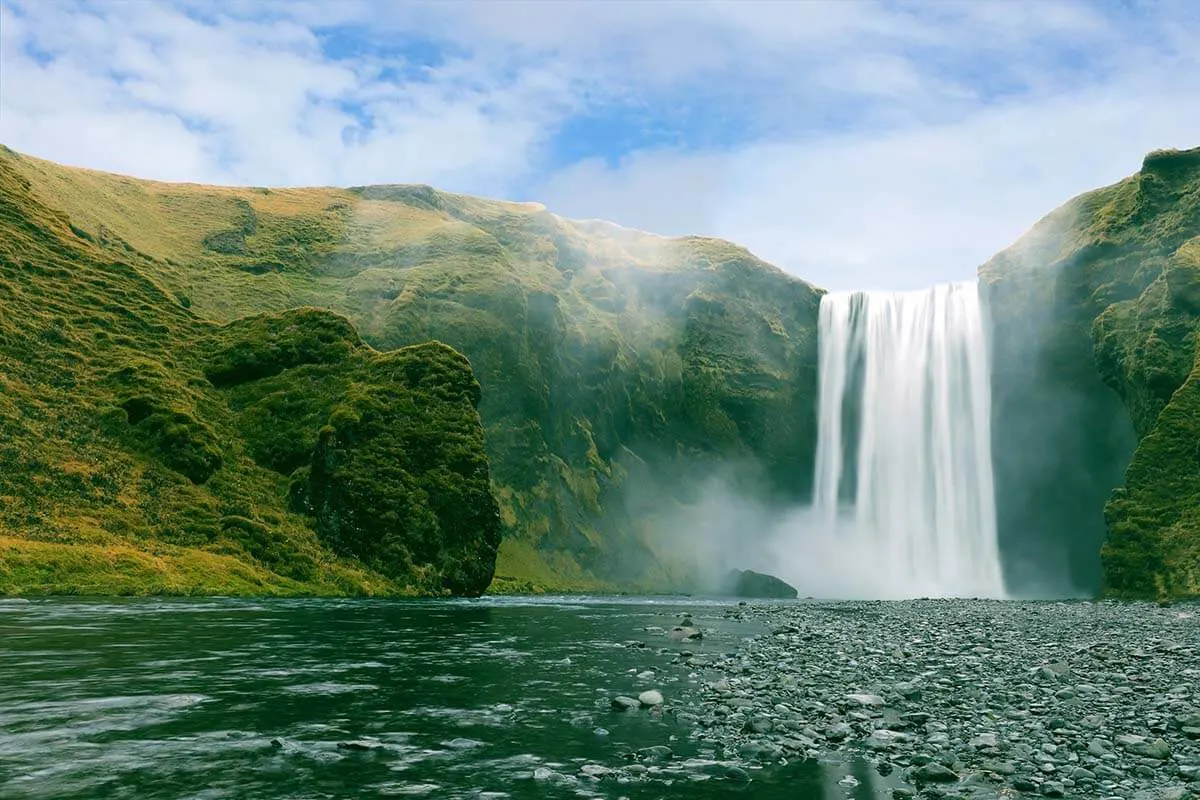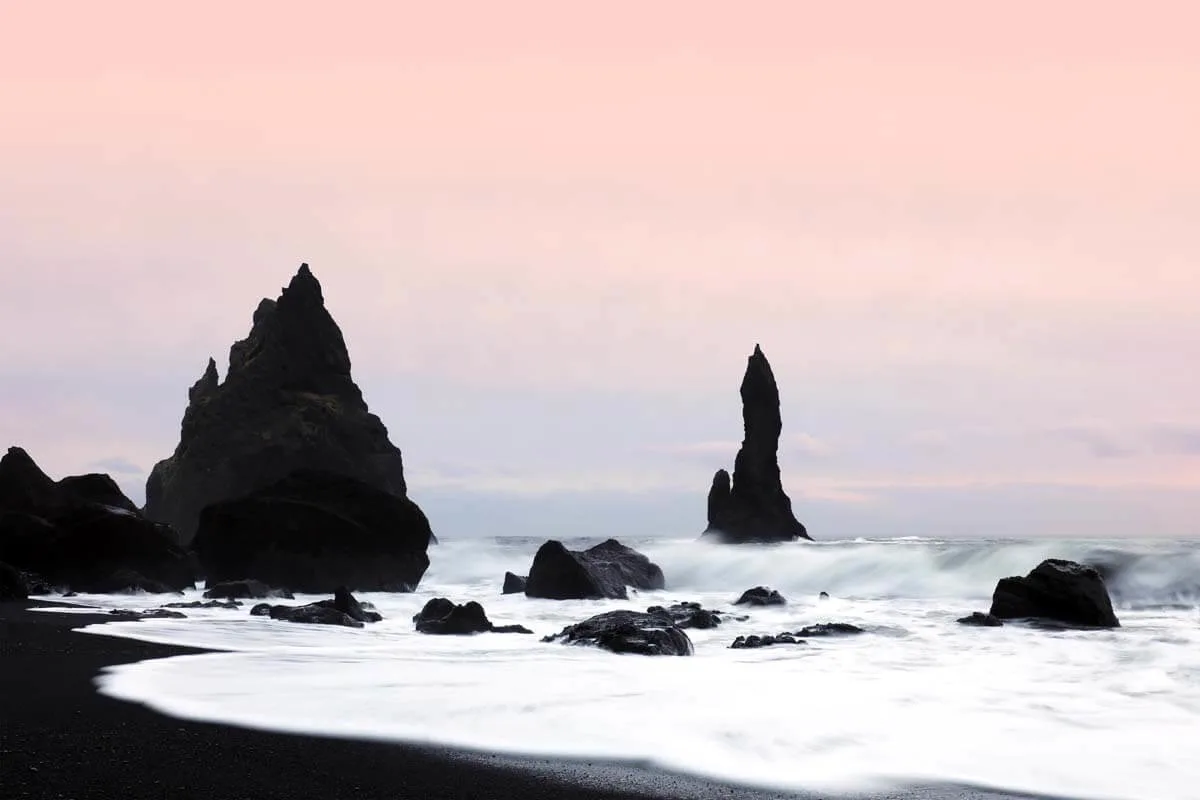 TIP: If you want to visit a natural ice cave in Iceland, this is the only place where you can do that at any time of the year. In that case, be sure to prebook this ice cave tour. It starts in Vik, takes about 3 hours, and has several departure times during the day, including one at around noon, which would fit this itinerary best.
Please note that most glacier tours in Iceland don't allow kids under 8, but there's also another tour to this same ice cave and they say they allow children from 6 years old. A nice alternative family-friendly activity in Vik is the Icelandic Lava Show.
After that, continue to Fjaðrárgljúfur Canyon, stopping at the Eldhraun lava field along the way. The Hofskirkja turf church is another nice short stop further down the Ring Road.
If you don't do the ice cave tour, or if you are visiting in summer when the days are very long, be sure to also stop at Skaftafell Nature Reserve. There are several really nice hikes here, and they have a visitor center where you can get all the info. If you do just one short hike, the best option is Svartifoss (aka the Black Waterfall), about 3 km (2 miles) in total, and will likely take you at least 1.5 hours.
The Skaftafell area is also one of the best places to go glacier hiking and this is one of the best tours, with several departure times during the day. But since you only have time for one tour, my personal recommendation would be the earlier-mentioned ice cave tour from Vik.
Where to stay: The nicest and best-located hotels in this area are Fosshotel Glacier Lagoon (higher budget) and Hali Country Hotel (mid-range). Here you can find more suggestions on where to stay near Jokulsarlon.
TIP: If you still have some energy, you may want to check out Jokulsarlon Glacier Lagoon and Diamond Beach in the evening. It's nice to be here without the crowds of day-trippers, and this place is truly beautiful at sunset.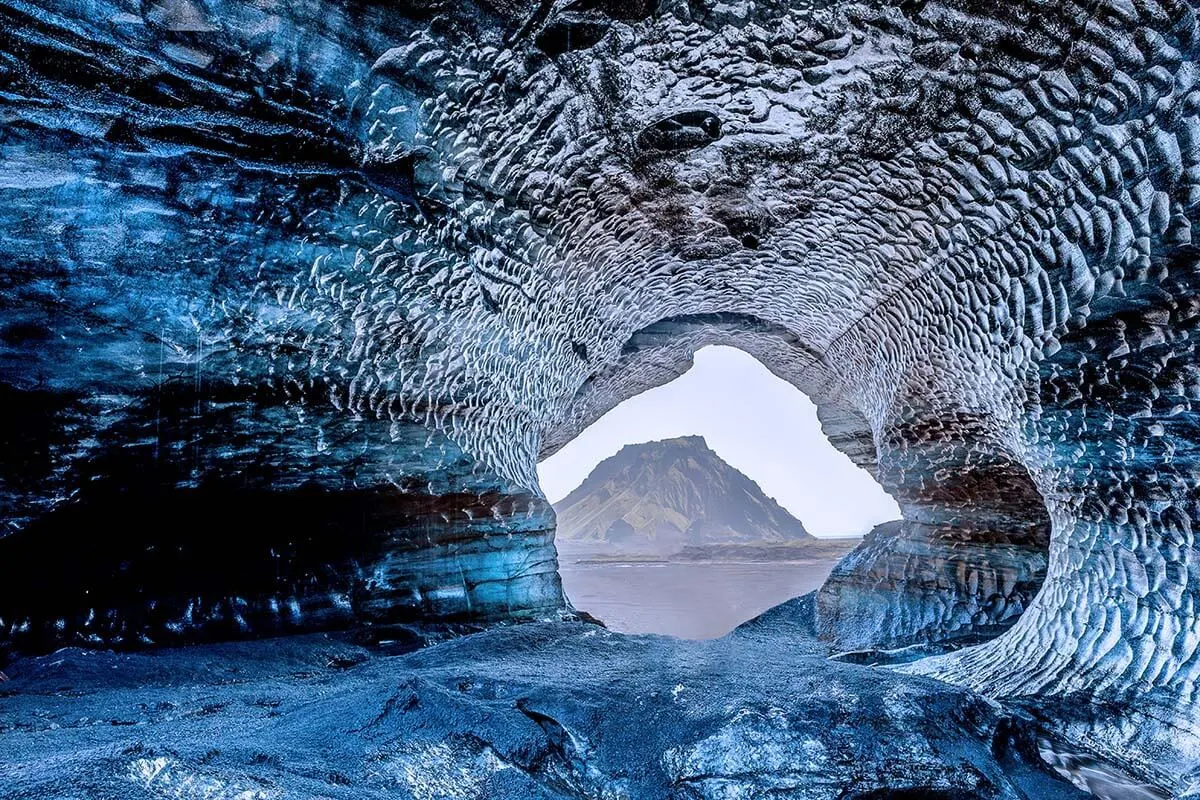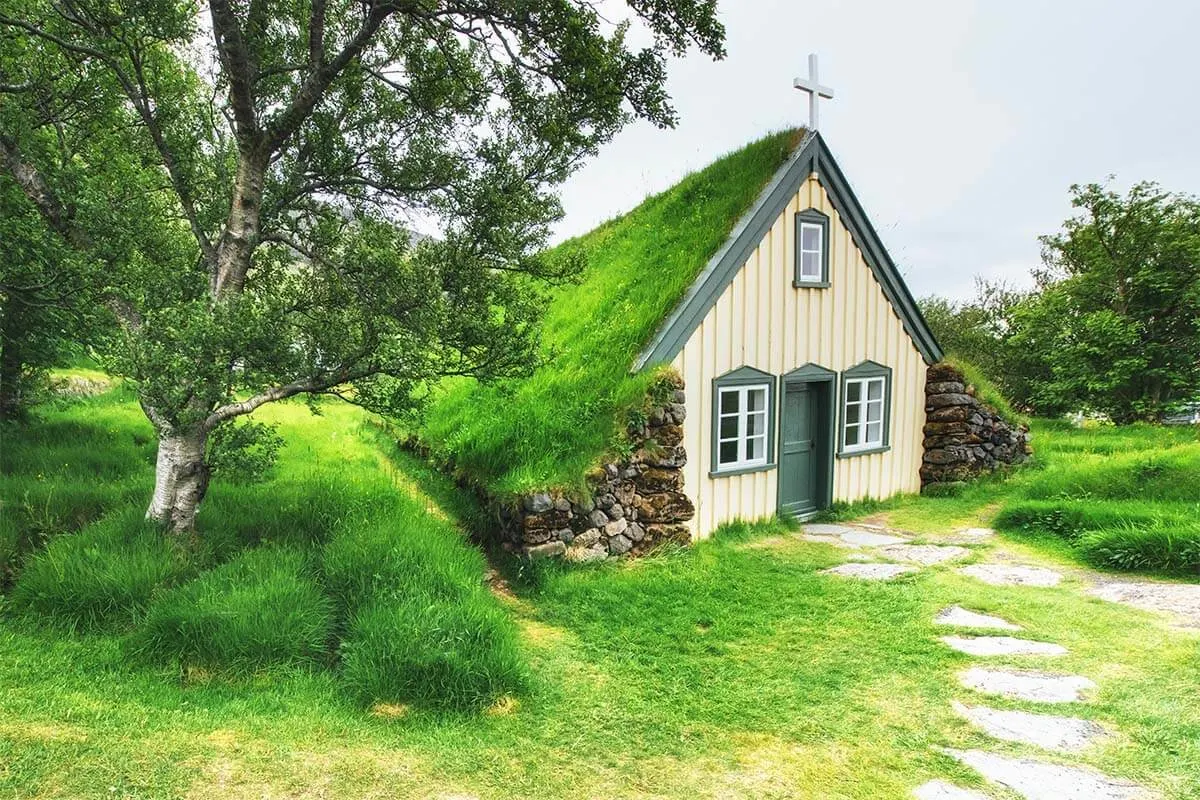 Day 4: Jokulsarlon Glacier Lagoon, Stokksnes & East Fjords (+Puffins)
Driving distance/ time: 270 km (170 miles), 3.5 hours. This doesn't include sightseeing or detours.
Today, you'll be visiting one of the most popular landmarks of Iceland – the Jokulsarlon Glacier Lagoon. This glacial lake is filled with big chunks of ice that come from a nearby glacier, and the scenery changes all the time. So even if you visited last night, it will likely be totally different in the morning.
You can simply walk along the lagoon and one of the beaches across the road, popularly known as the Diamond Beach. Depending on the season and the weather, you'll often find icebergs washed ashore here. It's especially impressive in winter, but always worth checking out since you really can't predict what you'll find here.
If you want to get very close to the icebergs (and seals), you can also opt for a boat tour on the lagoon. This is one of the most popular tours on the South Coast and you have an option between amphibian boats or zodiac boats.
The amphibian boat tours are cheaper and take just half an hour, whereas zodiac boat tours take about 1 hour and are usually able to get a bit closer to the ice. Both are really nice experiences, and you'll get to see amazing scenery either way. If you are planning on taking a boat here, opt for the earliest tour available (it's best for this itinerary)!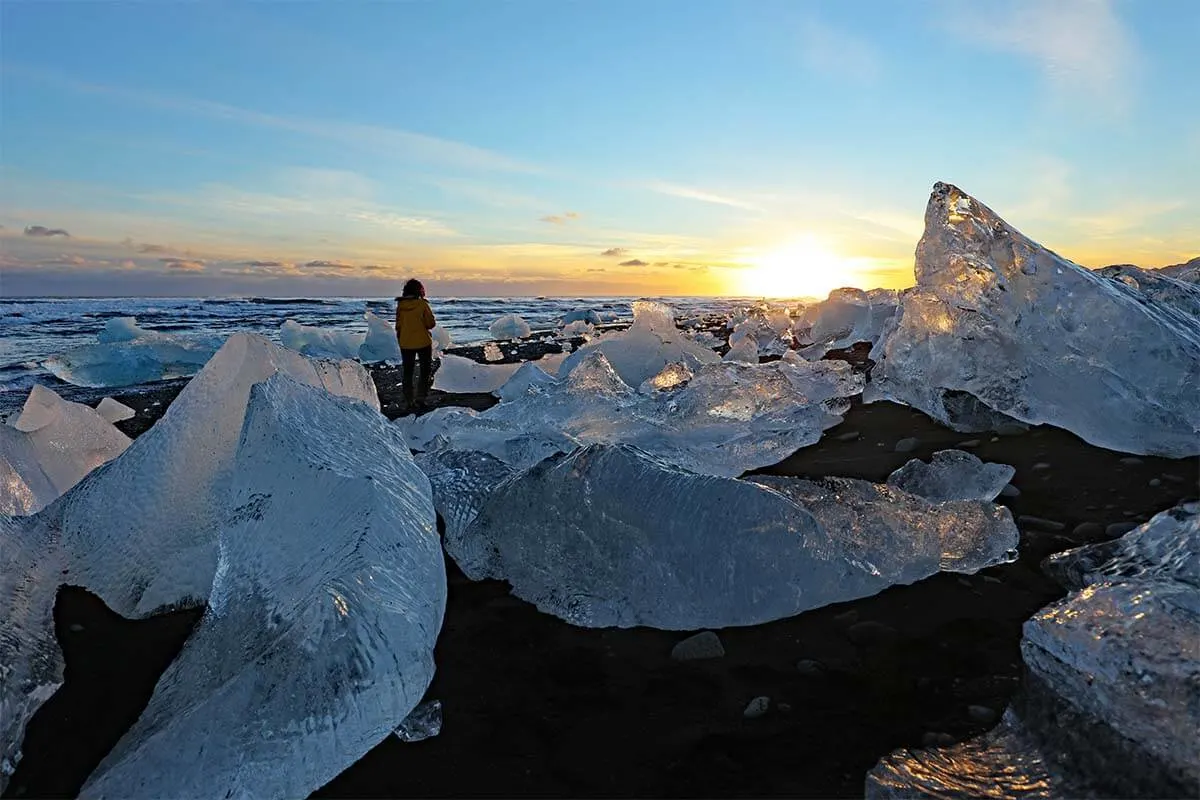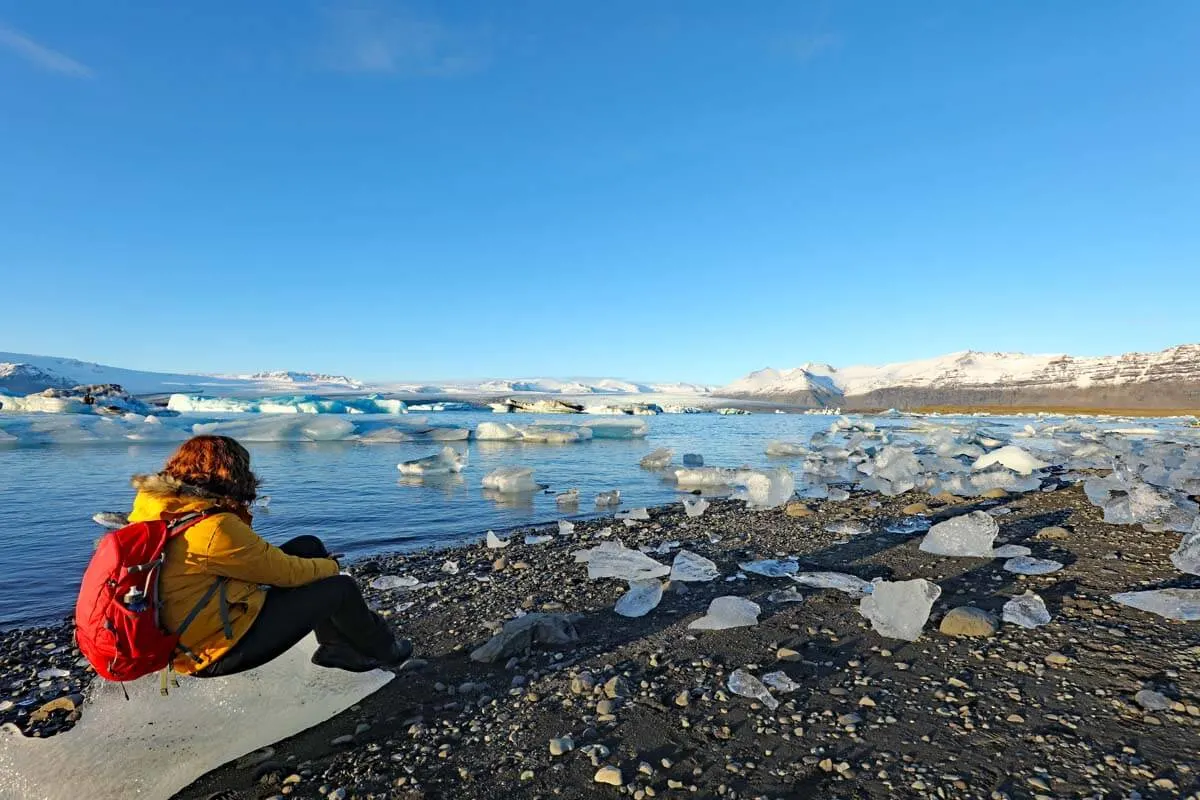 Next, stop at Stokksnes. This is a beautiful coastal area with black sand and an impressive Vestrahorn mountain backdrop that makes for some spectacular pictures. Since it's located on private land, there's a small fee to enter.
Afterwards, continue your journey to the Eastfjords. This is one of the least developed regions along Iceland's Ring Road, and a good place to see wildlife, especially reindeer.
There are several places where you can stop when touring the Eastfjords. Petra's Stone Collection is one of the quirkiest places and also Lagarfljót Lake is worth a quick photo stop, and potentially also Hallormsstaðaskógur, the biggest forest in Iceland, or the picturesque village Eskifjörður, but it's a bit out of your way.
Another popular place is Seydisfjordur. This is a small town best known for its rainbow path leading towards the local church, but one of the nicest things to do is simply the drive to get there.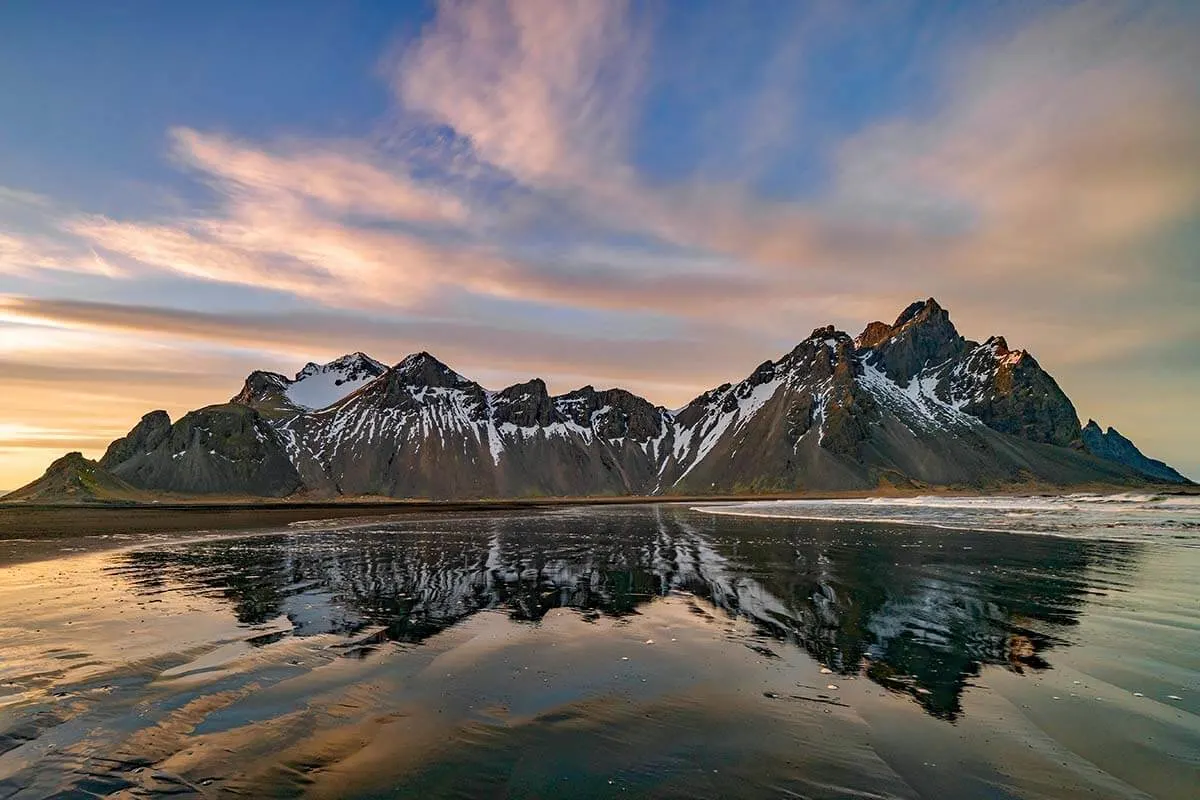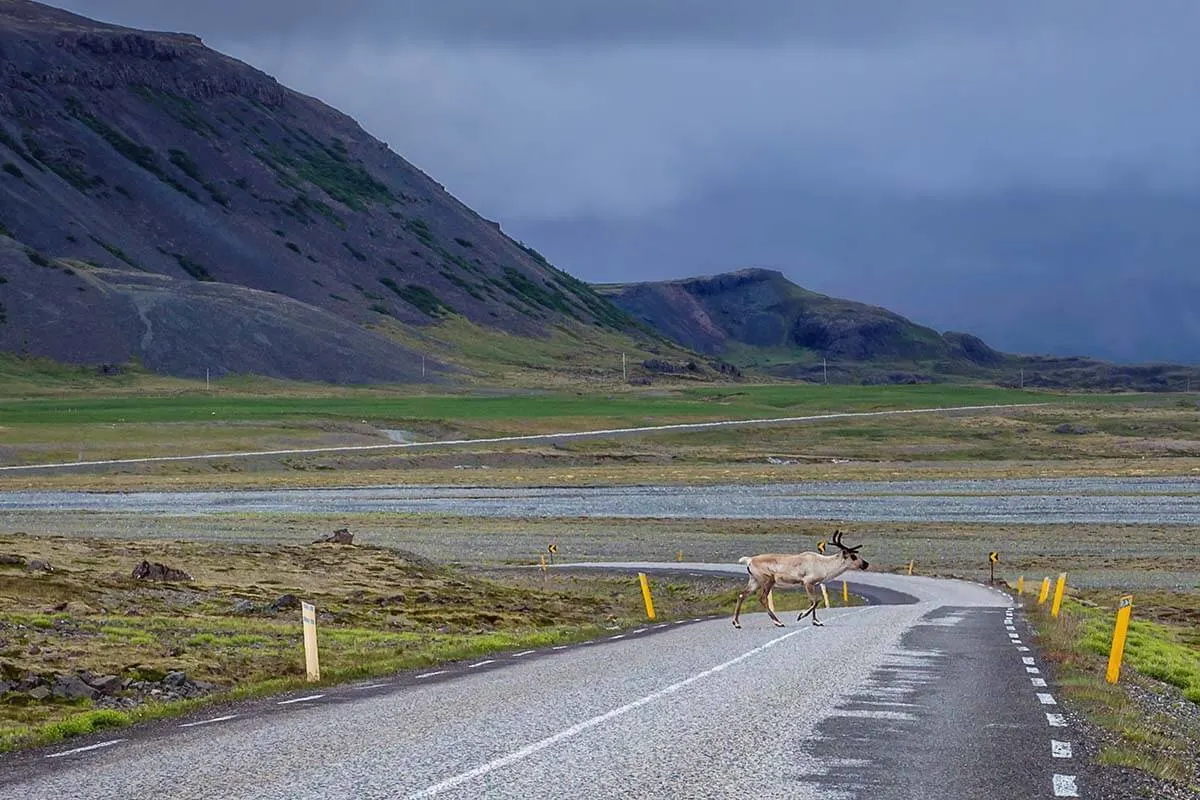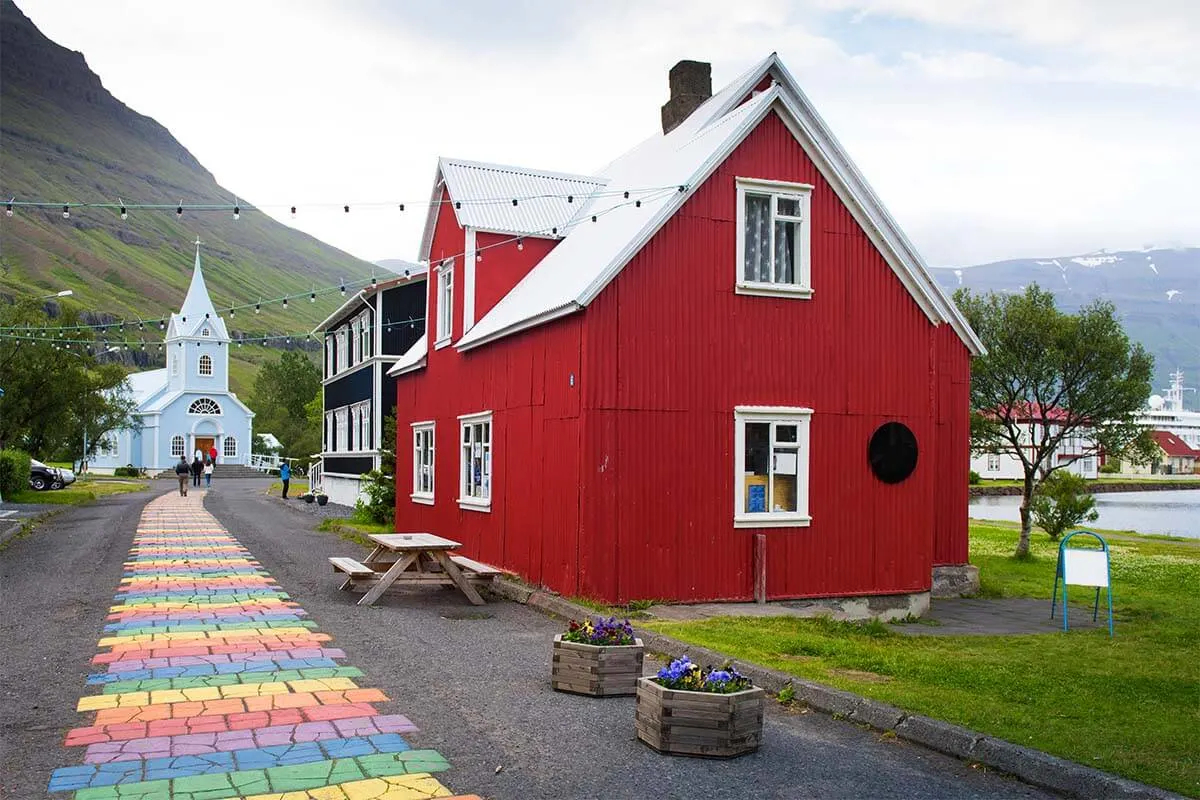 Where to stay: Stay in Egilsstaðir, the biggest town in this area. Lake Hotel is the nicest hotel in town, but Icelandair Hotel Herad also offers great value for a much better price and is perfect for a one-night stay. On a budget, check out Lyngas Guesthouse.
TIP: About a 1-hour drive northeast of Egillstadir, there's a tiny village Borgarfjörður Eystri. If you drive all the way to the end of the road here, you'll find a place called Borgarfjarðarhöfn. This is one of the best places to see puffins when driving the Ring Road of Iceland. And yes, it's a detour from the Ring Road, but since you are staying in Egillstadir for the night, it's perfectly doable.
The best time to see puffins is from mid-May to mid-August, and going there in the evening is always better since the birds return from the sea for the night. The days are endless at this time of the year, so there's no need to worry about having to drive back in the dark.
TIP: Just north of Egillstadir, you can find one of the newest geothermal baths in Iceland, Vök Baths. They are usually open until 10 PM and can be a nice place to end your day of sightseeing. It's actually probably worth your time more than many of the stops along the Eastfjords (not to mention that it's more relaxing).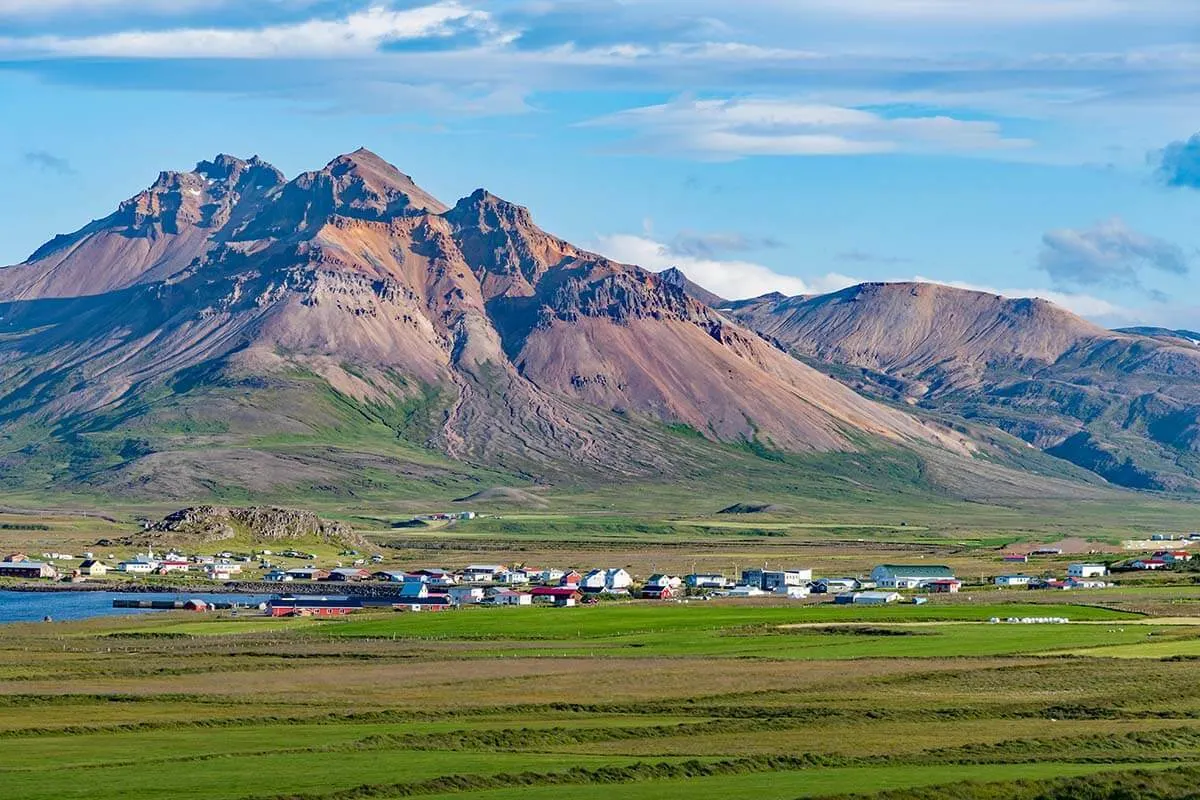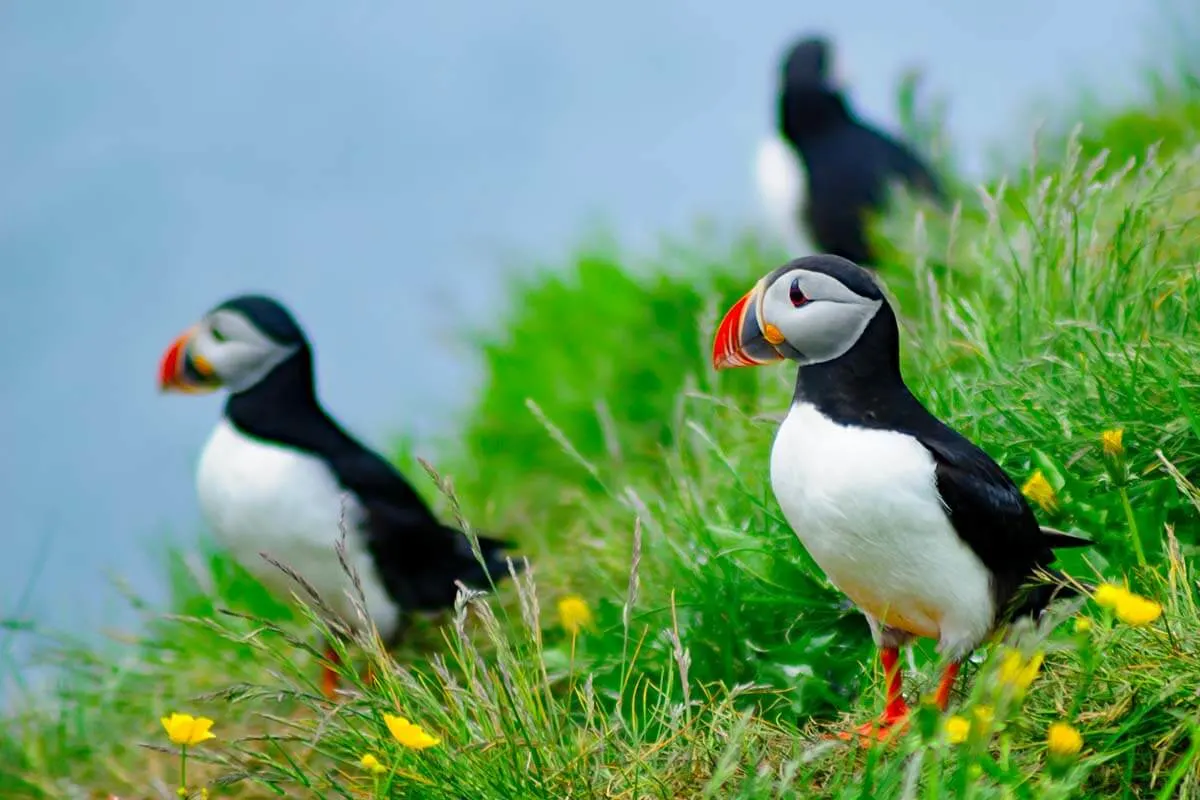 Day 5: Myvatn Area
Driving distance/ time: 300 km (185 miles), 3.5 hours. This includes detours as described below, but not the time for sightseeing.
There are several ways how you could fill this day. Doing the trip as we recommend below means that you can spend the night in Husavik, which tends to be somewhat cheaper and less popular with groups than the hotels around Myvatn. But you could perfectly stay in Myvatn as well and go to Husavik the next morning.
Your first stop today is Dettifoss, about 2 hours drive from Egilsstadir. This is Europe's most powerful waterfall and a must-see in North Iceland! This waterfall can be visited from two sides – via road 864 on the east, or via road 862 on the west.
Both sides are very impressive, but the western side is easier to get to and the road is paved all the way to the parking lot. From there, it's about 15-20 minutes walk to the viewing platforms at Dettifoss, and you can also see another nice waterfall – Sellfoss. If you have a 4WD car, you can also visit the eastern side, but doing both would mean that you'll lose about half a day for this waterfall alone.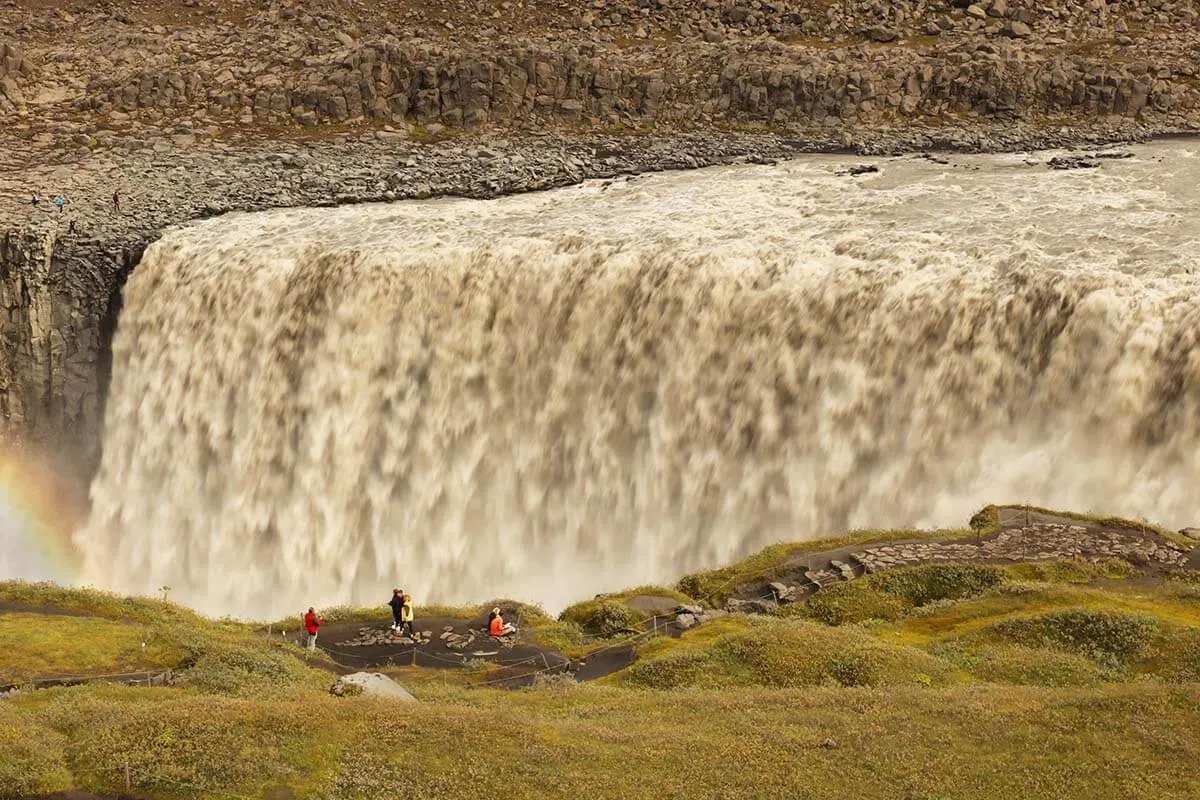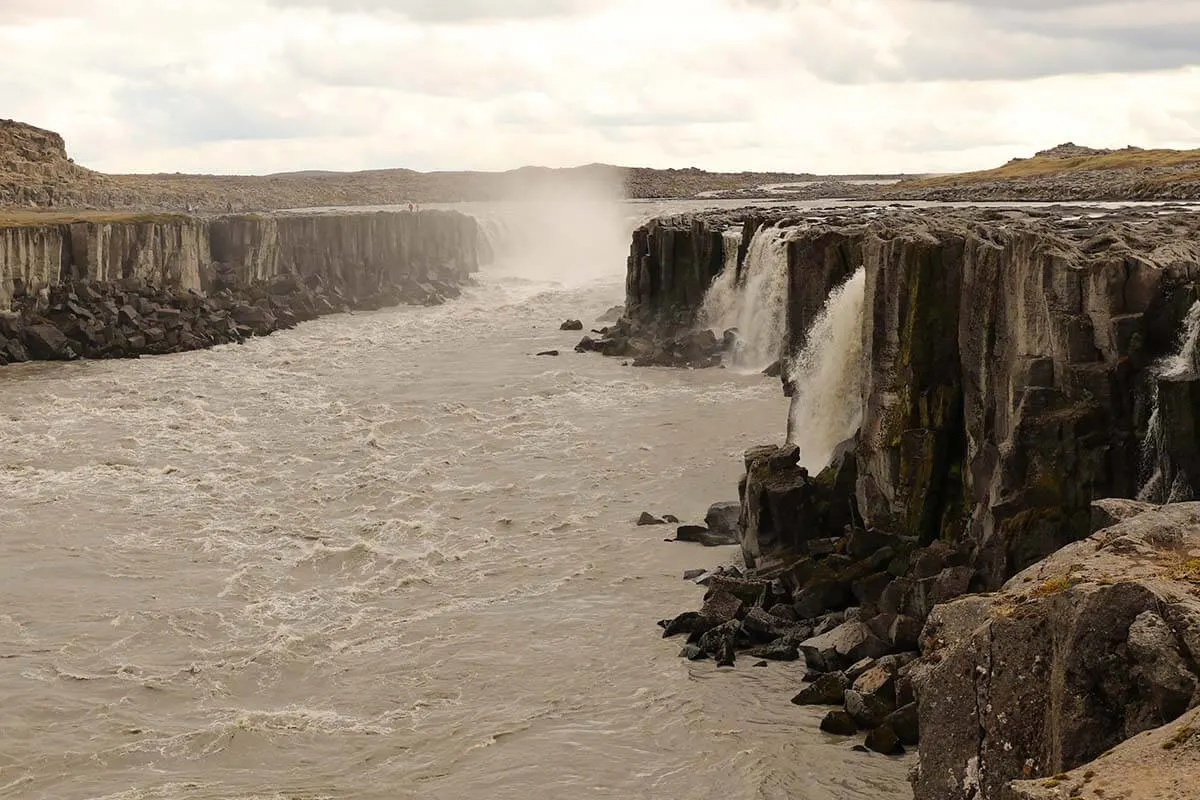 Next, head in the direction of Lake Myvatn, where you'll find quite a few interesting places. First, take a small road to the right off the Ring Road in the direction of the Krafla Power Plant. At the end of the road, you'll find the Viti volcano crater (aka Krafla Volcano) with a green lake inside it.
It's just a short walk from the car to the crater (or you can go all the way around it), and it's well worth seeing. You can also stop for a short walk in the Leirhnjukur area.
The next stop is the Námaskarð geothermal area, aka Hverir, just next to the Ring Road. The colorful landscape with mud cauldrons, steaming vents, and fumaroles, makes this one of the most unique places to see along the Ring Road in Northern Iceland. Just be prepared for the strong smell of sulfur and stay on the marked paths!
After this, you can take a small detour to Grjótagjá, an underground lava cave with water inside. It only takes a few minutes to see the cave, so it might be worth a small detour (swimming is not allowed here).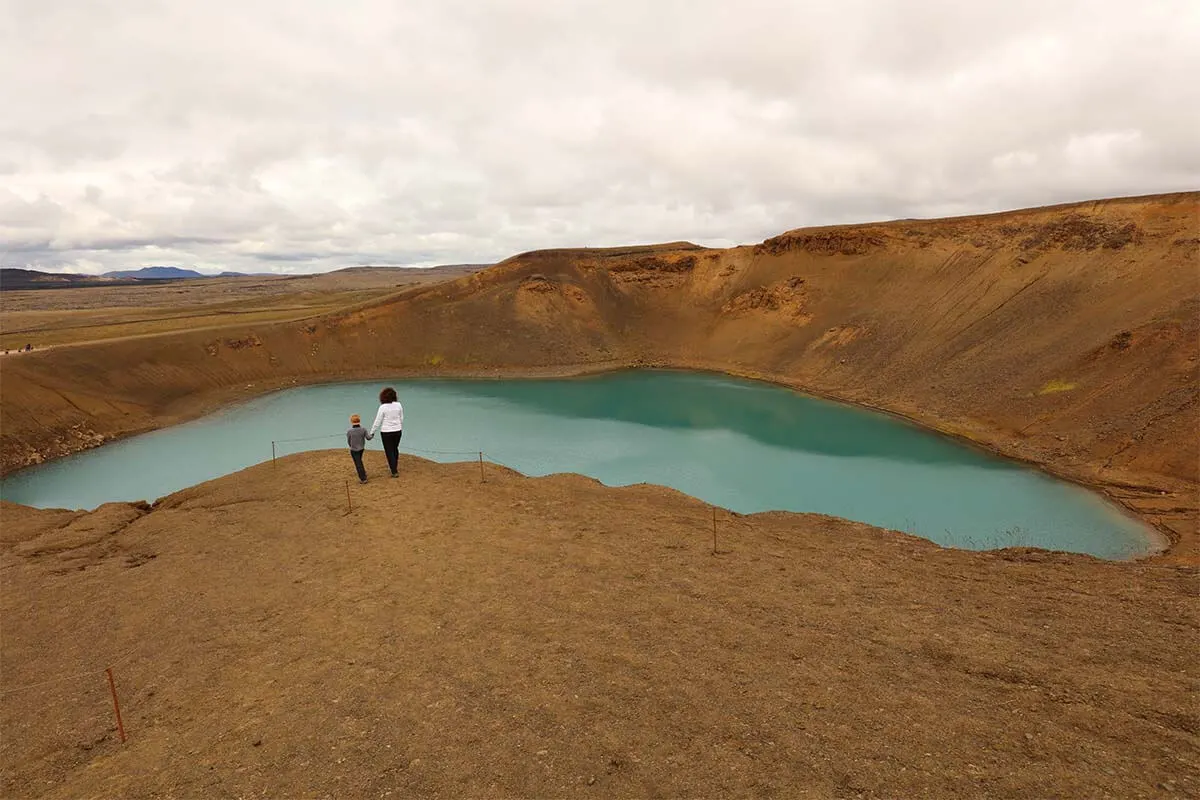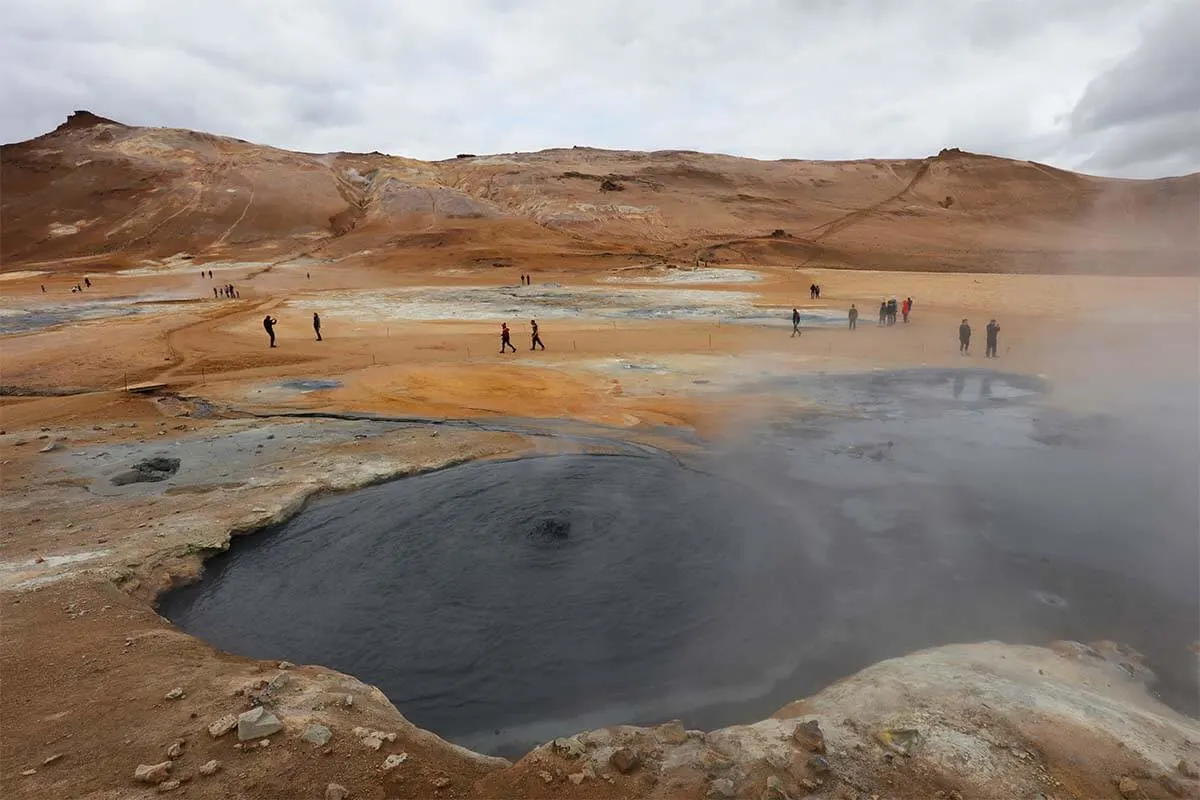 Then, head to Myvatn Lake and drive all around it.
One of the must-see stops here is the Dimmuborgir lava field. There are several short hiking trails here (partially paved and easily accessible). If you feel like stretching your legs, go for a walk on the Kirkjuhringur trail. It's a loop of about 2.2 km (1.4 miles) and shouldn't take you more than 30-45 minutes, or you can just do a small part on the paved track. There is also a nice cafe here where you could get lunch.
Along the southern side of the lake, be sure to also stop at Skútustaðir. This is the best area to see the pseudocraters of Lake Myvatn.
But be prepared for bugs! Myvatn literally means 'the mosquito lake' and it's usually full of little flies here in summer. They don't bite but crawl inside your ears, your nose, and your mouth if you are not careful… We recommend packing a small head net – it doesn't cost much and fits in your pocket and you'll be glad to have it here.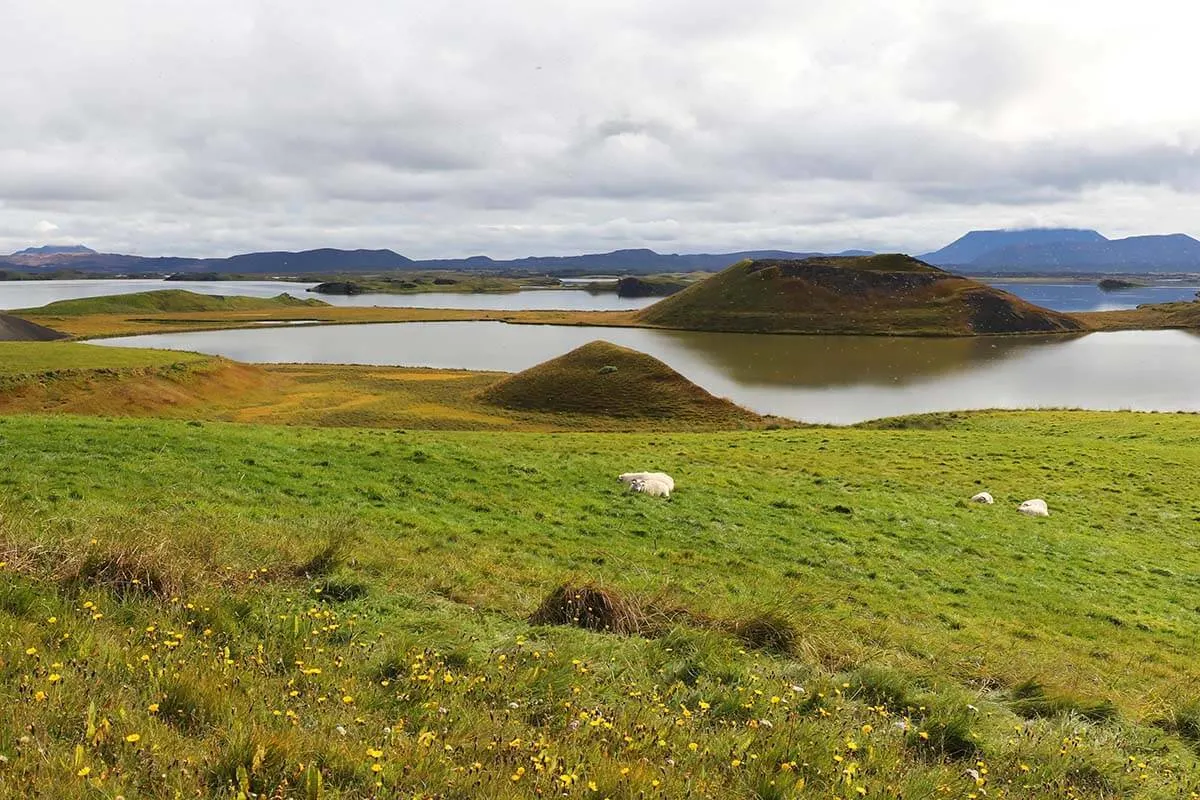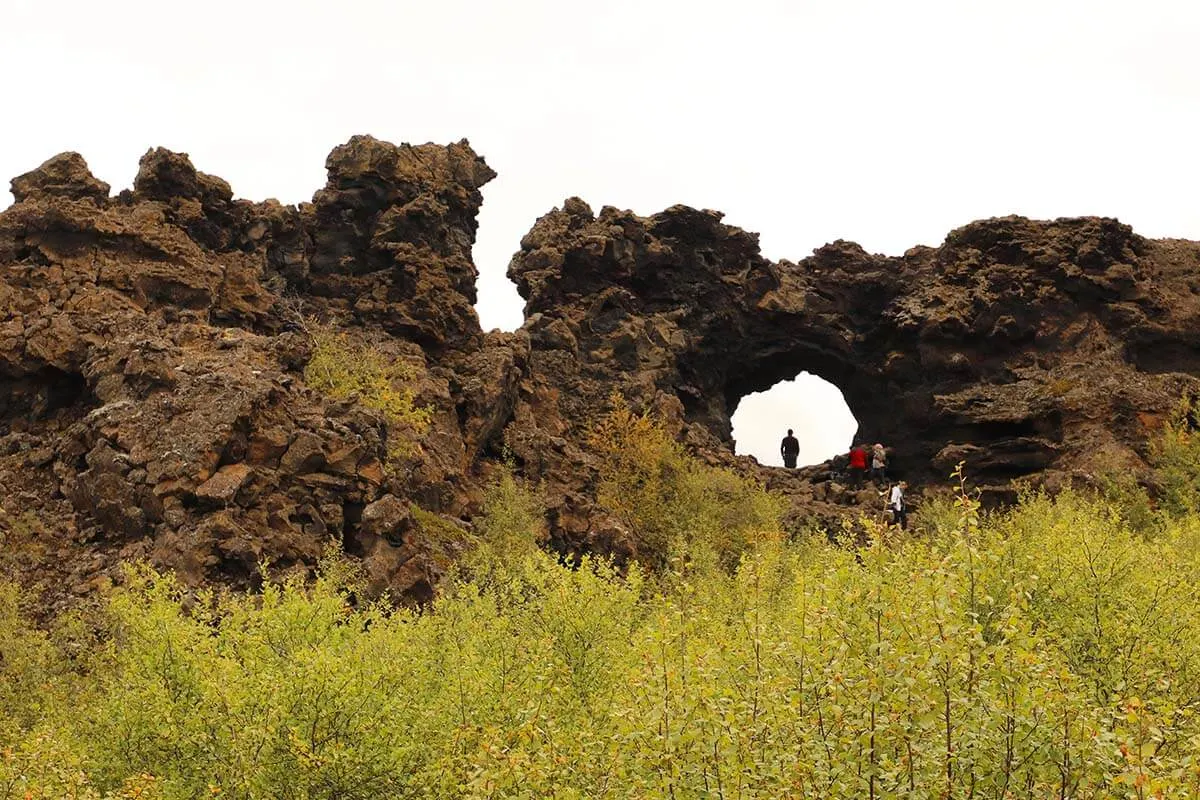 By now, you'll have covered most of the Myvatn attractions (or at least the main ones that you can see in a day), and you could drive on to Husavik where we recommend spending the night. The drive from Myvatn to Husavik is about 45 minutes.
TIP: There is a nice geothermal pool in Husavik called Geosea, and it's a great place to end your day. Alternatively, head to the famous Myvatn Nature Baths before you drive to Husavik.
It's really hard to compare these pools since they are so different. The one in Husavik is more expensive and has a smaller limit on the number of people allowed at the same time. It's more exclusive, plus it boasts amazing ocean views. Whereas Myvatn Nature Baths are much better known and quite busy (more comparable to the Blue Lagoon).
Where to stay: We recommend staying in Husavik. As already said before, Myvatn accommodation tends to be (even more) expensive, and staying in Husavik will make it easier to plan your next day too. The nicest hotel here is Fosshotel Husavik. A better value hotel is Post-Plaza Guesthouse, one of the top picks in Husavik. Accommodations in this part of Iceland are quite expensive and often fully booked long in advance. So you really should reserve as soon as you know your travel dates.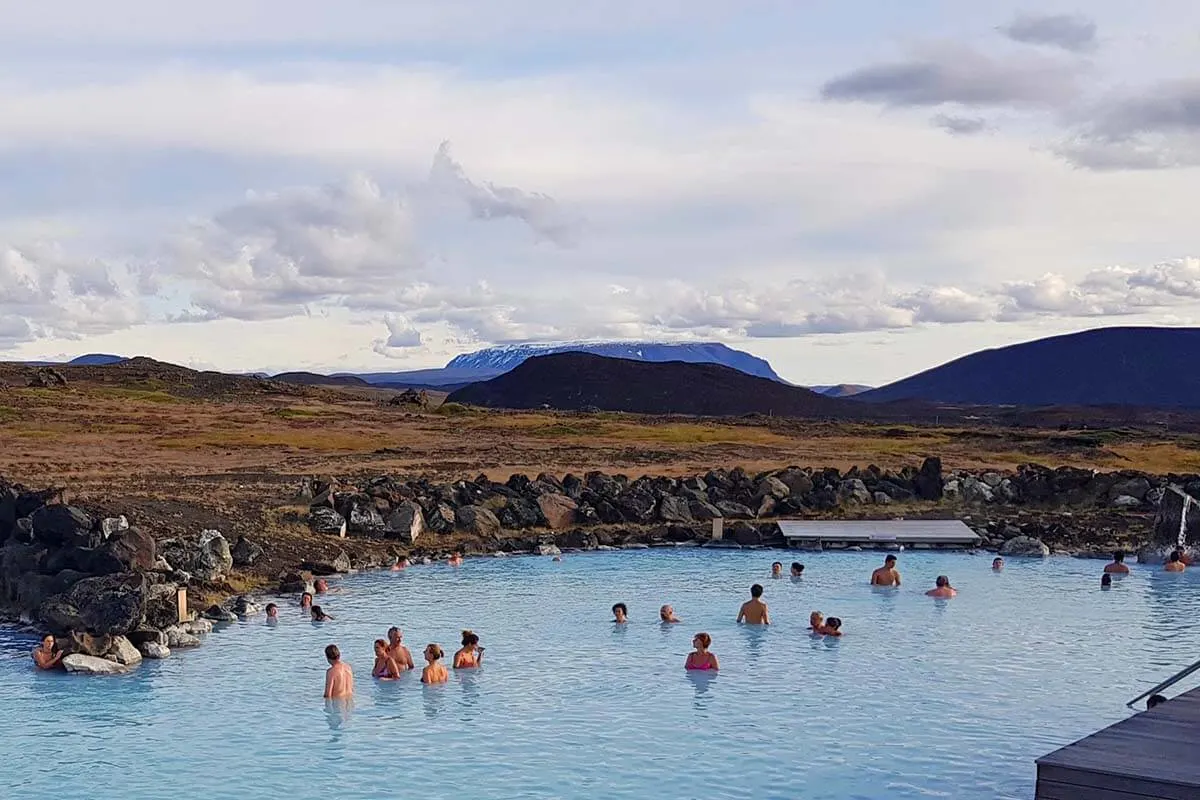 Day 6: Whales, Godafoss & Akureyri
Driving distance/ time: 115 km (70 miles), 1.5 hours. This includes all detours described below.
Husavik is the whale-watching capital of Iceland. So if you want to see whales in Iceland (and summer is a great season for that), this is the best place to do that. There are many whale watching tours and their itineraries and prices are quite similar (and they'll likely all go to the same place when the whales are located).
Be sure to book in advance and take the earliest tour you can (usually around 9.30-10 AM). These tours take about 3 hours, so it will be past noon by the time you are back and you could have lunch in Husavik. This is fine because the drive to Akureyri isn't that long and you can choose to visit a few places along the way if you want to and make this day as full or as relaxing as you feel like.
Also, there's a nice museum – The Husavik Whale Museum – that you could visit before or after your boat tour.
Good to know: If you absolutely want to, you could also take a detour from Husavik to the nearby Asbyrgi Canyon. But it's about 60km (40 mi) out of the way, so you'd need at least 2 hours extra for this. While a nice place to see, if you have to choose between Asbyrgi or whale watching in Husavik, I'd go for the latter. You can also do both, of course – that would mean less time in Akureyri and surroundings, so see what interests you more. You can read about Asbyrgi Canyon in our guide to the Myvatn area.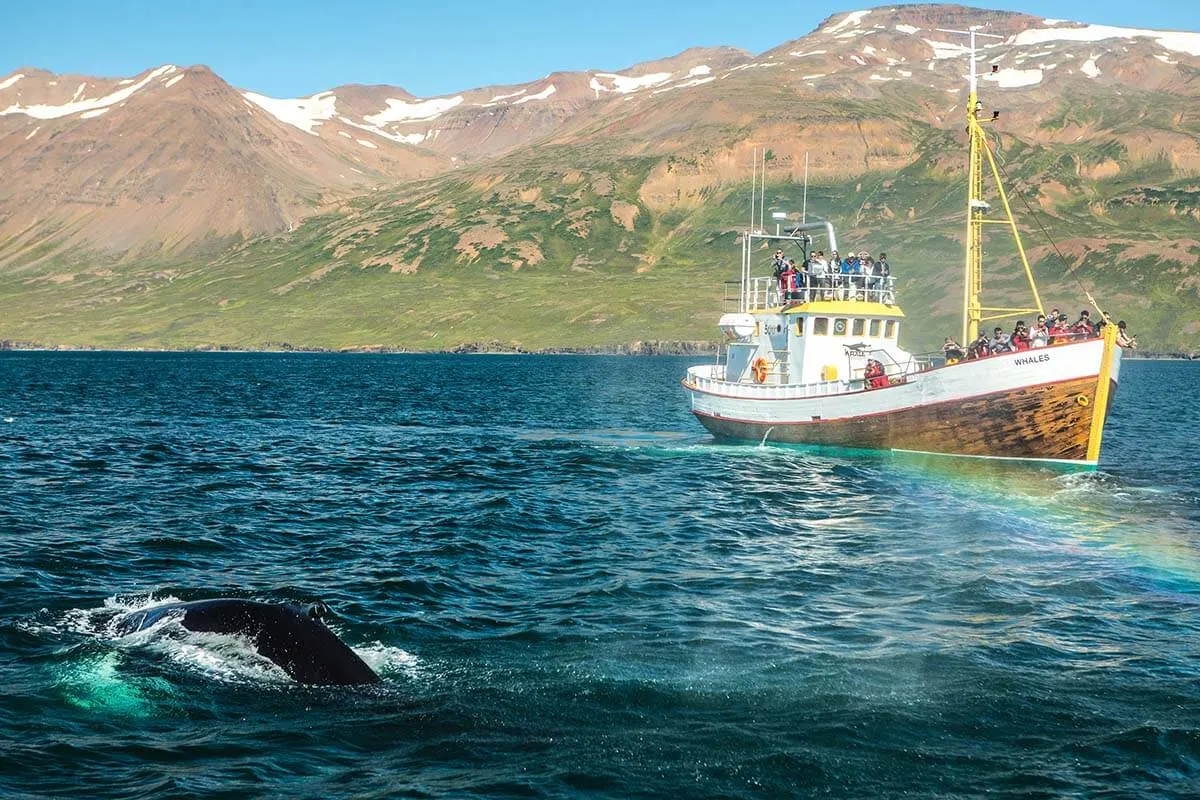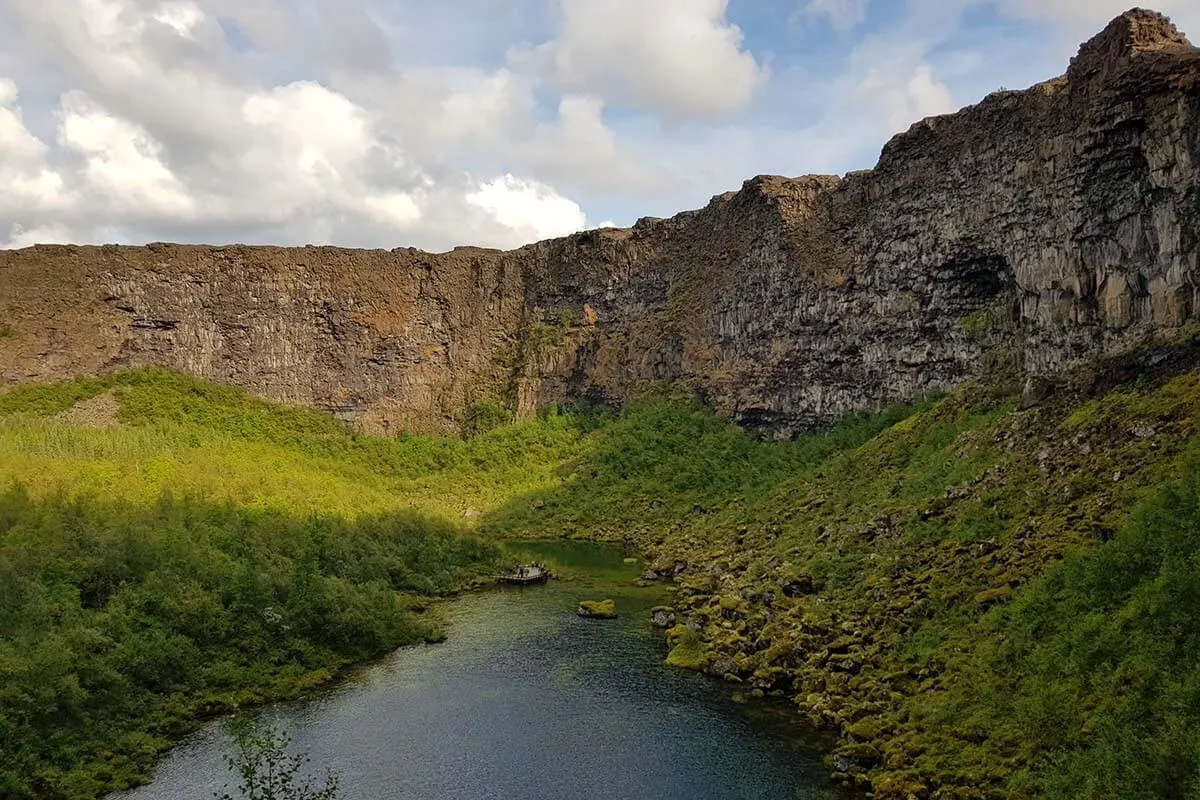 Another must-see place today is Godafoss Waterfall. It's located right next to Ring Road, about 35 minutes drive from Husavik. There are two parking areas on different sides of the river, and they are also connected by a small bridge. So you can leave your car on one side and go explore the waterfall on foot. You can spend just 15-20 minutes here or more than an hour – the choice is yours.
It's just a short 30 min drive from Godafoss to Akureyri following the Ring Road westwards, via the toll tunnel. This is the only toll road on this trip and you can pay the toll 24 hours before or after you drive via the tunnel via this website. But there's a much nicer alternative – taking the old mountain road #84, which is not just free of charge, but also more scenic. It's a good road and – in summer – adds just 10-15 minutes to your journey, and you don't have to worry about the toll.
Also, if you take the scenic route, you'll drive past a small village Svalbarðseyri. There's a quirky art gallery just next to the road that you may want to check out, and there's also a very picturesque orange lighthouse in the village itself.
For the lighthouse, you'll have to take a small detour off the main road, but it's literally just a minute or two down the road. It's such a nice place for a photo stop and no tourists in sight.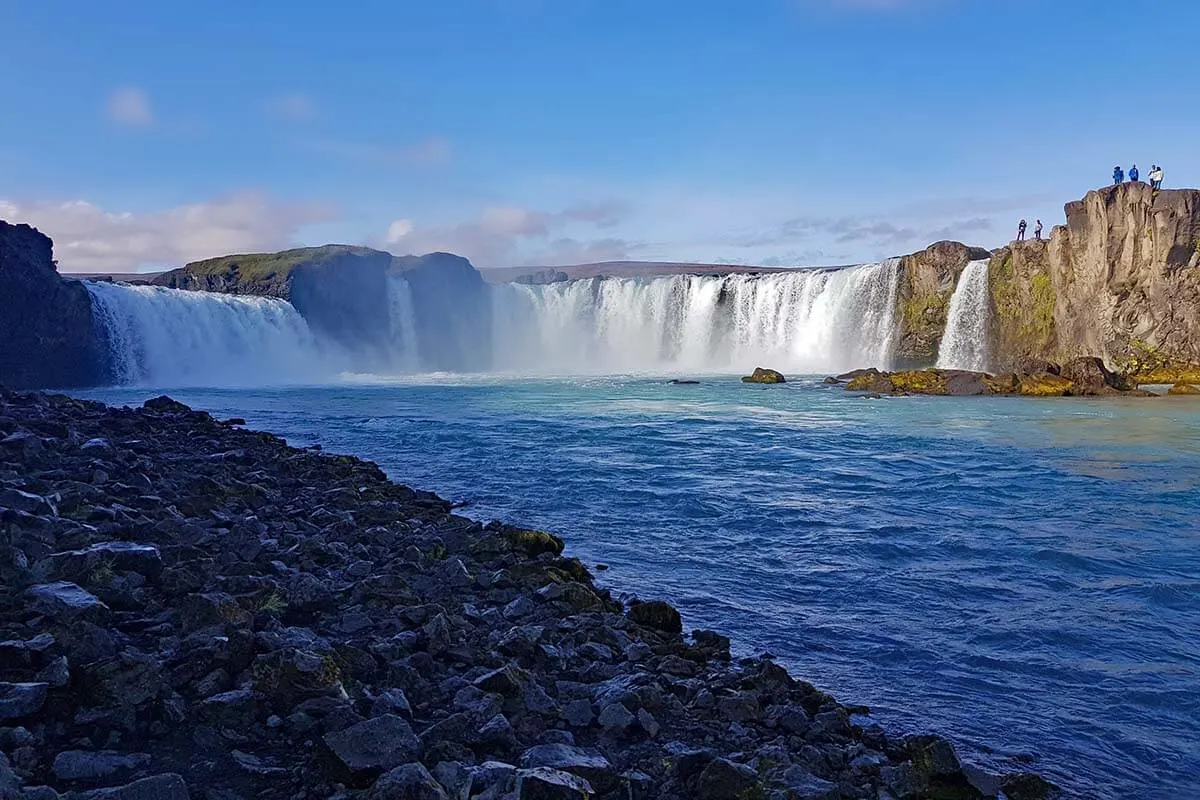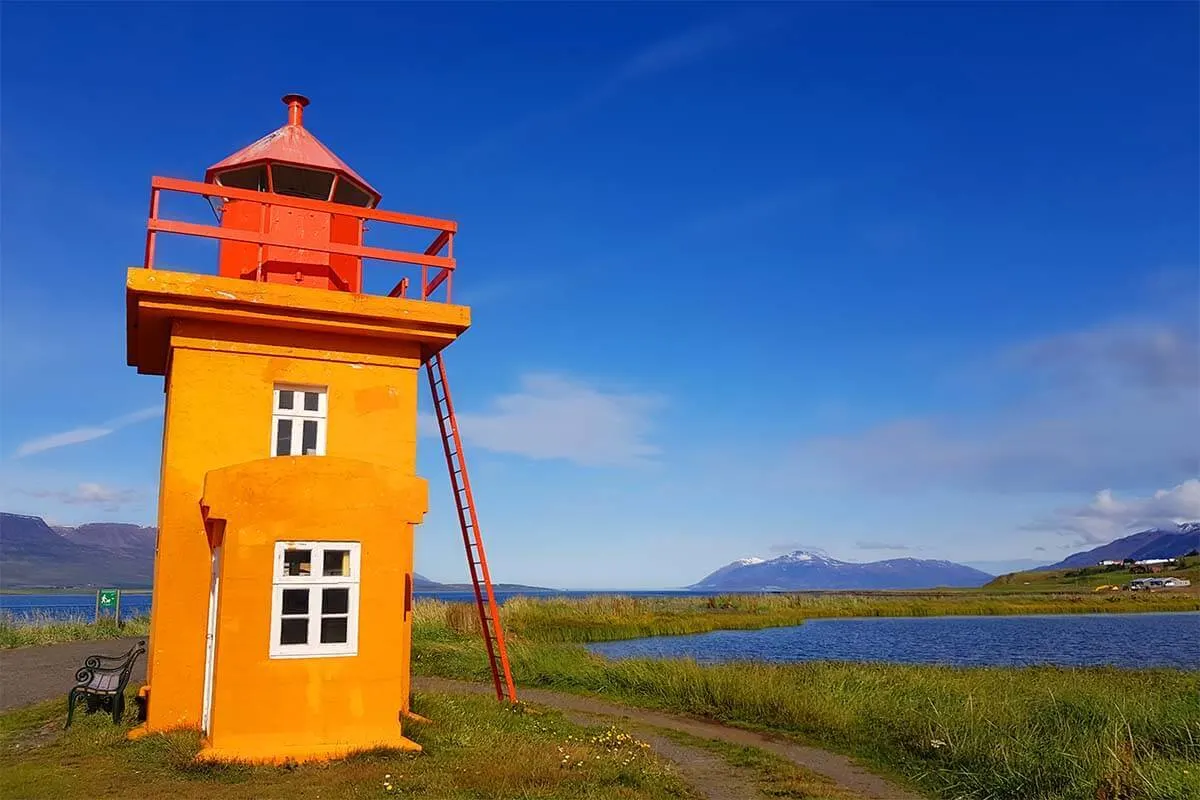 On your way to Akureyri, you could also take a small detour via roads 829 and 821 to one of the quirkiest attractions nearby – Jólahúsið (Christmas House). It's Christmas the whole year round in this shop!
We also enjoyed a short stop at the nearby Kaffi Ku, which is a working farm with a restaurant above the cowshed. They are open for lunch (noon to 5 PM) and serve some delicious Icelandic waffles. Coming from Godafoss, you'll pass the cow café first, before you get to Christmas House.
In Akureyri, you can also stop at the Botanical Gardens, on the outskirts of town. The entrance is free of charge and it's a really nice place for a short walk. Afterwards, head to your hotel, leave the car, and go explore Iceland's second-largest 'city'. Akureyri is so small that you can see the city center in an hour or so. You'll find lots of nice cafes and restaurants here for dinner and there's also a nice public pool in town that's usually open late in the evening.
TIP: If you didn't do the whale-watching trip in Husavik, you could also opt for a whale tour from Akureyri. There are quite a few tour options, including a midnight-sun/whale-watching combination trip on summer evenings. Also, there is a new geothermal pool opening in Akureyri – Forest Lagoon. It could be another nice addition to this itinerary if you have an hour or two to spare.
Where to stay: There are lots of accommodation options in Akureyri, and since there's not that much choice further westwards, it's probably better to just take it easy and stay here for the night. Hotel Kea by Keahotels is one of the nicest hotels in town. On a mid-range budget, check the Centrum Hotel. On a lower budget, Hrafninn Guesthouse.
However, keep in mind that parking can be a bit problematic if you stay in the center on weekdays. It's usually not a big issue to find a spot not too far from the hotel, but sometimes you also have to pay, so keep an eye on that. We recommend Icelandair Hotel Akureyri; it's just a bit outside of the busiest area (still very close to everything) and parking is much easier here.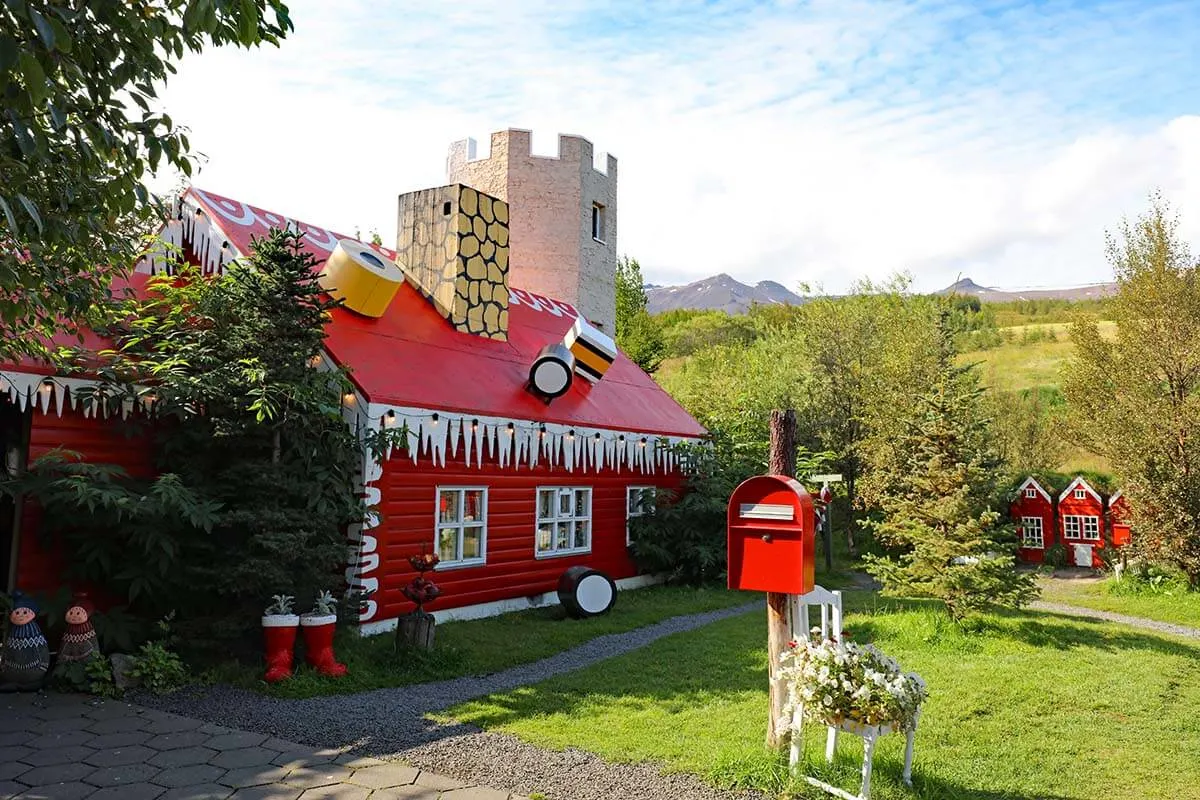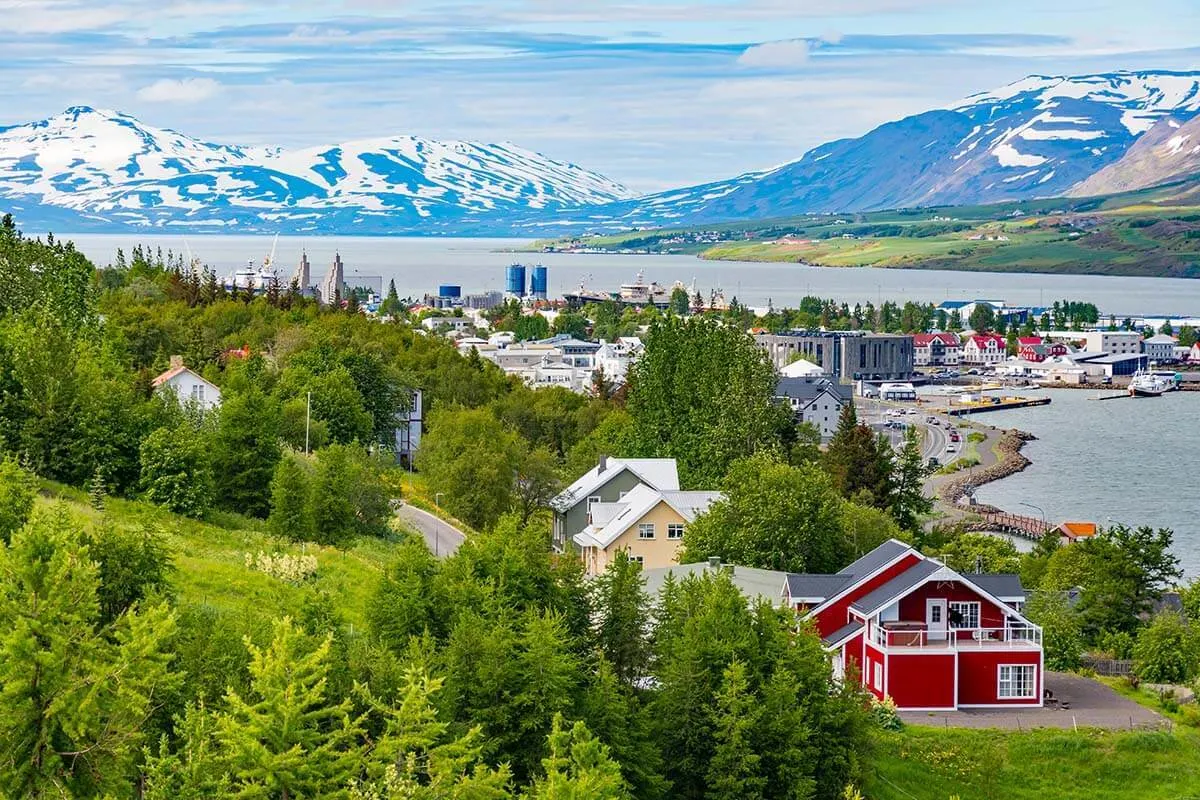 Day 7: Tröllaskagi Peninsula
Driving distance/ time: 265 km (165 miles), 3.5 hours. This includes driving past all the stops mentioned below, but not the sightseeing time.
Today, we recommend that you visit one of the nicest areas of Northern Iceland, the Trollaskagi Peninsula. This is a place that you'll hardly ever see in any Iceland Ring Road itineraries, but we find that it's worth your time more than some places that others visit in western Iceland just because they are closer to the main road…
The first stop is Siglufjörður, about 1-1.5 hours drive from Akureyri. This is a nice little town with an extremely picturesque harbor area.
There are some nice things to do in Siglufjordur, but if you visit just one place, don't miss the Herring Era Museum. Please note that the museum is open daily from 10 AM in June, July, and August, but only opens in the afternoon during the shoulder season (more info on their website).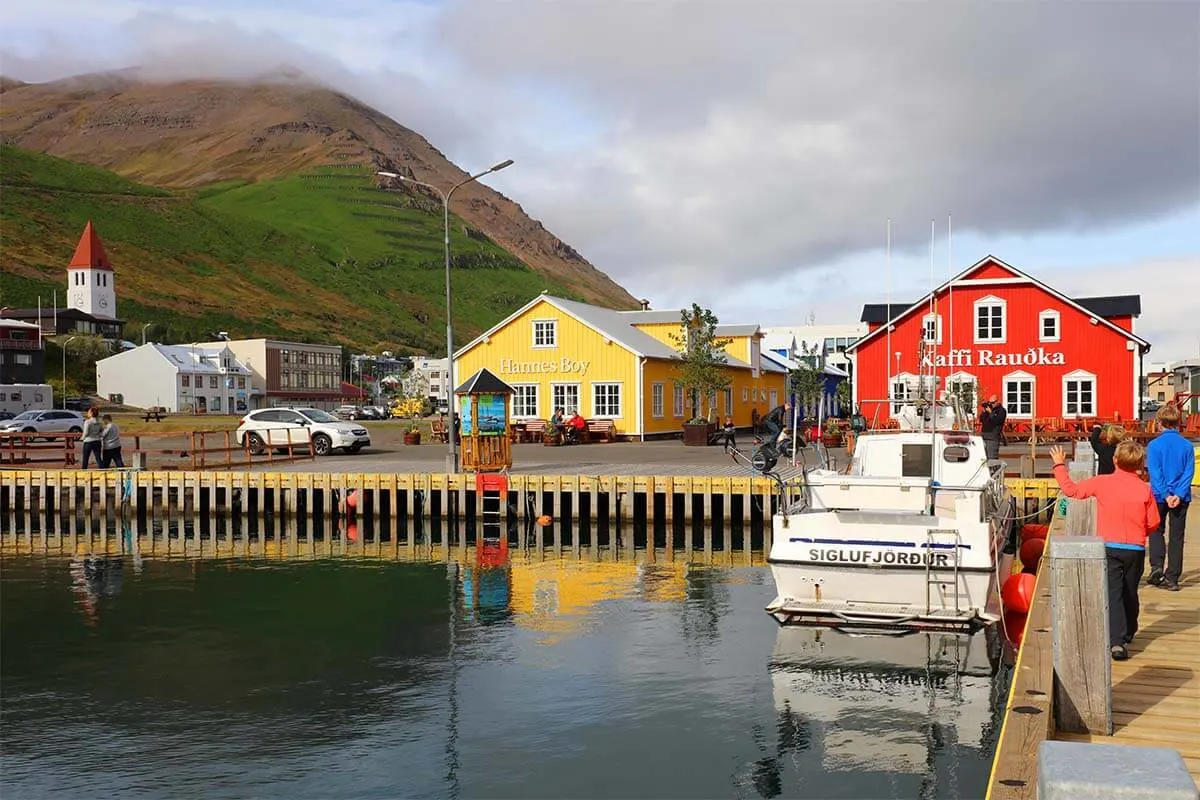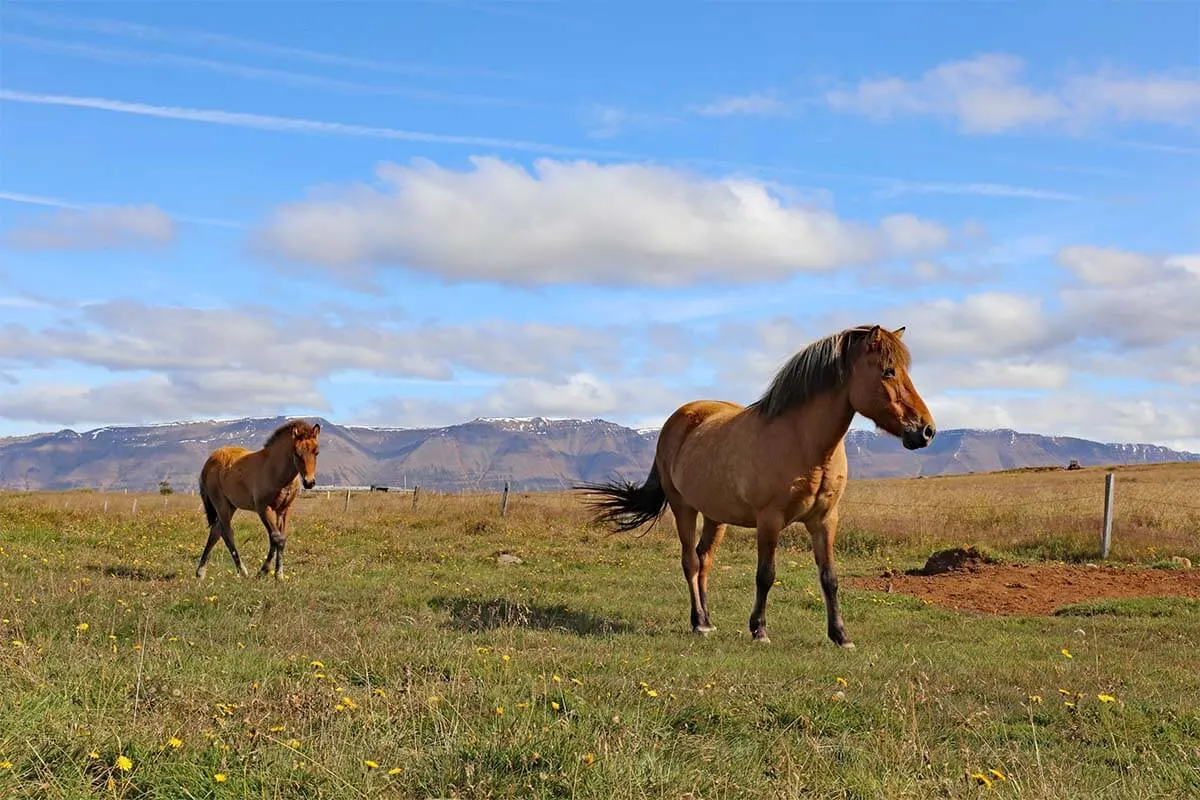 Continue your trip further along the coast and soon you'll see Trollaskagi Lighthouse at the northernmost tip of the peninsula. The road to get to it is quite steep and gravel, but you can just see it from the road. The scenery here is beautiful!
From then on, the views just keep getting better and better, and if you are driving here on a sunny day, you'll have to agree with me that the scenery along Road #76 is one of the most scenic places in Iceland!
The next stop is a small village called Hofsós. The main reason to come here is the local Hofsos swimming pool which has some of the best pool views in Iceland!
Following this itinerary, you'll likely be here in the middle of the day, but I really recommend stopping here. It's such a nice place! If the weather would be really bad, then skip it, but if it's not raining, definitely go for a swim or a soak in the hot tub. This pool is normally open daily, from 9 AM to 9 PM. We spent about an hour here.
Just outside the village, you can find one of the oldest turf churches in Iceland, Grafarkirkja. It's extremely picturesque and the surroundings make it look even more special. Don't miss it! Here you can read our detailed guide for all the places mentioned above: Road 76, Hofos, Grafarkirkja, and more.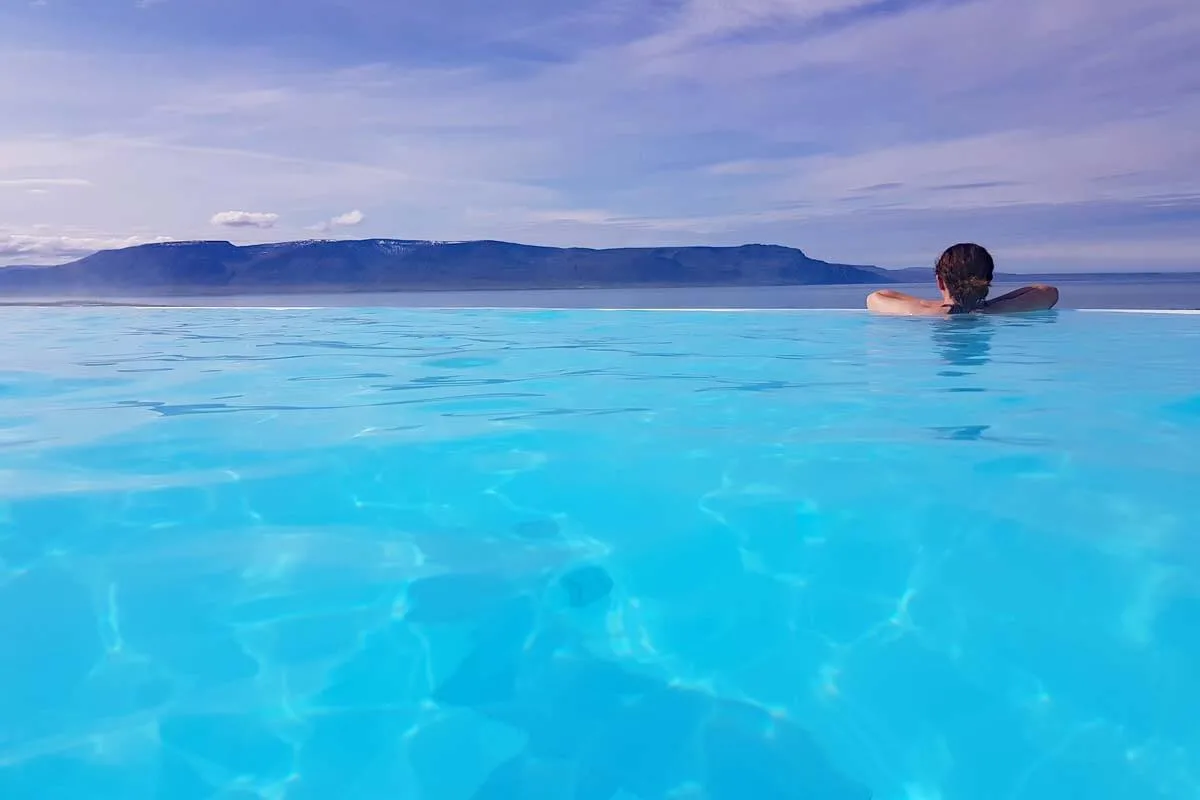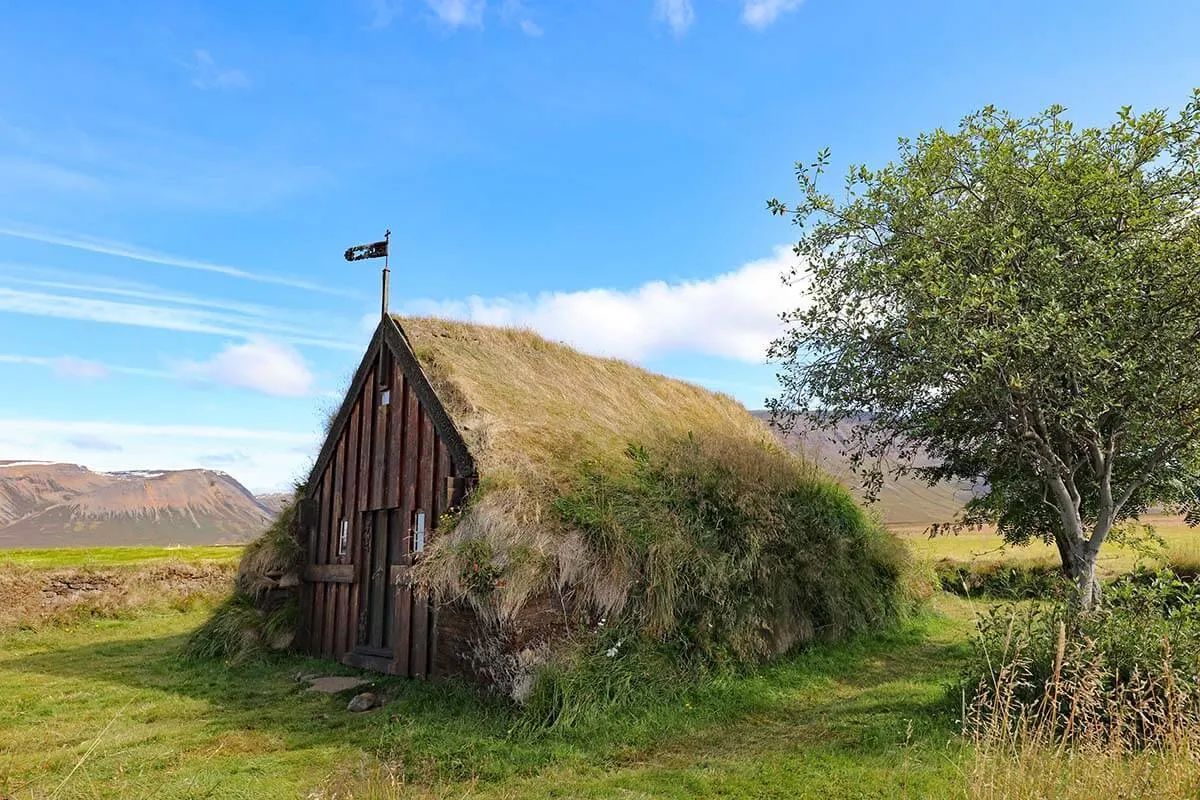 There is one more nice place to check out before you get back to the Ring Road, Glaumbær Farm & Museum. This is a reconstructed farm where you can see how people used to live in Iceland about 150-250 years ago. It's really worth a visit, which shouldn't take more than 30-45 minutes. In the summer season, it's open daily from 10 AM to 6 PM. More info on their website.
Once you reach the Ring Road, we recommend taking a small detour south on Road #752 to a beautiful waterfall called Reykjafoss.
It's a bit of a hidden gem and there is a natural hot tub in that same area. It was well indicated when we visited and there were quite some people here, so it seems that it's not that unknown anymore. Also, you have to walk for about 10-15 minutes to reach the falls, and a few minutes extra to find the hot tub next to the river. I'd say it's not a must, but if you have some time left, it can be a nice stop.
Good to know: The natural hot tub can be found on the other side of the wooden bridge and over the hill to the right. If you plan to go swimming here, you should know that there are no facilities whatsoever. And the hot tub was also crowded when we were there. Let's just say that we prefer the Hofsos swimming pool by far, and there's also a nice swimming pool in Blönduós where we recommend spending the night. So plenty of places to go for a swim in the warm geothermal waters today!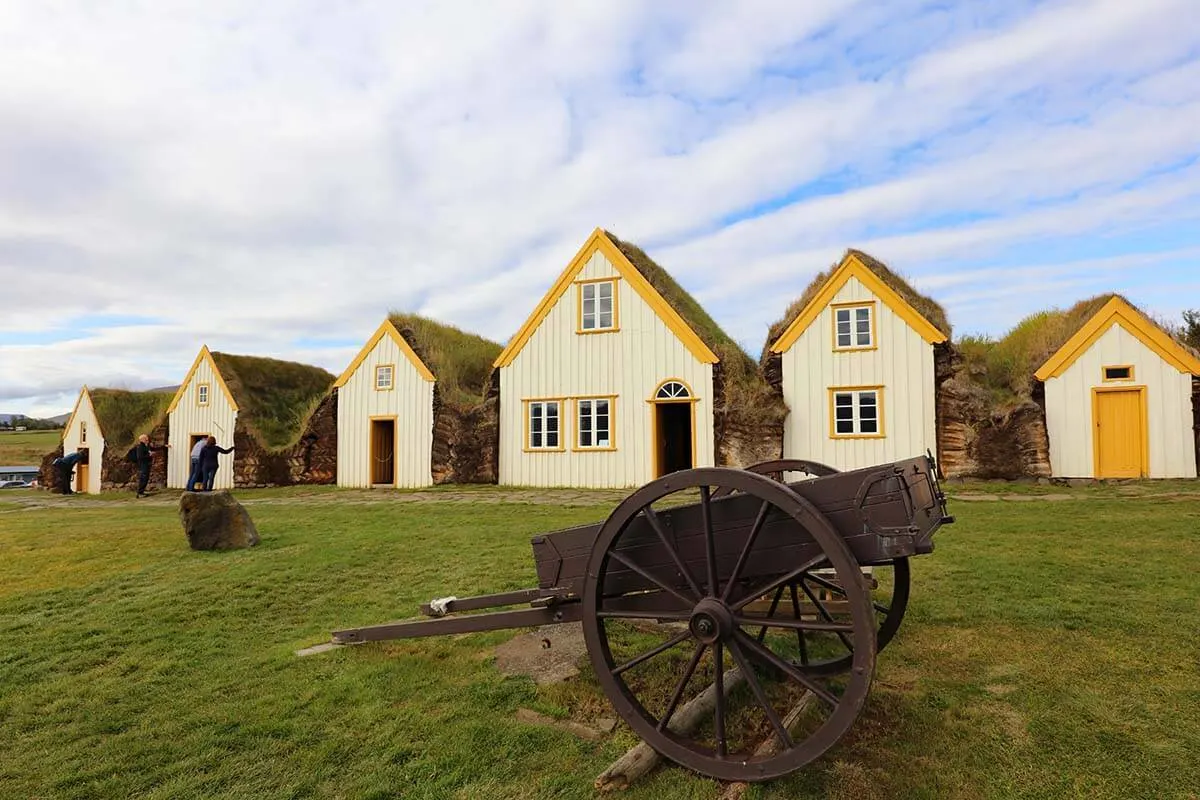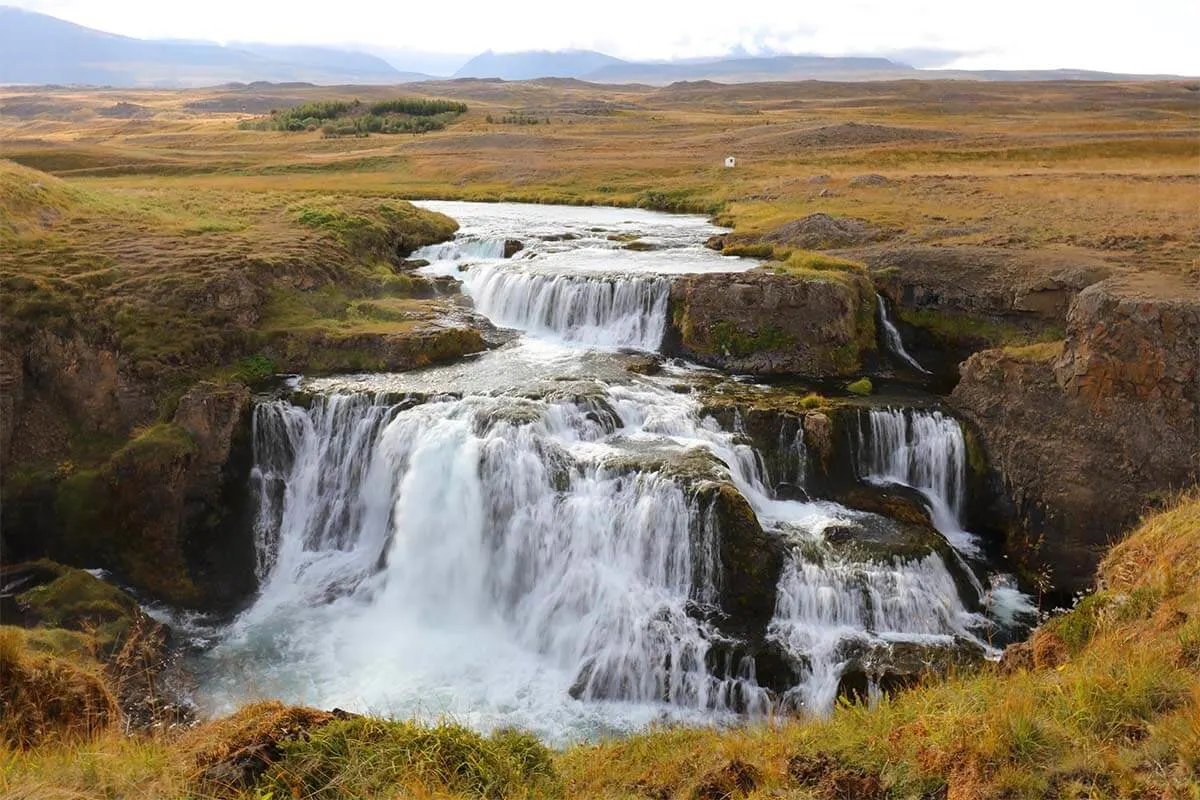 The last photo stop today is Víðimýrarkirkja. It's another really nice turf church, but because it's located just next to the Ring Road, it can get quite busy here. It doesn't take more than 5-10 minutes to visit, so be sure to check it out!
End your day in Blönduós, one of the bigger towns in this area. You'll find all kinds of facilities here and also some accommodations. As already mentioned, there is a nice public swimming pool in this town as well, and it's usually open quite late.
Where to stay: We recommend Brimslóð Atelier Guesthouse, or on a somewhat lower budget – Hotel Blanda. Both are really nice places and the hotel also has a good restaurant. There are several other options on a lower budget here as well, but accommodation choice is quite limited.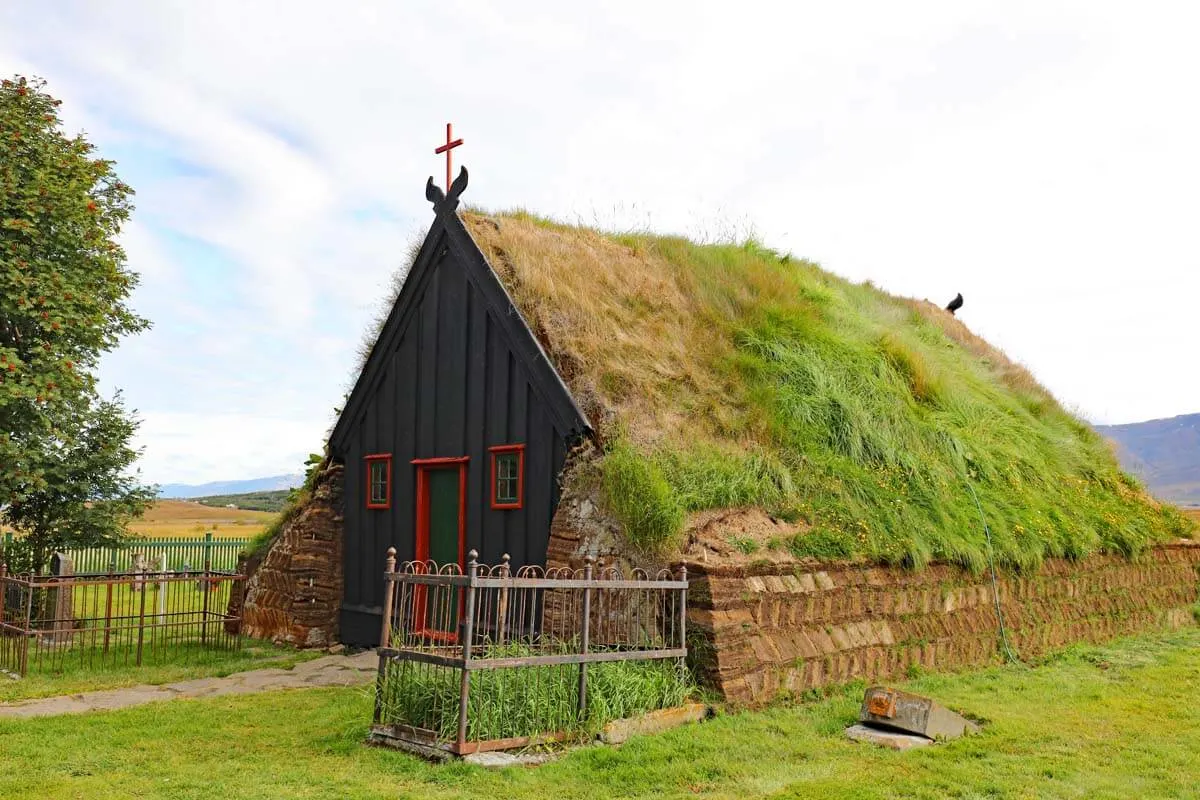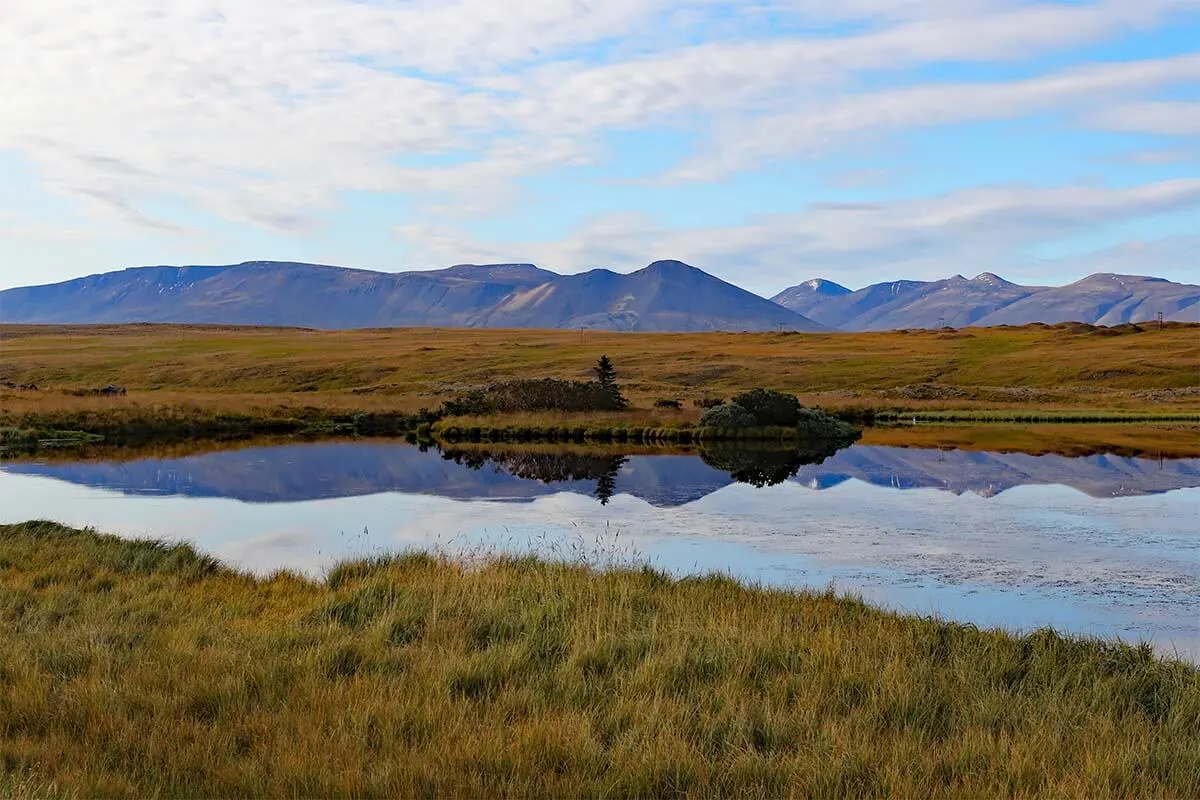 Day 8: North Coast to Snaefellsnes
Driving distance/ time: 260 km (160 miles), 4 hours. This includes all the detours mentioned below.
Today, you could just take the Ring Road and head straight to western Iceland, but you can also opt for a few short detours along the way. There are several places that we recommend checking out and I think they're worth it more than some of the places in the west (in particular, Hraunfossar and Barnafossar waterfalls that are quite often included in the Ring Road itinerary).
Just as you leave Blonduos, you could take a detour on Road #721 to see Þingeyraklausturskirkja church, one of the oldest stone buildings in Iceland.
One of the best stops we recommend today is Hvitserkur, a rhino-shaped rock just next to the beautiful black sand beach on Vatnsnes Peninsula. On the way there, you could also stop at Borgarvirki, a medieval fortification that dates from the 9th-11th centuries. There are also several places where you can see seals in this area.
In addition, close to Ring Road 1 in this area, there's also a nice canyon with a waterfall, Kolugljúfur Canyon. You can find more information about all these places in our guide to visiting Hvitserkur.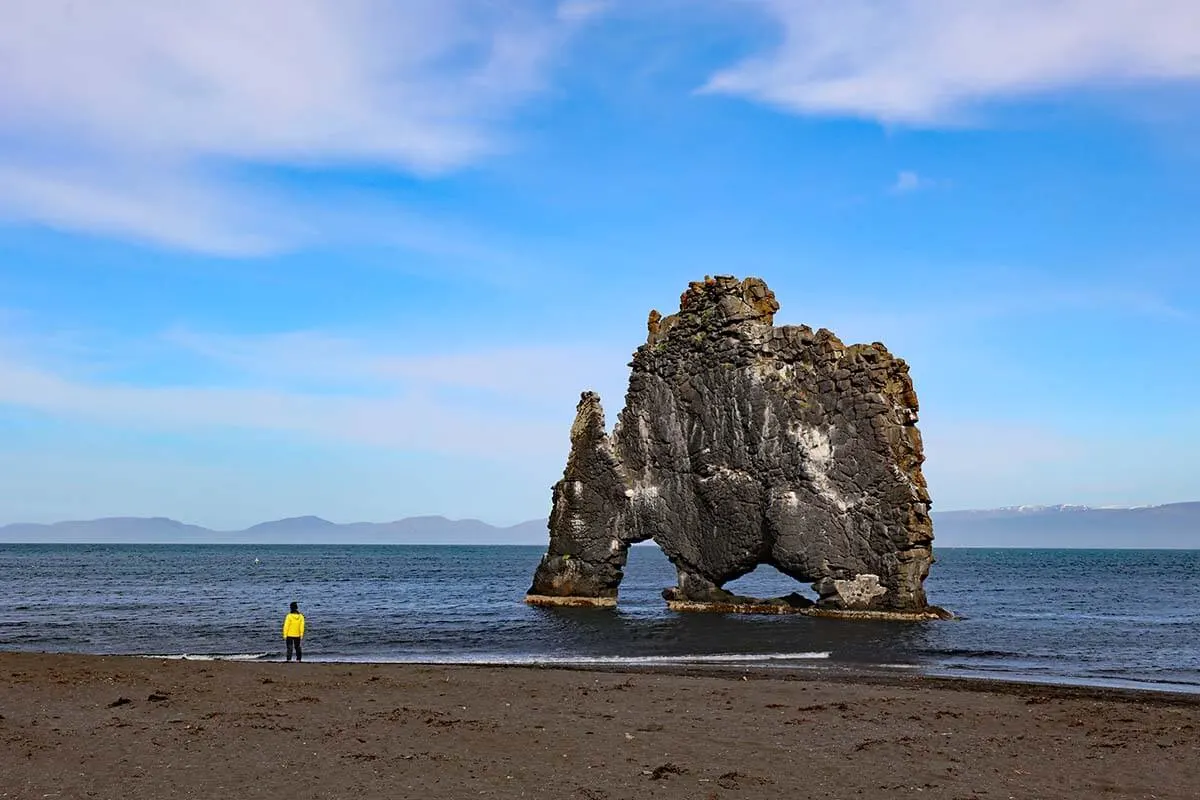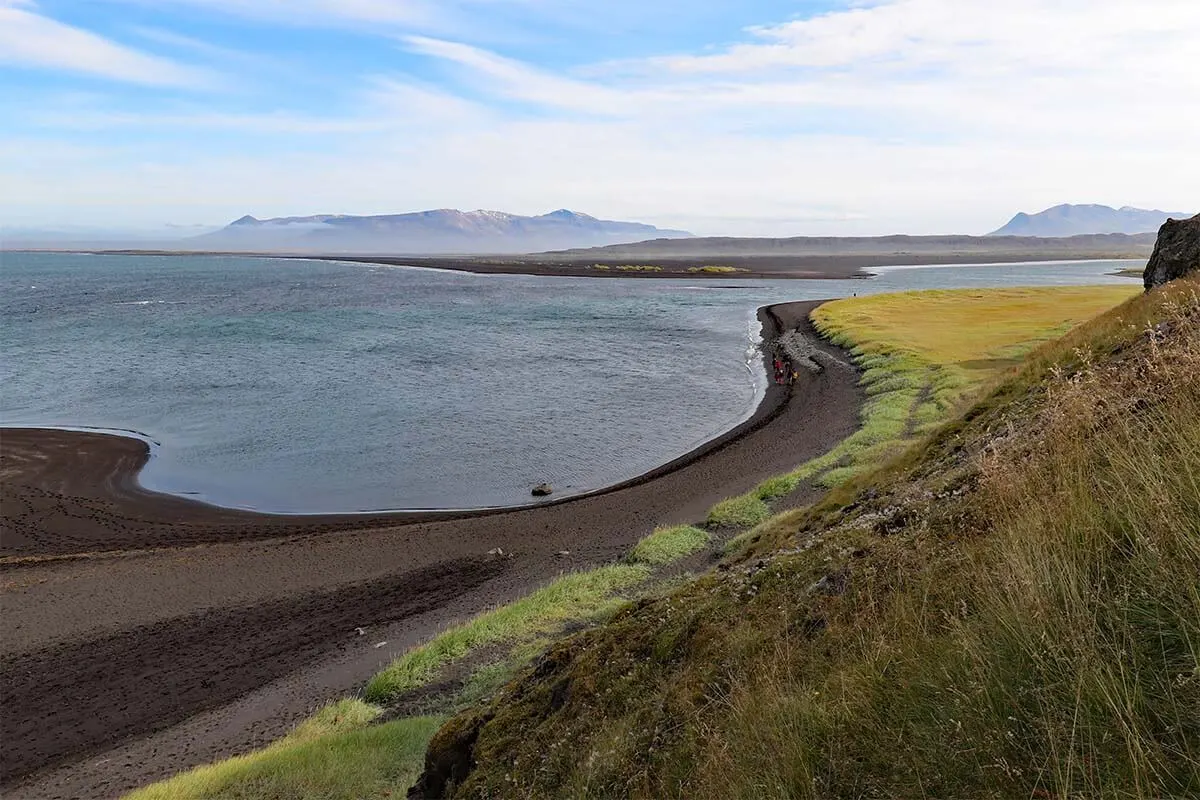 Continuing your way to Snaefellsnes Peninsula, you can also stop at Eiriksstadir – Viking Longhouse. It's a replica of a Viking-era farm with turf buildings, guides dressed in period clothing, etc. It's a great place to learn more about Iceland's history, so it's better to ask for a guided tour, or you won't appreciate it the same way. This open-air museum is open daily from June to September, from 10 AM to 4 PM. More info on their website.
Next is the famous Snaefellsnes Peninsula, home to one of Iceland's most photographed mountains and waterfalls – Kirkjufellsfoss. You'll have an entire day here the next day as well, but there's so much to see and do in Snaefellsnes that it's better to visit a few places today already.
Be sure to visit Stykkishólmur, a picturesque fishing village and the main town in this area. You can leave your car by the harbor and take a short walk to Súgandisey Island Lighthouse. Stykkisholmur is also one of the best places to stay in Snaefellsnes Peninsula, and there are some nice hotels and restaurants here. But ideally, for this itinerary, you drive just a bit further west today.
On the way, check out the Berserkjahraun lava field and potentially also the Bjarnarhöfn Shark Museum (it's usually open until 5 PM in summer).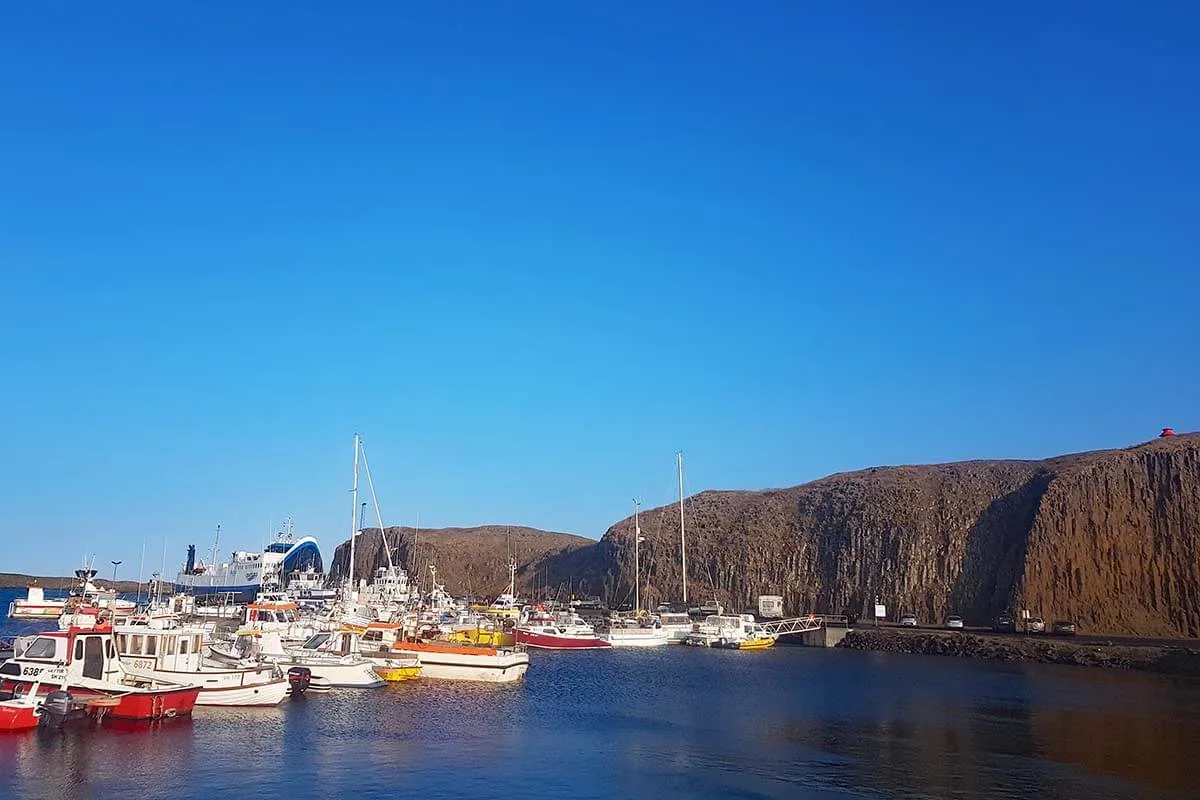 TIP: We recommend staying in Grundarfjörður town, which is just near Kirkjufell mountain and waterfall. This would give you a unique opportunity to visit this popular place without the crowds and maybe even see a really nice sunset here.
Where to stay: Accommodation options in Grundarfjörður are quite limited, but if you book in advance, it's usually possible to find something suitable. The nicest place to stay is Dis Cottages, and the most popular highly-rated option is Kirkjufell Guesthouse and Apartments.
We stayed at Grundarfjordur Bed and Breakfast, which was the only accommodation available here that could accommodate a big family like ours. It's a good no thrills choice in Grundafjordur, and they also have a nice local restaurant where you can have dinner (also if you are not staying here).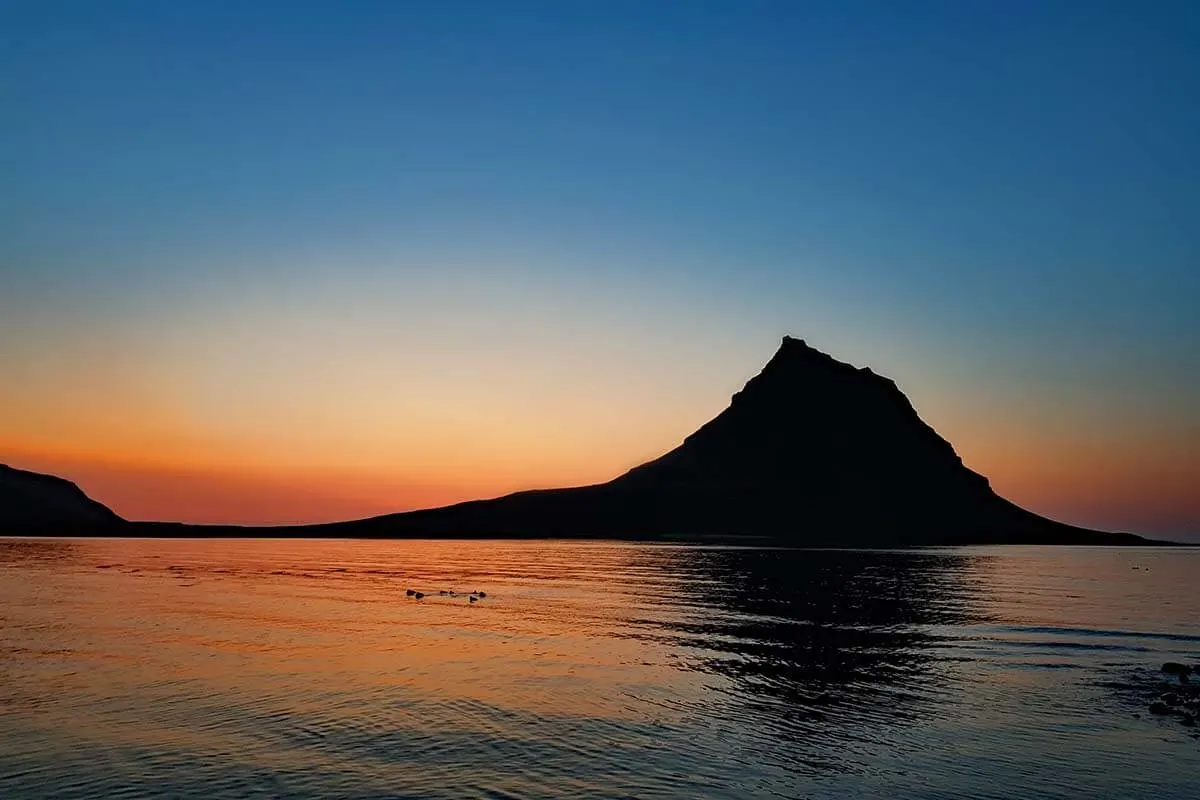 Day 9: Snaefellsnes Peninsula
Driving distance/ time: 265 km (165 miles), 3.5 hours. This is the distance counting from Grundarfjörður, visiting all the Snaefelsness Peninsula attractions as described below and ending in Reykjavik. Driving time doesn't include sightseeing.
Today, spend as much time as you can exploring Snaefellsnes Peninsula, before driving to Reykjavik. We have a very complete guide to the area where you can find all the practical information for your visit to Snaefellsnes Peninsula, so please see that article for more details. It even has a suggested 1-day itinerary.
Below is just an overview of the best places not to miss, listed in the right order, how you'll be driving. Start with Kirkjufell and Kirkjufellsfoss. Even if you already saw this place last night, you may want to stop here for a quick picture in a different light once again. Then continue to Skarðsvík Beach where you can also visit the Öndverðarnes and Svörtuloft Lighthouses.
Other nice places along the way are Svödufoss (waterfall) and Ingjaldshólskirkja (church), but with so many other amazing places, don't feel bad if you skip these two.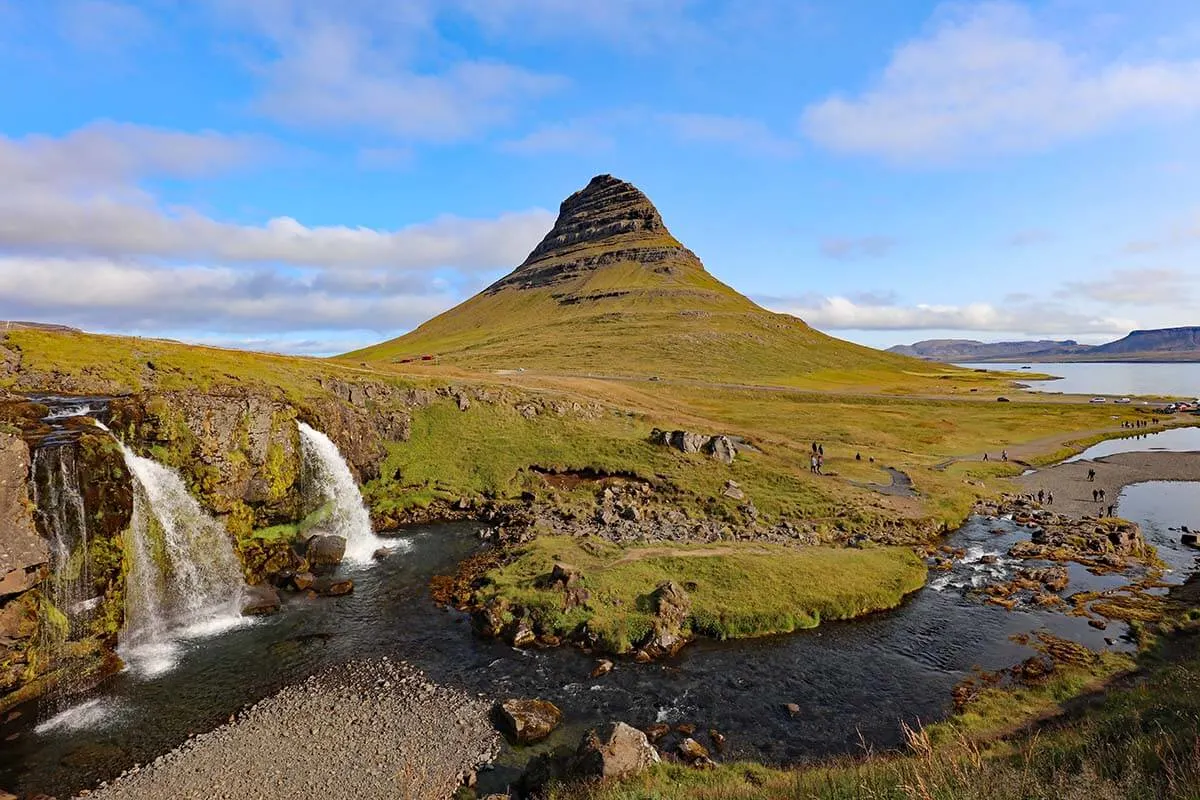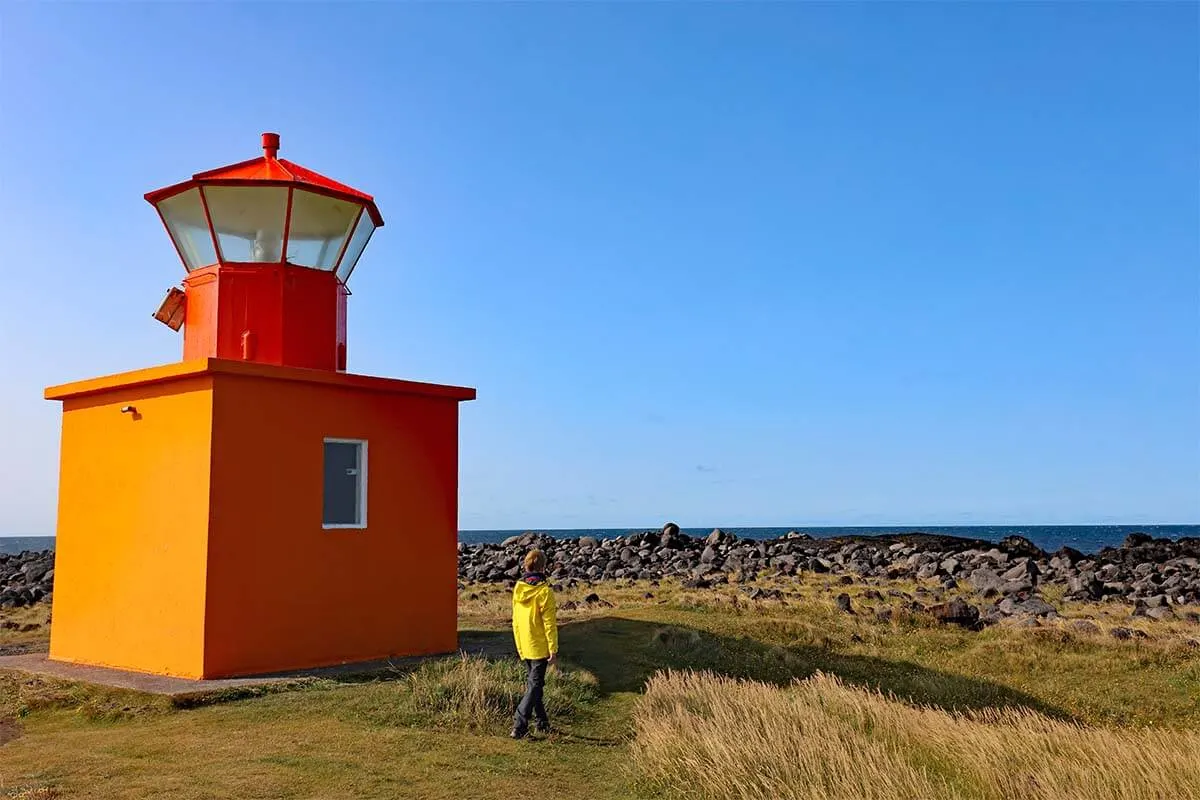 Don't miss the Saxholar Volcano Crater – you can take stairs and see it from the top. And also Djúpalónssandur Beach is a beautiful place where you can take a walk between some cool rock formations and on a nice black sand beach.
If you do just one tour on the peninsula, make it the 8000-year-old Vatnshellir lava cave. It's best to book your time slot in advance (try by phone +354 787 0001 since their website isn't really working as it should) or you risk that it's sold out as it was when we visited.
This tour takes about 1 hour and is one of the most unique places you can see here! I'd book it for either 1 PM or 2 PM. There are many other places nearby, so you can quite easily adjust your visit to the other areas based on the tour time you booked here.
Driving further around the peninsula, check out Malariff Lighthouse and Londrangar View Point.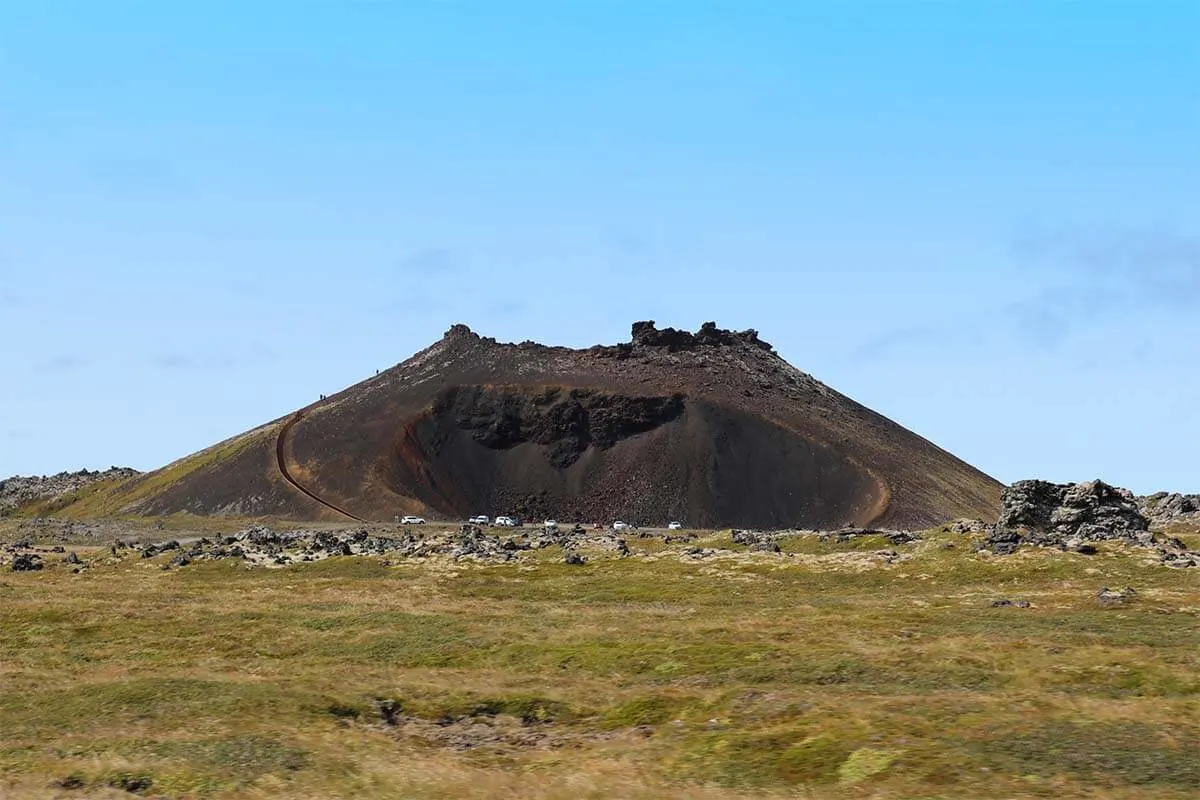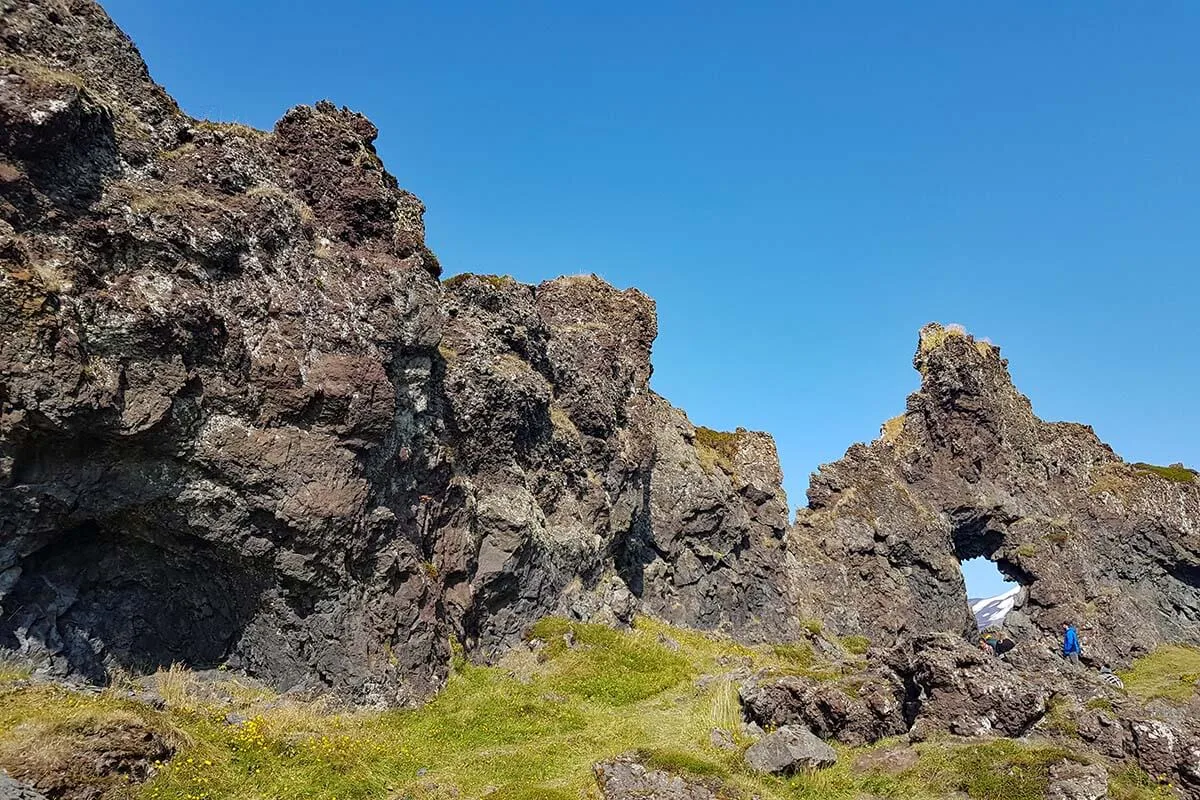 Next, head to Arnarstapi where you'll find the most spectacular coastline and interesting rock formations. There's a nice hike that you can do here, between Hellnar and Arnarstapi, but with just a day in Snaefellsnes, it's going to be difficult to squeeze it all in. That's why we recommend going straight to Arnarstapi and making a short walk along the coast there. This is a must-see, so don't miss it!
Other nice stops include Rauðfeldsgjá Gorge, Búðakirkja, and Bjarnarfoss. You could also stop at Ytri Tunga beach, where you can sometimes see seals. As you drive in the direction of Reykjavik, you can also stop for a photo at Gerðuberg Cliffs. You can find more information about all these places in our guide to the best things to do in Snaefellsnes Peninsula.
Where to stay: With 10 days in Iceland, we recommend that you drive to Reykjavik in the evening on day 9, after visiting Snaefellsnes Peninsula. Here you can find our detailed guide on where to stay in Reykjavik.
In case your flight departs very early the next day, it's best to sleep closer to the airport. B&B Hotel Keflavik Airport is a good choice with easy parking, a restaurant next door, and a free airport shuttle if you need it.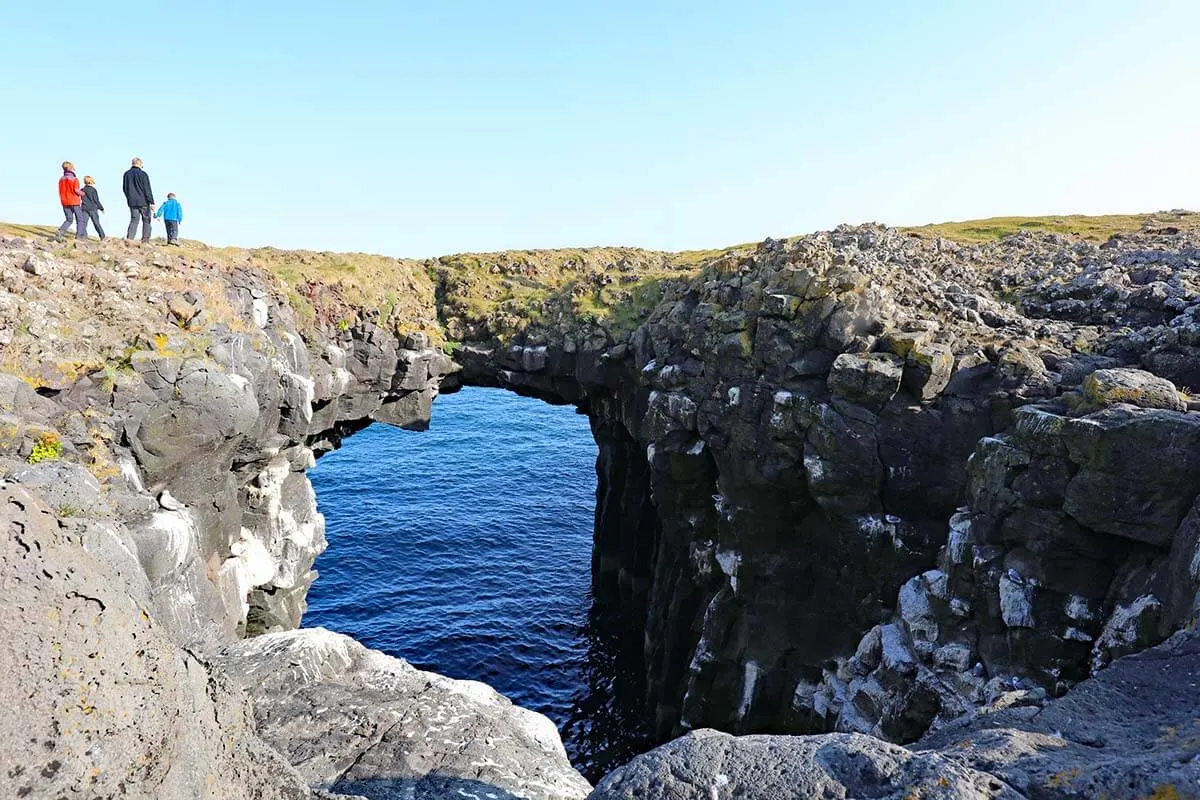 Day 10: Reykjavik, Reykjanes Peninsula & Departure
Driving distance/ time from Reykjavik to the airport: 50 km (30 miles), 45 min.
Depending on your flight time, you may want to explore more of Reykjavik. See our suggestions on day 1 of this itinerary or check out this guide to the best things to do in Reykjavik.
Alternatively, go bathing in the Blue Lagoon if you didn't do it at the beginning of your trip, or visit some of the attractions of Reykjanes Peninsula on your way to the airport.
Another nice geothermal pool to check out is the Sky Lagoon in Reykjavik. This warm pool boasts amazing ocean views and is a great alternative to the Blue Lagoon (and a wonderful way to end your trip).
READ ALSO: One Day in Reykjavik: Detailed Itinerary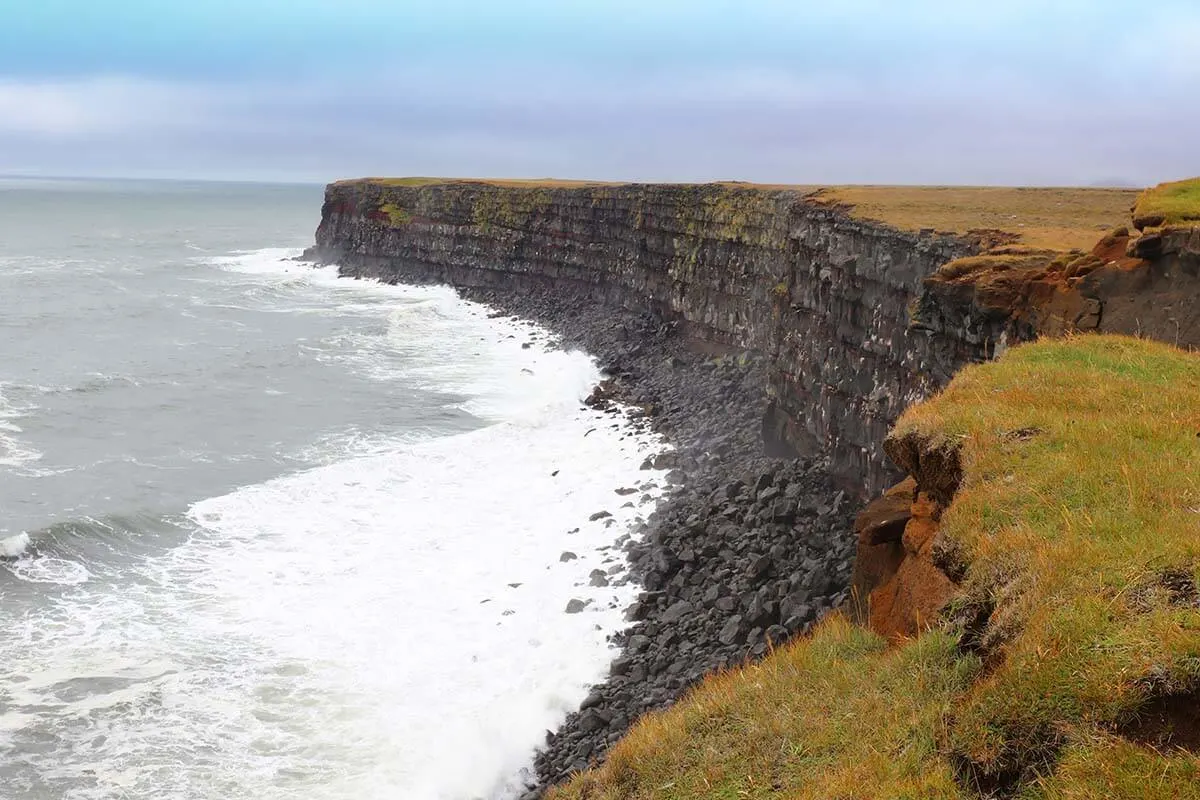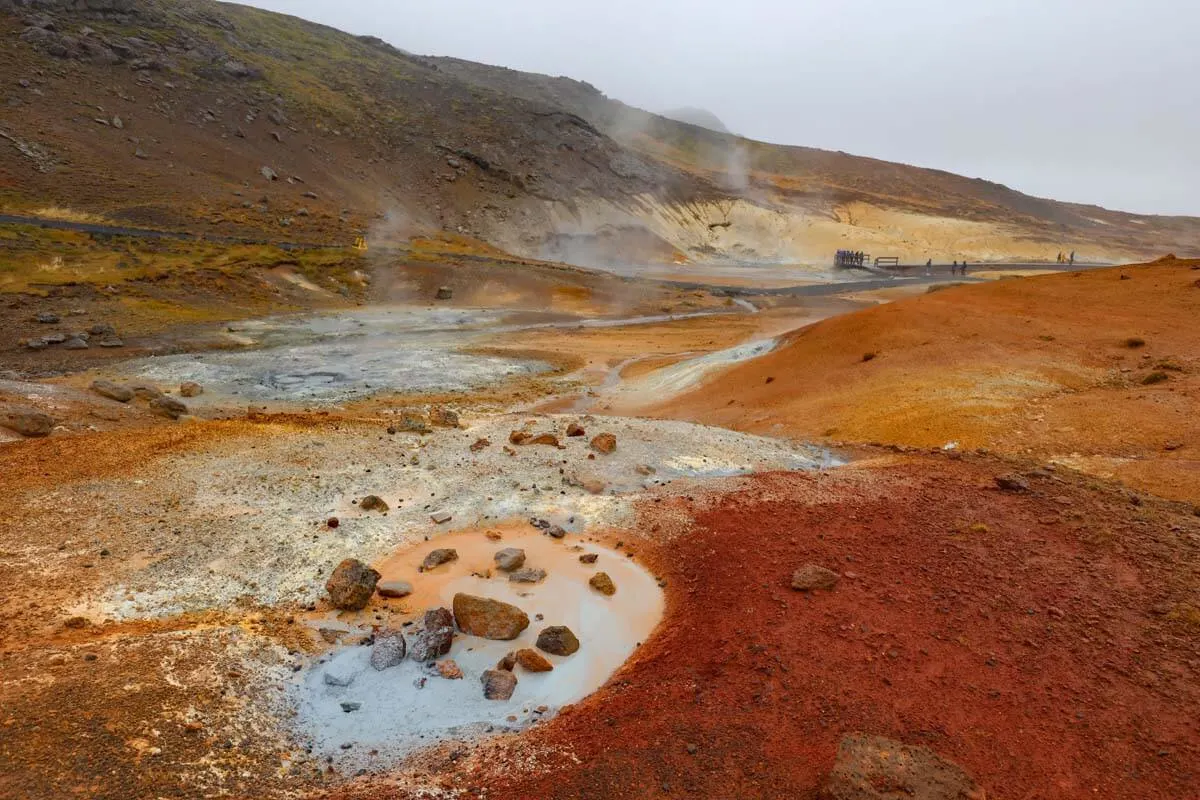 If you have more time…
One area where you could easily add a day or two extra is Iceland's South Coast, from where you can also take a day tour to Landmannalaugar in the Icelandic Highlands. I really recommend adding a day between day 3 and day 4 in this itinerary and doing the South Coast over two days if you can squeeze it in. You'll have more time to explore all the places mentioned in this guide, instead of just passing by. In that case, stay in Vik on day 3.
You could also spend more time in the north or northwest, visit the Westfjords, etc.
Many standard Ring Road itineraries also include a day in West Iceland, an area a bit in between Snaefellsnes Peninsula and Reykjavik. With just 10 days in Iceland and doing the entire Ring Road, we recommend Trollaskagi Peninsula (see day 7) instead of this area, but if you have a day extra, you could definitely add it here.
In that case, stay in Borgarnes town or e.g. Icelandair Hotel Hamar on day 9 of this trip. Then on day 10, visit Deildartunguhver, the largest hot spring in Europe (not for swimming), Hraunfossar and Barnafoss waterfalls, and – if you are into history and Icelandic sagas, you may want to check out the Snorrastofa museum, the medieval research institute in Reykholt.
In this area, you can also take a tour of a man-made ice cave at Langjökull glacier, and the largest lava cave in Iceland, Víðgelmir. You can visit the Vidgelmir lava cave or the Langjokull glacier separately.
TIP: Don't miss the recently opened Krauma Geothermal Baths in Reykholt.
As you can see, there are so many nice places that you could add to your Ring Road itinerary if you have more time! But if you are visiting Iceland for the first time, have about 10 days, and want to see the musts along Iceland's Ring Road, then this itinerary is truly one of the best ways to do that.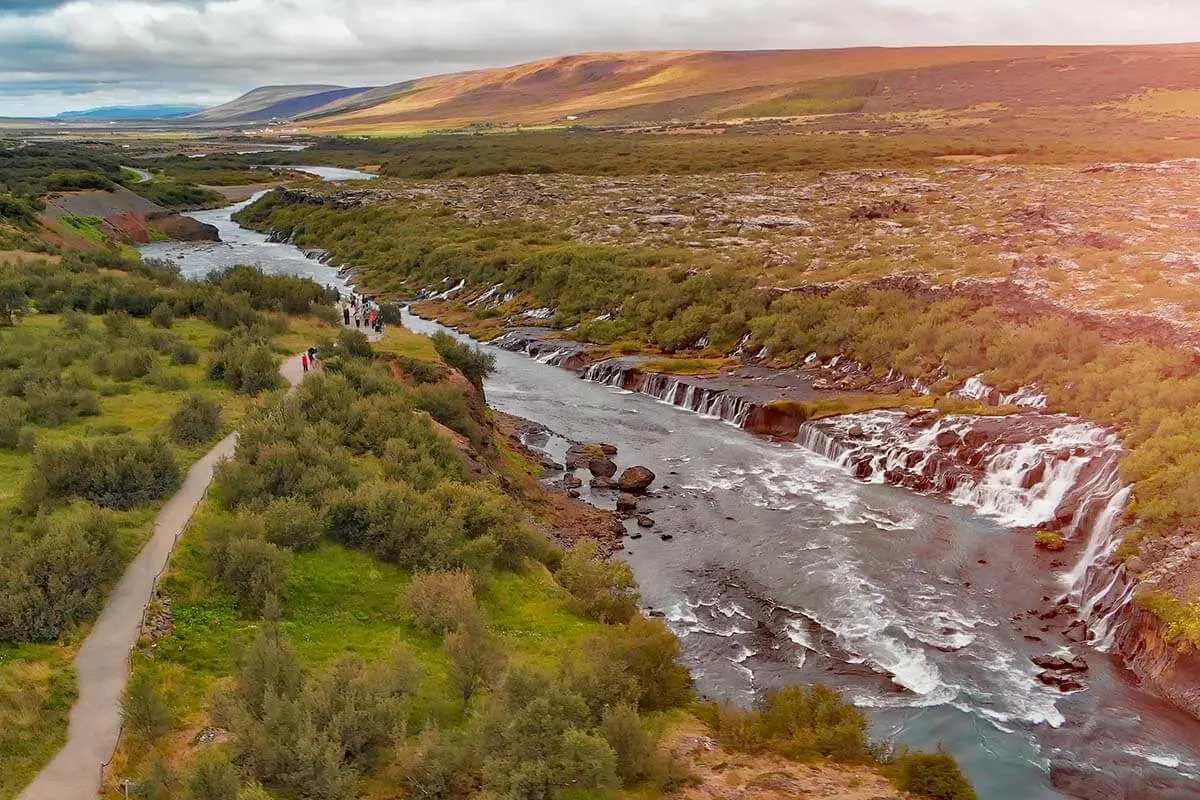 Iceland Ring Road Itinerary on the Map
TIP:To make your trip planning easier, I also created this map, indicating all the places mentioned in our detailed 10-day Iceland Ring Road self-drive trip itinerary.
As you can see, we gave each day a different color so that you have a better idea of where everything is located and how it all fits in this itinerary.
Further below – under the FAQ section – you can also see a map indicating the total distance and driving time for Iceland's Ring Road.
How to use this map: Use your computer mouse (or fingers) to zoom in or out. Click on the icons to get more information about each place. Click the arrow on the top left corner for the index. Click the star next to the map's title to add it to your Google Maps account. To view the saved map on your smartphone or PC, open Google Maps, click the menu and go to 'Your Places'/'Maps'. If you want to print the map or see it in a bigger window, click on 'View larger map' in the top right corner.
So, this is my suggested 10-day Iceland Ring Road itinerary. As you can see, it's quite packed and includes not just the very best places, but also some hidden gems that will make your trip even more special.
Please note that driving the entire Ring Road in 10 days will be rushed, even in summer when the days are long and the roads are good. So if you can, plan a few days extra. But if you want to make the most of your time, this is the best way to see all the best places in Iceland that you can indeed see in about 10 days.
Below, you can find some of the frequently asked questions that we get from our readers. Check it out and – if you don't find an answer here or in our article – feel free to leave a reply below and I'll try to help. Alternatively, please join our Facebook group for Iceland & Scandinavia Travel – it's a great place to meet other travelers, ask questions, and share travel experiences.
Iceland Ring Road FAQ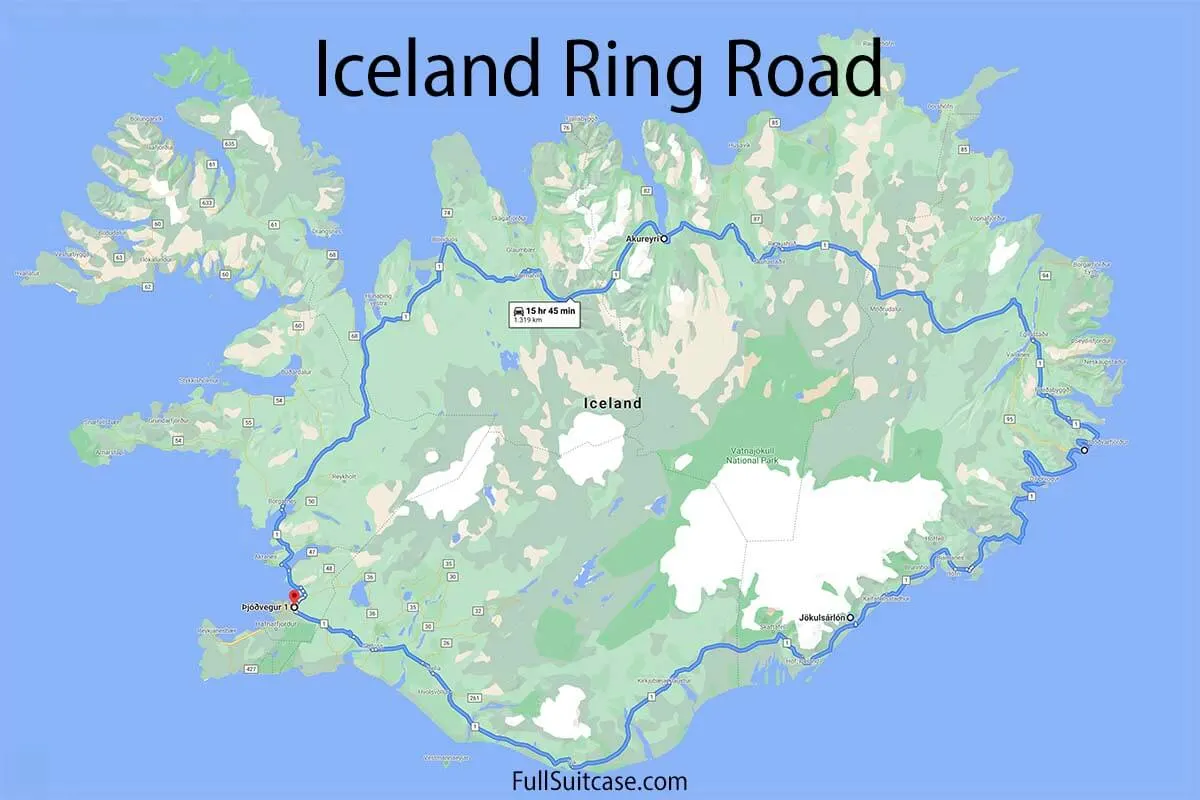 How long does it take to drive the Ring Road in Iceland?
Iceland's Ring Road no. 1 encircles the entire island and is about 1,320 km (820 miles) long. Driving the entire Ring Road without any stops or delays would take about 16 hours (see the map above). However, this isn't a very realistic estimate because driving in Iceland is much slower than what Google Maps indicates, and there's so much to see and do along the Ring Rod that you wouldn't want to just drive by anyway.
How many days do you need for the Ring Road of Iceland?
While you can drive the entire Ring Road of Iceland in just a day or two, you need at least 7 days if you want to see just the main landmarks. Ideally, plan 10-12 days for Iceland's Ring Road. This will allow you to see all the best places along Route 1, get a bit off the beaten path, take a tour or two, and explore some areas a bit deeper.
Can you do Iceland's Ring Road in 7 days?
Yes, it is possible to see the main highlights along Iceland's Ring Road in 7 days. It will be rushed and you won't have time to explore deeper, but you will be able to see some of the best places and get a taste of what Iceland is about. If you only have 7 days and absolutely want to do the entire circle, we recommend this itinerary:
Day 1: Arrival, Blue Lagoon, Reykjavik
Day 2: South Coast to Jokulsarlon Glacier Lagoon
Day 3: Jokulsarlon Glacier Lagoon and the Eastfjords
Day 4: Lake Myvatn area
Day 5: The North Coast of Iceland
Day 6: Snaefellsnes Peninsula
Day 7: Reykjavik and departure
Can you drive Iceland's Ring Road in winter?
While it is usually possible to drive around the entire Ring Road in Iceland in winter, we do not recommend a self-drive trip around the entire island in the darkest and coldest months. There are just a few hours of daylight at that time of the year, the weather is very unpredictable, and snowstorms are common. Furthermore, the roads in the Eastfjords and in North Iceland often get closed in winter, disrupting your travel plans. If you want to do the Ring Road in winter, we recommend going with a local driver/ organized tour. If you are doing a self-drive trip, it's best to stick to the South Coast. Also, be sure that you know what to expect when driving in Iceland in winter and keep your travel plans very flexible.
All these suggestions are based on our multiple trips to Iceland. And while this trip covers all the main sights along the Ring Road, you won't find the exact same self-drive itinerary anywhere else. I hope that these additional details and our recommendations will help you plan a more memorable trip to Iceland than just using a standard copy-paste Ring Road itinerary used by most agencies and tour operators.
Have a wonderful time in Iceland!
TIP:If you are looking for more information for your trip to Iceland, practical travel tips, clothing & packing advice, etc. please check our complete travel guide to Iceland. It contains an overview of all our articles about Iceland.
READ ALSO: How Expensive is Iceland (+ How To Save Money)
More tips for your trip to Iceland:
If you found this post useful, don't forget to bookmark it and share it with your friends. Are you on Pinterest? Pin these images!