Are you considering camping in Iceland and are looking for some practical information? We got you covered! In this post, you'll find answers to all the most frequently asked questions about camping in Iceland. Find out!
There is a lot of outdated information on the internet about camping in Iceland, and mostly about wild camping. In this article, we share up-to-date information and hope to help to clear some misunderstandings. For example, if you heard that it's ok to sleep in a car just anywhere in Iceland, it's no longer the case. I urge you to read our wild camping in Iceland section for more information.
Before we continue with the practical information about camping in Iceland, there are two most important factors to consider: when are you traveling to Iceland and what type of camping (campervan, tent, or sleeping in a car) you choose. After all, there is a huge difference between camping with a campervan in summer or sleeping in a tent in winter (btw, I really do not recommend sleeping in your tent or in a tiny car/campervan in winter).
This Iceland camping guide contains all the information about when and how to camp in Iceland and what to consider in each season and for each type of camping.
Further below, you can also find answers to all kinds of practical questions about camping in Iceland. We also included several testimonials and first-hand experiences with practical tips from people who camped in Iceland in a tent, in a car, in a small campervan, and also in a big motorhome with kids.
In this Iceland camping guide, you can also find some practical tips that you really have to know before your trip. Finally, we also included no-nonsense packing recommendations for camping in Iceland. Find out!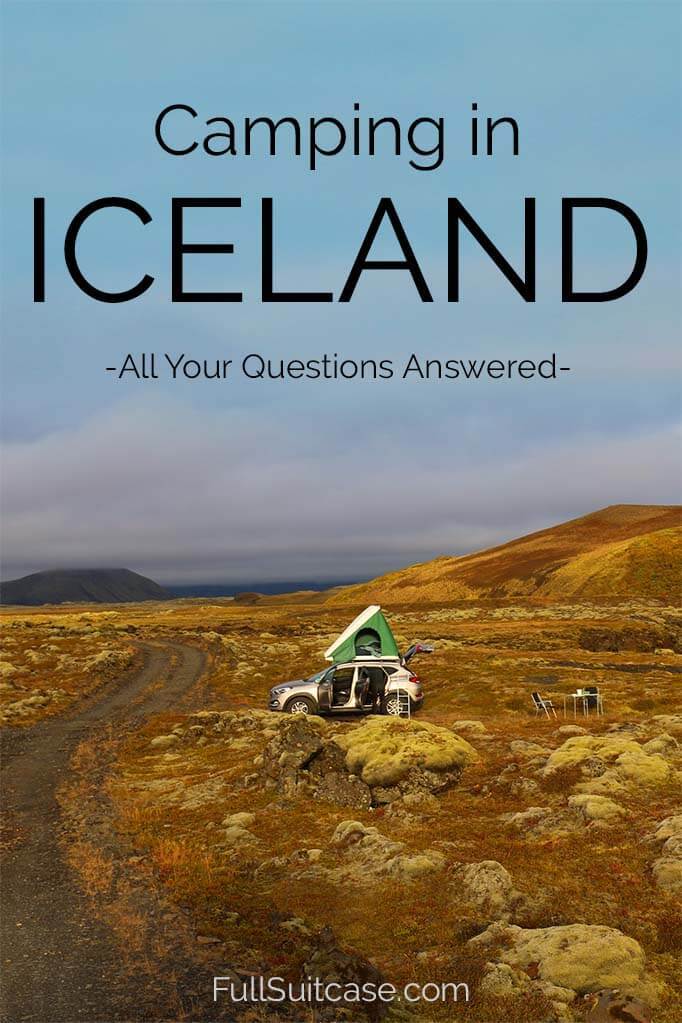 When is the best time for camping in Iceland?
Without a doubt, the best time to go camping in Iceland is from May to September. This is the period when the weather is at its best, chances of snow are low, and most campsites are open. Keep in mind that some campsites only open in June and close end of August.
The very best months for camping in Iceland are July and August, and also the first half of September. Many people say September is the best month to camp in Iceland. Camping in Iceland in September has several advantages: campervan or motorhome rental is much cheaper than in summer and the weather is much better than in winter. In addition, you have a good chance to see auroras in Iceland in September!
Just please keep in mind that there can be a huge difference between the weather at the beginning of September and in the last week of the month…
Here you can read more about the other advantages of visiting Iceland in September and here you can find more information about Iceland in summer vs. winter.
All this being said, it's definitely possible to camp in Iceland in the colder season as well – see the winter camping in Iceland for more information.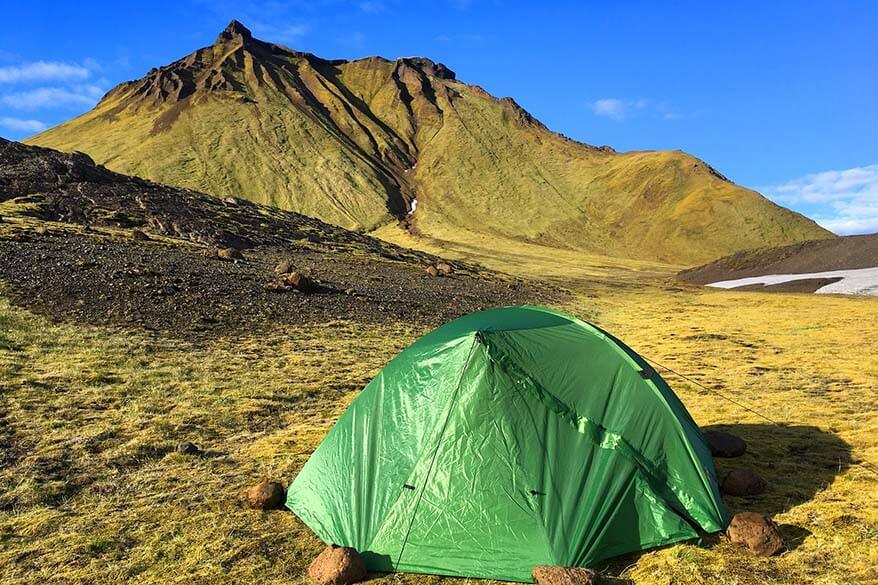 Camping in Iceland – here's what you should know about the weather
The weather in Iceland changes all the time and it can be really harsh. No matter when you visit Iceland, you can expect all seasons in one day. You should always be prepared for rain and strong winds in Iceland. It's absolutely essential to make sure that your clothing and camping equipment are adequate for Icelandic weather.
In early spring, many campsites are still closed due to mud and melting snow. It can still snow in June, especially in the northern part of Iceland. Most campsites close in the beginning to mid September, as that is when winter can start to return again.
Please check our winter camping section below for more information if you are planning to camp in Iceland outside of the main season (June-September).
No matter in which season you are camping in Iceland, you should always be prepared for the unexpected. You never know when the weather will change and you might have to adapt your travel plans. Make sure you always have enough water, food and fuel to last at least a couple of days.
READ ALSO: Best Time to Visit Iceland
Wild camping in Iceland – can you camp anywhere?
Many people ask if it's allowed to just set up a tent or sleep in your car in Iceland. Legislation has been made stricter recently, and while wild camping is still allowed in Iceland, it is only possible when camping in a tent. Wild camping in Iceland is more an exception than a rule.
For example, it is now illegal to spend the night in tent trailers, tent campers, caravans, camper vans, and also cars and similar, outside organized campsites or urban areas without permission from the land owner.
Wild camping in Iceland is allowed in some cases when you use a traditional tent. However, there are A LOT of restrictions and rules. You can find a short summary of the Iceland camping rules on the official Icelandic Tourist Board website. But there are so many exceptions that it's just safer and easier to use designated campsites.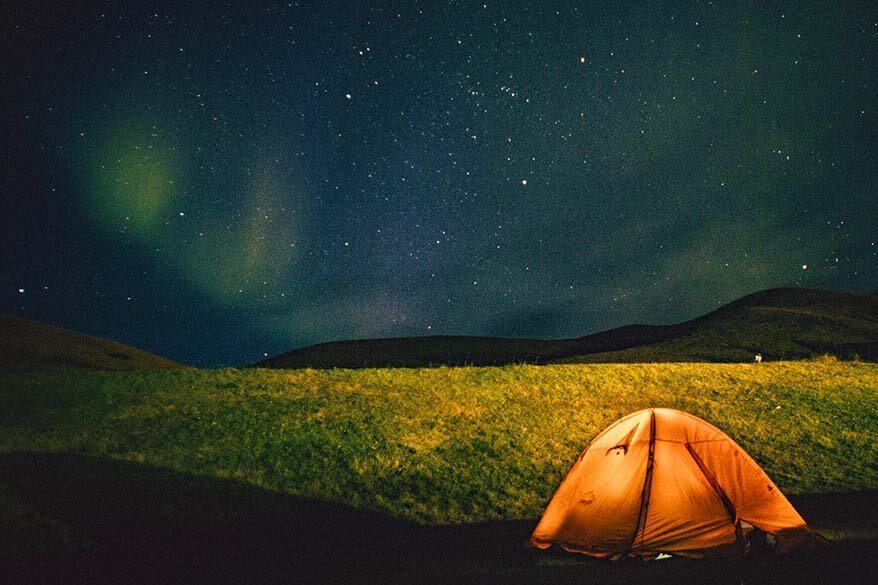 If you are planning to go wild camping in Iceland with your car, campervan, or tent trailer, you have to get permission from a landowner or right-holder.
However, many people choose to ignore the rules. Last September, we were traveling in the Icelandic highlands and we saw quite some people wild-camping in the highlands.
If you decide to go wild camping in Iceland, it is of course your own choice and responsibility. Please be respectful to nature and leave no trace. You should also know that off-road driving in Iceland is illegal and is strictly prosecuted.
READ ALSO – some of our favorite lesser-known places in Iceland: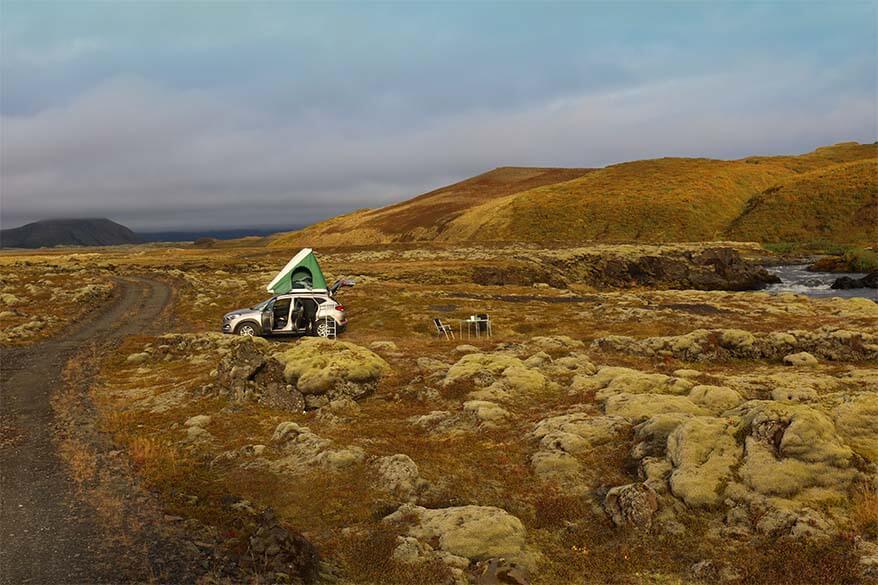 Can you camp in Iceland in winter?
Yes, it's possible to go camping in Iceland in winter. Just make sure that you have the right car and adequate camping equipment for the season.
For simplicity, in this article, we refer to all the months between October and May as winter months, because that's how it usually is in Iceland. Even in May or the beginning of June, it's not unusual to have snow in the North of Iceland…
I definitely wouldn't recommend camping in a tent or sleeping in a car in Iceland if you are traveling outside of the summer months. If you want to camp in Iceland in winter, it's best to rent a campervan that is equipped for winter weather and winter roads.
Here you can find more information about driving in Iceland in winter. Below we have some more information and things to consider when camping in Iceland in winter.
Camping in Iceland in winter – what to take into account
When considering camping in Iceland in winter, you should know a couple of things.
First, the days are very short in Iceland from October to February. This means that you'll be stuck in your campervan for many many cold hours every evening. Make sure that your campervan has a heater and pack an e-book and some travel games to keep you busy. And of course, don't forget to look outside and try to catch the Northern Lights!
Second, there are not many motorhomes or camper vans that you can rent that time of the year. Many companies will only rent 4×4 campervans in winter.
Third, most campgrounds in Iceland are closed in winter. There are just a couple of campgrounds that remain open the whole year round. Here is a website that lists Icelandic campsites that are open in winter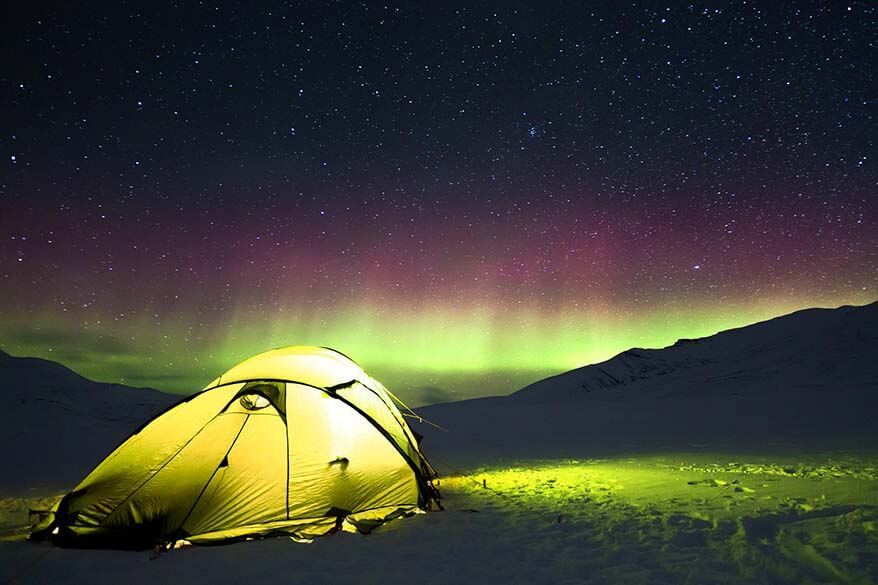 Campsites in Iceland – FAQ
Below you can find answers to the most frequently asked questions related to campsites in Iceland.
How expensive are campsites in Iceland?
There are over 170 campsites in Iceland with varying facilities and costs. You can expect to pay somewhere between 10 and 20 EUR per person per night. Children usually stay free of charge.
TIP: If you are camping in Iceland for several nights, it might be cheaper to use Campingcard Iceland – see below.
READ ALSO: How Expensive is Iceland
What is Campingcard Iceland?
Campingcard Iceland allows access to almost 40 different campsites all over the country for 28 days for one single fee. At the moment of writing, the card costs 159 EUR and can be used for up to 2 adults and 4 children.
The Campingcard Iceland website also has a handy map that indicates all the campgrounds where you can use this card. You can click on any campsite to find out when they are open and what facilities are available.
What are the best campsites in Iceland?
This is a tough question to answer as there are so many opinions and a lot depends on your expectations.
Some of the best campsites in Iceland that people often mention (usually based on their scenic location) are Thakgil campsite in Vik, Skogar campground by Skogafoss waterfall, Skaftafell campsite near Skaftafell NP, and Svinafell Campground near Hof (Jokulsarlon Glacier Lagoon area).
In the North of Iceland, good choices are Systragil campsite near Akureyri and Camping in Asbyrgi. But there are many many more.
Further below in this article, you can find some first-hand experiences from people who have camped in Iceland. Some of them share their favorite campsites as well.
Do you need to book campsites in Iceland in advance?
No, in general, you don't need to book your campsites in Iceland in advance. Everyone we talked to who has camped in Iceland, confirmed that indeed they didn't book any campsites in advance.
Can you arrive at a campsite late at night?
Yes, most campsites in Iceland don't have any fixed hours and you can arrive as late as you want. Since it's almost always daylight in summer, people tend to come and go at all hours. In case of late arrival, you are expected to settle the bill in the morning.
Can you build a campfire in Iceland?
No, you cannot. It's strictly forbidden to build campfires in Iceland. It's best to pack a camping gas stove or rent one or look for campsites with kitchen facilities.
Do you need a heater for your campervan in Iceland?
Yes, if you are camping in a campervan, you should really rent a heater. Icelandic weather is unpredictable and even summer nights can get really chilly.
Do Icelandic campsites have showers, electricity, or cooking facilities?
While most campsites in Iceland have all modern facilities, not every campsite has hot water, cooking facilities, or even electricity.
Even the campsites that do have showers, often charge you extra for them. Sometimes, using a shower is limited in time as well.
Not all campgrounds in Iceland have cooking facilities. Some have a full kitchen available, others – BBQ facilities, and some have nothing at all. Note that if camping with a camper van, the cooking facility is usually provided with the van and you can rent some equipment as well. If camping in a tent, you can rent cooking and camping equipment as well. Here you can find a place that is usually recommended for renting camping equipment in Iceland).
If you absolutely need certain facilities, it's best to look up that information in advance, before your trip. That's where the earlier Iceland camping card comes in handy as it allows you to research all the campsites upfront.
Alternatively, you can also check the Nordic Adventure Travel website – they have a very comprehensive list of Icelandic campsites. Click on any campsite on the map and you will get more information on the available facilities.
Where can you shower when camping in Iceland
Iceland has many local swimming pools where you can also take a shower. It's actually obligatory to shower before entering a pool and the rules require that you shower naked (it's just one of those typical Icelandic habits and it's considered rude to ignore the rule).
Here you can find a list and a map of all the communal swimming pools in Iceland. They are all over the country and they are very cheap (usually 3-5 EUR per person).
There are also popular geothermal baths like the famous Blue Lagoon (near Keflavik airport), but also the Sky Lagoon in Reykjavik and many others all over Iceland. Secret Lagoon and Fontana Wellness (in the Golden Circle area), Myvatn Nature Baths and Geosea – Geothermal Sea Baths in Husavik (both in the North of Iceland), Vök Baths in the East, and also Krauma Geothermal Baths in the West. These options are obviously more expensive than local swimming pools.
Iceland is also famous for its natural hot pools and you can find many of them scattered all over the country.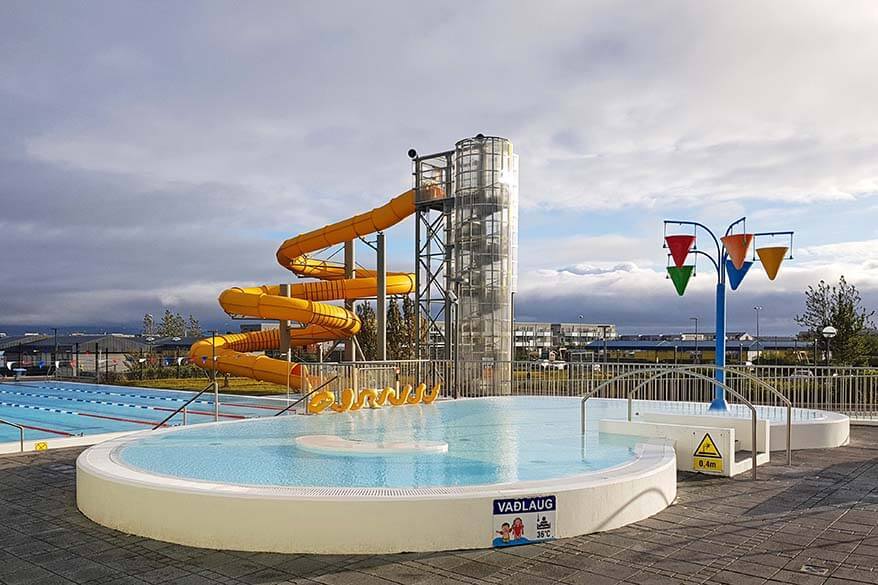 How to camp: tent, car, or rent a campervan/ motorhome
Once you decide on the season for your camping trip in Iceland, the second most important decision is how are you going to camp in Iceland.
Let's take a look at the advantages and disadvantages of all kinds of camping: from sleeping in a tent, sleeping in a car to renting a car with a rooftop tent or a fully equipped campervan or motorhome.
Tent camping in Iceland
Tent camping in Iceland is the cheapest way to camp since you can just rent a regular car for your trip. However, Iceland is famous for its ever-changing weather and strong winds, so keep this in mind if you plan to sleep in a tent in Iceland.
I would strongly advise against tent camping in Iceland outside of the summer months, unless you have experience with camping in extreme weather.
Even in summer, make sure that your tent will withstand Icelandic weather and that all your camping equipment stays dry. It might be wise to get a good waterproof tent that is suitable for extreme weather conditions and you really need a good 4-seasons sleeping bag that will keep you warm in case the temperature drops below freezing point.
One of the biggest advantages of tent camping is flexibility. However, when planning to go tent camping in Iceland, you should know that it's no longer allowed to freely camp just anywhere you want. You can find more information about this further below, under 'wild camping in Iceland'.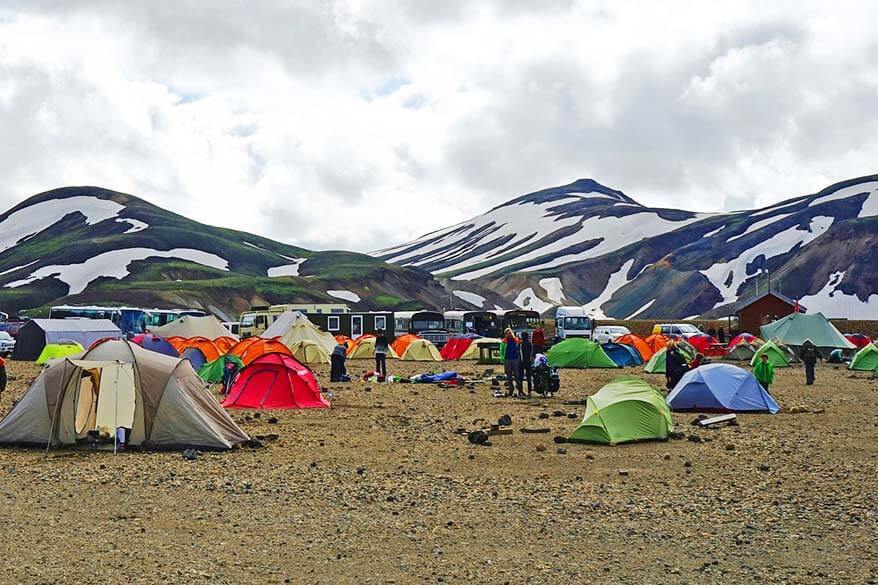 Sleeping in a car in Iceland
If you are wondering whether you can sleep in a car in Iceland, yes, you can. In fact, camping in a car is one of the cheaper ways to travel in Iceland and is quite popular. However, you should consider that not every car is as suitable for sleeping. Sleeping in a regular car can be really uncomfortable.
Some Icelandic car rental agencies have cars that are specifically equipped for sleeping in a car. In addition, often, you can rent all the necessary camping equipment, so there is no need to bring your own pillows or sleeping bags.
Sleeping in a car has several advantages over tent camping: better protection from the elements and no need to set up a tent every night. Also, you don't have to buy or rent a tent and carry it with you. Renting a small car that is equipped for sleeping is not that much more expensive than renting a regular car. However, keep in mind that your trunk becomes your bed, so it's probably best not to take any hard-shell suitcases with you.
Please note that the fact that you can sleep in your own car doesn't automatically mean that you can sleep anywhere you want. Please see the 'wild camping in Iceland' section of this article for more information.
It's also important to know that it gets really cold at night in Iceland. Since regular cars don't have heaters, it's really not advisable to sleep in a car in Iceland in winter.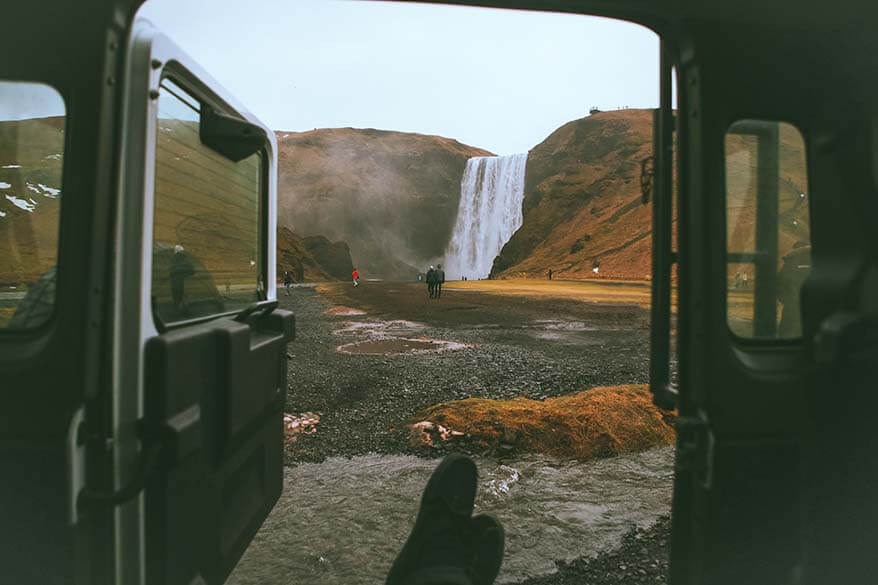 Motorhome or campervan camping in Iceland
Renting a campervan or a motorhome is without a doubt the most comfortable way to camp in Iceland. However, it also comes with a higher price tag and – in the case of a motorhome – less flexibility.
If you consider renting a motorhome in Iceland, keep in mind that it's not as flexible as a smaller campervan. If you are planning to drive Iceland's Ring Road only, then you'll be ok with a motorhome. However, keep in mind that many smaller roads leading to natural attractions and parking lots aren't paved.
You'll definitely need a 4×4 campervan for the highlands, but it can also be a better option for visiting places like Snaefellsnes Peninsula or the Westfjords.
Campervan rental prices depend a lot on the season when you travel and, of course, also on the type of camper that you are planning to rent. For example, it's much cheaper to rent a camper with a rooftop tent than a regular campervan, let alone a motorhome.
There are many companies where you can rent a campervan or a motorhome rental in Iceland. I suggest that you just google it. There are several companies that rent big motorhomes in Iceland as well.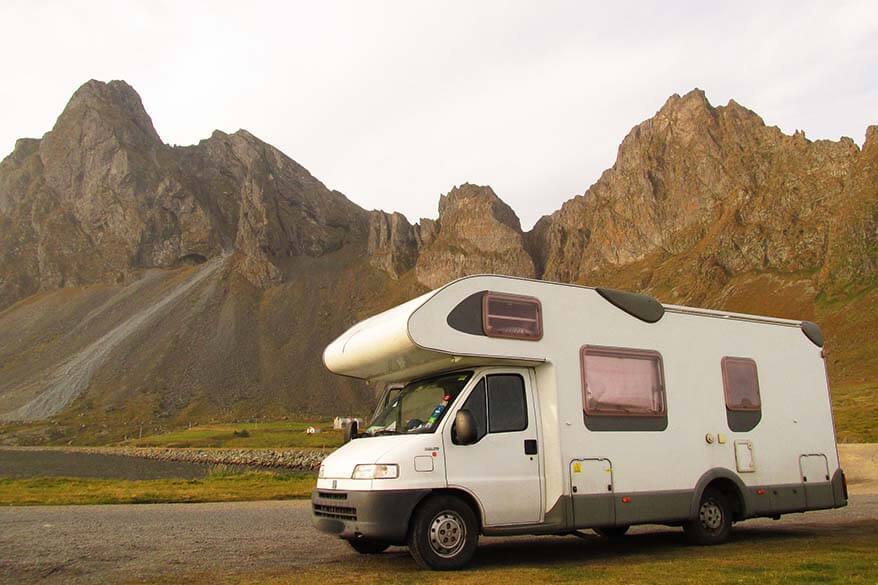 Camping in Iceland – first-hand experiences and practical tips
In order to help you decide which type of camping in Iceland is right for you, we asked our fellow travelers to share their personal experiences with camping in Iceland.
Below, you can find testimonials and advice from people who camped in Iceland in a tent, slept in a car, in a camper van, and also with a big motorhome. Take a look!
Camping in Iceland with a tent – first-hand experience
We asked fellow travelers Katie and Ben, who camped in Iceland to share their first-hand experience with tent camping in Iceland. Their sheep story almost sold tent camping to me… Read on! Also, on their blog you can read about why they chose tent camping vs campervan for their Iceland trip.
We visited Iceland during the month of August and we wanted to pack in as much as we possibly could in one week. We quickly realized that taking a road trip around Iceland is the best way to see the country.
Since we were traveling on a super tight budget, we did everything as inexpensively as possible: we rented a cheap car, camping gear, and slept in a tent. Since we didn't have a vehicle with a self-contained toilet, we stayed only at established campgrounds, which turned out mostly to be open fields with varying levels of facilities. Our favorite campsite was when we pitched our tent in an open (designated) field right beside Seljalandsfoss Waterfall.
One of the best memories from our entire Iceland road trip was waking up in the morning to sheep outside our tent and the sun sparkling through the falls. We sat there enjoying the view with coffee in hand, and we pinched ourselves because we felt so grateful to be able to wake up in such a magical place.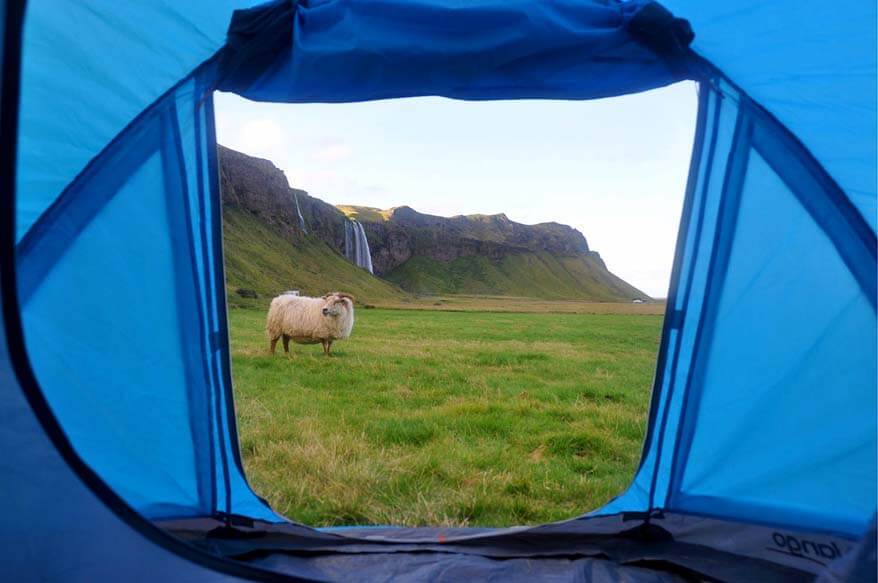 Sleeping in a car in Iceland – first-hand experience
We asked fellow traveler Lauren to share her experience with camping in Iceland by sleeping in a car. On her blog, you can find more details about their tiny campervan in Iceland. Below you can read about their camping experience.
Camping in Iceland is an incredible experience. With its vast, harsh and unique environments, there is something amazing around every corner. We visited Iceland in summer and opted to hire a super small campervan, fondly called Tiny Tina. With the high costs of everything in Iceland, and I mean everything, we were looking for a way to see as much of this stunning country in the cheapest way possible. Hence Tiny Tina.
Our campervan in Iceland honestly looked like a small car. We weren't sure how it would convert into a bed… However, being so tiny, it saved us money on fuel and also made a super cozy home (Icelandic summer weather can be very cold). Setting up the bed did involve moving the front seats as far forward as possible, including squishing our bags. But I and my 6-foot husband slept relatively comfortably in it.
Having this tiny camper, made staying in campsites an absolute breeze. We could always tuck ourselves away in small nooks allowing for fantastic views. We only stayed in campgrounds, as we needed the facilities such as toilets and showers. We also wanted to follow the rules and at the same time put some money into the Icelandic economy.
Some tips: If you are going to eat out on a budget, enjoy the delicious Icelandic hot dogs that you can pick up at gas/petrol stations. If your camping diet includes a chocolate spread like Nutella, pop it in the sun during the day and take it to bed with you at night. Otherwise, it becomes too hard to spread on anything (yes, even in summer).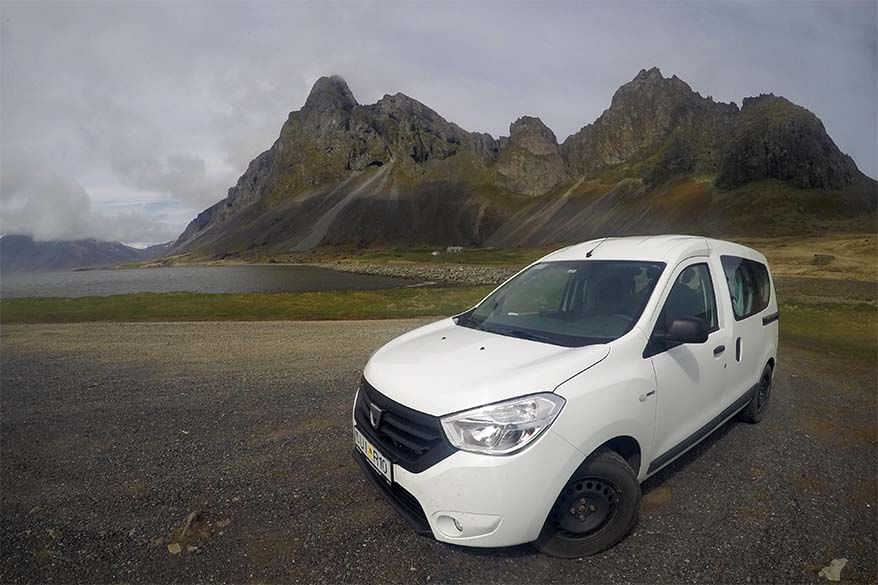 Campervan camping in Iceland – first-hand experience
We asked our friends Christina and Eric from Adventure Together to share their experience camping in Iceland in a campervan. They camped in Iceland in September. Find out what they thought of it!
In our opinion, the BEST way to explore Iceland's beautiful, rugged countryside is in a campervan. After spending two weeks along the Ring Road in Iceland, we are convinced that if you want adventure and flexibility, mixed with a bit of spontaneity, renting a campervan is the way to go! We didn't book anything in advance.
To our delight, we also witnessed the aurora borealis 3 separate times right outside our van (if you stay in cities where there is light pollution, your chances of seeing the Northern Lights are lower)! Camping also allowed us to get up early to get to many popular places before sunrise, so we could beat the crowds.
We rented a comfortable 5-person campervan which was equipped with all our kitchen needs (stove, fridge, utensils, etc.) along with sleeping bags, pillows, and tons of storage for our belongings. The campervan also came with a heater, which comes in handy for those chilly nights! It didn't have a shower, so for showers, we used campsite facilities.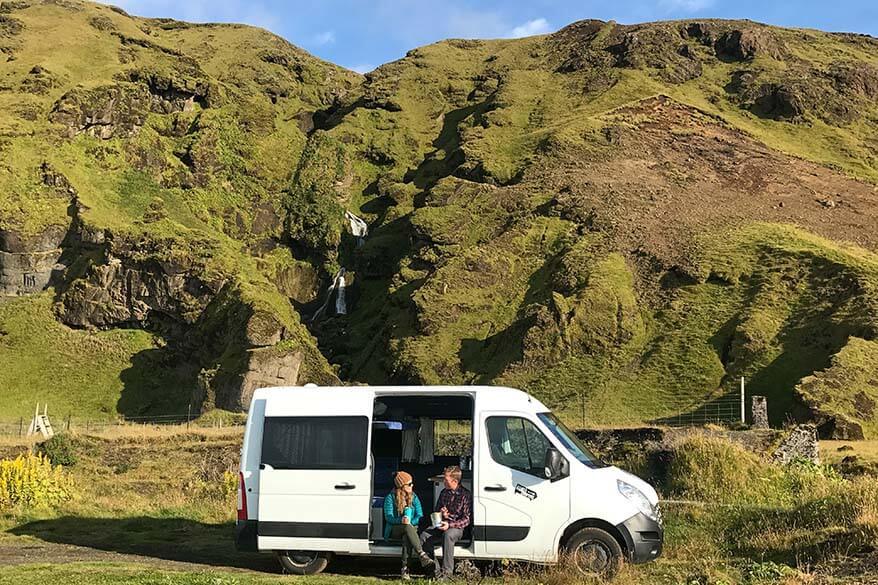 Tent camping in Iceland – favorite campsites and advice
We also asked members of our Iceland and Scandinavia Facebook travel group about their camping experiences in Iceland. Elyse J.R.C. – Martin camped in Iceland with a tent and here are some tips she wanted to share.
We visited Iceland end of July – beginning of August and camped in a tent. I absolutely loved Campingcard Iceland – it was cheaper for 9 nights than paying for each campsite separately. I also liked the ease of looking up which amenities were available at what sites and we didn't have to reserve anything upfront. We really liked all our campsites, but I think our top two were Tungudalur and Stöðvarfjörður.
Tungudalur campsite near Ísafjörður was so beautiful. It had a stream that ran through it and a waterfall you could walk to. I really liked being able to see and hear the waterfall from our tent (you can set up further away if you don't want to hear it). The campsite had nice washrooms and showers, a canteen to get drinks and snacks, a kitchen, and a common area. The tents and the camper vans are separated, which was really nice. The people who worked there were fantastic as well.

We also really liked Stöðvarfjörður campground. We set up our tent so we looked out at the ocean. A sidewalk and a small quiet road were all that separated us from the Atlantic Ocean. It was lovely hearing the waves as we fell asleep. It was a much smaller campground and had fewer amenities, but I would definitely stay here again.

One thing I wish we knew before is that you just set up your tent or park anywhere you like at the campsites; there aren't any designated spots. I also wish I knew that at a lot of the campgrounds cars/vans/motorhomes and tents intermingle. It wasn't a huge deal, but it would have been nice to know that sometimes our tent was going to be in a tight spot between two RVs.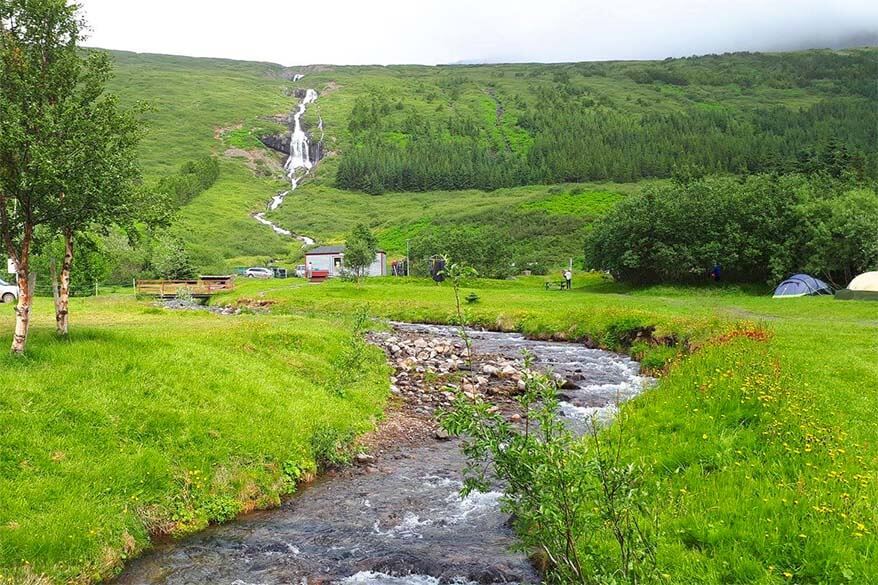 Camping in Iceland with kids – motorhome camping experience
Traveling in Iceland with a big family isn't cheap, certainly during summer school holidays. Therefore many families with children consider camping in Iceland. A fellow family travel blogger Kirsty visited Iceland with her husband and three kids and rented a campervan. Below you can read about their experience when camping in Iceland with kids in a motorhome.
Iceland is renowned for being expensive. With three kids in tow when we looked at car rental, accommodation, eating out, and activities it was way out of our budget. Instead, we decided to hire a motorhome and it was the best decision ever!
Staying in campsites made a family vacation in Iceland more affordable, and the kids had lots of fun exploring and playing outside. We were also lucky enough to spot the Northern Lights during our trip. I think that staying at campsites rather than a hotel made that possible. The sites tend to be further out of towns and away from light pollution. It is also easy to step outside of the campervan and check the sky during the evening.
By shopping at the supermarket and preparing our own meals, we were able to stick to our budget with the odd splurge on some delicious Icelandic hotdogs and an occasional dinner at a restaurant.
Our family's favorite campsite in Iceland was Grindavik campsite. We stayed there to get an early start for visiting the Blue Lagoon. The facilities at the campsite were great and there was a brand new playground that the kids loved.
We explored the Ring Road for 10 days at the beginning of September and hadn't pre-booked any campsites. It was always easy to find a campsite that had the facilities that we needed as a family. Here you can find more information about the campsites that we stayed at along the South Coast of Iceland. For 159 EUR we bought Iceland Camping Card that made family camping in Iceland very affordable.
Some tips when traveling in Iceland in a campervan:
If you need to book a large campervan for your family, be sure to book well ahead. The number of campers that can fit a big family of over 4 people is quite limited in Iceland.
Rent your sheets, blankets, and other camping equipment with your campervan – that way you can travel light and save on airline luggage fees.
I also recommend renting GPS/ Wi-Fi with your campervan – we did that and it worked incredibly well.
Also, get into the habit of opening and closing the van doors for the kids. The wind can be amazingly strong and we heard horror stories of car and van doors being bent backwards!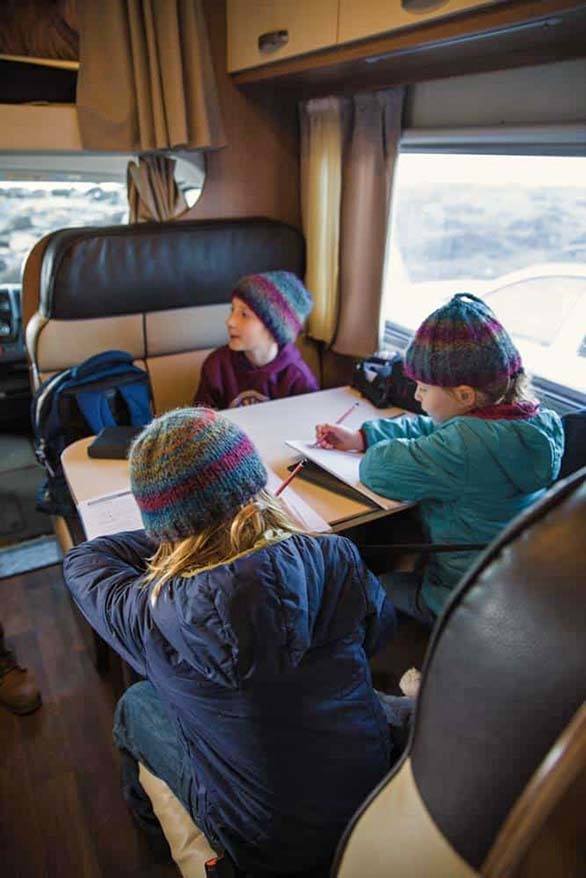 How to get around when camping in Iceland
The absolute best way to explore Iceland is by renting a car or – in case of camping – a campervan. Here you can find the best deals for car rental in Iceland.
However, I understand that renting a car or a campervan is not for everyone. Here are some things to consider and some tips for traveling in Iceland if you are not renting a car or a camper.
You should know that public transportation in Iceland is quite limited and buses connecting different towns in Iceland will not bring you to the nicest nature locations.
Reykjavik Excursions now have some scheduled busses to some popular tourist destinations that make it possible to see Iceland without a car, but when you add it all up, I'm really not sure if it's much cheaper… You can find more information about it here.
Hitchhiking in Iceland can be a bit difficult as there is little traffic and you might get stuck in the middle of nowhere for hours. Add the unpredictable weather and high winds, and you'll understand that this is really not the best way to see Iceland.
TIP: If you want to see Iceland on a budget, you could consider an organized camping tour like this. It includes transportation, a guide, a private tent, a sleeping bag with an inflatable mattress, and even breakfast and dinner. They also always stay at campsites with all modern amenities, such as hot showers, toilets, wifi… This is one of the best ways to see the best spots in Iceland on a very tight budget.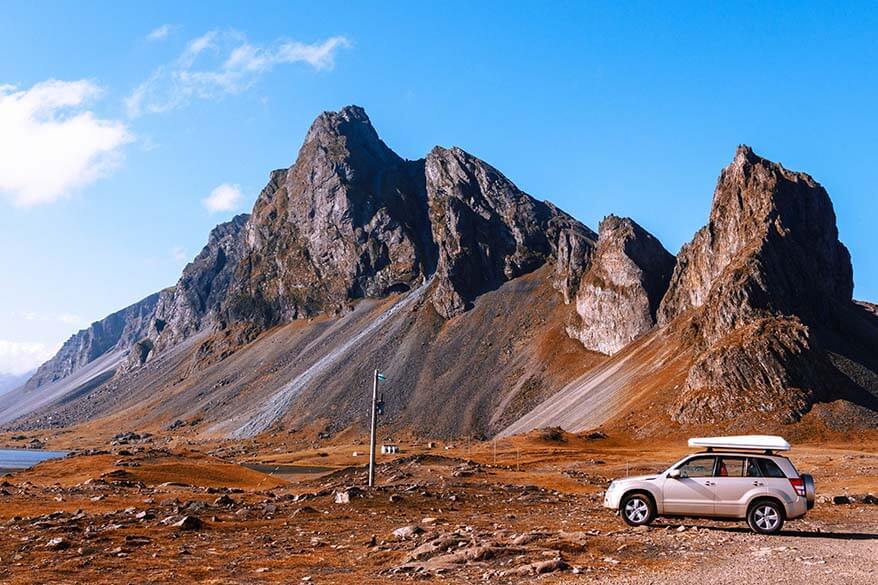 Useful tips for camping in Iceland
Stock up on food. Ensure that you travel with enough food and water because many rural places in Iceland have no shops or restaurants. It's best to buy your supplies at the supermarkets in the bigger cities.
Stock up on water. Tap water is perfectly ok to drink in Iceland. Many petrol stations have a water hose where you can fill up your campervan's water tank.
Stock up on fuel, especially if you are planning to go camping in the highlands.
Make sure to always have a charged phone and a power bank with you.
Waterproof camping equipment, waterproof clothing, waterproof shoes and several layers of warm clothes are essential in Iceland in any season. Further below you can find more practical tips on what to pack when camping in Iceland.
Learn how to use camping equipment in advance. You should know how to set up your tent or use a gas cooker.
Get full insurance for your rental car or campervan. Yes, you really need that in Iceland.
Here are some very useful websites that you should consult during your trip: Iceland weather forecast, road conditions, travel information, and special alerts.
The emergency phone number is the same as everywhere in Europe – 112.
It's the law to always drive with the headlights on in Iceland.
Obey speed limits as the roads are narrow, there are lots of sheep roaming around, and radar controls are very frequent as well.
READ ALSO: Iceland Travel Tips
What to pack for camping in Iceland
What you need to pack for camping in Iceland depends so much on how you travel. Do you need a tent and a sleeping bag or are you planning to rent it? Do you travel by campervan or are you sleeping in a car? Are you camping in Iceland in March, July, or maybe in December…
If you want to keep your costs really low, then you'll need to bring everything from home. A better alternative, especially if camping for a longer period of time, is to rent all the camping equipment from your campervan rental company.
For example, you usually can rent the following items together with your campervan in Iceland: towels, pillows, blankets, pots, pans, plates, cups, kettle, cutlery, bottle and can openers, simple coffee maker, lighter, kitchen brush, sponge, rags, hand broom, gas stove, and propane gas…
We already have very detailed packing lists for Iceland for each season, so please check those articles, depending on when you travel: What to pack for Iceland in summer and What to pack for Iceland in winter.
Below you can find a list of some additional items that you may want to pack when camping in Iceland. But, as I said, it will depend on how you plan to camp and whether you rent any camping equipment.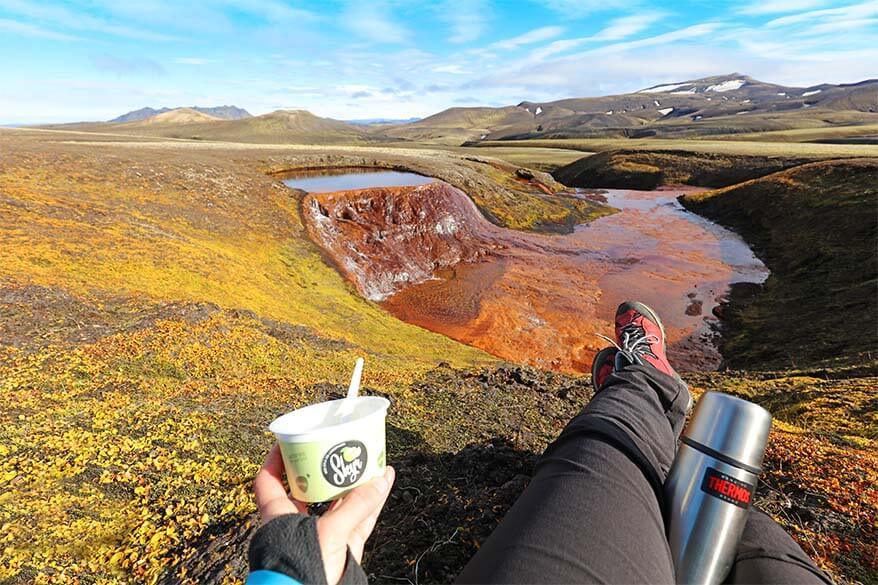 This Iceland camping guide was created due to a big amount of questions related to camping in Iceland in our Iceland and Scandinavia travel group on Facebook.
While we have been to Iceland many times and in all seasons, we have no personal experience with camping in Iceland, but I did extensive research and sourced all this information from people who have camped in Iceland. This way you get the most complete guide to camping in Iceland and experience-based tips that reflect not just one person's experience.
I hope that you found answers to all your Iceland camping questions in this article. If not, feel free to leave a reply below and I'll try to help. Alternatively, join our Facebook group (link above) and ask any Iceland travel questions there.
For more practical tips, destination guides, and suggested itineraries, please check our Iceland travel blog.
READ ALSO: Best Places to Visit in Iceland
Planning a camping trip in Iceland? Check out these itineraries:
If you found this post useful, don't forget to bookmark it and share it with your friends. Are you on Pinterest? Pin this image!