Tröllaskagi Peninsula is a real hidden gem of North Iceland. Not many Iceland itineraries or tours visit this area, yet it's one of the most beautiful places in the country.
In our previous article, you could read all about visiting Siglufjörður, the nicest town on the Troll Peninsula. In this article, we focus on the other must-see places of the Trollaskagi Peninsula, such as the scenic Road 76, the oldest church in Iceland Grafarkirkja, and the most beautiful swimming pool in Iceland – Hofsós Pool.
At the bottom of this article, you can find a short overview of our one-day itinerary visiting this area, as well as a map indicating these places. Read on!
Good to know: This area is a perfect detour from the Ring Road, when driving from Akureyri to Blonduos. More info below.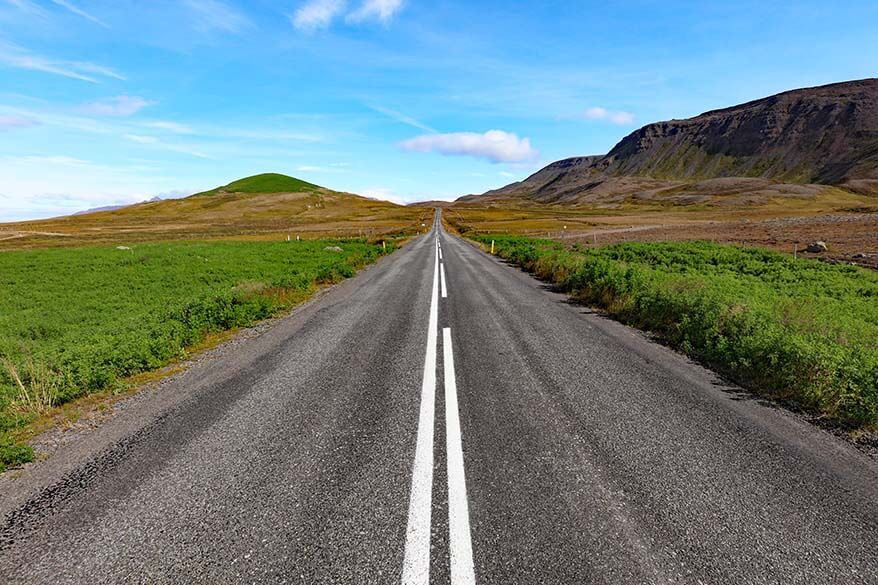 Road 76 – Siglufjarðarvegur
Route 76, or Siglufjarðarvegur, that connects the Ring Road to Ólafsfjörður via Siglufjörður is one of Iceland's most scenic roads. Driving this road is a real treat for the eye, with phenomenal scenery and unforgettable views that you will not experience elsewhere.
Road 76 is part of the Arctic Coast Way – a route that takes you off the beaten track and allows you to discover northern Iceland's most remote places. The nicest part of this road is probably the stretch along the fjord of Skagafjörður, on the western part of the Trollaskagi Peninsula. Here, road 76 follows the coastline closely, with dramatic new sights appearing at every bend.
This road is so beautiful, that at one moment I heard my husband say 'it's even more beautiful here than in Switzerland!'. Knowing his love for the Swiss Mountains, this pretty much says it all.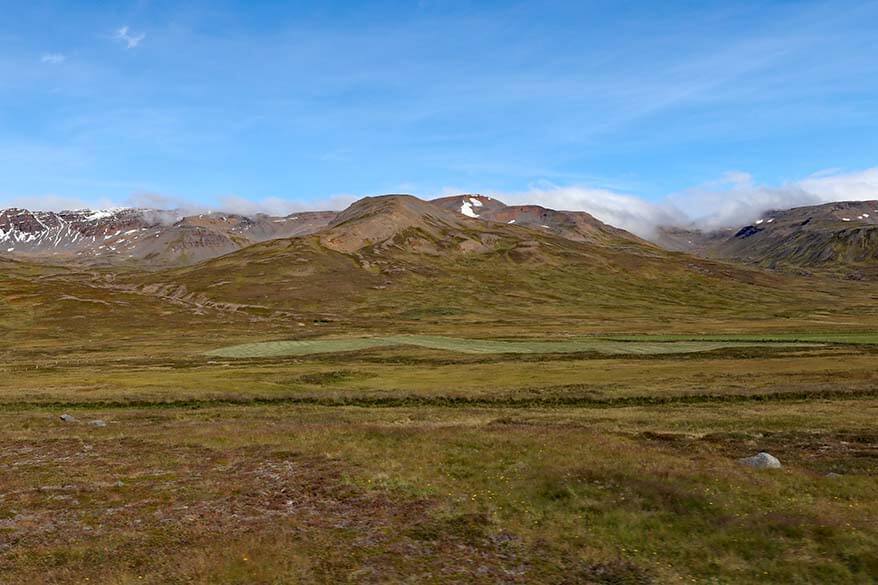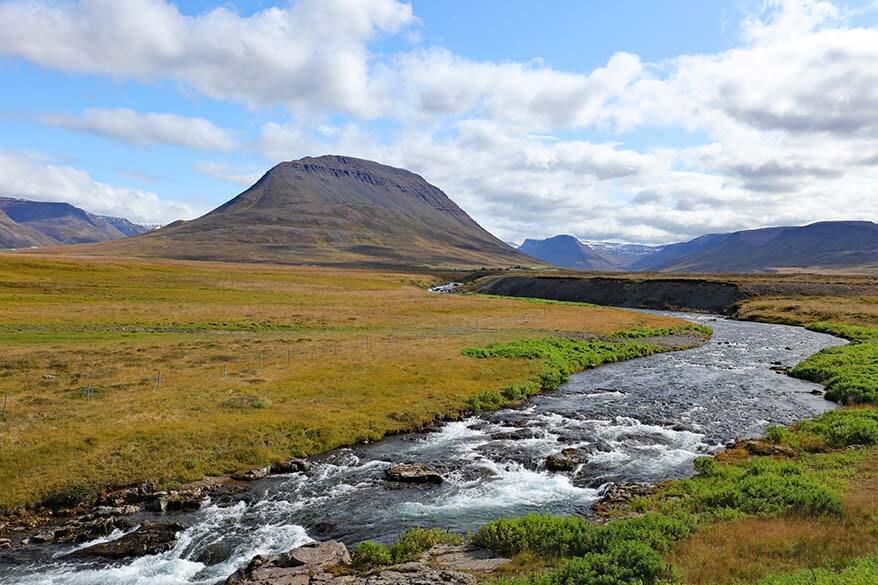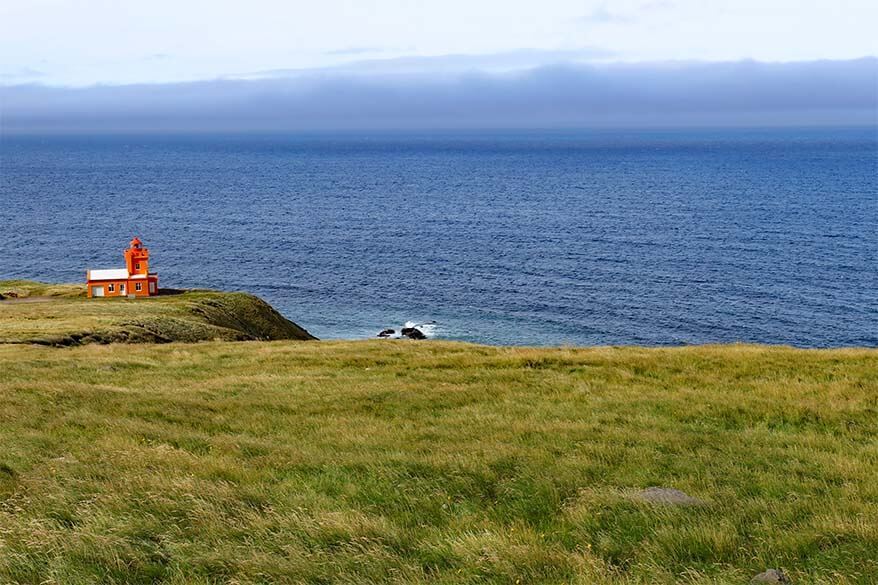 I find that no pictures do justice to the stunning scenery you experience here. It's one of those places that you just have to see for yourselves.
On one side of the road, you have amazing views of the Skagafjörður, and on the other side – the mountains of the Troll peninsula. This part of Iceland has the highest elevation (apart from the highlands), with several peaks reaching over 1000 meters above sea level. It will come as no surprise that this area is considered as one of the best places for skiing in Iceland.
This area is also popular for horseback riding. If you have more time in this area, I can't imagine a better place to go horse riding than here on the Troll Peninsula.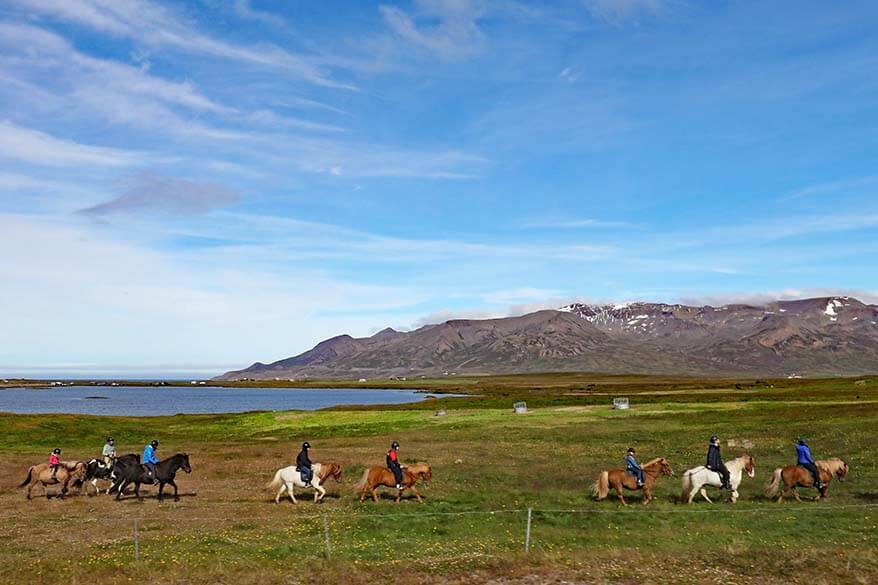 As you drive further, past Hofsos town, the scenery gets even more impressive. Soon, you'll see Höfðavatn, a lagoon-like lake inside a fjord.
At first, it's hard to even see that it's a lake, as there is just a very narrow stretch of land separating it from the waters of the fjord. Hofdavatn is a popular place for fishing on arctic char, with a fishing season that lasts from February through September.
As you drive further north to the tip of the Troll Peninsula, you'll see more and more lakes along the road: Sléttuhlíðarvatn, Kappastaðavatn, Flókadalsvatn, Hópsvatn, Miklavatn – all popular places for fishing. Some lakes require permission in order to fish there, so make sure you do some research if that's in your planning.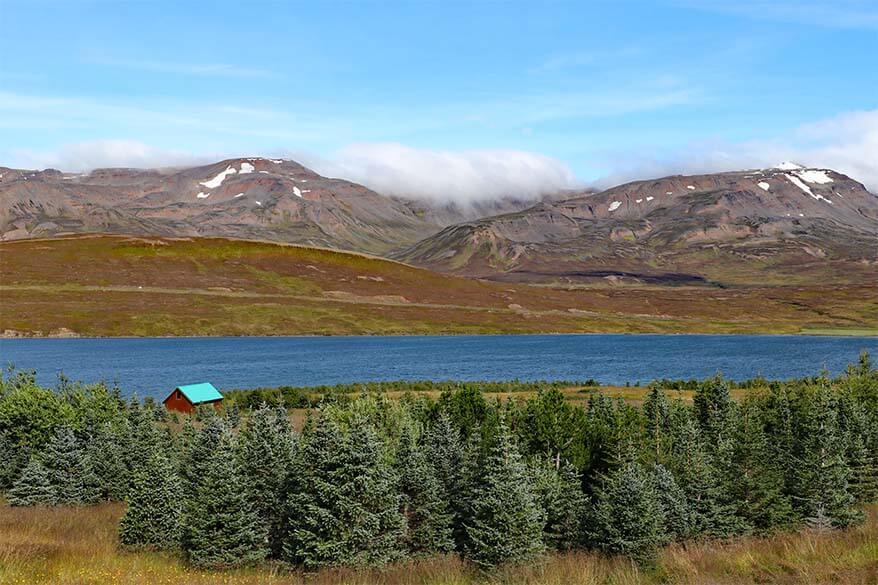 In the distance, inside the fjord, you can also see three little islands. First, a tiny island called Lundey, then the somewhat bigger Drangey Island, and finally – the biggest of the three – Malmey Island.
Good to know: Drangey Island can be visited with a boat tour from Sauðárkrókur. It's a paradise for nature and puffin lovers and it's one of the most unique things to do in Northern Iceland. The tour takes just 4 hours. If you plan well and book in advance (essential) – it's quite easy to include it into your Tröllaskagi Peninsula itinerary.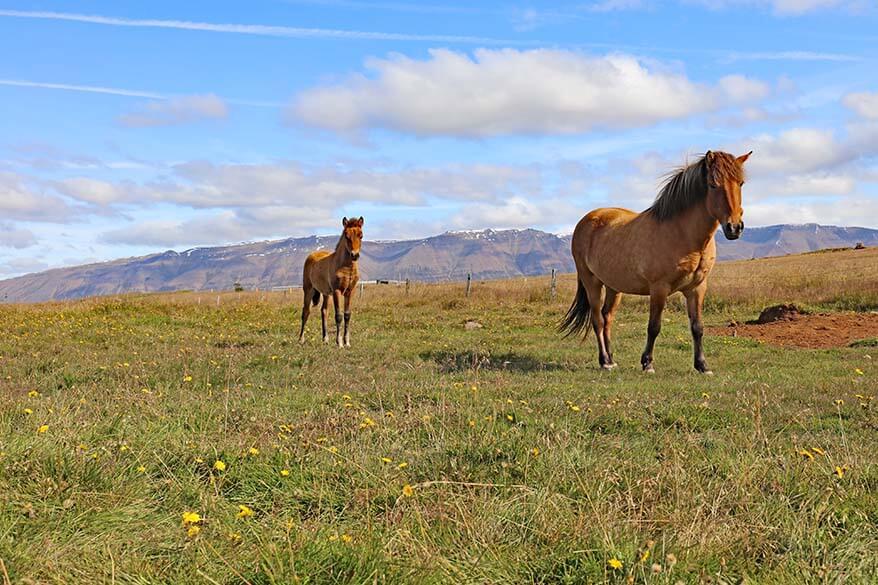 Grafarkirkja
Located around 4km south of Hofsos is a picturesque little turf church Grafarkirkja. Constructed in the late 17th century, it is believed to be the oldest Christian church in Iceland.
Although it's just a short walk from road 76 via a worn trail, it feels very much off the beaten track! If you're lucky, you will be able to visit it all alone and really absorb the serene beauty and peace of its location, with majestic mountains rising in the background. There was nobody else there when we visited and it was simply magical!
The tiny turf church – enclosed by a circular hedge – is unique not just for its age, but also for its unusual ornamentation. While other turf churches at the time were very plain, Grafarkirkja features beautiful woodwork, including baroque design patterns on some of the support rafters and carvings on the altar. These are believed to be the handiwork of local woodcarver Guðmundur Guðmundsson.
The church is now closed to the public in order to preserve it. However, you are still allowed to visit it and look around from the outside. You can also see a bit of the interior through the windows.
The history of Grafarkirkja is interesting. It was once deconsecrated by a Danish king in 1765 and used as a storage building! The National Museum of Iceland had the church rebuilt to its original condition in 1950 and it was re-consecrated by the Bishop of Iceland in 1953.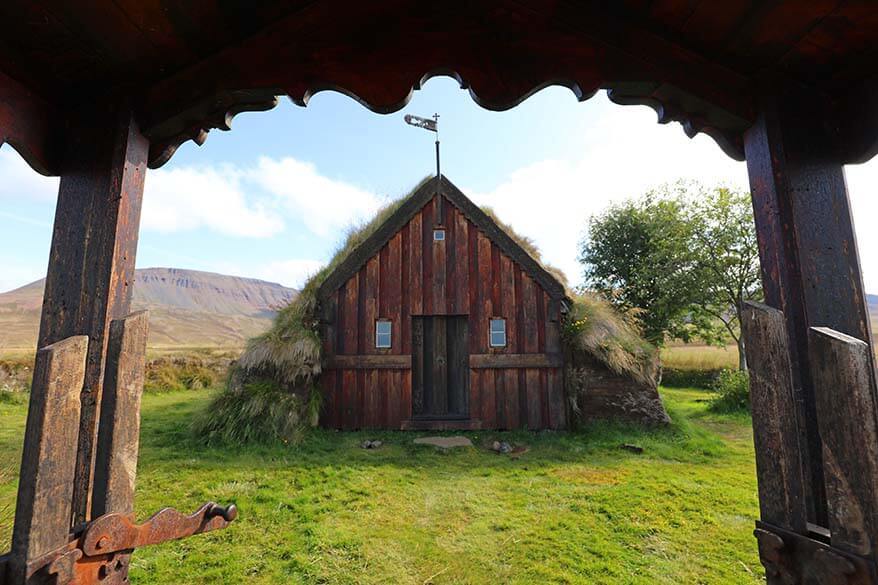 How to Get to Grafarkirkja
Please note that there are two churches with the same name in Iceland – one in the south of the country and this one, in the north. Here you can find the exact location of this Grafarkirkja on the map.
The road towards the church is indicated with a very small sign 'Grefarkirkja' next to road 76, a few kilometers south of Hofsos. It's not well-advertised, so if you are not looking for it, you'll probably miss it.
Once off the main road, there is a gate that you'll have to open (and close!) in order to reach the little parking area with some information panels. From there, you can walk to the church on foot. It's just a short walk of a few minutes and you'll see the church in the fields in the distance, so you can't really go wrong.
Good to know: The whole visit doesn't require more than 15-30 minutes.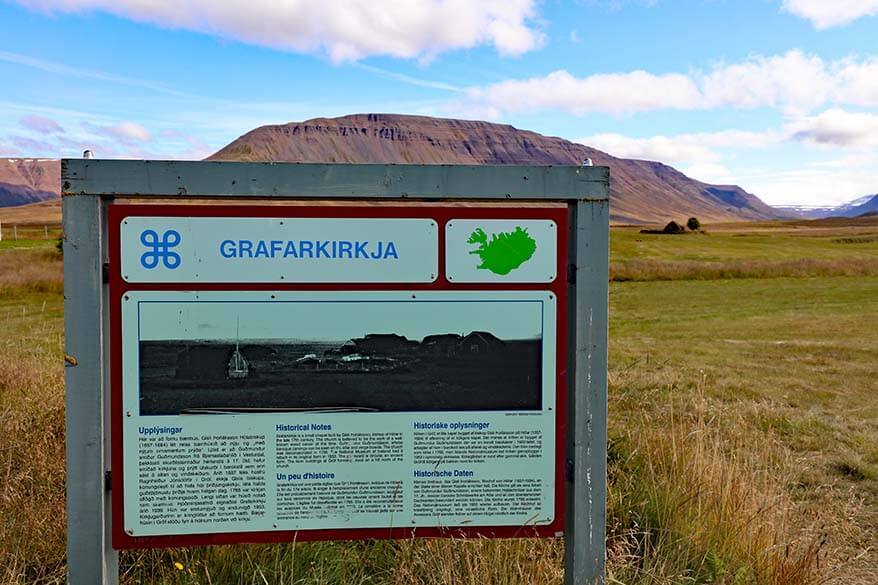 Hofsós
Hofsós is a tiny fishermen's town that lies somewhat off Road 76. At first sight, this sleepy village with a population of just around 200 people, doesn't look any special or even worth visiting. You'd just drive past it and never notice… While the town has a rich history, the main attraction that has finally put it on the tourist radar is its new swimming pool (see further below).
Hofsos dates back to the 1500s and it used to be known as a trading center. In more recent history, it became known as the departure port for many of Iceland's emigrants to North America. In that period, about 16,000 people left the country, shrinking the total size of Iceland's population to just 88,000.
If you want to learn more about Icelandic emigration in the late 19th and early 20th centuries, don't miss the Icelandic Emigration Center in Hofsos. It's open daily from June through August, from 11 am to 6 pm.
There isn't that much else to do in Hofsos. The town houses several small accommodations, camping, restaurant, and Hofsóskirkja church. But, as already mentioned, there is one main reason to come here and that's the stunning designer pool. Take a look below!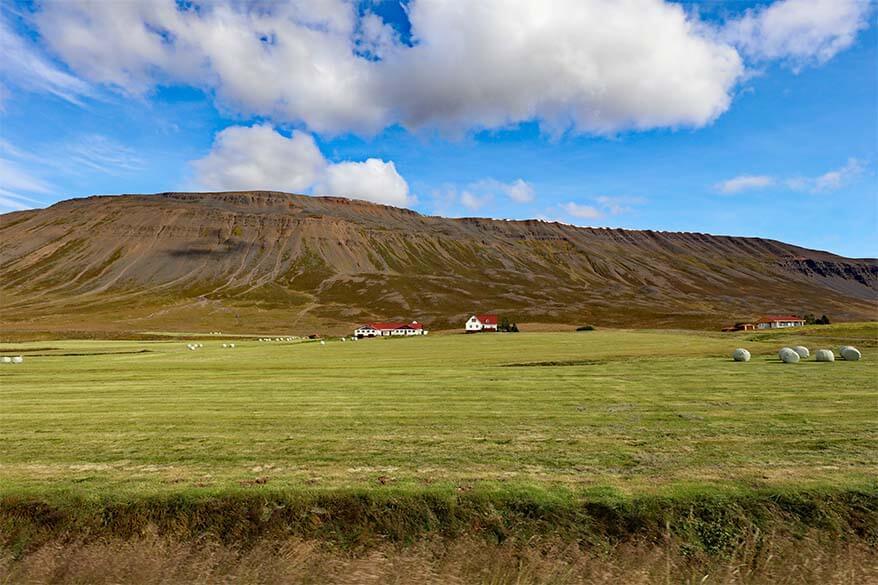 Hofsós Swimming Pool
This simple modern geothermal pool would not look particularly special in different surroundings. However, built into the hillside above the fjord Hofsos pool (Sundlaugin á Hofsósi) is a thing of beauty! From all the pools we have visited in Iceland (and there are many), this was by far our favorite. Kids absolutely loved it as well.
Located on the cliff, the pool offers the most spectacular views across the entire Skagafjörður to Mt. Tindastóll on the other side of the fjord. In the distance, you can also see Drangey Island. Legend has it that the Viking Grettir swam there to escape a battle on the shore. The pool faces the island directly, allowing users to feel as if they're swimming the same route Grettir took.
Designed by the architect of Iceland's Blue Lagoon, the pool was a gift to the town by two local heiresses. Although not a true infinity pool, it has the feel of one, giving you the sense that you could easily swim off its edge and into the fjord!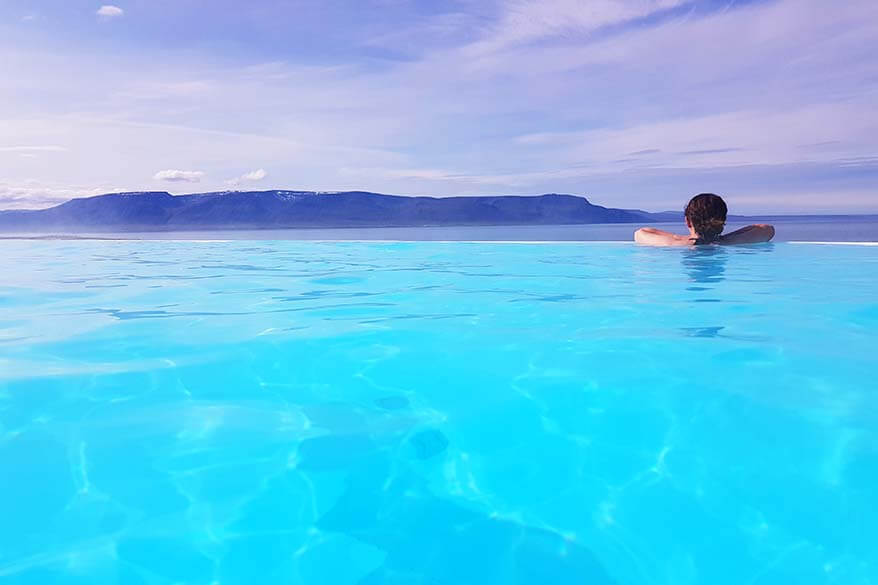 Although heated, the pool can feel a little cool at times. However, there are also adjacent hot tubs that are even warmer. So you can always find a spot that's just perfect for you.
While not the cheapest pool in Iceland, it's still very affordable for Icelandic standards. At the time we visited, it cost 1000 ISK (+-8USD) for adults and 300 ISK (2,5 USD) for kids above 6. The facilities are spotlessly clean and there are lockers for valuables and baskets for your clothes.
Opening hours: 7 am to 9 pm from June to August. 7 am to 8 pm weekdays and 11 am to 6 pm weekends in September. 7 am to 1 pm and then 5 pm to 8 pm weekdays and 11 am to 4 pm weekends in winter. For more information, please consult their website.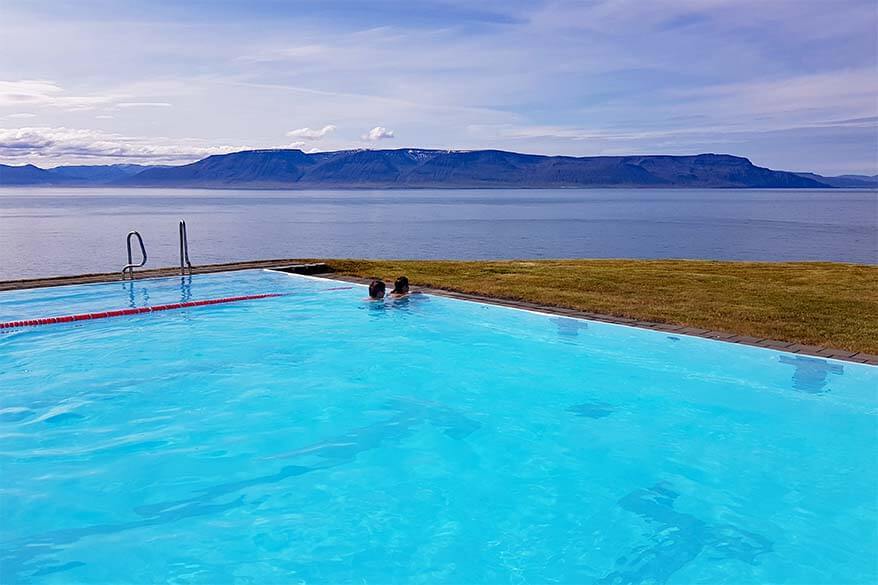 One Day on Tröllaskagi Peninsula – Our Itinerary
We had just one day for Tröllaskagi Peninsula and visited it on our way from Blönduós to Akureyri/ Lake Myvatn area. If I were to do this again, I'd spend a few days on Tröllaskagi Peninsula and explore it deeper. But I realize that for many people traveling to Iceland for the first time, it might be hard to add this area to their itinerary even just for one day…
So here is our itinerary, that will hopefully help you add a detour to the stunning Tröllaskagi Peninsula to your North Iceland itinerary as well. In addition to the above-mentioned places of the Trollaskagi Peninsula, we also visited Glaumbær Farm & Museum, and some other smaller places on that same day. But for the sake of simplicity, here I only mention the must-see places of this small area.
You can also turn this itinerary around, or start and end in Akureyri – whatever suits your travel plan better. But at least, it should give you a good idea of what you can see and do in a day.
This is our Trollaskagi Peninsula itinerary:
Drive from Blönduós to Víðimýrarkirkja: 48km, 50 min.
Víðimýrarkirkja turf church. Short visit.
Drive to Glaumbær: 10km, 10min.
Glaumbær Farm & Museum. Plan 30-45 minutes.
Drive Glaumbær to Sauðárkrókur: 18km, 15min.
Sauðárkrókur – here you could book a boat tour to Drangey Island, but that might be hard to fit in if you only have one day in the area.
Drive from Sauðárkrókur to Grafarkirkja: 33km, 30min.
Grafarkirkja. Short visit and picnic lunch.
Drive from Grafarkirkja to Hofsos: 4km, 5min.
Hofsos Pool. Plan at least an hour.
Drive from Hofsos to Siglufjörður: 60km, 50min.
Siglufjörður. Plan at least 2 hours to see the town and visit the Herring Era Museum. More info: What to do in Siglufjörður. If I were to do this trip again, I would stay in Siglufjordur for at least one night. Check out the highly-rated beautiful Siglo Hotel.
Drive from Siglufjörður to Akureyri: 80km, 1h15. Alternatively from Siglufjörður to Mývatn: 160km, 2h20.
TIP: If you are short on time but have to drive from Akureyri to Blonduos (or Blonduos to Akureyri), and the weather is nice and the roads are good, it might still be worthwhile driving along the Troll Peninsula instead of just following the Ring Road. The area is really scenic and road 76 is so beautiful! Taking the scenic route via Siglufjordur would add about 90km, 1,5 hrs to your driving time, compared to just driving on the Ring Road.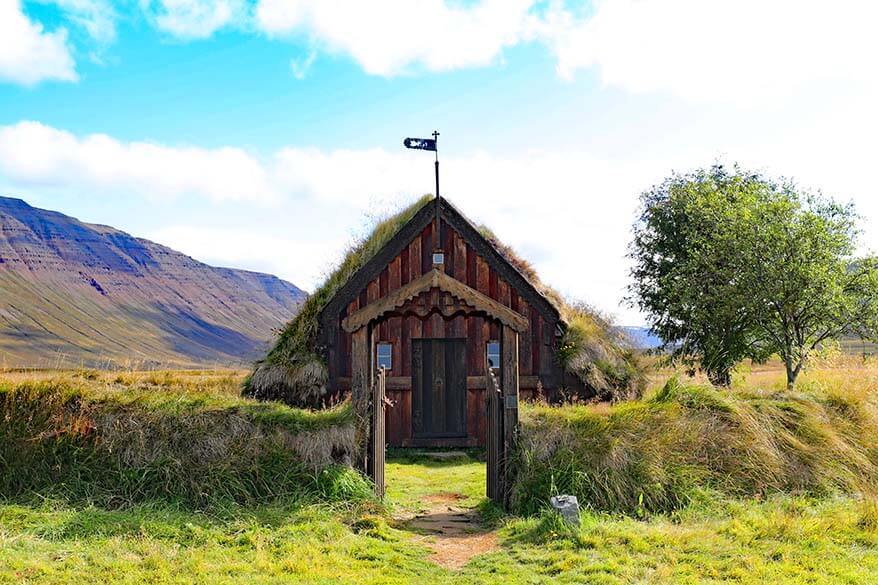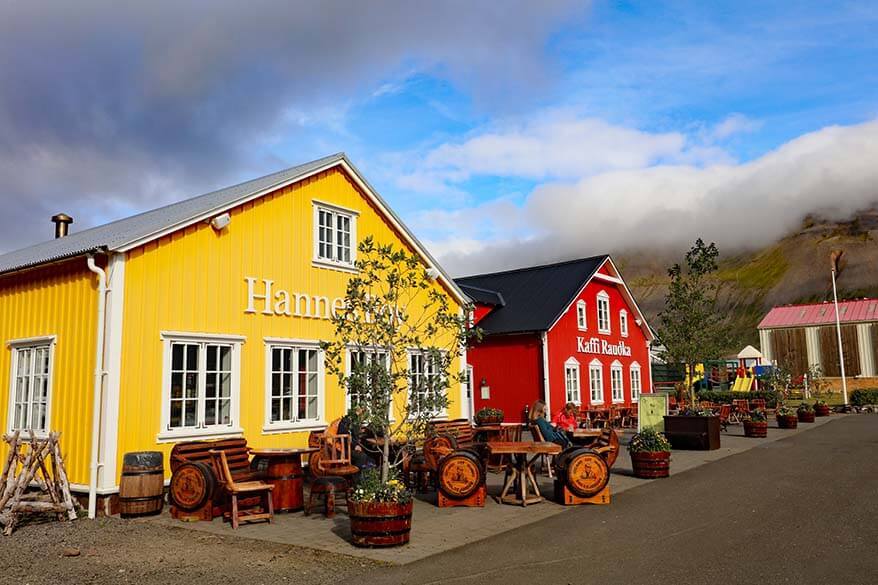 Map of the Best Places on Tröllaskagi Peninsula
In order to help you plan your trip and give you a better idea of where everything is, I created this map indicating the best places to see on Trollaskagi Peninsula that are mentioned in our article.
How to Use This Map: Use your computer mouse (or fingers) to zoom in or out. Click on the icons to get more information about each place. Click the arrow on the left top corner for the index. Click the star next to the title of the map to add this map to your Google Maps account. To view the saved map on your smartphone or PC, open Google Maps, click the menu button, and go to 'Your Places'/'Maps'.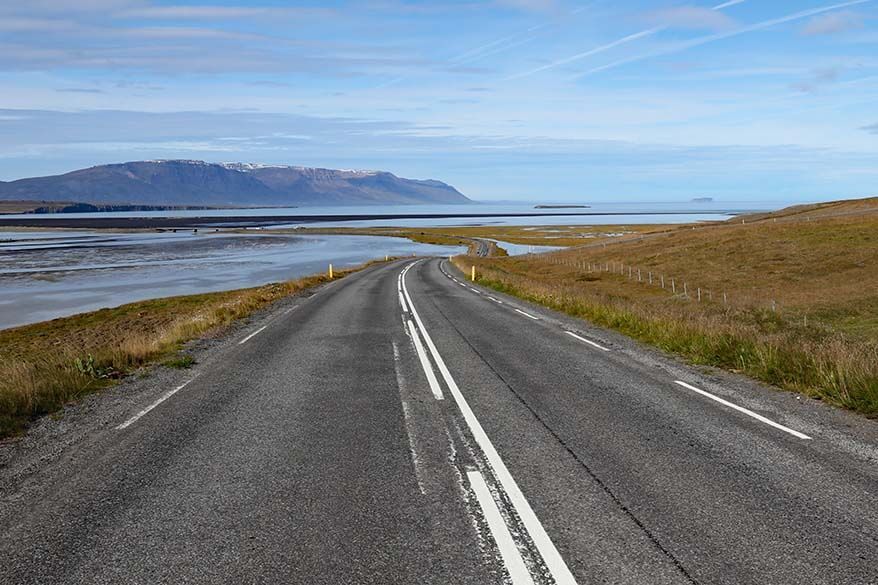 Planning a trip to this part of North Iceland and have any questions? Leave a reply below!
More travel inspiration for North & West Iceland:
More tips for your trip to Iceland:
If you found this post useful, don't forget to bookmark it and share it with your friends. Are you on Pinterest? Pin these images!