Thinking of spending a week in Iceland and wondering how to plan your time and what's the best 7 days Iceland itinerary? We have been to Iceland six times, in different seasons, and I can tell you that there is no one 'best' itinerary that covers all the nicest places in Iceland in 7 days. For that, a week is simply not enough.
That being said, with seven days in Iceland, you can see some of the most stunning scenery and have some of the most unforgettable experiences that will make you fall in love with this unique country. In this article, we'll show you one of the best ways to do that.
In this guide, you can find a detailed 7-day Iceland itinerary that brings you to some of the best places in Iceland in one week. At the bottom of this article, you can find the map of this itinerary – it indicates all the places mentioned in this guide.
Good to know: This self-drive Iceland tour starts and ends in Keflavik airport (near Reykjavik) and can best be done between May and September. It includes all the musts as well as some lesser-visited places that will make your trip more special. We also include lots of practical tips, some alternative suggestions, and we made a detailed map to help you plan your trip. Find out!
!!! Visiting Iceland in summer or in winter is like traveling to two different countries. So you can't just rely on a summer itinerary if traveling during the winter months… If you are visiting Iceland between October and April, please see our detailed Iceland winter itinerary for one week – it covers all the best places in one week, taking into account shorter days, (even more) unpredictable weather, and winter-specific activities.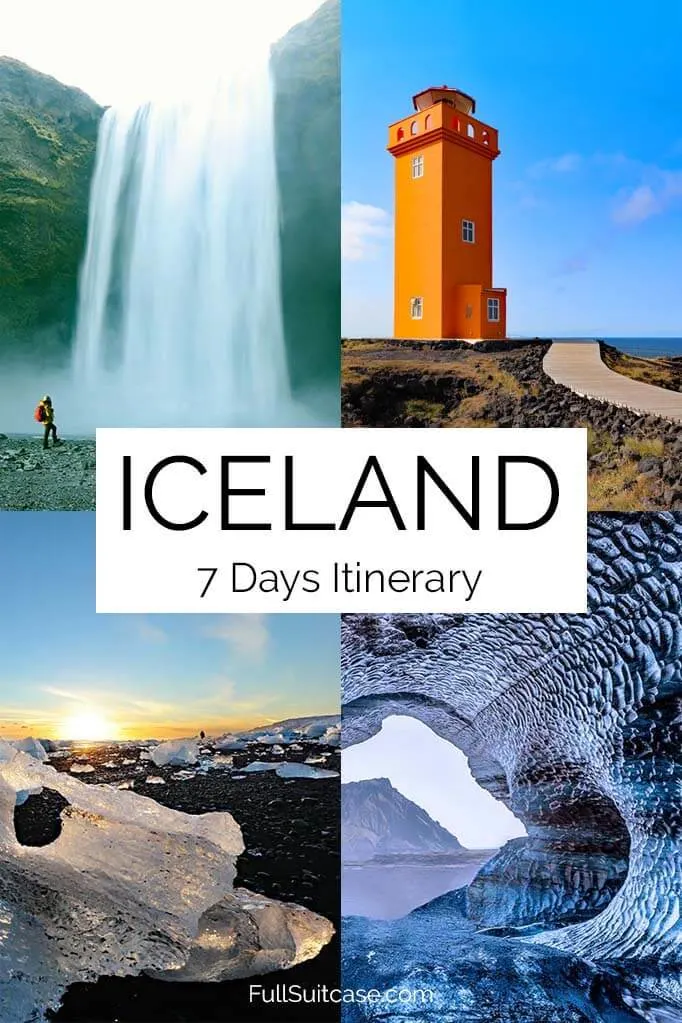 Below, is an overview of our suggested 7-day Iceland itinerary and you can find all the details per day if you scroll further down. As you can see, this itinerary covers all the best places in the southwest of the country but doesn't go all around the island. In my opinion, you need at least 9-10 days to actually enjoy the entire Ring Road, so with just 7 days, I recommend driving less and exploring more without trying to see 'everything'.
Still, this itinerary covers a lot of ground and so your days will be quite packed. At the same time, this is a trip that gives you enough time to actually explore the main attractions and not just take a picture and move on to the next place. We also included some additional suggestions such as a glacier hike or a whale-watching tour. If you do one or two of these activities, it will make your Iceland trip even more special.
TIP: If you absolutely want to drive the entire Ring Road of Iceland in a week, we have also included a suggested alternative itinerary at the end of this article. Driving the whole Ring Road in such a short time will be very rushed and you risk getting overwhelmed with the planning and too tired from all the driving to still be able to enjoy it. We recommend at least 10 days for a self-drive trip around the entire country – see Iceland Ring Road itinerary for more details.
Good to know: You'll need a car for this trip. We recommend renting a car at Keflavik airport for the entire duration of your trip. We personally use and recommend the RentalCars website for your car hire. It allows you to easily compare several suppliers and find the best deal for your trip. In addition, they offer excellent insurance coverage that is much cheaper than what you pay when booking with local companies directly. Check it out! And no, you don't need a 4×4 for this itinerary (and if visiting in summer), but it's always nice to have an SUV or a 4WD in Iceland.
Iceland 7 Days Itinerary:
Good to know: There are many ways to plan a 7-day trip in Iceland and driving times and distances will highly depend on what you choose to do and where you stay each day.
In this itinerary, we include some of the best places that we think are worth your time the most, without having to cover huge distances each day. For every day, we include several suggestions on where to stay, explaining the benefits and disadvantages of each choice.
Without further ado, this is our suggested 7-day Iceland itinerary:
DAY 1: Arrival, Blue Lagoon & drive to Snaefellsnes Peninsula
Driving distance/time depends a bit on where exactly you choose to stay. It's about 220 km/ 3 hours drive from Keflavik airport to Snaefellsnes Peninsula or 115 km/ 1h15 to Borgarnes (more info below).
Blue Lagoon is a famous geothermal pool near Reykjavik and one of the most popular tourist attractions in Iceland. Since it's located close to Keflavik airport (20 min drive), many people choose to visit the Blue Lagoon right upon arrival in Iceland and before continuing their trip or heading to Reykjavik city which is about 45 minutes drive from the airport.
Indeed, it might be a nice way to relax after a flight, especially if you arrive in Iceland early in the morning on a red-eye flight from the US. Going to your hotel in Reykjavik isn't a good option anyway as most hotels don't allow early check-in, so Blue Lagoon can be a nice place to visit on your first day in Iceland.
Good to know: Blue Lagoon is extremely popular and you really have to book your tickets in advance. Count 2-3 hours for a visit, but you can easily spend more time, especially if you decide to have lunch at their restaurant as well.
After visiting the Blue Lagoon, you could head to Reykjavik and explore the city a bit. However, I only recommend this If your flight arrives late. If your flight arrives early in the morning or during the day and you want to make the most of this trip, just skip Reykjavik altogether and drive straight to Snaefellsnes Peninsula on the first day already.
It's about 1h 45 – 2 hours drive from Reykjavik city and so easily doable on the first day. We once did this even though our flight only arrived at 7 PM (but I'd only risk this in summer and wouldn't stop for a swim first, of course)…
Driving straight to Snaefellsnes Peninsula from Keflavik airport will give you a head start for the next day allowing more time to explore this beautiful part of Iceland. And you can visit Reykjavik at the end of the trip. It's better to end your trip in Reykjavik than to start it there anyway.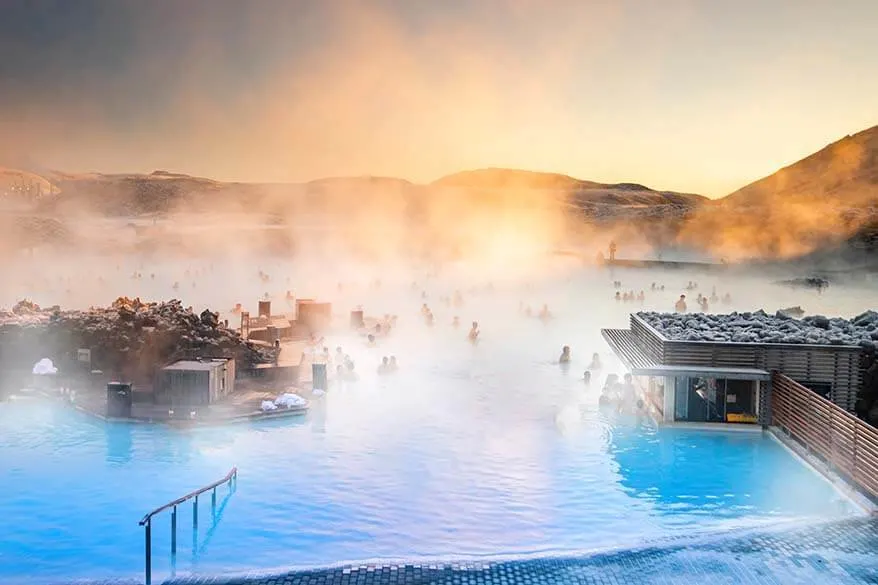 Where to stay: If you don't mind switching hotels every night, you could stay anywhere on Snaefellsnes Peninsula on this day. If you like to be in nature and immediately see some stunning scenery upon arrival, we recommend staying in either Hotel Budir or Hotel Arnarstapi. It's a beautiful place to start your trip. Both these hotels have very good restaurants, so no need to worry about food on your first day (although you may want to ask them to reserve a table for dinner in advance). Alternatively, see this guide for more suggestions on where to stay in Snaefellsnes Peninsula.
Alternative option: If you rather have the same accommodation for this and the next night or if you want to be in a bigger town, consider staying in Borgarnes for two nights. It's located along the Ring Road, just before Snaefellsnes Peninsula.
Staying here would mean that you have less driving on day 1 and you can still easily explore Snaefellsnes from here on day 2. Accommodations in this town are also cheaper than in Snaefellsnes, there are supermarkets and restaurants, and also a nice public pool with hot tubs where you could relax after a day of sightseeing. This pool could be a nice alternative to the Blue Lagoon, not to mention that it's much cheaper.
Good to know: In Iceland, almost every bigger town has a swimming pool with geothermal water. Most pools are really nice, usually very quiet, and they also have hot tubs and saunas. Furthermore, they cost a fraction of what the famous tourist-oriented geothermal baths cost. It's usually not more than 1000-1200 ISK (8-10 USD) per person, kids are often free of charge or pay just a minimal fee. Also, most of these pools are open late in the evening, but it's always good to check opening times online in advance.
TIP: Be sure to pack a quick-drying towel and swimwear for your trip to Iceland! More info and tips on what to pack for Iceland in summer and what to pack for Iceland in winter.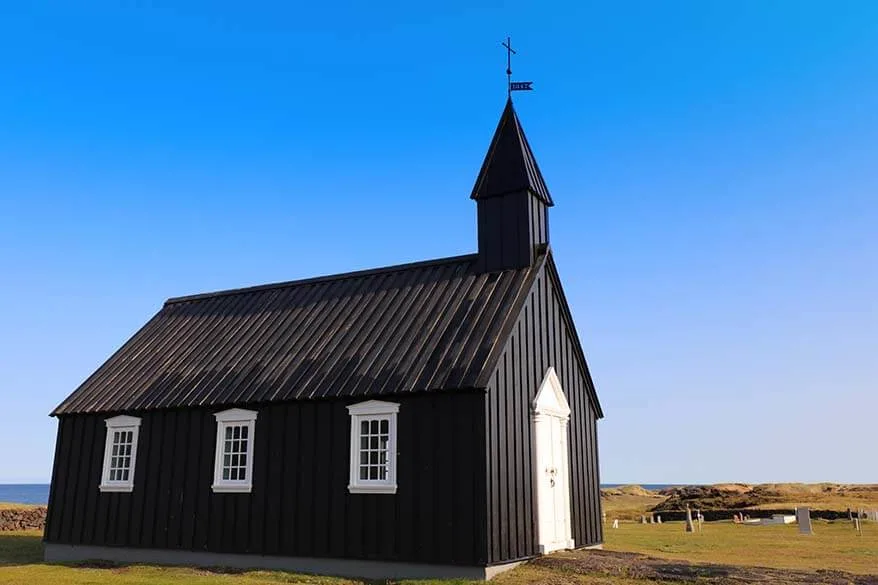 DAY 2: Snaefellsnes Peninsula
Driving time/distance depends on where you stay. If you start and end in Borgarnes, the whole tour of Snaefellsnes Peninsula and back will be about 300 km. If you start in Budir and end in Akranes (Hotel Laxarbakki), you'll cover about 225 km. As for how long it takes, be sure to start early and plan the whole day to explore all the amazing places in Snaefellsnes.
Snaefellsnes Peninsula is a wonderful place that has so much to offer – amazing scenery, beautiful coastlines with several lighthouses, stunning waterfalls, picturesque churches, and endless lava fields. You couldn't choose a better place to start your road trip in Iceland!
Most of the main sights are located at the far end of the Peninsula, are quite close to each other, and can be visited by driving the circular loop. It doesn't matter that much in which direction you drive, but most day tourists arriving from Reykjavik start in Budir and continue clockwise. So if you go in the other direction, you could avoid the biggest crowds in some areas. Either way, if you want to see all the main sights in a day, be sure to start early. You'll want to stay longer everywhere!
Must-see places are: Kirkjufell and Kirkjufellsfoss, Saxholar Crater, Djúpalónssandur, Londrangar View Point, Arnarstapi Cliffs, Rauðfeldsgjá Gorge, Búðakirkja, and Bjarnarfoss. But there's so much more than that!
TIP: For more information on what to see and where to go, please see our guide to the best places to see in Snaefellsnes Peninsula. For practical tips and a suggested one-day itinerary, please see our guide below.
LEARN MORE: Complete Guide to Visiting Snaefellsnes Peninsula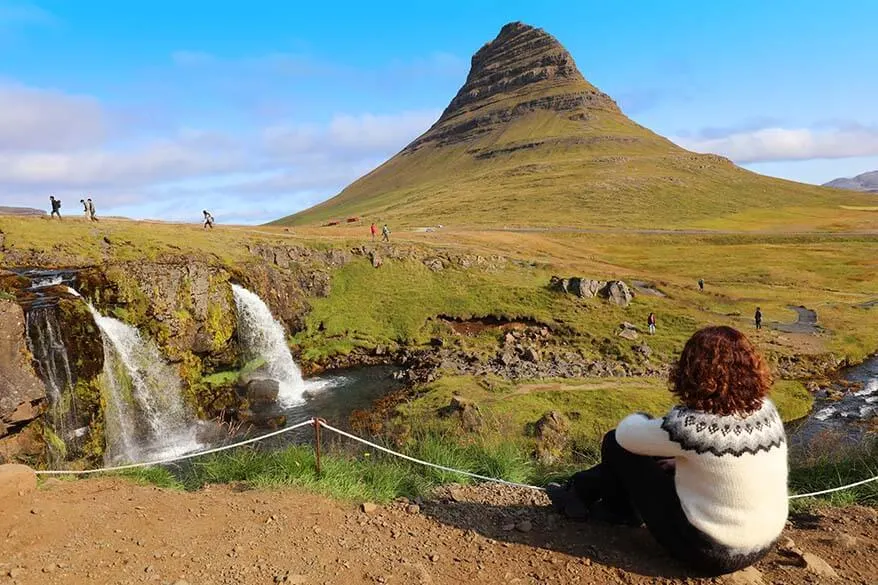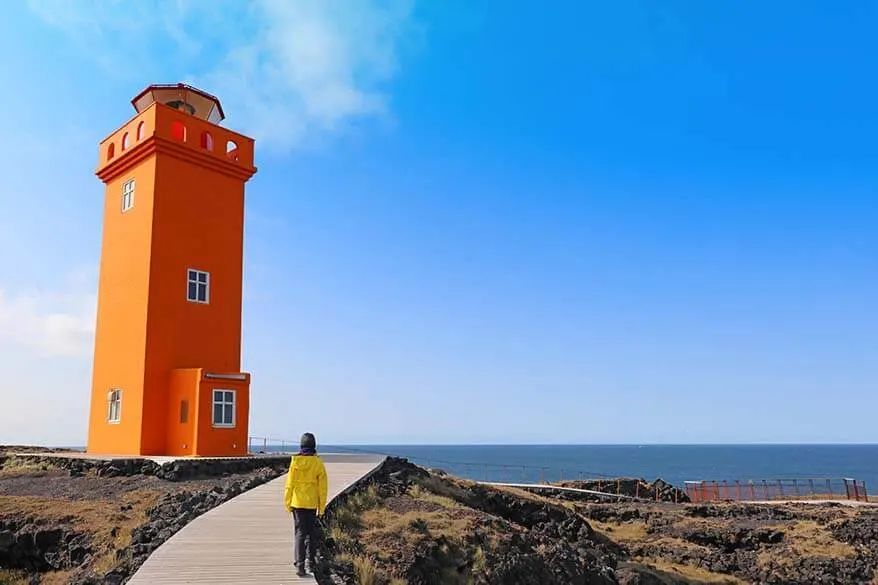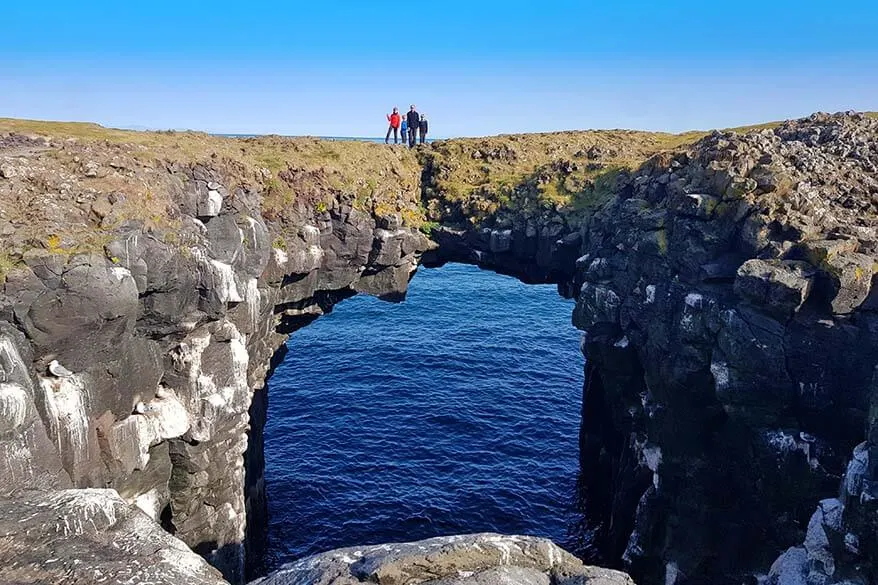 Where to stay: If you stayed in Borgarnes on day 1 of this itinerary, you could stay at the same hotel on day 2 as well.
If, however, you stayed in Arnarstapi or any other place on Snaefellsnes Peninsula, you may want to continue your trip a bit more in the direction of the Golden Circle. That way, you don't have to drive too far the next day. In that case, you could either stay in Borgarnes (see suggestions above) or choose a hotel a bit closer to the Golden Circle already.
One of the best-rated hotels in this area is Hotel Laxarbakki. They have apartments for all group sizes and they also have a restaurant where you can have dinner and breakfast. The location of this hotel would fit this itinerary quite well.
In fact, it could be good accommodation for day 1 as well – everything really depends on how much you want to drive on which day and how many different hotels you want to stay in. This hotel is about a 1-hour drive from Snaefellsnes Peninsula and about 45 minutes drive from your first stop on day 3 of this itinerary.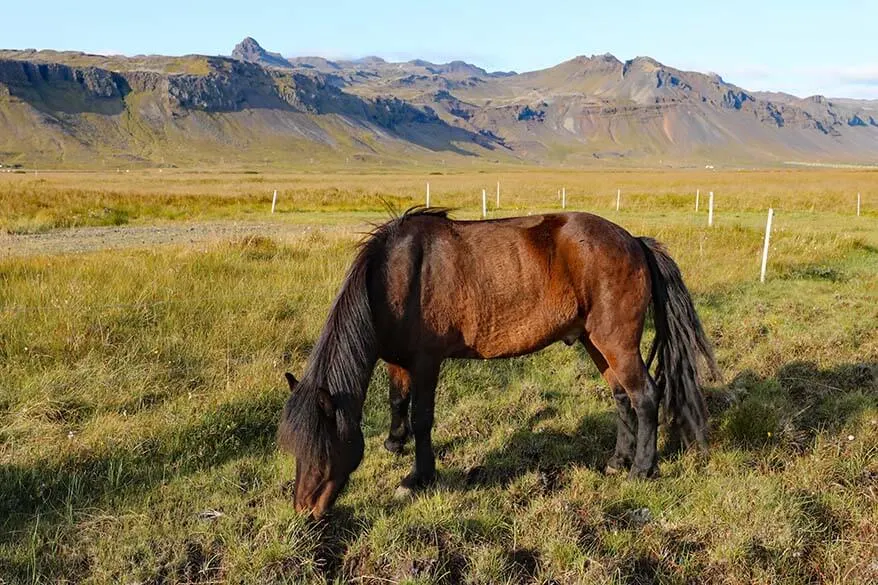 DAY 3: Golden Circle
Driving time/distance is about 250 km, 3h of driving time not including any stops. Count an entire day for this area.
Golden Circle is the most popular destination in Iceland, after the Blue Lagoon. This is one of those places that every tourist visiting Iceland will include in their itinerary. The reason is quite simple – there are lots of really nice natural landmarks here and it's close to Reykjavik. Some people find it too touristy and too crowded, but if this is your first time in Iceland, you'll definitely want to see this area as well.
The three main places that you have to see along the Golden Circle are Thingvellir National Park, Gullfoss Waterfall, and Geysir geothermal area with the active Strokkur Geyser that erupts at regular intervals every 5-7 minutes.
Other nice places include Öxarárfoss waterfall and Kerid Crater. If you are looking for a special place to eat, Fridheimar Tomato Farm and Restaurant is a very popular choice. If you are looking for a unique activity, you may want to consider Silfra Snorkeling in Thingvellir National Park.
There are also a few geothermal baths in this area – Secret Lagoon and Laugarvatn Fontana. It could be a nice way to end your day, but you can also just opt for a hotel with a hot tub or go to the public swimming pool in Hella town where I recommend staying on this day.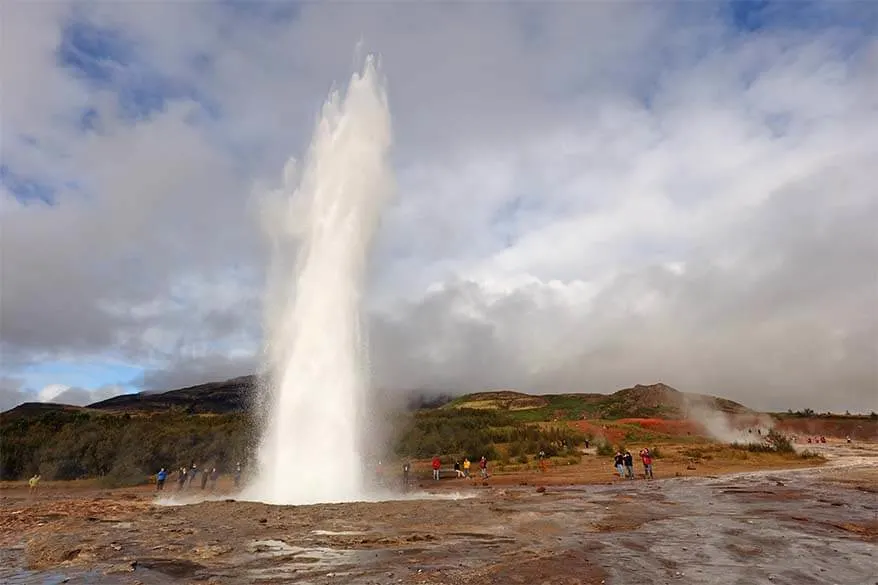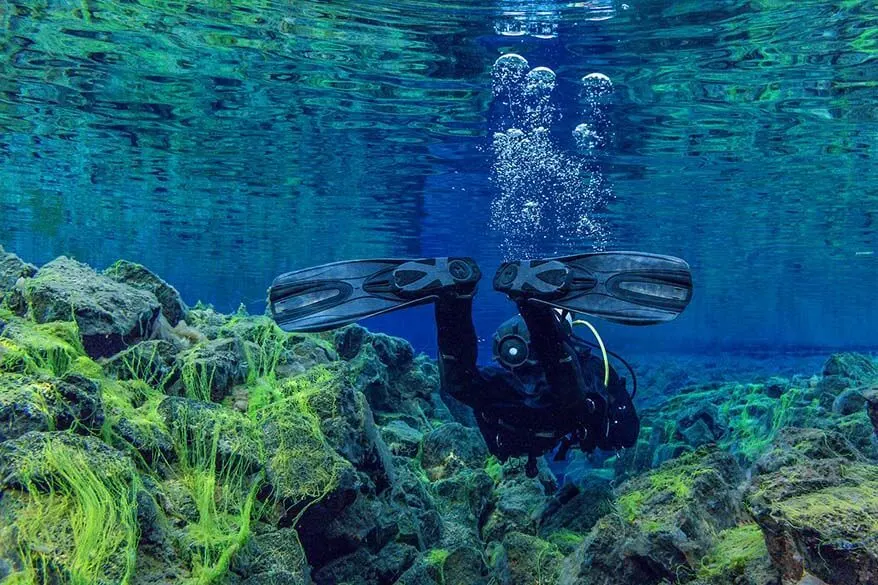 Your itinerary for this day could look like this: visit Thingvellir National Park (+ Silfra snorkeling if that's your thing), don't miss Öxarárfoss at Thingvellir, Geysir area, Gullfoss waterfall, late lunch at Fridheimar Tomato Farm, (maybe Secret Lagoon), Kerid Crater. Drive to Hella and visit a local pool in the evening instead of going to Secret Lagoon – see below.
If you are looking for even more details about visiting this area, please check out day 1 in our 4-day Iceland itinerary.
Where to stay: There are many accommodations in the Golden Circle area, but probably the best location for this itinerary would be staying in Hella town along the south coast. It's close to the Golden Circle and in the direction of the places that you'll be visiting next.
There are quite some accommodations and good facilities in and near Hella and also a nice public swimming pool. This is also a great place to stay if you want to take a day trip to the Icelandic highlands the next day – see below. So you could stay in Hella for two nights and not have to change hotels every night.
TIP: The nicest luxury hotel in this area is Hotel Ranga. On a mid-range budget, check out Stracta Hotel Hella (some rooms here have private hot tubs!) or Hotel Kanslarinn Hella (one of the top picks in the area). Here you can find the best deals for all Hella accommodation.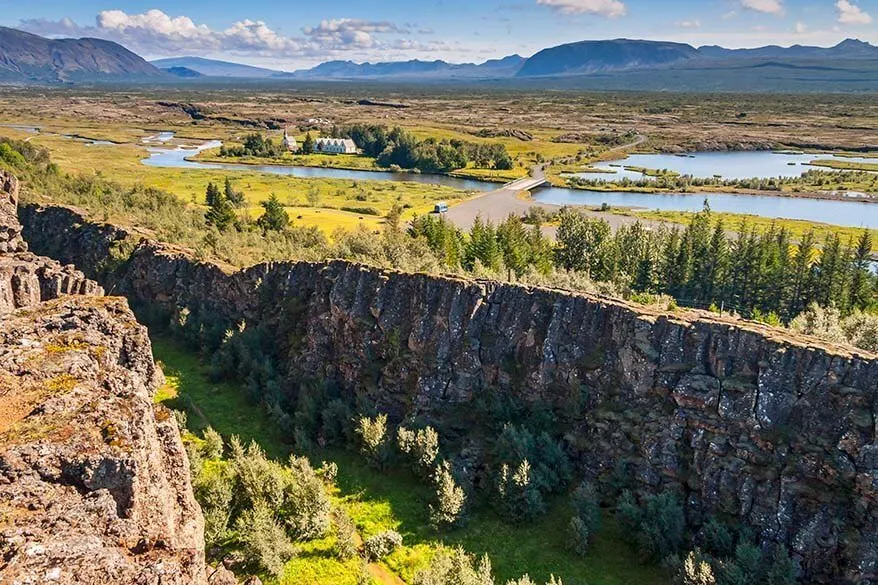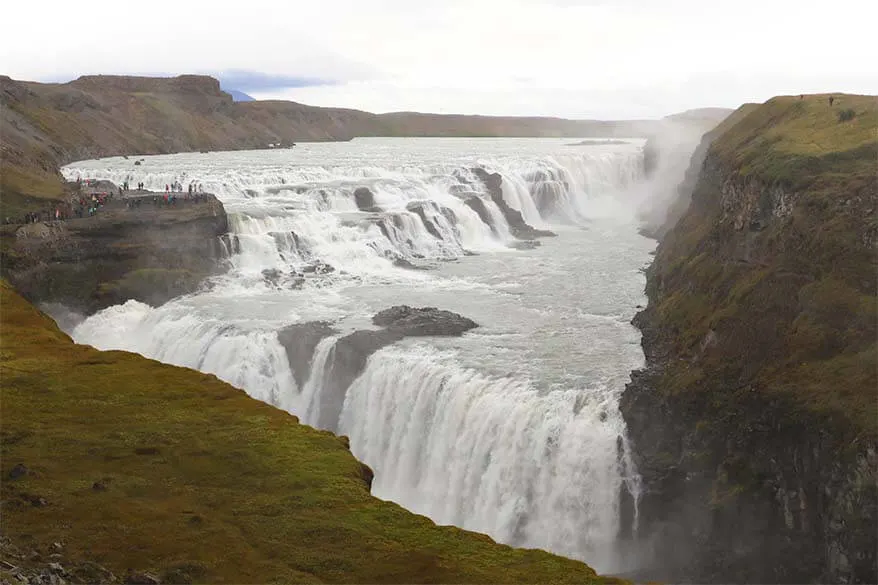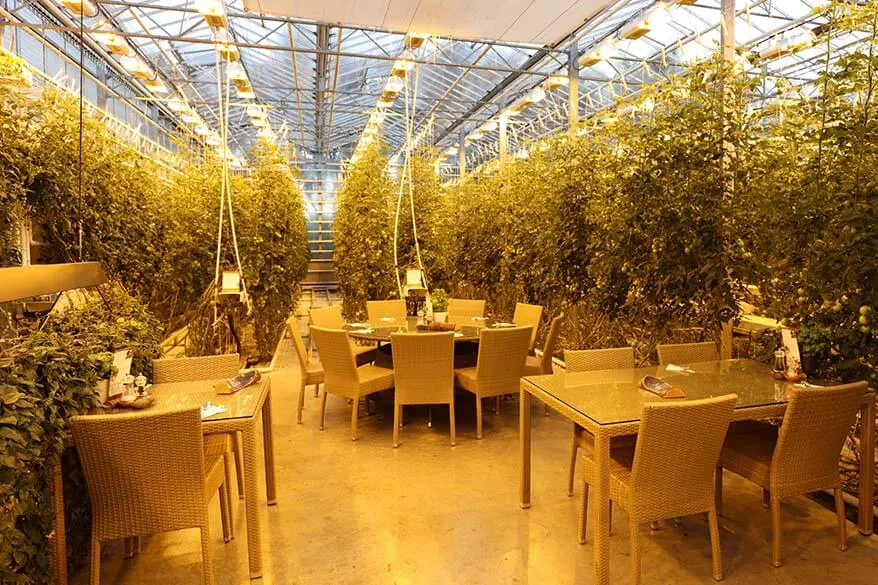 DAY 4: Heimaey Island or Icelandic Highlands
Driving time/distance depends on where you choose to visit. If you go to the highlands, go with a tour and they'll do all the driving. In that case, your day trip will probably take about 10 hours in total. If you go to Heimaey Island, it's about 45 km/ 30 minutes drive to the ferry from Hella, so 90km/ 1 hour of total driving time on this day.
On day 4 of your Iceland trip, I recommend that you get a bit off the beaten path and do something special by either taking a day trip to the Icelandic highlands or visiting Heimaey island just off the south coast. I have to be honest with you – most first-time visitors do not include any of these two places in their Iceland itinerary. But I think that visiting one of these places will make your entire trip so much more special. If you have 8 days in Iceland, consider visiting both of these!
Good to know: As already mentioned, this 7-day road trip is recommended in summer (+- from May to September), and that's also a great season to visit both – the highlands and Heimaye Island.
However, the highlands are usually not accessible before mid-June, so if you are planning a trip in May or early June, visit Heimaey Island instead. It's also an excellent time to see puffins there (they are usually around between May and August). If you are visiting later in the summer, you'll have to choose just one of these places as they both require an entire day. Or, plan 8 days in Iceland and do both.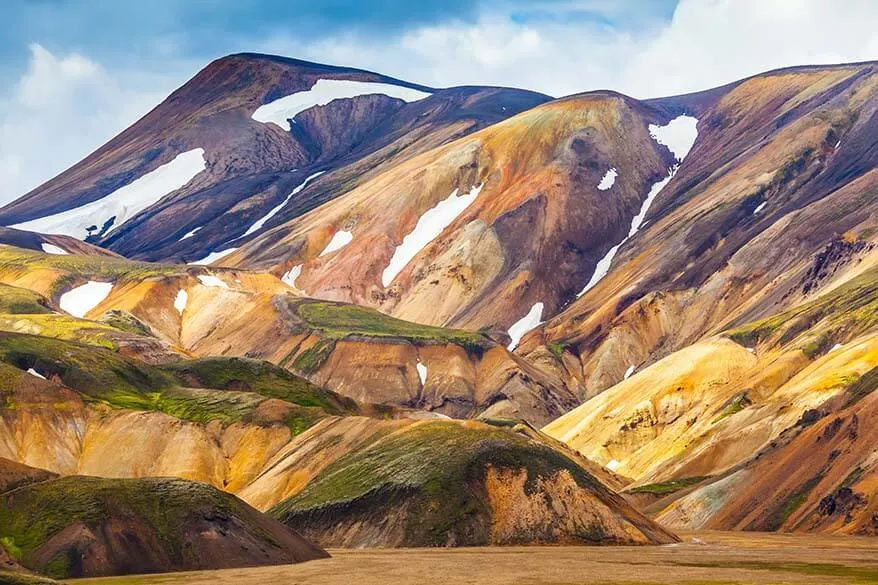 The Highlands or…
If you decide to go to the Icelandic highlands, we recommend that you visit Landmannalaugar. It's one of the most beautiful relatively easily accessible places in the highlands and it fits this itinerary very well. The scenery is absolutely breathtaking and it's like no other place you'll see during this week in Iceland. It's well worth it!
The best way to do this is by joining this popular tour to Landmannalaugar that can pick you up from Hella. Upon booking, choose the Reykjavik pickup option and afterwards send them a message to say that you'll actually be in Hella. By starting here, you save about 2 hours drive each way (so 4 hours in total), so your day isn't nearly as tiring as doing this tour from Reykjavik.
Good to know: You could also visit this part of the highlands on your own, but driving here requires a good 4×4 and insurance coverage that allows you to drive on the F roads. So because you don't really need an expensive 4×4 for the rest of this itinerary, we recommend renting a cheaper car and visiting the highlands with a tour.
TIP: If you have a higher budget, you could also opt for a private day tour instead. In that case, also contact the tour company to arrange to pick you up at your accommodation in Hella and not in Reykjavik.
Alternative option is to visit the Thorsmork area – it's also in the highlands, but very different than Landmannalaugar. For this place, you definitely need to go by a super jeep (you can find lots of tour options on Viator).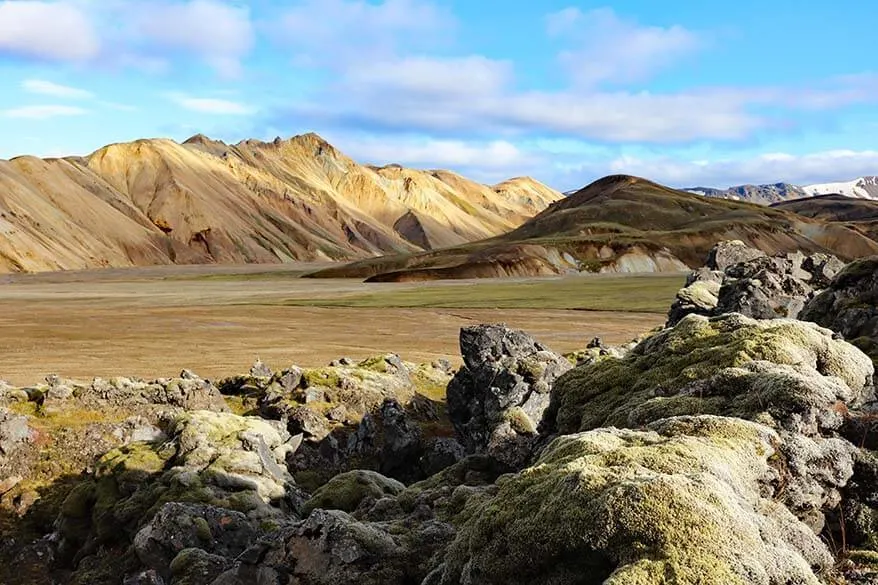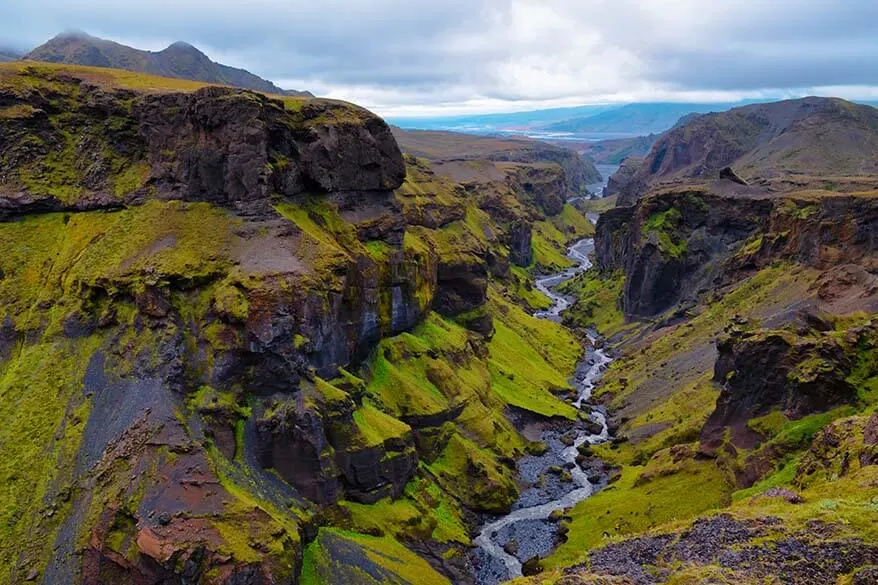 …or Heimaey Island
Heimaey Island is the only inhabited island of the Westman Islands archipelago, just off the south coast of Iceland. To get here, you'll need to take a ferry from Landeyjahöfn, about a 30-40 minutes drive from Hella. The ferry ride also takes about 40 minutes and you need to get there about half an hour in advance as well.
Here you can find ferry schedules and prices. If you want to be sure that you can visit the island on the day and on the ferry that you want, it's best to reserve in advance!
Once on the island, there are quite some interesting places to see – Eldheimar Museum and Sea Life Trust Beluga Whale Sanctuary are a must. You can also go hiking on Mount Eldfell, take a speed boat tour around the island (and maybe even see whales), explore the village, or go looking for puffins.
Please note that you don't need to bring your car to the island if you are just planning to stay close to town. So you can leave your car at the ferry terminal in Landeyjahöfn.
However, if you want to see puffins, the best location is about 5-6 km away from town. You can either walk (count more than an hour one way), rent a bike, bring your own car on the ferry (which is more expensive and spaces are limited), or go on a local tour. I recommend that you join this great 2-hour tour from Heimaey Harbor that not only brings you to the puffins but also gives you a great overview of what life is like on Heimaey Island.
TIP: In the article linked below, you can find all the details and practical information on how to visit Heimaey Island and what to see and do there.
LEARN MORE: Complete Guide to Visiting Heimaey Island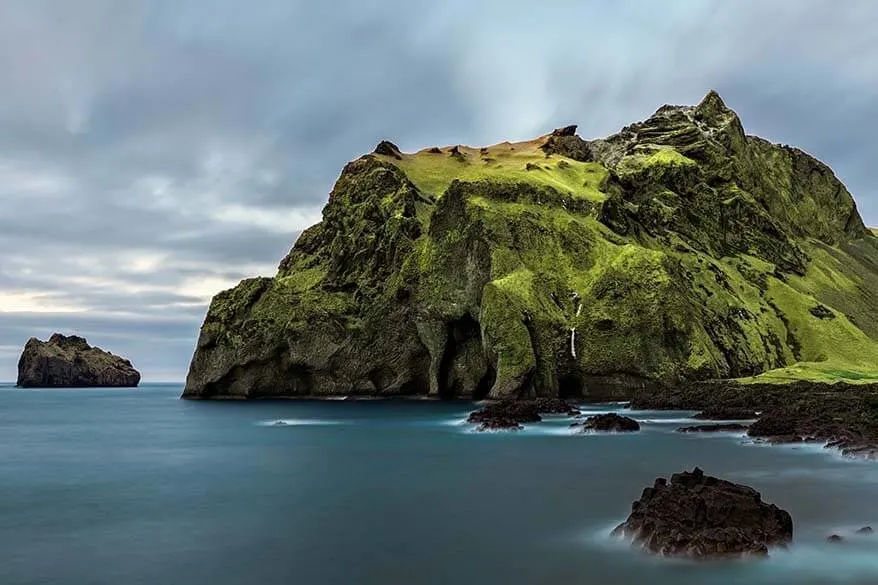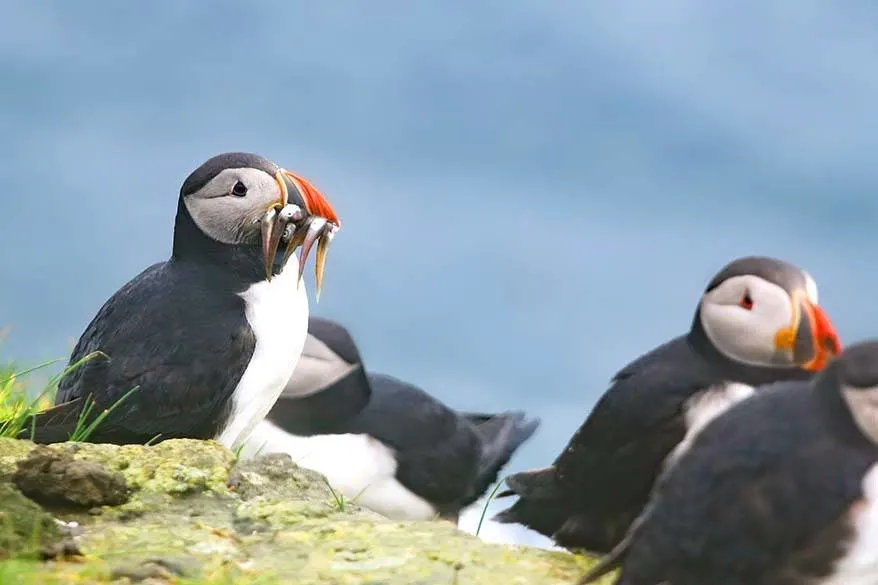 Where to stay: In the late afternoon or in the evening, take the ferry back to the mainland and drive back to your accommodation in Hella where you stayed last night. Alternatively, you could also choose to stay on the island (not really a must and you'd lose some time the next day) or choose a place close to Seljalandsfoss waterfall.
But the driving distances aren't big and I think you'll have a more relaxing trip if you just stay at the same hotel as the previous night.
TIP: If you visited Heimaey Island on this day, be sure to stop at Seljalandsfoss waterfall on your way back to the hotel (see more info about it on day 5 below). It's just on your way and it's likely to be much less busy here in the evening than the next morning.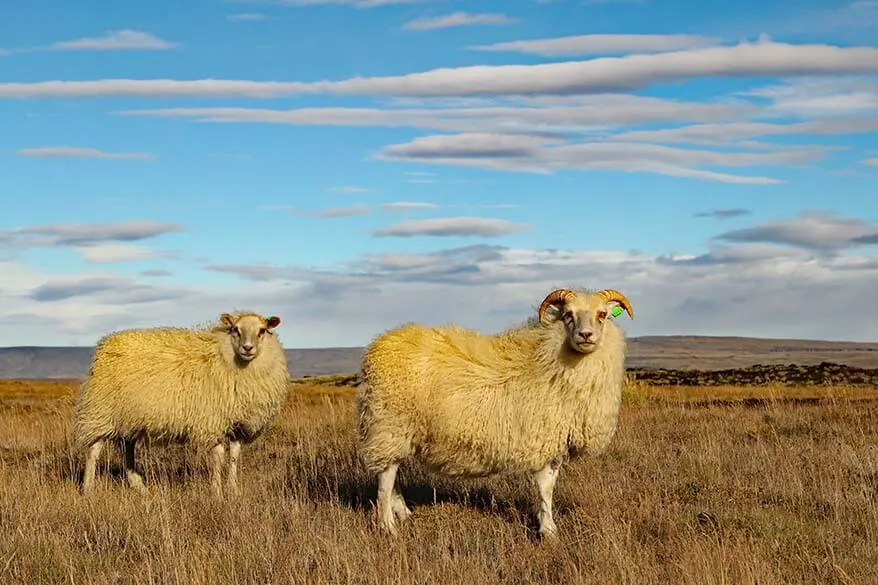 DAY 5: South Coast to Jokulsarlon Glacier Lagoon
Driving time/distance between Hella and Jokulsarlon Glacier Lagoon is about 300 km/ 3.5 hours driving time, not including sightseeing.
Iceland's South Coast is another extremely popular region that is included in most Iceland itineraries and is also one of the most popular tours from Reykjavik.
The way this 7-day Iceland itinerary is designed, you will be driving the south coast twice – first to get to Jokulsarlon Glacier Lagoon and then back in the direction of Reykjavik. So there are many possibilities on how you spend days 5 and 6 of this itinerary, depending on your interests, where you decide to stay, and the activities you choose. The itinerary suggested below is just an example, so use it just as an indication of what's possible and adjust it if needed.
The main places you have to see along the South Coast are Seljalandsfoss and Skogafoss waterfalls, the black sand beach in Vik – Reynisfjara, Fjaðrárgljúfur Canyon, Skaftafell National Park, and Jokulsarlon Glacier Lagoon and the famous Diamond Beach next to it.
Also nice to see is the scenery at Stokksnes, Hofskirkja church, Skogar Museum, Dyrhólaey lighthouse, Eldhraun Lava Fields, and Fjallsarlon glacier lagoon. In addition, there are some nice activities like glacier hiking or ice caves that you can visit here as well. In this itinerary, we split all these areas and activities over two days.
READ ALSO: Best Things to Do on the South Coast of Iceland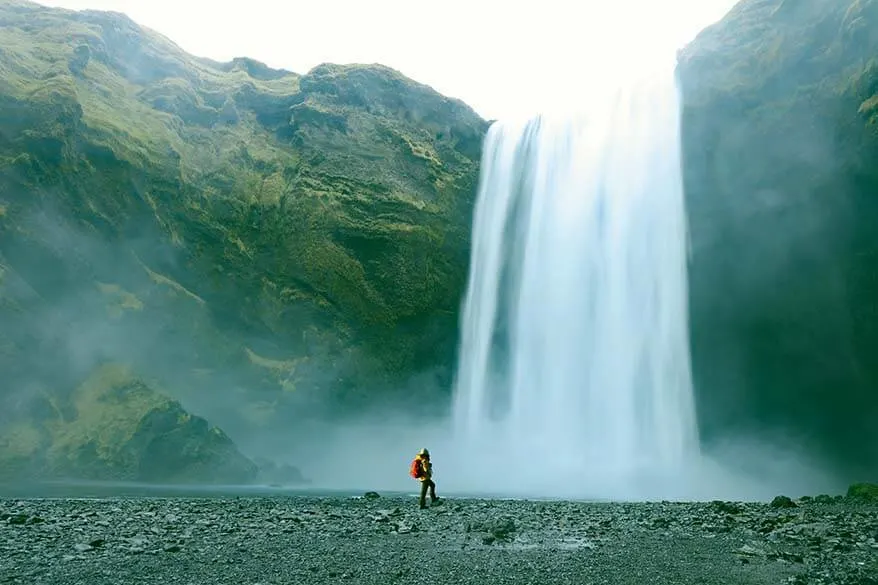 So on day 5 of this itinerary, I suggest that you visit the south coast and drive all the way to Jokulsarlon Glacier Lagoon. You could also visit Stokksnes on this day (the furthest point of this itinerary).
It might look like a lot to do in just a day, but most of these places are located right next to Ring Road and don't require that much time to visit. And if you find that it's too much for one day, you can also visit a few of these places on the way back in the direction of Reykjavik the next day.
Seljalandsfoss is one of the most famous waterfalls in Iceland, best known as a waterfall where you can walk behind the falling water. It's a very popular place along the South Coast, so if you haven't visited it on the previous day, get here as early as you can.
Just a 5-minutes walk to the left from this waterfall, you can find a real hidden gem – Gljúfrabúi waterfall. It's indeed hidden inside the gorge, so many people miss it. Be sure to check it out!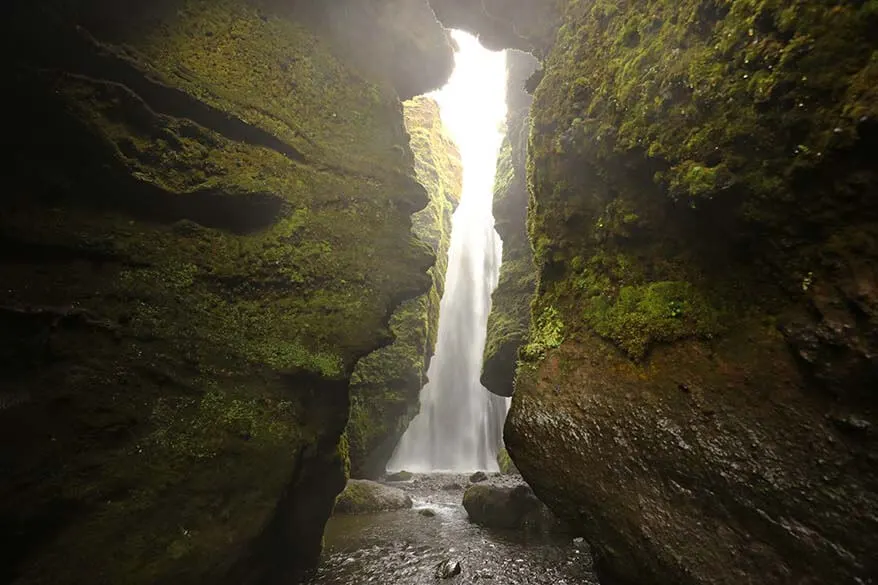 After that, stop at Skogafoss waterfall (also try to beat the crowds by getting there early). While it's not a must, I highly recommend that you also pay a visit to Skogar Museum, just a 5-minute drive from the waterfall parking. It's an open-air museum where you can see Icelandic turf houses – well worth a visit (opening times and more info here).
Continue along the south coast to Vik and visit the famous black-sand beach Reynisfjara. Also the nearby Dyrhólaey lighthouse and Kirkjufjara beach are worth a short visit.
Another nice stop along the Ring Road in the direction of Jokulsarlon is Fjaðrárgljúfur Canyon. Also, if you are interested in visiting Stokksnes, you probably want to go there first before coming back to the Jokulsarlon area where I recommend staying for the night.
If you can time to be at Jokulsarlon Glacier Lagoon around sunset, that would be amazing. The Diamond Beach across the road from the glacier lagoon is usually wonderful when icebergs are lit by the evening sun.
During the day, you can also take boat tours on the glacier lagoon (the last ones run around 6-6.30 PM). So if you want to do that, be sure to book the last tour in advance and plan your day in such a way that you can get there on time. Alternatively, you can take the very first tour the next morning. Or simply walk around and enjoy the ever-changing scenery of the glacial lagoon from the shore.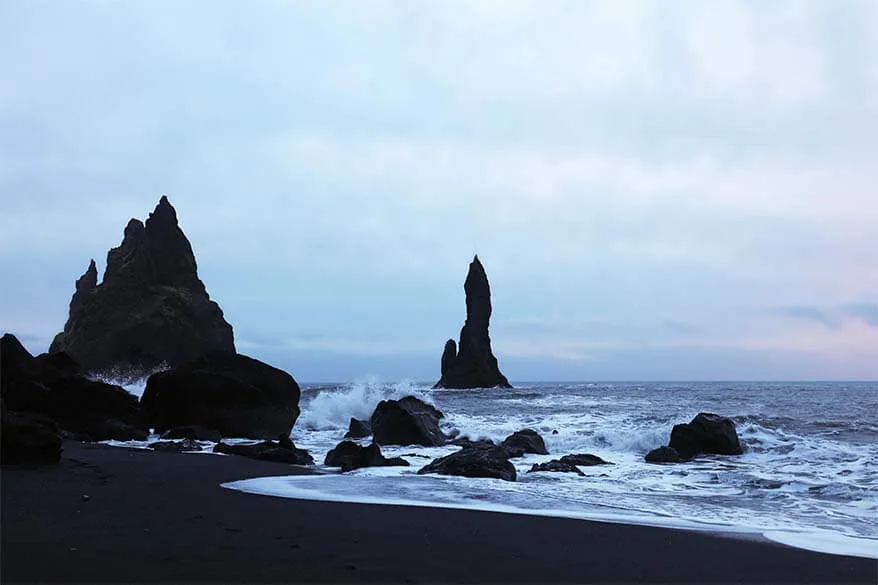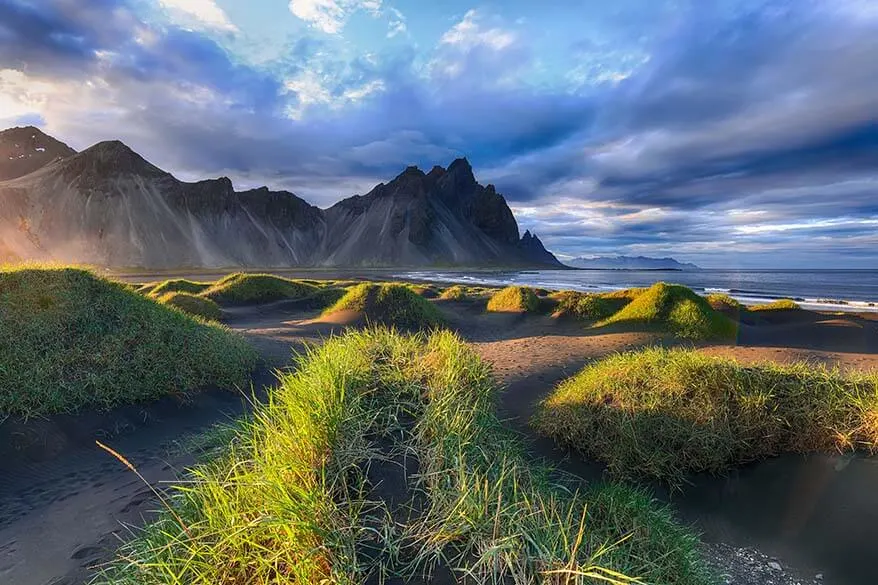 Where to stay: I recommend spending a night close to Jokulsarlon Glacier Lagoon. By staying nearby, you can visit this incredible place late in the evening or early in the morning when there are no day tourists around. It's also amazing being able to see the glacier lagoon and the icebergs at sunset!
The nicest and best-located hotels in this area are Fosshotel Glacier Lagoon and Hali Country Hotel. Here you can find more suggestions on where to stay near Jokulsarlon.
Alternative – if you prefer fewer hotels on this road trip – you could stay in the area around Kirkjubæjarklaustur for two nights and visit the places mentioned for this and the next day in a somewhat different order. Just take a look at the map, places you want to visit, and activities you want to do, and see what makes the most sense for you. Kirkjubæjarklaustur is located about halfway between Vik and Jokulsarlon and is a good base for this area.
Good to know: There are very few accommodations in this area and they tend to sell out fast. If you are traveling in the high season, booking long in advance is essential!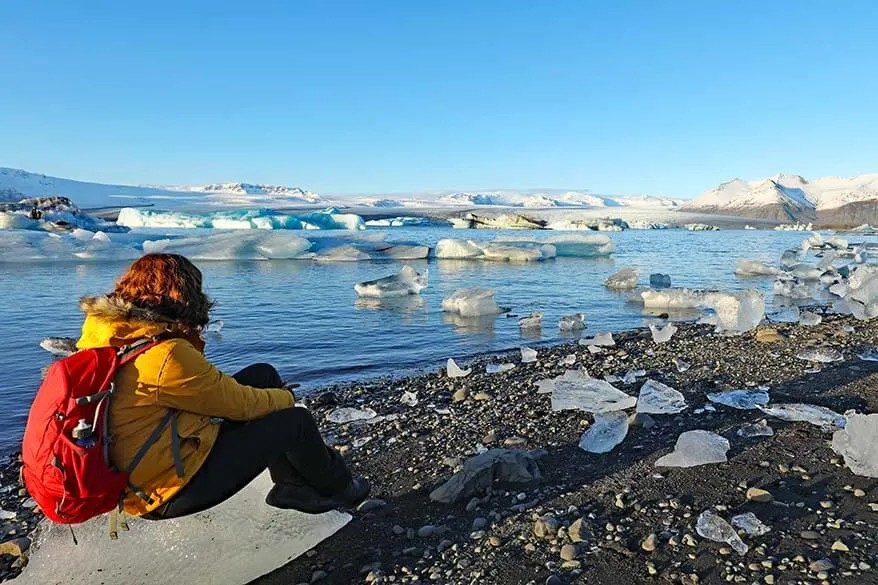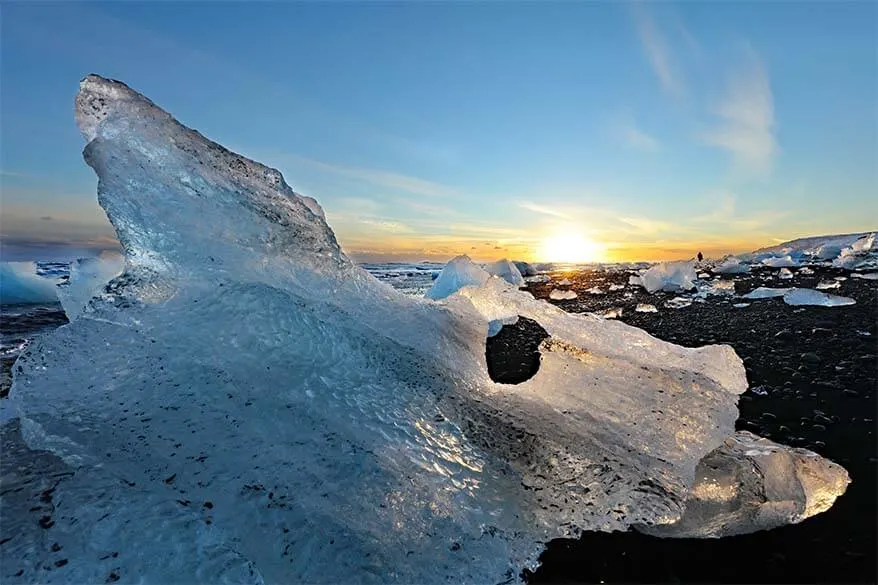 DAY 6: Skaftafell, Glaciers, Vik
Driving time/distance between Jokulsarlon Glacier Lagoon and Vik is about 190 km/ 2.5 hours driving time, not including sightseeing.
Today, you can visit Jokulsarlon Glacier Lagoon (if not done yet) and then continue back along the South Coast in the direction of Vik. If there were any places that you skipped the previous day, you could stop there on your way back. In addition, you can go hiking, book a glacier hike, or go on an ice cave tour.
This is what your day could look like: visit Jokulsarlon, stop at Hofskirkja, do a short hike at Skaftafell – Vatnajökull National Park, book a glacier hike near Skaftafell OR an ice cave tour from Vik. If none of this interests you, check out Icelandic Lava Show in Vik instead.
In the morning, head to Jokulsarlon Glacier Lagoon and explore Diamond Beach if you didn't see it the night before. Even if you did, it's a really special place that you'll likely be glad to return to again, also because the scenery here changes all the time.
You can also take a boat tour on the lagoon (if not done the day before), just be sure to go on the very first tour in the morning so that you have plenty of time for other activities afterwards. The earliest tours usually start at around 9-9.30 AM and some of them only take half an hour, so you can easily do that if you want to.
TIP: You can also visit a smaller glacier lagoon nearby, Fjallsarlon. It's just a few minutes drive from Jokulsarlon, but it's less known and there are usually hardly any people there. Also, Hofskirkja turf church is a nice short stop along the Ring Road.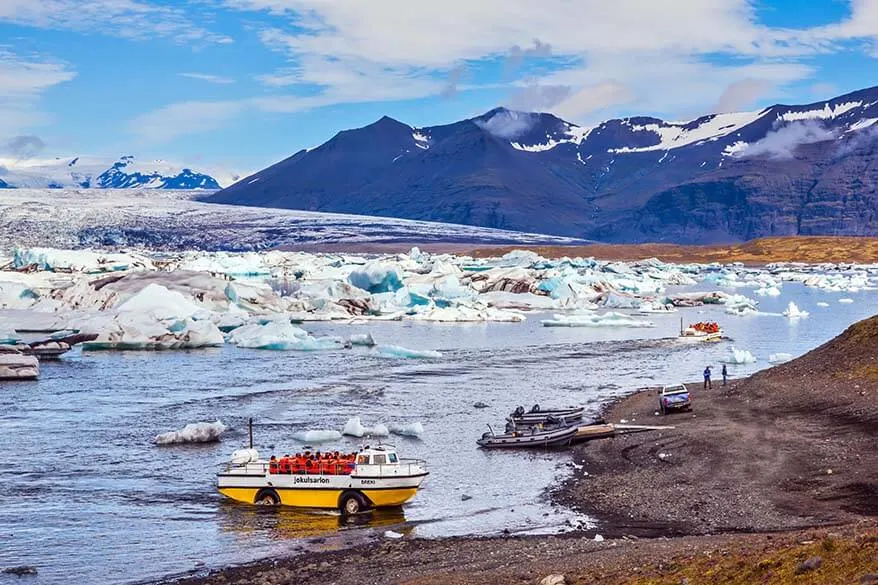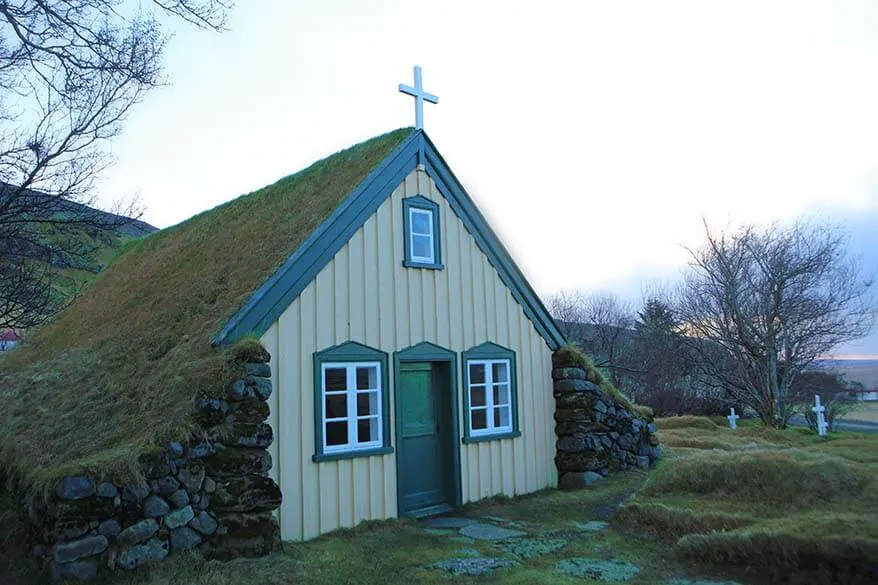 Next, I recommend that you choose to either visit Skaftafell, aka Vatnajökull National Park (there are many hikes in Skaftafell), go on a glacier hike, or visit an ice cave. If you plan well – and depending on tour times and availability – you could visit Skaftafell first and then book an ice cave tour in the afternoon, or you could first go hiking on a glacier and afterwards decide if you also want to hike at Skaftafell NP before driving to Vik.
Skaftafell – Vatnajökull National Park is about 60 km/ 45 minutes drive from Jokulsarlon, back in the direction of Reykjavik. There are many hiking trails here, of various lengths and difficulties (pop in at the visitor center and ask for suggestions).
If you are short on time, I recommend either an easy hike to Skaftafellsjökull for a nice view on the glacier (count 1-1.5 hours) or a moderate hike to Svartifoss (the Black Waterfall). This is the most popular hike, it's about 3 km (2 miles) in total, goes uphill (and downhill on the way back), and takes about 1.5-2 hrs in total.
There is also a popular glacier hiking tour that starts at Skaftafell. This tour takes about 3 hours and it runs (almost) daily. Usually, there's at least one departure in the morning and one in the afternoon. If you decide to go in the afternoon, you can easily do a short hike in Skaftafell before that.
If you rather go in the morning, then be sure to plan your Jokulsarlon visit very early (and skip the boat) so that you can get here in time. For more information and practical tips, please check our detailed guide via the link below.
LEARN MORE: Glacier Hiking in Iceland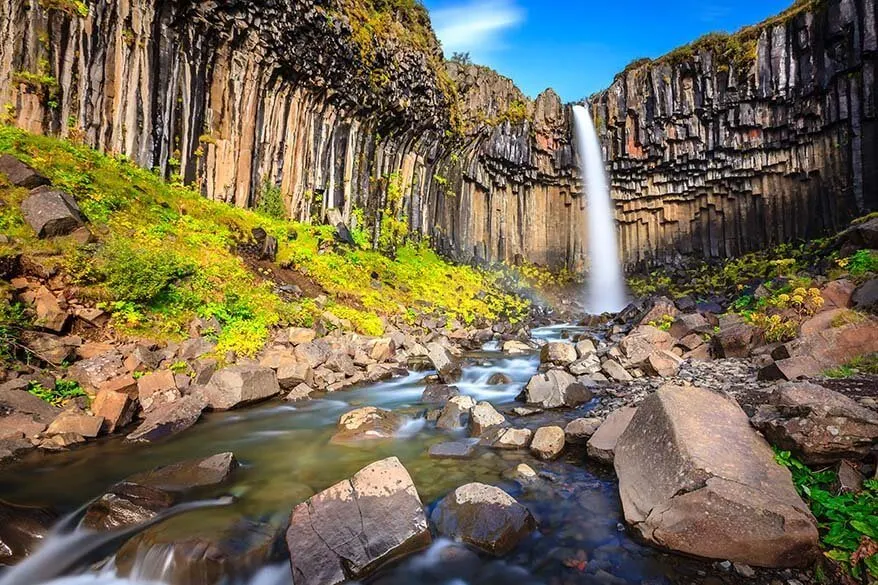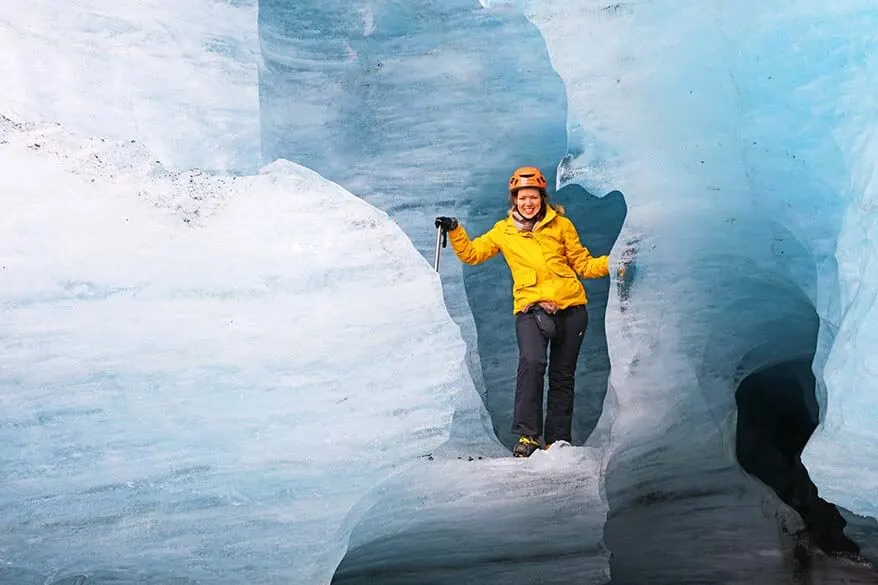 Alternatively, you can also opt for an ice cave tour. Yes, even in summer (although it's always better in winter)! While the majority of natural ice caves in Iceland can only be visited in winter, the Katla ice cave near Vik can normally be visited the whole year (still, remember that it's a natural phenomenon and so the situation can change at any time).
You can only get there with a tour and this is the best-rated tour that I was able to find. It's a relatively easy tour, it runs from Vik, and it also takes just 3 hours. You also get to walk on a glacier on this tour, but it's a different experience than a glacier hike. This one is just meant to get to the cave and is not the most beautiful glacier.
Depending on the season, they have several departure times every day (around 10 AM, 1 PM, and 4 PM). Since Vik is about 1.5 hours drive from Skaftafell NP, you should be able to catch the late afternoon tour even if you go hiking in Skaftafell first. If you aren't interested in hiking, you could even drive to Vik for an earlier tour or simply do the drive in a more relaxed way, stopping at some other attractions that we mentioned on day 6 of this itinerary.
On the way to Vik, stop at Eldhraun lava field. It's a nice photo stop and a good place to stretch your legs a bit. Just be respectful of nature and stay on walking paths.
TIP: If none of the glacier tours interest you and you have some time to spare on this day, you can visit Icelandic Lava Show in Vik. It's open until 8 PM and is great for the whole family. The Katla ice cave tour starts and ends here as well, so you could definitely combine the two!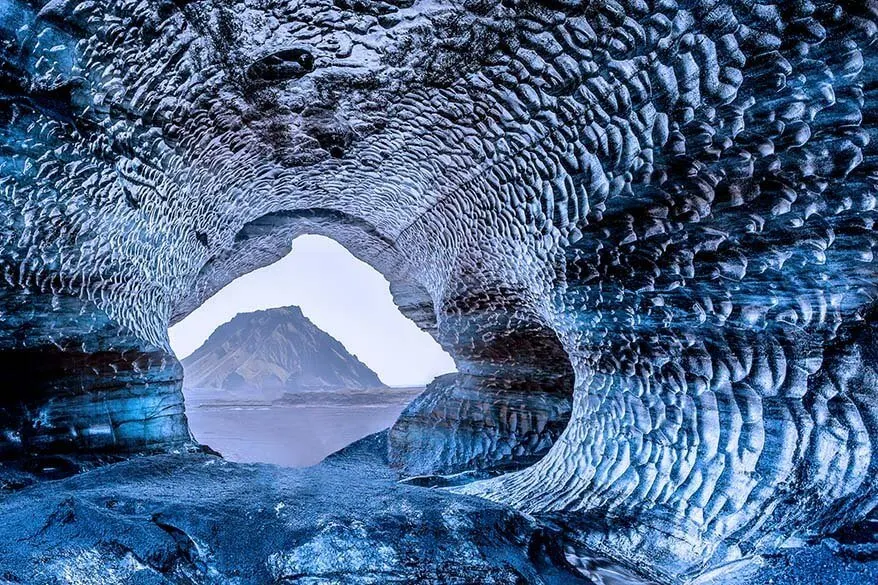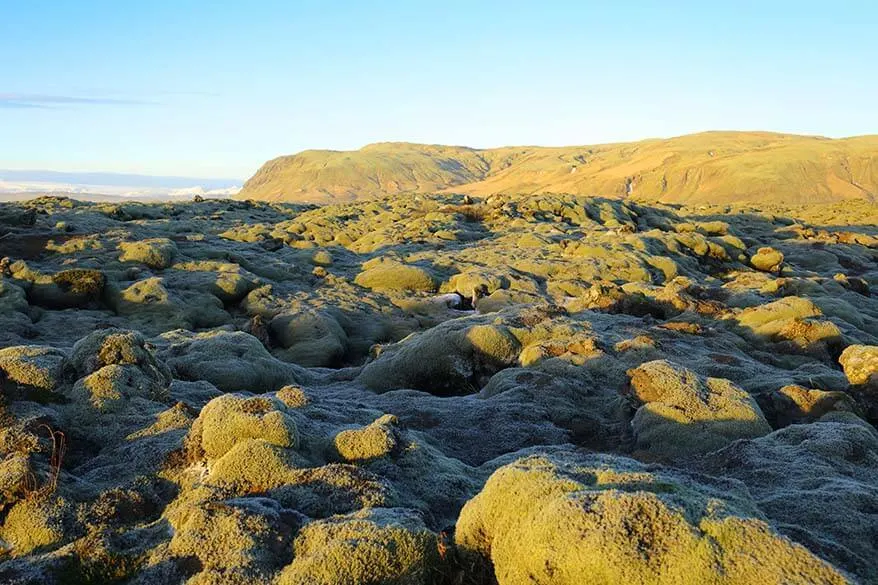 Where to stay: In theory, you could just drive straight to Reykjavik in the evening already (about 2.5 hours drive from Vik). However, if you do one of the glacier tours mentioned above, you'll likely be quite tired. So we suggest that you stay in Vik for a night. You can easily drive to Reykjavik the next morning and still have plenty of time to explore the city.
There are quite some accommodations in Vik. Some of the nicest hotels are Hotel Kria and Hotel Katla, and there are many more places to stay for all budgets.
TIP: If you are in Vik at around sunset, I suggest that you go (back) to Reynisfjara beach that we also mentioned on day 5 of this itinerary. It's spectacular at sunset – a great way to end your day!
DAY 7: Reykjavik or Reykjanes Peninsula
Driving distance/time from Vik to Reykjavik is about 190 km/ 2.5 hours. If you decide to drive to Reykjanes Peninsula instead, it's pretty much the same distance. In that case, don't drive to Reykjavik, but leave the Ring Road in Selfoss and take the road next to the coast.
On the last day of your week in Iceland, you can drive to Reykjavik and visit the city. Alternatively, if you are more interested in Iceland's natural attractions, you can also head to Reykjanes Peninsula (where also Keflavik airport is located for your flight back home).
Reykjavik or…
If you choose to visit Reykjavik, you can easily see the main highlights of the city in one afternoon. Take a walk along the harbor and check out the Sun Voyager statue and Harpa concert hall building. Then walk in the direction of Lake Tjörnin and check out the tiny building of the Icelandic Parliament. There are also several museums in this area.
Be sure to walk through the city center (Laugavegur and Skólavörðustígur streets and the area around them). Don't miss Hallgrimskirkja church and take an elevator to the top of the church tower for amazing views over Reykjavik and its surroundings.
Another nice place to visit is Perlan – Wonders of Iceland Museum, a bit outside the city center. If you want to see it, you could drive there upon arrival in the city before going to the center. The Whales of Iceland exhibition is located more centrally, close to the Harpa concert hall, and is a great place to visit, especially if you are with kids.
Another possibility is booking a puffin and whale-watching tour from Reykjavik harbor. Most tours take 2-3 hours and there are multiple departures during the day. In summer, you can even go on a midnight sun whale-watching tour.
Where to stay: If you decide to stay in the city, please check our guide to where to stay in Reykjavik. It has all the information you need, including the best hotels with parking.
READ ALSO: Best Things to Do in Reykjavik & Itinerary for 1 Day in Reykjavik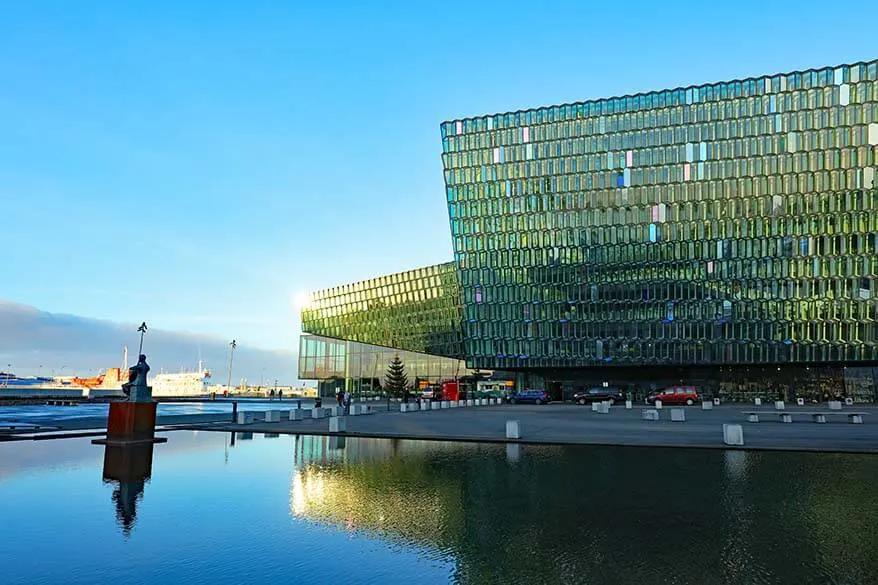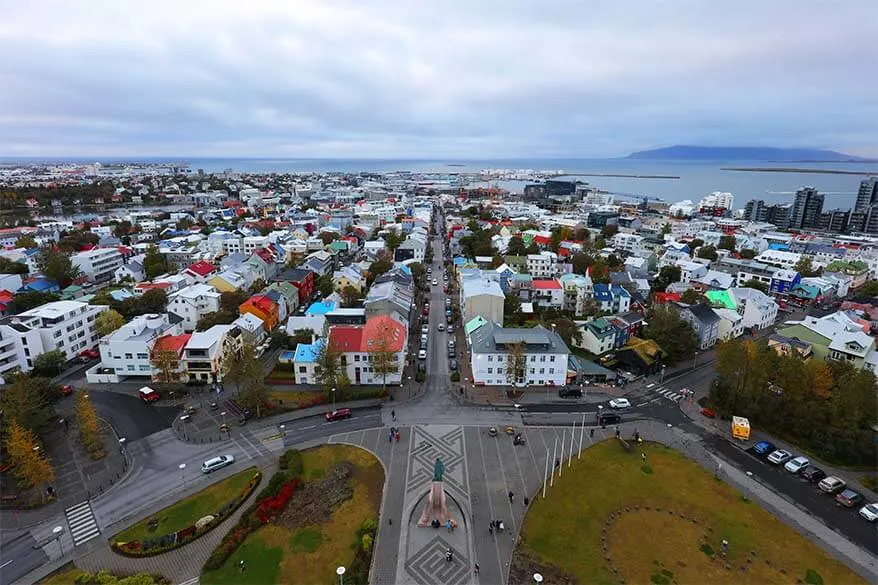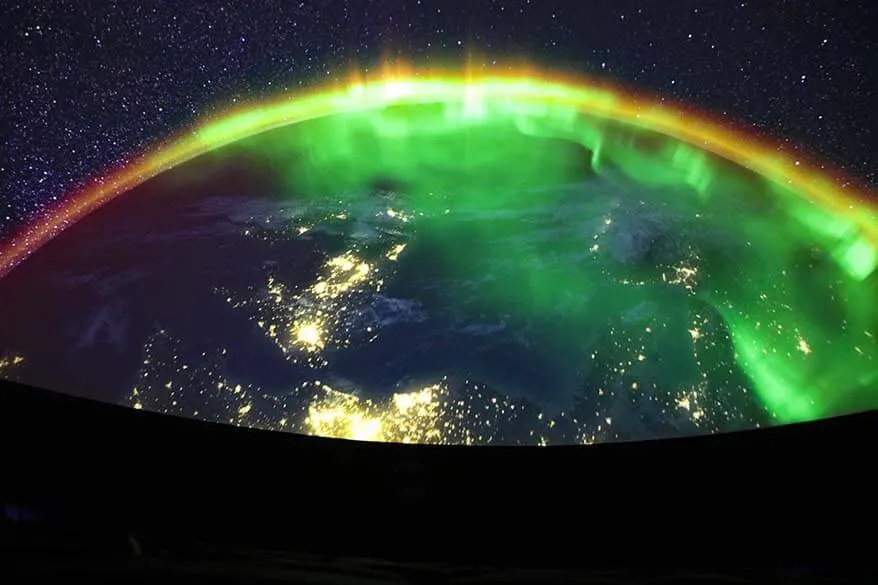 or… Reykjanes Peninsula
Reykjanes Peninsula is another really nice area to see before you leave Iceland. It's like the whole country in a nutshell. If your 7-day Iceland trip indeed ends on this day, then you could visit a few places here on your way to the airport. Alternatively, you could also come here before your flight the next day.
There's a lot to see and do on Reykjanes Peninsula, so you can always find something interesting depending on how much time you have. Some of the main highlights include Valahnúkamöl Cliffs, Reykjanes Lighthouse, Gunnuhver, Bridge Between Continents, Seltún Geothermal Area, Krýsuvíkurberg Cliffs, Strandarkirkja, and Garður Lighthouse.
The Fagradalsfjall volcano which erupted in March 2021 is also located here, just like the Meradalir volcano which erupted in August 2022.
The famous Blue Lagoon is located on Reykjanes Peninsula as well. If you haven't visited the Blue Lagoon on your first day in Iceland, you'll probably want to do it on the last day. Count 2-3 hours for a visit. And be sure to book your timed tickets in advance!
For more information about all these places and also hotel suggestions if you decide to stay close to the airport, please check our detailed guide to this area via the link below.
LEARN MORE: Complete Guide to Reykjanes Peninsula
TIP: If you only have time for one – Reykjavik or Reykjanes Peninsula, please see our article 'Is Reykjavik worth it'. It might help you decide. In all honesty, it's a tough choice and if this is your first trip to Iceland, you'll likely feel like you absolutely have to see its capital city. But if you prefer nature destinations as we do, then you really can't go wrong with Reykjanes Peninsula.
On our last 10-day trip to Iceland, we didn't even stop in Reykjavik at all. It was a very different trip, more off the beaten path, but we also started our trip in Snaefellsnes and ended in Reykjanes (just as I suggest in this itinerary) and we all loved it. So it's really your call.
If you have full 7 days in Iceland and your flight departs on the 8th day, maybe you can visit both, the city and the peninsula.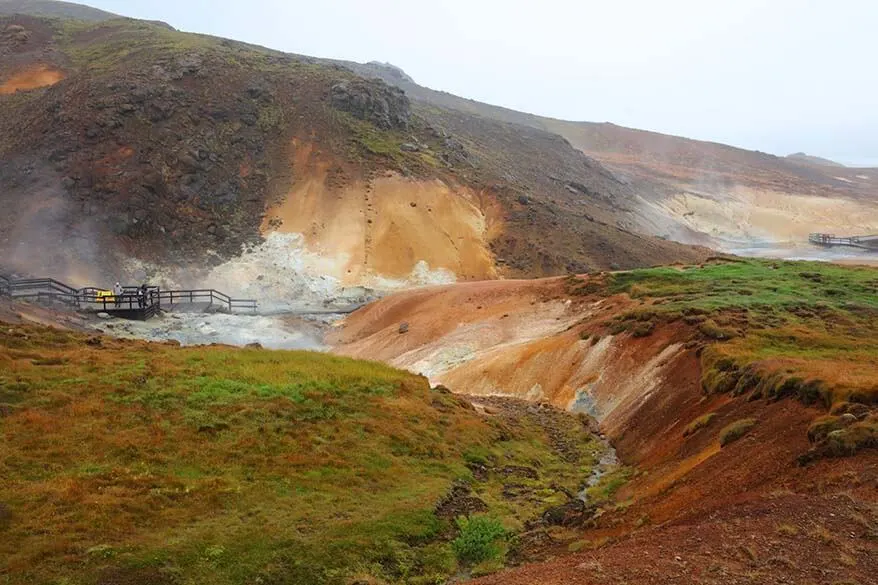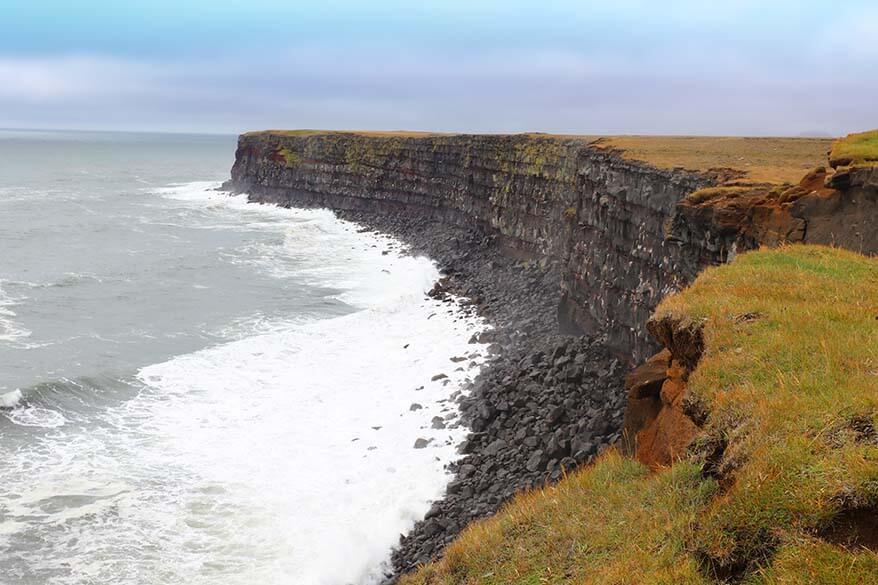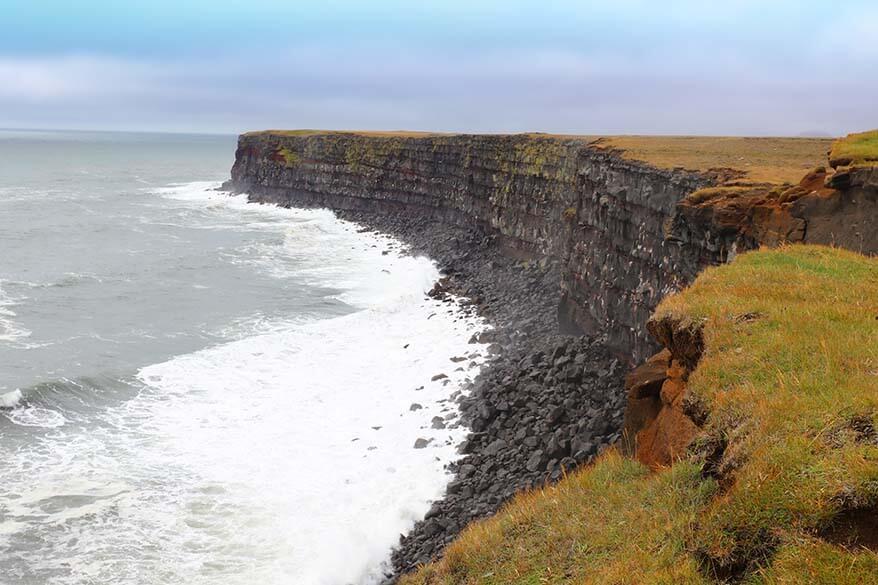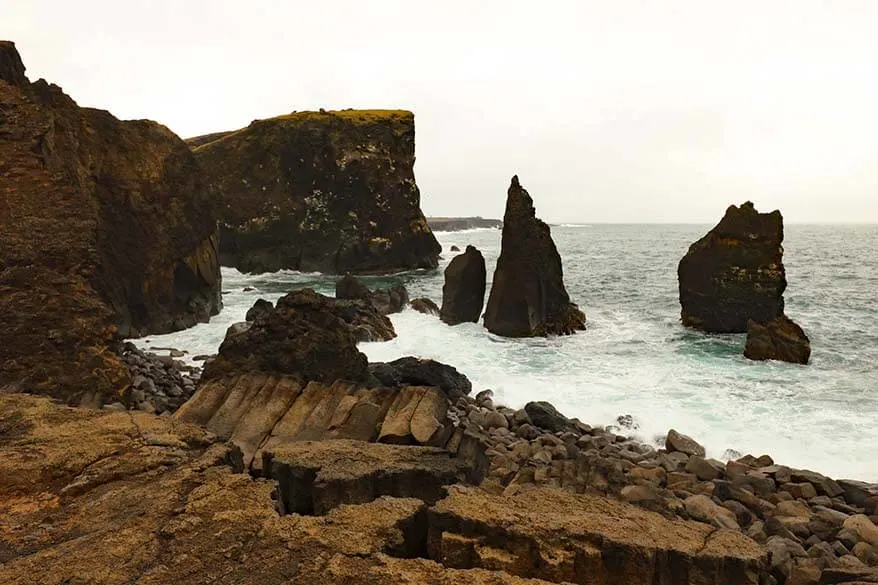 So, this is our suggested self-drive itinerary for one week in Iceland. You can quite easily adjust it depending on your flight times and your interests, and you can also flip it around if you prefer.
As you can see, there's so much to see and do in the south and the west of Iceland that you'll already have difficulties choosing where to go and what to skip.
7 Days in Iceland Itinerary on the Map
TIP: To make your trip planning easier, I also created this map, indicating all the places mentioned in our detailed 7-day Iceland itinerary above.
As you can see, we gave each day a different color so that you have a better idea of where everything is and how it all fits in this itinerary. Only for the last day of the trip, we split Reykjavik attractions and Reykjanes Peninsula attractions by indicating them in another color. As already mentioned, you could opt to visit both these places on different days if it better fits your flight schedule.
How to use this map: Use your computer mouse (or fingers) to zoom in or out. Click on the icons to get more information about each place. Click the arrow on the top left corner for the index. Click the star next to the map's title to add it to your Google Maps account. To view the saved map on your smartphone or PC, open Google Maps, click the menu and go to 'Your Places'/'Maps'. If you want to print the map or see it in a bigger window, click on 'View larger map' in the top right corner.
Alternative Itinerary: Ring Road of Iceland in 7 Days
Because so many of our readers ask for an itinerary for Iceland's Ring Road in a week, below is an overview of a suggested itinerary.
Once again, you can drive the entire Ring Road in 7 days, but I really recommend that you opt for fewer places and explore more rather than spend the majority of your time in a car.
If you absolutely want to see 'everything' in Iceland in one week, then you could use this alternative 7-day Iceland Ring Road itinerary:
Day 1: Arrival, Blue Lagoon/Sky Lagoon, Reykjavik.
Day 2: South Coast to Jokulsarlon Glacier Lagoon.
Day 3: Jokulsarlon Glacier Lagoon and the Eastfjords.
Day 4: Lake Myvatn area.
Day 5: The North Coast of Iceland (don't miss Hvitserkur).
Day 6: Snaefellsnes Peninsula.
Day 7: Back in Reykjavik and departure.
If you decide to do this, keep in mind that it will be rushed and you'll have to plan very well in order to be able to see just the main places everywhere. We recommend this 10-day Iceland Ring Road itinerary instead.
So, this is my suggested one week Iceland itinerary. These suggestions are based on our various trips to Iceland, including recommendations for all the best places in this part of Iceland. It's not a standard copy-paste itinerary that you'll find described anywhere else, but I have no doubt that you'll absolutely love it!
And when you do this trip, please come back to our blog and leave a comment under this article telling us how it went – we love to hear feedback from our readers!
TIP: If you are looking for more information for your trip to Iceland, practical tips, clothing advice, etc. please check our complete travel guide to Iceland.
If you have any questions about this 7 days Iceland itinerary, feel free to leave a reply below and I'll try to help. Alternatively, please join our Facebook group for Iceland & Scandinavia Travel – it's a great place to meet other travelers, ask questions, and share experiences.
READ ALSO: Iceland Travel Tips
More tips for your trip to Iceland:
If you found this post useful, don't forget to bookmark it and share it with your friends. Are you on Pinterest? Pin these images!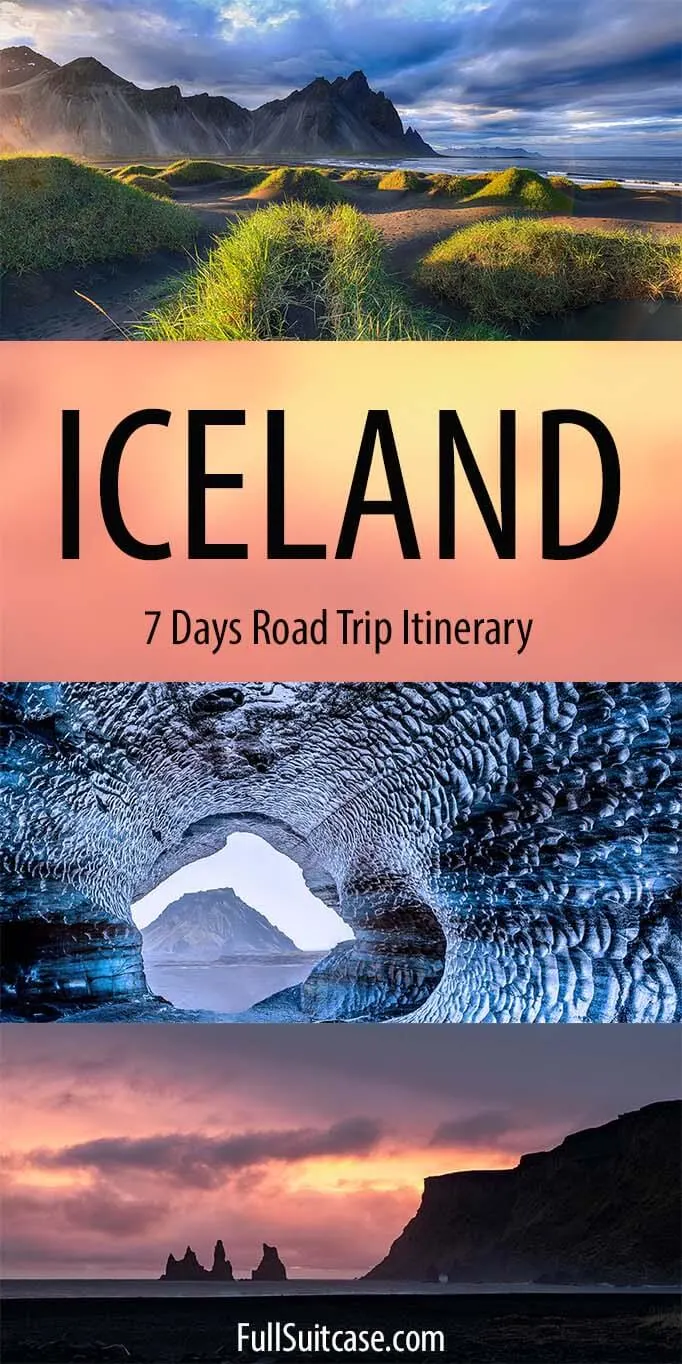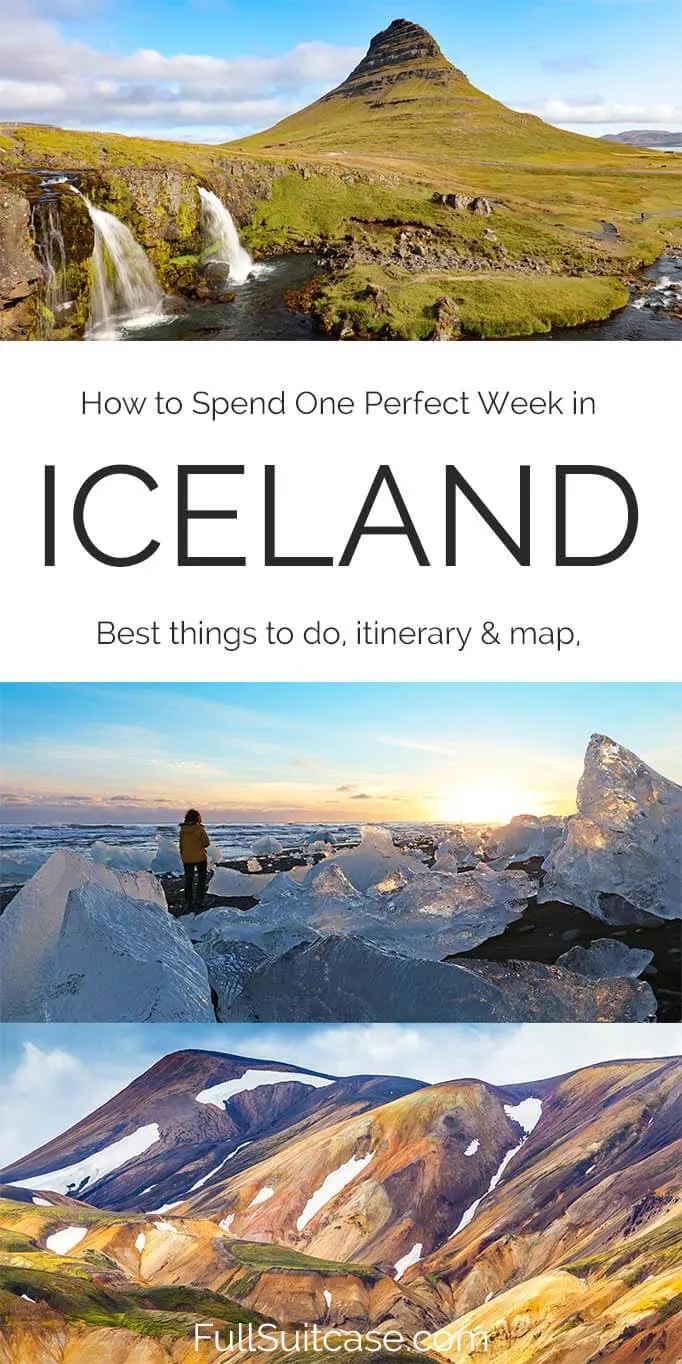 Images: personal collection and Depositphotos.com