Visiting São Miguel island in the Azores and wondering if Ponta Delgada is worth your time and what there's to see and do in the city? In this article, we share our top suggestions for the best things to do in Ponta Delgada. Find out!
Ponta Delgada is the biggest and the only real city of the Azores islands (Portugal). Located on São Miguel Island, it's also home to the main airport of the archipelago, the gateway to the Azores. However, many tourists visiting the islands head straight to the most beautiful nature destinations and completely overlook this beautiful little city that's more than worth a visit in its own right…
Azores' capital city might be small, but it's very charming, lively, and feels like a mini-version of Lisbon. Cobbled narrow streets lined with colorful houses, traditional-style churches, and unique tile patterns on the pavements and city squares are quintessentially Portuguese. Despite being in the middle of the Atlantic Ocean and over a thousand miles away from the mainland, you immediately feel the same great atmosphere that you find in all of the nicest cities in Portugal.
So if you are wondering whether Ponta Delgada is worth visiting, then my answer is yes, absolutely. It's a perfect mix of old and new, with a charming old town, nice shops, cafes and restaurants, beautiful parks, and a lively waterfront area.
Good to know: Please note that this guide features top attractions and things to do in Ponta Delgada town, so not places like Sete Cidades, Furnas, or similar. If you are looking for information on these and the other areas on the island, be sure to also read our guide to the best things to do in Sao Miguel.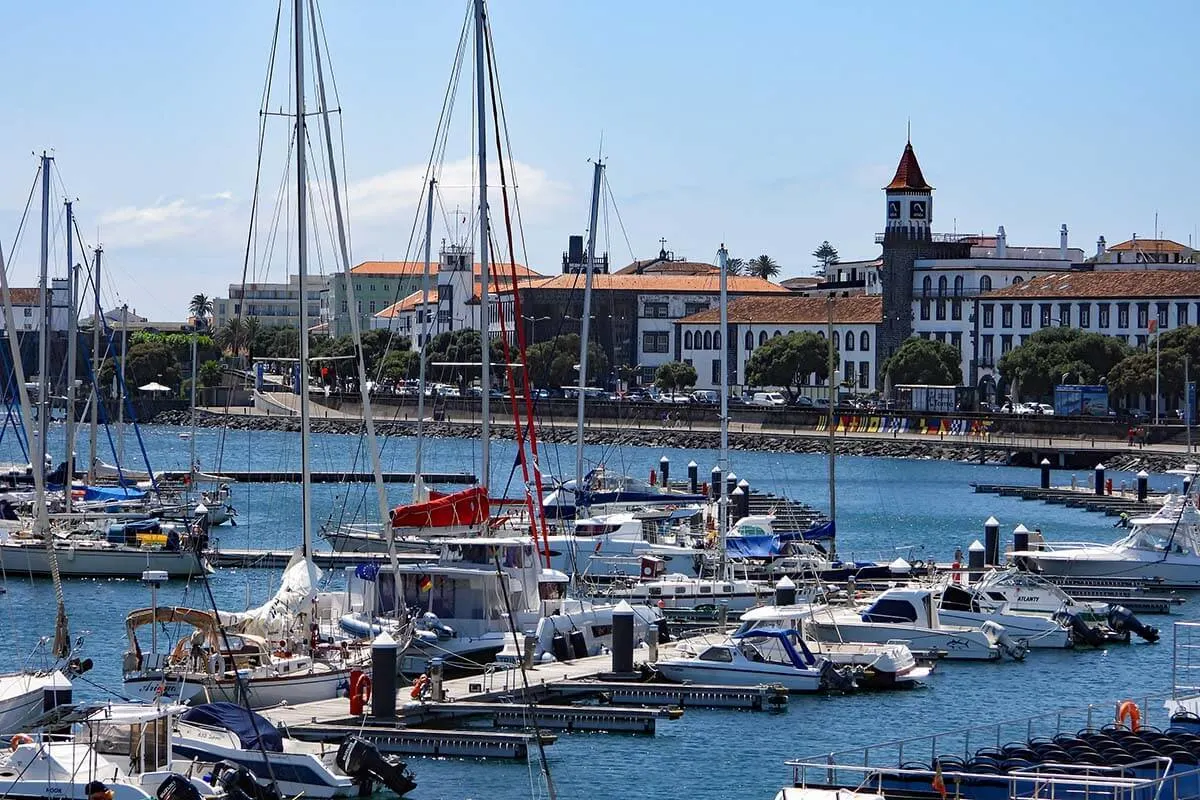 Good to know: In this guide, you can read about all the best things to do in Ponta Delgada. To help you plan your time, we also include a map indicating all the best places to see in the city.
At the bottom of this article, you can also find some practical tips for getting around, parking, hotels, the best time of the week to visit Ponta Delgada, and more. Find out!
How to use this map: Use your computer mouse (or fingers) to zoom in or out. Click on the icons to get more information about each place. Click the arrow on the top left corner for the index. Click the star next to the map's title to add it to your Google Maps account. To view the saved map on your smartphone or PC, open Google Maps, click the menu and go to 'Your Places'/'Maps'. If you want to print the map or see it in a bigger window, click on 'View larger map' in the top right corner.
Here are the best sights and things to do in Ponta Delgada:
1. Portas da Cidade & Gonçalo Velho Cabral Square
Praça Gonçalo Velho Cabral is one of the main town squares in Ponta Delgada. Here, you'll find the statue of Gonçalo Velho Cabral, the discoverer of the island.
Another must-see of Ponta Delgada, the iconic Portas da Cidade, can also be found here. The 18th-century city gate has three arches built in the typical Azorean style and using regional stones. Originally built in 1783, the city gate was standing at another location nearby, and was moved to its current location in 1952.
This town square is a place where various events are being held. At Christmas, you'll find a big Christmas Tree here, on one of our visits, there was a display of traditional carts decorated for a religious procession, etc.
Portas da Cidade is your gateway to the charming old town of Ponta Delgada, with many other sights right behind the gate. See more information below.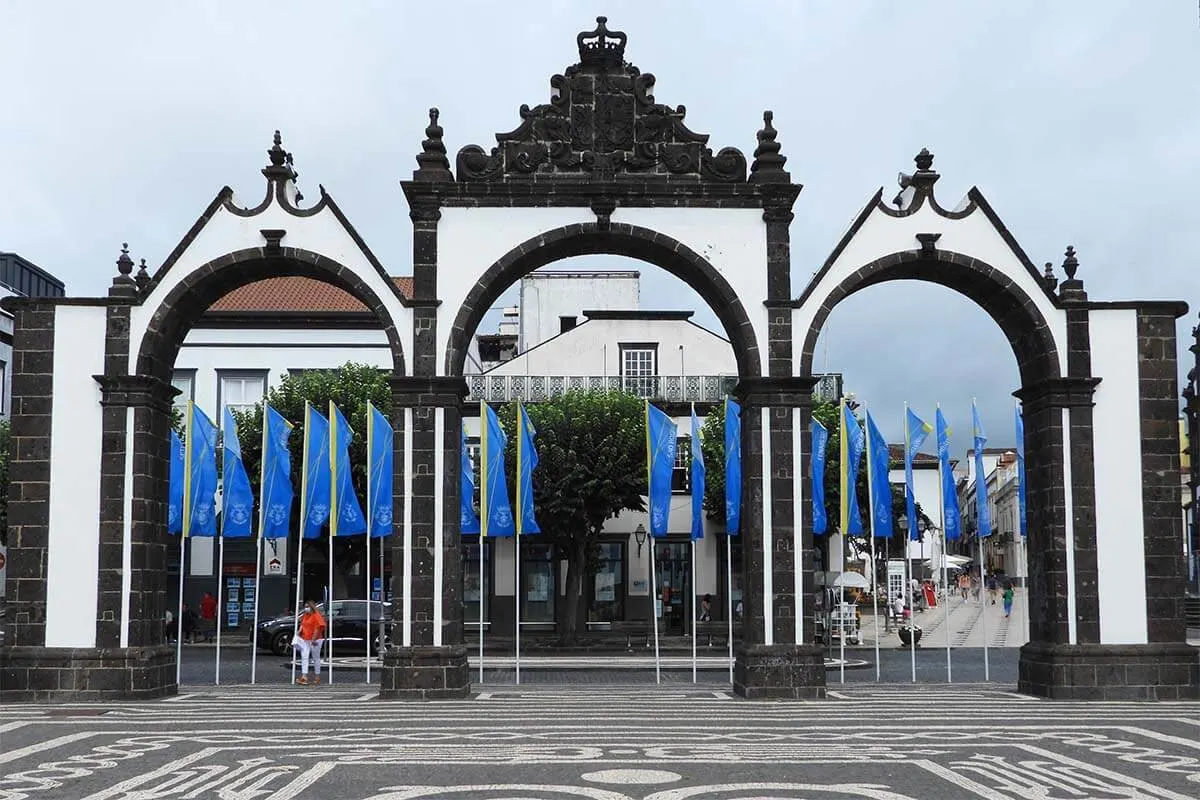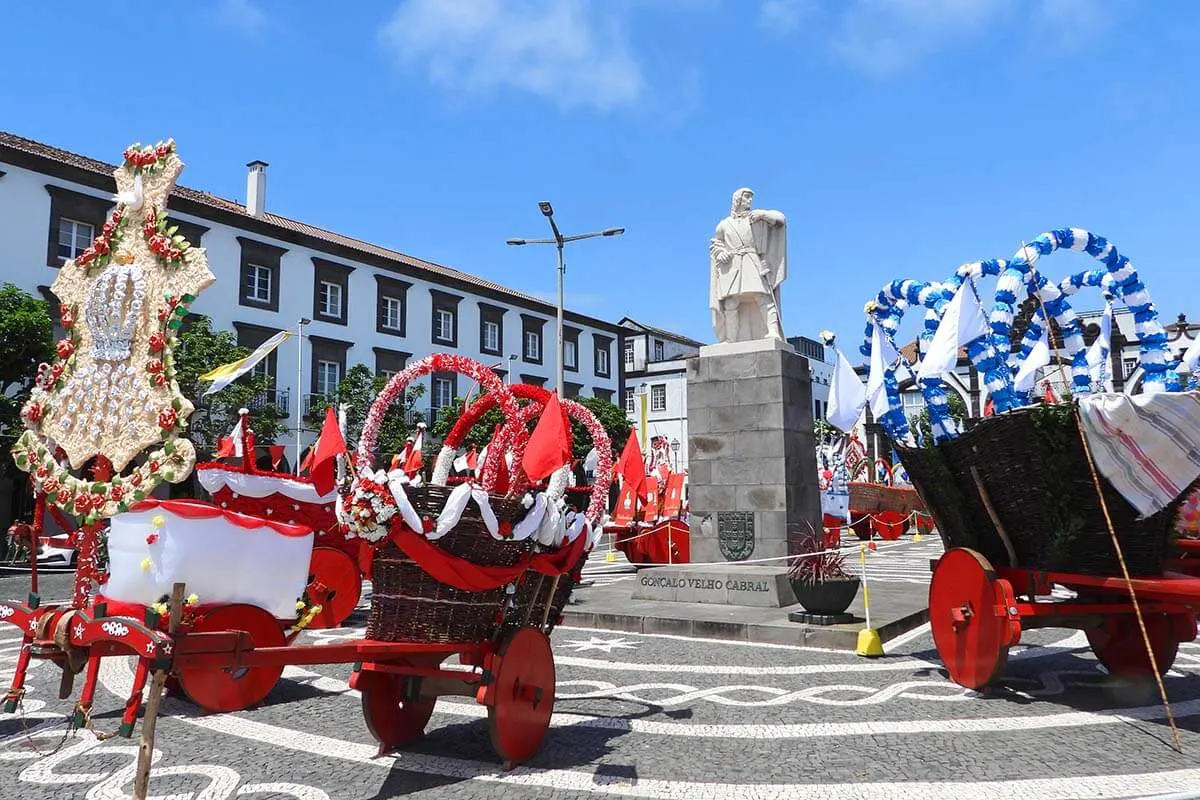 2. Largo da Matriz & São Sebastião Church
Largo da Matriz is one of the nicest town squares in Ponta Delgada. Located right behind the city gates, its main landmark is Igreja de São Sebastião, a 16th-century traditional-style church with a bell tower.
The church has somewhat strange opening hours, so you may not always be able to visit inside. The interior is quite simple, but the altars are very richly decorated. Seeing the inside of the church is nice, but it's not an absolute must so don't feel like you're missing much if it's closed.
At Largo da Matriz, you'll find a few cafes and souvenir shops, including the well-known chain store O Mundo Fantástico da Sardinha Portuguesa (The Fantastic World Of Portuguese Sardines) which sells canned sardines in the most original packaging. One of the most popular Portuguese souvenirs is a can of sardines with your (or your loved ones') birth year on them.
This part of the old town is a must-see in Ponta Delgada. Largo da Matriz town square is really picturesque and has a cozy atmosphere, and is also very nice in the early evening when the buildings are lit. Also, the surrounding streets are not to be missed. If you are looking for a place to eat in Ponta Delgada, you'll find some nice local restaurants in the narrow streets around this area.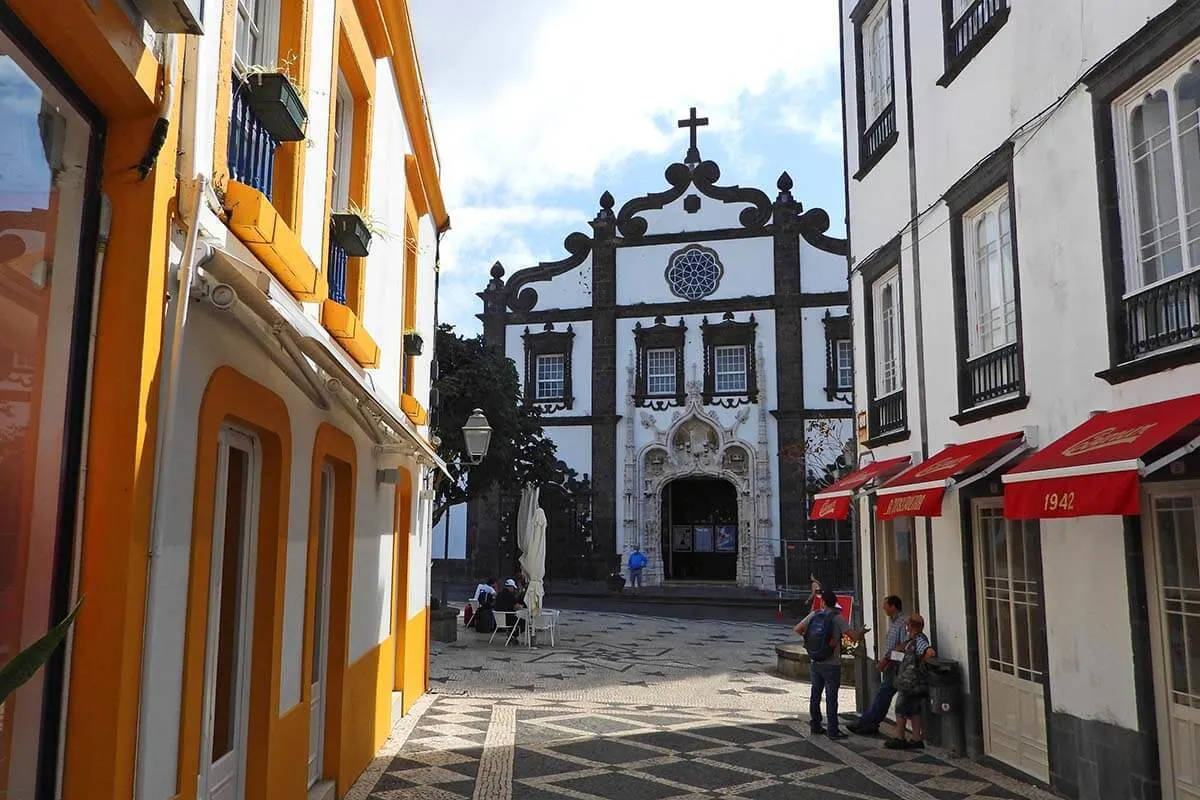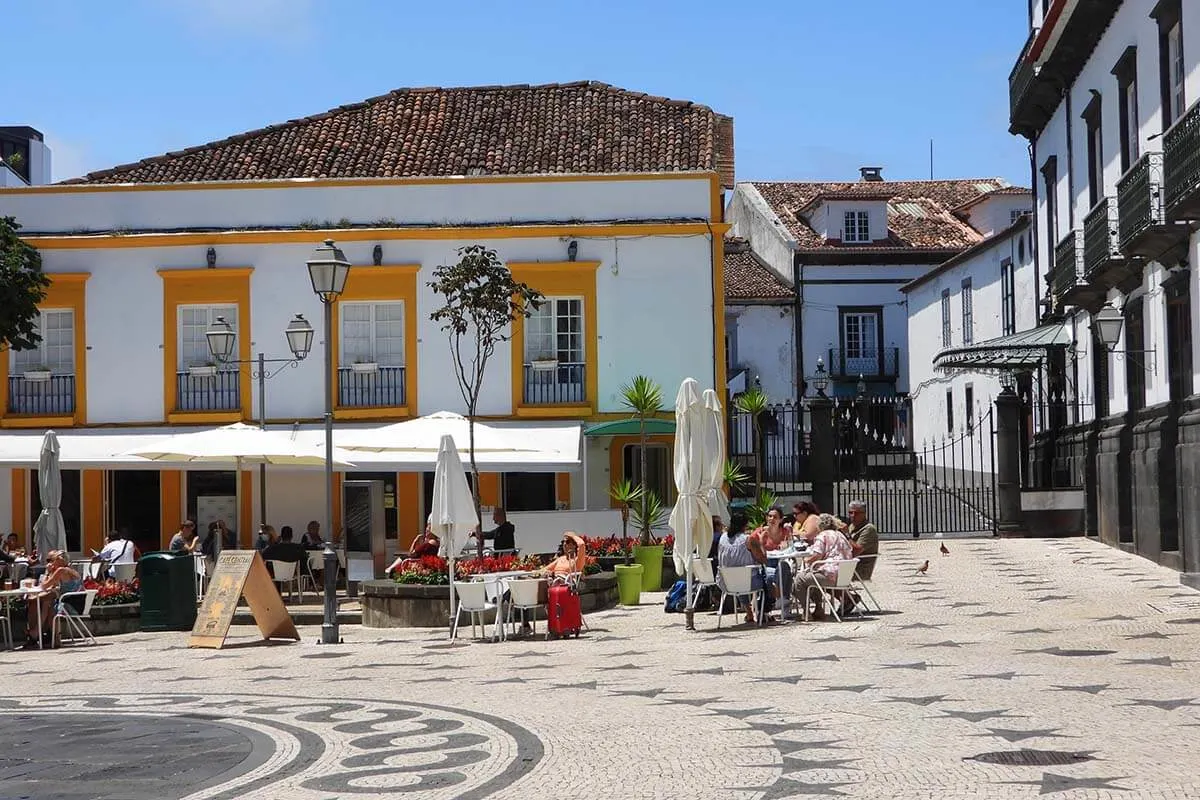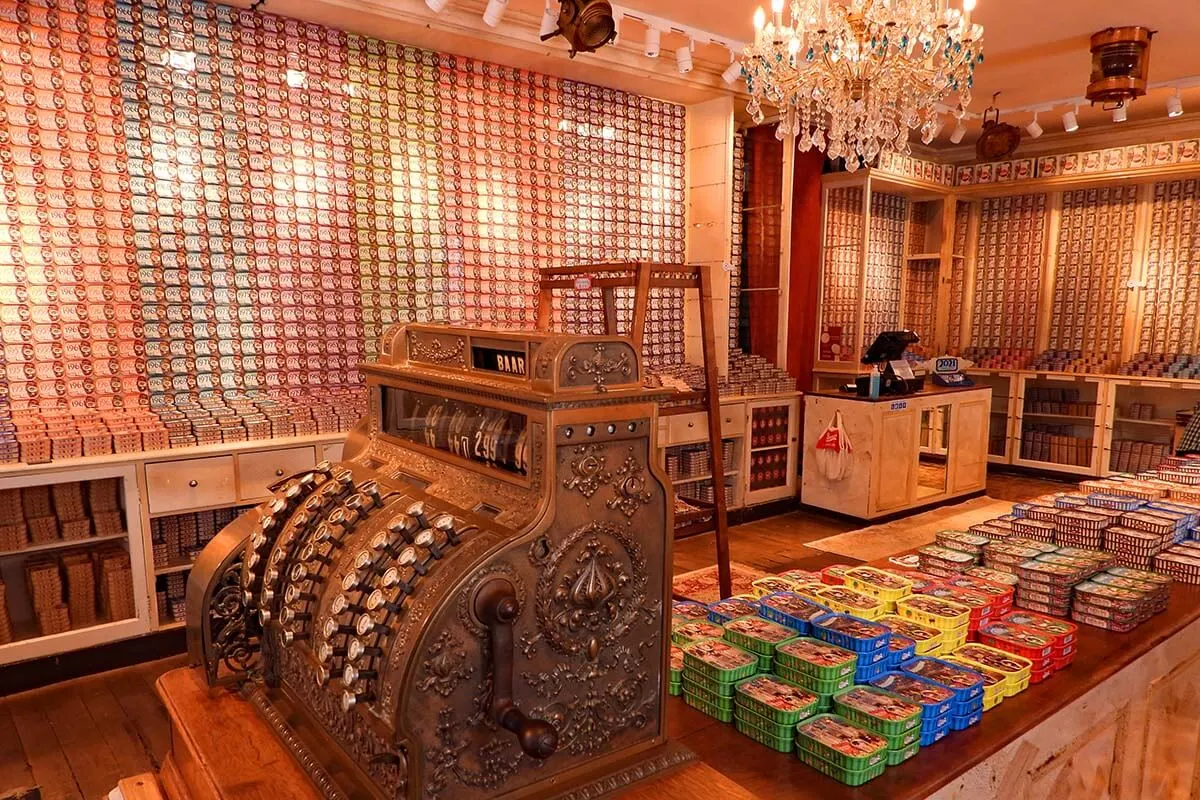 3. City Hall & Bell Tower
Praça do Municipio is yet another small town square located right next to the city gates and the other places mentioned above. Its main landmark is the Town Hall of Ponta Delgada (Câmara Municipal de Ponta Delgada) and its Bell Tower (Torre do Relógio ou Torre Sineira), built in 1724.
In front of the small building, there's a statue, a little fountain, and a beautiful flowerbed. The municipality also sometimes hosts some local events – there was a photo exhibition outside when we visited last time. It's also lavishly decorated on various occasions.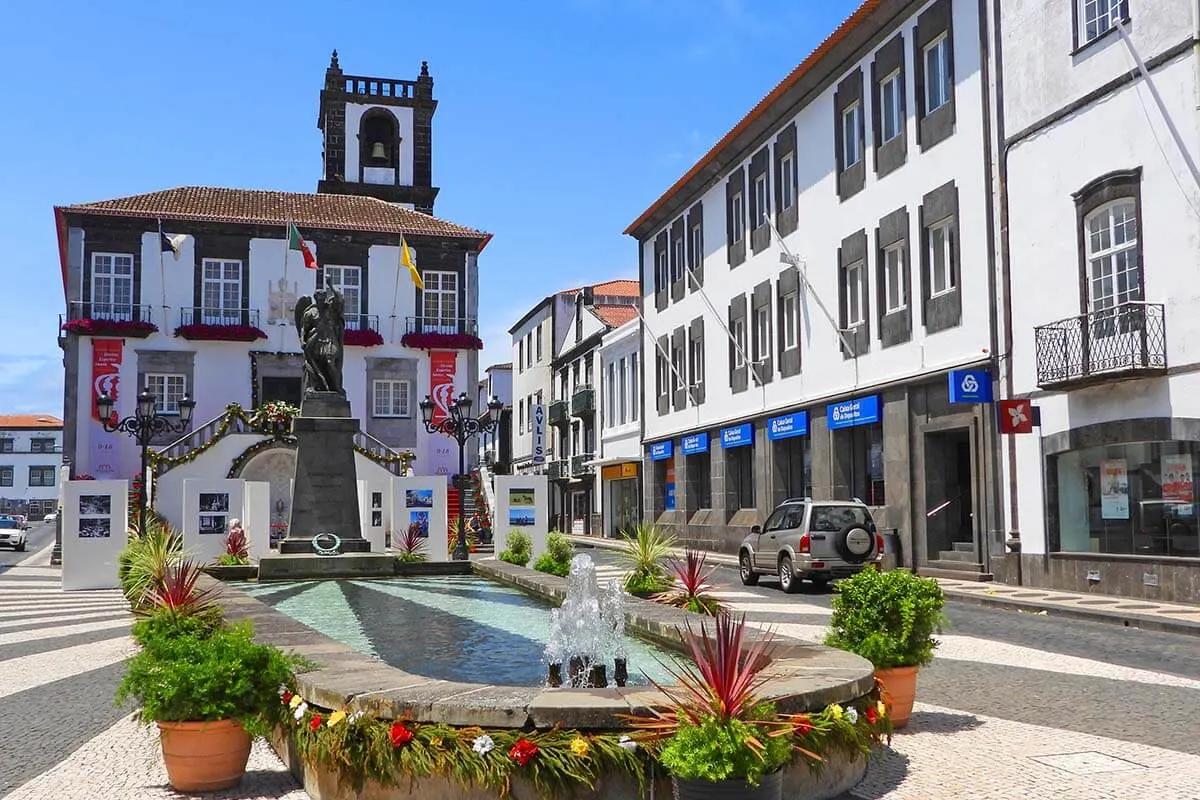 If it's not too busy, be sure to climb the Bell Tower! Climbing to the top of this tower is one of the most unique things to do in Ponta Delgada. Not only for the nice aerial views but also for the experience itself.
The tower is 300 years old and it feels like the interior and the stone stairs date from that time – it's like taking a trip back in time. But the most special is the spiral staircase at the very top – it's only 42 cm (16.5 inches) wide and you wonder if you won't get stuck here on your way up.
The top viewing platform of the tower is literally the top, and there are no wires or other protective railings as you often see in other similar places. However, it doesn't feel dangerous at all, and if you don't climb or sit on the side, it's perfectly safe. Just be sure to keep an eye on your kids!
Good to know: The entrance is free of charge, but because the stairs are so narrow and the viewing platform is quite small, there is a limited number of people that can visit at the same time. So you may have to wait in order to go up. The tower isn't very high, and so the climb isn't too strenuous and takes just a few minutes. In total, you don't need more than 10-15 minutes for the entire visit, not including the waiting time (if any) at the entrance.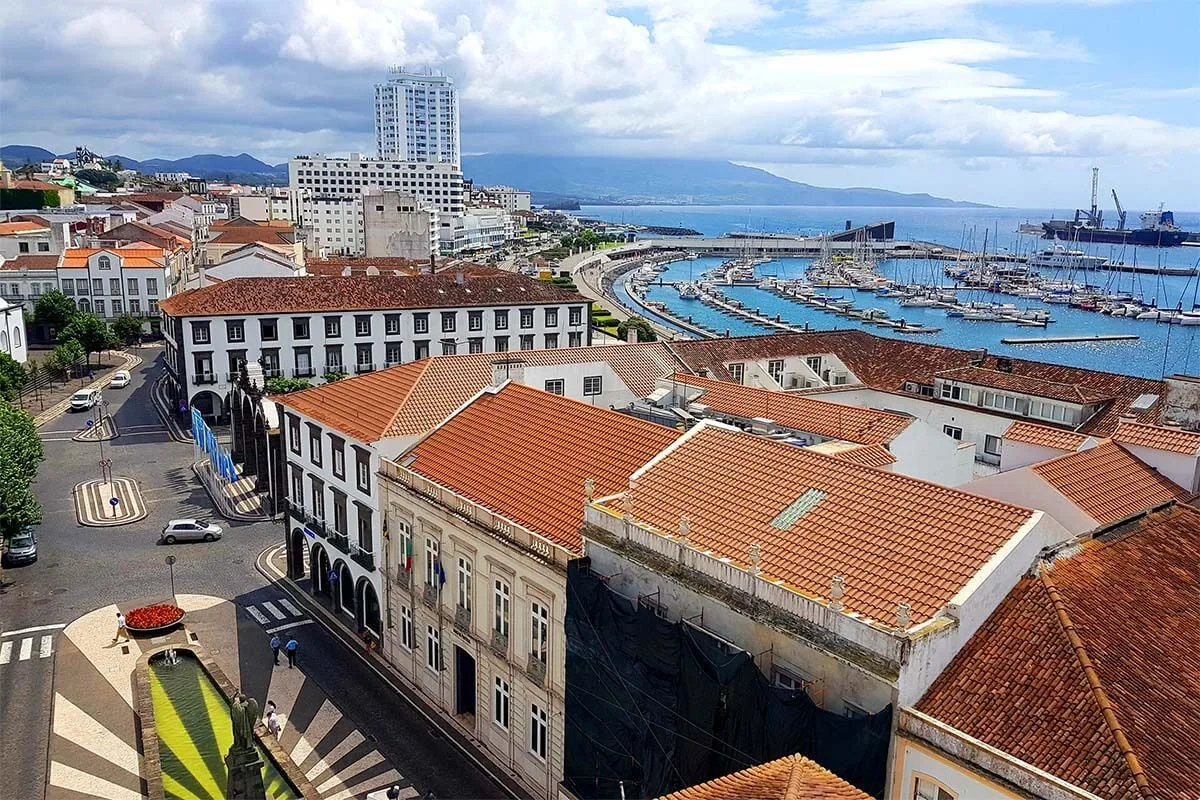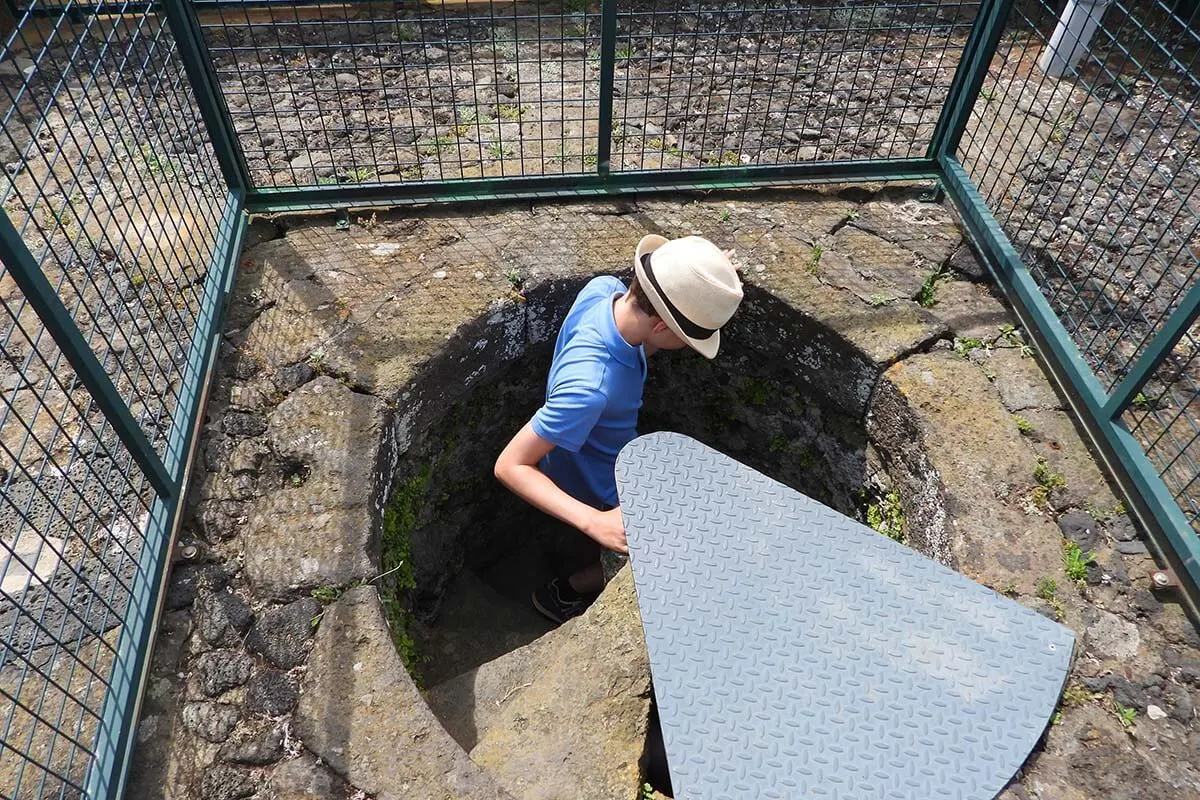 4. Waterfront
Avenida Infante Dom Henrique is a big avenue along the waterfront of Ponta Delgada. There's a nice wide pedestrian promenade and walking here is one of the nicest ways to experience the unique vibe of Ponta Delgada.
On the western side, you have the Fort of Sao Bras (more info below), and in the east, you'll find big hotels, shops, cafes, and restaurants. Along the way, you'll pass Cais Da Sardinha, one of the best high-end restaurants in Ponta Delgada. It's right on the water with a nice view of the harbor, and the food is very good too.
On the eastern side, close to Portas do Mar shopping/dining area, you'll find many more restaurants, street food stands, and also a big complex of outdoor swimming pools, including a swimming area right in the sea. This area is always lively and the pool is extremely popular among locals and tourists alike. There were always people swimming here whenever we passed by – from the early morning on a Monday to late afternoon on a Sunday…
No matter how much time you have in Ponta Delgada – a few hours or several days – the waterfront is one of the nicest places that you really shouldn't miss. Even if just for a short stroll, people-watching, or some ice cream…
Good to know: Avenida Infante Dom Henrique is also the best place to park if visiting Ponta Delgada by car (more info about parking at the bottom of this article). If you are arriving in the city by cruise ship, the terminal is also right at the Portas do Mar area.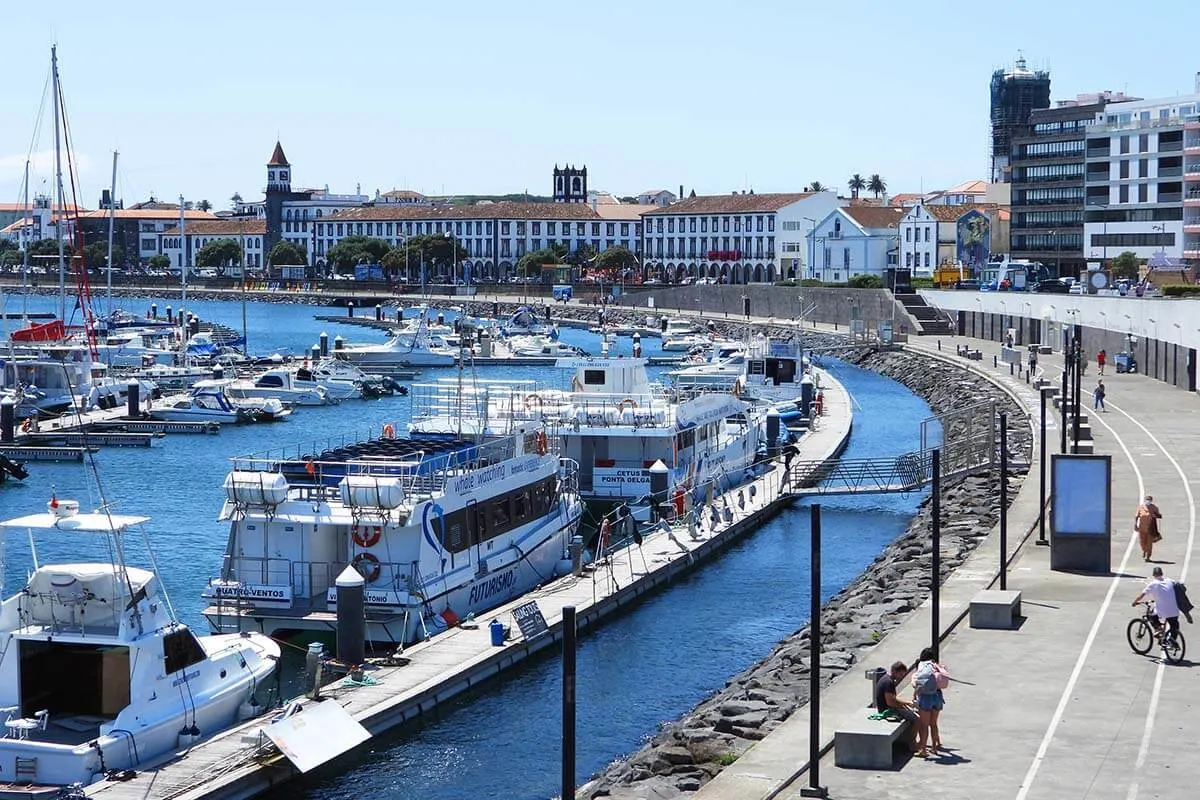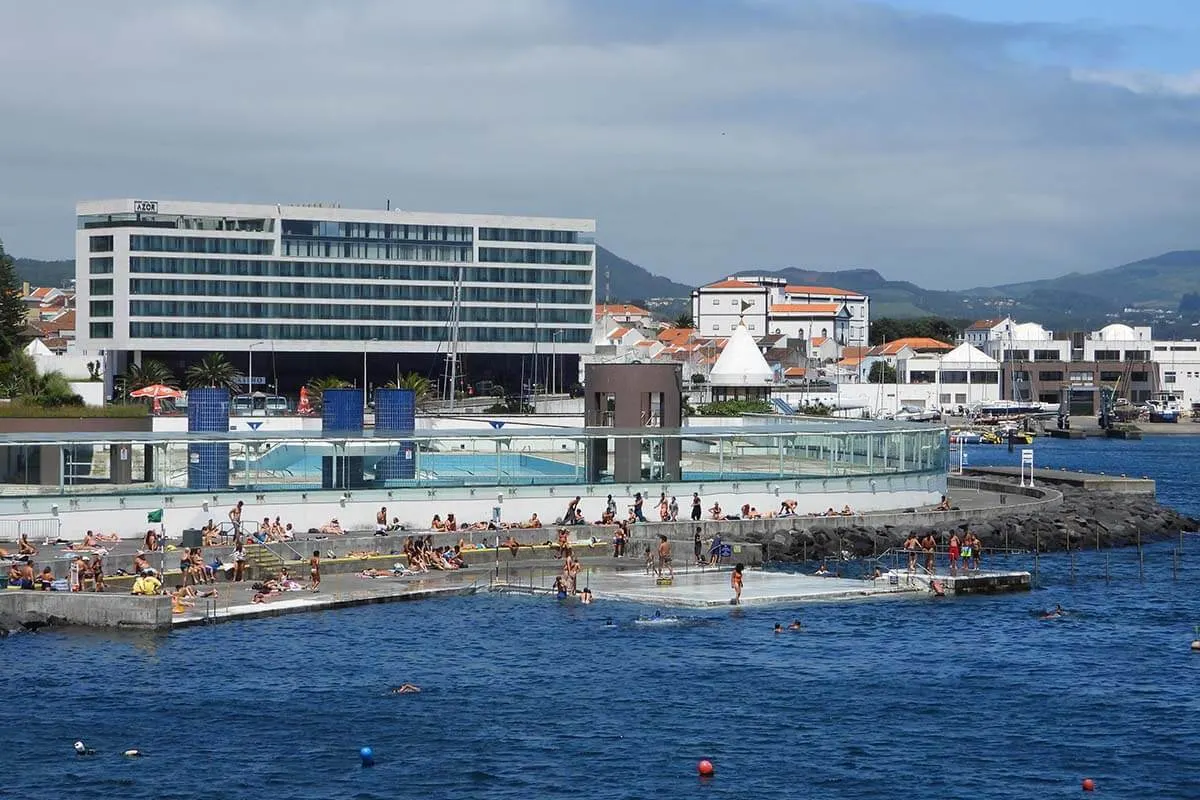 5. Fort of São Brás
Forte de São Brás is a military fort on the western side of Ponta Delgada's city center. Located by the sea, this 16th-century fortress was expanded and rebuilt in the 18-19th centuries. Nowadays, it's still owned and managed by the Portuguese army and houses the Azores Military Museum (Museu Militar dos Açores).
You can walk around the outside walls of the fort, where you'll see some cannons, statues, and also ship ankers. But if you want to visit inside, you'll have to pay for the entrance to the museum. That being said, the fee is just a couple of euros, and it's quite an interesting place to spend half an hour or so.
Inside the museum, you'll find heavy machinery from the WWII period, and also old weapons and military uniforms. You can also walk on the walls of the fort and see the harbor from here. The most authentic part of the museum are the WWII tunnels that are kept pretty much as they were back in those days. It sure gives you goosebumps.
Good to know: The Museum is open daily from 10 AM to 6 PM, except on Public Holidays. Count 30-45 minutes for a thorough visit.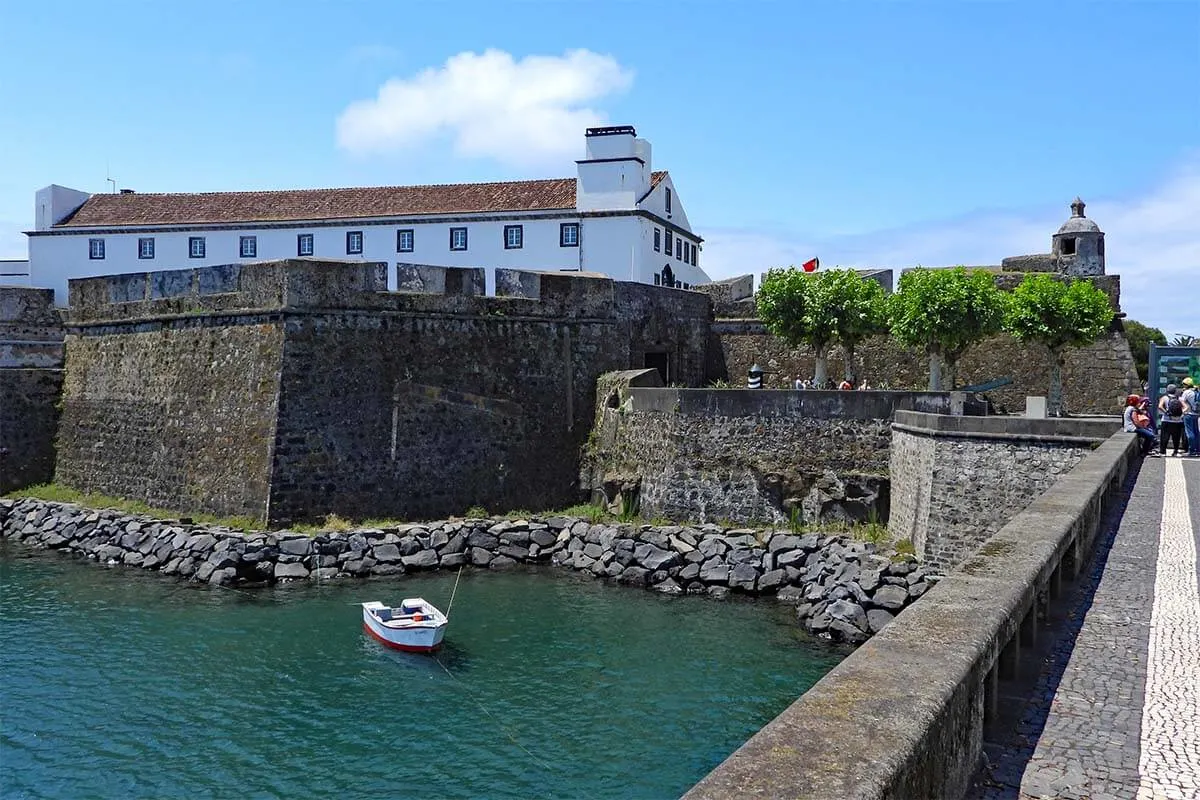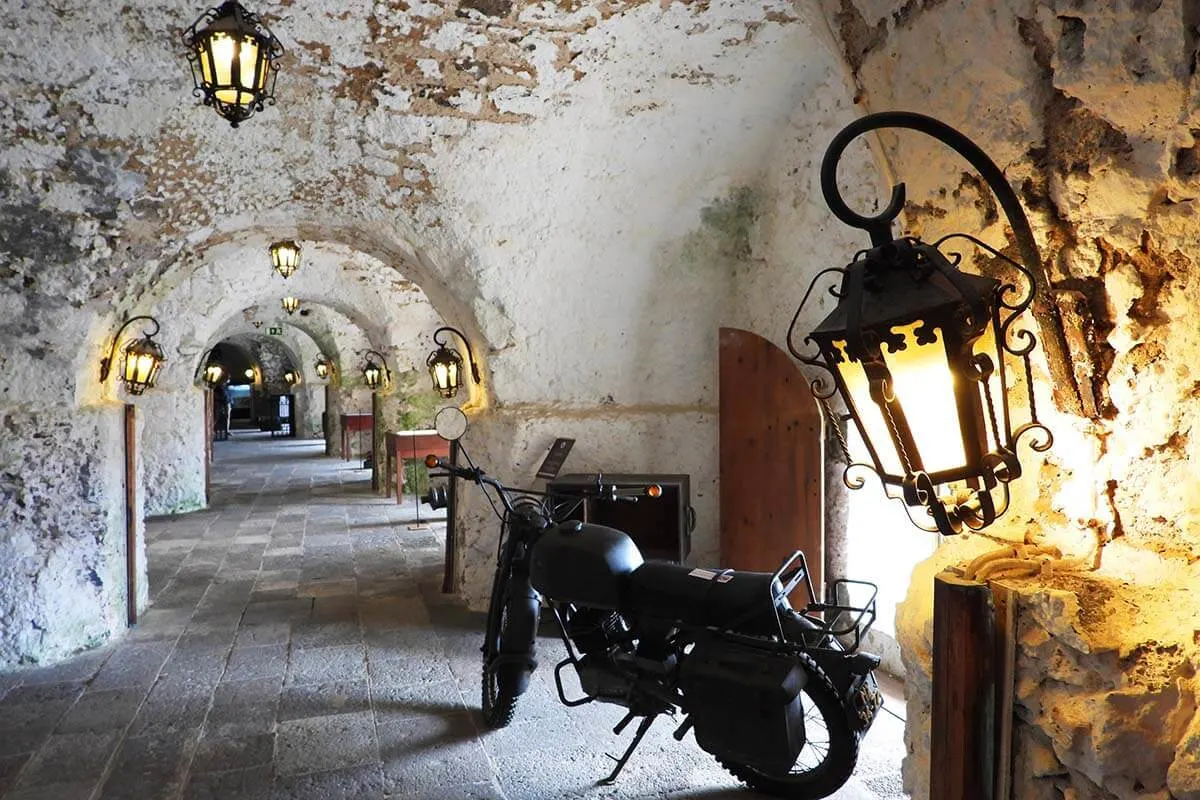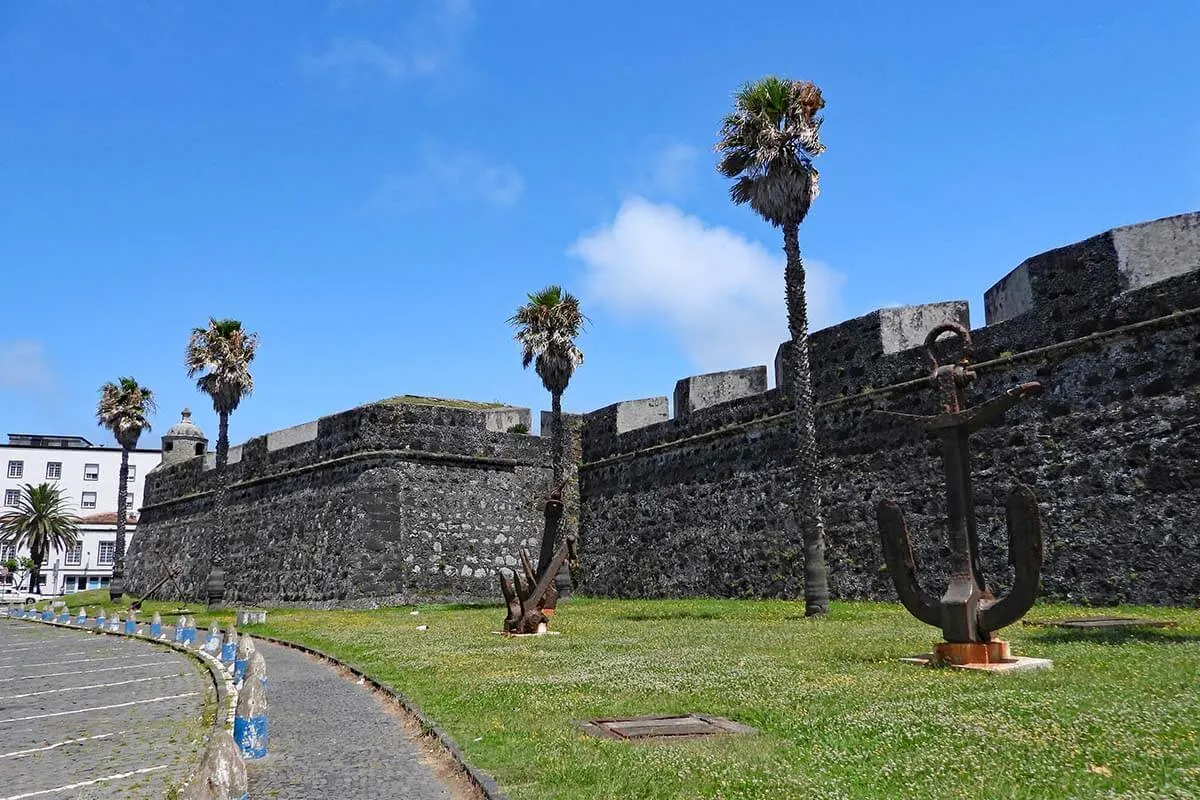 6. São Francisco Square & Holy Christ of Miracles Chapel
Just across the street from the Sao Bras Fort, you'll find another nice town square of Ponta Delgada – Campo de São Francisco. It's a much bigger square than the ones mentioned before, with big trees that give nice shade and lots of benches where locals gather for a chat.
There are several impressive buildings here. Not to be missed is the convent of Nossa Senhora da Esperança and mostly its impressive chapel of the Holy Christ of Miracles (Santuário do Senhor Santo Cristo dos Milagres).
Holy Christ of Miracles is a pilgrimage site attracting many Azorean emigrants and their families, especially for the celebrations that start on the Fifth Sunday of Easter and last until Ascension Thursday. The cult of the Holy Christ of Miracles dates back to the 17th century, and the processions are an annual tradition ever since. If you're interested in this cult and its history, you can read all about it here. During the rest of the year, the Holy Christ statue is locked behind glass, on the opposite side of the altar.
Another reason to visit this chapel is the beautifully-restored wall of Portuguese Azulejos and an impressive altar. This chapel might be tiny, but it's one of the most unique places to see in Ponta Delgada. If you visit just one church in the Azores, make it this one!
On the western side of the square, you'll see another church, Igreja de São José. This 17th-century Baroque church looks quite impressive from the outside, but it was always locked when we visited. I read that they have a Sunday mass with a choir at around 11 AM and that sometimes the gates are unlocked during the week as well, so give it a try when you are in Ponta Delgada, and maybe you'll be able to visit it inside as well.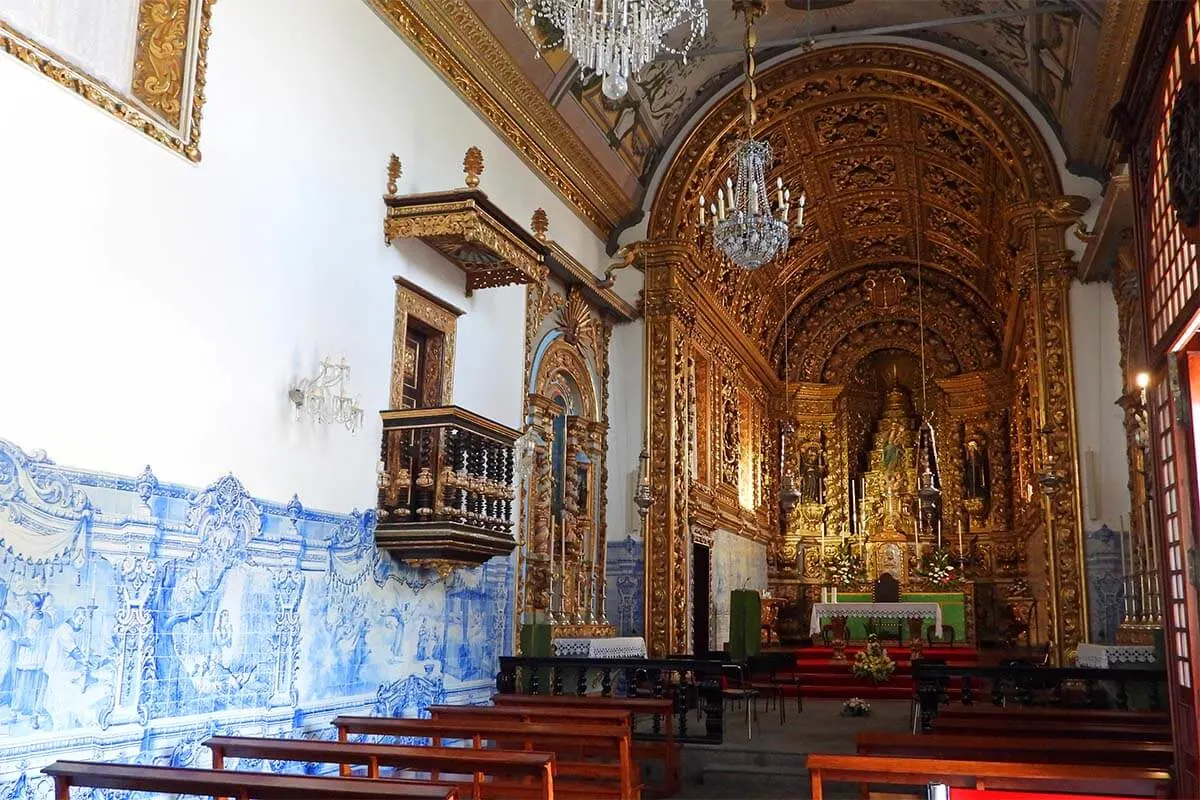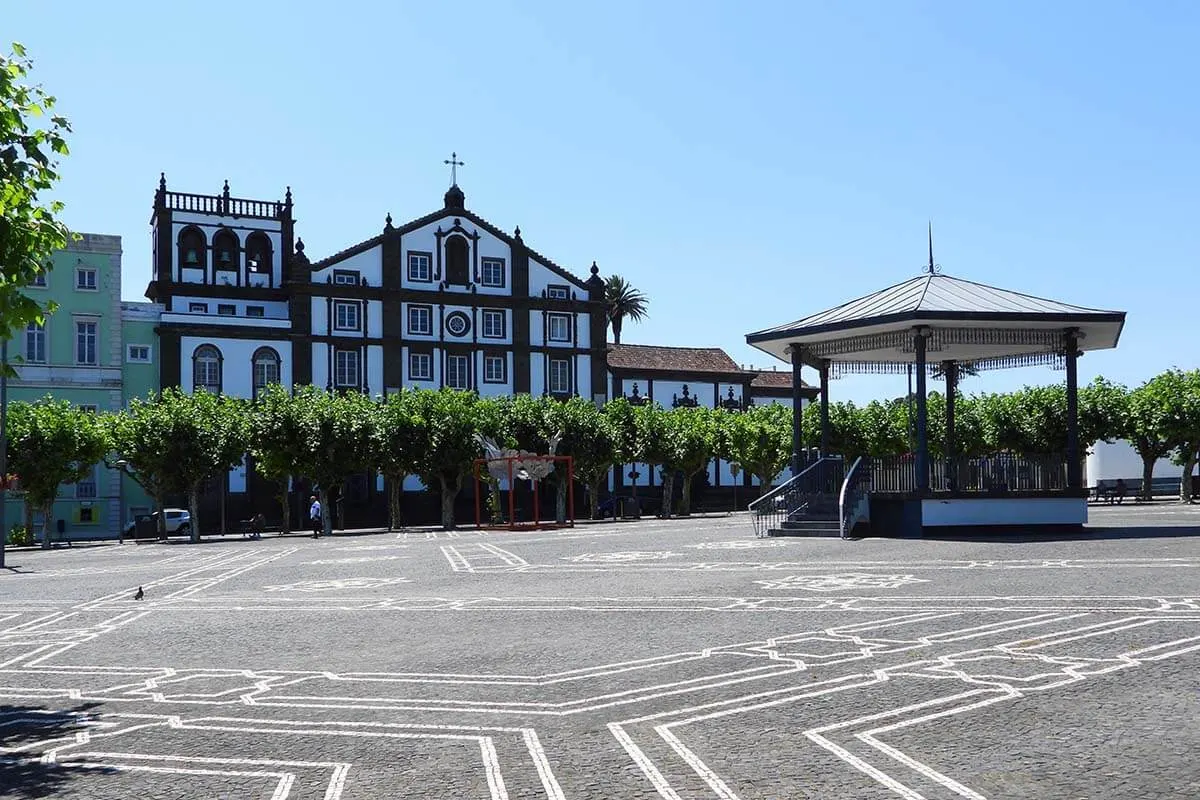 7. Palace of Sant'Ana
Palácio de Sant'Ana is the official residence of the President of the Government of the Azores. It's a beautiful 19th-century neoclassical building in a bright red color, surrounded by well-maintained gardens with lots of exotic plants, huge trees, and a nice pond.
The Palace itself cannot be visited inside, but the gardens of the Palace of Sant Ana are open to the public. You can walk around on the designated paths, visit the small park and see the greenhouses behind the Palace. This is such a tranquil and photogenic place that we found it well worth a visit.
Good to know: The gardens are located about 10 minutes walk from most other attractions in the old town. They are open daily except on Mondays, from 10 AM to 5 PM. The entrance fee is 2 EUR.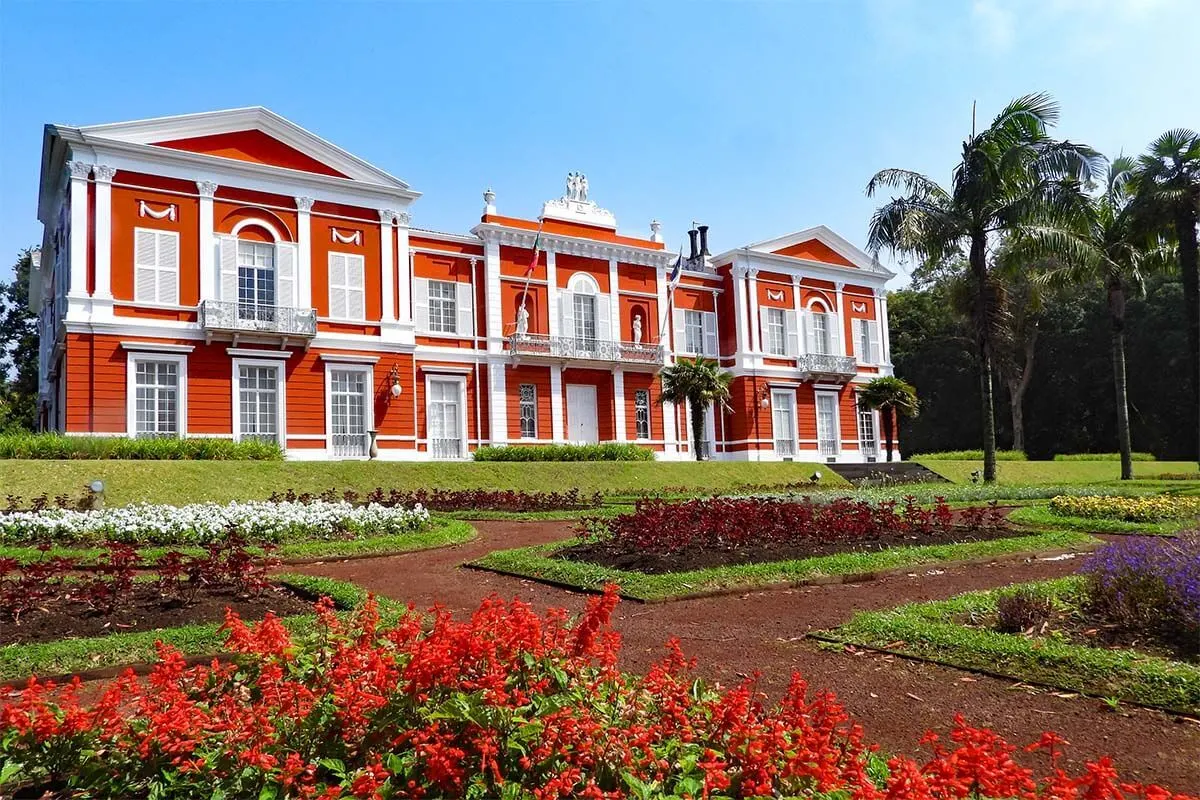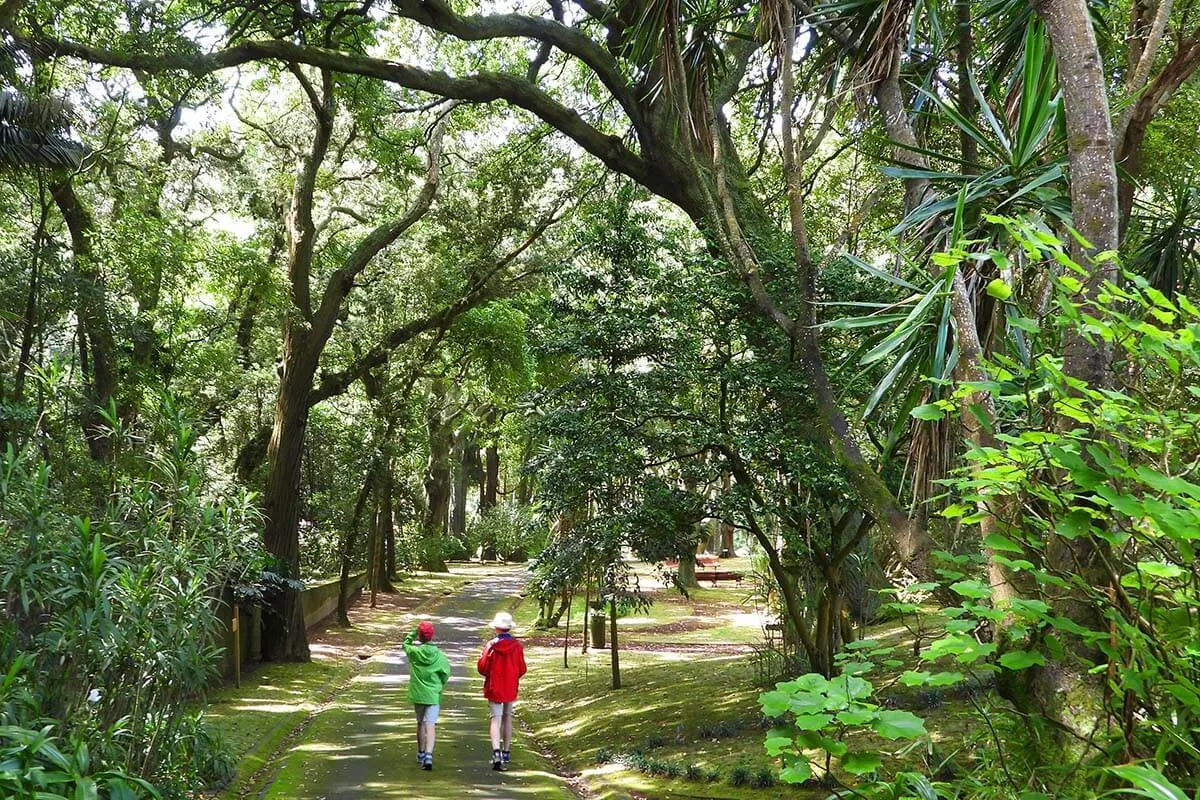 8. José do Canto Botanical Garden
Located right next to the Palace of Sant'Ana, Jardim José do Canto is actually a separate park that also deserves a visit in its own right. This is a big botanical garden that has been laid by José do Canto, a Portuguese landowner passionate about botany and plants. He introduced many new plant species into the Azores and laid this botanical garden in the mid-19th century.
While not as manicured as the gardens of the Sant'Ana Palace, this botanical garden is a perfect mix between untouched nature and a well-kept garden. It feels more like a big park and has some really impressive trees from all over the world that make a visit here more than worthwhile.
There is also a display of Portuguese Azulejos that shortly guide you through the history of the Azores, starting with the discovery of the islands in the 15th century.
Good to know: The gardens are open daily from 9 AM to 5 PM. The entrance fee is 4 EUR. You can find a bit more information on their website.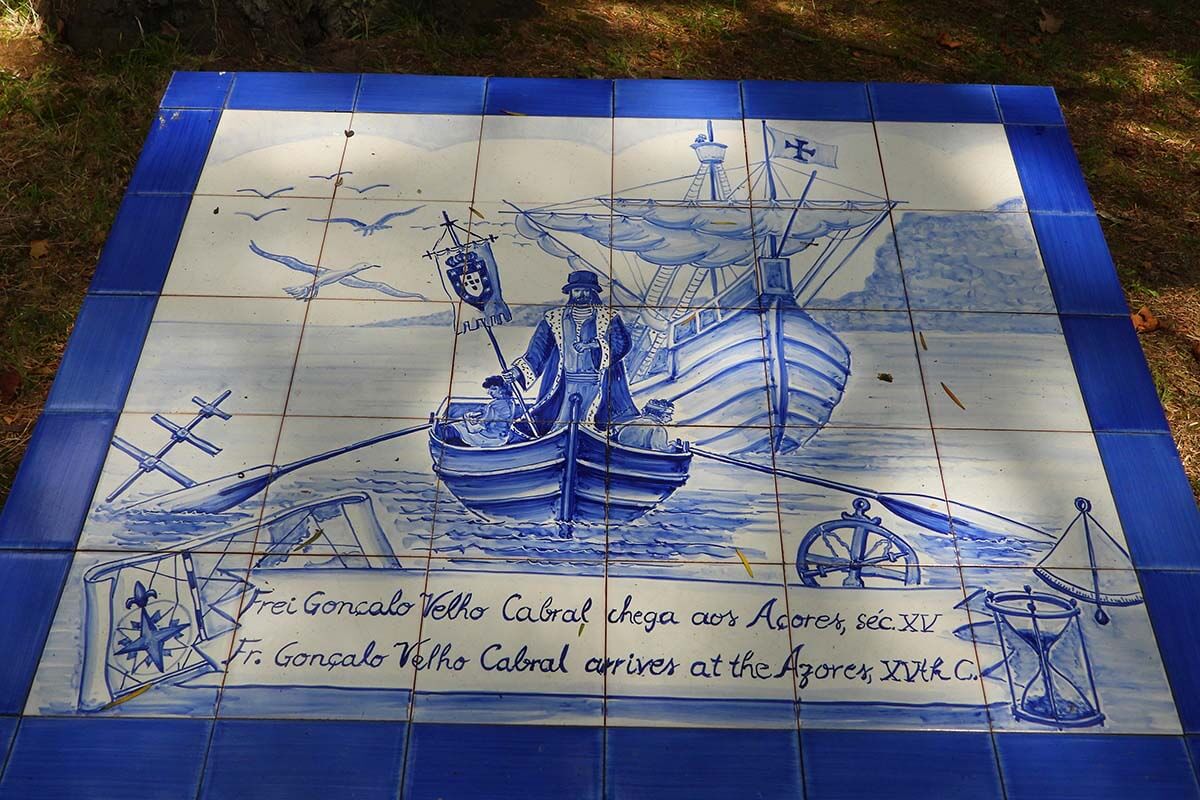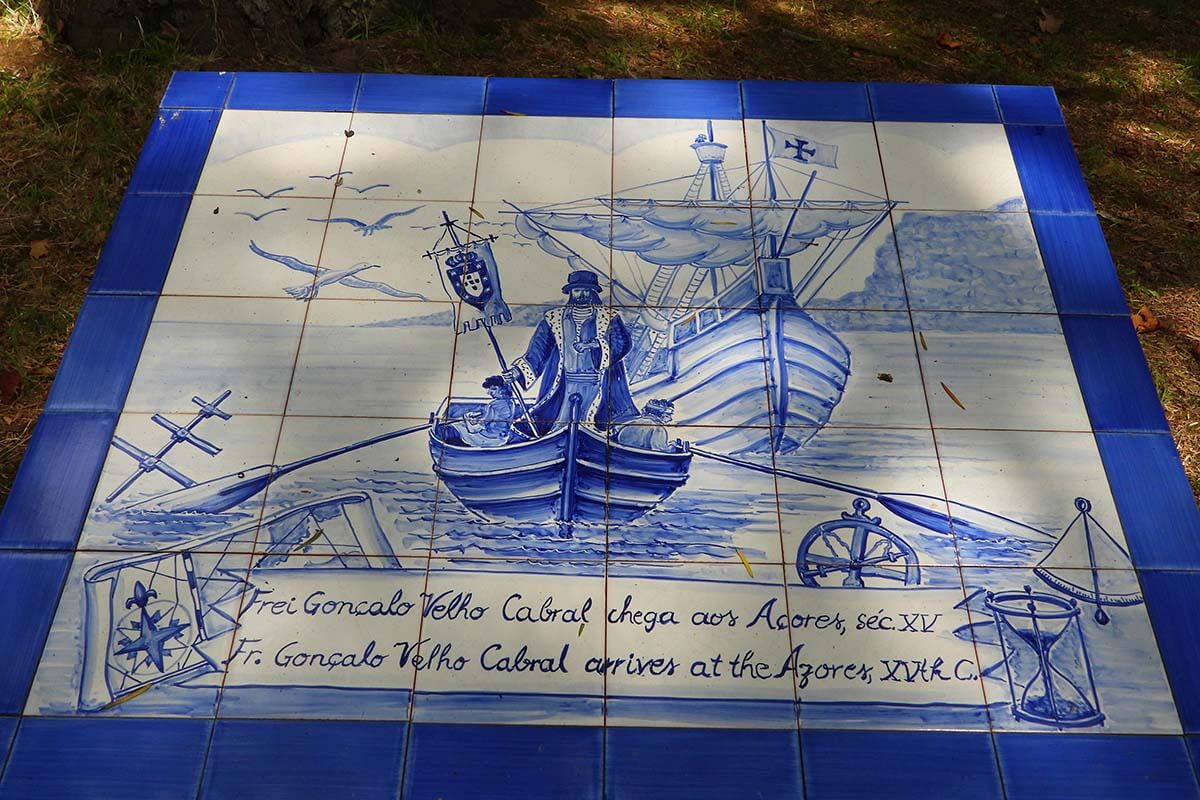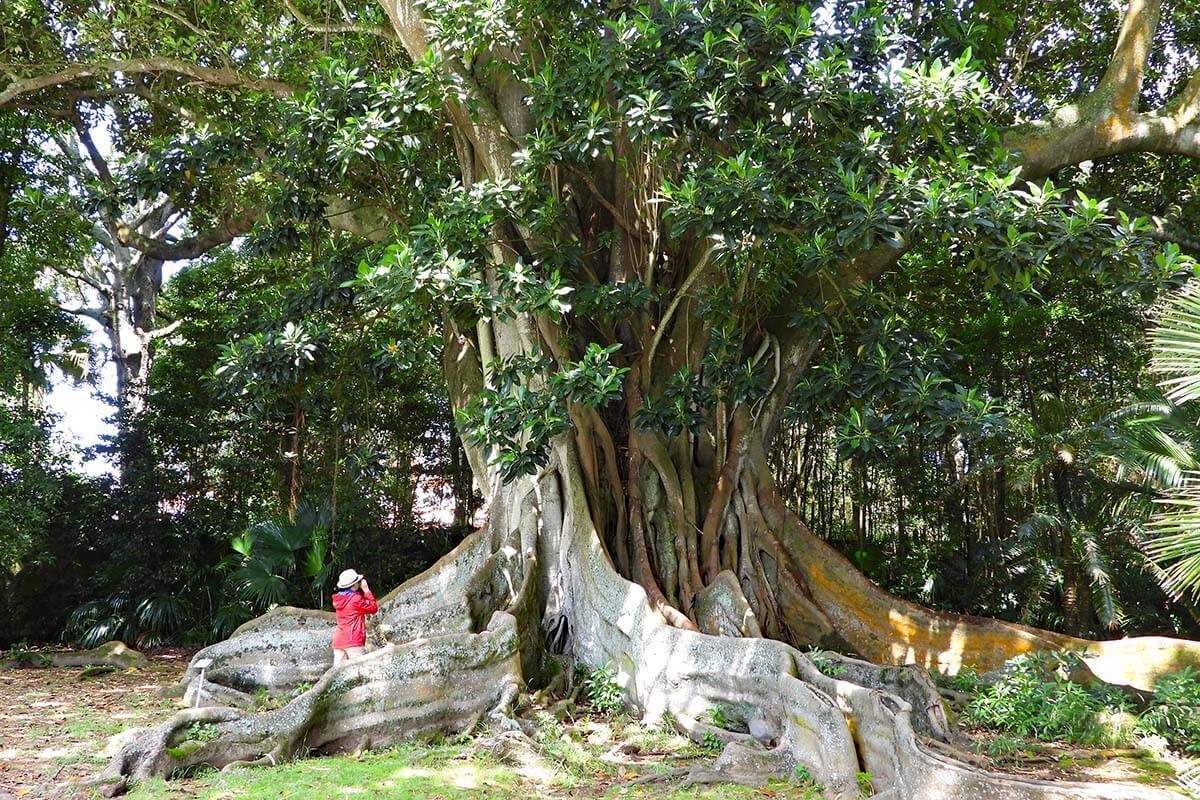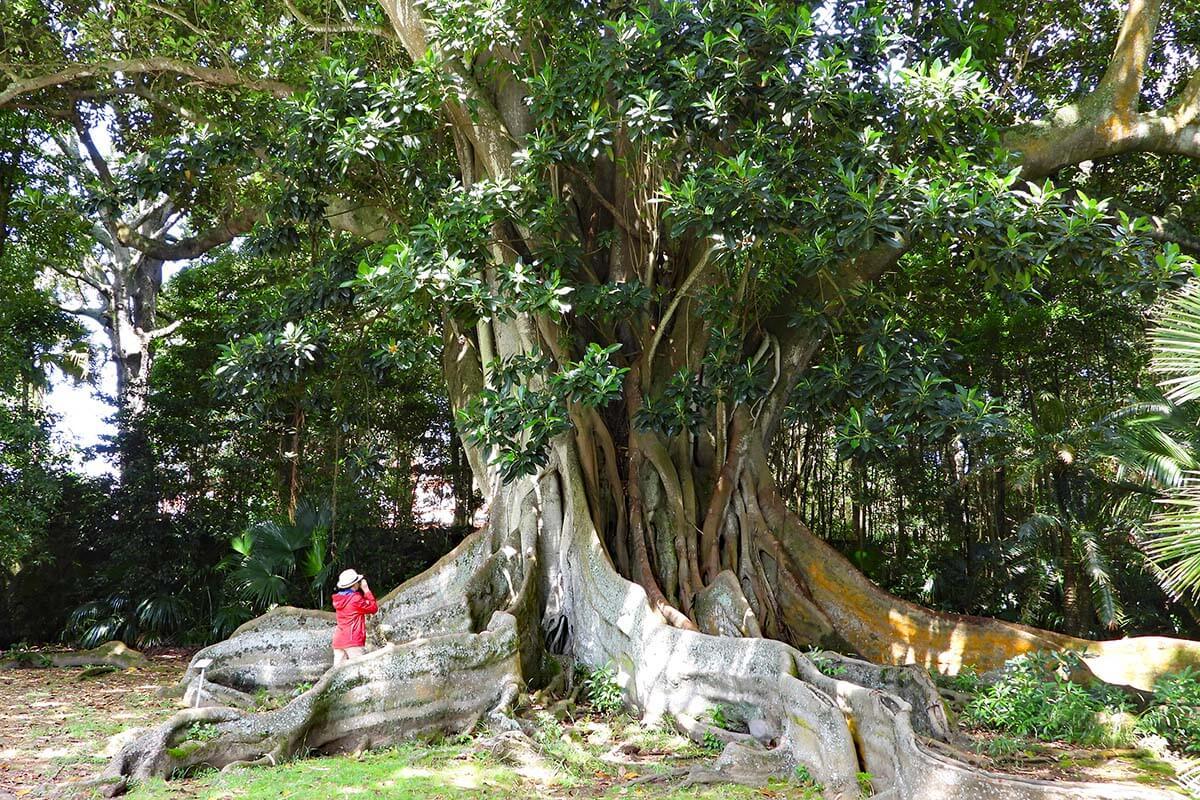 9. Farmers Market
If you want to visit a local farmers' market in the Azores, then don't miss Mercado da Graça in the center of Ponta Delgada. It's a big covered market where you'll find all kinds of local fruits, vegetables, and also traditional liquors and some Azorean specialties and souvenirs.
If you want to buy a pineapple to take home with you, you'll find plenty of choice here. Pineapples are often packaged in a nice box that you can take straight on the plane with you, but you may want to double-check if your country allows bringing fresh fruit from overseas.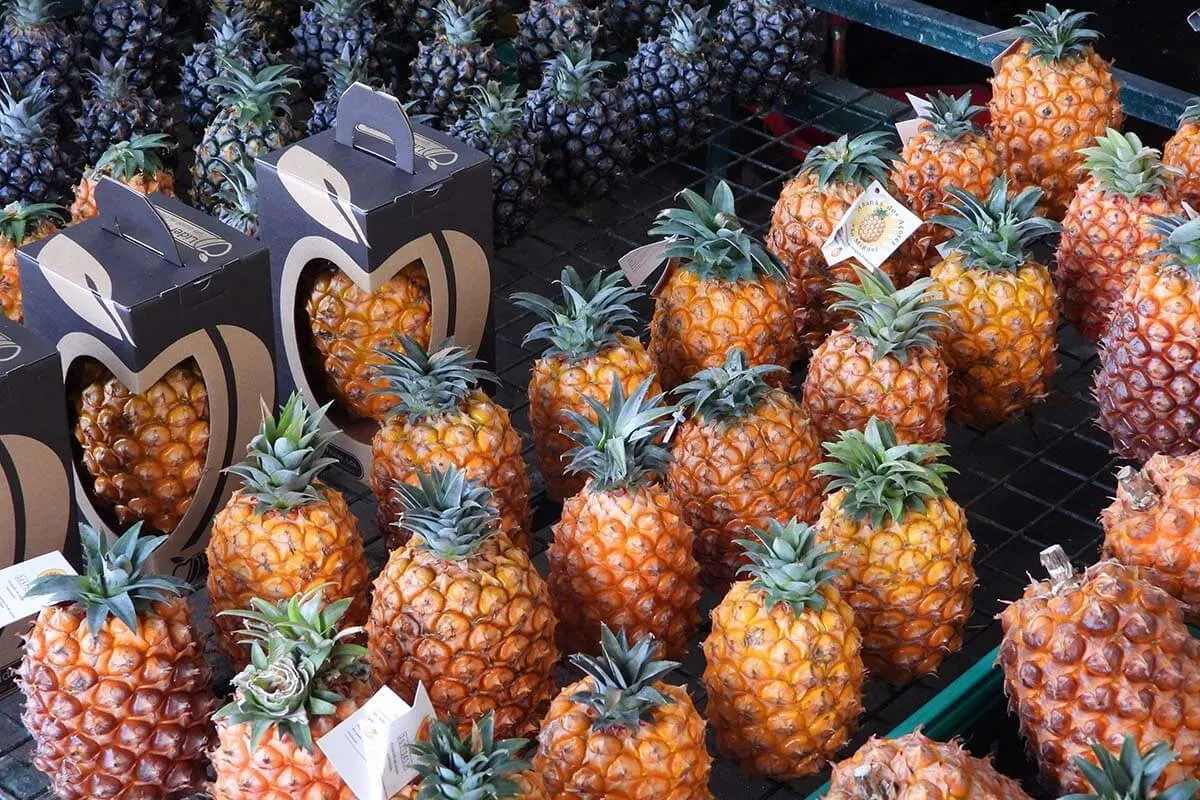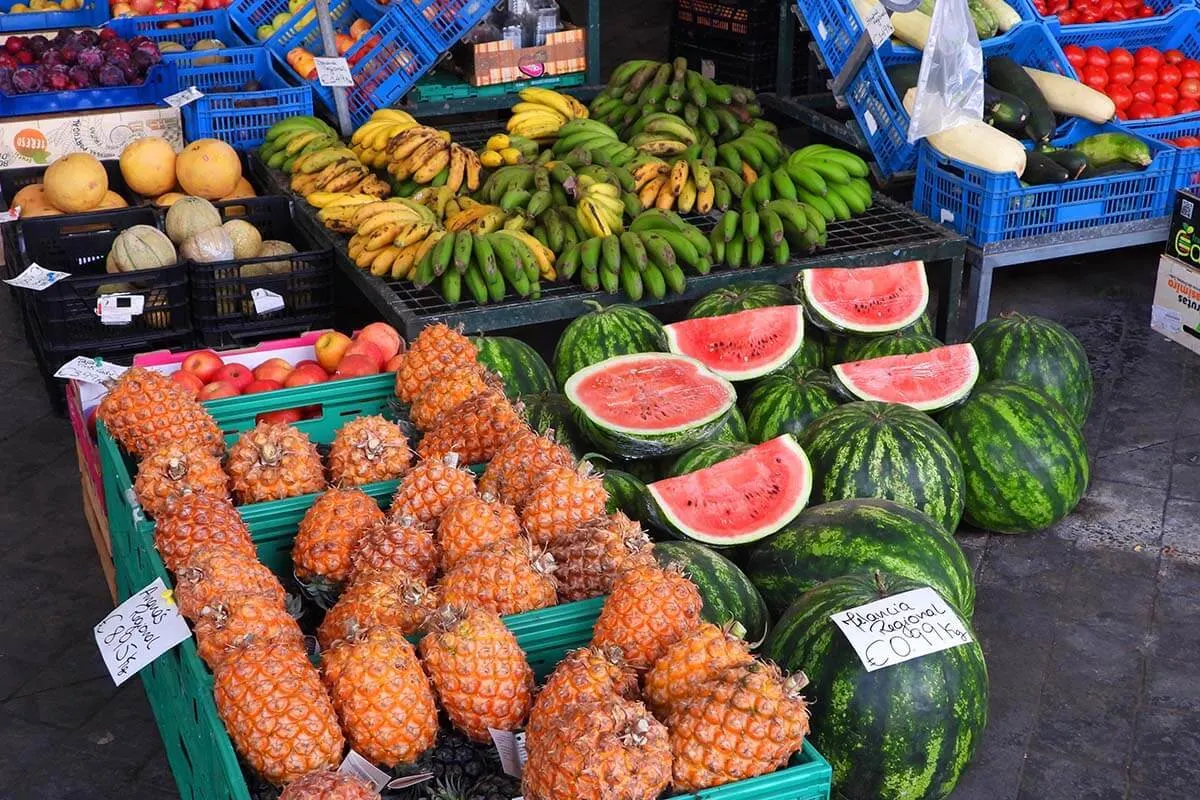 10. Pineapple Plantations
No visit to Sao Miguel would be complete without tasting delicious Azorean pineapple. In Ponta Delgada, you can also see where and how the pineapples are grown. There are several pineapple plantations on the outskirts of the city that are open to the public.
Pineapples have been introduced to the Azores in 1850 and have been grown in Sao Miguel ever since. They are grown inside white-painted greenhouses, and it takes about 2 years for a fruit to grow and ripen. When you visit the plantations, you can see pineapple plants in different stages, and learn more about the whole process.
The visit to pineapple plantations is free of charge and they usually also offer to taste pineapple jam and/or pineapple liqueur. And, of course, they hope that you then buy some local delicacies or souvenirs or visit a cafe afterwards.
The Azorean Pineapple Plantation (Plantação de Ananás dos Açores) is one of the nicest pineapple plantations to visit in Ponta Delgada and it's relatively close to the city center. Yes, you'll see greenhouses surrounded by apartment buildings – quite a unique sight. You can walk here from the waterfront area in about 15-20 minutes, and one of the routes of the tourist train also includes a stop here (more info below).
Another pineapple plantation that you can visit in Ponta Delgada is Plantação Ananases A Arruda. It's located further from the city center and you'll need a car or a taxi. There's also Pineapples Santo António. But – in all honesty – they all offer quite similar experiences, so visiting one is definitely enough.
Good to know: See our map of Ponta Delgada attractions for the exact location of the two most popular plantations. The plantations are usually open daily from 9 AM to 8 PM.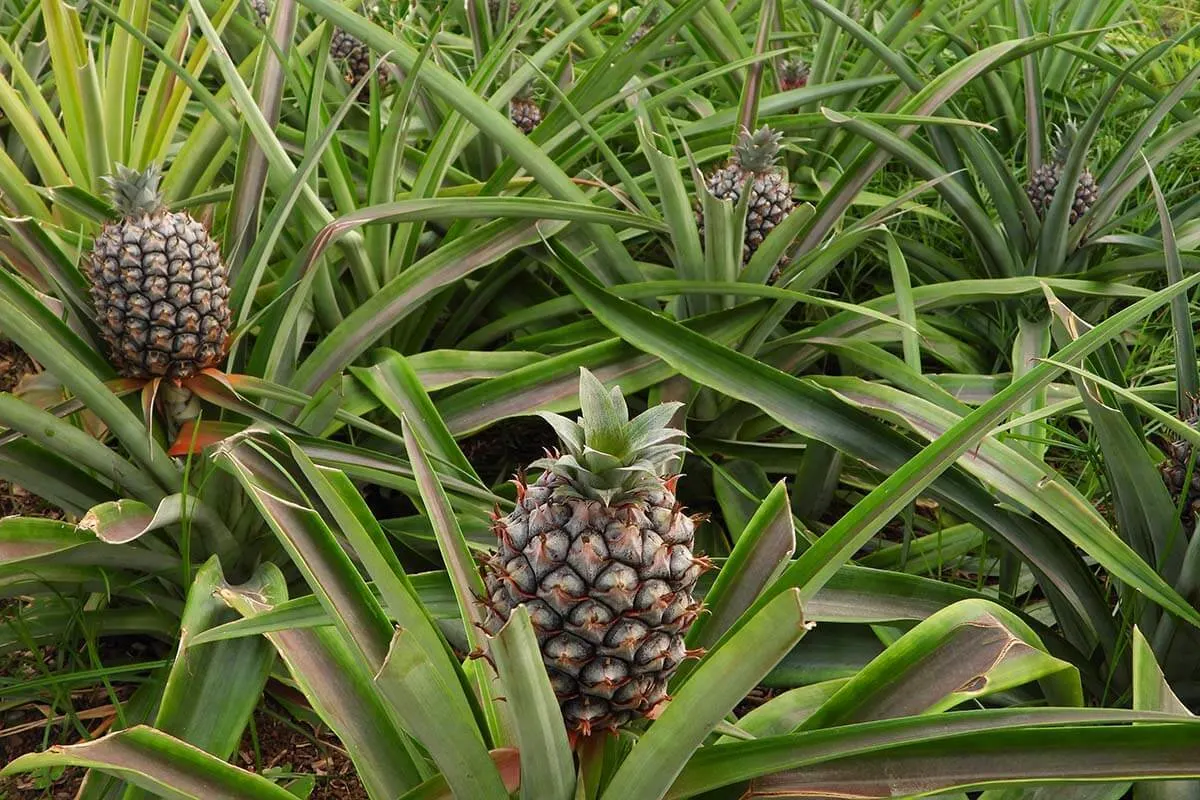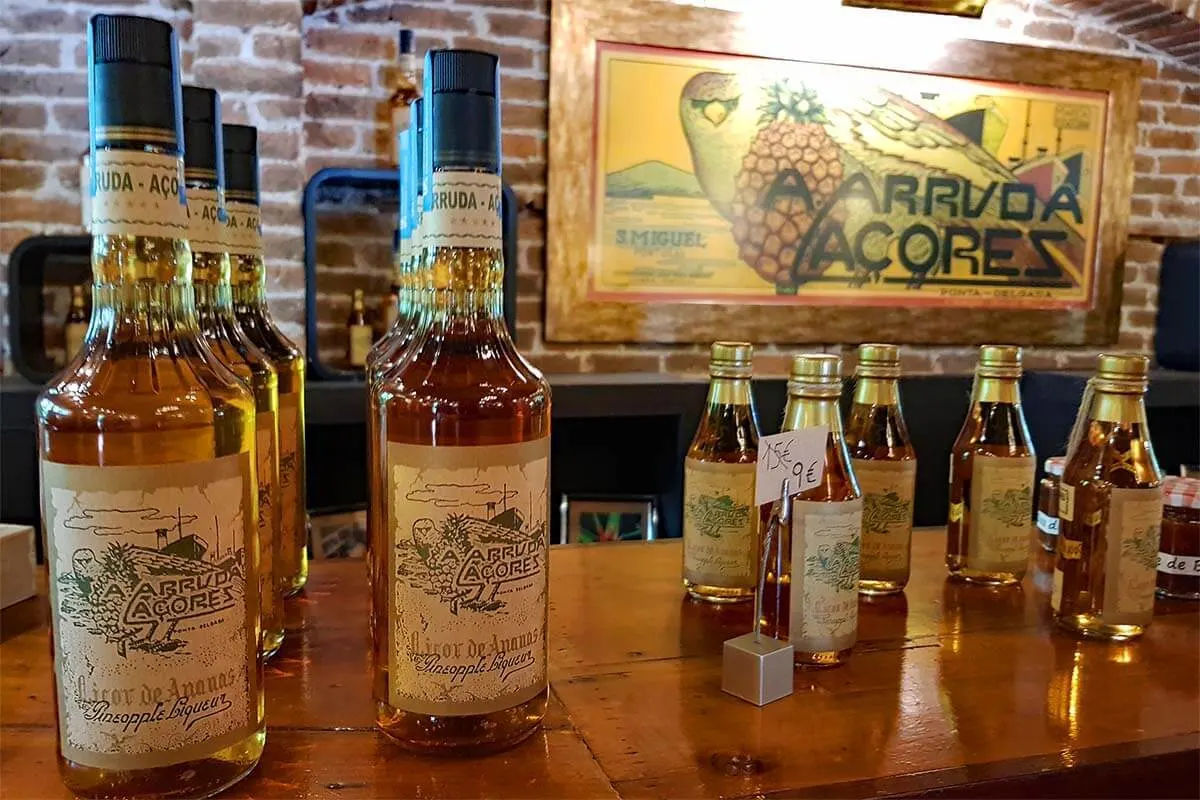 11. Lagarta – Tourist Train
While the city center of Ponta Delgada is very walkable, some parks and other sights are located a bit further away. So if you are short on time, don't feel like walking, or simply want to get a good feeling of the layout of the city before exploring it deeper, then you may want to opt for one of the sightseeing tours by Lagarta tourist train.
This is a typical small 'train' that you find in many European cities. You can find it on the western side of the main avenue, close to Sao Bras Fortress and Sao Francisco Square. It offers several routes covering different areas of the city. It's not a hop-on hop-off train, but some of its routes include a short stop or two (for example at a pineapple plantation).
Good to know: Tours take about 1 – 1.5 hours and prices start at around 10 EUR per person. For more information, see their website or simply walk over to their stand in the city center and see which tour is available at that time.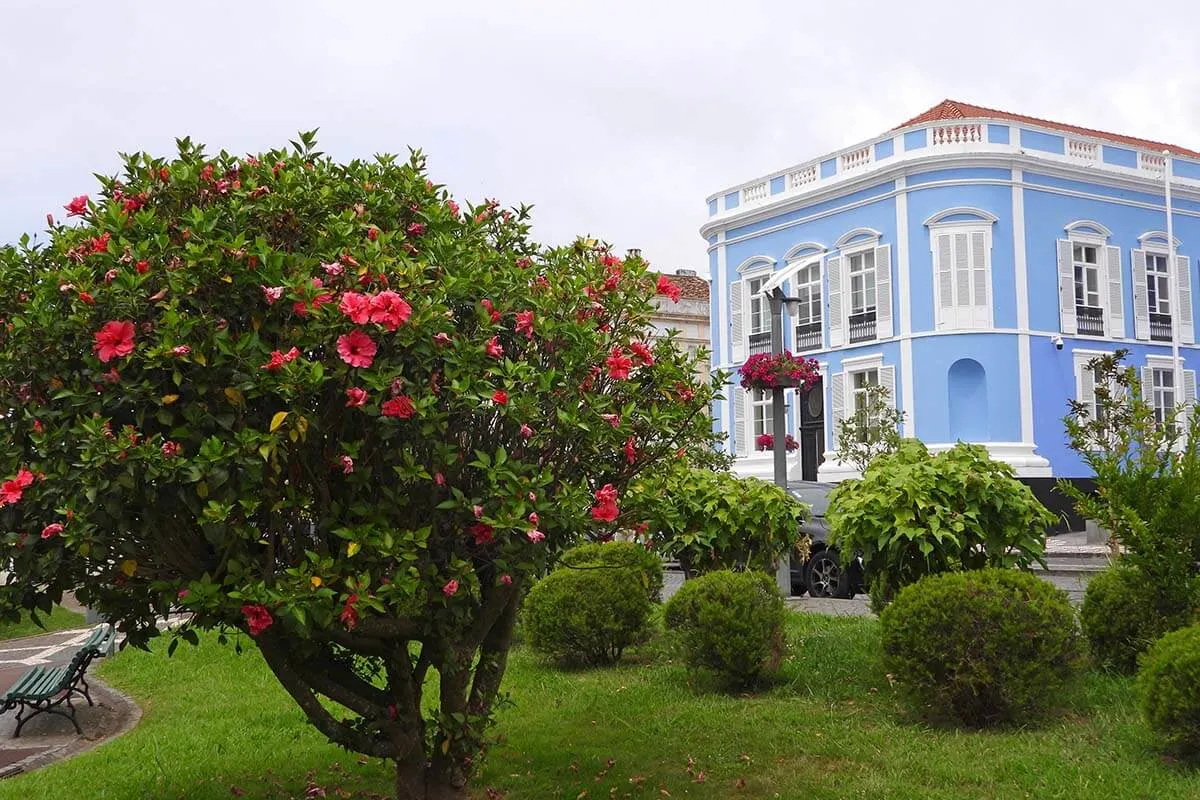 12. Carlos Machado Museum
Museu Carlos Machado comprises of three different parts, and you can visit one, two, or all of them.
The main part is situated in the Santo André Convent from the 17-18th centuries and has two different collections. One of them focuses on the history of nature (with many stuffed animals), and the other one – on the history of the Convent itself, including religious art, paintings, etc.
In addition, you can visit the Sacred Art center located at the former College Church and also Santa Barbara Center.
Good to know: The museum is open daily except on Mondays, with varying hours depending on the season. For more information, please see their website.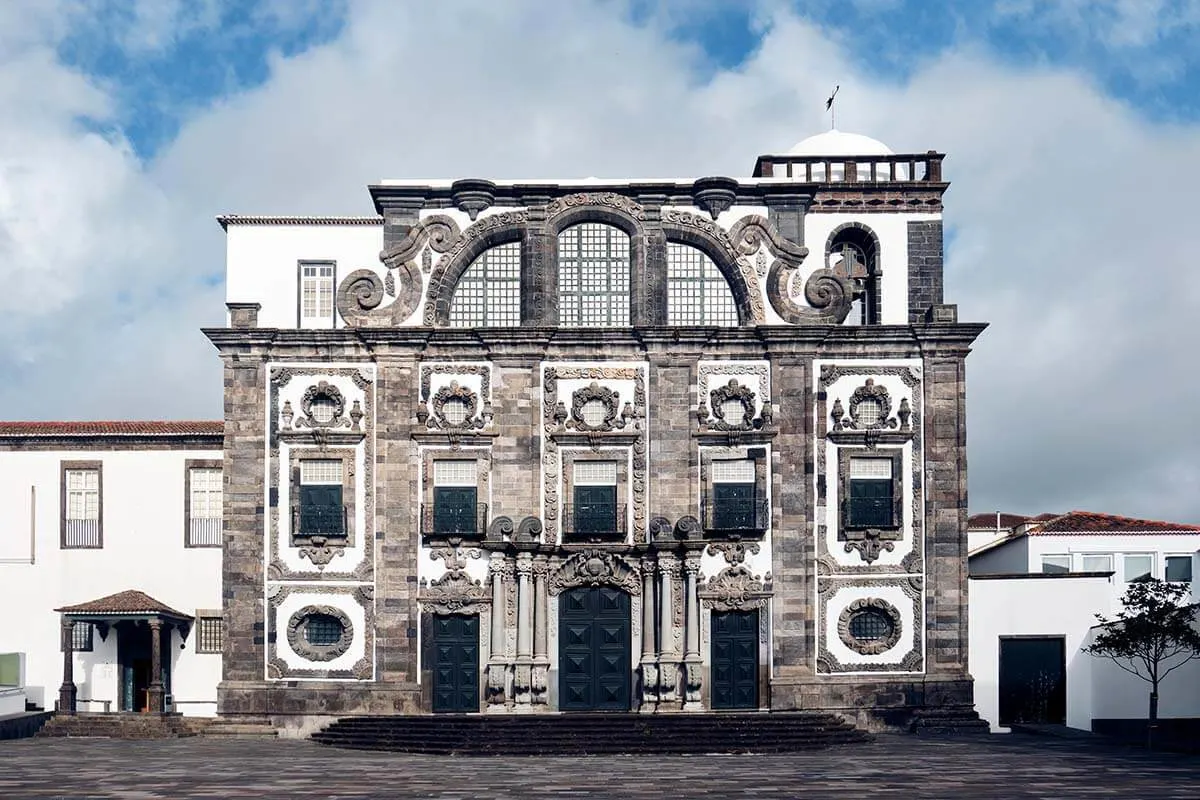 13. São Pedro Church
Igreja de São Pedro is a 17-18th century church that stands high on a small hill next to the waterfront area close to Portas do Mar. If you arrive in Ponta Delgada by cruise ship, this will likely be one of the first places you'll see.
The Sao Pedro church might look similar to all the others in the Azores, but this one is really worth visiting inside. Its rich Baroque interior is probably one of the most impressive of all the churches in the Azores (and definitely more impressive than Igreja de São Sebastião on the main square).
However, also this church was always closed when we were in the city, so I have no pictures of the interior. Hopefully, you are luckier with the timing…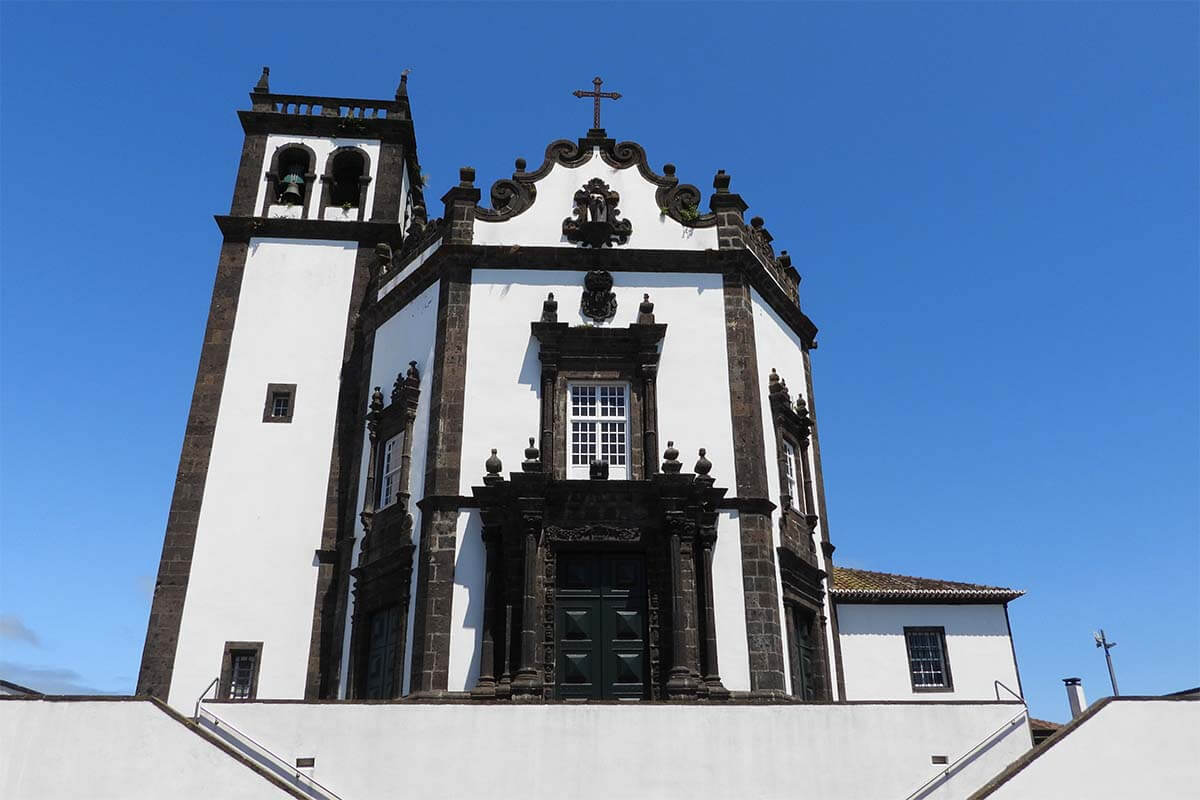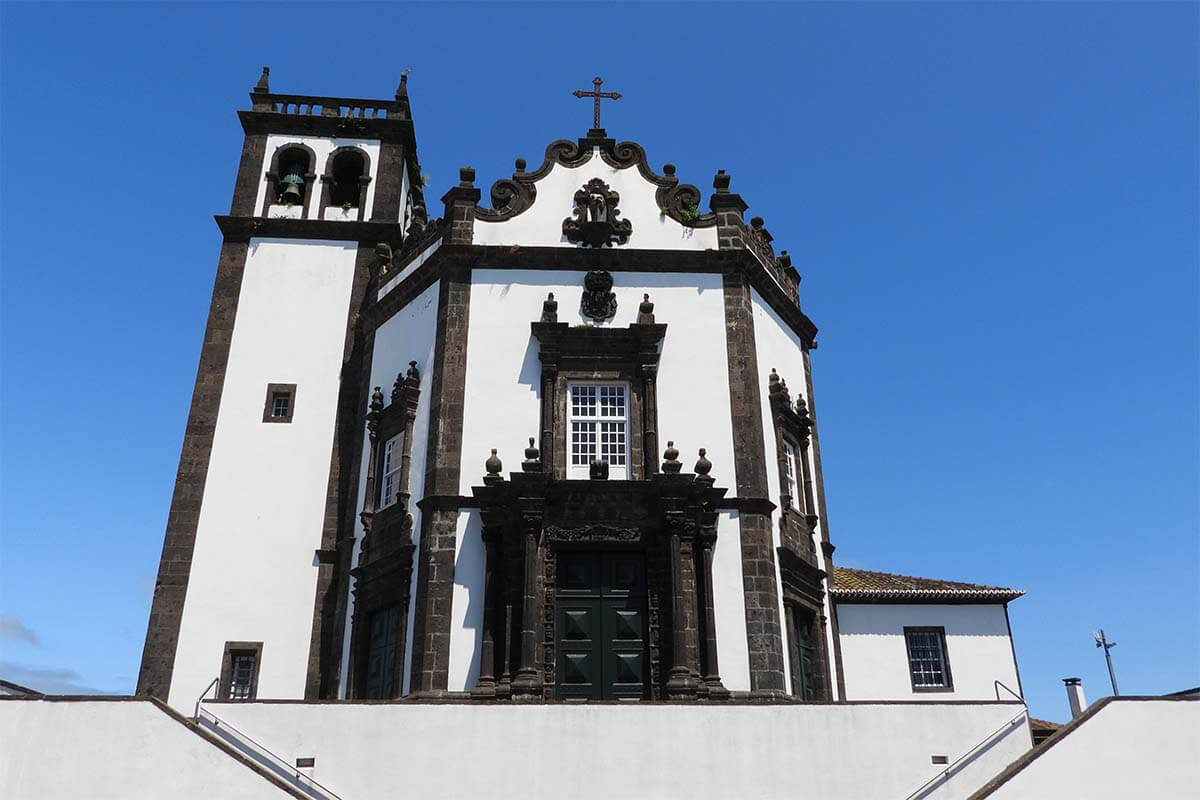 14. Antonio Borges Garden
Jardim António Borges is a public park, located a bit outside the city center. It's a beautiful park laid in the 19th century, and featuring some very impressive trees, small ponds, nice walkways, and some interesting stone structures such as benches, tunnels, and grottoes.
Antonio Borges Garden is free to visit and is open daily, with opening hours varying per season.
If you don't feel like walking all the way or paying a small fee to visit the gardens of Sant'Ana Palace or José de Canto Botanical Garden, this park is a wonderful alternative. And otherwise, try to see all three of them – they are relatively close to each other.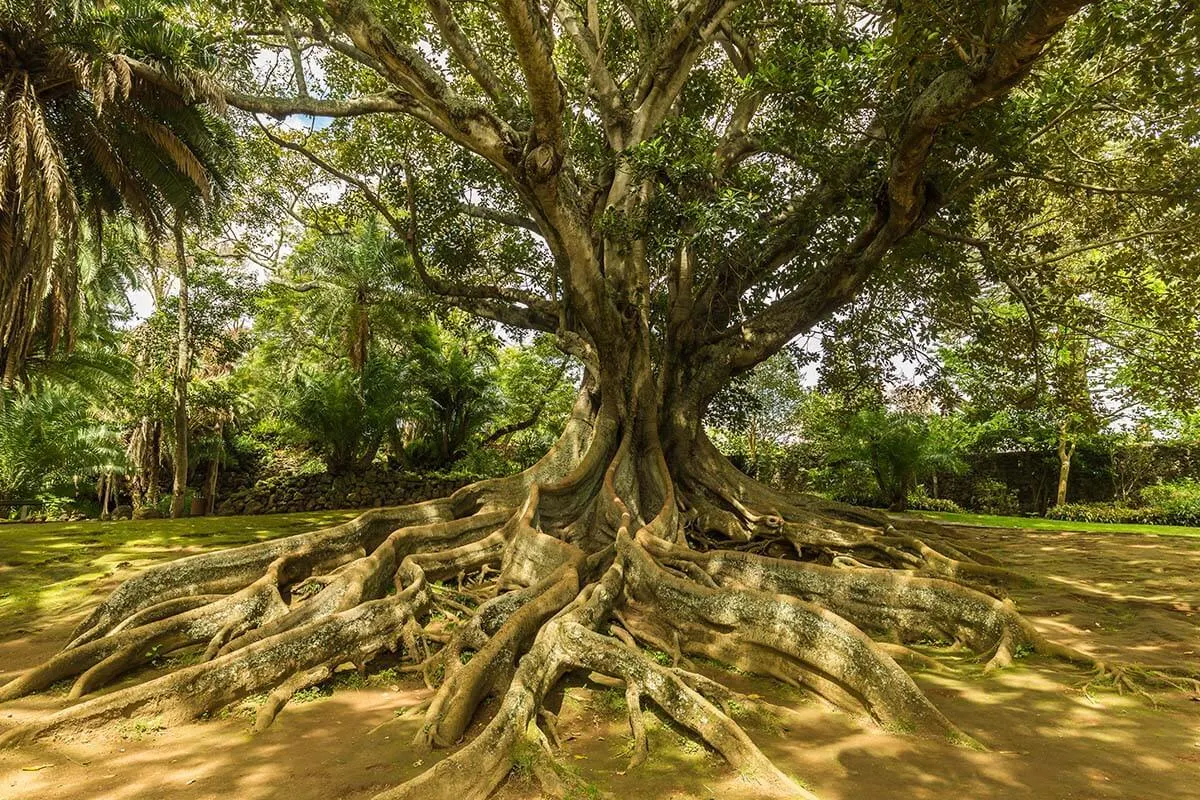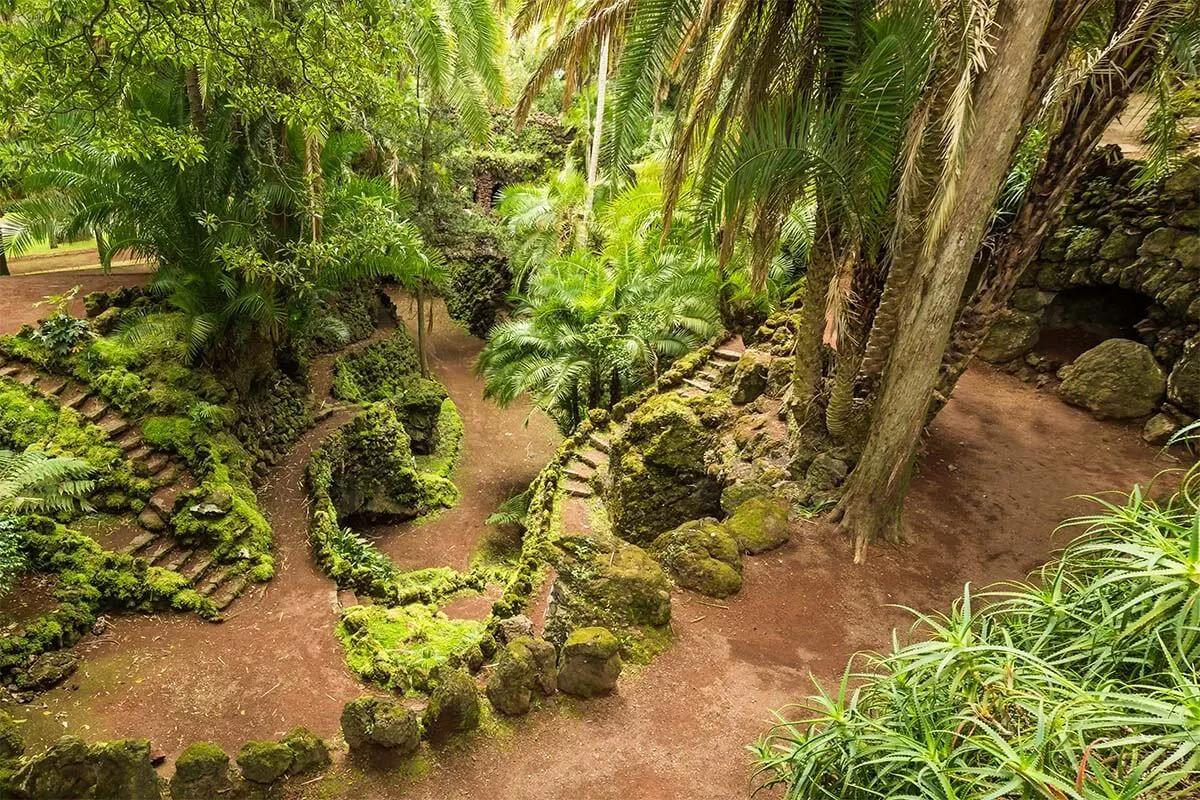 15. Whale & Dolphin Watching
One of the best things to do in the Azores is taking a dolphin- and whale-watching tour and Ponta Delgada is no exception. The southern coast of the Sao Miguel island is a great place to see marine animals, and there are boat tours starting straight from the Ponta Delgada harbor.
If you only have a few hours in the city, then I'd focus on all the Ponta Delgada attractions listed above. If, however, you have an entire day, you could easily add a whale watching tour to your itinerary.
TIP: This highly-rated tour is the best whale & dolphin watching tour that starts in Ponta Delgada. They usually have several departure times per day, so it's easy to include this tour into your itinerary.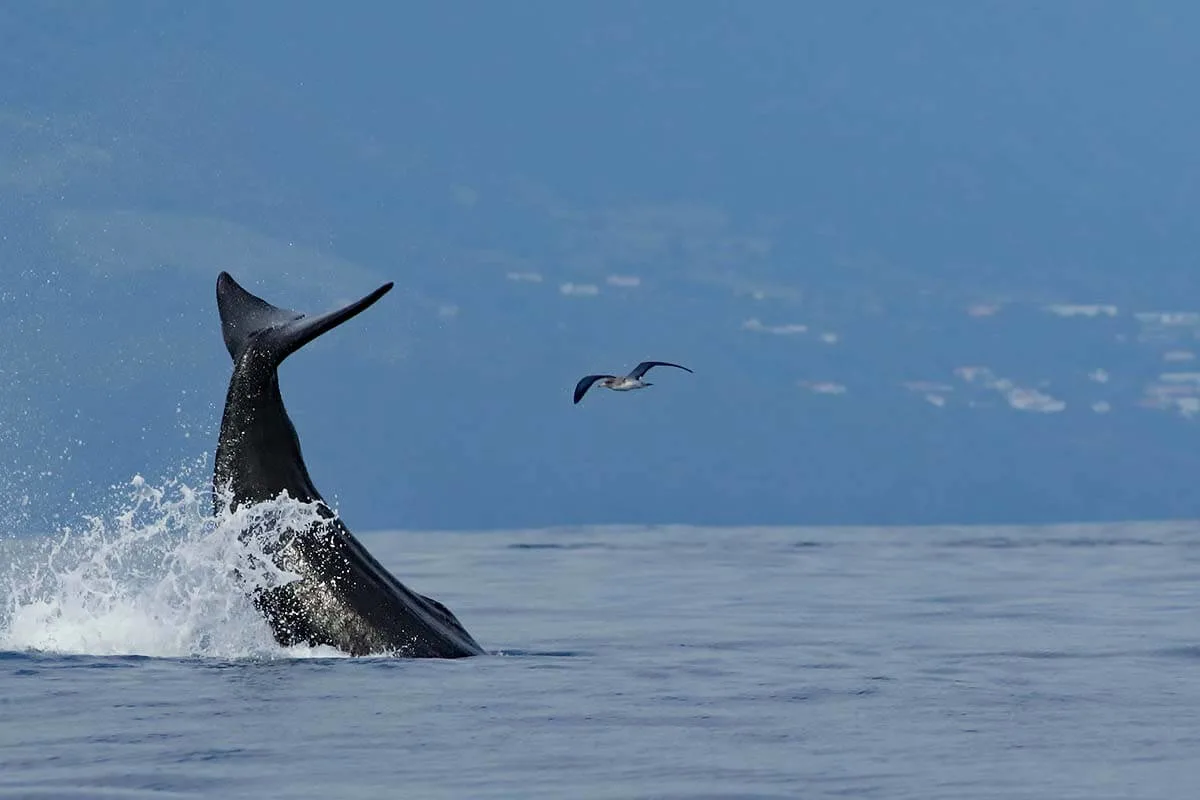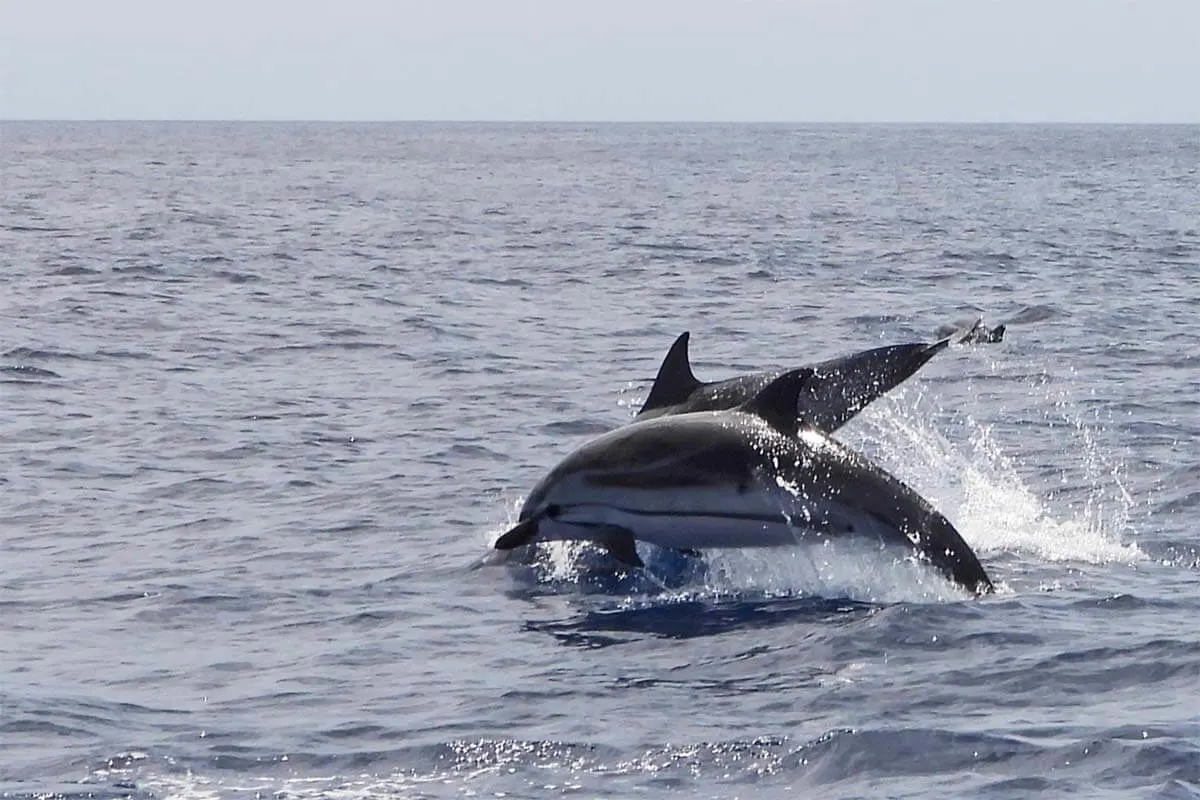 16. More things to do in & near Ponta Delgada
In addition to all the main places to see in Ponta Delgada, there are also many nice places to visit close to the city. Below, is a small overview, and we also indicated them on our map.
Gruta do Carvão is the longest underground lava tunnel on Sao Miguel island. More information on their website.
Miradouro do Ilhéu de Rosto de Cão is a nice viewpoint over the small islet near the coast.
Praia das Milicias & Praia do Pópulo – two of the nicest beaches close to the city. You can walk/bike there following the coast, or visit by car.
In addition, there are many nice tours from Ponta Delgada that bring you to some of the best places on the island of Sao Miguel. Here are the two most popular tours that are perfect if you don't have a car and want to see as much as possible in a short time:
WEST tour (Sete Cidades, Lagoa do Fogo, Caldeira Velha, Ribeira Grande town, and pineapple greenhouses). If you have just a day on the island, this is the best option, by far.
EAST tour (Ribeira dos Caldeirões, Furnas, and Northeast). Another must-see area, with hot pools and traditional food slow-cooked under the ground of the geothermal areas in Furnas.
READ ALSO: Best Places to See & Things to Do in Sao Miguel
Practical Tips & Info for Your Visit
How much time do you need
Ponta Delgada is a small city and you can see the best that it has to offer in half a day to a day. If you want to actually visit all the parks and museums mentioned in this article, count a full day for your visit to Ponta Delgada. If you are staying in Sao Miguel for a longer holiday, it's worth coming to the city a few different times and exploring it at a slower pace, as we did.
Getting around
Most Ponta Delgada attractions are located very close to each other and you can easily explore the entire city on foot. You can also take a tourist train, tourist bus, or taxi to visit the places that are somewhat further away. Driving in the old city center is not advisable – most streets are one-way only and also very narrow.
Parking
There are plenty of parking spaces on the main avenue Avenida Infante Dom Henrique. This is one of the easiest places to get to and park your car and you can explore the rest of the city on foot. There are parking meters on the street, and parking here is free on Sundays.
In addition, there are also big underground parking garages under the main avenue, with several entrances that you really cannot miss. We found this underground parking very convenient and it saves you trouble trying to figure out how the parking meters on the street work.
TIP: If you are visiting Ponta Delgada on a weekday, underground parking is the best place to park your car. If visiting on a Sunday, you can usually find plenty of free parking spots on the main avenue itself.
Best time to visit
Ponta Delgada is best visited on weekdays. That's when everything is open and the city is really lively. We once went on a Sunday, and most landmarks, shops, and restaurants were closed, and all the locals seem to have left the city (Azoreans love to go swimming and picnicking on the weekends). On Sunday, Ponta Delgada feels like a sleepy little town, not comparable to the bustling city that you'll find on weekdays.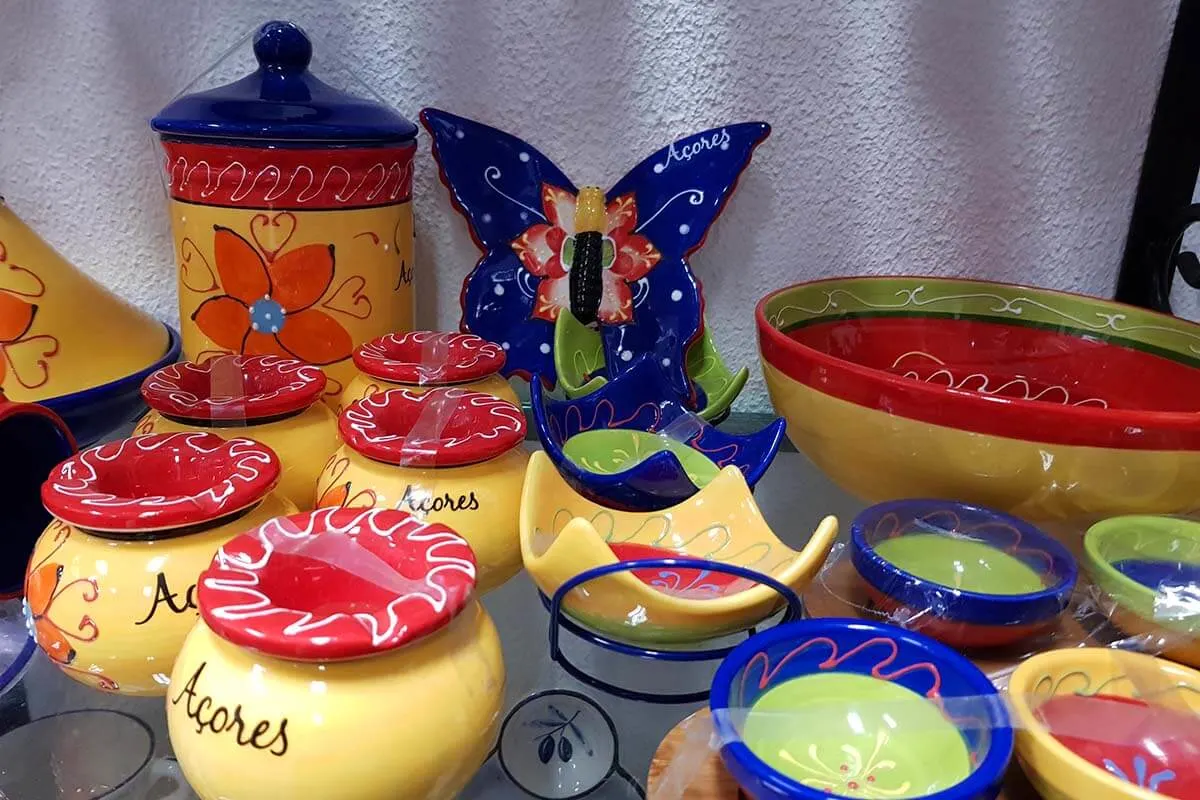 Where to stay
There are many hotels and other accommodation options in Ponta Delgada.
If you have a car, we recommend staying in one of the big hotels close to Portas do Mar, with great sea views from most rooms. Even if they don't have their own parking, you can use underground parking garages next door.
The best hotel at the waterfront is Octant Ponta Delgada – previously Azor Hotel (great facilities and on-site parking available). Another nice choice is Hotel Marina Atlântico (private parking available, but their indoor pool is adult-only).
For families and those who want a bit more space, Hotel Gaivota Azores is a good option with nice sea-view apartments available. This hotel has no pool, but there are public outdoor pools right across the street.
On a lower budget and just a tiny bit outside of the city center, MS Vila Nova is an excellent choice with convenient parking.
Without a car, you can also stay in the old town, where you'll also find more budget-friendly accommodations. On a lower budget, Hotel Alcides is one of the best-rated budget hotels in the heart of the city.
TIP: If you are looking for a more charming hotel with character and a great location in the old town, Hotel Talisman with beautiful rooms and a rooftop pool, is one of the nicest and excellent-value hotels in Ponta Delgada. They also have private parking available nearby.
READ ALSO: Where to Stay in Sao Miguel Island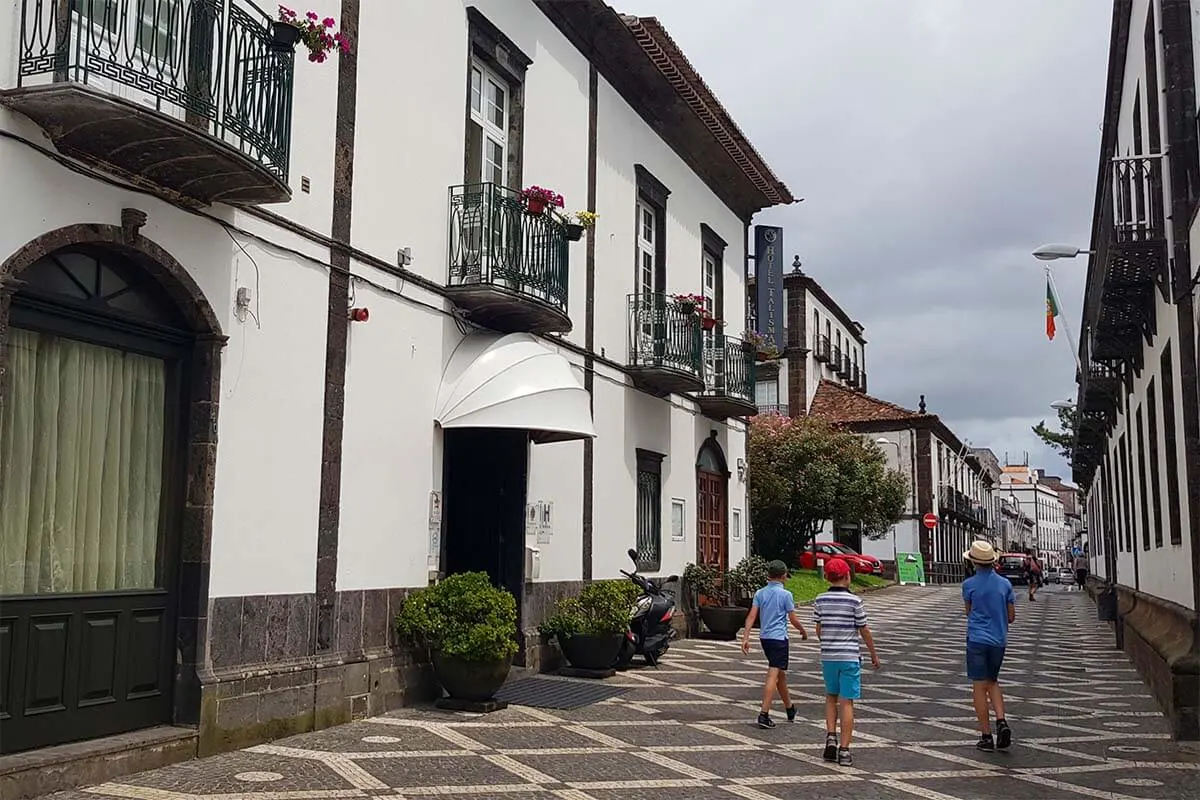 So, this is our guide to Ponta Delgada in the Azores. While Sao Miguel island has a lot of amazing natural wonders, its capital city definitely deserves a visit as well.
I hope that this article will inspire you to visit Ponta Delgada and explore the city a bit deeper. Have a great trip!
If you are planning a trip and are looking for more information and inspiration for visiting Sao Miguel, please see our other guides as well:
Sete Cidades: a complete guide for your visit to the most popular place in the Azores.
READ ALSO: Portugal Travel Guide – destination guides, itineraries, and travel tips for a big variety of places all over Portugal
If you found this post useful, don't forget to bookmark it and share it with your friends. Are you on Pinterest? Pin these images!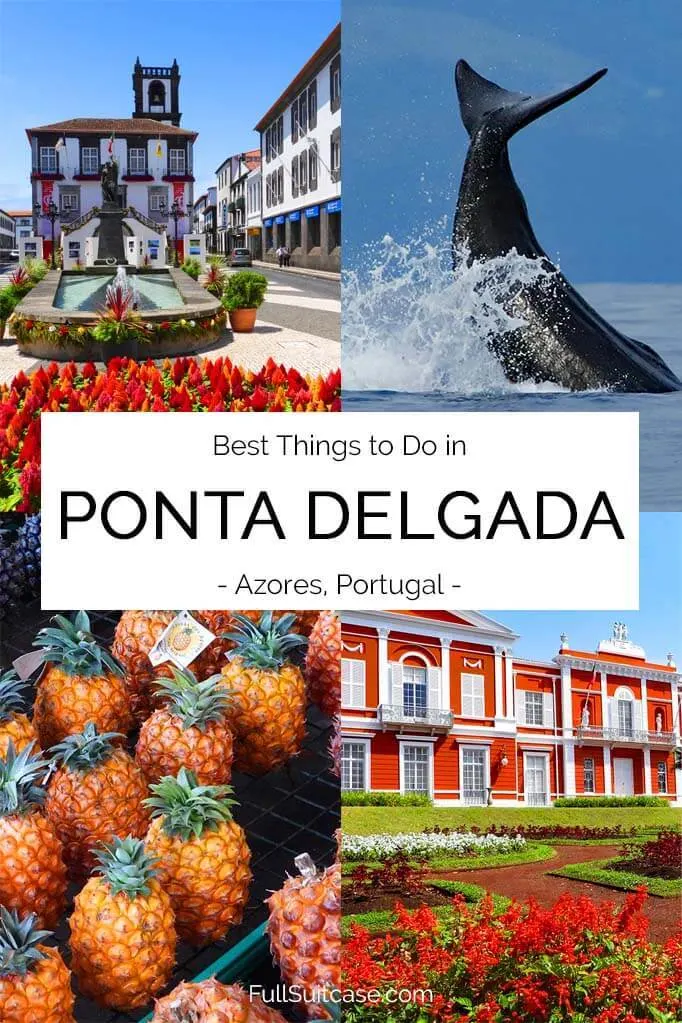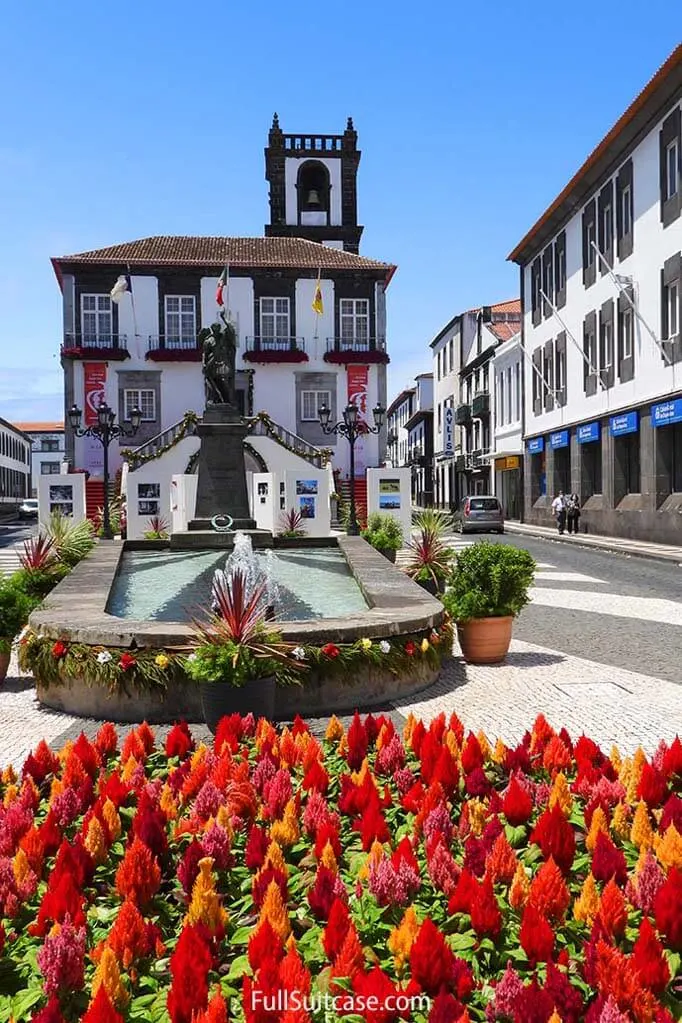 Travel inspiration for Madeira Island, Portugal:
More tips for your trip to mainland Portugal: