Visiting Algarve (Portugal) for the first time and wondering what to expect?
When is the best time to visit? How long and where to stay? Should you rent a car or can you use public transport? Can you use credit cards or do you need cash? What to pack?…
You'll find answers to these and other questions about visiting Algarve in this guide.
Whether you are going to the Algarve for a relaxing beach holiday or are planning a road trip and are mostly interested in sightseeing, our experience-based tips and practical information will help you get the most out of your trip. Find out!
Top 3 Experiences Not To Miss in the Algarve: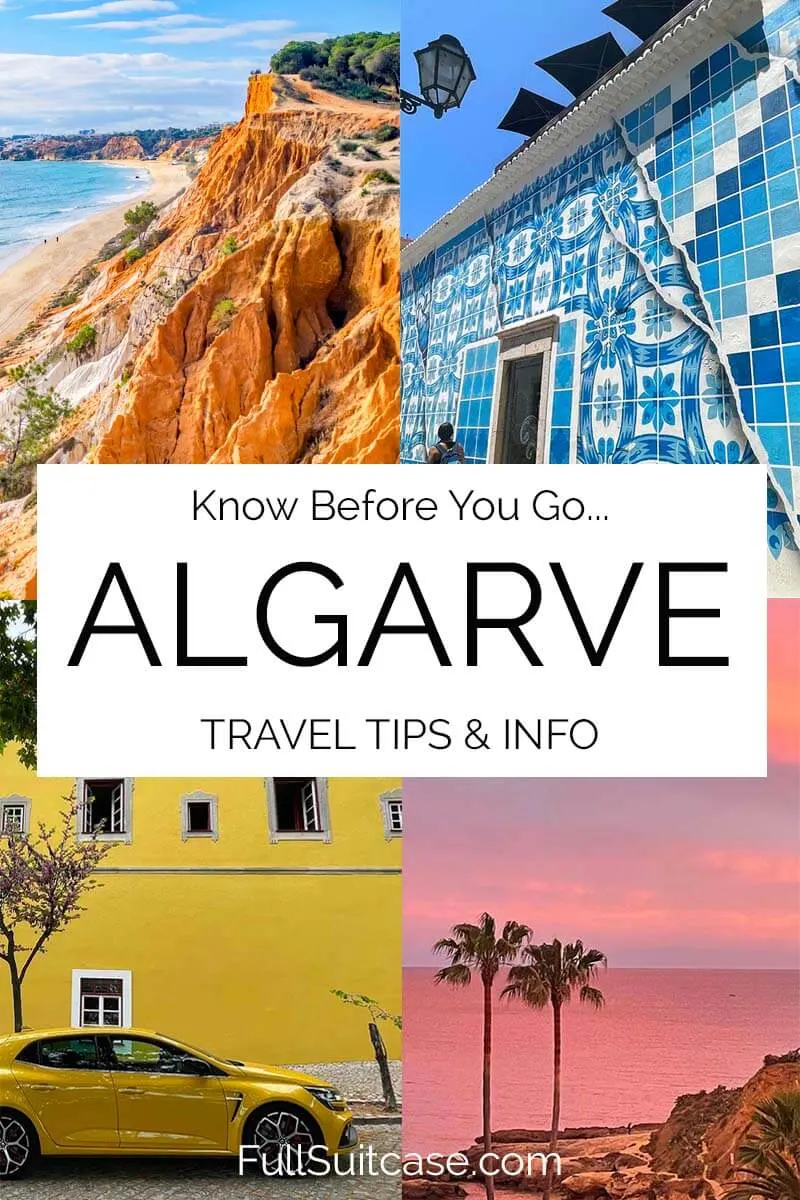 Here are our top tips for visiting the Algarve:
1. Visit in the shoulder season
Algarve is a year-round destination that has a lot to offer at any time of the year. However, there is a huge difference if you visit the Algarve in the summer or in the low season.
If you are looking for warm weather, sunshine, beach life, and water activities, then you'll love the Algarve in the warmest months.
However, Algarve is one of the most popular summer vacation destinations in southern Europe. So it will come as no surprise that the whole coast gets really busy in the summer months, particularly in July and August.
If you don't absolutely have to take your annual holidays in July or August, consider coming in May – June or in September – October. It will still be nice and warm (and busy too), but not nearly as much as in the summer.
Also if your primary focus of visiting Algarve is sightseeing, consider traveling in the spring or in the fall. Not only will it be less busy, but it's also not as warm and the weather is more comfortable for excursions. Plus, accommodations and rental cars are cheaper.
Winter months are very quiet and many seasonal businesses are closed between November and March. The weather is usually still mild with cold nights and there is always some chance for rain. But it's a very nice time to visit if you want to experience the region without the crowds. Sunsets are absolutely amazing in the colder months too.
TIP: One of our favorite months to visit Algarve is April and the end of October – the beginning of November. The weather is usually warm and sunny, but not too hot for sightseeing and long walks. Most places are open and it's pleasantly lively but never too busy. The negative side is that it's often too cold to swim in the sea or even in an outdoor pool, but if you are lucky with the weather, even this is possible. Plus, you can enjoy the most amazing sunsets at this time of the year.
LEARN MORE: Algarve in April and Algarve in November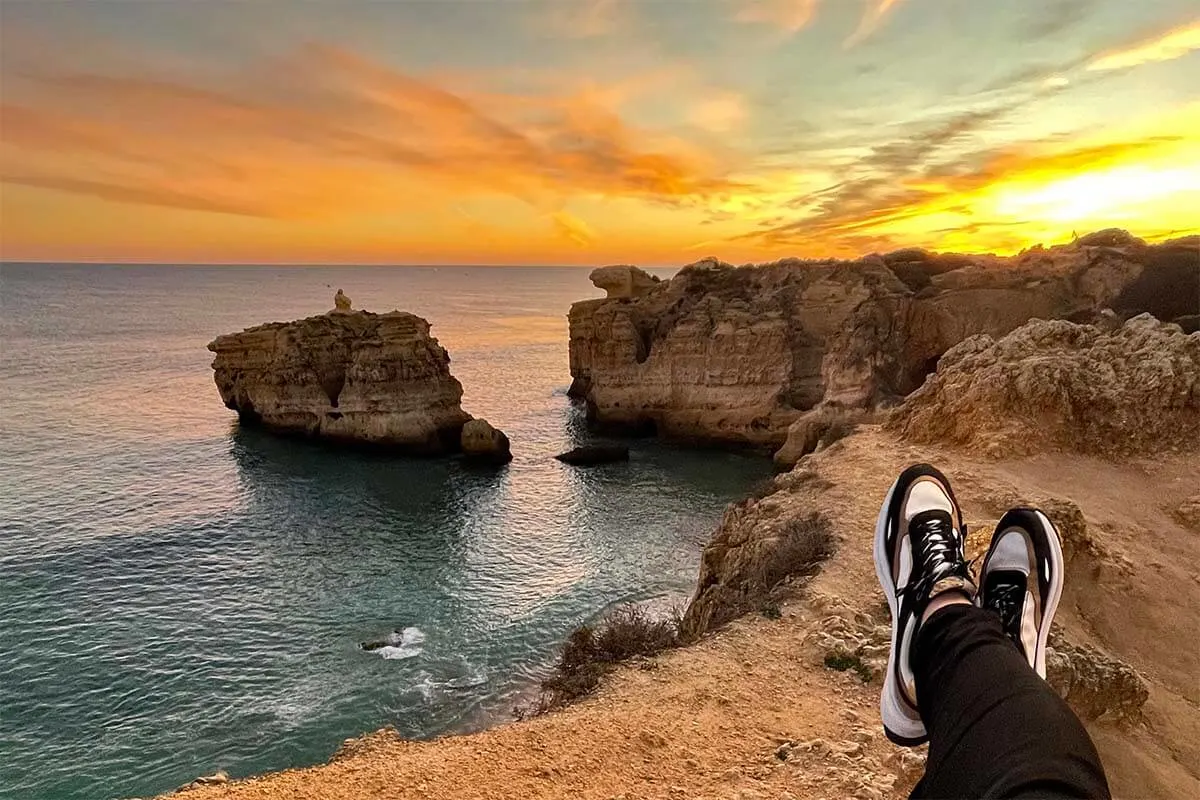 2. Do some research on what you'll want to see and do
The Algarve region is quite big and has a lot more to offer than it looks at first sight.
Many of the nicest places are spread out along the long coastline, but there are some hidden gems inland too. In addition to the nicest towns and natural landmarks, Algarve has lots of water parks, fun activities, etc.
So be sure to do some research and decide which places you want to see and what you want to do. This will influence some other choices that you have to make, such as how many days to spend in Algarve, where to stay, or whether to rent a car.
TIP: Even if you are visiting Algarve for summer vacation and your main goal is to sunbathe, swim, and eat delicious food, be sure to book at least a few excursions to explore the beautiful Algarve coast!
Also, if you want to experience the more traditional side of the Algarve region, explore beyond the most popular coastal areas. Take a day trip to the old capital of the region, Silves, drive up to the Monchique mountains or visit the more authentic towns of eastern Algarve, etc.
LEARN MORE: Top Places to See & Best Things to Do in Algarve
3. Book in advance!
This is the most important tip that we give our readers nowadays. No matter where or when you travel, booking ahead is the best way to guarantee that you get the best rates and – when it comes to experiences – that you can actually visit certain places.
Anyway, for the Algarve, you just need to book your flights, accommodations, and potentially a rental car in advance. There are also a few tours – like boat trips to Benagil Cave or kayaking at Ponta da Piedade – that are best booked ahead.
How long in advance to book also depends on when you travel. If you are visiting Algarve between May and October, we advise booking your accommodations and rental car as soon as you know your travel dates. The prices soar in the peak season. Plus, the later you book, the less choice you'll have.
As far as activities go, we recommend booking them at least a few days in advance. But if you're not flexible with your schedule, just reserve them when preparing your itinerary.
In July – August, you may want to make reservations for the most popular restaurants as well (usually a day or two in advance is enough).
PRO TIP: We personally use and recommend Booking.com for accommodations, RentalCars for car hire, and GetYourGuide for tours and excursions. Not only can you find all the best offers in one place, but all these companies also offer free cancellation (often even up to 24-48 hours before the trip), so you keep all flexibility and can always rebook if you find a better deal later or if your travel plans change.
Also, book everything yourself! It's really not difficult these days. That way, you know exactly what you are getting, can read customer reviews, compare prices, etc. You can't imagine how often I see people complaining in Facebook groups about the location or quality of their hotel (room) and it's always the people who booked package holidays. The worst thing is that most of the time they also pay much too much for what they are getting.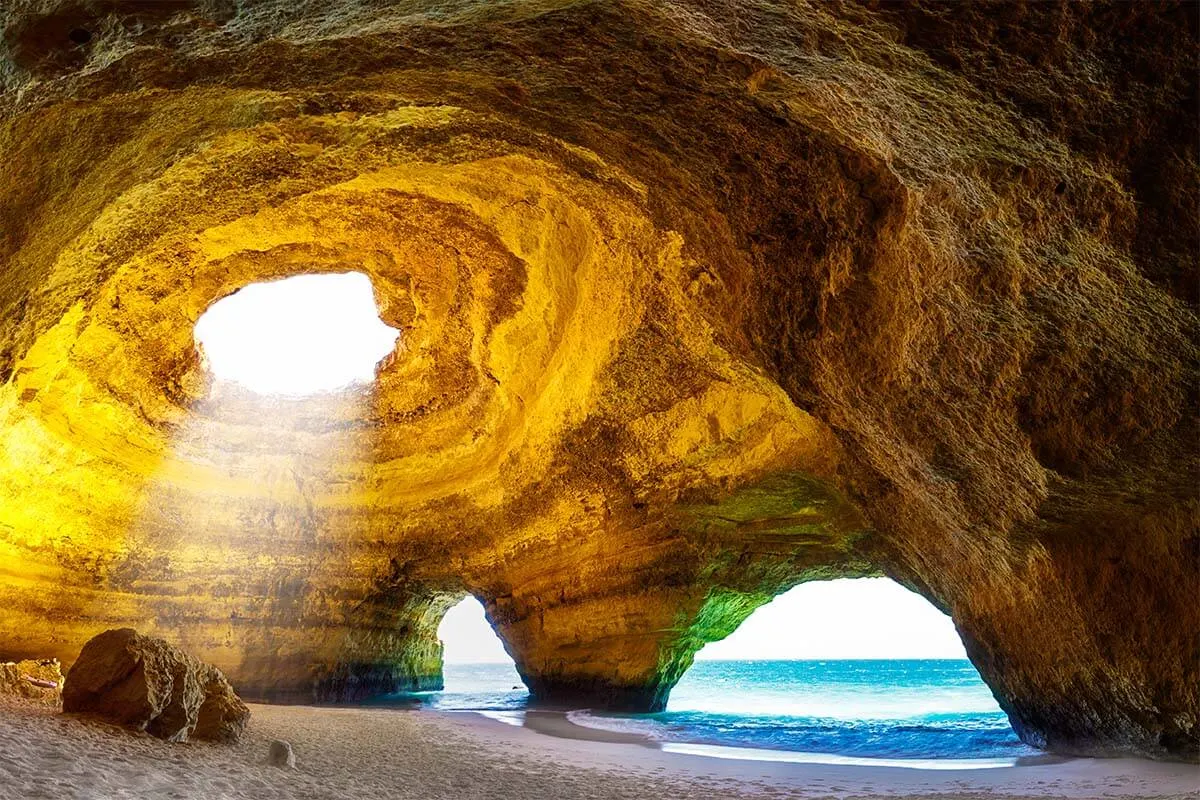 4. Stay at a nice resort with beach access
No matter when you visit Algarve, I highly recommend looking for a hotel close to the beach. The closer the better. If you can, book a room at one of the seafront resorts. It will make your vacation so much more special!
Imagine waking up and watching the sunrise in the distance, enjoying sea views during breakfast or dinner, and going for a walk at the beach at sunset…
If you are here for the beach holidays, it will also be so much more relaxing not having to carry all your beach stuff for several miles or struggling to find parking space close to the beach, etc.
But also if you are road-tripping and are mostly interested in exploring the sights, staying at a nice seafront hotel will make your Algarve road trip so much more memorable.
TIP: If traveling between April and October, be sure that your accommodation has air conditioning and that there is a swimming pool. In the winter months, an indoor pool is a big plus because it's usually much too cold to swim outside (most pools in the Algarve are not heated).
Here are some of the best-value seafront resorts in the most scenic part of the Algarve coast, from the center of the region to the west:
Good to know: Even the best 4-5* resorts in Algarve are usually very affordable in the lower season. So if you are looking for a special treat, you don't have to break the bank. We've stayed at some really nice hotels in the fall and in the winter for 100-150 euros per night/room. Those same hotels can cost 300-500 euros per night in the summer. However, it's important to compare and book ahead, which brings us to the next point.
5. Pick the location of your accommodation wisely
Where exactly to stay in Algarve will depend on what you plan to do and which places you want to see.
You don't want to find yourself in a situation where you booked a hotel in Faro just because it's close to the airport whereas all the places you want to see are located in western Algarve and require at least an hour's drive each day.
Also, keep in mind that many places in the Algarve are quite hilly, especially in the western part of the region. So if you have mobility issues or are using a stroller, be sure to double-check the location of your accommodation, how accessible it is, etc.
However, keep in mind, that the most scenically located hotels are usually standing high on the cliffs, and getting to many of the nicest beaches in Algarve involves steep staircases.
As already mentioned, the Algarve region is big, so we recommend picking a place (or several) depending on the location of the sights that you plan to visit.
TIP: If you are looking for just one centrally located place to stay in Algarve, we recommend staying anywhere between Albufeira and Lagos. (See these guides for more info: Best Places to Stay in Lagos and Best Places to Stay in Albufeira).
Whereas if you are making a road trip, you may want to stay at a couple of different locations. For example, start with a few days in the east (e.g. Faro or Tavira), followed by a couple of days in the center (e.g. Albufeira or Carvoeiro), and then finally, a day or two in the west (e.g. Sagres).
Of course, the best place to stay will also depend on how you plan to travel around – more info below.
READ ALSO: Where to Stay in Algarve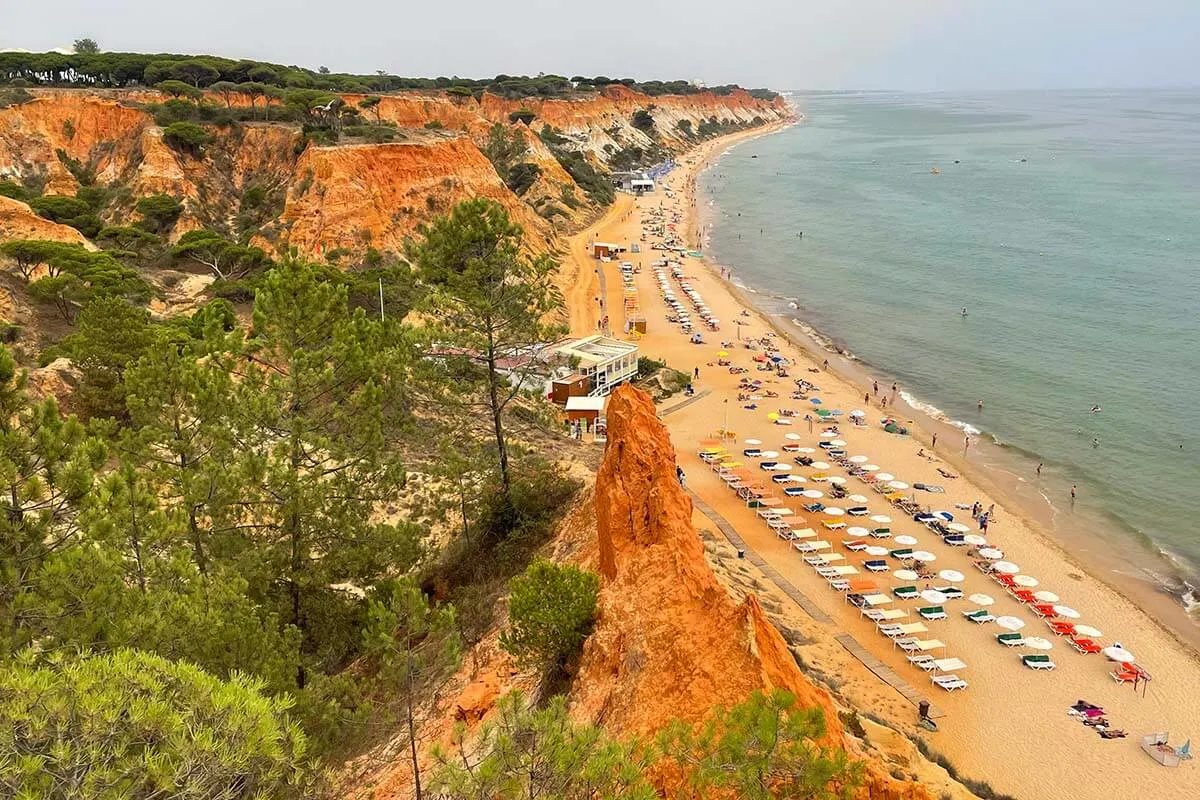 6. Decide if you'll rent a car
The majority of visitors to the Algarve come here for beaches and don't rent a car. Indeed, if you are planning on spending most of the time in and around your resort, then it's better not to rent a car.
Car hire can be pricey and parking is difficult in the summer season. Plus, taxis are quite cheap and you can also use apps like Uber or Bolt which makes it very convenient if you need to travel short distances. And if you want to see one or two places further away, there are plenty of organized tours or private companies offering transfers.
Public transportation is available in Algarve, but it's not always ideal unless you have lots of time and are very flexible. For example, some trains don't run between noon and 4 pm, etc. Many buses only run a few times a day. Plus, many coastal sights are really not easy to reach by public transport.
So if you want to explore Algarve to the fullest, then renting a car is by far the most convenient way to make the most of your trip. Just be sure to double-check that your accommodation has parking!
We always use RentalCars for car hire in Algarve (and take the full insurance option through them too). Most of the time, we rent a car from Faro airport, but you can also easily drive to Algarve from Lisbon in about 2-3 hours. No matter which airport you fly to, you can find all the best deals for car rental in one place on this website.
PRO TIP: Take pictures and/or videos of any scratches that your car might have when picking it up. Some companies will make you pay a lot of money for any tiny scratch, even if it was there when you got the car. That's just one of the reasons why we prefer to pay a bit more for the full insurance option with Rental Cars – it's just not worth the stress.
Good to know: Most highways in Portugal have a toll system that only works electronically. Car rental agencies will explain to you how it works. Also, if you are planning on driving to Spain, inform the rental agency about it when picking up the car. You'll need to pay an additional fee (usually around 80 euros), but if you don't do this, your insurance and/or roadside assistance may not be valid outside of Portugal.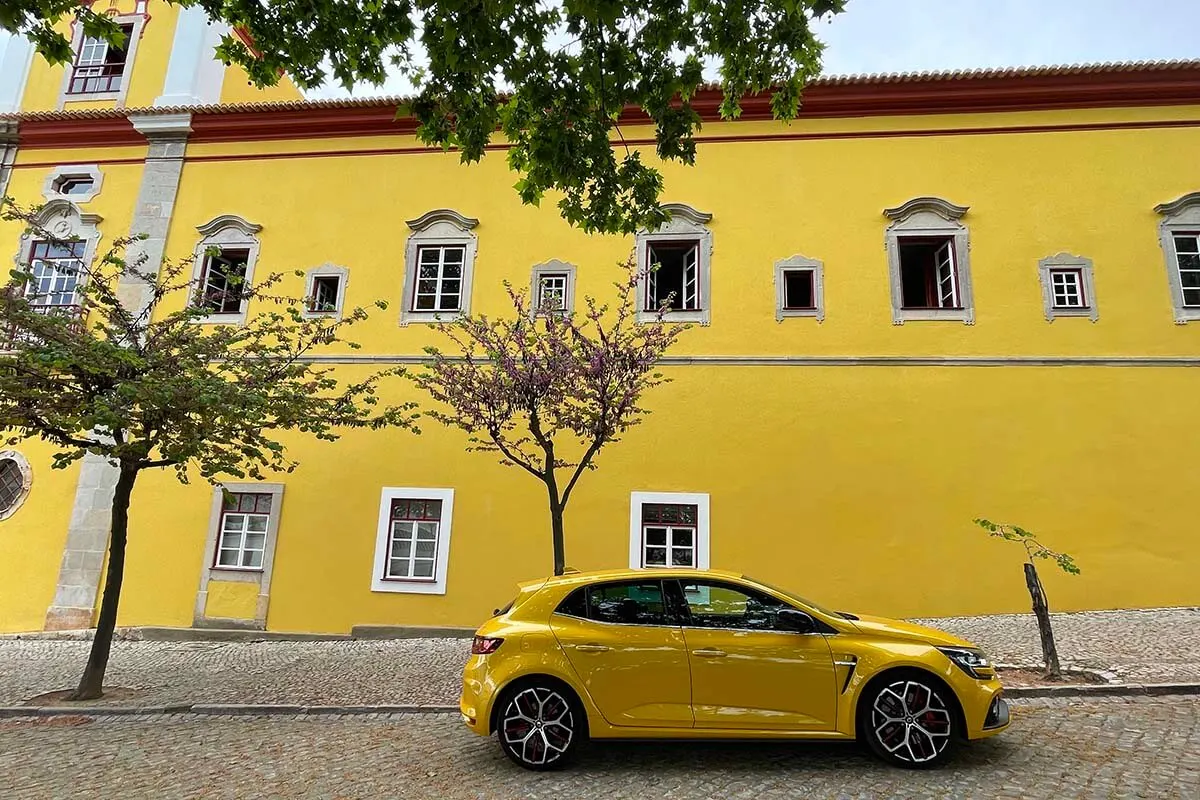 7. Read the small letters
When booking rental cars or accommodation in the Algarve, be sure to read the small letters.
For example, some hotels ask for security deposits, especially if you are traveling with a big family or a group of friends. We've heard of places asking for 200-400 euro cash deposit per person. Imagine having to leave 1000 euros in cash if you are traveling with a family…
Luckily, this is not the case in most places and we never experienced it ourselves anywhere. From what I hear, this is also something that they usually only ask from people who booked package holidays, come for hen and stag parties, and/or don't have a credit card. Most of the time, the hotels simply swipe your credit card in case of any incidentals and that's it. We personally never had any issues anywhere. But it's worth checking if it's mentioned anywhere when you book, just in case.
The same with rental cars. First, you will need a credit card to rent a car, that goes without saying. But some companies also block rather big amounts (sometimes as high as 1200-2500 euros!) on your credit card to cover potential damages. The only way to avoid this is to take additional – often overpriced – insurance through them…
As already mentioned, we always rent our cars through RentalCars and take insurance via them (it's much cheaper than with rental companies directly!). But also there, we always check the conditions of the provider that we chose and try to only rent with companies that take no more than 300-600 euros deposit. That way, our credit cards remain usable for the rest of the trip.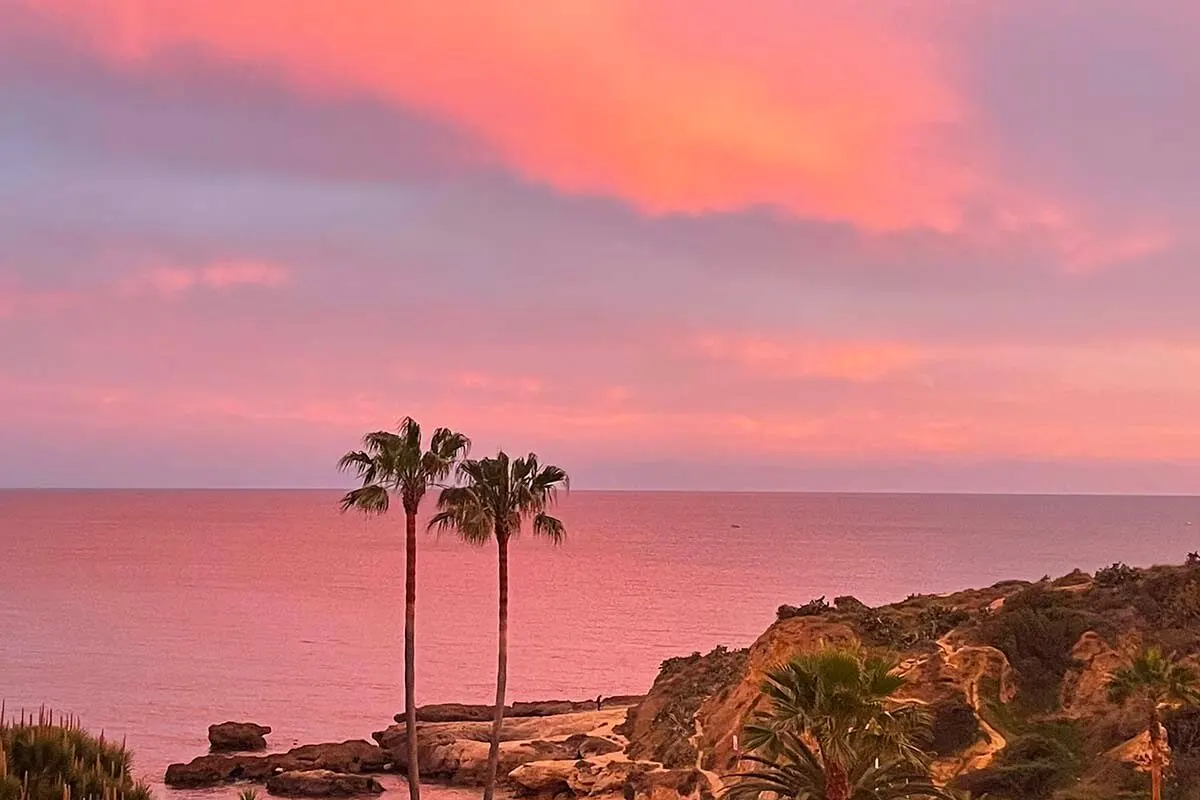 8. Stay longer
There's a lot more to do in Algarve than just the main sights that everyone goes to. Even for the main sights, you really need at least 4-5 days, but you can also stay for a few weeks and still just scratch the surface of what the Algarve has to offer.
So if you can, plan a longer stay! It's always nice to have some extra time to enjoy the beaches and other sights rather than just take a picture and move on.
Staying longer, you will be able to visit a few lesser-known villages (don't miss Alte!) and explore the rugged Atlantic coastline in the west and not just the famous sights in the south… You will also have more opportunities to try local food and enjoy all kinds of fun activities (such as parasailing, kayaking, or hiking – just a few of our favorites).
Good to know: Quite a lot of hotels in Algarve have a minimum stay requirement, and not just in the summer season. It's not always the case, and even if they have it, it's often just 2-3 days, but you will have more (and nicer) accommodation options to choose from if you stay in one place a bit longer.
READ ALSO: Best Things to Do in Algarve with Kids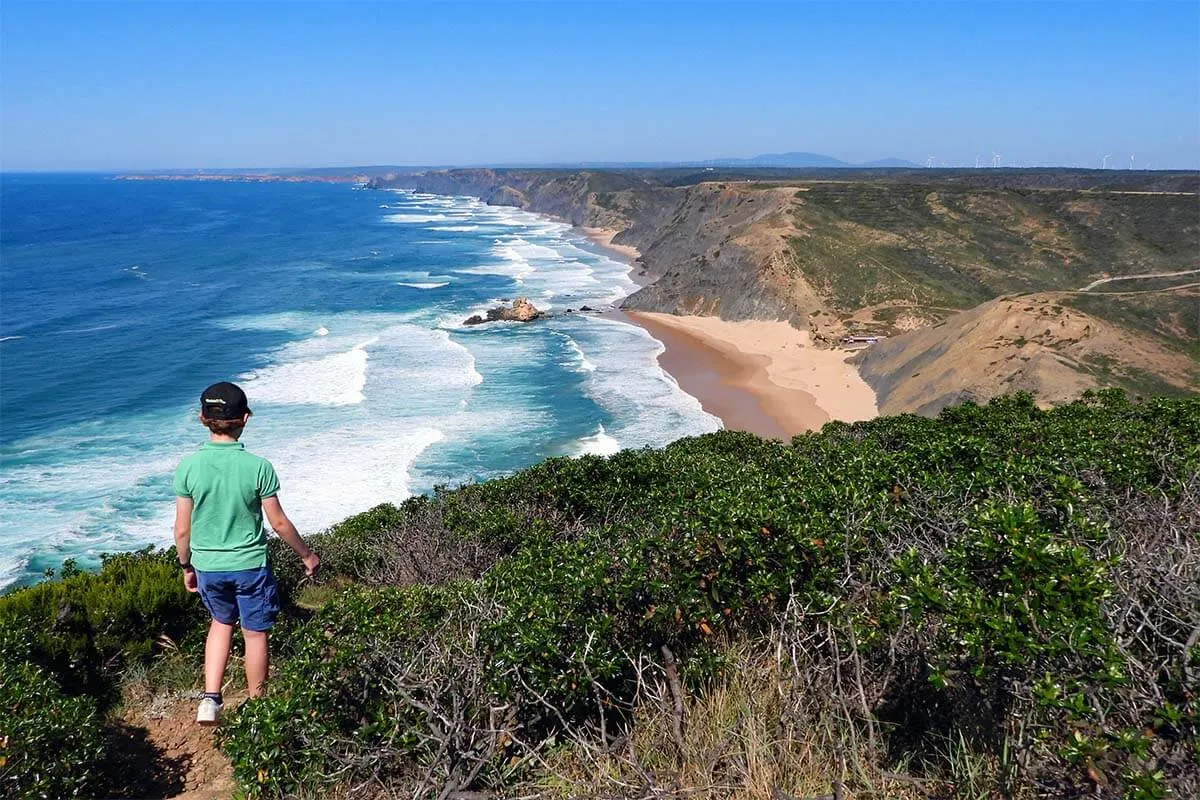 9. Making a road trip? Prepare a good itinerary!
If you are traveling to Algarve with the purpose of exploring the nicest places in the region, you really should take some time to prepare a good itinerary.
A lot will depend on how much time you have, but even if you are only visiting for a few days, you can see some of the nicest places – if you plan well.
Depending on the season, pick the places and activities that interest you the most and see how to best fit it all in with the time that you have. If you can, plan some extra time too.
TIP: When preparing your trip itinerary, keep in mind that everything will take much longer in the high season. First, it's very warm so exploring is more tiring and you'll likely want to take more ice cream breaks, cocktail breaks, and use pretty much any other excuse to look for some shade or cool off a bit. And second, traffic is busier, parking is hard to find, ferries and restaurants are full, etc.
This brings us to the next point.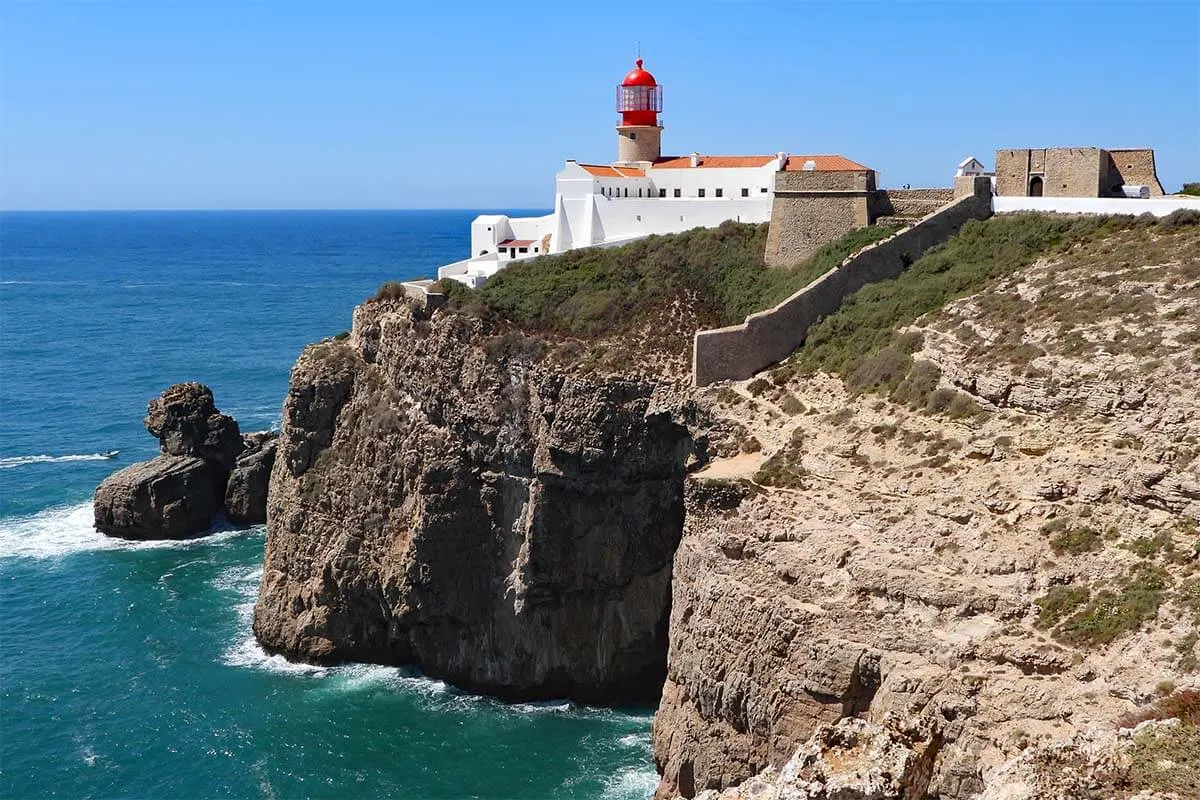 10. Start your days early
No matter when you are traveling or what you plan to do in Algarve, it always pays off to start your days early.
First, it's quieter on the roads and there is more chance that you'll find a convenient parking spot. Second, it's not as warm in the morning. And finally, it's not as busy meaning that you can enjoy the sites and activities to the fullest.
Here are a few examples to illustrate what I mean:
If you want to explore the nicest sea caves and grottos of Algarve coast, it's best to book the very first available tour (usually 8-9 am). The most popular places get so busy by 10-11 am that the experience is just not the same anymore. Plus, the ocean is usually calmer in the morning which makes it easier to kayak or enter the sea caves by boat.
If you are visiting the most popular beaches in Algarve, you should also try to arrive early. Parking is a big issue at most beaches, so that's the main reason to get an early start. But even if you are not taking a car, you may want to come early in order to be able to rent beach chairs and umbrellas or secure a nice spot with some shade, etc. This is especially the case in the peak season, of course.
If you want to enjoy the scenery of the famous Seven Hanging Valleys Trail, it's also best to start early. Not just because of limited parking, but also because of the sun and the heat. In the summer, you really don't want to be hiking here in the afternoon.
The same counts for Algarve's water parks. Most of them open at 10 am. If you arrive early, you can usually do quite a few rides without having to queue. In the peak season, the water parks get so busy that people complain about being able to do just 5 or 6 rides in an entire day. We did more rides in these parks during the first hour simply by arriving early and going to the most popular attractions immediately.
READ ALSO: Best Water Parks in Algarve (+ Top Tips for Your Visit)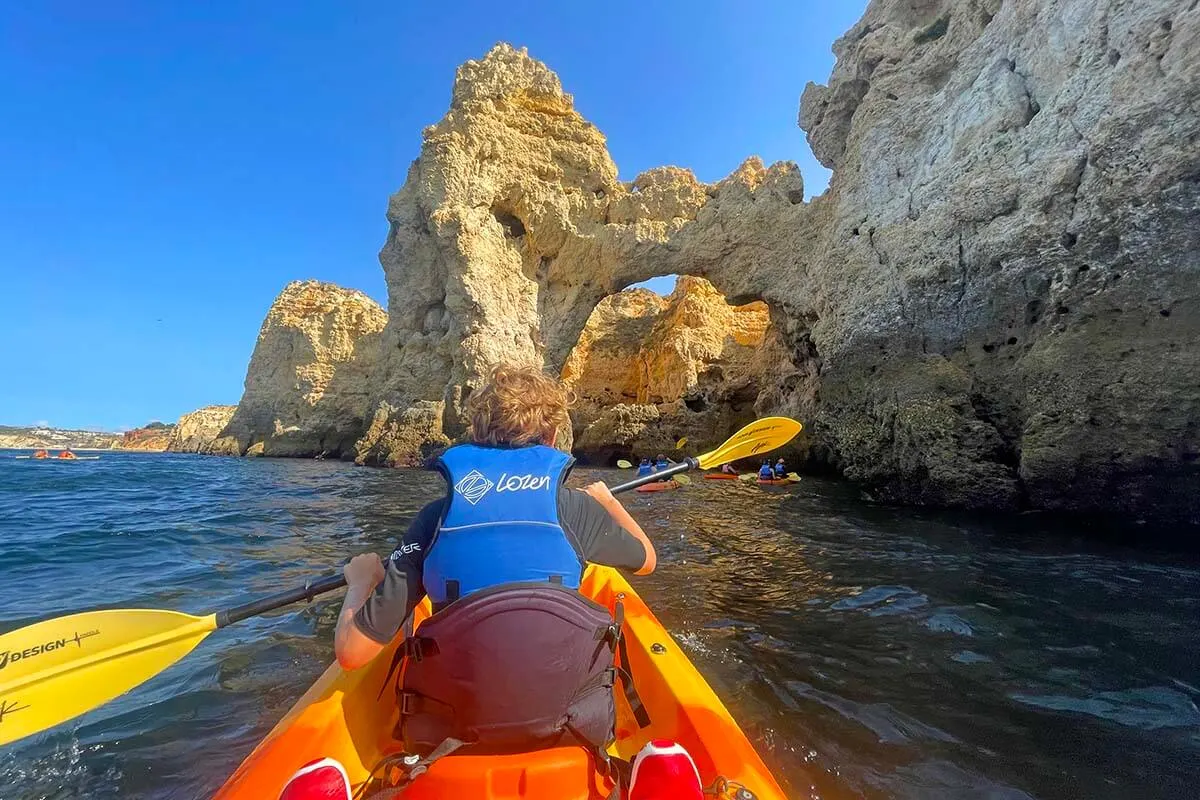 11. Bring cash
While more and more businesses in the Algarve accept credit cards and other electronic means of payment these days, cash is still king in Portugal. So it's always good to have some euros in your pocket.
Also, be sure to double-check if a restaurant accepts cards before sitting down at the table. Otherwise, you'll have to do the dishes afterward (just kidding, of course). But they will politely point you to an ATM nearby.
Good to know: We noticed that many businesses in the Algarve have pretty much permanent signs 'Multibanco out of service' or 'cash only'. While not always the case, often it simply means that they prefer you to pay in cash. If you inquire about it, very often it turns out that they take cards anyway.
PRO TIP: Be careful which ATMs you use. In Portugal, look for 'Multibanco' ATMs that belong to local banks. They are usually located next to the bank building or in the shopping centers. However, 99% of ATMs that you see in the Algarve, belong to 'Euronet'. They are literally on every corner, sometimes a few of them lined next to each other. Avoid these at all costs if you can. They charge notorious fees and give the worst exchange rates…
Also, if your card is in another currency than euro, make sure that you always choose to do the transaction in euros. That way, the conversion will be handled by your local bank and not a bank or a company that operates the ATM. The rates you get from your bank are always better. Always.
This also counts for making payments by card. If the machine offers to do an exchange for you, always refuse it and proceed in local currency (in the case of Portugal – in euro).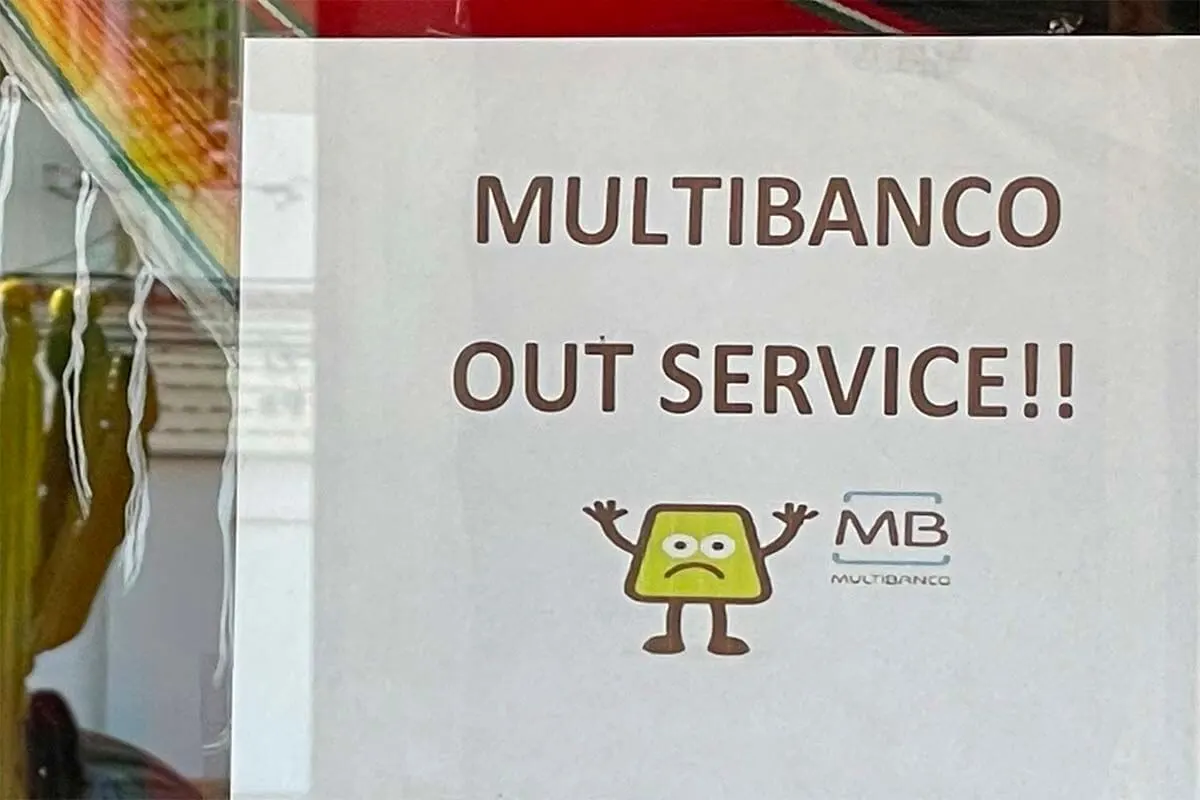 12. Dine at local restaurants
Algarve might be known as a beach destination with some fantastic resorts offering an All-Inclusive formula, but we highly recommend that you skip those hotel buffets and give local restaurants a chance.
Even if your hotel has a half-board package or an All-in, go out for lunch or dinner at least a few times. It's just part of the experience of traveling in the Algarve!
Not only will you eat better, but often it's cheaper too. Plus, you will be supporting local businesses and helping preserve the authenticity of the region.
There are so many amazing restaurants all over Algarve. Just keep in mind that the location of the restaurant doesn't always say much about the food quality or the service. There are some amazing restaurants at the most touristy locations and not every restaurant that looks super local is great either.
One thing that is usually constant though – if you have a nice view, you often pay a lot more. In some cases, it's well worth it, and in some – not so much.
TIP: Do some research, check recent reviews on Google Maps, and you will find more great options than you'll ever have the time for.
YOU MAY ALSO LIKE TO READ: Our Favorite Restaurants in Albufeira
13. Don't worry about the weather
Algarve enjoys over 300 days of sunshine per year. And even if it rains, it hardly ever lasts longer than a few hours. So the weather is the last thing you should worry about.
Yet, somehow, it seems to be the biggest concern most people have before their trip to Algarve.
I am a member of a few Algarve groups on Facebook and there is literally not a day that someone wouldn't ask about the weather. No matter if it's summer and there is not a cloud in the sky or if it's shoulder season and some weather apps show 30% chance of rain, so many people seem to be really worried about how it will influence their trip.
Stop worrying, really! First, you can't influence the weather. Second, there is no way anyone can predict what it will be like in a few months or weeks from now. And finally, the weather is usually great and the sun is shining all the time. Even if your app shows rain, it hardly ever rains. But if you do get some rain, remember that the region needs it really hard and that locals are happy with every drop of water.
Good to know: Most rain falls between November and February, with an average of 4-6 'rainy' days in the winter months. But you really never know.
Just a few examples based on our recent experience. Usually, April can be rainy and September is dry. Yet, we recently spent 3 days in Algarve in April and it didn't rain once, and September had a few days with heavy rain in a row. I was once in Algarve in February for 5 days and the weather forecast showed rain every day. In reality, it rained for 1.5 hours one morning and that was it.
Important! Please be considerate of how you use water when you are visiting Algarve. Remember that every drop counts!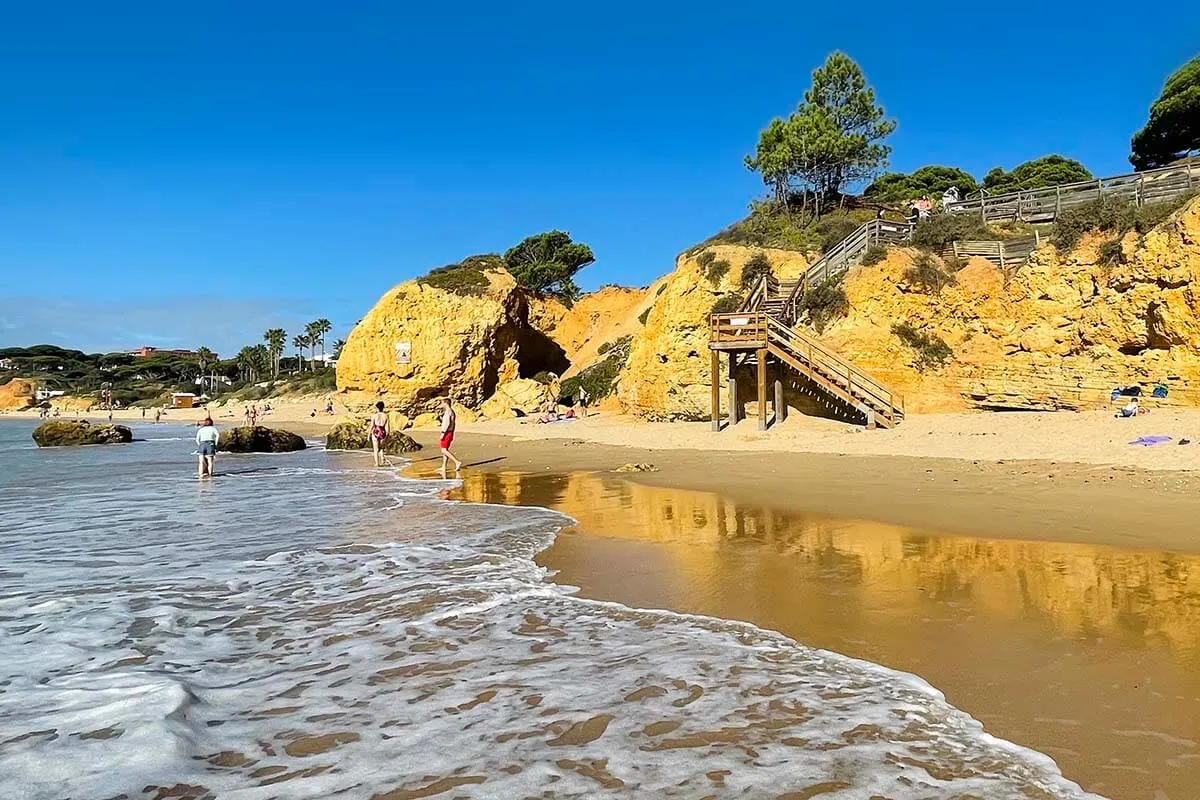 14. Pack wisely
What to pack for the Algarve depends so much on the season when you visit and what you plan to do while you are there.
In the summer, packing for Algarve is easy since it's always warm. Swimwear, light summer clothes, and sandals/flip-flops is all you really need. However, you should always bring a sweater with you (or you'll be cold on the plane), but you'll likely never need it in Algarve unless you like to stay up very late. In that case, you will be very happy to have a sweater as the nights can get cold even in the summer.
TIP: We highly recommend packing a UV T-shirt if you are planning on spending lots of time in the water. It's especially great for kids since you don't have to worry about applying sun cream every few hours. If you are thinking of visiting some water parks, water shoes can be a lifesaver too. The ground gets very hot and you can't use the slides wearing flip-flops.
In the spring and in the early fall, it's always wise to pack a sweater and a light rain jacket, in addition to summer clothes. Most likely, you will be wearing shorts and T-shirts all the time, but sometimes it won't be enough, especially in the evenings. Also, if you are taking a boat tour, it is always good to have a windbreaker.
In the late fall and in the winter, definitely bring a pair of long pants and a few sweaters, plus a somewhat thicker jacket. You may not need a jacket (every day), but you can't count on it. Plus, the moment the sun goes down, it gets quite chilly. The best way to dress is in 2-4 layers because it can get really warm during the day and freezing cold at night. Sometimes, you can go from three layers to T-shirts and back to sweaters and jackets in a matter of several minutes.
Additional recommendations:
Pack good walking shoes or sneakers if you are planning on doing any sightseeing or hiking.
Leave high-heeled shoes at home. There are cobbled stones everywhere and it's quite hilly in many places too.
If you have some space in your luggage, pack a towel. There are so many places to go for a swim, plus many hotels/resorts charge for pool towels. We usually take our quick-drying travel towels with us.
Bring a swim cap with you. Every hotel and resort we have been to in Algarve asks you to use pool caps in indoor pools. Otherwise, you can usually buy one at your hotel.
Pack a waterproof phone case if you are planning on taking any boat trips.
Don't wear your best clothes for boat excursions by speedboat, kayak, and similar. Ideally, you wear swim clothes since everything gets splashed with salt water.
Pack a reusable water bottle and fill it up whenever you can – you'll need it, especially in the summer.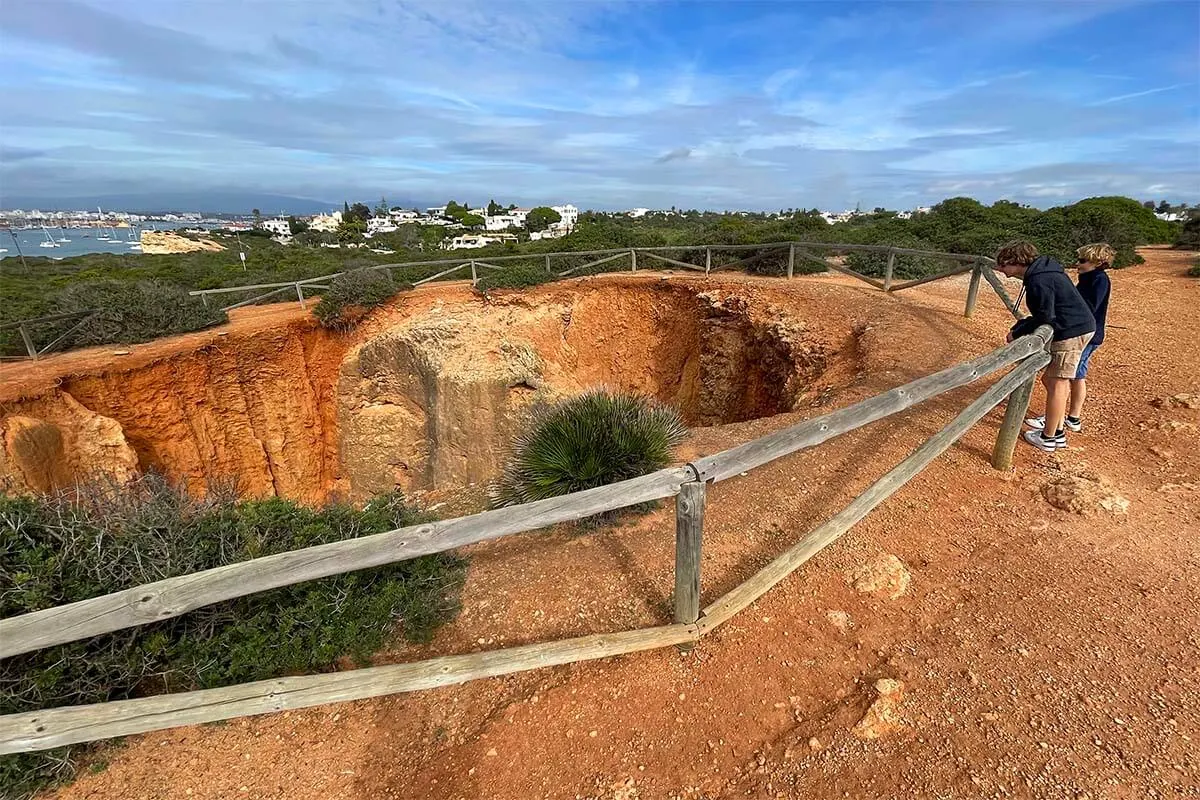 15. Don't forget sun protection
The Algarve sun can be really harsh and if you are not careful, you will get burned very quickly. Every single day, we see people who look like red lobsters.
And this is not just in the summer and definitely not just on the beach or by the pool. Even if you are just exploring the towns or taking a short boat trip, you really should use sun protection.
Be sure to apply plenty of sunscreen lotion, wear sunglasses and a sun hat, cover your shoulders, and look for some shade whenever possible. And do this from day one because the first day is usually when it happens before you even think of it.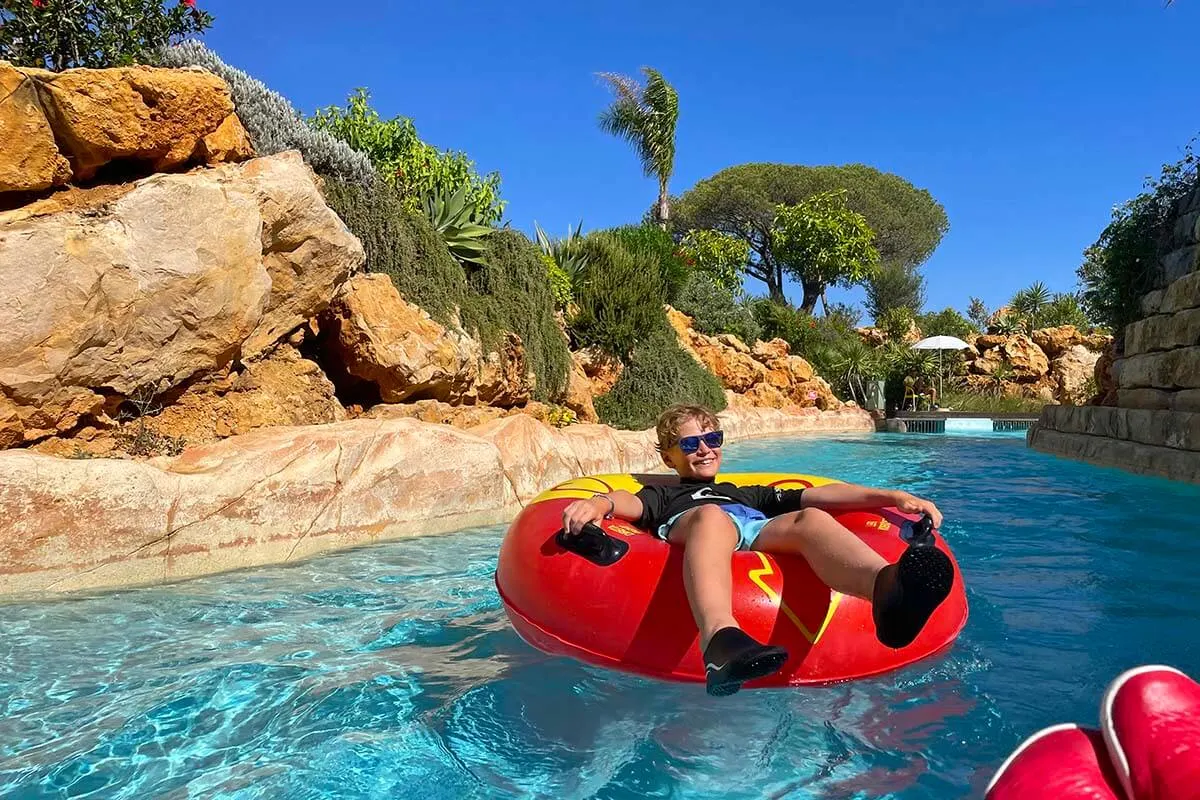 16. Know that things are laid back
Just like in many southern European countries, things are a bit more laid back in Portugal than you might be used to at home. Remember that it's part of the culture and that people are more relaxed and happier because they don't stress about everything all the time.
Sometimes, it may take them a bit longer to bring you the menu or take your order at the restaurant, so be patient.
That being said, we find that everything runs pretty smoothly and efficiently in Algarve, even more so in the most popular tourist areas. It really doesn't happen often that we find the service too slow, but that's also likely because we learned to relax.
TIP: Don't go to a restaurant if you are in a hurry, take things easy, relax, and you'll be just fine.
17. Be respectful
However, please also remember that the fact that Portugal is more relaxed and laid back does not mean that you can be disrespectful. Algarve might be a holiday destination for you, but it's home to so many people, and you are just a guest.
Just a few examples.
While you can wear very casual clothes at most places, many (beach) restaurants ask you not to come inside in swimwear. And even if they don't say anything, remember that nobody enjoys seeing someone walk or stand next to their table wearing nothing more than a string… It really doesn't cost much effort to put on a T-shirt and some shorts or a dress, even if you are just going for a cocktail or an ice cream.
Oh, and don't get me started on beach chairs. Yes, the never-ending beach chair dance that you see in so many beach destinations… 🙂 Nowadays, most hotels in the Algarve ask you not to 'reserve' the chairs if you are not around. And yes, they sometimes remove your stuff too. If everyone simply uses the chairs when they need them, there is usually no shortage. So there is really no need to run to the pool at 7 am. You are on vacation, so enjoy it (and let others do the same).
If you are on holiday with a bigger group of friends, don't act like an a$$. If you wouldn't do certain things at home, don't do them here either. There is no need to be loud at the restaurant, scream in the middle of the night, leave rubbish behind, or let the water run for no reason… It's all so passé ;).
I know, I probably sound like a grumpy old woman now, but if you spend as much time in Algarve as we do, you start to wonder why some people are determined to ruin such beautiful destinations with their inappropriate behavior…
Ok, rant over. 🙂 We have some more tips for you – see below!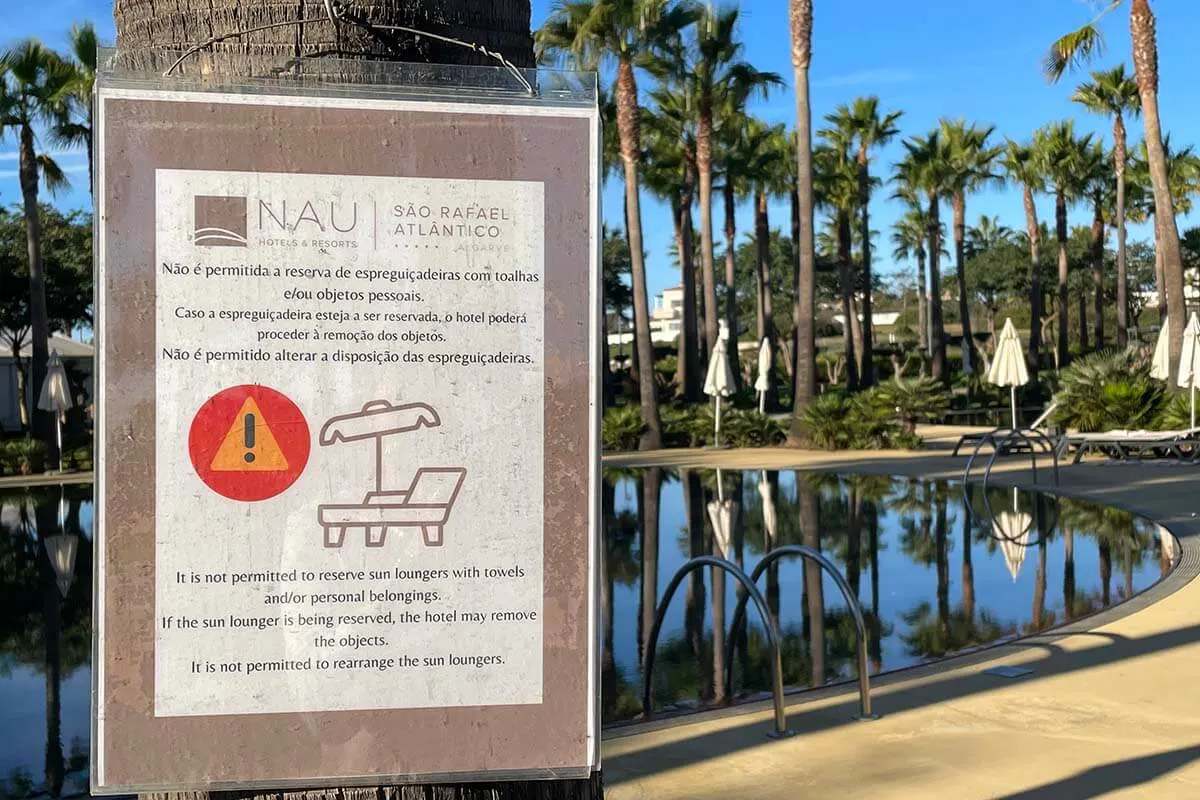 18. Learn a few words of Portuguese
There is probably no bigger insult to a Portuguese than to hear you speak Spanish to them. So either stick to English (it's really easy in Algarve as pretty much everyone speaks English), or learn a few words of Portuguese.
Just a simple 'hello' or 'thank you' and a smile goes a long way!
Here are a couple of words that you may find useful:
Hello – Ola!
Good morning – Bom dia (used until noon).
Good afternoon – Boa tarde (used after lunch).
Good evening – Boa noite (used after dark).
Please – Por favor.
Thank you – Obrigado (if you are a man) or Obrigada (if you are a woman).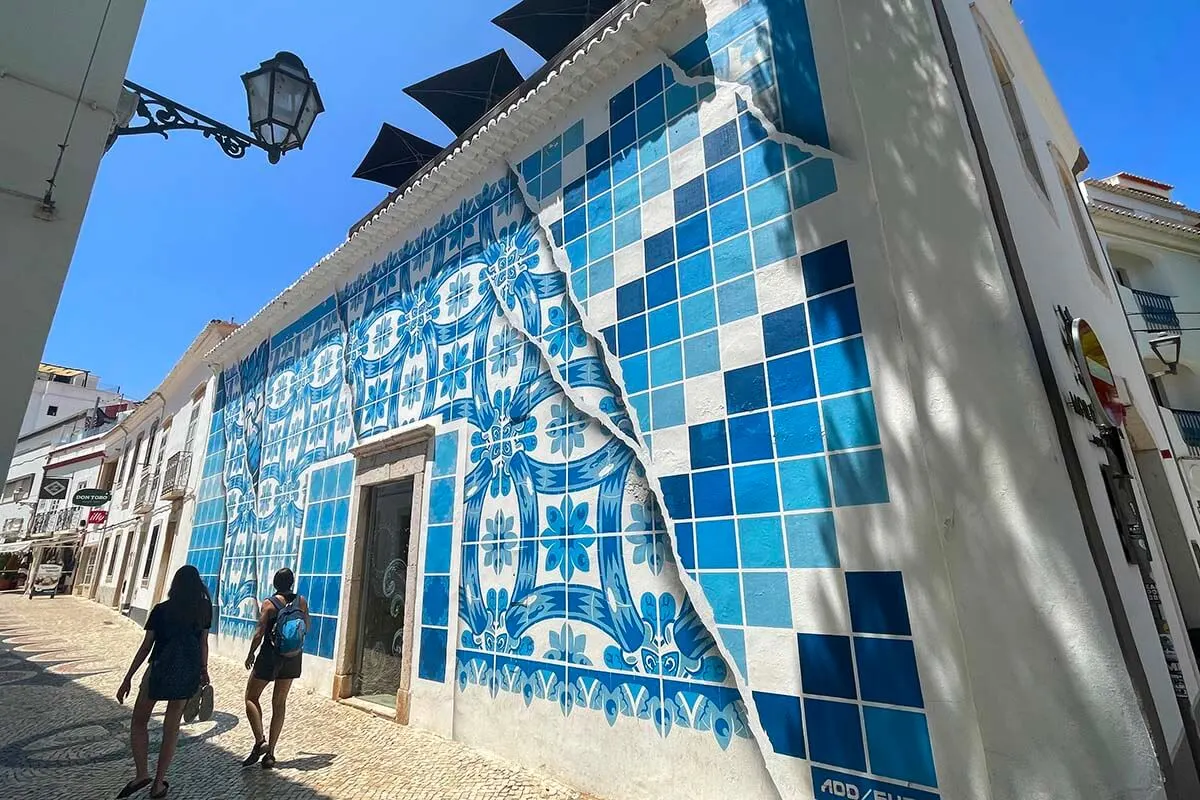 19. Relax & Enjoy
I can't describe it in words, but there is just something about the Algarve that immediately puts you in a vacation modus.
The moment you step off the plane in Faro, you see the sun, the palm trees, and people walking around in shorts, and you forget all the worries…
This beautiful region is truly one of the best vacation destinations in Europe. With stunning coastlines, rich culture, and a wide array of activities, the Algarve truly has something to offer to all types of travelers. Add blue skies, sunshine, amazing food, and wine, and you have all the ingredients for a perfect trip.
So relax and enjoy it!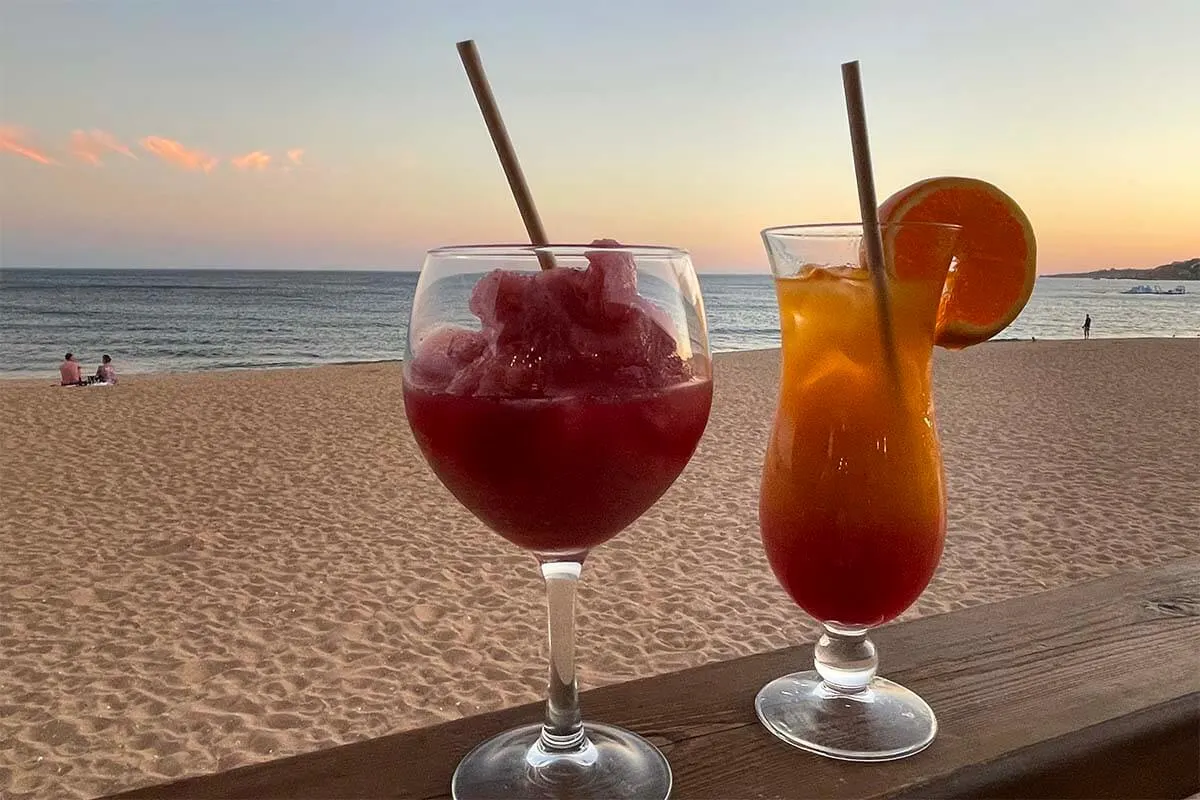 So, these are our Algarve travel tips. I hope that it gives you a better idea of what to expect and helps you plan a great holiday or a road trip.
Have a great trip!
TIP: On our blog, we have tons of travel guides for the entire Algarve region, but also the rest of Portugal, plus the most popular islands. If you are planning a longer trip and are looking for more travel tips and information, you can find a few of these articles highlighted below and the entire overview on our Portugal travel page. Check it out!
More travel inspiration for Portugal:
If you found this post helpful, don't forget to bookmark it and share it with your friends. Are you on Pinterest? Pin this image!