Zoomarine is one of the best-known theme parks in the Algarve region in Portugal. Inspired by marine life, Zoomarine offers a unique combination of fun shows, entertainment, swimming areas, and water rides, but also animal encounters, aquariums, etc.
Located in Guia, Albufeira, Zoomarine lies in the heart of the Algarve and is easy to reach from all the popular resorts along the coast. It's just a 15-20 minutes drive from Albufeira town, half an hour from Portimão, and about 40 minutes from Lagos or Faro.
Zoomarine Algarve is the most popular place to visit in Algarve for families with children. But while this marine theme park is clearly focusing on families with younger children, teenagers and even adults without kids will enjoy it as well – if you know what to expect. We visited Zoomarine with our three teens and went back the next day again – the whole family had a great time.
However, your experience at Zoomarine will highly depend on when you visit and if you are somewhat prepared and know what to expect.
To give you a better idea of what to expect, in this guide, we share our experience-based tips for your first visit to Zoomarine Algarve. You'll also find answers to some frequently asked questions and info we wish we had known before our visit. That way, you can plan better and make the most of your time and money. Find out!
Good to know: While there are a couple of swimming pools and several water rides at Zoomarine, it is not really a water park. If you are looking for a water park in Algarve, Slide & Splash or Aquashow are much better choices with many more water slides.
TIP: If you are wondering where to buy Zoomarine tickets, we personally used and recommend GetYourGuide, both for 1 and 2-day tickets. Tiqets sometimes has combi deals for Zoomarine together with other popular attractions in the Algarve; if you are planning a few of these excursions anyway, this can save you a few euros per person.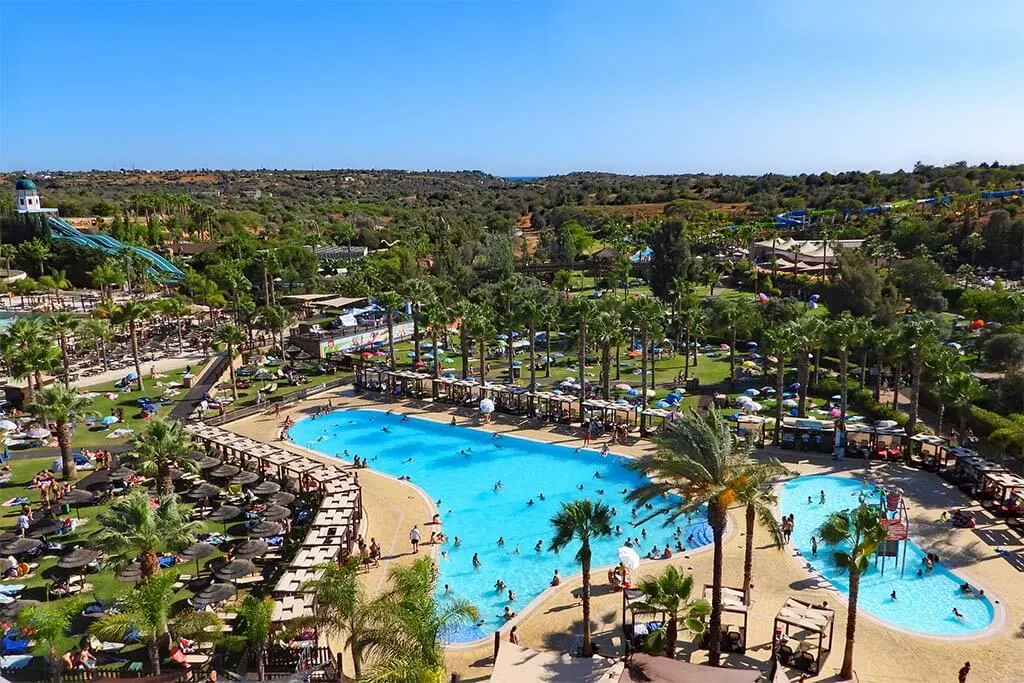 Good to know: While many of the tips in this article are mainly applicable in the peak summer season, you'll find useful information for your first visit to Zoomarine no matter when you go. We hope that this gives you a better idea of what to expect and make the most of it. Take a look!
Here are our top tips for your first visit to Zoomarine in Algarve:
1. Visit on Saturday and/or Sunday
Zoomarine is open from March to November, but the busiest time at the park is, of course, the summer season. The absolute peak months are July and August. So if you are visiting the Algarve during the summer holidays, be prepared for big crowds.
However, there is a huge difference between visiting Zoomarine on weekdays and on weekends. We were told by people working at the park that it's crazy busy in the middle of the week, and is incomparably quieter on Saturdays and Sundays.
Our experience: The first time we visited Zoomarine, we went on Saturday (this was mid-July). We thought that it was quite busy and there were 20-30 minutes wait at most water rides and attractions. But apparently, this is nothing compared to weekdays when some rides have over an hour of waiting time…
Someone working at the park told us that there were about 3 times more people in the middle of the week vs. Saturday. And indeed, all the Algarve Facebook groups were full of people telling how busy it was at Zoomarine and how they queued everywhere forever…
We also heard that one day is not enough for Zoomarine, so we bought 2-day tickets (more about it below). Hoping to avoid the biggest crowds later in the week, we decided to go back to the park the next day – on Sunday. And wow, what a difference even with Saturday! There was hardly any wait anywhere. We went to a few shows in the morning; and in the afternoon, we could do all the rides multiple times without any wait at all. The longest wait was maybe 2-3 minutes, but on many attractions, we literally went out and back in again, and again.
So if you can, try to visit Zoomarine on Sunday. It's such a fun and relaxing experience! Based on what we experienced on Saturday and what we heard, I can't imagine what weekdays must look like…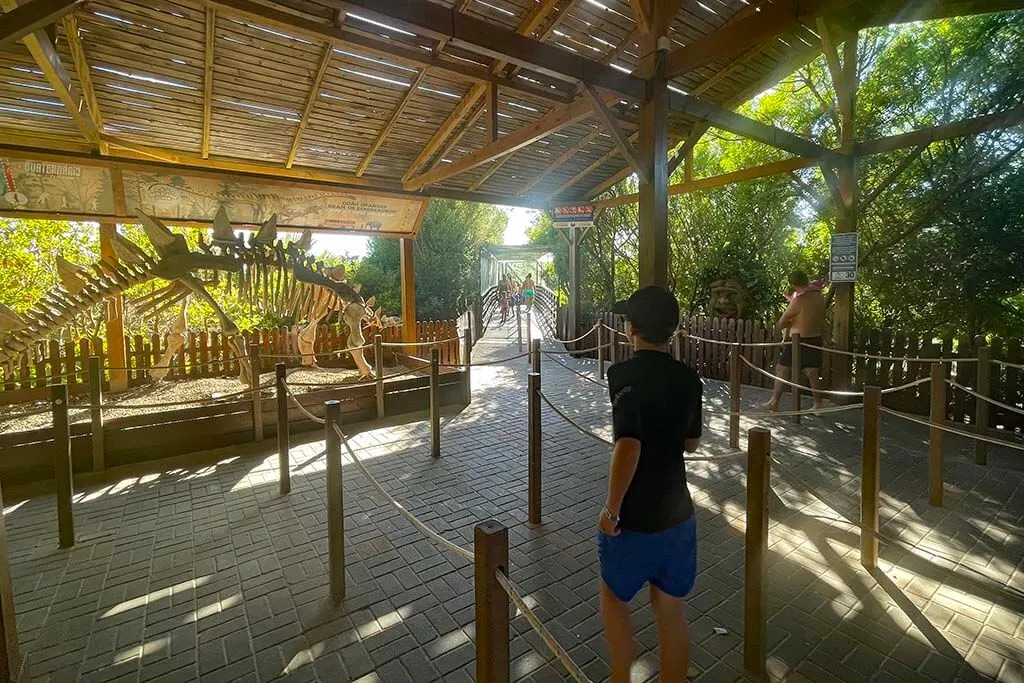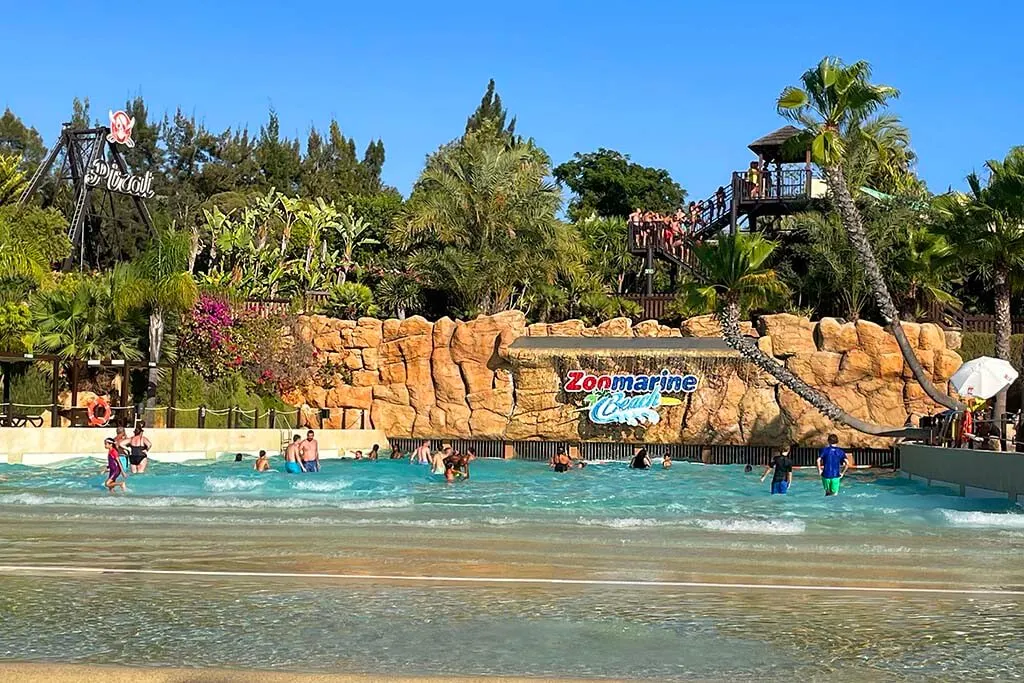 2. Book Zoomarine tickets in advance
The Zoomarine tickets are cheaper online than at the park entrance, so it's best to book them online in advance. Furthermore, this saves you time since you can go directly to the entrance gates.
We checked various websites for the tickets, and in the end, we bought our tickets on GetYourGuide. The price was the same as on the official site but the booking process is much simpler. We use this app for all other tickets and tours when we travel, and it's simply the best. At the entrance, they just scan the QR code directly from your phone, and that's it.
If you opt for a 2-day ticket as we did, you have to get a wristband (or have your fingerprint taken) for the second day before leaving the park. You can then revisit the park within 10 days from the first visit.
If you opt for a 1-day ticket, you may also want to check Zoomarine ticket prices on Tiqets. There, you can sometimes get a small discount on combination tickets with other popular attractions in Algarve, e.g. a boat tour to Benagil Cave. If you are planning on doing several excursions in the region with the whole family, this might save you quite some money.
!!! Kids under 1 meter high can visit free of charge, but you have to book a free ticket for them too.
Good to know: Some businesses in the Algarve have leaflets with a Zoomarine tickets discount code. We tried a few of those codes on the Zoomarine website and we got the exact same prices as simply booking online without the promotional code. The discount was simply the difference between what you would pay at the park entrance vs online, so not an additional discount on the online tickets. In other words, a bit misleading and a total waste of time. Maybe this is not always the case, but we tried several of those codes…
TIP: If you are planning your Algarve holiday months in advance, you may want to book your Zoomarine tickets in the spring already. When we checked prices in February, there was a serious discount for all tickets, also for summer dates (20 or 30% discount in addition to the online price). Also during the duration of this promotion, the prices were the same on GetYourGuide as on the official site.
What's included in the ticket? Regular Zoomarine tickets include entry to all the attractions and shows in the park. Extra services like beach chair or locker rental, food, etc. are not included. If you want to meet dolphins up close and/or go in the water with them (the so-called Dolphin Emotions), you'll need to book it separately, with rates starting from 120-150 euros per person.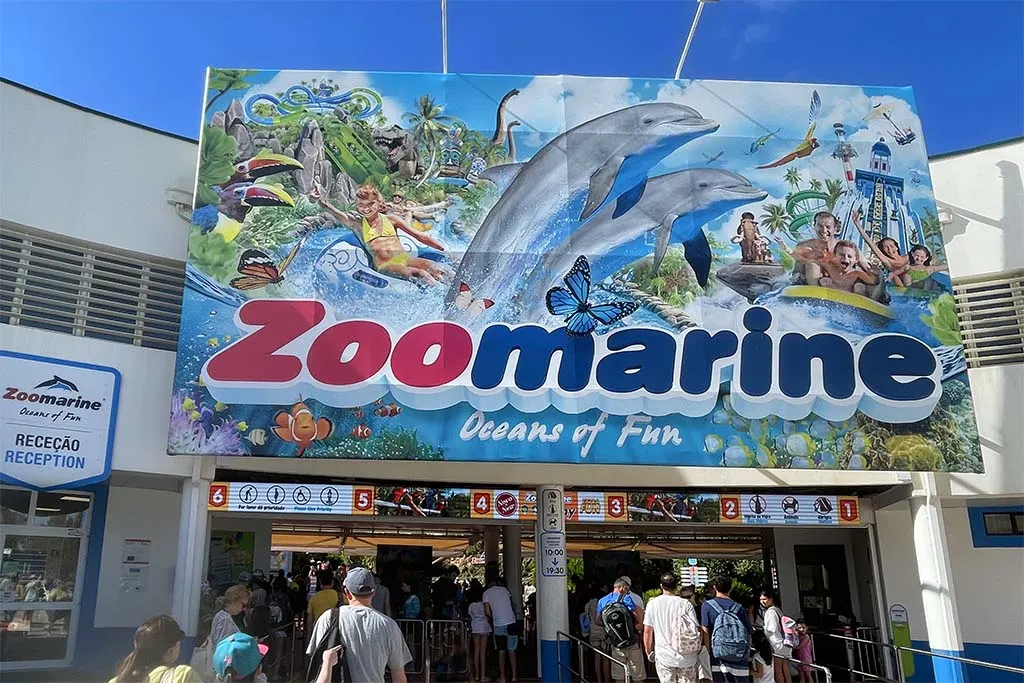 3. Arrive early
If you only plan to visit Zoomarine for one day, be sure to arrive as the park opens (10 am) and plan to stay until it closes (5-6-7.30 pm, depending on the season). Even with 2-day tickets, we still recommend arriving early. Here is why.
First, arriving early allows you to make the most of your time inside the park.
Second, the first show usually starts at 10.30 am already, so if you want to see all the shows, you could start right away.
Third, many animals are more active in the morning when it's not too hot yet so it might be easier to see them.
And finally, if you want to rent lockers, sun loungers, or find a nice place on the grass to set up your 'camp' for a day, you'll have much more choices early in the morning. Many people bring beach umbrellas, camping chairs, etc., and the best spots on the lawn close to the main pools are taken in no time.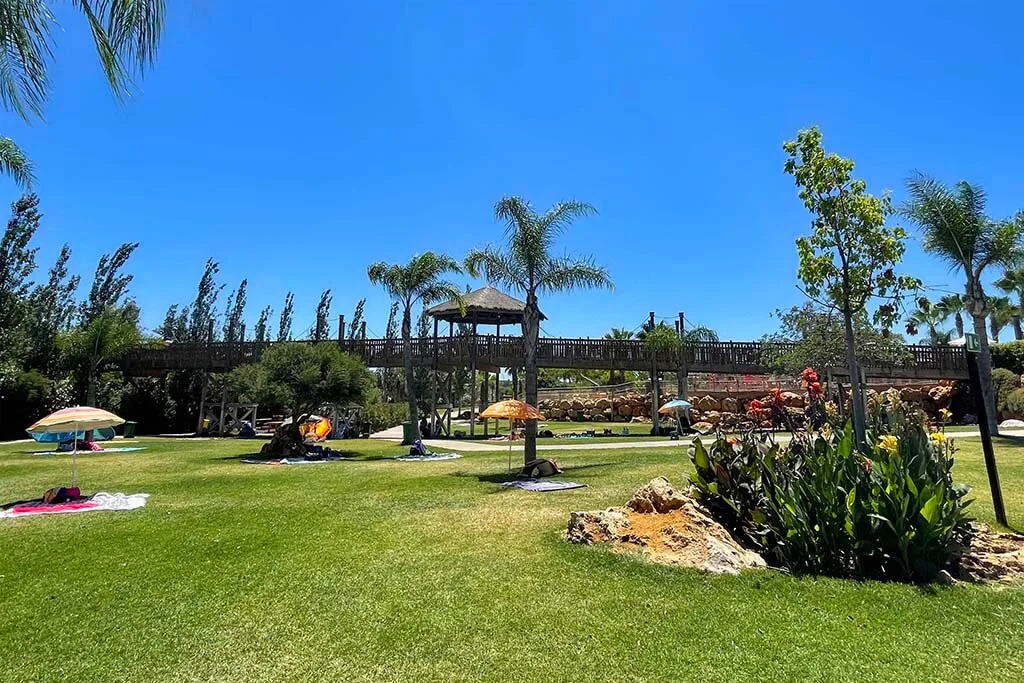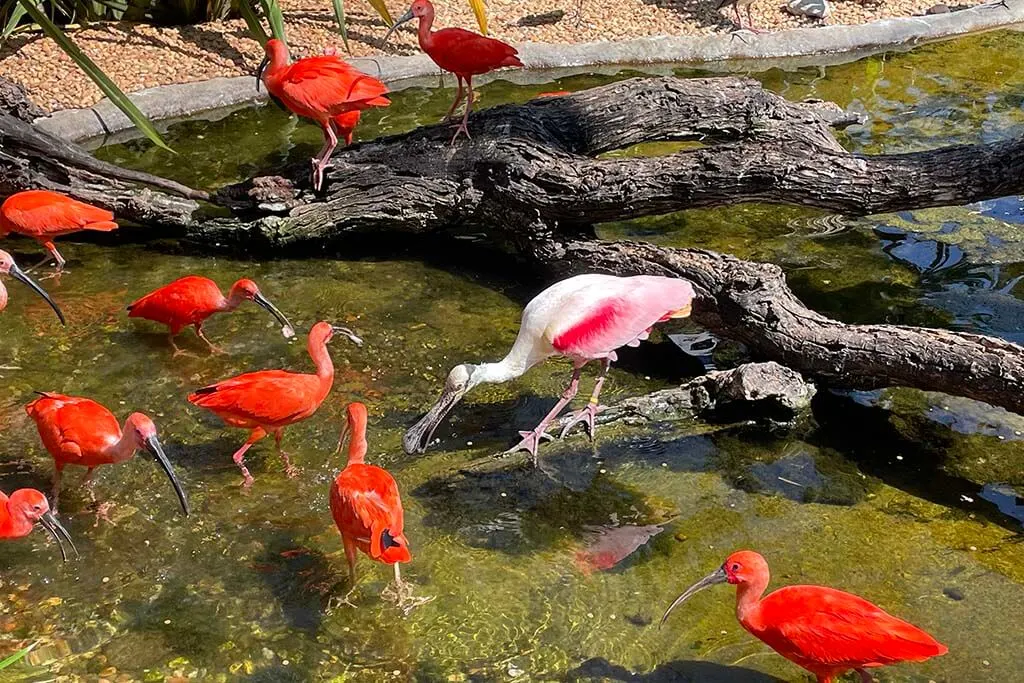 4. Plan your day around the show schedule
What makes Zoomarine special compared to all other theme parks in the Algarve is the amazing shows.
Usually, there are five different shows: dolphins, seals and sea lions, tropical birds, birds of prey, and an acrobatic show. In the peak season, each show takes place twice a day. They all last about 20-30 minutes.
We went to all the shows – some of them several times – and they are all really good. That being said, the best one is definitely the dolphin show. If you need to skip one, the tropical birds show is probably the least impressive, but that's just our opinion.
Good to know: As you arrive at the park, you'll be handed a map and a show schedule for that day. If you want to see (all) the shows, be sure to check the schedule and plan your time around it.
For example, when we first went to Zoomarine, there was a show at 10.30 am so we started with that. The next one was at 11 am so we headed straight there. Then, we had about half an hour before the dolphin show at noon, and we visited an aquarium in between. We then spent the afternoon doing water attractions, swimming, etc. before going to yet another show at 5 pm.
This way, we did 4 out of 5 shows on the first day and still had plenty of time for the rest of the park. We could have easily done all the shows in a day if we wanted to, but we decided to leave something for the second day. That way, it was a bit more relaxing and we didn't have to rush everywhere.
Good to know: Zoomarine also has an app where – in principle – you could see the show schedule as well. However, when we visited, the information on the app was not correct. So we just relied on the paper version that we received in the morning.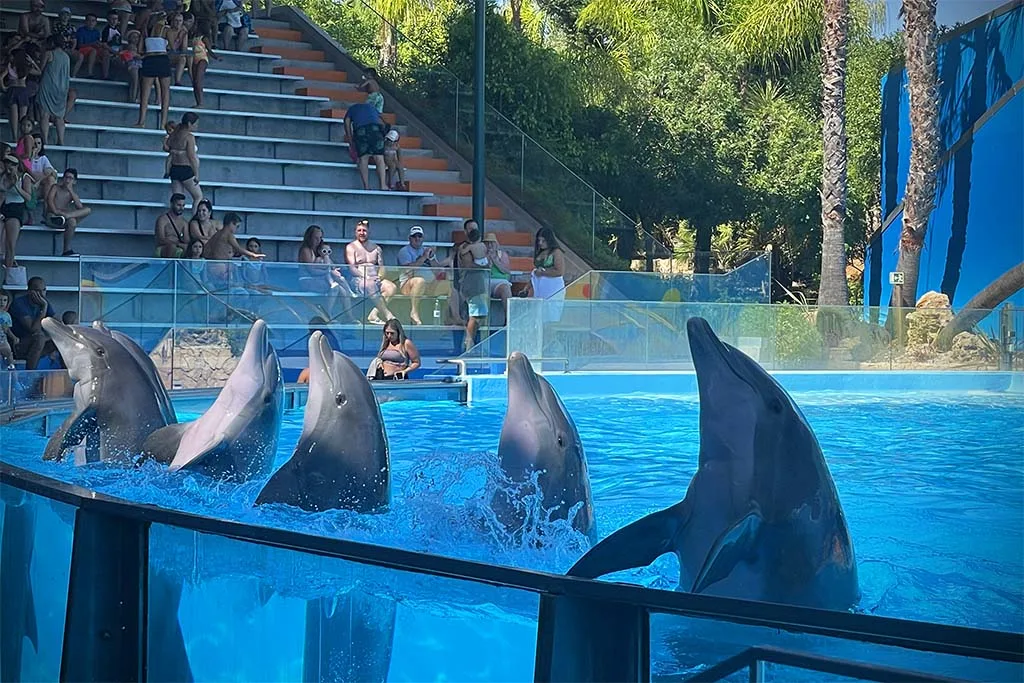 5. Go to the shows well before they start
If you want to get the best seats at any of the shows, be sure to arrive at least 10-15 minutes before they start. That being said, in the high season and for the most popular shows, you may want to go there as soon as they open the doors (30 minutes before the show).
Some shows are so popular that the stadiums fill up long before the show starts. At the entrance, they also count the number of people, and if the full capacity is reached, they close the doors and don't allow anyone inside anymore. Normally, this is not a problem unless you are visiting on a weekday in the summer season.
Going early, you can choose the better seats, decide how close you want to sit, and pick a place in the shade, etc. If you arrive just a few minutes before the show, there is normally still enough place to sit, but usually quite far away from all the action and/or in the sun.
Good to know: In the high season, all shows run twice a day. We noticed that the later it got, the quieter it was at the shows. So if there are two time slots for the same show, the second show will likely be much less busy than the one in the morning/early afternoon.
There are a few reasons why the shows get fewer visitors in the afternoon. First, many people come here primarily for shows, so they start with that first. Also, all the water rides are only open from noon, so many people prefer to see the shows in the morning and spend the warmest hours of the day in the pool or at the water attractions.
TIP: If you don't care about the pool or the water rides too much, you could start your day by visiting the aquarium and different habitats in the morning, doing the dry rides, etc. You can then go and see the shows in the afternoon. Just be sure to check the schedule to make sure that you don't miss something that you absolutely want to see.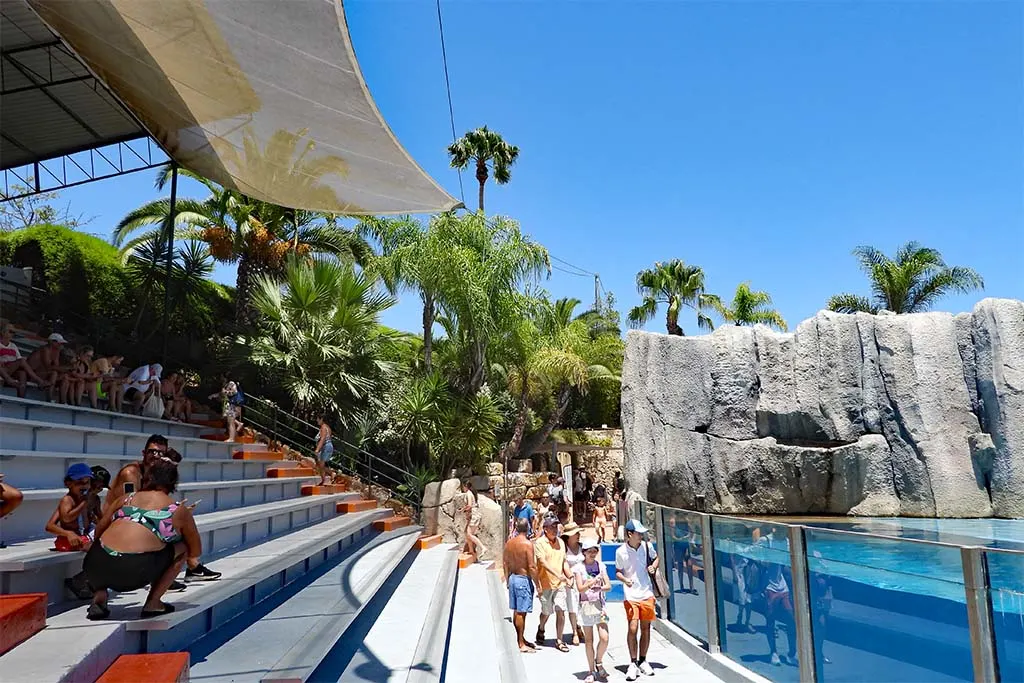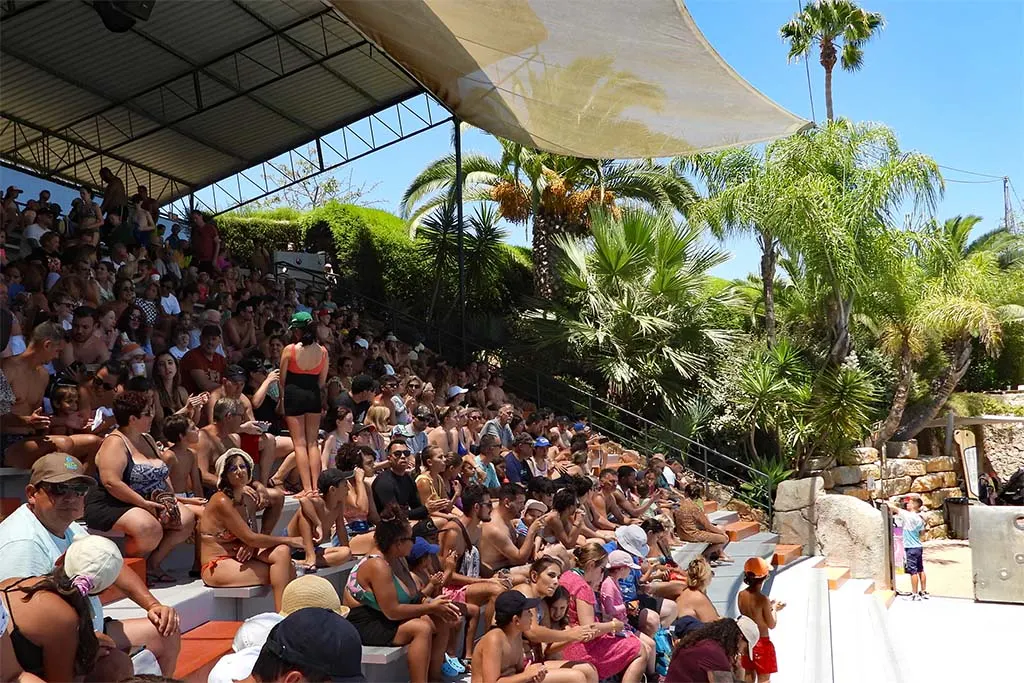 6. Don't miss birds, butterflies, 4D cinema, and so much more
There is more to Zoomarine than just marine animals, shows, and fun attractions. So be sure to take some time to explore everything that the park has to offer.
We highly recommend the Butterfly Garden where you are surrounded by so many colorful butterflies. We went a few times and found that they were more active in the morning when there was more sun falling inside. Oh, and they have a place where you can see butterflies hatching – amazing!
Also the Américas walkthrough habitat is really nice, with so many colorful birds and a big iguana.
Our kids really enjoyed the aquarium as well, especially seeing the sharks and petting stingrays.
When it got really warm, we went to see a 4D film, and it was fun too.
TIP: If you plan it well, you can visit many of these places in between the shows.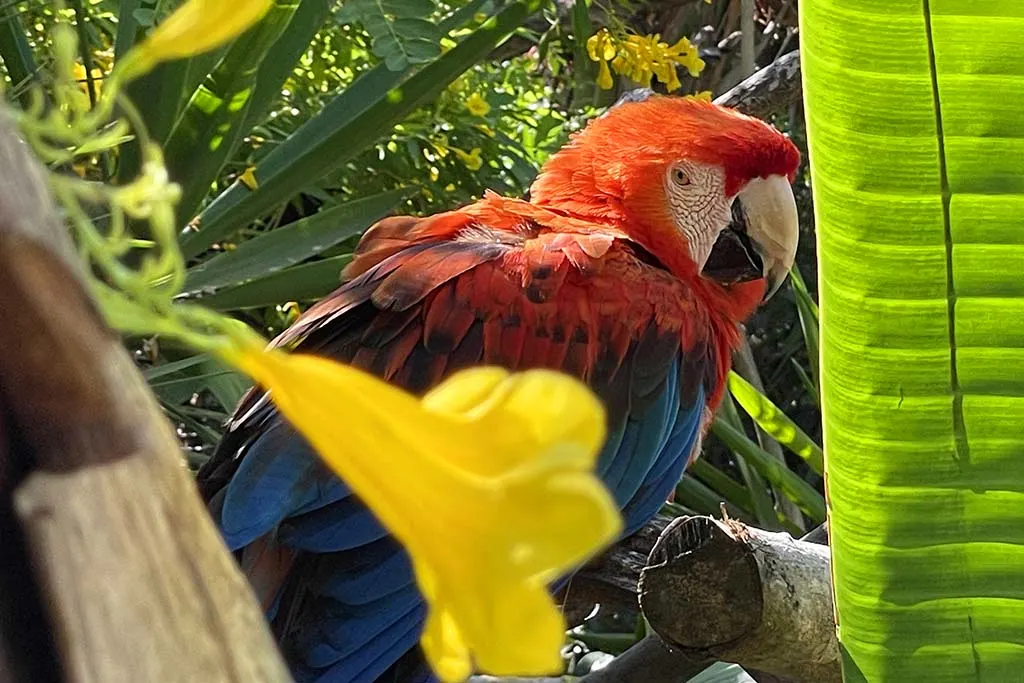 7. Get a ticket for two days
As you can see, Zoomarine is quite a big park with several really good shows, so there is plenty to see and do to fill an entire day. If you want to see all the shows and do all the rides, one day is likely too short unless it's exceptionally quiet everywhere.
In the summer, it's not uncommon to queue for 20-30 minutes at the attractions even on quieter days, so it's practically impossible to do everything in Zoomarine in a day. So if you are visiting in the high season, I highly recommend getting a two-day ticket.
In the early spring and later in the fall, many water rides are closed, so you need less time. However, all the shows are running, the dry rides are open, the pools are open too, and the park usually closes earlier (5-6 pm vs. 7.30 pm in the peak season). So also in the lower season, you may want to get a 2-day ticket.
The second day costs just a fraction of the first day, so a 2-day ticket offers an excellent value. While you can book a 2-day ticket online in advance, the second day costs just 10 euro no matter if you book it online or get a ticket at the park. So if you are not sure if you'll need two days, you can still decide on the day of your first visit.
If you are only interested in the shows, aquarium, butterfly garden, and a few animal habitats, then one day is enough at the Zoomarine.
Good to know: A second-day ticket is valid for 10 days after the first visit. You'll need to get a wristband or confirm your fingerprint at a kiosk before you leave the park on the first day. Once you leave the park, you can't do this anymore, so it's important that you don't forget it!
Our experience: We had read so many reviews where people were saying that one day was definitely not enough for Zoomarine, so we bought a 2-day ticket at once and visited on two consecutive days. While our teenagers were a bit too big for many of the dry rides, we still found more than enough to keep us all busy for two days. And in the end, they did many of the 'kids' rides too and had a fantastic time. With younger kids and in the summer, you'll definitely want a 2-day ticket.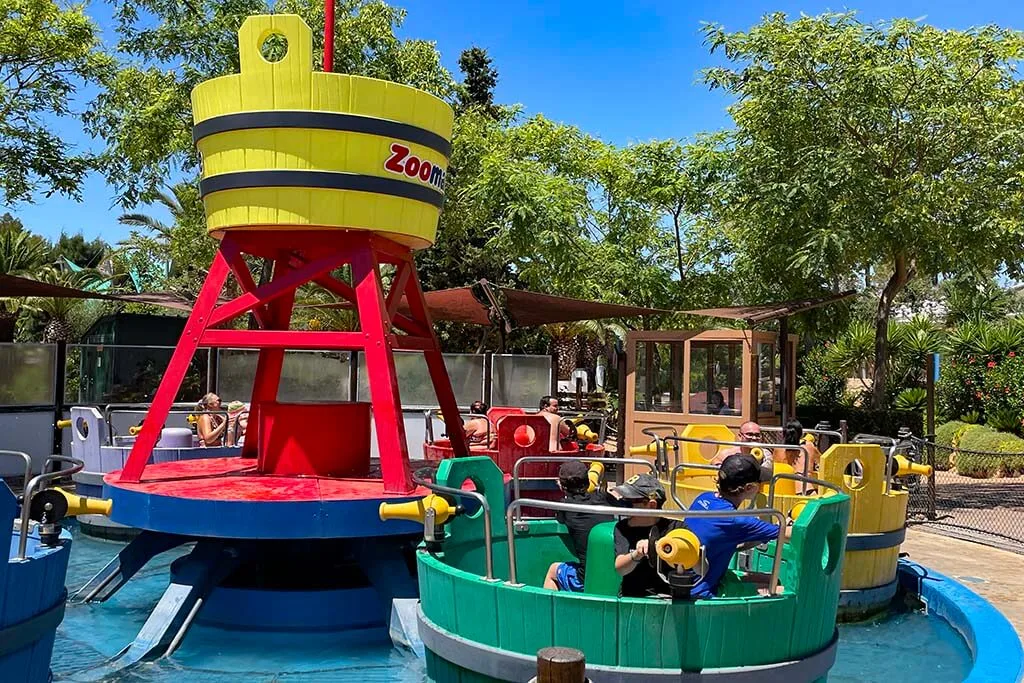 8. Wear swimming clothes and water shoes
Since Zoomarine offers a unique mix of a theme park, an animal park, and a water park, it's best to dress the same way you would when visiting a water park. In other words, simply wear your swimwear, especially if visiting when it's warm enough for the pools and water rides.
However, don't forget footwear too! You'll be walking a lot and the pavements get so hot that walking barefoot would be too dangerous. It's therefore forbidden to walk around without shoes outside of the pool areas and water attractions in Zoomarine.
In the summer, most people walk around in their swimsuits and flip-flops. We found that water shoes are a bit easier since you can also wear them inside the pools and at most water attractions.
In any case, all the water attractions usually have something foreseen where you can leave your shoes, sun hats, sunglasses, etc.
We also recommend wearing UV swim tops – it makes things so much easier. Also, be sure to use plenty of sunscreen lotion and wear a sun hat, because you'll be outdoors the whole day and the Algarve sun is harsh.
TIP: If you want to take pictures in the pools or at some water rides, we recommend bringing a waterproof bag for your smartphone. There are just very few rides at Zoomarine where you are not allowed to take anything with you; phones are allowed at most attractions.
Good to know: While Zoomarine has several shops where they sell water shoes, flip-flops, etc., they seem to have very limited availability in 'normal' sizes. We wanted to buy new water shoes for one of our kids and they only had mini sizes for little children and big sizes for men, but nothing in between. Also most flip-flops had very limited availability.
This was mid-July, in the heart of the peak season, so it probably only gets worse later in the season. So it's best to bring everything you may need with you.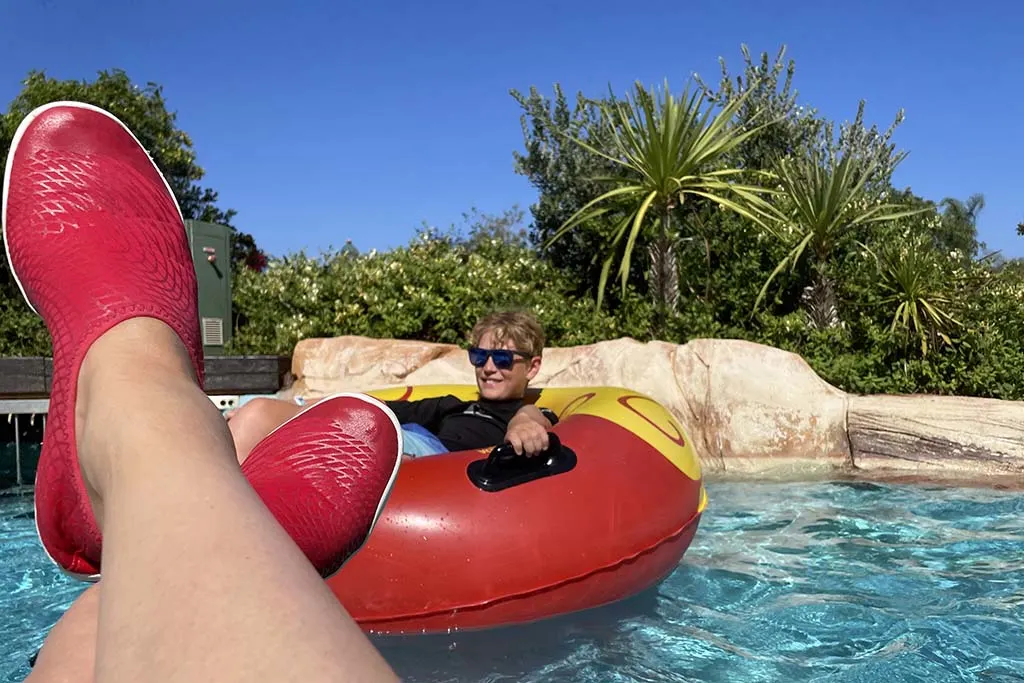 9. Avoid peak times at the restaurants
While you can bring your own picnic, Zoomarine has several restaurants, and most people have lunch there. If you can, try to avoid peak time at the restaurants. The busiest times for lunch seem to be around 12.30 – 2 pm.
Our experience: We took a small snack for the kids which they ate while waiting for the dolphin show at noon and went for lunch later, around 2.45-3 pm. The restaurants were really quiet at that time and – even in July – there was no wait at all.
Good to know: Food prices at Zoomarine are a bit more expensive than you would expect in this area, but we also noticed that there is quite a big difference between various restaurants inside the park. For example, you could have a burger menu with fries and drinks included for 10-12 euros at one place, or for 15-16 euros at another restaurant. There is also an all-you-can-eat restaurant where you pay about 19 euros per person (+ drinks).
TIP: One of the cheapest restaurants is Acqua, right next to the dolphin show and close to the entrance. They serve simple things like burgers and pizzas. We had lunch here twice and it was always quite good (for a theme park).
For payment, you can simply use cards everywhere.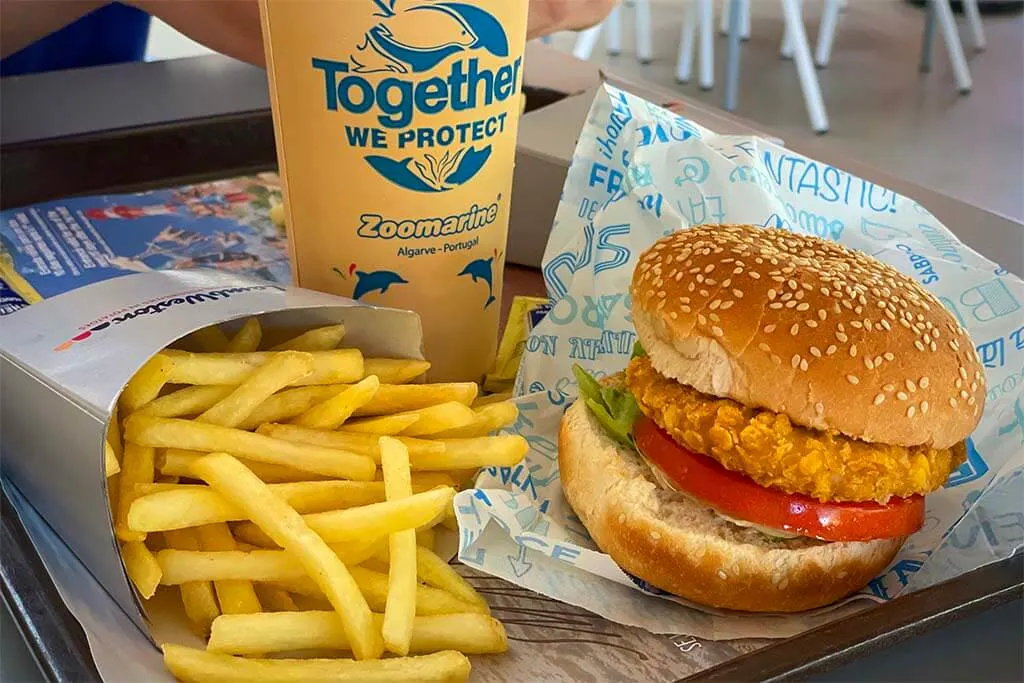 10. Bring whatever you need (or nothing at all)
Depending on what you are planning to do at Zoomarine, you may want to bring a big beach blanket, camping chairs, and/or sun umbrella with you. Most locals also bring cooler boxes, toys for kids, etc. I guess that many local visitors have an annual pass, so they just come to Zoomarine for the pools and water rides and a fun day with the whole family.
Anyway, you can do as locals do and bring whatever you need with you. Alternatively, you can also rent cabanas or sun loungers/umbrellas. But if you are planning on doing all the shows, you won't have that much time to linger by the pools…
Or you can just come in your swimwear, bring a towel and some sunscreen, and that's it.
Good to know: If you have any valuables with you, you can also use the lockers. However, in the busy season, you'll need to rent a locker early in the morning or you risk not finding one anymore.
This is the case for everything, actually – sun loungers, cabanas, etc. Come early and rent whatever you need as soon as you arrive.
TIP: We saw many people with waterproof cases for their phones (like this). Apart from a few water slides, you can indeed take your phone with you almost everywhere, and a waterproof case gives you extra protection.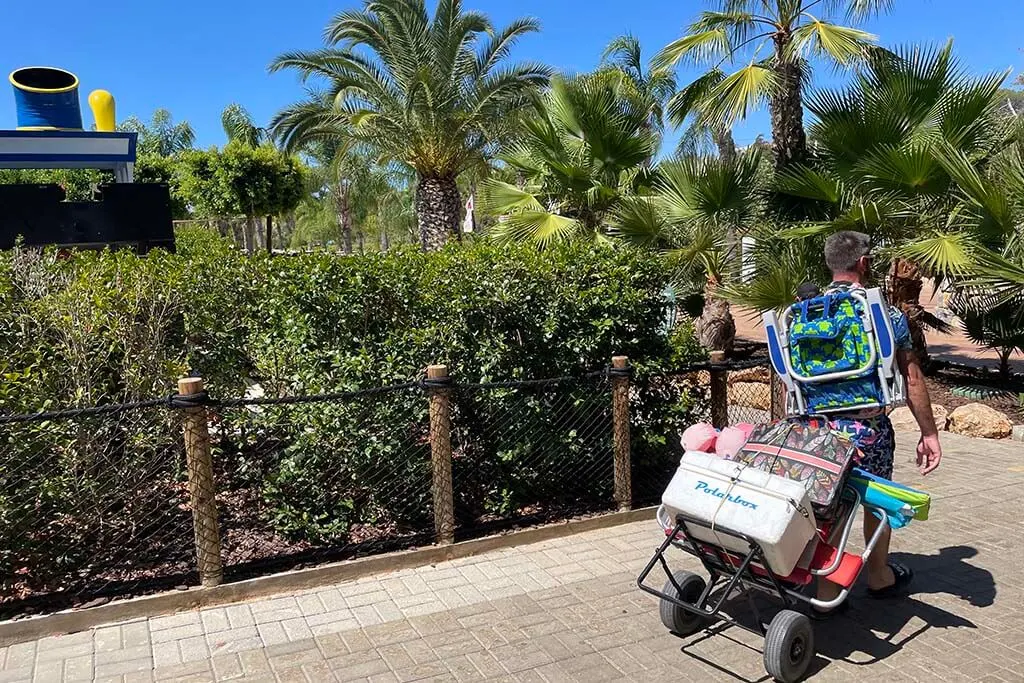 11. Need transportation? Book in advance!
Zoomarine is best reached by car and parking at the park is free. However, most visitors don't have a car and rely on taxis/Uber/Bolt, or private transfers. In that case, it's wise to book a transfer in advance.
Practically all the parks in the area open at 10 am, so if you are planning on taking a taxi or Uber to get to Zoomarine at that time, you might have difficulties finding a taxi. Uber/Bolt work with flexible rates which sometimes more than double when demand is high. Plus, you may have to wait a long time before you even find a car.
Also in the evening, many people leave the park only when it closes, and by then, most taxis are gone. So if you want to take a taxi or use Uber, you may want to leave half an hour earlier.
TIP: If you are staying in Albufeira, you can book a return shuttle transfer to Zoomarine here. Alternatively, you can also arrange transportation via your hotel or look for companies that offer private transfers. They are usually a bit more expensive, but you can book them in advance and can be sure there will be a car waiting for you.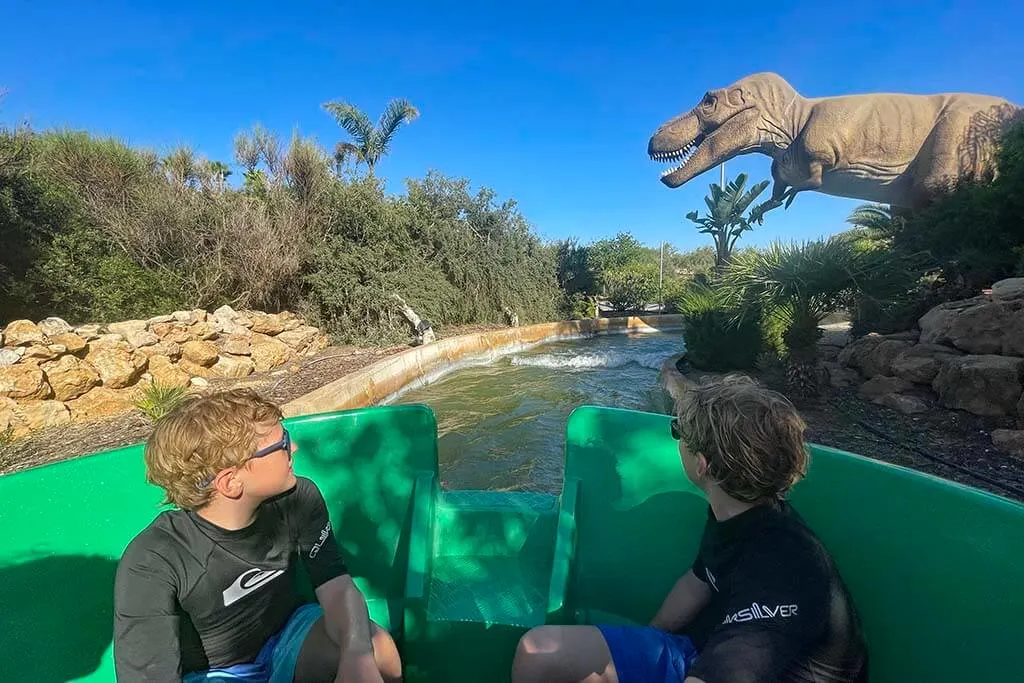 Zoomarine FAQ
When is Zoomarine open?
Zoomarine Algarve is open from March to November. In the summer, it's open daily. In the shoulder season (April-May and September-October), it's open at least 5 days a week, and daily during school holidays. In March and in November, it's usually only open from Thursday to Saturday. That being said, some water rides are only open from June to the end of September.
How much time do you need at Zoomarine?
While you can see all the shows and do most rides in Zoomarine in a day, in the summer, we recommend planning a 2-day visit. In the peak season, there are longer waiting times at all the rides and you won't be able to do everything in a day. With two days, you'll have more time to explore the park to the fullest, see all the shows, do all the rides you want, and also have some time to relax at the pool.
Which day is quietest at Zoomarine Algarve?
Saturday and especially Sunday are much quieter at Zoomarine than weekdays.
Is Zoomarine worth it?
Zoomarine Algarve offers a unique mix of a sea park, a water park, and a traditional theme park. It's the best theme park in Portugal and is absolutely worth a visit.
Is Zoomarine only for families with kids?
Zoomarine is a perfect theme park for families with young children. Families with kids ages 4-12 will enjoy it the most as most rides are best suitable for younger children. That being said, if you are interested in animal shows, the park has plenty to offer to teenagers and adults as well. We visited Zoomarine with our teenagers ages 12-15, spent two days in the park, and the whole family had a great time.
What is included in the Zoomarine ticket?
A regular Zoomarine ticket includes all the shows, rides, and attractions inside the park except for the private dolphin encounters. You can get a second-day ticket for just 10 euro which offers excellent value.
READ ALSO: Best Water Parks in Algarve (+Tips & How to Visit)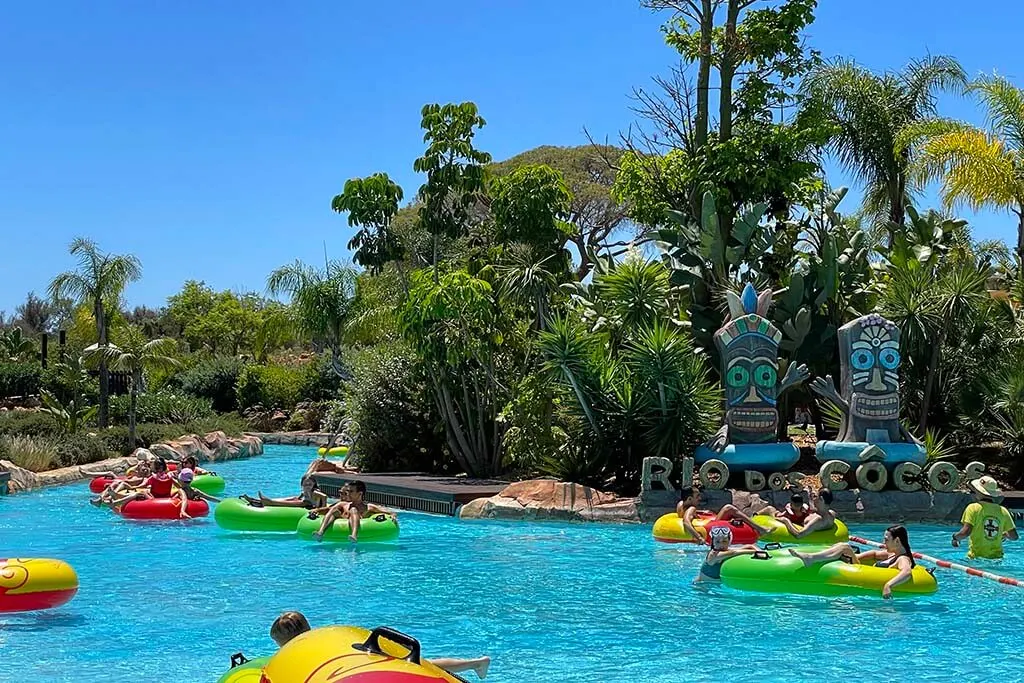 So, these are our tips for visiting Zoomarine in Algarve. I hope that this gives you a better idea of what to expect and helps you plan a memorable and fun day with the whole family.
Have a great time!
More travel inspiration for the Algarve region:
Top sights:
Exploring the Algarve Coast:
Algarve towns:
Seasonal guides:
READ ALSO: Portugal with Kids
If you found this post helpful, don't forget to bookmark it and share it with your friends. Are you on Pinterest? Pin this image!