Amalfi Coast is one of Italy's most popular destinations and planning your first trip to the region might seem a bit overwhelming. What is the best time to visit? How many days do you need for Amalfi Coast? Which towns to visit? Where to stay when visiting Amalfi Coast? And finally, what's the best Amalfi Coast itinerary?
Our guest writer Nicky from That Anxious Traveller answers all these questions in this suggested 5-day Amalfi Coast itinerary that covers all the best places you shouldn't miss on your first visit.
Update: This article has been updated after our own recent trip to the Amalfi Coast and Naples region, to give you even more useful info and tips for planning your visit. Read on!
The area surrounding Naples in Italy is one of my favorite places in the world. Covering the busy city of Naples, charming Mediterranean towns, glamorous islands, and UNESCO world heritage sites, Amalfi Coast has something for everyone! But you do need to take your time to explore this beautiful coastline.
While you can see the Amalfi Coast itself in one day, there is so much more to this beautiful area than just the famous towns of Amalfi, Ravello, or Positano. Depending on your interests, I recommend at least 3 days in the area, but if you really want to see all the best places near the Amalfi Coast, it's best to spend at least 5 days on the Amalfi Coast.
TIP: If you stumbled upon this post while looking for ideas for the Amalfi Coast itinerary, but you only have one day for it, I recommend checking this day tour from Rome that includes Pompeii and the Amalfi Coast. It's run by a company that offers the best local experiences in Italy!
If you are staying in Naples or other nearby towns, you can find the best tour options here. Taking an organized tour is by far the best way to see the best of the Amalfi Coast in just a day.
Naples, Capri, and the Amalfi Coast Itinerary for 5 Days
Before we continue with the recommended Amalfi Coast itinerary, you should know that all the main sights along the Amalfi Coast can be easily visited from one central location. If you want to see the Amalfi Coast, Capri, and even places like Pompeii, we recommend staying in Sorrento. You can find more details and suggestions at the bottom of the post.
Depending on your destination for the day, you can either travel by boat, by public transport, or take organized tours.
You can also visit the Amalfi Coast by car (why not rent a tiny Italian Fiat or a scooter and explore Amalfi Coast in style). However, since there are now so many restrictions on who is allowed to drive where and at what time, we only recommend considering renting a car in the low season! See the best car rental deals here and rent the smallest car that will fit your group.
READ ALSO: Amalfi Coast Travel Tips for First-time Visitors
There are so many ways to make the best of your time on the Amalfi Coast – find out!
Below is my recommended 5 day itinerary for the Amalfi Coast. It doesn't really matter which places you visit on which day, or how many days you have for the Amalfi Coast, just use it as an indication on what you can see on any given day. I suggest using these recommendations to create your own perfect Amalfi Coast itinerary, for any duration from 1 to 5 days. Find out!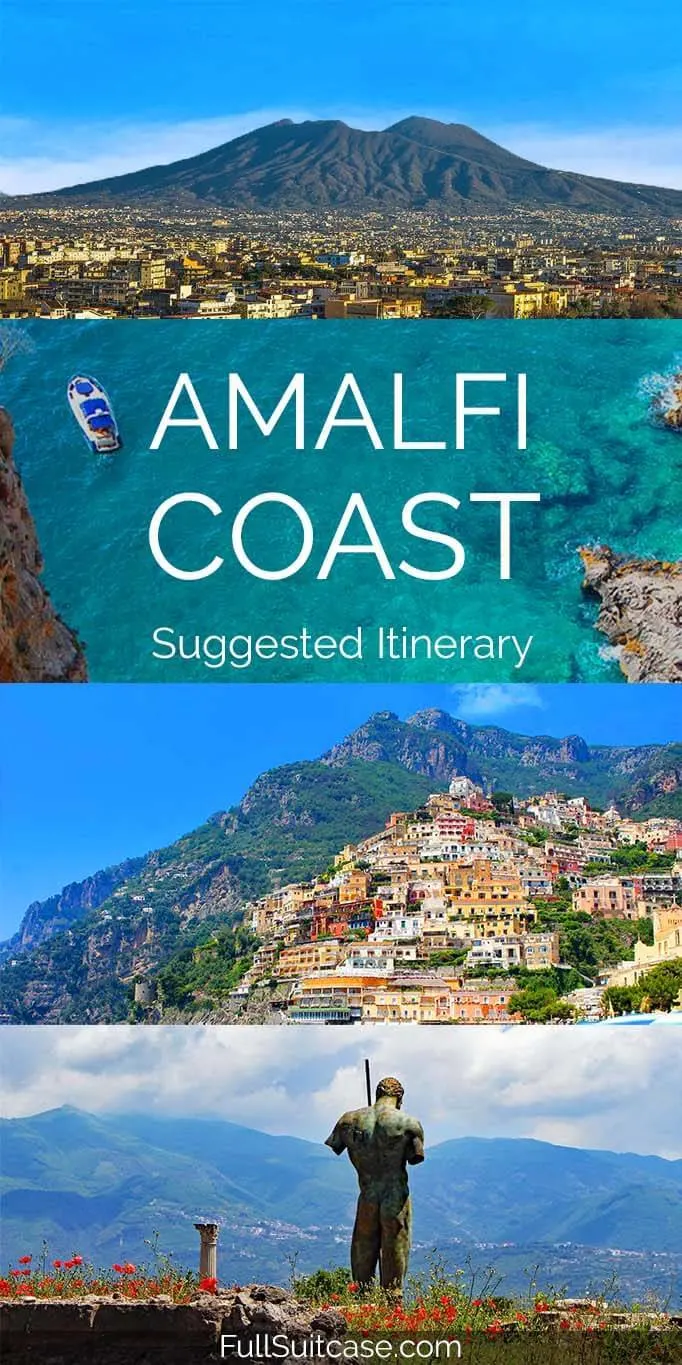 TIP: Below are our suggestions for your Amalfi Coast itinerary, with the best areas grouped per day. If you have less time, just pick those places that interest you the most. That way you can easily create your own itinerary for a shorter trip by selecting the itineraries of those places that interest you most. Take a look!
Day 1 – The Amalfi Coast: Positano, Ravello, and Amalfi town
You could easily devote a full five-day itinerary to the villages of the Amalfi Coast alone, but that would be to miss out on everything else in the area. So this Amalfi Coast itinerary actually foresees one full day to the villages of the Amalfi Coast itself (and absolute minimum).
Take advantage of Sorrento's close proximity to one of Italy's most feted spots, and see the main highlights of the Amalfi Coast – Positano, Amalfi, and Ravello in just one day. Here's how.
Start with Positano, the mainland's equivalent to Capri. Glamour and picture-perfect sights are the order of the day here: from the perfect beach with its dramatic backdrop of houses clinging to a mountainside, to the rows of boutique stores offering some truly unique fashions.
You can even have your own custom-made sandals made here while you wait, before popping back into the sunshine for a freshly-made gelato.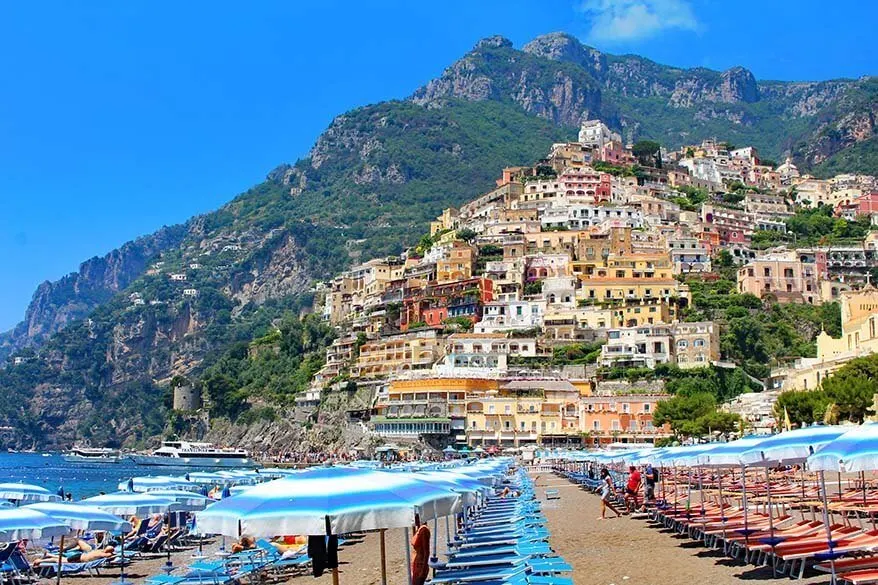 Next is Amalfi, a town that was a trading superpower in the medieval age. It is much smaller these days, thanks to an earthquake in 1343 which caused most of the city to slide into the sea.
But some things remain: Amalfi possesses the absolute must-visit sight of the Duomo, the towering cathedral which dominates the main piazza of the town.
For a small fee, you can enter and see Roman sarcophagi in the cloisters, beautiful religious artifacts in the treasury, and the remains of a saint in the cathedral itself. It's a wonderful building and a nice respite from the bustle of the Amalfi Coast's crowds.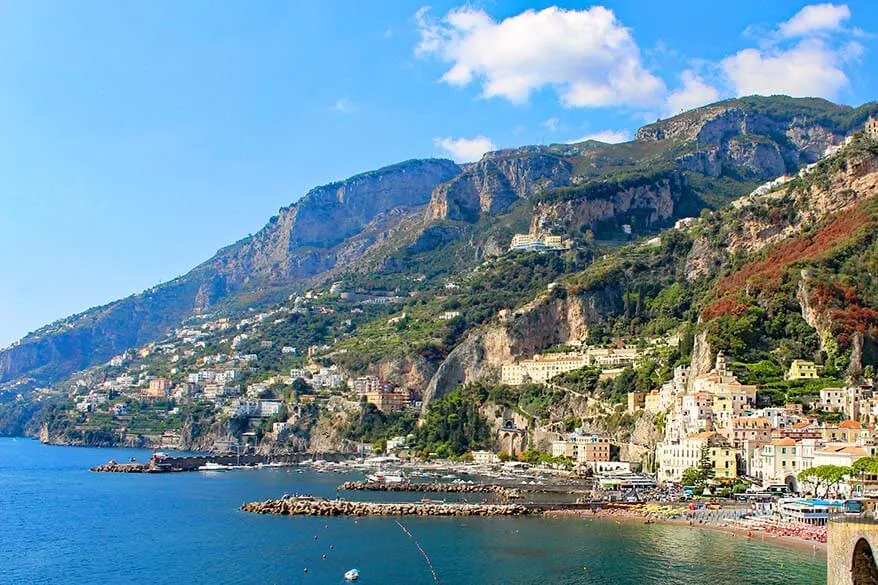 To finish off your Amalfi Coast trio, head to the mountaintop town of Ravello. Visit the gardens of Villa Rufolo and prepare yourself for one of the best views on the entire Amalfi Coast.
Head straight through the gardens until you reach the terrace and take in the beauty of blue skies meeting blue seas, whilst the towns of the coast tumble down the mountainsides.
Another must-see in Ravello is the garden of a 5* luxury hotel Villa Cimbrone. The views from Terrazza dell'Infinito are amazing and you can visit the gardens even if you don't stay at the hotel.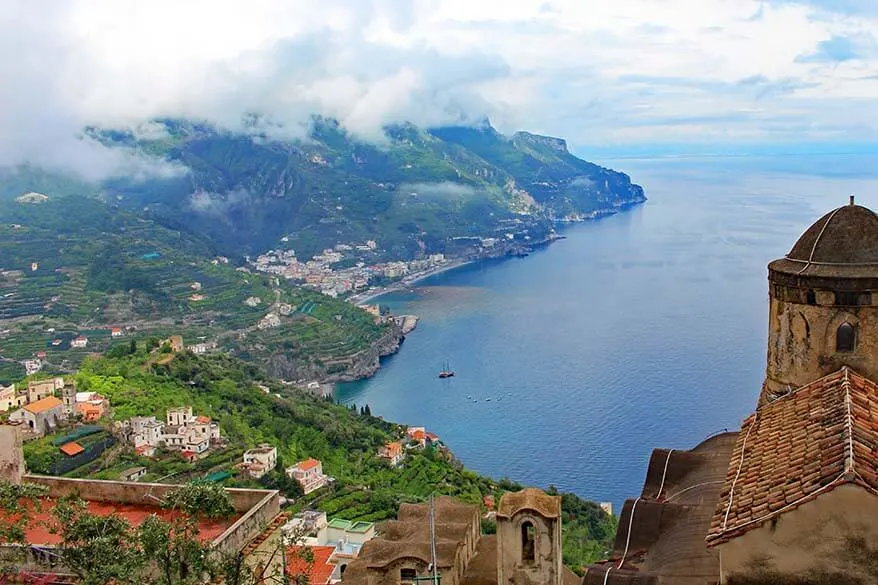 If you like jaw-dropping sceneries (who doesn't right?), make sure to check this out for some of the best views of the Amalfi Coast. One of the best ways to enjoy the jaw-dropping scenery of the Amalfi Coast is to hike the famous Sentiero degli Dei (the Path of the Gods).
Practical Information: Although you can take a ferry from Sorrento to Positano, the most budget-friendly option is going by bus. If you go to Sorrento's train station and buy an all-day bus ticket from the tobacconist by the entrance stairs, you can take in all of the Amalfi Coast's towns for a very reasonable cost of about 7 EUR.
Simply cross over the road outside the train station to catch a bus headed to Amalfi; Positano will be your first stop. When you've explored there, get back on the bus to go to Amalfi, and catch an additional bus from there to Ravello.
TIP: Remember to validate your bus ticket when you get on board. Also bear in mind that the buses get extremely busy in high season; the earlier you can get there, the better. And if you want really good views out of the window, sit on the seats to your left!
However – if you visit in the high season – the buses are often crowded and the traffic is really bad. Taking a boat is much more comfortable.
Tour suggestions: An alternative way to see the Amalfi Coast is by joining organized day tours. Here are some of the best options: a group tour from Naples, a private day trip from Naples, or the Amalfi Coast day tour from Rome.
TIP: If you are staying in Sorrento and just visiting the Amalfi Coast for a day, this full-day boat tour from Sorrento is one of the absolute best options to see all the top places in a day. Especially if you are traveling in the high season.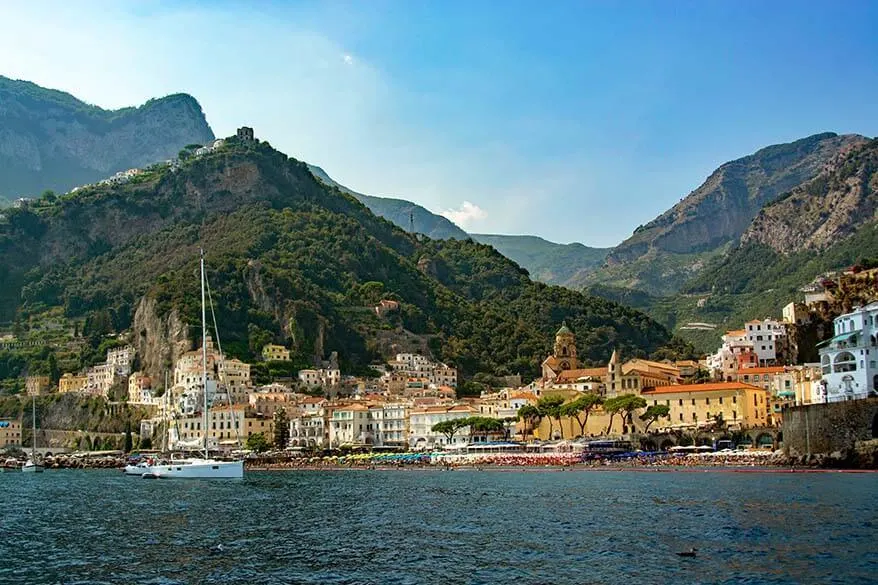 Day 2 – Sorrento
No Amalfi Coast itinerary would be complete without visiting Sorrento!
Take it easy on your second day along the Amalfi Coast, and explore the pretty town of Sorrento. It's a beautiful place where you can find a more authentic Italian way of life. Scenic streets with their small shops and gelato parlors make Sorrento an ideal destination for serious shoppers and families alike.
Must-see locations in Sorrento include the Church of St. Francesco, which has a beautiful cloister area attached to the side of the church, the stunning views across the bay to Naples and Vesuvius, as well as the otherworldly ruined mill at the Vallone dei Mulini.
But Sorrento's simple pleasures are the best: do some people-watching at Piazza Tasso, or stock up on lemon-flavored treats in the shopping streets to the west of the piazza.
Our personal favorite thing to do in Sorrento is enjoying an aperitivo and seafood dinner on the terrace of a small fishermen's restaurant O' Puledrone at Marina Grande. We also really enjoyed the visit to the lemon grove in the middle of the city, I Giardini di Cataldo. They sell all kinds of lemon delicacies, from ice creams and sorbets to marmalades and limoncello.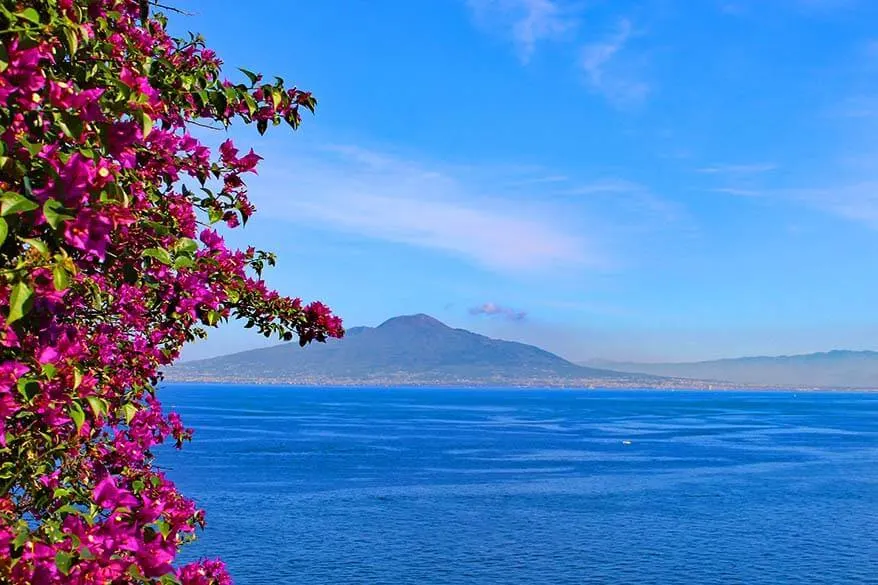 Practical Information: Sorrento is small and friendly. Unless you're planning to explore the surrounding suburbs, you can easily explore the town on foot.
Be aware that if you want to go down to the port, you can either take the staircase at the north side of Piazza Tasso, or follow a longer, winding road. If mobility is an issue, there is a bus that you can catch at the port to bring you back up to town.
TIP: You may be tempted by the pizza in the cafes on Piazza Tasso, but you pay for the location. Go a little further down Corso Italia and check out Franco's Pizzeria instead. It's the best pizza outside of Naples, in a small and friendly restaurant, and at a fraction of the cost of the tourist spots.
Good to know: You don't really need an entire day for Sorrento town itself. So take it easy, head to the beach, spend some time by the pool of your hotel, take a cooking class, go on a fishing trip, or book a sunset cruise. It will make your stay so much more enjoyable!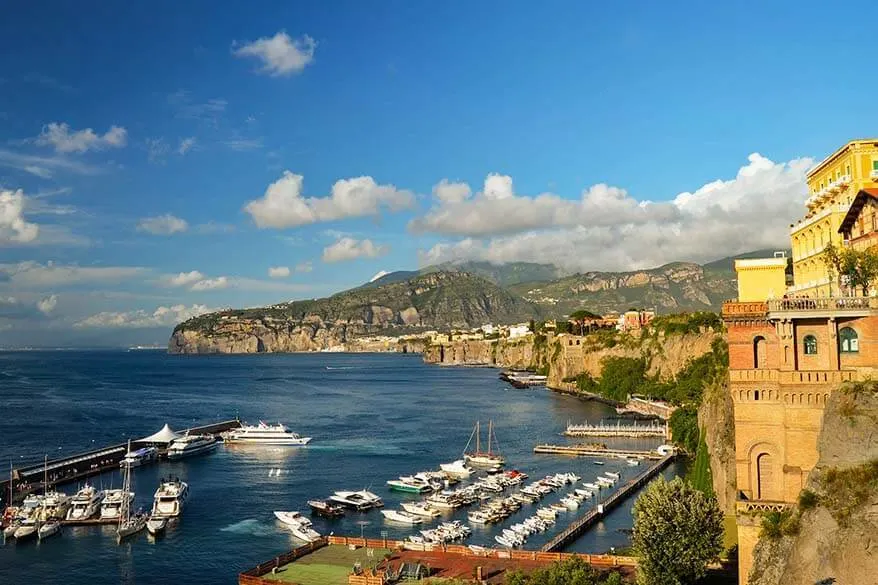 Day 3 – Capri
On your third day on the Amalfi Coast, spoil yourself with a trip to one of the world's most glamorous locations, Capri island. It's another location you must include in your Amalfi Coast itinerary!
Capri is a jewel of an island in a sapphire-blue sea. Synonymous with the rich and famous, it's been visited by everyone from Emperor Tiberius, to Jackie Onassis, to Taylor Swift…
You can while away the hours doing serious damage to your bank account in the designer-laden shops, or taking in the natural beauty on some glorious hiking trails.
Blue Grotto is top of most visitor bucket lists: a cave located just off the sea, where the water turns a brilliant, luminous blue. Also popular are boat tours around the entirety of the island's coast, a highlight being the Faraglioni rocks, where your boat passes through a natural tunnel at the base of the towering rocks.
You can arrange a tour at the Marina with various local companies, or avoid disappointment and book one in advance. Here's the best price/quality Capri Island boat tour that I found (it includes both, Blue Grotto, as well as Faraglioni rocks).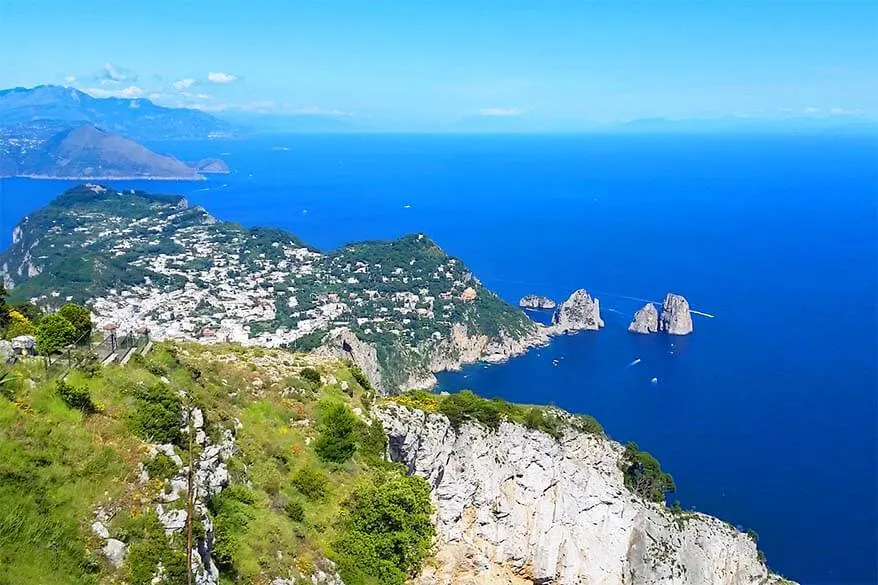 If you don't want to stay at sea level, catch a bus from Capri Town to Anacapri. It takes just 10 minutes and costs around 2 EUR.
Once there, you can get a chairlift up to the summit of Monte Solaro, the island's highest point. Here you can soak in one of the finest views you'll ever see, of the lusciously green isle surrounded by sparkling blue seas.
TIP: Capri tends to be expensive, but you can get one of the island's finest sights for next to nothing. Walk through Capri Town, and navigate your way to the Giardini di Augusto. The entrance cost is just 1.5 EUR and you can enjoy stunning views of the blue waters underneath the snaking footpath of Via Krupp, or the Faraglioni rocks in the other direction.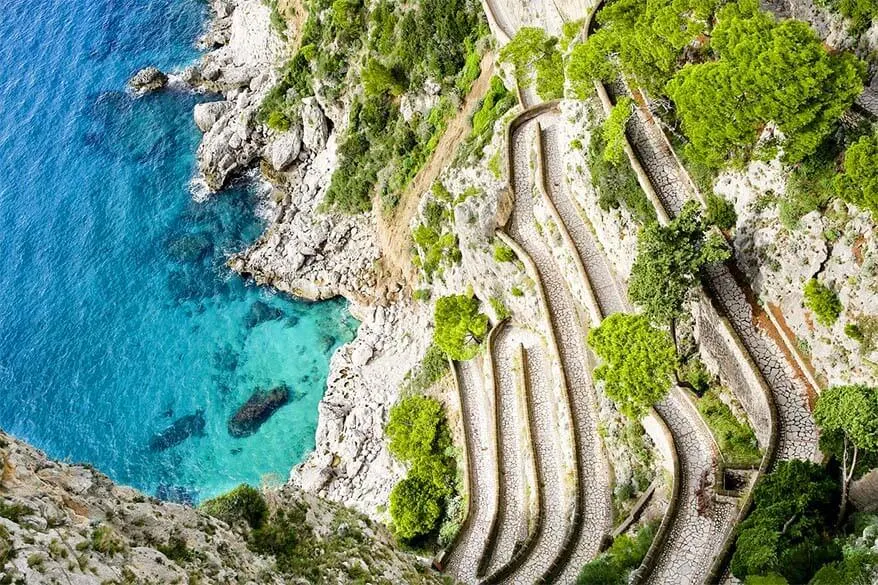 Practical Information: To reach Capri, go to Sorrento's Marina Piccolo (don't be confused by the names of Sorrento's marinas – Marina Piccolo is the big one, Marina Grande is the small one!), and buy a ticket from any of the booths which are marked with "Capri". The journey will take about 20-30 minutes, and cost anything from 20 to 35 EUR, depending on the time of day. Earlier in the day tends to be cheaper.
LEARN MORE: How to Visit Capri from Sorrento
Tour suggestions: You can also visit Capri with organized tours. Here is one of the best-rated options from Sorrento: Capri full-day small-group boat tour.
READ ALSO: Best things to do in Capri & Things to do in Anacapri & Where to Stay in Capri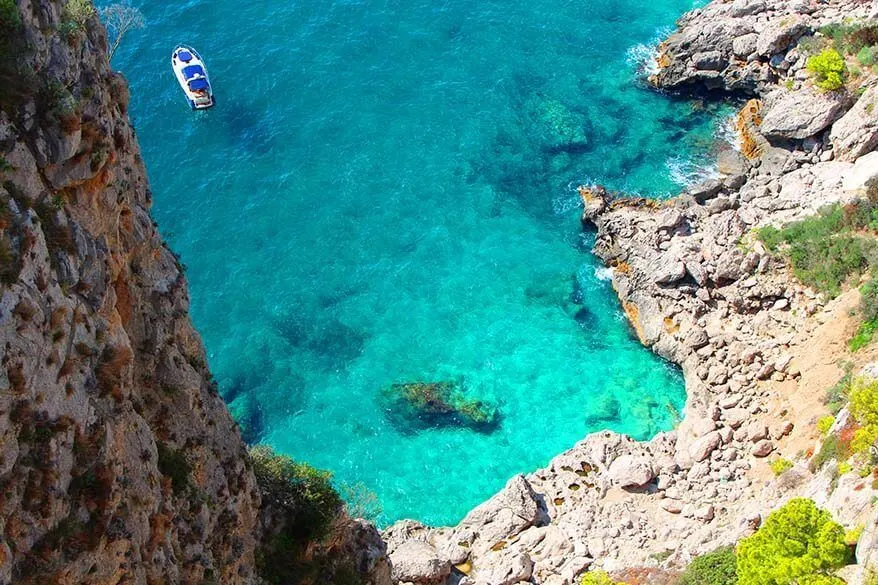 Day 4 – Pompeii
It would be wrong to visit the Naples region and not visit its most famous historic site! The Roman town of Pompeii was destroyed in 79 AD when the nearby volcano of Vesuvius erupted, causing a chain of events so destructive that they wiped out the town's population and buried it under a thick layer of solidified ash.
Visiting Pompeii is the closest you'll ever get to traveling back in time, as you walk over the same cobblestones and enter the same temples and amphitheaters as the ancient Romans did.
It's extremely easy to reach Pompeii from Sorrento. You can take a 30-minute train from Sorrento's train station, which is located just off the central Corso Italia. You can catch any train heading to Napoli and alight at Pompei Villa Dei Misteri station. It's a short walk from here to the site's entrance; just follow the row of souvenir stalls.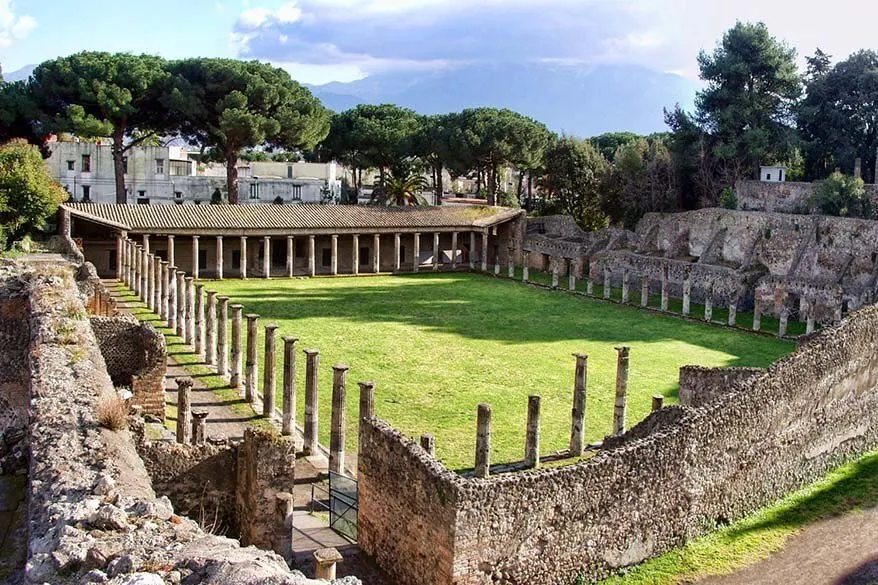 Practical Information: If you don't want to waste your time standing in line, you may consider buying fast-track tickets for Pompeii in advance. Also, prepare to get hot! Pompeii is notoriously unforgiving in the sun, and the savvy traveler plans accordingly.
Take plenty of water (there's a cafe on site if you do run out), use plenty of sunscreen, and wear a hat and sunglasses. There's very little shade in Pompeii. You can hide from the sun inside the cafe or in one of the few buildings with a roof. It's also advisable not to wear heeled shoes – the Roman cobblestones and pavements are awkward to walk on even when wearing flats. Your ankles will thank you for it!
TIP: Don't push yourself too hard in trying to see all of Pompeii in one day – I've been three times, and still haven't seen it all! Plus, you may not want to spend the whole day here either, especially if it's hot.
You'll be given a map with your ticket: identify the key things you want to see and treat everything else as a bonus. Make sure not to miss the Forum, the Villa of the Mysteries, the House of the Faun, the Cave Canem sign, the Lupinarium, or the amphitheater.
PRO TIP: If you want to see the musts of Pompeii in just a few hours, I highly recommend joining a guided walking tour with an archeologist. It covers all the highlights in the most efficient way – you would never see (or understand) half as much on your own. You can still explore a bit more of the site on your own after your guide leaves you at the end of the tour. This is what we did – using additional tips our guide gave us.
Tour suggestions: Pompeii is also a popular destination for organized day trips. Ideally, you combine with Mt Vesuvius – it will make your day more diverse. You can visit Pompeii & Mt. Vesuvius with these highly-rated tours from Naples or Sorrento or from Amalfi Coast, and even from Rome.
READ ALSO: How to Visit Mount Vesuvius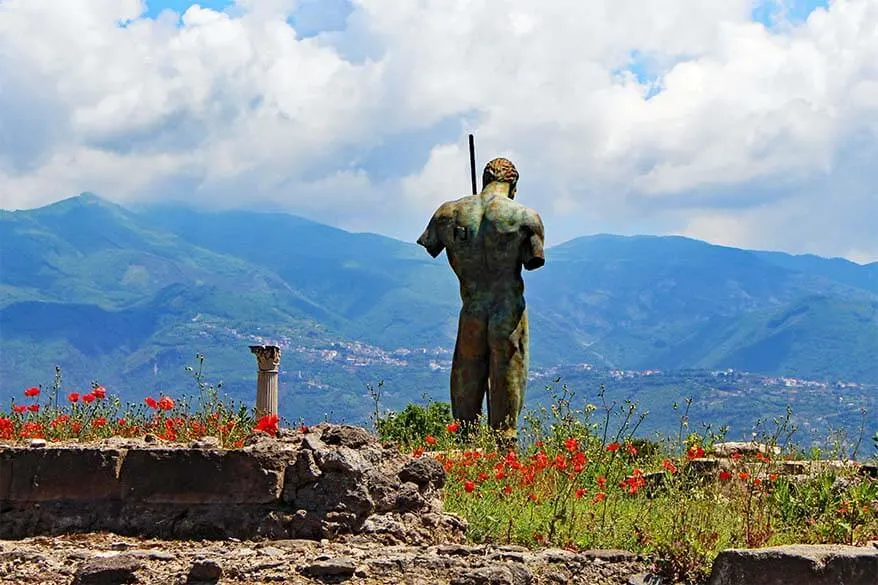 Day 5 – Naples
Some people are put off Naples by the city's reputation of being dirty, unfriendly, and crime-ridden. Don't believe the rumors – if you pass up on Naples, you'll be missing out on one of Italy's most authentic cities. It's a must if you have 4-5 days at the Amalfi Coast.
Napoli might have a few rough edges, but after five visits there, I've never once had any problems. The people are friendly (especially if you attempt to speak in Italian!), the historic sites are world-class, and the scenes are far prettier than some would have you believe. Not to mention that the food in Naples is out of this world!
A definite must-visit is the Archaeological Museum. If you have an interest in Roman history – or if you acquired one during your visit to Pompeii – then the National Archaeological Museum is one of the foremost places of study in the world.
You'll be able to see the original artifacts discovered in Pompeii and Herculaneum, which were removed and kept in the museum for their own preservation. Most notorious is the Secret Cabinet room, where you can see some of the more erotic discoveries! Add to that the famous Farnese Marbles statue collection and a huge array of Egyptian artifacts, and you have a full day for any fan of classical history.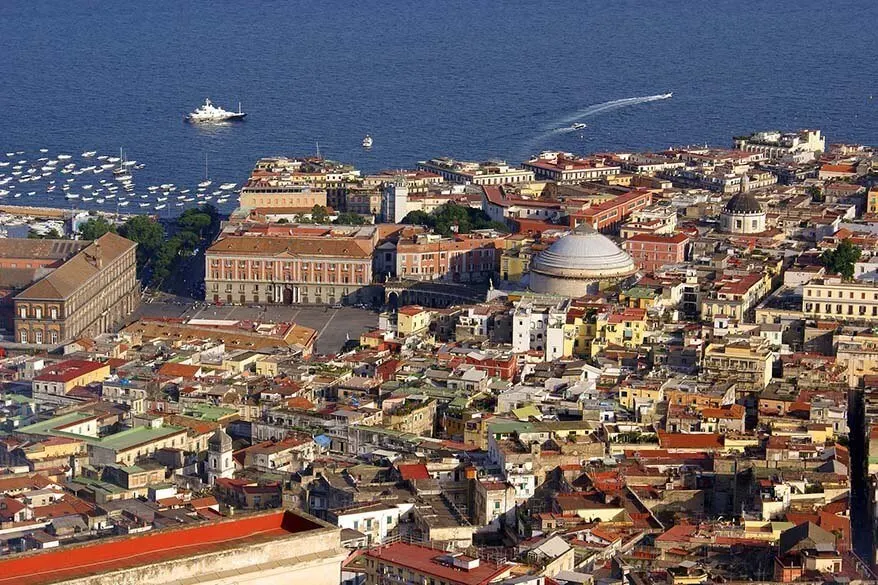 Another sight you won't forget in a hurry is the Church of Gesú Nuovo. Entry is free, and a building that looks curiously plain and rectangular from the outside will suddenly bloom into a riot of color when you step inside. Take in the beautiful blues and golds of the ceiling, and the religious artworks which line the walls.
Just nearby, check out the monastery of Santa Chiara – its gardens and cloisters are among the most beautiful places in Naples!
For the best views of Naples, take the funicular up to Castel Sant'Elmo.
READ ALSO: One Day in Naples (what to see and itinerary)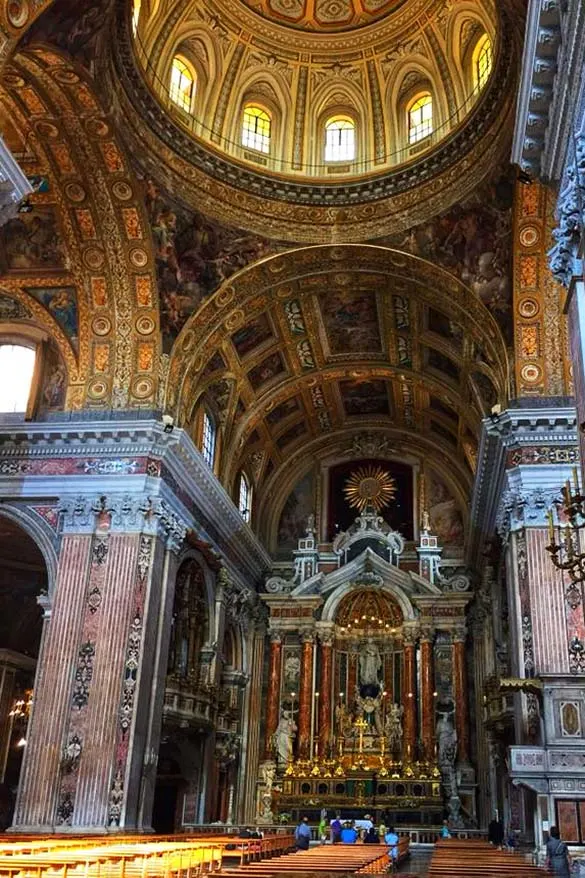 Some other popular things to do in Naples include the Naples Catacombs, an underground tour, food tours, and pizza-making classes. And if you have more time, visit the Royal Palace of Caserta, a bit outside the town.
If you like history, then don't miss the Herculaneum archeological site, a UNESCO World Heritage Site and one of the world's most preserved ancient cities.
LEARN MORE: Best Things to Do in Naples & Where to Stay in Naples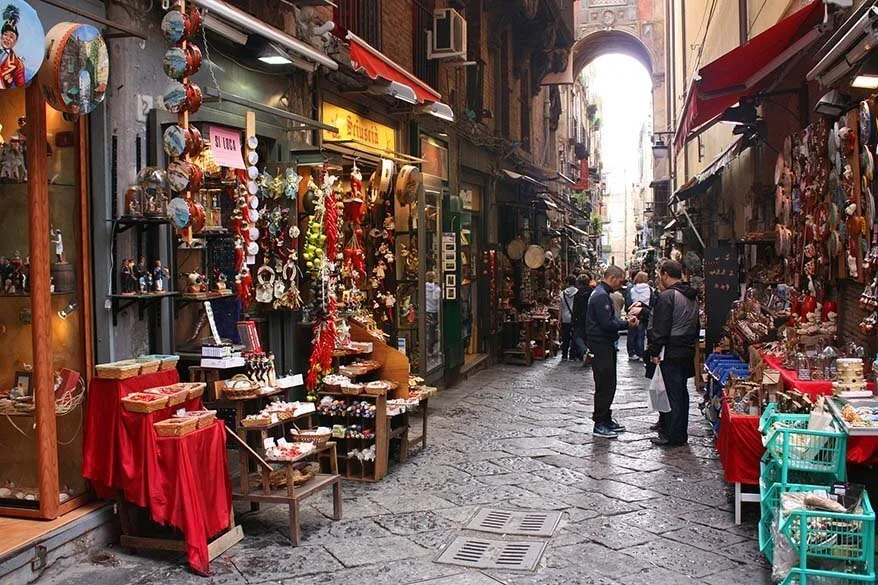 No visit to Naples would be complete without tasting the world-famous pizza of Naples!
The reputation for having the best pizza in the world is absolutely accurate: with tomatoes that have been freshly picked from the rich soil around Mt Vesuvius, mozzarella cheese that is made nearby, and the expertise of generations of Neapolitan pizzaiolos, you won't find a better one.
TIP: My favorite pizza is to be found at L'Antica Pizzeria Da Michele, not far from the Central station. Just make sure to get there early to avoid the inevitable queues!
Practical Information: All trains from Sorrento station have a final destination of Naples, so you really can't go wrong. I personally like to catch the train to Naples in the morning, then head down to Molo Beverello port and catch the ferry back to Sorrento in the afternoon. You avoid the crowded rush hour on the trains and put your feet up on the ferry's more comfortable seats after a day's walking.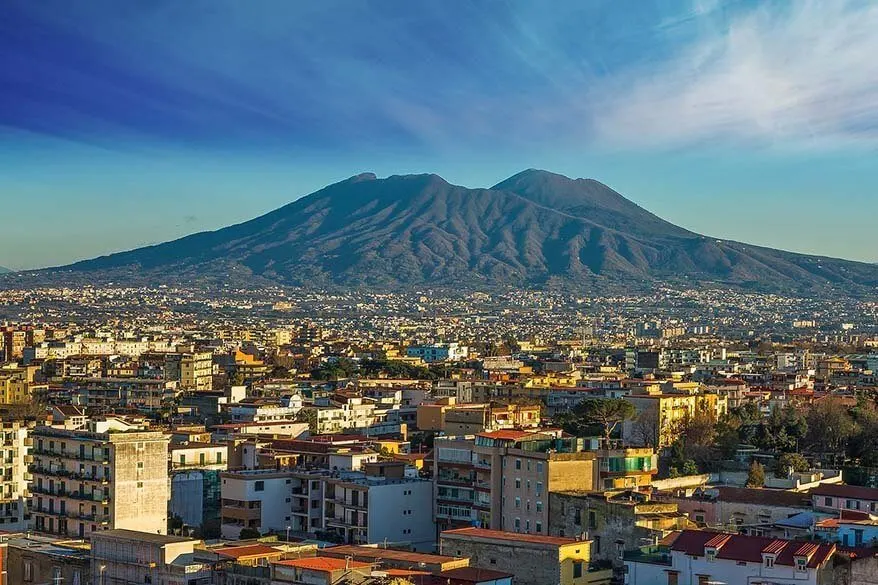 Practical tips for visiting the Amalfi Coast
Best time to visit Amalfi Coast
With its mild-Mediterranean climate, Amalfi Coast is a year-round destination. Visit in spring or autumn for nice weather for sightseeing and fewer crowds, or in summer for the beaches.
READ ALSO: Best Time to Visit Europe
Where to stay when visiting Amalfi Coast
Although I usually like to backpack my way around an area and stay in a different hotel every night, I don't recommend this strategy for Amalfi Coast. Instead, I find it far better to take advantage of the reasonable accommodation costs and transport links of Sorrento, which sits right in the middle of the region.
Staying in Sorrento allows you to make day trips with short journey times to all of the local areas of interest, whilst keeping a 'home base'. Furthermore, it's much cheaper to stay in Sorrento than in the little villages of the Amalfi Coast itself, not to mention Capri.
Best hotels in Sorrento. Sorrento has hotels and accommodations for all types of travelers: from high-end hotels to B&Bs and hostels, as well as local agriturismos out in the hills surrounding the town. Here are some suggestions for all budgets:
My experience & recommendation: One of my favorite places to stay in Sorrento is the Hotel Del Mare at Marina Grande. This charming little fishing harbor is one of the more local parts of Sorrento. It's about 20 minutes walk from the central station or 15 minutes from the main harbor, but makes a great base for exploring the Amalfi Coast region!
READ ALSO: Where to Stay on the Amalfi Coast (detailed info about all the best towns)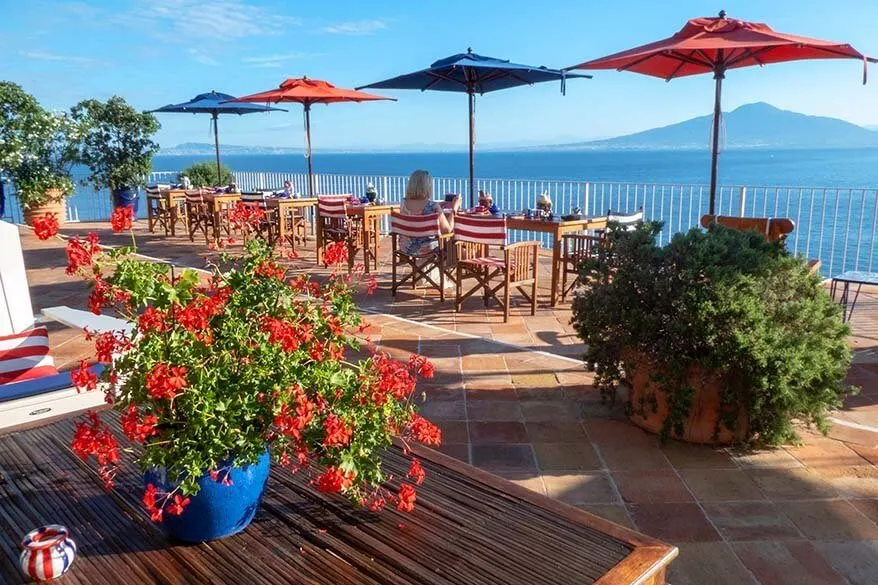 How to get to Sorrento from Naples
Most people arrive at the Amalfi Coast via Naples airport. Here's how to reach Sorrento from Naples:
Private taxi pickup. A number of local companies offer private transfers. You can book your transfer here – it's usually much cheaper than having your hotel or accommodation arrange it for you. This is where we booked all our transfers on the most recent visit to the Amalfi Coast.
Train. Catch a shuttle bus or taxi from the airport and travel to Napoli Garibaldi station. Get on a Circumvesuviana train which has Sorrento as its final destination. The journey will take about an hour and ten minutes.
Ferry. Catch a shuttle bus or taxi from the airport to Molo Beverello port in Naples and take a ferry to Sorrento. The ferry trip takes 40 minutes.
READ ALSO: How to get from Naples to the Amalfi Coast
So here it is, my suggested 5 day itinerary for the best of Amalfi Coast. There's so much to see in the Naples – Amalfi Coast region that you could easily spend much more time here and never get bored.
Once you've been there, you'll see why it's one of the most-visited regions in the world. With a rich mix of culture, food, history, fashion, glamour, and amazing scenery, Amalfi Coast truly has something for everyone. You'll definitely want to come back very, very soon!
TIP: If you have the time, plan a few more days in the region! That way, you can see everything at a more relaxed pace, take the time to explore deeper, and enjoy the scenery, the beaches, and local foods! Take a look at our 10-day Naples, Amalfi Coast, and Capri itinerary for more information and inspiration for a longer trip.
YOU MAY ALSO LIKE: Amalfi Coast vs. Cinque Terre
About the author. Nicky Cade spent too many years not traveling thanks to crippling travel anxiety, before finally defeating her fears. She now runs That Anxious Traveller, a blog devoted to travel and how to overcome travel anxiety, chronicling both her rediscovery of the world and her inevitable embarrassing travel fails.
Thanks again to our guest writer Nicky for these great Amalfi Coast itinerary suggestions. This article has inspired us to explore this beautiful part of Italy as well, and you can now find many more guides to the Amalfi Coast, Capri, and Naples area on our blog.
TIP: If you are planning a trip to Italy, make sure to also check our Italy travel guide. It covers lots of amazing destinations all over Italy and is filled with trip inspiration, itineraries, and practical tips for your visit.
READ ALSO: Most Beautiful Towns and Cities to Visit in Italy
More tips for your trip to Italy:
If you found these suggestions for the best Amalfi Coast itinerary useful, don't forget to bookmark this post and share it with your friends. Are you on Pinterest? Pin this image!