Florence (Firenze) is one of the famous Italian art cities with stunning architecture, a bustling atmosphere, and countless interesting sights. You could easily spend a week here and not get bored…
But what to see and do if you only have one day in Florence? And how to plan your day so that you can make the most of your limited time?
In this article, we share a detailed 1-day Florence itinerary that covers the main sights and must-see places in Florence in the most efficient way. In addition to the main landmarks, we also include restaurant recommendations as well as some additional suggestions for a truly memorable day in Firenze!
To help you plan your day in Florence, we also created a map indicating all the places mentioned in this guide.
For each attraction, we also share practical info for the tickets/ tours that you better reserve in advance. Florence is a very popular destination and the only way to see the best of the city in a day is to have a good itinerary and book skip-the-line tickets/ tours where available. Find out!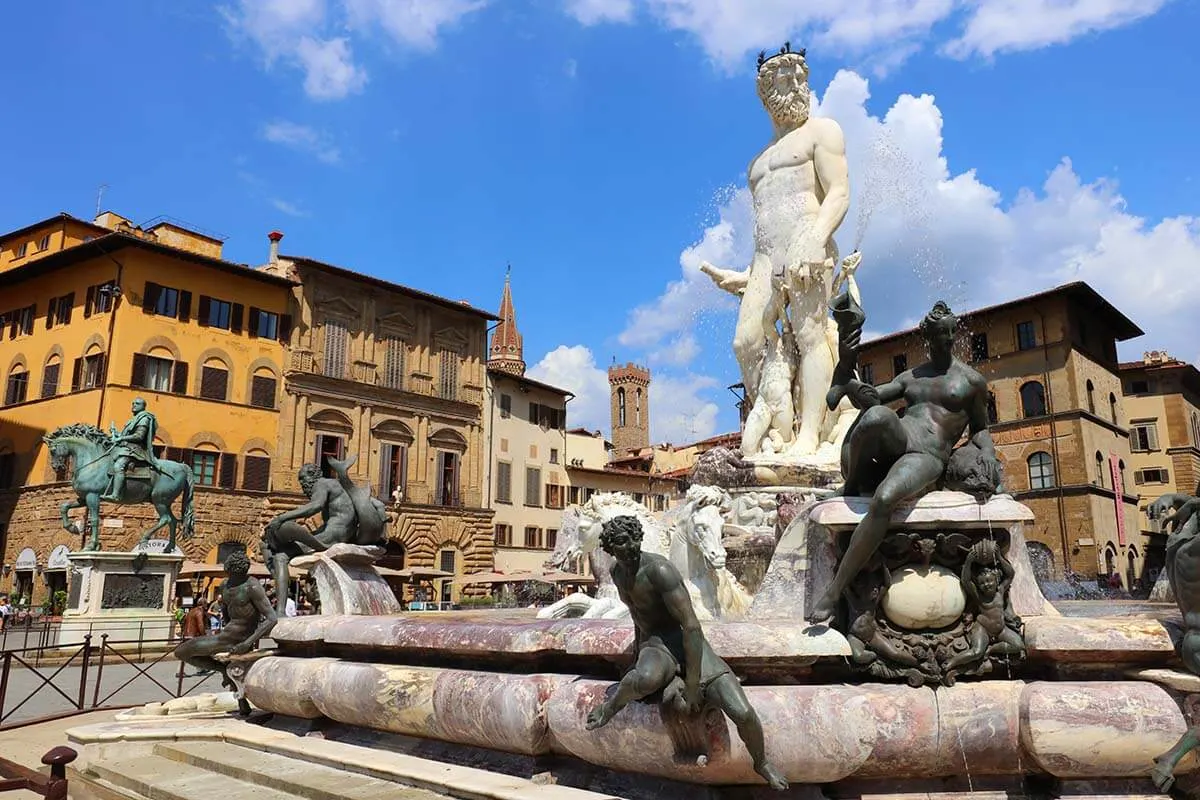 TIP: If you get overwhelmed with all the tourist attractions and ticket options, or feel stressed about how to make it all fit time-wise, you can also opt for a guided city tour that covers a few of the main landmarks of Florence in half a day.
When looking for a tour, be sure that it includes the main sights such as Uffizi Gallery and Accademia Gallery (David), and potentially a visit to the Duomo (although this one has so many different options that it's often easier to do it separately).
One of the best tours to consider with a day in Florence is this 5-hr city walking tour that includes many of the attractions mentioned in our itinerary below in the most efficient way. However, this specific tour takes a limited number of people and might not always be available, especially if booking last minute. Alternatively, here you can find some of the best options available daily (except Mondays – that's when both the Uffizi and Accademia Galleries are closed).
And if you rather do it all yourself, it's perfectly possible too. See our suggestions and detailed Florence day trip itinerary below! In that case, you'll need to pre-book the following tickets (timed entry and limited availability everywhere):
You can find more information about all these places below.
Good to know: If you happen to visit Florence on a Monday when two of the main museums are closed, you'll have to adjust this itinerary. But don't worry – there are plenty of other amazing places to see in Florence and you won't get bored. To help you make the most of your visit to Florence no matter when you travel, we created an alternative itinerary that would work on Monday as well. You can find it at the end of this article.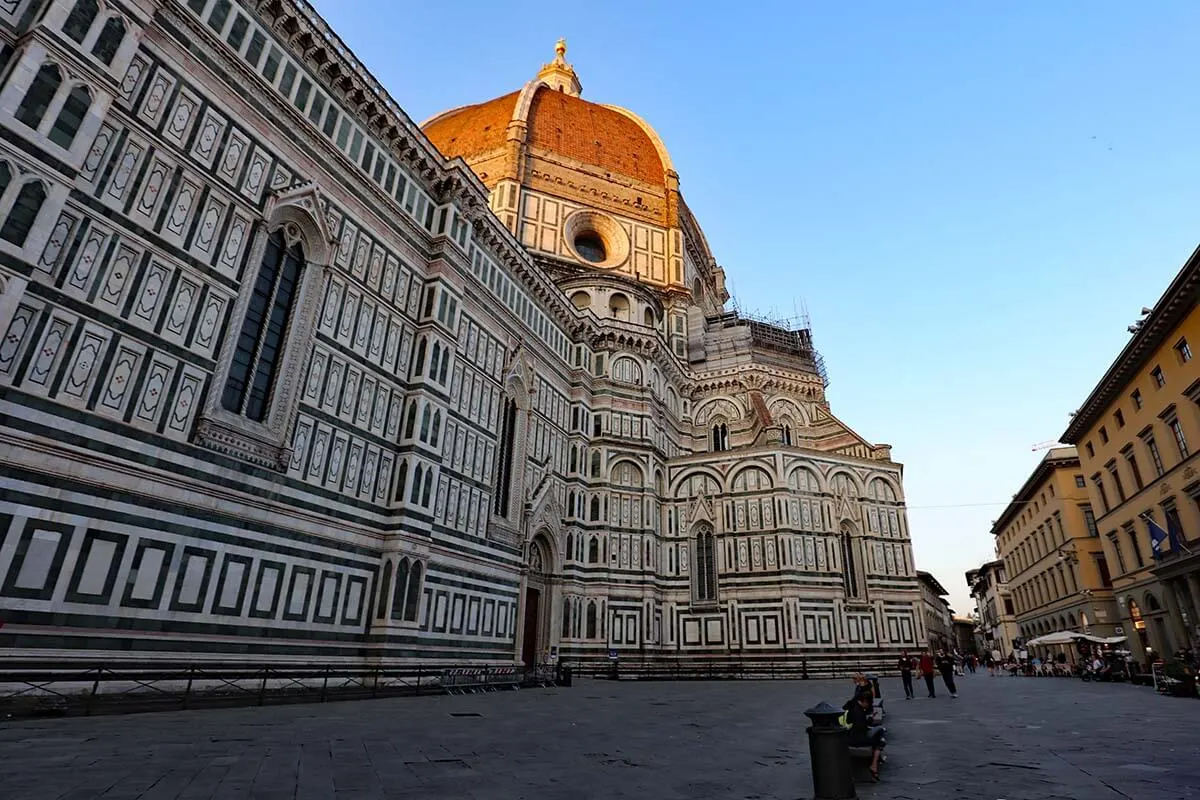 Here's what you can see and do in Florence in a day:
Michelangelo's David at Accademia Gallery
We recommend starting your day in Florence with a visit to the Accademia Gallery. This small museum is best known for Michelangelo's David.
No matter how many pictures you have seen, this marble sculpture will take your breath away. It's a real Renaissance masterpiece that you have to see with your own eyes! In addition, you can see some of Michelangelo's unfinished sculptures that give an incredible insight into his working process.
The gallery also features several early-Renaissance paintings, and many other sculptures, including the plaster cast of the famous Giambologna's 'Rape of the Sabines' (the original can be found on Piazza della Signoria, near Palazzo Vecchio). This sculpture is unique in the way it was carved and the first in its kind. When you walk around and see all the details, it's difficult to believe it was carved from a single block of marble.
Practical info: Accademia Gallery is open daily except on Mondays, from 9 am. This is one of the places where you really should reserve your tickets in advance, especially if your time in the city is limited and you want to see as much of Florence in a day as possible. If you can, get the tickets for 9 am and visit here first thing in the morning.
Good to know: Accademia Gallery is not big and you can see the main highlights in about half an hour. If you want to learn more about all the stunning art at this museum, you could opt for a guided tour. However, with just a day in Florence and if you aren't keen on doing too many tours, visit David on your own and take a tour of the Uffizi gallery in the afternoon – that museum is huge and overwhelming. There, it really pays to go with a guide. Or take a guided tour that visits both of these museums.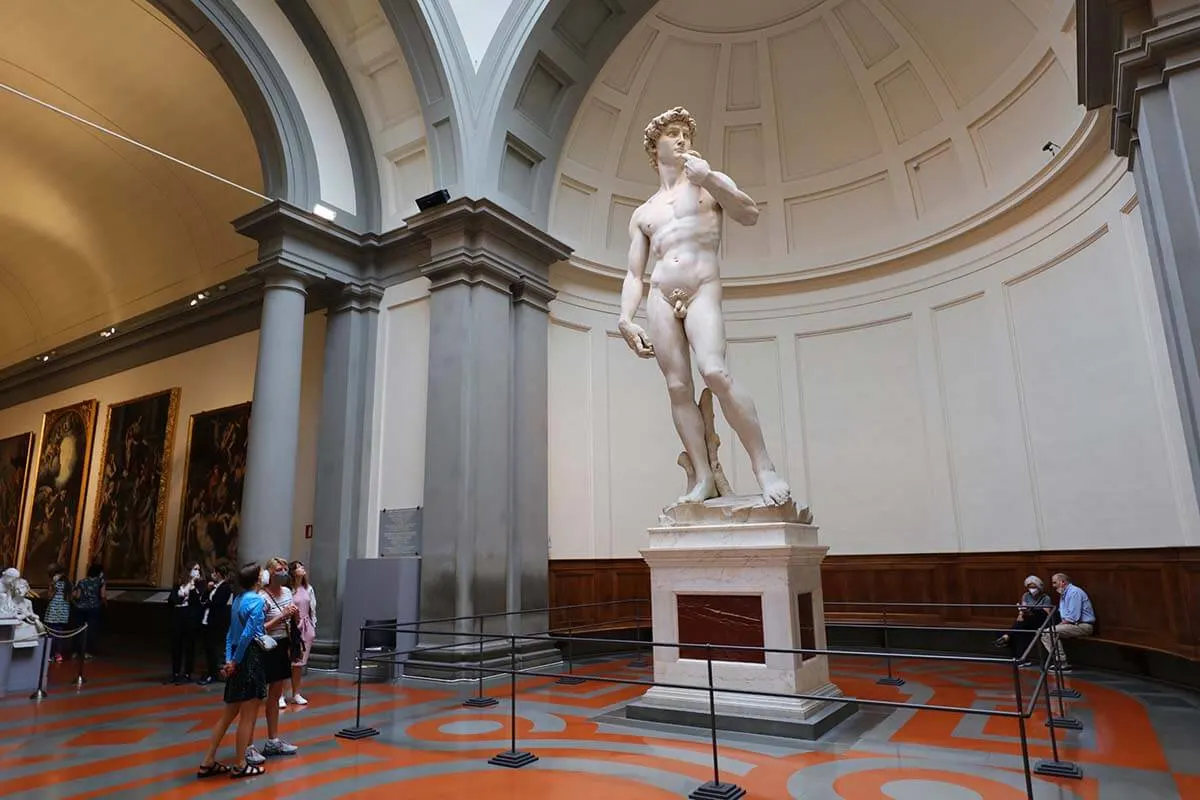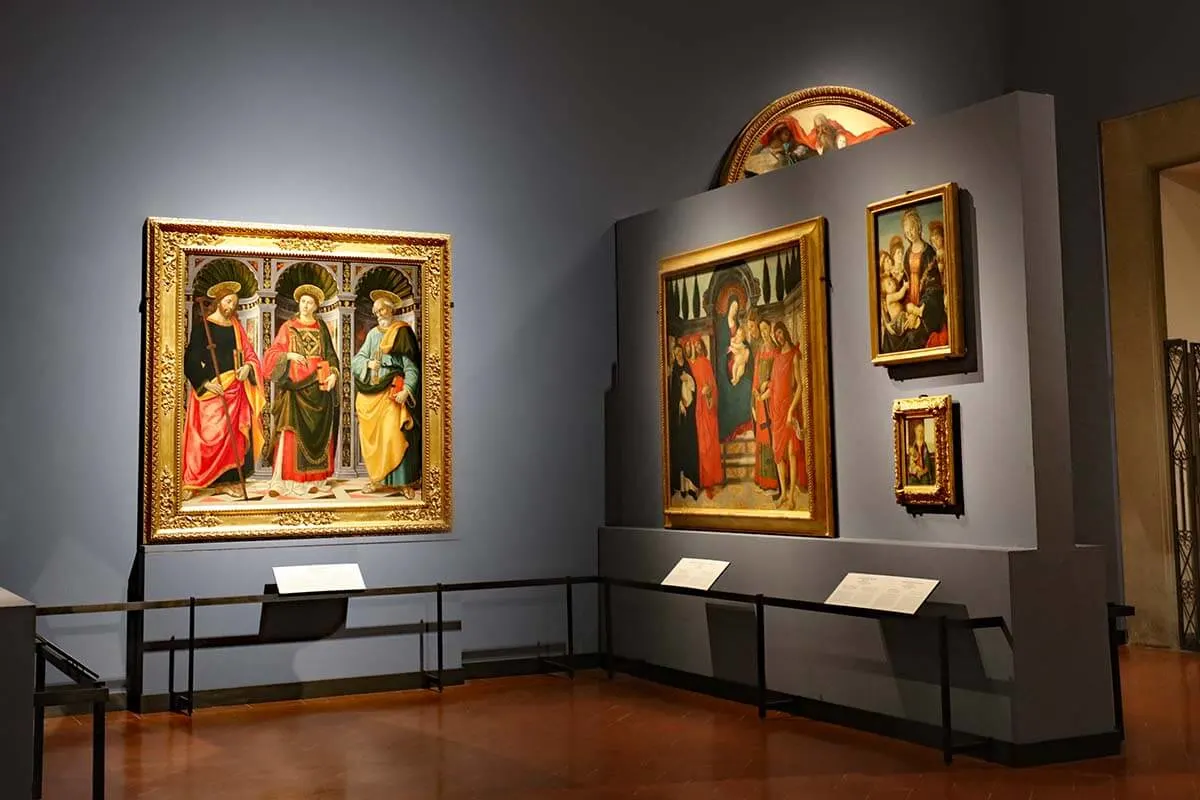 Duomo Complex
Next, head to the Duomo complex, which is just 5-6 minutes walk from Galleria dell'Accademia. Best known for the impressive Cathedral of Santa Maria del Fiore (Duomo), this site actually has a lot more to offer than it looks at first sight.
There is a lot to see and do at the Duomo complex. Some of the main highlights include a visit to the Cathedral itself, climbing Brunelleschi's dome and/ or Giotto's bell tower, and visiting the Baptistery of Saint John.
How much you can actually see and do here depends so much on when you visit and how busy it is. Each of the sites has a separate entrance and often long queues. You can either simply admire the beautiful buildings from the outside, visit one or two of them inside, or climb the dome or the bell tower.
With just a day in Florence, I think I'd opt for the dome climb (if you are physically capable) and potentially also visit the Baptistery and Santa Reparata.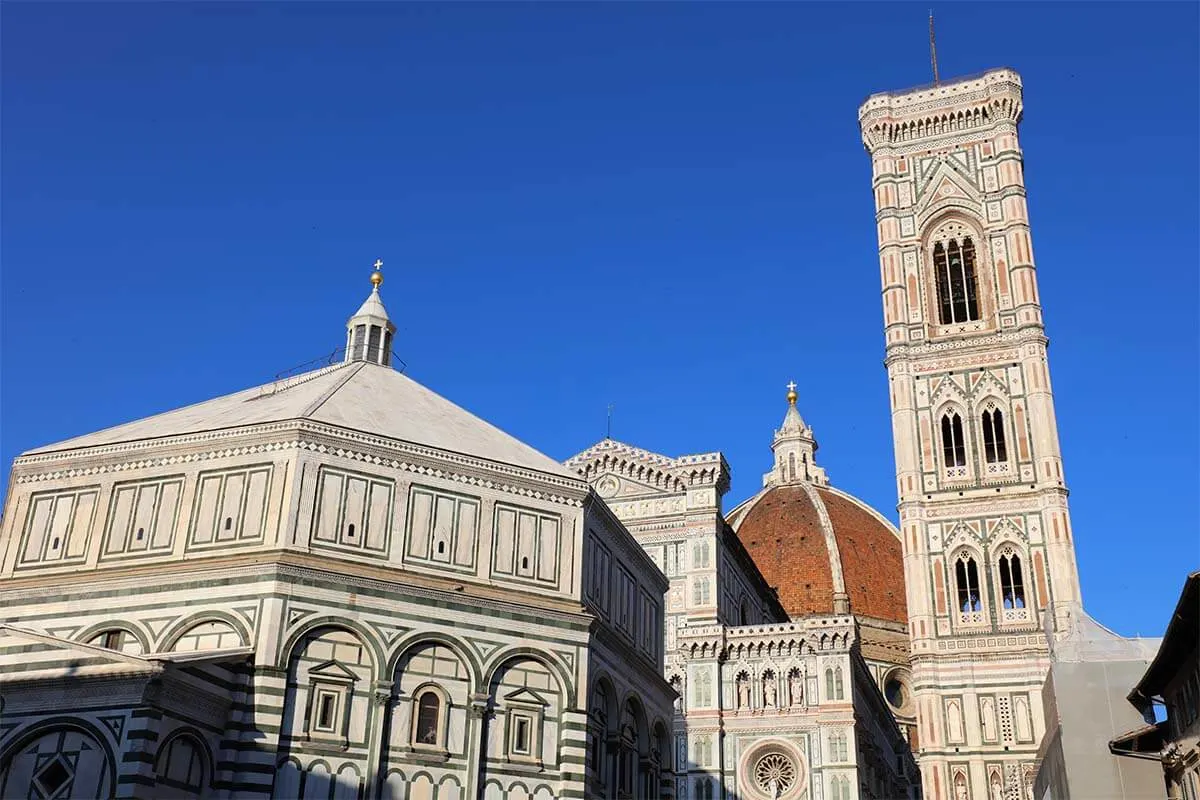 Good to know: You can visit the Cathedral itself free of charge, but be prepared to queue for a while. In all honestly, apart for the dome, the interior is not that impressive on the inside and you may find that it's not worth the time to queue just for that… But if you climb the dome, the entrance/exit is inside the cathedral, so you can see the interior at the same time. And since you have to book timed tickets for the dome, you don't waste time and it's much easier to plan your day.
Alternatively, you can choose to climb Giotto's bell tower. It requires a ticket as well but is usually not as busy here as at the dome. From the top, you get an amazing view of the exterior Duomo.
And if you don't want to do any climbing, visit the Baptistery of St. John and Santa Reparata archaeological site under the cathedral. The latter has a separate entrance and hardly any queue, so you get to see the interior of the Duomo at the same time as well. These two sites also require a ticket.
You can find more info about the cathedral-combi tickets on the official website.
TIP: The best option is this all-in ticket. This ticket is valid for 72 hours and includes Giotto's Bell Tower, Opera del Duomo Museum, Santa Reparata, the Baptistery, and the timed entry for the Brunelleschi Dome climb.
Good to know: On Sundays, the Cathedral is closed for visits, and the dome climb is only possible in the afternoon. If you visit on a Sunday, you can either opt for Giotto's Bell Tower and other sights indicated above or rearrange the itinerary and do the dome climb later. You can see all the opening times here.
Our experience: We visited Florence Duomo (including the climb) and Michelangelo's David with this VIP tour. It offers something unique that other tours don't – a visit to the terraces of the Duomo. While not a must, this definitely made our trip more special. In addition, we got a separate ticket for Giotto's tower and the Baptistery, which was well worth it as well.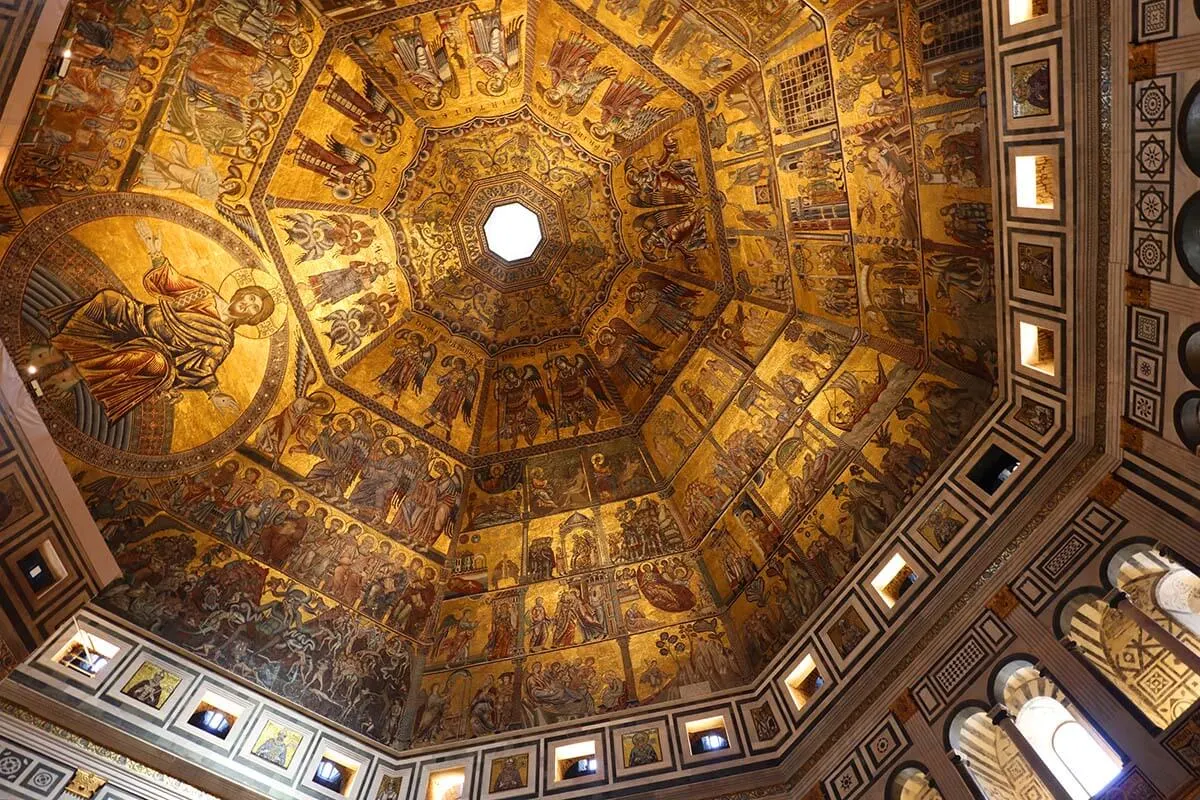 Lunch at San Lorenzo Market
Just a short walk from the Duomo complex is the bustling neighborhood of San Lorenzo. Here, you'll find Mercato Centrale (aka Mercato San Lorenzo) one of the biggest markets in Florence. The historic food market is located in a covered hall, but the surrounding streets are lined with market stands as well. These usually sell clothing and leather goods.
Make your way between all the market stands on the street and walk to the market itself. Here, you'll find many small cafes and various places selling food. On the top floor, there's also a food hall where you can try all kinds of Italian specialties from various regions.
I don't think there's a bad place to eat here. We had lunch at the market a few times and everything was delicious. One day we had Tuscan meat specialties at one of the enoteca's (wine shops) on the ground floor, and another time – we ordered pasta at one of the places in the food court upstairs and the wine from another enoteca nearby. Everything was excellent.
A popular place for Tuscan food at Mercato Centrale is Da Nerbone. Their specialty is the traditional Florentine lampredotto sandwich (made with tripe/cow stomach), but if that's not for you, you'll find plenty of other good options as well.
TIP: Try to arrive at the market early, ideally just a bit before noon. Most Italians eat lunch at around 1-2 pm and the market gets really busy at that time.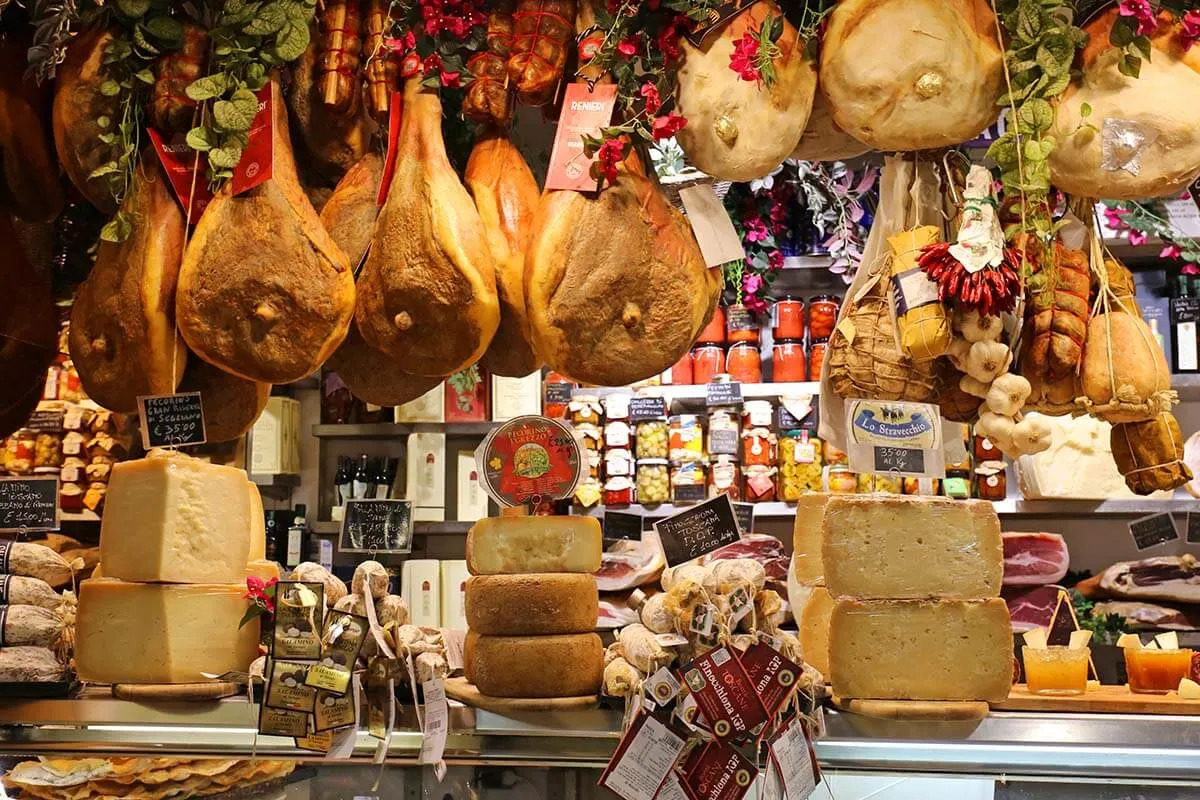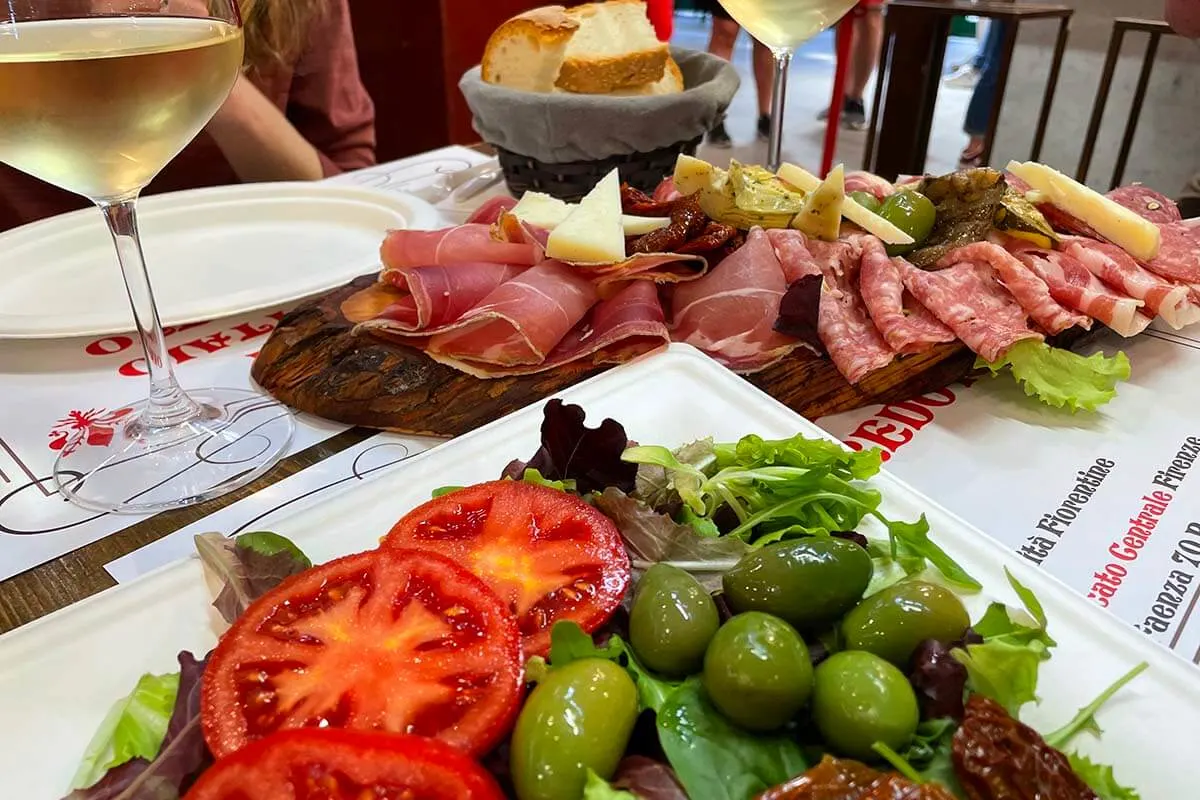 Medici Chapel (optional)
There are a few other interesting places to see in the San Lorenzo area, just near the market. One of them is the Basilica di San Lorenzo, and you'll see it when passing by anyway. It's nice to visit inside, but with just one day in Florence, I'd skip that.
However, there is another place just behind the church that is well worth a visit if you can squeeze it into your itinerary. That's Cappelle Medicee, a small burial chapel of the Medici family. It's one of the most impressive places to see in Florence!
Good to know: The good thing is that a visit here doesn't require much time (15 minutes inside should be enough to quickly see the chapel). The problem is that the opening times are somewhat special and so it requires a bit more planning. On weekends, it's open in the morning and on weekdays – in the afternoon. And some days it's closed completely.
TIP: If you want to visit the chapel, see if you can get a timed-entrance ticket in advance. If it's open in the morning, book a visit at noon, before you go for lunch. And if it's open in the afternoon, book the first available visit (usually at around 2 pm). Alternatively, you can also just pass by here and see if it's open (and if the queue is not too long) and decide at that moment.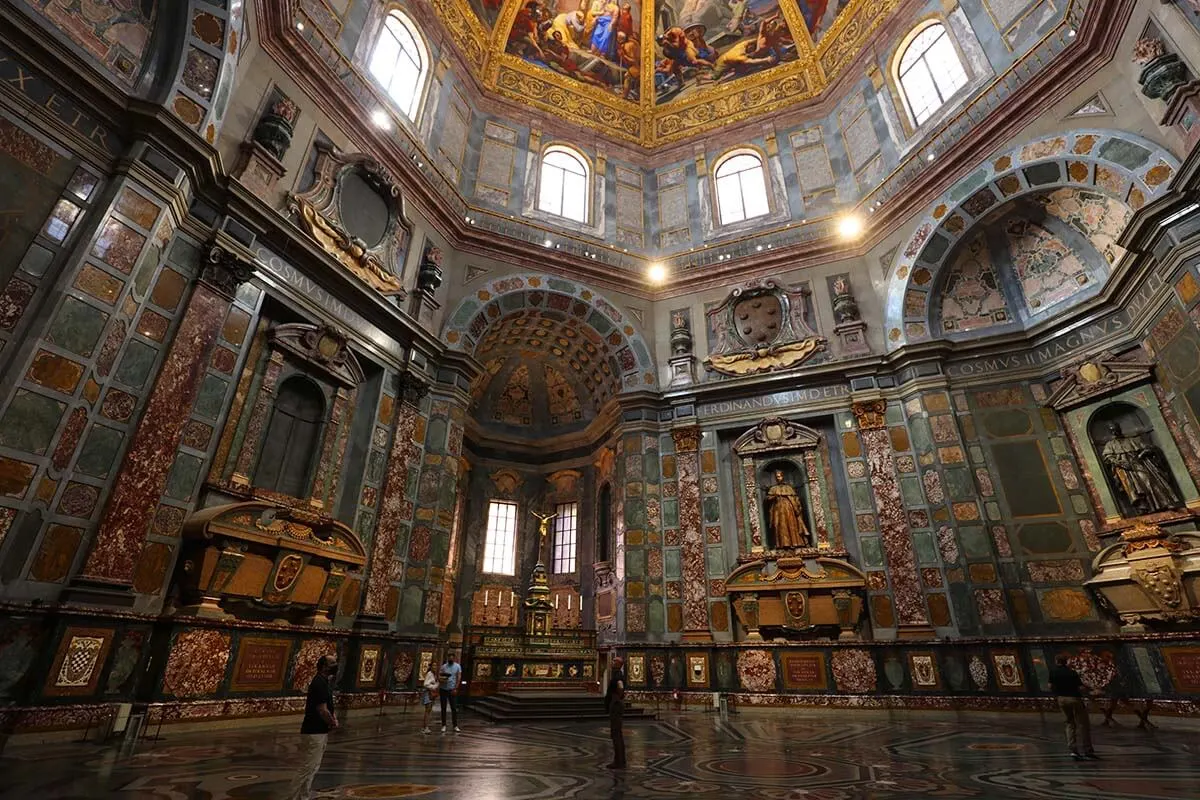 Gelato
In the afternoon, take some time to walk around the city center of Florence. You could also get gelato and enjoy it while you explore. Be sure to skip all those gelaterias that have 'mountains' of colorful ice cream – these are really not the best places for a good gelato. Instead, look for a more local, quality place.
And while you are at it, be sure to try the traditional Florentine ice cream flavor 'buontalenti'. It's named after Bernardo Buontalenti, a 16th-century Florence designer and artist, who is often credited as an inventor of Italian ice cream, gelato.
One of the better gelaterias (recommended to us by locals) in the area where you'll be passing by is 'Perché no!'. We indicated it on our map below.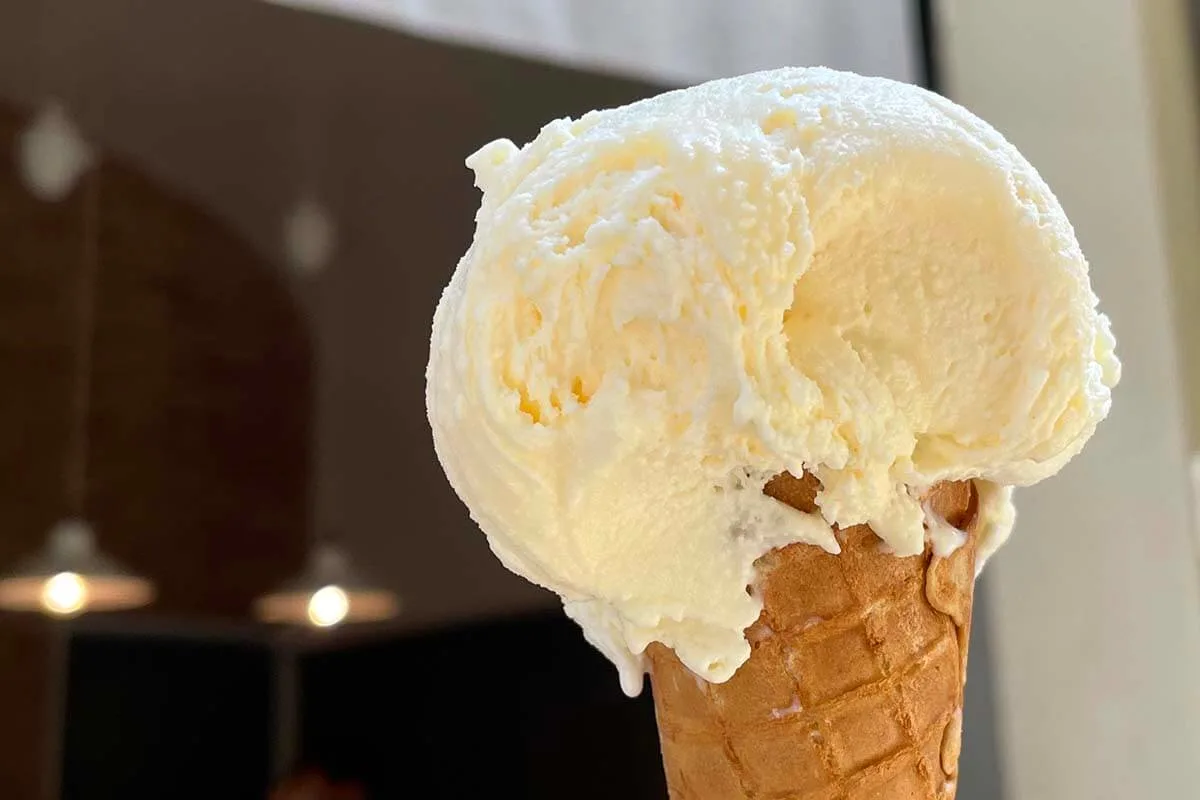 Fontana del Porcellino & Leather Market
As you walk towards the river, be sure to stop by Fontana del Porcellino on Piazza del Mercato Nuovo.
This is an iconic bronze sculpture/ fountain of a boar. They say that rubbing its nose will bring you luck. And if you put some money into its mouth, it will guarantee that you will return to Florence one day…
At this same location, you can also find a small market – Mercato del Porcellino. Here, you can buy all kinds of things made of leather – colorful handbags, wallets, gloves, etc. It's somewhat similar to what you see in the streets next to Mercato Centrale.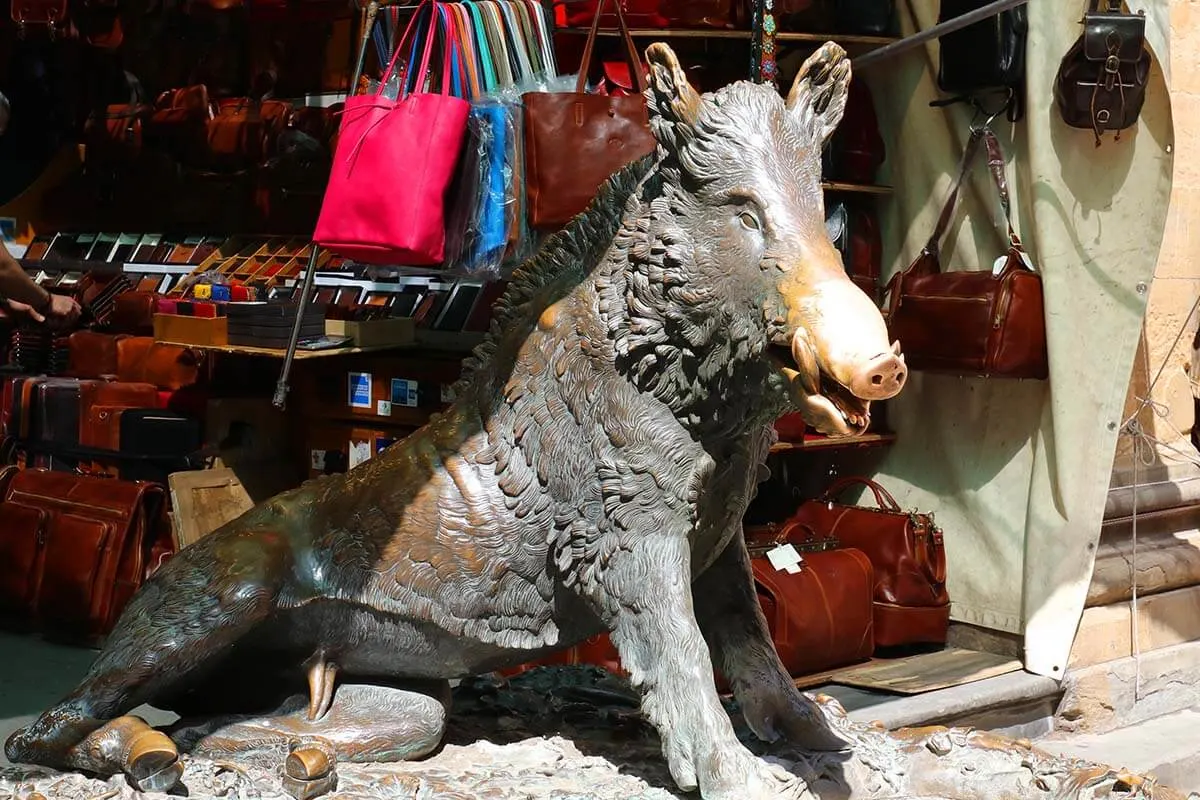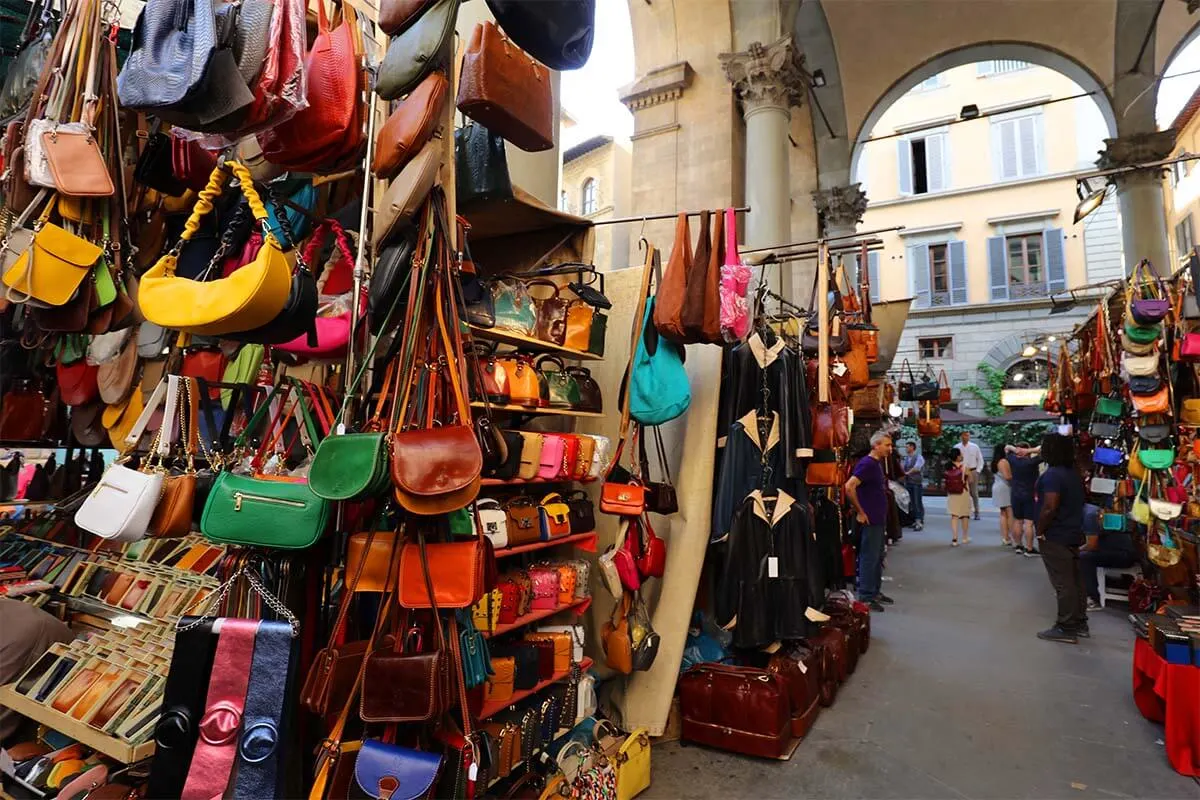 Piazza della Signoria & Palazzo Vecchio
Just a short walk further, be sure to visit Piazza della Signoria, one of the most beautiful squares in Florence. Here, you can see Palazzo Vecchio and the Arnolfo Tower, the Fountain of Neptune, the incredible sculptures at Loggia dei Lanzi, and many other highlights. This square is like an open-air art gallery. Michelangelo's David was originally supposed to stand here, and you can now see its replica.
If you plan your itinerary really well, you could pay a visit to Palazzo Vecchio and potentially also climb the Arnolfo Tower. With just one day in Florence, this is not an absolute must, but if you can, I find that a visit here is well worth it. Especially to the palace.
Keep in mind that the Palace closes in the afternoon on Thursdays, so if that's when you visit, you may not be able to go inside unless you rearrange this itinerary.
Our experience: We climbed the tower and quickly visited the palace and it took us about 1 hour. But if you want to be sure you can visit without wasting time queueing, you have to book timed-entry tickets in advance. For this itinerary, you could potentially book a visit at +-2.30 pm.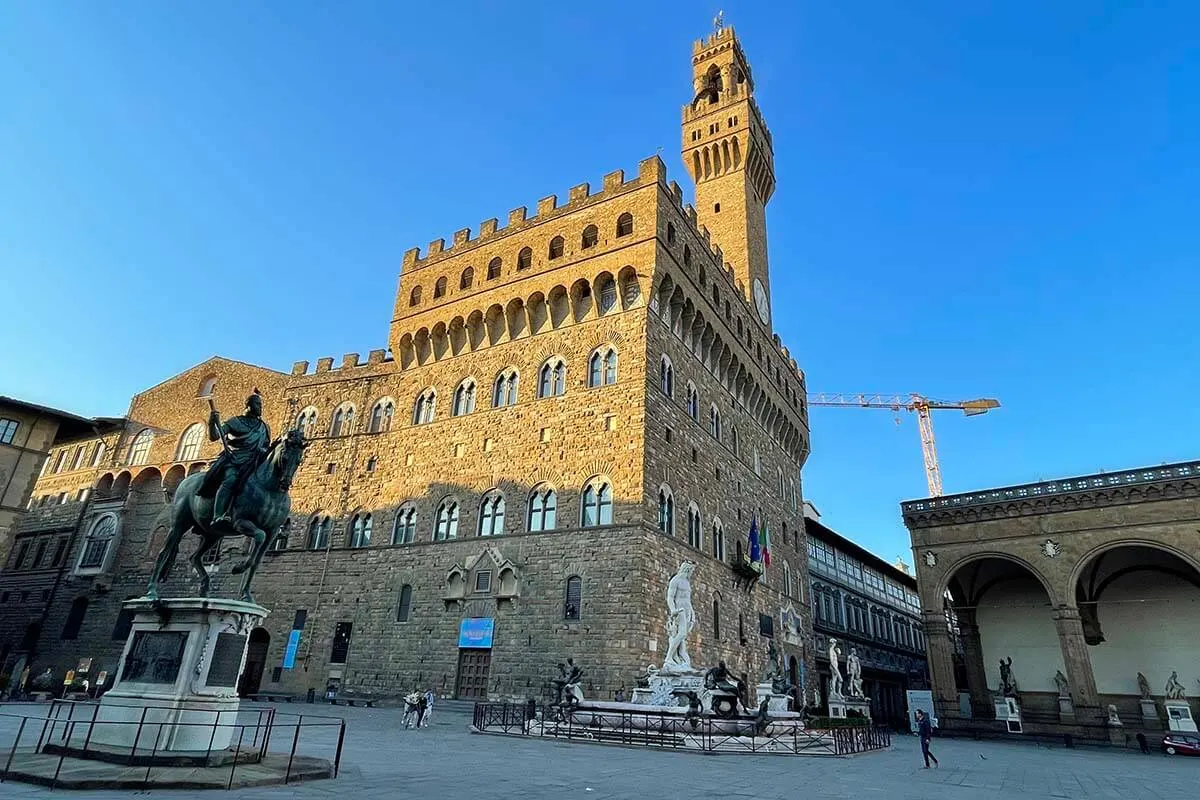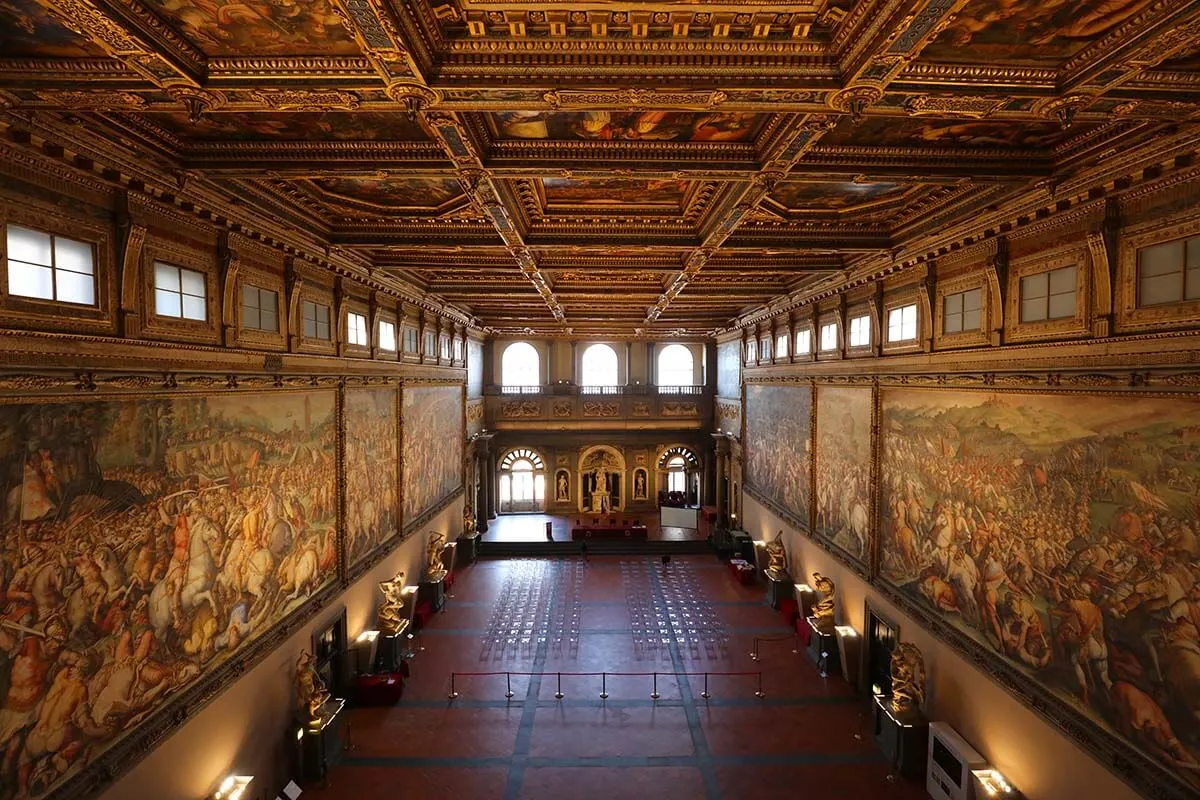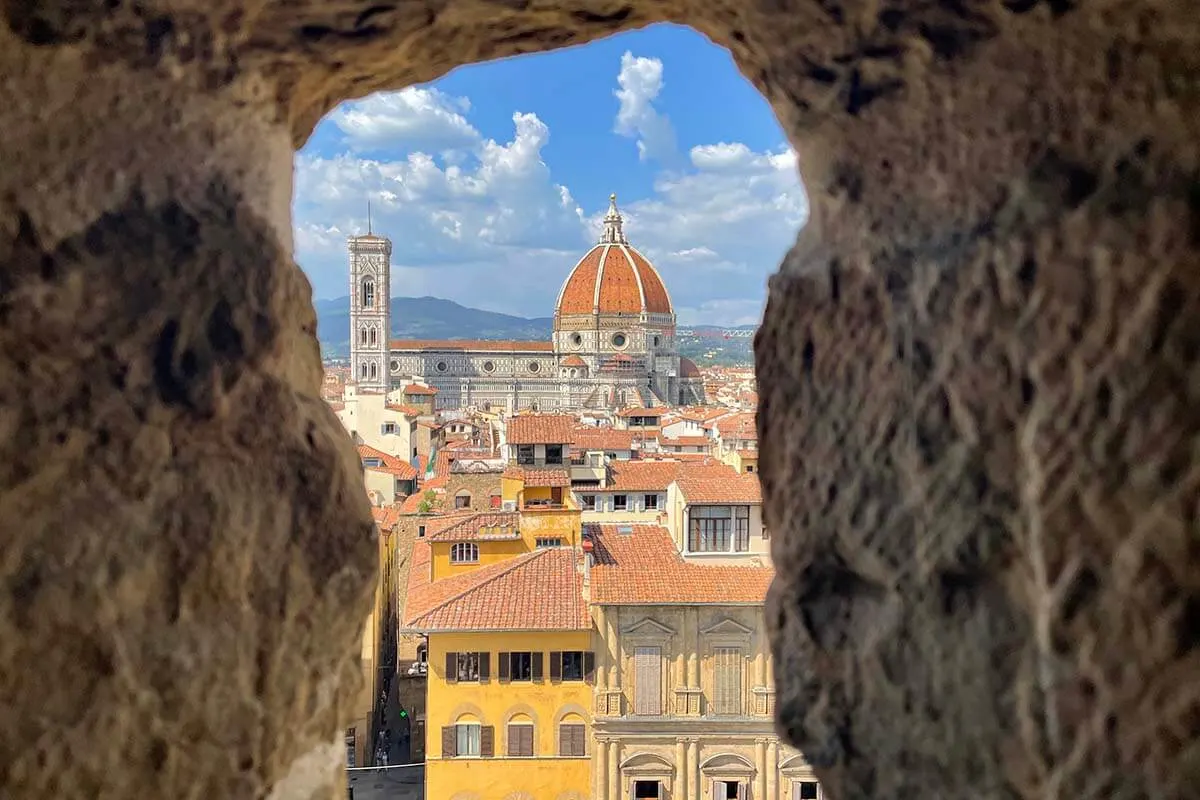 Uffizi Gallery
In the late afternoon, visit the Uffizi Gallery, just next to Palazzo Vecchio. This is one of the most famous museums in Italy. Established in the 16th century, it's also one of the oldest museums in the world. This 'galleria' gave name to all the art galleries in the world.
Here, you can see an incredible collection of ancient sculptures and paintings including some masterpieces by Michelangelo, Botticelli, Raffaello, Caravaggio, Leonardo da Vinci, and many other famous painters.
PRO TIP: Being one of the largest museums in the world, you can probably imagine that a visit here might get overwhelming. So if you want to be sure to see all the most important works of art in a limited time, we highly recommend visiting the Uffizi Gallery with a guide.
Our experience: There are so many tours that come here that the choice can get really overwhelming. After lots of research, we opted for this semi-private tour and it was absolutely excellent. Our group had 7 people and since we opted for a 4 pm tour, most tourists were leaving as we entered. This gave us a unique chance to visit the Uffizi Gallery without the biggest crowds. And our excellent guide made the visit very smooth and really interesting, pointing out all the most important works, telling stories behind them, etc.
Good to know: If you decide to go on your own, be sure to get timed entrance tickets! Try to go somewhat later – after 3-4 pm. With a bit of luck, the (security) queues will not be too bad at this time of the day. An alternative would be to come here first thing in the morning, just as the museum opens.
Also, do some research about the main paintings in the gallery so that you don't miss them. Some of the most important works can be found on the upper floor, so concentrate on that. On your way out, you can also see Caravaggio on the lower floor.
TIP: Uffizi Gallery has a nice café with an outdoor terrace overlooking the Palazzo Vecchio. It's a good place to sit down for a drink and rest your legs after all the sightseeing.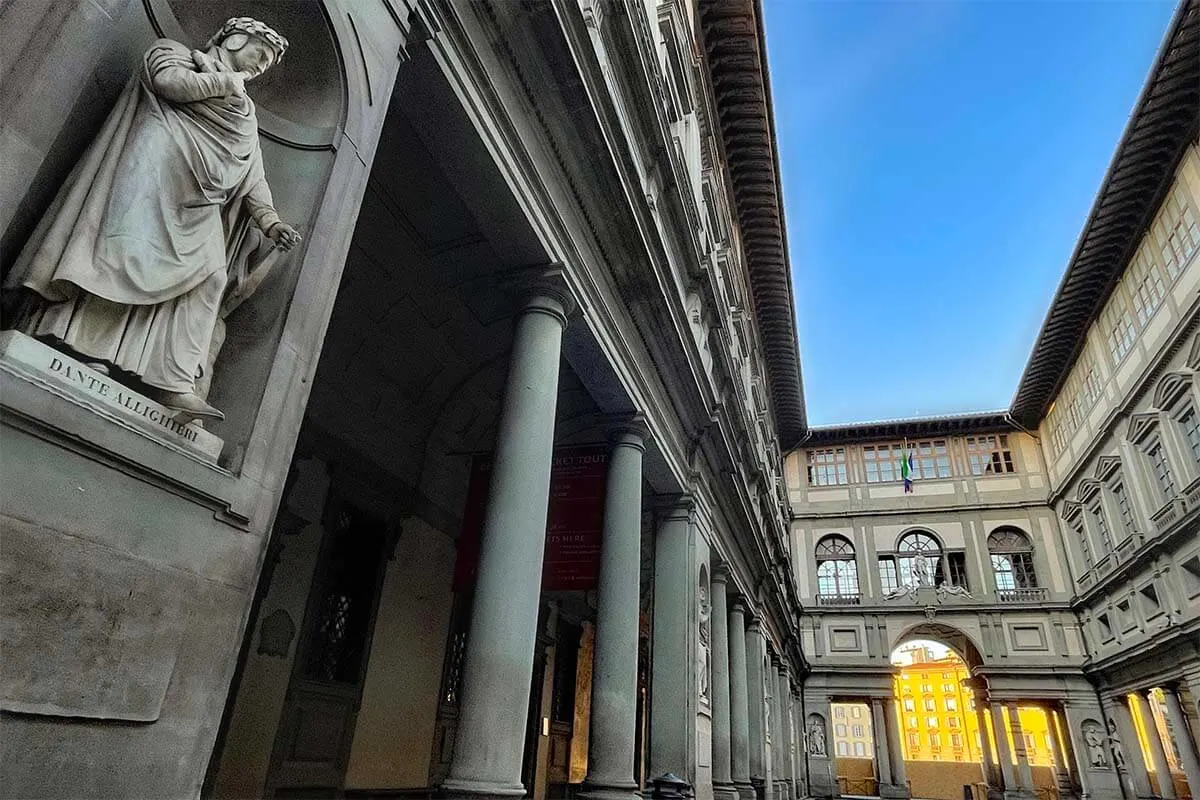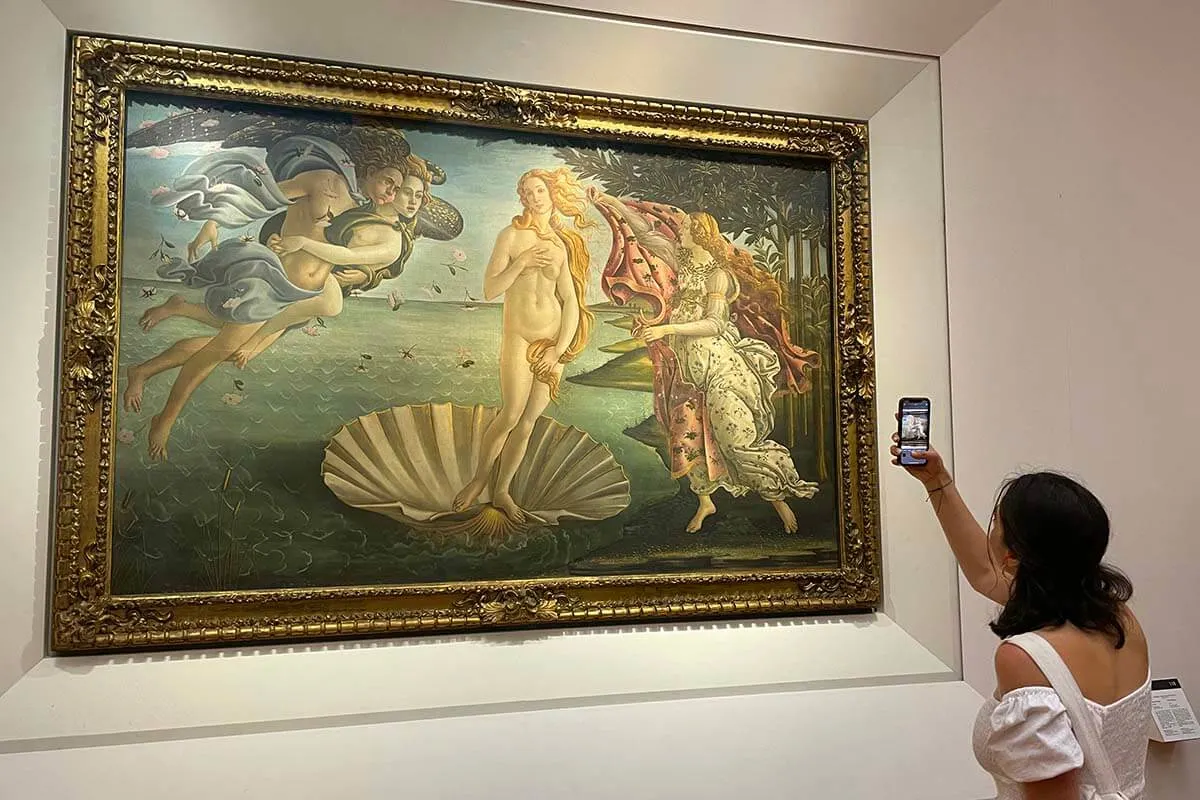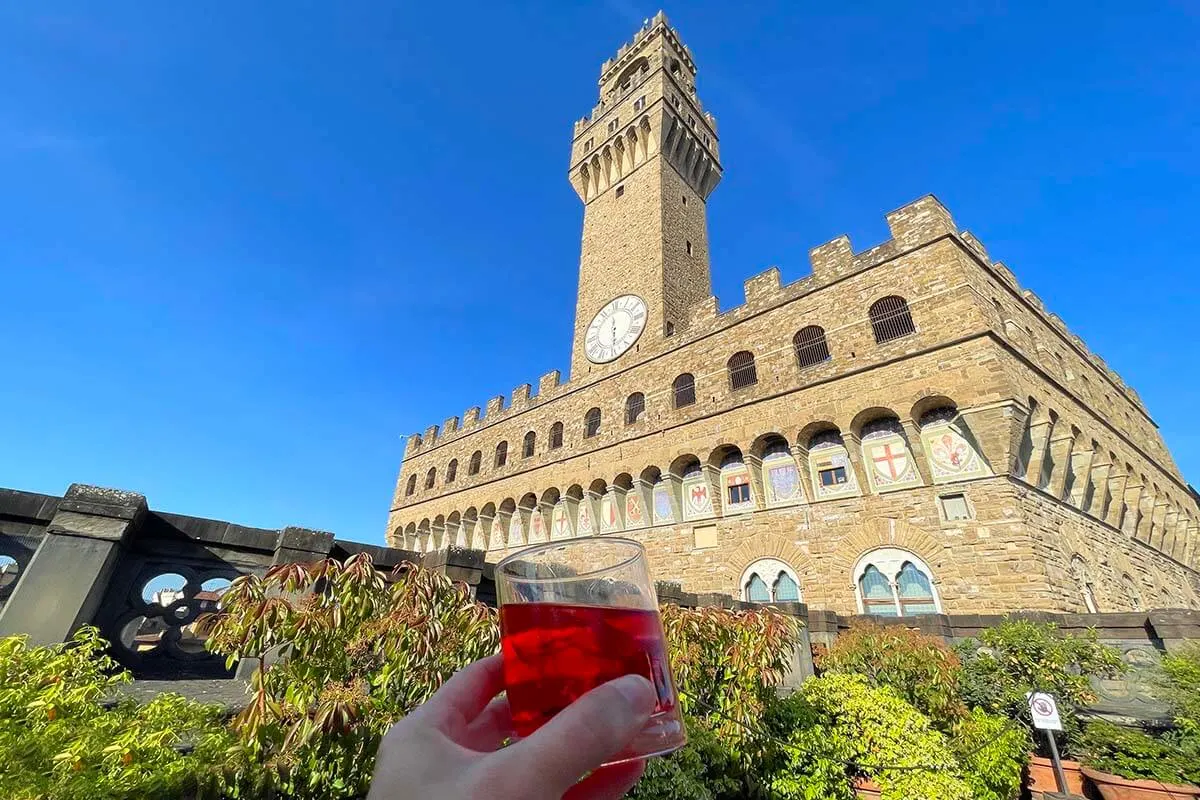 Ponte Vecchio & Vasari Corridor
Ponte Vecchio is the most iconic bridge in Florence and one of the must-sees. It's located just next to the Uffizi Gallery and connects the city center to the other side of the Arno River.
The colorful bridge is lined with gold and jewelry shops and is a bustling lively place. It's just as interesting to see this bridge from the side – that way, you can better appreciate its unique structure.
When viewing the bridge from the eastern side, you'll notice that there's a covered corridor above all the shops. This is the Vasari Corridor (Corridoio Vasariano), one of the most intriguing places in Florence.
Built by the Medici family to give them easy and secure access between the Palazzo Vecchio and the Uffizi Gallery in the city center and the Pitti Palace on the other side of the Arno River, this passage has never been really open to the general public. Until now.
Corridoio Vasariano is said to be opening to the public soon. When it reopens, visitors will be able to walk from the ground floor of the Uffizi, over Ponte Vecchio, all the way to Boboli Gardens. From what I understand, you'll need a separate ticket for this (more info will be available here).
With just a day in Florence, walking over this corridor might not be the best use of your time, but you can definitely see it from the outside. As a minimum, be sure to walk over and around Ponte Vecchio!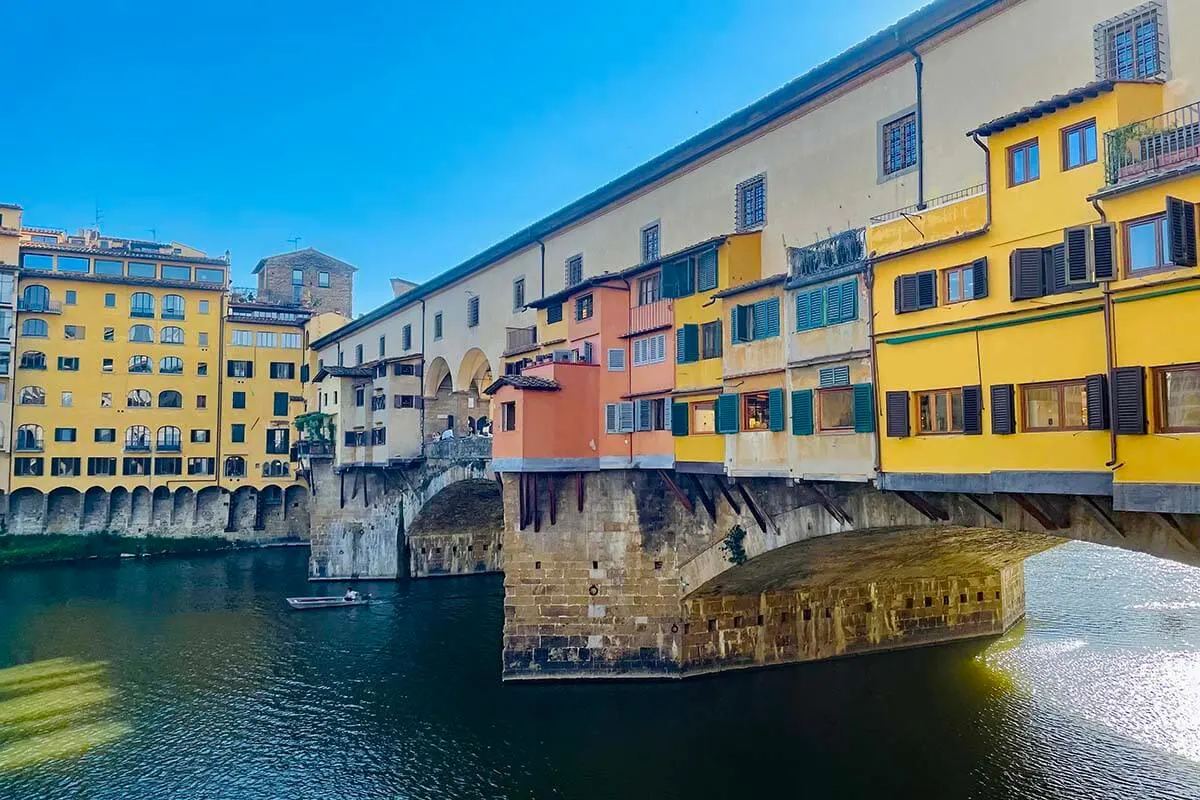 Sunset Views
End your day in Florence with some amazing views. There are quite a few options and – depending on the season – you might enjoy the city views around sunset. However, I wouldn't pay too much attention to the exact sunset times and just focus on the activity/ place you want to visit and make sure it fits your itinerary.
One of the nice options for great views is to go for a drink at one of Florence's best rooftop bars. La Terrazza Rooftop Bar at Hotel Continentale is just next to Ponte Vecchio and would fit this itinerary very well. Alternatively – my personal favorite – check out SE·STO on Arno Rooftop Bar at The Westin Excelsior. Whichever you choose, be prepared to pay € 25+ for a cocktail. And you really should try to reserve a table in advance!
Another popular way to end a day in Florence is to watch a sunset from Piazzale Michelangelo. It's a 20-30 min walk (uphill) from the city center, but totally worth it. You could also take a taxi to get there.
We went to this viewpoint for sunset as part of this e-bike tour. However, it starts at 6 pm, so keep this in mind if you would want to do it too. In that case, I'd skip the Palazzo Vecchio (inside) and visit the Uffizi Gallery at around 3 pm. This would make your day a bit more relaxing.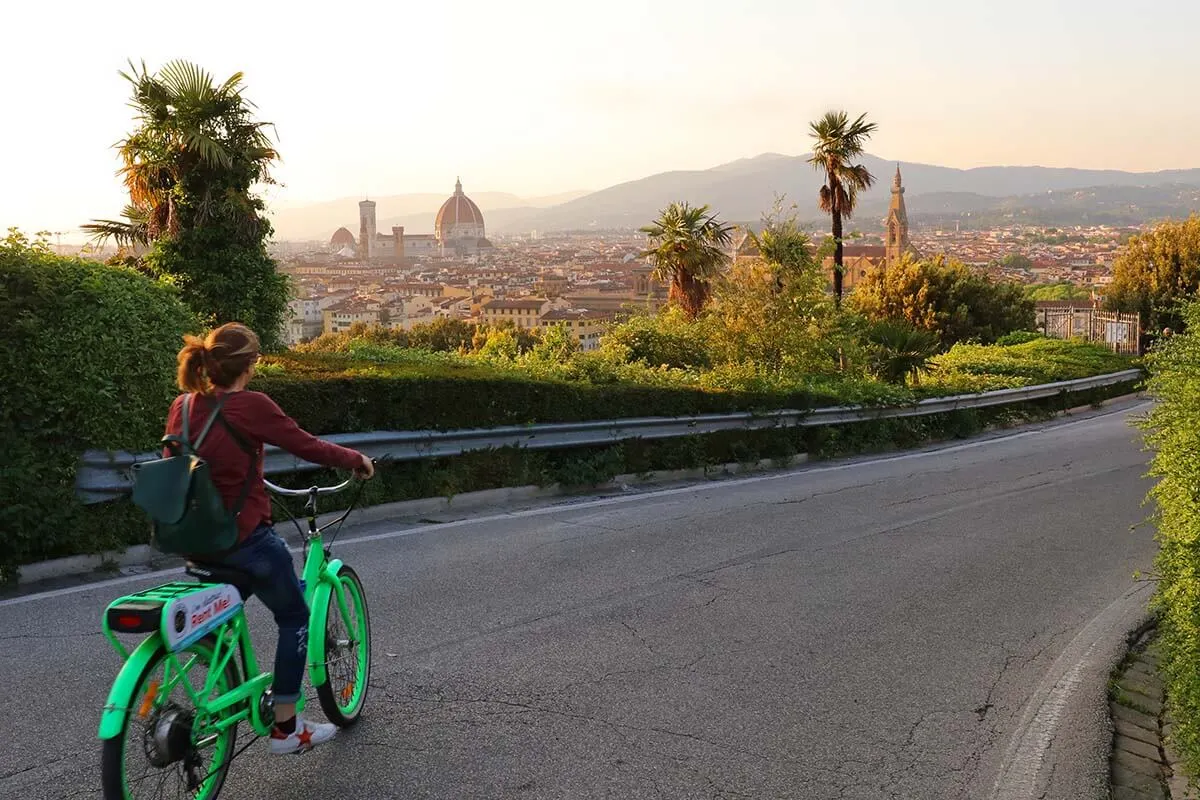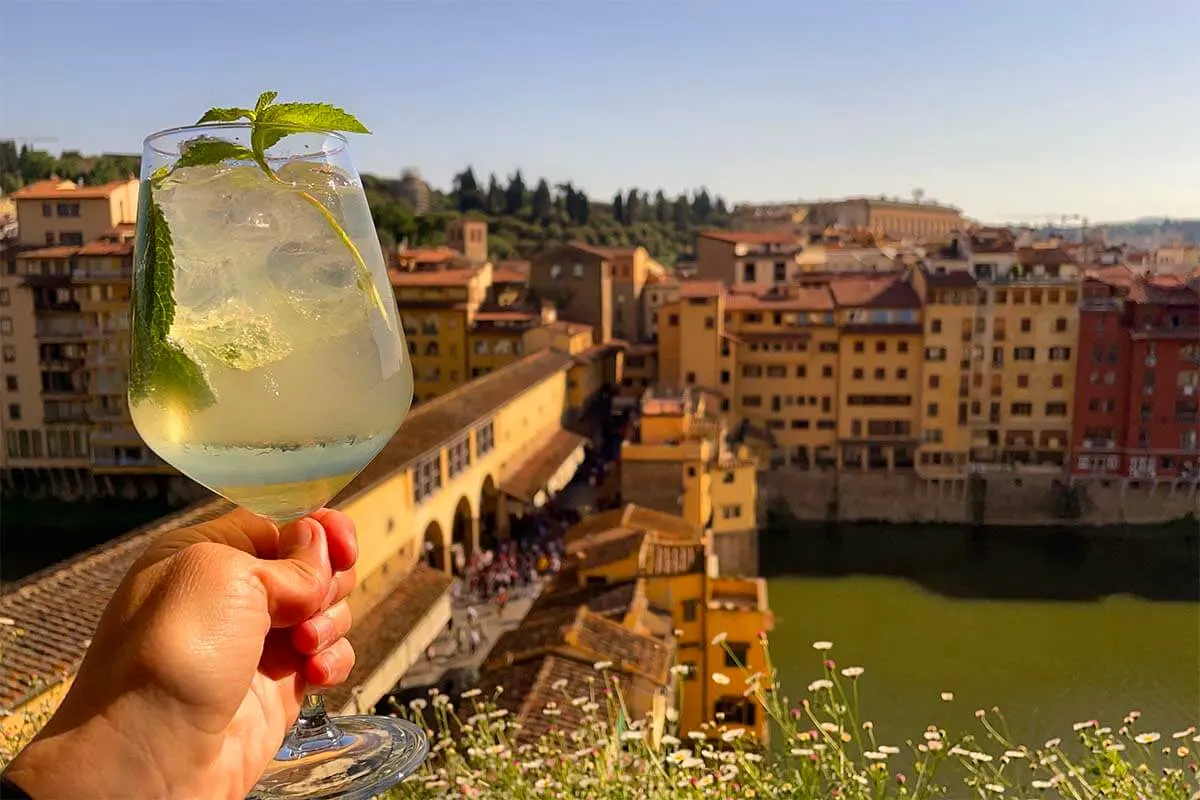 Dinner
End your day in Florence with a nice dinner. I don't recommend having dinner at hotel restaurants or rooftop bars; instead, opt for a simple traditional trattoria. The food is usually much better and the prices – much more affordable.
A very popular choice for a traditional Florentine steak (Bistecca alla Fiorentina) is Trattoria Dall'Oste. They have a few restaurants in town; the one close to the Duomo (see our map) is the most popular one. You absolutely have to reserve a table in advance if you want to dine here!
My personal favorite of all the restaurants we tried in Florence is La Buchetta, close to Ponte alle Grazie (on the way back from Piazzale Michelangelo to the center). This is a small trattoria with very friendly service and the best gnocchi I ever had. They also serve Bistecca alla Fiorentina (and many other traditional local dishes from the Tuscany region).
READ ALSO: Traditional Italian Food by Region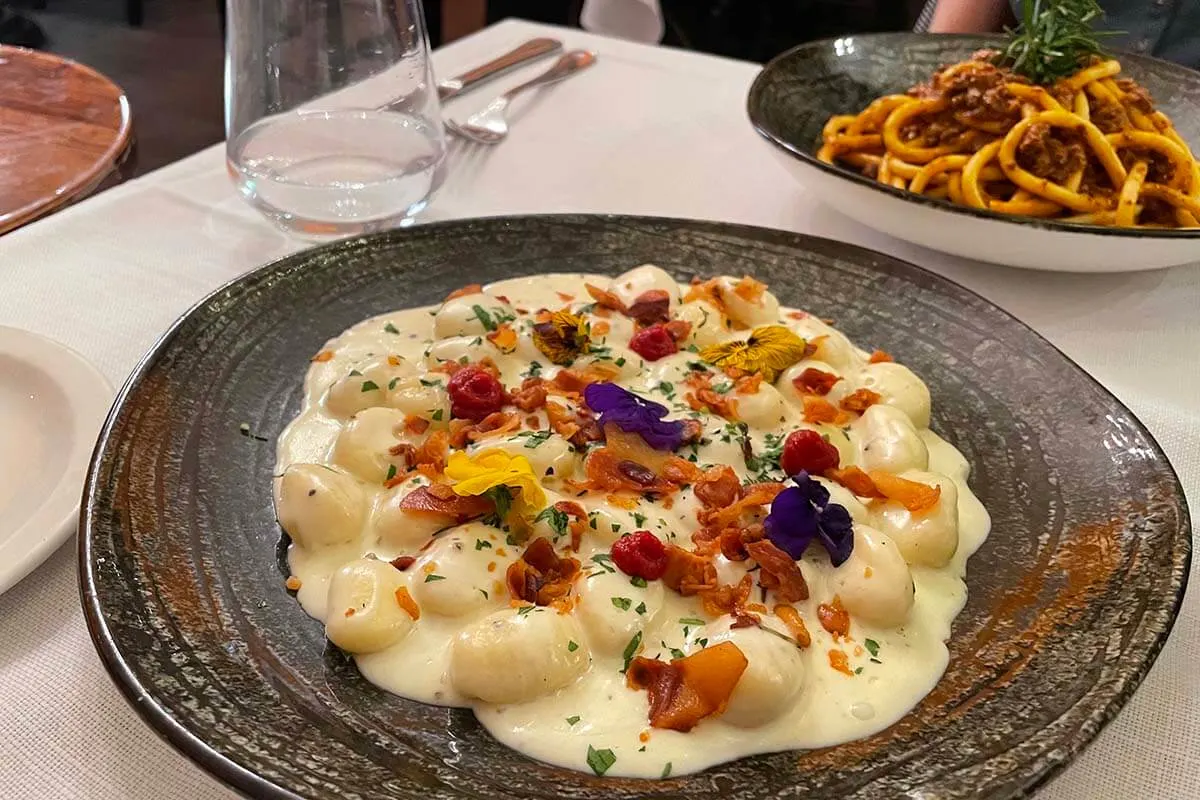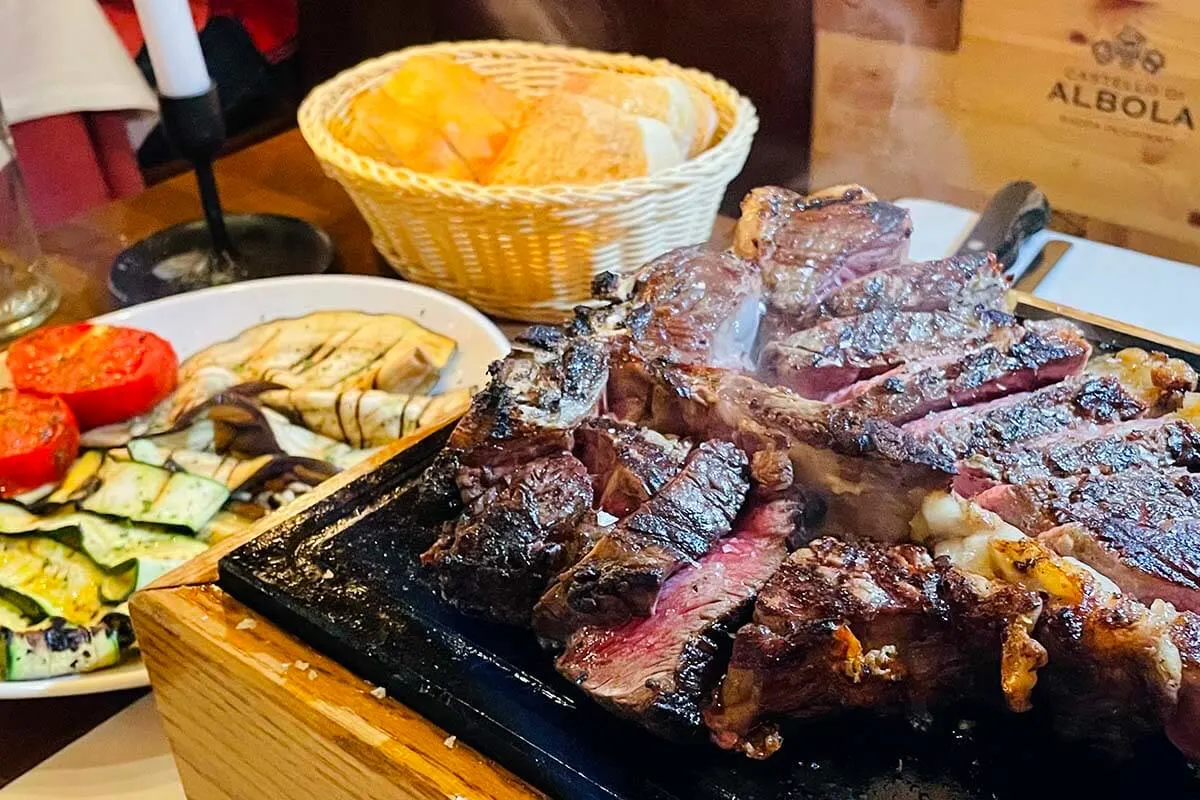 Florence 1 Day Itinerary & Map
Based on our suggestions above, here's an overview of recommended Florence sightseeing itinerary for one day:
10 am. Duomo complex. We recommend climbing Brunelleschi's Dome (get timed tickets for e.g. 10.25 am) – that way, you see the interior of the Cathedral as well. Alternatively, visit the Baptistery of St. John and Santa Reparata – that way, you see the interior of the church too. We recommend this all-in ticket that includes everything at the Duomo Complex.
Morning alternative: Take this 3-hour guided tour as we did – it includes David and the best of Duomo. If you are not interested in the Duomo climb, this highly-rated half-day tour is a better option for you (it also includes a short visit to the most popular places mentioned further below).
Noon. Lunch at Mercato Centralle (aka San Lorenzo Market).
Optional – before or after lunch – Capelle Medicee. See hours/tickets.
Gelato (you should always make time for gelato when visiting Italy!).
2 pm. Fontana del Porcellino, leather market, Piazza della Signoria. You could also visit Palazzo Vecchio and/or climb the Arnolfo Tower (book timed-entry tickets in advance).
6 pm. Ponte Vecchio & Vasari Corridor.
6.30 pm. Have a drink at one of the rooftop bars. Alternatively, walk (or join a 6 pm bike tour) to Piazzale Michelangelo for sunset.
8.30 pm. Dinner at a traditional trattoria. See our suggestions in the itinerary above.
Florence on Monday – Alternative Day Trip Itinerary
As mentioned before, the two main museums in Florence – Accademia Gallery and Uffizi Gallery – are both closed on Mondays. So if you visit the city on a Monday and have just that one day in Florence, you'll need a somewhat different itinerary.
Here's what your Monday in Florence could look like:
9 am. Duomo Complex. Climb the dome, visit the Cathedral, the Baptistery, etc. (book your tickets in advance).
11 am. Capelle Medicee (reserve timed-entry tickets).
11.30 am. Basilica of Santa Maria Novella.
Lunch at Mercato Centrale.
Fontana del Porcellino, leather market.
+- 2 pm. Piazza della Signoria and visit Palazzo Vecchio. Book the tickets for the Palace and the tower in advance!
Ponte Vecchio.
+- 4 pm. Visit Boboli Gardens (the adjacent Palazzo Pitti is also closed on Mondays, but the gardens are usually open on Mondays in the high season – see here for tickets and opening days). Alternatively, visit Basilica Santa Croce.
6 pm. E-bike tour of the city.
8.30 pm. Dinner.
Please note that these times are just indicated for your reference. You can easily switch things around, but be sure to double-check the opening hours. For the Duomo dome climb and potentially Capelle Medicee and Palazzo Vecchio/ Arnolfo Tower, you really should get timed tickets in advance.
READ ALSO: Best Places to See & Things to Do in Florence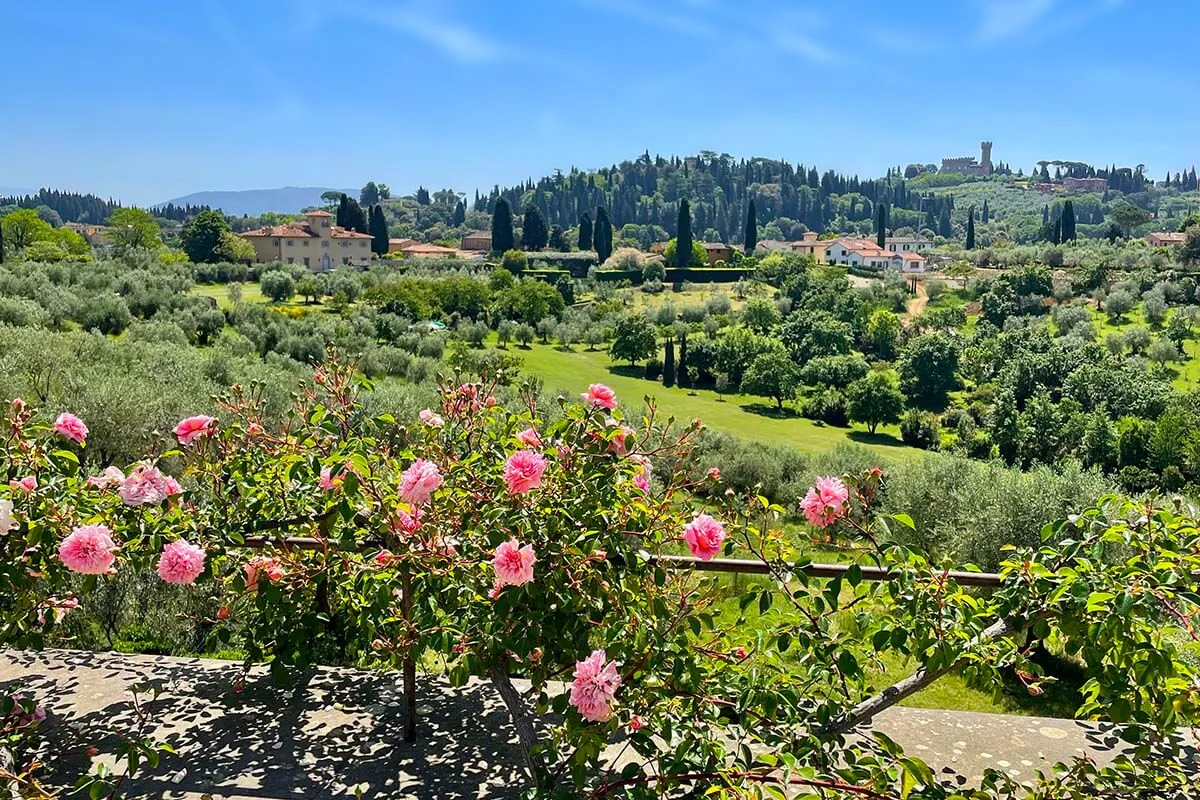 Where to Stay
If Florence is one of the stops on your Italy trip itinerary and you want to see the highlights in a day, we recommend spending at least 2 nights in Florence. That way, you have one full day to enjoy the best that the city has to offer.
In that case, it's probably easiest to stay next to the main railway station – Firenze Santa Maria Novella. This area is excellent for any stay in Florence – it's convenient for everything including transportation, sightseeing, markets, restaurants, etc. It's just a few minutes walk from most of the main landmarks.
Here are some recommended hotels within a short walking distance from the railway station:
I also have to mention B&B Le Stanze del Duomo – one of the best-rated low-budget accommodations near the Duomo. It's a bit further from the railway station, but still walkable and the location (close to the Duomo!) is excellent for sightseeing. It offers a great price-quality for Florence.
READ ALSO: Best ROOFTOP Bars & Hotels in Florence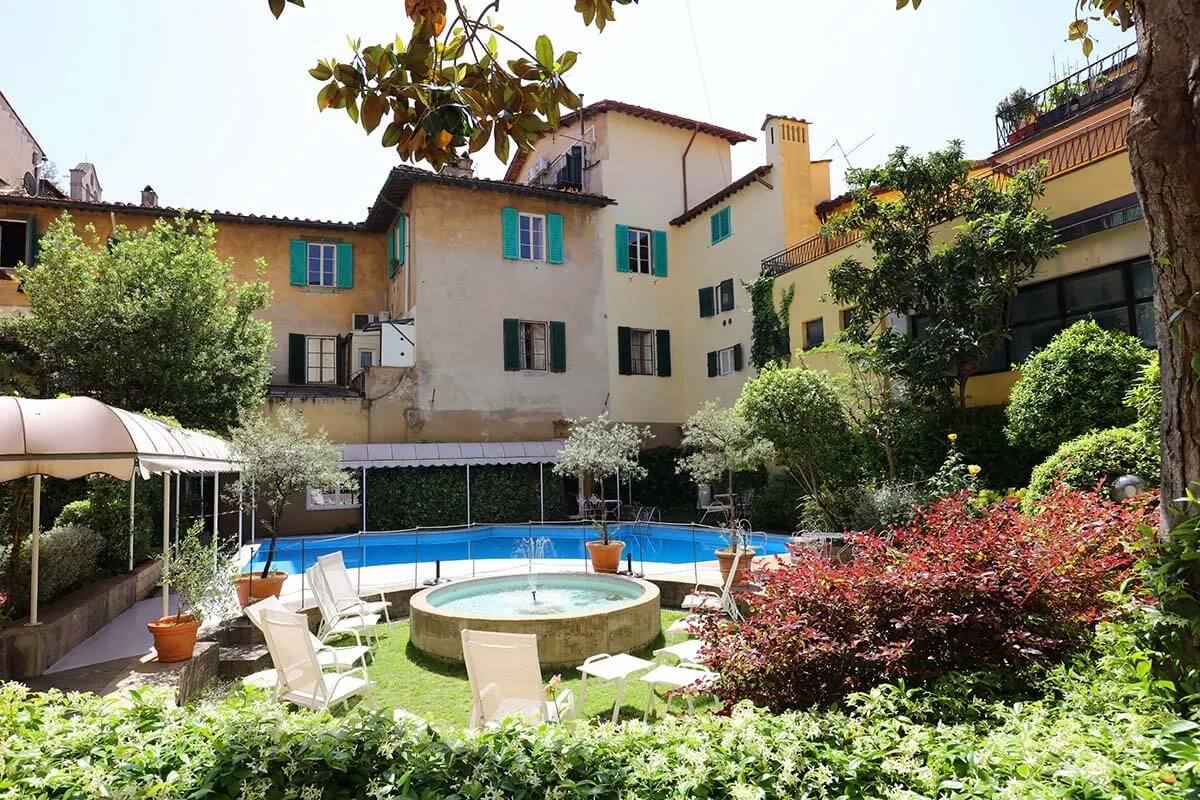 So, this is our recommended itinerary for one day in Florence. The city has a lot more to offer than what you can possibly see in a day. But if you want to get a quick glimpse of the main landmarks and most famous places in Firenze, this itinerary should help you do just that.
Remember to book tickets for all the main attractions in advance. It's the best way to be sure that you can visit all the places in the most efficient way without backtracking or having to waste time.
Also, be sure to wear comfortable shoes and keep in mind that all the churches have strict dress code which requires that your knees and shoulders be covered.
It's also best not to carry any large bags/backpacks with you since they are not allowed in some places.
READ ALSO: Florence to Bologna: Travel Info & Itinerary & What to See & Do in Bologna
More travel inspiration for Italian cities:
If you found this post useful, don't forget to bookmark it and share it with your friends. Are you on Pinterest? Pin these images!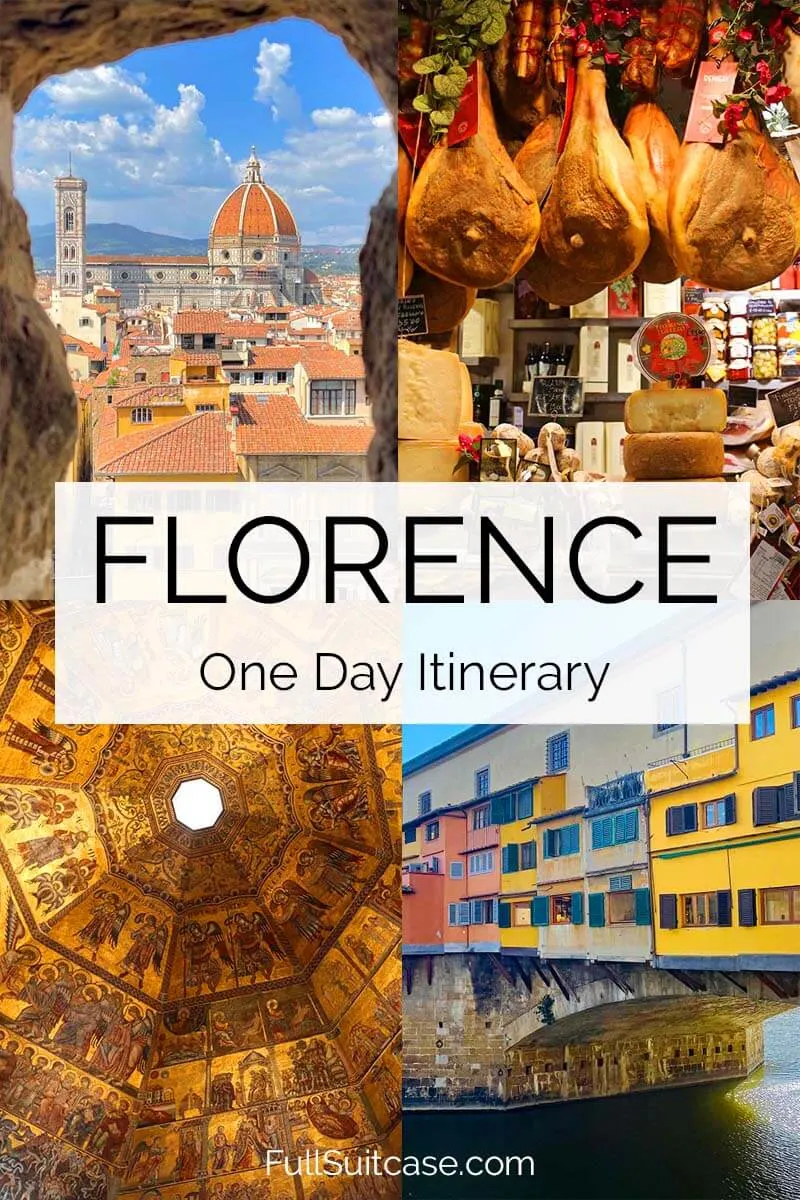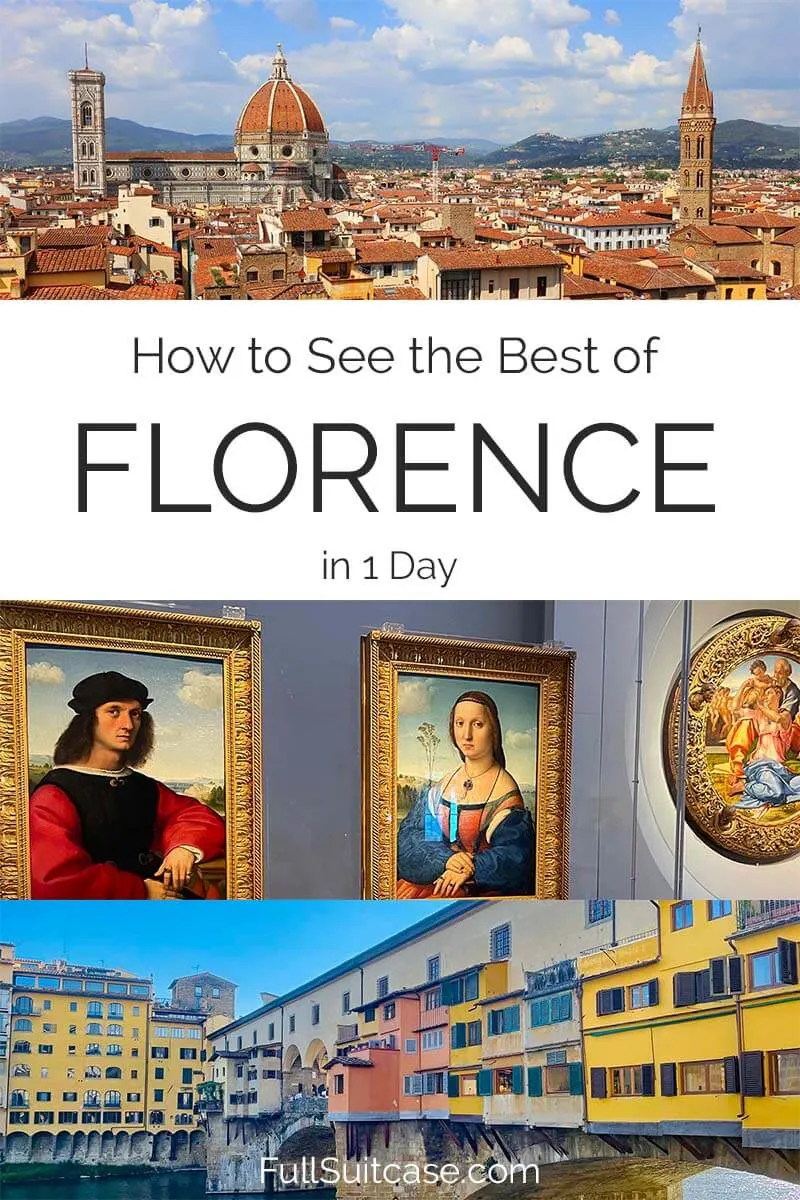 Some of our favorite places in Italy:
More 1-day itineraries for some of the nicest European cities: