Visiting Seville for just a day and wondering how to see the best of the city in a short time? In this guide, we share a recommended one-day Seville itinerary that covers the main sights and gives you a good introduction to this beautiful city in Andalusia in southern Spain.
This itinerary takes into account the opening times and the time that it takes to actually visit the main attractions or walk between different places. We also share our experience-based suggestions and tips on how to avoid the long queues and make the most out of your day in Seville.
To help you plan your sightseeing itinerary, we also created a map indicating a scenic walking route that connects all the top places (you can see it below). Please note that the walking route doesn't indicate the evening part of the itinerary – that is because we have three different suggestions for you to choose from, and so where exactly to walk will depend on that.
Also, remember that the best way to explore any European city is by simply wandering around – you may discover some beautiful hidden gems that way. So simply use this 1-day Seville itinerary as a guide to the best experiences that are worth your time the most, and adjust it based on your personal interests, ticket availability, etc.
How to use this map: Use your computer mouse (or fingers) to zoom in or out. Click on the icons to get more information about each place. Click the arrow on the top left corner for the index. Click the star next to the map's title to add it to your Google Maps account. To view the saved map on your smartphone or PC, open Google Maps, click the menu and go to 'Your Places'/'Maps'. If you want to print the map or see it in a bigger window, click on 'View larger map' in the top right corner.
1 Day in Seville Itinerary – Overview
Here's our recommended itinerary for one day in Seville in a nutshell:
You can find all the details, pictures, and useful information for each of these sights and attractions further below. Read on!
TIP: If you are not interested in tours and rather just get tickets, this Seville Super Combi includes the main attractions and allows you to choose all the time slots in one booking.
READ ALSO: How to See the Best of Seville in 2 Days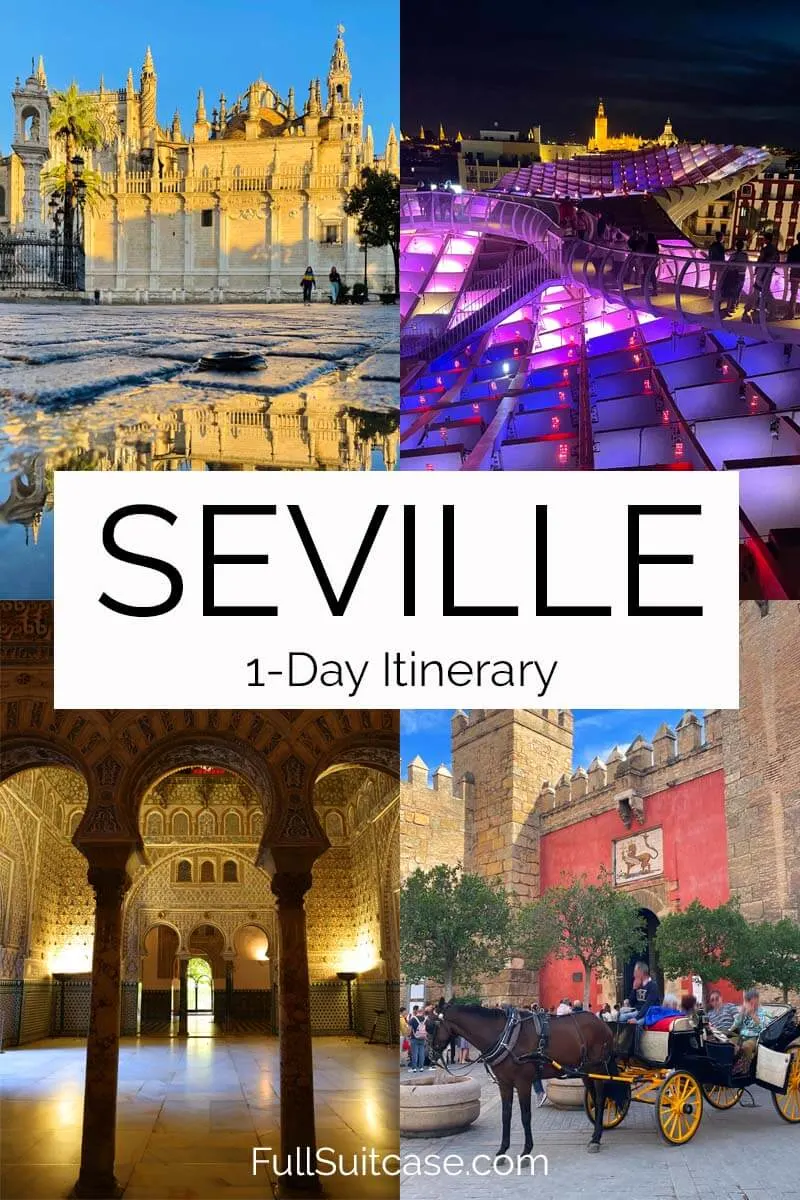 Here is a detailed Sevilla 1-day itinerary:
Royal Alcázar of Seville
9.30 – 11 AM.
The Royal Alcazar (Real Alcázar) is one of the absolute must-sees in Seville. Because it opens earlier in the morning than many other places, we suggest starting your day here. Plus, it's so popular and so busy that the best way to make the most of your visit (and plan the rest of your day) is by coming here first thing in the morning.
Real Alcarzar is an impressive palace complex that was built in different phases spanning over many centuries starting from the High Middle Ages. This has led to a unique mix of architectural styles with a strong Moorish influence, but also Baroque and Renaissance styles.
The palace is huge, with multiple buildings and countless rooms, and it's surrounded by vast gardens. You could easily spend half a day here alone and still not see everything… But with just a day in Seville, we recommend that you plan 1.5-2.5 hours for Alcazar.
Good to know: No matter how you decide to visit Royal Alcazar – on your own or with a tour – be sure to book in advance and get the earliest possible time slot (or the earliest tour). The palace normally opens at 9.30 AM and by 9 AM there is already a queue that stretches for a few blocks… So – once again – be sure to book ahead or you will waste too much time!
Planning info: For this itinerary, we recommend either timed-entry tickets (get the 9.30 AM slot, but arrive earlier!) or this 'Alone in the Alcazar' tour (that starts at 8.30 AM). We opted for this tour and could enter the palace an hour before it opened to the public. It's an absolutely unique experience and worth every cent. However, availability is limited and these tours only run a few times a week. Be sure to check if it's possible during your visit and don't hesitate – it's a once-in-a-lifetime experience.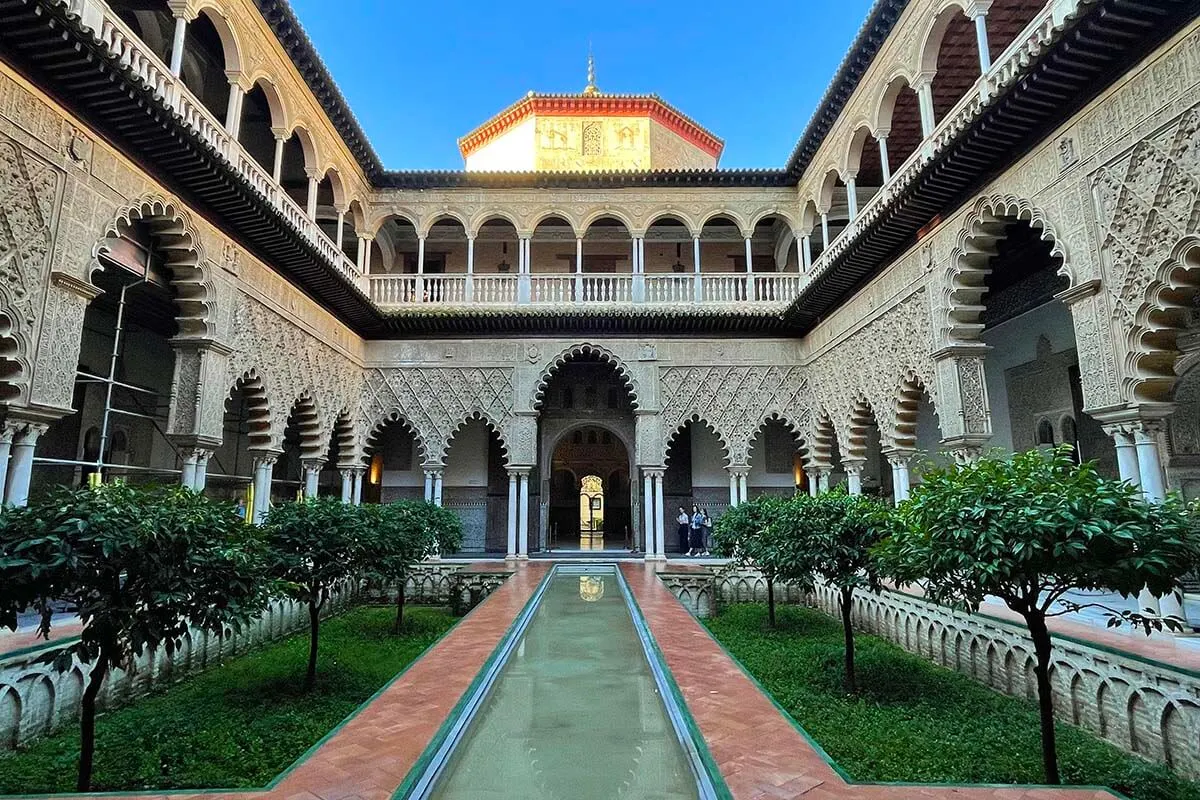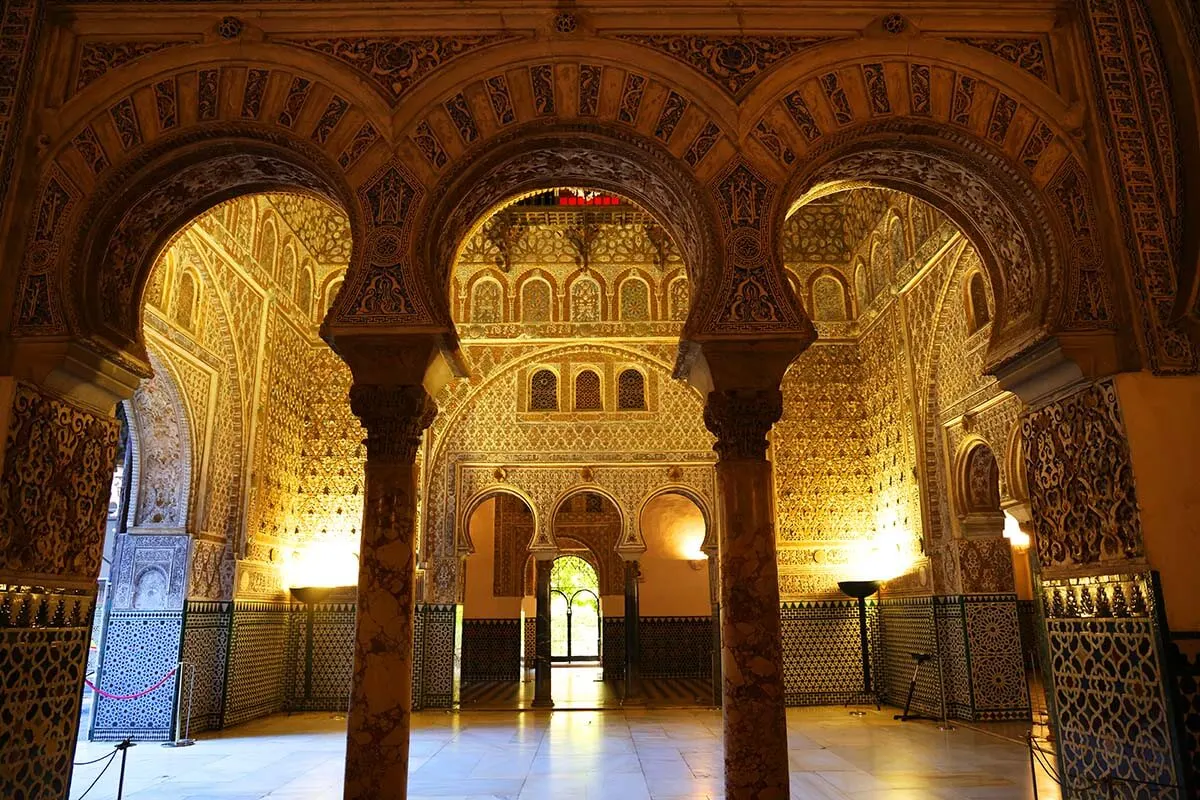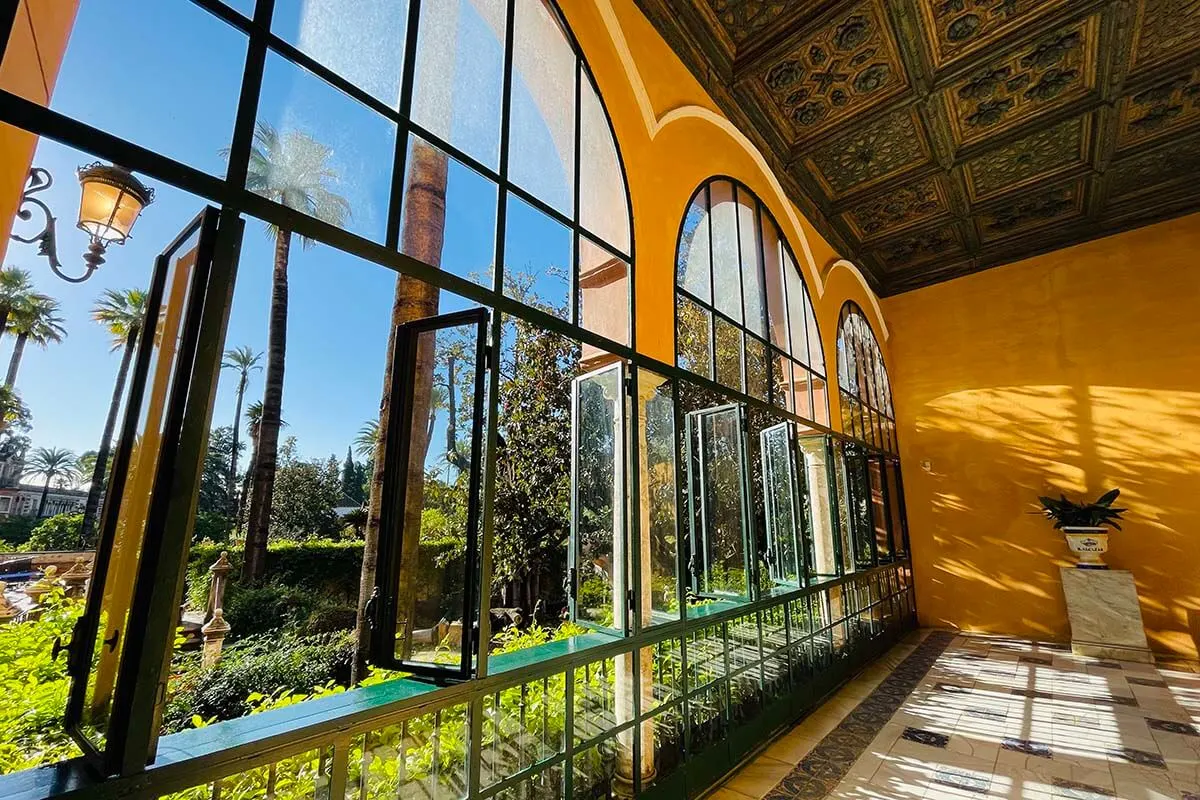 Cathedral & Giralda Tower
11.15 AM – 12 PM.
The Seville Cathedral is another must-see in the city, just as its impressive tower, Giralda. The Cathedral is located just near the Alcazar and so we suggest continuing your sightseeing itinerary here.
In 1401, the city decided to demolish an old mosque that served as a cathedral at that time and to build a new church that would be "so beautiful and so grand that those who see it will say we were mad". Indeed, the Cathedral of Seville is immense. It's also the largest Gothic church in the world and one of the largest Catholic churches ever built.
The exterior of the church is absolutely impressive, but the interior is well worth seeing too. Some of the must-sees inside include the main altar, the monumental grave of Christopher Columbus, and the works by Goya, Zurbaran, and Murillo.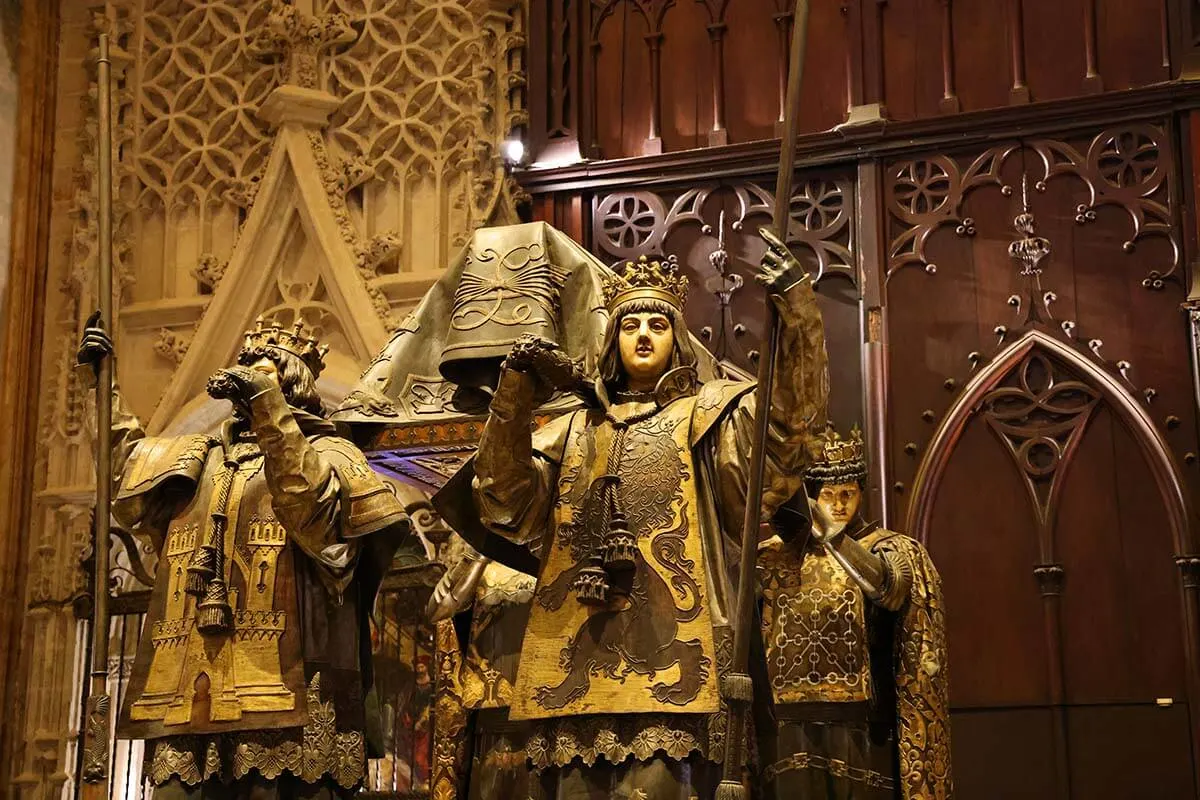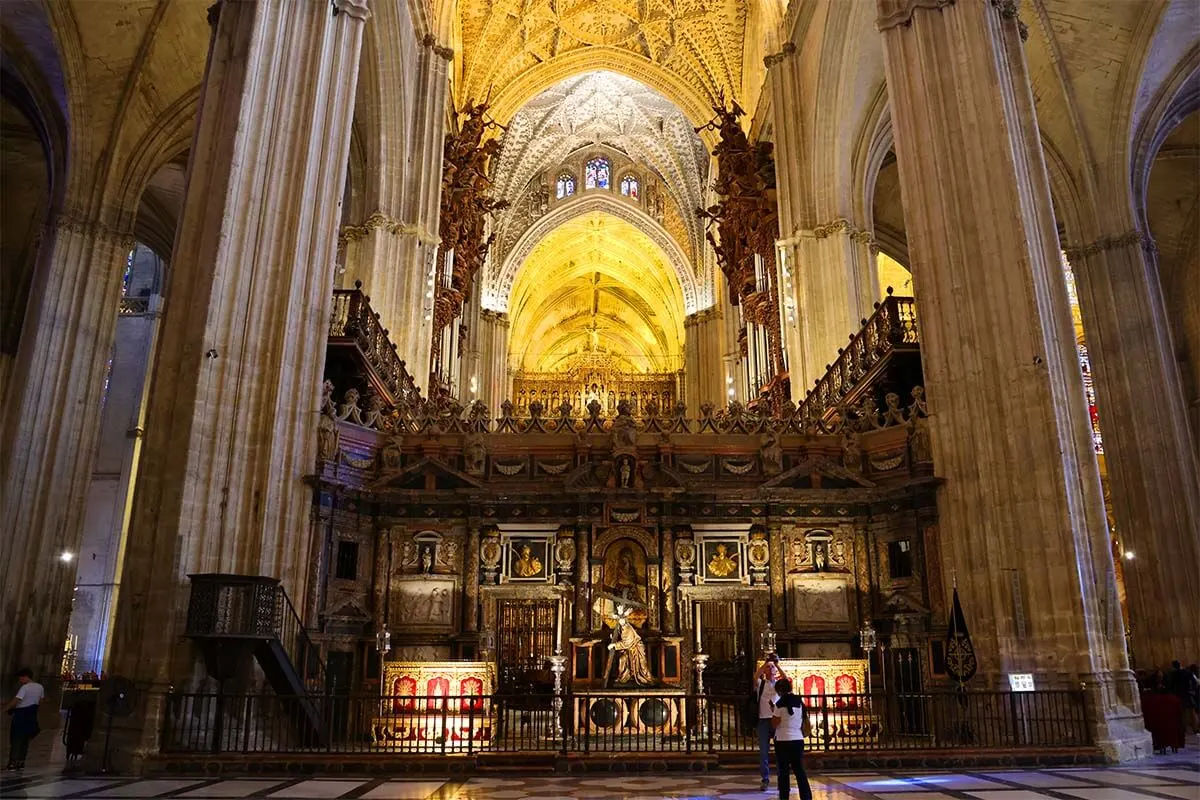 From the Cathedral you can also access the Giralda Tower. The 96-meter-high tower was part of an old mosque and was kept as a bell tower when the new church was built. It is possible to climb the tower to enjoy 360° views of the city. However, keep in mind that a metal safety net obstructs the views so taking any decent pictures from the top is very difficult.
TIP: If you want to be sure to visit the Cathedral, you have to book a timed-entry ticket in advance! Also, if you want to climb the tower, do that first thing after the security check (before you even enter the church). When it's busy, they give priority to those who are entering from the outside with timed tickets rather than people who are already inside the church. You can visit the church itself after you come down from the tower.
Planning info: For this itinerary, we recommend booking a time slot at around 11-11.30 AM. If you want to spend more time at the Alcazar, plan to visit the Cathedral a bit later (but keep in mind the rest of the itinerary and what else you want to see with a day in Seville).
Good to know: On Sundays, the Cathedral only opens late in the afternoon. So if you are visiting Seville on a Sunday (and this is the only day that you have in town), you'll have to adjust this itinerary. Because many sights are located relatively close to each other, it's easy to do.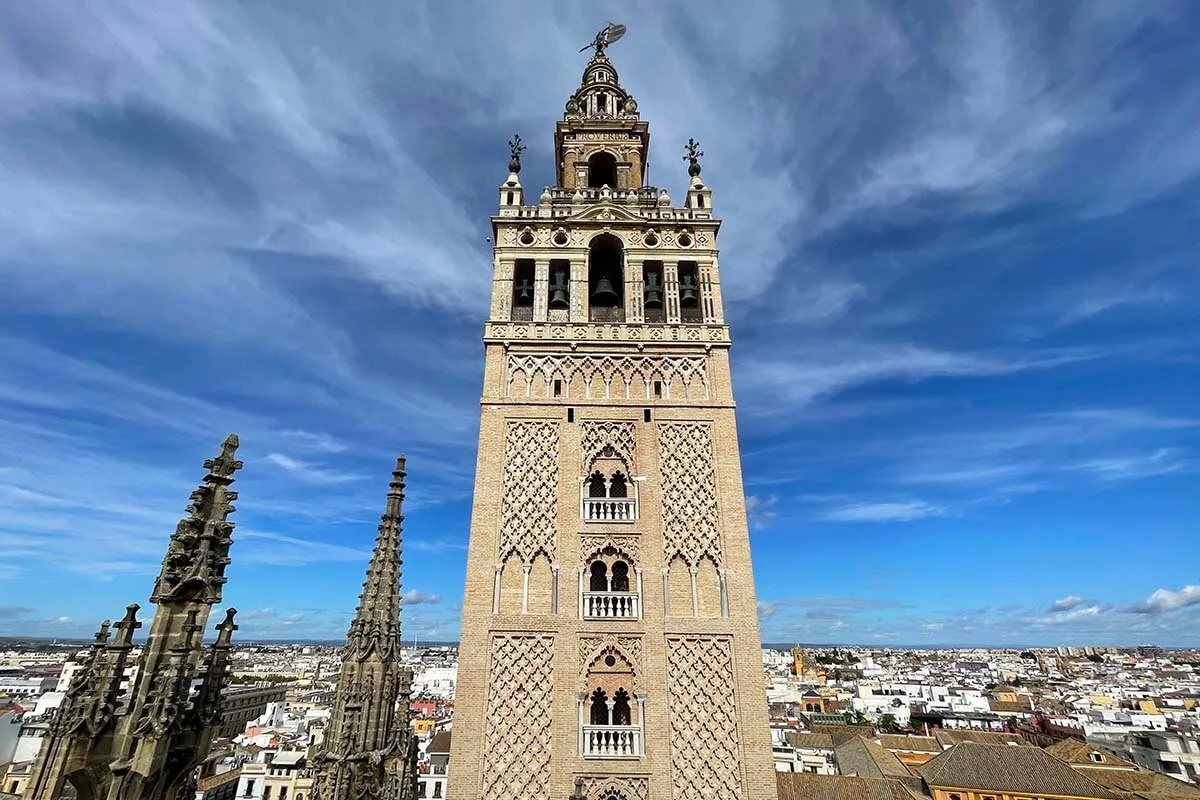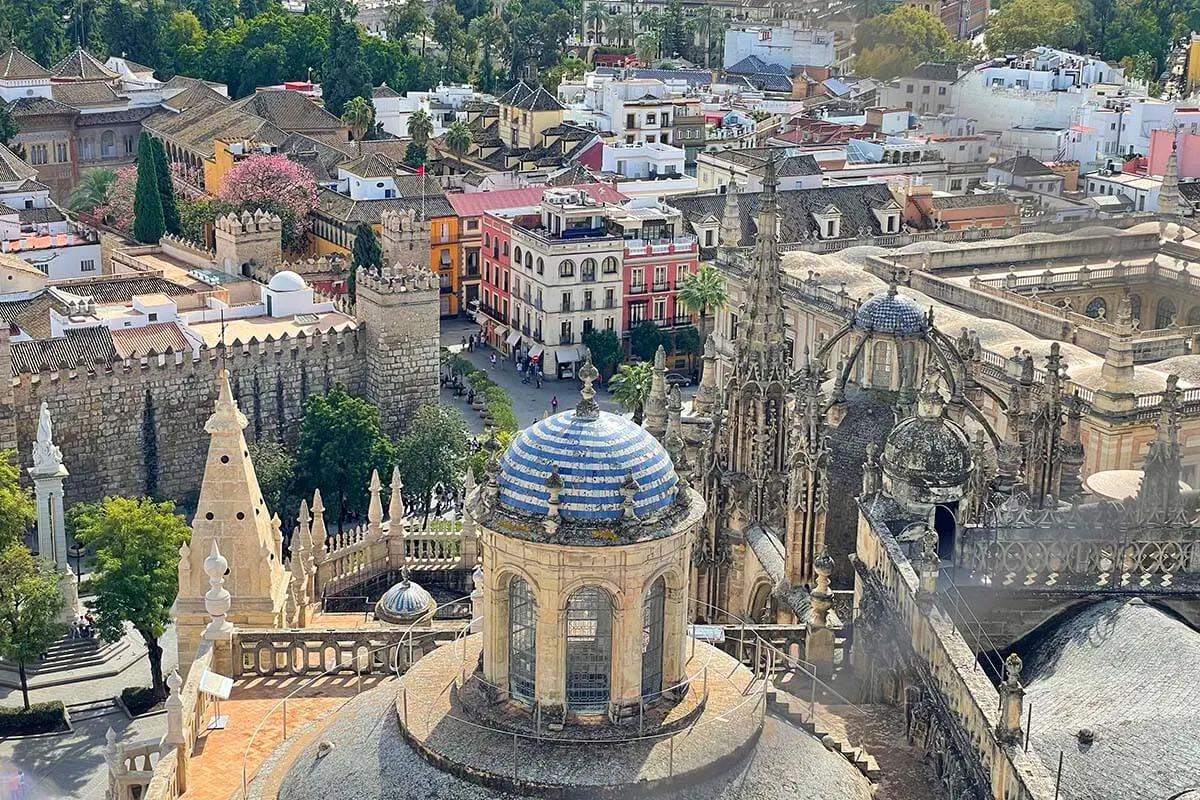 Lunch + Barrio de Santa Cruz
12 – 2 PM.
After all that sightseeing and slow walking at the Alcazar and the Cathedral, you'll likely be exhausted by noon. So we recommend sitting down for lunch and taking some time to rest and enjoy local food.
There is no shortage of eateries in the old town of Seville, so you'll definitely find a nice place for some tapas. Just be sure to quickly check reviews (we usually use Google Maps) so that you can avoid tourist traps. I also indicated a few excellent places for tapas on our map – we tried some of them personally and others were recommended by local guides.
Also note that the Spanish tend to eat later, so some restaurants don't open until 1 PM. However, there are usually plenty of places that are open earlier and if you go to eat around noon, it's much easier to find a table – an hour later, everything is full.
While you are looking for a place for lunch (or after that), take some time to explore the neighborhood called Barrio de Santa Cruz. Located to the east of the Cathedral and the Alcazar, this is a cozy labyrinth of narrow streets and beautiful historic buildings.
There is a lot more to see here (Hospital los Venerables, La Casa del Flamenco, Casa de Salinas, etc.) but with just a day in Seville, just walk around, have lunch, maybe get some souvenirs, and move on. We indicated a suggested walking route on the map, but you don't have to follow it to the t, it's just a suggestion.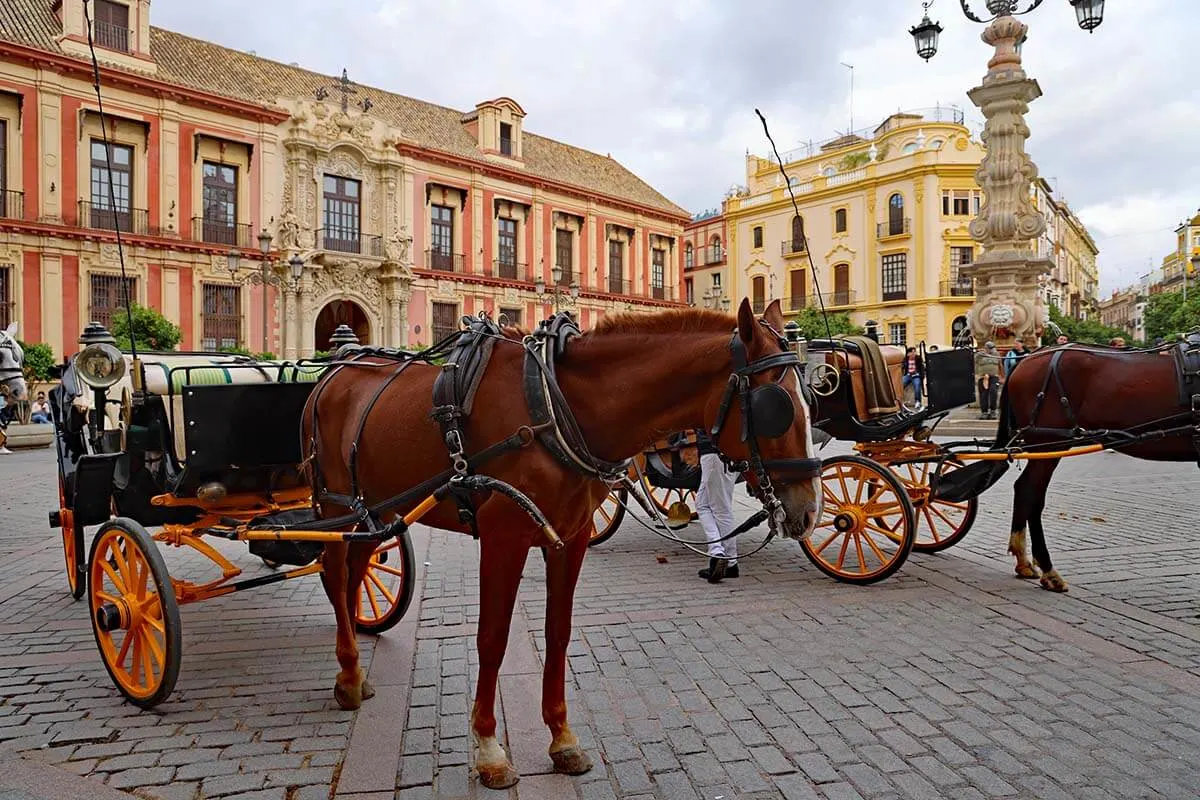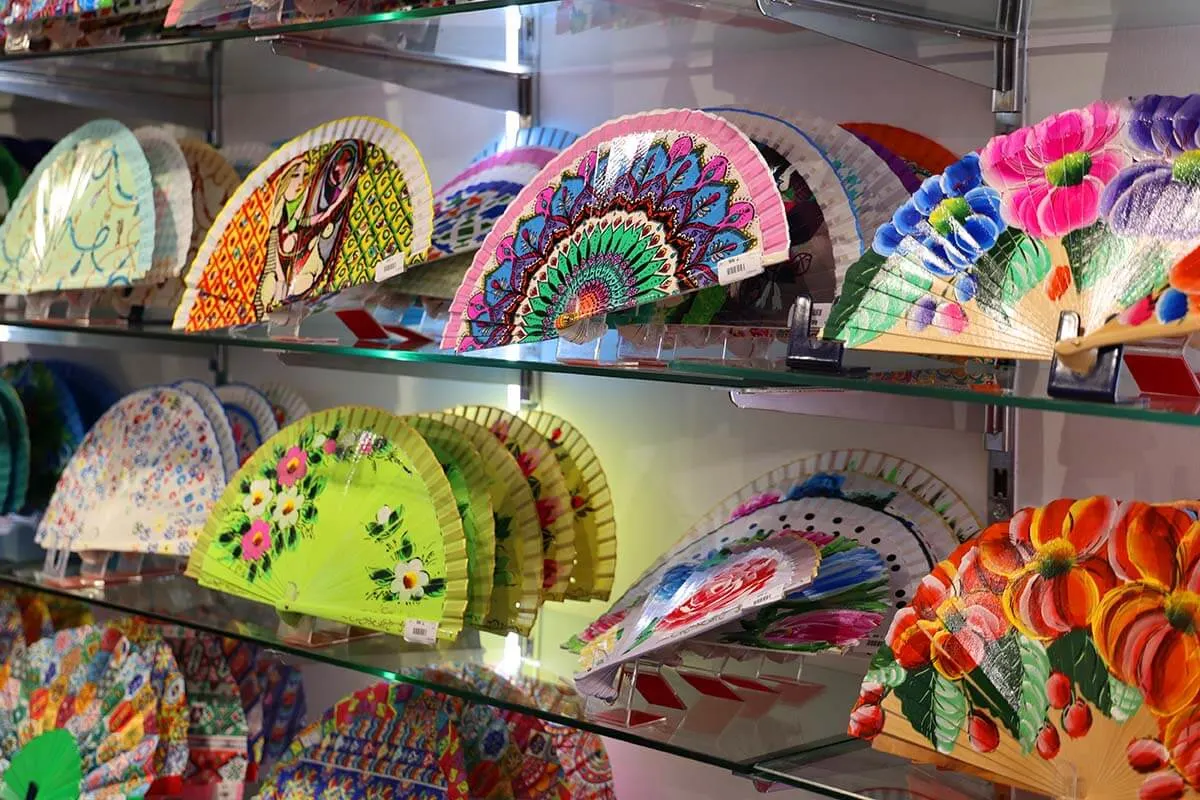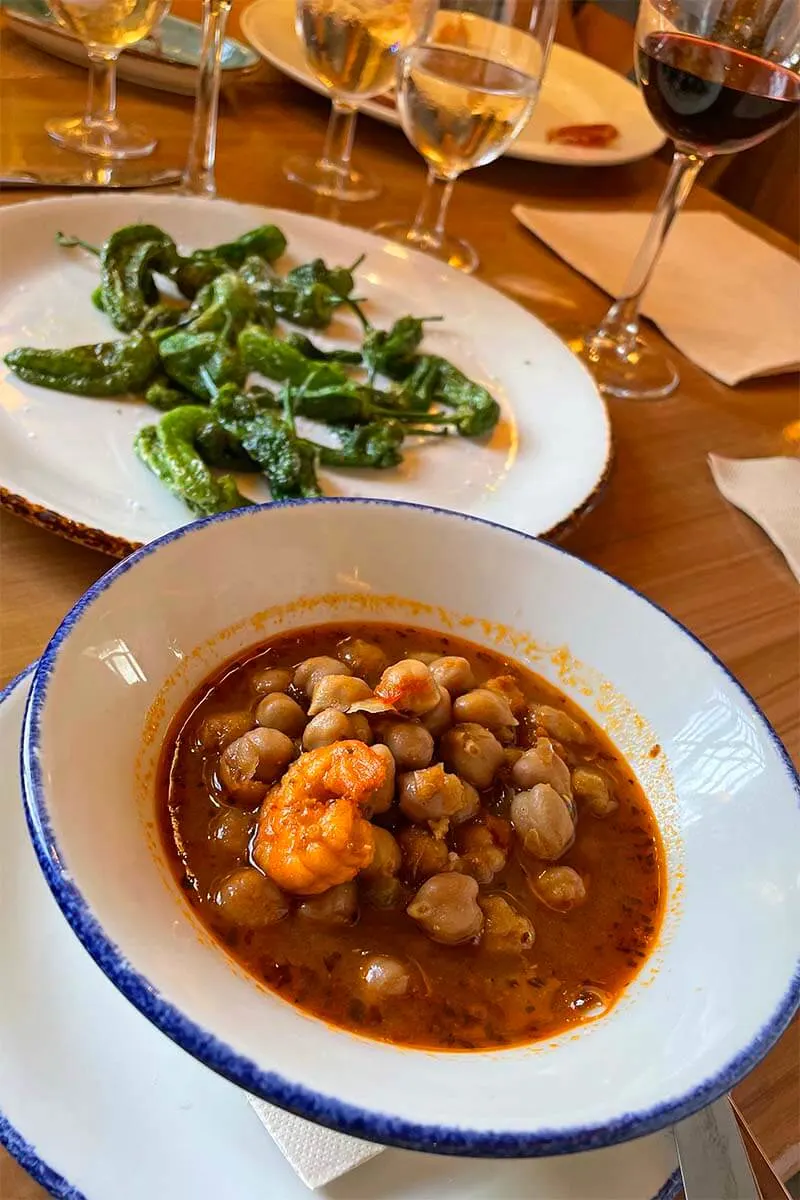 General Archive of the Indies and/or Plaza del Cabildo
OPTIONAL.
Depending on your interests and how you feel on the day itself, there are a few extra places that you could easily add to this one-day Seville itinerary.
One is the General Archive of the Indies (Archivo de Indias), an archive and library that holds important documents about Spain's colonization of the New World. The archive is located inside a beautiful 16th-century merchants' exchange building and is free to visit. The exhibition is limited, but the building is nice to see. It's not a must, but you'll pass here anyway so if you have a few minutes to spare, you may want to check it out.
Another place that I really recommend seeing is Plaza del Cabildo. This is a very picturesque little plaza surrounded by a unique arched building. It's a real hidden gem just steps from the main tourist routes and you only need a few minutes to see it. We were here on a Sunday and there was a flea market in the area. Otherwise, it's much quieter with just a few souvenir and antique shops inside.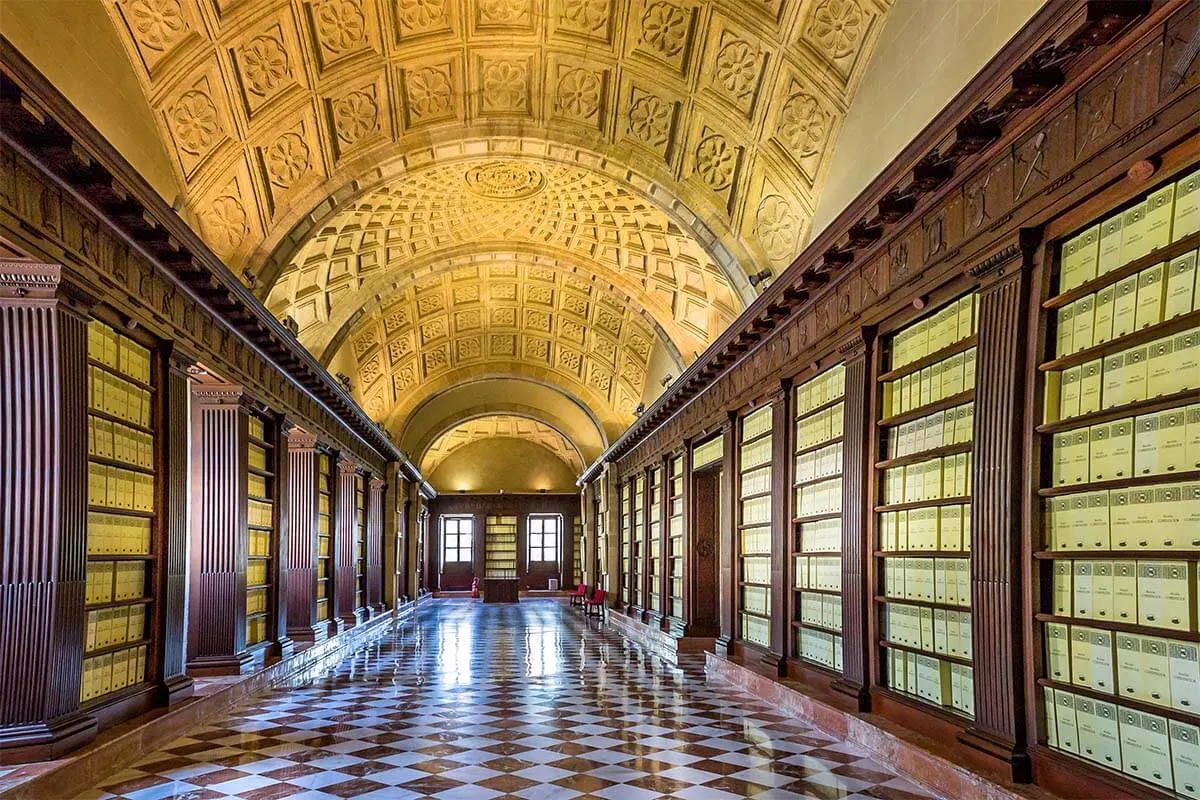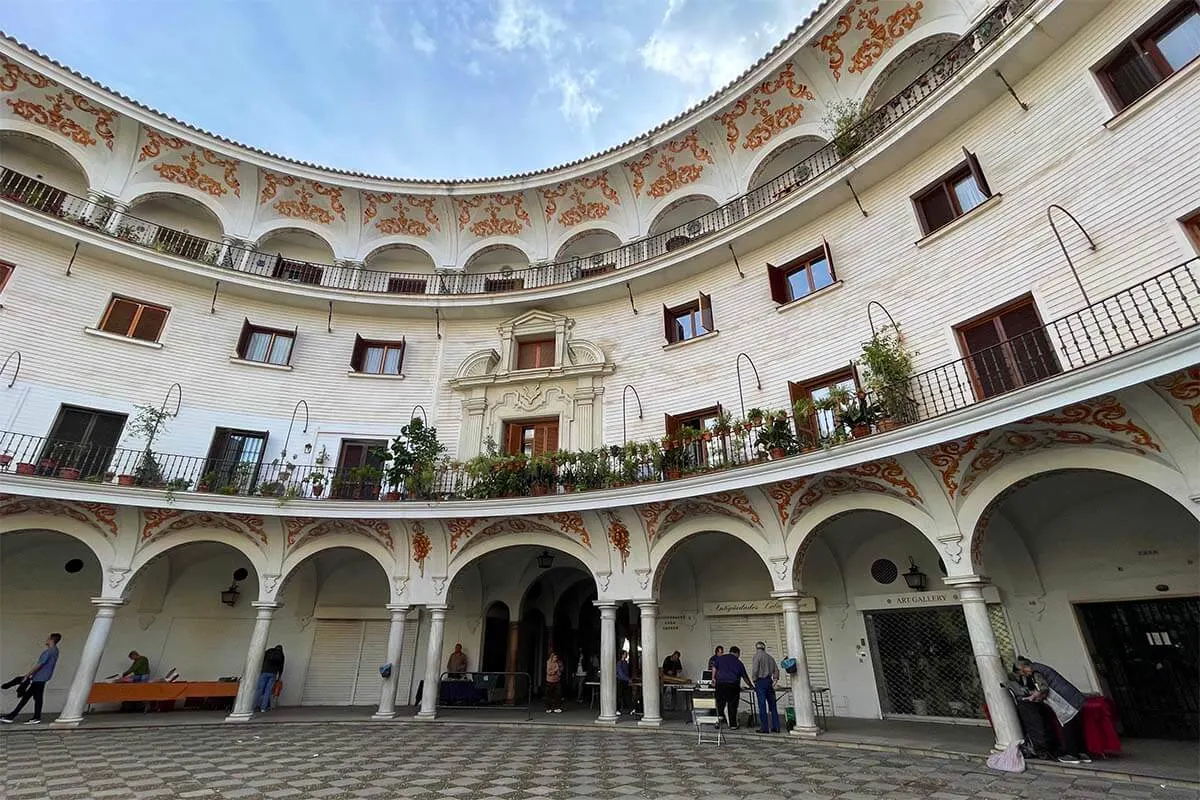 Seville Bullring – La Real Maestranza
2 – 2.30 PM.
Plaza de Toros de la Real Maestranza de Caballería de Sevilla is the bullring of Seville. Built in the 18-19th centuries it's one of the oldest arenas in Spain and offers space for almost 13,000 spectators. And yes, it's still used for bullfighting nowadays, although only several times a year. The rest of the time, it functions as a museum.
No matter how you feel about this Spanish tradition, we highly recommend a visit to Seville's bullring. The building itself is very impressive and you can learn more about Corrida and see paintings, posters, as well as bullfighter's capes and costumes.
You can also take a peek behind the scenes – the animal stalls, the bullfighter's chapel, etc. The visit ends at the impressive arena itself.
Good to know: You need about half an hour for a thorough visit. If you want to learn more about the place, you can download a free audioguide using QR codes inside the museum.
Planning info: Normally, you can just get the tickets for the bullring on the spot, but sometimes the queue can be quite long (and other times, no queue at all). If you want to enter without a wait, you can prebook your tickets on their website. We just paid at the entrance and had to wait less than 5 minutes to get in. There are also guided tours available.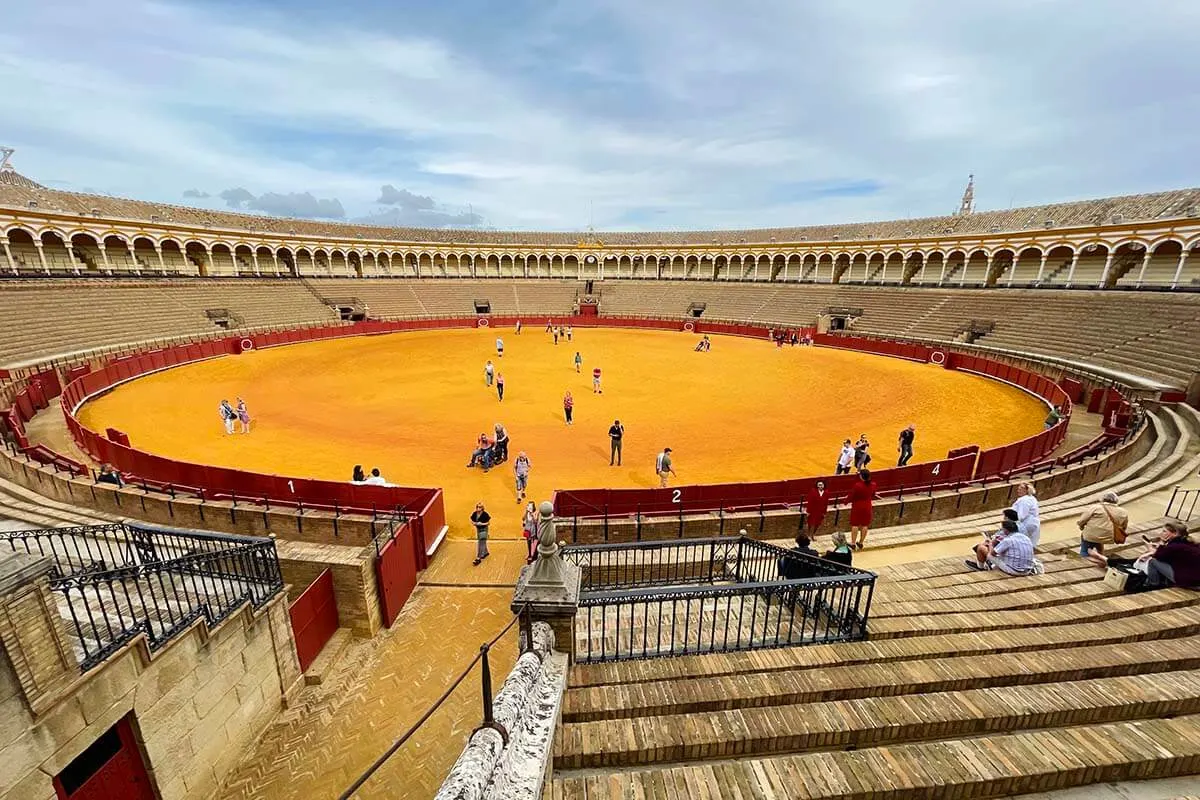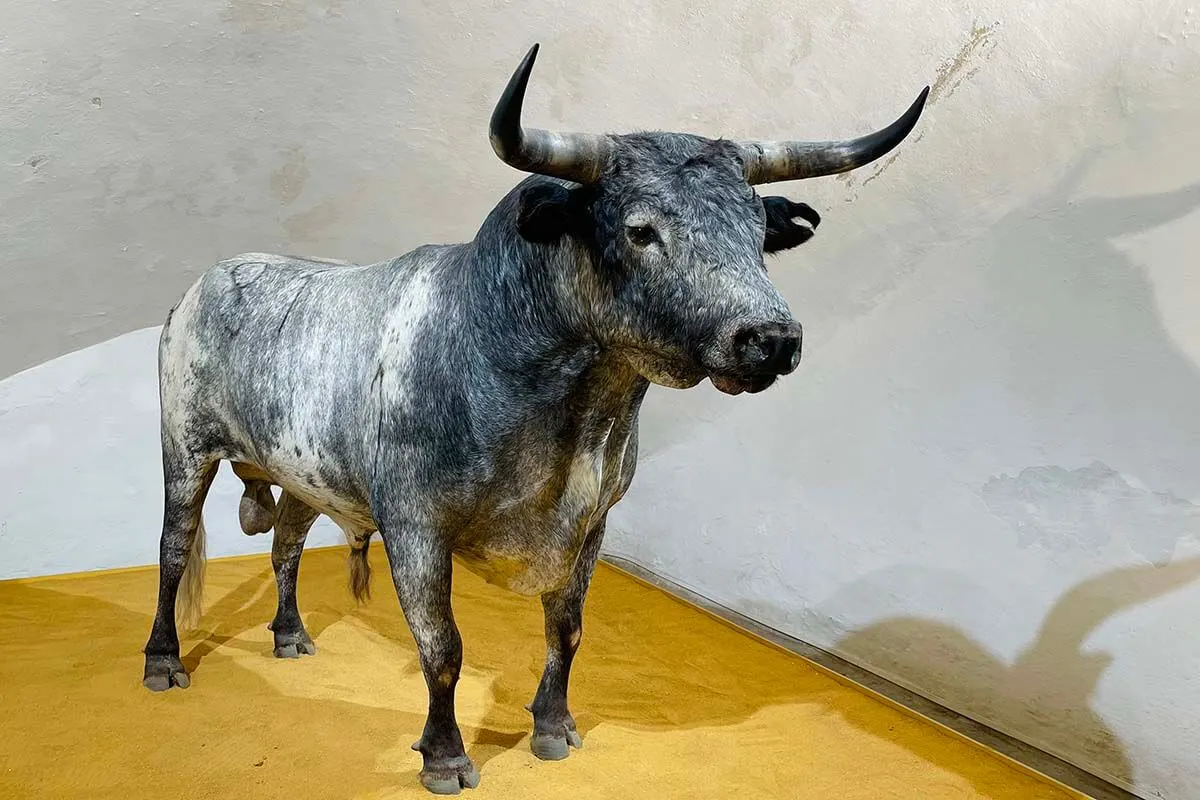 Riverside Walk & Torre del Oro
2.30 – 3.30 PM.
After leaving the bullring, cross the street toward the Guadalquivir River. There is a nice pedestrian walkway here, on several levels (closer to the water or higher, at street level). It's a very nice area for a stroll, offering a bit of a breeze and great riverside views.
You have a few options here – simply walk along the river in the southeasterly direction toward Maria Luiza Park (next stop on this itinerary), or take a river cruise to rest your legs a bit and see the city from a different perspective.
If you walk, you'll pass a few places of interest along the way. One is the Nao Victoria 500, a replica of the first ship that circumnavigated around the world. You can visit this ship and there is a small museum inside, but the fee is quite steep for a rather small exhibition, and you can just see the ship from the outside.
Next, you will pass Torre del Oro (the Golden Tower), a 13th-century tower that was part of the city's military fortifications. Nowadays, there's a small maritime museum inside, and you can climb to the top of the tower to enjoy elevated views of the river. It's nice to do if there is no wait and the ticket price is just a few euros. But it's not something I would stand in line for, especially if you only have a day in Sevilla and your time is limited.
Continue further south following the river until you reach the entrance to Maria Luiza Park.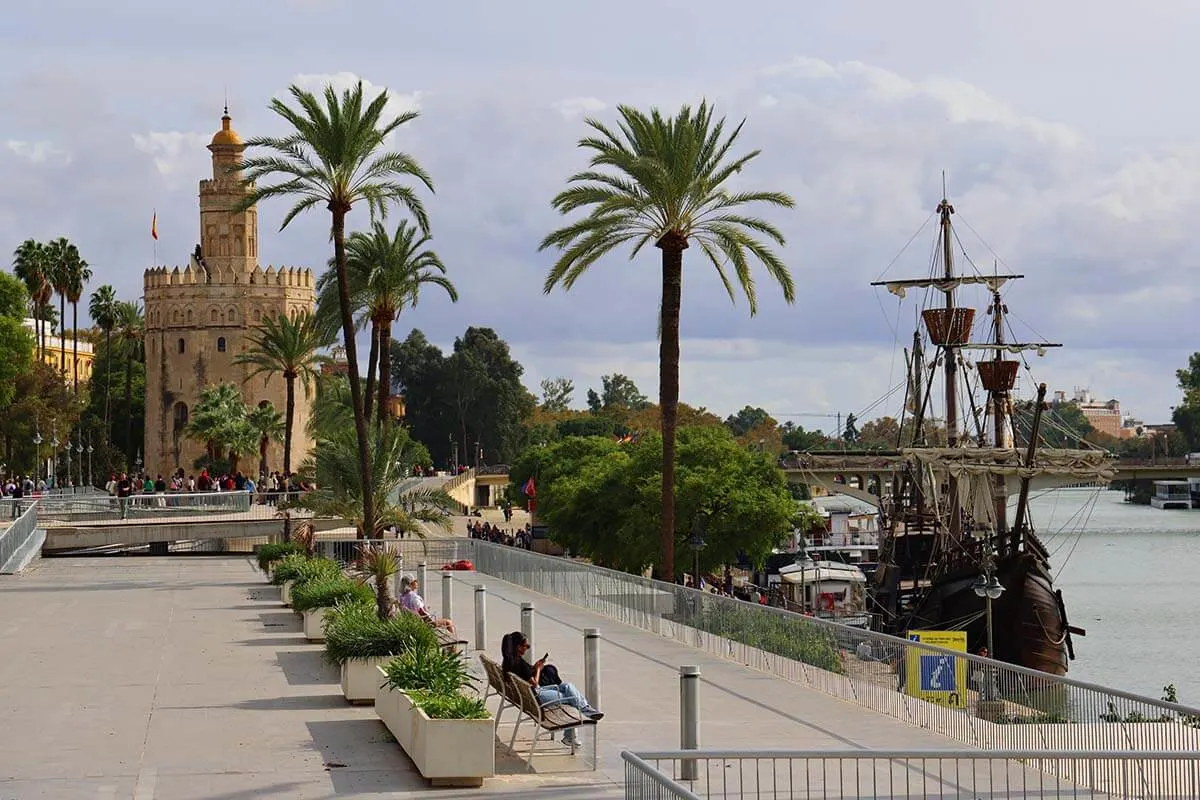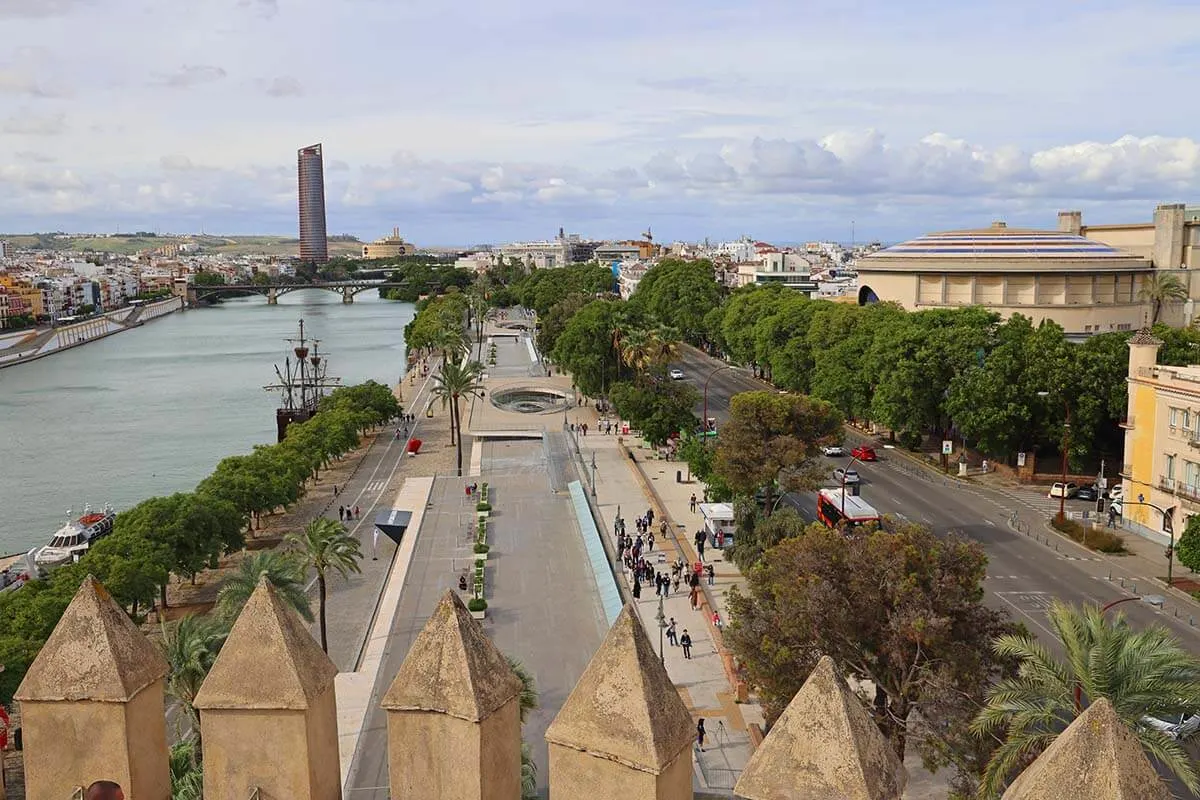 Plaza de España and Maria Luiza Park
3.30 – 4.30 PM.
Parque de Maria Luisa is the biggest and most beautiful park in Seville's city center. You could rent a bike for half an hour to explore the park in a more relaxing way or simply walk around a bit.
There is a service at the park that rents bikes, tandems, and 'cyclobuses' for the whole family. We indicated the location of this rental service on the map, but you'll likely just pass there as you enter the park from the riverside.
The park is adjacent to Plaza de España, a monumental half-moon-shaped square that you probably saw in Seville travel brochures. This huge square was the centerpiece of the Ibero-American Exposition of 1929 and is absolutely impressive with a canal, several bridges, and a large fountain in the middle. The walls of the buildings surrounding the square are lined with alcoves with azulejo tiles representing different provinces of Spain.
Plaza de Espana is an absolute must-see in Seville. So even though it's a bit out of the way from all the other places in this itinerary, don't miss it!
Planning info: The park and the square are public spaces and are free to visit.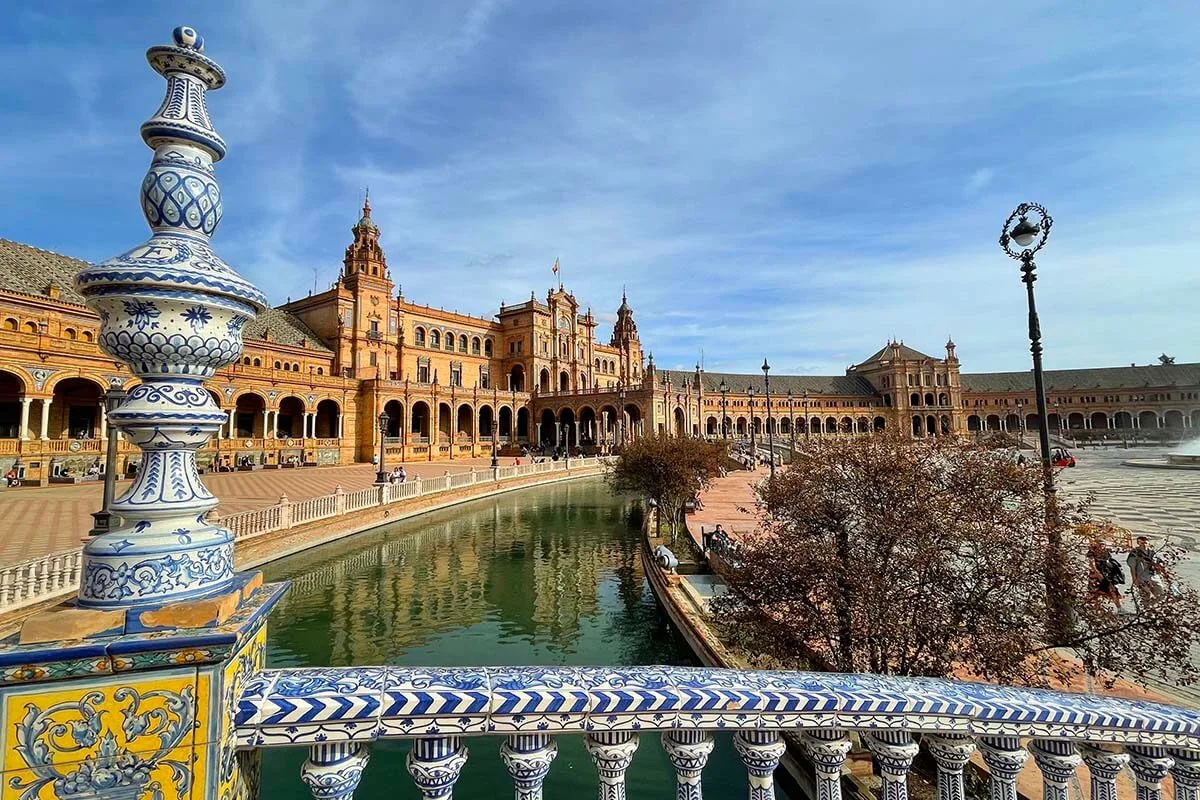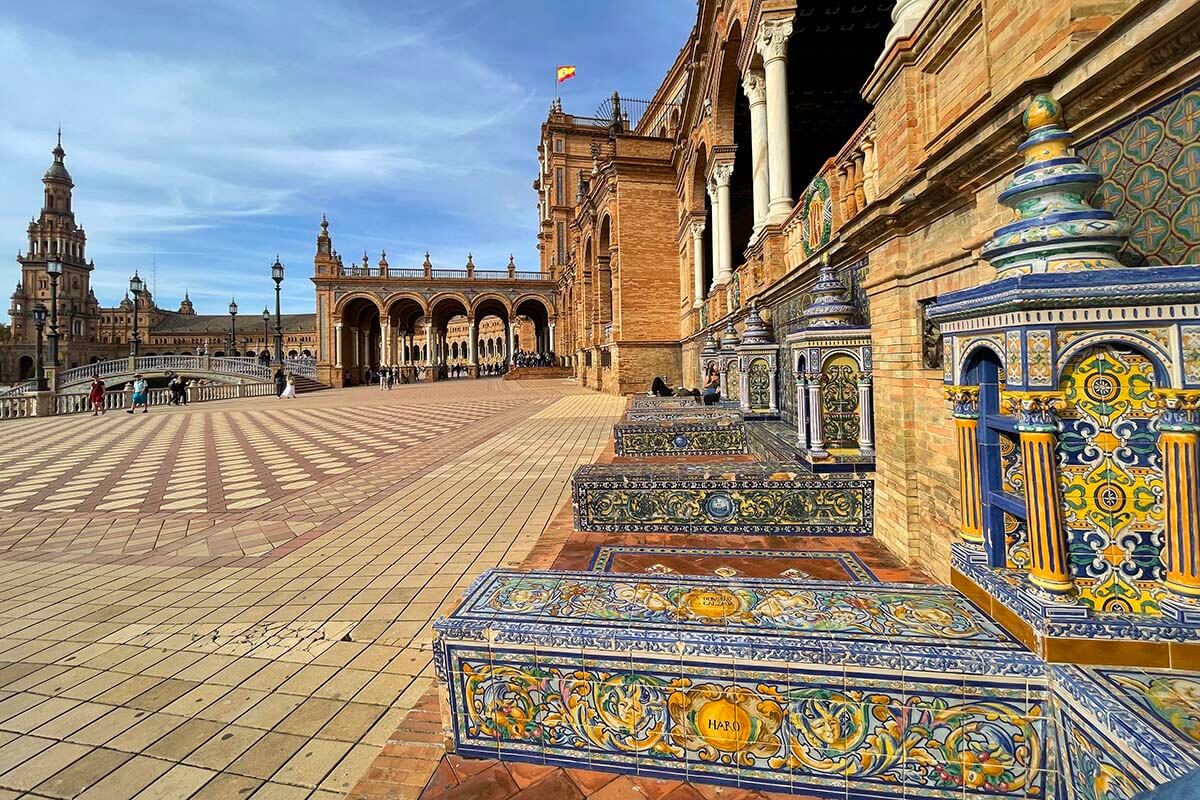 Flamenco Show + Dinner
TIMING DEPENDS ON WHAT EXACTLY YOU CHOOSE
No visit to Seville would be complete without seeing a Flamenco show. After all, Seville is the birthplace of Flamenco, so if there is one place in Spain where you have to see it, it's in Seville.
There are countless places in the city where you can see Flamenco shows. Often, you will also see performers dancing on the streets. But for the most authentic experience, visit a small traditional theater where the spaces are quite small, the public sits very close to the performers, and the experience is more intimate.
Here are a few suggestions on how to plan your evening in Seville:
OPTION 1 (this is what we did). We opted for this highly-rated Flamenco + tapas tour. It starts at Plaza de San Francisco at 5.30 PM and just walking there (+-25 minutes from Plaza de España), you will see more of the old town along the way. The tour includes tapas and aperitif at abacería (a small grocery store/bar), a traditional Flamenco show, and a sitting dinner at a wonderful local restaurant where you are served so many amazing tapas and wines that you can hardly fit it all in…
This is a long tour – about 4 hours, but there is little walking and it's a very relaxing and authentic experience. We did it with our teenagers and I was a bit worried that they would find it boring, but they loved it. To my husband, this was the best experience in Seville.
If you opt for this option, the restaurant where you will end the tour is in the center, about 15 minutes walk from Setas de Seville, which is the last place we recommend visiting at the end of the day (more info below).
If you rather explore more of the city on your own, you can easily plan your own Flamenco and tapas evening. Below are two more options – depending on how much walking you want to do.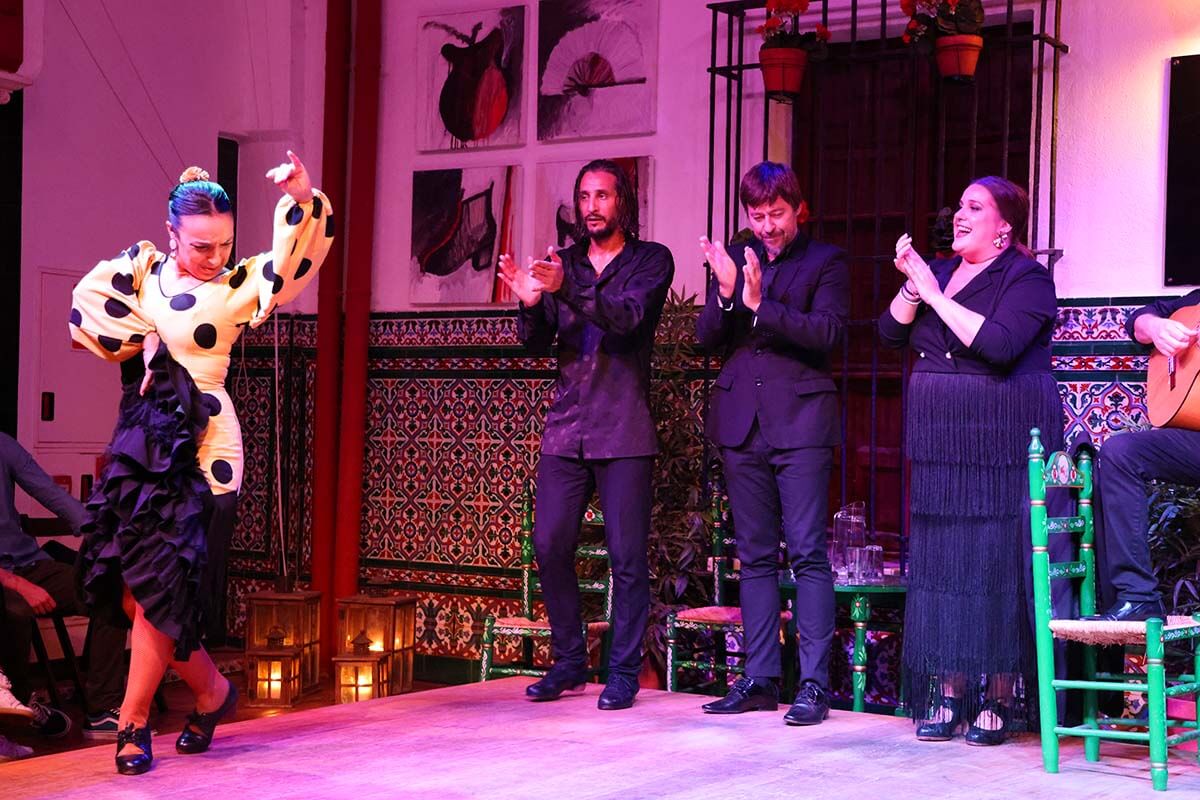 OPTION 2 (Flamenco in Triana). Triana neighborhood, on the other side of the river, is where Flamenco originated. There are several theaters in Triana where you can see a Flamenco show. One of the most popular places here is Teatro Flamenco Triana (also about 25 minutes walk from Plaza de España). Afterward, head to the area around Mercado de Triana for a tapas dinner. This popular food market will likely be closed by the time you get there, but there are many nice restaurants in the area.
OPTION 3 (Flamenco in the old town = less walking, especially if you follow this itinerary and visit one more place late in the evening – see further). For this option, book tickets for Flamenco in the old town (e.g. Casa de la Memoria or at Flamenco Museum, and then find a nice restaurant for dinner in the same area, before or after the show. Depending on which theater you choose, the walk from Plaza de España is about 20-30 minutes, but then you are already much closer to the last place in this itinerary (just 3-8 minutes).
I indicated all these theaters on our map (at the top of the article) so that you have a better idea of the location. On the same map, you will also see some recommended restaurants, but there is really no shortage of good places for tapas anywhere in Seville.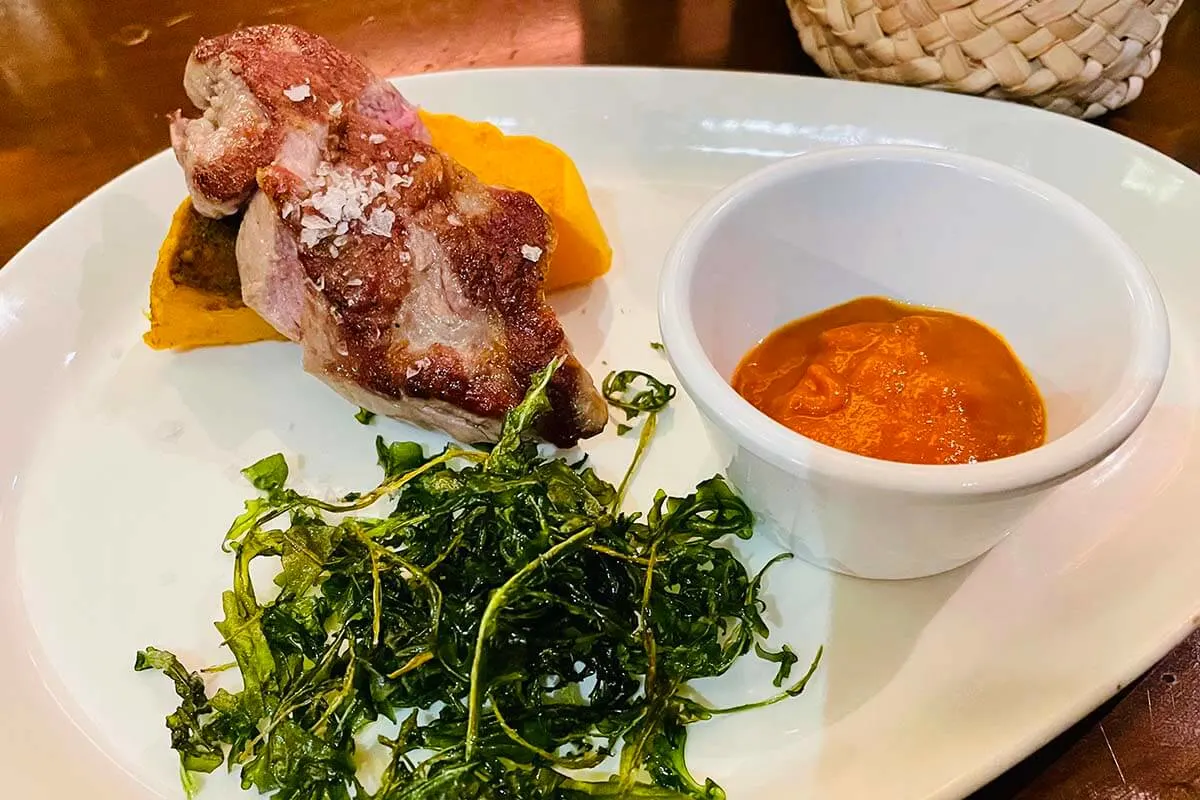 Setas de Seville
LATE EVENING.
There is no better place to end your day in Seville than Setas de Seville, aka Metropol Parasol. So if you want to make the absolute most out of your visit, we highly recommend you check it out!
Setas de Seville is a large modern wooden structure with a viewing platform on top. You can see it from the outside just like that, but you will need a ticket to visit the rooftop.
The views from the top are really nice and many people say that it's a wonderful place to come at sunset. But we recommend visiting here in the dark when you can enjoy a beautiful LED show 'Aurora' as well – it's absolutely spectacular. The light show starts as soon as it gets dark, so if you come at sunset, hang around a bit longer and see the best of both – day and night views.
Your ticket also includes a 'Feeling Seville' experience, which is basically a short film about the city, but it comes with some extra touches that allow you to literally feel the city. I won't tell more, but it's really nice, so don't miss it.
Planning info: The Setas de Seville viewing platform is open very late (usually past midnight), so it's very simple to fit it into your itinerary. You can reserve timed tickets on the official website in advance, but normally, it's not absolutely necessary. We got our tickets on the spot, but had to wait over half an hour to get in, so if you absolutely want to be sure to visit (and at a specific time), then you may want to book ahead.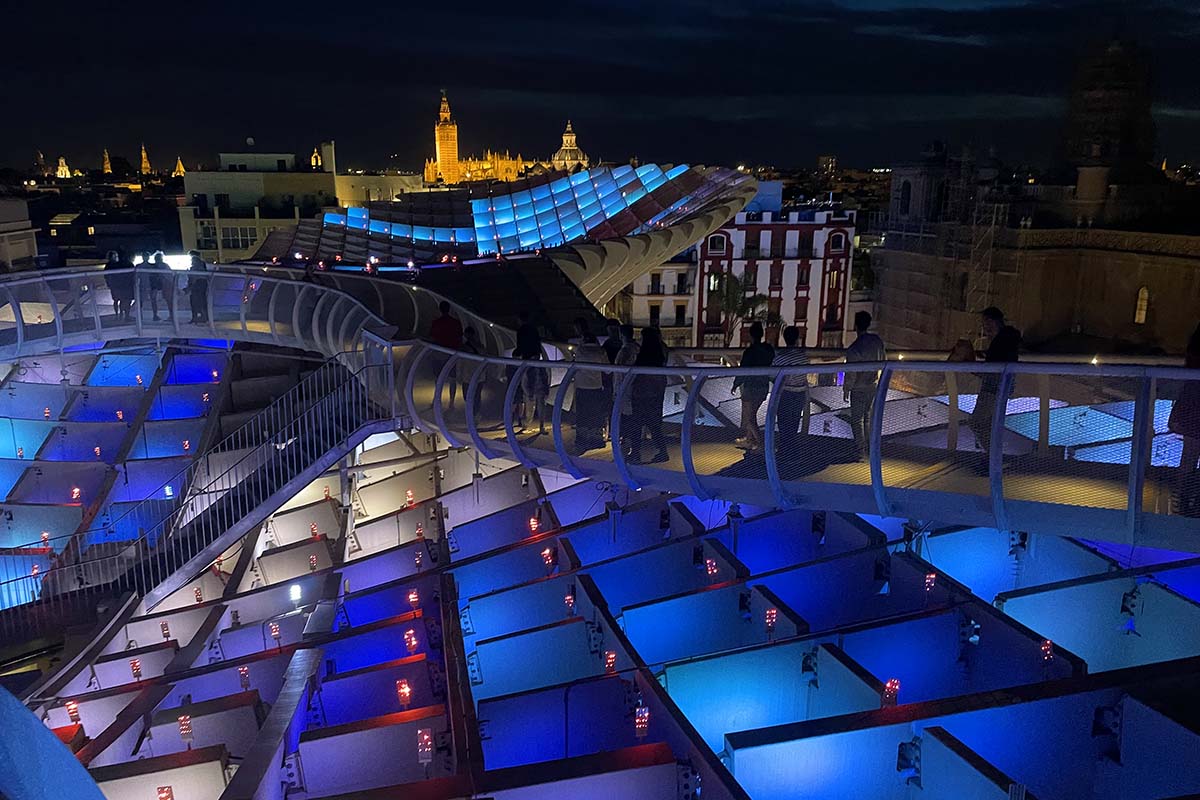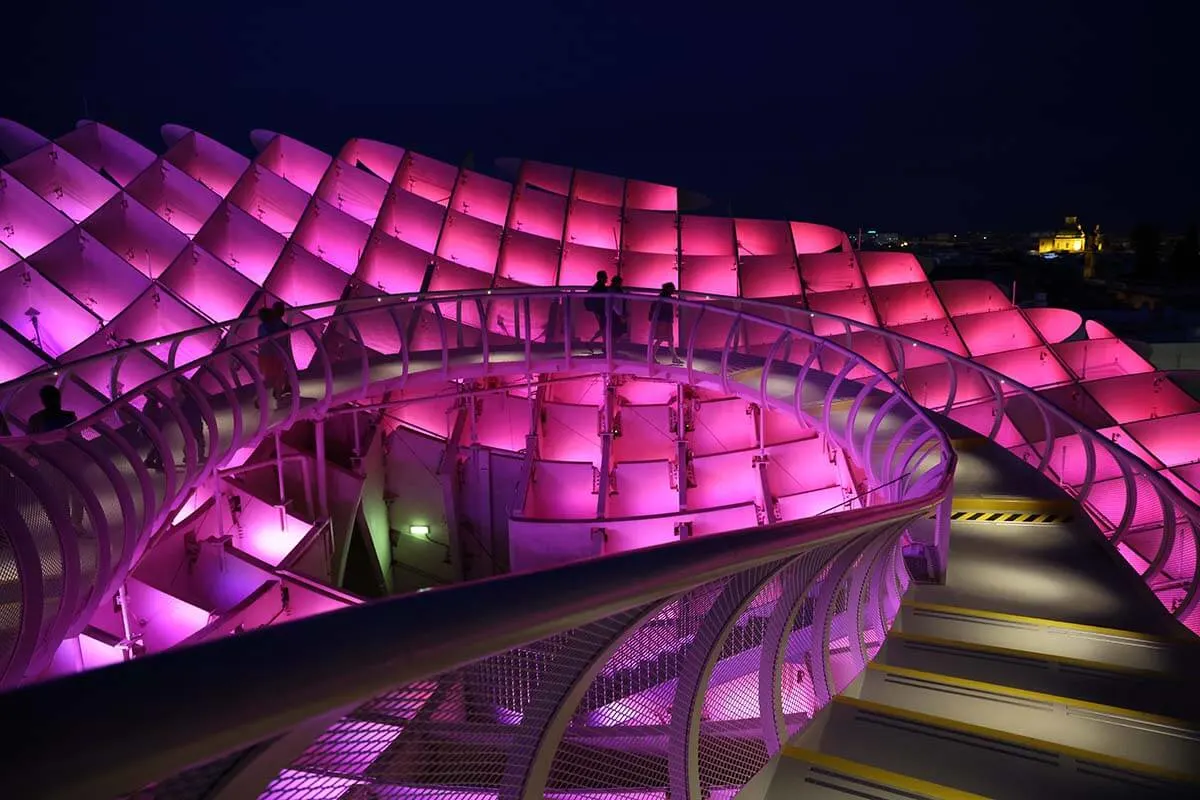 Some Tips for Your First Visit to Seville
Here are some additional tips for your visit to Seville:
Best time to visit Seville is outside of the summer months. This is one of the hottest places in Spain and sightseeing at over 40°C (104°F) is really not the best way to enjoy the city. If you are traveling in the summer, carry plenty of water with you!
Avoid visiting Seville during Holy Week (Semana Santa) – it's so busy that sightseeing is practically impossible. It's nice to see religious processions, but very difficult to do much else. It's also the most expensive time to visit.
Dress comfortably and according to the weather forecast, but remember that the Cathedral has a 'modest' dress code. Wear comfortable shoes – you will be walking a lot.
Book all the tickets/tours that you absolutely don't want to miss in advance. Otherwise, you won't be able to see as much in a day and will waste hours in endless queues.
Stay in the heart of the old town – this will allow you to maximize your time. Here are some recommended hotels (all with a (rooftop) pool – which will make your visit so much more enjoyable, especially if traveling in the warmest months):
YOU MAY ALSO LIKE TO READ: 1 Day in Barcelona & 1 Day in Madrid
So, this sums up our recommended one-day Seville itinerary.
As you can see, it offers a nice mix of the most famous historic sights, and unique landmarks, as well as Flamenco and tapas, the two 'musts' in any Seville itinerary!
I hope that this guide, our walking map, and tips help you plan an unforgettable visit and make the most out of your time.
TIP: If you are still planning your trip and can slightly adjust the itinerary, we highly recommend staying in Seville longer than a day; there is so much to see and do! Take a look at our 2-day Seville itinerary for additional recommendations for a longer visit.
Have a great trip!
If you found this post useful, don't forget to bookmark it and share it with your friends. Are you on Pinterest? Pin these images!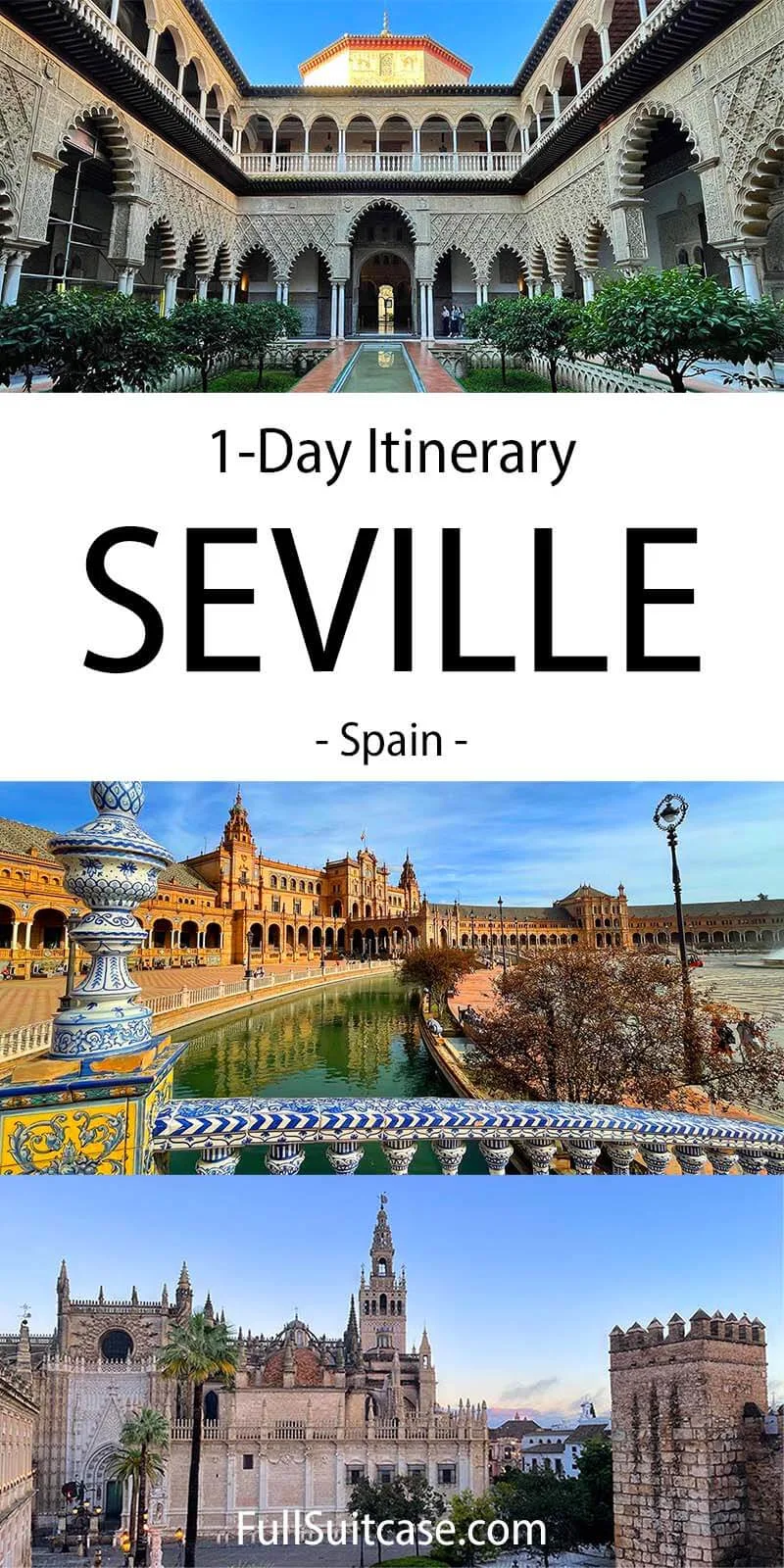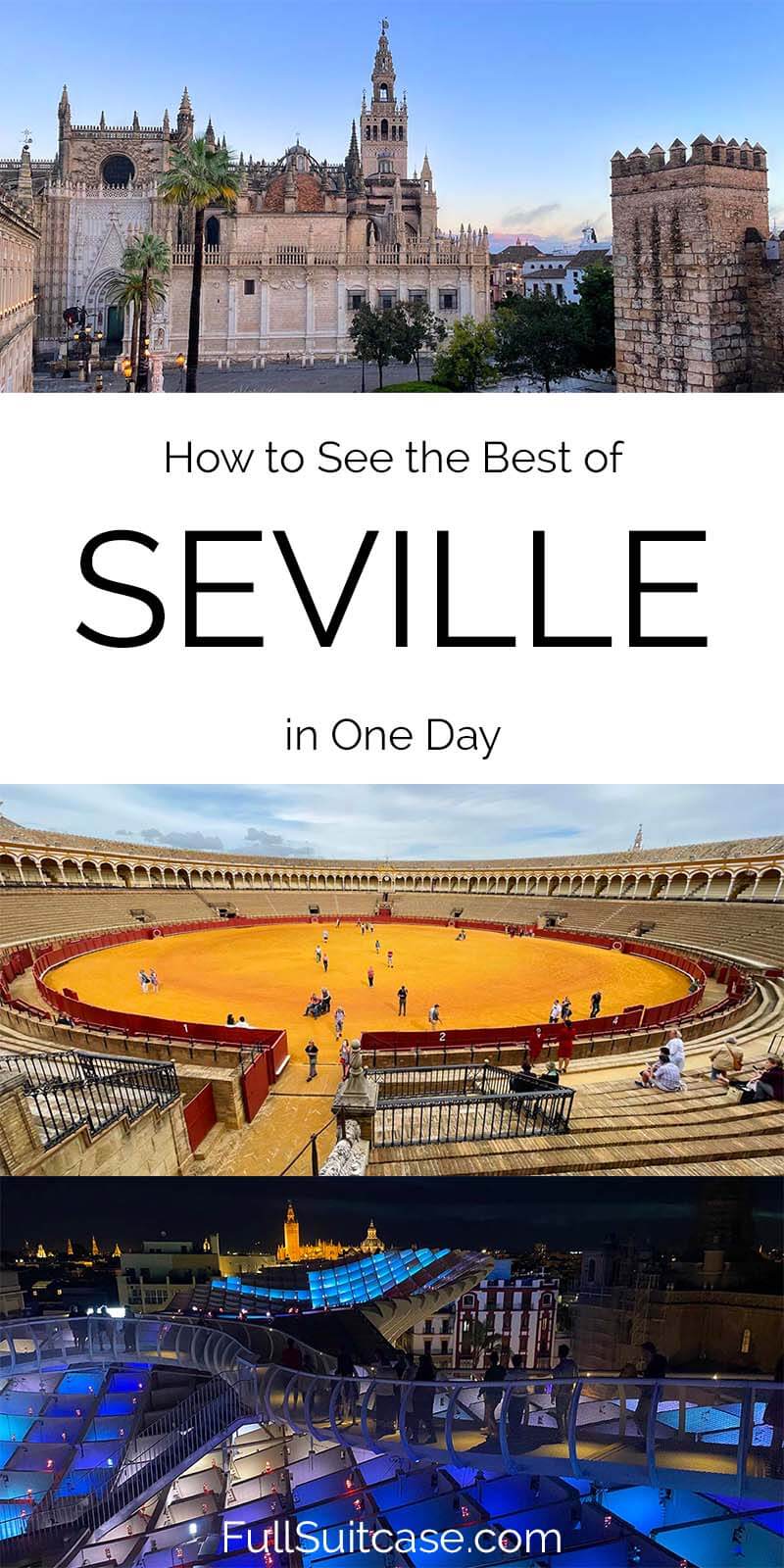 More 1-day itineraries for some of the nicest European cities: