Visiting Barcelona (Spain) for one day and wondering what to see and how to best plan your short visit to this fascinating city? In this article, we share a suggested 1-day Barcelona itinerary that covers the most important landmarks and must-see sights in the most efficient way.
With this itinerary, you'll be able to see La Sagrada Familia, Park Güell, and a few other Gaudi landmarks, explore Barcelona's old town with its famous Gothic Quarter, Plaça Reial, La Rambla, visit a local market and, of course, taste some Spanish tapas!
If this is your first time in the city and you want to see as many of the best places of Barcelona in a day and still keep it relaxed and enjoyable, this guide will help you plan a perfect trip.
Read on for a detailed itinerary and our experience-based tips on how to make the most out of your Barcelona day trip!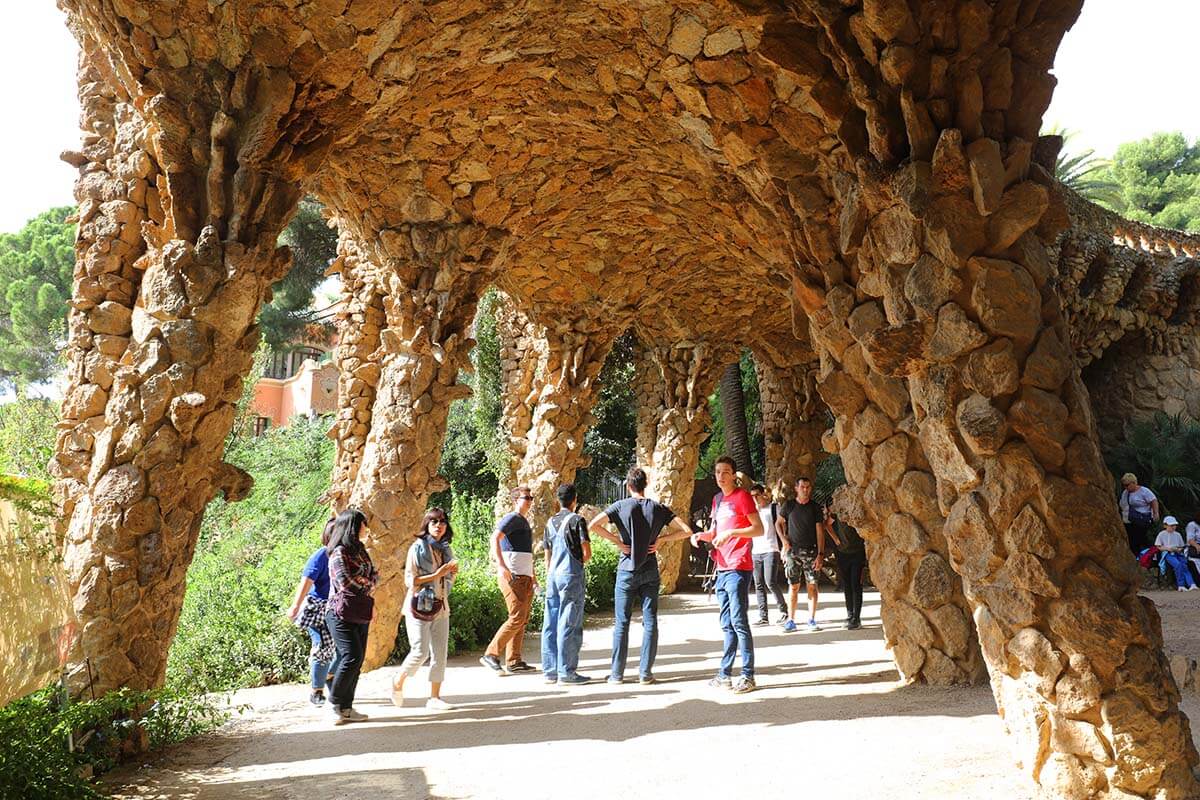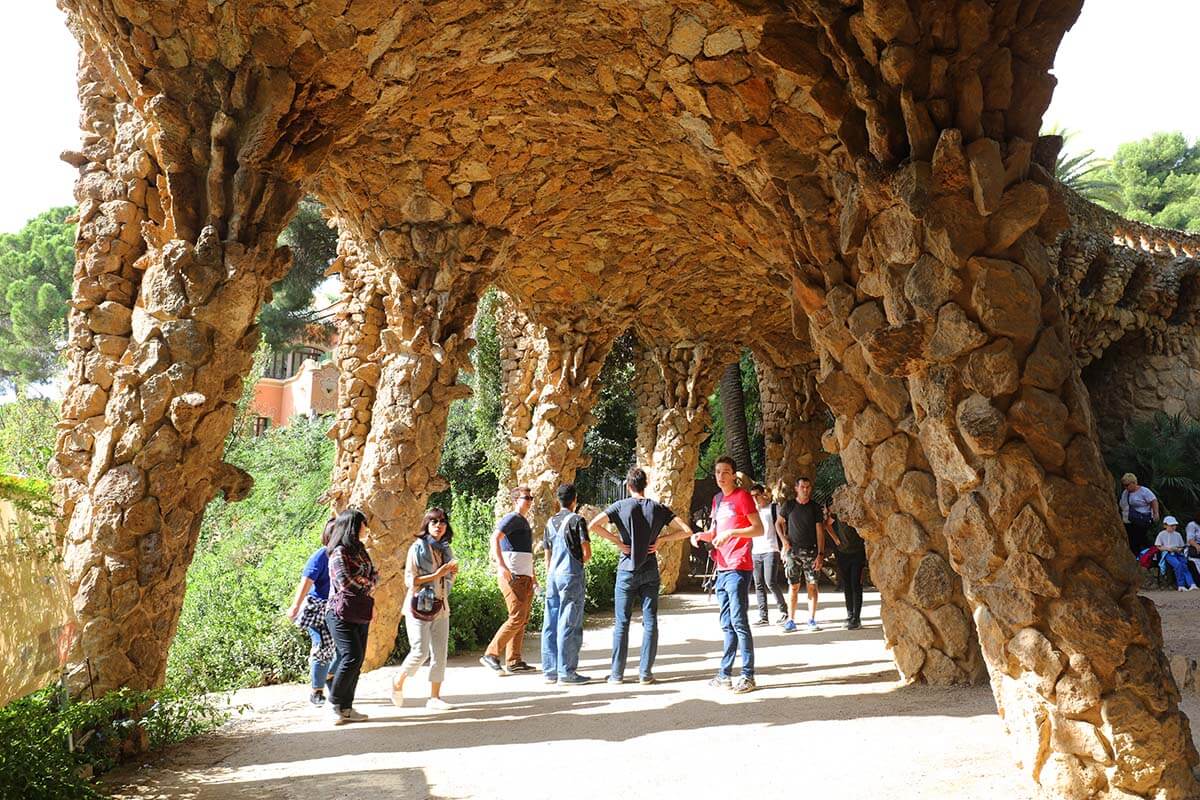 Barcelona in Spain is one of the most visited cities in Europe. And rightly so – the city truly has it all: centuries-old history, incredible art and architecture, the famous Gaudi landmarks, delicious food, beautiful beaches, and a laid-back atmosphere.
But with so many amazing places to see in Barcelona, how do you decide what to see if you only have one day in the city… I hope that our experience-based tips and sightseeing itinerary will help you plan a great trip and make the most of your day in Barcelona.
To help you plan your time, our recommendations are based on what can actually be done in just a day. At the bottom of this article, you can also find a short overview of this itinerary indicating all the main sights and approximate visiting times.
We also include a map to give you a better idea of where everything is located and practical tips and info you absolutely need to know if you want to visit the main sights. But first – some essential planning tips!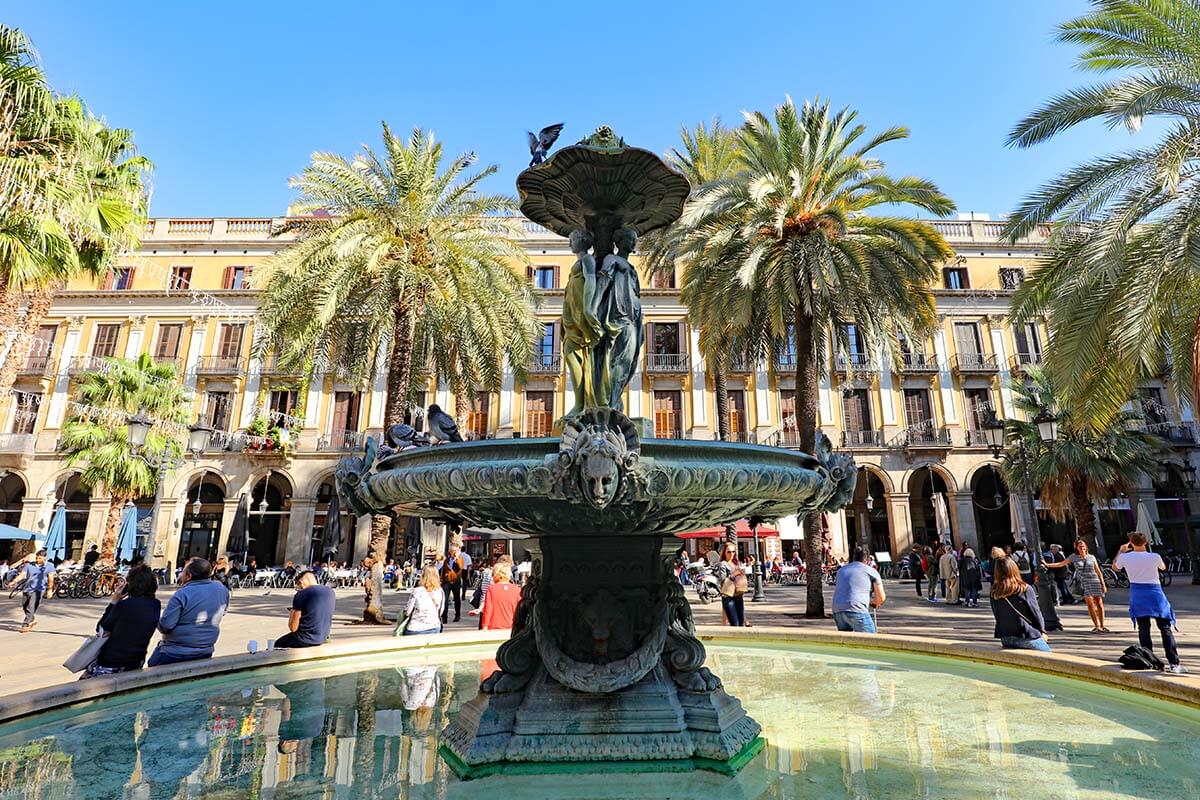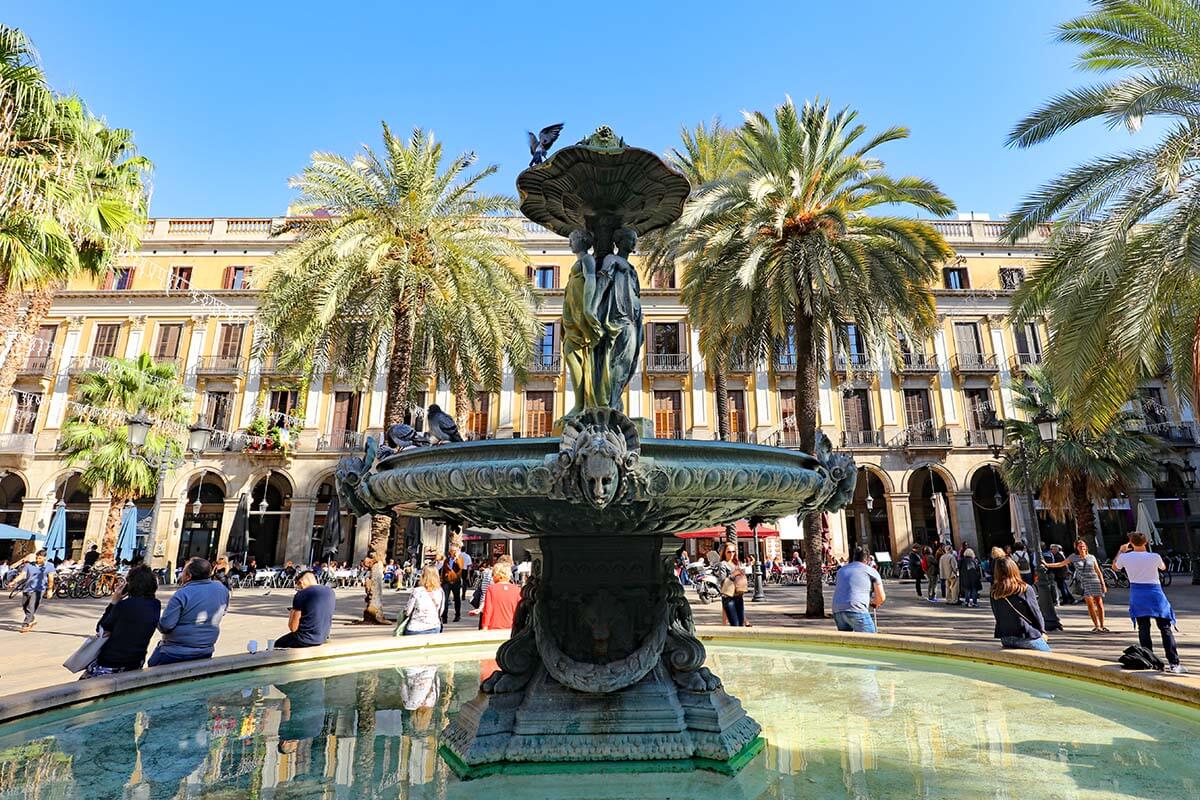 Good to know!
Before you start planning your 1-day Barcelona sightseeing itinerary, there are a few things you really have to know:
First, the most popular attractions in the city are really busy and are scattered throughout the town. So with just a day in Barcelona, it's essential to make a good sightseeing plan in advance. That's where this itinerary will help.
Second, it's important to get skip-the-line tickets for all the main landmarks and places that you absolutely want to see in advance. Otherwise, you'll not only waste too much time, but you also risk not being able to visit them at all.
Also, with just one day in Barcelona – and if you want to make the utmost of your limited time – I highly recommend that you look into organized tours that include a visit to several of the main landmarks. Going with a local guide will save you lots of guesswork, research, and time on the day itself. It will also make your Barcelona day trip more relaxing and enjoyable.
And finally, be sure to wear comfortable shoes, dress in layers, pack sun protection, and always have some water with you – ideally, in a reusable bottle. It's also good to know that shorts, short skirts, sleeveless shirts, and bare feet (flip-flops, etc.) are not allowed inside La Sagrada Familia.
TIP: If you find it overwhelming to plan your Barcelona day trip itinerary, you can consider organized 1-day tours that show you as much as possible in a day. This is one of the best-rated day tours that I found. It includes most of the places that we cover in our itinerary below. They also take care of all the transportation and skip-the-line tickets, so you don't have to worry about anything and can just enjoy the sights. You can combine this with our suggestions for things to do in the evening.
If you rather do it all yourself, it's perfectly possible too (but will require more planning!). In that case, scroll down for our detailed 1-day Barcelona itinerary and map indicating all the main places we recommend visiting in Barcelona in a day.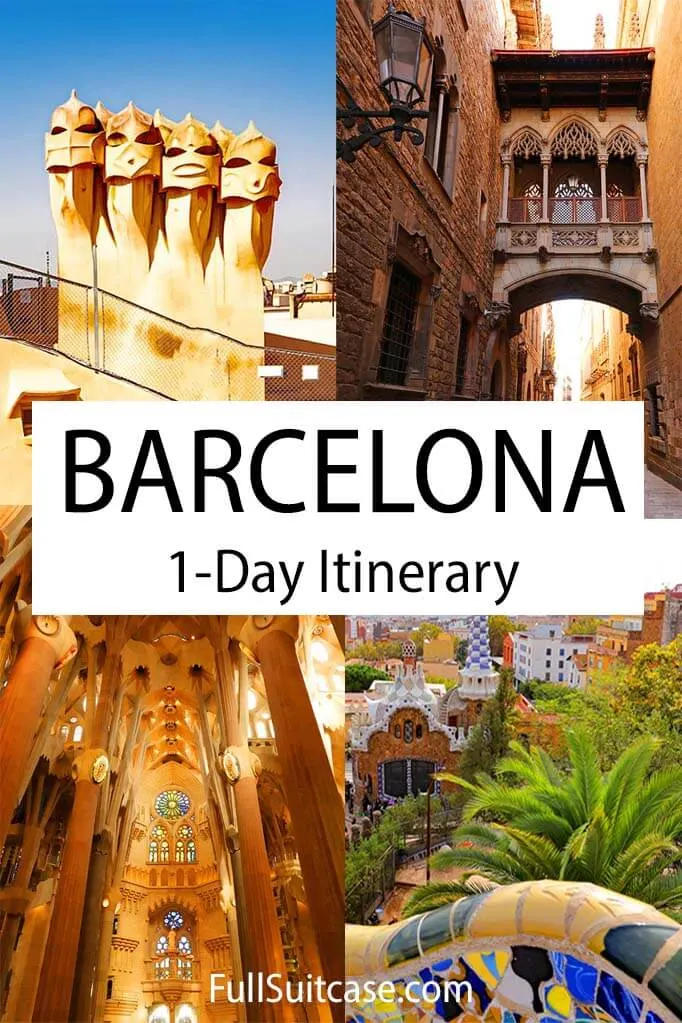 Here's what you could see in Barcelona in a day:
Plaça de Catalunya
Start your day in Barcelona with a visit to Catalonia Square, the bustling heart of Barcelona. This is the place where the old and the 'new' city meet.
Plaça de Catalunya is located at the crossroads of several major boulevards and is a busy transport hub. It's also a popular shopping area, home to one of the biggest shopping centers in Barcelona, El Corte Inglés.
In the middle of the square, there's some greenery with sculptures and fountains, and probably even more pigeons than in Milan and Venice together.
If you visit Plaça de Catalunya early in the morning, it will likely be rather quiet. If you are looking for a nice place for breakfast or some coffee, you'll find some cafés in this area too. However, the most famous establishment Café Zurich doesn't open until 9 am… And by that time, you should be standing in line at the first landmark already!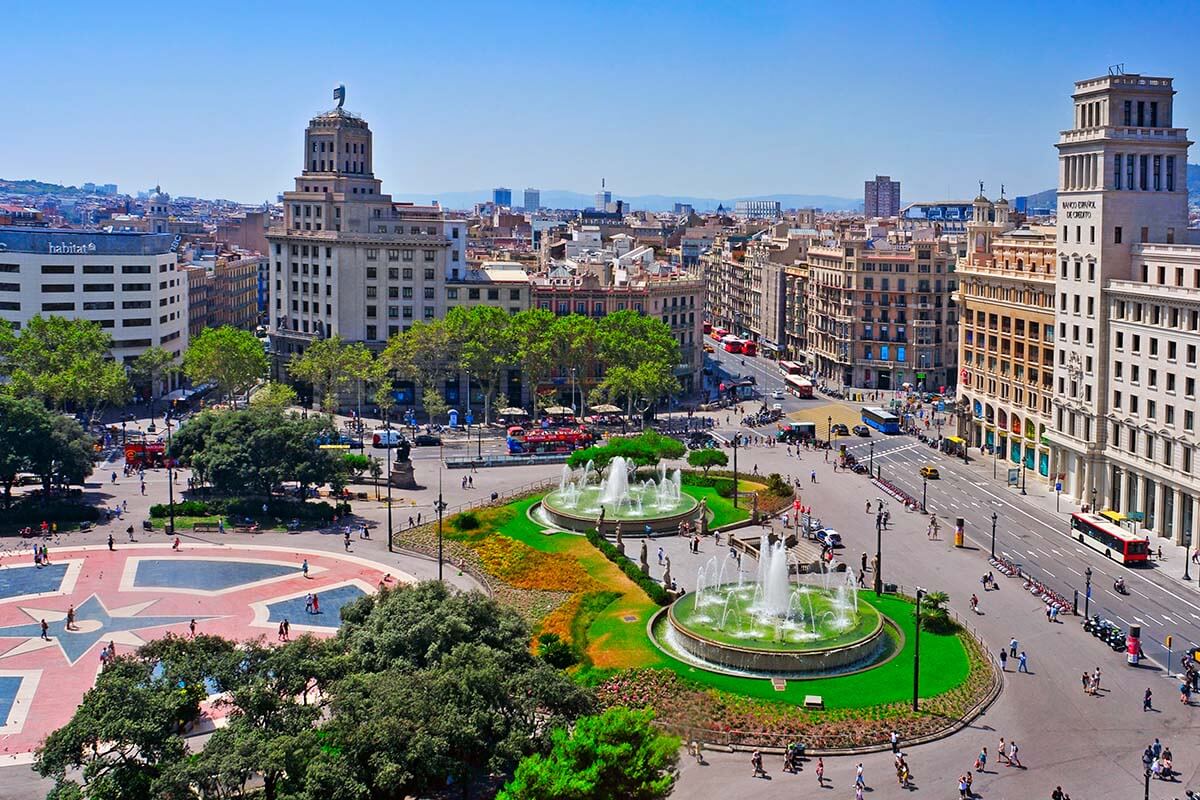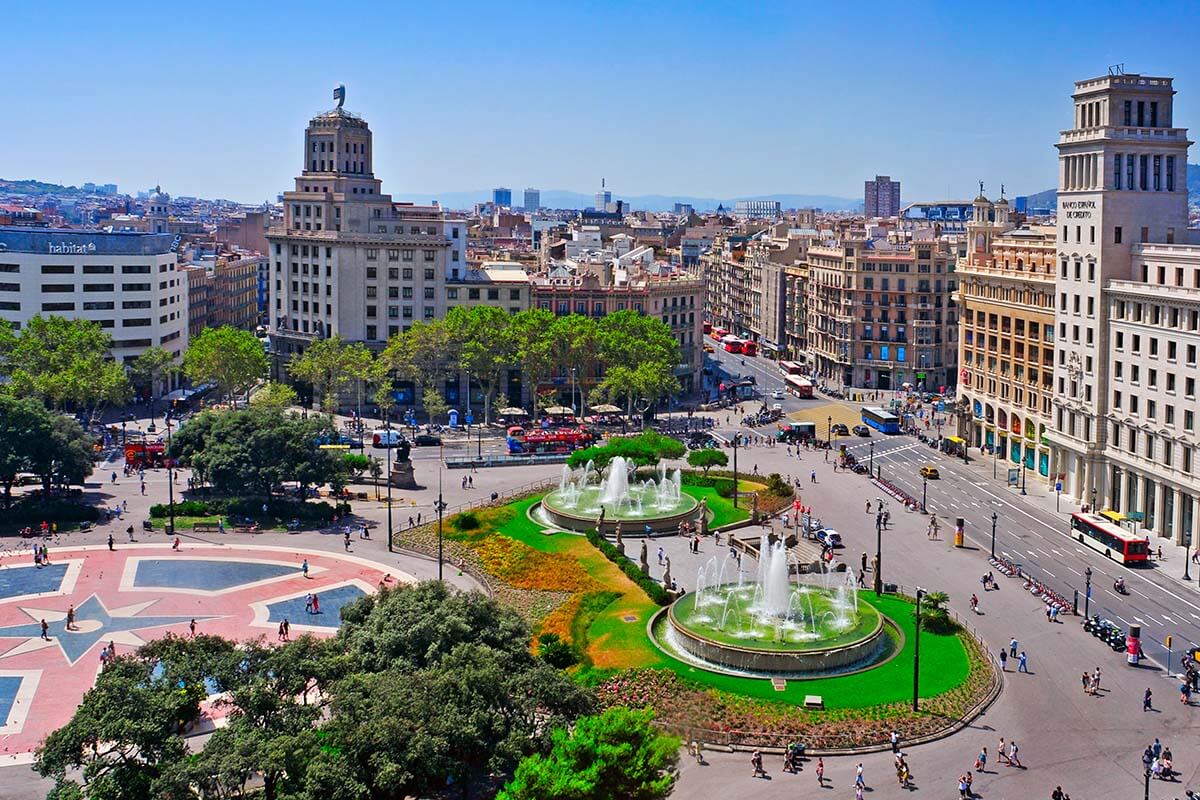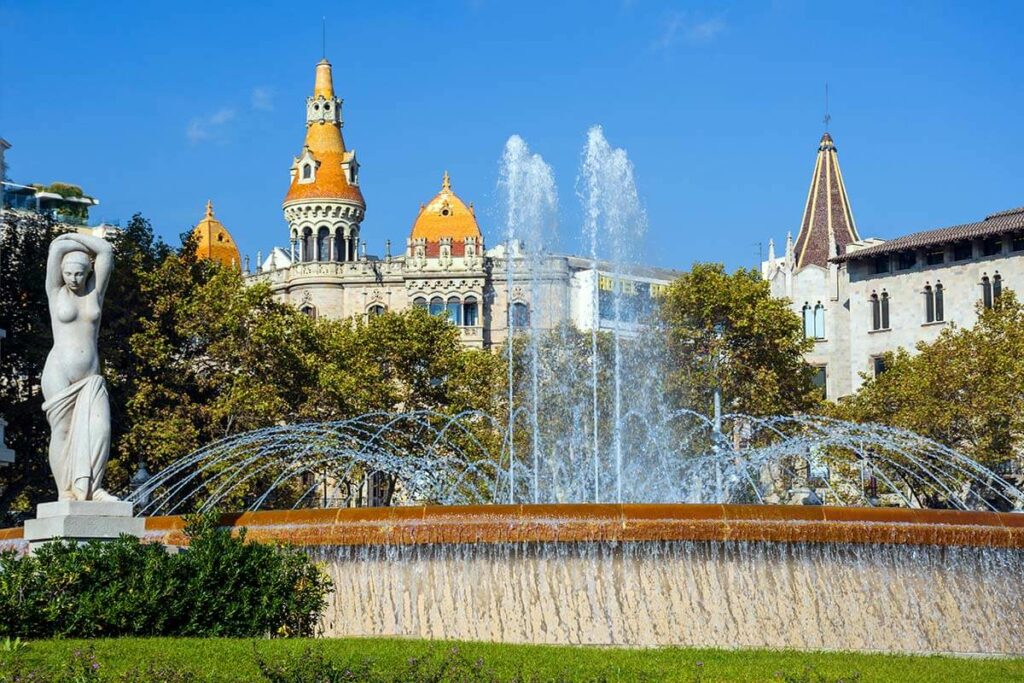 Passeig de Gràcia
It's about a 12-15 minutes walk from Catalunya Square to the next places on your itinerary, the famous Gaudi buildings Casa Batllo and Casa Mila.
On the way, you'll pass Passeig de Gracia, one of the main boulevards of Barcelona. In addition to the Gaudi masterpieces, there are many other stunning buildings here. The most notable are Casa Lleó i Morera, Casa Amatller, Casa Mulleras, and Casa Josefina Bonet – all just next Casa Batllo.
Next, you'll have to decide which of the two Gaudi buildings to visit – Casa Batllo or Casa Mila. We recommend Casa Batllo because it's more diverse, but I think Casa Mila (La Pedrera) is just as impressive.
These two buildings are located very close to each other, so you should see both of them from the outside either way. But – with just a day in Barcelona – I recommend visiting only one of them inside (or you will have to skip something else). We opted for Casa Batllo – see more info and pictures below.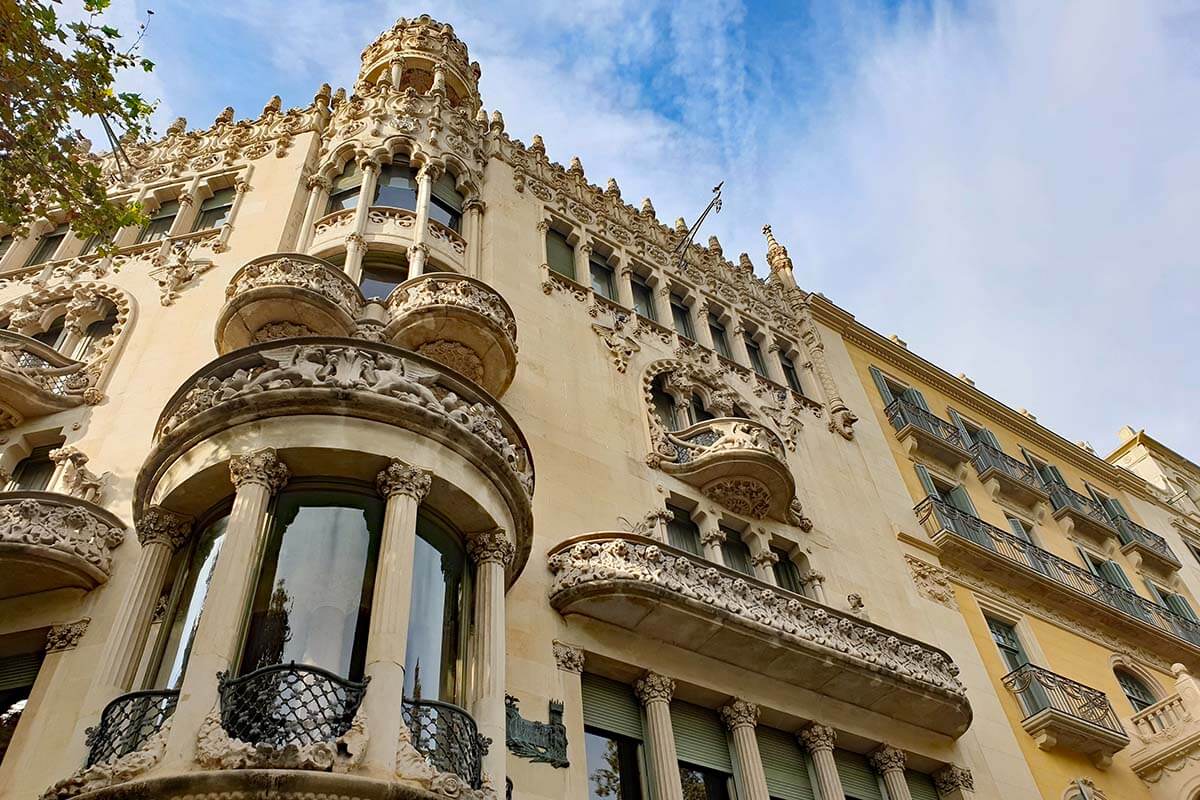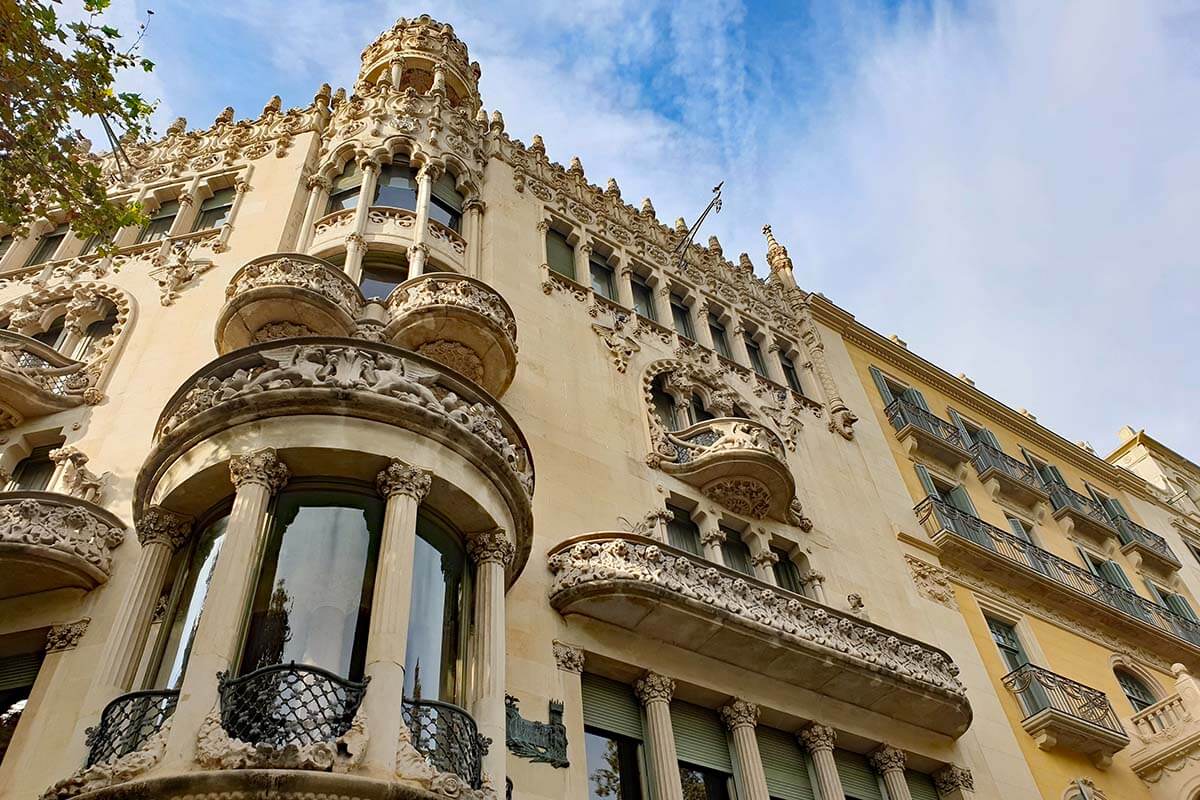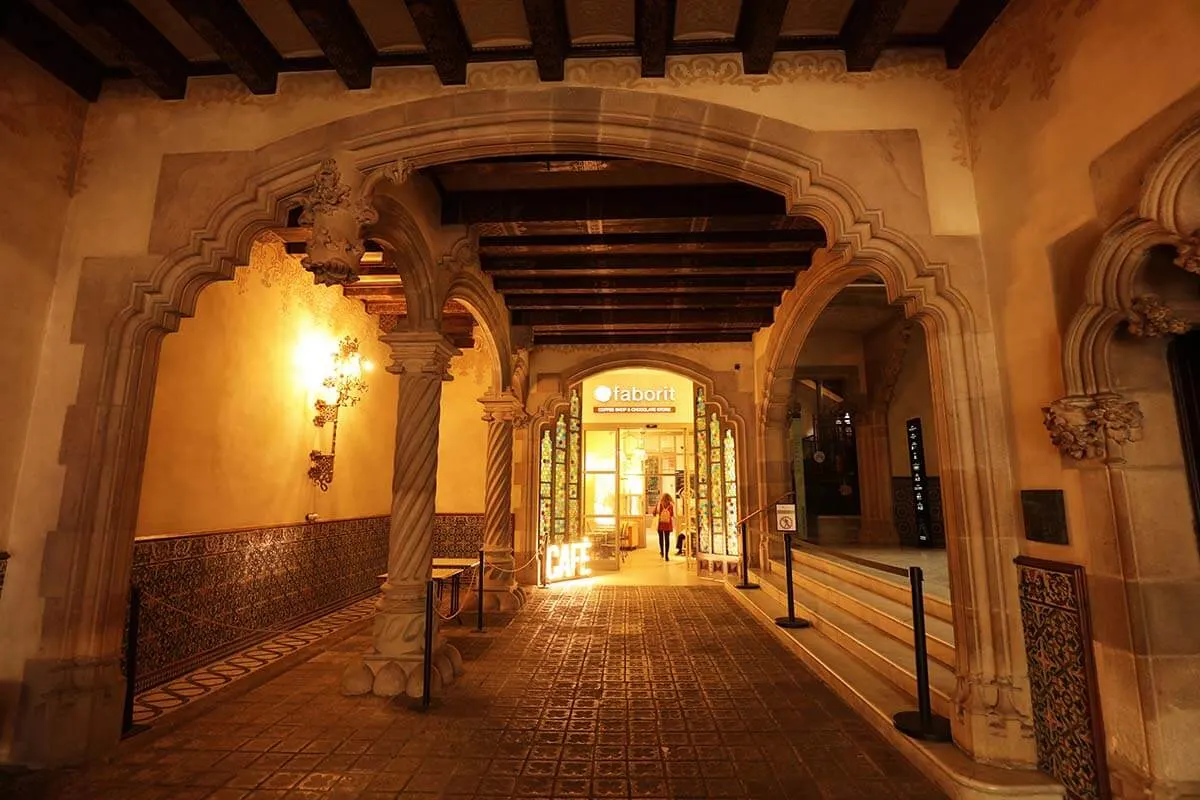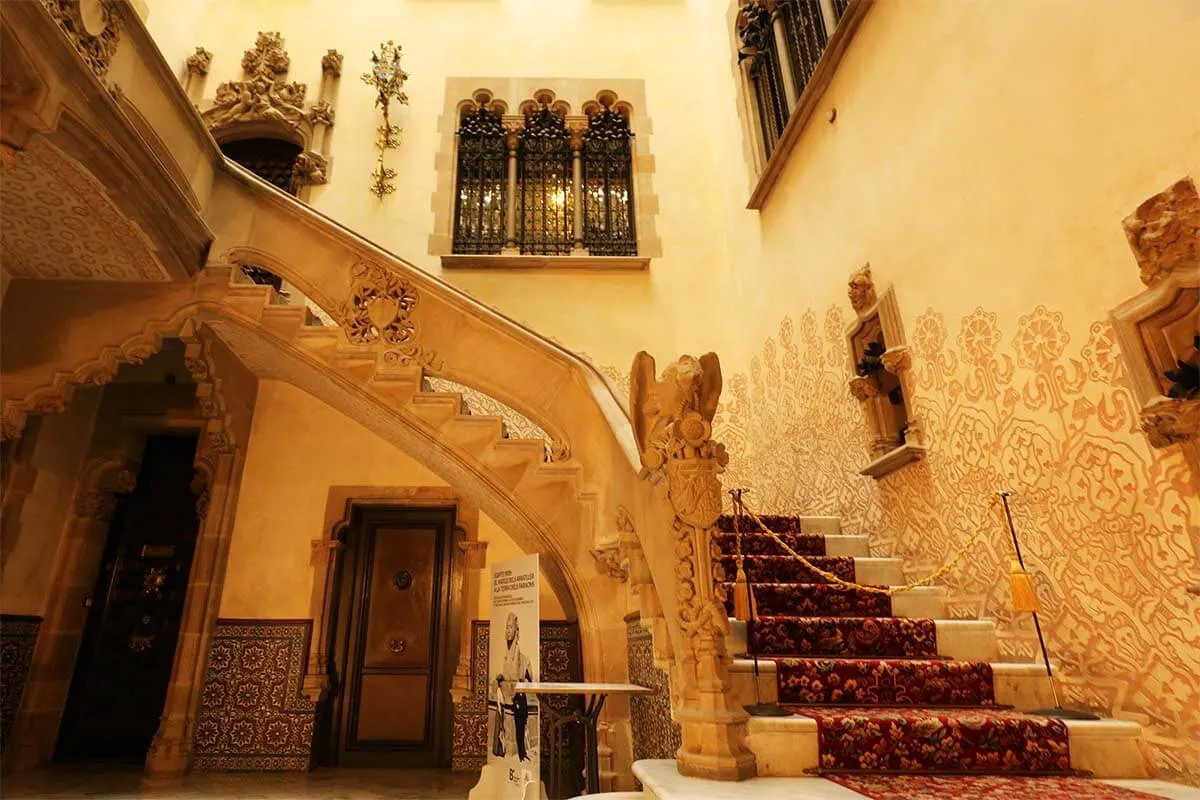 Casa Batlló
Located on Passeig de Gracia and just a short walk from Plaça de Catalunya, Casa Batlló is one of the most famous Gaudi buildings. If you visit just one of the houses built by Gaudi inside, this one is probably the most impressive one. They now also have a 10D experience that makes a visit here even more special.
Normally, Casa Batllo opens at 9 AM and by then the line is usually quite long already. So be sure to get your tickets in advance and arrive at least half an hour before it opens. The earlier you can start, the more time you'll have left for the other places on your itinerary.
Our experience: We visited Casa Batllo with a tour that covers all the Gaudi buildings mentioned in this itinerary (so it could be a good option for the first half of your day trip as well). They have some kind of special arrangement that allows you to enter the building a few minutes before it opens to the public. So you get to see some of the most impressive rooms in Casa Batllo before the crowds arrive.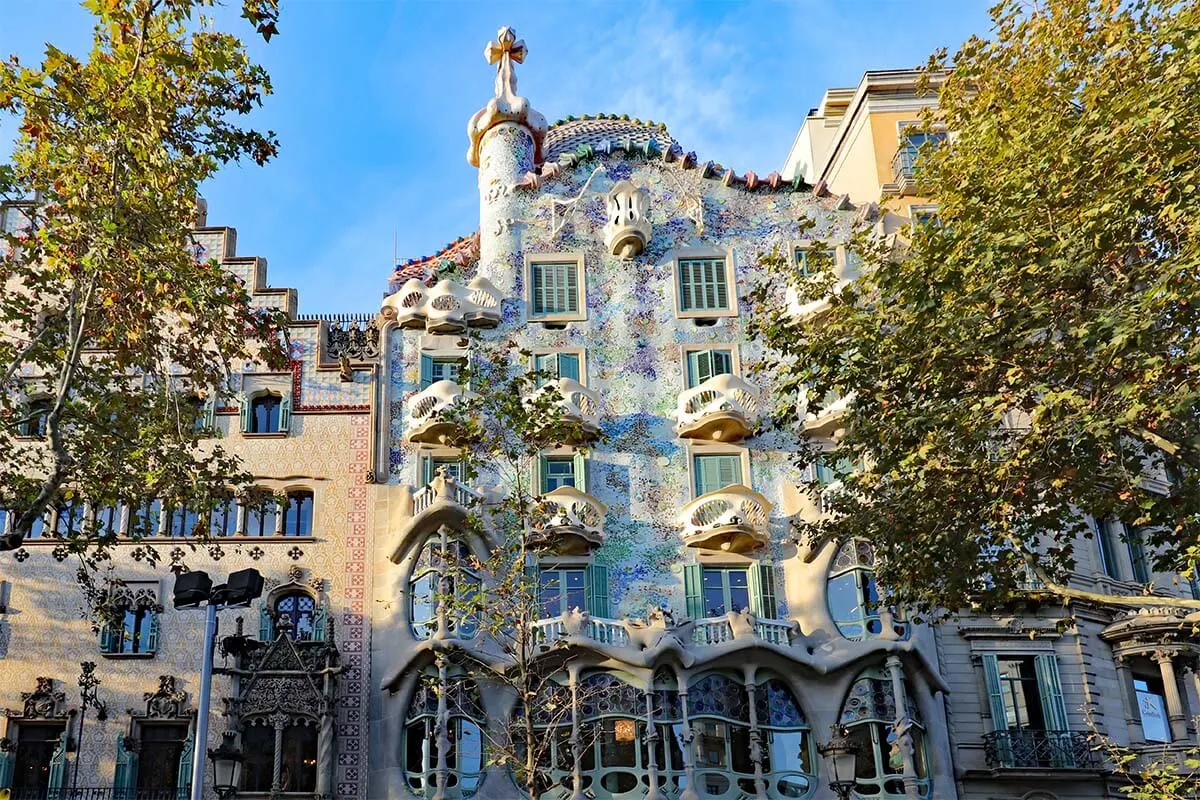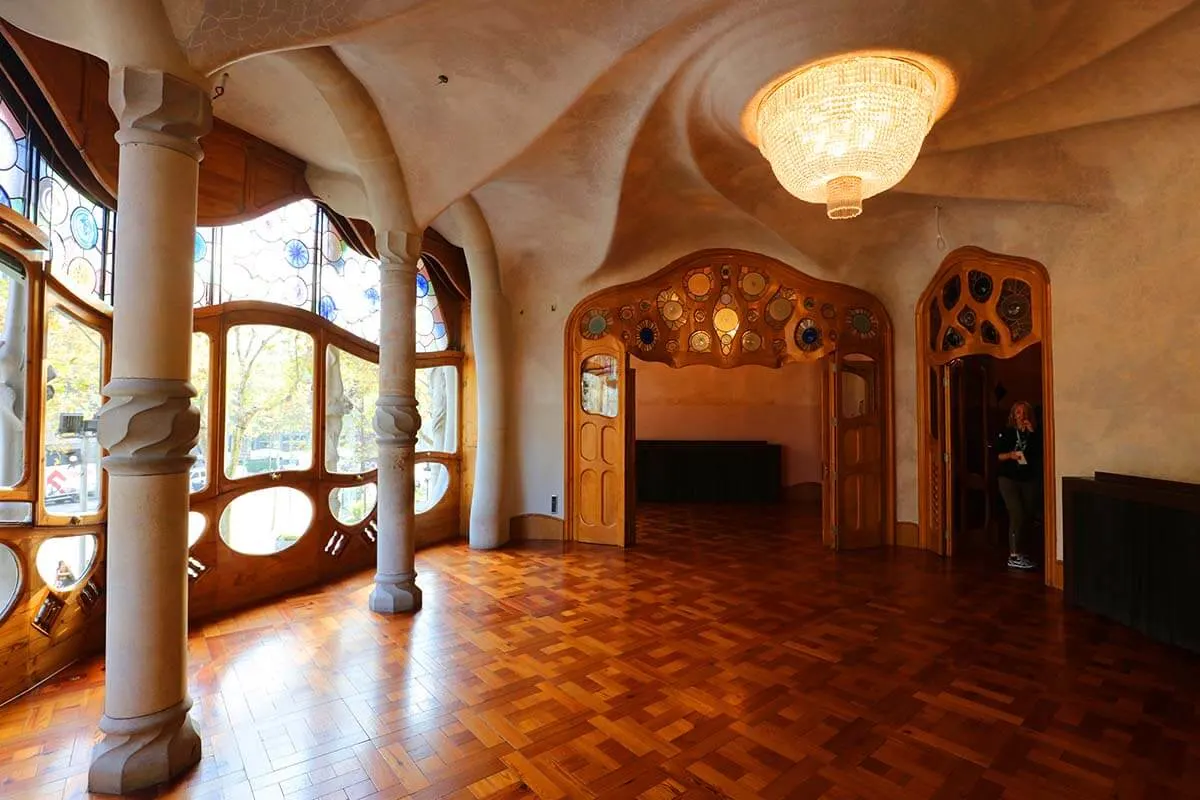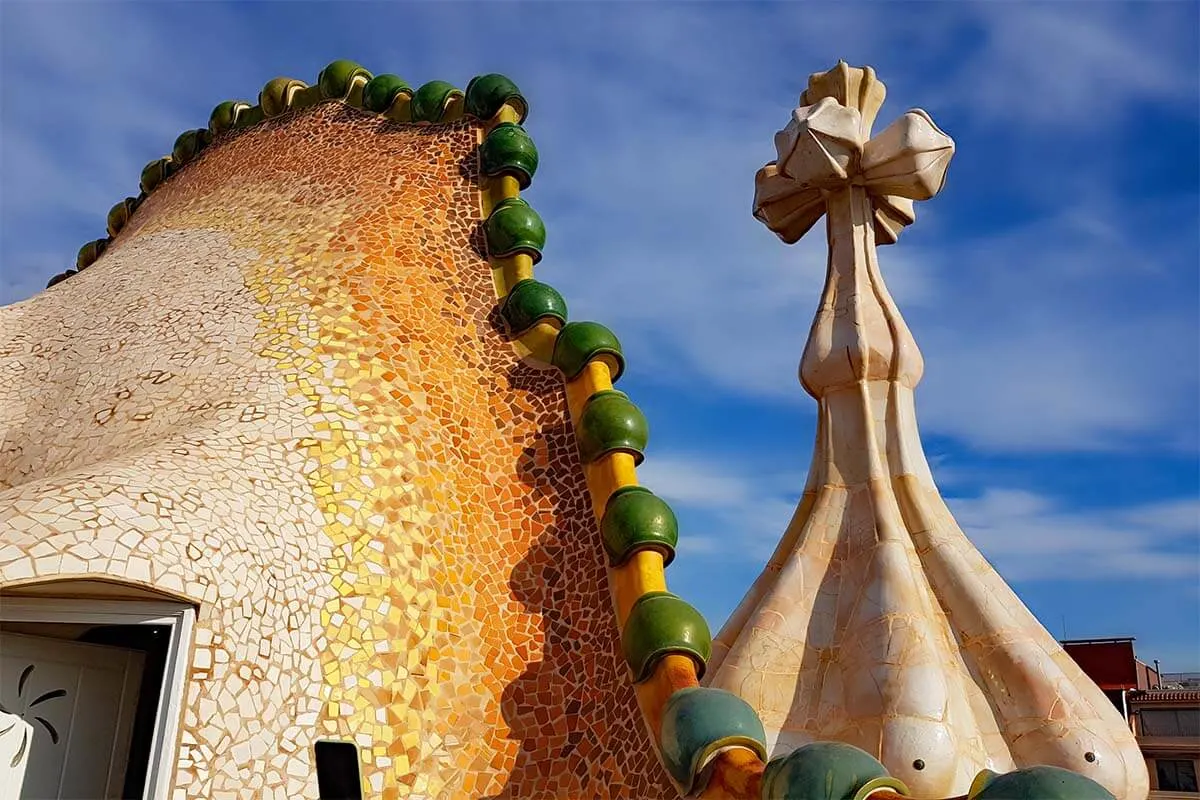 Casa Milà – La Pedrera
Casa Milà, or La Pedrera, is an apartment building designed by Gaudi. It's also located on Passeig de Gràcia, just a 5 minutes walk from Casa Batllo.
Probably the most impressive feature of Casa Mila is the rooftop. However, if you want to visit it, you'll have to wait in another long queue. I'd only do this if you decide to skip Casa Batllo – in that case, be sure to start your day here and arrive before it opens. If you want to visit Casa Mila, book your skip-the-line tickets in advance!
We recommend you just see Casa Mila from the outside and make your way to the next attraction – Park Güell. If you are going on your own, it's best to take a taxi here, or you'll lose too much time.
The tour that we took included transportation, and a minibus was waiting to bring us to the park, and afterward also to La Sagrada Familia. There are also other tours that bring you to Park Güell and La Sagrada Familia – two must-see landmarks that are both a bit outside of the main tourist routes and where it's really helpful to have transportation and tickets arranged in advance.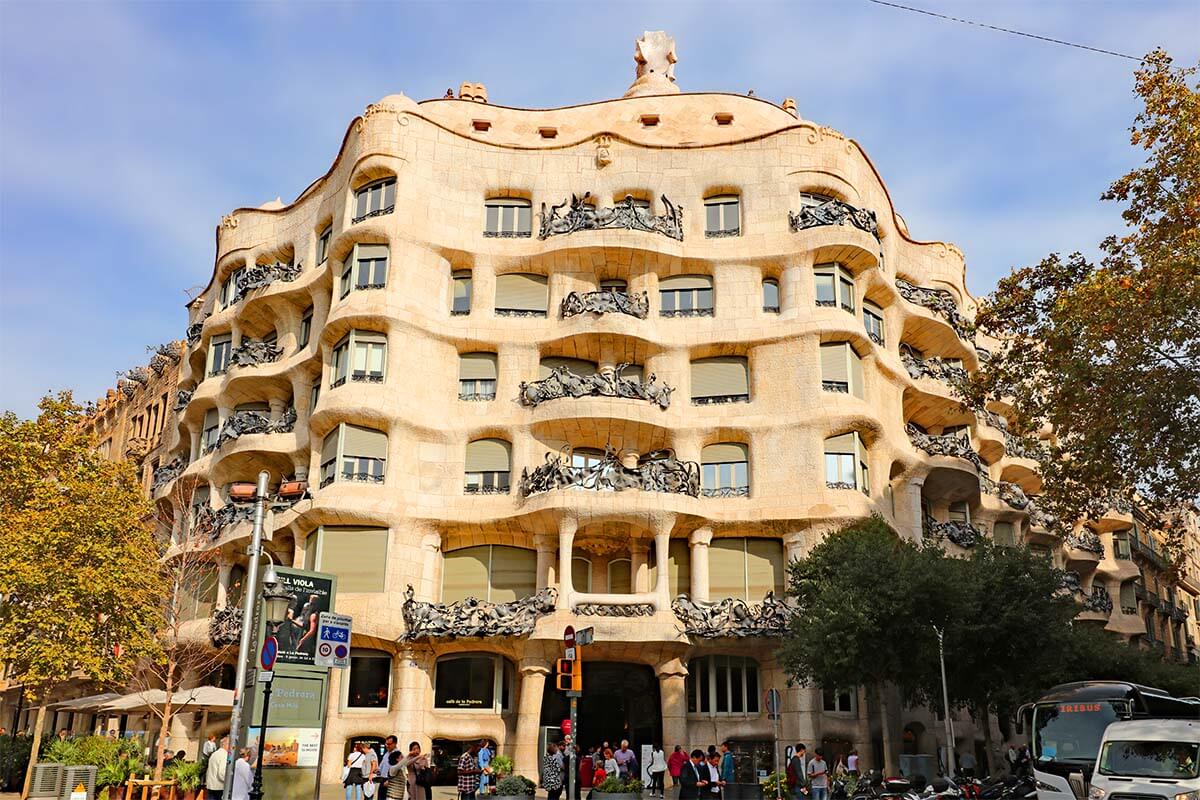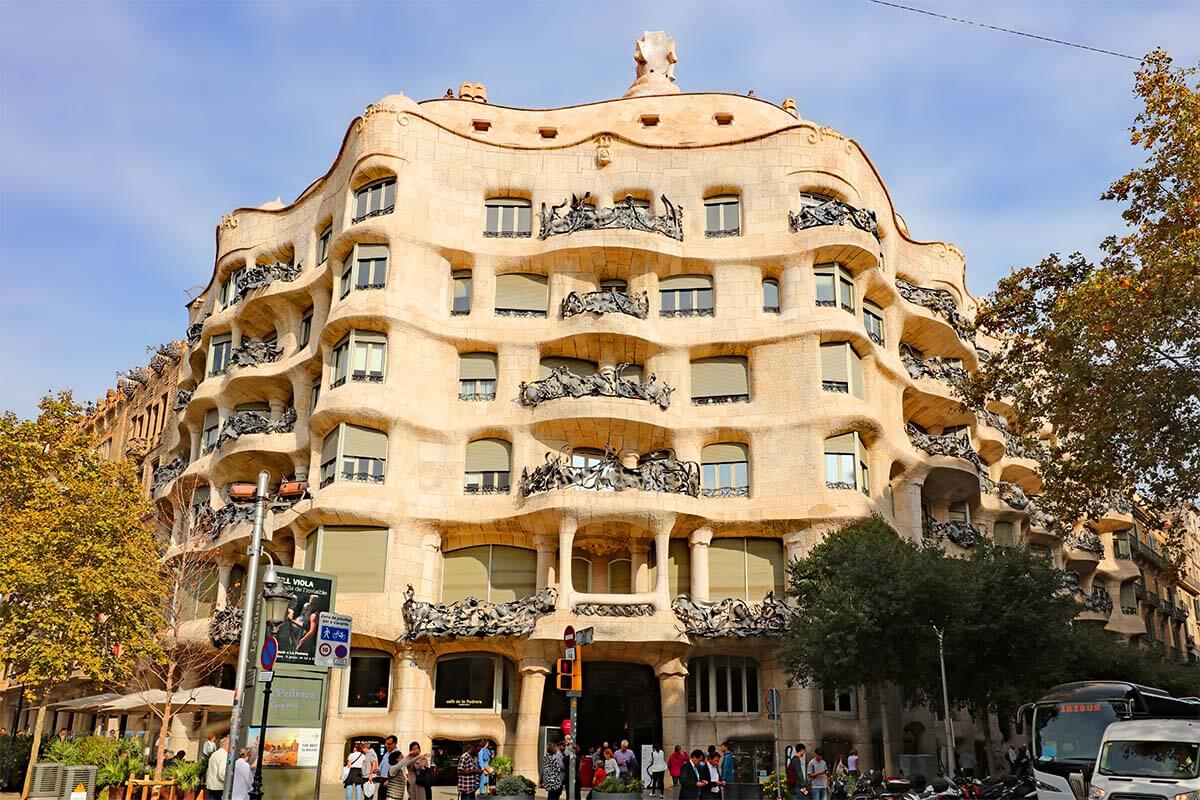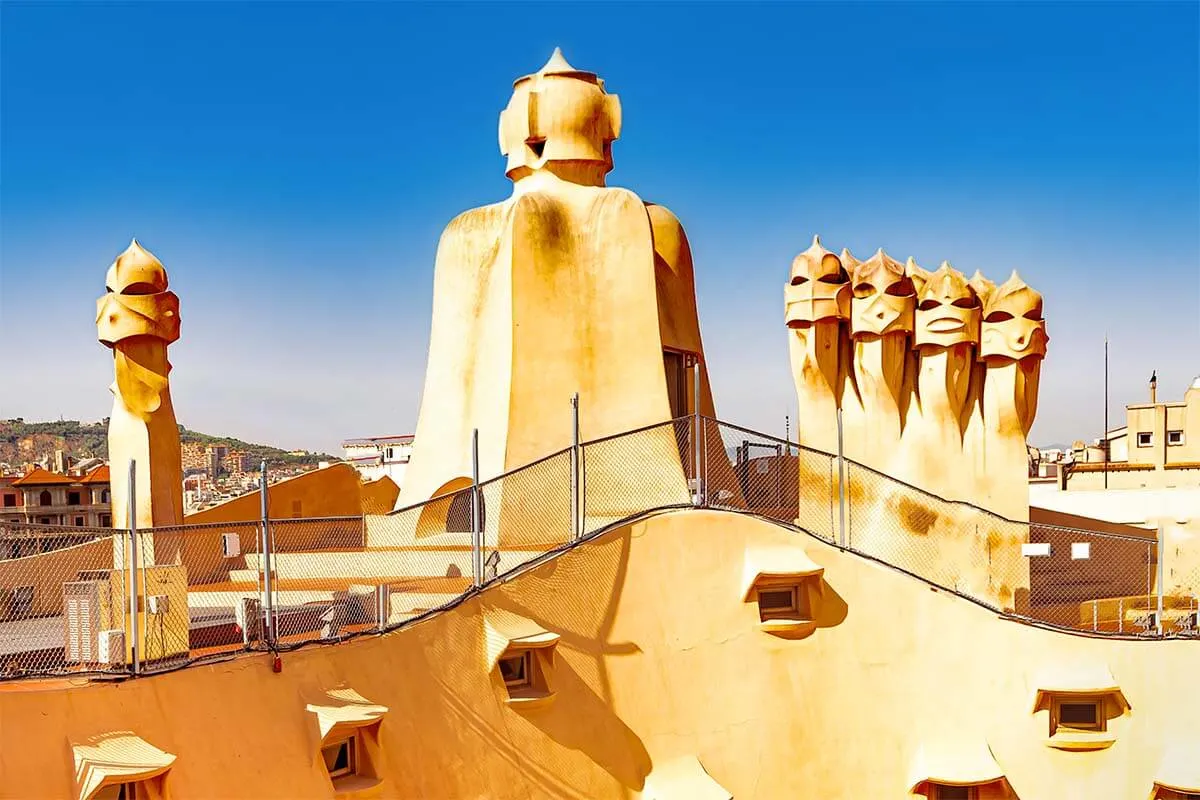 Park Güell
Park Güell is a big park designed by Gaudi. Located about 3km from the city center, it's a bit of a detour from the other sights. But it's absolutely worth a visit, even if you only have a day in Barcelona and have to be very selective about which places to visit.
It's impossible to describe how unique and beautiful this park really is. It's like you step inside some fantasy forest… But, just like any other place in Barcelona, Park Güell is incredibly busy. And so it's sometimes difficult to appreciate how special it is. Nevertheless, it's a place you absolutely have to see when visiting Barcelona!
Important! If you are visiting Park Güell on your own, be sure that you book your ticket online at least a few days in advance or you risk not being able to visit at all! It often sells out completely, and we heard from several of our readers that they were not able to get in without a reservation…
Good to know: There are bathroom facilities and a café at Park Güell, so you could get a quick lunch here. However, the queues are long everywhere and by opting for lunch, you'll have to sacrifice precious sightseeing time. So if you can, pack a small snack so that you don't have to waste too much time.
You could probably spend half a day at Park Güell alone, but with just one day in Barcelona, you can't linger here too long. The next stop is the famous La Sagrada Familia. Unless you visit with a tour that includes transport, get a taxi. Metro is also possible, but by the time you walk to the nearest station, you'll likely be halfway there already by taxi.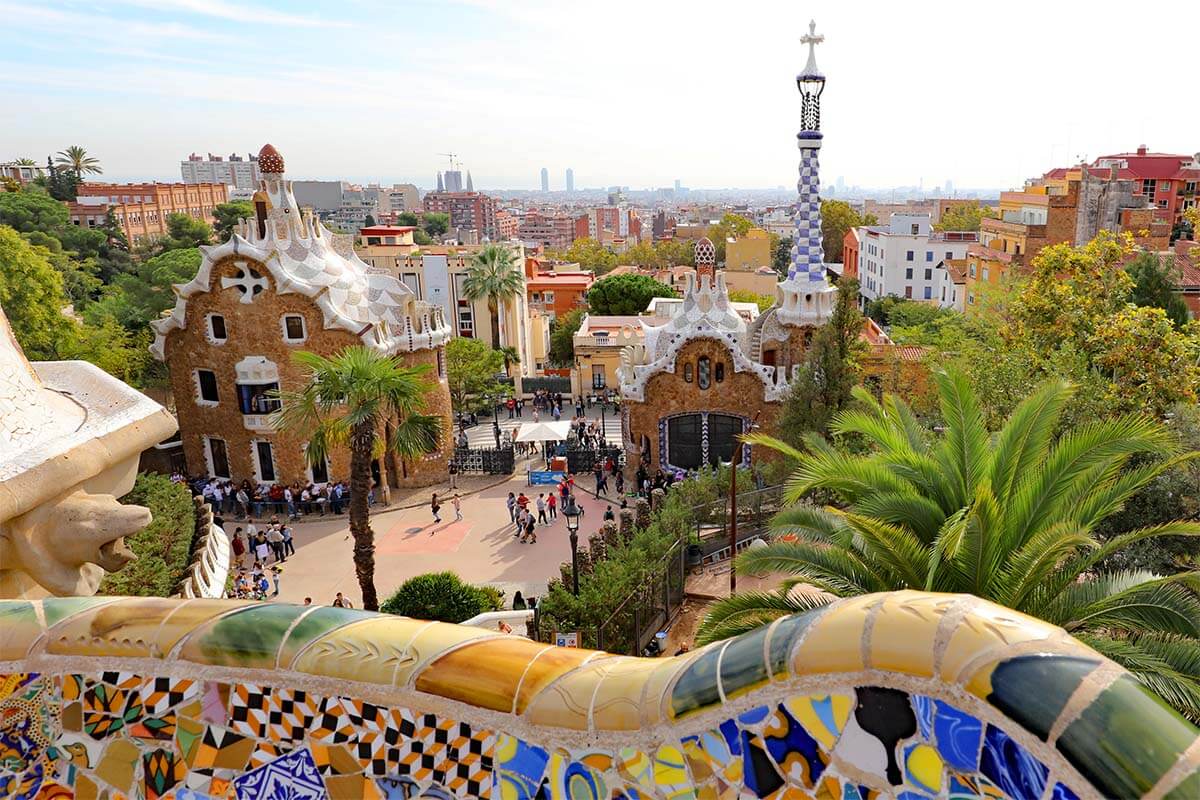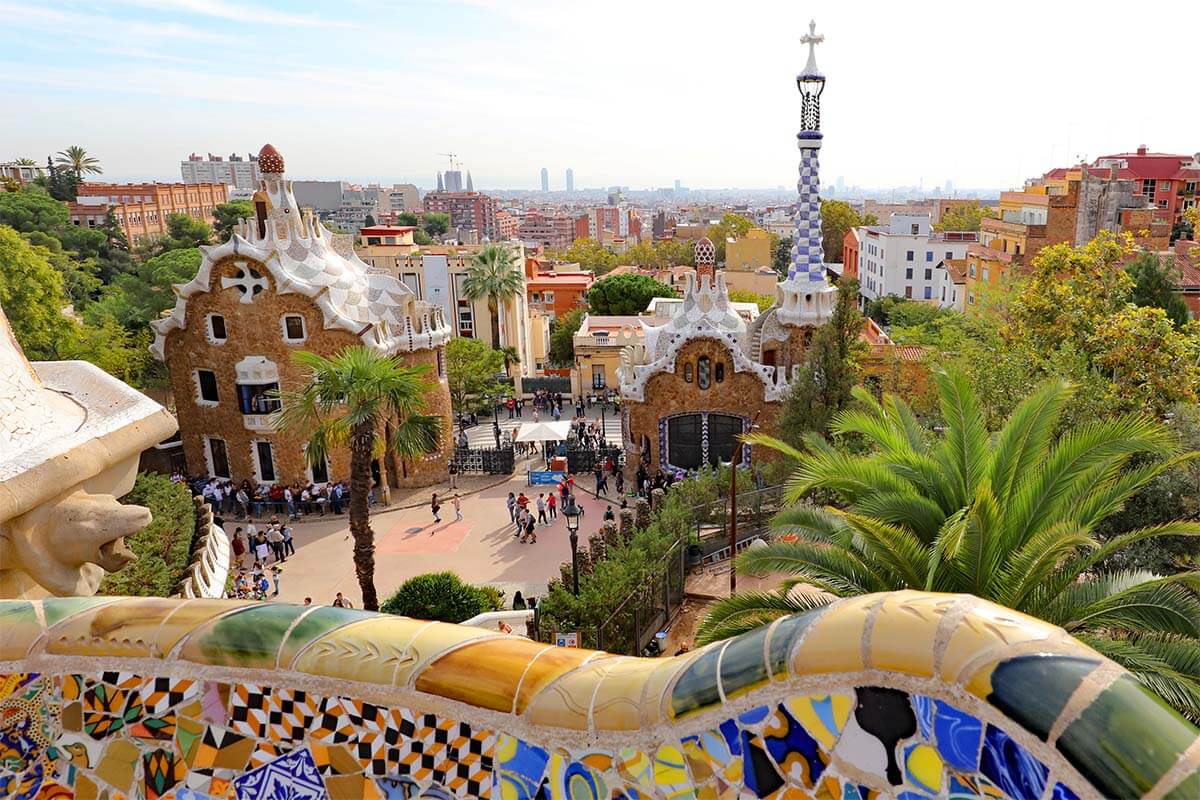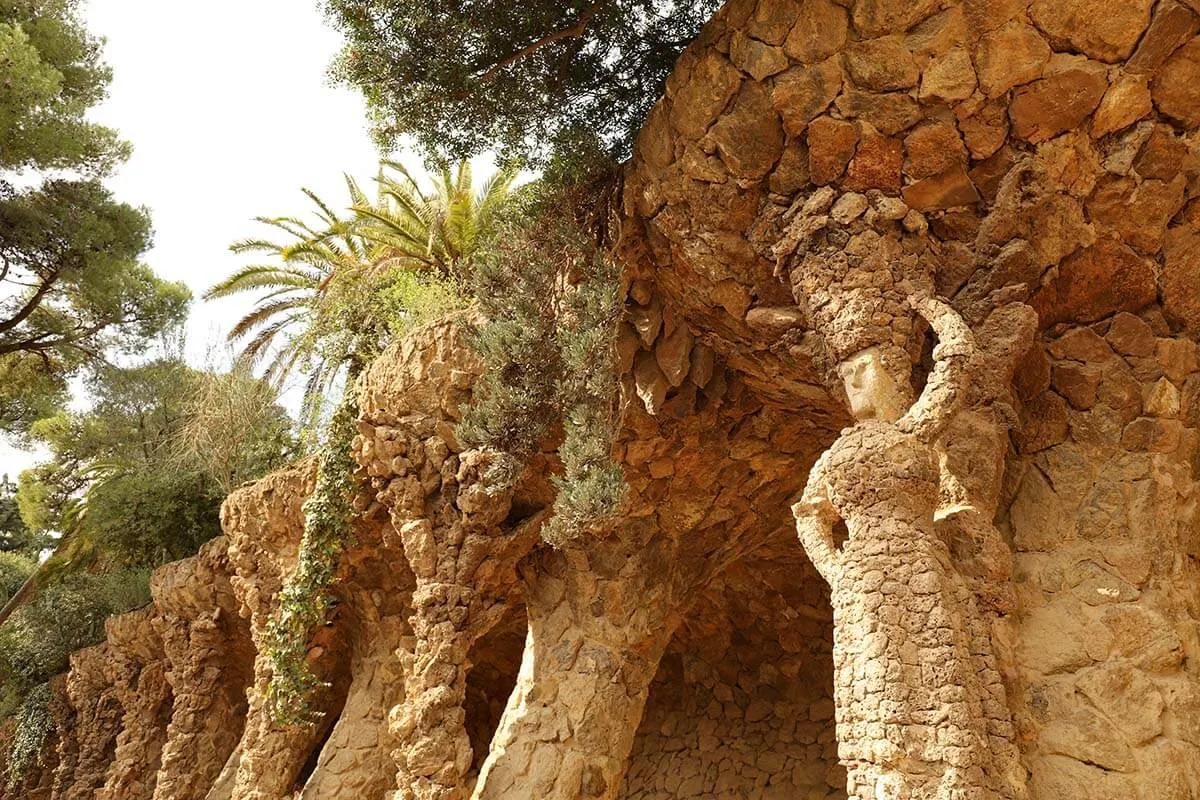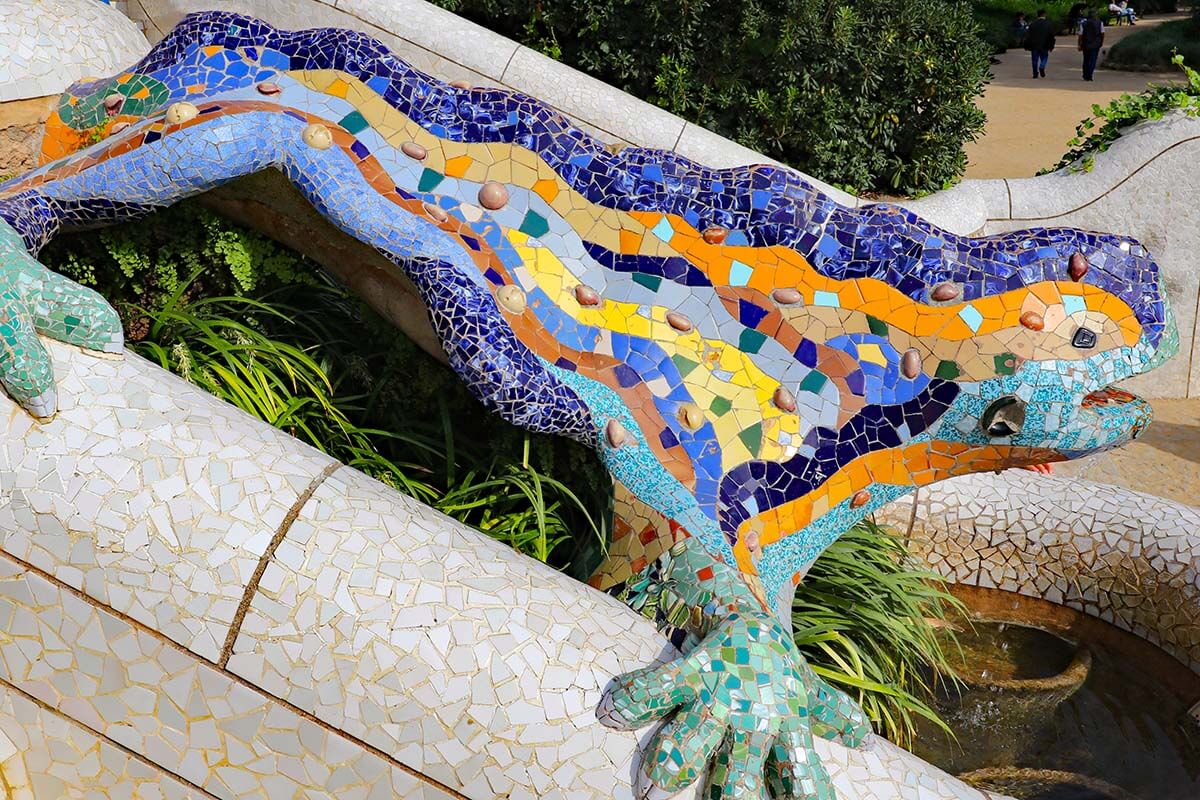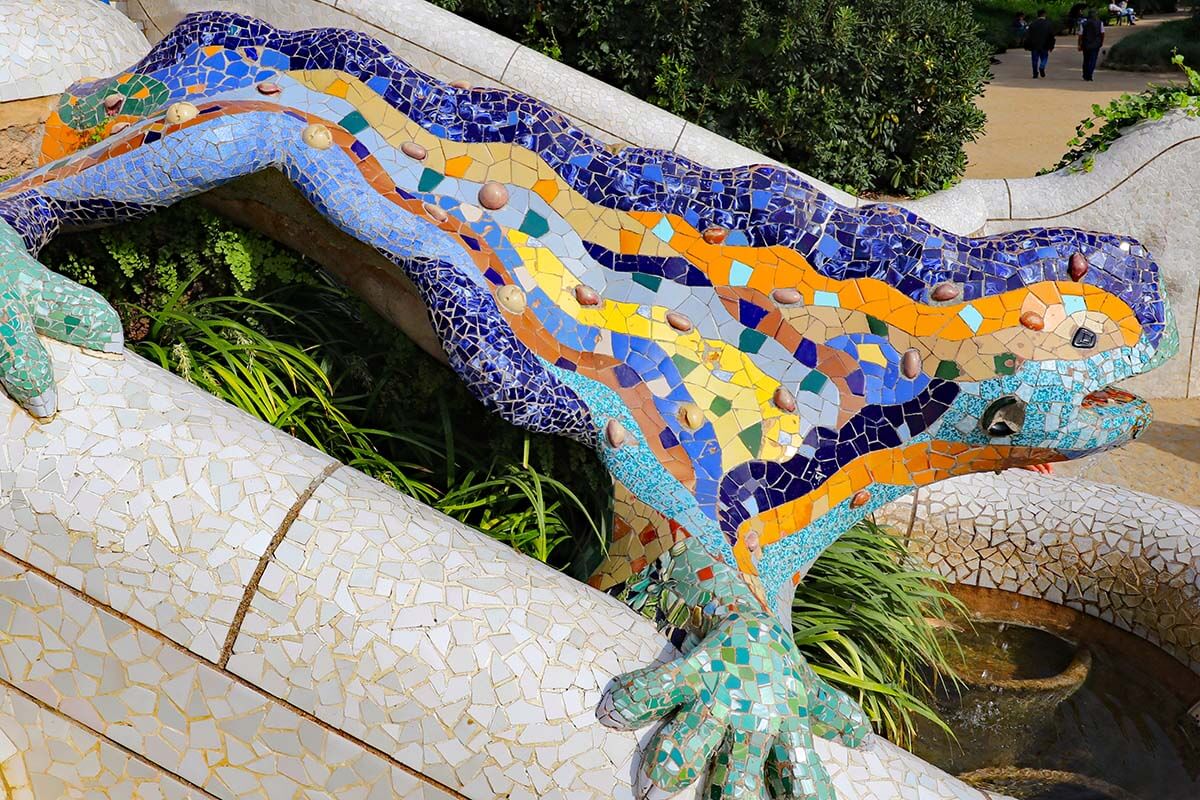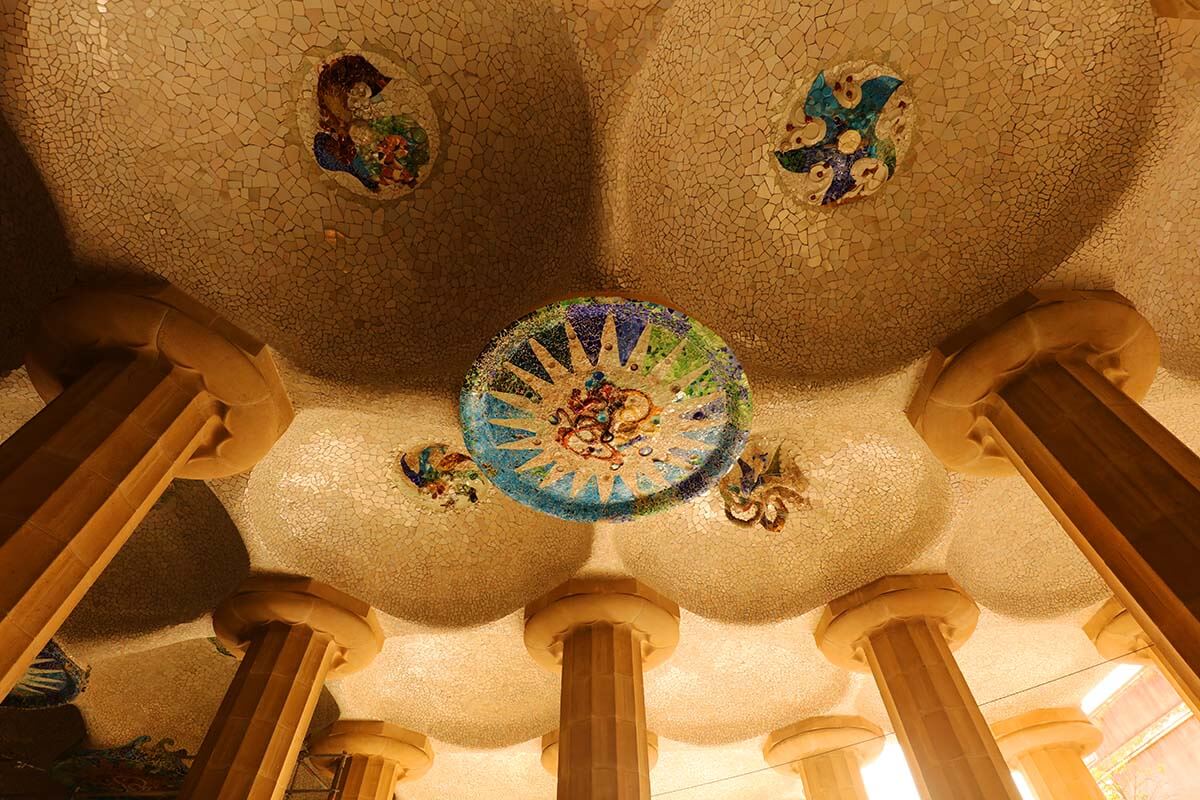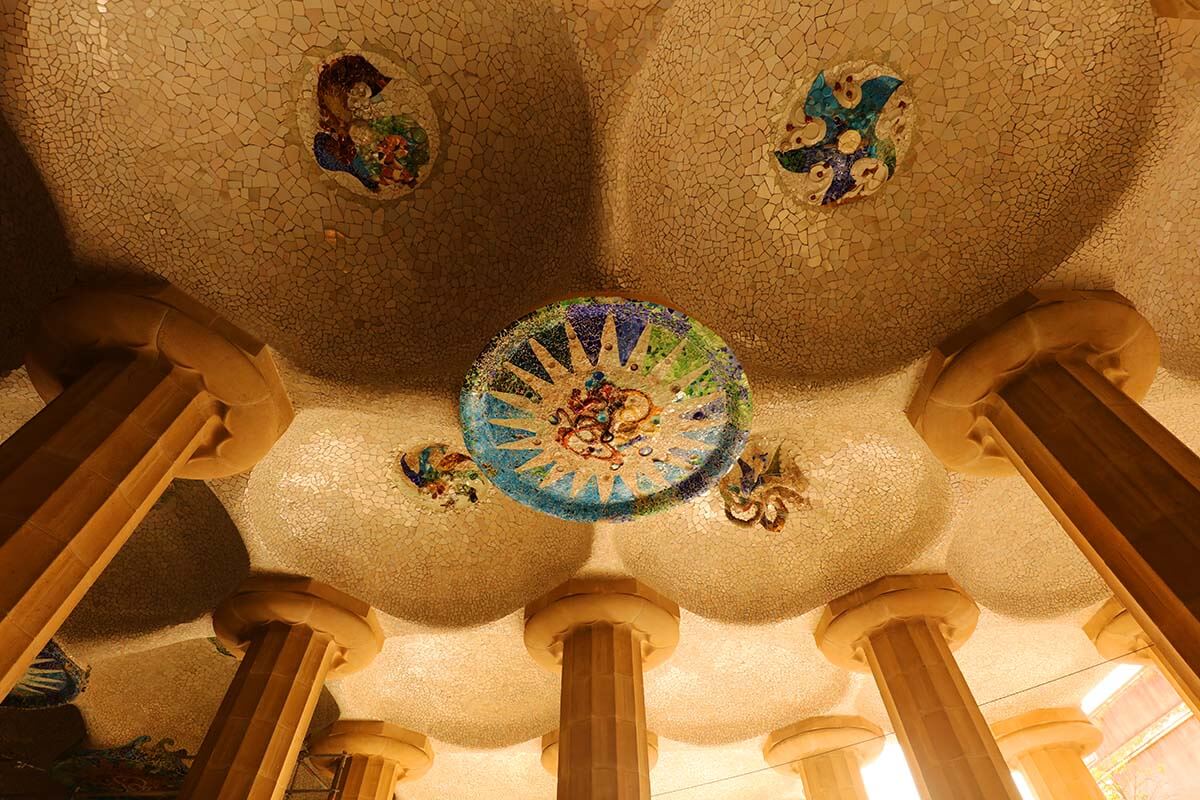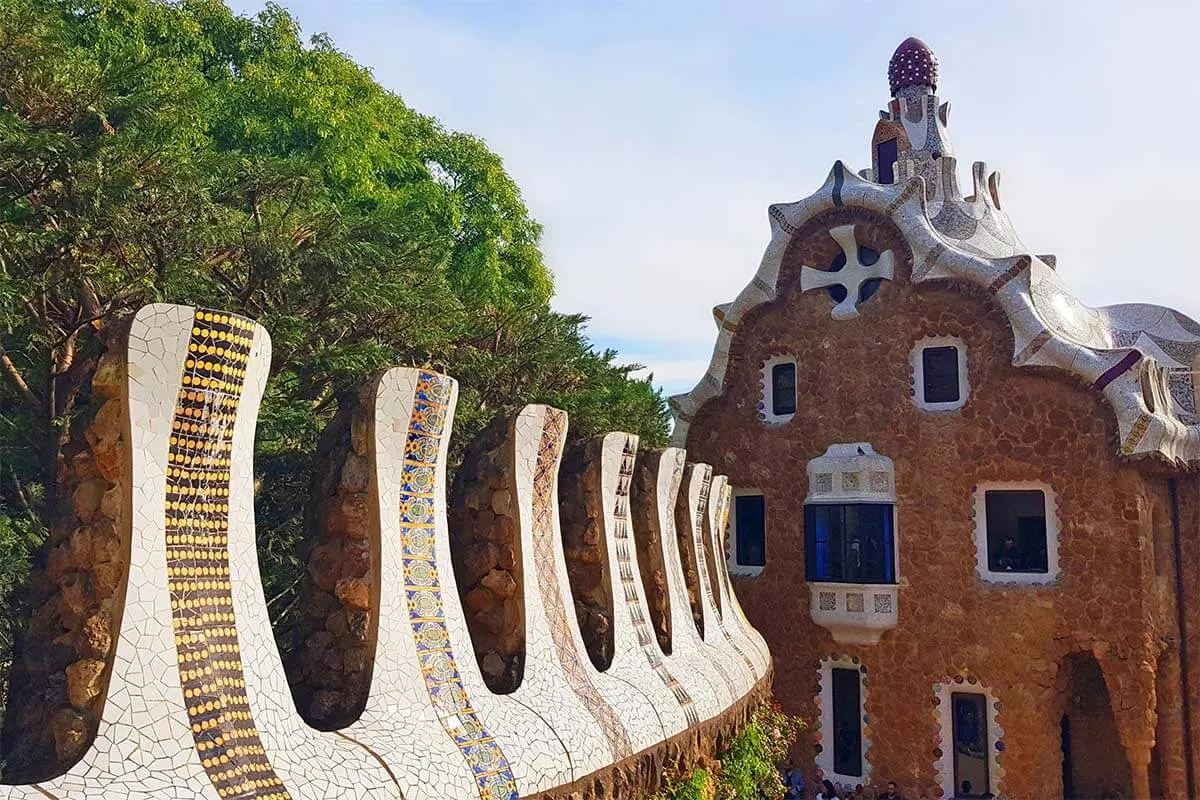 La Sagrada Familia
Basilica La Sagrada Familia is the #1 landmark that you absolutely have to see in Barcelona. And yes, it's busy, but it's popular for a reason. No matter how much time you have in Barcelona, you have to see the interior as well. If you are really short on time and have to skip something from this itinerary, sacrifice anything else but not La Sagrada Familia!
I can't think of any other man-made structure in the whole world that can even try to compare to La Sagrada Familia. It's a real masterpiece, every inch of it, inside and out.
Just as with all the main Gaudi landmarks in Barcelona, you really have to get skip-the-line tickets for La Sagrada Familia in advance, or you risk not being able to visit (or waste too much precious time queuing). If you want to also visit the tower, you should know that regular tickets don't include it.
The tour that we took included a visit to the towers, and this tour includes that as well. While really impressive to see, the towers of La Sagrada Familia aren't an absolute must if you are in a hurry.
Good to know: La Sagrada Familia is also a place where it really pays to go with a local guide. The church is full of symbolism and hundreds of incredible details – some of the things that you wouldn't even notice otherwise. There are countless options when it comes to guided tours of La Sagrada Familia, alone or in combination with the other landmarks.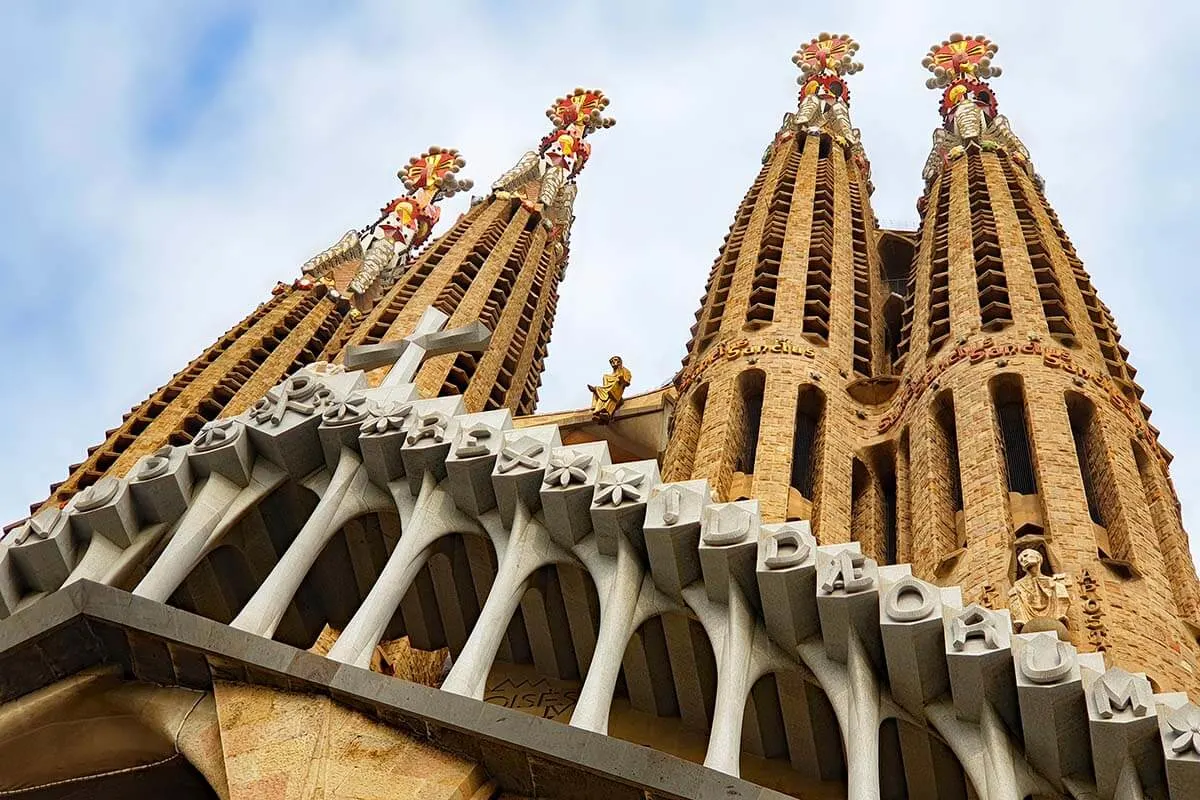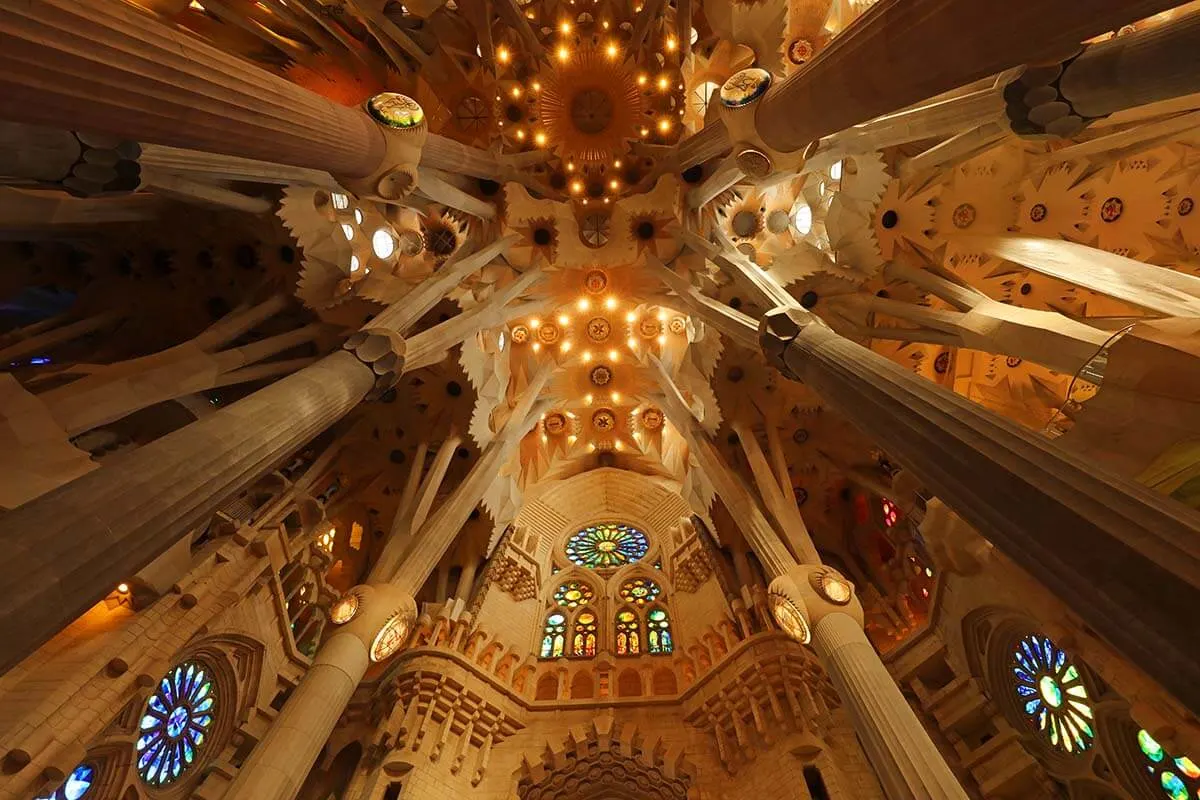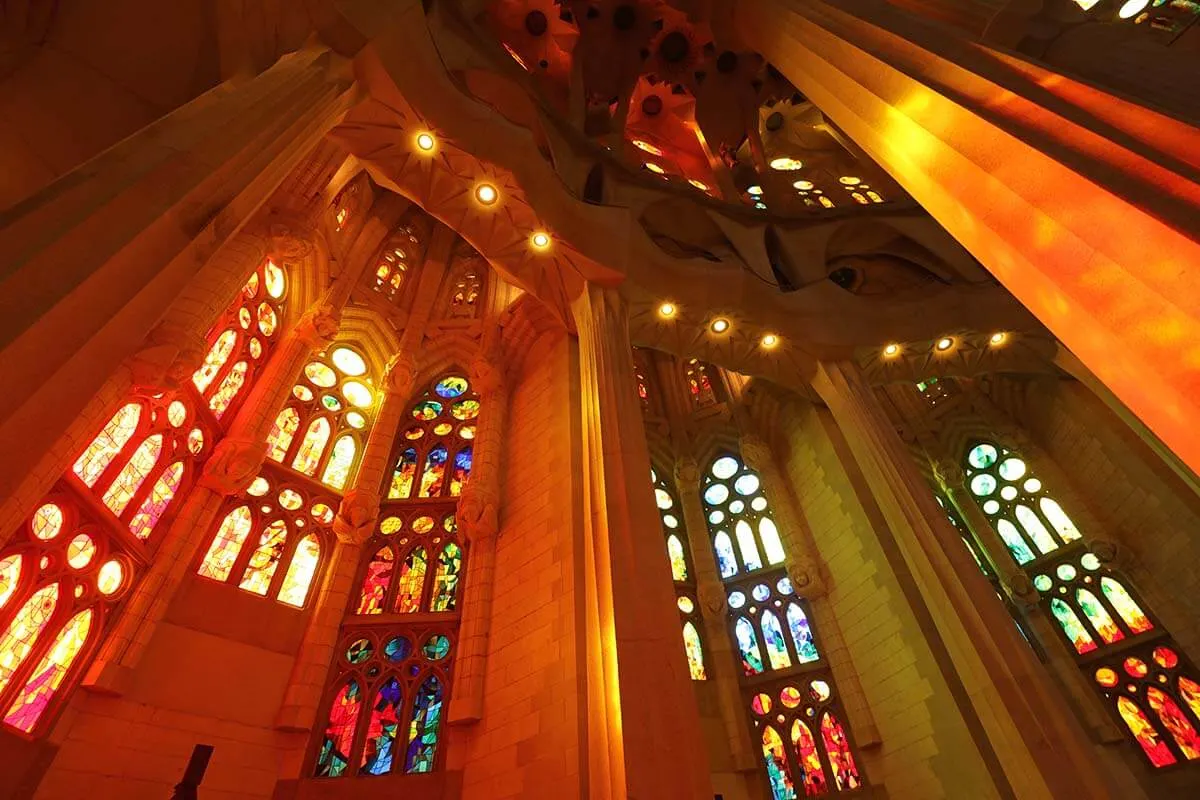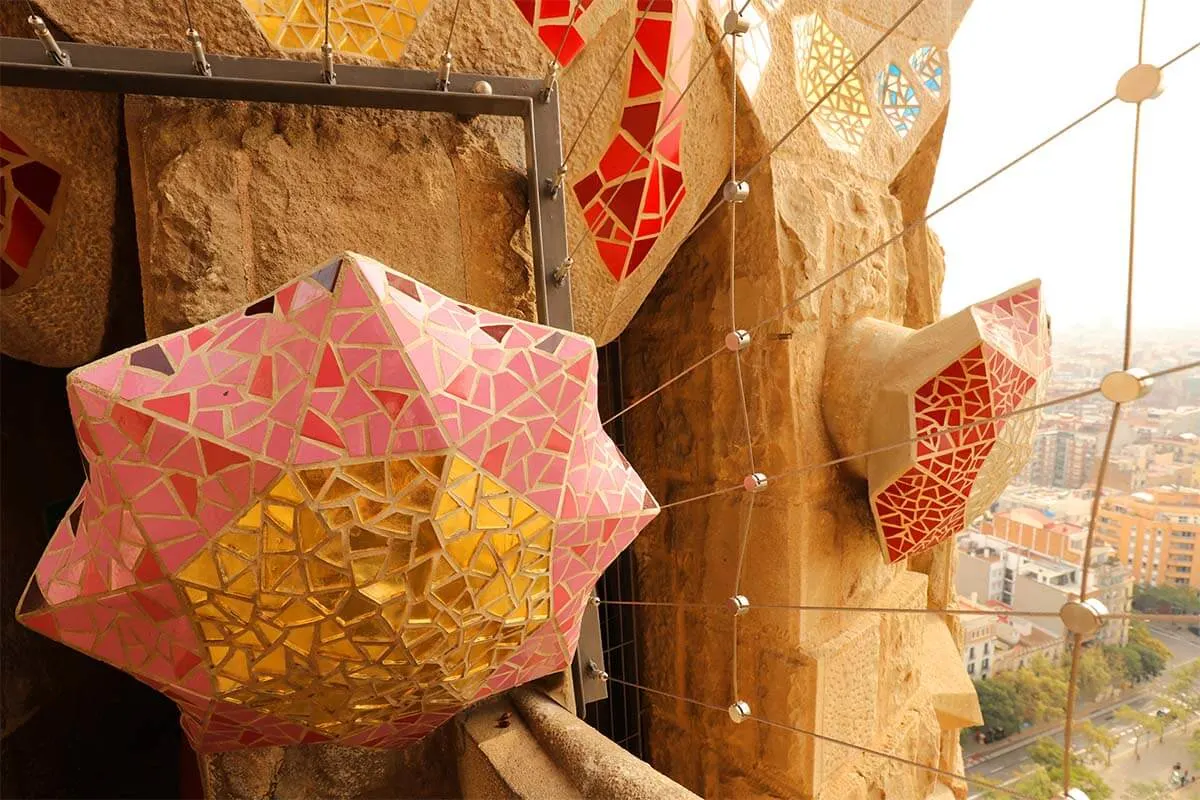 Lunch at Mercado la Boqueria
If you didn't take snacks with you, you'll likely be starving by now. If you follow this itinerary, it will likely be around 2-3 pm by now, so pretty much in time for a Spanish lunch. There are some restaurants close to La Sagrada, or you can take a metro to the old town (subway station 'Liceu') and have lunch at Mercado la Boqueria.
Mercado la Boqueria, aka La Rambla market, is located in the heart of the historic city center. It's the most popular food market in Barcelona and a nice place to try some local food.
You'll find everything here – from fruit and vegetables, freshly squeezed juices and smoothies, to all kinds of cold and warm snacks, cured meat, seafood tapas, paella, etc.
Even if you already had a snack earlier, definitely check it out for some special food and a fun atmosphere. It's a really nice place to visit in Barcelona and a welcome change from all the landmarks.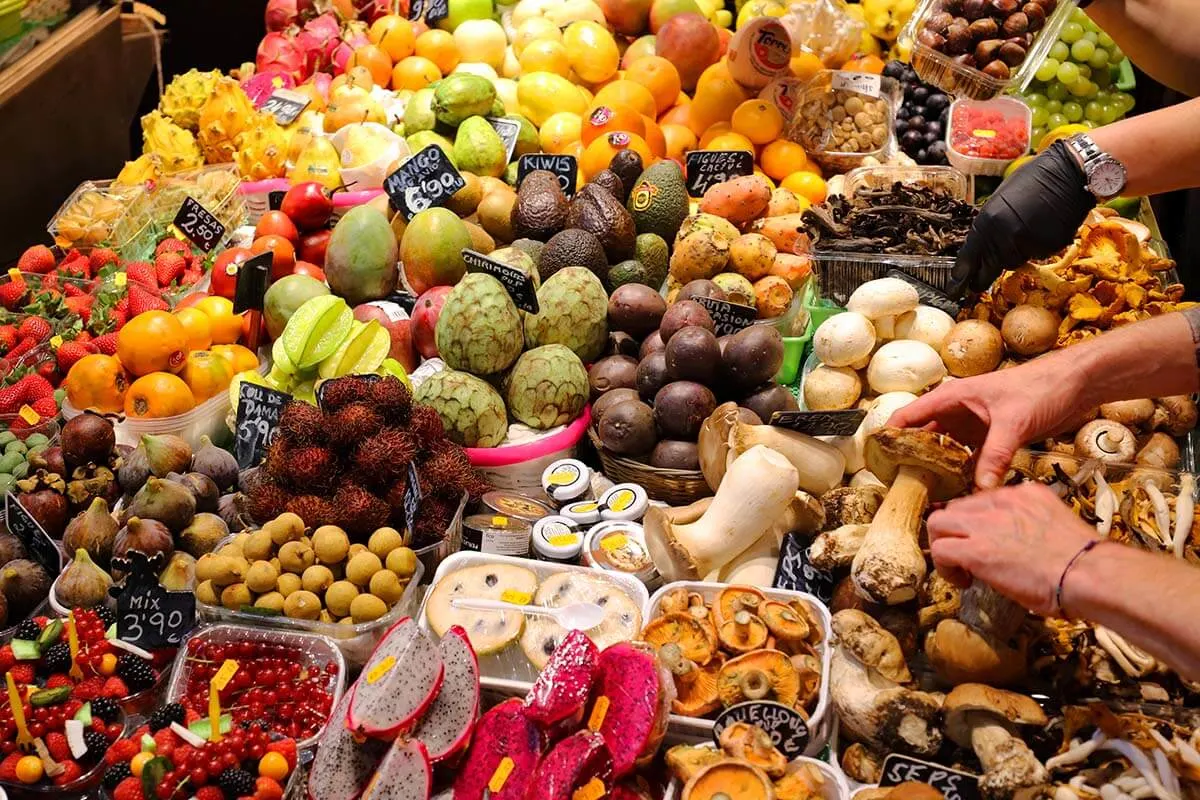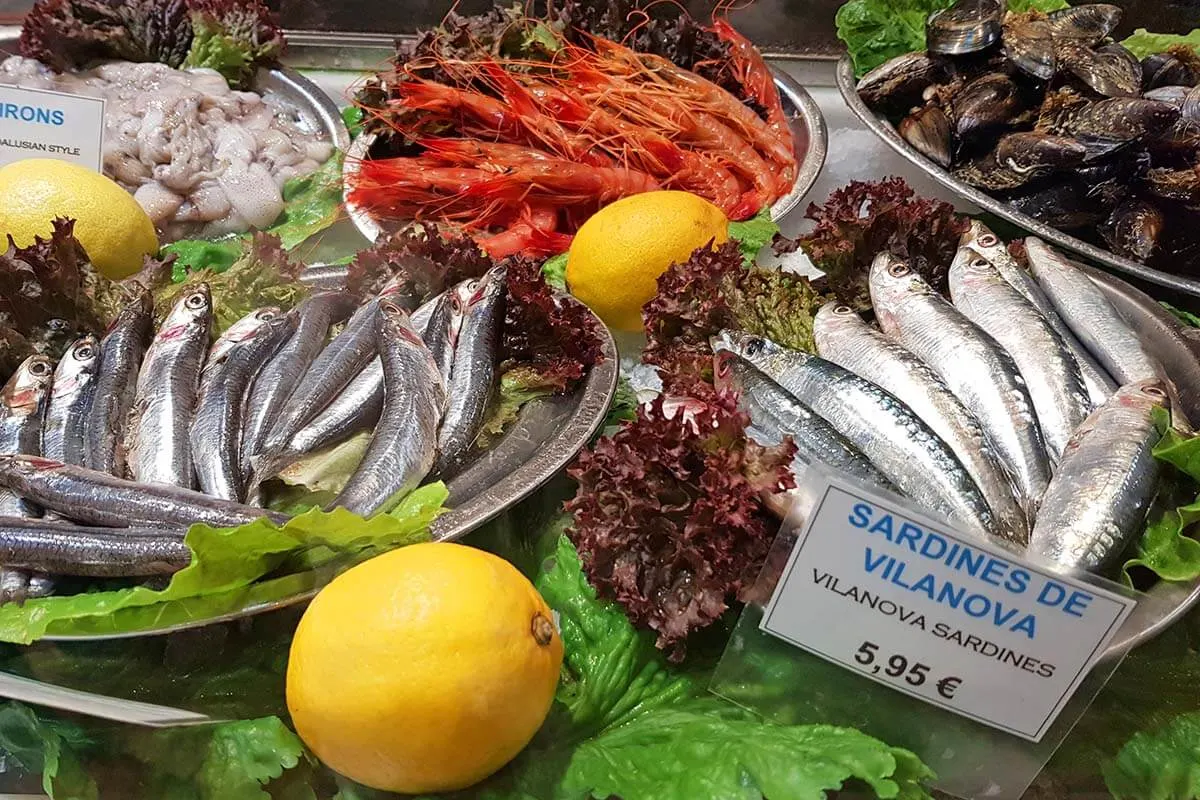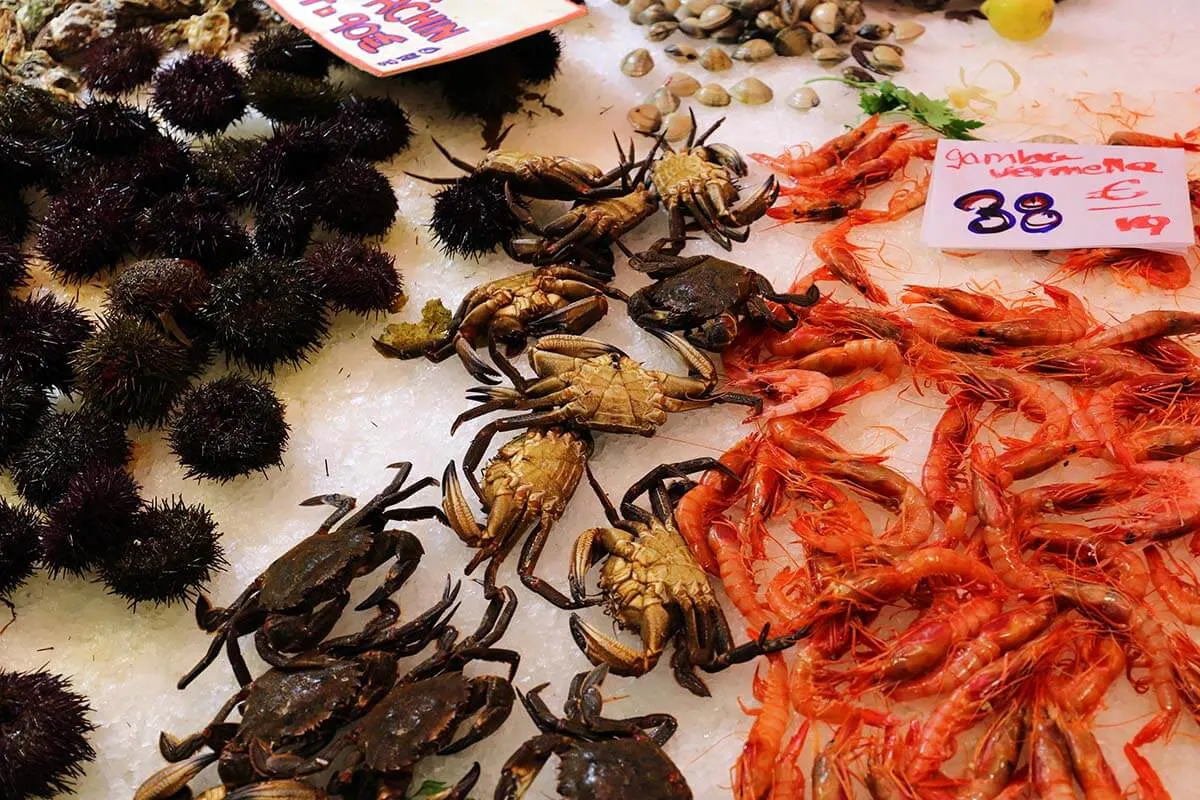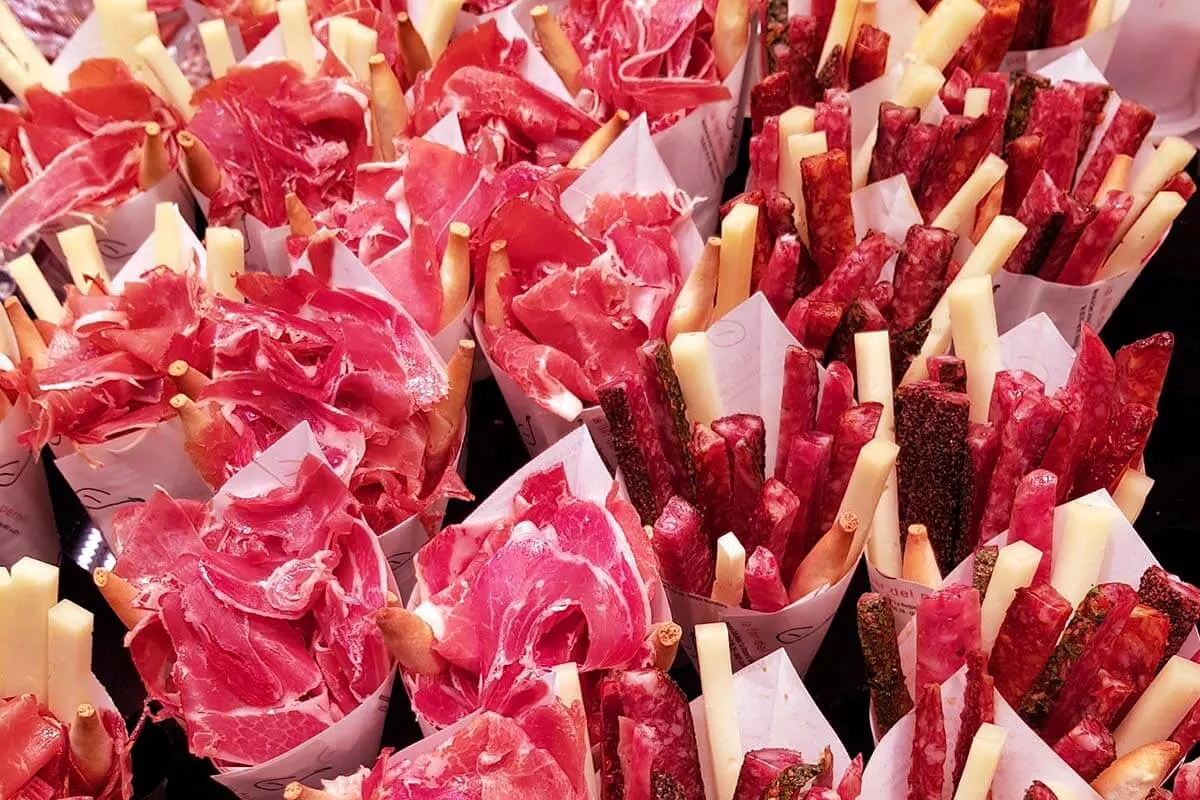 La Rambla
Just next to the market is La Rambla, probably the best-known street in Barcelona. This wide boulevard has a tree-lined pedestrian promenade in the middle and it's always crowded – with people, souvenir shops, and cafes.
I wouldn't linger here too long, but since you are here anyway, walk a small part of this street, navigating between the crowds, street artists, and souvenir vendors, while trying to see some of the architecture on both sides of the street.
If you want to see one more Gaudi building (from the outside), walk to Palau Güell. I really wouldn't recommend visiting it inside. By now, it will likely be late afternoon, and you better spend the rest of your Barcelona day trip exploring the historic old town.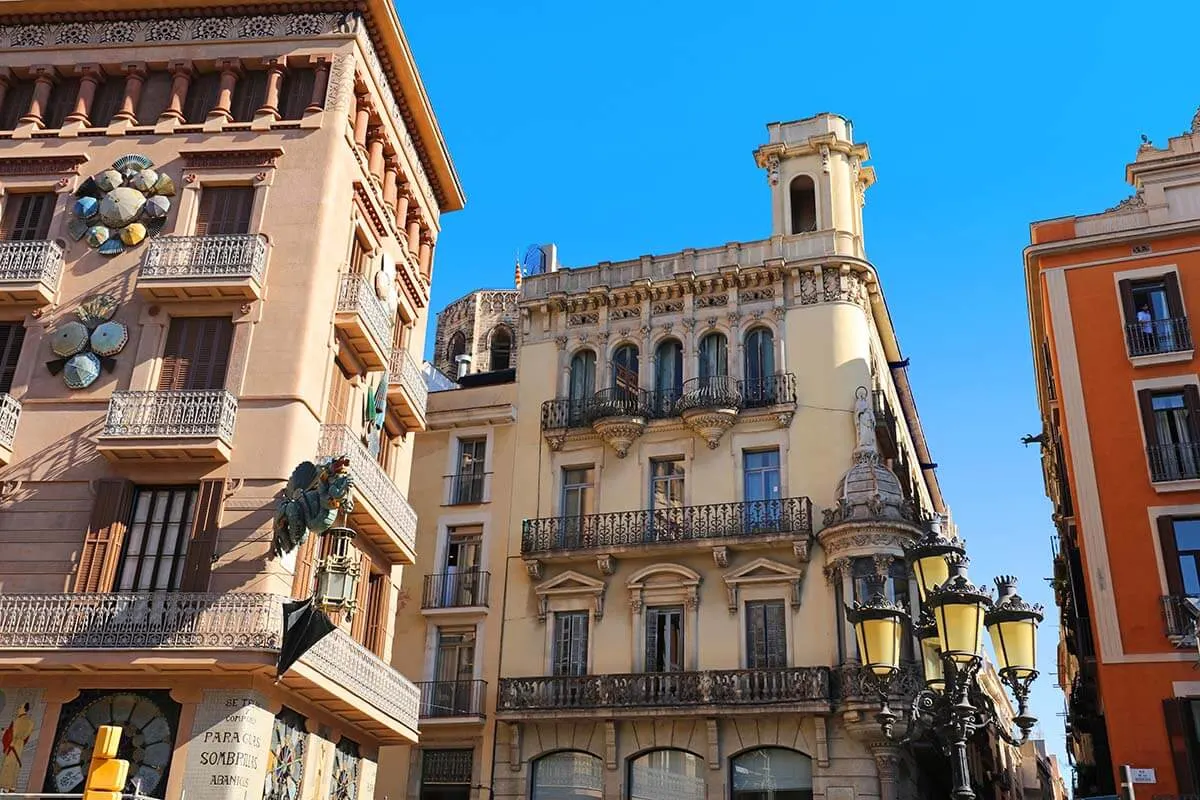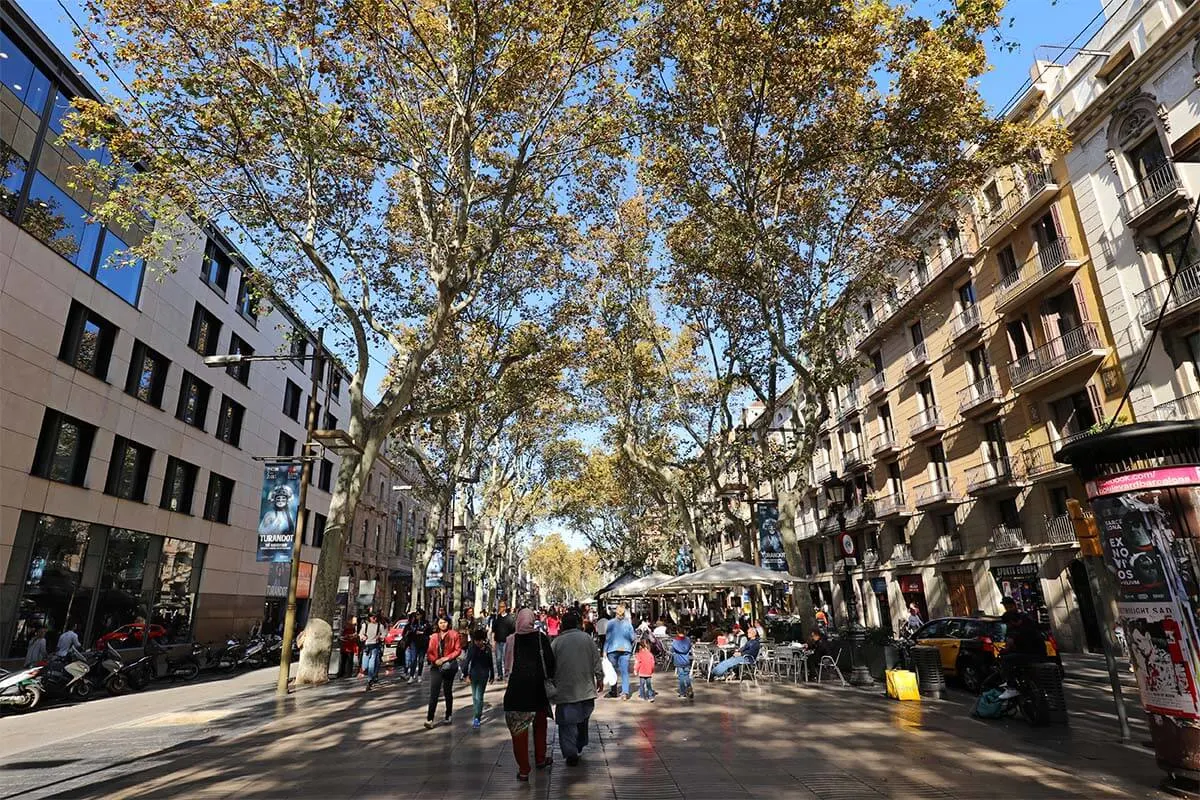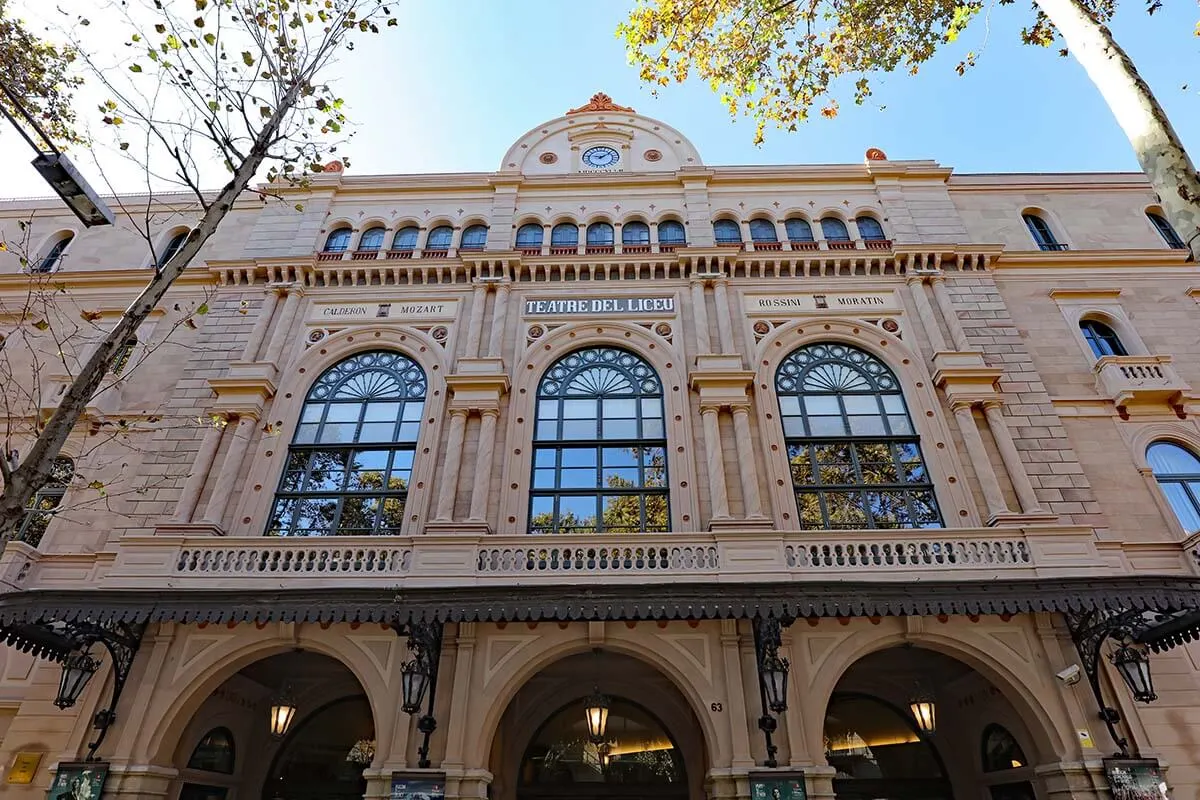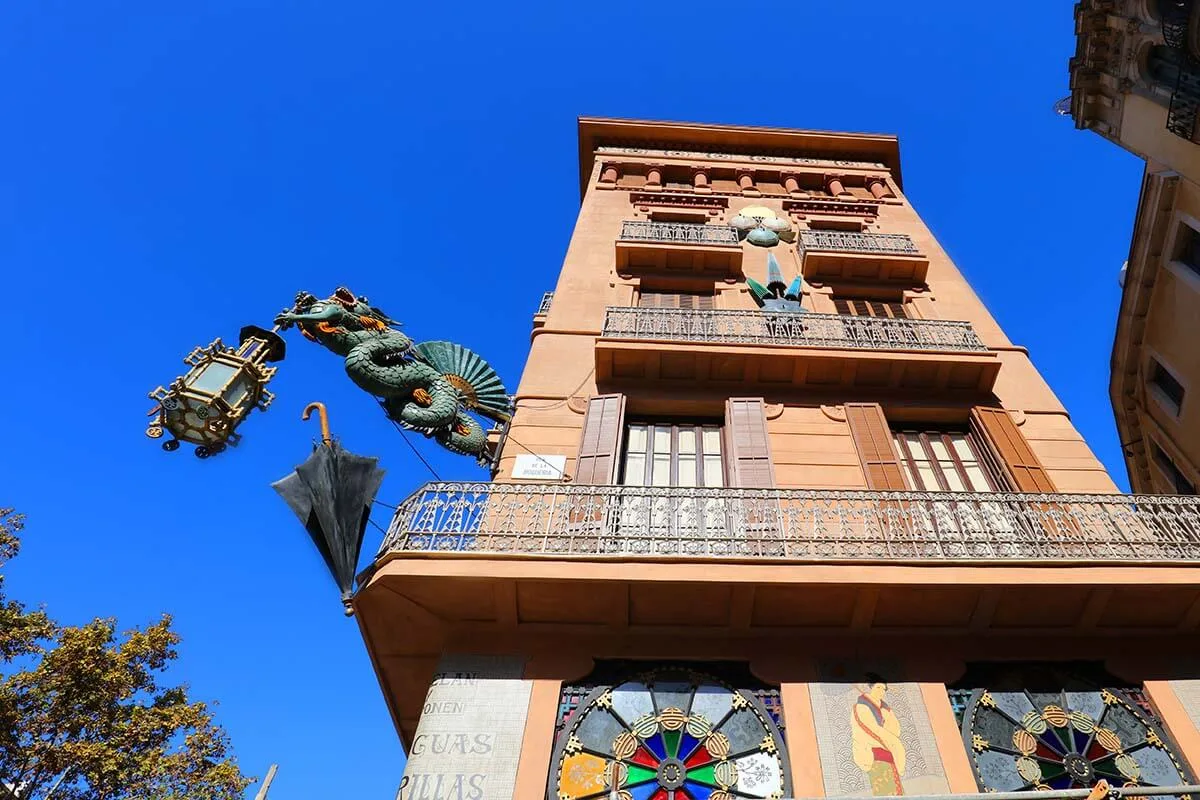 Gothic Quarter – Barcelona Old Town
The Gothic Quarter or Barri Gòtic is the heart of old Barcelona. It's here that you'll find some of the most impressive oldest buildings in the city.
But it's also just a really nice neighborhood to explore, with narrow streets, picturesque squares, quirky boutique stores, and plenty of cafes and restaurants.
Below, I indicated the main places not to miss in the Gothic Quarter.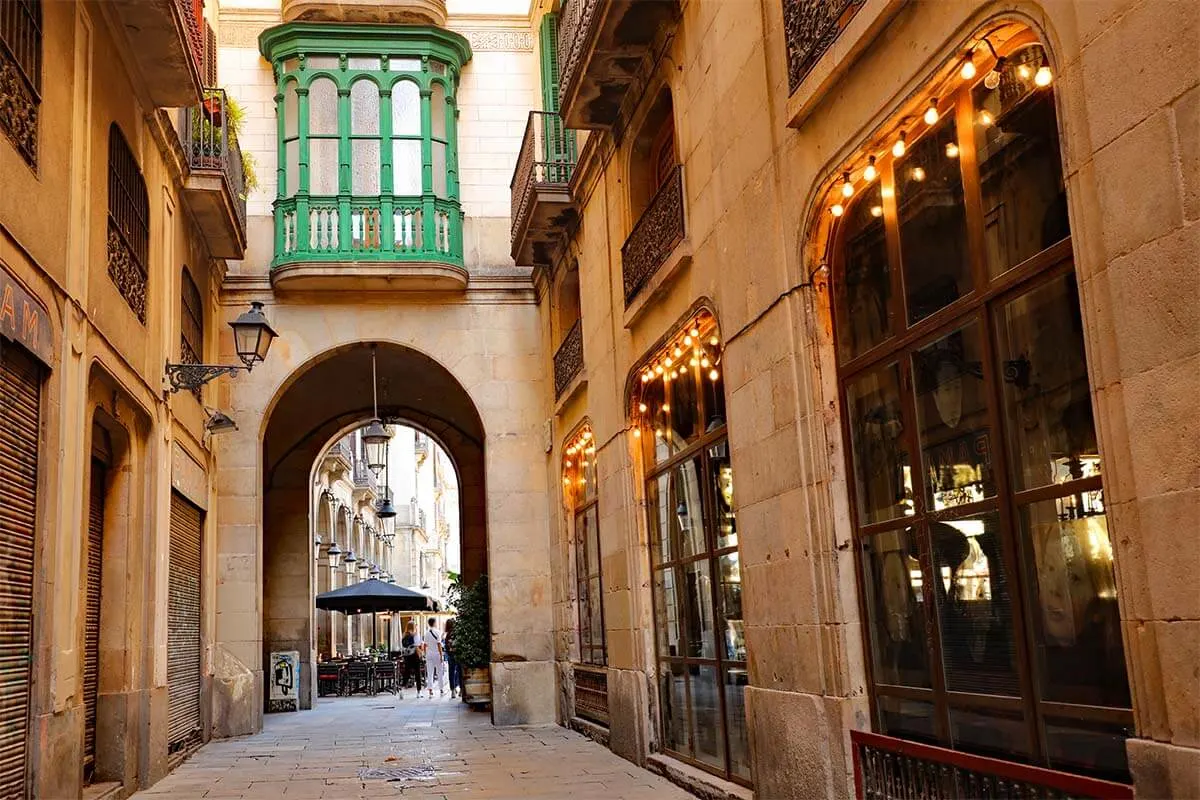 Cathedral of Barcelona
Many people mistakenly think that La Sagrada Familia is the Cathedral of Barcelona, but that is not the case. The main Cathedral is much older and it can be found in the Gothic Quarter.
While it's a more traditional church that can't be compared to La Sagrada in any way, the Cathedral of Barcelona is really impressive. Especially the interior. So if you still have some energy left, be sure to check it out. The cloisters with a small garden and a few resident geese are also nice to see.
If you have some extra time, you can also take an elevator and visit the rooftop of the Cathedral. It's something nice to do if it's not too busy, but if there's a long line and you're feeling tired after all the walking and sightseeing, don't feel too bad if you decide to skip it.
Good to know: You'll need a ticket in order to visit the cathedral. You can just get the tickets at a ticket office that's located in the same square, or you can also buy them online in advance. The elevator to the rooftop requires a separate ticket. The Cathedral is open daily until rather late in the evening. For more practical information, see the official website.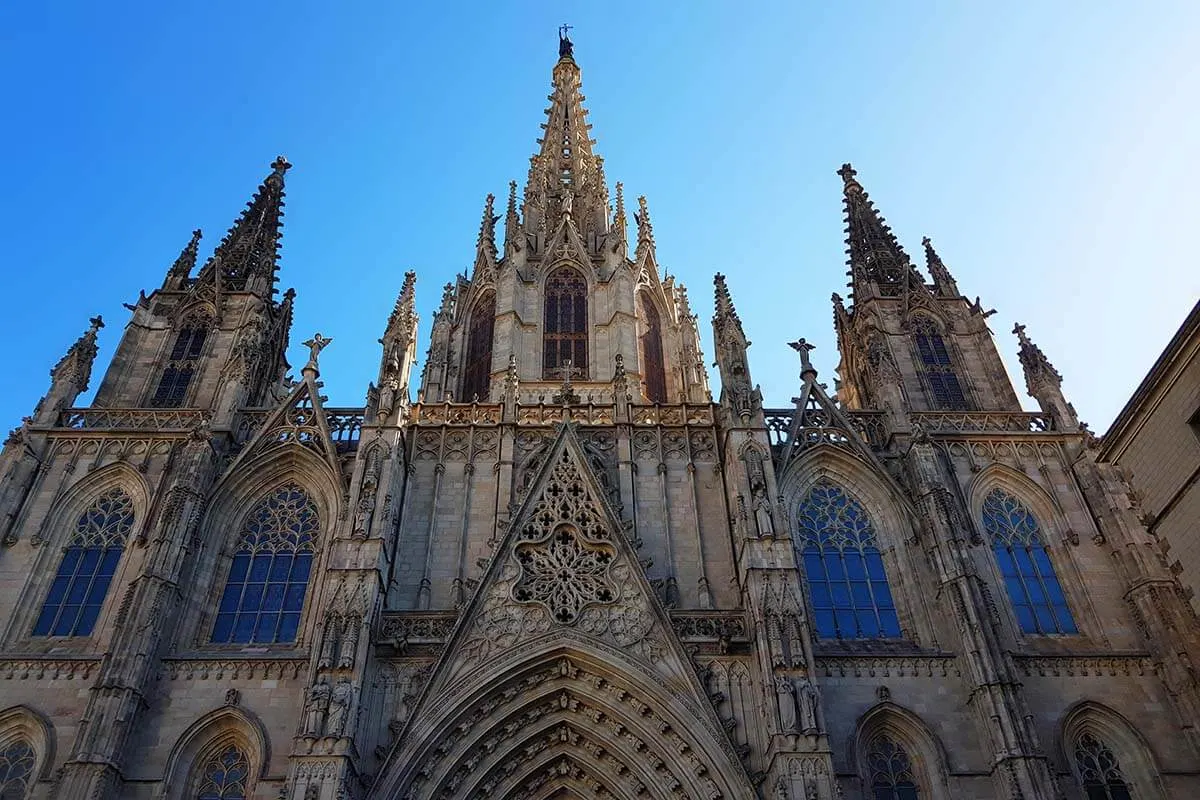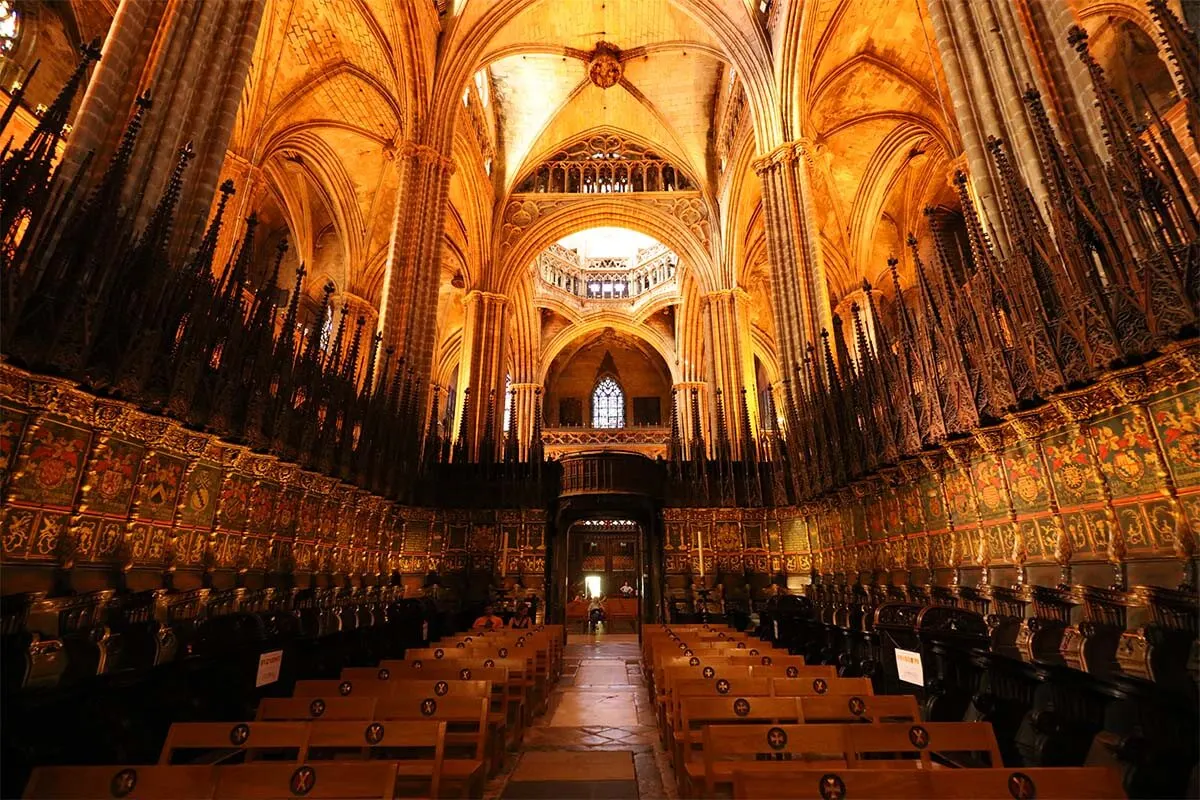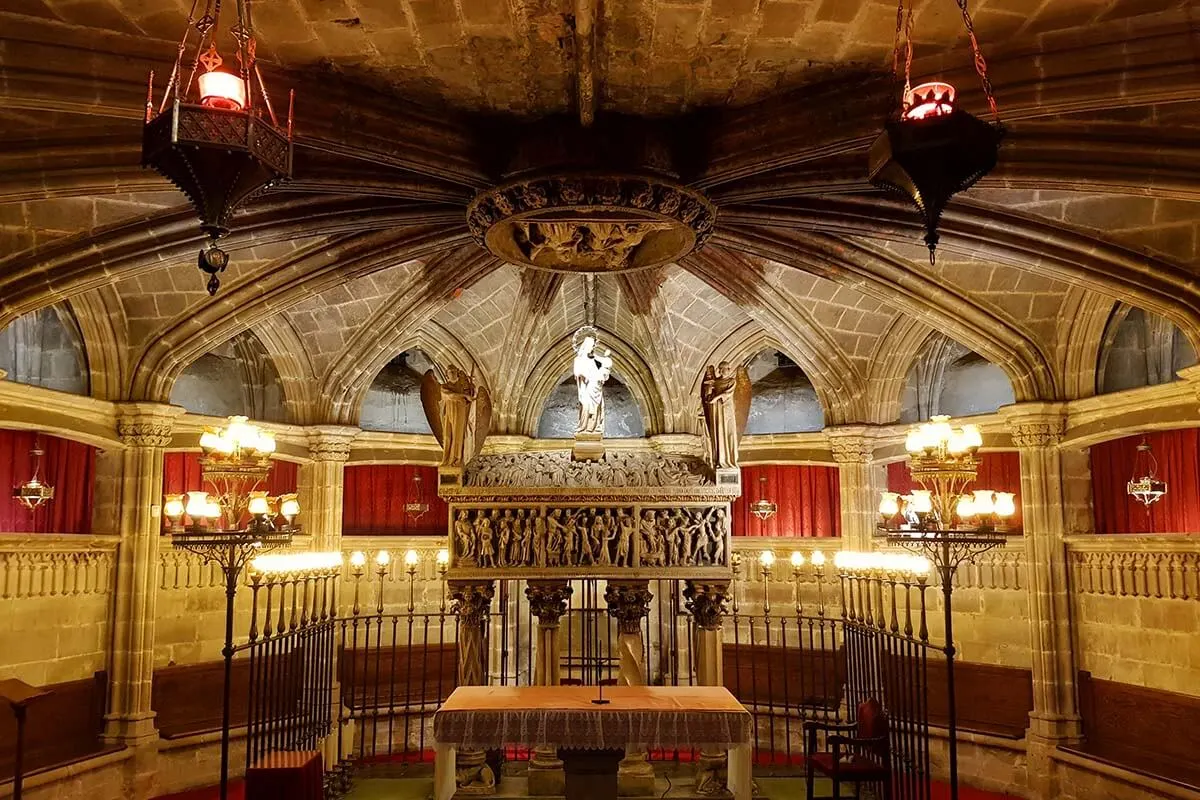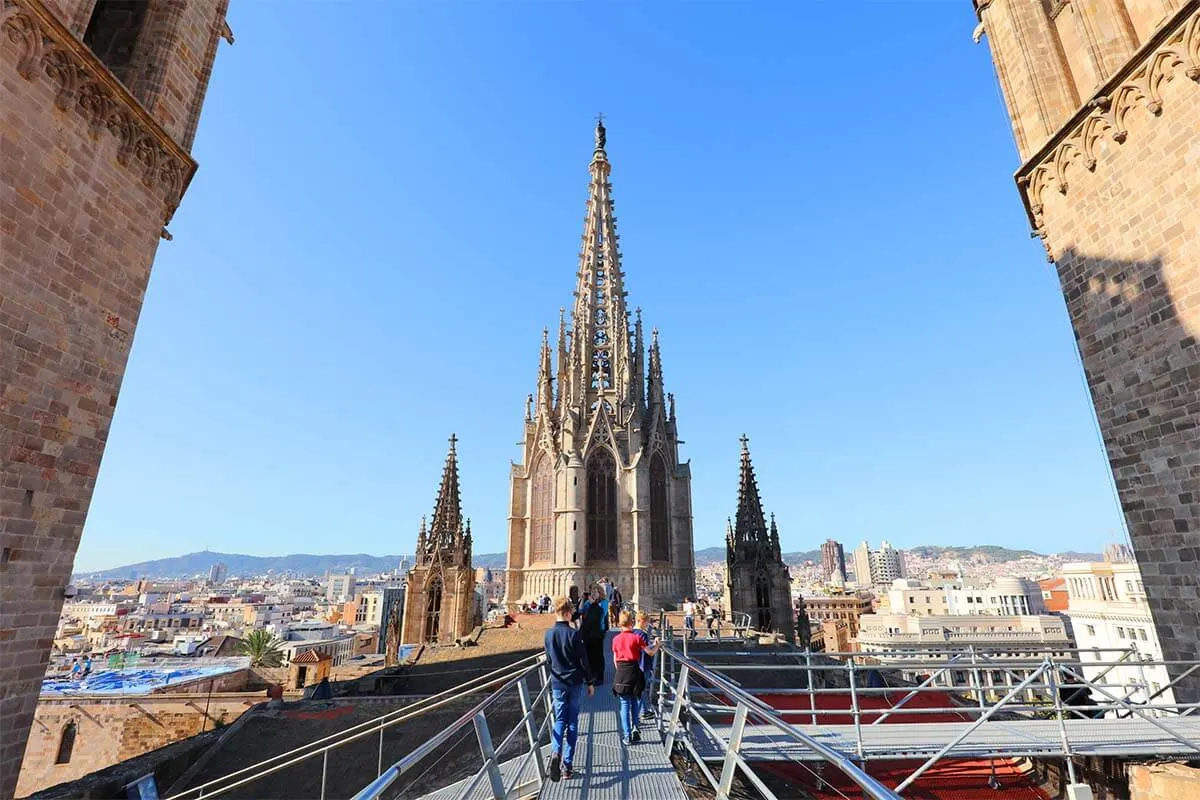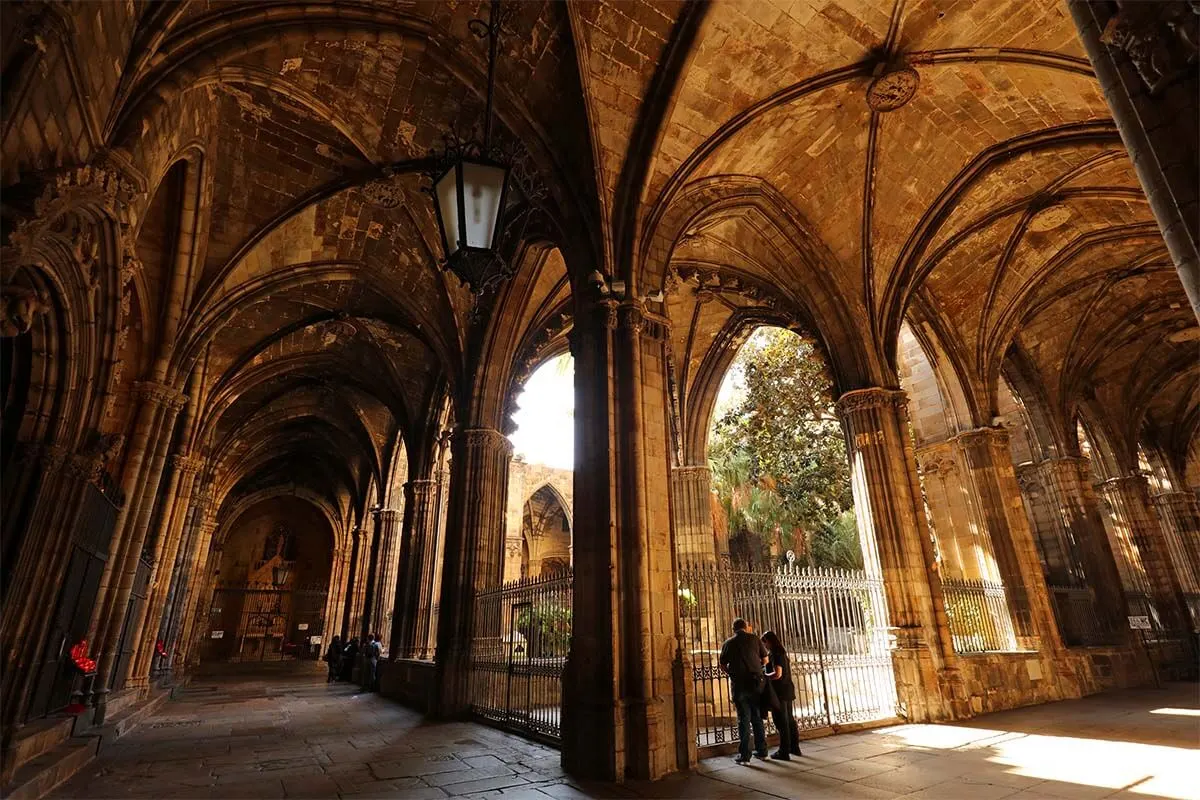 Carrer del Bisbe
Located just next to the Barcelona Cathedral, Carrer del Bisbe is one of the most beautiful streets in the Gothic Quarter.
It's best known for El Pont del Bisbe (Bishop's Bridge), an extremely picturesque overhead walkway that connects two buildings on different sides of the street.
This is probably the most photographed street in Barcelona and one of the most beautiful parts of the old town. Don't miss it!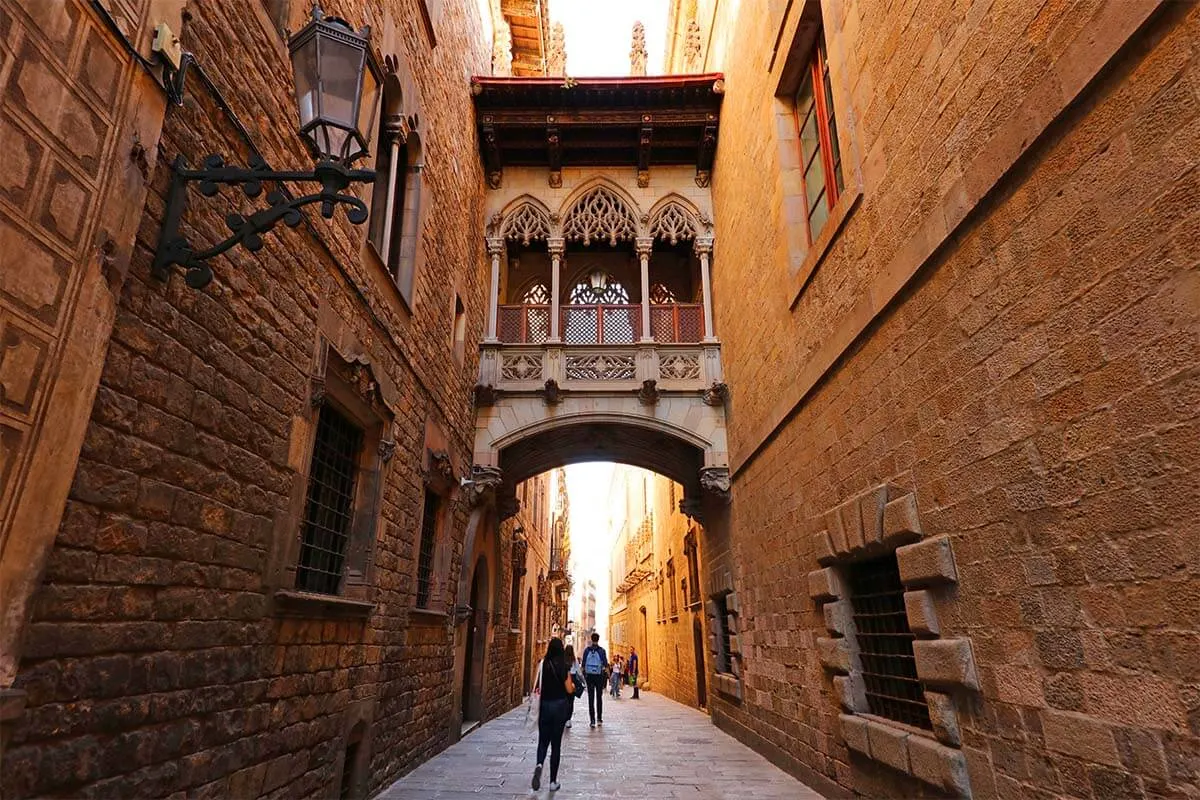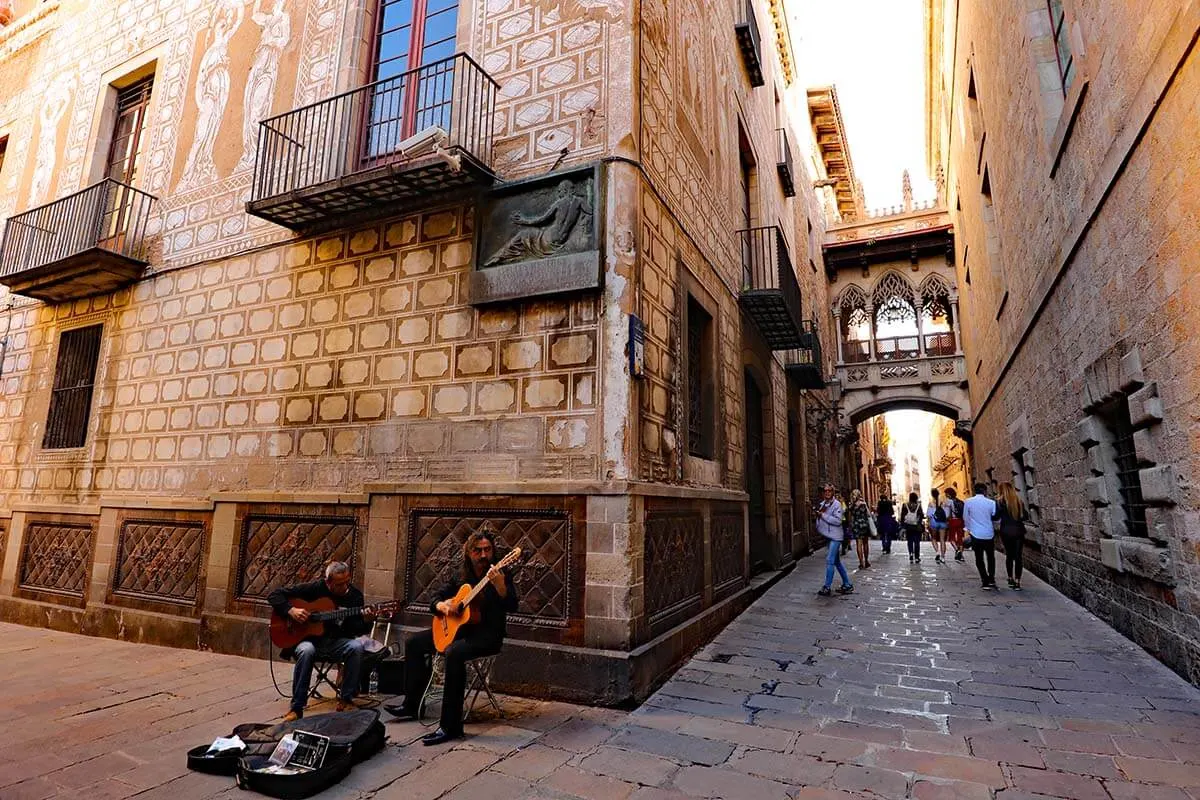 Plaça del Rei
At the back side of the Cathedral, you'll find one of the oldest squares in Barcelona, Plaça del Rei.
Barcelona History Museum (MUHBA) is also located here. It's a place where you can see the archeological site of the old city of Barcelona, with streets and buildings from 2000 years ago.
However, by now you'll probably have done enough sightseeing for the day. So I'll leave it up to you to decide whether to visit this museum inside. We found it quite interesting and it doesn't require that much time, but there's only that much you can do in a day, right… Anyway, you can also just see if the museum is still open when you get there and decide on the spot.
But even if you don't visit the museum, it's worth coming to see the square and the architecture of the surrounding streets.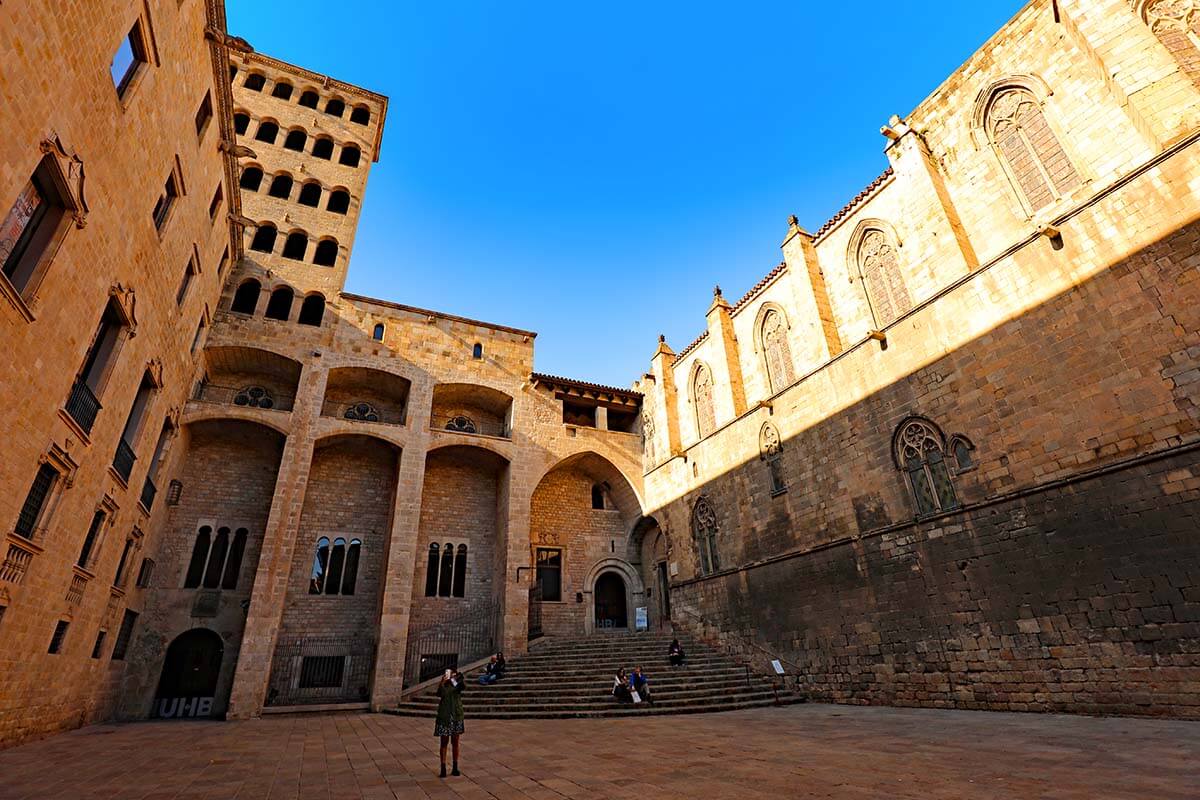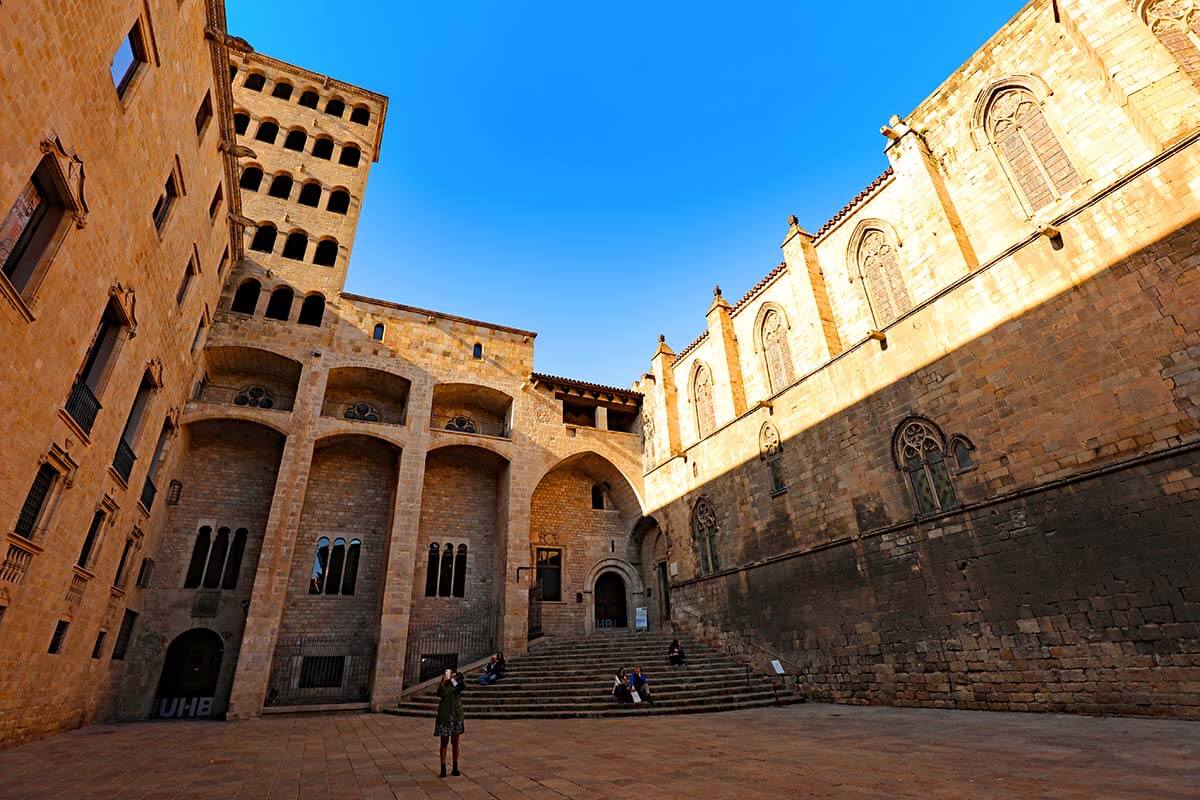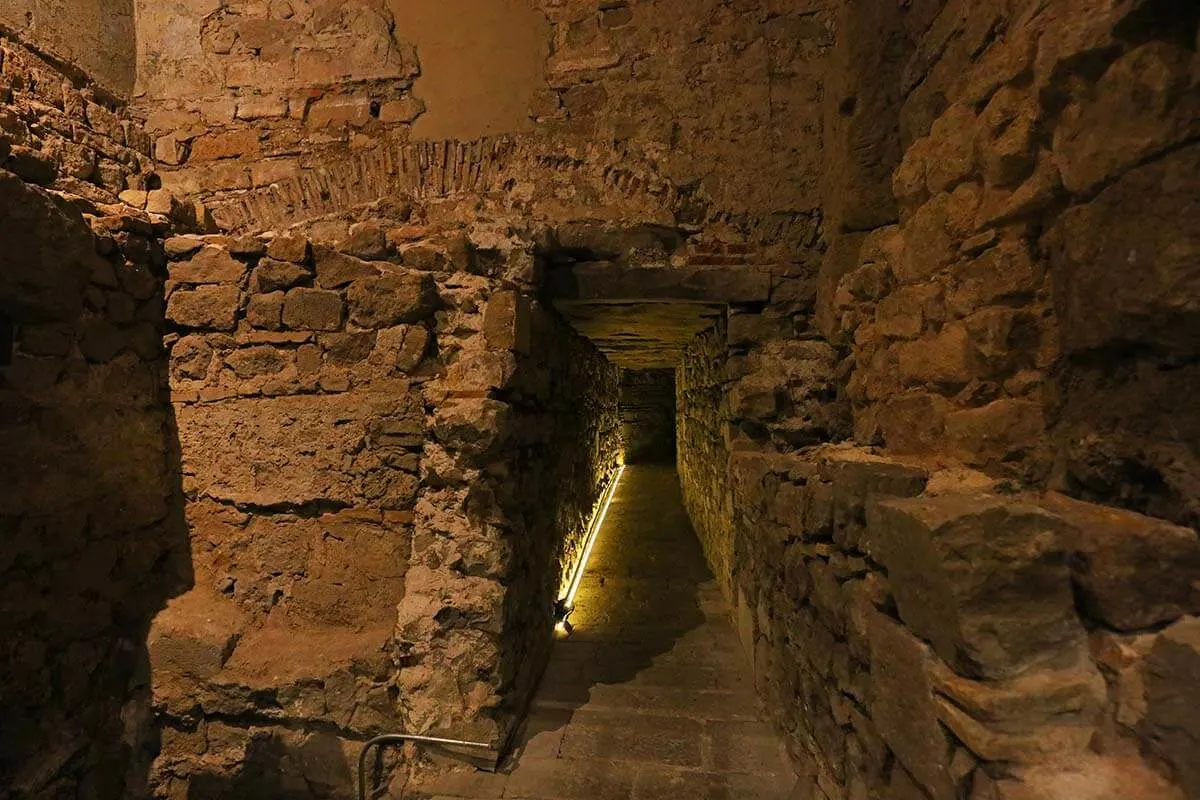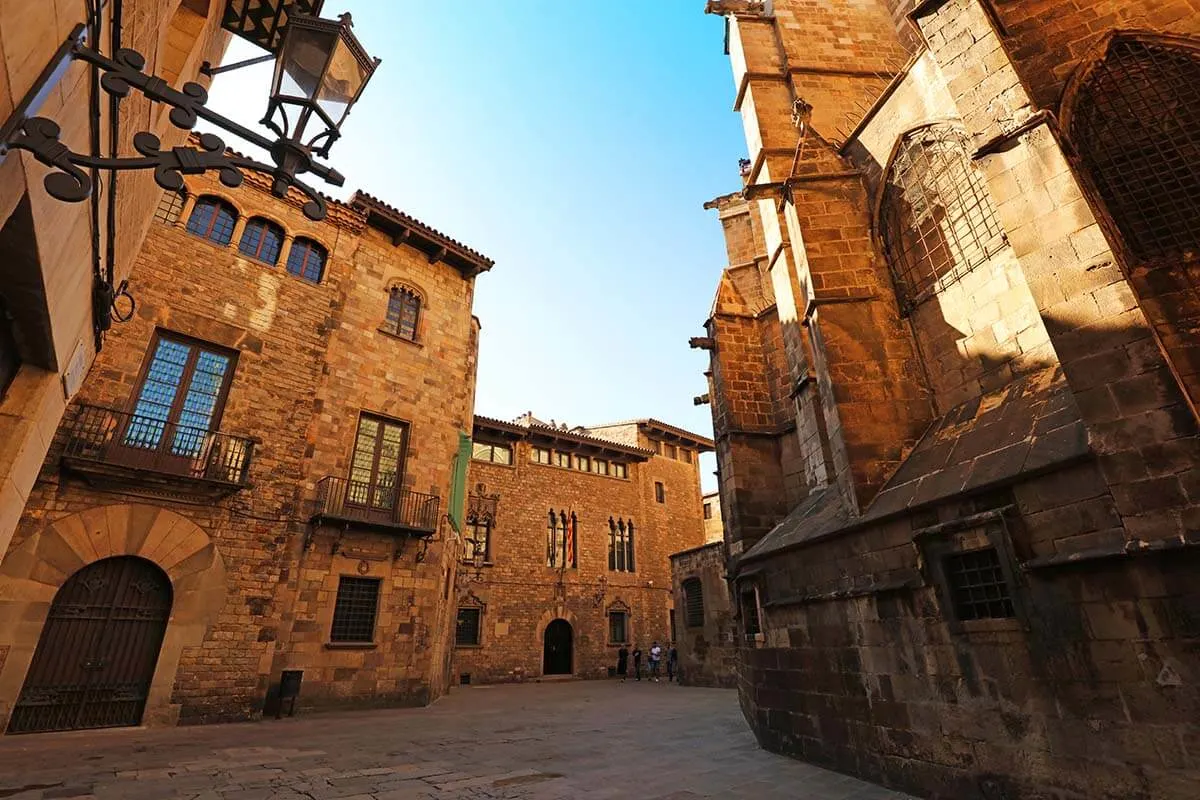 Plaça Reial
Plaça Reial is a big town square lined with impressive buildings, palm trees, and a fountain in the middle. Do note the unique street lanterns designed by Gaudi himself.
There are several cafés here and it's a nice place to sit down for a drink and do some people-watching. You'll also find plenty of good restaurants in this area where you could have dinner. Keep in mind, however, that Spanish dinner time is much later than what you might be used to, and many better restaurants only open from 7.30 – 8 pm.
Alternatively – if you want to make the most out of your day in Barcelona, we have a few other suggestions on how you could spend your evening. See below.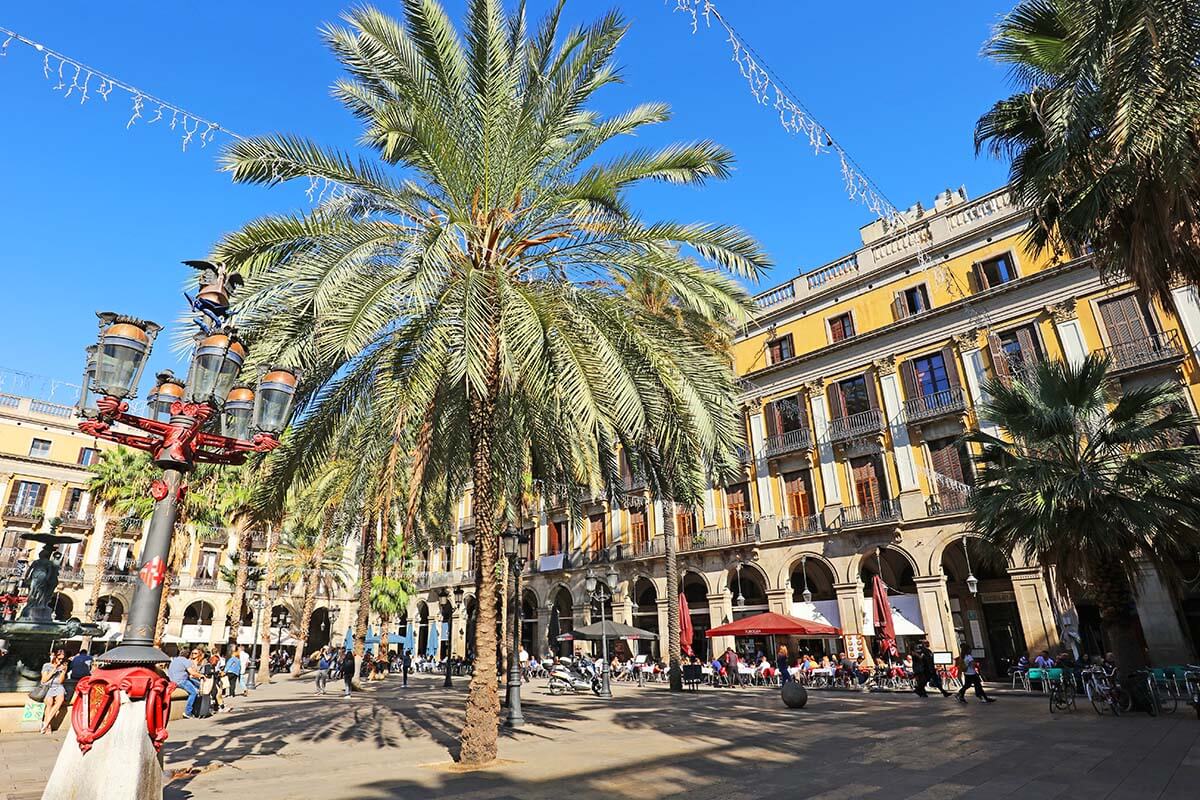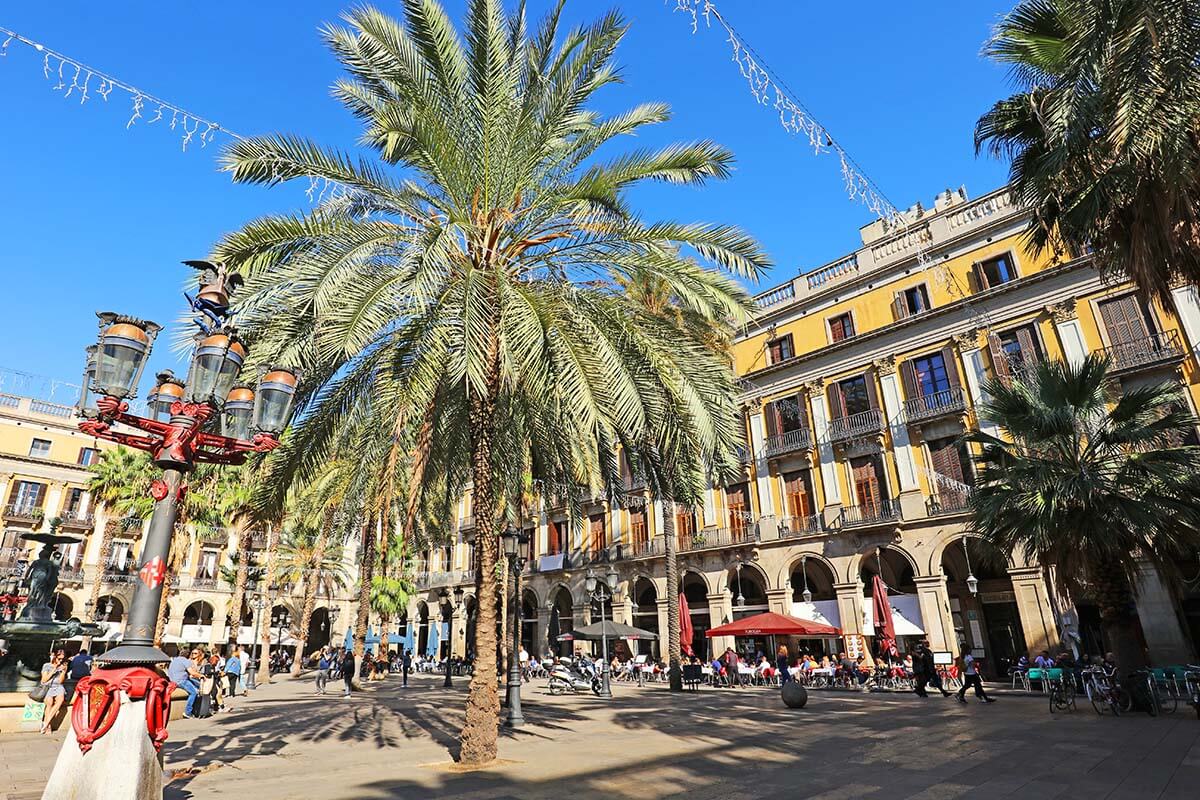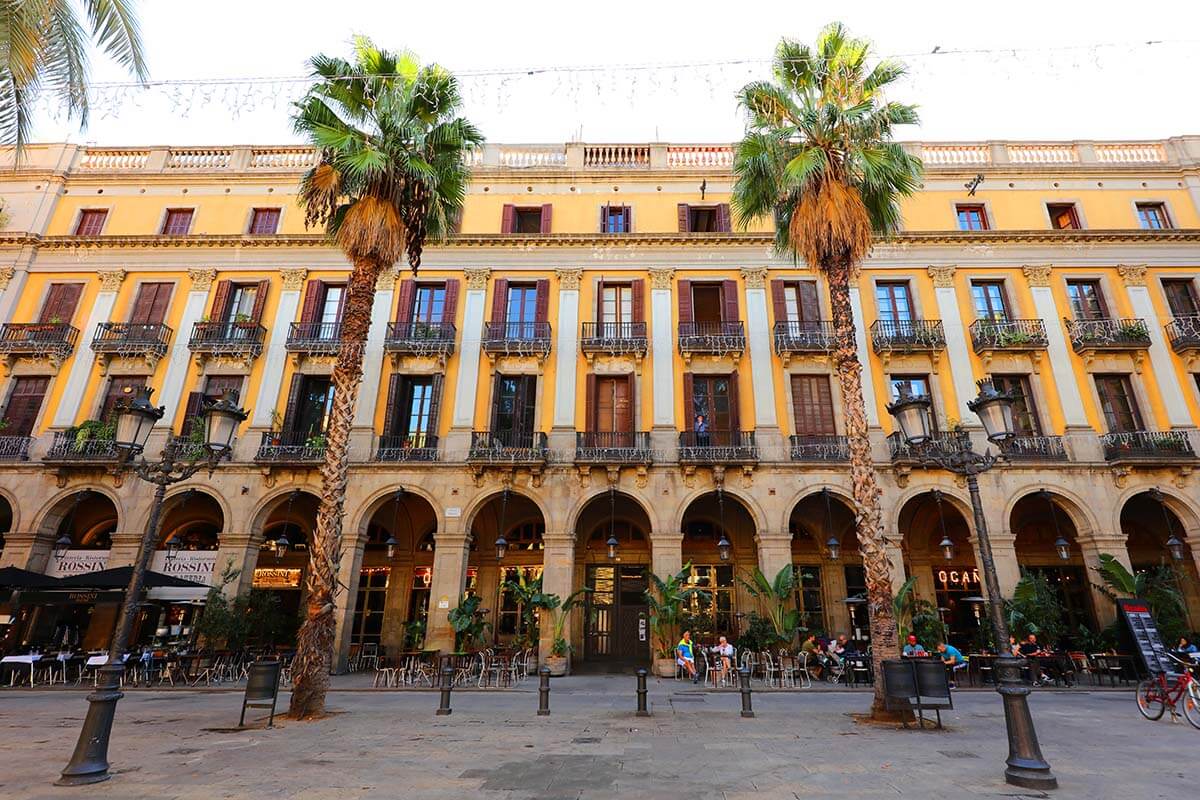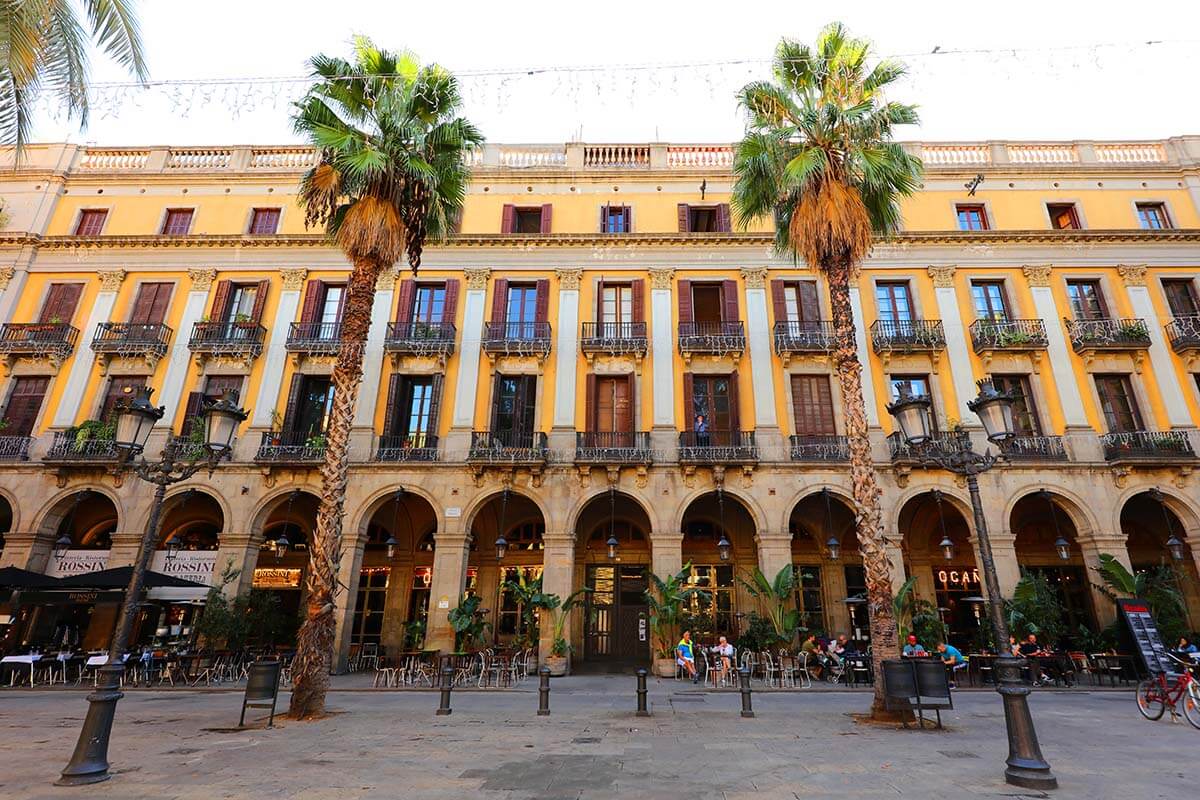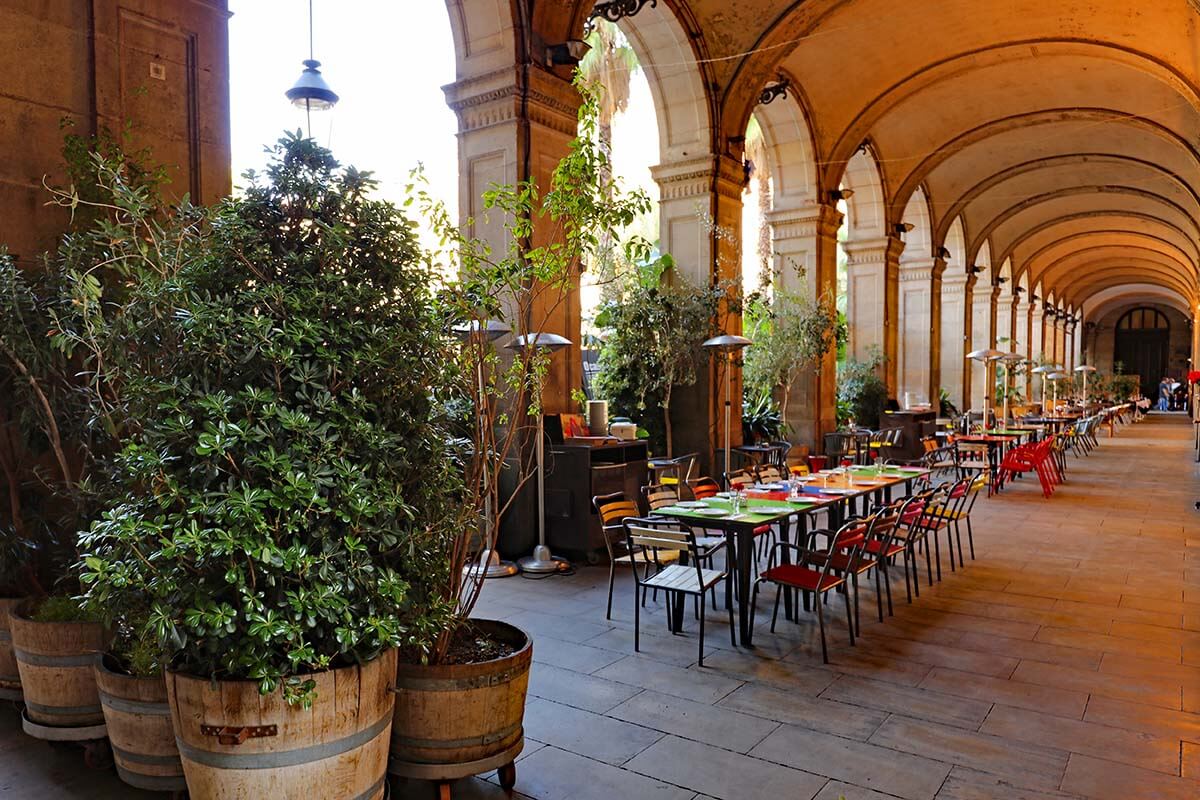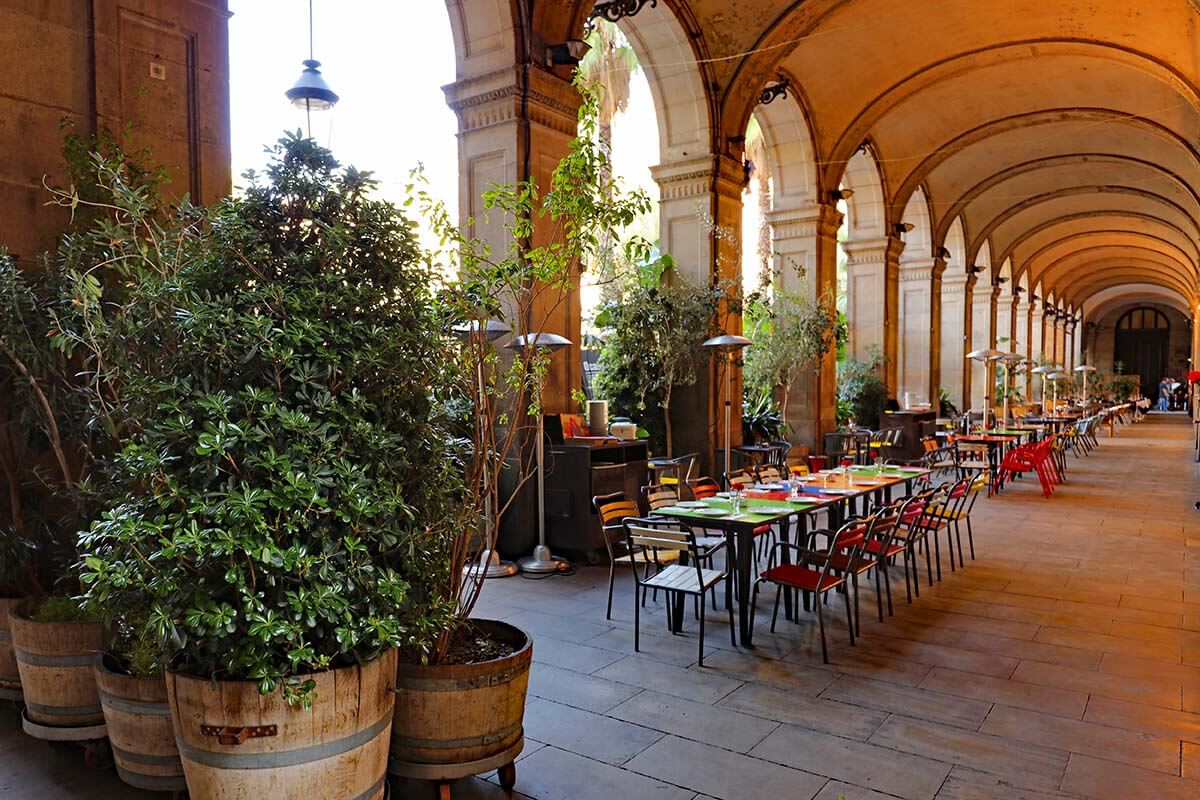 Flamenco Show & Dinner OR Food Tour
If you have one full day in Barcelona and want to experience as much of the city as possible, there are a few nice things you could do in the evening. Don't worry – these are much more relaxing than the rest of the day, and there's food involved too.
One option is to watch a Flamenco show. The most popular option (and available daily) is the 1-hour performance at the City Hall Theater (just near Plaça Catalunya). They have several shows every evening, so you can choose the time that best suits you – before or after dinner.
Alternatively, you can also opt for a place that offers a flamenco show and a dinner. This might be more relaxing after a long day of sightseeing. One of the best-rated options is this flamenco show with dinner at Tablao Flamenco Cordobes. It's just a few minutes walk from Plaça Reial, so very easy to fit into this itinerary.
Another option is to join a local food tour. Of course, it's not as relaxing as watching a show or just sitting down at a restaurant, but you get to know the more local side of the city and taste several traditional dishes and drinks.
Food tours have become one of our favorite ways to explore any city. If you think you'll have some energy left at the end of the day, it can be a nice way to end your short visit to Barcelona and make it even more memorable.
Here's one of the best-rated wine & tapas tours that would fit this itinerary quite well too. It starts at Plaça Sant Jaume, very close to the Cathedral of Barcelona, and they also offer an option to extend it with a flamenco show – the best of both worlds.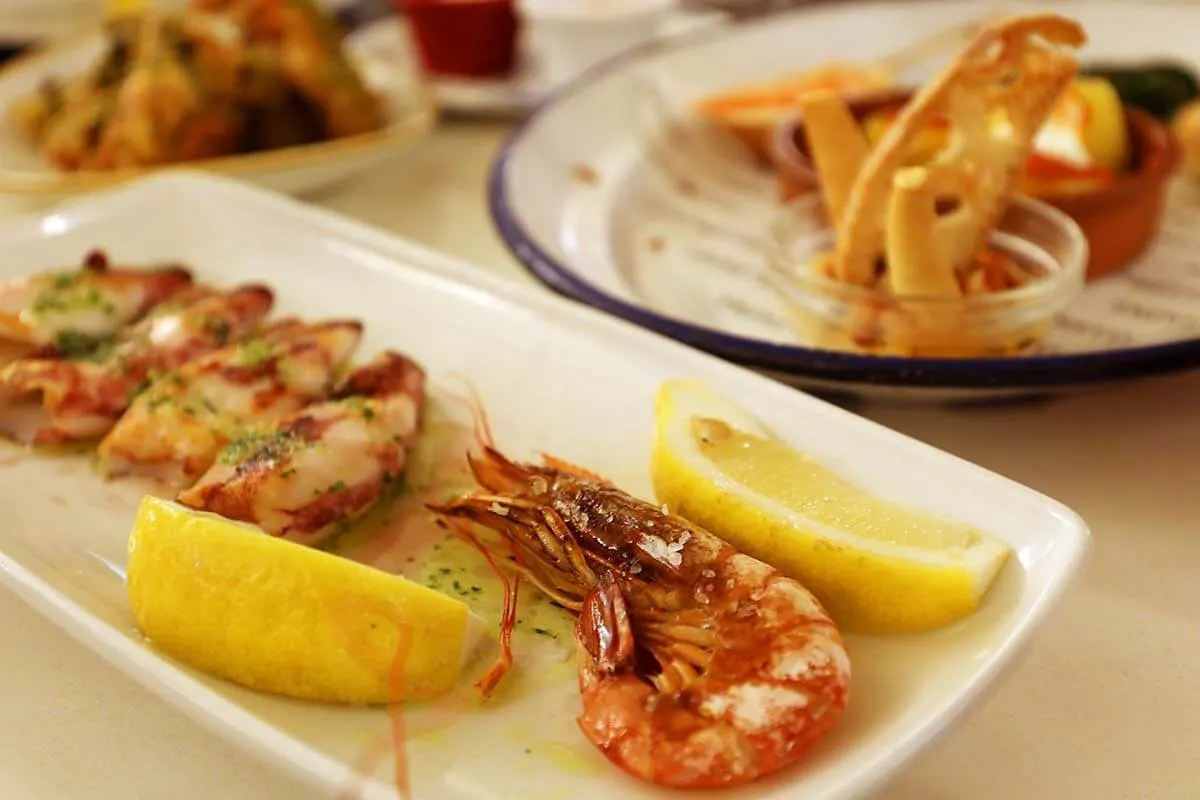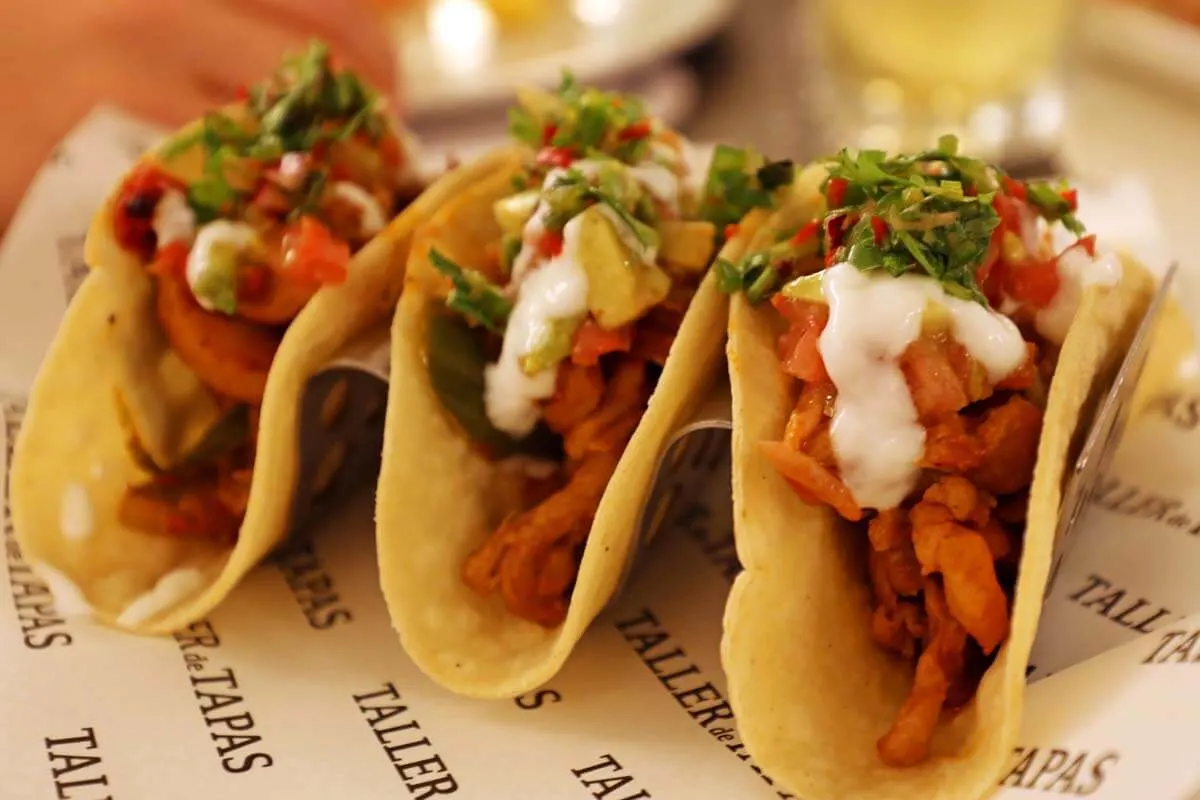 So, this is what your day in Barcelona could look like. As promised, below you can find a short recap of this itinerary and a map indicating all the main sights mentioned in this article.
Barcelona 1 day itinerary & map
Here's how to see the best of Barcelona in 1 day:
8 AM: Have coffee at Plaça Catalunya and see the most impressive buildings on Passeig de Gràcia.
9 AM: Visit Casa Battlo (get skip-the-line tickets if going without a tour). Arrive early!
10.30 AM: Walk on Passeig de Gracia and see Casa Mila from the outside. If you are not going with a tour, take a taxi to Park Güell.
11 AM: Visit Park Güell (get your tickets in advance!) and have a small snack for lunch.
12.45 PM: Make your way to La Sagrada Familia (by tax or with a tour).
1.15 PM: Visit La Sagrada Familia (if not going on a tour, get fast-track tickets in advance!).
3 PM: Take a metro to the city center. Late lunch at Mercado La Boqueria.
4 PM: Explore La Rambla and the Gothic Quarter (+ visit the Cathedral of Barcelona inside, and potentially also the MUHBA museum).
6-9 PM: Flamenco show + dinner or food tour + flamenco show. See the best options explained above.
Please note that the hours are indicated just for your reference so that you have a better idea of how to plan your time.
The timing is based on our experience. But instead of booking all the tickets ourselves and taking a taxi for the longer distances, we took this tour for the first part of the day starting with Casa Batllo and ending with La Sagrada Familia. If interested, you can read our detailed review of this tour here: the best Gaudi tour in Barcelona.
To help you orient, we also created a map indicating all these places that we recommend visiting in Barcelona in one day. See below.
How to use this map: Use your computer mouse (or fingers) to zoom in or out. Click on the icons to get more information about each place. Click the arrow on the top left corner for the index. Click the star next to the map's title to add it to your Google Maps account. To view the saved map on your smartphone or PC, open Google Maps, click the menu and go to 'Your Places'/'Maps'. If you want to print the map or see it in a bigger window, click on 'View larger map' in the top right corner.
So, this is our recommended itinerary for the very best of Barcelona in a day. Of course, this is just one of the countless ways to plan your trip. But it gives you a good idea of the main sights to see and how to plan your time in order to make the most out of your quick visit.
If you have time, I highly recommend that you make some time for an evening activity as suggested above (flamenco show and/or food tour). It will make your first visit to Barcelona so much more special and memorable than just rushing through the main landmarks!
Where to stay in Barcelona
If you are visiting Barcelona for just one day, it's likely that you are visiting the city as part of a cruise and don't really need to worry about this.
If, however, you are staying in the city for a few nights, I highly recommend booking a hotel in the area close to Plaça de Catalunya. This is really the most convenient neighborhood for sightseeing!
We stayed at the Acta Splendid Hotel and the value quality/location-wise couldn't be better. There are many other hotels and accommodations in this area, for all budgets. For example, H10 Universitat is a very nice mid-budget hotel with a beautiful rooftop bar.
TIP: If you need an airport transfer, the Barcelona Airport Aerobus is one of the most convenient options.
READ ALSO: Barcelona Travel Tips
If you have more time in/ around Barcelona, you may want to check our other guides to the city as well:
See also our first-timer itineraries for 1 day in Seville and 1 day in Madrid.
If you found this post useful, don't forget to bookmark it and share it with your friends. Are you on Pinterest? Pin these images!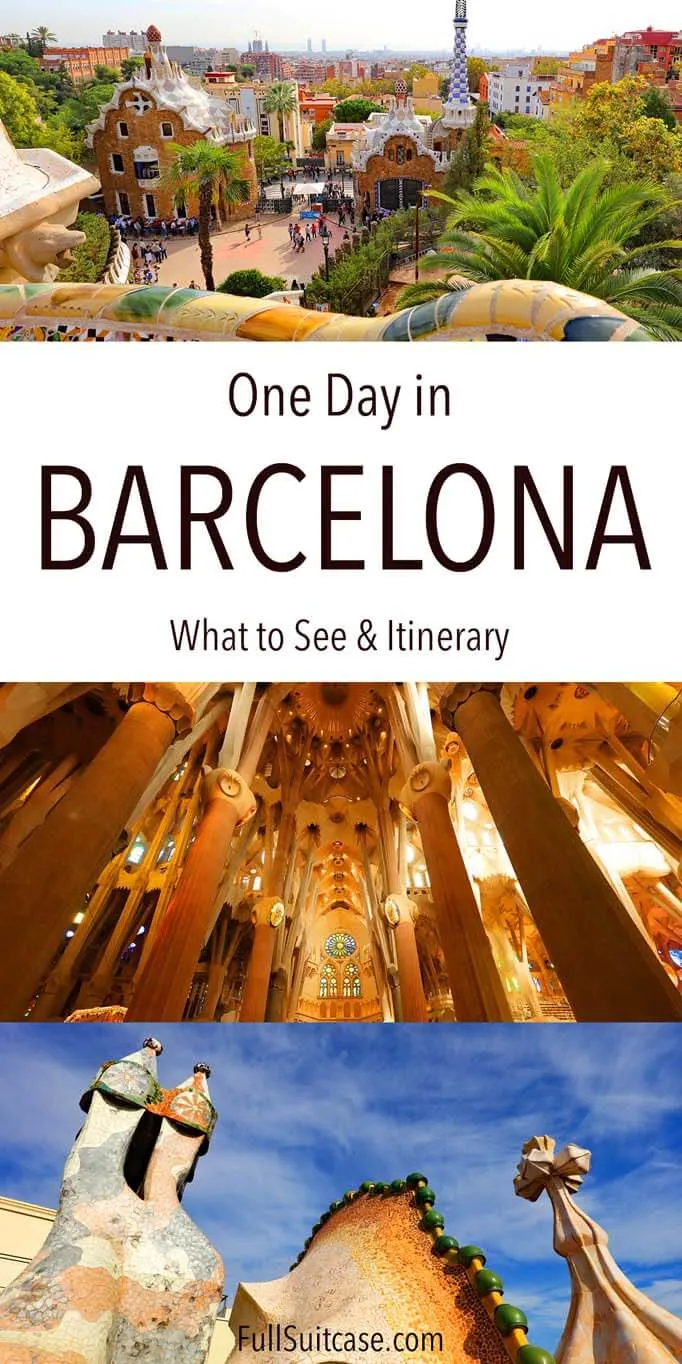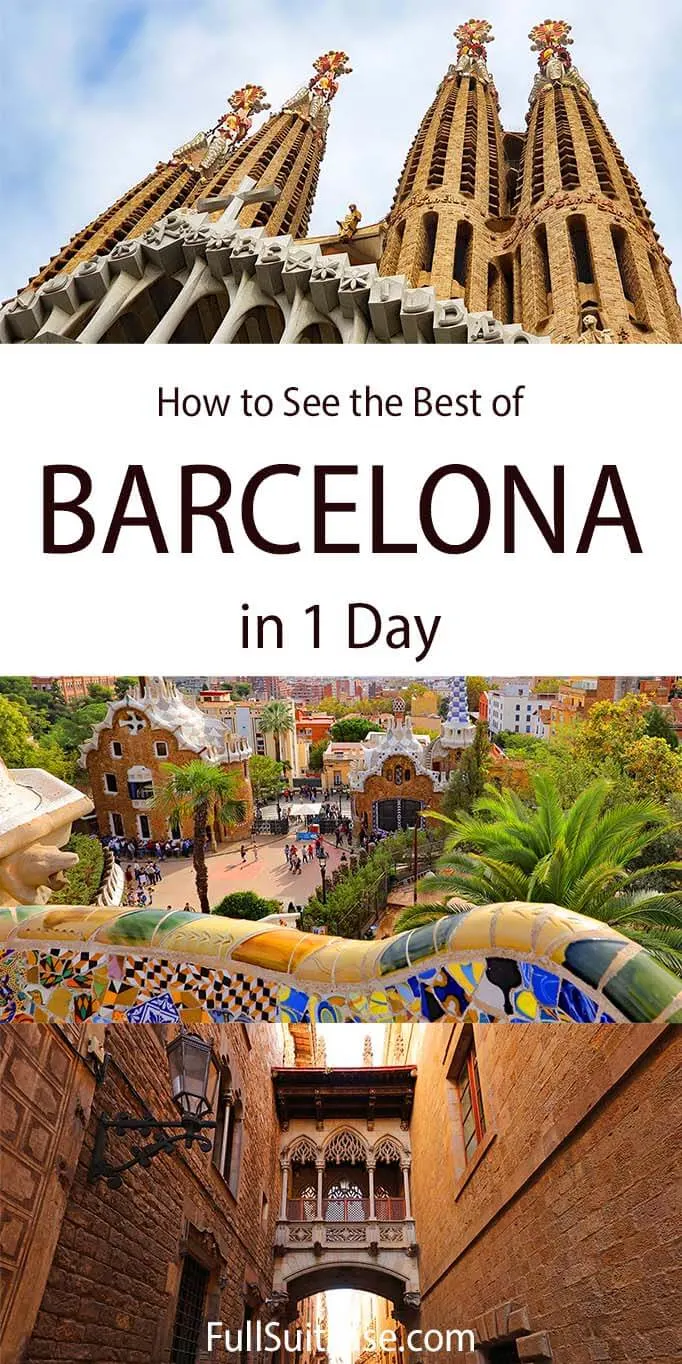 Travel guides & 1-day itineraries for some of the best cities in Europe: