Looking for the best things to do in Barcelona, Spain, and feeling overwhelmed? Deciding which of the most popular Barcelona attractions to see is indeed not easy, especially if you are visiting for the first time and your time in the city is limited…
So to help you figure out where to go and what to see in Barcelona, in this guide we share the VERY BEST sights and TOP tourist attractions in Barcelona that are worth your time the most. For each place, we also include our top tips for your visit. We also created a map of Barcelona attractions that should help you plan your sightseeing itinerary. Find out!
Located between the sea and the mountains, the beautiful city of Barcelona is rich in culture and history. Its architecture is stunning, a contrasting mixture of Catalan Gothic and Modernism. The atmosphere is fun and cosmopolitan, with a relaxed and friendly vibe during the day and a vibrant nightlife when the sun goes down.
With so many things to do and interesting places to explore in Barcelona, you may be feeling a little daunted when it comes to planning an itinerary. This guide to Barcelona's top sights and attractions is designed to help!
Giving you an insight into what to expect when visiting the city's landmarks, it contains lots of tips and advice to help you make the most of every minute of your stay. We also included a map indicating all the top sights in Barcelona – you can find it at the bottom of this article.
Good to know: In addition to the Barcelona must-sees featured in this guide, there are many more interesting things to do in Barcelona. While not a must on a short first visit, these experiences will make your visit to the city even more special than just ticking off the 'must-see' list. So in order to give you a more complete picture of what there is to see and do in Barcelona, we listed some of the coolest attractions and fun, local activities as well.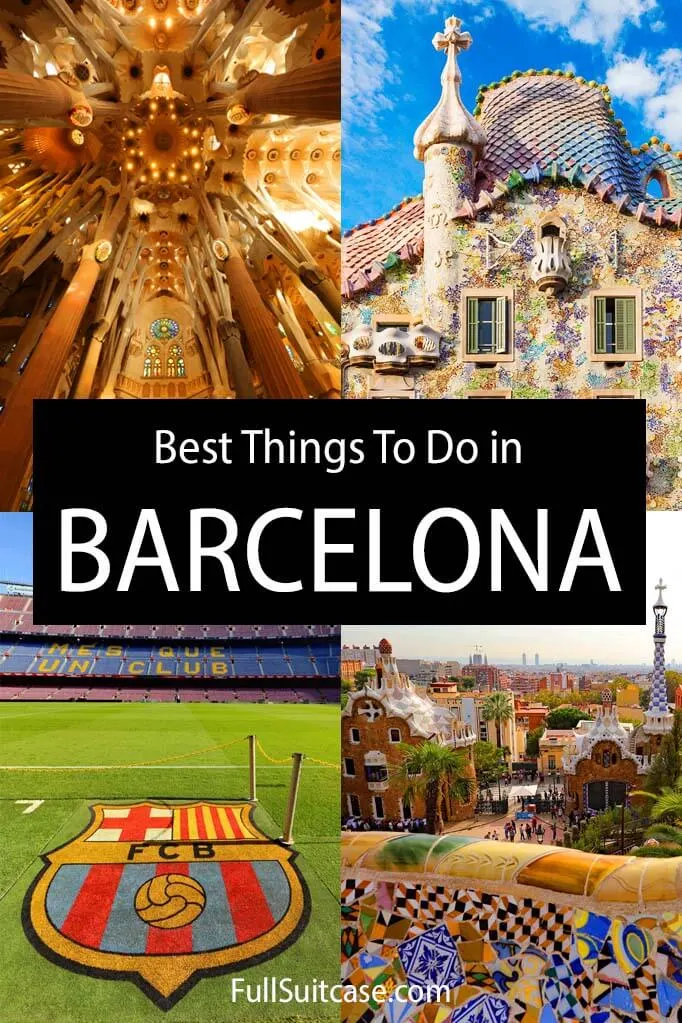 Good to know: This list of the best sights and attractions in Barcelona is sorted starting with the must-sees first. So if you are really short on time, start with the top of this list and make your way down.
The top 10 sights on this list are really not to be missed. If you have more time in the city, be sure to read all the suggestions and choose a few more places that interest you the most.
The top 15-20 are really nice to see and you should be able to cover most of these sights in about 3 days. The rest is well worth it too, and if you have 4-5 days in Barcelona, you should be able to see most of the places mentioned in this guide.
TIP: Be sure to also check our additional recommendations for fun activities and experiences that will make a nice addition to any sightseeing itinerary and will help you plan a much more memorable trip to Barcelona! You can find them at the end of this guide, right before the map of the main sights in Barcelona.
But first – the musts, best places to see and things to do in Barcelona. Take a look!
These are the main landmarks, best sights, and top tourist attractions to visit in Barcelona:
1. La Sagrada Familia
One of Barcelona's most famous buildings, the Basilica of La Sagrada Familia (Basilica of the Holy Family) is an architectural masterpiece. If there is one landmark that you absolutely cannot miss in Barcelona, it's Sagrada Familia. As impressive as it is, seeing the church from the outside isn't enough – you really have to visit the inside too!
Designed by the genius architect Antoni Gaudí, La Sagrada is truly breathtaking. No words or pictures do it justice – it's a place you have to experience first-hand.
Filled with rich detail, its interior is bathed in fairytale-like rainbow hues as the light filters through the colorful glass windows. The atmosphere is almost surreal and the view inside the naves – looking up at the tree-like columns surrounding the vaulted ceiling – defies description.
Good to know: Do not confuse La Sagrada Familia with the Cathedral of Barcelona. Whilst the most famous and most visited, Basilica La Sagrada Familia is not a Cathedral. The actual Barcelona Cathedral is also well worth a visit – you'll find more information about it further below.
Interesting fact: Although the construction started at the end of the 19th century, La Sagrada Familia is still not completely finished. The building has been under construction for over 130 years! Whilst most of the interior is now complete, you'll notice that work is still being done to the exterior. The aim is to finish it by 2026, to coincide with the 100th anniversary of Gaudi's passing. It's fun to spot the differences in architectural styles and colors as you walk around.
Good to know: Be sure to get skip-the-line tickets in advance to avoid wasting time queuing. Plan 1.5-2 hours for your visit, and – in high season – allow some extra waiting time (even with priority tickets, you'll have to locate the dedicated entrance, pass the security check, etc).
Best time to visit: If you want to avoid the crowds, visit La Sagrada Familia first thing in the morning. However, mid-morning or mid to late afternoon is the best time light-wise. That's when the sunlight strikes the windows directly, enhancing the colorful illumination within the church. We visited at around 2 PM and the light was mesmerizing!
TIP: Instead of just getting tickets and going on your own, we highly recommend booking a guided tour which will come with priority access tickets. There is so much symbolism, so many interesting details, and stories about La Sagrada that you would totally miss without a guide. Having a guide will enhance your visit to any of the Gaudi buildings, but especially at La Sagrada Familia!
PRO TIP: If available, choose a guided tour that includes tower access. The views from the top are spectacular!
We visited La Sagrada Familia as part of this amazing day tour that includes all the main Gaudi landmarks in Barcelona. You can read all about this tour here: Best Gaudi Tour in Barcelona.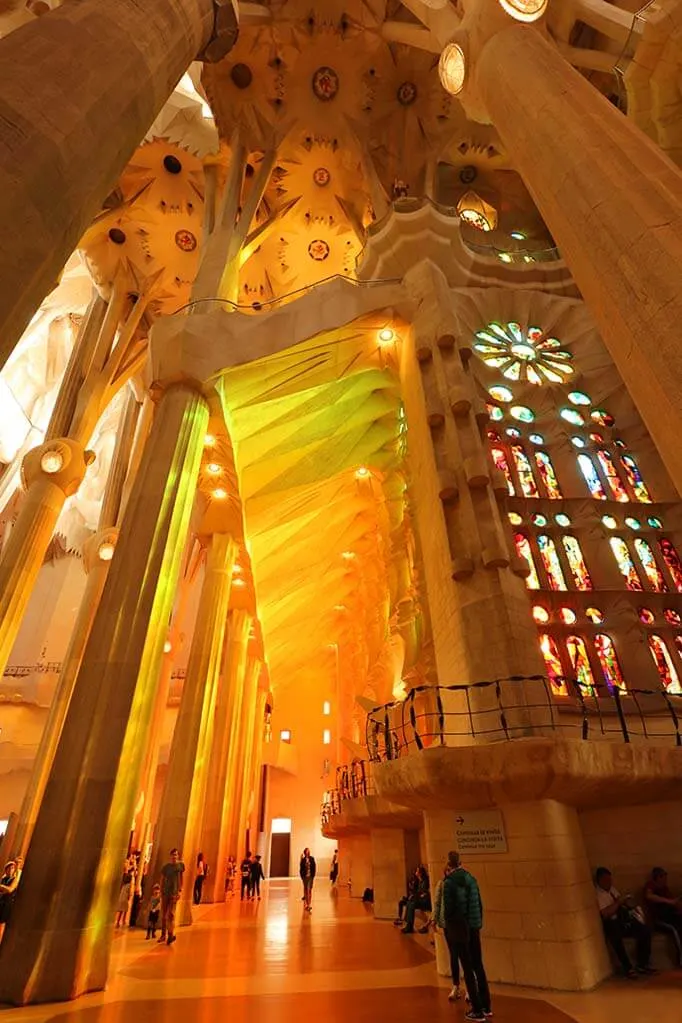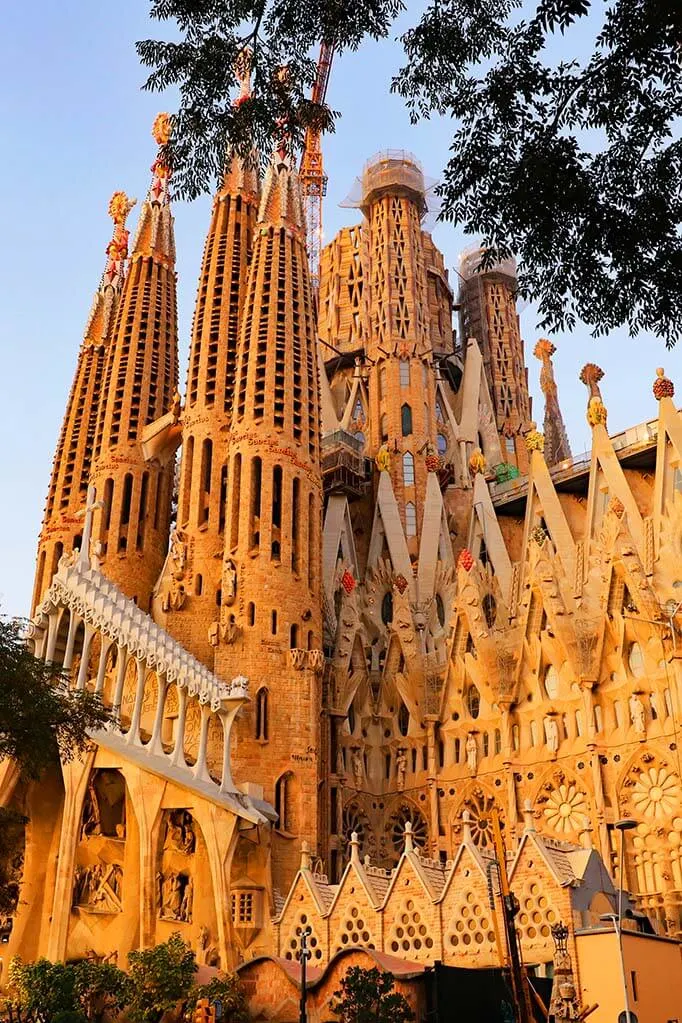 2. Gothic Quarter – Old Town of Barcelona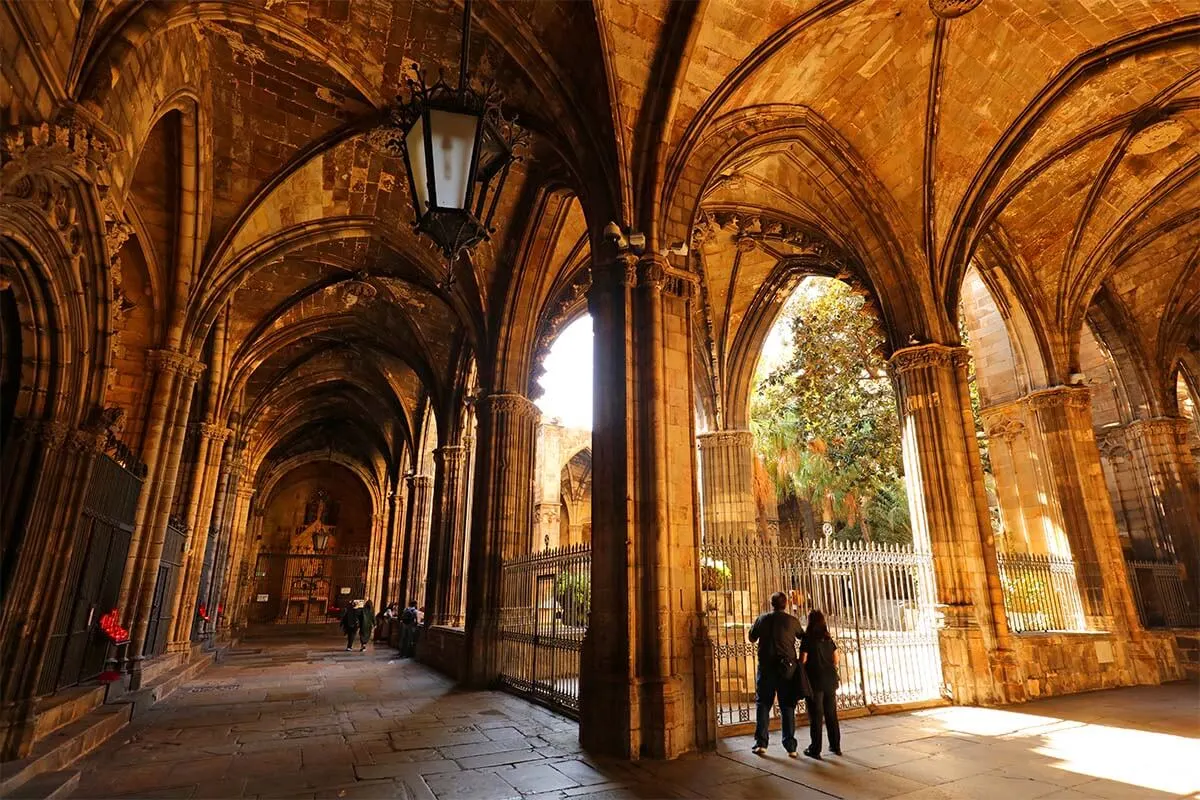 The Ciutat Vella – Barcelona's Old Town – is made up of four main areas. The most popular and the most beautiful to see is the Barri Gòtic (Gothic Quarter). No matter how long your trip is, this area is not to be missed in Barcelona!
Barcelona's Gothic Quarter is a rather compact area located southeast of Plaça de Catalunya and perched between the streets of La Rambla to the west and Via Laietana to the east.
It's a fascinating part of the town, with a network of narrow medieval streets and stunning examples of the Gothic stone architecture that gave it its name. It's here that you'll find many of the oldest churches of Barcelona, including the 13-15th-century Cathedral of Barcelona (more about it below). And be sure to explore the neighborhood's many squares, including the most famous of them all, Plaça Reial (Royal Square).
The 19th-century Plaça Reial is one of the must-sees in Barcelona! It's a lively city square lined with tall palm trees, a fountain in the middle, and lamps designed by Gaudi. This is a popular meeting place with many restaurants and cafes – ideal to relax, have a drink, and do some people-watching. If you visit on a Sunday morning, you'll find the coin- and stamp collectors' market here as well.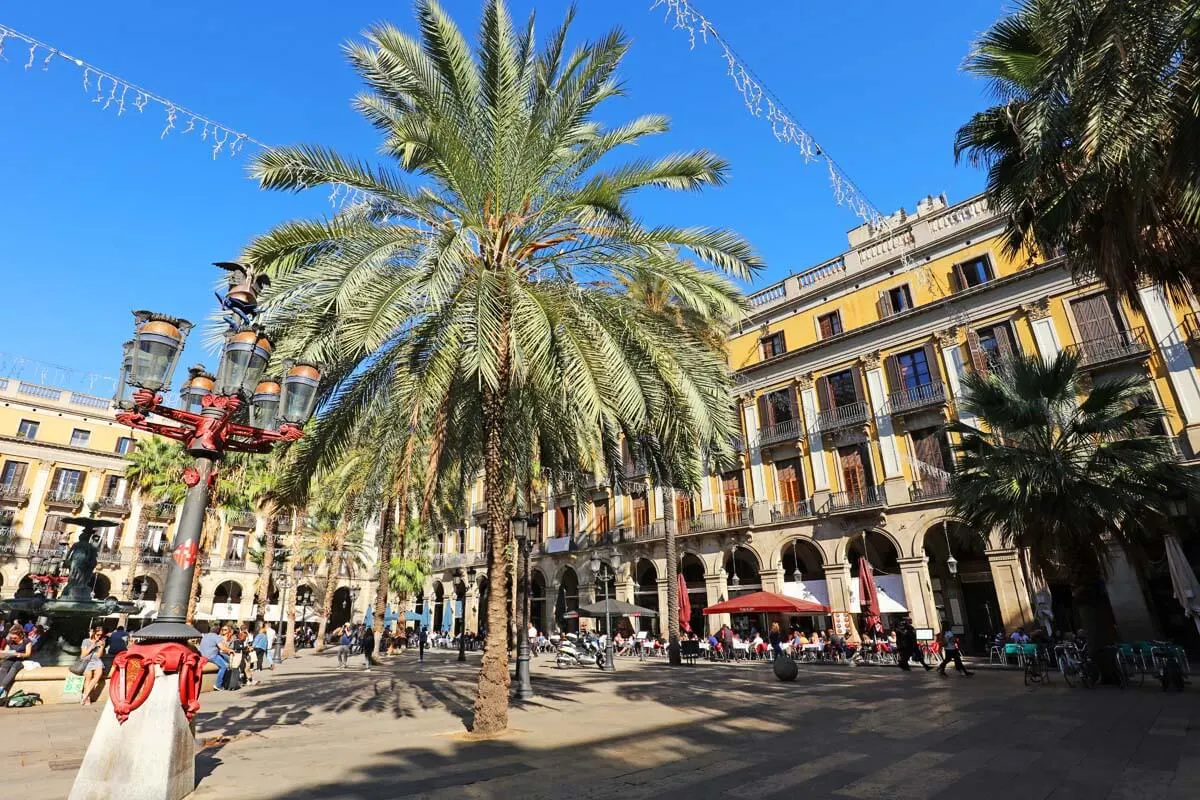 But the history of the Gothic Quarter goes back much further, with parts dating back to Roman times. Inside the area's City History Museum (MUHBA – more info further below), you can even visit a subterranean Roman town. Here you'll see ancient houses, streets, and workplaces.
Good to know: The Gothic Quarter is packed with bars and restaurants and has a very lively nightlife. It's also great for shopping, with plenty of little boutiques to explore.
TIP: There are many really nice tours that visit this part of town (often in combination with other popular sights in Barcelona). You can choose from walking tours, bike tours, or food tours – it's a fun way to get to know the city a bit better.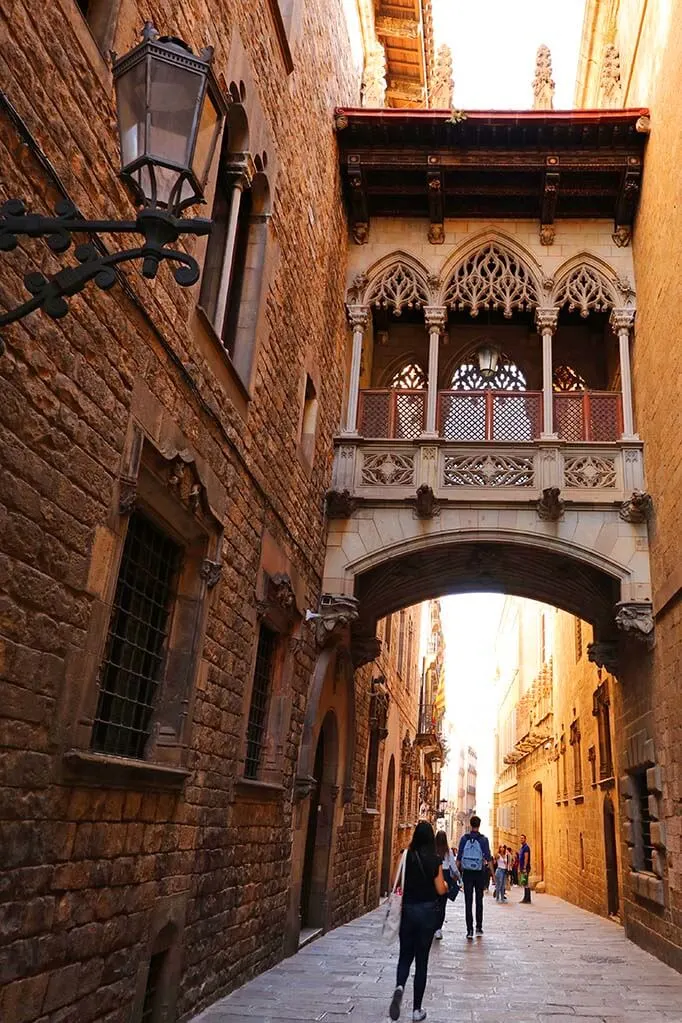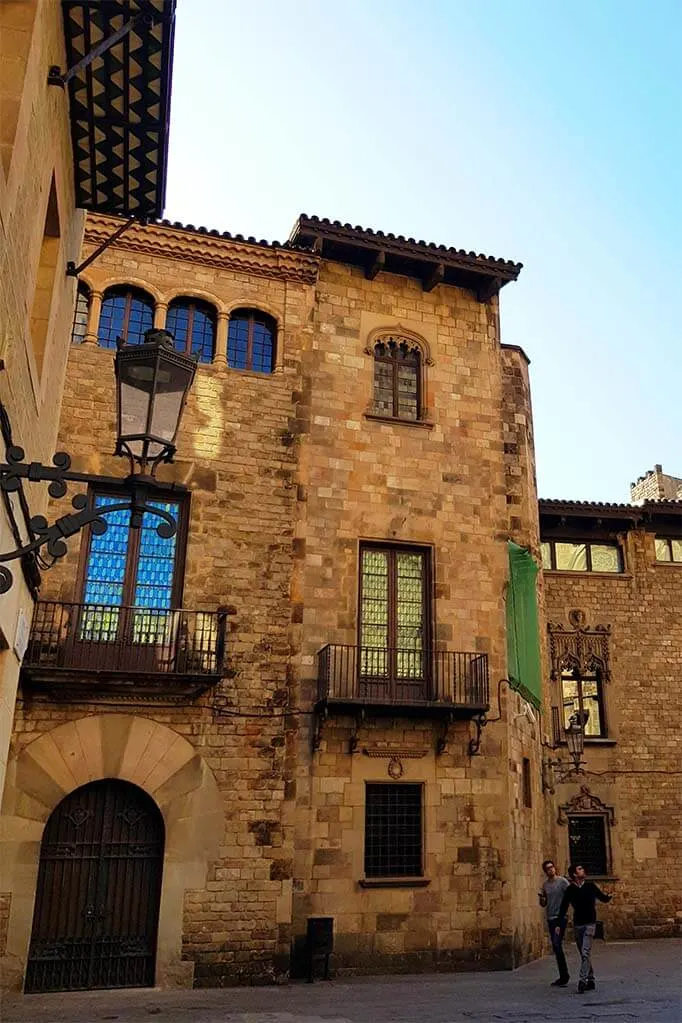 3. Barcelona Cathedral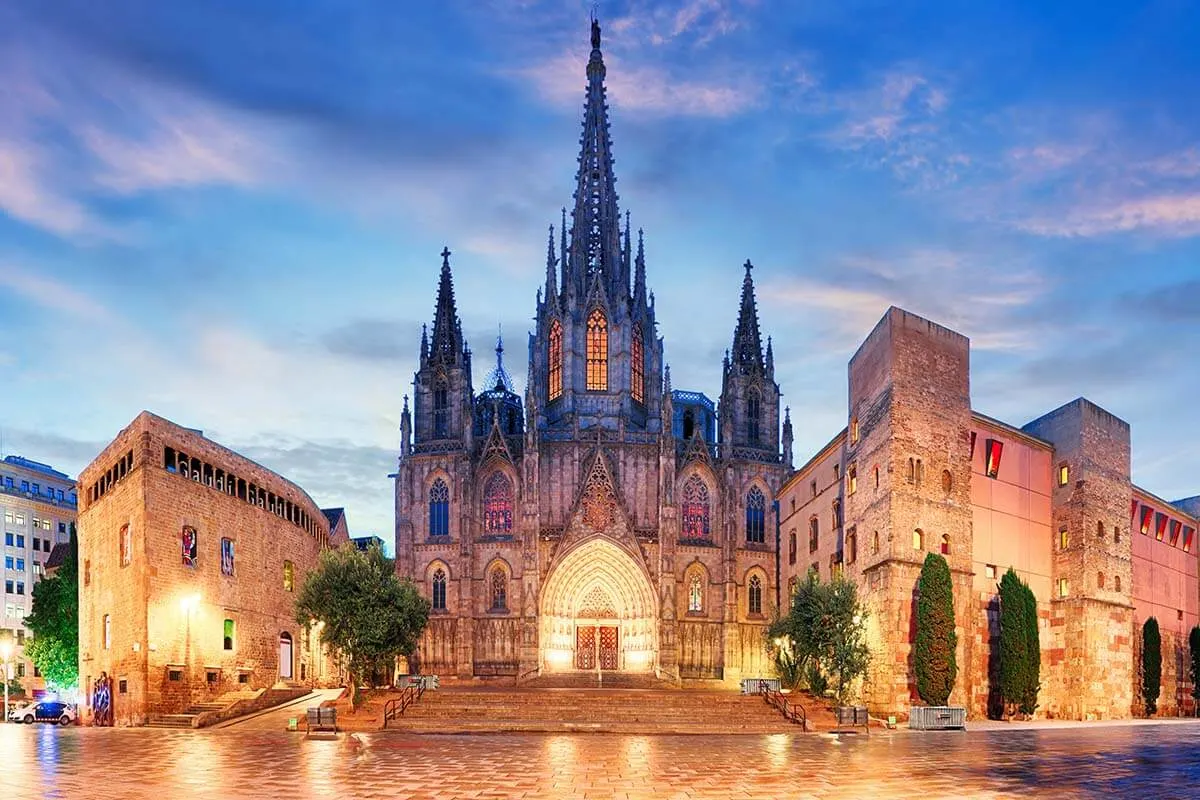 The Cathedral of the Holy Cross and Saint Eulalia – also known as Barcelona Cathedral – is the main attraction in the Old Town. It's a traditional gothic cathedral, totally different from La Sagrada Familia, but worth a visit just as much.
Dating back to the 13th to 15th centuries, Barcelona Cathedral is a beautiful building with a spectacular interior that simply must not be missed. Its facade is famous for its gargoyles, along with domestic and mythical animals. But what many people don't realize is that its elaborate exterior was actually a 19th-century addition! Its original features were much more simple and can still be seen along the Cathedral's sides.
Be sure to take a walk in the picturesque garden, filled with tall palms and magnolias. There you will come upon the Well of the Geese (Fuente de las Ocas). This is a large, raised pond filled with thirteen white geese. Some say they are there to safeguard the cathedral's treasures – geese were traditionally kept by the Romans as security guards. Others say they are there to represent the age of Christian martyr Saint Eulàlia when she died.
If the queues are not too long, it's also worth taking the elevator to the Cathedral roof. Here you can get a good view of the Barcelona skyline.
Good to know: You'll need a ticket for the Cathedral – for more info about opening times and tickets, see their website. Also, you should wear appropriate clothing (knees and shoulders covered) for your visit here – shorts and revealing clothes are considered disrespectful.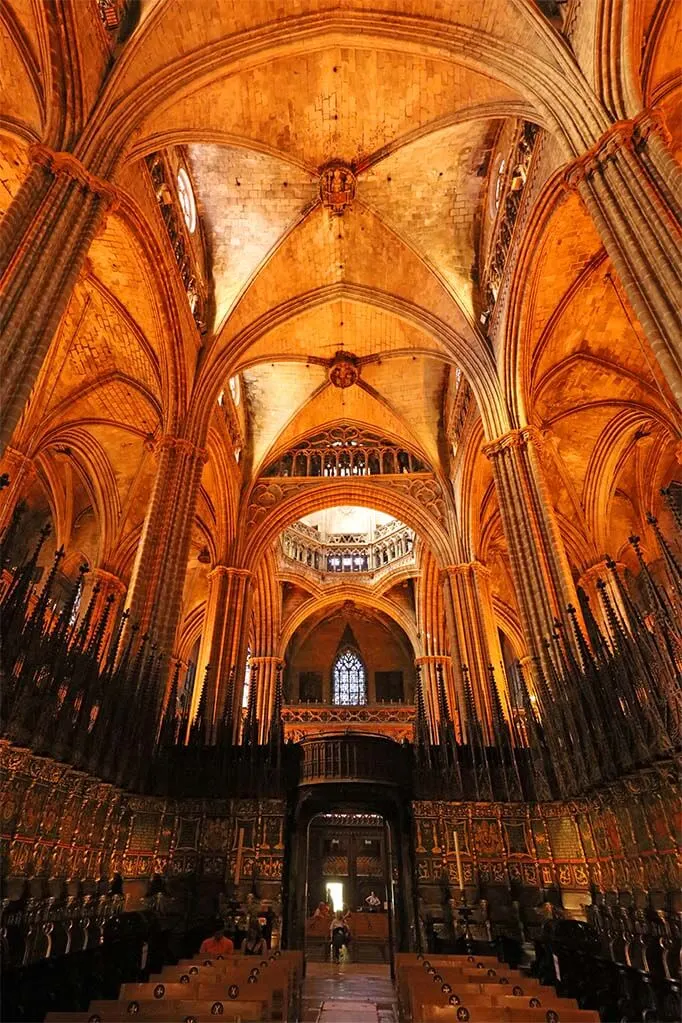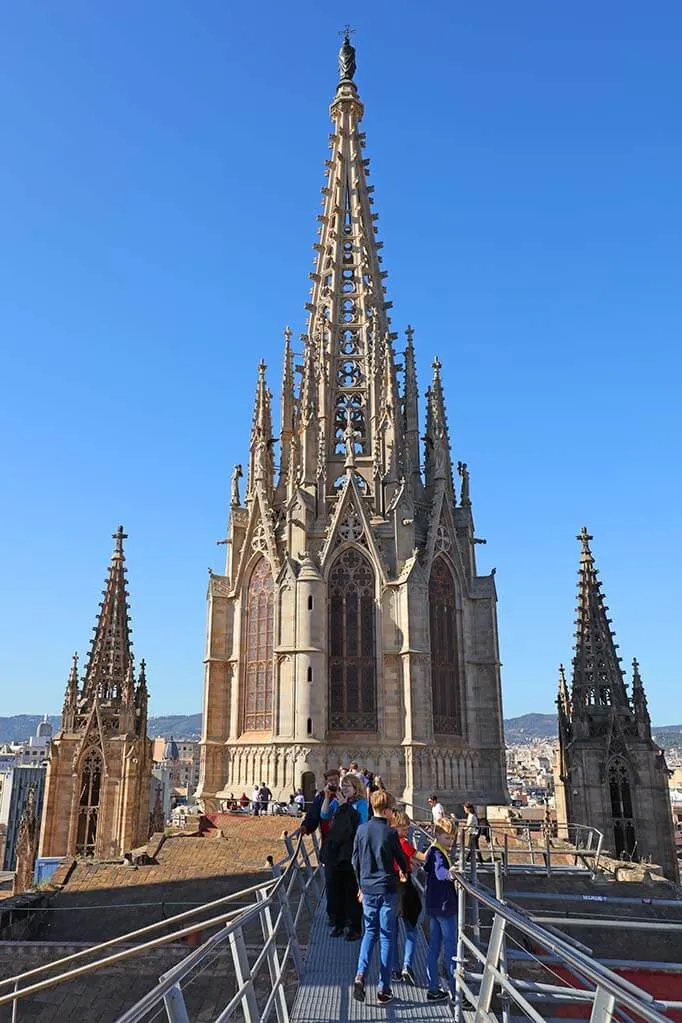 4. Park Güell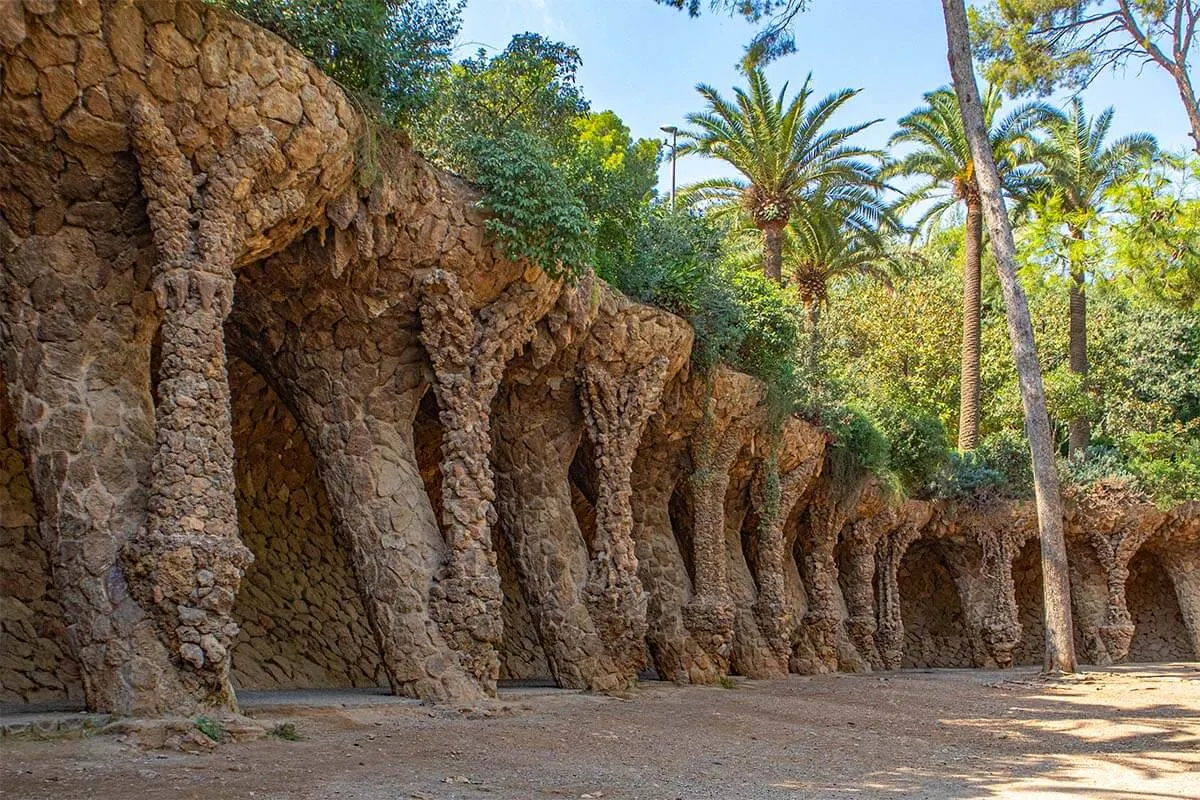 Park Güell is another of the most famous Gaudi attractions and a must-see in Barcelona!
This magical garden was commissioned by the Spanish entrepreneur Eusebi Güell. He wanted a stylish park for Barcelona's aristocracy to enjoy and this magnificent open space was the result.
You can see beautiful tiling here, along with unique stone structures, detailed mosaics, and a wonderful dragon staircase with a fountain. There is even a small house in which Gaudi lived at one point. This is now a museum and contains interesting pieces of furniture that he designed.
TIP: Be sure to book your tickets ahead of your visit, as they are usually sold out at least a few days in advance. Many of our readers told us that they weren't able to visit the park because they didn't think to book in advance, and our local guide confirmed that this is indeed often the case.
PRO TIP: If you didn't get the tickets in time, try to see if you can still join one of the guided tours that visit the park. They usually prebook some extra tickets to accommodate last-minute bookings.
Good to know: Park Güell is located a bit outside of the city center. The closest metro station to the park is about 15 minutes away, so if you are very short on time you may prefer to take a taxi. Also, wear comfy footwear! Much of the walking is uphill and many of the paths are made from dirt. Sneakers are ideal.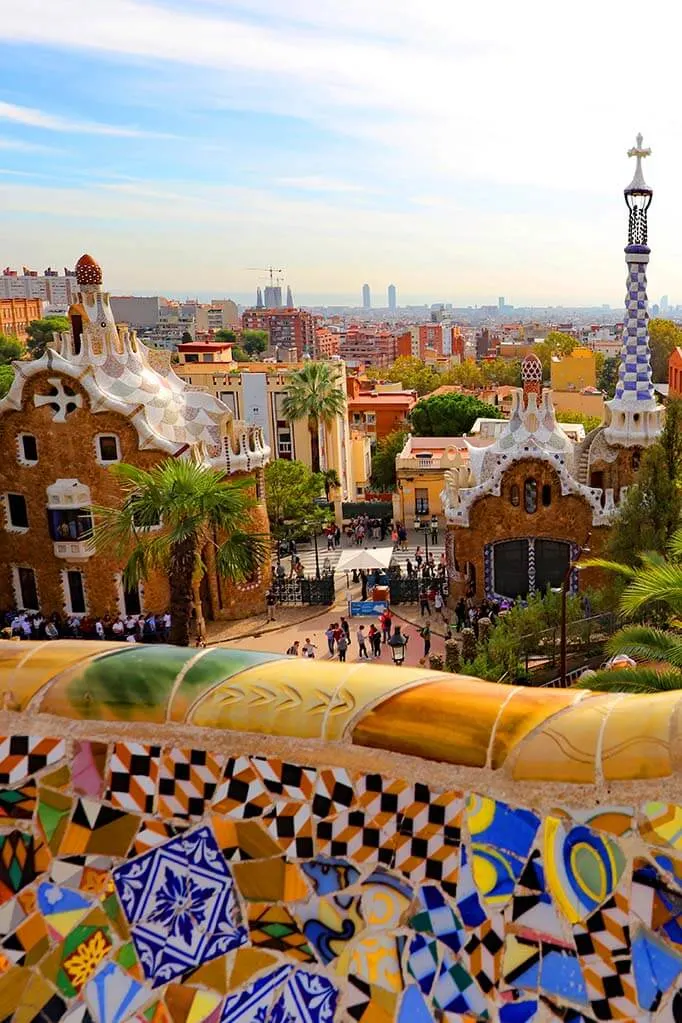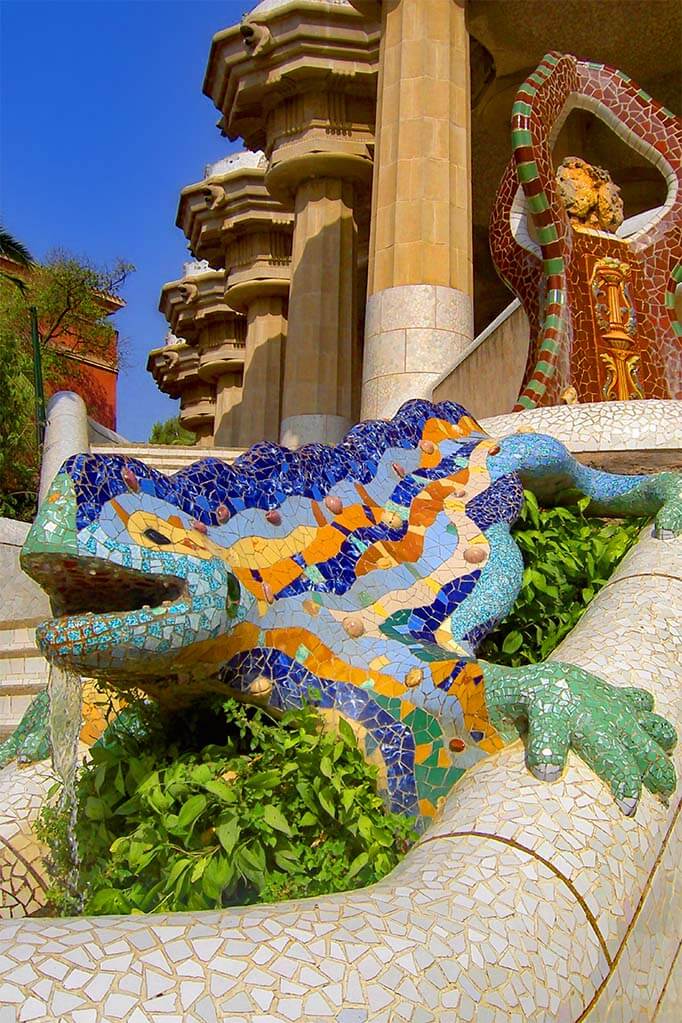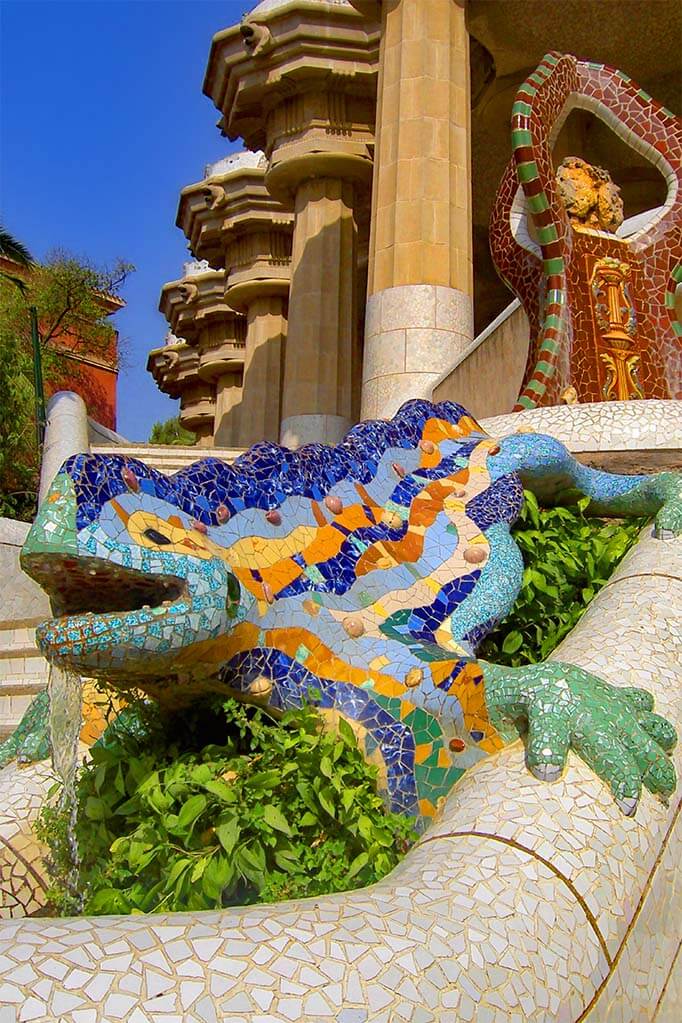 5. Plaça de Catalunya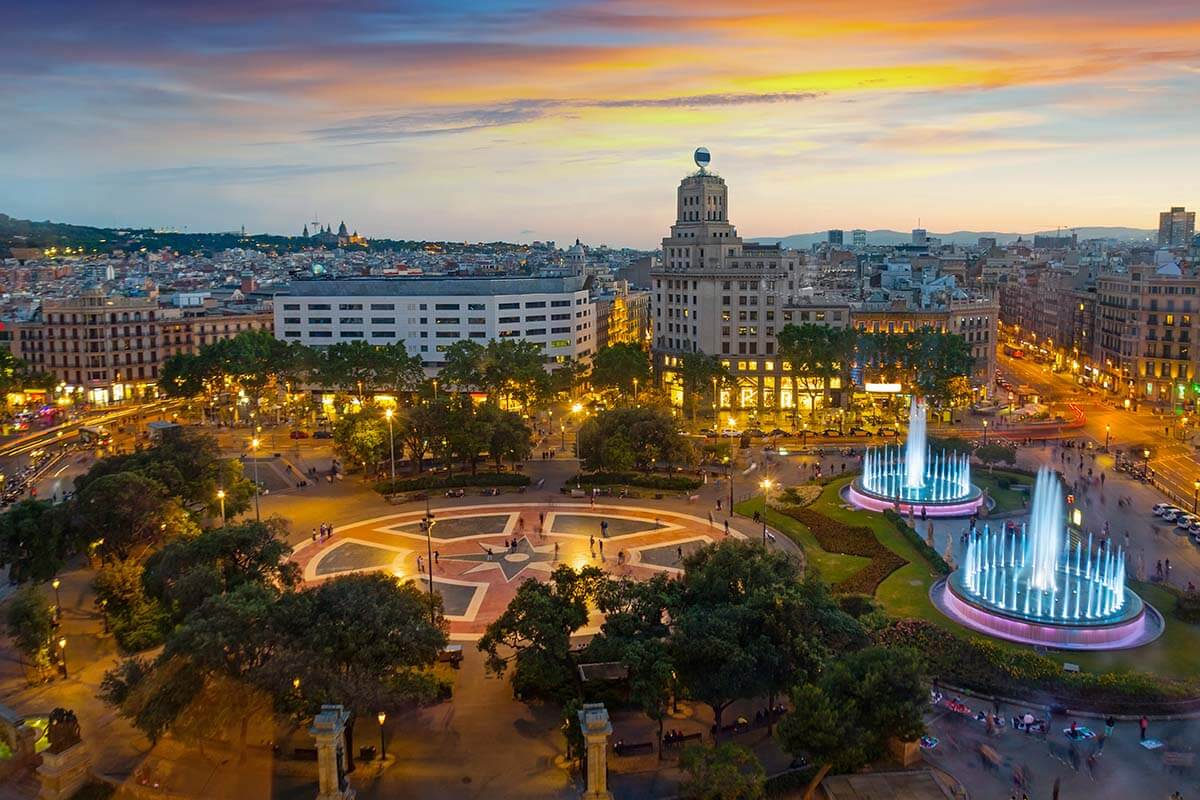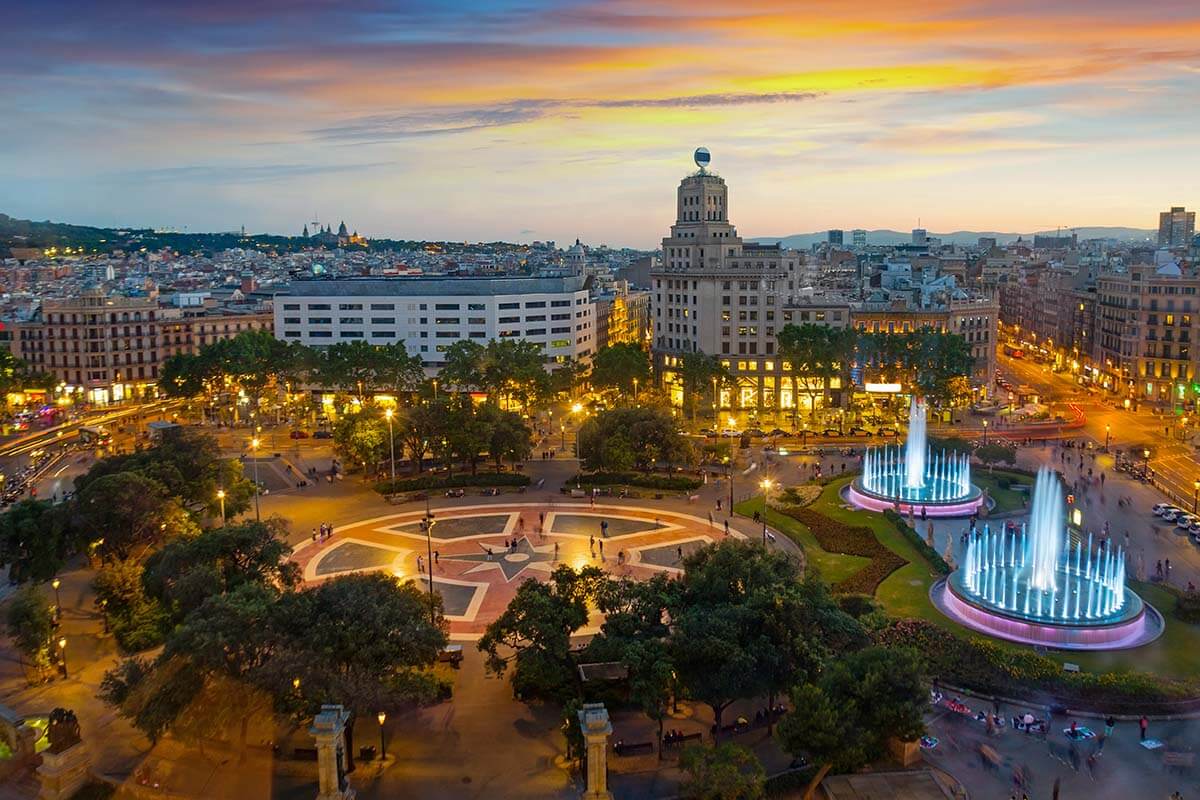 Located in the very heart of Barcelona, Plaça de Catalunya is a large plaza, the central square of the city. It's here that the Gothic Quarter, the neighborhoods of El Raval and l'Eixample, and the most prominent streets such as La Rambla and Passeig de Gràcia come together. It doesn't get any more central!
Plaça de Catalunya is a popular meeting place in Barcelona – for locals and tourists alike. Many city tours start here, and – because there's enough space for big buses to park – quite a lot of tours that go outside the city also start here.
This large city square is a hub of activity, with frequent fiestas and live musical performances. Its perimeter is lined with statues and there are fountains and green verges, giving you somewhere to sit for a while and soak it all up.
Surrounding the square are many great eateries (including the Hard Rock Cafe, for the fans). Shopping is good here too, with – among others – a large branch of El Corte Ingles, Spain's biggest department store chain.
Good to know: To appreciate the plaza without the crowds (and noise) visit on the weekend, in the morning.
TIP: For an impressive, birds-eye view of the plaza and the city beyond, check out the self-service restaurant at the very top level of the El Corte Ingles shopping center. It's one of the best free viewpoints in Barcelona's city center.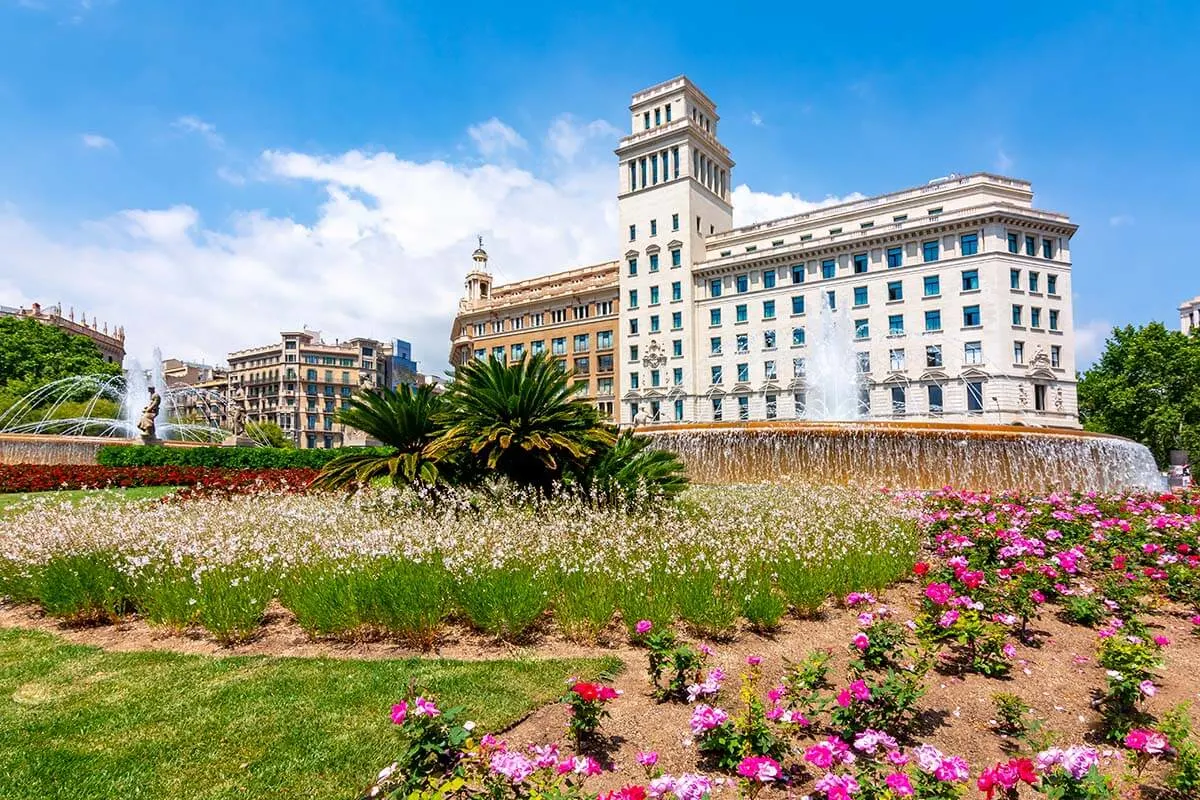 6. La Rambla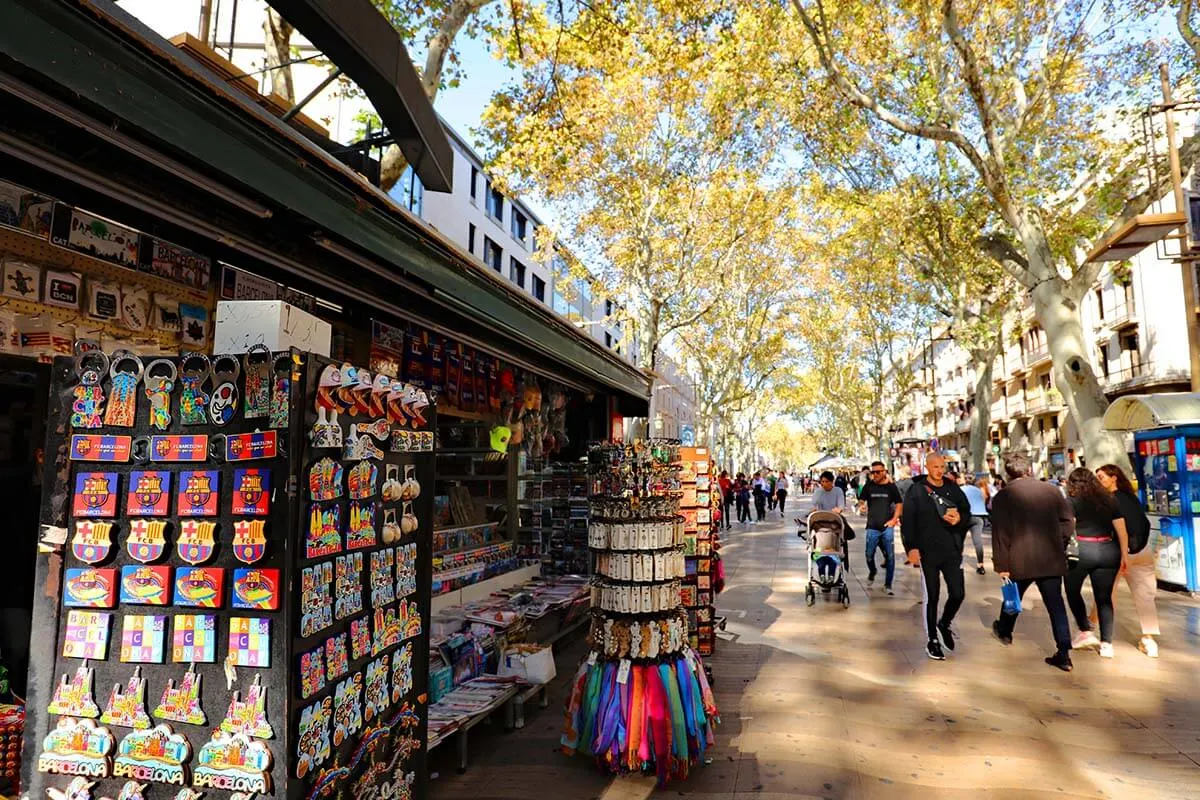 La Rambla (aka Las Ramblas) is probably Barcelona's most famous street and no trip to the city would be complete without walking through it. Connecting Plaça de Catalunya to the waterfront area La Rambla crosses the heart of Barcelona's old town, with many of Barcelona's most famous sights just nearby.
This wide tree-lined avenue with a wide pedestrian area in the middle is packed with street musicians, souvenir vendors, and people enjoying drinks on the restaurants' terraces.
It's busy – crowded – at La Rambla every day. But visit early in the morning and you'll find it much quieter. This will give you an opportunity to enjoy the beautiful architecture and other interesting sights here.
Check out the Font de Canaletes, a small drinking fountain where Barcelona football club fans come to celebrate the team's victories. Drinking from this fountain is said to guarantee your return to the city (I haven't tried though)…
Other spots worth visiting include Gran Teatre del Liceu and Palau Güell, an impressive mansion designed by Gaudi. Also the earlier mentioned Gothic Quarter with Plaça Reial – beautifully decorated with palm trees – and Plaça de Sant Josep Oriol square with Basilica de Santa Maria del Pi is just nearby.
Casa Bruno Cuadros – a building at the corner of La Rambla and Plaça Boqueria – with Chinese mosaics, umbrellas, and a huge dragon on the facade is also noteworthy.
Good to know: Restaurants and cafes on La Rambla tend to be of quite poor quality. Your best dining option in the area is to head to the Boqueria market instead (see below) or check out the restaurants in the Gothic Quarter just nearby.
Also, this is one of the places where you really have to watch out for pickpockets!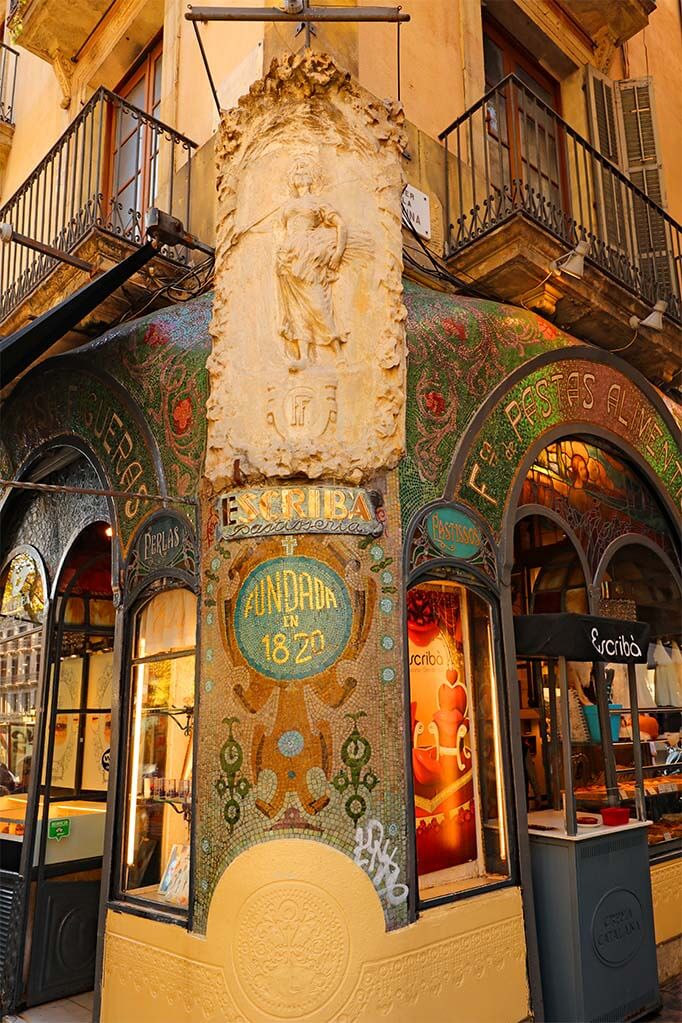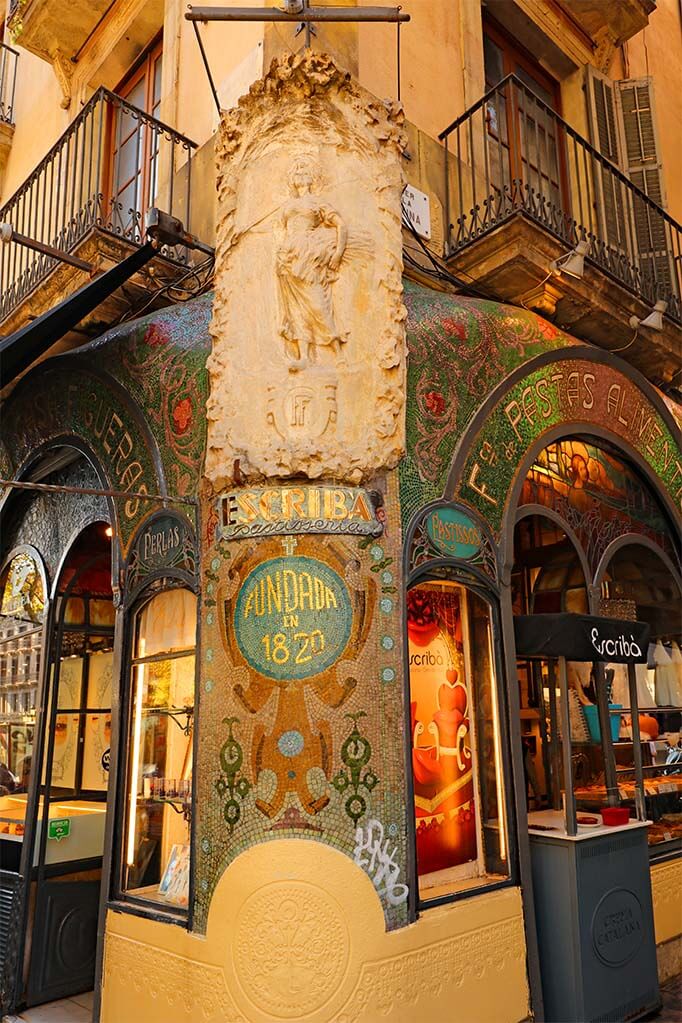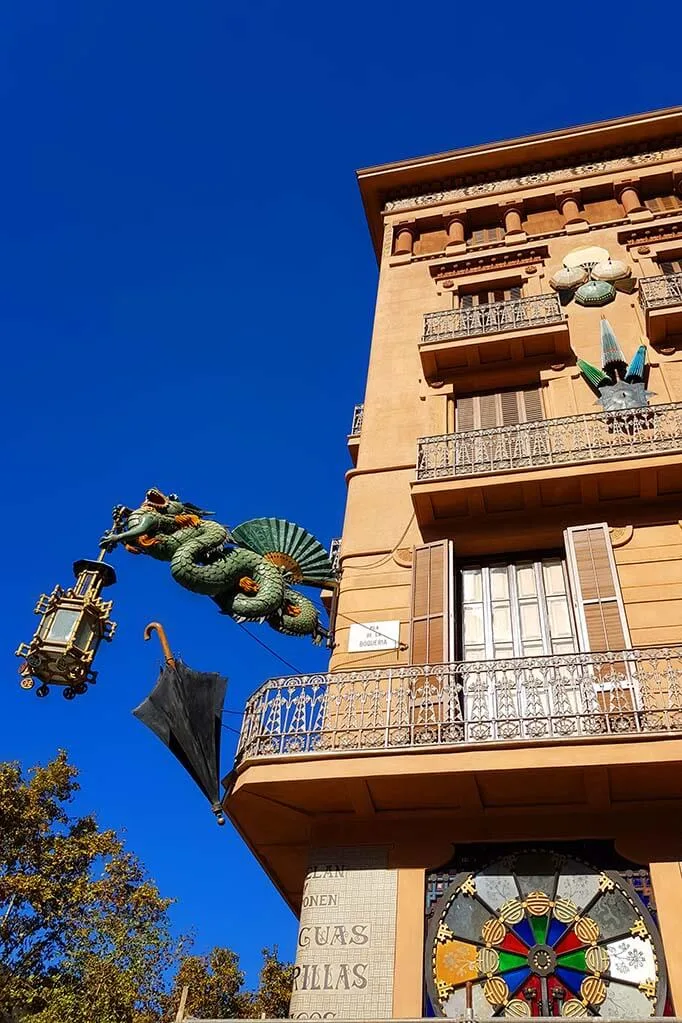 7. Casa Batlló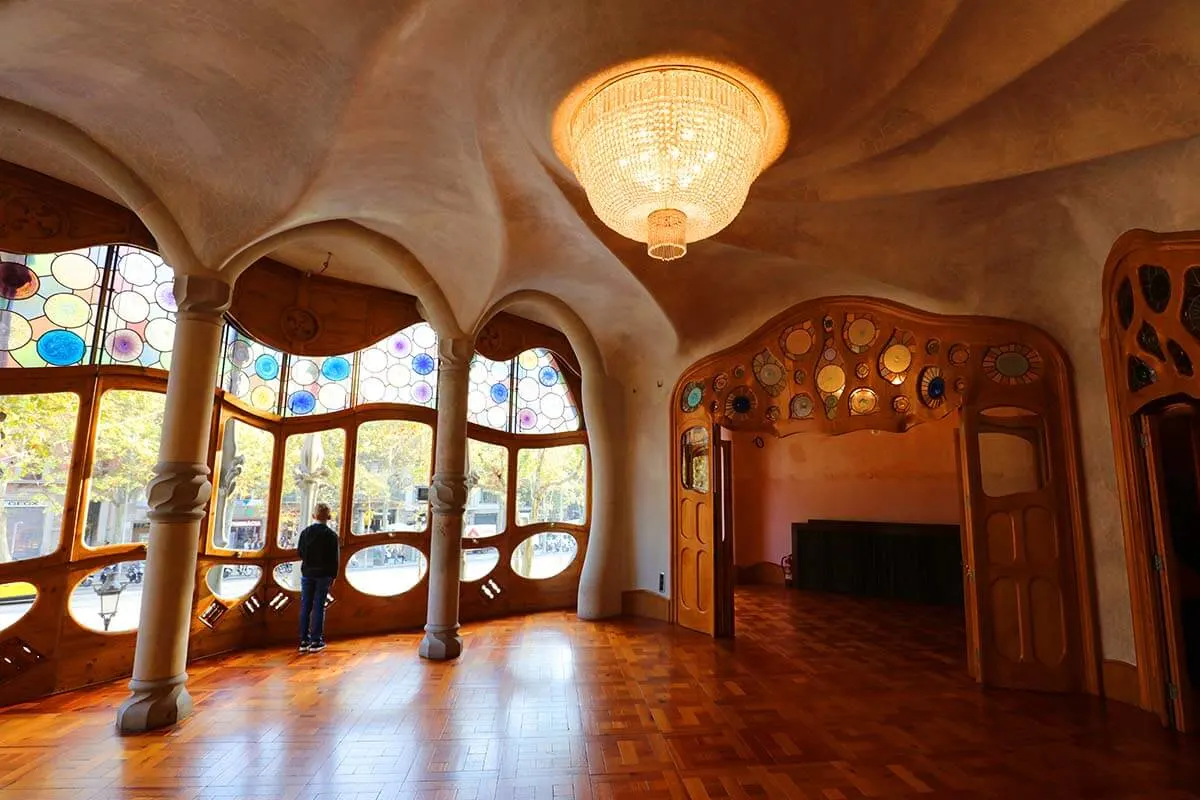 Designed by Gaudi, the iconic architecture of Casa Batlló in the city center attracts a million visitors every year. This is one of the most popular tourist attractions in Barcelona.
A UNESCO World Heritage site, the building was originally constructed in 1877, at which point it had a very unoriginal appearance. But when local businessman Josep Batlló y Casanovas bought it in 1903, he called in Gaudi to work his magic. It then evolved into the spectacular work of art we see today!
Its exterior and interior – like all of Gaudi's work – is absolutely unique, from the extravagant facade all the way to the dragon roof. The entrance hall has an underwater feel, whilst the Noble Floor features massive oak doors with stained glass panes. The dining room at its center leads out to a beautiful and tranquil rear courtyard, beautifully paved and dotted with tile and glass-coated flower pots.
Strange as it may sound, make sure you check out the building's elevator too. Installed in the center of the patio of lights, it still uses its beautiful and original wooden car.
The newest addition is the immersive Casa Batllo 10D Experience with two immersive rooms – the Gaudi Dome and the Gaudi Cube. The art literally comes to life as you approach!
Good to know: Casa Batllo is open daily to visitors and takes around an hour to explore. Be sure to get your tickets in advance and plan to visit first thing in the morning or late in the afternoon, when it is less crowded.
NEW! There's now a special, early access available to Casa Batllo with this 'Be the First' ticket. If you don't mind getting up earlier and want to see one of the most special Gaudi buildings in Barcelona without the crowds, check it out!
TIP: We visited here with this tour that also visits La Sagrada Familia, Park Güell, and allows you to see a few other Gaudi landmarks in about half a day. The guide took us inside Casa Batllo before the building opened to the general public. It was magical!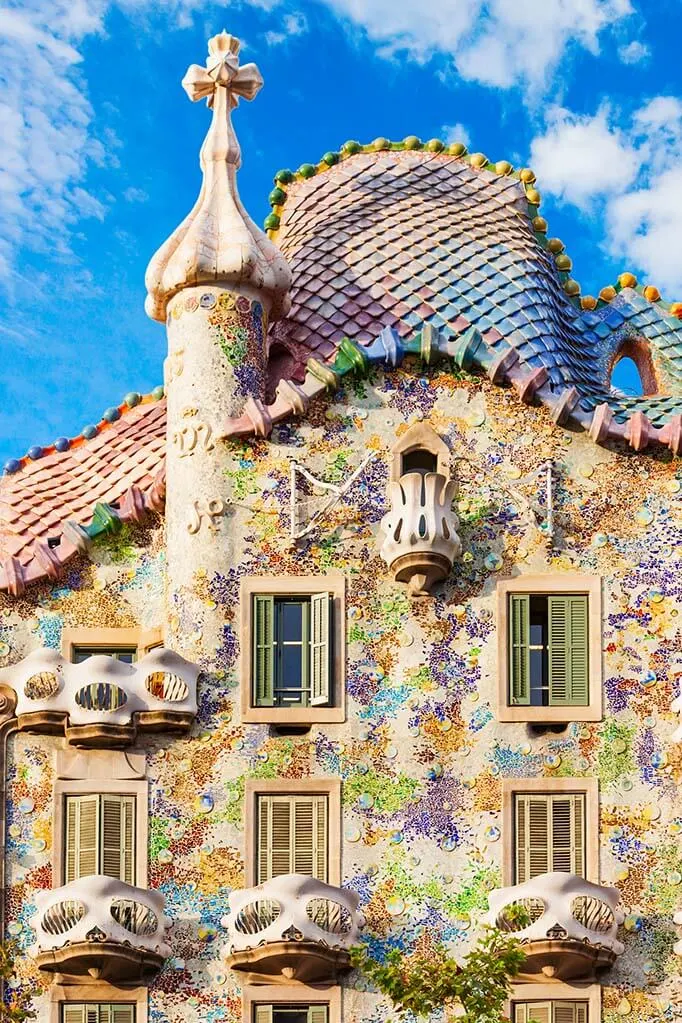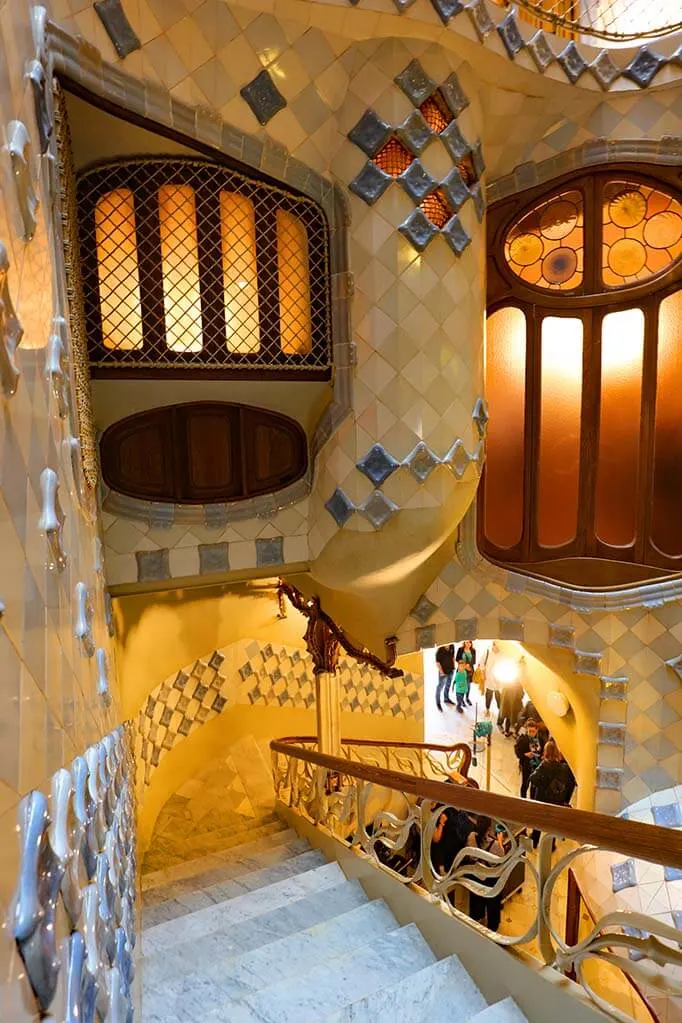 8. Casa Milà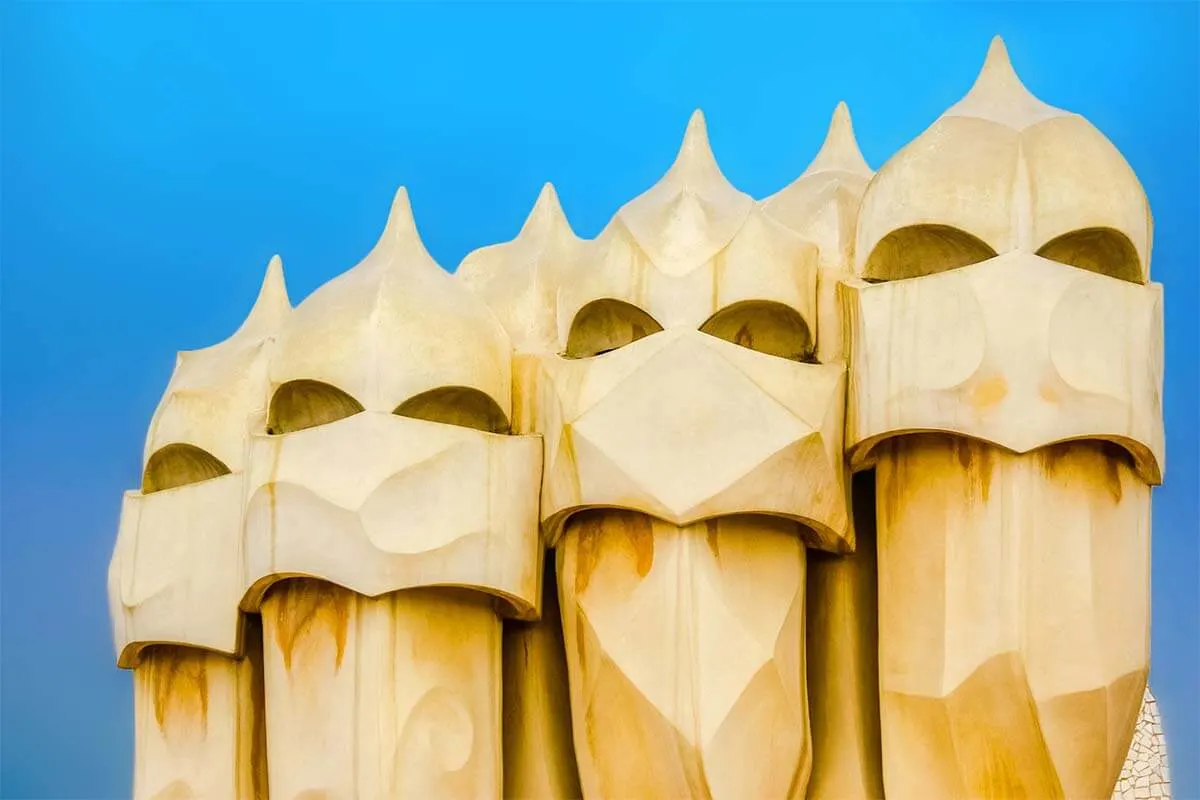 Casa Milà, also known as La Pedrera (the stone quarry), is another famous Gaudi building and a very popular place to see in Barcelona. Like Casa Battlo, it is a UNESCO World Heritage site and is equally busy to visit!
Casa Mila is famous for its unusual rough-hewn, wavy appearance. Incredibly, it does not have a single straight line and looks almost organic rather than something manmade. The most impressive is its rooftop and chimneys that you can see up close if you visit inside.
Good to know: Just like all the Gaudi sights, Casa Mila is an extremely popular attraction in Barcelona. So if you want to be sure to see the interior, you really should get skip-the-line tickets in advance!
TIP: If you are looking for an even more special experience, you can visit here in the evening, after dark. The rooftop is lit-up and you can experience a spectacular light show. For more info and tickets for the La Pedrera night experience, see here.
Consider this: Casa Battlo and Casa Mila are both iconic landmarks, among the most visited Barcelona attractions. Even with fast-track access, trying to see both of them can eat up too much of your precious time in Barcelona. So depending on your overall sightseeing itinerary, you might prefer to visit the inside of only one of these buildings, and appreciate the other one from the outside.
Opinions differ on which is best – Casa Mila or Casa Battlo. The majority of visitors seem to agree that the interior of Casa Battlo really shouldn't be missed, so if you can visit just one of the two, make it Casa Battlo, and then admire Casa Mila from the outside. They're located very close to each other, just 5 minutes walk between the two.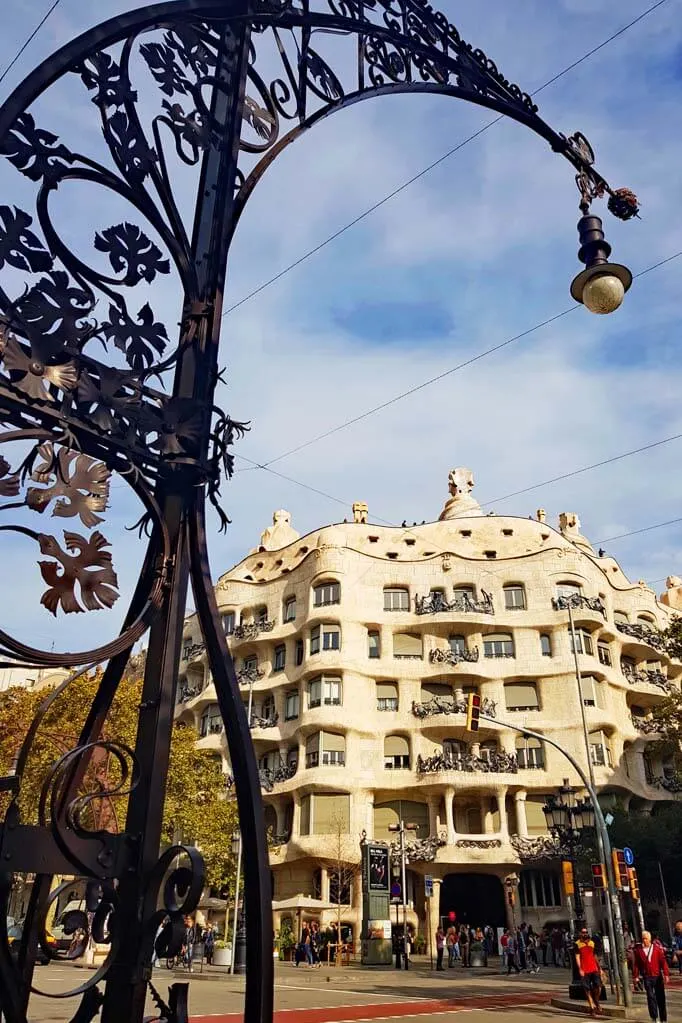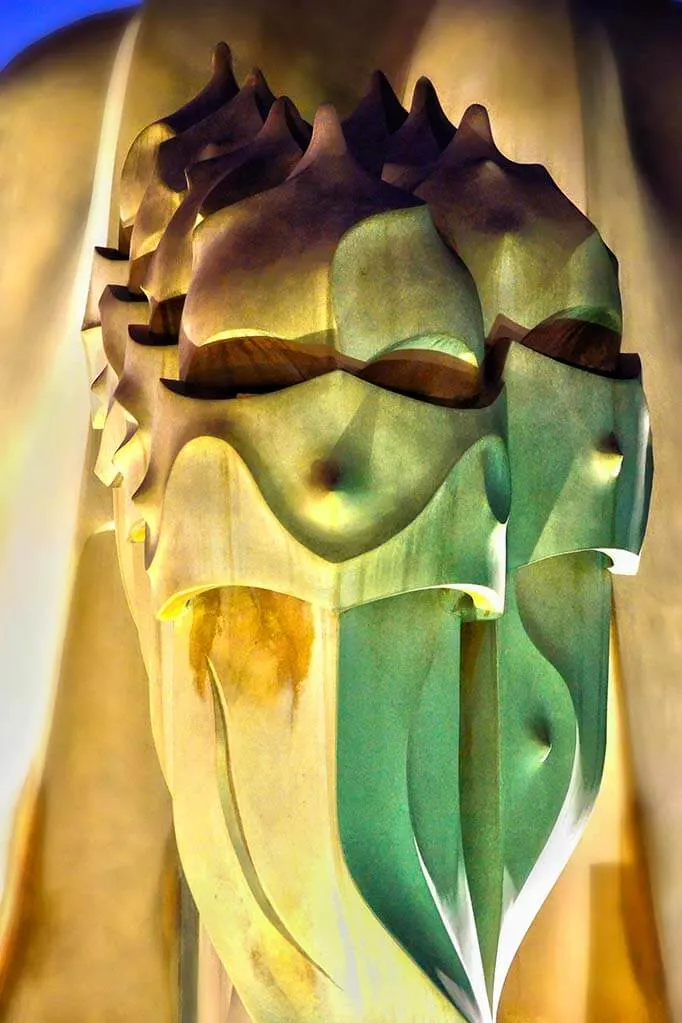 9. Passeig de Gràcia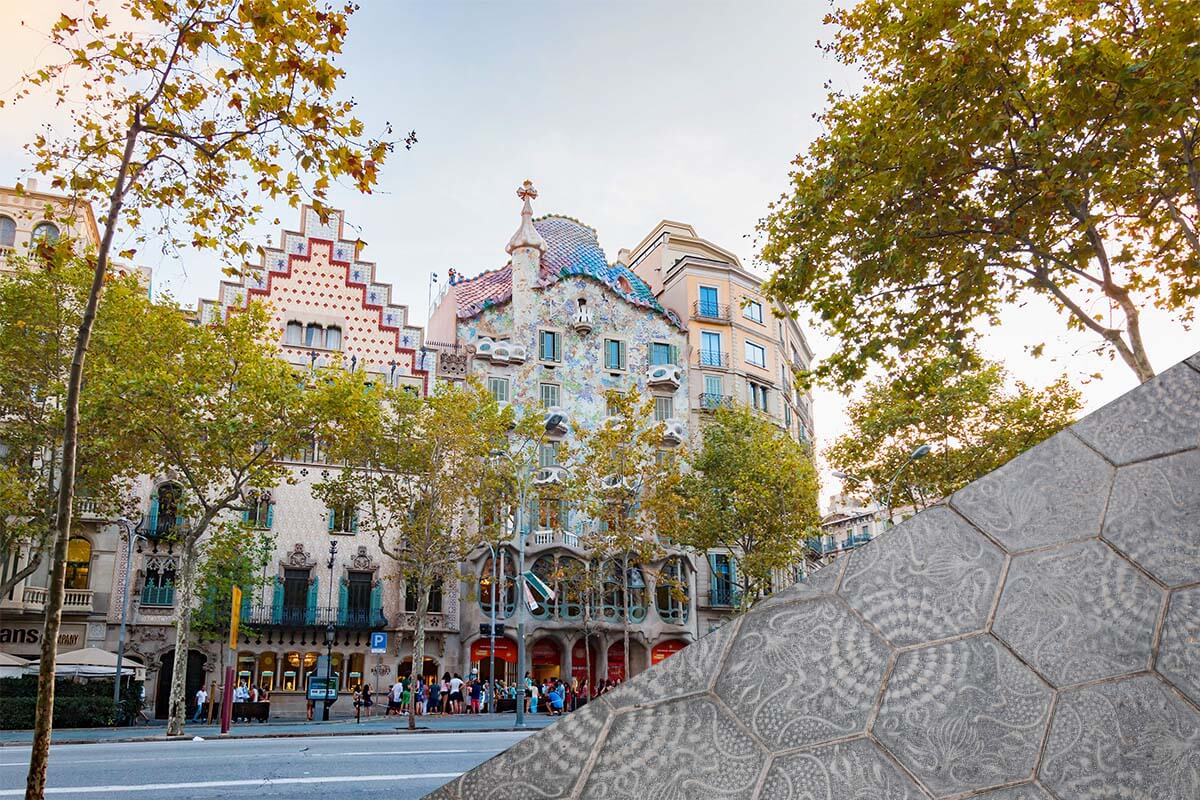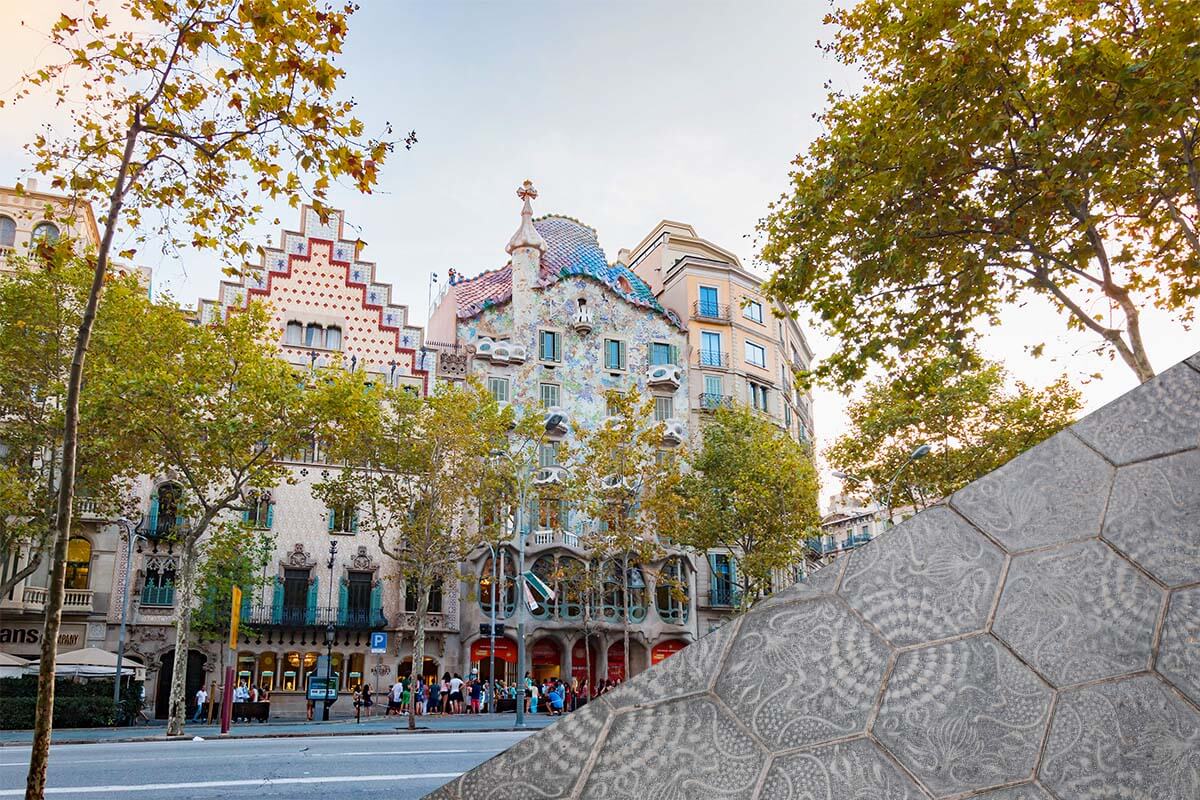 One of the city's most important avenues, Passeig de Gràcia is another place you really have to see in Barcelona. Along this famous street, you'll find some of Barcelona's most remarkable architecture, high-end boutiques, plus cafés, bars, and restaurants.
Some of the most impressive buildings in Barcelona can be found on Passeig de Gràcia. The earlier-mentioned Casa Battlo and Casa Mila are located here. And there are many other buildings by other prominent architects including the most famous mansions such as Casa Amatller (this one can also be visited inside), Casa Lleó Morera, Casa Mulleras, and Casa Josefina Bonet.
TIP: Note the hexagonal tiles on the pavements! Designed by Gaudi, they all follow the same pattern with natural elements such as starfish, ammonites, and algae. The design was originally meant for the floors of Casa Batllo but was later used for the service floors inside Casa Mila. Recently, the sidewalks of Passeig de Gracia have been paved with tiles produced using this Gaudi design.
Many people come to Passeig de Gràcia just to shop. Indeed, it's one of the best places for luxury shopping in Barcelona! There are plenty of renowned international designer stores to choose from, including Prada, Chanel, and Gucci. Or you can head all the way into Gracia village, where Passeig de Gràcia ends. Here you'll find an interesting collection of independent boutiques, organic health-food eateries, and stores selling up-cycled furniture.
And if you want to take a break from sightseeing and shopping, you'll find plenty of cafes, restaurants, and bars at which to stop and enjoy lunch or dinner.
Good to know: Gracia village has lots of outdoor squares lined with laid-back cafes and bars. And its nightlife is excellent, attracting a young and local crowd.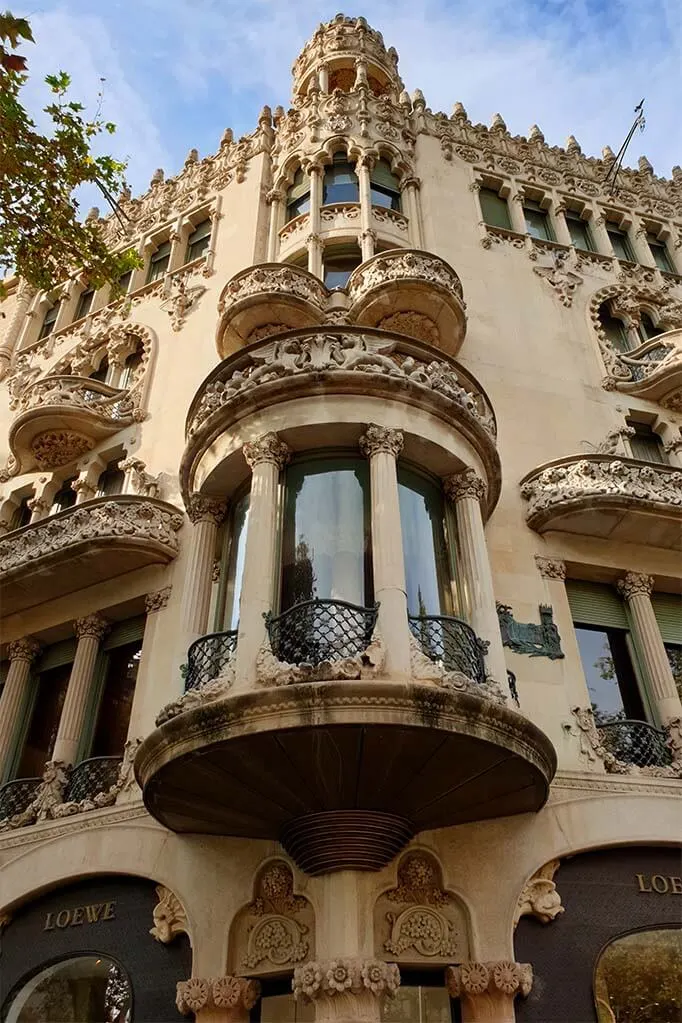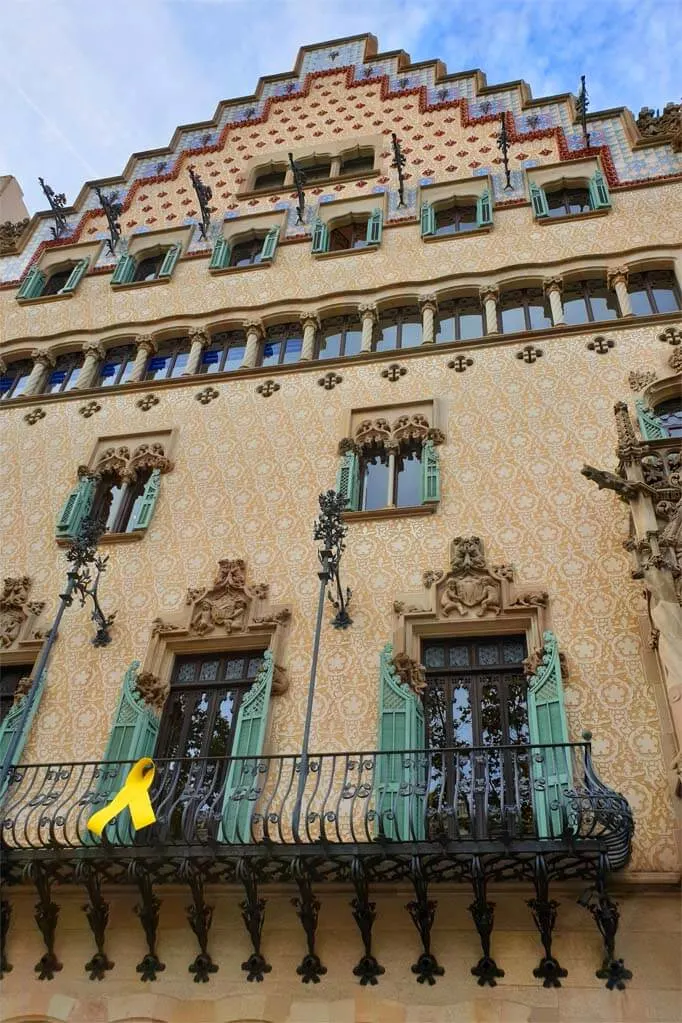 10. Mercado de La Boqueria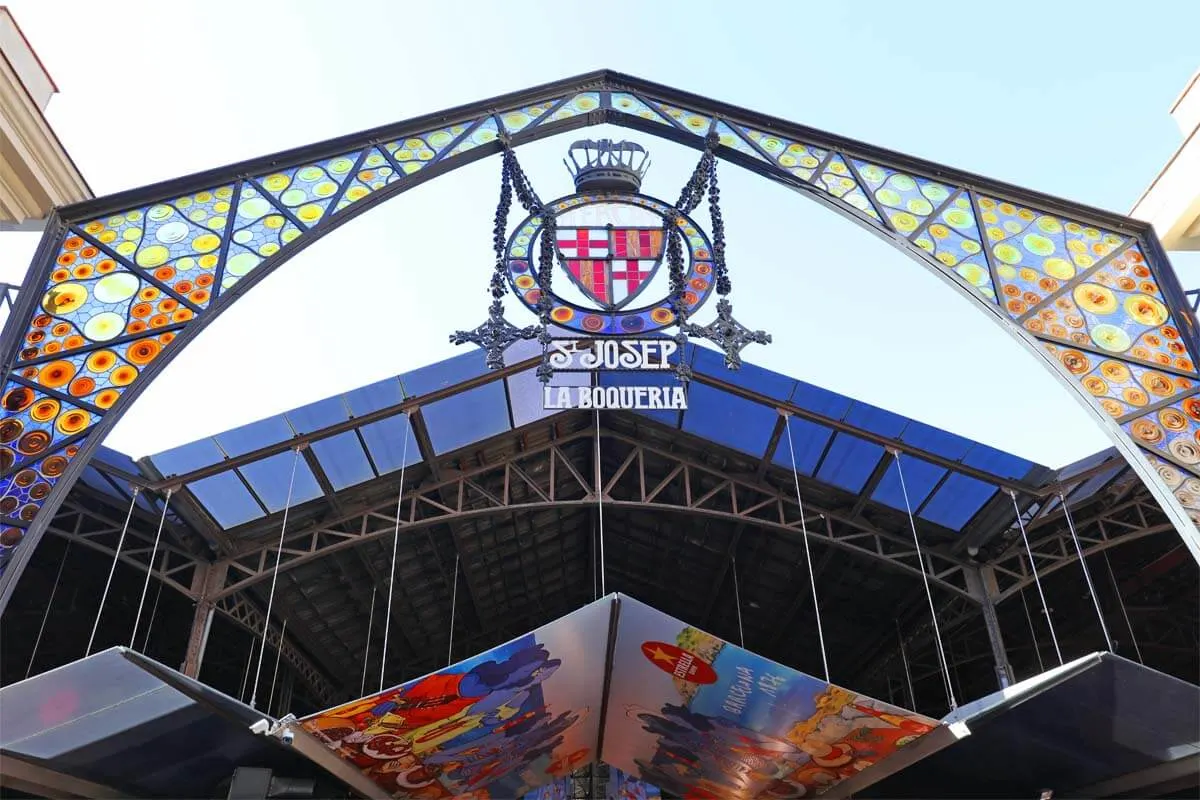 Barcelona has 12 large covered 19th-century markets scattered all over the city. The best-known and most popular indoor market is the Mercado de La Boqueria, housed in a stunning glass and steel building in the heart of La Rambla.
Boqueria Market is a real foodie's paradise, with local meats, cheeses, and seafood along with a range of exotic and colorful fruits and vegetables. Open every day from morning through to the evening (except on Sundays) it is a great place to go for lunch or a quick snack when sightseeing in Barcelona city center.
Market stalls and bars selling food and drinks are dotted throughout the market. You may not always be able to sit down as you eat, but you can certainly enjoy the lively atmosphere and bustle!
TIP: Head to the stalls at the back of the market for the best prices – those at the front pay more rent, so they charge more too! And be sure to try one of the many different kinds of freshly squeezed fruit juice while you're here. They are yummy!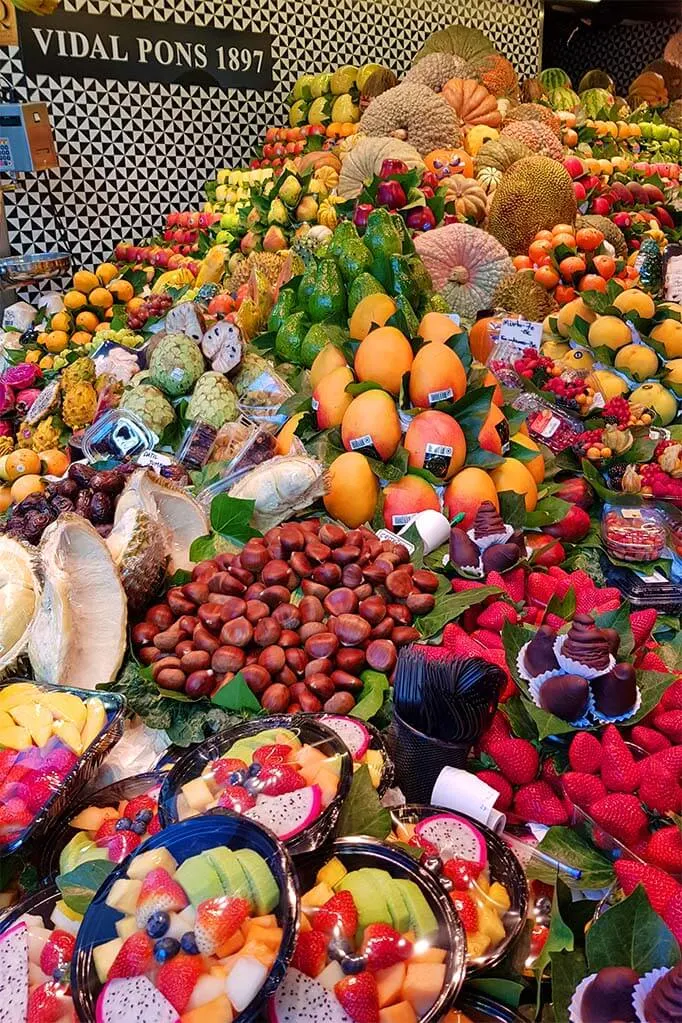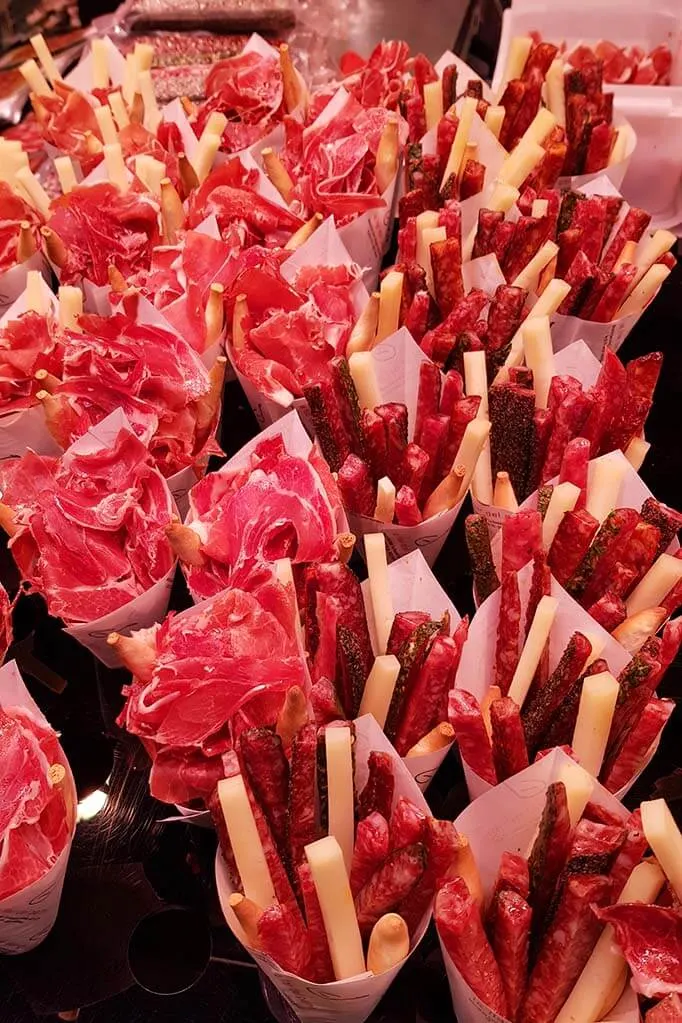 11. Picasso Museum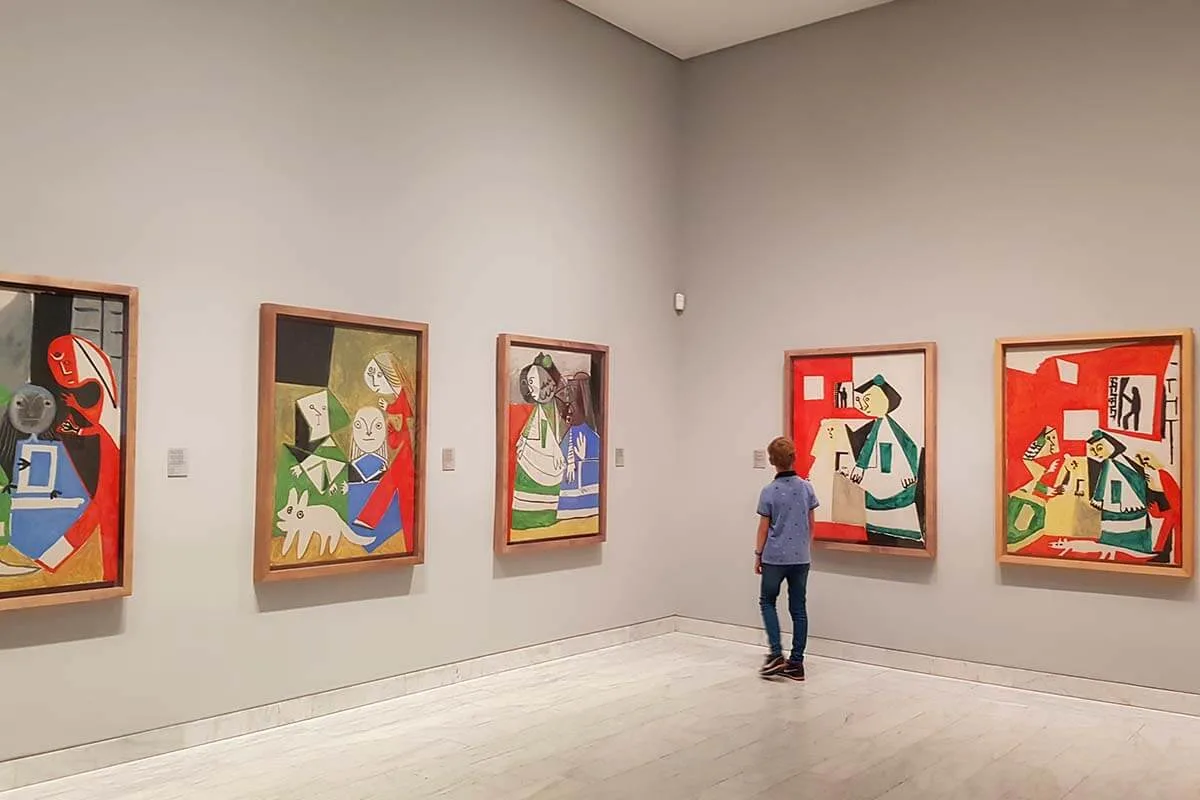 Picasso Museum is one of the most visited museums in Barcelona. Containing the world's largest collection of Picasso's work, the museum is well worth a visit, but you should know that the majority of art you'll see here dates from his early years. So it might not be exactly what you expect to see based on Picasso's most famous works…
Although Picasso was born in Malaga, he spent his formative years in Barcelona. Subsequently, it was the place he most considered home. The Picasso Museum honors that connection and contains an extensive collection of his lesser-known works. There are more than 4,200 pieces to view, all chronologically arranged to show the evolution of his art.
You don't need to be a Picasso fan to appreciate this museum – indeed, there are very few Cubist paintings at all. This museum mostly showcases how his art developed from a traditional style into the rather more unconventional works that made him famous.
It's really interesting to see how Picasso evolved as an artist and how his style changed with time!
The museum is located in a magnificent medieval building in the old town – somewhat at odds with the style of its subject. However, this also means that the rooms are quite small and it can get very busy at times.
Good to know: The museum is open daily except for Mondays. Count about 1-1.5 hours for a visit.
You can visit the museum on your own (free entrance is included with Barcelona Card and also with the Top-6 Museums Card). But if you want to learn more about the artist and get a better understanding of his works, there's also a very good guided tour of the museum.
TIP: Just like the majority of Barcelona museums, you can visit here free of charge at certain times. At the moment of writing, the entrance is free on the first Sunday of the month and from 4 PM on Thursdays.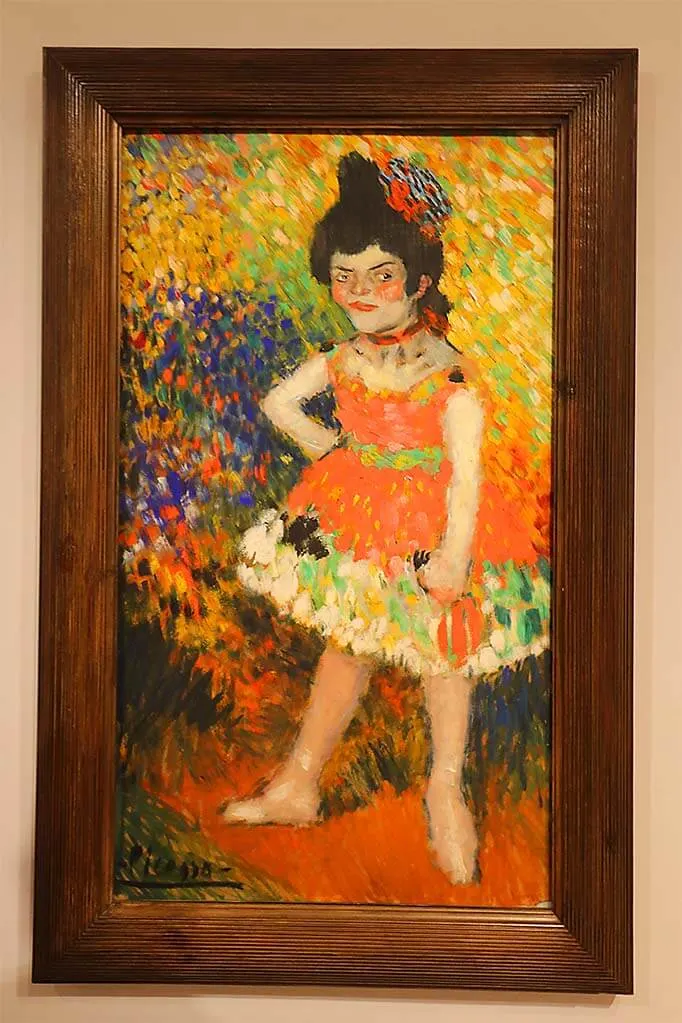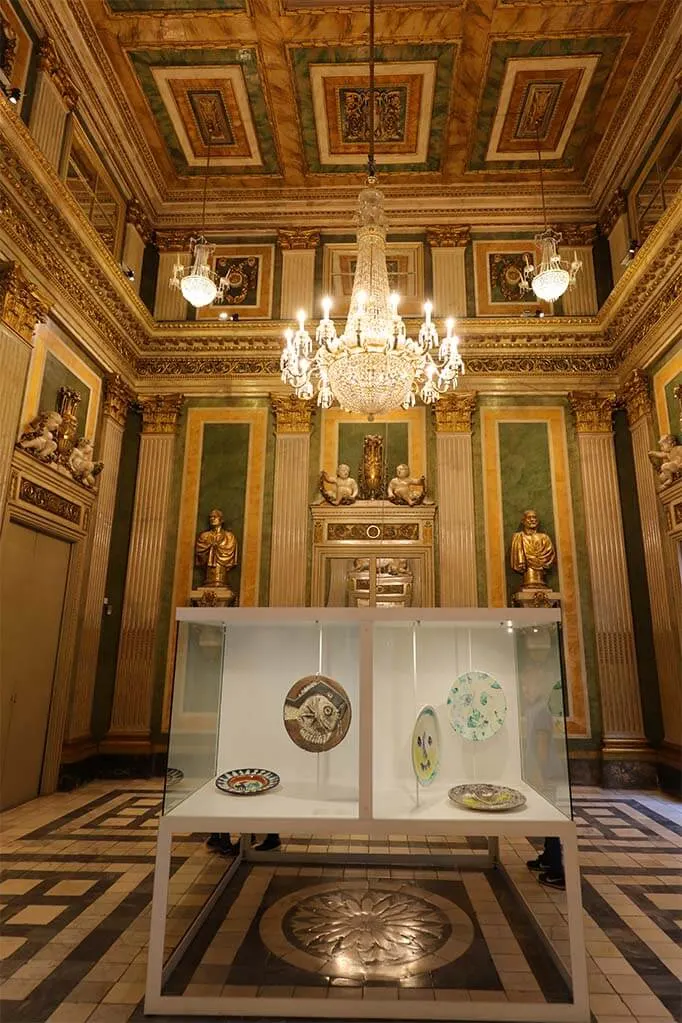 12. Sant Pau Recinte Modernista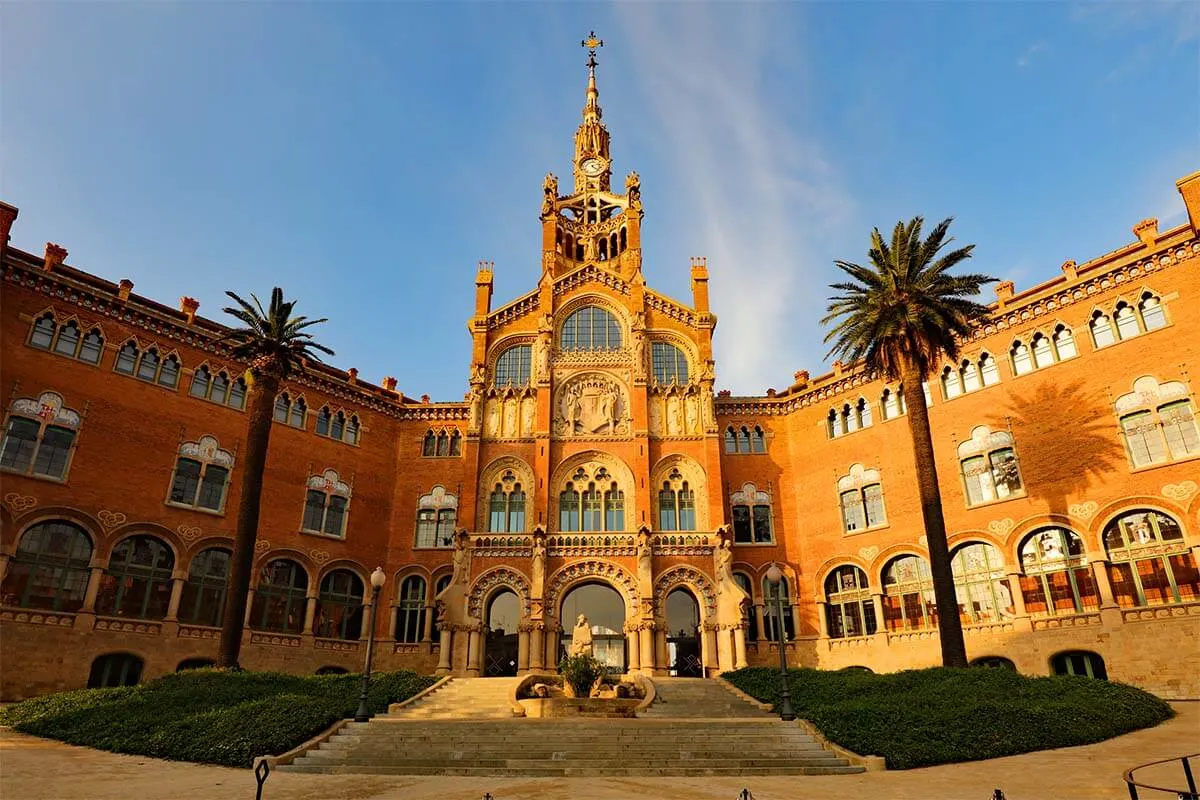 Sant Pau Art Nouveau Site (also known as Hospital de la Santa Creu i Sant Pau or Sant Pau Recinte Modernista) is a true architectural gem of Barcelona! However, this is one of those places that usually get overlooked in most Barcelona sightseeing itineraries which are mainly focussed around the world-famous Gaudi buildings.
But if you have an hour to spare, I highly recommend visiting the Sant Pau Art Nouveau Site! For us, it was one of the highlights of Barcelona that we really wouldn't have wanted to miss.
Designed by architect Lluís Domènech i Montaner, this is a big architectural complex that housed a hospital for more than eighty years. Restored in 2009, it is now a museum called the Recinte Modernista de Sant Pau.
Listed as a UNESCO World Heritage site, the Sant Pau Art Nouveau Site is just a 10-minute walk from La Sagrada Familia. But it has an entirely different feel to it, with few tourists and no street vendors. So close and yet a world apart!
The atmosphere here is magical and tranquil, with beautiful gardens surrounded by art-nouveau architecture. You can see many of the buildings of the former hospital and visit several of them.
Make sure you check out the interior of the Sant Rafael Pavilion. It has been restored to look exactly as it would have done in the 1920s, with antique radiators and hospital beds. And don't miss the underground tunnels connecting the former hospital rooms with surgical facilities.
TIP: If you can, visit here in the late afternoon when the buildings turn bright orange, colored by the setting sun. It's absolutely impressive!
Good to know: Sant Pau Recinte Modernista is open daily, except for some public holidays. Here, you can find more info and book tickets.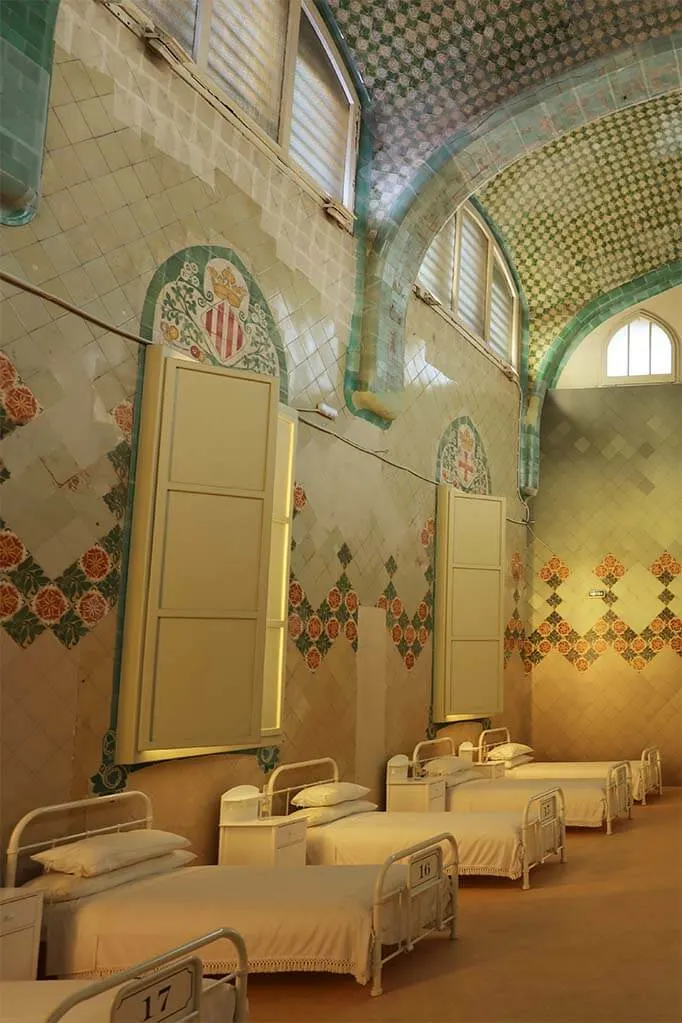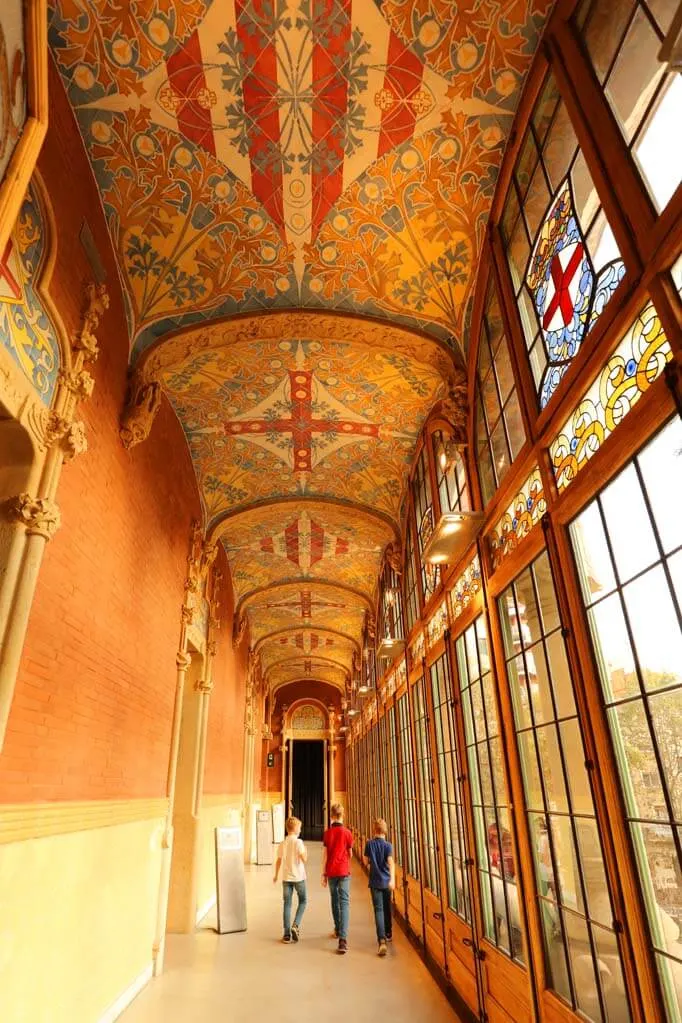 13. Palau de la Música Catalana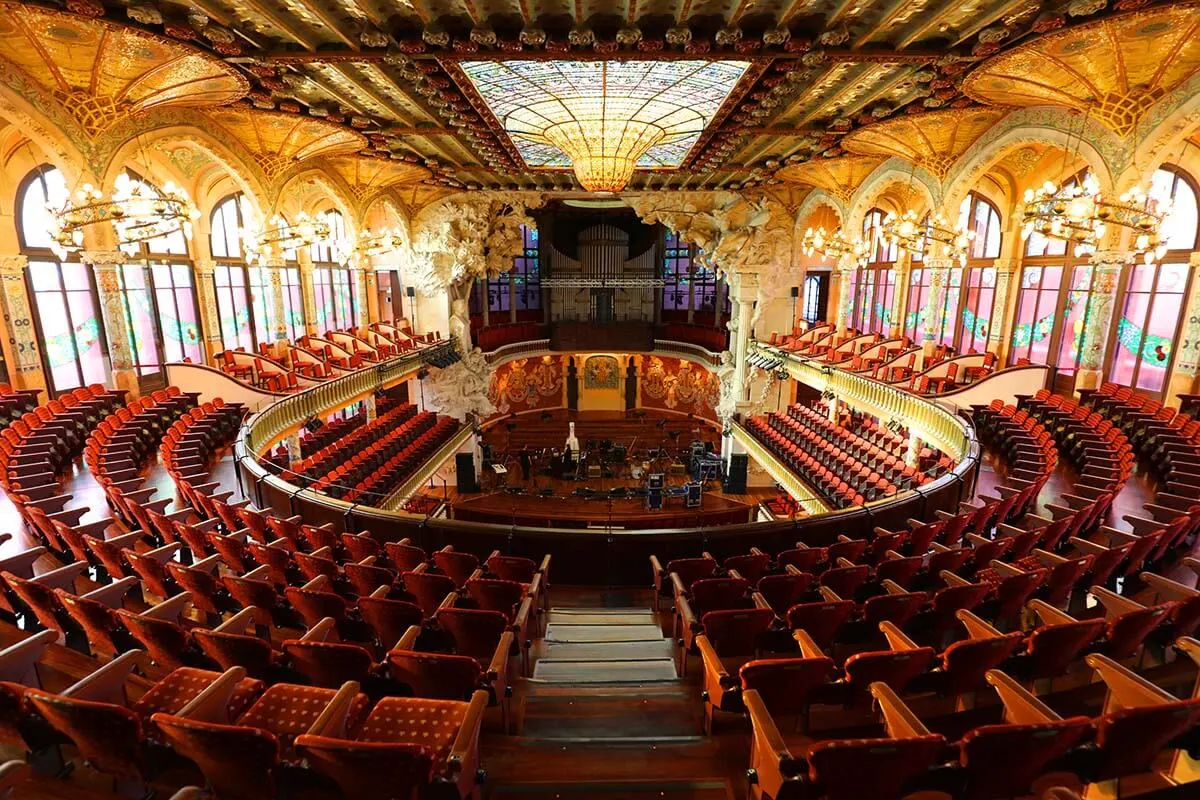 The Palau de la Música Catalana is one of the architectural gems of Barcelona! Just as the above-mentioned Sant Pau Art Nouveau Site, this beautiful concert hall was also designed by Lluís Domènech i Montaner.
The exterior is very striking, with bright colors and detailed mosaics. Unfortunately, it is a little hard to appreciate because the streets surrounding it are so narrow. But step inside and you cannot help but be mesmerized by the lavish interior, with its ornate glass roof.
This music hall doesn't appear in many Barcelona travel guides. And maybe that's a good thing, as it allows you to enjoy the stunning beauty of this building in relative peace. But now that you know about it, be sure to visit! We stumbled upon it by coincidence when researching something else and decided to check it out. It became one of our favorite places in Barcelona!
Good to know: You can freely visit the entrance hall and cafe, both of which are stunning. Normally, you need to join a guided tour in order to see the main concert hall, but they now have an option for a self-guided tour as well. Tours take around 45 minutes, so if you visit on your own, count at least half an hour.
Palau de la Música Catalana is a working concert hall, so you can also attend a concert here. The sightseeing visits during the day are usually available every day, year-round. However, during certain events, the music hall might not be open for visits. So if you want to see it inside, be sure to check in advance!
TIP: Whether you want to visit on your own or with their guide, be sure to book the tickets in advance. That way, you'll also immediately see if some dates aren't available. Also, while not very widely known, the place is popular enough to fill the available ticket slots, especially during the high season.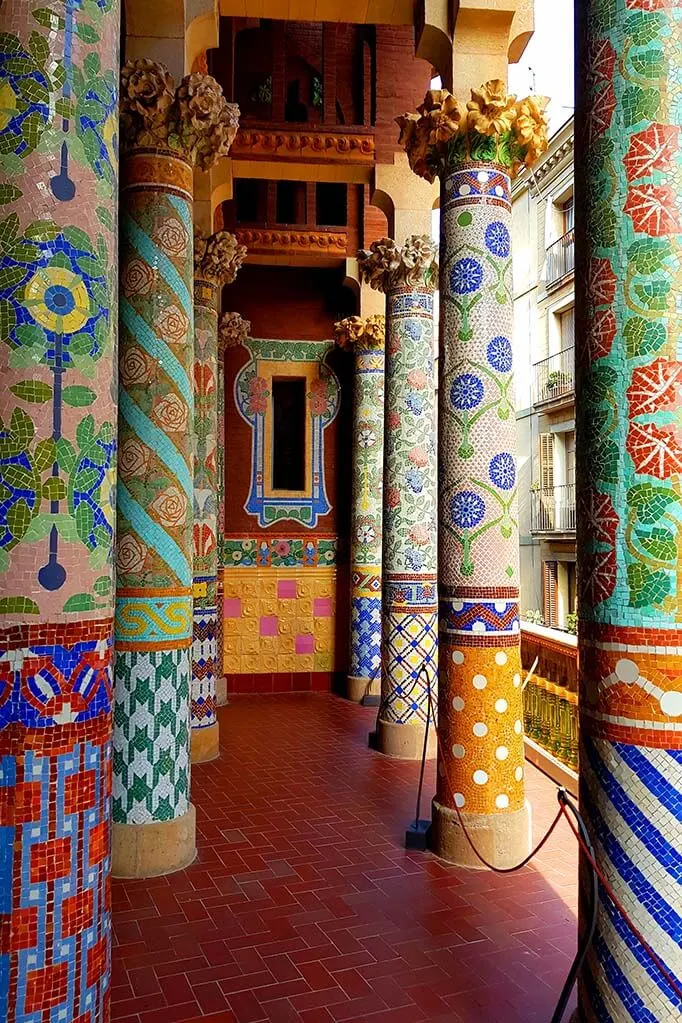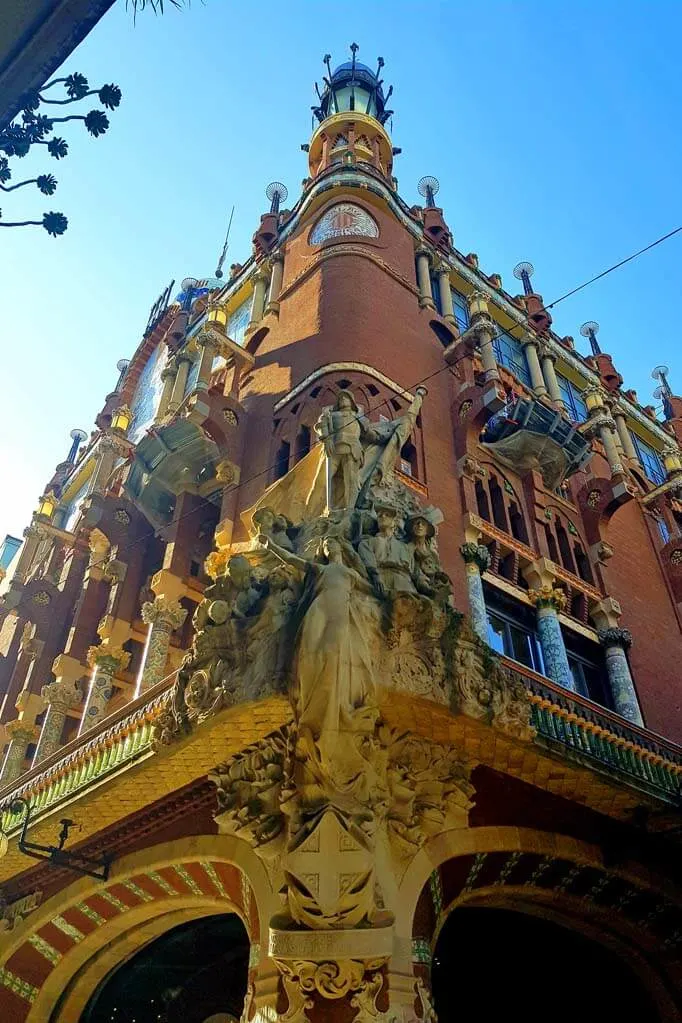 14. Magic Fountain of Montjuïc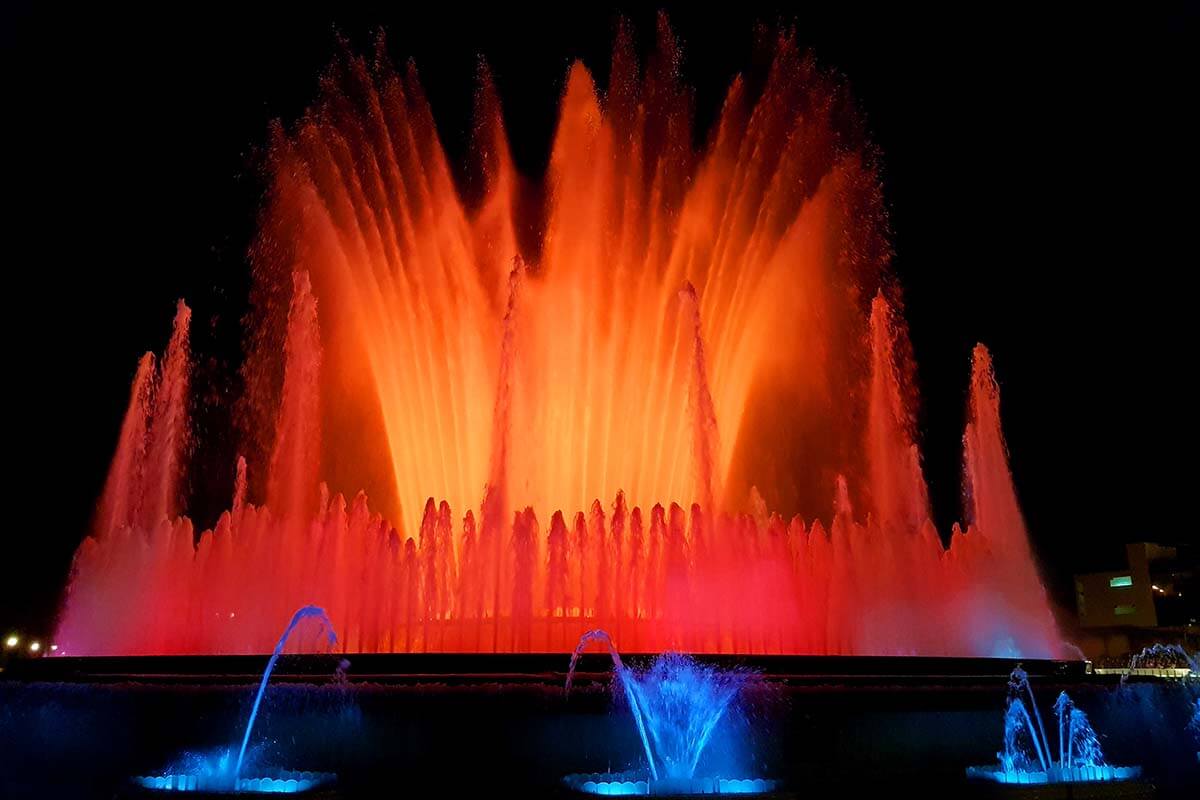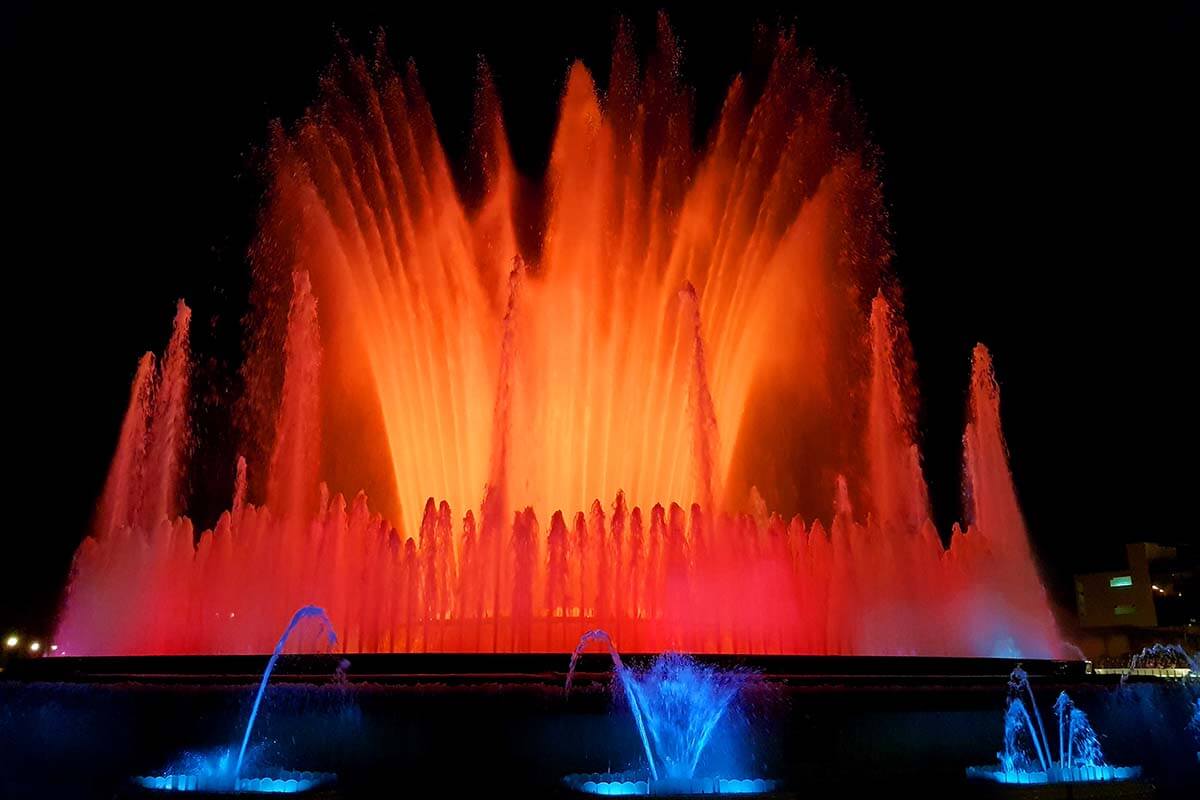 Located below the Palau Nacional Art Museum (MNAC) on the Montjuïc mountain, The Magic Fountain of Montjuïc (Font Màgica de Montjuïc) is one of Barcelona's most popular attractions. And it's FREE!
Every evening, this dancing fountain offers stunning displays of music, light, and water acrobatics. These music- and light shows are very popular with locals and tourists alike and attract big crowds.
Arrive here at least 15-30 minutes before the show in order to secure a good spot close to the fountains. In the high season, people usually start to arrive an hour in advance.
Practical information: The best way to get to Font Màgica de Montjuïc is by taking a metro to Plaça d'Espanya. If you have more time, plan half a day for a visit – take a cable car from the waterfront area, explore the Montjuïc mountain and Miro Museum (see below), and then see the fountains in the evening.
Magic Fountain show times vary per season:
March: Thursday to Saturday from 8 PM to 9 PM.
April, May, October: Thursday to Saturday from 9 PM to 10 PM.
June, July, August, September: Wednesday to Sunday from 9.30 PM to 10.30 PM.
November, December + the first week of January: Thursday to Saturday from 8 PM to 9 PM.
Rest of January and February: closed.
This is a general info in 'normal' times, but do double-check online for the up-to-date schedule before you go!
Good to know: If you are visiting the city in September, then you can see The 'Piromusical' here. This huge firework display with accompanying music and lasers is the closing event for La Mercè – Barcelona's main festival.
TIP: Be sure to climb the staircase to Palau Nacional on Montjuïc – the views from the top are really nice. However, this is actually something that you'll appreciate better during the day when it's light or at sunset – a good reason to arrive earlier and explore the area. You can find more information about other attractions on Montjuïc further below.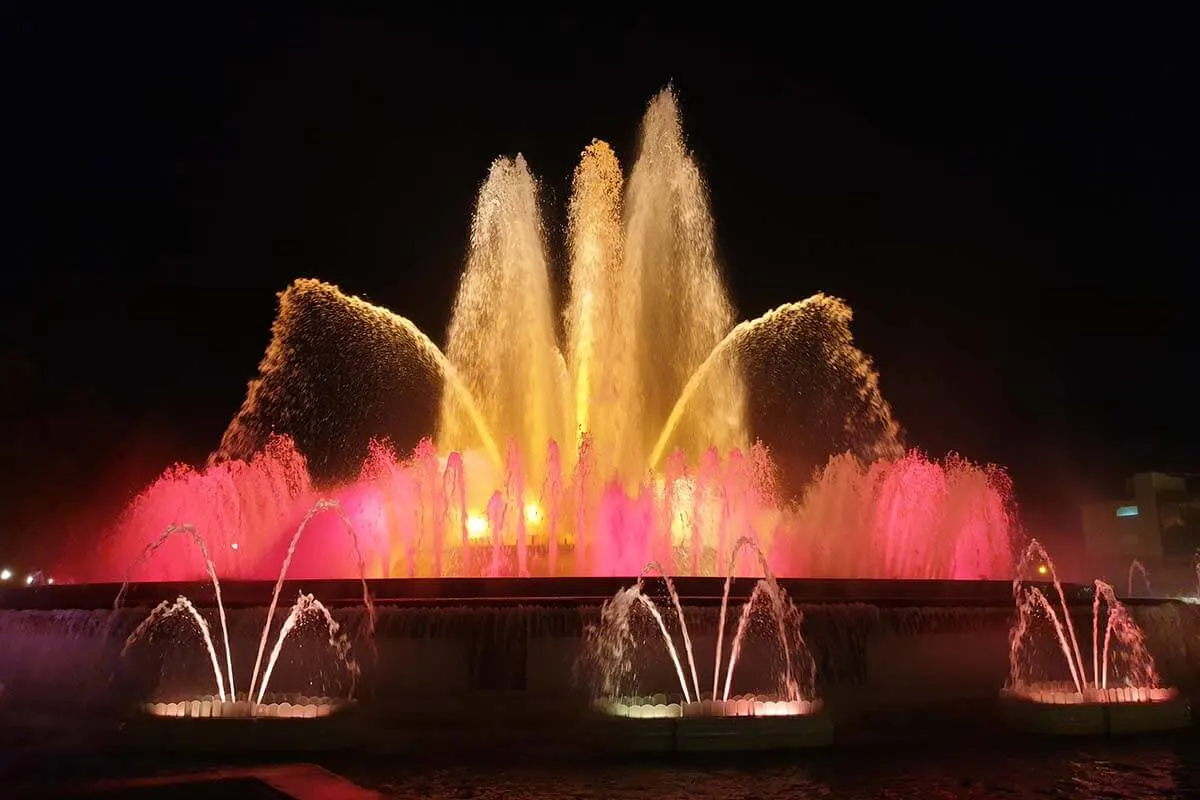 15. Montjuïc: Cable Car, Castle, Palau Nacional & City Views
Montjuïc (the Jewish Mountain) is the best-known hill in Barcelona. It houses several parks, botanical gardens, places, pavilions, and museums, many of which were built for the 1929 World Fair that was held in Barcelona.
Nowadays, it's a popular place to visit in the city and some of the must-see sights mentioned in this guide are located in this area (such as the Magical Fountain, the Museum of National Art of Catalonia, Joan Miro Museum, or an open-air museum Poble Espanyol).
But the majority of tourists come here for the aerial views of the city from the Montjuïc cable car, the Montjuïc Castle, and other viewpoints nearby. Also the earlier-mentioned views from the staircase at Palau Nacional on Montjuïc are not to be missed.
Good to know: While you can walk to the top of the mountain from the city center, the easiest way to get here is by taking a cable car from the waterfront or by hop-on-hop-off bus.
TIP: A nice way to visit Montjuïc is by joining an e-bike tour. Or you can visit with a walking tour that includes a cable car ride. With a local guide, you don't have to wonder where exactly to go or what to see and do at Montjuïc (which is a big advantage because the area is really big and it's quite overwhelming).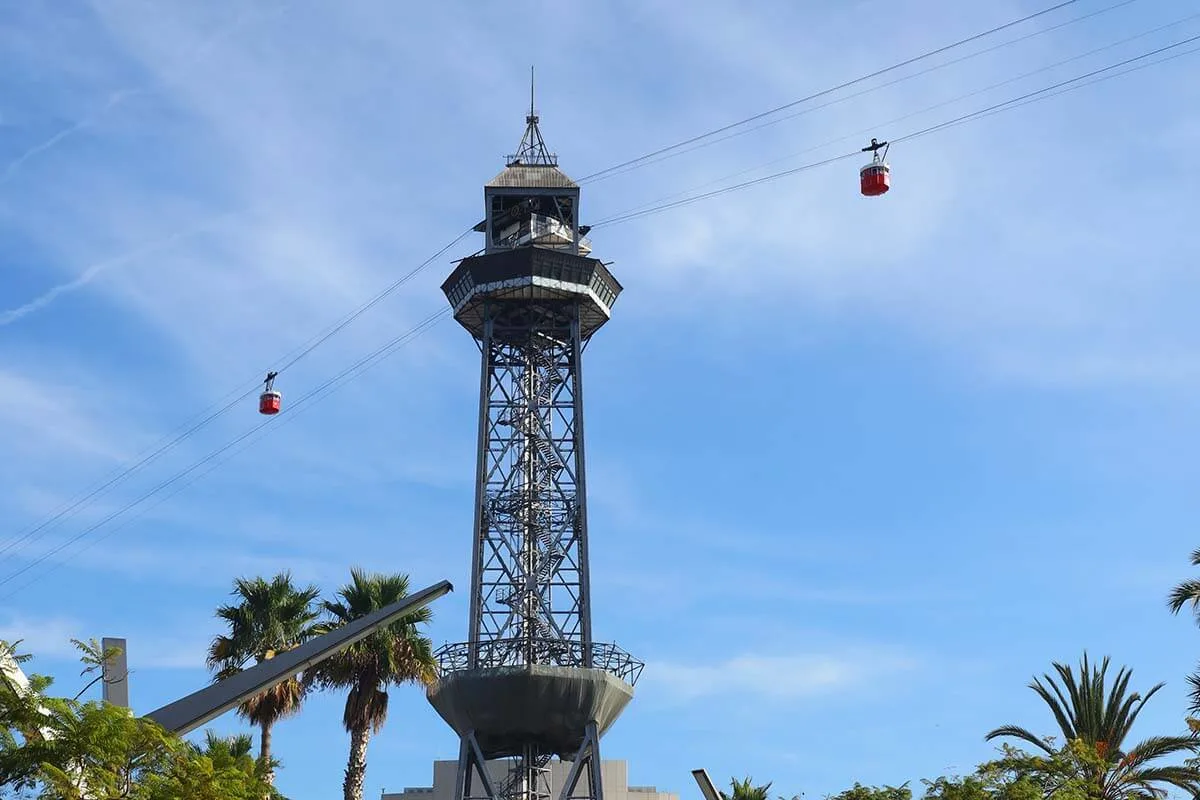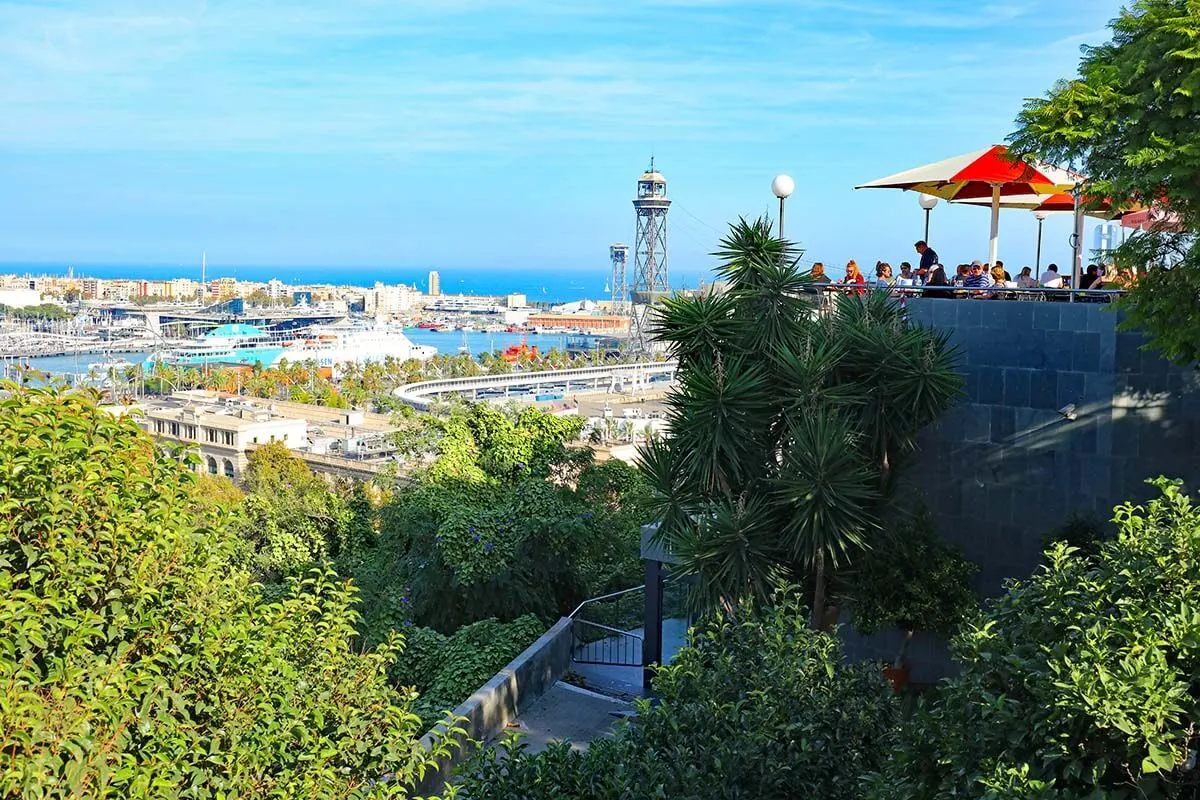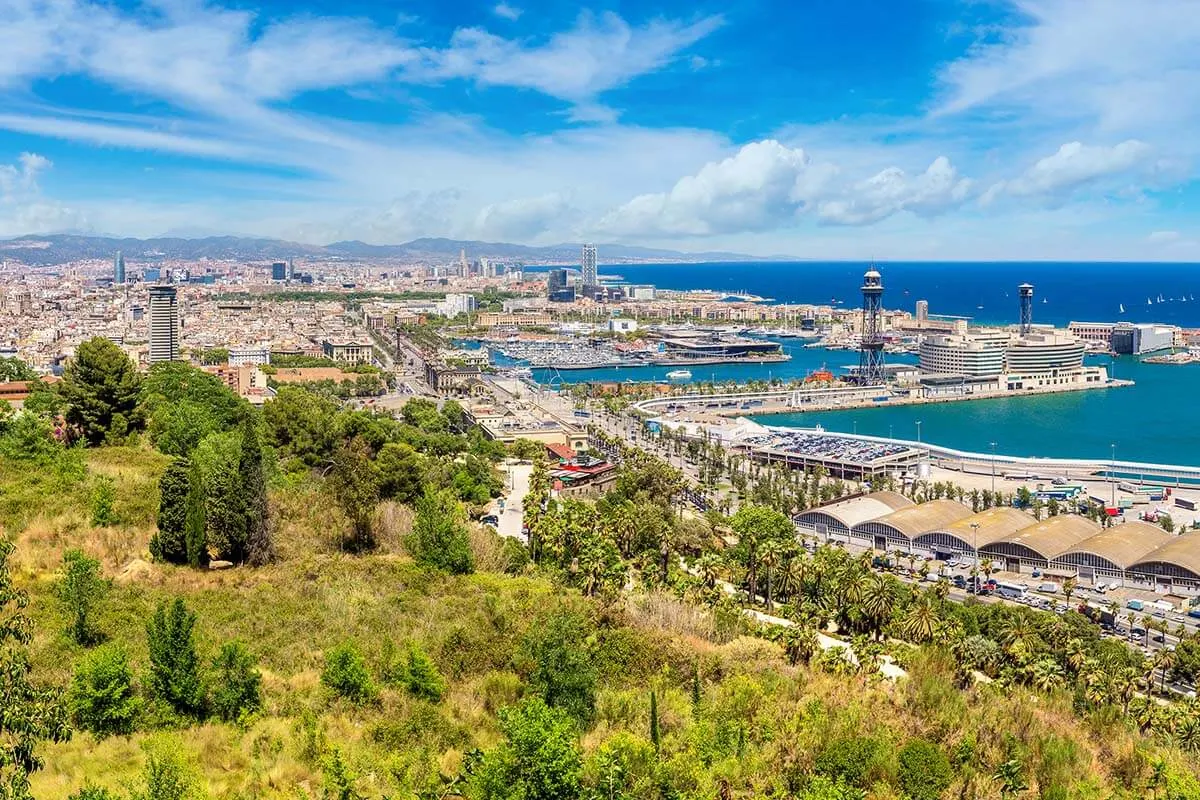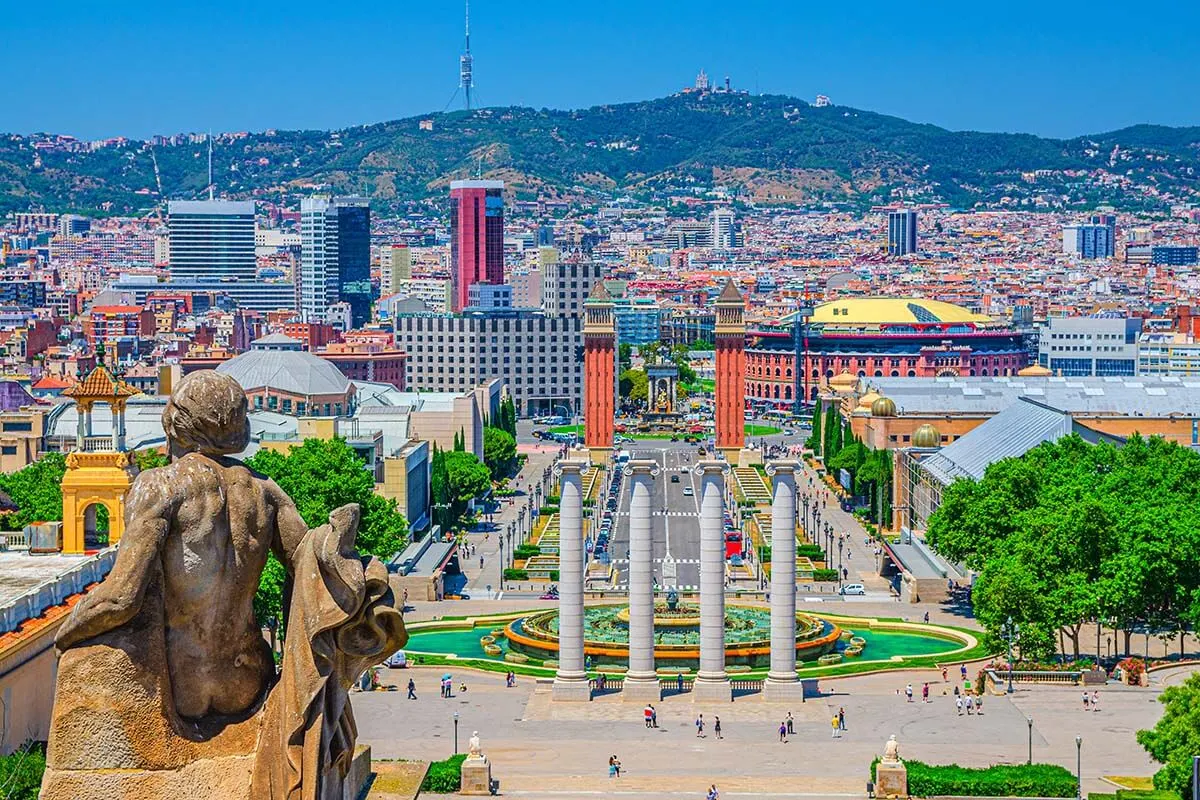 16. Joan Miró Foundation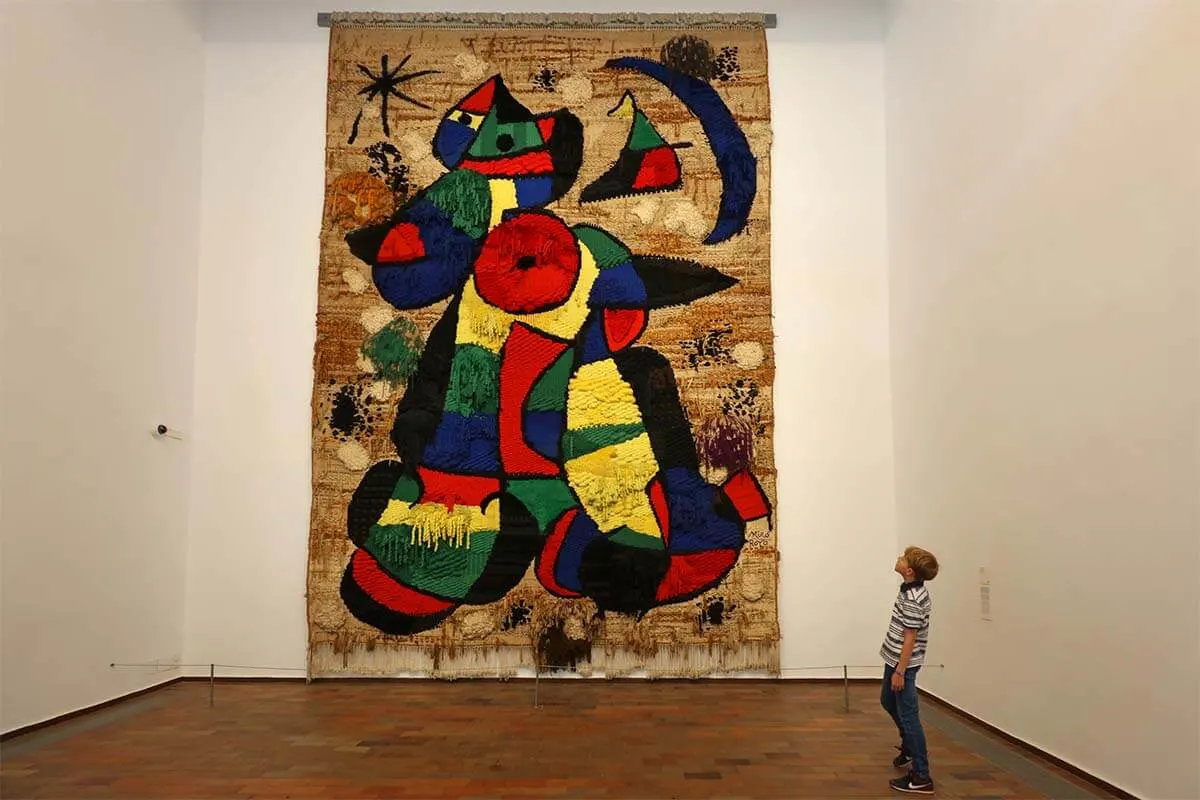 Located on Montjuïc Mountain, Joan Miró Foundation is one of the best contemporary art museums in Barcelona.
There are artworks by Joan Miró throughout Barcelona, but this museum is dedicated purely to his art. Well worth a visit and fun for all ages!
Housing more than 10,000 paintings, drawings, sculptures, and other pieces, it is located in an innovative building designed by the Spanish architect, Rafael Moneo. There are beautiful gardens to explore and frequent exhibitions of the works of other artists.
TIP: Be sure to visit the rooftop terrace of the museum. Along with a collection of Miró's colorful sculptures, you can also enjoy some wonderful views across the city.
Good to know: For the opening dates and tickets, see here. We just got the tickets on the spot and there was no need to book in advance. However, we visited in a rather quiet season.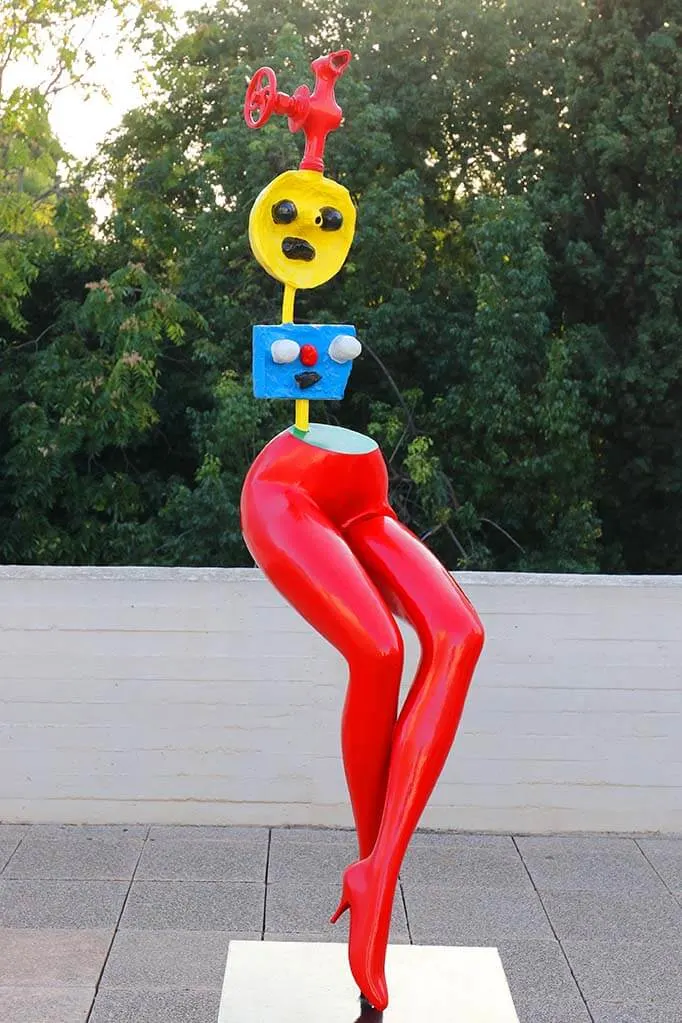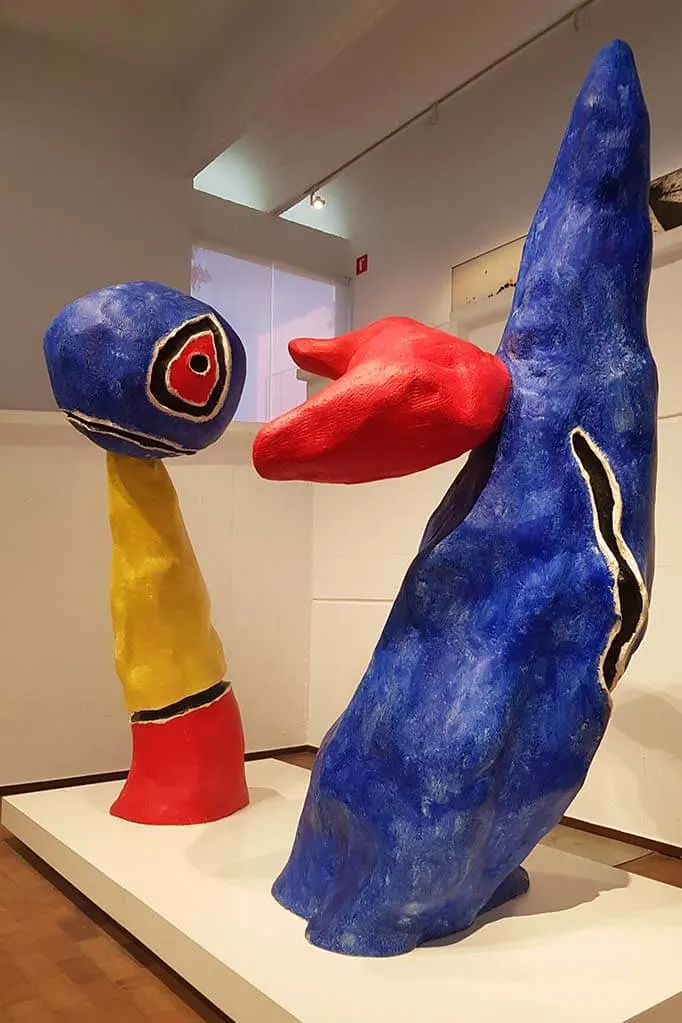 17. Port Vell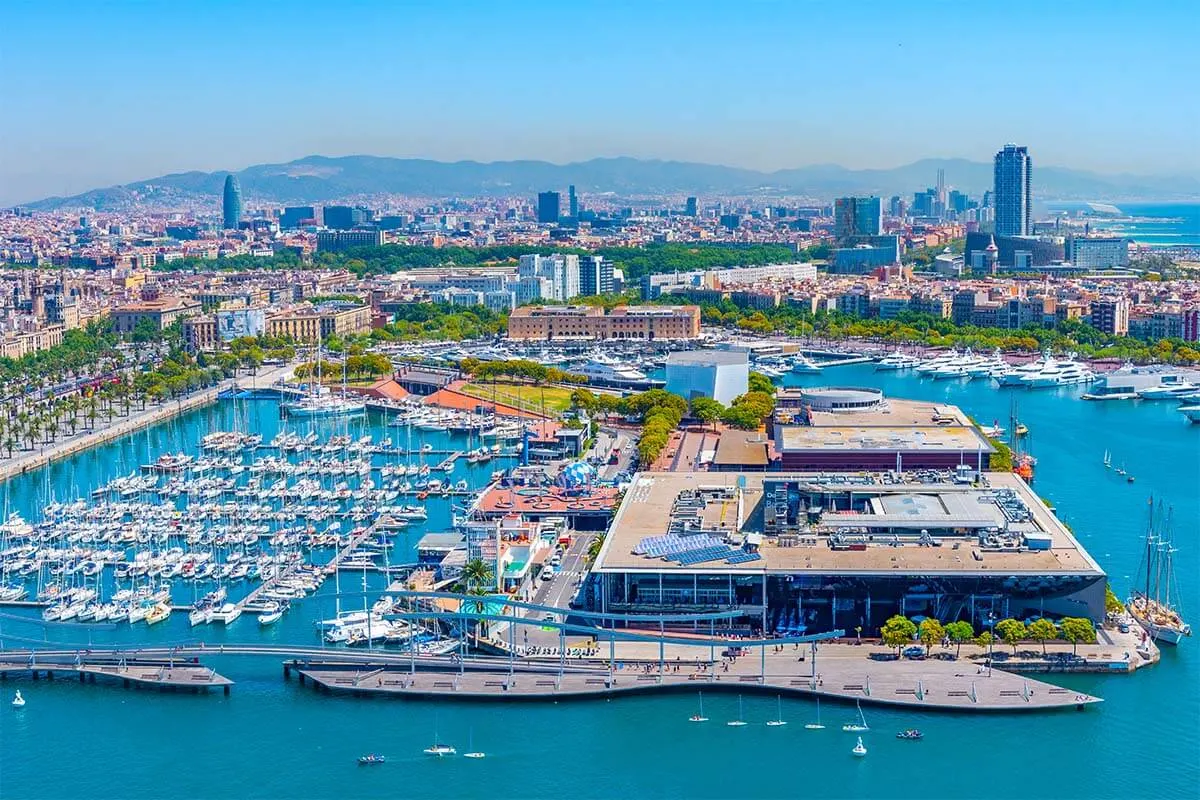 No visit to Barcelona would be complete without a walk along its waterfront at Port Vell.
Port Vell is the Old Harbour of Barcelona, with a wide waterfront promenade leading down to the city's famous beaches. It's a bustling area with lots of cafes, restaurants, and also the History Museum of Catalonia.
Check out Rambla De Mar, a modern bridge/walkway that connects the city center to the modern bustling area with Barcelona Aquarium and Maremagnum shopping center.
It's also nice to just take a stroll around the harbor and admire the yachts and boats moored there.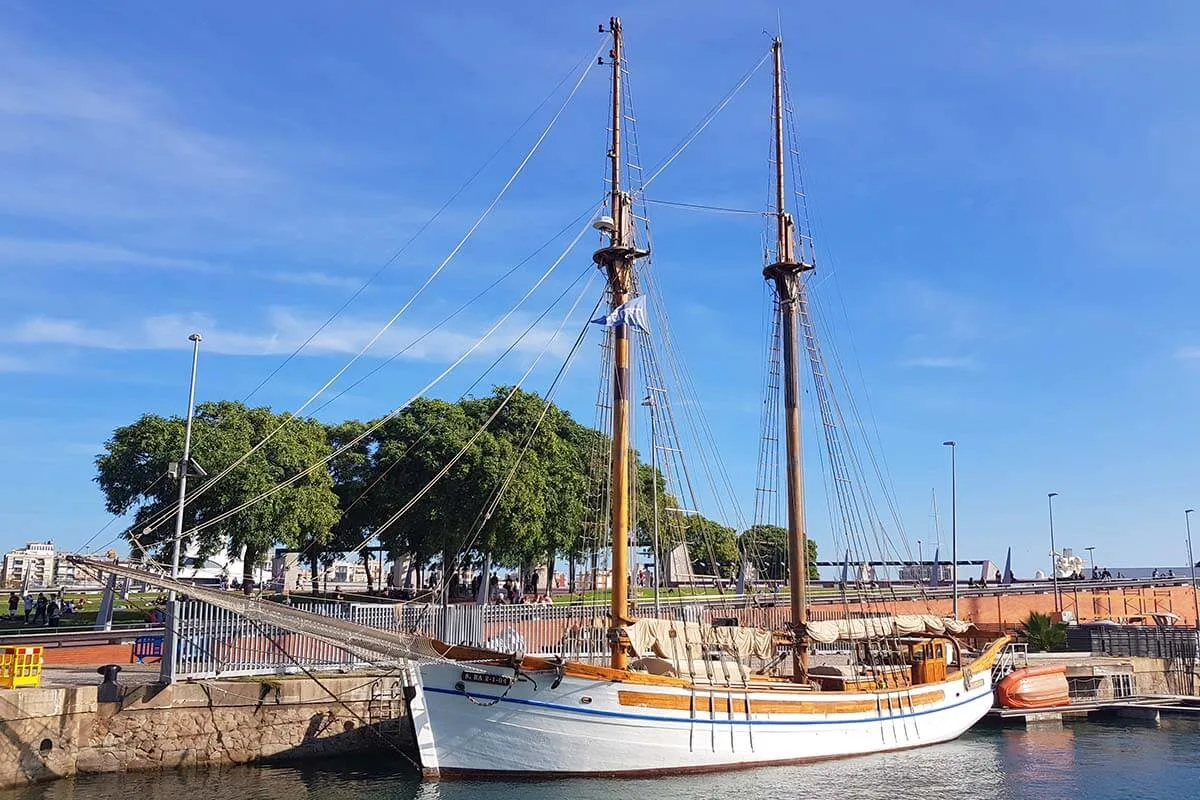 18. La Barceloneta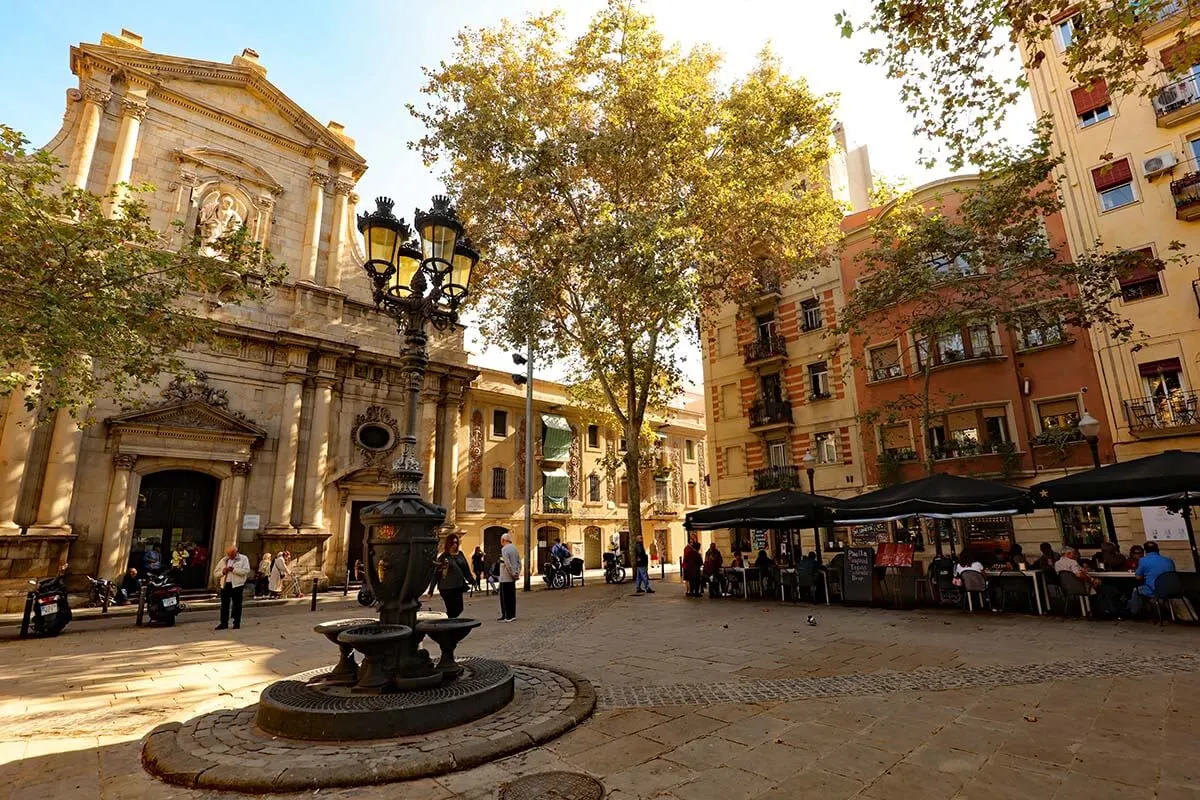 Port Vell borders the historic neighborhood called La Barceloneta. This charming local area was an old fishing district.
La Barceloneta is lined with narrow one-way streets towered by high apartment buildings, with laundry hanging out the windows everywhere you look. Despite its relatively central location in Barcelona, this neighborhood has a very traditional feel, with elderly gentlemen sitting in the streets outside their houses and women calling across to each other over balconies.
Good to know: There are many good restaurants in this area offering fresh seafood options. It is a nice place to come for lunch or dinner. The restaurants at the waterfront tend to be more touristy, but – despite having pictures on the menu and overly friendly waiters trying to convince you to choose their place – the food is generally very good.
TIP: For a more local feel a bit off the beaten path, check out the restaurants in the narrow side streets of La Barceloneta. There are many great choices and all types of cuisine, not just seafood.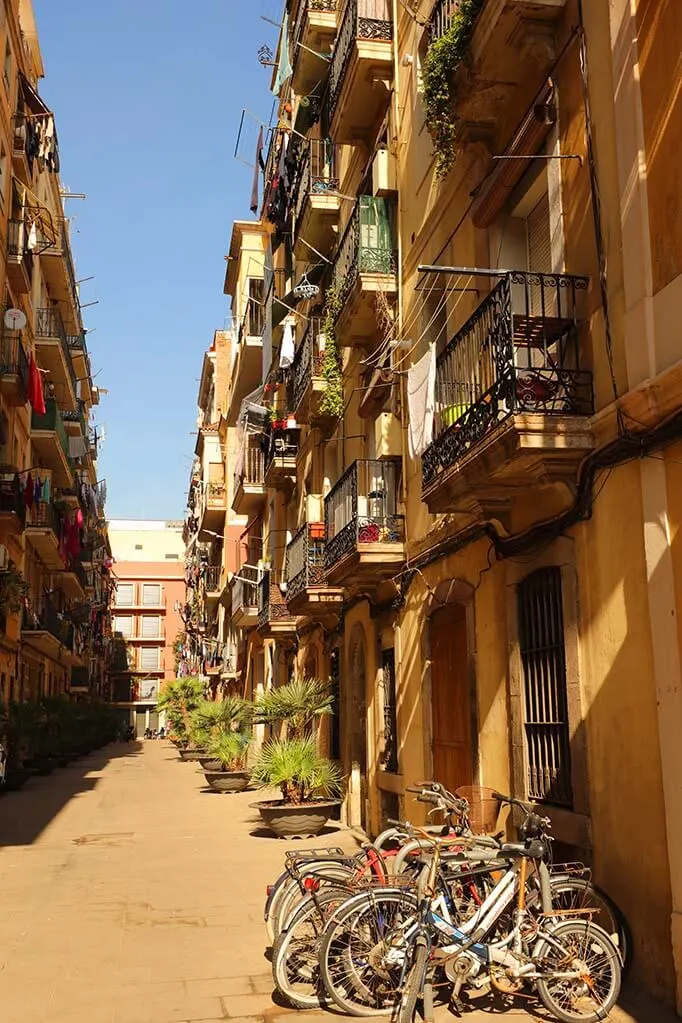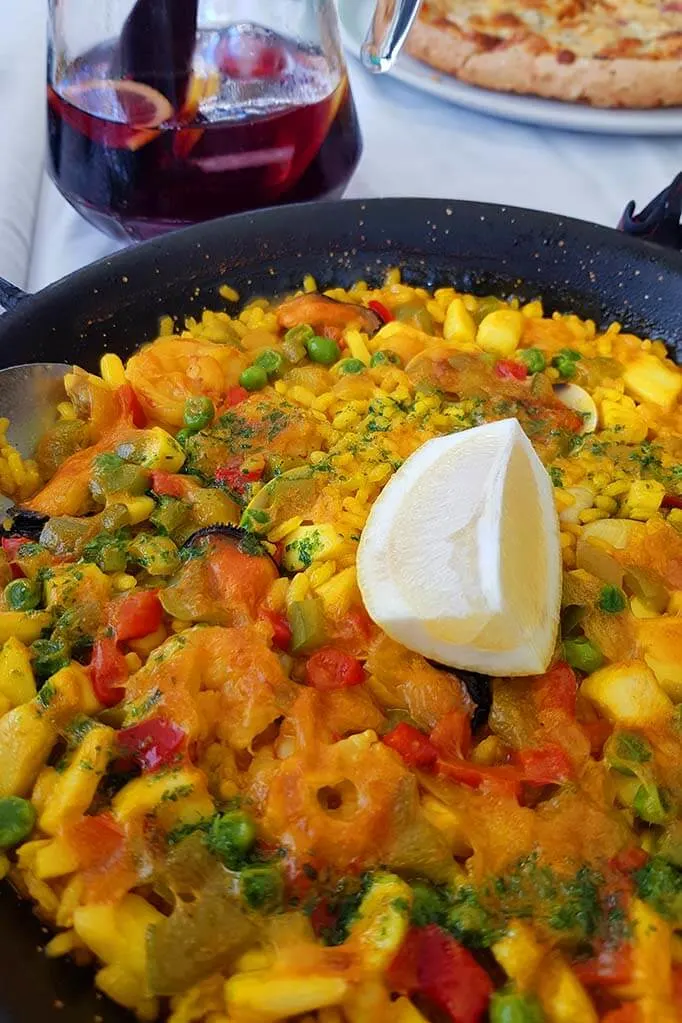 19. Barcelona Beaches & Waterfront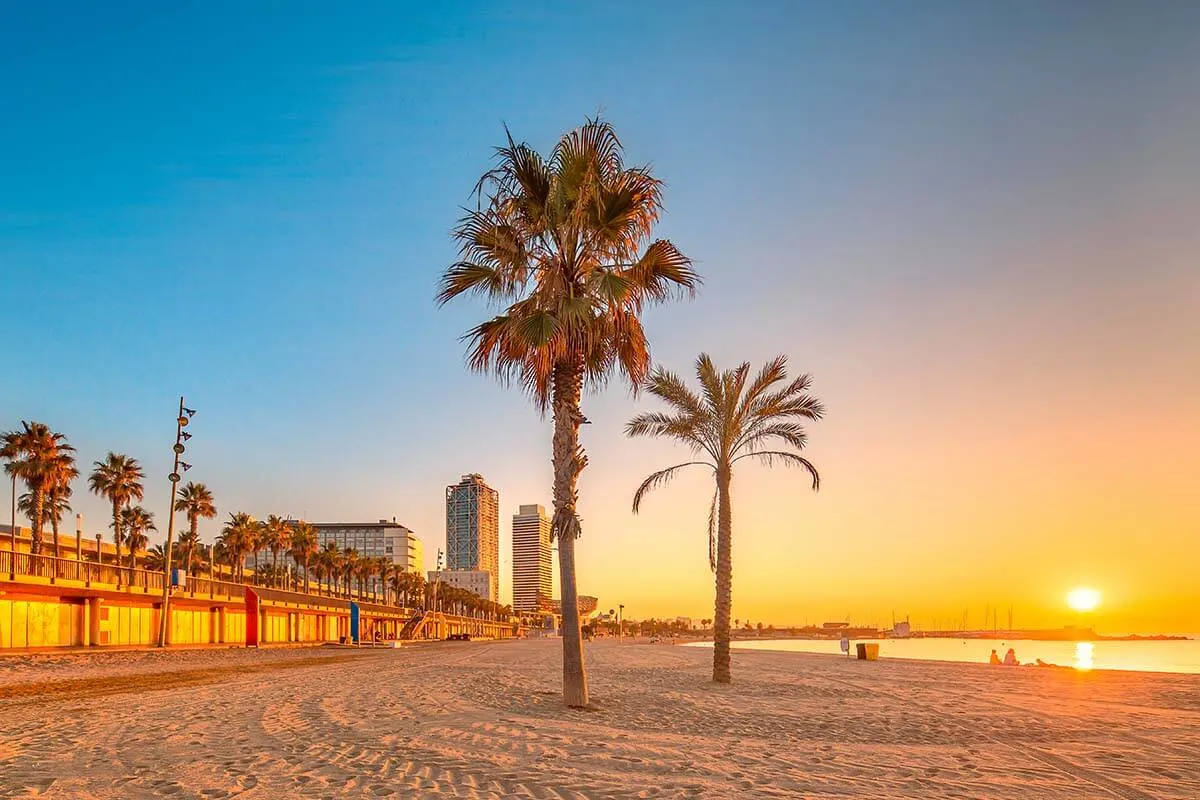 Barcelona Waterfront is a large coastal area stretching between Playa de Llevant Beach on the outskirts of the city center and the Cruise Ship Terminal in the city center. This commercial and recreational area was created in the early 1990s and has some of Barcelona's best beaches and a beautiful wide pedestrian area where you can walk/bike/skate for miles.
Barcelona has miles of scenic coastline and some beaches are just a 15-minute walk from the city center. There is something very special about being able to spend half a day admiring Barcelona's incredible architecture and visiting landmarks, and then relaxing in the sunshine on a beautiful beach in the afternoon!
Some beaches are bustling – crowded with tourists, hawkers, and street performers. Others are far more peaceful, perfect for unwinding with a good book and a cold drink.
Closer to the center, there is also a maritime station for ferries and you can watch cruise ships come in to dock. You'll also find the Maritime Museum here, housed in a large medieval shipyard, plus L'Aquàrium, one of the largest aquariums in Europe.
TIP: Why not get a different perspective on the city by taking a trip in one of the Golondrinas (ferries) moored opposite the Columbus Monument and take in all the sights of the waterfront! Or book one of the amazing sailing cruises – it's a great way to see the city from another perspective while at the same time relaxing from all the walking and sightseeing.
Good to know: If you're looking for a party atmosphere and want to connect with like-minded visitors from all over the world, head to Barceloneta Beach. The nightlife in Barceloneta is very vibrant too! For the best family-friendly option, try Nova Icaria Beach. Whilst tranquil, it still has plenty of restaurants and bars, plus some excellent sports facilities.
You might want to avoid cocktails and drinks from vendors walking along the beaches. They are often unrefrigerated for long periods and tend to warm up!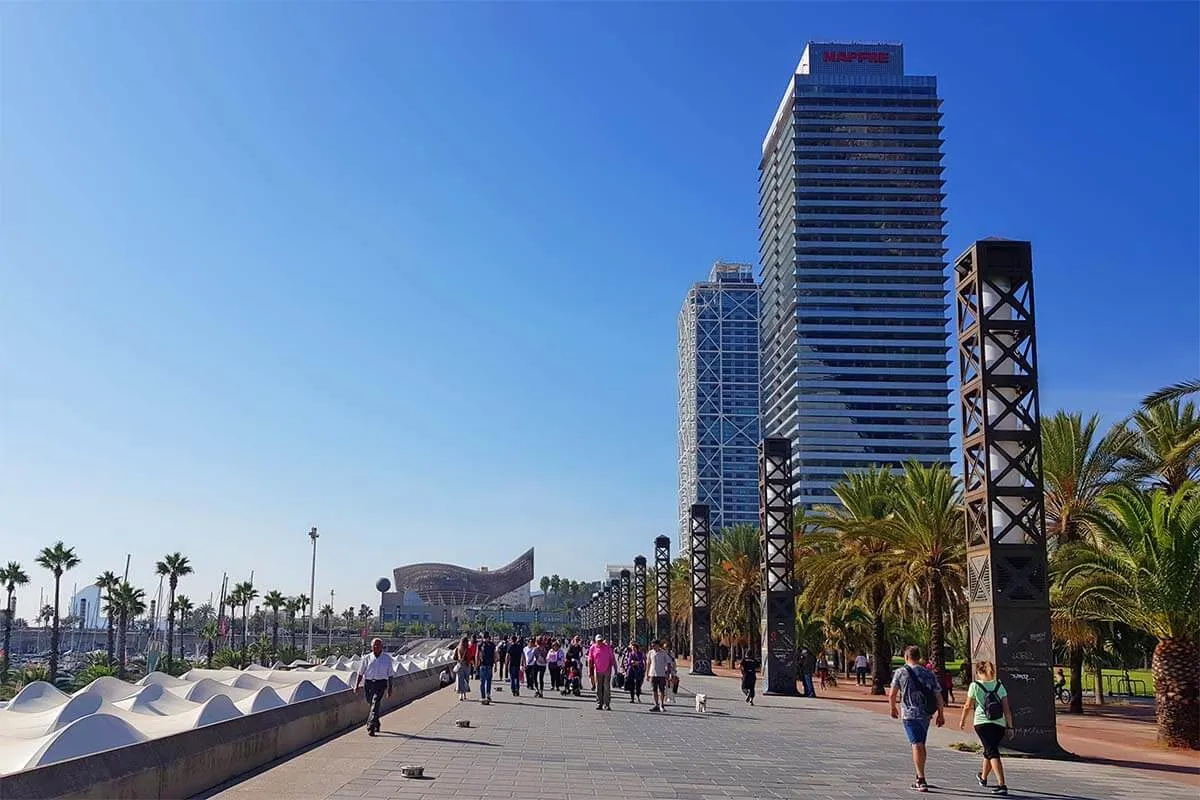 20. Camp Nou – F.C. Barcelona Stadium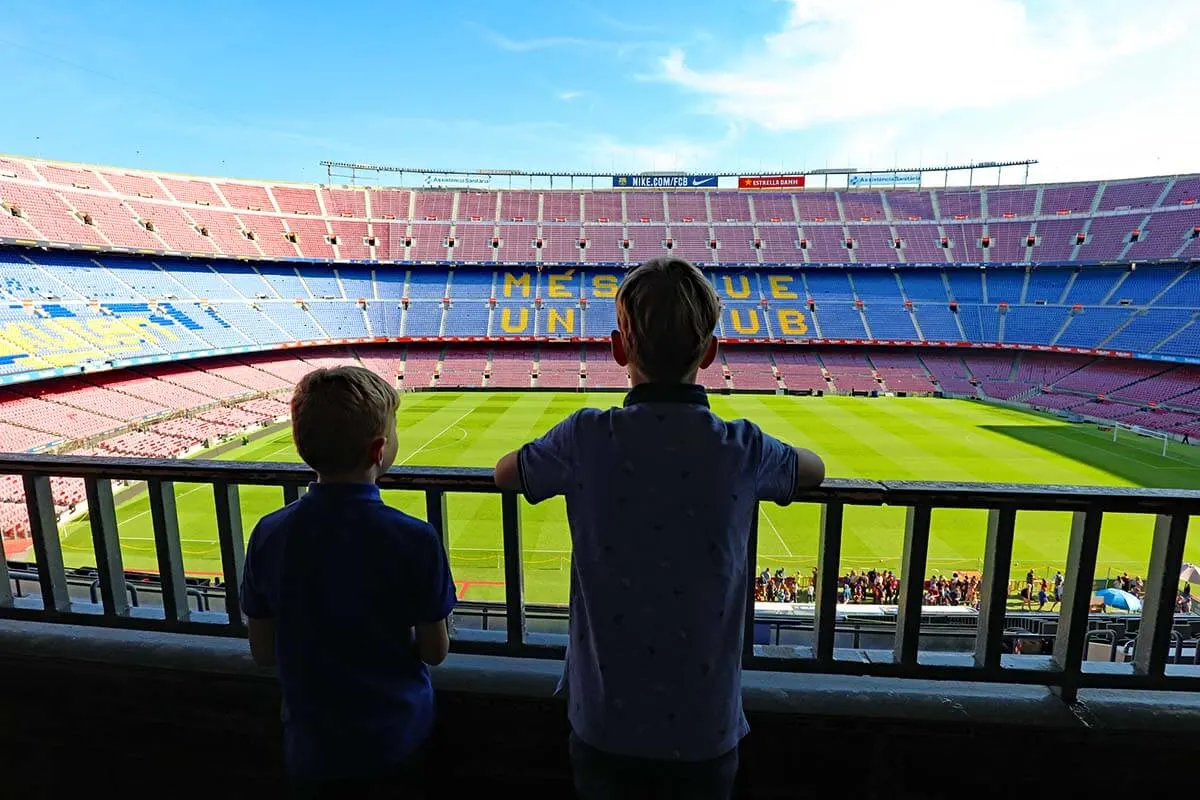 Camp Nou is the largest stadium in Europe and the home stadium of the world-famous F.C. Barcelona. This is a must-see for any football fanatics but is actually really interesting even if you are not a fan. Camp Nou is one of the most-visited tourist attractions in Barcelona!
We went here mainly because of our kids who live and breathe football, but – despite having zero expectations – I loved it too. After all, it's not every day that you get to experience such a large stadium with behind-the-scenes access!
Tours include the pitch, the stands, and the players' bench, along with the changing rooms and press area. Also included is a visit to the museum where you can see the many trophies on display and learn more about the club's amazing history.
Good to know: The stadium is located a bit outside the city center. You can get here by metro or by hop-on hop-off bus.
TIP: There are various ticket- and tour options for a visit here. The most popular – and the option we chose – is a self-guided stadium- and museum tour. Another option is a guided tour, but I'd only recommend it to those who want to learn even more about the team and its history.
If you're looking for a more exclusive experience, you can also opt for the Players Experience Tour which includes everything the standard tour does, plus access to the actual FC Barcelona players' locker rooms, an official FC Barcelona gift, and a few other perks.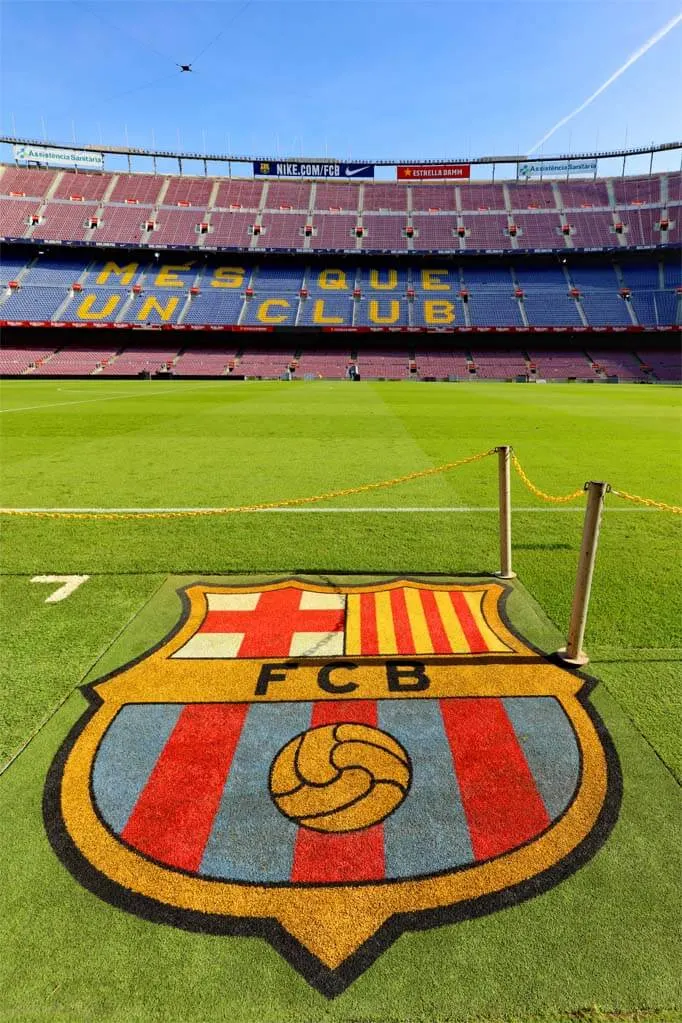 21. Casa Vicens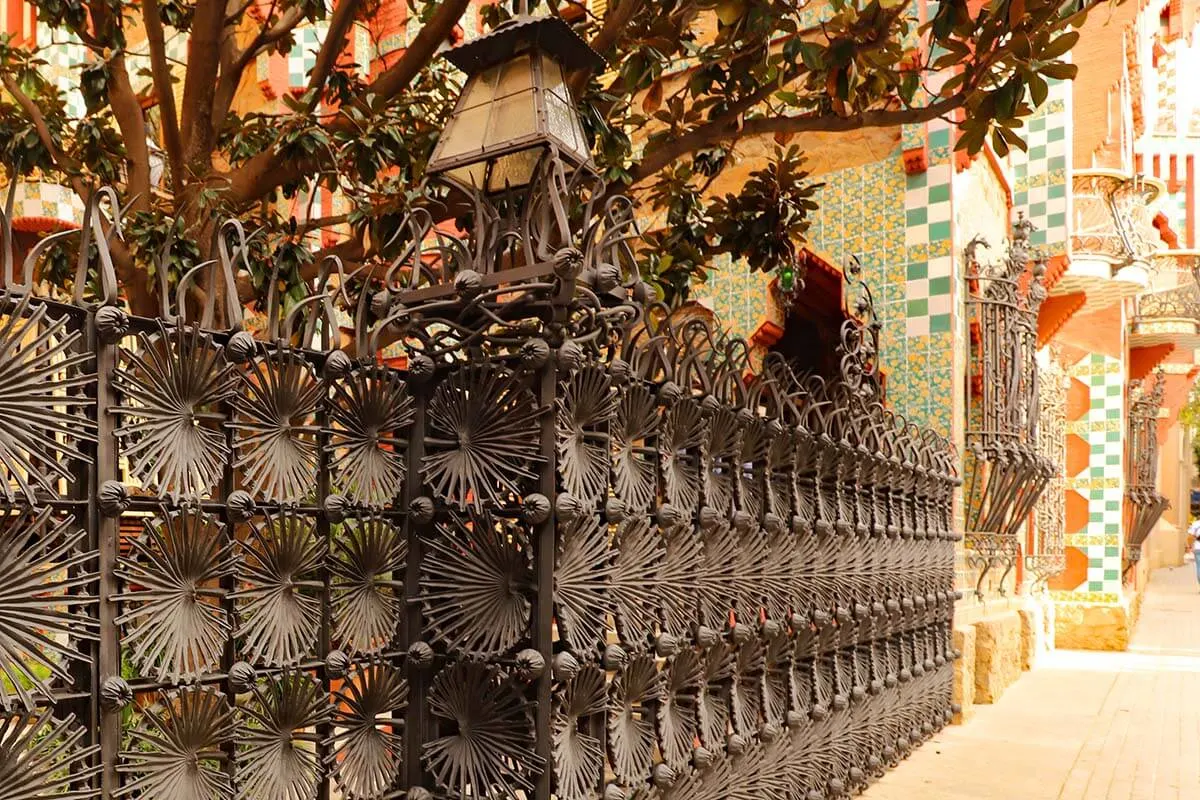 Casa Vicens is a modernist building dating from the end of the 19th century. It is considered to be Gaudi's first major project.
Unique in style, Casa Vicens looks nothing like the other Gaudi buildings in Barcelona! Its look is distinctly oriental, with dome-shaped finishes and Moorish arches. Its design was influenced by the art of India, Persia, Japan along with Hispanic Islamic works.
Built in 1883-85 as a family summer house in the former village of Gràcia (now one of the city neighborhoods), the building has been expanded by another architect in 1925. By that time, Gaudi was mainly focused on La Sagrada Familia, with little interest in other projects. But the original style was retained.
Casa Vicens has been declared a UNESCO World Heritage Site and recently restored to its former glory.
As with all of Gaudi's buildings, the interior of Casa Vicens does not disappoint either. You can easily spend 1 to 2 hours here admiring the bizarre but beautiful decorative elements of its rooms.
TIP: Casa Vicens is hardly ever mentioned among the best places to see in Barcelona, and so many tourists don't even know about it. This is mainly due to the fact that it was only opened to the public in 2017 and is far less known than Gaudi's other buildings. This means that it is much quieter, making it a great place to visit in Barcelona if you prefer to avoid crowds.
Good to know: Casa Vicens is open daily. You can find more information and get the tickets here. Despite being somewhat of a hidden gem, it's becoming better known as more and more people discover it. So get there before the rest of the world finds out!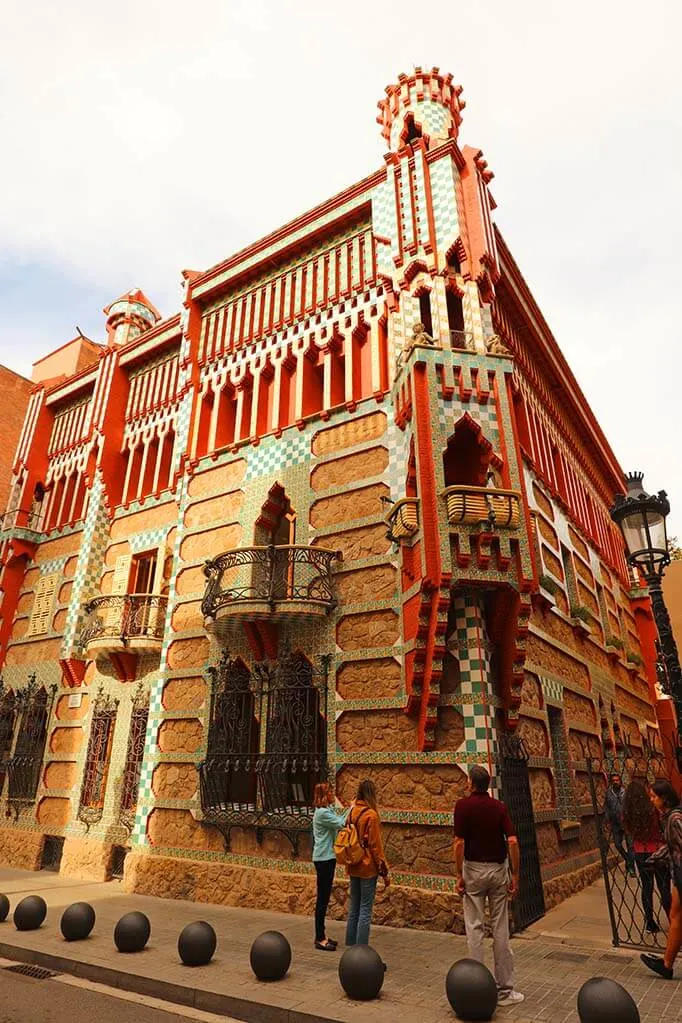 22. Palau Güell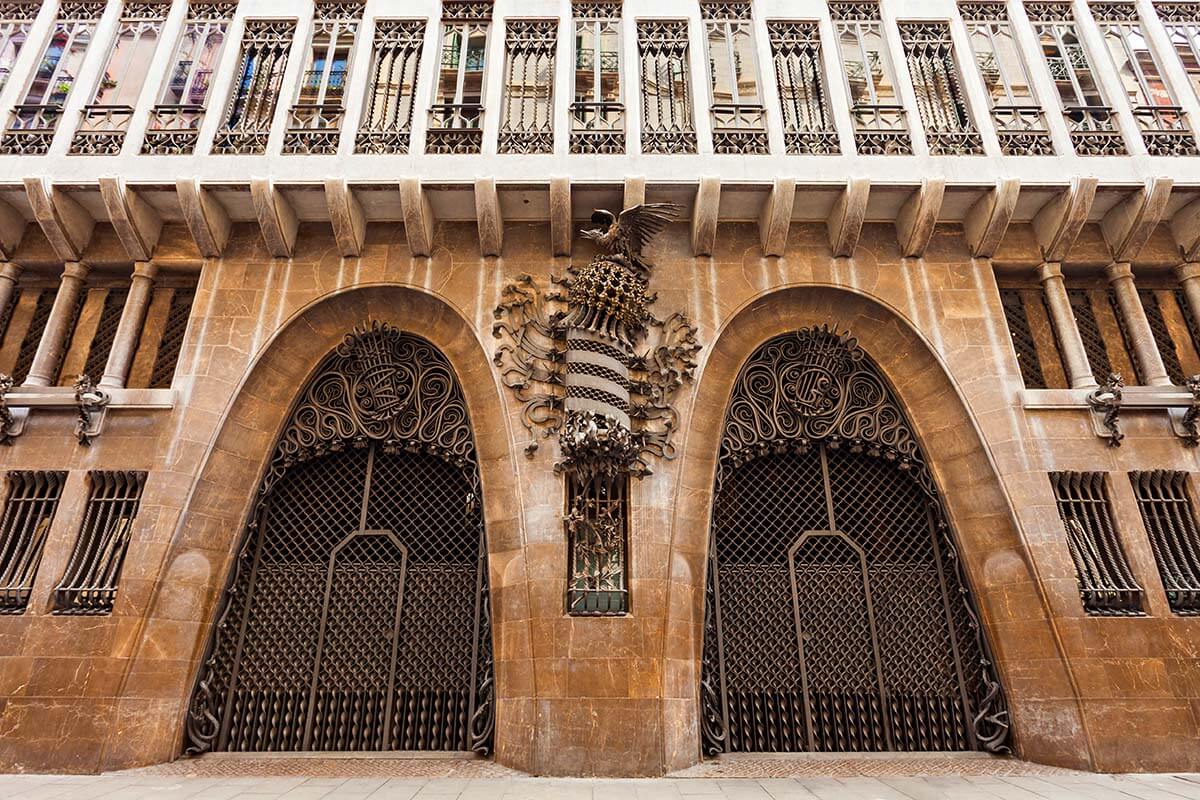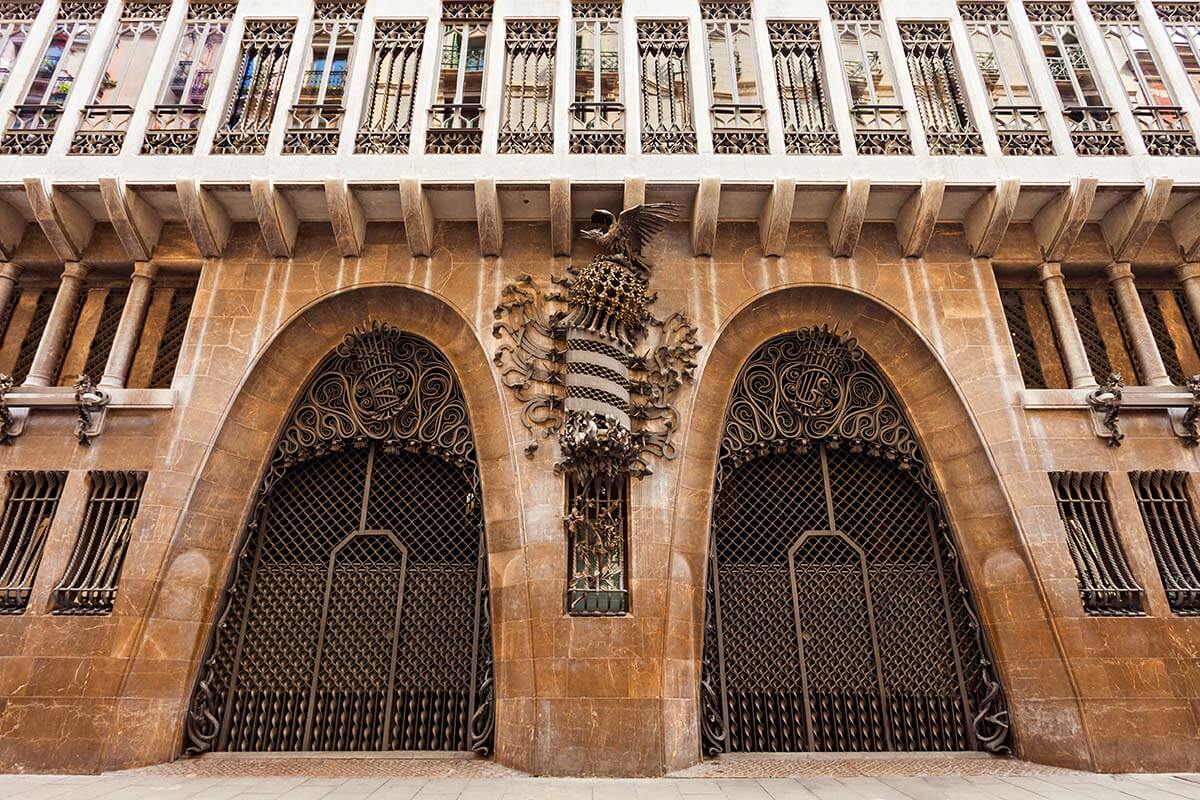 Güell Palace – not to be confused with Park Güell – is one of Gaudi's early works and another popular landmark to see in Barcelona. This magnificent building is located in the Raval district – close to La Rambla shopping street in the heart of the city center. This is the only Gaudi building that is located in the old town.
This modernist mansion was commissioned by the industrial tycoon Eusebi Güell in the late 19th century. He wanted somewhere luxurious to live in an area that was very run down at the time. He certainly got his wish – every part of this incredible palace is decorative and opulent, from the forged iron gates at the front to the roof terrace adorned with mosaics and fourteen chimneys.
Good to know: Palau Güell is open daily except for Mondays. A free audio guide is included with your ticket. For more info and tickets, see here.
TIP: If you are visiting in the summer, check if there are any events planned here during your stay. Frequent concerts are held on the rooftop terrace of Palau Gëull and tickets include a tour around the palace.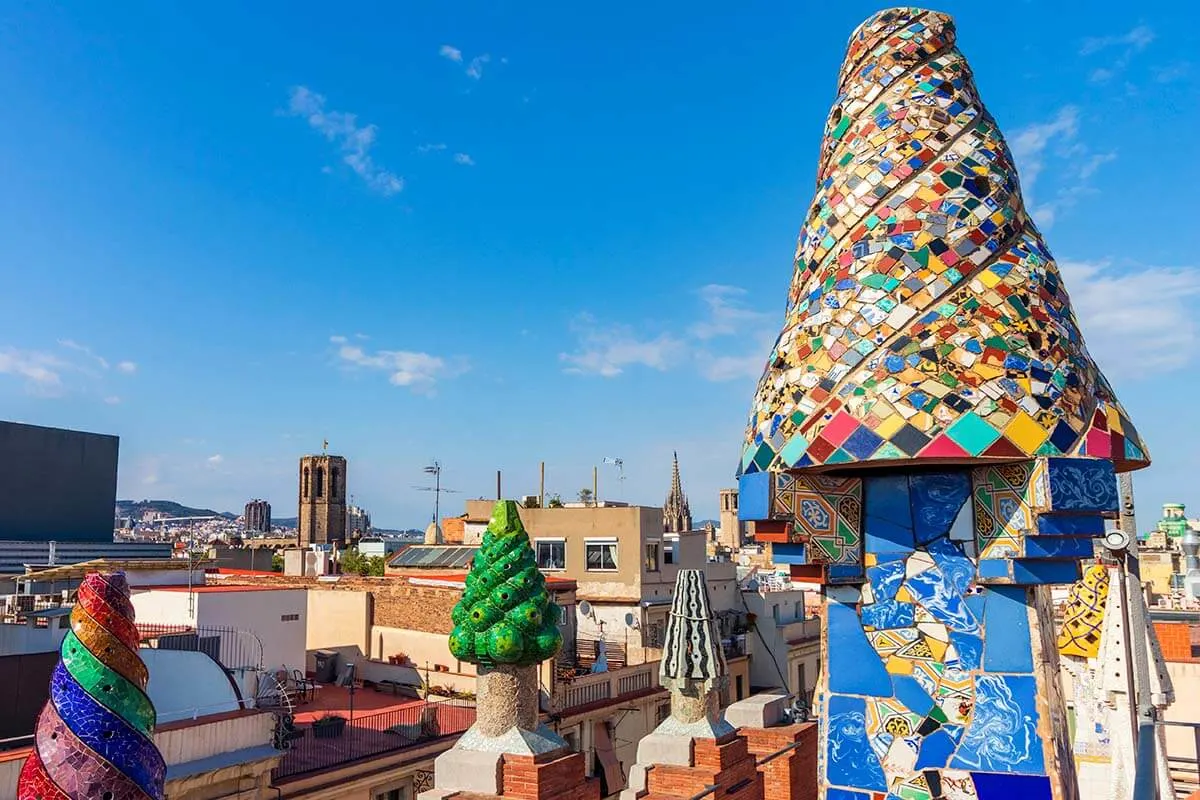 23. Barcelona History Museum (MUHBA)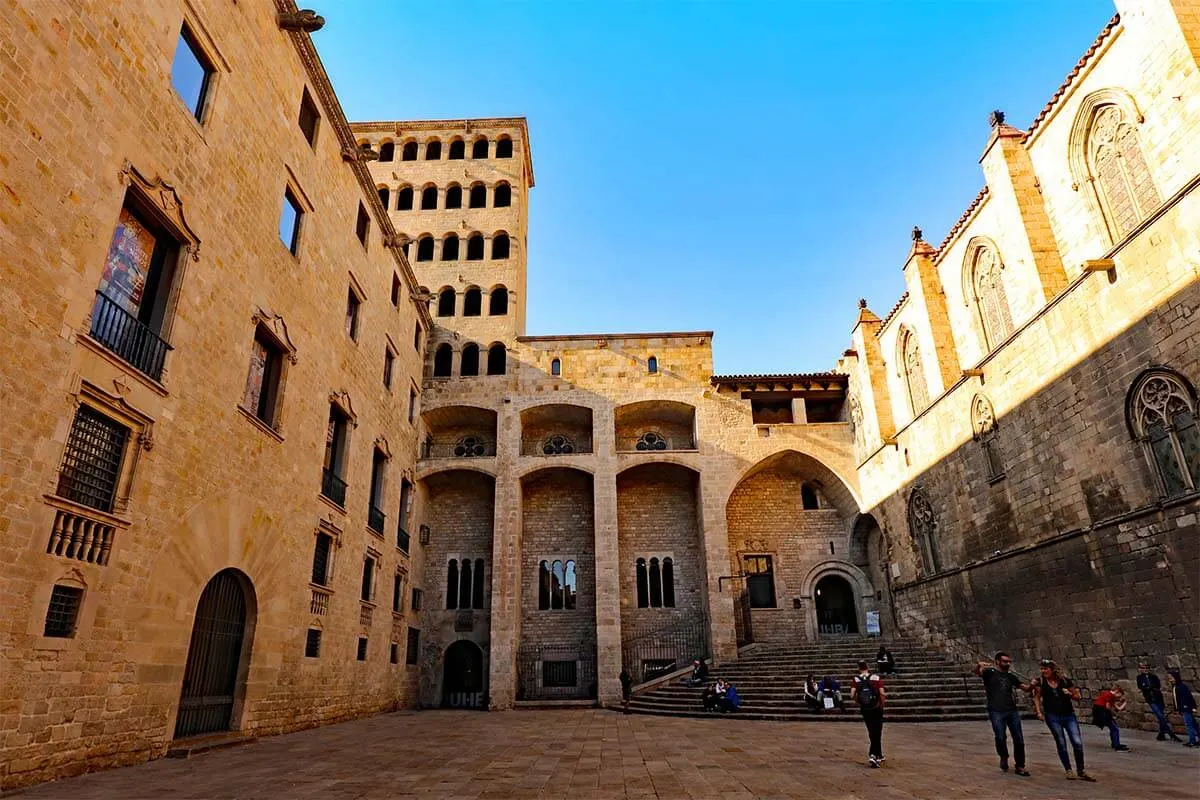 MUHBA – Museum of History of Barcelona – is one the most interesting museums in the city. Here, you can see the archeological site with the actual remains of streets and buildings of Barcelona as it looked like about 2000 years ago.
Located inside the Palau Clarina Padellàs (the Gothic Palace) on Plaça del Rei just behind the Barcelona Cathedral, this fascinating museum is dedicated to researching and preserving Barcelona's history. It contains more than 35,000 historical and cultural objects.
There are also several other sites managed by the museum around the city. Some contain excavated portions of the Roman city of Barcino, whilst others date back to medieval times.
Good to know: The museum is open daily except for Mondays. Audio guides are included with your ticket, which includes admission to all MUHBA sites in the city. You can find more info on their (rather confusing) website. Or simply walk over there and likely, you'll be able to just get a ticket on the spot. Despite its central location, many people seem to just pass by here, so it's usually not too busy.
TIP: Even if you are not interested in visiting the museum, be sure to come and see the impressive medieval architecture of Plaça del Rei.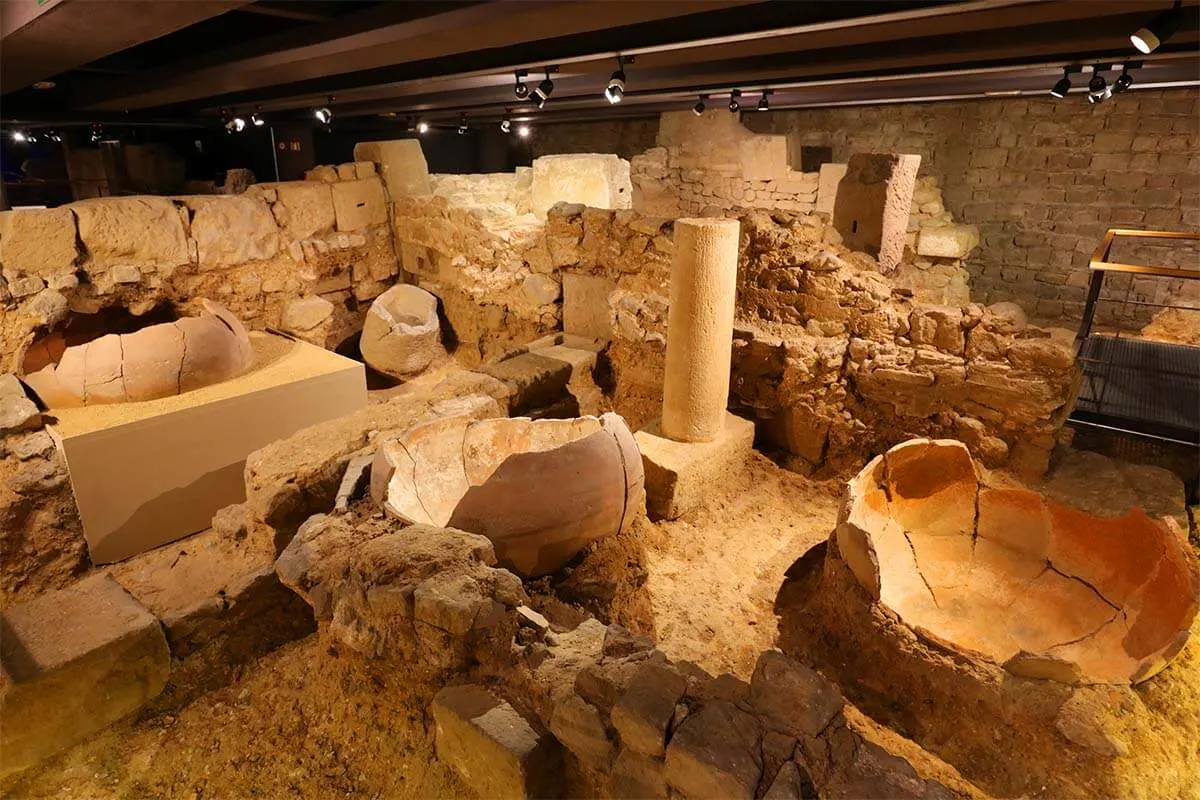 24. Arco de Triunfo & Ciutadella Park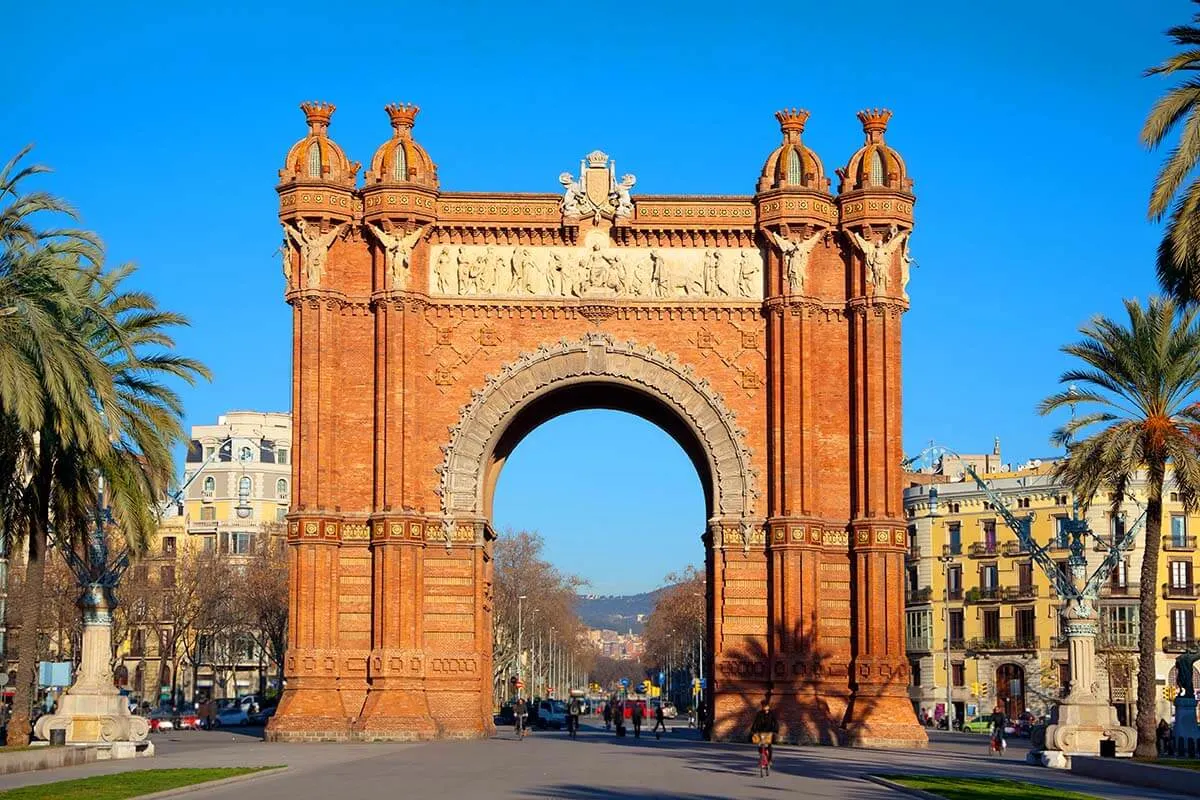 Built in 1888 as the gateway to the Universal Exhibition, the Arco de Triunfo is located at the Passeig Lluís Companys promenade.
It is one of Barcelona's most iconic landmarks, with a classic shape and beautiful decorative finishes. At the top, you can see the coat of arms of the city, under which are the shields of the 49 Spanish provinces.
The Passeig Lluís Companys leads to Ciutadella Park, probably Barcelona's most idyllic spot. It's a lovely place for a picnic, with palm trees, a fountain designed by Gaudi, and a pretty rowing lake.
There are also numerous attractions on the grounds, including zoology and geology museums, honorary statues, and Barcelona Zoo. The Parliament of Catalonia and a few other interesting landmarks are located here as well. It's a really large park with lots to see!
TIP: Be sure to climb to the top of the Cascada del Parc de la Ciutadella fountain for nice views of the park. It's especially nice late in the afternoon, around sunset.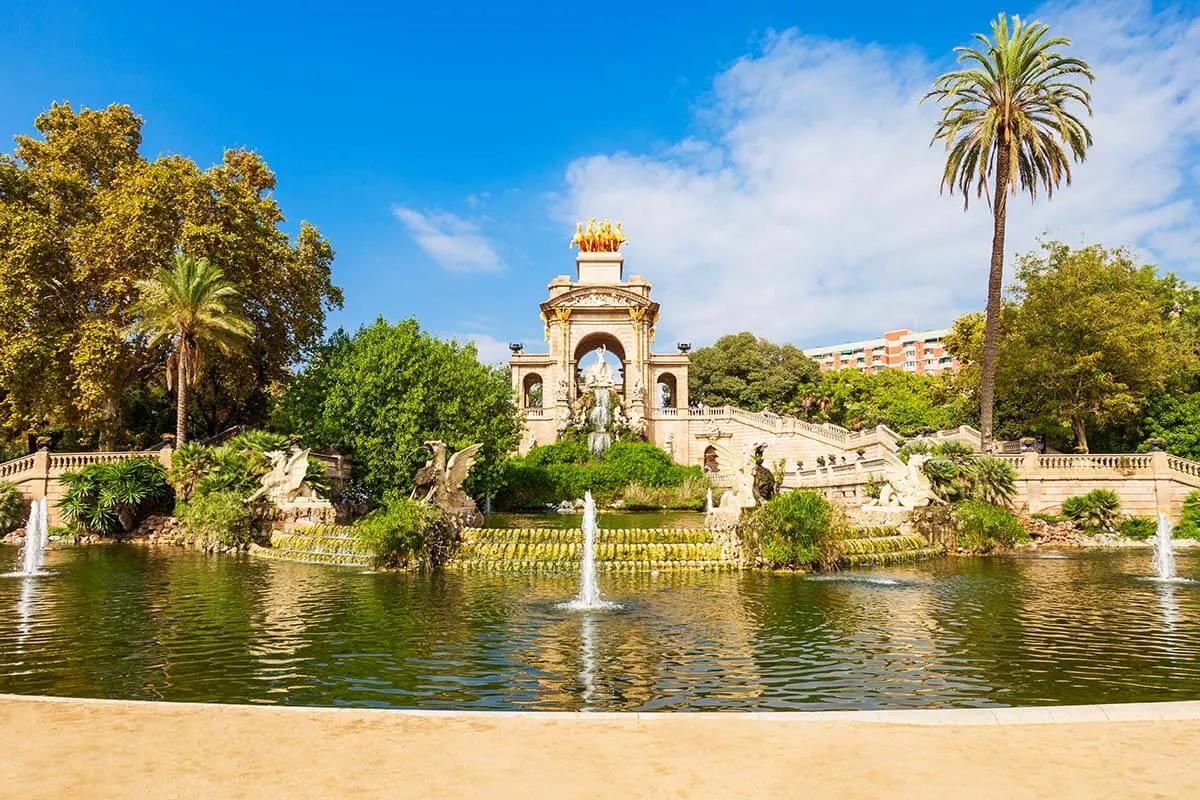 25. Plaça d'Espanya & Views from Arenas de Barcelona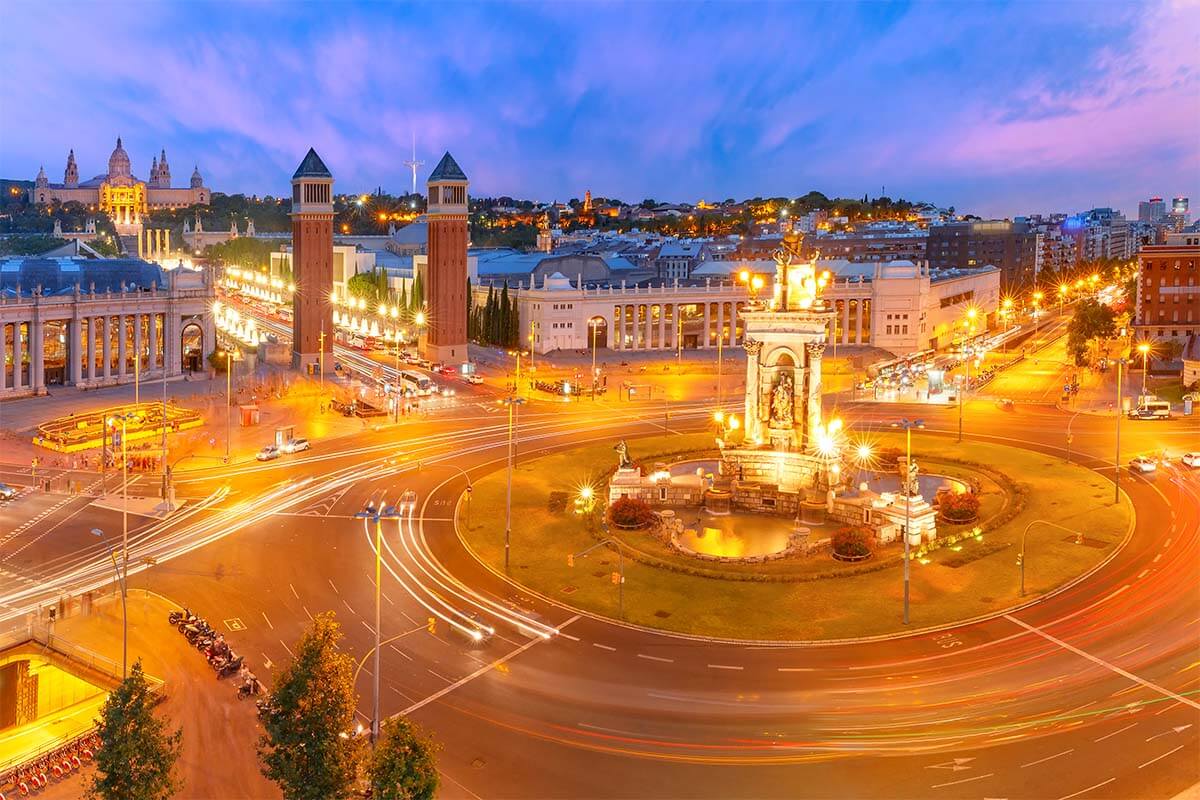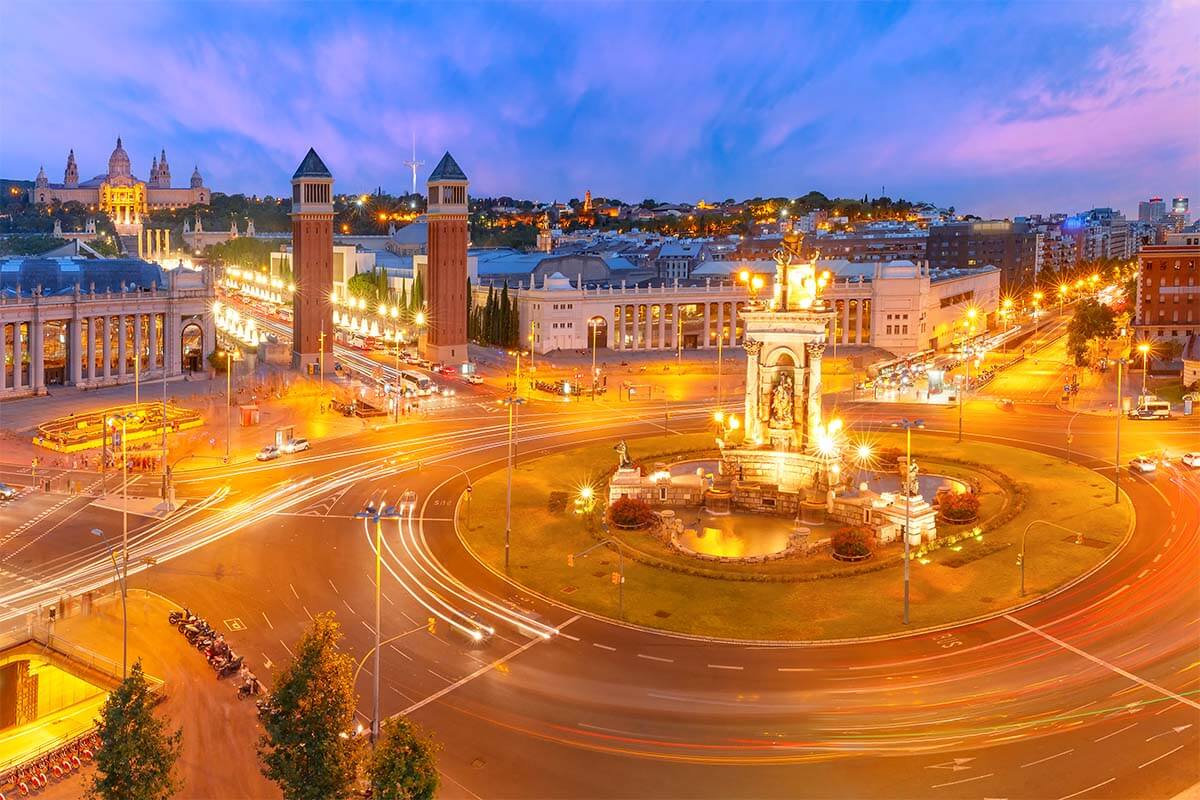 Plaça d'Espanya is a large square close to the Magic Fountain of Montjuïc. It's somewhat of an eclectic mix of sculptures, monuments, and busy traffic with several major avenues coming together here. Just a few minutes walk to the south, you'll find the earlier-mentioned Magic Fountain of Montjuïc.
On the northern side of Placa d'Espanya, you'll find Las Arenas de Barcelona. This oval-shaped commercial shopping center was originally a bullfighting arena but was reconstructed in 2011.
There are countless shops here and its top floor is filled with restaurants that go all the way around the perimeter, and there are also cinemas (with all the movies in Spanish, however).
But the main reason to mention a shopping center in this Barcelona sightseeing guide is because of the awesome 360° city views from the large circular platform at the very top of Arenas de Barcelona. And also because it's so close to the Magic Fountain of Montjuïc which you'll likely want to visit anyway. And if you're already in the area, it's just a small effort to check out those views.
We visited here around sunset, before heading to the fountain for the evening show, and the views were really nice. Well worth a small detour.
TIP: There is a glass elevator to the rooftop, but there is a small charge to use it. Unless you specifically want to enjoy views on your way up, then you can also just take the stairs or the escalator, which are free!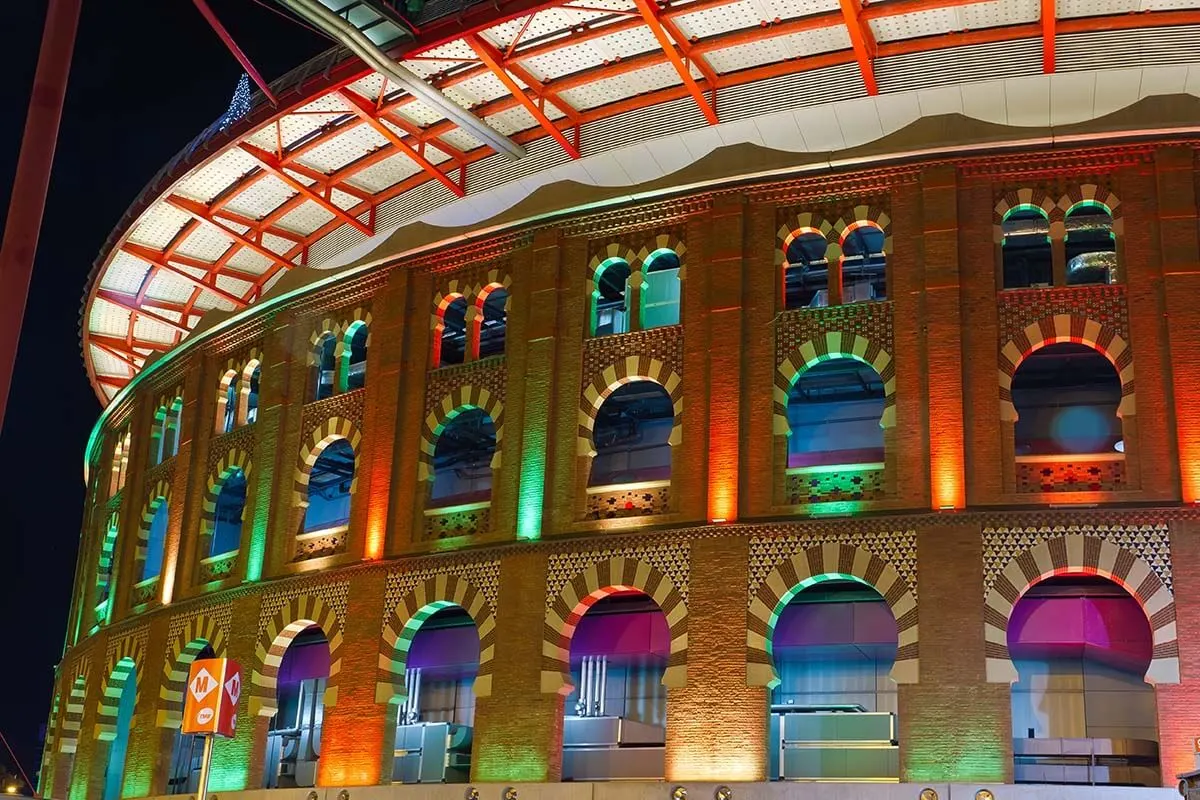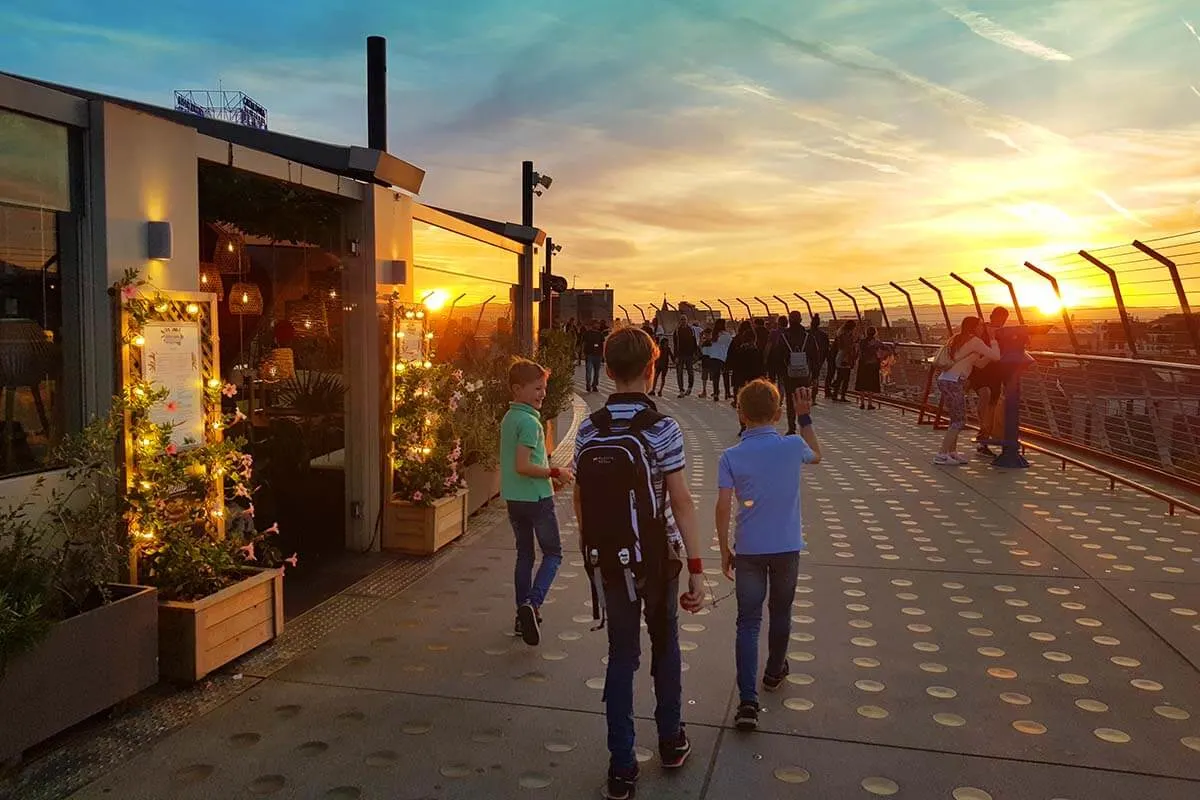 26. Basilica of Santa Maria del Mar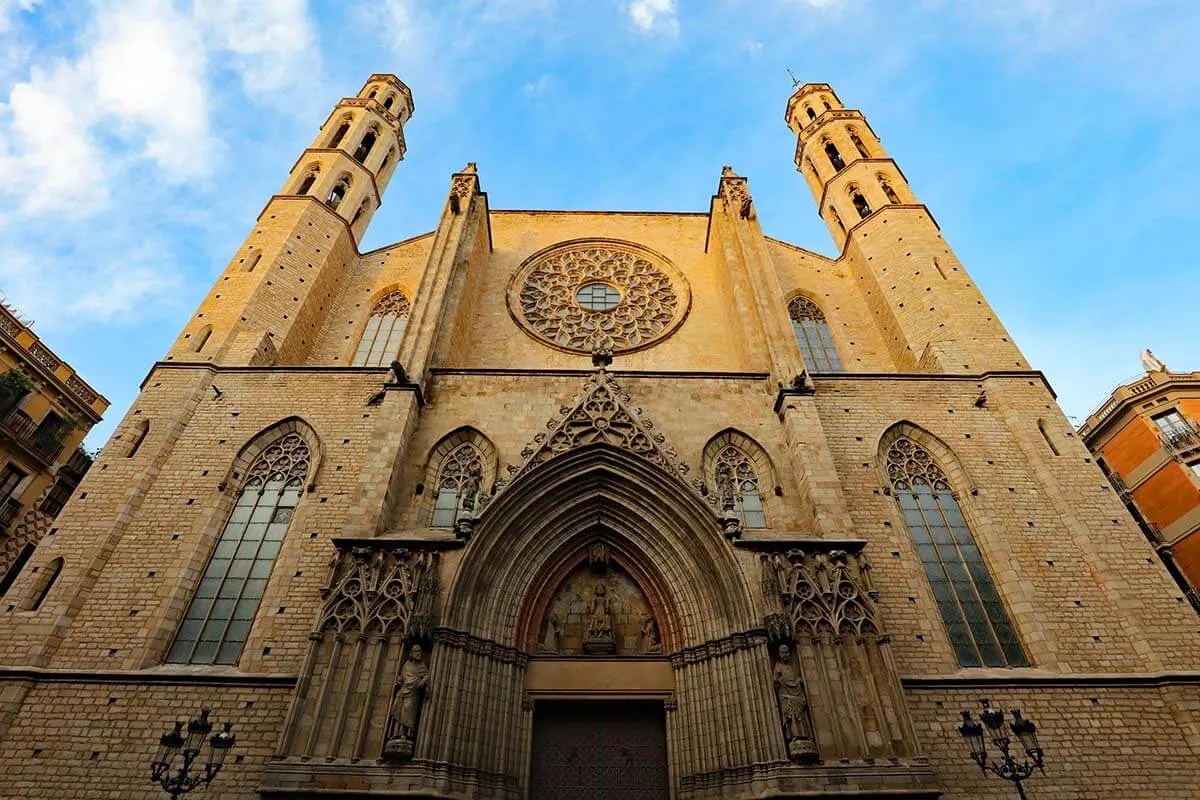 The beautiful Basilica of Santa Maria del Mar is a 14th-century Gothic Church. Together with La Sagrada Familia and Barcelona Cathedral, this is one of the nicest churches to see in the city.
It is located in the El Born neighborhood, a maze of medieval streets lined with trendy boutiques and cafes. Taking 55 years to build – partially paid for and constructed by the parishioners themselves – it is famous as being an example of pure Catalan Gothic architecture. This is rare, as most churches and cathedrals have a mixture of different styles.
TIP: You can see the best of the church in 20 minutes or so. But if you have more time then I recommend taking the guided tour, which includes a visit to the rooftop. The views of the skyline of the Old City are quite beautiful.
Good to know: The Basilica is open daily, in the morning and in the evening (usually closed between 1 and 5 PM).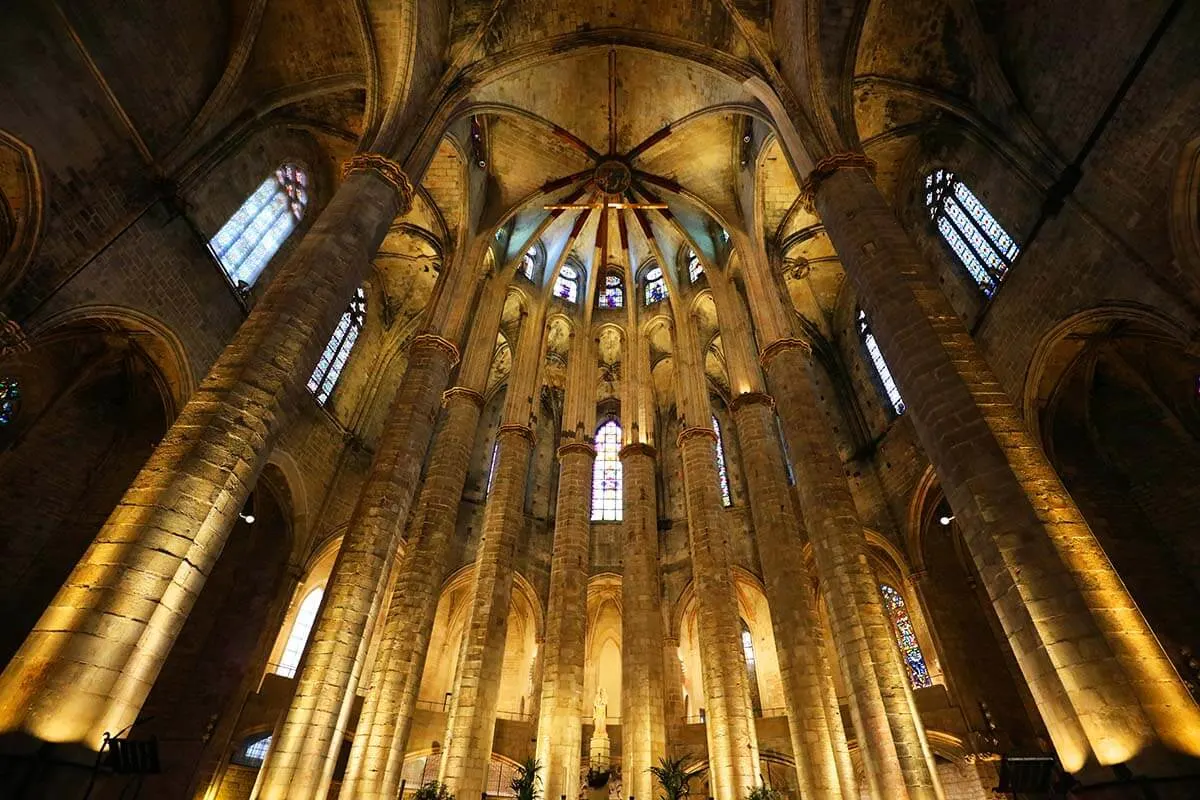 27. Santa Caterina Market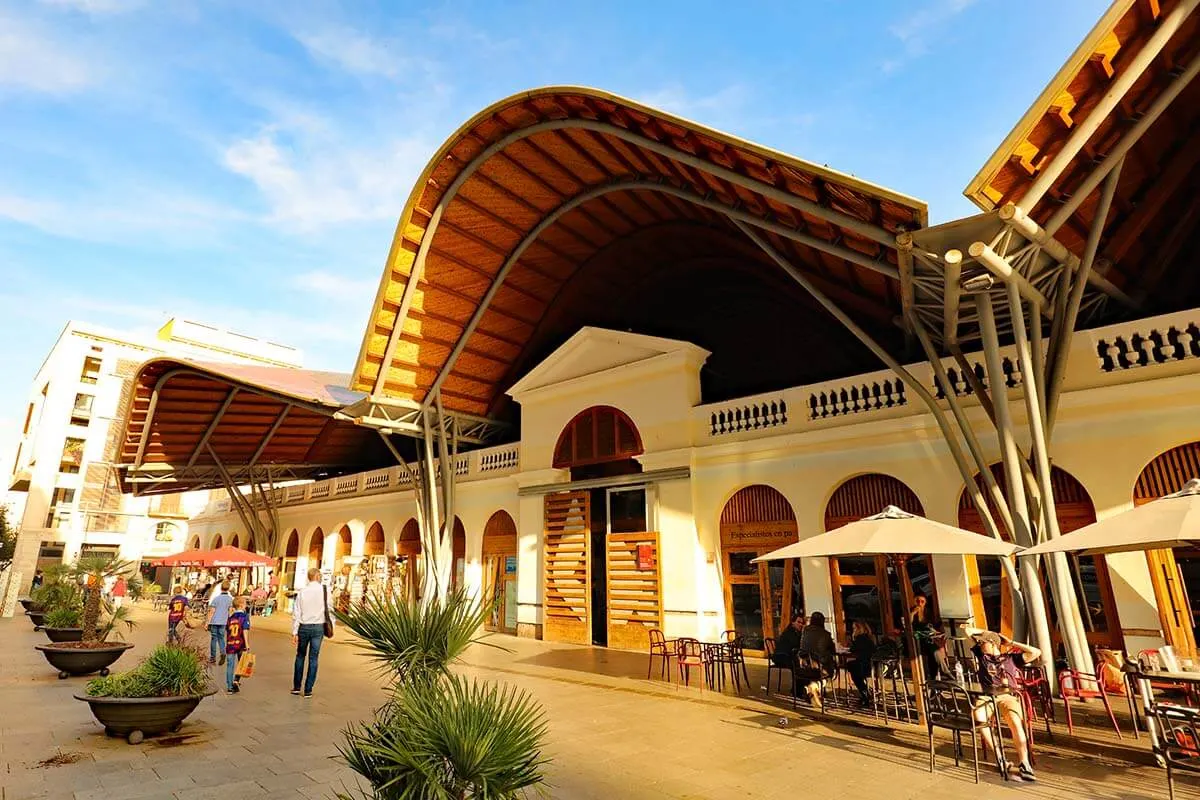 Mercat de Santa Caterina is a covered food market located close to the Picasso Museum. It is easily spotted because of its brightly colored roof. If you want to visit a few local markets in Barcelona, this is a good option.
Clean, well-organized, and modern, it tends to be far quieter than the famous Mercado de La Boqueria, so it's easier to sample the wares at all the different stalls and try some local specialties. It also has better prices and it is easier to get a seat if you decide to stop for lunch at one of the restaurants or bars.
The site now occupied by the market was originally home to the convent of Santa Caterina, of the Dominican Order or Order of Preachers. Remains of the cloister are still visible in the basement and can be seen with a ticket to the Barcelona History Museum.
Good to know: Santa Caterina market is open daily except on Sundays, from 7.30 AM to 8 PM. However, on Mondays, Wednesdays, and Saturdays it closes at 3.30 PM already.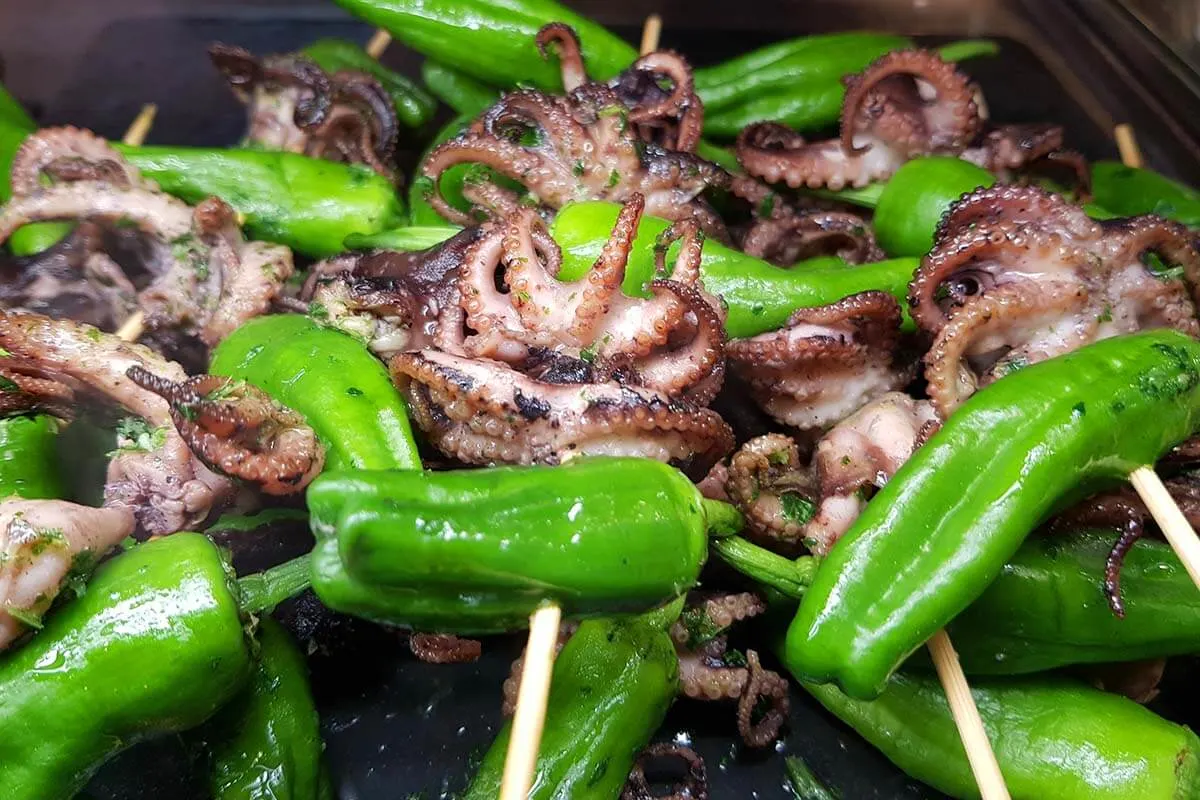 28. Day trip to Montserrat Monastery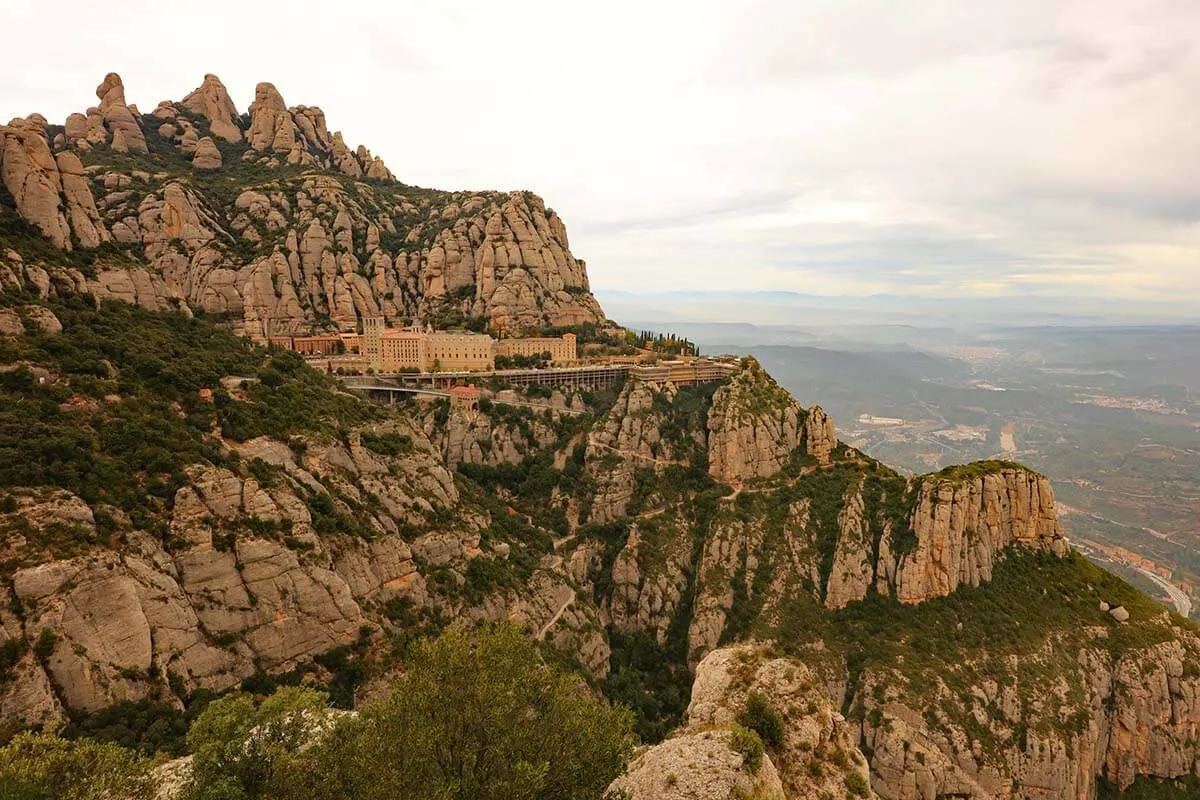 No list of the best things to do in Barcelona would be complete without mentioning the most popular day trip near the city – a visit to the Abbey of Montserrat.
The mountain range of Montserrat is located around 50km northwest of Barcelona. Its main attraction is the Benedictine Monastery Santa Maria de Montserrat, one of Catalonia's most important religious sites.
You can't actually go inside the monastery, but you can visit the grounds, the church, and see the statue of the Black Madonna, Catalonia's patron saint. You can also hear daily performances from the world-famous Montserrat boys' choir. In addition, there are some hiking trails and you can enjoy the incredible views of the surrounding landscape.
Good to know: There are many ways to visit Montserrat Monastery – on your own by train or by car, or with one of the many tours from the city. Here you can read our Montserrat tour review, and via the link below – find all the info you need for a visit.
LEARN MORE: How to Visit Montserrat from Barcelona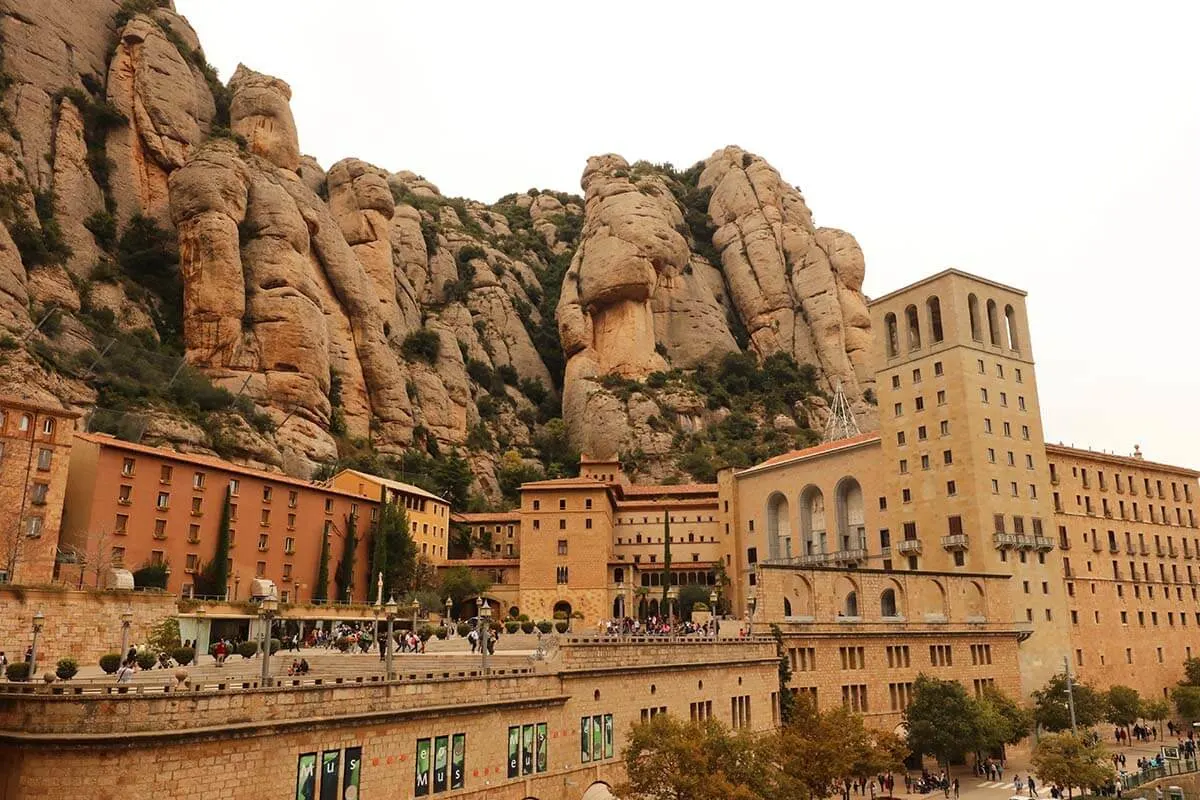 Additional suggestions for what to see and do in Barcelona
We have now covered most of the main sights in Barcelona. However – as you can imagine – a city like Barcelona has so much more to offer than just the main landmarks and top sights mentioned above!
There are just too many attractions in Barcelona than we can mention in one guide (while still keeping it somewhat manageable for tourists just looking to cover the musts…).
So here is a list of some other great activities in Barcelona that are well worth considering too. From local experiences to the best places to visit with kids, fun things to do in Barcelona at night, and more.
TIP: Even if you just add one or two of these activities to your Barcelona sightseeing itinerary, it will make your visit to the city so much more special. Take a look!
Fun experiences and attractions in Barcelona:
Things to do in Barcelona with kids:
Things to do in Barcelona at night:
More museums to visit in Barcelona:
Where to Stay
If you are mainly interested in sightseeing, the very best area to stay in Barcelona is close to Catalunya Square.
Here are some of the best-rated hotels in this area for all budgets:
€€€€€ Ohla Barcelona
€€€€ Hotel Jazz
€€€ El Avenida Palace
€€ Mothern by Pillow
€ Hostal La Palmera
Map of Barcelona Attractions
To help you plan your time in the city, we created this map indicating the main landmarks, sights, and tourist attractions in Barcelona mentioned in this article. It should give you a better idea of where everything is located and help you plan your itinerary.
This map shows the main places to see in Barcelona as described in our list above. To make it somewhat easier to use and keep the focus on the best sights, we didn't indicate any of the additional suggestions or places that are outside the city (like Montserrat Monastery).
You'll also see that we use different colors depending on whether the places are must-see (purple), highly recommended (red), or nice-to-see (yellow). They're ALL worth a visit, but if you are short on time, this might help you decide what to see first.
TIP: Take a look at our suggestions on how to spend one day in Barcelona and also on how to plan a 2-day Barcelona trip. It will give you a better idea of how to see the main sights in just a few days.
How to use this map: Use your computer mouse (or fingers) to zoom in or out. Click on the icons to get more information about each place. Click the arrow on the top left corner for the index. Click the star next to the map's title to add it to your Google Maps account. To view the saved map on your smartphone or PC, open Google Maps, click the menu and go to 'Your Places'/'Maps'. If you want to print the map or see it in a bigger window, click on 'View larger map' in the top right corner.
So, this is our guide to the top sights and attractions in Barcelona. I hope that it helps you plan your trip. Enjoy every moment of your visit to this world-class destination and its charming mix of avant-garde and traditional style!
TIP: For more practical information for your visit, be sure to check Barcelona travel tips via the link below. In this article, you'll find more information about getting around, where to stay, tipping and haggling etiquette, bizarre dining hours, and more. Take a look!
READ ALSO: Top Tips for Visiting Barcelona for the First Time
Have a great trip!
If you found this post useful, don't forget to bookmark it and share it with your friends. Are you on Pinterest? Pin these images!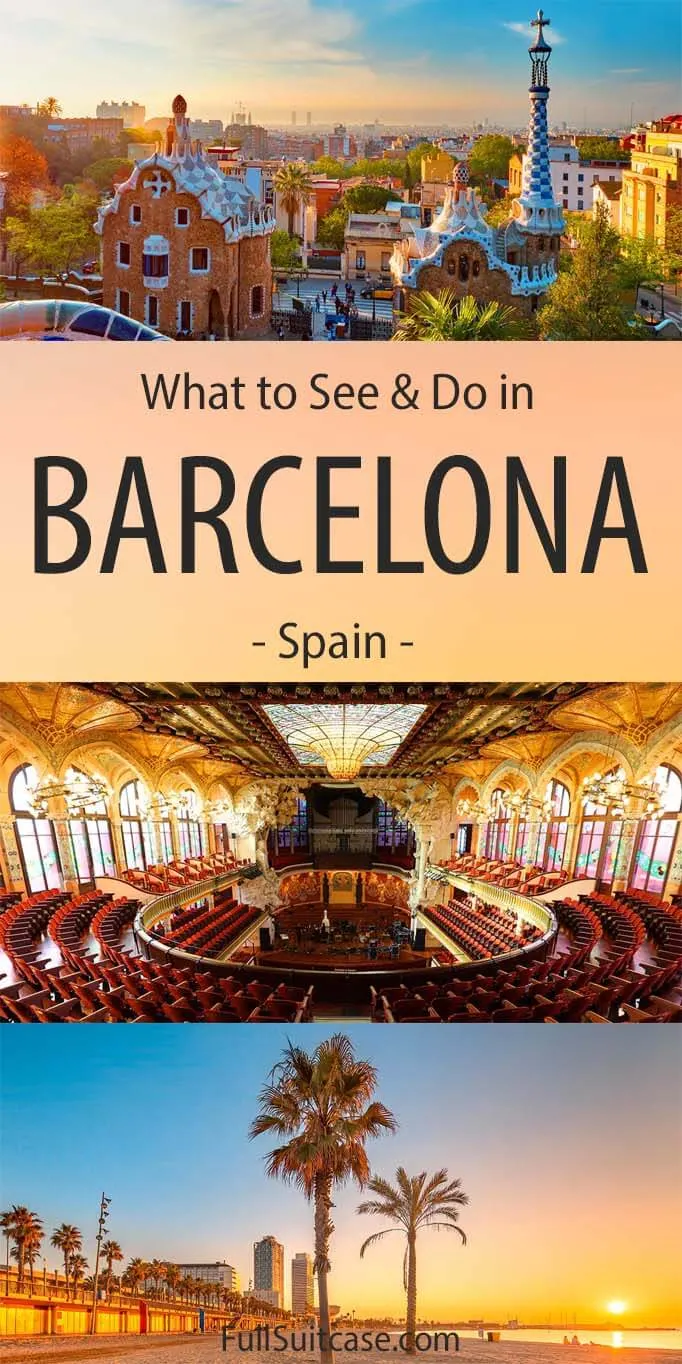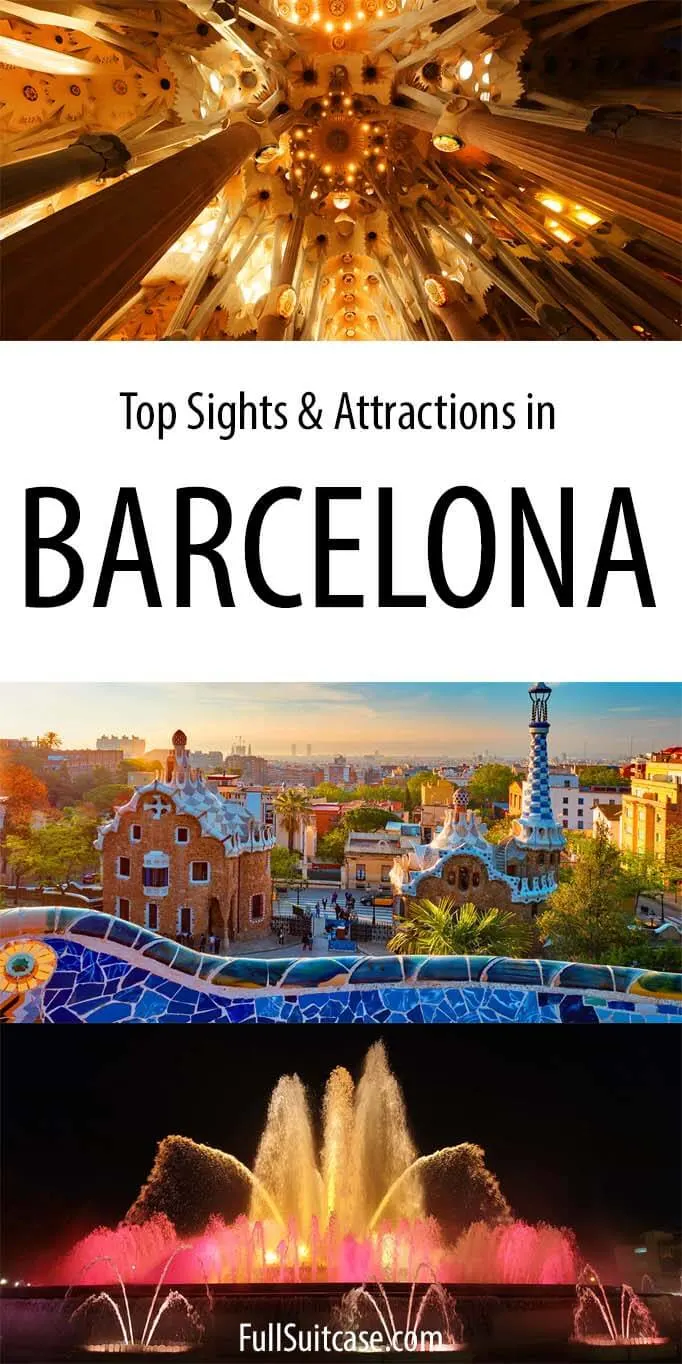 More travel inspiration for European cities:
If you are visiting other European cities and are looking for in-depth information for your trip, take a look at some of our city guides: