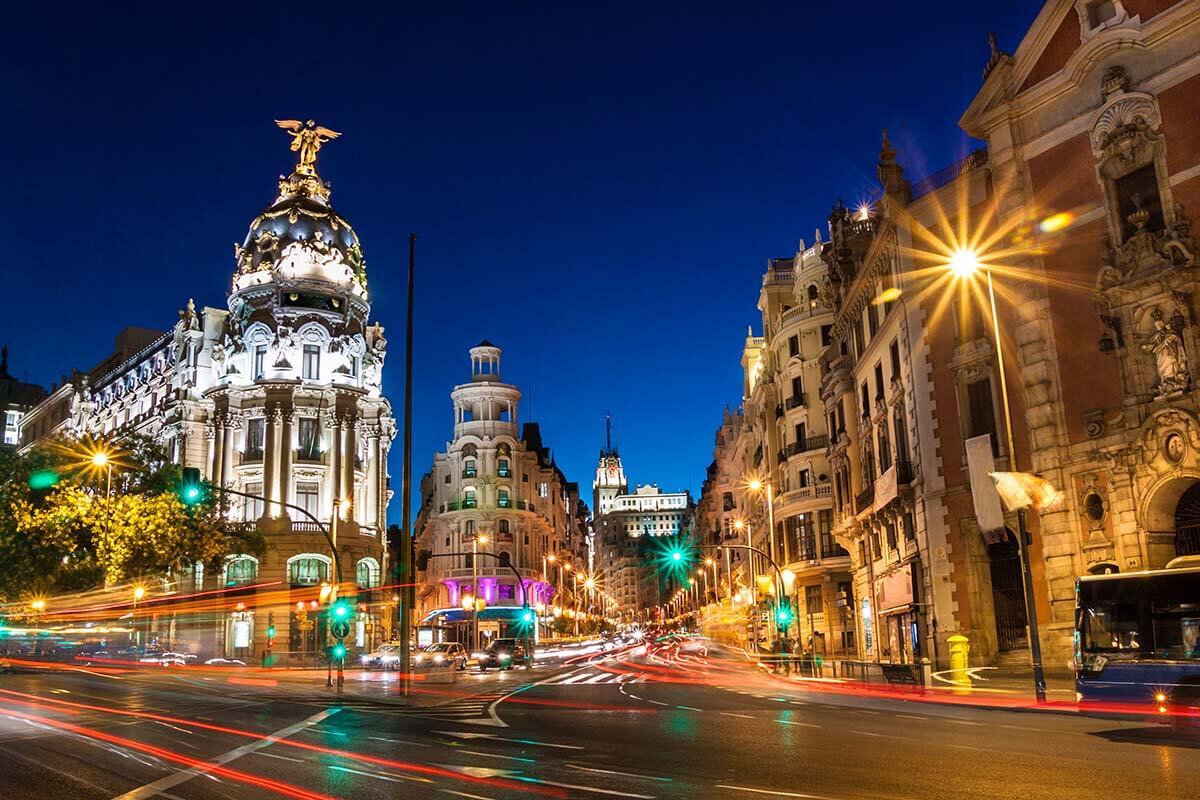 Are you thinking of visiting Madrid for a day or a short weekend and wondering what are the best things to do in such a short time and how to plan your time? In this guide, we share suggestions on how to spend one day in Madrid. Where to go, what to see, and how to plan it all so that you can make the most of your day trip to Spain's capital city.
In addition, we also include some practical travel tips and a map of the main attractions that will help you navigate this extraordinary city. Our 1-day itinerary is designed for anyone who is strapped for time and wants to make the most of their day in Madrid. Find out!
Good to know: This article was published with the help of a fellow travel blogger Daniel James from Layer Culture. Daniel has been to Madrid many times, exploring not just the best-known tourist attractions, but also many places off-the-beaten-track. In this guide, he shares the very best places and experiences that you absolutely shouldn't miss on your first visit to Madrid. Take a look!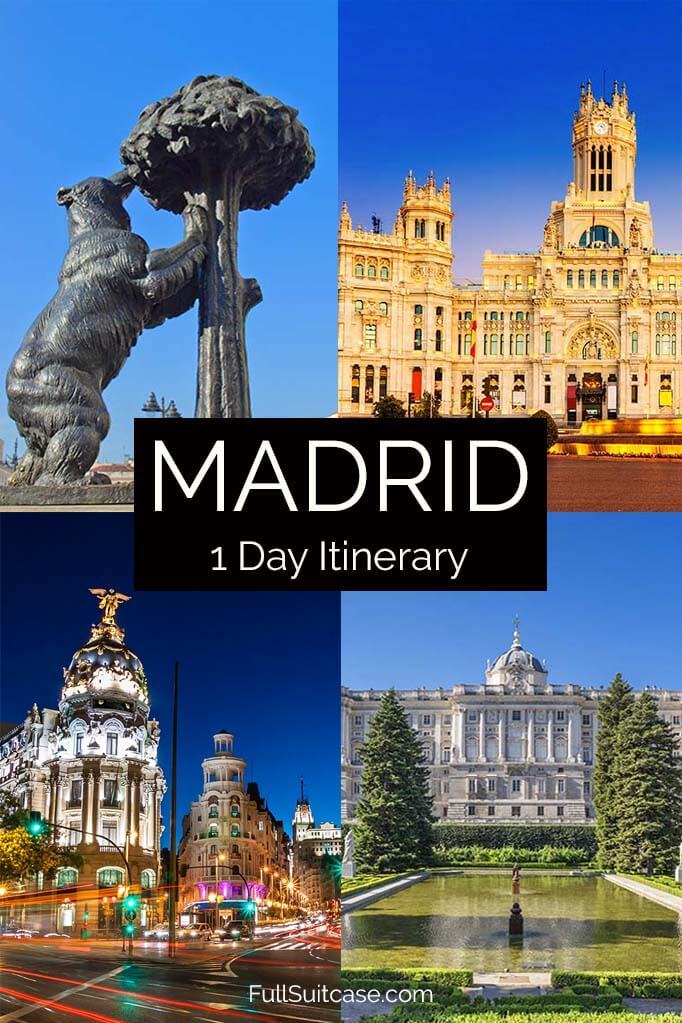 As you may well know, Madrid is full to the brim with historic buildings, museums, and beautiful parks. It's also home to some of the best art galleries in the world. Furthermore, no visit to Madrid would be complete without doing some shopping and tasting some of Spain's culinary delights.
But aside from Spain's most delicious food and the long list of museums holding some of the world's renowned art masterpieces, what else is waiting for you? Take a look at our list of the best places to see and things to do in Madrid in one day!
Good to know: Madrid city center is quite walkable, so you can visit everything we mention here on foot. Just be sure to wear comfortable shoes! If you don't like to walk the whole day, you can also opt for a hop-on hop-off bus. Or join the popular Segway tours for visiting some places, such as e.g. Retiro Park. Bike tours and e-bike tours are also good options with just a day in Madrid.
Further below, you'll also find a short overview of the suggested 1-day Madrid itinerary. And here is a map of all the places mentioned in our guide. It will give you a better idea of where everything is and help you better plan your day in Madrid.
How to Use This Map: Use your computer mouse (or fingers) to zoom in or out. Click on the icons to get more information about each place. Click the arrow on the left top corner for the index. Click the star next to the title of the map to add this map to your Google Maps account. To view the saved map on your smartphone or PC, open Google Maps, click the menu button, and go to 'Your Places'/'Maps'.
Here's what you could see and do in Madrid in one day:
Puerta del Sol
To arrive in Madrid and not pass through the Puerto del Sol area would be almost impossible. Not only is this the busiest square in the city, but it is also the one place where something will catch your eye in every direction that you look.
Puerta del Sol is a place you definitely must see in Madrid, so we suggest starting your day here!
In the olden days, Puerta del Sol was a crucial meeting point for people arriving from different regions of Spain. Today, it's home to one of Madrid's busiest metro stations and is still one of the most popular meeting places in the city.
This bustling city square is surrounded by historic buildings, and you'll find several fountains and impressive statues here as well. Street artists, musicians, and entertainers can be found here from the early hours until late at night. There's always so much going on!
There are many shops, restaurants, and cafes scattered around the outskirts of this square. So it's a good place to pick up some gifts or souvenirs, grab a coffee, or get breakfast. Feeling peckish? Get in line at La Mallorquina for one of the sought-after pastries located in the western corner of the square.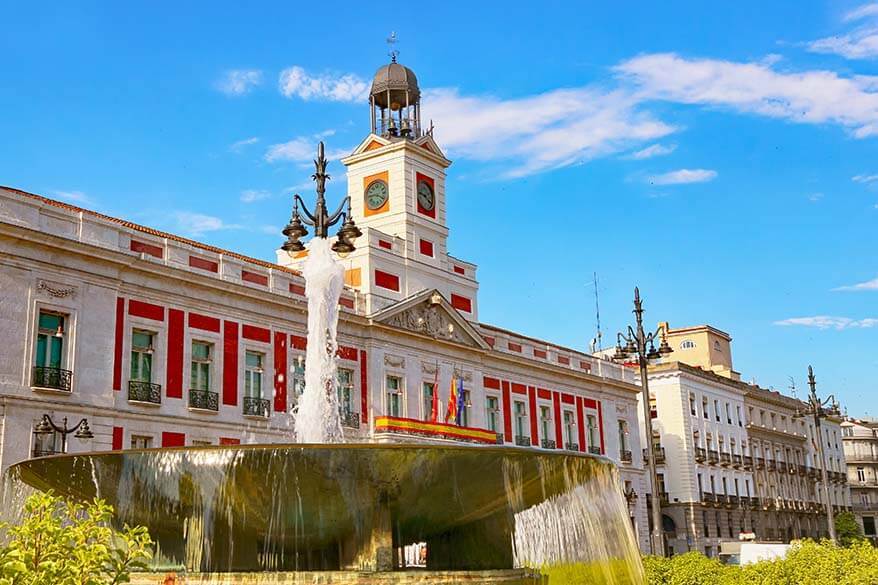 TIP: If you get the chance, try to get a picture of Spain's Kilometer 0, the starting point for all major roads in the country. It can be found on the ground in front of the clocktower building. This plaque marks the geographical center of Spain and is a popular landmark in the capital.
Also, don't miss the statue of the Bear and the Strawberry Tree (El Oso y el Madroño). This bear snuggling a strawberry tree is the symbol of Madrid and a popular meeting spot for locals.
Good to know: Puerta del Sol is also the meeting point for many city tours. So if you want to make the most of your day in Madrid and see the main highlights of the city with a local guide, it's likely that you'll start your visit here as well.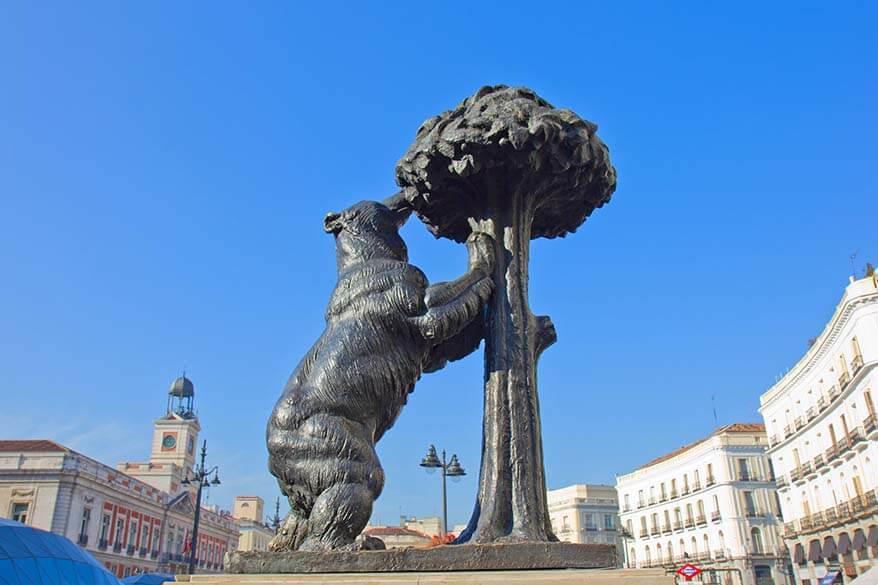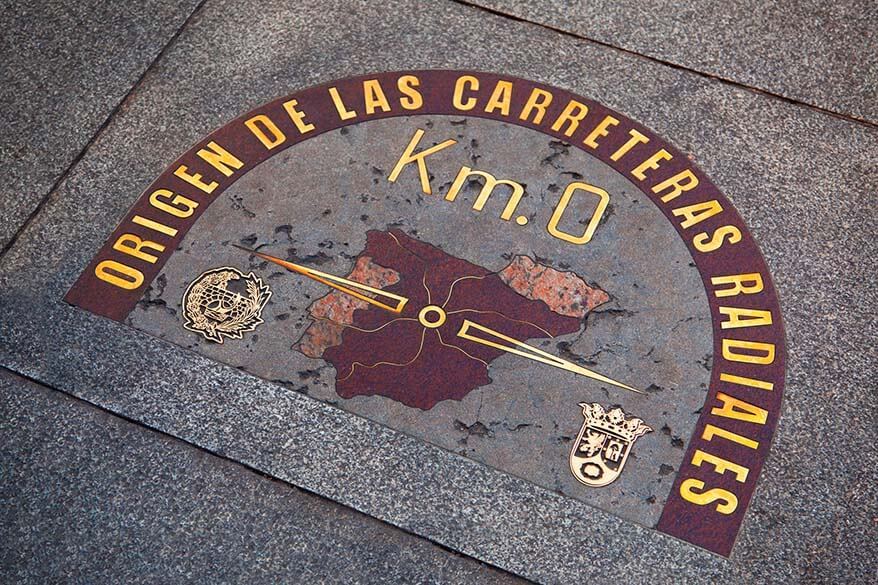 El Retiro Park
If looking for a more local experience in Madrid, definitely go for a stroll around El Retiro Park (Parque del Buen Retiro). You could easily spend several hours exploring all that is on offer here! But even if you just have an hour, it's well worth it.
Buen Retiro Park is a great place to escape from the hustle and bustle of the city. Furthermore, it's close to the best museums so it can fit in your 1-day itinerary quite well. It's a beautiful and huge park with impressive statues, boats, topiaries, live music, and even roaming peacocks. Don't miss the Crystal Palace (Palacio de Cristal)!
El Retiro Park is the ideal place for art and history lovers too. The Fountain of the Fallen Angel (Fuente del Ángel Caído) is a must-see masterpiece made from bronze and stone. The Monument to Alfonso XII and the central pond (Estanque Grande del Retiro) are highlights as well.
There are many shaded areas and the park is a popular place for a picnic. You'll find various playgrounds as well, so it's a good place to check out if visiting Madrid with kids.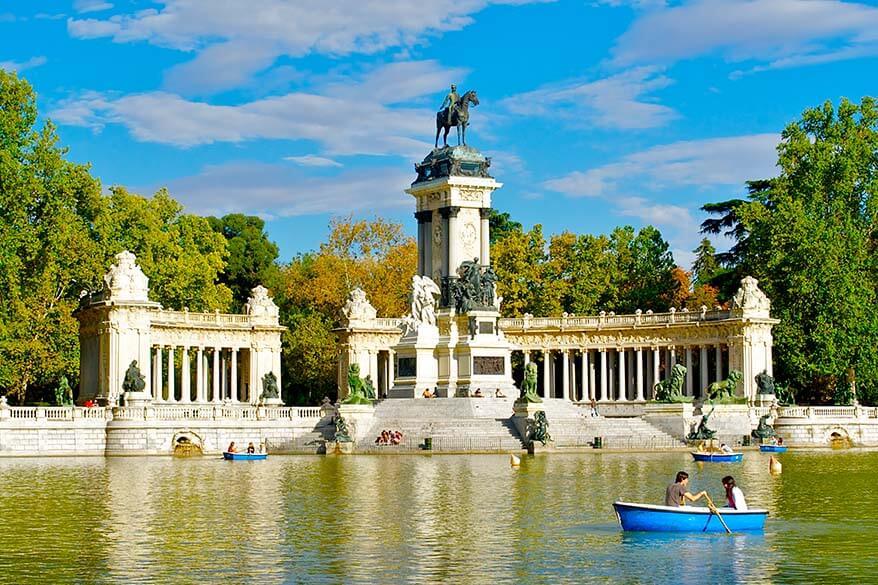 PRO TIP: El Retiro Park is very big! So with just one day in Madrid, you may want to opt for a Segway or a bike tour to visit here. This popular segway tour allows you to explore the park and see many other nice places in the city center in just 1.5 hours. This 3-hour bike tour covers most of the main landmarks in Madrid.
Taking a tour like that will not only save you time but also quite some walking. However, I recommend that you first decide on what you want to see and do in the city before you commit to any tours.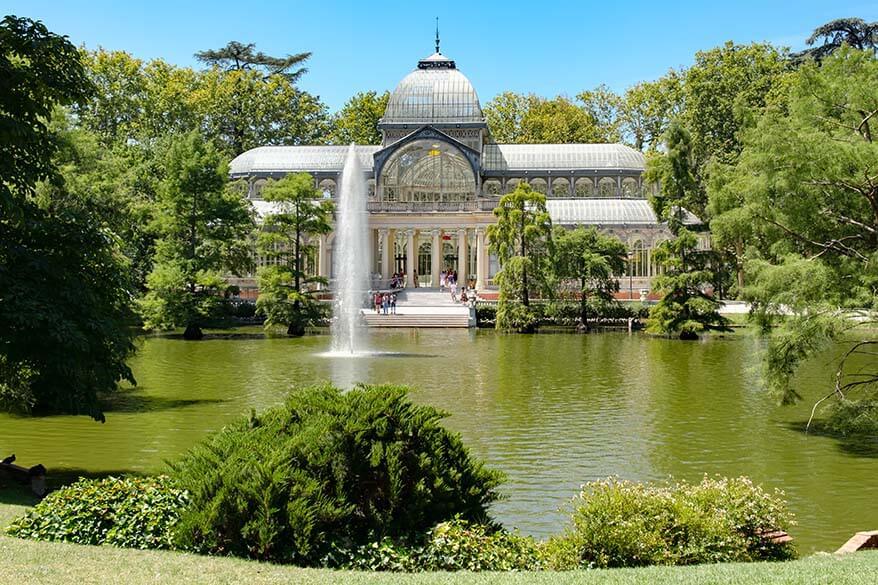 TIP: With one day in Madrid, we suggest that you visit one of the city's best museums in the morning. We recommend either Prado Museum or Reina Sofia Museum. Be sure to get your tickets in advance and be there at 10 AM when the museums open! Plan at least 2 hours for one museum (you could easily spend half a day in each). More info about the two museums below.
If you are an art lover and absolutely want to visit two or even three museums (Prado, Reina Sofia, and Thyssen-Bornemisza Museum) in one day, then go with a local guide. They'll be able to guide you to all the most famous artworks in the shortest possible time. Here you can find some tours that combine several museums in Madrid.
Prado Museum…. or
The Prado Museum (Museo Nacional del Prado), is the main art museum in Madrid. This museum contains famous masterpieces from Diego Velazquez, Francisco Goya, and Raphael just to name a few.
Many critics say that this is one of the greatest art museums in the world! So if you only have the time to visit one museum, Prado Museum is probably a better choice than Reina Sofia.
Like most of the landmarks suggested in this guide, the museum is easily accessible from Puerta del Sol on foot. It's also just near El Retiro Park. If you arrive around the opening time, you may be able to avoid some of the larger midday crowds. Be sure to get tickets in advance as it will help you save precious time!
Practical info: The museum is open daily from 10 AM to 8 PM. On Sundays and holidays, it closes at 5 PM. Do not carry any luggage or backpacks here as they are not allowed inside. Photos inside are not permitted either. For more practical info, please check the museum website.
Good to know: Just as most other museums in Madrid, Prado Museum offers free access in the evening. Free entrance is from 6 to 8 PM between Monday and Saturday and from 3 to 5 PM on Sundays. But with just one day in Madrid, it's probably better to focus on what you really want to see and the best way to do it all, rather than change your whole itinerary for a free access here or there…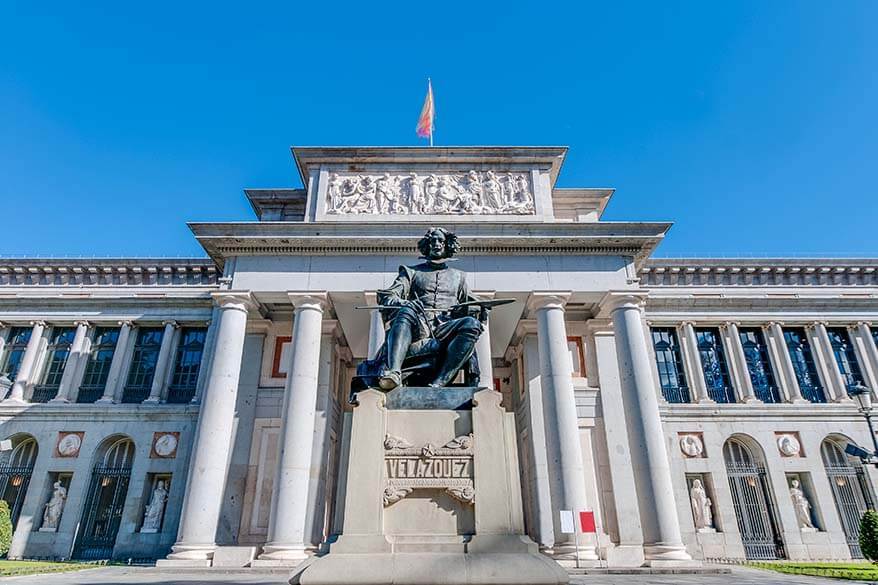 … or Reina Sofia Museum
Reina Sofia Museum (Museo Nacional Centro de Arte Reina Sofía) is named after Spain's Queen Sofia and is dedicated solely to Spanish art. Here, you can expect to see the works of some of Spain's most prized talent. It's a more modern art museum, focusing on 20th-century art.
Some of the most famous works are those by Pablo Picasso and Salvador Dalí. Many people visit here with the specific purpose of seeing the Guernica masterpiece by Picasso. Bear in mind, though, that this is one of the most visited art museums in the world. So you can expect an army of tourists equipped with cameras all waiting to capture the exact same photographs.
The artwork you'll find in this museum is truly captivating, to say the least. Some works depict the horrors of fascism and civil war, and it's a very moving visit.
Practical information: Reina Sofia Museum is open every day from 10 AM to 8 PM, except Tuesday and some public holidays. On Sundays, it closes at 2.30 PM. Also for this museum, it's best to get tickets in advance. If you visit from 6 PM (or from 1.30 PM on Sunday), you can also enter the museum for FREE. For more information, please check the official website.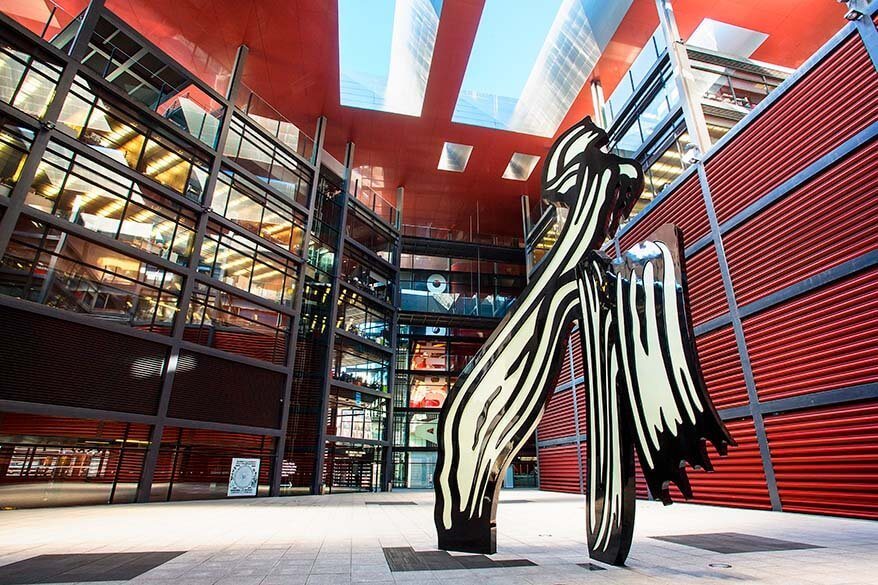 Lunch at Mercado de la Cebada
For lunch, we recommend heading to Mercado de la Cebada. It's about 30 minutes walk from El Retiro, back in the city center where you started in the morning.
Located in the Latina neighborhood, this food market is one the most colorful markets to visit in Madrid. Inside you'll find open stalls offering local cuisine as well as beer and wine, all sold at very competitive prices.
Some of the stalls will offer you food samples to try. This is where some basic Spanish skills can take you a long way when speaking with the vendors (see our tips for learning Spanish to learn a few words before your visit).
Mercado la Cebada is a local market and not a tourist trap. So even if you arrive here during peak time, you'll be pleasantly surprised just how tranquil everything is. And although you'll mostly see fruits, vegetables, meat, and fish to take home, there are also quite a few vendors selling ready-to-eat foods.
To me, this is the ideal lunchtime spot in Madrid! It's also a chance to explore a bit of the La Latina neighborhood. If you want to get a more local food experience whilst spending a short time in the city, this would be my top pick. Alternatively, if you rather sit down at a restaurant table, head to the nearby Plaza Mayor – see below.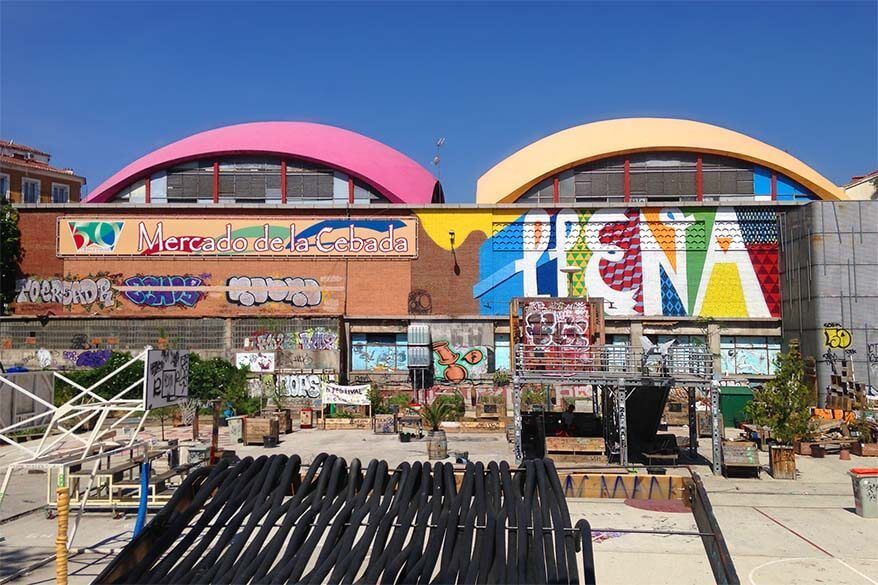 Plaza Mayor
Plaza Mayor is a must-see place for travelers of all ages and backgrounds. With just a short walk up from the previously mentioned Puerta del Sol, this extraordinary town square was once the center of old Madrid. In contrast to the wide avenues and boulevards in other parts of town, this area is characterized by narrower streets.
Plaza Mayor means Main Square in English. As the name suggests, this is indeed one of the main town squares in Madrid and a place you shouldn't miss on any visit. It's a popular place buzzing with activity at any time of the day (and also great at night). You're also likely to encounter some elaborate street performers with whom you can get a photo as a souvenir.
The period architecture here is stunning. Stand in the middle of this gigantic historic square and enjoy the epic views around you. You can't miss the statue of Philip III. It was during his reign that the square was built at the beginning of the 17th century.
TIP: Under the many covered archways, you'll find lots of cafes and restaurants. If you haven't had lunch yet, look for the menu of the day, which is always great value for money. Or just grab a coffee or a glass of sangria, and watch the world go by.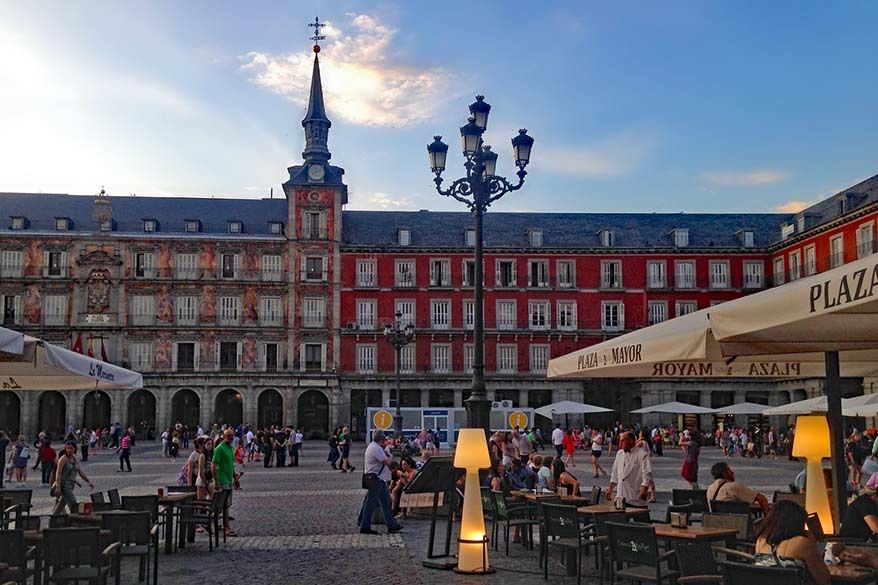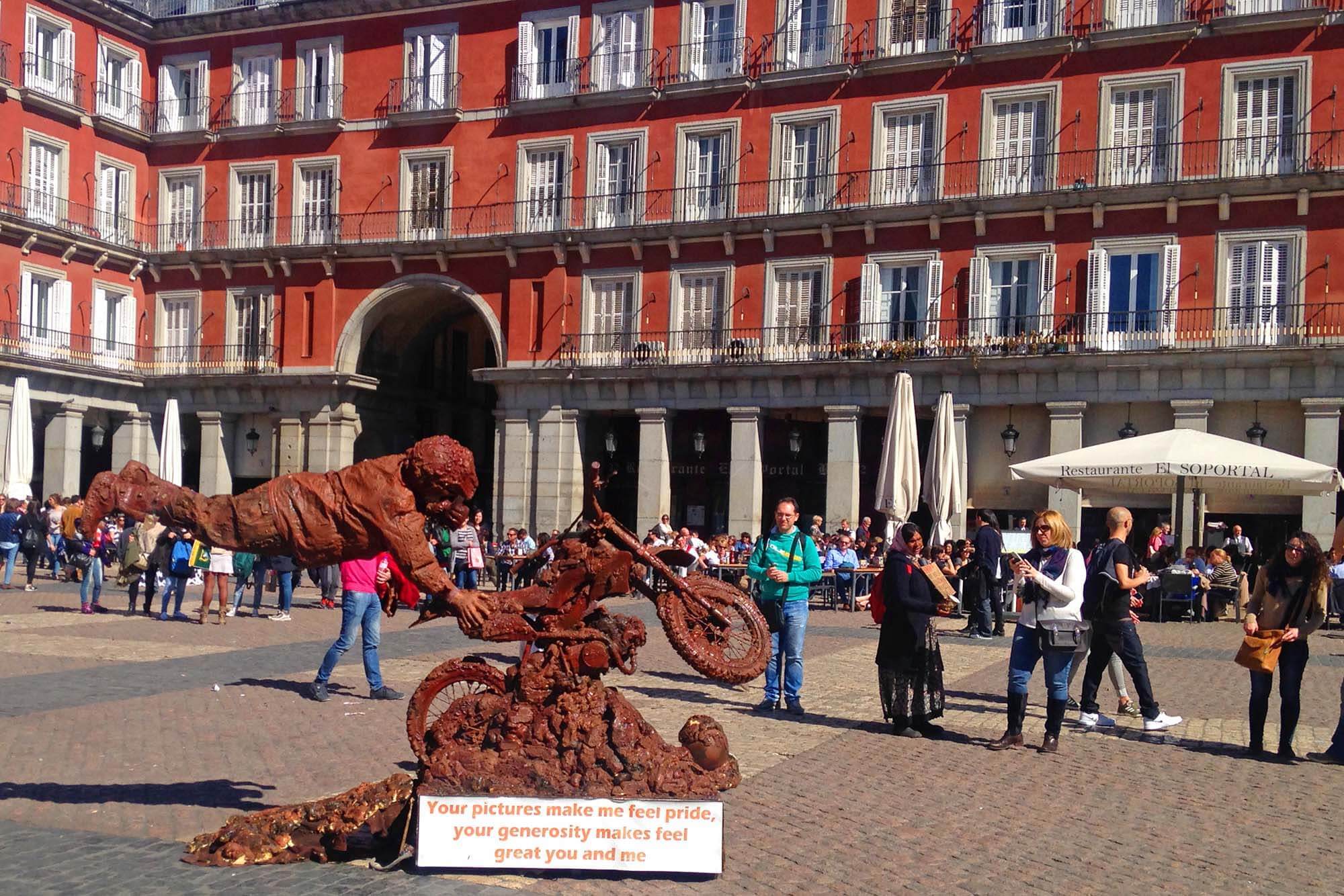 Almudena Cathedral
Almudena Cathedral (Catedral de la Almudena) is one of the main landmarks of Madrid. So even on a short visit, it's worth checking it out. This huge building is absolutely impressive, both on the outside as well as on the inside.
With similar historic background, this Cathedral has a history comparable to that of Gaudi's masterpiece in Barcelona – La Sagrada Familia. It's not nearly as old as most of the cathedrals you'll find in other European capital cities. The works on the church have started in 1883, the facade was finished in 1960, and the cathedral was finally completed in 1993.
You can expect to see everything from gorgeous paintings, beautiful stained glass windows, elegant robes, and intricately painted ceilings. If you go with a tour, you'll also get to access the roof and will be able to see the incredible views over Madrid.
Be prepared to walk around in discovery mode – the interior of the Cathedral is stunning! Also, remember to pick up one of the leaflets as they contain a wealth of translated information for English speakers.
Good to know: The Cathedral is open daily, from 9 AM to 8.30 PM (in July and August – from 10 AM to 9 PM). You can visit it free of charge (donations welcome). However, the Museum & Dome visit is only possible from Monday to Saturday from 10 AM to 2.30 PM and requires a ticket.
TIP: If you are planning to visit the museum, definitely check their website and get your tickets in advance. Although, with just a day in Madrid, it might be difficult to squeeze it all in, especially because of the limited opening hours. So as a minimum, just visit the church. Count at least half an hour for a visit inside.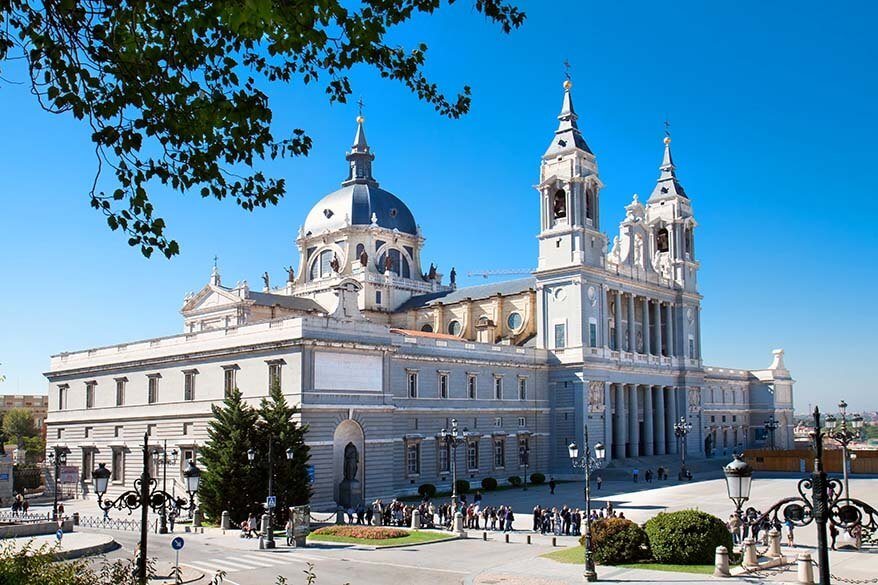 Royal Palace of Madrid
The Royal Palace of Madrid (Palacio Real de Madrid) is a place that should be on everyone's list of things to see in Madrid. While it is an official Heads of State residence, the King of Spain and the royal family do not actually live here.
What makes the Royal Palace of Madrid unique is that you can actually visit it as it's open to the public. Most other official royal palaces in the world can't be visited at all. Some others only open to the public for a very limited period of time when the Monarchs are on their yearly summer holidays (this is the case with Buckingham Palace in London and the Royal Palace in Brussels).
With 3,418 rooms, this is the largest royal palace in Western Europe. You can see grand chambers, stunning chandeliers, beautiful tapestries, impressive works of art, rare musical instruments, and so much more. This is definitely one of the best places to visit in Madrid, so do not miss it!
Every room inside the palace is elegantly decorated and furnished to perfection. You will find that each room has description notes so you can get extra information about the individual pieces. However, we recommend either taking an audio guide (aka tablet tour) or joining a guided tour. It's quite overwhelming otherwise.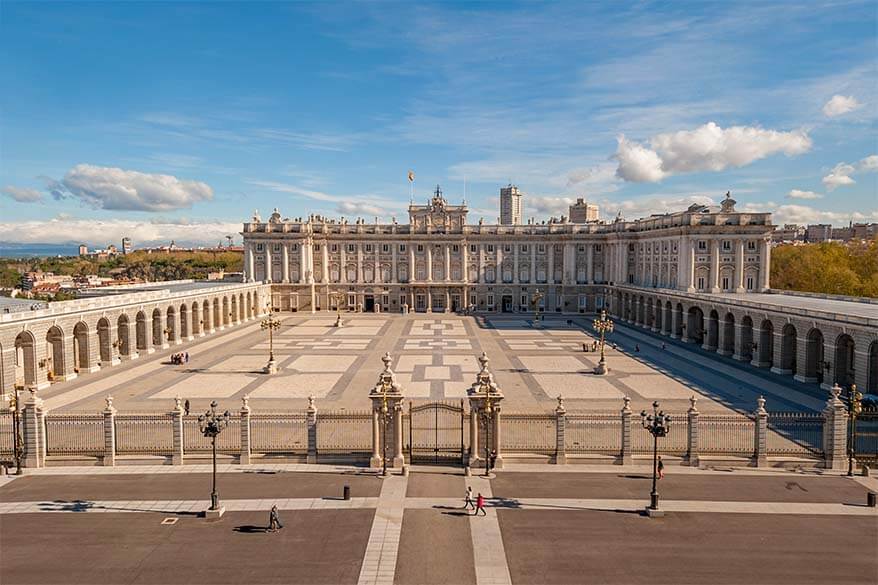 TIP: On Wednesdays and Saturdays, from 11 AM to 2 PM, you can see the Changing of the Guard ceremony (FREE). In the summer months (mid-June to mid-September), it's from 10 AM to noon.
Also the nearby Sabatini Gardens offer nice views of the Palace.
Practical information: The Royal Palace is open for visits daily except for some public holidays. From Monday to Saturday, you can visit from 10 AM to 6 PM (in summer to 7 PM), and on Sunday – from 10 AM to 4 PM. Monday to Thursday, from 4 PM, you can visit the Palace free of charge.
PRO TIP: Also here, you should pre-purchase tickets to save precious time. For more information, please check the official website.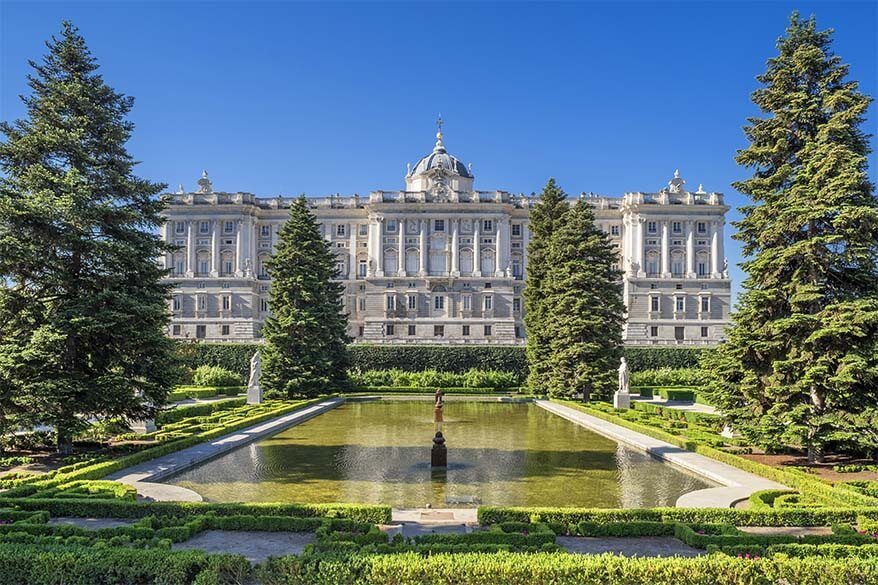 Plaza de España
If you are already in this neighborhood, you can't really miss Plaza de España. This is yet another town square with a little park, a fountain, and Monumento Cervantes.
The statue to Miguel de Cervantes and a sculpture to his most famous book characters Don Quixote and Sancho Panza are not to be missed.
A visit here doesn't require much of your time. And since you're passing by anyway, it's well worth a few minutes of your time.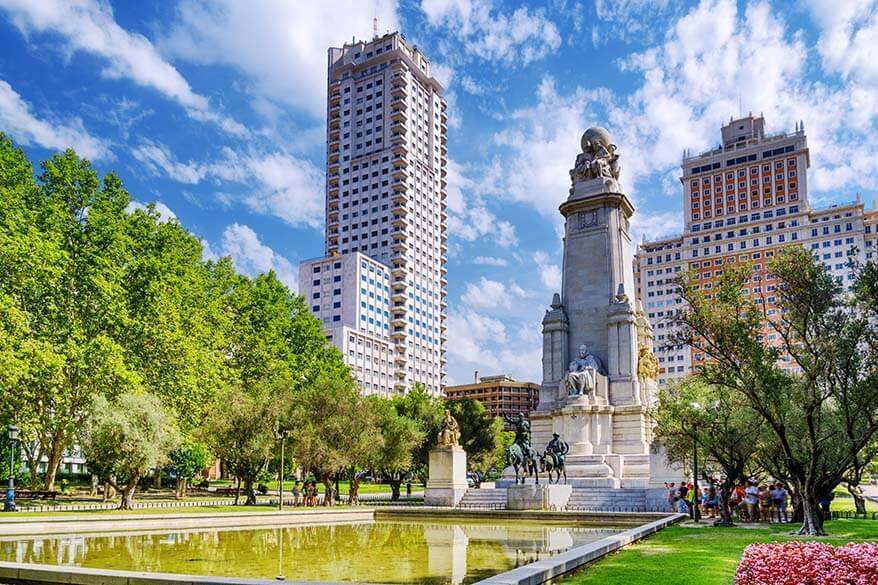 Sunset at the Temple of Debod
The Temple of Debod is an ancient Egyptian temple and one of the best places for sunset in Madrid. Thanks to UNESCO, this temple dating to the 2nd century BC was saved from its previous location and rebuilt in the centre of Madrid.
Located on the end of Gran Vía street, the park with the temple is just a few minutes' walk from the Royal Palace.
There is much more to it than what meets the eye! Make sure you look out for the barely visible hieroglyphics that are still intact. There is also a small museum (free) inside where you can discover more about this ancient Egyptian landmark and its rich history. But if it's very busy, don't feel that you are missing out a lot if you can't visit inside.
TIP: At the nearby park, there is a nice vantage point from which you can get photographic views of Palacio Real.
It is also worth noting that there is another park nearby with a playground. It for may come in handy at the end of a tiring day for families exploring Madrid with children.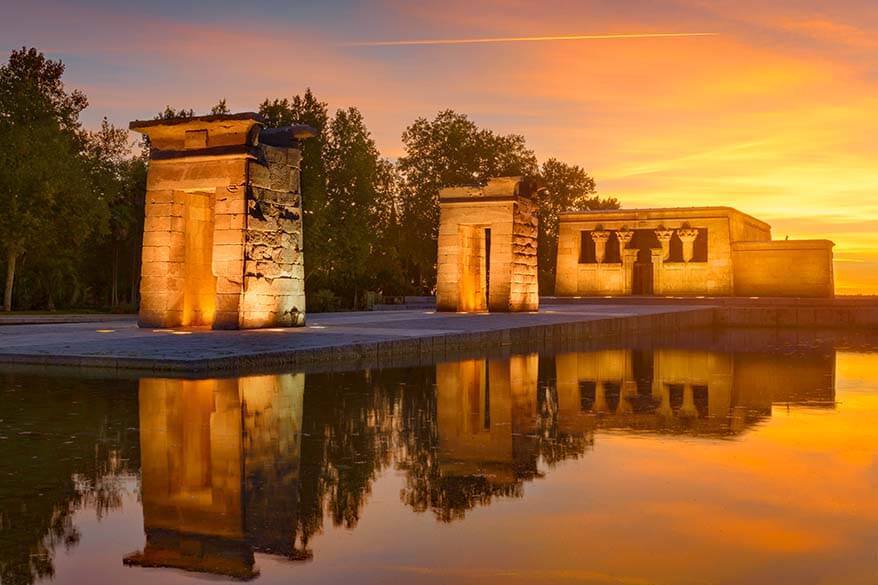 Food & Drinks in the Malasaña Neighborhood
With just a day in Madrid, it's just normal to focus on the most famous landmarks and attractions in the city. However, if you still have some time and energy at the end of the day, definitely head to the Malasaña neighborhood for drinks and dinner!
Known by many as Madrid's hippest neighborhood, this is also one of my personal favorite places in the city. This is where I always stay when I visit Madrid. You'll be amazed at all that is going on in this area!
Here you can experience the vibrant youth culture and thriving nightlife scene. This is where people party like no other place, so you can expect to feel the buzz of street life during the early evenings right through into the early hours of the morning.
You'll also find some of the most authentic Spanish bars and restaurants here. Malasaña is the perfect place to come for drinks or dinner.
TIP: Look out for a small restaurant Ribeira do Miño which specializes in Galician food. A must for those who wish to try some inexpensive local cuisine and who are not yet familiar with this region of northern Spain! We indicated it on our map among all the other recommendations in this guide.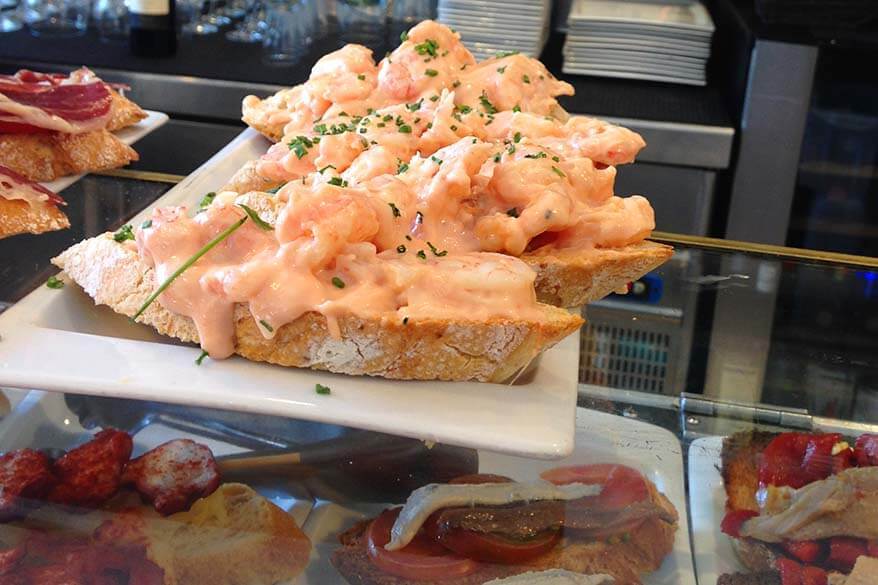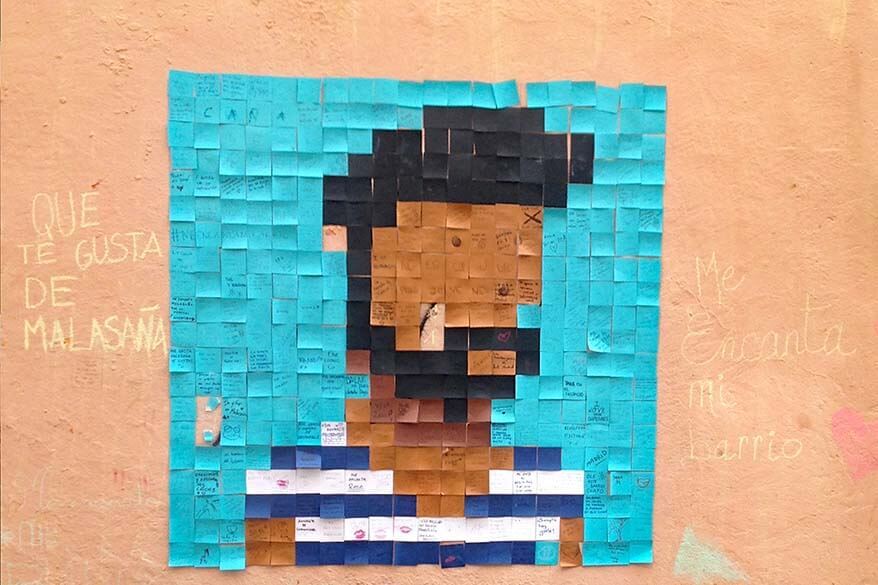 Alternative Suggestions for Your Evening in Madrid
If you want to get the absolute most of your short stay in Madrid, you may want to opt for a food & wine tour in the evening. It's a nice way to get to know the city with a local, get off the beaten path, and try some traditional food and drinks typical to the region. You can find some nice food tours here.
Alternatively, you may want to watch a Flamenco show. This is such a typical Spanish experience and will make your day in Madrid even more special. Furthermore, some of these shows are at the local cafés and food is included, so you can easily combine this with dinner. You can find a selection of some of the best Flamenco shows in Madrid here.
Otherwise, just go for a walk in the city. Many buildings are beautifully lit in the evening! The famous Gran Vía street is well worth checking out. Plaza de la Cibeles is another impressive landmark that you could try to see if your feet are still not too sore from all the walking…
Madrid One Day Itinerary
Based on the suggestions above, here is an overview of how your 1-day itinerary in Madrid could look like:
8 AM. Start your day in Puerta del Sol. Grab a croissant from La Mallorquina for breakfast or sit down at one of the other breakfast spots. Alternatively, you can pick up a good coffee from Brown Bear Bakery as you walk to El Retiro Park.
Head over to El Retiro Park on foot or via metro and spend an hour exploring. If you take a small detour, you could also pass the impressive Cybele Palace on your way there.
10 AM. Visit either Prado Museum or Reina Sofia Museum. Booking your tickets in advance is essential!
By 1 PM navigate back towards the city center and head to Mercado de la Cebada for delicious local lunchtime snacks. Even if you decide not to eat here, it's a nice local market to visit.
Walk to Plaza Mayor. If you haven't had lunch yet, see what menu del dia you can find for lunch at one of the restaurants here. Keep in mind that dining times are very different in Spain! So it's normal to have lunch at around 2-3 PM, and most restaurants only open for dinner at 8 PM.
3.30 PM Almudena Cathedral. If you want to visit the museum and the dome, you'll have to get here earlier, so keep that in mind when planning your day.
A short walk from the Cathedral is Palacio Real de Madrid. If you come here after 4 PM (Monday to Thursday), you can even visit for free. However, check the website anyway to see if you don't have to reserve a spot.
Stop at Sabatini Gardens and/or Plaza de España or come here after visiting Temple of Debod.
Sunset – Temple of Debod. This place is just a short 10-minute walk from the Royal Palace. However, since sunset times differ depending on the time of the year you visit, you'll have to check online when the sunset time is and plan accordingly if you absolutely want to be here at sunset. For example, in April, the sunset is at around 8.30-9 PM, in June or July – 9.30-10 PM, and in December – at around 5.45 PM. Huge difference!
Follow at least a part of Gran Vía – one of the main streets in Madrid – as you walk back to the old town or to the Malasaña neighborhood.
Dinner in the Malasaña neighborhood. Depending on the time of the year when you visit, you may want to have dinner first before heading for sunset views. Alternatively, go on a local food tour or attend a flamenco show and get the most of your day in Madrid!
If you have some time left, head back to the Puerta del Sol to get a taste of the city center during the evening hours. Or walk to Plaza de la Cibeles – it's absolutely stunning when lit at night.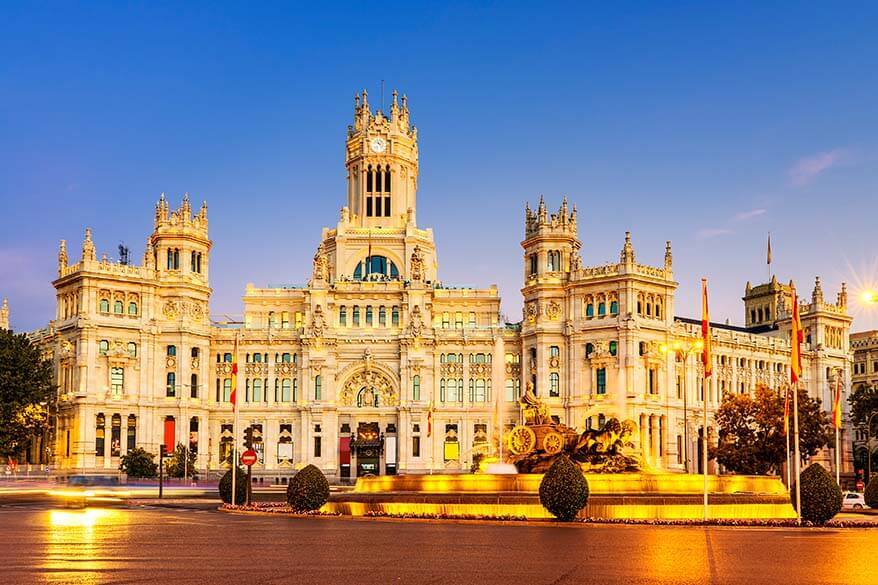 Some Practical Tips
The city of Madrid is far too big to be able to see everything in just one day. The good news is that by sticking to an itinerary or at least a rough plan, you can be sure to cover all the 'musts', while still leaving some room for unexpected discoveries.
Of course, you don't have to visit everything we recommended. If you are not interested in museums, skip that and have a more relaxing day. If you don't care about the parks, you can just focus on the other places. But at least now you know what is worth your time the most and how you could structure your day in order to see it all.
Here are some additional tips for visiting Madrid:
Wear comfortable shoes – you'll be walking a lot!
Use the Metro system to cover big distances in the city. This is a huge time saver and will allow you to see more landmarks in Madrid in a shorter space of time. Alternatively, opt for HoHo buses.
Watch your personal belongings. Places such as Puerta del Sol are a pickpockets paradise. Be sure to conceal any valuables you may have and try not to leave any bags lying around to avoid attracting thieves.
Learning some basic Spanish conversation will go a long way in getting things quicker. Spanish is not necessarily required to enjoy the attractions listed in this guide but can enrich your overall experience if you can speak it a little.
Some of the best and most authentic food can be found at the most unexpected places. You can find Spanish dishes from 1 euro up to 40 euros, depending on where and what you eat, so always bear that in mind. While not cheap, food tours are a great way to get to know the city, local way of life, and taste some traditional food.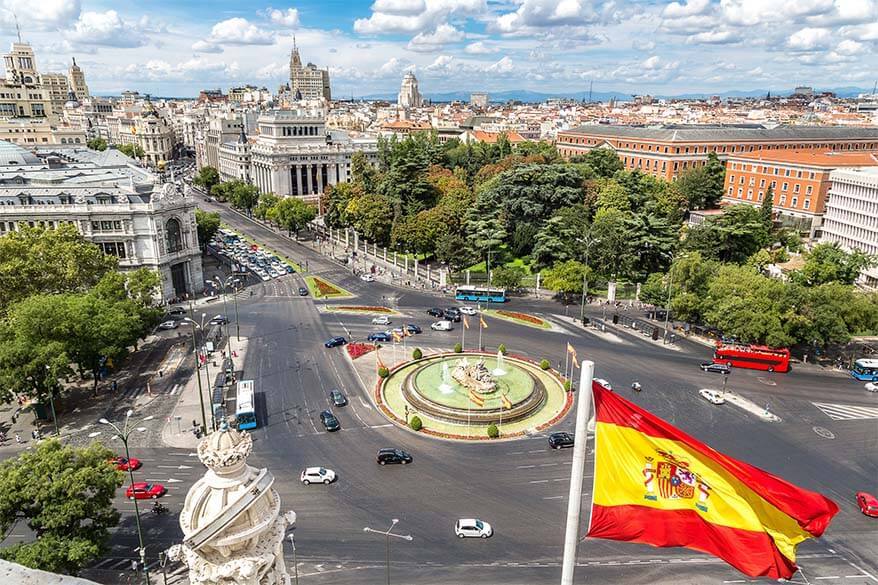 Where to Stay: Compare Hotels & Airbnbs in Madrid
In order to get the most of your day in Madrid, ideally, you would stay two nights in the city. That way, you can maximize your time and make the best use of this itinerary.
For the best experience, stay as centrally as possible – around the Puerta del Sol area or close to the Royal Palace. Take a look at some of the most popular choices in this area on Booking.com.
TIP: Using the map below, you can also compare hotels and short-term rental accommodations in central Madrid. Simply insert your travel dates and group size, and you'll see the best deals for your stay. Check it out!
So, this is our guide to what to do in Madrid in a day. This itinerary covers the most popular places so that you can get a really good feel of what Madrid is about.
If you have about 24 hours in Madrid over a course of two days, you can easily adjust this itinerary as well. And maybe even take more advantage of the free museum hours.
Have a great time in Madrid!
TIP: If you are also visiting another amazing city in Spain – Barcelona – make sure to check our Barcelona travel tips! Here you can also find our suggested 2-3 days Barcelona itinerary.
If you are also planning a trip to Portugal, check out our Portugal travel guide. It contains a big number of articles for various popular destinations all over the country.
READ ALSO: Best Time to Visit Europe
If you found this post useful, don't forget to bookmark it and share it with your friends. Are you on Pinterest? Pin these images!