Visiting Edinburgh for one day and wondering what to see and how to best plan your time? This guide and a suggested Edinburgh 1-day itinerary should help you make the most of your short visit. Take a look!
Edinburgh – Scotland's capital city – has so much to offer its visitors! From the charm and history of the Old Town to the beautiful Georgian architecture and modern shops of its New Town. It's also a perfect place to include in any Scotland itinerary because you can easily see the best of Edinburgh in one day!
The city is quite compact in size and most of its best sights are within walking distance of each other. This makes a day trip to Edinburgh fun and not too tiring. But what is worth your time the most if you only have a day in Edinburgh?
In this guide, we share the best things to see and do in Edinburgh in one day. We also include advice for getting around and tips to help you make the most of your visit.
Keep in mind that there are so many possible itineraries and ways to spend your day in Edinburgh. So much will depend on your interests, but also on the time of the year and even the weather. So use our suggestions as an inspiration and tweak this itinerary to your interests.
READ ALSO: Tips for Visiting Edinburgh for the First Time
How to use this guide: First, you can find an overview of our suggested itinerary for 1 day in Edinburgh and a map, followed by detailed information for each place. We also include a few additional suggestions for things to do in Edinburgh for those of you who have a bit more time or want to see something different than recommended in our itinerary.
At the bottom of this article, you can also find practical information and tips for getting around, as well as additional restaurant recommendations. We also include recommendations for where to stay and top tips for your first trip to Edinburgh. Find out!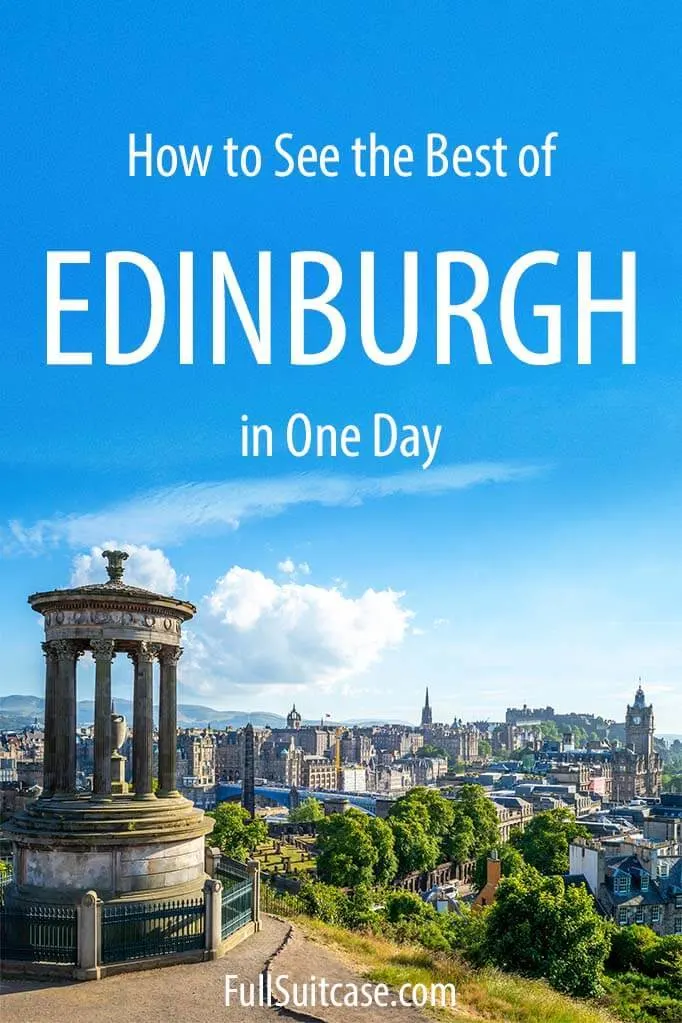 Edinburgh One Day Itinerary & Map
Here's what to see and do in Edinburgh in one day:
Sunrise at Calton Hill (or visit at sunset)
Breakfast at Princes Street Gardens
Stroll Princes Street Gardens & see the Ross Fountain
Short Visit to Scottish National Gallery
Explore Edinburgh Castle
Don't miss the One O'clock Gun (1 pm at Edinburgh Castle)
Late lunch at the Botanic Gardens
Visit the National Museum of Scotland
Walk the Royal Mile
Dinner at Edinburgh's Grassmarket
And here's a map indicating all these places to see in Edinburgh in one day and our additional suggestions that you'll find further below in this article.
How to use this map: Use your computer mouse (or fingers) to zoom in or out. Click on the icons to get more information about each place. Click the arrow on the top left corner for the index. Click the star next to the map's title to add it to your Google Maps account. To view the saved map on your smartphone or PC, open Google Maps, click the menu and go to 'Your Places'/'Maps'. If you want to print the map or see it in a bigger window, click on 'View larger map' in the top right corner.
Here's what to see and do in Edinburgh in 1 day:
Sunrise at Calton Hill
Calton Hill is one of the landmarks of Edinburgh and one of the best, easy-to-reach viewpoints of the city. From Calton Hill, you can enjoy stunning 360° views of Edinburgh.
There are several monuments here, an art gallery, and a café. Don't miss the Dugald Stewart Monument and National Monument of Scotland. For an even higher perspective and unobstructed views, you can also climb the narrow staircase of the Nelson Monument. For the opening hours and more info, see here.
Remember that Calton Hill is one of the most popular, must-see places in Edinburgh. So it can get very busy here during the day. On the other hand, it's a big open space, and the crowds spread out easily.
If you are jet-lagged after your flight and are up early, Calton Hill is a great place to visit at sunrise. The views from the top are stunning and the chances are high that you'll have this place all to yourself early in the morning.
Alternatively, this is also a fabulous place to watch the sunset in Edinburgh. So you can also come here in the evening. In any case, don't miss it. Even if you only have a day in Edinburgh, Calton Hill is a must!
Getting there: Calton Hill is centrally located in Edinburgh and you can easily reach it via the staircase from Regent Road. It takes just 3-5 minutes to walk to the top. If you are coming from the other side, you can also walk up the hill from the Royal Terrace. Please see our map above for the exact locations. It's also possible to drive up here by bus.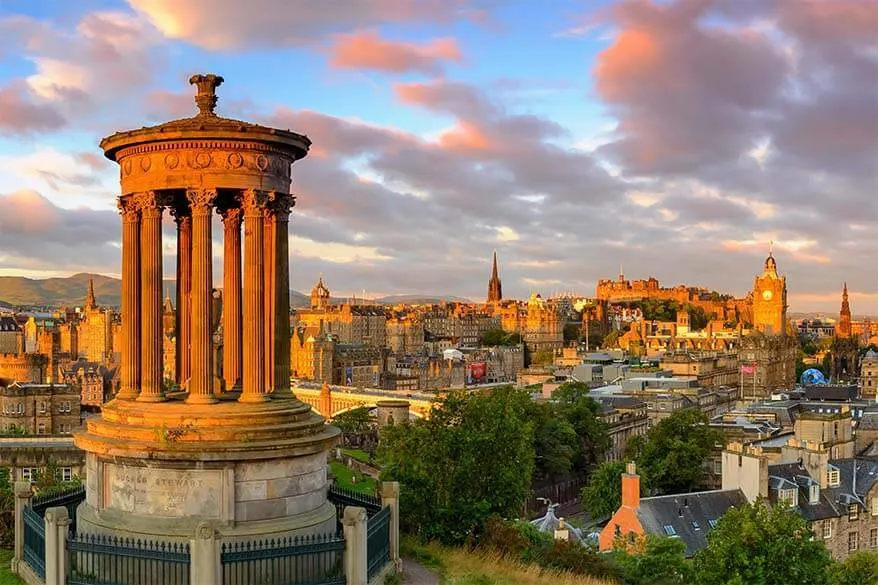 Breakfast at Princes Street Gardens (& Indoor Alternatives)
One of the best ways to start your day in Edinburgh is with breakfast at Sir Walter's Cafe in the Gardens. This charming little kiosk is located in the beautiful Princes Street Gardens (east side) and has outdoor seating. So if you are visiting in the summer and the weather is nice, make sure to check it out!
It's open from 8.30 am, 7 days a week. The cafe serves delicious waffles, crepes, coffee, and more, all of which you can sit and enjoy al fresco. The surroundings here are incredible! Look up and you can see the imposing Edinburgh Castle at the top of the hill, or look around you to appreciate the beauty of Princes Street Gardens.
Alternatively, if you are visiting in the colder season or the weather isn't great, try one of the other popular breakfast spots in central Edinburgh. We recommend Deacon's House Cafe, Southern Cross Cafe, The Scottish Cafe & Restaurant (located inside the Scottish National Gallery), or The Edinburgh Larder. To make it easier for you, we marked all of these cafés on our map above.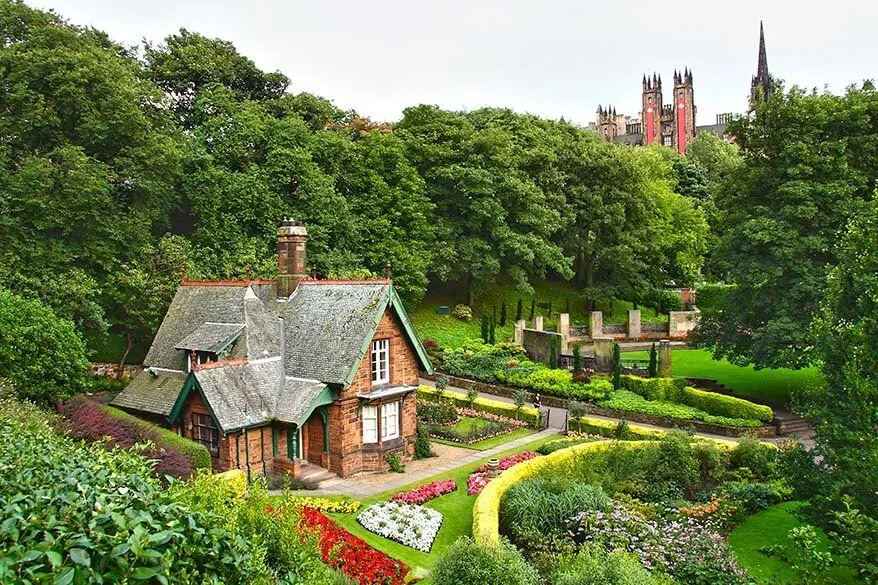 Princes Street Gardens & Ross Fountain
Princes Street Gardens are situated on the south side of Princes Street and mark the division between Edinburgh's New and Old Towns. They are actually two public parks – West Princes Street Gardens and East Princes Street Gardens. The two parks are located side by side and separated by The Mound, with the Royal Scottish Academy and the National Gallery of Scotland in between.
After breakfast, set aside half an hour to stroll through the Gardens. That should be enough time to appreciate the stunning floral displays, tiered gardens, and monuments dotted throughout.
Don't miss the Floral Clock and the picturesque Great Aunt Lizzie's cottage (image above).
If you're a literary fan, be sure to check out the very modest memorial to Robert Louis Stevenson. Located amidst a small grove of trees, the stone is carved with a simple RLS, in keeping with his wishes to keep his memorial understated. Whilst it might look like a grave, it doesn't actually mark his burial place. Robert Louis Stevenson was buried in Samoa.
My personal highlight of Princes Street Gardens is the astonishingly beautiful Ross Fountain. Recently refurbished, the cast-iron fountain was originally sculpted by Jean-Baptiste Jules Klagmann and was bought from the Great Exhibition in London by David Ross. David Ross was a local gunmaker and he presented the Fountain as a gift to the city of Edinburgh.
The Ross Fountain is incredibly photogenic – especially if you get the angle right and include the magnificent castle in the background!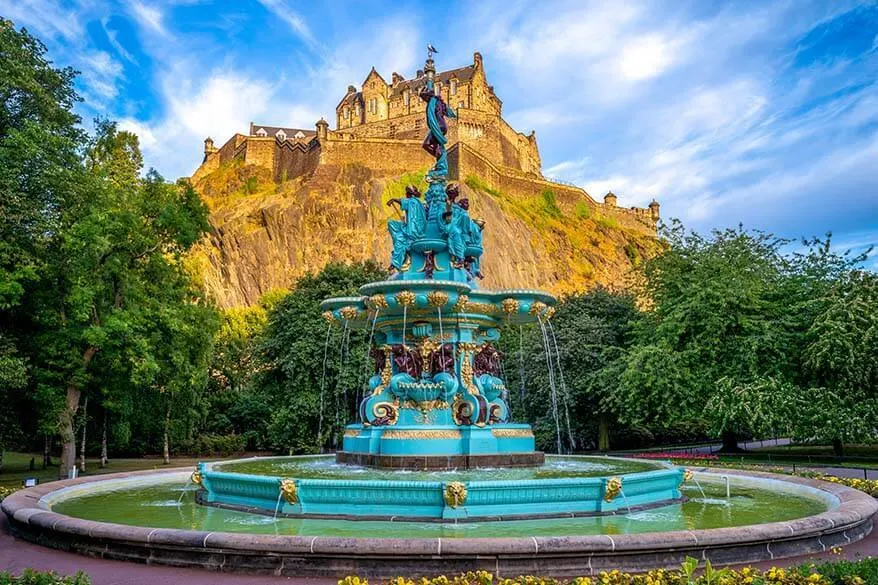 Scottish National Gallery
After a stroll around the park, it's time to visit the Scottish National Gallery. Before going in, be sure to take a moment to appreciate the building itself. It's a fantastic example of neo-Classical architecture.
The Gallery is home to one of the best art collections in the world, including works by Botticelli, Raphael, El Greco, Constable, and many more. Ideal for all ages, it offers storytelling for children, life drawing classes, and an interactive IT exhibit.
Good to know: Entry is free (although donations are welcome) and the Gallery is open daily, from 10 am to 5 pm. Expect to spend about 45 minutes here. For more information, check the official website.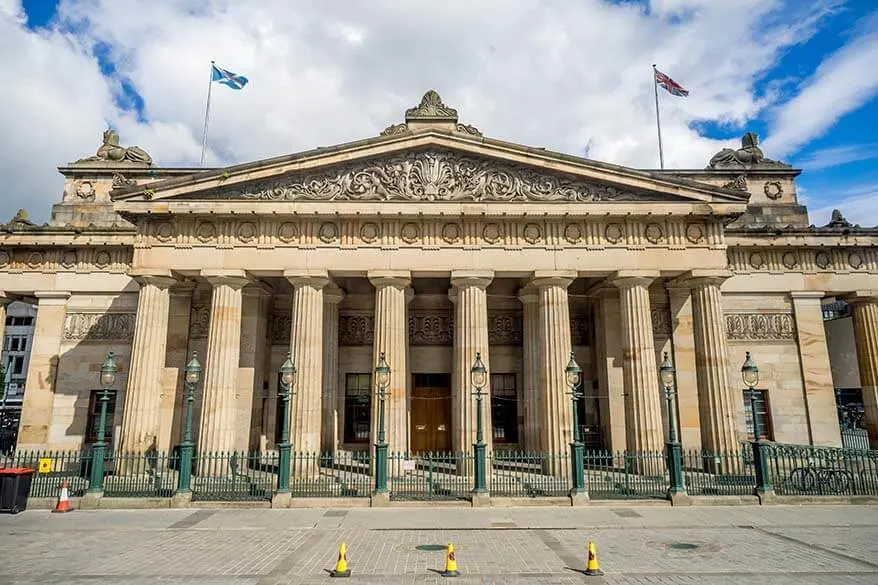 Edinburgh Castle
Your next stop and an absolute must in the city is Edinburgh Castle. It proudly overlooks the city from its position at the top of Castle Rock.
The Castle played an enormously important part in Scottish history, the story of which is told via its various exhibitions. The 'Fight for the Castle' exhibit tells how the city's stronghold repeatedly changed hands as the English fought with the Scots for control during the Wars of Independence.
Don't miss the majestic Great Hall! Its wooden roof is considered to be one of the finest in Britain. The Hall – completed in 1511 – was built for King James IV of Scotland. As you stand inside, it's easy to picture the magnificent banquets and state events that took place there.
Inside the castle, you'll find displays of various weapons and suits of armor. The highlight of the day is viewing the 'Honours of Scotland'. Consisting of a crown, a scepter, and a sword, these are the oldest crown jewels in Britain.
You can also stand for a while in the beautiful and tranquil St. Margaret's Chapel, where the royal family of Scotland once knelt to worship. Just outside the Chapel sits the mighty Mons Meg, a 6-ton siege gun named after the town in Belgium where it was made.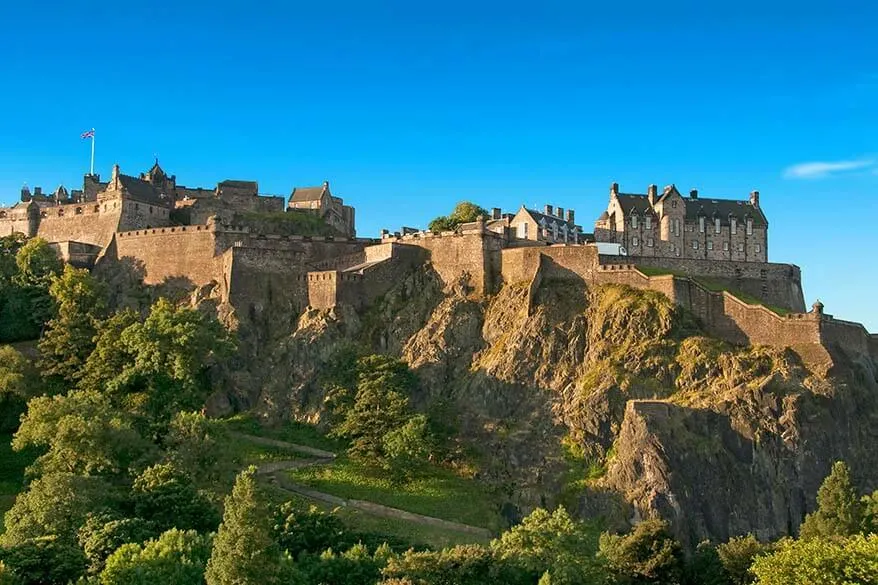 Practical info: The Castle is open from 9.30 am to 6 pm daily, with the last entry at 5 pm. The Edinburgh Castle website suggests various itineraries to help make sure you see everything during your visit. Alternatively, you can hire an audio guide or opt for a guided tour.
Good to know: As this is an extremely popular attraction and a must-see during any trip to Edinburgh, I strongly recommend booking in advance in order to avoid disappointment. Also bear in mind the fact that there is a lot of walking up and down hills involved. While this means that you get unparalleled views of the city, it also means you need to wear comfortable shoes. Even in summer, it can feel quite chilly, so wrap up warmly too.
TIP: Edinburgh Castle tickets are included with this 2-day hop-on hop-off bus ticket. So if you are staying in Edinburgh for 24 hours or more, it might be a good option to consider. Another great option is the 'Royal Pass' which includes all the main attractions in Edinburgh.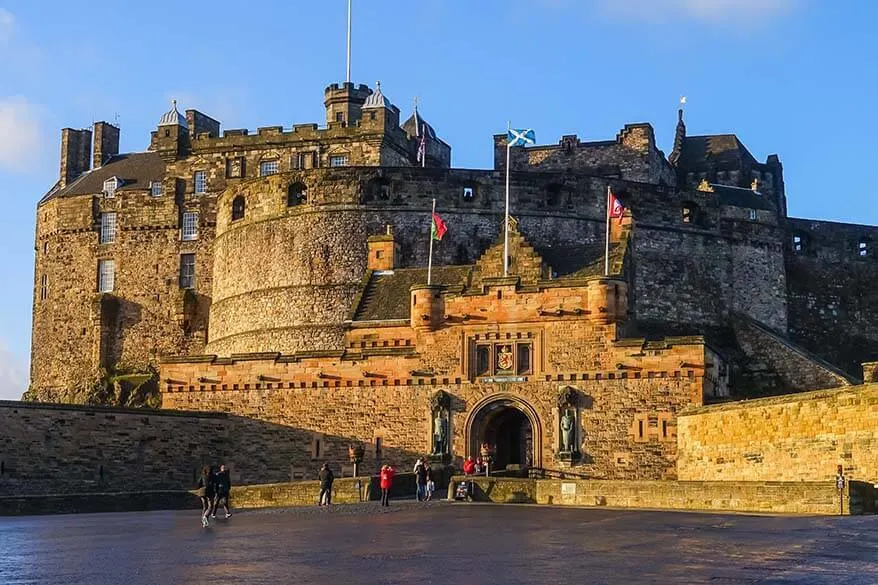 One O'clock Gun at Edinburgh Castle
The One O'clock Gun at Edinburgh Castle, a tradition that dates back to 1861, deserves a separate mention. Every day (except Sundays) at precisely 1 pm, a gun is fired from the Castle grounds. So precisely and so loud that the ships in the Firth of Forth and Leith Harbor 2 miles away used to set their clocks by it.
Locals say that you can always tell visitors from the Edinburgh natives when the gun goes off. Whereas locals tend to check their watches, visitors jump out of their skins!
Nowadays, the Gun has become a popular tourist attraction. So even if you have a day in Edinburgh, be sure not to miss it! Kids will be particularly fascinated by the One O'clock Gun, which will serve as the finale to your Castle visit.
TIP: If you are up for Scottish ice cream, stop at the van permanently located on the esplanade outside the castle.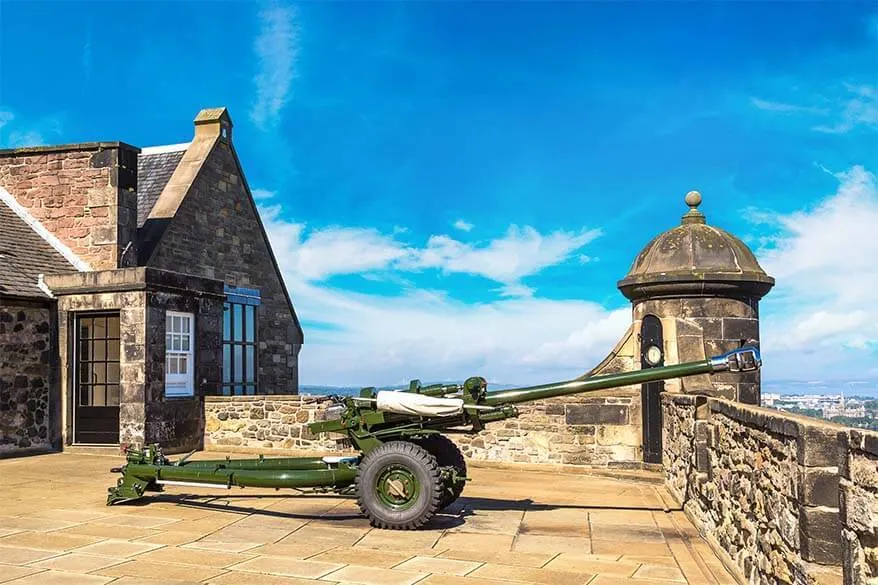 Royal Botanic Garden
After the 1 o'clock Gun, it's time for lunch. If you want to escape the busy city center, we recommend heading to the Royal Botanic Garden Edinburgh.
The walk through the 350-year-old Botanic Gardens on your way to lunch is simply spectacular. Surrounded by 70 acres of breathtaking landscape, 100.000 plants, and excellent views of Edinburgh's skyline, the Gardens feel tranquil and a million miles away from the hustle and bustle of the city.
You can have lunch at either the Terrace Cafe or The Gateway Restaurant inside the Royal Botanic Garden. They use fresh ingredients from their own Market Garden. The Terrace Cafe also gives you the opportunity to dine outdoors and enjoy a great view of the castle.
If you have time after lunch, check out the amazing glasshouse. They recreate 10 different climatic zones, including tropical rainforests and deserts.
Practical information: The Botanic Garden is free to enter and is open daily, from 10 am to 5 pm. There is a small fee to visit the glasshouse.
Good to know: The Royal Botanic Gardens are 30-40 minutes walk from the city center. So if you are not interested in the garden or the weather isn't great, you may want to skip this. In that case, have lunch in the Old Town (restaurant suggestions further below). Alternatively, if you don't like to walk much, but still want to see the Gardens, you'll be glad to know that the City Sightseeing Bus passes here as well (more information below).
TIP: If you are not going to the botanical gardens and want to do something special for lunch, consider a local food tour instead.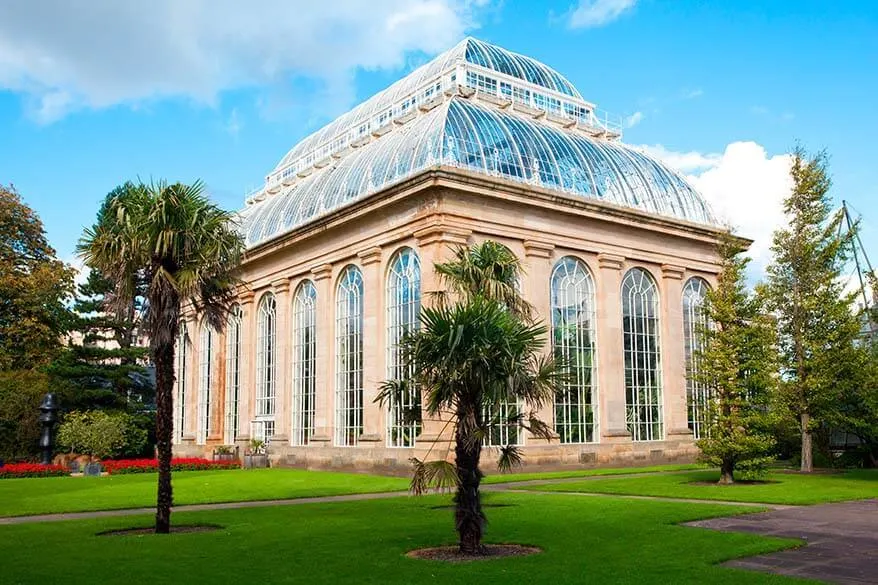 National Museum of Scotland
After lunch, it's time to head to the National Museum of Scotland, back in the city center. During the summer months, bus #9 runs directly from the Botanic Gardens to the Museum. Alternatively, you can walk, or take the earlier-mentioned sightseeing bus.
The National Museum of Scotland is the most popular tourist attraction in the United Kingdom outside of London. And when you visit, it's easy to see why. Plan to spend 2-3 hours here in order to enjoy the best that it has to offer!
Featuring thousands of exhibits, the museum has galleries devoted to art and design, fashion, science and technology, the natural world, and also Scottish history and archaeology. The best way to explore is to follow one of the three 'trails'. They are designed to make sure that you see everything you want to see in the most efficient way!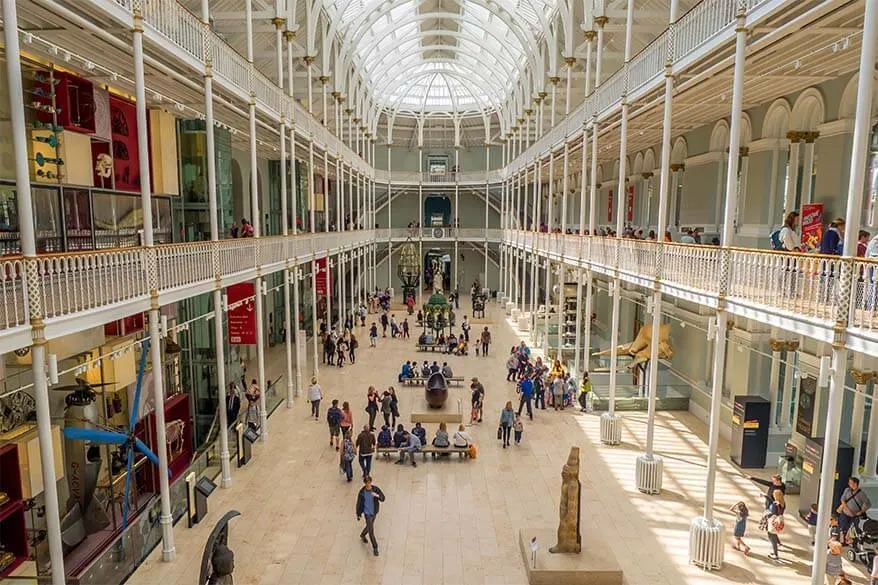 There is truly something for everyone here and the whole family will enjoy the incredible displays and interactive exhibits. We loved the Lewis Chessmen – a fascinating set of 93 12th Century chess pieces carved from walrus ivory. They are considered to be one of Scotland's best archaeological finds, although no one knows quite who made them.
If you've ever wondered how it feels to touch a real meteorite, then check out the 170 kg iron-type Muonionalusta Meteorite. It's around 800,000 years old and – amazingly – on open display.
Probably the highlight of the day is a visit to Dolly the Sheep. Dolly was born in July 1996 and was the first cloned mammal ever to be created from an adult cell. She died in 2003 but is still attracting crowds today!
Practical information: The National Museum of Scotland is open daily from 10 am to 5 pm and is free to visit. It tends to be very busy on Saturdays, but much quieter mid-week. Do note that the museum can be more crowded when housing temporary exhibitions. For more information visit the official website of the museum.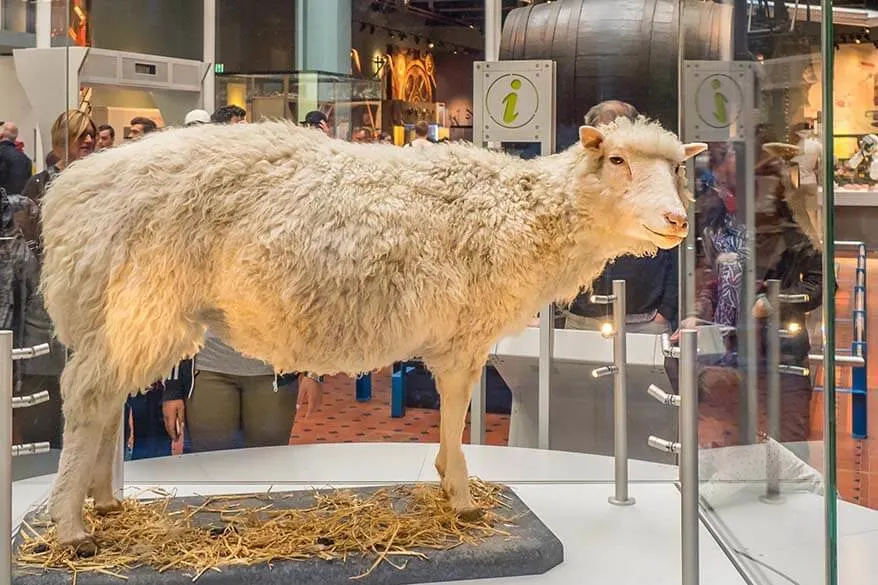 Royal Mile
After all the sightseeing, end your day in Edinburgh with a stroll and some (window) shopping at the Royal Mile.
Royal Mile is a series of streets forming the main thoroughfare of the Old Town of Edinburgh. It connects Edinburgh Castle on the hill with the Palace of Holyroodhouse, resting in the shadow of Arthur's Seat.
Its total length is 1.81 km which is approximately 1 Scots mile long (1.814 m). Scots mile is an old Scottish measurement that hasn't been used since the 18th century. The 'Royal' part of the name comes from its tradition as a processional route for kings and queens.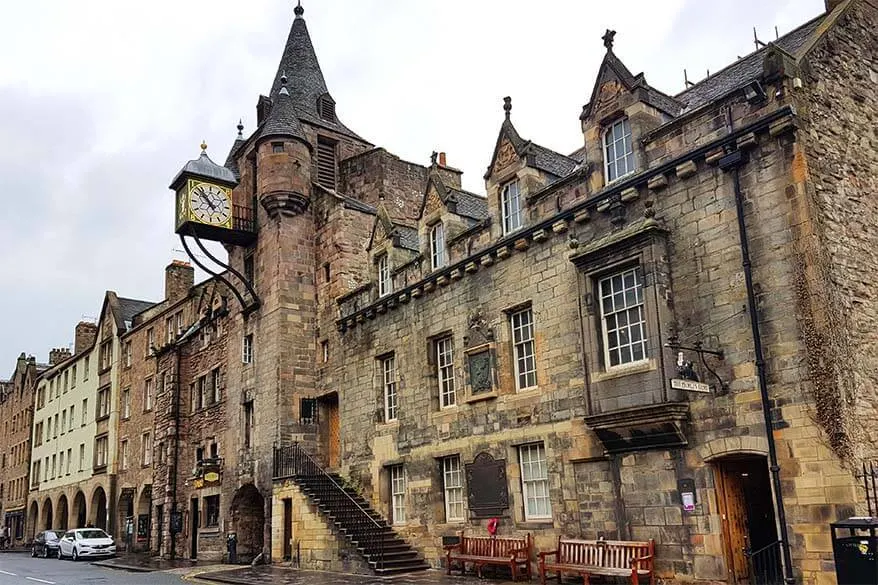 There is a lot to see and do along the Royal Mile. To start with, the Edinburgh Castle which we already mentioned before. Palace of Holyroodhouse, the Queen's official residence in Scotland is also worth checking out. But with just one day in Edinburgh, you'll probably only have time to see it from the outside.
The remains of the 12th century Holyrood Abbey are interesting to see as well. St Giles' Cathedral, The Real Mary King's Close, and the Scottish Storytelling Centre are also worth considering, depending on your interests and how much time you have. For a glimpse of present-day Scotland, check out the ultra-modern building of the Scottish Parliament.
Royal Mile is also a good area for shopping and dining and you'll find lots of traditional taverns here. But we recommend another place for dinner and drinks in the evening, Grassmarket (see below). Alternatively, further below, you can find a few other restaurant recommendations.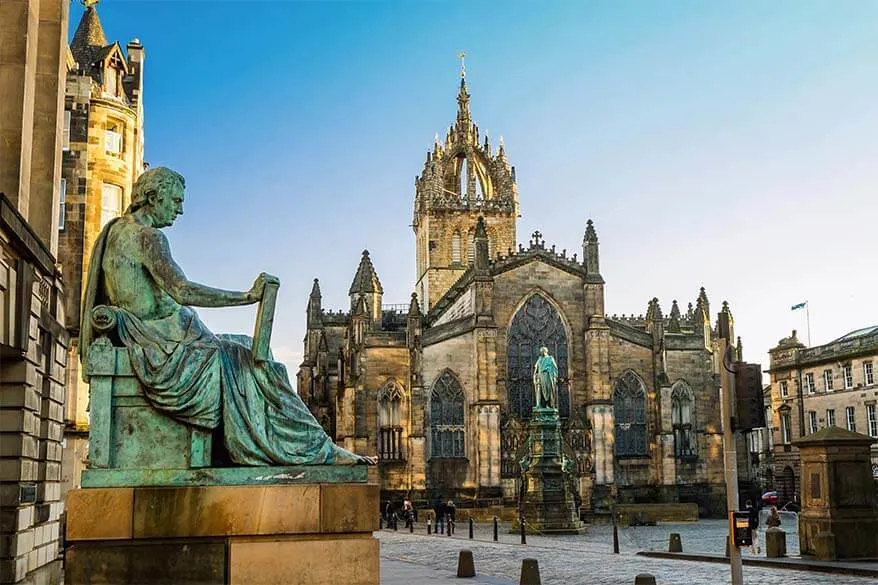 Grassmarket
Grassmarket is a medieval market square with centuries-old architecture and stunning castle views. Once a site of public executions, this is now a very popular vibrant part of town with trendy cafés, restaurants, vintage shops, and boutiques.
The atmosphere here is great and the area is loved by locals, students, and tourists alike. Some pubs have live music performances on most nights.
With an excellent choice of restaurants and lively pubs, this is a great place to end your day in Edinburgh!
Grassmarket executions ceased in the 18th century. But some of the traditional pubs, such as Maggie Dicksons or The Last Drop, keep the bloody tale of the dark past of Edinburgh. So if you like historic pubs and traditional Scottish and British food, check these out!
Good to know: On Saturdays, between 10 am to 4 pm, the Grassmarket Market takes place here. You'll find everything from fruits and vegetables, street food, but also clothes, handicrafts, and local souvenirs here.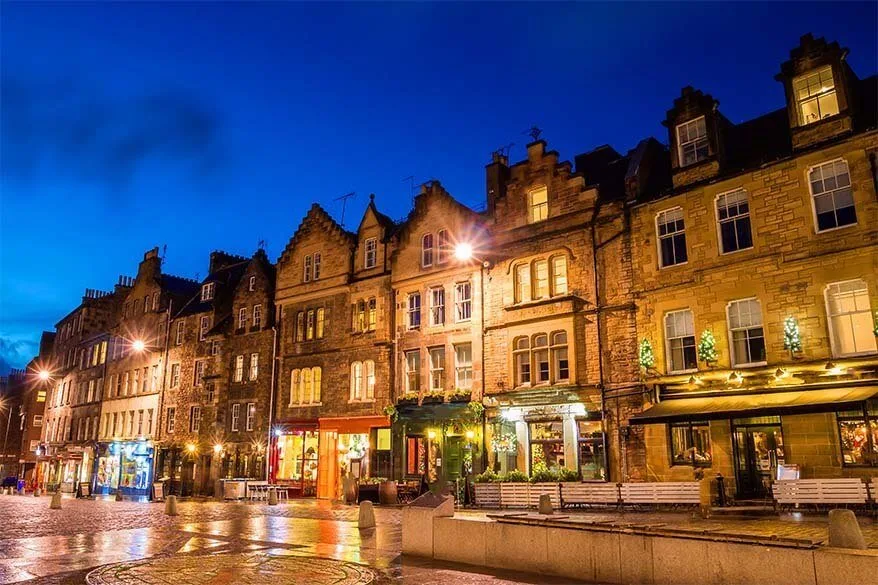 Additional Things to Do in Edinburgh if You Have More Time
If you have a little more time in Edinburgh or somewhat different interests, there are lots of fun tours and many other attractions that are well worth a visit as well. Here are several suggestions:
Harry Potter tour. Edinburgh is the city that inspired Hogwarts and the famous Harry Potter characters, and where J.K Rowling wrote some of the stories. If you are a Harry Potter fan this tour is a must when visiting the city!
Dynamic Earth. Located at the base of Salisbury Crags, this is a one-of-a-kind experience that takes you through our planet's story. Through a variety of excellent interactive earthscapes and a 360-degree show dome, it explores the processes that shaped Earth, including earthquakes and volcanoes. It's great fun for kids, but also interesting for the whole family.
Museum of Childhood. Located on the Royal Mile, this was the first museum in the world to specialize in the history of childhood. It houses a fascinating collection of toys throughout the ages, from the 1800s to the present day. Children will love looking at what kids used to play with in years gone by, whilst you will enjoy the nostalgia. It's a lot of fun to look out for the toys you remember from your own childhood! The Museum of Childhood is open daily and is free to enter.
Camera Obscura and World of Illusions. The oldest visitor attraction in Edinburg (since 1853) and one of the top attractions in Scotland, this interactive world of illusions is so much for all ages. Plus, you have access to some of the most fantastic views of the city from their rooftop terrace.
The Royal Yacht Britannia. The former floating royal residence of the Queen, this ship is now one of the most popular attractions in Edinburgh.
READ ALSO: Best Things to Do in Edinburgh
Practical Information for Visiting Edinburg
Getting Around
Edinburgh has some of the best views of any capital city in the world, with its beautiful and historic architecture surrounded by rolling green hills. With all its main attractions so close together, Edinburgh city center is really best appreciated on foot.
Another good reason to walk is that Edinburgh's traffic can be very heavy and subsequently very slow. It's quite possible to walk to your destination more quickly than a taxi or bus could drive you there!
But if the distance between any of the attractions listed in this guide is a little too far for you – or if the weather is bad – then it's good to know that Edinburgh has an excellent bus service. Buses run 24 hours a day, with routes all over the city, and services are frequent.
Another option is to use Edinburgh's taxis, which are quicker than the bus. Taxis are just like the black cabs you see in London, with plenty of room for up to 5 people and fixed tariffs. So you can work out an approximate cost of your journey ahead of time.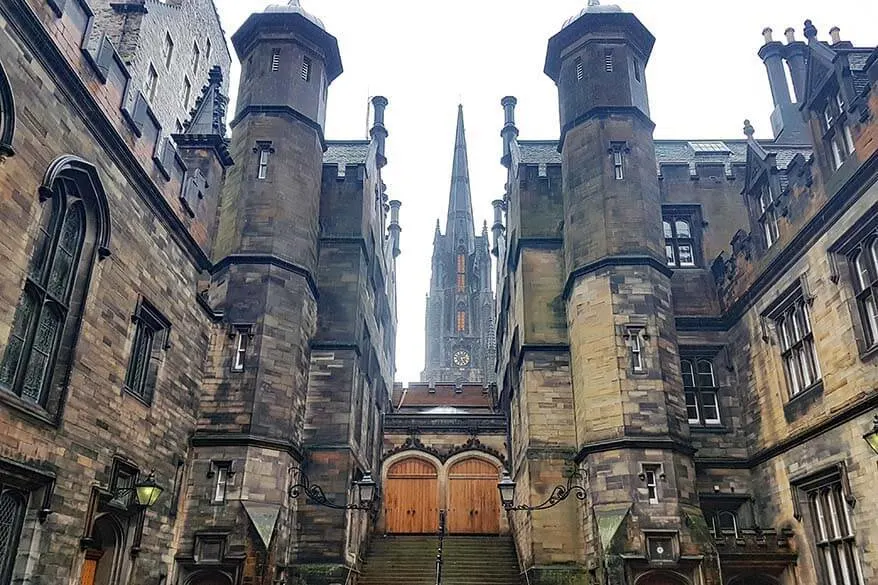 Sightseeing Bus
Another way to get around (and learn about Edinburgh's history and culture at the same time) is to take the City Sightseeing Bus Tour. This hop-on hop-off tour comes with an audio guide or live commentary.
The ticket includes 3 tours, one of which takes you out to Leith where you can see the Royal Yacht Brittania.
If you don't need that many options of tours to choose from, a regular hop-on hop-off bus ticket is also available. It has one tour covering only the main attractions.
No matter which option you choose, bus tours give you a great chance to get an introduction to the whole city in a short time. It's also a good choice if a rainy day makes the prospect of walking a bit less attractive!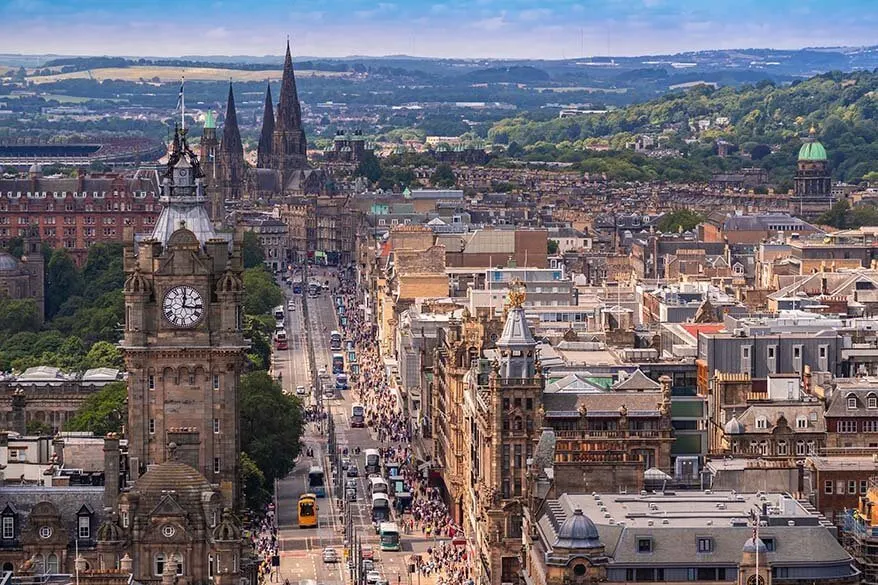 Additional Restaurant Suggestions
There are many nice restaurants and cafes throughout the city, some of which we already mentioned in the one-day itinerary above. But if you are looking for more ideas, these are a few of our personal favorites (we also indicated them on our map).
Forage and Chatter. Using ingredients sourced locally, Forage and Chatter is one of Edinburgh's top-rated restaurants. Both the food and service are of very high quality and children are made to feel very welcome. When we visited, the waiter offered to adapt items on the menu to suit our son. There are lots of great wines on the menu and don't miss the delicious bread that is served at the start of every meal!
Makars Mash Bar. This is a restaurant with an interesting twist – everything is served with mashed potatoes. But not just any potato! This is gourmet mashed potato, seasoned in a variety of ways. Whilst there's plenty on offer for vegans and vegetarians, there are some fabulous Scottish favorites too, including wild boar sausage and – of course – haggis!
Ristorante Isola. This restaurant is further away from the city, but is absolutely worth mentioning. Using fresh, Scottish seafood, this unpretentious gem creates authentic Sardinian dishes. Staff go above and beyond to ensure you enjoy your meal and there's something for everyone on the menu, including some of the most amazing pizzas we've ever eaten! For something a little different (and absolutely delicious) try a traditional Sardinian dessert – Ravioli Dumplings with Quince. Yum!
Whilst you're near the castle, be sure to take a peek into the secret garden of The Witchery by the Castle – Scotland's most famous restaurant and luxury hotel decorated in lavish Baroque style. Its historic courtyard is visible through a doorway at the side of the restaurant. We didn't eat here, so I cannot comment on the food, but it has an excellent reputation.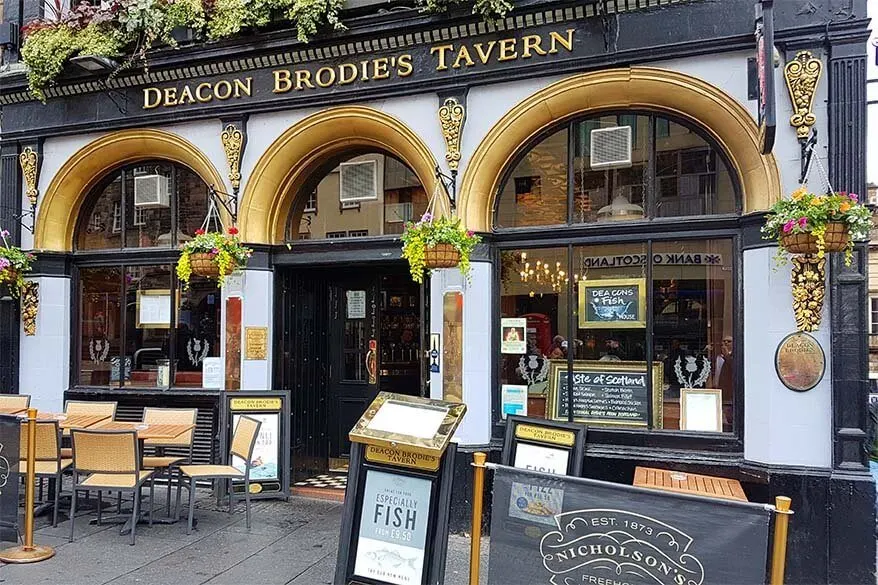 Where to Stay
There are many hotels and accommodations for all budgets in Edinburgh city center. However, it's also a very expensive destination that furthermore, books up fast. So book your accommodation in Edinburgh as soon as you know your travel dates!
We stayed at a couple of different hotels in Edinburgh. Every time we visited the city, the choice of somewhat affordable accommodation in the city center was very limited.
We once stayed at The Place and once at the Holiday Inn Express Edinburgh City Center. Both of these hotels are conveniently located for sightseeing, but not in the hustle and the bustle of the downtown area.
TIP: Using the map below, you can compare hotels, B&Bs, and short-term rental accommodations in Edinburgh. Simply insert your travel dates and group size, and you'll see the best deals for your stay. Check it out!
If you prefer to stay in the historic neighborhood in the Old Town and are looking for some of the best options, check out the following hotels in Edinburgh for all budgets:
£££ The Scotsman Hotel. A beautiful 4* hotel in a historic building and modern rooms. Excellent location close to the train station and all the Old Town attractions.
£££££ The Witchery by the Castle. If you are looking for an opulent, 5* luxury stay and don't mind splurging, this is one of the most unique hotels in Edinburgh!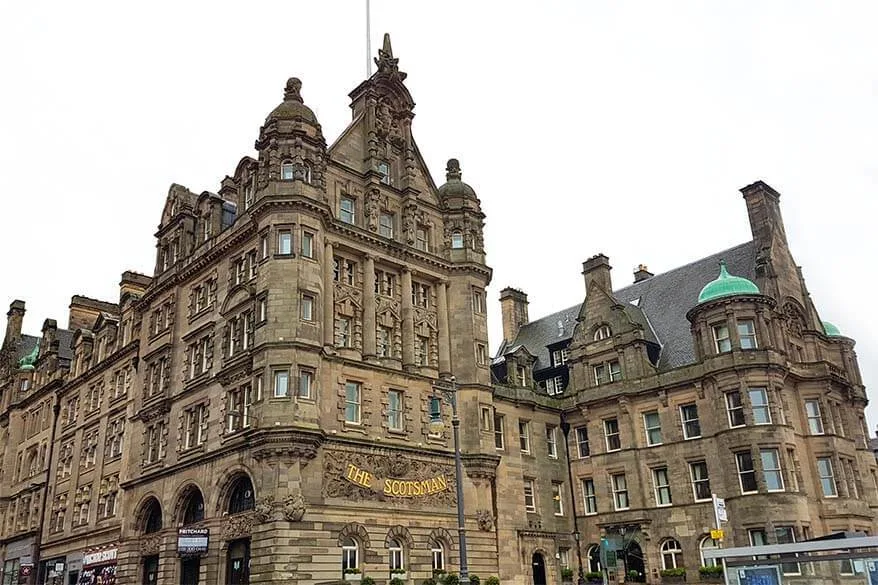 Tips for Your First Visit to Edinburgh
Planning is everything! Edinburgh is a busy city and the main attractions get booked up well in advance. Plan what you want to do and buy your tickets ahead of time if necessary.
Dress appropriately. The weather can be very changeable even in summer. So dress in layers and make sure that the outer layer is waterproof in readiness for Edinburgh's infamous rain! Umbrellas are often useless as they blow inside out and annoy other pedestrians on the very busy streets.
Wear comfortable shoes, particularly if you plan to walk around the Old Town, with its cobbled streets and many steps.
Beware of souvenir shops on the Royal Mile (the streets forming the Old Town's main thoroughfare). They are typically over-priced and sell a lot of inauthentic, mass-produced items. If you're looking for high-quality Scottish knitwear, try Ragamuffin. And if you'd like to take home some fine Scottish whisky, go to Scotland's oldest independent bottler, Cadenheads. Both of these are also along the Royal Mile.
Money. Make sure to select 'local currency' when using ATMs to avoid ridiculous exchange fees. And don't worry if you're given English pounds in your change. English money can be used in Scotland and vice versa.
Want to hear the sound of bagpipes? Head for the Castle – you will almost always find a bagpiping busker on the surrounding streets.
Try to avoid visiting the city during the Edinburgh Festival, the world's largest arts festival that takes place every summer. It is extremely crowded and prices are higher!
If you happen to order whisky during your visit, you might prefer to order a dram. If you ask for a shot, you will immediately reveal yourself as a tourist!
LEARN MORE: Edinburgh Travel Tips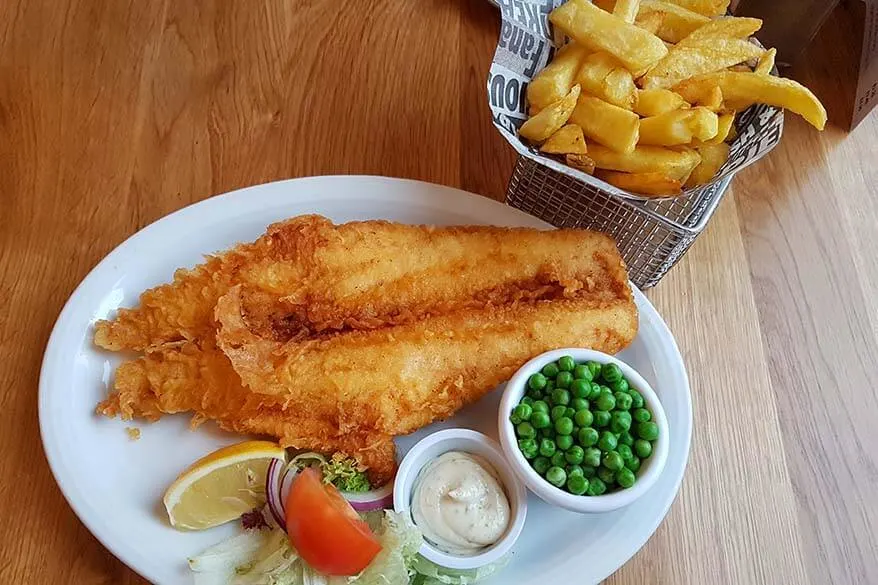 So, this is our guide to the best of Edinburgh in one day. I hope that it will help you make the most of your visit!
TIP: If you are visiting Glasgow as well, check out our similar guide on how to see the best of Glasgow in one day. If you are looking for more travel inspiration for Scotland, take a look at the Isle of Skye itinerary. It's one of the most beautiful places to see in Scotland!
If you are a whisky enthusiast, check out our review of an amazing Scotland Whisky Tour from Edinburgh.
READ ALSO: Best Tourist Sights & Attractions in Edinburgh
More tips for your trip to the UK:
London travel inspiration & tips:
If you found this post useful, don't forget to bookmark it and share it with your friends. Are you on Pinterest? Pin these images!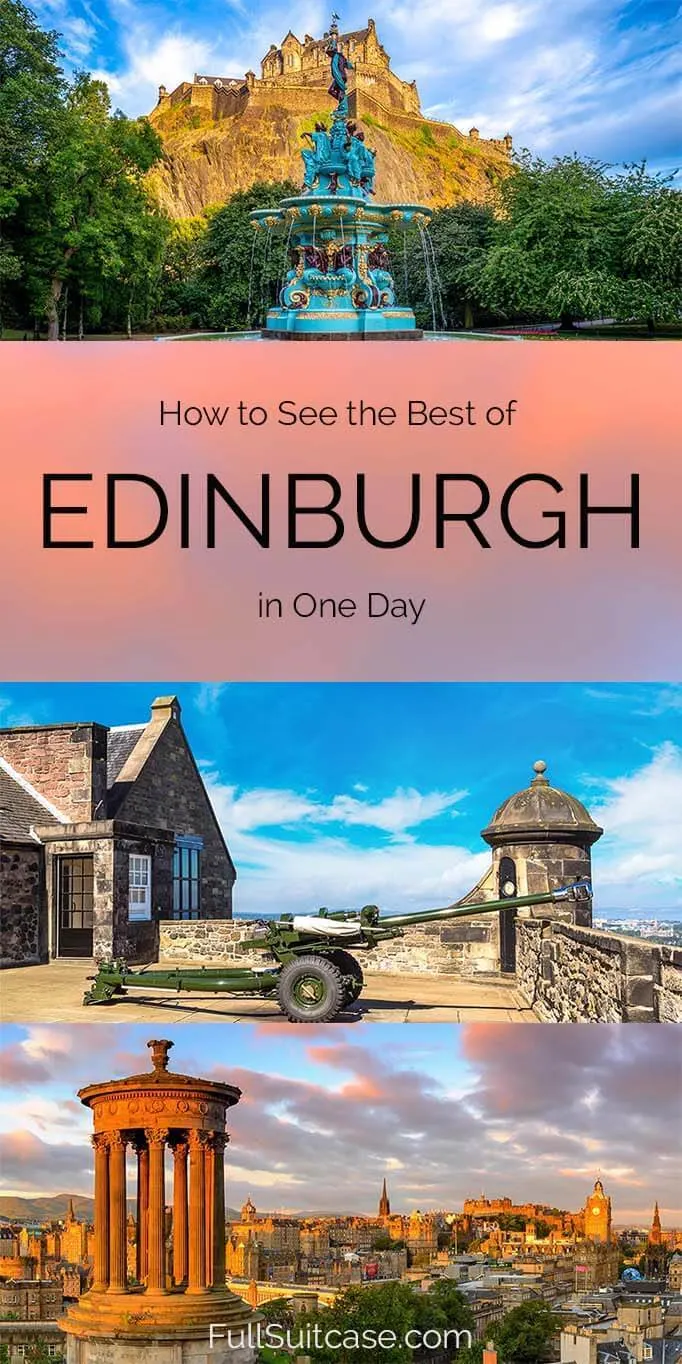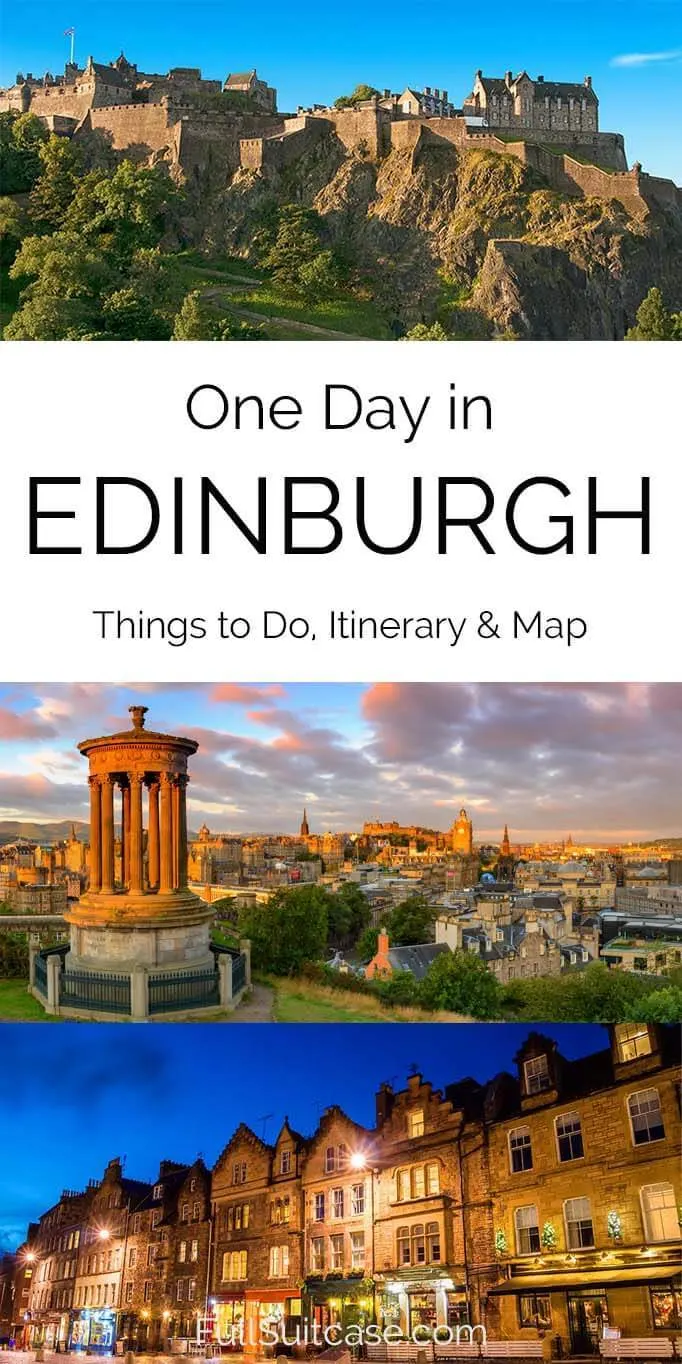 More 1-day itineraries for some of the nicest European cities:
READ ALSO: How to Plan a Trip to Europe