Have two days in London and wondering how to best plan your time and make the most of your short visit? In this guide, we share a recommended 2-day London itinerary that covers some of the best London sights and attractions that you absolutely have to see if this is your first time in the city. In addition, we include some hidden gems that will make your visit so much more special. Find out!
Packed to the rafters with unmissable sights, attractions, and general points of interest, you could spend weeks in London and only scratch the surface of what's available there. I should know! I lived and worked in the Big Smoke for years and still discover new places and hidden gems each time I go back! So planning a comprehensive itinerary for just 2 days in London poses something of a challenge…
With just 48 hours in London, you have to be picky with what you do. Falling foul of FOMO and trying to squeeze too much into your trip is a recipe for trouble! You risk being rushed off your feet, exhausted, and unable to truly enjoy each stop along the way.
So to help you make the most of your two days in London, we put together this itinerary with some insider tips and advice to ensure that you see as much as possible, without going overboard. This guide is written with the help of a fellow travel writer, Danny Newman of What's Danny Doing, who lived in London for several years and knows the city really well.
Good to know: At the end of this article, you can find a short overview of this itinerary, a map indicating all the places mentioned in our guide, tips for getting around, and suggestions for the best area to stay for this London itinerary. Read on!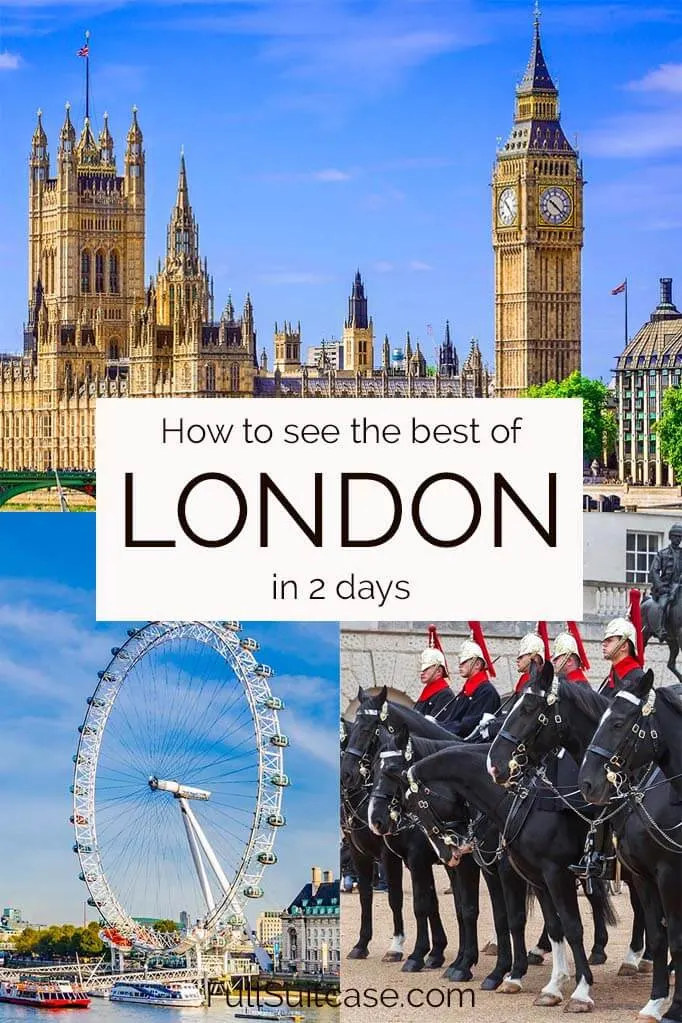 Please keep in mind that it's really impossible to see all the best places in London in just two days… So there's no standard itinerary for 2 days in London or one 'best' way to do it. This is just one of the possible options, a good first introduction to the city if you want to see the best of London in two days.
Whether you're planning a short city getaway, a stopover, or a weekend in London, and no matter if you are visiting London with kids, with a group of friends, or traveling alone, this guide will help you make the most of your time and see most of the 'musts' of London in just 2 days. Find out!
Here's how we recommend spending 2 days in London:
Day 1: London must-sees
On your first day in the UK capital, we recommend taking the chance to see most of the classic London tourist attractions that everyone visiting for the first time shouldn't miss. Here's how you could plan your day:
Hyde Park
For an amazing way to start the day in London, I suggest taking a leisurely stroll around the famous Hyde Park. The morning's usually the best time to see it, especially when the weather's good. With sunshine glazing the greenery and a relative paucity of people, you'll have some space to relax and ready yourself for the busy schedule ahead.
There are several cafes in the park – mostly around the lake, The Serpentine, where you can get breakfast or some coffee to start your day.
Don't hang around too long though! Make sure you've taken the short walk from Hyde Park and through Green Park to the iconic Buckingham Palace well in time for the 11 am Changing of the Guard ceremony!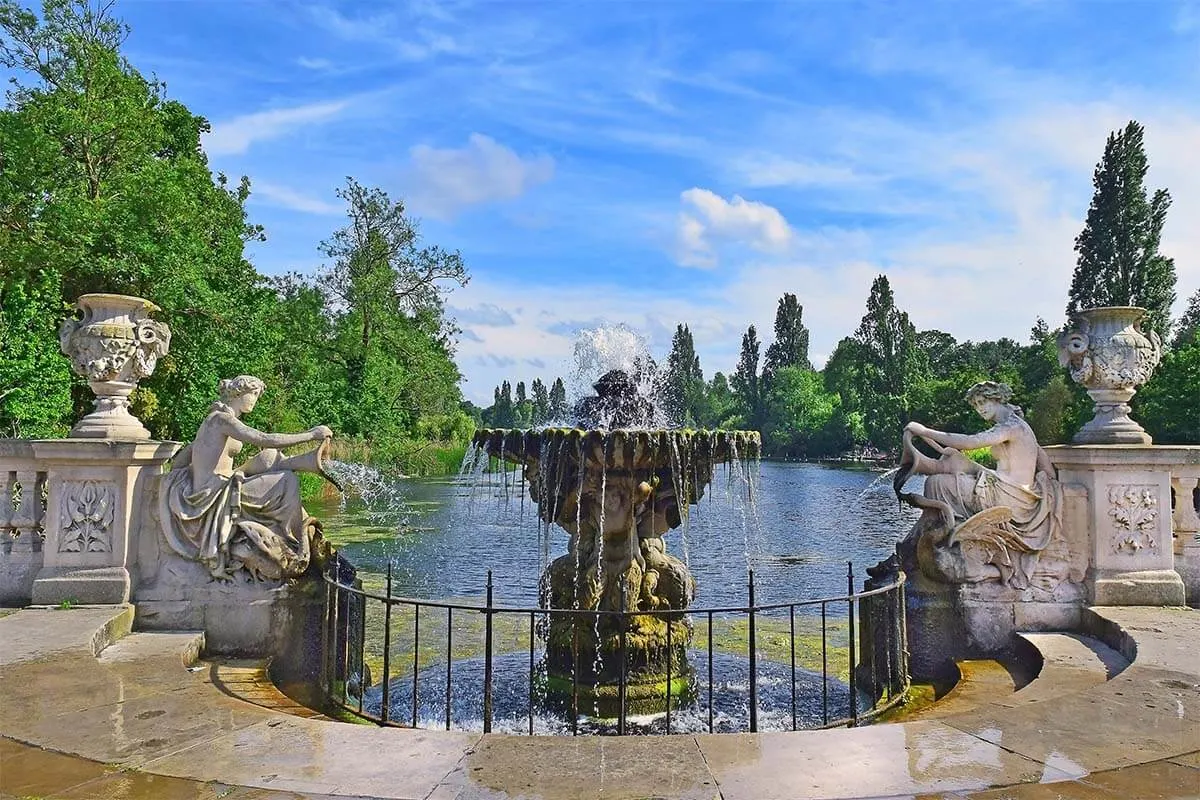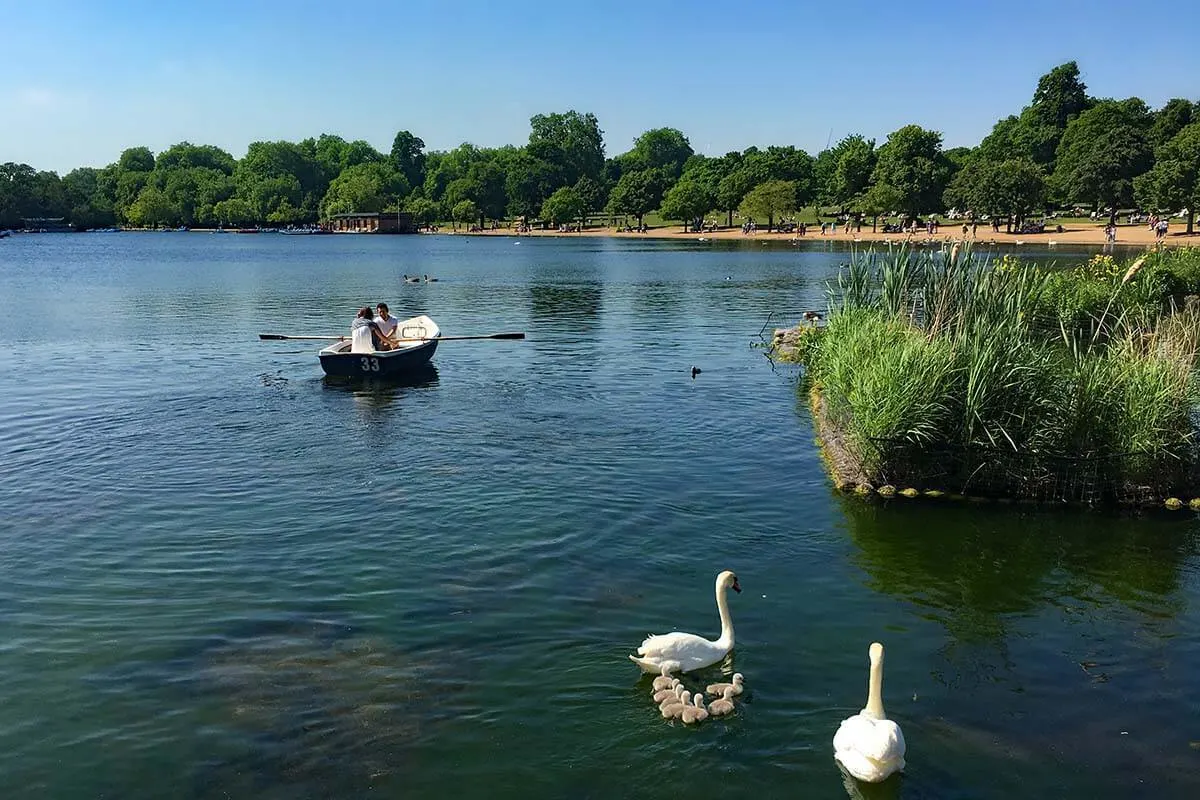 Buckingham Palace & Changing of the Guard
The official residence of the King, Buckingham Palace is a must-see in London. Usually, you can only admire this impressive building from the outside, but in late summer – usually from the last week of July to the first week of October – it is also possible to visit inside (you can find more info and tickets for the State Rooms here). However, with just two days in London, you'll have to plan your itinerary really well and doing this would mean less time for the other places.
If you enjoy pageantry and tradition, then don't miss the Changing of the Guard ceremony at Buckingham Palace. Since this is a very popular attraction, be sure to arrive in time so that you can secure a good spot to see everything! This is a free event and you can see it from the street.
Good to know: This ceremony takes place daily at 11 am in June and July, and on Mondays, Wednesdays, Fridays, and Sundays during the rest of the year. More info here.
TIP: Alternatively, you can also see a similar ceremony at the Horse Guard Parade. This would be a good option if you want to make the most of your day time-wise. More info below.
If you are not sure where to go, you can also take a Changing of the Guard tour.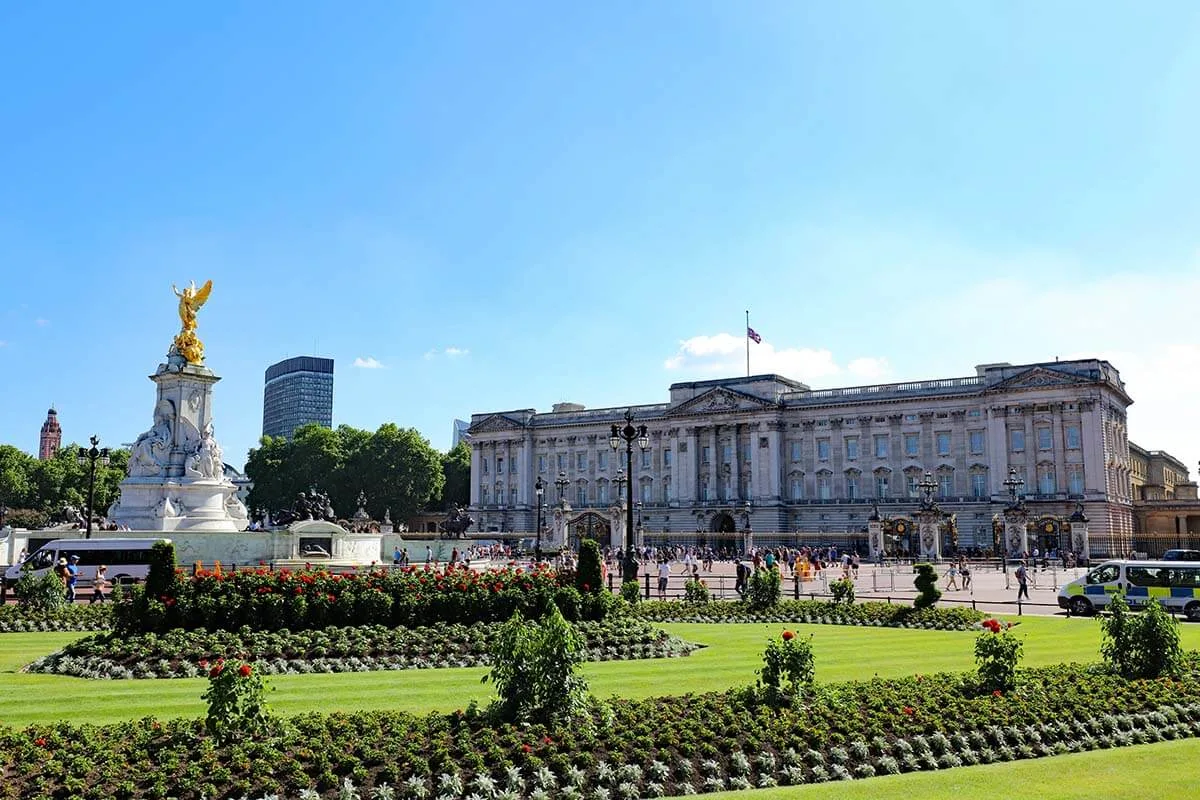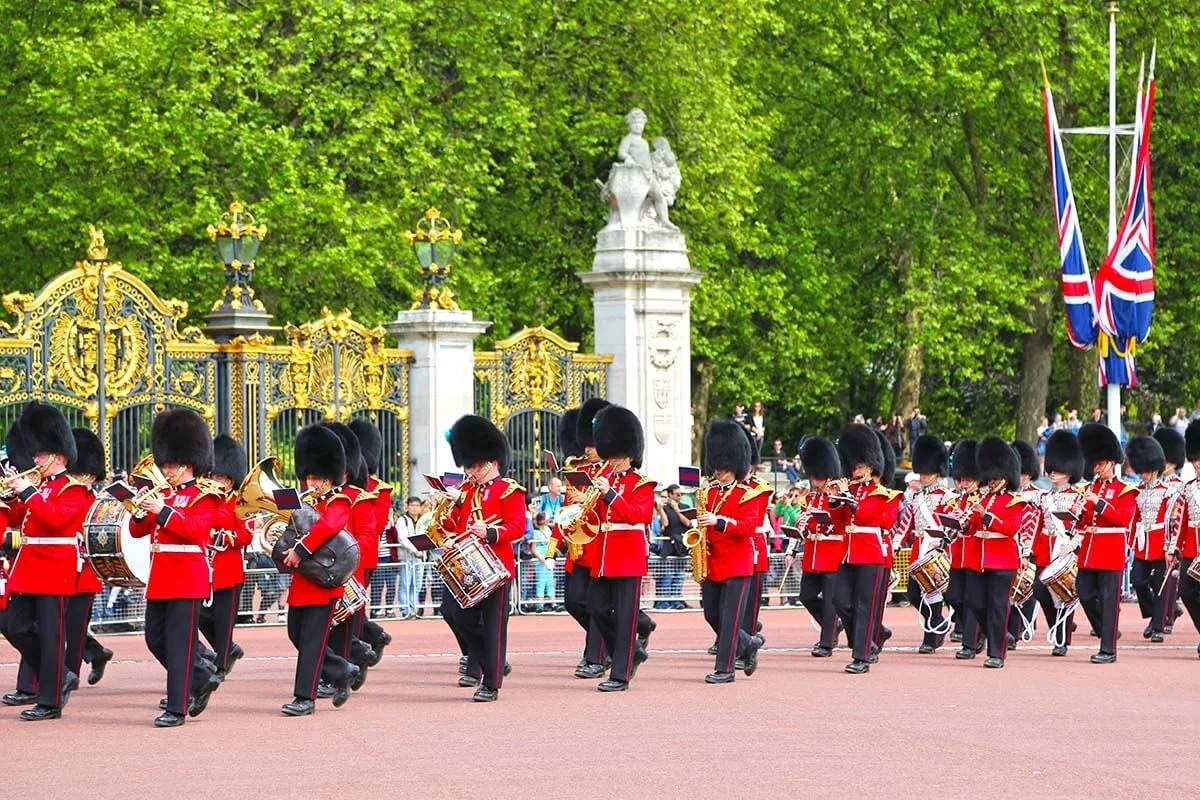 St. James's Park & Horse Guards Parade
After seeing Buckingham Palace, continue on foot through St. James's Park (another rather lovely royal patch of land!) toward the Horse Guards Parade. The walk through the park is very pleasant and is just about 15 minutes.
Horse Guards Parade is a big parade ground at the Whitehall where The Household Cavalry Museum is located. This is one of the best places to see the famous Horse Guards. And there's also a daily Changing of the Guard ceremony here at 11 am (at 10 am on Sundays).
TIP: This ceremony is shorter than the one at Buckingham Palace, and it's also located closer to the other landmarks that you'll want to see next. So if you want to start your day earlier and make the most of it, you could see Buckingham Palace first and come here for the Change of the Guard. This would give you a bit more time for the other attractions afterward.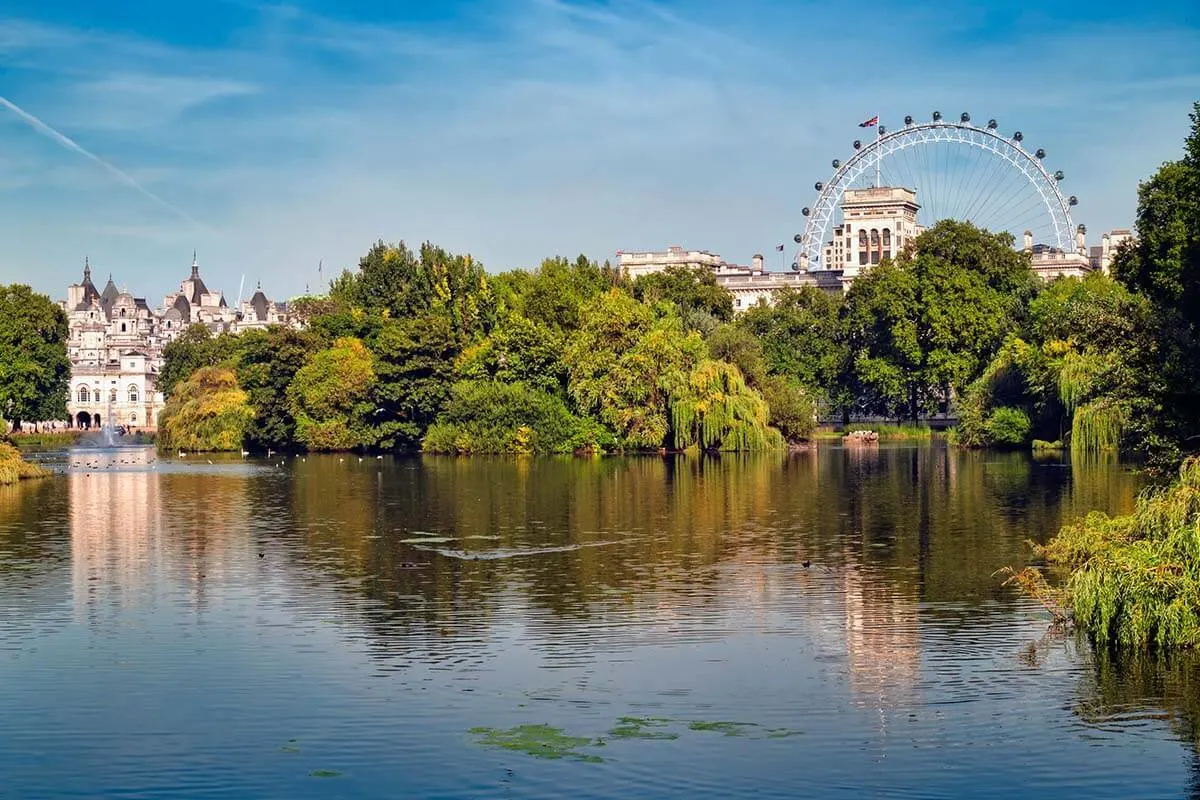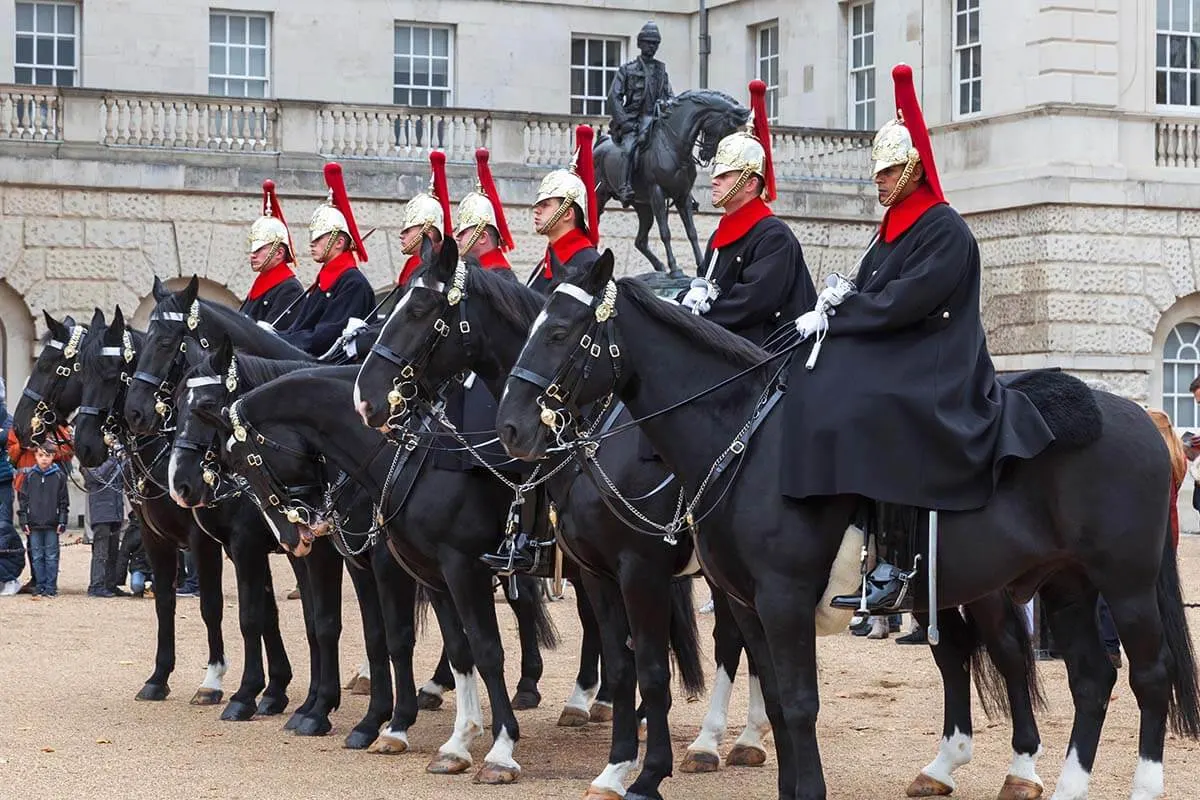 10 Downing Street
Just nearby is the famous 10 Downing Street, the official residence of the UK's Prime Minister.
You won't be able to get very close to the building since the street is closed to the public by huge guarded gates. But you can see the famous 10 Downing Street from a distance.
I wouldn't go out of the way just for this, but it's such an iconic place in London and you'll be passing here anyway, so take a peek!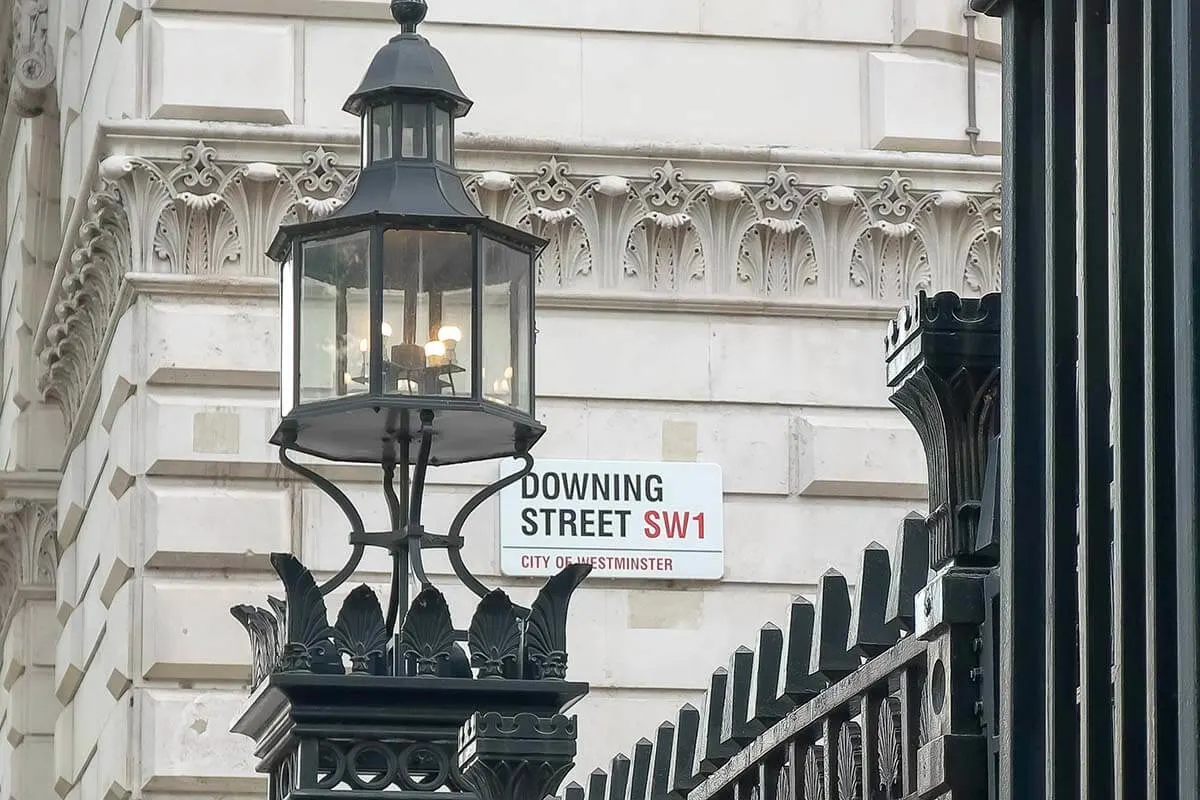 Westminster Abbey
Next, head to the inimitable Westminster Abbey, the site of many of Britain's most important historic moments.
A gothic building of incredible beauty and scale, Westminster Abbey is a popular venue for royal weddings and coronations. Since 1066, every British monarch has been crowned here. Don't miss the Coronation chair in St. George's Chapel!
The Abbey is also the burial site of countless famous British historical figures, including Charles Darwin, Isaac Newton, and David Livingstone, one of the famous explorers, just to name a few…
PRO TIP: If you want to actually visit Westminster Abbey and not just see it from the outside, be sure to book your timed-entry tickets in advance.
Good to know: If you visit all the other places mentioned before and want to visit Westminster Abbey inside, you'll probably not have enough time to get to the Tower of London by the end of the day. So either skip the Changing of the Guard, choose just one of these two places – Westminster Abbey or the Tower of London, or adjust the itinerary in such a way that you visit Westminster Abbey on day 1 and The Tower of London on day 2.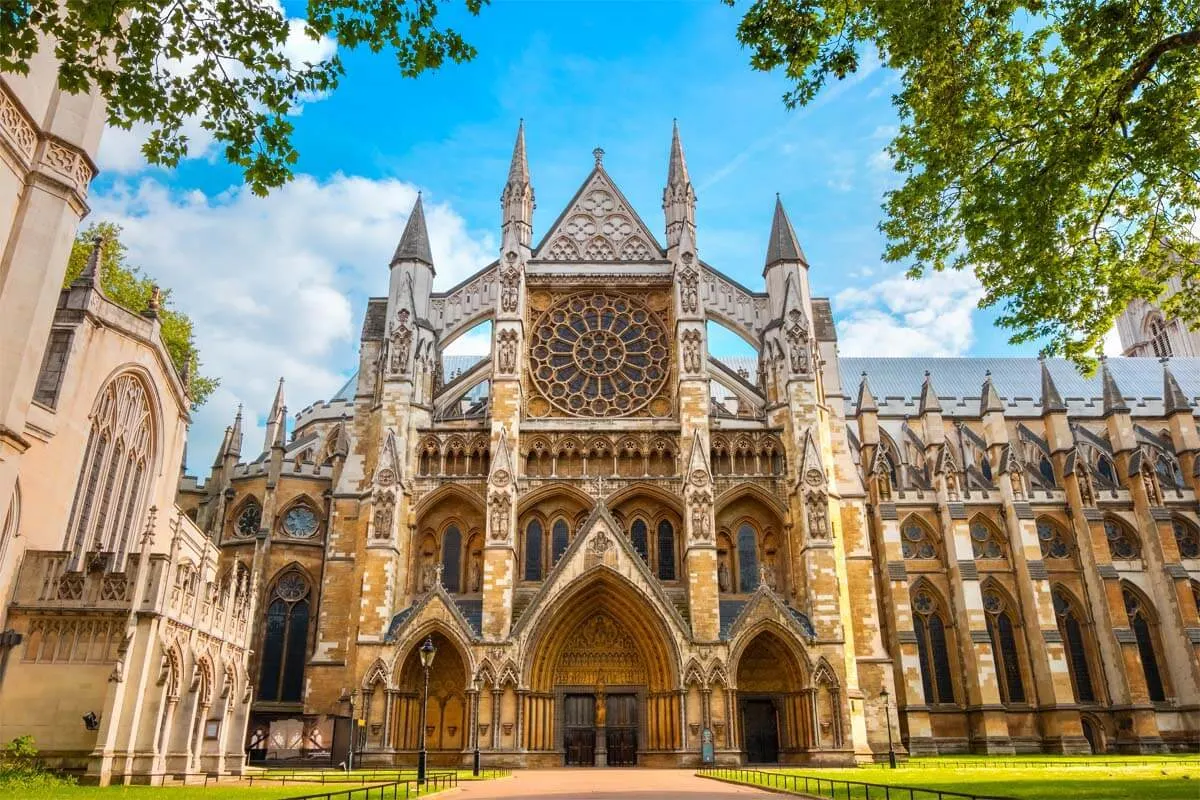 Houses of Parliament & Big Ben
A mere stone's throw from Westminster Abbey, you'll find another must-see landmark, the equally impressive Houses of Parliament, aka the Palace of Westminster. This beautiful gothic building sits proudly on the banks of the Thames and makes for a mightily impressive sight.
The Houses of Parliament is home to the British government, where the House of Commons and the House of Lords assemble. Political meetings have taken place here since 1066!
This is also where you'll find Big Ben, the infamous bell tower that rises like a magnificent ornate monolith and forms part of the Palace of Westminster.
There are tours available to visit the Houses of Parliament, but with so much to see in London and so little time, just take some pictures of these iconic buildings and move on to your next destination. It's time to cross the river via the famous Westminster Bridge and walk to one of my favorite parts of the entire city, London's South Bank!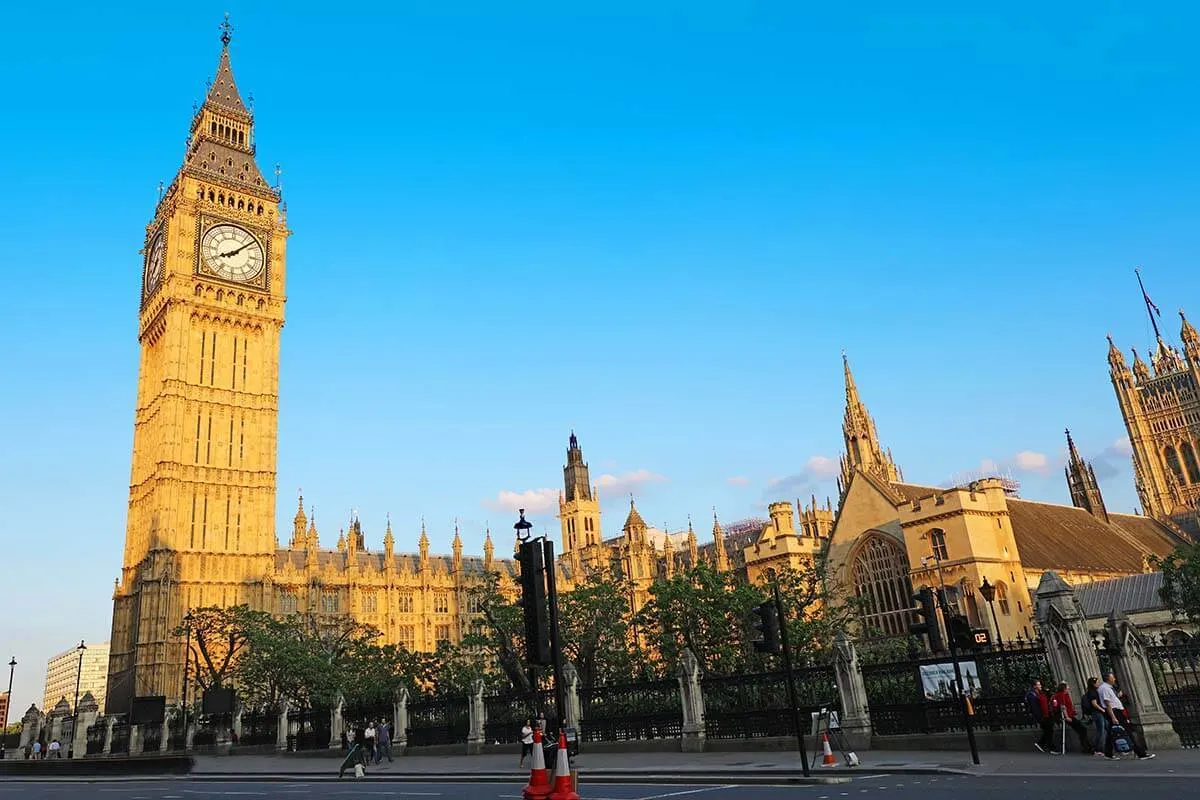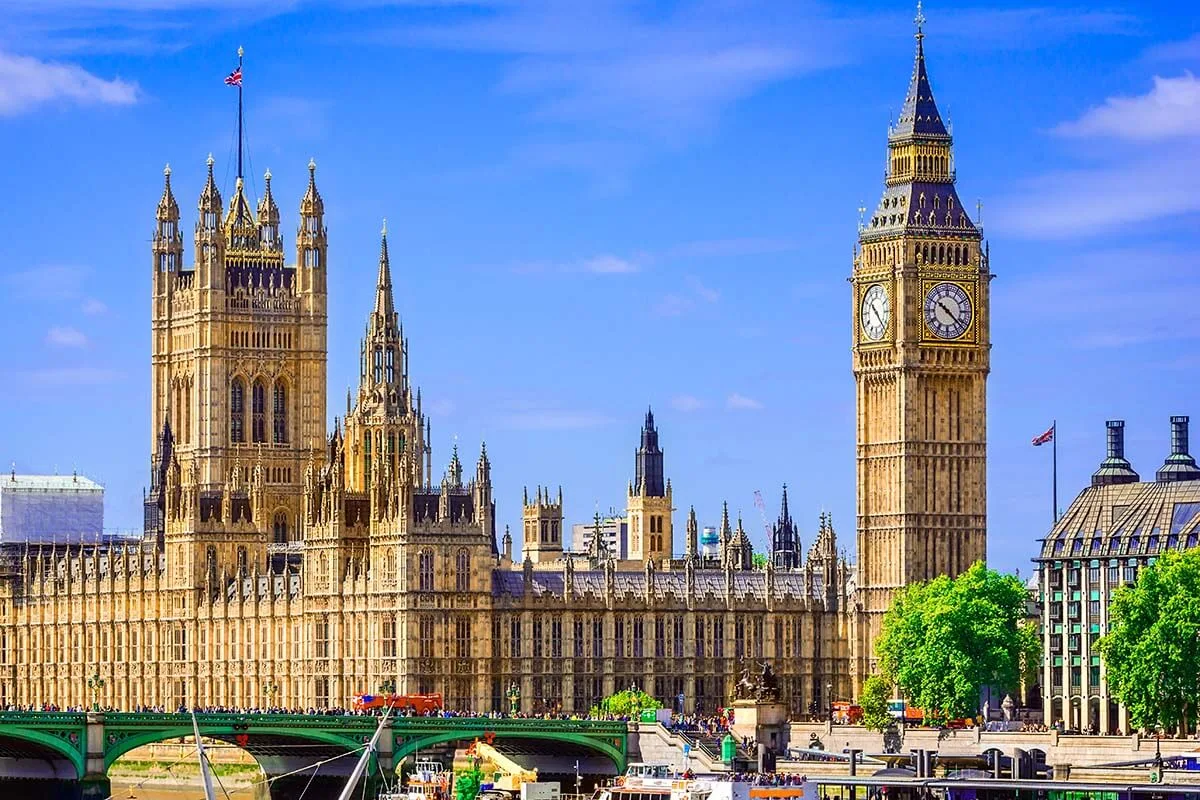 London Eye
South Bank is one of the liveliest and nicest places in the heart of London. The views are stunning and walking along the South Bank, you can see some of London's most iconic buildings and cityscapes.
There's also a lot to do here! From art venues to aquariums and, of course, the famous London Eye, you could easily spend an entire afternoon enjoying all that the South Bank has to offer. But on your first visit and trying to squeeze in as many of the nicest places in a day as possible, we recommend just one activity – London Eye.
London Eye is the highest observation wheel in Europe, offering easy access to some of the nicest views in London. From the top, you'll get a birds-eye view of central London and all the places you saw up to now – from Hyde Park and Buckingham Palace in the distance to Big Ben and the Houses of Parliament almost at your feet.
PRO TIP: The London Eye is one of the most popular tourist attractions in London, so be sure to get timed-entry tickets online in advance. We highly recommend fast-track tickets as this can save you several (!) hours. With just two days in London, this is really the best way to do it, especially if you want to see all the other places recommended in this itinerary.
Otherwise, just admire the structure and the views from the ground, and enjoy the views from The Shard at the end of the day (see further below). Of course, you can also do both – the views and the experiences are totally different.
Good to know: There are some nice restaurants and cafes in this area, so it's a good place for a quick late lunch. You could also take a quick look at The Vaults, one of the hidden gems of London. However, you can't afford to spend too long embracing the joys of the South Bank. At this point, it should be early afternoon, and you've got one more unmissable stop to go to – the Tower of London.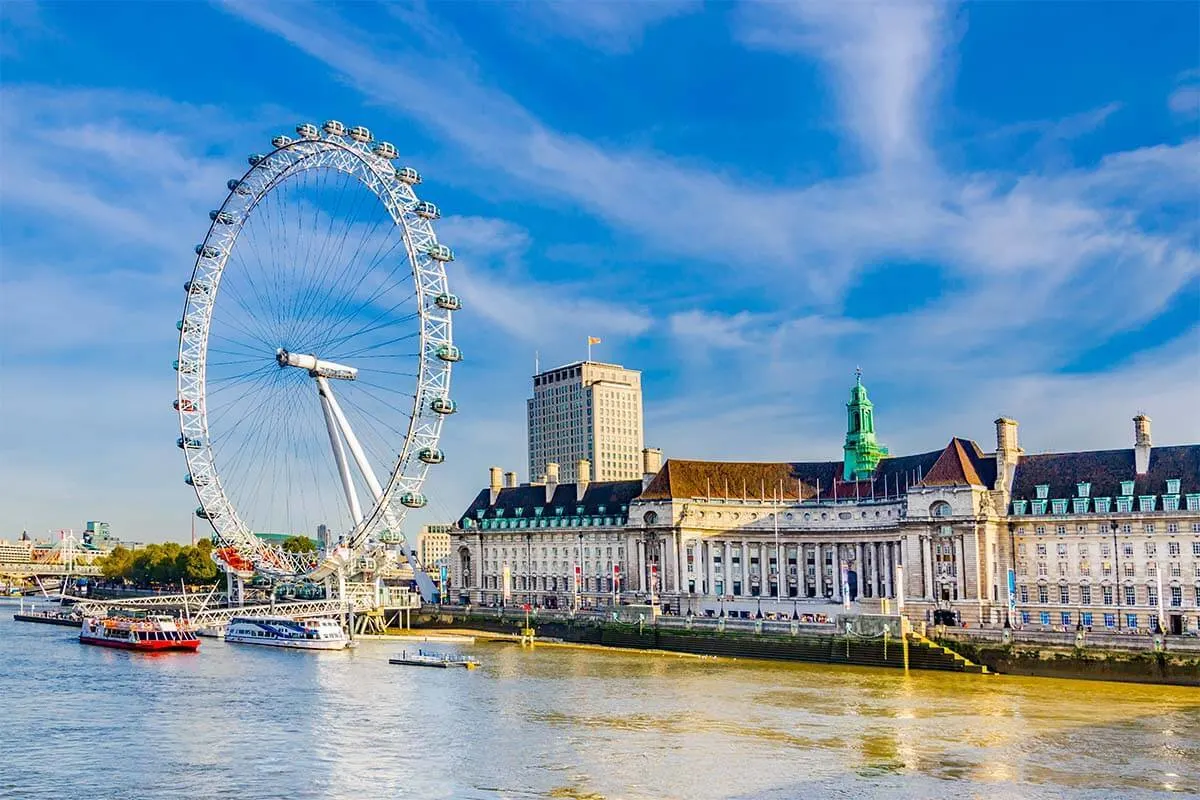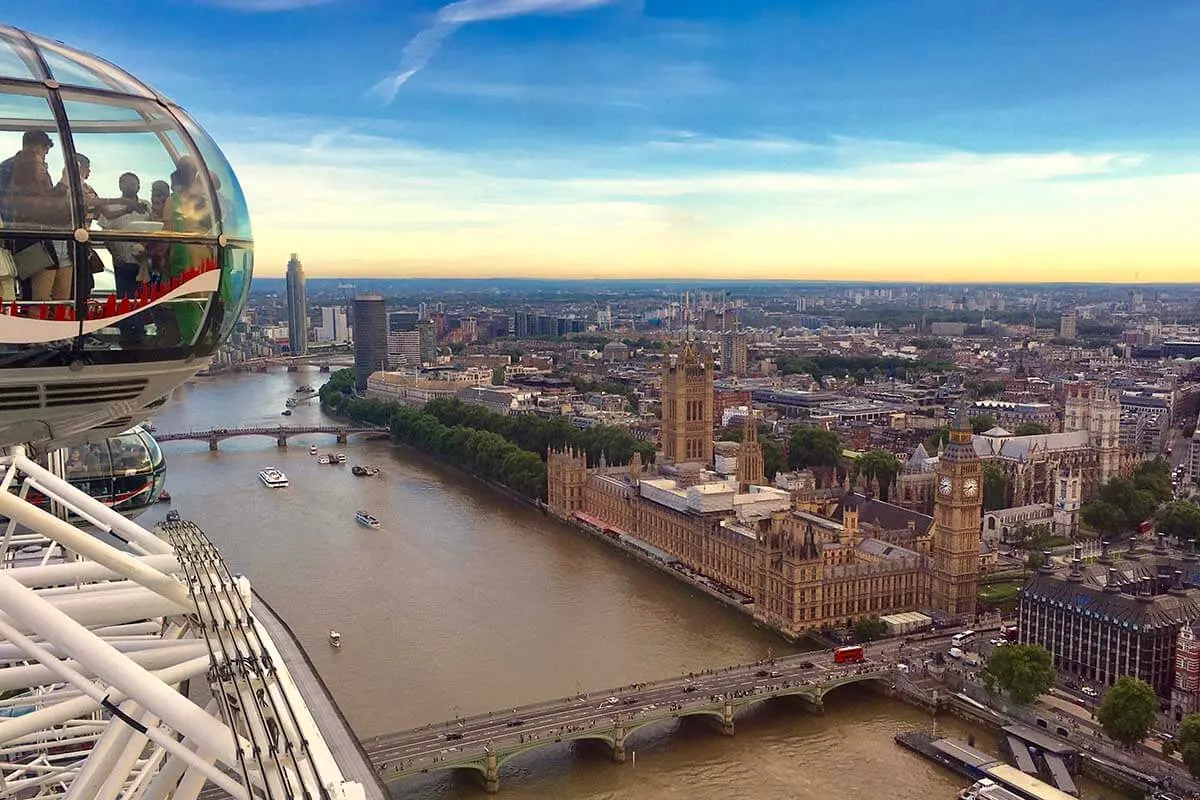 Thames Cruise
Taking a cruise on the Thames River is one of the musts in London. And even though your schedule will be quite full already, you can easily squeeze this into your itinerary because the fastest way to get to the Tower of London from the Westminster area is indeed by boat.
Another option is taking a tube (metro) from Westminster to Tower Hill. But we recommend the boat because it allows you to see more of the city!
TIP: One of the fastest and cheapest ways to get from the Westminster area to the Tower area is by taking this boat cruise from Westminster Pier (the opposite side of the river from the London Eye). Boats run on a regular basis throughout the day. You can get one-way tickets or round-trip, depending on where you have to be in the evening.
This hop-on hop-off cruise also stops at the London Eye Waterloo Pier (so you don't have to cross the river). If you are thinking of taking the boat both ways anyway, this can be a more convenient option (and you can take advantage of the hop-on-hop-off ticket to see more places along the river after visiting the Tower of London).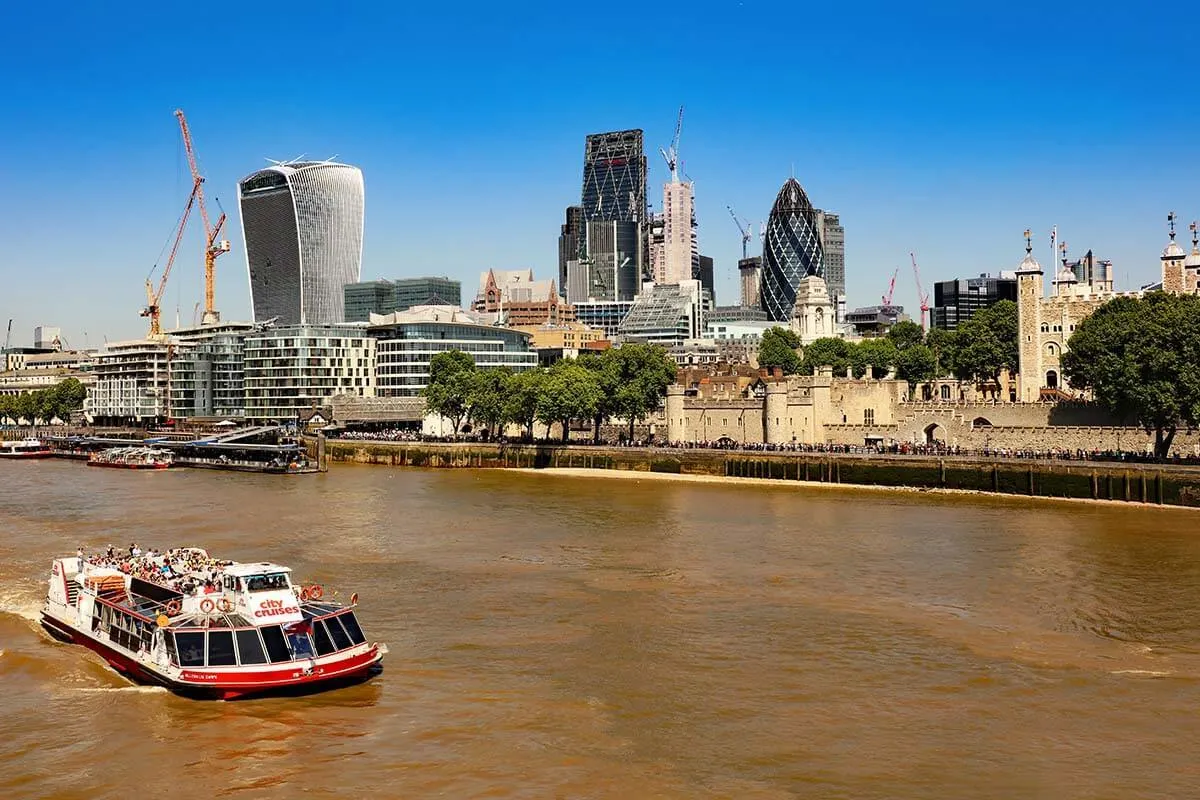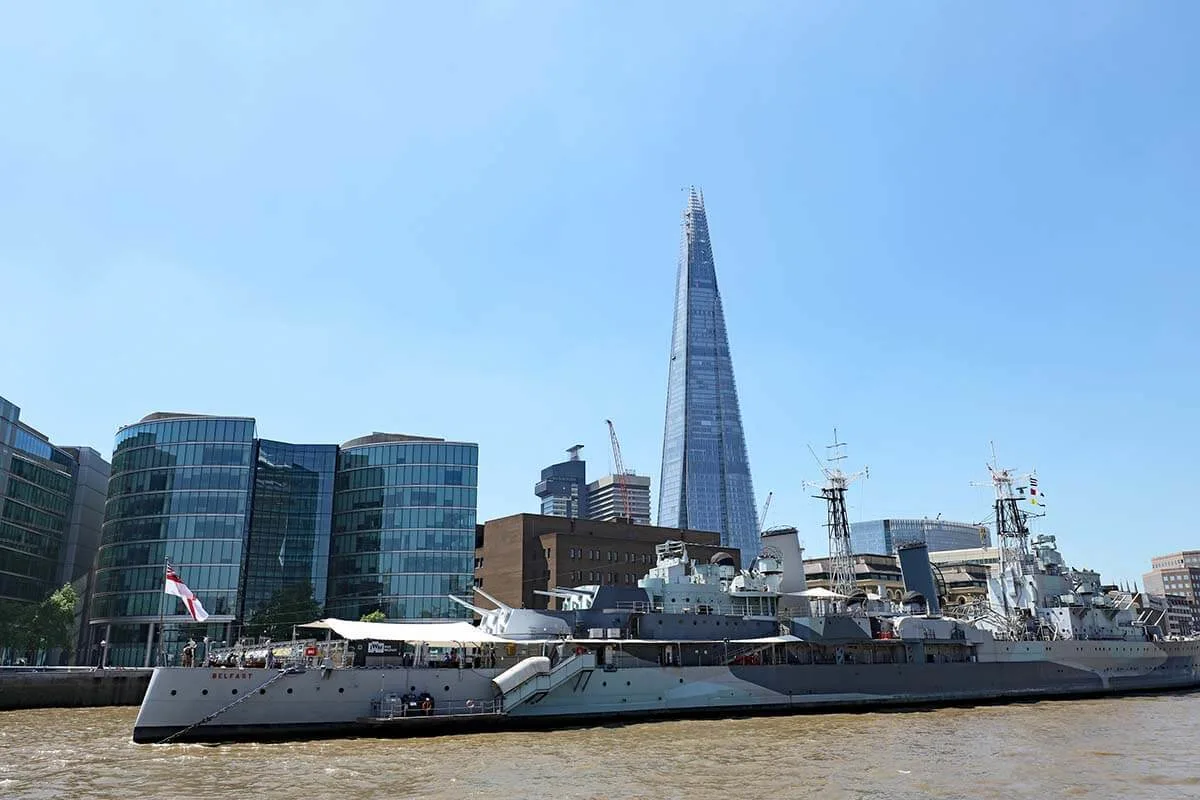 Tower of London
Yet another striking and iconic London landmark, the Tower has a central (if grisly) place in the city's history. This is where Britain's most infamous prisoners of old were held captive before being publicly executed. But this fortress was also built to show off the power of British royalty and it's also a royal palace, with luxuriously furnished apartments and staterooms.
The Tower is home to Crown Jewels and a vast collection of over thousands of gemstones. In addition, you can meet the Yeoman Guards, aka Beefeaters, who are the ceremonial guards of the Tower.
A truly epic sight to behold, the sense of history here is palpable. A visit here is a great opportunity to learn all about the fortress's long, tumultuous, and fascinating background, as well as the stories of the people imprisoned there. Along the way, you'll see the Crown Jewels, the Battlements, the White Tower, and many more.
TIP: The Tower of London is one of the most popular tourist attractions in the city, so be sure to book your tickets online in advance.
These days, you can choose between a ticket that is valid the whole day or a timed-entry ticket, which can save you some time (but you have to get there on time). Also, keep in mind that you need at least 2 hours to see the main sights (3 hours would be better). So ideally, you get here by 3 pm at the latest because the museum usually closes at 6 pm. Or plan to visit first here thing in the morning on your second day in London.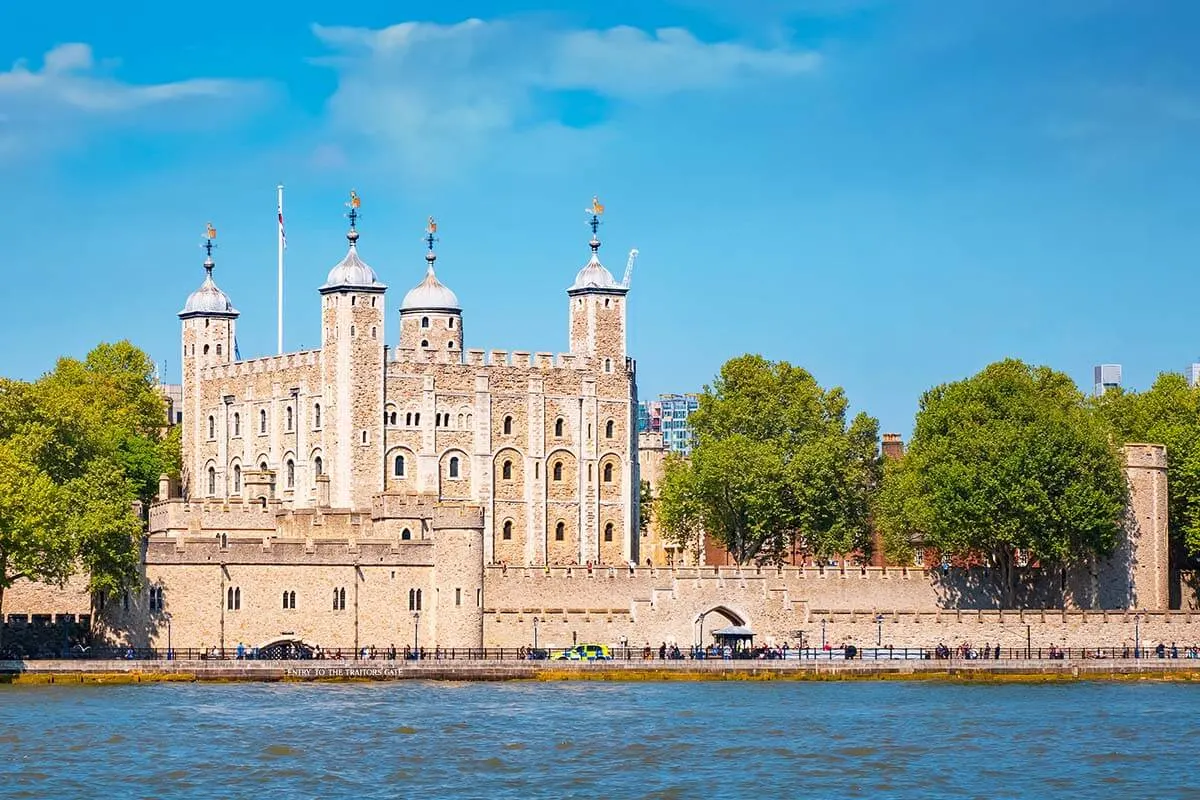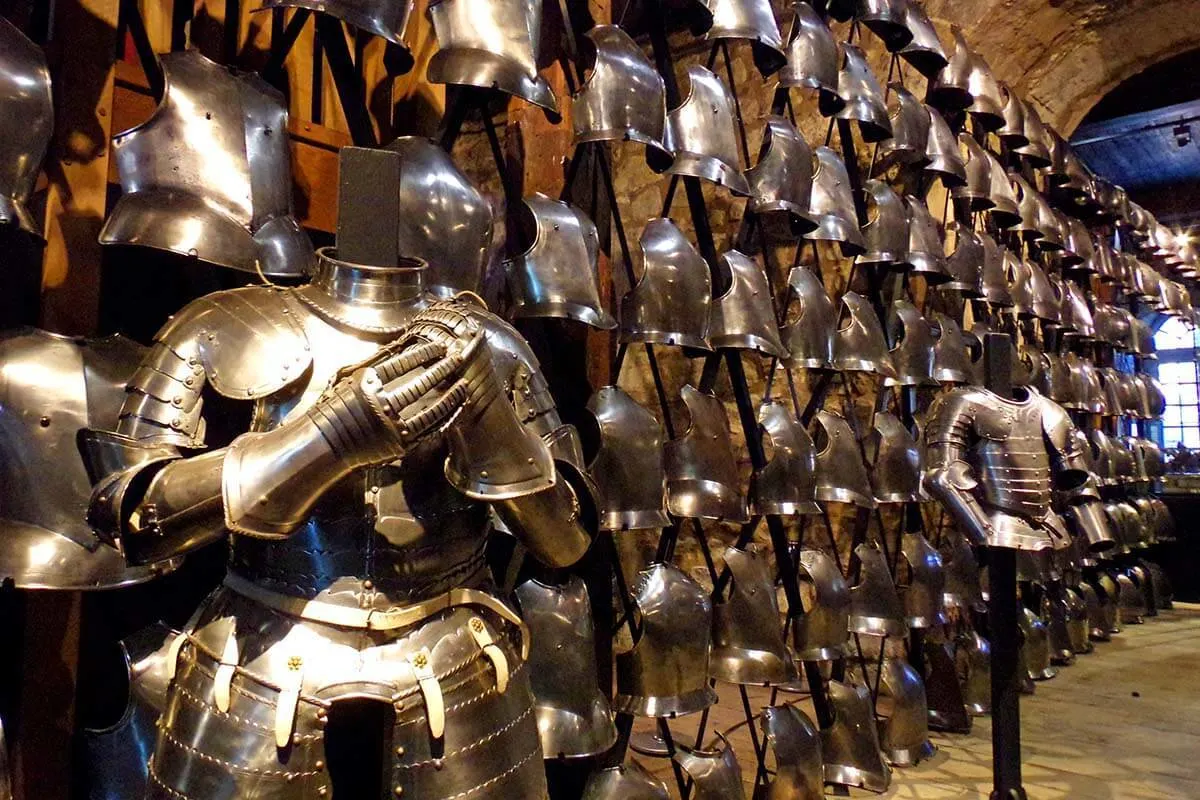 St Dunstan in the East
TIP: If you still have some energy left after visiting the Tower of London, you could take a short detour and see one of the nicest hidden gems of London, St Dunstan in the East.
This impressive church ruin and garden is really picturesque and you won't believe that such a tranquil place can be found in the heart of London, just a few minutes from the crowded Tower area.
Originally built in the early 12th century, the church was expanded and repaired throughout the centuries until it was seriously damaged by the Great Fire of London in the 17th century and then again during WWII. It was decided not to restore the church, but to protect the ruin as a monument.
It is now a public garden that you can visit free of charge.
Good to know: We indicated this place in our map below, so you can easily find it. Please keep in mind that it's open until dusk or 7 pm, whichever is earlier. So, depending on the season, it might be difficult to squeeze it into your itinerary if you only have two days in London and want to see as many of the main places as possible. But if you are visiting in summer when the days are longer, you could come here after visiting the Tower of London. It's definitely worth a detour.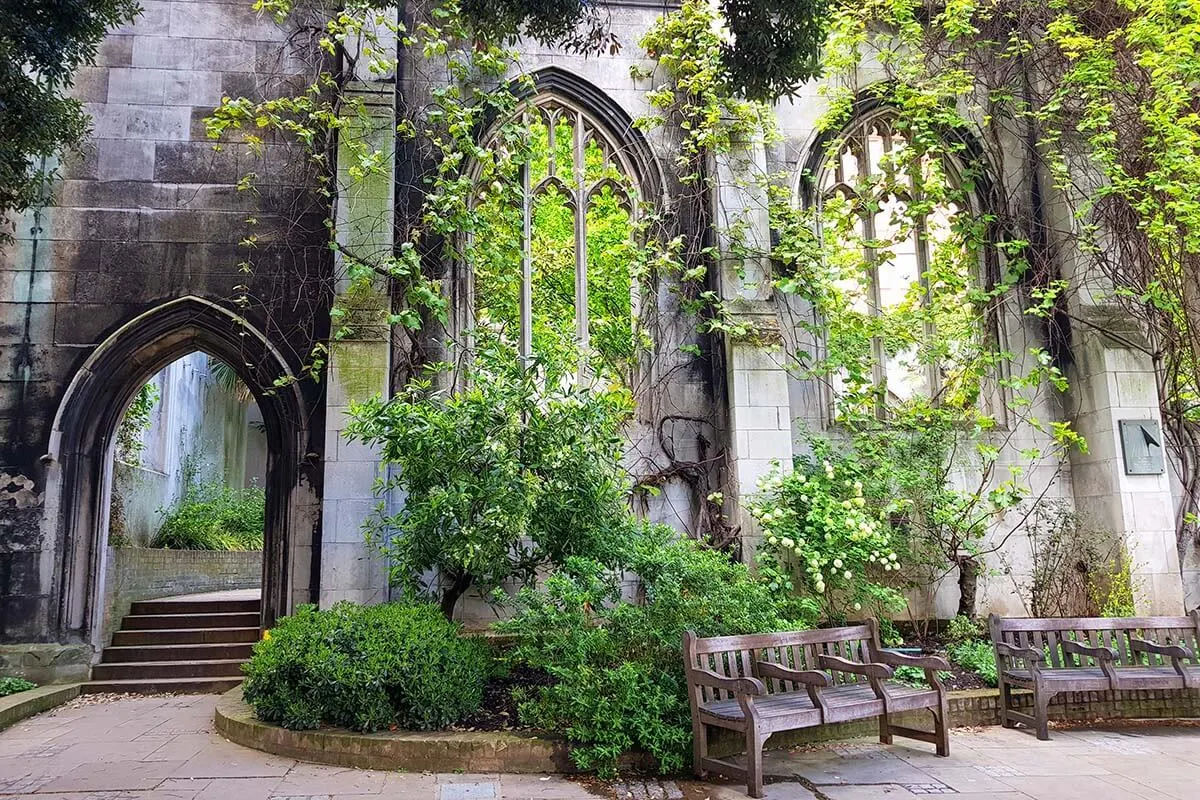 Tower Bridge
Just near the Tower of London, you'll see Tower Bridge, probably the most recognized bridge in the world. Even if you don't feel like visiting inside the Tower of London on such a short visit, you definitely have to come to this area for this iconic bridge!
You'll see it from the boat when you arrive here, and you can also take some nice pictures from the pedestrian waterside promenade. But we highly recommend walking over the bridge as well. It's such an impressive structure! It's also possible to visit Tower Bridge inside, but with just two days in the city, the Tower of London is probably worth your time more.
And, by crossing the bridge, you can also see it from the other side of the river where you can find many nice cafes for a drink or restaurants for dinner. In addition, you can see HMS Belfast, a WWII navy ship that now serves as a museum.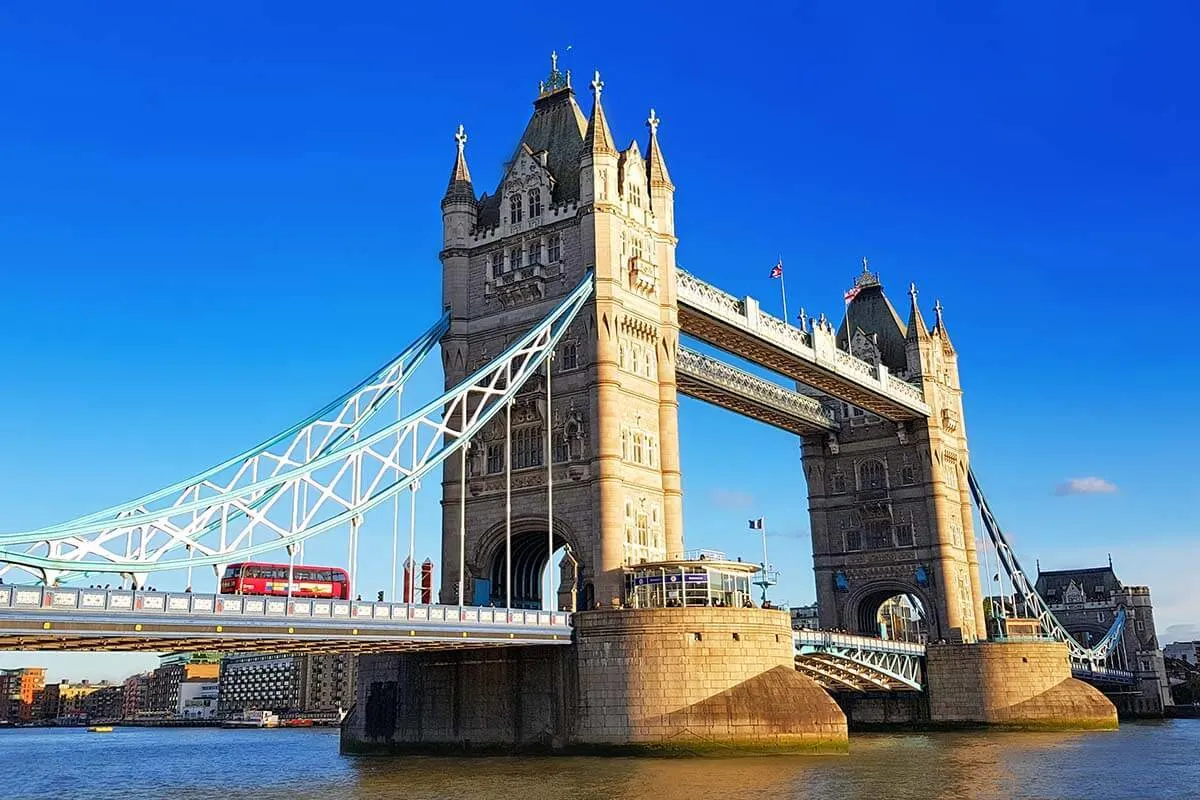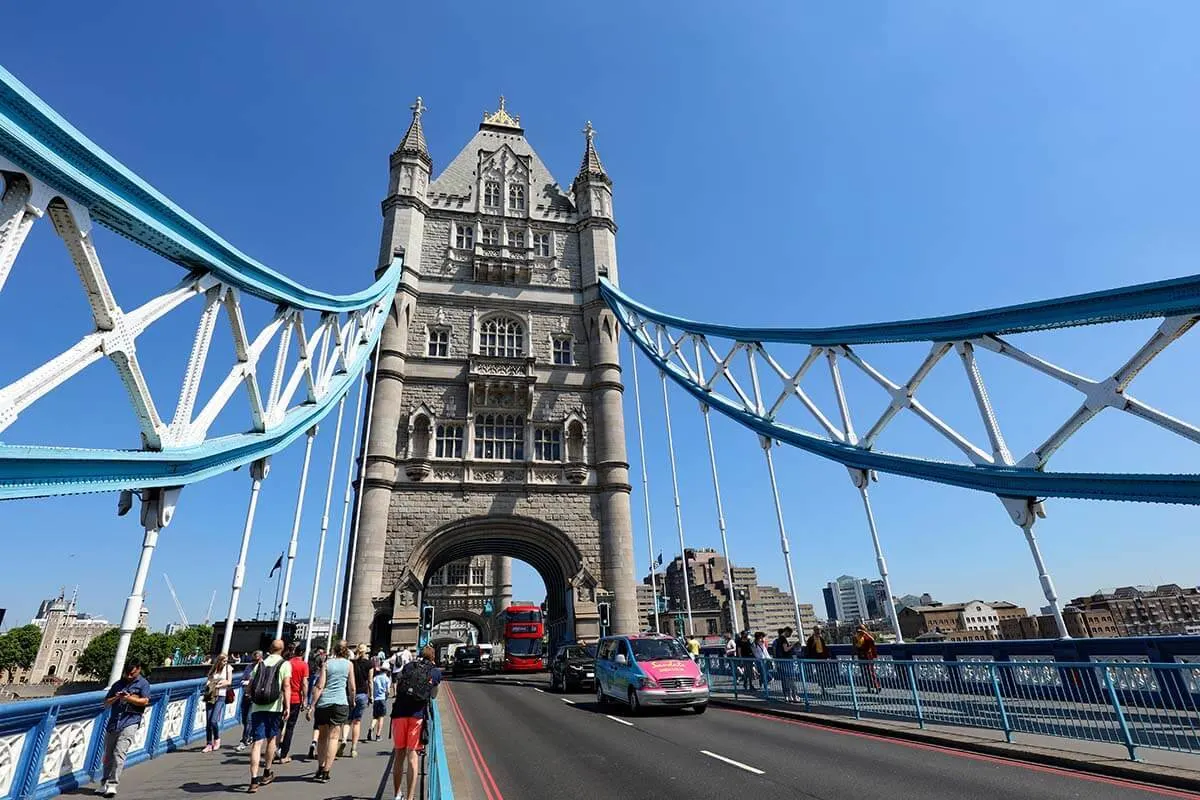 Amazing city views from The Shard
Just a short walk from the southern side of Tower Bridge, you'll find one of the iconic skyscrapers of London, The Shard. The tallest building in the country, the Shard has several viewing platforms with dazzling views of London.
There are two indoor viewing platforms and an open-air sky deck all the way at the top. The 72nd floor of the Shard offers an amazing 360º view over London and up to 64 kilometers (40 miles) around the city. The views here are amazing at any time of the day, at sunset, or even after dark. So this is a great place to end your first day in London.
TIP: In summer, the viewing platform is usually open until 10 pm, and the rest of the year – until 9 pm. But be sure to check this for the most up-to-date info. Also here, you have to book timed-entry tickets in advance.
Good to know: The Shard also has several excellent restaurants, and you can find plenty of dining options nearby.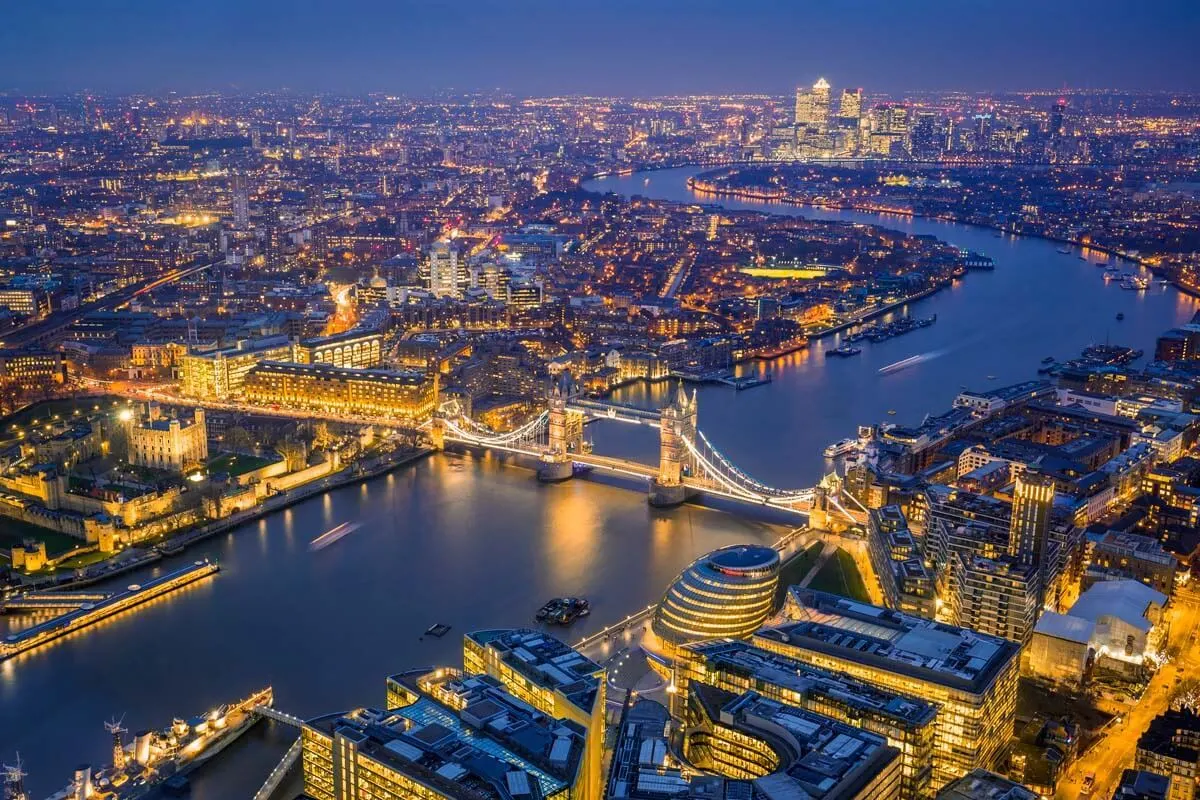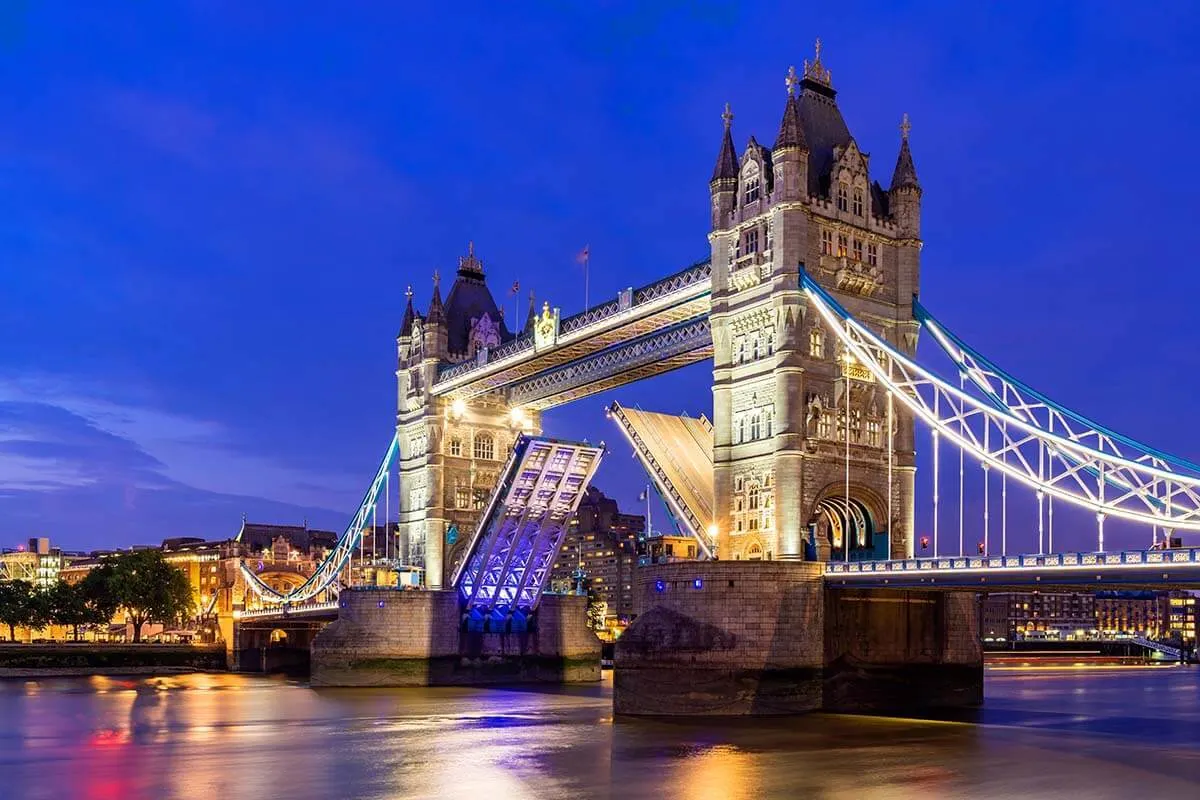 Day 2: Bustling cool areas & amazing museums
London has a reputation for being an expensive place to both live and travel. And it's true! From food to accommodation, you can expect to stretch your travel budget during any stay. However, there are also innumerable things to do in London that are 100% free!
So on the second leg of your London 2 day itinerary, you're going to sample a selection of some of the best free attractions in London…
Here is what your second day could look like:
Trafalgar Square & The National Gallery
Start off day 2 at the famous Trafalgar Square, a bustling heart of London, and one of the must-see landmarks. If you are staying further away, take a metro to Charing Cross in order to get here in the morning.
With Nelson's Column guarded by four huge bronze lions at the center of the square, grand stone waterfalls on both sides, and the emblematic National Gallery at the rear, Trafalgar Square is quintessential Great Britain. The atmosphere is at odds with the architecture though, and the place heaves with people from all walks of life. Usually, you'll find lots of talented street performers here, and it's a nice place to simply sit back, do some people-watching, and soak in the electric atmosphere.
If you feel the need for some peace and quiet, then be sure to step into the National Gallery to wander through silent rooms filled with artistic masterpieces. It's usually open daily from 10 am and there's no entry fee, making it one of the best things to do in London for free.
You could spend hours just wandering around this museum, but on such a short visit to the city, you'll have to make choices. As a minimum, go inside for half an hour or so, even if just to admire the beautiful architecture and see for yourself how amazing this place is.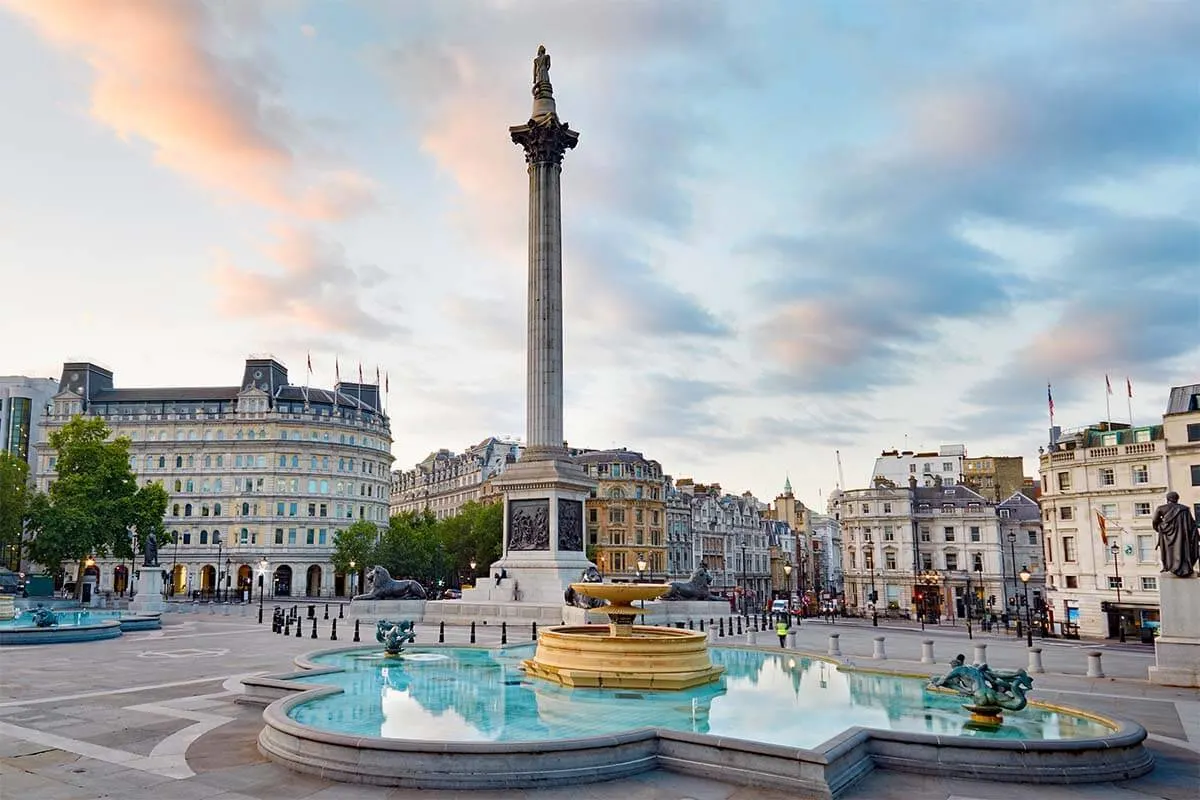 Leicester Square, Chinatown & Piccadilly Circus
After leaving Trafalgar Square, walk a little way north until you hit another well-known public space, Leicester Square. Crowded and over-priced, it won't be everyone's idea of fun. But I still think this lively spot's worth seeing! Walk around, embrace the busy tourist vibes, and visit one of the cool stores, such as M&M's London, the LEGO Store, and many others.
Just nearby, you'll find London's Chinatown. Don't miss the impressive Chinatown Gate.
Afterwards head to the nearby Piccadilly Circus, which is sometimes compared to Times Square in New York. It's a very busy road junction with shops and restaurants and colorful billboards all around you. At its center, you'll find a bronze Shaftesbury Memorial Fountain, aka Eros Fountain.
You can spend as little as 20-30 minutes exploring these areas, or a couple of hours, but we recommend not lingering here too much since there's so much more to see!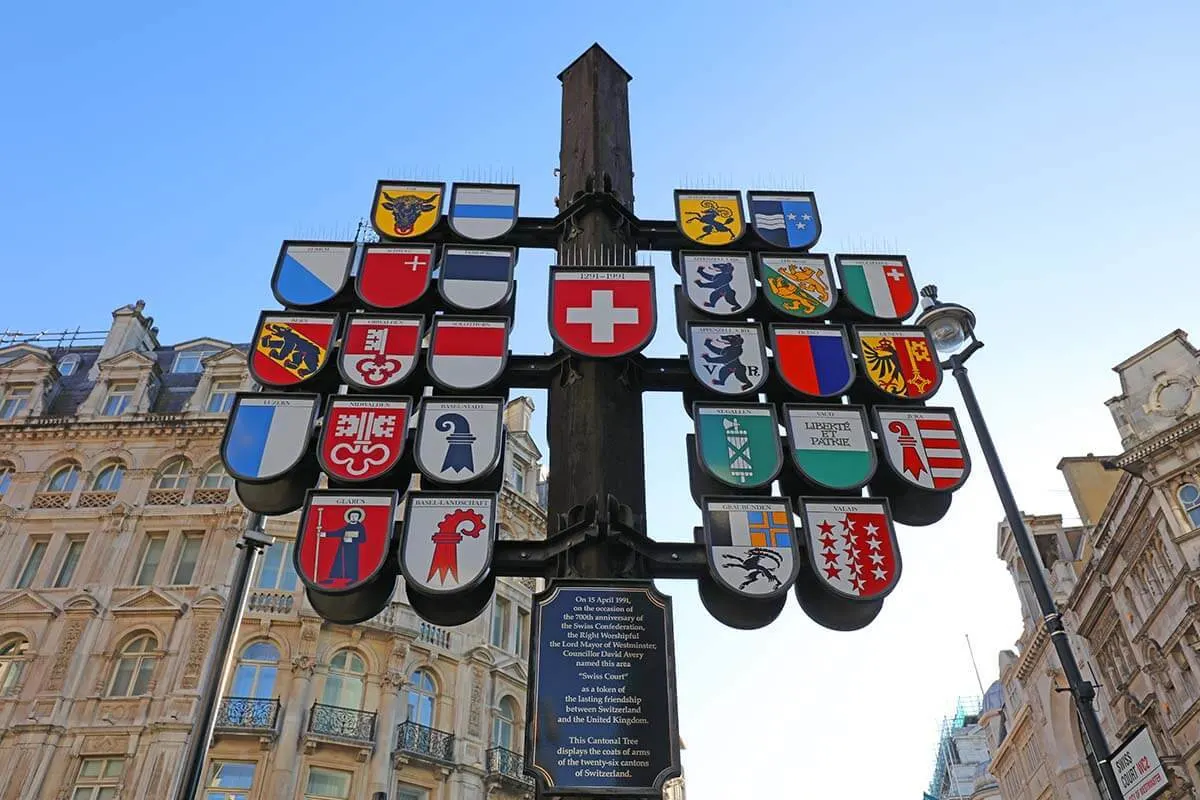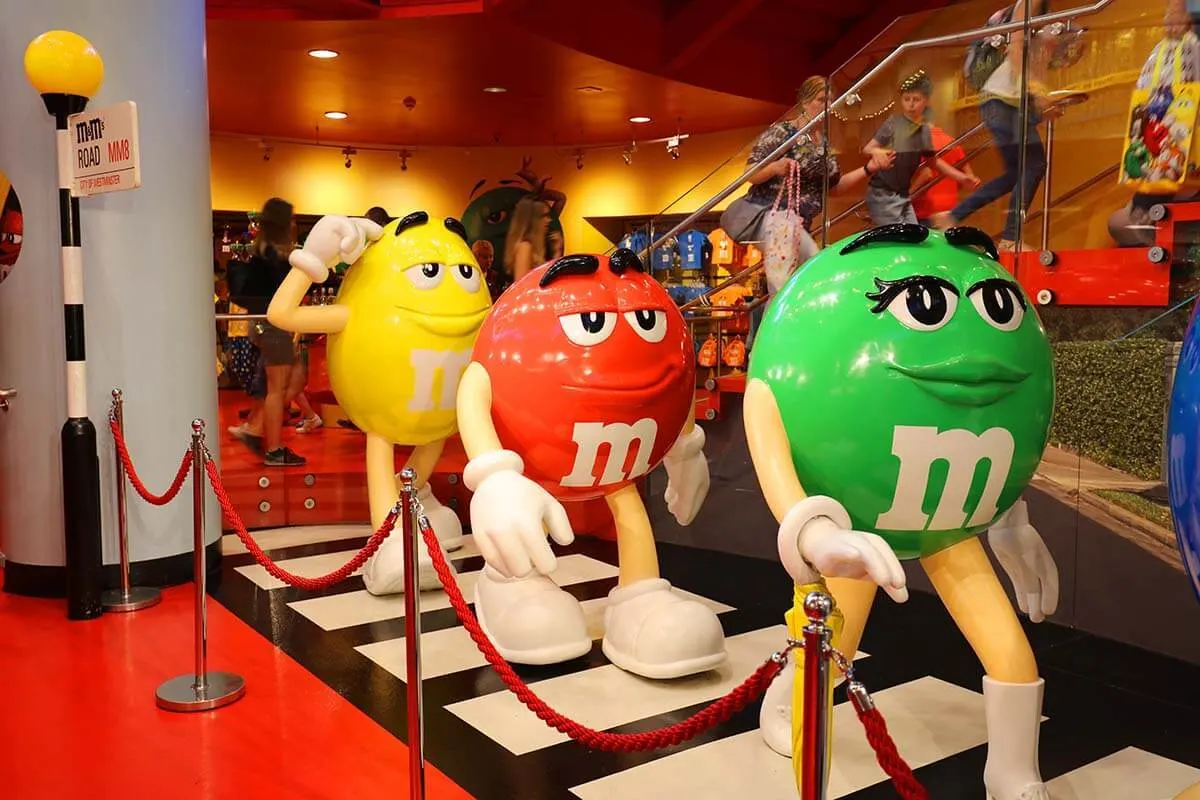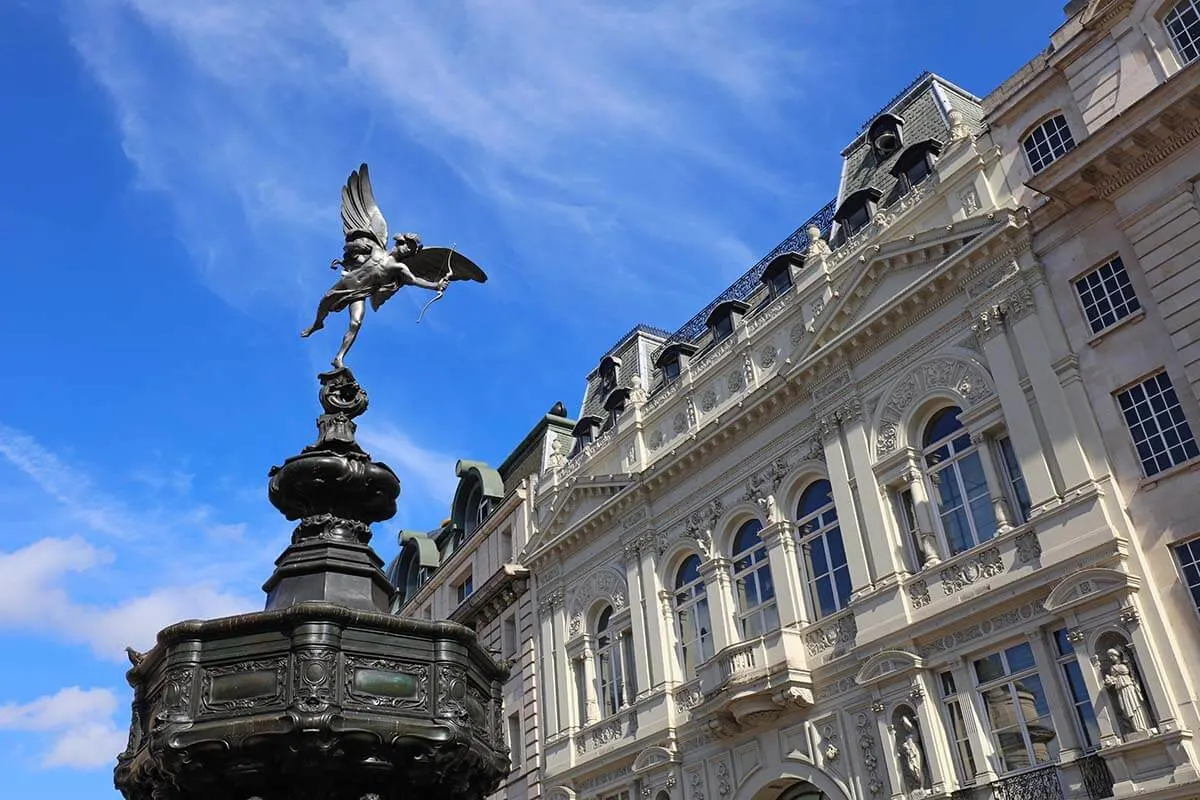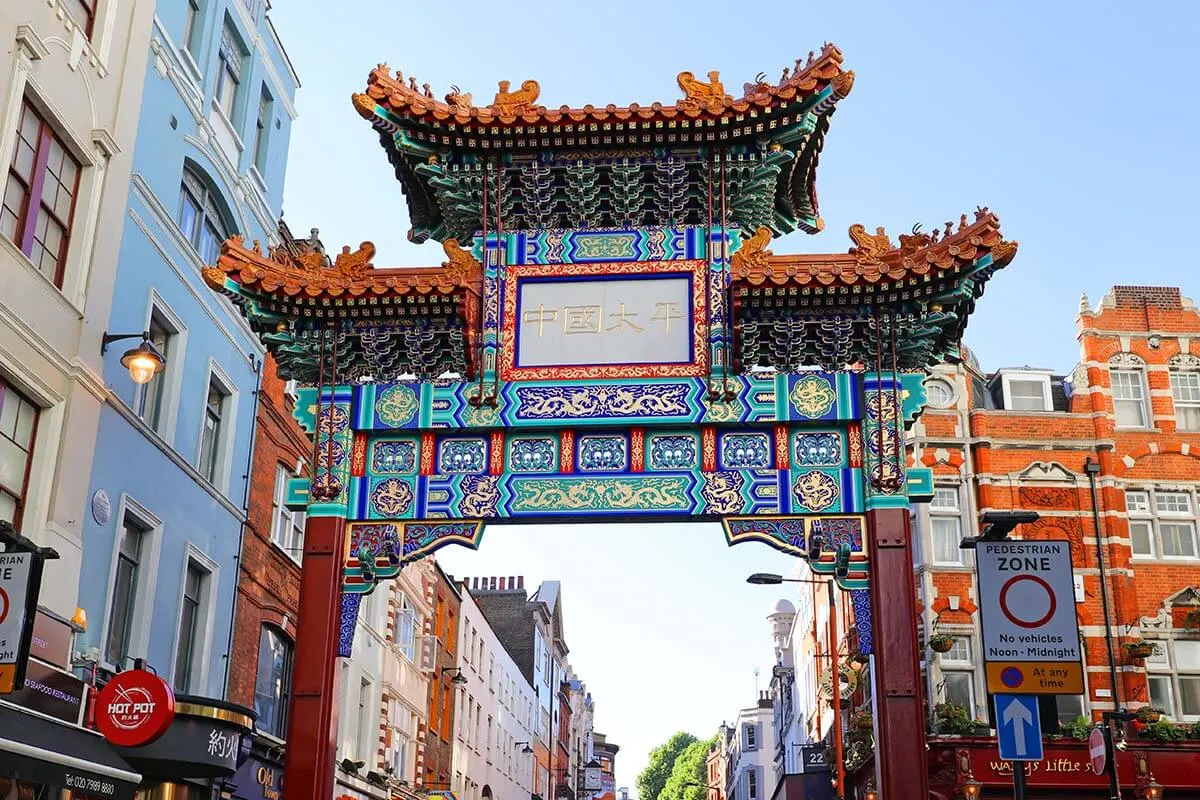 Covent Garden
Just next door, you'll find one of the coolest areas in the center of London, Covent Garden. Not only is it home to some awesome theatrical productions, but there are also exciting street performers to watch, good cafes and restaurants, and cool independent shops to look inside.
Covent Garden Market is a must, with its 19th-century glass roof and fantastic architecture. Also Covent Garden Infinity Chamber is nice to see.
This is a wonderful place to be at any time of the day, and if you want to watch a musical in London, you'll want to get back to this area in the evening as well. But it's also a really good area to come for lunch, with countless good restaurants and cafes. Whether you want to try some traditional British food, get a pizza, or try some of the best curries in town, you'll find plenty of choices here.
TIP: Check out the colorful little square known as Neal's Yard. It's one of the hidden gems of London and a nice place to check out if you are nearby anyway. From here, it's just 10 minutes walk to your next stop, the British Museum.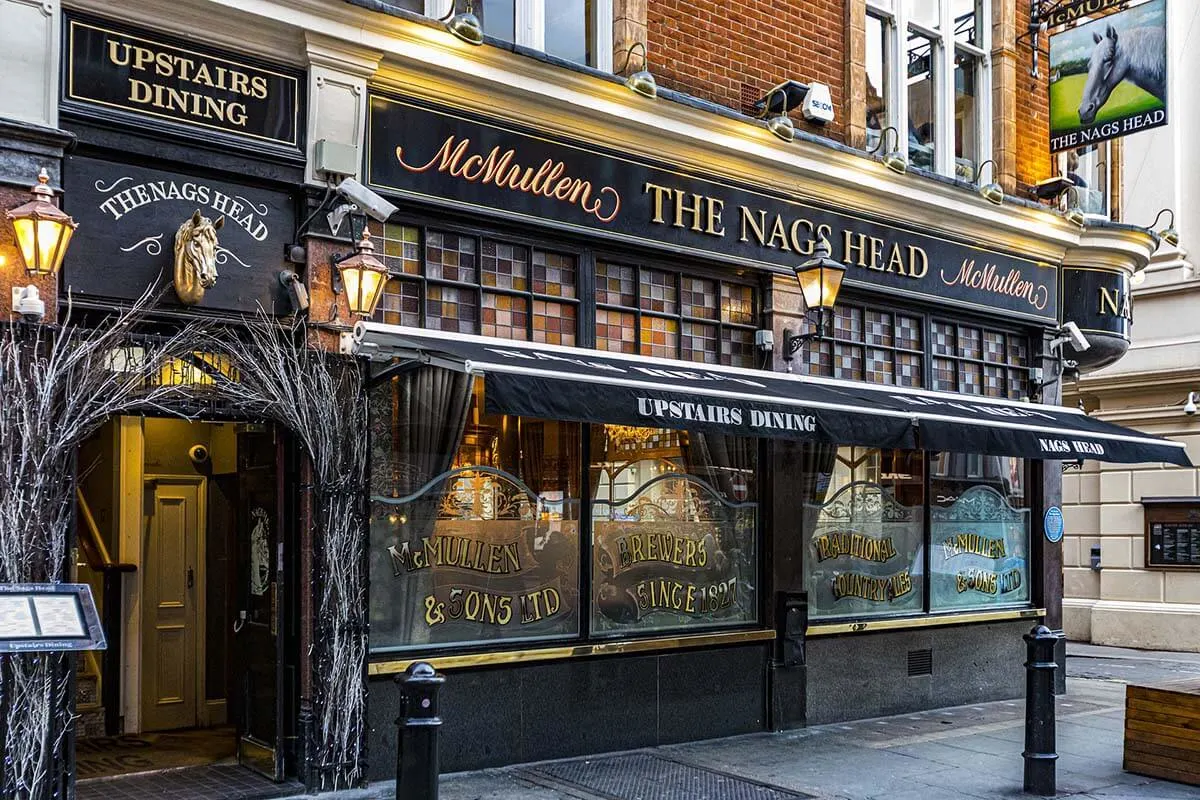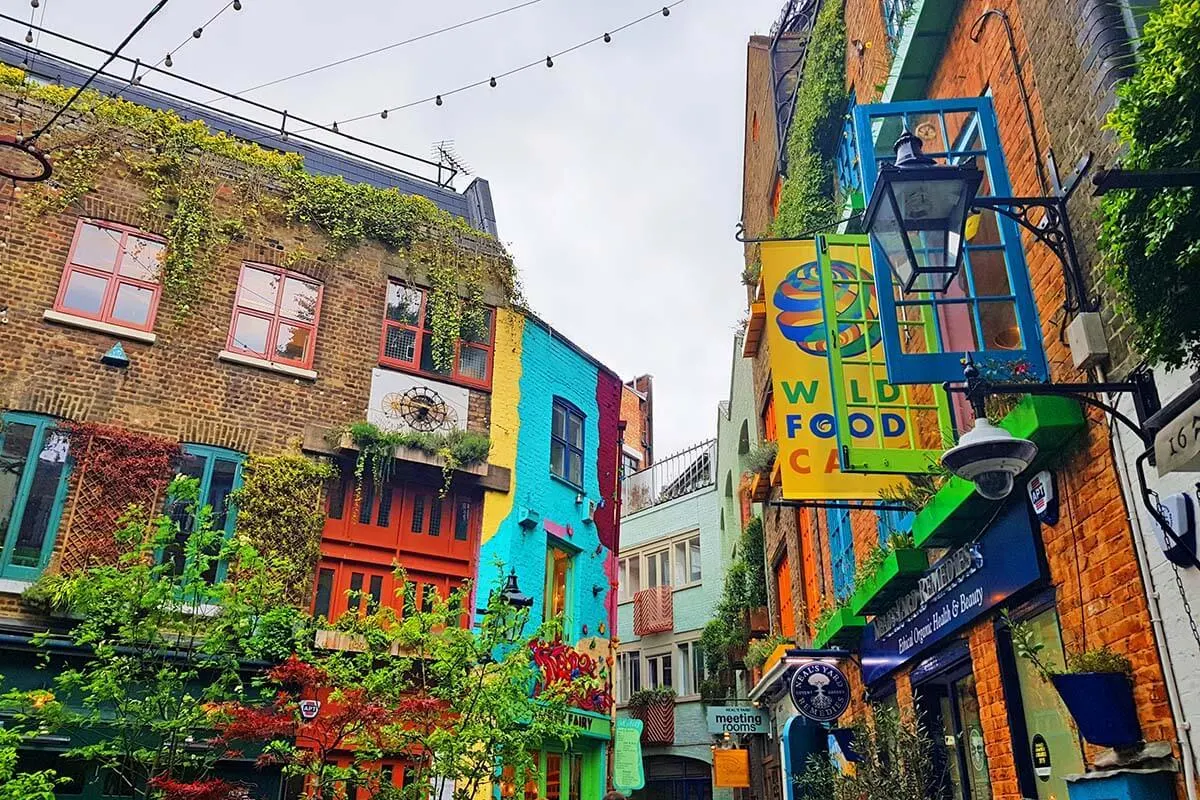 British Museum
British Museum is another place that we recommend to anyone visiting London for the first time. Talk about impressive architecture! From the outside, this museum's huge stone columns are reminiscent of the Parthenon. Walk through the front door, though, and you're met with this vast, modern, light, and airy space with an eye-catching domed glass ceiling.
It's like stepping back in time and into the future all at once.
But you don't come to the British Museum just to gape at the architecture. There are 60 epic galleries in this monumental space, including exhibits on Ancient Greece, Africa, the Americas, the Middle East, and so on. And, of course, don't miss the Egyptian mummies!
Basically, if you visit just one museum in London, British Museum is the place to go. It's one of the best museums in the world!
Good to know: Also here, entry is free of charge (although you may have to pay to see certain temporary exhibits). For more information, please see their website. And also here, you could spend days and even weeks and not see everything. But even if you only have an hour or two, it's well worth it.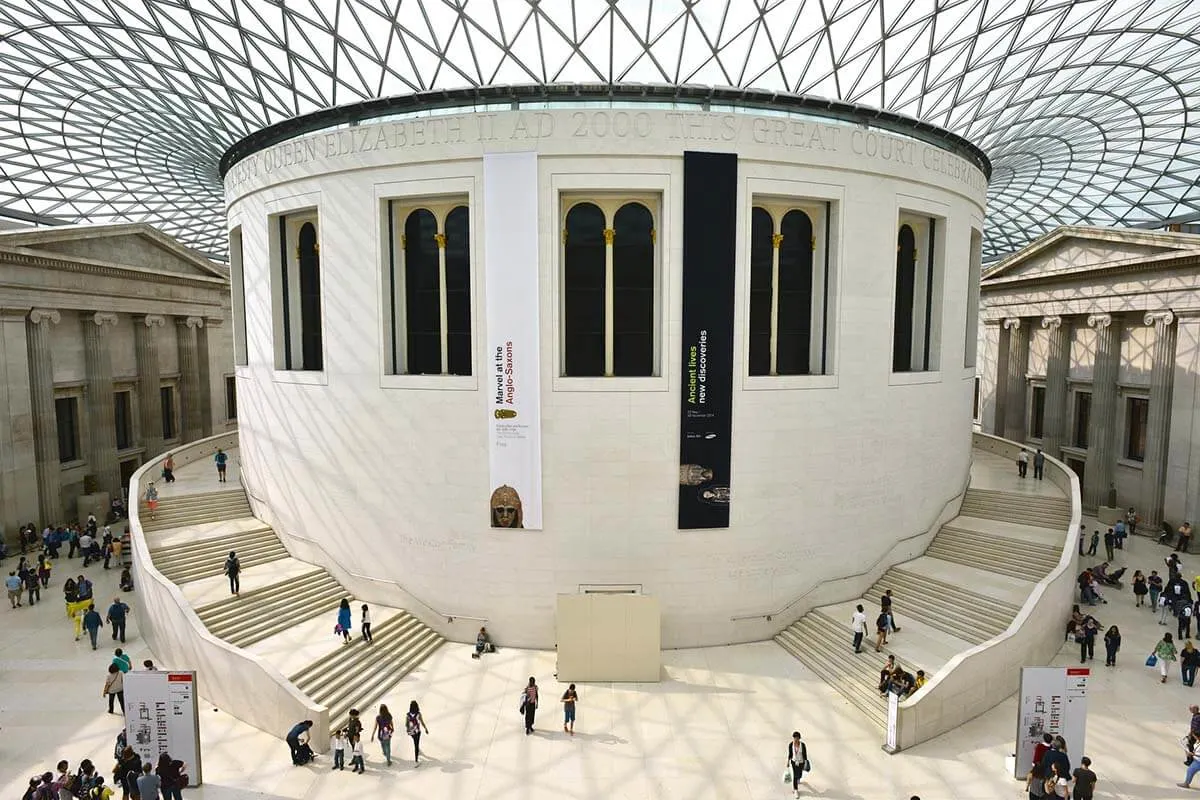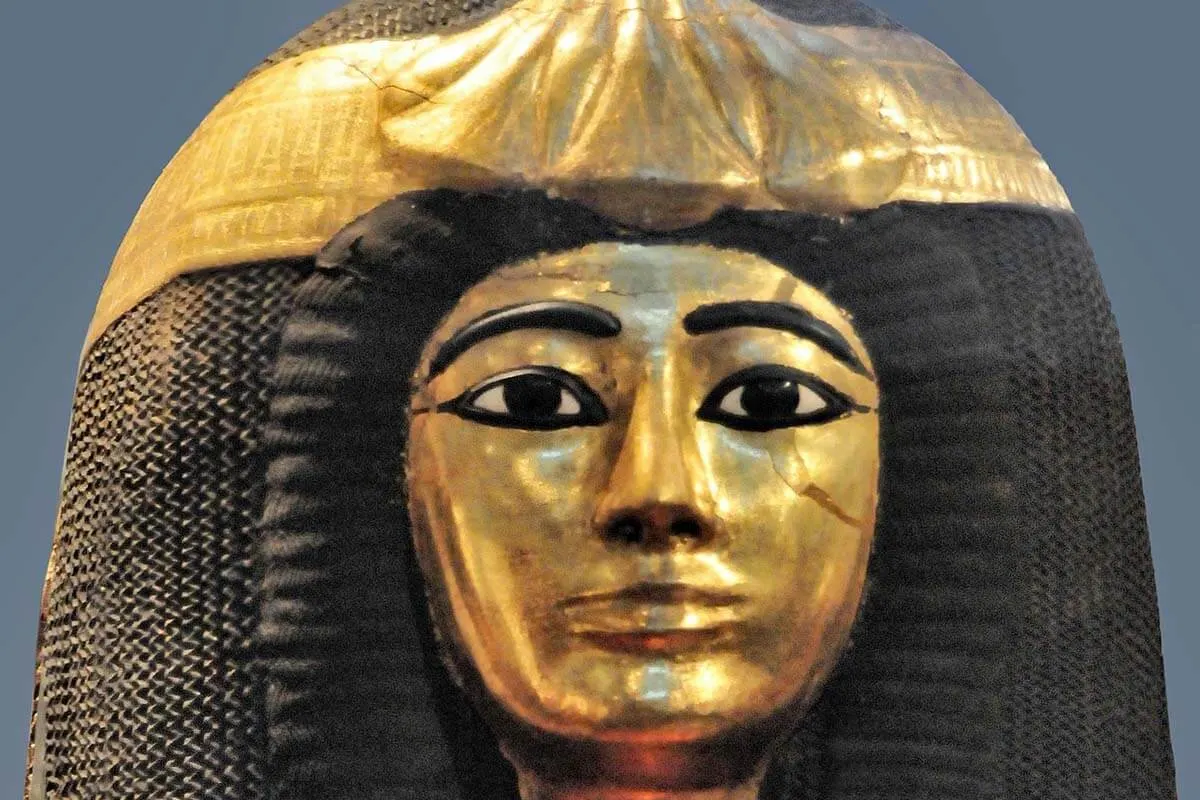 The Regent's Park
After exploring the British Museum for a couple of hours, it's time to stretch your legs again and take the mile-long walk up and across to the Regent's Park. A personal favorite, Regent's Park's downright gorgeous. Large, circular, and home to an open-air theatre, a glass-clad café, and mile after mile of walking paths, it's a great green space for chilling out on a sunny day.
Walk, sit, grab a coffee from the café, and relax for a while. On the southern side of the park, you'll find Madame Tussauds, and on the far north end of the park, you can visit the much-loved ZSL London Zoo. If you still have the energy, you could visit one of the two, but definitely not both. Alternatively, for amazing views over London, you could cross the canal and go up Primrose Hill.
TIP: If you want to get a bit off the beaten path in this part of London, head to Little Venice. From there, you can take a boat on Regent's Canal to Camden Town, your next destination on this itinerary. On the other hand, if you are already at the northern side of Regent's Park, Little Venice is really out of the way and it's much quicker to just walk to Camden (and you can also follow the canal).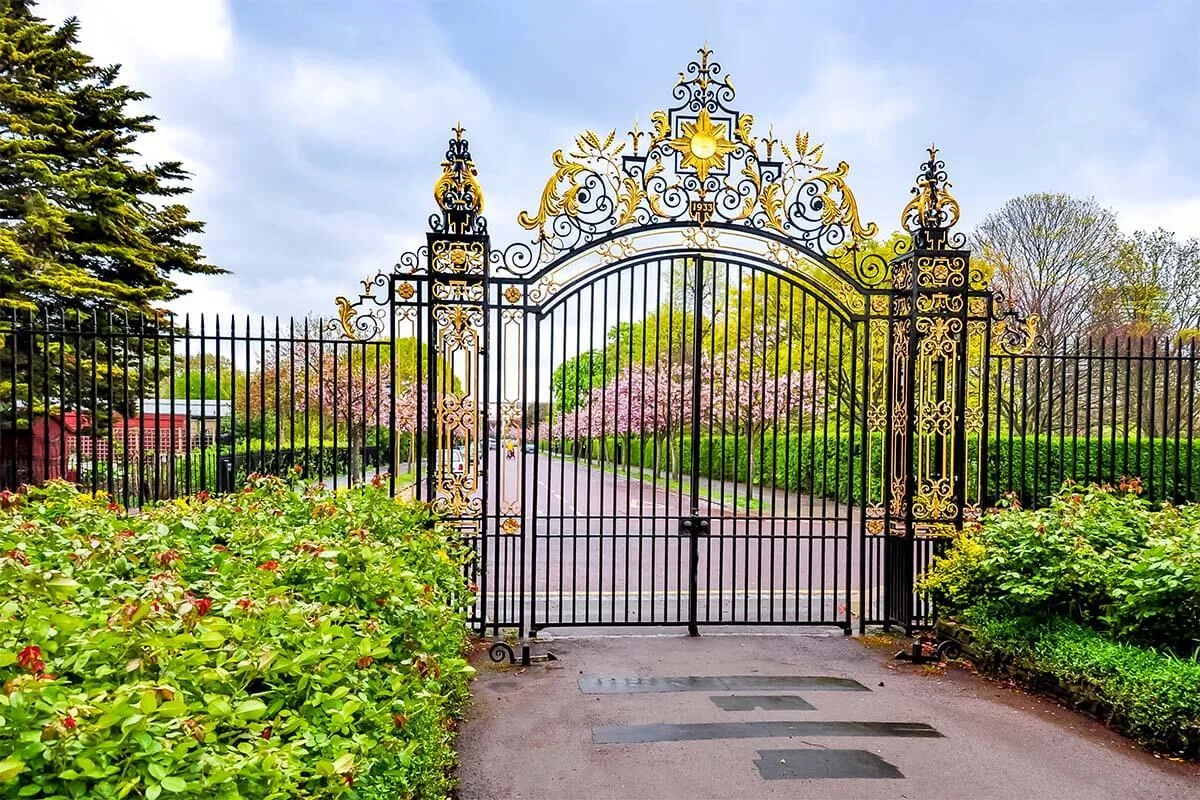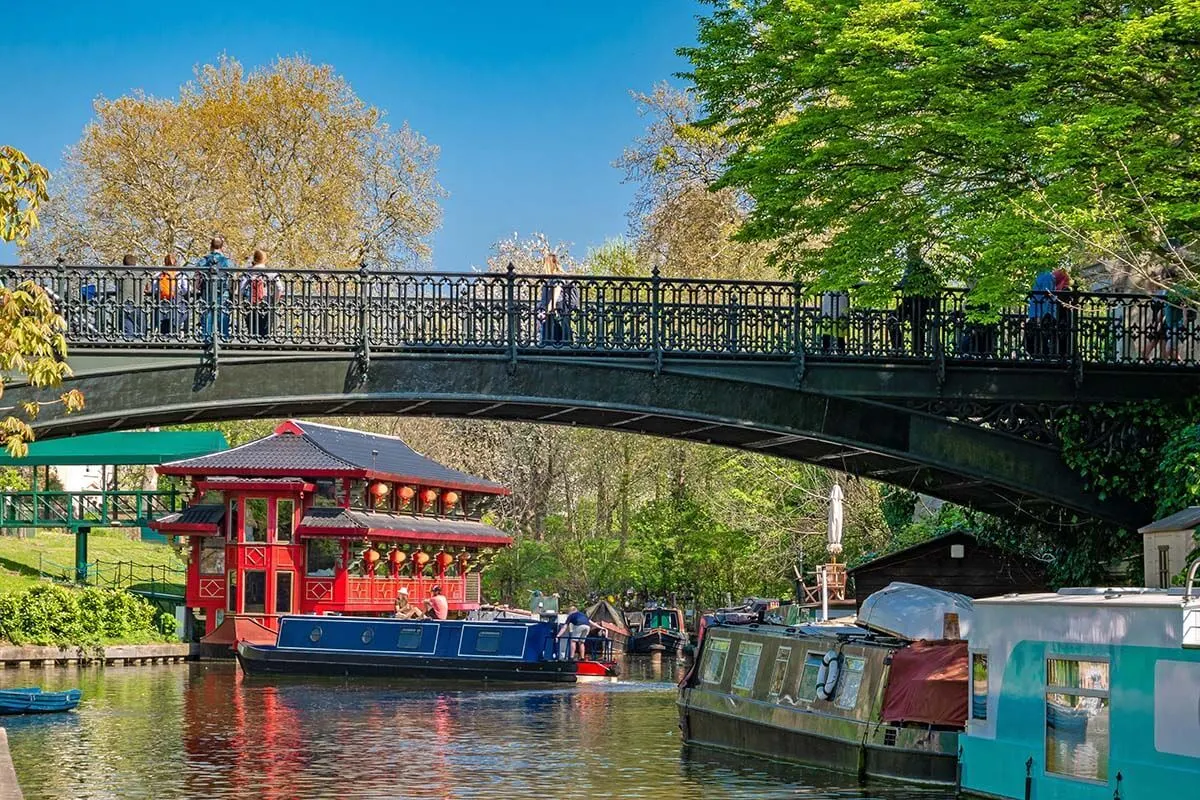 Camden Town & Market
Camden Market is the last destination on this 2 day London itinerary and you could spend the entire evening here. If you are walking from Regent's Park, exit the park on its northeast side and walk a short way down the road to enter the incomparable Camden Town.
With the canal running through its center and countless shops, bars, clubs, and restaurants, Camden is a perfect (more local) place to end your busy day in London. There's a lot to see and do here, yet I highly recommend starting with the Camden Market (because most stalls will start to close at around 6 PM, whereas restaurants stay open late).
This is a sprawling, eclectic venue with thrift stores, upmarket street food stalls, and independent shops that sell all manner of interesting trinkets. You really won't want to miss it!
Good to know: Camden Market is open daily, from 10 am to late (see here for more info). So it's a great place to stay for dinner. The best way to get back to the city center from Camden is by taking the tube, which takes just 15-20 minutes.
LEARN MORE:
Best Things to Do in Camden Town
Camden Market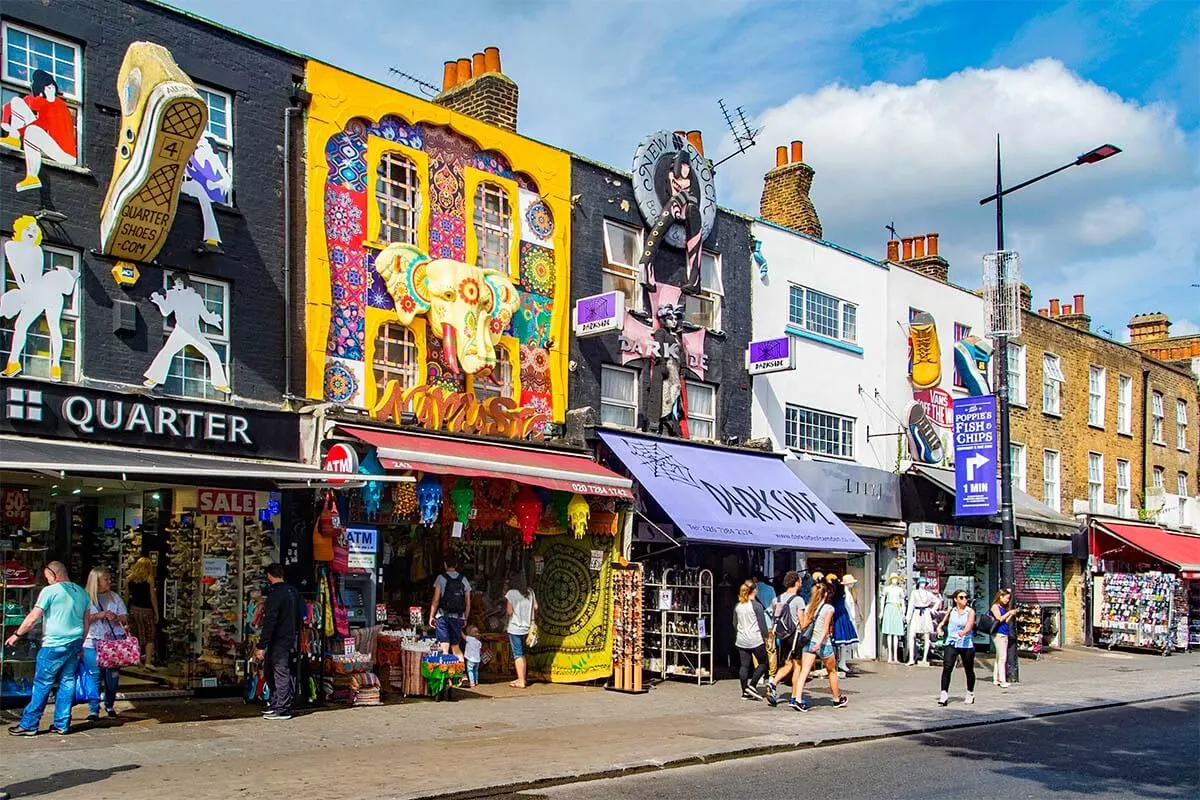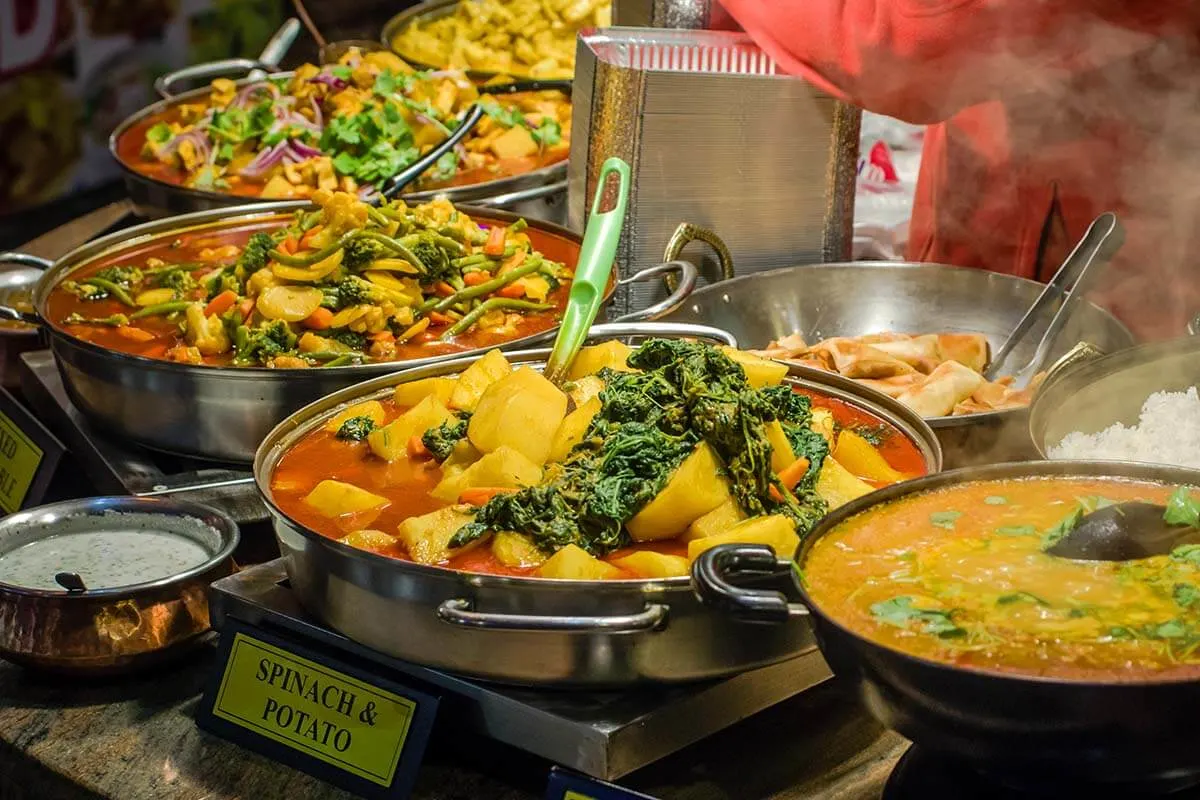 Theater / Show
If you want to get the absolute most of your 2-day visit or a weekend in London, you could head back to the city center and watch a show or a performance at one of London's theaters.
In that case, it's likely that you'll have to cut some of the other activities short or skip one museum. Otherwise, your day would be too rushed, but it's definitely possible.
Most theaters are located near the Covent Garden / Leicester Square area where you started this morning.
Ideally, you book your tickets well in advance, especially if you want to see a specific show and get good seats. Otherwise, you can always try one of the ticket offices near Leicester Square to see if there are any last-minute tickets available (but you would have to do this when you are in this area in the morning and not right before the show).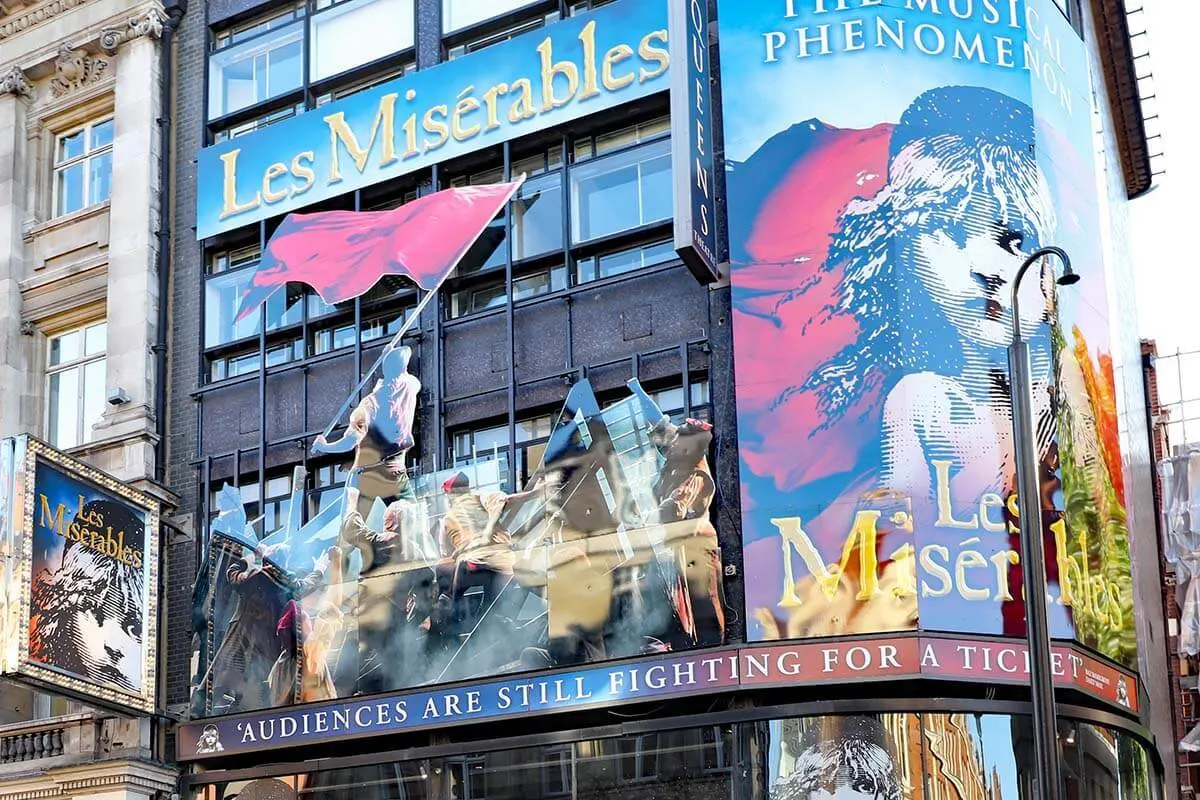 2 Days in London Itinerary & Map:
DAY 1:
Hyde Park.
Buckingham Palace & Changing of the Guard.
St. James's Park & Horse Guards Parade.
10 Downing Street.
Westminster Abbey (get timed-entry tickets if you want to visit inside).
Houses of Parliament & Big Ben.
London Eye (get (fast-track) tickets in advance!) (+ The Vaults – optional).
Thames Cruise from Westminster to Tower Bridge (boat ticket and info).
The Tower of London (be sure to book tickets if you want to visit inside!).
St Dunstan in the East (optional).
Tower Bridge (get tickets if you want to visit inside!).
The Shard (also here, you absolutely have to book timed-entry tickets).
DAY 2:
How to use this map: Use your computer mouse (or fingers) to zoom in or out. Click on the icons to get more information about each place. Click the arrow on the top left corner for the index. Click the star next to the map's title to add it to your Google Maps account. To view the saved map on your smartphone or PC, open Google Maps, click the menu and go to 'Your Places'/'Maps'. If you want to print the map or see it in a bigger window, click on 'View larger map' in the top right corner.
Getting around
If you read our 2-day London itinerary carefully, you should have noticed that most of the time we advise walking between the main attractions in London. In some cases – for longer distances – it's best to take the tube, and sometimes a boat. Either way, be sure to wear comfortable shoes because you'll be walking a lot!
Walking is really the best way to explore central London. Driving is out of the question and taking a taxi is expensive. Plus, you really don't want to get stuck in the city's notorious traffic. Furthermore, most of London's main attractions in the center are really close to each other. Also, walking from place to place is the best way to soak up London's unique atmosphere, traverse the age-old streets, and notice the tiny details you might miss otherwise.
And if you don't want to walk more than necessary, public transport in London is a great alternative (i.e. reliable, efficient, and fairly budget-friendly). Once you've mastered it, the extensive metro system (aka "the tube") will take you all over the city in good time. Otherwise, London's famous double-decker buses run 24/7 and will take you to most places too (just expect the journey to take longer!).
Good to know: Public transport in London is cashless. You can only pay using a contactless debit card, your smartphone (assuming it has mobile payments setup), or what's called an "Oyster Card". Alas, this last option has nothing to do with oysters! A credit-card-sized piece of plastic, you buy it from train stations, payment booths in underground stations, etc. and use it as a pre-paid card for getting around.
If you are planning to take the bus and metro instead of walking (or if your accommodation is far away), you can also opt for a 1-day transport card. You pay once, for the entire day, and don't have to worry about anything.
TIP: If you are not feeling fit enough to walk everywhere and want to make the most of your time in London, you can also opt for hop-on hop-off buses. They have 1, 2, and 3-day tickets, and all tickets include at least one ride on the Thames River cruise.
Where to stay
With transport covered, another most important thing to decide when planning a trip to London is where to stay.
London has thousands of accommodation options for all budgets, and using the tube allows you to quickly cover big distances. Still, if you only have a few days in London and want to make the most of your stay, we highly recommend staying as centrally as possible. This will make your trip so much more enjoyable!
For this itinerary, we recommend staying in the area around Covent Garden/ Trafalgar Square. The location is great for sightseeing, public transport connections are good, and there are many restaurants, cafes, bars, and a big variety of things to do day and night. The majority of London theaters are also located nearby, making it easy to catch a show in the evening.
Here are some of the best hotels in this area:
If you are looking for a lower budget stay in central London (although 'budget' is a relative term in the city center), then take a look at the Waterloo Station area (10 minutes walk to London Eye or Westminster Bridge). It's one of the few places in the center where you'll be able to find good quality budget accommodation. Here are two of the best choices in this area:
READ ALSO: Where to Stay in London for First Time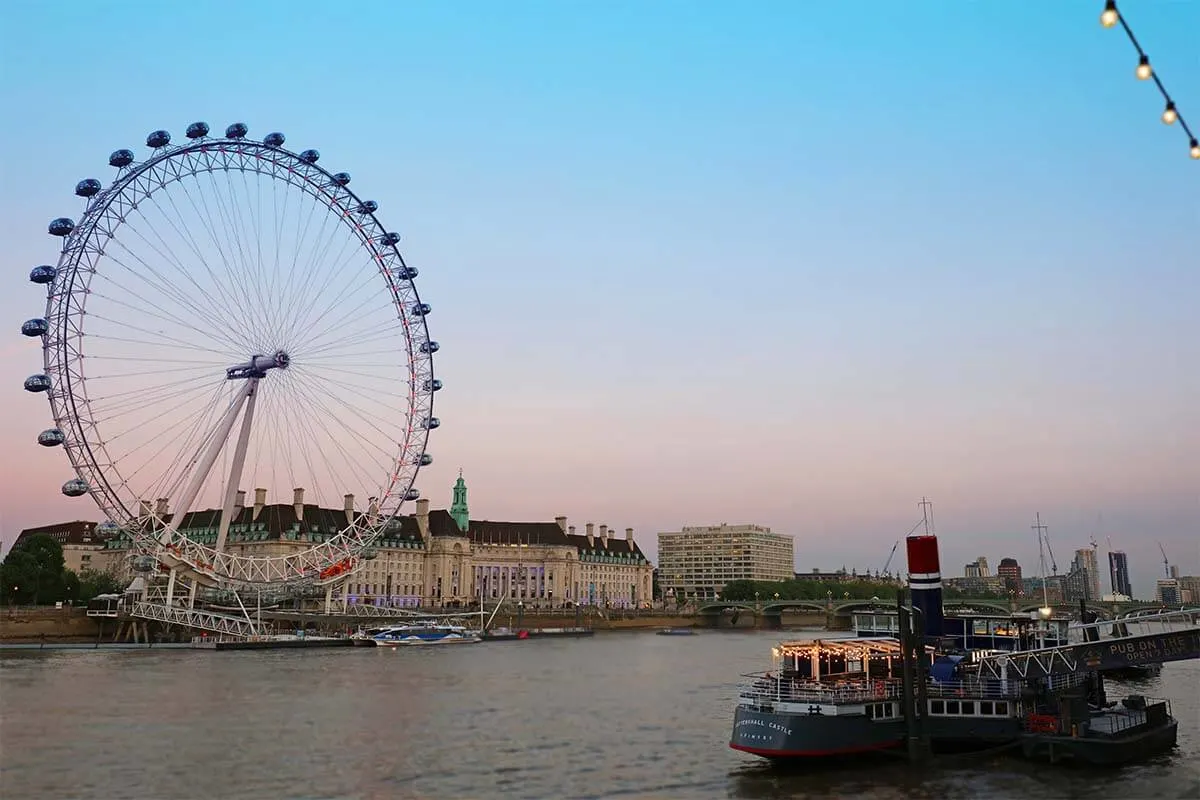 Good to know
Are two days enough in London?
You won't be able to visit all the main landmarks of London in two days. However, if you plan well, in 2 days, you can see most of the 'musts' of London and also visit a few museums and tourist attractions. Our itinerary above should help you make the most of your short visit.
How much time do you need in London?
Ideally, you plan at least 3-4 days in London, plus a few days for the surroundings. This would allow you to explore the main attractions a bit deeper and at a more relaxed pace, and also visit a few interesting places nearby. An ideal first trip to London would be about 5-8 days: 3-4 days for the best of the city, 1 day in Greenwich, and 2-3 days for some of the best day trips from London.
Is London worth it for just two days?
Even though two days will be rushed and you won't be able to see everything, visiting London for 2 days is absolutely worth it. You'll be able to see most of the main highlights, visit a few attractions, and get a good idea of what London is like. No doubt, you'll want to come back for a longer visit! But if two days is all you got, then definitely go. You won't regret it. In fact, it's well worth it even if you have only one day in London too!
So, this is our recommended London 2 day itinerary. We hope that it will help you make the most of your trip to London. Of course, you can adjust this to your liking and pick and choose as you see fit, but this gives you an idea of what can be done in two days and how you could best plan your time if you want to see as much as possible.
The good news is that anything you choose to do will be great because London is full of amazing places!
If you have any questions about this itinerary, feel free to leave a reply below, and we'll try to help. Be sure to also check our other guides to London, especially the one with the tips and tricks for your first visit. See below!
READ ALSO: London Travel Tips for Your First Visit
More travel inspiration & information for your trip to London:
More travel inspiration for your trip to the UK:
If you found this post useful, don't forget to bookmark it and share it with your friends. Are you on Pinterest? Pin these images!