Are you thinking of taking a whisky tour in Scotland, but not sure what to expect or which tour to choose? My husband is passionate about Scottish whisky and recently he did a Scotland whisky tour from Edinburg. In this article, he shares his Scotch whisky tour itinerary and first-hand experiences. Find out!
UISGE-BEATHA. These were the first words my husband said to me after exploring the Scottish Speyside region on a 3-day whisky tour in Scotland. I wondered if he had too much whiskey, but then he proudly explained that it meant 'Water of Life' in Scottish Gaelic.
And then he told me about the fairies that turn into sheep, Edinburgh penguins, and an angels' share of whiskey… Apparently, he had lots of fun on this Scottish whiskey tour.
So I asked him if he could share his experience from the Speyside Whisky Trail for my blog. He was happy to finally cross the Scottish whiskey tour off his bucket list and tell us all about it. Whisky is a huge part of Scottish culture and going on a distillery tour is such a great way to get to know this beautiful country.
Good to know: In this article, we share a detailed itinerary of our 3-day Scotland whisky tour, exactly as we did it. At the bottom of the article, you can also find a short itinerary overview with practical tips and accommodation recommendations. Read on!
TIP: If you don't have the time to read the whole article and are just looking for the best whisky tour starting from Edinburg, here you can see more info about the tour that we did and recommend.
You can also book this same tour via GetYourGuide, our favorite one-stop shop for booking tours and activities worldwide.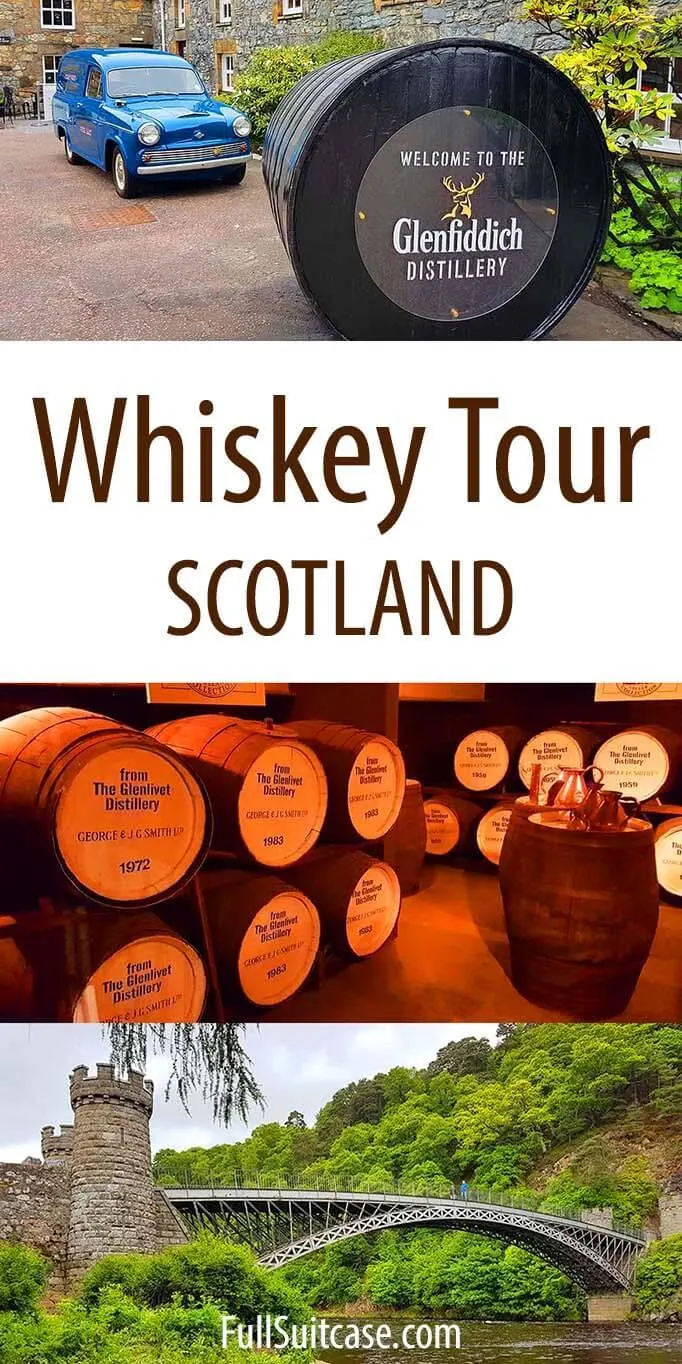 Why Take an Organized Whisky Tour
Making a whisky tour in Scotland, UK had been on my bucket list for a long time. However, I couldn't imagine visiting a whiskey country without enjoying a dram here and there. And drinking and driving didn't seem like a good idea…
So this was one of the occasions to consider an organized tour. I didn't want to sit on a bus with 50 other tourists though. After some thorough research, we found this beautiful 3-day Speyside Whisky Trail tour with a small group starting from Edinburgh. It turned out to be an excellent choice and I'd do it again in a heartbeat!
Just to make things clear from the start – this tour was not sponsored. We chose Rabbie's because of their impeccable reputation and specialized tours that travel deeper, go off the beaten path, and show you more than you would be able to discover on your own. They have a great selection of all kinds of small-group tours in England, Ireland, and Scotland, so it's definitely worth taking a look for some travel inspiration.
Scotland Whiskey Tour: 3-day Itinerary from Edinburgh
This Scottish whiskey tour itinerary includes a detailed description of our trip. I share all the details about the distilleries and landmarks that we visited during the three days in the Speyside region.
So you could probably follow this itinerary and make your own self-drive whiskey tour in Scotland. However, I strongly advise not to do this, unless you have a designated driver who doesn't drink at all. Give yourself a break, relax, and enjoy a Scottish whiskey tour with a tour guide.
Distillery tours are also easier to do when arranged in advance. You can take advantage of the group rates and you don't have to feel obliged to buy any whiskey if you don't feel like (which is usually difficult to do if you show up there on your own).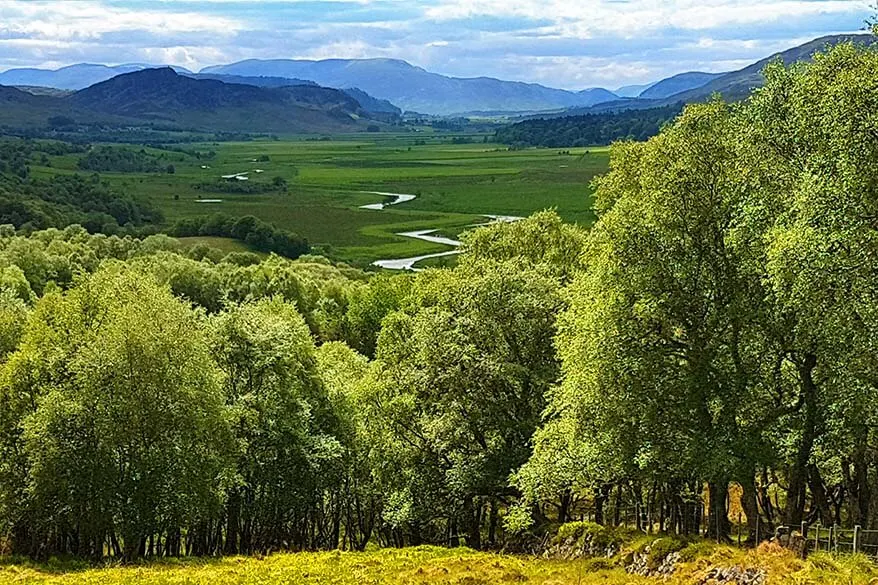 DAY 1: Edinburgh – Dunkeld – Dalwhinnie
We started our 3-day whiskey tour in Edinburgh, where we joined a small international group of whiskey enthusiasts. With just 9 people in a nice Mercedes minibus that could fit 16, this was going to be a comfortable trip. Our little group was very diverse: people came from Japan, Argentina, South Korea, and us, from Belgium.
David was our tour guide, driver, music arranger and, last but not least, joke and history teller (sometimes not sure which was which), and he showed up very appropriately in his Scottish Kilt.
And so our Sottish whisky adventure began…
Right after leaving Edinburgh, we made a first short photo stop at the impressive three Forth Bridges towards the Kingdom of Fife and the Cairngorms National Park.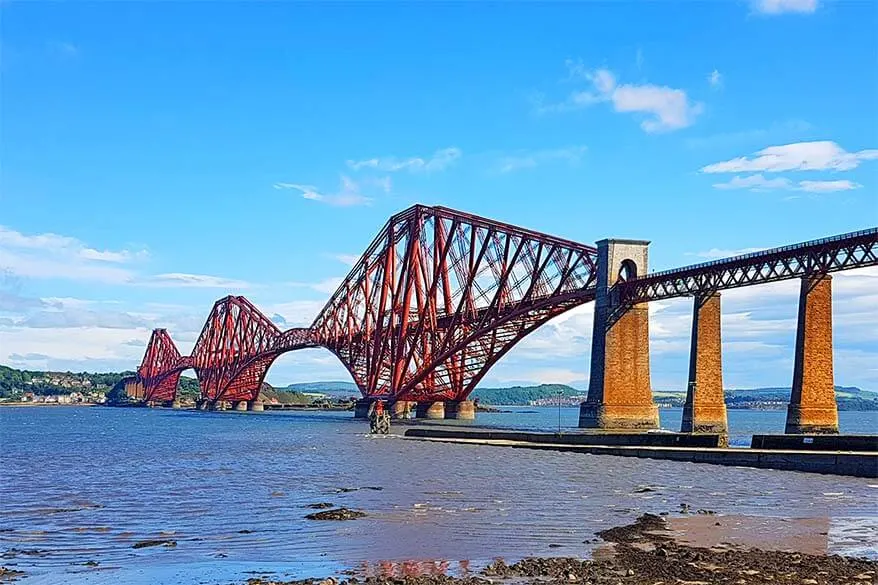 As expected, the Scottish landscape was very green, wide and open and filled with sheep. While we watched the beautiful landscape pass by, our guide explained that Scotland has more than 30,000 lakes or Lochs (one containing a well-known monster) and some 18 million sheep. He said that there were only 5.5 million people living in Scotland and yet the Scots had invented everything there is – from rubber tires to Sean Connery.
I will not share all the Scottish jokes our guide told us along the way, so you have something fun to look forward to if you take the tour.
Our next stop was in Dunkeld where we visited the cathedral by the riverside; a very romantic setting. Other highlights included The Hermitage in Dunkeld, Black Linn Falls, and Tay Forest Park in Highland Perthshire.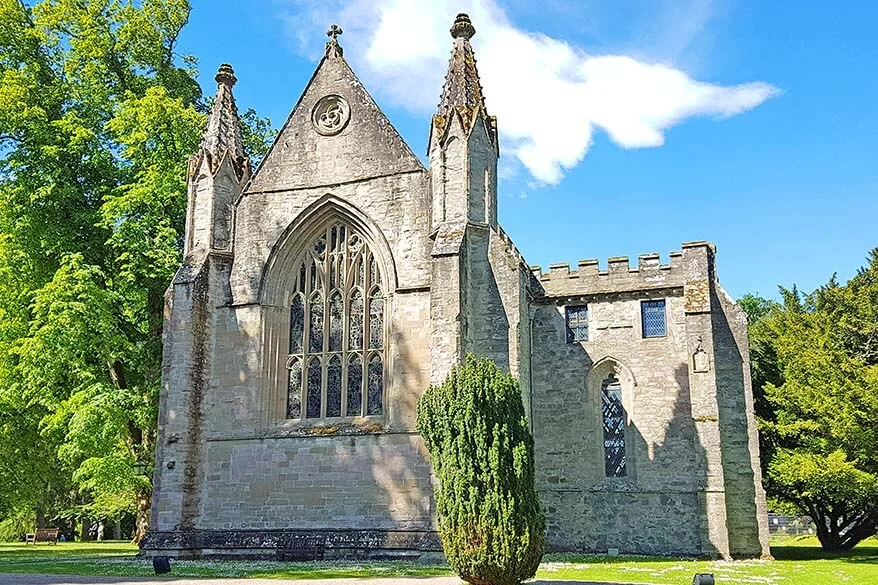 We stopped for lunch in Pitlochry, where we just had to try the famous Haggis (a savory pudding containing sheep's heart, liver, and lungs…) – it was surprisingly good!
During this trip, we made sure to order typical traditional British food for every meal. That's also what made the trip even more special!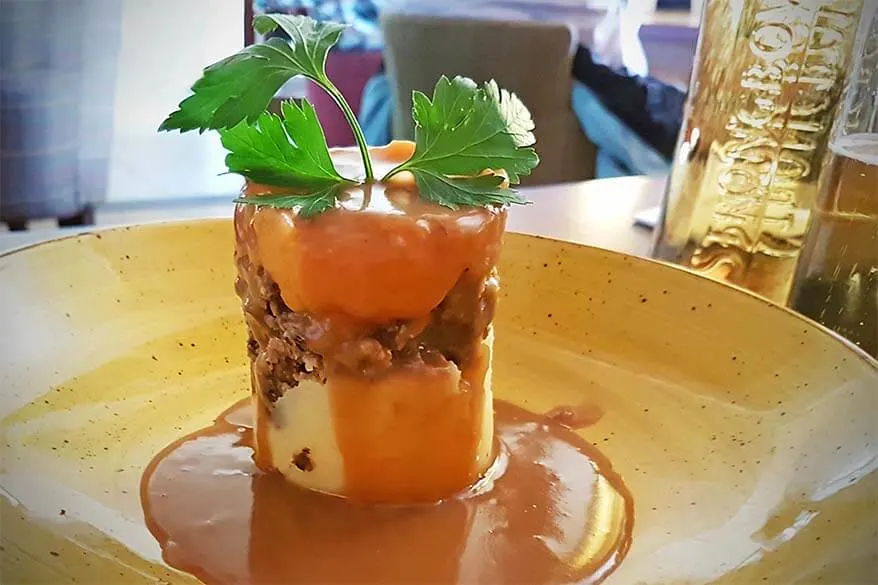 By now it was high time for our first whiskey stop! We visited Dalwhinnie, the highest whiskey distillery in Scotland. After an interesting guided tour around the distillery, we were happy to taste several drams of great 'water of life'.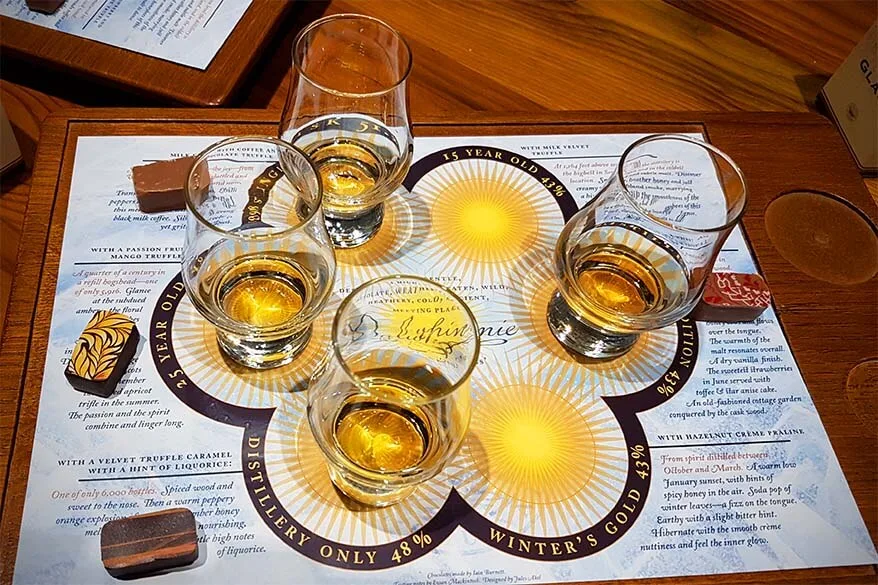 We then made a short photo stop at the Geographical Centre of Scotland before heading to Ruthven Barracks.
After all this culture and history the guide had a little surprise for us: we would go for a beer tasting in Aviemore's Cairngorm Brewery. With Belgians on the tour that was a risky experiment, but we were impressed by the collection of Scottish beers at the brewery and the wall-filling collection of prizes and awards.
If you like Scottish humor, you will appreciate the philosophy on the walls 'Men are from Mars, women are from Visa', 'No brain, no headache', 'I only have a kitchen because it came with a house'.. to name but a few.
We then made a last photo stop at Loch Garten before arriving in Grantown on Spey and our hotel for the next two nights.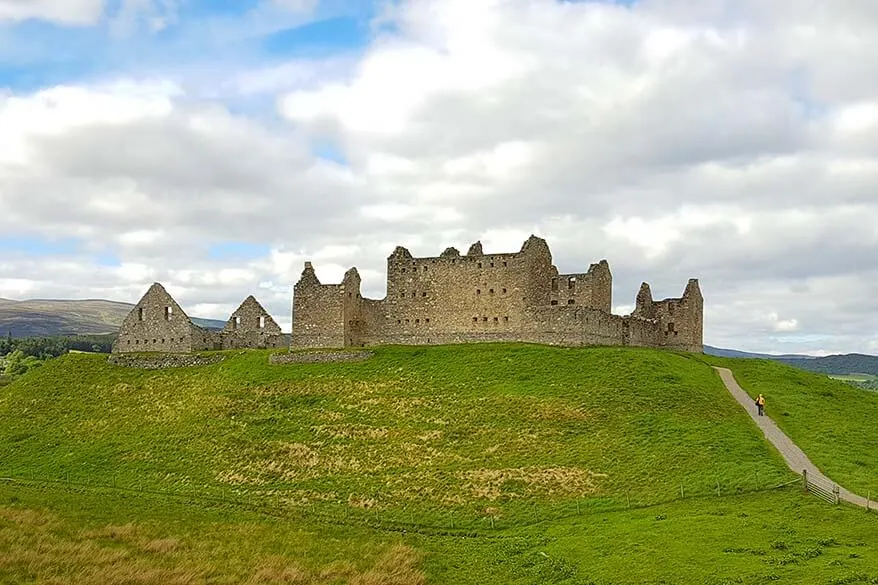 DAY 2: Benromach – Findhorn – Elgin – Gordon MacPhail – Glenfiddich – Cardhu
David had warned us that we would start the day with a visit to a distillery, so we made sure to have a good strong Scottish breakfast with haggis, black pudding, bacon & eggs… Benromach distillery, here we come.
We did the tour of this nice small-scale distillery where we learned everything about the whiskey maturing process, the barley, the malting, the importance of spring water and yeasts, peat, different types of casks and the effect these have on the taste and color of whiskey.
We also learned about the 'angels' share' (the whiskey that evaporates during the making process) and the effect of adding a small drop of water to the whiskey (definitely no Cola please!).
After the visit, we could, of course, taste the great whiskey. And it was still morning! There has to be a first time for everything. It was only after tasting the whiskey that I noticed that David was wearing jeans today instead of his kilt. So I concluded that whiskey sharpens your senses.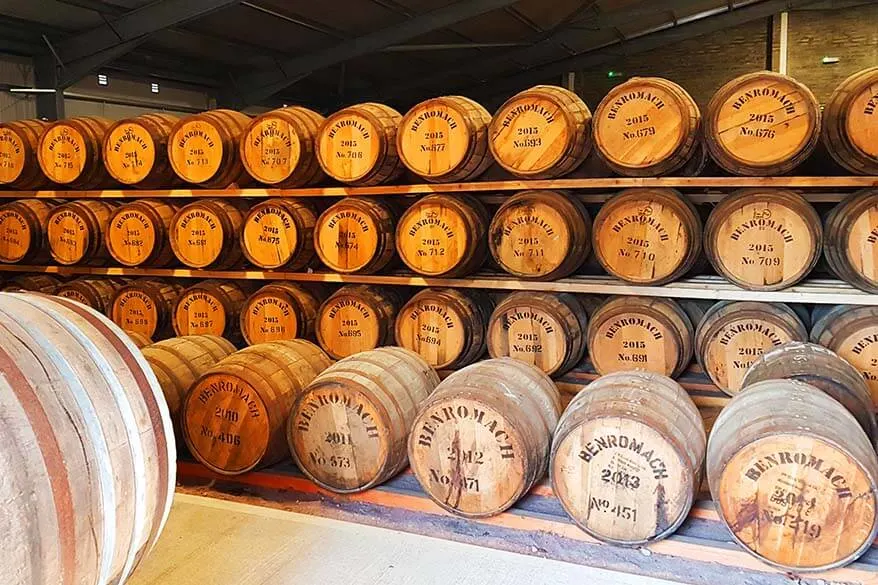 After Benromach distillery we stopped at Sueno's (Pictish) stone for 10 minutes. We all agreed that this was enough culture for the day.
On to the beach at Findhorn to let the wind blow through our hair. This was a place where I could sit for hours and just watch the beautiful stones and hear the waves roll. But this was a whiskey tour, and not a Scottish landscape tour, so off we went again.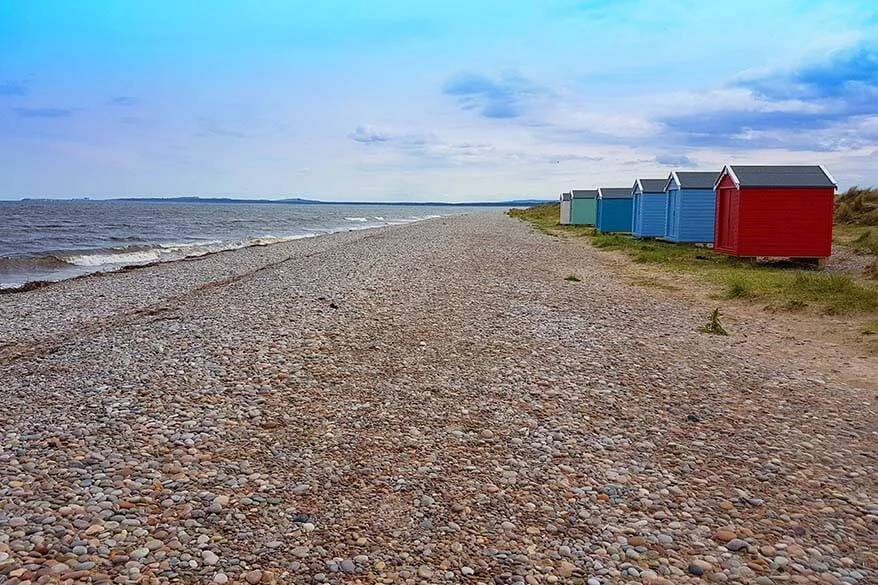 Our next stop was Elgin, where we visited the famous Gordon & MacPhail whisky retail shop which stocks around 1000 (!) different single malt whiskeys. We could sample some in the Whisky Room.
Elgin is also home to the beautiful ruins of a cathedral, so we made a short walk around the cathedral before stopping for lunch in Dufftown, aka the malt whiskey capital of the world.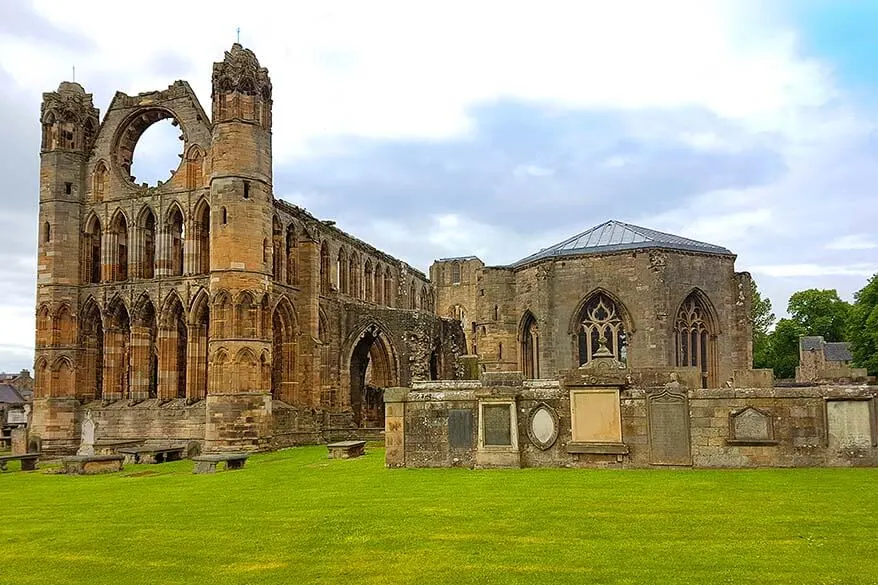 Later in the afternoon we enjoyed a nice Cullen Skink (typical Scottish fish soup) at the Glenfiddich whiskey distillery and walked up to the ruins of Balvennie Castle.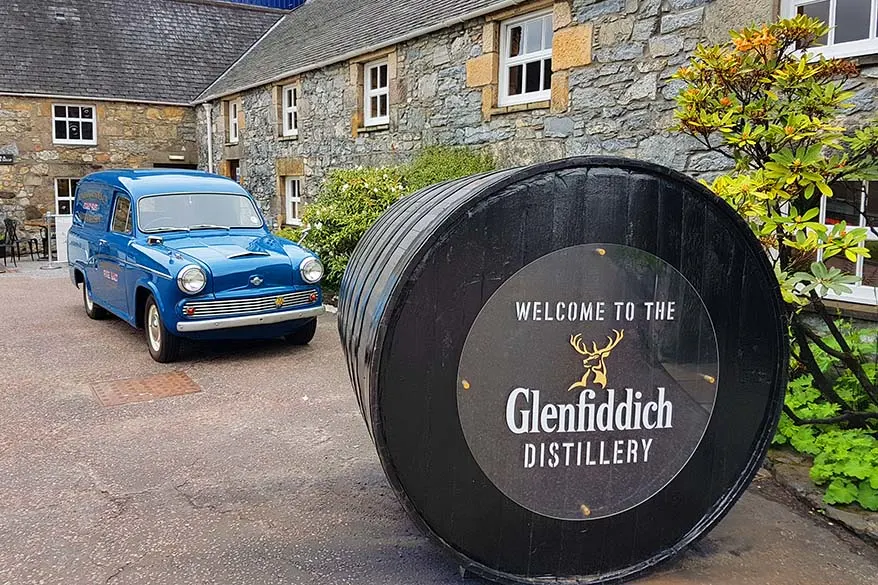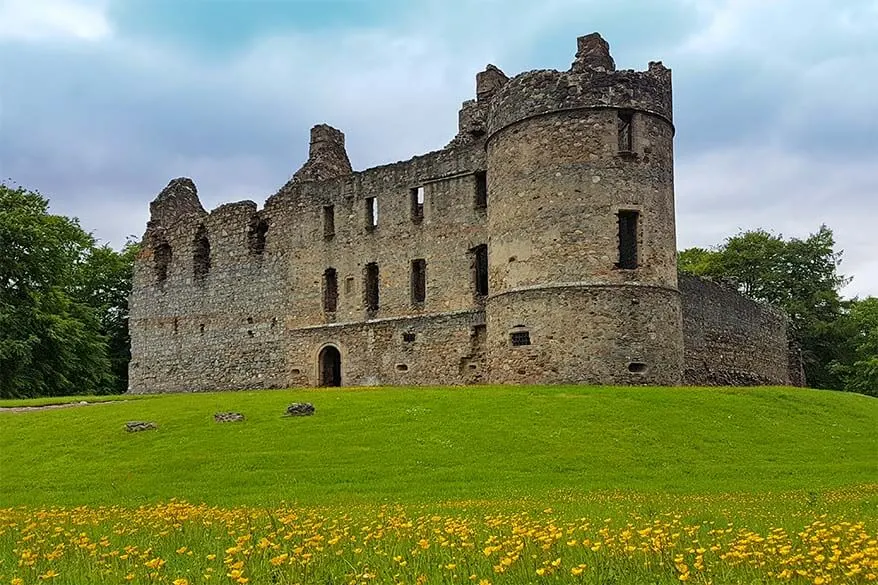 At the Glenfiddich distillery, you could create your own exclusive whiskey. And there was also a possibility to taste four kinds of Super Premium Range whiskeys for 1,250 £.
They also had the most expensive whiskey bottle we saw on this tour. Don't fall off your chair – 26,750 £. For one bottle.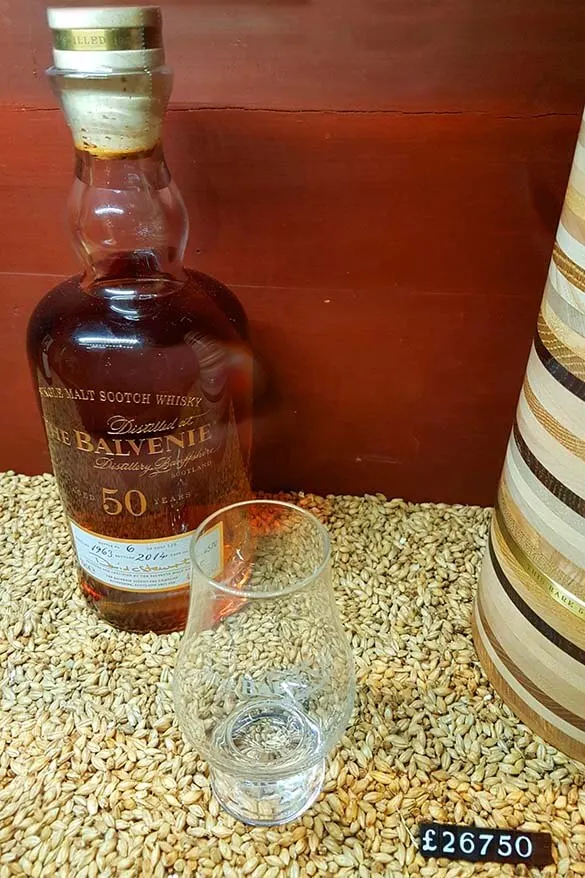 We also visited the Cardhu distillery and a place where they make/repair the whiskey casks. We could observe the coopers performing their heavy, but highly skilled work. Really impressive how they roll these heavy casks! Another beautiful stop was at the Craigellachie Bridge.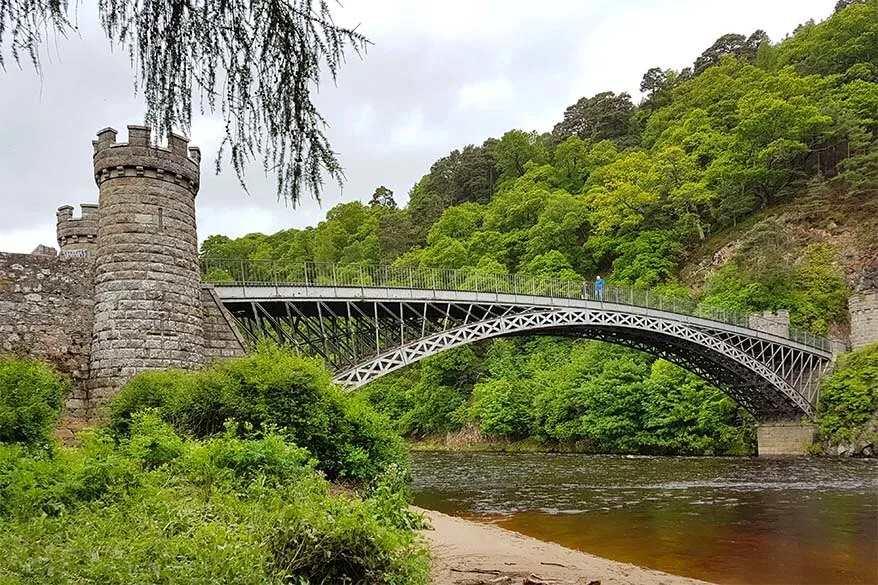 DAY 3: The Glenlivet – The Whisky Castle – Royal Lochnagar – Edinburgh
Our first distillery visit today was at The Glenlivet estate. If you know the Glenlivet, you probably have seen this little bridge on the logo, and we could see it right here. A beautiful place!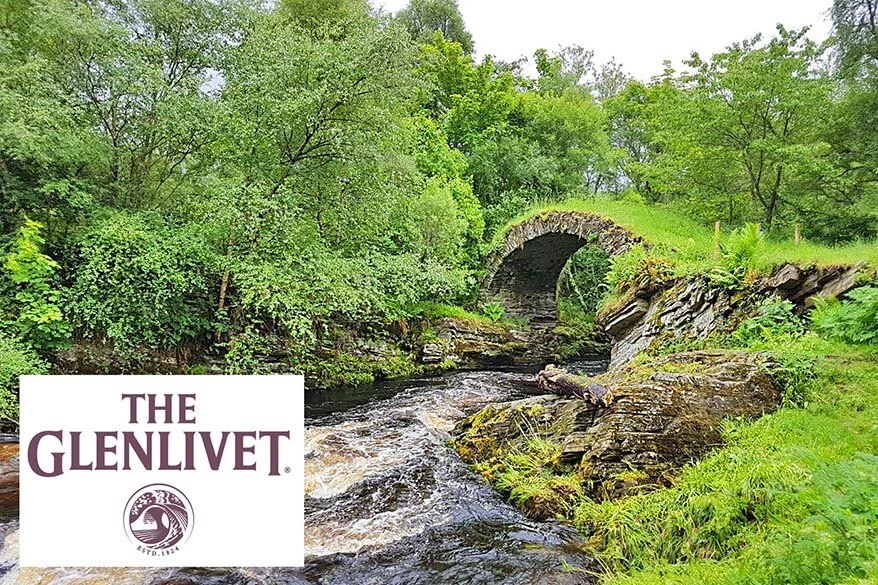 The next stop on this last day of our Scottish whiskey tour was The Whisky Castle in Tomintoul, a family-run whiskey retail business with over 500 malt whiskeys to taste. And before you ask, no, we didn't taste them all.
Royal Lochnagar distillery, next to Balmoral Castle (the summer residence of the British Royal Family), was our last whiskey stop of the tour.
After a short photo stop at the castle and lunch in Braemar, we drove back to Edinburgh. Normally we should have been there in 2.5 hours, but due to busy traffic, we arrived at 7 PM instead of 6 PM. So keep this in mind if you would be planning to depart Edinburgh right after the tour.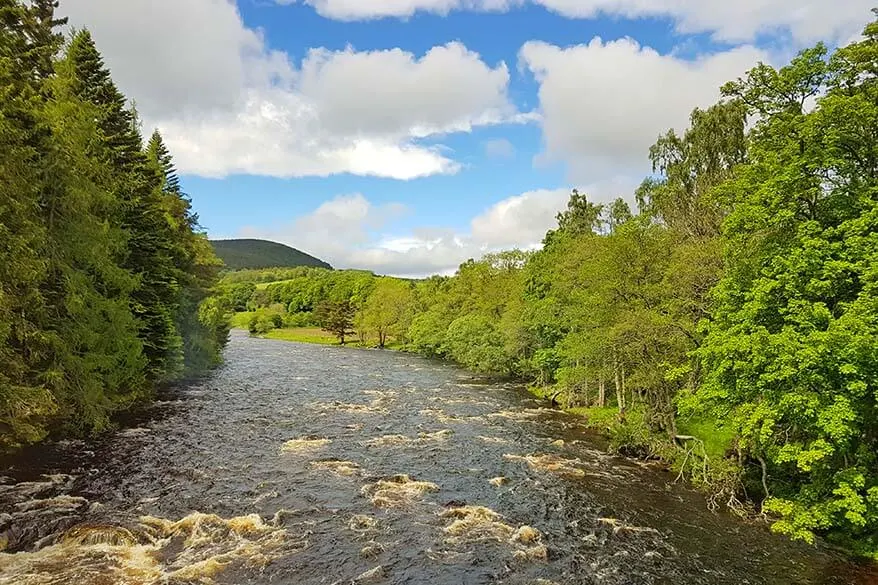 Scottish Whisky Tour – Conclusion
We really enjoyed this short whiskey tour in Scotland. As expected, we discovered some really nice whiskey distilleries, but we also traveled through the most amazing landscapes and visited a variety of landmarks.
This tour is not just about the whiskey!
It has a very well-balanced itinerary that gives you a taste of real Scotland, one you would not easily be able to discover on your own.
I would definitely recommend Rabbie's Speyside Whisky Trail to all Scottish whiskey enthusiasts. As for us, we will be back in Scotland. Next time with the kids, to do some hiking and discover the beautiful Highlands. But for a short, adults-only trip to Scotland, this whiskey tour was just perfect!
Practical Information
Speyside Whisky Trail tour (the same as we did) departs from Edinburgh three times a week in summer months and once a week in October. Rabbie's also offers many other whisky tours in Scotland, including 1-day tours from Edinburgh, Glasgow, and Inverness. You can find your perfect whisky tour and book it here.
The Scottish whiskey tour described in this post takes three full days, starting at 9 AM on day 1, and ending at 6-7 PM (depending on the traffic) on day 3. So you will need to also book a hotel in Edinburgh for the night before and the night after the tour.
You can book this whiskey tour with or without the accommodation for two nights during the tour. We opted for the option without accommodation, which turned out to be much cheaper. If you decide to book just the tour, as we did, you will need to arrange your own accommodation for 2 nights in Grantown on Spey in the Cairngorms National Park. Make sure that it's centrally located and let Rabbie's know where you are staying. They will drop you off at your hotel or B&B in the evening and will pick you up again in the morning.
Below, you can see our whisky tour itinerary, including the hotels where we stayed.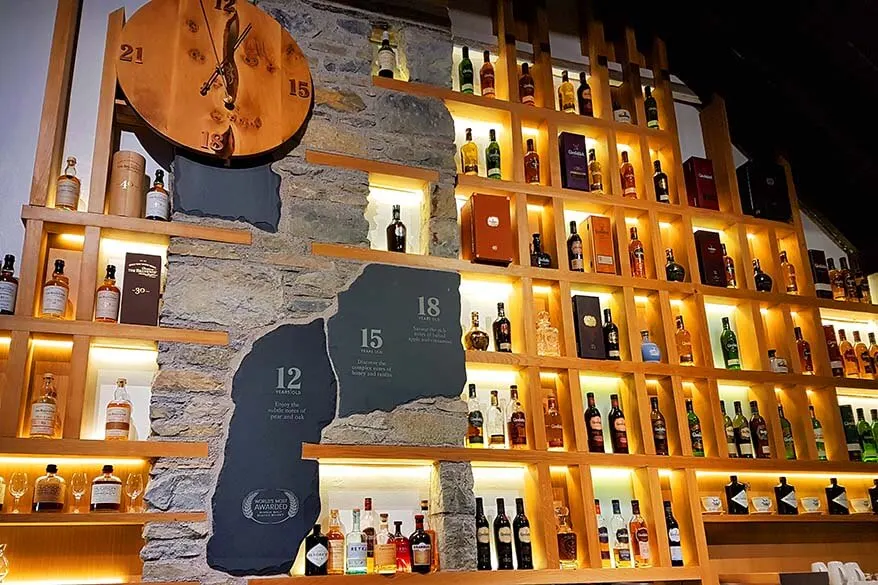 Scotland Whisky Tour Itinerary
Day 2: Whisky tour. Same accommodation as last night.
Day 3: Last day of the Scottish whiskey tour. Arrival in Edinburgh in the evening. Stay 1 night in Edinburgh. We stayed at the Holiday Inn Express Edinburgh City Center because it was close to where our tour ended and one of the few available hotels in the center.
Day 4: Departure or continue your trip and explore more of Scotland.
TIP: Scotland (and especially Edinburgh) is an extremely popular destination. If you are traveling in high season (April-October), make sure to book all your accommodations as soon as possible. We waited too long and hardly found anything available in Edinburgh center, the same for Grantown on Spey.
READ ALSO: Edinburgh Travel Tips
So, this is our guide for a Scotland whisky tour from Edinburgh – a real bucket-list trip for any whisky enthusiast. Thinking of doing a similar trip and have a question? Leave a reply below and we'll try to help.
More inspiration for your trip to the UK:
London travel inspiration:
If you found this post helpful, don't forget to bookmark it and share it with your friends. Are you on Pinterest? Pin this image!