Thinking of visiting Capri island from Sorrento and wondering what's the best way to get there or how to plan your visit? In this guide, we share practical information and a detailed day trip itinerary for traveling from Sorrento to Capri – either individually by ferry or with an organized tour. Find out!
Capri Island is one of the most beautiful places you can visit in Italy. So if your travels bring you to southern Italy, we highly recommend planning a visit to the island!
And while Capri is a wonderful vacation destination in itself, many tourists combine it with a visit to Naples, Pompeii, Mount Vesuvius, or the Amalfi Coast and only have a day for the island… If that's your plan as well, don't hesitate – Capri is absolutely worth it, even if just for 1 day.
While there are several places from where you can reach the island, the best and quickest way to get to Capri is from Sorrento.
In this guide, you can find all the practical information for traveling from Sorrento to Capri, as well as our suggestions on how to see the best of Capri in a day. I hope that this guide will help you plan an unforgettable visit. Find out!
TIP: If you have no time to read the entire article, here are the two best ways to get from Sorrento to Capri if visiting for a day:
Further below, you can find more tour options.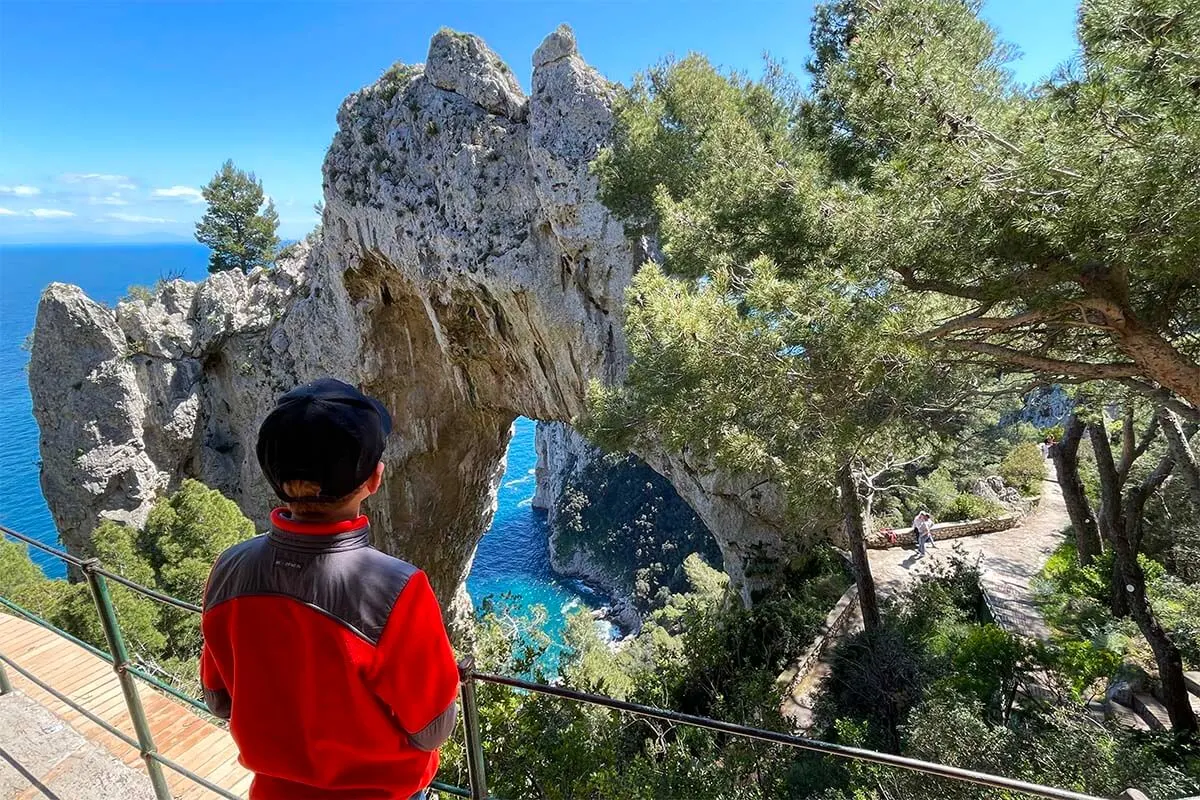 Below, you can see a short overview of what kind of information you'll find in this article.
While you can just jump directly to the part that interests you the most, we highly recommend reading the entire article. It's filled with practical tips and information based on our personal experience traveling to Capri from Sorrento.
I hope that our tips will help you plan an unforgettable visit and make the most out of your day tour to Capri!
How to visit Capri from Sorrento – OVERVIEW
Capri from Sorrento: distance & how long it takes to get there
Since Capri is an island that is not connected to the Italian mainland by bridge or tunnel, the only way to get to Capri is by boat (assuming you don't have a helicopter – in which case, I'm sure you wouldn't be reading this)… You can reach Capri by boat from Naples, Sorrento, Sorrento Peninsula, or the Amalfi Coast…
The closest piece of land from where you can reach Capri is the Sorrento Peninsula. Capri is located just 5 kilometers from the mainland, and about 12-15 km by boat from Sorrento town.
So in this guide, we focus on this option – traveling to Capri from Sorrento. But you can easily use the same tips and itinerary if traveling from other places as well.
The journey from Sorrento to Capri takes as little as 25-35 minutes, depending on the boat or the ferry you choose. There are large (car) ferries that run between Sorrento and Capri regularly the whole year round. In addition – in the high season between April and October – there are also many smaller companies that offer boat trips and/or organized tours to Capri.
Just to make it clear, you cannot drive to Capri. And even though there are car ferries and you can drive on Capri, tourists cannot visit Capri by car in the high season. But even in the winter season, it's not advisable to visit Capri by car. The roads are narrow, parking – hard to find, and the best spots can't be reached by car anyway. Take my word for it and don't even consider it.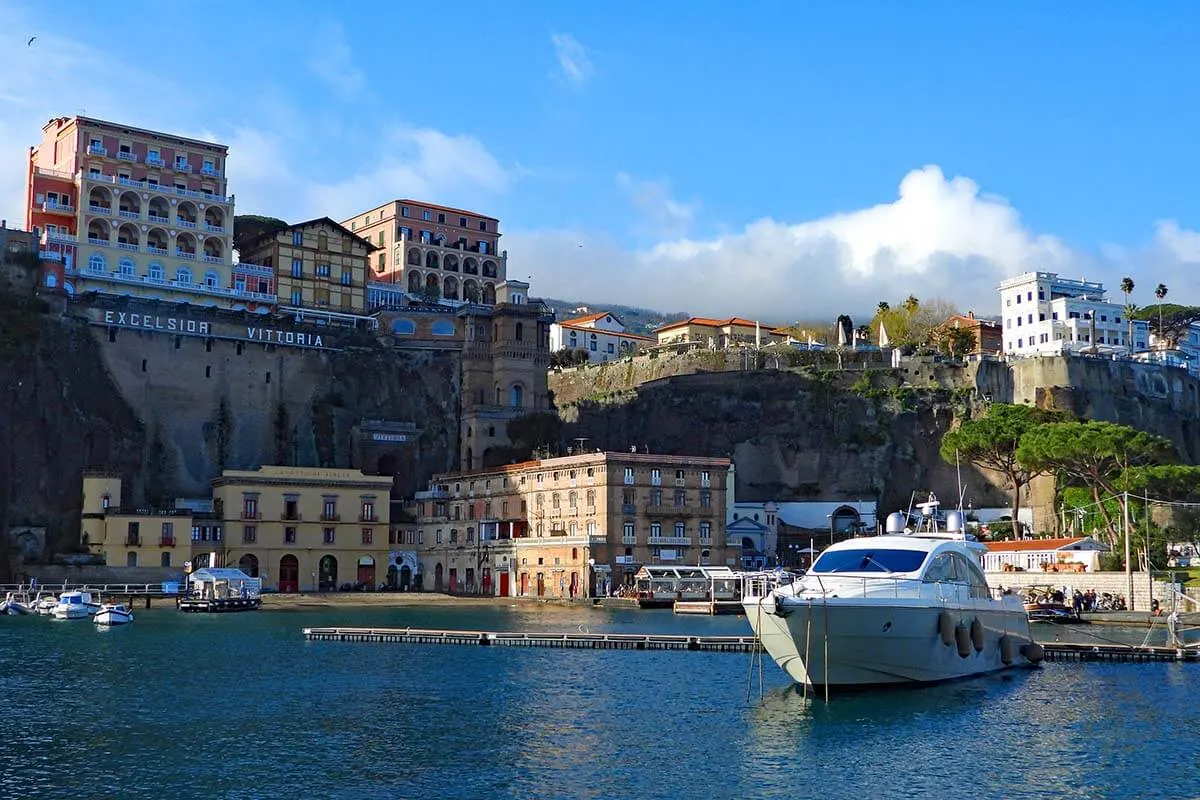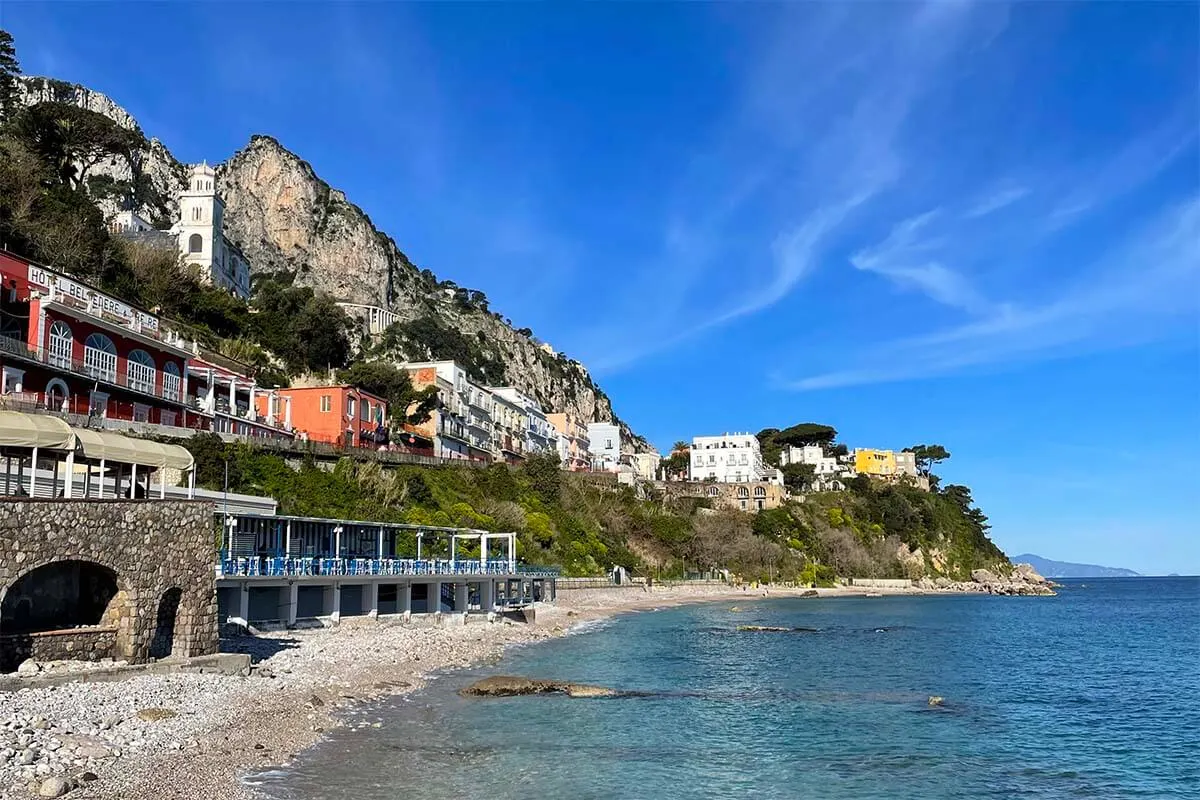 Sorrento to Capri ferry info
As already mentioned, there are many companies operating boat trips between Sorrento to Capri. All the bigger ferries depart from the main harbor of Sorrento – Marina Piccola, where you'll also find their ticket offices.
The main ferry between Sorrento and Capri is operated by Caremar. It's a huge boat that can carry cars and hundreds of passengers. This is probably the best option if you are visiting Capri in the low season (when the seas can be rougher) or if you have lots of luggage.
In the high season, there are many other options for ferries between Sorrento and Capri. While it's usually possible to just get a ticket at the harbor, I highly advise booking a ferry in advance (online, or by walking to the harbor the day before, if you can). Otherwise, you may need to wait for the next available boat and waste precious time which you could be spending sightseeing…
TIP: Start your day early and take one of the first ferries in the morning (ideally before 8.30-9 am). Be sure to pre-book your return ferry since coming back from Capri in the afternoon is even more difficult than getting there in the morning. Unless you go with an organized tour, this is by far the best way to make the most out of your Capri day trip from Sorrento.
Which ferry is best? I would just choose the boat that best fits your itinerary. You can find the schedule for the biggest ferry companies and book tickets on this website (this is probably not everything that is available but this is one of the best websites I found when planning our own trip).
TIP: There is now this return boat transfer from Sorrento to Capri that is perfect if you want to visit the island for just a day. It has several advantages over ferries: you can book the ticket in advance, it's cancelable up to 24 hours before the trip, and you can enjoy the scenery along the way (not like our experience with the ferry with no open spaces and dirty windows – see below). If you prefer a bigger boat, this hydrofoil ferry is another good option with set departure times giving you a full day to explore Capri.
Good to know: If you already find this part of the planning overwhelming, do yourself a favor and book an organized tour where most of the practical aspects of the day trip to Capri will be arranged for you. And if your budget allows it or you are traveling with a bigger family/group, you can also opt for a private day trip.
Further below, you can read about our experience taking the ferry from Sorrento to Capri. And if you scroll further, you'll find our tips on what to see and how to plan your time.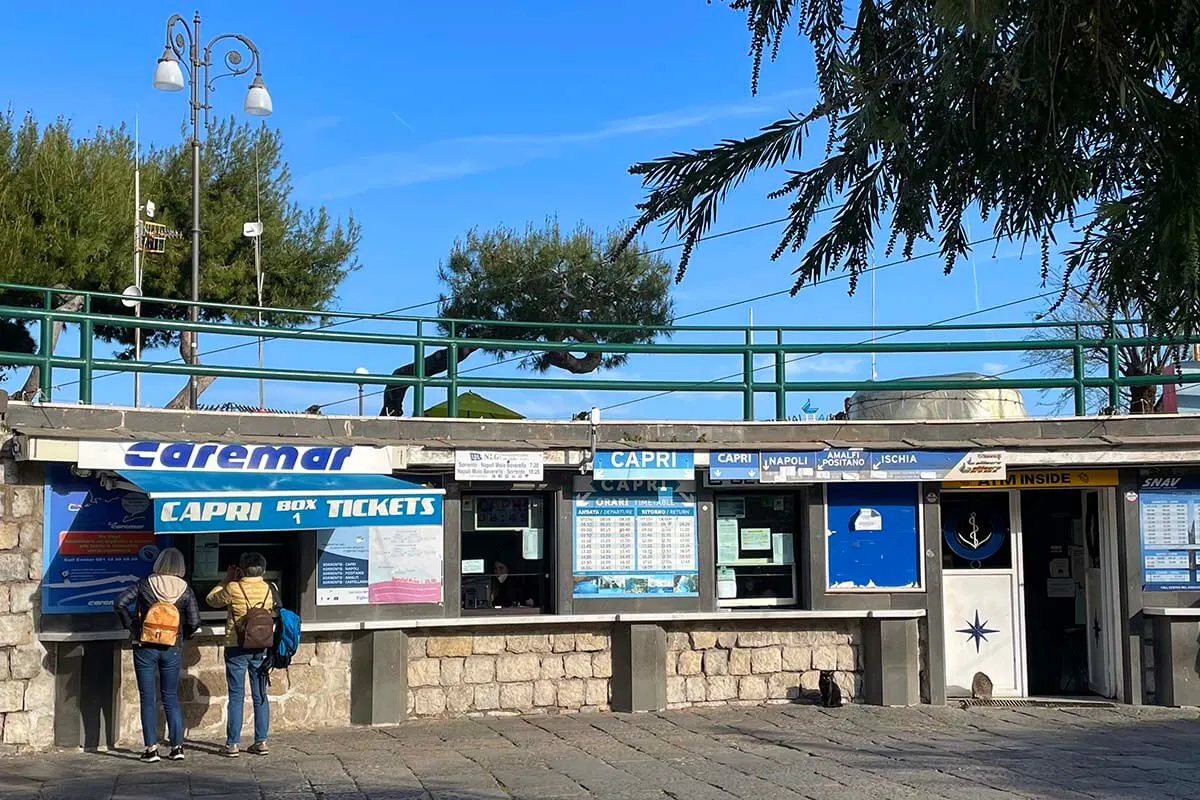 Our experience with Sorrento – Capri ferry
We booked the ferry from Sorrento to Capri with Caremar in advance. This was the best option for us since we were traveling in the shoulder season and wanted to be sure the boat would actually go no matter the weather. We also had luggage and you don't have to pay extra for regular-size suitcases on this ferry.
This ferry is huge, efficient, reliable, and is one of the cheapest options. However, it's not the nicest way to get to Capri since you won't see much (anything) from the boat. Passengers sit inside and the only outside area that is accessible to everyone is very small and the views are limited. Plus, the windows are dirty… And, when we arrived in Capri, our huge ferry had to wait in line at the harbor for almost an hour (!) whereas all the smaller boats could just dock without any problems…
Also, when you book your tickets online, they charge you an extra booking fee and you still need to get a 'boarding pass' at their ticket office in Sorrento Harbor. This can be a nightmare on a busy day, so be sure to arrive well in advance. However, this was the case for several other ferries we took in the area with the other companies as well. No idea why they make it so unnecessarily complicated…
Good to know: While waiting to get our 'boarding passes' at the harbor in Sorrento, we saw many people queuing at various ticket offices of smaller companies trying to get return tickets to Capri for the day itself. We overhead that people who wanted to come back at around 6-7 PM were told that those boats were fully booked already… So they had to choose an earlier time for the return trip. This was at 9 am in the first week of April which is considered a rather quiet shoulder season…
So I recommend booking the ferry in advance, especially if traveling in the summer or on the weekends. As already said, if you are just going for a day and don't have luggage with you, it's better to opt for a round-trip transfer by smaller boat – it's much more relaxing and more scenic than the ferry.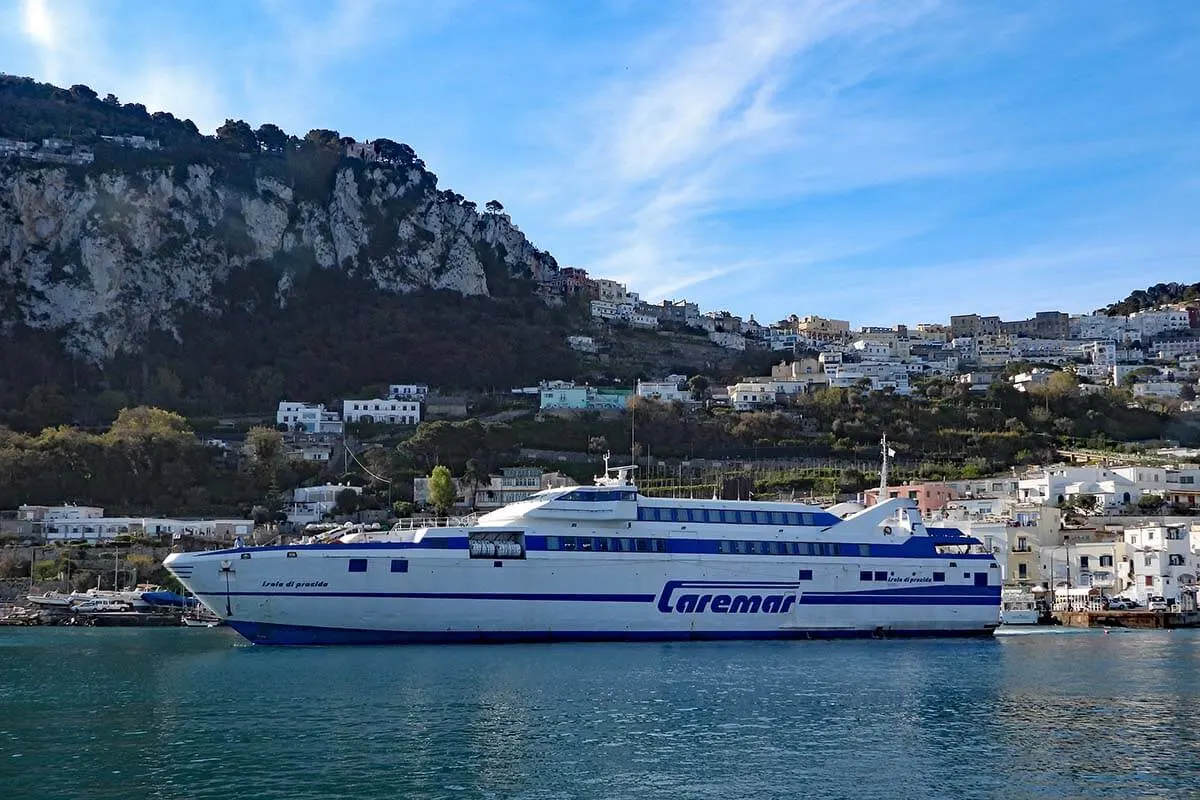 Day tours from Sorrento to Capri
Before we continue with the suggestions on how to best spend your day once you get to Capri, let's take a look at the organized tours. While you can easily visit Capri from Sorrento on your own, there are some advantages of going with a tour.
First, by booking a tour, you don't have to worry about how to get to Capri and you have your seat guaranteed. Furthermore, most Capri day tours already include a boat trip around the island and a stop at the famous Blue Grotto, one of the most iconic places to see in Capri. This saves you quite some time not having to arrange it yourself once you get to the island.
And finally, the majority of organized tours foresee 4-5 hours of free time on Capri Island, allowing you to choose exactly what you want to see and do it at your own pace. For recommendations on how to spend your day in Capri, see our itinerary suggestions below.
Of course, there are also some disadvantages of going with a tour vs. on your own, mainly that you'll have limited time on the island. Going on your own, you could take one of the earliest ferries to Capri and one of the latest ferries back to Sorrento which would give you a bit more time on the island. On the other hand, ferries only run between 7 am and +- 7 pm, and a 12-hour sightseeing day might not be everyone's idea of a relaxing vacation anyway…
TIP: If you decide to go with a tour, we highly recommend booking online in advance. That way, you can compare itineraries, prices, what's included, and read customer reviews. Booking a tour at the harbor is overwhelming and often you have no idea what you book, if you pay the correct price for what you get, or how good the service is…
Since the choice of tours is overwhelming online as well, we hand-picked a few of the best options for Capri tours from Sorrento:
Exclusive small-group tour. This is one of the best-rated Capri day tours from Sorrento. You travel in a small boat with a maximum of 12 people, tour around the island, stop at the Blue Grotto (a visit inside is always optional), stop for a swim, and get about 4 hours of free time to explore Capri.
Best-value tour. This tour is the best-rated budget option for visiting Capri from Sorrento. The itinerary is very similar to the other tours, but because you travel on a bigger boat, it's much cheaper. It takes you from Sorrento to Capri and includes the boat tour around the island (+Blue Grotto stop), plus a few other things – so it's actually better value than paying for the regular ferry to the island and the boat tour around it separately.
Private tour. This is one of the best-value private tours from Sorrento to Capri. It has a very similar itinerary as all the other tours, with the advantage that you travel on a private boat. If you are traveling with 4-5 people, it offers really good value.
Private all-in tour. This is quite an expensive tour, but it takes care of everything – from getting to the island to visiting all the main highlights. If money isn't an issue and you want to see the best of Capri with a personal guide by your side, this is one of the best options.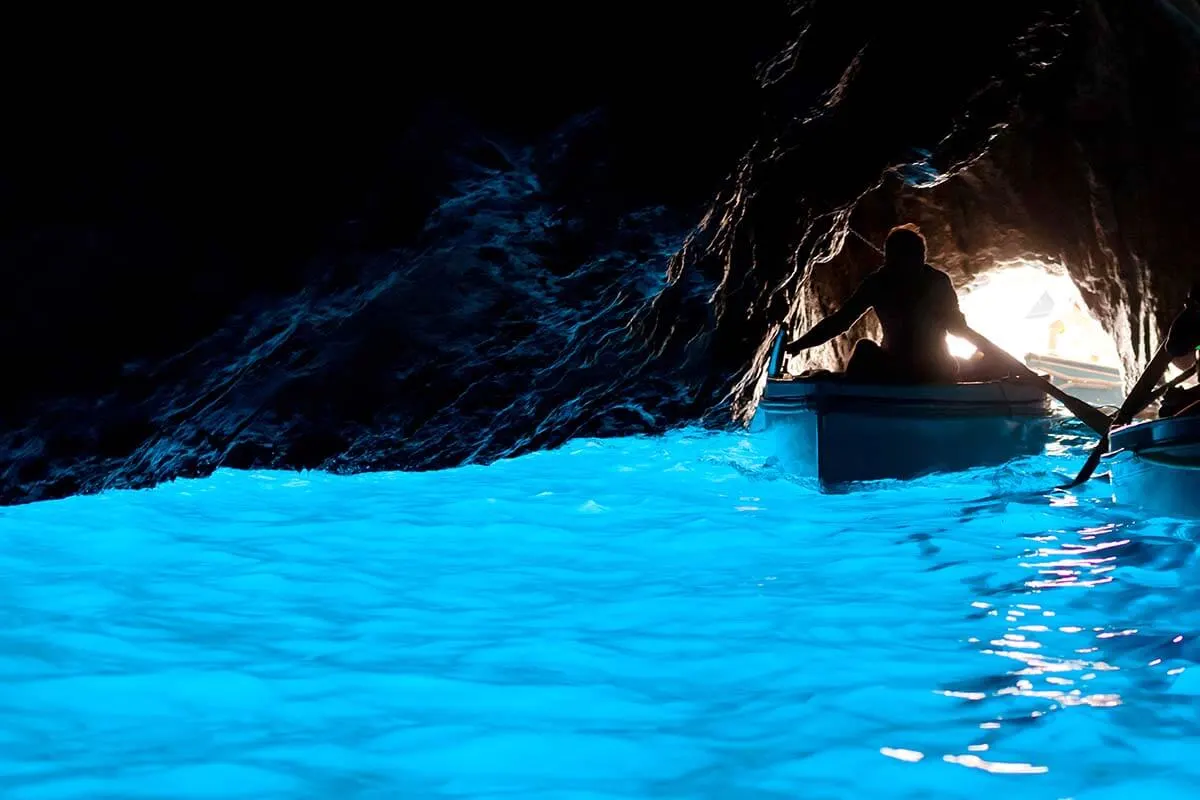 What to see in Capri in a day – suggested itineraries
There are many possibilities for how to spend a day in Capri. A lot depends on how much time you have, how you get around (taxi, bus,..), your interests, but also how busy it is and how much time you'll waste waiting in lines…
Below, you can find two suggested day trip itineraries covering the main highlights of Capri in the most efficient way.
One of them is a full-day itinerary for those of you traveling on your own, and the other one is a 4-5-hour itinerary for those visiting Capri with a tour.
Whether you are traveling on your own or with a tour that gives you several hours of free time on the island, you can use one of these suggestions to make the most of your day in Capri. Take a look below!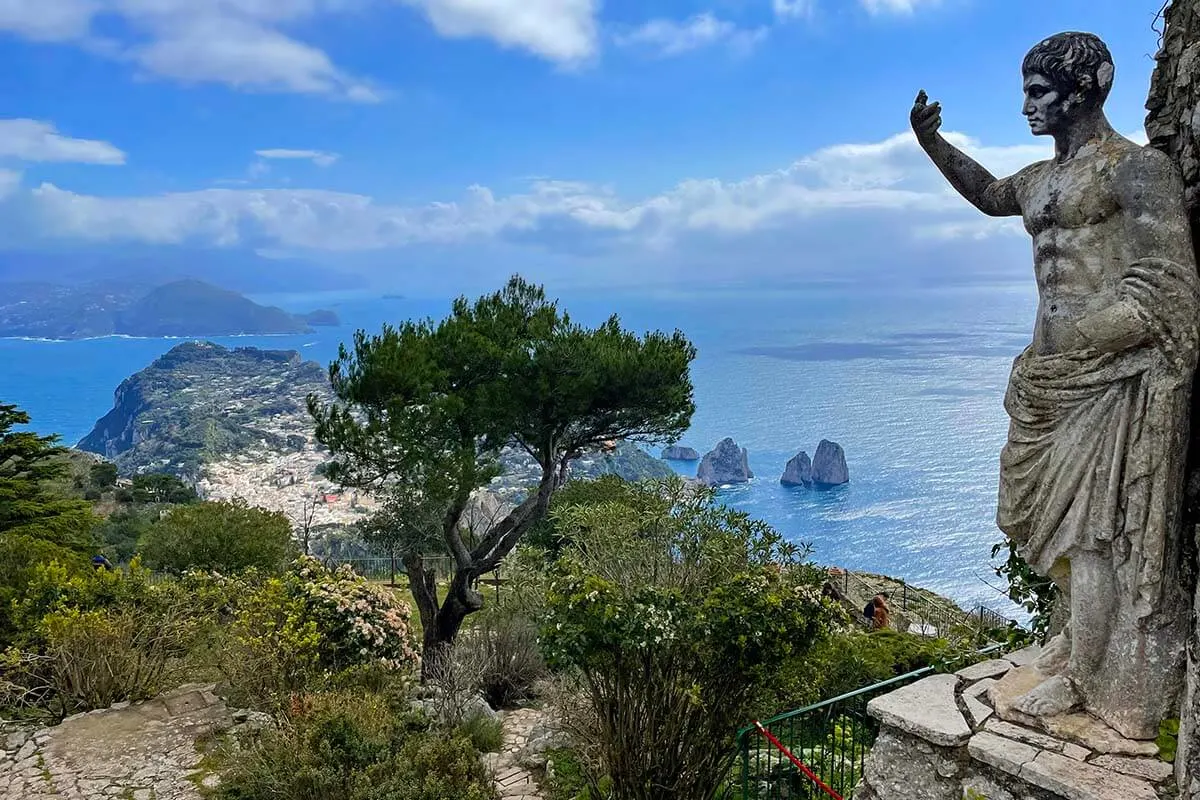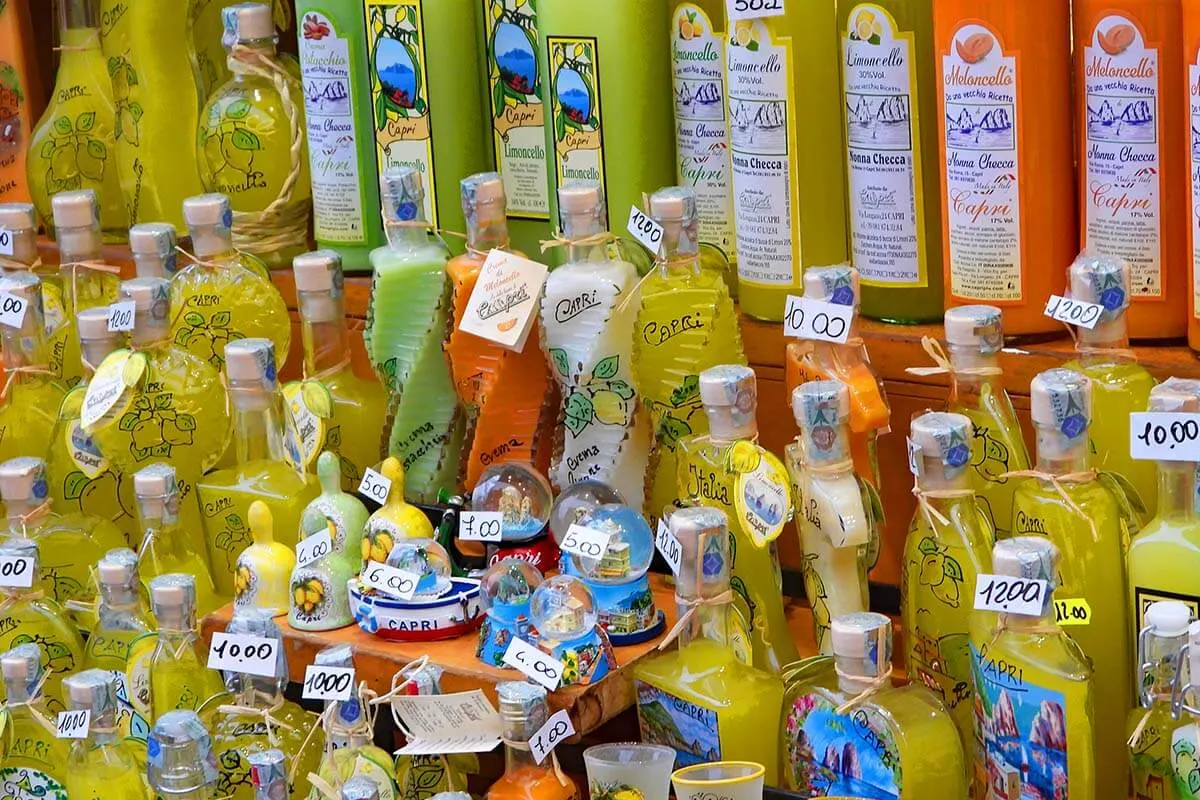 OPTION 1: Best of Capri in 1 day
This itinerary is for those who want to see all the most popular places in Capri in a day. It includes the boat tour around the island and the Blue Grotto as well as the main points of interest in Capri and Anacapri. This concentrates on the 'musts', keeping into account what's actually doable in just 1 day.
Below is a short overview of how you could spend a day in Capri. Please note that the times are just indicated for your reference. This is probably the most logical (thus most popular itinerary), so it might get very busy at some places (buses, chairlift, etc.).
8.30 AM: Ferry from Sorrento to Capri.
9.30 AM: Boat tour around the island (takes 1 hour, but the optional Blue Grotto visit will make it longer). Or opt for this highly-rated private tour which takes 2 hours.
11 AM: Bus or taxi, or steep stairs to Anacapri.
Noon: Monte Solaro by chairlift.
1 PM: Anacapri center, lunch & bus or taxi to Capri.
2.30-3 PM: Capri town: Piazza Umberto I, Via Camerelle, Giardini di Augusto (+Via Krupp views), etc.
5-6 PM: Funicular down to Marina Grande and ferry back to Sorrento.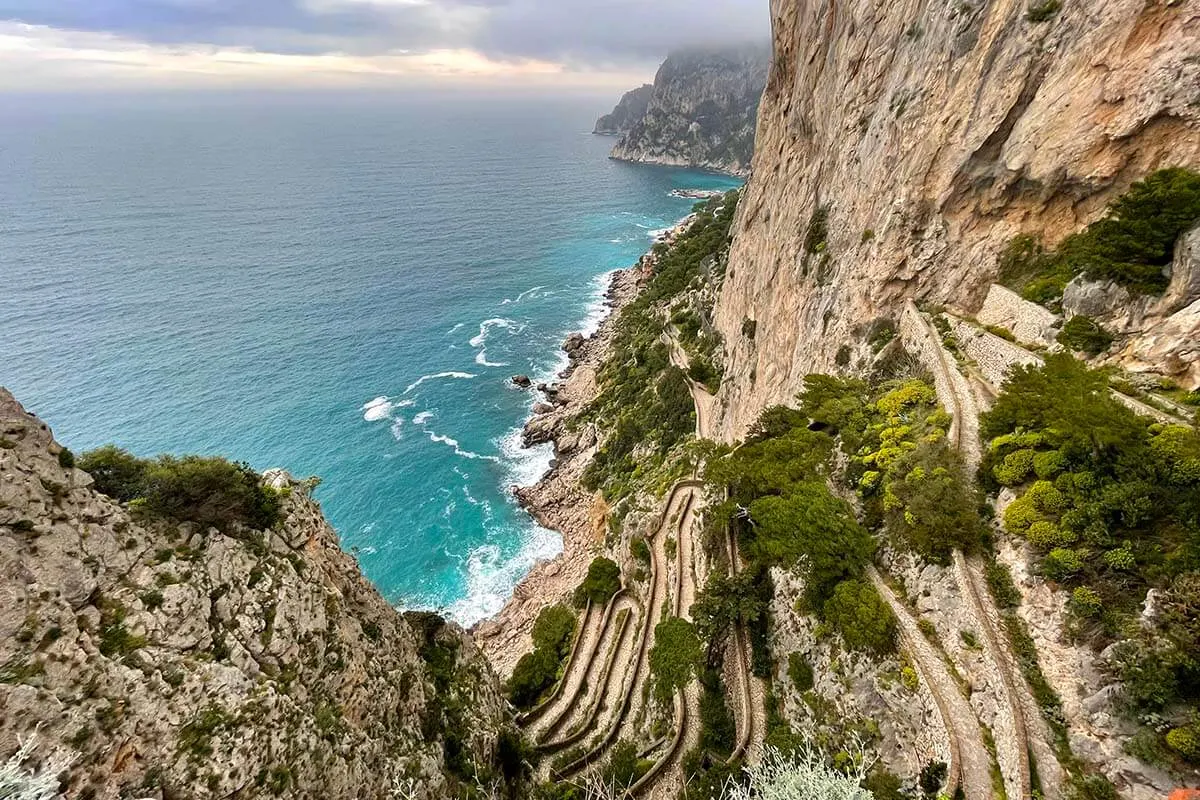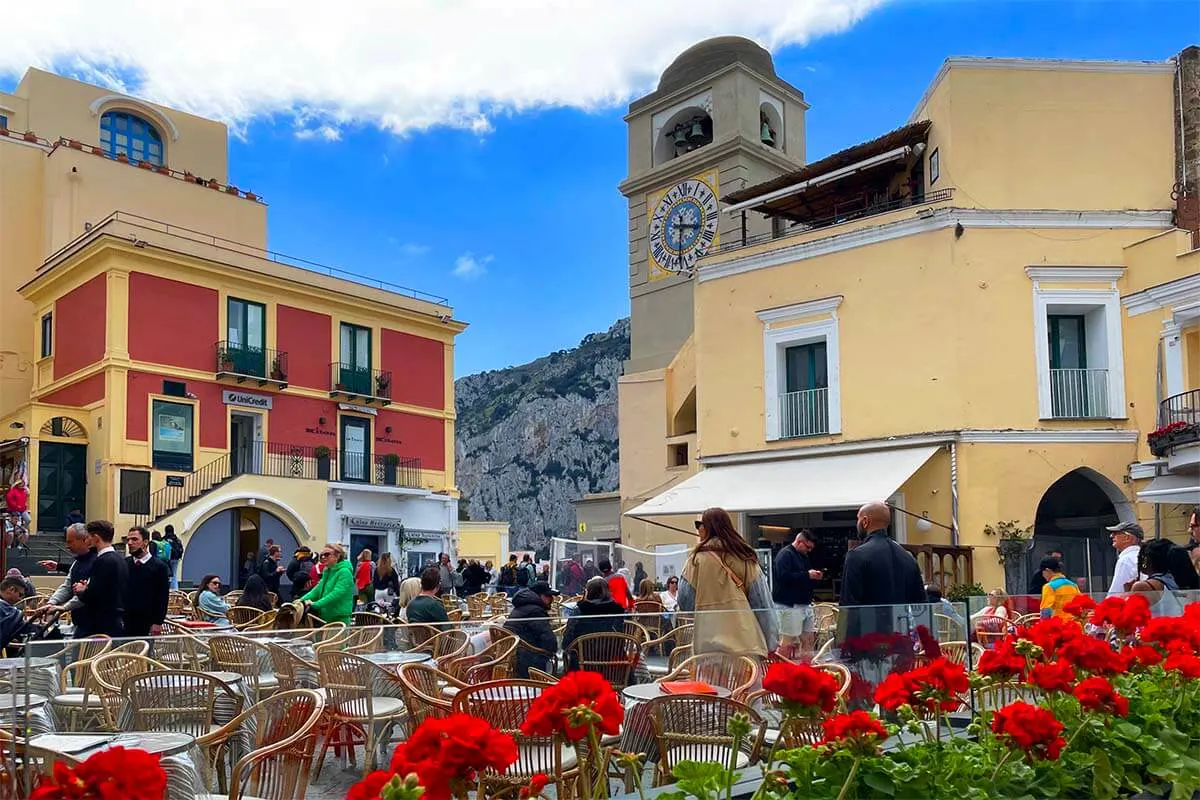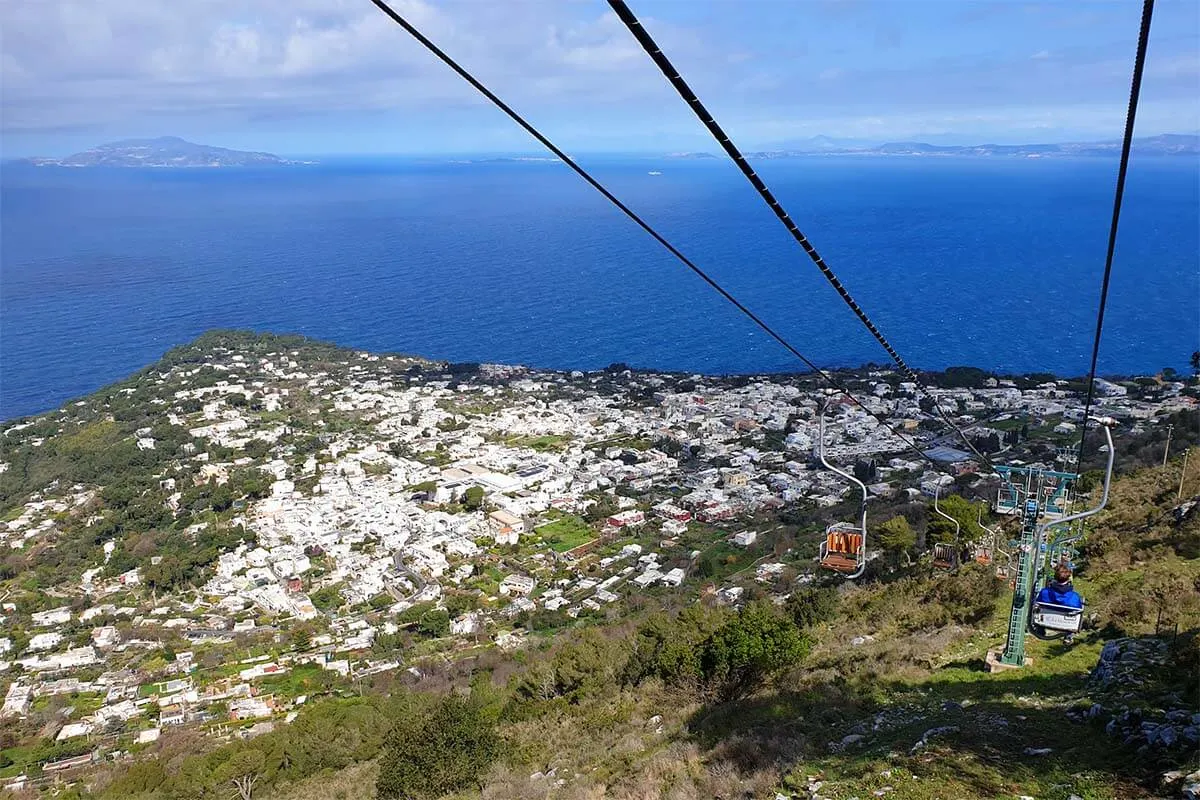 TIP: If you don't have to rush to the harbor for the ferry, you could explore a bit more. In that case, you could spend a bit more time in Anacapri and visit Villa San Michele and San Michele Church.
In Capri town, visit (one of) the following – Villa Jovis, the Natural Arch, or Belvedere Tragara. You can make a loop by heading to the Natural Arch first, then hiking Via Pizzolungo to Belvedere Tragara, and from there back to the town center. This is one of the nicest walks in Capri, but you'll need at least 2-3 hours and the hike involves quite some stairs. If you also want to see Villa Jovis, you'll need even more time, so be sure to check your ferry schedule!
TIP: If you are looking for more details and information about the places we recommend visiting, check out our guides to the best things to do in Capri and the best of Anacapari.
PRO TIP: If you don't mind some backtracking and want to avoid the biggest crowds everywhere, you could also visit these places in a different order. So, for example, start with Anacapri and Monte Solaro first thing in the morning (the chairlift starts running at 9.30 AM). Then walk down (or take a bus) to Marina Grande, do a boat tour, and have some lunch. In the afternoon, take the funicular to Capri town and explore there.
Or arrive in Capri super early, walk Via Pizzolungo in the morning, explore Capri, have lunch, do the boat tour, and then visit Anacapri and Monte Solaro in the afternoon.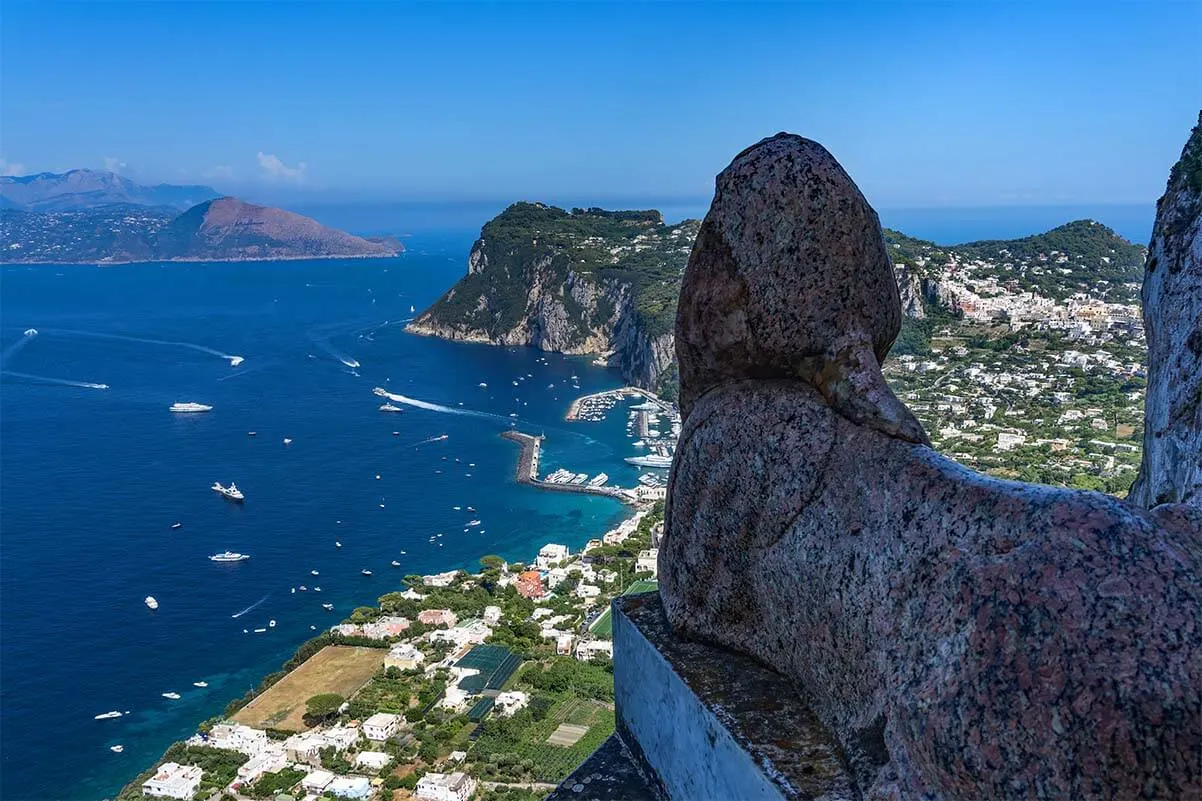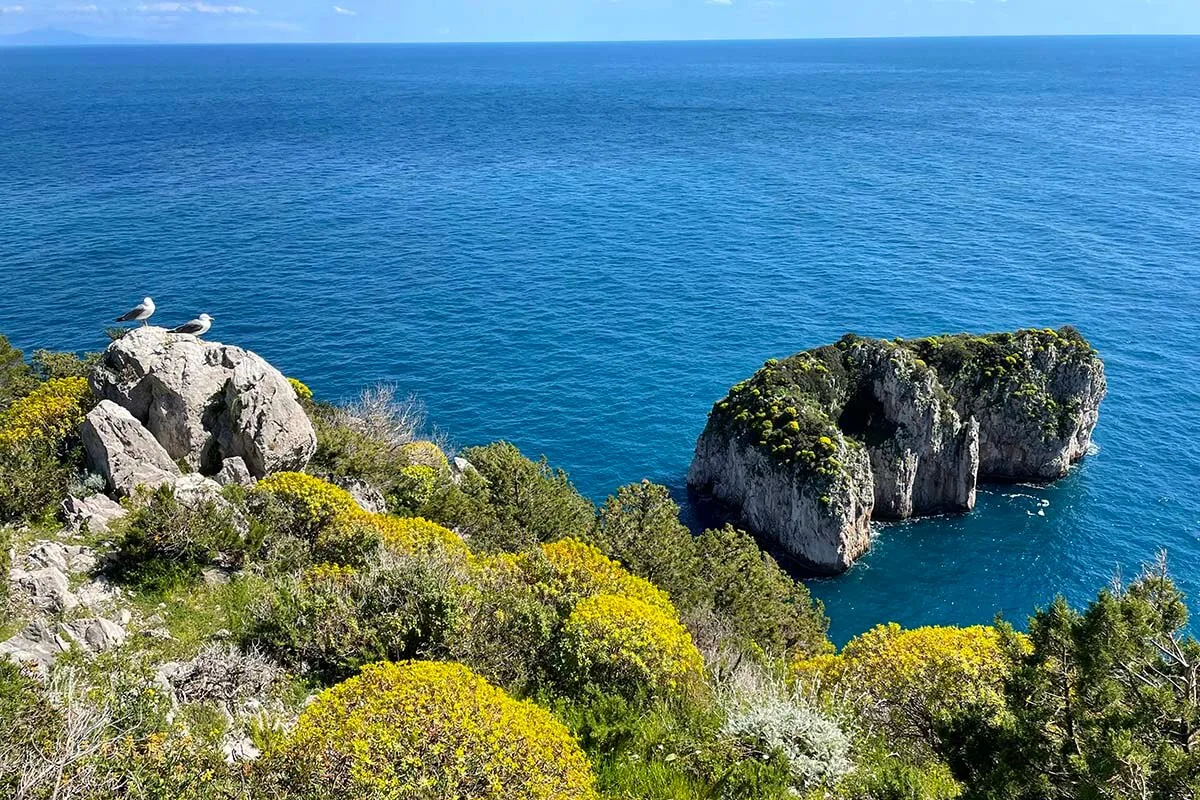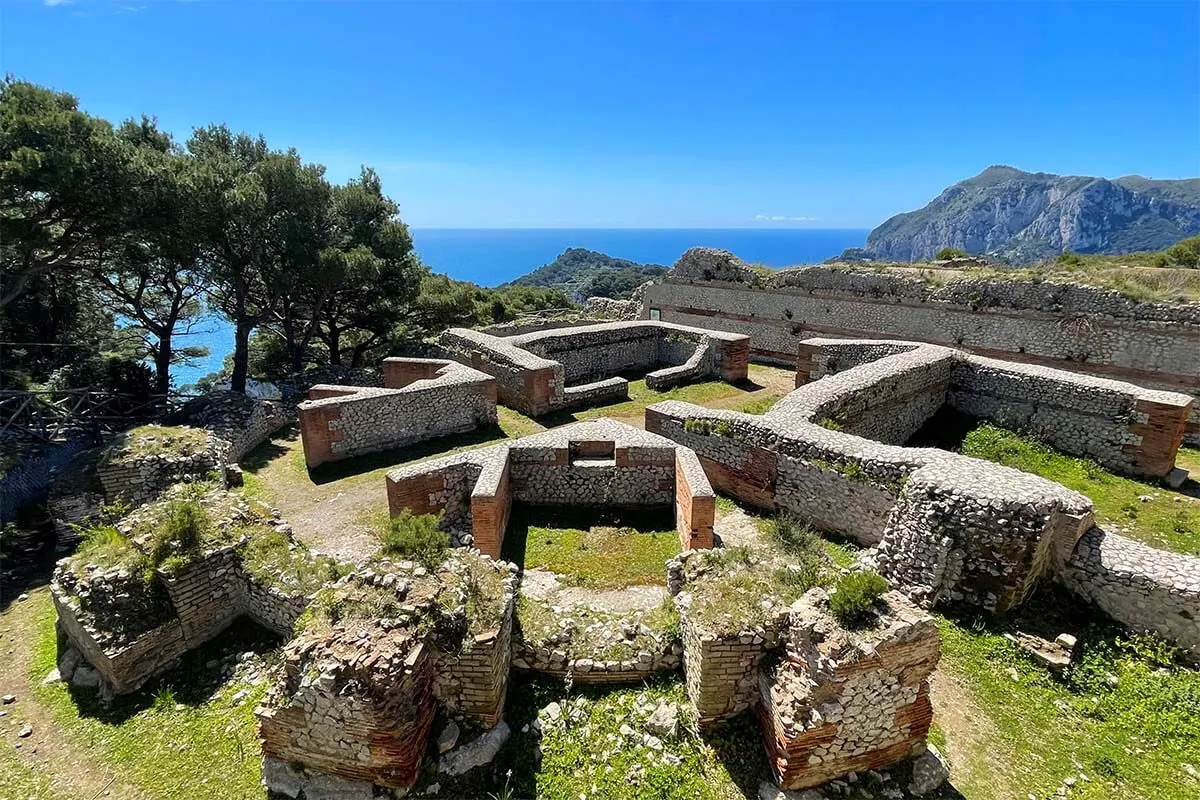 OPTION 2: Capri in 4-5 hours
This is an itinerary that will work best if you are visiting Capri with a boat tour. As already mentioned, most organized tours will already take you on a boat trip around the island and stop at the Blue Cave. So you'll have covered two of the best activities already and have 4-5 hours left to explore Capri on your own.
For that, you could use a similar itinerary to the one described above. But you'll have to just concentrate on the musts and be sure you get back to the boat in time.
As a minimum, we recommend visiting Monte Solaro in Anacapri (take a bus or a taxi from the harbor to get there). From there, take a bus or a taxi to Capri and explore the town center. Some of the must-sees with little time include Piazza Umberto I and Via Camerelle. We highly recommend visiting Giardini di Augusto which offers amazing coastal views. Here, you can also see the famous Via Krupp.
From Capri, take a funicular (or bus/ taxi) down to your boat at Marina Grande.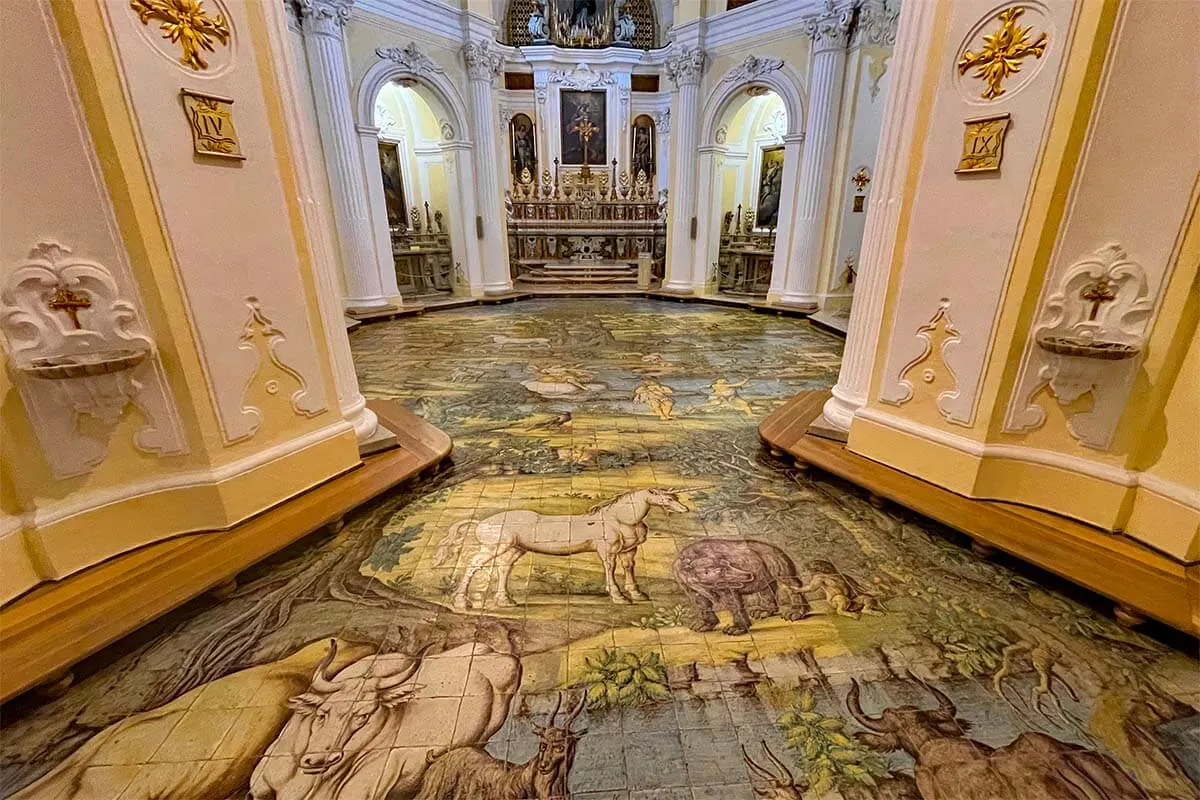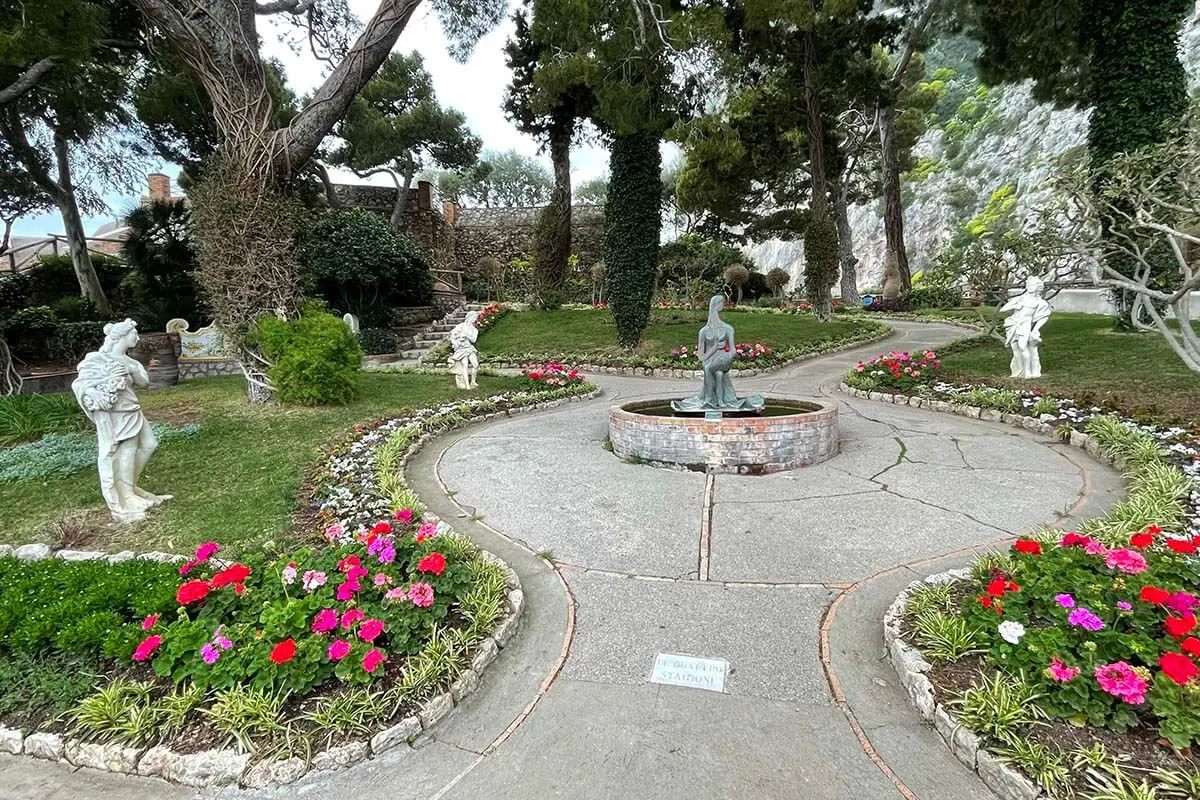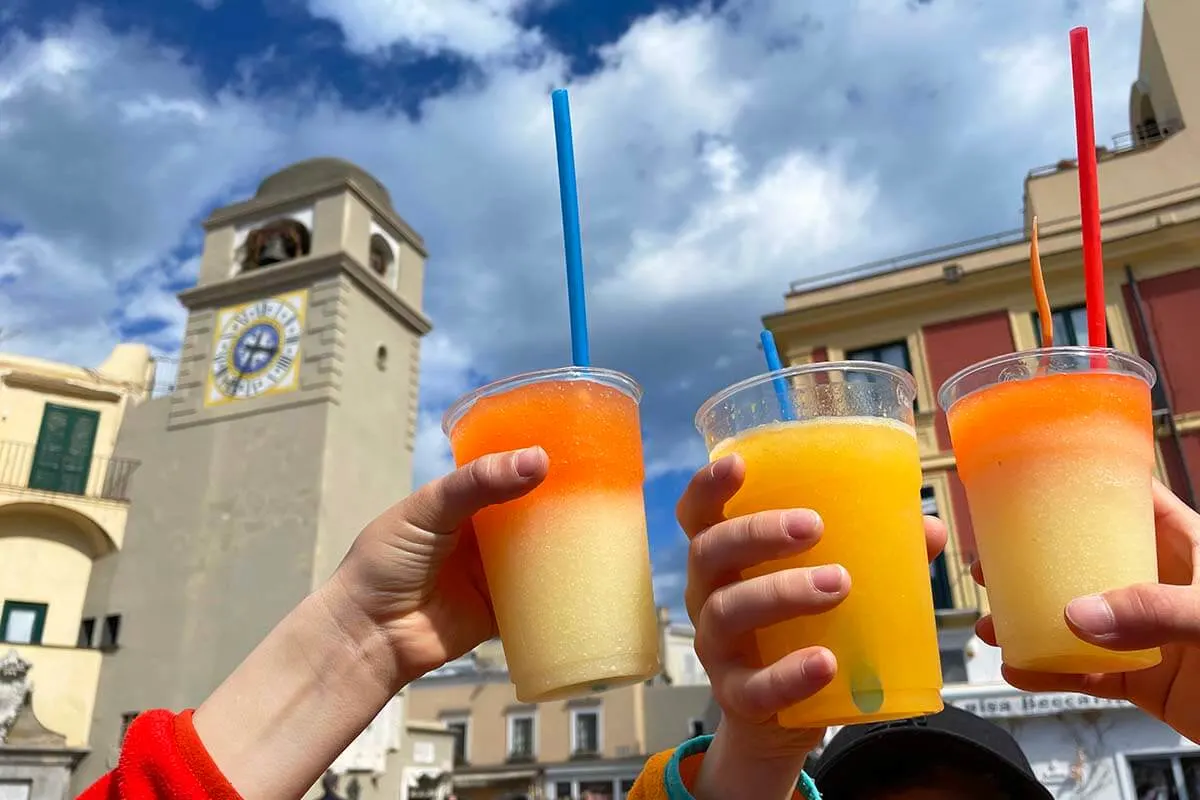 So, this is our guide for visiting Capri from Sorrento. I hope that it gives you a better idea of what to expect and helps you plan your time and make the most of your Capri day trip.
And here are some frequently asked practical questions that you may find helpful as well.
Visiting Capri from Sorrento – FAQ
How do I get from Sorrento to Capri?
The best way to get to Capri from Sorrento is by taking a ferry from Sorento's Marina Piccola to Capri's Marina Grande. In high season, there are ferries every 20-30 minutes, and they run from 7 AM to +- 7 PM. Organized boat tours and private boats are also available.
How long is the ferry ride from Sorrento to Capri?
Depending on which boat you book, the ferry ride from Sorrento to Capri takes about 20-30 minutes.
How much does a ferry from Sorrento to Capri cost?
A one-way ferry ticket from Sorrento to Capri costs 20-30 euros, so about 40-60 euros for the round trip. The price depends on the boat and also on the time of the day.
How much does a tour from Sorrento to Capri cost?
There are various tour options from Sorrento to Capri. The cheapest boat tours start from about 55-60 euro per person. If you prefer to travel in a smaller group, prepare to pay 100-130 euro per person. Most tours do not include the Blue Grotto entrance fee, which is an additional 14 euro per person.
How do you get around on Capri?
While many parts of Capri can only be explored on foot, you cannot walk everywhere. The best way to get around is by public bus or by taxi. A single bus ride costs 2.40 euros (if you get a ticket in advance), or you can get a day ticket for the price of three single rides. Taxi prices depend on the distance you travel and are much higher, but taking a taxi can save you a lot of time. There's also a funicular that connects Marina Grande to Capri (it costs 2.20 euros).
READ ALSO: Where to Stay in Capri (it's well worth a longer stay than just a day trip from Sorrento!)
TIP: If Capri is part of a longer trip in the area, you may want to check our other guides as well:
If you found this post helpful, don't forget to bookmark it and share it with your friends. Are you on Pinterest? Pin this image!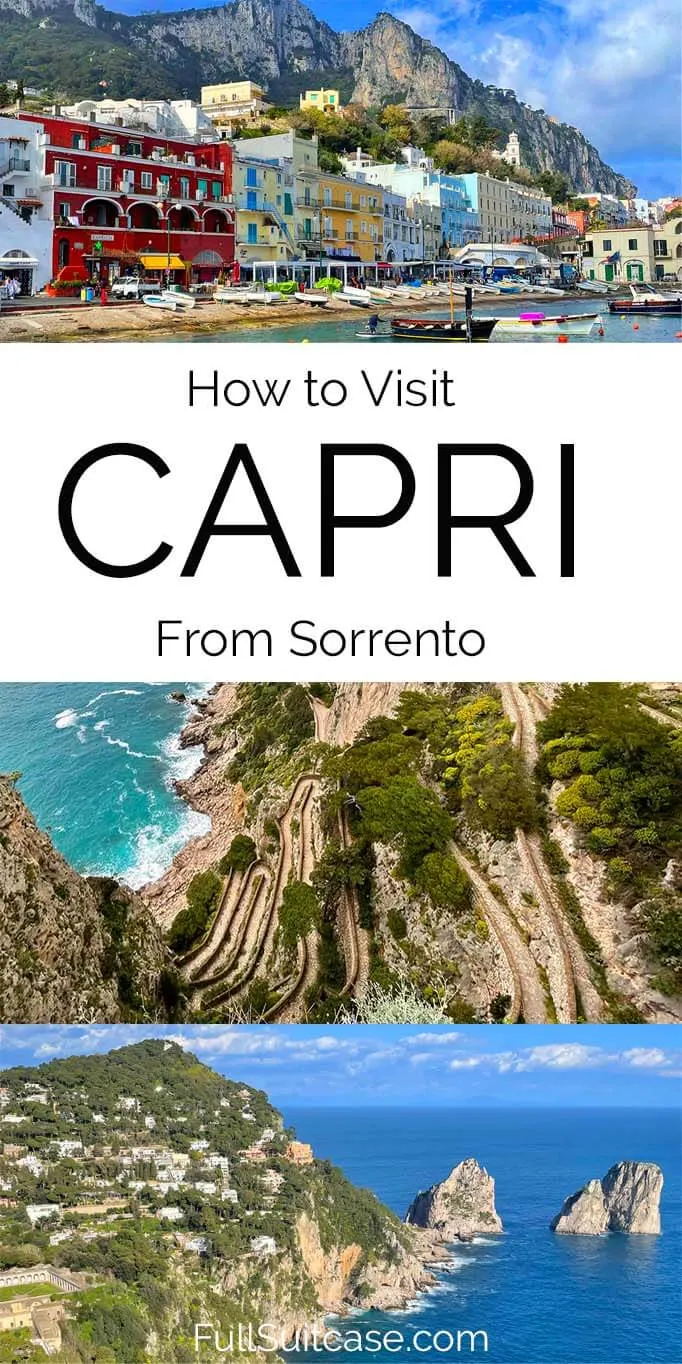 More travel inspiration for your trip to Italy: