Thinking of visiting Italy's Cinque Terre and wondering if one day is enough and how to best plan your time if you only have 1 day in Cinque Terre? This guide will help you plan an unforgettable day trip. Find out!
Cinque Terre in Italy has been on our list of places to visit for many years. But when we finally decided to make a last-minute trip to the Italian Riviera, we had no idea how much time you actually need to visit all five little villages of Cinque Terre. Is one day enough for Cinque Terre?
After a lot of research, we decided to spend two days in Cinque Terre area: one day visiting and hiking Cinque Terre itself and the second day exploring the nearby hidden gem, a beautiful little town Portovenere.
In my previous posts, I talked about visiting Portovenere and shared practical tips for visiting Cinque Terre. In this article, I want to share our itinerary for the best of Cinque Terre in a day.
If you are wondering if one day is enough for Cinque Terre, the answer, of course, depends on what you are looking for. If you want to quickly see all five villages and hike the Cinque Terre trail, then yes, one day is enough. Of course, you can stay longer and explore deeper, but if you are short on time you can definitely see the best of Cinque Terre in one full day.
There are three ways to visit Cinque Terre: by boat, by train, or a combination of boat and/or train and hiking. The train is the fastest way to get around with lots of trains connecting the five villages at regular intervals throughout the day. The boat takes much longer, but gives you a different perspective. However, some of the best views of Cinque Terre are found on land and not from the water.
We only had limited time as the days were really short at the end of October/beginning of November when we visited, so we chose to explore Cinque Terre by train in combination with hiking. Below, you can find our detailed itinerary for one day in Cinque Terre and a map indicating all the places. Find out!
TIP: If you don't want to plan anything yourself, here is an organized day tour from La Spezia that has a similar itinerary to what we did. It visits all the best villages and includes some hiking as well. Alternatively, this day tour from Florence is another great choice. It visits all the villages, foresees time to hike between two villages for those who want to, and also includes a boat ride and lunch at a local restaurant.
TIP for cruise ship passengers: If you are visiting Cinque Terre as a shore excursion, then this highly-rated tour from the cruise terminal in La Spezia is by far the best option for you.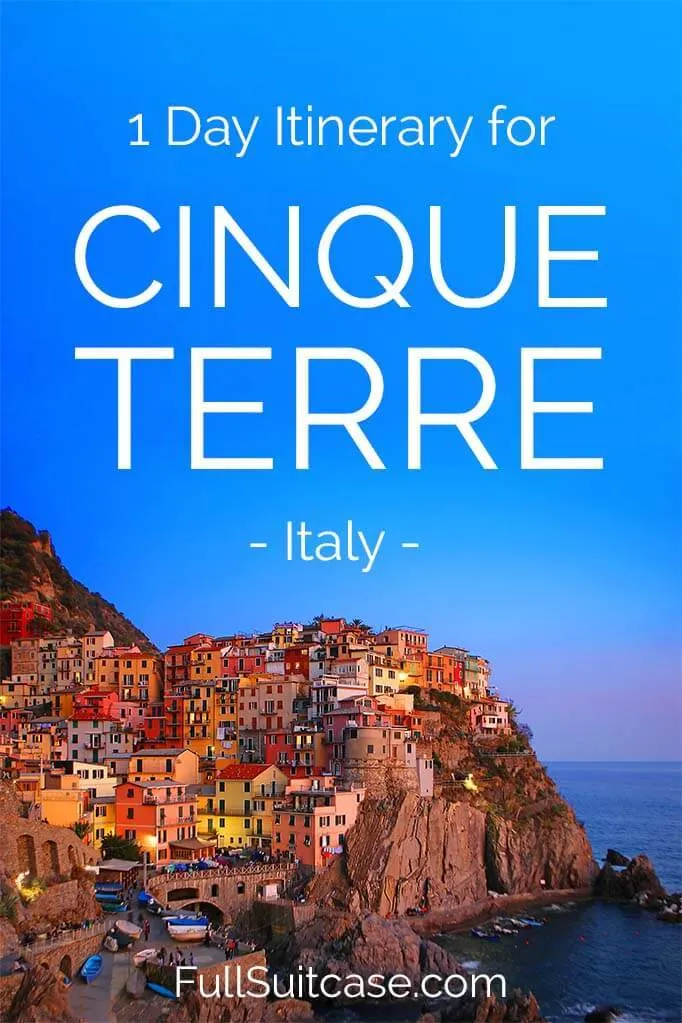 For your convenience, I created a custom map of Cinque Terre, so you have a better idea of where each place is located.
How to use this map: Use your computer mouse (or fingers) to zoom in or out. Click on the icons to get more information about each place. Click the arrow on the top left corner for the index. Click the star next to the map's title to add it to your Google Maps account. To view the saved map on your smartphone or PC, open Google Maps, click the menu and go to 'Your Places'/'Maps'. If you want to print the map or see it in a bigger window, click on 'View larger map' in the top right corner.
Here's our recommended 1-day Cinque Terre itinerary:
Take a train to Monterosso al Mare
In the morning, take a train to Monterosso al Mare. We started our day at around 8 AM with a short (20min) train ride from La Spezia, where we were staying, to the furthest village of Cinque Terre – Monterosso.
You can, of course, also opt to stay at one of the Cinque Terre villages or at the nearby town Levanto which is also on the same train route. You can find the Cinque Terre train schedule here.
Visit Monterosso al Mare and hike to Vernazza
Monterosso al Mare, the most Northern of Cinque Terre villages, is the most visited in Cinque Terre, mainly due to its sand beach. Monterosso has the only somewhat noteworthy sand beach in Cinque Terre, so it attracts many tourists in summer. It's a great place to go swimming, sunbathing, or kayaking, so if you are visiting in summer and have more time in Cinque Terre than just a day, you could definitely plan a day at the beach here.
When we visited, on a late-October morning, the beach was completely deserted. After a short stop at the tourist information center to enquire which sections of the Cinque Terre hike were open we set towards Vernazza.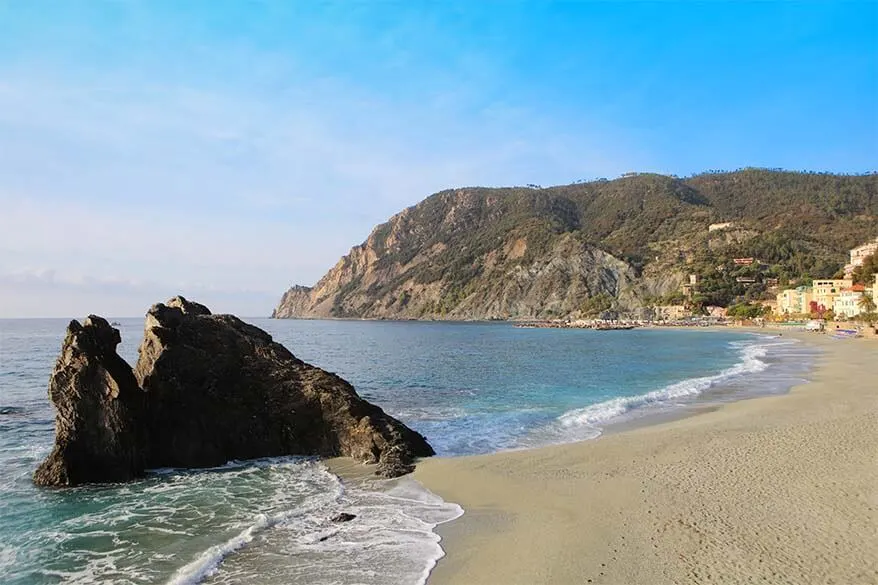 Before you reach the start of the hiking trail, you pass the old town center of Monterosso. The small town square has that typical laid-back feel of the villages along the Mediterranean.
An obligatory statue (in this case of Italian hero Giuseppe Garibaldi) stands in the middle of the square. It's surrounded by trees offering some very welcome shadow (yes, even in October!). There were also a couple of benches where locals were catching up on the latest gossip and doing some tourist-watching.
You'll find some restaurants and little shops here, as well as a little playground. A very cozy place! But – with just a day in Cinque Terre and a hike ahead, don't linger here for too long.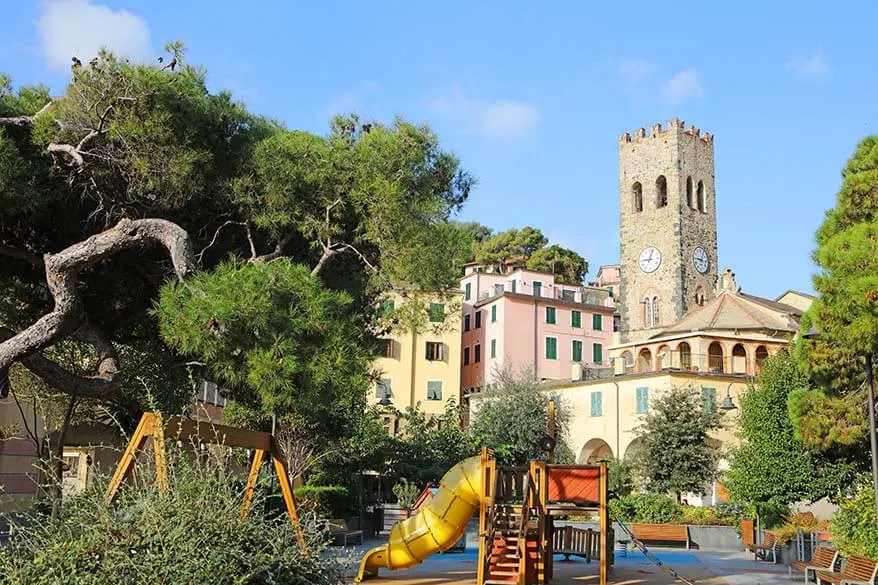 The Monterosso – Vernazza hike starts here, just behind the communal building. If you look well you will see a tiny arrow 'Vernazza' pointing in the direction of a narrow path going up the hill.
Once on the trail, you cannot really go wrong – there is just one path.
The hike from Monterosso to Vernazza took us 2 hours. We were hiking together with our three kids age 7-9 and they did just fine. However, some parts of the trail are quite steep and also a bit narrow, so you have to keep an eye on the children.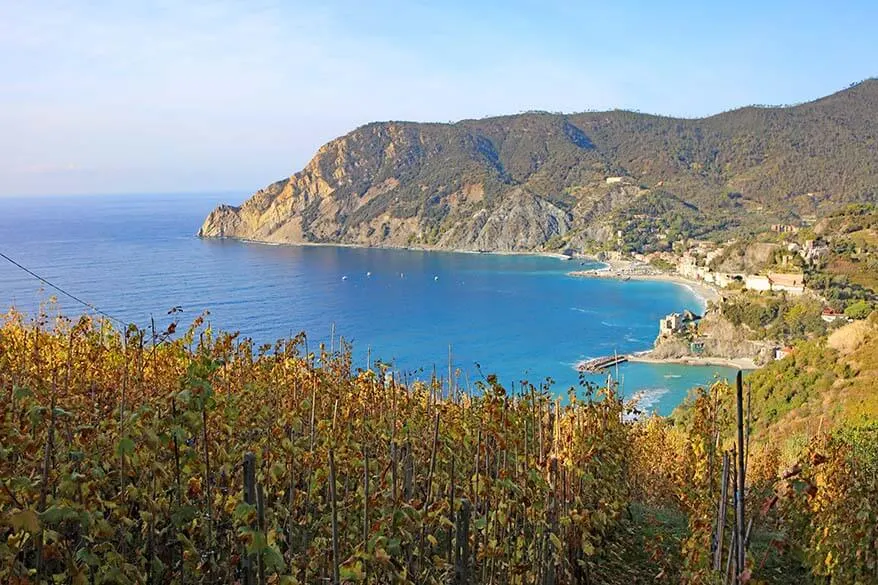 Visit Vernazza
Vernazza is one of the most picturesque villages of Cinque Terre. There are several stunning viewpoints from the Cinque Terre trail, some 5-10 minutes before you reach the village coming from Monterosso. Even if you are not hiking the whole trail, you could walk to these viewpoints from Vernazza.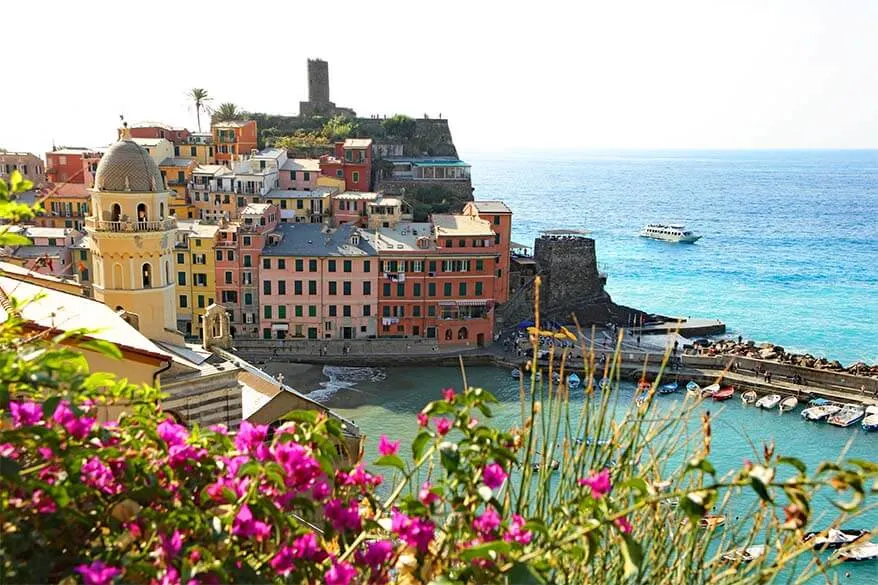 Vernazza itself is a colorful little village bustling with life. I can't imagine how busy it must be in summer!
By the time we reached the village it was around 11 AM and really hot. Time for a gelato! There are several gelaterias, as well as many restaurants and shops in Vernazza. You can rent a kayak, go swimming, or just hang around and soak in the atmosphere.
TIP: refill your water bottles in Vernazza and buy some local food to take with you for a picnic along the trail. This will save you lots of time (and money).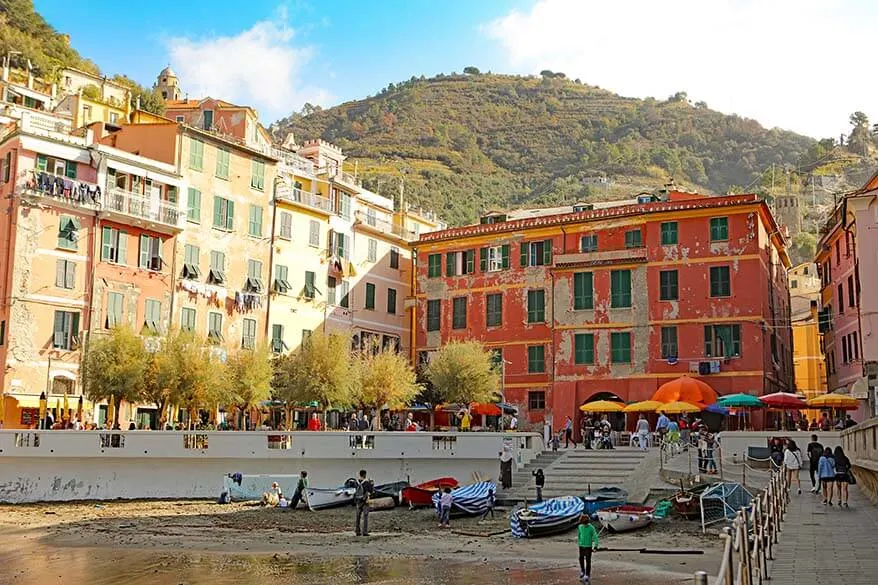 Hike from Vernazza to Corniglia
After refilling our water bottles in Vernazza we continued further on the Cinque Terre trail to Corniglia.
The hike between Monterosso and Vernazza leads mainly through the vineyards and the forest and has more shadow. This section of the hike – Vernazza to Corniglia – is probably even more impressive than the hike from Monterosso to Vernazza.
The trail is more open and you can enjoy incredible views over Vernazza (at first) and the Ligurian coast almost all the way! Vineyards are replaced by olive trees, and then vineyards again… It's a beautiful hike! But oh so warm in the middle of the day!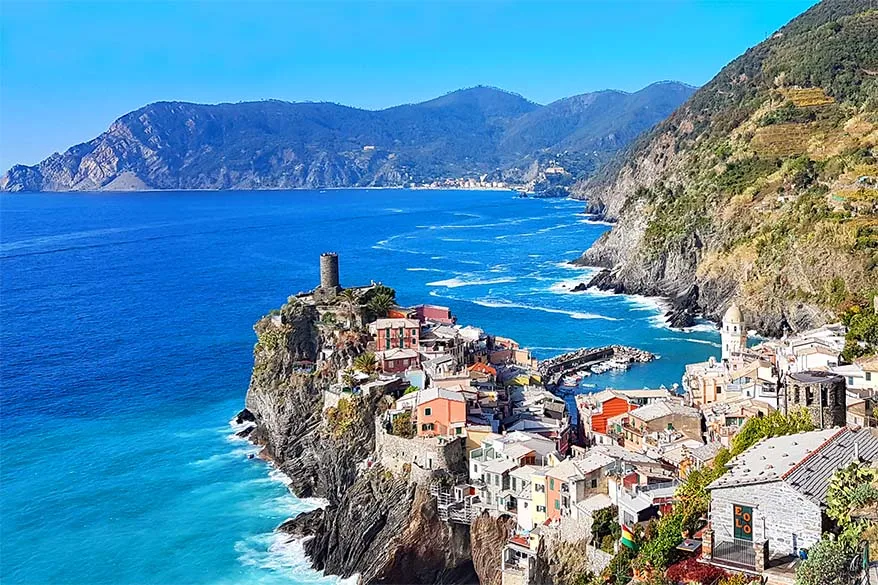 There aren't many places to stop for a picnic, but there are a few nice spots overlooking the sea about halfway through the hike. You can, of course, continue further and have lunch in Corniglia. We did both – a small picnic along the way followed by pizza in Corniglia. Kids just couldn't resist it when they saw the pizzas!
The hike from Vernazza to Corniglia takes about 90 minutes.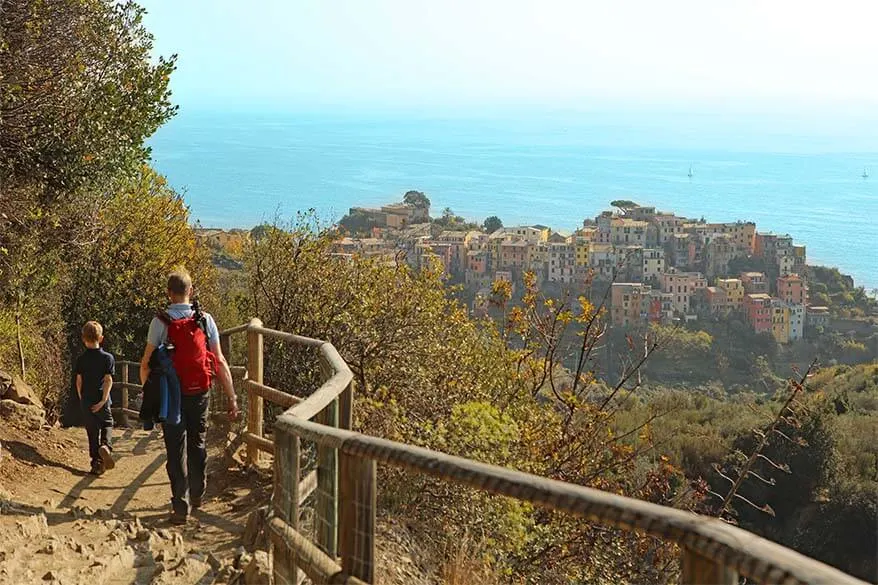 Visit Corniglia
Corniglia is probably the quietest village of Cinque Terre because it's the most difficult one to access.
Located high on the hill it is the only Cinque Terre village that cannot be reached by boat. There is a train station, but it's located down by the sea. So if you are coming by train, you will need to go up a couple of hundred stairs to get to the village. I think there is also a bus connecting the train station to the village, but we didn't see it during our visit.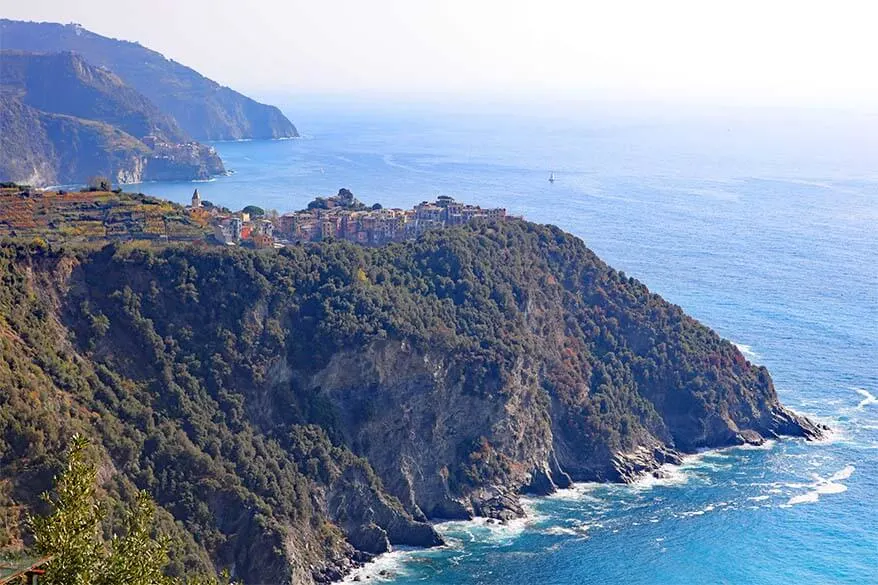 Since we came to Corniglia on foot, we didn't have to mount the stairs. And time-wise you don't waste much time by hiking here either. So if you want to visit Corniglia and you are moderately fit (and have walking shoes), you better hike there from Vernazza.
After our pizza lunch in Corniglia, we walked down the stairs to catch the train to Riomaggiore. I'm sure glad we didn't do this trip in the other direction!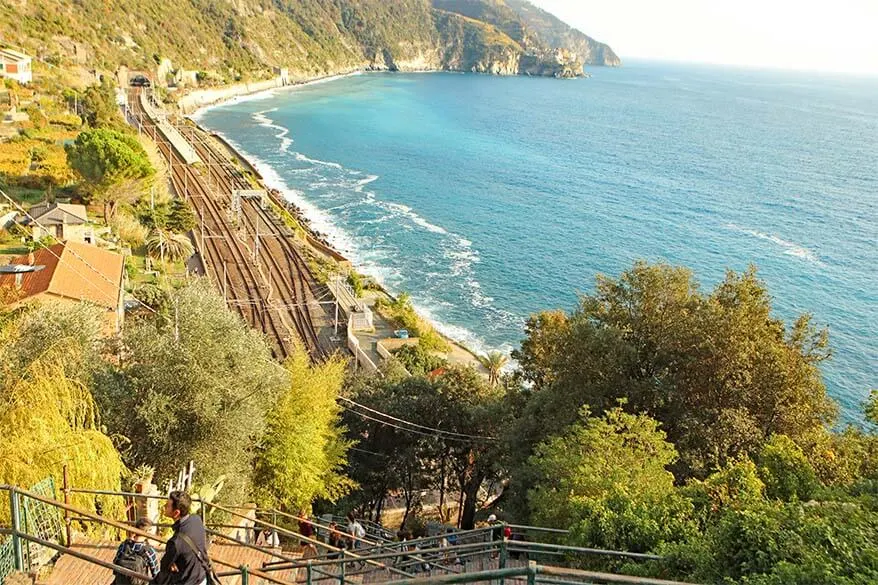 Good to know: In the past, you could hike the whole Cinque Terre trail between Monterosso and Riomaggiore. But due to some mudslides a few years ago, the paths between Corniglia and Manarola and between Manarola and Riomaggiore have been closed. So now you can only walk the two sections that I described here. It seems that there are no immediate plans to reopen the rest of the trail…
There are some other trails connecting the villages, but they are higher up the hill and more strenuous. If you want to do that, make sure to ask for up-to-date information at a local tourist information center.
Take a train to Riomaggiore
After a long wait (due to two canceled trains), we finally got on the train and in just a few minutes we arrived in Riomaggiore.
If you look at the map, you will see that we skipped one of the most beautiful villages – Manarola – at this point. But there is a good reason for it. We wanted to go to Manarola at sunset, so we decided to head to Riomaggiore first.
Riomaggiore is a rather big village, but we didn't have much time to explore it properly. We wasted an hour waiting for the train in Corniglia and it was also going to get dark at around 5 PM in the period when we visited. So upon arrival, we went straight to the most beautiful place – the tiny waterfront area of Riomaggiore. It's here that you can find the famous postcard-view that you have probably seen in the travel brochures.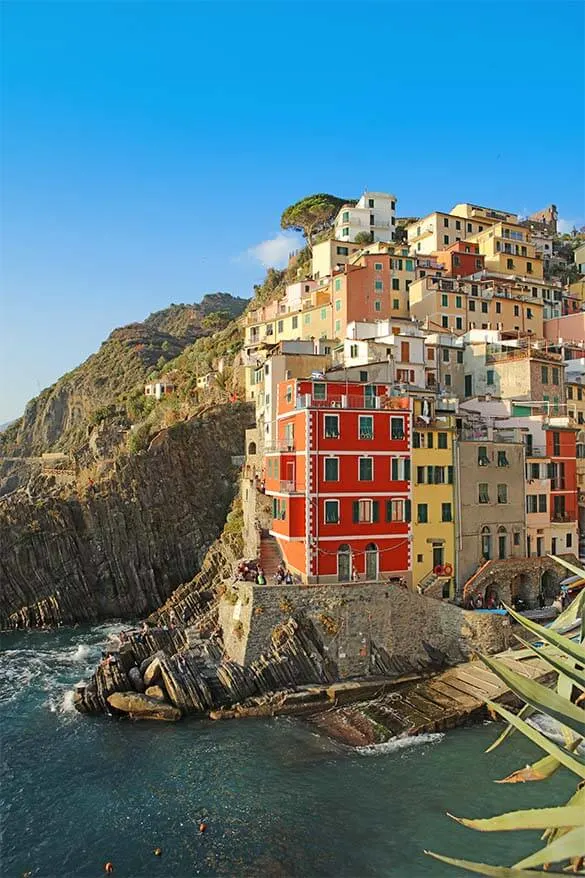 If you have more time, you can explore the old town with busy shopping streets. Also, make sure to walk a part of the famous Via dell'Amore coastal trail. Only a very small section is open to the public, but it's really beautiful!
A friend who knows Cinque Terre really well also recommended having a drink at the local bar A Pie' di Ma' in Riomaggiore.
After visiting Riomaggiore, we took a train to Manarola.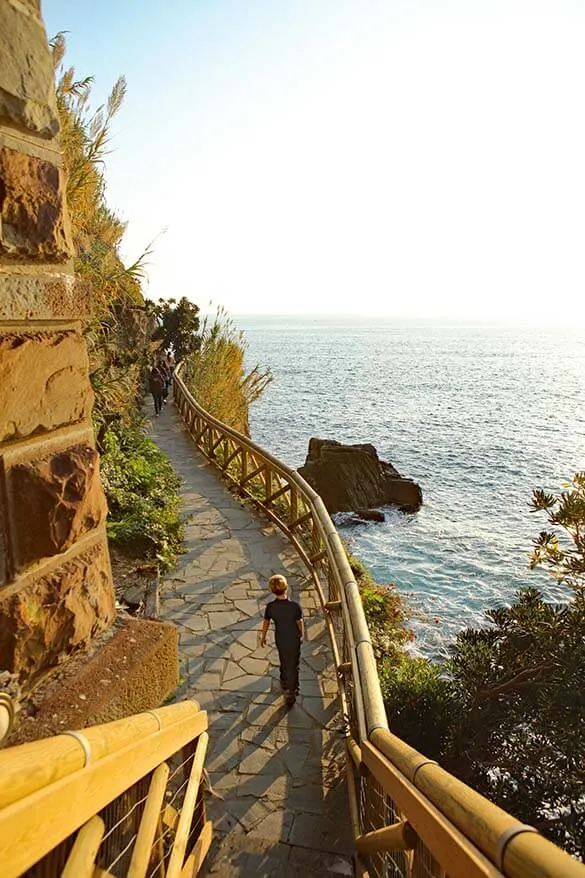 Go to Manarola for sunset and dinner
Our last stop of the day in Cinque Terre was Manarola. One of the most beautiful villages in the world!
We arrived in Manarola about half an hour before sunset. Just enough time to walk through the village and get to the scenic viewpoint – the best place to be at sunset in Cinque Terre.
TIP: If you want to see the beautiful Cinque Terre villages at sunset from the water, you can also opt for this nice sunset boat tour. It starts in Monterosso and sails past all the Cinque Terre towns offering great sunset views. If you're lucky, you may even see dolphins.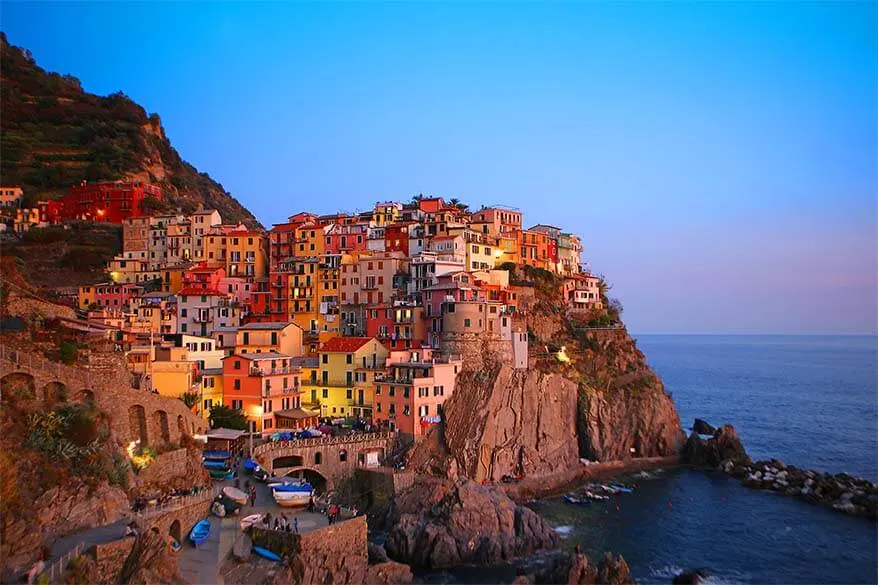 Afterwards, we had dinner at Nessun Dorma – a very good simple restaurant with some the best views in Manarola. They don't take reservations and there was a queue waiting to be seated, but we only had to wait a few minutes. It was the perfect end to a beautiful day in Cinque Terre.
After dinner, we took a train back to La Spezia. And one train was canceled again (low season? not enough tourists?). So by the time we reached La Spezia, it was after 9 PM. A long, but very beautiful day in 5terre.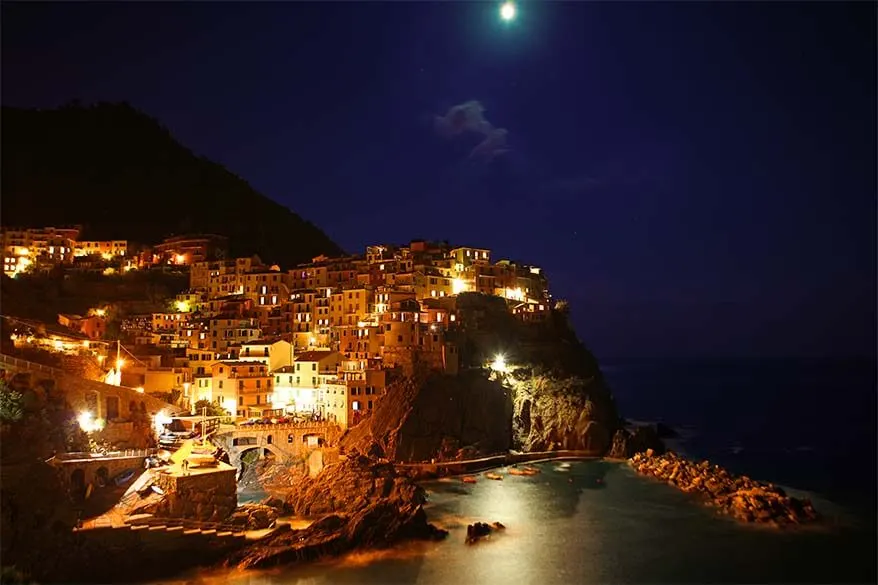 One Day in Cinque Terre – overview
Here's an overview of our suggested itinerary for your day trip to Cinque Terre:
In the morning, take a train to Monterosso al Mare
Visit Monterosso and hike to Vernazza (count about 2 hours for the hike)
Visit Vernazza (in summer, go for a swim and get some ice cream)
Hike from Vernazza to Corniglia (count about 1.5 hours for the hike)
Visit Corniglia and have lunch
Take a train to Riomaggiore
Visit Riomaggiore
Take a train to Manarola
Sunset and dinner in Manarola
Best Tours for a Day Trip to Cinque Terre
If you only have a day in Cinque Terre, one of the best ways to see a lot in the shortest time possible is to go with a local guide. They know just the right places and the best way to see it all, and – especially in the high season when it's very busy – going with a local might save you a lot of frustrations.
Here are some of the very best day tours for visiting Cinque Terre:
Best tour for those visiting by cruise ship – this is the best way to visit Cinque Terre in a day if you are arriving in La Spezia on a cruise ship and are looking to do a shore excursion without having to pay premium prices or having to arrange anything yourself. You get to see all the main villages, taste limoncino, and even have some free time to go for a swim if the weather is nice.
Best tour from Florence – this is one of the most complete Cinque Terre day tours with a great itinerary and very good value. You visit all the villages and have time for a beautiful hike between two towns if you choose to. If you're not interested in hiking, but want to have more time in the villages, this is a good alternative option and already includes lunch in the price.
Best tour from Milan – this is a great option for those who want to visit Cinque Terre as a day trip from Milan. It's a 3-hours drive one way, so going with a tour is definitely the best option if you only have a day.
Best hiking tour – this is the best tour for those who want to do a longer hike between several villages of Cinque Terre, but rather go with a local guide. It starts in La Spezia.
So, this is our suggestion for a one-day Cinque Terre itinerary. As I said, there are many ways to explore this beautiful coastal area. But if you are planning a day trip and don't know where to start, then I am sure that this post will give you a good idea of what you can see and do in a day and help you plan your trip.
And remember, we visited Cinque Terre in late October – the beginning of November, when it gets dark at around 5 PM (for more info, please check our guide to Italy in November). If you come in spring or in summer you will have much more time, so you can certainly make this exact same trip in one day (and have some time left for a swim).
More Info & Tips for Visiting Cinque Terre
For all the practical tips in regards to visiting Cinque Terre please refer to our complete guide to visiting Cinque Terre. It contains a lot of information and should answer any questions you may have. Check it out!
If you decide to stay at least a few nights in Cinque Terre area, please check our guide to where to stay in Cinque Terre (and book ASAP – accommodations here sell out really quickly).
If you aren't yet sure whether this region is worth a visit and/or are considering southern Italy as well, you may want to check our comparison guide to Cinque Terre vs Amalfi Coast.
READ ALSO: Best Places to Visit in Italy & Italy Itinerary
If you found this post helpful, don't forget to bookmark it and share it with your friends. Are you on Pinterest? Pin this image!

More tips for your trip to Italy: