Capri Island is one of the most popular holiday destinations in southern Italy. In high season, this beautiful flower island comes to life with day-trippers and vacationers coming to enjoy everything that Mediterranean island life has to offer.
One of the most commonly asked questions we get from our readers planning a trip here is where to stay in Capri. Indeed, once you take a deeper look, you realize that Capri has several different areas where you could stay, each with its advantages and disadvantages.
The answer, as it often goes, depends on a few factors – such as the purpose and the duration of your trip, but also your budget, interests, etc.
In this guide, we share our recommendations for the best places to stay in Capri, based on our personal experience and observations during our visit. We also share some practical information and comparison between Capri and Anacapri, as well as useful tips for your stay. Take a look!
Good to know: Capri is a summer vacation destination and many bigger hotels and some restaurants are only open from around April to late October – early November. But even if you visit the island in the lower season, you will find plenty to do and lots of nice places to stay in Capri.
TIP: If you visit in the peak season, be sure to book your Capri accommodation well in advance – the earlier you book, the better prices. And, once on the island, be sure to make reservations for dinner too – it gets very busy at the most popular places.
If you don't have the time to read the entire article, here are our top hotel recommendations in Capri for different budgets: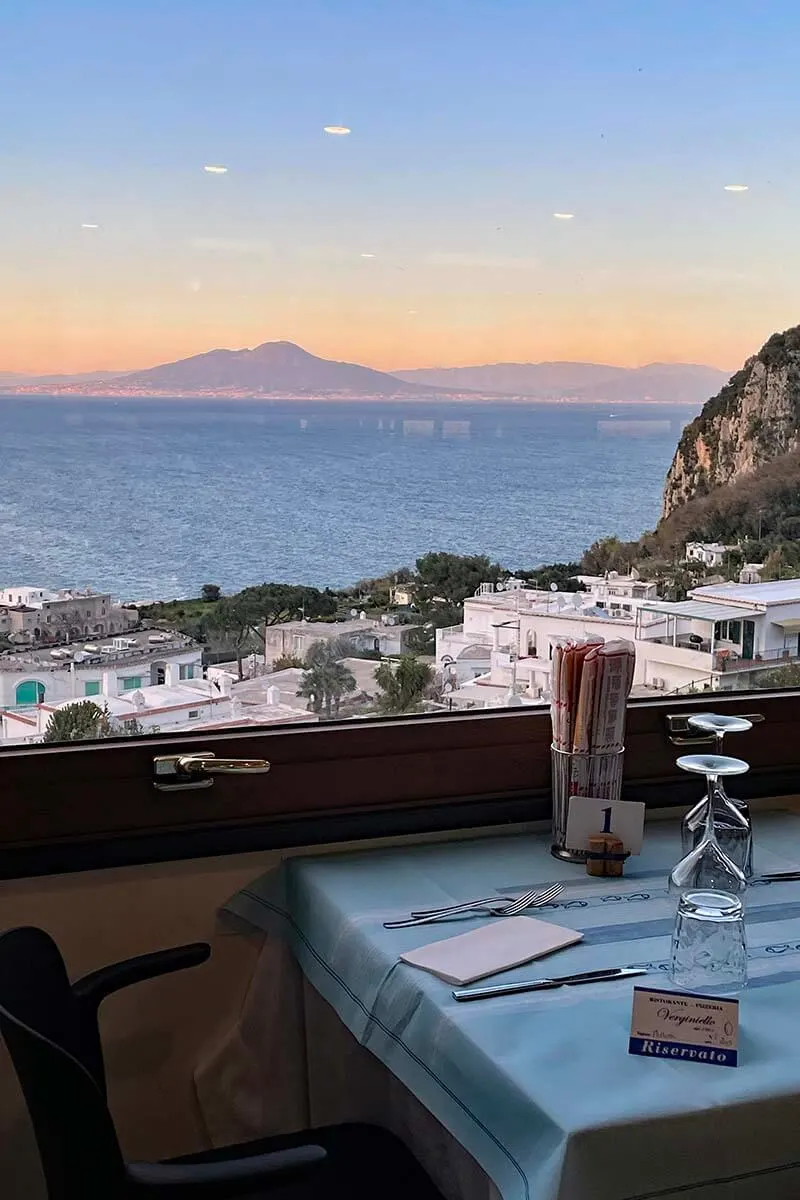 How much time do you need in Capri?
The biggest majority of tourists visit Capri for a day from Sorrento, from Naples, or from the Amalfi Coast. However, Capri is well worth a longer stay or even an entire vacation!
While it's possible to see the main highlights of Capri in just a day, the island has so much to offer that it deserves more time! Even if you are mostly interested in sightseeing, we recommend planning at least 2-3 days in Capri. But if you are visiting in summer, you could easily spend a week or even two here as well.
So if you stumbled upon this article while still doubting whether to visit Capri for a day or stay on the island, I highly recommend staying in Capri, even if only for one or two nights. Staying longer will allow you to get a bit beyond the most popular tourist routes and see some amazing scenery. Furthermore, you will be able to experience the island without the biggest crowds of day-trippers.
READ ALSO: Best Things to Do in Capri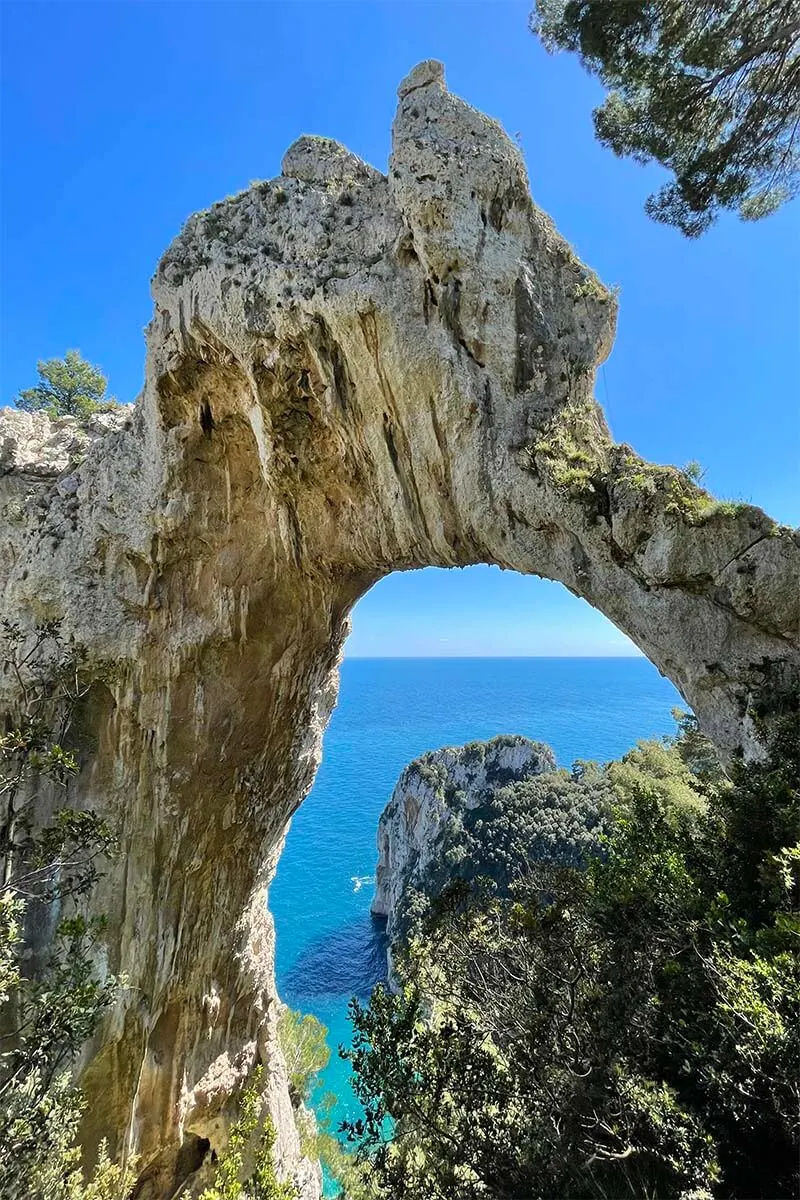 Best places to stay in Capri: Marina Grande vs Capri vs Anacapri
Before we look into specific Capri accommodations, you should know that there are three main places on the island where most hotels and accommodations are located: Marina Grande, Capri town, and Anacapri.
Marina Grande is located by the sea and is the main harbor of Capri. This is where you arrive on the island by ferry and it's is also the place where boat tours start.
Capri town center is located on a hill right above Marina Grande. It's the bustling center of the island where you will find the most popular shopping areas, lots of restaurants, and hotels. Capri can be reached from Marina Grande by funicular, by bus, or by taxi.
Anacapri is located yet a bit higher than Capri on the other side of the island. It's a smaller town with a more local atmosphere. There are many hotels and accommodations in Anacapri too, but it's incomparably quieter than Capri. Anacapri can be reached by bus or taxi from Marina Grande or from Capri town, and there's also a steep staircase – Phoenician Steps (921 of them!) – that connects Anacapri on the hill to Marina Grande by the sea.
Further below, you can find more information about each of these places, together with specific hotel suggestions for different budgets. However, please note that Capri is really not a budget destination and so 'budget' is a relative term here. The best way to save money is by booking well in advance when you have more choices.
TIP: Once you figure out where to stay in Capri, use the map below to find the best deals for your stay. Simply insert your travel dates and group size, and you'll see what's available. Alternatively, see our hand-picked hotel recommendations below.
Marina Grande
Marina Grande is the best area to stay in Capri if you want to be as close to the harbor as possible. Staying here makes it easy to get to your accommodation upon arrival – you can just walk to your hotel or apartment without having to queue for the bus or funicular or pay for an expensive taxi. Being close to the harbor means less hassle with your luggage and more time left for sightseeing.
If you are planning to take a boat tour around the island and visit the Blue Grotto or spend more time at a beach, staying at Marina Grande is also very convenient.
Another advantage of staying here is that you can easily get to Capri and Anacapri from Marina Grande by funicular, bus, or stairs. Also, the bus cost is the same no matter which way you go since you pay per ride.
Marina Grande is a very lively area with a harbor, ferries, boat tours, but also restaurants, cafes, and shops. There are also a few beaches here. It's crowded during the day. However, it's much quieter in the evenings when all the day tourists leave, so you can also enjoy the more local side of island life.
Conclusion: Marina Grande is a great place to stay if you are in Capri for just 1 or 2 nights (no hassle of traveling far with luggage). It's also a good place for those who want to stay within short walking distance of the beach.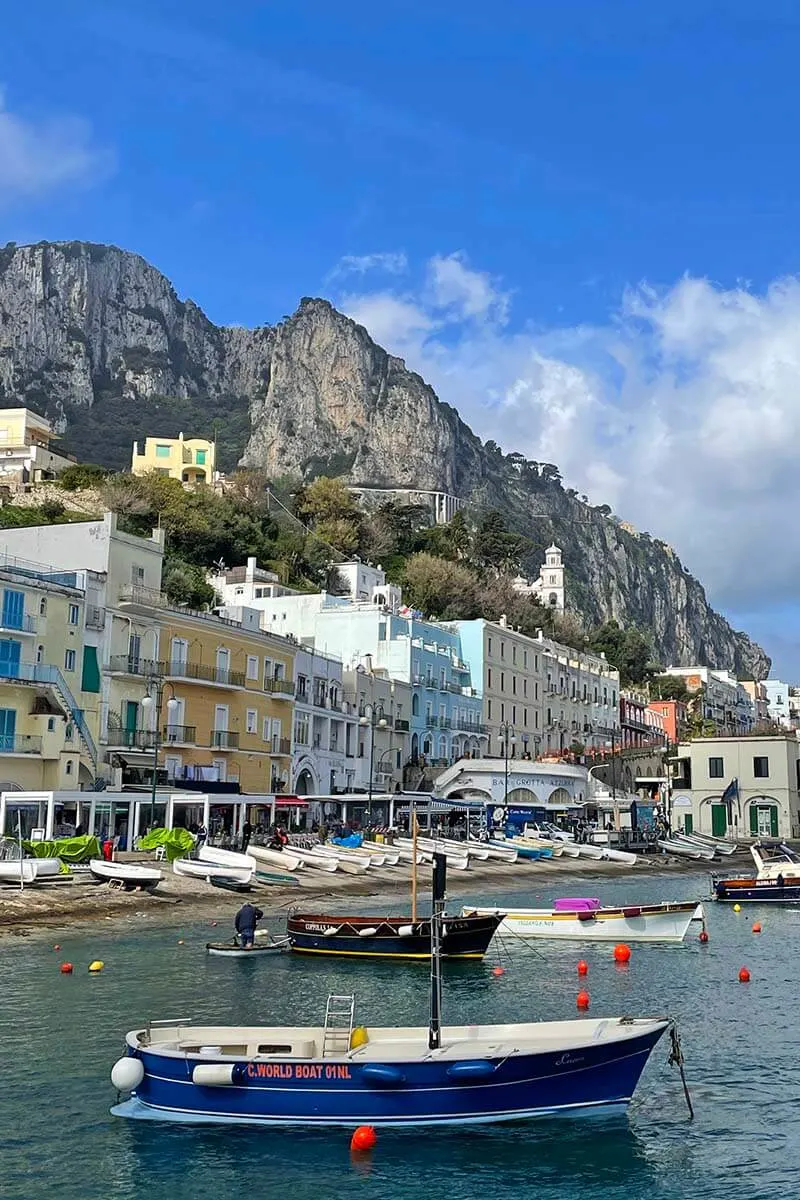 Marina Grande Hotels
Marina Grande is a rather small area and there are just a few hotels here. Luckily, there are some really nice choices for various budgets. In addition, there are many privately-rented apartments as well (too many to mention – you can see them on the map here).
TIP: Pay attention to the exact location of your accommodation. While some of them are indeed located directly by the harbor, some others are just a little higher on the hill and might require a bit longer walk with your suitcases.
Here are some of the best hotels in Marina Grande for all budgets:
€€€€€+ Villa Marina Capri Hotel & Spa.
€€€€€ Luxury Villa Excelsior Parco.
€€€+ Relais Maresca Luxury Small Hotel (the nicest upper mid-range hotels in this area).
€€€ Capri Inn (simple accommodation with amazing sea views and great customer reviews).
€€ B&B Palazzo a Mare (one of the best lower-budget options).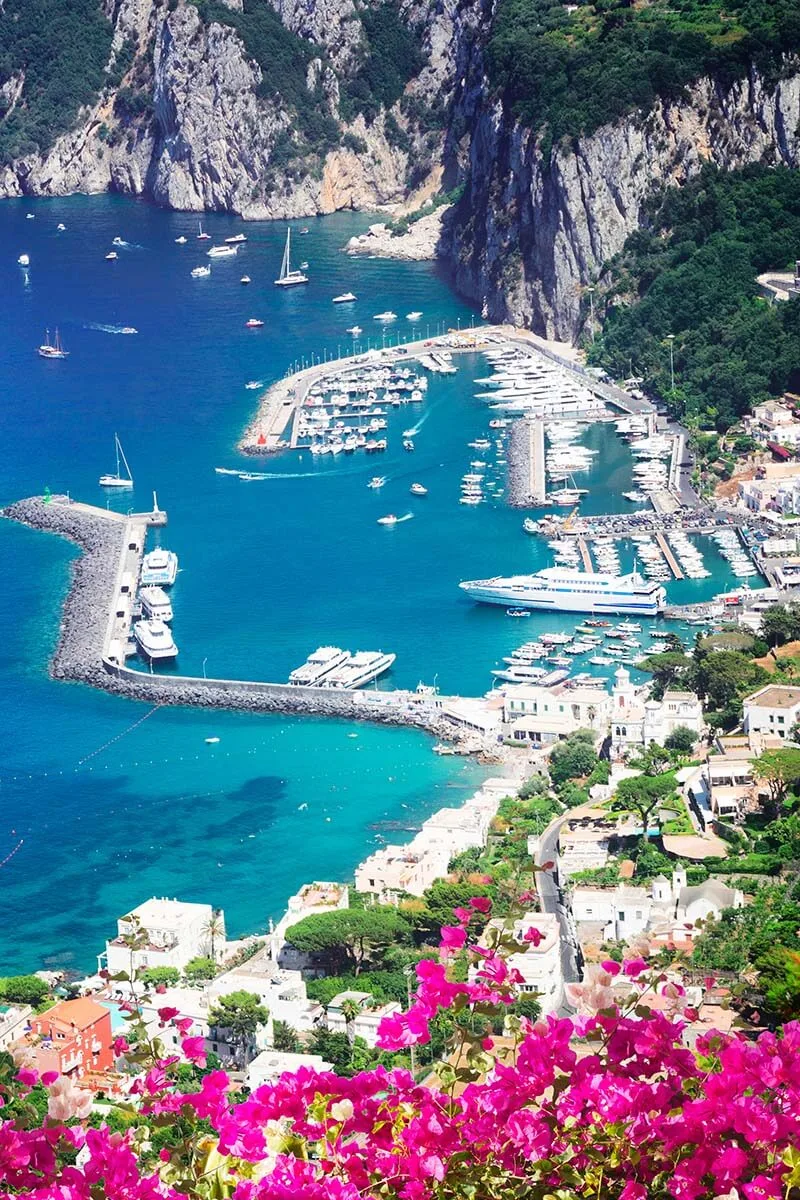 Capri
Capri town is the most popular place to stay in Capri. This is where you will find the big majority of the nicest hotels on the island, but also lower-budget B&Bs, private rentals, etc.
This is also where you will find a post office, a big supermarket, lots of restaurants, and countless shops selling everything from local food and souvenirs to the most expensive clothing from the world's most famous fashion brands.
Good to know: Capri town is quite spread-out (Marina Grande is actually part of it too), so there's a lot to see and do here. The biggest majority of the town is car-free with narrow walkable streets, so wandering around here is really enjoyable. You will find many of the nicest landmarks of Capri within walking distance of the town center. But you have to be prepared to do quite some walking indeed.
Also, since Capri is located on the hill, you cannot easily get to a beach from here. All the beaches are located much lower than the town and can be accessed either by taking a bus/taxi or by walking which usually involves lots of stairs. If visiting Capri in summer, I highly recommend looking for a hotel with a pool.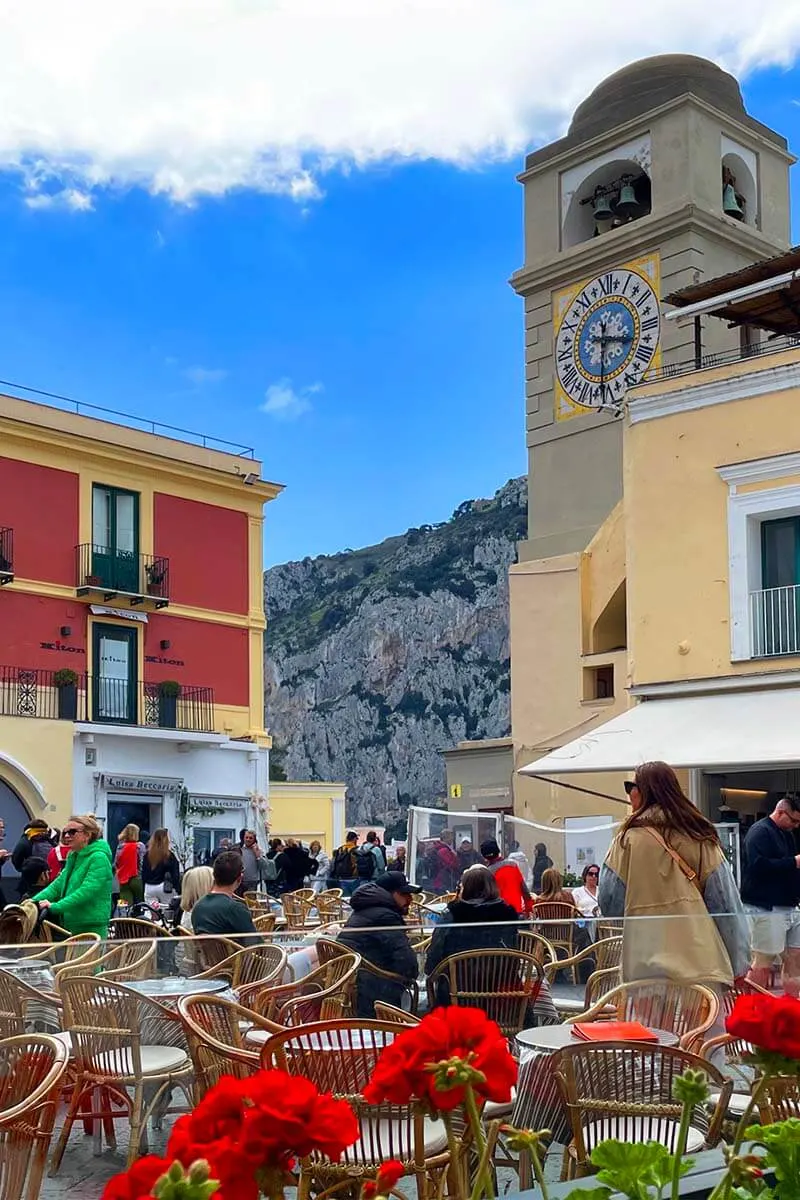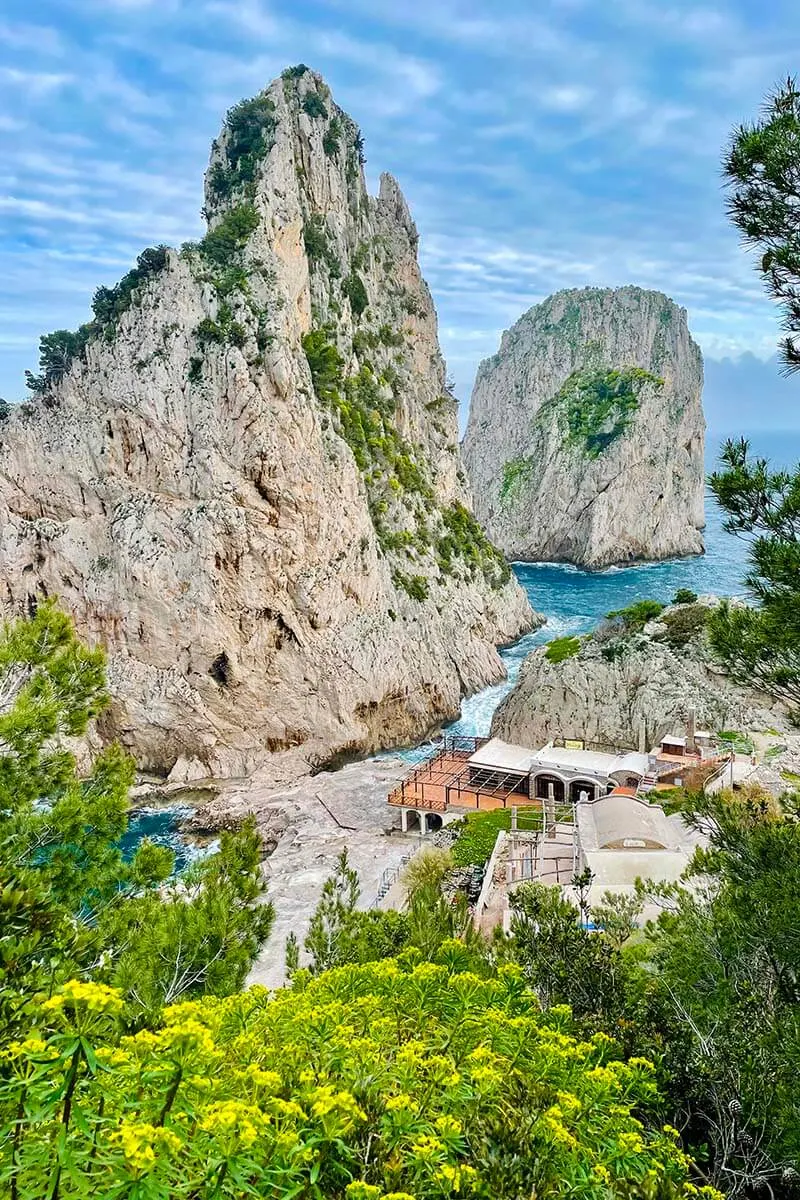 TIP: If you decide to stay in Capri town, be sure to pay attention to where exactly your accommodation is located. Pretty much anything east of Piazzetta di Capri is inaccessible by car, so you will have to walk there on foot. Some bigger hotels will probably send a special narrow car to pick up your luggage, but even those 'cars' only have space for a driver and one passenger.
Walking around is part of the Capri experience and you will love it. But it's always good to know in advance what to expect, especially if mobility and accessibility are of concern to you.
Also, keep in mind that the bus/taxi stop is at Piazza Martiri d'Ungheria and the funicular stop is at Piazzetta di Capri (both very close to the main town center). So if you are planning to do lots of sightseeing in a short time, it's best to stay within 10-15 minutes walking distance from here.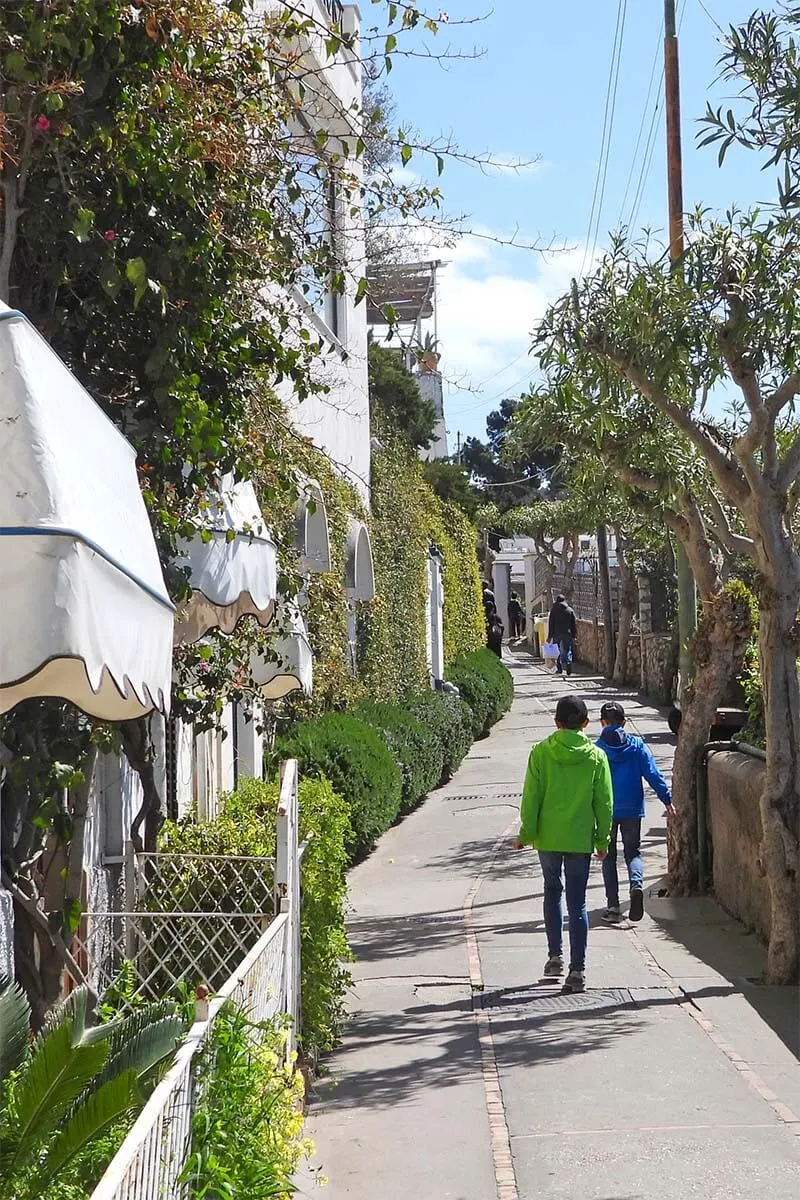 Capri Hotels
There are so many hotels and accommodations in Capri that it's really difficult to make a selection of a few 'best' ones. The places we highlighted below are chosen for their convenient central location and excellent customer reviews. We also try to give some of the best options for various budgets.
Also, keep in mind that – in general – hotels and apartments in Capri town tend to be more expensive than hotels in Anacapri or Marina Grande. On the other hand, there's also much more choice and so the price really depends on the lodging that you choose rather than the town.
Here are some of the best hotels in Capri for various budgets:
€€€€€€+ Capri Tiberio Palace.
€€€€ Hotel Mamela (one of the most popular affordable-luxury hotels).
€€€ Hotel La Tosca.
€€+ Regina Cristina or Hotel San Felice (some room types offer very good value for Capri).
€€ Affittacamere Capri Dolce Vita (one of the best-rated options in the heart of the town center).
Apartments and holiday homes If you are traveling on a lower budget or with a bigger family, take a look at apartments and guesthouses in Capri (e.g. Fuorlovado40 or Marlin Guest House, to mention just a few of the countless available options).
Our recent experience: We visited Capri with our three kids and – since most hotels don't have family rooms for 5 people – we opted for a holiday home instead. We stayed at A varca ra neve holiday home in Capri town center, close to several bus stops and about 5 minutes walk from the funicular. The location was central yet very quiet and it was perfect for sightseeing.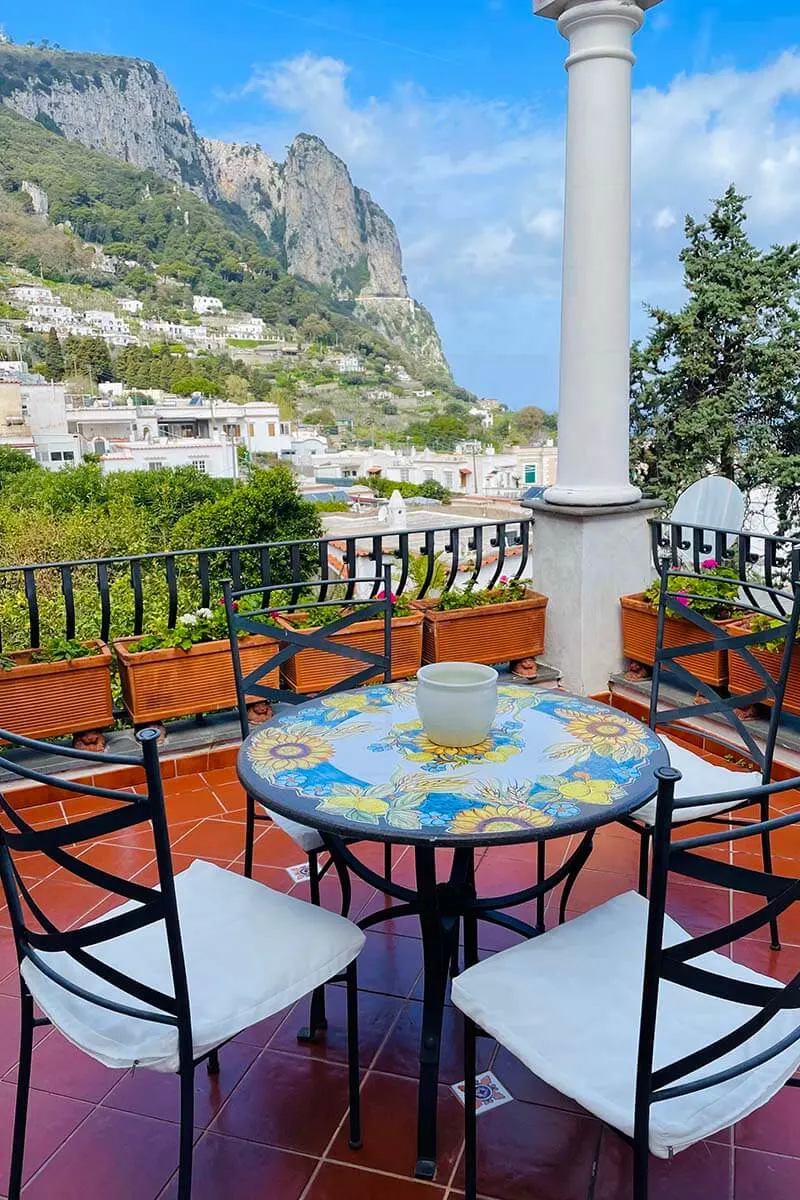 Anacapri
Anacapri is also a really nice place to stay in Capri. It's especially suitable for those who want to avoid the biggest crowds and are looking for a more authentic atmosphere. While – in general – hotels in Anacapri are cheaper than in Capri, there are some really nice high-end luxury resorts here as well.
Most tourists come here to visit the top of Monte Solaro and don't spend much time in Anacapri itself, so the town is rather quiet, except for the area around Piazza dela Vittoria during the busiest hours of the day.
But there is so much more to see and do in Anacapri than that. And staying here gives you a nice opportunity to explore this area deeper. Indeed, this is a more authentic side of Capri island that most tourists never see.
Good to know: Anacapri town center is rather small, but the hotels here are also scattered around, with several properties located 2-3 km from the town center. So also here, it's very important to pay attention to the exact location of your hotel so that you know what to expect.
Staying close to the town center is more convenient because you have easier access to buses/taxis. But some places that are located further away might offer a shuttle to town, so it's not an issue either. And if you stay here, be sure to take the Phoenician Steps (Scala Fenicia) down to Marina Grande at least once during your vacation – it's a fun experience.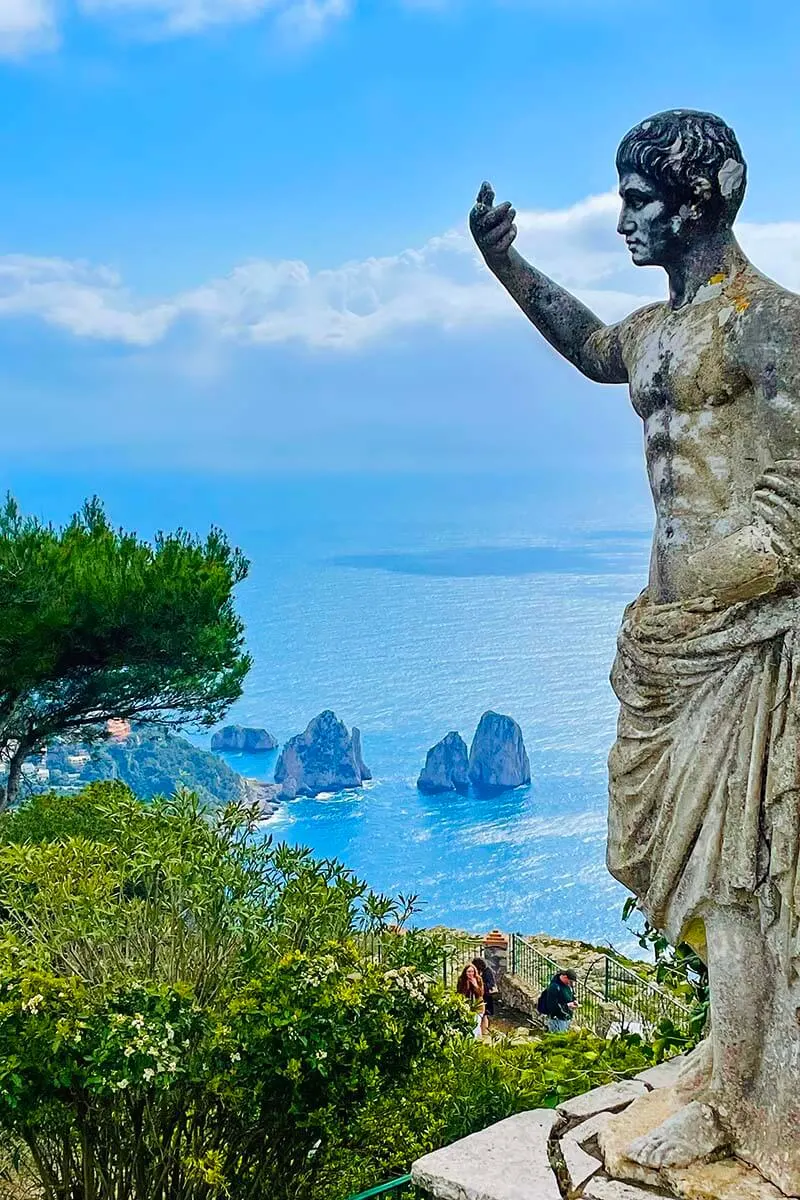 Anacapri Hotels
While there are many privately-rented accommodations in Anacapri, the choice of hotels is rather limited. Still, you will find several really nice options for all budgets. Also, often, you get more value for your money staying in Anacapri compared to Capri.
Here are some of the best-rated Anacapri hotels:
€€€€€€+ Hotel Caesar Augustus.
€€€€€ Capri Palace Jumeirah (in my opinion, this is one of the nicest luxury hotels in Capri – if you are looking for an exclusive stay or a nice hotel to stay in Capri for your honeymoon, check this out!).
€€€ Hotel Orsa Maggiore (great value in the mid-range budget).
€€+ Da Gelsomina (one of our personal favorites – for its location close to an amazing Migliara viewpoint, a pool with a view, and mostly for having the very best restaurant on the island (you should come here for lunch or dinner even if you are not staying at the hotel)).
€€ Hotel Il Girasole (beautiful hotel with a pool – excellent value for Capri).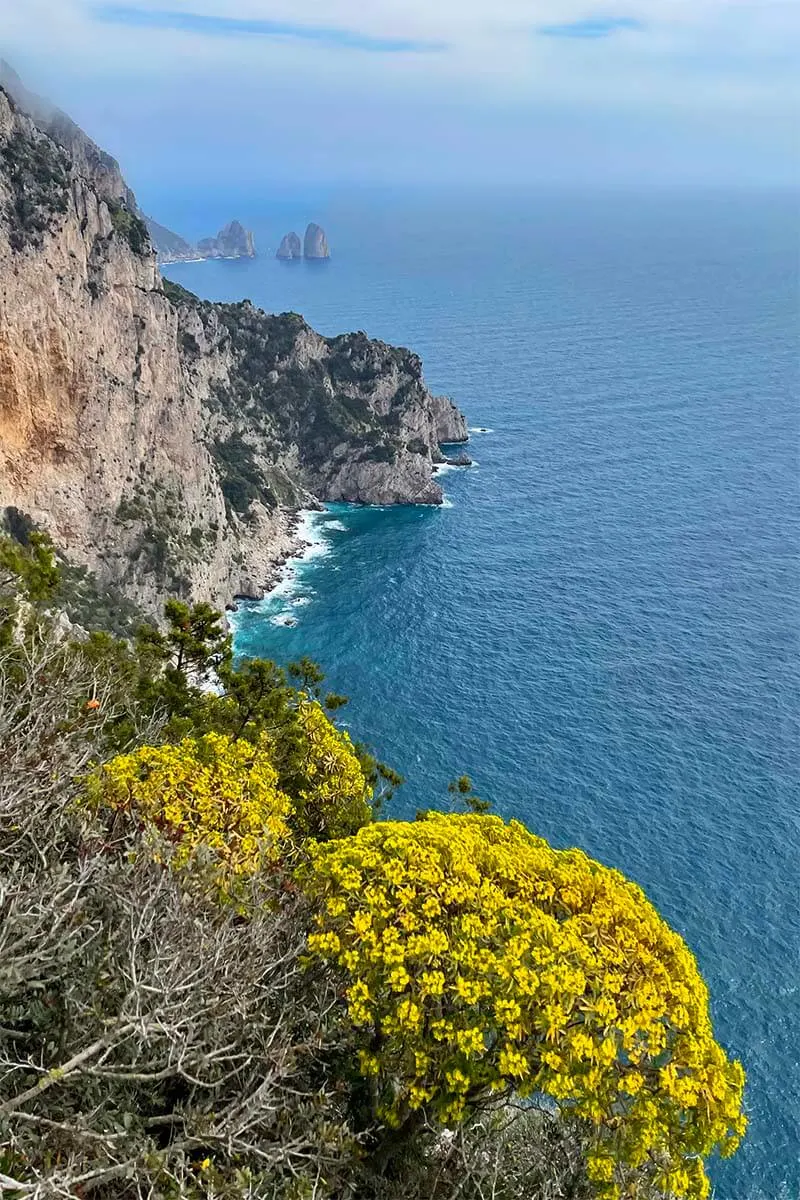 Where to stay in Capri – FAQ
What's the best area to stay in Capri?
There are three main areas to stay in Capri: Marina Grande, Capri town, and Anacapri. For a short visit and convenient access to the harbor, stay in Marina Grande, for a more authentic feel and a better value – stay in Anacapri. But if you are looking for an ultimate Capri experience and want to be in the center of it all, stay in Capri town center. No matter where you stay, be sure your accommodation has sea views!
Is it better to stay in Capri or Anacapri?
While both are located high on the hill and offer amazing views, staying in Capri vs Anacapri is a very different experience. Capri is a lively and very busy mondaine town where you will find luxury fashion boutiques, some of the most expensive properties and hotels on the island, and also nightlife and big crowds. Whereas Anacapri is a rather simple quiet place with a more authentic local atmosphere. One is not better than the other – it's really about what kind of a stay you are looking for.
Which is cheaper: Capri or Anacapri?
While there are some really nice luxury hotels in both towns, in general, Capri is much more expensive than Anacapri. This counts for everything – lodging, restaurants, but also shopping. No matter what kind of accommodation you choose, you'll likely get better value for your money in Anacapri than in Capri.
Can you walk between Capri and Anacapri?
While you can take Phoenician Steps from Capri's Marina Grande to Anacapri, you cannot really walk from Capri town to Anacapri. The main road connecting these two towns is narrow and the traffic is very busy – you would risk your life walking here. Not even to mention that it's a serious uphill climb since Anacapri is located much higher. It's best to take a bus between the two towns – it takes just about 10 minutes and costs 2 euros. Taxis are also available.
So, this is our guide to the best areas to stay in Capri. I hope that it gives you a better idea of what to expect and helps you plan a more memorable stay.
Have a great time in Capri!
TIP: If you are visiting the beautiful Campania region in Italy beyond Capri, be sure to check our other guides to the area as well:
Naples and surroundings:
Amalfi Coast:
All the best places:
For many more destinations, please see our Italy travel guide.
If you found this post useful, don't forget to bookmark it and share it with your friends. Are you on Pinterest? Pin these images!