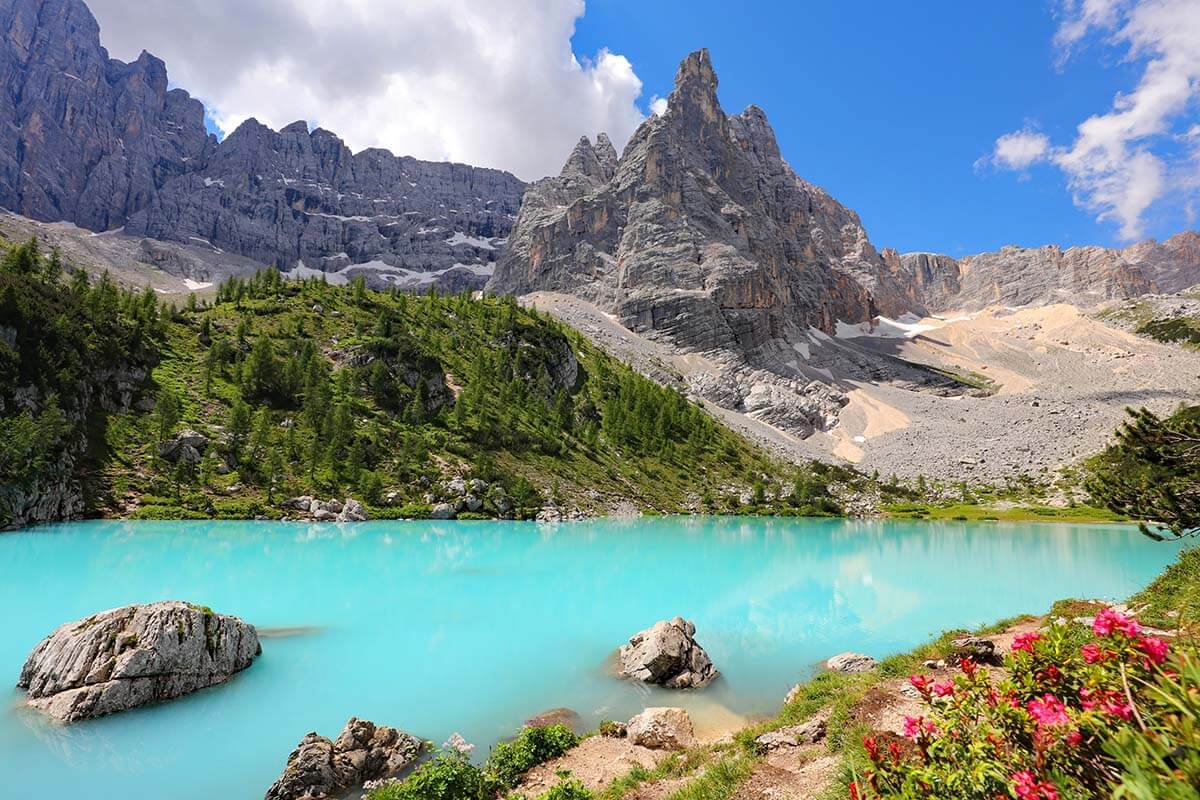 Italian Dolomite mountains are home to some of the most stunning mountain scenery in the world. But what can be more beautiful than a lake surrounded by snowcapped mountain peaks… So in addition to our guide to the best places to visit in the Dolomites, in this article, we also share our selection of the most beautiful lakes in the Dolomites.
What are the most picturesque lakes in the Dolomites? How easy is it to visit them? And which ones are worth a visit the most if you only have limited time? You'll find all this information in this guide. In addition to the most popular Dolomites lakes that you'll see mentioned in all the travel guides and brochures, we also include some lesser-known gems that are well worth your time as well. Find out!
To help you plan your trip, we also created a map indicating all the nicest lakes in the Italian Dolomites – you can find it at the bottom of this article. Furthermore, we also give you tips on how to visit each lake. Most of the lakes on our list are very easy to visit and don't require much time or effort at all. Some others are just an easy hike away, and only three of them require a somewhat longer hike.
So no matter how much time you have and whether you hike or not, there are plenty of incredibly beautiful mountain lakes you can see in the Dolomites. Find out!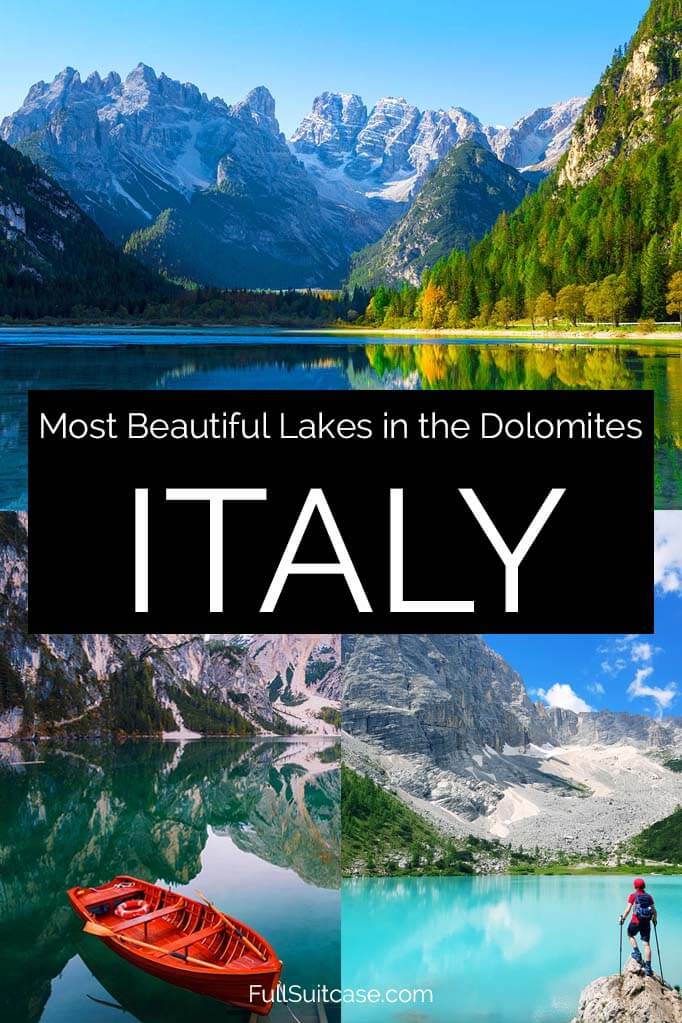 Some clarification about the place names: There are three different languages spoken in the Dolomites: Italian, German, and Ladin (an ancient Rhaeto-Roman language). So many place names in the region have several different names. In our guides, we use the names that are most commonly known among international tourists. But – where applicable – we also include the other names, so that you can avoid confusion when planning your trip.
Good to know: While each lake is unique and beautiful in its own way, some of them are even nicer than the others and some are so easy to visit that it would be a pity not to check them out when passing by. While not always easy to make a selection, we sorted our list starting with the nicest and most popular lakes in the Dolomites at the top. If you have to choose just a couple of places from this list, start with the ones in our top 5-6 first.
These are the most beautiful lakes in the Italian Dolomites:
1. Lago di Braies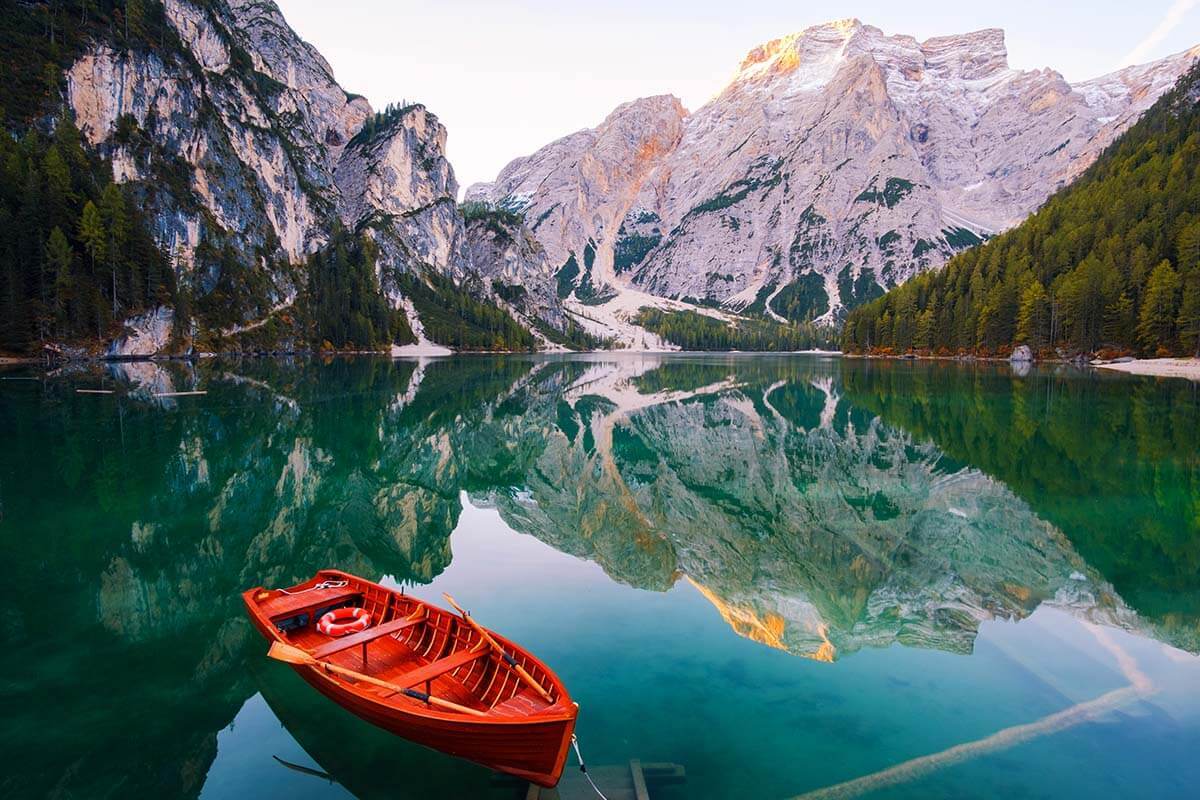 Considered the most beautiful lake of the Dolomites, Lago di Braies (Pragser Wildsee) is an absolute must-see! So if you only have time to visit one or two lakes in the Dolomites, definitely include it in your Dolomites itinerary.
Surrounded by mountains and wonderful reflections in its calm emerald-green waters, Lake Braies is very picturesque. The historic Lago di Braies hotel, a cute wooden boathouse, and rowing boats on the lake make it even more picture-perfect. Recently, this lake has become a very popular spot for Instagrammers…
Lake Braies is very easy to visit and no hiking is required. However, there is a nice short loop hike around the lake and it's well worth it. We also highly recommend renting a boat – it's not cheap, but it's definitely something for your Dolomites bucket list!
You can just see the lake, snap a few pictures, and visit Lake Braies in just 30 minutes. However, if you have more time, you can also go hiking, rent a boat, brave the ice-cold waters of this glacial lake, have a picnic or lunch at one of the restaurants, and spend a couple of hours here. In fact, Lago di Braies is a very popular day-trip destination loved by locals as well, so it can get really crowded here in summer. Due to its popularity, the road to the lake gets closed during the day in high season, and you might have to take a shuttle to the lake.
TIP: You can find all the practical details, hiking info, and useful tips in our Lake Braies guide via the link below. Check it out!
LEARN MORE: Lago di Braies: Complete Guide
2. Lago di Dobbiaco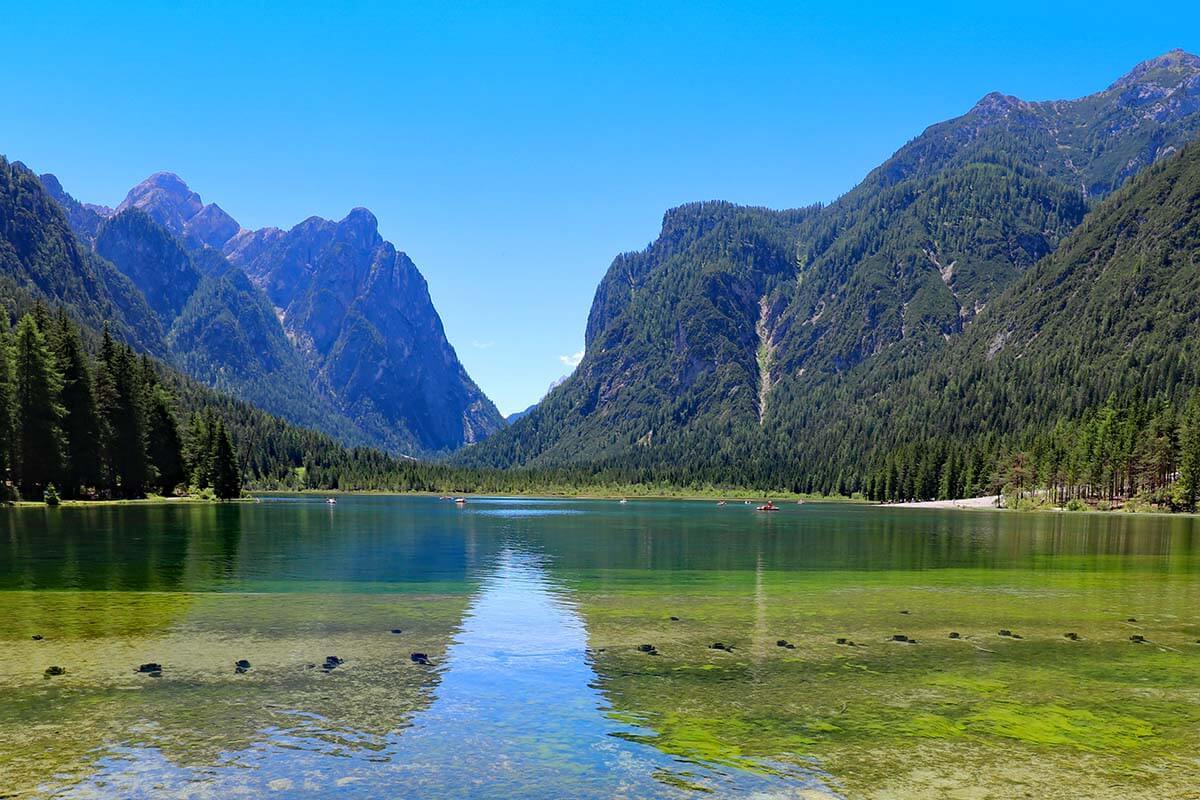 Lago di Dobbiaco (Toblacher See) is another really pretty lake that you can easily visit without spending much time or effort. The lake is just next to a very popular road, the scenery is amazing, but somehow it's mostly visited by locals and the majority of tourists don't take the trouble to stop here. Don't make this mistake and definitely check it out!
Also here, you can take a walk around the lake, rent a paddleboat, go swimming, or enjoy the views while having a drink or a nice local meal at one of the restaurants. But if you are in a hurry, you can just walk to the northern side of the lake for the nicest view as seen in our picture above.
Lake Dobbiaco is very easy to visit, no hiking is required, and the best viewpoint is just 5 minutes walk from the car park. It's also very close to the popular Lago di Braies mentioned above. So you can easily see these two stunning lakes (and much more) in one day.
TIP: You can find all the details and tips for your visit in our guide below. Check it out!
LEARN MORE: Lago di Dobbiaco
3. Lago di Misurina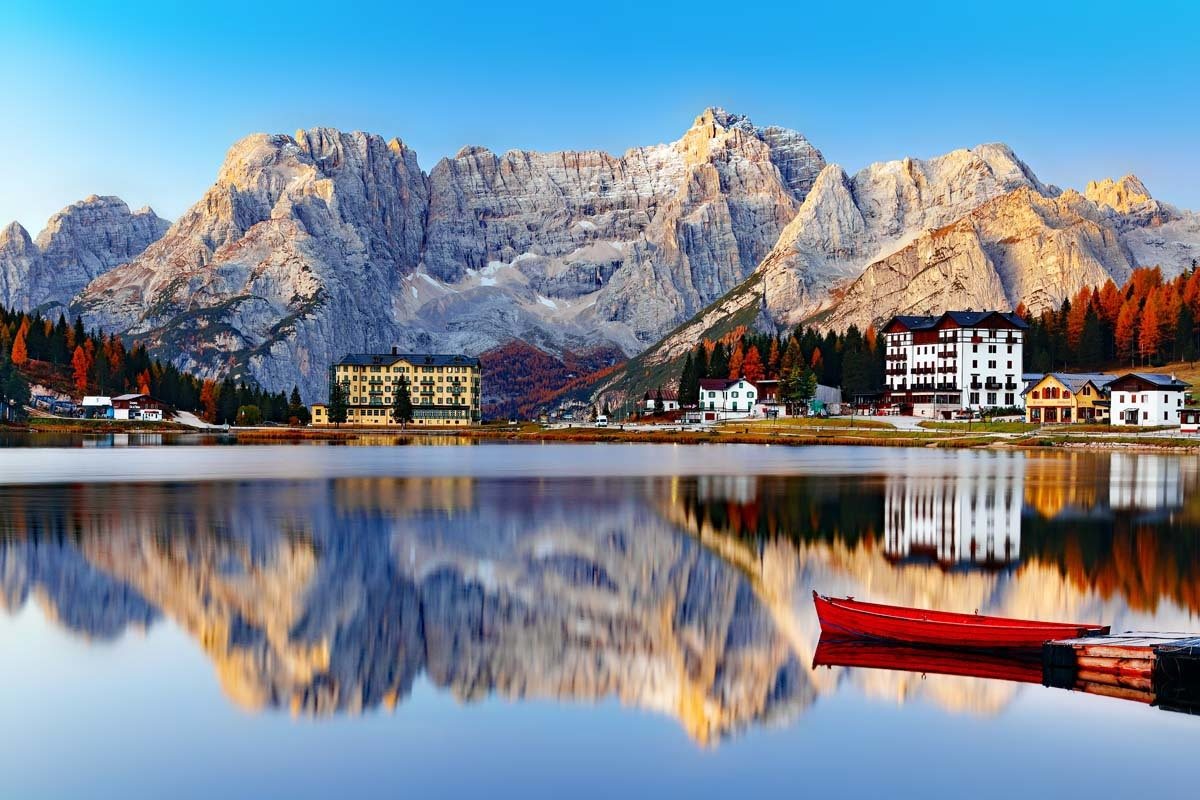 Lago di Misurina (Misurinasee) is one more of the nicest lakes of the Dolomites that should definitely be on your list. Located just next to the road on the way to the famous Tre Cime di Lavaredo, this lake is also extremely easy to visit.
Lake Misurina is picture-perfect, especially when the water is calm and you can see mountain reflections on the lake. On one side of the lake, you can see the Tre Cime peaks, on the other side – the Marmarole mountain range. These snow-capped mountains give a stunning backdrop to this beautiful lake.
There is a nice boardwalk on the western side of the lake and a pathway on the other side. The entire loop around the lake is just about 2.6 km (1.6 miles) and it takes about 40-50 minutes to walk all around it. You can also rent a paddleboat if you have more time.
And while the majority of people only stop here for a quick photo and move on (if they even stop at all), Lake Misurina is definitely worth a bit longer visit. Get some ice cream at one of the shops, walk around a bit, or sit on one of the benches and enjoy the view.
TIP: There are several nice hotels in this area and Misurina is a great place to stay for visiting Tre Cime di Lavaredo, allowing you to easily get there before the big crowds arrive and fill the parking lot. Lake Misurina is also very nice in the evening and early in the morning when the reflections on the lake are at their absolute best.
4. Lago di Sorapis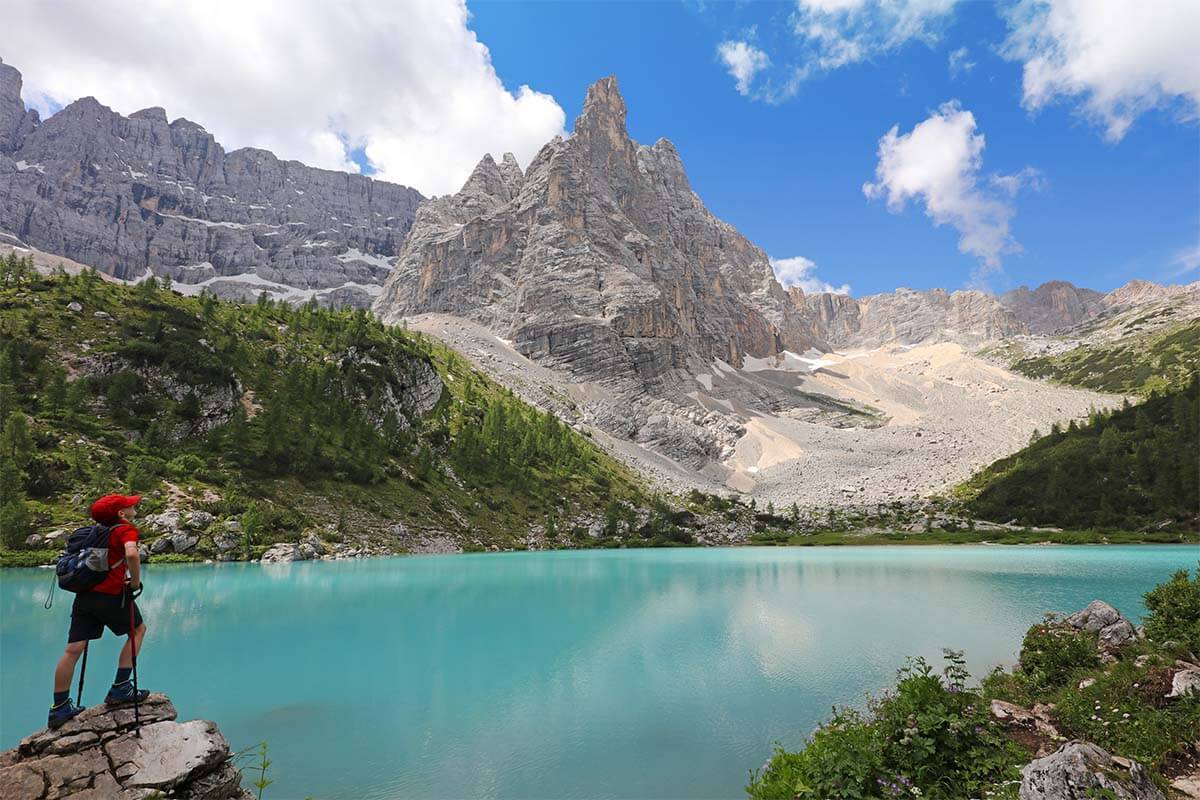 Lago di Sorapis probably deserves to be mentioned as #1 or #2 among the most picturesque lakes in the Dolomites. The reason why we put it a bit lower on this list has nothing to do with its beauty, but with accessibility. Lake Sorapis can only be reached by taking a 2-hour hike (one way, so at least 4 hours in total).
However, if you are fit enough and don't mind a moderate hike that involves some metal stairs and a few sections with steep drop-offs and metal wires, then definitely put Lake Sorapis on your bucket list!
This lake is very different from all the other lakes in the Dolomites; the scenery and the colors here will make you think of landscapes in Patagonia or in Canada… In fact, I can't think of any other mountain lake in Europe that would compare to Lago di Sorapis. It's very unique and absolutely breathtaking!
Good to know: Lake Sorapis has become extremely popular in recent years, so try to start your hike as early as possible. Also, try to visit here on a sunny day – some parts of the trail are really not something you want to do when it's wet. That being said, it's not as difficult as it sounds and many families hike here too and we also saw dogs on this trail. The scenery along the entire hike is stunning as well, so the lake is just the cherry on the cake. For more info, see our detailed guide below.
LEARN MORE: Hiking to Lake Sorapis
5. Lago di Limides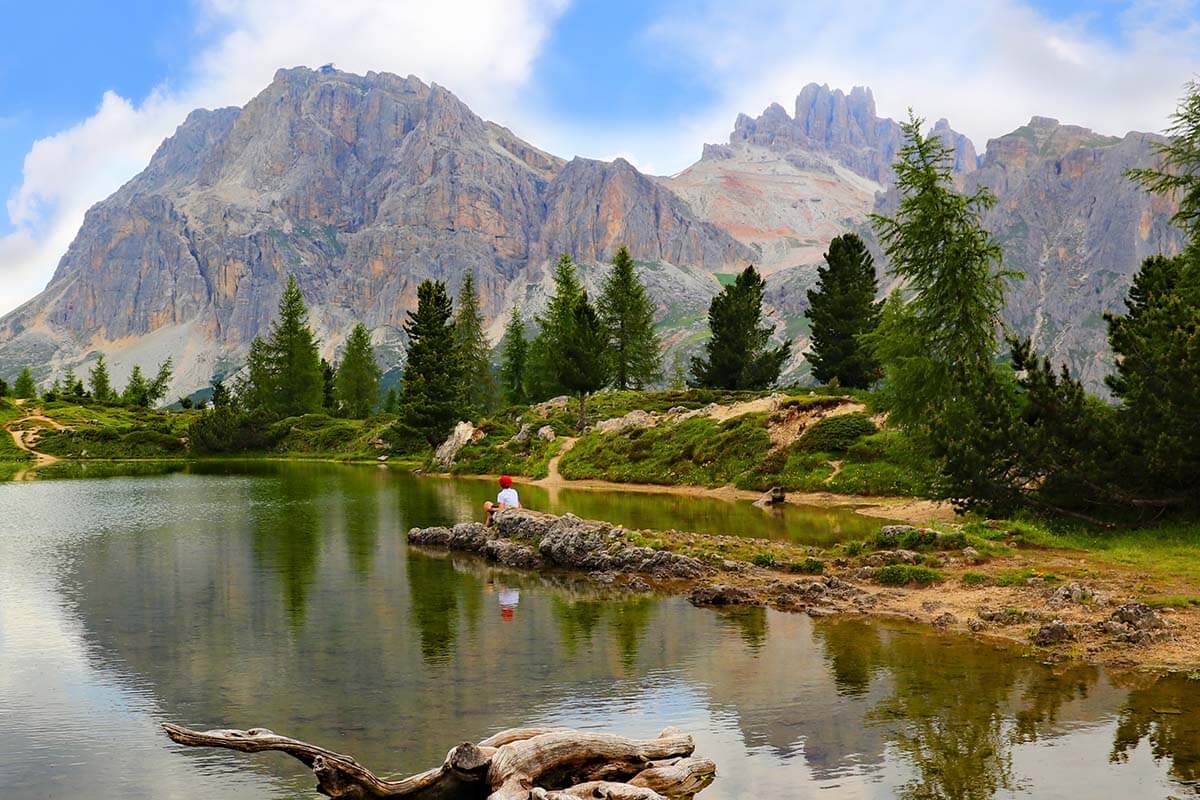 Lago di Limides is a very picturesque lake near Falzarego Pass in the heart of the Dolomites. The reflections of the nearby Mount Lagazuoi in the shallow waters of this tiny lake make it a favorite among photographers looking for some of the most scenic spots in the Dolomites. Lake Limides is also very popular with locals and families with children, and it's a nice place for a romantic picnic as well.
There are two main reasons for its popularity: the amazing scenery and the fact that it's quite easy to visit requiring just a short hike. We heard that it can get crowded here on the weekends. However, we visited on a rainy afternoon and we had the lake all to ourselves.
Good to know: The best time to visit Lake Limides is in late spring – early summer, when there's still plenty of water in the lake. If the weather is very dry, this lake sometimes dries out by the end of the summer… We were there mid July and there was still plenty of water.
Lake Limides is close to some of the most famous landmarks in the Dolomites (Cinque Torri, Mt Lagazuoi, etc.) and you don't need more than an hour to visit it. So it's easy to combine with the other places nearby. Don't miss it! You can find all the information about this beautiful lake and how to visit it in our detailed guide via the link below. Check it out!
LEARN MORE: How to Visit Lago di Limides
6. Lago di Carezza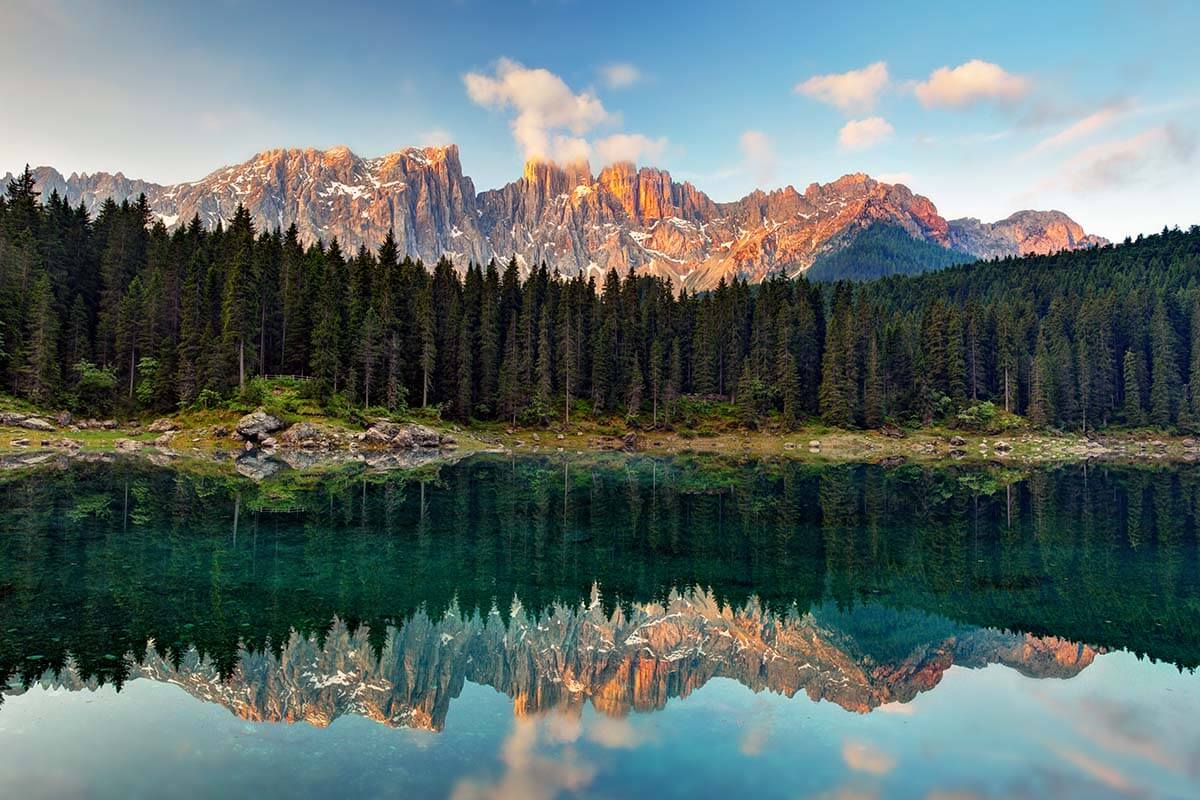 Lago di Carezza (Karersee or Lake of Caress) is also well worth a mention as one of the most beautiful lakes in the Dolomites. This lake is also very picturesque and simple to visit if you happen to pass this side of the Dolomites.
Located just next to the road, a visit to Lago Carezza is easy and doesn't require any advance preparation. If you have about half an hour to spare, you can walk around the entire lake. And otherwise, just enjoy the scenery, take a couple of pictures, and move on. There's not much more to do here apart from that and swimming isn't allowed.
TIP: For fewer crowds and nice reflections, try to visit early in the morning.
7. Lago di Fedèra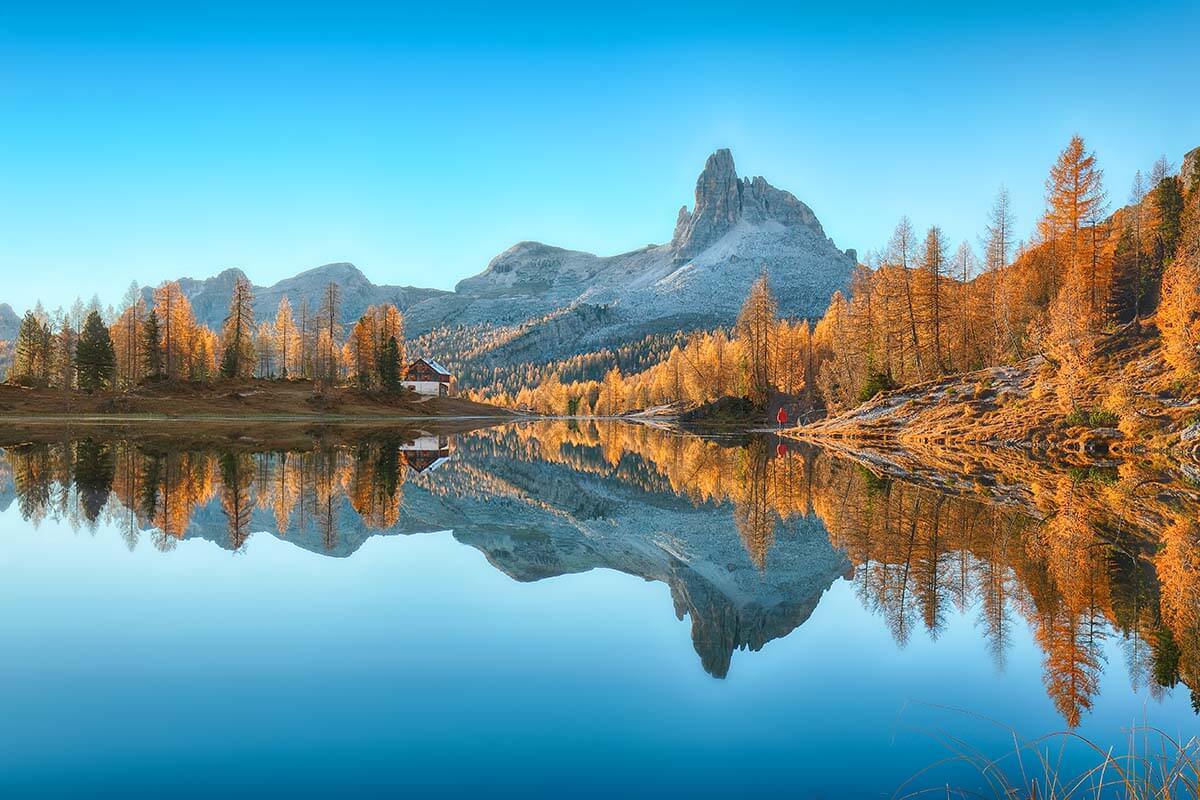 Lago di Federa (Croda da Lago) is also considered one of the most scenic mountain lakes in the Dolomites. It's also a very popular hiking destination in the Cortina d'Ampezza area.
While it is quite nice, this lake definitely looks better in the pictures than it does in reality. If you want to find the famous view that you see in all the pictures, you'll also have to make some effort and walk around the western side of the lake looking for the best angles and reflections. Once you find the perfect spot, it's absolutely beautiful, but looking from the other side, it's quite an ordinary lake…
Also, Lake Federa is not nearly as easy to visit as most other lakes in our list. You'll need to hike in order to get here. Even the shortest (not the most scenic route) will take about 1.5-2 hours one way, and so you need to plan at least half a day if you decide to visit here. So if you have limited time and have to be very selective about which Dolomites lakes to visit, then I'd probably skip this one.
However, if you are in the Dolomites for a longer time and have a day to spare, I recommend that you hike to Lake Fedrea from Passo Giau via Forcella Ambrizola as we did. This hike is absolutely stunning, is not as well known yet, and it's well worth it. You can read all about it via the link below.
LEARN MORE: The Best Hike to Lago di Federa
8. Lago d'Antorno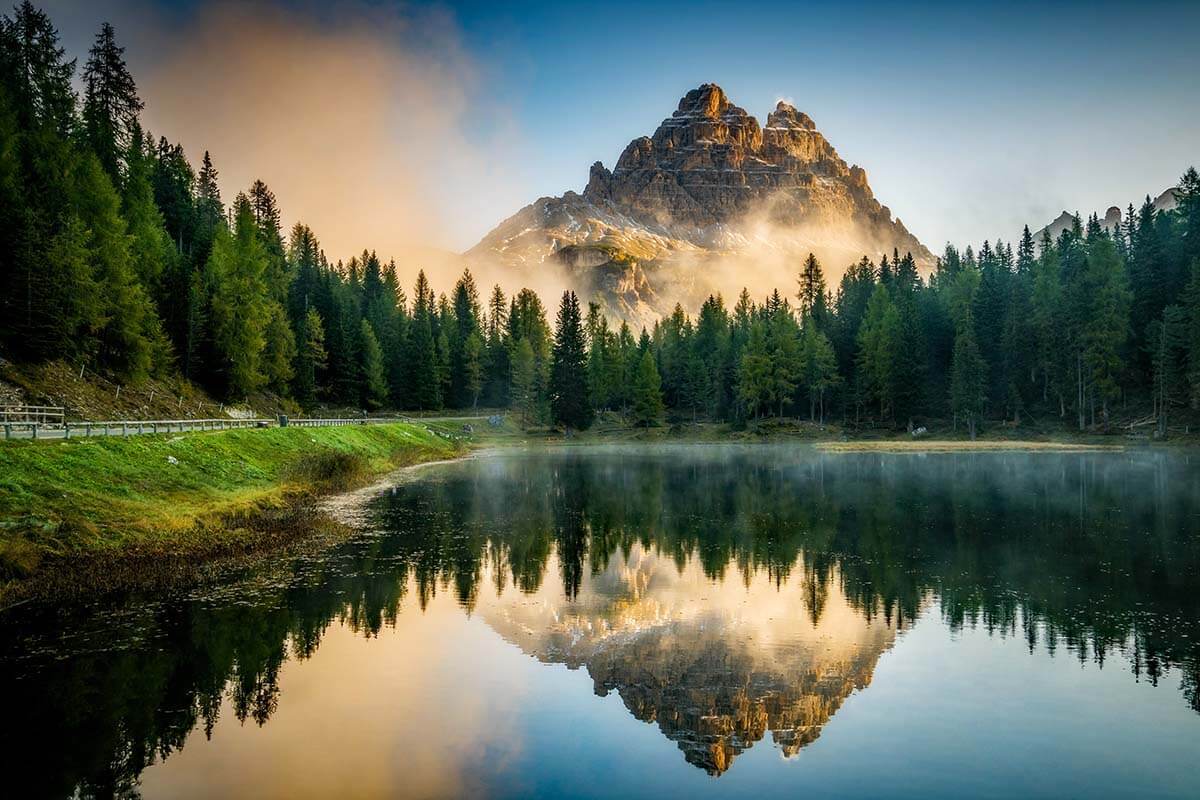 Lago d'Antorno is another very picturesque Dolomites lake that thousands of people drive by, but hardly anyone visits. Located right next to the road between Lake Misurina and Tre Cime di Lavaredo, Lake Antorno is also worth a quick photo stop when passing by.
Depending on the water level and the light, this lake might be a bit a hit or a miss, but if you are lucky, you'll be able to see some stunning mountain reflections here as well. And if not, well it literally only takes a few minutes…
In winter, you can go snowshoeing and in summer, you could also go hiking here. One of the nicest hikes in this area is that to Rifugio Fratelli Fonda Savio, but it's something that requires more time.
TIP: There's a really nice little hotel here – Albergo Chalet Lago Antorno. This is the closest hotel to Tre Cime di Lavaredo (even a bit closer than the Misurina hotels mentioned above), so if you are looking for a nice place to stay in this area, check it out. That way, you should definitely be able to see Lake Antorno at its best – usually at sunset or early in the morning.
9. Lago di Landro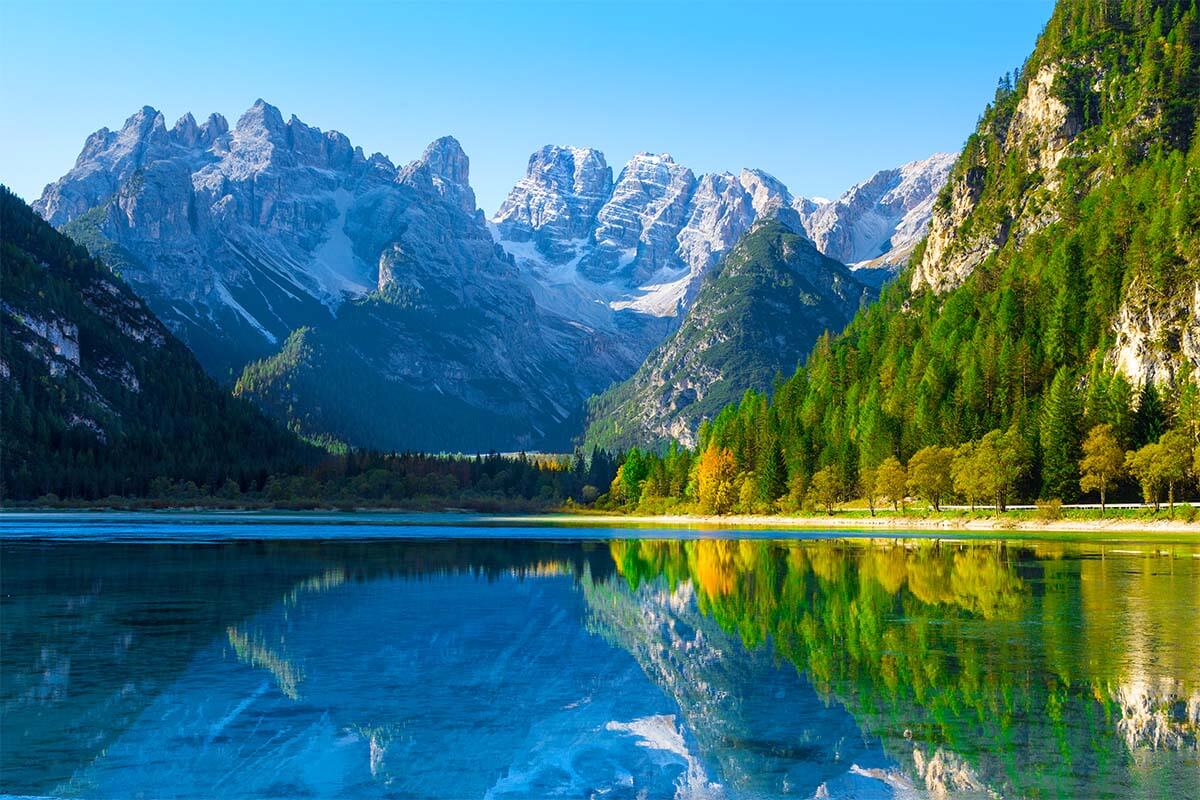 Lago di Landro (Dürrensee) is a very nice Dolomites lake that is also often overlooked. Located next to the main road between Lake Dobbiaco and Lake Misurina, this lake also offers some great mountain views, hiking possibilities, and you can even swim here (if you don't mind the ice-cold water).
Despite its very convenient location, this lake itself is usually very quiet; it almost feels like a hidden gem… Most people who come here leave their car at the big car parking next to the lake and embark on longer hikes in the area. This area is also popular for mountain biking.
There are a couple of benches from where you can admire the views, and you can also walk a bit along the shores of the lake. A visit here can be as short as 5-10 minutes, but it's well worth a quick stop. Or you can go on a longer walk around the lake, go for a swim, or have a picnic here. It's a nice alternative to the crowded Lake Braies and the other more popular Dolomites lakes nearby.
10. Lago di Auronzo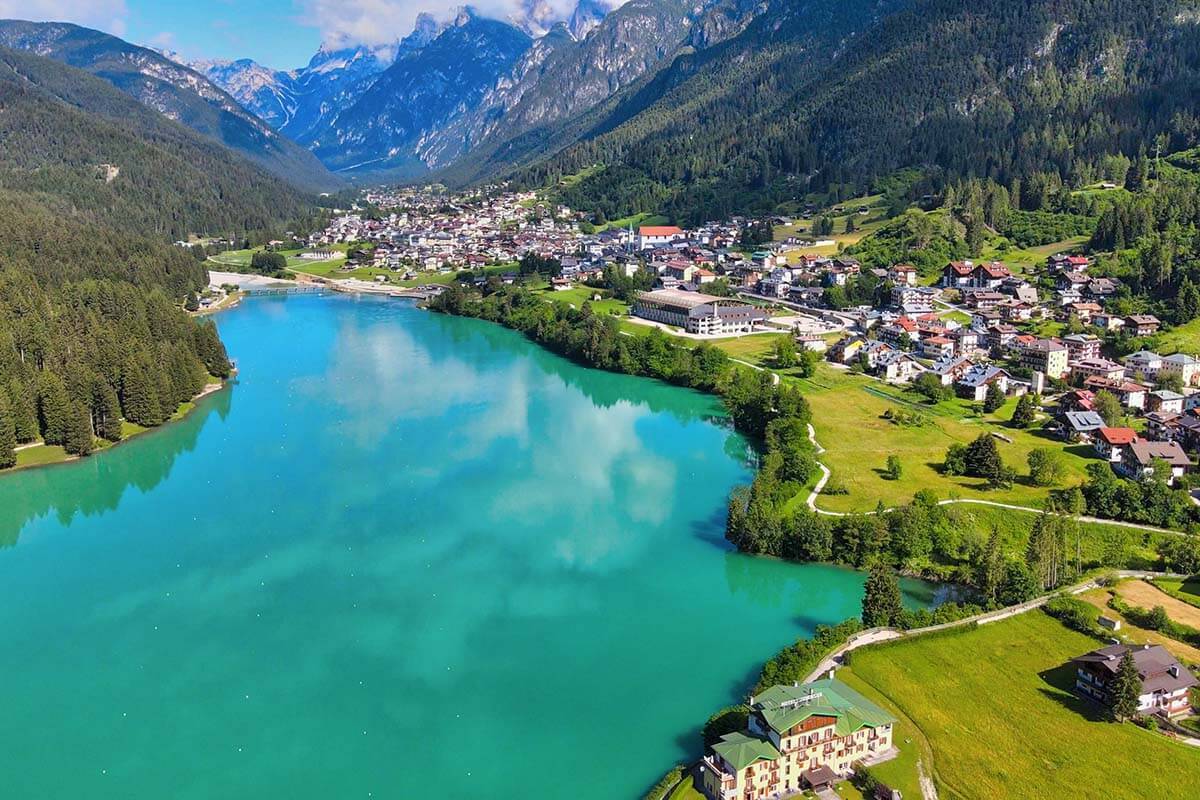 Lago di Auronzo is a quite big artificial lake located in the small picturesque town of Auronzo. Surrounded by some beautiful Dolomites scenery but also with hotels, restaurants, and lots to do, Auronzo could be like a destination in itself.
You can just stop for a photo or have lunch or dinner at one of the restaurants overlooking the lake, but you can also spend an entire day here. It's possible to walk around the lake, there are many hiking trails in the area, you can go biking, rent a kayak, go sunbathing at one of the 'beaches', or even go for a swim.
Auronzo di Cadore itself is a beautiful village as well, with many shops, restaurants, and a big variety of accommodation. We haven't spent much time in this part of the Dolomites yet, but I know that many people (especially those who come back to the area on a regular basis) like to stay here and use Auronzo as a base for exploring Cadore, the Tre Cime area, and other lesser-known places in the vicinity.
11. Lago di Alleghe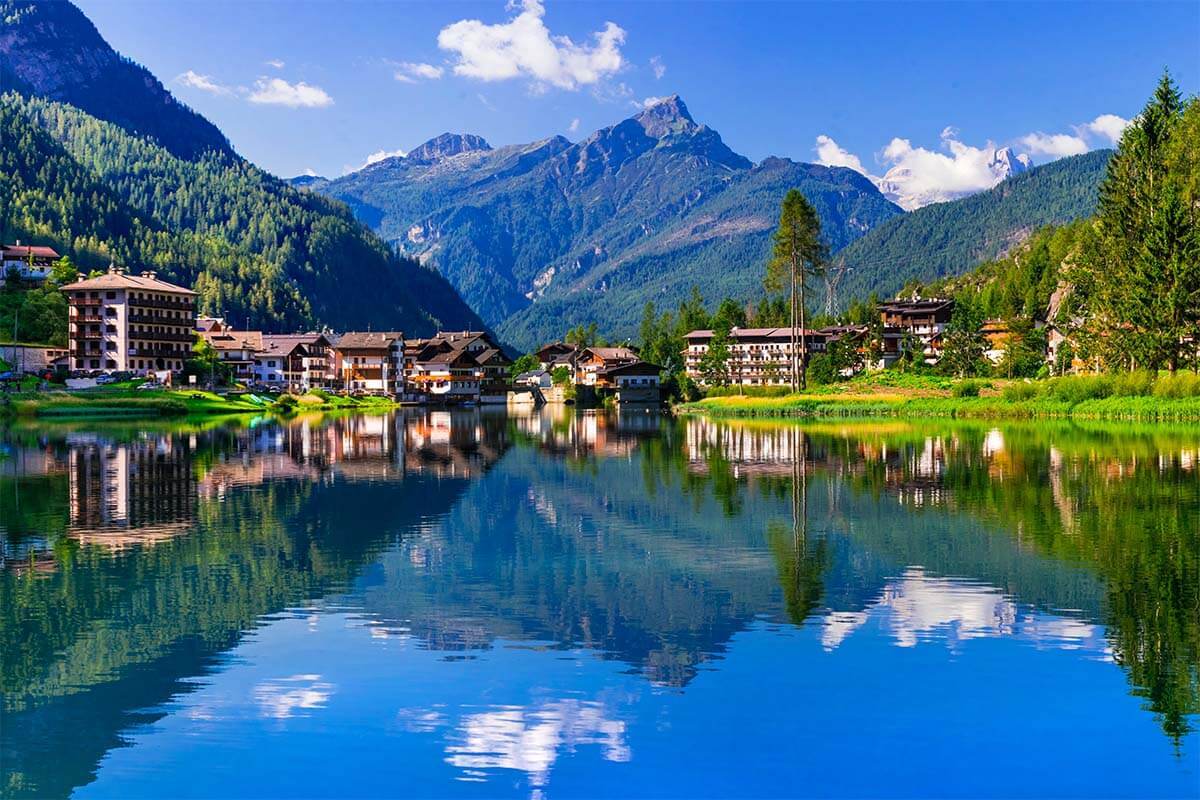 Lago di Alleghe is located in the heart of the Dolomites and is quite a drive from any of the main areas. The roads here are crazy, with so many mountain passes around this area. So it's not a lake that you can quickly visit unless you somehow find yourself in this part of the region. The only major landmark nearby is Marmolada, and if you drive there, you could probably combine it with a visit to Alleghe town where this lake is located.
This is a natural lake that was formed a few centuries ago, after a big landslide. The color of the water is stunning and – in combination with the mountain backdrop – it's a very scenic lake as well. You can walk all around the lake (or part of it), but you can also take a cable car to the mountains for a nice aerial view of the lake and the surroundings.
TIP: At the top station of the cable car (I think you can also drive up there by car, but I'm not sure if it's not restricted to locals), there is a nice recreational area. There you'll find walking paths, playgrounds, bbq area, picnic grounds, restaurants, and even an adventure park. Alleghe is one of those lesser-known places where you'll meet more vacationers from Italy and the neighboring countries and very few international tourists.
12. Laghi dei Piani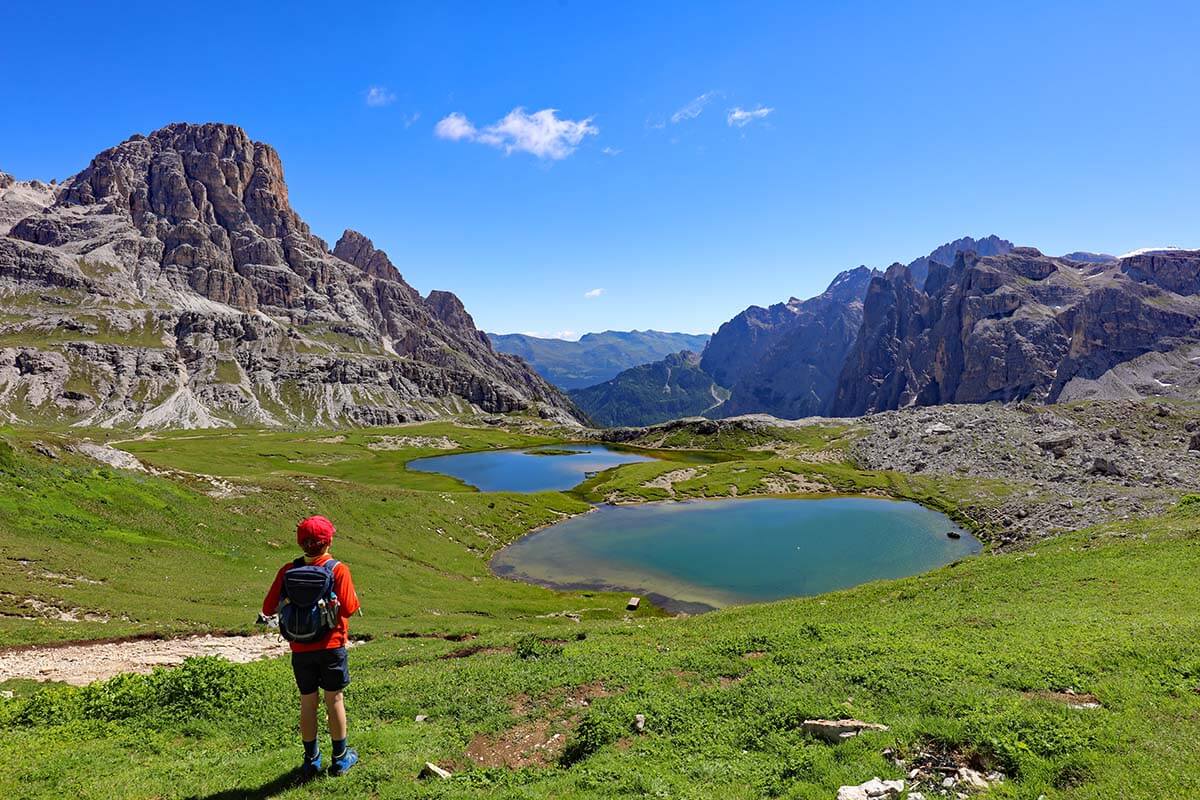 Laghi dei Piani (Bödenseen) are the lesser-known mountain lakes near Rifugio Locatelli (Dreizinnenhütte). While you can easily see these tiny lakes when hiking the famous Tre Cime loop, so many people completely miss them. Tre Cime hike is the most popular hiking trail in the Dolomites, but the majority of people just take the shortest route without even realizing that there is such beautiful scenery just nearby.
If you already take the trouble to hike around Tre Cime, it's only a 5-minute climb to Rifugio Locatelli from the main trail. And two of the three Piani Lakes are right behind the mountain hut – literally right behind it. If you are in hurry, you could make this detour in just 15-20 minutes. But this is such a beautiful spot that you'll probably want to linger a bit longer. It's a nice place for a picnic, or you can have lunch at the restaurant.
A visit here is not that much about the lakes themselves (they are quite small really), but the scenery around them.
The third lake is located a bit further away and you'd have to take the hiking trail following the southern side of the first two lakes in order to get there. We didn't do it and I don't know if the third lake is really worth the extra hike. But looking at the map, it would be another 20 minutes one way to get there (+ the time to get back), so I'll leave it up to you to decide if it's worth the extra hike. But if you are hiking around Tre Cime, don't miss at least two of the Piani lakes! For more information, please see our guide below.
LEARN MORE: Hiking Tre Cime Loop + Laghi dei Piani
13. Lago di Fedaia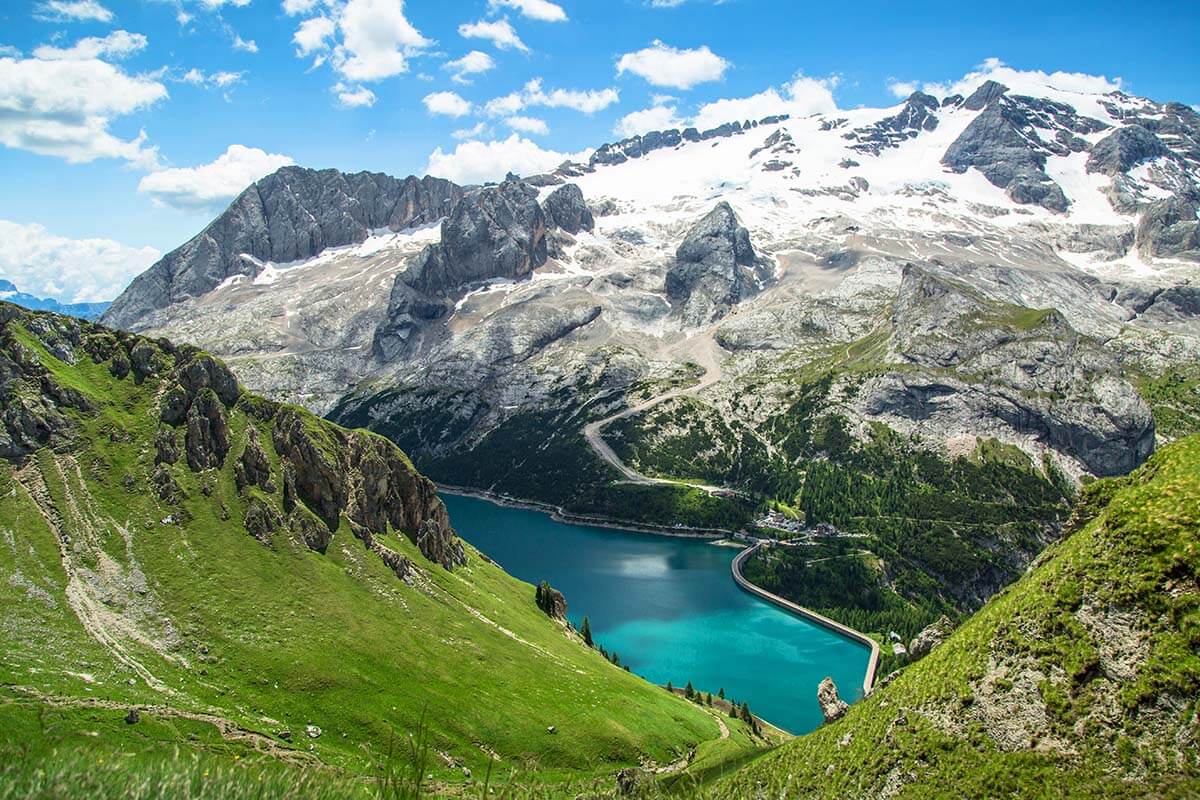 Lago di Fedaia (Lèch de Fedaa) is an artificial lake (a reservoir) at the foot of the highest mountain peaks of the Dolomites. It's located right next to the road between Canazei and Malga Ciapela, the starting point of the Marmolada cable car.
Marmolada, also known as the Queen of the Dolomites, is the highest mountain that you can easily visit in the Dolomites and is one of the must-sees in the area. So if you are driving to Marmolada from Val Gardena or Canazei, you'll pass this beautiful azure-blue lake anyway. Be sure to take a small detour and drive around the lake and definitely stop for a picture at Lake Fedaia!
There are several restaurants and a couple of cable cars in this area. If you have more time, you could take a cable car up for a hike or simply to enjoy the nice views over the lake and the mountains around it. It's not an absolute must-see in the Dolomites, but if you are in this area and are passing by, well worth a stop.
Map of the Best Lakes in the Dolomites
To help you plan your trip and visit at least a few of the nicest lakes, we created a map indicating all the best Dolomites lakes and their precise location – see below. As you can see, many of them are located close to each other, and so you can easily see quite a few of these places in a short time.
In addition, be sure to check out our guide to the best places in the Dolomites for an overview of all the must-see places in the region.
TIP: If you hike, be sure to also check our guide to the best hikes in the Dolomites! All these hikes are quite easy and not too long and they give you access to some of the most amazing mountain scenery in Italy. Take a look!
How to Use This Map: Use your computer mouse (or fingers) to zoom in or out. Click on the icons to get more information about each place. Click the arrow on the left top corner for the index. Click the star next to the title of the map to add this map to your Google Maps account. To view the saved map on your smartphone or PC, open Google Maps, click the menu button, and go to 'Your Places'/'Maps'.
So, this is our guide to some of the most beautiful lakes in the Italian Dolomites. I hope that this inspires you to get a bit off the beaten path and don't limit your visit to just the most famous lakes like Lago di Braies or the new Instagram-hype Lago di Sorapis. There's so much more to be discovered in this beautiful region!
If you want to do some hiking in the Dolomites, see the best lakes, and are wondering how to best plan your trip to the region, check out our suggested Dolomites road trip itinerary. It contains detailed itineraries for any trip from 1 day up to a week and even longer. Take a look!
More travel inspiration for Northern Italy:
READ ALSO: Best Places to Visit in Italy
If you found this post useful, don't forget to bookmark it and share it with your friends. Are you on Pinterest? Pin these images!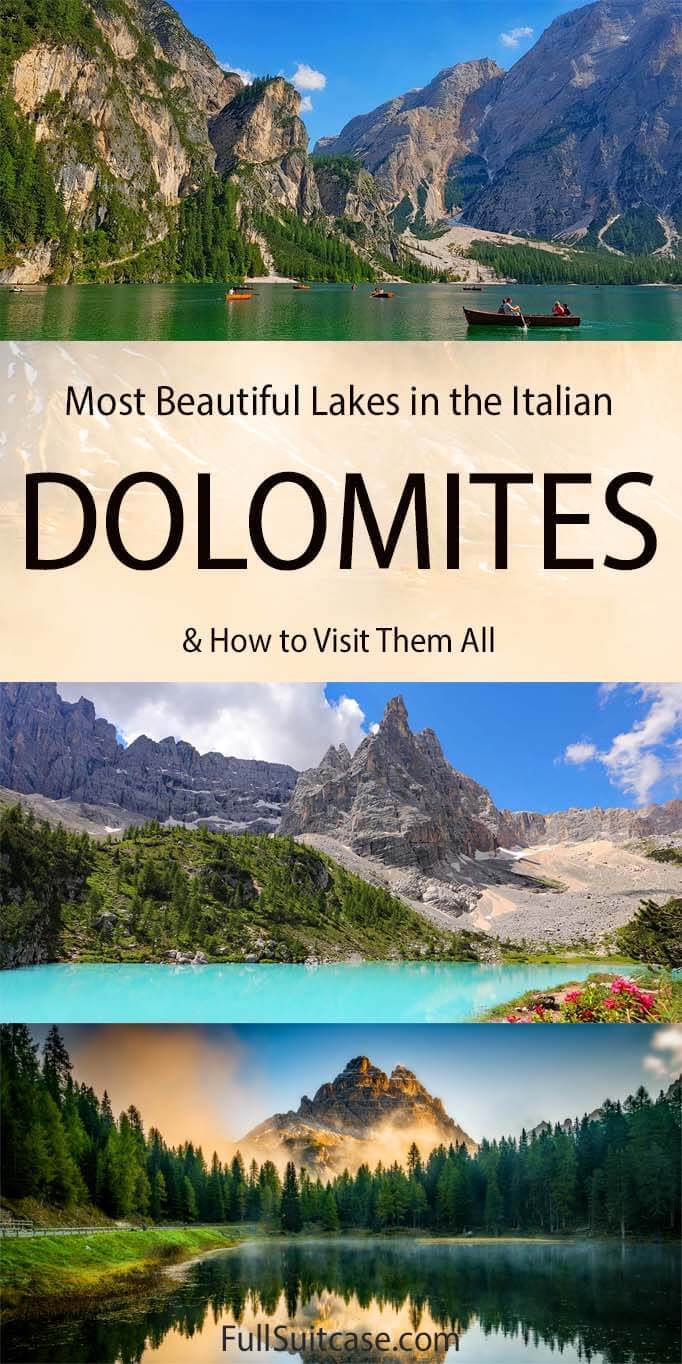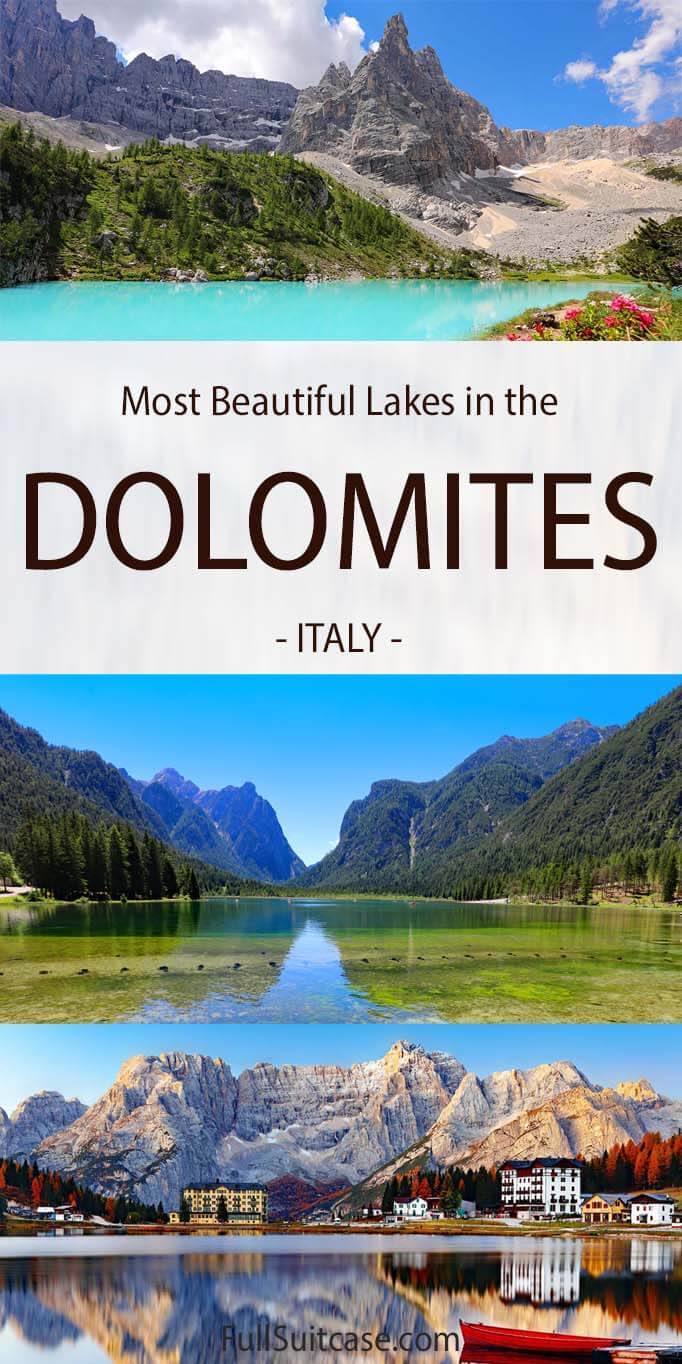 Images: Personal collection and Depositphotos.com