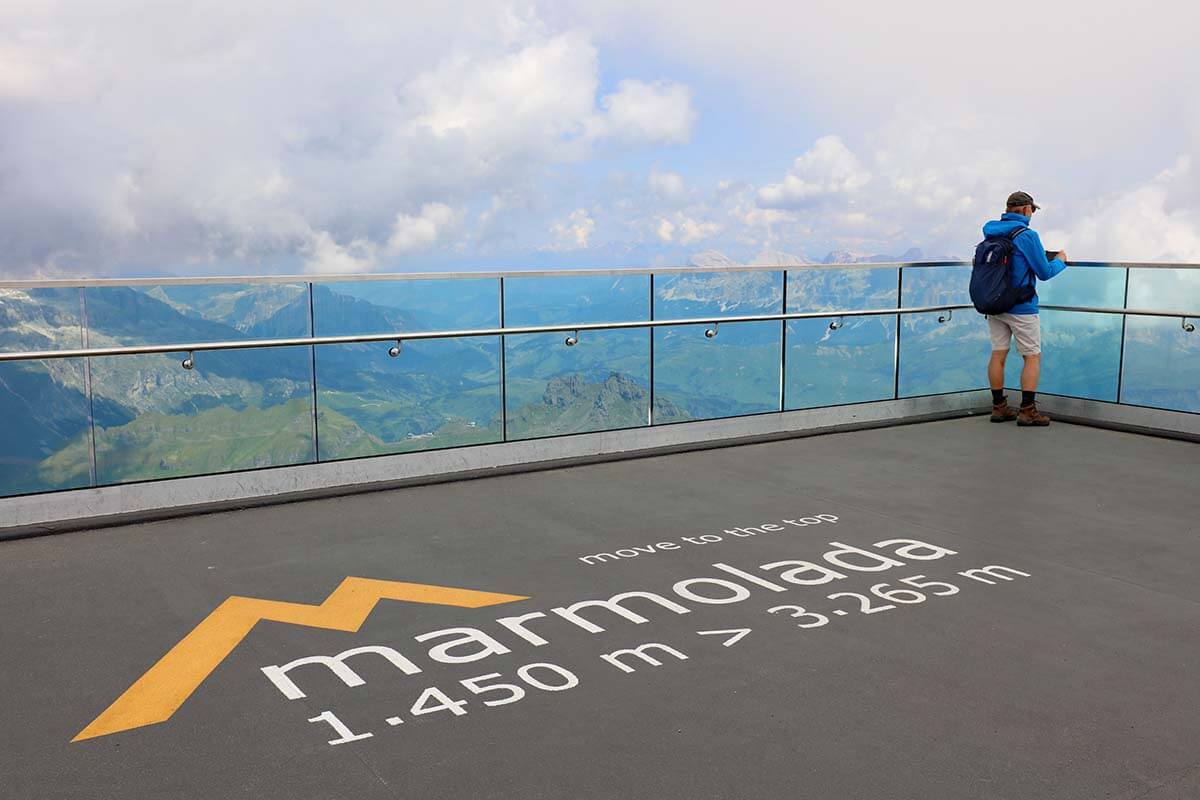 Marmolada is the highest mountain massif in the Italian Dolomites. Also known as the Queen of the Dolomites (la regina delle Dolomiti), Marmolada is considered one of the best, must-see places in the Dolomite mountains.
If you are wondering whether Marmolada is worth a visit, what you can see and do there, and how to visit if you decide to go, then read on! In this guide, we share our experience and tips for your visit to Marmolada.
Good to know: With 3,265 m (10,712 ft) height, Marmolada itself is not the highest mountain of the Dolomites, but its name is used to describe the entire mountain ridge composed of several summits of over 3,000 meters. The highest summit is actually Punta Penia with an altitude of 3,343 m. Other peaks include Punta Rocca (3,309 m), Punta Ombretta (3,011m), and Sasso Vernale (3,058m).
Nevertheless, Marmolada is the name that you'll always hear mentioned when people talk about the highest mountain of the Dolomites. In this guide, you can read all about visiting Marmolada and whether it's actually worth it. Find out!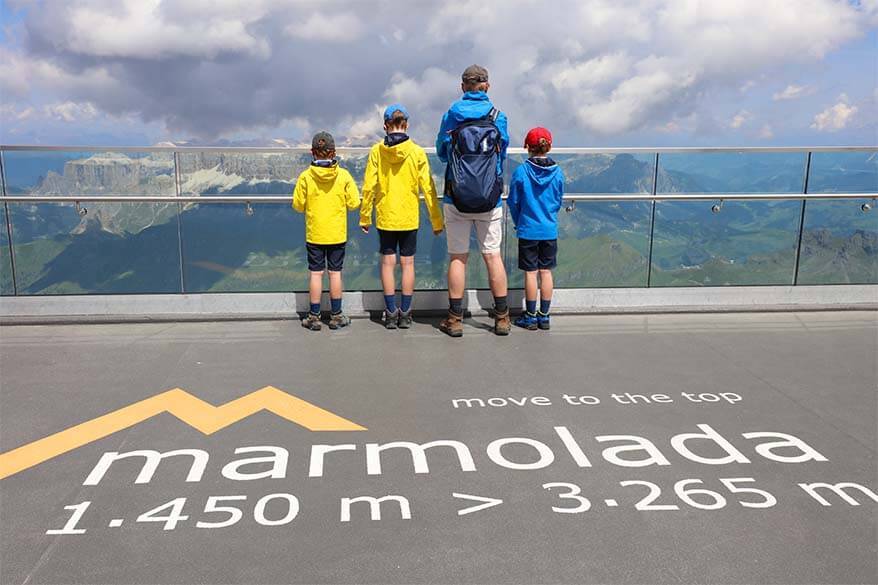 Why Visit Marmolada
If you want to see the panoramic 360° views of the highest mountain peaks of the Dolomites and enjoy the stunning bird-eye views of this incredibly beautiful region in Northern Italy, then there is no better place to be than Marmolada. It's also one of the places that are included in the Dolomites UNESCO World Heritage Site.
Furthermore, Marmolada mountain is really easy to visit as it can be accessed by taking a series of cable cars. In just a few minutes, you are transported from 1,450 meters to 3,265 meters. If you are visiting in summer, this short journey takes you from hot summer temperatures and green landscapes to white wintery scenery and even snow.
The views from here are incredible. On a clear day, you can see as far as Tyrol region in Austria. At the top, there are signs indicating distances to Paris, London, or Barcelona. And when you stand there, it almost feels as if you could even see that far…
In winter, you can go skiing at Marmolada. One of the highlights is the 12km slope "La Bellunese". In summer, you can just take a cable car and admire the scenery at Marmolada. In addition, you can go hiking on a glacier, mountain biking, rock climbing, tackle one of the Via Ferratas, etc.
Further below, you can find more information about everything that you can see and do at Marmolada in summer. But first, some practical information on getting there.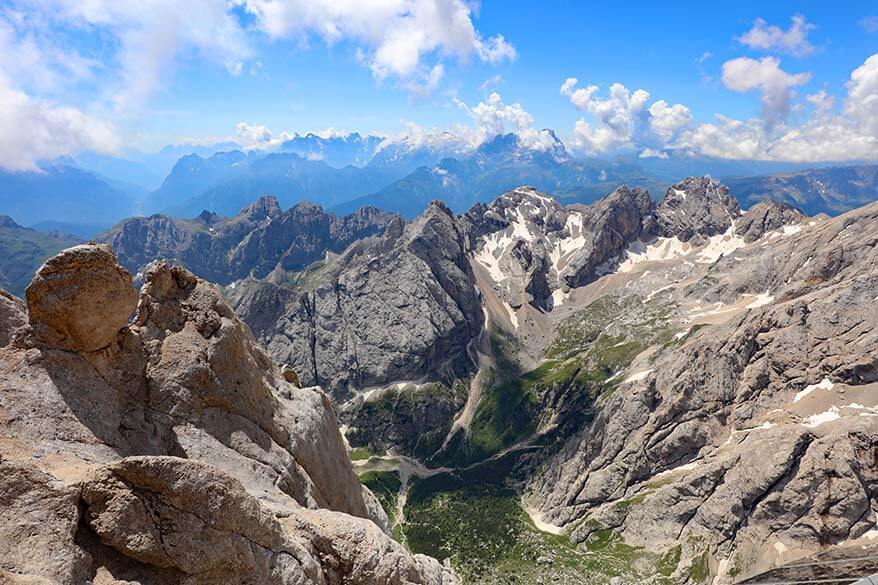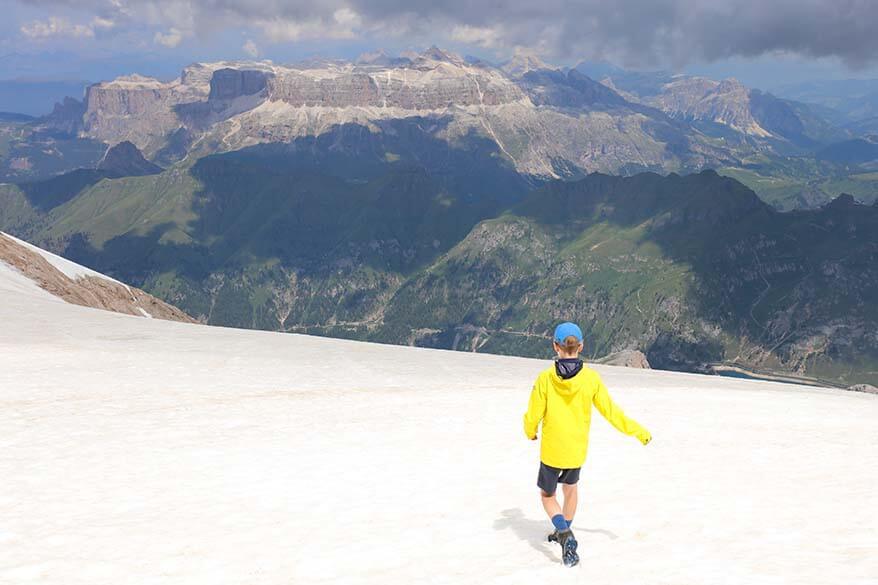 How to Get to Marmolada
Marmolada can be reached by a series of three cable cars from Malga Ciapela (see the exact location on Google Maps). The funny thing is that Malga Ciapela is located in the Venetto region, whereas Marmolada mountain peak is just over the regional border, in the Trentino-Alto Adige region.
Once you reach Malga Ciapela, getting to the top of Marmolada is very straightforward. You get a ticket from the ticket desk at a parking area, take a gondola, then a second one, and then the third one, and you're on top.
However, Malga Ciapela itself is not very easy to reach. Located in the very heart of the Dolomites, it's surrounded by countless mountain passes. So no matter where you're coming from, it's quite a ride to get there.
The distances aren't big at all, but driving times are quite a bit longer than you'd expect. Count at least 1 hour to reach Malga Ciapela from either Cortina d'Ampezzo or Val Gardena. More realistically, it will be at least 1.5 hours. Also, prepare for the winding narrow roads! If you are prone to motion sickness, you may want to take some pills before you get in the car.
The easiest way to get to Malga Ciapela is by car. But it's also possible to visit Marmolada by public transport. You'll have to take a public bus from Alleghe to Malga Ciapela. You'll have to check the Dolomiti Bus website (in Italian) for more up-to-date information and schedule.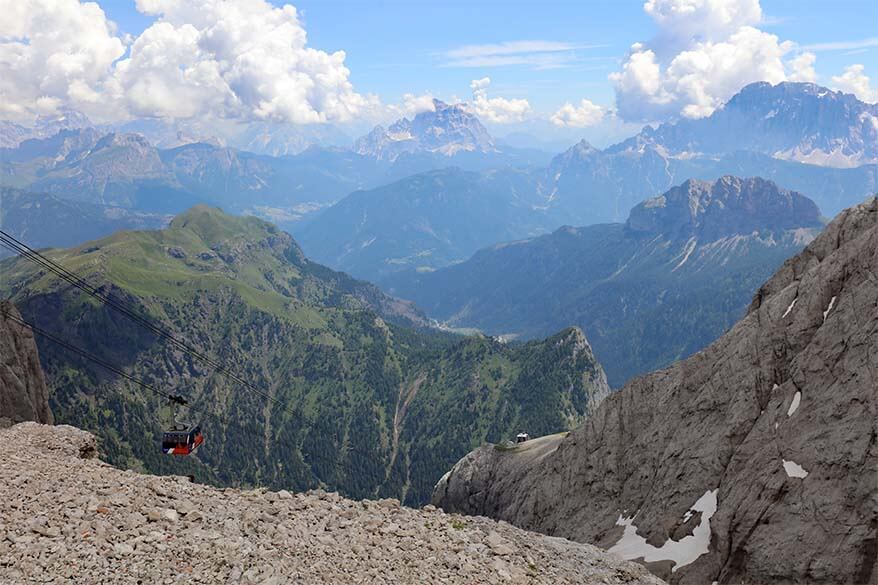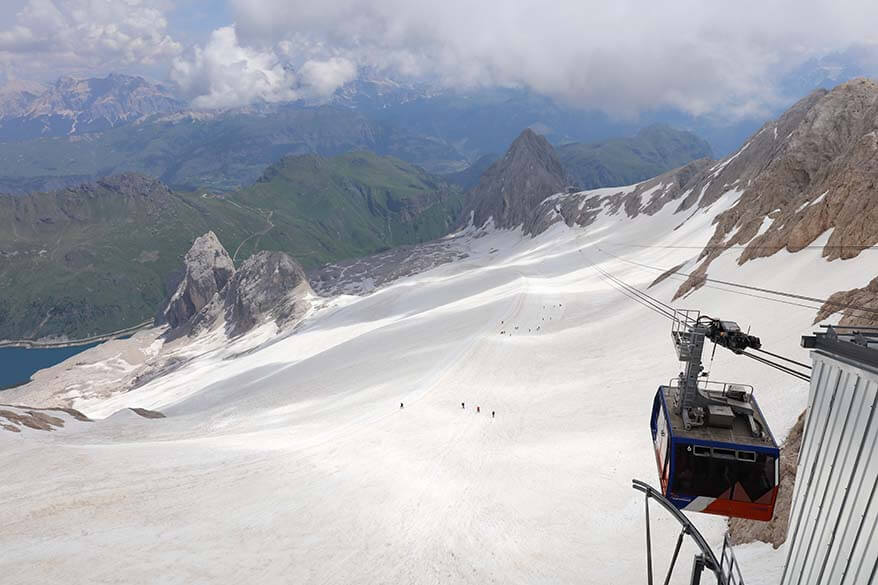 How to Visit & What to Expect
From Malga Ciapela (1,450m), you have to take three cable cars to get all the way to the top of Marmolada.
First, you go to Antermoja (2,350m), then to Serauta (2,950m), and finally to Marmolada Punta Rocca (3,265m). See the map below and it will become more clear how it all looks like.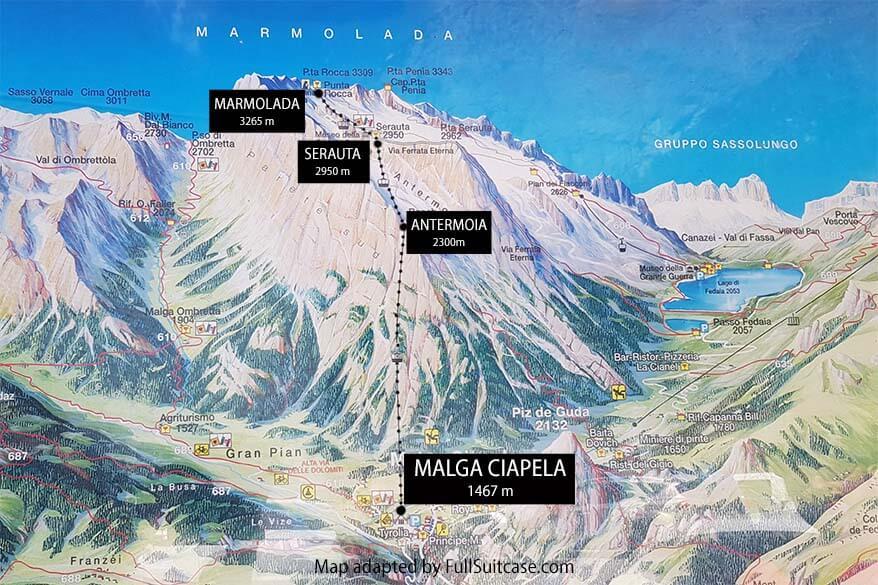 While it seems to be possible to hike to Marmolada from the valley (not from Malgia Ciapela, but from another side), it would be a very long and challenging hike. I can't even imagine how long it would take and I didn't find any useful info about it before our trip. With an altitude of over 3,000 meters, the mountains here are very rocky and steep. Furthermore, there's snow at the top the whole year round.
It is also possible to hike to Marmolada from Serauta cable car station by walking on the glacier, but you'll need proper glacier hiking equipment and a local guide for that. Even though quite short, this is also a steep and a challenging glacier hike.
So if you are here for just a few hours, taking the cable car all the way to the top is by far the best and the easiest way to visit Marmolada.
Below, you can find more information about what to expect when visiting Marmolada. Read on!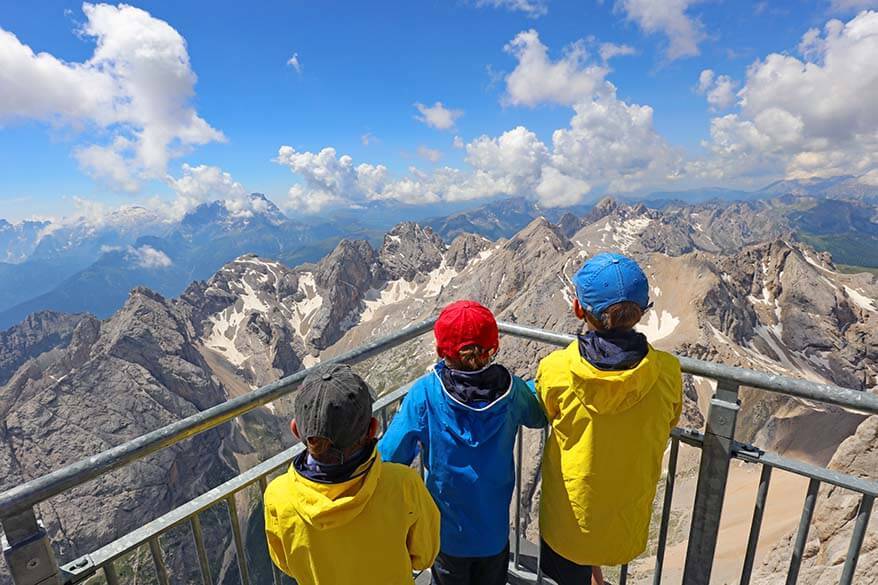 This is what you can see and do at Marmolada:
Antermoja
Antermoja is the first gondola station on your way to Marmolada. There is no exit after the first gondola, so you can't go outside here – this is purely a stop to switch cable cars.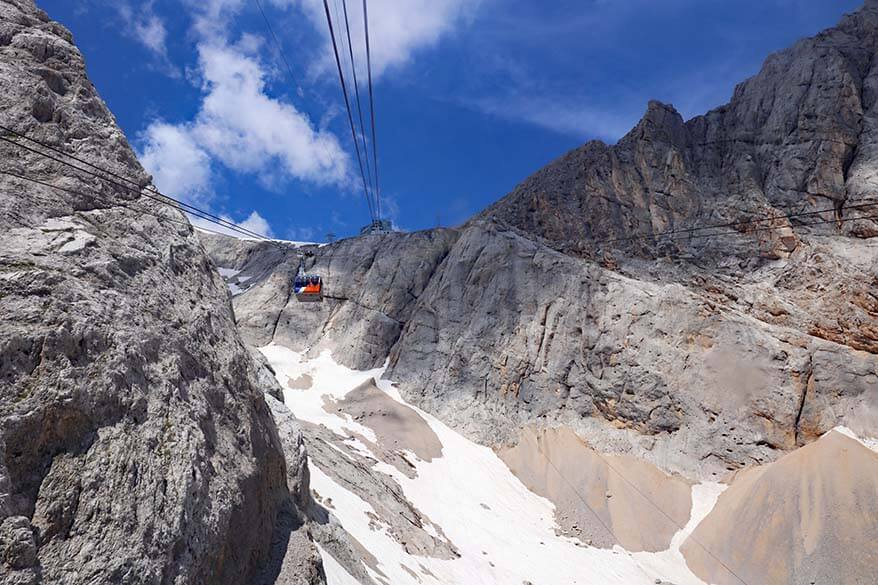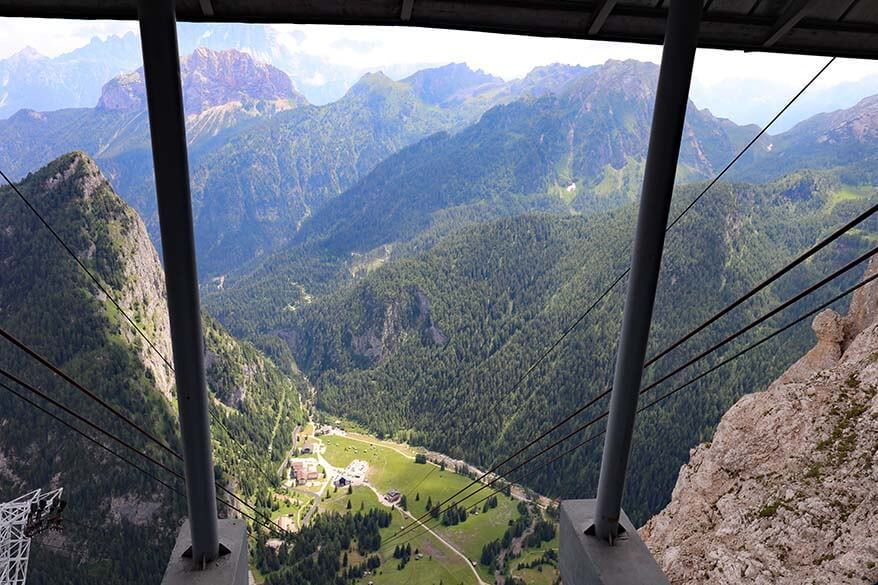 Serauta & Museum Marmolada Great War 3000 m
After you take the second gondola, you reach Serauta (2,950m). Here, you'll find a restaurant with stunning views, a souvenir shop, bathrooms, and a small war museum – Museum Marmolada Great War 3000 m.
This is the highest museum in Europe and the entrance fee is included in your gondola ticket, so don't miss it! A visit here gives you a very good idea of the significance of this area in WWI. Information is available in several languages, including English.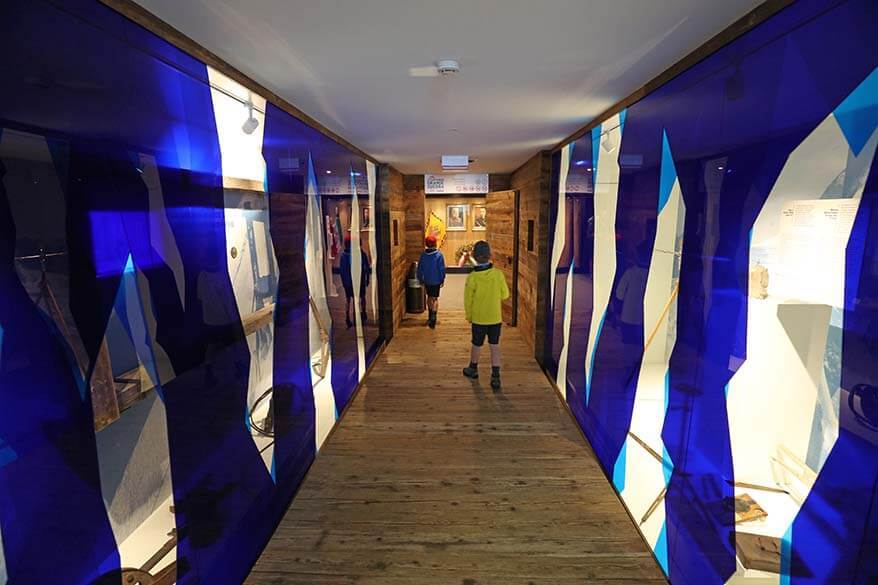 You can also go outside at the Serauta cable car station and enjoy the beautiful views of the surroundings. Just be careful as the areas are not fenced.
There are also several WWI sites at Serauta, although you can only easily visit them when there is no snow. We visited at the beginning of July and there was still lots of snow next to the gondola station and so it was hard to get past the snow and get to the war sites located nearby.
If we would have known and packed hiking poles, we could have been able to walk around a bit more. You also need good waterproof hiking boots here!
When there is no snow, it should be possible to visit a WWI Italian fortress of Punta Serauta. You can see observation posts, shelters, and even trenches built here by Italian soldiers. The walk starts at Forcella Serauta, to the right after exiting the gondola station. There should be informational panels and a map of the route there, but keep in mind that the route is quite rocky and involves some exposed sections equipped with metal cables. For the very last section, Via Ferrata equipment is recommended.
Since we couldn't do this, I cannot comment whether it's worth it. According to the official information, you should count about 1-2 hours to properly explore this route.
There is also one more excursion possibility – Ferrata Eterna. But it requires some serious Via Ferrata equipment and is a long hike that ends on the other side of the mountains, at Passo Fedaia. So if you want to do this, you should probably go with a local guide and count an entire day for it.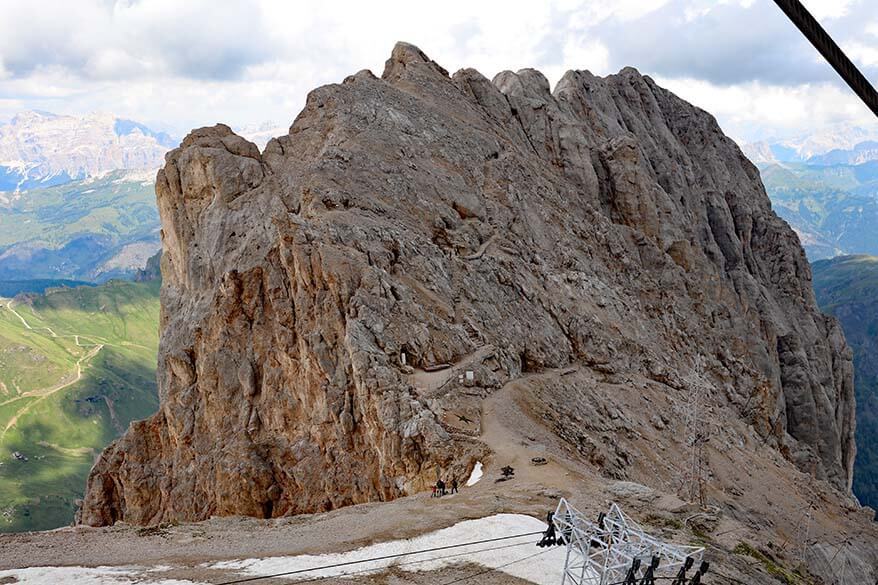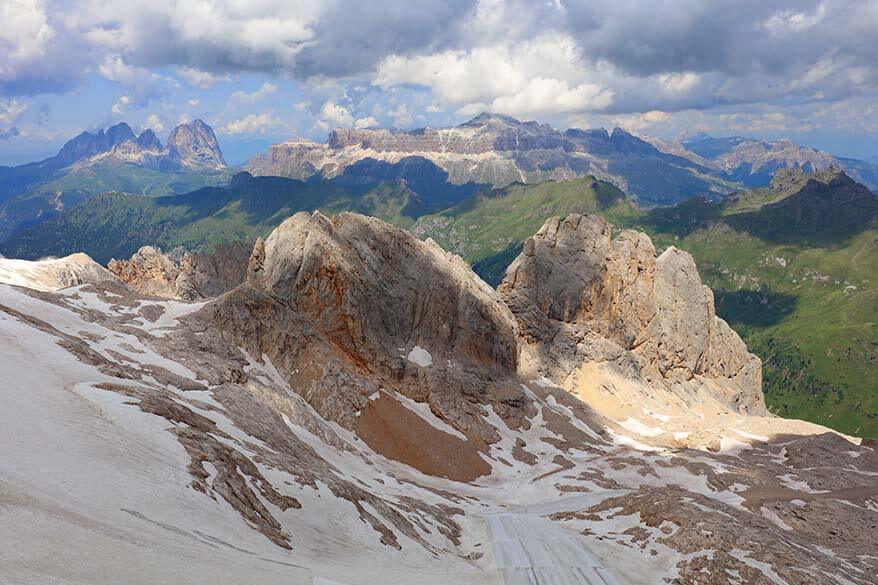 Marmolada Punta Rocca
The third cable car ride takes you from Serauta to Punta Rocca, at 3,265m. Here, you'll find an outdoor viewing platform with 360° panorama of the Dolomites. The views here are simply stunning!
You're so high here that it's not uncommon for the viewing terrace to be covered with clouds. Needless to say, it's best to plan your visit here on a sunny day! But even if it's a bit cloudy, don't worry – often, if you just wait a few minutes, the clouds disappear and the views open up again.
It was a bit cloudy when we visited, and we found that the clouds just added to the experience and made it even more special.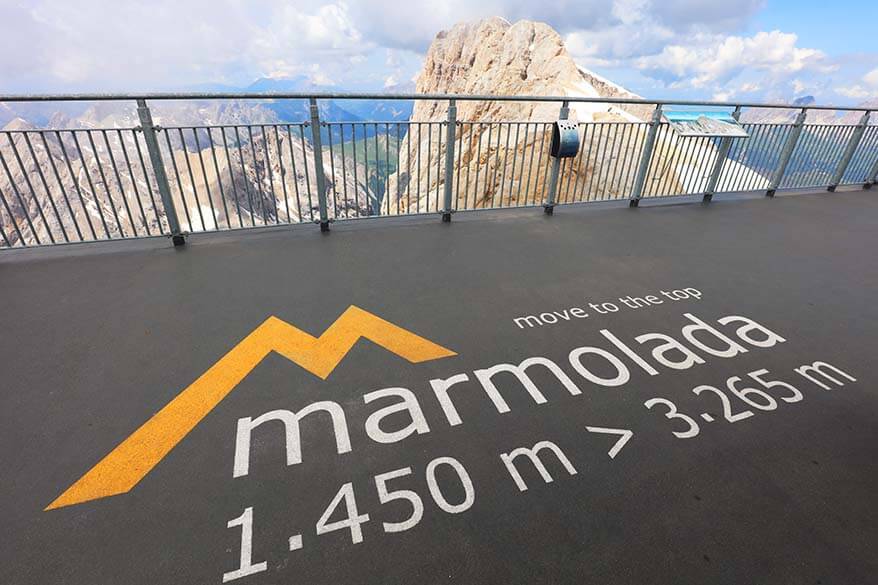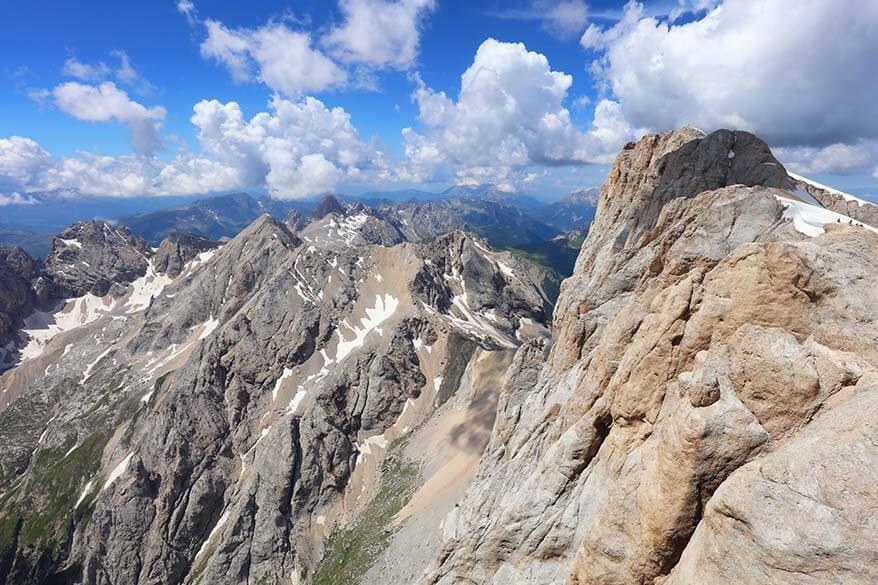 At the top, you'll also find a Grotto of the Madonna. This cave is very similar to those that soldiers carved out in this area during the Great War.
Inside, there is a statue of the Madonna that was a gift by Pope John Paul II. He visited Marmolada in 1979 and consecrated this statue himself.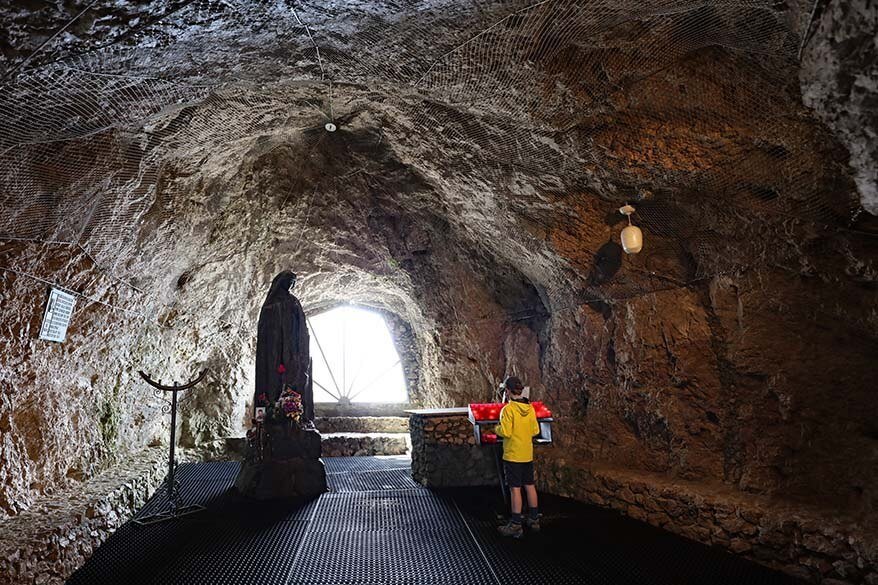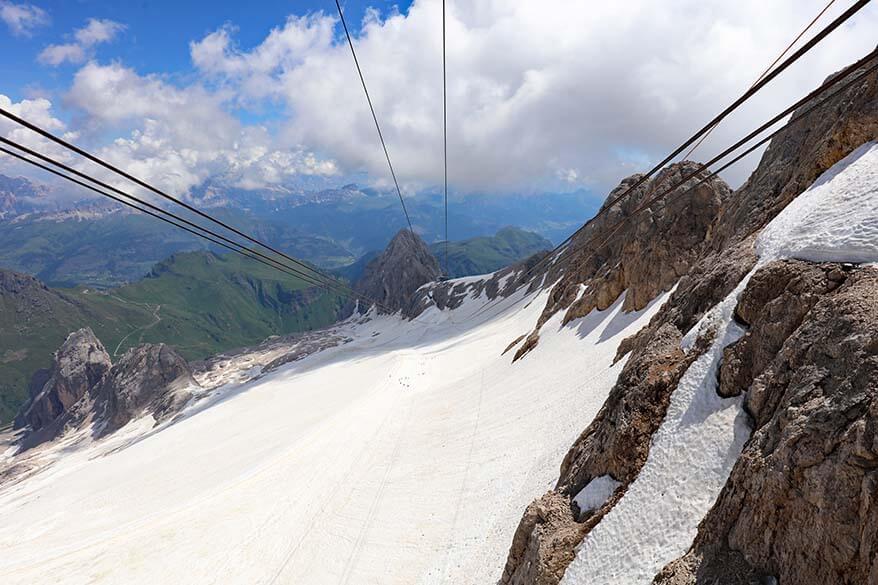 At Marmolada, you can also exit the cable car station and go for a walk on the glacier. Summer or winter, there is always snow here. Our kids loved it – a snow fight in the middle of the summer!
If you have the proper equipment for walking on ice and snow, you could also climb the peak of nearby Punta Penia.
In fact, we saw a guided group walking up to Marmolada and Punta Penia from Serauta when we visited. It looked like a very demanding excursion, but if you are up for a challenge, it's definitely a very special way to visit Marmolada!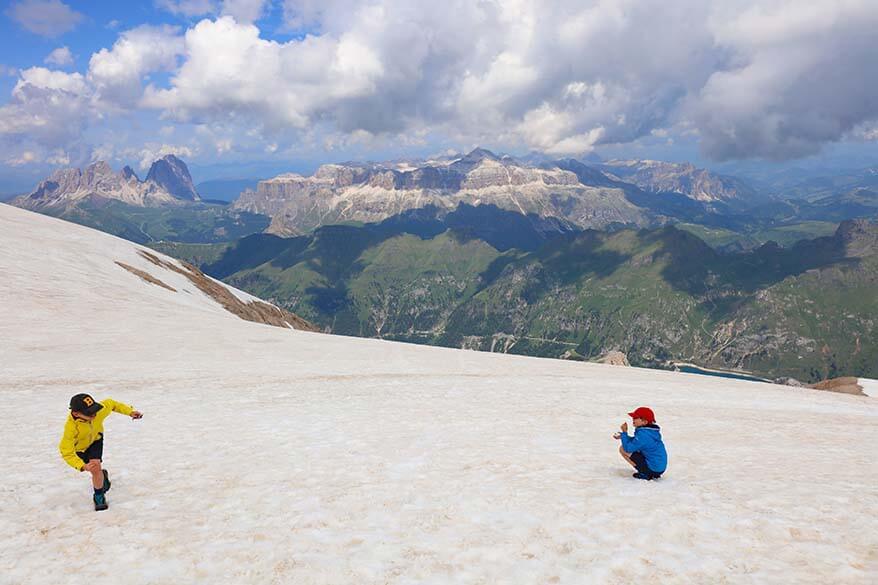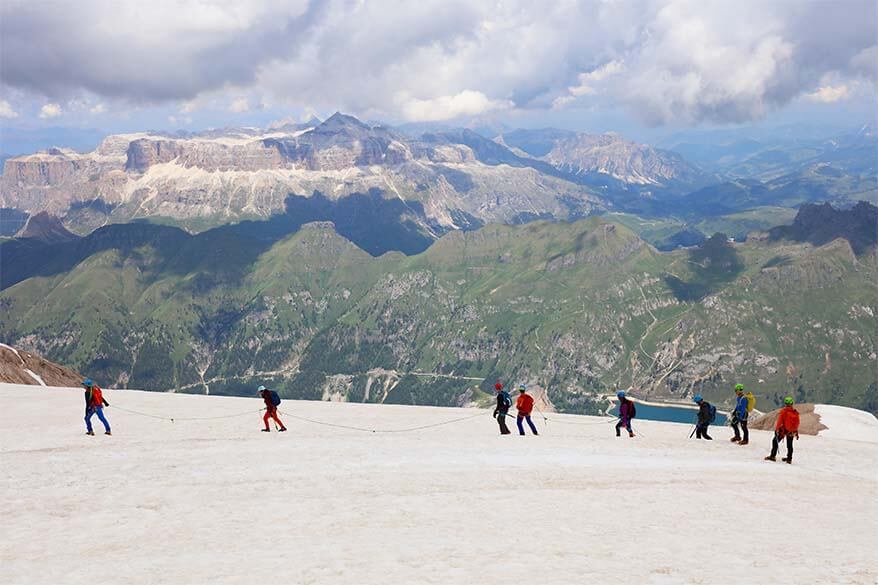 Practical Information for Visiting Marmolada
Opening Hours: Depending on the season – 8.30 or 9 AM to 4.30 PM.
Tickets: When we visited, a round-trip ticket to Marmolada cost 33 EUR. Kids pay half the price. If you don't want to go all the way to Marmolada, you can also get a discounted ticket that will take you up to Serauta.
Info: For up-to-date information for opening times, ticket prices, and additional excursion possibilities, please check the official website.
Clothing/ gear: Make sure to wear good hiking shoes if you are planning to leave the gondola stations and explore the area a bit more. Even in summer, you'll need a sweater or a light jacket on top of Marmolada and in Serauta. Hiking poles would be useful for exploring the area around Serauta.
How much time do you need: Count about 1.5-2 hours to visit all the main attractions at Marmolada. If you are planning to do any walking or explore the outdoor areas at Serauta, you'll need at least an hour or two more.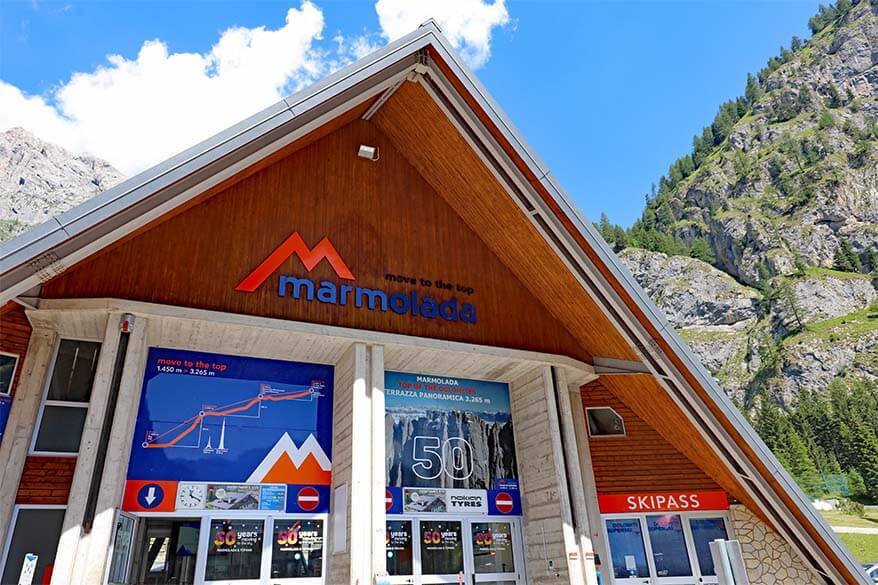 Is Marmolada Worth It?
Marmolada is the highest mountain peak in the Dolomites and it's very easy to get to the top. The views are dazzling and WWI history makes a visit here even more special. So if you are in the area and have a few hours to spare, Marmolada is definitely worth a detour!
And while gondola tickets aren't cheap, it's about half the price of what you pay for similar experiences in Austrian Tyrol, and just a fraction of the cost of mountain peak visits in Switzerland (for comparison, Mt Titlis visit costs about 3 times the price and Jungfraujoch – about 6 times more).
However, if you only have a day or two in the Dolomites or if you are driving from far, then I'm not sure if Marmolada is worth it. The mountain roads and passes make it a long and winding drive from anywhere. And there are so many other amazing places in the Dolomites that are easier to get to and where you can experience some incredible scenery as well.
So the answer to whether Marmolada is worth it highly depends on how much time you have and where you are staying.
Our experience: We visited Marmolada from Cortina d'Ampezzo, where we stayed for 10 days during our second visit to the Dolomites (you can find Cortina accommodations here). It's just 40-45km between Cortina and Malga Ciapela, depending on the road you take, but it feels like an endless drive. It takes over 1 hour without any stops, but you'll definitely want to stop to catch some air! after some mountain passes…
If you are staying in Val Gardena, it's about the same distance and driving time from there as well.
For us, it was definitely worth it. The scenery on the way was absolutely stunning and the views at Marmolada itself more than made up for the winding drive. However, we were all glad to get out of the car when we got there… My head is spinning just by thinking about all the mountain passes in the area.
So Marmolada is really not the best place to visit if you have very limited time or if you would have to drive a few hours just to get here and then back again. But if you are staying within a 50 km radius from Marmolada and can dedicate a good part of the day for a visit, then it's definitely worth it.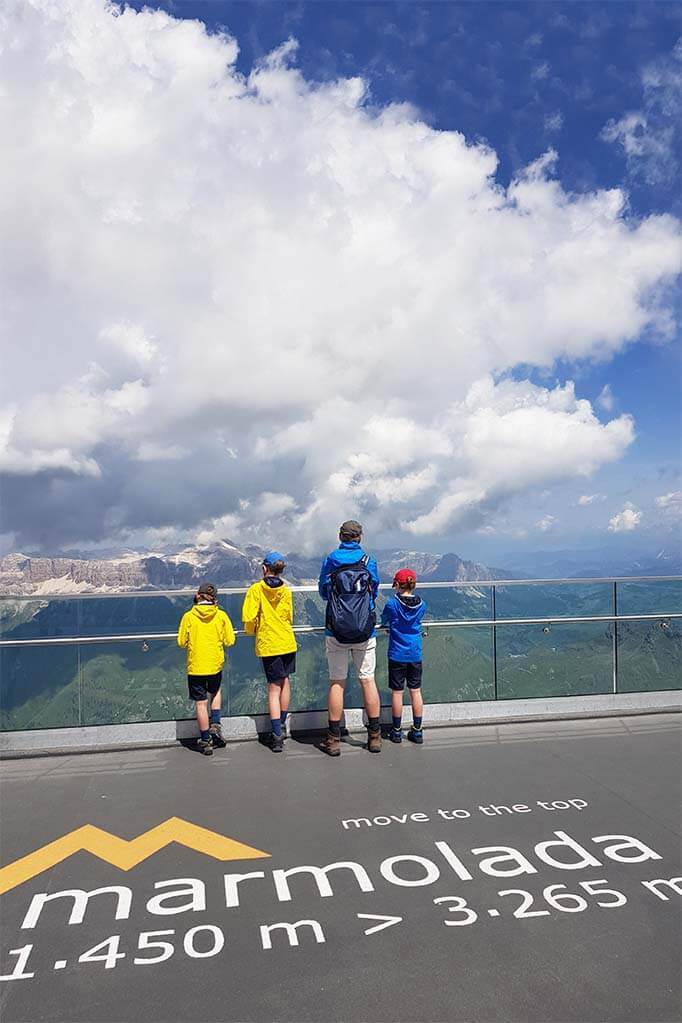 So, this is our guide to visiting Marmolada, the Queen of the Dolomites. If you have any questions that we forgot to cover, feel free to leave a reply below and we'll try to help.
TIP: Via the links below, you can read about some of our favorite places in the Italian Dolomites. Most of them are much easier to get to than Marmolada. And if you are wondering how to best plan your trip, check out our Dolomites itinerary ideas.
READ ALSO: Hiking in the Dolomites
If you found this post useful, don't forget to bookmark it and share it with your friends. Are you on Pinterest? Pin this image!