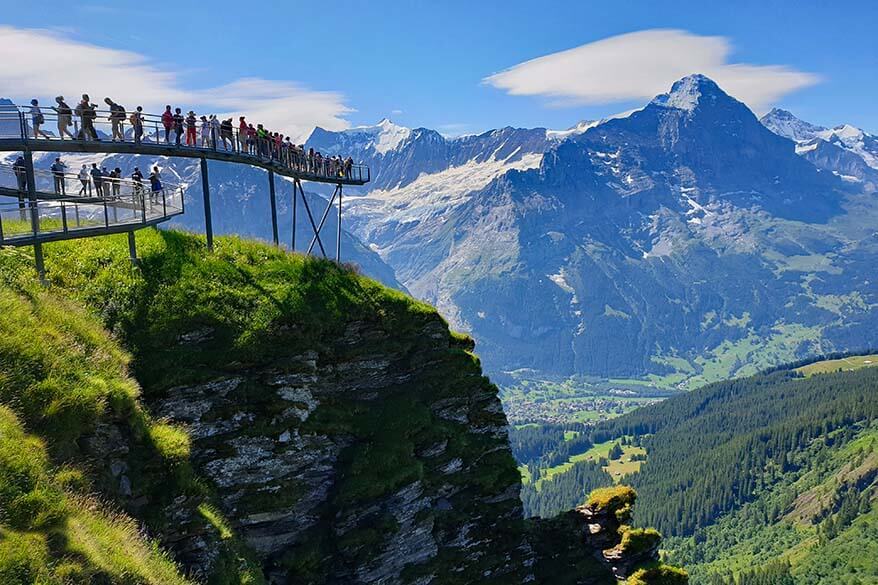 The First Cliff Walk in Grindelwald is one of the must-see attractions of the Jungfrau Region in the Bernese Oberland in Switzerland. This elevated walkway is perched to the side of the mountain at over 2,000 m (6,500 ft) height. It offers some incredible mountain views and a fun, thrilling experience that will make your trip to Grindelwald even more memorable.
Some say that the First Cliff Walk is for the thrill-seekers only. I say it's for everyone! Young people, families with kids, baby-boomers – everyone will enjoy a walk on this hanging walkway that wraps the cliffs of the First mountain and takes you on a short but thrilling journey high above the mountains. So conquer your fear of heights and enjoy this amazing experience – it will be worth it!
In this short guide, you can learn about what to expect when visiting the First Cliff Walk in Grindelwald and find some practical information and tips for your trip. We also share some top tips based on our experience. Take a look!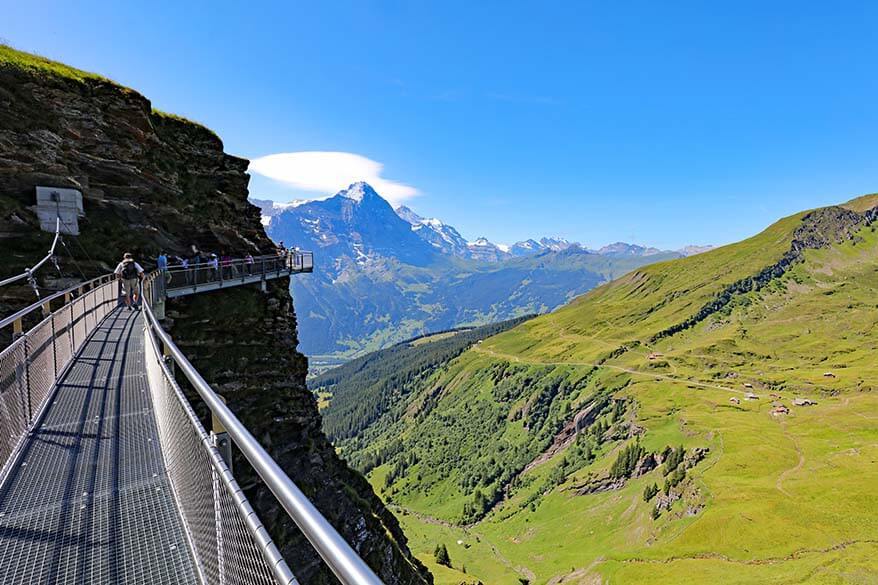 What is First Cliff Walk by Tissot
First Cliff Walk presented by Tissot is a popular mountain attraction in Grindelwald, Switzerland. It's a metal walkway and a unique single-rope hanging bridge, built along the cliff of the First Mountain (2168 m – 7112 ft).
In addition to the cliffside catwalk wrapped around the mountain, there is also an elevated viewing platform with a vantage point stretching 45 m (148 ft) above the abyss affording fantastic views of the alpine landscapes and snow-capped mountain peaks of the Bernese Oberland region.
Opened in September 2015, the Cliff Walk was one of the very first Grindelwald-First summit attractions. In recent years, more attractions have been opened nearby, such as First Glider and First Flyer, and several others, making the First area one of the most popular places to visit in Grindelwald.
Despite the big variety of things that you can now do in the First-Grindelwald area, the First Cliff Walk remains the most popular one, attracting the biggest number of visitors. It has become a true landmark and is considered a must-visit attraction for everyone who travels to Grindelwald. So don't miss it!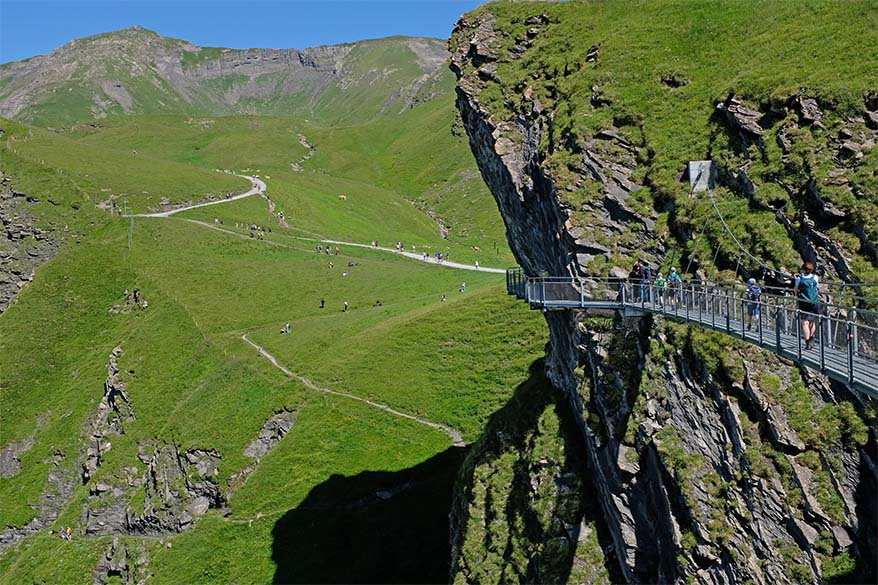 How to Get to the First Cliff Walk
First Cliff Walk is located at the top mountain station of Grindelwald-First gondola. The scenic cable car from Grindelwald to First takes about 25 minutes, passing two other mountain stations in between – Bort and Schreckfeld. If you are planning to go on the First Glider, you'll need to disembark at Schreckfeld. For the First Cliff Walk or First Flyer, remain seated till you reach First.
Once in First, the Cliff Walk can be reached from two different sides. You can either go to the restaurant, where the elevated viewing platform is located and do the cliff walk after visiting the platform. Alternatively, you can exit the gondola and walk in the direction of Bachalpsee Lake and enter the Cliff Walk from that side, leaving the viewing platform for the end of the walk. More explanation and our tips on how to approach this – further below.
Getting to the gondola station: If you are coming to Grindelwald by train, you'll have to walk from the Grindelwald railway station to Grindelwald Firstbahn gondola lift station. Follow the main street, Dorfstrasse, to the east for about 700 meters (0,43 mi). The gondola is well indicated in town and you can't really miss it. This walk shouldn't take you longer than 10 minutes. You can see the map here.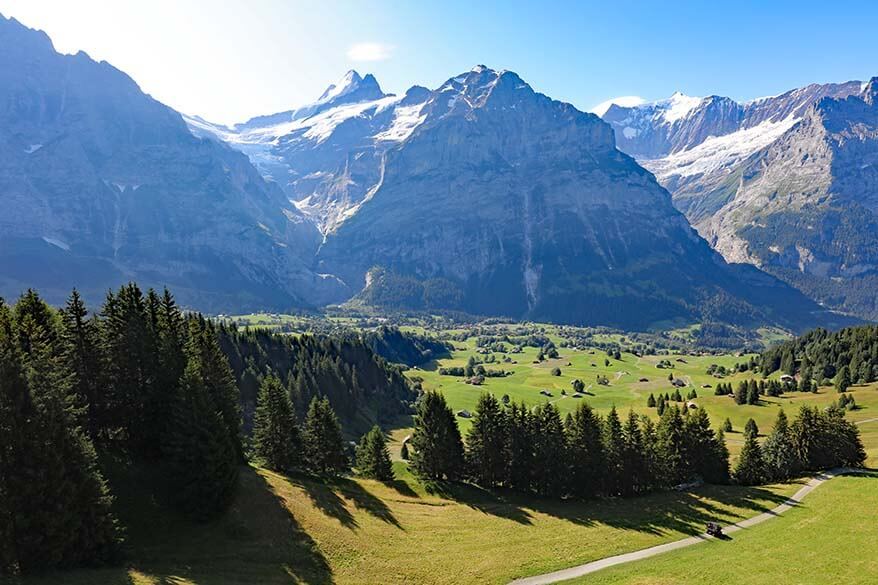 Best Views
You'll have the best views if you start your walk at the lower entrance of the First Cliff Walk (on the way to Bachalpsee). That way, you are walking towards the ravine and have amazing scenery in front of you all the time. If you walk in the other direction, it's still nice, but you will be walking towards a mountain with the best views behind you. If you can, do both!
If starting as I suggest, at the end of the walkway you'll get to the elevated viewing platform that stretches further into the emptiness underneath. It's supposed to be the climax of the Cliff Walk, with amazing scenery all around you. However…
The views from the viewing platform are stunning indeed, but it's usually so busy that it takes away the intended effect. Most people rush here immediately after exiting the cable car (without even doing the cliffside walk) and stand in line in order to take a picture at the end of this 'hanging bridge'. When we visited last summer, the queue was so long that we didn't even attempt to do this.
Instead, we walked the Cliff Walk once more – in the other direction this time. It was quiet here with very few people doing the walk. It felt so special and magical to be there surrounded by such amazing scenery and almost no other people around us. It's like standing on top of the world with magnificent mountain scenery all around you…
TIP: For the best views, fewer crowds, and the best light for photography, visit early in the morning. Needless to say, it's much busier in the summer than in the shoulder season or in winter.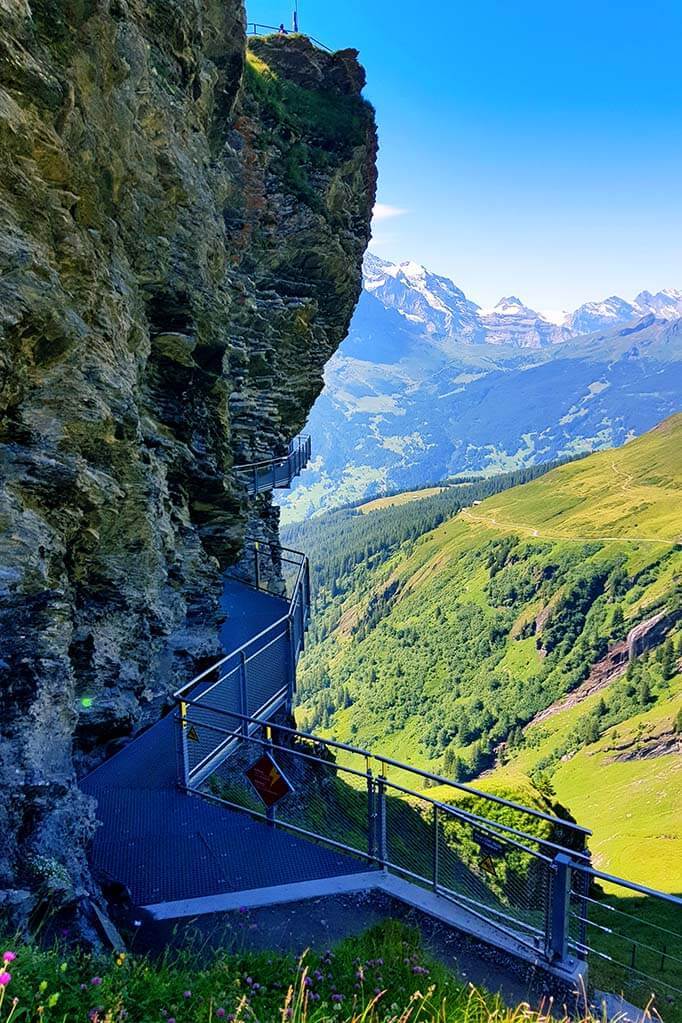 How Long is the Cliff Walk & How Much Time You Need
The First Cliff Walk is just a couple of hundred meters long. It shouldn't take you longer than 10-15 minutes to walk it in one direction, photo stops included.
If it's not busy, you can visit the Cliff Walk and its viewing platform in 15-20 minutes. However, if you are traveling in high season and are here during the busy hours, you'll need much more time, especially if you decide to wait in the queue for a picture at the viewing platform.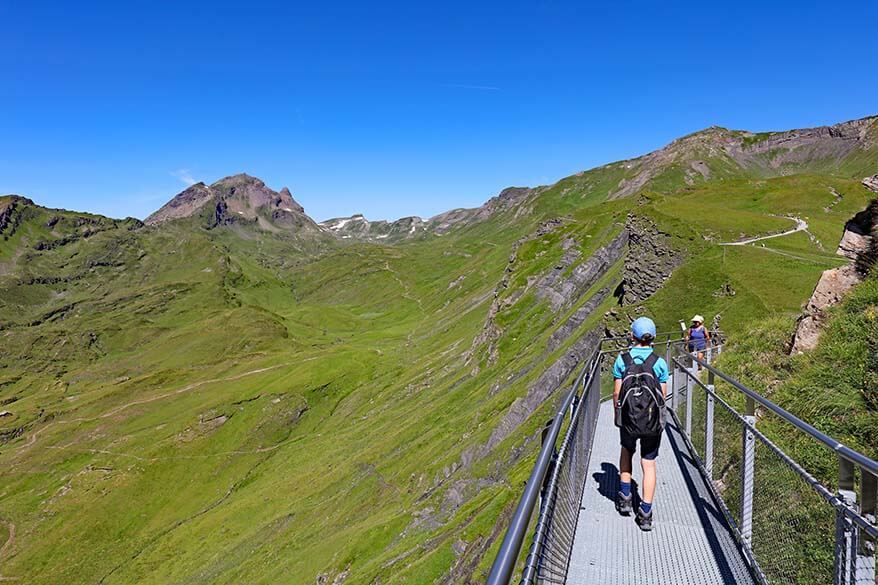 First Cliff Walk Tickets
There is no entrance fee to visit First Cliff Walk. It is sponsored by Tissot and is therefore free of charge for everyone. However, you'll need to buy a gondola ticket in order to get here from Grindelwald. You can also hike to First from Grindelwald, but it's a very long and steep climb that will take you half a day, so not really recommended.
At the moment of writing, Grindelwald – First – Grindelwald gondola tickets cost 60 CHF for adults. Various discounts are available and kids under 6 travel free of charge. Alternatively, you may want to opt for an 'adventure package' with tickets including one or several First-Grindelwald attractions (First Flyer, First Glider, Mountain Cart, etc.). More info about tickets here.
We had Jungfrau Travel Card that covers all the trains and gondola rides in the region – it's a good investment if you are here for 3 days or more. However, it doesn't cover any additional First-Grindelwald attractions, for which we had to buy separate tickets.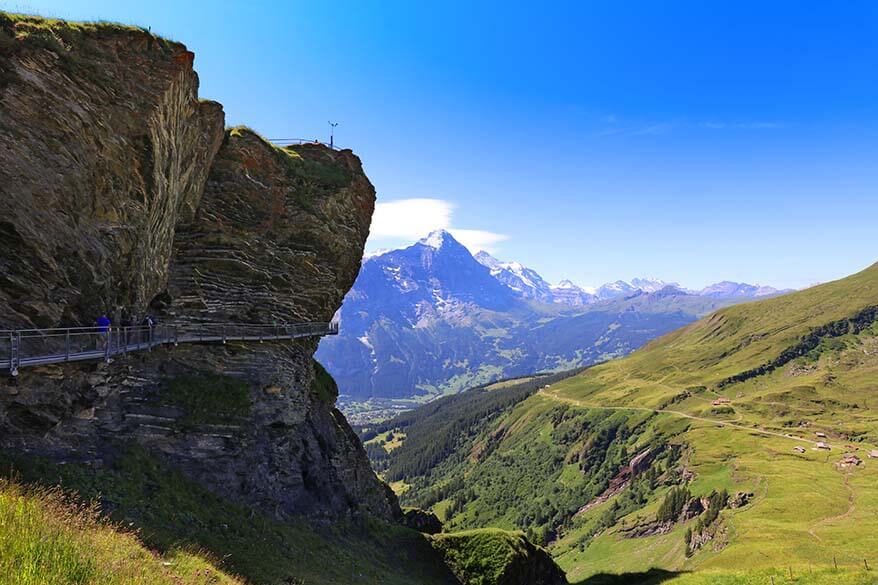 Additional Information
This cliff walk is suitable for everyone. Even though it might look intimidating to walk high above the abyss, the metal walkway is really well-protected. People with a fear of height might find it an intimidating experience, but it's really worth it. The views are spectacular!
First Cliff Walk can be visited the whole year round, weather permitting, and depending on the gondola schedule. Gondolas run in summer and during skiing season in winter; they are closed for a few months in between. In summer, gondolas run from 8 AM to 6.30 PM; hours vary a bit per season. You can find more information on the Jungfrau Region website.
You don't need any special equipment for the First Cliff Walk. However, hiking shoes are recommended if you are planning to do any other hikes in the area – even if just to Bachalpsee.
If visiting on a sunny day, it's a good idea to wear sunglasses because the best views during the day are in the direction of the sun.
There is a restaurant, souvenir shops, and bathroom facilities at the First gondola station. In winter, you can also rent ski equipment here as well.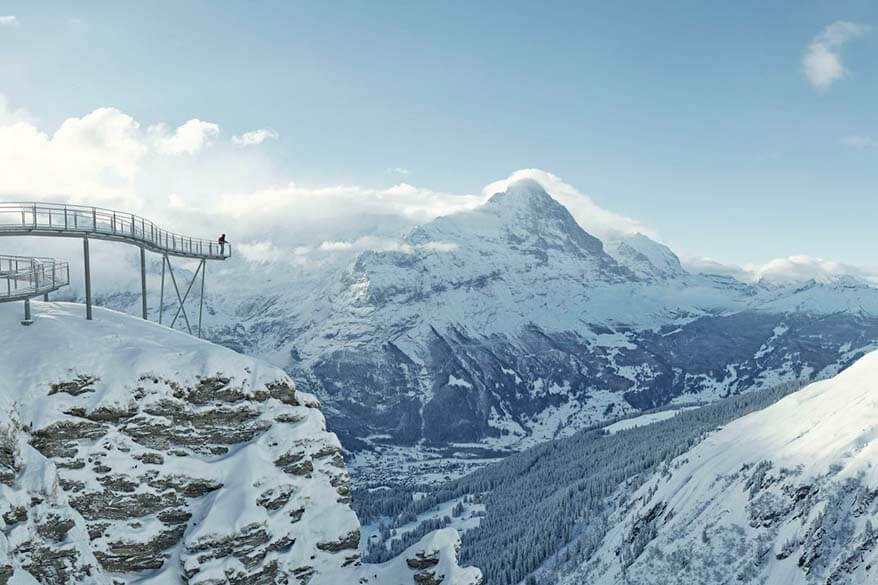 Things to Do Nearby
Grindelwald-First are is a real paradise for adventure and thrill-seekers. As already mentioned before, the First Cliff Walk by Tissot is just one of the many things you can do here.
Most people choose to do one or several of the many fun attractions at First. You can try flying above the mountains in the First Flyer or First Glider or rush down in a Mountain Cart or Trottbike Scooter. Bagjump is also available and there are several playgrounds for children as well.
TIP: I highly recommend the First Glider – in my view, it's worth the time and the money the most. We did it with our kids (age 8, 8, 10) and they said that it was the best thing they have ever done. I was so anxious about it but absolutely loved it as well. An unforgettable experience!
One of the most popular things to do at First (after the Cliff Walk) is a short but very scenic Bachalpsee hike. It's really worth it and the views are stunning! Some others take one of the countless longer hikes in the area (I recommend the Flower Trail or the Faulhorn mountain peak). If you love hiking, you can also consider a day hike to Schynige Platte via Faulhorn. More information in our Schynige Platte hiking guide.
If you visit Grindelwald in winter, you can go skiing or snowboarding at First. However, Grindelwald and the entire region is a real winter wonderland with so much more to do. You can find more information in our guide to the Jungfrau Region in winter.
READ MORE: Things to Do at Grindelwald-First
FAQ
Is First Cliff Walk free to visit?
yes, First Cliff Walk is free to visit for everyone. However, while the Cliff Walk itself doesn't require a separate ticket, you will need to get to First, and that requires a cable car ticket or a strenuous hike of several hours.
How long is the First Cliff Walk?
The First Cliff Walk is just about 300 meters long. It takes just 10-15 minutes to walk it in one direction, photo stops included. If you want to walk it both ways, count about half an hour for your visit.
How to get to the First Cliff Walk by Tissot?
The easiest way to get to First Cliff Walk is by taking a 25-minutes gondola ride from Grindelwald to First. From there, it's just a short walk of 5 minutes to the Cliff Walk. You cannot drive up to First by car or by bus and hiking here from Grindelwald would take you several hours.
When is the First Cliff Walk open?
Weather-permitting, First Cliff Walk is open during the winter ski season and during the summer hiking season in Grindelwald-First area. Usually, this means that it's open daily from mid December to Easter and from mid May to mid October.
More tips for your trip to this part of Switzerland:
If you found this post useful, don't forget to bookmark it and share it with your friends. Are you on Pinterest? Pin this image!