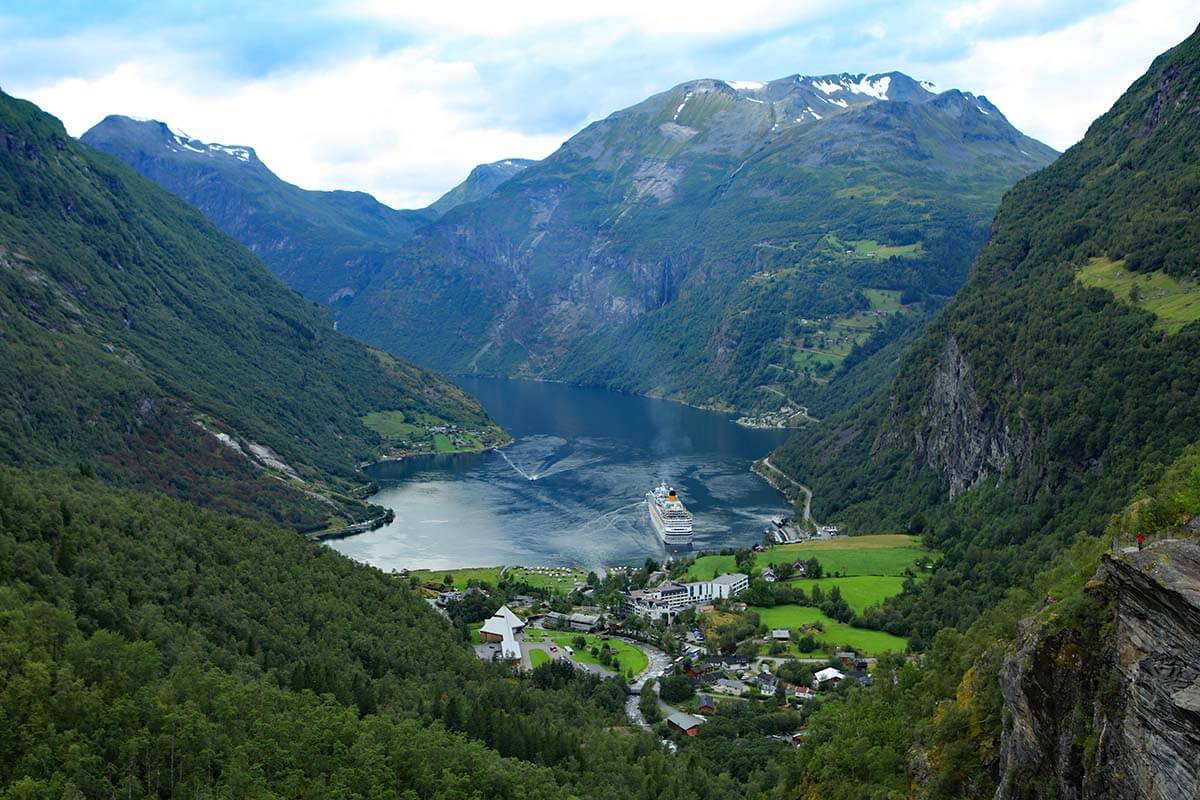 Norway is a beautiful country with a coastal perimeter that stretches over 2.650 km (1.650 mi). If you count all the fjords, bays, and islands, the Norwegian coastline is tens of thousands of miles long. In fact, Norway has the second-longest coastline in the world, after Canada…
So it will come as no surprise that many visitors opt for a Norway cruise as the best way to explore the country. But is it indeed?
We have been to Norway several times. Our first visit was this Norway road trip exploring the nicest towns and fjords in the south-west of the country. We also visited Tromso in winter and even the Arctic region of Svalbard.
But cruising Norway and seeing its stunning coastline from the water is still on our bucket list… In fact, Norway is one of the few places in the world that we consider visiting by cruise – because you get to see places that are inaccessible otherwise.
Our fellow blogger Jenni Fielding who runs the family cruise blog CruiseMummy has recently planned a Norway cruise. After thorough research, she's convinced that the best way to visit Norway is by cruise ship. In this article, she tells us why.
With itineraries ranging from 5 to 21 nights, and Norwegian cruises departing from a range of ports such as Southampton, Amsterdam, Hamburg, Copenhagen, and Bergen, there's a Norway cruise for everyone!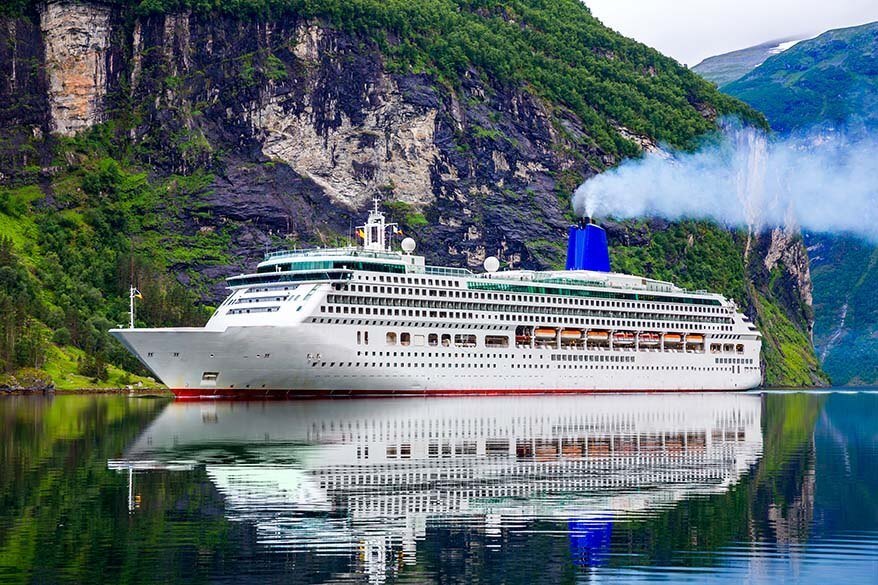 Here are the main reasons to visit Norway by cruise:
1. You can see a lot of Norway in a short time
Norway is a fairly large country, around the size of Germany, yet most of its cities, towns, and places of interest can be found along the coast.
Traveling over land in Norway involves bridges, tunnels, mountain roads, car ferries, and toll roads. Norwegian roads are quite narrow, which means that most of the time, you don't drive faster than 50-60 km/h (30-40 mi/h).
Taking a cruise, as opposed to a guided coach tour or a self-drive vacation, means that you can see so much more in a shorter time. Furthermore, you'll have more time to spend exploring each place.
When cruising Norway, your cruise ship relocates overnight. Every day you can wake up somewhere new, have an amazing breakfast, get off the ship, and start exploring right away.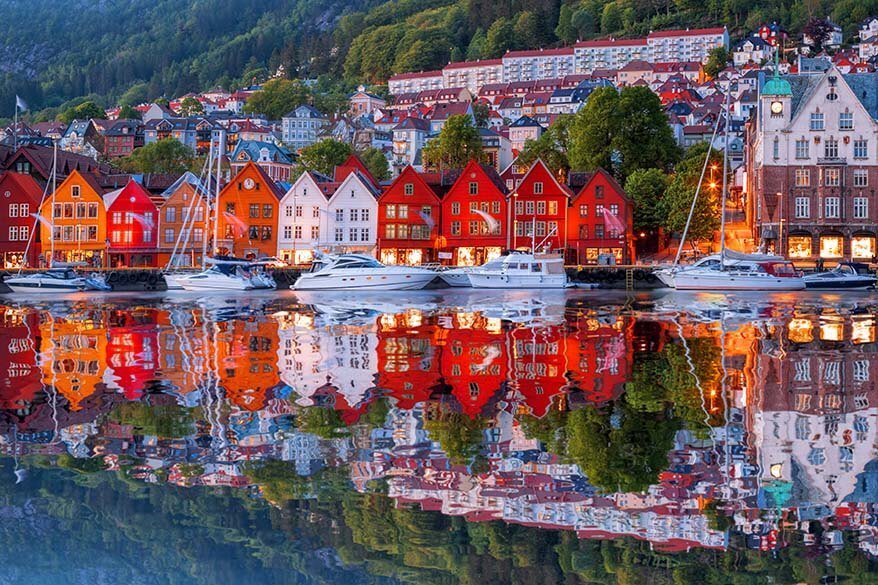 2. Cruising is the cheapest way to visit Norway
There's no denying that Norway is an expensive country to visit. Mid-range hotels in Norway cost 100-250 EUR per room for 2 people, whilst the main course in a restaurant will easily cost 25-30 EUR per person.
LEARN MORE: How expensive is Norway?
If you're driving across Norway, you'll have to factor in car hire, fuel, toll roads, and parking, which are all more expensive than in other European countries. Furthermore, if you want to see a lot in a short time, you'll also have to take a train or fly between different destinations. Your trip budget will quickly be much higher than first anticipated.
With a cruise, you have none of those costs to worry about! Your accommodation, meals, and most of your transport is included in the price of your cruise ticket. So it's very easy to budget for your trip as the biggest part of the costs is known in advance. Of course, you can choose a more luxurious ship and a better cabin, but the same counts for rental cars and hotels…
Cruises to Norway aren't much more expensive than cruises elsewhere in Europe. And because life in Norway is so expensive, they offer exceptional value for money. Here you can find a big selection of Norwegian cruises and check prices – take a look!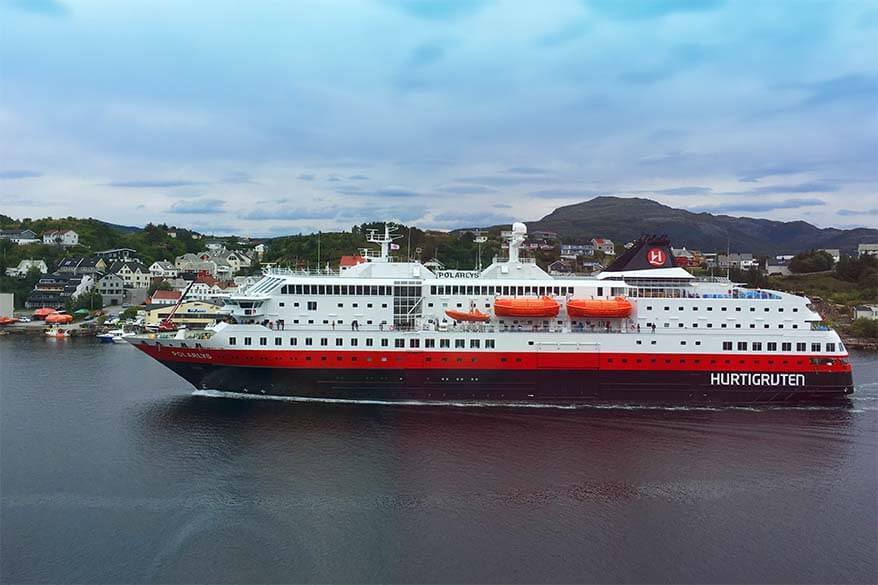 3. You'll get great photo opportunities
Norway has stunning landscapes. However, often, you're just too close to the scenery to get it all in the picture. As the cruise ship gets closer to the coast or leaves the port, you have plenty of opportunities to photograph the scenery from various distances and angles that are simply impossible to get from land.
Also, you can head to the top deck of your cruise ship and get some stunning high-angle shots of the surroundings.
Up to 70 meters (20 floors) above the water and far enough from the shore to get the scenery in shot, the top deck of a cruise ship is one of the best places for taking photos of Norway's beautiful scenery. So make sure to be out on the deck when your ship sails into port or navigates the narrow fjords!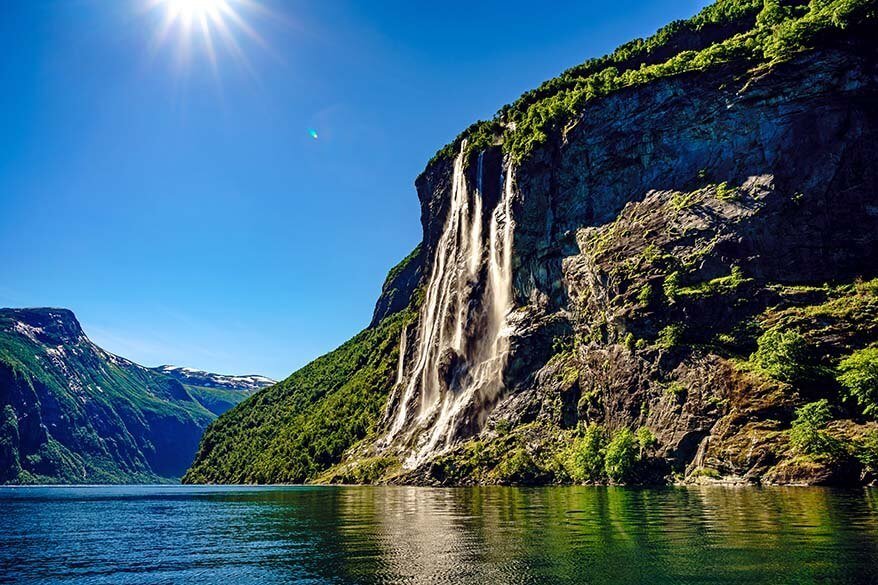 4. Planning a trip and excursions is so easy
Planning trips isn't for everyone, but planning a road trip in Norway is even more challenging. When you look at the map, all you see are islands and fjords and roads that seem to end in the water… Whilst many people love planning all the finer details of their upcoming vacations, others see it as nothing more than a means to an end.
If you fall into the latter category, then exploring Norway on a cruise will be so much more relaxing than taking a road trip!
If you don't want to plan anything at all, you can even opt for the guided cruise excursions. In that case, you can simply walk off the ship to a waiting coach and relax as you're escorted to all the most interesting places.
However, planning your own shore excursions is very easy when cruising Norway. It's not only cheaper but also gives you the possibility to explore at your own pace and without big groups of fellow passengers. It's easy enough to plan your own day trips from Norway's cruise ports, or just take a stroll and see where you end up.
TIP: If you are looking for ideas for things to do, take a look at the following suggestions for some of the most popular ports: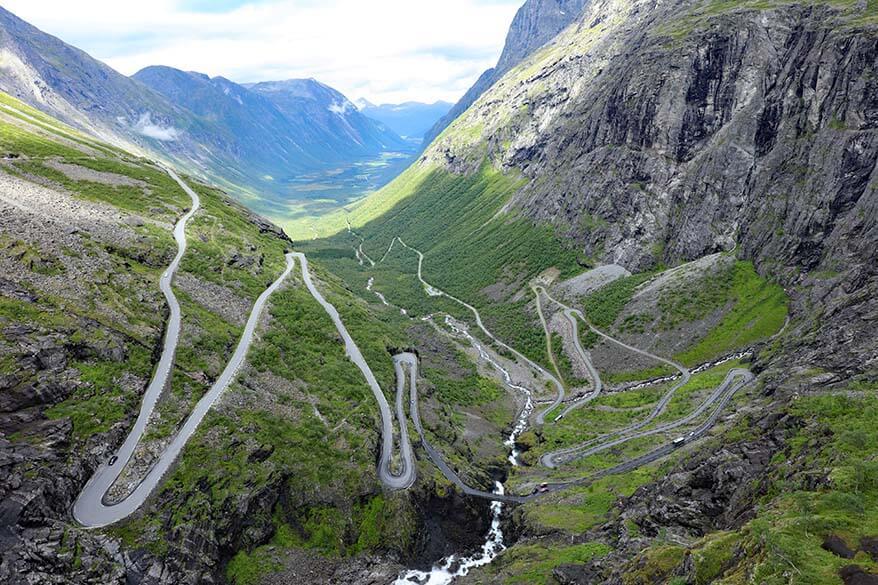 5. Seeing the Northern Lights comes with a guarantee
A cruise ship is a great place to see auroras! There are three main factors required for that: darkness, clear skies, and aurora activity. Because you sail far away from any light pollution and cover big distances in a short time, you are almost guaranteed to have plenty of dark cloudless skies during your Norway cruise. All you need is some aurora activity!
TIP: For the best chance to see the Northern Lights during your cruise in Norway, go between October and March and choose a cruise that goes high up North. Because of its location and relatively stable weather, the area around Tromsø is one of the best places in the world to see the Northern Lights!
READ ALSO: Northern Lights in Tromso
Still, the Northern Lights are a mystical creation of Mother Nature. And while you can increase your chances of seeing them by going on a cruise in Norway in the right season, there's no way to know for sure when or if they'll appear.
If you have your heart set on witnessing the Northern Lights during your Norway cruise, you may be disappointed if fickle Lady Aurora decides not to make an appearance whilst you're there.
One great solution to this is to book a Norway cruise with Hurtigruten. This five-star Norwegian cruise line offers a Northern Lights promise. They guarantee that if you don't get to see the Northern Lights during your cruise, you'll get another cruise free of charge! You can't say fairer than that.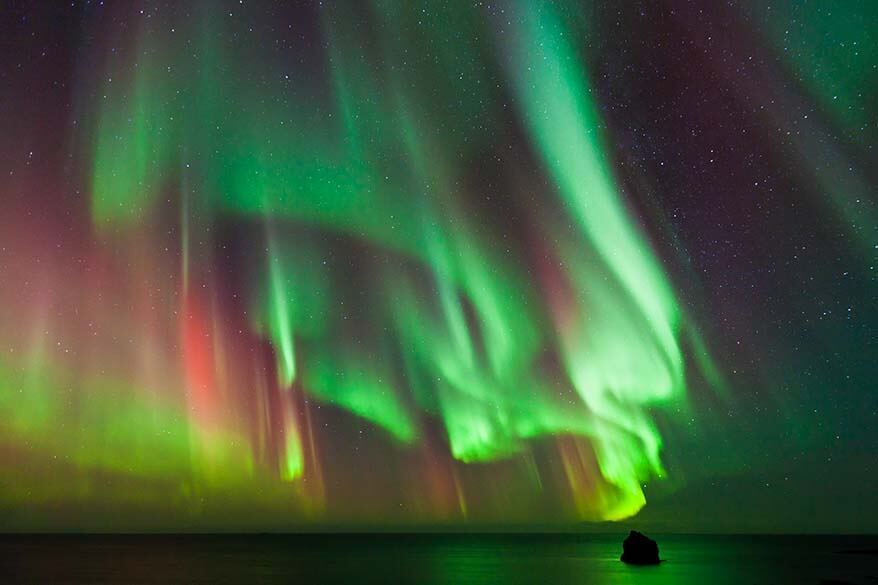 6. Experience the Midnight Sun from your balcony
Another wonderful phenomenon that Norway is famous for is the Midnight Sun. In Northern Norway in the height of summer, the sun never sets below the horizon. And no, Midnight Sun is nothing like the sunshine during the day. The light is dazzling!
What better place to bask in the midnight sun than from the private balcony of your cruise ship? A snuggly blanket, a pack of cards, a pair of binoculars, a cruise drinks package, and you're all set for the perfect cozy evening watching the scenery of the Norwegian Fjords in the middle of the night.
Good to know: The season for the Midnight Sun in Norway varies depending on location. High up north in Svalbard, the sun never sets between the third week of April and until the third week of August. In Tromso, the Midnight Sun season lasts from the end of May till the end of July. And even though the days are very long everywhere in Norway from May to July, there's no Midnight Sun in places like Oslo, Bergen, or Stavanger. You have to go higher north for that!
7. There's no limit to how much Norwegian food you can eat
Cruise ship chefs always like to source ingredients locally where possible. They delight in building menus around local delicacies. When you eat fish on a cruise, it should be freshly caught off the coast of Norway. You should also be able to try iconic local dishes such as brunost (brown cheese), rokt las (smoked salmon), or kjøttboller (meatballs).
Usually, most of the food you'll eat on a cruise in Norway is included in your cruise fare, and there'll be as much of it as you care to eat.
TIP: For the finest Norwegian cuisine, and if your budget allows, choose an ultra-luxury cruise line such as Crystal Cruises, Scenic or Silversea. You'll enjoy Michelin-star level dining for every meal!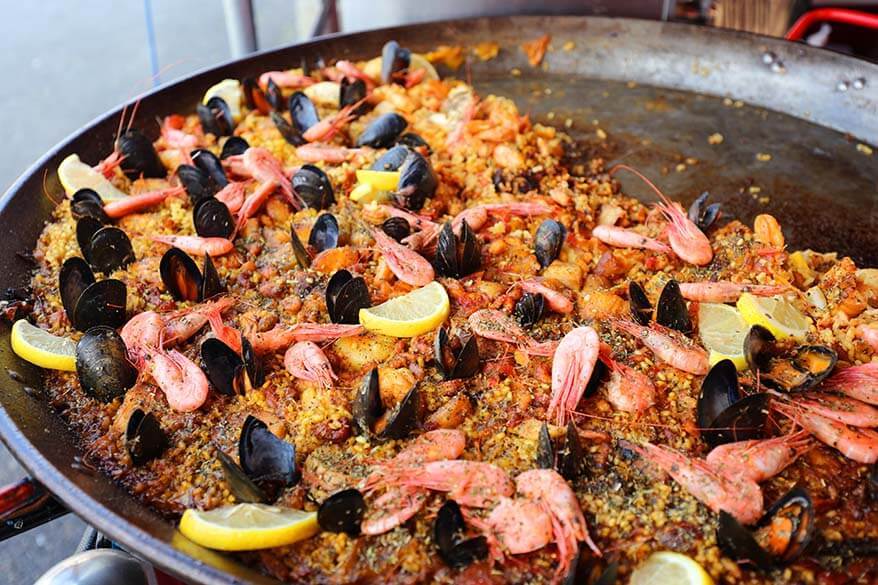 8. Special diets are well-catered for
If you're vegetarian, vegan, gluten-free, or have food allergies, you'll be all too familiar with the struggles of eating away from home. Norwegian people tend to eat a lot of meat and fish, so the last thing you'll want to do is trawl the streets looking for somewhere with a vegan or vegetarian option, or worry that your allergy requirements might get lost in translation.
Cruise ships cater for all kinds of special diets! On the first day of your cruise, you'll have a meeting with one of the chefs so that they can make sure that they cater to your requirements.
You'll have breakfast and dinner on board and can even pop back to the ship for lunch if desired. However, traveling is also about tasting local food. So try to look for some local specialties for lunch when you have a chance. It will make your trip even more special!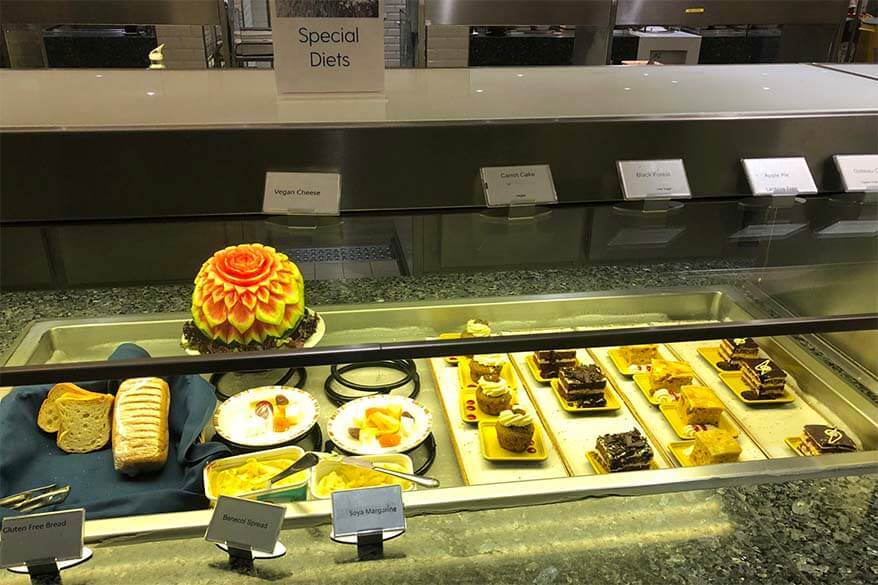 9. Cruising Norway is the easiest way to travel with kids
All parents know that if the kids are happy, you're happy. However, touring in Norway can be quite intensive and even a bit boring for kids.
While there are many playgrounds and kid-friendly museums in the cities, children might not always appreciate the views of the fjords or the waterfalls that all start to look the same to them after a few days.
TIP: Choose a Norwegian cruise with a family cruise line such as Royal Caribbean or Disney Cruise! That way, your kids will be able to enjoy activities like bumper cars, roller skating, circus skills workshops as well as spending time doing the things that you actually came to Norway for.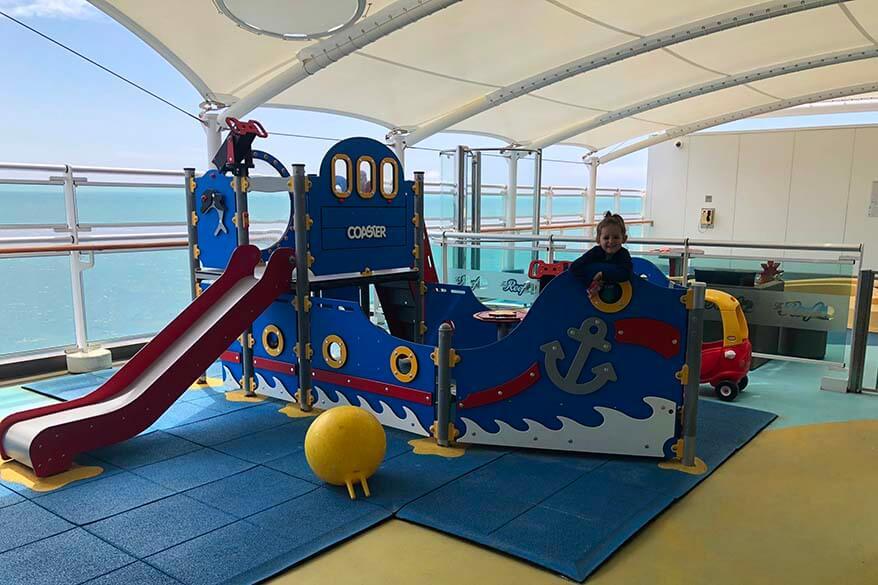 10. Cruises offer an easy way to travel for people with disabilities
Travelers with disabilities can face a whole host of challenges when planning a trip, from finding suitable accommodation to using public transport. Traveling to another country can involve lots of time spent planning, yet there are some things that are virtually impossible to plan for, no matter how long you spend asking questions in Facebook groups.
For people with limited mobility, visual or hearing impairments, or additional medical needs, a cruise can make more of the world accessible. Cruise ships are well equipped to accommodate mobility aids such as wheelchairs and scooters. Furthermore, cruise ship staff are well-trained in making sure that guests' needs are met.
TIP: If you use a wheelchair, make sure to choose a cruise where the ship docks at ports rather than anchors out at sea. If you need to board into a tender boat to reach the shore, you'll need to be able to step on to it. However, keep in mind that at some ports in Norway cruise ships always anchor at sea. This is, for example, the case in Geirangerfjord.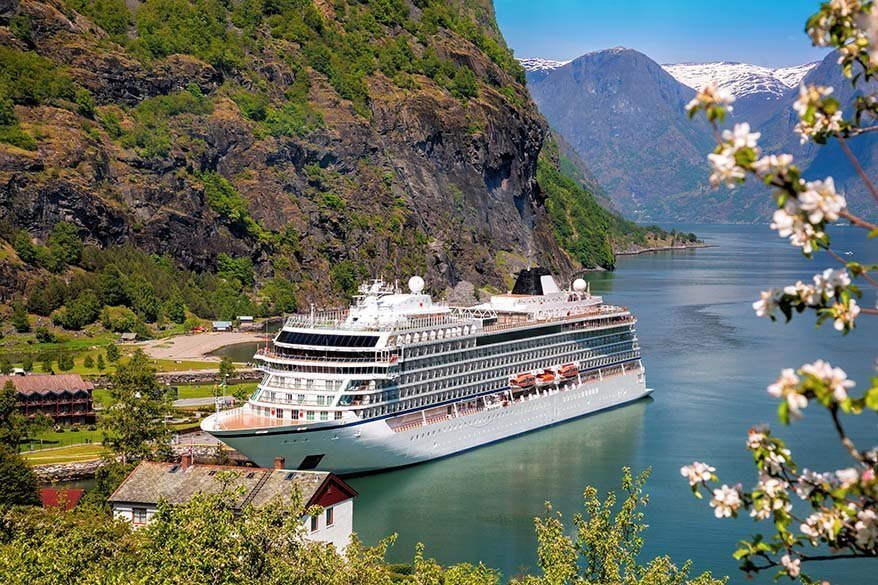 11. No packing and unpacking
One of the advantages of a cruise is that you only need to unpack once. Traveling in Norway by car or by train, you'd have to stay in many different hotels in order to see the most beautiful places. That means several rounds of unpacking and packing again, with a suitcase which seems to get fuller each time.
On a cruise, however, you can relax knowing that your accommodation and wardrobe will move with you as you tour the country. If you opt to stay in a luxury suite, you'll even have a butler on hand to unpack for you.
Also if the weather unexpectedly changes (as it's usually the case in Norway), you can easily adapt to that because you always have your luggage at hand.
READ ALSO:
What to Pack for Norway in Summer
What to Pack for Norway in Winter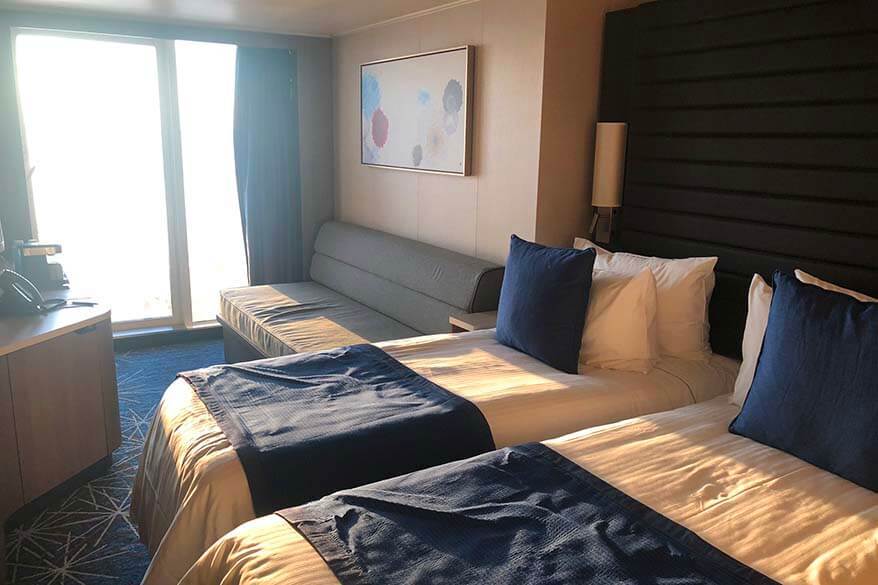 12. There's time to relax
A common mistake that travelers make is to try to squeeze too much into a trip. Sightseeing from dawn until dusk and then eating out every evening can be exhausting. Sometimes, you may feel like you need another vacation as soon as you return home!
Norwegian cruise can be as action-packed or as chilled as you like. If you want to sit back and admire the scenery from the comfort of a hot tub on the sun deck of your ship rather than spend the whole day walking around a city, then you can do it.
On some days, your ship might not even dock. Instead, it can spend the day cruising around the most scenic spots, giving you a well-deserved rest-day!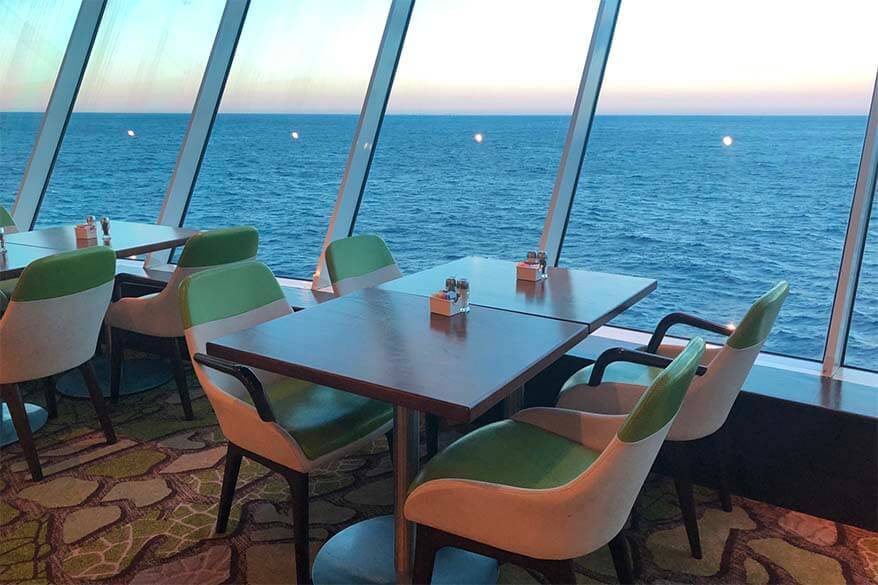 Conclusion
Whilst there are many ways to see the most beautiful places in Norway on a single trip, you should definitely consider exploring Norway by cruise ship. If you start and end your cruise in Norway, you can even combine cruising with road tripping.
Cruising has many misconceptions, so if you haven't taken a cruise yet, don't be put off by any of the popular myths. The Norwegian fjords could be the perfect place to try a cruise for the first time!
So, these are just a few great reasons to book a cruise in Norway. For more travel tips for Norway, please take a look at our Norway travel guide. It's packed with travel inspiration, destination advice, and practical tips for any trip. Check it out!
READ ALSO: Preikestolen – Pulpit Rock Hike (the most iconic hike in Norway!)
If you found this post useful, don't forget to bookmark it and share it with your friends. Are you on Pinterest? Pin these images!