Strasbourg is undoubtedly one of the most charming towns in France. A city that you should definitely include in your French trip itinerary! If you are visiting Strasbourg with kids and wondering what are the main highlights to see and things to do in the city, then this guide will help you make the most of your visit.
We have been to Strasbourg many times, but this article is based on the very first time we visited Strasbourg with kids. In this post, we share our tips for how to spend one day in Strasbourg, including the best things to see and do in the city. We also created a map with a city walk that we did in the old town.
It's not an in-depth guide of Strasbourg, rather a one-day guide including the main highlights of Strasbourg and the best way to see the old city center in just a couple of hours. And while we did this with children, these tips will be useful to anyone visiting Strasbourg for the first time.
At the bottom of the article, you can find some useful tips for your first visit, best places to stay for all budgets, and some additional ideas for things to do near Strasbourg with kids. Find out!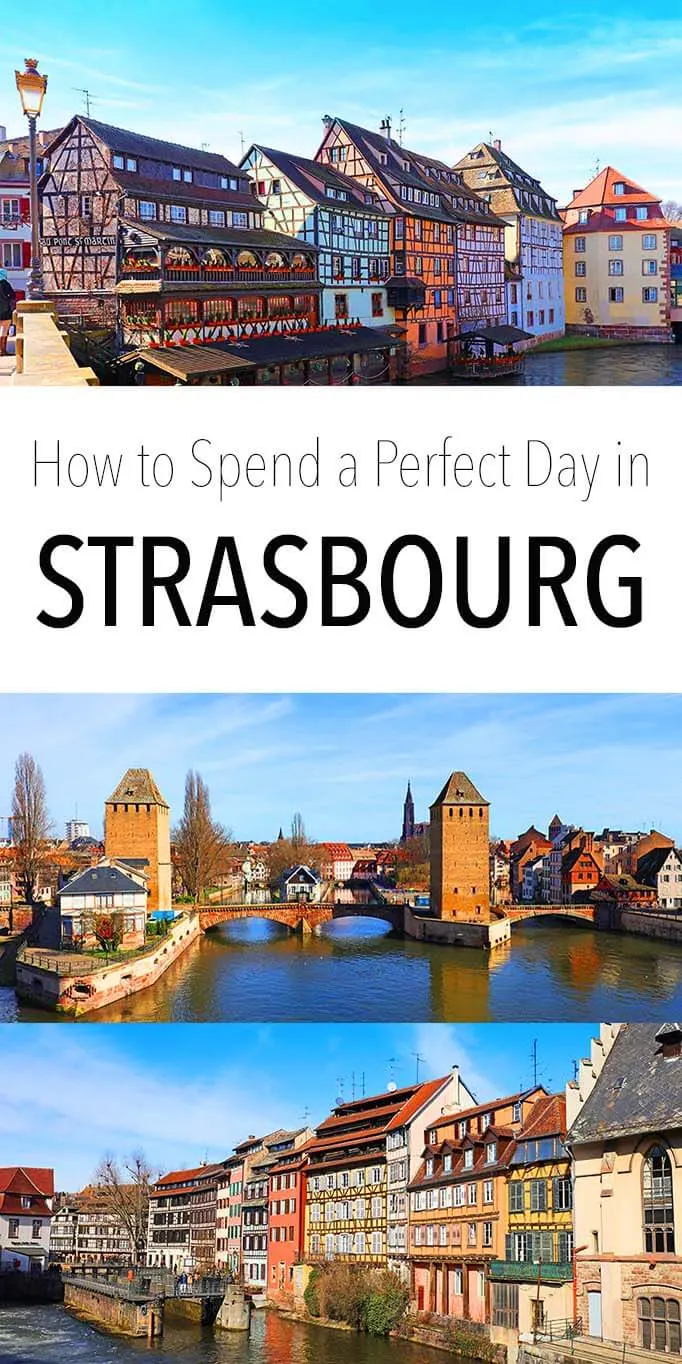 Below, you can see our Strasbourg walking map that covers all the main landmarks in the city center.
We started our Strasbourg city walk at the car parking 'Centre Historique Petite France'. It's located right next to the Strasbourg Museum of Modern and Contemporary Art and is indicated as #1 on our map. If you're arriving in Strasbourg by train, you'll also start the city visit in this area.
These are the best things to do on your first visit in Strasbourg with kids:
Barrage Vauban
The first stop on our Strasbourg city walk was Barrage Vauban (#2 on the map). This 17th century covered bridge has a terrace on the roof offering beautiful views over the historical center of Strasbourg. The inside corridor of the bridge is now used to display ancient plaster casts and several statues.
This is such a great place to start your day in Strasbourg with kids! Our boys loved the covered bridge, the fact that you could go on the roof, and the beautiful views from the top!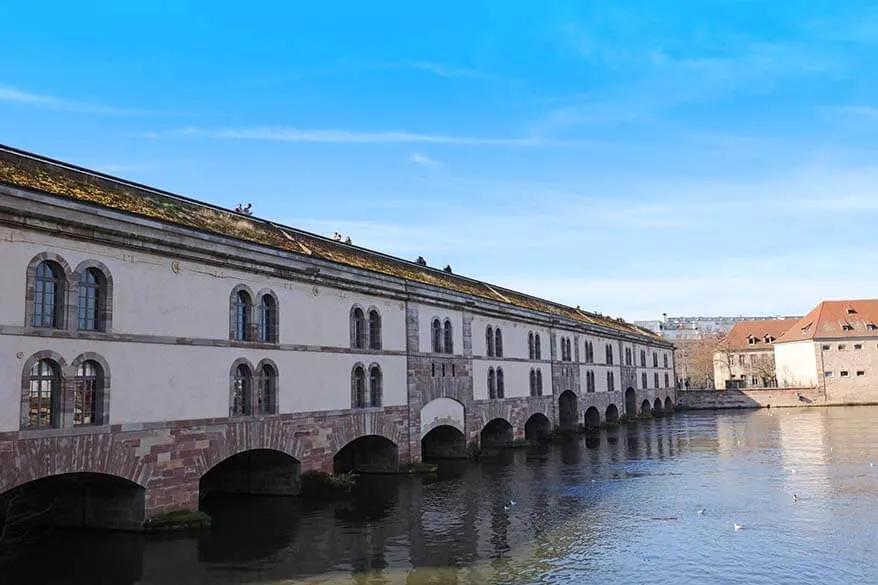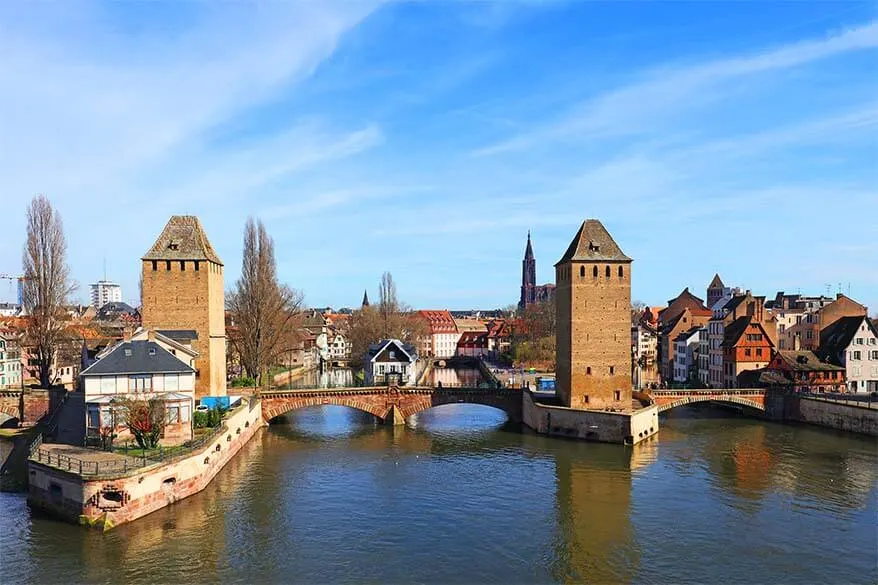 Ponts Couverts
We continued our walk towards the Ponts Couverts (#3 on the map). Ponts Couverts that literally means 'covered bridges' is a set of three bridges and four towers from the 13th century.
I didn't know where to look first – there were so many beautiful buildings all around us. In the meantime, the kids discovered a playground next to the rive (#4 on our map).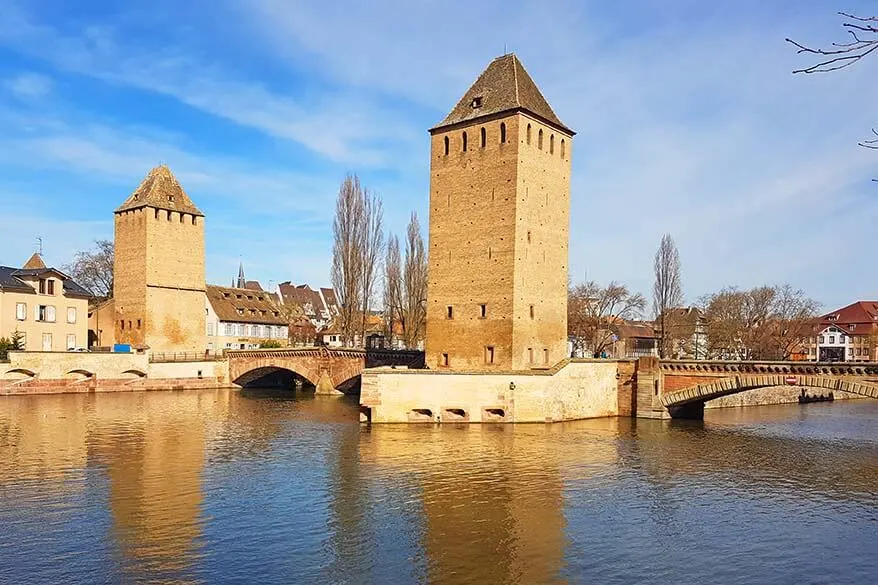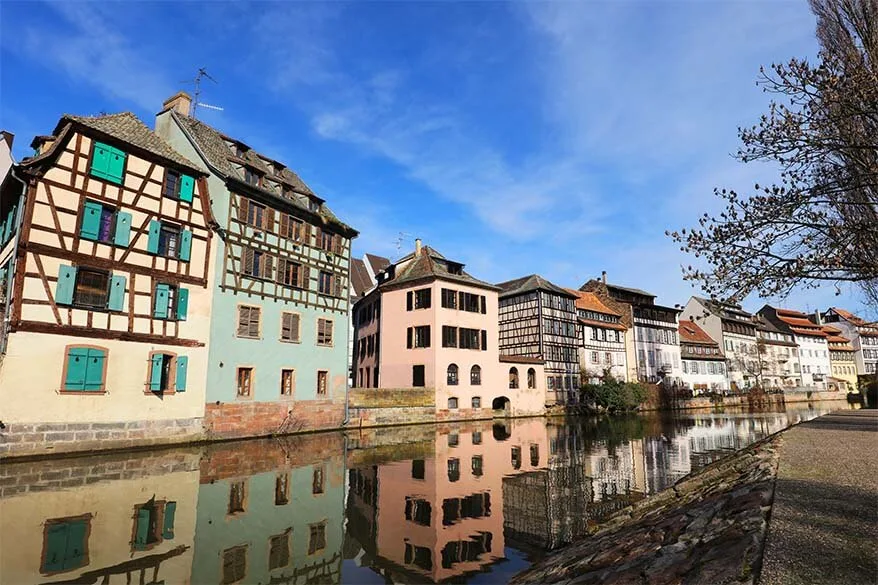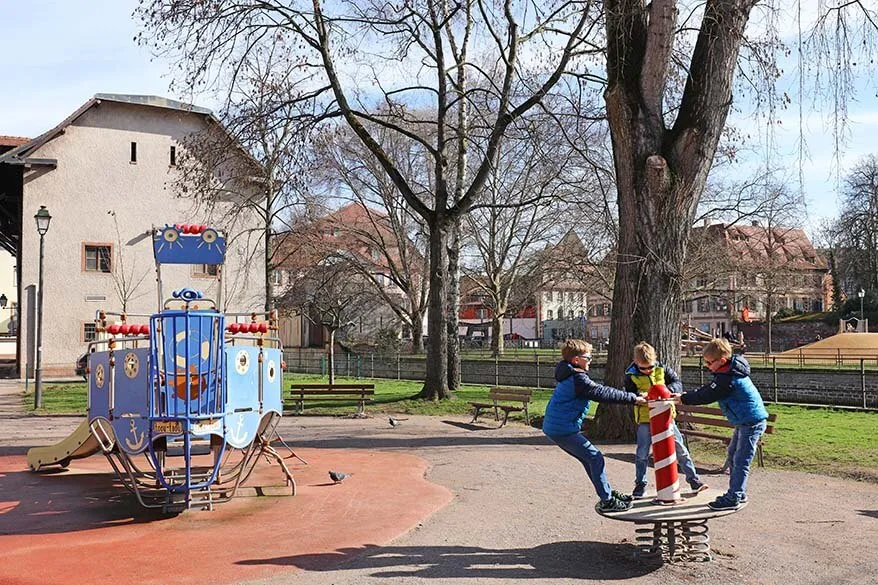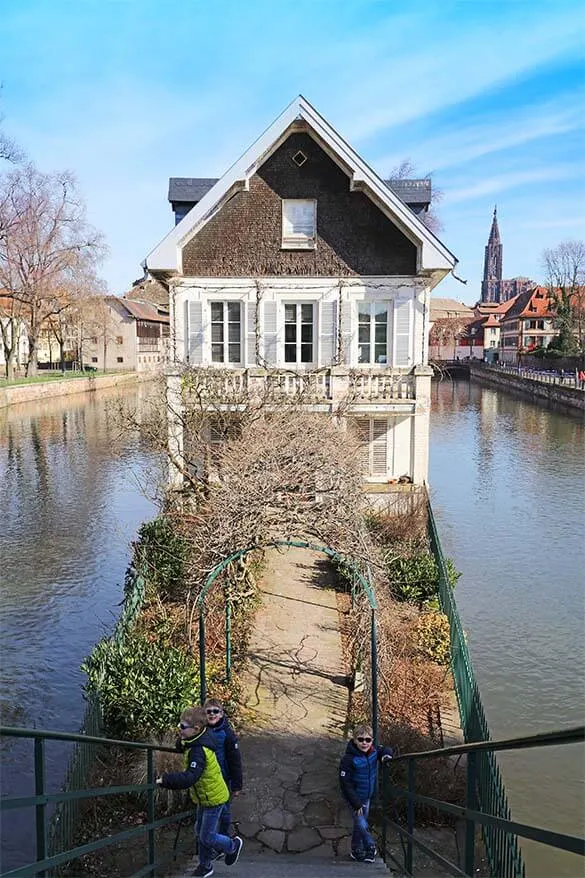 La Petite France
The historical center of Strasbourg is located in a beautiful area called La Petite France (#5-6). It is part of the UNESCO World Heritage Site of Grande Île.
La Petite France area dates from the Middle Ages when it was home to the city's tanners, millers and fishermen. If you visit just one area in Strasbourg, this is the place to be!
Make sure to also check the little street Rue du Bain-aux-Plantes (#9) as well. You'll find many typical Alsace Renaissance-style buildings here.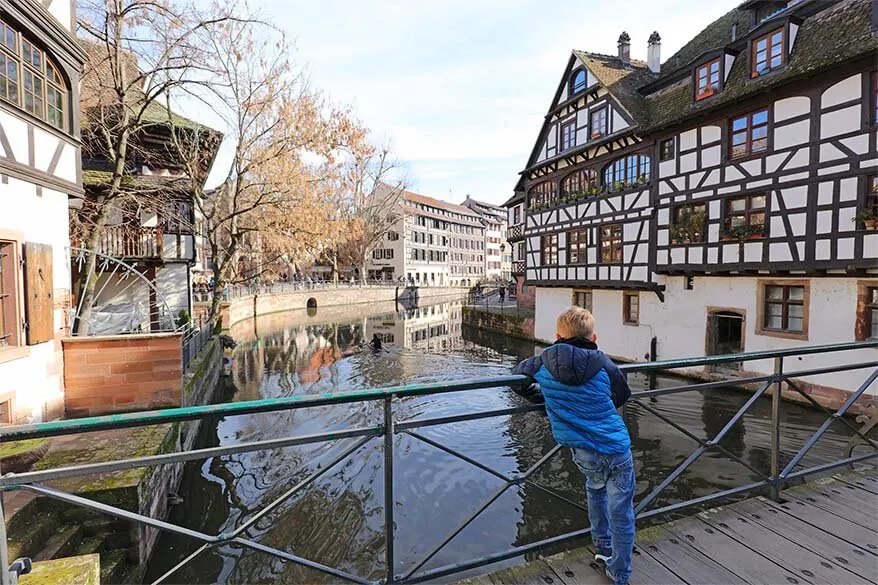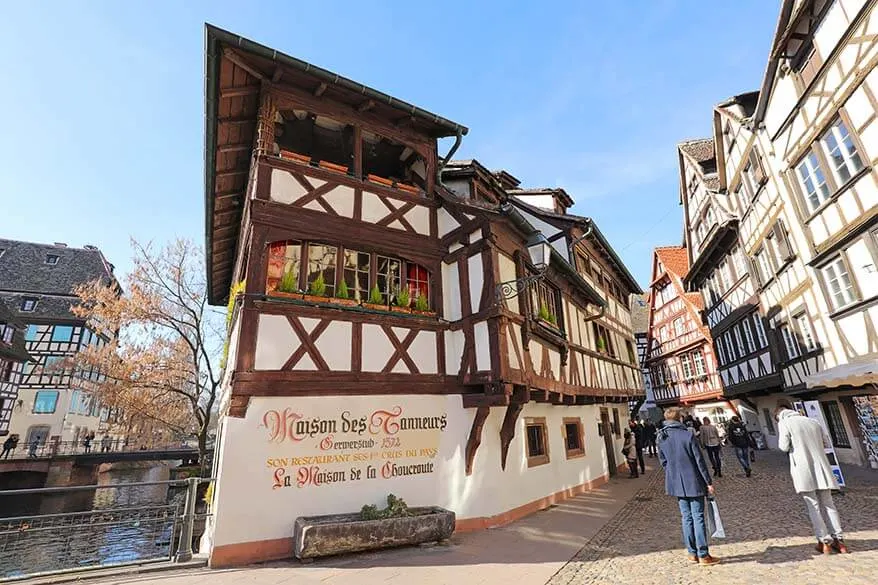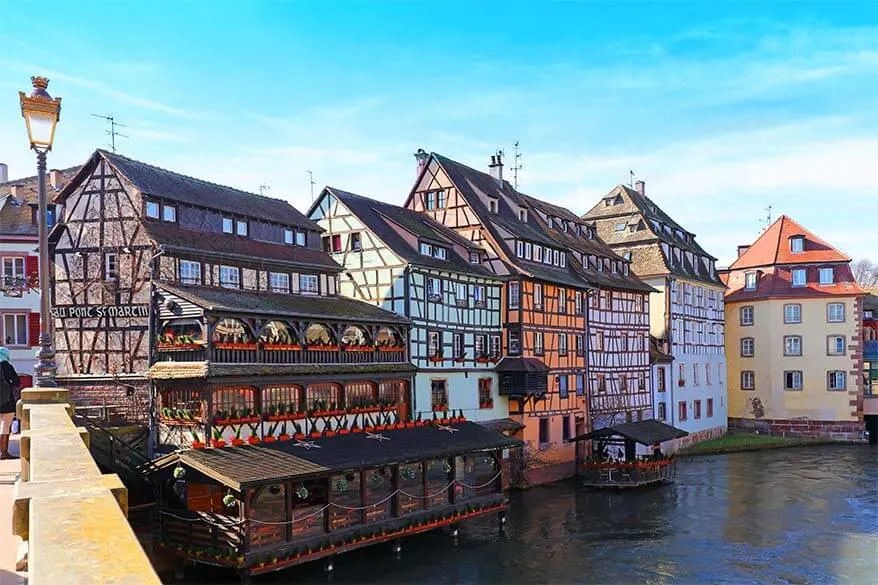 Cathedral: Bell Tower and Astronomical Clock
We then followed the river in the direction of the Cathedral of Our Lady.
It's a nice walk next to the river. The kids loved walking so close to the water, but I have to admit that I was not always at ease…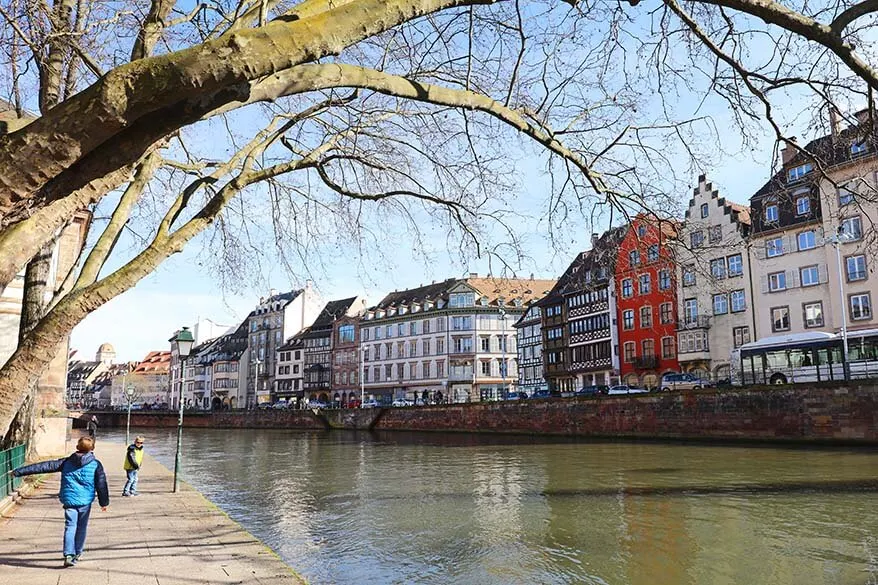 The Cathedral (#7) is another highlight of Strasbourg. You really have to see it from both – outside and inside – in order to truly appreciate it.
Once the tallest building in the modern world, it's also one of the most beautiful Gothic cathedrals of Europe.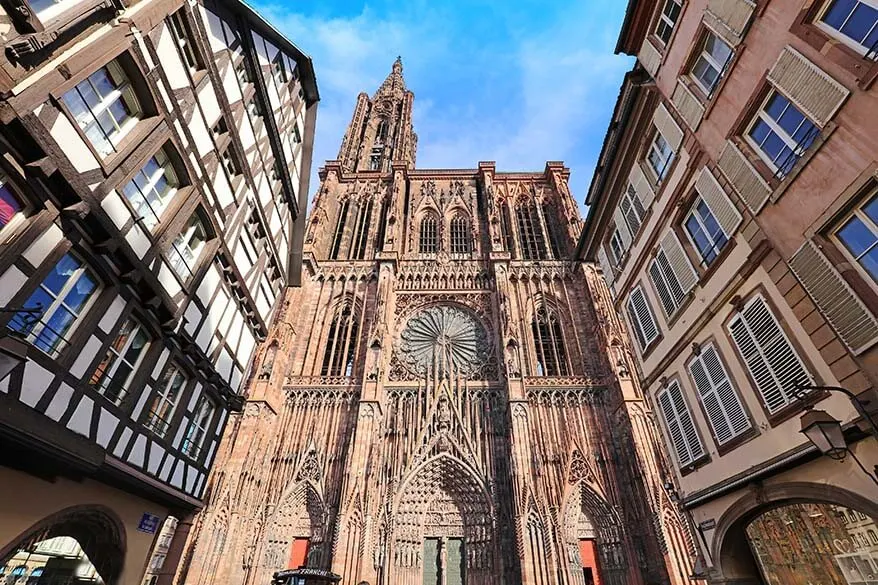 The Cathedral of Strasbourg is very special as it only has one tower. The good news is that you can climb the bell tower for amazing views of the surroundings. Not only do you see the entire city from here, but also as far as the Vosges mountains and the Black Forest in Germany.
It's a serious climb of more than 300 steps on a spiral staircase, but the views were absolutely worth the wait and the climb.
The admission fee is 8 EUR for adults and 5 EUR for the children. You can find more practical information on the official website of Alsace Tourism.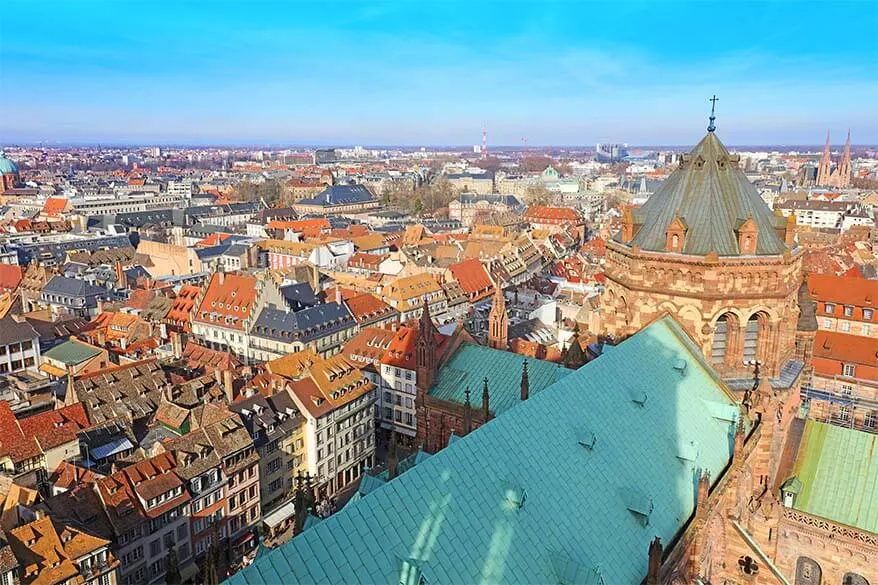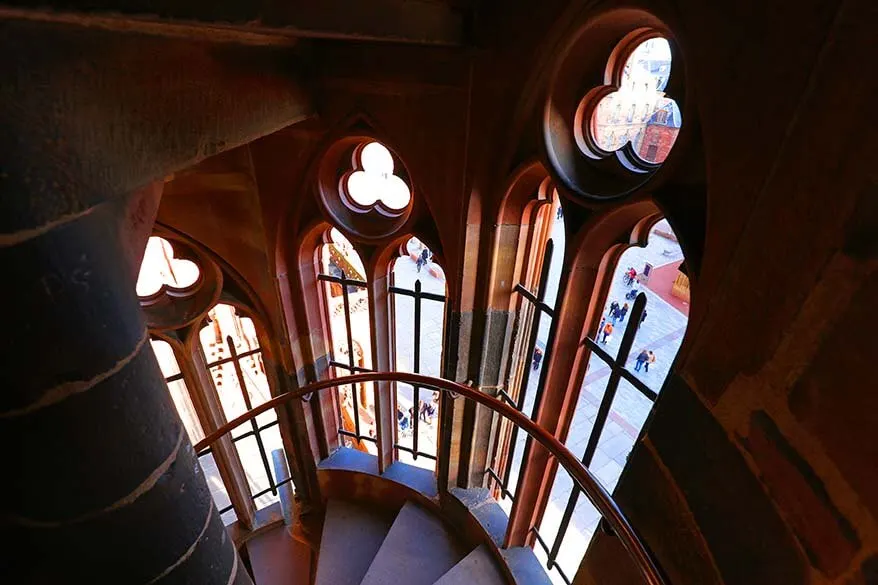 Don't forget to take a look inside the cathedral as well. It's free to enter and takes just a few minutes of your time.
Strasbourg Cathedral holds many treasures: 12-14th-century stained glass windows, the St. Pancrace altar, 17th-century tapestries, 15th-century mural paintings, the impressive pipe organ, and the famous astronomical clock.
The Astronomical clock of Strasbourg can be seen the whole day (inside the Cathedral, at the far right corner), but in order to see it in action at around 12.30 PM you need to get a ticket (and arrive at least half an hour in advance).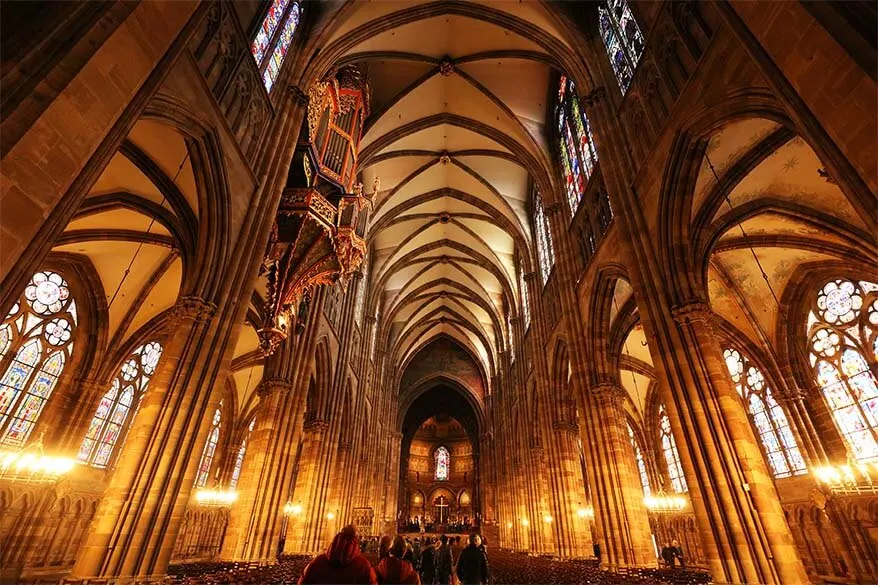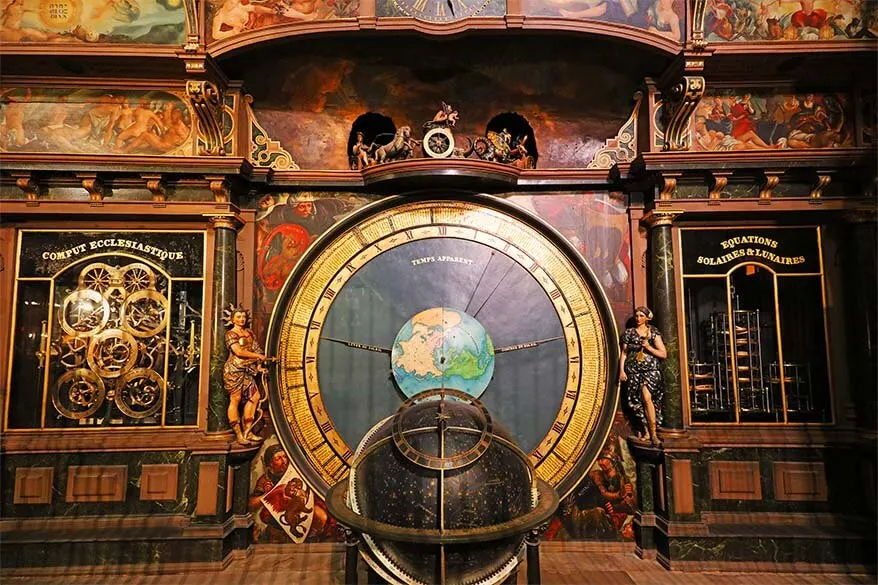 Strasbourg Cathedral Square
The beautiful architecture of Cathedral Square is worth noting too. Don't miss the Rohan Castle (Palais Rohan), Maison Kammerzell, and the view of the Cathedral from the Rue Merciere.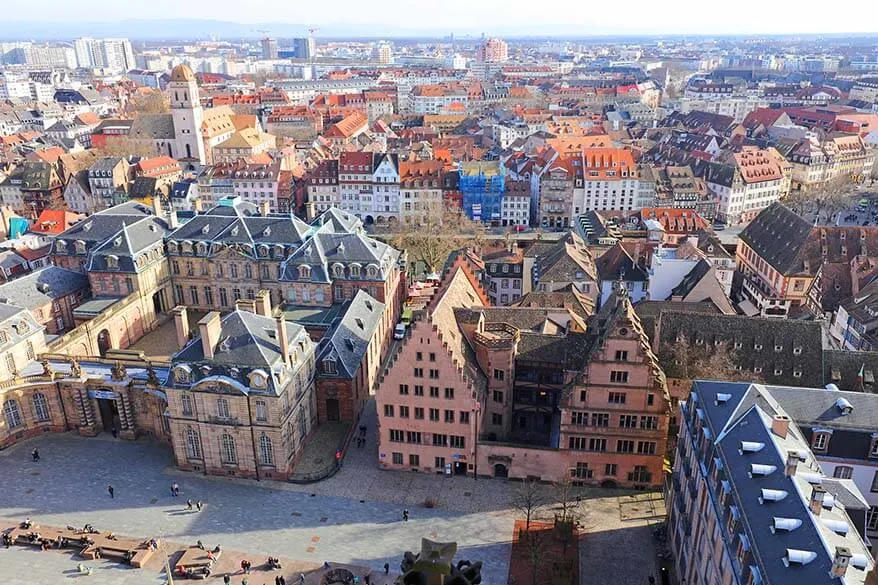 Place Kleber
One more area that is really nice to see in Strasbourg is the Place Kleber. It's the largest square in the center of the city of Strasbourg (#8).
Many events take place here. If you are visiting Strasbourg for Christmas, this is where you'll find a nice Christmas tree and usually also an ice skating rink.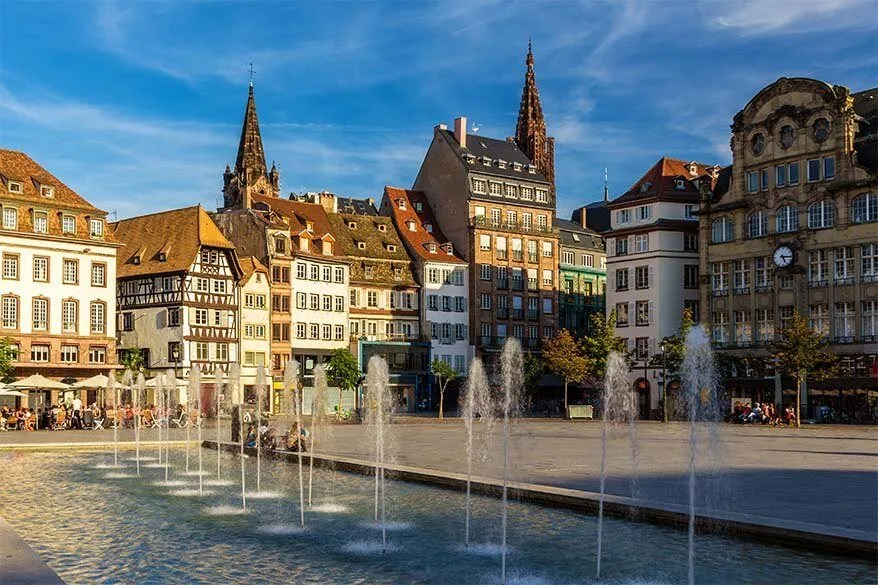 Boat Tour
Another great way to see Strasbourg with kids is by taking a boat tour.
If you walk from the Cathedral and past the Rohan Castle towards the river, you will see the departing point for the boats.
I think that a boat tour would be fun for the kids and adults alike, and it's a good way to see a lot without having to walk much.
Good to know: If you are planning to visit several Strasbourg landmarks and also take a boat tour, you may want to get a city pass that includes most of the city's attractions. It's valid for 3 days and offers very good value for your money, especially if you are staying in the city for a few days.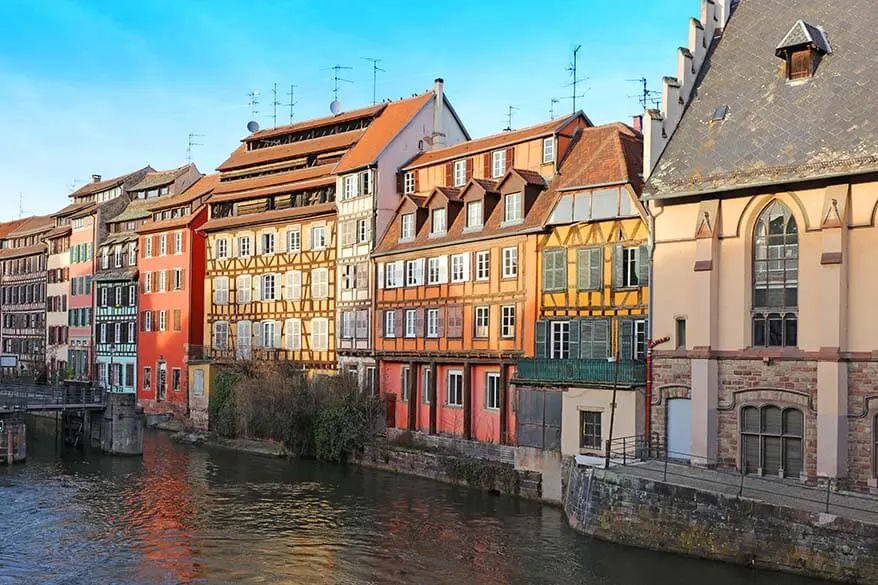 Local Food
No visit to Strasbourg would be complete without trying some local food specialities: pretzels (also bretzels), tarte flambée (or flammekueche), kougelhopf cake, choucroute (sauerkraut with sausages, pork, and potatoes).
Don't miss the famous Alsace wine that is always served in the typical Alsace wine glasses with a green stem.
If you are looking for restaurant suggestions in Strasbourg, here is a great guide to the best restaurants in Strasbourg written by my friend who lives in the area.
TIP: One of the best ways to get to know local cuisine is by joining a local food tour in Strasbourg. This is one of the best food tours that I was able to find – see if it's available for your travel dates!
READ ALSO: French Food: Best Traditional Dishes to Try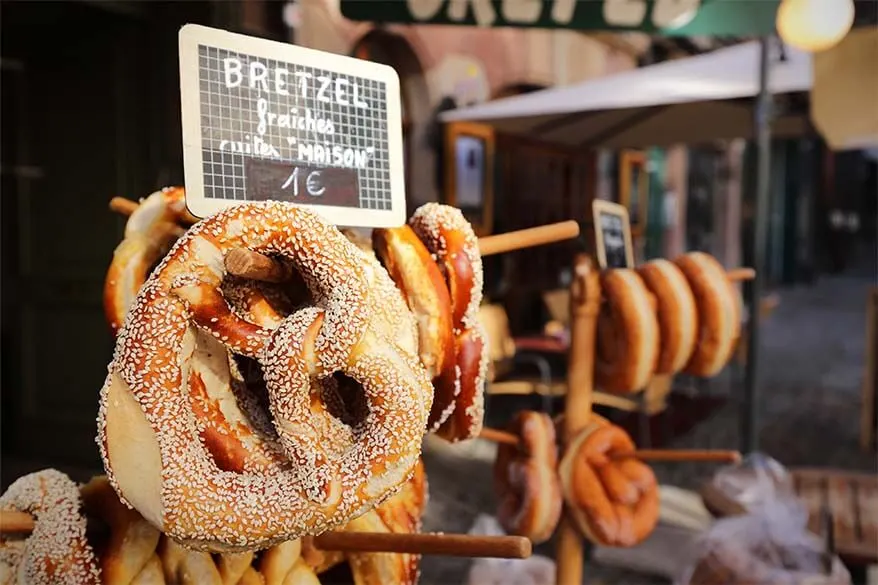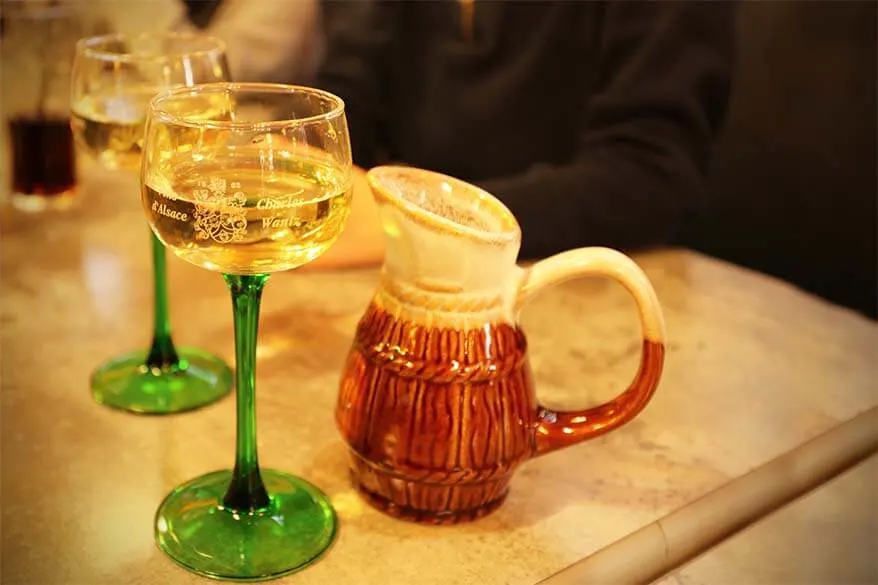 More things to see and do in Strasbourg city center
We spent about 4-5 hrs walking around the city center. This included a visit to the Cathedral bell tower and a short drink.
Count another hour for a boat ride, and also at least an hour for lunch. If you have more time left, consider visiting one of the many museums in Strasbourg.
A great way to discover Strasbourg is to 'get lost' in the city center and stroll the narrow picturesque streets of the old town. We found some great street art this way! If you have an hour or two to spare, you can also visit a nice park (read further).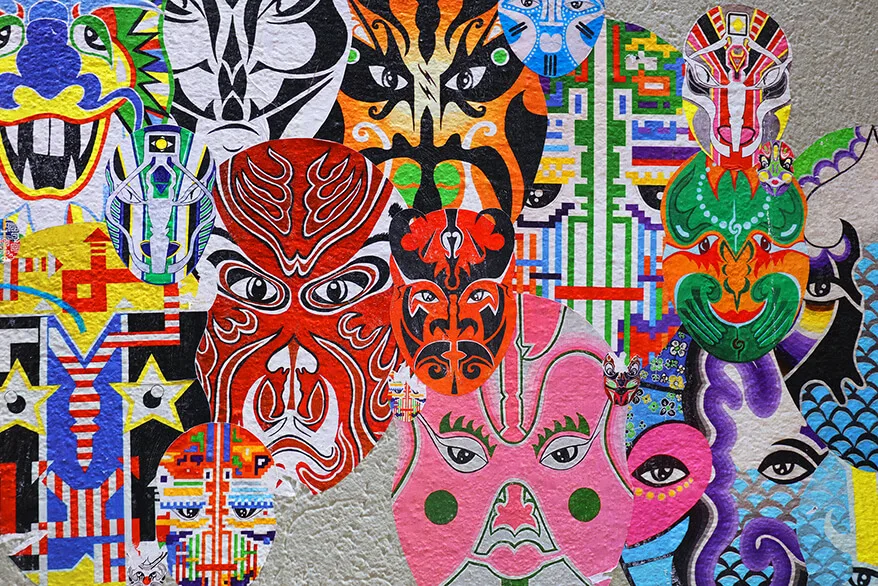 Parc de L'Orangerie
If you want to get a bit off the beaten path in Strasbourg with kids, visit Parc de L'Orangerie.
We had never heard of the Parc de L'Orangerie of Strasbourg before this visit to Strasbourg. But the hotel we stayed at was located just next door to it, so we decided to check it out. And we absolutely loved it!
And apparently, we are not the only ones. This park is rated as one of the best things to do in Strasbourg on Trip Advisor.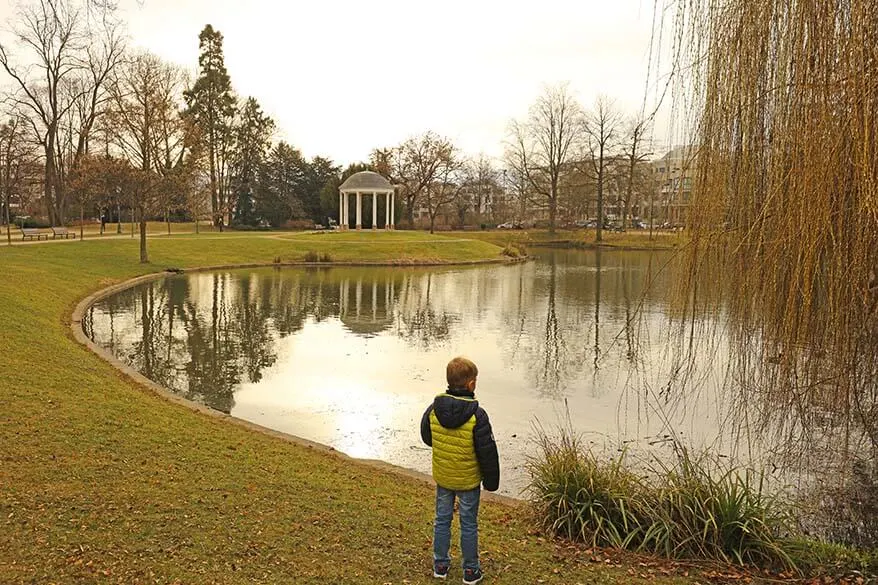 Parc de L'Orangerie is a really beautiful park with several restaurants, well-maintained paths, a playground, a pond with row boats, a mechanical car ride for the kids, a beautiful Josephine Pavillon, a small zoo and a farm zoo.
We visited Strasbourg in winter and even then, this park was really nice. If you are in Strasbourg in spring or in summer, it's a must!
We couldn't believe the number of storks we saw in this park! Every chimney and every tree top had a nest of storks. No wonder that storks are a symbol of Strasbourg and Alsace.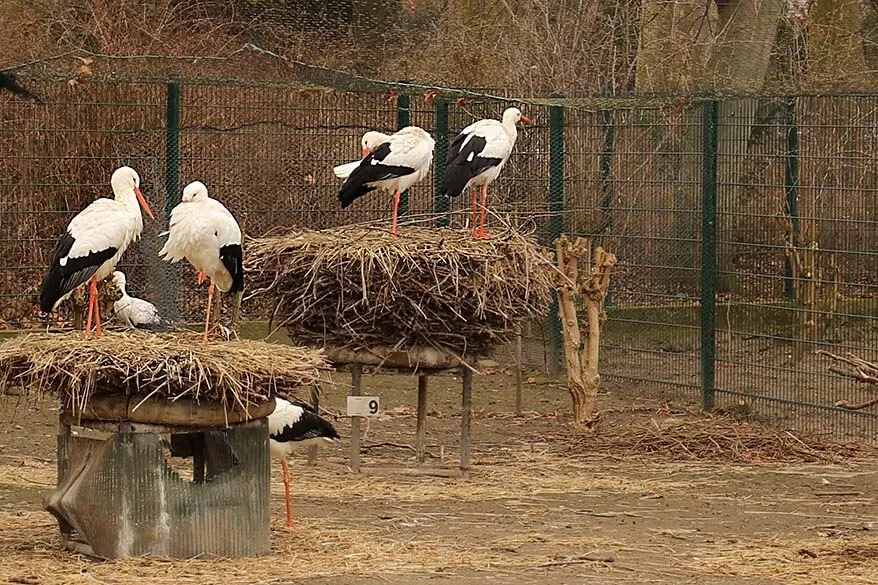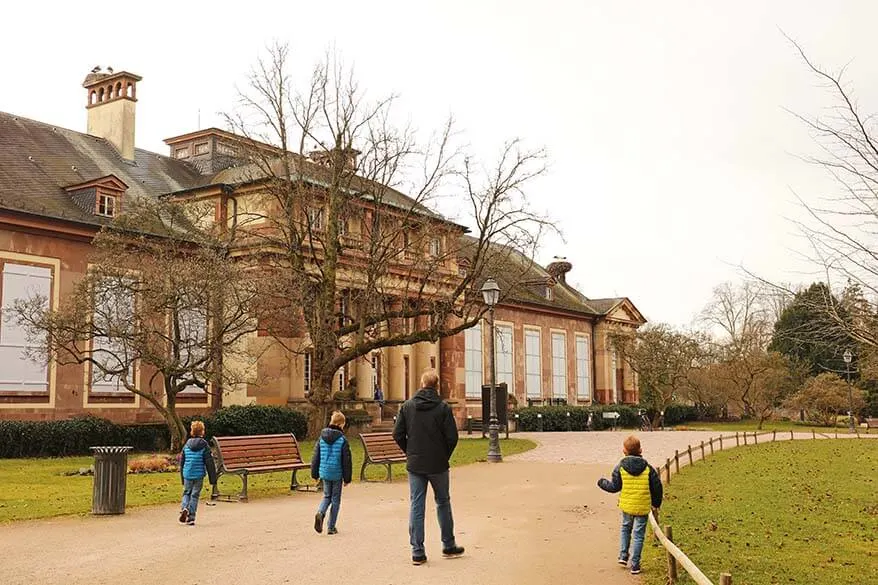 The small zoo (free entrance) inside the park was also well worth a visit. We saw flamingoes, and parrots, and even a monkey and a lynx. There was also a cute little desert fox that was just burying its food under the sand. Kids loved it!
Many of the attractions at the park were closed in winter, but it was still a very enjoyable visit. If you are visiting Strasbourg with kids, I would definitely recommend spending a couple of hours in this park.
It's a great place for the kids to play and for the whole family to escape the hustle and bustle of the busy touristic center of Strasbourg.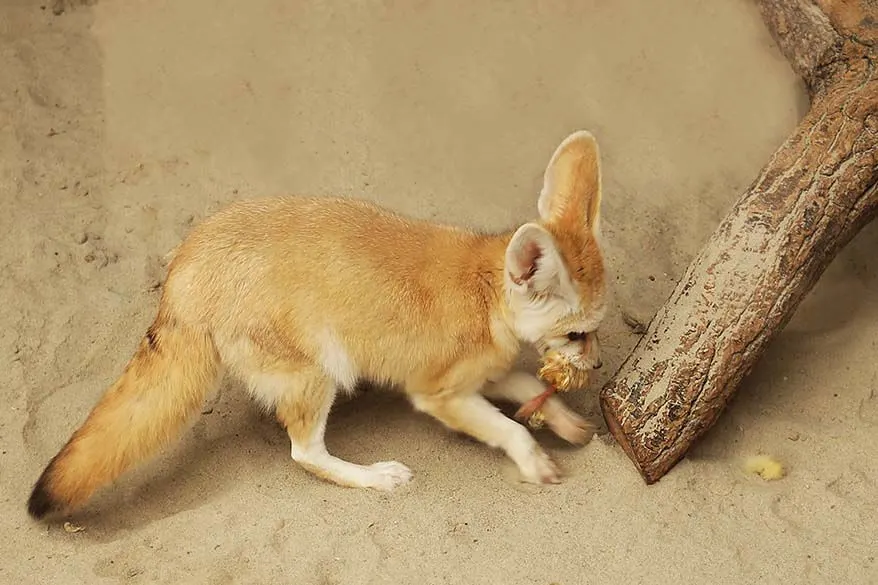 Practical Tips & Info
How much time do you need in Strasbourg?
You don't need much time to see Strasbourg. You can see the historic city center and see the main highlights in about half a day (4-5 hours).
If you have a couple of extra hours to spare, I strongly suggest paying a visit to Parc de L'Orangerie as well.
However, the whole Alsace region is so beautiful that I suggest that you spend at least 2 – 3 days in Strasbourg and explore beyond the city as well. You'll find some suggestions below.
READ ALSO: Most Beautiful Villages & Towns on the Alsace Wine Route
Best time to visit
Strasbourg is a year-round destination that you'll enjoy at any time of the year. In the summer, you'll find a beautiful green city with lots of flowers, in the winter – the famous Strasbourg Christmas market. If you want to avoid the crowds, then visit in the quieter months avoiding the busy summer months (July – August) and December.
Our experience: We visited Strasbourg with kids at the end of February and it was a wonderful experience. There were no crowds even on a weekend and we could quietly explore the city and enjoy the best it has to offer.
READ ALSO: Best Time to Visit Europe
Strasbourg city tours and day trips in the area
As already mentioned, one of the nicest tours in Strasbourg is a boat ride in the historic city center. In addition, there are several bike tours (some bring you to the park de L'Orangerie as well).
Strasbourg is located in a beautiful Alsace region and it would be a pity not to see more of it. I highly recommend a day trip to the charming town Colmar and also the wineries. Colmar can be easily reached by train, but if you want to make the most of your time, consider a tour that covers several places in a day.
This is one of the best Alsace day trip from Strasbourg. If you have less time, consider this half-day wine tour from Strasbourg.
READ ALSO: Best Things to Do in Colmar & Best Things to Do in Eguisheim
Where to stay in Strasbourg
Probably the nicest area to stay in Strasbourg for tourists is in the old city center of Strasbourg.
If you are looking for a really nice 4-5* hotel right in the heart of the city, I recommend these highly-rated hotels: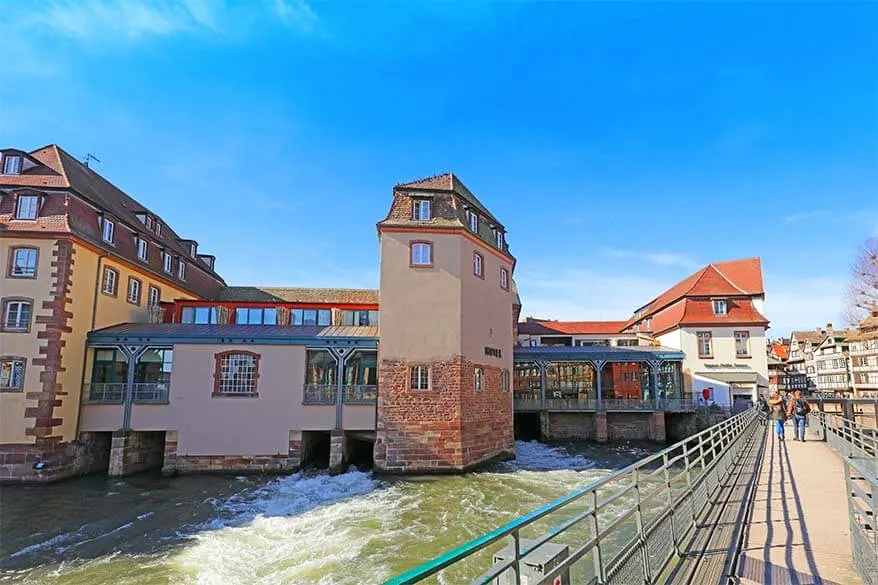 For more affordable luxury in the city center, check out these popular hotels:
Other great accommodation options, a bit further away from the center:
4* Hôtel Athena Spa (indoor pool)
3* Holiday Inn Express Strasbourg Centre (one of the top picks in the mid-budget range)
4* Le Jean-Sébastien Bach. We stayed at this hotel with kids and it was perfect for a family stay. The hotel is located a bit outside the city center, it has big family rooms, a car parking (which was one of the reasons we stayed here), and the beautiful quiet location just next to the park de l'Orangerie. There is a good Italian restaurant just next to the hotel too.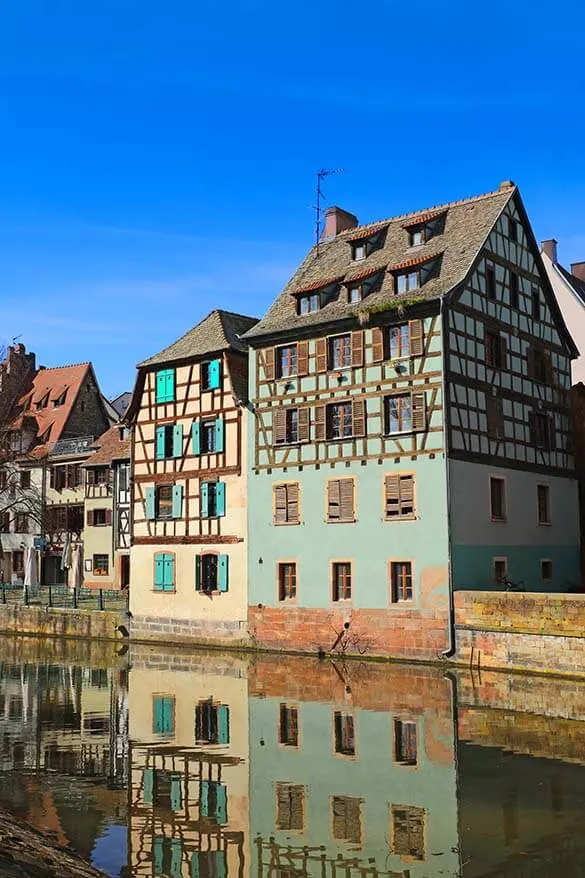 So, this is our guide to Strasbourg with kids. If you are in this area, you should know that there are many other nice places to visit close to Strasbourg with kids.
Europa Park in Germany, one of the best theme parks in Europe, is just 45 minutes drive from Strasbourg.
There's also a nice 'monkey park' La Montagne des Singes nearby, where you can walk in the forest with free-roaming monkeys around you. This will be a hit with kids! It's also just 45 minutes drive from the city, but you'll need a car to get there.
Strasbourg is also just a short drive from Switzerland – one of our family's favorite destinations. Also on this trip to Strasbourg with kids, we were actually just passing by on our way to go skiing in Wengen, in the Jungfrau Region in Switzerland. Also in summer, this is one of our favorite places for a family trip – see this guide to Grindelwald-First area for some travel inspiration!
READ ALSO: Paris Travel Tips
If you found this post useful, please share it with your friends. Are you on Pinterest? Pin this image!