Italy's Lake Como is world famous for its stunning scenery and beautiful lakeside villas with lovely botanical gardens. While most of the Lake Como villas are in private hands and cannot be visited (or only for private events), several most impressive mansions and/or gardens are open to the public.
In this guide, you can read about the most beautiful villas and botanical gardens that you can visit in Lake Como and the features that make them so spectacular. For each villa, we also include some useful information and tips to help you plan your visit. Find out!
The legendary villas of Lake Como sum up romantic Italy at its finest. They bring together art, architecture, and history in one of the most beautiful settings in the world.
Visiting the beautiful and charming villas on Lake Como feels like taking a step back in time. As you walk in the footsteps of all the aristocrats, artists, writers, and composers who graced these grounds before you, you can experience the spellbinding beauty that inspired their creativity and has long drawn visitors from all over the world.
Each historic villa has something distinctive to offer, from exquisite gardens to beautiful architecture, fascinating history, and amazing lake views.
Below, you can see the map indicating the location of all Lake Como villas mentioned in this guide. If you plan well, it's possible to see several of them in a day. But even if you just visit one or two villas, it will make you fall in love with this beautiful part of Italy even more. Take a look!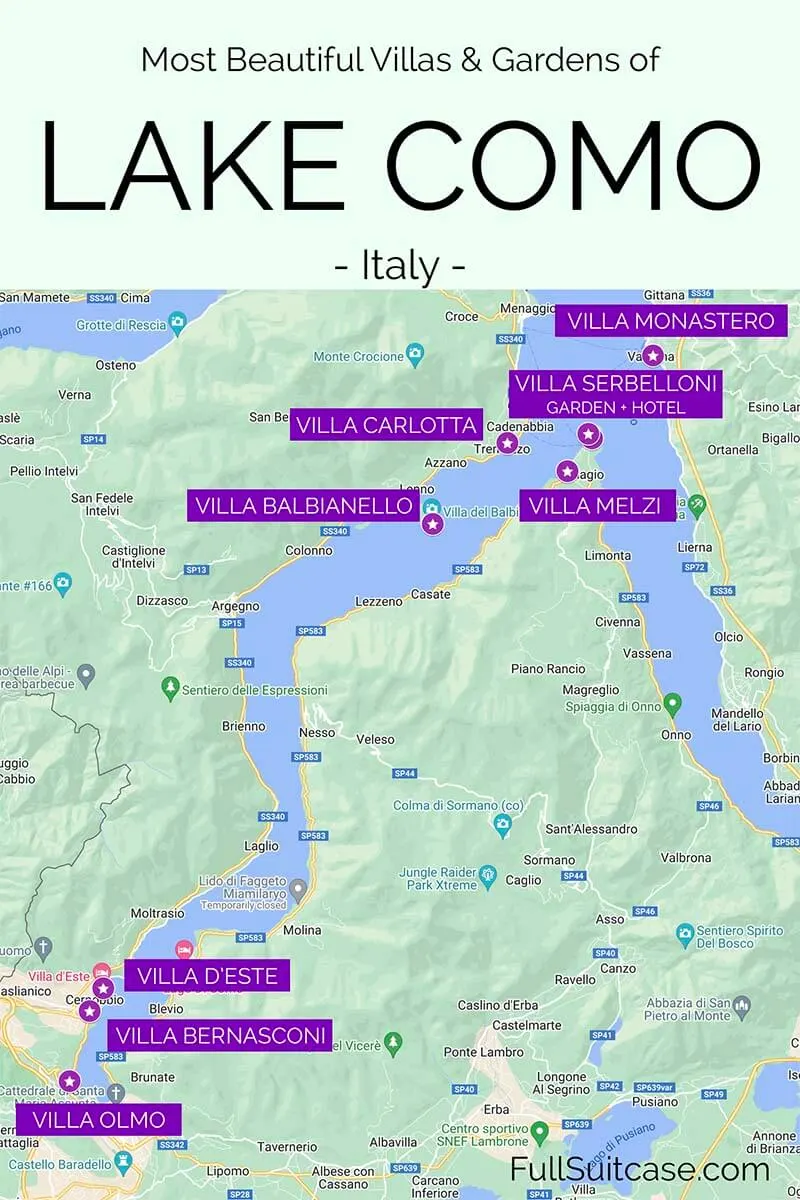 Good to know: Our list of Lake Como villas and gardens features 9 of the best options of places that you can actually visit. However, some of the villas/ gardens are easier to see and/or are more impressive than others. Many of them function as museums while several others are in private hands and only allow visits to the gardens. A few villas in this selection are also hotels and their interiors and grounds are only open to guests.
TIP: Depending on how much time you have, start with the villas at the top of this list. Villas/ gardens listed in our top 5 are all open to the public and are worth it the most. Whereas if you are looking to get a bit off the beaten path or are looking for a unique villa to stay in when visiting Lake Como, check out the ones in the second half of our list too.
These are the most beautiful villas and gardens to visit in Lake Como:
1. Villa Monastero in Varenna
Located in Varenna on Lake Como's eastern shore, Villa Monastero was built at the end of the 12th century. Originally a Cistercian nunnery dedicated to the Holy Virgin, it was later bought by the Mornico family who renovated it and named it 'Villa Leliana'.
More than three centuries later it changed hands again and in 1869 it was bought by the famous Milanese noblewoman Carolina Maumari. At this point, it became popular with important cultural figures who used it as somewhere to relax and exchange ideas. Several more owners – and embellishments – later, the Italian government acquired the villa as war debt.
Villa Monastero became public property in 1939 and is now used as a museum and an international conference center. Training courses and conventions are held here regularly by many prestigious institutions, keen to take advantage of this exquisite setting.
This villa is open to the public and you can visit inside. The hallway is really impressive and you can also see many beautifully decorated rooms. These include Casa Museo – a museum displaying exhibits covering four centuries of history – and the Fermi Hall, in which Nobel Prize winner Enrico Fermi once held a series of physics classes.
The main attraction here, however, is the incredible botanical garden offering fantastic vistas of Como Lake. Beautifully arranged in terraces, the garden contains numerous species from all over the world. Bas-reliefs and statues line the walkways and the views across the lake are some of the finest you'll experience. The diversity of the flora coupled with the mild climate means that these gardens look and smell divine virtually all year round!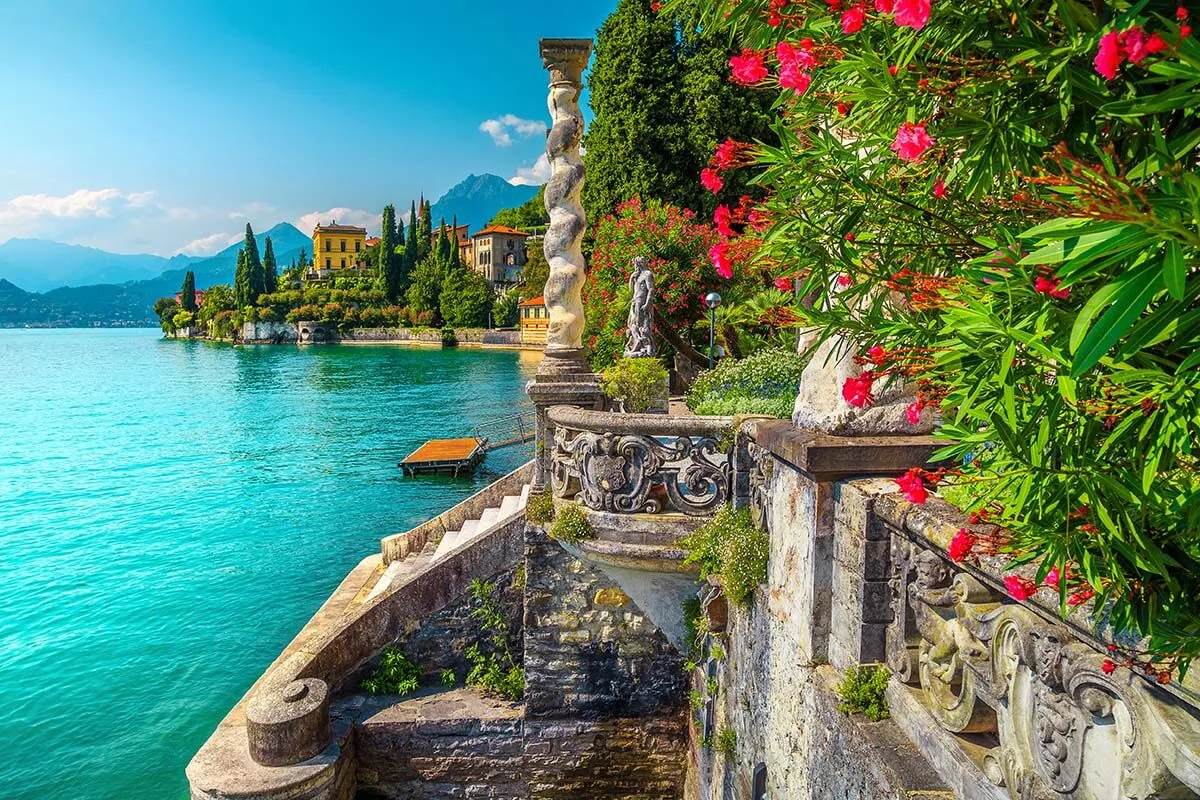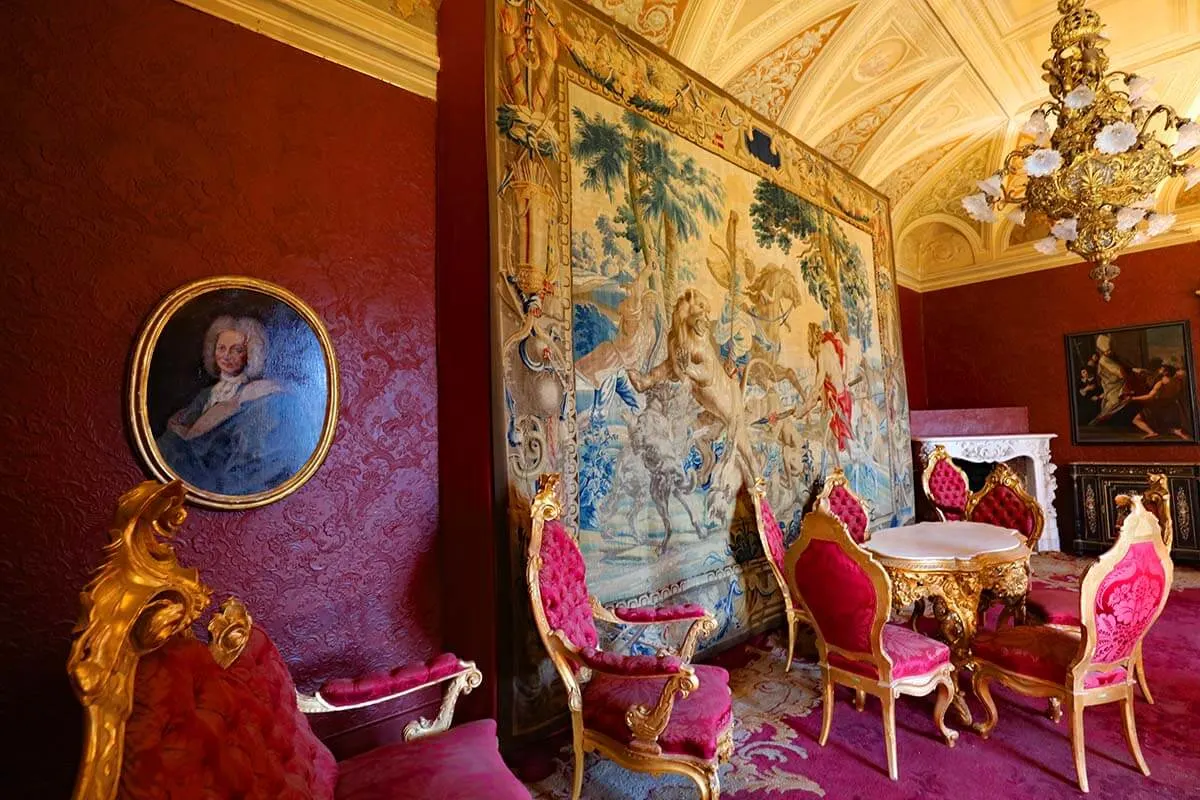 It's really difficult to compare the beauty of different villas and gardens of Lake Como, or how 'worthy' they are if your time is limited and you can't visit them all. But Villa Monastero and its garden are among the most impressive ones and you really won't regret coming here! Stronger even – if you visit just one villa on Lake Como, I think I'd go for this one.
Located in Varenna (which has direct train connections to Milan) Villa Monastero is one of the easiest villas to visit in Lake Como. It's open the whole year round and is also one of the few villas where you can see the interior and the garden without any advance bookings or special arrangements.
Good to know: You can opt for a ticket to the gardens only, or get an extra ticket to see the rooms inside the villa. If your time is limited, the garden is more than worth seeing in its own right. But if you have an additional 15-20 minutes, I highly recommend visiting inside the villa as well.
Practical information: The gardens of Villa Monastero and the house-museum are open all year, but the opening times vary a lot depending on the month when you visit. In summer, the gardens and the villa are open daily. For more information and exact opening times, see their website.
If you want to be sure to visit at a specific time without any wait, you can buy your tickets in advance, but it's not really a must. We visited here in the peak summer season and could get the tickets on the spot with hardly any wait.
READ ALSO: Best Things to Do in Varenna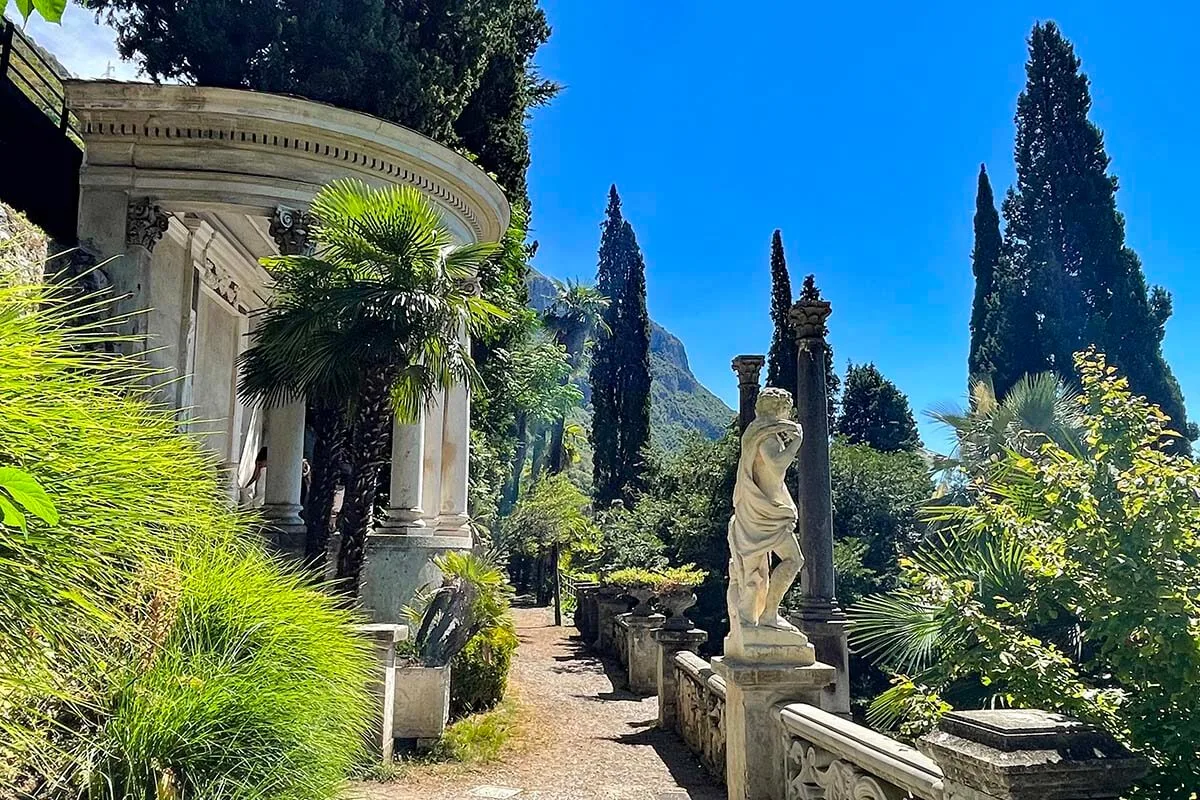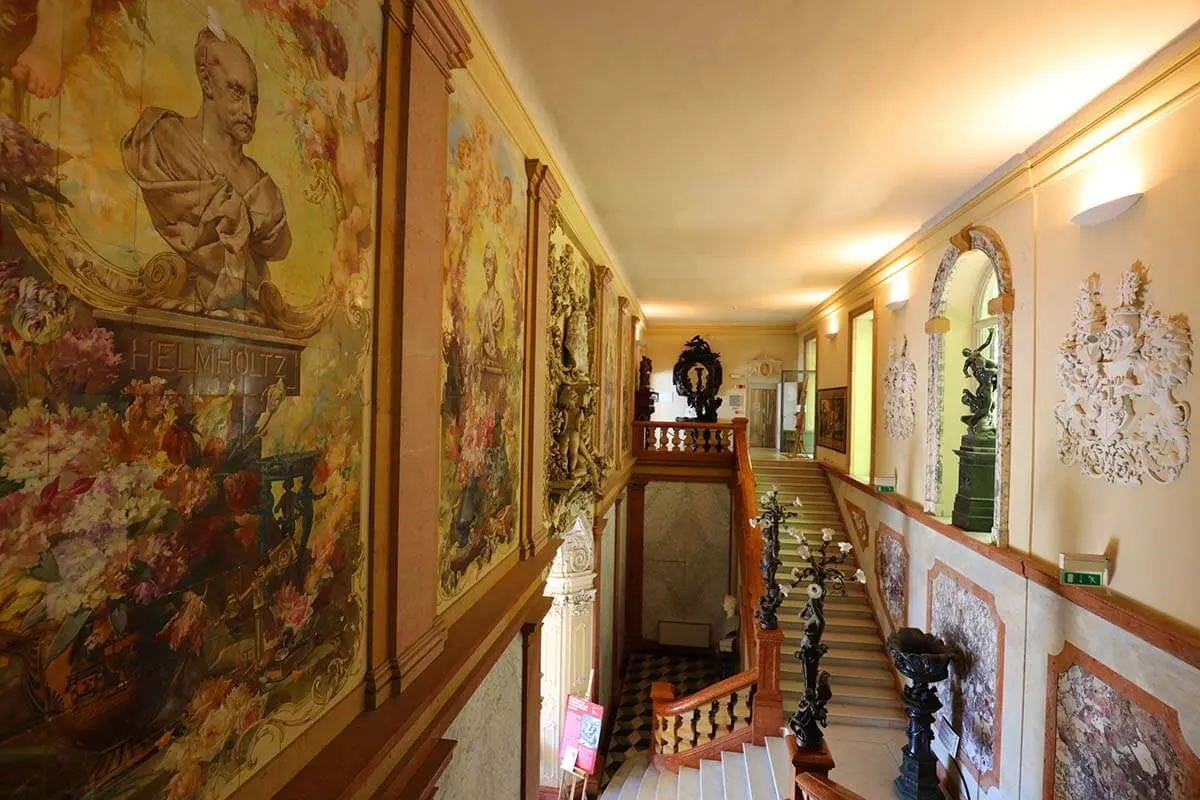 2. Villa Carlotta in Tremezzina
Dating back to the end of the 17th century, Villa Carlotta is a vast complex covering 17 acres. This is one of the grandest villas on Lake Como and you can easily spend several hours wandering around the villa and its extensive gardens.
Villa Carlotta was initially commissioned by Marquis Giorgio Clerici and then acquired in 1801 by Gian Battista Sommariva, who was a famous politician, businessman, and patron of arts. Over the years, Villa Carlotta became one of the main stops of the Grand Tour – a traditional European trip undertaken by upper-class young European men.
Later in the 19th century, it was bought by Princess Marianne of Orange-Nassau. She gave it to her daughter Charlotte (Carlotta) on the occasion of her marriage to Georg II, Duke of Saxe-Meiningen. Georg was passionate about botany and so began the improvements to the grounds, introducing a wide variety of botanical species and creating several themed gardens.
Today, Villa Carlotta is a museum and is open to the public. It draws visitors from all over the world keen to appreciate its fascinating mix of art and natural beauty.
The museum is filled with statues and valuable masterpieces such as The Last Kiss of Romeo and Juliet. Particularly beautiful are the private apartments of Princess Charlotte of Sachsen-Meiningen, featuring original neoclassical furniture.
The botanical garden surrounding the villa is huge, but it's also very scenic and tranquil. Famous for its 150 types of rhododendrons and azaleas, it is a riot of color, especially during the spring months. But the gardens are impressive in summer and in the fall too, and the views of the lake from the villa are out of this world. So it's worth visiting in any season.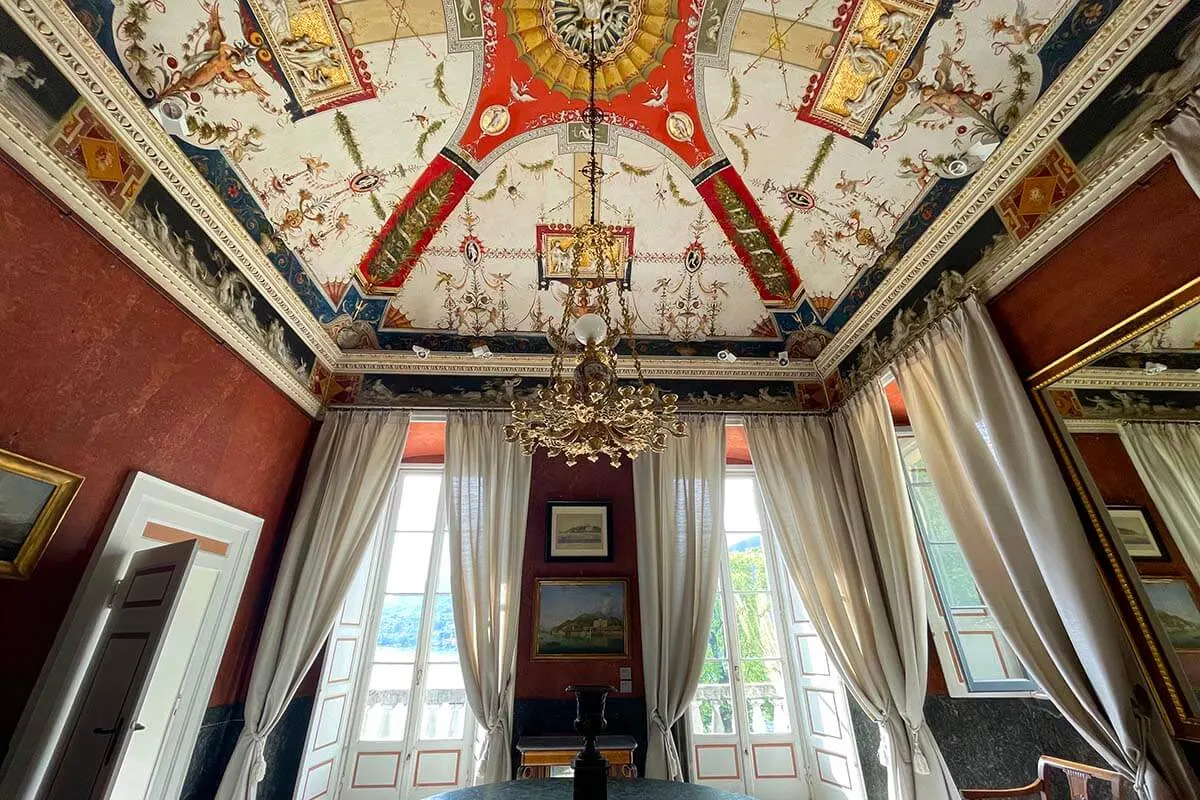 Good to know: There are multiple paths throughout the gardens and you can choose from various routes, depending on how much time you have or how far you want to walk.
Although the garden is built against the hill and there are some steps and steeper paths to negotiate, it's not a strenuous walk. Still, it's something to bear in mind if you have mobility issues or have a stroller with you. There is also an elevator to take you from the entrance at the main level to the house and the gardens.
Getting there: Villa Carlotta is located in Tremezzina, on the western side of Lake Como. There is a ferry stop right in front of the villa, with two additional harbors (Cadenabbia and Tremezzo) within 10 minutes walking distance. In the high season, you can easily get here by ferry from Bellagio, Varenna, and other towns nearby.
Practical information: Villa Carlota is open from March to the first week of November. See their website for up-to-date information. A ticket includes admission to the museum and gardens and I highly recommend planning at least 1.5-2 hours for a visit here. You can book a skip-the-line ticket online in advance, or you can just queue and get a ticket on the spot.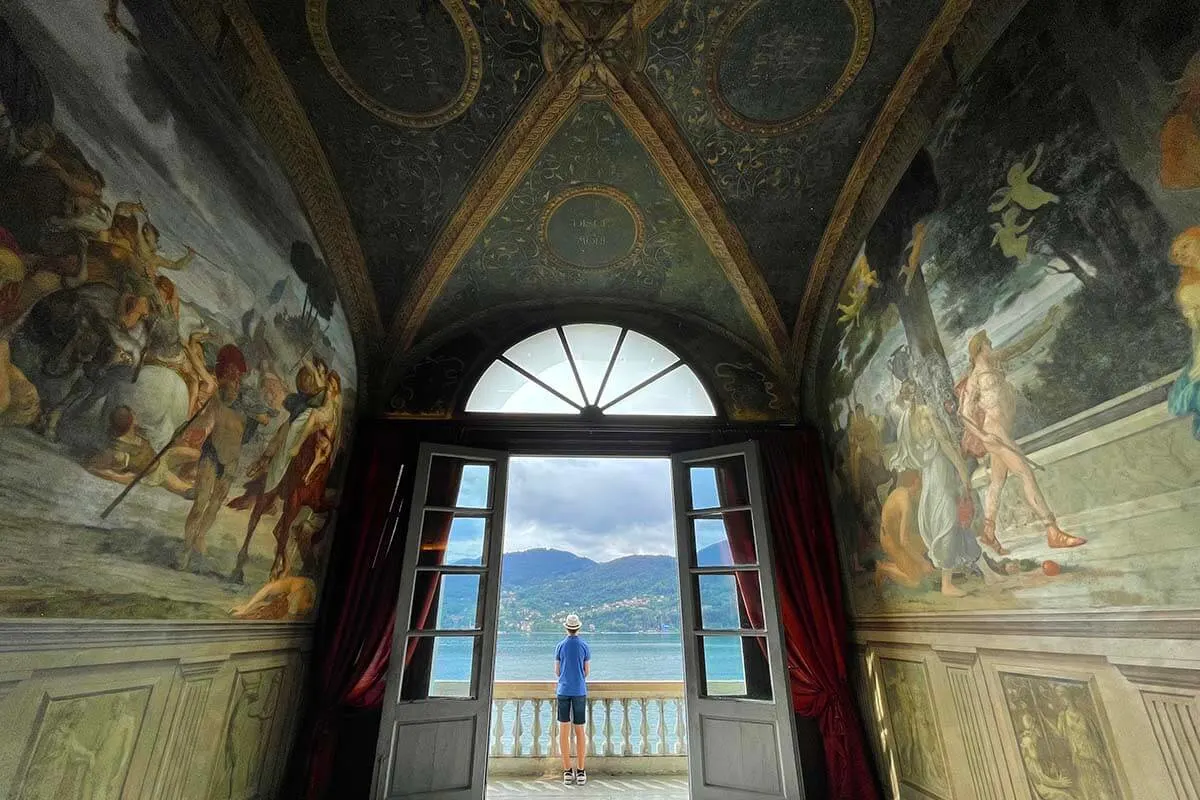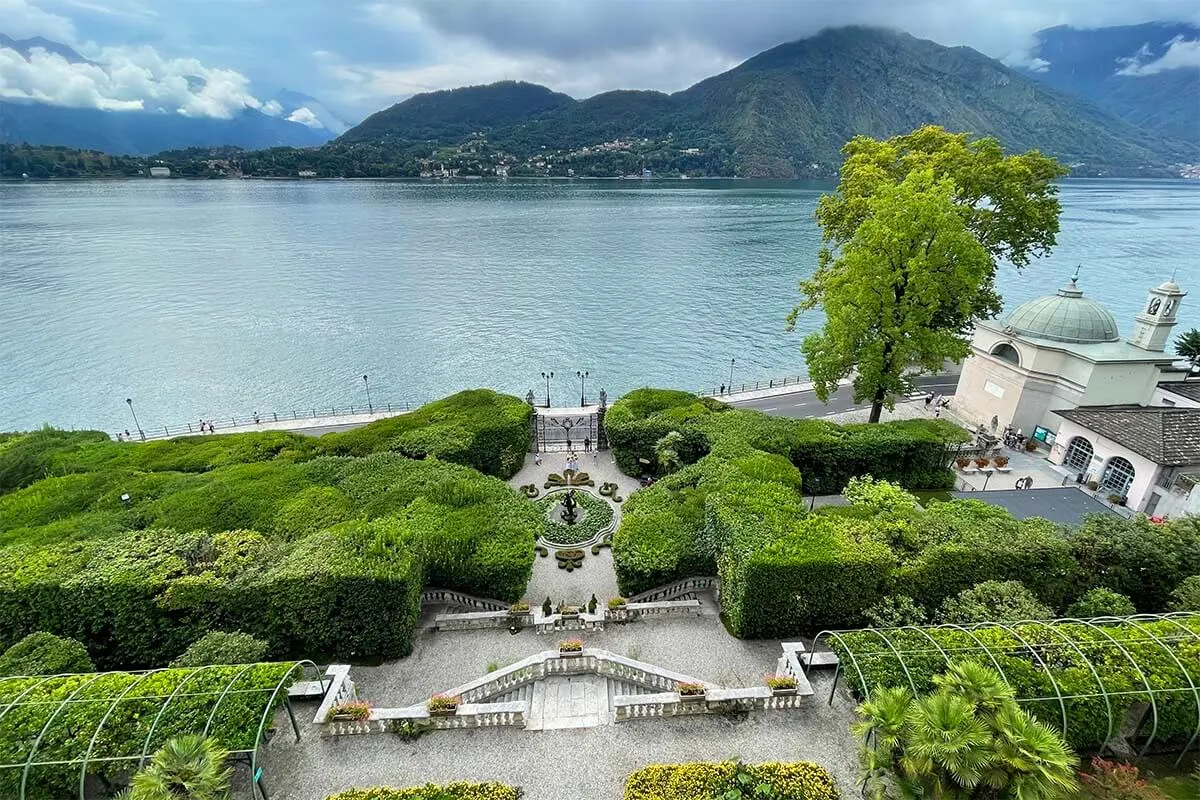 3. Villa del Balbianello in Lenno
Built by Cardinal Durini towards the end of the 18th century on the site of a Franciscan monastery, Villa del Balbianello is probably the most famous of all villas on the shores of Lake Como. Sitting atop a steep promontory and surrounded by water from three sides, it has the most unique location. In order to truly appreciate it, you have to (also) see Villa del Balbianello from a boat.
Interesting to know: If any parts of Villa del Balbianello seem a little familiar to you, that's because several movies have been filmed here! These include James Bond Casino Royale, A Month by the Lake, and Star Wars Episode II: Attack of the Clones.
This villa became a prestigious vacation residence and has had various owners over the years. The last owner was the famous explorer Count Guido Monzino, the leader of Italy's first Mount Everest expedition. When he died without heirs in 1988, he donated the villa to the Fondo per l'Ambiente Italiano (the National Trust of Italy). The FAI opened the villa to the public and now runs it.
The impressive estate of Villa del Balbianello has several buildings and picturesque, terraced gardens. Inside the main building, you can see some 17th and 18th-century French furnishings, along with beautiful glass paintings.
The upper floors are filled with artifacts acquired by Guido Monzini throughout his adventures. These include ethnic sculptures, pictures, and flags. You can even see one of the eight sleighs that formed part of his expedition to reach the North Pole, along with 4,000 volumes dedicated to polar and mountaineering expeditions.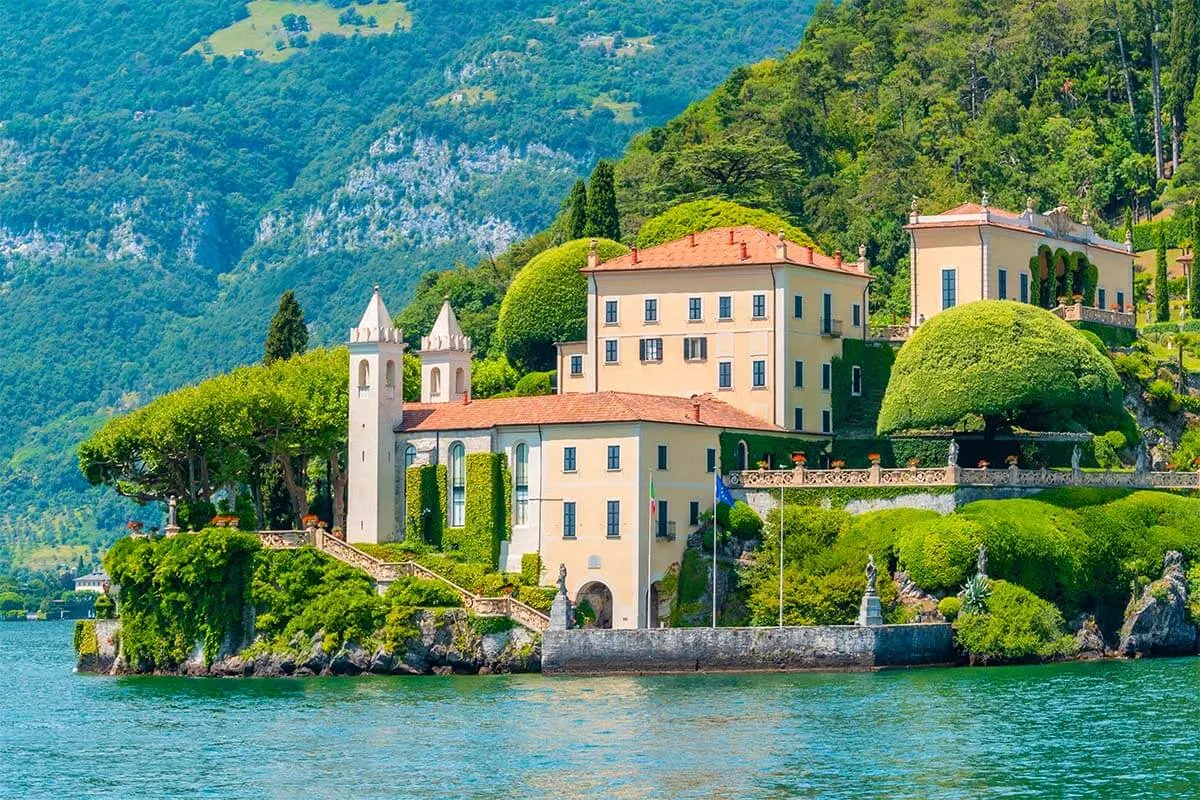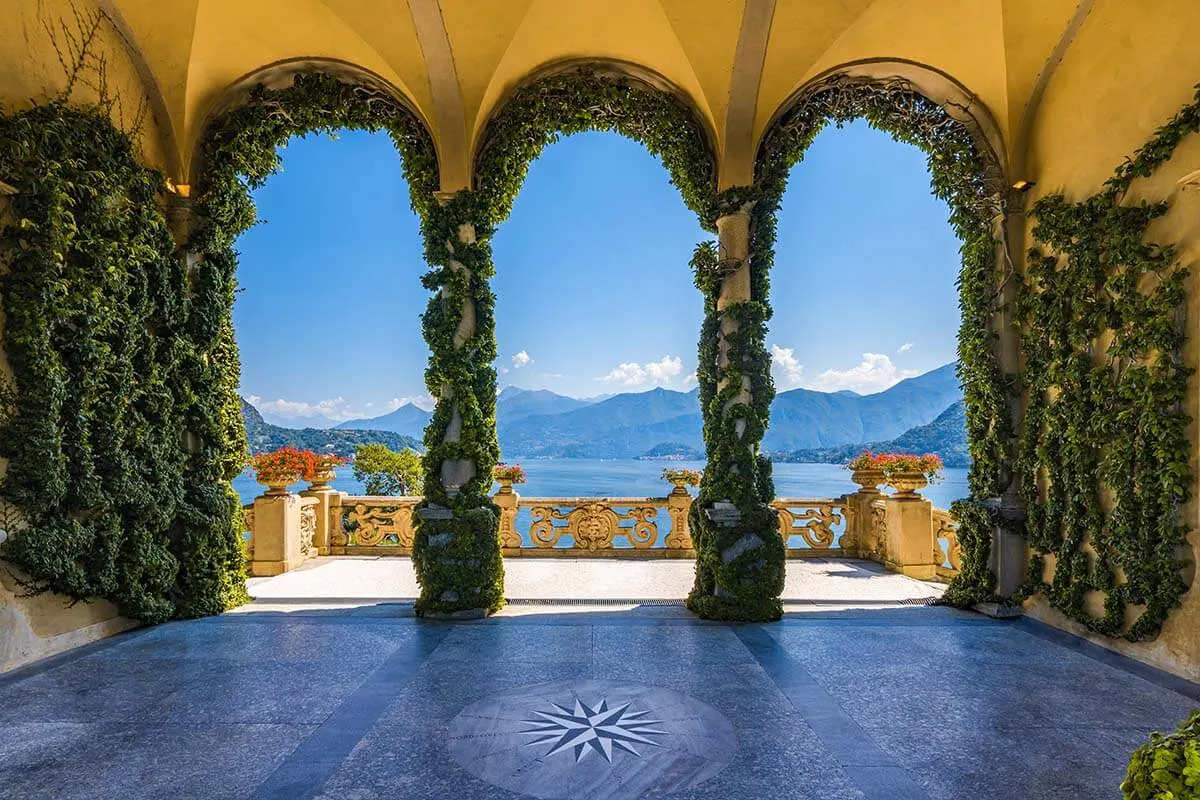 Practical information: Villa del Balbianello is open almost the whole year round – from mid-March to January. It's open daily except on Mondays and Wednesdays.
This is one of Lake Como's most popular villas and it gets very busy. If you want to visit inside, you have to book a guided tour via their website in advance (in summer, book a few weeks upfront!). If you just want to see the gardens, you can usually just get a ticket on the spot. However, online tickets offer skip-the-line entry, and that can save you a lot of time too.
A visit here involves steps and small hills, so do bear this in mind if anyone in your group has issues with mobility.
Since Villa del Balbianello is located a bit outside of Lenno town, it requires a bit of a walk in order to get there (+- 20 minutes one way). Alternatively, you can take a boat shuttle – you'll find these at the harbor and they run frequently throughout the day.
As already mentioned, in order to appreciate the unique location and setting of Villa del Balbianello, you have to see it from the lake. So it's worth considering the shuttle just for that. On the other hand, if you want a better view and photo opportunities, this boat shuttle will not offer that. For that, private boat tours are best (and they offer a unique chance to see many other stunning villas and villages in this area). One of the best options is this highly-rated private boat tour from Bellagio.
LEARN MORE: Info & Tips for Visiting Villa Balbianello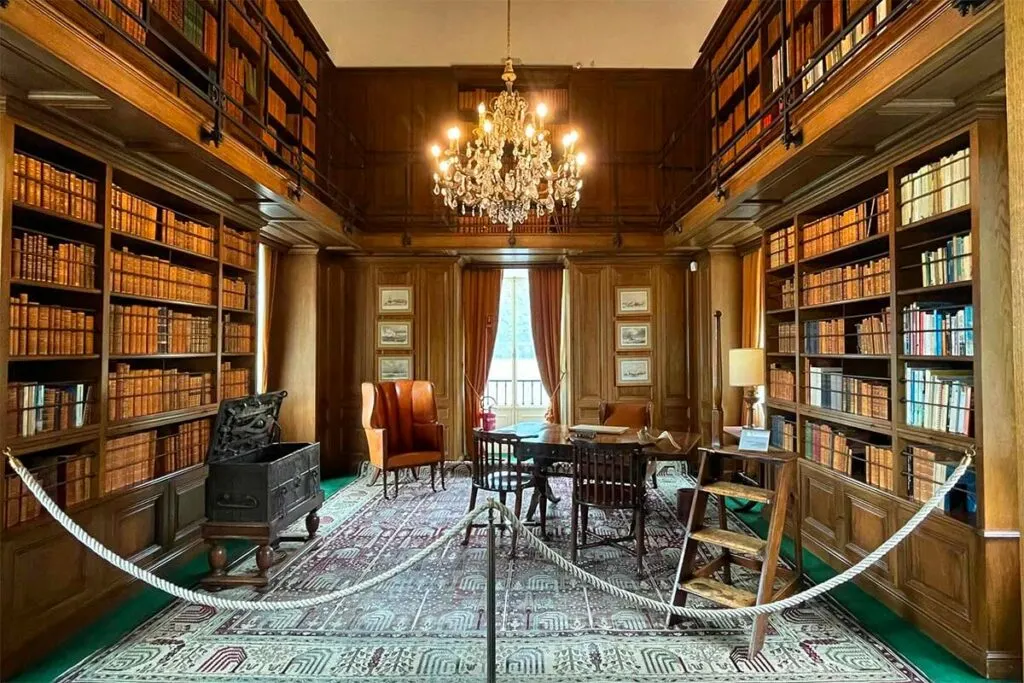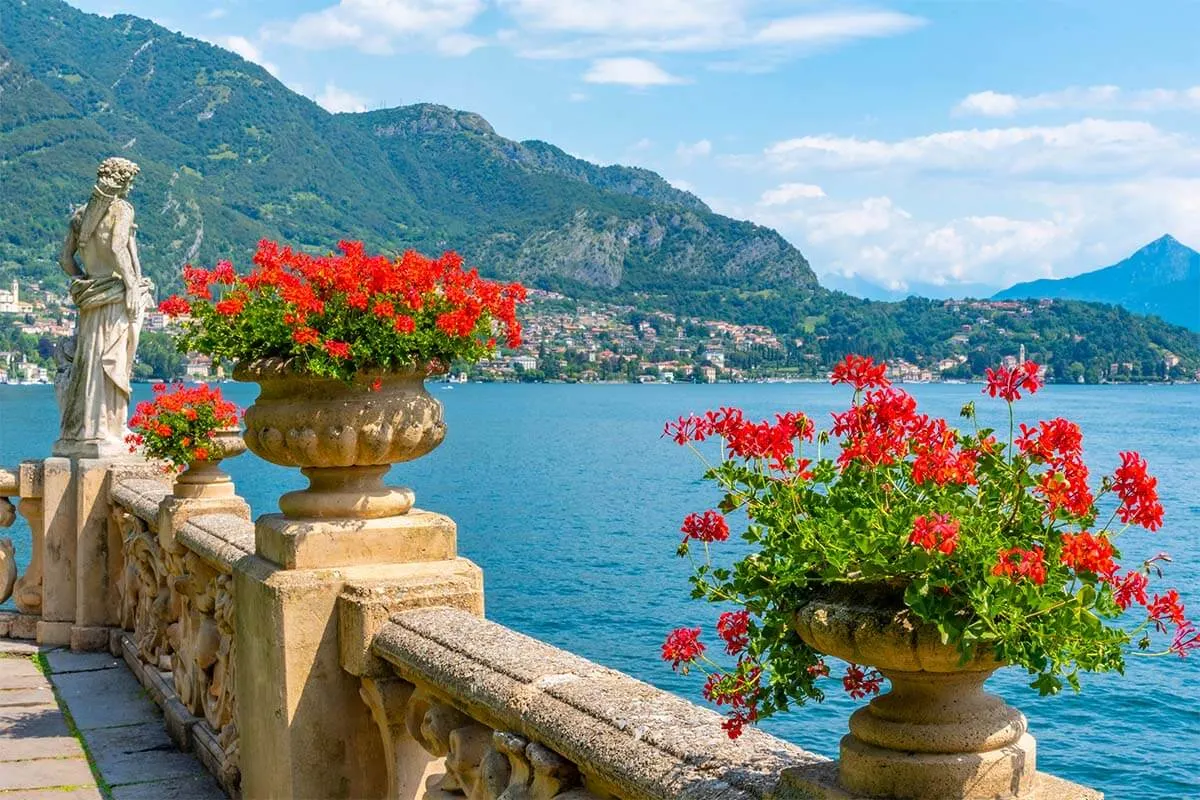 4. Villa Melzi Gardens in Bellagio
The beautiful neoclassical complex of the Villa Melzi d'Eril is one of the most popular villas to see in Lake Como. This is because it can be easily reached on foot from Bellagio town, which – in its turn – is the most-visited of the most beautiful towns of Lake Como.
Built by the architect Giocondo Albertolli between 1808 and 1813, Villa Melzi was originally the summer residence of Francesco Melzi d'Eril, Vice-President of the Napoleonic Italian Republic.
Many culturally important figures have been guests here. These include the Austrian Emperor Ferdinand I and his wife Maria Anna of Savoy. The composer and pianist Franz Liszt visited often and some people believe that it was whilst staying in the villa's small chapel that he wrote the Dante Symphony.
Nowadays, the villa is owned by the Gallarati Scotti family, who took over ownership from the Melzi family. It's filled with all sorts of artistic treasures, including amazing frescoes and sculptures by masters such as Antonio Canova and Giovan Battista Comolli. Unfortunately, since the villa is in private hands, you cannot see the interior.
You can, however, admire its architecture from the outside and then lose yourself in the breathtaking botanical gardens. From the lakeside avenue of plane trees or the colorful rhododendrons and azaleas surrounding the villa, to an artificial Japanese pond and a hidden cave, the gardens are among the most beautiful on Lake Como.
You'll also find many benches where you can rest and take in the exquisite scenery. Indeed, so beautiful is the setting that it was described by the writer Stendhal in his 'Rome, Naples et Florence' diary, and in his novel 'La Chartreuse de Parme'.
In addition, you can visit the impressive family chapel, the Moorish pavilion, and the Orangery which houses a small museum filled with Napoleonic memorabilia. All of these are open to the public and are included in the ticket.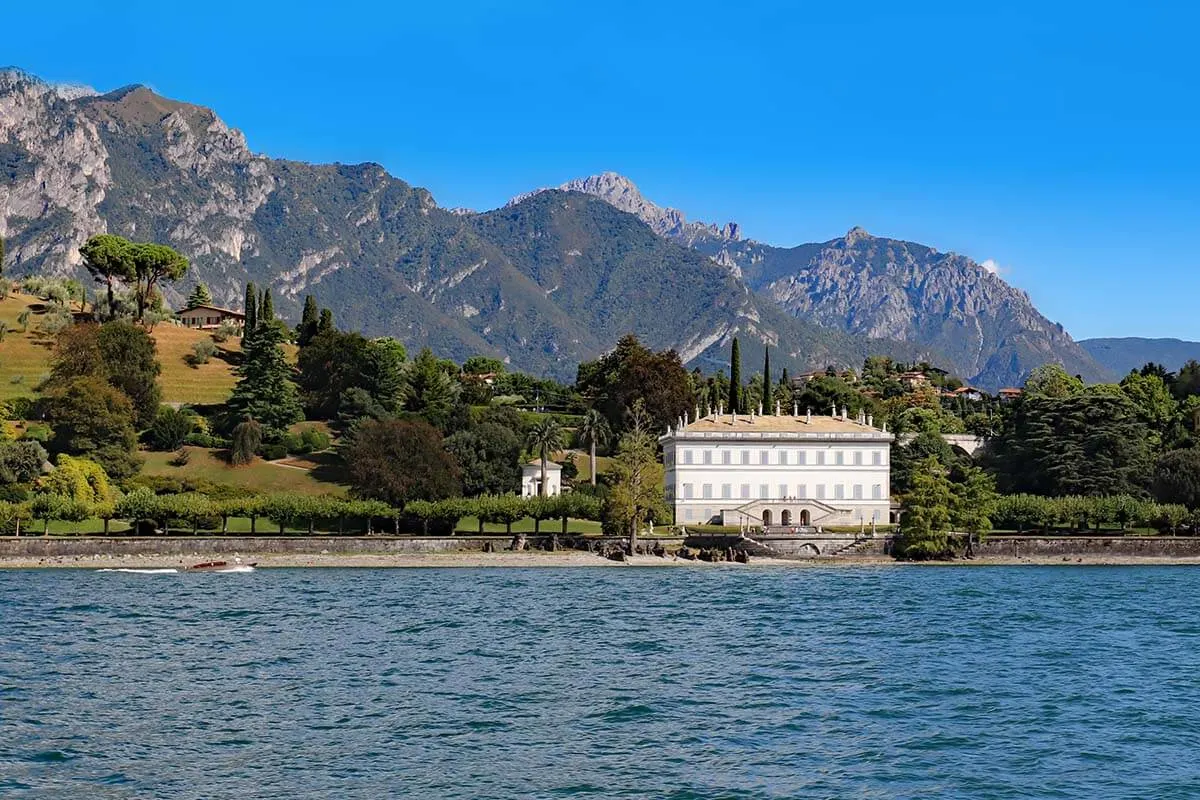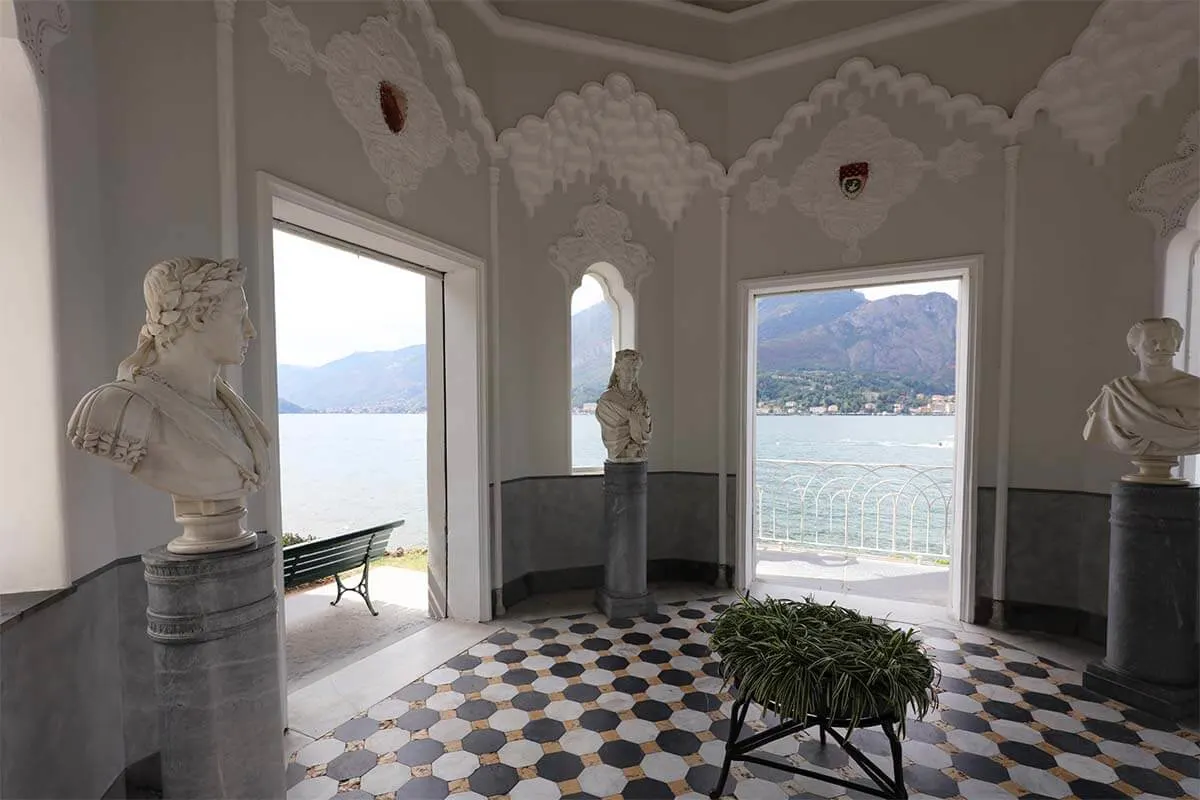 Getting there: The gardens of Villa Melzi have two entrances, one of which is rather close to the center of Bellagio. So you can easily walk here in about 10 minutes. Alternatively, you can reach the main entrance of the gardens by taking the hop-on hop-off tourist train.
Good to know: There is no cafe here but you will find plenty of restaurants in Bellagio. You'll need at least 1-1.5 hours in order to visit the gardens of Villa Melzi, also because it's not right in the center. So if you only have an hour in town, it will be difficult. But if you have at least 2-3 hours in Bellagio, it's well worth coming here.
Practical information: The gardens of Villa Melzi are open daily during the high season, with some additional weekend openings in the shoulder season. You can get the tickets at any of the two entrances and you can also leave and re-enter the gardens as many times as you like on the same day. For more info, see their website.
READ ALSO: Best Things to Do in Bellagio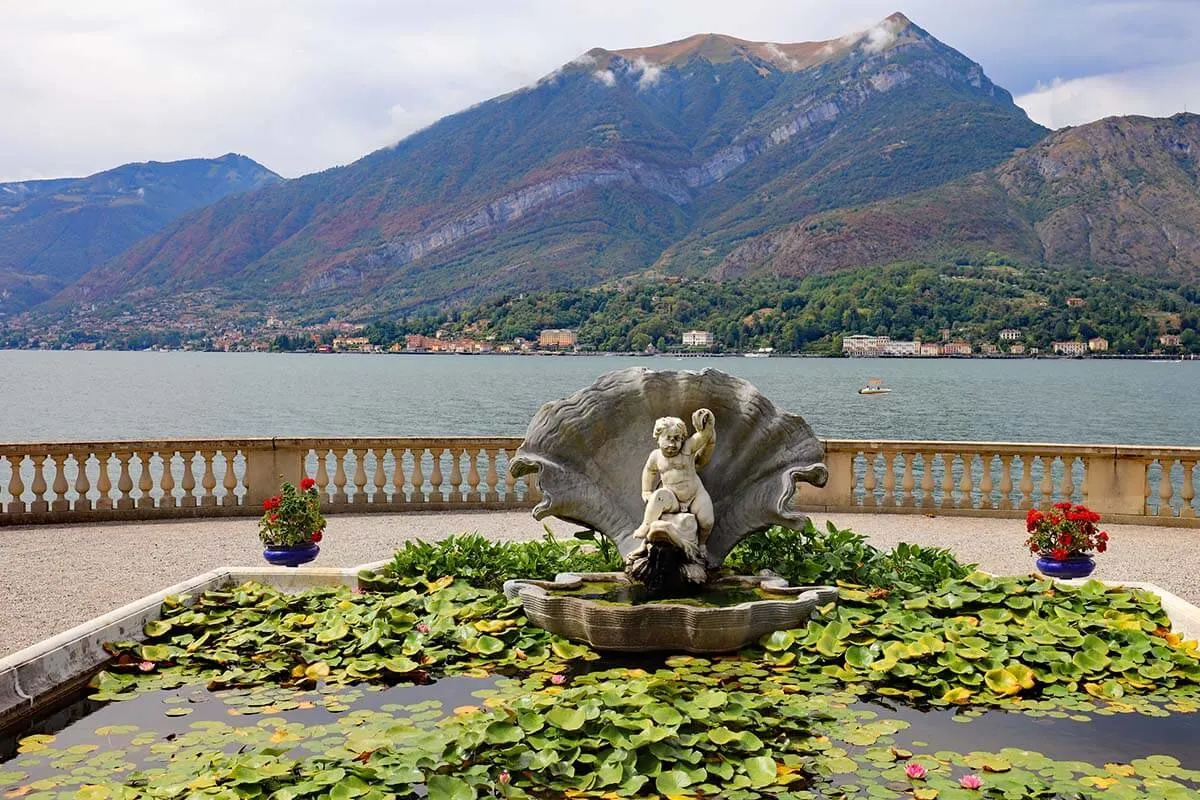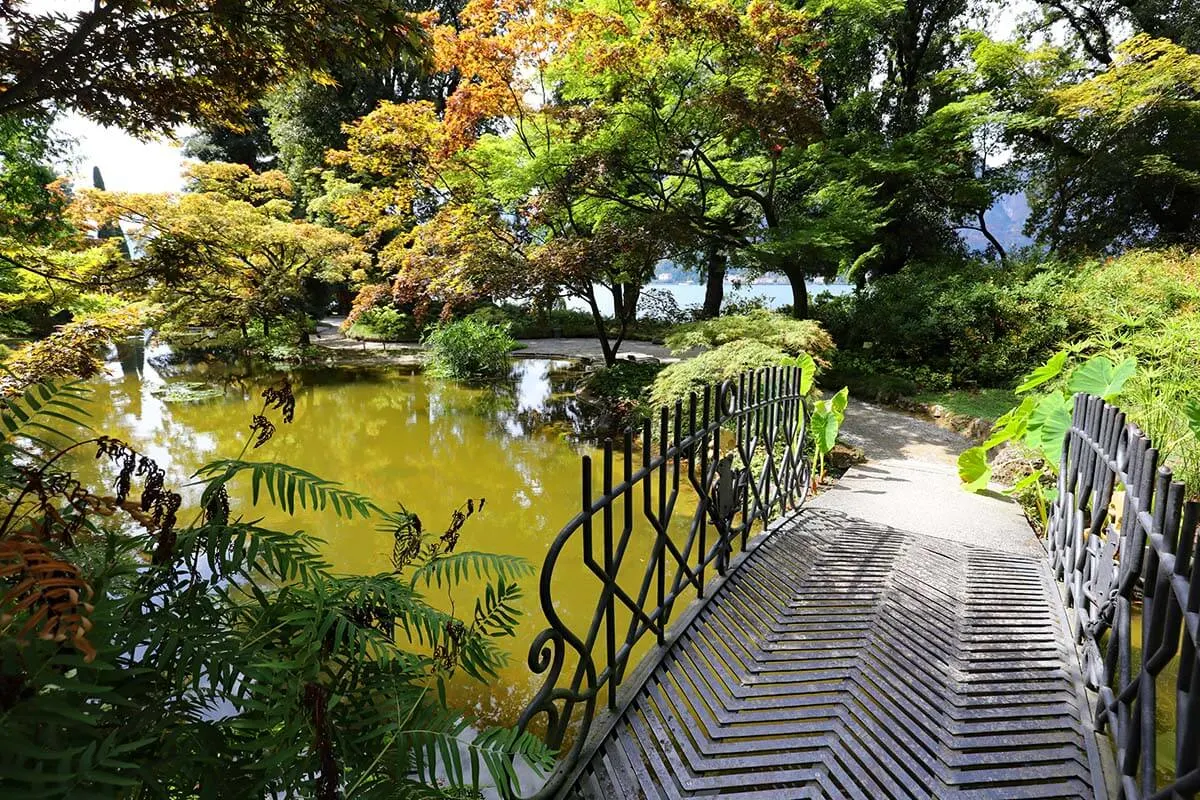 5. Villa Olmo in Como
Villa Olmo is one of the 'must-sees' of Lake Como. Located by the lake in the northwestern part of Como town, it's about 20 minutes (scenic) walk from the old town center.
The villa's history dates back to the 1780s when it was built for the Marquis Innocenzo Odescalchi by the architect Simone Cantoni. It was named after an elm planted in the center of the garden, which – unfortunately – is no longer there.
At that time, Villa Olmo had some very illustrious visitors. These included the Italian writer Ugo Foscolo, Napoleon, Austrian Emperor Ferdinand I, and the last Holy Roman Emperor Francis II.
The villa changed hands several times over the decades and is now owned by the municipality of Como. It is mainly used for various events and conferences and also hosts temporary art exhibitions. There is no fee to see the main house or splendid grounds, which are now used as a community park.
The architecture of the building and its beautiful neoclassical features are well worth seeing. One of the most impressive is the magnificent colonnade decorated with tondos (circular artworks) by sculptor Francesco Carabelli. Inside, you can see stunning frescoes of mythological figures, along with many impressive paintings and statues. You can also see the theater that was added towards the end of the 19th century.
The manicured gardens at the front of the property are beautifully tended, with statues of pagan gods and colorful, symmetrical flowerbeds. Behind the villa is the public park, laid out in English style and filled with large, shady trees under which you can relax and soak up the atmosphere.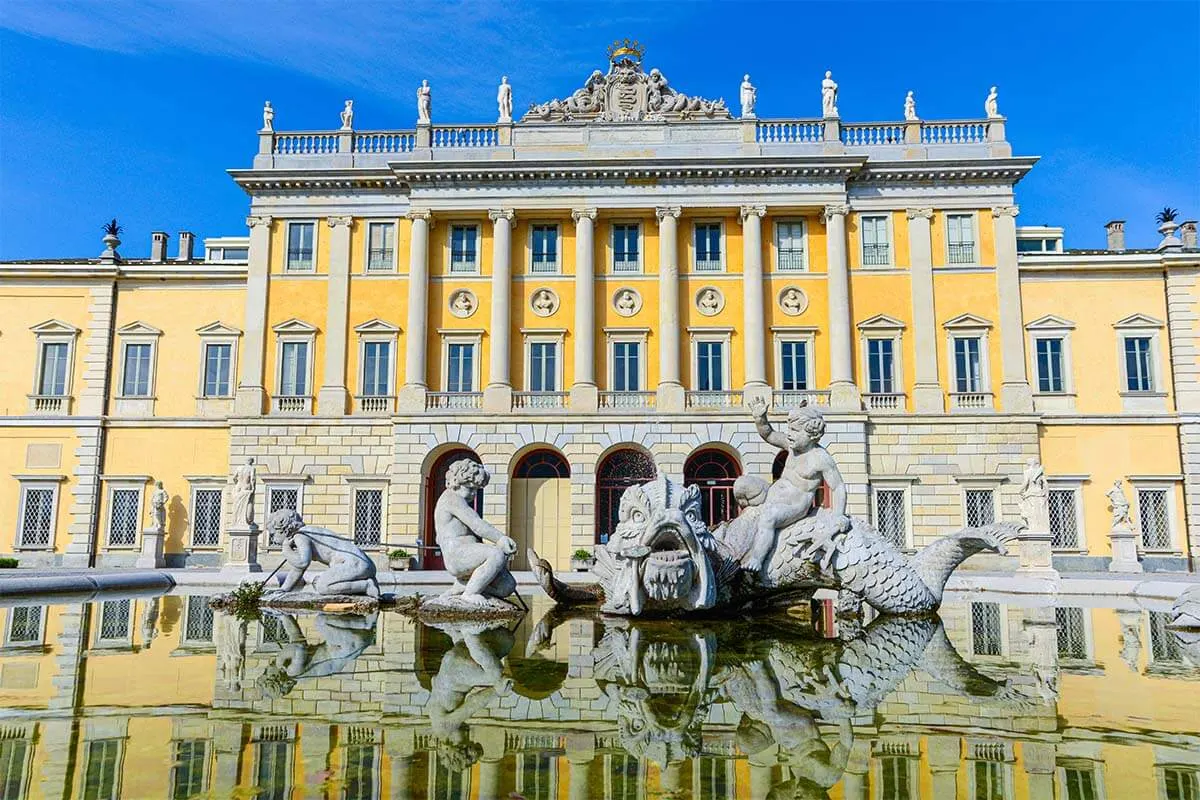 Good to know: The gardens of Villa Olmo is a popular place where locals come for a picnic. So why not do the same? It's a great way to get a taste of day-to-day life in the region. If you are visiting in summer and want to spend some time swimming in Lake Como, you'll find a nice beach nearby, Lido Villa Olmo.
Getting there: Villa Olmo is located in Como, which is the main town on Lake Como. You can easily get to Como by car or by train from Milan. The villa is located a bit outside of town, but the walk on the lakeside promenade is easy and very pleasant. Some of the most popular Lake Como day tours from Milan include a visit to this villa (e.g. this highly-rated tour).
Practical information: The public park is open daily, whereas the villa is only open from Tuesday to Sunday. It's a good idea to check ahead, as it is sometimes closed for events or exhibitions. See their website (in Italian) for more information.
READ ALSO: Best Things to Do in Como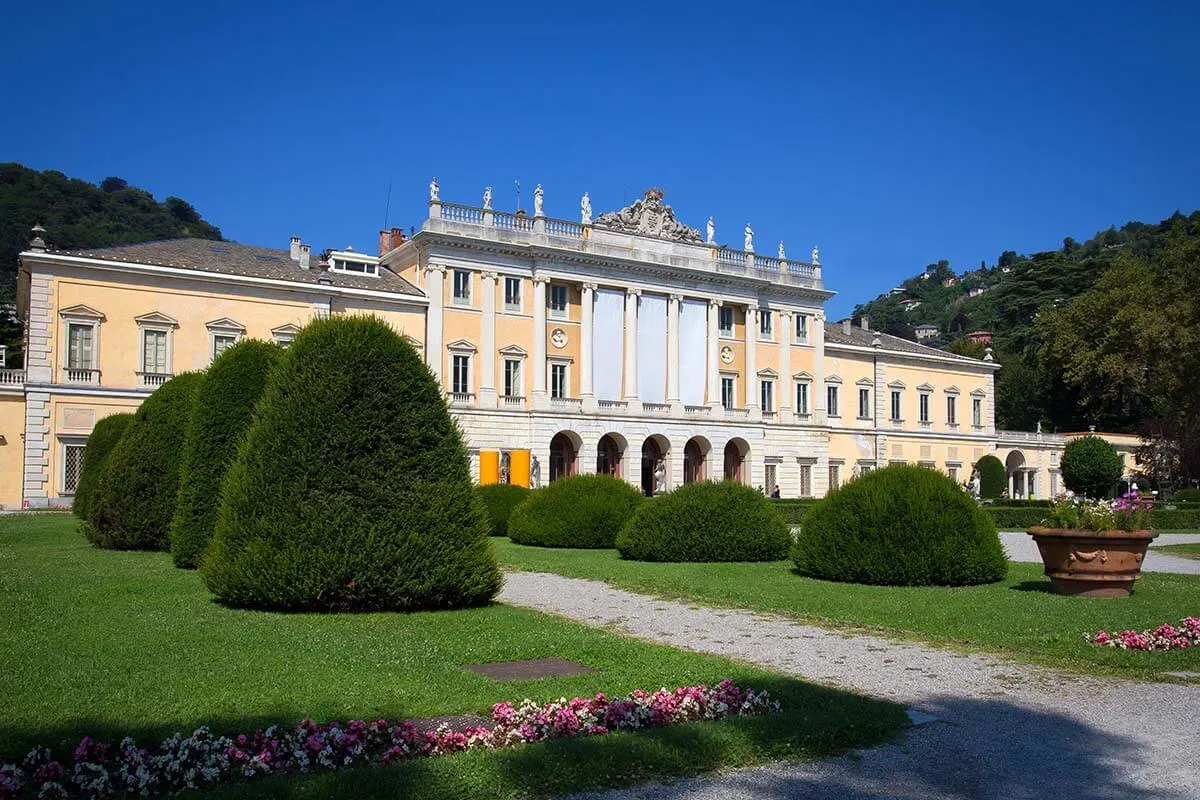 Now that we covered the best-known and most-visited Lake Como villas and gardens, let's take a look at a few other villas that are interesting for several reasons. Each of these is unique and this list just wouldn't be complete without mentioning them.
6. Villa Bernasconi in Cernobbio
Villa Bernasconi is rather unique compared to Lake Como's other villas. It is one of the few examples of Stile Liberty, an Italian variant of Art Nouveau. It also contains one of the area's most innovative museums.
Located on the main road connecting Como to Cernobbio, this villa is also the only villa on this list that is not standing next to the lake. It's also much more recent than the other grand villas of Como Lake.
Villa Bernasconi was commissioned by the entrepreneur Davide Bernasconi in 1905. His business interests are reflected in the facades of the villa. Here you can see motifs representing various aspects of the silk production process, including silkworms, butterflies, and mulberry leaves.
The ownership of the villa changed hands several times until the municipality of Cernobbio acquired it and took over responsibility for its upkeep. It is now used for frequent exhibitions and weddings, and its wide grounds are sometimes used for open-air events.
The main attraction here for visitors is the museum. Relatively quiet to visit compared to many other of Lake Como's attractions, it uses technology and interactivity to bring the history of the building to life.
Practical information: Villa Bernasconi is open from Friday to Monday and on public holidays. However, at certain times of the year, you can only visit the museum by booking a guided tour. For this reason, it's a good idea to check their website in advance of your visit.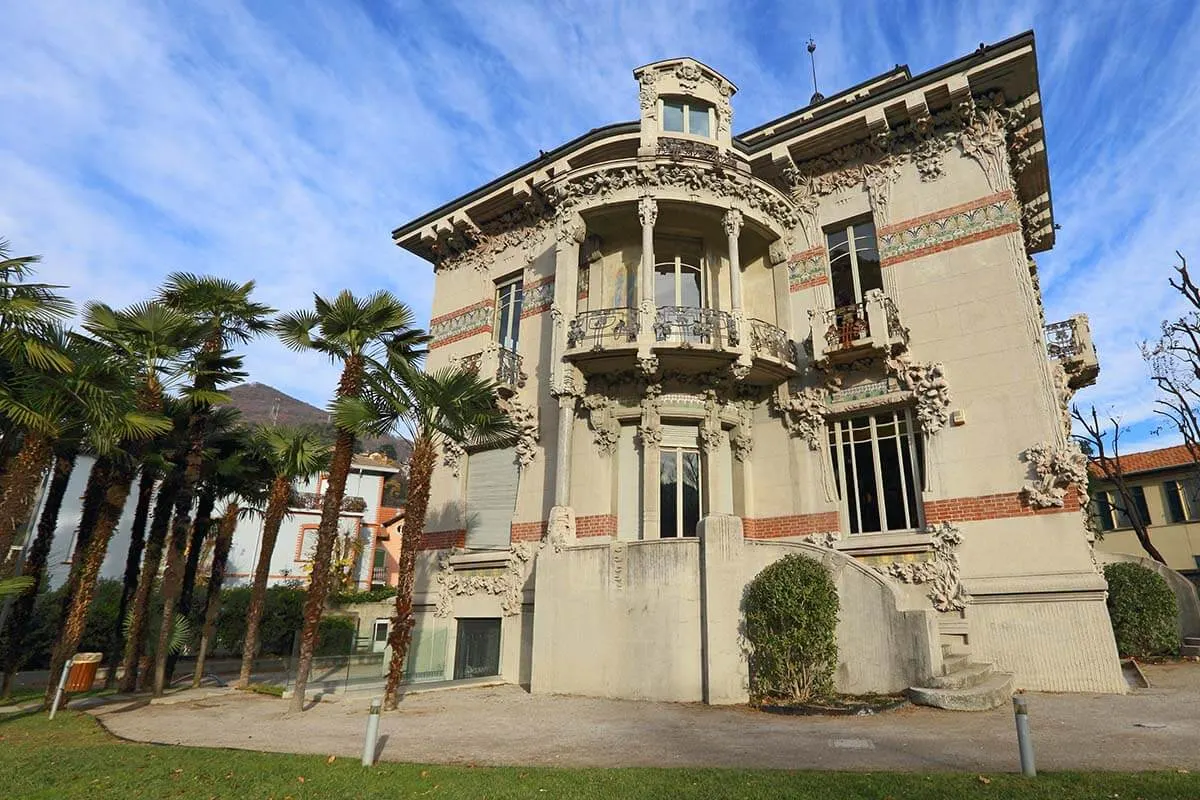 7. Gardens of Villa Serbelloni in Bellagio
Built in the 15th century for Marchesino Stanga, the neoclassical Villa Serbelloni is one of the hidden gems of Bellagio. It's not to be confused with the Grand Hotel Villa Serbelloni (more about it further below). Villa Serbelloni has played host to some influential figures including Leonardo da Vinci, Emperor Maximillian I, Queen Vittoria, Kaiser Guglielmo, and many more.
The villa had several owners over the years, with the stunning grounds considerably improved and extended in the late 18th century by the Serbelloni Dukes. Nowadays, its owned by the Rockefeller Foundation.
The garden – Parco di Villa Serbelloni – is open to the public, but you can only visit with a guided tour of the grounds.
Extending over Bellagio's promontory, the 50 acres of gardens are covered with winding pathways that take you through the terraces descending down towards the lake. There are many rare and exotic plants to admire along with some exceptional views of Bellagio.
Practical information: Tours of the gardens must be booked in advance and are only held at specific times and dates throughout the year. The tour lasts about 1.5 hours. They only allow a limited number of visitors per day, so be sure to book your tickets well in advance. The entrance to the gardens can be found close to the main church in Bellagio. Here you can find more practical information and get tickets.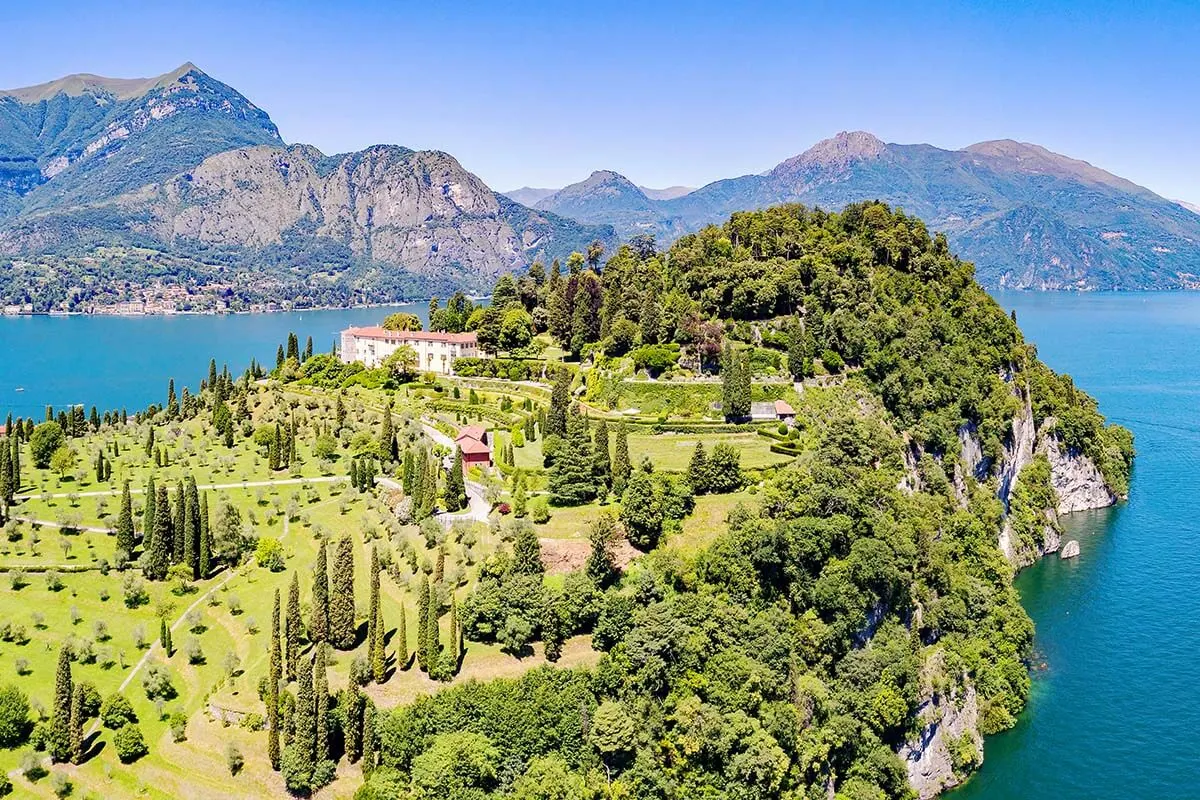 8. Grand Hotel Villa Serbelloni
Built in 1850 as a luxurious holiday villa, but transformed into a hotel soon after that, the Grand Hotel Villa Serbelloni has been welcoming guests since 1873. This grand neoclassical-style villa is one of the most elegant hotels on Lake Como. It's been owned by the Bucher family for over 100 years.
Loved by the rich and the famous, the former guests of Grand Hotel Villa Serbelloni include names like Winston Churchill, J.F. Kennedy, Roosevelt, or the Rothschilds. But also Al Pacino, Robert de Niro, and Richard Branson, to name just a few.
Grand Hotel Villa Serbelloni is impressive on the outside as well as inside. Set on the lake in the heart of Bellagio, it has a stunning location. The interior is lavishly decorated with frescos, paintings of mythological scenes, marble staircases, antique Persian carpets, crystal chandeliers, etc.
Good to know: You can only visit this villa if you are staying at the hotel. While the lake-view rooms and suites are really expensive, the prices for the 'regular' rooms start from around 500-600 euros for 2 people per night (see up-to-date pricing here). So it's not completely out of reach for the upper-middle class. It can be a wonderful experience if you are looking to stay at one of the most luxurious villas on Lake Como.
The hotel has beautiful gardens, several pools, and direct access to the lake with a private swim area. So if you are staying here in summer, you can go for a swim in Lake Como straight from the hotel grounds.
READ ALSO: Where to Stay in Lake Como (best towns & hotels)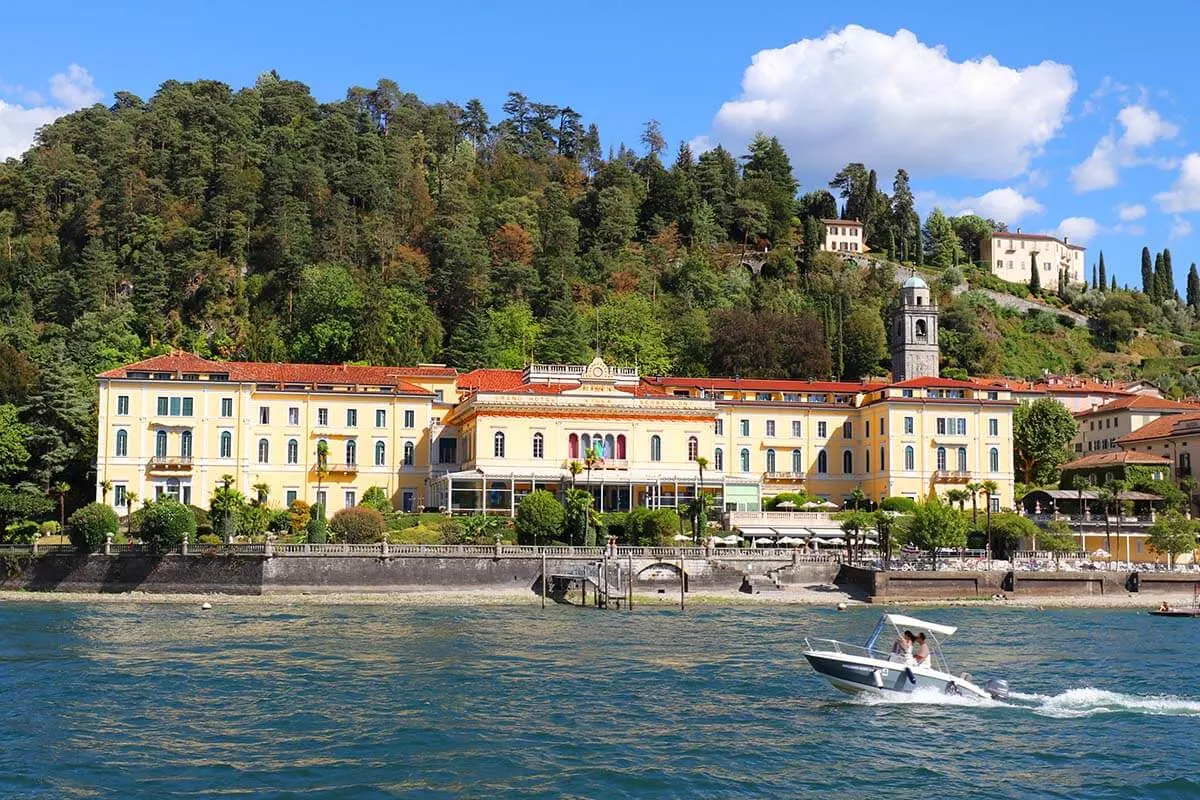 9. Villa d'Este in Cernobbio
Once known as Villa del Garovo after the nearby Garovo stream, Villa d'Este was originally constructed in the 16th century. Not to be confused with the famous Villa d'Este in Tivoli near Rome, Villa d'Este is located in Cernobbio. This Lake Como's most luxurious and exclusive hotel.
Just as most other Como villas, Villa d'Este has had multiple owners over the centuries. Both the villa and its grounds have changed a great deal in that time. Some of the most significant restorations were carried out in the 18th century by the Calderari family who created a new Italian garden. In the early 19th century, Princess Caroline of Brunswick changed the park's design to an English style.
Villa d'Este became a luxury hotel in 1873 and has had some very notable guests since. Previous guests include Frank Sinatra, Clark Gable, Elizabeth Taylor, Woody Allen, Aristotle Onassis, Maria Callas, and many more.
Good to know: Nowadays, you can only see the Villa d'Este if you stay here as a guest. The rates for a 2-person room here start from about 1,000 euros per night. You can only reserve directly via their website.
Alternatively, you can visit Villa d'Este if you attend a private event or manage to get a reservation at their restaurant. There are no tours available of either its interior or grounds.
The only exception would be if you are lucky enough to be visiting when the villa is hosting a public event. In April, for example, it holds the annual vintage car show Concorso d'Eleganza Villa d'Este. The tickets to this event give you a closer look at the beautiful vehicles and the villa with its impressive grounds!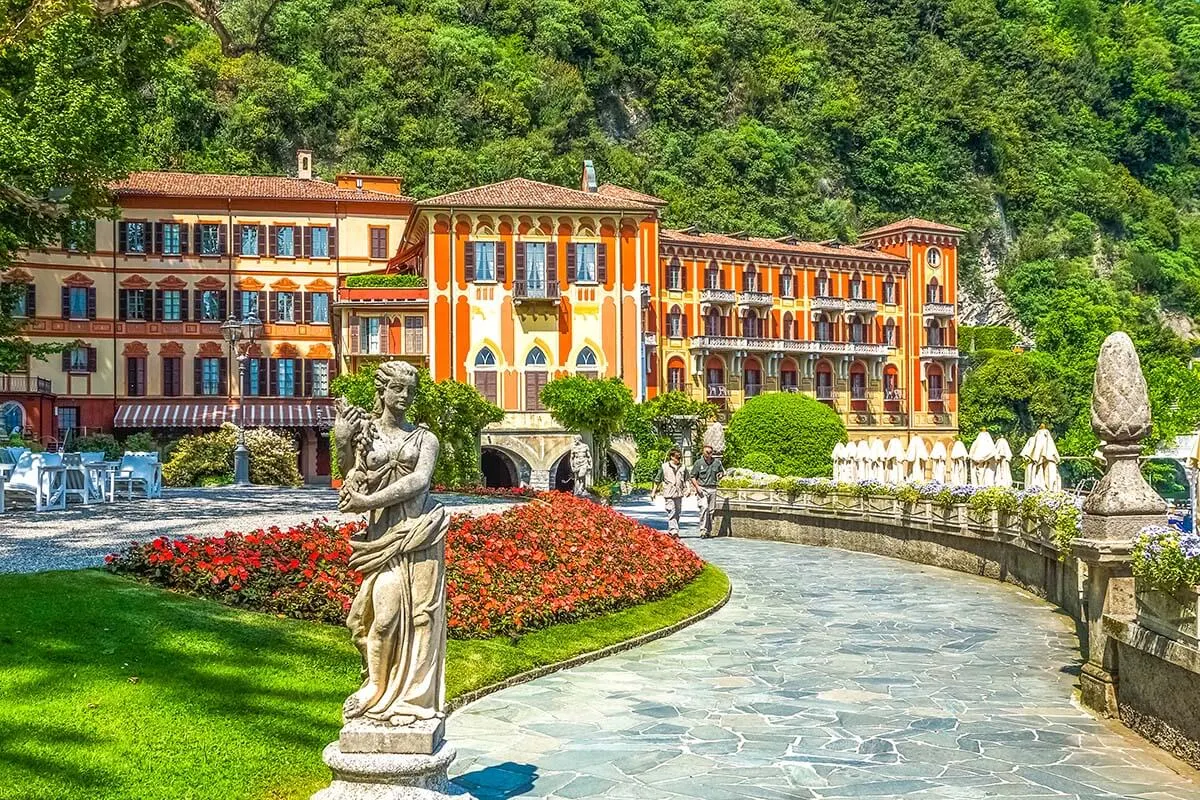 Lake Como Villas FAQ
Which villas on Lake Como can you easily visit?
Some of the most famous villas that you can visit in Lake Como include Villa Monastero in Varenna, Villa Carlotta in Tremezzina, Villa del Balbianello in Lenno, and Villa Olmo in Como. Villa Melzi in Bellagio is worth a visit too, but here you can only visit the gardens and a few smaller buildings and not the villa itself.
Which Lake Como villas have the most beautiful gardens?
The legendary Lake Como villas are also known for their beautiful gardens. Some of the nicest gardens are those of Villa Carlotta, Villa Monastero, Villa Melzi, Villa del Balbianello, and the Gardens of Villa Serbelloni.
If I visit just one villa in Lake Como, where should I go?
If you only have the time to visit one villa on Lake Como, I recommend Villa Monastero in Varenna. This is mainly because of its easy accessibility from Milan. In addition, this historic villa also has everything you would expect – a stunning lakeside location, incredibly beautiful gardens, and lavishly decorated chambers.
When is the best time to visit Lake Como villas and gardens?
The best time to visit Lake Como gardens and villas is in the spring when azaleas and rhododendrons are in full bloom. That being said, the gardens look stunning during the entire summer season. If you are mostly interested in the history and art inside the villas, any season is perfect.
Are Lake Como villas open in winter?
Several of the most famous Lake Como villas-museums are open the whole year round. However, many have limited opening hours in the winter season, so be sure to double-check their websites when planning a visit.
What are the most beautiful villas where you can stay in Lake Como?
While you will be able to find lots of villas for rent at Lake Como, nothing compares to the experience of staying inside one of the grand historic villas such as Villa d'Este in Cernobbio or Grand Hotel Villa Serbelloni in Bellagio. Of these two, the Grand Hotel Villa Serbelloni is a much more affordable option and it also has a more central location. Villa d'Este is more exclusive and much more expensive.
READ ALSO: Best Places to See & Things to Do in Lake Como
So, this is our guide to the most beautiful villas and gardens that you can see in Lake Como. Apart from the last two places which function as hotels, all the others are rather simple to visit. However, some require reservations or are only open on specific days, so be sure to double-check the official sites before you plan a visit.
TIP: If you are planning a trip to the Lake Como area and have any practical questions, take a look at our guide with info and tips for visiting Lake Como. It contains lots of useful information that will help you make the most out of your trip. Check it out!
If you found this post useful, don't forget to bookmark it and share it with your friends. Are you on Pinterest? Pin this image!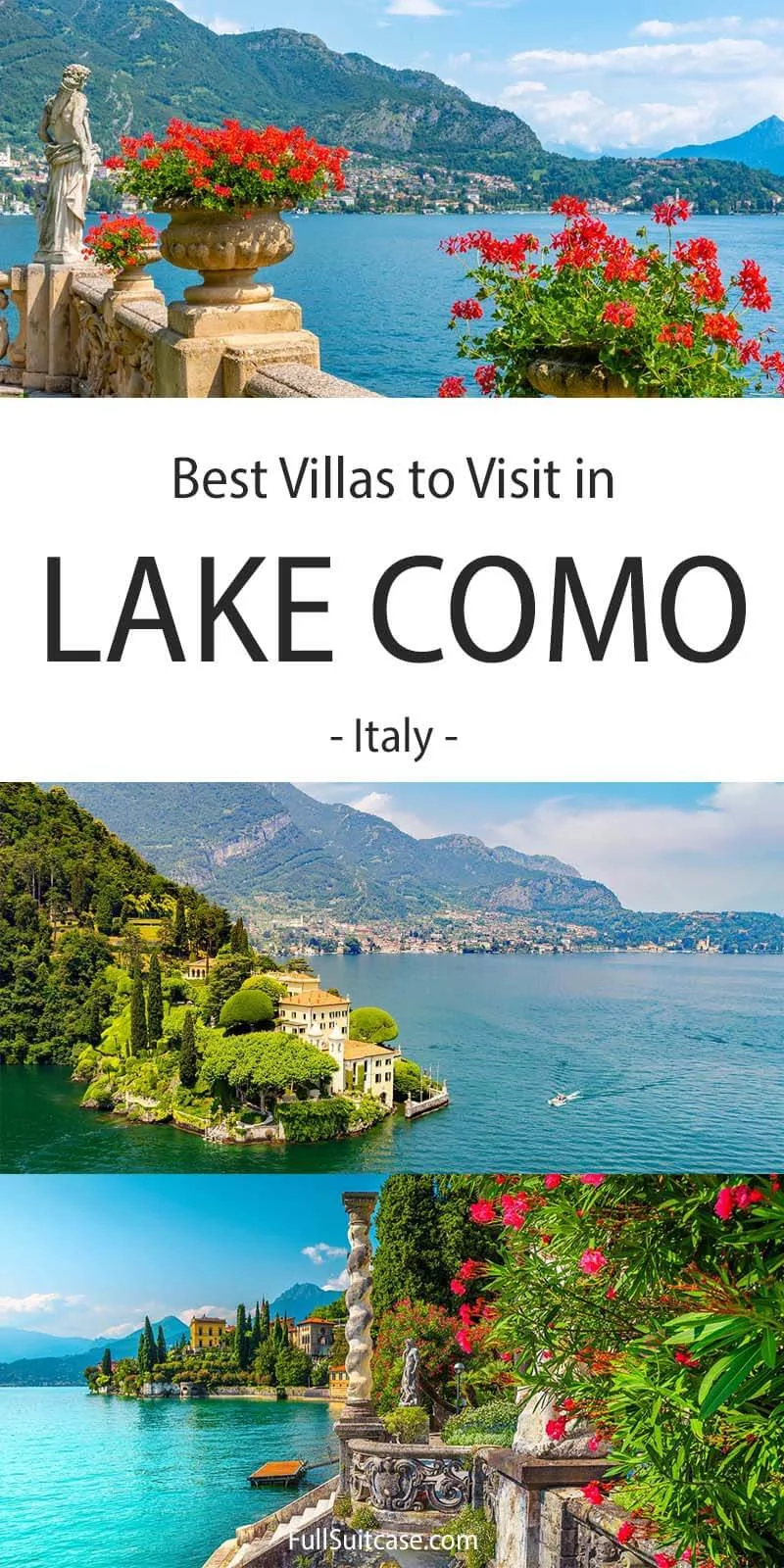 More travel inspiration for Northern Italy: