Wondering where to travel in April or looking for trip ideas for the Easter holidays or spring break? Why not opt for a nature getaway and visit one of America's National Parks in April!
April is a great time for many National Parks, especially those in the southern states. But nice weather, spring holidays, and National Park Week (typically held in the 3rd week of April), means that some places still see a big surge in visitor numbers.
Still, if you avoid the most popular parks around Easter, April is a great month to explore the outdoors. And even during the busier weekends, you can still find plenty of nice opportunities for a quiet nature getaway, if you just opt for the lesser-known National Parks.
In this article, we feature a mix of both – the best, most popular National Parks to visit in April, but also some less popular alternatives. Find out!
READ ALSO: Best National Parks to Visit in March
PRO TIP: If you are planning to visit several National Parks, get an annual America the Beautiful Pass. It costs 80 USD for the whole family traveling in the same vehicle and is valid in all National Parks and 2,000 federal recreation sites across the United States for one year from the month of purchase. If you are visiting more than 2 parks, it's cheaper than paying for each park separately.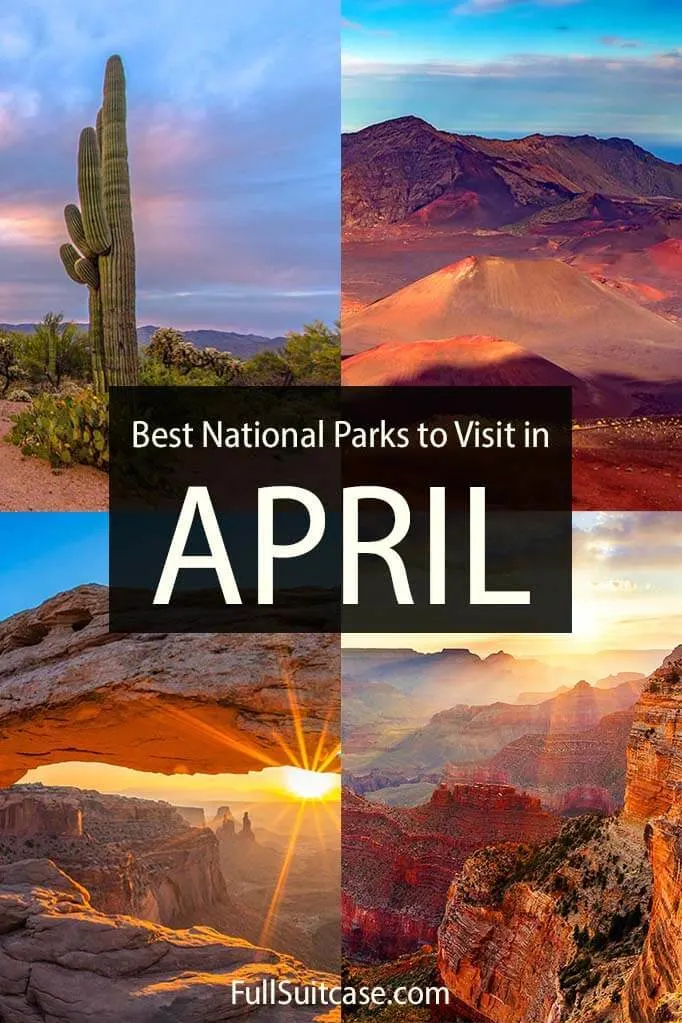 These are some of the best National Parks to visit in April:
1. Zion National Park
April is an excellent month to visit Zion National Park. The weather is usually very pleasant and while you can still see snow on the highest peaks, it can already be summerly warm inside the canyon. The weather is perfect for hiking and other outdoor activities!
The waterfalls are usually at their best this time of the year and you can also see wildflowers. April is also a good time to see baby animals.
Zion shuttle buses are running and park facilities are open. The most popular places and hiking trails such as Angels Landing, Canyon Overlook, Emerald Pools, and many others are normally open in April. The popular Narrows trail where you hike in the river might still be closed if the water is too high in April. This really depends on the snowfall each year.
Zion is a very popular park for U.S. spring break and Easter holidays, so it can get quite busy in April already. It's essential to plan well and start your days early so that you can beat the crowds. Make sure to check the official website for the most up-to-date conditions on what's open and what's closed before you set off to explore.
TIP: When visiting Zion in April, pack layers of clothing. Often, it will still be quite cool in the mornings and in the evenings, but nice and warm during the day. While you can get an occasional shower, April is not nearly as wet as March. Still, make sure to pack a light rain jacket with you and – for hiking – shoes with a good grip.
And yes, also in April, you can combine Zion and Bryce Canyon National Parks in one trip. Just keep in mind that due to the elevation difference, it will be much colder in Bryce Canyon than in Zion.
READ ALSO: Best Hikes in Zion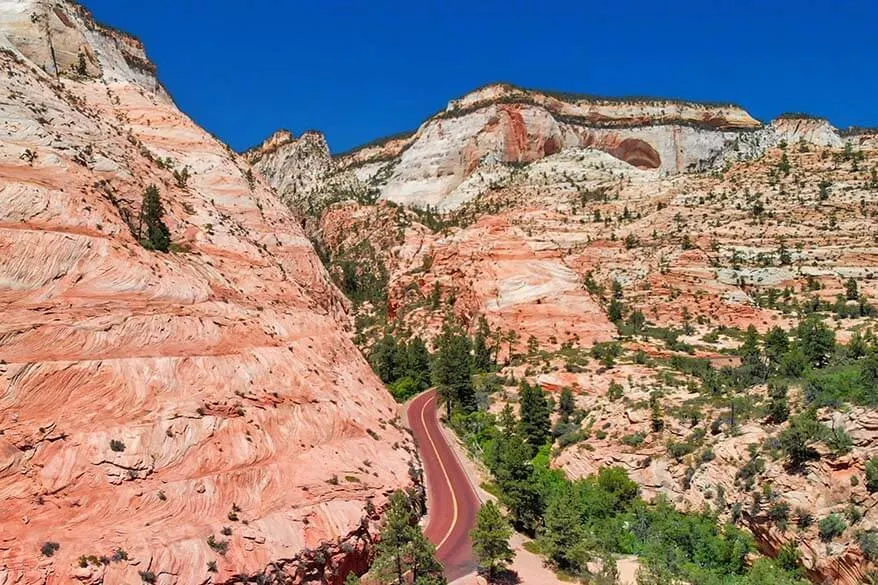 2. Canyonlands National Park
Canyonlands National Park is a year-round destination, but April is one of the best months to be here. Winter snow has melted, it's not as hot as in the summer, and not as busy as in May or in September. It can get quite busy during holiday periods and on weekends, but it's also quite easy to avoid the crowds.
Most people tend to visit Island in the Sky district of Canyonlands, but even there, it's not nearly as busy as in the nearby Arches National Park (see further below). If you want to get off the beaten path, go to the Needles district. If you want to avoid the crowds altogether, the remote Maze district of the Canyonlands hardly sees any visitors at all. However, you'll need a 4×4 vehicle and camping equipment for that part of the park.
Don't miss the Grand View Point, the Green River Overlook, and a short hike to the stunning Mesa Arch!
TIP: Facilities in Canyonlands are really limited. Make sure to pack some food for lunch, snacks, and plenty of drinking water. Also, when visiting in April, it's essential to dress in layers as it's still quite cold in the mornings and in the evenings.
LEARN MORE: Best Things to Do in Island in the Sky, Canyonlands NP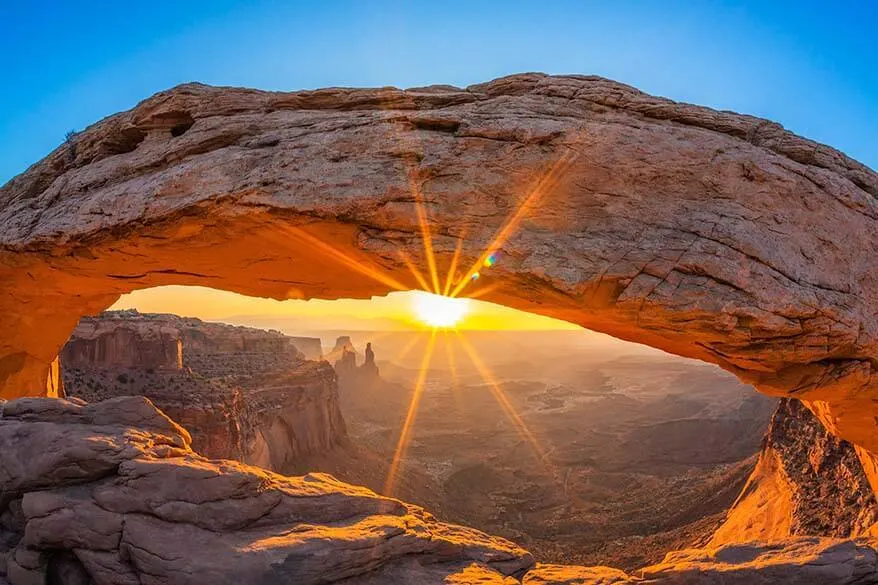 3. Shenandoah National Park
Shenandoah National Park is one of the parks that experiences four distinct seasons. While the most popular time to visit is summer and October (for fall foliage), spring is a beautiful time to visit the park as well.
The weather is usually quite nice in April already (although rain is not uncommon) and it's not as busy as in the summer or in the fall. Spring is also the time when wildflowers and trees are in full bloom. The waterfalls are amazing this time of the year!
It's important to remember that Shenandoah NP spans over 100 miles and different elevations. So the weather and the temperatures can vary a lot from one place to another and you can always find something nice to do no matter what weather you get.
TIP: One of the most popular ways to explore the park is by driving the 105-mile long Skyline Drive, stopping at various lookouts along the way.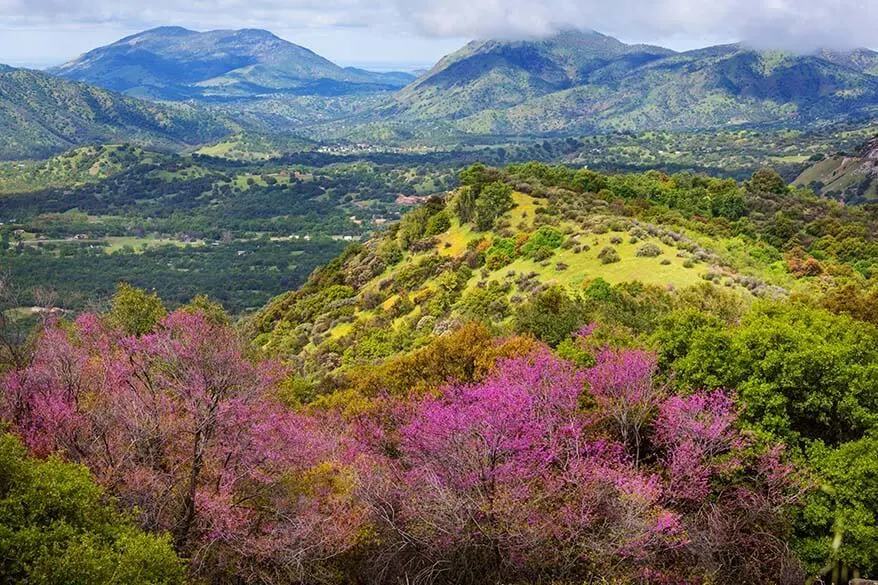 4. Grand Canyon National Park
Spring is one of the best times of the year to visit the Grand Canyon. The weather is usually dry and temperatures are pleasant for sightseeing. And while it can still snow at higher elevations, it's not very common. April is a very good month for those who want to explore the canyon deeper and go hiking.
Whether you are planning to visit the main lookouts of the South Rim, do one of the easier hikes, or tackle longer hikes inside the canyon, April is a great time for that. However, the North Rim of the Grand Canyon is still closed at this time of the year and usually only reopens at around mid-May.
Grand Canyon is an extremely popular destination, also because you can visit it as a day trip from Las Vegas. In fact, Grand Canyon is one of the most-visited national parks in the USA! So it can get really crowded during spring break, on the weekends, and around Easter. But if you plan your visit well and avoid peak times and the most popular viewpoints, you can find a perfect combination of tranquility and pleasant weather.
TIP: April is one of the busier months in the Grand Canyon. So make sure to book your accommodation in advance! The same counts for day tours and helicopter flights. Also, try to arrive at the park as early in the morning as you can so that you can avoid long queues at the Grand Canyon South Rim entrance!
READ ALSO: How to See the Best of Grand Canyon in 1 Day
TIP: Spring is a great time not just for the Grand Canyon National Park, but also for the many other natural landmarks and attractions in Arizona. If you are planning a trip to this area, be sure to also check out this short road trip itinerary for Grand Canyon, Antelope Canyon, and Horseshoe Bend. It's a real bucket list trip!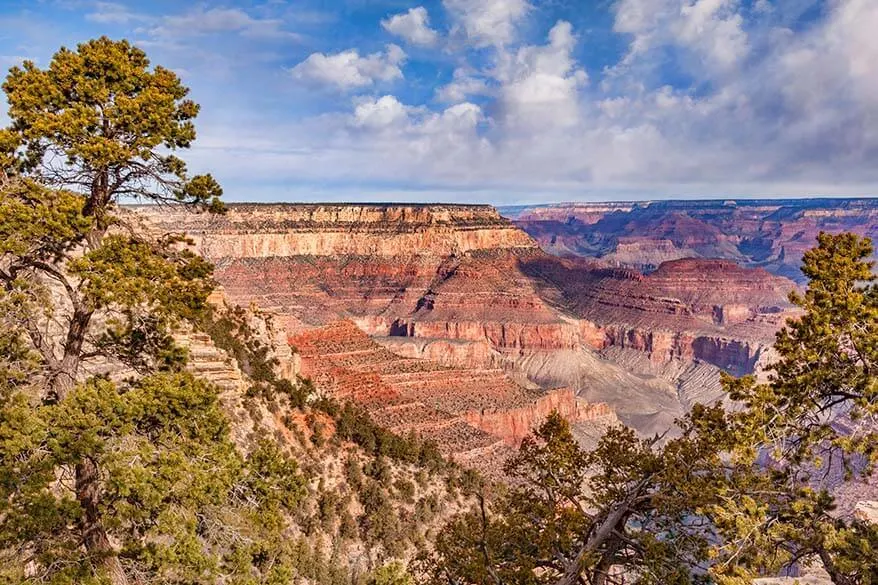 5. Capitol Reef National Park
Spring weather is usually very pleasant in Capitol Reef National Park with April daytime temperatures in the 60s. However, you might also get freezing cold weather or hot days with temperatures in the high 80s.
Furthermore, weather can vary widely across the park because of different elevations and landscapes. It's not uncommon to find snow at higher elevations in the beginning of April.
April-May and September-October are the best months to visit Capitol Reef NP. In winter, there is quite some snow, and in summer, you have very hot temperatures and it's also monsoon season that can create dangerous flash floods. But this also means that April is one of the busiest months in the park.
The weather in April at lower elevations in Capitol Reef is typically excellent for outdoor activities. And there's so much to do! Hiking, biking, horseback riding, and ATV tours are popular this time of the year. Don't miss Cassidy Arch, the Grand Wash Trail, and Fremont Gorge Overlook – some of the best hikes in the park!.
April is also an excellent month for wildflowers in Capitol Reef. The historic orchards of Fruita begin to bloom as well. Trout fishing is excellent in spring and you can also expect to see some wildlife, including baby animals that were born in winter.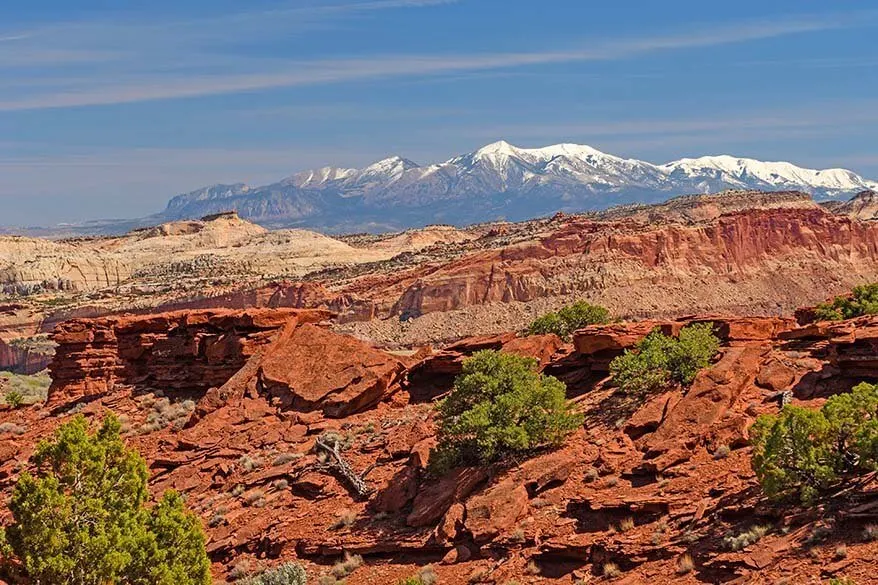 6. Haleakalā National Park
While Hawaii is a year-round destination, April is one of the absolute best months to visit Maui! The weather is pleasant and April is the start of the dry season. It's also not as busy as in the summer.
Located on Maui Island in Hawaii, Haleakala National Park occupies a big part of the island's southern edge. Haleakala is an extinct volcano towering high above the island and offering incredible views. It became such a popular sunrise spot on Maui that it now requires a reservation and it's best to go with an organized tour.
But there's more to do in Haleakala than just drive up to see the sunrise above the clouds! You can go hiking at the summit, go zip-lining, or join a bike tour.
Also, remember that Haleakala is not just about the summit. You can also visit the more remote coastal Kīpahulu District that's only accessible via the Hana Highway. Wilderness Area is another part of the park that's often overlooked. Here you can find more info on things to do in Haleakala NP.
TIP: The weather is changing rapidly, especially at the summit. Always pack some layers, no matter the weather forecast.
READ ALSO:
Maui Itinerary Suggestions
Best Activities & Tours on Maui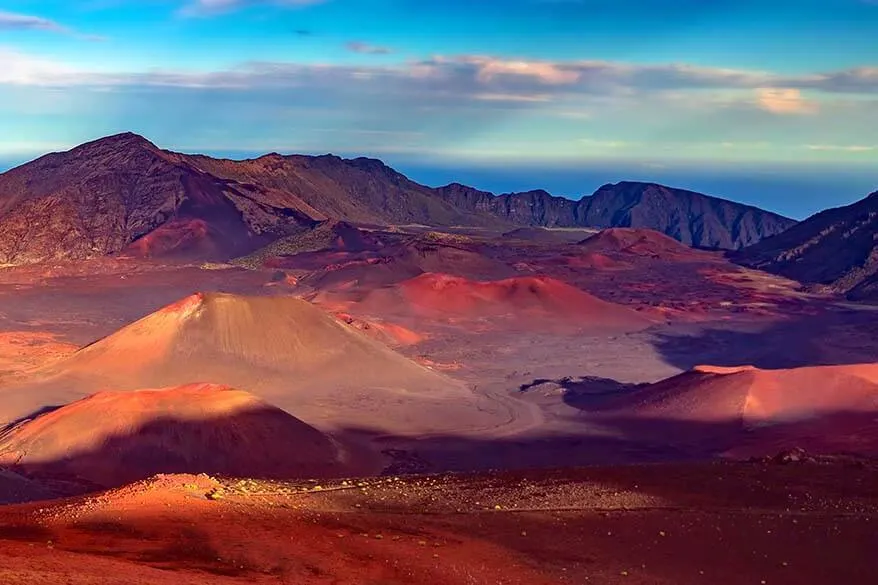 7. Cuyahoga Valley National Park
One of the lesser-known National Parks, Cuyahoga Valley NP perched between two large Ohio cities of Cleveland and Akron, is a locals' favorite. Surrounded by urban areas, this park offers a wonderful nature retreat far from the hustle and the bustle of the area.
The best time to visit Cuyahoga Valley National Park is from April to October, but it remains popular the whole year round. April is a great time to see wildflowers in the lowland forests along the Cuyahoga River. The weather is also pleasant for hiking and the waterfalls are stunning this time of the year!
Some of the most popular places to visit include Brandywine Falls, Beaver Marsh (also great for wildlife), Blue Hen Falls, the Ledges, and the accessible Towpath Trail that's popular with bikers, but also families with young kids. There's also fishing, kayaking, and a scenic train ride, but April might be just a bit too early for that. Don't miss the historic houses that now serve as Visitor Centers!
TIP: Avoid weekends and school holidays as the park gets really busy.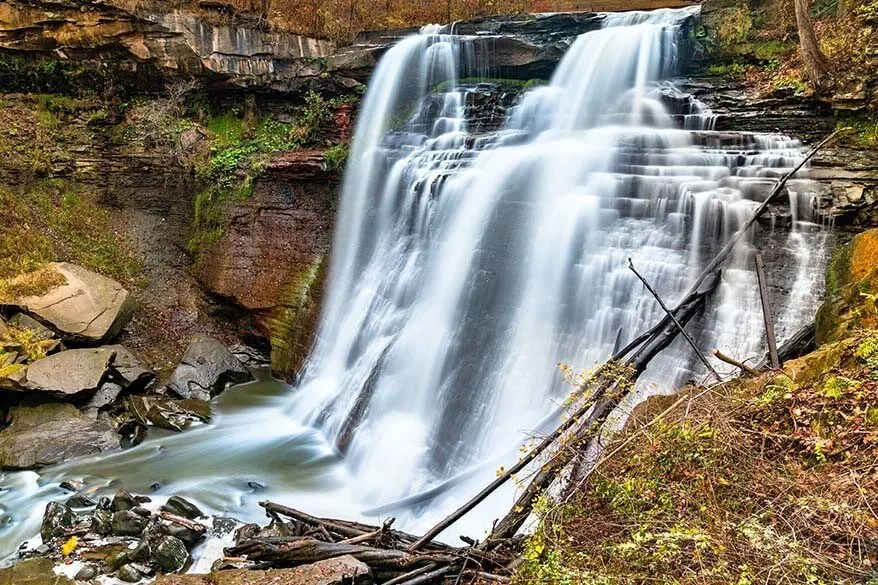 8. Channel Islands National Park
Channel Islands National Park encompasses five of the eight California Channel Islands: Santa Cruz, Anacapa, Santa Rosa, San Miguel, and Santa Barbara. Anacapa and Santa Cruz are the most visited ones, but in April, there are also tours to all the islands.
The park is open and accessible the whole year round. Summer and fall is the peak season, but if you are looking for tranquility and fewer people, April is a great month to visit.
In spring, the islands are green and there are lots of wildflowers (although the peak bloom time might just be over by April). It's also a good season to see various birds. Gray whales might still be around and you can also expect to see sea lions.
But the very best thing to do at this time of the year is simply walking around and admiring the scenery. Because of the stronger winds, surfing is also popular in spring.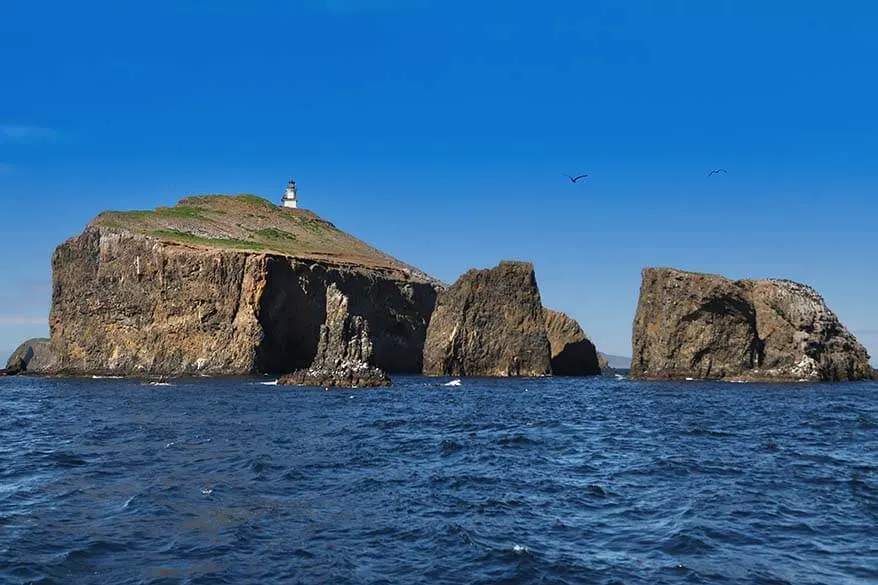 9. Saguaro National Park
April is one of the last good months to visit Saguaro National Park before it gets too hot in southern Arizona. It's a good time for wildflowers with the peak blooming season from around mid-March to mid-April. The Saguaro cacti themselves usually bloom in May, but you might get lucky and see them in bloom at the end of April already.
Saguaro NP has two separate areas: Saguaro West and Saguaro East. They are not connected to each other and it's best to plan a day for each side. Saguaro West (Tucson Mountains) is easier to get to and many people say that this area is worth visiting more. Saguaro East (Rincon Mountains) is less visited, but also very nice.
Hiking is the best way to explore the park. There are lots of hiking trails for all difficulty levels. Popular short trails are Signal Hill Trail (Saguaro West) and Mica View Loop (Saguaro East). Also, don't miss the scenic drives – Cactus Forest Drive in Saguaro East and Bajada Loop Drive in Saguaro West.
TIP: You can easily combine a visit to Saguaro with that of the Grand Canyon (see above) and/or Sedona.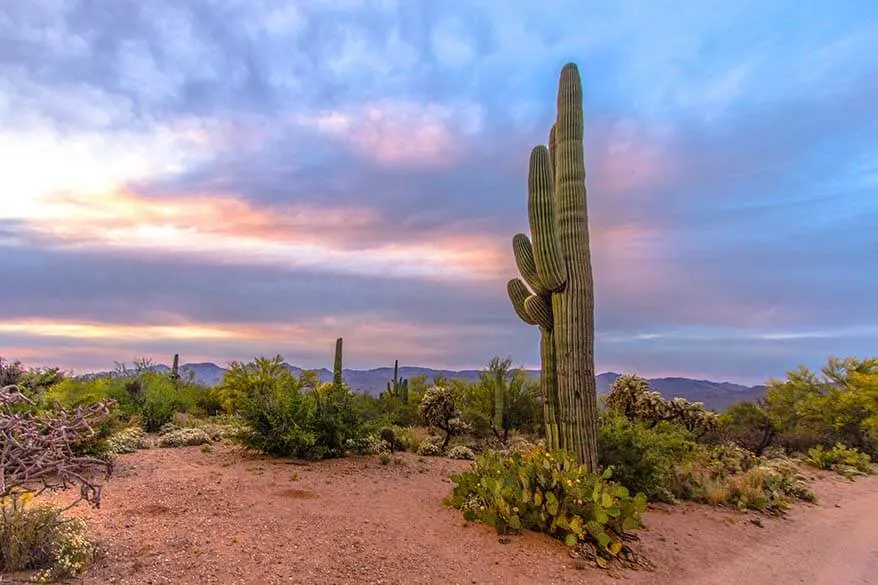 10. Great Smoky Mountains National Park
April is a great time to visit Great Smoky Mountains National Park. The park is green and waterfalls are usually full and at their absolute best this time of the year. It's also a good season for wildflowers, especially at lower elevations. If you come in the second half of the month, you'll find plenty of colorful flower displays throughout the park.
April weather in the Smokies is usually quite mild, but still quite changeable. You can expect sunny skies, but afternoon rains are not uncommon. It can be freezing cold higher in the mountains (but snow is extremely rare) and very warm at lower elevations. You can get days with temperatures in the mid-70s (23C+). So make sure to pack for both – cold and warm weather and always wear layers.
The most popular National Park in the United States, Great Smoky Mountains NP attracts big crowds any time of the year. April is not an exception. But if you can avoid Easter, weekends, and especially a 3-day weekend in mid-April when Pigeon Forge Spring Rod Run is held, a visit to the Smokies in April can be really enjoyable.
Most places in the park are open and accessible by April. If you plan to visit Clingmans Dome observation tower (6,643 ft and the highest point in the park), Newfound Gap mountain pass, or other places higher in the mountains, you should check if the roads are open already. They usually close in December and reopen at the end of March, but it all depends on the weather.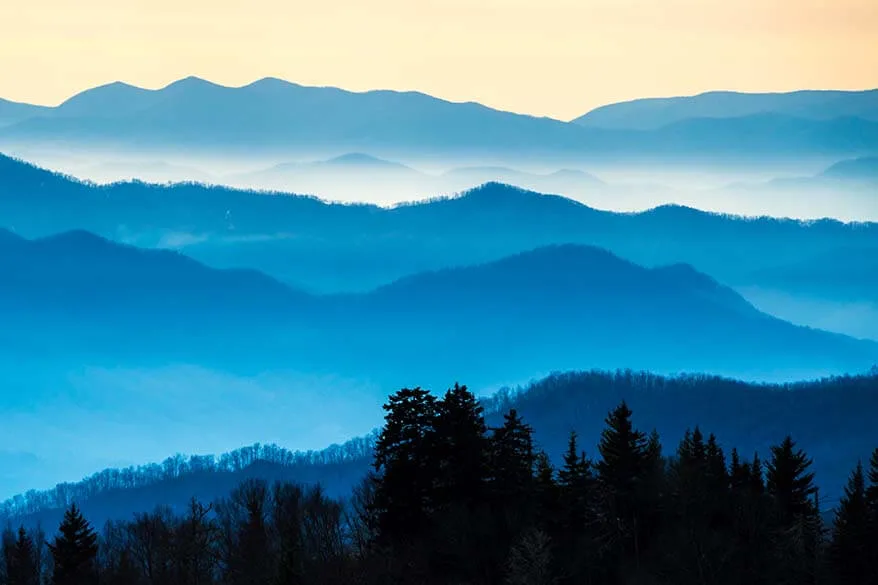 11. Gateway Arch National Park
Gateway Arch National Park is a very different National Park than what most of us are used to. It's located in the heart of a major city, St. Louis. Its main landmark is the Gateway Arch and also the Old Courthouse.
It's a place that you can visit in any season, but springtime and especially April-May is one of the best times to visit St. Louis!
The Gateway Arch is a memorial to the pioneers and to Thomas Jefferson's role in the Westward Expansion of the USA during the 19th century. It's also a tribute to Dred Scott who (unsuccessfully) sued for his and his family's freedom in the Old Courthouse.
Don't miss a tram ride to the top of the Arch for stunning views of the area and explore the museum under the Gateway Arch. Visit the Old Courthouse to learn more about the history of the area. After that, take a riverboat cruise on the Mississippi River and explore more of the city center on foot.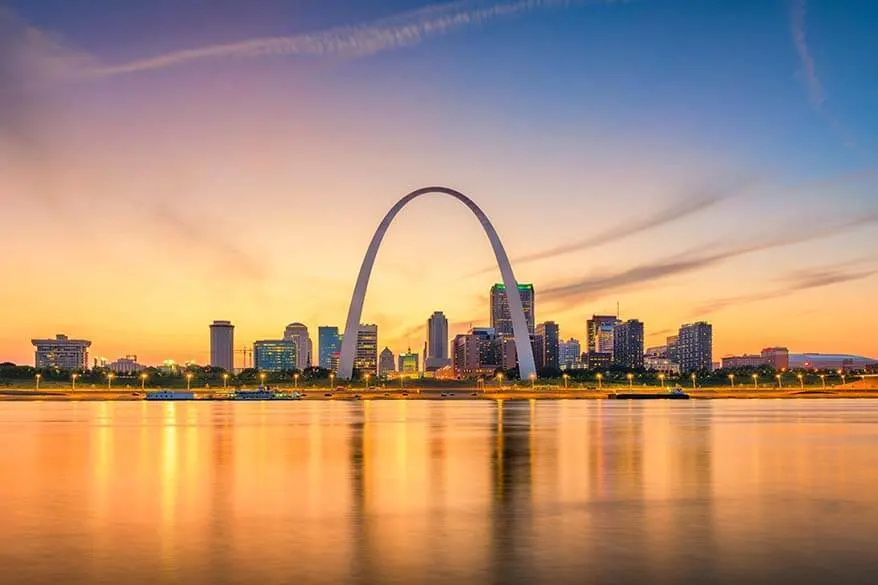 12. Carlsbad Caverns National Park
Carlsbad Caverns National Park is another somewhat unusual National Park. The main features here are the impressive underground caves, but there are also hiking opportunities, you can watch bats, and there are also ranger-led tours available.
Since temperatures underground are quite constant the whole year round, any time is good to visit the caves. However, April is the least busy month of the peak season which stretches from March to July. Also, outside temperatures are still not too hot in New Mexico in April, making a visit to the area more enjoyable than in the summer heat.
The main place to visit here is the show cave called Carlsbad Cavern. It's located about 20 miles/ 25 minutes drive south of the town of Carlsbad, NM. There are several ways to visit the cave – you can either take the Natural Entrance Trail and hike to the cave or you can take an elevator down straight from the Visitor Center. Parts of Big Room Trail are wheelchair-accessible. For more practical information, check their website.
TIP: A visit to Carlsbad Caverns National Park can be easily combined with that of the nearby Guadalupe Mountains. Also White Sands National Park is not too far away. You can read more about these places in our guide to the best national parks to visit in March. April is a bit warmer already, but also much quieter than March which is a peak month due to spring break.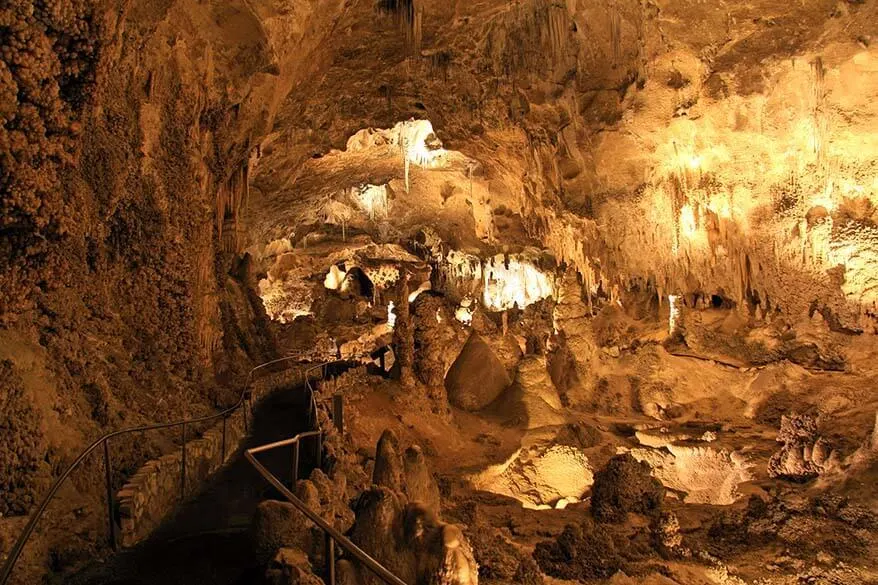 13. Arches National Park
April is one of the most beautiful months to visit Arches National Park. The weather is pleasant for sightseeing and it's not too hot to attempt even the longest hikes. It's also a busy time in Arches, especially on the weekends and around Easter. However, Arches is still much quieter in April than during the busiest months between May and September.
April is a perfect month to visit Arches without having to worry about the weather. Whether you want to hike to Delicate Arch, attempt the maze of the Fiery Furnace, or embark on a 4×4 tour, you can be pretty sure that the weather will not be a deciding factor in what you can or cannot do. Whereas if you visit in winter or in summer, the weather will play a much bigger role in what you can do.
Also if you don't hike (far), April is a good time for visiting Arches. You can enjoy the best scenic spots along Arches Scenic Drive in pleasant weather.
TIP: If you can, avoid peak times around Easter and spring break. Visiting during the quieter weekdays in April will allow you to experience Arches National Park at its very best. Always pack layers, plenty of drinking water, and a picnic lunch because facilities in the park are very limited.
LEARN MORE: Best things to do in Arches National Park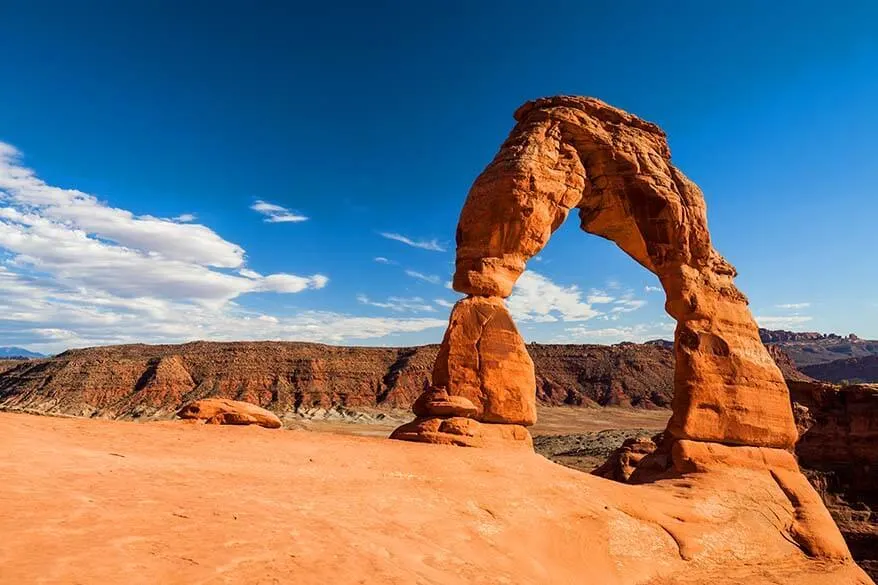 14. Congaree National Park
Spring is the best time to visit Congaree National Park in the Midlands region of South Carolina. Temperatures are warm, April is one of the driest months (although rains are always common here), and insects are generally not a problem this time of the year.
This is one of the lesser-known and lesser-visited National Parks in the USA, so it's not really busy, despite it being the peak season here. Furthermore, April is much quieter than May and usually also not as busy as March. So you get the best conditions and fewer people.
In the past known as Congaree Swamp National Monument, Congaree National Park is not technically a swamp. Getting rid of the misleading term 'swamp' from its name back in 2003, has increased the number of visitors significantly. The area is actually the largest expanse of old-growth bottomland hardwoods in the United States, you can see lots of birds here including barred owls.
The best ways to explore the park is by hiking or canoeing/ kayaking. There are over 25 miles of hiking trails, including the most popular 2.4 miles boardwalk loop trail. Spring months are also good for kayaking as water levels are generally higher and you can follow marked canoe trails. However, if you want to explore the park from the water, you'll have to bring your own equipment. Canoes and kayaks can also be rented in the Columbia, SC, area.
TIP: A visit to Congaree NP can be combined with that of the Great Smoky Mountains NP, about 4hrs driving distance from each other.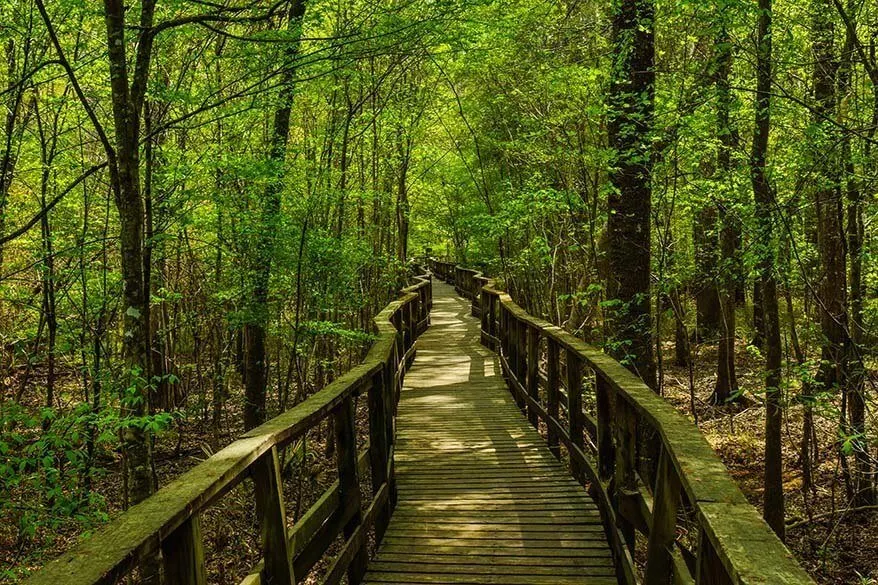 15. Pinnacles National Park
Pinnacles National Park is probably the least-known National Park in California. But this hidden gem has a lot to offer to those who love off-beat nature destinations and solitude.
Spring months from March to May is the peak season in the park. April is much dryer than March and not as warm as May, making an ideal time to visit. April temperatures are pleasant for all the outdoor activities that the park has to offer. It's also the time when the park is most green and you can see a variety of wildflowers.
The main things to do in Pinnacles are hiking, rock climbing, wildlife, and wildflowers. There are also two talus caves at Pinnacles: the Bear Gulch Cave (close to the east entrance), and the Balconies Cave (closer to the west entrance). The caves usually close for about 2 months from mid-May while bats are raising their young ones. So for that, April is also a good time to visit (just pack a flashlight!).
Please note that the east and the west side of the park are not connected by road. The best way to explore the park is by hiking. For more information about the park and things to do, please check the NPS website.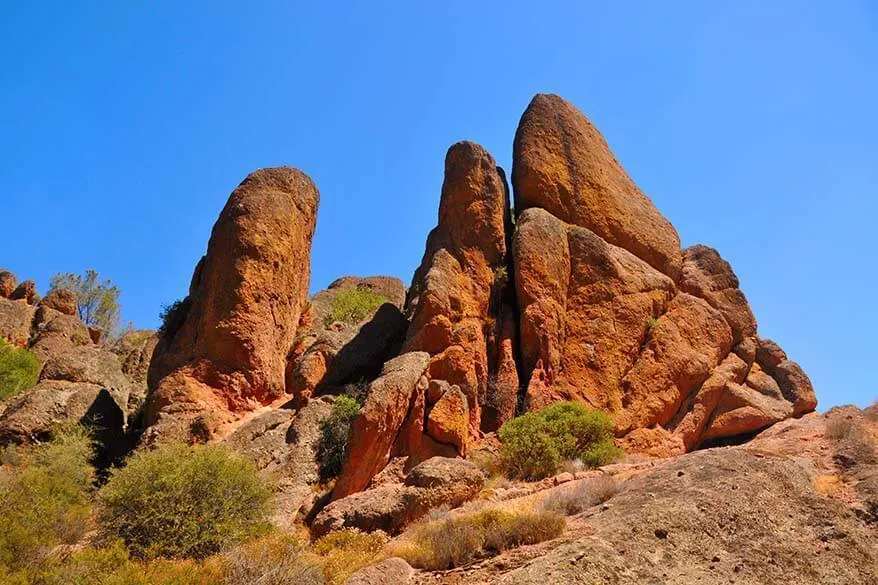 So, this is our selection with some suggestions for some great National Parks to visit in April.
Of course, there are many other beautiful nature destinations in the USA and National Parks to visit in April. But if you're looking for ideas for where to go, I hope that you found plenty of inspiration in this article.
TIP: While not a national park, Sedona, AZ is also a wonderful nature destination to visit in April. The weather is perfect for the outdoors and for all the great activities and attractions in Sedona! You can also visit Sedona as a day trip in combination with the Grand Canyon, Las Vegas, Monument Valley, and many other popular places nearby.
READ ALSO: Where to go for spring break – best USA destinations
For more National Parks travel inspiration, please also check our other guides:
If you found this post useful, don't forget to bookmark it and share it with your friends. Are you on Pinterest? Pin these images!